Desaru Coast is a coastal resort town just a few hours outside of Singapore. It consists of a long stretch of beach, four resorts, and an adventure waterpark. Perfect for a short weekend getaway from Singapore!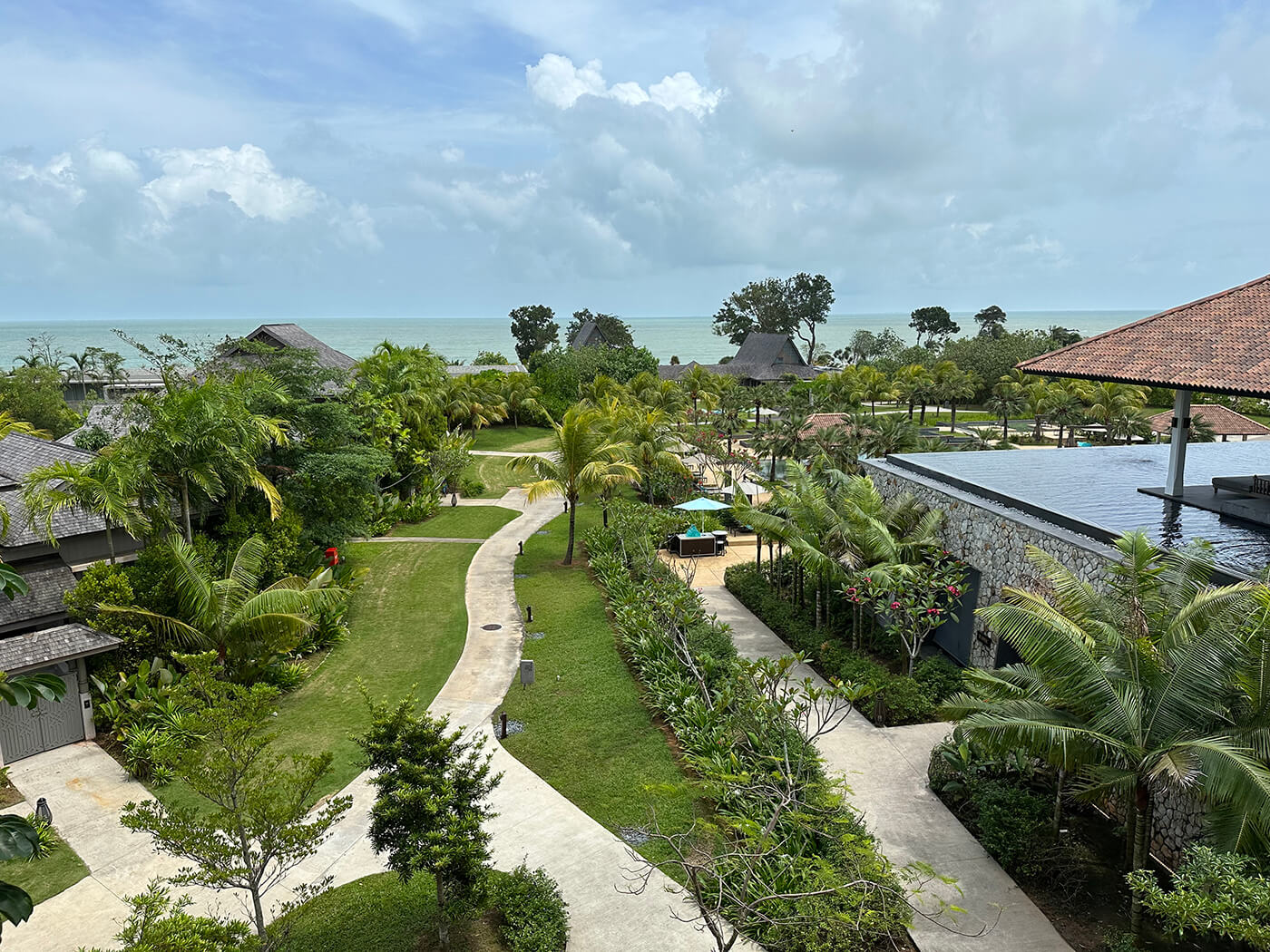 I visited Desaru in 2010 before Desaru Coast was built. Back then, there wasn't much to do in Desaru and the hotels were rather dated, so I never thought about going back there for another visit.
When I saw the news that a new resort town called Desaru Coast had opened in 2019, it piqued my interest. I wanted to check it out again, but because of COVID and the border lockdown that happened shortly after, I didn't actually get to visit until recently.
I am so glad I gave Desaru another chance! Read on to find out how my trip went.
Packing and Travel Check List for Desaru Coast
Passport – With its proximity to Singapore, it's easy to forget that it's still an international trip.
Malaysia visa (if necessary) – Yes, you'll be crossing the border so you'll need your passport and an entry visa depending on the passport you hold! You can check Malaysia visa requirements here.
MYR (Malaysian Ringgit) – You might not need it if your plan is to just stay at the resort, but if you want to buy snacks or other things from outside the resort, you will need cash in local currency.
Snacks – There are no convenience stores at Desaru Coast, so if you want food without the premium price from getting it at the resort, you'll need to bring them yourself.
Swimsuit – The main things to do at Desaru coast involves water activities, so bringing a swimsuit is a must! I'd even bring multiple if you plan to be there for more than a day.
Beach or water toys for kids
How to get to Desaru Coast from Singapore
One of the reasons why Desaru is such an easy getaway from Singapore is that there are multiple convenient ways to get to Desaru Coast from Singapore. I'll go through each one in detail:
1. Direct Ferry to Desaru Coast Ferry Terminal by Batamfast
Pros:
A straightforward way to get to Desaru
The Desaru Coast ferry terminal is really close to the resort area
There is a shuttle bus that goes to 3 of the resorts
Cheaper than private car hire if you are going solo or as a pair
You don't need to gamble on the traffic congestion in the SG <> Malaysia land border
Cons:
This ferry might get re-routed due to the monsoon season
Expensive, and children pay the same fare as adults even for babies who don't require seat
Starting from 2022, there is now a direct ferry from Tanah Merah Ferry Terminal (TMFT) to Desaru Coast Ferry Terminal (DCFT) offered by BatamFast! This makes going to Desaru from Singapore extremely convenient – you just need to get yourself to TMFT, take a 1.5-hour ferry ride to Desaru terminal, go through immigration, and then it's a short 10-15 minute car ride to your resort. The ferry ride costs $118 round trip per person, including children and babies. There is no special fare for babies and children.
If you're planning to visit the Desaru Waterpark while you're there, you can consider getting the waterpark + ferry package from Klook, because it will save you some money!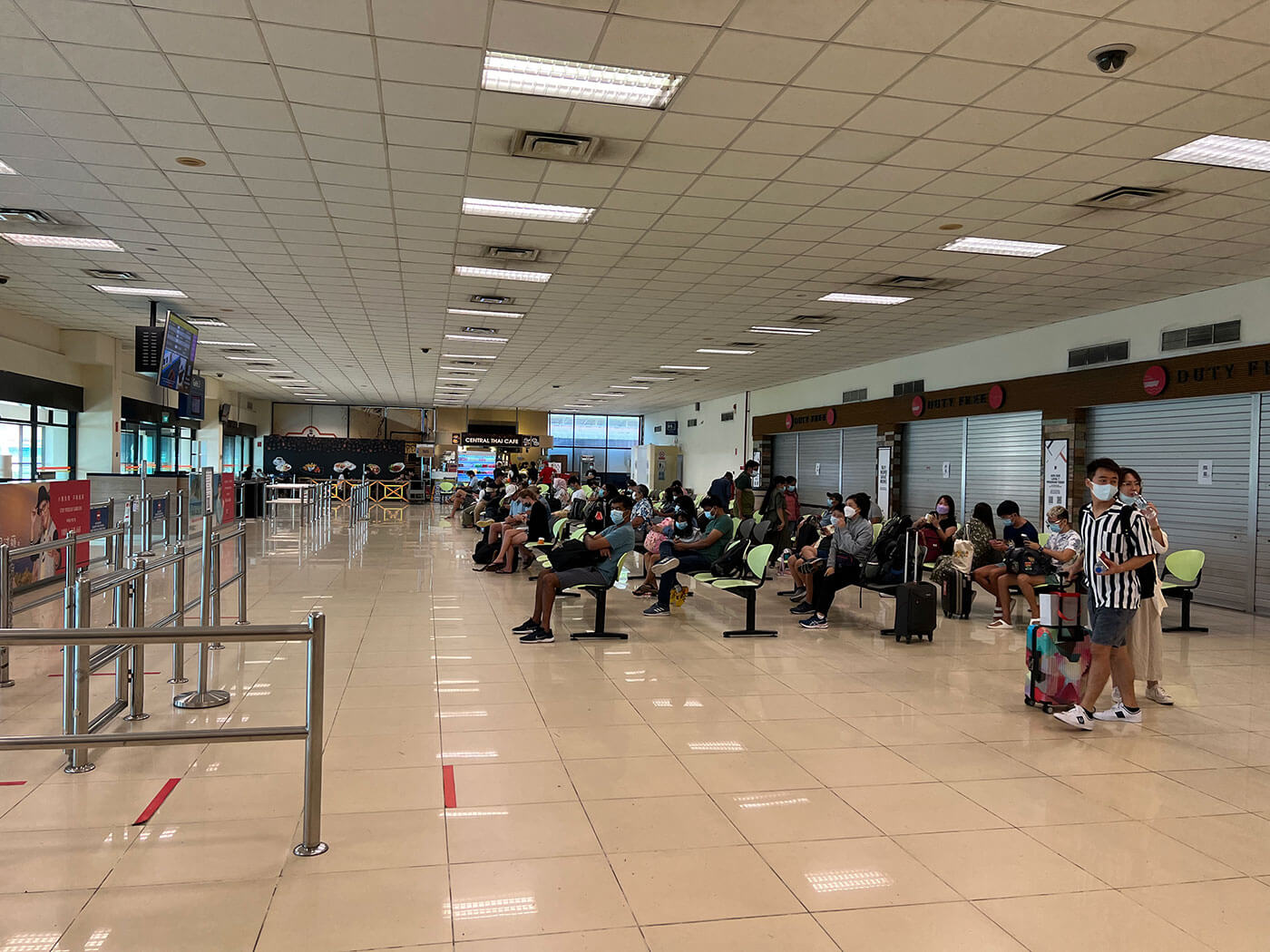 However, during the North East Monsoon season (usually from November to around February), this ferry route might be diverted to Tanjung Pengelih due to the water conditions. This means a 1-hour ferry ride to Tanjung Pengelih, then 45 minutes bus to Desaru Ferry Terminal, and then a 10-15 minute ride to your resort.
I initially booked the ferry as I thought it was the best way to go to Desaru, but I was informed that my ferry will be rerouted due to the NE Monsoon. Since we were traveling with a baby and a toddler, and we aren't keen on changing transport mode so many times, we decided to cancel the ferry and booked a private car instead. I still think it was an acceptable way to get to Desaru though. If, for example, you're traveling during the holiday season and you are actively trying to avoid crossing the border by land.
2. Private car direct from Singapore
Pros:
Easy, get picked up directly by car and straight to Desaru
The most flexible time-wise – you get to choose when to make the journey
Cost-effective if traveling in a group of 4 or more
Border-crossing is super easy, you don't have to leave the car
Cons:
Need to cross the SG <> Malaysia border by land, which can be potentially congested so it is not recommended for the holiday season
Expensive if only 2-3 people are traveling
Another way to get to Desaru is by private car. This means you'll get picked up from your house straight to immigration in Woodlands or Tuas checkpoint, and then to your resort at Desaru. It should take about 3 hours, but it might be more if the SG <> Malaysia border is congested.
Going by car is convenient to get to Desaru. For the most part, you get to just sit in the car and enjoy the ride. You don't even need to get off the car when you clear immigration. And with a private car, you do get some flexibility in when you want to leave.
The only downside is that the time it takes to get to Desaru is variable due to the unpredictable traffic in the SG <> Malaysia border. I would avoid crossing the border by land if you're traveling during a long weekend or any holiday season.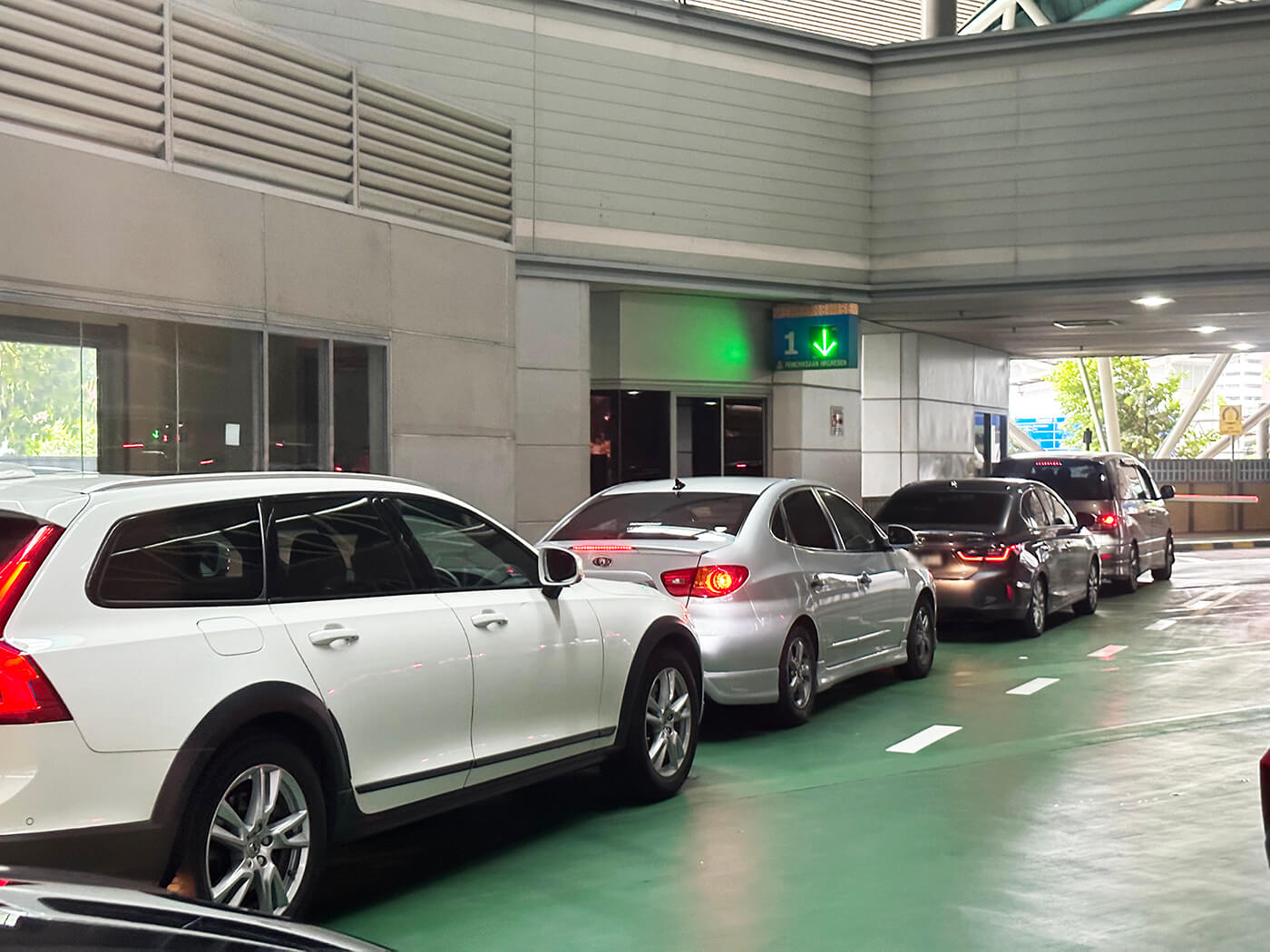 The round trip price for a private car to Desaru is $300 for a 4-seater car and $380 for a larger car that can fit up to 6.
This is the method I ended up choosing after finding out our ferry to Desaru has been rerouted. I paid $380 for a large Toyota Vellfire car as a group of 6. I booked ours from SGJBTaxi via WhatsApp, and we're pleased with the service! Despite booking very last minute (literally the day before the trip), our driver was very professional and showed up early. He also showed up early when we had to be picked up on Sunday.
As per SGJBTaxi's advice, we left Singapore at 8 am on Friday and then drove back at 1 pm on Sunday, and we did not have any issues clearing immigration both times. There was no queue on Friday morning, and coming back on Sunday took us only 40 minutes to clear both sides of immigration.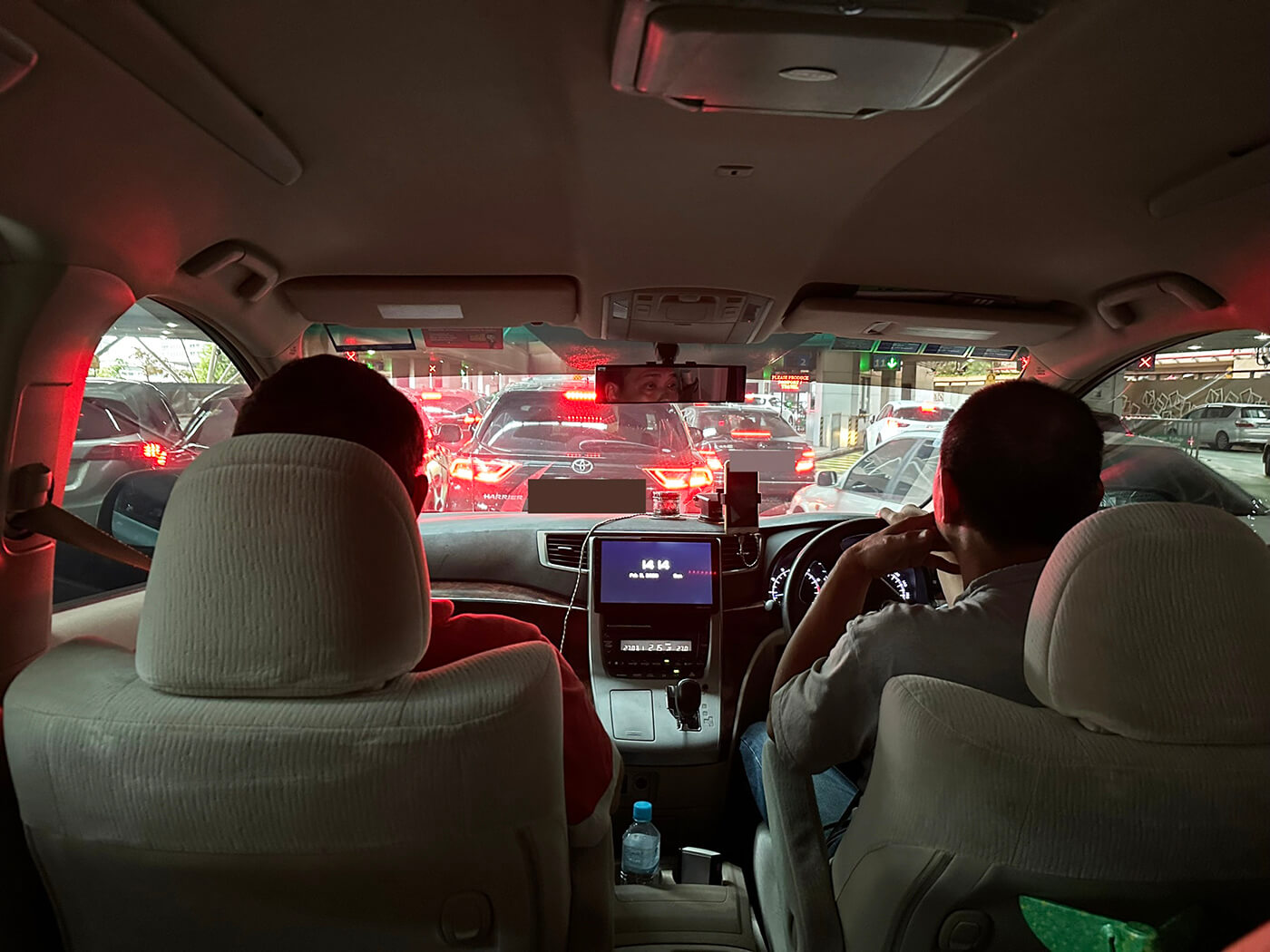 If you are not a Singapore resident, be sure you have the right visa to enter Singapore, fill out the Arrival Card, and be prepared to show your onward journey to exit Singapore. Singapore residents (which includes EP, work pass, and LTVP holder) do not need to fill out the arrival card when entering via land.
3. Combination of public transport from Singapore and taxis in Malaysia
Pros:
The cheapest way to get to Desaru for a party of 2-3
Somewhat time-flexible, only limited to bus availability to the checkpoints
Cons:
The most time-consuming way out of the 3
If time is not of the essence and you're feeling adventurous, you could try this method and save some money.
You could take a bus to Woodlands checkpoint, and catch a taxi to Desaru once you're on the Malaysia side in Johor Bahru. A one-way trip to Desaru from Johor Bahru should cost $80, so you could potentially save $140 if compared to hiring a private car.
How many days should I spend in Desaru Coast?
Our visit to Desaru was lovely, but given the size of the resort area, I think 3 days and 2 nights is ideal. You could even stay just 1 night if you're just there for the resort and not planning to do other activities. Besides the adventure waterpark, there is not much to do in Desaru outside of your resort.
Where to stay on Desaru Coast
While in Desaru, you'd be spending most of your time within the resort, so you will want to choose the one that you'll enjoy the most!
Desaru Coast is brand new and only started to operate in 2019. In Desaru Coast, there are four 5-star resorts:
1. Anantara Desaru Coast Resort
Anantara Desaru Coast Resort was opened in December 2019. Given they started operating just before COVID, the facilities are still very much new and not dated at all. They have a swimming pool directly next to the beach and direct beach access. Having visited the other resorts (except One&Only) I personally think Anantara is the best option out of the 3.
➡️ Check this out: We stayed in Anantara Desaru Coast Resort during our time and we loved it! I've written in detail about our stay at Anantara Desaru in a separate post, so be sure to check it out if you're interested!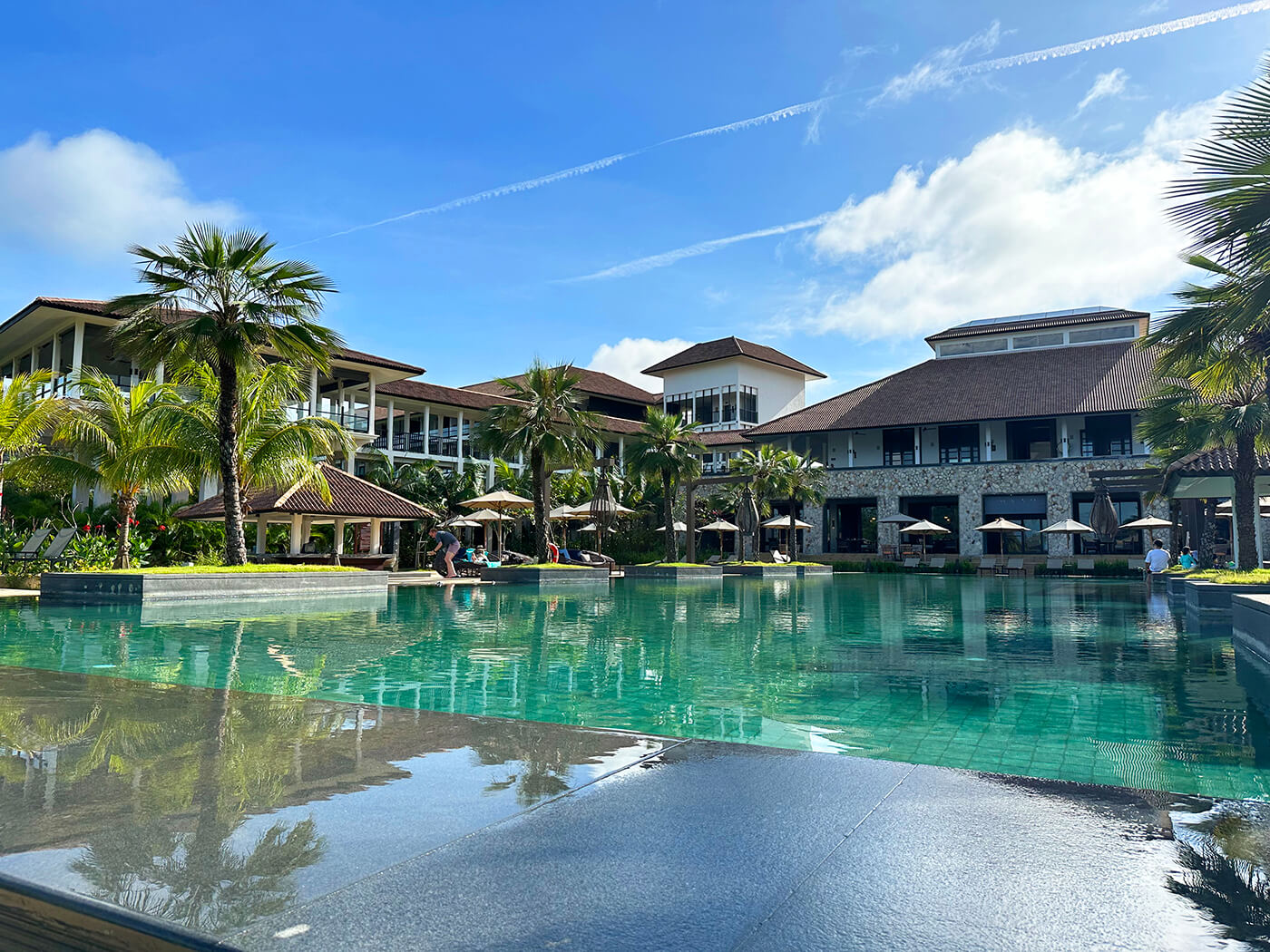 2. Hard Rock Hotel Desaru Coast
Hard Rock Hotel Desaru Coast is located next door to Anantara, Hard Rock Hotel Desaru Coast first opened its door at end of September 2019, just before COVID. It is very family-friendly as it is the closest hotel to the water park. You can see the park from the lobby, and Hard Rock Hotel guests receive complimentary access to the waterpark.
However, Hard Rock hotel doesn't have direct beach access. You will have to cross the road to The Westin and go past the resort to go to the beach.
3. The Westin Desaru Coast
The Westin Desaru Coast is also located in the same complex as Anantara and Hard Rock is The Westin, this resort was opened in April 2019.
The Westin has direct beach access and a beach bar, but there is no swimming pool near the beach. it is located closest to the public area of Desaru beach, so you'll likely see more people on the beach than compared to Anantara.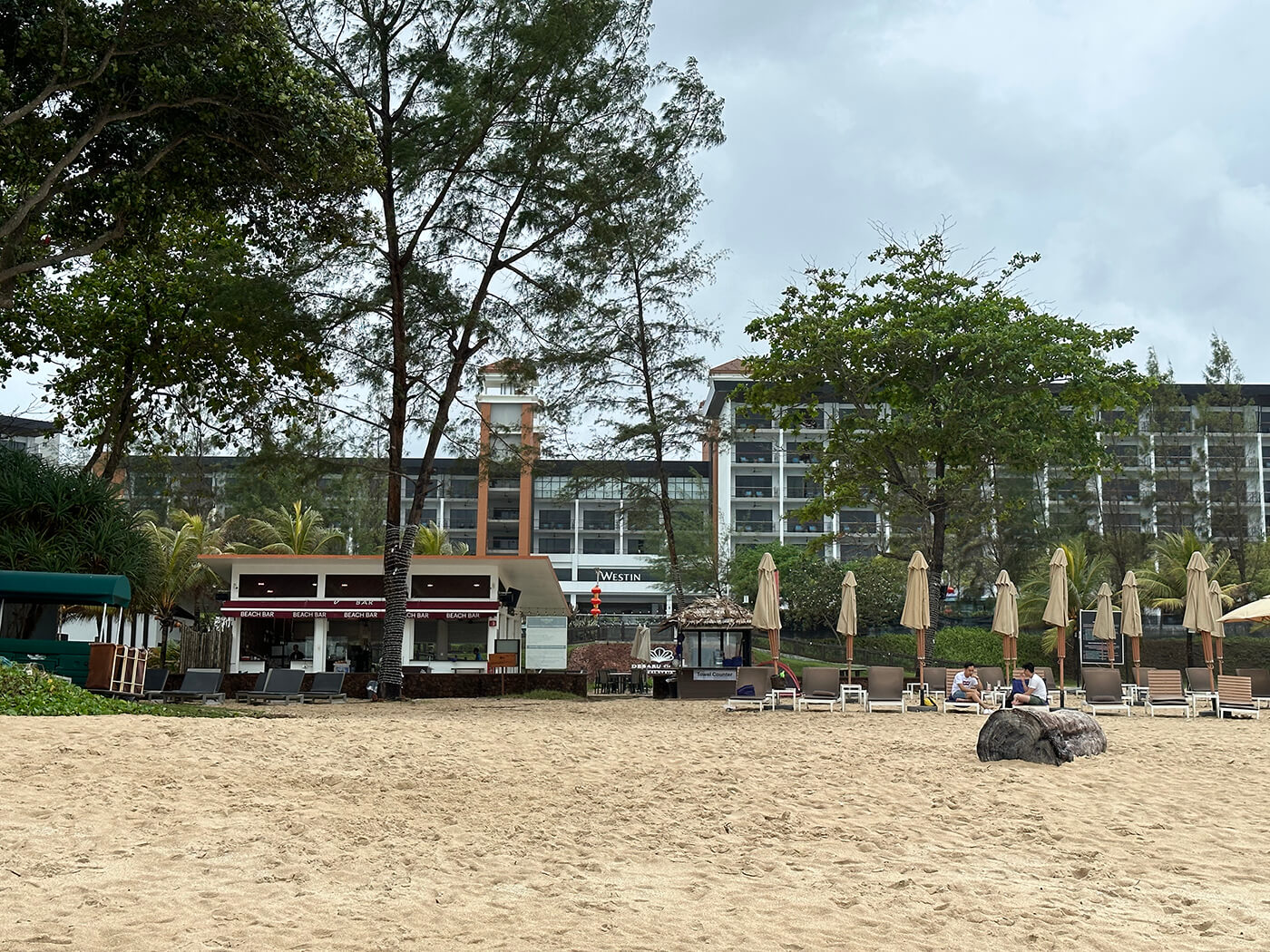 4. One&Only Desaru Coast
One&Only Desaru Coast is the newest resort in Desaru Coast, opened during COVID on September 2020. If you want an extra luxurious secluded getaway, this is a great option!
They are located further away from the rest of the resorts, with their own private beach that isn't accessible from the other resorts. They only have suites and villas, so be prepared to shell out more compared to the other options.
How to get around Desaru Coast
Unfortunately, Desaru Coast is not an area where ride-sharing apps flourish. I couldn't get a Grab when I was there! But there are still ways to get around:
1. By Shuttle Bus
If your goal is to just check out the resort town, don't worry! There are 3 shuttle buses that go around Desaru Coast and stop at every interest point and every resort (except One&Only). It makes visiting other resorts very easy!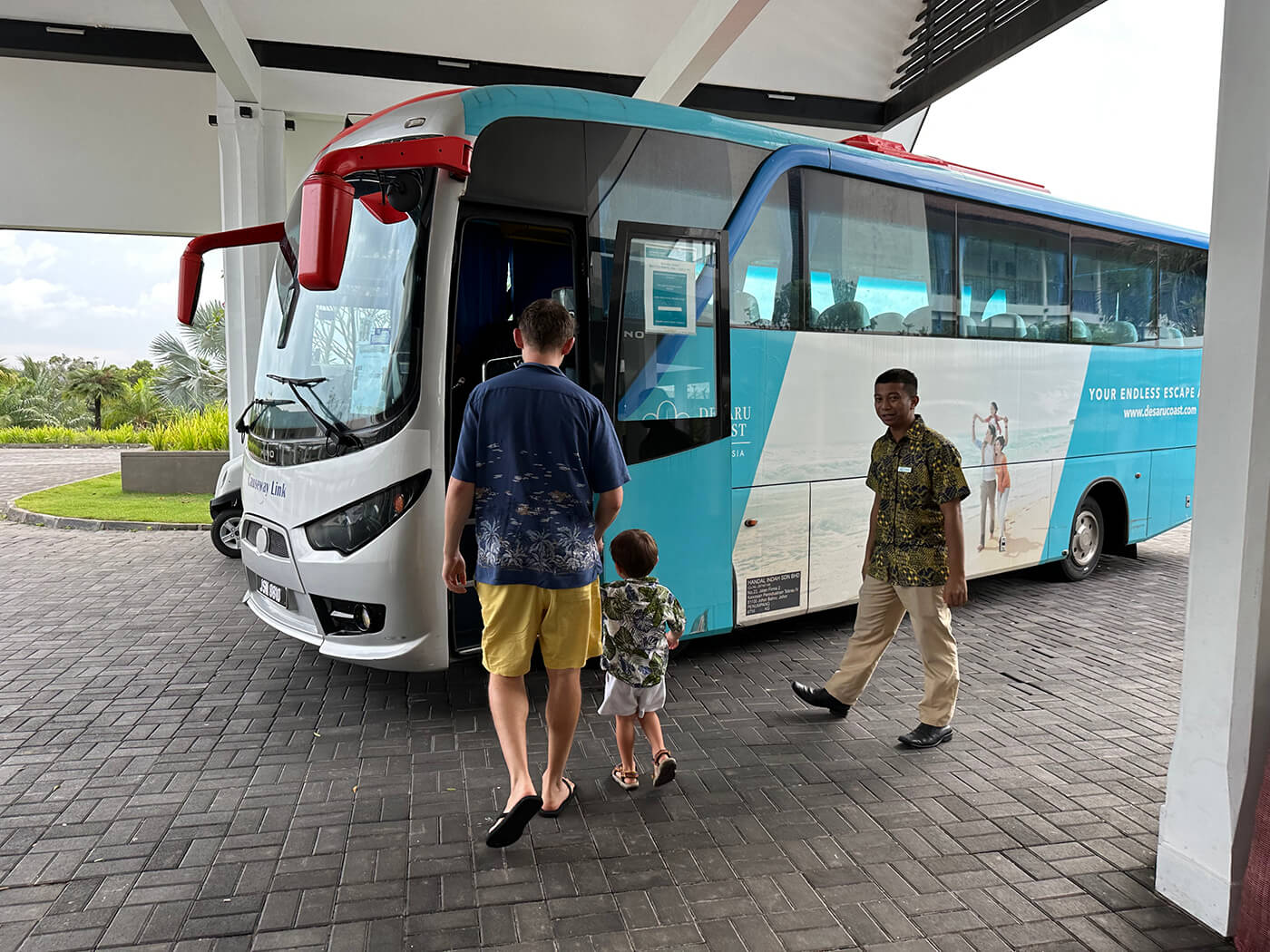 When I went in February 2023, these are the schedule: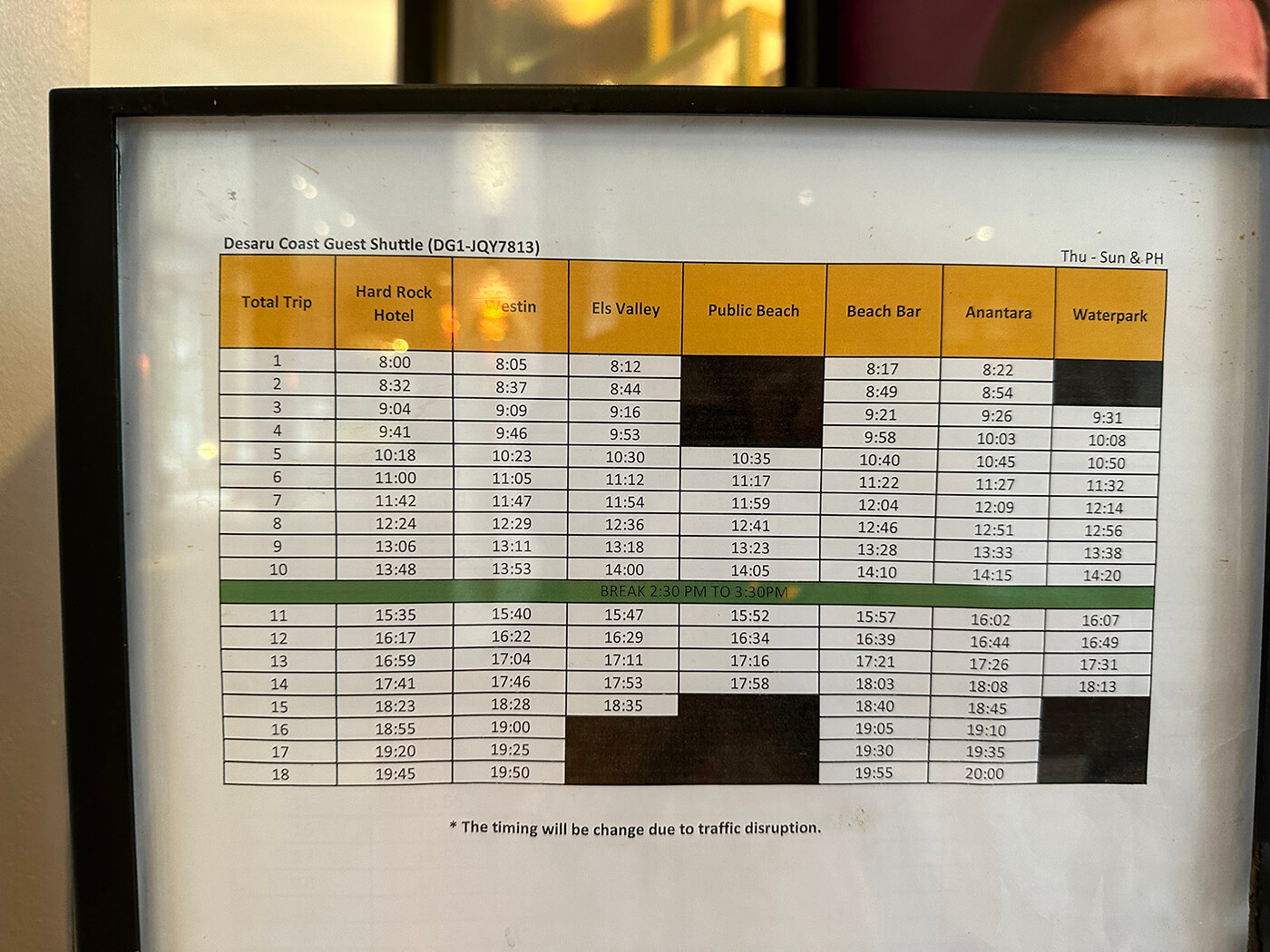 This gives you an idea of the route and timing. I have to warn you that we did have to wait for the shuttle one night when we wanted to go to another resort. They were 20 minutes late. The schedule might be updated periodically, so be sure to double-check when you're there.
2. By walking on the beach
If your goal is to get from resort to resort (except One&Only), you might be able to just walk on the beach.
On one of the days of our stay, we wanted to visit the Hard Rock hotel to see what it looks like. We took the shuttle bus to go there, but going back we decided to walk by crossing over to The Westin and then walking along the beach back to Anantara. The walk was only 10-15 minutes! This ended up being a much faster way since we didn't have to wait for the shuttle.
What to do on Desaru Coast
1. Adventure Waterpark Desaru Coast
The waterpark is perhaps the main feature of Desaru Coast. The waterpark features a large wave pool and exciting slides, great for adults and kids alike!
You can buy tickets via Klook here. If you are getting to Desaru by ferry, I recommend checking Klook's ferry + waterpark package to save money!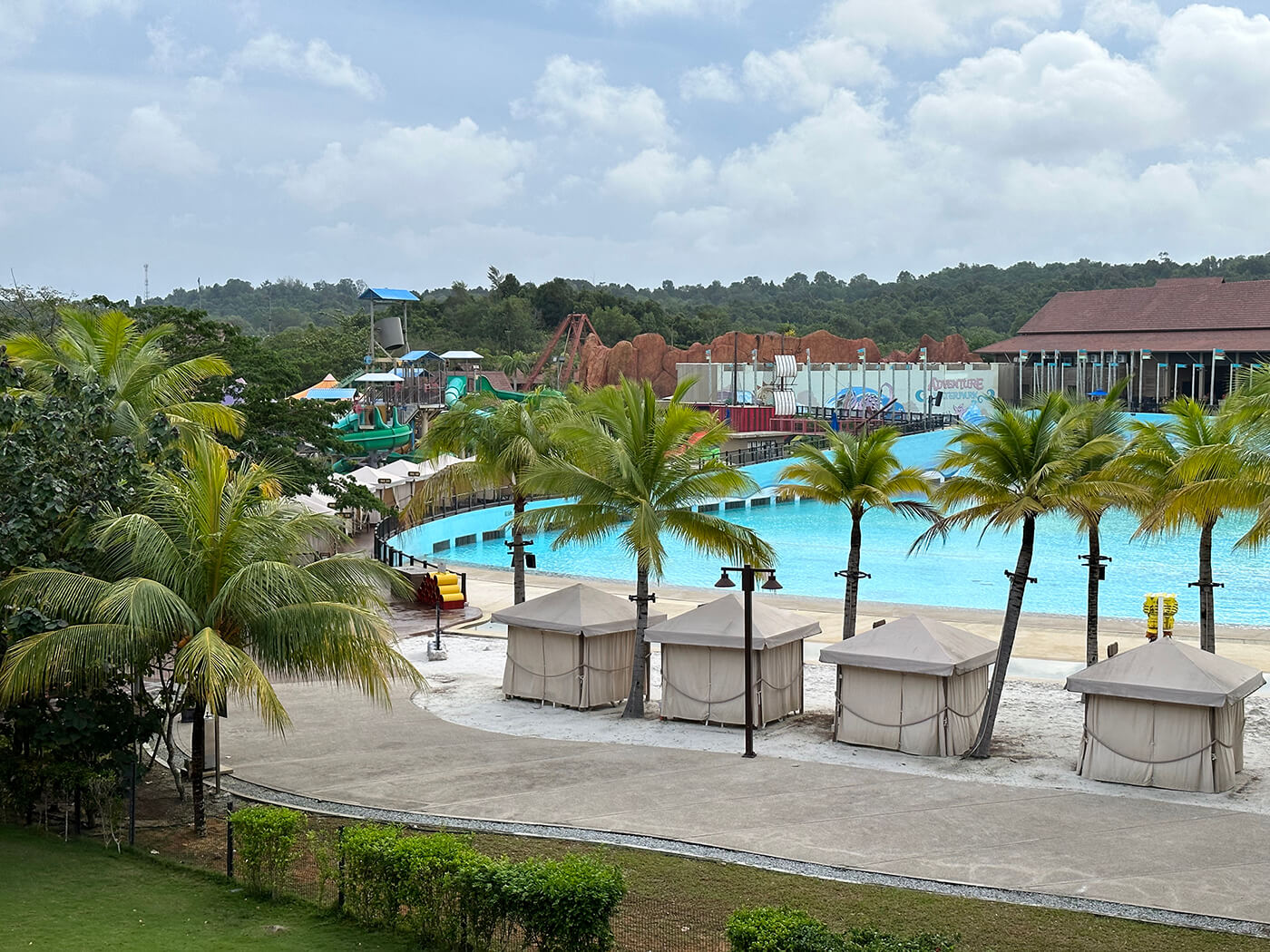 2. Desaru Fruit Farm
At this farm, there are more than 100 species of fruits. you can visit a petting zoo, have a fruit buffet and visit an herb garden.
3. Desaru Beach
The Desaru Coast area features a long 17km stretch of beach. You can play on the beach and discover sea creatures living there. There is a tour specifically for Desaru Beach discovery if this is what you're interested in.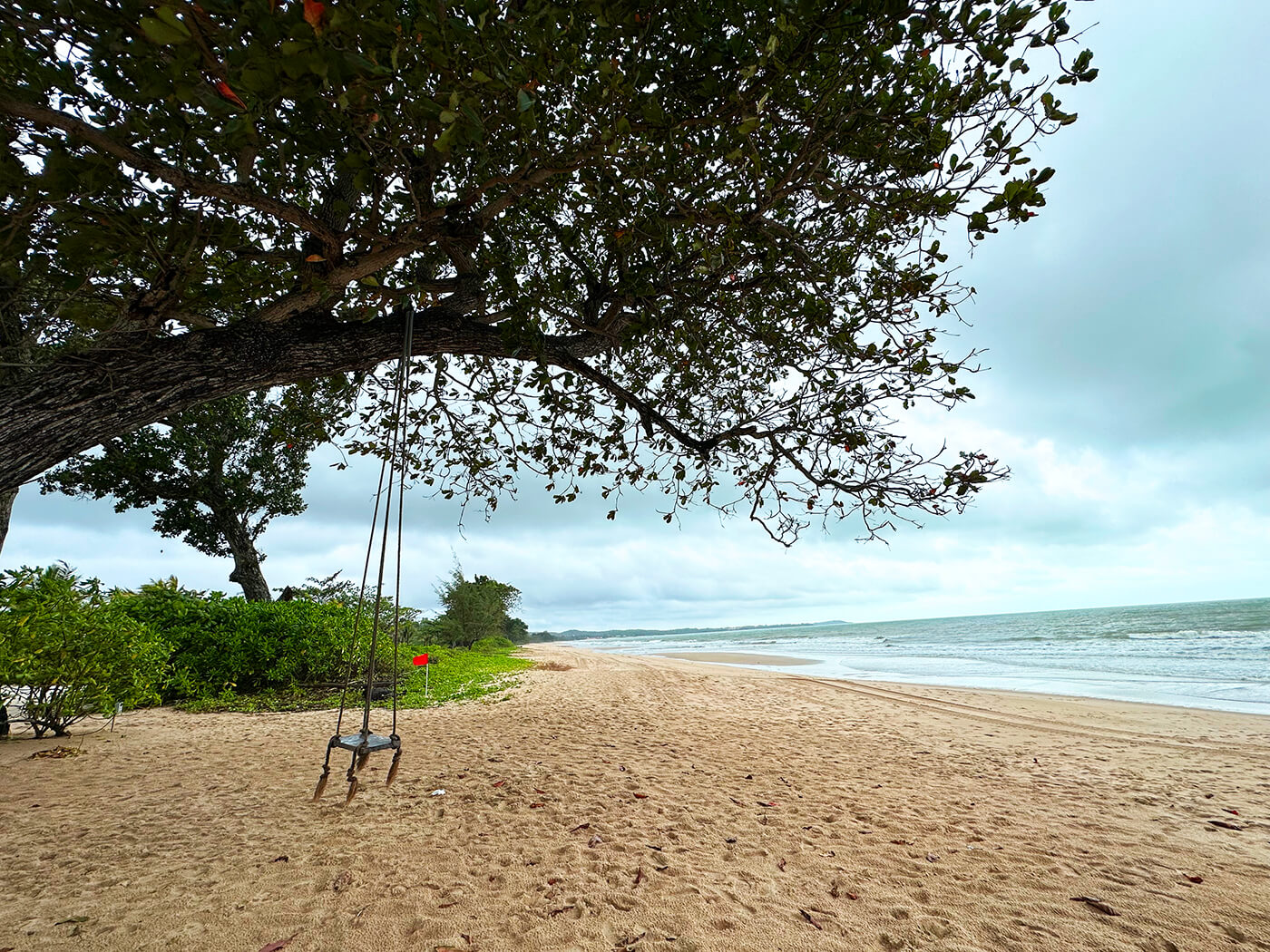 4. Golf at The Els Club
Another popular reason why Singaporeans would travel to Malaysia is to get in a round of golf games. Well, you can do so in Desaru at The Els Club!
There are two courses – Ocean and Valley course, and they are both reachable via the shuttle bus. The Ocean course was designed by the golf legend Ernie Els himself, while the Valley course was designed in collaboration with Vijay Singh, a name that should not be unfamiliar if you're a golf enthusiast. With the Ocean course looking over the South China Sea, it would be a beautiful course reminiscent of the historic Pebble Beach.
Book tee times at The Els Club website
Shops near Desaru Coast
If you are driving to Desaru, there are a few places you might want to stop by to stock up on snacks or other necessities. Here are the closest places:
SKS City Mall – A small and very local mall about 6km from Desaru Coast. You could get some basic amenities at Watsons (drug store) and snacks. There is also a wet market where you can get fruits.
Pasaraya Jaison – If you want to get food and snacks before making your way to the resort, this is your best bet.
Cost Breakdown of a weekend at Desaru Coast
Here is the cost breakdown of our trip for those interested!
As usual, this breakdown is only meant to serve as a guide. It might not apply to you depending on the method of transportation, how much you consume, how many people are in the group, and any activities you do while in Desaru.
Accommodation
(We stayed at Anantara Resort)
SG$ 704 for 2 nights
($352 for one night)
Round-trip Private Car
(SG <> Desaru Coast)
SG $63 per person
(SG$ 380 for 6 people)
Food & Beverage (3D2N)
SG$ 250 for 3D2N
(For 2 adults and 1 toddler)
Cost Breakdown in Desaru Coast for 3D2N
In total, we spent a little over SG $1,100 for the weekend. This is a very similar amount to what we spent at The Residence Bintan, which was also a great getaway option from Singapore.
That's all I know about Desaru Coast! Please feel free to leave comments below if you have any questions, or anything to add!