A few weeks ago, I told my husband I was feeling burnt out and needed a quick getaway from Singapore. Being the great partner that he is, he immediately booked us an impromptu trip to… Bintan!
Now that's a name I haven't heard in a while. With Indonesia dropping the PCR requirement for incoming tourists starting mid-May, a weekend getaway to Bintan is suddenly a possibility again. Well, it seems that everyone else in Singapore is also excited that Bintan has reopened to us again – we snatched, literally, the last three spots on the ferry.
➡️ Tip: If you're looking for a travel guide on Bintan, such as the ferry experience from Singapore and things to do in Bintan, be sure to check out my Bintan travel guide.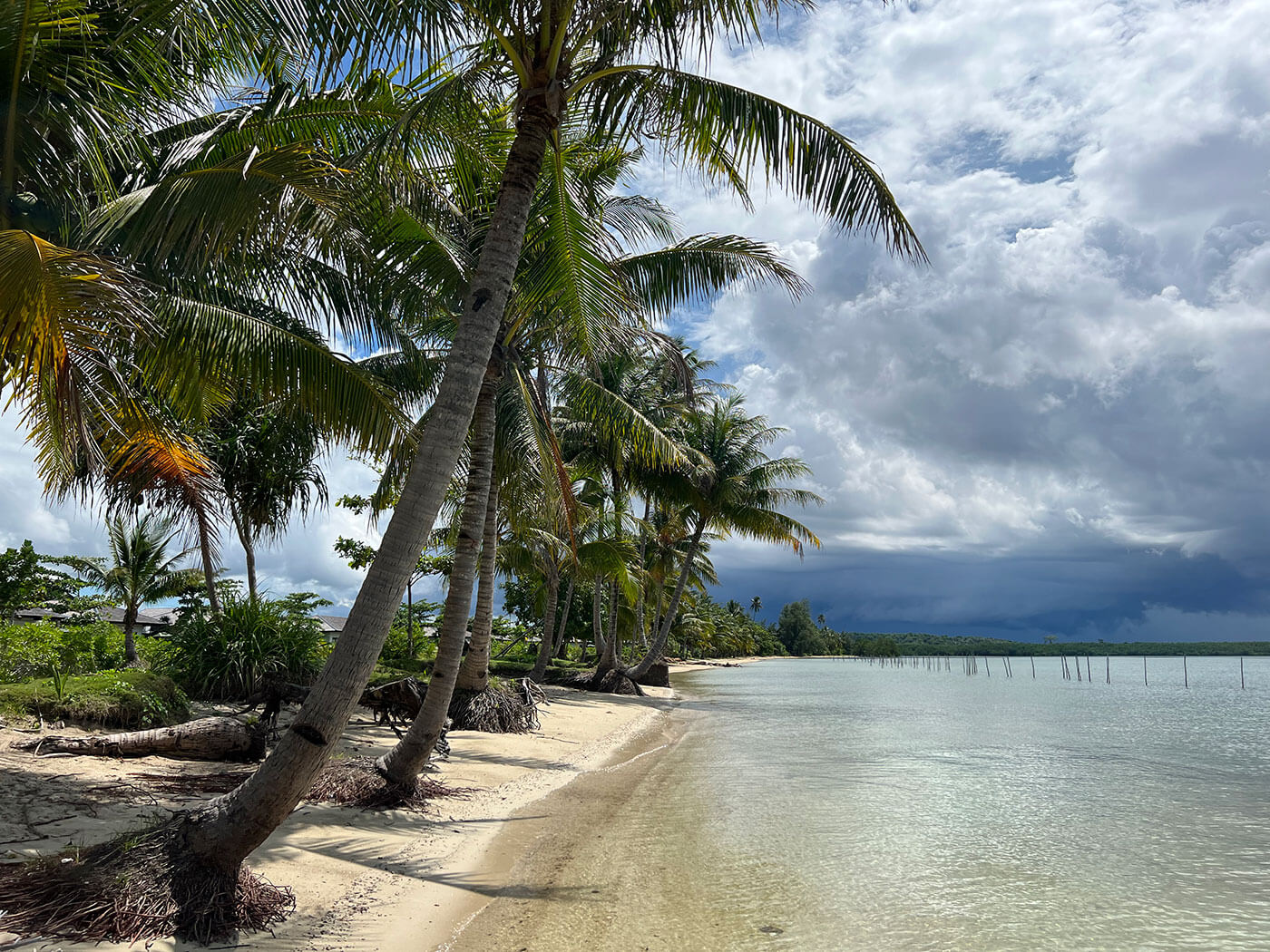 We wanted a quiet getaway, so we looked for a resort that's a bit far away from other resorts in the Gunung Kijang area on the southeast part of Bintan island. We settled on The Residence Bintan, a new resort that was just opened in 2018 before they were forced to close down again when COVID hits.
And without further ado, here is my experience at The Residence Bintan!
Booking The Residence Bintan
The Residence Bintan offers many types of rooms – From 1 to 2-bedroom villas to 1-bedroom suites. The beachfront villas come with private pools and looked super nice!
You can book a room at the residence Bintan from the following websites:
booking.com – they offer free cancellation within a limited time, so be sure to check the T&C. I also recommend signing up for an account and checking the price again, as they sometimes have discounts for members.
Klook – like booking.com, Klook also offer free cancellation within a limited time which is stated in their T&C.
I played around with the above sites to see which one will give me the best price. In the end, we booked one bedroom in Garden Terrace on booking.com.
However, upon checking in, we were given a Sea-view suite on the upper level instead. We were okay with it, in fact, we actually prefer the upper level so it worked out for us!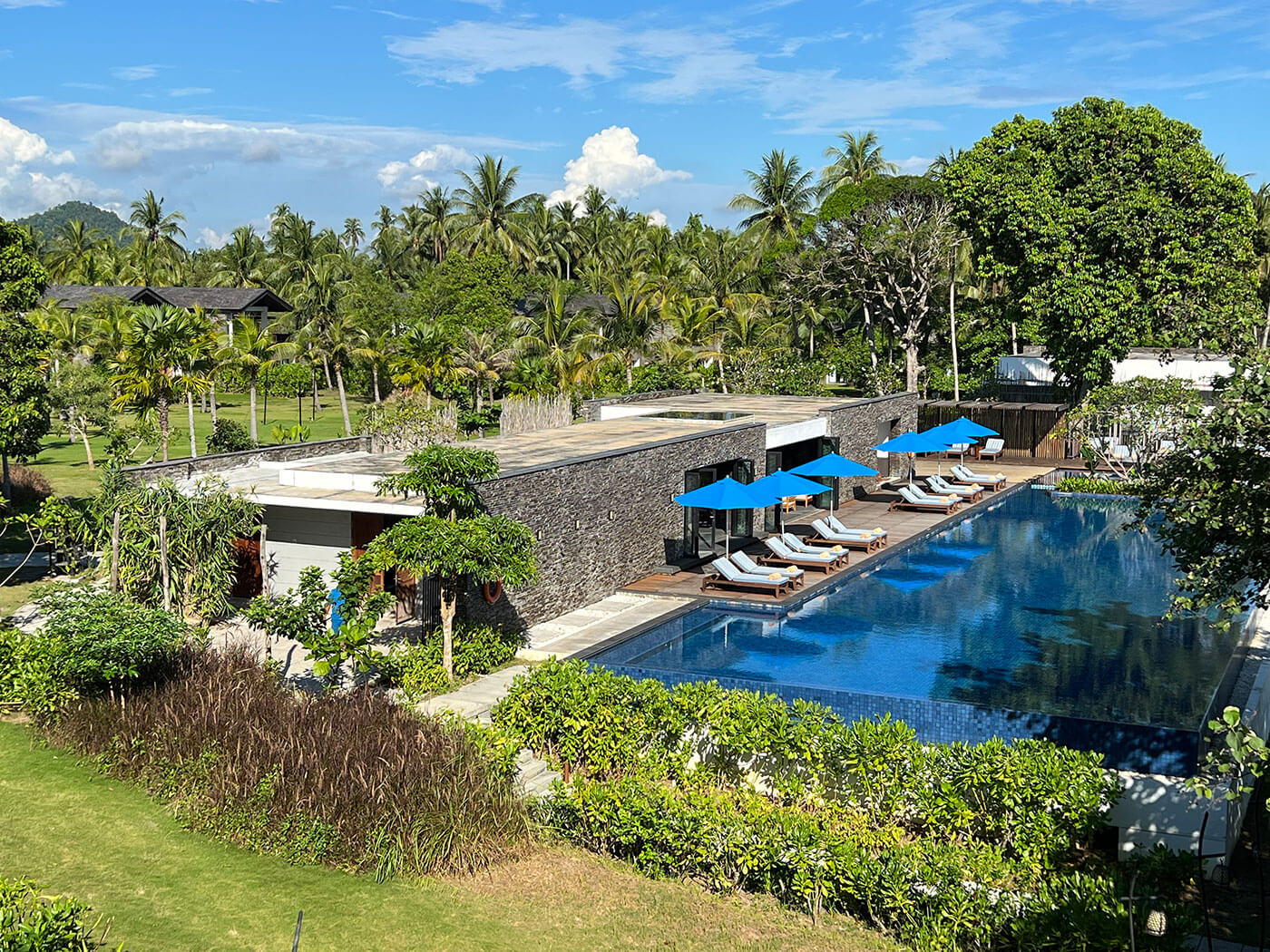 We also brought along our 2-year-old toddler. Although the website states maximum occupancy of 2 people, they did not charge us extras for my son. I'm not sure if this would be the same case if our child was older.
Getting to The Residence Bintan
As outlined in my Bintan travel guide, we took the ferry from Tanah Merah Ferry Terminal to Bandar Bintan Telani (BBT for short). From BBT, The Residence Bintan offers free land transportation in the form of a shuttle bus, which was a huge help! You just need to contact them after booking and give them your ferry timing.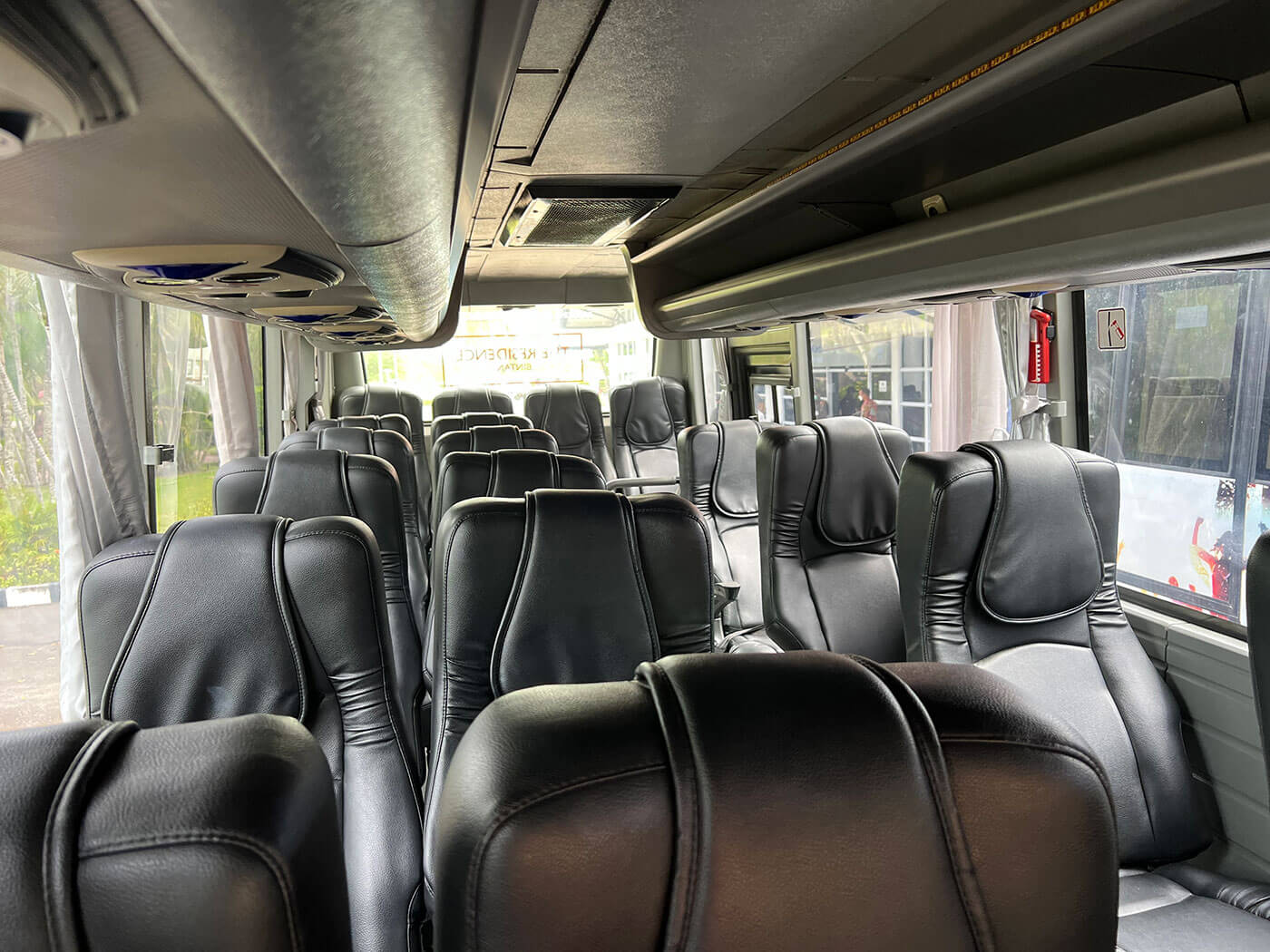 Once we got through immigration at BBT, staff from The Residence Bintan greeted us right at the exit. The Residence Bintan, along with a few other resorts at Bintan, had a small dedicated room in case we need to wait for the bus. But lucky for us, the bus was already there and we boarded right away.
They offered us chocolate chip cookies on the bus. Wifi connection from a mobile router, but the wifi didn't work when I was there. Despite being one of the first to clear immigration, it still took another 30 minutes to board the bus, because we had to wait for the rest of the guests to clear immigration.
So lesson learned, my friends – you really don't need to rush through immigration since you'll have to wait for other guests anyways. Once all the guests have arrived, it was an hour of easy, uneventful drive to the resort.
Checking into The Residence Bintan
Our check-in was done en masse as the guests arrived all at once via the shuttle, including us. Noticing the lobby was getting crowded and we were traveling with a small toddler, the front desk staff (Eric) immediately ushered us to the business center with the welcome drink and cold towel and assisted us in checking in.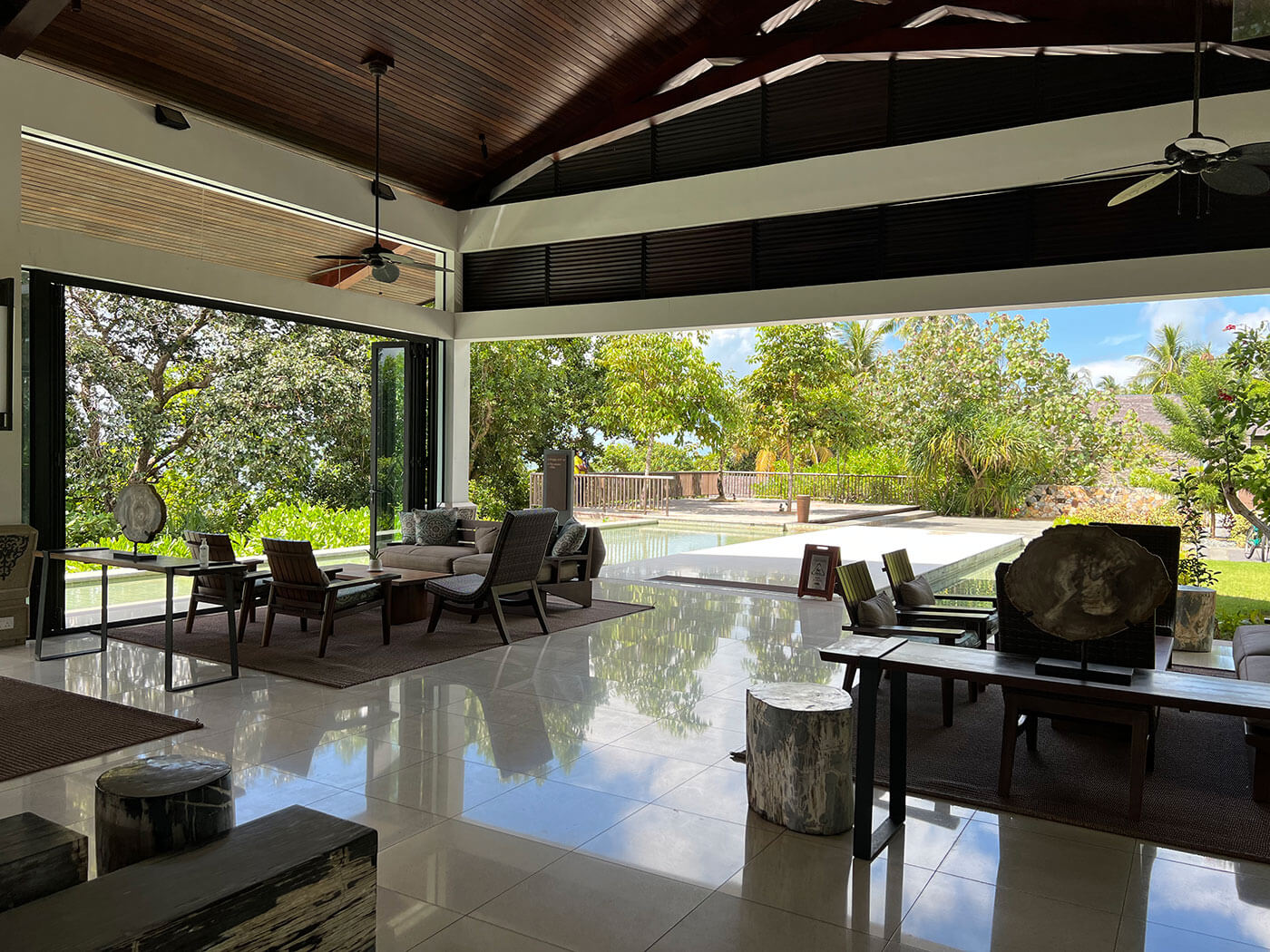 We were asked to put down a Rp 2,000,000 deposit (about SG $ 186) which can be used to offset F&B costs and any paid activities you book during your stay. You can put down a cash deposit, or choose to have it all be charged to your credit card. I chose the latter for convenience, but you could save on credit card conversion fees if you chose to bring cash.
The process was very quick – it did not take longer than 15 minutes, and we were soon taken to our room via a buggy by Eric himself, with a quick tour around the resort estate on the way.
The Upper Sea View Suite of The Residence Bintan
As I mentioned before, we were given a sea-view suite on the upper level despite booking a garden terrace suite. All of the rooms are accessible via key card access, which was issued to us on check-in along with a wifi password.
The sea-view suite came with a large balcony with a hammock, a four-seater table (so you can enjoy your room service at a proper table!), a lounge sofa, and a large bedroom.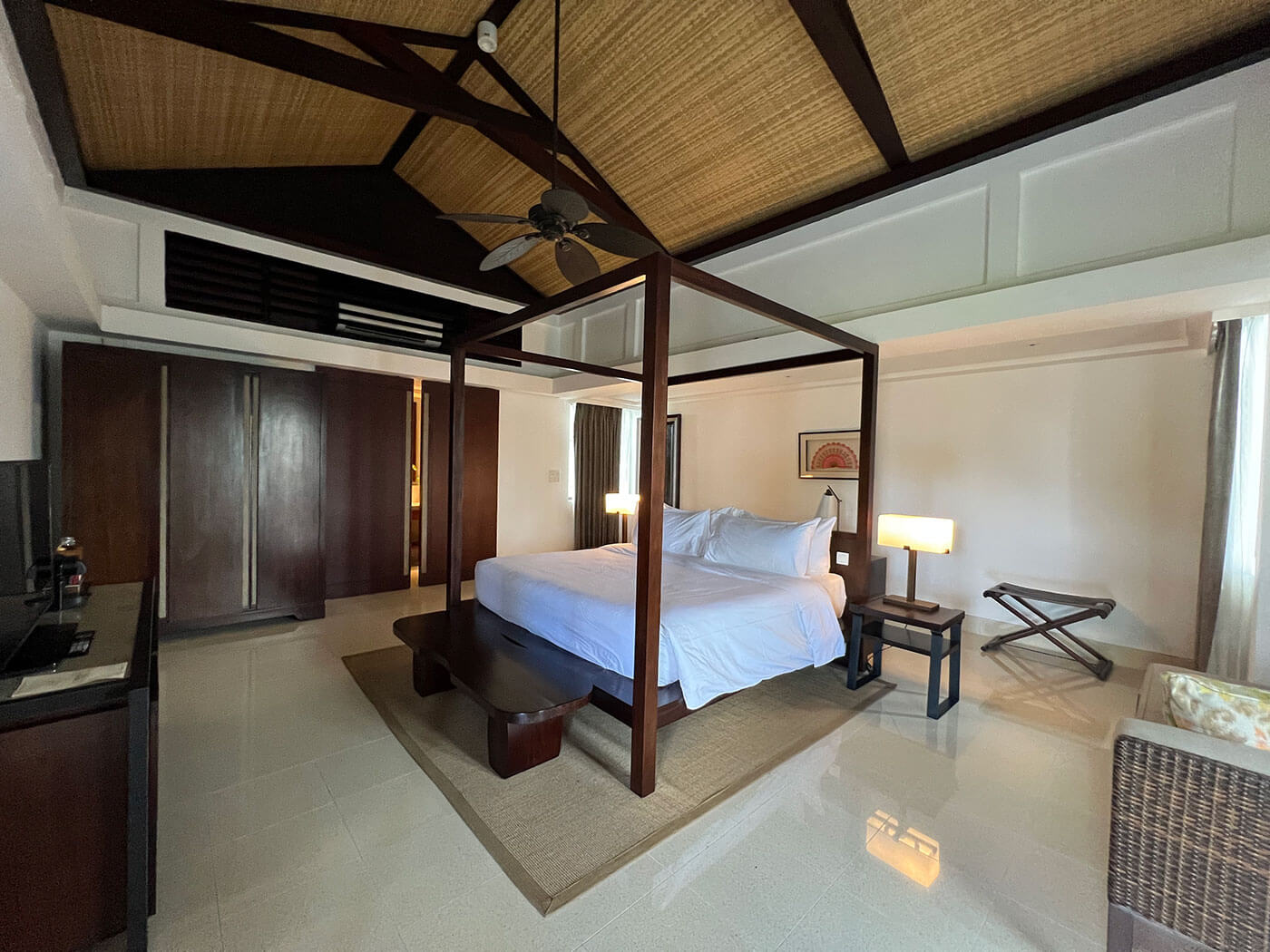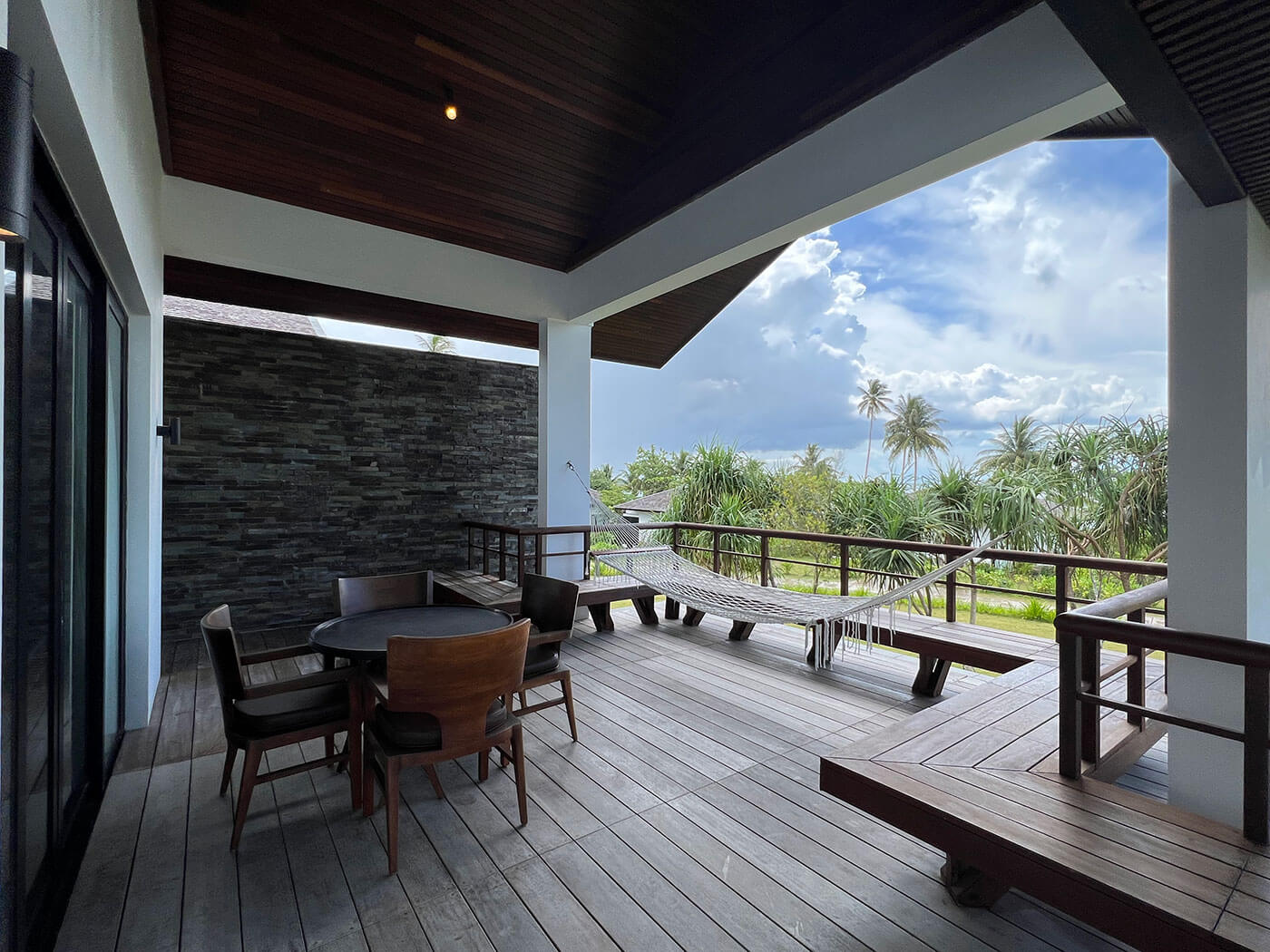 The suite also came with all the amenities you need – a bathrobe, hair dryer, soap and shampoo, towels, bathtub, coffee machine, lounge chair, and a desk you can work from if you want to (though why would you?!). There is a turn-down service, though we only got it one of the two nights we stayed there.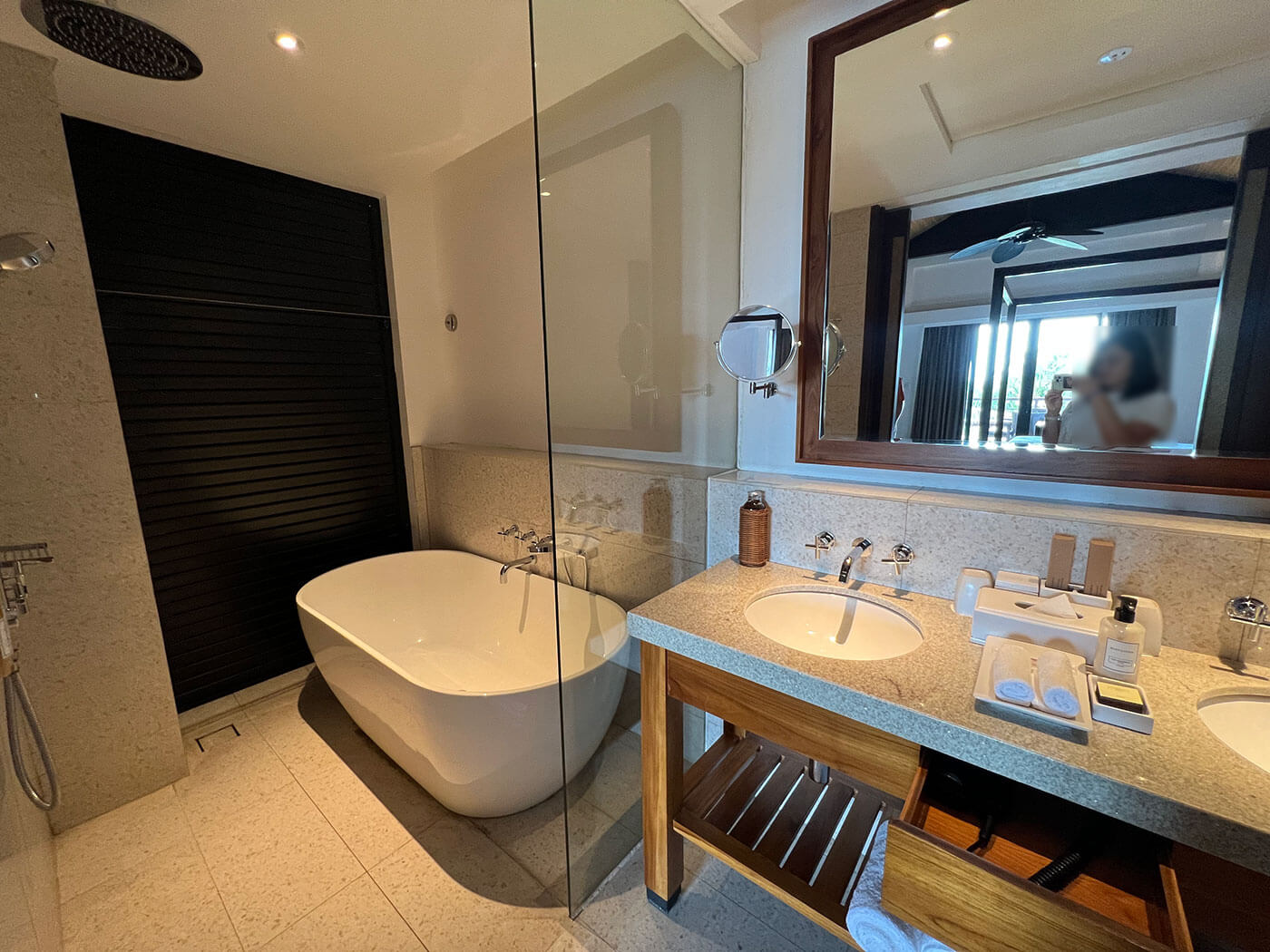 To get around the massive resort estate, each room is given two bicycles, though I think if you have more people then they'll give you more bicycles too. I would have loved to use the bike, but they didn't have a child seat for my toddler.
So, we ended up mostly walking on foot around the resort. I found that it was convenient enough as it was no more than a 10-minute walk to the restaurant, and all of the rooms are within a minute's walk of the beach. You could also call a buggy if you did not want to walk or cycle, and if it's raining there are plenty of umbrellas around the resort.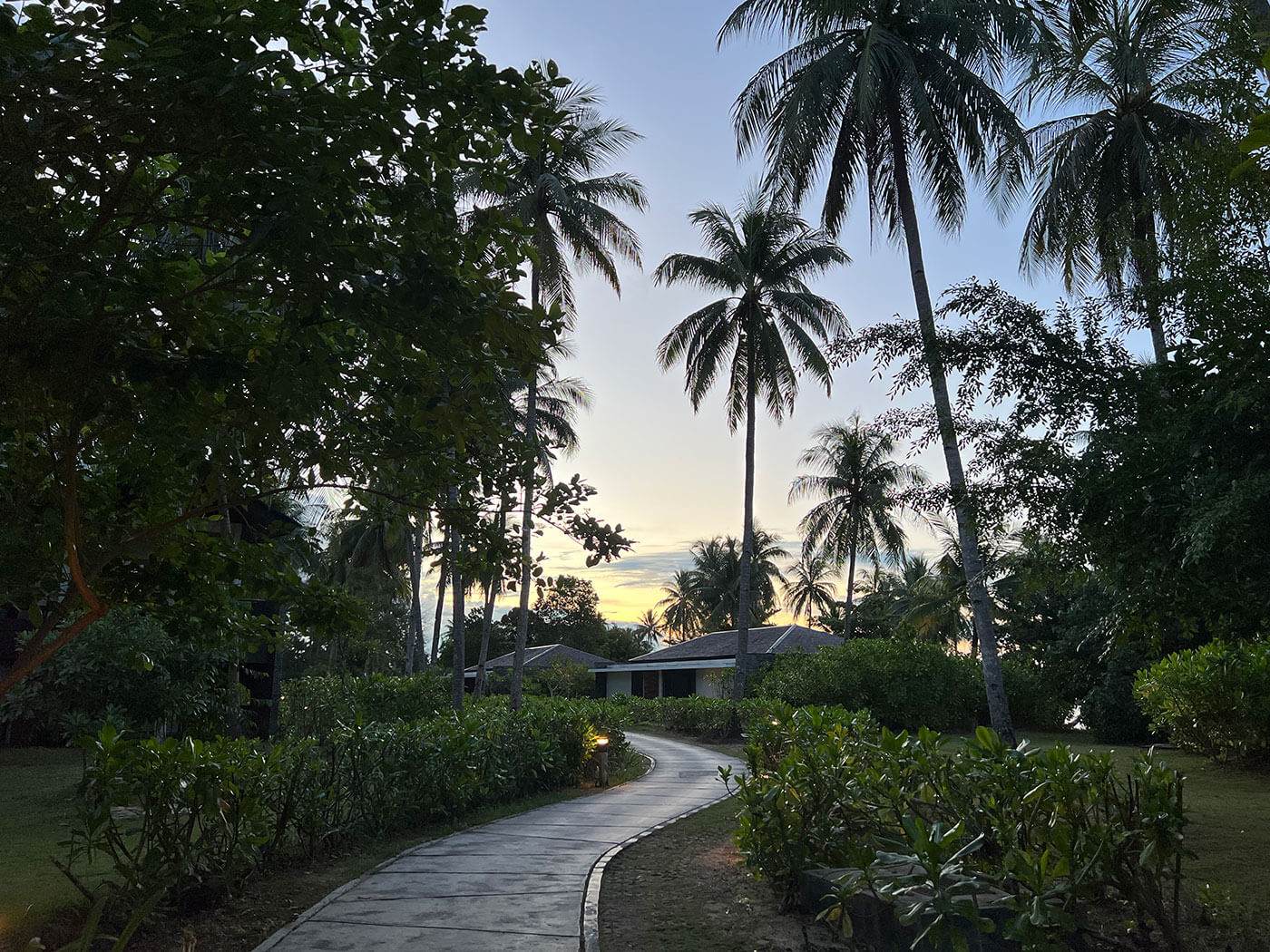 There is wifi coverage with decent speed around the resort, though I wouldn't expect to be able to do heavy work that requires a fast internet connection with it. You might also lose connection if you're strolling around the beach part that isn't close to the pool bar.
Honestly, I was very happy with The Residence Bintan. However, there were two small issues we encountered in our room:
The ceiling fan wasn't working, but we mostly used AC anyway
We realized there were termites in one of the bathroom's sliding doors when we noticed brown sand-like things that kept accumulating under the door when it was closed overnight. I was initially freaked out, but I read that termites don't travel with you and in the end, it didn't really bother us.
We traveled a mere 4 weeks after Indonesia dropped their COVID PCR requirement so the resort had probably just starting to receive guests again and needed some time to maintain their rooms.
Service at The Residence Bintan
Because we traveled to Bintan very soon after Indonesia effectively dropped its COVID restrictions, I imagine most of the staff are still new at their job. But if that was indeed the case, I wouldn't be able to tell. Everyone seemed so capable and hospitable.
We noticed throughout the stay that every single staff would always greet us when we pass by – with a smile, even if they are busy driving a buggy or transporting food around. I loved the staff at The Residence Bintan!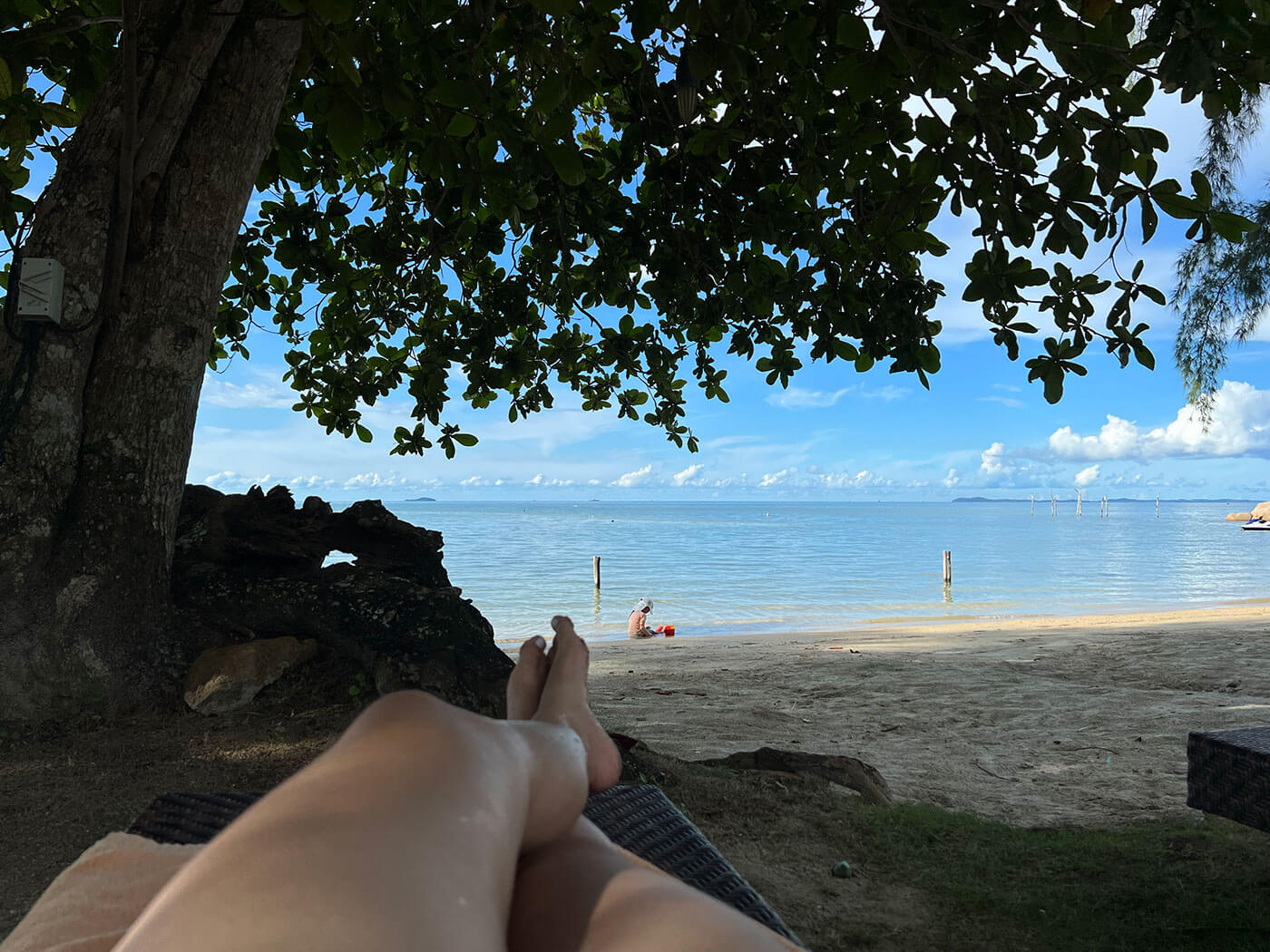 But, we did notice some hiccups in the service. For example – although they deliver drinks to the lounges by the beach, the used cups were not cleared for a while. We even noticed our cups from the afternoon before were still not taken away the next morning.
We did also notice that the service got better on Sunday night when there were fewer guests around. We came back to our room to a turn-down service and some sweets. This was not done on our first night on Saturday night.
Anyway, I chalked it up to things being newly re-opened. It was all a minor inconvenience at best. I can imagine a lot of things need to be straightened out so I was okay with being lenient.
Food options at The Residence Bintan
Due to the secluded location of the resort, you're pretty much dependent on the resort for food. There are three restaurants in the resort, though the Pool Bar and The Dining Room pretty much share the same menu, so there are really only two options in the resort.
Although I found their food to be decent, the quality seems to vary. For example, we ordered pomelo salad on Saturday and Sunday, and we noticed it was a lot tastier on Sunday.
I also found the food price to be… very pricey. The food prices, including the alcohol and beverages prices, are on par with a nice restaurant in Singapore.
Lastly, I really did not appreciate that they charge for water in the restaurants and pool bar Rp 25,000 (SG$ 2.30). They called it "house still water", but I'm pretty sure it's just the same filtered water they offer for free in the rooms. My suggestion would be to bring as many snacks and perhaps bottles of water so that when you're hungry but don't want to spend $15 on a dish, you can have options.
During our stay, we managed to try all three of their restaurants. Here are my reviews for each of them:
Rica Rica
Rica Rica is an Indonesian restaurant serving the usual suspects like beef rendang, satay, oxtail soup, ayam goreng, etc. Currently, they are only open on Saturday and Sunday nights, and reservations are strongly recommended.
We got beef rendang, chicken satay with peanut sauce, and oxtail soup. I loved their chicken satay, which says a lot coming from an Indonesian like myself!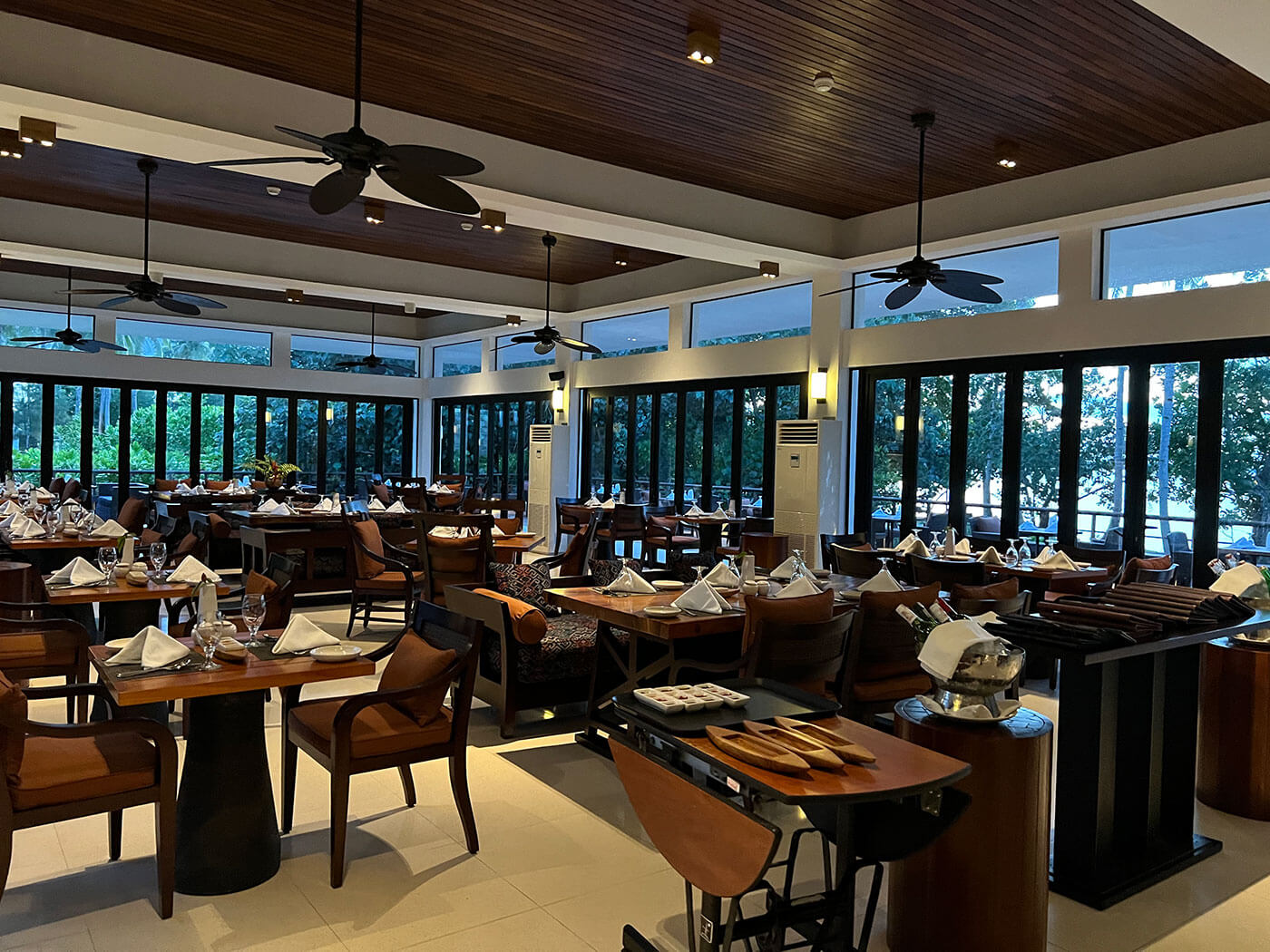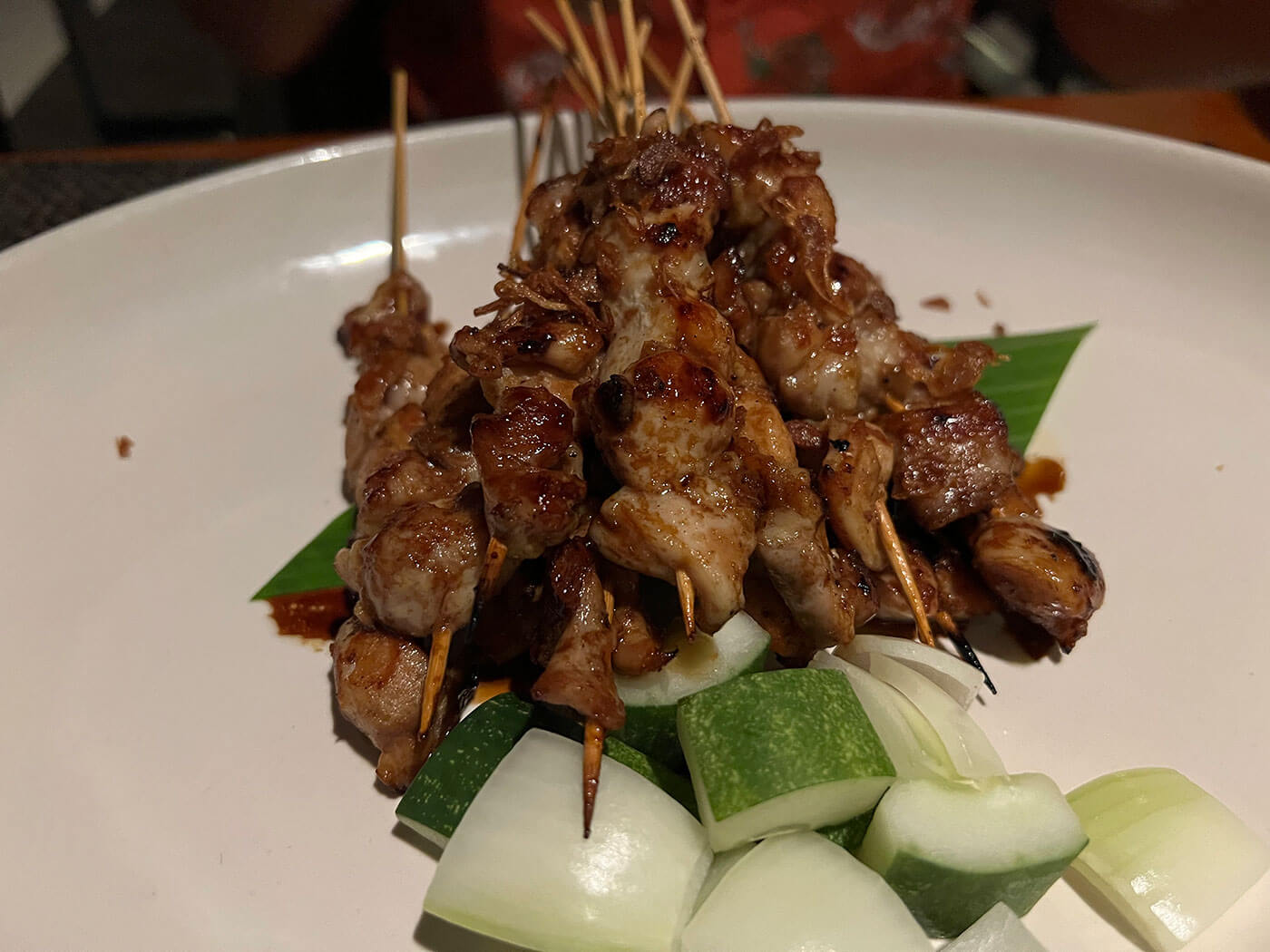 However, I was quite disappointed with my experience in Rica Rica. It was decent food, but the portion was tiny for the price they charged. We also found the restaurant to be understaffed (I had to ask for rice three times), but that's probably because we came on a Saturday night when it was a full house and they have not had enough time to sort out the operational kinks due to COVID.
But the biggest offender of the night was that they managed to undercook the rice! (gasp) White rice is a staple of Indonesian food and very easy to cook, so I'm not sure how they managed to mess that up.
The Dining Room
This is the default restaurant at the resort, and it serves both local and Western food. They also double up as the breakfast buffet place for your complimentary breakfast in the morning. The food here is slightly cheaper than Rica Rica, though it's still a minimum of Rp 165,000 (SG$ 15) for the main dish.
I loved the Pomelo salad (an appetizer), the Ayam Goreng (Indonesian fried chicken), and the club sandwich. The breakfast buffet has the usual stuff like an omelet station, sausage/bacon station, noodle station, fruits, hot food, salad bar, yogurt, and pastries corner.
Pool Bar
The Pool Bar, just like the name implies, is a small restaurant by the pool. It has its own menu which is just a subset of The Dining Room's menu plus some pizza options, but if you're by the pool and you wanted to eat something more substantial, you can request to order from The Dining Room menu!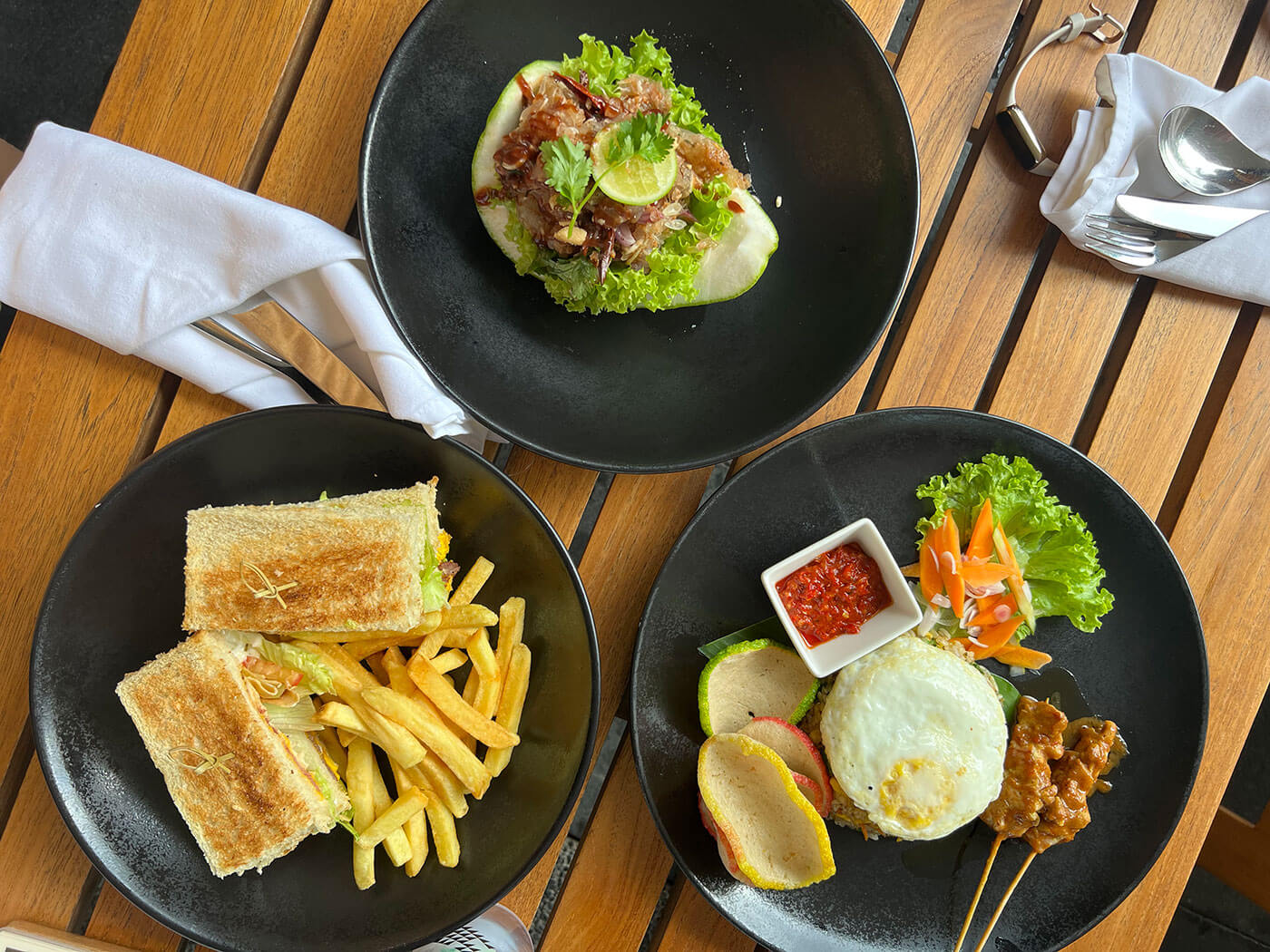 Also, if it starts to pour torrential rain (as it usually do in this part of the world), the restaurant gets slightly flooded so I wouldn't want to stick around here.
Other dining options (requires reservation)
Rimbun – BBQ dinner for Rp 650,000 (SG$60) per person. It's situated outdoors in a shaded area near the beach, with nice lighting and a picnic-style table. I think this could make a great option if you're traveling in a large group!
Private Dining at Romantic Deck – For Rp 3,000,000 (SG$280) per couple, you could have a table set up by the beach, a private chef, and a butler.
Hotpot in your room – You can also reserve a hotpot to be set up in your room! They will provide the gas stove and all the ingredients for a hot pot night.
Floating Breakfast – If you stay in villas with a private pool, you might be interested to know that you could order a floating breakfast for your room. Have you seen this highly photogenic yet highly impractical breakfast? Well, everything is worth trying at least once, or so I tell myself.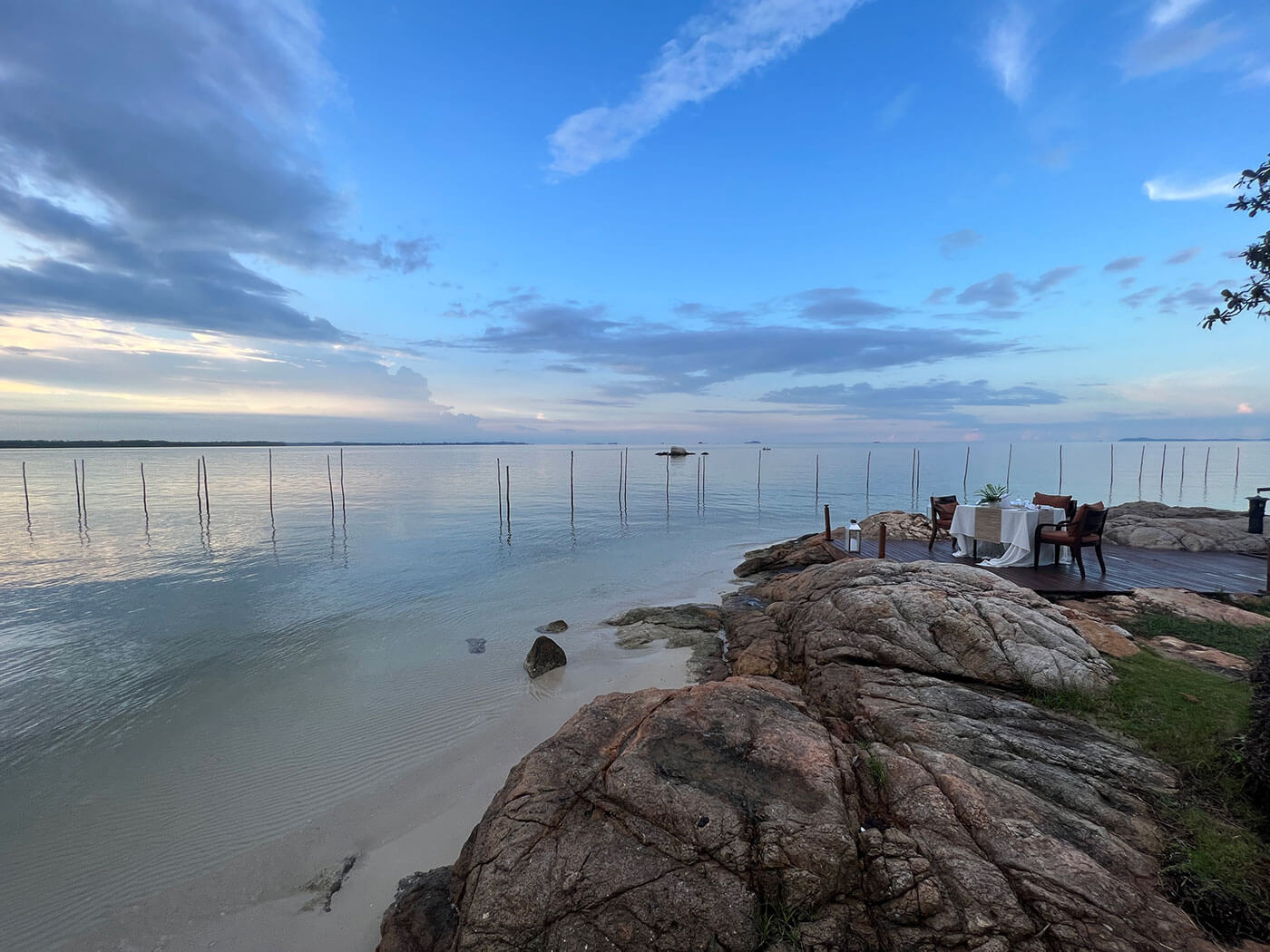 Activities you can do at The Residence Bintan
There are so many things you can do inside the resort itself, it was almost overwhelming! In fact, we did not feel the need to leave the resort during our 3D2N stay – and we didn't. Here is a quick rundown of the activities at The Residence Bintan:
Swimming Pool – If you aren't staying in one of the villas with a private pool, there is a public pool right by the front desk building with plenty of lounge chairs. It overlooks the beachfront, so if you decide to go down to the beach, it's only a minute away.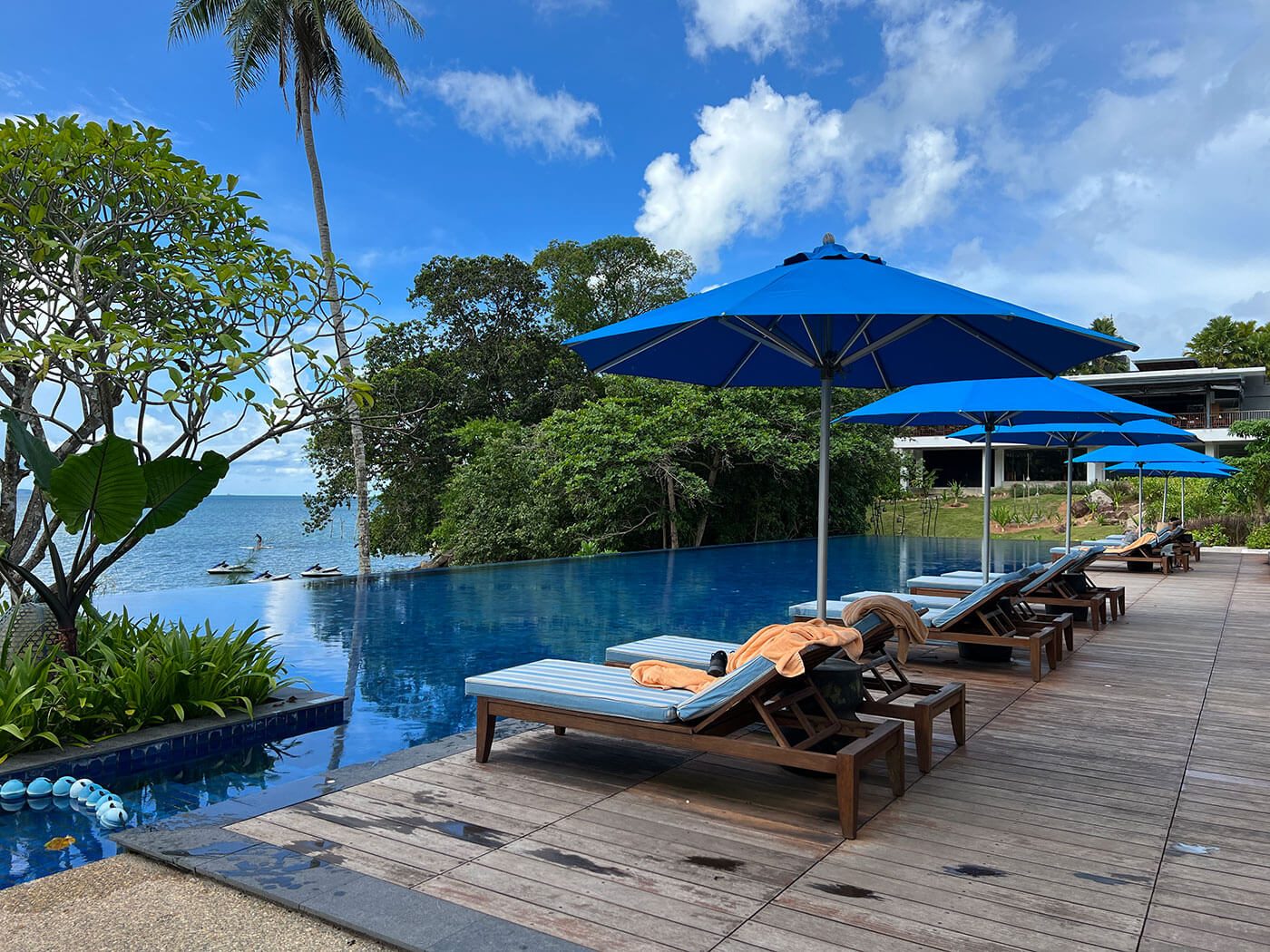 Private Beach – The secluded beach along the resort is very nice! It has clear water and no sharp corals around it. The water is actually very shallow, which we realized the next morning when half of it disappeared.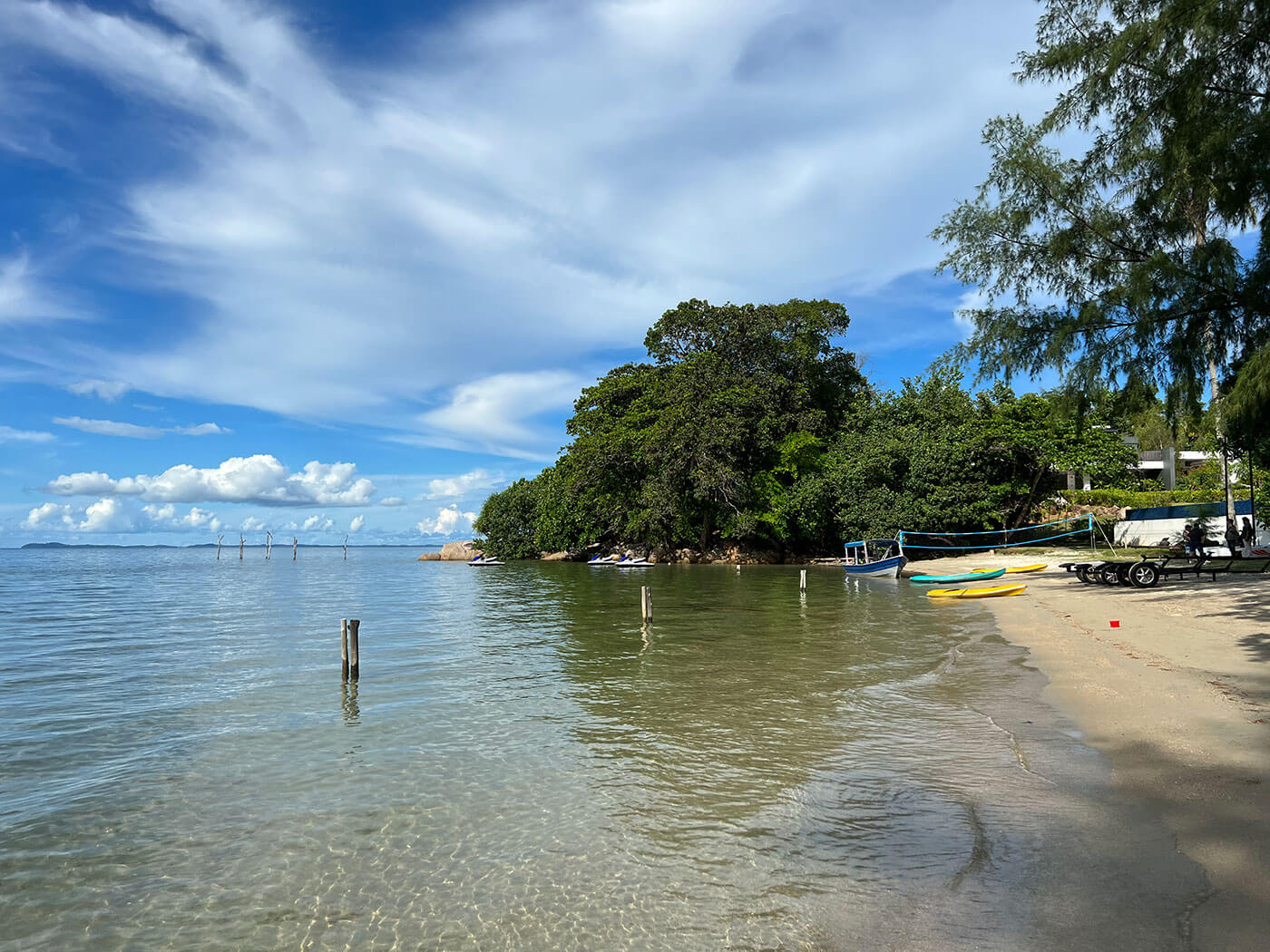 When the tide is low, it reveals a whole new landscape that you can easily explore on foot. You'll see many sea animals around, a variety of crabs, and a few small sea lice that WILL bite you but I didn't find it to be a big issue as it does not leave marks. Just be careful to come back to the shore before the tide gets high again – it happens quite fast.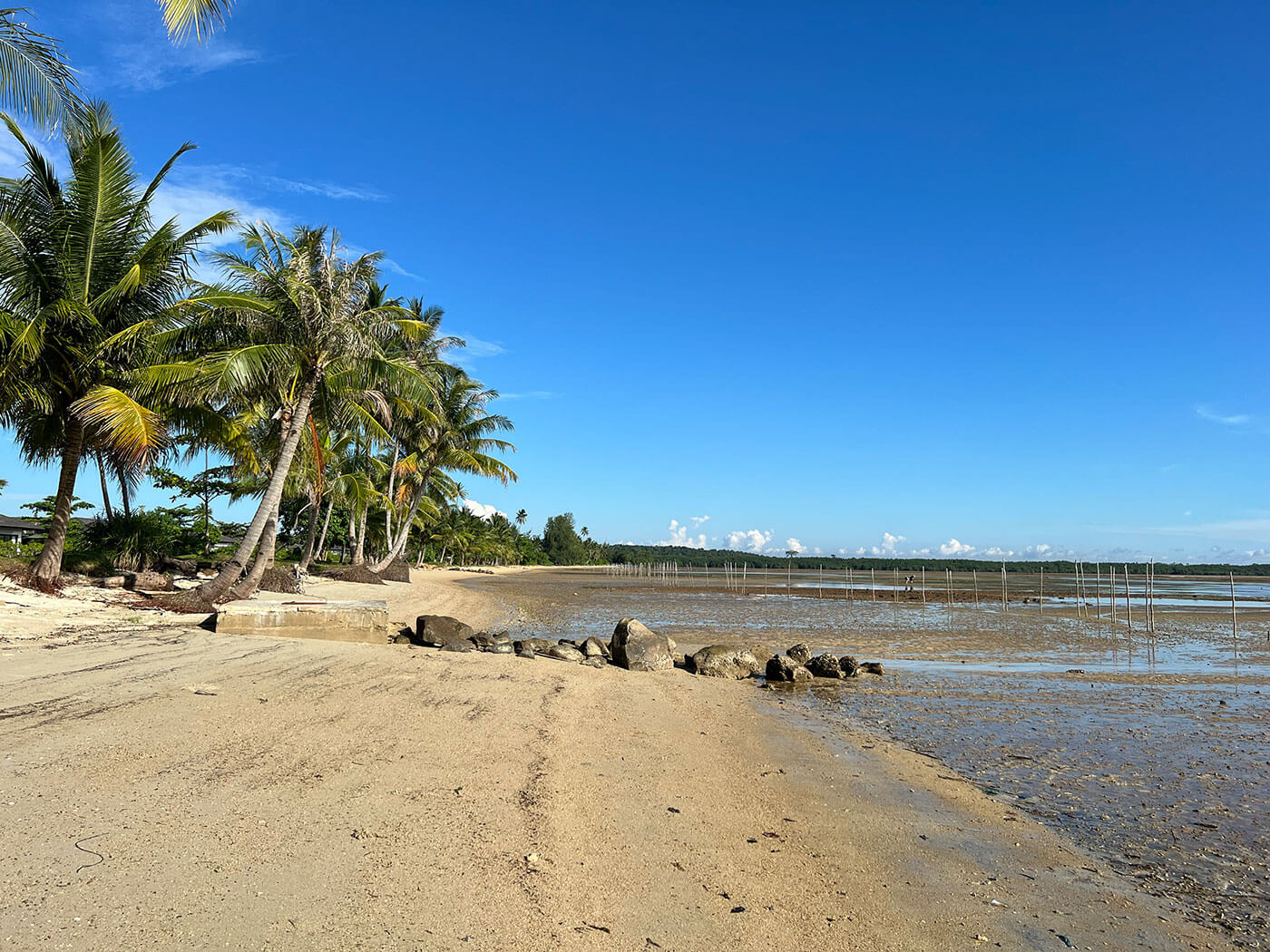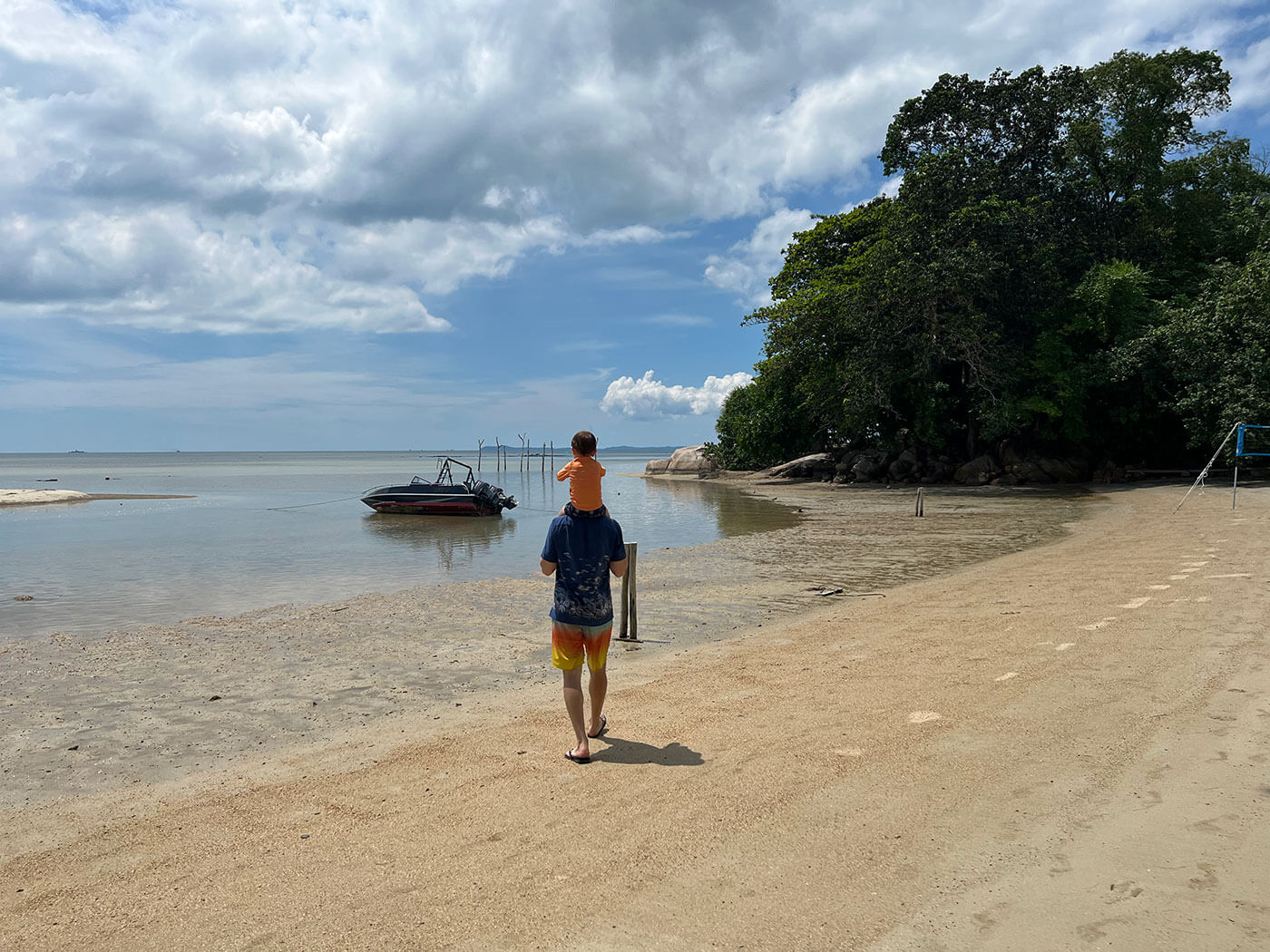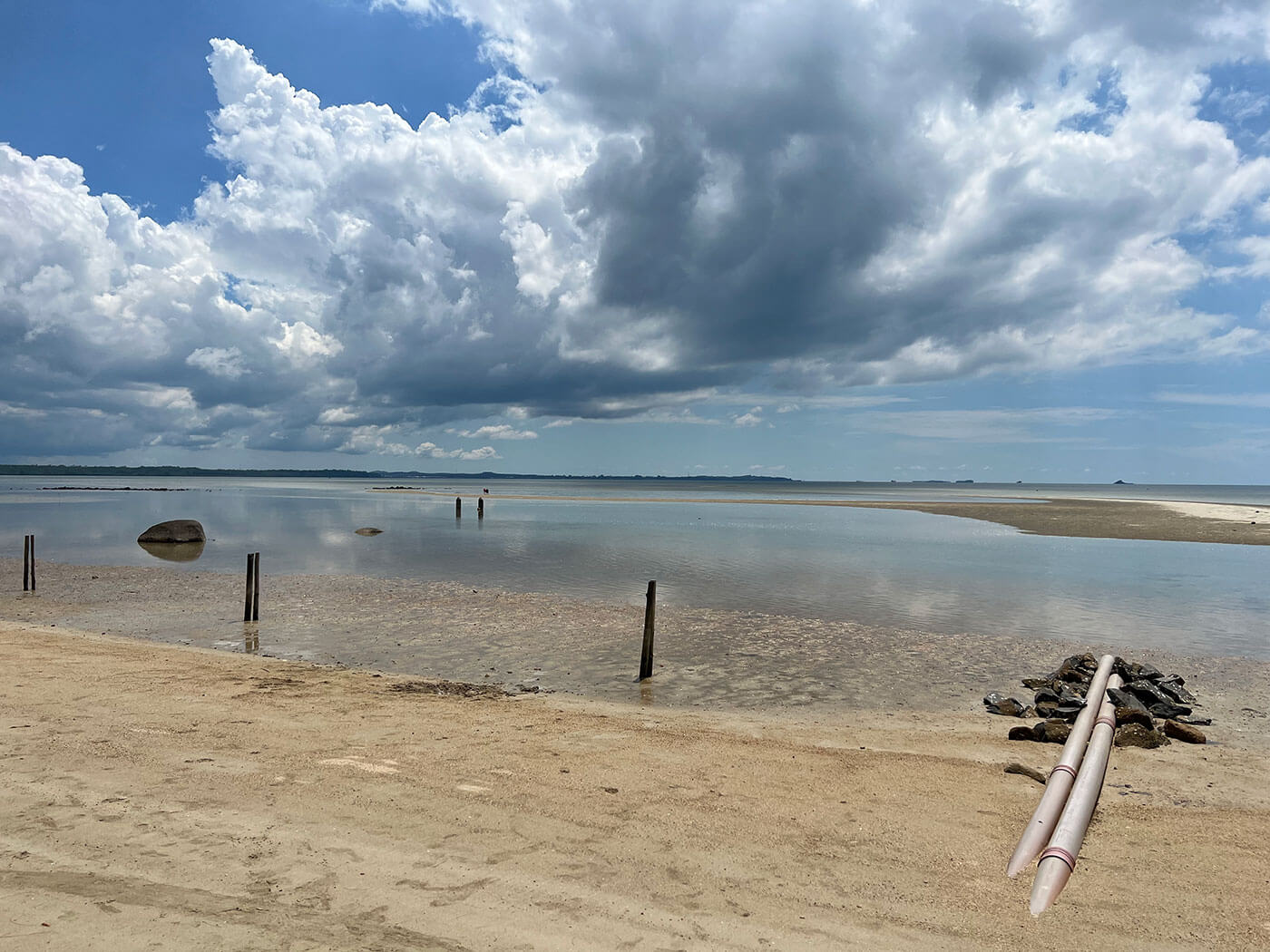 Tip: If you want even more privacy at the already secluded beach, go to the stretch of sand behind Rimbun! Most people don't know this spot and you'd likely be the only ones there.
Kakatu Kids Club – They offer complimentary and paid activities for kids under 12 (drawing, recycling crafts, games, tote bag painting, etc). Kids under 3 must be supervised by parents, but for older kids, you could leave them alone with the club supervisors. There is also a playground outside the kids club.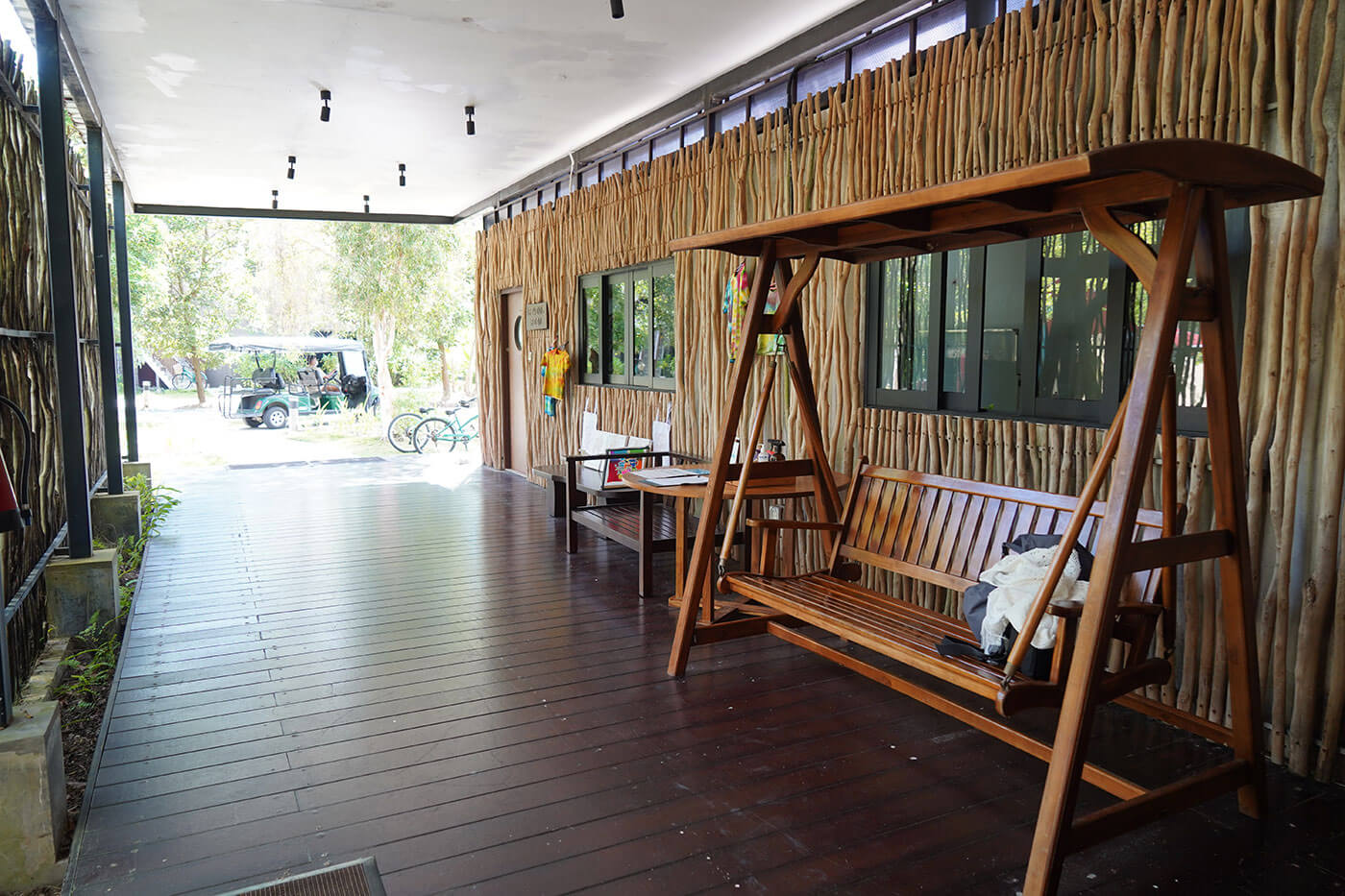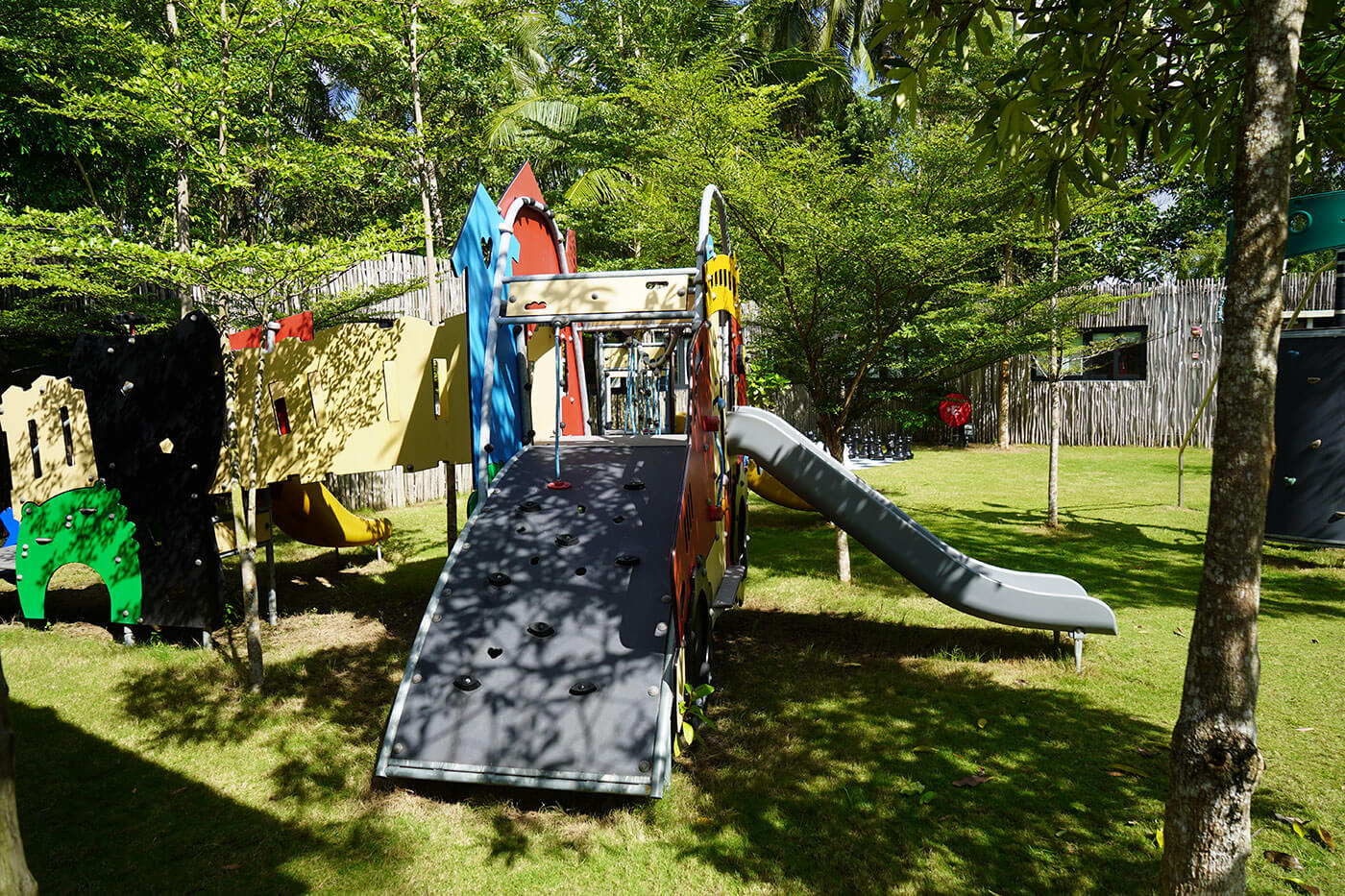 Farm feeding at Earth Basket – Behind Kakatu kids club, the resort keeps a small farm and some animals, which your little ones can feed. They have bunnies, chickens, peacock, and ducks! The good man who was giving us a tour around the farm was super nice to the kids. My toddler LOVED this experience and we all had a really good time here. Bring some mosquito repellent though, because I got eaten up alive at the chicken coop.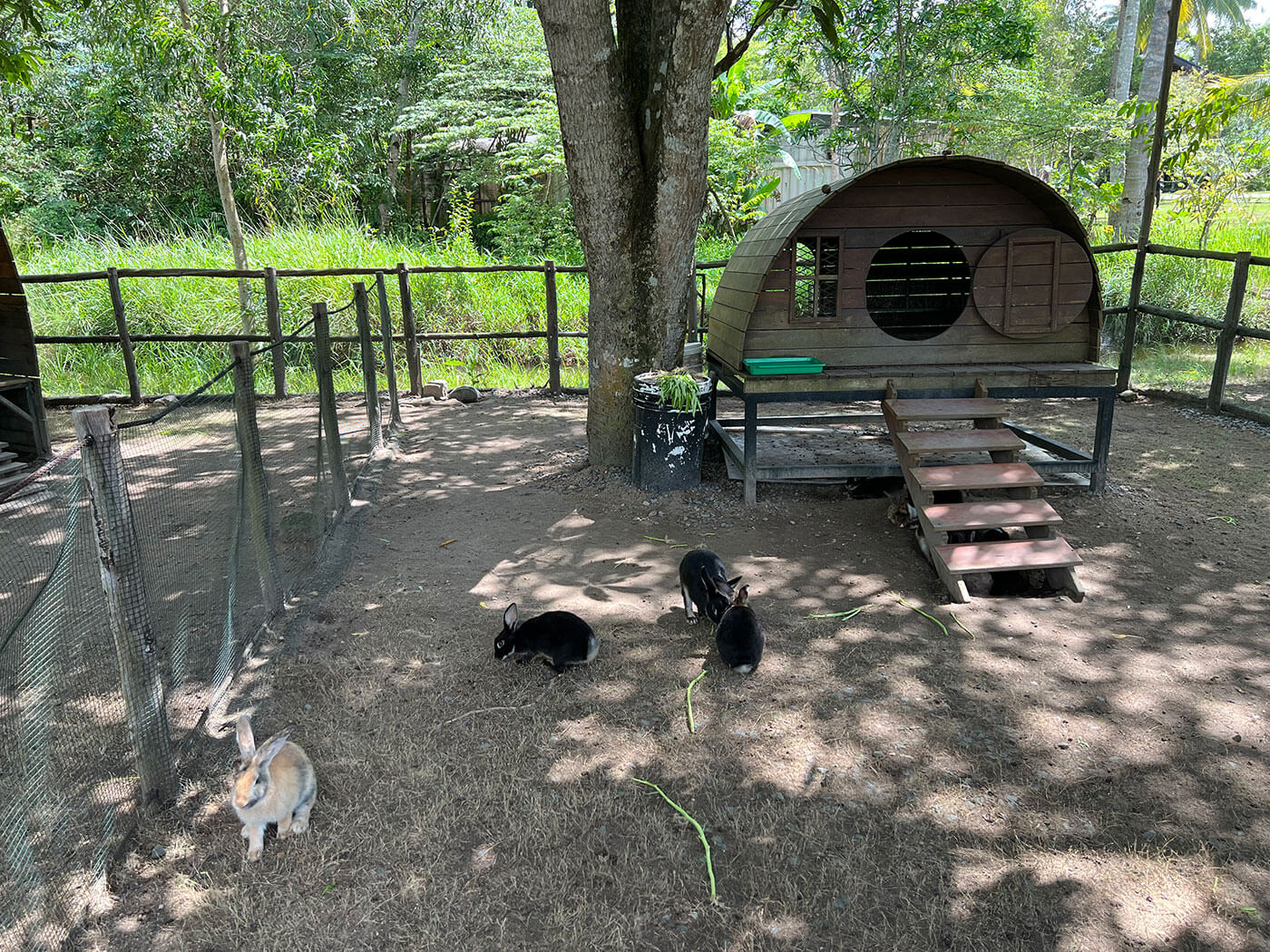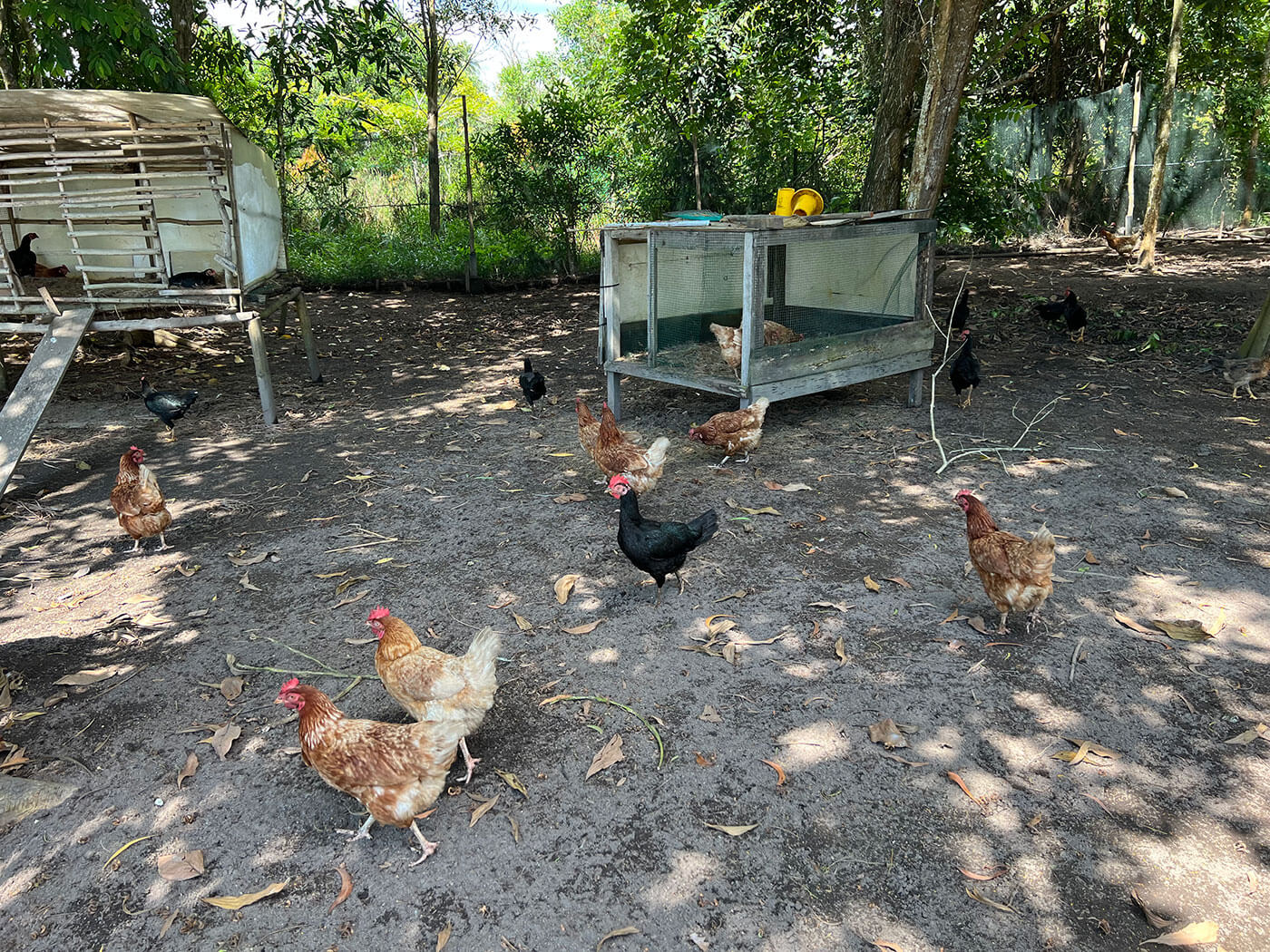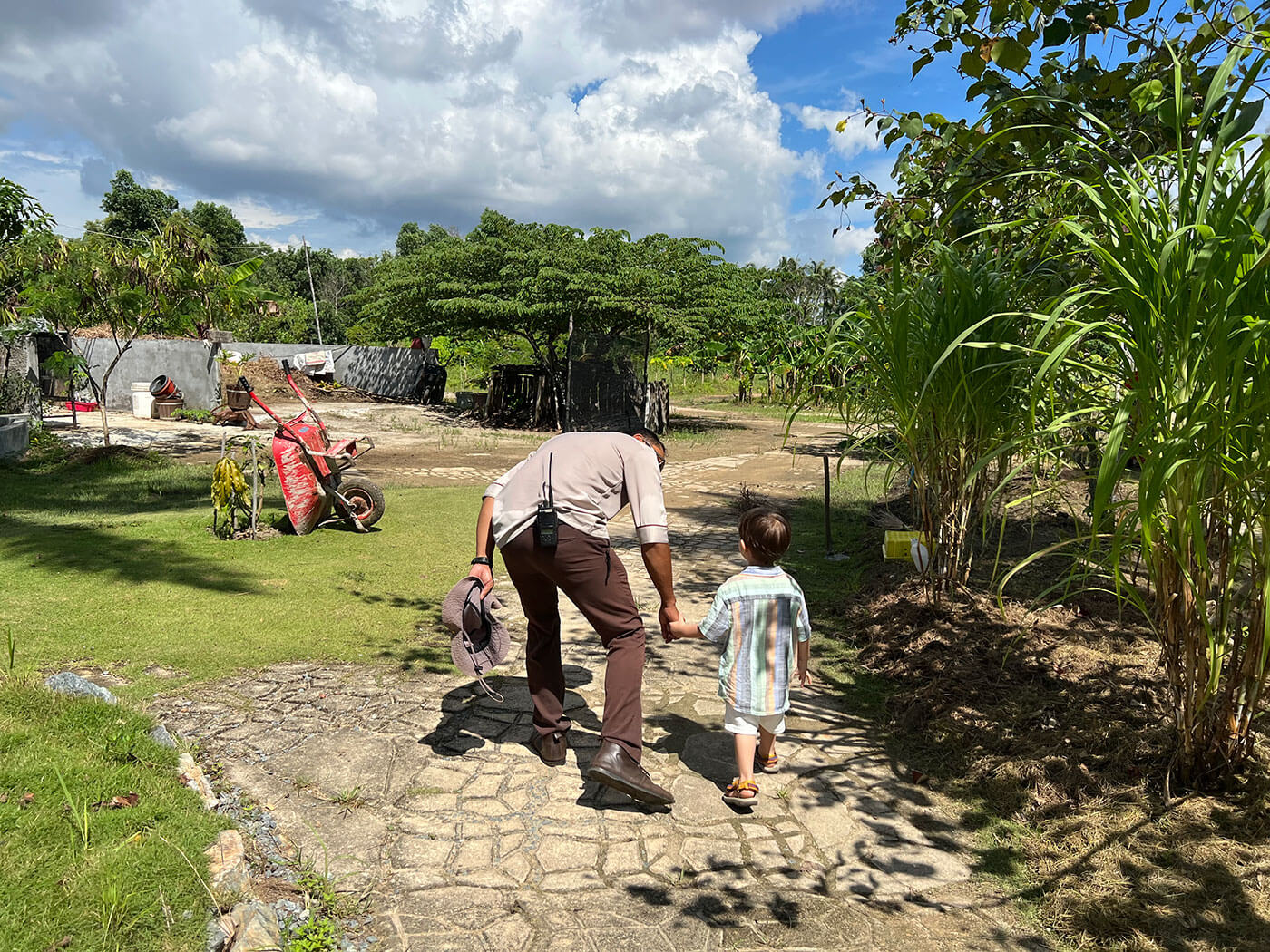 Water sports – The resort offers some Kayaks and Stand up paddles available from the main beach below the Pool bar. You wouldn't be able to do this during low tide, so you need to wait until the tide comes back.
And other activities! The resort also has a range of complimentary and paid activities such as a massage and spa, game room, yoga session, jetski, wake boarding, ATV riding, cooking class, and tours around Bintan. You'll get a brochure sent via WhatsApp / email with prices when you first check in.
Checking out of The Residence Bintan
Upon checking in, we were asked when our return ferry will be, but we were not told what time we need to be at the lobby. We asked the front desk the night before our check out and were told to be there by 10:30 am for our 12:30 pm ferry.
However, on the day of our checkout, it was raining all morning and it happened to be a heavy downpour just as we were ready to leave. It took some time for the buggy to pick us up and we missed the bus by a few minutes as it was actually supposed to leave by 10 am. The kind staff quickly checked us out – which involved settling the food bills we had racked up over the past 3 days.
Once that's done, the staff arranged a private car to take us to the port. And it was a super nice car too, with seats that fully recline and curtains on the window! We left about 15 minutes after the bus but ended up getting to BBT port before the bus and had ample time to check in for our ferry.
The ferry experience, however, was another story – it was quite chaotic, which you can read about in my Bintan travel guide.
Cost Breakdown of a 3D2N at The Residence Bintan
To give you an example of how much you might spend for a weekend at The Residence Bintan, here is a cost breakdown of our trip as 2 adults with 1 toddler. In total, we spent a little above SG $1,100.
Ferry Ticket
(Round Trip per person)
SG$ 56 per adult (12 and above)
SG$ 44 per child (0-12 years old)
SG$ 47 per person
(Based on the current rate of Rp 500,000)
SG$ 39 per person
($15 for going to Bintan and $24 for going back to Singapore, per person)
Visa on Arrival
SG$ 47 per person
(Based on the current rate for Rp 500,000)
Accommodation
SG$ 466 for 3D2N
Food and Beverage
SG$ 280 for 3D2N
(For 2 adults and 1 toddler)
Total cost for the weekend
SG $1,100
In conclusion: My verdict on The Residence Bintan
If you ask me whether I would come back to The Residence Bintan… the answer is yes!
Food-related complaints aside, I truly did enjoy my stay at The Residence Bintan very much. The beach was nice and private, the food was good even if they are expensive, the staff are marvelous, the room was very nice and clean, and my toddler really enjoyed his time at the farm feeding. We have so many good memories from this trip even though we were only there for one full day (the other two days were half days due to travel).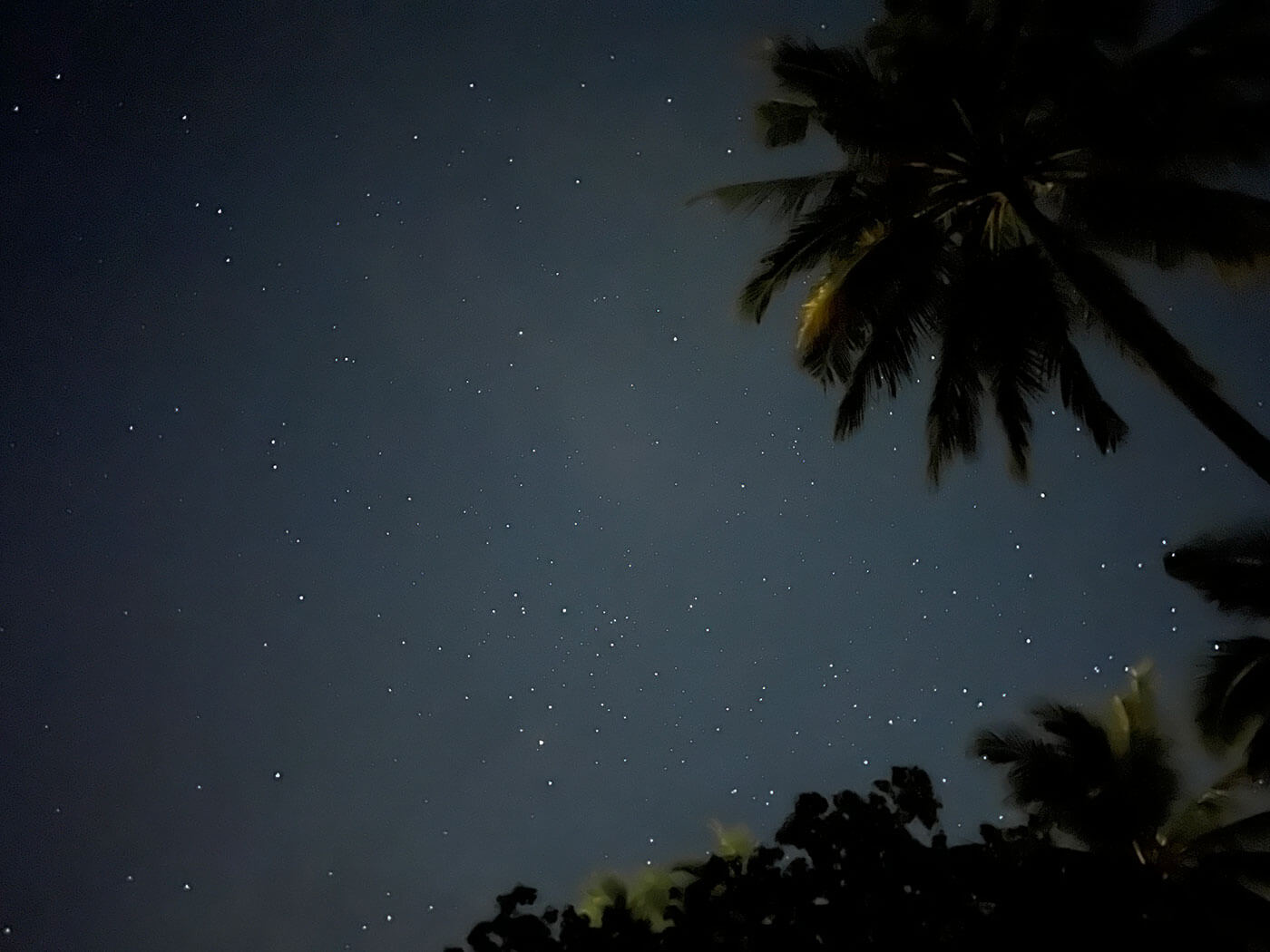 I would come back, perhaps with more company… maybe with my family or a few friends, and maybe a year from now when the operations kinks have hopefully been ironed out. It would be nice to get one of the beachfront villas or the 2-bedroom ones!
Okay, that's all for now folks. I hope you find my review useful. And as usual, if there are any questions at all feel free to comment below.
See you next time! 👋🏻
Note: I paid for my own stay at The Residence Bintan. As always, all thoughts and opinions are honest and remain my own.