Singapore is a very kid-friendly city. It's safe, it's clean and there are so many activities you can do with your little one here as tourists. And a lot of these activities are available free of charge for toddlers (under 3-4 years old)!
I've lived in Singapore for over a decade, both as a single person and as a parent. So I'd like to think I know a few things about Singapore and I'm sharing all my knowledge about exploring this country with kids in tow in this post!
How to get around Singapore with kids
First things first: the logistics. There are three ways you can get around in Singapore:
1. Taking a taxi in Singapore with kids (no car seats required)
In Singapore, anyone below the height of 1.35m is required by law to be secured with appropriate restraint, booster seat, or adjustable seatbelt. You could be fined up to $1,000 and/or jailed for up to three months if you were found to be violating this law. Except, when you're taking an official taxi, and if the person is riding in the rear seats of the car.
There are a few operators in Singapore, but the most common one is Comfort Del Gro (the yellow or blue cabs) and Transcab (the red and white cab).
Taking a taxi in Singapore is relatively cheap compared to other countries. If you're traveling as a family unit, it might actually make more sense to take a taxi rather than public transport.
How to Book a Taxi in Singapore
Taxi can be easily booked via the official Comfort Del Gro app by selecting "taxi only". You could also book from ride-share apps like Grab or Gojek by selecting the "taxi only" option.
2. Booking ride-share cars in Singapore with kids (with and without car seats)
If for some reason you don't want to take a taxi, you could still book a car via a ride-sharing app from Grab or Gojek app. With this option, you're required to bring your own car seat, because ride-share cars are considered private cars. If you do that, then you can take any Grab car.
However, there have been some anecdotal experiences from the mom chat groups that I'm part of, where people were refused by ride-sharing drivers when they found out a small child is going to be riding the car, even when they brought their own car seat. If this happened though, you can always report the trip to Grab and they will refund you.
Personally, I have been lucky that this had never happened to me. Every driver I've booked has been extremely nice and accommodating, especially so when they find out I am traveling with the little one.
If you don't have your own car seat with you, then you must book the family option which comes with a car seat for children. Only Grab has this option, called GrabFamily, and it tends to be more expensive than the regular fare.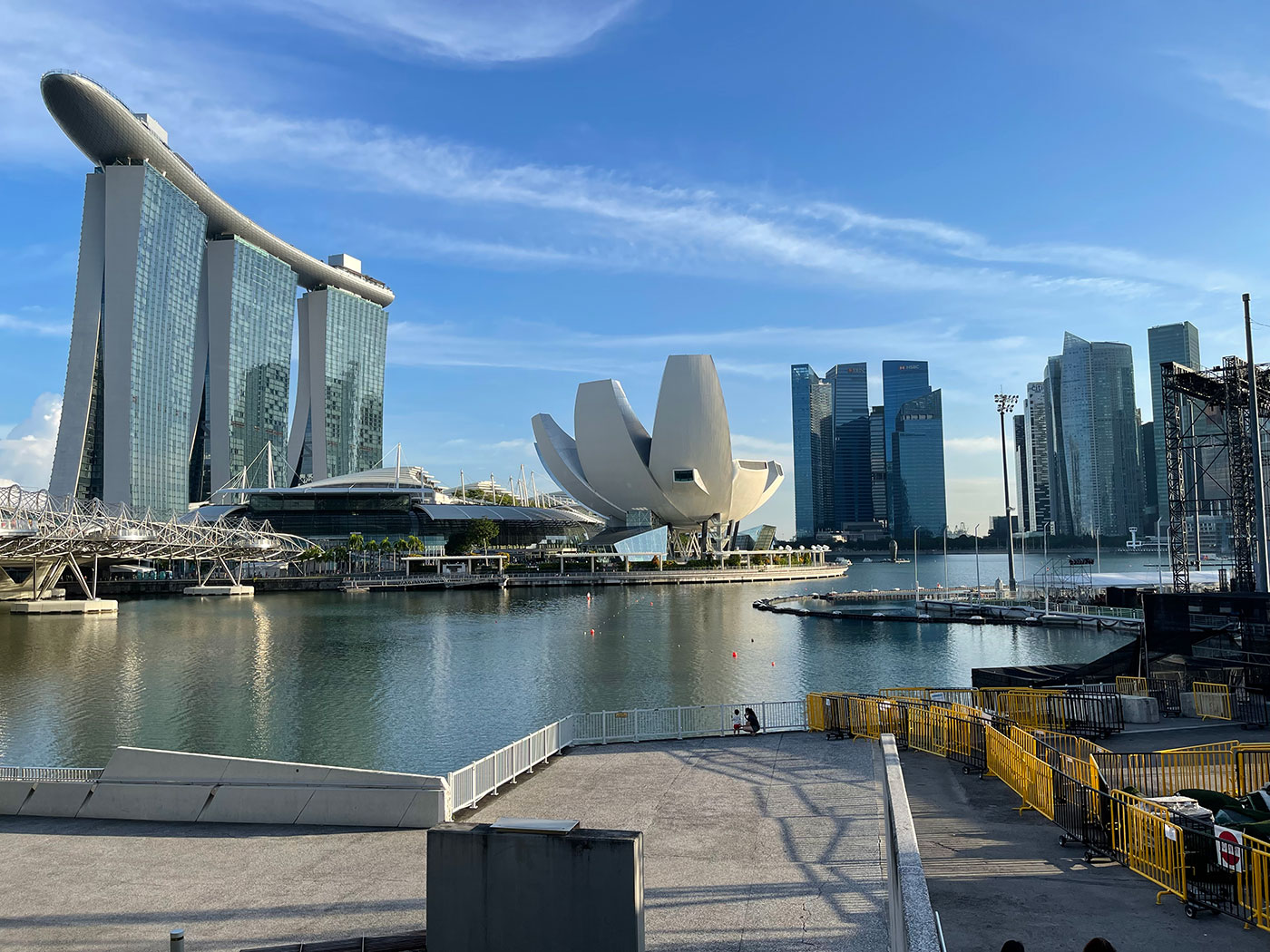 3. Taking Singapore public transport with kids
Singapore's public transport is honestly the best in the world – clean, efficient, and very affordable. What's even better is that children below 7 years old can enjoy FREE travel when accompanied by a fare-paying adult. This applies to both the bus and the train (known as MRT here).
If your child is over 90cm in height, they will need to get a child concession card that they can tap at the MRT gate / to board the bus, which you can apply for at the TransitLink Ticket office by showing their passport.
However, if your child is young enough, you could just carry them through the MRT gantry (or put them in the stroller and push them through together with you). From my personal experience, I've found that even though my toddler is over 90cm in height, no one has ever asked us to show the child concession card. For older kids, it might be a good idea to get the concession card so they can go in and out of public transport independently by tapping the card themselves.
If you are taking a stroller inside a bus, make sure to lock your stroller into the stroller restraint system. This is so that in case there is an accident with the bus where the driver is forced to brake hard, the stroller will not topple over. This is rare but it has happened! You can find the stroller restraint system in the middle of the bus, right across from the back door of the bus.
Weather in Singapore
Singapore, as you might know, is located just one degree north of the equator. That means it's very hot and humid here all year long. Expect a temperature of 28-34C during the day with a humidity level of 80-90%. With kids, you can't take the chance of dehydration or heat stroke. Consider having the following with you:
Sunscreen / hats / other sun covering – The UV index gets really high here, so you'll want to make sure to protect everyone from getting sunburnt.
Airy clothes – Again, it's really hot and humid here so you'll want to wear light and thin clothing. Think cotton t-shirt with shorts and sandals. If you don't have a suitable outfit, I recommend dropping by a Uniqlo in Singapore to check out their Airism line, with specializes in clothing for hot and humid climates like that in Singapore.
An umbrella – just a small foldable one will do. It rains a lot in Singapore, and you can still use an umbrella as extra sun cover even if it doesn't rain.
A bottle of water – you know what to do when you're sweating a lot in hot weather… you hydrate a lot, so bring a reusable water bottle! There are lots of water fountains in Singapore for you to refill your bottle. And, Singapore tap water is safe to consume.
Mini electric fan – when it's breezy in Singapore, the heat is actually bearable. But when there is no breeze, that's when it gets really difficult and uncomfortable. Bring one of these for yourself and the kids. In fact, in Singapore it is not uncommon to see kids in strollers with electric fans attached to them.
Taking the stroller vs baby wearing in Singapore
If you're traveling with an infant or small child, you might be wondering if it's more convenient to take the stroller or to baby wear. I personally prefer to take the stroller. It's sometimes way too hot to be baby-wearing in Singapore.
Nothing beats the convenience of baby-wearing, but I find taking the stroller in Singapore is not too big of a deal. The newer MRT stations (those along the blue or yellow or brown line) would have plenty of elevator access and room to push your stroller. The bus might get crowded, but there is still a dedicated area where you can stow away your stroller.
The downside of taking a stroller is some of the streets in Singapore, especially in conserved areas with shophouses (Chinatown, Little India, etc), are not really stroller-friendly. But there are usually still ways to get around that.
On the other hand, while convenient, baby-wearing may not be the most comfortable way of transporting your child around because it's really hot. That said, baby-wearing is still very popular in Singapore, so it's very much doable. It's just a matter of personal preference and what you plan to be doing that day. If you do plan to baby wear, I recommend getting baby-wearing gear that is suited for the tropical climate. Carriers like mesh Ergobaby mesh, Tula mesh, Chimparoo Trek Air, Baby k-tan breeze, or Konny baby might be better for this climate.
Where to stay in Singapore with kids
1. Shangri-la Orchard
I've stayed at Shangri-la Orchard for a staycation before (read my review here). I picked this hotel because I had heard countless great reviews from my friends, gushing about how family-friendly they are, and how it's the perfect hotel to bring kids to… and they were right! It's also perfect for visitors as it is located in the middle of the city, near Orchard Rd and Orchard MRT.
💡 Tip: You can read my full review on my stay at Shangri-la Orchard here, or click here to book Shangri-la Orchard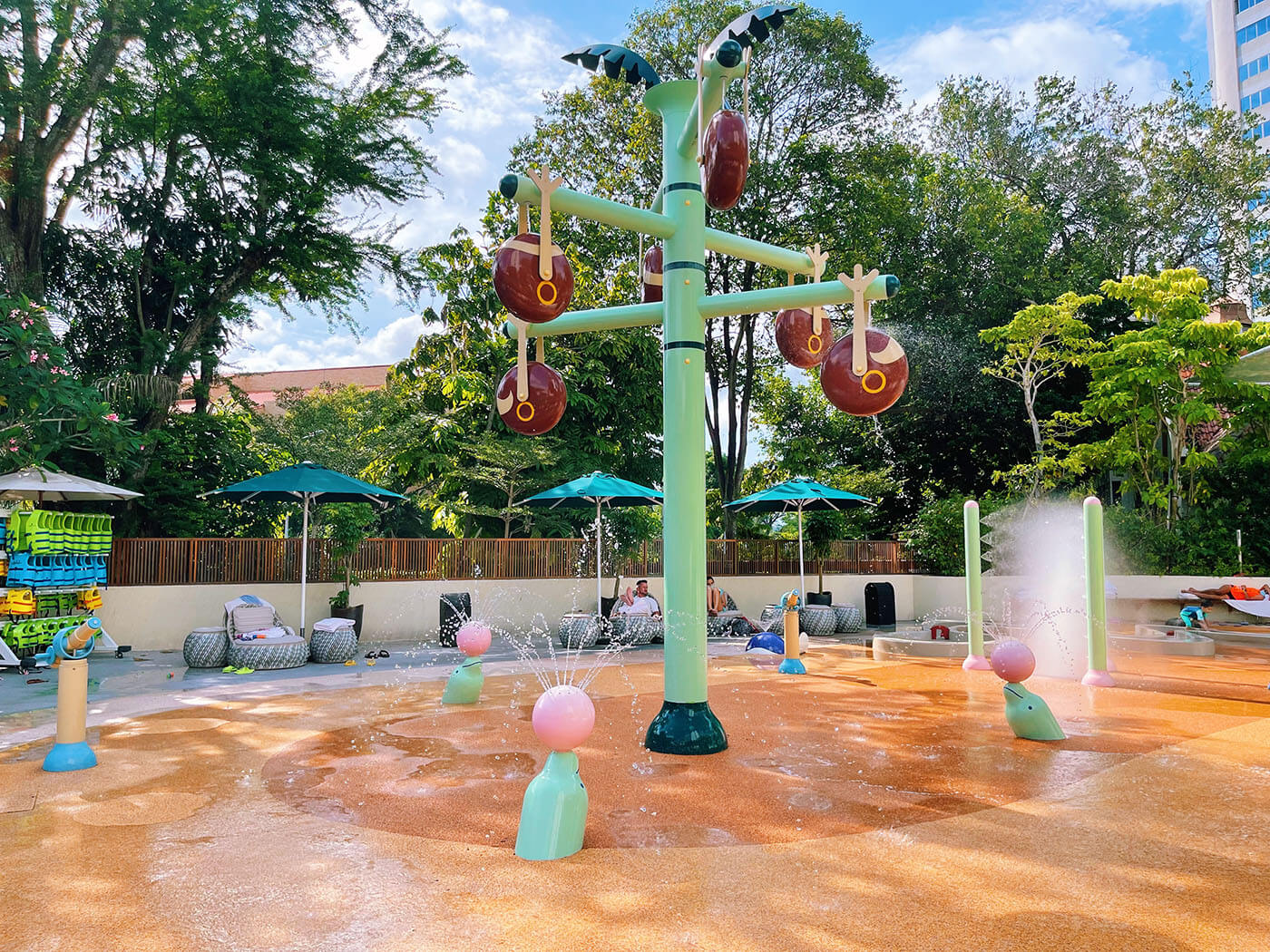 2. Shangri-la Rasa Sentosa
Another good option is the Shangri-la at Sentosa, which I have not stayed at but have heard from friends to be a very family-friendly hotel. It has great amenities for kids: a children's pool, an indoor playground, a large water play area, and private access to the beach.
The only thing to note is the location of this hotel. It IS located on Sentosa island, which has a lot of activities for kids, but it's away from the actual city itself and while shuttles exist on Sentosa, it's not as good as it is on the main island. You might end up having to book a taxi whenever you want to get out of the island.
Book Shangri-la Rasa Sentosa here
What to do with Kids in Singapore: Fun Activities Ideas!
Like I said before, there are so many activities you can do with your little one in Singapore, and a lot of them are actually available free of charge. Can I just say, we have some of the best free playgrounds in the world! I'll indicate those activities that are free of charge with a "(Free)" tag on the title.
Even for paid attractions, almost all of them are free of charge for children under 3 years old, and most provide a discounted ticket for children under 13 years old.
With each paid attraction, I've linked where you can buy the tickets from Klook, which tends to be cheaper than buying on the spot.
PS: Klook is the leading travel and experiences booking website in Asia. And yes, they are legit! I always book my activities through them. See my review of Klook here.
Without further ado, here are some activities you can consider taking your toddler and children to while in Singapore:
1. Gardens by The Bay
Gardens by The Bay is a nature park near downtown Singapore. Built with families in mind, there is plenty to do in this area with your little one. Here are some recommendations:
Cloud Forest and Flower Dome
Floral Fantasy
Children's Garden (Free)
Marina Barrage (Free)
1. Cloud Forest and Flower Dome
Cloud Forest and Flower Dome are great attractions for both adults and children. The reason why I'm grouping them together is that they are located right across from each other, and often visited together. They are both enclosed, air-conditioned gardens – a welcome respite in a country as hot as Singapore – that provide space kids can safely run around in.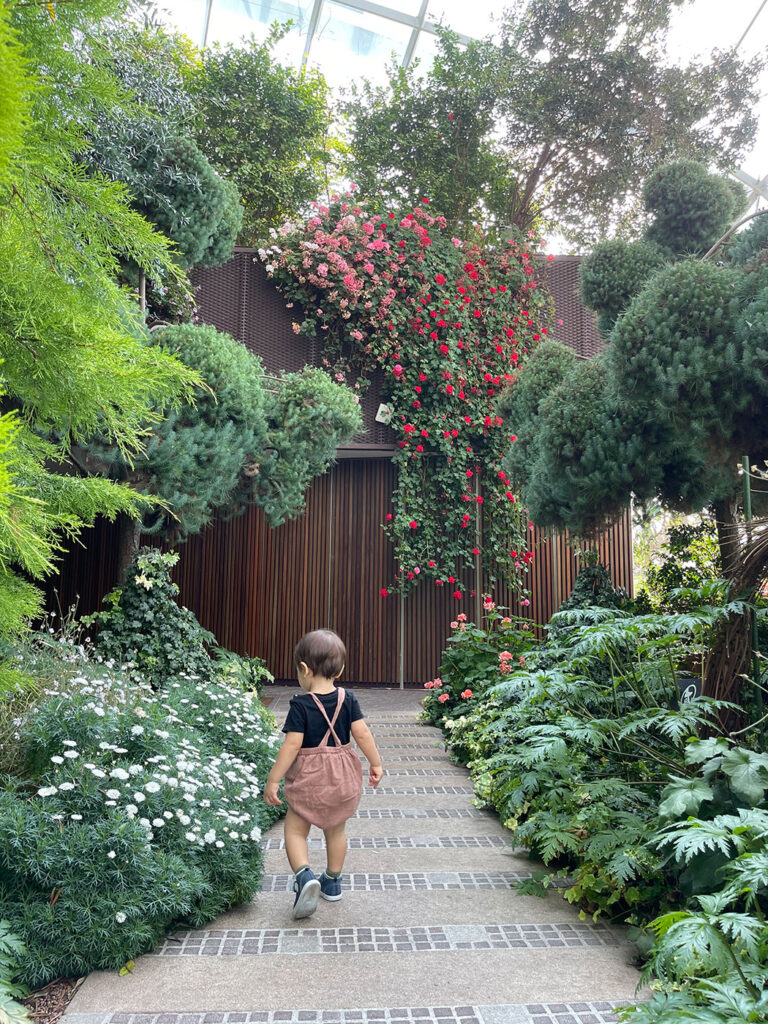 Meanwhile, adults and older kids can spend their time learning about the amazing flora and fauna from all over the world. I've taken my toddler to both places multiple times when I just need some time to relax.
➡️ Book tickets to Cloud Forest and Flower Dome here (be sure to select Standard ticket if you're not an SG resident)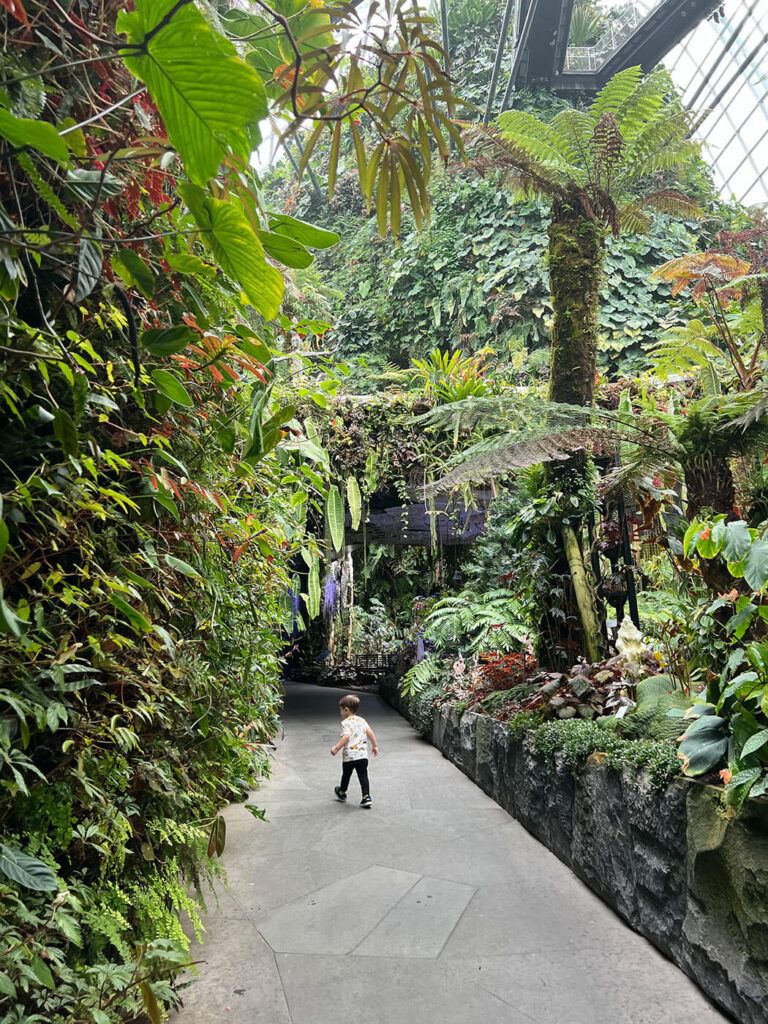 2. Floral Fantasy
Floral Fantasy is one of the newest attractions in Gardens by the bay. Unlike Flower Dome which focuses on live flowers, Floral Fantasy features creative flower arrangements. If you love flowers, you definitely have to check this one out! Just like Cloud Forest and Flower Dome, this place is also enclosed and air-conditioned. Perfect to take kids out!
➡️ Book tickets to Floral Fantasy here (be sure to select Standard ticket if you're not an SG resident)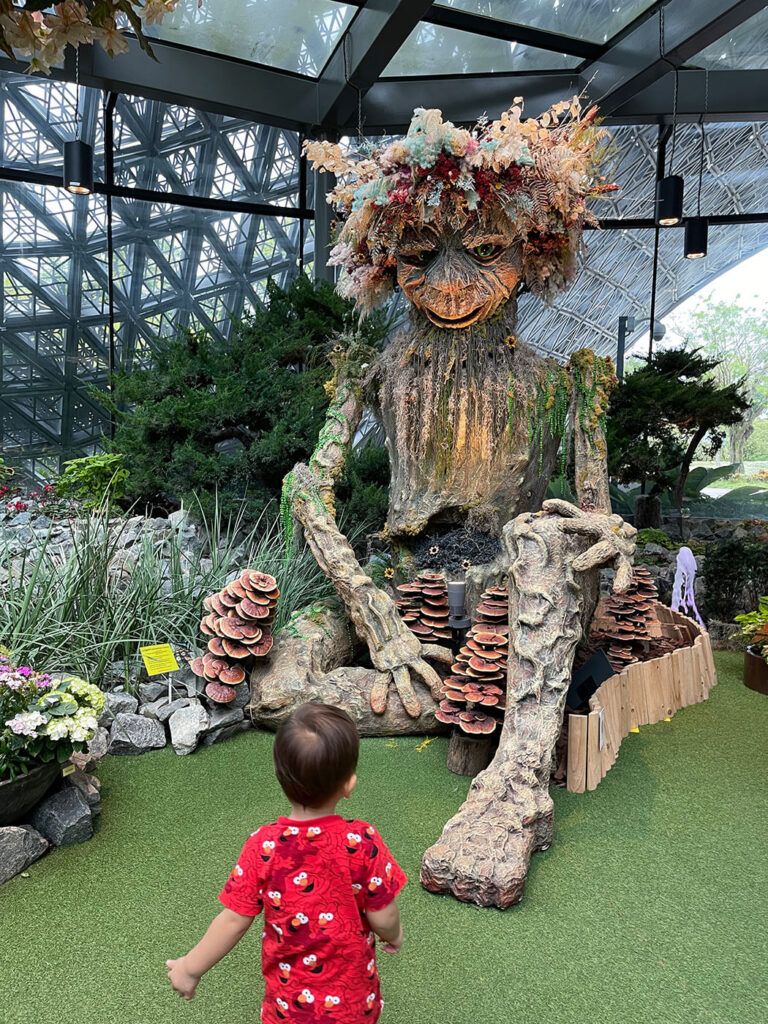 3. Children's Garden (Free)
Nearby the Cloud Forest and Flower Dome area (about 5-minute walk south), there is a huge outdoor play area called Children's Garden, which features water fountains and a playground. This might be of interest to you and your child if the weather is hot and it is not raining. There is a changing room and a toilet inside the premise. Just bring swimsuits, towels and a change of clothes for everyone! The best part is, it's completely FREE. Yep – no tickets are required.
💡 Tip: Children's Garden is closed on Monday, Tuesday, and Wednesday and open Thursday to Sunday (9.00 am – 7.00 pm). The last Admission is at 6 pm.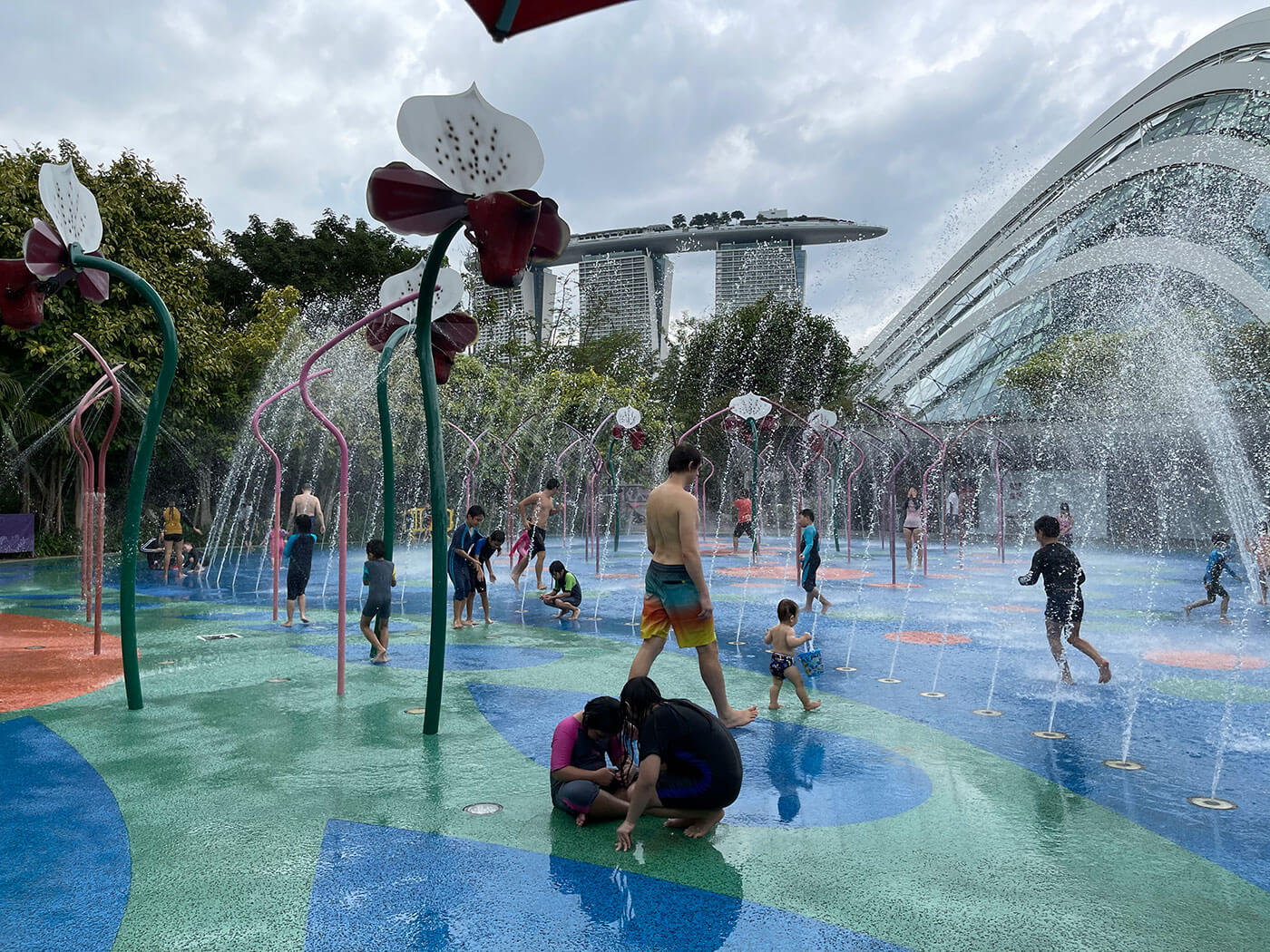 2. Marina Barrage (Free)
Marina Barrage is located very close to Gardens by the Bay. You could actually walk here from Gardens by the Bay! Otherwise, if you want to head straight to Marina Barrage by public transport, you can take the Thomson East Coast MRT Line (Brown line) to Gardens by the Bay station and take Exit 1.
Here is what you can do at Marina Barrage:
Marina Barrage Water Playground
Sustainable Singapore Gallery
Green Roof
Right off Exit 1, you can find Marina Barrage Water Playground which is another water play area provided for free by the PUB (Public Utilities Board), Singapore's national water agency. If you are taking a taxi, it's closer to have them drop you off at Satay by the bay, then the playground is just a short walk little to the right of it.
To adults, this water playground might seem a little less exciting than the Children's Garden, but my toddler loved it just the same – he did not want to leave! The downside is there is no changing area here, but there is a toilet at the PUB building nearby.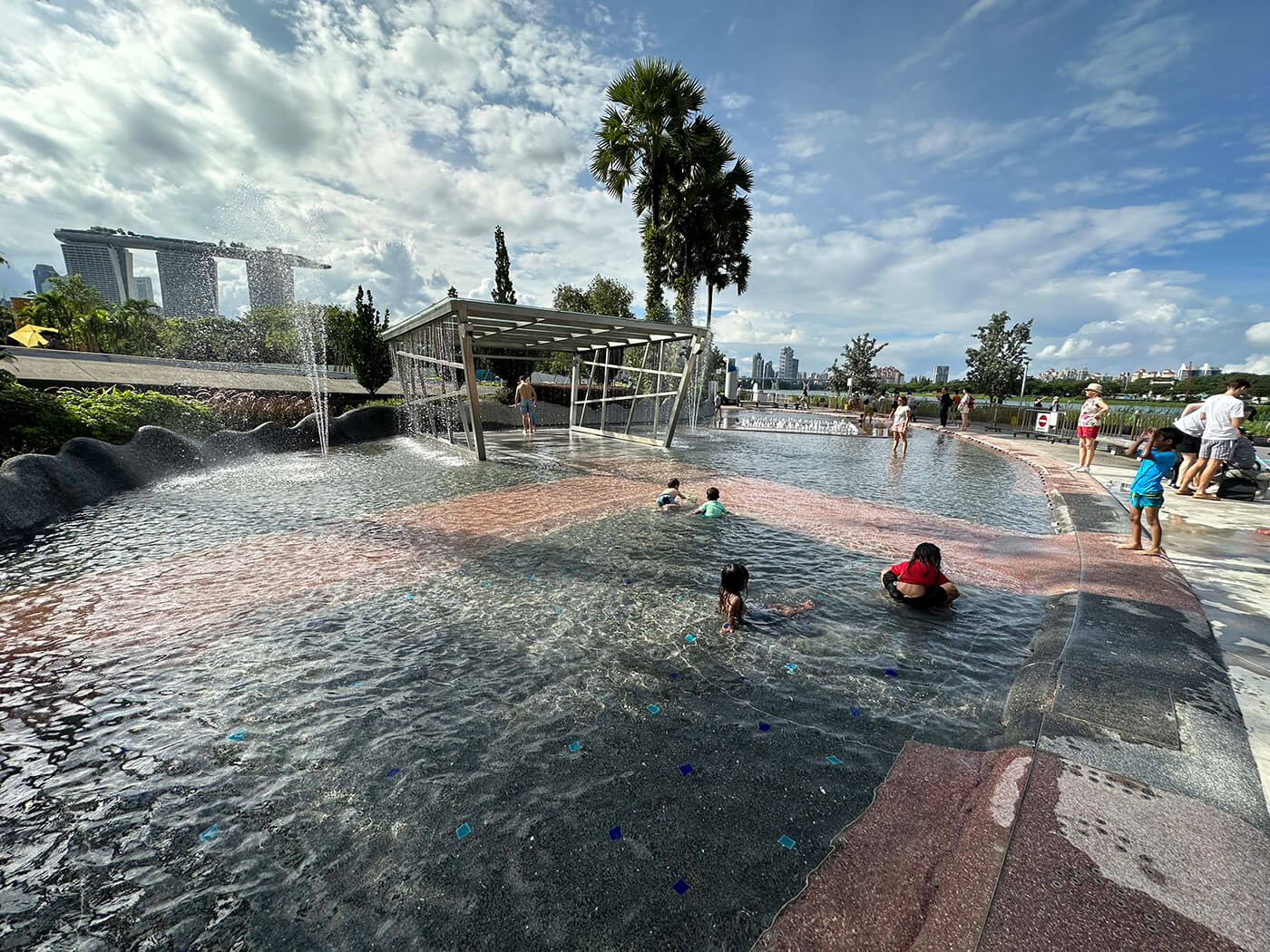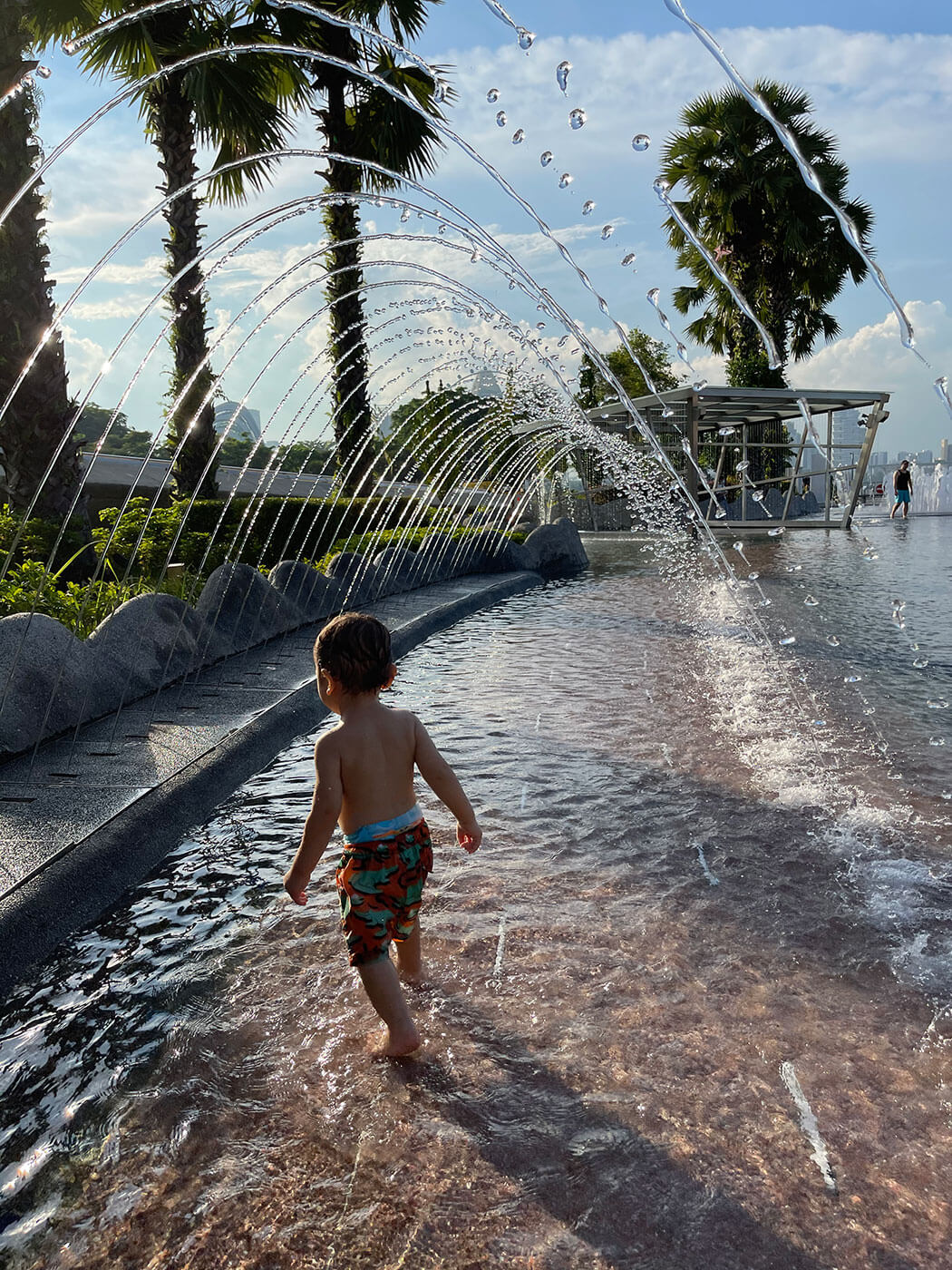 Also inside the PUB building, you can check out Sustainable Singapore Gallery to see the challenges and efforts Singapore is taken up to ensure the city remains clean, green, and liveable for its citizens.
At Marina Barrage, you can also go up the spiral walkway to the Green Roof, which is a large grassy field area that gives you an amazing view of the city. I recommend going here around sunset when the sun isn't as strong anymore. You'll see families and friends having picnics and people flying all sorts of kites.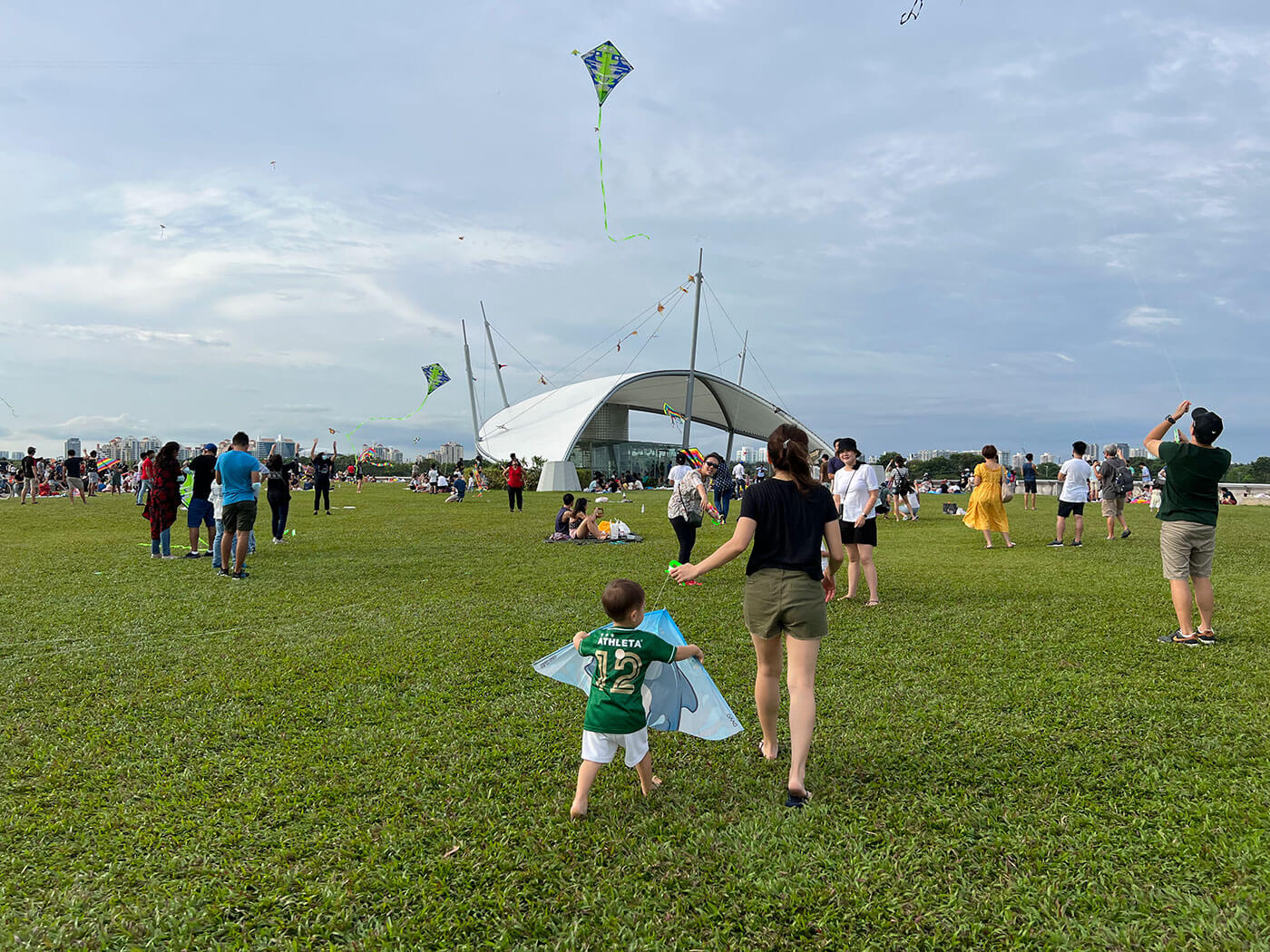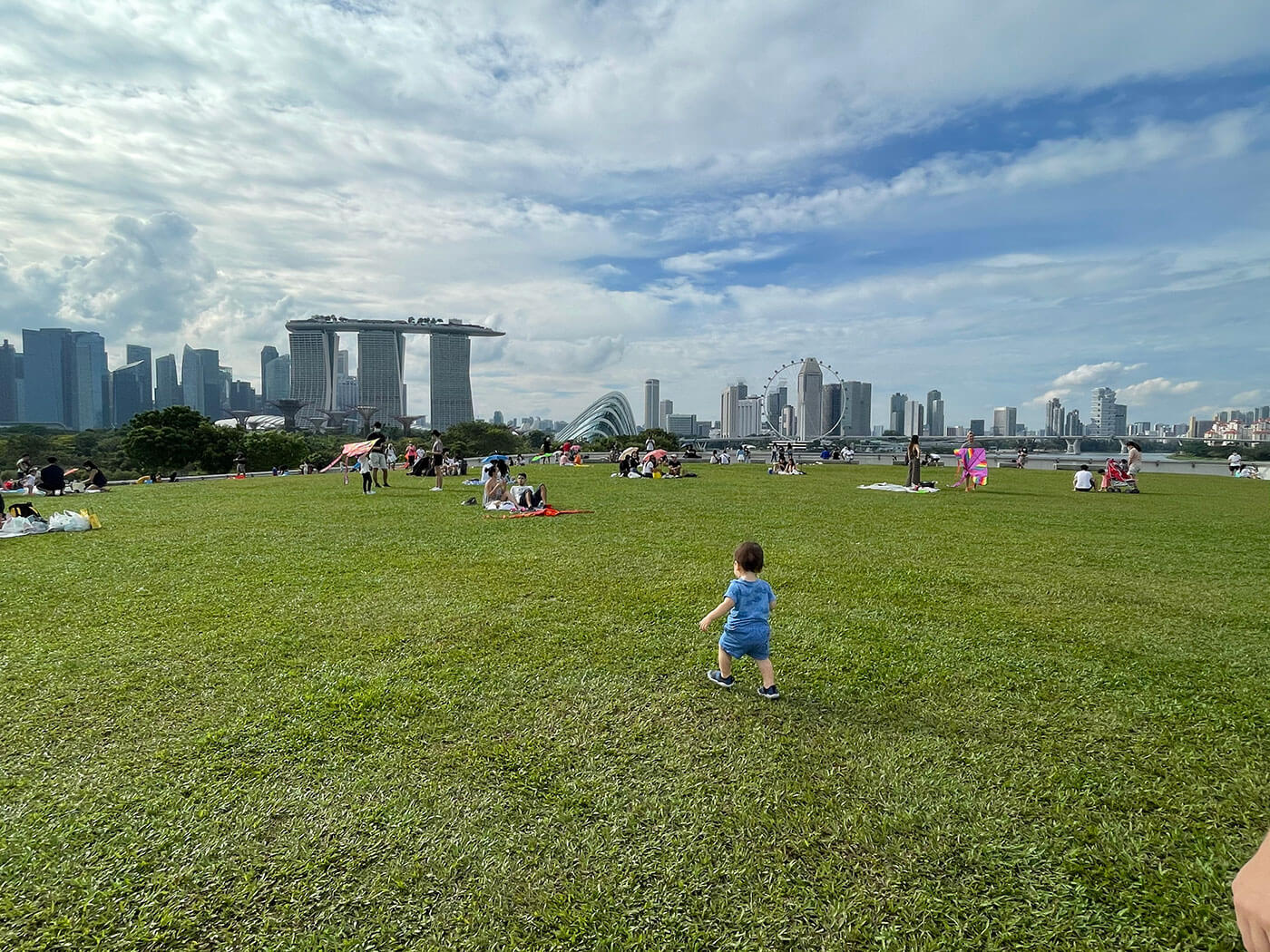 3. Singapore Botanic Garden (Free)
Singapore Botanic Garden is a UNESCO heritage site and is located within the city area, near Orchard Road. It showcases the best and most spectacular tropical flora set in a stunning landscape, and the entrance is free of charge.
Remember though, Botanic Gardens is mostly outdoors with almost no shelter, so take that into account and plan your visit accordingly. I recommend heading out here in the morning or closer to sunset, around 4-5 pm.
While the entire garden is great for kids, I will highlight a few areas that were built with kids in mind:
Jacob Ballas Children's Garden
A play park dedicated to children. You can explore farms, nature play, and treehouses here. This garden is located inside the main botanic garden area, so you could take a stroll outside after too!
Click here for more information about the Children's Garden.
Gallop Extension
COMO Adventure Grove in the Gallop Extension is basically a large nature-themed playground where kids can climb, slide, swing, or play in the sand. There is also a cafe nearby for some coffee and light bites and a large grassy field where you can have a picnic in front of Botanical Art Gallery and Forest Discovery building. Best of all, there are toilets at both buildings!
If you want to visit, you can get dropped off at Woollerton Gate or Gallop Extension Visitor Counter. Then the play area is just a short paved walk away (read: stroller friendly) from these points.
Gallop Extension is located away from the main Singapore botanic garden with its own entrance, so if you want to check out the rest of the garden, it would be quite a walk.
Click here for more information about Gallop Extension.
4. Future World at Art Science Museum
If you want to stay close to the city, you can take your child to check out the ArtScience museum. It's located on the mall side of Marina Bay Sands (also known as MBS). In this museum, there is a permanent exhibition called Future World by the Japanese digital artist group teamLab, and it's a huge hit with kids.
There is a lot of digital play here where kids can interact directly with the exhibition, including a station where kids can draw, scan their drawings and have them be a part of the exhibition. It's great for adults too!
➡️ Book tickets to Future World here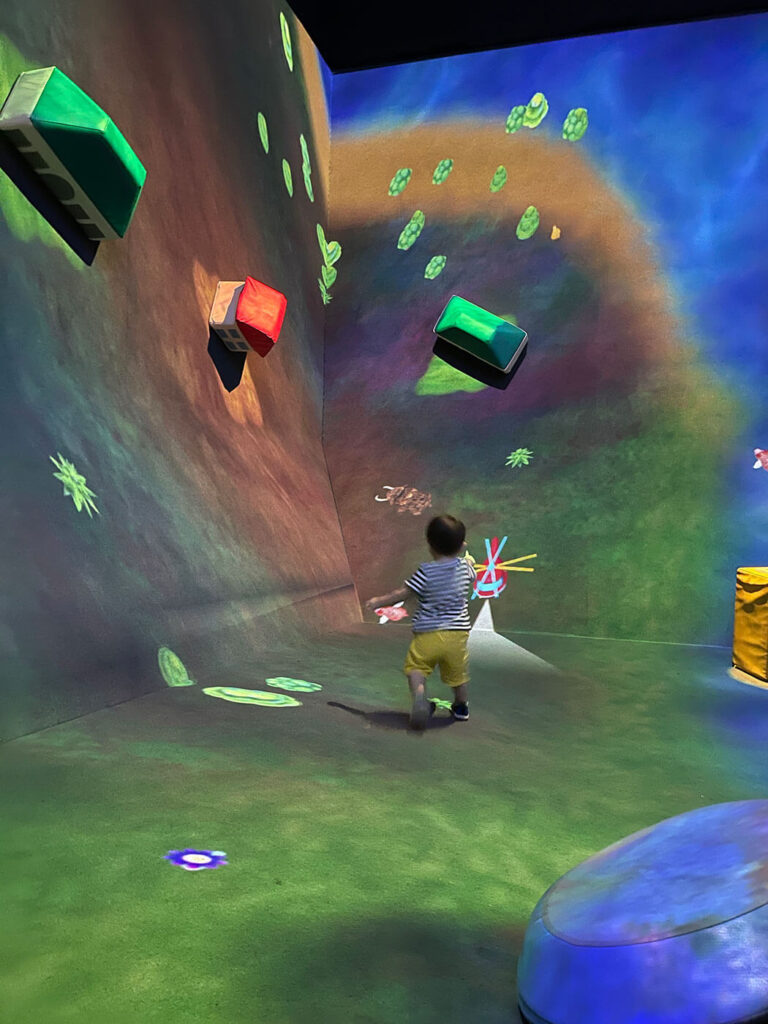 5. Mandai Wildlife Reserve
Mandai Wildlife Reserve currently consists of four parks:
Singapore Zoo
River Wonders
Night Safari
Bird Paradise
Mandai is located in the north of Singapore, and quite frankly it is far from anything else. A trip here would definitely take up your entire day.
Each park has its own admission ticket. I've included links to buy tickets for each of the parks below. But if you're interested in visiting all parks, you might be better off buying the multi-park deal.
The parks are right next to each other, and it's possible to visit three in one day. I don't recommend visiting more than 3 parks in one day.
I recommend visiting Singapore Zoo first thing in the morning (they open at 8:30 am). You will need around 4-5 hours to see the entire zoo. After, you can move on to River Safari or Bird Paradise in the afternoon (you need about 2-3 hours there). Then ending the day at Night Safari, which only opens at 6:30 pm.
➡️ Buy Mandai Pass to get access to more than one park at Mandai Wild Reserve!
At each park, you can rent a wagon or a donna trike to push your kids around in. There is a car seat drop-off point at the entrance of each park too!
1. Singapore Zoo
Singapore Zoo is truly one of the best in the world. There are a lot of activities here for kids, including animal feeding and shows that happens all day long. They require advance booking so be sure to check the timing and book on the Mandai Reserves website.
The zoo spans a large area, and you'll need to do a lot of walking. But your ticket includes a tram ride, so you could minimize the walking as little as possible.
Expect to spend 4-5 hours here if you want to see everything.
➡️ Book tickets to Singapore Zoo here (select Standard ticket if you're not an SG resident)
2. River Wonders
I highly recommend River Wonders as it's mostly an enclosed area (so it's weatherproof!). You can enjoy it rain or shine. I think River Wonders is actually my favorite out of all the parks.
They have a really cool large aquarium with dugongs and large freshwater fish. They also have a panda exhibit, which houses the baby panda recently born in 2021. For older kids (1.06m or above in height), there is Amazon River Quest which is a boat ride where you can see the animals up close.
Expect to spend about 3 hours here.
➡️ Book tickets to River Wonders here (select Standard ticket if you're not an SG resident)
3. Night Safari
As the name suggested, the Night safari opens only from 6:30 pm onward. You take a guided open-air tram ride to see all the animals in their nocturnal habitat. There are also trails you can walk and the Creatures of the Night show.
The Creatures of the Night Show happens twice a night at 7:30 PM and 9 PM. So you could go to the show first and then go on the tram ride, or vice versa. Make sure to book a seat for the show!
Expect to spend about 3 hours at the Night Safari for both the tram ride and the show.
➡️ Book tickets to Night Safari here (select Standard ticket if you're not an SG resident)
6. Sentosa Island
Sentosa is a small island resort in the southern part of Singapore. There are many activities on the island, but I will highlight the ones that are suitable for young children:
Singapore Cable Car
SEA Aquarium at Resorts World Sentosa
Dolphin Island
1. Singapore Cable Car
To start your journey into Sentosa, you could take the Mount Faber line cable car from Mount Faber station, which will take you down to Sentosa station. Once there, you can switch to the Sentosa line, about a 5-minute walk away, to continue your cable car ride in Sentosa.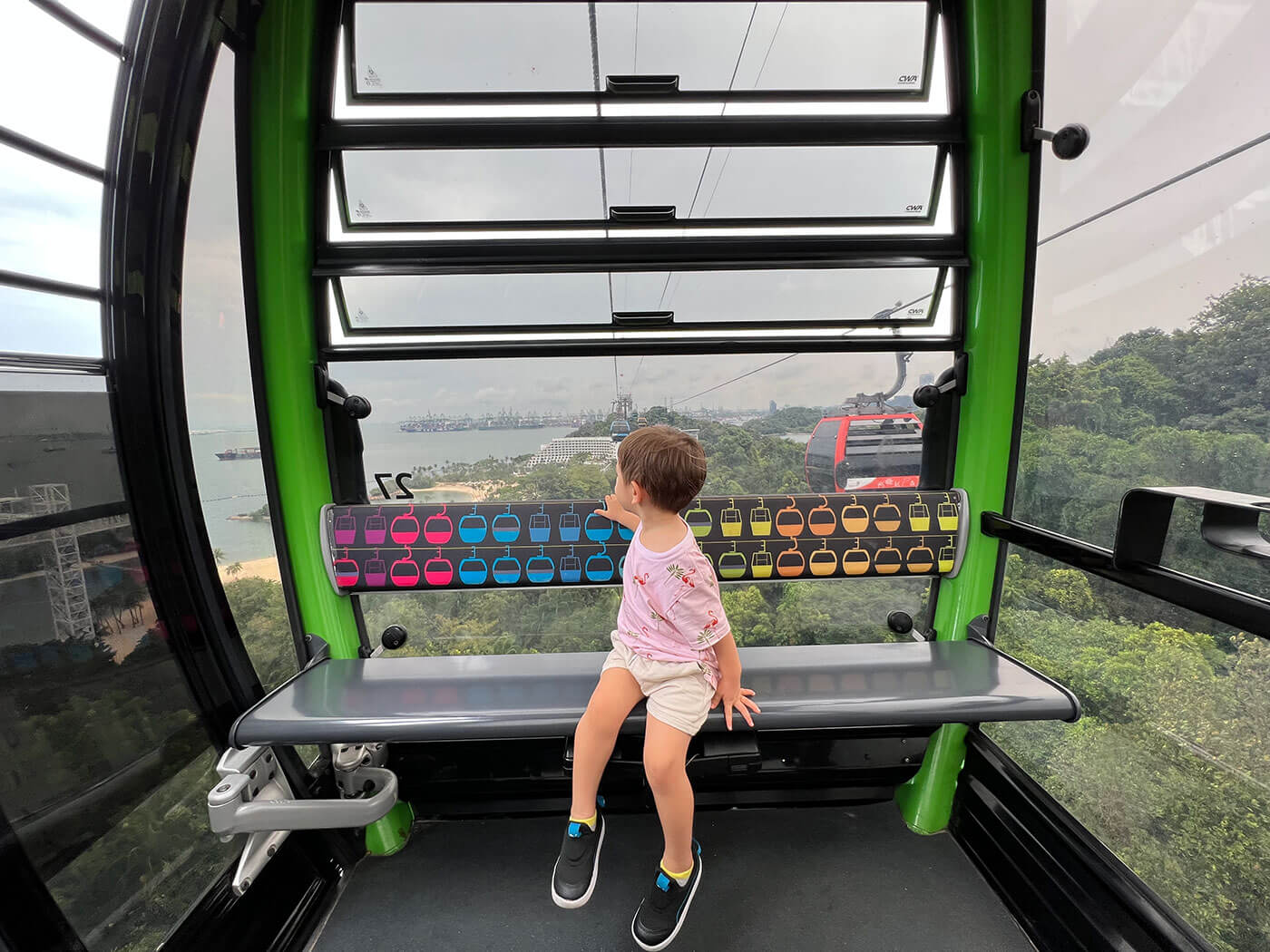 The cable car is a cool way to see Singapore from above. It was such a hit with my toddler! We happened to go during one of their re-opening days (after a renovation) and they were giving unlimited rides. We spent almost the entire day riding the cable car back and forth.
Also, there is a priority line for those who are bringing a stroller or small child – just make sure you get on the elevator to get to the platform of the cable car, which will bring you straight to the priority line.
A round trip on the cable car costs $35 per adult, but if you buy the ticket online it will only cost you $28.
➡️ Book a round-trip ticket to ride the cable car here!
💡 Tip: Children below 4 years old can go on the cable car for free
2. SEA Aquarium at Resorts World Sentosa
The aquarium at Sentosa is one of my favorites! They have showcased a large variety of aquatic life – starting with a shark aquarium, a jellyfish aquarium (my favorite), and a giant aquarium with manta rays, sharks, and other large animals.
There is also a touch pool at the end where you can touch some of the animals – but not before washing your hands of course!
➡️ Book tickets to the aquarium here
💡 Tip: Children below 4 years old can enter for free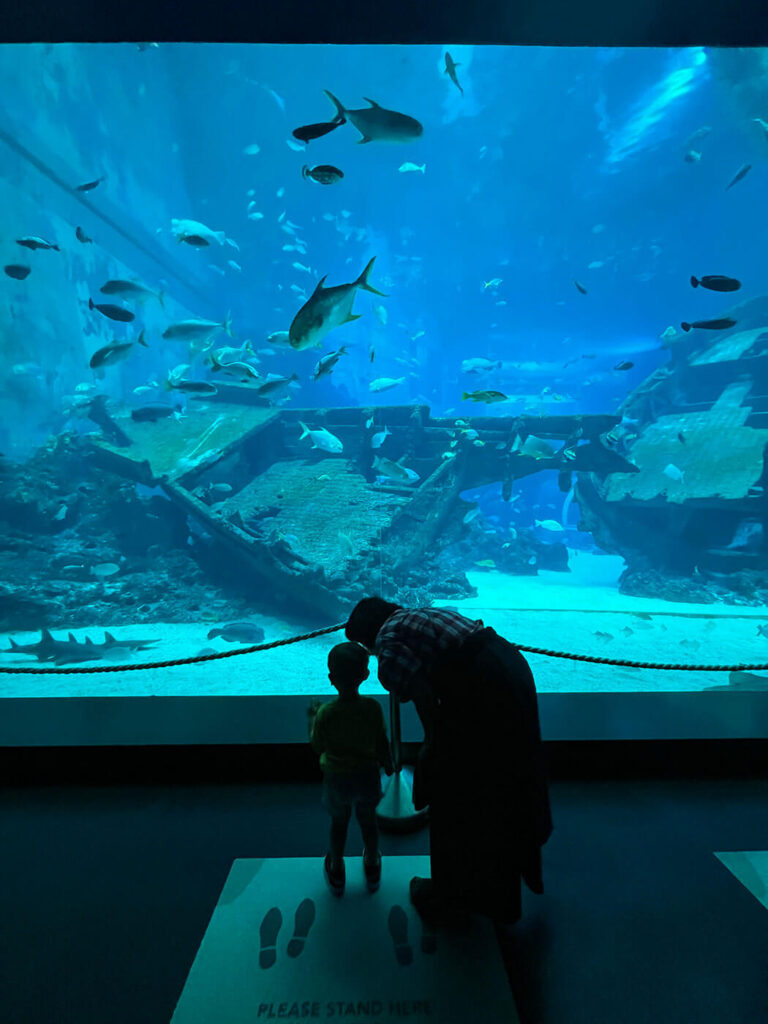 3. Dolphin Island
If your little ones are curious about marine life, you might want to check out the Dolphin Island experience. It allows you to see and interact with the dolphins up close. There are options for not entering the water at all, entering only shallow water, or having a full-on swimming experience with the dolphins.
➡️ Book tickets for the dolphin island here
7. Indoor playgrounds
There are a lot of indoor playgrounds in Singapore. It's a great option when the weather is not good outside, whether too hot or during the rainy season. They're also usually attached to a mall, so it makes for a convenient time for parents to grab essentials. Food options can also be found nearby.
🧦 Tip: Bring socks. Socks are required to enter these playgrounds for both adults and kids. So bring one from home, or purchase one from the playground for $3-5.
Here are some of my personal favorites:
1. Kiztopia at Marina Square
Our favorite is Kiztopia at Marina Square, so much so that we even have an annual pass. They just went through a renovation in April 2023, so even if you have been there before it's a good time to check it out again!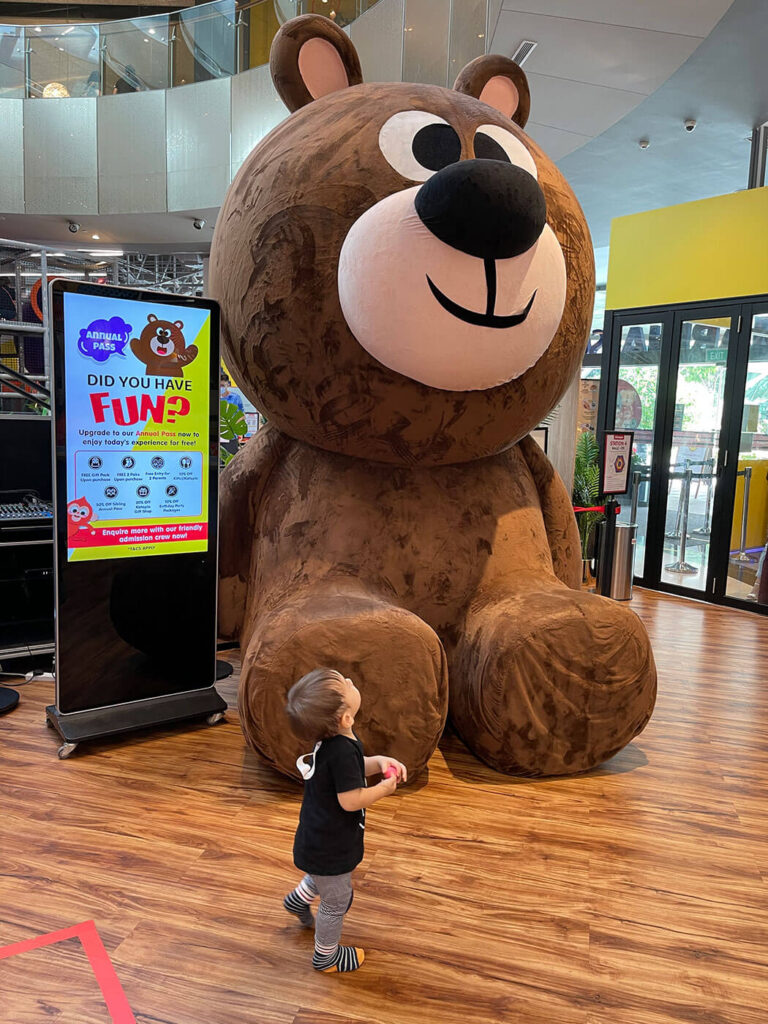 ➡️ Book tickets to Kiztopia here
2. Bouncetopia
Similar to Kiztopia, Bouncetopia is also an indoor playground, located in Vivo city. As the name may have given away, they focused more on the "bouncy" play – think bouncy castles and ball pits!
In terms of size, it is much smaller than Kiztopia, but the kids would still have fun.
➡️ Book tickets to Bouncetopia here
3. The Joy Of Toys
This place is heaven for parents who just want to let their child "loose" somewhere safe and let them play on their own. They basically have all kinds of toys for all ages, that provide structured play and open-ended play.
They have the main play space which is great for preschoolers, and a toddler play space which is geared towards younger babies who are not walking yet.
8. National Gallery Museum (Free)
While National Gallery Museum is largely more catered towards adults, they actually have done a great job thinking of the little ones too. Check out the "GalleryKids!" website to see what's available for kids at the museum.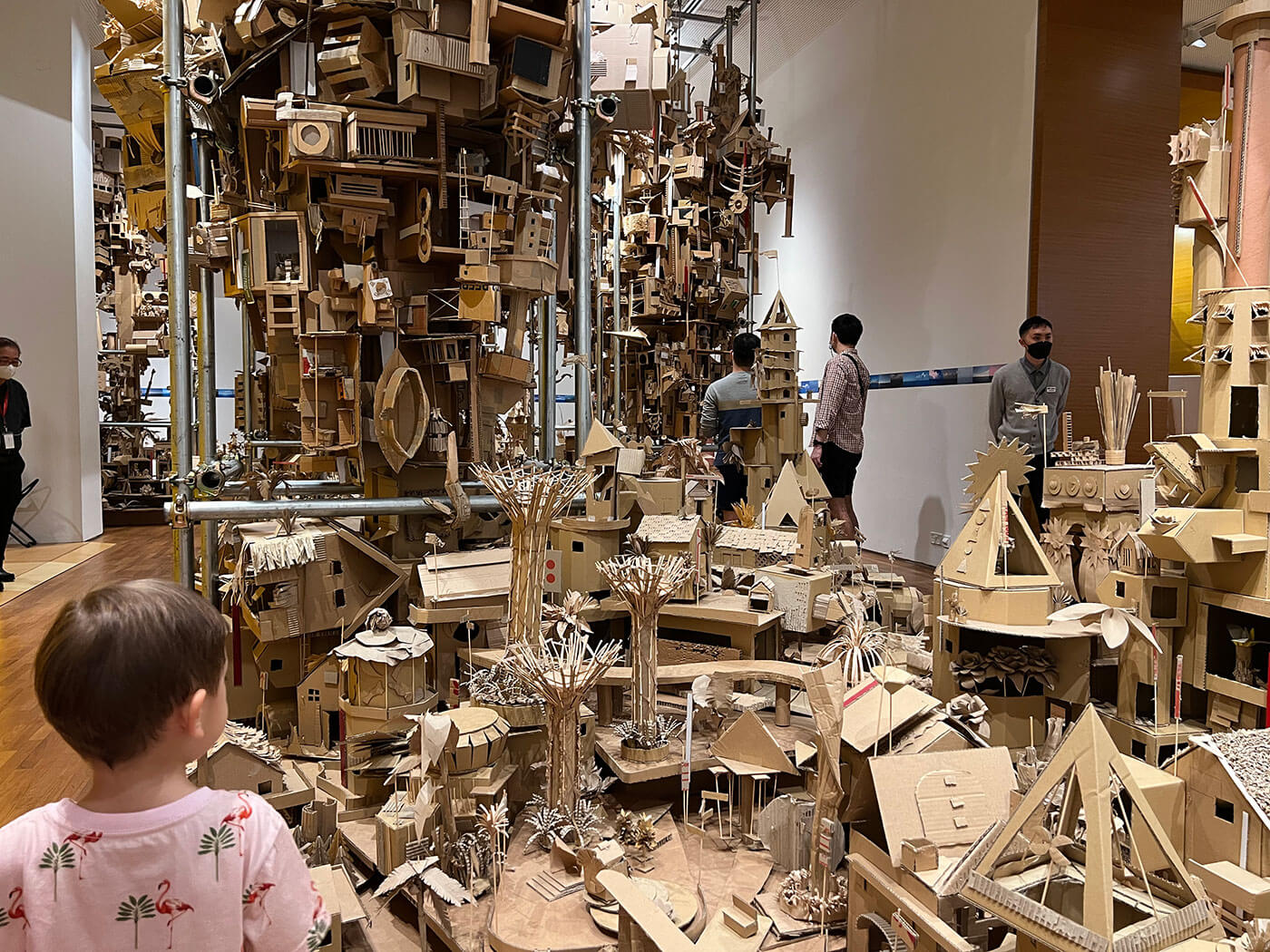 I recommend stopping by Keppel Center for Art Education, where your little one can spend time drawing or enjoying interactive play spaces. And definitely check out what festival is on. National Gallery Museum hosts the Children's Biennale, featuring playful and magical art exhibitions.
9. Natural History Museum
The Natural History Museum is one of the underrated museums in Singapore. Inside this museum, you can find cool fossils and learn more about the flora and fauna that can be found in Singapore and South East Asia. If your toddler is going through the dinosaur phase, this is the perfect place to go. there is a dinosaur zone with three diplodocid sauropod fossils on display that are 80% complete.
Although the location is a bit out of the way, it's totally worth visiting. Tickets MUST be purchased online before your visit, so make sure to purchase before!
➡️ Book tickets to Natural History Museum here!
💡 Tip: Children below 3 years old can go to the museum for free. Although the resident ticket says Singaporean / PR, it applies to pass holders issued by MOM or ICA too.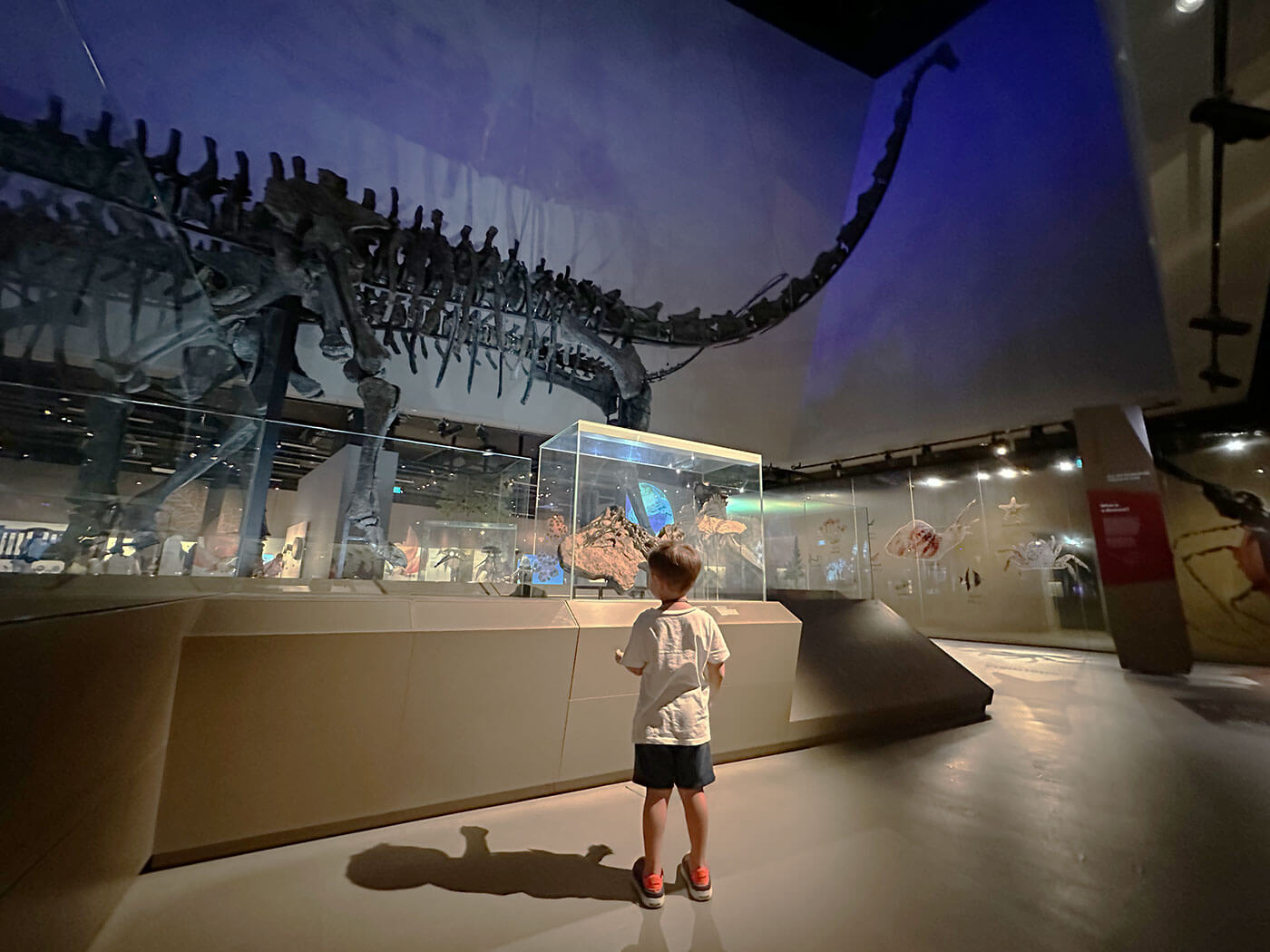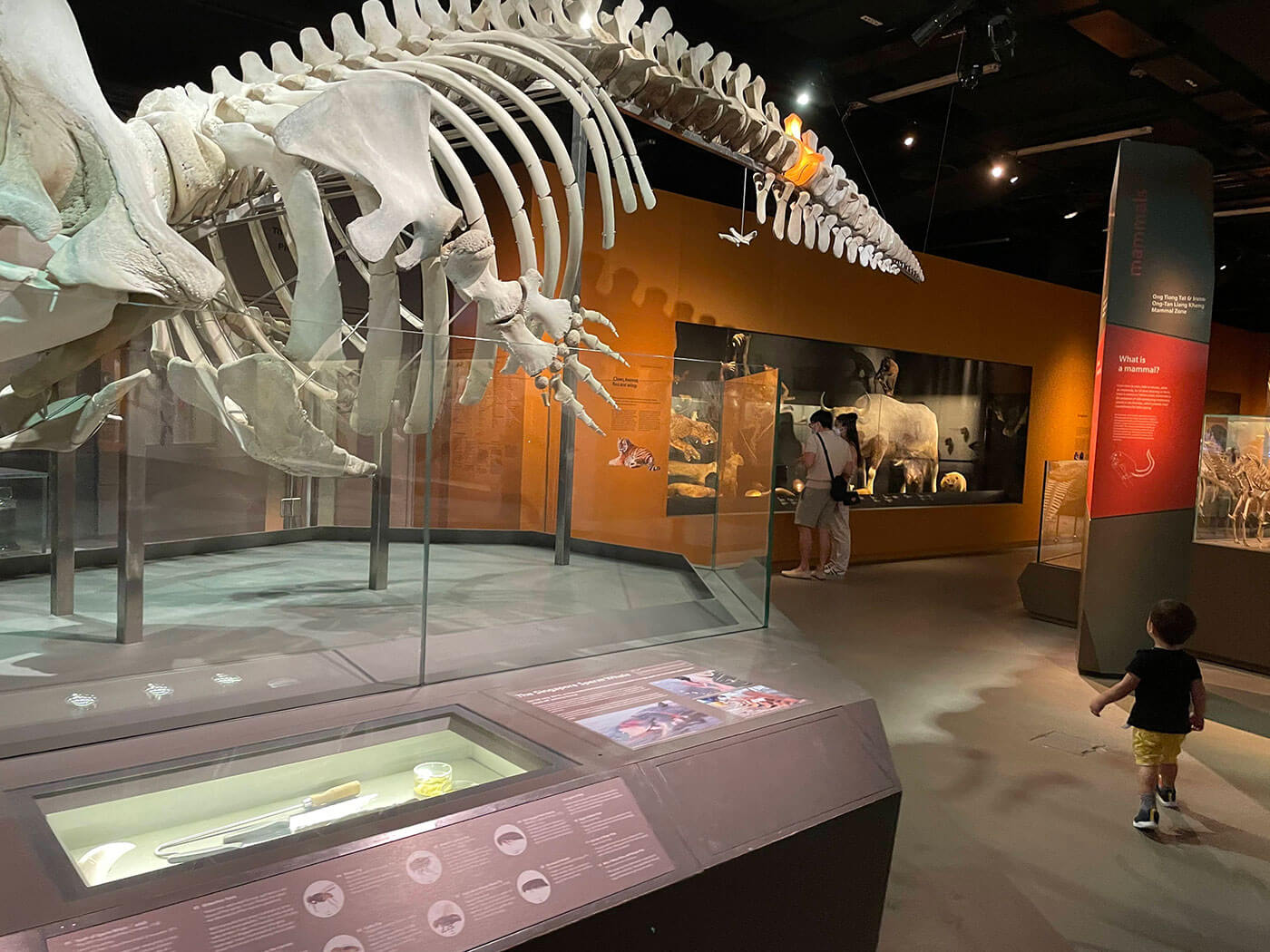 10. East Coast Park (Free)
East Coast Park is a great way to spend a morning or afternoon with your kiddos, either picnicking, playing by the beach, or dipping your feet into the seawater. Bring your picnic mat, some snacks, a swimsuit, and some towels!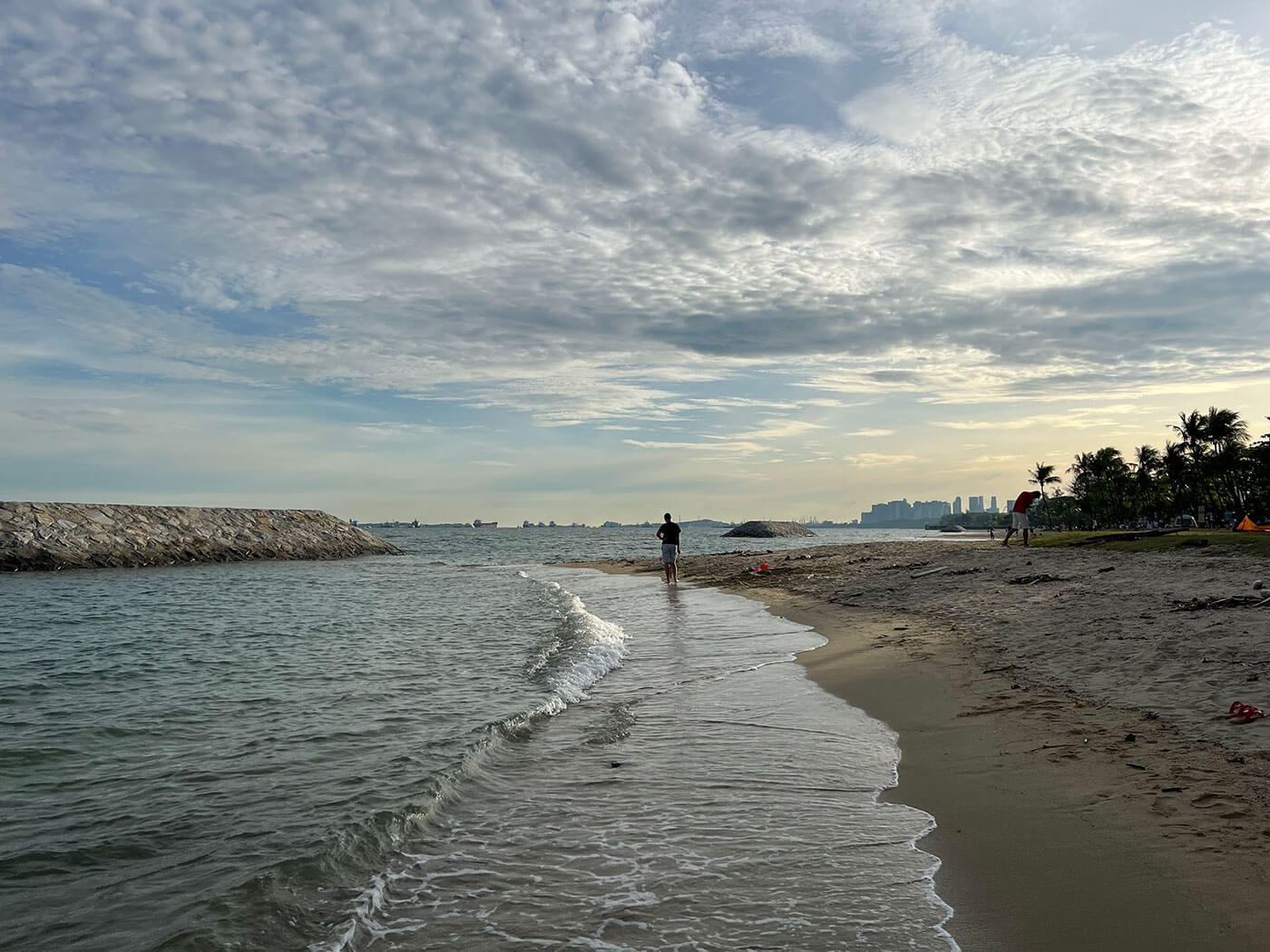 East Coast Park is large, so here are some recommended drop-off points:
11. West Coast Park (Free)
West Coast Park is the lesser visited cousin of East Coast Park, but I personally think it's great for those of us with young children. Take a cab and get dropped off by McDonald's, and you'll see just next to it a large variety of outdoor playgrounds.
There are over seven playgrounds here, and there is even a pirate-themed playground and a small water play area on the sand pit.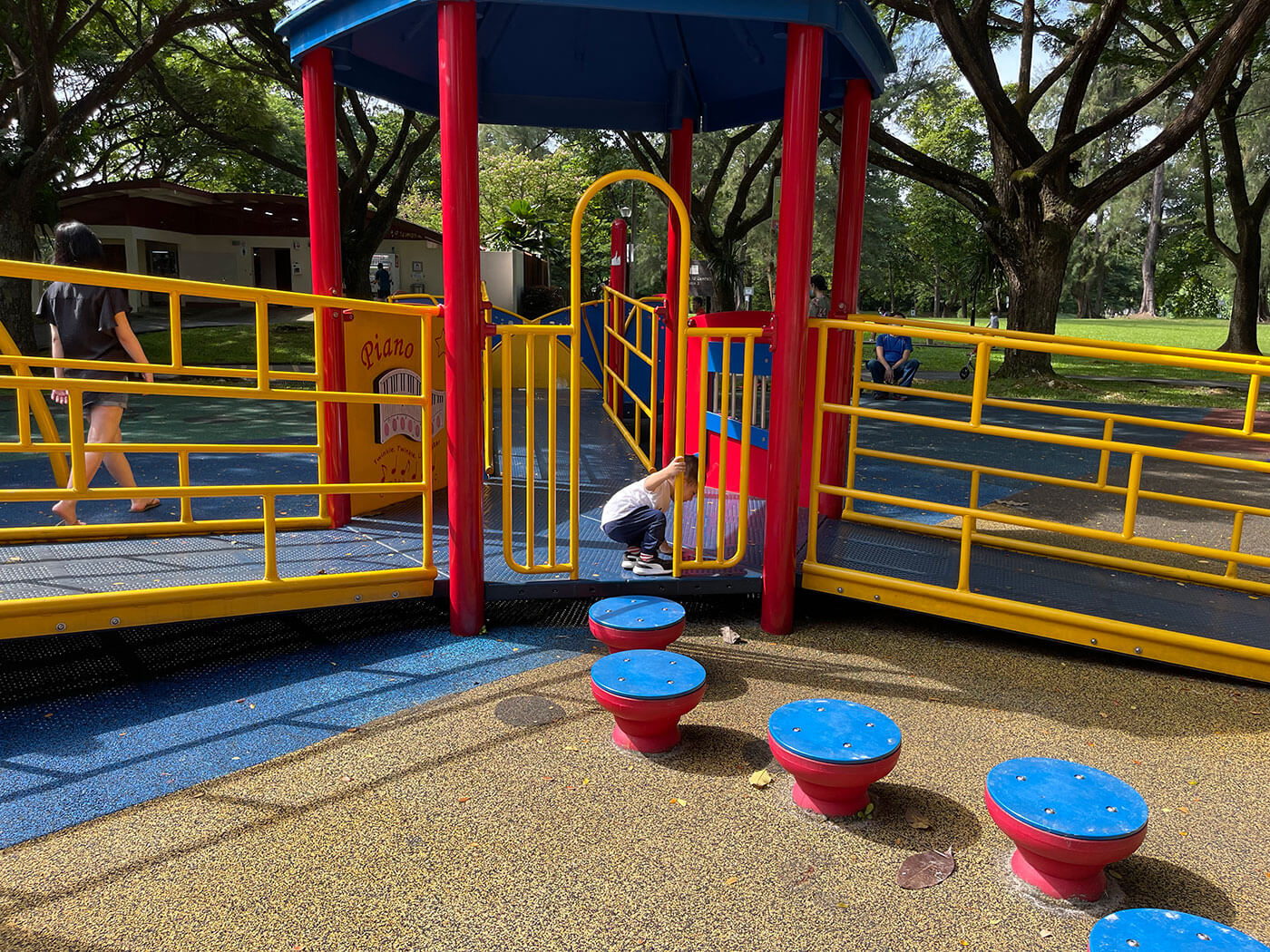 Once you're done with the playground, you can take a walk to the Promenade and just sit down and look at the container ships that come and goes into Singapore.
12. Forest Canopy Walk at Southern Ridges (Free)
I'm happy to report that the entire canopy walks from Hort Park to Mount Faber is stroller-friendly. Yes, that means you can even bring young babies here!
My recommendation would be to start from the Hort Park car park, then make your way to Floral Walk, and eventually, you'll start to see the canopy walkway. From there, it's about a 30-40-minute walk to Henderson Waves and Mount Faber. You can even continue down to Harborfront / Vivo City if you'd like.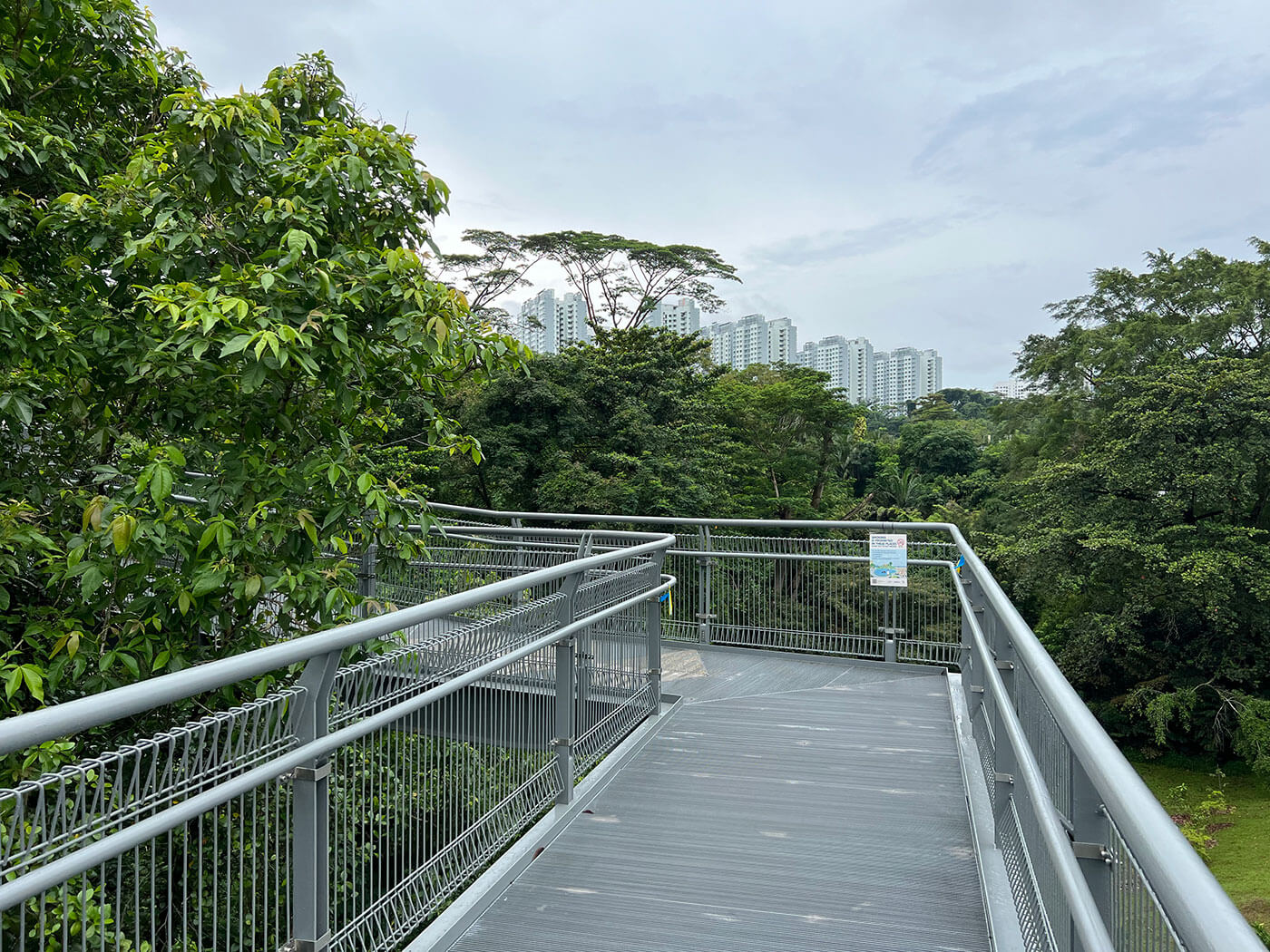 If you want to walk the entire Southern Ridges, you could instead start from Kent Ridge Park, which will take you to Hort Park. However, I think this portion is not as stroller friendly as the canopy walk that starts from Hort Park.
To start this walk, get dropped off at 16 Science Park Drive and take the trail next to the building. This trail will take you to Kent Ridge Park and Hort Park.
13. Bukit Chermin Boardwalk and Labrador Nature Reserve (Free)
To start this walk, you can get dropped off at this point at Keppel Bay Drive. From there, just follow the path along the waterfront and you'll eventually reach the boardwalk and Labrador Nature Reserve.
At Labrador Park, I recommend checking out the Labrador Jetty or some of the WWII relics left at Labrador Park, such as the Labrador Battery, The Casemate, and the Gunners of Labrador.
To get out of the park, I recommend taking the Berlayer Creek Boardwalk, which will lead you down a 1km walk to Labrador Park MRT Station.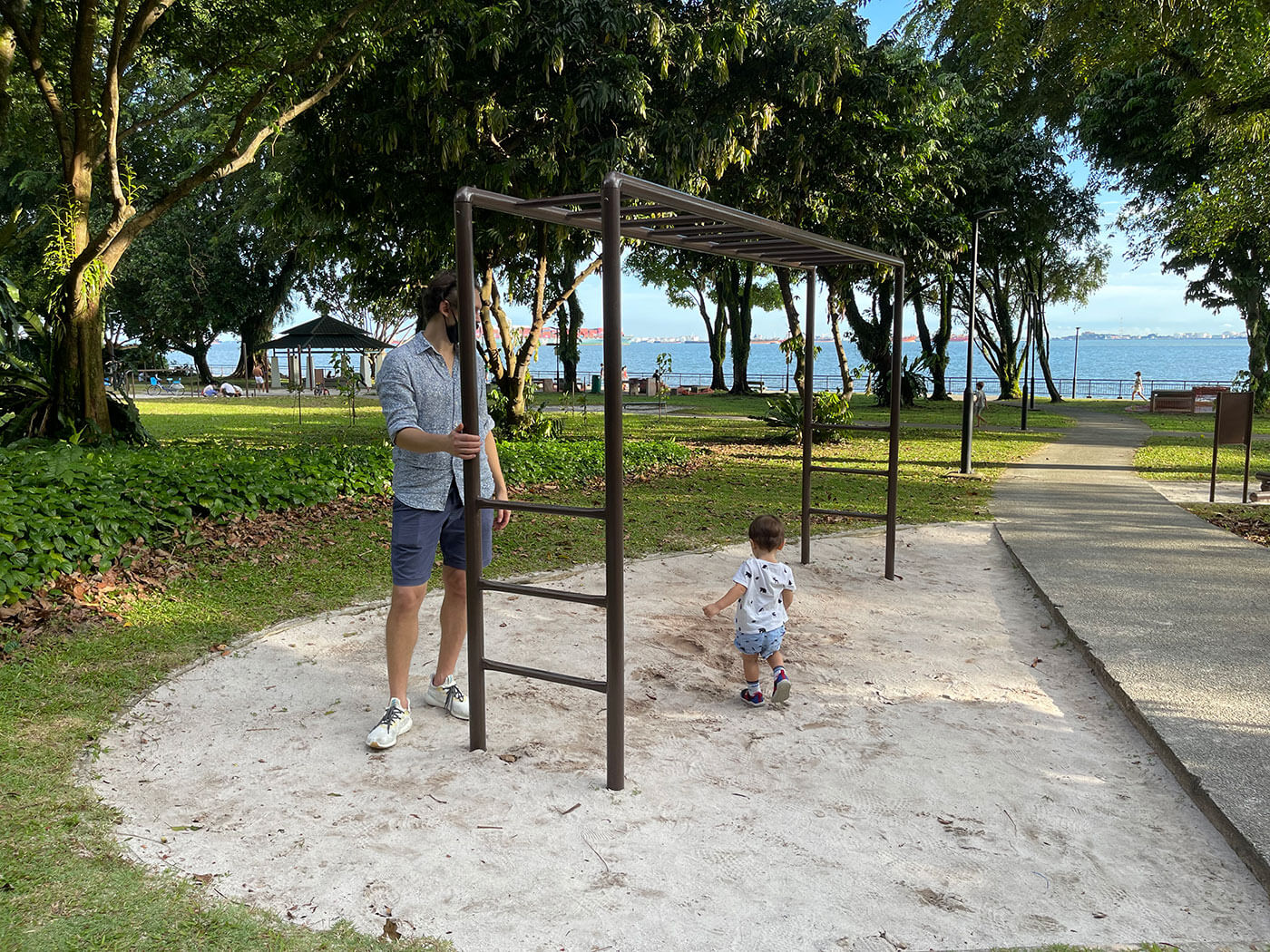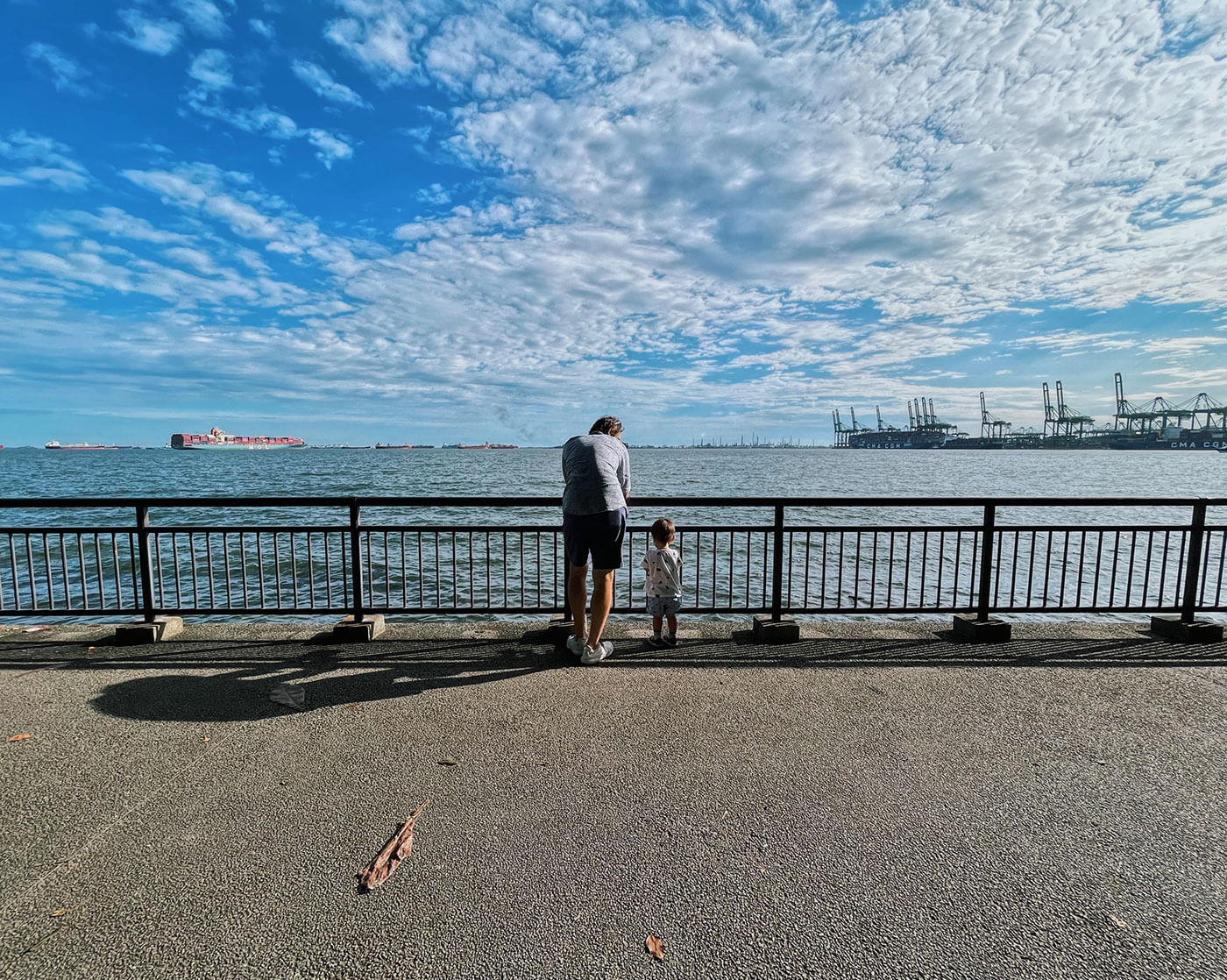 14. The DUCK Boat Tour
If you're keen on a one-hour boat tour around the Singapore waterfront area, then you have to book the DUCK boat tour. The tour starts from Suntec, right outside the Esplanade MRT exit A.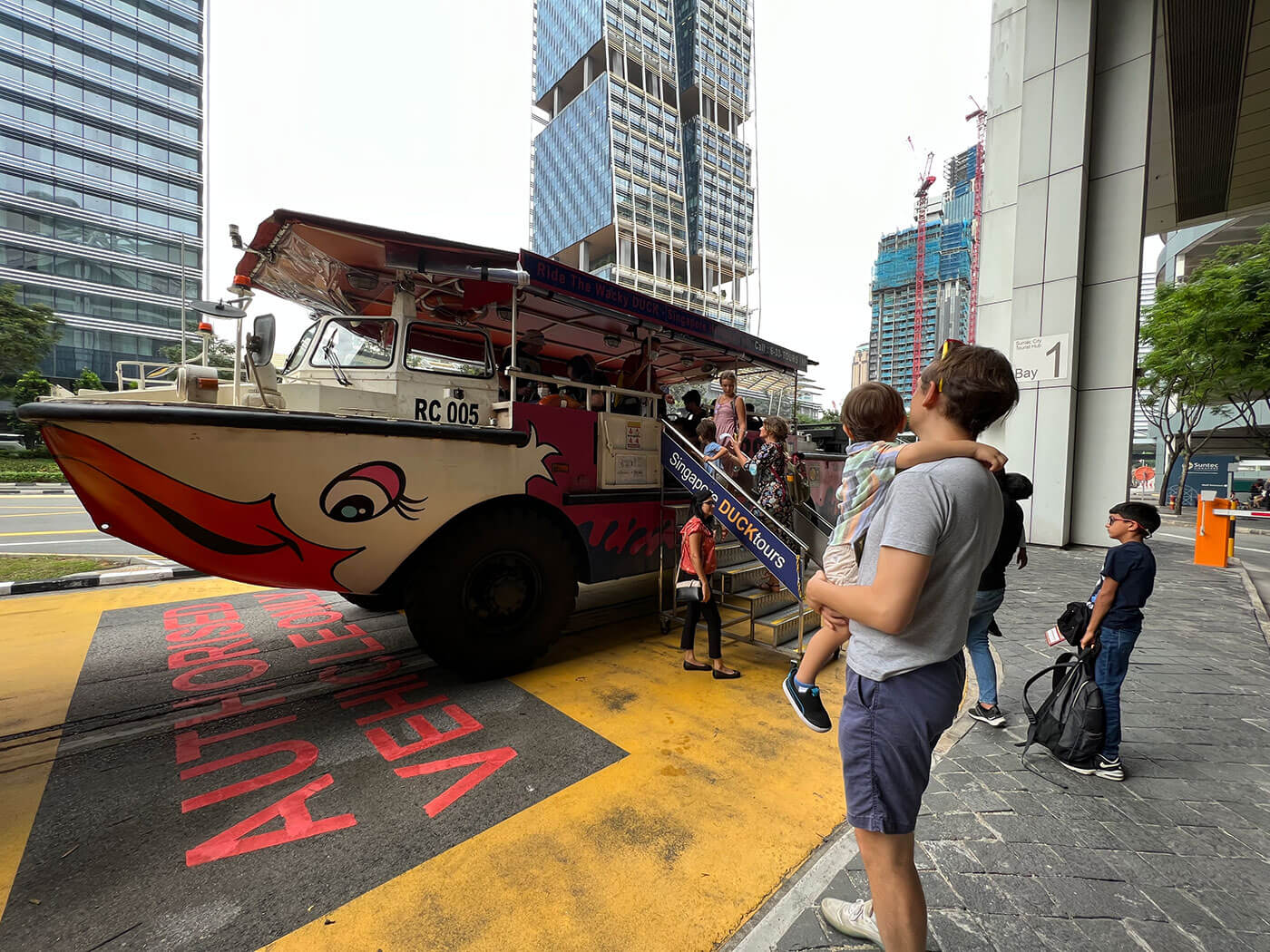 This is an amphibious tour, meaning it starts off as a bus ride on land, which then splashes into the Singapore River to give you a tour around the waterfront area on the water. My 2-year-old absolutely loved this! He would not stop talking about it for days.
➡️ Book tickets to the Duck Boat tour here! Booking from this link saves you 10% off compared to booking from the official website, but you need to book at least one day in advance.
15. The Art Ground (TAG) at Goodman Arts Center
The Art Ground is an art space dedicated to kids up to 9 years old. They have a playground for free, as well as paid programs every weekend. You MUST book ahead for the free playground. Slots are released every Tuesday between 12-2 pm and it goes fast, so if you don't see a slot anymore, try again next week.
➡️ Admission is per time slot. Book slots here
16. Children's Museum Singapore
Children's Museum is the newest children's attraction to open in Singapore in 2023. Currently, admission is free for Singaporeans til 31 March 2023 if you can find a slot. I personally couldn't, but I plan to visit once the interest has died down a little.
➡️ You must pre-book your visit. Book admission here. The Museum is Free for Singaporeans and PR.
17. Splash-N-Surf at Kallang Wave Mall (Free)
Singapore sure loves water play and this is yet another free water playground you can find in Singapore, at the Kallang Wave Mall right off the Stadium MRT station. There is a small cost of $2 if you want to go on the lazy river. They have a small shower facility on site. Click here for more information
18. Sampan Boat Ride at MBS
The mall side of Marina Bay Sands, called The Shoppes, has a short artificial canal you can do a boat ride on with your children. There is a minimum height of 85cm for your little one, and kids 12 years old and below need to be accompanied by a paying adult.
➡️ Buy the MBS Sampan boat ride ticket here
19. Fire Station Open House (Free)
I don't think I've met a single kid who is not fascinated by fire trucks. It seems that the Singapore Civil Defence Force (SCDF for short) is well aware of this, and so they have kindly allowed members of the public to visit their stations every Saturday morning! You can expect a tour of the station and a demo of the fire equipment they use. Best of all, the visit is free!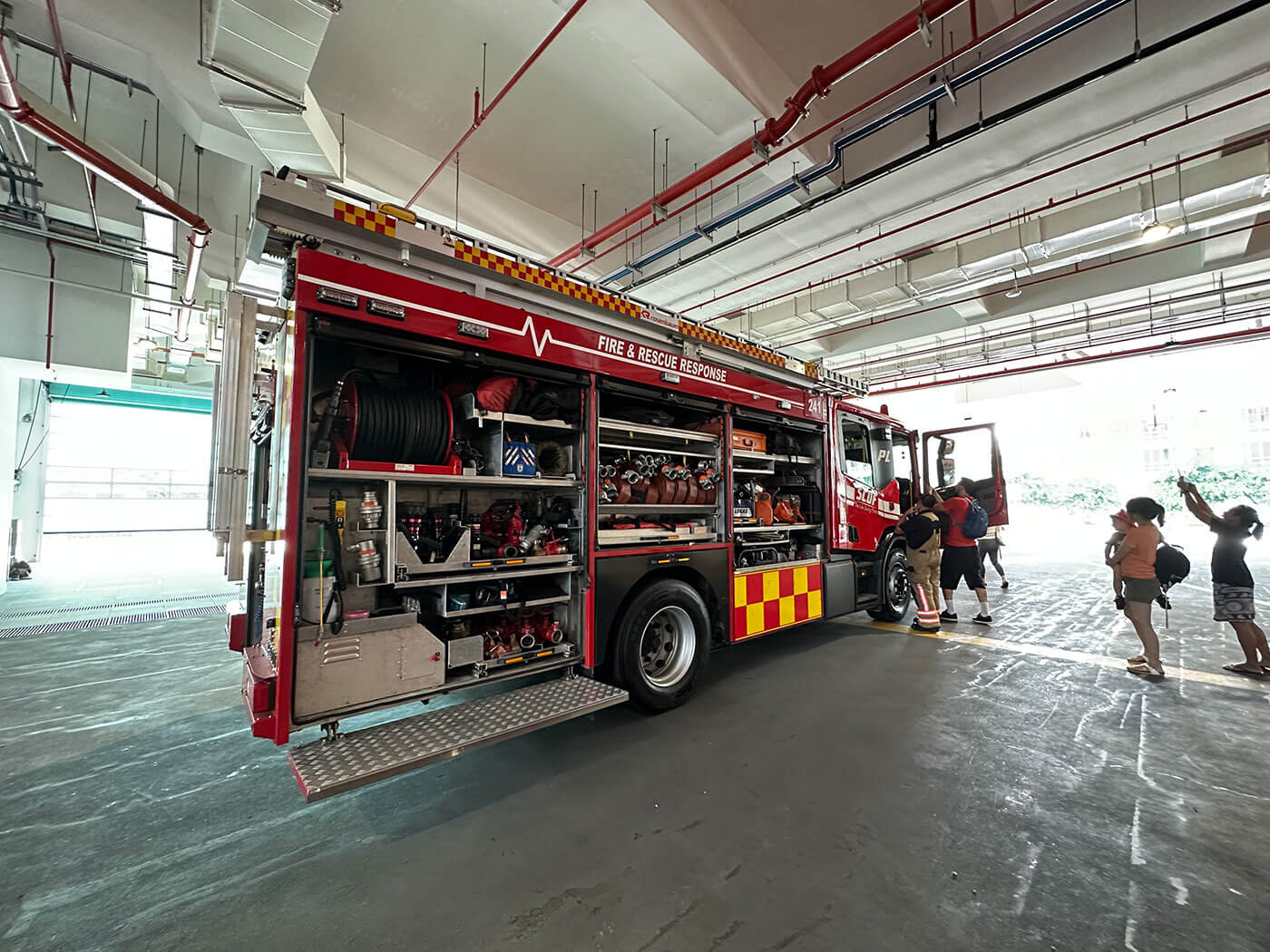 There are plenty of fire stations around Singapore, but I recommend Central Fire Station on hill street. It's the oldest fire station in Singapore, built-in 1908 which predates Singapore as a country (Singapore gained independence in 1965), so parents can enjoy some history lessons too!
We visited Kallang Fire Station as it is the most convenient for us. They showed us the anatomy of a fire truck, demos of the different types of nozzles, how they roll the hose out, and a demo of how to put on the fire suit in case of duty calls. They also gave all kids a plastic red firemen hat for free! My toddler still wears it everywhere.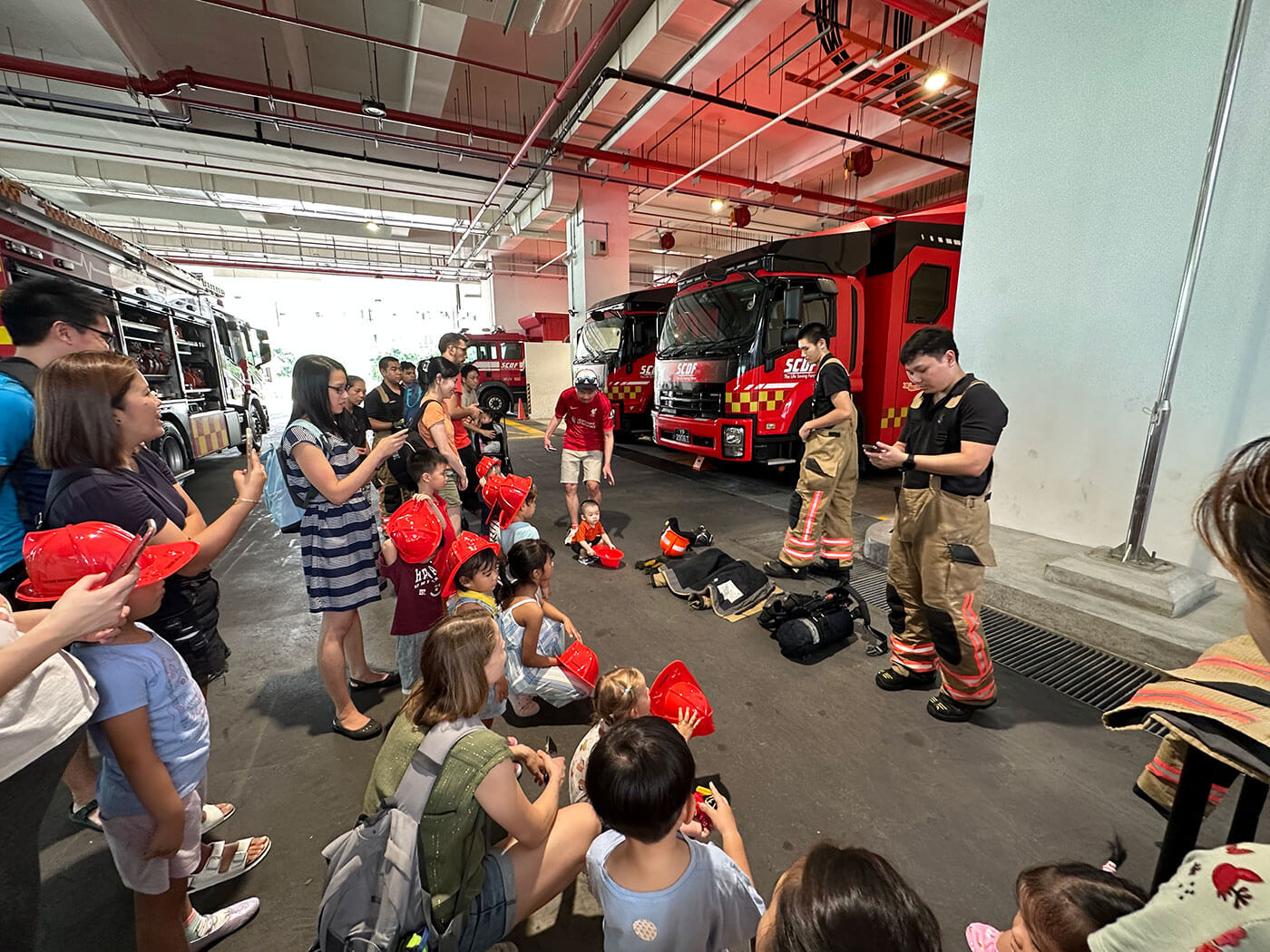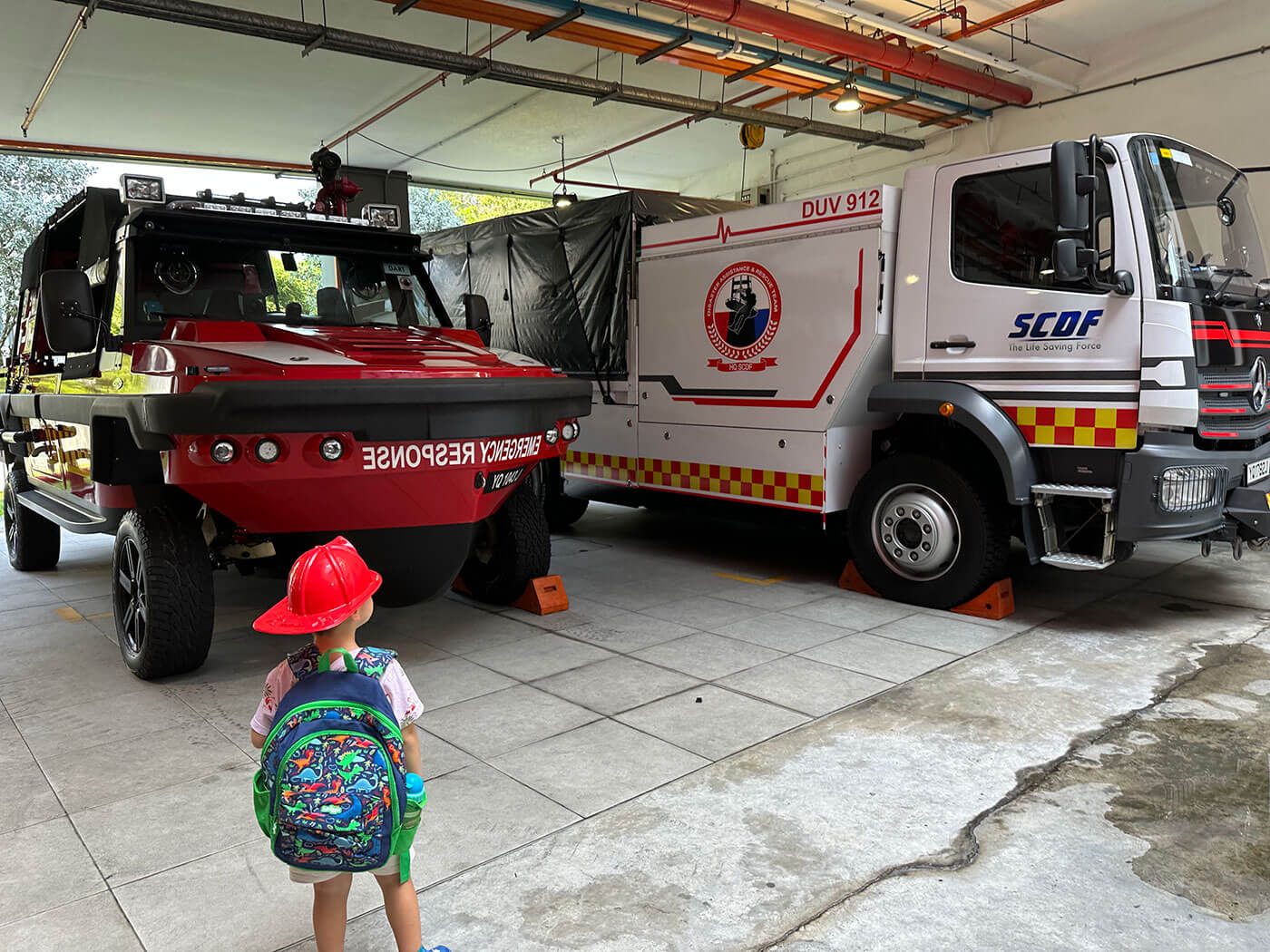 ➡️ Book your visit to the SCDF stations here. Walk-in is possible, but subject to availability.
20. Outdoor Playgrounds
The indoor playgrounds are cool, but when the weather is nice outside, you'd want to be outside with the children. And Singapore is full of super cool playgrounds! Here are a few notable ones that we love:
Tiong Bahru Park Train Playground at Tiong Bahru
Alice in Wonderland playground at Queenstown
West Coast Park Adventure Playground
Coastal Playgrove at East Coast Park
Jacob Ballas Children's Garden in Botanic Garden
Adventure Playground at Bishan-Ang Mo Kio Park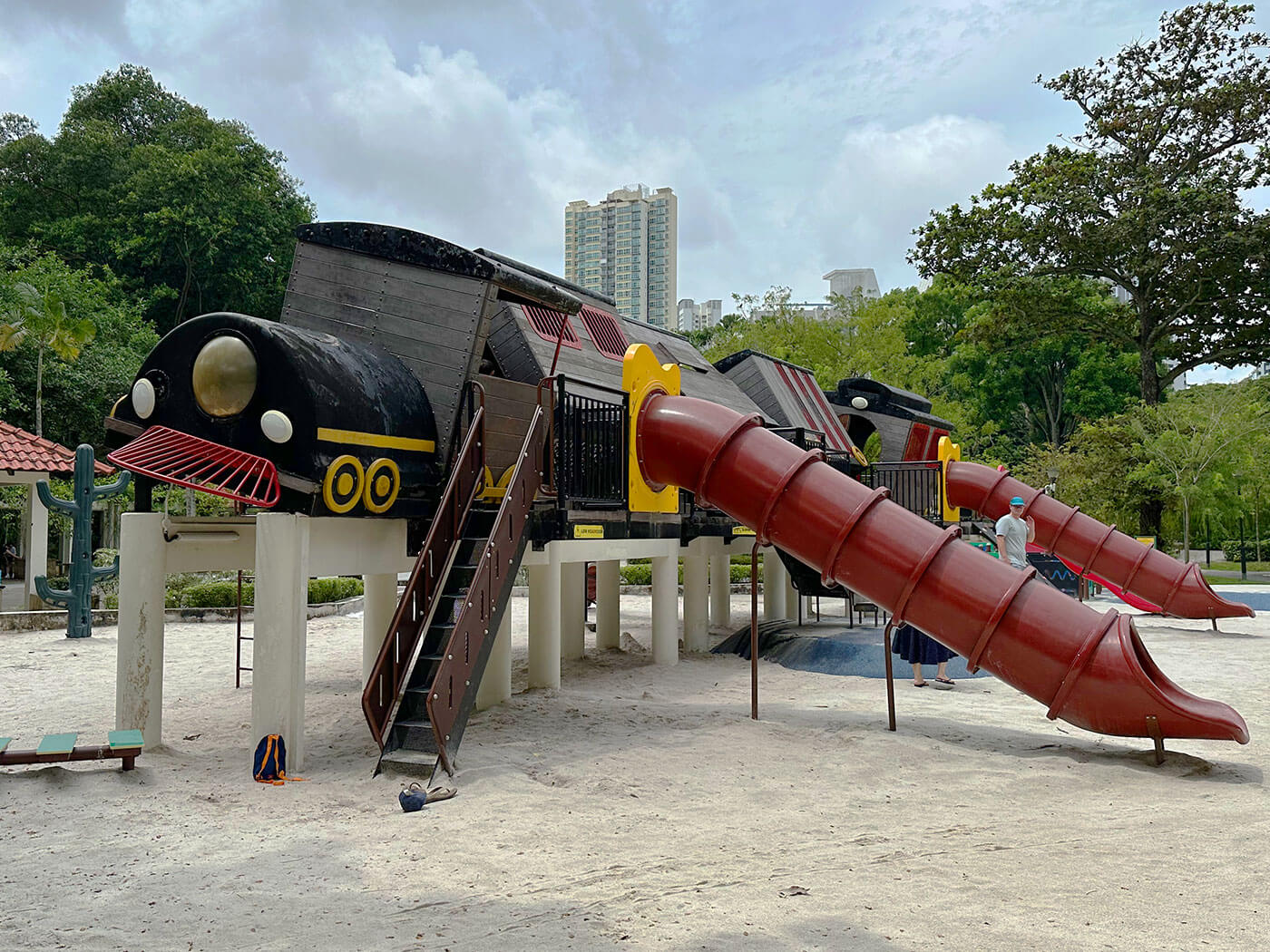 21. Science Centre Singapore
Located in the western part of Singapore, the Science Centre is a great place to bring kids for a half-day trip. There are exhibitions and workshops that kids can partake in, a waterplay area, and a large indoor playground called KidsSTOP.
➡️ Get tickets to the Science Centre here or find out more about the Science Centre here
Easy Weekend Getaway from Singapore with Toddlers and Kids
Every parent will tell you that having a child changes your lifestyle, especially your view on traveling. However, it doesn't have to limit your mobility! We've successfully done a few quick weekend getaways with the toddler.
Here are a few ideas for quick getaways from Singapore with young kids:
1. Telunas Private Island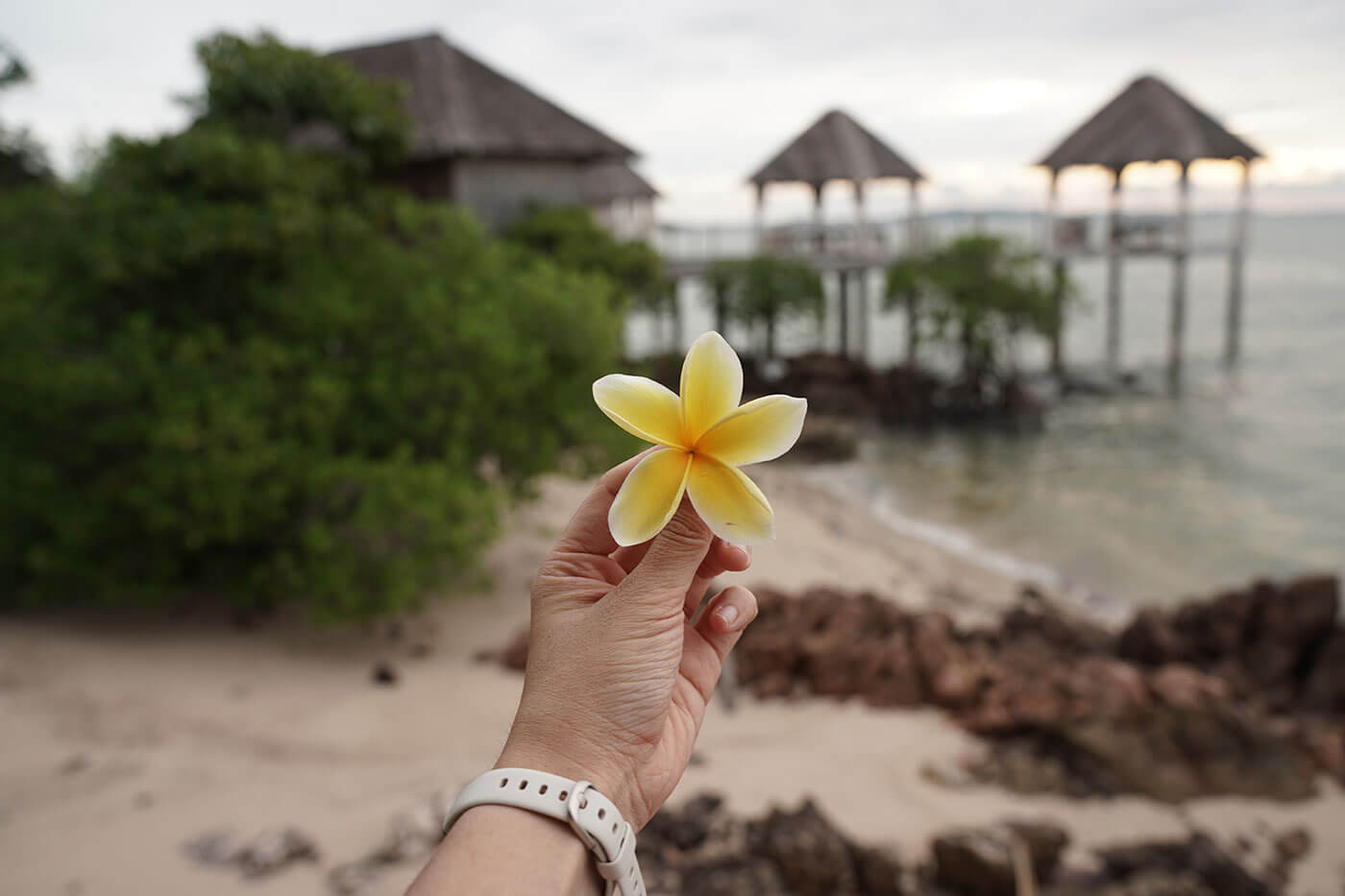 Telunas is a small resort located on a tiny private island off Sugi Island. It's only 50 km south of Singapore! On this tiny island, there are only 15 overwater villas by the beach and 5 couples-only villas on the hills.
➡️ Interested? Read my in-depth review of visiting Telunas Private Island in this post
2. Bintan
Bintan is really easy to get from Singapore. The island can be reached with just a one-hour ferry ride from Singapore, and you're off to a beach vacation!
For more information about travels to Bintan with my toddler, read my Bintan travel guide here.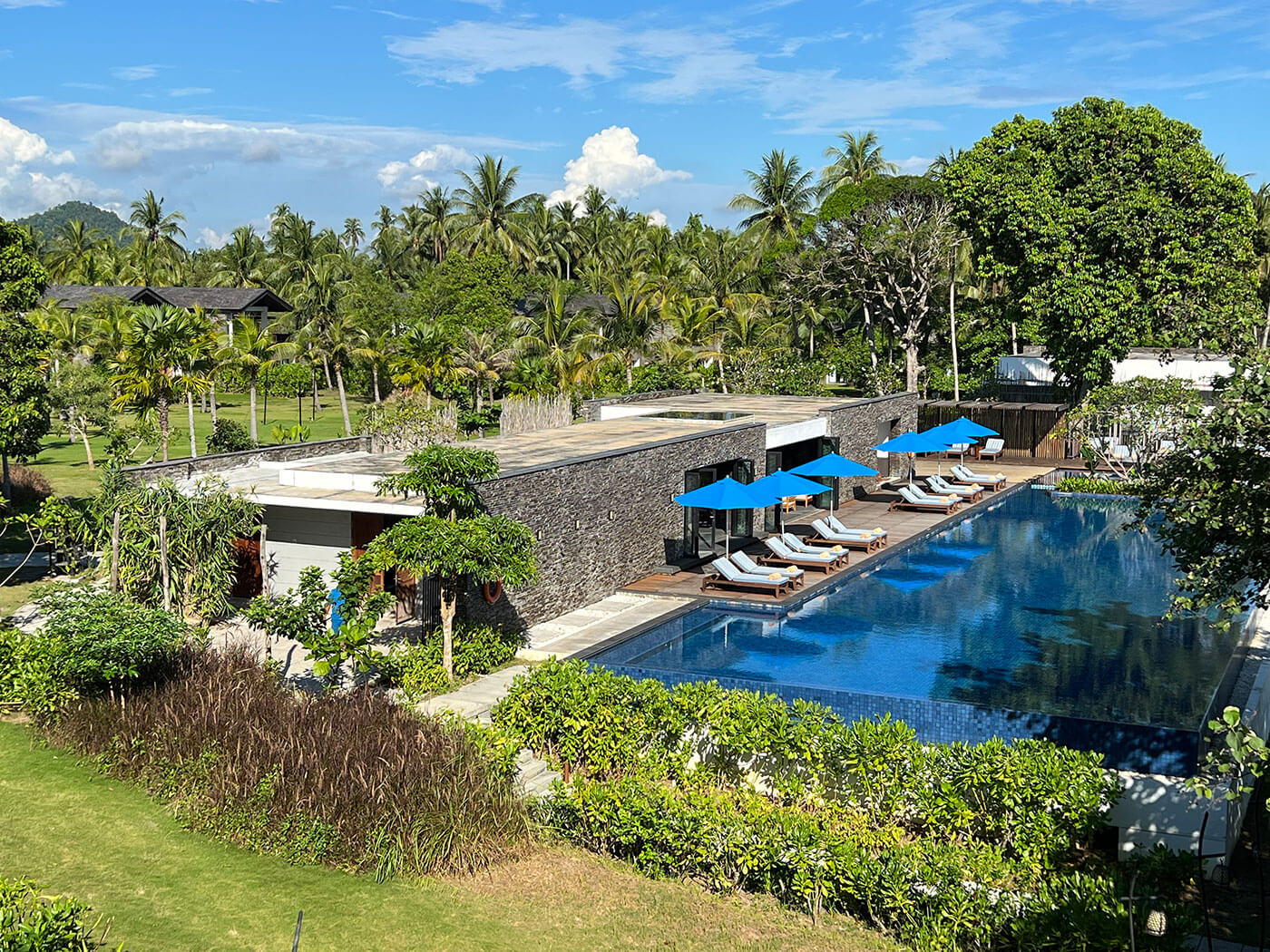 3. Desaru Coast
Desaru Coast is a coastal resort town just a few hours outside of Singapore. It consists of a long stretch of beach, four resorts, and an adventure waterpark. Perfect for a short weekend getaway from Singapore!
For more information about travels to Desaru with young kids, read my Desaru Coast travel guide here.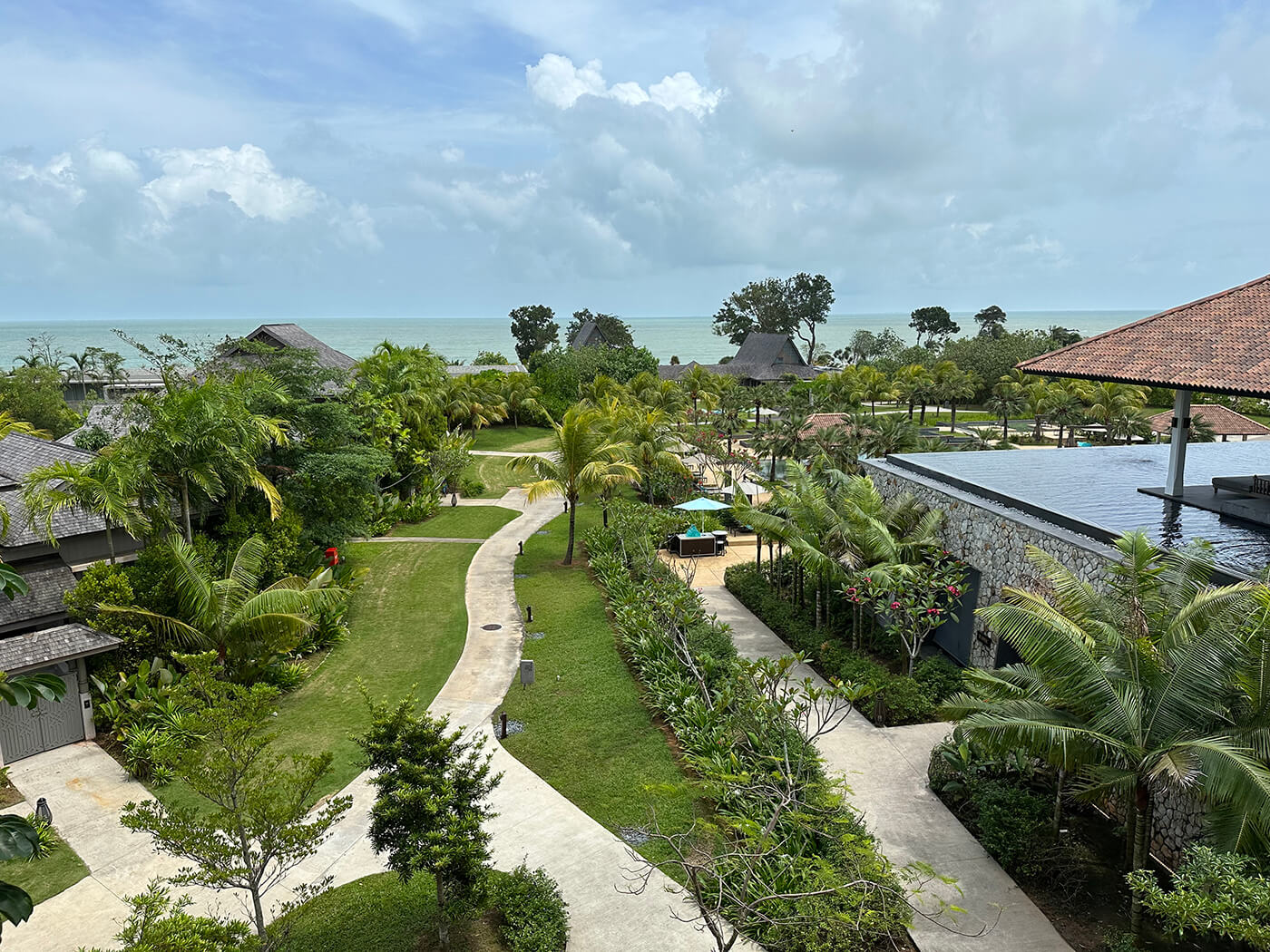 4. Legoland Malaysia
Legoland Malaysia is strategically located just off the Singapore border in Johor Bahru. It makes for a very easy day trip (if you're ambitious) or a 1-2 night trip across the border. We have yet to do this, but we definitely have plans to go. Stay tuned for my review!
Okay, that's all I have on this topic! If you have any specific questions about taking your kids to visit Singapore, please feel free to comment on this post below. I will respond as soon as possible.
Bye now! 👋🏻