The one activity I've always wanted to do in Bali is to climb an active volcano. There are two active volcanoes on the island – Mount Batur and Mount Agung. Mount Agung is out of the question at the moment since it is very active and erupted recently (just a month before our trip), so we're only left with one choice – to trek Mount Batur.
Mount Batur climb is best to do at sunrise, so it does require you to wake up at an ungodly hour and be up at the peak of the mountain before sunrise. But I must tell you – It's worth it!
Read on to find out how the Mount Batur Sunrise trekking was like.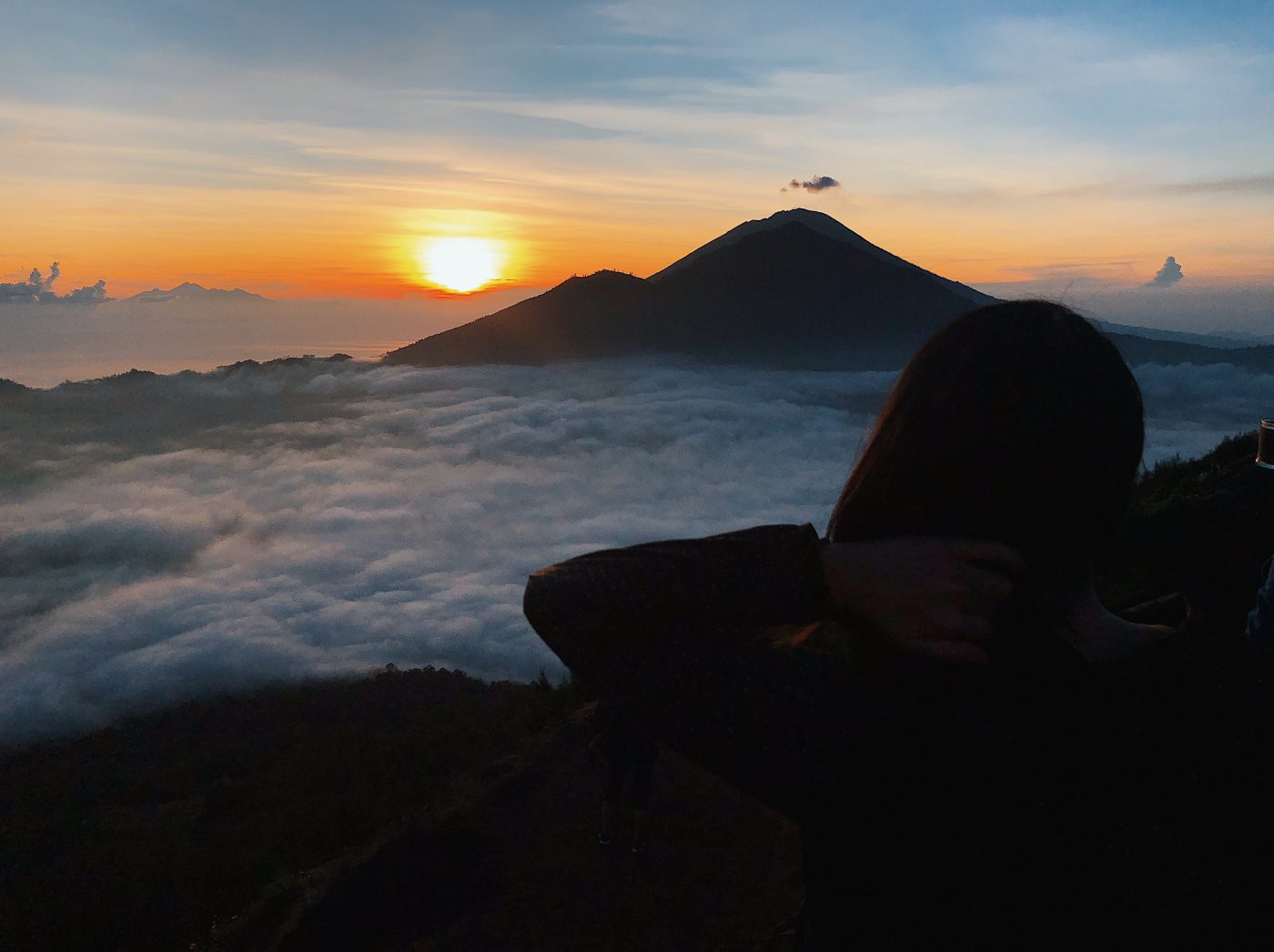 Getting to Mount Batur
Mount Batur is easy to get to from anywhere in Bali. You just have to figure out your transportation to get there – it takes about 1.5 hours by car from Ubud, and about 2-2.5 hours from Seminyak.
For us, we booked this Mount Batur Sunrise Trekking tour from Klook as it includes transportation to and from our hotel. Booking a tour saved all the hassle and thinking about logistics so early in the morning. Also, when you do the math, it really didn't cost that much more than getting a taxi or a car.
What is Klook? Klook is the leading travel and experiences booking website in Asia. And yes, they are legit! I personally always book my activities through them whenever I am traveling. See my review of Klook here.
How difficult is the Mount Batur trek?
The only other climb I've done before this is Mount Rinjani in Lombok, which involved a physically taxing 2,000m elevation gain in one day. So compared to that, I'd say the Mount Batur 700m elevation gain is relatively easy.
That said, it does get quite steep in some parts but there was no point where I felt so tired that I felt like I couldn't go on. I think it's very doable for anyone with even average fitness level.
When is the best time to climb Mount Batur?
I've been told the best time to do the climb is during the dry season, which is April – September in Bali. But if you're going to Bali during the rainy season and wondering if the trek to Batur is still worth it, well… it could be.
I myself almost didn't do this trek since we came to Bali during the supposedly rainy season in January. I was worried that the view from the summit would not be very good and the climb would be in vain. However, once we got to Bali, we found that the rain was quite sparse (despite the weather forecast saying it would thunderstorm every day) and the mornings were very clear, so we decided to try our luck and book the trek at the last minute.
My advice is to pay attention to the morning conditions for a few days, whether the sky seems clear or if it rained during the night. If it seems good for maybe 2-3 mornings, you can try your luck. Otherwise, you might just be greeted with nothing but clouds when you get up there.
It's not a long or particularly difficult trek so I'd say take the gamble and do it! And as you can see from the photos later, the gamble did pay off for me.
What should I bring to the trek?
A hat – any simple snapback would do. This comes in handy during descent as the sun in Bali gets very strong even before 8 a.m.
Sunscreen – again, the sun in Bali gets very strong even in the early morning so you still have to protect your skin!
Sunglasses – again, for sun protection.
Good pair of trekking shoes – Trekking shoes would be ideal since there is some loose gravel nearing the summit, but with that said, I did wear my regular Nike running shoes and was fine… for the most part. I only fell once? 😛
Insect Repellent – there are some pesky mosquitoes on the trail! If you're like me and attract a lot of mosquitoes, you'll be glad you had these.
A light windbreaker – Going up the trail wasn't an issue since you probably will be sweating and warm from all the cardio. But it can get chilly later at the summit while you are waiting for sunrise. I used my Uniqlo Light Pocketable Parka, which is super thin and I thought it was sufficient.
Light snacks like a chocolate bar or some dried nuts. There was a small hut midway through the hike that sells snacks, but they would mostly be serving local delicacies so if you're particular about food, you might want to bring your own.
A bottle of water – I recommend bringing this, but you can also buy bottled water on the summit or on the way down.
Some cash for coffee and to tip your guide – I gave Rp 50,000 for each of our guides but you can give whatever you want. Rp 50,000 is less than $5. The coffee at the summit costs Rp 30,000 per cup.
And that's all really! Again, it's a very short trek, so make sure you don't overpack.
Mount Batur Sunrise Trek Time Table
Our trek schedule went roughly like this:
| | |
| --- | --- |
| 02:00 am | Pick up from our villa in Ubud |
| 04:00am | Start trek from Bali Sunrise Villas (1,000m elevation) |
| 04:30 am | First break at a small warung |
| 04:50am | Halfway point water break |
| 05:17 am | Third water break |
| 05:35 am | Summit (1,717m elevation) |
| 07:55 am | Start descending back down |
| 08:35 am | Arrive back at Bali Sunrise Villas |
| 10:10 am | Back at our villa in Ubud |
Climbing up to the summit of Mount Batur
We went to bed at 9 PM that day, knowing our transportation would be picking us up at the ungodly hour of 2 AM. Yeah, you read that right, 2 AM in the morning.
As I said before, we booked this Mount Batur Sunrise Trekking tour from Klook and the driver showed up very much on time. We got to the car without fuss and proceeded to pass out in the car the entire way to the mountain. We got to Bali Sunrise Villas, the starting point of our trek, at around 3:40 AM.
We started the trek in pitch black at 4 AM – our guide, Made, had given us some flashlights, and that was our only light source for a while. The first 50 minutes of the trek were quite easy – we were just walking on a clear trail with just a little bit of incline. I was wearing my jacket at the start of the trail, but I quickly had to take it off because it got warm and sweaty with all the walking.
The trail only started getting steeper and harder after the halfway point break – it's basically like climbing stairs at this point, but everyone in our group was pretty fit so we kept on going without many stops. We took a total of three water breaks with no more than 5 minutes for each break. We reached the summit at around 5:35 AM with no issues, which means it took us a total of 1 hour and 35 minutes to reach the top!
I should also note that because we climbed during low season, there was almost nobody on the trail. Perhaps that's also why we were able to go up pretty fast. We did hear that during high season the trail is pretty much packed with a line of humans which could slow you down.
While waiting for sunrise, we were given our boxed meals consisting of 2 soft-boiled eggs, a banana sandwich, a piece of banana, and an orange. Made told us the eggs were cooked using the volcano steam itself! More on that soon.
The eggs were so hard to peel though. You know how you're supposed to stick boiled eggs into ice-cold water right after they're done so that the shells will come off smooth? I guess there isn't that much ice up here so I can understand…
Anyway, if you're wondering where all the pictures are, here they are! I didn't have any photos while climbing up because really, it was pitch dark. Any attempt to take photos pretty much failed. Thankfully, the summit view was amazing!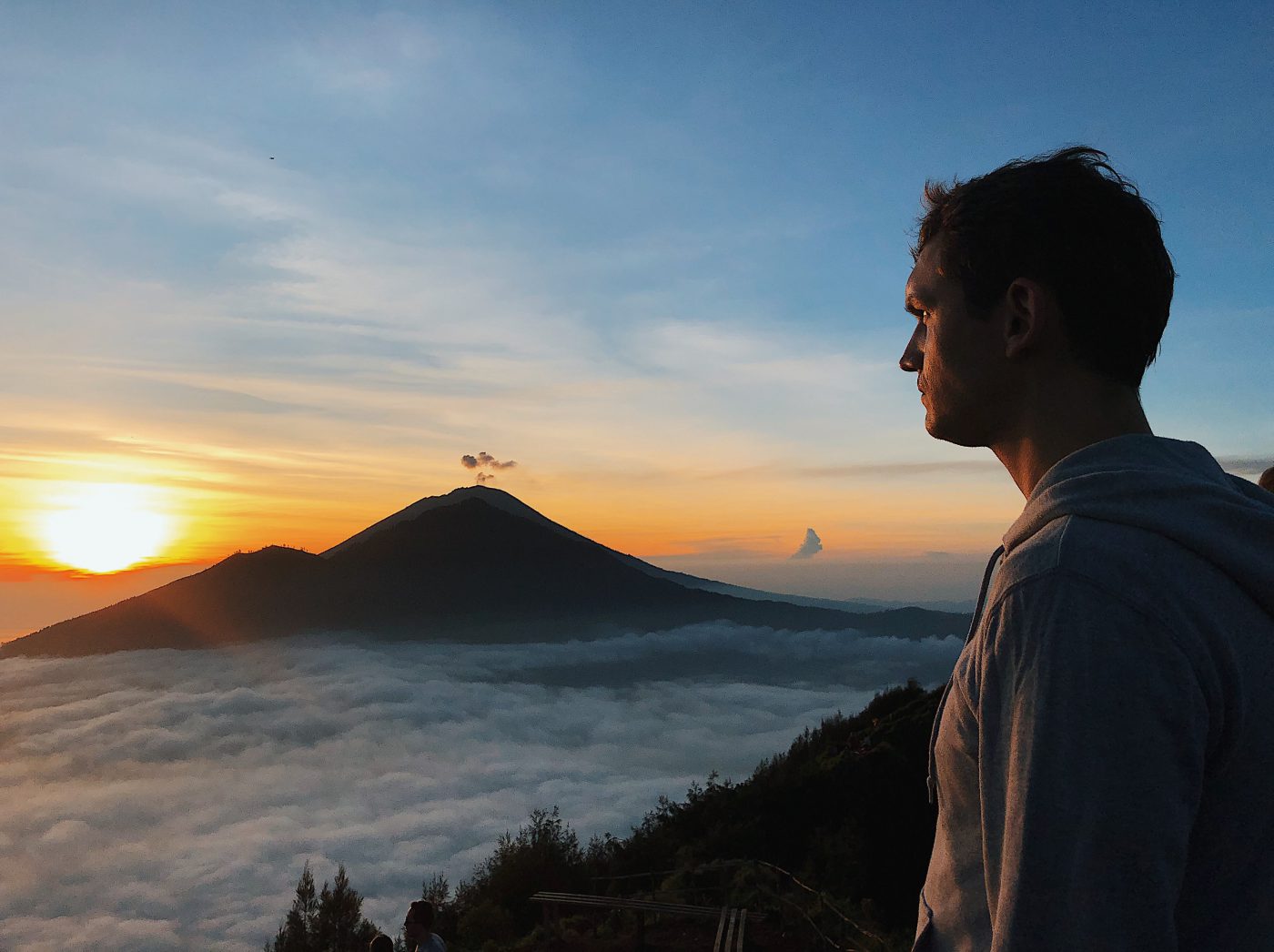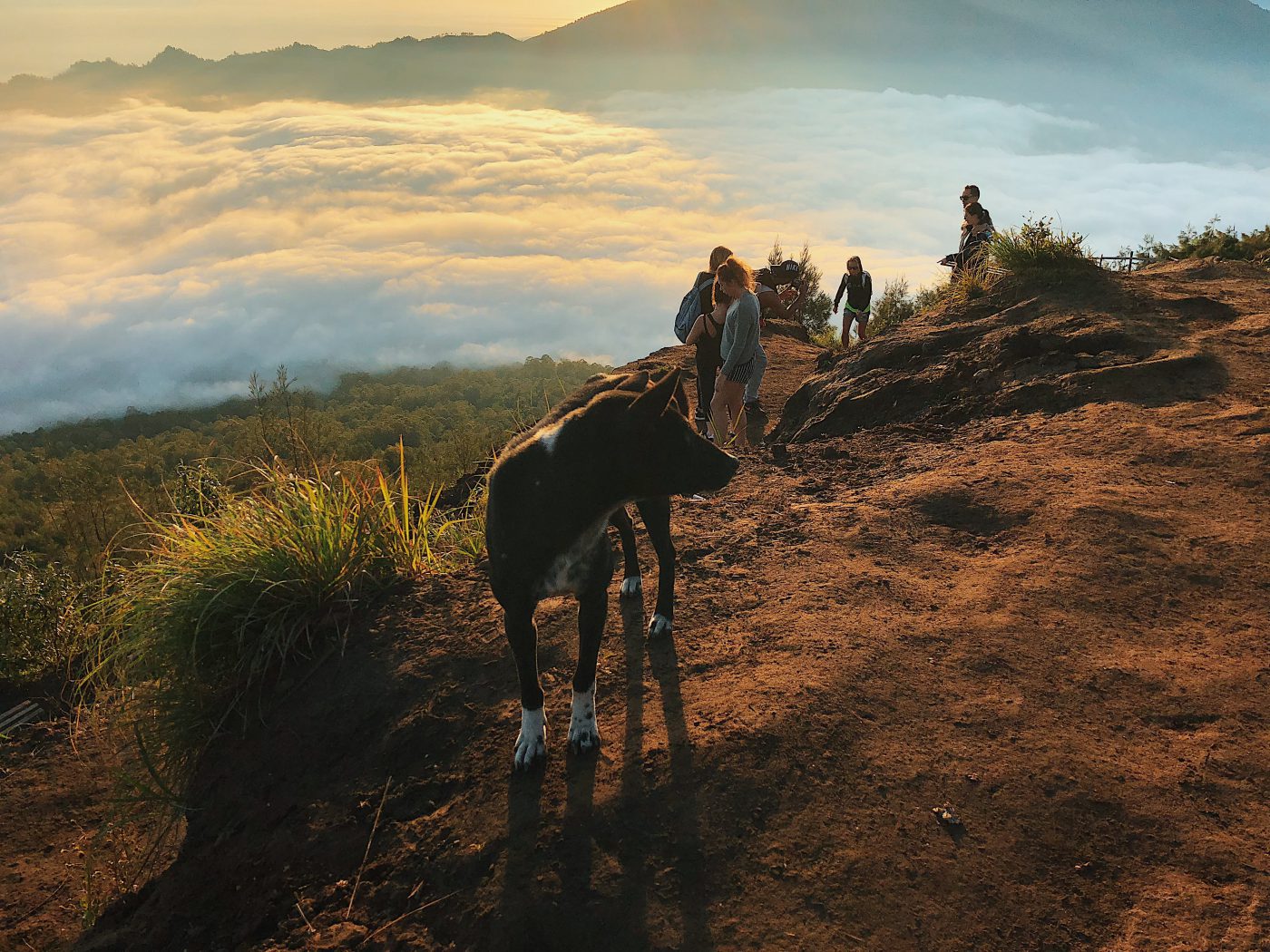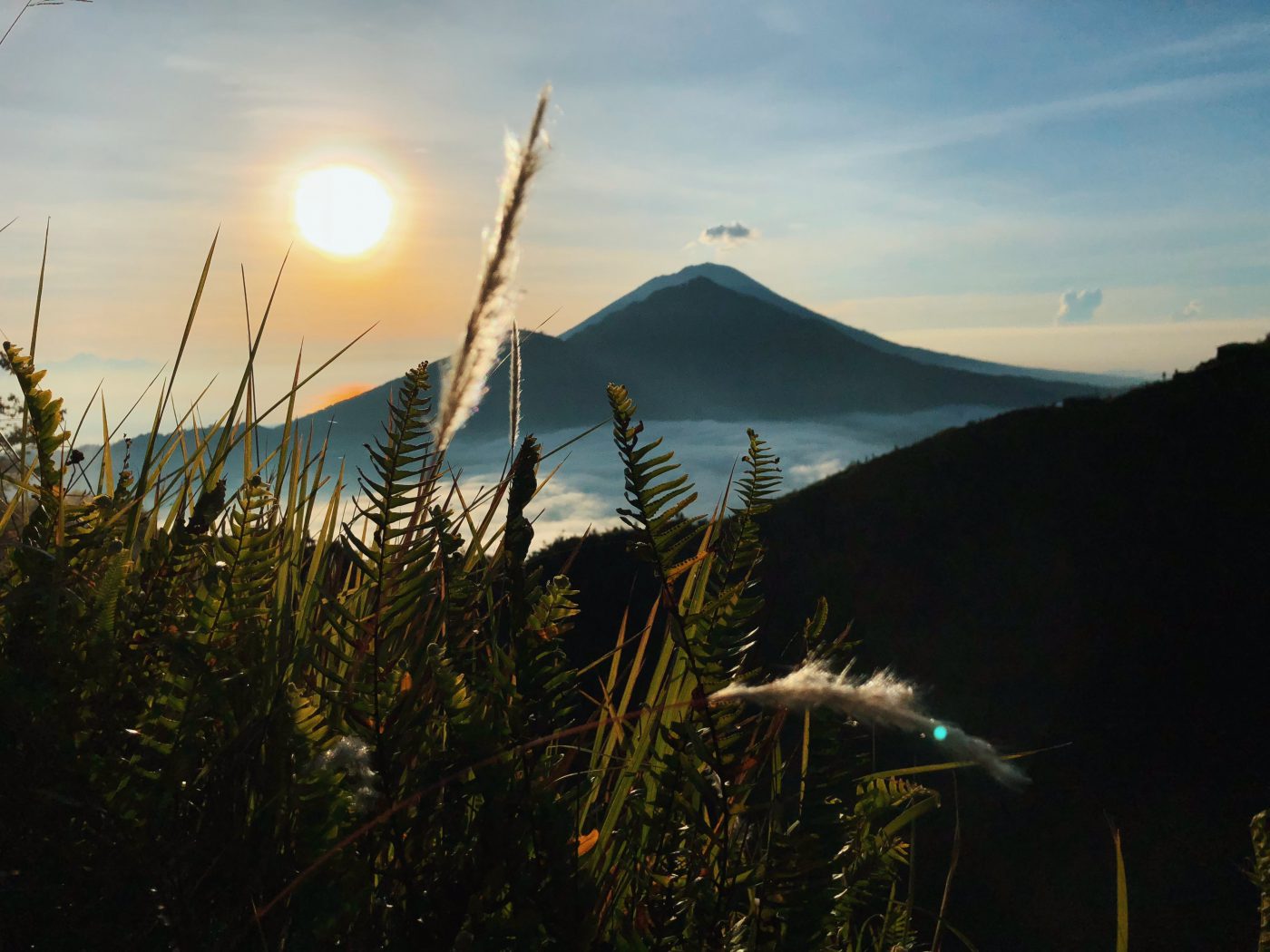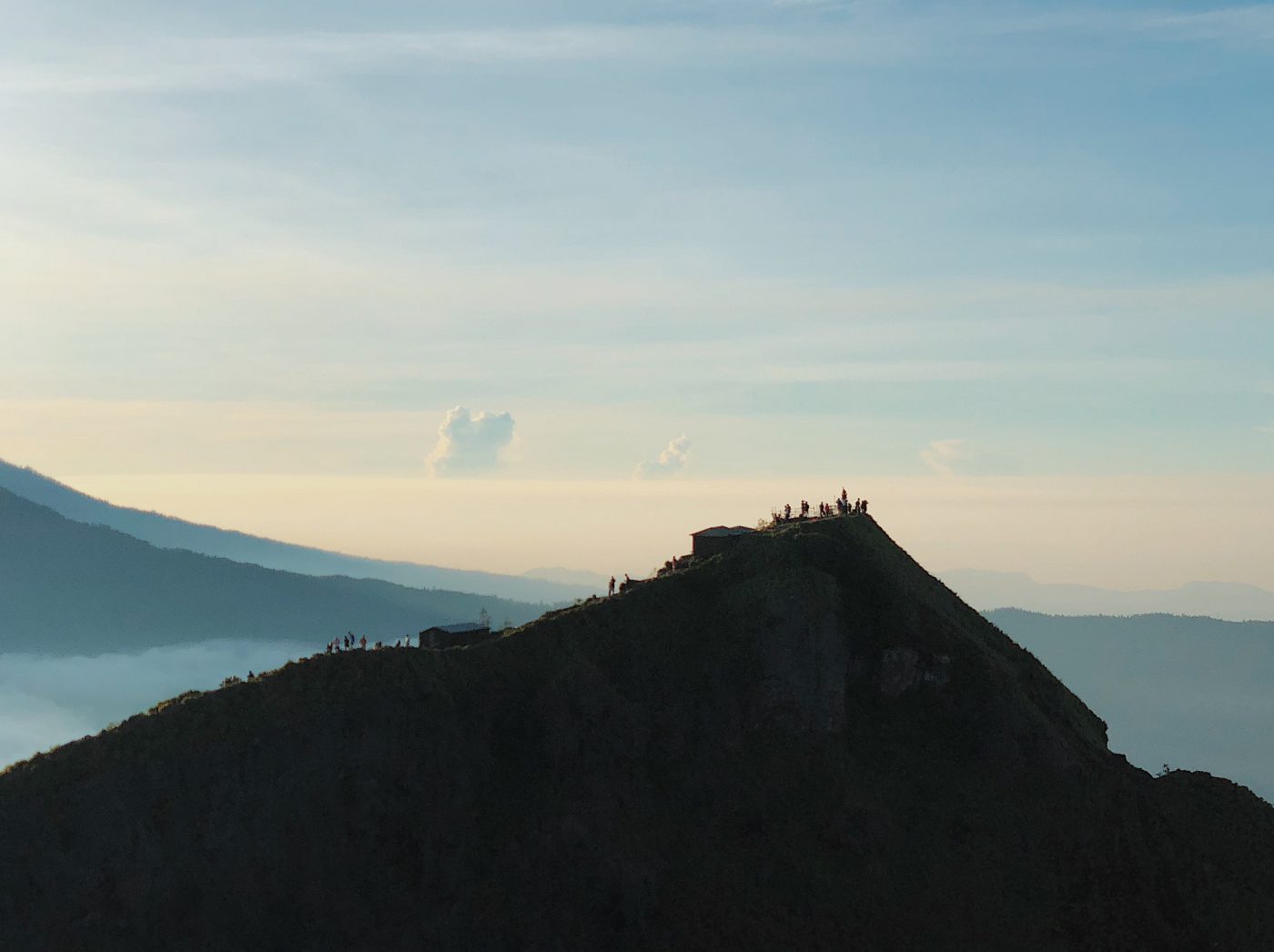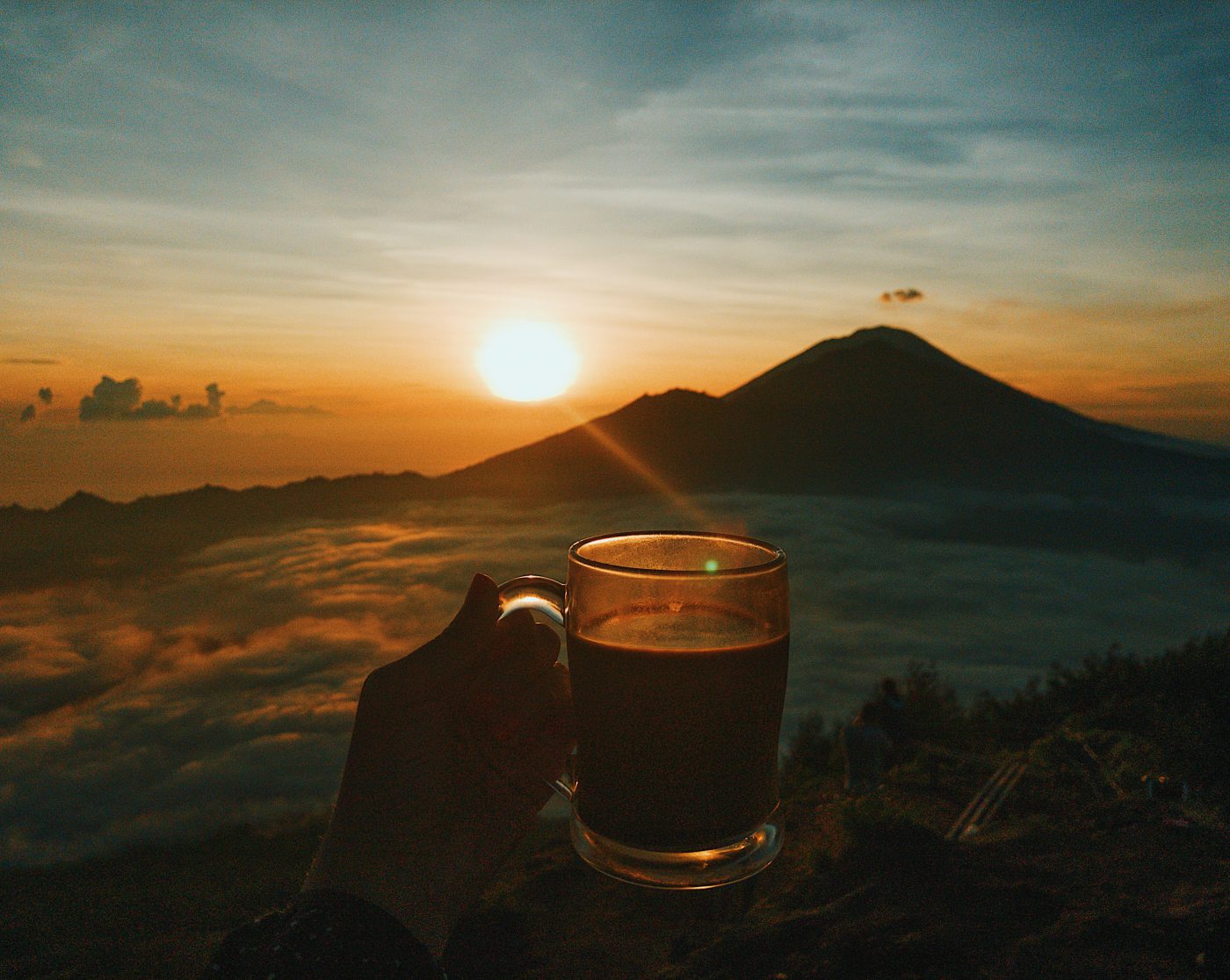 Exploring the Mount Batur Caldera
After the sunrise, we continued on to explore the rest of the caldera. Mount Batur is still an active volcano, with the most recent eruption being in 2000. Made informed us that during the 1968 eruption of Mount Batur, red lava flowed into the caldera, and to this day the black lava field can still be seen from the summit.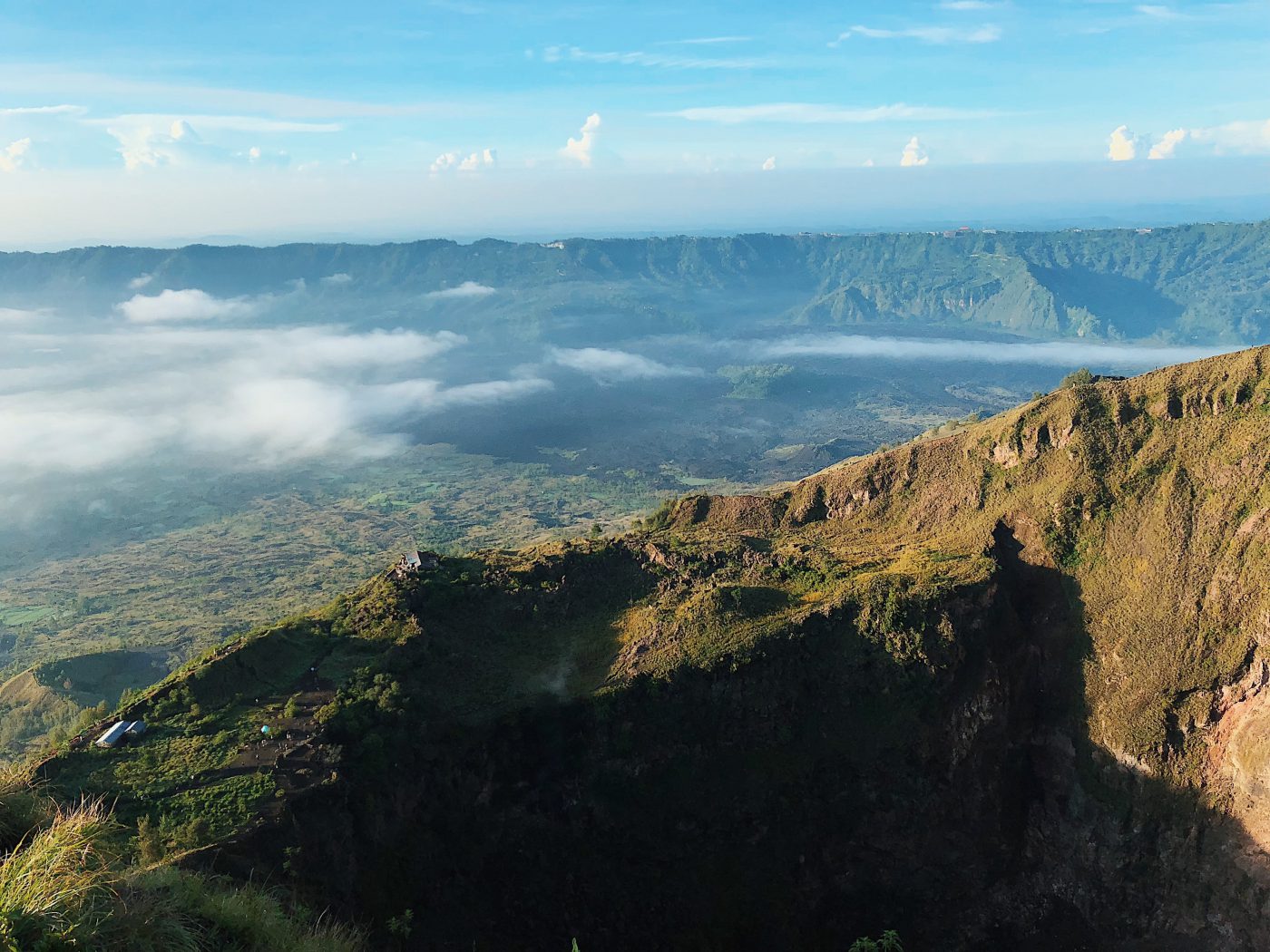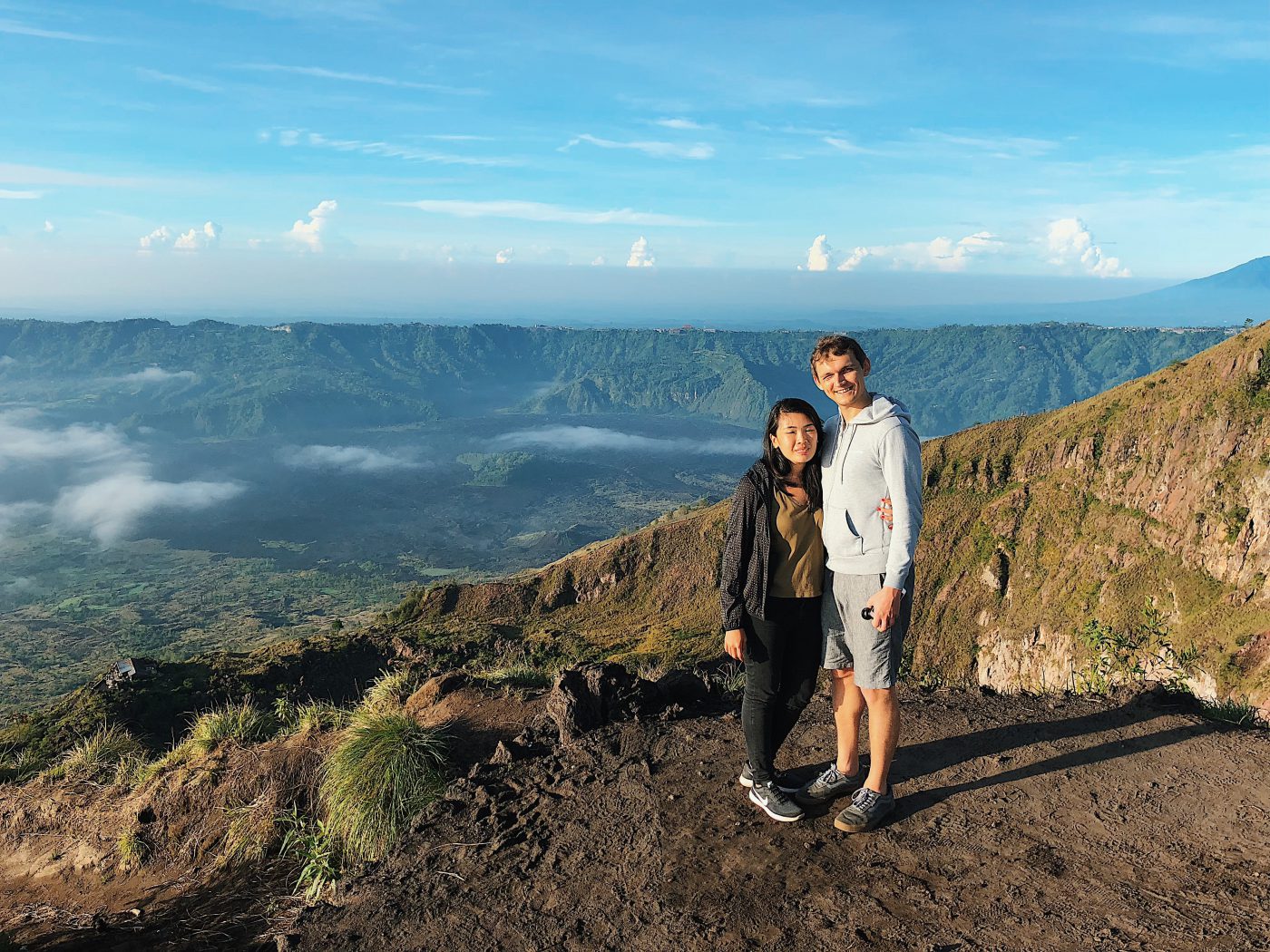 Remember how I said the eggs that we had for breakfast were cooked with natural steam coming from the volcano? Made then took us to the cliff where we could see the steam up close. It's not super apparent in the photo below, but that white smoke you can see coming out from the cliff is not just fog – the entire cliff (which was actually a crater rim) was steaming!
We took turns blowing incense into the hole, which made the steam thicker, and sticking our hands into the steam hole – not for long though, cause it felt like sticking your hand on top of a boiling pot of water.
To quote another girl who stuck her hands in for too long: "Damn, it's hot as shit!!" Yeah, I guess it was hot enough to cook eggs.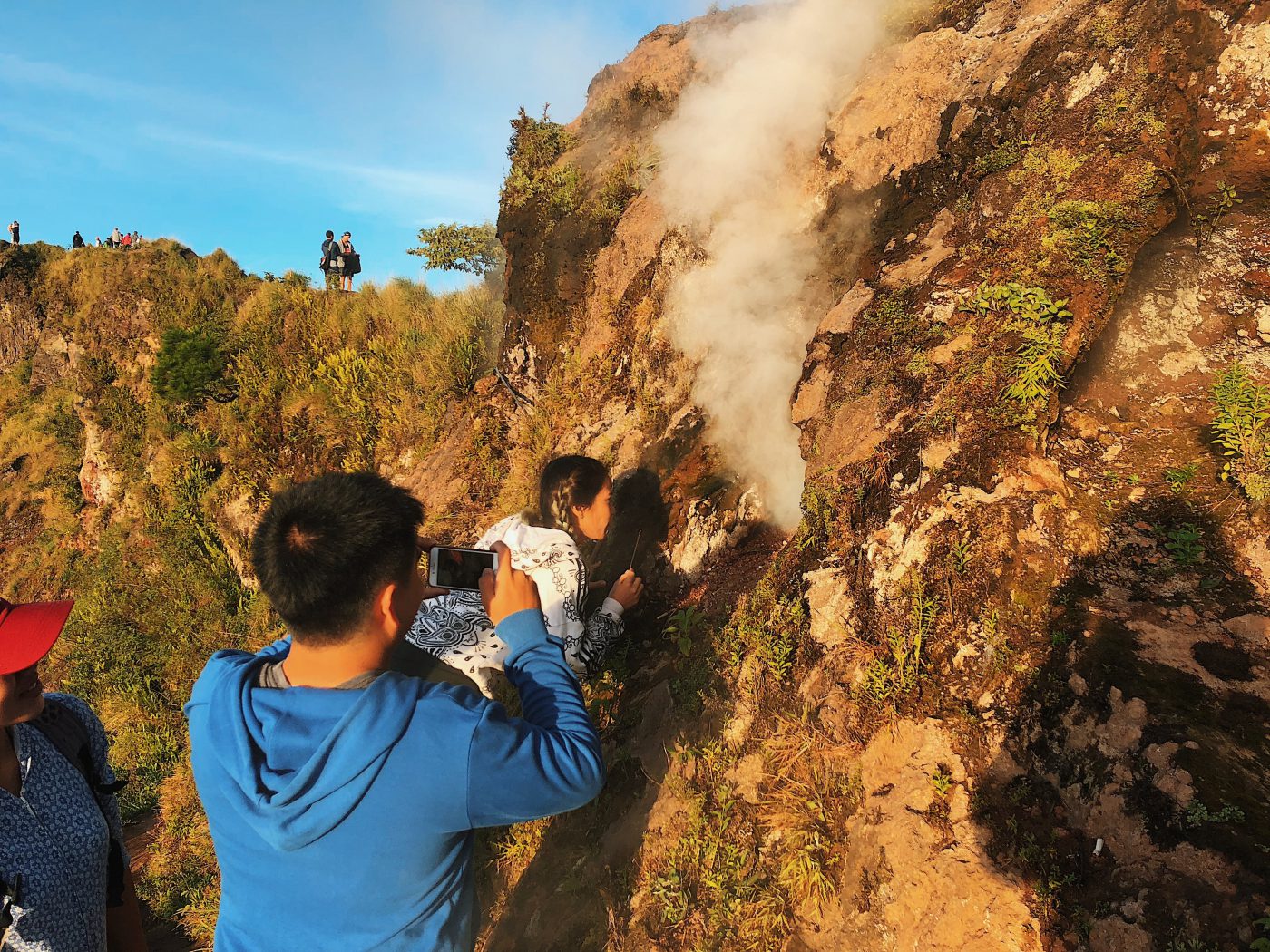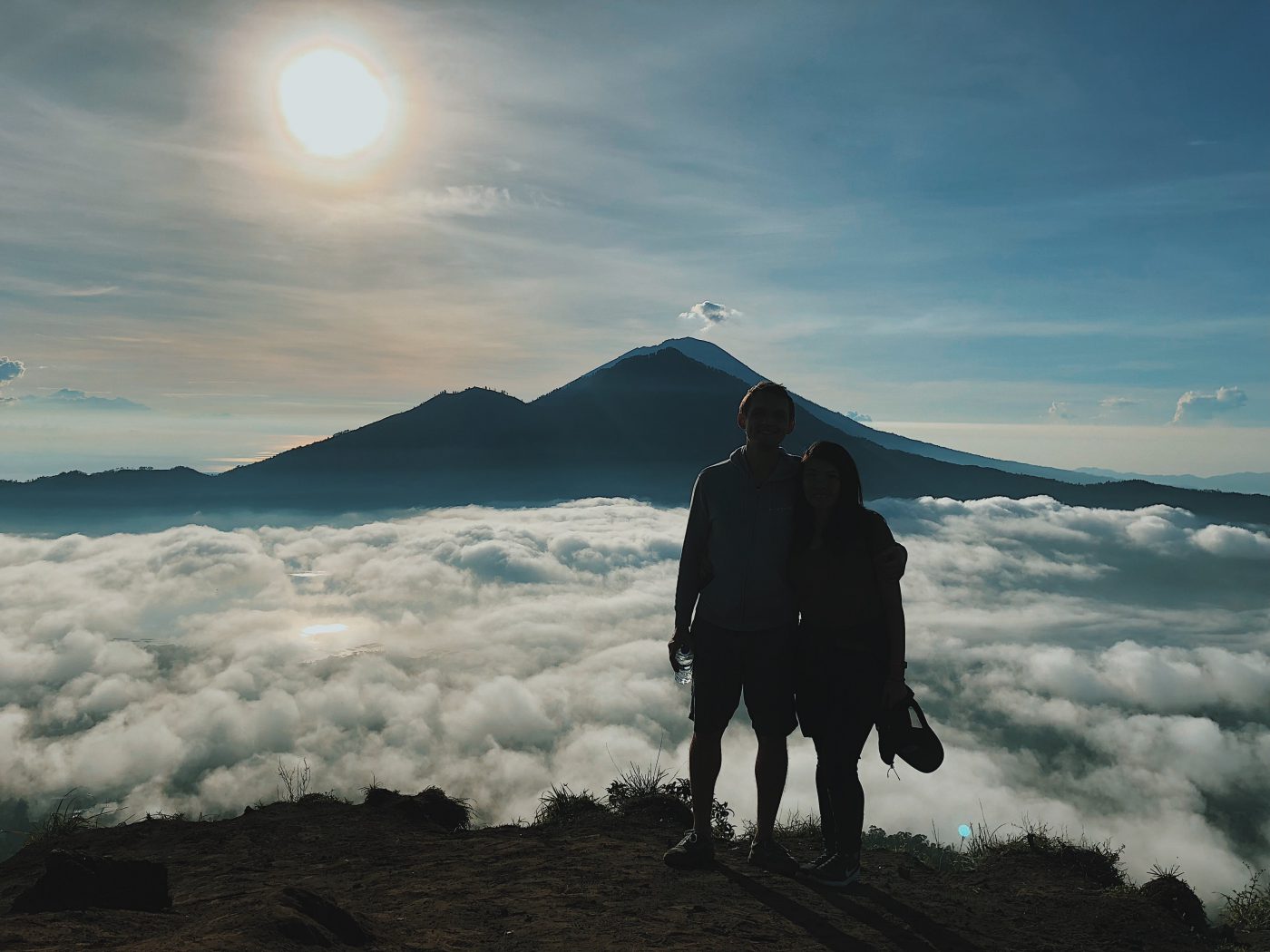 Descending Down Mount Batur
| | |
| --- | --- |
| 07:55 am | Start descending back down |
| 08:35 am | Arrive back at Bali Sunrise Villas |
| 10:10 am | Back at our villa in Ubud |
After playing around on top of the summit for two hours, we started descending. The descent took much faster for us (only 50 minutes!!) but don't think it's going to be a walk in the park – it was still hard. Most of the terrain near the summit is loose gravel, so you have to be more confident with each step and know where to go. This is where proper hiking shoes would have come in handy.
I was following behind Made very closely, so I pretty much just copied her steps. She also helped me by holding my hands on some parts of the trail where it gets too steep. I was wearing my regular Nike running shoes, and it gets pretty slippery – a few people in our group fell at least once, and I myself fell once on my butt while descending.
But the descent is quite beautiful, especially since we were blessed by crazy good weather that morning. We got to stop by the temple, which Made explained to us is necessary according to the Balinese culture. Mount Batur is one of the four sacred mountains in Bali. We needed permission from the Gods to go up the mountain, to ensure our safety.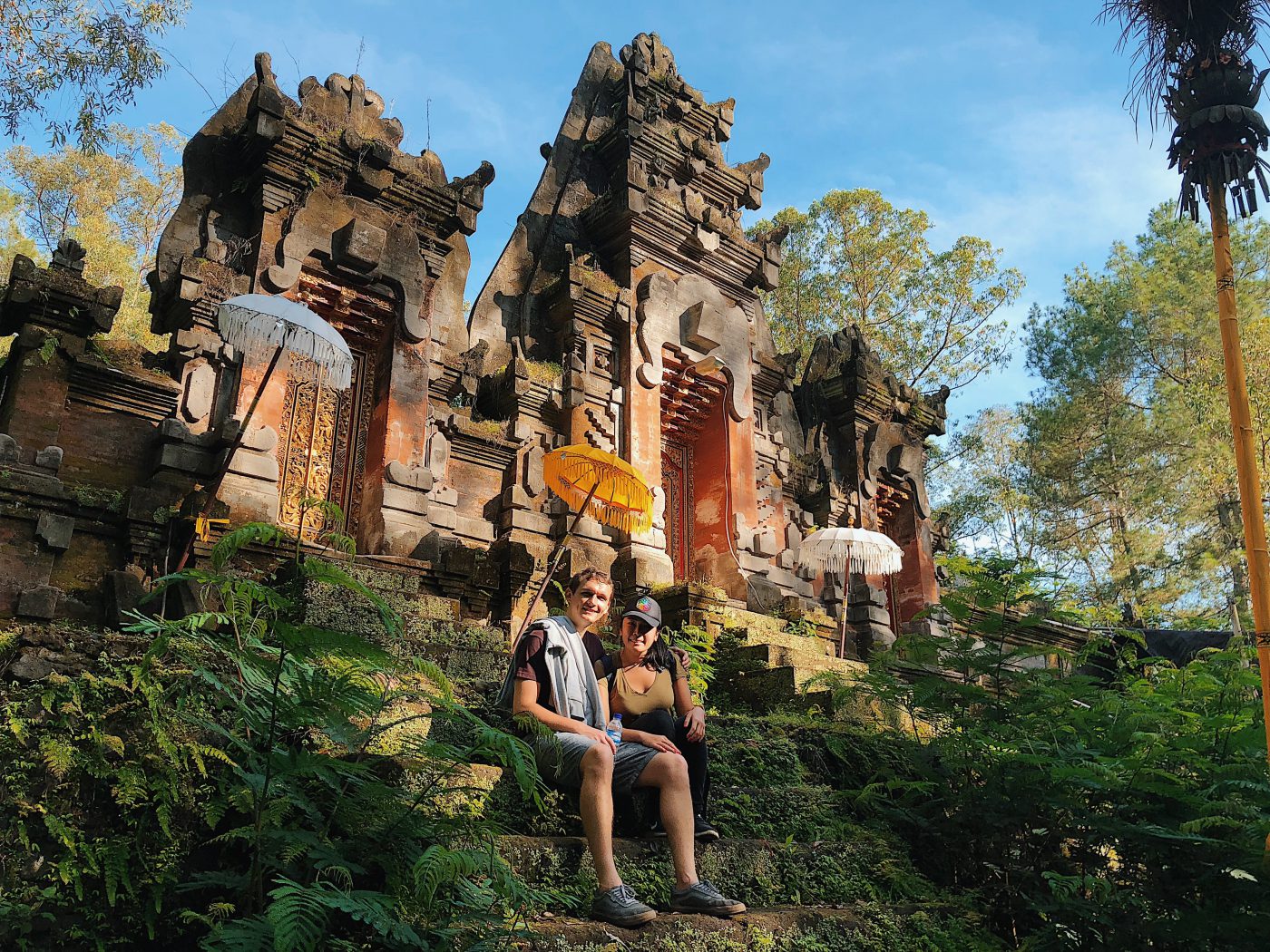 While descending the trail, you'll also meet a few mischievous grey monkeys! Time to bust out some bananas you might have saved from your breakfast – the monkeys are not aggressive, but they will jump on you if they see you holding fruits.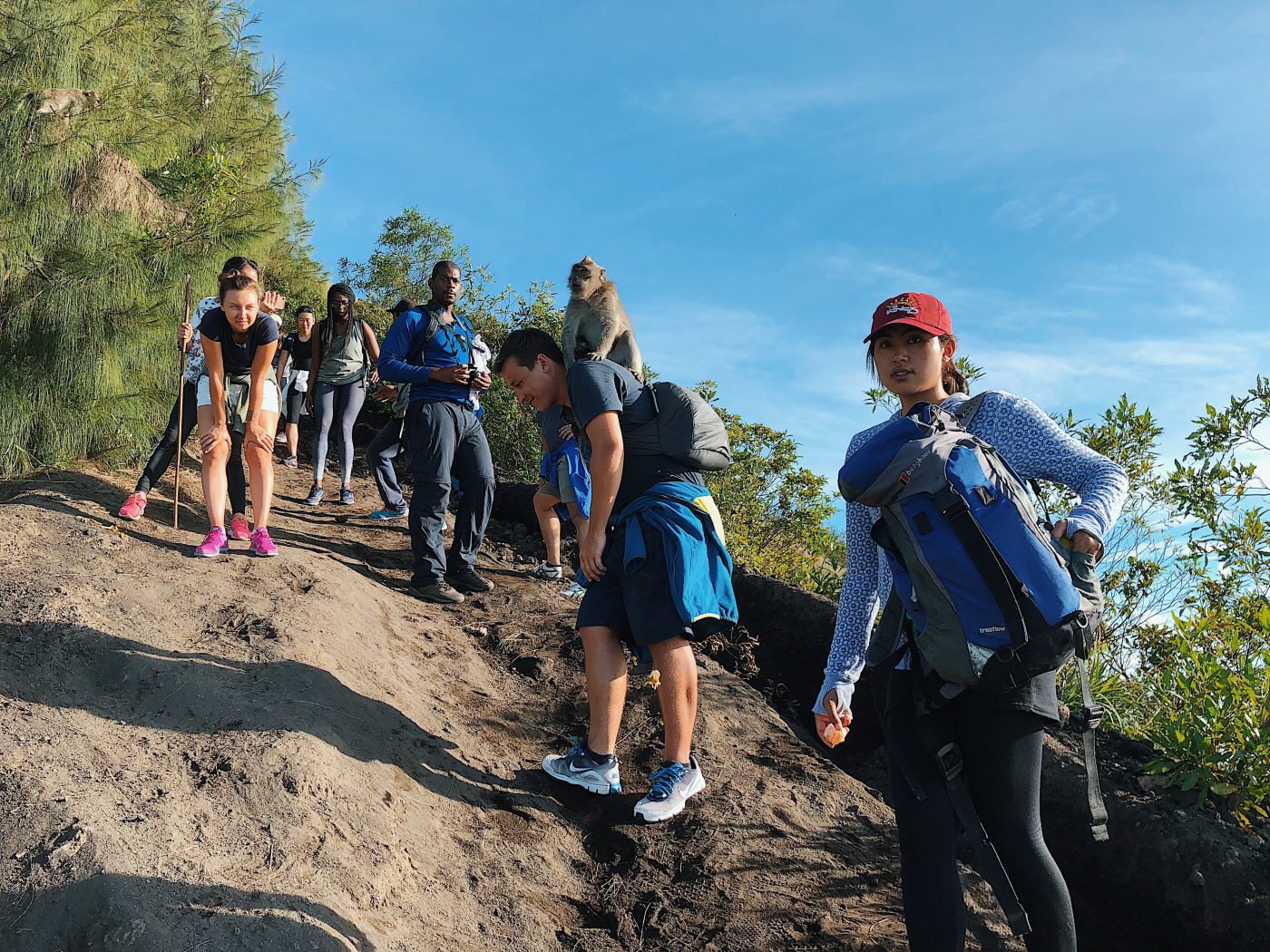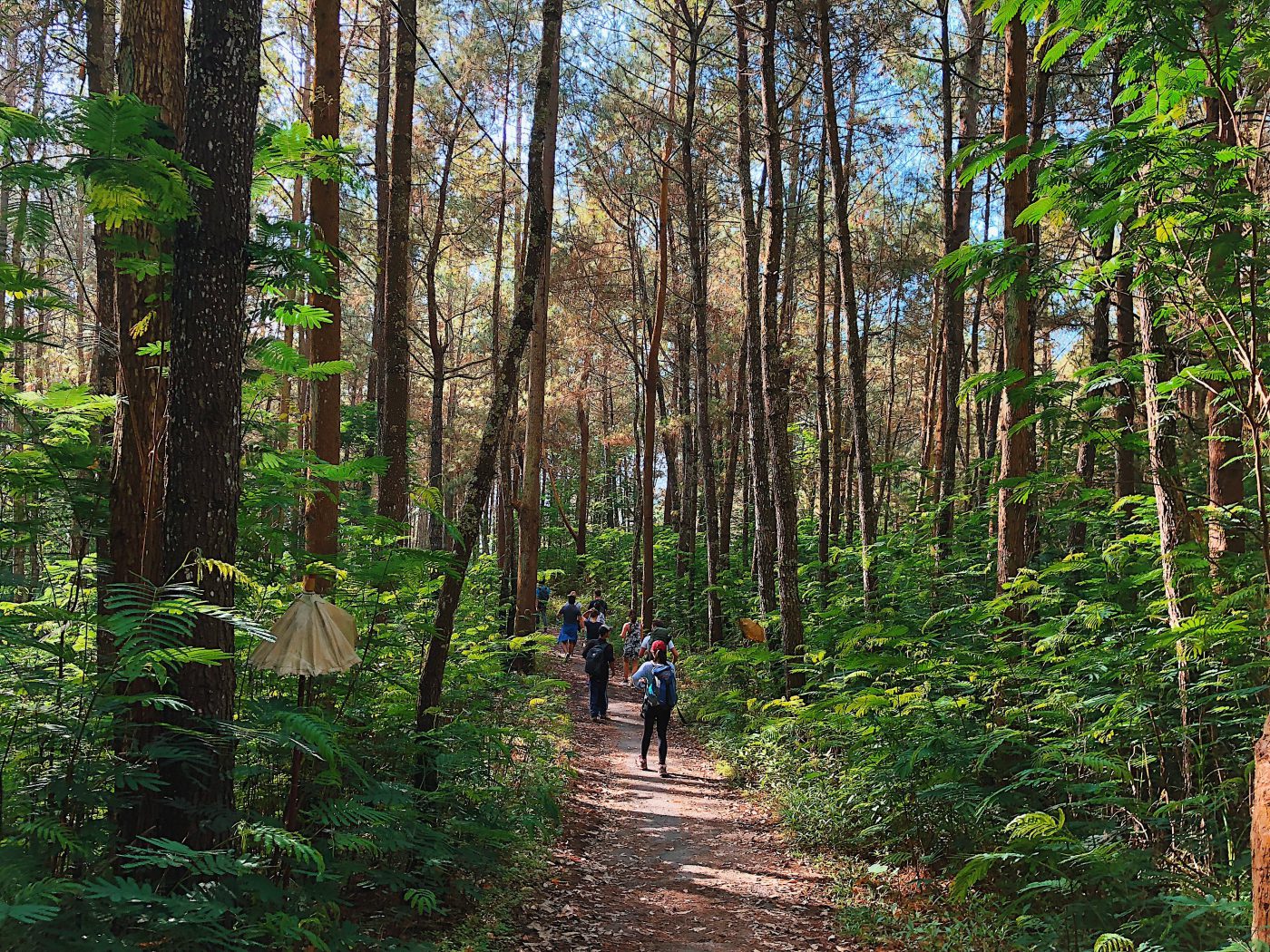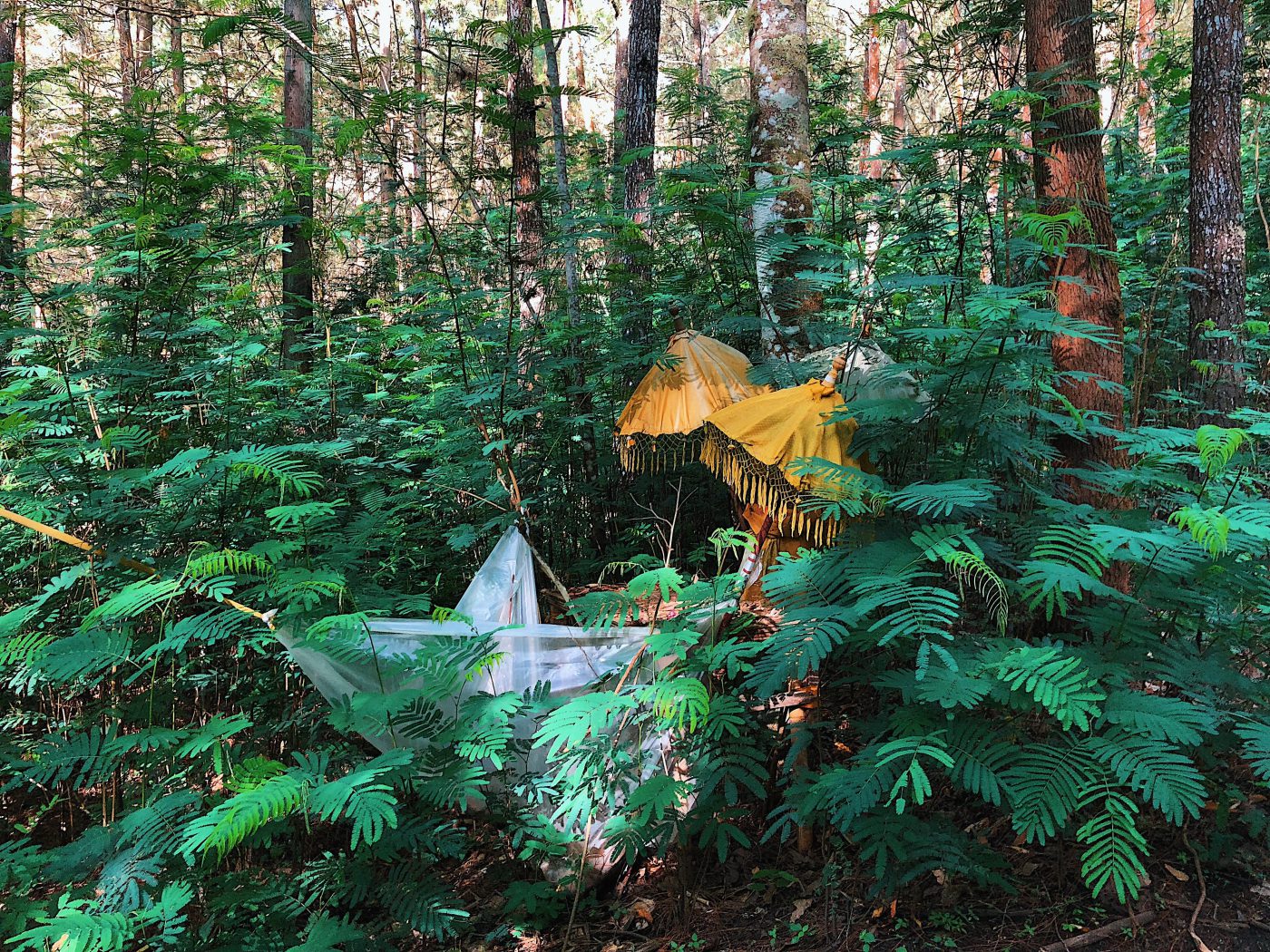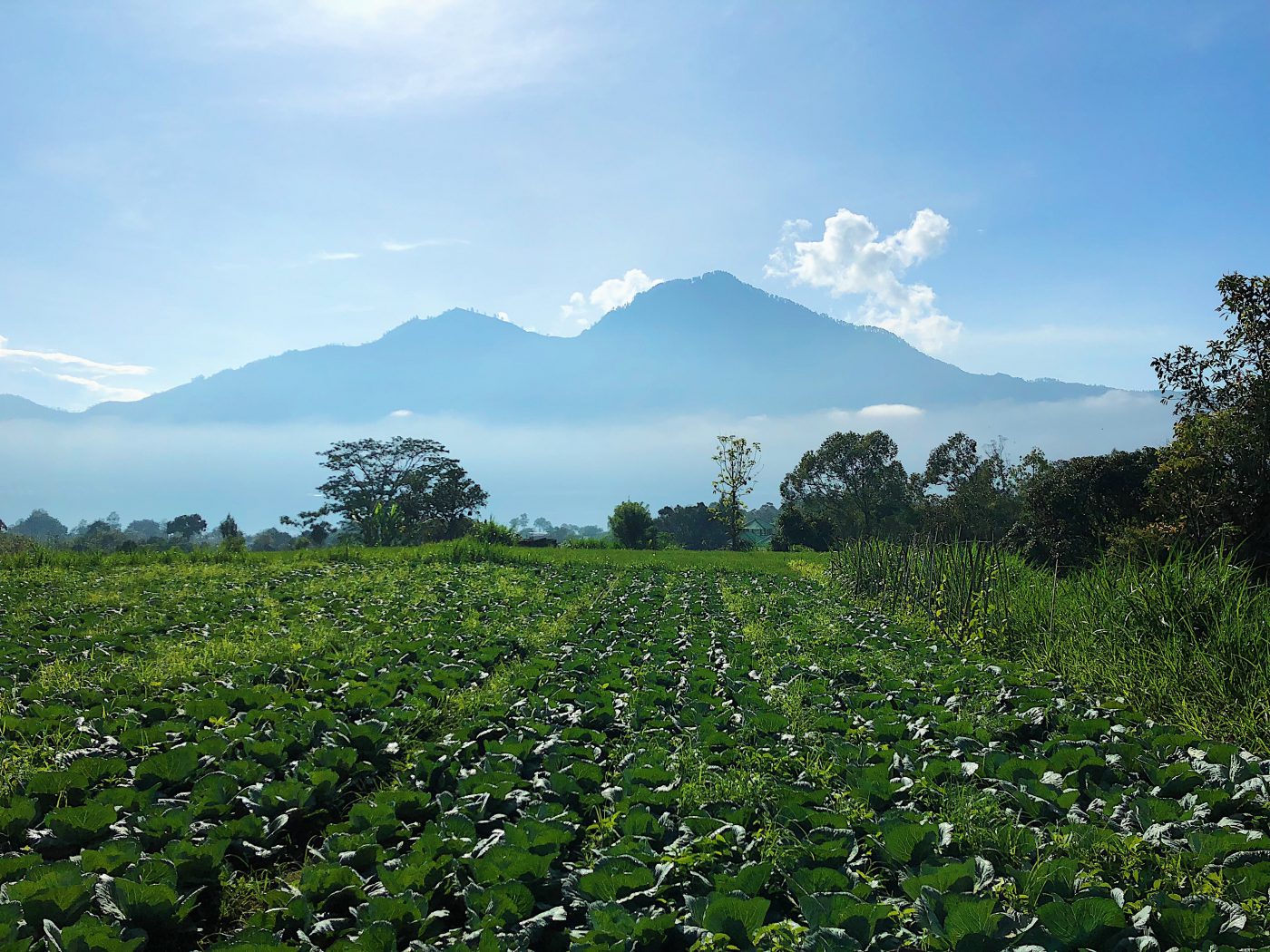 Will I recommend doing this trek? Hell yeah! This is what I would call a high ROI hiking – the hike was short and not that difficult but the view above is amazing. Mount Batur is right next to Mount Agung. On a clear day, you can see Mount Agung from the summit which makes for an amazing picture. And because you start so early, you're basically done climbing a volcano by 9 a.m. Some people are not even awake yet by then.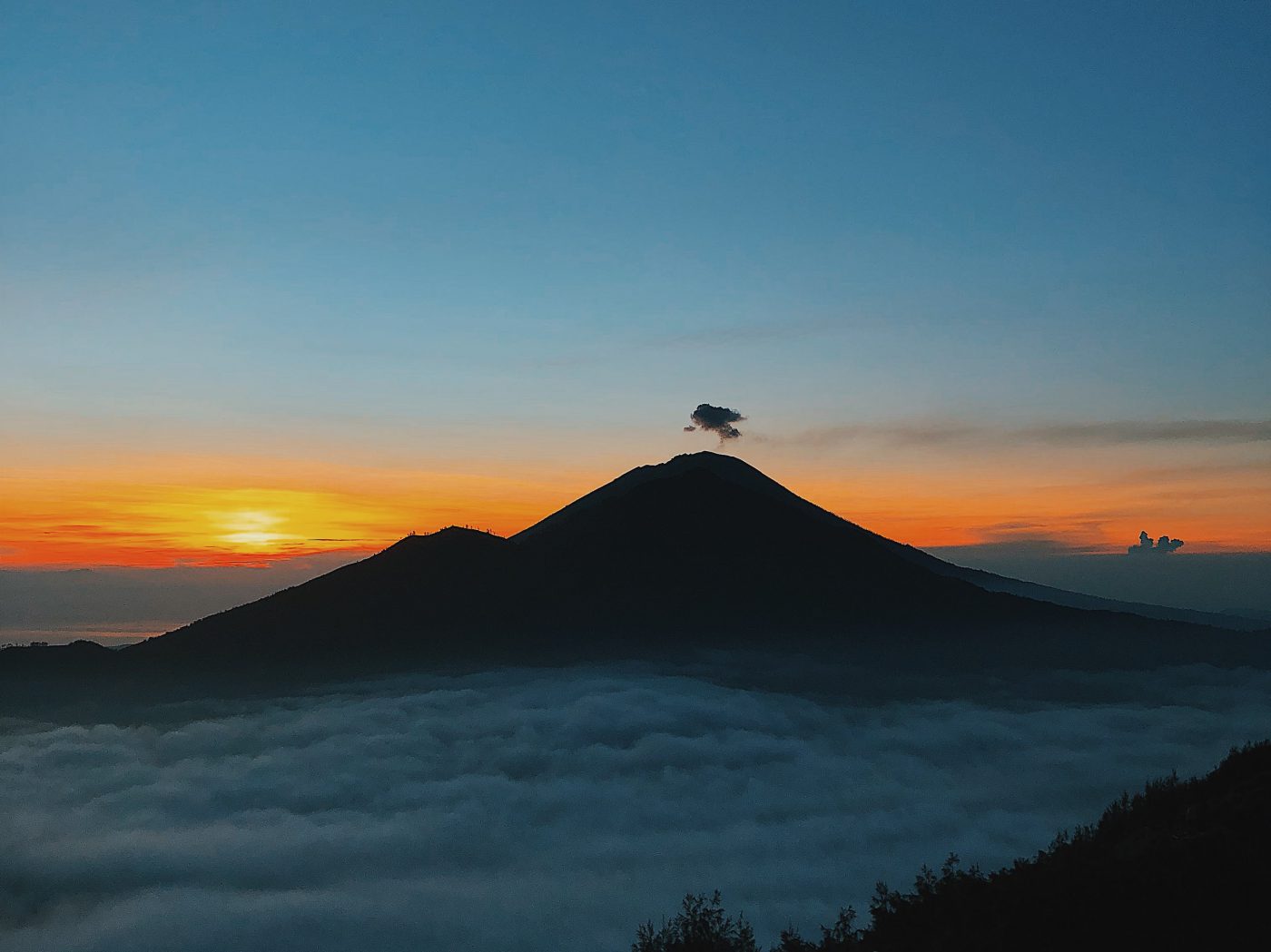 The hardest part really is waking up at 2 AM though – it really messed up my internal clock. Although we got back to our villa around 10 AM, the rest of the day was pretty much a write-off, wasted catching up on sleep. We finally got out of our villa for dinner at 6 p.m. I wouldn't plan on doing anything strenuous after the climb because you probably will be tired like us.
The next morning, we were out and about again. I was crazy enough to book a canyoning trip the very next morning. But, that's another story for another post 😉
Where to stay for Mount Batur Sunrise Trekking
If you're keen to do climb Mount Batur, here are good places to stay:
1. Ubud
As I said before, we got to Mount Batur from Ubud. I liked this option as it saved time for us – we didn't have to leave Ubud and could still do more things around Ubud after the trek.
You can read my Ubud Guide here, where you can find my hotel recommendations and other things to do in Ubud.
2. Seminyak
You can also get picked up from Seminyak, but it does mean you'll probably get picked up earlier since Seminyak is on the other end of the island from the mountains.
If you need recommendations on where to stay in Seminyak, you can look at my Seminyak guide.
3. Kintamani
Otherwise, if you have time to kill in Bali and you want to sleep a little bit more, you can stay the night at the foot of Mount Batur in an area called Kintamani. That way, you are pretty much already at the start of the trail!
You can also spend some time exploring the village, visiting Lake Batur, and going to the Batur Natural Hot Spring, which people tend to visit to relax after the sunrise hike.
If you want to do this, here are some hotels you can consider in Kintamani near Mount Batur:
Bali Sunrise Villas – this beautiful villa was the starting point of our trek, so you know it doesn't get any more convenient than this.
Batur Volcano Guesthouse – This guesthouse has a hot spring, and if you're on a budget you can try the dormitory too.
Black Lava Hostel – If you are on a budget you can try this hostel.
And that was my experience climbing Mount Batur! If you have any questions, please feel free to comment below.
Otherwise, I'll see you on the next post! ➡️
Are you looking for more places to visit during your stay in Bali? Be sure to check my complete Bali Guide. This post contains everything I know about Bali – which areas to stay, what food to eat and what to do in Bali.