I have heard a lot about Tasmania – about the unique and beautiful nature down there, and how they have the cleanest air in the world because they are so far removed from everything else.
I've seen the rugged beauty of Tasmania in Lion, a true story made into an Oscar-nominated drama movie featuring Nicole Kidman and Dev Patel. Needless to say, I was very excited about this trip. It also helped that my Australian friends would gush about how food in Tasmania just tasted better and that their local produce is considered superior even among Australians.
In this post, you can find the details of planning a road trip in Tasmania and the East Coast itinerary I ended up with.
My 5 Days in Tasmania Road Trip Itinerary
In my past Australia posts, I've talked about how surprised I was at the sheer size of the country-continent. Well, Tasmania is no exception – even though on the map it looks like a small portion of Australia, it's still quite huge. If you want to hit everything Tasmania has to offer then I reckon you'll need a good 10-14 days.
Now here comes the problem – I only have 5 days in Tasmania. So I knew I had to make some sacrifices. I narrowed down what my must-dos are: I want to see at least one national park, I want to eat Tasmanian oysters, and I want to still see some sights around Hobart. Keeping these in mind, I had to settle for the shorter option, which meant driving only halfway up the east coast to Freycinet National Park before driving back down again.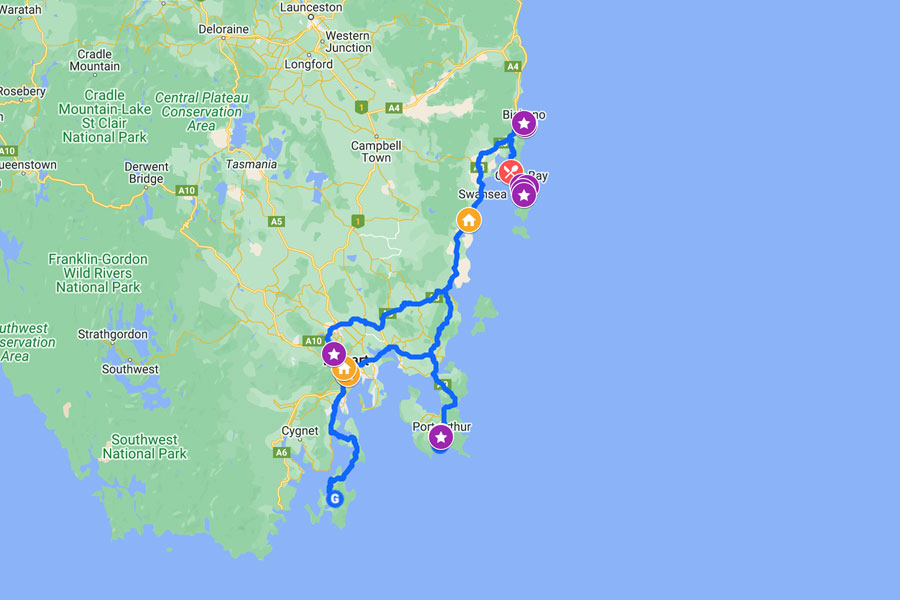 🗺 Save this map to your phone! If you are a Google user, click on the image of the map above. The map will then be saved to your "Recent" maps viewed. Click here for instructions on how to view the map later. It will work from your phone too.
The final itinerary I went with was this:
If you have more time – You can always opt to drive further up towards Binalong Bay and the Bay of Fires, before ending up at Launceston, the second biggest city in Tasmania.
Cash Management in Australia
In Australia, you can use your credit card pretty much everywhere. I didn't use cash for most of my trips there. However, if you prefer to transact in cash, then exchange your money before the trip. Do NOT exchange your money in Australia, especially at the Airport. They generally don't give you a good exchange rate and sometimes apply a fee for the transaction – check out this article for horror stories.
My friend tried to exchange AUD for SGD at Sydney Airport and was given a rate of $1.43 when the going rate was $1.04. His A$163 became S$115 when it should have been S$155. I know as a general rule you are not supposed to change currency in airports, but to his defense, we've changed currencies in other airports and were not ripped off as badly as in Australia.
General Tips for Driving in Australia
Rent a car and arrange to pick it up straight from the airport you're flying into. Saves you tons of time!
Have an International Driver's License with at least a month's validity.
Keep to the speed limit! I have been told the Australian police is very strict on speeding.
Fill up the tank before returning your car, or it's going to cost you.
Most businesses (except restaurants) are closed by 4-5 pm. Yes, even grocery stores, so plan ahead if you need to replenish resources.
Bring an Adapter for USB Charging in the car. Something like this is perfect. You'll be driving a lot, so you'll want to use your phone for music, GPS and research and that stuff will eat into your battery.
Bring a power bank. My favorite power bank is the Xiaomi 10,000 mAh. This stuff is super powerful. It can charge my iPhone 7+ more than twice.
My Itinerary of 5 Days in Tasmania
As you can imagine, there are lots to do in Tasmania so I've broken up the posts to guide you through the special highlights of the trip:
Day 1: Hobart & Surrounding Area
Hobart is the capital of Tasmania, and likely the starting point if you are an international traveler like us. In this Hobart City Guide post, you'll find the low-down of this quaint city – what to eat, where to stay, and day trips you can take from Hobart.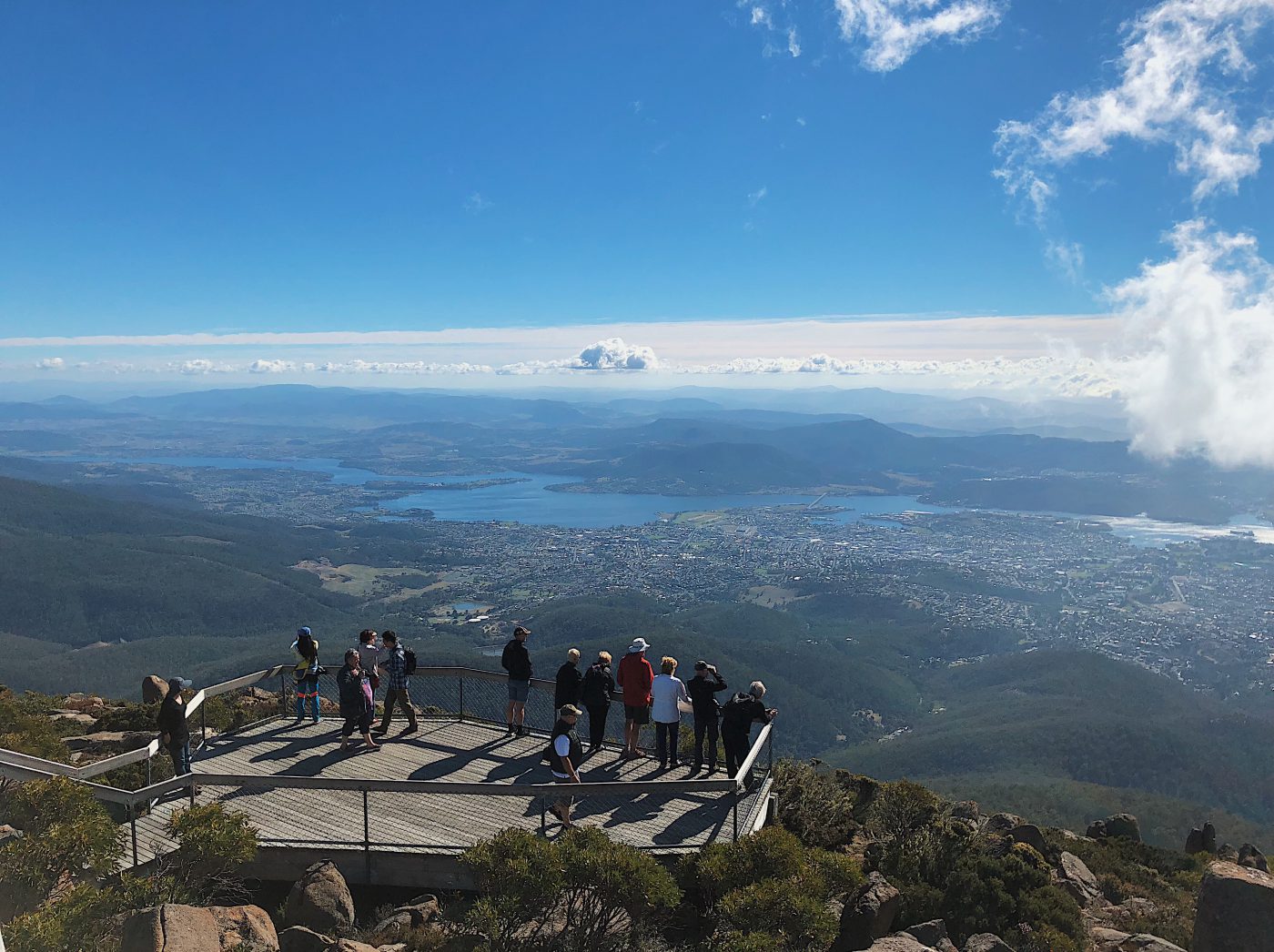 Day 2-3: Bicheno and Freycinet National Park
When driving through the east coast of Tasmania, it's pretty much a no-brainer that you have to stop by Freycinet National Park. This post will guide you through the planning of visiting the park: how to get there, where to stay, and what to do.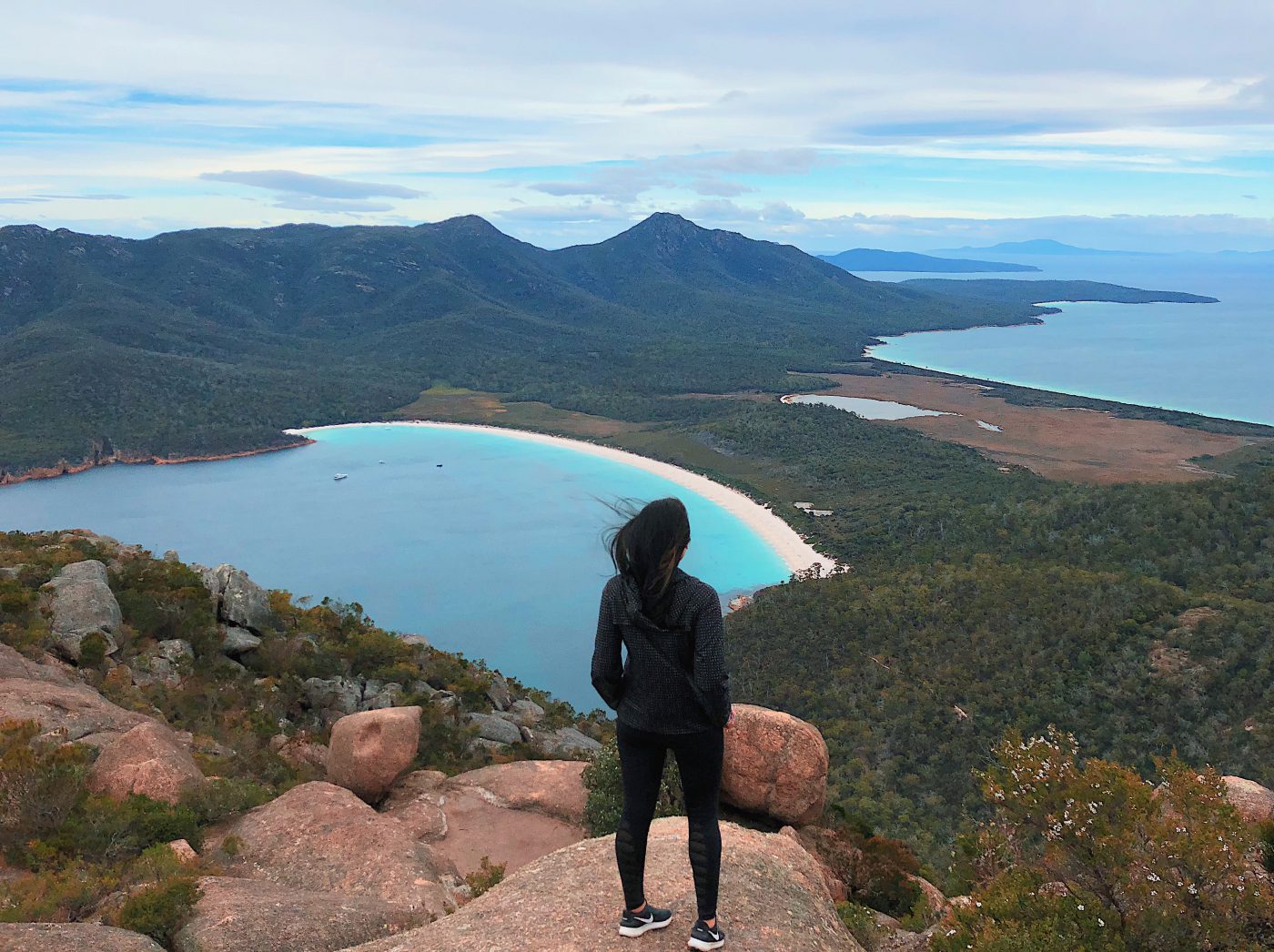 Day 4: Tasman Peninsula and Port Arthur
The Tasman Peninsula is only a short 1-hour drive from Hobart and houses some of the most beautiful terrains Tasmania has to offer.
Hint: It's one of the locations for the movie Lions, which if you haven't seen – you should. It's both shot beautifully and the story is very unique.
While you are there, I recommend stopping by Port Arthur, a historic village that served as a convict settlement built in the mid-18th century!
Here are some tours to Port Arthur / Tasman Peninsula from Hobart you can consider:
Port Arthur Day Tour from Hobart – In addition to the village, you'll also get to see some of Tasman Peninsula's popular sites, such as Devil's Kitchen, Tasman Arch, and the Blowhole.
Tasman Island Cruises by Penicott Wilderness Journeys – If you are the adventurous type, I highly recommend checking out this cruise. This is done by the same company I went to Bruny Island with. We got to see dolphins and other wildlife in this cruise!
Find more info about this in my Hobart Guide!
Day 5: Bruny Island
Bruny Island is a holiday island 45 minutes south of Hobart. The island is formed by two large land masses, separated only by a narrow stretch of sand called "The Neck". More importantly, for me, the island is famous for its gourmet local produce!
You can read about my day of eating and drinking on Bruny Island here.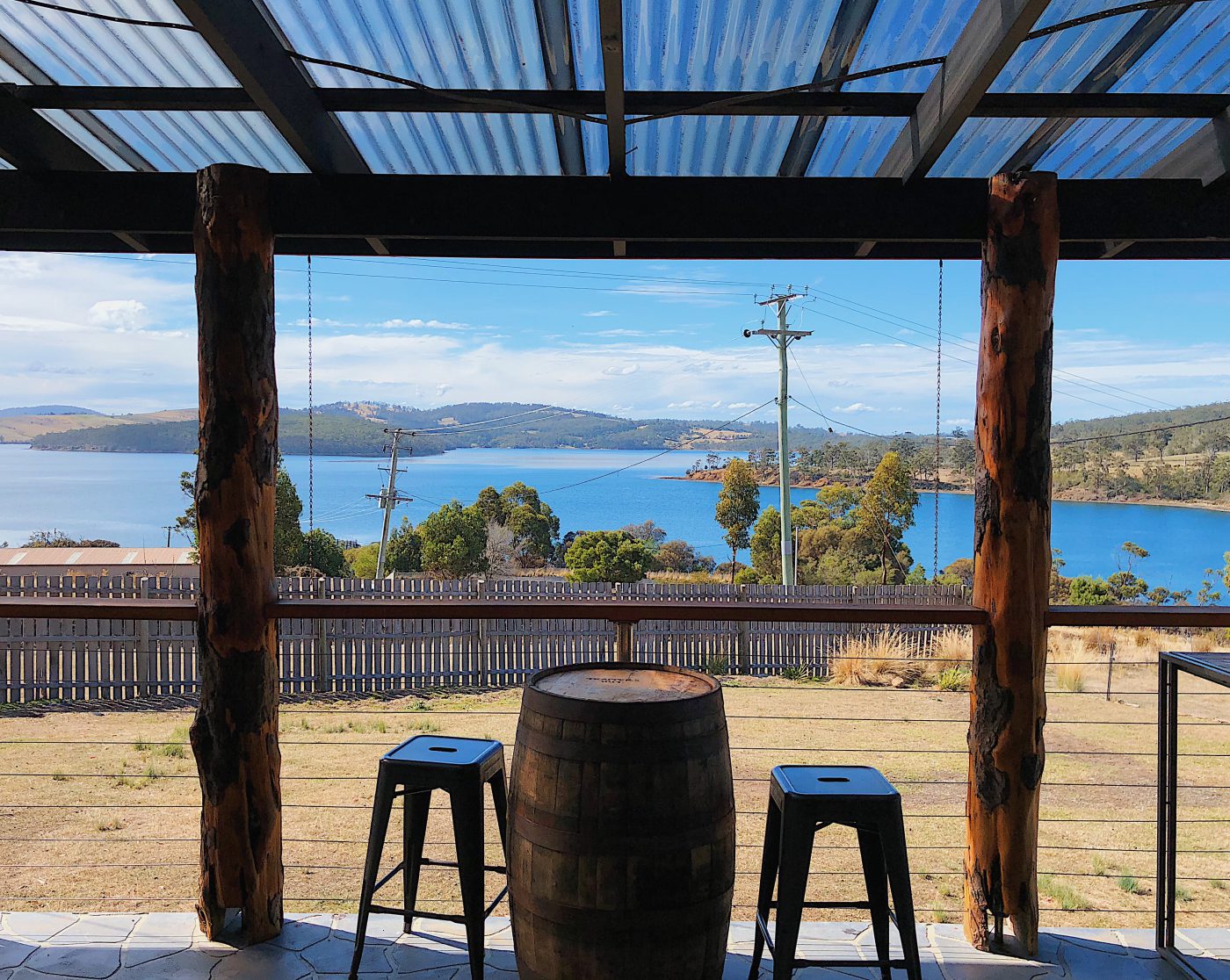 Getting a Car Rental/Hire
Here is a tip for road trip newbies like myself: You can arrange to rent/hire a car and pick it up straight from the airport you're flying into. All car rental companies would have their own drop-off zone at the airport parking lot. This saves you time and money since you don't have to worry about your airport transport anymore!
I booked a car hire through Cheaptickets, which connects you to local car rental companies. I recommend doing this a few weeks before your actual trip!
Tip: You can also book excess insurance with your booking, which covers you in case you get in an accident. If you get this insurance through Cheaptickets, it's only $9.90 a day. However, if you buy the insurance at booking point, it would cost you $30-40 a day so I recommend to buy the insurance online.
Not a fan of booking ahead? You could just get a car when you get to the airport since all the car rental companies have an office in the airport. However, if you do it this way you might risk not having a car available for hire on the day of your arrival. Just an example, when I was in Hobart it so happened that a huge cruise ship was docking in the city for a few days. A bunch of its 3000-something passengers was looking to hire cars and explore the region and I heard most car rentals were fully booked until Monday when I arrived Saturday morning.
Booking Accommodations in Tasmania
I also booked all my accommodations through Cheaptickets. Cheaptickets' hotel booking engine is powered by booking.com, so you can be assured you get the best deal and good cancellation policy – though I would still pay attention to each booking since the cancellation policy differs hotel to hotel.
I find the accommodations in Tasmania to be on the more expensive side, especially as you get into the smaller cities. The accommodations I booked ranges from AU$150-200 (US$115-155) per night. Here are the hotels I booked for my itinerary above:
Shipwright Arms (Hobart) – This is a really small no-frills hotel & pub located in the historic Battery Point neighborhood of Hobart. Their rooms are very simple and there is no dedicated receptionist at the desk (the person checking us in was also tending to the bar, but this hotel was the cheapest I could find in Hobart that isn't a hostel or with a shared bathroom.
Bicheno by the Bay (Bicheno) – A beautiful lodge just minutes' walk away from the beach and city center of Bicheno (which is a very small town). I loved this hotel as they have the best shower out of all the accommodations I had on this trip! The hot water heats up in seconds, has good water pressure and they have a heating lamp in the bathroom – something I truly missed on cold nights when I was stepping out of the shower.
Rydges Hobart (Hobart) – The hotel is a renovated heritage building, located conveniently close to the center of Hobart. I'm not sure if they upgraded us, but our Manor Twin room was huge! It has its own living room and a huge bathroom. It's definitely the most spacious and modern out of all three accommodations.
Example of Cost of the trip
Since I was tracking my spending throughout the entire trip, I am sharing them here with you so you can get an idea of how much you'll be spending in USD.
| | |
| --- | --- |
| Hotel | US$650 (average $130/night) |
| Transport (Car Rental, Fuel, etc) | US$347 (average $35/person/day) |
| Meal (for 2 people) | US$347 (average $35/person/day) |
| Groceries (water and snacks for 2 people) | US$36 |
| Activities (for 2 people) | US$653 (average $65/person/day) |
| Souvenir | US$77 |
Hotel and transport were non-negotiable – I think no matter what you do, you'll end up spending around that much per day/night. Perhaps you could spend a bit less on the hotel if you are going the backpacking route – shared bathrooms / rooms and all.
For Meals, it varied greatly since on some days we skipped lunch, and on some days we had expensive dinners. I think $45/person/day is a more accurate estimate if you eat a modest breakfast, lunch, and dinner. You can also save some money on meals if you choose to cook yourself or eat at a fast food restaurant.
Activities are also negotiable. The price above included a cruise and a full-day food tour which consist of about 70% of the amount above. The rest are the museum entrance, park entrance, etc.
What to expect from driving in Tasmania
Here are a few small things I noted during our road trip:
Lots of roadkill along the Tasmanian roads! I'm not sure why since I didn't see this when we drove in Queensland, but in Tasmania, you can expect to see road kills of varying sizes (from squirrels to wallabies) every time you drive out from the city.
All businesses tend to close early, so try to check in to your hotel before 5 pm or be sure to notify the hotel if you are arriving at an off-house so that they can arrange an alternative check-in method and you won't be left stranded!
Yes, even grocery stores will close early so plan ahead if you need to replenish resources. I find this to be very true, especially in Tasmania.
Weather changes fast, so bring various layers. Super strong sun – bring adequate sunscreen and layer up with extra clothing to shield yourself, even when you are driving in the car.
3G and 4G were widely available in the areas I went to, but I still downloaded offline maps on my Google Maps app just in case we go off the grid. I experienced low connectivity only at Freycinet National Park.
General Tips on Traveling in Australia
A credit card works everywhere in Australia – even in small towns. We brought $200 Aussie Dollars with us and only ended up spending about $50 of it.
Have an International Driver's License that has at least a month of validity left.
Keep to the speed limit! I have been told the Australian police is very strict on speeding.
With rental cars, you should fill up the tank before returning your car, or it's going to cost you extra.
Bring an Adapter for USB Charging in the car in case your car doesn't have a USB charging point, so you can still charge your Something like this is perfect.
Bring a power bank. My favorite power bank is the Xiaomi 10,000 mAh. This stuff is super powerful. It can charge my iPhone 7+ more than twice.
And that's all folks! I hope that was helpful to you.