I've been living in Singapore for a long time. I moved here by myself at the start of my working career, and have since made Singapore my permanent home by taking up citizenship here. That's over a decade of calling Singapore my home.
So I'd like to think that I know a lot about this beautiful city-state that I love so much. And I'd like to share my personal recommendations with you!
Travel tips for visiting Singapore for the first time
Singapore is generally a very tourist-friendly place and efficient to visit. Here are a few tips that make your visit here even easier!
1. Buy tickets online via Klook – If you are going to a place that requires a ticket, they will usually be available online via Klook. As an avid Klook user, I highly recommend them. More often than not, you will be able to get a cheaper ticket by booking through Klook. They also give you credits to offset your future purchases on Klook. Lastly, they have a large presence in Singapore, and as a result, you can guarantee that the experience of using Klook has been tried and tested in Singapore.
What is Klook? Klook is the leading travel and experiences booking website in Asia. And yes, they are legit! I personally always book my activities through them whenever I am traveling. See my review of Klook here.
2. Get around using our amazing public transport – Having visited many countries with extensive public transport, I gotta say – Singapore's is the best. It's affordable, safe, clean, very frequent, and generally reliable. I'll elaborate more about this in the "Getting around Singapore" section below.
3. Get a data SIM Card – This is a must for every destination, and even more so while you're in Singapore, as we are a tech-driven nation. Having data on your phone will allow you to look up directions, book taxis, and communicate on the go easily. There are three major telco providers in Singapore, and you can purchase the SIM for pick up in the city or at the airport:
They're all priced the same and all are generally good in terms of reliability. I personally use StarHub for my own mobile phone, but you can try M1 if you want an eSIM option.
4. You don't really need cash – Singapore is a very digital-driven society, and as a result, we've pretty much gone cashless in most places. Contactless payments are ubiquitous in Singapore, which means you can pay with a credit card almost everywhere. You might still need cash if you plan to visit hawker centers or smaller restaurants, so you still need some cash with you if you plan to visit them.
If you are worried about foreign exchange fees, try using travel cards like Wise debit card. They work well in Singapore!
5. Be prepared for hot weather – While locals have mastered the art of staying indoors during the day, many touristy things you'd want to see are outdoors. So make sure you always have a water bottle with you, wear a hat and appropriate clothes! I'll elaborate more about the weather in Singapore below.
6. Download the Singapore Google Maps to your phone – by this, I don't just mean download the Google Maps app. You can download the whole Singapore map to your phone so you'll use less mobile data when browsing the maps! Here is how to download Maps to your phone.
7. Immigration Arrival Card – The arrival card in Singapore is completely digital. Please make sure you've filled out the electronic Arrival card (available at least 72 hours before arrival) to make your immigration procedures even faster.
8. Singapore with kids – If you're traveling with the little ones, you'll want to check out my guide on what to do in Singapore with kids, as well as travel tips specifically for kids.
Weather in Singapore and what to bring
Singapore, as you might know, is located just one degree north of the equator. That means it's very hot and humid here all year long. Expect a temperature of 28-34C during the day with a humidity level of 80-90%. Consider having the following with you:
Sunscreen / hats / other sun covering – The UV index gets really high here, so you'll want to make sure to protect yourself from getting sunburnt.
Airy clothes – Again, it's really hot and humid here so you'll want to wear light and thin clothing. Think cotton T-shirt with shorts and sandals, or linen material. If you don't have a suitable outfit, I recommend dropping by a Uniqlo store and checking out their Airism line, which specializes in clothing for hot and humid climates like that in Singapore.
An umbrella – just a small foldable one will do. It rains a lot in Singapore, and you can still use an umbrella as extra sun cover even if it doesn't rain.
A bottle of water – you know what to do when you're sweating a lot in hot weather… you hydrate, a lot. So bring a reusable water bottle! There are lots of water fountains in Singapore for you to refill your bottle. And, Singapore tap water is safe to consume.
Mini electric fan – when it's breezy in Singapore, the heat is actually bearable. But when there is no breeze, that's when it gets really difficult and uncomfortable. Bring one of these for yourself!
Getting to the city from the airport
Remember how I told you Singapore is highly efficient? Well, our airport is a great sneak peek of that efficiency. The immigration and taxi lines at Changi Airport usually move fast.
Immigration Arrival Card: The arrival card in Singapore is completely digital. Please make sure you've filled out the electronic Arrival card (available at least 72 hours before arrival) to make your immigration procedures even faster.
There are several ways to reach the city from the airport:
By Taxi – Taxi lines are really easy to find at Changi Airport. There will also be people ushering and helping you get the taxi. The cost of getting a taxi to the city center varies depending on location and time of the day, but generally, it would be around SG$ 25-30.
By Ride-sharing app – Grab and Gojek is the app to use for this. Just make sure you've indicated the correct pickup spot so that your driver knows where to find you. Usually, there is a door number at every terminal. Just like taxis, the cost also varies but stays within the SG$20-30 range.
By Train / MRT – If you are arriving from Terminal 1,2 or 3, the Green (East-West) train lines will take you to the city in about 30 minutes. You can switch trains at the Expo station for the Blue (Downtown) line. If you are arriving at Terminal 4, you can take the shuttle to Terminal 1-3 and resume via train.
By Bus – There are several buses available from the airport, but Bus 36 is likely going to be the one that takes you to the city.
How to get around Singapore
Getting around in Singapore is, for lack of better words, easy peasy lemon squeezy 😁. Here are a few options you can explore:
1. Public Transport in Singapore
Without a doubt, taking public transportation is the BEST way to get around in Singapore. It's affordable, safe, clean, very frequent, and generally reliable.
The trains in Singapore are known to locals as MRT (Mass Rapid Transit), and it is designed to transport many people at the same time! There are 6 MRT lines on the island, and each of them has a name, but we usually just refer to them by its color:
Red (North-South) or Green (East-West) are the two pioneer lines in Singapore, first operating in 1987
Purple (North-East) is the third addition to the MRT lines, opened in 2003
Yellow (Circle) and Blue (Downtown) lines are relatively newer, opened only in the past 10 years after I moved here
Brown (Thomson East Coast Line) is our newest train line, newly opened in 2020!
Buying a Train / Bus Ticket
Accessing the MRT and bus in Singapore is easy. You don't need to buy any additional tickets as long as you have a credit card that can support contactless payment. Ensure your credit card has been enabled for foreign transactions, and you can use your credit card to tap in and out of each MRT station or bus stop directly at the machine.
Use your smart device as a public transport ticket: You can even add these cards to your smartphone or smartwatch (provided they have the ability to do contactless payment) and use those to go through the ticket gantry directly by tapping your device.
How much does public transportation cost in Singapore?
Public Transportation in Singapore is very affordable, ranging from SG$0.99 to SG$2.20 depending on the distance traveled. You do have to remember to tap out when you get off the bus so you aren't charged the maximum fare.
If you are using a foreign credit card, there will be some fees charged for each posting of train charges. But they are very minimal, about 15 cents per posting (not per ride). Cards will only typically do daily posts or once the total amount reaches $5.
Last Service for Trains and Buses
The MRT and most buses are normally only operating up to midnight. There are a few night buses that operate after midnight, but it is not as frequent and doesn't take you everywhere in Singapore.
MRT Extension time: On special occasions, such as during New Year's after the fireworks or when Singapore is hosting the F1 Grand Prix, they might extend the operation hours to 1 AM.
2. Taxi and Ride Sharing in Singapore
Taking a taxi and ride-sharing car is also still a good option to get around Singapore. They are not as cheap as our public transport, but still relatively cheaper than other metropolitan cities.
In Singapore, Grab and Gojek is the leading ride-sharing option. You can also download Zig by CDG, which is operated by Comfort Del Gro, the leading taxi operator in Singapore. Another alternative app would be TADA.
All of these apps will let you call a cab or ride-sharing car. The fare is on-demand, which means it could get expensive if you're calling a car from a high-demand place.
Where to stay in Singapore
Singapore is a small country – there is hardly ever any traffic, and taxis are available around the clock. I recommend staying in the Central area, Little India, Bugis, or Chinatown.
Of course, everyone knows about the famous Marina Bay Sands and its infinity pool, but if you fancy a boutique hotel with more character, here are some hotels I recommend:
The Essential Singapore Itinerary
Finally, let's get to the itinerary! Singapore is a small country, but there are still a lot of things to see here as a first-timer. Depending on how much time you have, I have created a few daily itineraries.
Day 1: Historical Singapore Tour
Day 2: Singapore Neighborhoods
Day 3: Singapore The Garden City
Day 4: Visit the Singapore Zoo
Day 5: More things to do in Singapore
You do not need to do them exactly in this order, but I have basically grouped a few activities that are easy to do together in one day.
Day 1: Historical Singapore Tour
On this day, we will be exploring some of the historic areas of Singapore. You'll be moving through different areas by foot, as well as taking public transportation. So wear comfortable shoes, dress appropriately for the weather, and get your contactless-compatible credit card ready!
If you start really early in the morning and closely follow the itinerary, your day might look like this:
| | |
| --- | --- |
| 8:45 AM | Breakfast at Ya Kun Kaya |
| 9:30 AM | Explore Chinatown |
| 12:30 PM | Lunch at Chinatown |
| 01:30 PM | National Museum of Singapore |
| 04:30 PM | Waterfront Promenade |
| 06:30 PM | Marina Bay Sands Skypark |
| 07:30 PM | Dinner at MBS |
| 08:45 PM | Garden Rhapsody Show |
Sample of Day 1 Itinerary in Singapore
As you can see, this is a pretty full-on schedule from early morning til night time. I'd like to remind you that this itinerary is merely a recommendation, so please feel free to pick and choose which activity you want to do!
1. Try the quintessential Singaporean Breakfast
Start your day with breakfast loved by all Singaporeans. Actually, I'll take that back – you can have this any time of the day 😉
A breakfast set in Singapore usually consists of Kaya Toast with cold butter, accompanied by two soft-boiled eggs and a cup of local Kopi (the local way of saying "coffee"). You could skip the eggs and coffee, but I highly encourage you to try at least the Kaya toast, served with kaya jam and butter. Kaya jam is made from coconut milk, eggs, and sugar and is totally delicious.
I recommend heading down to Ya Kun Kaya Toast on China street (map) – it's their first outlet since 1944 and is their most authentic outlet. It also helps that it's in the middle of the city so it's highly accessible.
However, if you can't make it to this location, there are plenty of other Ya Kun locations around the city too. And honestly, even just any local food center will have a stall that sells Kaya toast. Toast Box is also a perfect alternative and well-loved by locals.
2. Explore Singapore's Chinatown
From Ya Kun Kaya, Chinatown is only a short walk away – it's just across the street actually!
A bit of back story of the Chinatown area – If you take the MRT to Chinatown, you will notice that the station is displayed using three Chinese characters 牛车水. Those characters do not mean "Chinatown", but they do tell a history of this area very well. 牛 is the character for "cow", 车 is "car" and 水 is "water". This is because back in the day, freshwater supplies were carried using carts pulled by oxen from a well in Ann Siang Hill, which I will get to in a minute.
I recommend starting from Telok Ayer Street, literally translated to "Bay Water" in Malay (which by the way, is one of the four national languages of Singapore). Why the name? This area was literally the coastal line of Singapore before the country began reclaiming lands in the late 1880s. Back when it was still a coastal line, boats would line up and wait for freshwater here before hauling them up to Ann Siang Hill.
On Telok Ayer Street, you can find Thian Hock Keng temple, the oldest Hokkien temple in the country. While exploring the temple, take note of the beautiful tiles in and around the temple. These are the Peranakan tiles.
Later on, in Chinatown, I recommend stopping by Peranakan Tile shop to see the various tile designs. The tile shop used to be located in this temple but had moved to 37 Pagoda Street, just a short 10-minute walk away from here, which we will cover in this itinerary.
From Telok Ayer Street, you can walk north to Ann Siang Hill and find the water well I was talking about earlier. Make your way to Chinatown Central, where you'll find Sri Mariamman Hindu Temple, Buddha Tooth Relic Temple, and of course, the Peranakan Tile shop that I mentioned before.
The Chinatown area, as the name indicates, was the settlement area for Chinese immigrants who came to Singapore in the 1800s. Nowadays, it's a bustling area filled with shops, restaurants, and night markets.
Continue your way to Kreta Ayer Road and Keong Saik Road. Kreta Ayer simply means "Cart water" in Malay, and similar to Telok Ayer, it was named so due to its past history involving fresh water being carried by oxen carts. Keong Saik Road, on the other hand, is an area that was once a prominent red light district but has now turned into a hip area filled with bars and boutique hotels, housed in colorful preserved shophouses.
If you are in Singapore during the Chinese New Year period, you will find the area decorated and bustling with activities! Check the Singapore Events Calendar here.
Nearby Keong Saik Road is the EW16 Outram Park MRT, which you can take to your next destination at EW13 NS25 City Hall MRT.
3. Visit the National Museum of Singapore
By now you probably need some respite from the Singapore weather. Near the EW13 NS25 City Hall MRT is the National Museum of Singapore. I recommend visiting this place if you want to learn more about the history of modern Singapore.
4. Walk around the Waterfront Promenade
From City Hall MRT, take the green line back down to EW14 NS26 Raffles Place MRT to get to the waterfront.
One of the areas I always recommend friends to visit is the Singapore waterfront promenade. It's very accessible (practically in the middle of the city) and it's a very cool area to walk around in.
From Raffles Place MRT, you can make your way to Fullerton Hotel. The hotel is located in a historic building that was originally built in 1928 and had been used for many purposes – the General Post Office, a hospital during World War II, and the Inland Revenue Authority of Singapore (tax) headquarters, before finally being restored into a five-star luxury hotel in 2001.
Head past the lobby and go down one level to the basement, and you'll find a walkway that will take you to One Fullerton, a short walk away from the Merlion Statue. Merlion is a mythical creature that resembles a mermaid with the head of a lion (hence the name Merlion!).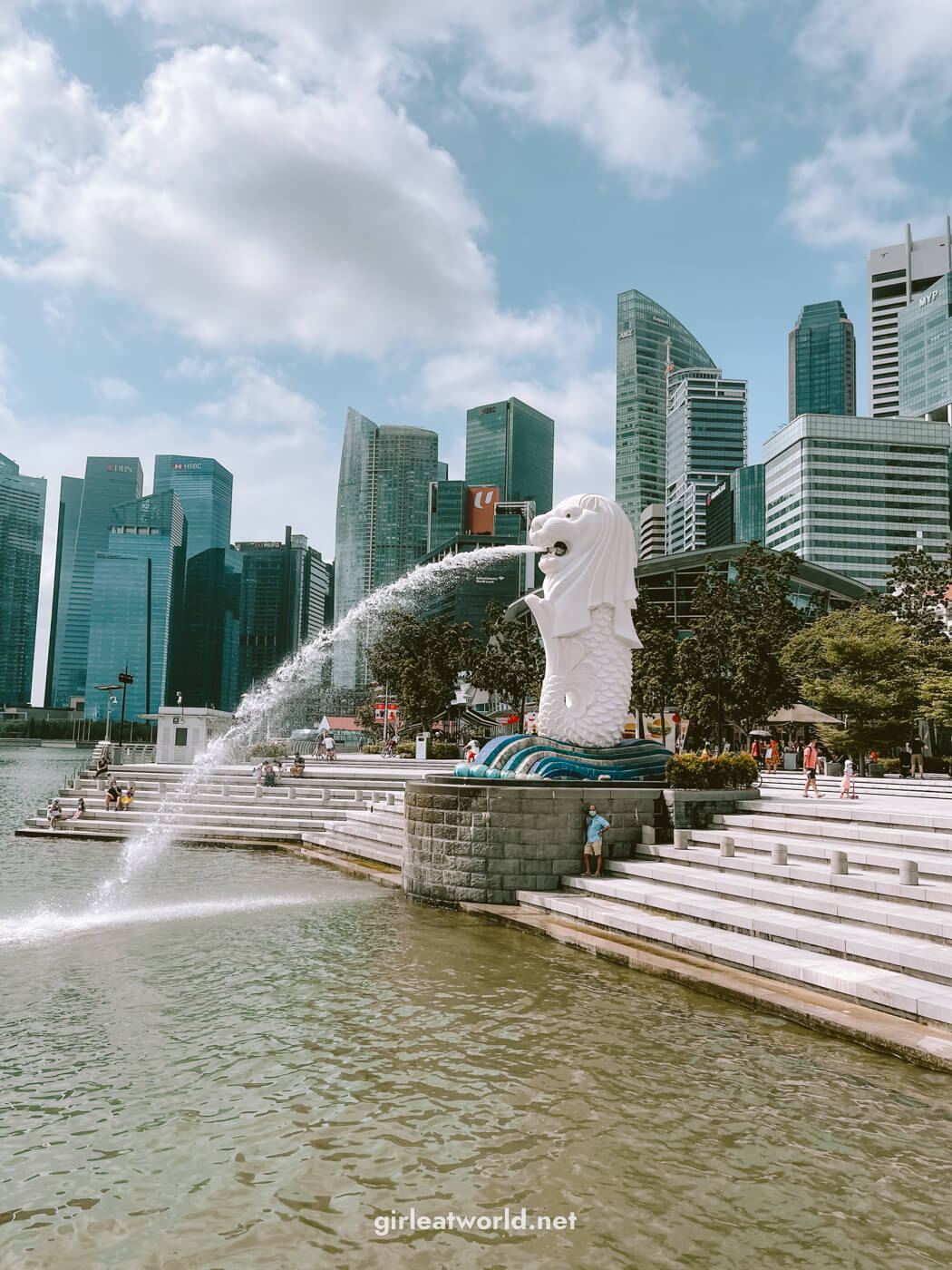 But why a lion? It has been speculated that the name "Singapore" comes from the Malay words Singa (which means lion) and Pura (which means city). Hence, Singapore has been nicknamed "lion city". And the fish part? It is to symbolize Singapore's past as a humble fishing village.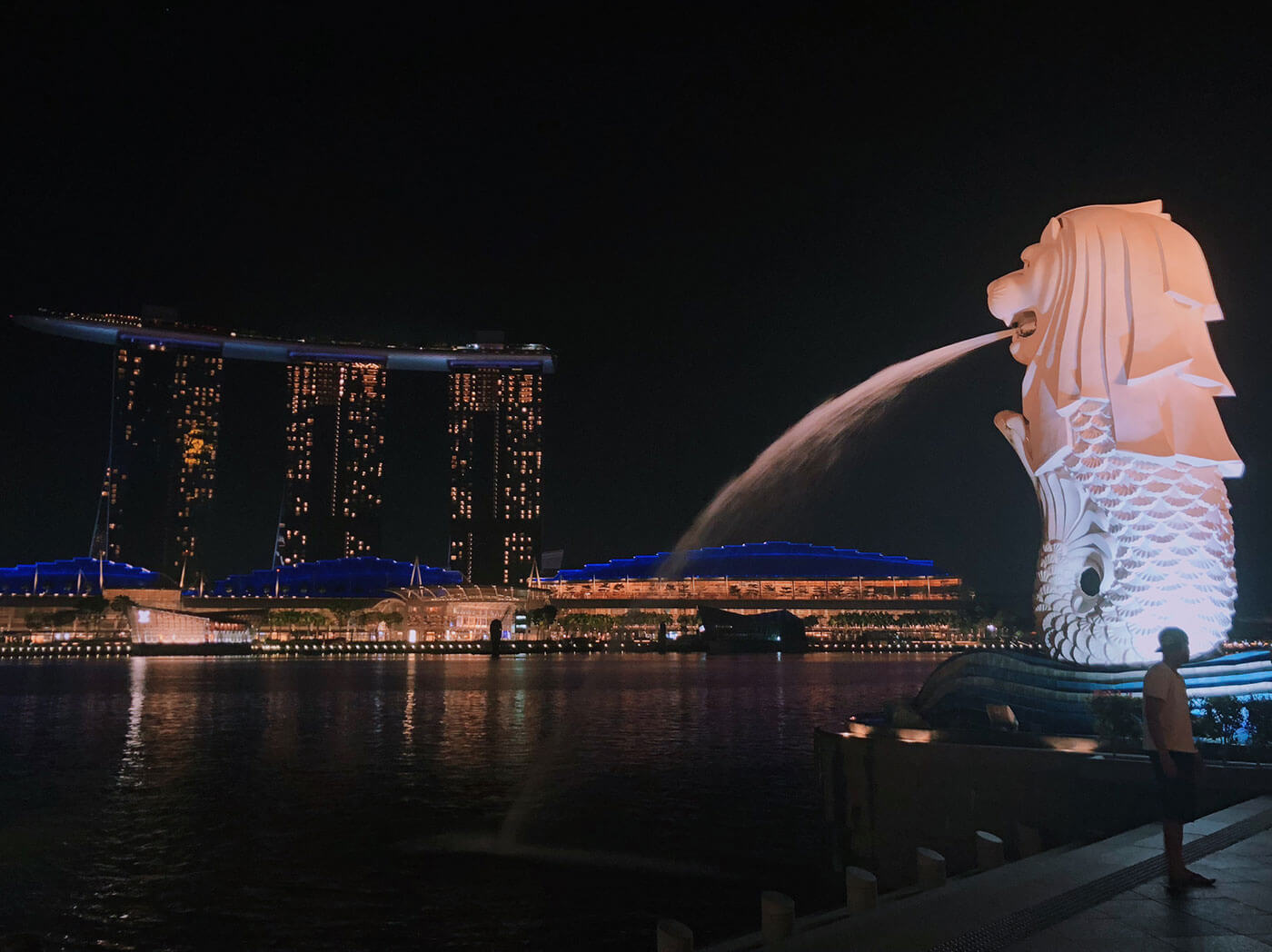 A little off the waterfront is the Raffles Hotel, the most charming and historical hotel in Singapore dating from 1887. You probably can't visit most of the private areas unless you are a guest of the hotel, but you can still take a look at the lobby and admire its colonial-style look and furniture.
Most notably, you'll want to visit the Long Bar at Raffles Hotel which is said to be the place where Singapore Sling, the cocktail, was born. While I personally think the Singapore Sling is way too sweet and overpriced (it's SG$32 per drink!!), I loved the charm of the Long Bar itself.
The Long Bar features countless notable guests, such as Ernest Hemingway, Elizabeth Taylor, and Alfred Hitchcock. At the bar, you'll also notice peanut shells scattered around the floor – this is part of the long tradition left from colonial times and quite possibly the only place in squeaky-clean Singapore where littering is actually encouraged.
If you decide to walk along the water on the promenade, you'll come across a lotus-shaped building. This is the ArtScience Museum, one of my favorite museums in Singapore. The museum often houses very interesting exhibits, and one of their permanent exhibits is interactive pieces by the famous teamLAB from Japan.
You can check what's on and buy tickets for ArtScience Museum exhibits here.
5. Marina Bay Sands Skypark
And nearby the Art Science Museum is the Marina Bay Sands Hotel with the famous infinity pool at the top of the hotel. While the pool is strictly for hotel guests only, there is an observation deck called the Marina Bay Sands Skypark which can be visited by the public. The Skypark will give you a 360 view of the Singapore waterfront area.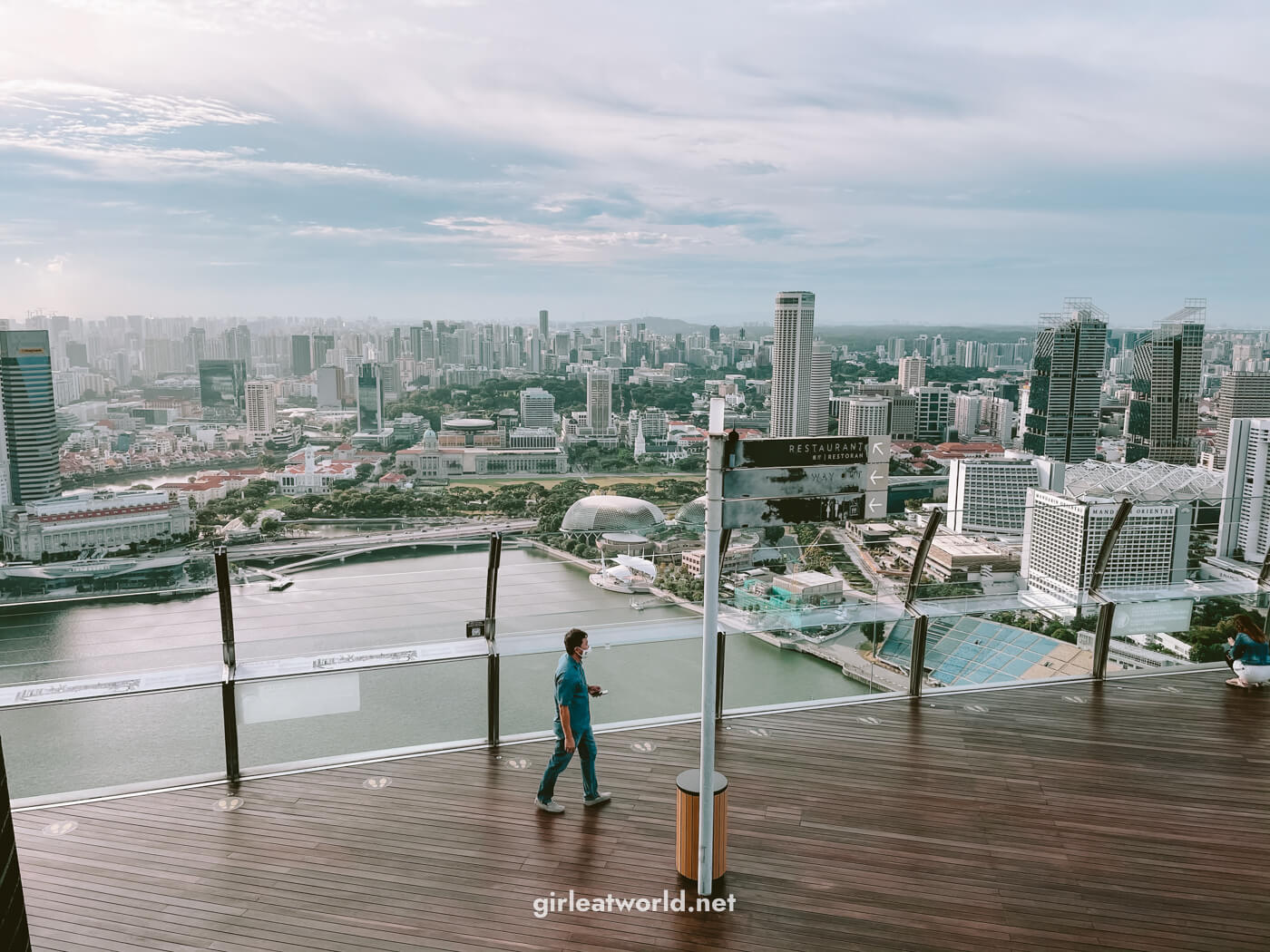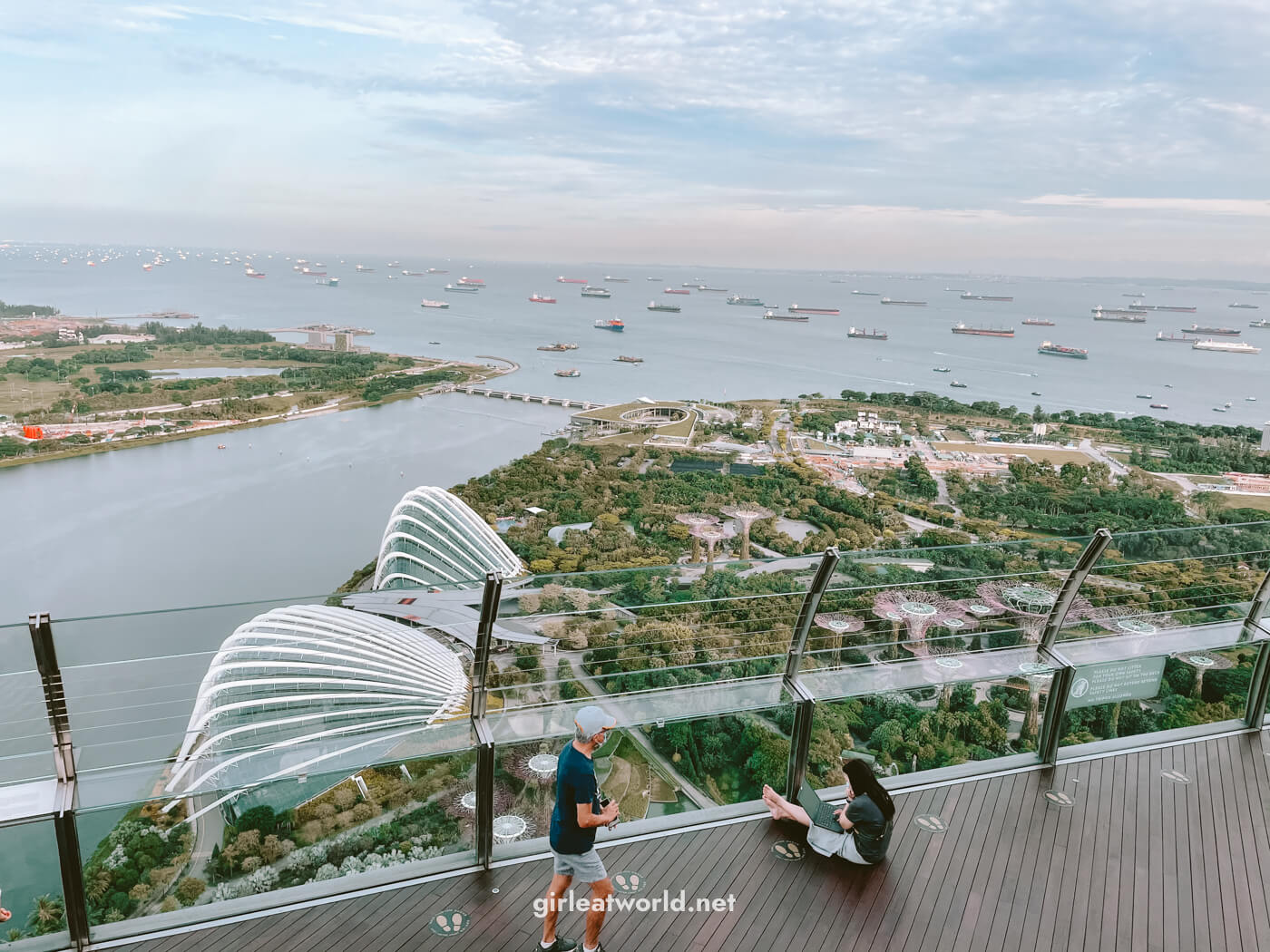 If the weather is good, I would recommend visiting the Skypark close to sunset – around 6:15 PM – 6:30 PM would be ideal because the sun sets around 7 PM in Singapore.
A ticket is required to visit the Skypark. Get the tickets here! For entry after 4 PM, you do need to book a time slot when you buy the ticket.
6. Visit Gardens By The Bay for the Garden Rhapsody Show
A visit to the Gardens By The Bay requires at least three hours to properly walk around the area and visit the Flower Dome and Cloud Forest. But, we will cover that on the next day.
After walking around the promenade, I do recommend going to Gardens By The Bay at night and catching the free show Garden Rhapsody – you'll see the Super Tree in all its glory, with a matching musical number! They do the show every night at 7:45 PM and 8:45 PM.
Check Garden Rhapsody Schedule here for the most up-to-date schedule.
Entry to the Garden Rhapsody area is free, but there is a paid OCBC Skyway you can take to be even closer to the trees. I recommend this only if you have more than half an hour at the park (not counting the Garden Rhapsody, which takes 15 minutes).
Buy OCBC Skyway ticket here. The attraction closes at 8pm.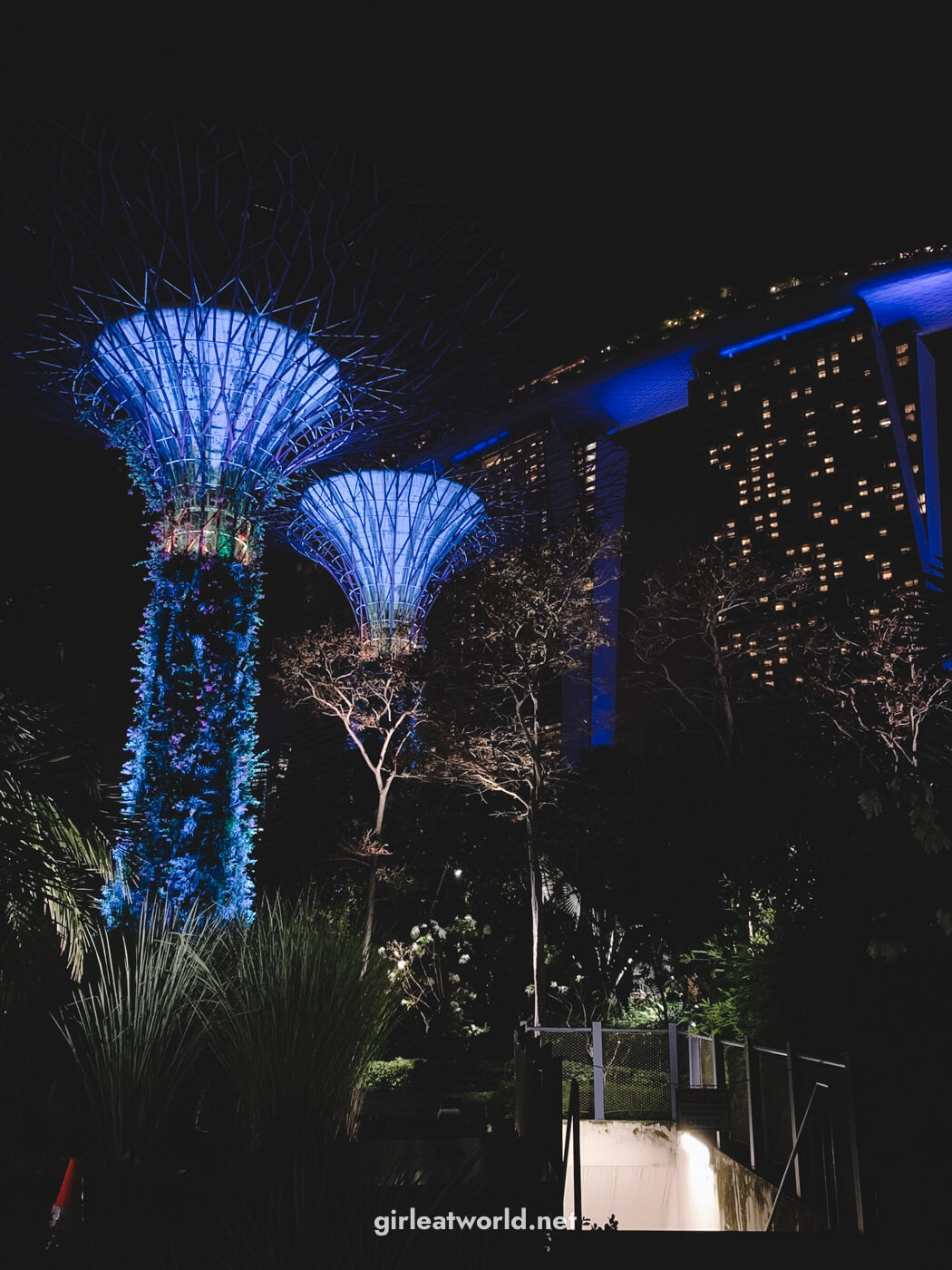 However, if you're not keen to see the Garden Rhapsody show, you could watch the free Spectra light show instead. The best place to watch is from across the water at One Fullerton, or from LeVel 33, one of the restaurants with an amazing view of the waterfront.
Check the Spectra Light & Water show schedule here.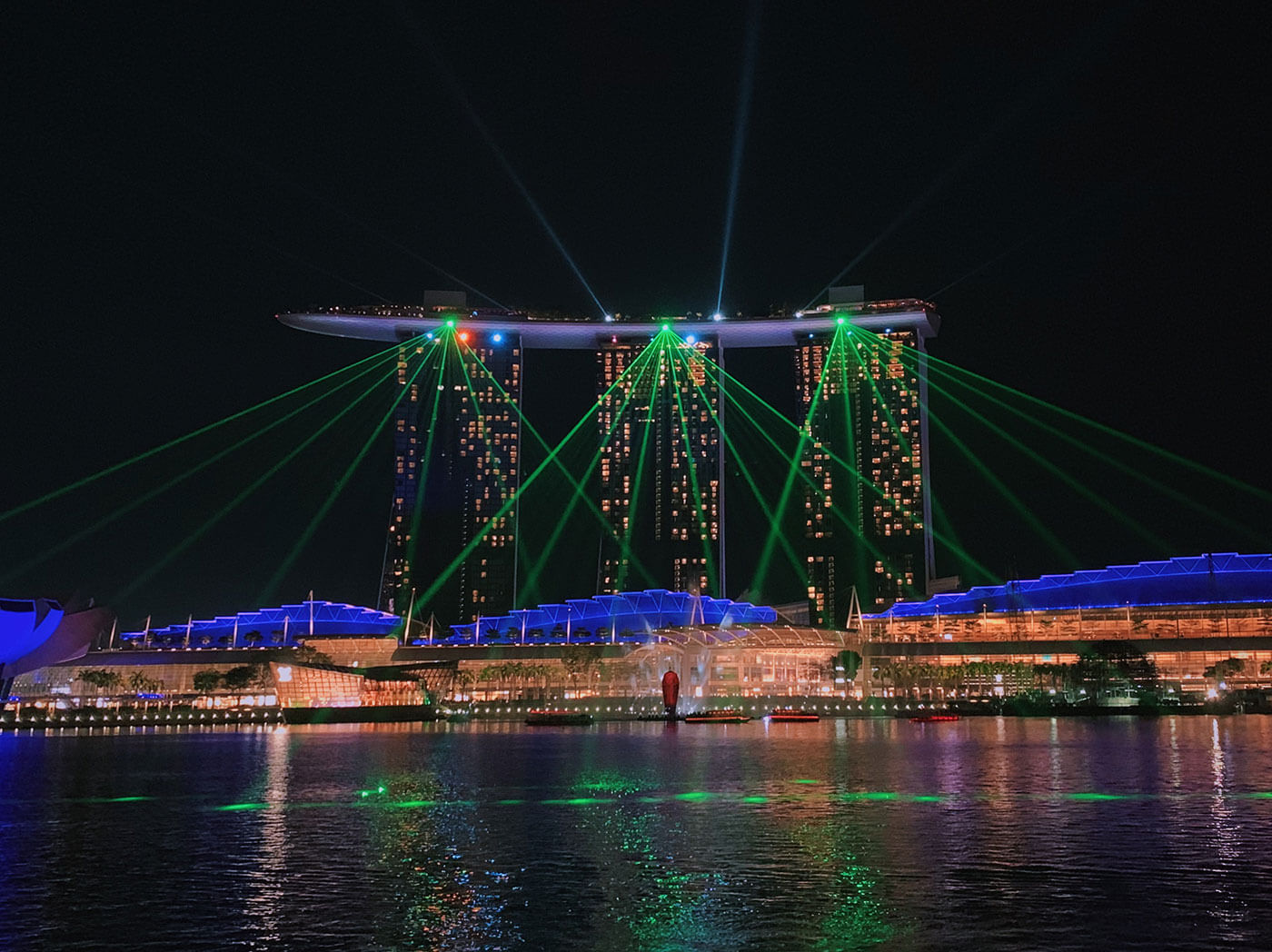 Day 2: Explore Singapore Neighborhoods
Continuing with the theme from Day 1, you'll be exploring different neighborhoods of Singapore today. Be sure to be prepared to walk a lot and be prepared to deal with the weather.
If you start early in the morning and closely follow the itinerary, your day might look like this:
| | |
| --- | --- |
| 9:30 AM | Breakfast at Tiong Bahru Market |
| 10:00 AM | Tiong Bahru |
| 11:00 AM | Little India |
| 12:30 PM | Lunch at Little India |
| 1:30 PM | Kampong Glam |
| 3:30 PM | Joo Chiat |
| 6:00 PM | Dinner |
1. Start your day at Tiong Bahru
Tiong Bahru is one of the trendiest neighborhoods in Singapore, although it is also one of the oldest estates. It is popular with foreigners for its unique vibe that provides a traditional neighborhood feel while still having trendy cafes and bakeries around the area. Because of that, the price of property and rental in Tiong Bahru is probably the highest in the country.
From EW17 Tiong Bahru MRT, head over to Tiong Bahru Food Center for some breakfast. I recommend the following stalls:
The Coco Rice (closed on Mondays)
Tiong Bahru Hainanese Boneless Chicken Rice (Closed Mondays and Tuesdays)
Zhong Yu Yuan Wei Wanton Mee (Closed on Mon, Tues, and Fridays)
Once you're done with breakfast, you can head downstairs to the Tiong Bahru Market to see the wet market experience in Singapore. There will also be stalls selling snacks, fresh vegetables, and fruits.
Head outside to walk along Moh Guan Terrace, one of the pre-war public housing in Singapore that has fetched some of the highest prices in the already pricey housing market in Singapore. Among these houses, you'll find cool shops, murals, and tiny bookstores tucked away in the alleys.
Here are a few places I recommend stopping by:
Woods in the Books
Cat Socrates
Creamier Ice Cream
Micro Bakery
Tiong Bahru Bakery
If you have the time, I also recommend to see if you can join this free walking tour. You can visit the Tiong Bahru Air Raid Shelter at Block 78 Guan Chuan Street via this tour.
2. Explore Little India
Next, take the train to NE7 DT12 Little India MRT. Your first stop from the Little India MRT is Tan Teng Niah House.
This colorful building is the former residence of Tan Teng Niah, the last Chinese villa in Little India. Tan Teng Niah owned sugarcane sweet factories in the area back in the 1900s. The house was restored and conserved in the 1980s for commercial use, and the restoration project was awarded the Singapore Institute of Architects Honourable Mention in 1991.
From Tan Teng Niah house, make your way down Serangoon Road on foot and just take in the atmosphere of Little India. It might be a little chaotic if you are here on a weekend.
This incredibly ornate gate is the Gopuram (entrance tower) of Sri Veeramakaliamman Temple, a Hindu temple in Little India. It is dedicated to the Hindu goddess Kali, the fierce embodiment of Shakti, and the god Shiva's wife, Parvati. You are allowed to enter the temple, but please take off your shoes before you do. There are places designated for your footwear right outside the temple.
Little India is one of the most festive neighborhoods in Singapore. If you are so lucky to have come to Singapore during one of the festivals, especially Deepavali, you'll find the neighborhood even more lively and brightly decorated. Check the Singapore Events Calendar here.
At the end of Serangoon Road near NE7 Little India MRT station is Mustafa Center, notorious as Singapore's craziest shopping experience that you probably won't find elsewhere in the world. Basically, Singapore locals and expats alike regard Mustafa Center as this magical, chaotic place where you can find everything and anything you can possibly dream of – from clothes to groceries, to even jewelry and furniture. The layout of Mustafa isn't the most organized or logical, so just be mentally prepared before you get in.
From Little India or Farrer Park, take the MRT to EW12 DT14 Bugis MRT for your next destination.
3. Visit Kampong Glam
Kampong Glam was home to Malay royalties back in the 1800s. Since 1989, it has become one of the conservation areas in Singapore.
From EW12 DT14 Bugis MRT, make your way to Haji Lane, an artsy alley filled with colorful murals, local indie brands in shophouses, and trendy cafes. In the past 10 years, it has slowly become more vibrant and more trendy – definitely popular on Instagram these days.
Go one street over from Haji Lane to Arab Street where you'll find Sultan Mosque, one of the most important mosques for the Muslim community in Singapore. In front of the Sultan Mosque, you'll find rows of Middle Eastern restaurants.
It used to be that you can relax and smoke shisha here, but shisha has been banned for imports into Singapore since 2016. So nowadays, you can just find good Middle Eastern food and some live entertainment here at night on weekends.
If you are in Singapore during the Ramadan month, you might want to come back here at night. Ramadan is the holy month when Muslims celebrate by fasting, and they break their fast around sunset. There will be food markets in this area around the time of breaking fast. Check the Singapore Events Calendar here.
On your way out of the Kampong Glam area, if modern architecture is of interest, you will want to stop by Parkview Square which has been colloquially referred to as the "Gotham Building" by Singaporean residents. Once you see the building, you'll know why – the building is grandly decorated in Art Deco style, and you can even find a few Dali sculptures in the courtyard.
At the lobby of Parkview Square is Atlas, a grand art deco bar where you can have cocktails or afternoon tea. But this bar is very popular and you might need reservations well in advance – you can try your luck at reserving a spot here.
4. Walk Around Katong and Joo Chiat Road
Next, you can make your way to the eastern part of Singapore. From Bugis, you can take the green line to EW7 Eunos MRT. Alternatively, you can take Bus 48 which will drop you directly in the middle of Joo Chiat Road. Remember to tap out when you get off!
To locals, the east has always been known as the cooler part of the city. Not only does it have everything from famous local food, to cool cafes and trendy restaurants, but it is also rich in history. There are many well-preserved Peranakan shophouses in the Katong area.
What is Peranakan? In Indonesian and Malay language, anak means children or descendants. In Singapore, it is understood that Peranakan is referring to an ethnic group created from a mix of Chinese ancestry from immigrants with local Malay and Indonesian. You'll often come across the term Baba-Nyonya in Peranakan culture. Baba is used for males while Nyonya refers to females.
To get a better sense of the Peranakan culture, you can consider visiting the following museums with private tours. They MUST be booked ahead of time!
You can visit the Koon Seng Shophouses which can be viewed for free. Though there are many shophouses in this neighborhood, the ones on Koon Seng are famous as it is the most well-preserved and colorful. When visiting, please keep in mind it is still residential, which means someone is living inside each one of those houses!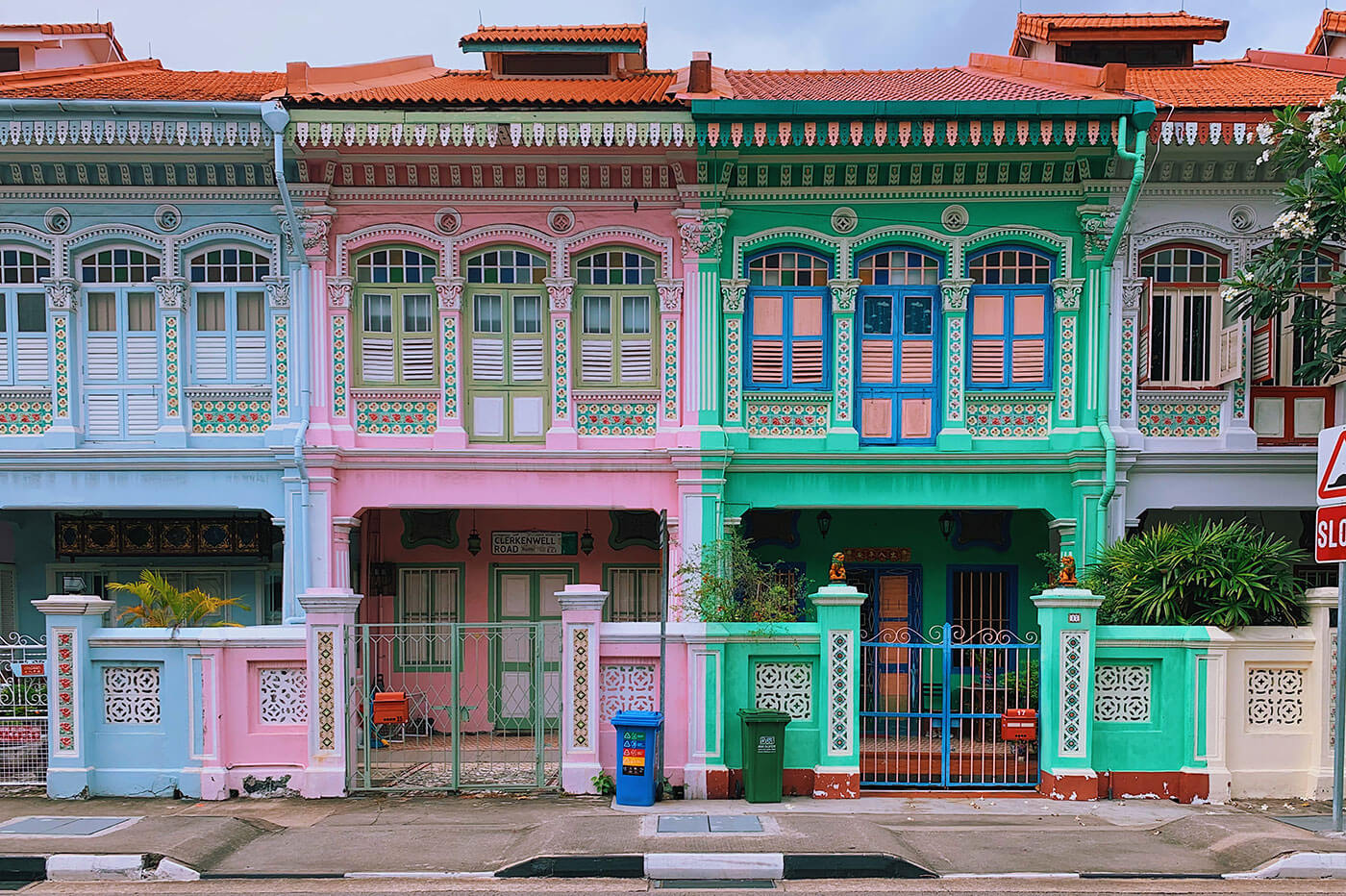 You can also stop by Rumah Bebe (Closed Mon-Wed) to sample Peranakan cuisine. You don't have to stop by for a full meal, you can also just have some traditional Nyonya kueh (cakes) or tea. You'll often find pandan, coconut and gula melaka (palm sugar) used in Nyonya kueh.
Another option for Nyonya kueh is next door at Kim Choo Kueh Chang. I recommend trying Ang Ku Kueh, Kueh Lapis, Kueh Dadar, or Ondeh-ondeh.
From there, you can walk along Joo Chiat Road, which houses the cool cafes and trendy shops in the neighborhood. Aside of that, the road is also known for housing some of the best Vietnamese food in Singapore. I recommend stopping by:
A Vintage Tale
Crane Living
RetroCrates
Banh Mi 233
Long Phung
Joo Chiat Caphe
Tiger Lily Patisserie
Humble Origins Coffee Roasters
To end the day, you could stop by Haig Road Putu Piring, which was featured on Netflix's "Street Food" show for its traditional Putu Piring dessert.
Day 3: Singapore The Garden City
Lee Kwan Yew, Singapore's founding father, unveiled his vision to turn Singapore into a garden city in 1967 – two years after its independence. He wanted to transform Singapore into a city with abundant lush greenery and a clean environment in order to make life more pleasant for Singaporeans.
Fast forward nearly 60 years later, you can see the vision coming to fruition. So today, we will be visiting some of the places that best showcase Singapore as a garden city.
This itinerary is good for those of you who love being outdoors and appreciate nature. You will be outside for a good part of the day, so don't forget to bring your water bottle and hats! If you're not keen, feel free to skip this itinerary.
Following the itinerary below, your day might look like this:
| | |
| --- | --- |
| 8:30 AM | Breakfast at Cluny Court |
| 9:00 AM | Singapore Botanic Gardens from Bukit Timah Gate |
| 10:30 AM | National Orchid Garden |
| 12:00 PM | Lunch at Gardens By The Bay |
| 12:30 PM | Cloud Forest |
| 14:00 PM | Flower Dome |
| 15:30 PM | Floral Fantasy |
| 16:00 PM | Cycle to east coast park |
| 17:30 PM | Sunset at East Coast Park |
| 19:00 PM | Dinner at East Coast Lagoon Food Village |
1. Singapore Botanic Garden
Singapore Botanic Garden is a UNESCO heritage site and is located within the city area, near Orchard Road. It showcases the best and most spectacular tropical flora set in a stunning landscape, and the entrance is free of charge.
Remember though, Botanic Gardens is mostly outdoors with almost no shelter, so take that into account and plan your visit accordingly. I recommend heading out here early in the morning.
For those of you who are keen on an easy walk along the entire park, you can start by taking the MRT and getting off at the CC19 DT9 Botanic Gardens station. If you have not had breakfast yet, you'll be able to find some cafes in Cluny Court across the street from the train station. Then, you can make your way into the garden via the Bukit Timah Gate on Cluny Park Road. You'll be able to walk down south towards Tanglin Gate.
But If you are short on time or don't really want to walk around the park, I do recommend coming from the TE12 Napier MRT instead. Many of the attractions to see at the Botanic Garden are in the southern part of the park, closer to the Tanglin Gate on Cluny Road.
Some notable things to see at the Botanic Garden are the National Orchid Garden, Swan Lake, and the Learning Forest. While most things in the garden are free, the National Orchid Garden has an admission fee of SG$ 15 per adult.
Once you're done exploring the garden, head to TE12 Napier MRT and head towards TE22 Gardens by the bay
2. Gardens by the Bay
Gardens by The Bay is a nature park near downtown Singapore. Here are some recommendations of things to check out here:
Cloud Forest
Flower Dome
Floral Fantasy
Supertree
➡️ You can buy tickets to Gardens By the Bay here
The good news? Most of the attractions here are indoors and in a temperature-controlled climate, which will provide a much-needed respite from the hot and humid weather outside.
Cloud Forest and Flower Dome
Cloud Forest and Flower Dome are great attractions for both adults and children. The reason why I'm grouping them together is that they are located right across from each other, and often visited together.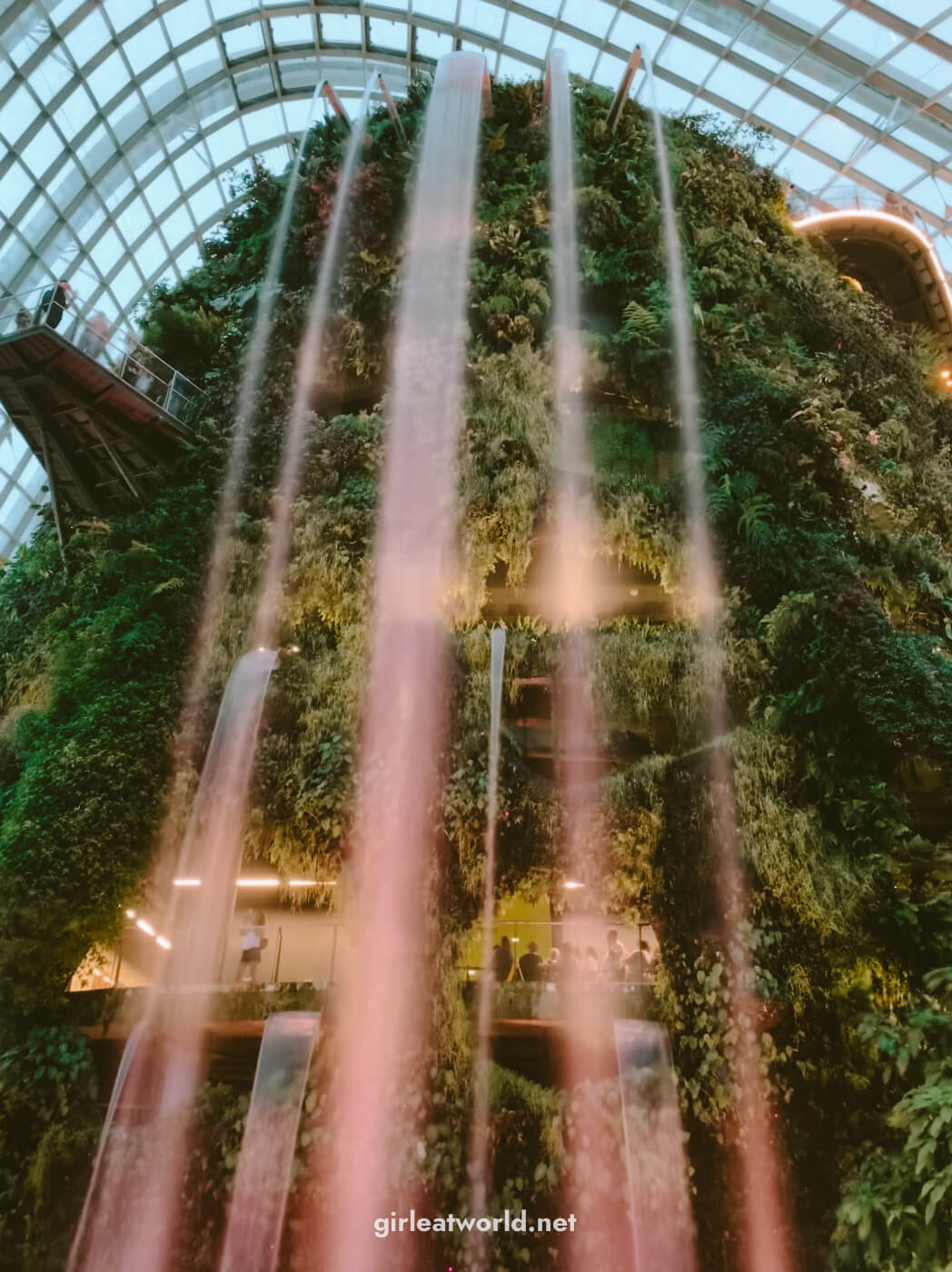 They are both enclosed, air-conditioned gardens – a welcome respite in a country as hot as Singapore. You can spend your time learning about the amazing flora and fauna from all over the world.
The estimated time to visit both Cloud Forest and Flower Dome is 3 hours.
Floral Fantasy
Floral Fantasy is one of the newest attractions in Gardens by the Bay. Unlike Flower Dome which focuses on live flowers, Floral Fantasy features creative flower arrangements. If you love flowers, you definitely have to check this one out! Just like Cloud Forest and Flower Dome, this place is also enclosed and air-conditioned.
Plan to spend about an hour here.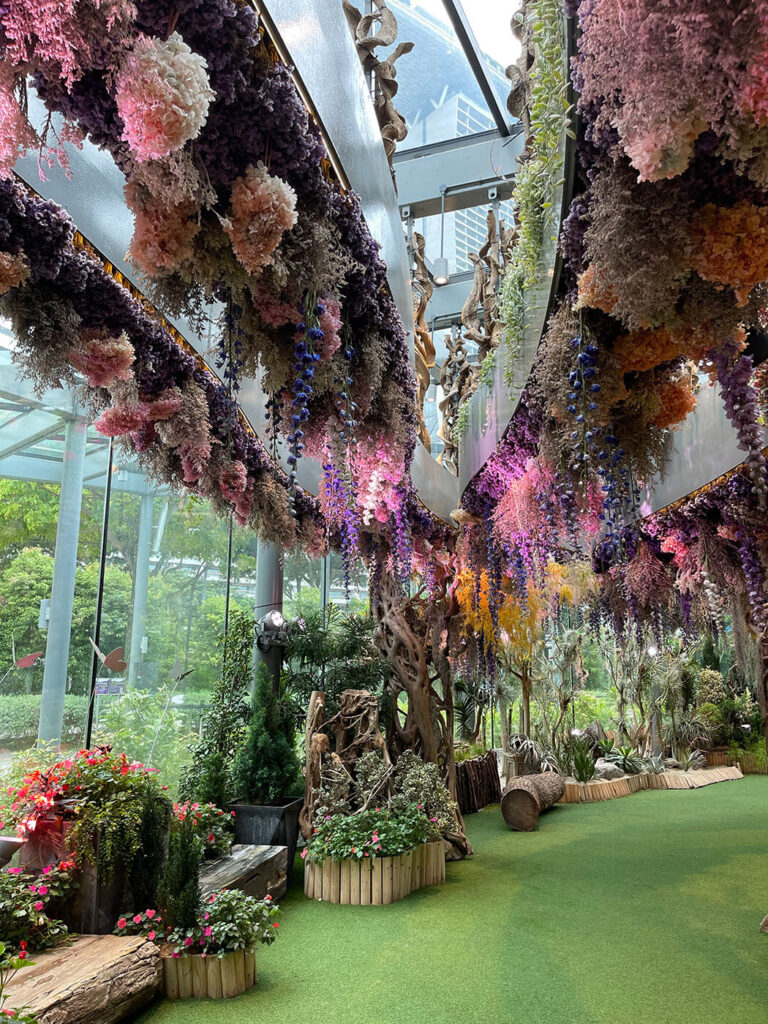 3. Cycle to the East Coast Park
If you have followed my itinerary so far, it should be late afternoon by the time you are done with Gardens by the Bay. If weather permits, it is a great time to cycle to the East Coast Park! It is quite a distance, but it is very beginner friendly and I have no doubt most people of reasonable fitness can do it.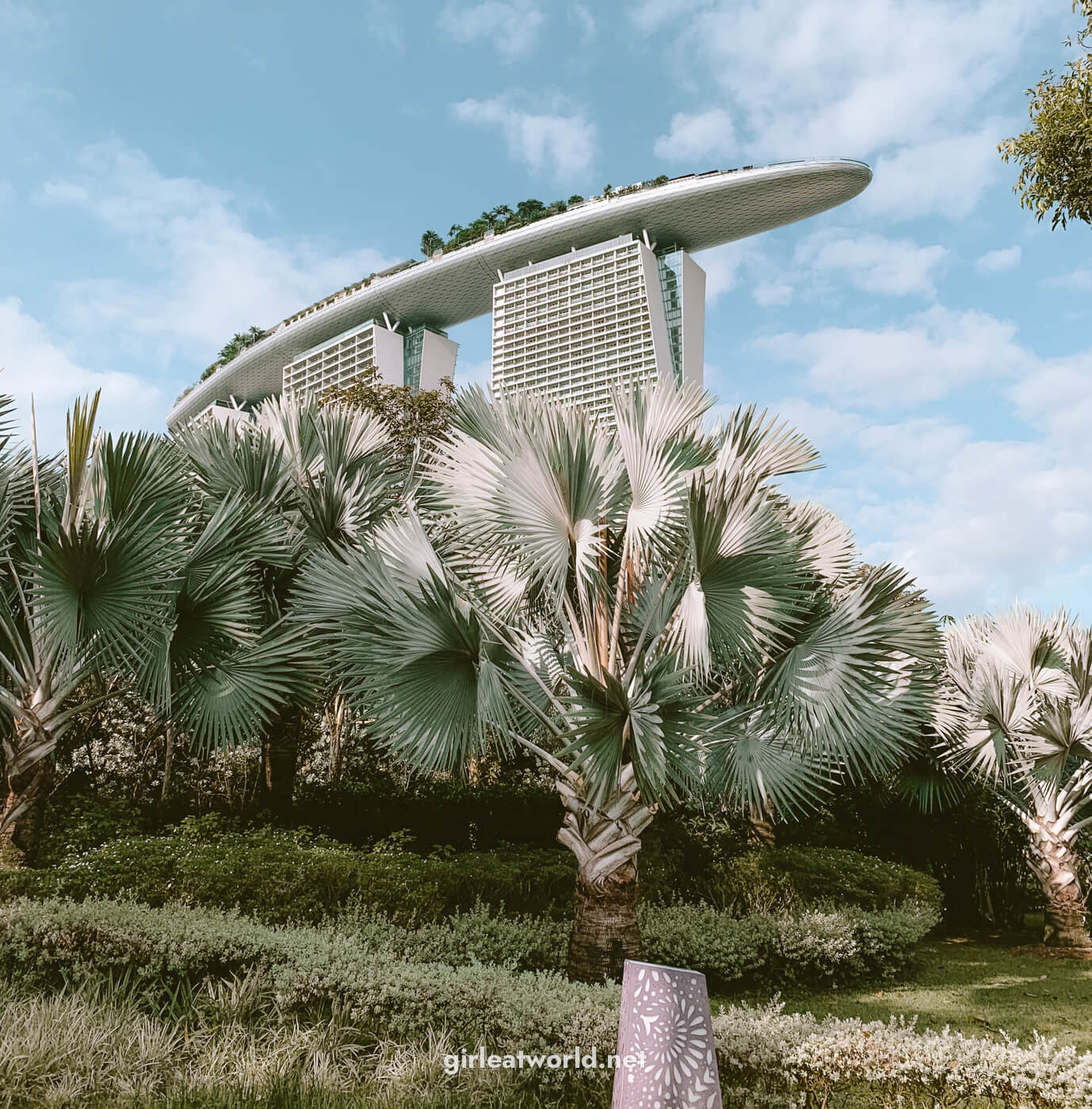 You can start by grabbing a bike share near Marina Bay Sands and have a ride around the Marina Bay Area. Download the Anywheel app to rent the green bikes or HelloRide app for the blue bikes. Renting the bikes is quite affordable, just be sure to park the bike back at a designated parking spot for bikes.
You can start from the Marina Bay Sands area and make your way down to Gardens By The Bay, Marina Barrage, Bay East Garden, and then all the way to East Coast Park!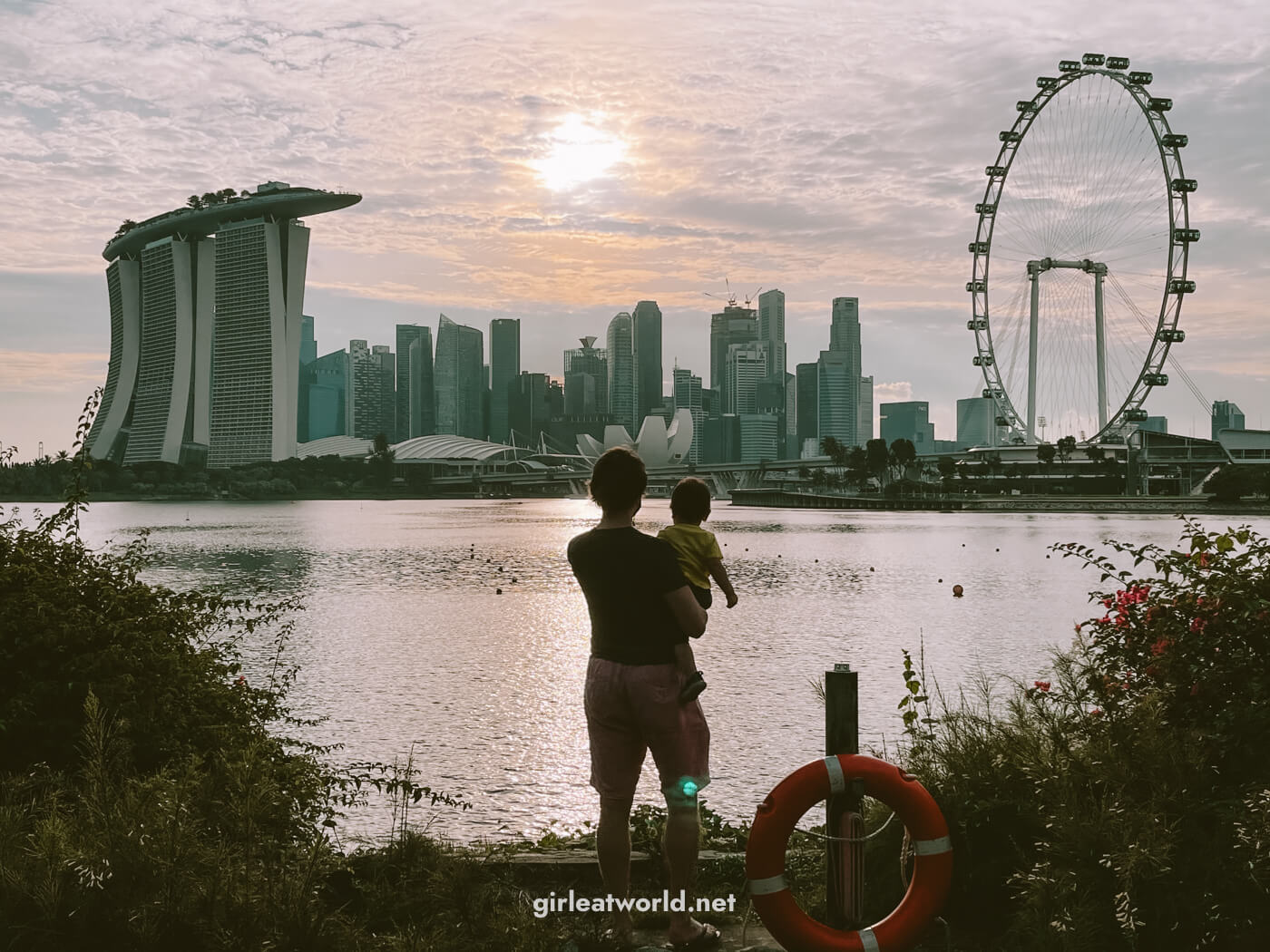 4. East Coast Park
East Coast Park is a great way to spend a morning or late afternoon, either picnicking, playing by the beach, or dipping your feet into the seawater. Bring your picnic mat, some snacks, a swimsuit, and some towels!
5. East Coast Lagoon Food Village
End your day with dinner at the East Coast Lagoon Food Village, one of the most popular hawker/food centers in Singapore. Here, you'll get to try the affordable but good food that locals love to eat daily.
I recommend trying carrot cake (a savory dish, not dessert!), oyster omelet, Hokkien noodles, and BBQ chicken wings.
Day 4: Visit the Mandai Wild Reserves
I know visiting the zoo is not usually high on everyone's list when traveling, but I have to say that the Mandai Wild Reserves in Singapore is quite special. For me, it is definitely the best zoo I have ever visited!
Mandai Wildlife Reserve currently consists of four parks with plans to add more to the park in the future. The parks are:
Singapore Zoo
River Wonders
Night Safari
Bird Paradise
Mandai is located in the north of Singapore, and quite frankly it is far from anything else. A trip here would definitely take up your entire day.
Each park has its own admission ticket. I've included links to buy tickets for each of the parks below. But if you're interested in visiting more than one park, you might be better off buying the multi-park deal.
➡️ Get Mandai Pass to get access to more than one park at Mandai Wild Reserve!
The parks are right next to each other, and it's possible to visit three parks comfortably in one day. Your day could look like this:
| | |
| --- | --- |
| 09:30 AM | Park 1: Singapore Zoo |
| 12:30 PM | Lunch inside the Singapore Zoo |
| 13:00 PM | Park 1: Continue Singapore Zoo |
| 15:30 PM | Park 2: River Wonders or Bird Paradise |
| 18:30 PM | Dinner at the Park Entrance or Mandai Wildlife West |
| 19:00 PM | Park 3: Night Safari |
You MIGHT be able to visit all 4 parks if you start the day very early. I would recommend timing it as such:
| | |
| --- | --- |
| 08:30 AM | Park 1: Singapore Zoo |
| 11:30 AM | Lunch at the zoo |
| 12:30 PM | Park 2: River Wonders |
| 15:30 PM | Park 3: Bird Paradise |
| 18:30 PM | Dinner at Mandai Wildlife West |
| 19:00 PM | Park 4: Night Safari |
1. Singapore Zoo
Singapore Zoo is truly one of the best in the world. There are a lot of activities here for kids, including animal feeding and shows that happen all day long. They require advance booking so be sure to check the timing and book on the Mandai Reserves website.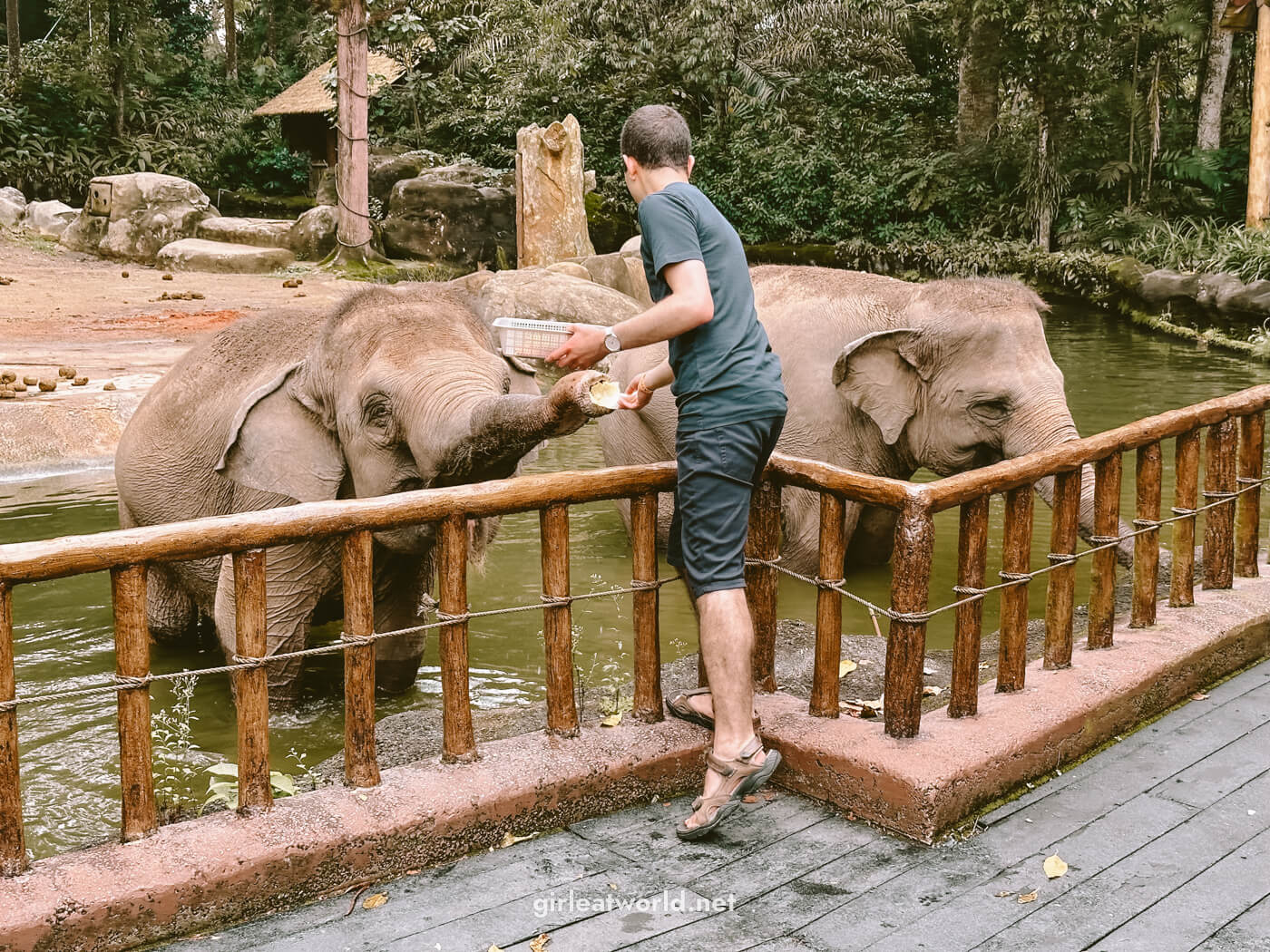 The zoo spans a large area, and you'll need to do a lot of walking. But your ticket includes a tram ride, so you could minimize the walking as little as possible.
Expect to spend about 4 hours here if you want to see everything.
➡️ Book tickets to Singapore Zoo here (select Standard ticket if you're not an SG resident)
2. River Wonders
I highly recommend River Wonders when the weather is not good because it is mostly indoors (so it's weatherproof!). You can enjoy it rain or shine. I think River Wonders is actually my favorite out of all the parks.
They have a really cool large aquarium with manatees and large freshwater fish. They also have a panda exhibit, which at one point houses the baby panda Le Le who was born in 2021. However, Le Le will be returning to China by the end of the year.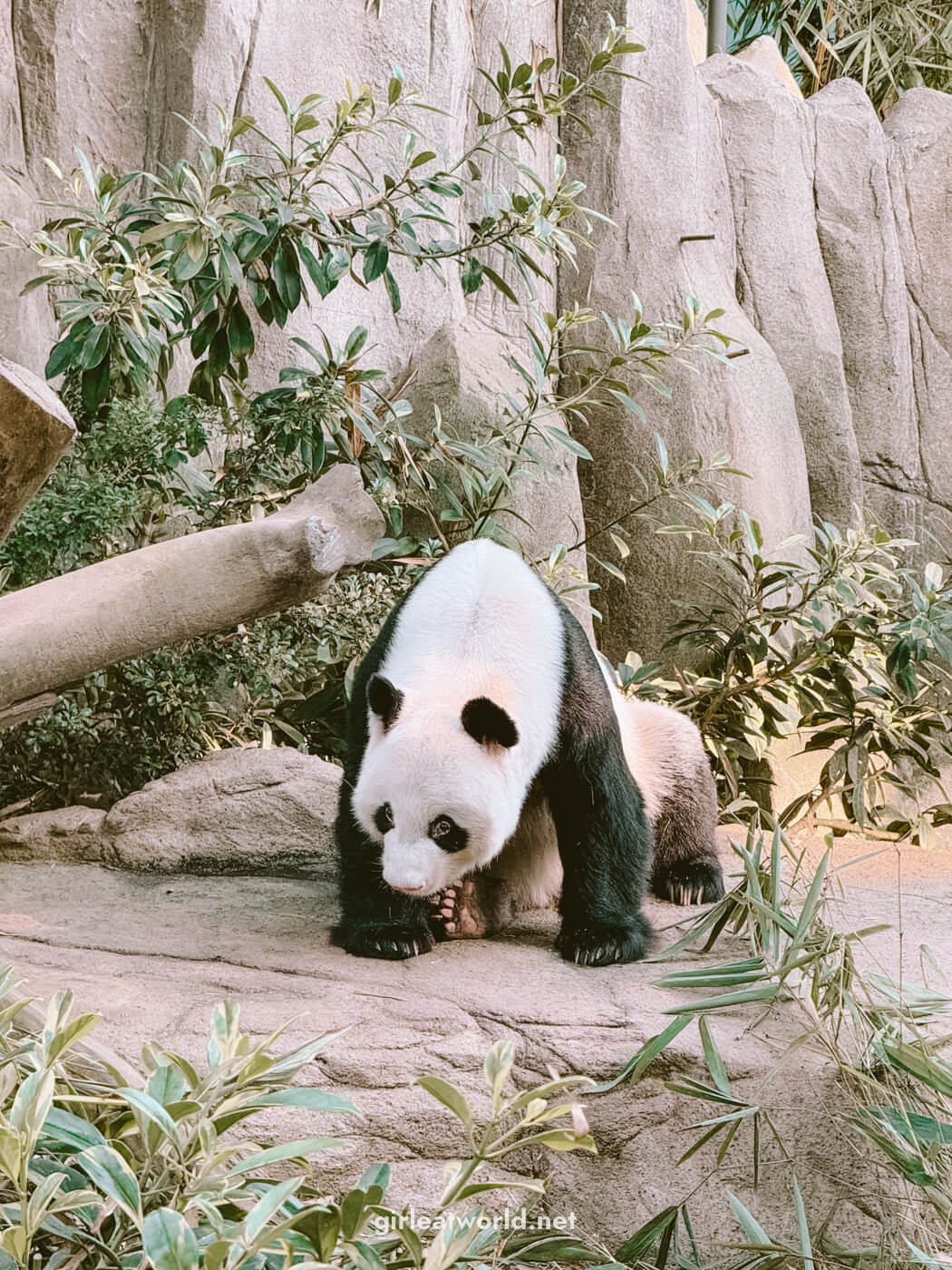 For older kids (1.06m or above in height), there is Amazon River Quest which is a boat ride where you can see the animals up close.
Expect to spend about 3 hours here.
➡️ Book tickets to River Wonders here (select Standard ticket if you're not an SG resident)
3. Bird Paradise
Bird Paradise is the newest addition to Mandai Wild Reserves, which opened in May 2023. Before the current location, the bird park was located at Jurong Bird Park, which was operating from 1971 up until 2023.
➡️ Book tickets to Bird Paradise here (select Standard ticket if you're not an SG resident)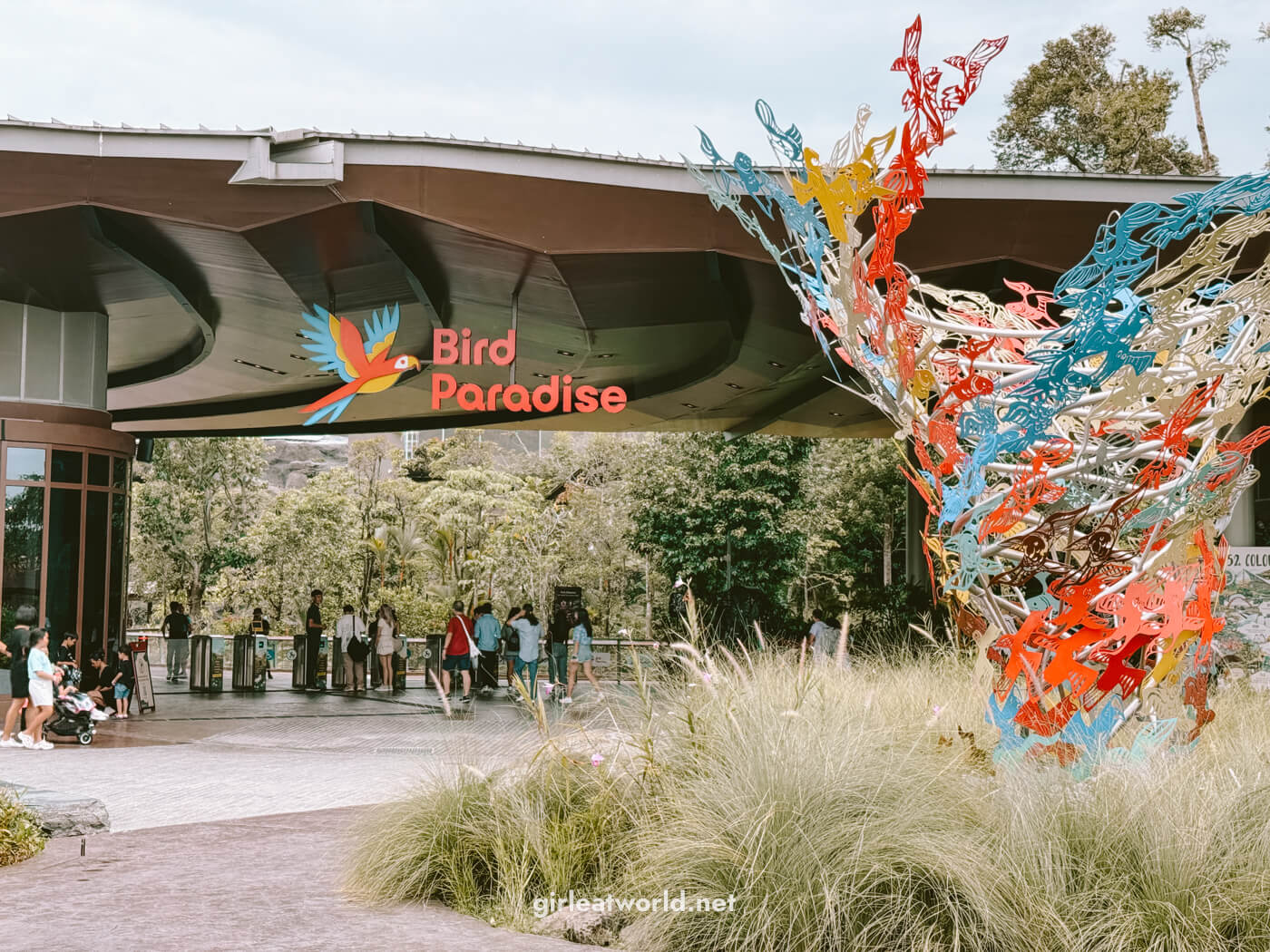 The Bird Paradise is designed such that you're able to see birds from different parts of the world, from Asia to Africa. The birds are not caged, they are free-flying. You just have to go through a double door from each section which prevents the birds from flying outside. There is also a dedicated enclosure for penguins.
You can spend about 3 hours at the park if you want to see everything.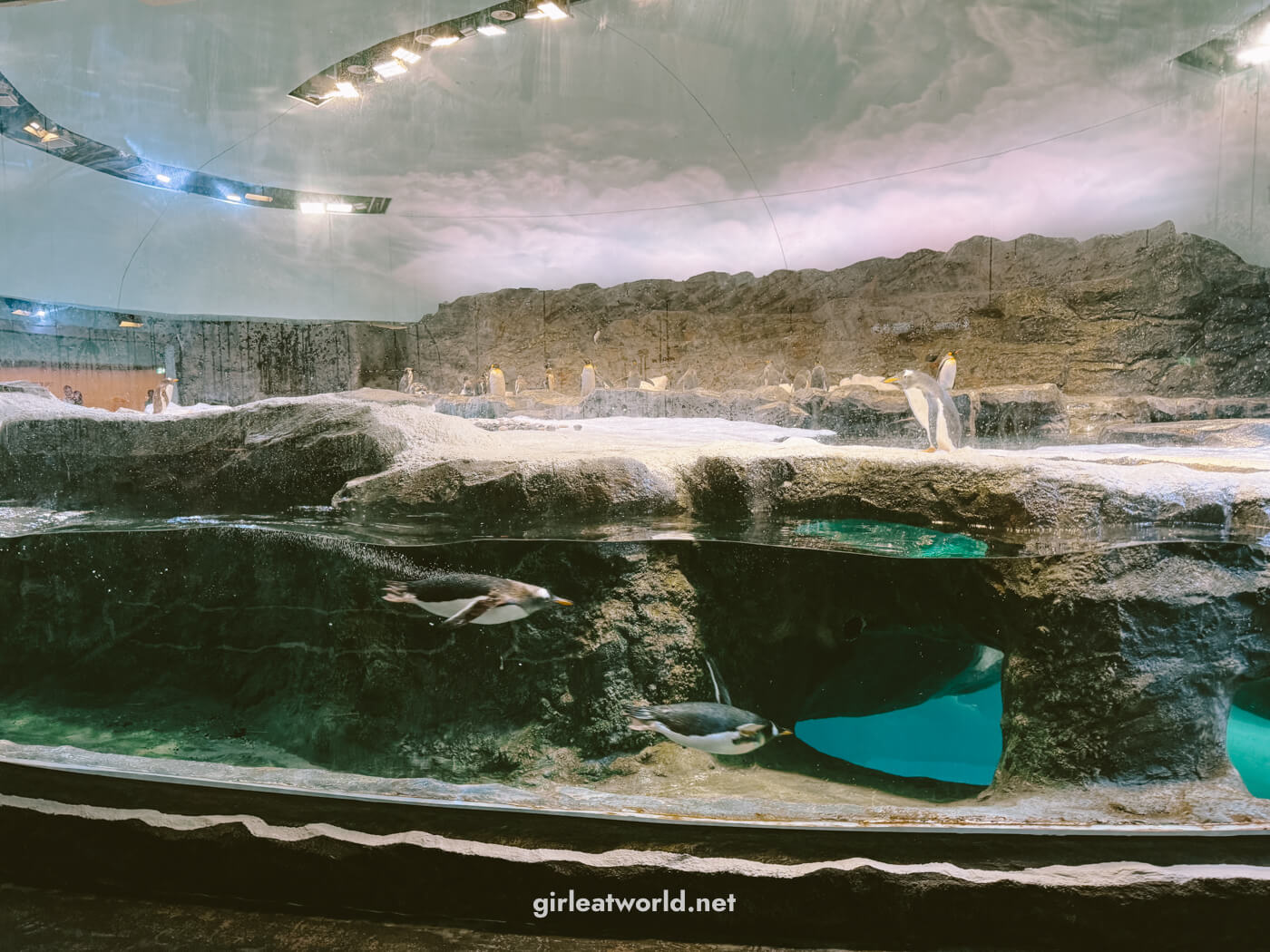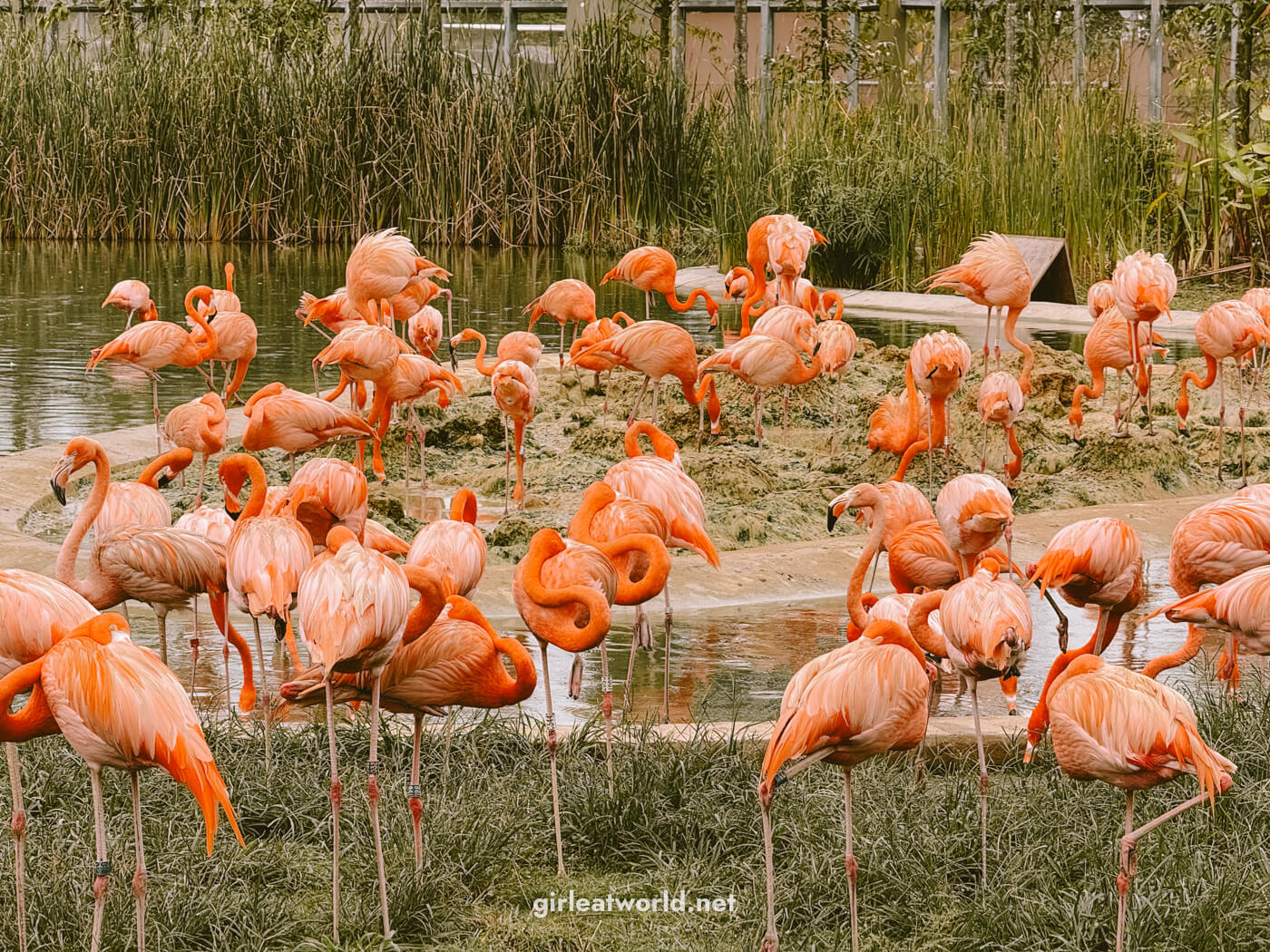 4. Night Safari
As the name suggested, the Night Safari is a night attraction and opens only from 6:30 PM onward. You take a guided open-air tram ride to see all the animals in their nocturnal habitat. There are also trails you can walk and the Creatures of the Night show.
The Creatures of the Night Show happens twice a night at 7:30 PM and 9 PM. So you could go to the show first and then go on the tram ride, or vice versa. Make sure to book a seat for the show!
Expect to spend about 3 hours at the Night Safari for both the tram ride and the show.
➡️ Book tickets to Night Safari here (select Standard ticket if you're not an SG resident)
Day 5: More things to do in Singapore
If you still need more things to do in Singapore, here are a few recommendations I have:
1. Haw Par Villa
Haw Par Villa is a peculiar theme park located in the west of Singapore. It contains thousands of statues that depict scenes from Chinese folklore and legends, as well as demonstrating Chinese values.
The park was initially built in 1937 by the Burmese-Chinese brothers Aw Boon Haw and Aw Boon Par, who are the creators of Tiger Balm. As such, the original name of the park was Tiger Balm Garden. Seeing the potential in the theme park, the Singapore Tourism Board took over the park and renamed it "Haw Par Villa" in 1988. The park has since gone through a few restorations, with the latest one being in 2021.
You can take the MRT to CC25 Haw Par Villa station. The park is just a short walk away.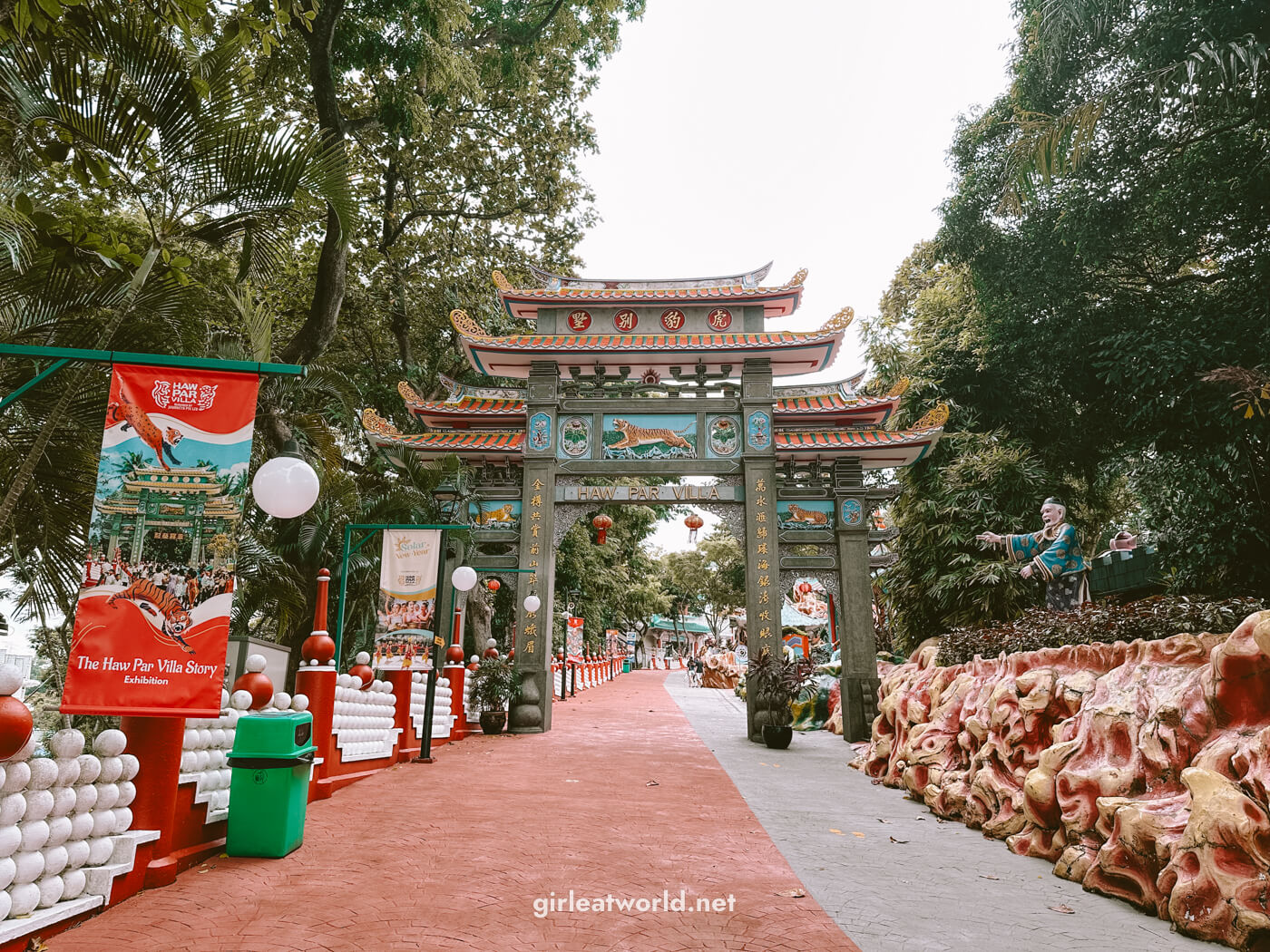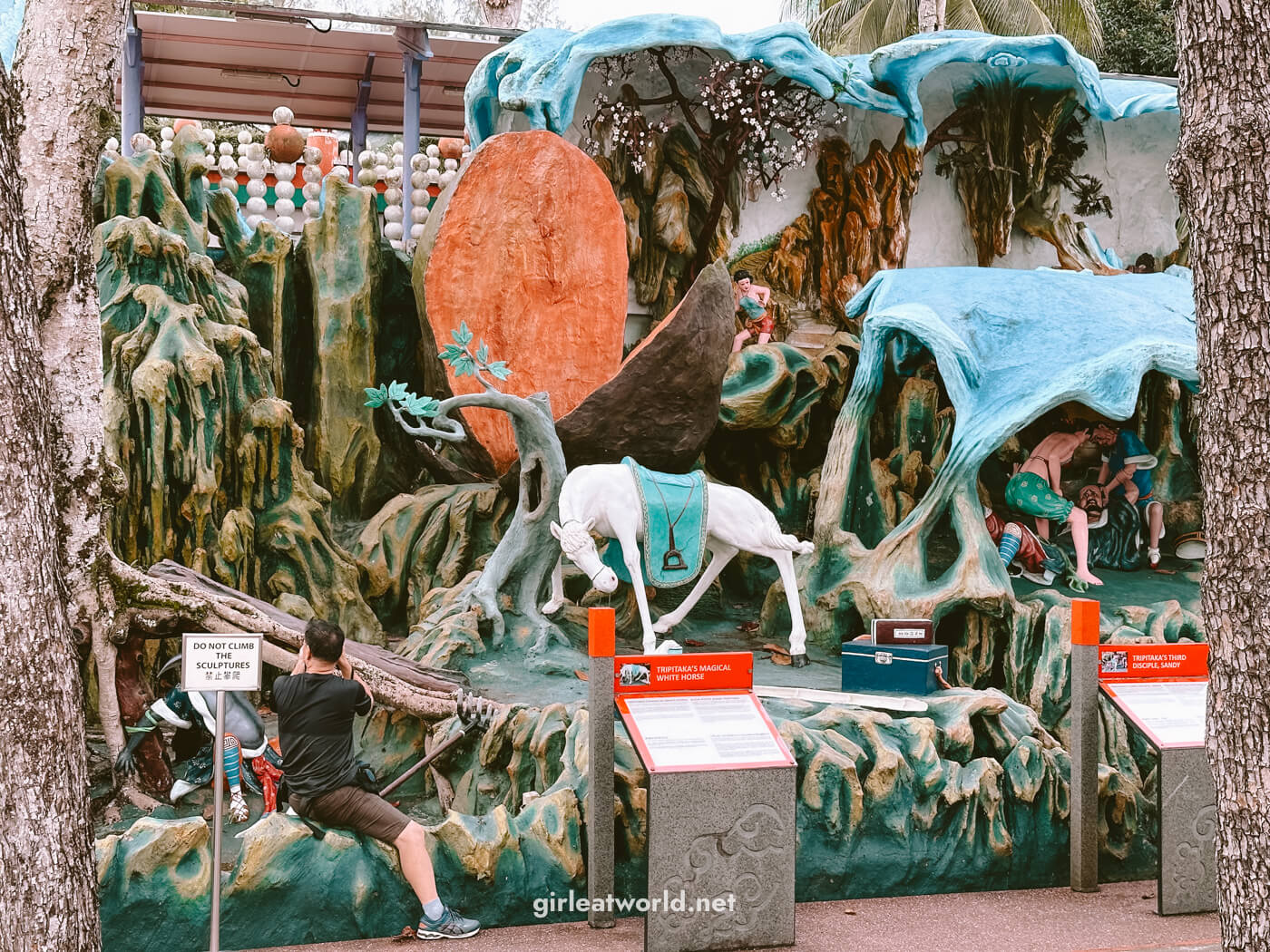 2. Go Museum-Hopping
There are plenty of great museums in Singapore! Visiting them is subjective to your interest. I recommend checking out the following:
3. Sentosa Island
Sentosa is an island resort in the southern part of Singapore. To get here, you need to take the MRT to CC29 NE1 Harbourfront. Then, go up to the highest level in Vivo City to take the monorail into Sentosa.
Alternatively, for a more unusual route, you can go to Mount Faber and take the Singapore Cable Car into Sentosa.
Book the Singapore Cable Car tickets here!
In Sentosa, there are a few attractions you might want to enjoy: S.E.A Aquarium and Universal Studios Singapore are the most famous ones.
For the history of Sentosa, you can head to Fort Siloso and check out the guided tour and a scenic trail at Fort Siloso Skywalk.
Annual Events in Singapore
Aside from all of the above that I have mentioned, here are some notable annual events in Singapore that might enhance or interfere with your time in Singapore:
Chinese New Year (Usually in February) – This is one of the major holidays in Singapore. While it means Chinatown will be nicely decorated, I would avoid visiting Singapore on CNY itself, as it is widely celebrated and many things will be closed.
Ramadan (Usually in March or April) – Ramadan is a holy month when Muslims celebrate by fasting, and they break their fast around sunset. It's a great time to visit the Kampong Glam area. Check the Singapore Events Calendar here.
Singapore National Day (9 August) – In the weeks leading up to Singapore's National day, there will be plenty of fireworks shows on Saturdays and Sundays, which is a practice for the big show on the 9th of August. Great time to be at the Singapore waterfront area!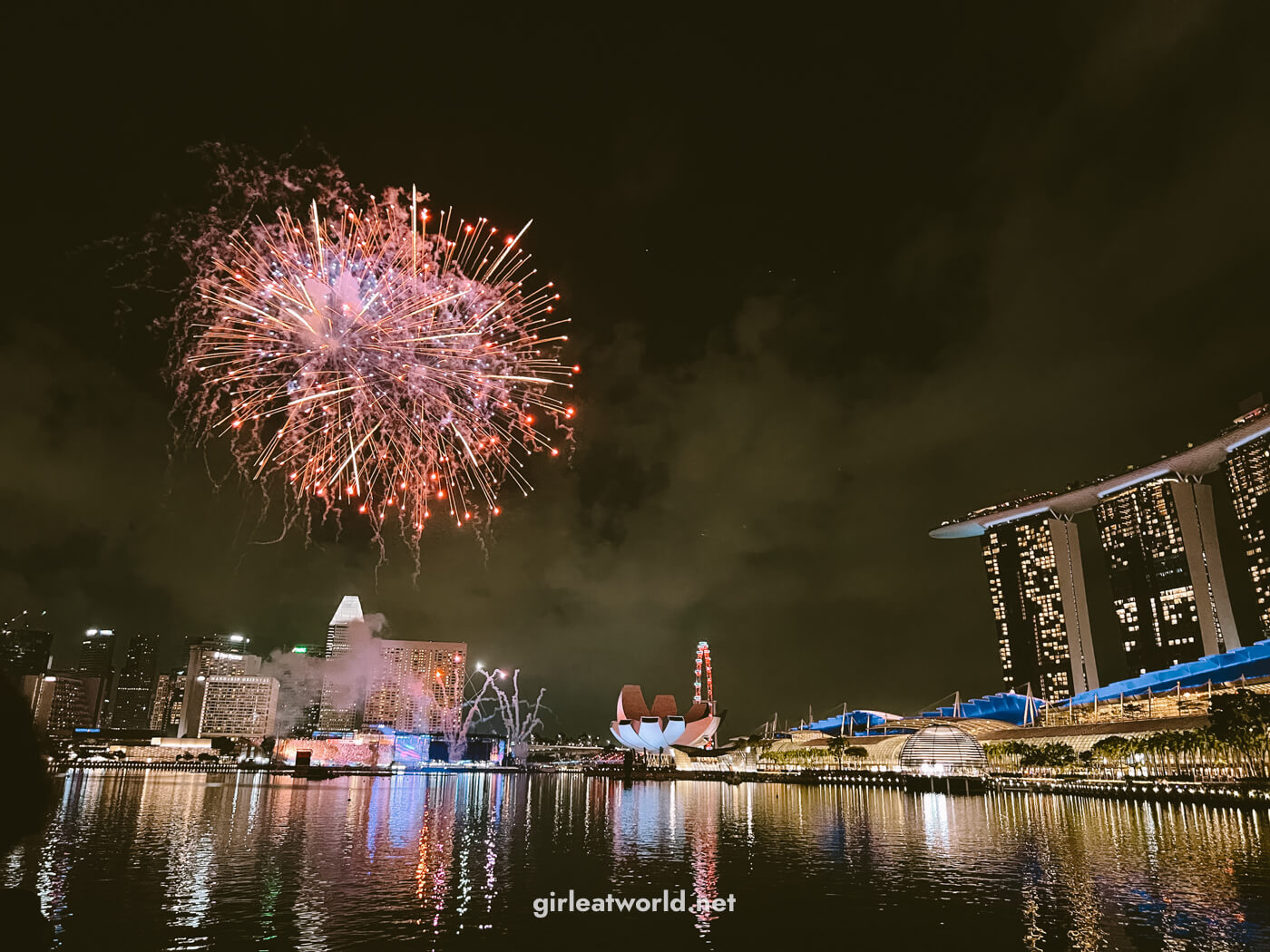 Deepavali (Usually in November) – This is a great time to visit Little India. Throughout the month of November, you'll find the neighborhood even more lively and brightly decorated. Check the Singapore Events Calendar here.
Singapore F1 Grand Prix – Usually held on the last week of September. If you're a fan of F1, it's a great time to visit and watch the race in person (we have a 100% safety car record). But if you're not a fan, avoid race week as it increases the price of hotels in Singapore!
Phew, that was such a long post! I hope you find it useful, and as usual please feel free to comment below for any questions.
Until next time ✨