I'm not a fan of fancy hotels. My traveling style can be summed up as sensibly budget – meaning, I don't mind splurging on certain things like experiences or food, but hotels rarely fall into my can-splurge category.
So it shouldn't come as a surprise that I have never done any staycation in Singapore, where hotels are notoriously expensive. While many Singapore residents seem to enjoy this activity even before the pandemic, I was never sold on the idea of paying S$400-700 a night just to stay in one of the fancy hotels in the city. Why would I do that, when I can jet-set to Bali or Phuket for the same budget?
But when our borders closed up in March 2020 and remained closed over a year later, I wavered. I finally pulled the trigger: I booked a 3 days 2 nights stay at the Shang, aka Shangri-la Orchard. I picked this hotel because I had heard countless times from my friends, gushing about how family friendly they are, and how it's the perfect hotel to bring kids along.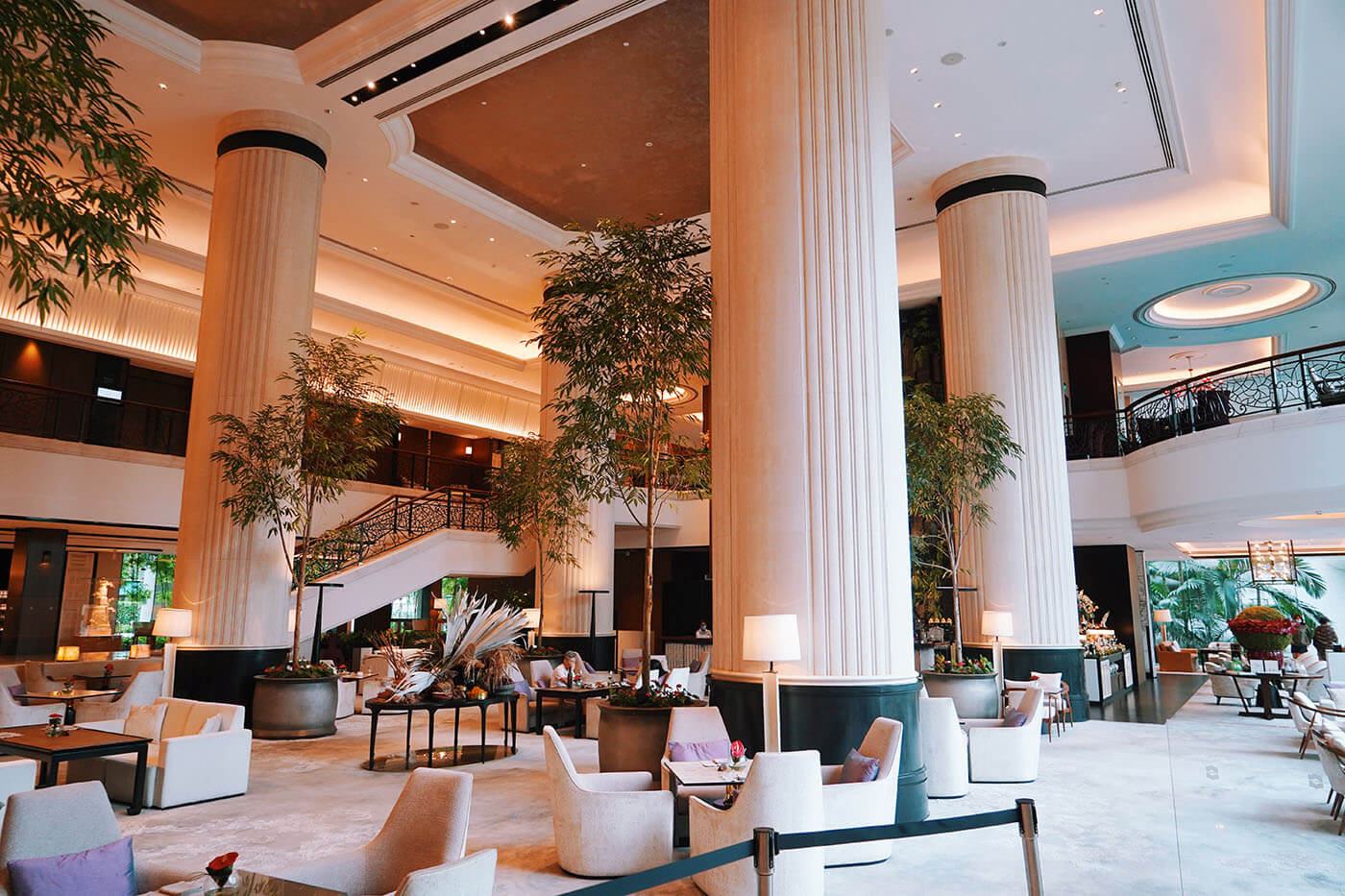 Without further ado, here is the full low-down on how our stay at Shangri-la Orchard went:
Booking a room at Shangri-la Orchard
You can book straight from the Shangri-la website but… who does that? Like any good frugal person, I searched for a good deal within our desired time range. Almost always, hotels are cheaper when you book through a third-party booking system.
I recommend booking through booking.com as they provide option for free cancellation, which gives you some peace of mind should the situation change and you no longer want to go. Click here to book Shangri-la Orchard.
You could also check if Klook has any staycation packages with Shangri-la Orchard, which also might give you a good rate! Click here for their Shangri-la Staycation promo page.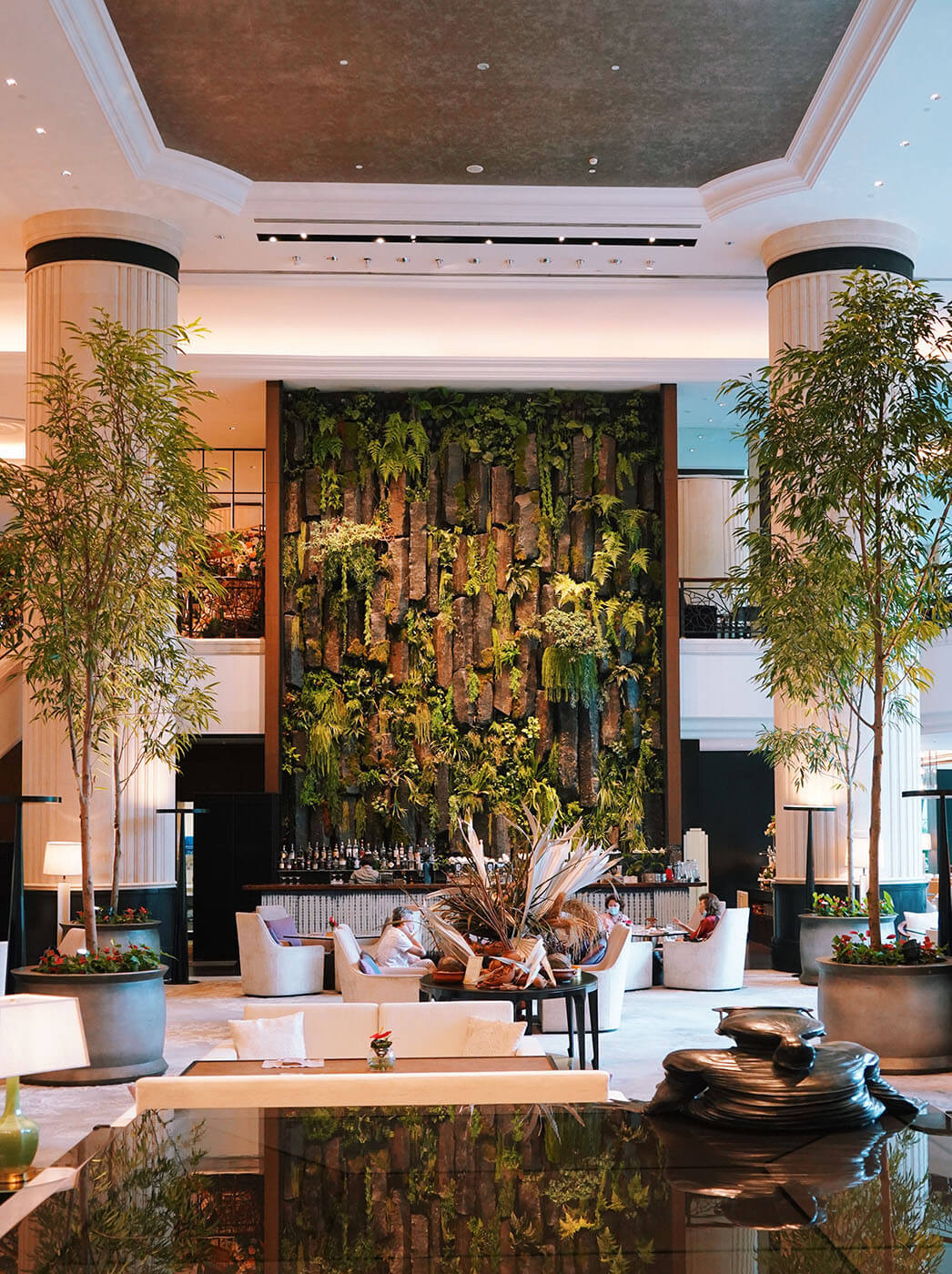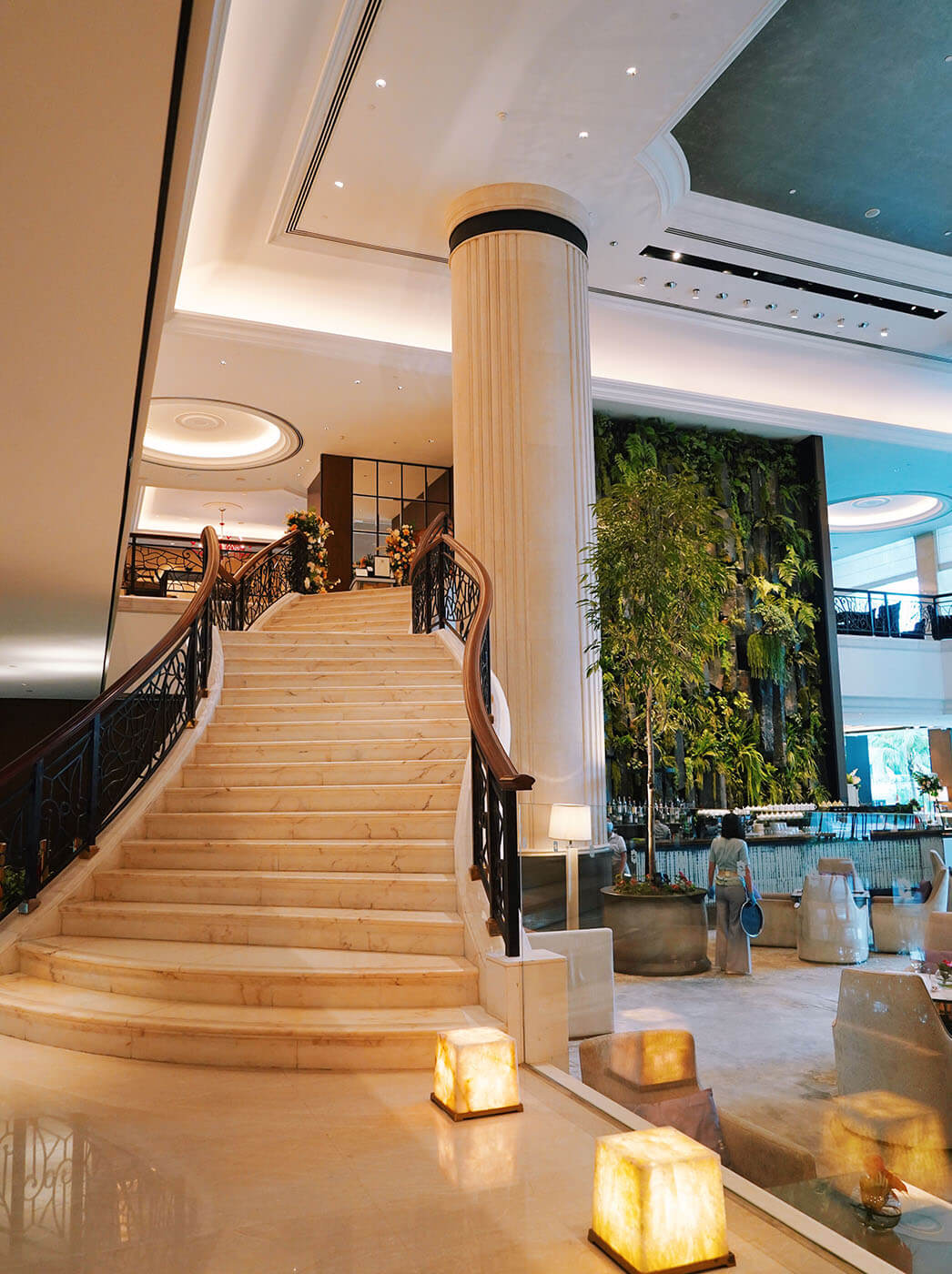 Which room type at Shangri-la Orchard should you book?
We booked a room at the Garden Wing with a balcony that faces the swimming pool (keep reading for review of the room itself). But, it's worth nothing that the rooms at Garden wing can be a little dated, although it's definitely still clean and comfortable. I mean… it WAS renovated in 2012 so it's not exactly old.
But if you are a fan of a newer hotel rooms, you could book the Tower Wing instead, which has rooms done up in 2018. Tower wing also has themed family rooms if you want something more special for your little ones.
If you want something truly luxurious, you could go for the Valley Wing, an area meant for VIP and luxury travelers, complete with a private check in counter and drop off point separate from the rest of the guests. And if you remember, Shangri-la Orchard hosted former US President Donald Trump when he visited Singapore for the summit with North Korean leader Kim Jong Un in 2018. I suspect valley wing is where he and his staff must have stayed. While staying where Trump has stayed isn't exactly my life goals, he was a US president after all and the fact that he was hosted at Shangri-la must have meant something good… ?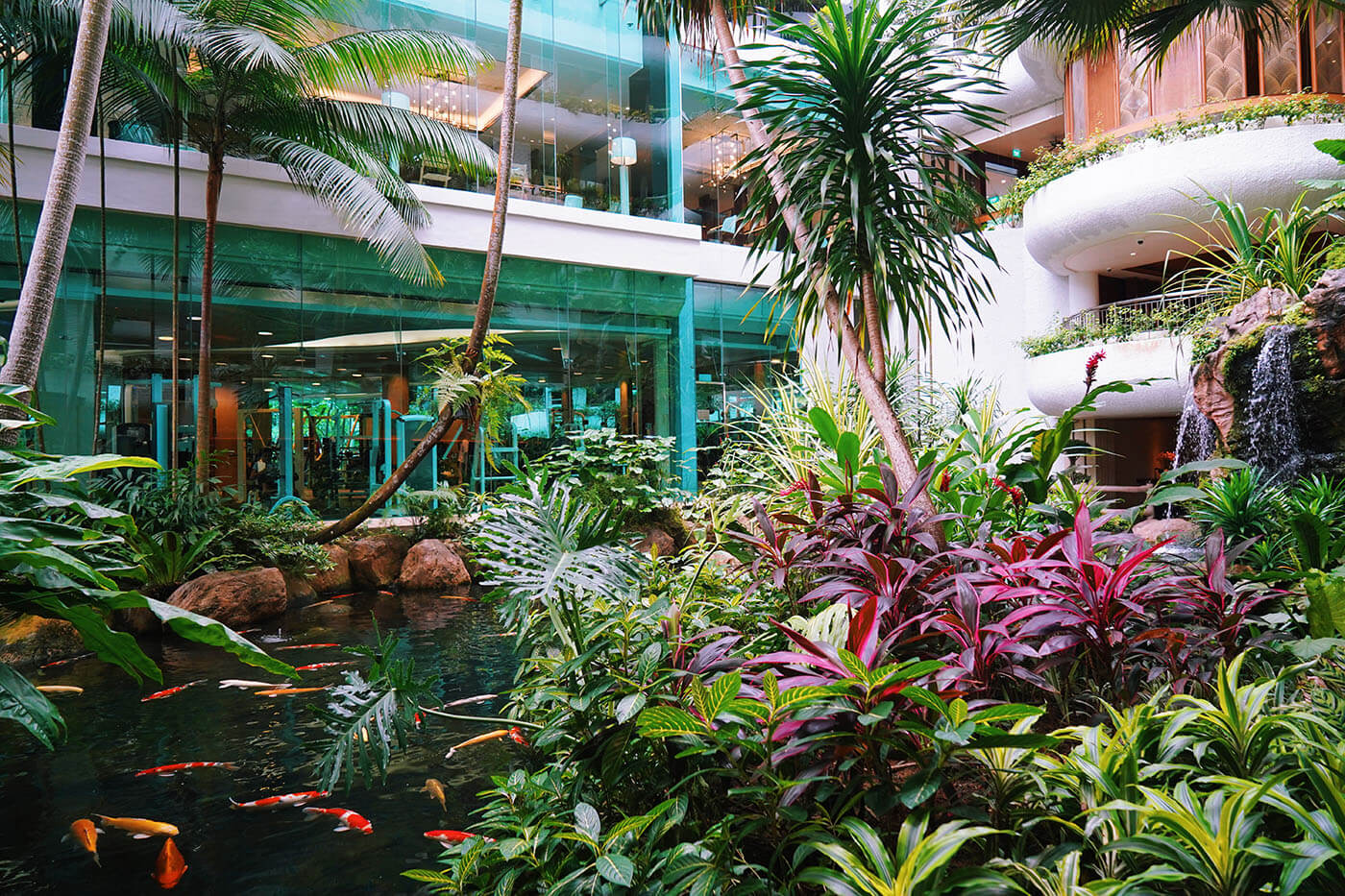 Service at Shangri-la Orchard
Only one word to describe the service at Shangri-la Orchard: Impeccable. Anything we ask, they'll give.
Upon check in, they noticed we had arrived with a toddler and we were given goodie bags containing children shampoo and soap, toys and coloring pencils. If you are travelling with an infant, you can also request for bottle warmers and bottle sanitizer. Though during my stay they did run out of bottle warmer, but it wasn't a big deal for us since the room came with an electric kettle.
Another good example of their hospitality is my check in experience itself. While checking in, I was informed the room was not ready despite us arriving after 3PM. To compensate for that, the staff immediately gave us a free play at Buds, which would have costed us an extra S$18.00. I was pretty happy about that since Buds is in our itinerary and we would have paid the admission price regardless. In the end it wasn't even necessary, because as soon as I walked away from the receptionist I got the SMS saying our room was ready! So we got a free play at Buds AND we didn't have to wait for our room.
They also kindly sent us a surprise birthday cake to the room despite us not mentioning we were actually there to celebrate a birthday. I guess they must have noticed the date of birth on our ID when we checked in.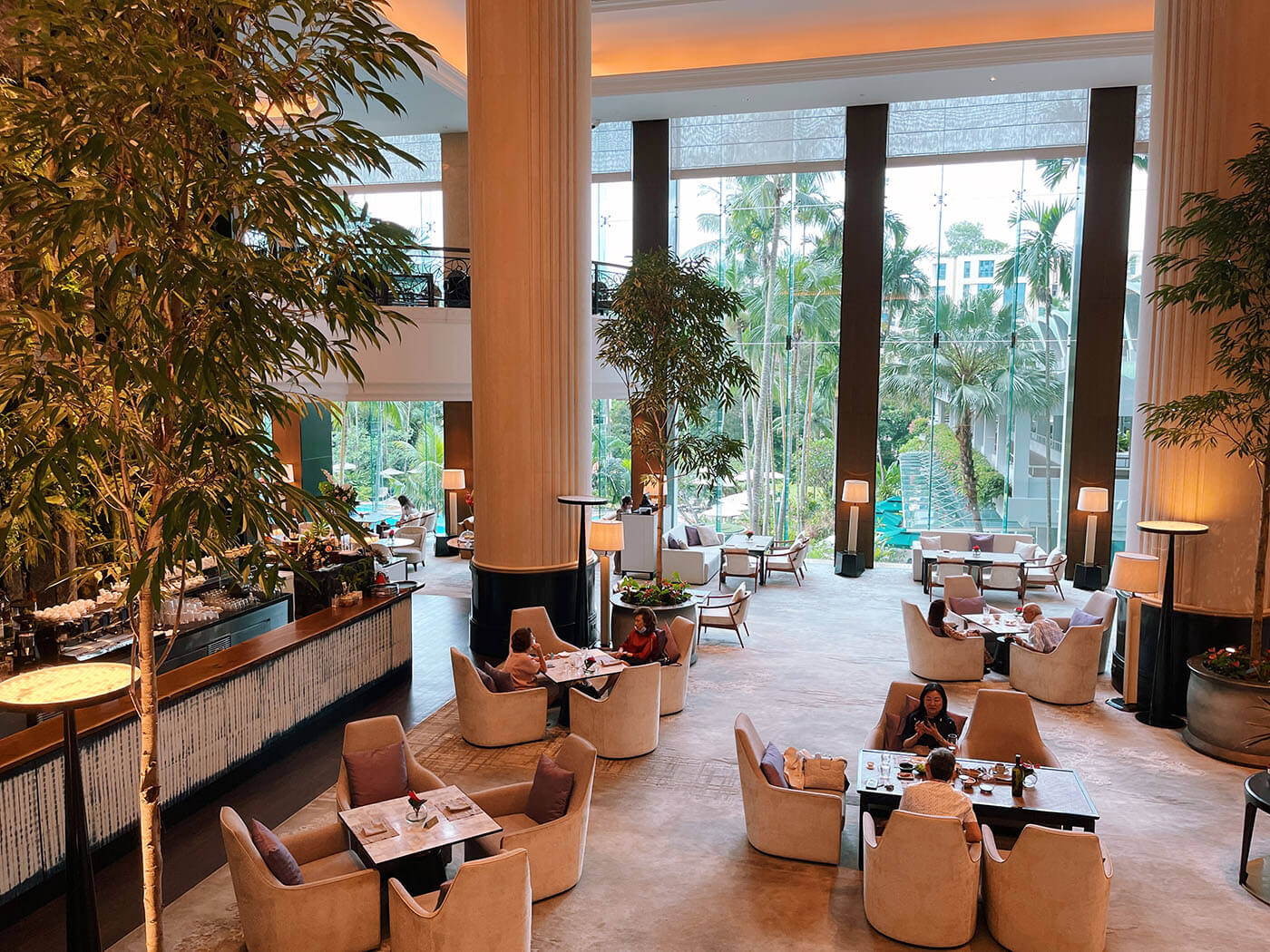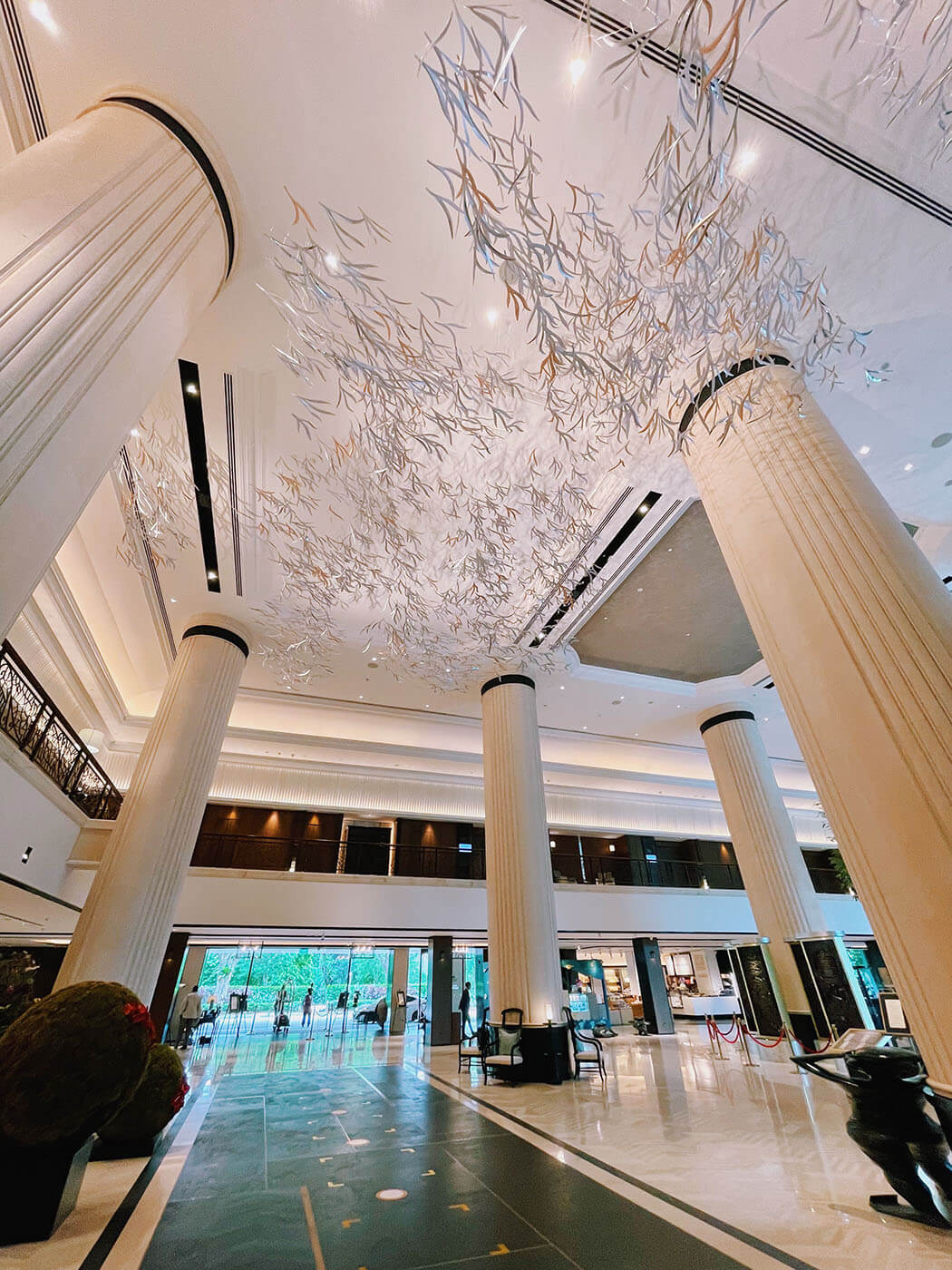 The Room at Garden Wing of Shangri-la Orchard
As I said before, we booked a pool view deluxe room at the Garden Wing.
The room was on the 3rd floor, but because of the way the hotel is built on a hill, the room was on the same level as the lobby. To get to our room, we just had to pass by the lush green atrium that makes the name of this wing very apt.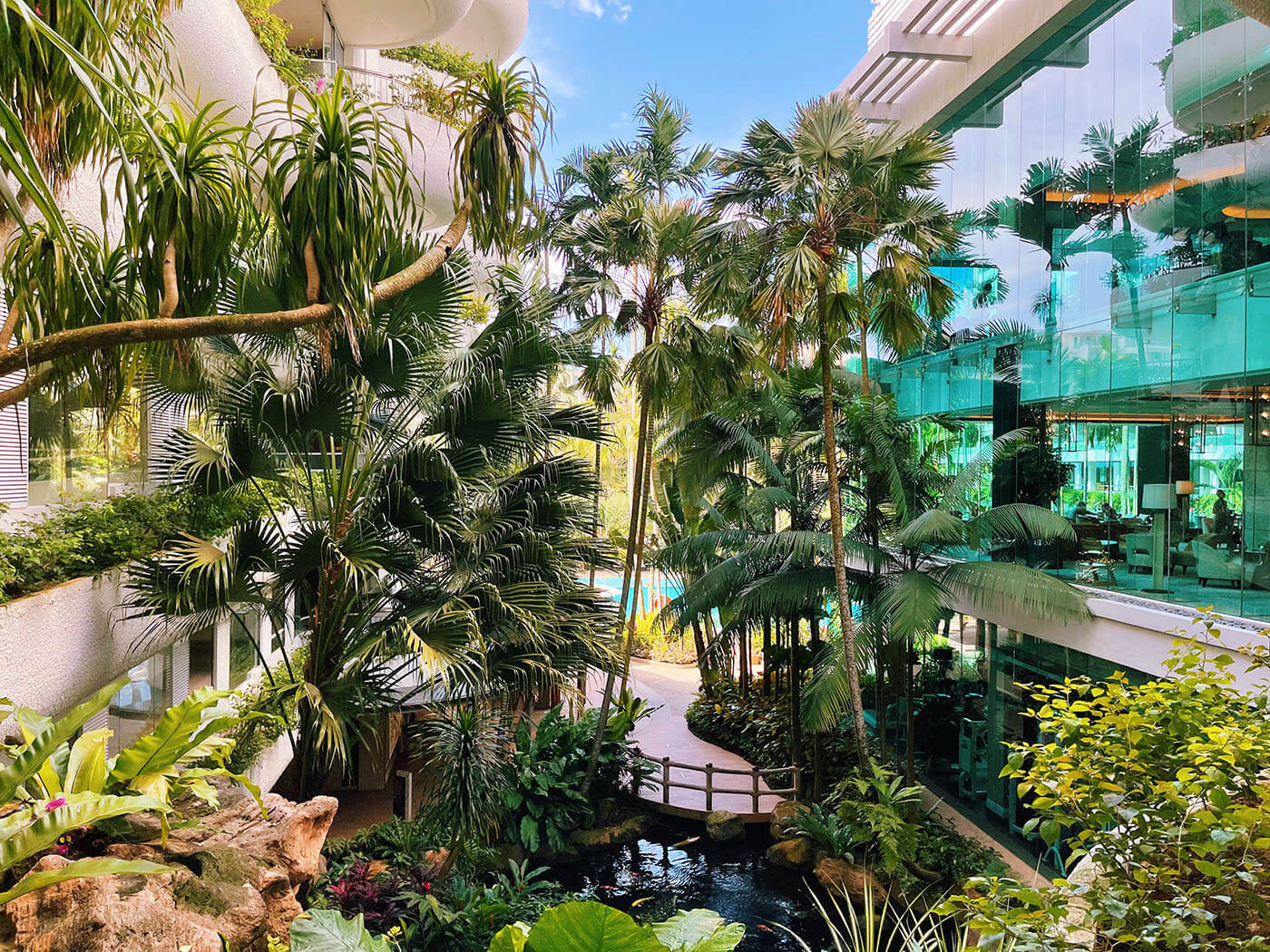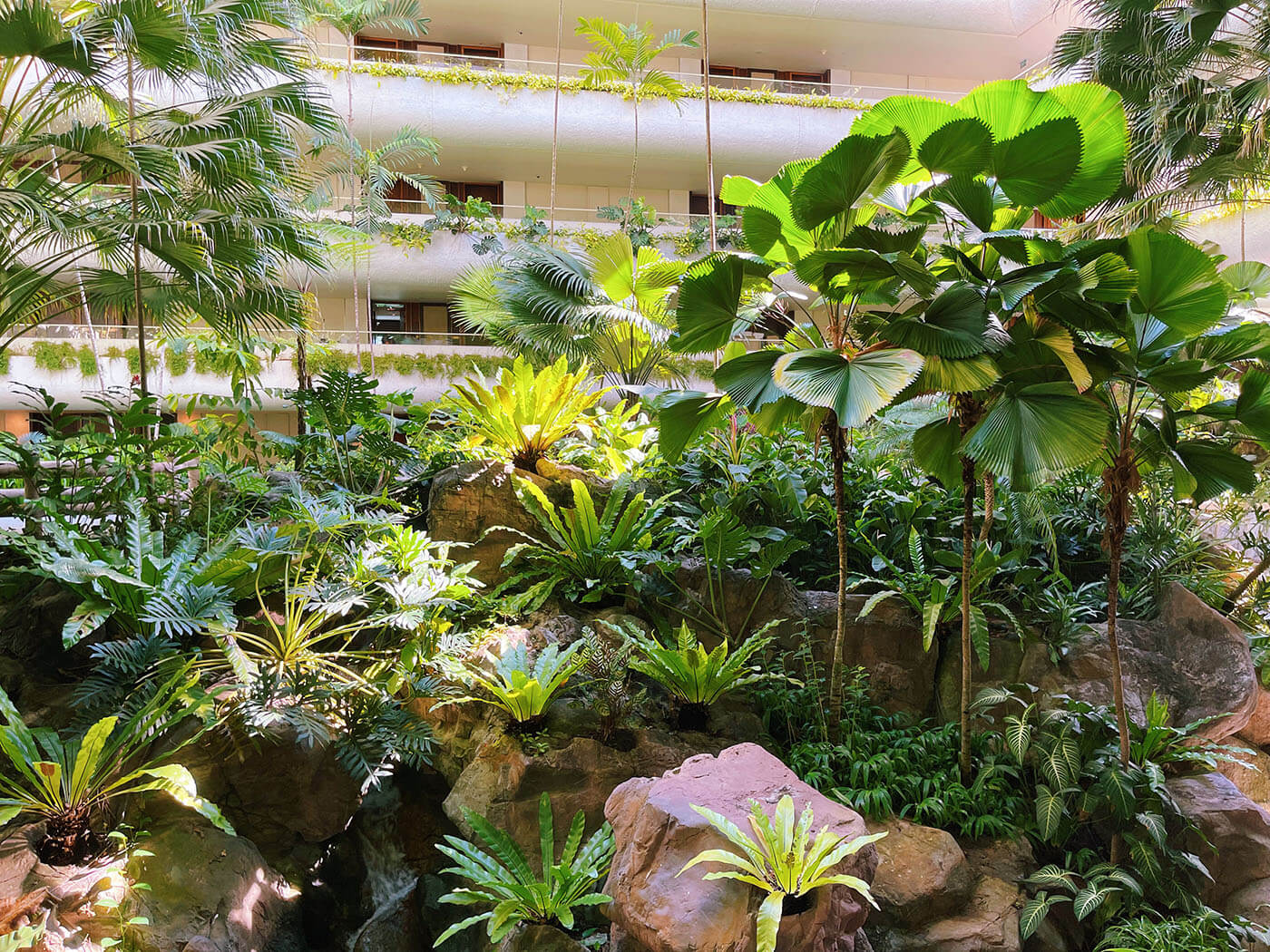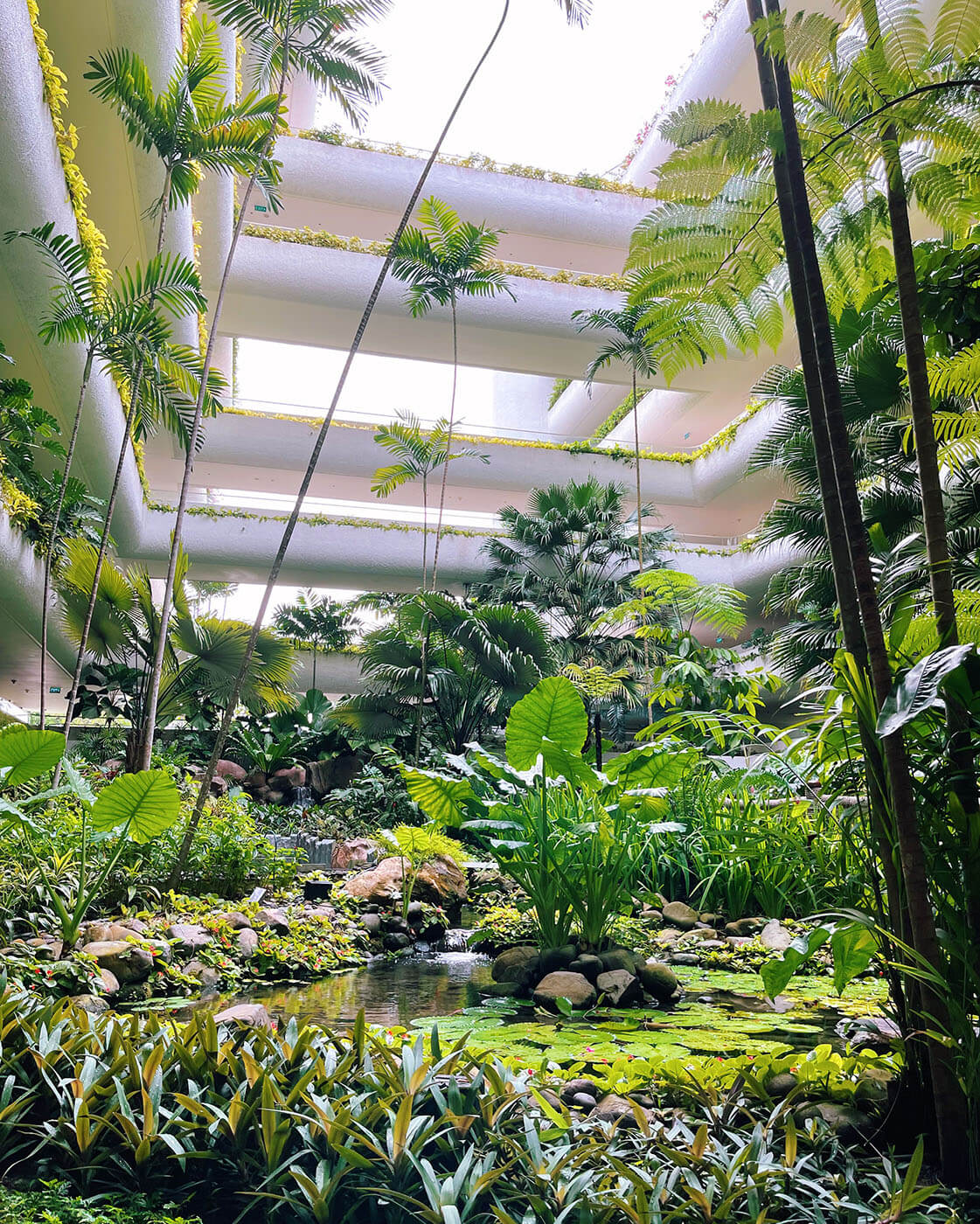 PS: You can go down to Waterfall Ristorante, the pool, Splash Zone, and The Line through this garden atrium rather than going back to the lobby! There is a staircase that leads downstairs next to the Koi pond. You can also spot the resident terrapins in the pond while you're at it.
Deluxe room came with a king bed and a large balcony with a pool view. There were some furnitures like a two-seater sofa and some tables and chairs, that I thought was a little awkwardly placed though it did not take away from our experience at all.
There was also a ton of room amenities: a mini bar, which was empty during pandemic times, so we used it to store milk for the toddler instead. On top of the mini bar there was a Nespresso machine with some pods and tea bags. And next to it, wardrobe with safe and ironing board.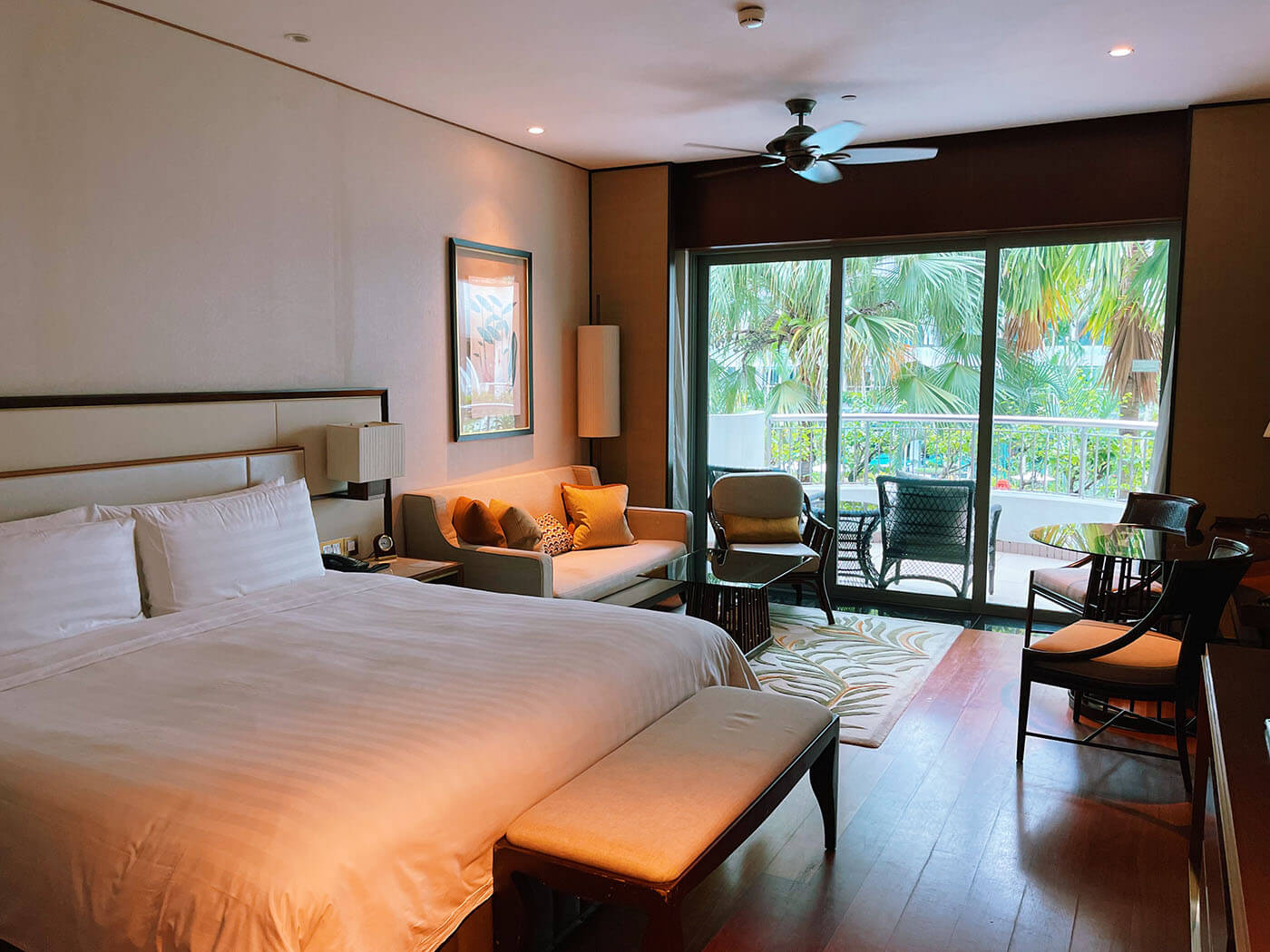 The balcony, with its distinct scalloped semi-circle shape, was the perfect place for us parents to wind down with some wine after the toddler had gone to bed. We ordered a bottle of wine from Wine Connection and got it delivered to the hotel with no issue. We just requested two wine glasses from the room service.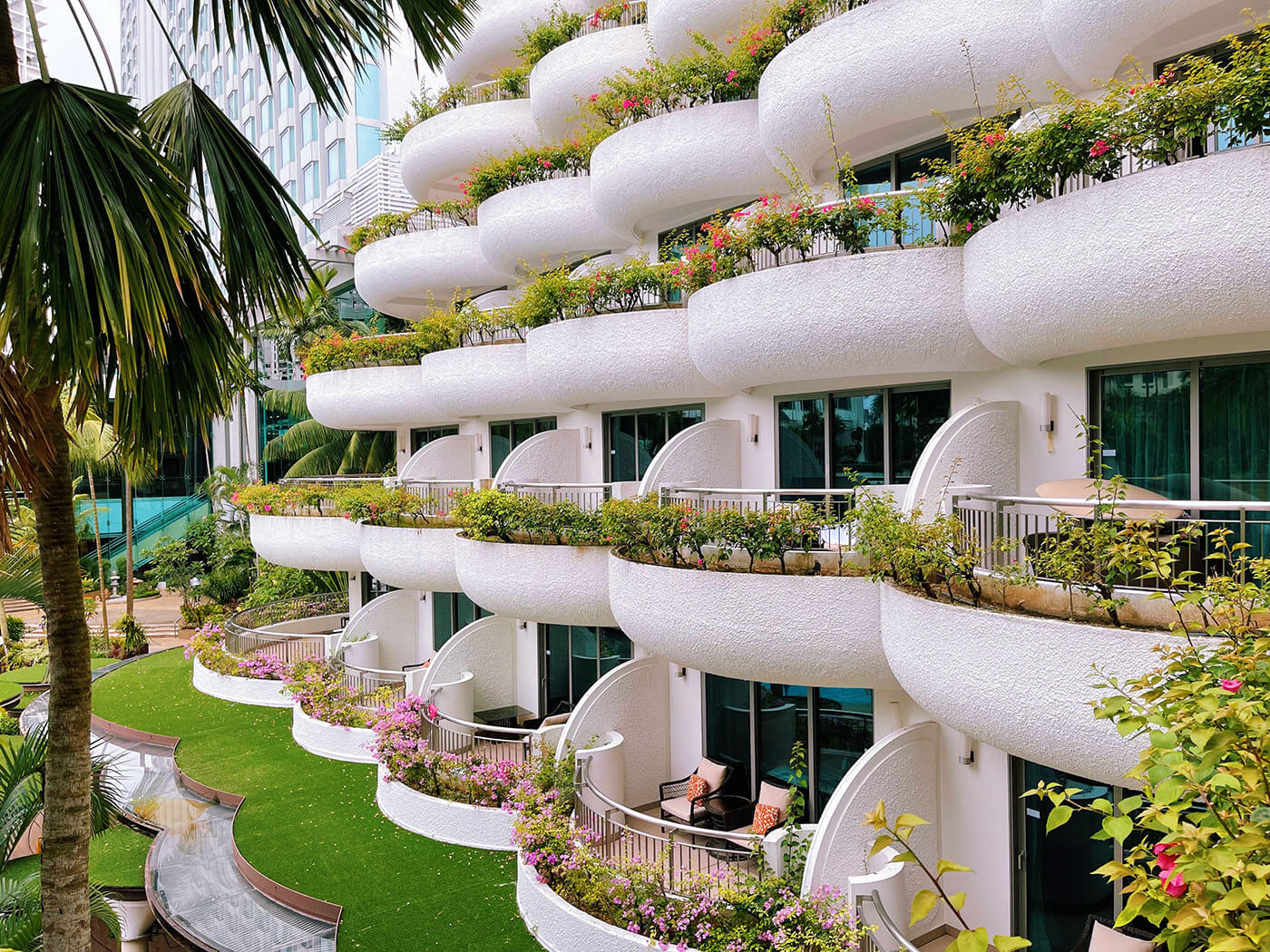 The deluxe room also came with a good sized bathroom, with a his and hers sink and a rain shower + bath tub, bathroom amenities such as shampoo, soap and toothbrush (kids amenities available upon request) complete with an anti-slip mat which I appreciate for the toddler. We definitely used the bath tub to our heart's content during our stay.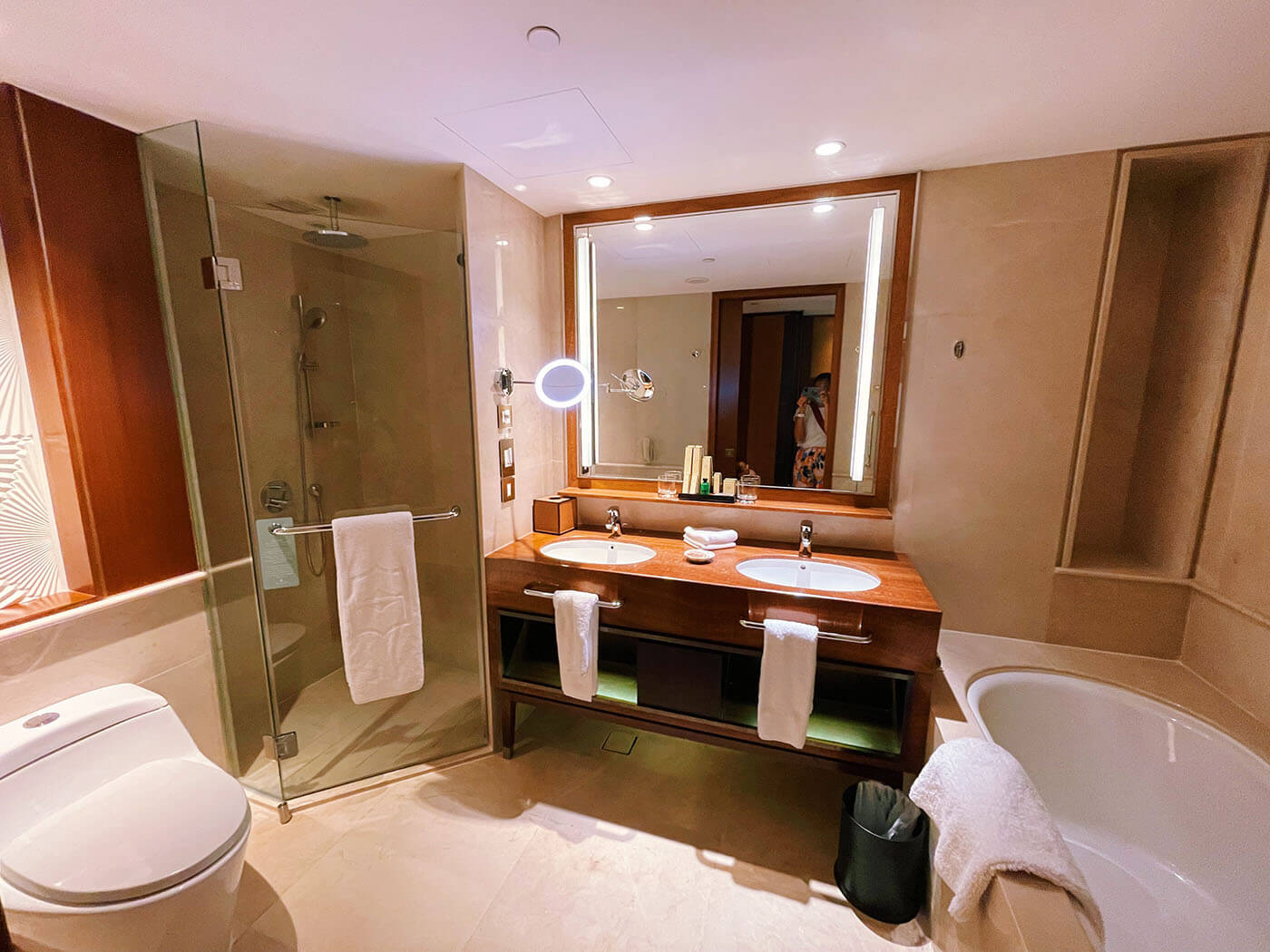 Overall, I'm quite happy with our deluxe room! It wasn't the most amazing room or anything, but it was also the lowest tier room at the Shang, so I guess I didn't expect much and that lead me to a pleasant surprised.
The Food at Shangri-la Orchard
During our stay, we mostly had our meals at the hotel: breakfast at The Line, room service, and Waterfall Ristorante. You could get food delivered to the hotel if you don't feel like having food from the hotel. It would be cheaper getting food delivered, but it's also just so much easier ordering from the hotel.
Anyway, here are my reviews of the meals I had at Shangri-la Orchard:
Breakfast at The Line
The Line is Shangri-la's main restaurant. If you had booked your room with breakfast, it would be served at The Line.
Located between the pool and the lobby, The Line gets a lot of foot traffic. My stay was during the pandemic, so we had to book a time slot for our breakfast. And it was kinda hard to book a good time slot – any time slots between 7-10AM were quickly booked. Although I have to note when we rocked up late to our booking, they still seated us anyway without much fuss.
Because of the pandemic, the breakfast buffet was also served per order – you scan a QR code on the table, which brings up a web app where you can order freely from and then once you've sent your order, the dishes will be brought straight to your table. I wonder if real buffet will ever be a thing again?
We also had to sit separately since at the time of our visit, only 2 people are allowed to dine in. But the restaurant was good about putting us at a table next to each other so we were still able to kind of eat breakfast together. I also noted that we're coming with a toddler during my slot booking, and when I arrived, there was already a high chair and a kids plate + utensil on our table.
I think the food at The Line was pretty standard for a hotel buffet. You have the usual local and western breakfast options. Some of the dishes doesn't seem very fresh – like the bacon was not hot or crispy, but overall still edible. We ordered the western breakfast (eggs, hash brown, etc), all of which was customizable to your liking) as well as some local options like macaroni soup. My toddler loves boiled eggs and yogurt so it was pretty easy for us. Service was super fast – I did not have to wait more than 5 minutes on any of the dishes I ordered.
Room Service at Shangri-la Orchard
We tried room service for our first dinner after we checked in. For 2 adults + 1 toddler and no drinks, the bill was a staggering $96 (after tax and service). So it was not exactly cheap, but I also think that's to be expected from a room service. I ordered the fish and chips, while my husband ordered the wagyu burger. I also ordered macaroni bolognese from the kids meal for my toddler.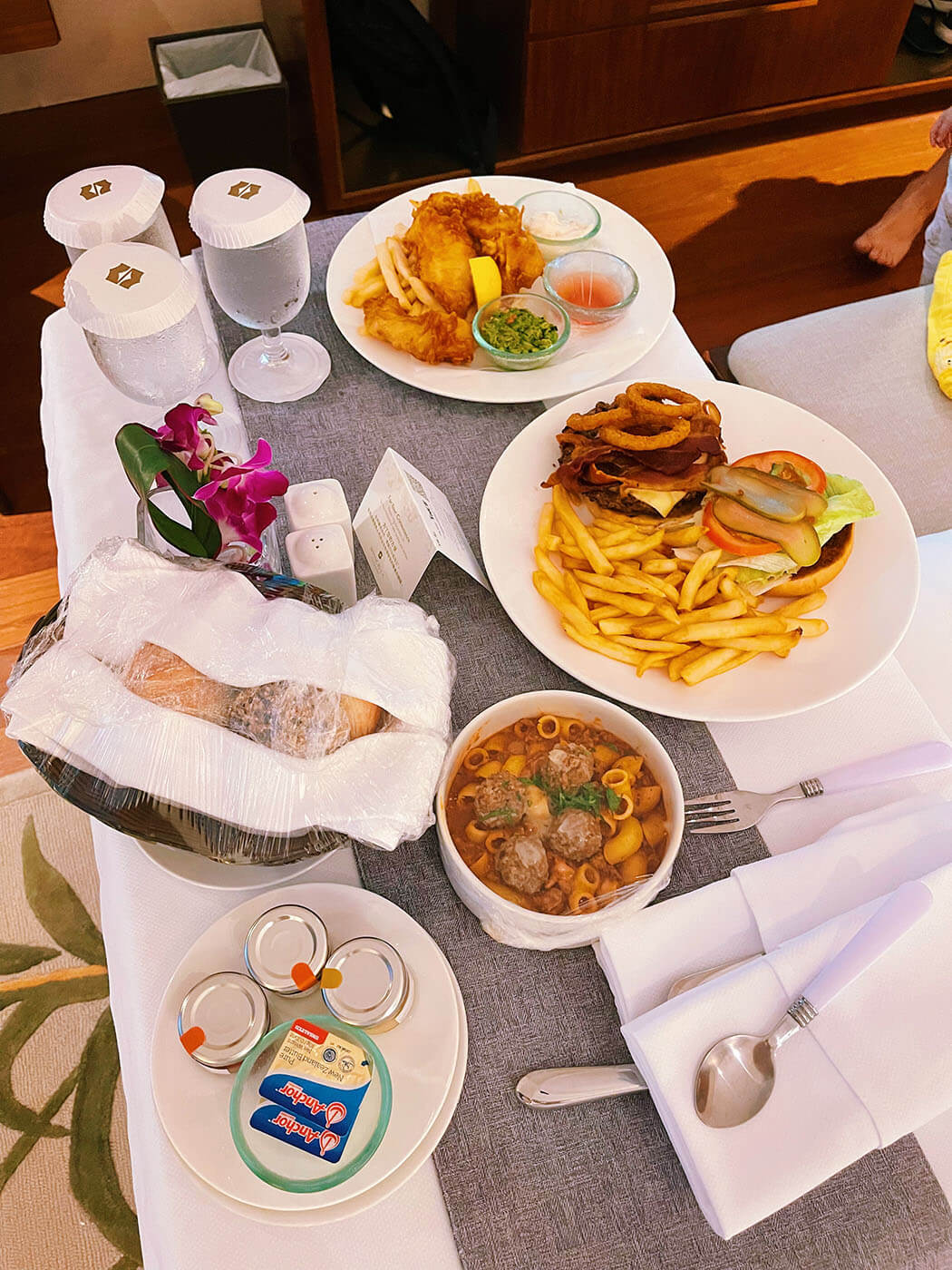 My toddler unfortunately did not approve of the kids meal – he spat out the macaroni right away, so he ended up eating my fish and chips (I just gave him the meaty fish part without batter) while I ended up finishing HIS meal. And you know what? I thought his meal was actually really good! I have to note that I do have a picky eater so it wasn't surprising that he rejected the meal, but I ordered chicken fried rice from the kids menu for him for another meal, and he did approve of that one.
Room Service was super fast – I don't think we waited more than 30 minutes for our meals.
Waterfall Ristorante
My sister came to baby sit one of the nights (bless her), so we ducked out to check out Waterfall Ristorante, the other restaurant by the pool opposite from The Line. And I'm so glad we did! We got the 4-course dinner, which we thought was a steal at $58++ per person.
I thought the mains of the 4-course dinner was pretty average but everything else was very delicious. My favorite part of the meal? I LOVED the Pana Cotta! Super creamy and tasty. I'm glad I picked that over the gelato.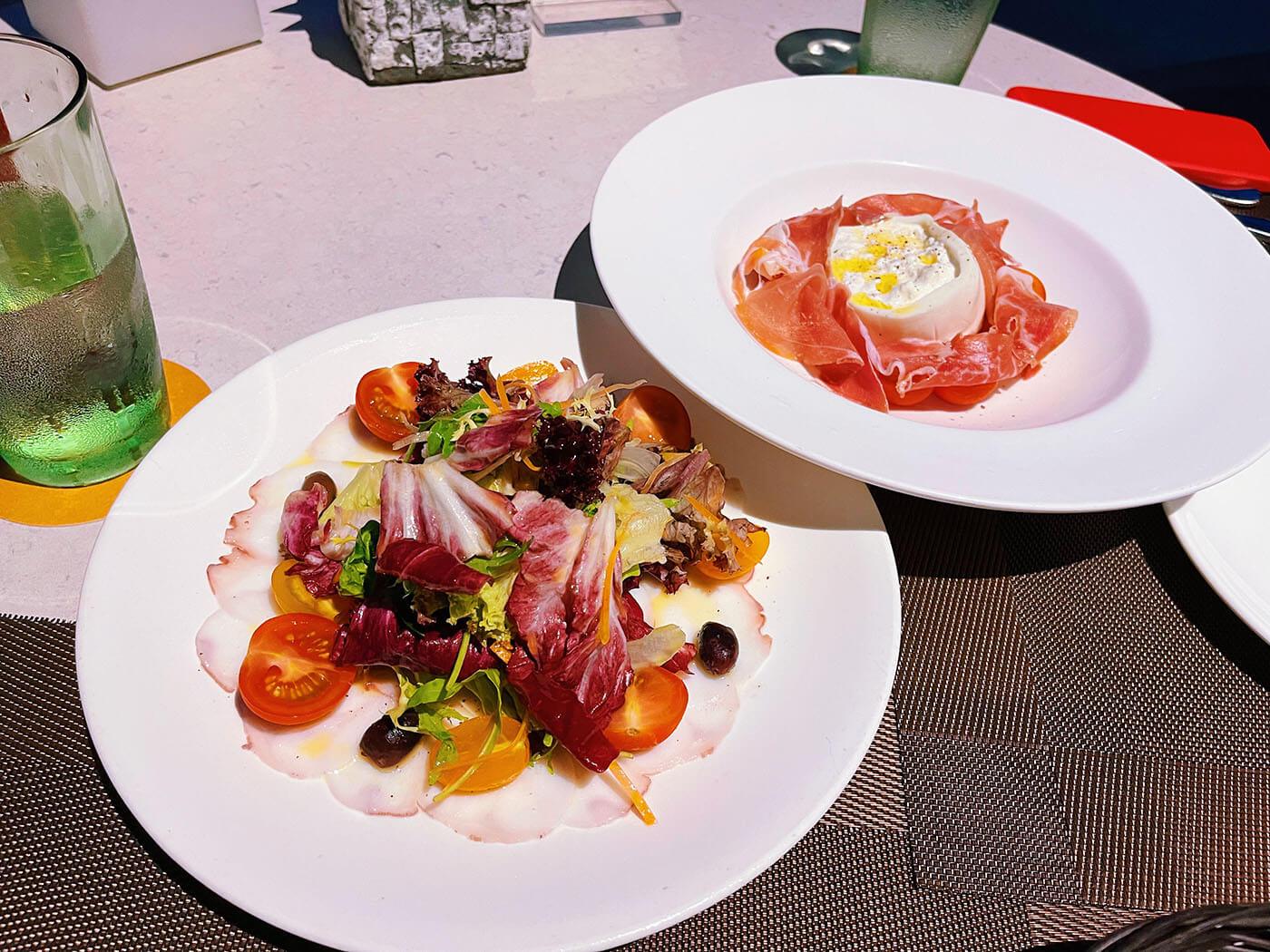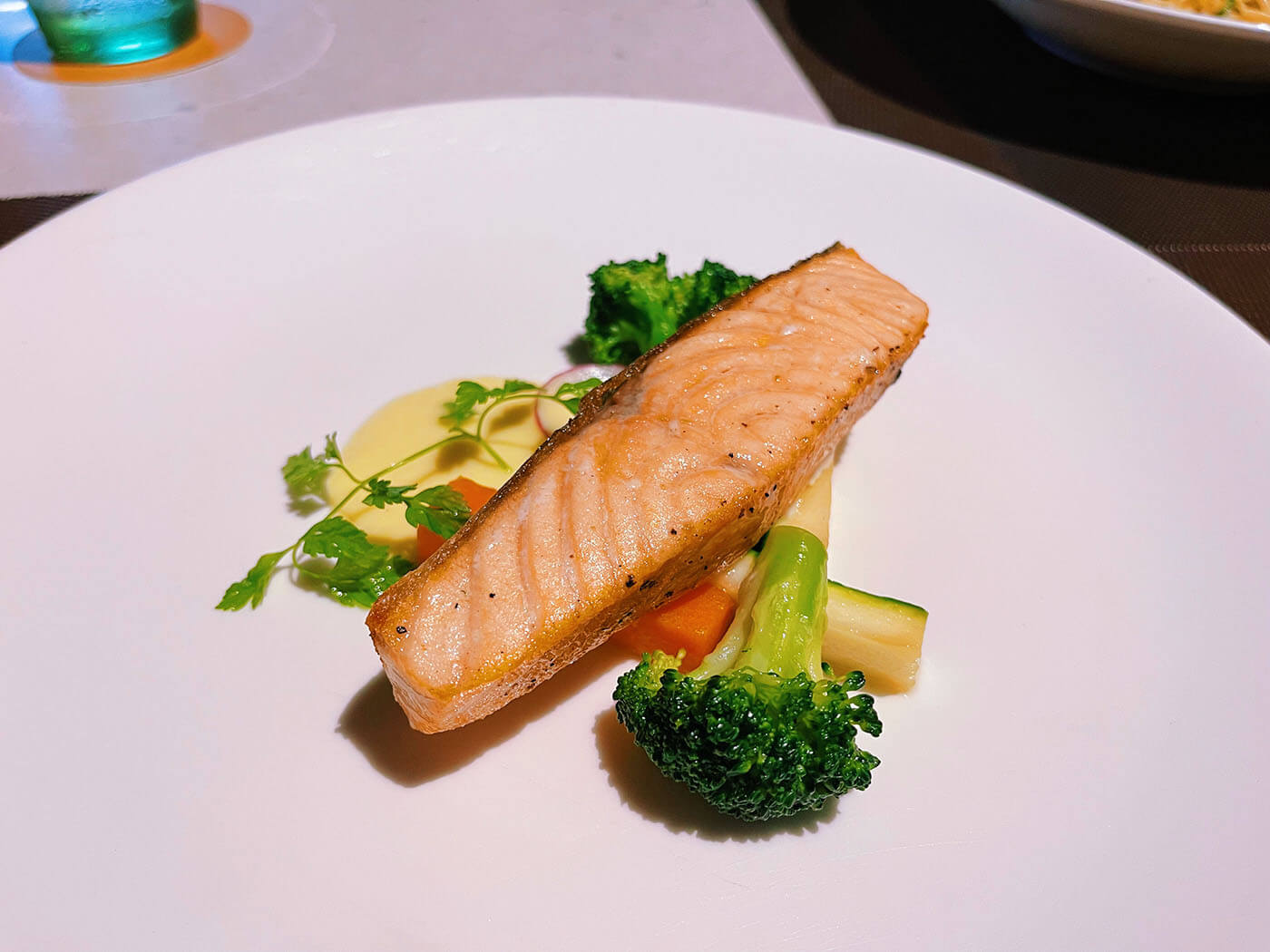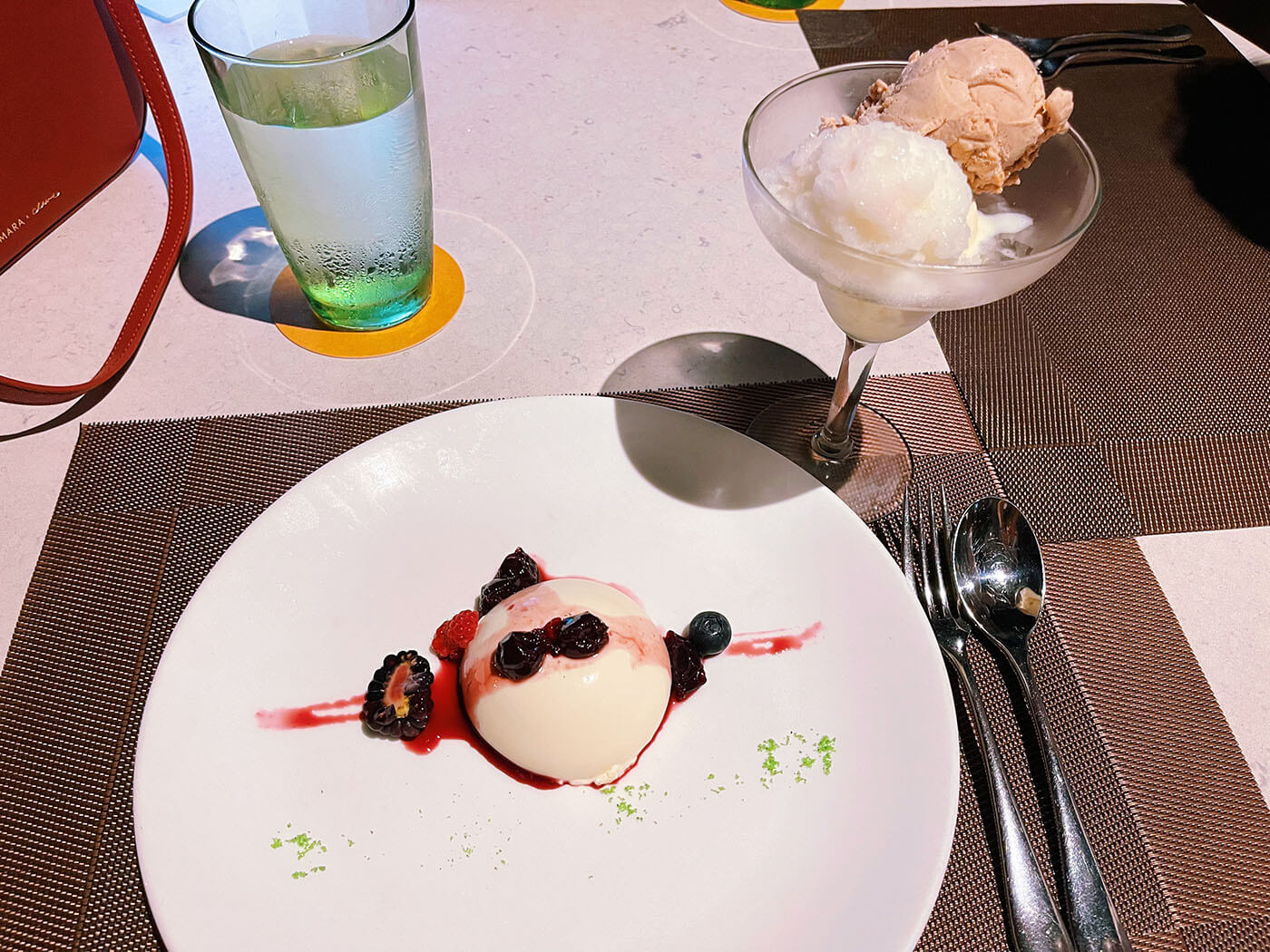 Other restaurants at Shangri-la Orchard
As I only stayed 3D2N, I couldn't possibly try all the dining options available at the Shangri-la. Here is a list and a short description of them all:
The Rose Veranda – for afternoon tea
Shang Palace – traditional cantonese cuisine
Origin Grill & Bar – farm to table meals, western cuisine, cocktails
NAMI Restaurant & Bar – Japanese cuisine
The Lobby Lounge – Peranakan and hawker fare, afternoon tea
Shophouse by Shangri-la – Pastry and sweets
The Amenities at Shangri-la Orchard
The Swimming Pool
On a first glance, the swimming pool seems basic. It just has one main pool and a small kiddie pool with fountain, surrounded by pool-side lounge seats. You can order some food and drinks by the pool. They will give you (warm) towels as you are entering the pool so you don't need to worry about bringing the room towel.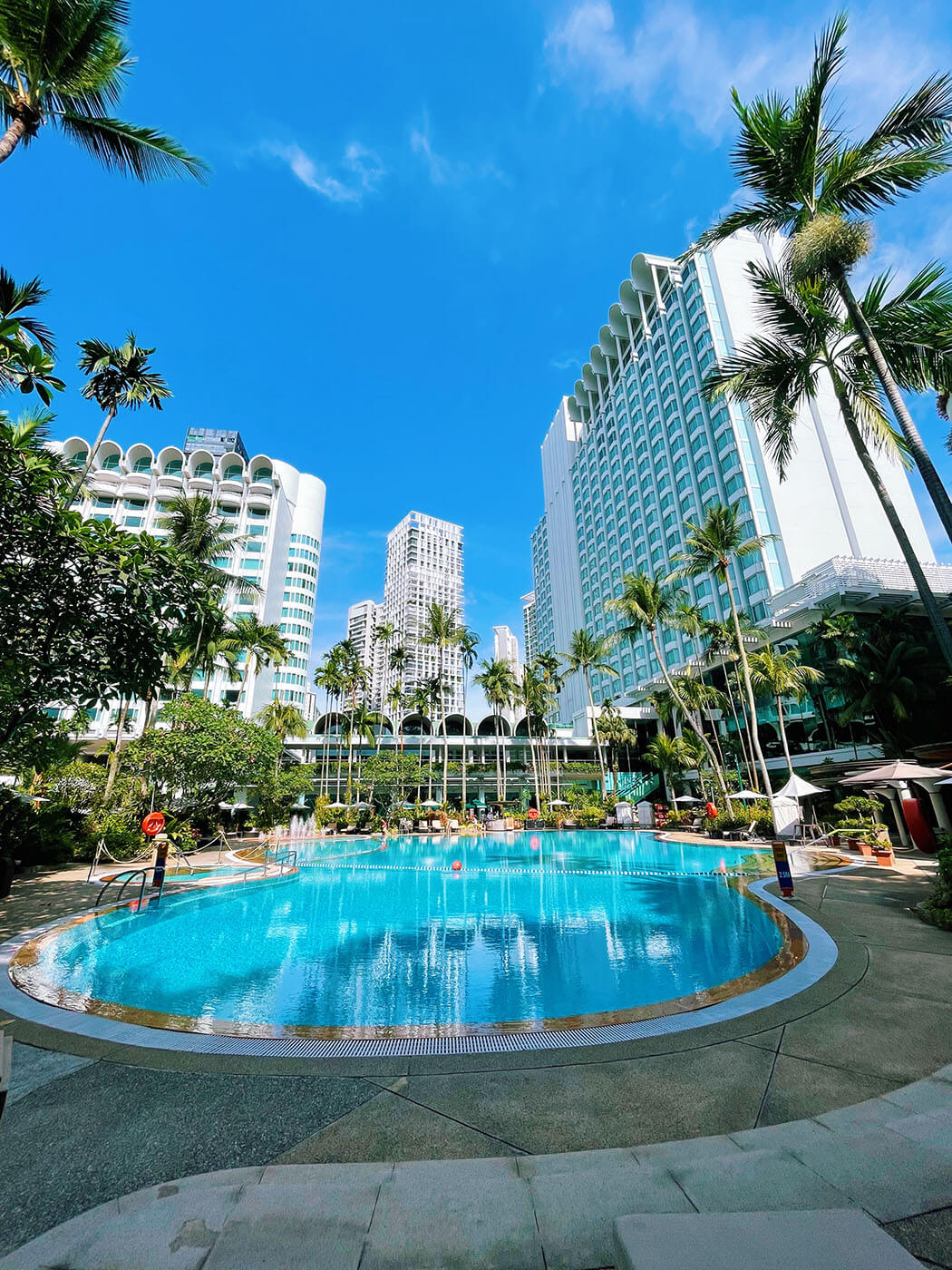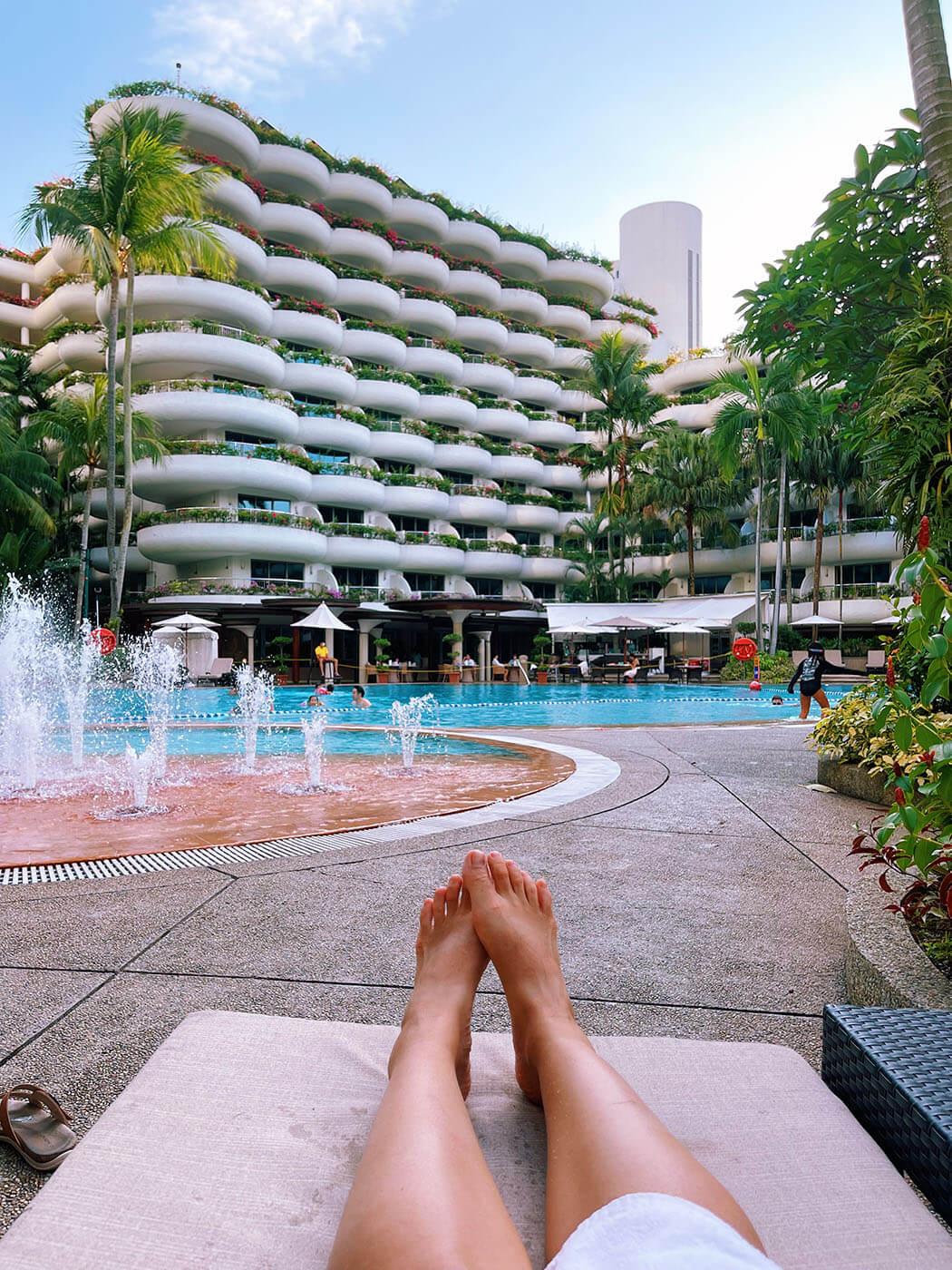 To my surprise, my toddler LOVED the swimming pool the most, specifically the fountain area… yes, even more than Splash Zone. He entertained himself for a full hour during our allotted pool time and I had to literally drag him out kicking and screaming by the end of it.
At the first sign of a thunder, they WILL close down the outdoor activities – meaning: the swimming pool and splash zone will be closed, even if it's not actually raining.
Splash Zone
Splash is located at the back of the hotel, and it is extremely popular with kids. I think this area is best for kids 4-10 years old, because the attractions are more for older kids. But, there is a calmer area for smaller children too. Similar to the pool, they will also give you towels!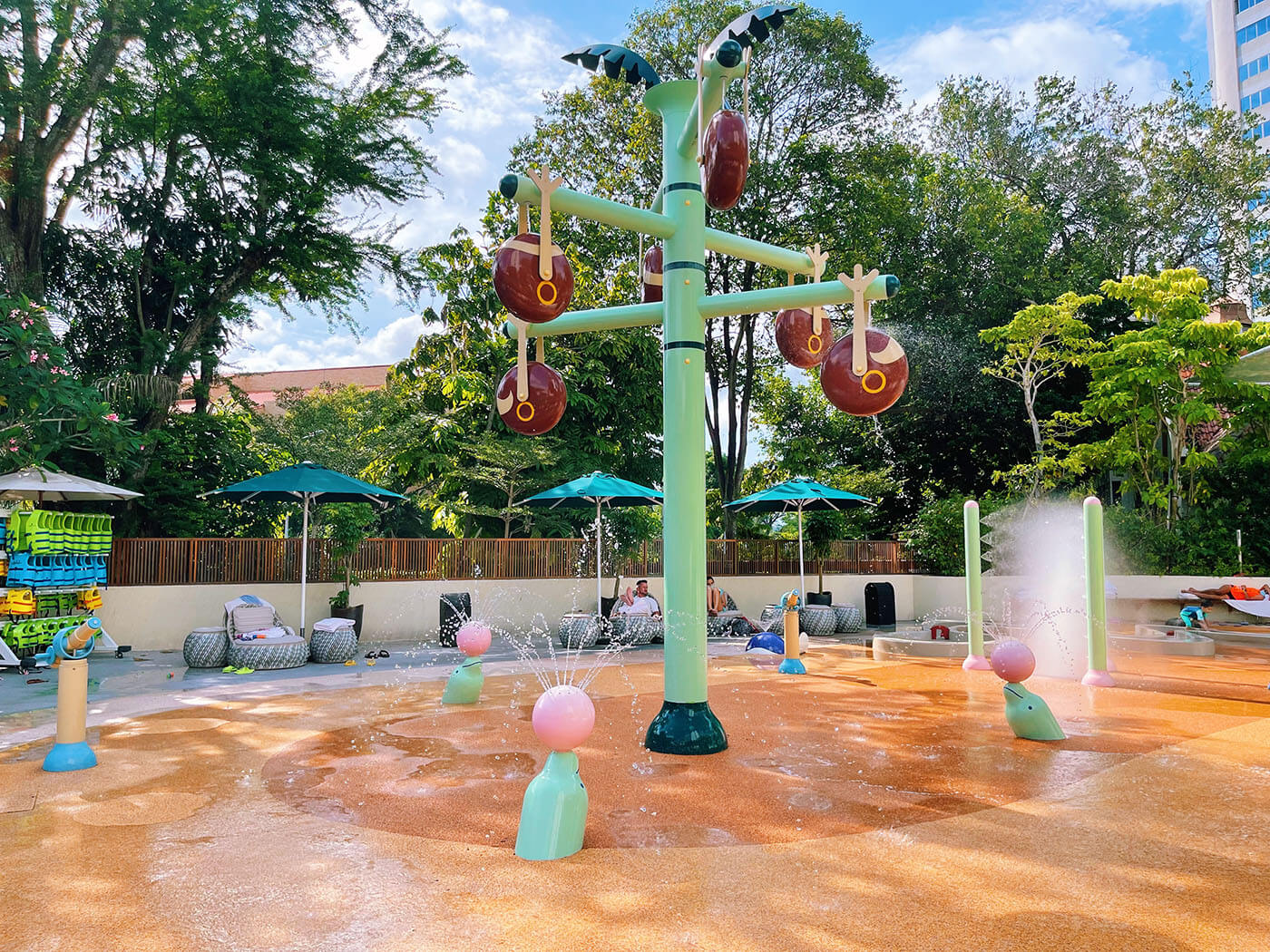 Buds by Shangri-la
Buds is the in-house indoor play area in Shangri-la Orchard, and it includes things like ball pit, slides, a gym area where they can climb around, a music room, a painting room and a soft play area for smaller kids.
I thought Buds was a great way to spend time with your toddler while you're here, but I didn't think it's anything special given that there are so many similar indoor playground all around Singapore. In fact, Buds is on the smaller side if you compare it to other playgrounds in Singapore. However, admission to Buds costs only S$18 for 90 minutes, which is way cheaper than other indoor playgrounds.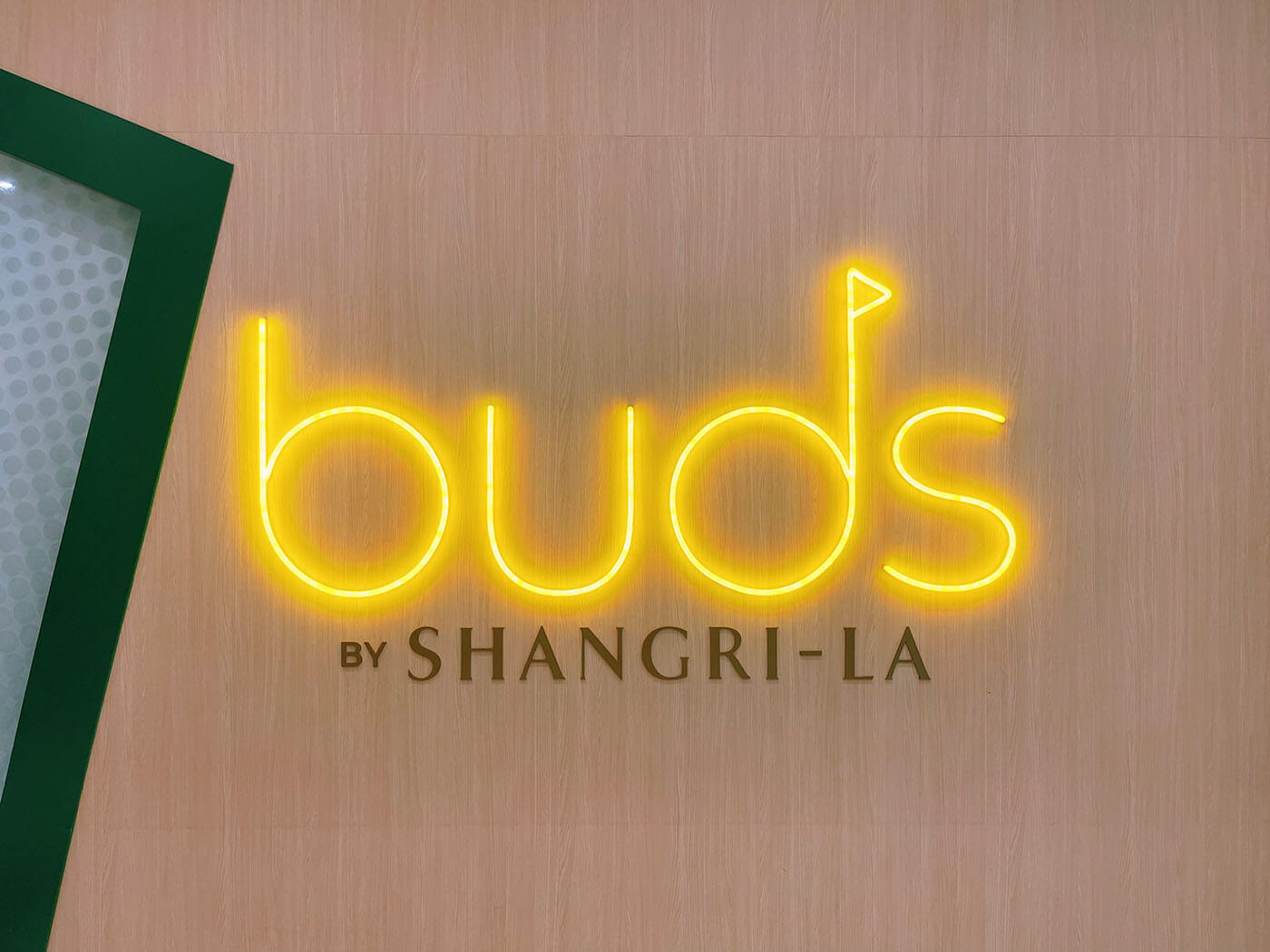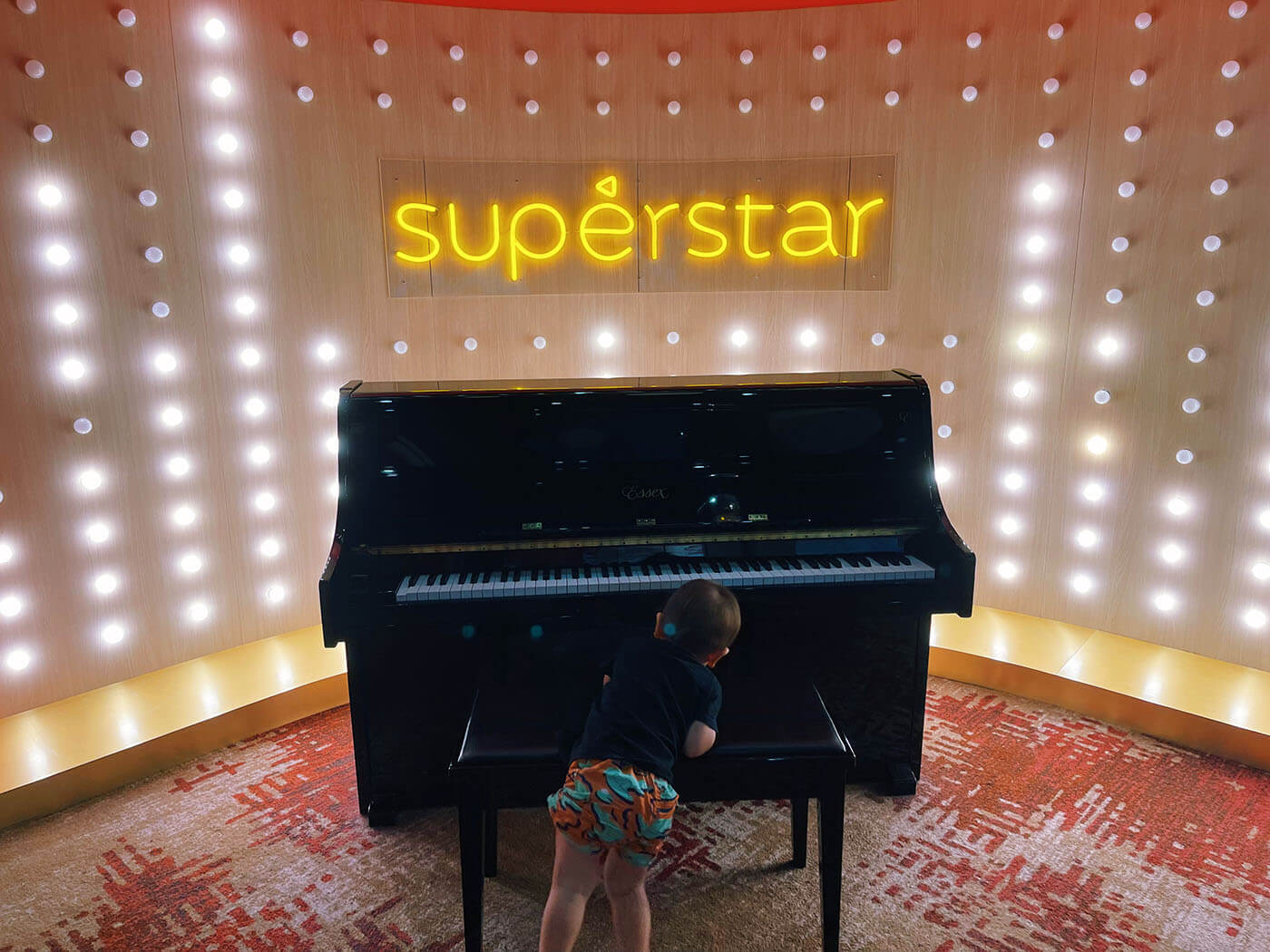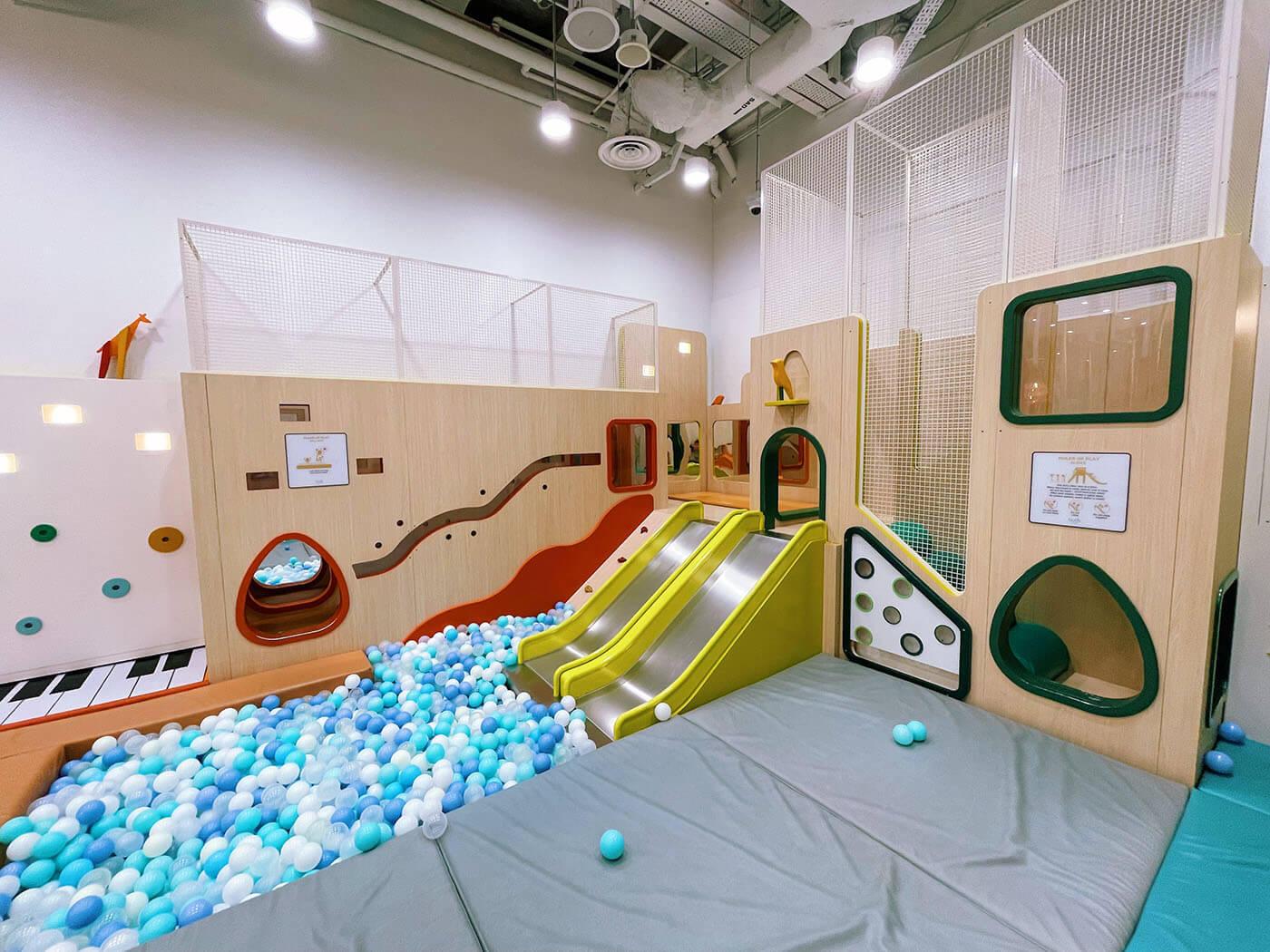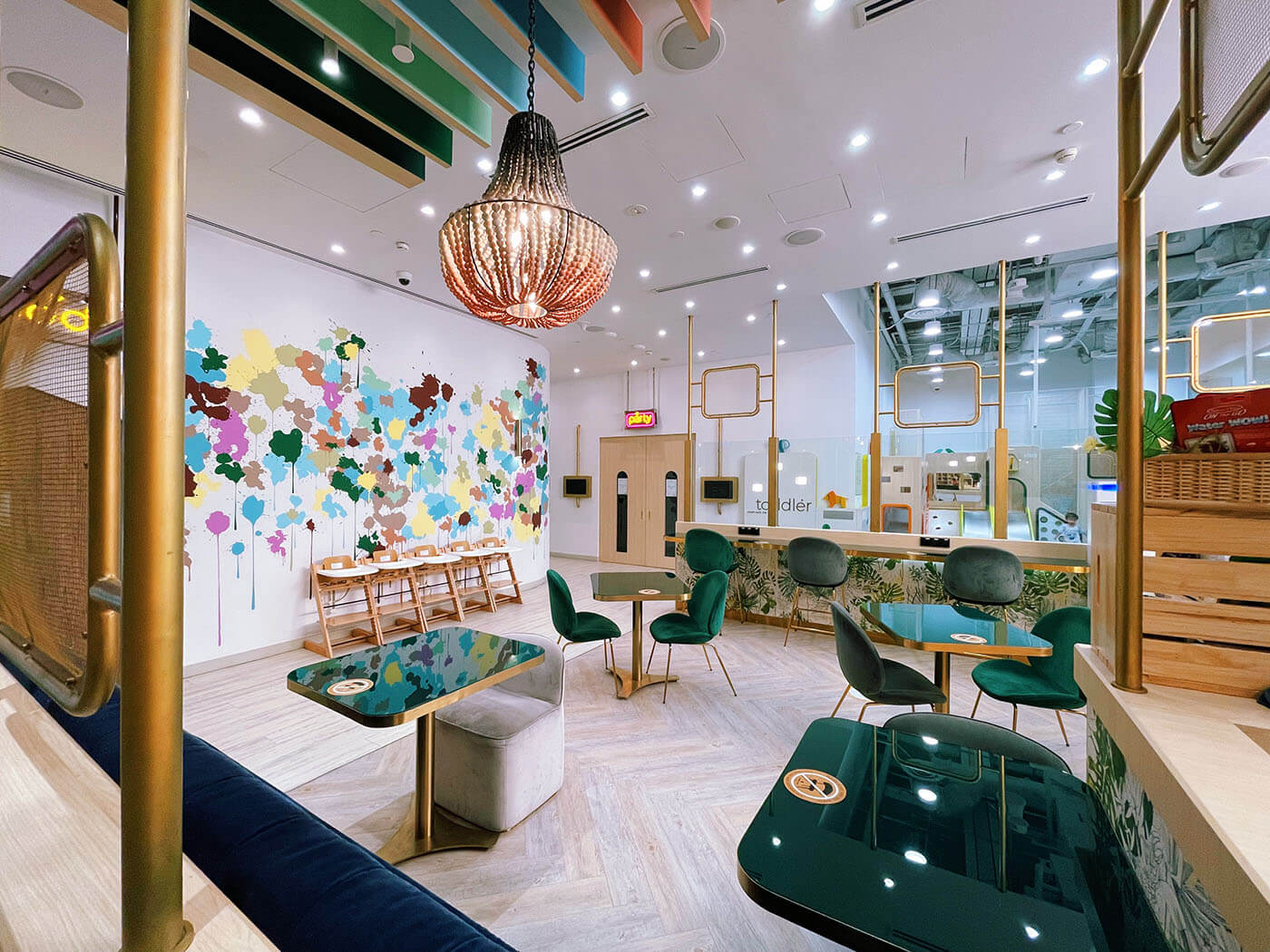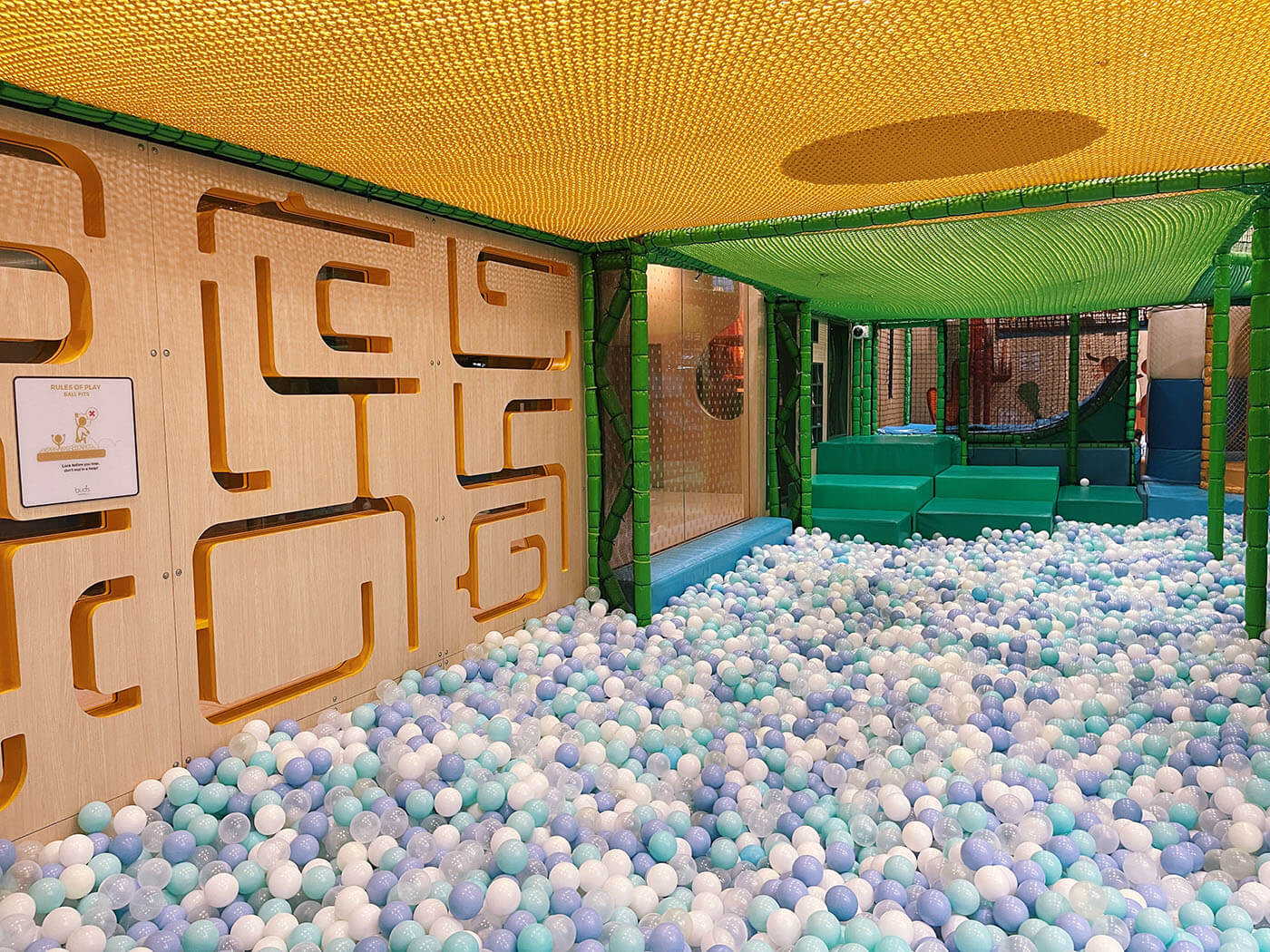 Other Amenities at Shangri-la Orchard
There are of course more amenities at Shangri-la Orchard that I didn't get to try during my stay. I thought it would be good to list them anyway:
Gym – This is located on the lobby level, overlooking the pool
Business Center
Chi the Spa – tucked in the corner at the same level of the pool
Tennis Court – Located at the back of the hotel, near Splash
Squash Court
In Conclusion…
It was a nice get away for sure. While Shangri-la Orchard is located in the middle of the city and only a mere 10-15 minutes drive from my place of residence, it still felt distinctly away from home.
Shangri-la Orchard definitely lived up to their fine reputation of being a super family-friendly hotel! Everything was super easy and Shangri-la definitely understand that one of their strength is the fact that they are kids friendly. So if you're looking for a nice staycation experience with your little ones, you really can't go wrong with Shangri-la Orchard.
As for me, I'm not sure if I'd do another staycation again since it's really just not my jam. We stayed for 3D2N and I got bored of the hotel on the second day.
If you are keen to go, I recommend booking through booking.com as they provide the option for free cancellation, which gives you some peace of mind should the situation change and you no longer want to go. Click here to book Shangri-la Orchard.
Note: I paid for my stay at Shangri-la Orchard. As always, all thoughts and opinions are honest and remain my own.