I used to live in LA for a long time – ten years to be exact. I spent a good chunk of my formative year growing up in the suburb of LA before getting thrown straight into the heart of the city when I attended UCLA for my undergrad studies.
Safe to say, I spent my best years in LA. I love the city so much and I want to help make your stay here to be as enjoyable as possible. So, I've put together a Los Angeles itinerary that is hopefully easy to follow for you, whether you're spending just a weekend in LA, or a whole week and more.
It's going to be a long one, so buckle up!
Before we go on, I wanted to say my special thanks to my good friend Kat for being a true champ. This post would not have been possible without her. Kat and I met a long time ago when we were both students at UCLA. She continued to live in LA while I moved across the world to Singapore.
When I was in LA visiting her, she drove me around LA. And I do mean, EVERYWHERE which is not an easy feat in a city as trafficky as LA! We even went to all the parts that we didn't get to explore as the poor car-less students that we were.
Thank you so much, Kat!! <3
Okay so without further ado, here is everything I know about visiting Los Angeles.
My tips for visiting Los Angeles
To make your visit to LA more enjoyable, here are some of my tips:
1. Get a travel pass to save money! – There are lots of things to visit and do in LA, which means you'll spend money on those activities. Getting a travel pass could ease the pain!
Here are a few travel passes you can consider:
Go City Los Angeles All-Inclusive Pass – If you are only in LA for less than a week and plan to see as many attractions as possible, it's usually worth it to get the Go City All-Inclusive Pass to cover you for some of those days. The pass will already pay for itself if you plan to get the multi-day card and plan to visit one of the amusement parks (except Disneyland) – check the list of attractions here. To make it easier for you, I'll also note which landmarks I mention below are included with the Go City All-Inclusive Pass.
Go City Explorer Pass – On the other hand, if you decide that you only want to visit a few select attractions, you can consider this instead. The Explorer Pass entitles you to see these attractions at your own pace – the pass is valid for 60 days and you can select any 2-7 attractions.
2. Book ahead an Airport Pick up from LAX. Unless you plan to rent a car straight from the airport, this is the best way to get to your hotel from the airport. You can book a private Airport pick up here. Otherwise, you can consider looking at a shuttle bus. It's cheaper than taking a taxi or ride-sharing services like Uber and Lyft.
3. Rent a car. Book a car rental that you can pick up and return at LAX here. Why? Public transportation in LA, though arguably better than what it was before, is not the best – I'll talk more about this later. Taxis must be booked in advance, and ride-sharing could get expensive. Trust me, I didn't have a car when I was living in LA, and it was a nightmare. For more information on driving in LA, check out the next section of this blog driving in Los Angeles, which includes things like parking in LA.
4. If you cannot drive, then your best bet is to go by tour or sightseeing tours or bus. While it might not be the most efficient way, it will still take you to all the places you'd want to see in LA. Here are some tours that would take you to most of the must-do activities in LA and include hotel pick-up:
Tip: The Hop-On Hop-Off Big Bus 1-Day Classic Tour could be a great option and is included with the Go City All-Inclusive Pass. It normally costs US$ 46 per adult.
5. Take note of the opening time of the attractions you want to see. For example, The Getty and the Griffith Observatory are closed on Mondays and Getty Villa is closed on Tuesdays. So generally, the latter half of the week (Wednesday – Sunday) is the best time to visit LA if you are interested.
6. Learn how to tip the American way – yes, I know, the tipping culture in the US baffles every visitor. It's confusing! But, you don't want to shortchange someone just because you disagree with this social norm. The most common instance where you'll need to tip is when eating at a restaurant. The general rule of thumb is to tip 15% for average service, 20% for great service, and 25% for exceptional service. You don't need to tip at establishments where the food is not served to you. Fast food, bakeries, or dessert places are examples of these types of establishments, but it certainly would be nice if you felt the staff did an exceptional job. You also don't need to tip ride-sharing drivers (but again, it is always nice to), but you must tip taxi drivers.
7. Watch out for the CA sales tax! In California, you're subjected to an 8.5% sales tax every time you make a purchase. This sales tax is usually not included in the stated price and will be charged upon payment. So for example, say you see a nice purse for $30 – it will actually ring up as $32.55 when you pay for it. So, make sure you take that into account!
8. Wise Card worked super well in the US – If you're an international visitor like myself, definitely get yourself a Wise Debit Card. You'll save on foreign transaction fees with it. I never had to use cash when I was in NYC and San Francisco!
9. Be at the beach in the late afternoon for sunset – You'll see some of the best sunsets of your life, so plan to be at the beach during sunset time! I recommend going to either Santa Monica Beach or Venice Beach around 5 PM.
10. Last but not least – HAVE FUN! I feel like most of my travel tips have been negative, but trust me, it will all be worth it. I just wanted you to be mentally prepared to be able to enjoy this special city.
How to drive a car in LA
Ask anyone and they'll tell you that driving is pretty much a requirement if you want to explore Los Angeles. Aside from the vast area, you would need to cover, there isn't a good public transportation infrastructure in LA.
Anyone can drive and rent a car in LA so long as they have a valid driving license. Good news for international tourists – you don't need an International Driving License to drive in California. But you DO need a valid driving license from your country of residence.
Tip 💡: See the DMV page on California driving requirements.
Once you've secured a vehicle, be prepared to deal with the LA traffic. You can try to avoid it, but I've been told traffic is bad all day long. You just have to accept it and plan your day around it. Be prepared to factor in extra driving time.
Also, make sure you are a confident driver. LA drivers are notoriously aggressive drivers. You'll also be doing a lot of street parking so make sure you know how to parallel park.
Last but not least, practice basic safety to ensure your car doesn't become a target for car break-ins – don't leave anything visible in the seats (bags, earphones, or other small electronics). Always take your valuables with you.
Parking and car parks in Los Angeles
Another thing you need to learn about is how the car park works here. And let me tell you, parking is expensive in LA, especially in the Downtown area. There are usually parking lots with either an hourly rate (capped to a certain amount per session) or a flat rate regardless of how long you park your car. In the downtown area, this is usually a steep flat rate of US$12-15, so you'll want to keep your car in the same lot while you're sightseeing. You can refer to this map to plan your parking before coming to downtown LA.
The cheaper way to park your car is to find street parking, which is sometimes metered or sometimes free, but obviously, these are super coveted spots and everyone wants them. Don't bank on it, but if you do find a street parking spot, make sure you pay attention to the signs since street parking is usually only allowed at certain hours and there might be a block out time for street cleaning.
If you're lucky you might be visiting a museum/restaurant/shopping mall that offers validated parking, meaning they'll cover your parking cost or offer discounted parking up to certain hours, so keep looking out for that too!
And again, please take note to not leave any valuables in the car or even leave anything small on the car seat that can be seen from outside, because it might make you a target for car break-ins.
Taking Public Transportation in LA
I came from Singapore, where public transport is probably the best in the world. So I can't say I was impressed by public transport in LA, but in retrospect, it's not too bad. It's still not the most comprehensive, but at least it's not nearly non-existent like how it was when I lived here ten years ago!
Here is a quick rundown of the two types of services you'd likely take as a tourist in LA:
The LA Metro – The metro is a transportation agency consisting of rails and buses. Their rail lines now take you from downtown LA to Santa Monica! This is something that didn't exist when I was in college.
DASH Bus service – LADOT (short for Los Angeles Department of Transportation)'s bus service that services mostly downtown. Free with the TAP card you use to ride the metro.
To use the above services, you need to get a TAP card online. If you have a smartphone, you can even just pay for the fares through the app instead of a physical card. Then, you can buy a 1-day, 7-day, or 30-day pass for unlimited rides if you're in LA for longer.
How much time should I spend in LA?
Let me start by saying that LA is a HUGE city and the landmarks are spread apart from each other. Ideally, you should try to spend 5-7 days here if you don't want to be rushed and want to see everything.
But if you are okay with missing out on certain stuff, you can still see a good amount of stuff in just 3-4 days, or even a weekend if you're good at organizing your time. After all, you can always come back 😉
When is the best time to visit LA?
So this is why I love LA so much – the weather here is simply the best. It's great to visit all year round! The summers are not too hot, and the winters are not too cold. Spring and Fall are just downright beautiful. California tends to be dry, so you don't have to worry too much about rain ruining your travel.
However, forest fires have unfortunately become a common occurrence in California, so be prepared if you're visiting when it's forest fire season. Pay attention to the news!
Where to stay in LA
There isn't a specific area you can stay in LA where everything will be close by. No matter where you visit, you'll likely still have to drive. That said, here are some recommendations!
If you have a high budget then staying in Downtown LA or West Hollywood is great for that LA feel. Here are some notable hotels if you need ideas:
Chateau Marmont – Aside from being one of the most iconic hotels in Los Angeles, this hotel is also frequented by A-list celebrities.
Ace Hotel DTLA – A historic hotel right in the heart of Downtown LA. The building interior is a spectacle on its own.
The Beverly Hills Hotel – One of the world's best-known hotels located on Sunset Blvd. It is said that "Hotel California" by the Eagles is based on this hotel.
Otherwise, if you want a more chill beach vibe then I recommend staying closer to the coastline in Santa Monica or Venice Beach. Bonus: It's also close to LAX!
HI Los Angeles – Santa Monica Hostel – This is a hostel so expect basic amenities. You can stay in a bunk bed or opt for a private room.
The Georgian Hotel – This hotel caught my eye during my visit as it looks straight out of a Wes Anderson movie. Aside from that, the location is also really good – right in front of the beach and within walking distance of the Santa Monica Pier.
Venice Breeze Suites – Located within walking distance of Venice boardwalk. Venice Beach can be a bit noisy and kind of dodgy at night, but it's still one of the best places to enjoy LA.
The Must-Do Los Angeles Itinerary
To visualize the itinerary better, I've created a Google Maps link that marks all the routes and landmarks I'll mention in this blog.
Here is the complete LA Itinerary map (If you can't see the map, click here):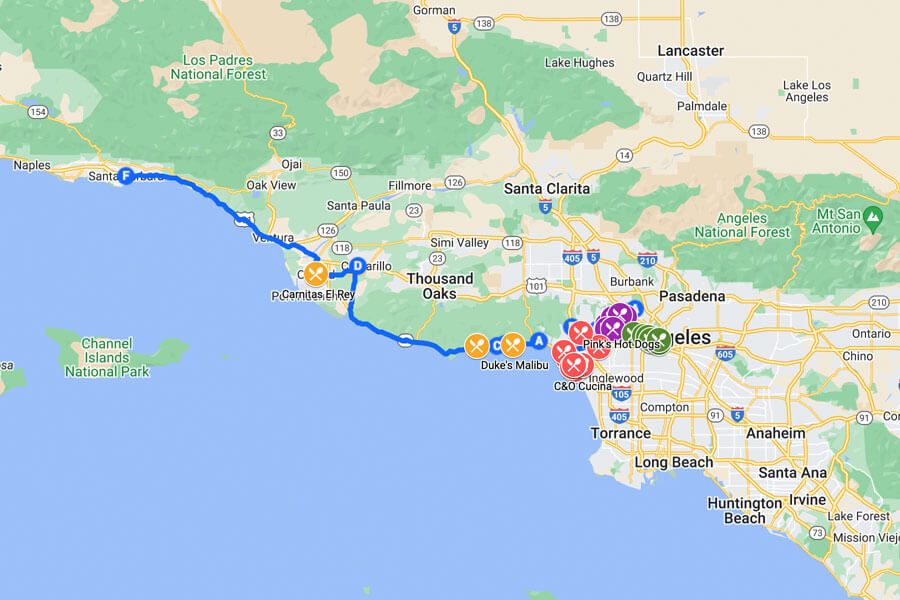 🗺 Save this map to your phone! If you are a Google user, click on the image of the map above. The map will then be saved to your "Recent" maps viewed. Click here for instructions on how to view the map later. It will work from your phone too.
I hope you can see why I keep saying LA is huge. Most of the landmarks and points of interest are not concentrated in one place. But don't worry! This is why I've grouped the activities into one area for each day, so you can plan and optimize your time in LA.
Here is a quick look at the areas we'll be covering in this itinerary:
PS: If you are getting a travel pass, the Go City All-Inclusive Pass is mostly useful on Day 1 and 2. If you want to visit an amusement park though, it's still worth it by adding extra days.
Here is a Los Angeles itinerary for your first visit:
Day 1: Central LA (The Hollywood Route)
This itinerary will take you through what LA is best known for – the fame, glamor, and glitz of Hollywood. On my LA Map itinerary, The Hollywood Route is marked in Purple. Here is the same itinerary map zoomed to just the Central LA portion: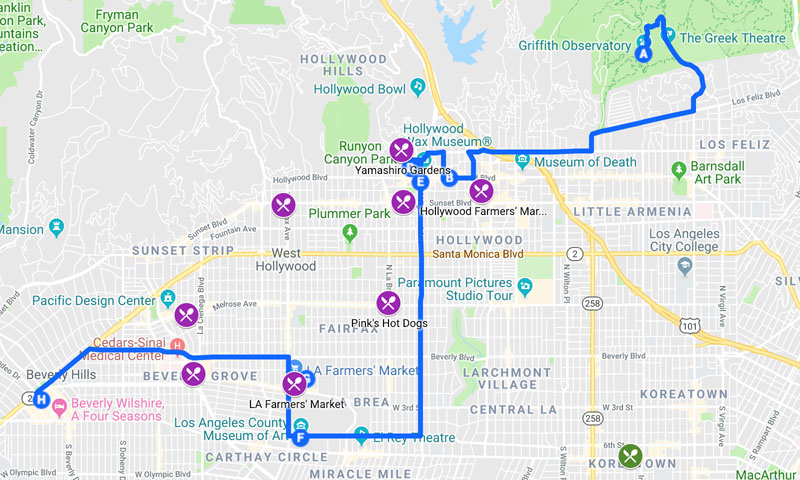 1. The Hollywood Sign & Griffith Observatory
Start your morning by going up to the Griffith Observatory. It's a great place to see Los Angeles city from above, as well as the famous Hollywood sign. Contrary to popular belief though, you can't get too close to the Hollywood sign since the area around it are private properties. If you do, it might be considered trespassing unless you know the owners of the lands.
The Griffith Observatory itself is an interesting place to visit, but very limited availability. Please also take note that it's closed on Mondays. Admission is free though! (Click here for information on Griffith Observatory)
⛰ Tip: If you fancy a hike, a Hollywood Hills Hike tour is included with the Go City All-Inclusive Pass (normally US $28 per person). They depart at 10 AM and take 2.5 hours, so plan carefully whether you have time for this given all the other stuff you'd want to do for the rest of the day.
2. Hollywood Walk of Fame
Make your way down to Hollywood Blvd for the Walk of Fame, where you can see the star-studded sidewalk, literally! The Walk of Fame is where 2,600 Hollywood entertainers have earned the achievement of a lifetime, in the form of a 5-point star embedded in the sidewalk along the street.
3. Grauman's Chinese Theater (TCL Chinese Theater)
Down the street from the Walk of Fame is the famous Chinese Theater, a theater whose decor was modeled after the red Chinese pagoda. It is the site where countless blockbuster movies held their global premiere, including the 1977 George Lucas' Star Wars!
The theater has changed ownership a few times and changed names because of that – it was originally named Grauman's Chinese Theater, but to me, it was known as Mann's Chinese Theater. And now, the official name currently is TCL Chinese Theater!
Aside from being the site of major premieres, the theater is also known for housing over 200 handprints and footprints of famous Hollywood celebrities in the front yard of the theater.
Tip: If you fancy a tour, they have a VIP 30-minute walking tour that runs daily (check the schedule here) and is included with Go City All-Inclusive Pass (which normally costs US$ 14 per person). Note that if you take this tour, then you cannot go to Hollywood Museum using the Go City All-Inclusive Pass anymore.
4. Kodak Theater (Dolby Theater)
This theater is perhaps best known for hosting the ultimate Hollywood event – the Academy Awards (aka the Oscars) since 2002. The Kodak Theater has been officially known as Dolby Theater since 2012, but it will always be Kodak Theater for long-time LA residents – such as myself, I suppose. I moved away before the name change and was shocked when I found out!
Tip: They used to have a guided tour that runs daily every half hour from 10 AM – 4 PM, but now it runs more on the latter half of the week (check the schedule here). The tour is included with Go City All-Inclusive Pass. The tour takes 30 minutes.
5. Hollywood Museum
Across the street from the Chinese Theater is the Hollywood Museum, where you can learn about the history of Hollywood and see props, costumes, and scripts from classic movies.
Tip: Admission is included with Go City All-Inclusive Pass (normally US $15 per person) if you didn't go for a tour at the Chinese Theater.
6. Los Angeles County Museum of Art (LACMA)
If you love museums, definitely stop by here. You'll probably recognize it right away from the famous Urban Light installation by Chris Burden, placed prominently at the entrance of the museum on Wilshire Blvd, a major street in LA.
Check out the museum during the day if you want to go in (it only opens till 5 PM), but if you're just there for the Urban Lights then you can come at night since it is open 24 hours and it's beautifully lit up when the sun goes down.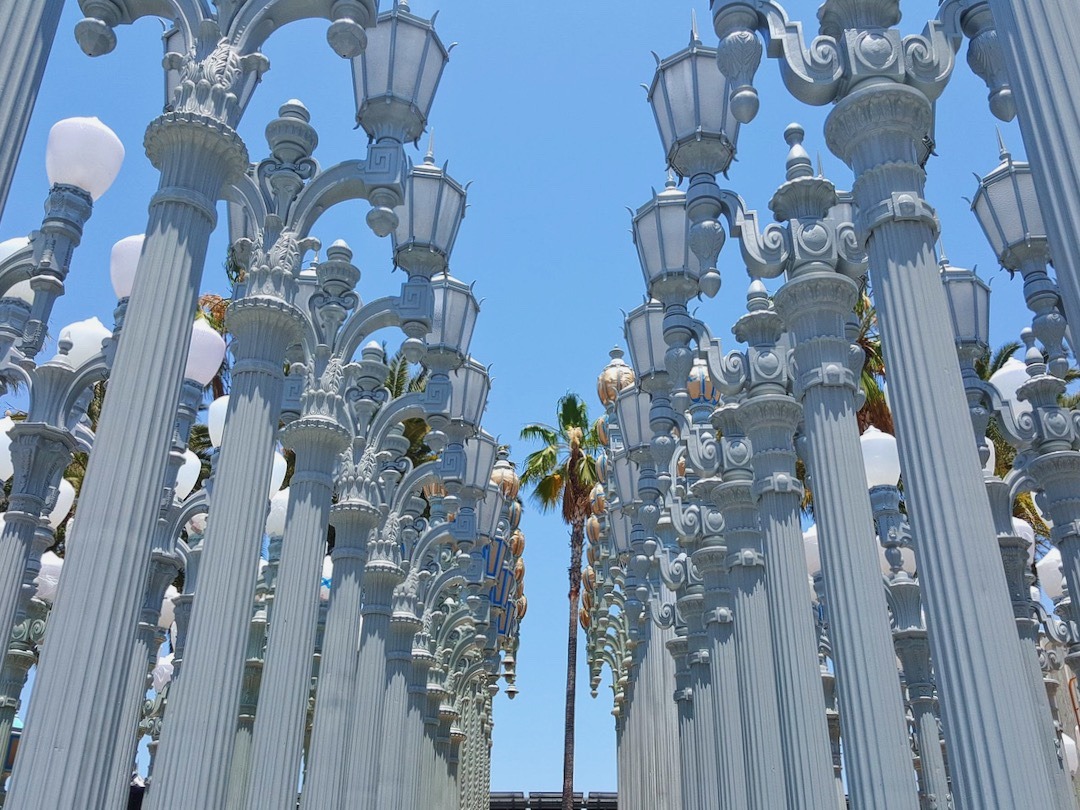 7. LA's Farmers Market & The Grove
One block away from LACMA is LA Farmers Market, a fun place to people-watch, grab a bite, and get some refreshments. They are open every day (click here for more information).
Right next to it is The Grove, possibly the most beautiful open-air shopping center I've ever been to.
8. Rodeo Drive
Rodeo Drive is LA's most luxurious street, known for its high-end stores, celebrity sightings, and the very fancy cars that often line up the very regular street parking spots. Keep your eyes peeled when you're here, you never know who you might run into!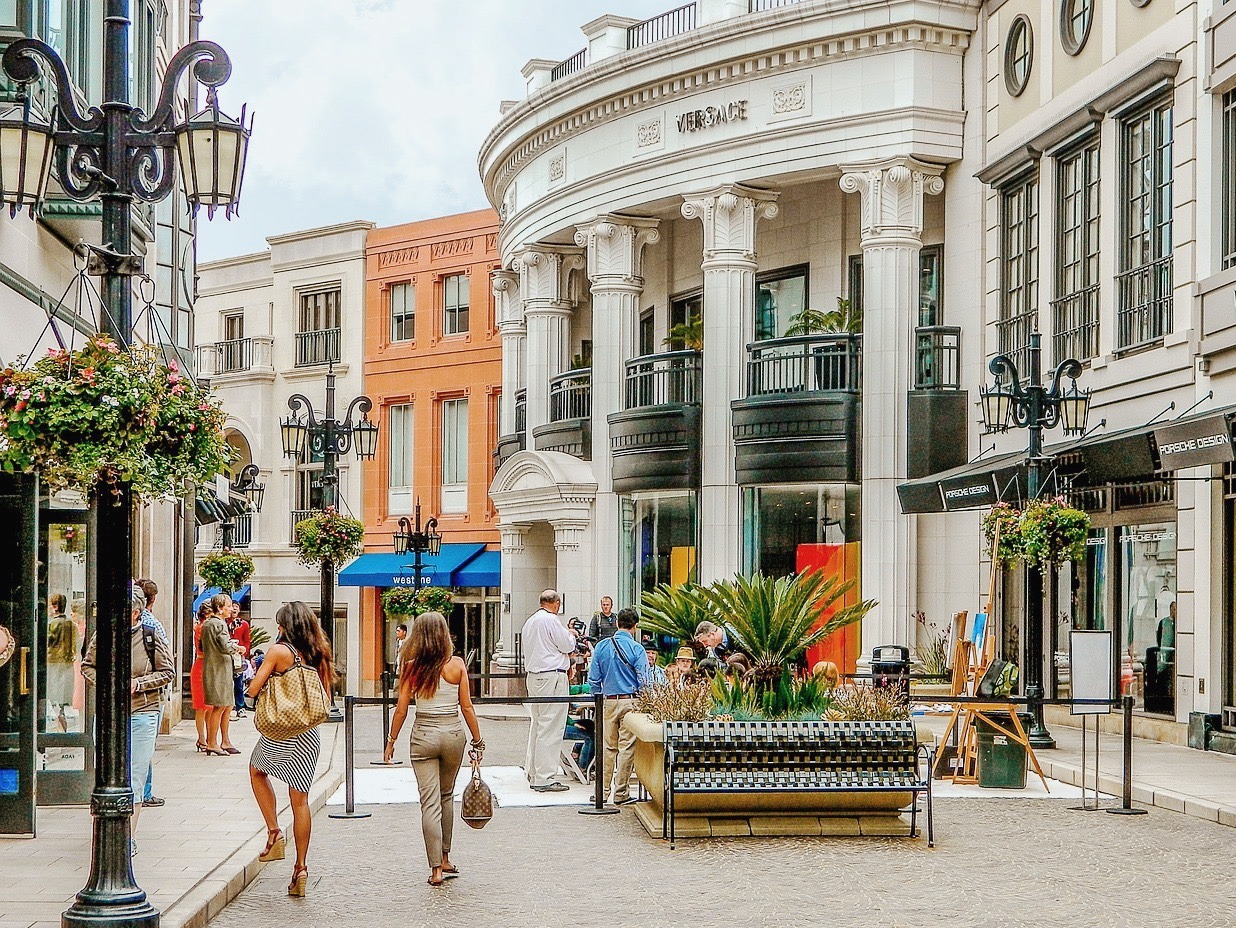 Where to eat/drink in Central LA
Pink's Hot Dogs – It's a must-visit in LA. Started as a pushcart in 1939, Pink's has now become a historic road site spot in LA, serving creative hot dogs.
Urth Caffe – Organic coffee, tea, and healthy breakfast made from local ingredients. They are mostly known to be frequented by celebrities. There are eight locations around LA now, but the one in Melrose is probably the most convenient to go with your itinerary. It also has the highest chance of celebrity sightings.
The Griddle Cafe – The place for indulgent hearty American breakfast. Think red velvet pancakes and the like.
In-N-Out Burger – You haven't been to California if you did not have In-N-Out. Period. There is a branch near the Chinese Theater on Sunset Blvd, so don't miss this one!
LA's Farmers Market – Great place to get local produce and snacks.
Yamashiro Hollywood – This place has been here forever! I remember coming here for a date back when I was in college. It's located on top of a hill, so you'll get a great view with your meal too.
Lawry's The Prime Rib – You might have seen them as the brand for seasoned salt in your grocery store, but Lawry's is originally a famous steak house that has been around in LA since 1938. Their creamed corn is the best!
Day 2: Historic DTLA (Downtown LA)
This itinerary takes you through the modern, rugged downtown of LA, and what makes the city tick. Most of the landmarks on this route are close to each other and very walkable.
TIP: This is the only itinerary on this post that is potentially walkable or can be done through public transport. If you aren't already staying in downtown LA, you can just arrange transport to DTLA, as you might not need a car for this day with everything being within walking distance.
On my LA Map itinerary, The DTLA Route is marked in Green. Here is the same itinerary map zoomed to just the DTLA portion: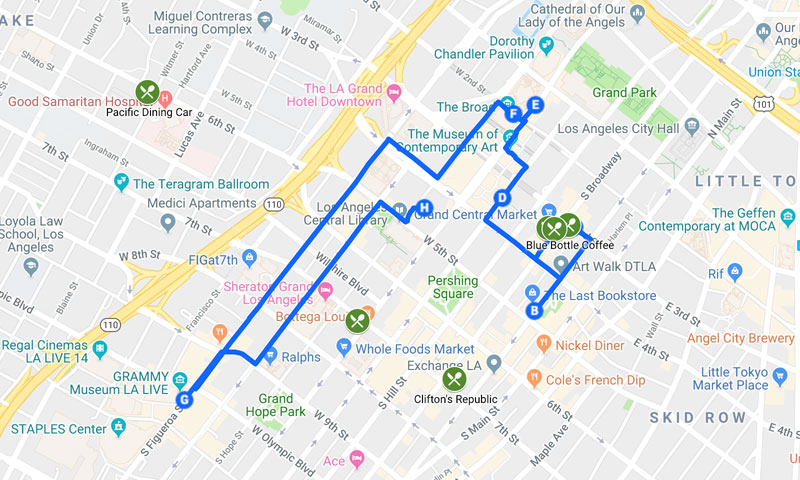 Optional: Walking Tours!
I included this portion because the downtown LA area is just rich with history and very walkable and I think it's worth paying extra for some local knowledge. Here are some walking tours you can consider:
1. Bradbury Building
Start your morning at the Blue Bottle Coffee downstairs of the Bradbury Building. Bradbury Building is a prominent architectural landmark in LA. Built in 1893, it still retains the original design open-caged elevator and exquisite ironwork that gave this place its fame, in addition to being featured in famous movies, music videos, and television shows (how very LA of this building, right?). It is also most well known as one of the shooting locations for the 1982 Blade Runner sci-fi movie.
2. The Last Bookstore
Just a block away from Bradbury Building, this independent bookstore was made famous thanks to the round of photos on Instagram, and rightfully so – they house a handful of very Instagrammable beautiful creative art displays, with a theme centered around, well, books.
3. Grand Central Market & Angel's Flight Railway
Right around the corner from Bradbury Building and The Last Bookstore is Grand Central Market. You can settle down here for lunch with lots of options. I recommend checking out the oyster bar or checking out Eggslut for a popular Egg sandwich.
Then, right across the street from Grand Central Market is Angel's Flight, a funicular railway that connects Downtown LA to Bunker Hill. The ride lasts no more than thirty seconds and costs $1. Nowadays it's regarded as a tourist novelty, but a fair amount of locals still use the railway too.
4. The Broad
Make your way down to The Broad, a contemporary art museum. And in true LA fashion, tickets to the museum are free but parking will cost you an arm and a leg. So if you're already parked somewhere nearby, just leave your car and walk over here. The museum is closed on Mondays (click here for more info on visiting the broad)
The Broad is yet another place that has been made even more popular by Instagram in recent years – thanks to the famous Yayoi Kusama installation "Infinity Mirrored Rooms", which is currently on view at The Broad.
If you're there mainly for the Kusama installation though, be prepared to line up. The good thing is they have put in a virtual queue system that will notify you when your number is up, so you can use the waiting time to wander around the rest of The Broad! More instructions on visiting Infinity Mirrored Rooms are here.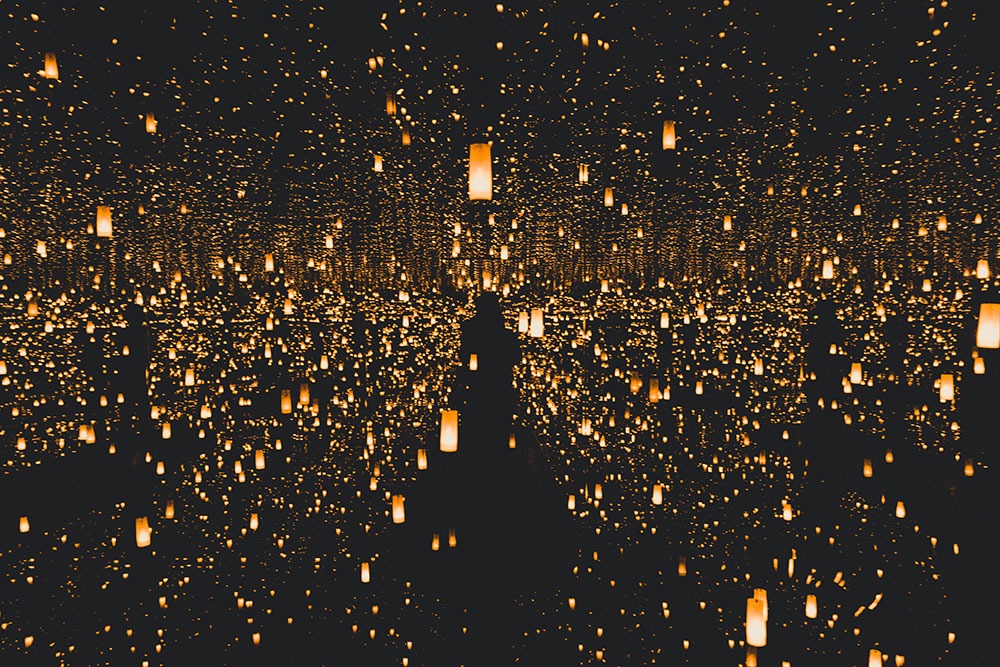 But aside from the famous Kusama installation (which I did not bother waiting for), I think The Broad has a solid offering of modern art – you can see works by famous contemporary artists like Takashi Murakami, Roy Lichtenstein, and Jeff Koons.
5. Walt Disney Concert Hall
Before leaving The Broad, you can walk around the building and check out Disney Concert Hall. You don't have to go in, but I think the facade from the outside is such an architectural delight.
But if you're interested, you can go for a complimentary guided tour or self-guided audio tour which runs in the mornings at around 10 am – 3 pm (please check for availability!)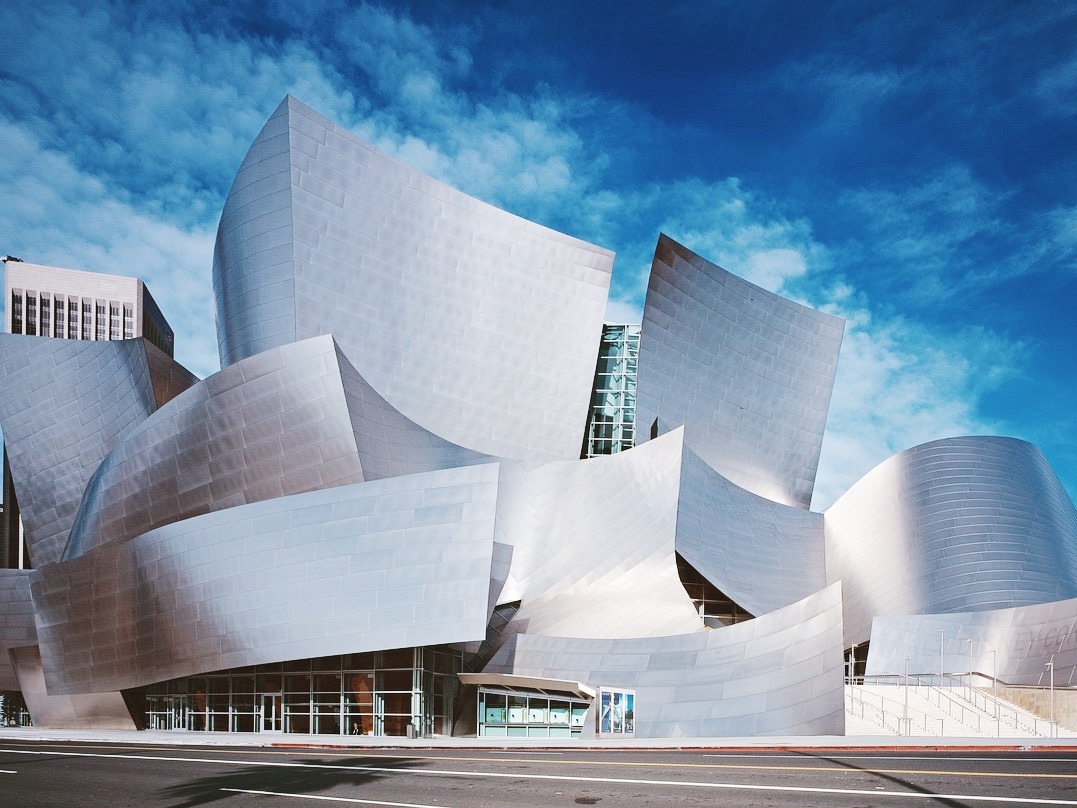 6. Grammy Museum
If music is your thing you might be interested in visiting the Grammy Museum too, where you can learn about the history and past winners of the Grammys. There are some paid exhibitions too.
Tip: The Grammy Museum is closed on Tuesdays. Admission is included with Go City All-Inclusive Pass (normally US$ 18 per person).
6. Olvera Street / El Pueblo Historic District
Los Angeles is nothing without its Mexican community – even the name of the city "Los Angeles" is in Spanish! So, end your day by visiting the colorful Mexican marketplace at Olvera Street. First opened on easter in 1930, the street now houses shops, restaurants, and souvenir shops. You can take the bus DASH Downtown Route A to get there.
The market is open every day, but most merchants are only open 10 am – 5 pm. Click here for more information on visiting. If you're lucky, you might be there during one of the big events such as Dia De Los Muertos in October or Cinco de Mayo in May – check their calendar here!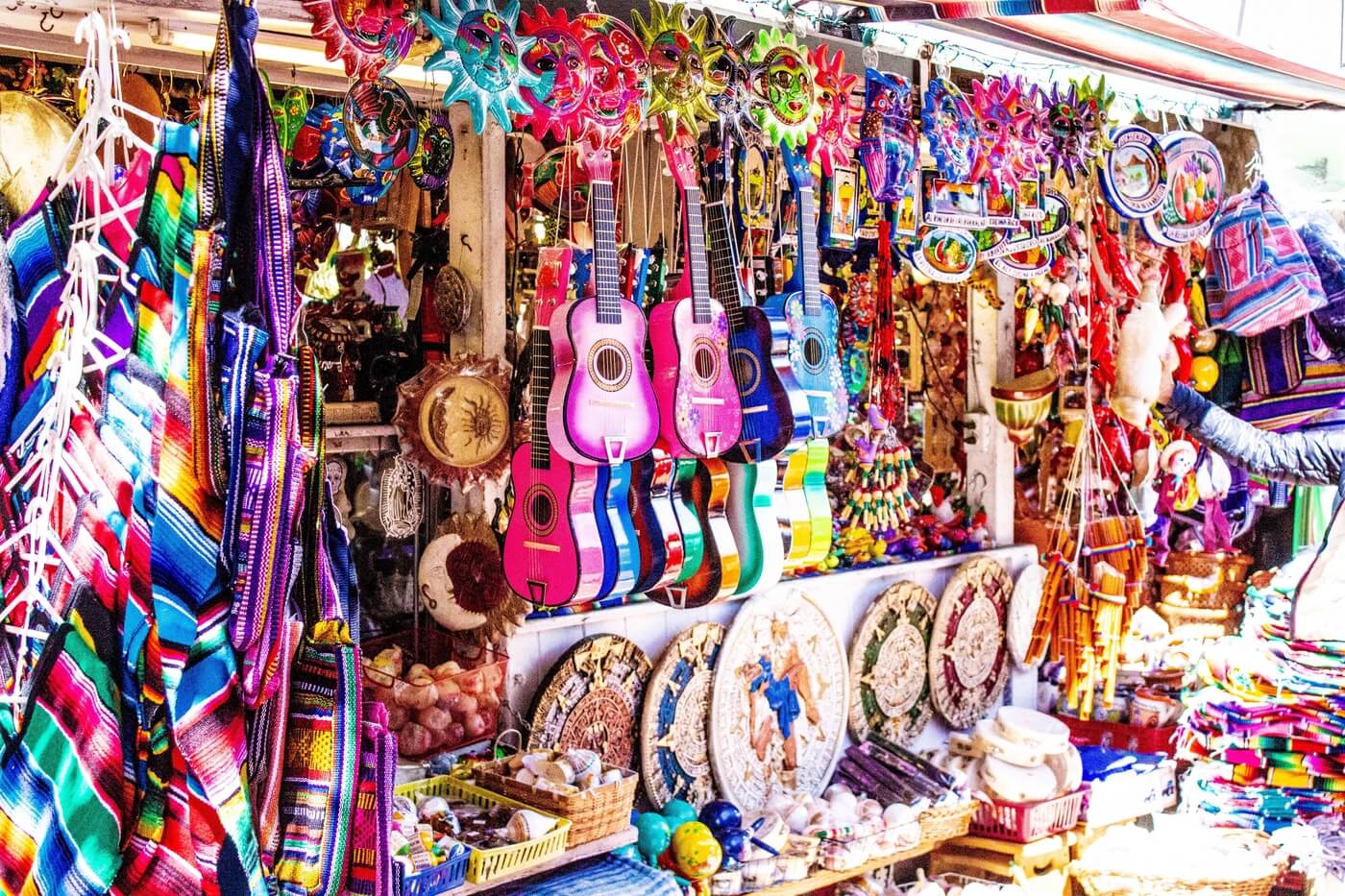 7. Arts District
If you still have time after Olvera Street, you can walk over to the Arts District. The arts district was a pretty run-down, sketchy part of LA, but had undergone a major clean-up under its iconic mayor Joel Bloom. Nowadays, it houses many trendy restaurants, cafes, and breweries! You can take the bus DASH Downtown Route A to get there.
Where to eat/drink in Downtown LA
Blue Bottle Coffee – I know they are not originally from LA, but there is one right downstairs of the Bradbury Building so you might as well try the coffee here if you haven't before.
Grand Central Market – Great place to visit with a group and sample many different things at once.
Eggslut – This breakfast fast-food restaurant became a viral success back in 2011. The most popular item is "The Slut", which is a coddled egg on top of a smooth potato puree, poached in a glass jar and served with toasty crostini. There is a branch in Grand Central Market!
Koreatown – Or locally known as K-town. I'm a huge fan of Korean cuisine, but I find the ones in LA are often even better than in South Korea itself. I recommend checking out BCD Tofu House if you do decide to go.
Ave 26 Tacos at Little Tokyo – The original location is a little bit out of the way, but now there is a location in Little Tokyo! You don't get more LA than inhaling Lengua tacos off the back of your friend's car in some shady parking lot.
Langer's Deli – One of the few Jewish delis in LA. I didn't get to try the matzo ball here, but you should!
Pacific Dining Car – Another iconic LA steakhouse that's been around since 1921. I heard reservations are hard to get, but you should still try. As the name says, you'd be dining in a railway dining car.
Clifton's Republic – Used to be Clifton's Cafeteria, the building has now turned into a hip bar. There are a total of 4 floors and each floor has a different theme.
SUGARFISH by Sushi Nozawa – This is a very trendy sushi place in DTLA that is also known for serving great food.
Day 3: Westside LA (The Beach!)
This itinerary is a much more chilled-out day compared to the previous ones. It takes you what you probably had in mind when you hear "California" – the palm trees and the beach! This area is my favorite since not only is it beautiful, but it's also my old stomping grounds.
On my LA Map itinerary, The West LA Route is marked in Red. Here is the same itinerary map zoomed to just the West LA portion: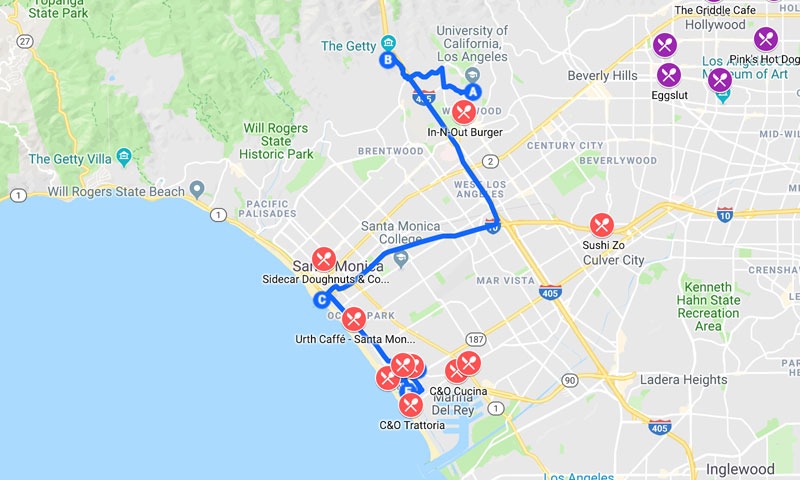 1. UCLA Campus – Where the Internet was born
Okay, I might be super biased cause I'm a Bruin, but I do think UCLA is one of the most beautiful college campuses in the US! You can stroll around the campus, see how American college students go about their daily lives, and visit the room where the internet was born at 3420 Boelter Hall (learn more about it here)
PS: I was a Computer Science student and once spent a week straight, day and night, at Boelter Hall finishing my CS project. I have a love-hate relationship with that place.
UCLA was also used as a set for many Hollywood movies and TV Shows. It's been used to illustrate Harvard University in Gilmore Girls and Legally Blonde, among many others. If that interests you, check out the full list of movies and TV shows filmed at UCLA.
2. The Getty Center
The real name of this place is The J. Paul Getty Museum, but we all call it "The Getty" for short. It's only a few miles away from the UCLA Campus. The museum houses famous art and painting (most notably Irises by Vincent van Gogh) but aside from that, it's also famous for its architectural design and an amazing view of LA from above.
Take note that they are closed on Mondays. Admission is free, but you should still reserve a ticket here. Check out what exhibition is currently on here. Parking costs $20, but if you plan to visit Getty Villa on the same day, parking there would be free.
3. Santa Monica Pier & Third Street Promenade
Once you're done with The Getty, drive down to Santa Monica and head to the pier. Santa Monica Pier was declared as the official endpoint of the legendary highway Route 66 on the highway's 83rd birthday. Nowadays you can see a road sign that marks the end of the trail in the Pacific Ocean.
On the pier is a small amusement park called Pacific Park, where you can grab a bite, get on some rides, or play games.
🛼 Tip: You can also rent a bike/roller skate from Perry's Cafe, included with Go City All-Inclusive Pass (normally US$12 per hour).
From Santa Monica, it's just a short walk to Third Street Promenade, a peaceful open-air shopping mall that's perfect to chill out at. And just to add to the LA-ness of this place, one time as I was shopping here and Vanessa Carlton randomly showed up for an impromptu performance (remember her??).
4. Abbot Kinney Boulevard
Abbot Kinney Boulevard is a neighborhood that started flourishing in the 2010s and was referred to as the coolest block in America by GQ in 2012. You can explore trendy shops, cafes, restaurants, and art galleries here. I recommend checking out Intelligentsia for coffee and Salt & Straw for ice cream.
You can check out merchants in the Abbot Kinney Boulevard here. They also hold events on the first Friday of every month, which you can check out here.
5. Venice Canals Historic District
You can't stop by Venice without checking out the manmade canals, which are modeled after Venice in Italy (hence the name of this area). If you've watched the show "Californication" on Showtime, this area would look REALLY familiar.
If you're wondering who Abbot Kinney is, he's the guy responsible for building this area in 1905. The Venice canals used to be 2-3 times bigger than it is today, but most of the canals were closed and turned into normal roads when automobiles gained popularity.
Keep in mind that although historic, they are still expensive high-end residential areas and people DO live here, so be respectful of people's privacy when visiting… even though I would imagine they've gotten used to tourists.
6. Venice Beach Boardwalk
Finally, end your day at Venice Beach, just a short walk from the canals. You should try to get here a little before sunset. Walk around the Venice Boardwalk, check out the famous Venice Beach sign, watch muscular people work out at the open-air Venice Muscle Beach, the Skate bowl watch skaters perform their tricks, and end your day by enjoying one of the best sunsets in the world.
Where to eat/drink in West LA
C&O Trattoria – Nice place for Italian dinner. The garlic balls are the best!
In-N-Out – You haven't been to LA if you did not have In-N-Out!
SUGARFISH by Sushi Nozawa – I've mentioned this in the DTLA portion, but there is also a branch in Santa Monica.
Sushi Zo – I used to go here for omakase dinner. I'm glad they are still around and kicking!
Sidecar Doughnuts – My friend Kat brought me here and I'm in love! I did not try the decadent maple bacon doughnut, but I quite enjoyed the Butter & Salt and the Huckleberry doughnuts.
Afters Ice Cream – Their milk and cereal ice cream is SO good
Salt & Straw Ice Cream – Portland-based ice cream that has opened a branch in Abbot Kinney Blvd.
Day 4: Pacific Coast Highway (PCH) Driving Route
Pacific Coast Highway (or PCH for short) is undoubtedly the most famous highway in America. It's a very scenic drive along the coast of California, starting from San Francisco and going all the way down to Los Angeles before continuing to San Diego. If you were to do the entire drive it would take you up to a week, but while you're in LA it's entirely possible to catch a glimpse of the famous PCH drive.
On my LA Map itinerary, The Pacific Coast Highway Driving Route is marked in Orange. Here is the same itinerary map zoomed to just the PCH portion: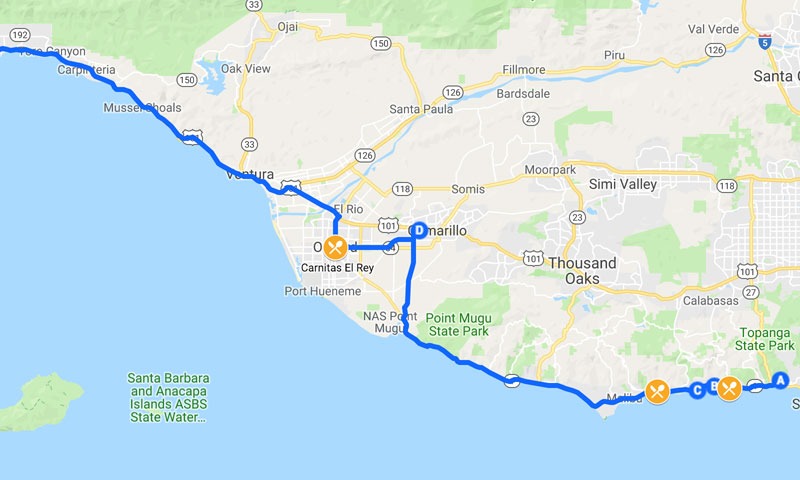 1. The Getty Villa Museum
If you've been following my itinerary so far, you would have visited The Getty on the Westside LA route. This villa is part of the same Getty property! But unlike The Getty, Getty Villa is more of an architectural delight than the arts. Sure, the arts were cool, but I feel that the immaculate garden and the beautiful buildings overpowered them.
Take note that they are closed on Tuesdays. Admission is free, but you should still reserve a ticket here – though I must note that nobody checked our reservation when we were there. Check out what exhibition is currently on here.
Parking costs $20, but if you plan to visit Getty Center on the same day, parking there would be free.
2. Malibu
Malibu needs no introduction. You've most likely heard of this name before, so try to make a stop here! We stopped by Malibu Lagoon State Beach, evidently a surfer's paradise based on how many surfboard-carrying vehicles we saw parked on the side of the street. Point Mugu State Park is also a great place to stop and enjoy the beautiful California coastline.
4. Oxnard & Santa Barbara
It's up to you how long you want to continue the drive, but I suggest making your way up to either Oxnard or Santa Barbara before turning back. Oxnard doesn't have much for tourists, but it does have some of the BEST Mexican food. We stopped by Carnitas El Rey here, and I still think about their carnitas even 5 years later.
Santa Barbara is a beach town with cute restaurants, spa treatments, and hiking. It could be a day trip in itself if this is something that interests you.
5. Camarillo Premium Outlets
LA is known for shopping, but the best kind of shopping is the one at premium outlets. Stop by here if you need to do some shopping. You can pretty much get the same brands, and sometimes the same clothing that is currently being sold in the mall for much cheaper here. Think Lululemon, Adidas, Banana Republic, Coach, Kate Spade, and so much more. Check out their full list of stores here.
Where to eat along the PCH
Duke's Malibu – I have great memories of Duke's. This was where my sorority held one of our formals!
Malibu Seafood Fresh Fish Market – You can enjoy seafood overlooking the Malibu beach
Carnitas El Rey – If you make it to Oxnard, make sure you stop by here! You know it's legit when a place only serves one kind of dish – Carnitas. I'm convinced I'll never find Carnitas as good as this place again…
Looking for more? Day / Short Trip Ideas from LA
If you have more time in LA and you've done all of the above itineraries, you can take a look at the following activities:
1. Visit Amusement Parks
Amusement parks are perhaps what Los Angeles is best known for, second to Hollywood. We do have a lot of exciting parks around! Most of these parks are about a 1.5 – 2 hours drive from LA, so visiting one of the parks will take the entire day.
Tip: All of the amusement parks below are already included with the Go City All-Inclusive Pass (except Disneyland), so if you're planning to visit these parks and other LA landmarks, highly suggest purchasing the pass!
Universal Studios – Fun park to visit for movie buffs. It's the closest to the city out of all the amusement parks near LA. Note that Universal Studios is considered a premium attraction and is only included with the 3, 4, 5, and 7-day Go City pass.
Six Flags Magic Mountain – Great for those looking for more thrills. The rides here are amazing, full of twists, turns, and loops!
Knott's Berry Farm – a quintessentially American amusement park. This is the park I used to go to when I was living in LA. They have rides that cater to both adults and children. If you're here during Halloween month (October), you can also check out Knott's Scary Farm, their Halloween event.
LEGOLAND – This is way down south closer to San Diego, about a 2.5-hour drive from LA, but a must if you love those LEGO blocks! Note that if you use the Go City All-Inclusive Pass here, you cannot use it for San Diego Zoo.
2. Go to Disneyland
There are two Disneyland Parks in Anaheim, CA. Disneyland Park is the original Disney amusement park, built in 1955 under the supervision of Walt Disney himself. Disney California Adventure is the newer park with more exciting rides – I remember I had just moved to LA when this park was first opened in 2001. I was still in high school back then and I had great memories of this place.
Tips for visiting Disneyland
Get the cheapest ticket – here is how:

If you are only going for one day to either of these parks, you can book Single Day Tickets here, it's cheaper than booking from the Disneyland website. BUT If you want to go to both parks and you are going during the low season, it would be better to buy separate single-day tickets rather than the multiday link below. Check the calendar in the link above.
If you want to go to both parks during regular or peak season, then the Multiday Tickets will be a better deal (also cheaper through this link than booking straight from Disneyland's website).

Download the Disneyland App and use the Genie service to manage your ride wait times.
3. Nature, Beach, and National Parks
If nature and hiking are more your things, you can check out the following areas:
Joshua Tree National Park – This park is about a 2.5-hour drive inland from LA. If you want to make this a day trip, you'll have to leave very early to avoid traffic.
Palm Springs – Palm Springs is close to Joshua Tree National park, and a popular weekend getaway for Angelenos. It's one of the earliest settlements that has flourished to this day, offering desert life, resorts, and a spa.
Mojave National Preserve – Also about a 2.5-hour drive inland from LA, just a bit more north. It's about the halfway point from LA to Las Vegas.
Big Bear Lake & Lake Arrowhead – These lakes are up in the mountainous region in San Bernardino, just a little under 2-hour drive from LA. In the winter it's famous for snow sports such as snowboarding and skiing. In the summer, you can do watersports and hiking.
Catalina Island – Catalina is an island that is about a one-hour ferry ride off the coast of LA. You can do kayaking, ride a glass bottom boat or go snorkeling and scuba diving.
Southern California Ghost Towns – Unlike Palm Springs, there are plenty of ghost towns left in the desert of California from the early settlements that did not last. All that's left is an abandoned town and a cool preserved look into life back in the 1800s. You can read this article for more information.
4. Cities near LA
Santa Barbara – I've mentioned Santa Barbara in the PCH route itinerary, but if you didn't make it up there, it is a beach town with cute restaurants, spa treatments, and hiking.
San Diego – Visit San Diego Zoo (included with Go City All-Inclusive Pass if you haven't used it for LEGOLAND), the beach, or have some good food.
Beach Cities – Stop by Huntington Beach for a whale-watching cruise or Long Beach for the Aquarium of the Pacific (both activities are included with the Go City All-Inclusive Pass)
Burbank – North Hollywood, Warner Brother's Studio Tour (included with Go City All-Inclusive Pass), and Porto's Bakery!
Okay, that was a lot longer than I expected. I guess after living in LA for 10 years, I do know a thing or two about the place.
Leave me a comment below if you found this itinerary useful. I love hearing from you guys!
PS: If you need this guide for later, click here to save this post on Pinterest!