I visited Osaka for the first time in the spring of last year, to meet up with Kat, my best friend from college. We hadn't seen each other in person for almost eight years since I moved away from LA but we kept in touch every day via chat apps. That spring, we finally decided to meet up in Japan.
Since we had such an amazing time catching up in Osaka last year, Kat and I decided to do an encore and meet up again this year… and long story short I found myself in Osaka again for the third time in just a little over a year. So yeah, this post is long overdue – it's about time I impart some knowledge and my favorite things to do in Osaka.
Getting to Osaka
There are two popular ways to get to Osaka:
By Shinkansen train – Most people get to Osaka by train from Tokyo via Shinkansen, Japan's famous ultra-fast bullet train. If you are coming here from Tokyo and you don't have a JR Pass, you can book the Tokyo – Osaka Shinkansen here (Note that you need to exchange this voucher when you land at Narita or Haneda airport!). You'll most likely get off at Osaka Station or Shin-Osaka Station, where you will have plenty of convenient local trains to switch to. If you have the Unlimited JR Pass, then the Tokyo – Osaka train is already included so you don't need to buy separately!
By Airplane via KIX – If you are flying and landing at Kansai Airport (KIX) and will be staying in the city, I recommend taking Haruka line by Japan Rail (JR). This line takes you straight from KIX to the city, stopping at major stations Tennoji and Shin-Osaka before going on to Kyoto. If you have the unlimited JR Pass, this is already included. Make sure to check ahead if your accommodation is closer to Tennoji or Shin-Osaka as there is a slight fare difference for the bundles – Tennoji is closer to the airport so it's cheaper. From there, you can resume with local trains using your IC card.
If you are staying at a hotel in Osaka, you might be interested in the luggage delivery services from Kansai International airport. Luggage delivery is common in Japan and reliable. It lets you travel without having to carry your heavy luggages!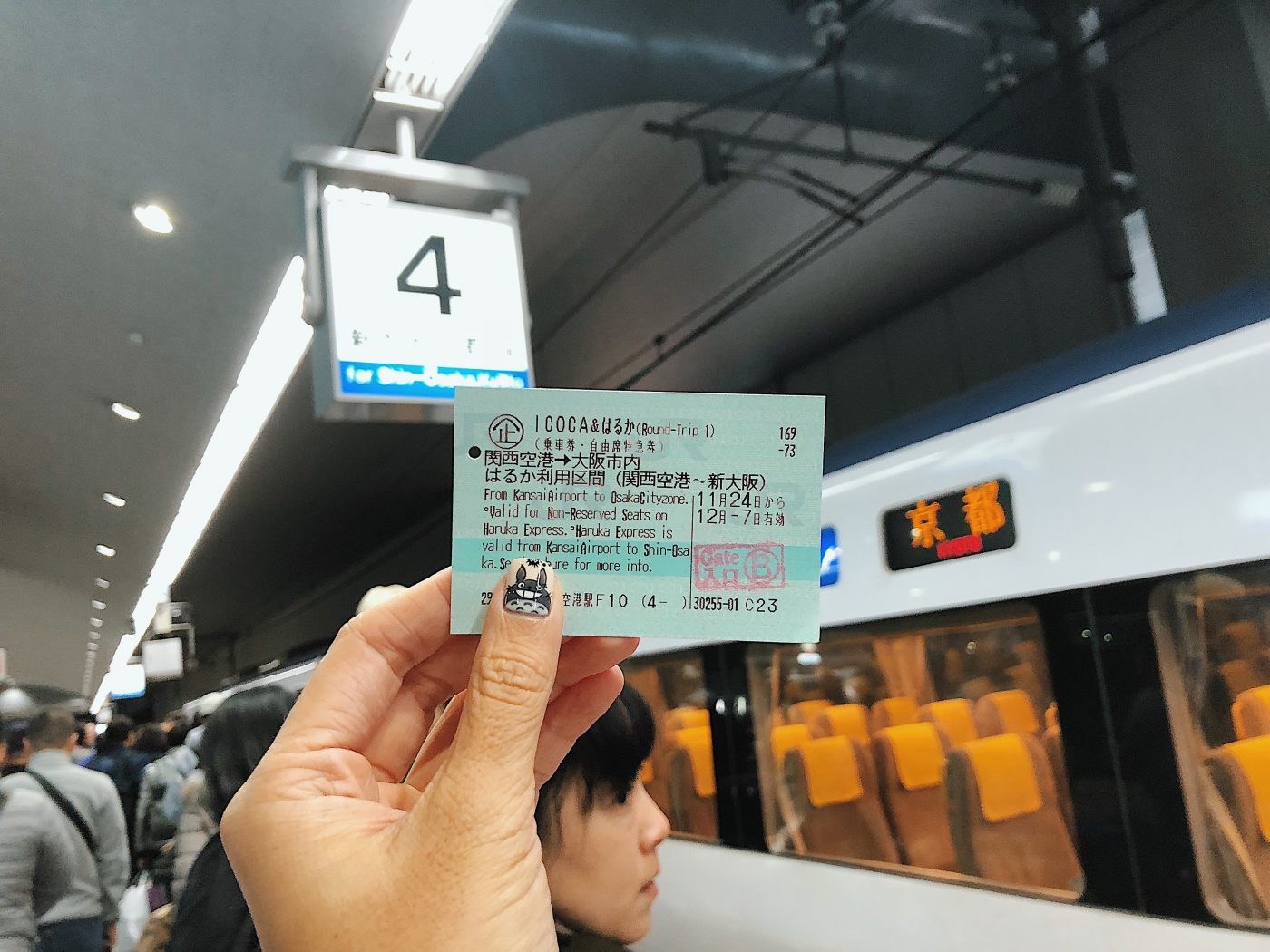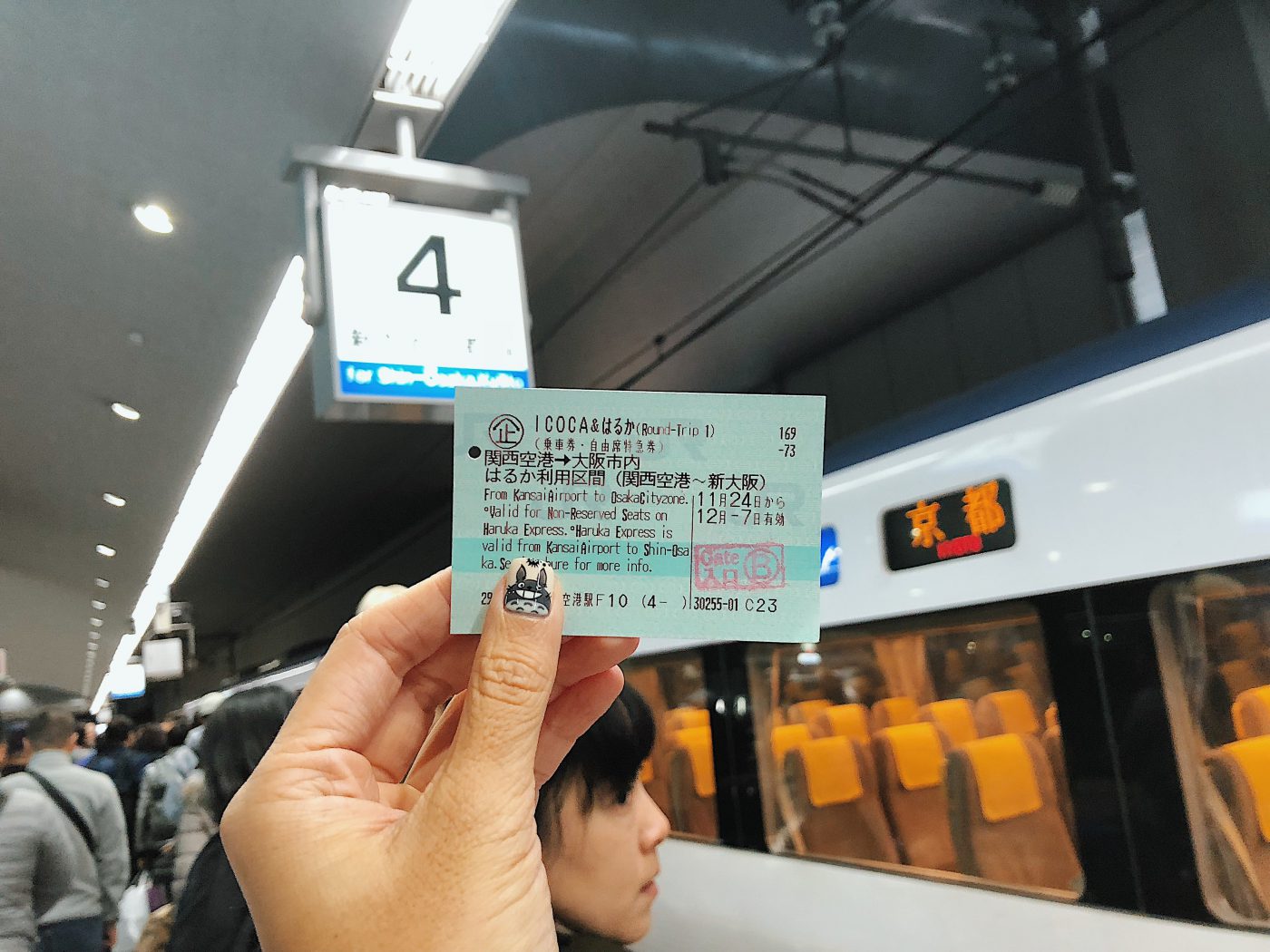 Getting around Osaka
Osaka is one of the largest metropolitan cities in Japan, second only to Tokyo. As with other big cities, you'll find it very accessible and well-connected. Getting in and around Osaka is super easy.
Local trains in Japan run on IC (Integrated Circuit) Cards. This IC card will be your lifeline during your stay. It allows you to tap in and out of each train station without having to buy a ticket every single time you take a train. And because everyone has an IC card in Japan, you can even use your card balance to buy things from convenience stores and vending machines. Whenever the balance is running low, you can easily refill the card using cash or credit card at any train station.
The IC card used in Kansai is called ICOCA. Different areas in Japan have different brands of IC card, but they all work the same across the country. For example, in Kanto (Tokyo) area, the popular brand is Suica or Pasmo. In Kansai (Osaka) area, they are called ICOCA – a play on the Japanese word "ikouka", which means – "Let's go". You can use Suica and Pasmo in Kansai, and you can use ICOCA in Tokyo.
Using the virtual IC Card
Good news for iPhone users – the IC cards have gone virtual and you can use your phone as an IC card! This makes everything even more convenient, as you can refill the balance via your phone without having to go to the station.
Tip: Check out Apple's help article on how to use IC cards on iPhones.
Note that you do not need to buy a physical IC card to do this, just start the process straight from your phone! However, if you DO have an existing IC card you can still transfer the balance to your phone. Your existing card will then stop working and you can only use your phone as an IC card from that point onwards.
If you prefer to have a physical IC card, you can buy the ICOCA Card online and pick it up from the Kansai airport. But if you already own an IC card from Tokyo or other areas of Japan, then you can just continue to use that – you don't need to buy another one.
Do I need a JR Pass?
The price of Unlimited JR Pass has increased by 70% since 1 Oct 2023. Even though you'll see many recommendations for buying a JR Pass to save some costs, it could be outdated. Since the price hike, it has become harder to justify the cost of the JR Pass, however regional passes like the JR West Kansai Pass might still be worth it. I am working on updating my blog post to reflect this change.
JR pass is a form of rail pass that gives you unlimited access to all JR trains in Japan for 7, 14, or 21 days. I bolded the JR train part for emphasis since this gets confusing for some people – in Japan, there are many train companies and Japan Rail (JR) is one of them, and this pass is only valid for JR trains! Getting a JR Pass makes sense if you are planning to visit multiple cities in Japan. The trains between cities aren't cheap and you'll be saving a lot more this way.
You HAVE to have already bought the JR Pass before your trip. You cannot buy it once you're in Japan. You can buy the Unlimited JR Pass here and have it shipped to your house, so ensure you get it ahead of time!
If you are in Osaka just to visit the Kansai area though, you might not need the unlimited JR Pass. The following JR Kansai pass covers Osaka, Kyoto, Nara, and Kobe, and can be picked up at the Kansai Airport (KIX). All you need to decide is how many days you want to use the pass for!
Coin Lockers in the train stations
Flying out late but have to check out early from your accommodation? You can leave your luggage in a coin locker! Coin lockers are available everywhere in major stations and they are quite spacious and cheap to rent. I was able to fit my 45L backpack into that tiny 300 yen one at the bottom. There is an English instruction on the machine to rent them – super easy.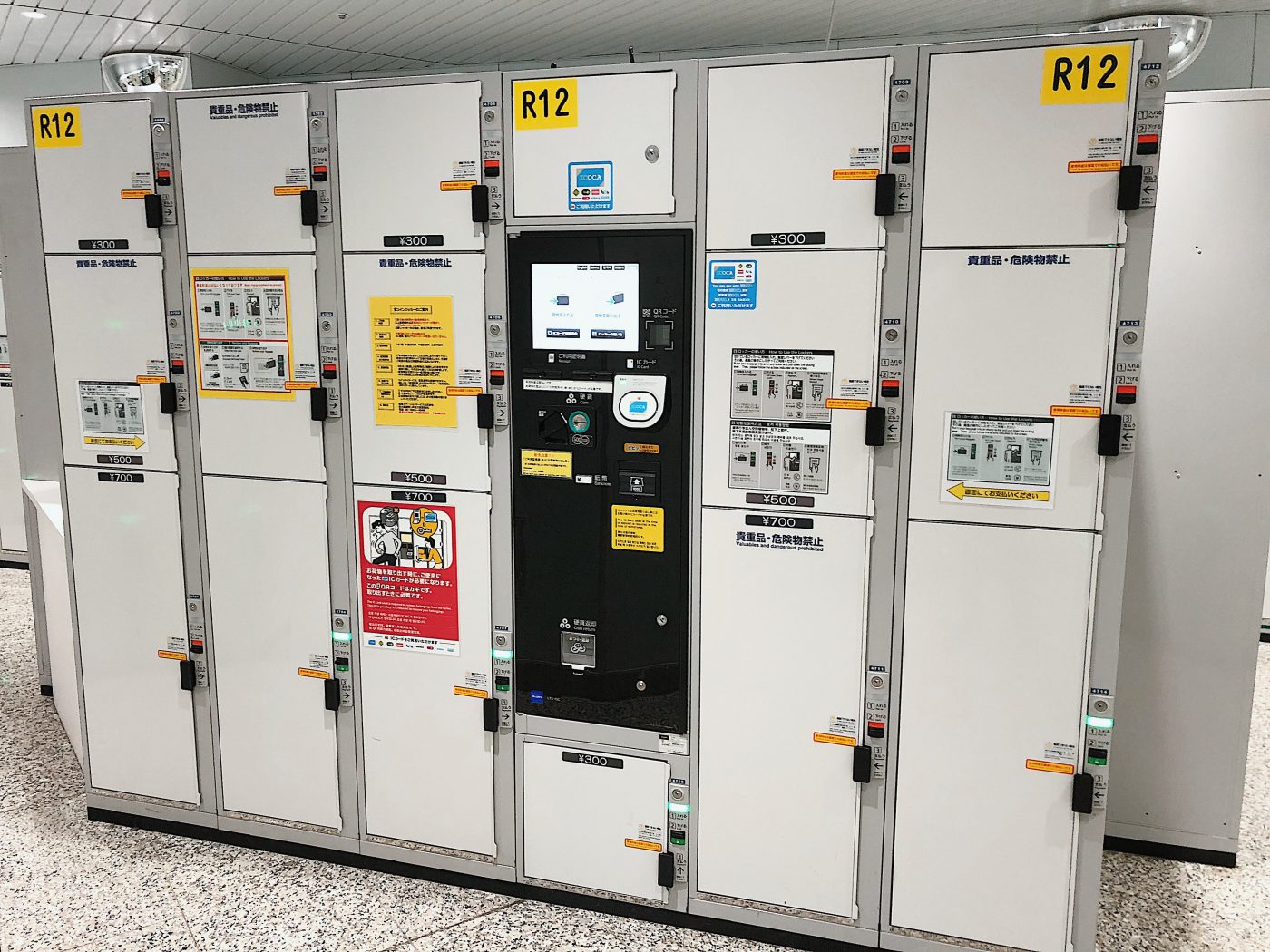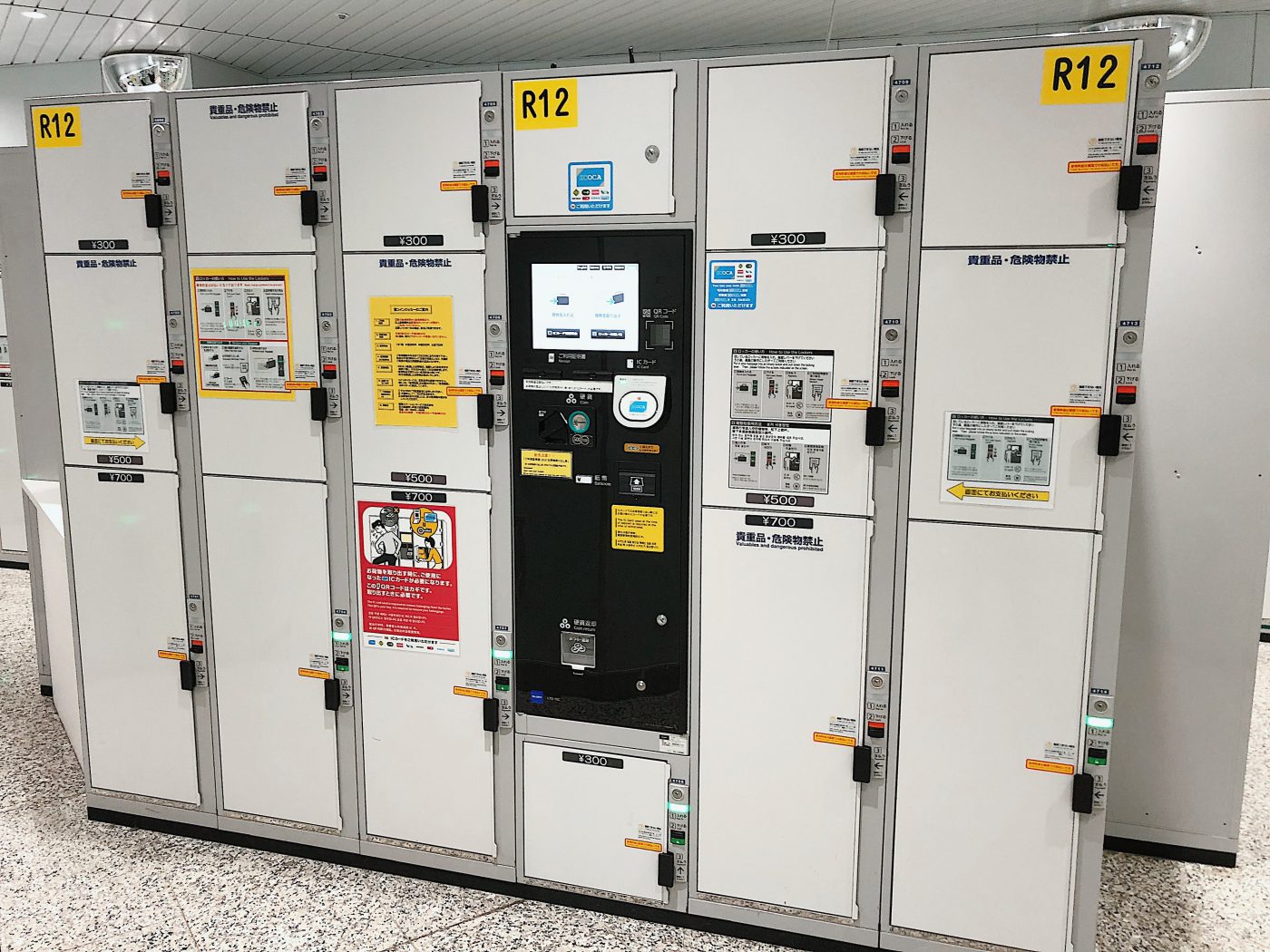 Be sure to come early if you are going from a popular station – I once tried to do this in Kyoto station around noon but I was not able to find any available locker. In the end, I gave up and had to lug my backpack around all day.
Where to stay in Osaka
In Osaka, it's best to stay close to a major train station – anywhere near Umeda, Shin-Osaka, Namba, Tennoji and Umeda / Osaka station is a great option.
Here are some recommendations:
Zentis Osaka in Umeda ($$) – Located within a few minutes walk to Osaka Station. They have studio apartments as well as family rooms for those who want bigger accommodations.
InterContinental Osaka ($$$) – Also located within a few minutes walk from Osaka station, this hotel is very convenient with many amenities nearby
Hotel Noum Osaka ($$) – A cute modern hotel located one station away from Osaka-Umeda station.
Umedaholic ($$) – Small hotel near Osaka-Umeda station and close to the city center.
Guesthouse Ten-roku ($) – Female-only dorm, perfect for solo travelers who are looking to save on accommodations.
Things to do in Osaka
Alright, now that you know all about traveling to Osaka, here are the things I enjoyed doing in Osaka:
1. Visit the Osaka Castle
This is pretty much a given when you visit Osaka. Personally, I was way more impressed by the area around the castle rather than the castle itself. It's surrounded by this amazing park and makes for a picturesque stroll especially if you happen to be here during Hanami (Sakura) or Momijigari (Autumn) season.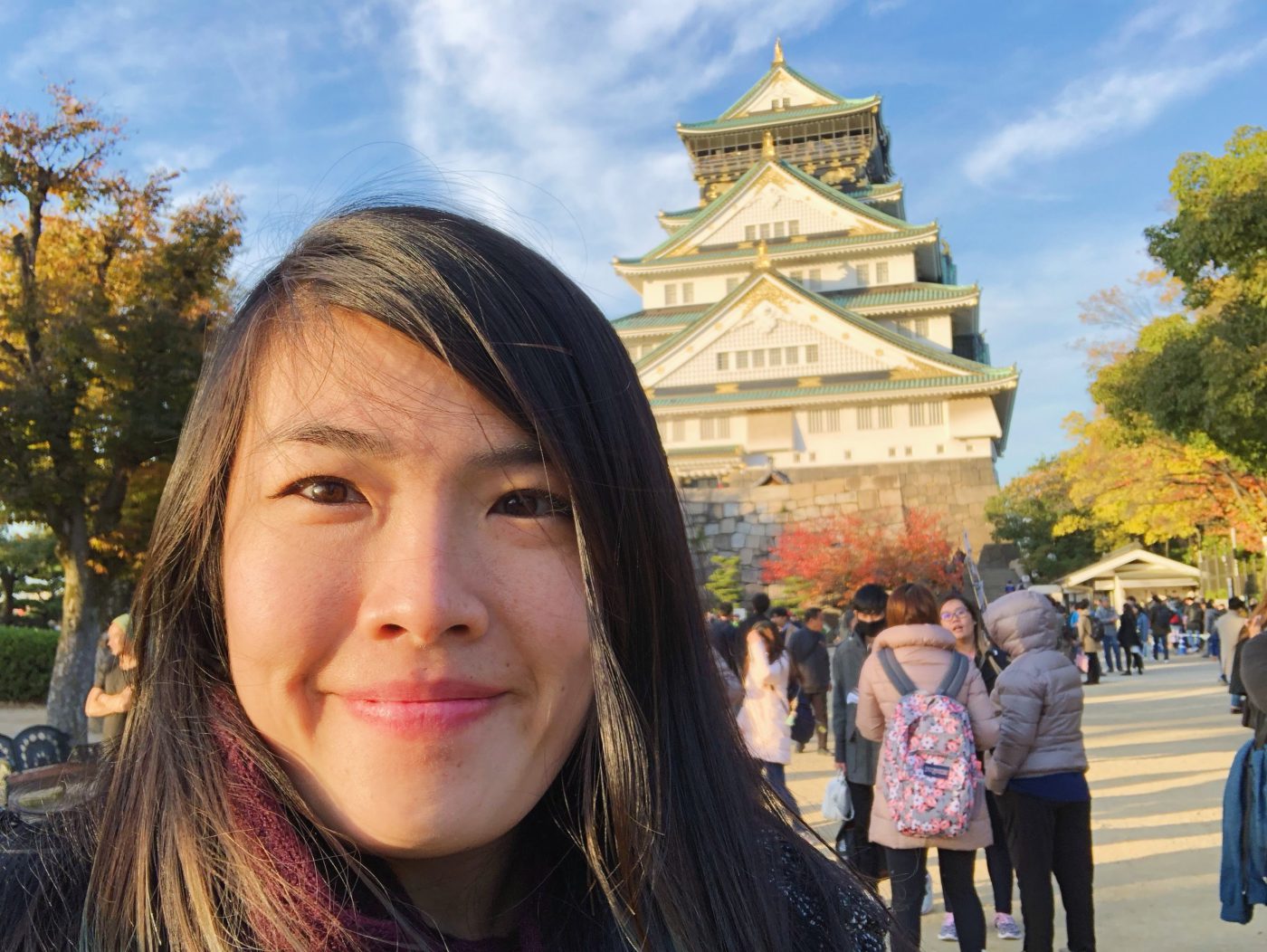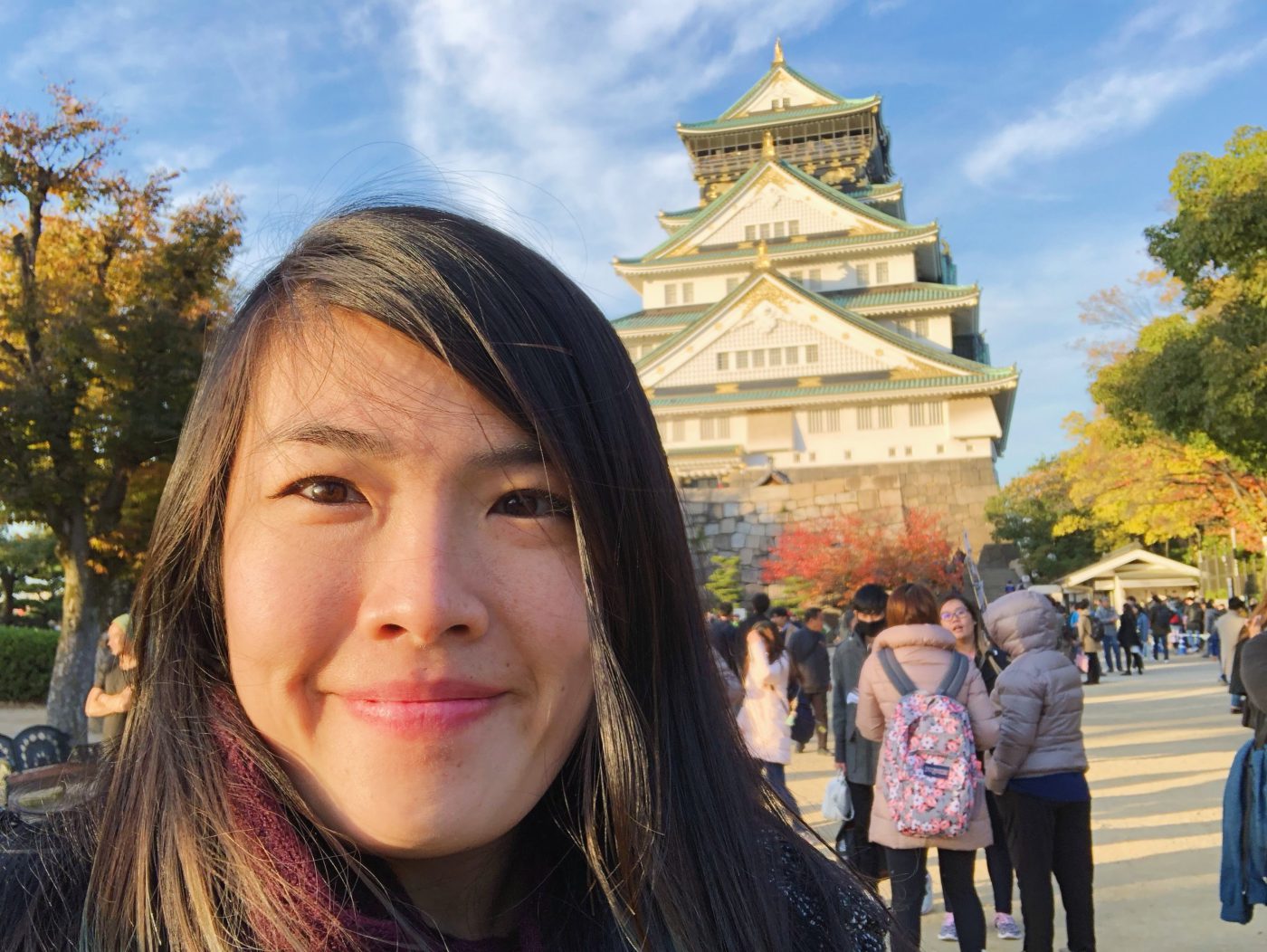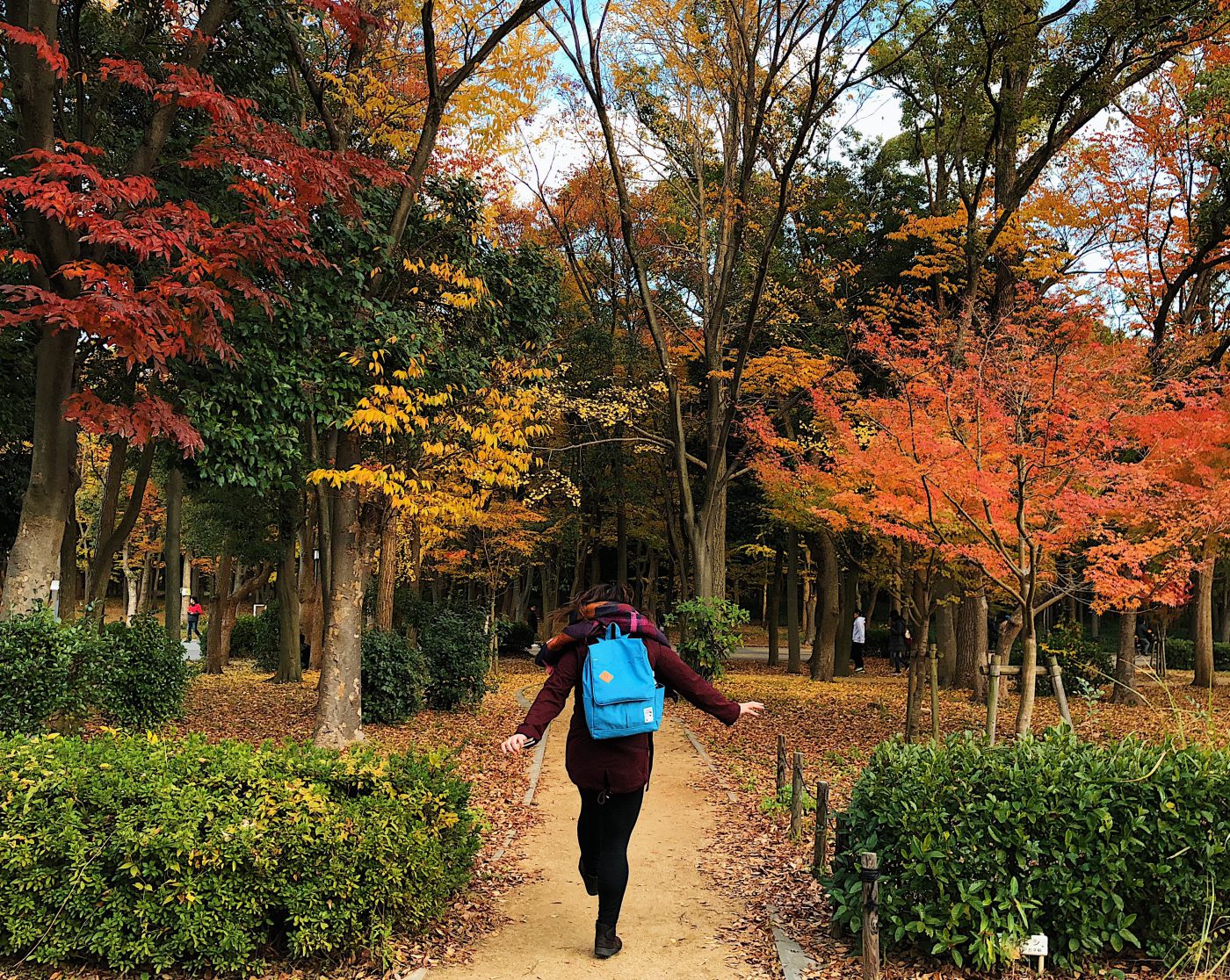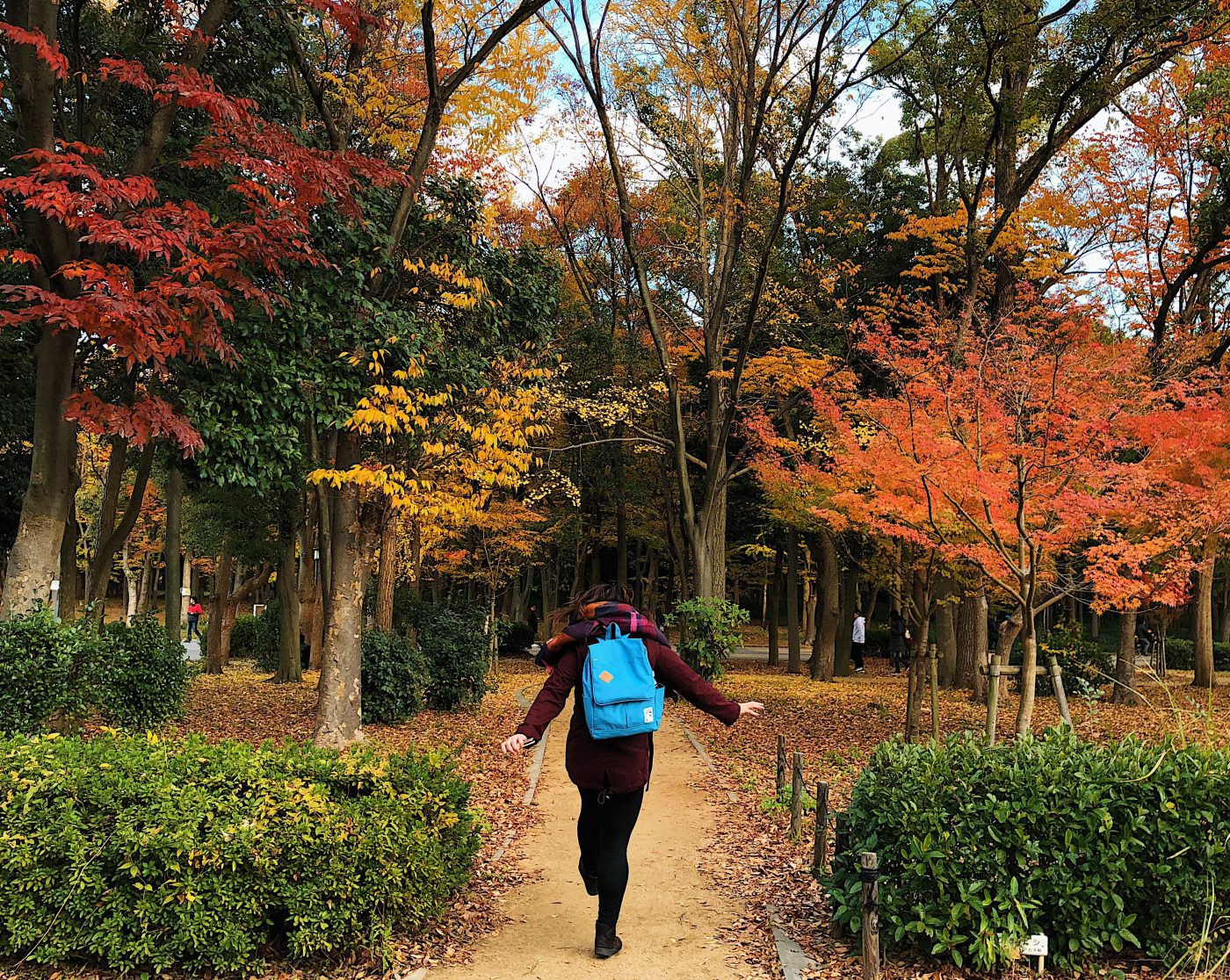 I would recommend entering the park from the southwest corner – the closest station is Morinomiya on the Chuo line – and walking through the park before finally getting to the castle.
The walk from this point would take about 20-30 minutes, so be sure to plan your time accordingly if you want to enter the castle.
You can pre-purchase the entrance ticket to the Osaka Castle here
2. Eat all the street food in Dotonbori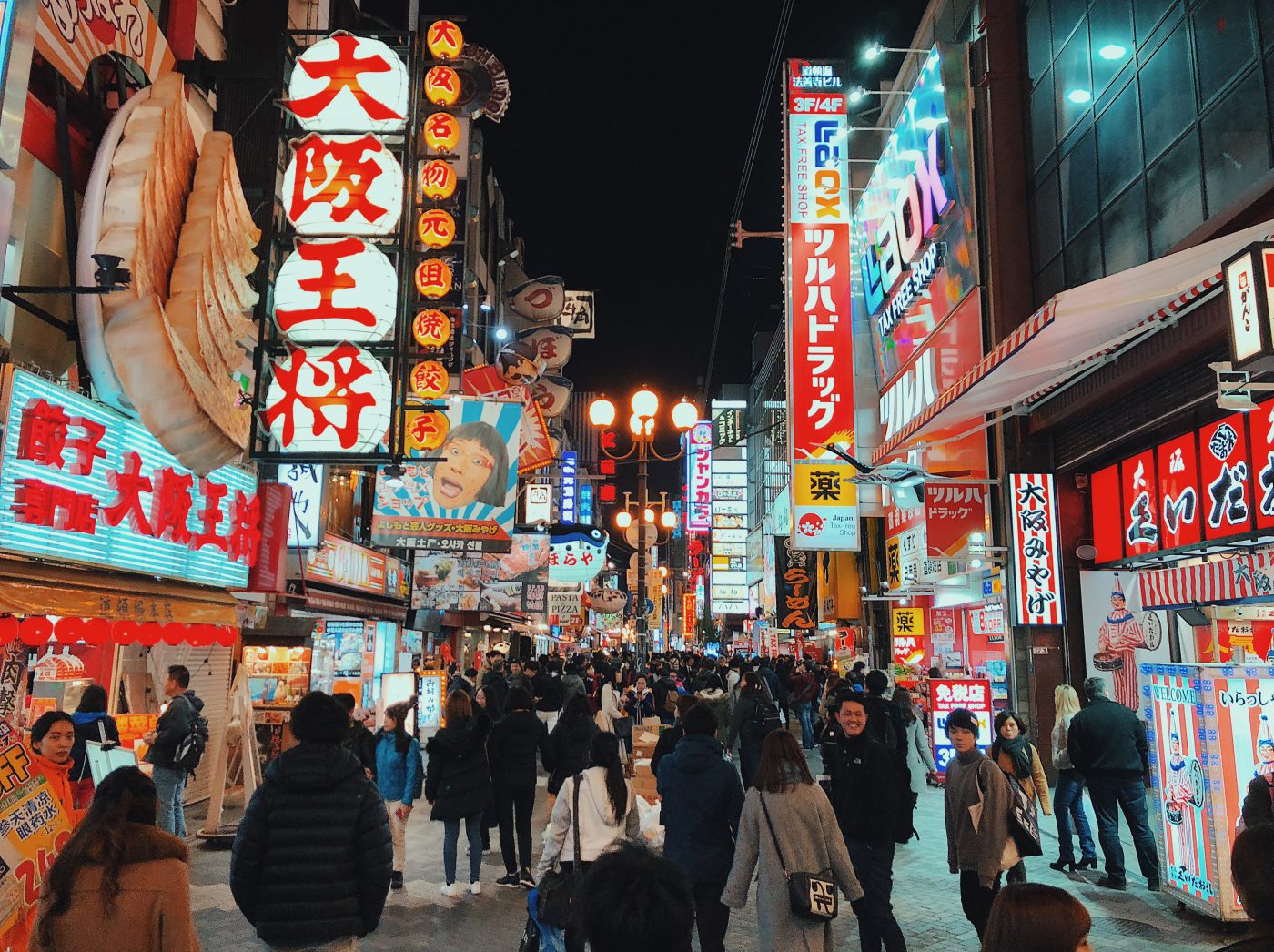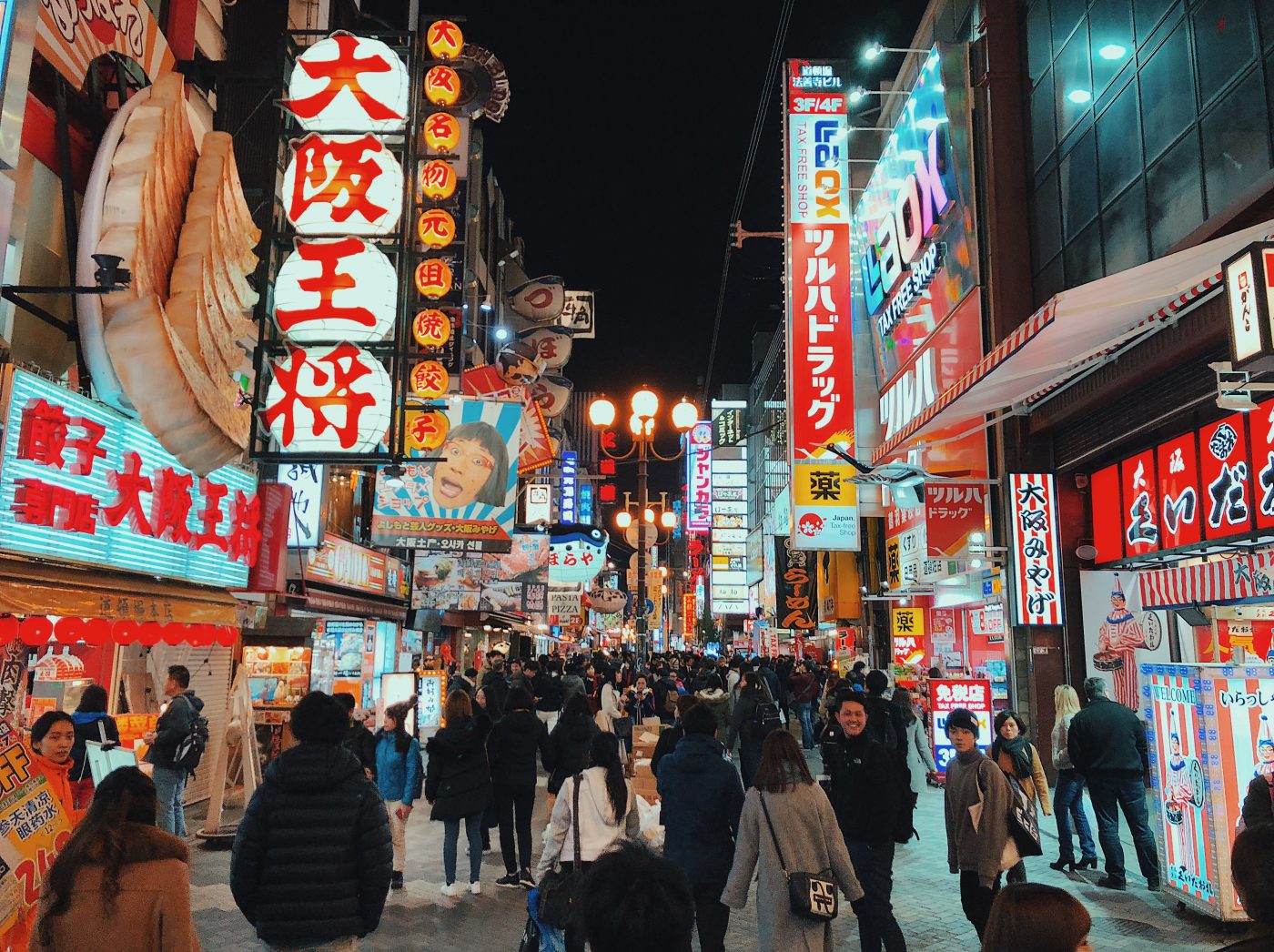 Dotonbori is the center of everything "Japan" in Osaka. You can find a 24-hour Donki (Japanese variety shop), Restaurants, Arcades with Gashapon machines, drug stores, vertical neon-light billboards, and most importantly for me: Takoyaki! You can read more about Takoyaki in the "What to eat" section below.
3. Visit the anime town at Den-Den Town in Namba
If you enjoyed Akihabara in Tokyo, you'll love Den-den town. It's basically Osaka's hub of everything geeky – electronics, Anime goodies, Gashapon machines, comic book stores, and video games. You can also find decent shopping here at Japanese variety stores like Loft and Donki.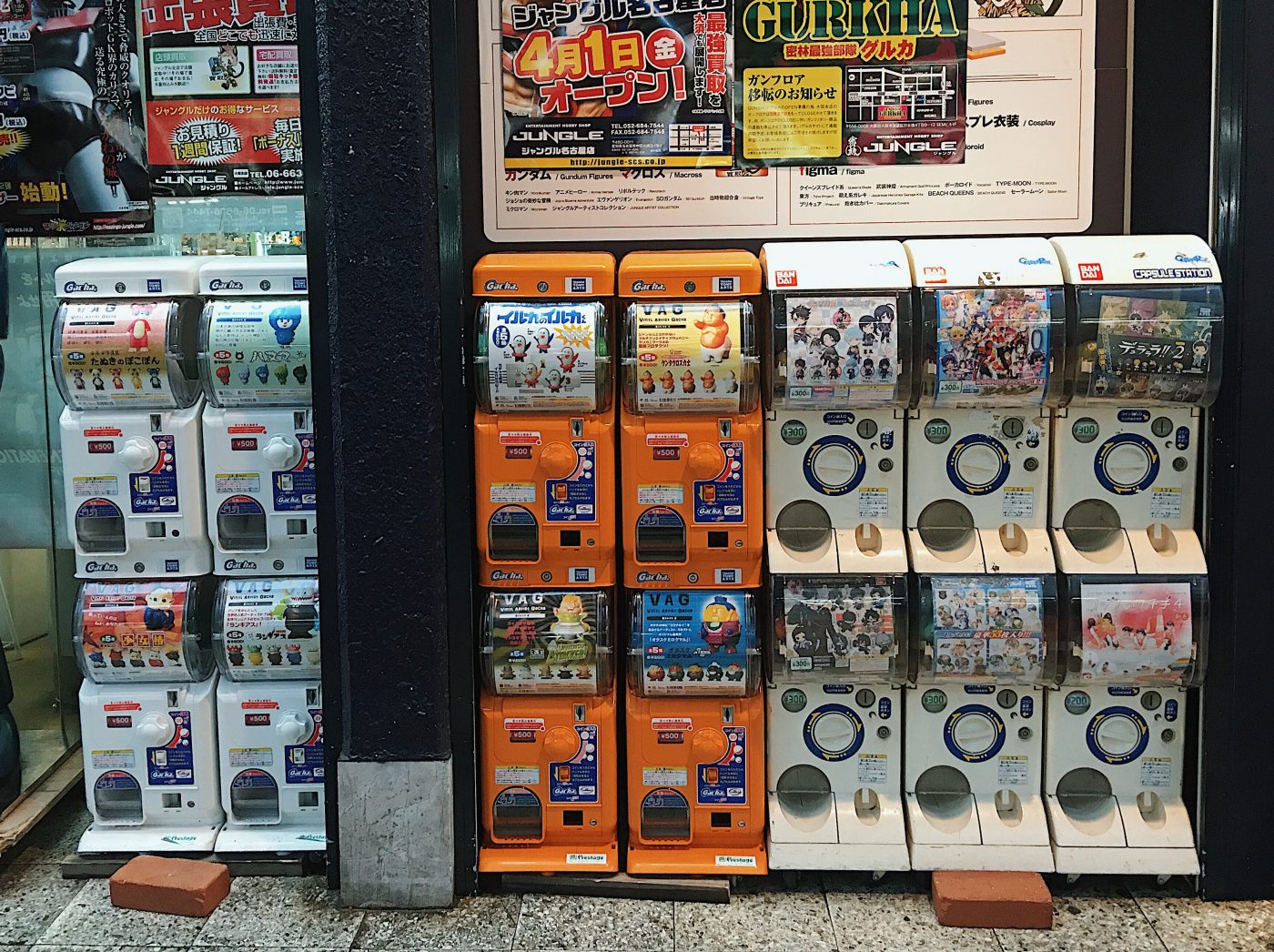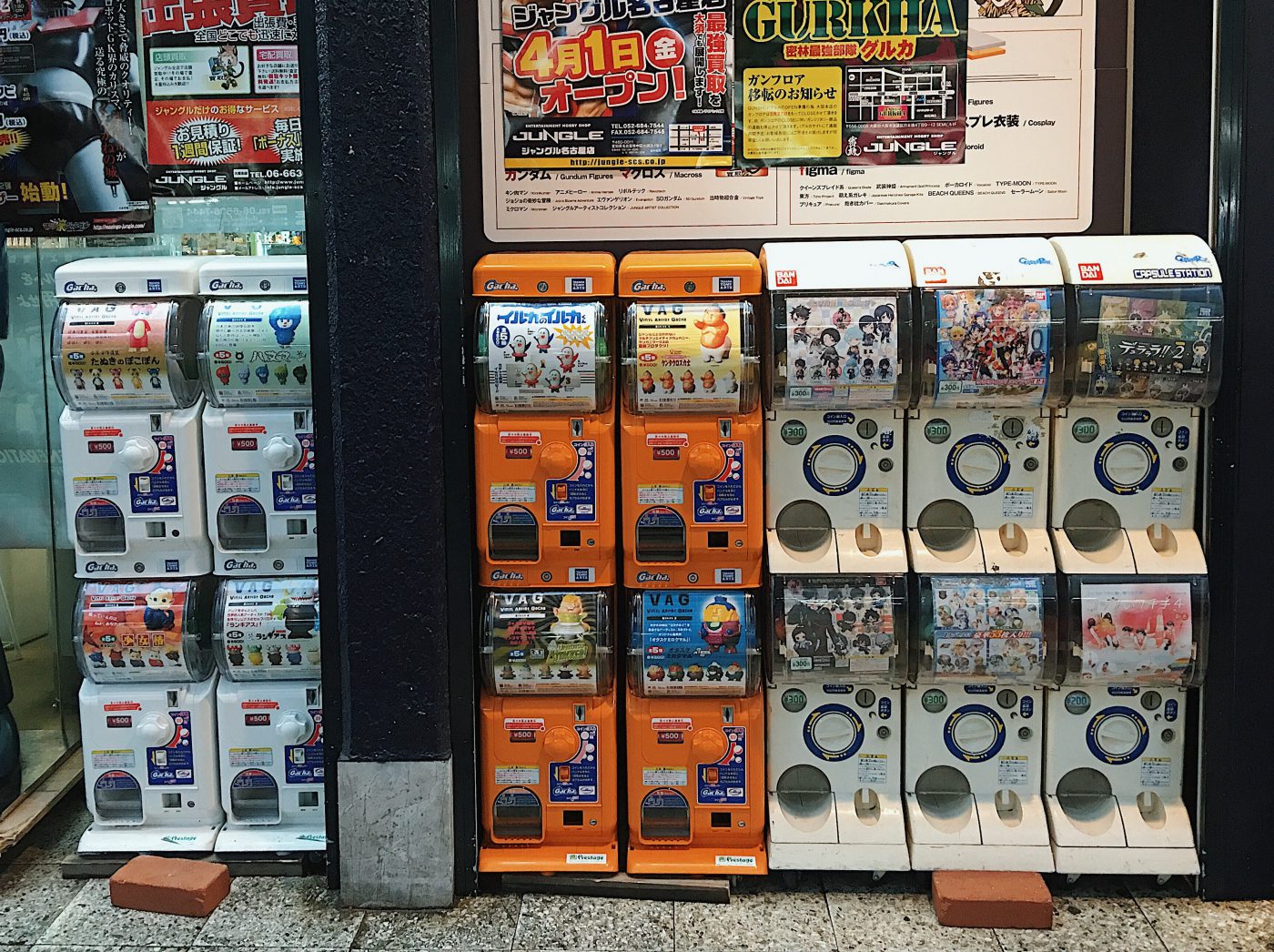 If you don't know what Gashapon is, you must try them while you are in Japan! They are these capsule toy machines that you can find all over Japan. The machine dispenses small toys or figurines in a capsule. Each machine has different themes with 4-5 possible options of toys that you can get, but you won't know exactly which one you get until you put in your yen coins and turn that knob. It's the literal definition of cheap thrill – each capsule toy costs only 200-400 yen.
4. Visit the Osaka Aquarium
The Osaka Aquarium is one of the most impressive aquariums I've ever visited so far. They have an intensive collection of marine life sourced from different parts of the world, including a pair of whale sharks in a massive tank along with other species like Manta Rays, Nurse Sharks, and Eagle rays.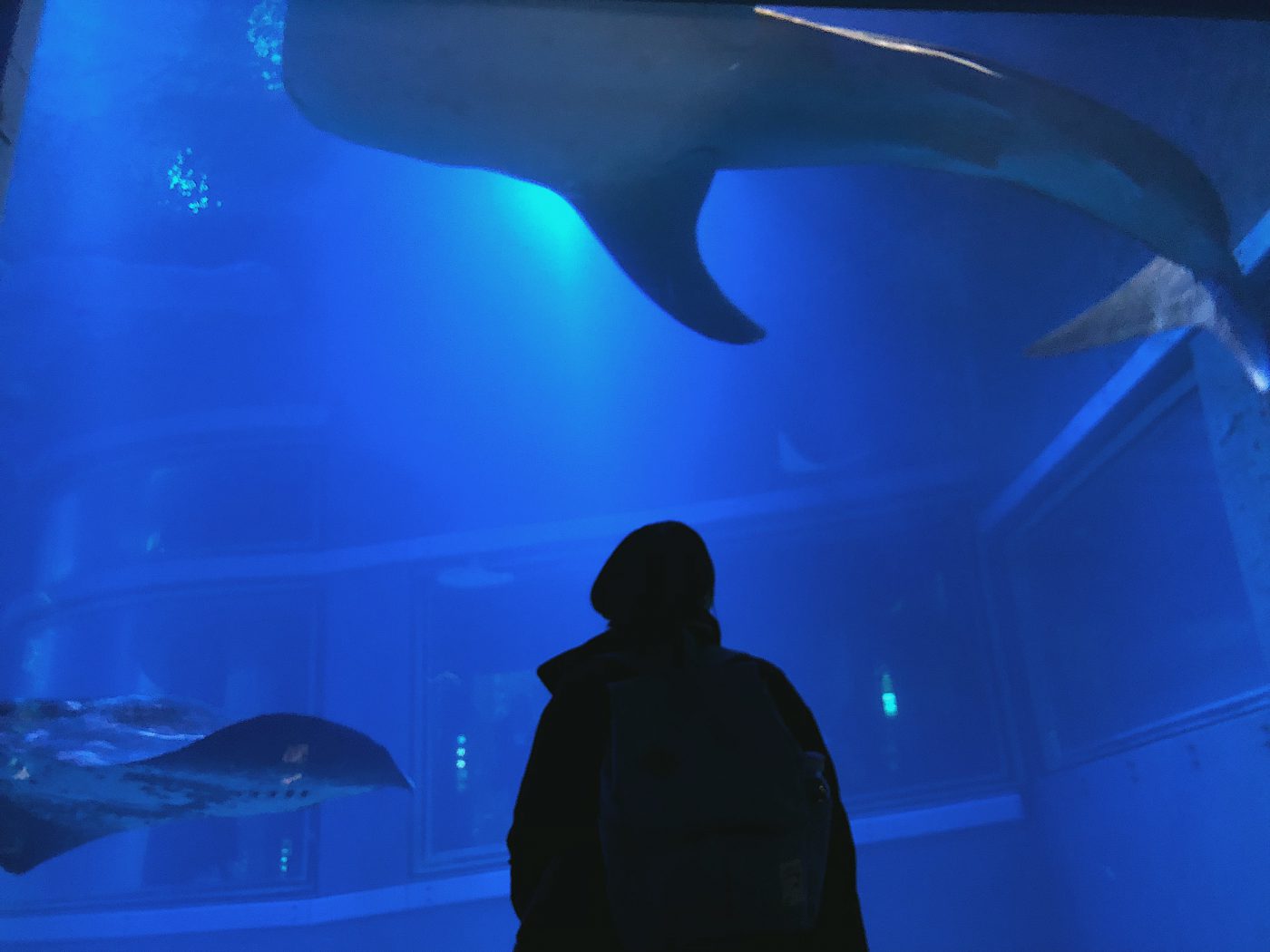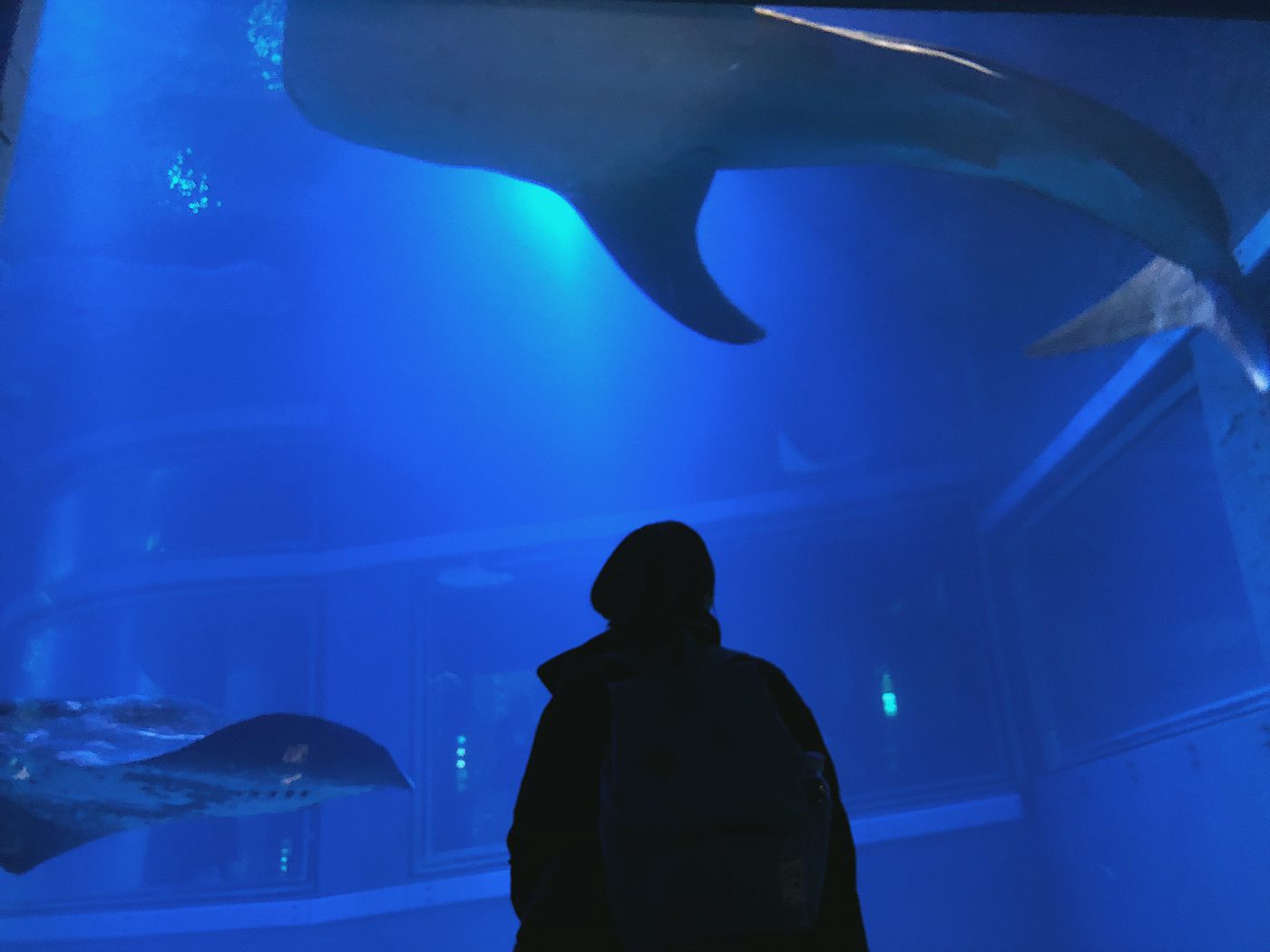 However, as an avid diver, I have to admit this made me uncomfortable… especially seeing highly intelligent animals like dolphins in captivity. On the other hand, I can see how this is a great educational opportunity for kids and adults alike.
You can buy the tickets to the Osaka Aquarium online here so that you don't have to wait in line.
5. See Osaka city from above
If you like seeing a city from high up, I suggest visiting the Umeda Sky Building (Umeda / Osaka station) or Abeno Harukas (Tennoji station). Both provide a birds-eye view of the city and would cost you around 1000-1200 yen to visit.
You can pre-purchase the ticket to Umeda Sky Building here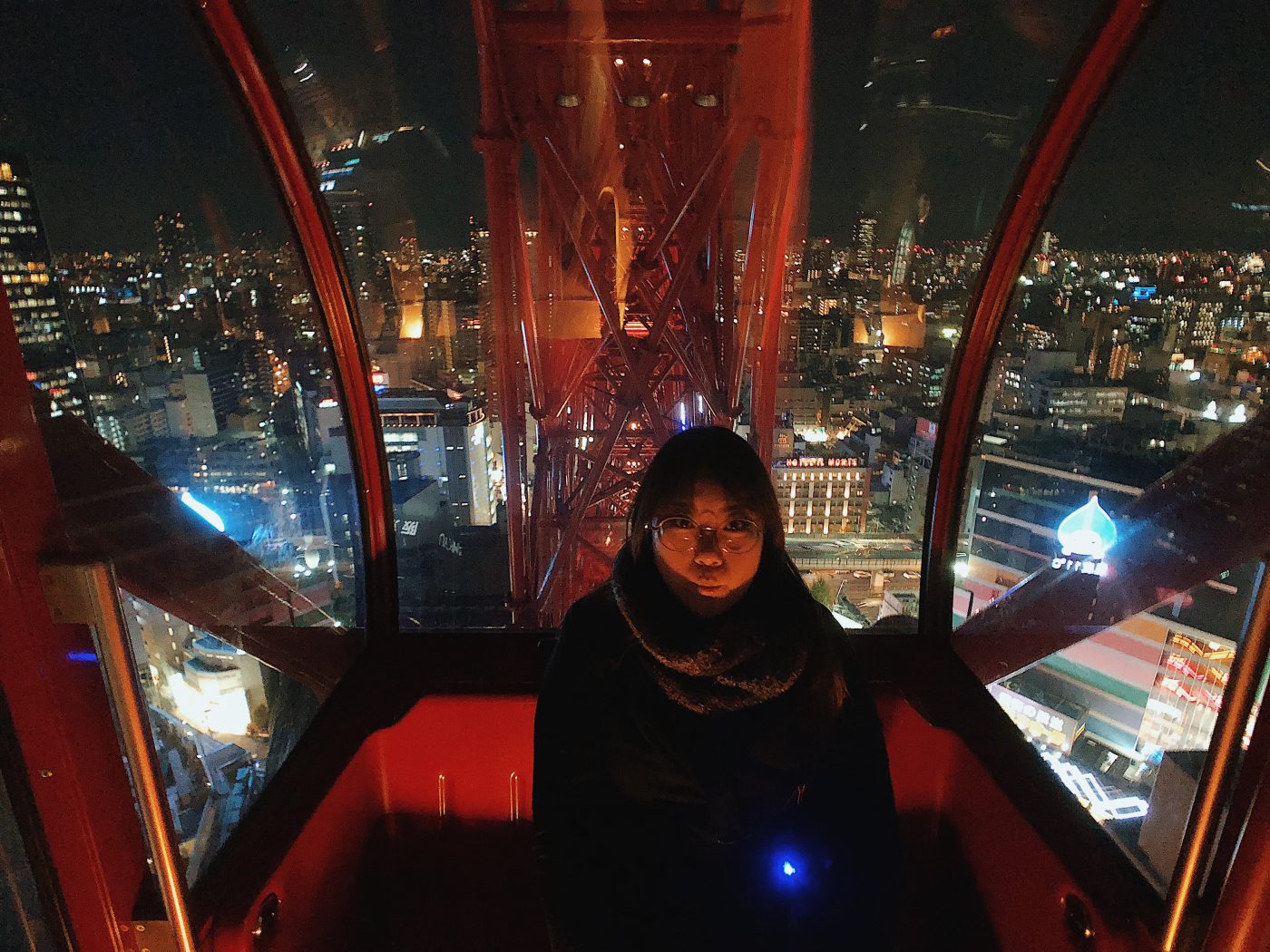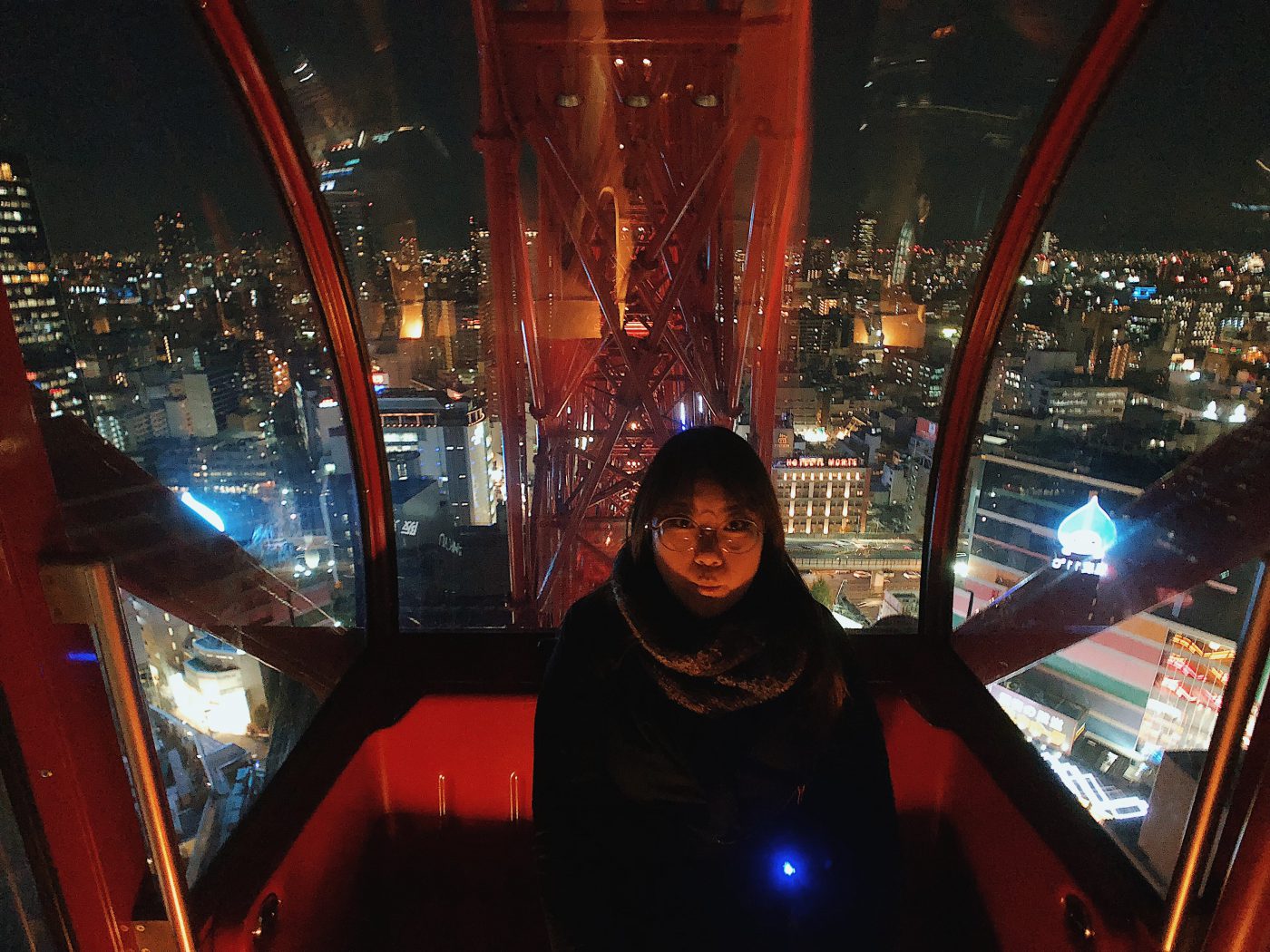 But for a cheaper option, you can take the Ferris Wheel at HEP FIVE near Osaka station – It's small but it's only 500 yen per ride, you get a private car to yourself and the wait isn't very long.
You can speed up the process too by buying the ticket ahead of time here: HEP Five Ferris Wheel, then all you have to do is scan the QR code when you get there.
6. Visit the Cup Noodles Instant Ramen Museum
Also known as Momofuku Ando Instant Ramen Museum, the gentleman who founded Nissin Food Products – the company that makes Cup Noodles. I didn't get to do this on my visits (yet!), but if you're like me and lived off cheap instant ramen in college, I reckon this museum warrants a visit. You can even decorate your own instant ramen cup!
7. Go back in time to Kyoto (A Day Trip from Osaka)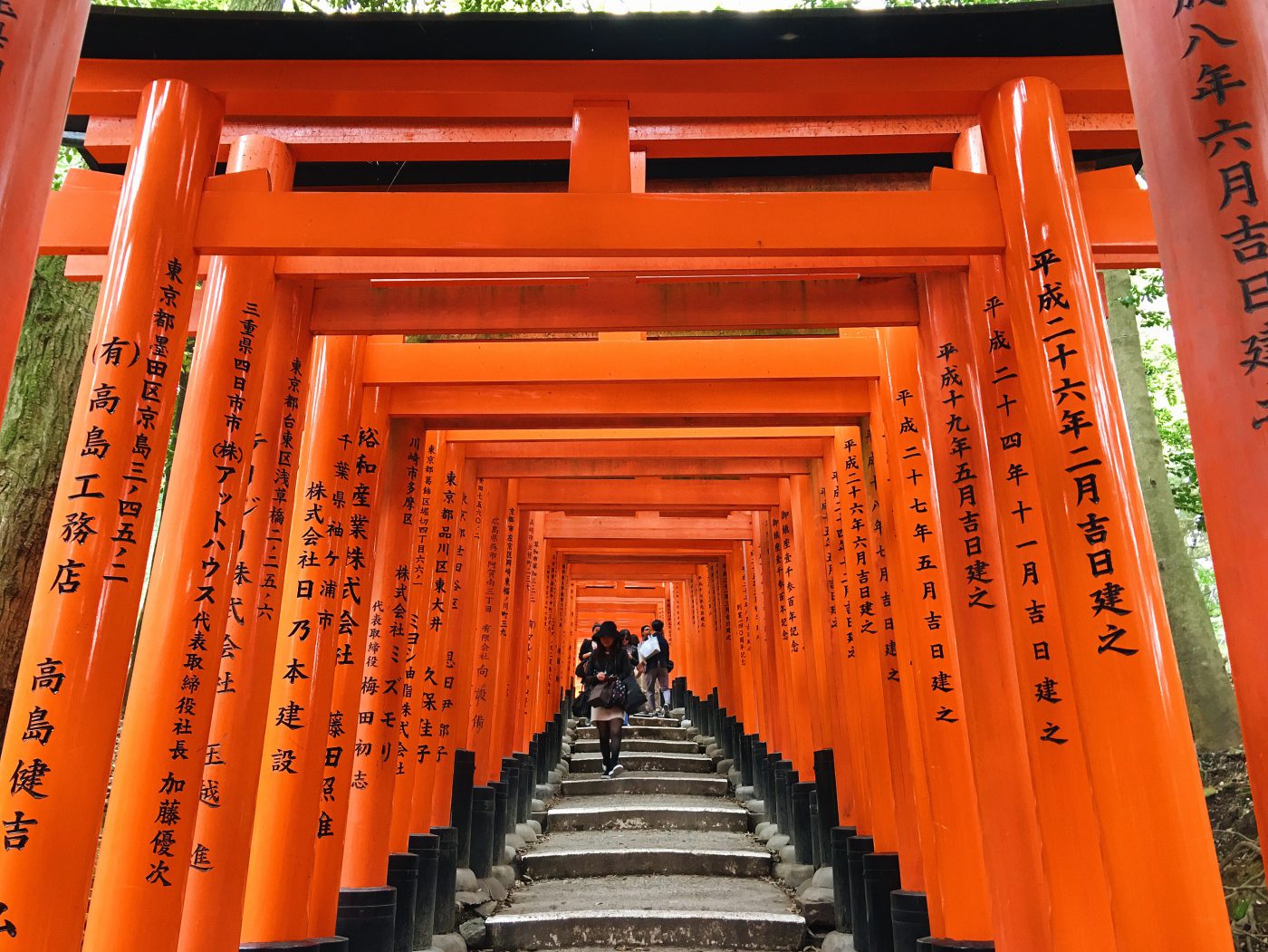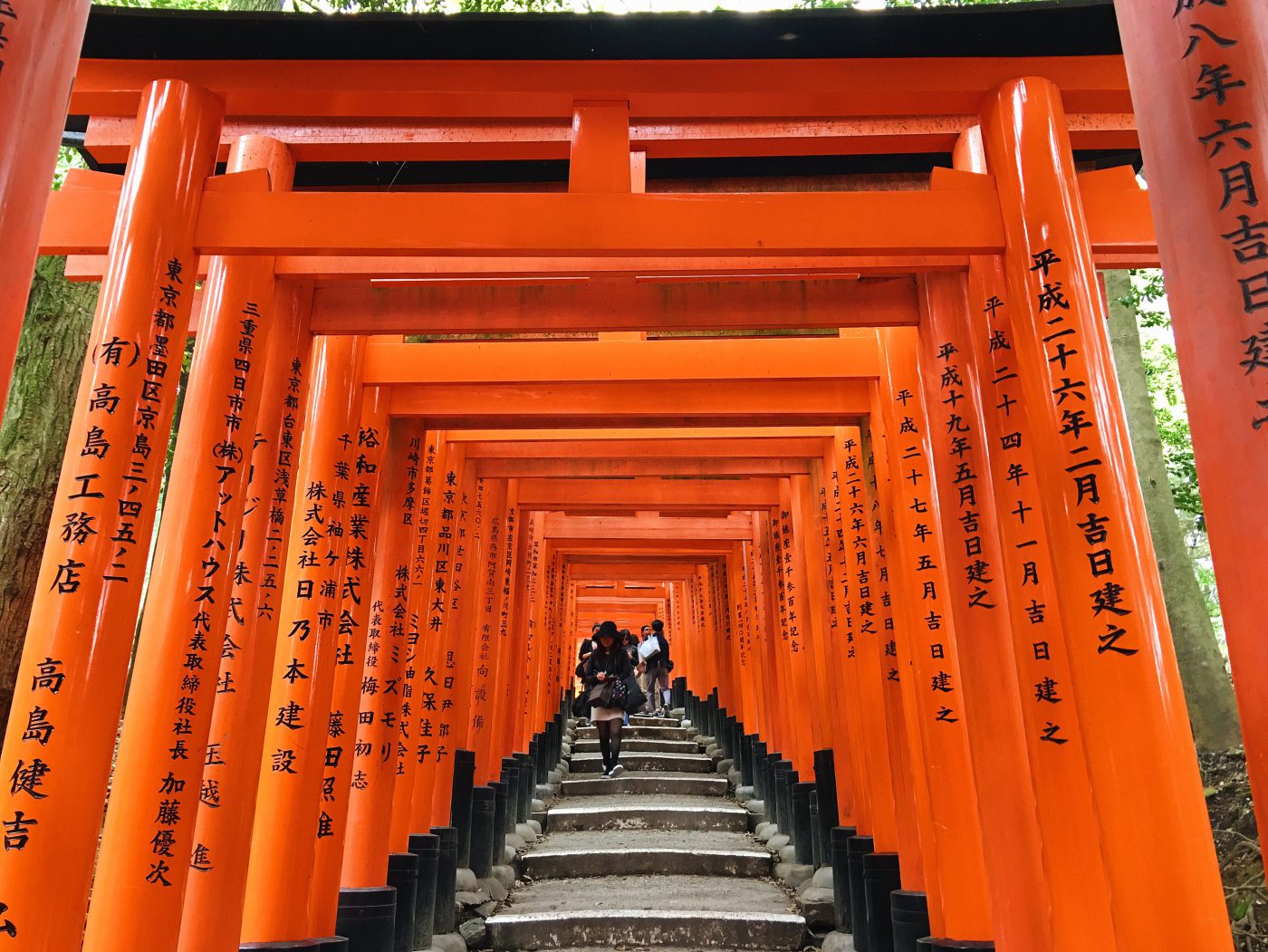 Kyoto needs no introduction – it is definitely a must-visit when you're in Osaka. The city is an easy 30 minutes on the rapid local train or 15 minutes on the Shinkansen.
Although I filed this under day trips outside Osaka, you actually need 2-3 days to properly visit Kyoto – there is so much to see and do here that it warrants a separate post by itself. Set aside one day to visit the Arashiyama side of Kyoto (west), and 2 days to visit the temples (east side of Kyoto).
But I would still recommend staying at a hotel in Osaka because accommodations are cheaper here.
Further Reading: I've written a dedicated blog post for Kyoto here: Kyoto Travel Guide, so please check that post on all my recommendations for Kyoto.
8. Get friendly with Sika deer in Nara (Day Trip)
Nara is another popular trip to take from Osaka due to its proximity – only 30-45 minutes by local train. The city is quite small, but they have many temples and shrines to visit. They also have a huge park where you can walk and interact with the free-roaming wild Sika deer population in Nara.
Further Reading: I've written a dedicated blog post for Nara here: Nara Travel Guide, so please read that post for everything I know about Nara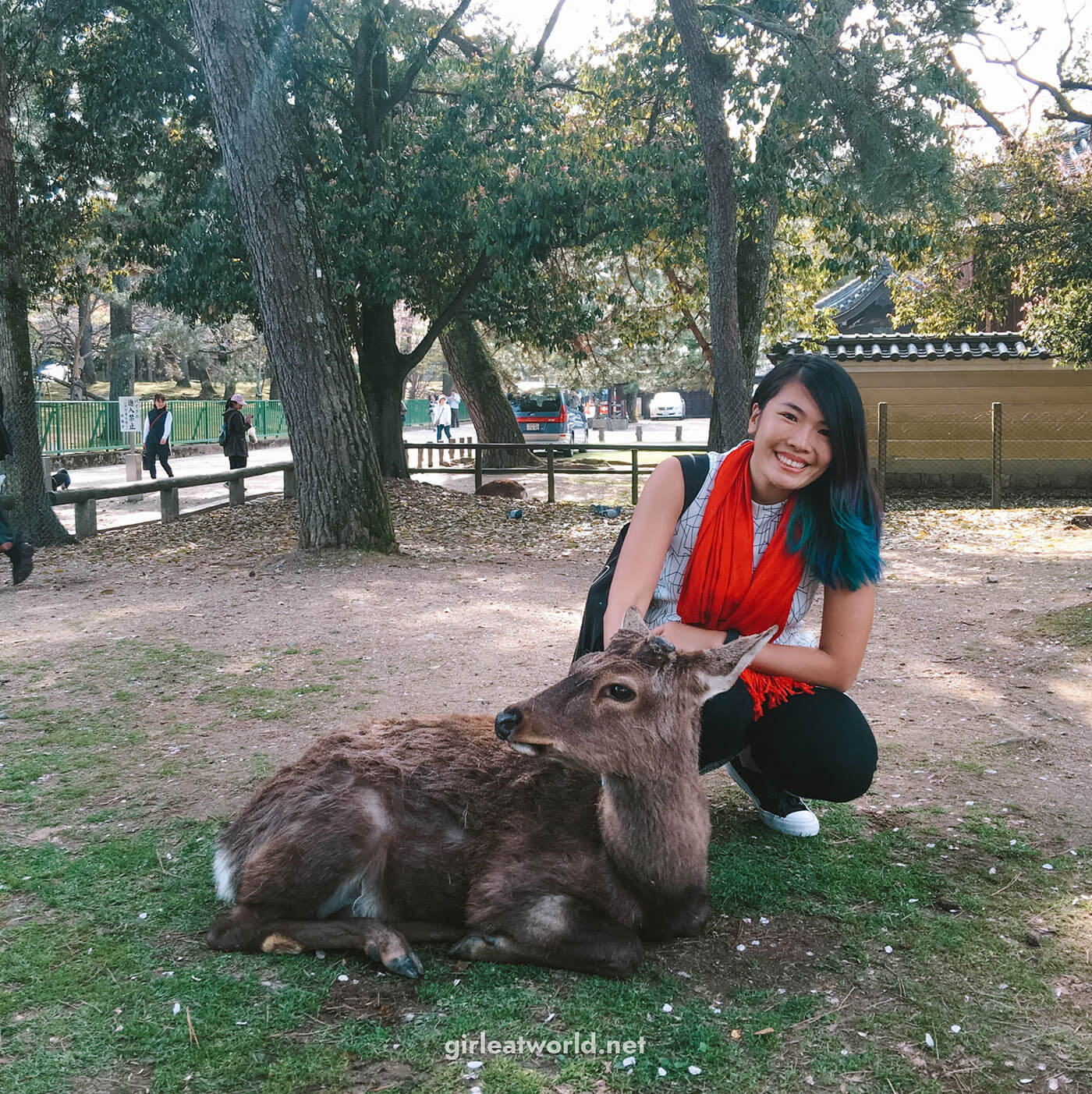 9. Take a walk at Akame 48 Waterfalls (Half-day Trip)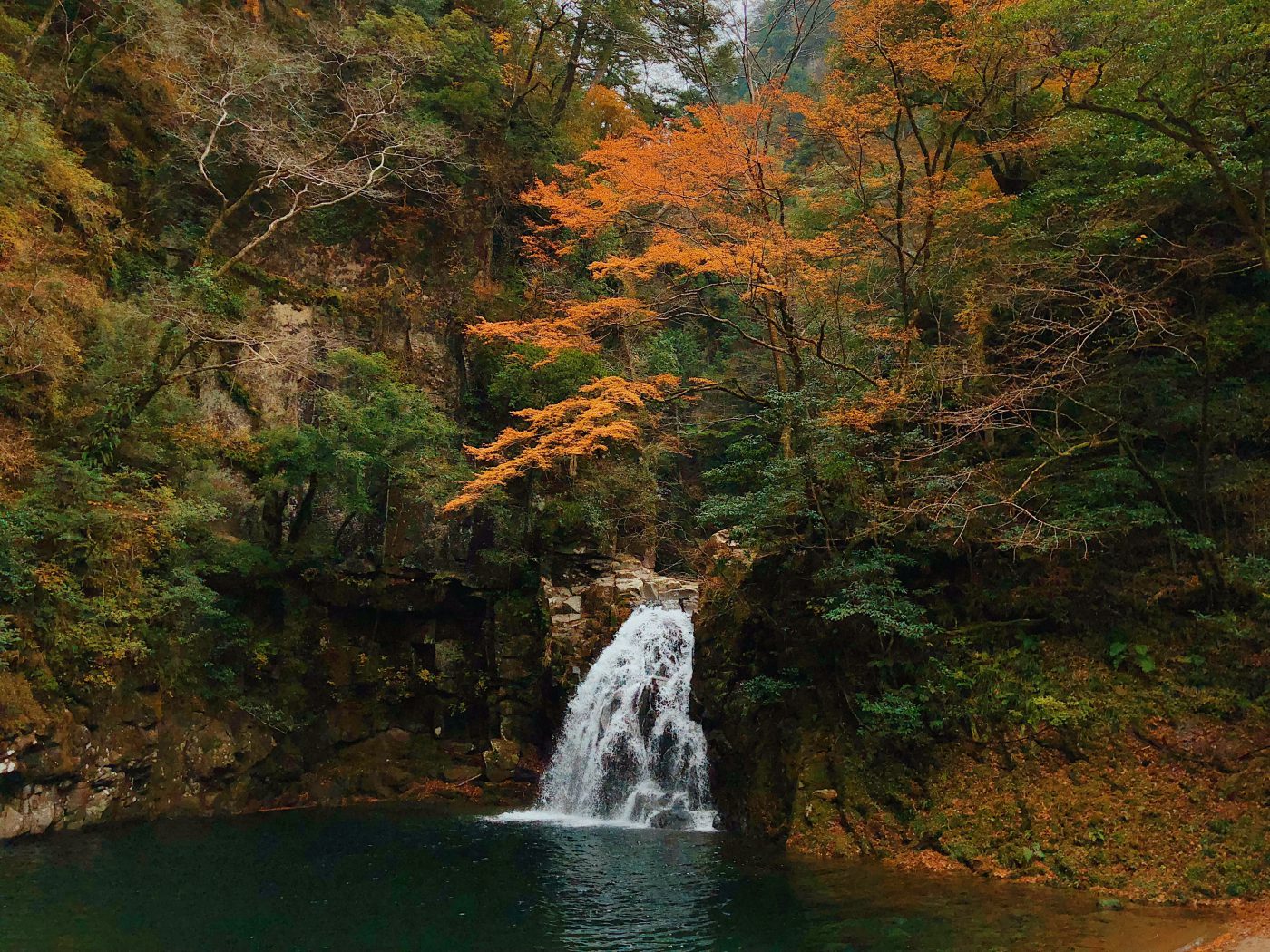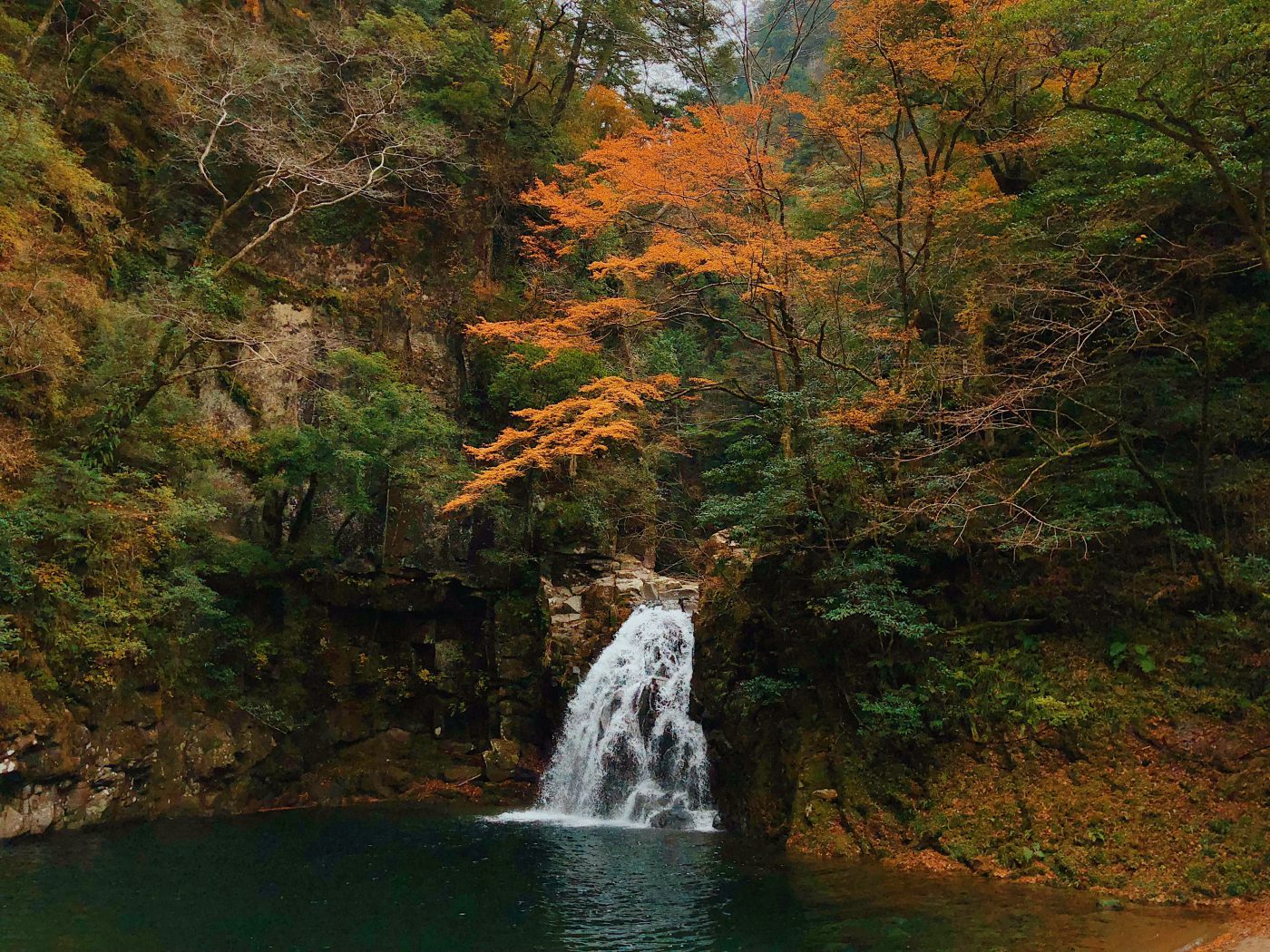 Akame 48 Waterfall is about an hour out of Osaka by train. It's a short, easy trail following the main river which forms many small waterfalls. There are actually less than 48 waterfalls, but they used 48 in the name to signify endless waterfalls.
Further Reading: You can read my post about visiting Akame 48!
10. Visit Kobe (A Day Trip from Osaka)
I have actually not made a trip down there yet, but Kobe is also 30 minutes away from Osaka by train. Kobe is well-known for… well, the delicious Kobe beef, which you'll find plenty of in Kobe. Aside from the beef, Kobe is known for the Chinatown area, the Kobe ropeway, and the Nunobiki waterfall.
11. Suntory Yamazaki Whiskey Distillery
If you are a whiskey lover, a trip to this distillery is a must. They are located about 30 minutes from Osaka / Umeda station. You can visit the Yamazaki Whiskey Museum for free and do some whiskey tasting (not free). If you're interested to learn about the whiskey-making process then they have tours that cost 1000-2000 yen.
Make sure you book your slot for the tour ahead of time here
12. Bonus: See Mount Fuji from above if you're coming to Osaka on a domestic flight from Tokyo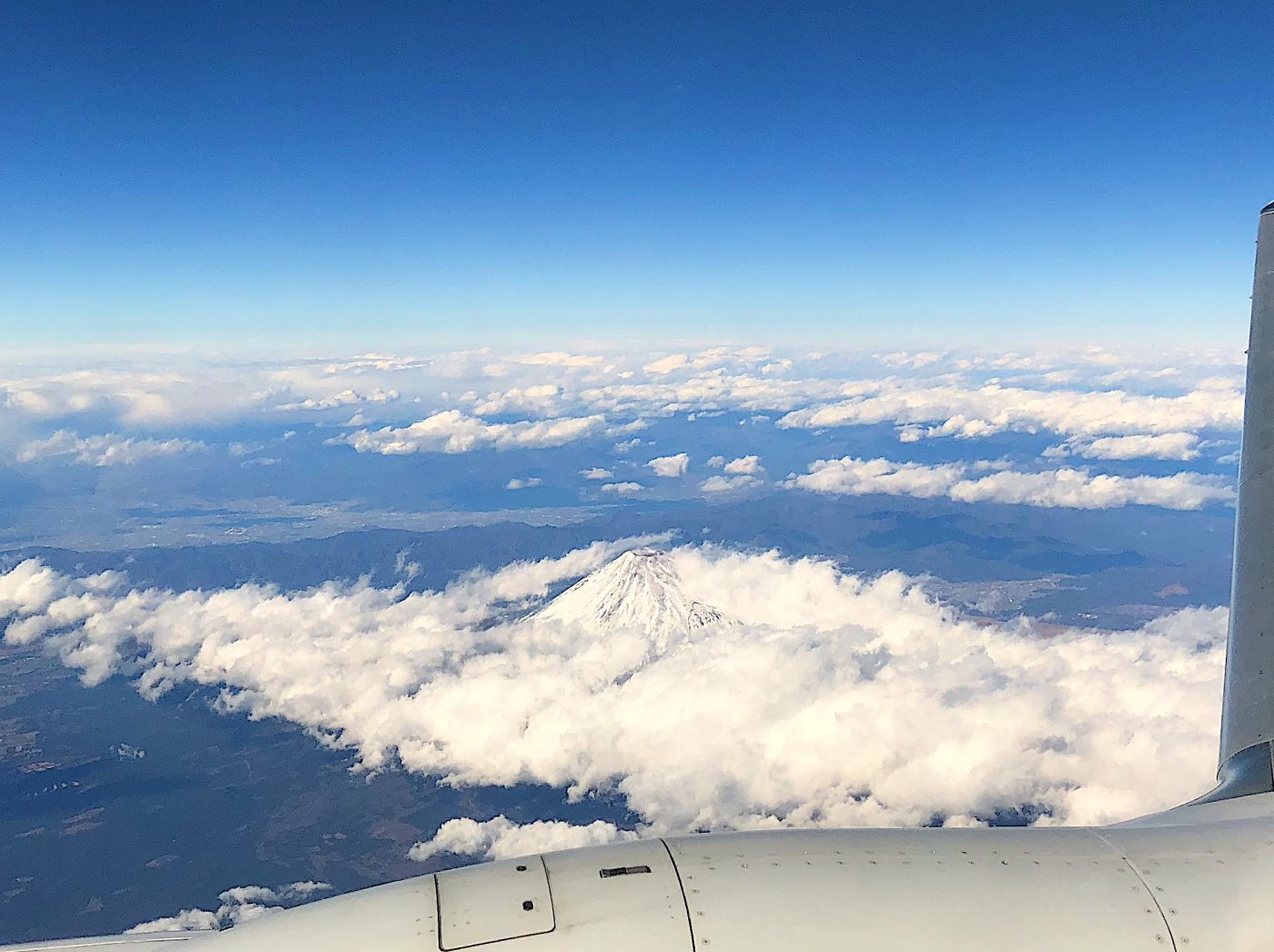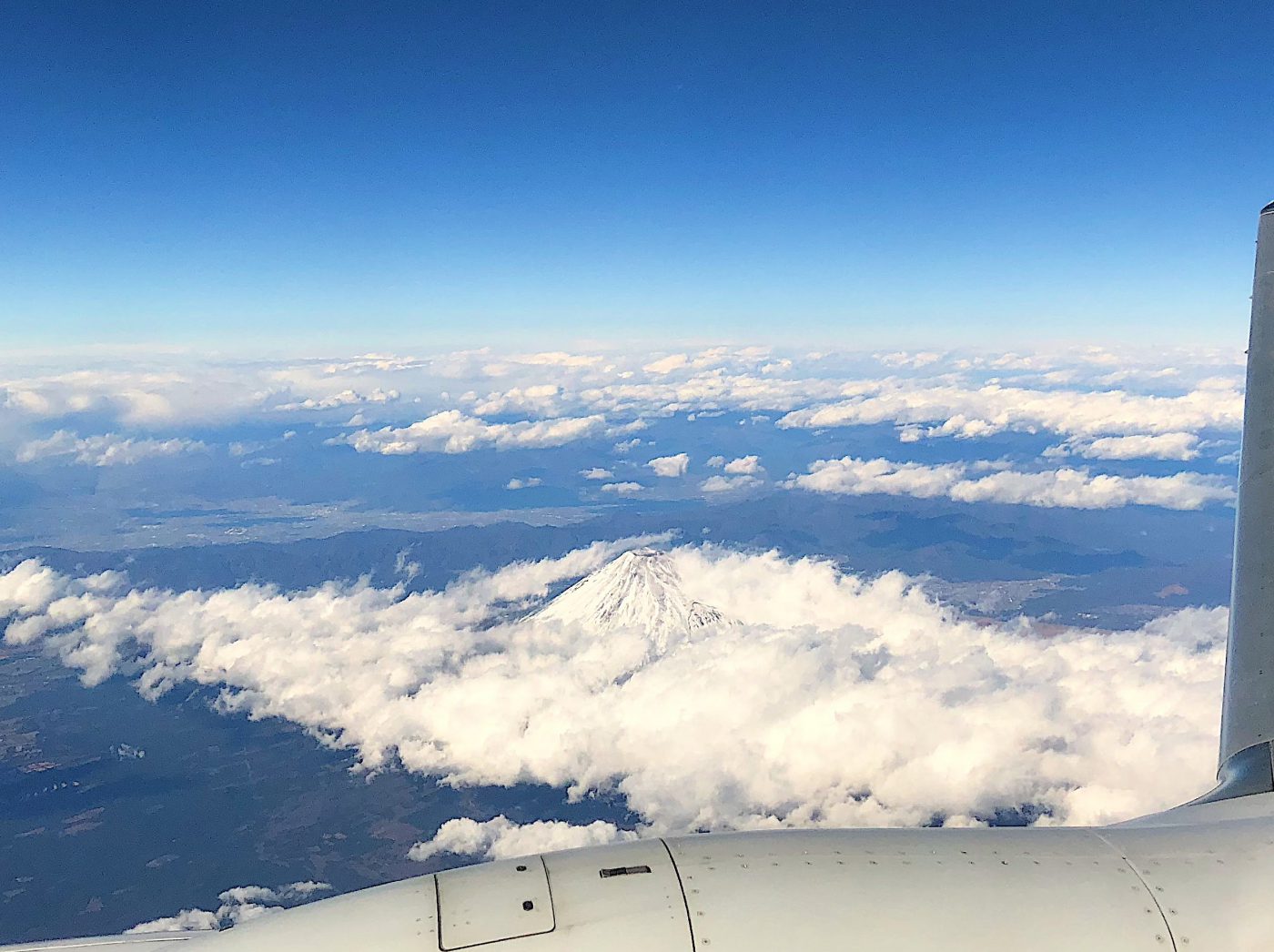 If you are flying to Osaka from Tokyo, try to get a window seat on the right side of the plane. You might just get lucky and see Mount Fuji about 30 minutes into the flight. I knew about this before so I picked a window seat on the right side of the plane on my way there, but I wasn't lucky with the weather. Mount Fuji was hiding underneath all those clouds… :/
What and Where to Eat in Osaka
Just like other big cities in Japan, there is plenty of good food in Osaka. Here are some of my favorites!
1. Takoyaki (Octopus Ball)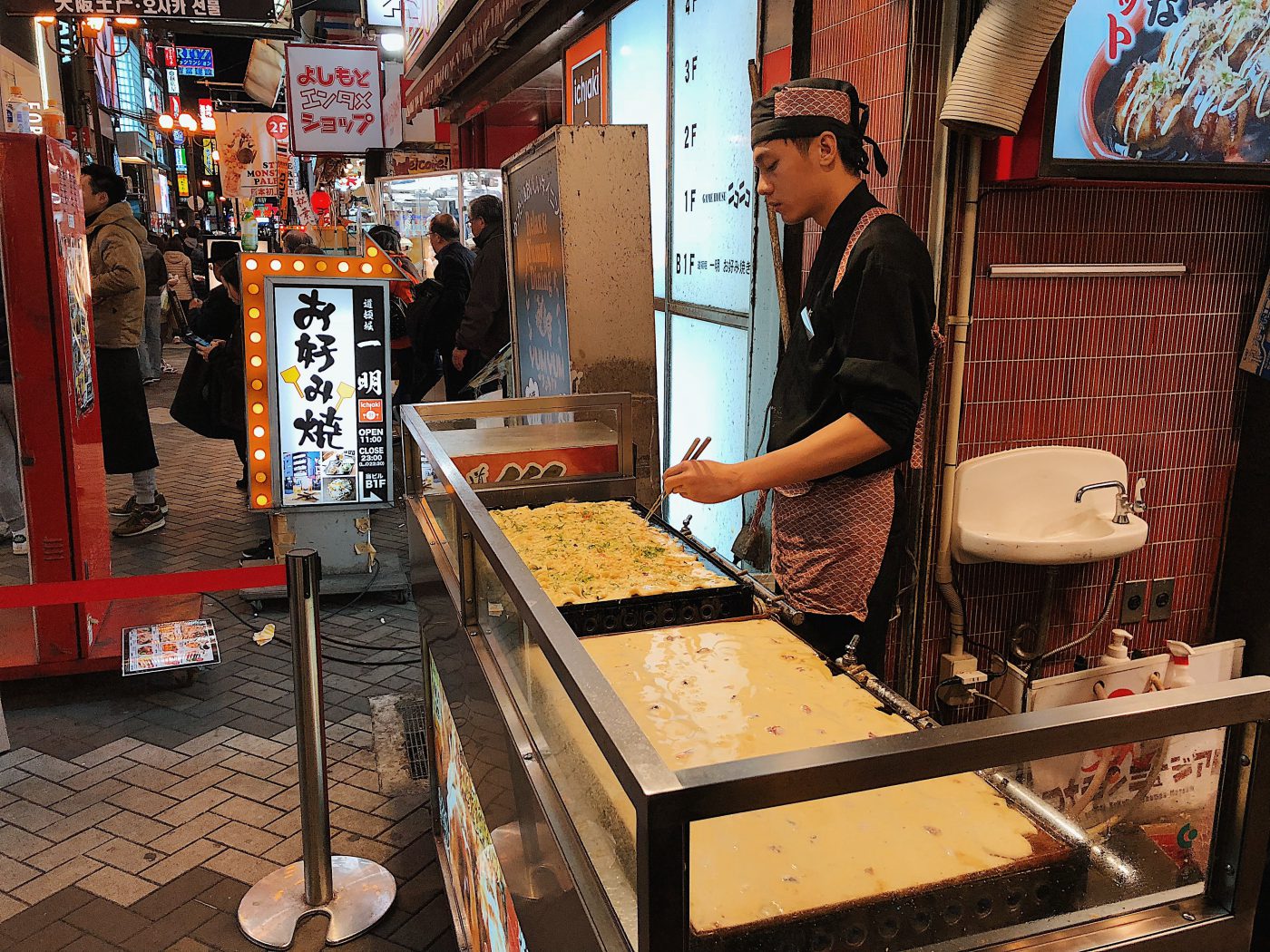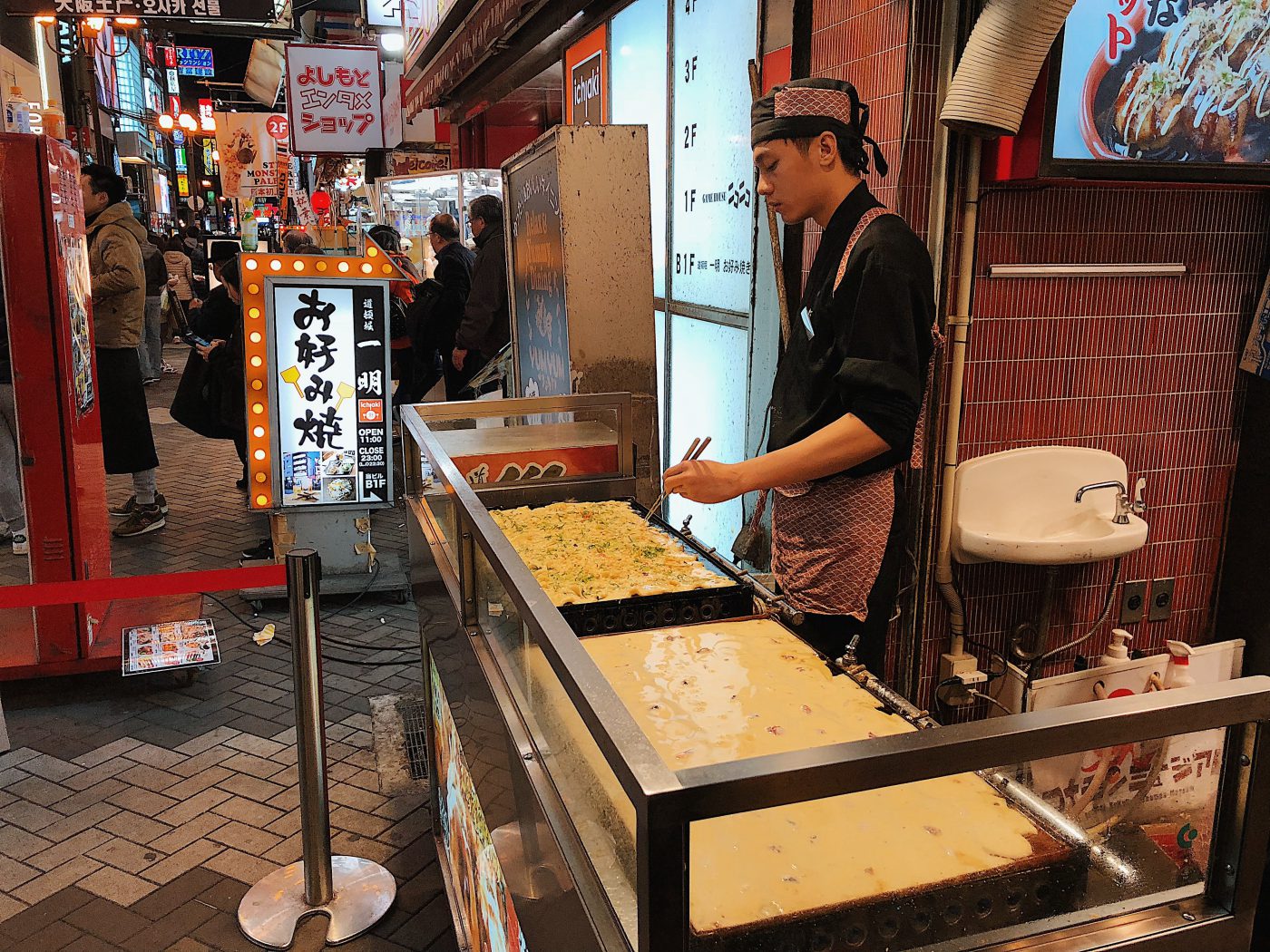 When visiting Osaka, eating Takoyaki is a must. Takoyaki is one of the most well-known street snacks in Japan. It's a ball-shaped snack made from a wheat-flour-based batter with chopped-up juicy octopus tentacles and other ingredients such as ginger and green onion, grilled in a pan with hemispherical holes to help shape it into a ball. Once done, it's served with takoyaki sauce and Japanese mayo, then topped with crispy bonito flakes. Although you can find this all over Japan, it was popularized in Osaka.
The one I tried is from the Konamon Takoyaki Museum in the middle of Dotonbori and it was delicious! The batter is crispy on the outside yet juicy on the inside. The bits of octopus are also quite generous. Best of all, they're always made fresh on the spot! If you see a queue forming, fret not. They're just waiting for the next batch and once that's done, the queue moves fast. I ended up eating a dozen of these by myself…
Konamon Takoyaki Museum
Nearest Station: Namba (Midosuji Line)
Direction: Google Maps
2. Japanese Cheesecake from Rikuro Ojisan no Mise
Rikuro Ojisan no mise means "Grandpa Rikuro's store". You might have seen this store making its round in social media. Popular for the fluffy cheesecake that "jiggles" as it comes out fresh out of the oven, Rikuro Ojisan cheesecake originated from Osaka and for a while could only be found in Osaka and Kobe, though I heard there are now branches in Shanghai and Beijing. Their cheesecake is different from the ones you get in, say, New York, which tends to be very rich. Rikuro's cheesecake is very fluffy in texture and light in taste – much like other Japanese desserts, it's not too overly sweet. I only got a slice but I feel like I could have eaten an entire cake on my own.
3. Yakitori at an Izakaya in Namba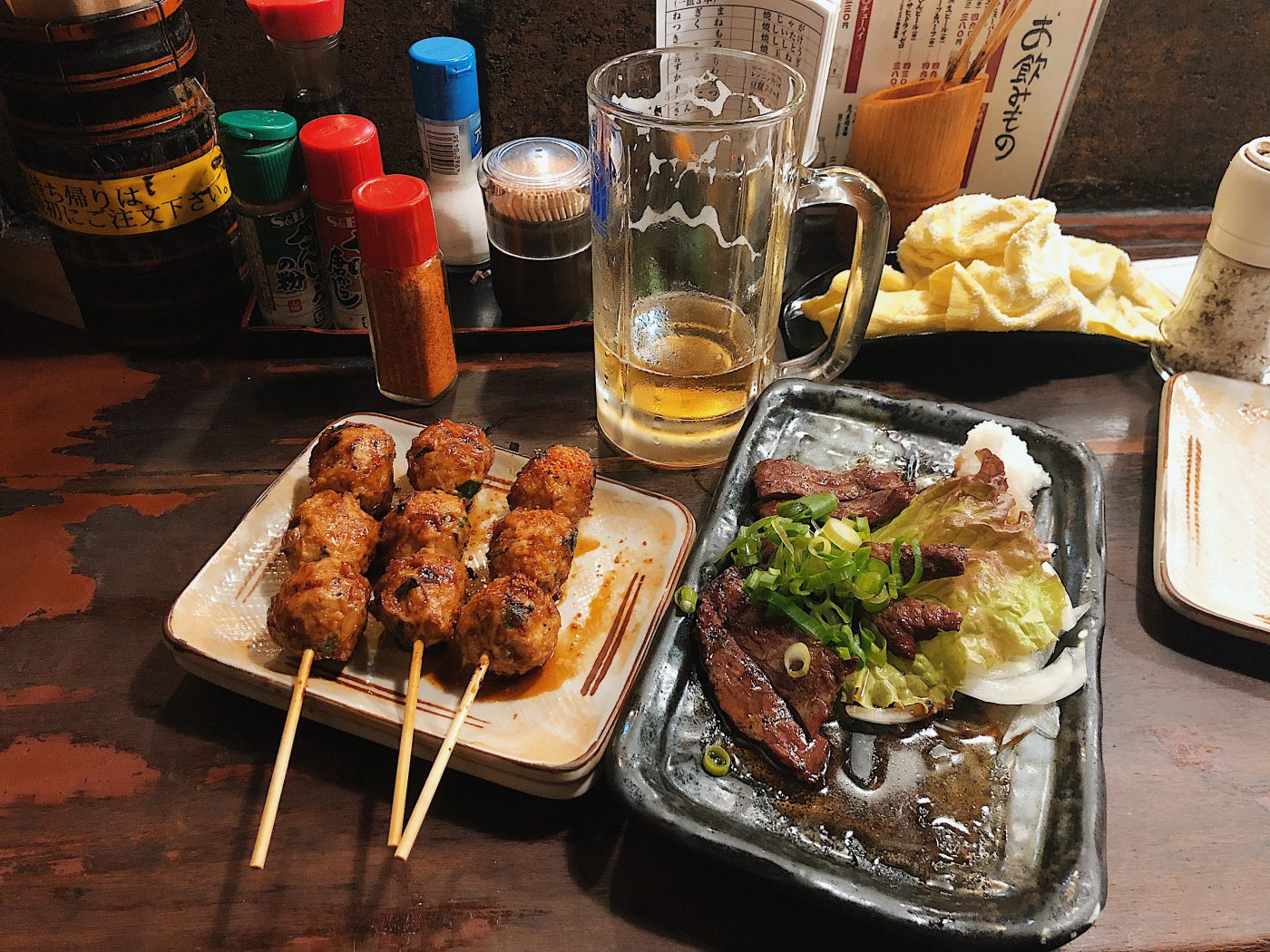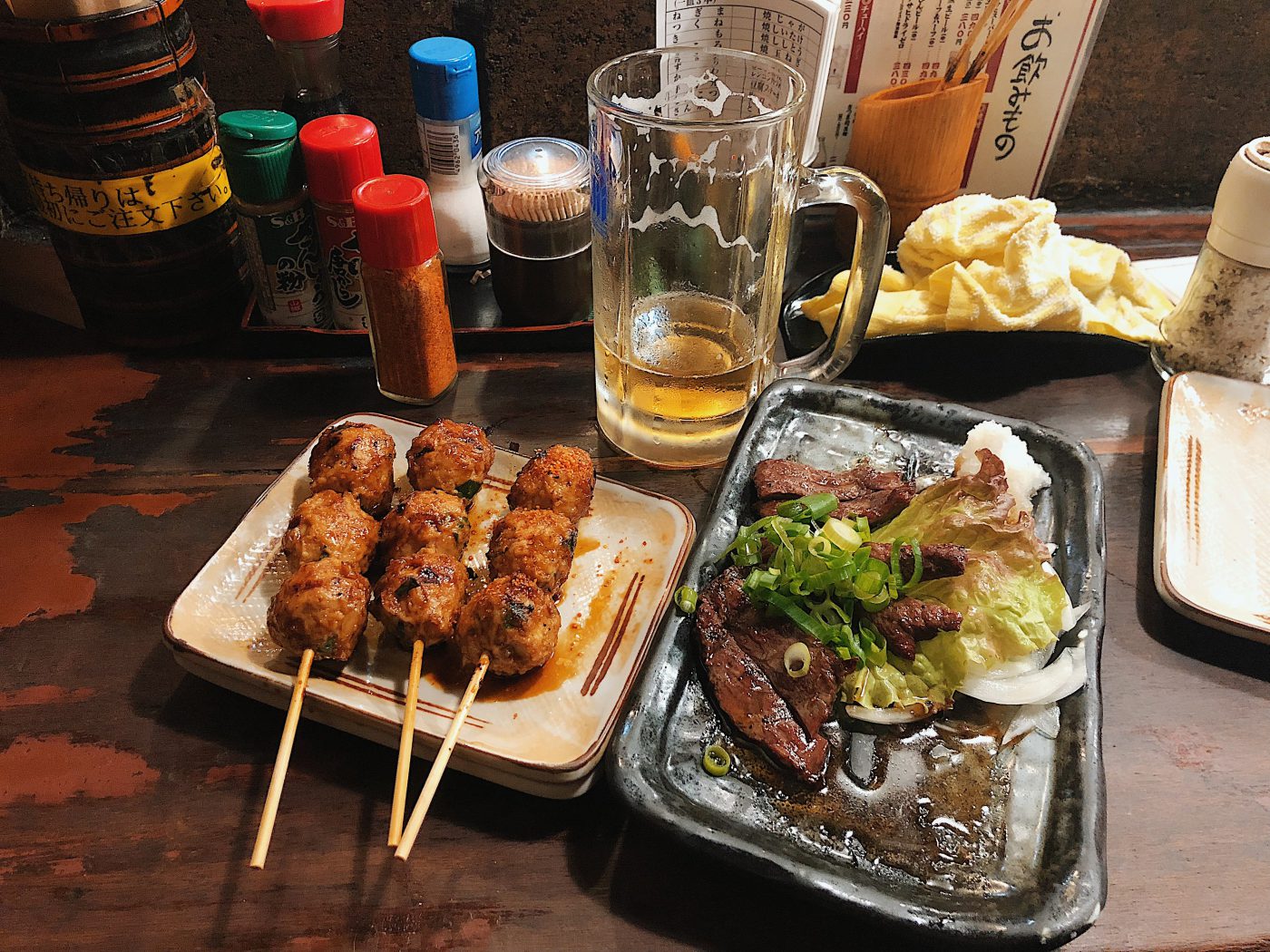 Visiting an Izakaya for some yakitori is a must when you're in Japan. There are tons of them near Namba station, on the south-west side. Izakaya is popular among corporate men and women as an after-work watering hole because they serve cheap small plates of various grilled skewers that go well with alcohol. My favorite is called Yakitori Nambatei, a small hole-in-wall restaurant where each plate costs 300-400 yen and comes with 3 skewers. I recommend having their draft beer as well!
Yakitori Nambatei
Nearest Station: Namba (Midosuji Line)
Direction: Google Maps
4. Naniwa Omurice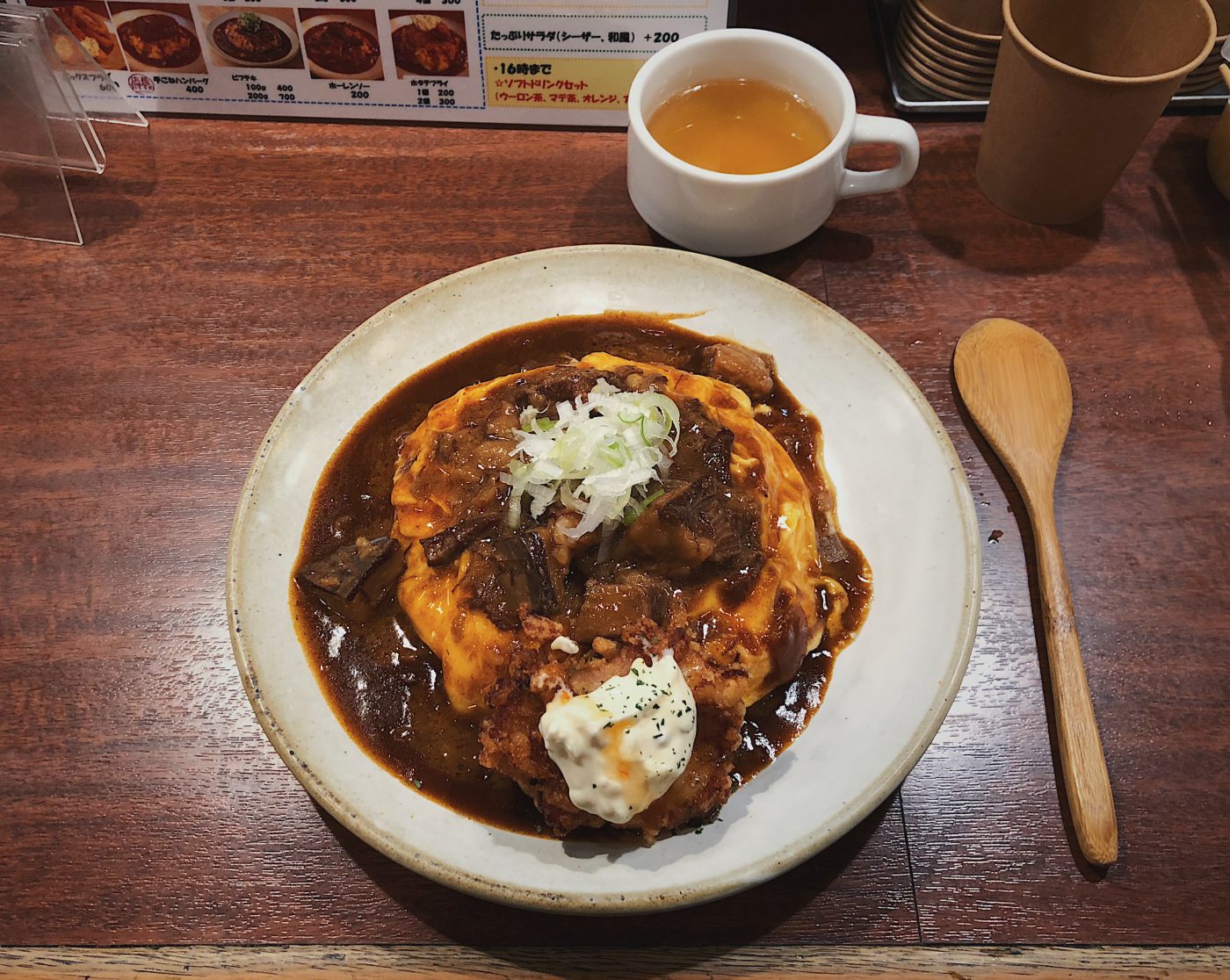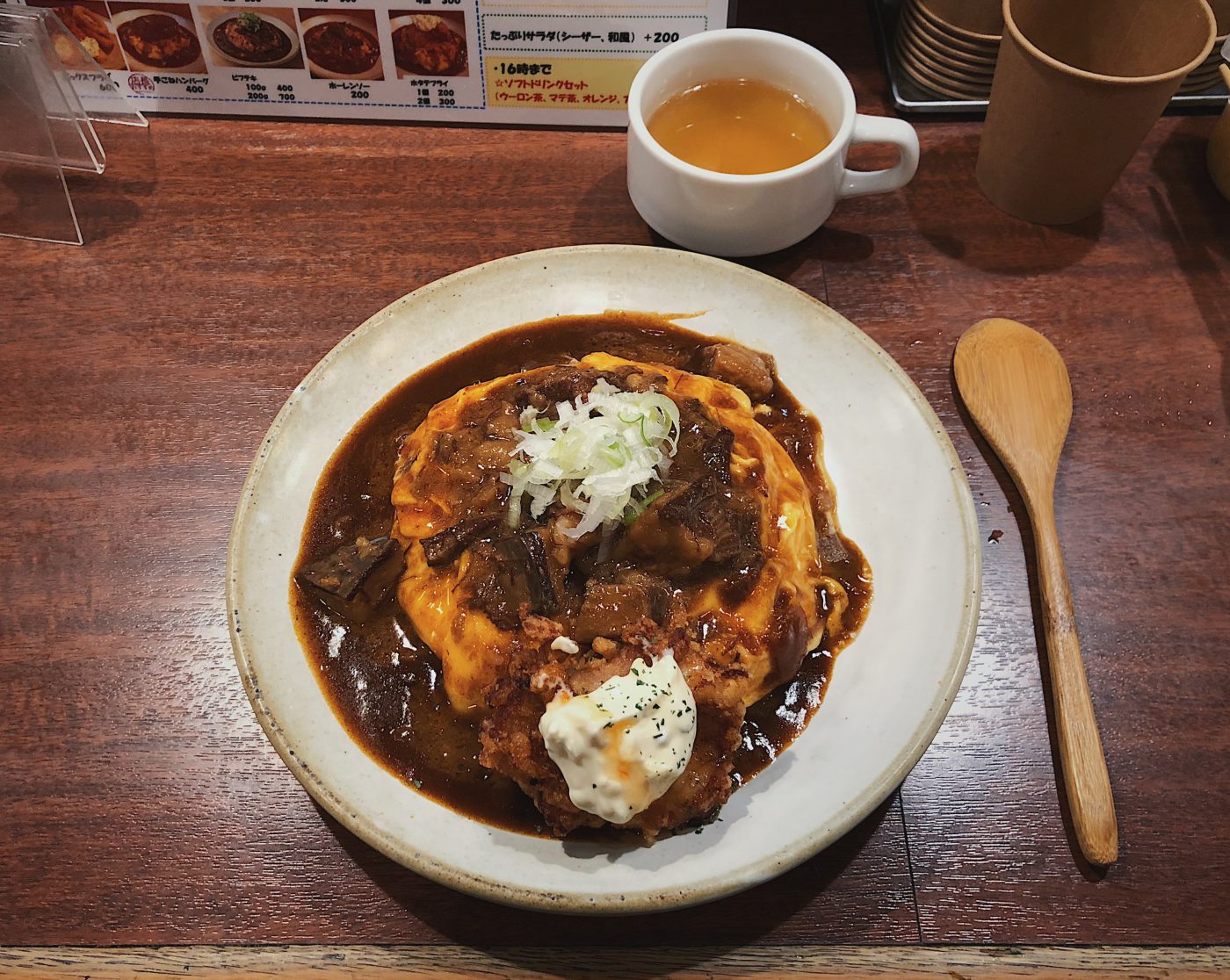 Trivia: "Naniwa" is the old name of Osaka from the 6th century. The earliest record of the city being referred to in Osaka dates back to 14th century.
In Japanese cuisine, there are plenty of occurrences of "japanized western food" aka yoshoku, where the Japanese have adopted western dishes and made it into their own. Omurice is a popular example of this and has become a staple comfort food for many Japanese households. It's usually made by a mother for their small children as it's fun to eat and tastes good.
Omurice can be served in tomato-based sauce, or demi-glace sauce (savory beef sauce). I prefer the latter. Naniwa Omurice serves both styles and you can add more toppings such as Kaarage (Japanese fried chicken), fried prawn, pork cutlet or cheese.
Naniwa Omurice
Nearest Station: Shinsaibashi (Midosuji)
Direction: Google Maps
5. Fishing Boat Restaurant Zauo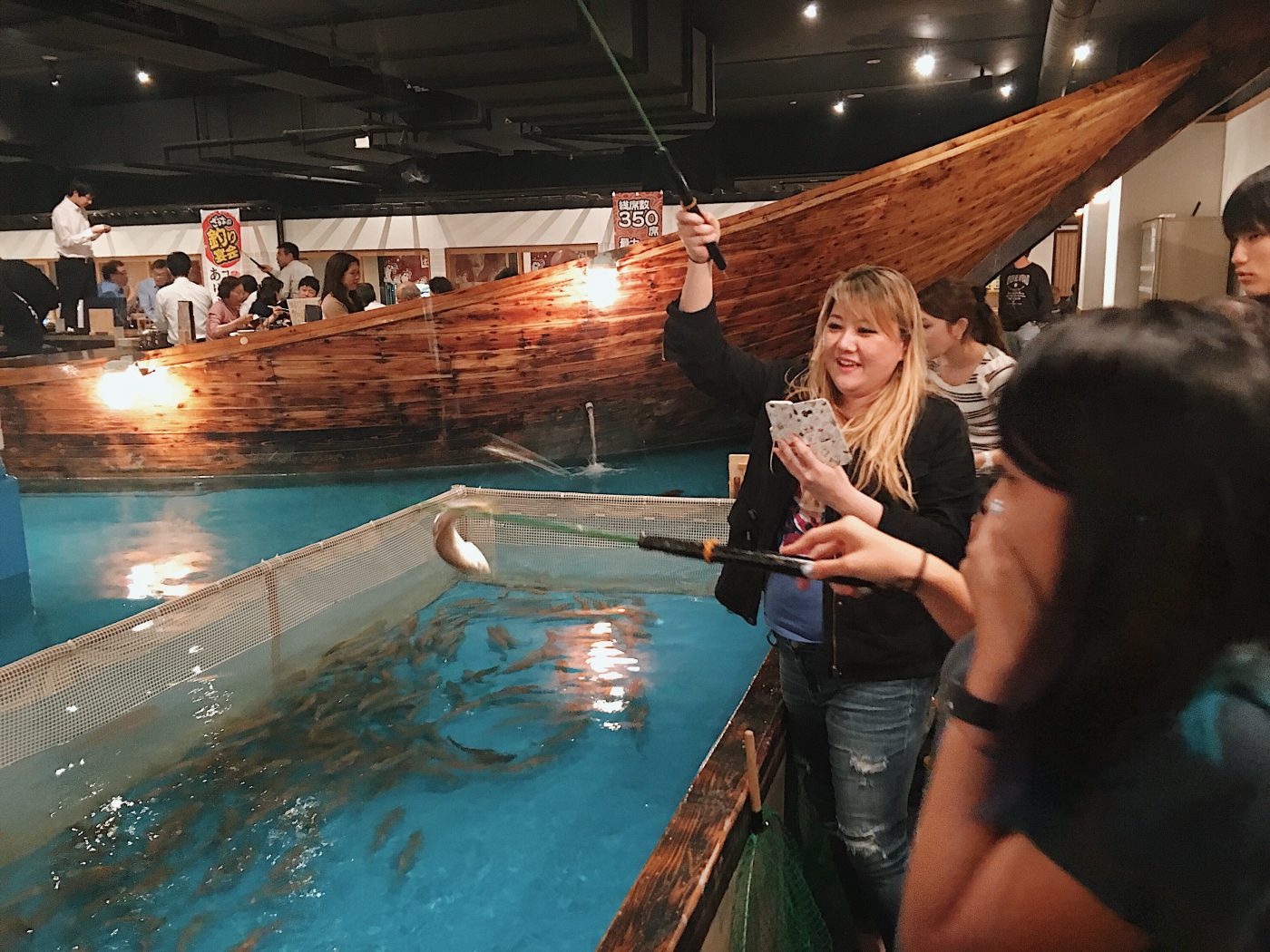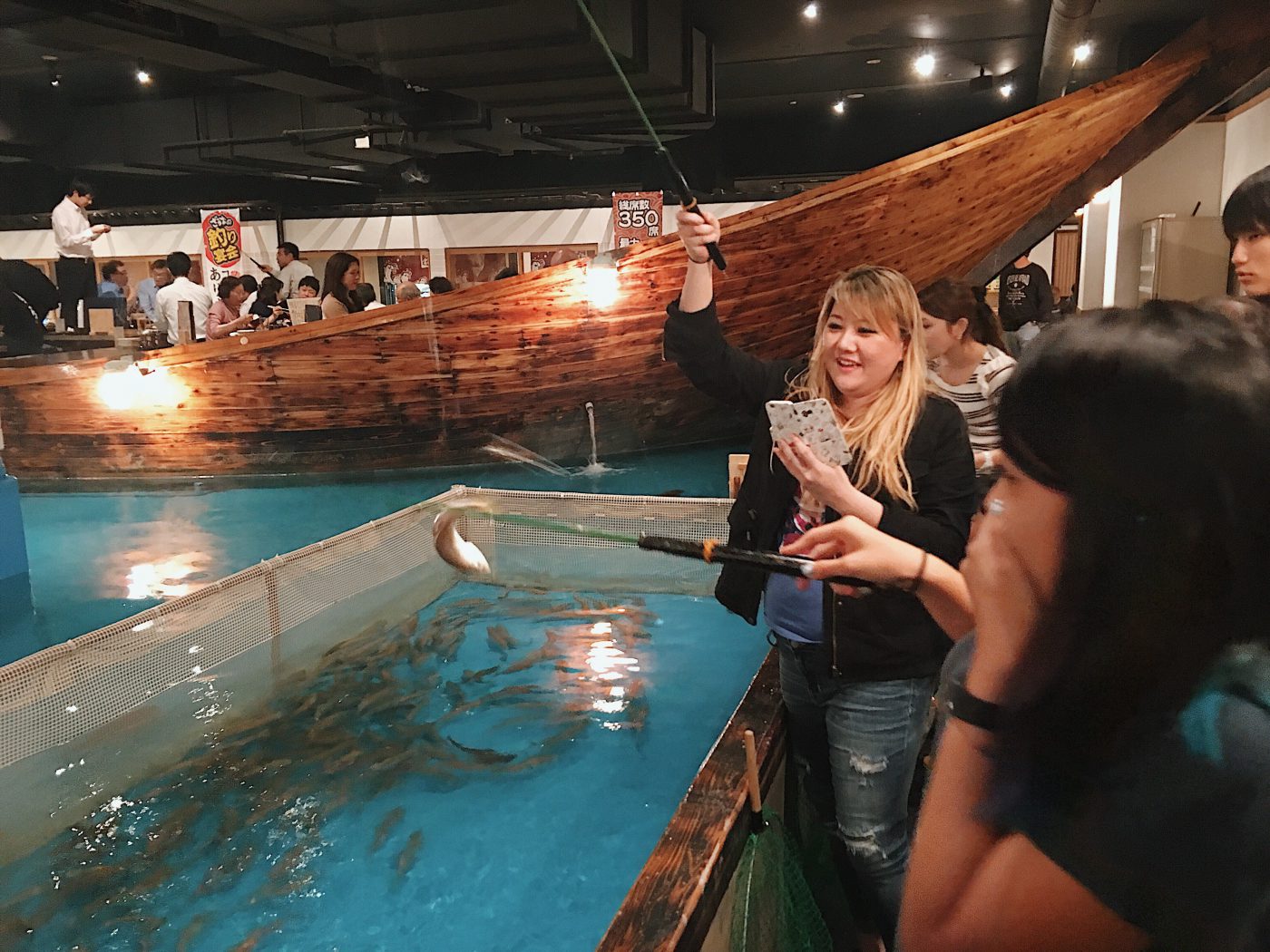 If you want a bit more drama with your dinner, try visiting Zauo at Namba. At this restaurant, you can catch your own fish and they will prepare them for you in any style you want. It's not for the faint of heart though – I for one couldn't bear to fish because I felt so bad for them… while fishing, you can really feel the hooks dragging against their scales and I just couldn't do it. So, I let my friends do the hard work and enjoyed the catch later 😡
Zauo Fishing Boat Restaurant
Nearest Station: Namba (Midosuji Line)
Direction: Google Maps
6. Zundouya Ramen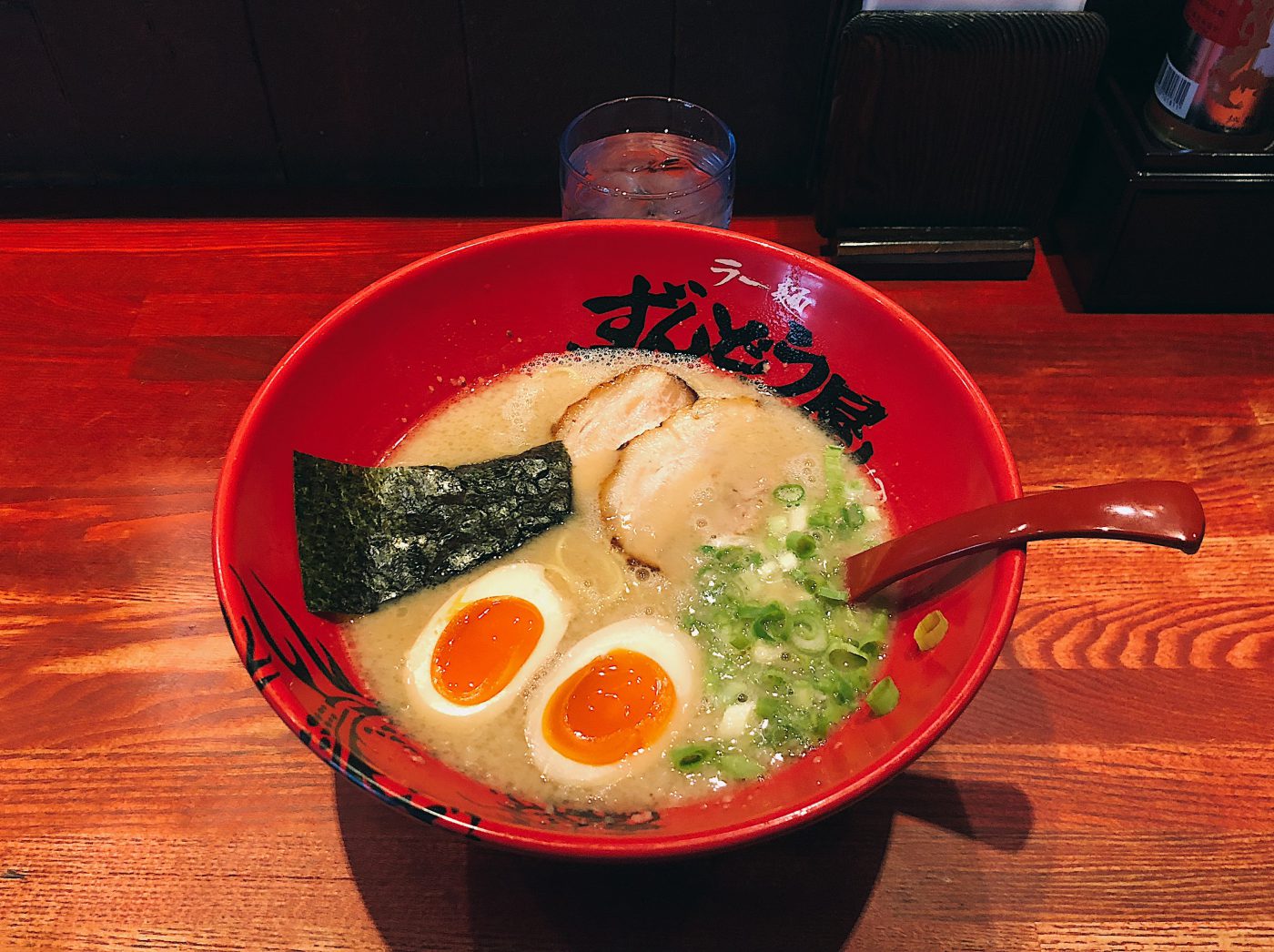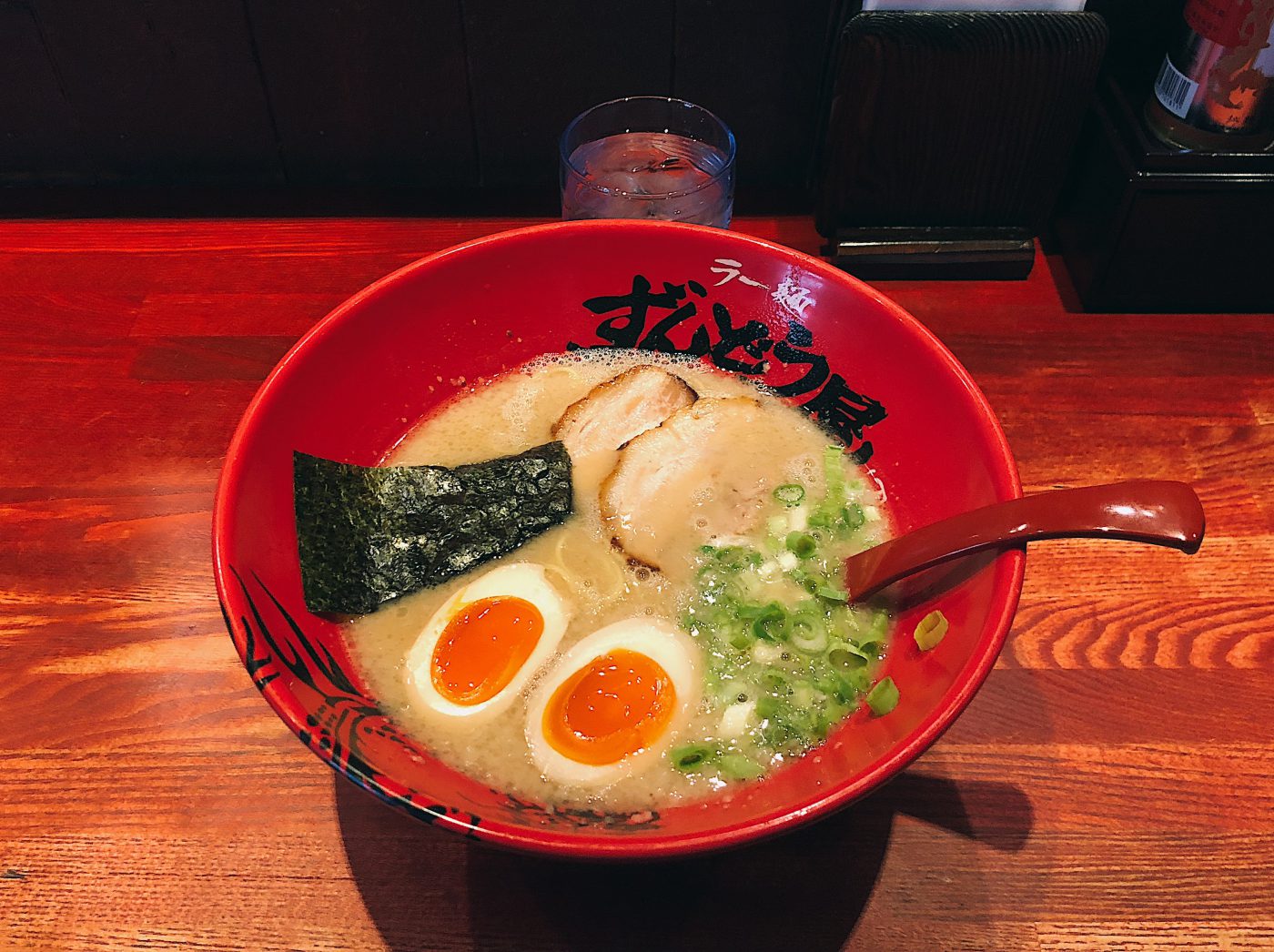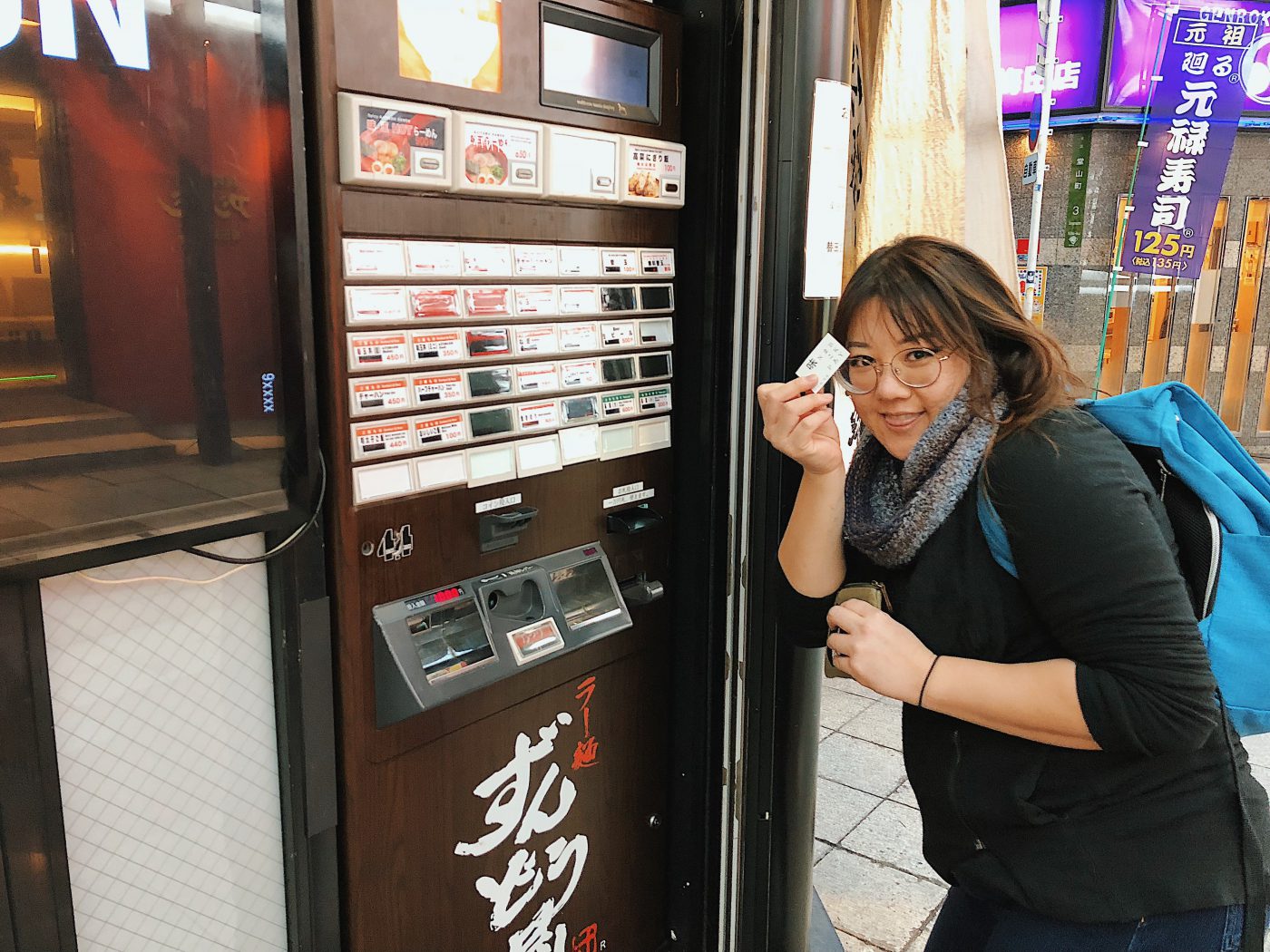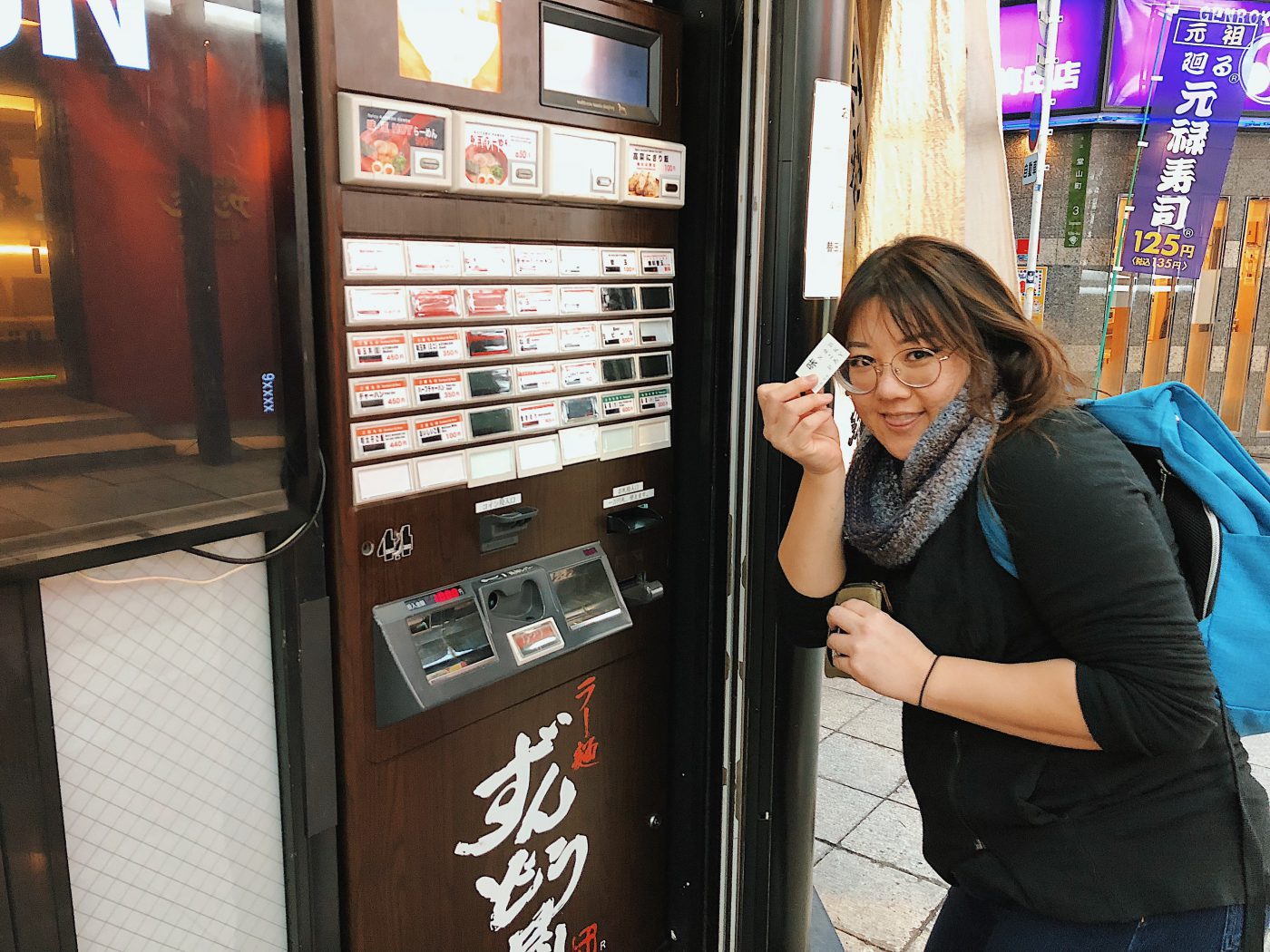 Zundouya Ramen specializes in Tonkotsu ramen, a type of ramen where the broth is made from boiling pork bone for hours until it turns white. It's originated from Fukuoka but you can enjoy it all over Japan these days. Zundouya is one of those ramen shop where you order outside the shop at a vending machine, then bring the voucher in and they'll make your order for you. You can customize the noodles (curly or straight), the done-ness of the noodles (al dente, regular or soft) and the intensity of the broth (light, regular, or strong/fatty).
There are a few locations in Osaka but the one I went to is near Umeda / Osaka Station.
Zundouya Ramen
Nearest Station: Umeda
Direction: Google Maps
Alright, folks! That's all from me about traveling in Osaka. Let me know in the comment below what you think and if there is anything else you want to know. I'll be happy to answer your question as best as I can.
Til next time 👋
Are you planning a trip to Japan? I've written loads about the beautiful country. Check out the 'Japan' category of this blog for some travel inspiration.