My love affair with South Korean food started way, way back. As a teenager, I grew up in a community dominated by South Korean immigrants in California. Many of my high school friends were either immigrants from South Korea or descendants of one.
When I got to college, my roommates were both South Koreans by chance. They loved going for a meal in LA's Korea town or cooking meals at home, and they have always included me! It was from hanging out with them that I became very well-versed in South Korean cuisine.
So you can just imagine my excitement when I finally got to visit Seoul! I felt like I was truly on a pilgrimage to food heaven.
General Travel Tips on visiting Seoul
Seoul (and South Korea in general) is a very safe and tourist-friendly country. On my first visit to South Korea, I went to Seoul by myself and I had no issues at all! Here are some tips that would make your trip as easy as mine:
Visa Waiver – If you qualify for a visa waiver to enter South Korea, you MUST apply for K-ETA at least 72 hours prior to your arrival. This is a new procedure from November 2021. Otherwise, you would be denied boarding your flight.
T-Money Card – When you first arrive at the Incheon airport, buy the T-money card – this is the transport card that you can use for the subway system in Seoul, as well as their buses. It allows you to use the tap in – tap out system so you don't need to buy a ticket each time you take the train or bus. A single journey costs 2,700 won, and you can keep reloading the T-money card as you need.
1. Public Transport in Seoul – Public transportation is great in Seoul. The train system is efficient – you can expect to not wait longer than 5 minutes for a train. During my visit, I hardly ever had to use the bus, but when I did, I only waited for about 10 minutes max.
2. Airport Express Train – Get to the city from Incheon Airport by AREX (Airport Express Train), which runs to Seoul station. You cannot use T-money for the express train portion, you have to buy the AREX portion separately. But once you get to / out of Seoul station, you can use the T-money card again. You can purchase the AREX tickets here via Klook.
What is Klook? Klook is the leading travel and experiences booking website in Asia. And yes, they are legit! I personally always book my activities through them whenever I am traveling. See my review of Klook here.
There is also an option to take the slow regular train using T-money for half the price of AREX, but I can't recommend it since the price difference is not much.
3. Taxis and Car Sharing – Taxi is safe to use in Seoul, and you can just hail off the street. Car sharing app like Uber is not legal, so you cannot use it here. Personally, I found the public transport to be sufficient enough that I did not have to use a taxi much while I was in Seoul.
4. SIM Card – As with any other travel, it would also be handy to have an internet connection at all times, so I recommend getting a prepaid local SIM card which can be picked up as soon as you land in the airport.
5. Google Translate – If you don't speak Korean, download Google Translate and pre-download the Korean language pack so you can translate stuff on the go. Locals will be nice and try to be helpful, but most do not speak English and a translation app can go a long way. Many stores in Myeongdong can accommodate Mandarin though! I suspect this is due to the influx of tourism from mainland China, especially in the beauty sector.
6. Maps – Google Maps is surprisingly not the best app in Seoul. This is because Google stores their data on foreign servers, and given the security threat from the North, South Koreans have been very protective of their data. It still works as GPS and major subways, but you probably won't be able to get good direction from it. You can use Kakao Maps instead.
Without further ado, here is a round-up of traditional South Korean meals I've grown to love over the years.
1. Spicy Korean Ramyeon (라면)
Ramyeon is the Korean version of ramen, and it is usually spicy with dark red broth. It is such an excellent comfort food when the weather is getting cold outside.
The best way to enjoy Ramyeon? Topped with Processed Cheese! Stay with me here – I know, this sounds weird. I was skeptical when I first heard about it too, but I discovered that cheese and Ramyeon actually work REALLY well together! In South Korea, as well as among Korean-American immigrants, it's a common practice to serve a bowl of piping hot Ramyeon with a slice of cheese. And it can't just be any cheese, it has to be cheap processed cheese, like Kraft singles.
The processed cheese would melt and blend with the spicy soup, which gives the dish a slightly creamy texture. The cheese also helps to tone down the heat a little bit. Think of it like… a spicy mac and cheese.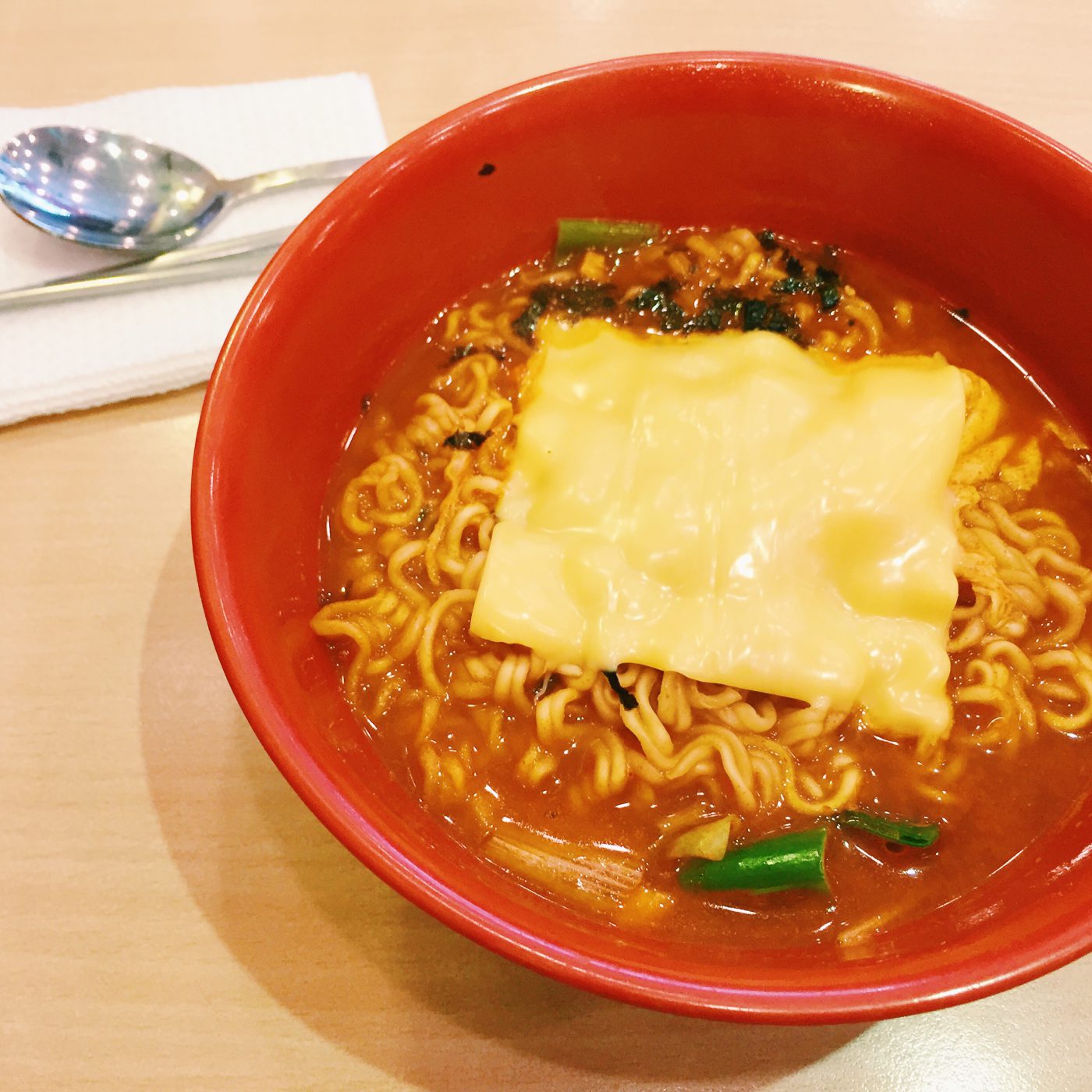 The best part? you can easily make this at home. Get yourself a packet of instant Korean Ramyun (I personally love the Nong Shim or Jin Ramyun brand) and put kraft singles right before serving. Add Kimchi if you like, and voila! You've got yourself a delicious meal.
Where to eat Ramyeon in Seoul
2. Korean Stuffed Rice Roll (Kimbap – 김밥)
Wanna know the first thing I did when I landed in Seoul? I looked for Kimbap. Kimbap is a traditional and very comforting Korean snack – its appearance is very similar to maki roll you can find in Japanese food, but it is very different in taste. Kimbap is seasoned white rice stuffed with cooked meat and vegetables, rolled on dried seaweed with a thin layer of sesame oil pasted on the outside of it.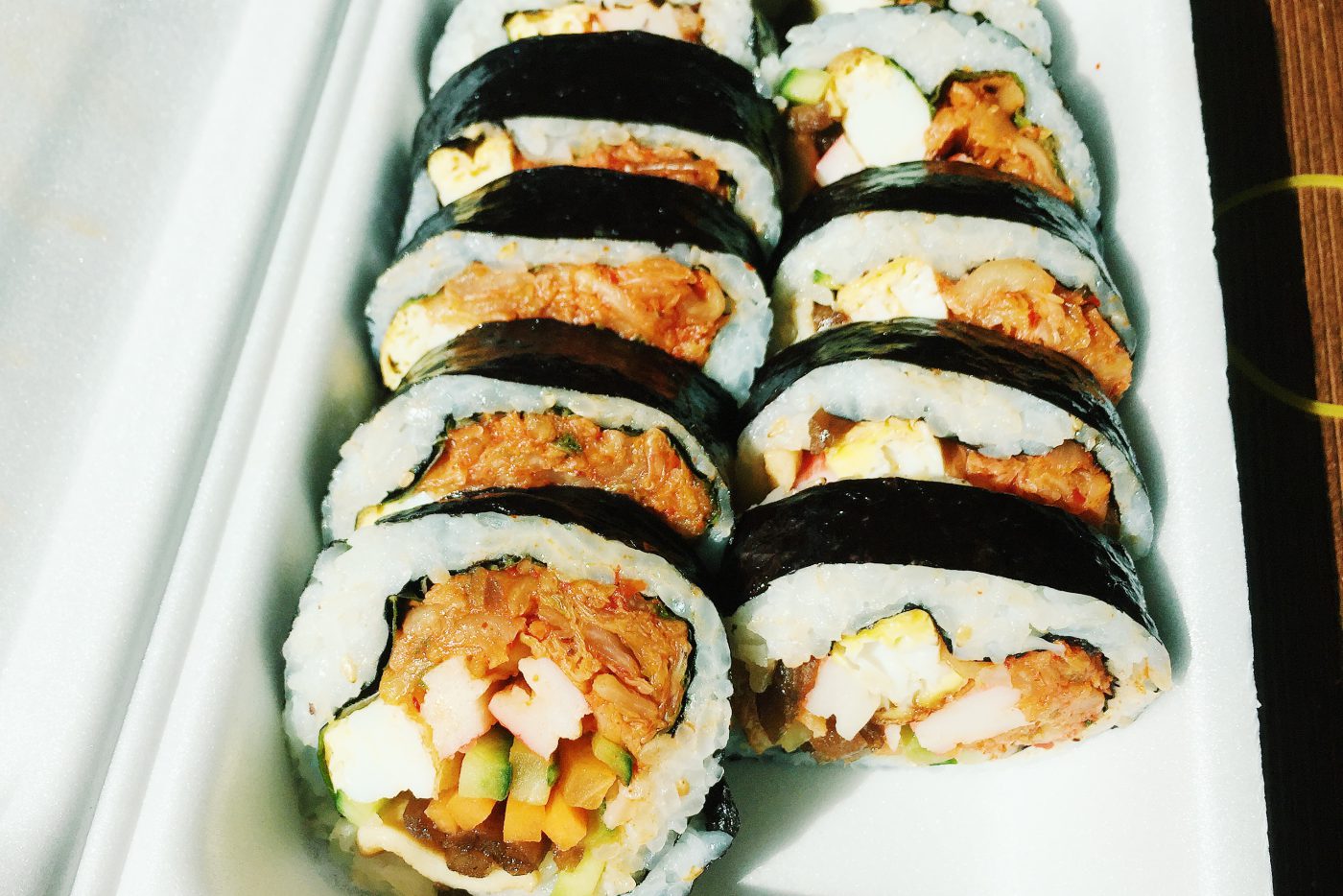 So yes, it looks like Maki rolls from Japan, but the taste is totally different than the Japanese Maki. For one, all the ingredients in Kimbap are fully cooked. There is also a hint of sesame oil in the ingredients, making the taste stronger than Japanese Sushi rolls.
And it's delicious, of course.
Where to eat Gimbap in Seoul
3. Korean Savory Pancake (Pajeon – 파전)
These are. SO. good!
Pajeon uses rice flour, which gives it a more dense and "bouncy" (or chewy) yet crispy texture than the pancakes you know from Western cooking.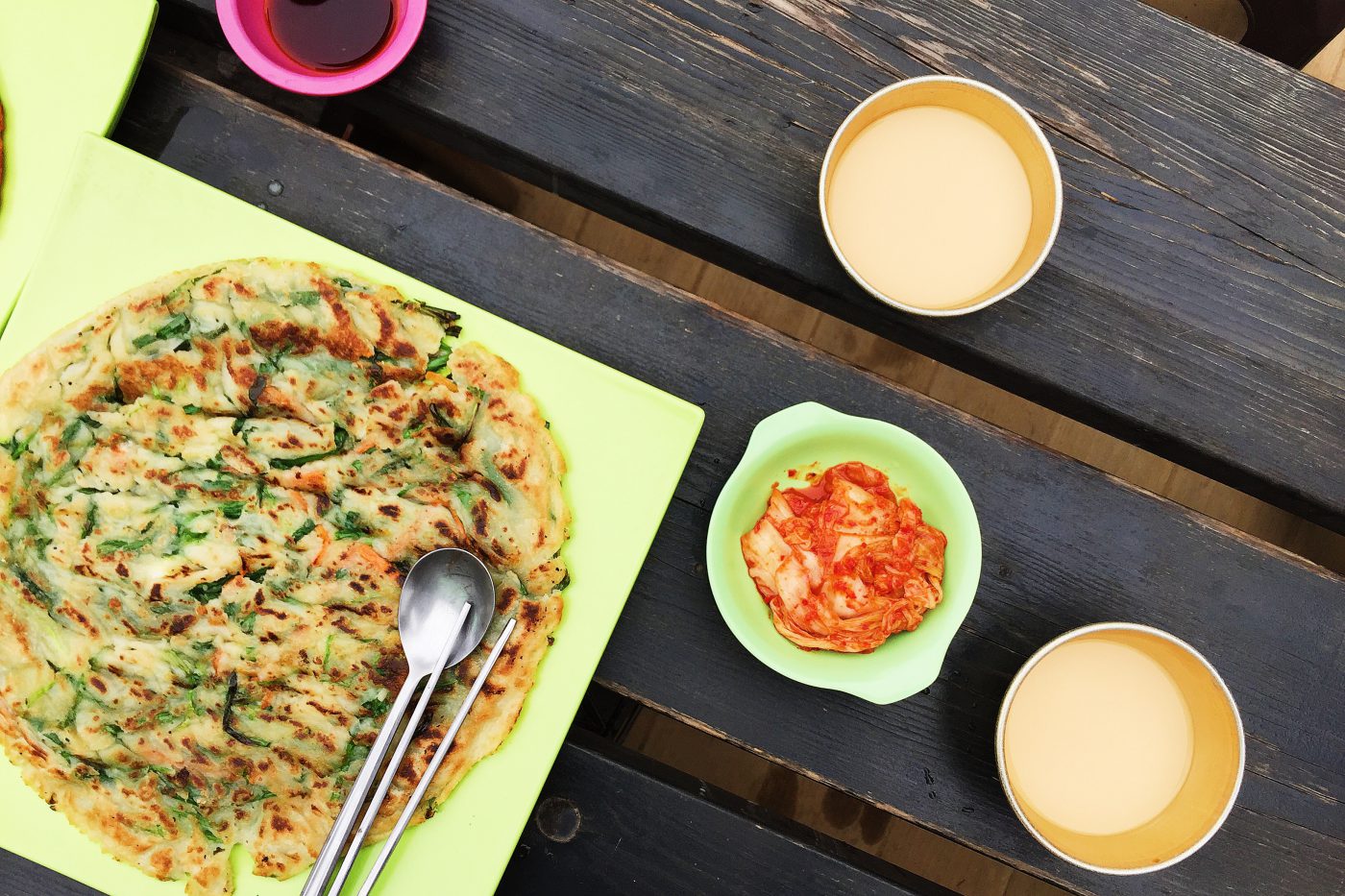 There are usually two kinds of Pajeon – Green Onion Pajeon or Seafood Pajeon. Pajeon is usually served pre-sliced into little squares, which you can easily pick up with your chopstick and dip in the light soy sauce that comes served with it. And, a side of Kimchi is a must to fully enjoy this dish.
Where to eat Pajeon in Seoul
4. Korean Soup
I love soup and there is definitely no shortage of hot soup in Korean cuisine, which is why it's one of my favorites. Korean soups are not bland. They are packed with flavor, very nutritious, and comforting.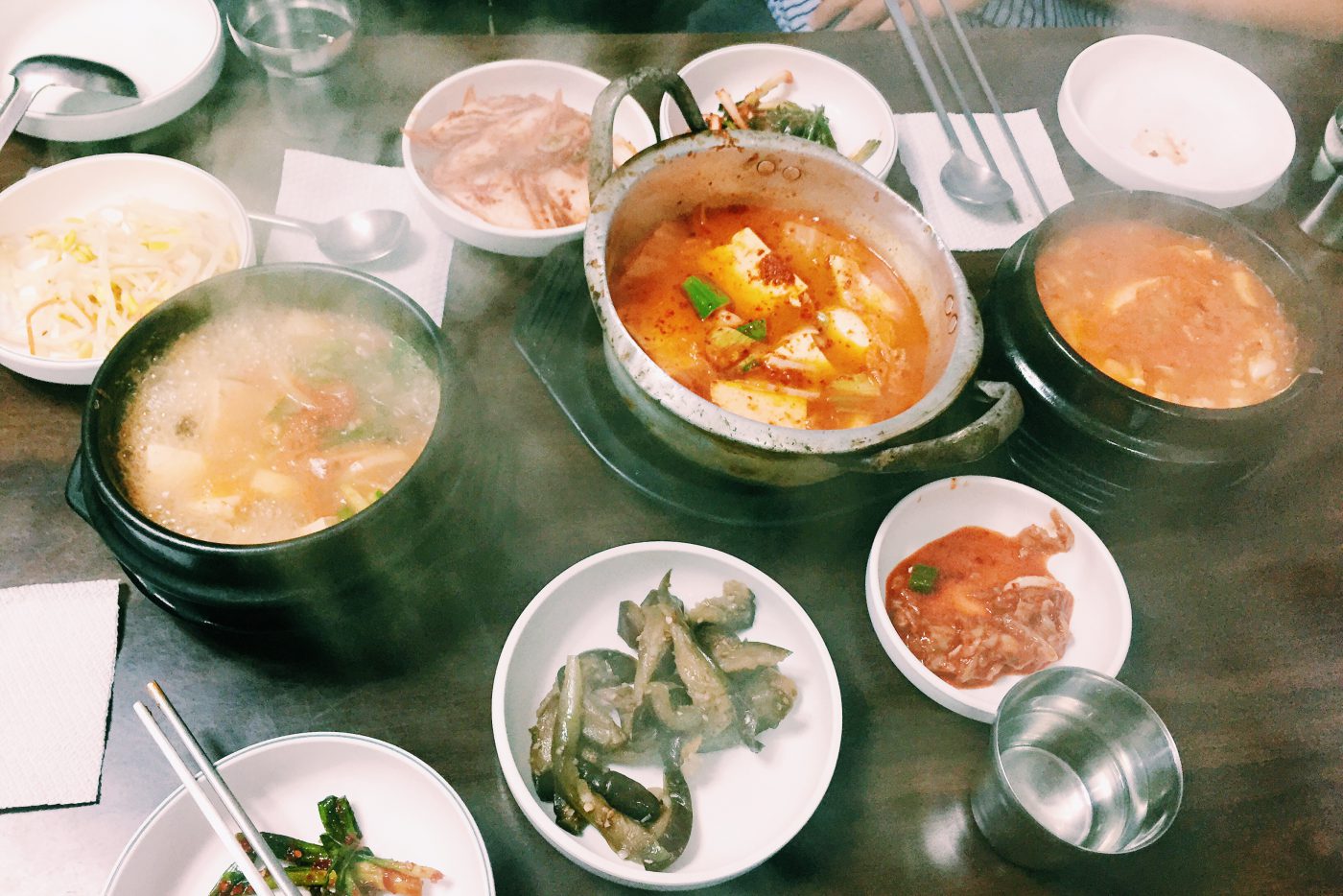 The ones pictured above are some of the most popular types of soup – From left to right:
Doenjang-jjigae (된장찌개) – Stew made of Korean soybean paste.
Kimchi-jjigae (김치찌개) – Stew soup made from Kimchi-base, vegetables, and sliced tofu.
Sundubu (순두부) – Spicy soft tofu soup, my personal favorite! It's usually served still boiling and with a raw egg on the side, so you can crack it into the soup and let it cook.
Where to eat Korean Soup in Seoul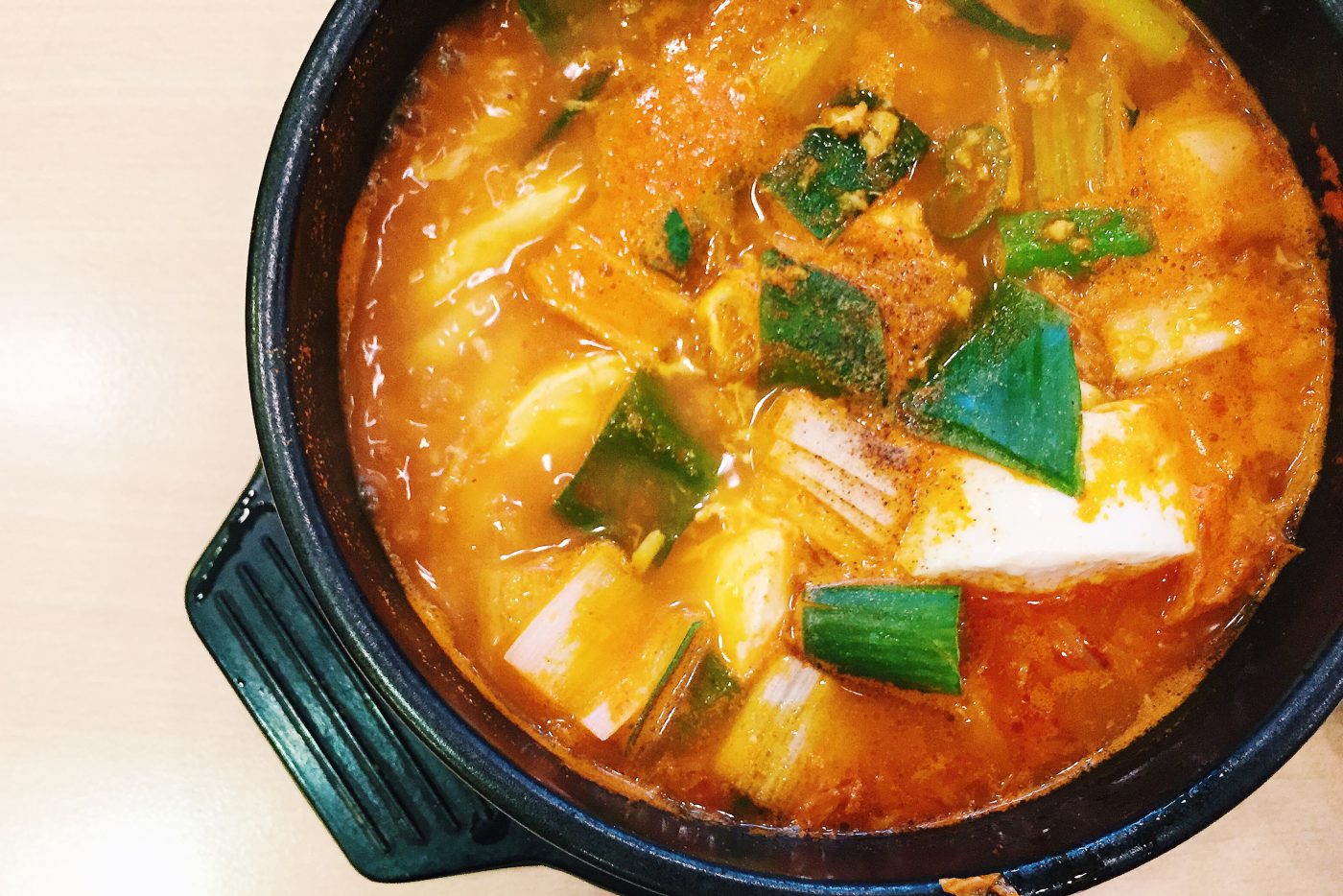 5. Korean Street Food
Given the theme of my Instagram, I don't think I need to explain how much I love street food. Thankfully there is an abundance of it in South Korea. Go to any popular hangout area in Seoul and you're bound to find street food vendors lining up.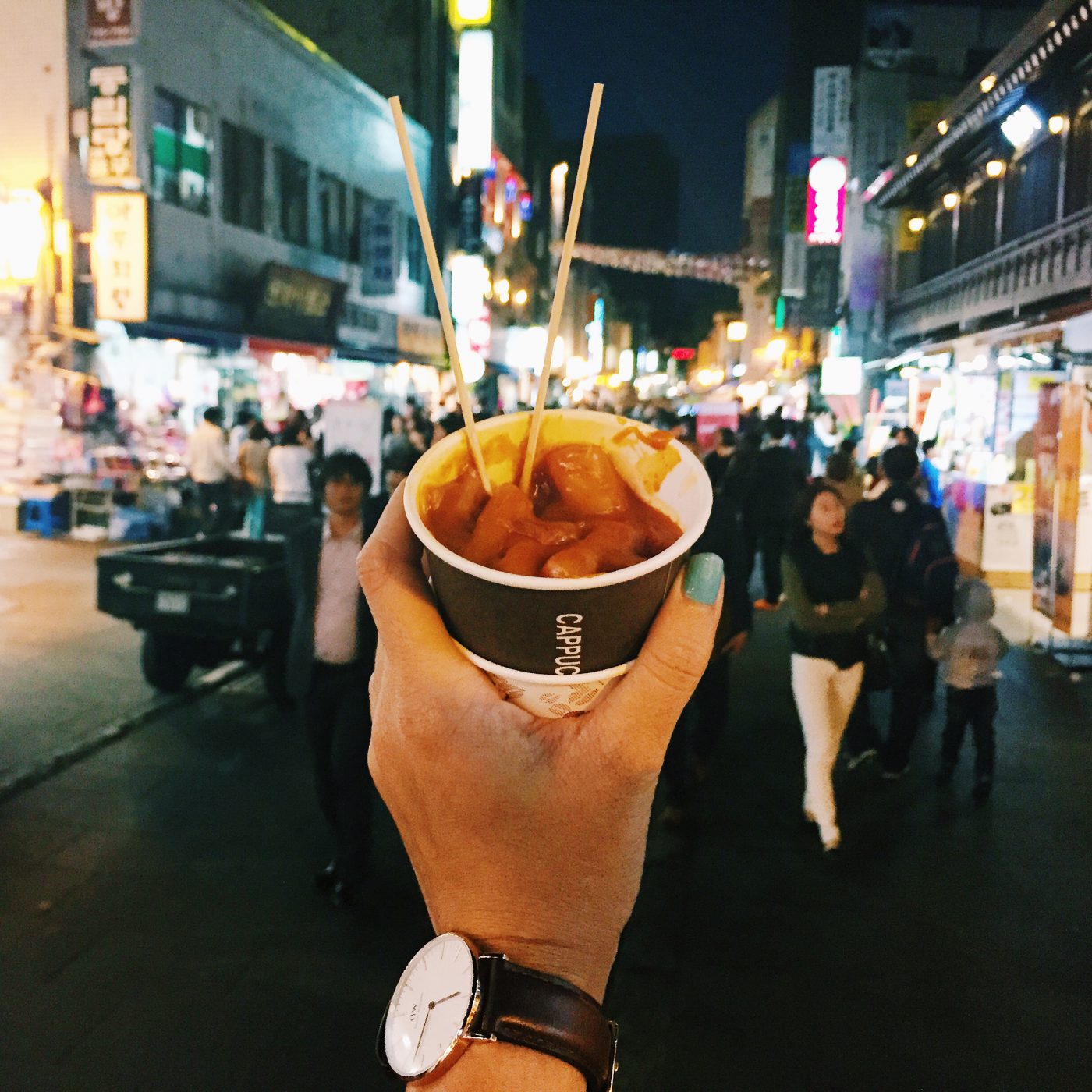 My personal favorites are:
Spicy Rice Cake (Tteokbokki) – a staple to the Korean street food scene and is a common menu item in restaurants as well, these are literally just boiled rice cakes served in gochujang chili sauce. Sounds simple, but it makes for a comforting snack, especially in the cold winter weather.
Korean Pancake with Brown Sugar filling (Hotteok) – if you can find this, make sure you get them fresh off the fryer. That first bite into a Hotteok, where the brown sugar filling melts into your mouth is one of the best memories I had from Seoul.
Where to eat korean street food in Seoul
Myeongdong Main Street
Insadong Main Street
Hongdae
6. Korean Barbecue (고기구이)
Who doesn't love Korean BBQ? Seriously!
Although Korean BBQ establishments are easy to come across these days, the concept of meat consumption is relatively new to South Koreans. In the past, meat was expensive and viewed as a luxury item, so it was only in the 20th century that Koreans started eating more meat, which led to the popularization of Korean BBQ.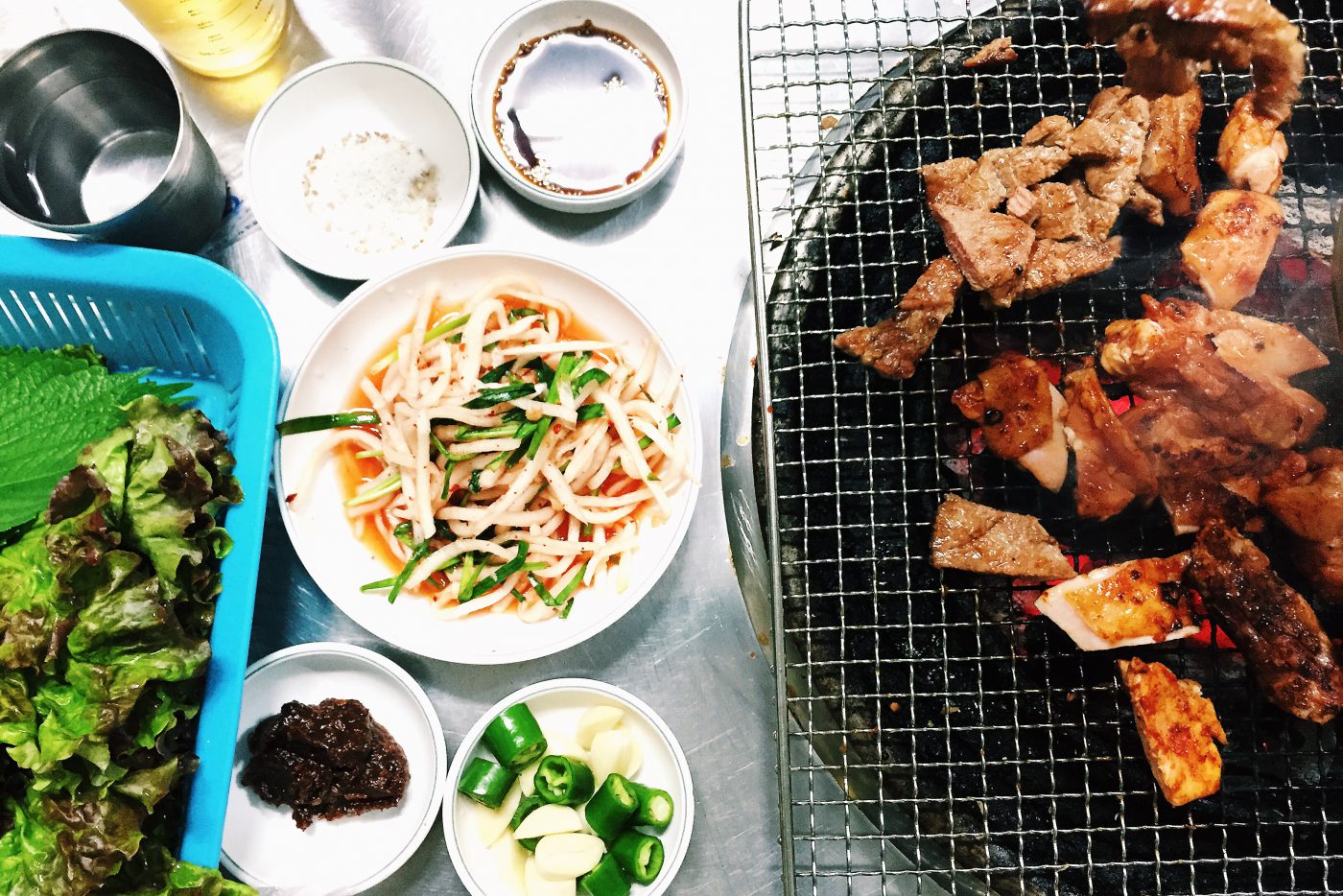 The concept of Korean BBQ thrived mostly overseas. In the 1980s many South Koreans immigrated to the United States, and many of them ended up settling down in Los Angeles. They brought with them the concept of Korean BBQ, which has now flourished throughout the country.
One of the most popular items in a Korean BBQ is "Galbi" aka BBQ Ribs, and there's a variation of it called "LA Galbi" which is cut thinner than the original Galbi. And yep, you guessed it – LA Galbi was invented by Korean immigrants who lived in Los Angeles.
The way to eat Korean BBQ is to grill the meat yourself (or sometimes the waiter will assist you) to the desired doneness. Once done, you can then cut the meat into little pieces using scissors and put the meat on a piece of lettuce. Add raw garlic, green chili, a bit of Gochujang (Korean chili paste), and sesame oil, wrap it all in lettuce, and then… pop the entire thing in your mouth!
So good. The fresh crunchy lettuce pairs really well with the juicy meat. Also, you eat less carb this way and that's healthy right?! (Don't tell me otherwise)
I once told my friend that if I had to choose, my choice of last meal would be a Korean BBQ feast. And I still stand by that choice to this day.
Where to eat Korean Barbecue in Seoul
7. Dak Galbi (닭갈비)
Aside of the grilled beef and pork belly, there is also a South Korean dish that calls for chicken, rice cakes, and vegetables stir-fried with Gochujang (Korean chili paste) in a huge pan and eaten communally on the table. It's called Dak Galbi, a local specialty of Chuncheon, but you'll see this in other parts of South Korea as well. (A little Korean trivia for you: "dak" means chicken!)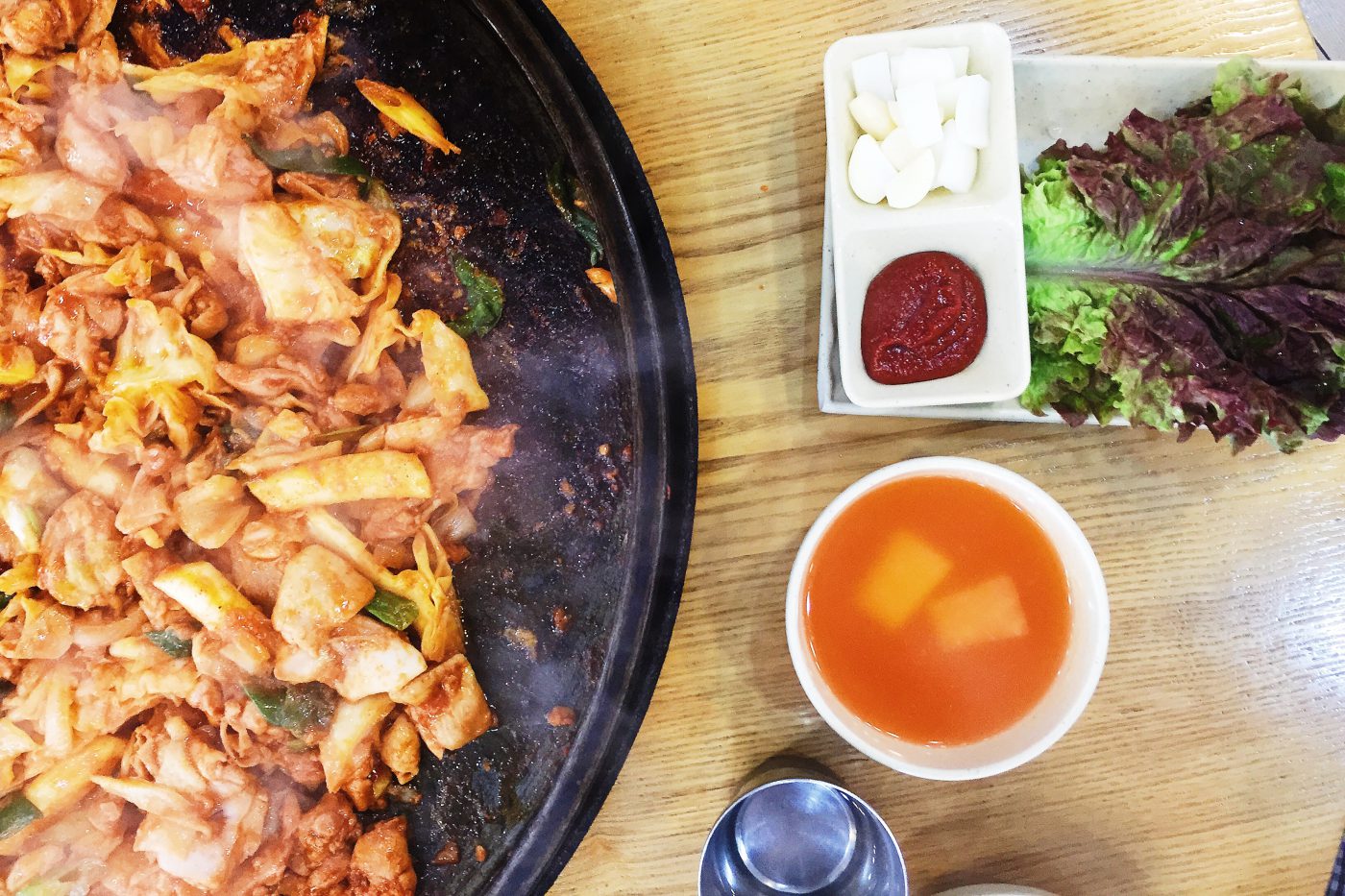 Where to eat Dak Galbi in Seoul
8. Beer and Korean Fried Chicken (Chimaek – 치맥)
Humankind had been drinking beer for a very long time. Likewise, humankind had been deep frying chicken and consuming them for a very long time as well. Somewhere along the way, some very smart Koreans figured out that fried chicken and beer goes really, really well together and made this an actual drinking tradition.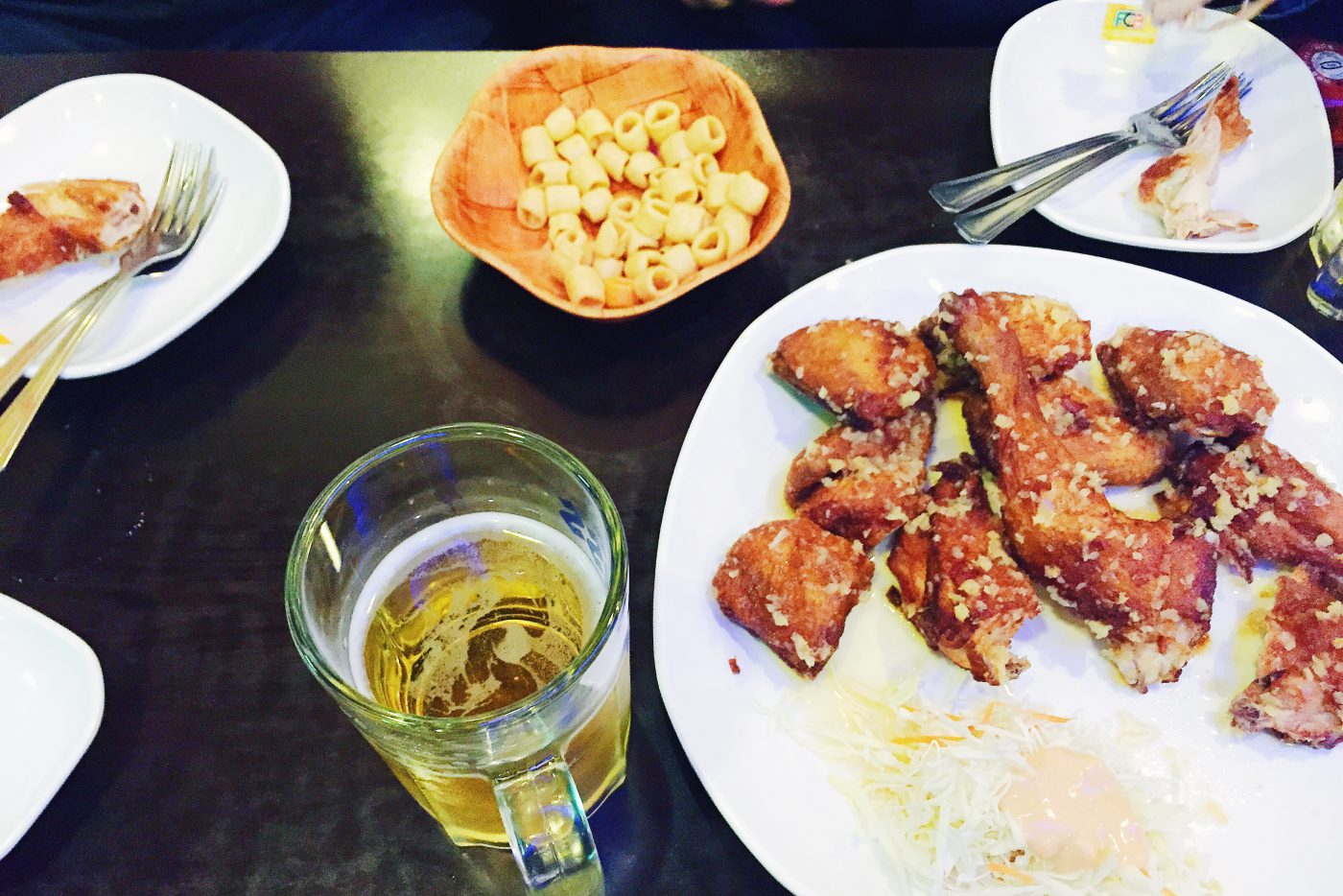 The name is 'Chimaek' is a combination of 'chicken' and 'maekju', which means 'beer' in Korean. Chimaek fits right into the Korean drinking culture (they drink A LOT) and became a popular food item to have delivered. You can even have it delivered to a park if you happen to be out picnic-ing with your friends! So smart.
9. Korean Sparkling Rice Wine (Makgeolli – 막걸리)
Everyone knows soju, but do they know Makgeolli? This rice wine is so light and sweet tasting. Easy to drink, but still quite potent – making it a dangerous beverage to drink if you are a lightweight. I personally can't get enough of Makgeolli. Too bad it gives me the worst hangover the next day.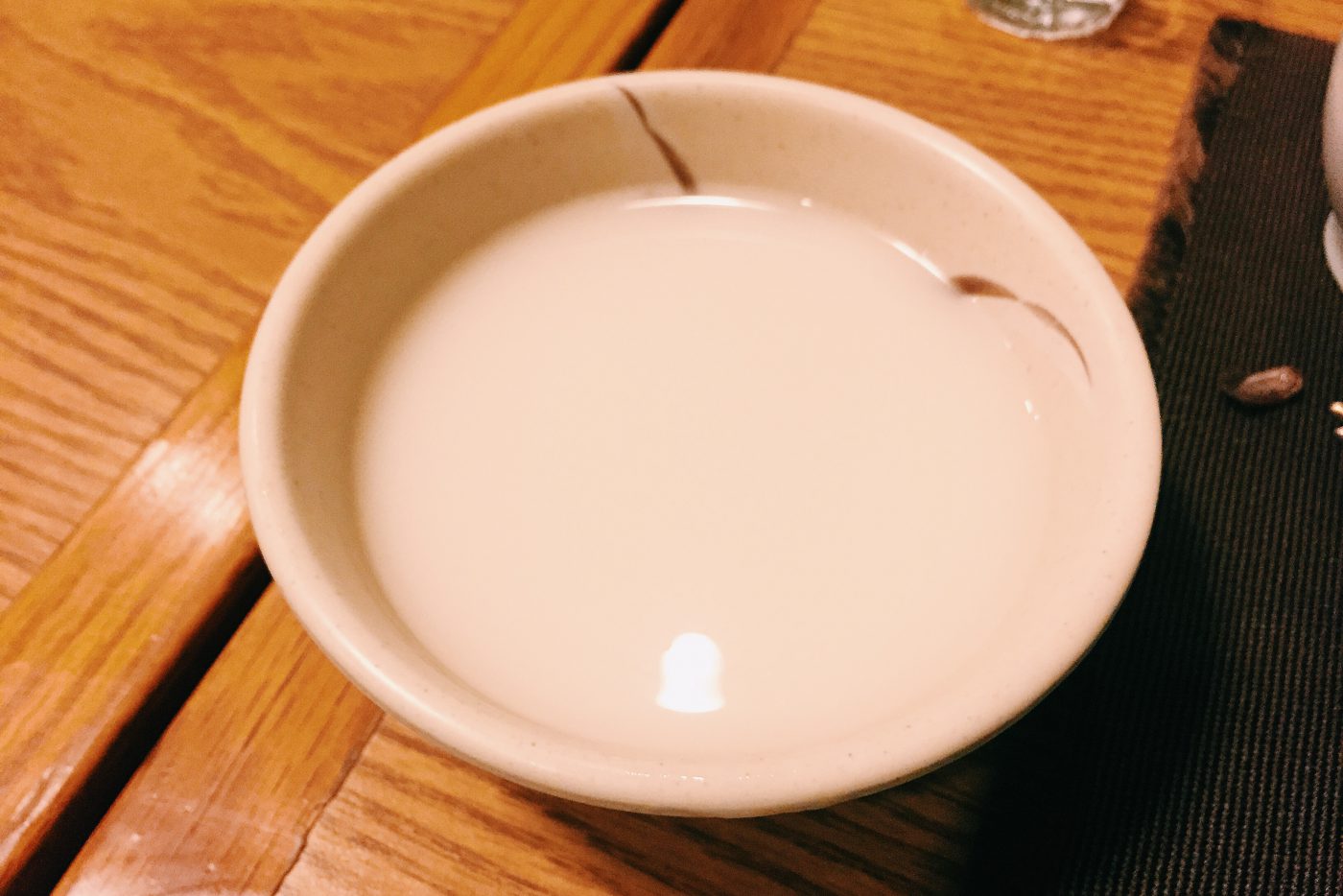 Where to find Makgeolli in Seoul
Any Korean restaurant, convenience store or grocery stores
10. Korean Shaved Ice (Patbingsu – 팥빙수)
Shaved ice is not a unique thing, but in South Korea, they just seem to taste so much better. In Patbingsoo, the ice used is not just any plain shaved ice made from water, it's actually made from milk!
The ice is shaved so thin that it feels like you are eating milk-flavored (clean) snow. Usually, Patbingsoo is served with red beans and rice cake as pictured above, or powdered sesame seeds and rice cake.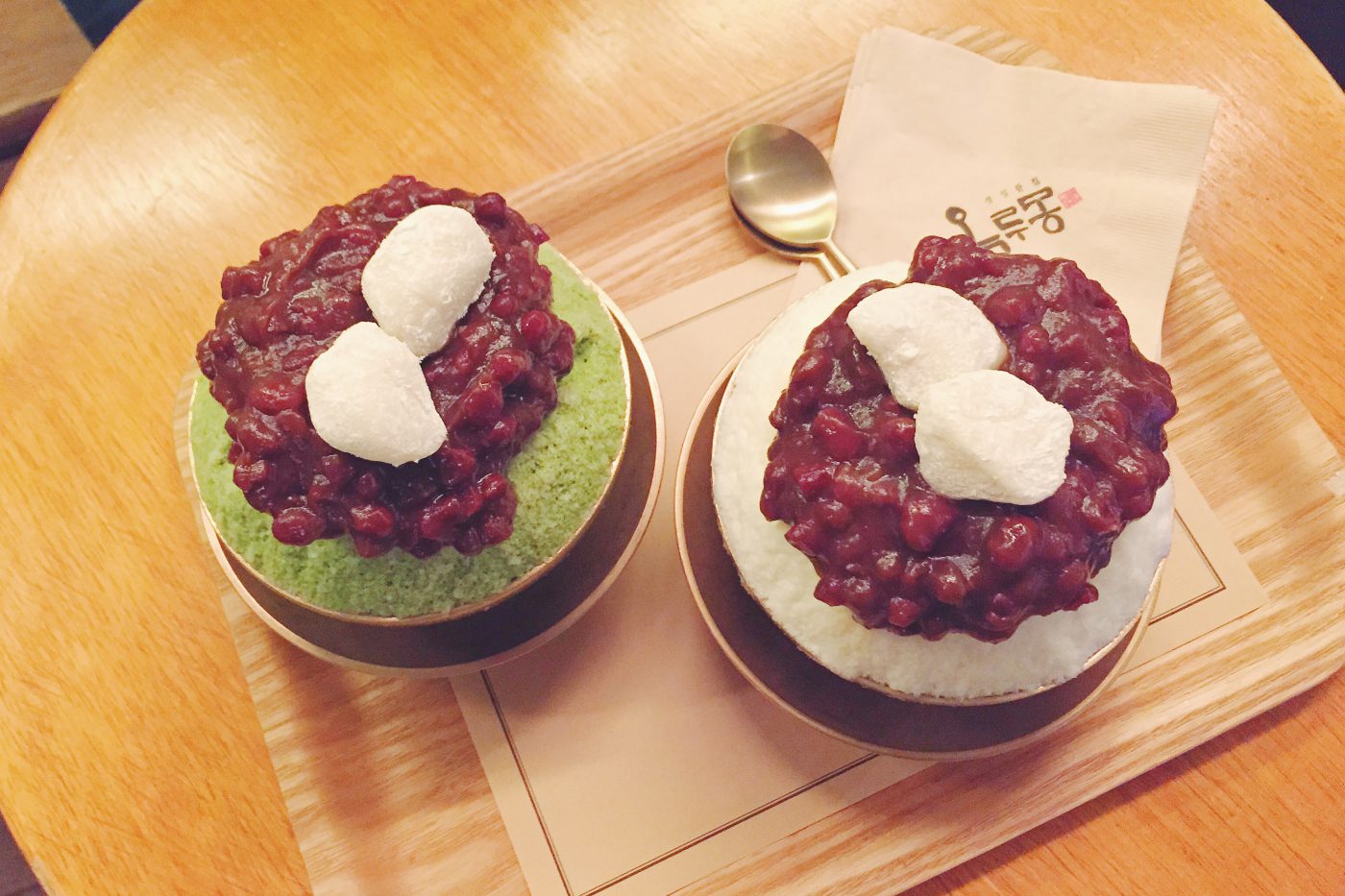 (Yes, there are tons of rice cakes used in South Korean cuisine.)
Where to try Patbingsu in Seoul
11. Banana Milk (바나나맛 우유)
Loved by many Koreans for its nostalgic value, adored by visitors for its delicious taste. My friend told me specifically to get this drink when I arrive in Seoul, and I almost dismissed her. Why would I be trying a store-bought packaged drink when I'm in Korea?
But, I kept seeing this unique bottle packaging everywhere I go. I finally gave up and gave it a try – And I'm so glad I did. I can see why this drink is so popular. I never thought banana and milk would be a good combination, but it really works. For South Korean, this drink often reminds them of childhood since it's a popular choice for kids.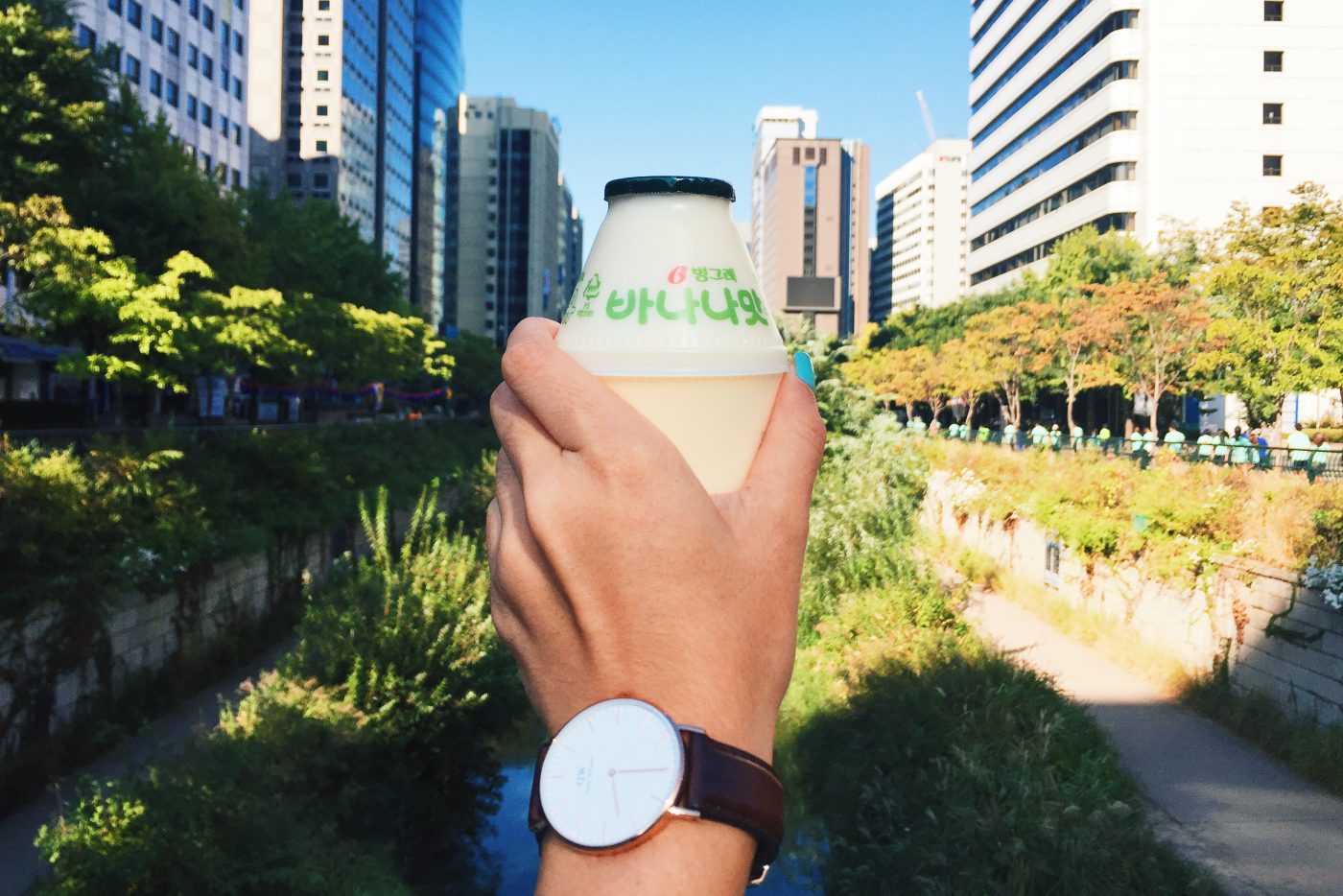 Where to find Banana Milk in Seoul
Any convenience store in Seoul will carry this beloved drink!
12. Korean Knife-cut Noodle Soup (Kalguksu – 칼국수)
Kalguksu is a traditional Korean soup noodle, where the noodle is often handmade from wheat flour and cut with knives. Kalguksu noodle is very unassuming and it looks quite plain, but packs a punch! The handmade noodle has that perfect slippery bouncy texture and the broth is very flavorful.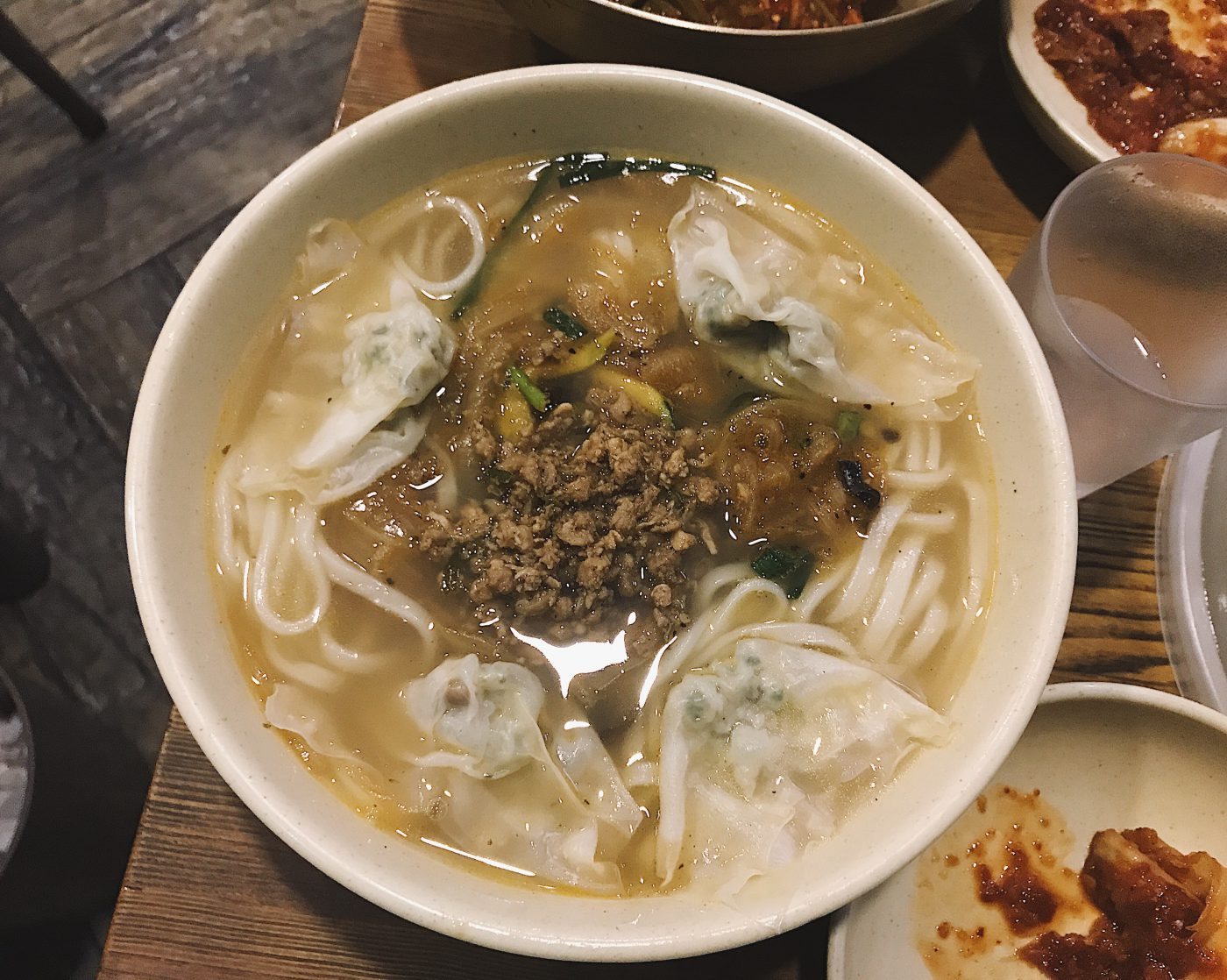 Where to eat Kalguksu in Seoul
And that's all my favorite, must try food and drinks while you are in South Korea! If you want more recommendation on Seoul, I have these posts you might want to check out:
Where to stay in Seoul
I've been to Seoul twice and both times I stayed in Myeongdong. And I would definitely stay in this area again! Myeongdong is convenient for so many reasons: it's easy to get to from the airport, it's where all the shopping is, and it's one of the major stations in Seoul so it's easy to get around.
Here are the two places I've personally stayed in Myeongdong:
K Stay Guesthouse Myeongdong – I stayed here twice. Once in a single room and once in a 4-bed dormitory. I highly recommend this place if you don't care about hotel amenities since it was really cheap, clean, and right in the middle of Myeongdong (3 mins walk from the station!)
Solaria Nishitetsu Hotel – This hotel is located in one of the few high-rises in Myeongdong. The lobby is located on one of the upper floors and you get unblocked view of the entire district from your room. The location is also hard to beat, it was less than 3 mins walk from Myeongdong station.
Do you have any Korean dish you love that I didn't mention? Comment below and let me know!
Until next time 👋🏻