Bintan is an excellent option for a weekend trip for us Singapore residents. The island can be reached with just a one-hour ferry ride from Singapore, and you're off to a beach vacation. So you can imagine how happy we were when both Singapore and Indonesia dropped their COVID restrictions, making a quick short getaway to Bintan possible again.
Here are some information on traveling to Bintan and travel tips from me!
Where to stay in Bintan
There are many resorts all over Bintan, especially along the northern coast. After all, Bintan is well known to Singaporeans for a beach holiday. However, depending on your personal preference, there are different areas you might want to look for a place to stay.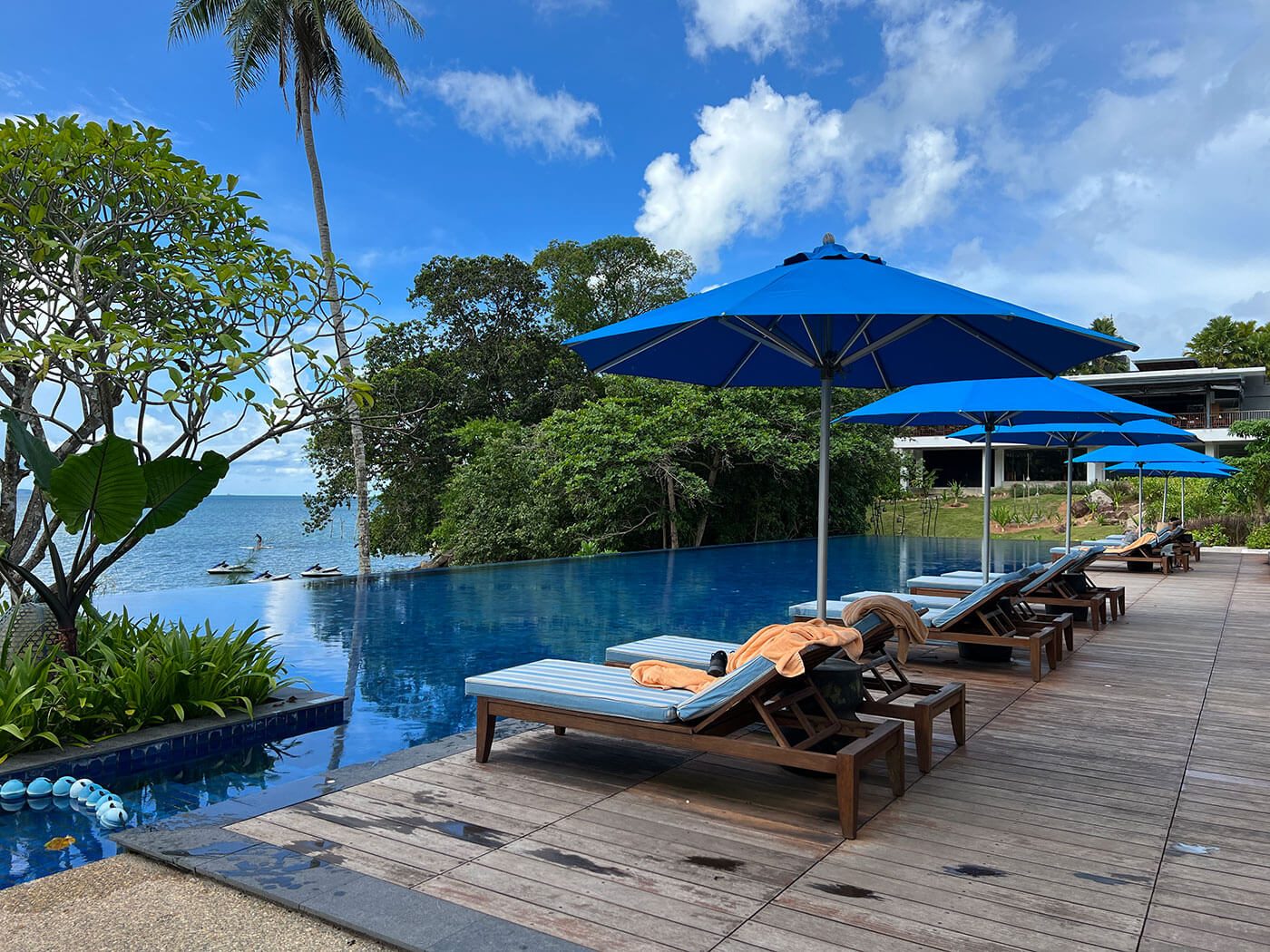 Here are a few recommendations for where you can stay in Bintan:
1. Lagoi Beach – If you want to save on travel time
If you don't want to spend time traveling, you'll want to stay near Lagoi Beach, at the northwest end of Bintan. This is the closest point from Bandar Bintan Telani, the port you'll be disembarking (More on getting to Bintan below!), which means you can potentially shave off an hour from your travel time since you don't need to travel too far from the port. It's also convenient – there are more options around Lagoi for food and shopping since the area is catered to tourists from Singapore.
Here are some resorts you can consider in or around Lagoi Beach:
2. Eastern coast of Bintan – If you're looking for a quiet and private beach vacation
If you're looking for a more secluded place with a lesser chance of bumping into other people, you should consider resorts that are away from Lagoi. Just be mindful that this would add to a longer land transport after you get off the ferry (approximately an hour). Also, you'll likely be dependent on the resort for food which could get pricey. But, hey… that's a price to pay for some private time 😉
Here are some resorts you can consider along the eastern coast of Bintan: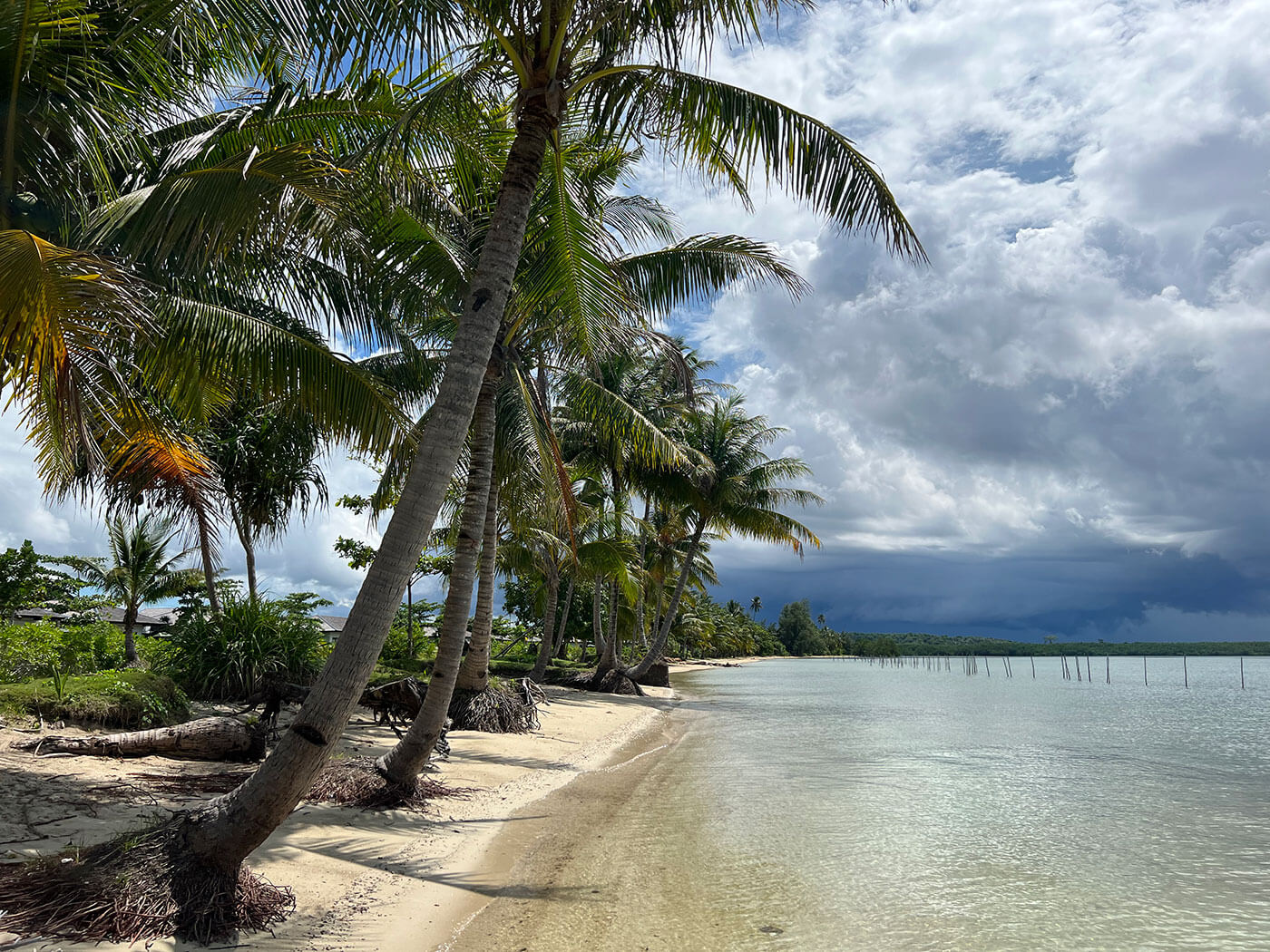 How many days should I spend in Bintan?
I believe 3 days is the ultimate sweet spot for Bintan, taking into account all the activities you can do on the island and the time it takes to travel to Bintan. Assuming you'll be traveling to Bintan on the first day and traveling back to Singapore on the last day, this allows one full day of exploring Bintan or the accommodation you're staying in!
Once the frequency of ferry trips has recovered, and if you can secure a good timing for the ferries – for example, Saturday early morning ferry and leaving Sunday late afternoon, it could be doable in 2 days. This probably wouldn't give you much time to do activities outside of the resort, but you'll still get to enjoy an island getaway!
How to get to Bintan from Singapore
The only sensible way to get to Bintan from Singapore is of course by ferry. Here is the low down on how you can reach Bintan by ferry:
Which port should I go to in Bintan?
There are three ports in Bintan: Bandar Bintan Telani (BBT), Tanjung Pinang, and Bintan Lagoon. Currently from Singapore, you can only take the ferry to BBT or Tanjung Pinang. The shortest and most common route is to go from Tanah Merah Ferry Terminal (TMFT) to Bandar Bintan Telani (BBT).
BBT is located at Lagoi Beach in the northern part of Bintan, which is where most resorts are located. From TMFT, it will take about one hour to reach BBT.
Tanjung Pinang, on the other hand, is located in the southwest of Bintan, and a ferry trip will take 2 hours and then you still have to get to your resort via land transport. Thus, going to BBT could save an hour of your time. But if ferries to BBT are sold out, then you have no choice but to go to Tanjung Pinang.
Ferry Operators from Singapore to Bintan
There are two ferry operators that will take you to Bintan: Bintan Resort Ferry to BBT and Majestic Fast Ferry to Tanjung Pinang.
You can book your ferry tickets straight from the official websites of respective ferries here:
For our trip in mid-June, Bintan Resort Ferry offers the best trip in terms of timing so we booked with them. The ferry ride was convenient, we found the trip to be very comfortable and drama-free.
➡️ Tip: If you're planning to go to Bintan on a weekend, the ferry could fill up fast so you'll want to make sure you book ahead, especially if it's a long weekend. Make sure you have your ferry tickets booked first before you book your accommodations!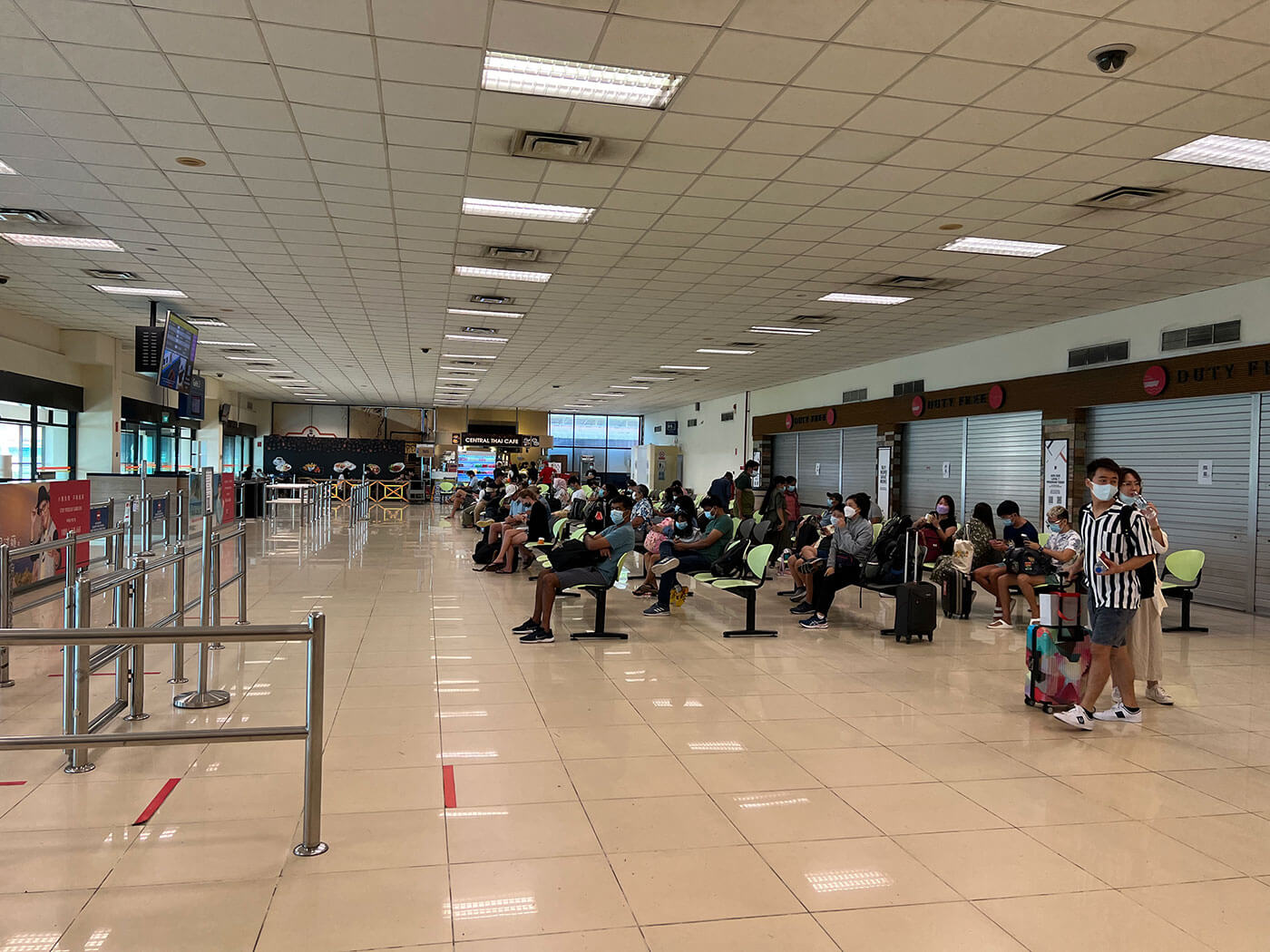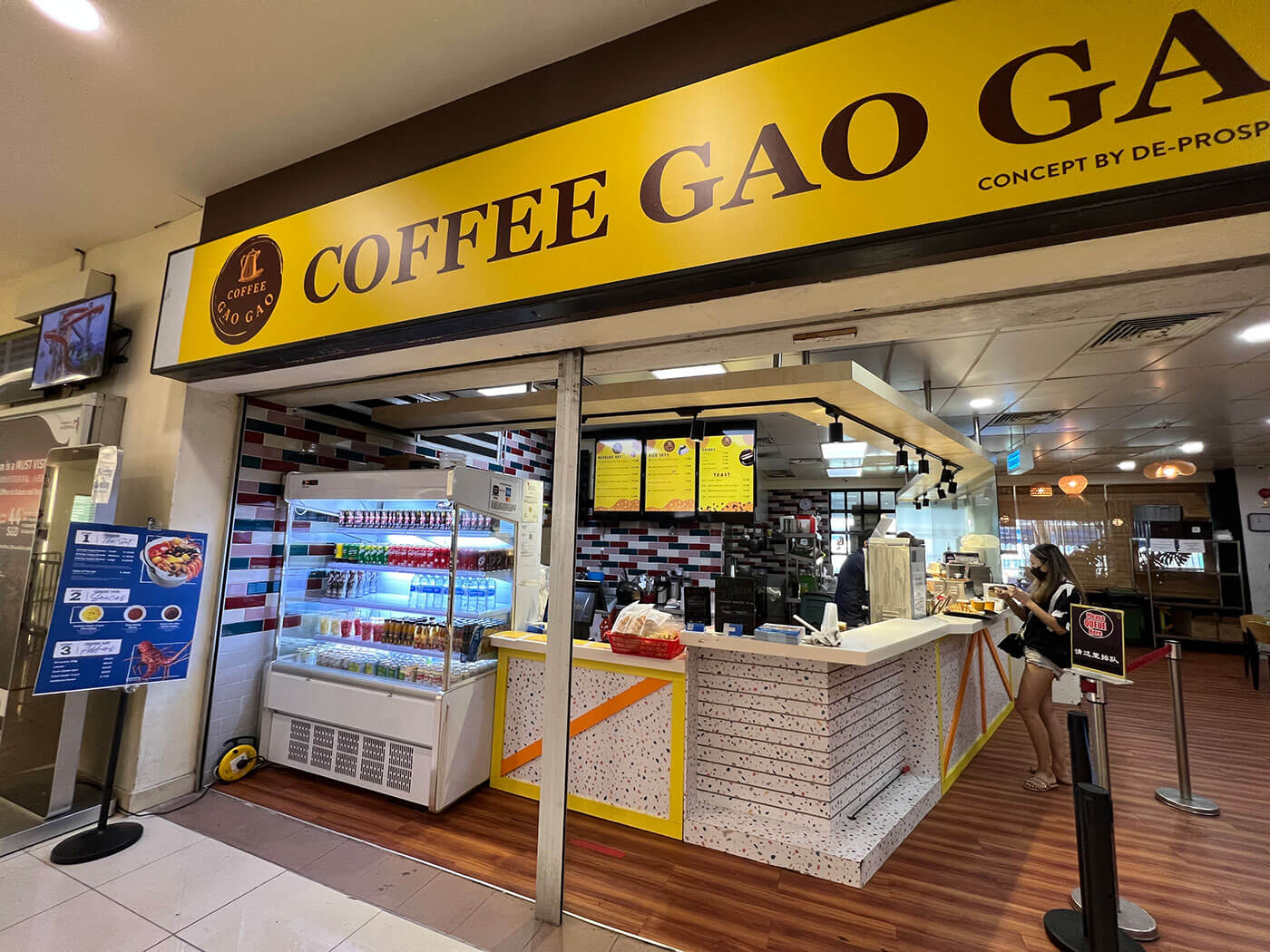 Requirements for Entering Indonesia
You can review the requirements for entering Indonesia here. Currently, you'll need the following documents:
A valid entry visa to Indonesia – More on that below
Proof of COVID-19 vaccination – Digital copy is fine. This will be checked when you check in for your ferry. If you were vaccinated in Singapore, go to notarise.gov.sg to obtain your digital certificate.
Entry Visa to Indonesia
The gist of it is that there are two types of visa to enter Indonesia depending on the passport you have – Visa Exempted or Visa on Arrival. You can check which one your passport country falls under.
➡️ Tip: Read more about how to apply for Indonesia Visa on Arrival online
Travel time from Singapore to Bintan by Ferry
If you're wondering what the total door-to-door time to travel from Singapore to Bintan is, here is a quick breakdown
You need to be at the ferry at least 60 minutes before departure, so we left our house at 8 am to reach TMFT by 8:30 am.
Our ferry left the port at the scheduled time of 9:30 am, and it took an hour to reach Bintan.
From there, it took us about 20 minutes to clear immigration and another 30 minutes to wait for other guests in the resort shuttle.
Our resort was far from the port, so it took us another hour drive to get there. We only reached the resort at 11:30 am local time (12:30 pm SG time).
So in total, it took about 4.5 hours door to door. If your resort is at Lagoi, you can probably shave off 1 hour from our travel time to about 3.5 hours!
Coming back to Singapore from Bintan
Singapore has two ports for the public: HarbourFront and Tanah Merah Ferry Terminal. Coming back from Bintan, you'd likely be going to Tanah Merah Ferry Terminal.
The process to enter Singapore is straightforward since Singapore has dropped pretty much all of its COVID restrictions. However, when the ferry is fully booked, it could get pretty chaotic. Despite arriving an hour before the ferry was set to depart, there were massive queues snaking outside the ferry terminal at BBT before immigration.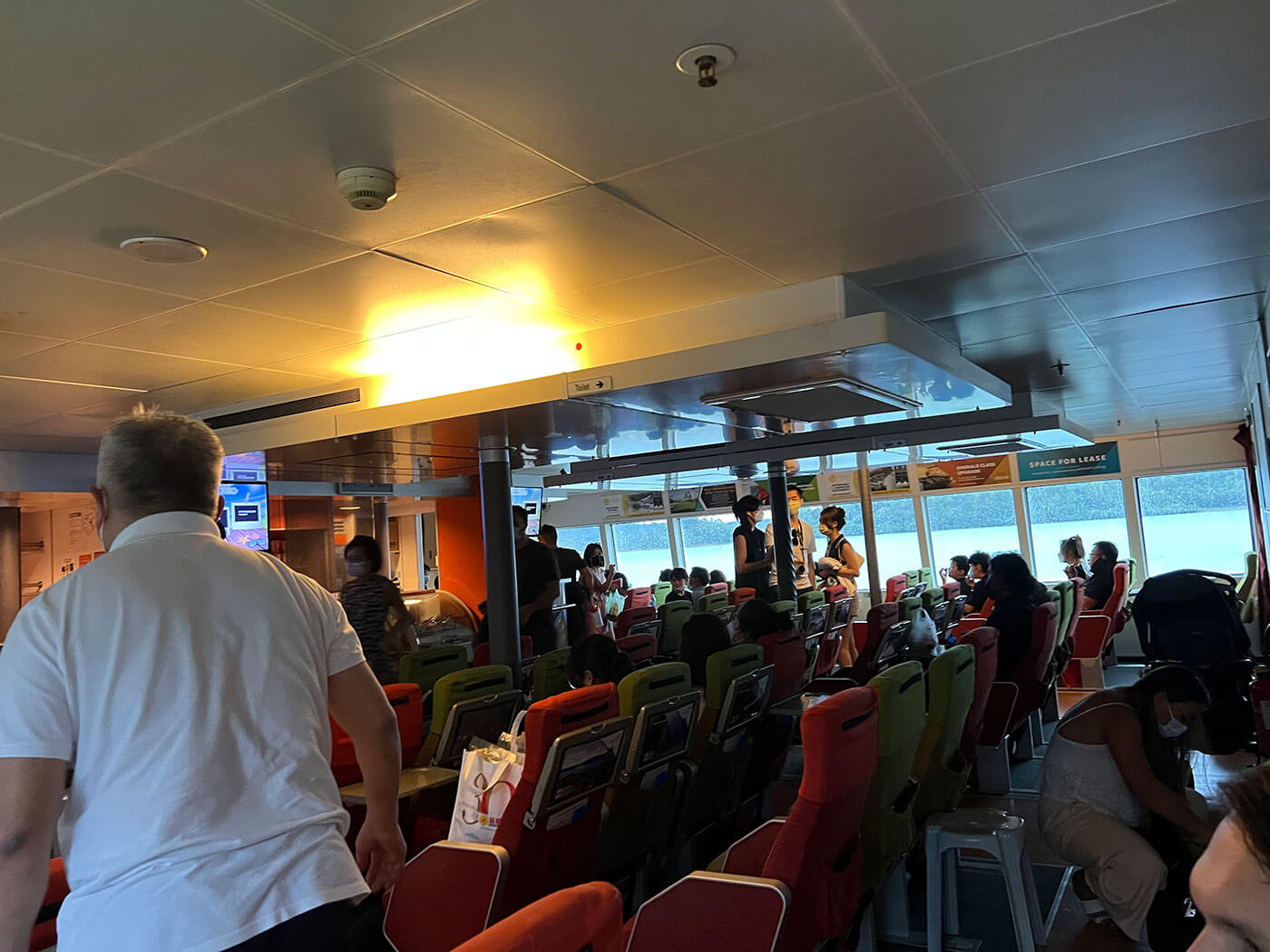 Some tips for arriving at Tanah Merah Ferry Terminal:
If you live in Singapore (whether you're a citizen or a PR or on a work visa), make sure you have registered your passport to use the automated clearance gate called eIACS). This will save you a lot of time from queueing at the immigration checkpoint, which is where the bottleneck was. I didn't sign up for my son's passport so we had to go through the "All Passports" line and it took so long!
Fill out your SG Arrival Card before entering Singapore
There is a small duty-free shop at Tanah Merah Ferry Terminal after you clear immigration, where you can buy alcohol.
When I arrived back on a Monday afternoon from a fully-booked ferry, it was near impossible to call a taxi. I tried every booking method and every ride-sharing app for about 45 minutes, but it seems like no taxis were willing to come to Tanah Merah Ferry Terminal.
If you couldn't secure a taxi, you can take Bus 35 (the bus stop is right across from the taxi stand) to Tanah Merah MRT station and call a taxi from there or resume your journey via MRT. We gave up on finding a taxi at TMFT and ended up taking the bus and then a taxi home. Just be sure to ask the bus captain if the bus is going to Tanah Merah MRT, as there are 2 directions of Bus 35 stopping at TMFT. It should only take about 10-15 minutes on the bus to reach the MRT, but if you board the wrong direction, then it might take an hour. Check out the Bus 35 route here.
Cost breakdown of a weekend trip to Bintan from Singapore
For your reference, the following is our trip cost breakdown of a 3D2N trip for 2 adults and a toddler to Bintan. In total, we spent a little above SG $1,100 for our trip.
Ferry Ticket*
(Round Trip per person)
SG$ 56 per adult (12 and above)
SG$ 44 per child (0-12 years old)
Port fee and taxes*
(Round Trip per person)
SG$ 39 per person
($15 for going to Bintan and $24 for going back to Singapore, per person)
Visa on Arrival*
SG$ 47 per person
(Based on the current rate of Rp 500,000)
Accommodation
SG$ 466 for 3D2N at The Residence Bintan
Food and Beverage
SG$ 280 for 3D2N at The Residence Bintan
(For 2 adults and 1 toddler)
Obviously, the cost will vary depending on whether you need a visa on arrival, the accommodation you choose, and what food option is available to you at the resort. If the food cost above seems high to you – well, there is a reason for that. I've written more about my resort experience in my The Residence Bintan review post.
Getting around Bintan
The best way to get around Bintan, if you're keen to explore the island, is by hiring a private driver or renting a car and driving it yourself. There is no easy public transport around. You can also consider renting a motorcycle if you can drive one!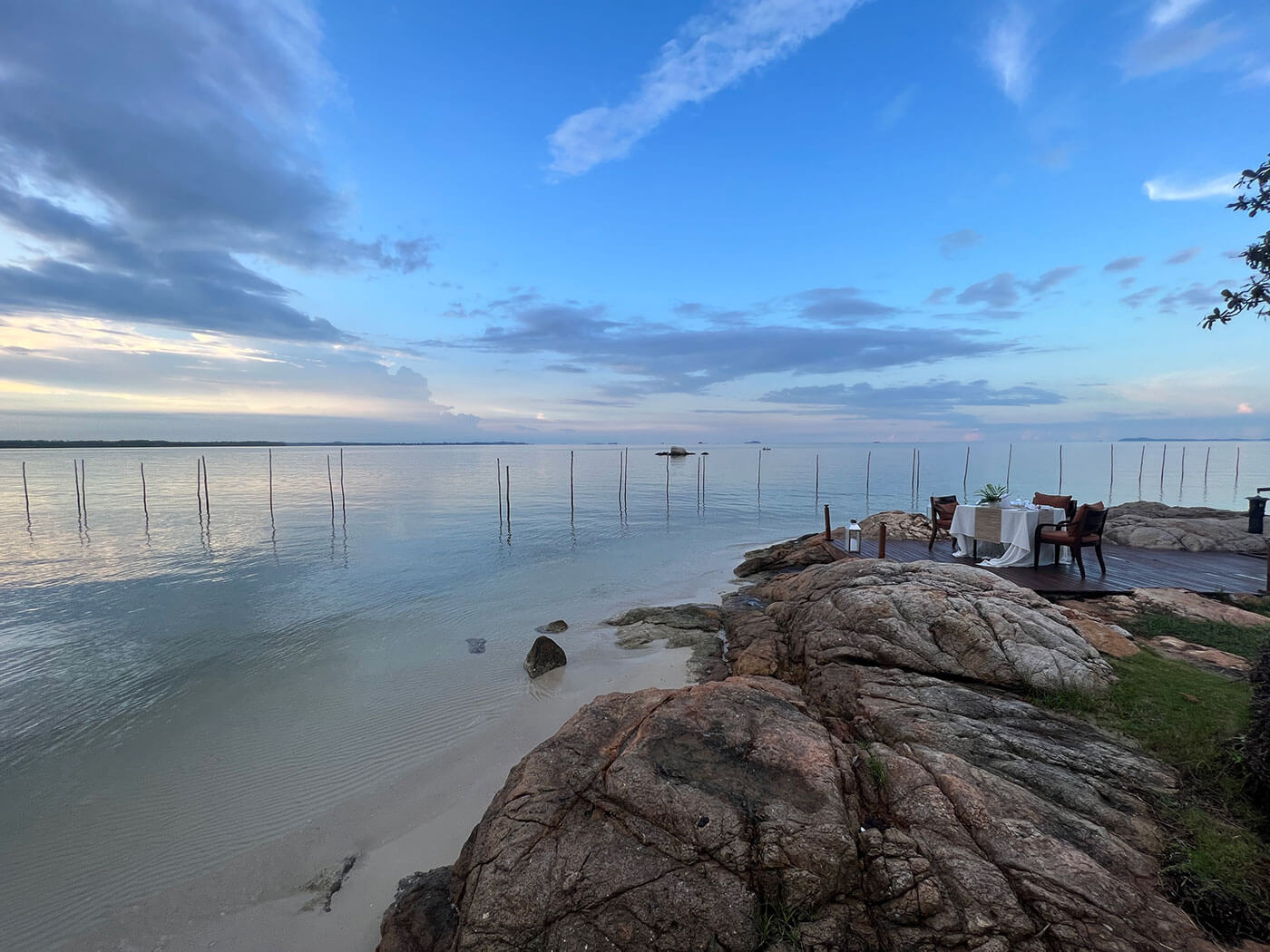 What to do in Bintan
Snorkeling and White sands tour – If you like exploring the underwater world, this might just be the activity for you!
Bintan Island Tour – If you're curious about what Bintan has to offer aside from seafood and the beach, you can take this tour which will take you around the island and all the photogenic spots.
Safari Lagoi & Eco Farm Tour – You can visit some endangered rescued animals here, like orangutans, tiger, and elephants.
Chill Cove at Treasure Bay Bintan – A large waterpark shaped like a white sand lagoon. You can kayak, paddle, wakeboard, or take their giant slide! Great activities with family and friends
Where to eat in Bintan
Bintan is known for its fresh seafood at a fraction of the price in Singapore. On top of that – and I may be biased because I was born and raised in Indonesia – I think Indonesian food is one of the best cuisines out there.
So while you're here, you gotta try the seafood and local food! Here are some recommendations for where you can go:
Mangrove Floating Restaurant – You'll find this as "Mangrove Restaurant Apung" in Google Maps, which means floating restaurant in Indonesian.
Jagonya Sop – Literally translated as "Soup expert" in Indonesian, this is the place if you want to try various Indonesian soups. It's a very simple restaurant and was approved by locals!
Bintan Brother Seafood – If you want to have some seafood while in Bintan, you definitely need to check them out.
Kelong Mangrove Restaurant – Local seafood located at Sebong River. It's a floating restaurant concept too.
Alright, that's all I have on Bintan! If you find this blog useful or if you have any questions/updates to the blog, please let me know in the comment below! I'll respond ASAP.