Hong Kong holds a special place in my heart. It was the first foreign country I visited as a young child, and it was also one of the first countries I visited over a decade later as a young adult. I had the opportunity to go back to Hong Kong yet again when Skyscanner and Hong Kong Tourism Board sent me for a quick getaway weekend.
You might be wondering I'm writing about a short trip when there are so much to eat and do in Hong Kong. Well, that's because Hong Kong is perfect for both short and long stays! Aside from holidays, visitors come to Hong Kong for either a work trip or a short layover. The good thing is – Hong Kong is an extremely traveler-friendly city so it's entirely possible to spend only 2 days there and still experience the must-dos. So if you ever find yourself in Hong Kong for a short period of time, here is what I recommend you do in Hong Kong!
Tips on visiting Hong Kong
If you are arriving in Hong Kong before midnight and don't have a lot of luggage, take the Airport Express train straight to Hong Kong. This is the fastest way to get into Hong Kong and is cheaper than taking a taxi.
Hong Kong public train, called the MTR, is amazing. As soon as you land, get yourself an Octopus card at any MTR station. This train card will let you travel easily and save you so much time on the MTR. It allows you to take the train without buying a single-journey ticket each time. Simply load it up with some credits and tap in and out of the station. The card balance is refundable at the airport at the end of your trip.
That said, the taxi in Hong Kong is actually very affordable. So if you are out late (the MTR stops at midnight) or if you are traveling in a group, it's totally ok to take the taxi too!
If you don't have data roaming, getting a pre-paid SIM card with local data is pretty easy – just head to any 7/11 and buy one!
Hong Kong 2-day Itinerary
This is what I recommend doing in Hong Kong in order to experience the city in 2 days:
Day 1
Breakfast at a Cha Chaan Teng
Explore Kowloon
Take the Star Ferry
Go around Soho on Hongkong Island
Lan Kwai Fong for nightlife
Day 2
Have a Yum Cha breakfast
Go up to The Peak
Explore Causeway Bay
Wind down at Sheung Wan
Optional Day trips (If you have more time in Hong Kong)
Tian Tan Buddha
Hike up Lion's Rock or Dragon's Back
Day trip to Macau
And without further ado, here are the details of Hong Kong Must-do's!
1. Eat a traditional Hong Kong breakfast at a Cha Chaan Teng
Start your day off with a very local breakfast with a side of history. I have been told many times to not miss Australian Dairy Company, which despite its western-sounding name, it is actually a very local 'Cha Chaan Teng'.
Cha Chaan Teng means "Tea House", a type of restaurant that can be found commonly in Hong Kong. They serve meals that tell you the history of Hong Kong, dishes that are influenced by both western and eastern cultures. Hong Kong was heavily influenced by British culture after the second world war after all.
Cha Chaan Teng can be found all over Hong Kong, but I dare say this one is the most famous one. That much is evident because when I arrived at 3 pm on a Sunday, there was already a snaking queue out of the restaurant. However, don't be discouraged since the line moves very fast and I was seated with my food within ten minutes.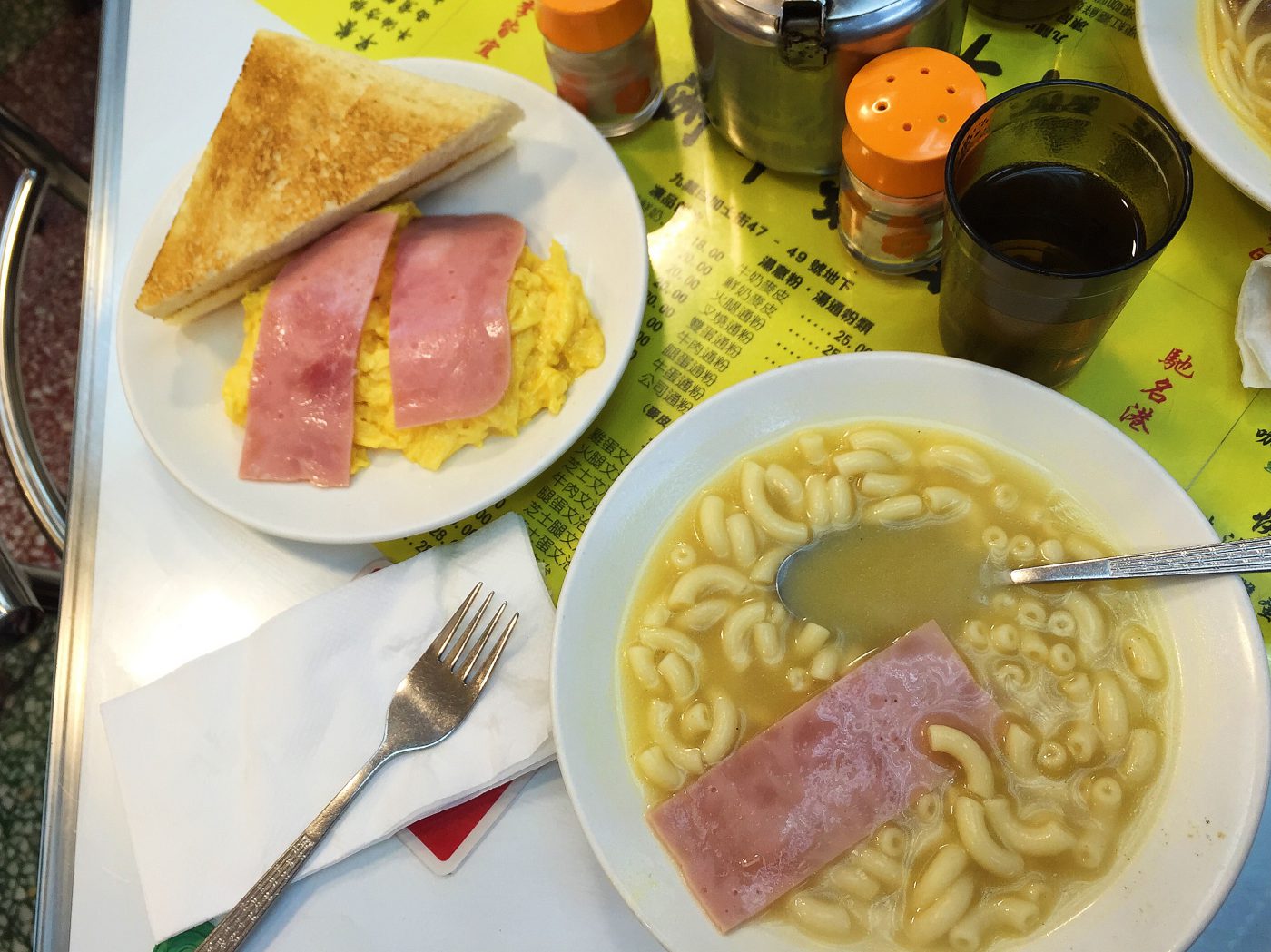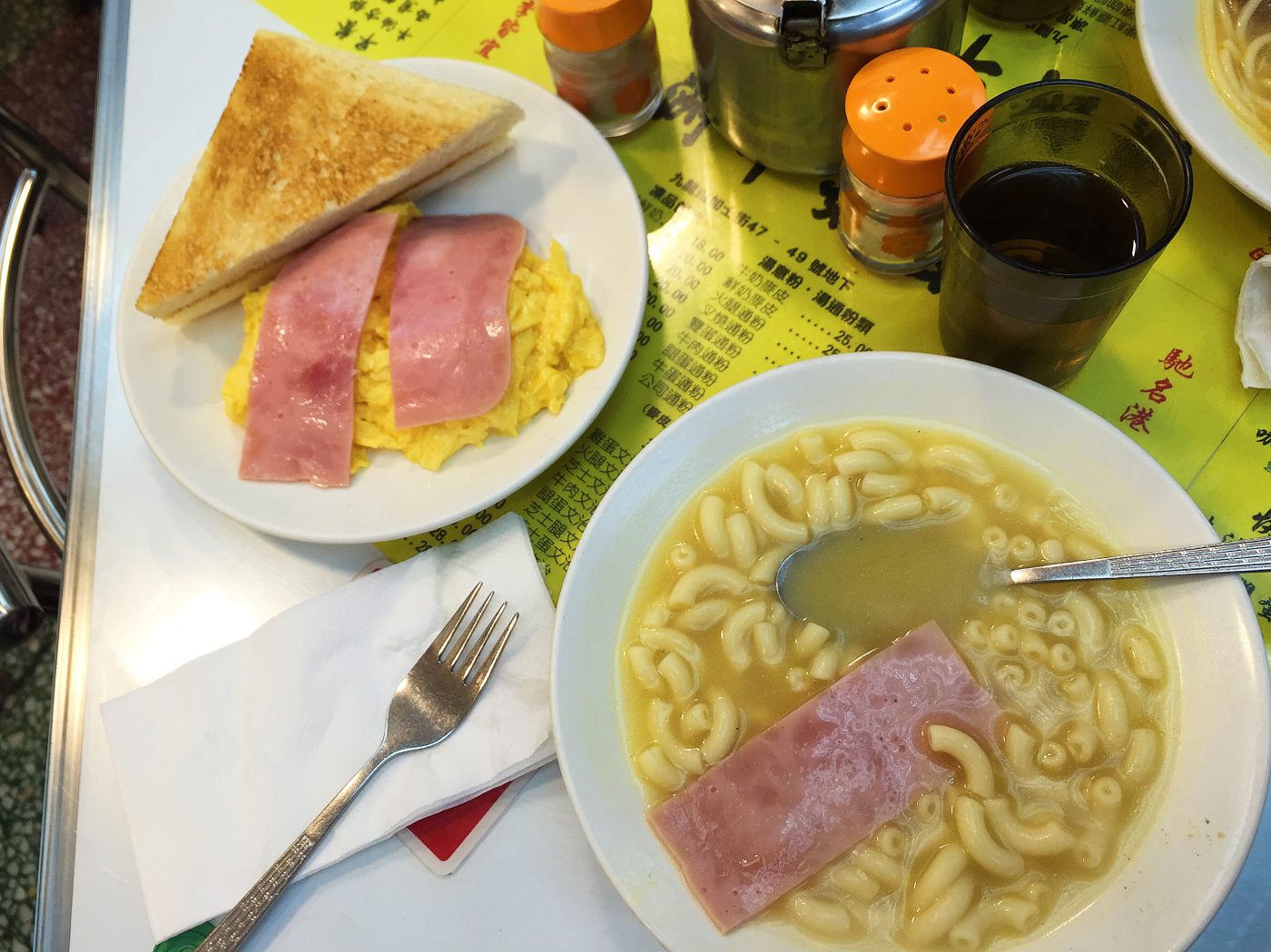 The two things to order here are (of course) the ham macaroni soup and the scrambled eggs sandwich. I have to say these are pretty damn good, especially for the super affordable price of HK$38 for the two dishes. The macaroni soup is a must for HK-style breakfast, but the scrambled egg sandwich is a star. The people at ADC have discovered the secret to making eggs that are fluffy with the right amount of runny-ness. Put those in between the thick fluffy bread and the result is a hearty breakfast. Other popular items are the Char Siew (roasted pork) noodle soup and the Egg White pudding, which I didn't have the stomach space to try.
Tip: If you don't feel like lining up, you can also just get the sandwich to-go and have it while strolling around outside!
2. Visit Kowloon to see the traditional side of Hong Kong
Hong Kong has got two sides to it – Hong Kong island and Kowloon. What is Kowloon? Basically, if you look at the map of Hong Kong, you'll see that parts of it are attached to mainland China. Kowloon is the area on the southern tip of the mainland side of Hong Kong, just north of Hong Kong island across the Victoria Harbour.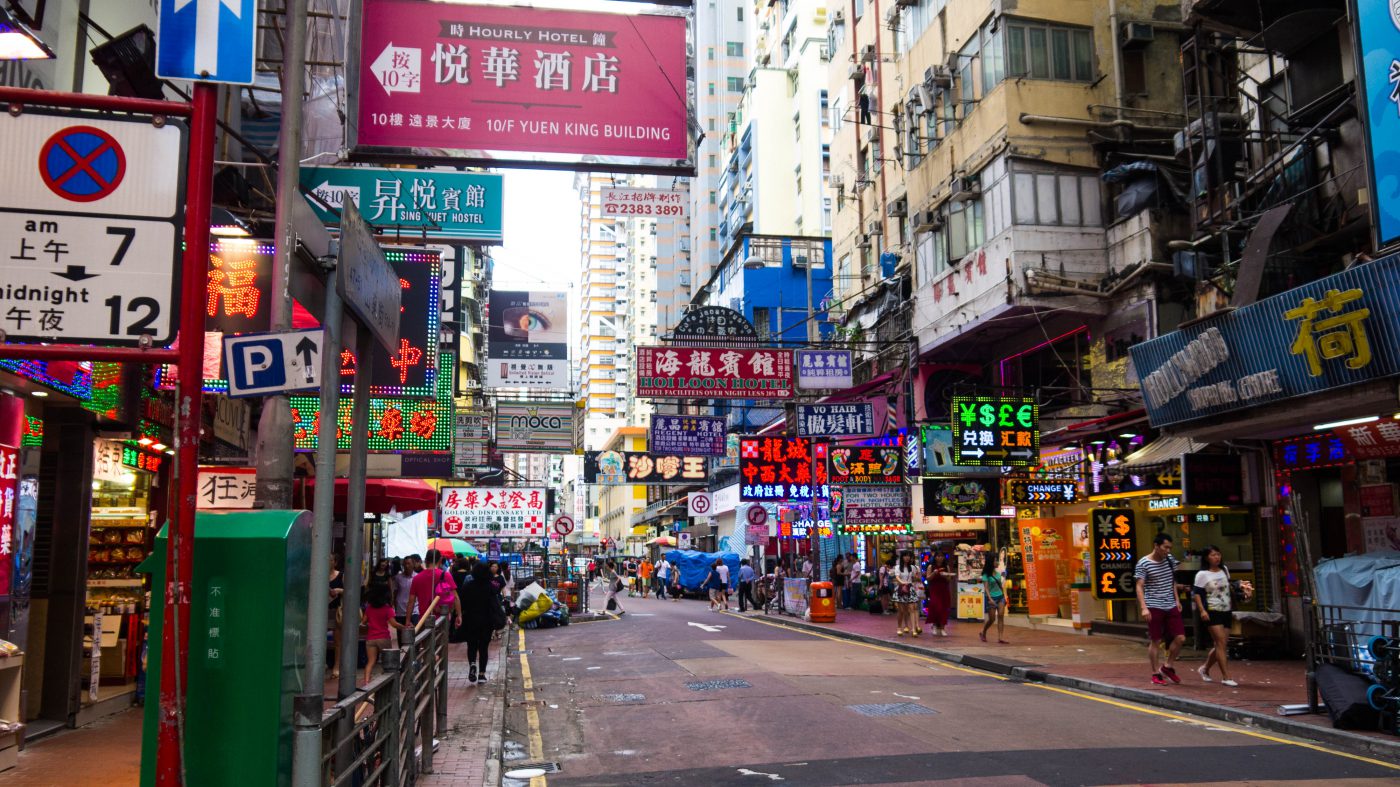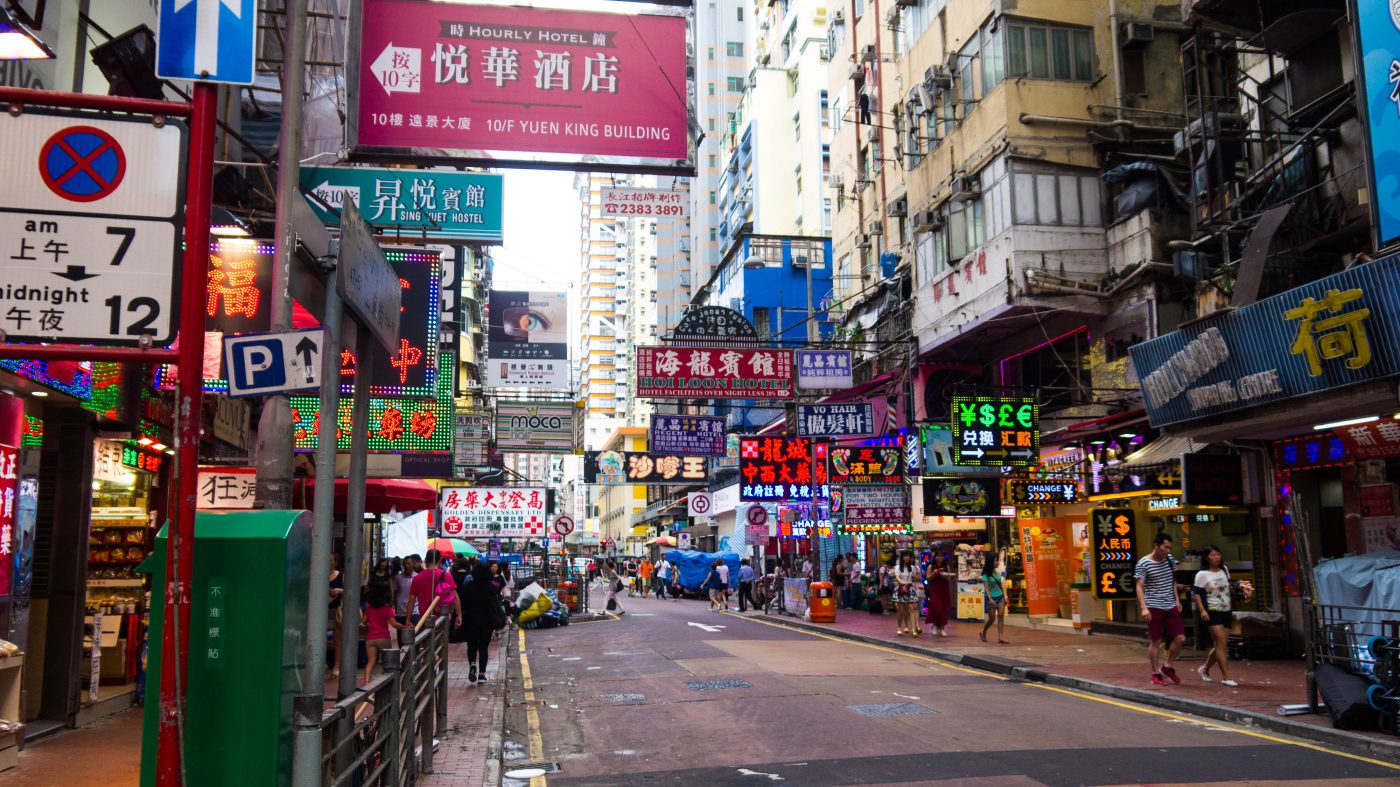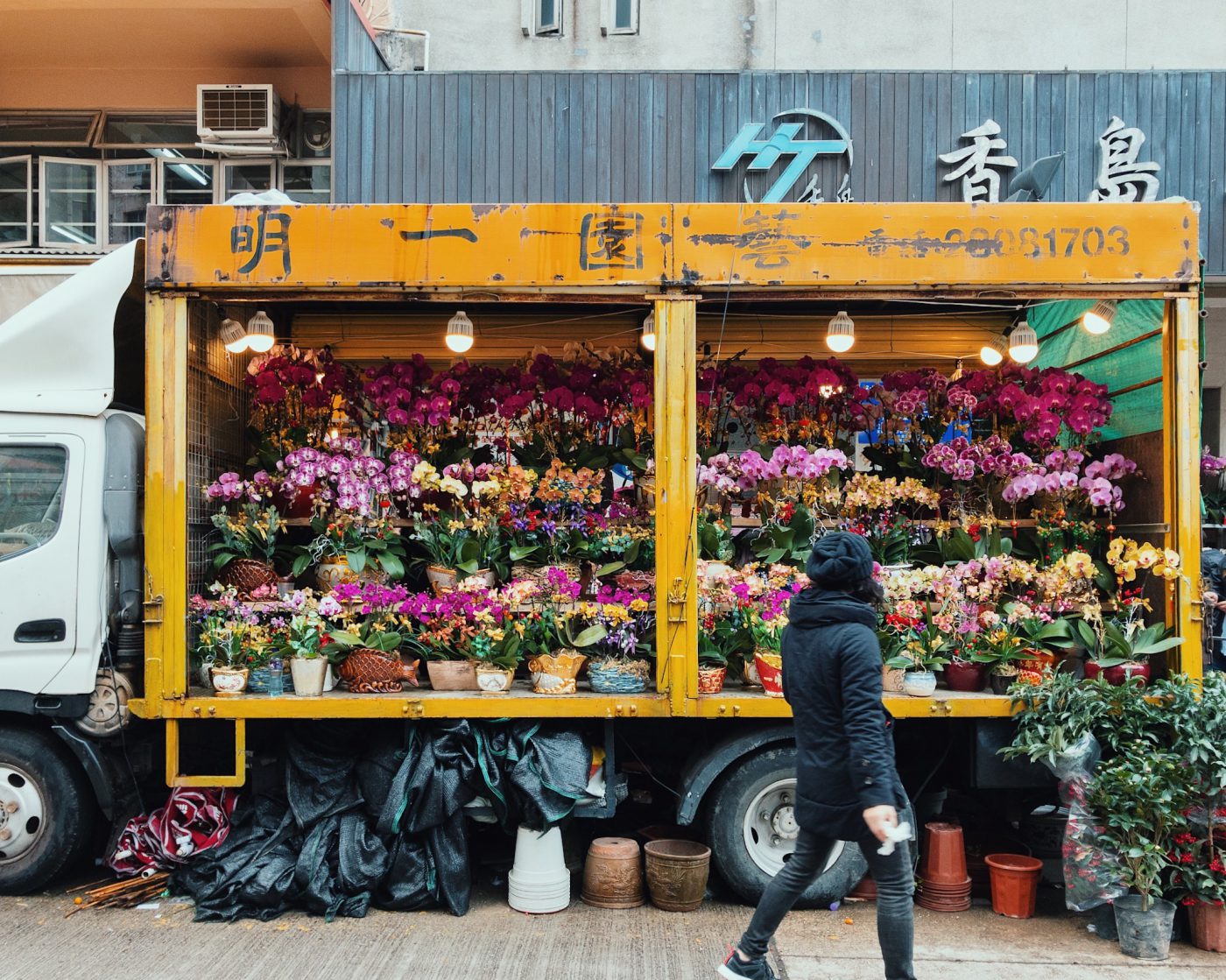 What's the difference between the two sides? Well, you could say that Hong Kong island is like what Manhattan is to New York City, while Kowloon is considered the more urban side of Hong Kong – but it definitely has its own charm and glamour. I visited some of the most glitzy cocktail bars while I was on the Kowloon side of Hong Kong.
Case in point – Aqua Bar. Though it's very touristy, I couldn't help but gasp in awe when I walked up the stairs of Aqua Bar and was greeted with an impressive view of Hong Kong island.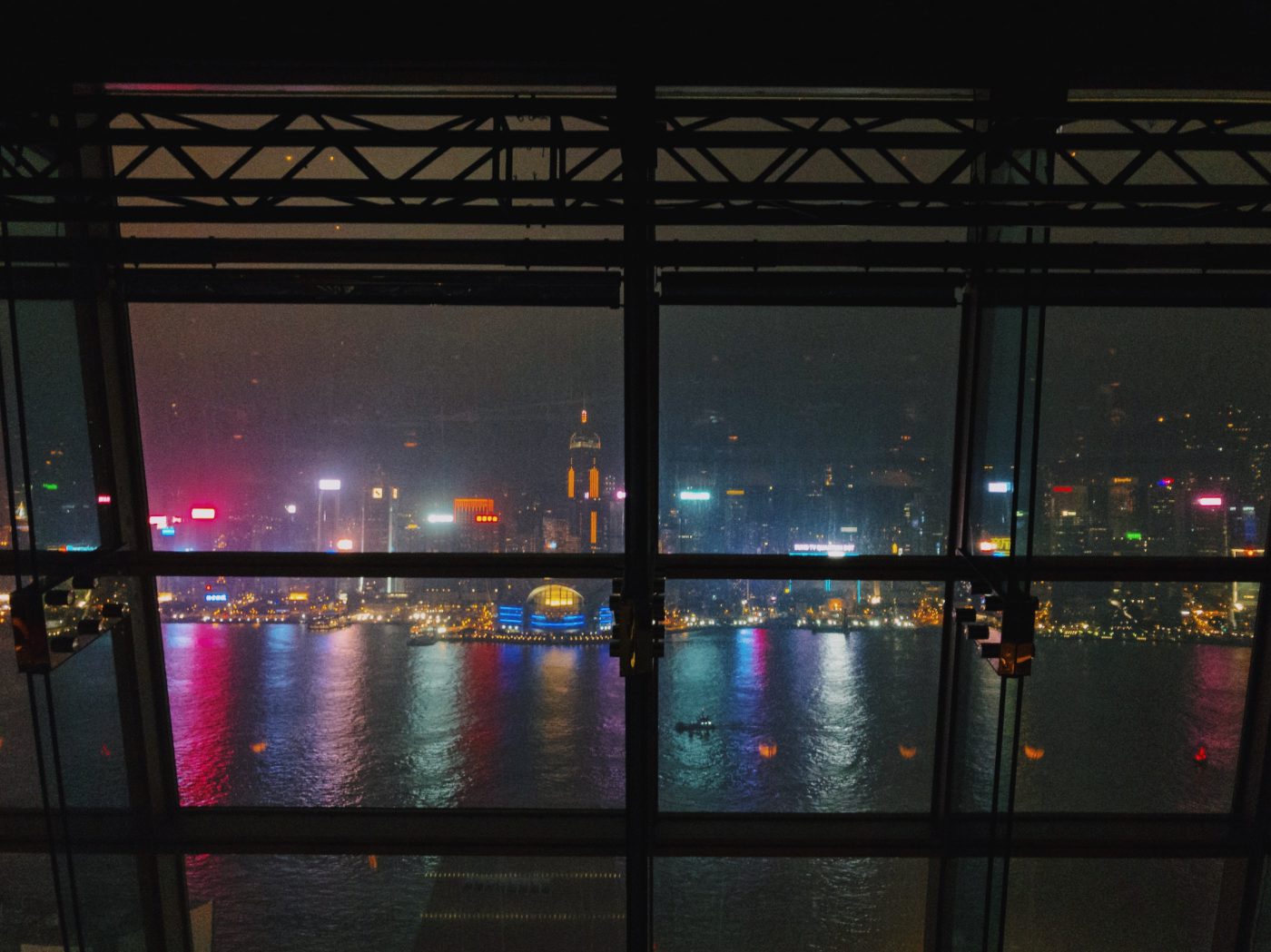 Ozone at Ritz Carlton is also (I imagine) a very touristy place, but check out the view from what is supposedly the highest bar in the world – it felt like I was on a plane!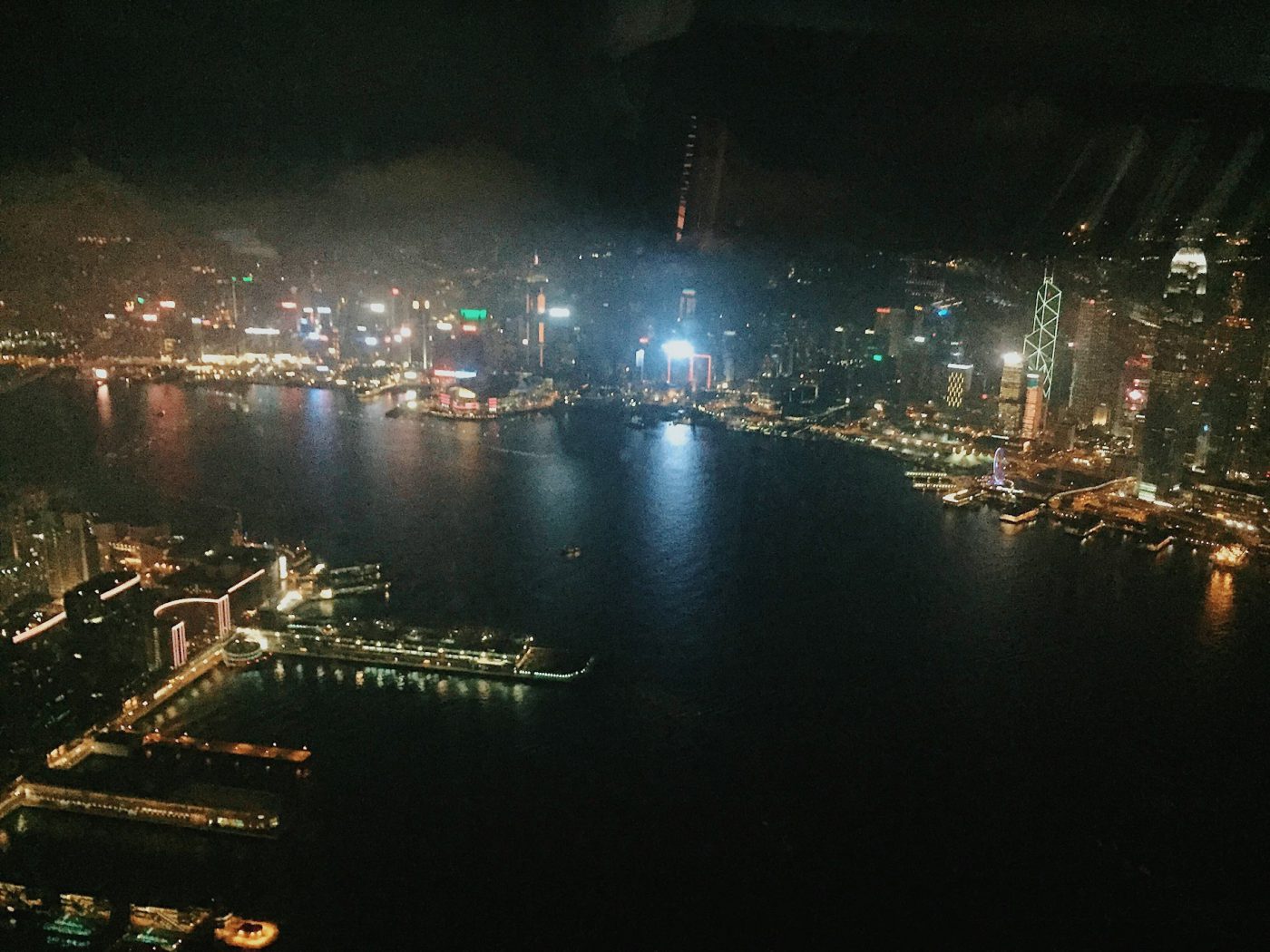 And good lord, there are so many things to eat here… Here's what you should try on the Kowloon-side:
Eat Wonton Noodles at Mak's Noodle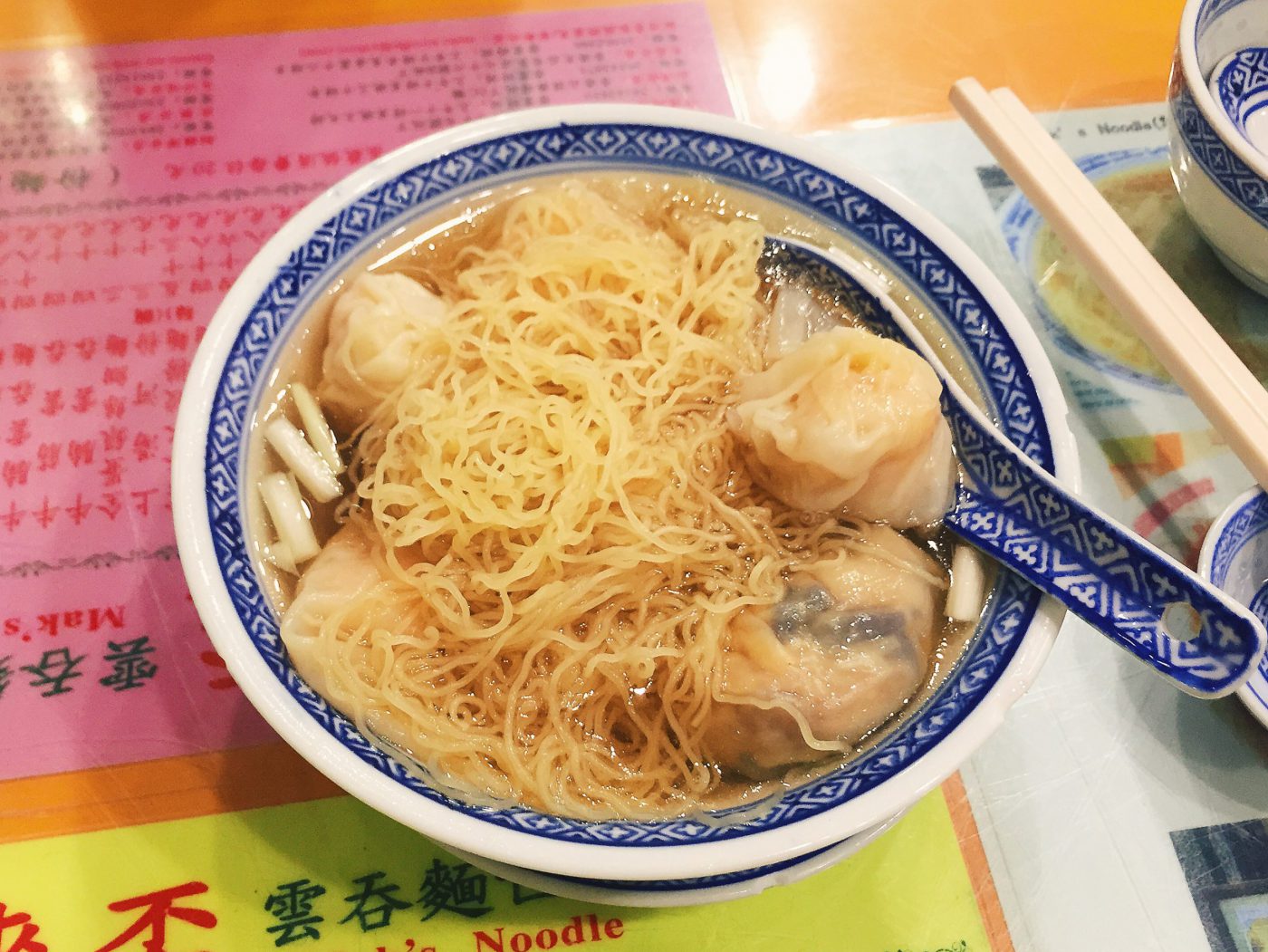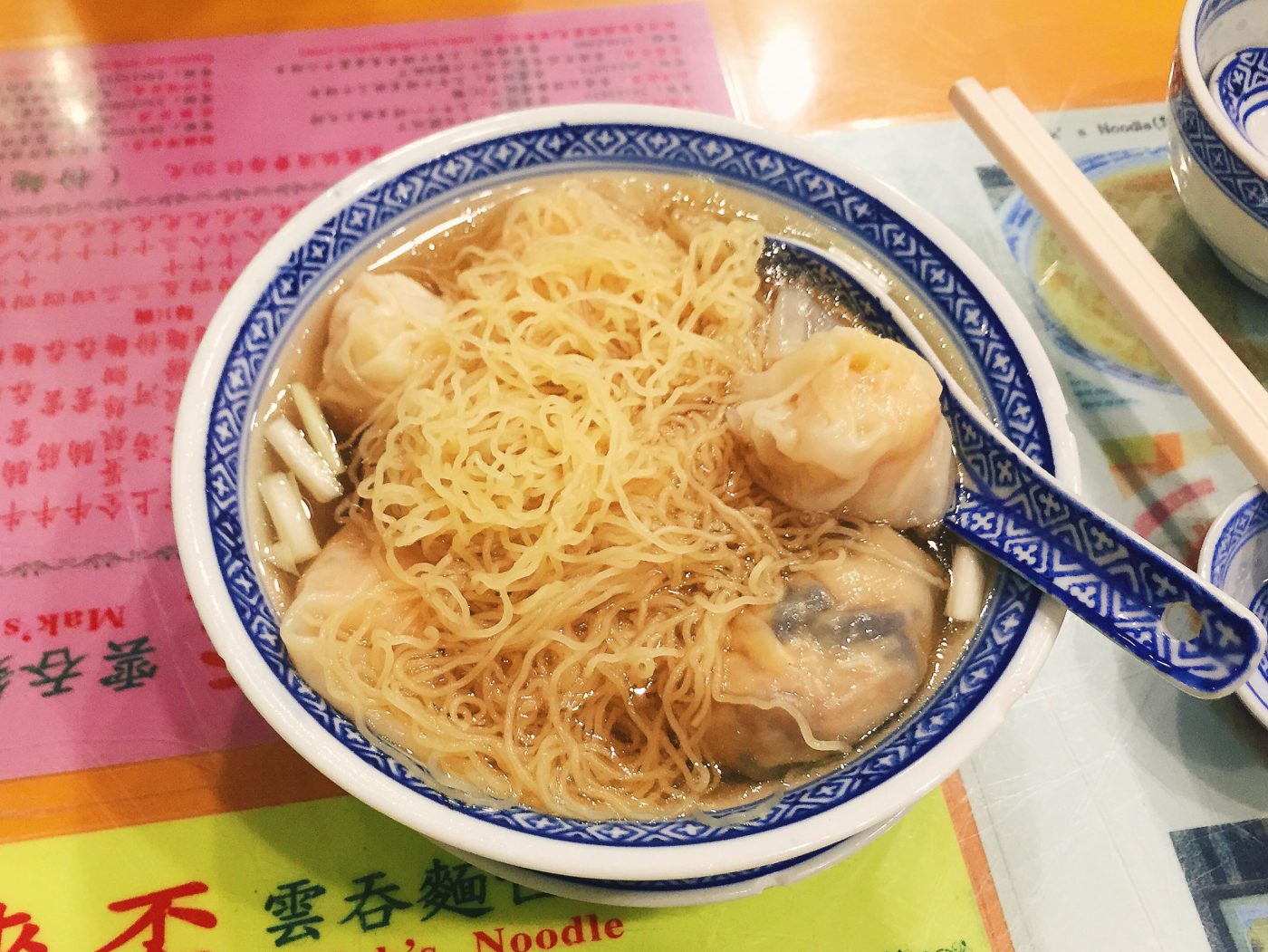 I stumbled upon Mak's noodle on my last visit to Hong Kong, and stumbled upon it again this time around, as it was just next door to Australian Dairy Company (they have a few branches around the city). Their wanton noodle is my favorite in Hong Kong! The broth is made from flounder (?) fish which lends complexity to its savory soup and the noodles are thin with an al-dente texture. I don't even normally like prawns but I have to have Mak's Noodle every time I'm in Hong Kong!
Check out the Street Food scene at Mongkok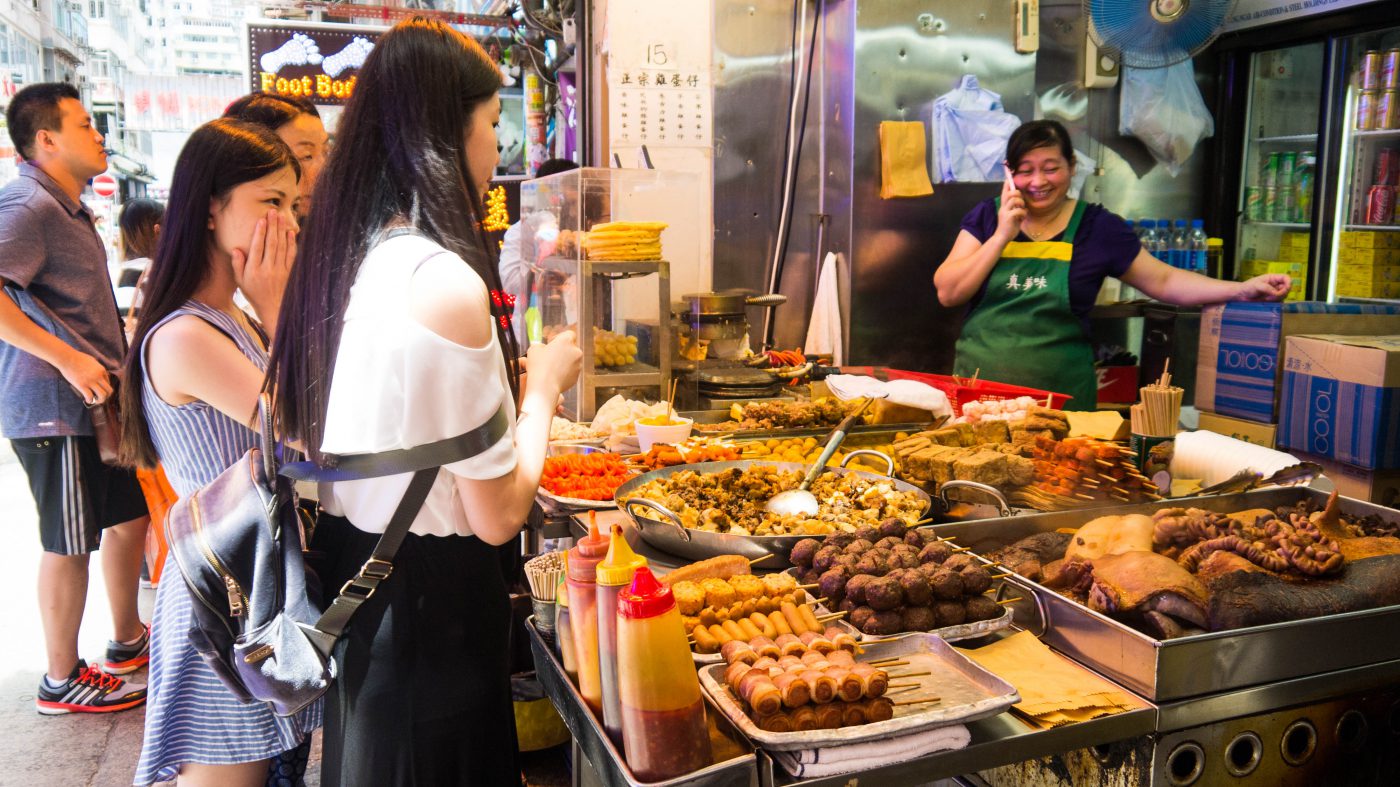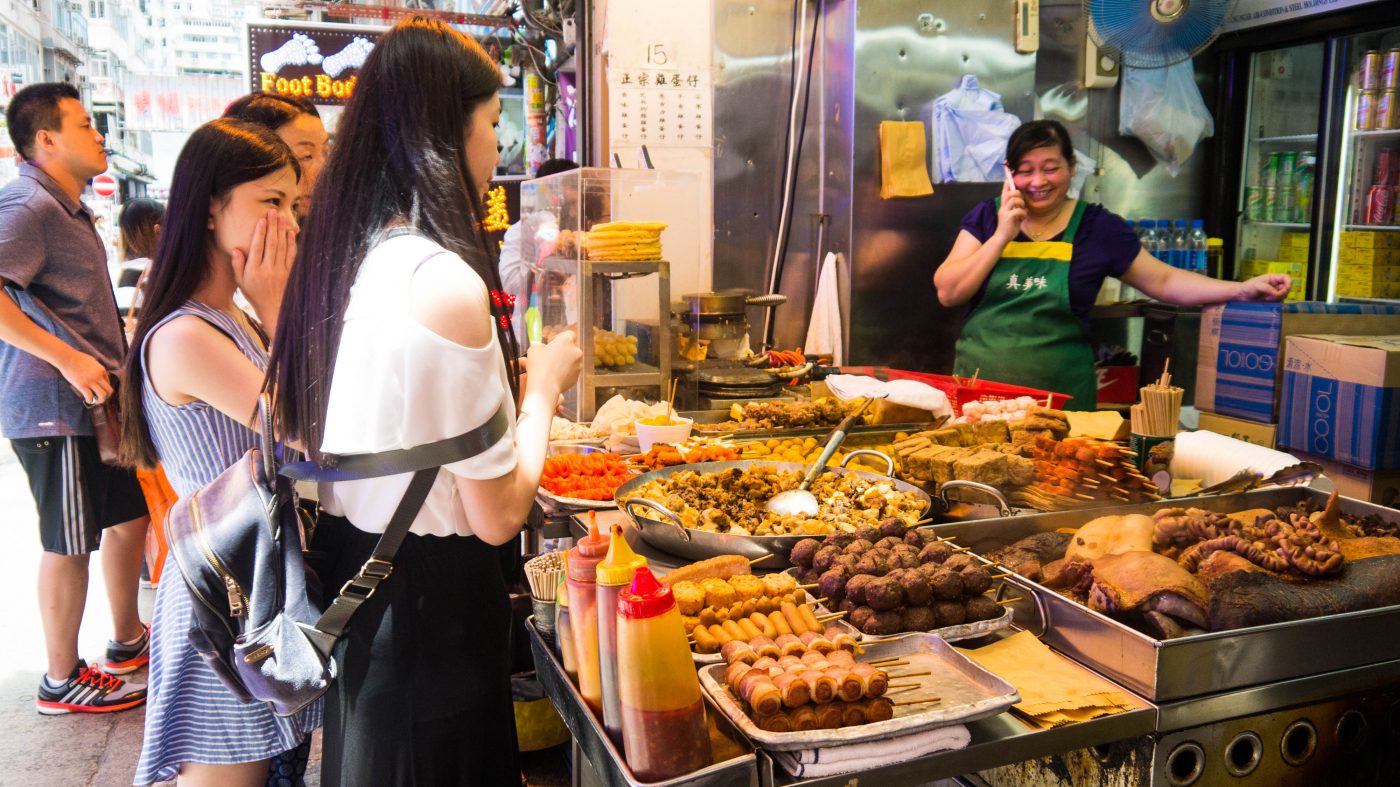 Mongkok is famous for all the street eats, most notably the one you see above where you can just point to a bunch of cooked food and they will give it to you piping hot in a Styrofoam cup. You can find these stalls everywhere in Hong Kong, not just in Mongkok, but I have to admit Mongkok has a great vibe that you don't see in other parts of the city. I would suggest coming to Mongkok on Sunday afternoon or at night since the area tends to be more lively then.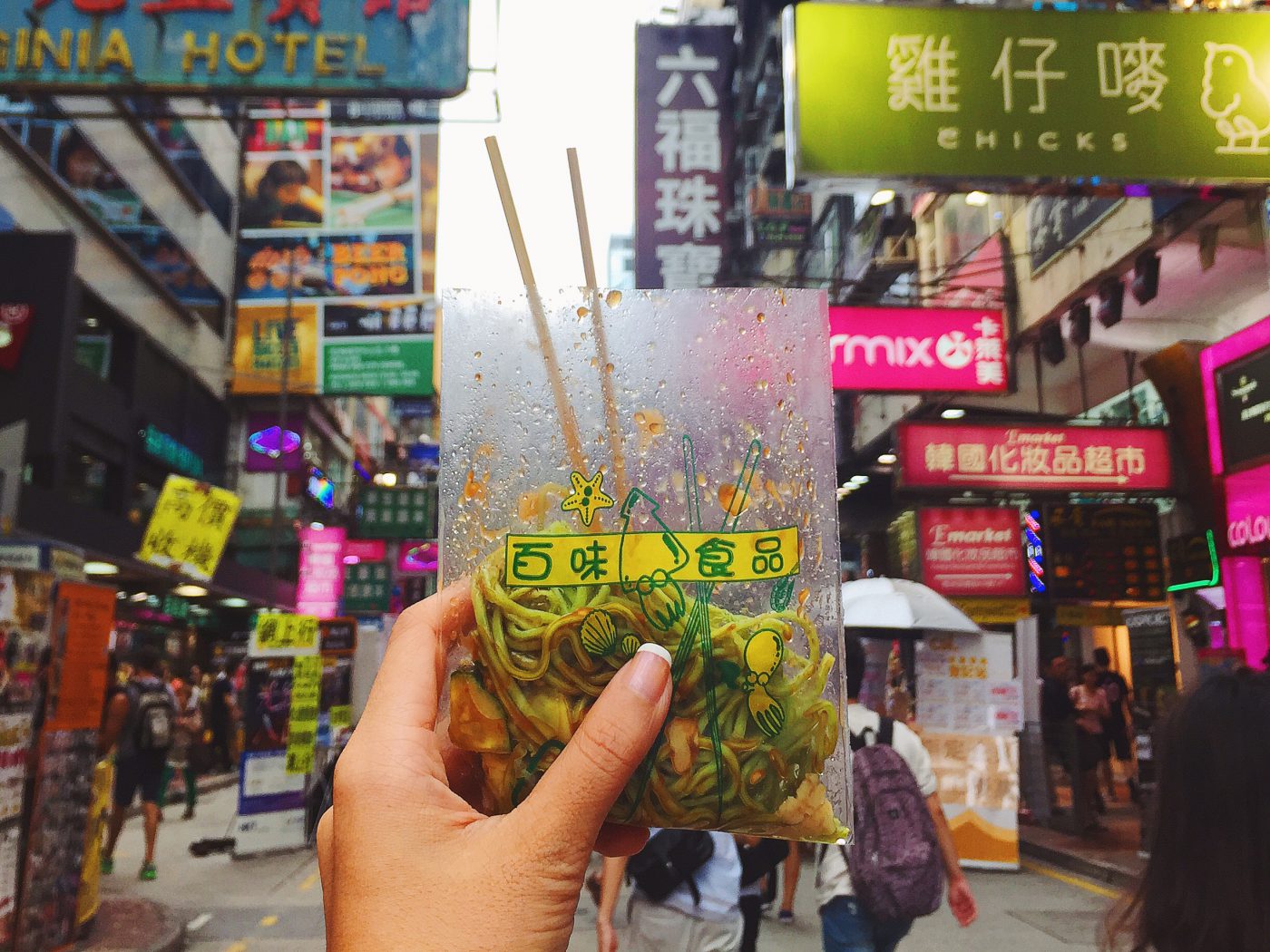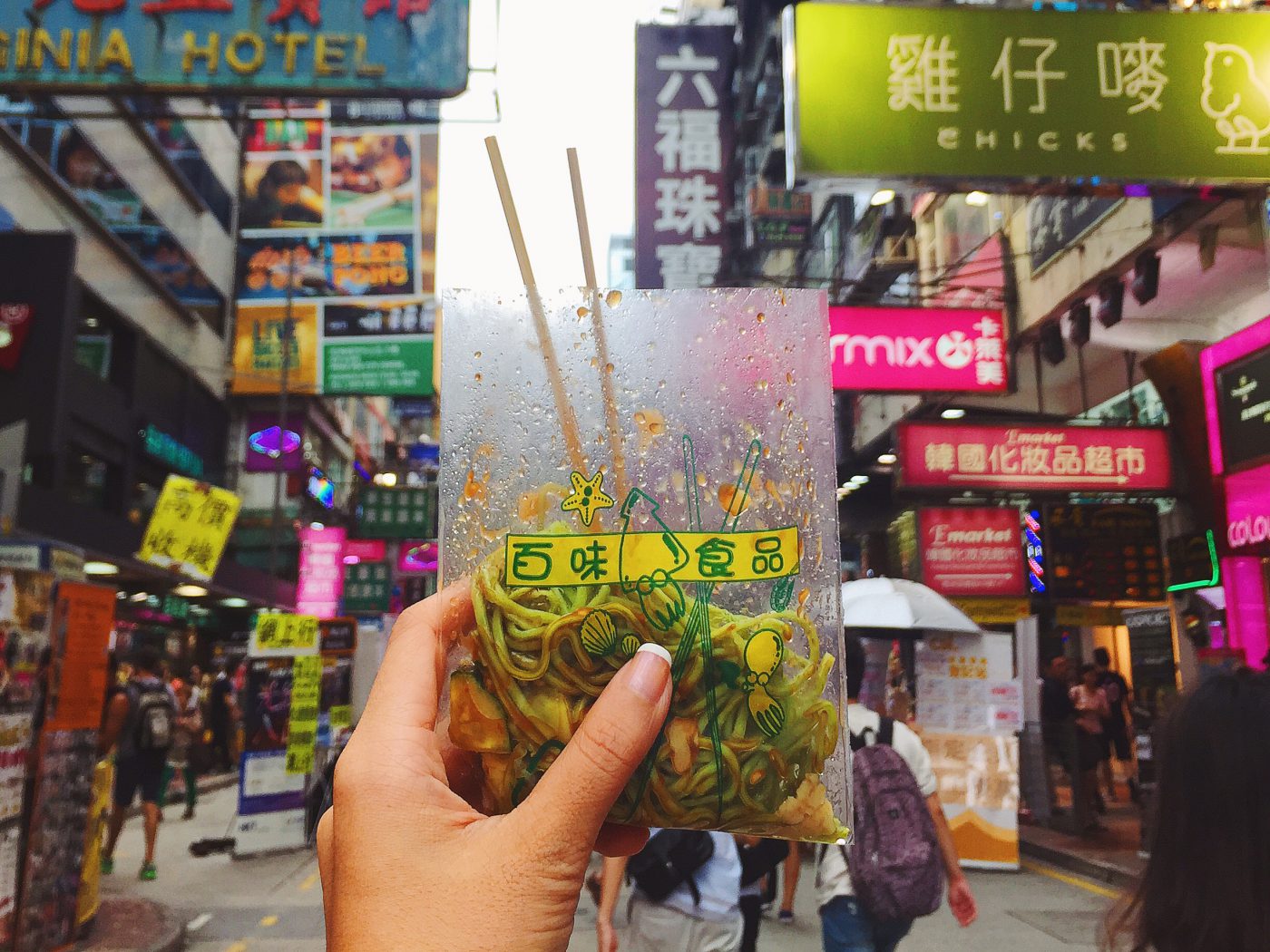 One of my favorite things to get in Mongkok is cold noodles at New Town Mall / Argyle Center just outside the Mongkok MTR Station (Take exit D2 and enter the building to the left). For only HK$12, you get to choose a prepackaged small plastic bag of noodles and toppings like pork, various seafood, and other meats. The noodle and toppings are then mixed with soy and garlic chili.
Shop at Women's Market on Tung Choi Street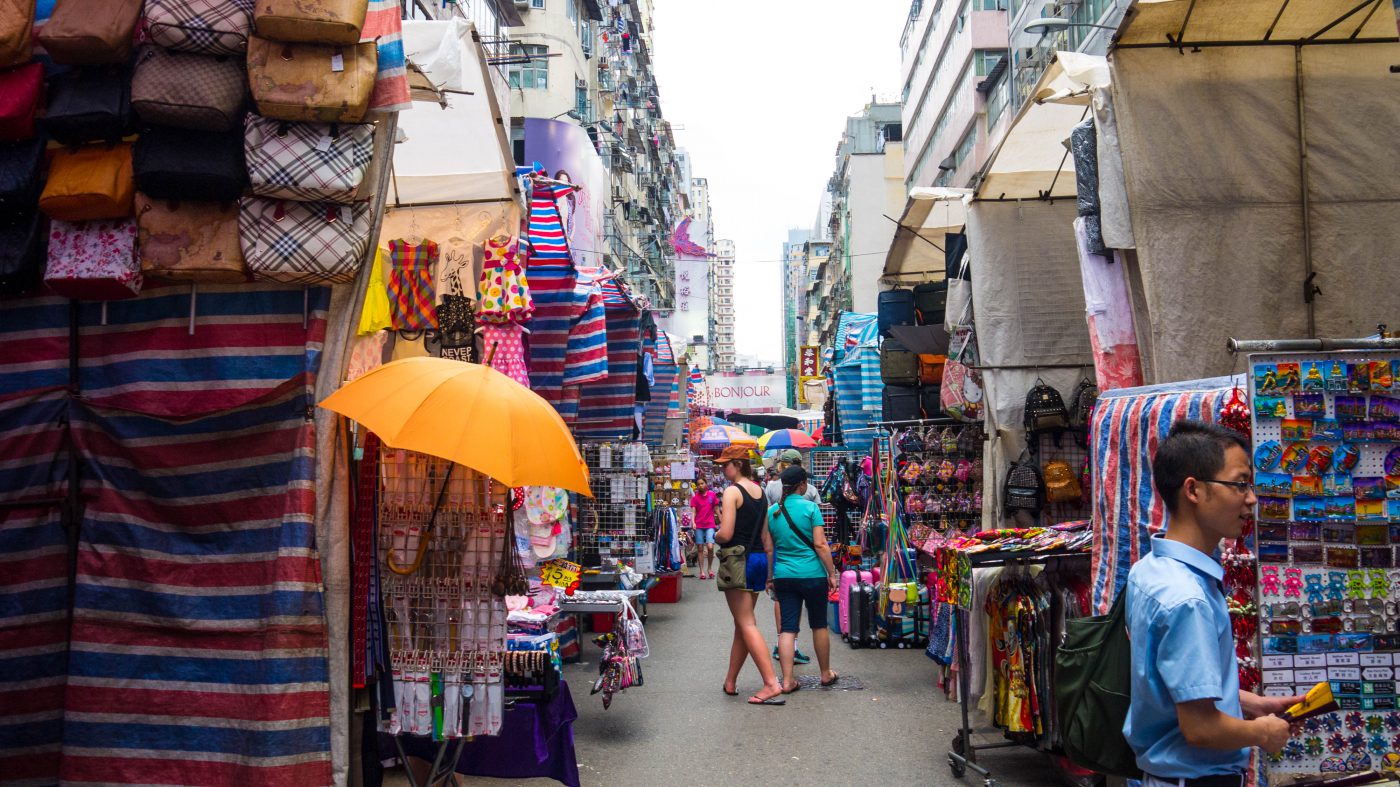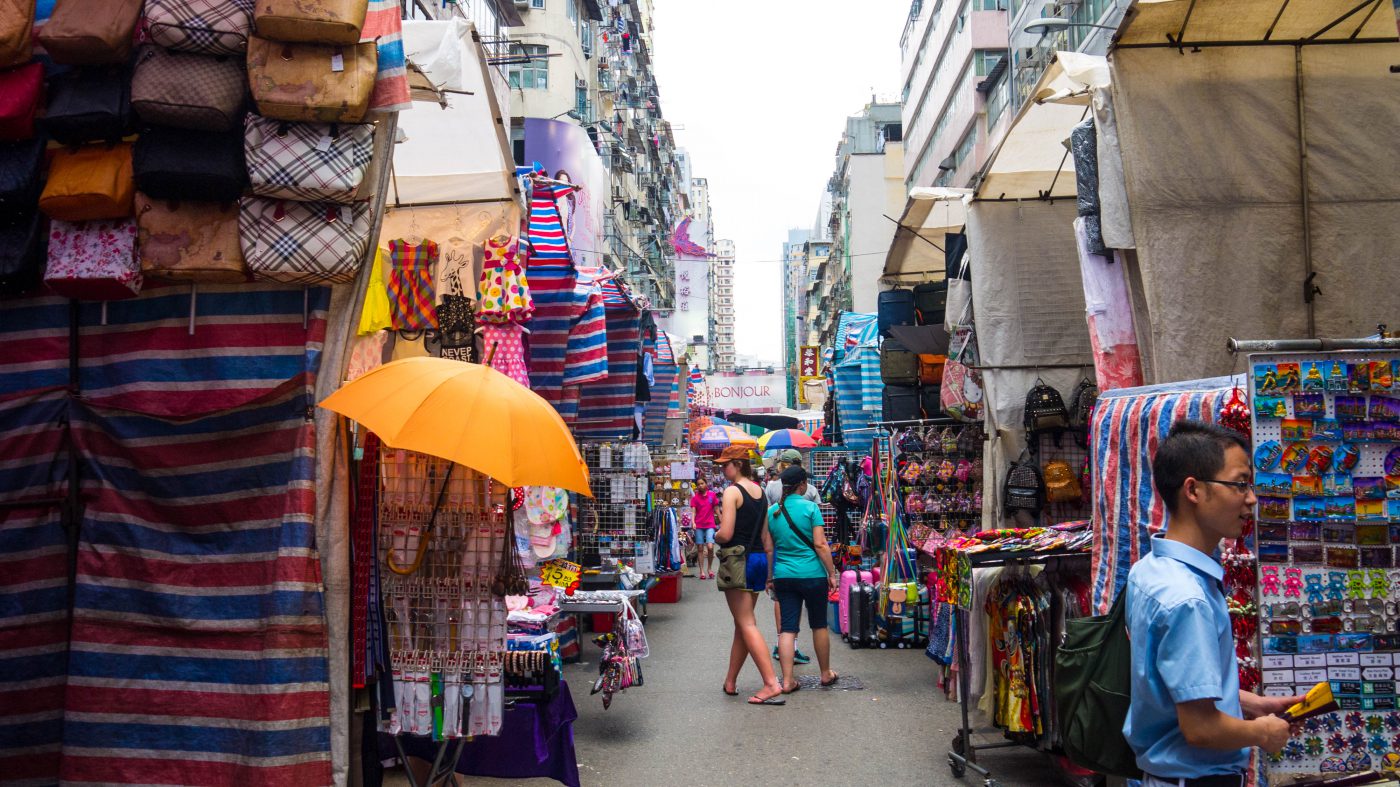 Just a close walk from Mongkok MTR, the Women's market is listed in pretty much all of the guidebooks as a must-visit. In my opinion, while it's definitely an exciting and vibrant street, I don't see a reason to visit it more than once as you can find similar alley shops in other parts of Hong Kong. If this is your first-time visit to Hong Kong though, definitely give it a go.
3. Take The Star Ferry Cruise
Now that you've explored the Kowloon side, it's time to make the cross over to Hong Kong island. Normally I would take the train (called MTR) to go between Kowloon and Hong Kong island, but I wanted to do something different this time. So I headed to the harbor to take the Star Ferry and cruised over to Hong Kong island for a mere HK$6 per person.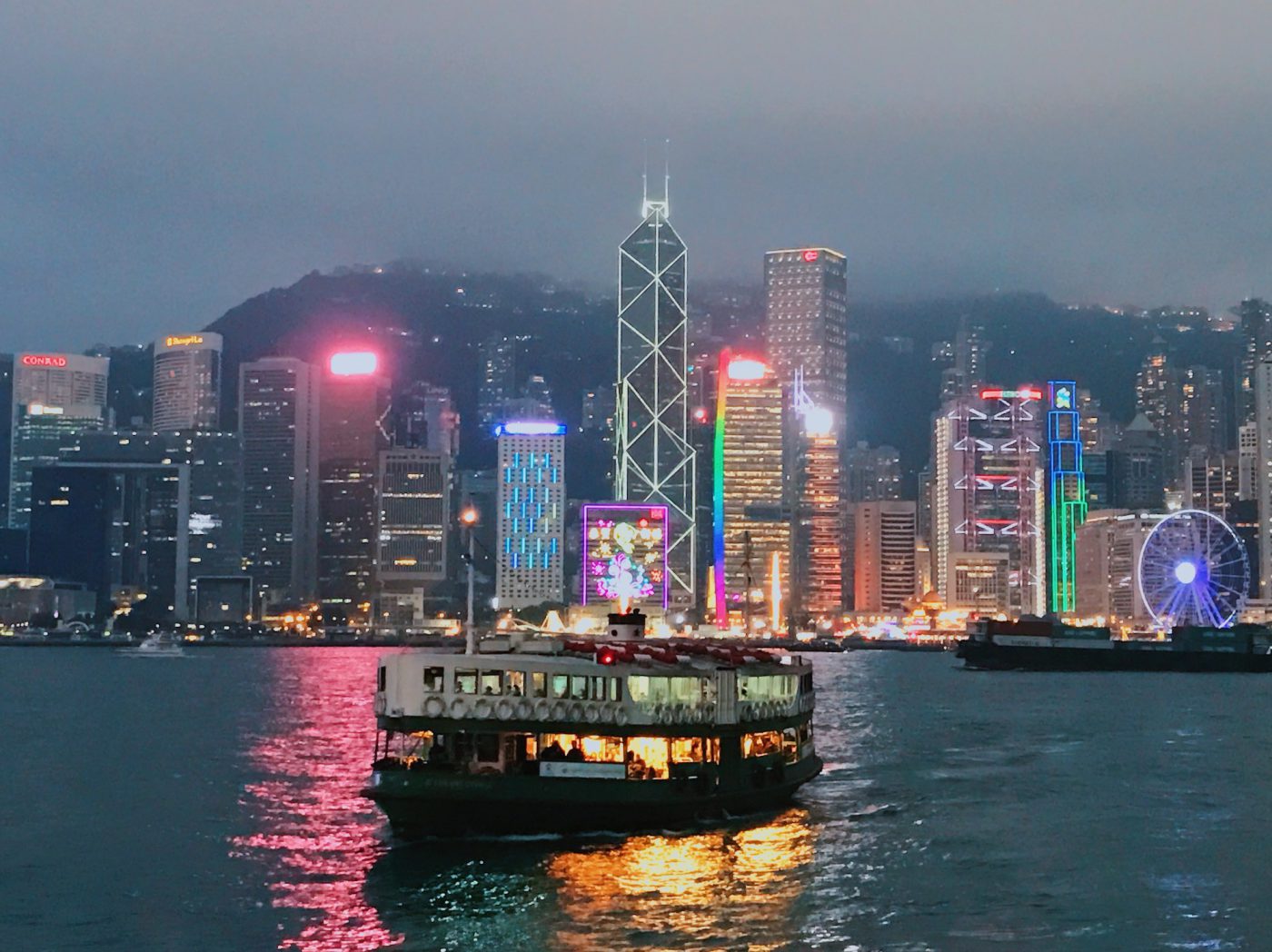 The trip took only about 10 minutes and I got to see both sides of the skylines at the same time. Highly recommended at least once! It's much more exciting than taking the train which is all underground. The area is very beautiful at night too.
4. Make your way to Soho on Hong Kong Island
I spent a ton of time in the Central district last time but managed to completely miss other parts of SoHo (South of Hollywood Rd). This time around, I made sure I spent time here too. Here are some places you can check out here: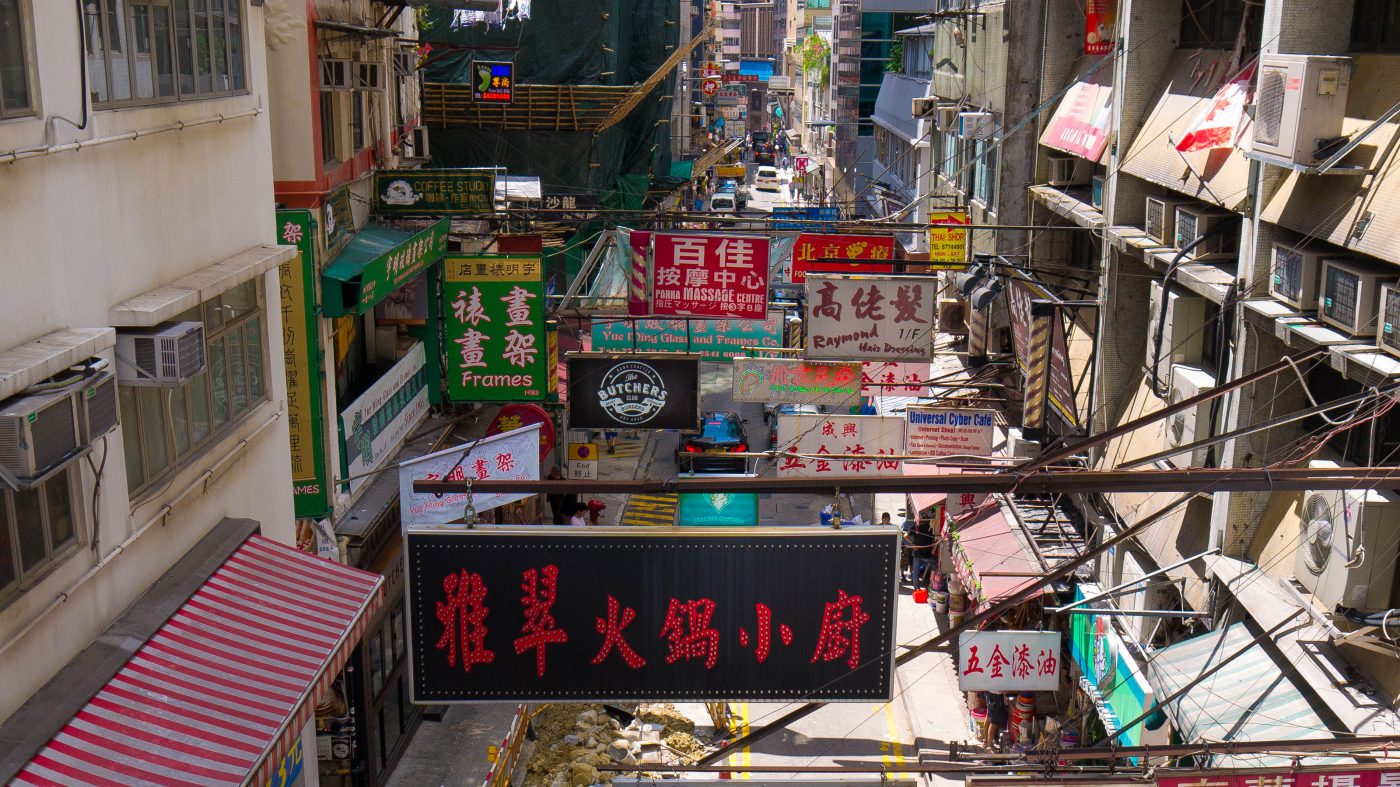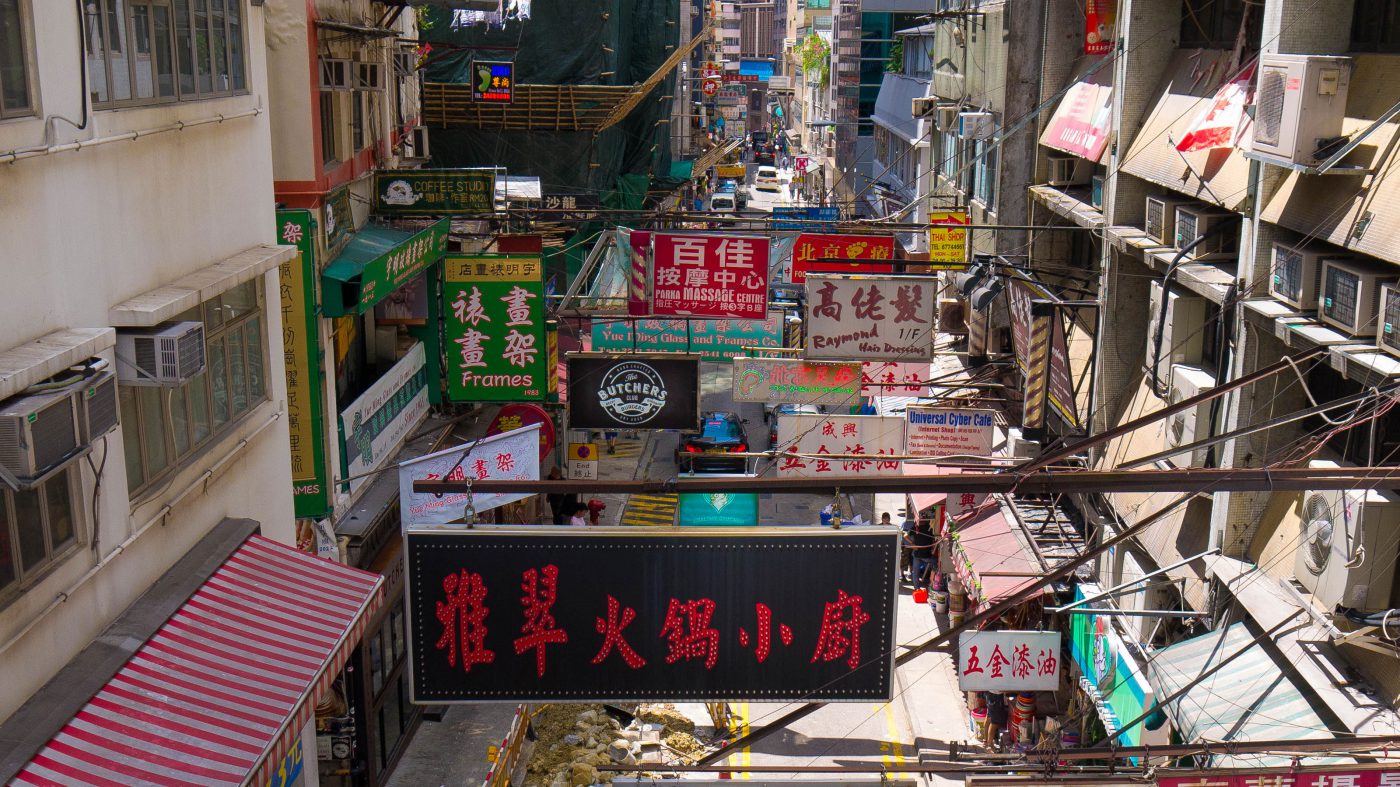 Mid-levels Escalator
The Central district is a very hilly area, and quite steep too! Thankfully Hong Kong government realized this and has built what is now called the Mid-levels Escalator. Basically, it's a long series of a shaded moving platform that helps those who are trying to get from the bottom area of Central up to SoHo. During morning commute time, the platform goes downhill and then changes direction around lunchtime to go uphill. Genius!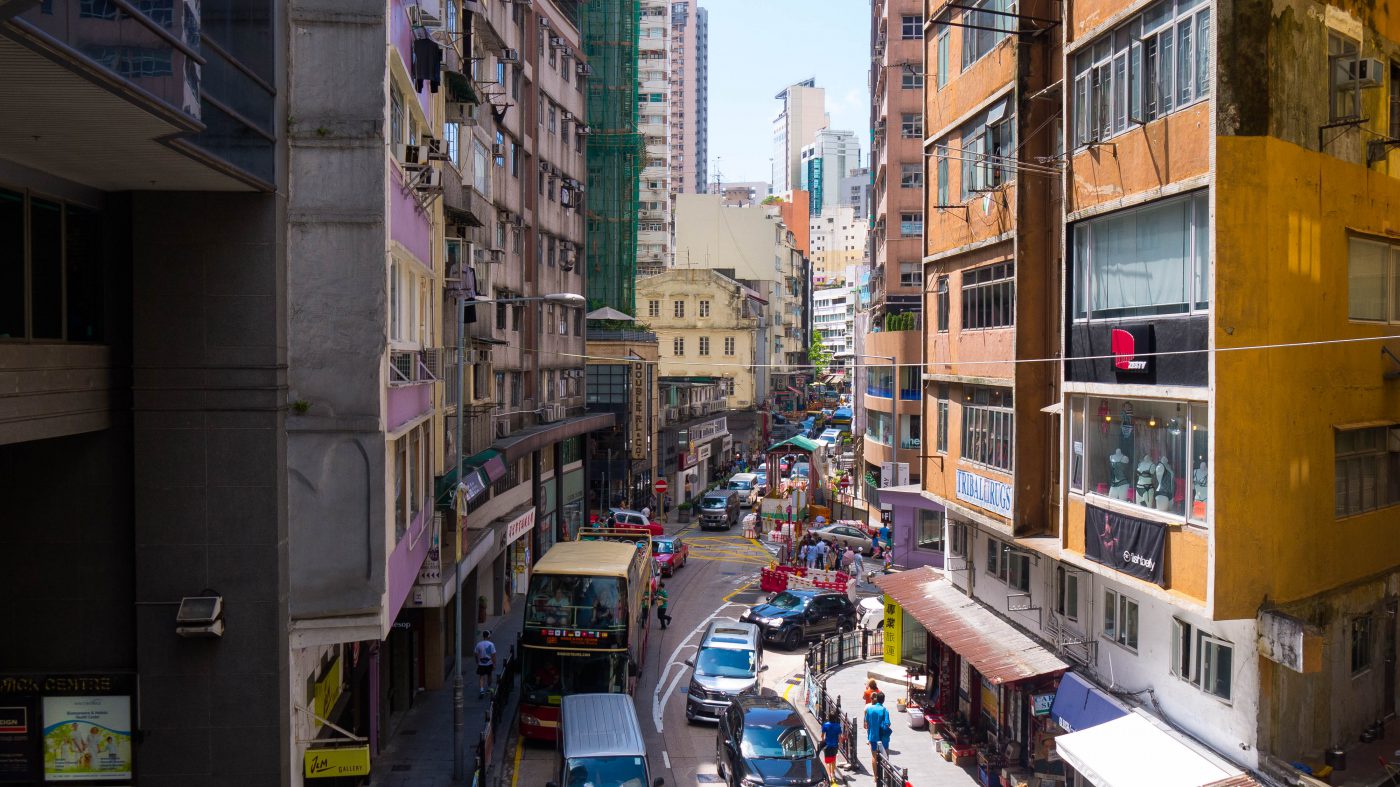 I suggest taking this up from the Central area all the way up to SoHo so that you can walk down the slopes later on. Much easier than walking uphill!
Check out local brands at PMQ (Police Married Quarter)
Started out as living quarters for police officers back in the days, PMQ now houses 5-floors of local designers' boutique and artsy DIY shops. If you are into that kind of stuff, you can spend hours here checking out each store! The usual suspects like G.O.D, Kapok, and Vivienne Tam also have a space here. I can spend hours and hours window shopping here.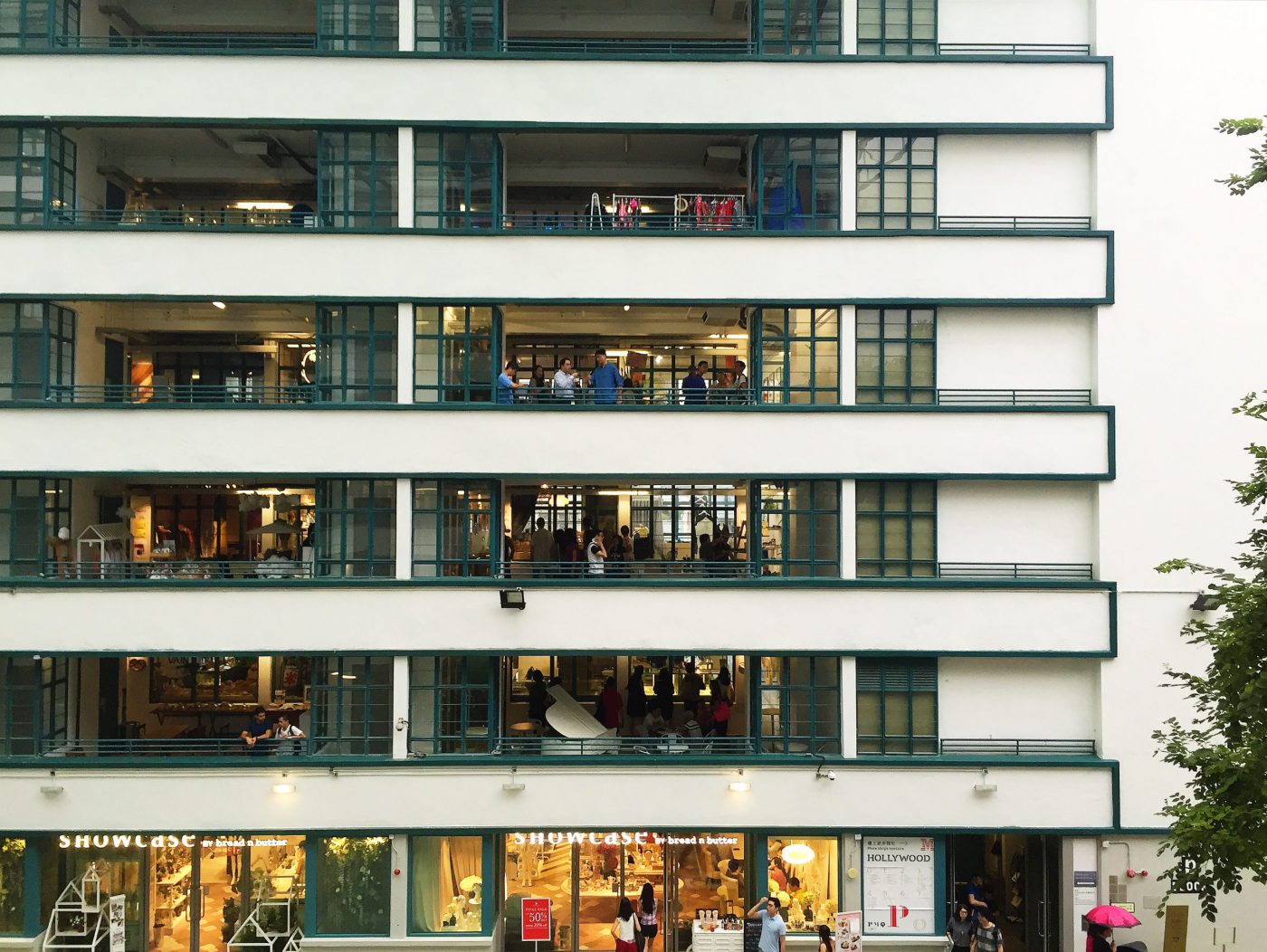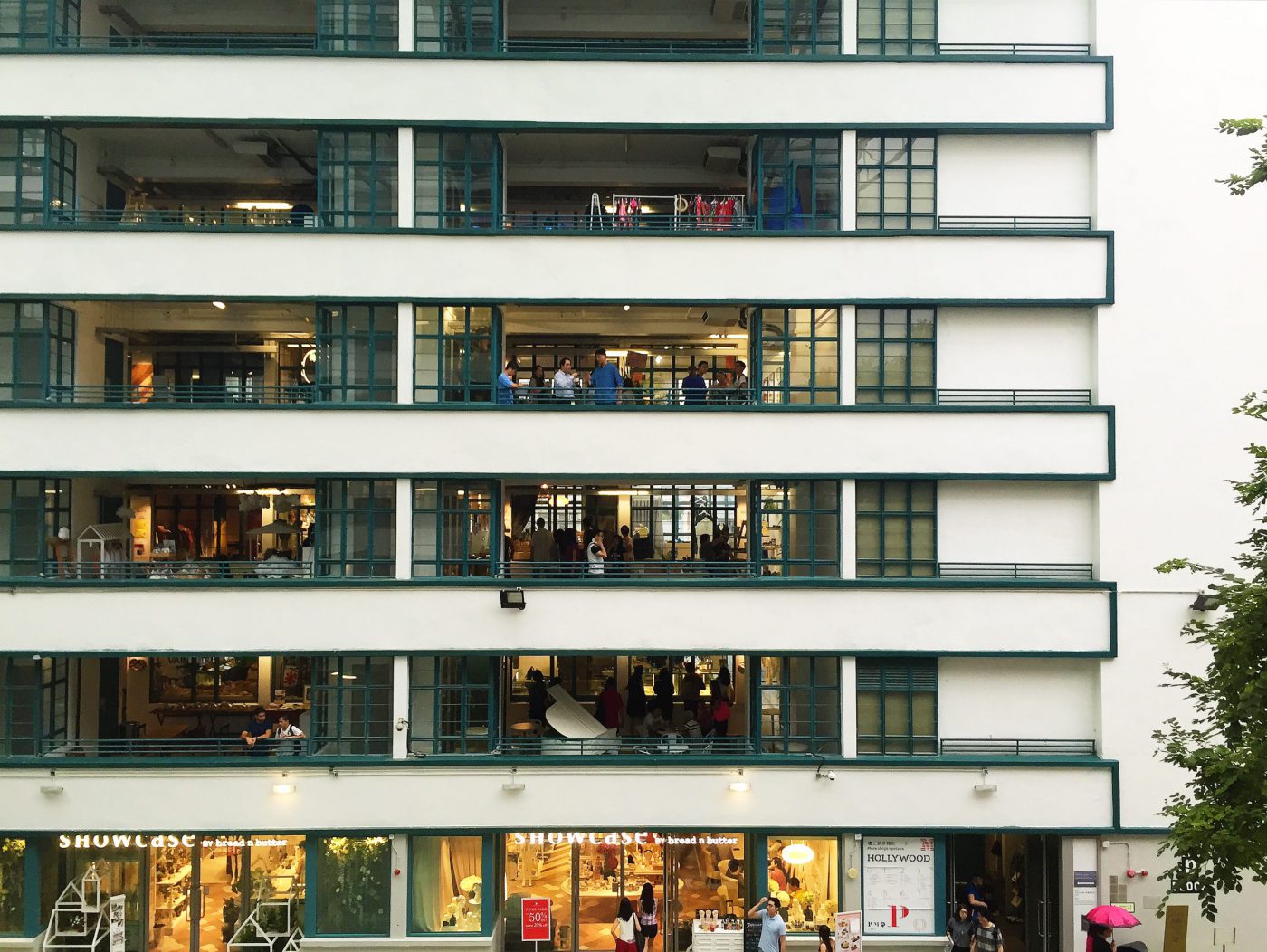 Have Brunch at Aberdeen Street Social near PMQ
If you are hungry for food while at PMQ, I suggest checking out Aberdeen Street Social downstairs next to the building. While the food offered here is not local at all (their menu is western brunch-y stuff like avocado toast and eggs benny), it's a cool place to visit. You get a glimpse of the expatriate culture in Hong Kong, which I find very similar to Singapore. Good luck getting a seat during weekend brunch time though.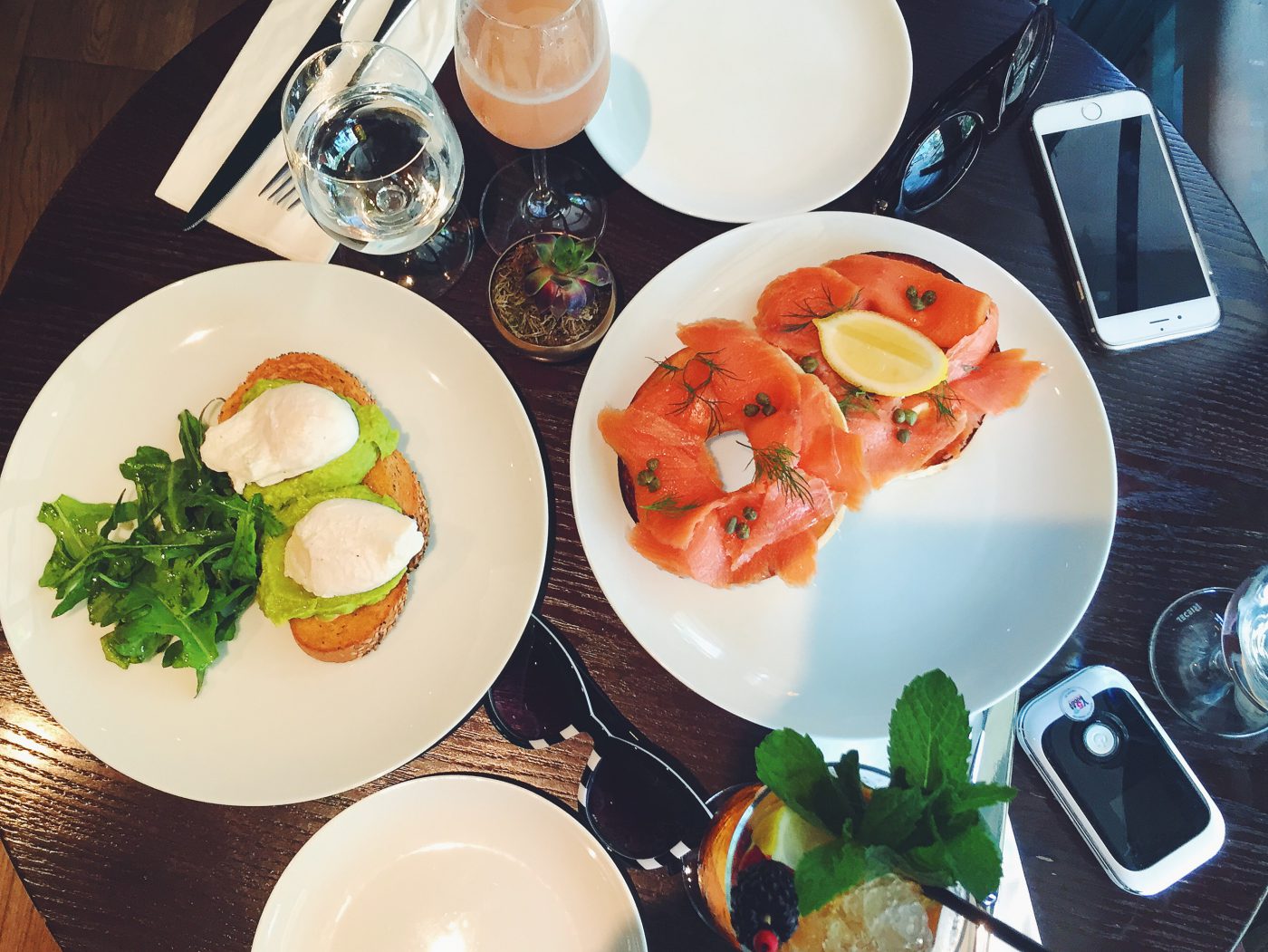 Visit Tai Cheong Bakery for famous Portuguese Egg Tarts
Also located just a few minutes' walk from PMQ and right next to the historical Graham street market is Tai Cheong Bakery. There is only one thing worth getting here: The Egg Tarts! The filling is smooth and flavorful while the crumbs are flaky and perfect. MUST TRY.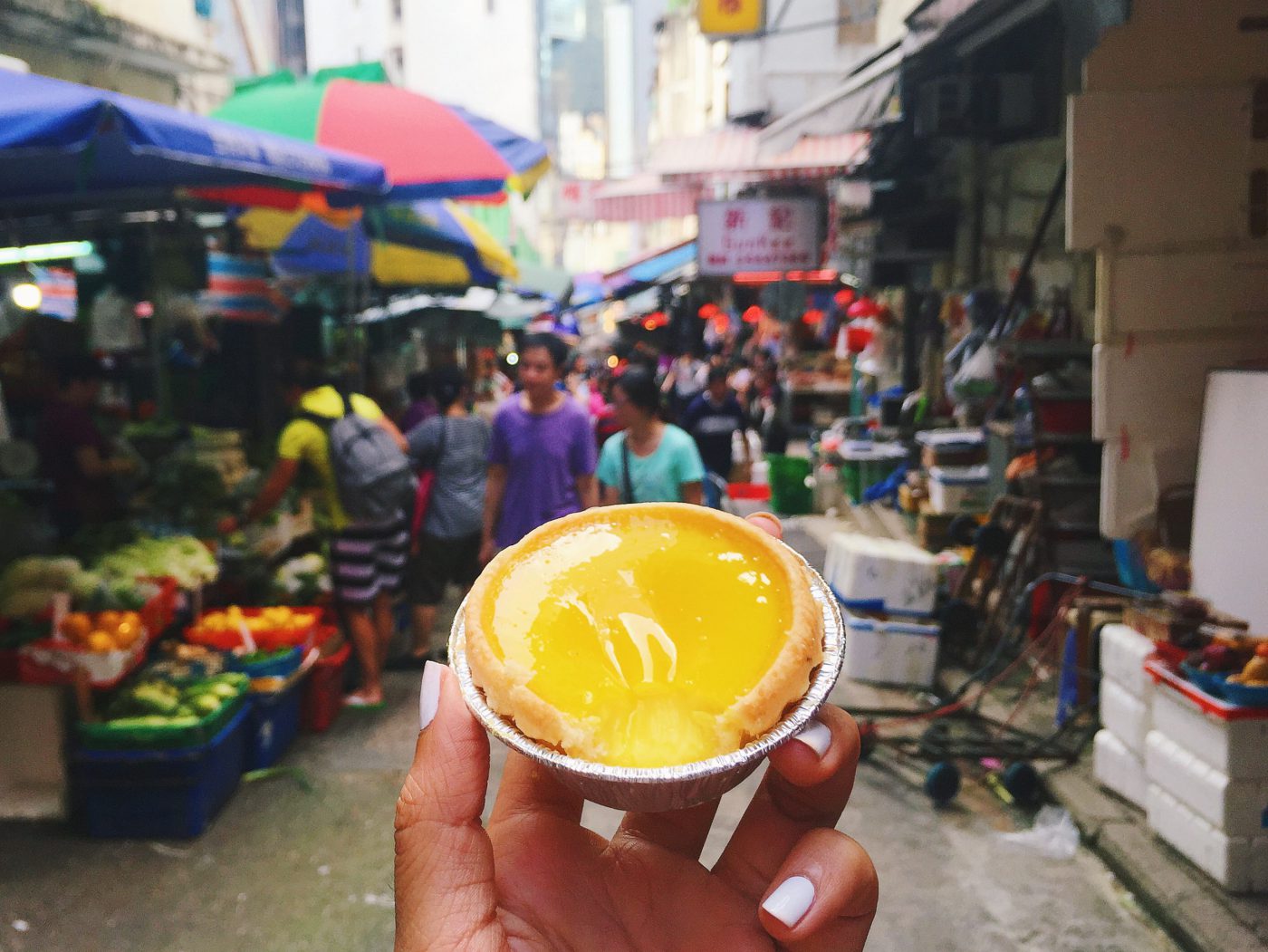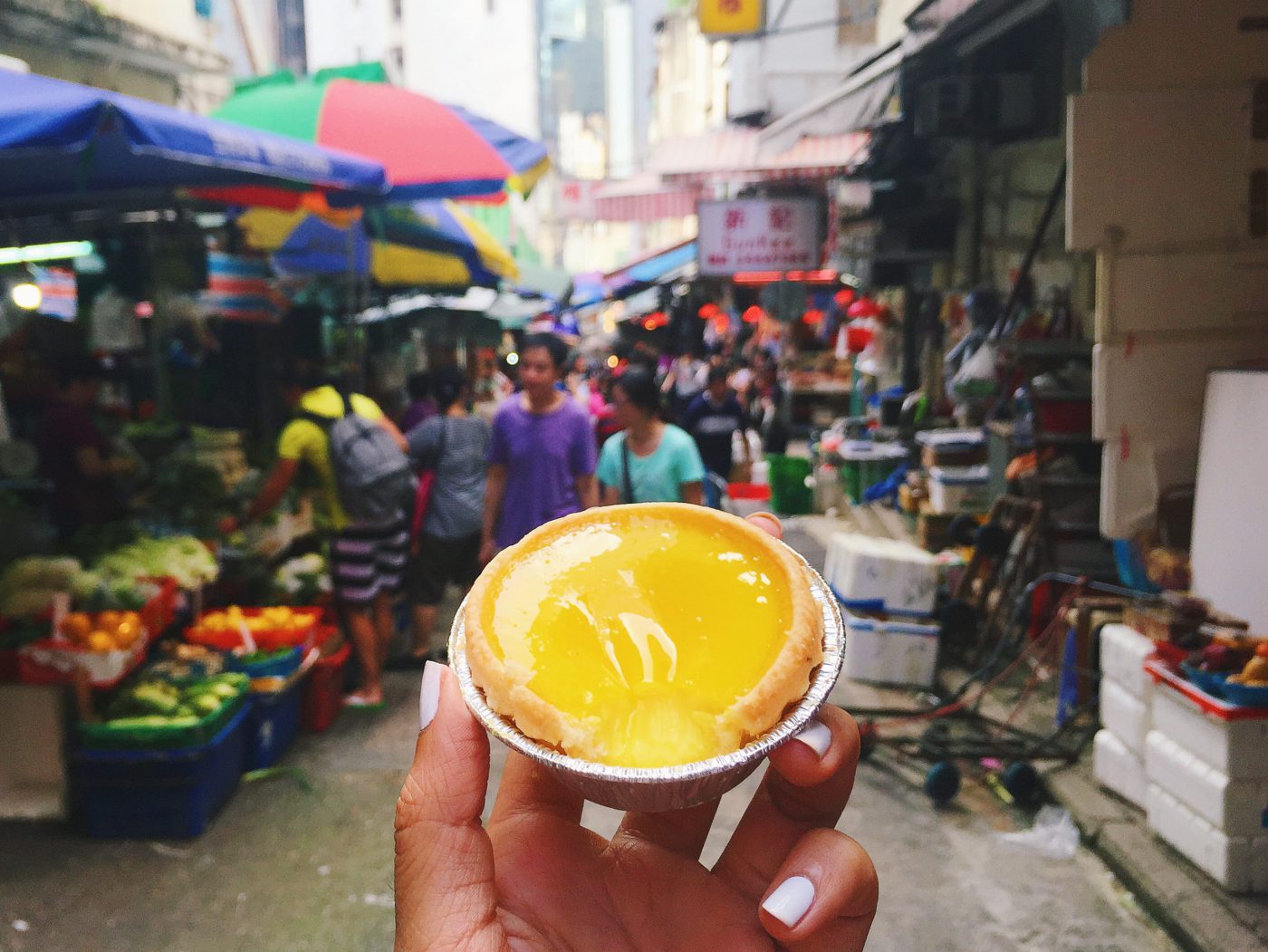 5. Lose Yourself in the Central District
One of the high points of my Hong Kong visit was losing myself in the Central district. I had planned to visit for a quick congee breakfast and then move on somewhere else – fast forward three meals and four hours later, I found myself rushing back to my hotel as my phone battery ran flat from taking so many pictures.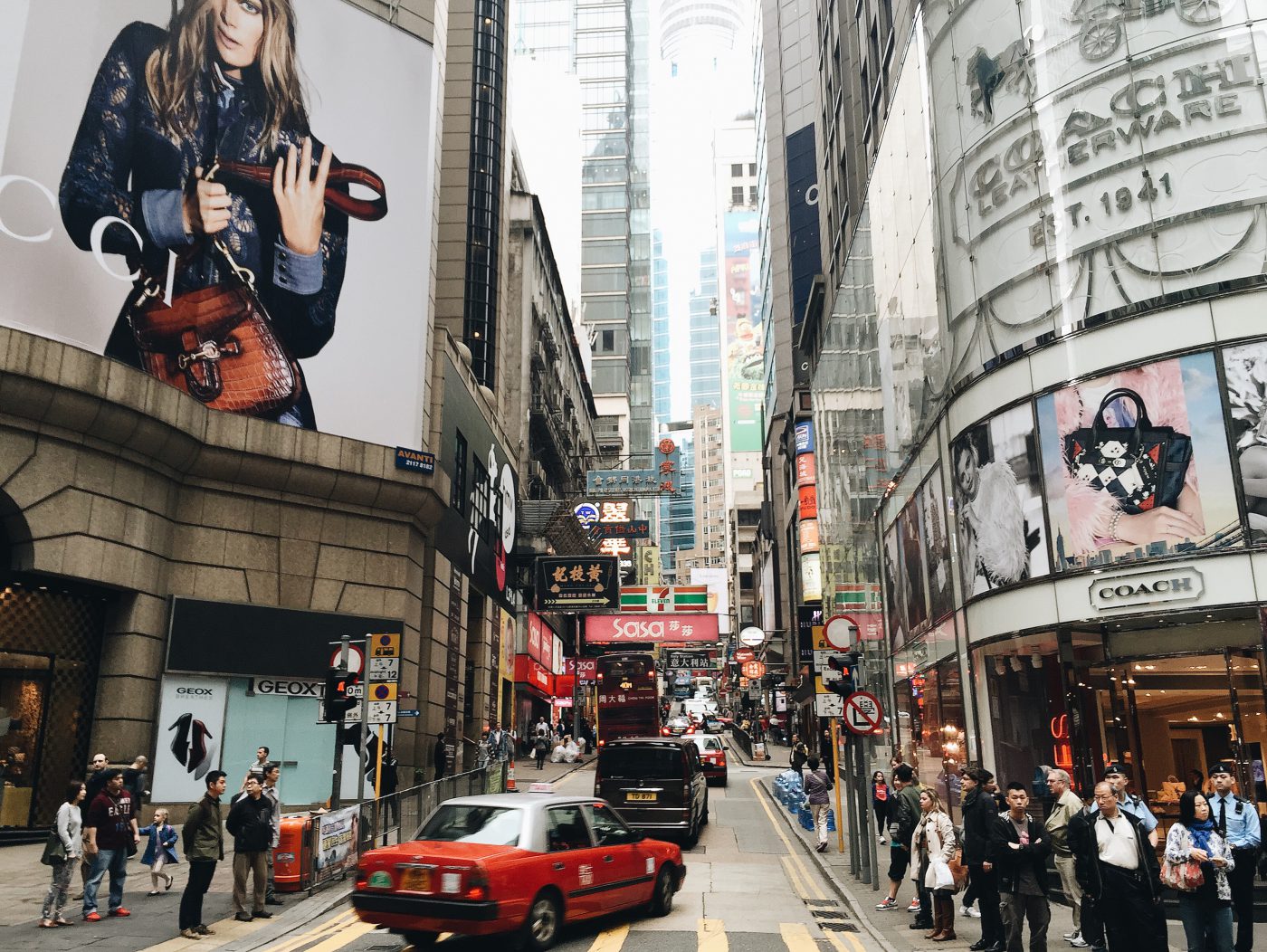 Central District, as you may have guessed from its name, is far from a quiet place. By day is filled with hustle and bustle of working Hongkies, and by night it transforms into the popular party street that centers around Lan Kwai Fong.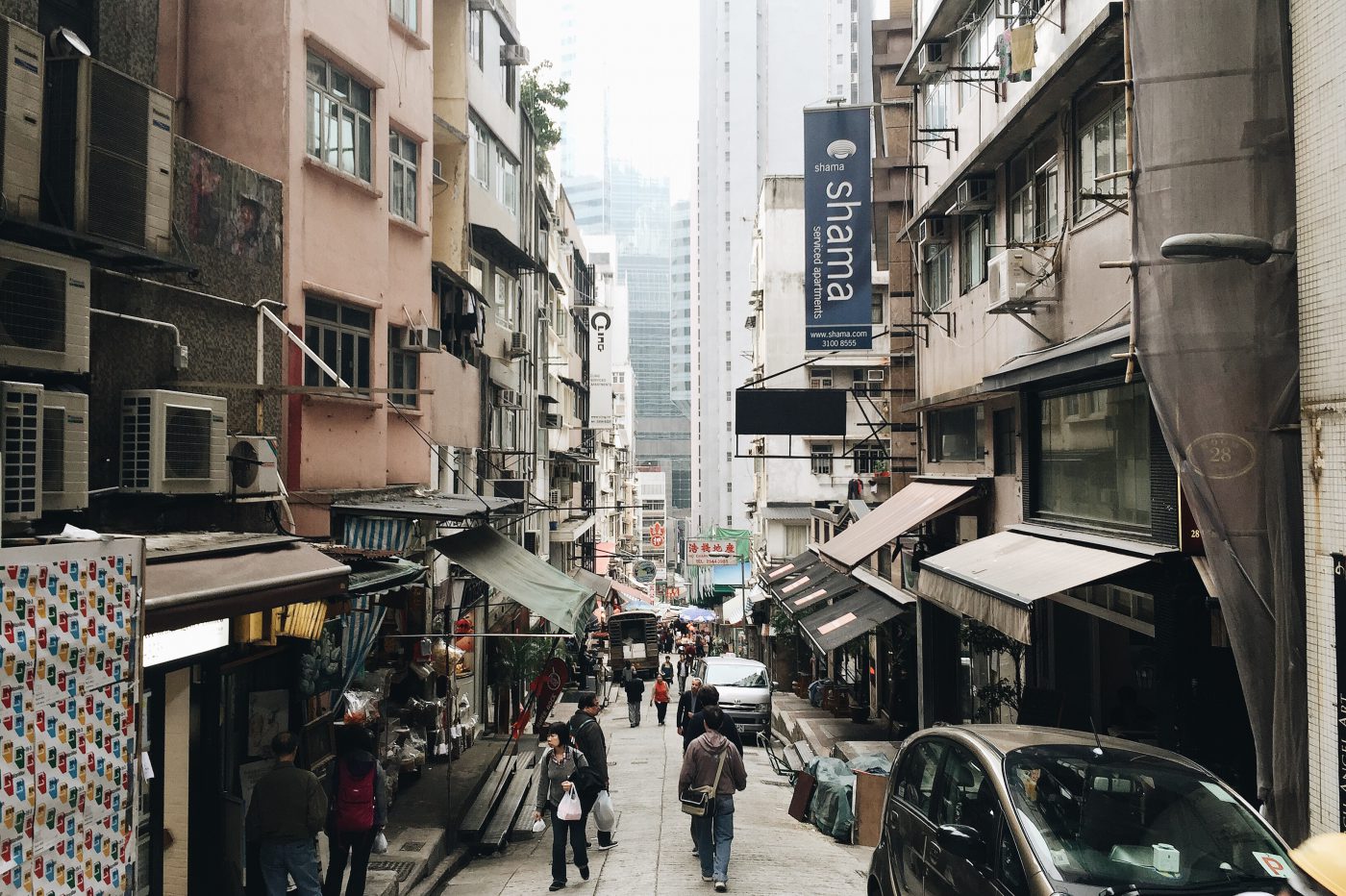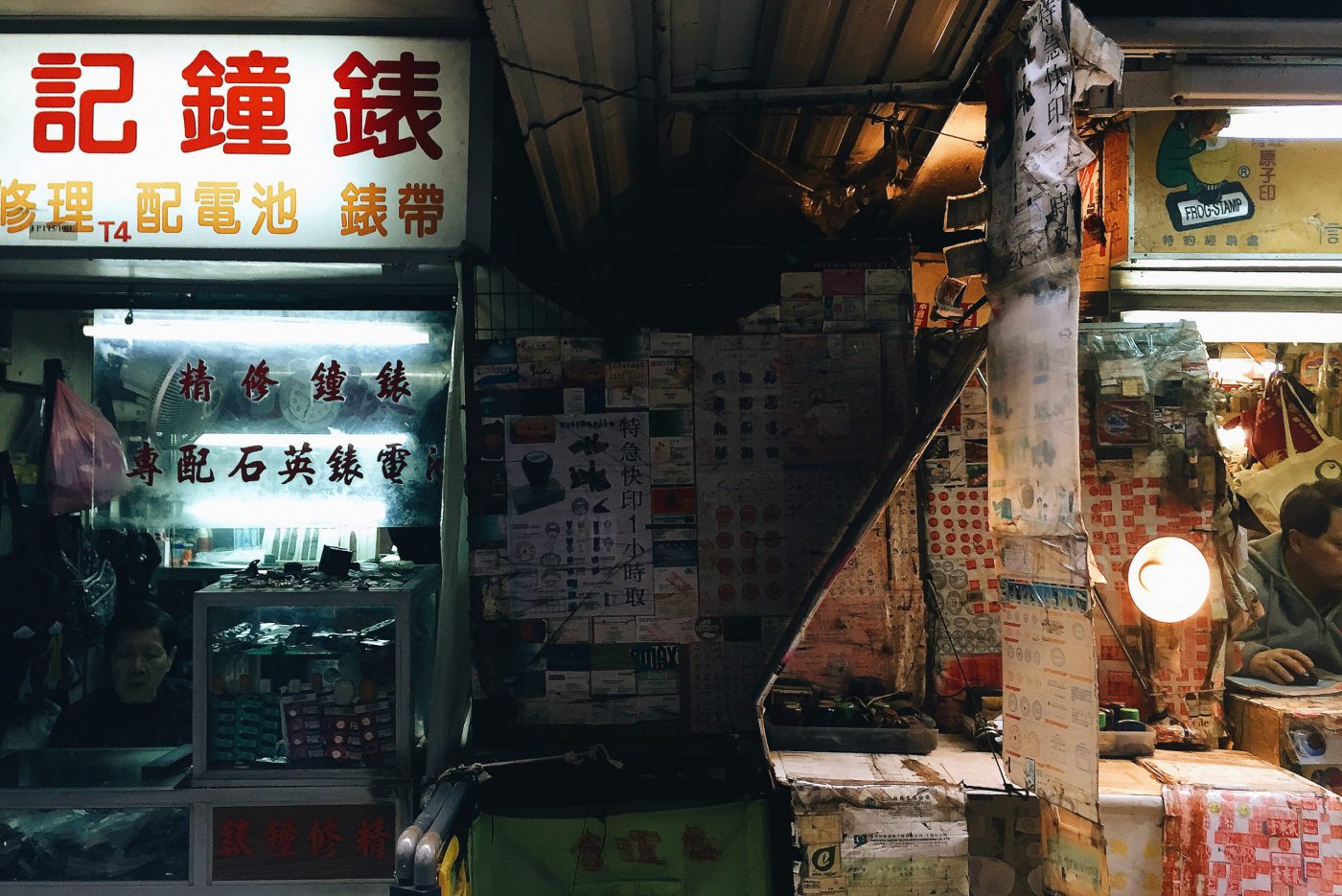 Graham Street Market, Central District
Have you ever seen a market so narrow and on a steeply inclined alley that barely qualifies as a street? Then you should visit Graham Street Market, one of the oldest market in Hong Kong. You'll find vendors selling meat, fresh fruits and vegetables, but I wasn't here to grocery shop so I mostly just walked around and tried to blend in with everyone else.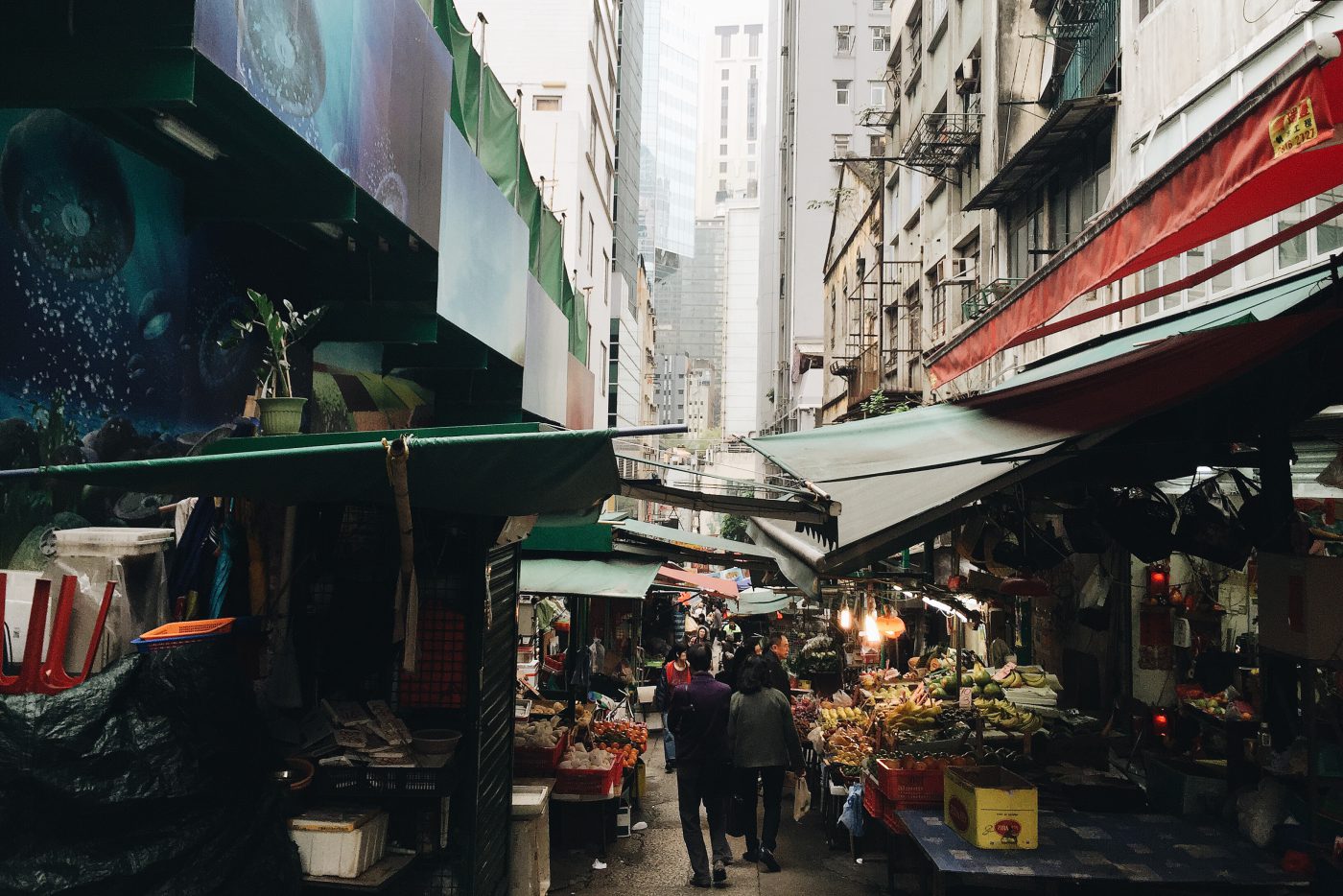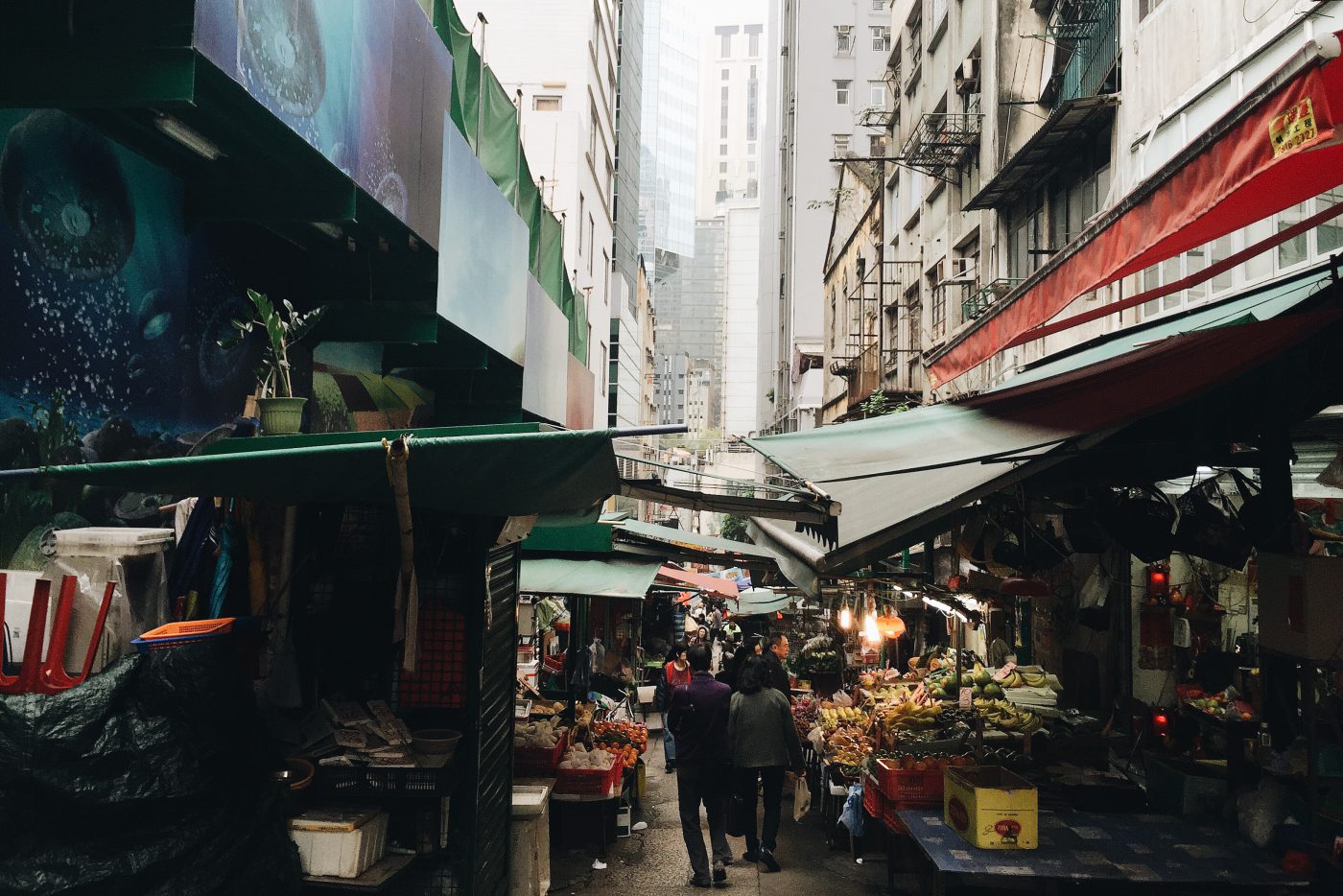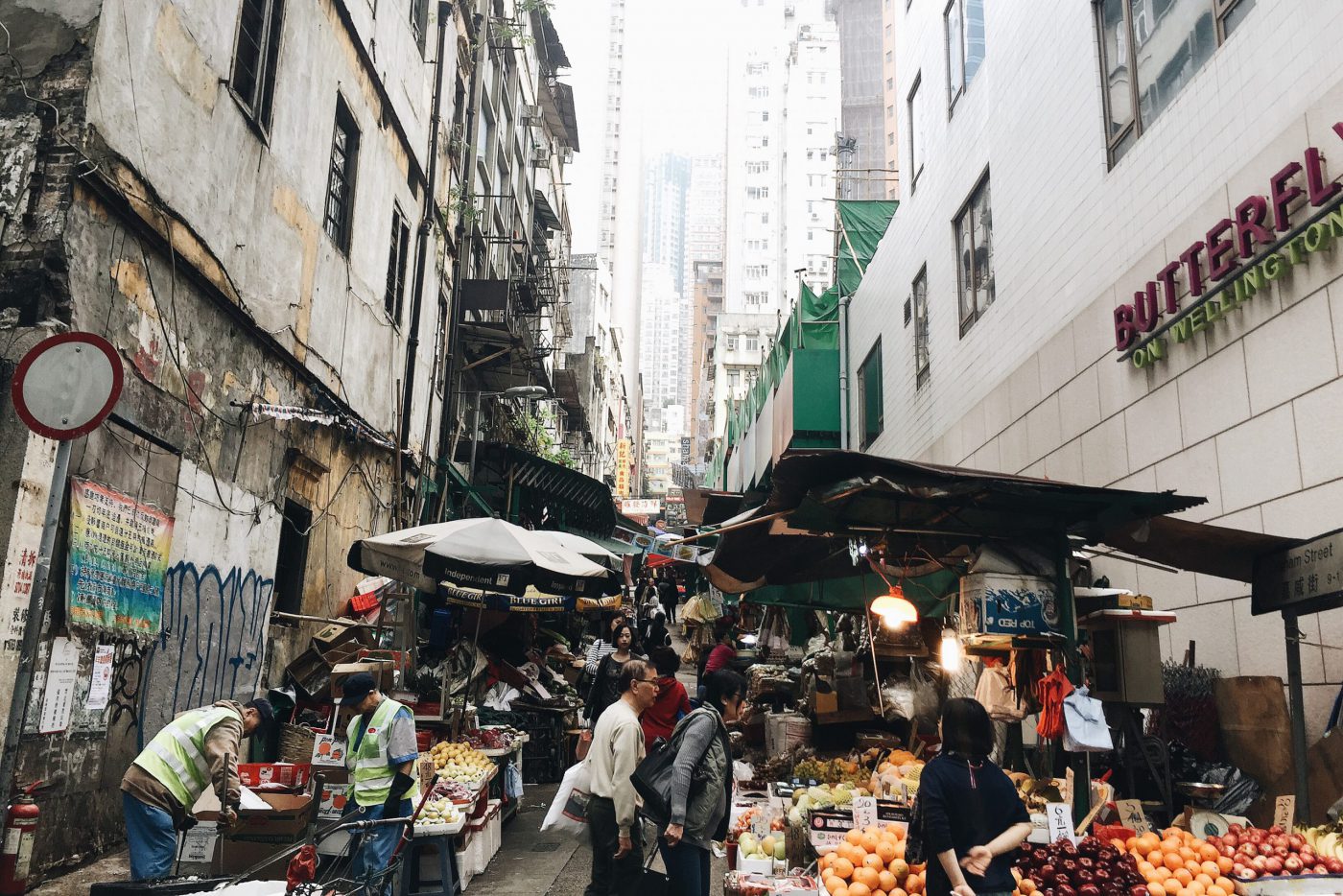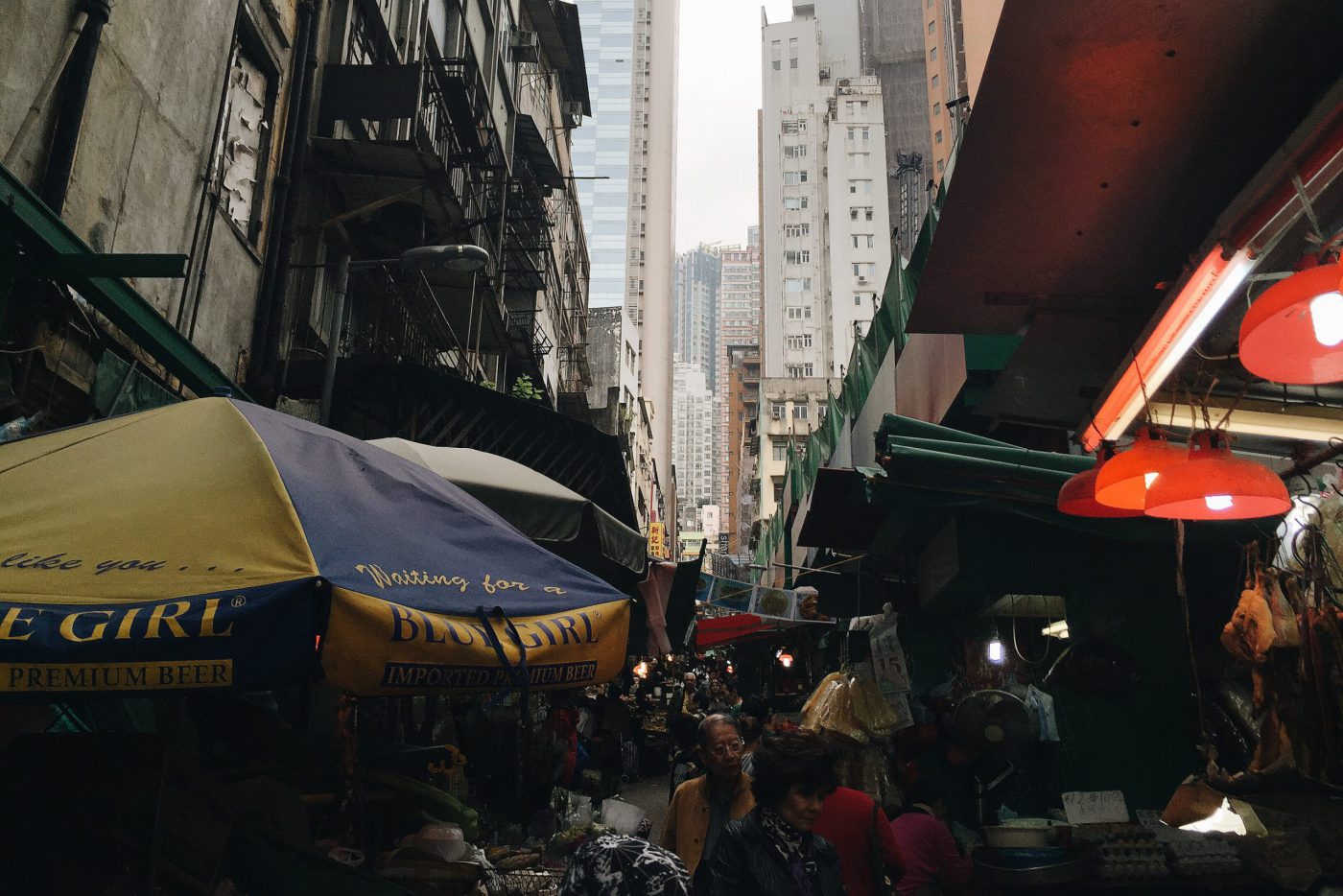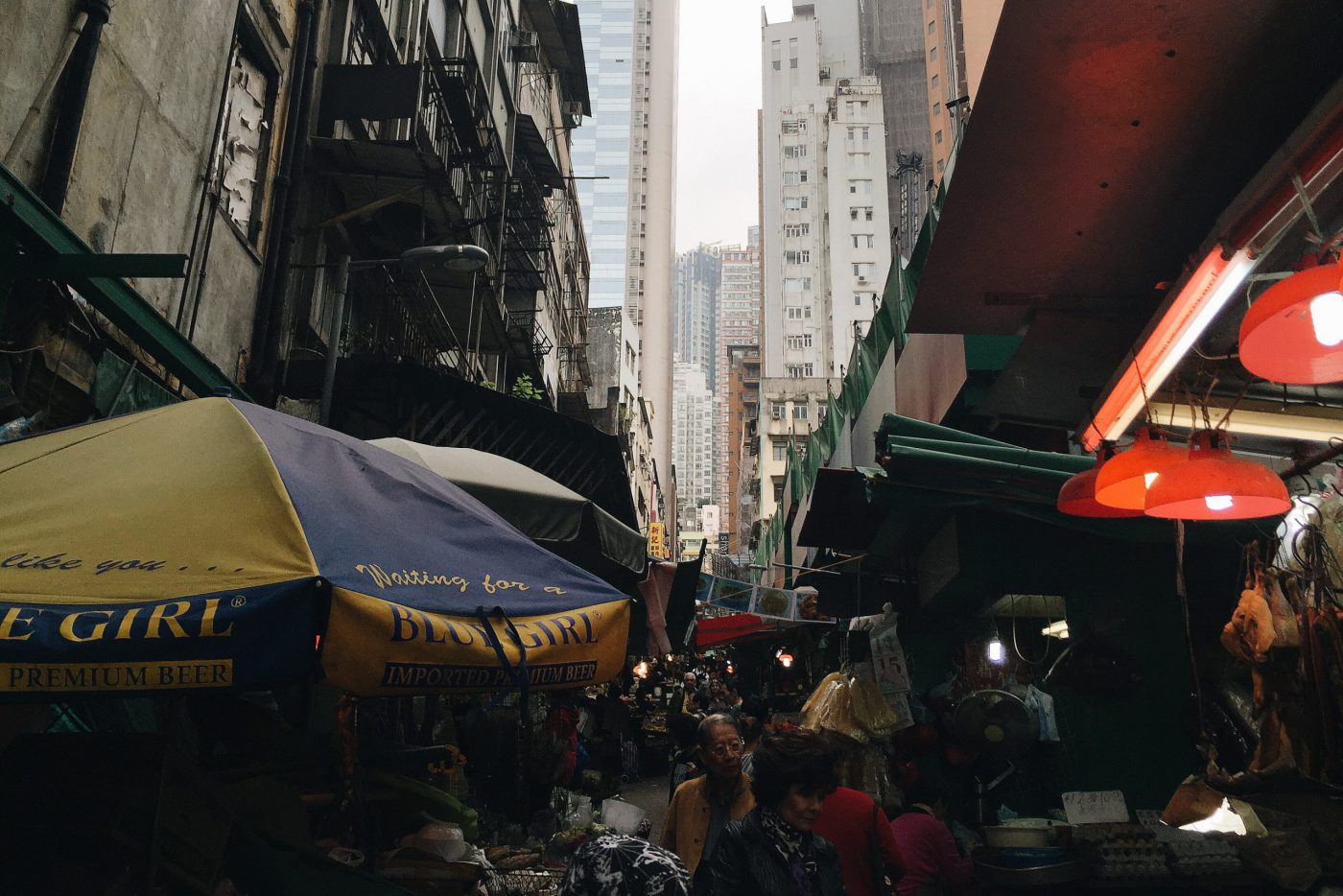 Wellington Street, Central District
I think Wellington street is one of the most picturesque part of Central District. But more importantly, this is where the two legendary Michelin-starred wanton noodles can be found: Mak's Noodles and Tsim Chai Kee, conveniently located close to each other on Wellington street.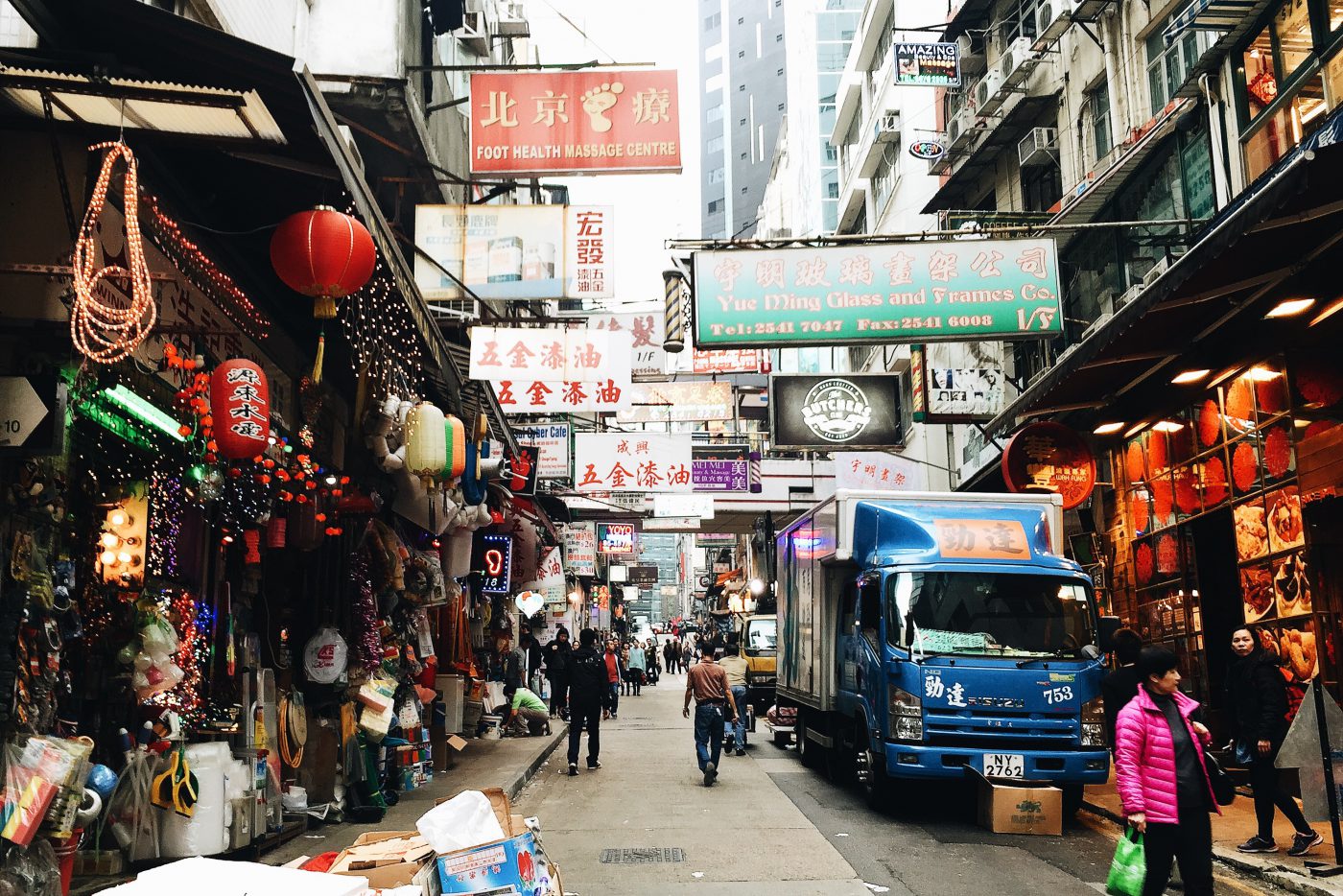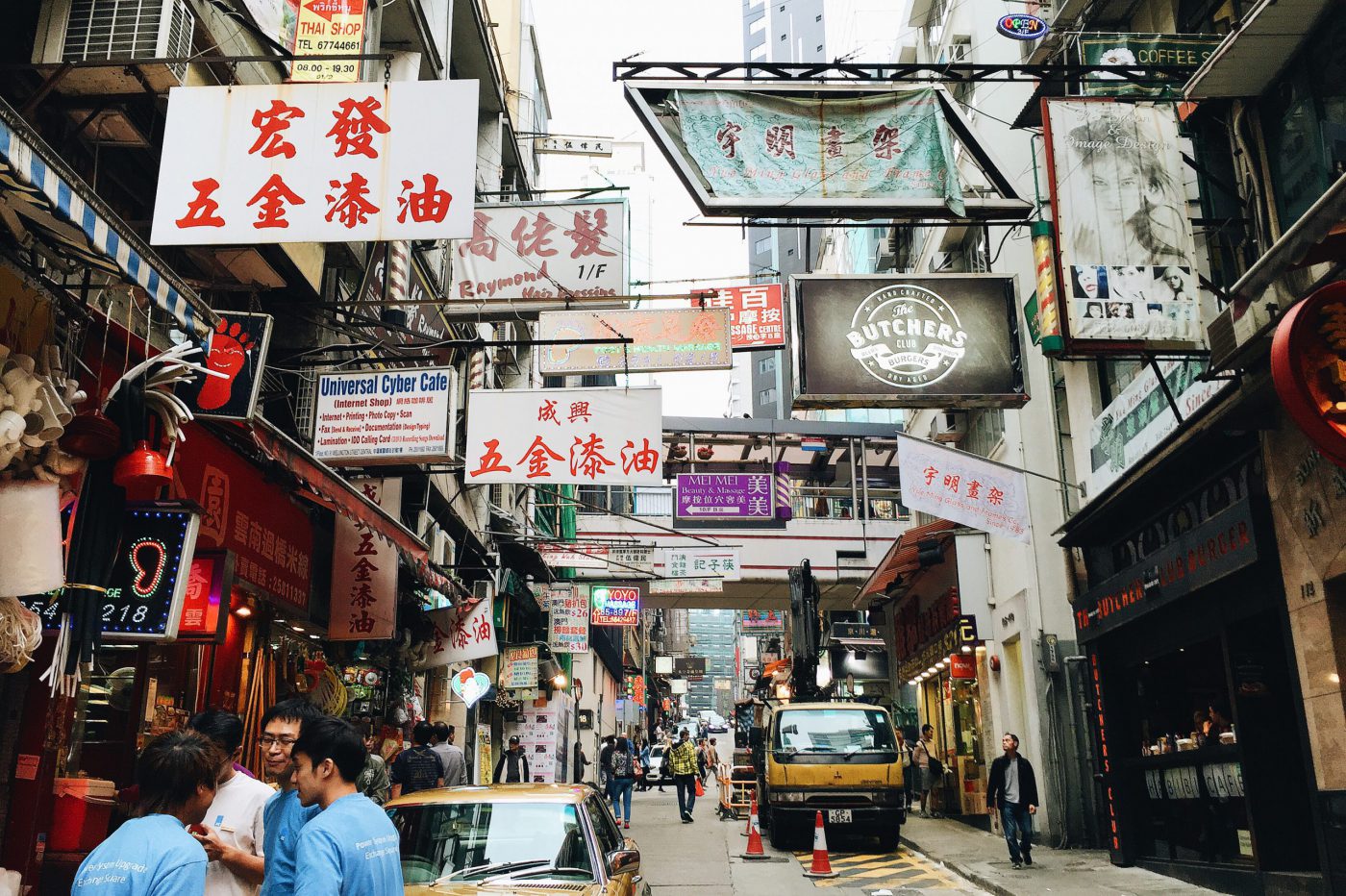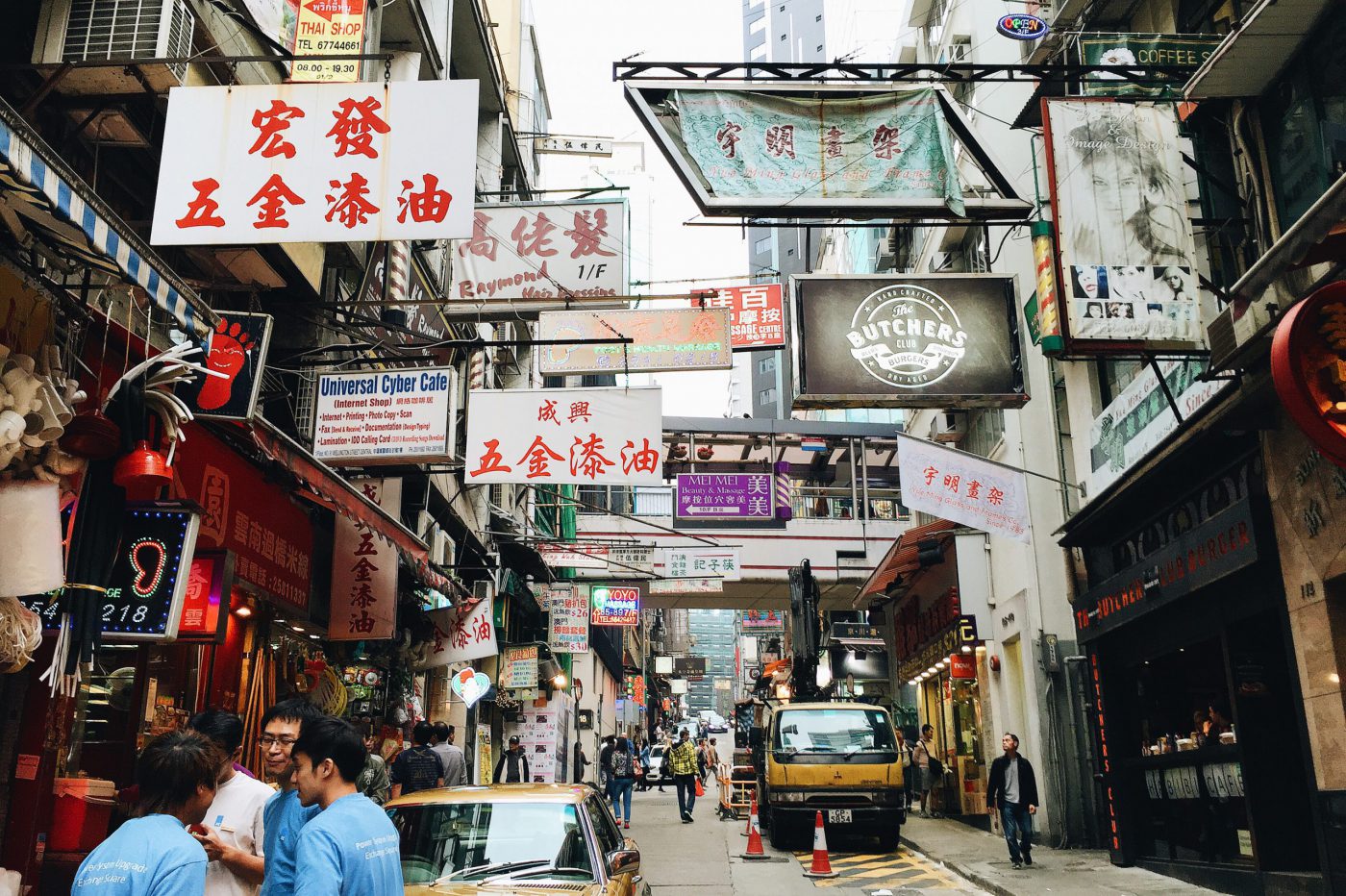 5. Go up to the Peak
On a clear day, I highly suggest visiting Hong Kong to go to The Peak for an impressive view over the entire Hong Kong island and Kowloon. There are three methods to go up to the peak: The Tram, Bus and Taxi.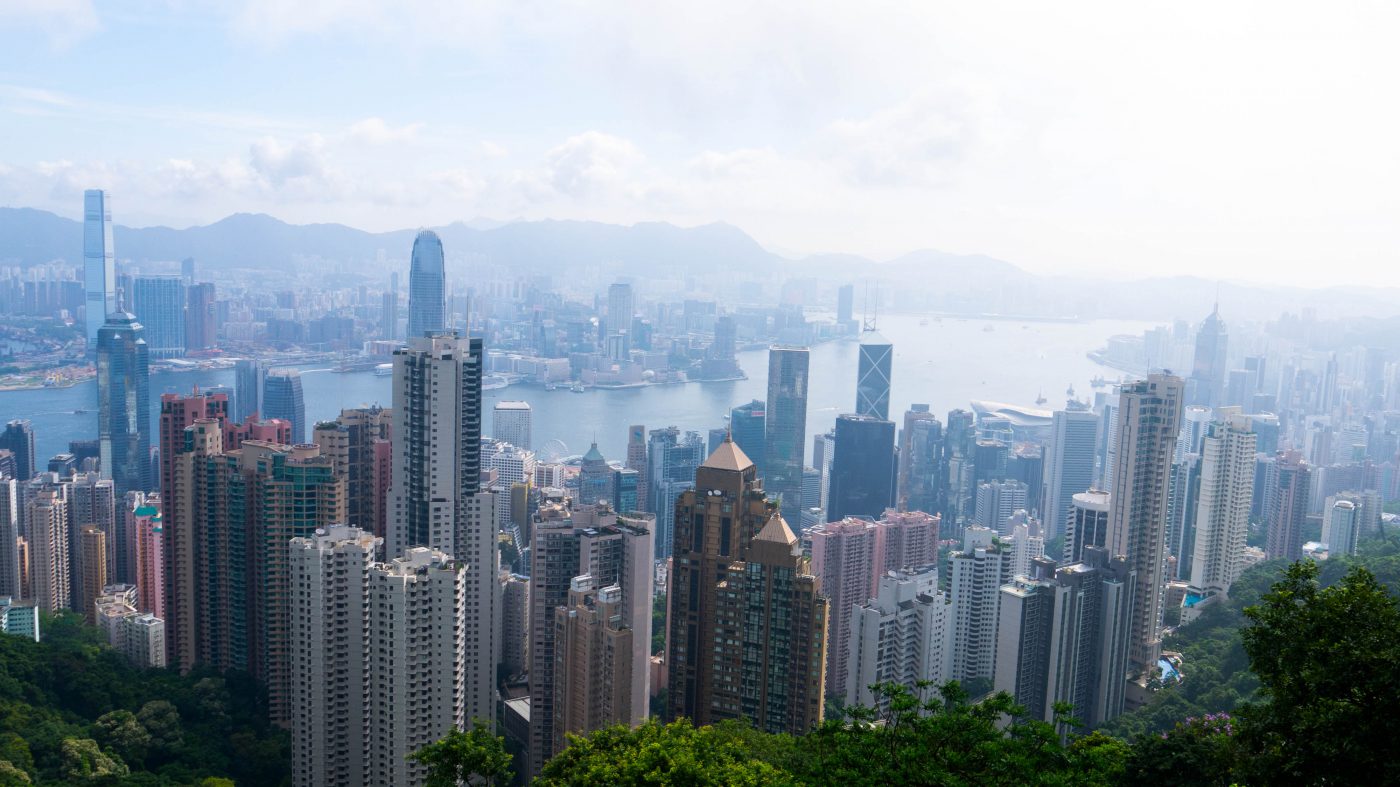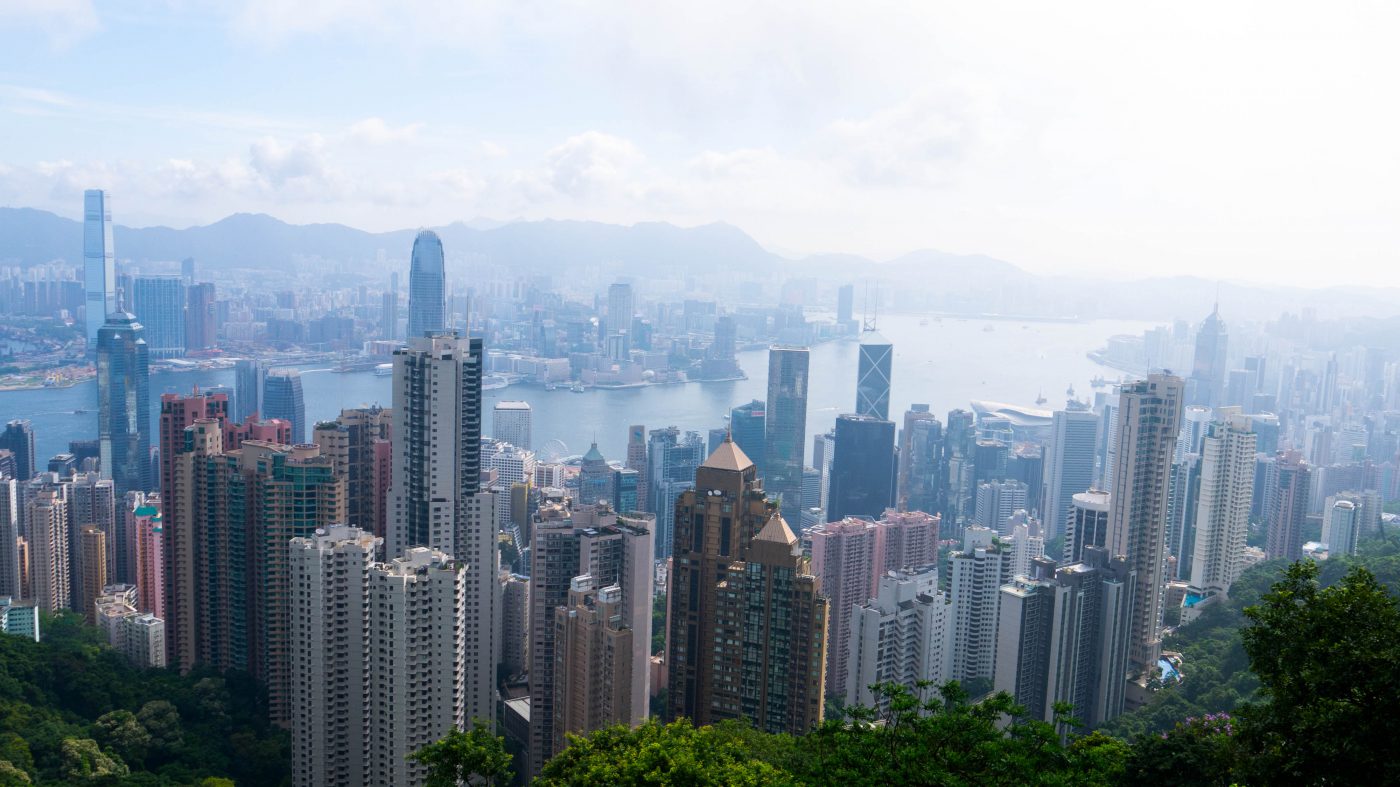 I have taken all three methods and here is my recommendation: Bear in mind there will be a lot of tourists going up to The Peak, so taking the taxi up there really early in the morning then going down using the tram is my recommended approach. Taxi really isn't very expensive in Hong Kong and you can use the Octopus card on the tram.
We went up very early (around 830am) so there was hardly anyone at the peak and I did not have to queue for the tram going down. When I got to the bottom station though, we witnessed a LONG queue for people who are trying to take the tram up! I have been told it could take an hour of wait.
6. Wash your utensils at a Yum Cha restaurant
Yum Cha (or Dim Sum) is not uniquely Hong Kong, but you'll find everyone at a Yum Cha restaurant on a weekend afternoon with their family. Yum Cha is basically a Chinese traditional brunch, where you order a bunch of small plates to be shared while sipping on tea.
Keep your eyes peeled while going Yum Cha in Hong Kong – here, it is a custom to rinse your utensils with hot tea before the meal to sterilize it. This is done out of habit – although Hong Kong is modern and mostly hygienic now, it wasn't always like that. So in the past people would use boiling hot water or tea to make sure their utensils are safe to use.
You can go for a high-end dim sum at a hotel, or you can go to a cheap small restaurant one. I have to say though, this is more of a big group activity. If you aren't traveling in a group, the easy way to enjoy dim sum is at Tim Ho Wan, a Michelin star affordable restaurant.
7. Visit Causeway Bay
With over 7 million people packed tight in Hong Kong, no one can afford to waste any space and thus you could say most accommodations were on the "mini" side. In fact, one of the hotels I stayed at in Hong Kong is called just that – Mini Hotel, and it could barely fit the queen bed. I don't know about you guys though, I found it strangely charming and simple. It stuck out as one of my favorite accommodations thus far.
I don't think you can ever feel lonely being in Hong Kong, even by yourself.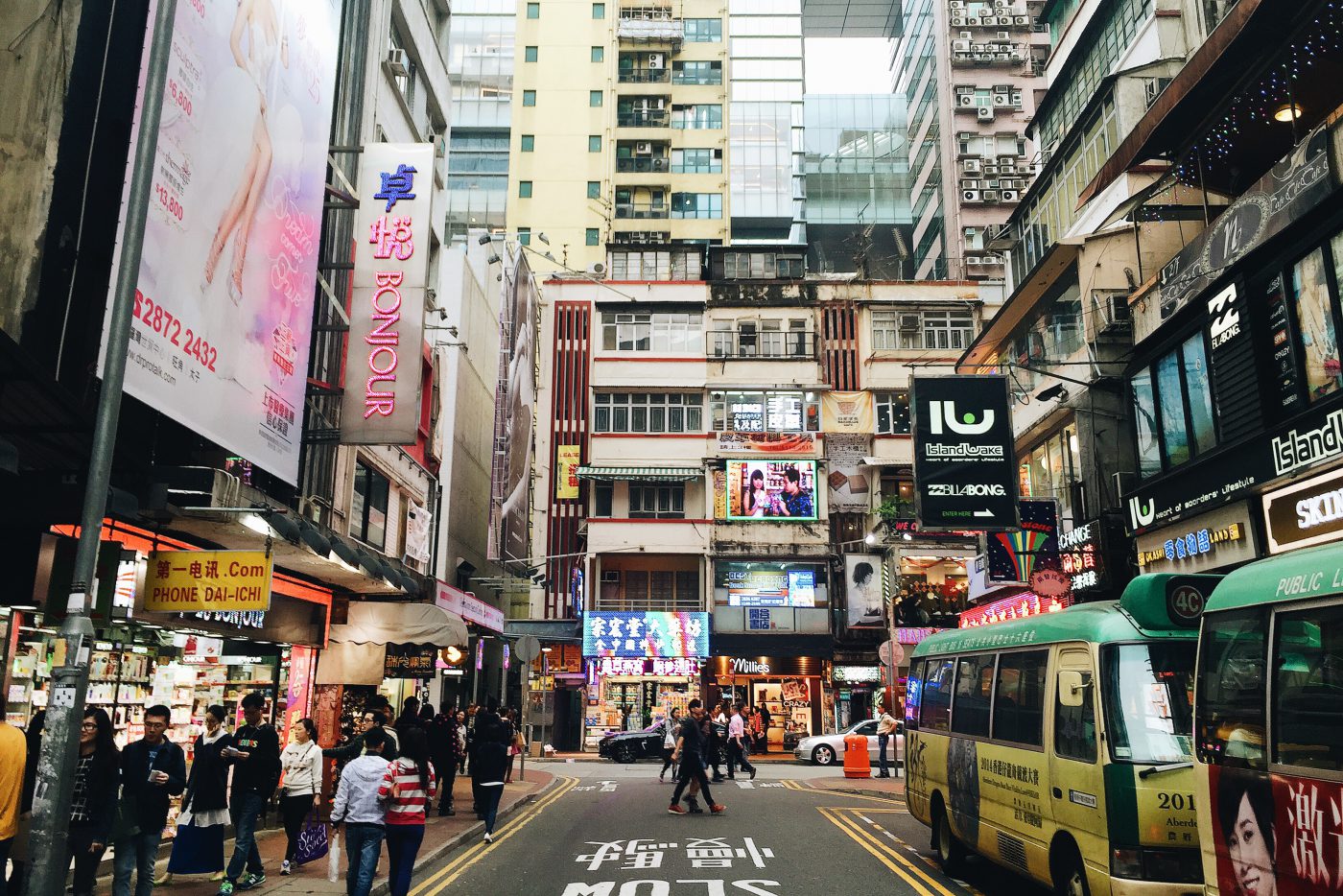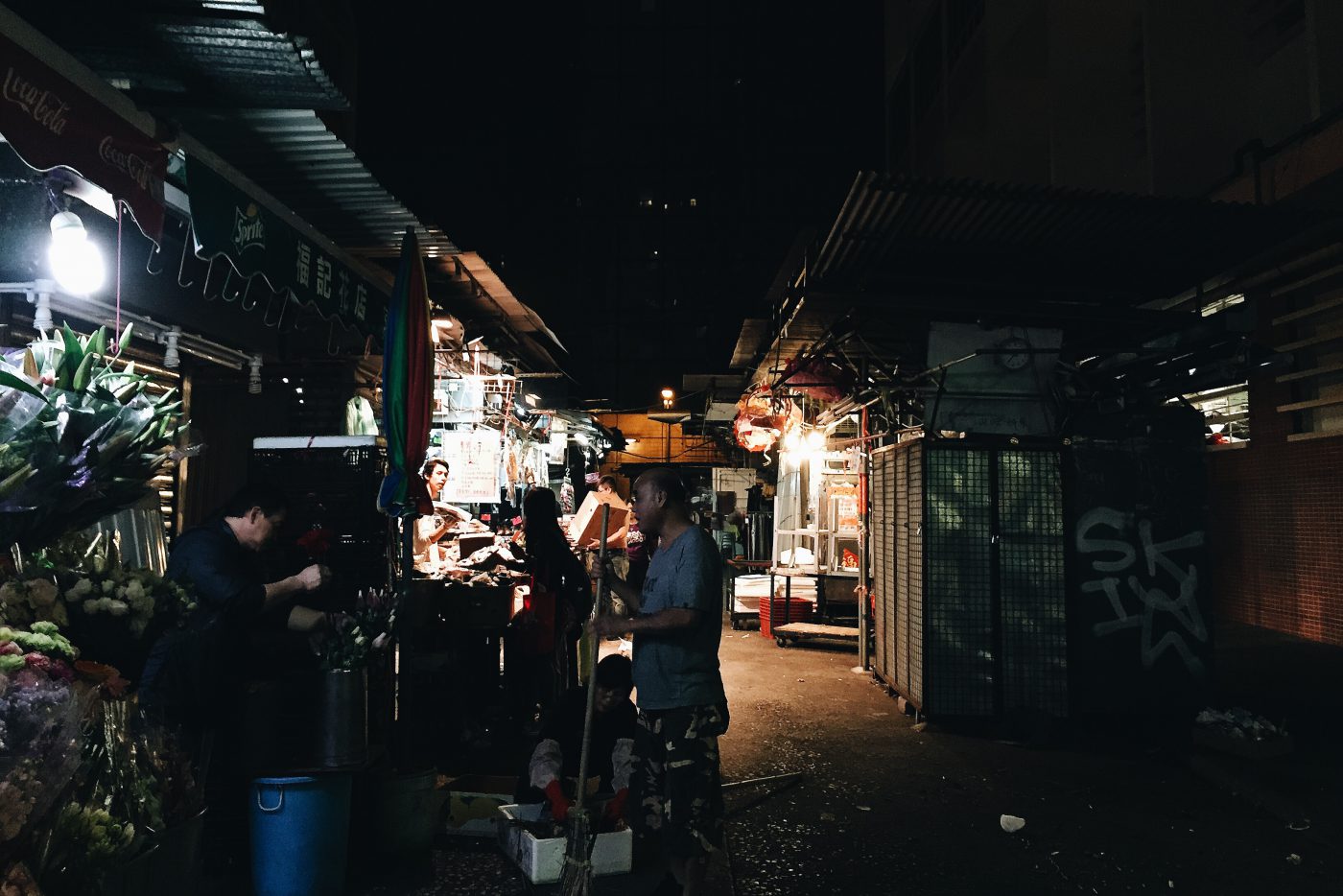 8. See the Tian Tan Buddha in Lantau Island
A trip to see Tian Tan Buddha makes for a great half day trip from Hong Kong. Tian Tan Buddha is a giant bronze Buddha located in Ngong Ping, Lantau Island. To get here, take the MTR to Tung Chung station. Then you either take Bus 23 for 50 minutes or ride cable car Ngong Ping 360 for a 25 minutes scenic route!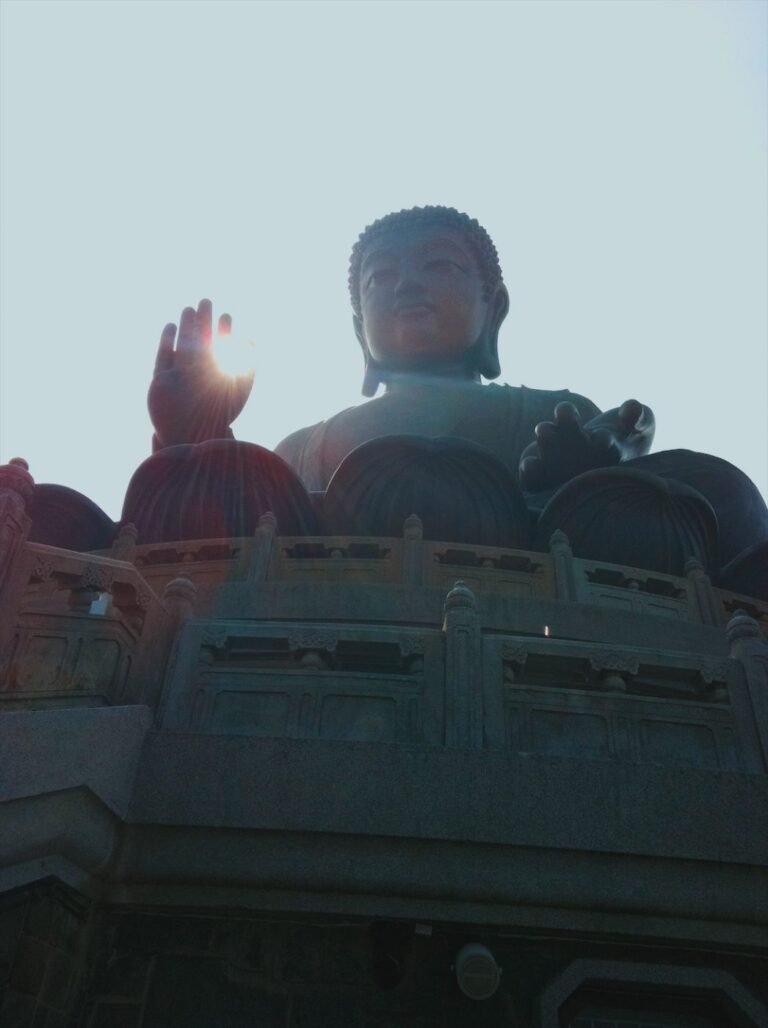 9. Day trip to Macau
Macau is a Chinese special administrative region that was a Portuguese territory until fairly recently in 1999 (mmmm Portuguese Egg Tarts!). It is not a big country, so a trip to Macau from Hong Kong is very doable as a day trip. Simply take the MTR to Sheung Wan station and take a 1-hour ferry ride to Macau. Note down the last ferry out to Hong Kong, or you might be stuck in Macau.
Before you go, don't forget to check Macau visa requirements and yes, you do need your passport since it IS an international journey! Macau and Hong Kong are not in the same country, even though they are both a Chinese special administrative region, and thus they have different visa requirements.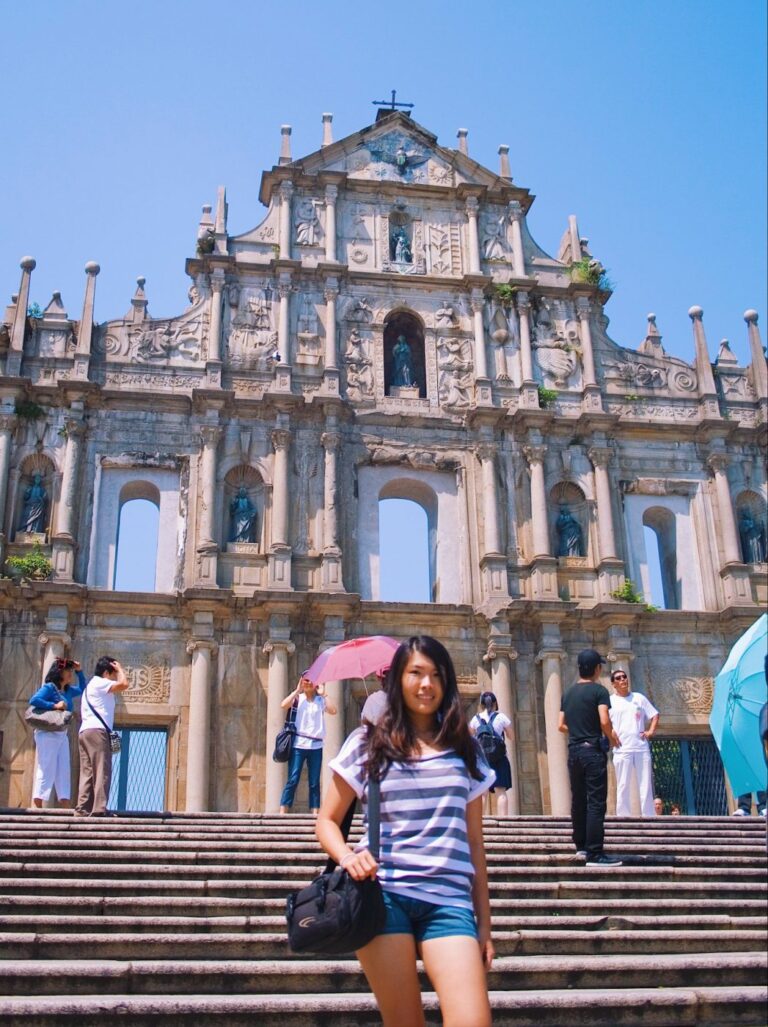 10. Try Hiking in Hong Kong: Lion Rock or Dragon's Back
If you are more of a nature person, Hong Kong is surrounded by beautiful hiking trails! I recommend checking out Lion Rock or Dragon's Back for their proximity to the city.
Lion Rock specifically offers a very nice view of Hong Kong from above, especially on a clear day!and is a relatively short hike (1.8 km from start of the trail) and not very difficult. It does get a little steep on the last few meters, but it's very doable hike.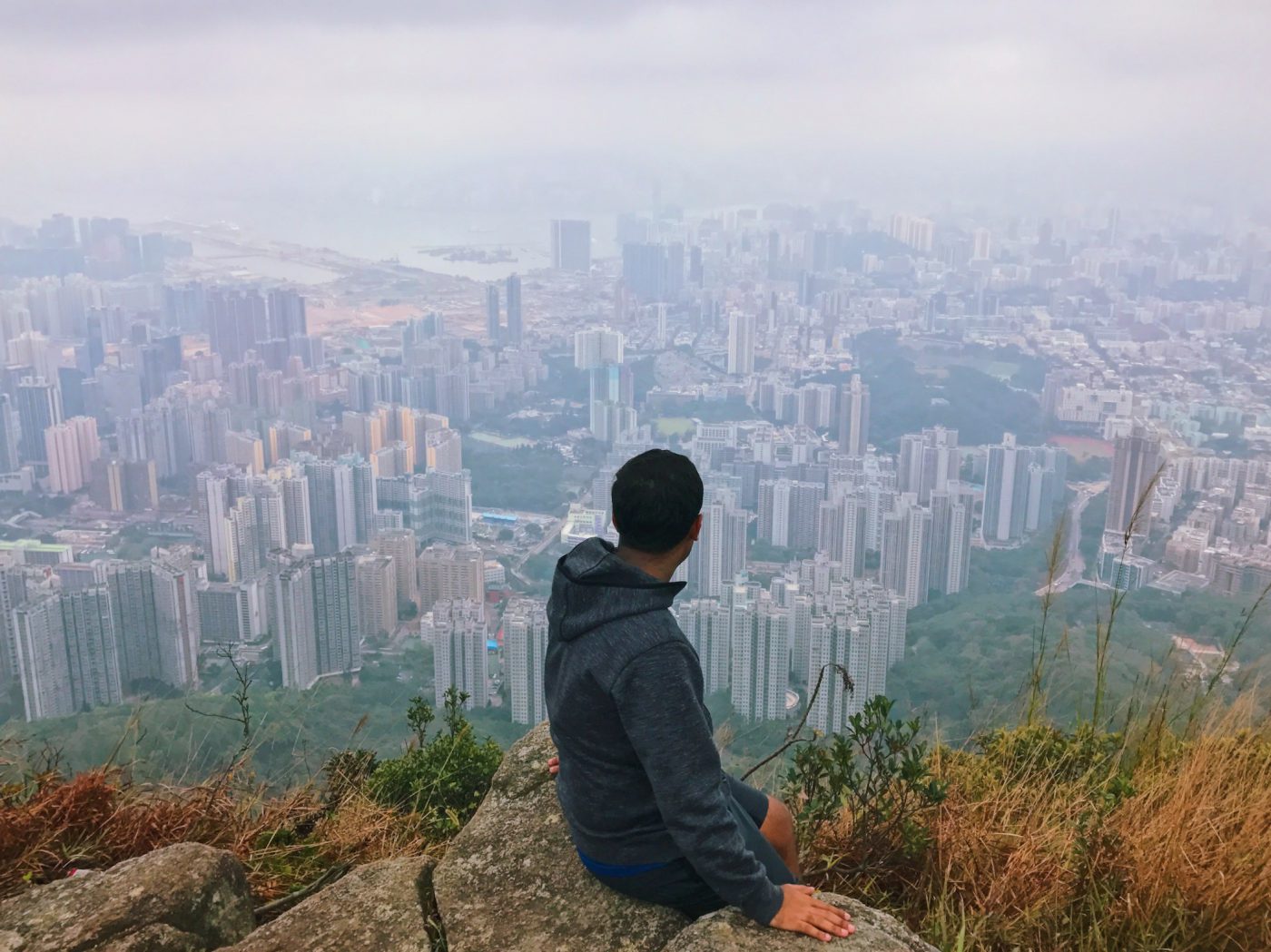 Where to Stay in Hong Kong
Below are hotels I've personally stayed at in Hong Kong (Yes, I've stayed at a lot of hotels here since I visited Hong Kong quite often for work!):
1. Mira Moon Hotel in Causeway Bay
Thanks to Skyscanner, I was put up at the chic Mira Moon Hotel, which has become my favorite boutique hotel in Causeway Bay. The location is very strategic, close to the tram line, Causeway Bay MTR and the harbor to catch Star Ferry. The breakfast was also amazing and the room itself is very spacious, especially for Hong Kong standard.
However, the star of the entire experience is the bathroom in this hotel: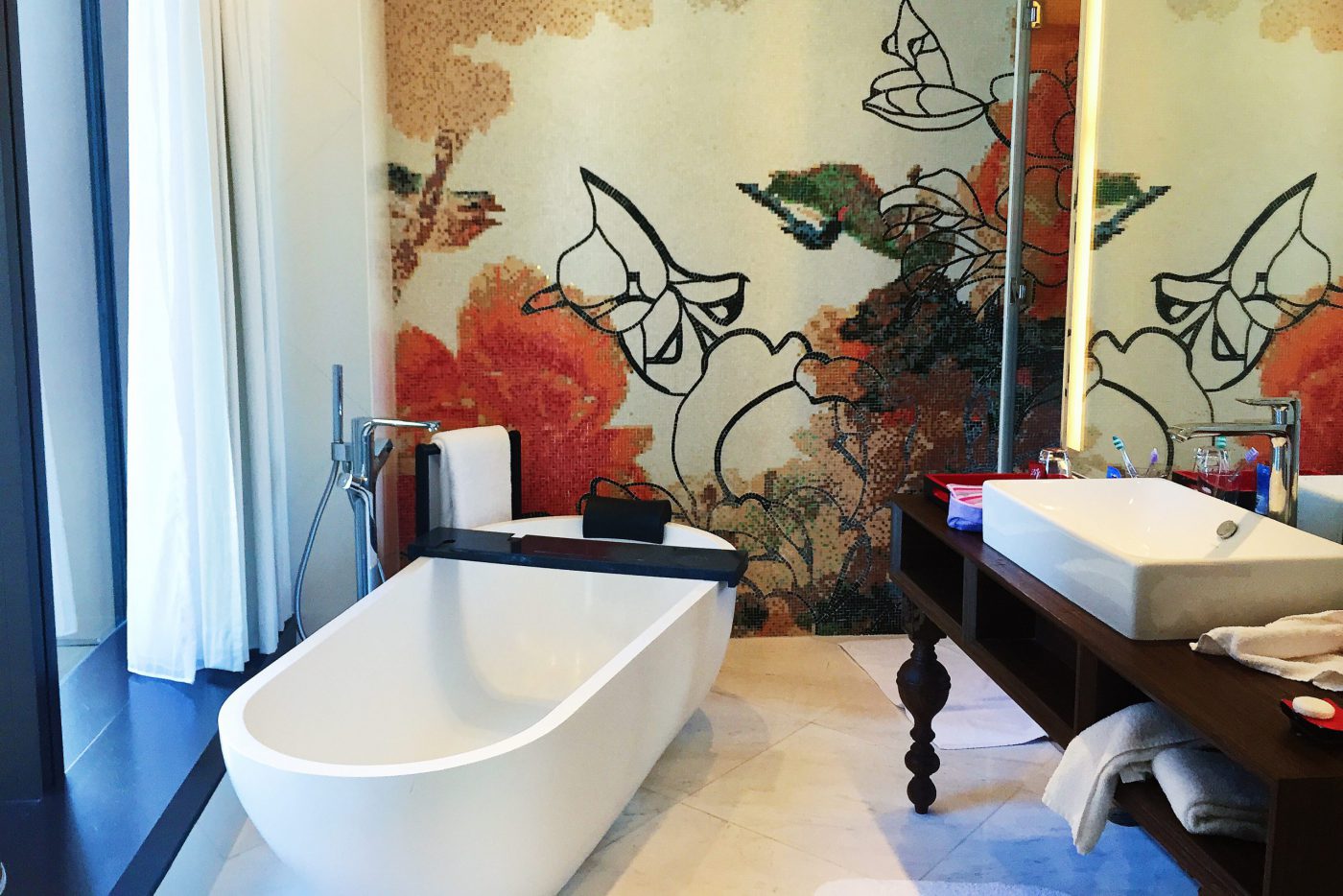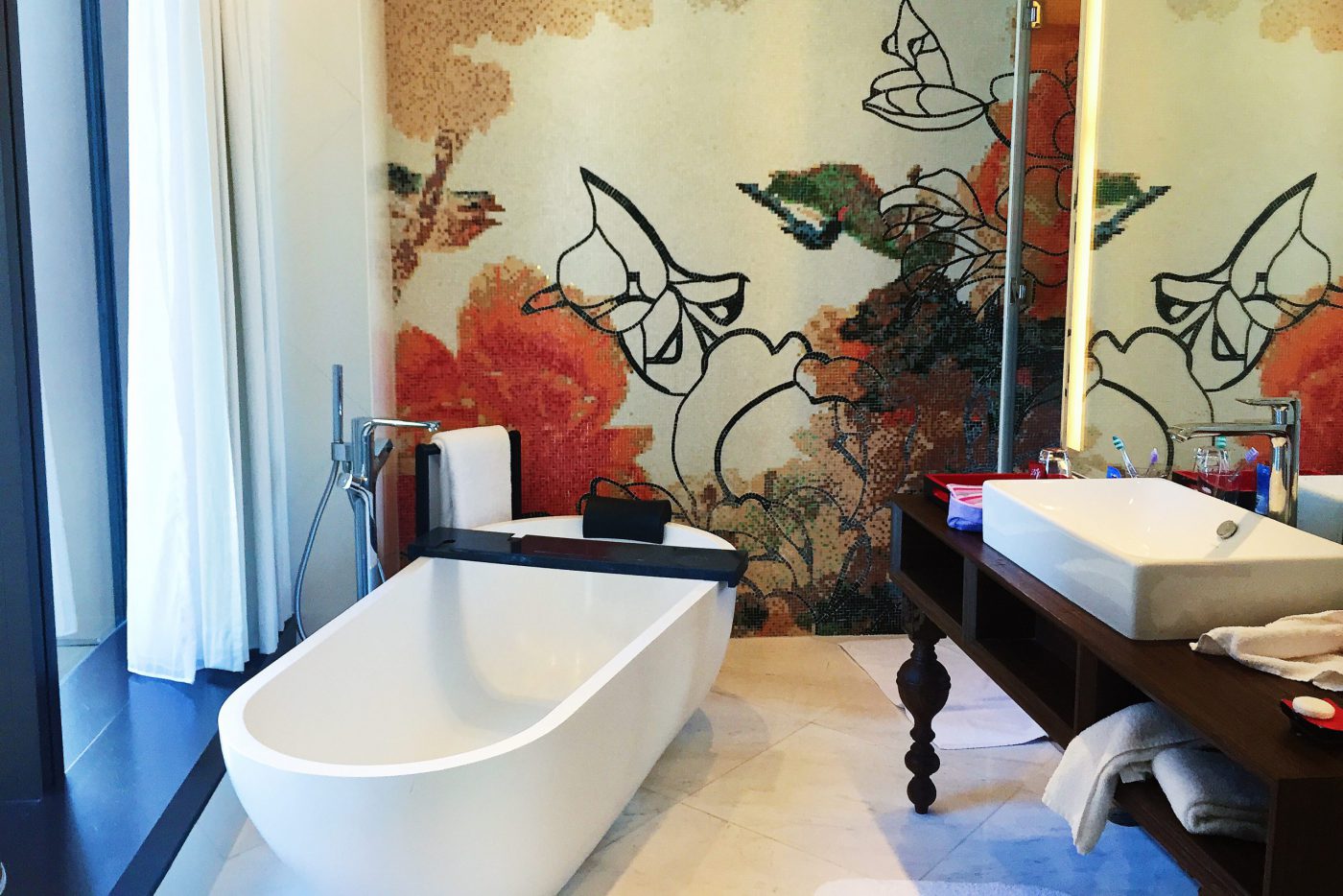 The fact that it has a bathtub already makes it super special in my book. I haven't seen this in any other hotels that I've stayed in Causeway Bay (and I've stayed in 3 other hotels), where space is scarce so most hotels would just have a small shower. I definitely took advantage of soaking myself in a hot bath while watching the sparkly skyline of Hong Kong, which can be seen from the huge window next to the tub.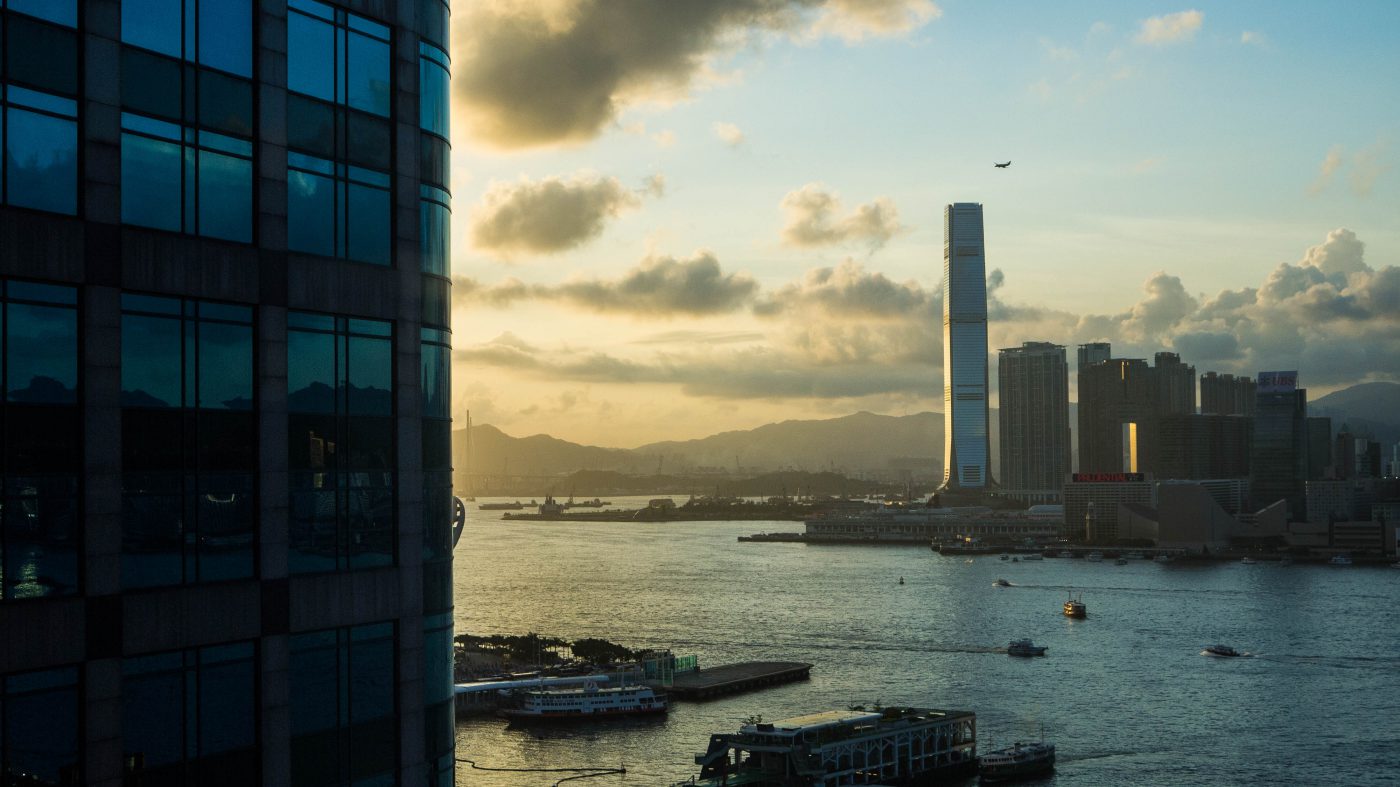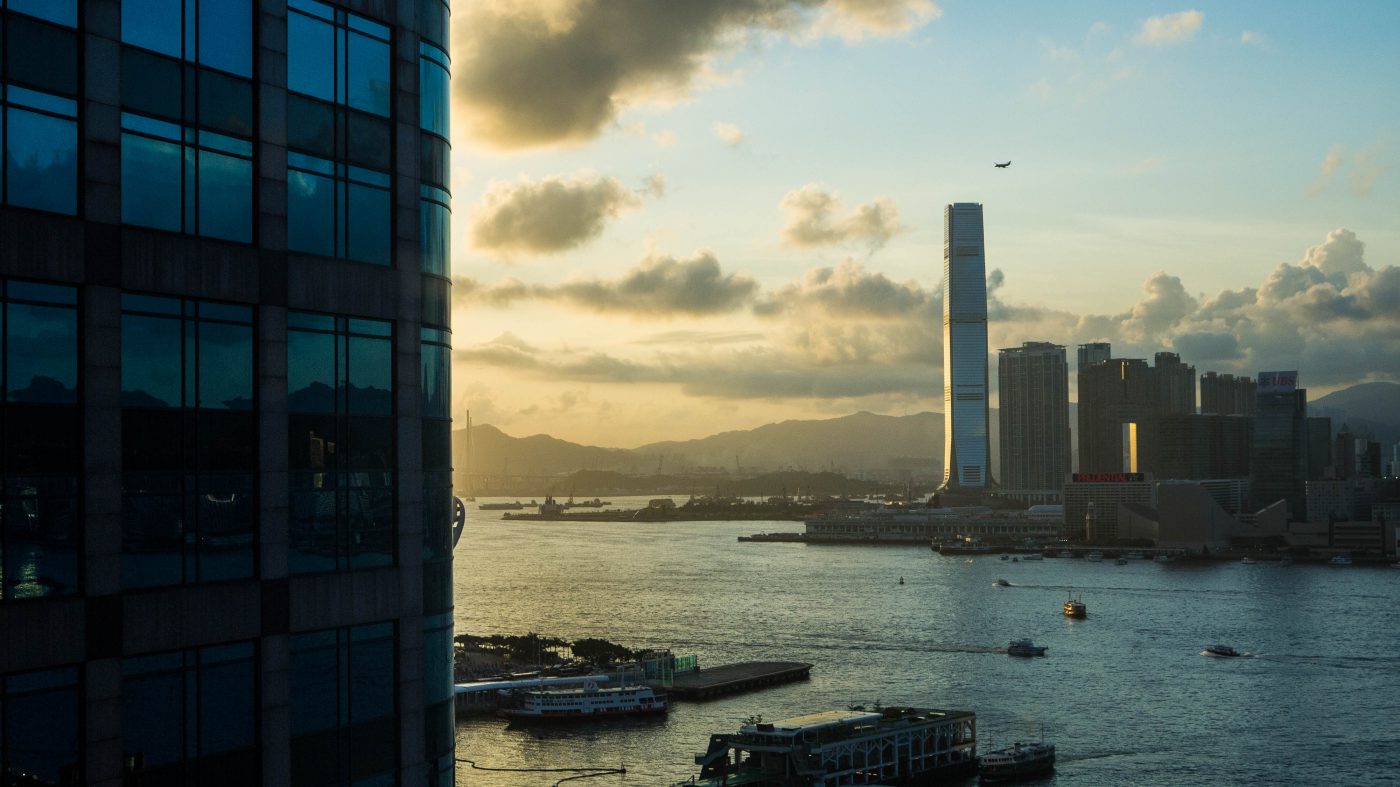 What's more is that they provide each room with a Handy device, which comes with unlimited 3G data and free calls to certain countries.
2. Mini Hotel Causeway Bay
With over 7 million people packed tight in Hong Kong, no one can afford to waste any space and thus you could say most accommodations were on the "mini" side. In fact, one of the hotels I stayed at in Hong Kong is called just that – Mini Hotel, and it could barely fit the queen bed. I don't know about you guys though, I found it strangely charming and simple. It stuck out as one of my favorite accommodations, and very affordable too!
3. Hotel Pennington by Rhombus in Causeway Bay
I stayed at this hotel twice. It's affordable, nicely designed and great location in the middle of Causeway Bay. Rooms are on the smaller side, but it's pretty typical for Hong Kong.
Book Hotel Pennington by Rhombus
[instagram url=https://www.instagram.com/p/0SL3Voudwl/ hidecaption=true]
4. 99 Bonham at Sheung Wan (near Central)
This is a very chic hotel close to the Central district of Hong Kong. It also has a super nice roof top, where you can see the densely packed high-rises of Hong Kong. Pretty nice view here at sunset.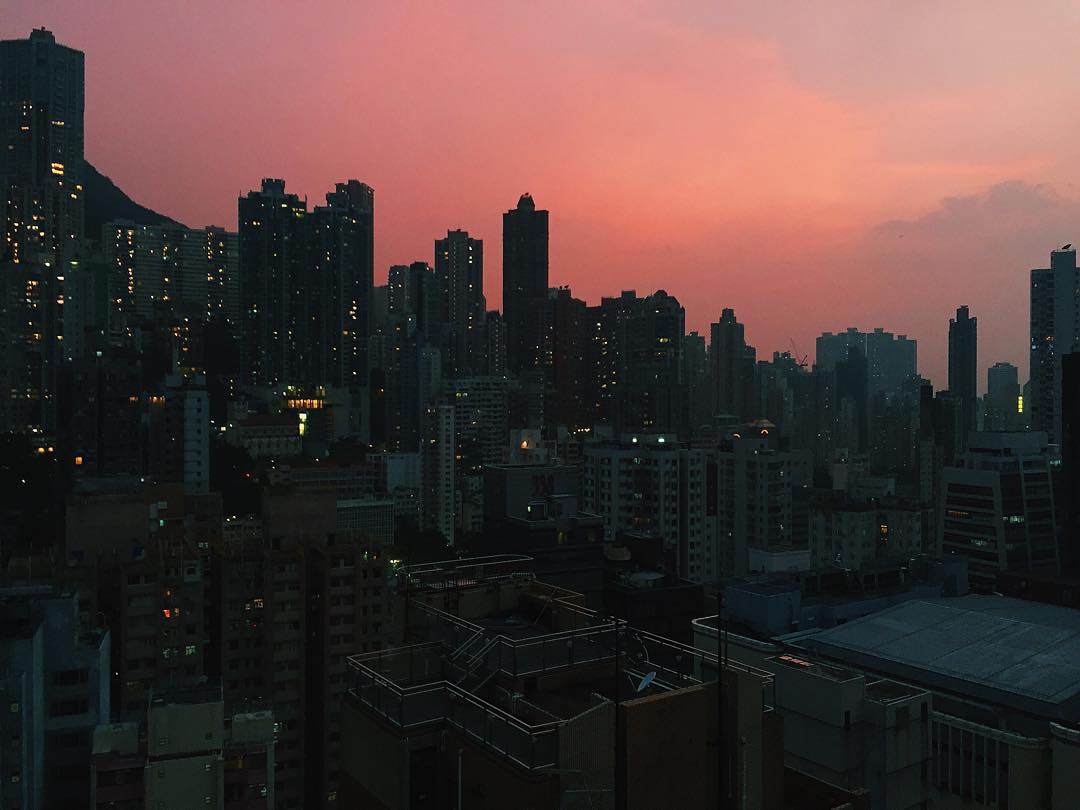 And that concludes my 48 hours in Hong Kong!