The first time I visited Canggu was in 2016, after hearing about it from a few friends who are familiar with Bali as the new place to hang out. Indeed, a few years ago, I would have called Canggu an up-and-coming area. Canggu was a lot quieter than its neighbor Seminyak, although it's only about 30 minutes drive away in Bali traffic. There were only a handful of restaurants and one beach club – very simple by Bali standard.
Fast forward to today, although still quieter than Seminyak, Canggu is definitely not the same place I visited a while back. There are now plenty of new restaurants dotting Jalan Pantai Batu Bolong and beachside bars along Echo Beach. Even Vogue has featured this area in 2018, calling it Bali's Bohemian surfer paradise. And with the biggest NYE party of 2018 being shifted from Seminyak to Canggu, I think we can safely say Canggu is now the area to be in Bali.
That said, here are some of my favorite places in Canggu:
For Breakfast: Milk & Madu
Madu means honey in Bahasa Indonesia – as in the sweet liquid produced by bees "honey", not the terms of endearment "honey". Milk & Madu is located on the scenic Jalan Pantai Berawa – you probably won't see the scenic part from the road, all the restaurants on this street boast a great view of the green rice field and farm as their backyard.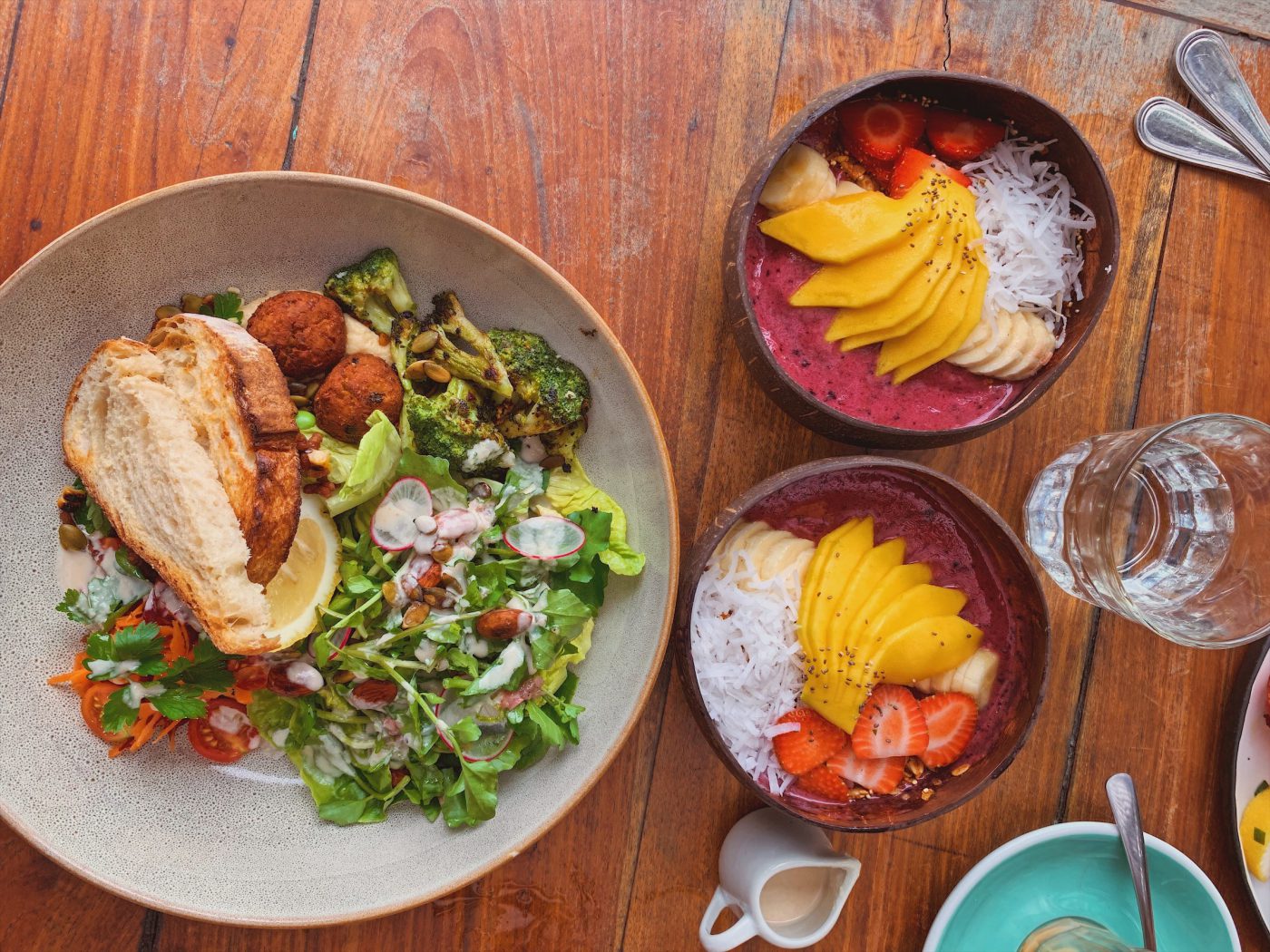 Milk & Madu is an airy, open concept space, making it a great option for breakfast, lunch or late lunch when there is still natural light out. They serve dishes made from sustainable ingredients – their fish are line caught and their vegetables are organic. They also wash their ingredients in filtered water, so if you are sensitive to Bali Belly this might be the place for you. I never had issues with Bali belly so I can't really vouch for it 😛
Milk & Madu
Open Daily 7:00 AM – 10:00 PM
Google Maps
[CLOSED] For Lunch: Betelnut Cafe
We found this cafe while trying to find a relief from the hot sun that day. Betelnut Cafe only has limited indoor seating with A/C, but thankfully their upstairs seating area is well ventilated. Betelnut Cafe serves healthy food and juices, like salad bowl and wraps… and a rather random Mexican food. But their food is tasty, beautifully plated, and their portions are huge for the price.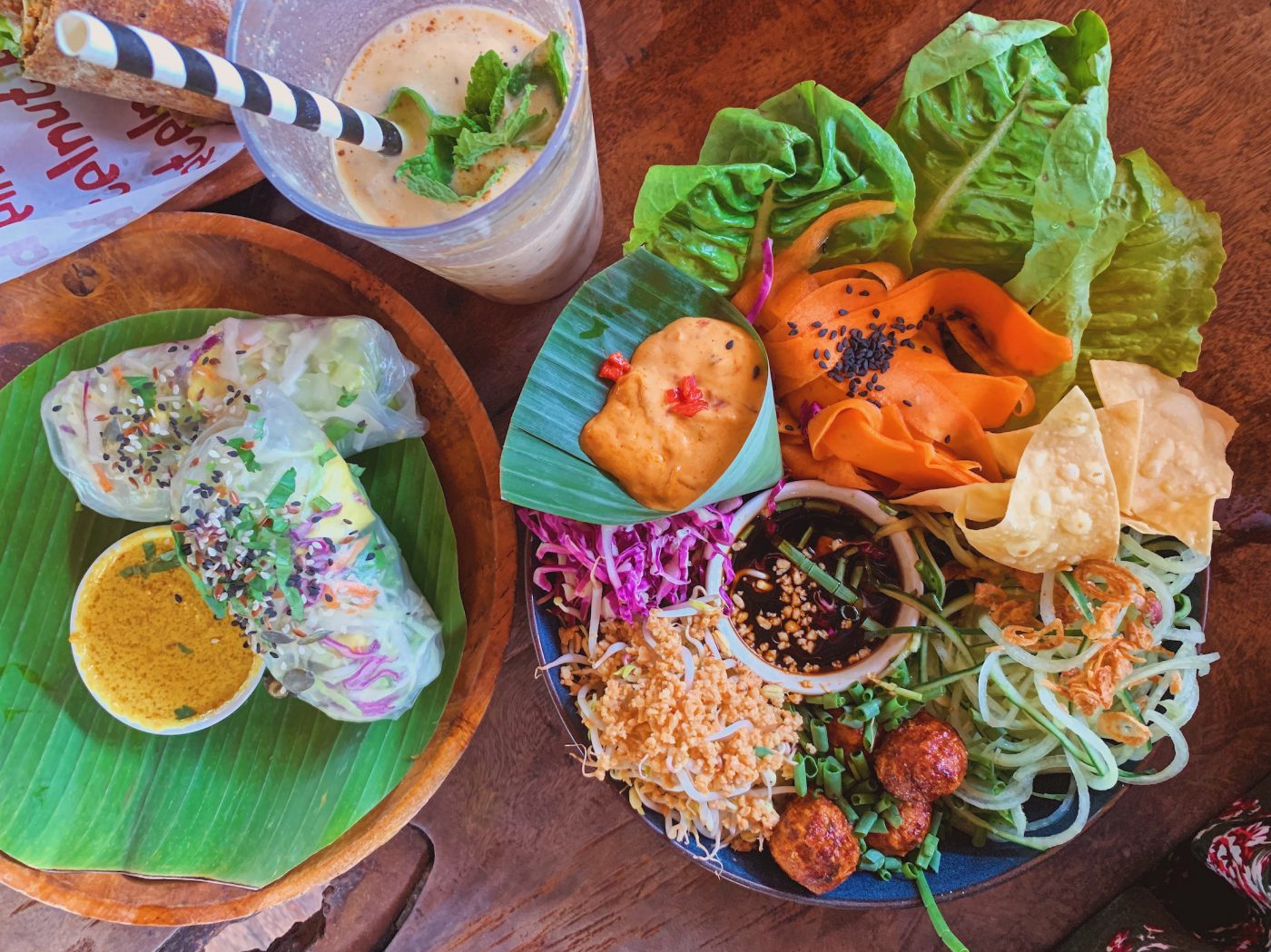 Betelnut Cafe
Open Daily 7:30 AM -10:00 PM (but I once came here on a Sunday for dinner and they were closed… so take this with a grain of salt)
Google Maps
[CLOSED] For All Meals: Parachute
We saw Parachute by accident while riding our bike around Canggu – the entrance is covered by bamboo gates and a bit hidden from view, but the large Parachute tent caught our eyes from far away. Intrigued, we decided to stop by for dinner one day.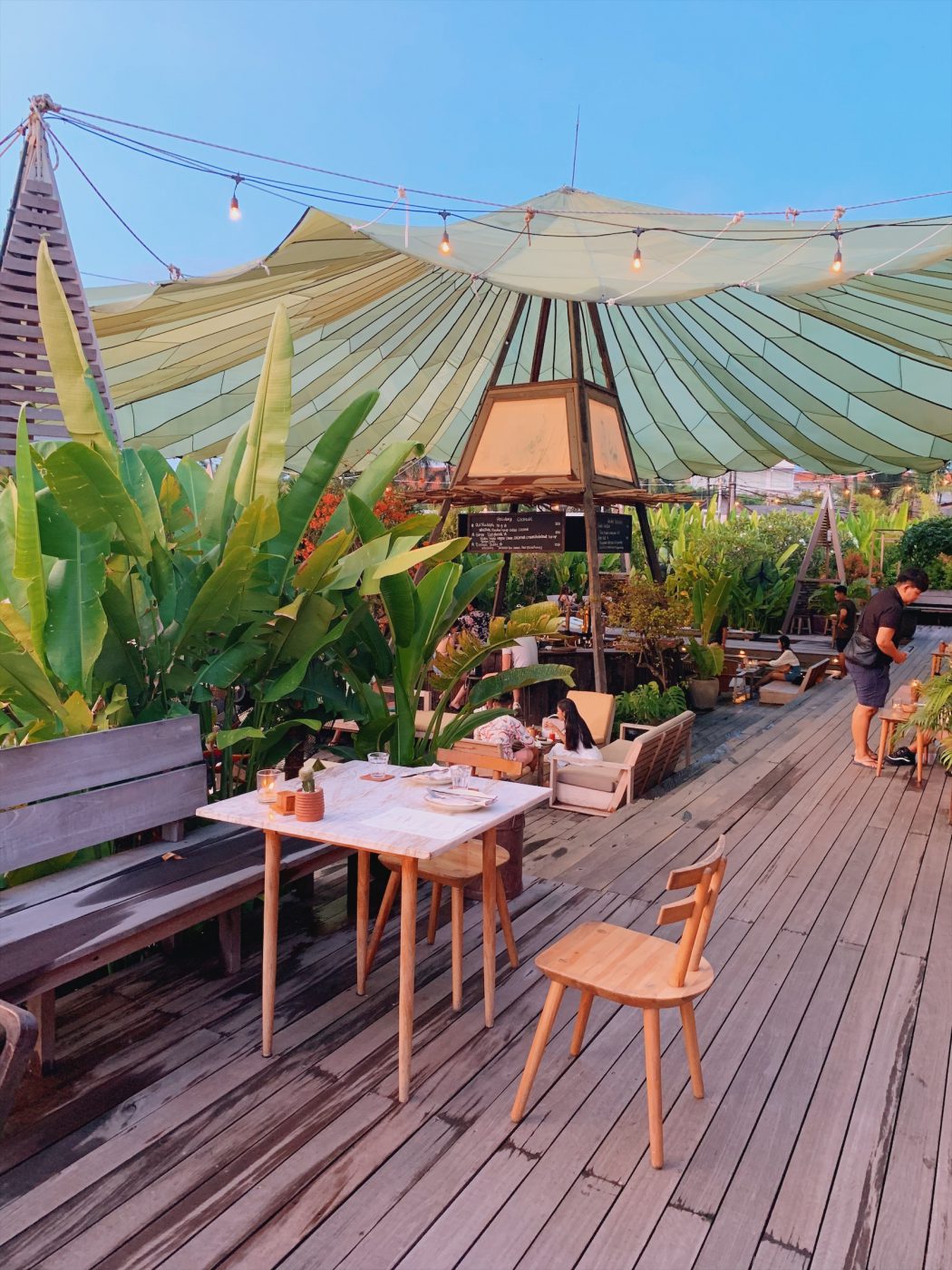 What an amazing find. They serve really good food made from fresh ingredients and beautiful location overlooking the rice paddies. They are a farm-to-table restaurant, evident by the small garden in the back yard – ingredients produced from the backyard makes an appearance on their menu.
Parachute
Open Daily 8 AM – Midnight
Google Maps
For Upscale Dinner: Indigo
My boyfriend took me here one night – he knew I would love this place. Indigo bills itself as "Innovative Japanese cuisine in an intimate setting" and that's exactly what they were. My favorite dish was the Charcoal Chicken, which was served with grilled baby corn (which by the way is my latest obsession).
I also loved that they served us Loloh at the beginning of the meal, a traditional Balinese drink that is meant to cool down your body. A nice way to incorporate local tradition into the restaurant.
Indigo
Open Daily for Lunch (12-2:30 PM) and Dinner (6:30 – 10:30 PM)
Google Maps
For Sunset and Beach Club: La Brisa Beach Club
One of my favorite places in Canggu is this beach club. La Brisa, meaning "Sea Breeze", is a new beach club that opened fairly recently in late 2017 (though that is long in Canggu-age) and they have become a staple among Canggu crowds. La Brisa was opened by the same folks who run La Favela, a popular restaurant/lounge in Seminyak.
What I love most about La Brisa is the rustic decor. They use reclaimed wood from fisherman boats and decorated with an ocean theme – think seashells, fishing nets, roof made of dried leaves and straw chairs. They also don't play your usual mainstream club music, more like… tropical house, I would say?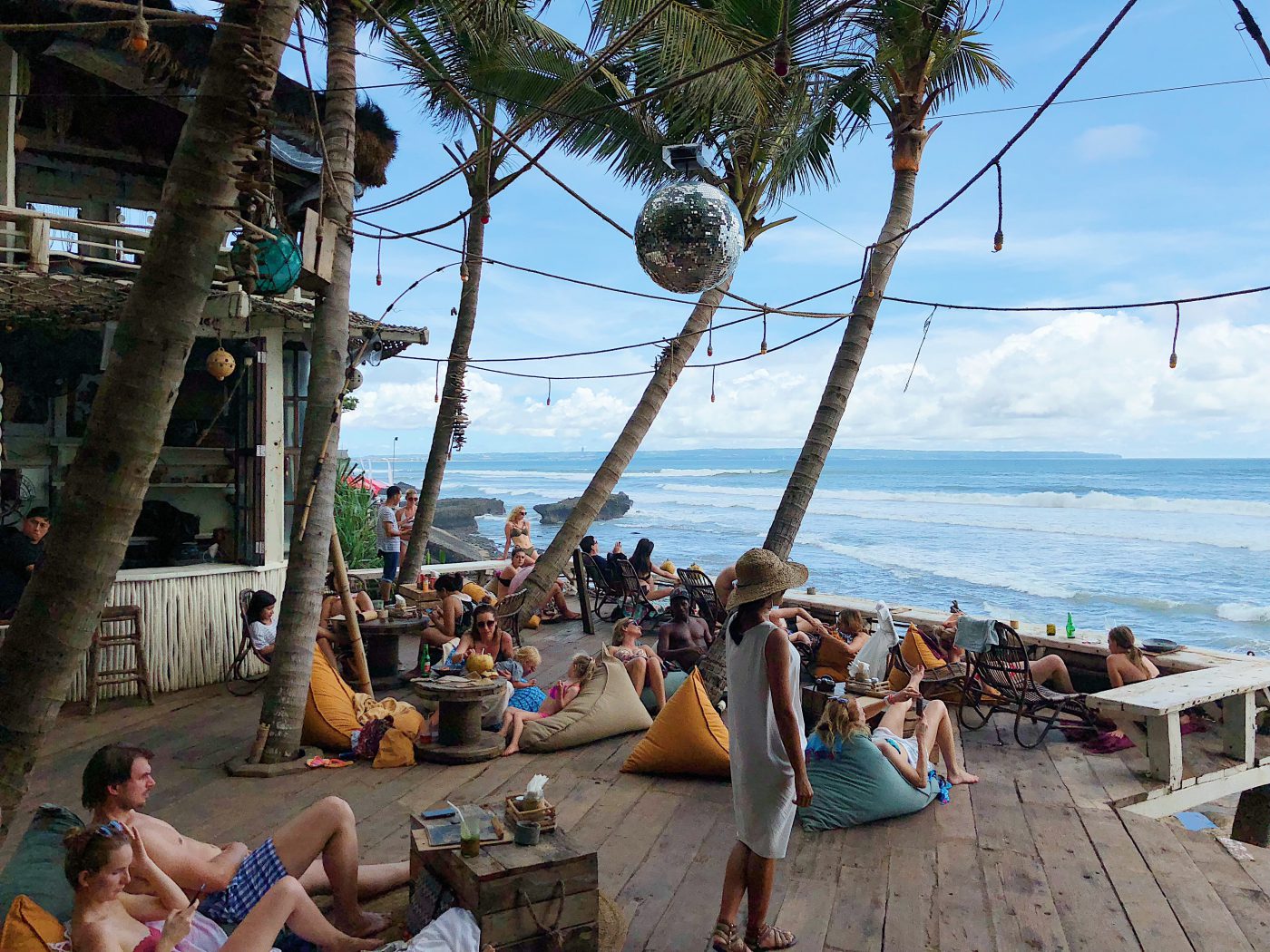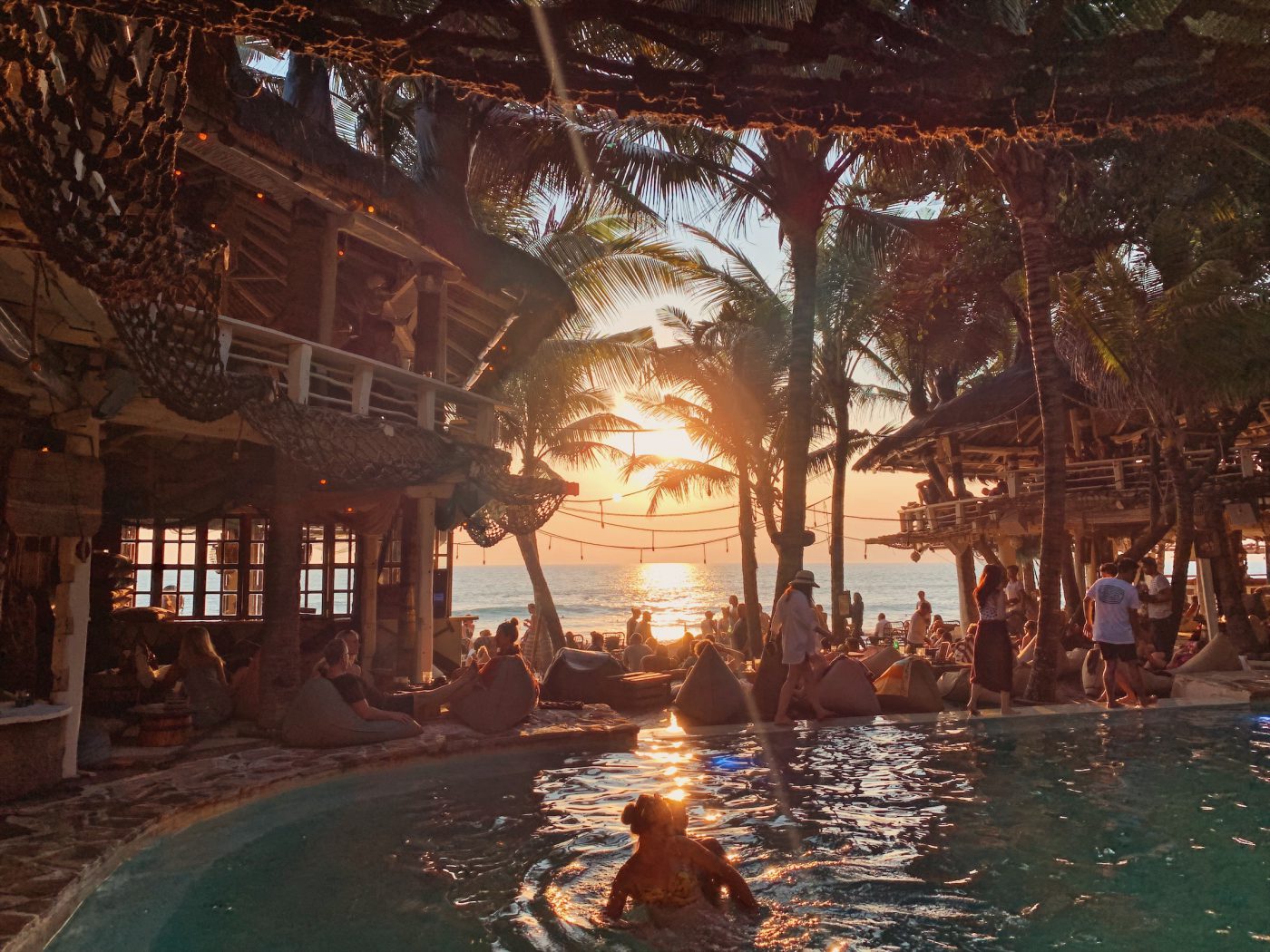 While at La Brisa, you can walk outside the club to Echo Beach and head out to the north for a more local feel of Bali – I had some cheap snacks and grilled butter corn for Rp 10,000 from the street vendors outside.
When I first visited La Brisa, there was hardly anything on Echo Beach aside of a few run down warungs. When I came back a year later, the area has transformed into a row of small beach bars and pillows for you to sit down and enjoy the sunset. I can guarantee the success of La Brisa has helped these small bars flourish as well.
La Brisa Bali
Open Daily 7:00 AM – 11:00 PM
Google Maps

For Sunset Drinks & Dinner: Old Man's Canggu
Old Man's is one of the pioneers of Canggu. It was opened in 2014, way before the name Canggu became known to tourists. Old Man is located right off the Batu Bolong Beach, which makes it a great place to have drinks while waiting for sunset. It's also a full restaurant so you can stay for dinner after. It was briefly closed in 2022, but they are now back!
Old Man's Canggu
Open Daily 7 AM – 1 AM
Google Maps
For Sunset Drinks: Vue Beach Club
Vue Beach Club is the much lesser known neighbor of the ultra-famous Finn's Beach Club. It's actually located inside Lv8 resort. Technically it's next door to Finn's, but there is no easy way to get there from Finn's aside of traversing through Canggu's complicated back alley. But it's worth a visit – you don't have to be a guest of the resort to enjoy some drinks and dip your feet in their infinity pool.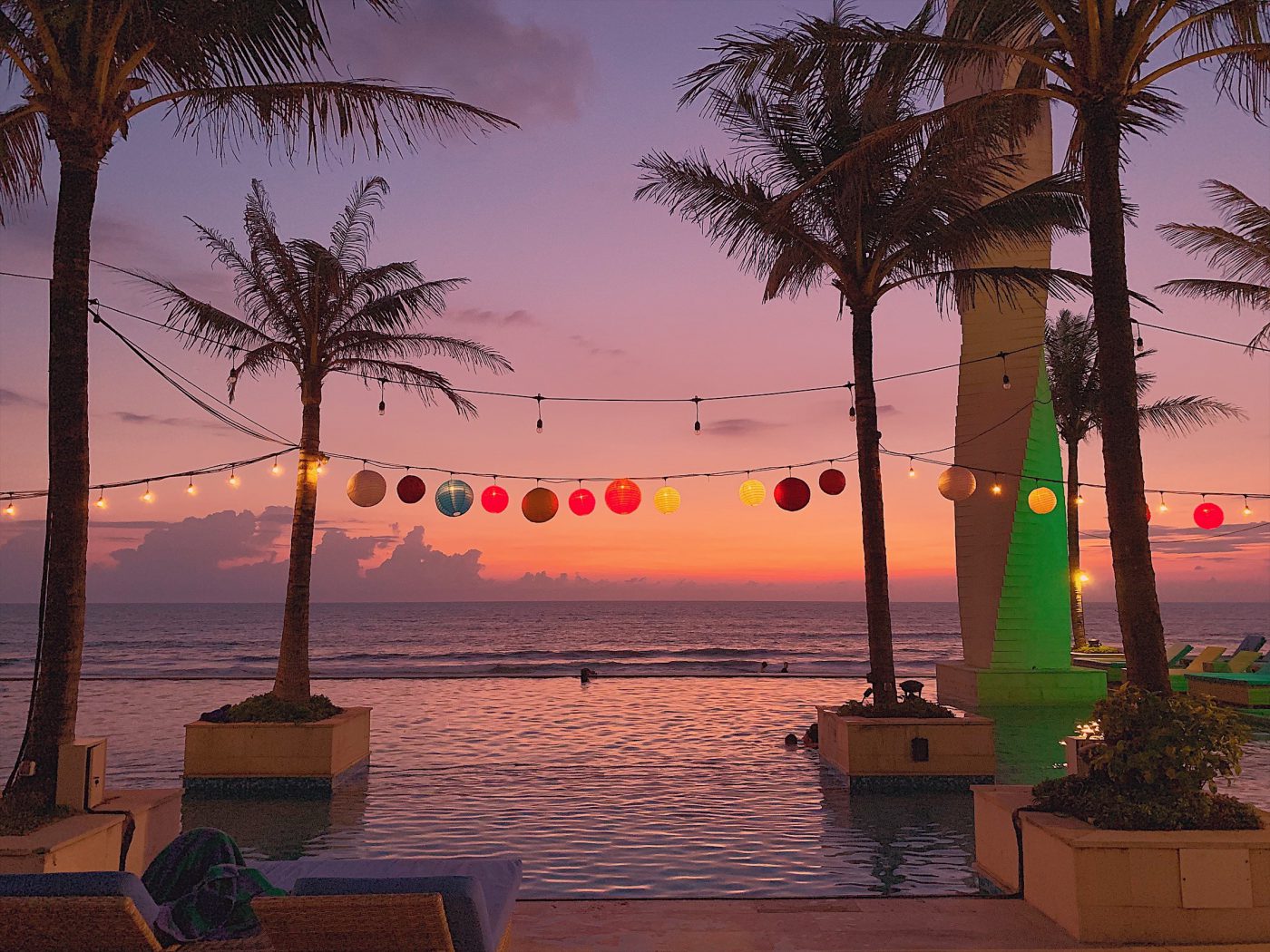 Vue Beach Club
Part of Lv8 resort
Google Maps
[CLOSED] For Eco and Organic Market: La Laguna Gypsy Market
Update: La Laguna closed in July 2019 with plans to reopen in 2020. However, since the pandemic happened they have yet to announce plans to reopen. Please keep an eye on the La Laguna Bali facebook for further updates
La Laguna Gypsy Market is an open-air weekend market that showcases over 100 local vendors selling organic, eco-friendly products, fashion and handcrafted jewelry. Throughout the afternoon, there will be entertainment, food, and music. Some of the products sold here could be found elsewhere but I have to say this market has the most unique vibe. It is not held regularly every weekend, so do check La Laguna Bali facebook page for the next market date.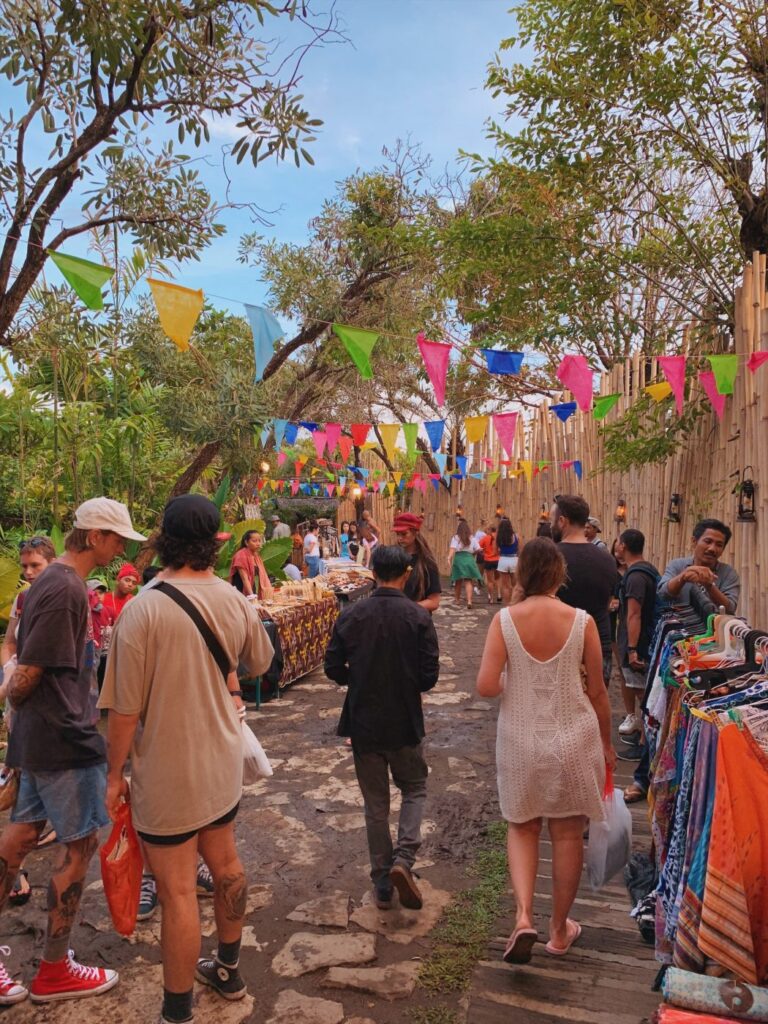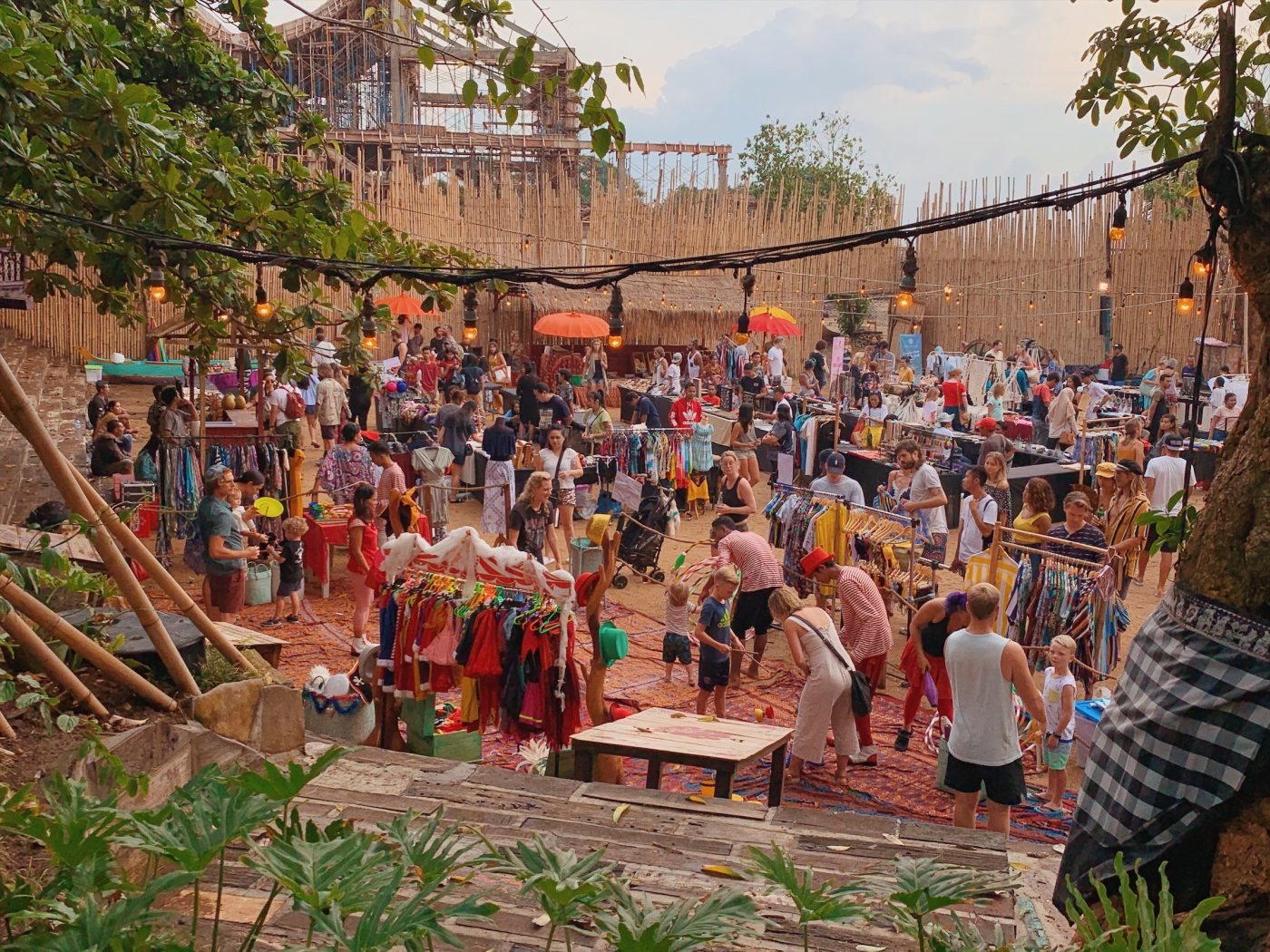 La Laguna Bali
Irregular date, 4-9PM. Pending weather.
Google Maps
For Souvenir Shopping: Bali Niki Natural Art Market
This market is located on the same street that leads you to La Brisa. It seems to be fairly new – I couldn't find it on Google Maps before. This market feels less upscale than Love Anchor, but you definitely still need to haggle hard – I did score two rugs for half of the price initially offered! I recommend going for one-third to half of the initial price. The place is cash only so make sure you have some.
Bali Niki Natural Art Market
Google Maps
[CLOSED] For Speakeasy Bar: Black Cat Mini Mart
Black Mini Mart is located off a small alley in Canggu. The entrance to this bar is exactly what the name says – a small neighborhood minimart, which looked even smaller than your local Alfamart or Indomart. They sell the usual suspect of local snacks like Indomie, Taro chips, Teh Kotak, just to name a few.
But find a fridge in the back of the mart with a sign marked "Broken", and open the fridge door and you'll find what Black Cat Mini Mart is all about – a hidden speakeasy bar! Sadly the awe ends there. Their drink selections, much like their seating options are limited. There is a pool table to entertain yourself, if that's any consolation. In the meantime, if you're craving for more drinks you can easily head next door to Pretty Poison.
Black Cat Mini Mart
Google Maps
[CLOSED] For Drinks: Pretty Poison
Pretty Poison, I suspect, was modeled after Venice Beach in Southern California. There is a skate bowl inside the bar. It's not conveniently located on the main street, rather you have to go off a small street from the heart of Canggu, then from there you veer off into a small alley that leads you to an open space filled with rice fields. In the middle of that is where you will find Pretty Poison and it's neighbor Black Cat Mini Mart.
Pretty Poison
Open Daily 4 PM – Midnight
Google Maps
For Coworking Space: Dojo
Dojo is a 24-hour co-working space, one of the firsts of such in Bali. They have a cool space just down the street from La Brisa in Canggu, which means the beach is just a walk away. At the same time, they are also close to the heart of Canggu – amenities and restaurants are only a short bike ride away.
They are pretty pricey at Rp 225,000 / day per person, and if you want the unlimited plan you'll have to cough up Rp 2,950,000 / person. There are hourly plans to suit you if you aren't planning to use the space that much. Although Indonesians get 50% off, I don't see many locals here – most members are foreigners.
That said, Dojo has a real sense of community – there are member BBQ, networking and social events. They also have a board advertising jobs or pro bono work that members can take parts of.
Dojo Bali
Open 24 Hours
Google Maps
Are you looking for more places to visit during your stay in Bali? Be sure to check my complete Bali Guide. This post contains everything I know about Bali – which areas to stay, what food to eat and what to do in Bali.