Looking for an idea for a dinner date or somewhere for loved ones on a special occasion in Singapore, but you're bored of the usual fancy restaurant options? Try going for a dinner cruise on board the Royal Albatross, Singapore's only luxury tall ship.
I've been living in Singapore for close to ten years, but I only knew about Royal Albatross last year when they held a sunset party cruise. When I found out they also do dinner cruises, I had to check them out! Here is my experience on the dinner cruise on Royal Albatross.
PS: You can book a cruise with Royal Albatross here
About the Royal Albatross Tall Ship
The Royal Albatross ship hails all the way from the opposite side of the world, Chicago, before undergoing the long 15,000 km journey to Singapore to be renovated.
But what the website didn't mention is that the yacht was a shoot location of The Dark Knight, a Batman trilogy from 2008 – and personally I think it's the best Batman movie so far. How cool is that??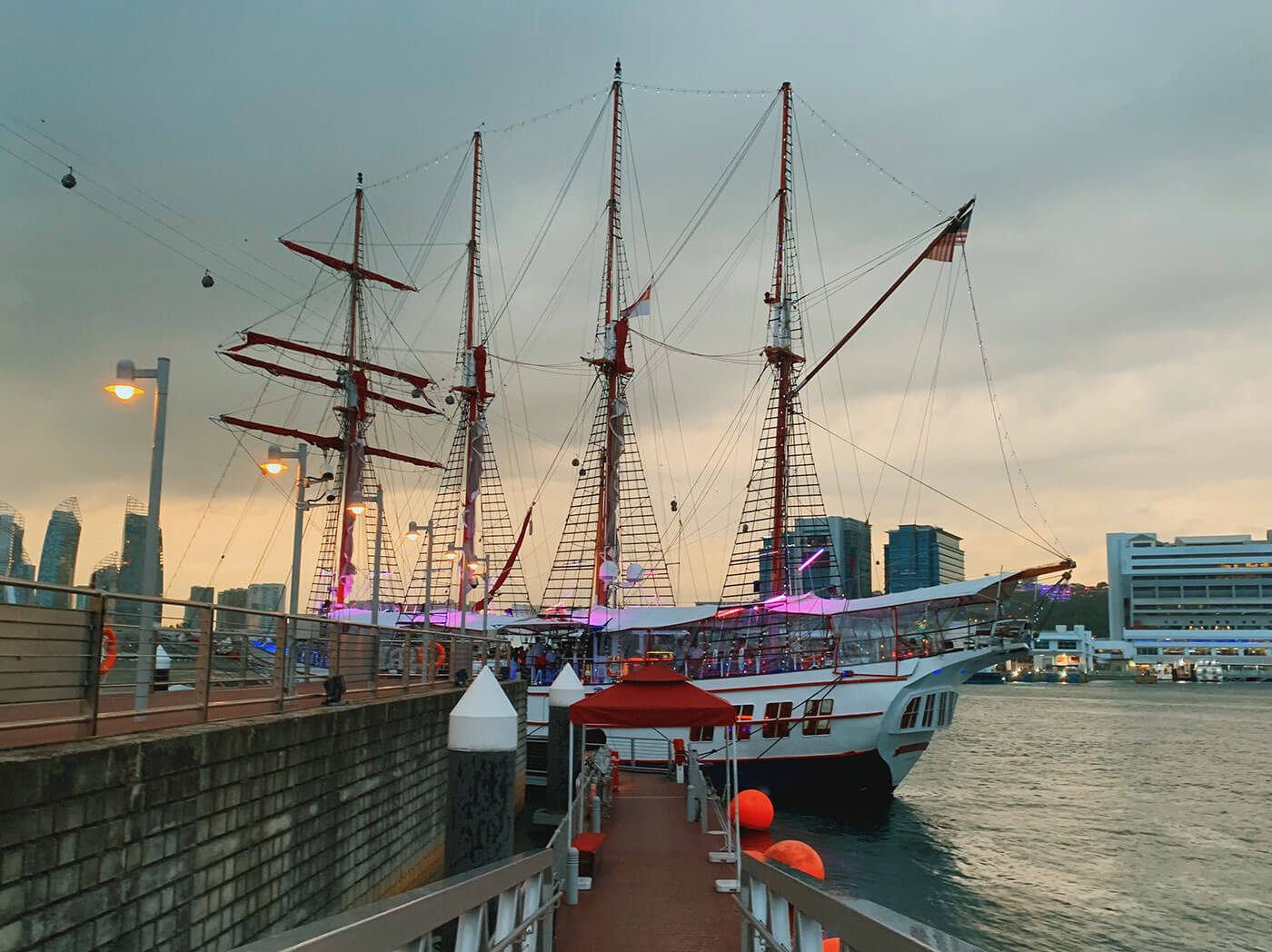 Okay, but even without the Hollywood fame, this ship is still a pretty cool one to be on board.
Boarding the Royal Albatross
We arrived at 7 PM, 30 minutes before we were set to sail. I personally think you should arrive earlier around 6:30 PM when the door first opens so you can catch a glimpse of the yacht while the sun is still out.
I didn't do this only because on the day of our cruise, it was raining one so there wasn't much sun – though thankfully the rain stopped once we set sail and didn't resume again until after we were off the ship!
But having been on the cruise, it's worth coming earlier regardless of the weather, to chope a good seat. By the time we arrived and boarded at 7PM, most seats were already taken.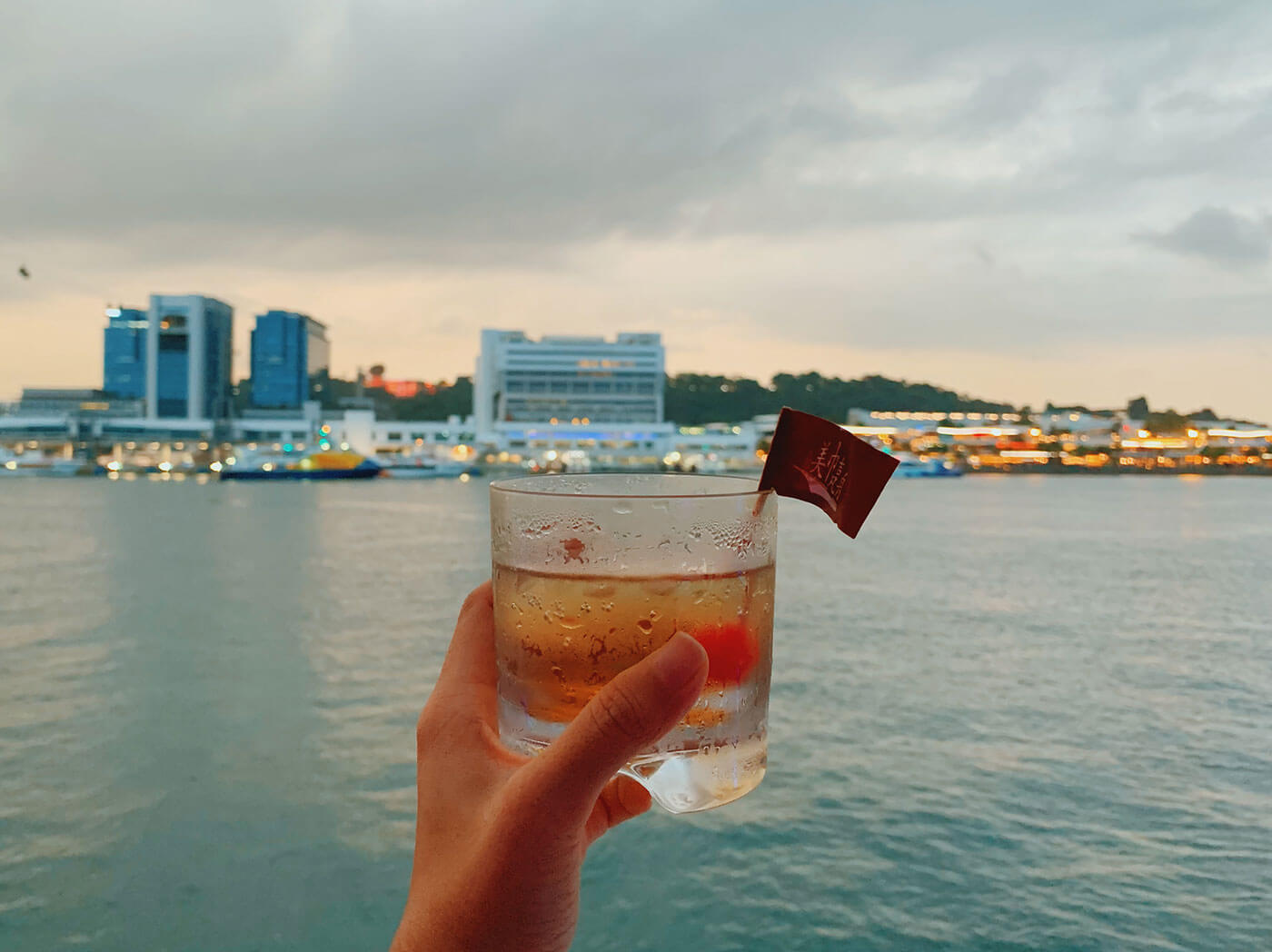 Although there aren't really any bad seat per se, there are still some that are better than others. I would have loved to sit further up on the Foredeck for a more lively setting (near the singer), or on the Aftdeck for a more quiet evening.
Here is a layout of the Royal Albatross for your consideration: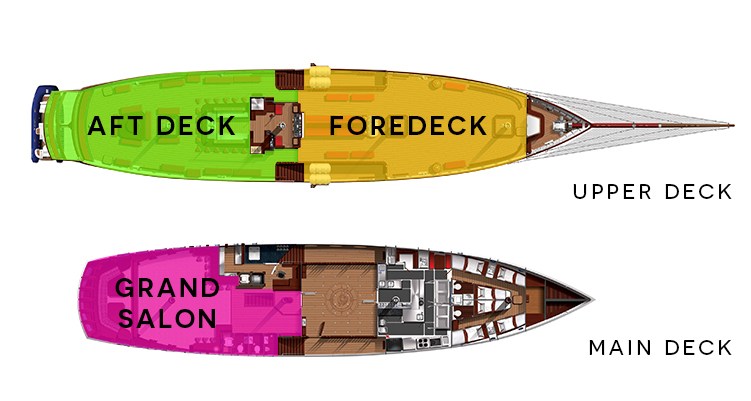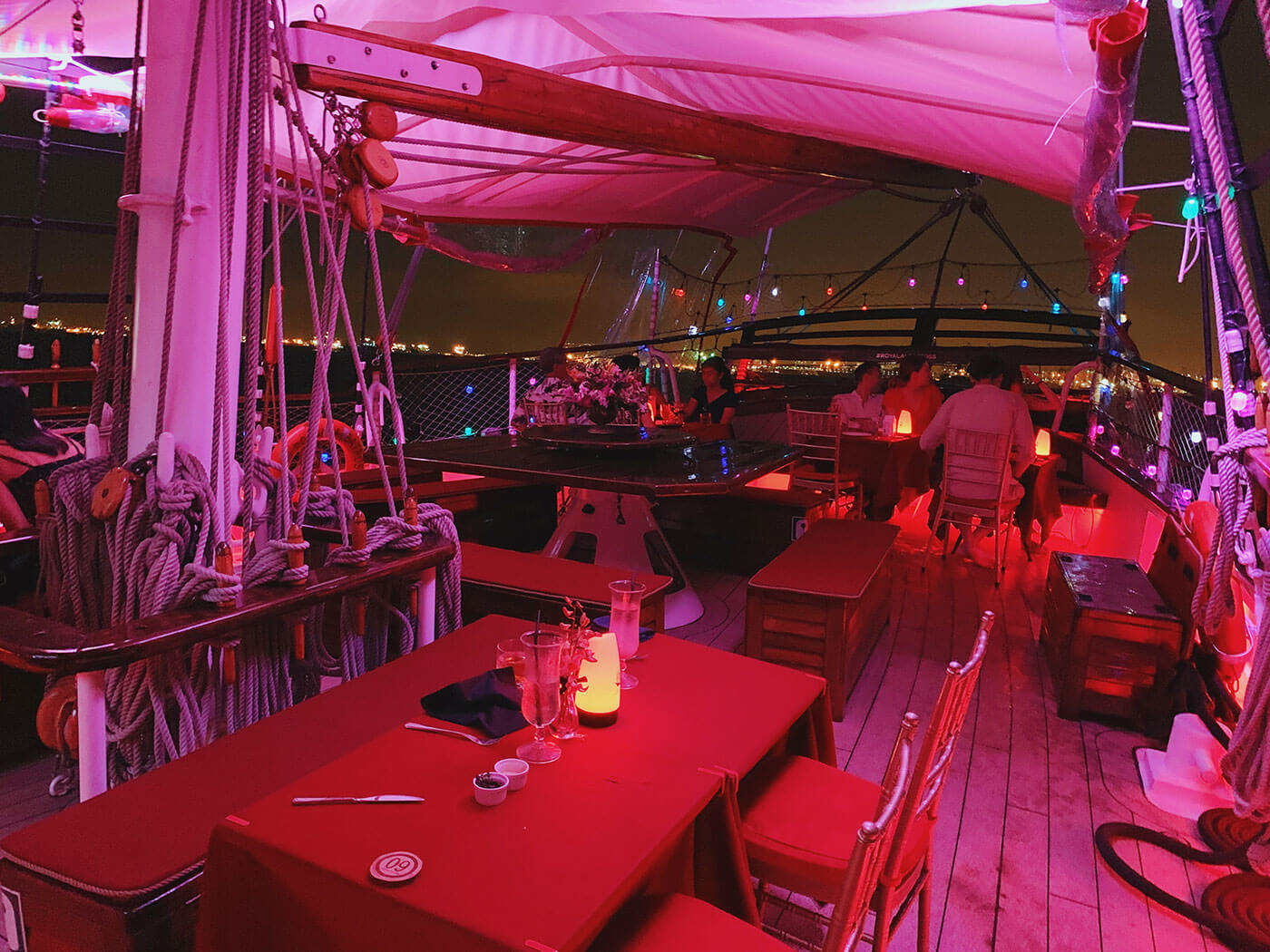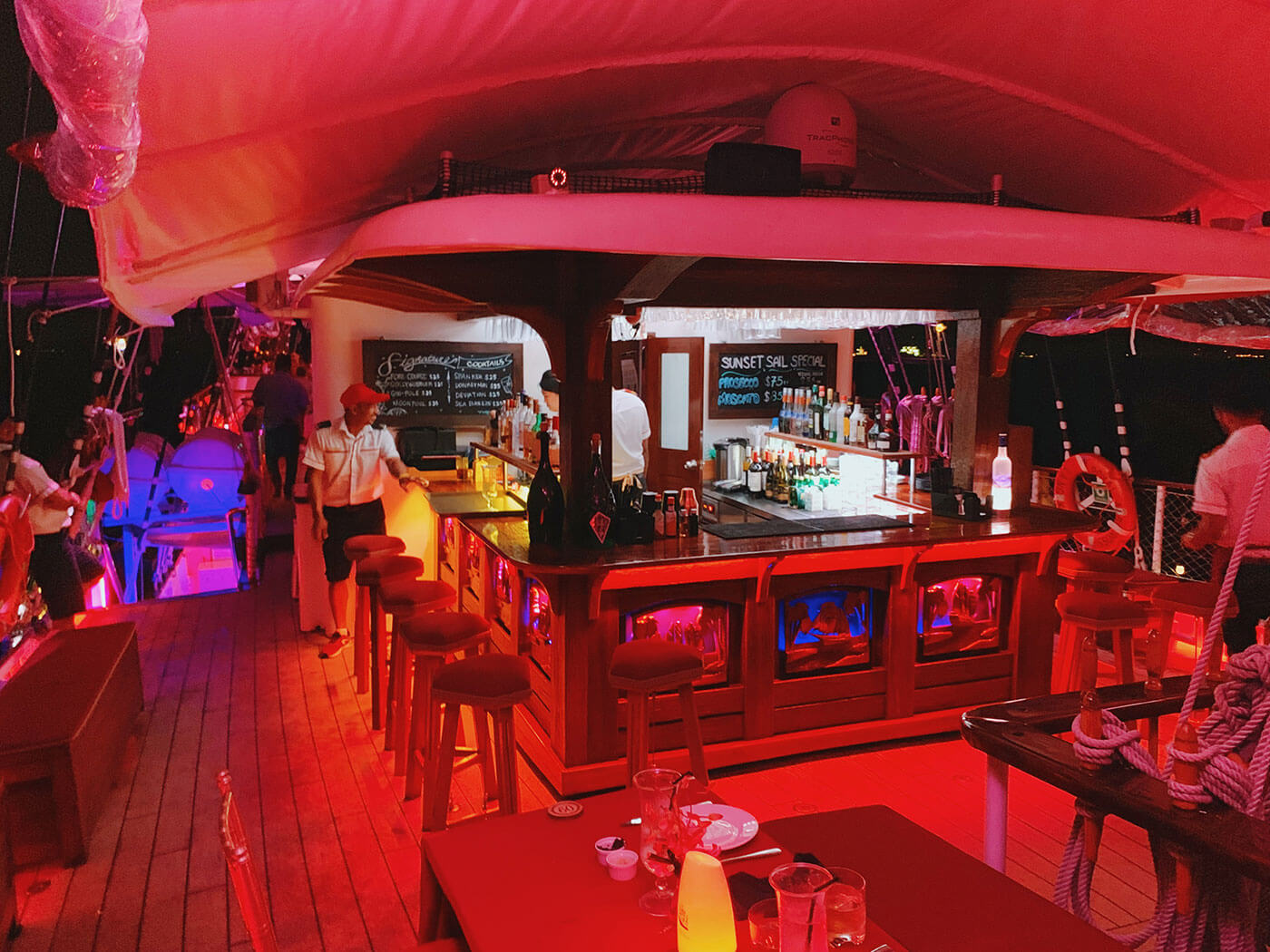 The boarding area for Royal Albatross is right behind the RWS Aquarium. Just follow the water line to the back. Once you've arrived at the boarding gate, simply go through the check in process. If you've done the necessary check in online, you'll get your wristband very fast – we got ours in less than 2 minutes.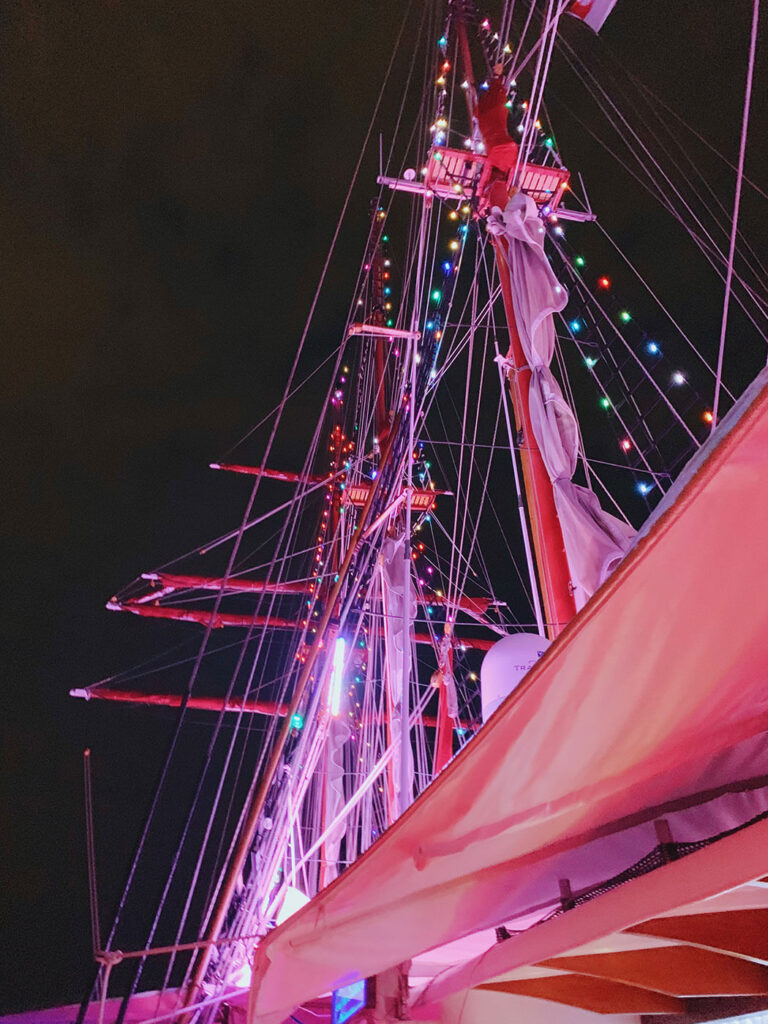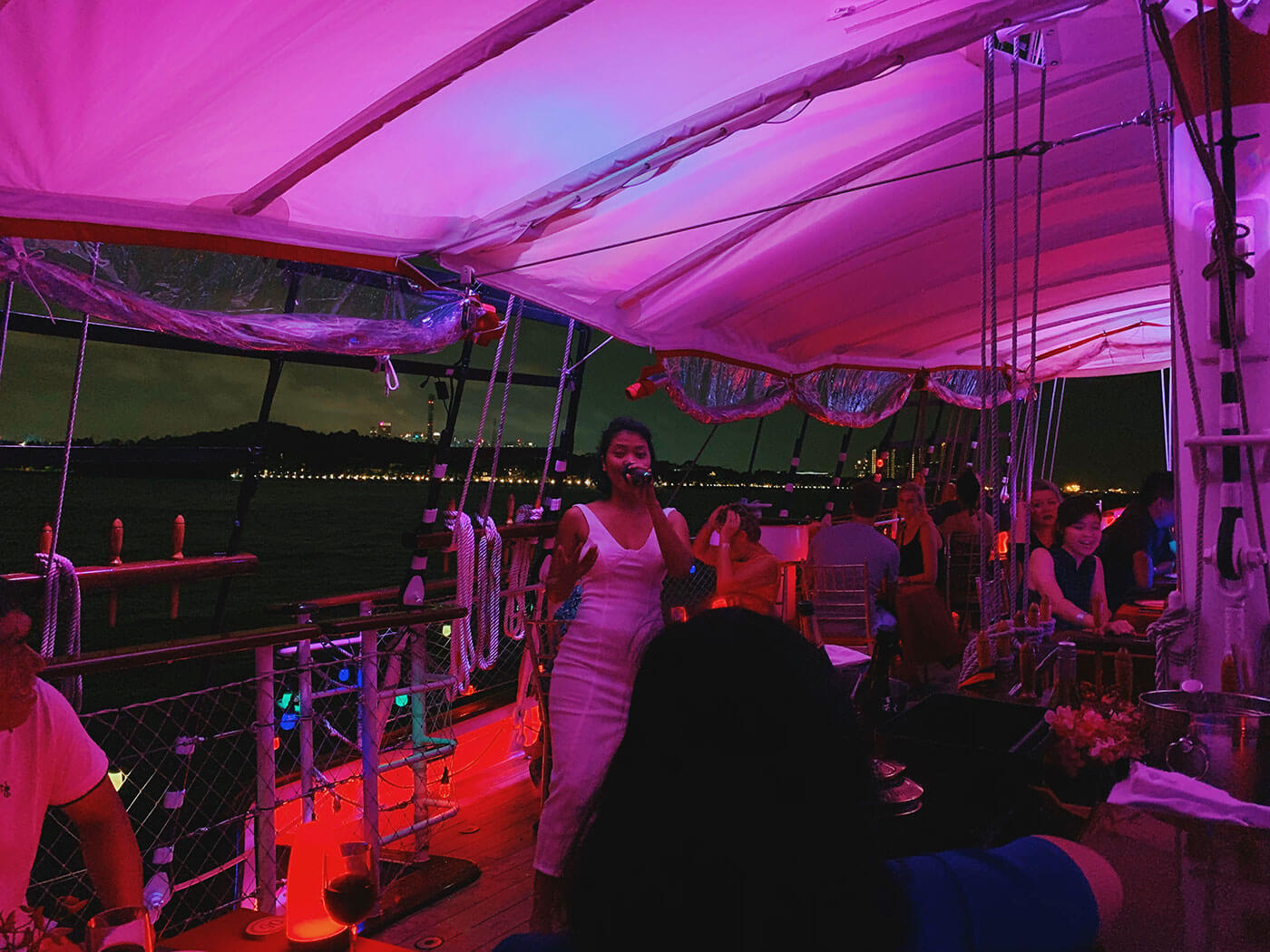 You have to take your shoes off before your board the ship, so don't bother wearing anything fancy. Don't wear socks either! The ship might be wet if it had been raining. Speaking of which, the dress code for this dinner, although it's a luxury ship, is a fairly casual one. You can wear a summer attire – think light summer dresses or jumpsuits for ladies and a button shirt and cotton shirt / pants for men. Keep in mind the upper deck, where you'll be having your dinner, is quite breezy so I would stay away from dangly accessories.
The 3-Course Dinner Cruise experience on Royal Albatross
The ship starts sailing at 7:30 PM on the dot. Timing might change depending on the cruise you booked, but make sure you arrive at least 30 minutes before the sail time or you can't complain if they sail without you. They might even sail earlier – on our cruise, everyone was already in place so the ship left the dock early at around 7:20 PM.
The menu we had on the cruise are listed as above, but it might change from time to time so you might not get the exact same thing. And of course there is a vegetarian option!
In terms of timing of the meal, they managed it quite well. Once the sail starts, live entertainment begins and your first course starts rolling in. An hour later, the main course was served and about 30 minutes before the ship is due back at the dock, dessert is served.
Food and service was great, but it was not anything I would remember in say, five years, as I would remember the experience of being on the ship more. I feel the dinner cruise is more memorable for the sailing experience.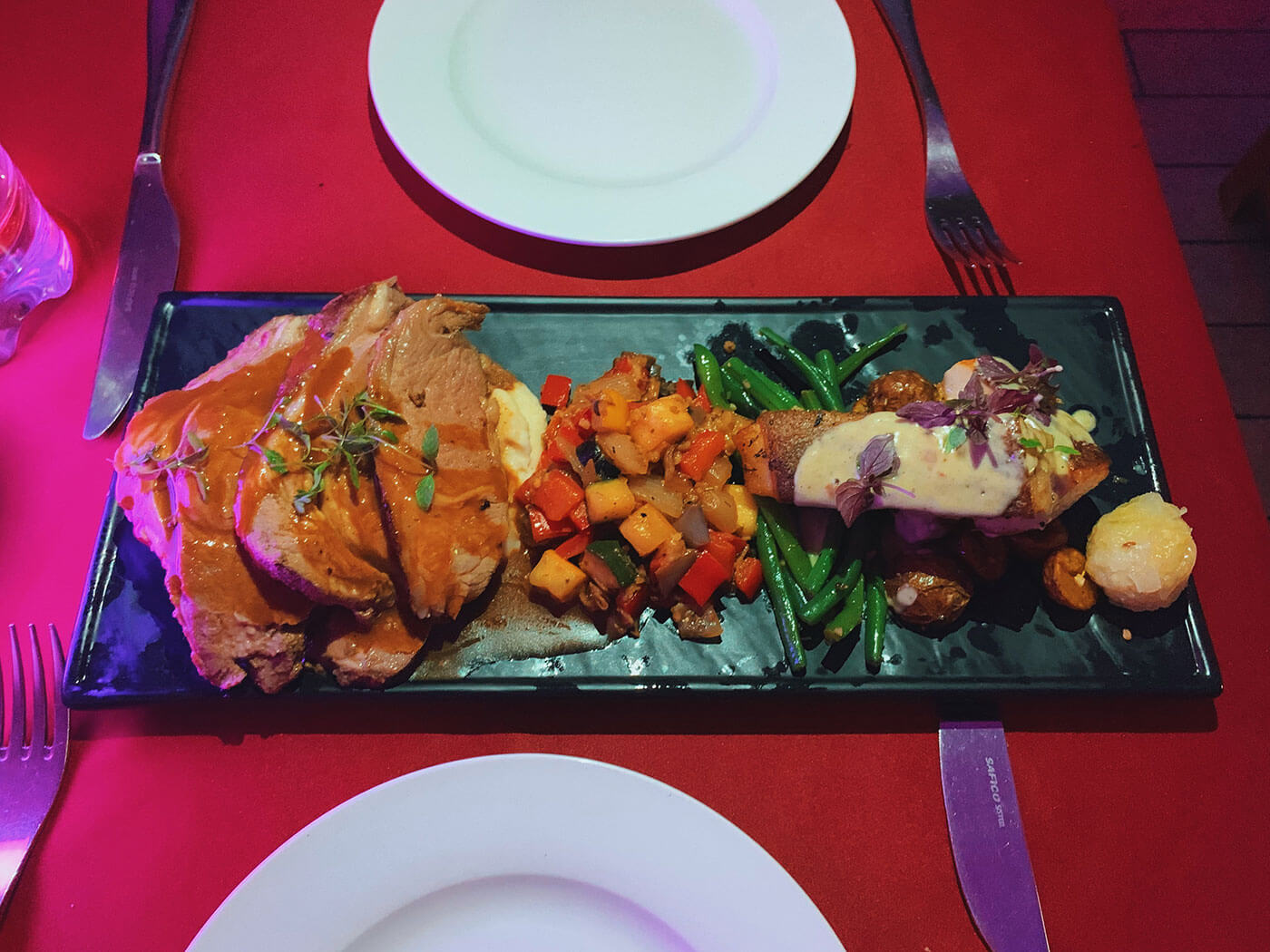 The interval between courses gives you enough time to explore the rest of the ship, have conversation with your companion and chill. I suggest checking out the air conditioned Grand Salon on the main deck to see the carpentry, luxurious room and some photos of the ship's famous guests from the past.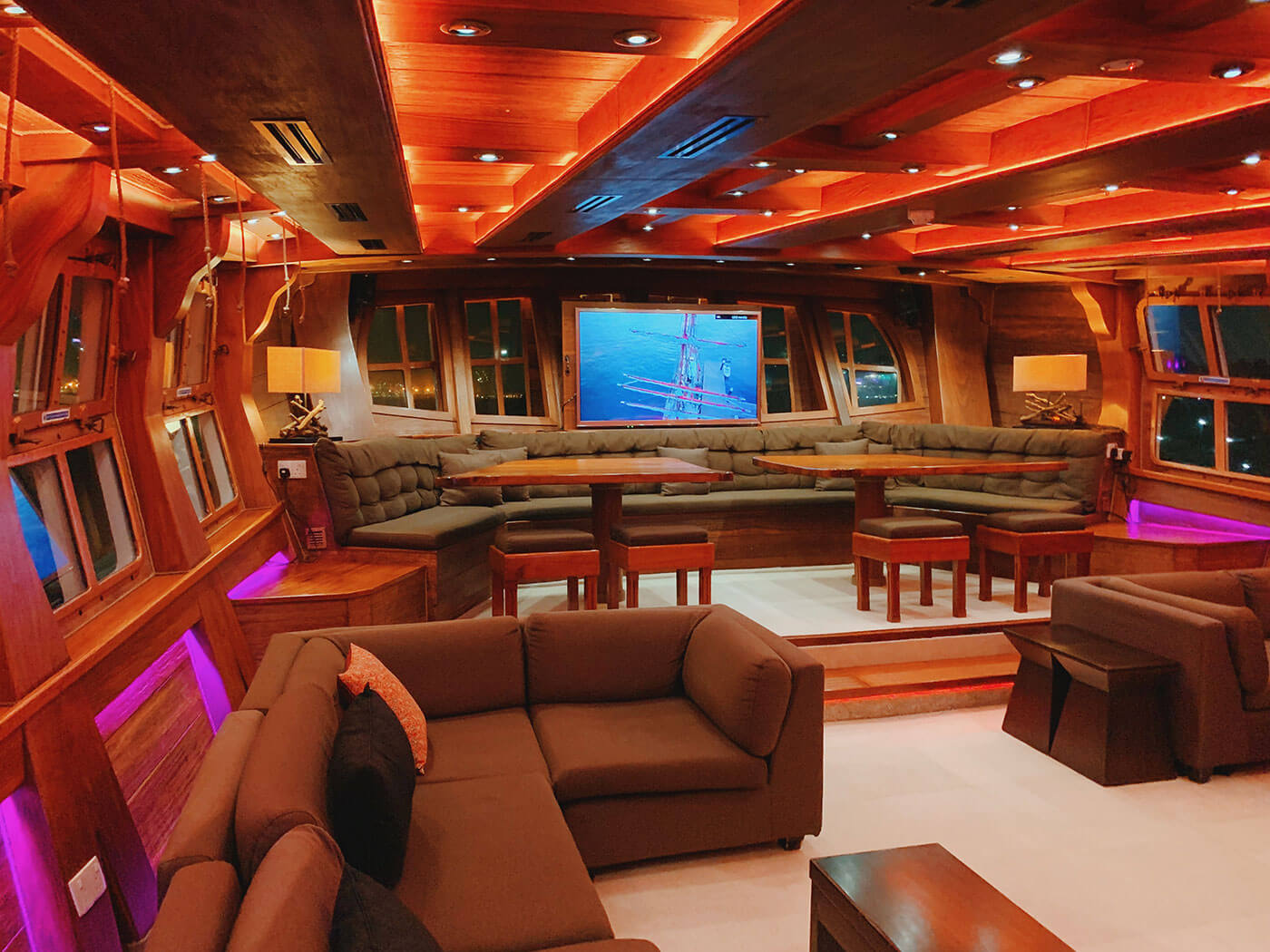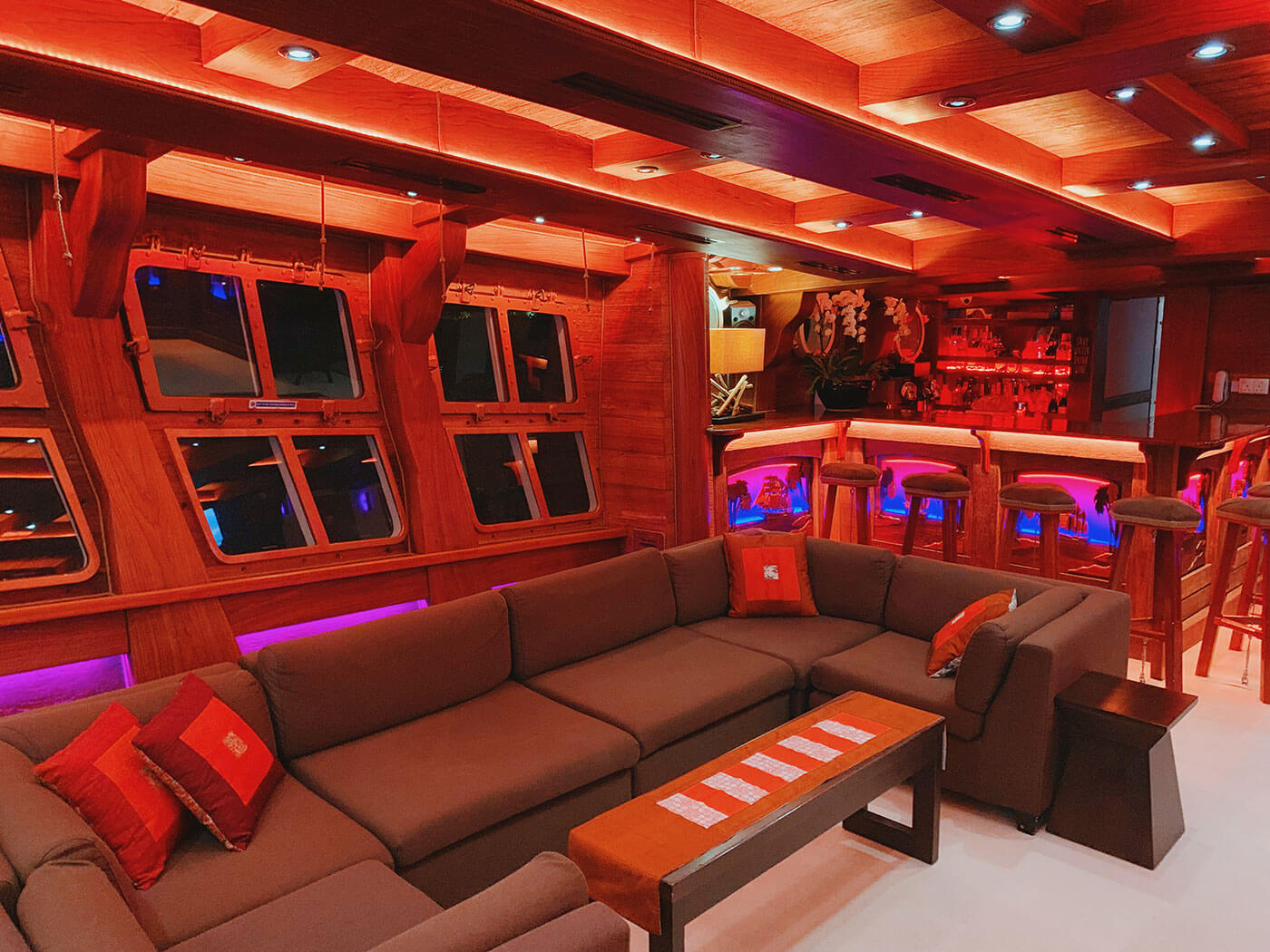 Also look out for the Singapore city line, especially if you're sailing close to National Day (August 9) as they do quite a bit of fireworks rehearsal around this time.
Could I get Seasick on the Royal Albatross?
It's unlikely, but possible from my own personal experience. The Royal Albatross is quite a sizeable and stable ship. The cruise was done on very calm water with only a few waves, but about 45 minutes into the ride… it hit me, hard (which explains the lack of good photos during dinner). I didn't take any seasick pills since I don't normally get sick.
I suspect it could be because of my pregnancy which makes me more prone to motion sickness, and the fact that I was already having a minor headache before boarding. It seems like no other guest was having a difficult time aside of me 🙁
We headed down to the Grand Salon on the main deck, one level below the upper deck, and I felt a lot better. So I spent most of my time down there and only came back up for courses (surprisingly I could still eat). Once we got off the ship, I felt instantly back to normal.
If you know you're prone to motion sickness, I suggest taking a seasick pills a few hours before boarding (these pills are only effective if taken while you're still on land). On board, the crew can also provide ginger pills which may help alleviate the seasickness.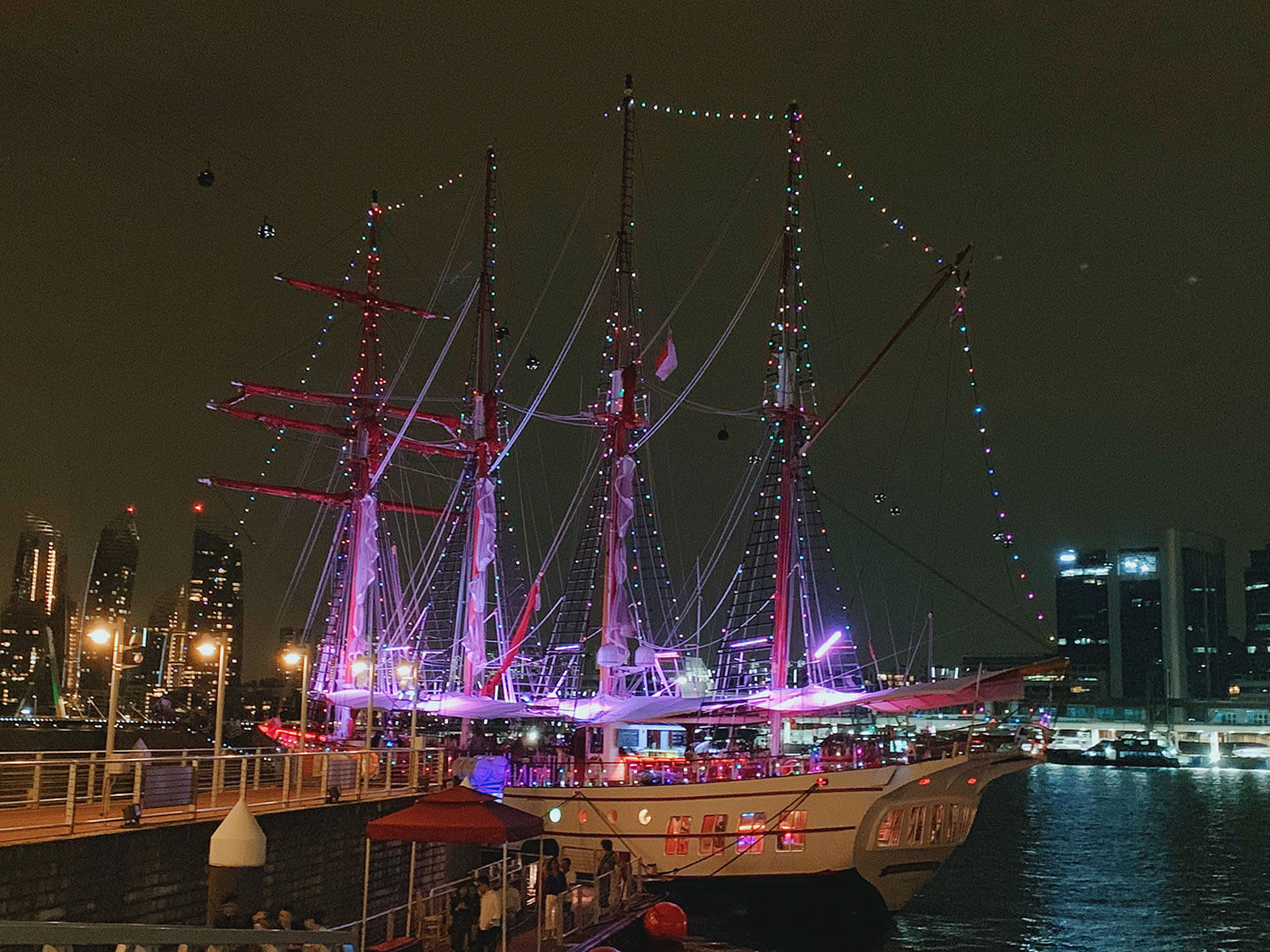 Overall, I think the dinner cruise is a great option for any special occasion – birthdays, anniversaries or even graduation. On the night I went, there was even a proposal onboard! Very romantic and/or memorable night, especially if you're looking to make someone feel special.
This dinner cruise will set you back $268 per person, including meals but not drinks. You can book a cruise with Royal Albatross here. The cruise I took was the Sunset Dinner Cruise, but you can choose a breakfast cruise, lunch cruise, or city lights dinner cruise which will leave at 8:30pm.
Keep in mind to rent a small 30-people yacht in Singapore you'll already have to shell out $100-120 per person excluding meals, so I think the prices are quite reasonable for what you get.
Thank you for the amazing night, Royal Albatross!
Note: I was a guest of the Royal Albatross cruise for the purposes of writing this review. As always, all opinions are honest and remain my own.