I have been living in Singapore for close to a decade now. It's about time I write up my food recommendations, hey?
Singapore makes it very easy to dine out, with the abundance of good food available around the clock. While I've been attempting to cook more, I still dine out frequently and I have a set of restaurant that I keep going to on the reg. Something about them just keeps me coming back!
So these are my favorite go-to restaurants, ranked by price from the cheapest value for money to the most expensive but totally worth it!
(the prices I quoted are in Singapore dollars, which at the time of writing US$1 = S$1.32)
Tom's Palette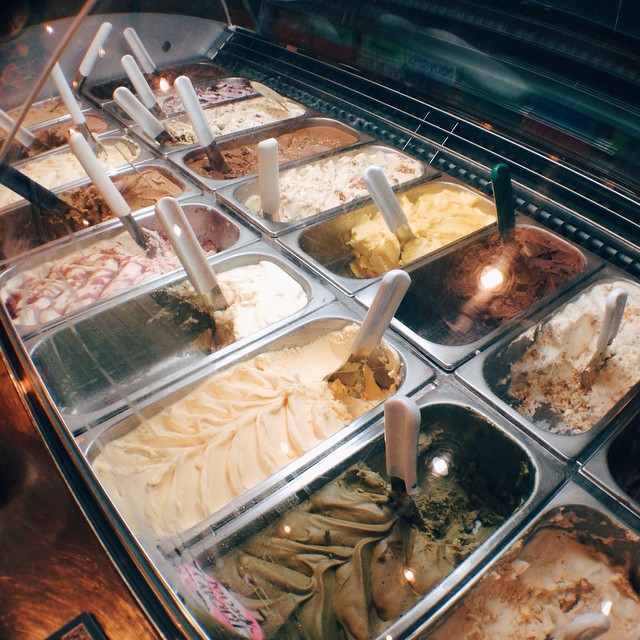 My absolute favorite ice cream in Singapore! They don't look fancy and their prices are very affordable, but the ice creams are superb quality. They come in Small, Medium and Large and you can mix up to two flavors for all sizes. Get the Salted Caramel Cheese Cake and Granny's Favorite (Chocolate Malt) – those two are my favorite combo! But if you are looking for adventurous flavors, you can try their flavor of the month ice creams – their menu changes periodically.
Yan Kee Noodle House
My friend Melvin brought me here after a night of drinking (it's a stone-throw away from Clarke Quay) and I have been coming back ever since. Don't bother with anything else, just get the Specialty Dry Meesua from the stall in the middle and marvel at the delicious perfectly textured noodles, all for $4. They are open 24 hours so you can get your meesua fix anytime! Oh, and there is a cheap drink stall in the same eating house if you still want some cold Tiger beer.
This place was previously known as BK Eating House Mee Sua, but since an alleged dispute in 2018, they have moved out of the BK Eating House location. They are now located at the opposite of the 9 Circular Road Eating house, called Yan Kee Noodle House.
Average spend: S$4/person
Nearest MRT: Clarke Quay MRT
Founder's Bak Kut Teh
Another crowd's favorite for late supper – Founder's Bak Kut Teh opens until 2AM. They serve one of Singapore's most well-loved dish – Bak Kut Teh aka BKT aka Pork Bone soup in Teochew style of using garlic and pepper to flavor the soup. I love the BKT here because the broth is very peppery.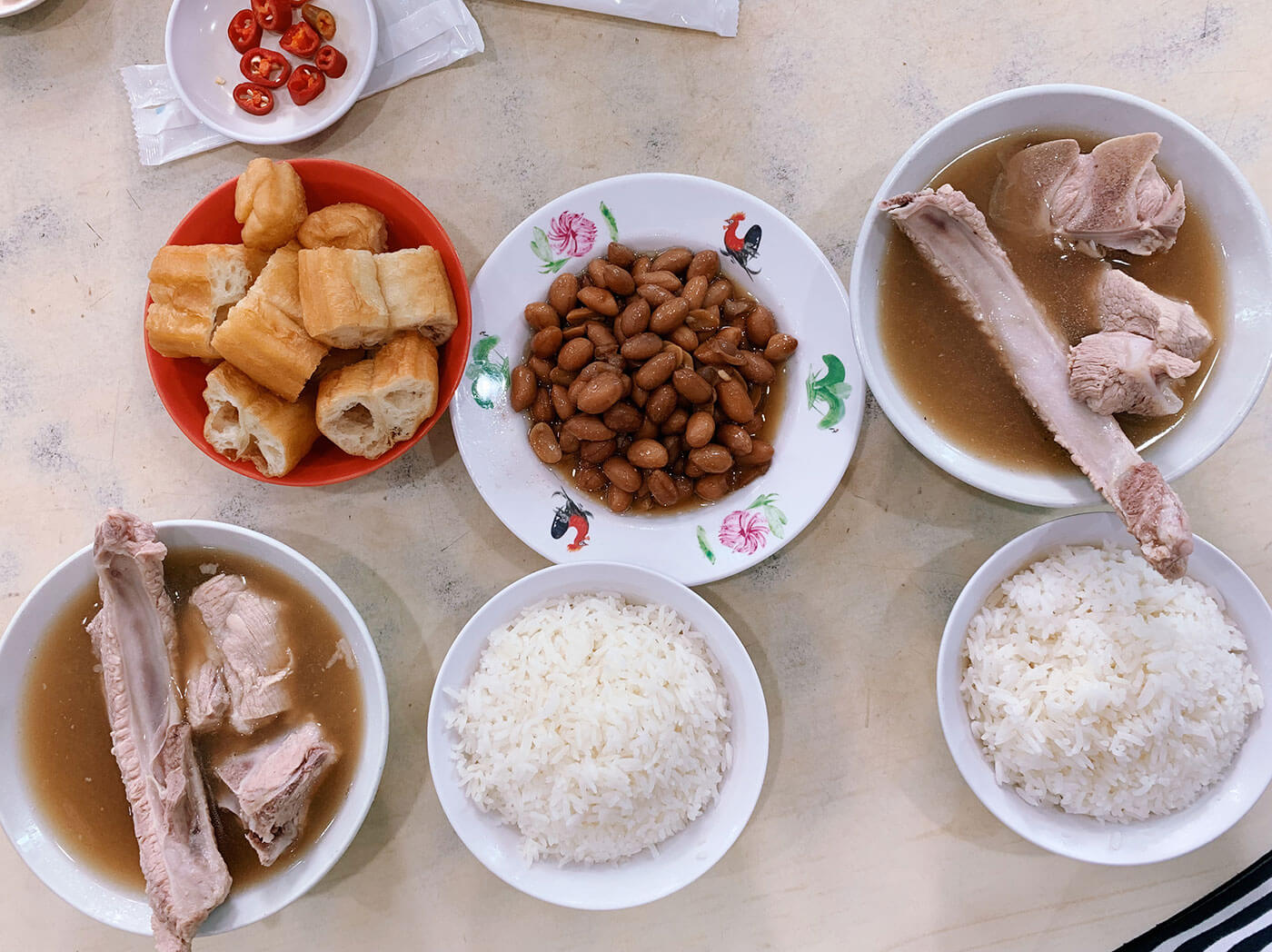 I recommend going to their original Balestier branch for the original old-time feel, but note that they are only open on lunch time and dinner time (closed from 2:30pm – 6pm), and closed on Tuesdays!
As to what to order, definitely get a bowl of Bak Kut Teh with rice and some you tiao (fried dough), boiled nuts and pickled vegetables as your side dish. PS: The broth is refillable, usually there will be a server coming around with a pot of their broth ready to fill up your bowl, but if not – don't be shy to ask for more!
Average spend: S$7-10/person
Nearest MRT: Novena
MTR 1924
I must credit my friend Shekhar for bringing me here. MTR stands for Mavalli Tiffin Room, and they have been serving authentic South Indian cuisine since 1924, as their storefront proudly declares. The Masala Dosa here is life changing – stuffed with spiced potatoes and laced with ghee, best eaten with hands. There are no meat dishes in this restaurant but you'll soon forget about meat… temporarily anyway. I also recommend getting a cup of Buttermilk or filter coffee to wash it all down. However, I don't recommend having this before an active day as you will be sleepy after all the good food.
Average spend: S$8-10/person
Nearest MRT: Farrer Park
Dumpling Darlings
This is a fairly new food establishment on Amoy Street. Although the restaurant has a very trendy branding (which is super on-point) and location, their prices are actually very pocket-friendly. Each bowl of noodle or a plate of five dumplings would only set you back $5-8 before tax. Despite their name, I found that their noodle dishes is what keeps me coming back – the noodles are silky and well-textured, and the sauce is delicious without being too overpowering.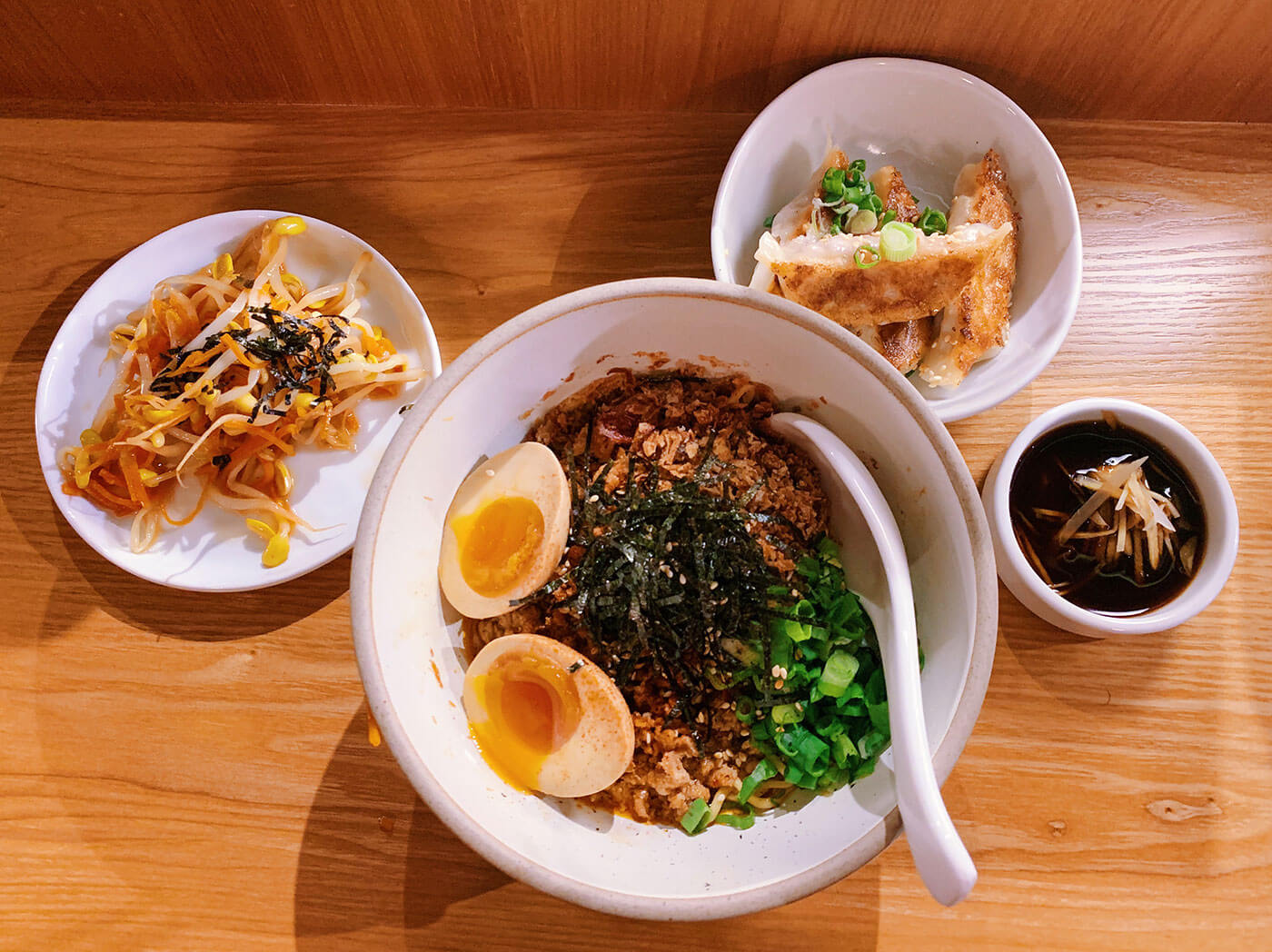 I recommend getting the Sichuan Noodles!
Average spend: S$6-10/person
Nearest MRT: Telok Ayer MRT
Mrs Pho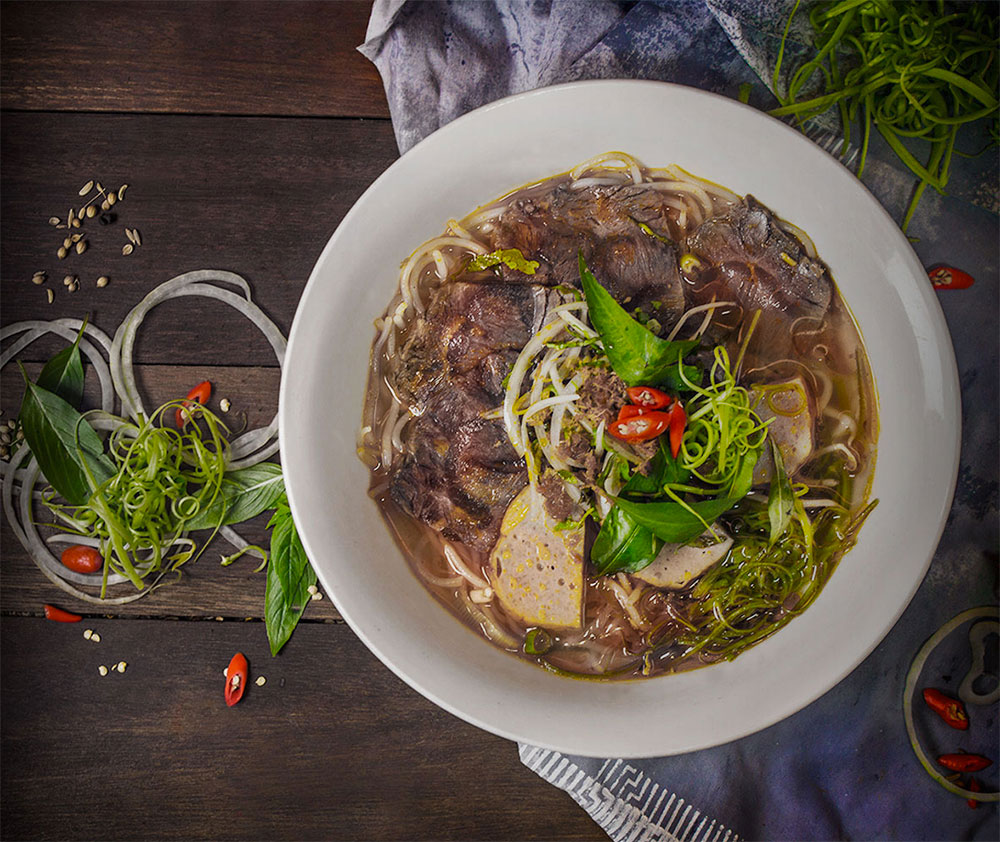 I love pho and I can eat this several times a week. My favorite Vietnamese joint in town is Mrs Pho, a tiny shop along Beach road. I highly recommend trying their Pho Bo Tai (Sliced Beef Pho). The Spring Rolls are very authentic as well!
Average spend: S$8-12/person
Nearest MRT: Bugis / Nicoll Highway (There is also another branch on Rangoon Road)
Tok Tok Indonesian Soup House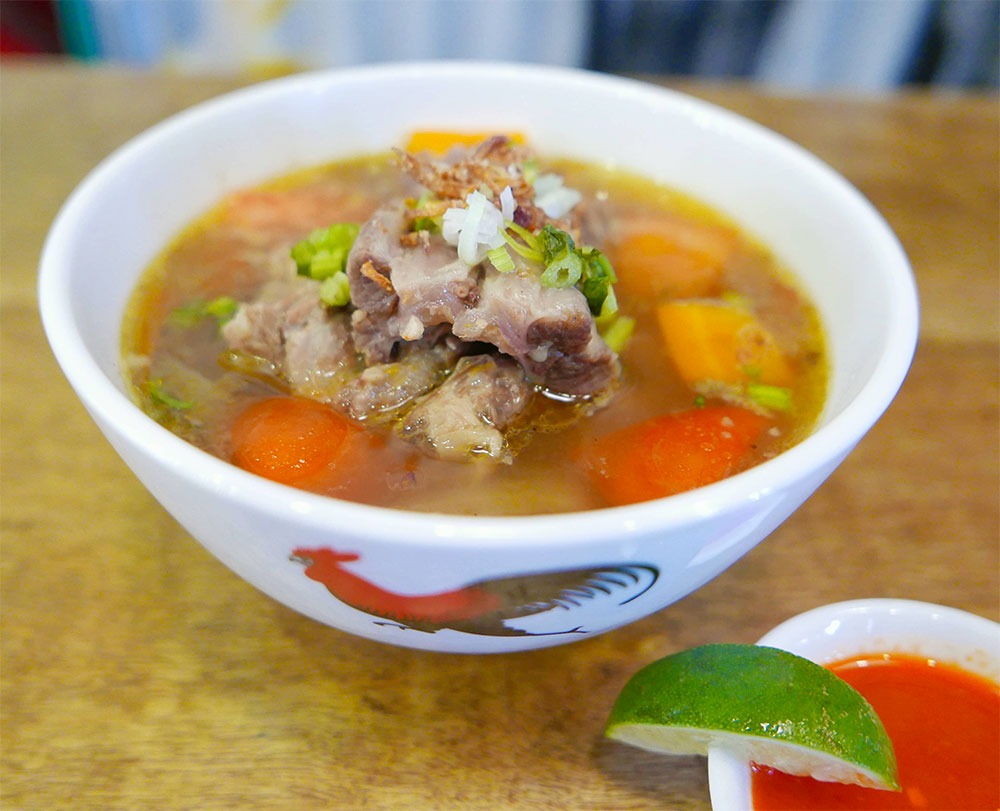 I'm Indonesian and I am often disappointed by "Indonesian" cuisine here in Singapore. Most of them are too sweet for me and didn't taste very authentic. Enter Tok Tok, which opened up last year – this restaurant is modest but they got it on point on everything! Taste, menu selection, and even the atmosphere – they always play classic Indonesian songs. I go here once a week and I've pretty much tried everything on the menu.
My favorites are (and this is very difficult to choose) the Sup Buntut (Oxtail Soup) and the Soto Ayam (Chicken Soup). And get Teh Botol (Sweet Jasmine Tea) to share too! If you're feeling adventurous, try the Happy Soda which is soda with syrup and condensed milk – Indonesians don't mess when it comes to sweets.
Average spend: S$9-11/person
Nearest MRT: Somerset (for the Somerset branch) Telok Ayer / Chinatown (for the Ann Siang branch)
Bebek Goreng Pak Ndut
Bebek Goreng Pak Ndut is another place that doesn't disappoint in terms of Indonesian food authenticity. Their specialty is Bebek Goreng, which means Fried crispy duck, and if you've read my Ubud post you'll know how much I love these babies. I wouldn't bother with stuff other than the Original Crispy Fried Duck. The dish comes with all the basic items you need to try – the crispy duck, rice, tofu, tempeh, and some fresh veggies to dunk into the kecap (sweet soy sauce) and sambal (chili sauce). I also recommend getting Tahu Telor, which is deep-fried tofu and eggs in peanut sauce.
Average spend: S$10-12/person
Nearest MRT: Orchard
Meat and Green
One of my favorite salad place! Their salad ingredients are always so fresh and they give you tons of protein with crunchy peanuts on top. But best of all, their protein flavors have a local twist! You can get Chilli Crab salad, Chicken Rice salad (no rice though), Malay Beef Curry salad (my favorite!! aka Rendang, though I'd argue Rendang is Indonesian :x), Pulled Pork Bak Kut Teh Salad, etc
Average spend: S$12-13/person
Nearest MRT: Raffles Place
Loy Kee Best Chicken Rice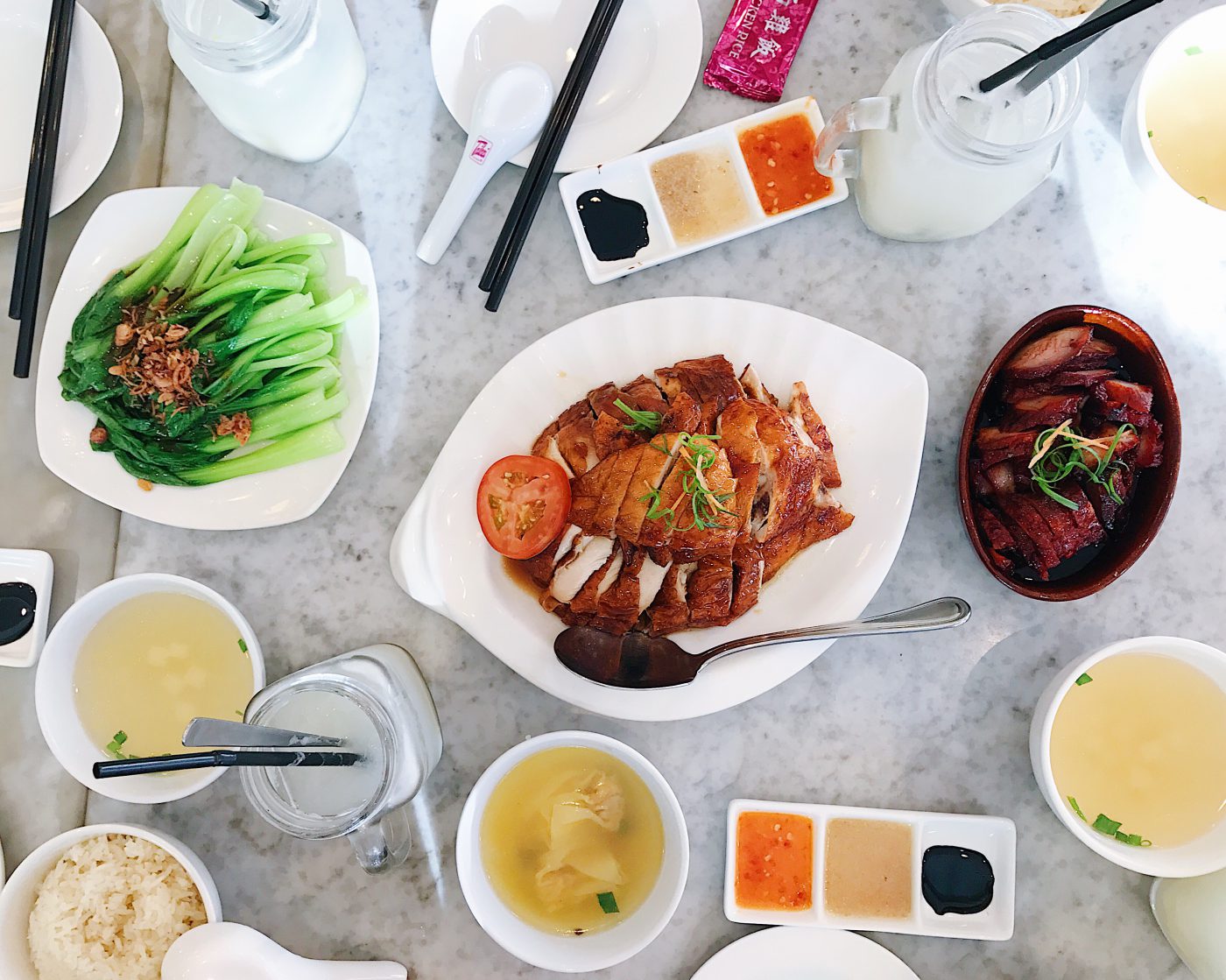 Loy Kee doesn't appear on most guidebooks as the best chicken rice in Singapore, but don't be fooled – the name don't lie. Their chicken rice is solid. The rice is so fragrant and flavorful, the sauce properly served separately so that you can taste each flavor to your liking, and they clearly have put effort into the presentation of the food.
In terms of chicken rice, I always get roasted instead of steamed but that's up to your personal preference. My favorite dish here, however, is not the chicken rice – it's the Hainanese Beef Stew – such a comforting dish, especially when it's raining outside. I also like the Soursop Juice for drinks.
Average spend: S$10-12/person
Nearest MRT: Novena / Boon Keng
Swee Choon Dim Sum
[instagram url=https://www.instagram.com/p/BQ5lUF2jWUy/ hidecaption=true]
Swee Choon is a no-frills popular hangout for late night supper, especially after a drinking session. They open from 6PM to 6AM. If you go here after 10PM on a weekend, their peak hour, you might have to wait for a table but it shouldn't be longer than 15 minutes. After your number gets called, you get seated and place your order by marking it on a large sheet.
The portions are small here so I recommend getting at least two dishes per person. As for which dish to get – my personal favorites are BBQ Pork Bun, Salted Egg Yolk Custard, Shanghai Xiao Long Bao, Chee Cheong Fun, and Fish Horfun in Creamy Egg sauce.
Average spend: S$10-15/person
Nearest MRT: Jalan Besar
Tendon Kohaku
[instagram url=https://www.instagram.com/p/Bg00aGAhctA hidecaption=true]
Tendon Kohaku is special because even though everything is deep-fried, it's always the perfect crispiness yet not so oily, and their sweet sauce marries everything together perfectly. Their portion is really good and you won't leave hungry. I recommend trying the Tendon Kohaku signature bowl ($15) if it's your first time. Personally, I loved the spicy variation. If I don't come here for awhile I start to crave it!
Average spend: S$17-20/person
Nearest MRT: Raffles Place, Chinatown, Esplanade
Din Tai Fung
[instagram url=https://www.instagram.com/p/BecDyTfgW3I/ hidecaption=true]
Honestly tho, who doesn't love Din Tai Fung? Originated from Taiwan, Din Tai Fung has opened many locations in Singapore and for that I am grateful. They have a large menu but no matter what I always make sure to order these two dishes: Xiao Long Bao (Shanghai Soup Dumpling) and Egg Fried Rice with Pork Cutlet. I have no idea how they make their fried rice taste so good!
Average spend: S$18-25/person
Nearest MRT: Various locations
Vatos Urban Tacos
Vatos is a fusion of Korean and Mexican food – and what a genius combination this is. I pretty much can recommend anything on the menu, but definitely get their tacos – I recommend the Galbi Short Rib Taco. You need a few of these to fill you up and they are quite tiny, maybe 3-4 tacos. Kimchi Fries is a fine choice for sharing as well. If you're in the mood for boozing, then get their special margaritas (Vatos'ritas) which comes with upside down beer – it's 2 drinks in one!
Average Spend: S$20-30/person
Nearest MRT: Esplanade
Po
At the time of writing, Po is a fairly new restaurant inside the also fairly new Warehouse Hotel, a chic boutique hotel along the river of Robertson Quay, serving classic refined Singaporean dishes. There is only one thing I come here for – The Popiah. It's true that you can get popiah for a fraction of the price elsewhere, but the Popiah here is served DIY style with the freshest ingredients so you can roll one up to your liking. One order of popiah is good for up to 6 rolls and enough to feed two for a meal. The original order comes with 4 popiah skins but you can order extra if you're left with more ingredients. I also tried their Braised Mahjong Tofu here and it is very delicious.
Average spend: S$35-50/person
Nearest MRT: Fort Canning
Common Man Coffee Roasters
Common Man has been a crowd's favorite in River Valley for 4 years – that's saying a lot for a neighborhood whose brunch place turnover is quite high. They are not cheap, that's for sure – each dish cost between S$20-30 but their quality is consistently top notch. My favorite dish to get for brunch is the Vegetarian Wonderland. I'm not vegetarian – in fact, I LOVE meat, but the ingredients that make up the dish is simply divine – perfectly ripe avocado, halloumi, eggs, and sauteed spinach. I also love their Fluffy Pancakes.
Average spend: S$25-35/person
Nearest MRT: Fort Canning
Kilo
I love Kilo and have great memories of my visits since they were still based in Kallang. Now they are occupying a new space on Duxton Hill, one of Singapore's restaurant and bar district. They also have a branch in Bali and I've always made a point to visit whenever I'm there. They offer the same quality menu but with cheaper price tag! In fact, one time I went with my friend Jessica and we pretty much ordered the entire menu between the two of us. It was an epic meal. Their menu might have changed by the time you are reading this, but my favorite dishes are (and they seem to always stay) Grilled Baby Corn, Wasabi Tuna Tartare and Seafood Ceviche. I also love their cocktails – I would recommend A Sure Thing which is made of vanilla infused vodka, cucumbers, mint, and lime.
Average spend: S$40-50/person
Nearest MRT: Tanjong Pagar
Burnt Ends
Update (8 May 2018): OK, so the last time I went to Burnt Ends was in 2012-2013. It was already popular back then but was relatively unknown – I have gotten a spot by just by walking in. I've just tried to make a booking again this year (2018) and am shocked at how difficult it is to get a spot for just two people! So if you plan to go, be prepared to wait or make super advance reservations!
Burnt Ends are more on the expensive side but I can assure you they are worth your dollar. In 2017, Burnt Ends earned the No. 53 spot as the world's best restaurant and No. 10 in Asia. It's a small and intimate space, no more than 20-people at a time and mostly centered around the open kitchen area.
I've gone to Burnt Ends on some special occasions, where we ordered most items of their menu (which is ever-changing and small as it is meant to be shared) and none has ever disappointed. One thing always stays on their menu – the Burnt Ends Pulled Pork Sanger and I would highly, highly recommend getting it. My mouth starts watering just thinking about it… and if they have Smoked quail eggs (you have to order one portion for each person because one portion is literally just one egg on a spoon) or Onglet with Bone Marrow on the menu, make sure to get those too! They specialize in barbecued dishes after all.
[instagram url=https://www.instagram.com/p/7SmEQ1OdxA hidecaption=true]
Trivia – The photo above is not from Burnt Ends, but from a BBQ event at Meat Smith I went to with my friend Jess. We happened to be seated at the same table with David Pynt, the head chef of Burnt Ends, although I did not know this at the time. When one of the items came to the table (it was served 'omakase' style which means we don't know what's coming next), it was a Smoked Split Pig's head and none of us knew where to begin. I mean, there was a full-grown pig's head on our table. Being a chef, He kindly offered to cut and slice it for us. He even gave us the weird parts to try… like brain and ears of the pig. Of course I tried it for kicks 😛
It wasn't until we started small chatting later in the night that I found out that he was THE David Pynt of Burnt Ends! I later looked him up on Instagram and fangirled til this day.
Average spend: S$100-150/person
Nearest MRT: Outram Park / Chinatown
And that wraps up my ultimate list of recommendations in Singapore. If you have any restaurants you think I should try in Singapore, please feel free to leave your recommendation in the comment below!