Hakone is a mountain town located just a few hours from Tokyo. You can enjoy a view of Mount Fuji, many nature walks, visit shrines, and of course – the crisp mountain air. You can also enjoy Japan's favorite pastime – bathing in an onsen!
Hakone is a great destination if you're looking for a quick trip from Tokyo. I have visited Hakone twice, once on my first trip to Tokyo, and another time when I visited Tokyo during the pandemic recently.
Read on to find out more details on how to visit Hakone!
How many days should I spend in Hakone?
Hakone is doable as a day trip as well as a short 2-3 days trip from Tokyo. If you want to do a day trip, you can leave Tokyo early in the morning and follow the Hakone round course, which will allow you to see a lot of things in Hakone in a loop. Then, you can take the night train back to Tokyo.
However, I personally think 2 days is the sweet spot for Hakone. It allows you to stay overnight and not rush too much. I recommend staying at a Ryokan overnight, which will give you that quintessential Japanese experience.
What is Hakone Free Pass?
First and foremost, let's talk about Hakone Free Pass, a pass designed for tourists to save money while visiting Hakone from Tokyo. Because it is such a good deal, I will be mentioning this pass multiple times throughout this post.
Hakone Free Pass includes a lot of things – a round trip to Hakone from Tokyo, a lake cruise at Ashi lake, and unlimited public transport in Hakone. All of these are essential if you plan to follow the Hakone Round Course.
The pass also gives you discounts on most attractions in Hakone (see the list)
Tip 💡: Buy Hakone Free Pass here and redeem it at Shinjuku station!
There are different prices for Hakone Free Pass, depending on validity. There are 2-day and 3-day passes:
From Shinjuku: The one I linked assumes you start your journey from Tokyo, thus it includes a round-trip train from Shinjuku to Hakone. Most visitors coming from Tokyo should choose this option.
From Odawara: If you have an Unlimited JR pass, then you could use your JR Pass for your journey up to Odawara. You can get Hakone free pass at Odawara for slightly cheaper. I will elaborate more below on which way I think is the best.
If you are planning on doing the Hakone round course, this pass is definitely worth it.
How to get from Tokyo to Hakone
To get to Hakone, you'll want to aim for Hakone-Yumoto station. The most convenient way to do this from Tokyo is by train unless you want to rent a car and drive yourself. Here are different options to get to Hakone:
1. By Odakyu local express train (The cheapest way)
To get from Tokyo to Hakone, you can take a local train on the Odakyu line, which is included in the Hakone Free Pass. If you're thinking of going to Hakone this way, definitely buy Hakone Free Pass since all the fares are included! You can take the Odakyu line from Shinjuku station to Hakone-Yumoto station.
This journey will take 2 hours and requires a change of train at Odawara station. Keep in mind you'll be taking the local train which means it will stop at every stop along the way. And, if the train is crowded you might not have a seat. So, you might want to consider topping up a little bit for the direct train, which I'll talk about next.
2. Direct train by Romancecar (Fastest and most convenient)
Odakyu Romancecar is the fastest and most convenient way to get to Hakone, as it is a direct train and does not require you to transfer to a different train. The journey will start at Shinjuku station and will take 80 minutes to reach Hakone-Yumoto station.
If you have purchased the Hakone Free Pass, you can travel on the Romancecar by topping up a limited express surcharge of 1,110 yen (about US$8) per person, which you can buy here. You can also reserve your seat from that same link, so you don't need to worry about not having a good seat on the train.
3. Using your existing JR Pass, if you have one
If you are traveling around Japan, you might already have an Unlimited JR Pass. If so, you could save some money by taking a JR train to Odawara station from Tokyo station or Shinagawa station, which will be included with your JR Pass.
From Odawara, you can then continue on to Hakone-Yumoto station. Once you reach Odawara station, you can purchase Hakone Free Pass at a lesser price than what you'd pay at Shinjuku station (5,000 yen vs 6,100 yen for the 2-day pass) because it does not include the trip from Shinjuku to Odawara.
However, you need to carefully consider whether the 1,100 yen (US$8) saving is worth it, considering you'd be traveling on local trains, so your seat is not guaranteed and you need to transfer in Odawara. If you just want to go directly from Shinjuku and take the direct train, then you should still purchase the Hakone Free Pass that's valid from Shinjuku, then top up 1,100 yen for the romance car I described above.
4. By Odakyu Hakone Highway Bus
I don't recommend taking the bus as the train is by far the most convenient way to travel in Japan. However, if you still prefer to take the bus, you can do so from Shinjuku to Lake Ashi. This bus is also included in Hakone Free Pass. The journey will take about 2 hours depending on traffic.
5. Rent a car and drive to Hakone from Tokyo
This is one of the most convenient and easy options if you don't want to depend on public transport. Driving in Japan requires an International Driving License. This is the option that I personally went with since I did not want to waste time with public transport. You can book a car rental from Tokyo, which you can pick up from the airport or in the city:
It goes without saying that if you choose to drive, then you won't need to get the Hakone Free Pass.
How to get around Hakone
There is plenty of public transport in Hakone. There are buses, ropeways, trains, and even a funicular cable car. All of these are included in the Hakone Free Pass!
If you keep reading below, I'll tell you exactly how you can use all types of transport when you explore Hakone Round Course.
Luggage Services in Hakone-Yumoto Station
Hakone-Yumoto station is the entry point to Hakone. If you are arriving in Hakone with lots of luggage, or if you are short on time and want to explore Hakone right away before dropping off your luggage, you might be wondering what your options are.
1. Luggage Delivery Service at Hakone-Yumoto station
At Hakone-Yumoto station, there is a convenient luggage delivery service that can deliver your luggage to your accommodation so that you can explore Hakone freely. The caveat is that you need to drop off your luggage by 12:30 PM, so this is only applicable if you arrive in Hakone in the AM.
The service also works the other way around – you can also leave your luggage at the hotel counter to be sent to the Hakone-Yumoto station when you check out so that you can again explore Hakone before leaving.
This service cost 900-1,600 yen per luggage one way, depending on the weight and size of your luggage. I think this is very reasonable. Find out more about the luggage delivery service here!
💡 Tip: You will get 100 yen off the luggage delivery service if you have Hakone Free Pass.
2. Lockers and Luggage Storage in Hakone
Just like most of Japan, there are plenty of lockers at nearly every train station in Hakone. So if you're just planning to stop by Hakone for the day, you can use these lockers to store your luggage while you explore Hakone.
Generally, lockers are only for day use. You could leave the bags in the locker overnight, for a maximum of 3 days, but it will cost you more if you use the locker overnight.
You can choose the size of the lockers, ranging from 300 – 700 yen. Here is a photo of what it typically look like: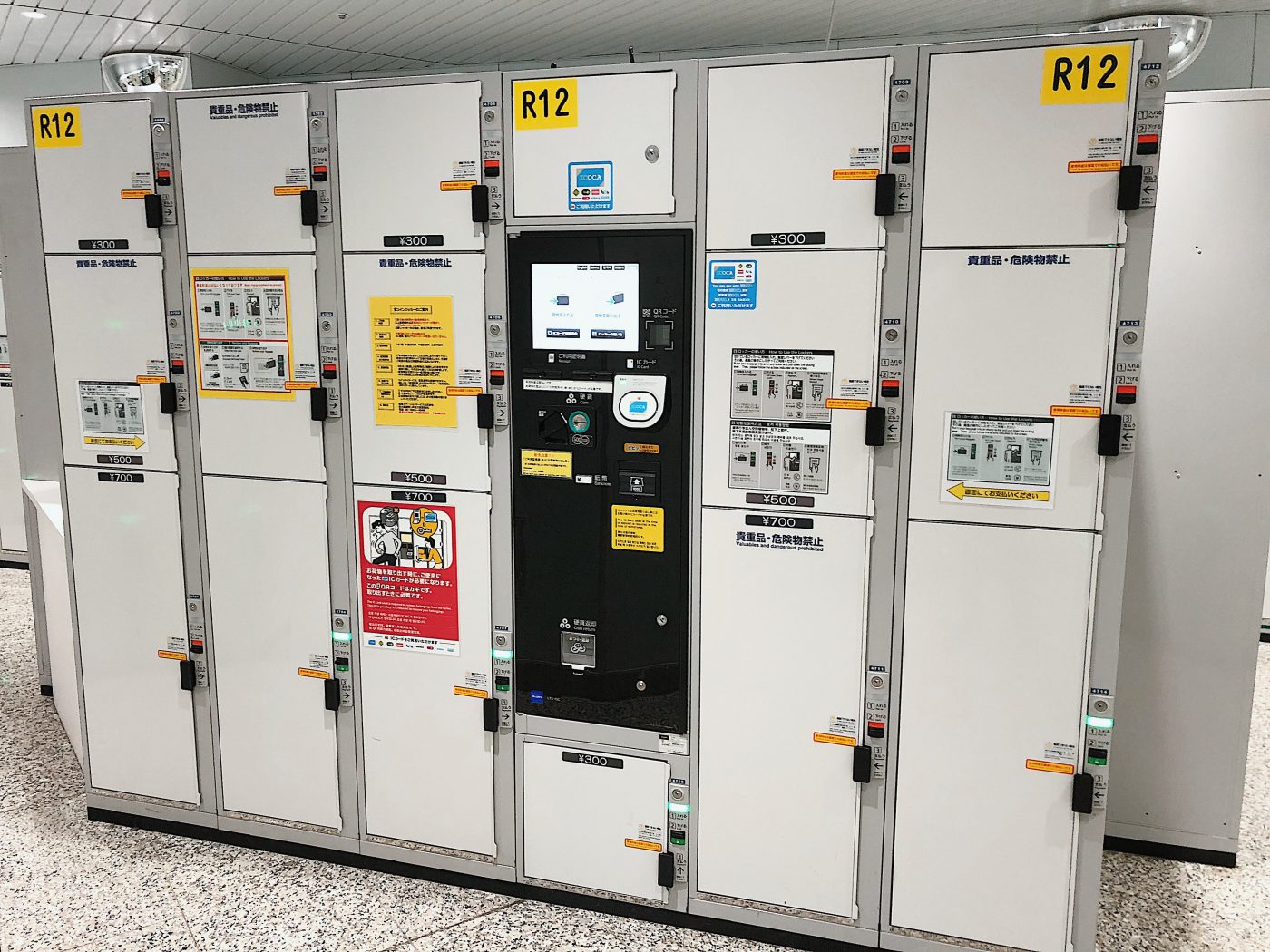 You can't really see from the photo, but the locker is very deep. The 300 yen option is good for backpacks (the large kind you take for backpacking trips), while the 700 yen option would fit very large luggage. The 300 yen one might look small but you can fit a 10kg backpack laying flat with plenty more room, so I think bigger backpacks would fit too.
Take note that the locker fee is only good to open the locker once, so if you forget something and need to take your luggage out, you'll need to pay another set of fees. And don't forget where your locker is located! You might want to take a photo of it just so you don't have a hard time locating it later.
The Hakone Round Course Itinerary (Hakone Loop)
The most popular way to enjoy Hakone is to do the Hakone round course, which is a loop with many attractions to see along the way. You can do this in one day, making it the perfect itinerary for a day trip from Tokyo.
Best of all, transportation in the Hakone loop is covered by Hakone Free Pass so you don't need to worry about the cost!
Map of Hakone Round Course
Here is a map of the Hakone Round Course so that you can visualize it better. I will explain the map further below!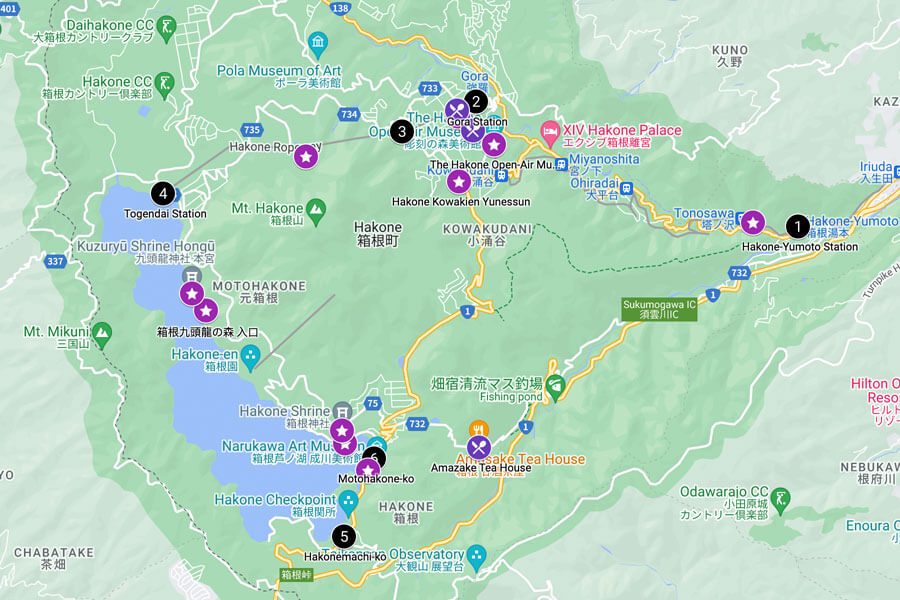 🗺 Save this map to your phone! If you are a Google user, click on the image of the map above. The map will then be saved to your "Recent" maps viewed. Click here for instructions on how to view the map later. It will work from your phone too.
Here are the places included in the round course. The numbers below are also corresponding to my Hakone map above.
Hakone-Yumoto station – Start from Hakone-Yumoto station. This is likely where you will start your journey to Hakone from Tokyo.
Gora – From Hakone-Yumoto station, take the Hakone Tozan Railway train to Gora. You can stop by Hakone Open Air Museum on the way (More on that below)
Sounzan – From Gora, you can take the funicular railway/cable car up to Sounzan. You can stop by Hakone Gora Park along the way (More on that below)
Togendai – From Sounzan, take the ropeway up to Togendai. You'll need to transfer to another ropeway line in Owakudani, which means you'll need to stop there, but is totally worth getting off here and exploring! (More on that below). PS: Occasionally the ropeway will be out of service due to the weather or planned maintenance, but a substitute bus route will still be available.
Hakonemachi-ko – From Togendai, you can make your way to Lake Ashi and take the Lake Ashi cruise to Hakonemachi-ko.
Motohakone-ko – From Hakonemachi-ko, you can then walk along the waterfront towards MotoHakone-ko, enjoying the Old Tokaido Road Ancient Cedar Avenue along the way. This will take you to Hakone Shrine and Heiwai no Tori (More on that below)
Back to Hakone-Yumoto – From Moto-Hakone, you can then go back to Hakone-Yumoto via the bus.
There are many different ways to do the loop. First of all, it IS a loop so you can start at any point. You don't need to do the loop in the exact order I described above, and you don't need to do it all in one day. You could reverse the order – For example, so you can go to Moto-Hakone first from Hakone-Yumoto station and start from there, or you can break it up into 2 days.
Alternatively, if you're staying overnight in Hakone, you can even start from the point closest to your accommodation. The possibilities are endless!
Things to do in Hakone
There is a reason why Hakone is a popular trip from Tokyo. This town is practically made for visitors. There are so many things to see and do here! Let's go into detail about each of them one by one:
1. Hakone Open Air Museum
I missed out on going to Hakone Open Air Museum on my first visit to Hakone. But I'm so glad I made it here on my second visit! This is definitely a place you should not miss, especially if the weather is cooperating – most of the art exhibitions are outdoors.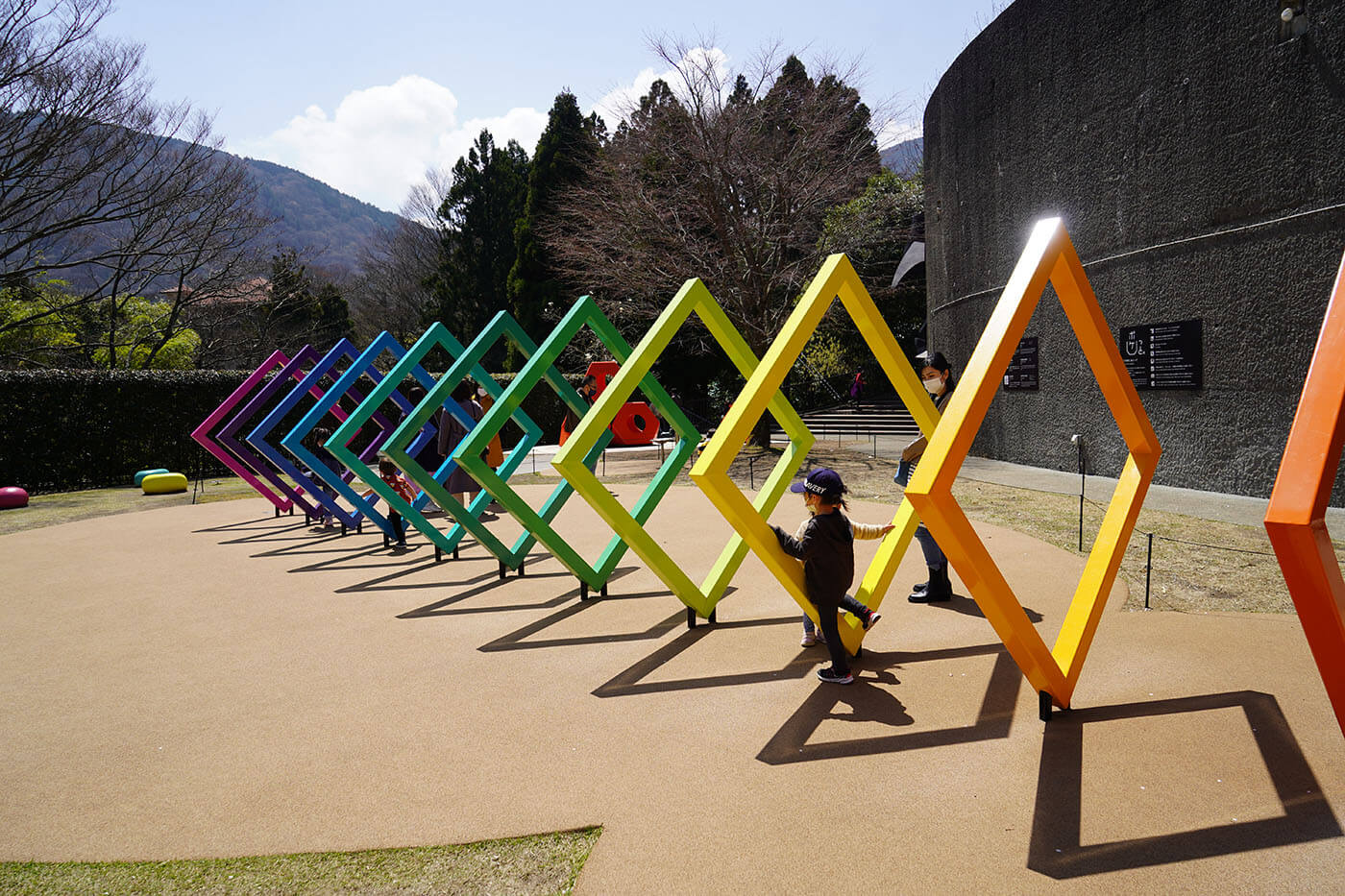 This museum is also a great place for kids – in fact, a few of the art exhibit is definitely geared toward kids. There is an entire structure made of wood called "Woods of Net", and inside there are colorful hand-knit nets kids can play in. My toddler definitely enjoyed his time here.
Set aside about two hours to explore this museum. The museum covers a large ground and there are a few buildings with exhibits you might want to see in more detail, such as the Picasso collection.
Admission: 1600 yen for adults. Free for children.
💡 Tip: Enjoy a 200 yen discount for admission to Hakone Open Air Museum if you have Hakone Free Pass
2. Hakone Gora Park
Hakone Gora Park is a small garden with plenty of flowers and trees. It's a great place to visit all year round, but most notably during the Sakura season in Spring and Momiji season in Fall.
If you happen to visit during Spring as I did, make sure to check the different types of Sakura in the park. There are ten different sakura types here, including the weeping Sakura and Kawazu-sakura.
You can set aside about an hour to explore this area. There is a small cafe and gift shop inside the park. I got a cute pair of Sakura-shaped earrings from this place, on sale!
Admission: 500 yen for adults. Free for children.
💡 Tip: Admission to Gora park is FREE if you have Hakone Free Pass
3. Owakudani
If you're taking the Hakone round course, you'll inevitably end up at Owakudani. Owakudani is a great place to see Mount Fuji… if she decides to show herself!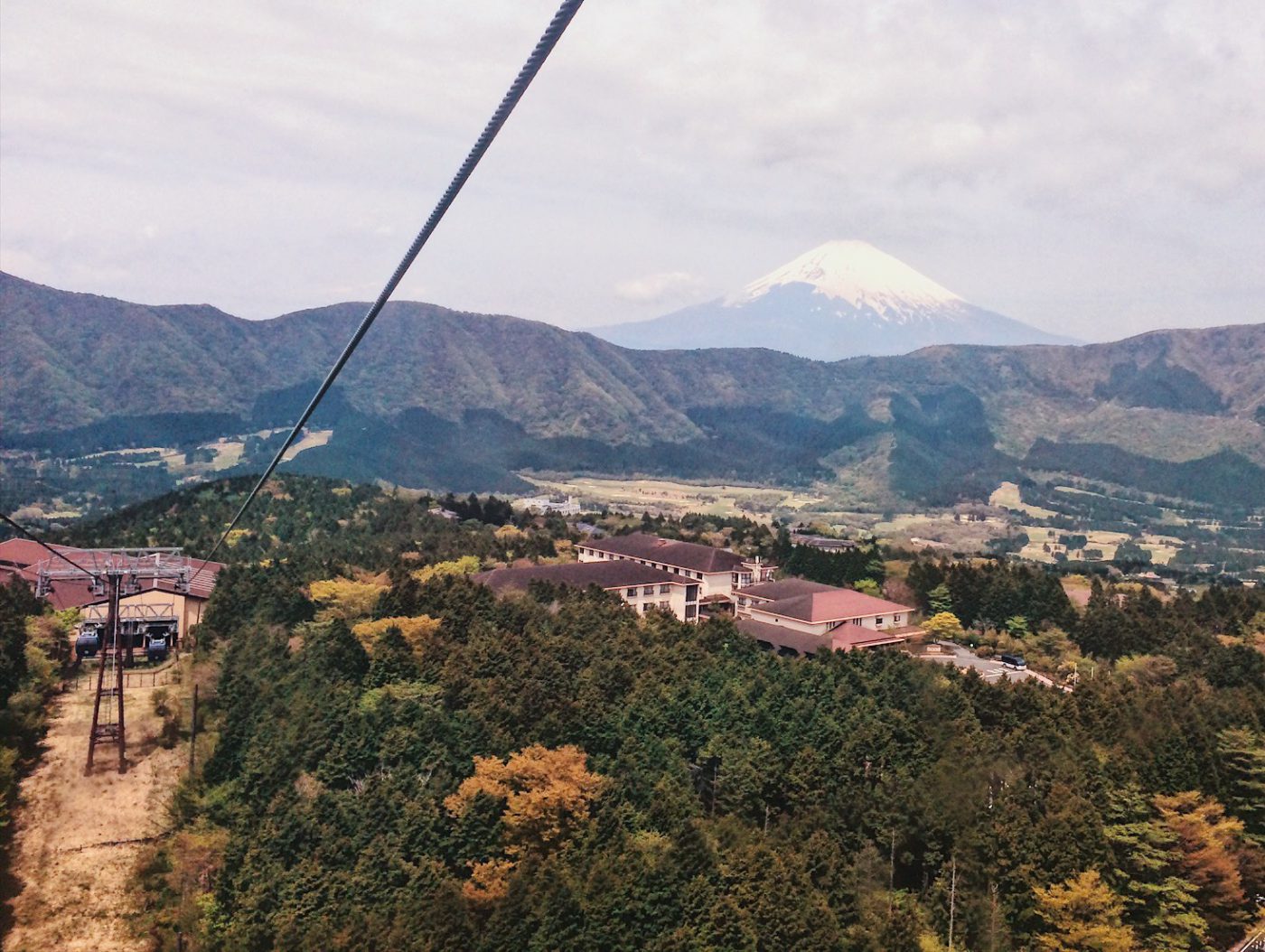 You have to adjust your expectations because Mount Fuji is not always visible. If it's raining or if it's too cloudy, it can be difficult to spot. There is also a higher chance to see Mount Fuji in the winter months when the weather is dry with low humidity.
From my experience, I do feel that Mount Fuji is easier to spot in the morning before the clouds come. During my first trip to Tokyo, I spent 2 days in Hakone in May and got to see Mount Fuji on the second morning.
Tip: You can view a live cam to see how the weather conditions are in the morning.
At Owakudani, you can also see the black lava eggs that are boiled using the natural hot springs water. The sulfur in the water gave a unique black color to the eggs, but aside of that they are just regular chicken eggs and safe to eat.
4. Lake Ashi Cruise
Taking the Lake Ashi cruise on a pirate ship is one of the must-do things in Hakone. The cruise takes about 25 minutes from Togendai to Hakonemachi-ko, and it's definitely the more scenic way to go. You'll also see some red torii gates in the water along the way!
Ticket Price: 1,200 yen per person
💡 Tip: Lake Ashi cruise is free if you have Hakone Free Pass. You'll want to take the pirate ship for the free ride.
5. Hakone Shrine and Heiwa no Torii (Torii of Peace)
Hakone Shrine is a Shinto shrine located along the shore of Lake Ashi. The shrine dates back to the year 757 but was only relocated to the current location in 1667.
One thing you might want to do while at the shrine (or any other Shinto shrine in Japan) is purchase an Omamori, a small amulet containing a blessed piece of wood meant to protect you or you can gift it to your loved ones for their protection. They cost about 500-800 yen and there are different types of Omamori for different purposes – for health, giving birth, for students, etc.
After the shrine, you can head down to see Heiwa no Torii (Torii of Peace) at the waterfront. This is the famous torii that is located right at the shore of Lake Ashi, partially submerged in water. Because this torii is very famous, there might be a long line to take photos if you're there on weekend or during a Japanese holiday. But I have been there on a Thursday and there was no one there!
A visit to the shrine is free of charge, but if you want to visit the small museum at the shrine, the Treasure House, then there is a 500 yen admission fee.
💡 Tip: Enjoy a 100 yen discount to the Treasure House if you have Hakone Free Pass
6. Forest Therapy at Hakone Kuzuryu Forest (箱根九頭龍の森 入口)
Hakone Kuzuryu no Mori, aka Hakone Kuzuryu Forest, is a nature park along the eastern waterfront of Lake Ashi. It is a bit out of the way from the Hakone round course, but it does mean you'll meet fewer people.
To get to Hakone Kuzuryu Forest, you can enter from the trail at the car park of Hakone Kojiri Terminal (there is a spot called Hakone Kuzuryu Forest Therapy, which marks the start of the trailhead), or you can enter from the small trail from The Prince Hakone Ashinoko (This spot on google maps marks the start of the trailhead). From those points, it is 20-30 minutes by foot through a calming "forest therapy".
Oh yes! you'll get to practice "forest therapy" along the way. Forest therapy is the Japanese practice of Shinrin-yoku, which is literally translated as "forest bathing", but it just means taking a slow walk in nature and appreciating nature through our senses.
I think it's totally worth the detour. You'll get to see a white torii gate called Hakuryu shrine. As you'll notice by now, torii gates are usually painted in the red vermillion color you'll see everywhere in Hakone, so this white one is rare.
There is also a lesser-known torii over water at Kuzuryu Shrine. Unlike the one at the Hakone shrine, this torii is smaller and properly IN the water!
Take note that the park is closed by 5 pm and the last admission is at 4:30 pm! The hours change by season so please check the hours here. Expect to spend about 45 minutes at this park.
Admission: 600 yen for adults and 300 yen for kids 4 years old and above.
7. Go to an Onsen
Onsen, written as 温泉 in kanji, is a Japanese hot spring. Soaking in it is one of the most deeply-rooted traditions and a popular way to pass time and relax in Japan. In fact, most people came to Hakone to soak in an onsen!
You can read more about Onsen and the etiquette of entering an Onsen in my Complete Onsen Guide.
A famous bath house in Hakone is Hakone Yuryo, located close to Hakone-Yumoto station. You can visit the shared bathhouse or book a Kashikiri (private onsen room). We booked a private rotenburo onsen (outdoor onsen) and it cost us 13,600 yen for 2 hours. Pretty expensive, but it was a really nice onsen room with good facilities. It would look REALLY good during Momiji season too since all of the trees outside are Momiji trees.
Admission: The shared bathhouse cost 1800 yen per adult and 900 yen per child.
💡 Tip: Enjoy a 200 yen discount for admission to the shared bathhouse at Hakone Yuryo if you have Hakone Free Pass
8. Visit Fuji Five Lakes near Hakone
If you have an extra two days on your trip, I recommend looking into Fuji Five Lakes! It is only two hours away from Hakone. You could potentially do Tokyo – Hakone – Fuji Five Lakes – Tokyo, or the other way around.
Fuji Five Lakes, known as Fujigoko (富士五湖), are the lakes that formed from the eruption of Mount Fuji. Now, the area is a very popular tourist spot. It receives just as much domestic tourism as international tourism!
Tip: Read my Fuji Five Lakes travel guide to find out what you can do in the area!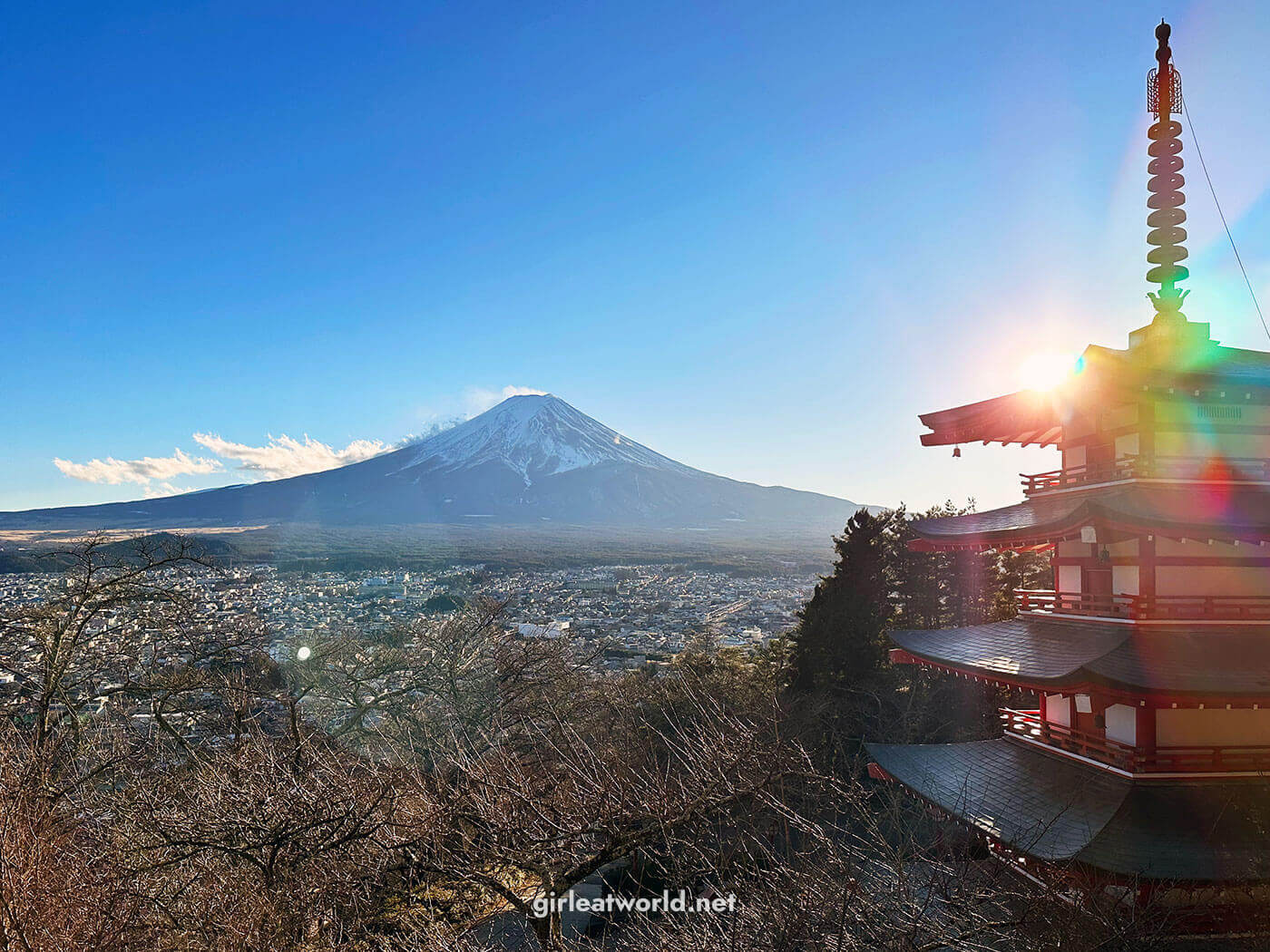 Where to stay in Hakone
Here are the accommodations I've personally stayed in during my visit to Hakone:
Hakone Yutowa ($$$) – Hakone Yutowa is a large resort-like facility with its own onsen and a beautiful shared area. I stayed here as a family, with my husband and 2-year-old toddler. We got a family room with our own private bath that runs onsen water 24/7. They also have an option for Kashikiri, a private onsen room, if you don't feel like using the shared onsen. The location is really good, just about a 10-minute walk from Gora station.
Ryokan Masuya ($$) – I stayed at this Ryokan when I first visited Hakone as a solo traveler. It's a very simple, family-run Ryokan. The price is very reasonable, but the location was a bit out of the way. The redeeming point is that it was close to a bus stop so I thought it was still worth it. They have their own small onsen in-house, so you can go in and soak without having to pay extra.
Hakone Gora Karaku ($$$$) – A luxury ryokan with its own open-air onsen. Located conveniently close to Gora station
Where to eat in Hakone
Amazake Tea House – A 400-year-old tea house serving non-alcoholic amazake (sweet rice wine) near Motohakone-ko.
Gyoza Center – This is located right next to Hakone Yutowa near Gora station. It's a simple restaurant serving simple food.
Itoh Dining by Nobu – A teppanyaki restaurant in Gora
And with that, we have reached the end of this Hakone guide. Please let me know if you find this useful, and if you have any other questions in the comment below. See you next time!