The hardest yet most exciting part of traveling is often the planning stage and narrowing down where to go given the time you have. I visited the Kyushu region in Japan this past September. This is how I planned (and nearly failed to follow said ambitious plan) for the trip!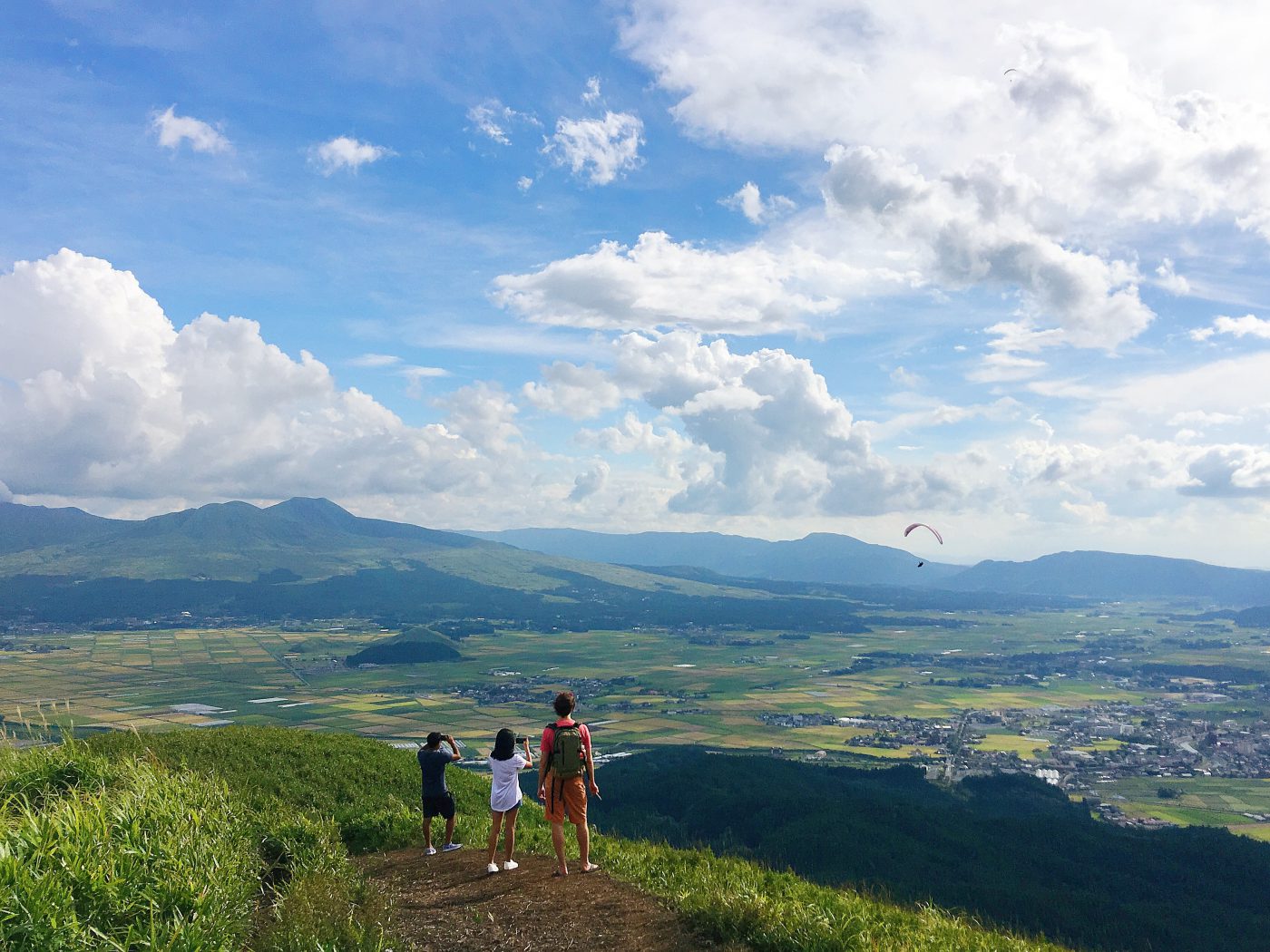 Tips for planning Kyushu Itinerary
Narrow down the city you want to visit – Kyushu is a huge region, and if you have limited time, you need to narrow down the experiences you want to see. No joke – whenever I am in a trip planning mode, I would open up google maps and see if there are any familiar names in the vicinity. I immediately zeroed in on the familiar cities: Hiroshima (not really in Kyushu but it's very close), Fukuoka, Nagasaki, Kumamoto, and Kagoshima.
Plan out the order to visit the places you want to go to – Once again, I used google maps to see where each place are in relative to each other, then I checked the train routes to map out the best ways to travel between these cities and how long the journey would take. Once I've done this, it became clear that we needed to make Fukuoka our base since it's the center point of the cities we've picked.
Yes, You WILL need a JR Pass! JR Pass is the train pass that allows you to take intercity trains in Japan for cheaper. The sights to see in Kyushu are spread apart in different cities, so unless you're planning to only visit one city, you will definitely need the JR Pass as you'll likely be using the train to move around. You can buy Unlimited JR Pass or JR Kyushu Pass. Scroll down to the end of this post for more information about the JR Pass and which one is more suitable for you.
You must buy the JR Pass from outside of Japan before your trip. The JR pass is solely for tourists and it used to not be available for purchase within Japan, though there are now limited quantities for sale in Japan for a higher price. You should still buy it ahead of time to make sure and have it sent to your home before your trip, so make sure you get it way ahead of time so that it arrives before your trip.
Check the first and last train out of the city – I also checked for the first and last shinkansen out between cities so that I know the earliest time I can get to a city and the latest time I can leave. This helps me narrow that what activities I can do in the city.
Account for travel fatigue – I have to admit I got over-excited when I planned for this trip. I was really intent on hitting up all 5 cities in 7 days. My biggest advice here and a lesson I had to learn is to account for travel fatigue. You can't feasibly be moving every other day and not get tired by the end of it. All of the cities I mentioned above are great destinations that I don't want to miss – but it is very ambitious to hit up all five in 7 days. I had to sacrifice visiting Kagoshima since it isn't convenient to get to if I want to also include Nagasaki in the itinerary.
My 7-Day Kyushu Travel Itinerary
In the end, after all the research, this is the Kyushu itinerary I went with:
Day 1: Hiroshima. Land in Osaka in the morning, go to Hiroshima immediately, and spend all day in Hiroshima.
Day 3: Nagasaki. Travel to Nagasaki in the morning and spend the rest of the day in Nagasaki
Day 4: Stay in Nagasaki All-day
Day 5: Nagasaki & Fukuoka. Spend time in Nagasaki in the morning, then go to Fukuoka in the afternoon.
Day 6: Kumamoto Day trip
Day 7: Spend time in Fukuoka in the morning, Fly back to Singapore in the afternoon
What to do and where to go in Kyushu, Japan
Here are some places you can consider visiting in Kyushu:
1. Fukuoka (2 days)
Fukuoka is the biggest city in Kyushu. It's a great starting point for Kyushu – lots of direct trains leaving Hakata station, the main station of Fukuoka. Aside from that, they are also known for food! Yep, the Hakata ramen is actually from Fukuoka! You can read about the food in Fukuoka and Yatai stalls here.
2. Nagasaki (2-3 days)
Nagasaki needs no introduction, the city offers an extensive insight into Japan during the World War II period. Although they are mostly known for its bleak fate as the site of the second atomic bombing, Nagasaki holds an important place in Japanese history. During the era of seclusion called Sakoku, the Japanese were forbidden to leave the country, and the only foreign trade allowed within Japan was done through a manmade island in Nagasaki, called Dejima. Nowadays you can see history from the seclusion period as well as the era that follows after – the Dutch, Portuguese and Chinese influences from the 16-19th century when Nagasaki becomes the only open port in Japan.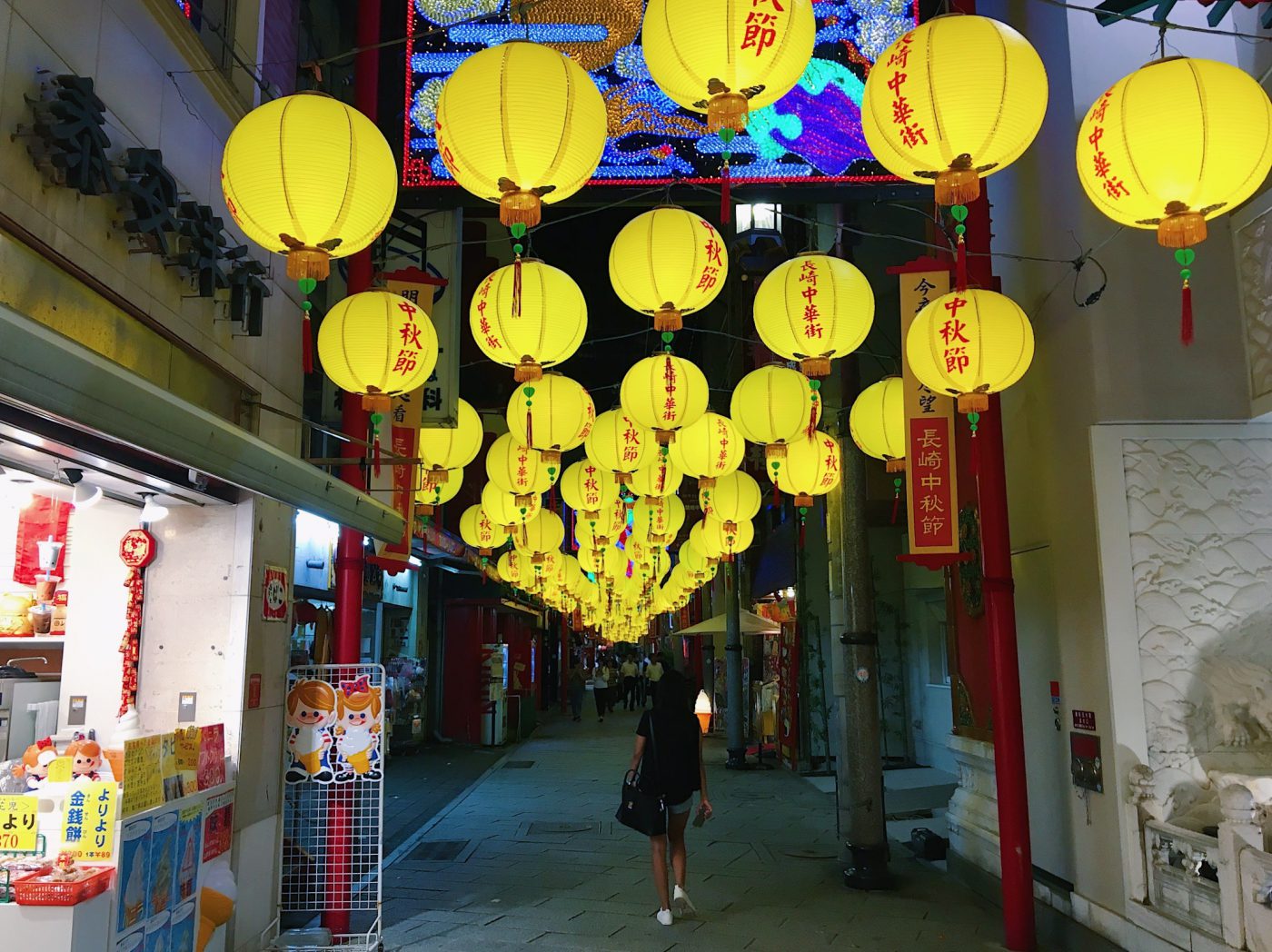 3. Kumamoto (Day trip from Fukuoka)
In 2016, Kumamoto was hit by a series of very strong earthquakes. However, it's still interesting to see the city after the earthquake. The Kumamoto castle, for one, was able to sustain the strong 7.0 earthquake, just as its Japanese architects had intended when the castle was built four centuries ago.
You can also do a road trip or tour to Mount Aso, one of the most beautiful areas in Kyushu. Kumamoto is a very doable day trip from Fukuoka. Read about my day trip to Kumamoto from Fukuoka here.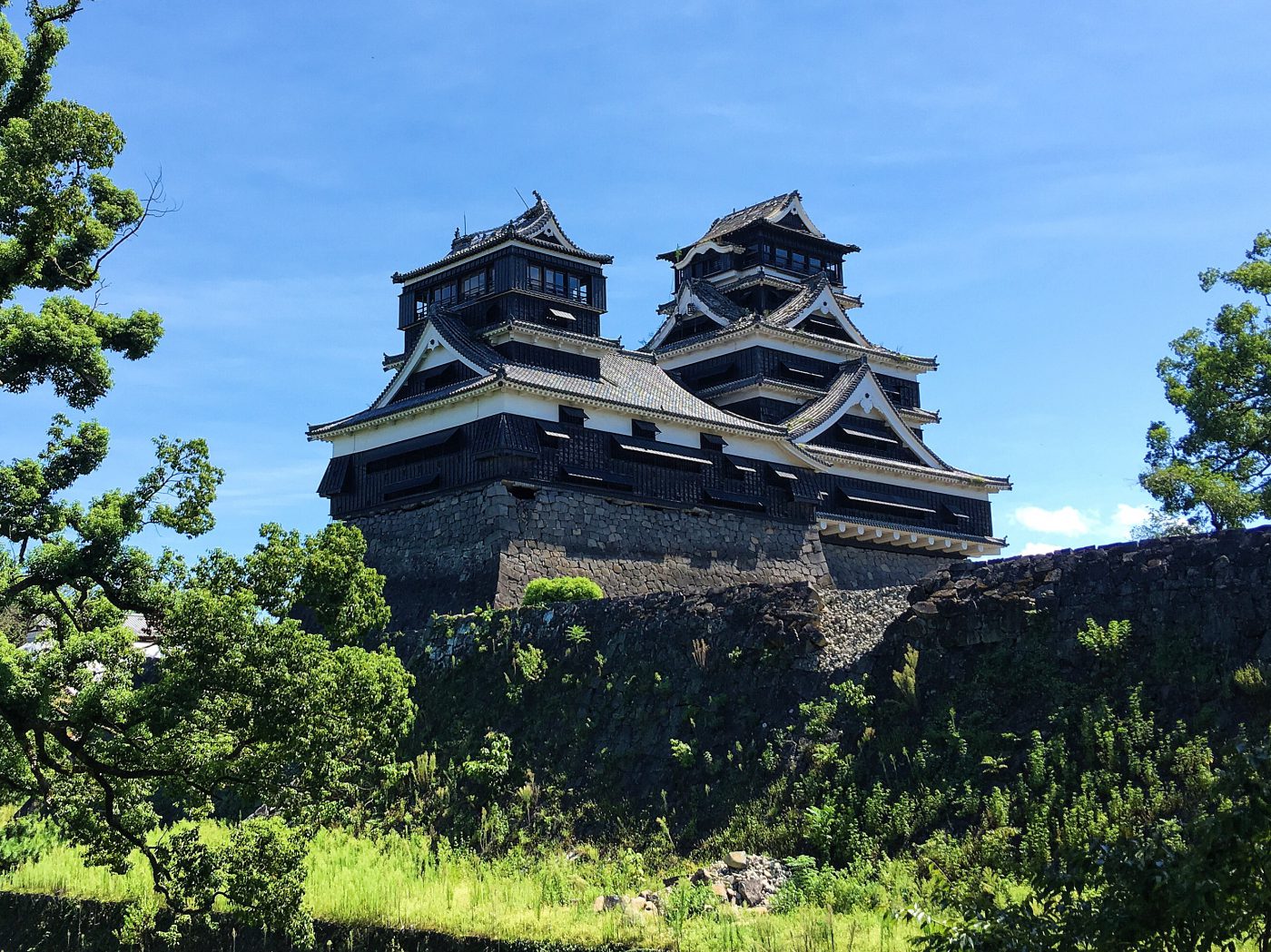 4. Kagoshima (1-2 days)
I did not make it to Kagoshima due to limited time in Kyushu, but I wish I had made it down here. Kagoshima is a seaside city in Kyushu and is best known for Sakurajima, a volcanic mountain often referred to as Japan's Vesuvius. Aside from that, Kagoshima is also well known for its food and produce – most notably, the Kurobuta aka black pig, which is highly regarded in Japan for being high in protein and low in calories. Kurobuta is normally eaten in shabu-shabu style, aka Japanese hot pot.
If you have time and are interested in nature, you can also visit Yakushima, an island off the coast of Kagoshima. The island is covered in cedar forest that contains some of Japan's oldest living trees – some as old as 7,000 years.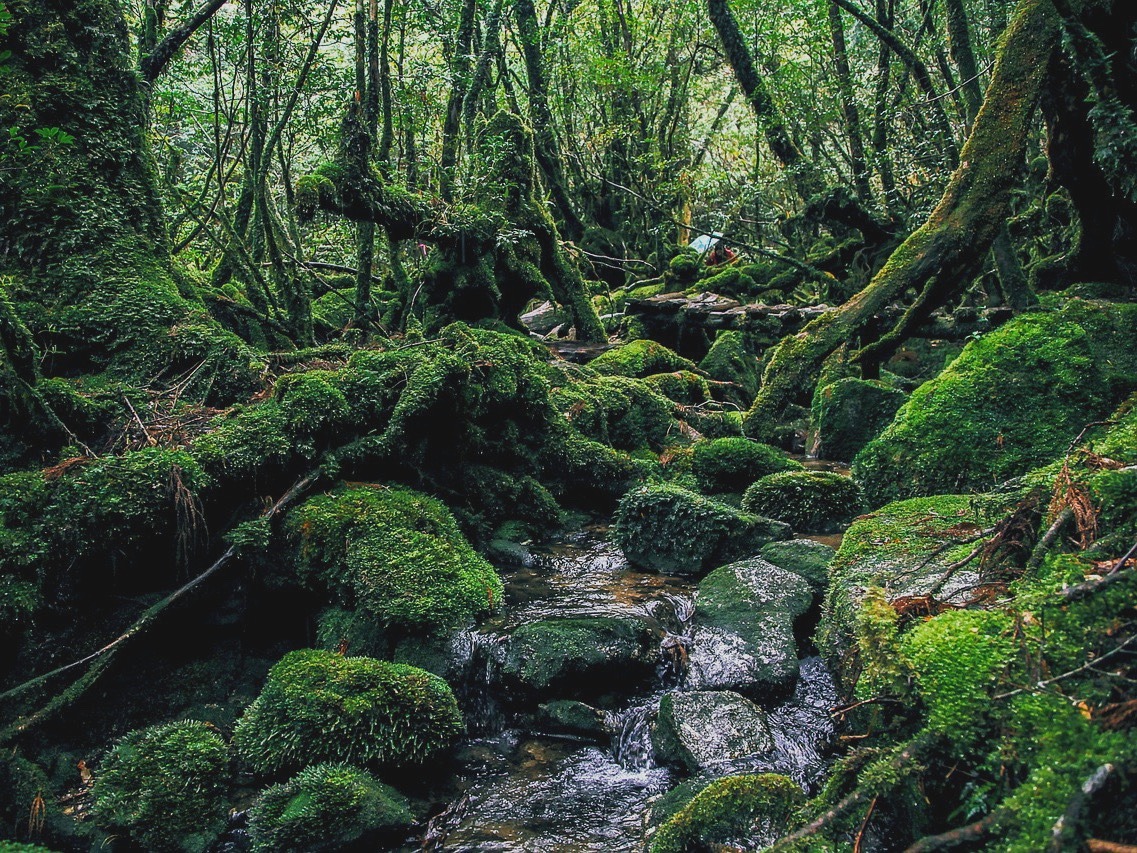 5. Beppu (1 day)
Beppu is a spa resort town, known for its range of onsens (Japanese hot springs) – they have over 2,000 onsens in Beppu! Aside from the usual hot springs, they also have sand baths, mud baths, and steam baths. You can relax in one of the Japanese's favorite past times – a bath in the hot spring and eating Onsen food after. You can reach Beppu by train from Fukuoka, but if you're a true Onsen enthusiast, you might want to check out this Beppu and Yufuin Onsen spa tour, which includes hotel pick-up and drop-off!
Booking Accommodations in Kyushu
Tips for booking hotels
Book ahead of time – Sometimes I like to "wing it" and book accommodations last minute in the spirit of being spontaneous. I quickly learned this isn't a very smart move when it comes to visiting Japan, as the good hotels get booked up really fast.
If you are a non-smoker, pay attention while booking and make sure you tick a non-smoking room in the room type section. Smoking indoors is not illegal in Japan, so some hotels would segregate smoking and non-smoking rooms by floor. I had to stay in a smoking room in Nagasaki because I booked a smoking room by mistake and they had no more non-smoking rooms 🙁
As we are traveling heavily by train, I find that staying at hotels that are on the main station itself (the station where the shinkansen line stops) really helped us during traveling days since we don't need to worry about the logistics of getting to the train station. As a bonus point, these areas also tend to be very convenient since in Japan the main station would also come attached with all the amenities like convenience stores, major stores for shopping, and restaurants.
Kyushu Hotel Recommendations
Here are the hotels we stayed in each city. Each of these is very close or attached to the main station of the city, so they are located in a really good location.
Hiroshima
Hotel Granvia Hiroshima is literally on top of the Hiroshima station. Despite this, it was not noisy since the hotel rooms are located high up and they are good with noise insulation.
Nagasaki
JR Kyushu Hotel Nagasaki – yes, JR as in Japan Rail. Nagasaki station is quite small and the lobby of this hotel is right outside the exit of the station!
Fukuoka
Nishitetsu Hotel Croom Hakata, next to the Hakata Central station in Fukuoka – about 5 minutes walk. I ended up staying here because my first choice was booked up.
JR Kyushu Hotel Blossom Hakata Central – This was my first choice for Fukuoka, but it was booked up during my visit! It would have been really convenient because Hakata is a major station with all the convenience stores, shopping, and restaurants.
Using JR Pass in Kyushu: The FAQs
I have been to Japan many times before, but I've never used the JR pass. Getting a JR Pass only makes sense if you are moving around from city to city, it didn't make economic sense to get the pass. But when visiting Kyushu, there is a big chance you actually need the JR Pass since the attractions in the Kyushu region span many cities.
What is JR Pass exactly?
JR pass is a form of rail pass that gives you unlimited access to all JR trains in Japan for 7, 14, or 21 days. I bolded the JR train part for emphasis since this gets confusing for some people – in Japan, there are many train companies and Japan Rail (JR) is one of them, and this pass is only valid for JR trains!
If you are coming to Japan, you HAVE to have already bought the JR Pass before your trip, from outside of Japan. The pass CAN NOT be bought from inside of Japan.
Which JR Pass do I need?
If you are planning to go all over Japan, you might want to get an unlimited pass. You can buy the unlimited JR pass here, which can be valid for 7, 14, or 21 days depending on the length of your trip.
However, if you are just going to places in the Kyushu area and your travel schedule fits within 3-5 days, then you can take a look into the JR Kyushu Pass since it's much cheaper than the unlimited JR Pass.
I found this page to be very useful in terms of pass validity information. Since I was in Kyushu for 7 days and will be moving around a lot, it made sense for me to get the 7-day ticket for 29,110 yen (US$260), even though it was more expensive.
How do I find out the train schedules?
Surprisingly, the most user-friendly way is through Google Maps! Use the public transport filter (The icon that looks like a train) and play with the "Depart at" filter to see the next train available from point A to B. I find their schedule to be quite accurate. Other than that, you can go to the station and look at the schedule there or use local websites like HyperDia.
Which Shinkansen train can I use with JR Pass?
Shinkansen is the famous Japanese bullet train. It is a much, much faster way to travel than taking a regular train and thus it became the preferred mode of transport for tourists and locals alike.
There are different types of Shinkansen trains running on the same route. Most of the time you don't have to worry about it since they are all the same, and will get you from point A to B. However, in Kyushu, if you want to use your JR Pass you cannot take Mizuho or Nozomi trains. During my trip, I took mostly Sakura and Haruka trains.
How do you know which train is what type? You can tell the type of trains by looking at the schedule at the train station itself. If you are looking at Google Maps, it is the colored label next to the JR Logo. For example: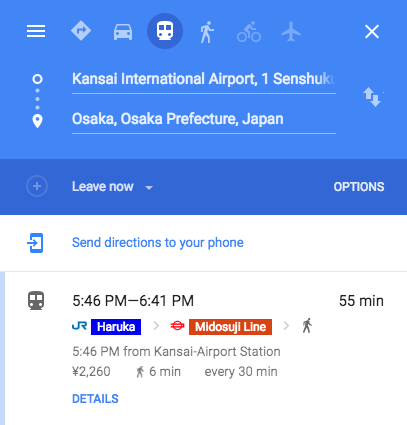 The screenshot above is a sample route from KIX to Osaka. In this case, this Shinkansen type is the blue ribbon with the JR logo next to it, which is Haruka. Since it is not Mizuho or Nozomi, you can take this train on JR Pass.
Cool, so how do you use the JR Pass?
First, a voucher for a JR pass must be purchased from outside of Japan, so you have to sort this out before you go on your trip. Once you have arrived in Japan, and on the day when you want the pass to be activated, you trade in the voucher at any major JR station for the actual pass.
The pass looks like this: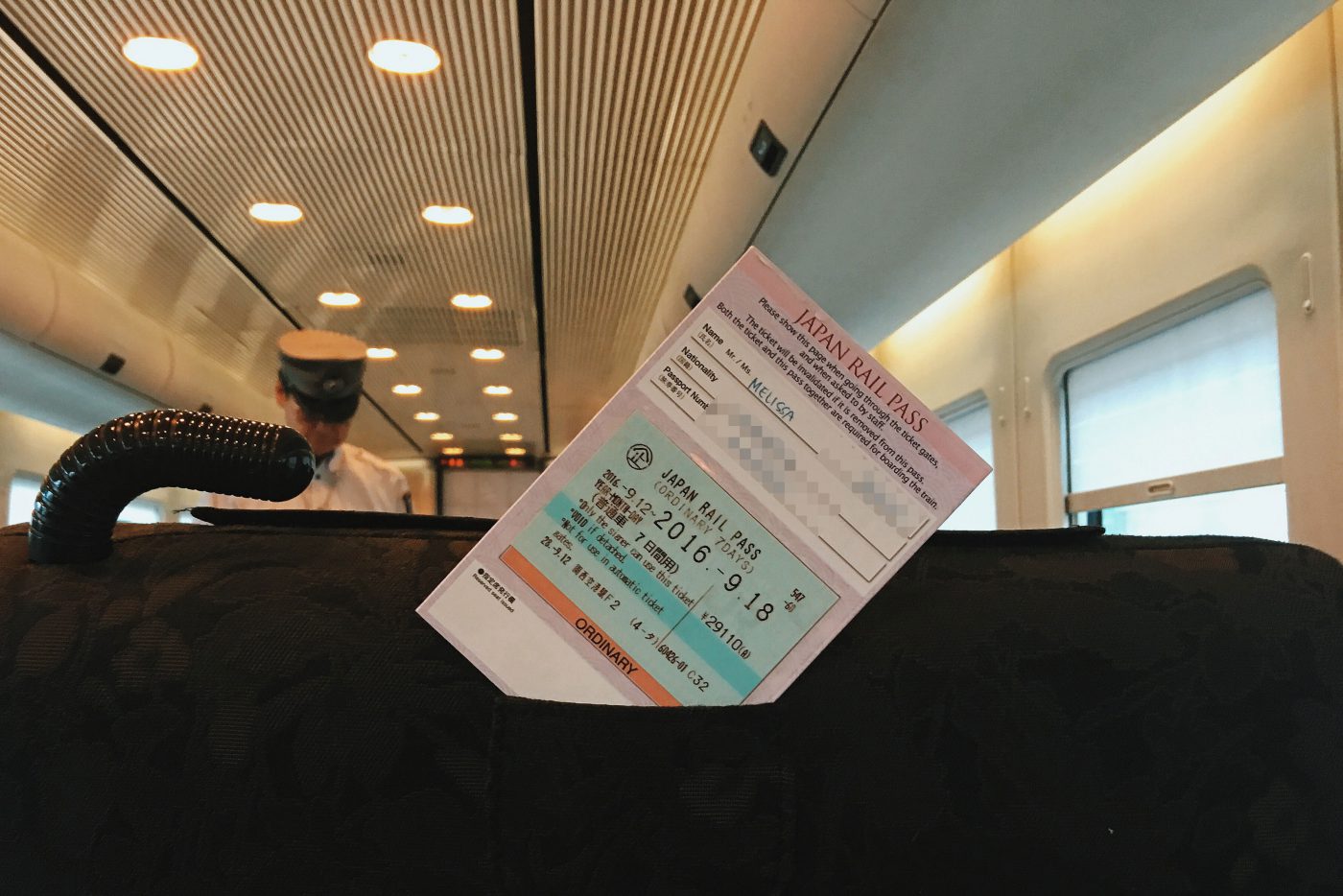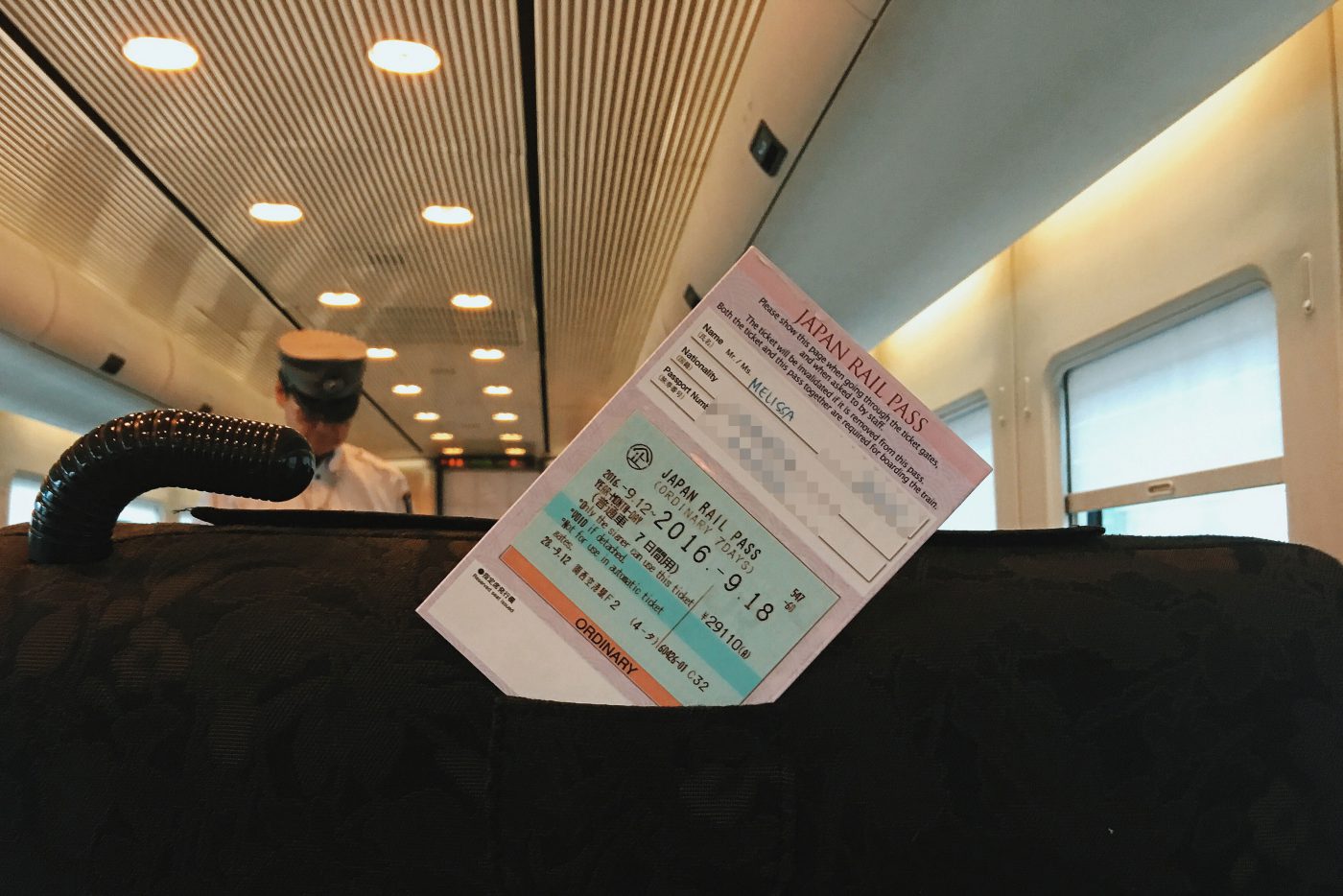 Once you have received the pass, you have to keep it with you for the duration of your travel and must always bring it with you when you do a train journey. Don't lose your pass! It's like your passport to take the train in Japan.
Also, whenever you want to use the JR pass, you don't go through the automated gate like everyone else. Instead, you walk up to any JR station gate and show your pass to the ticket officer, usually to the left or right of the automated ticket gates.
Tips on how to travel on unreserved seats on Japanese Trains
JR Pass allows you to reserve seats for free, but in case you ever need to take unreserved seats (which is cheaper when you aren't on JR Pass), such as if you are traveling with a friend who does not have JR Pass, here's what I have learned from my experience:
1. Make sure you know ahead of time which cars are designated for unreserved seating
The digital signboard at any major Shinkansen station tells you all the information you need. It flips between Japanese and English, so don't worry if you can't read Japanese! Just wait a few seconds until it flips to English.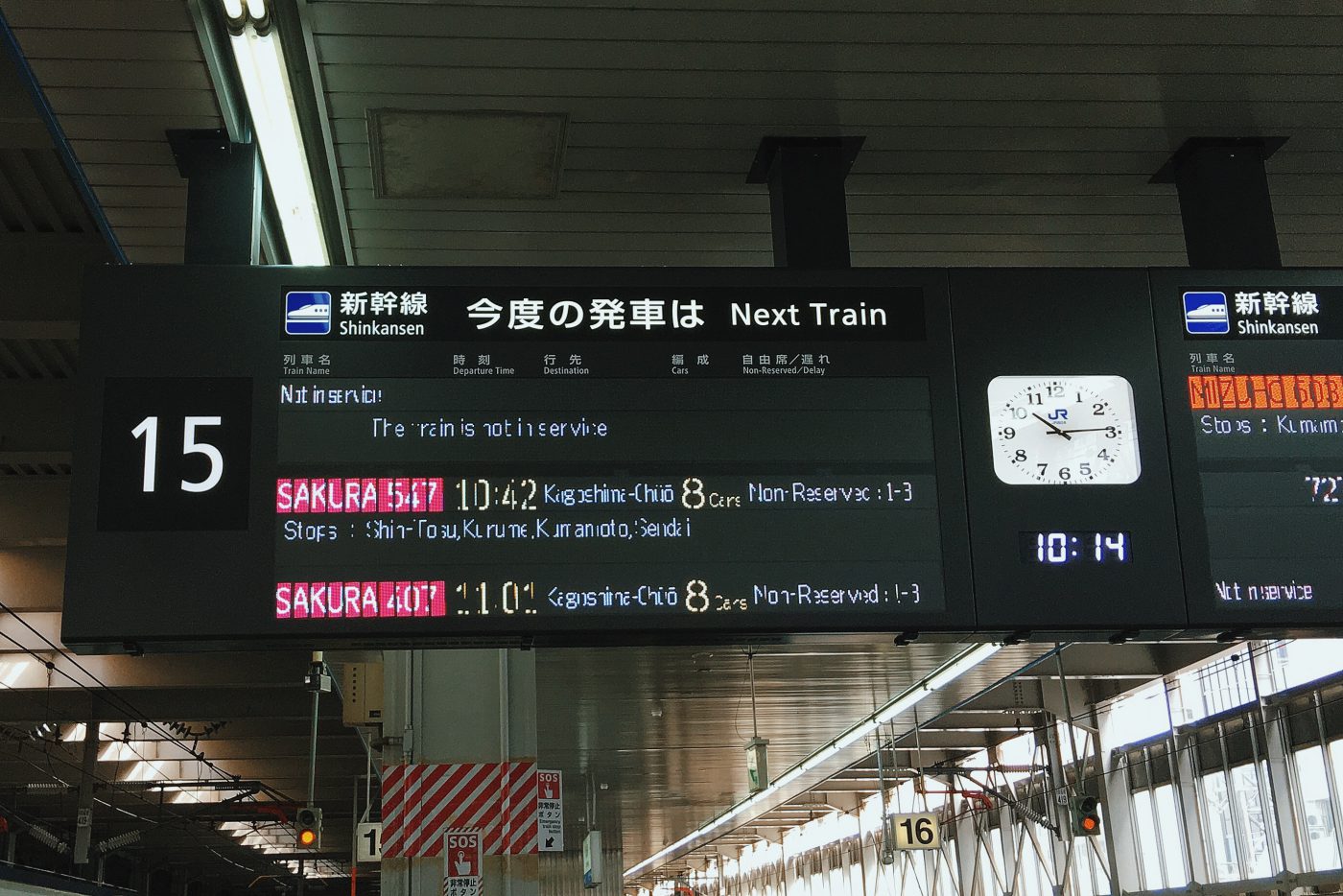 Things to note here are the Non-Reserved car indicator on the far right. In the picture above, it's Cars 1-3. Also note the train type to the left of it, usually 8 or 16 cars. In the picture above it is 8 cars. I'll explain why later.
2. Plan to line up 15-20 minutes before the schedule
During peak travel time it is entirely possible you might not get to sit next to your travel buddies when the train is full. Or worse, you may not get a seat at all! I have seen people standing up in the space between train cars. So to avoid this, allocate some time for lining up ahead of the scheduled train arrival time.
How do you line up properly in Japan? Easy! Get to your train platform and look down on the floor to find out where you are supposed to line up – usually, there would be a mark that looks like this: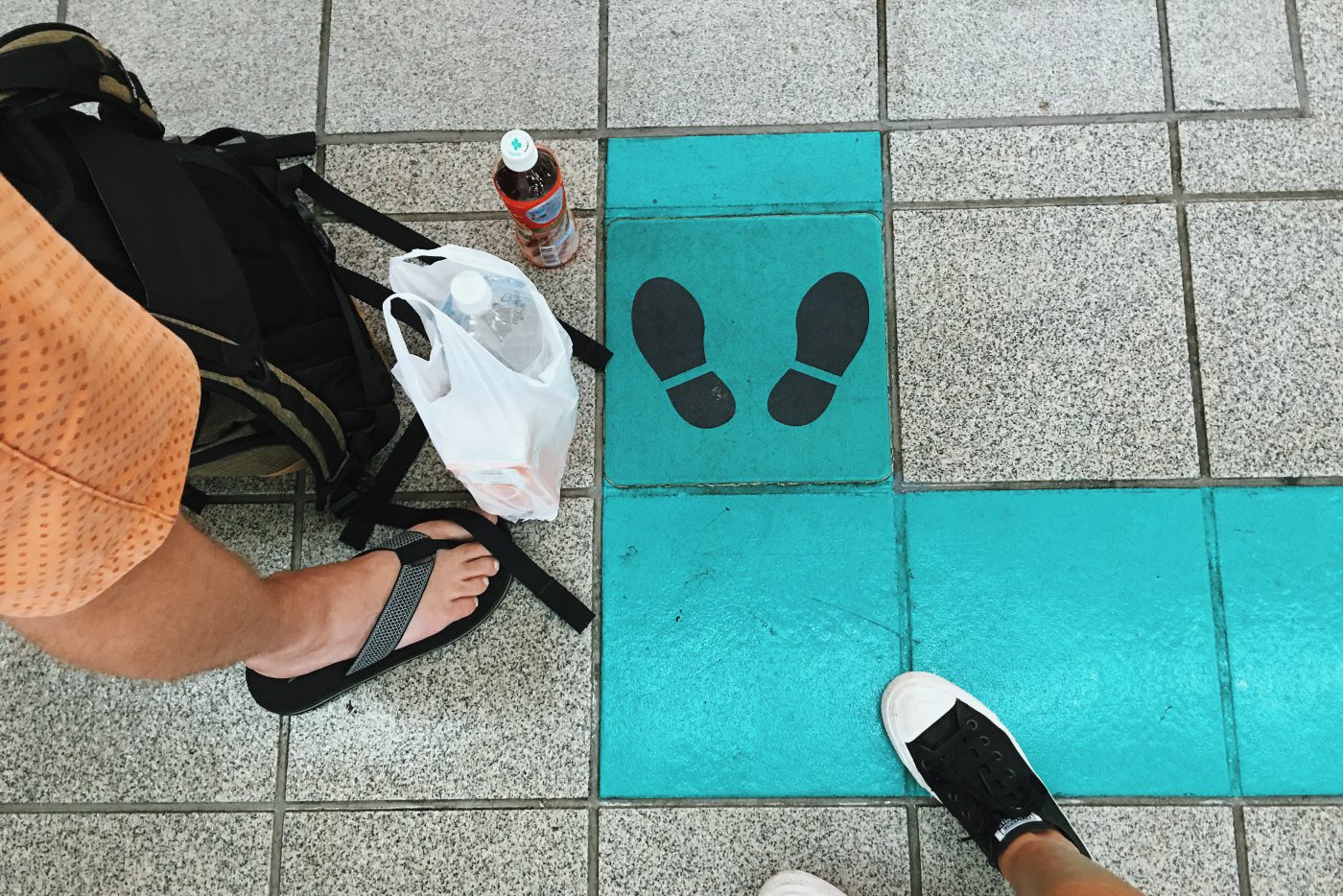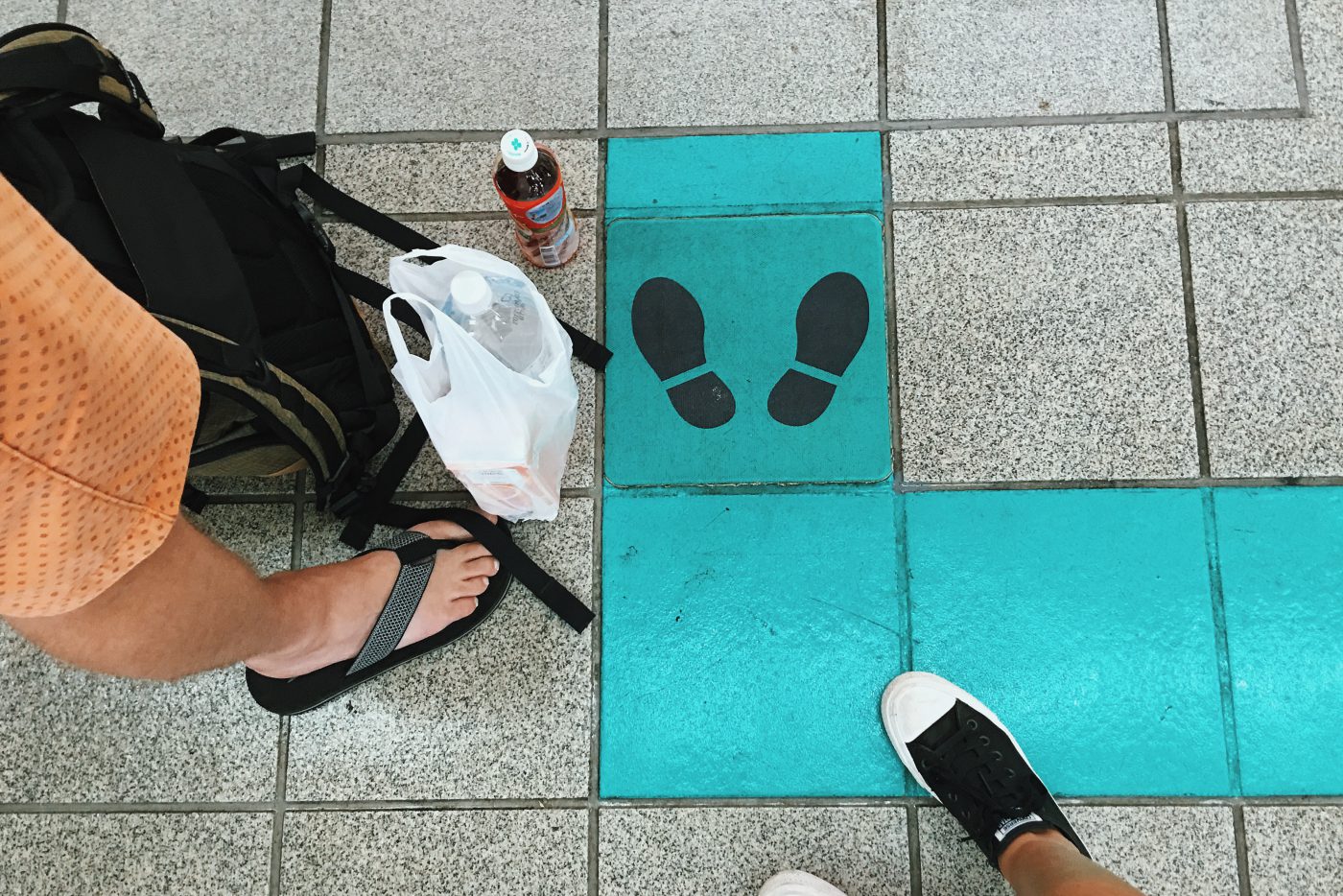 3. Find out where exactly you are supposed to line up
Remember when I said to note the Non-Reserved car numbers and train type? This comes in handy when you need to find out where the train will stop, so you know where exactly to line up. On the floor, they would normally have something a sign that looks like this: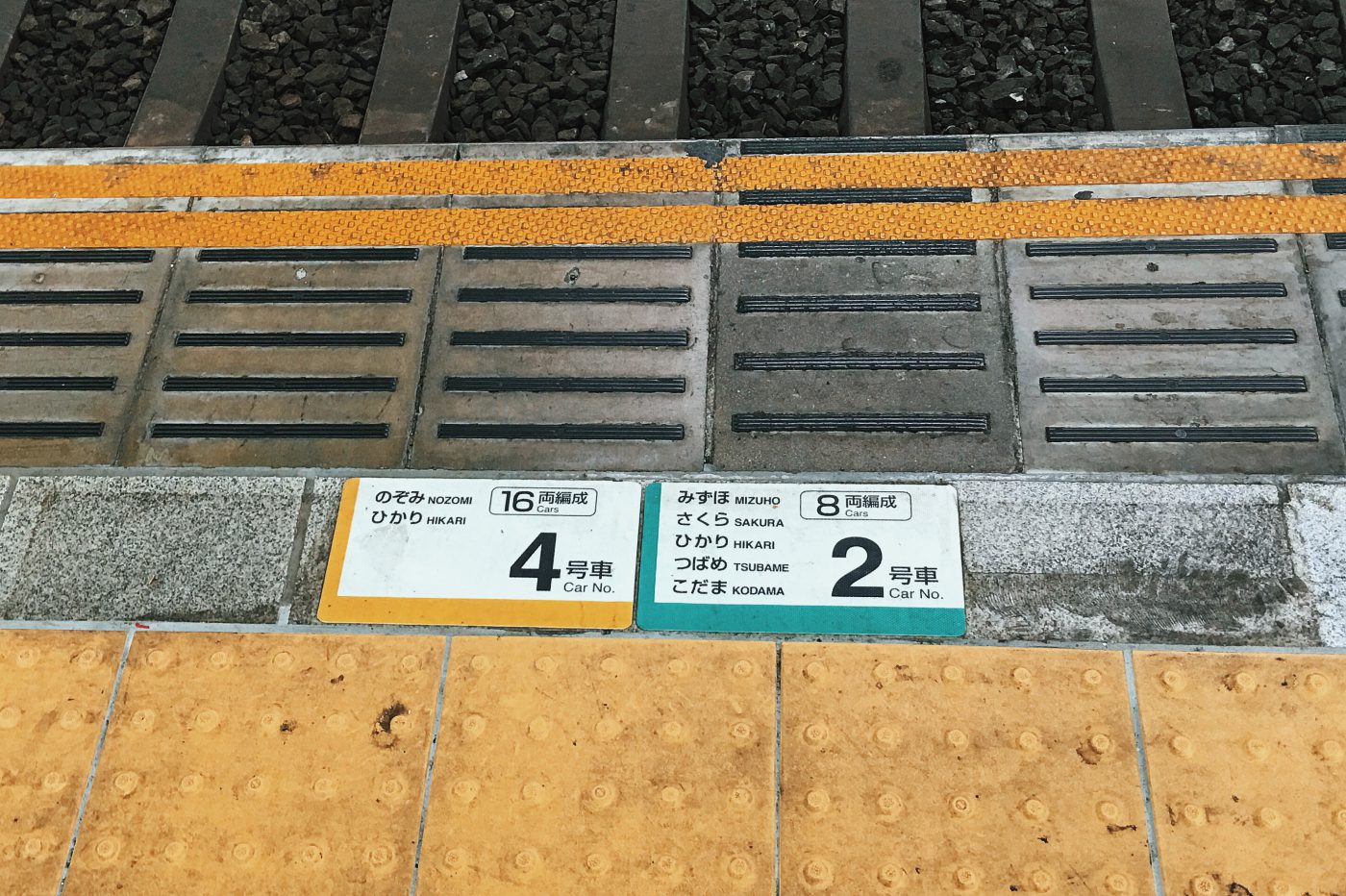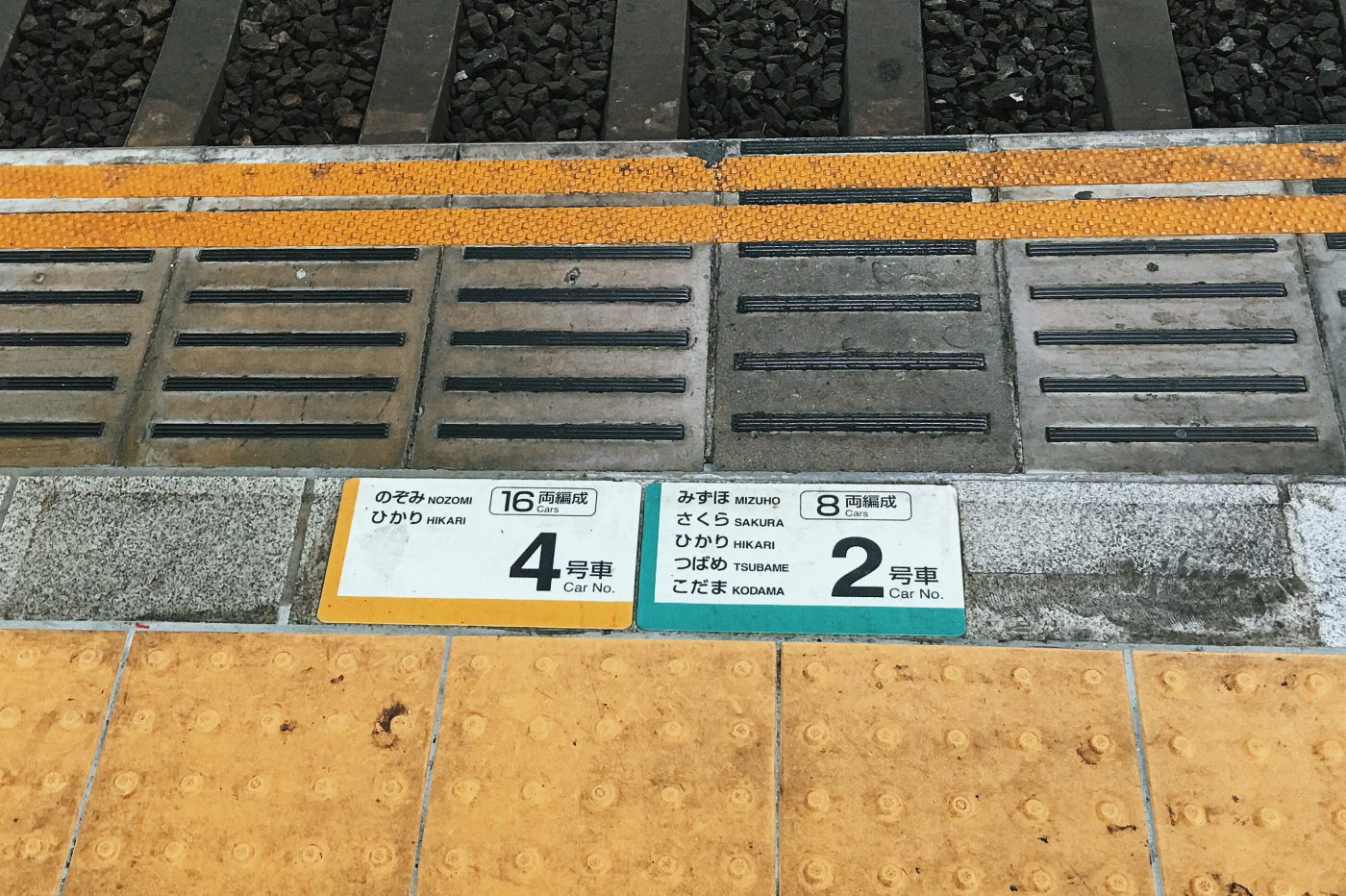 This is when the train type matters – whether it's 8 or 16 cars or whatever number. In the picture above, if your train is an 8-car train then you look at the green box. But if your train is a 16-car train then you look at the yellow box. So just match up the car numbers to the Non-reserved cars from the signboard to make sure you are lining up at the correct spot designated for unreserved seats. When the train comes, the door will open up exactly at this spot!
That's all! It might seem complicated, but after doing this a few times it's pretty easy 🙂
Are you planning a trip to Japan? I've written loads about the beautiful country. Check out the 'Japan' category of this blog for some travel inspiration!