Mezze comes from Persian word "to taste". As the name might have indicated, you get to have a variety of food in one session. The dishes are mostly appetizer-sized so you can eat for hours and taste everything your heart desires – very similar to the concept of tapas in Spain!
During Mezze, three rounds of meals are served – the appetizers (which sometimes pseparated into two courses – one for cold and one for hot appetizer), the main entree (usually grilled meat) and dessert. In the appetizer course, all the dishes are brought out at the same time and spread across the table. It makes for an excellent presentation and definitely got me excited for the meal!
I had Mezze twice while I was in Jordan – At Fakhr-El Din in Amman and Burj Al Hammam in the Dead Sea. All I can say is, if someone invites you to a Mezze, you better prepare yourself and come hungry. I am usually a huge eater and I found myself stuffed to the brim on both meals.
Fakhr-El Din in Amman
Fakhr-El Din is a Lebanese restaurant in the heart of Amman, serving fine authentic Lebanese food since 1997. The restaurant occupies what used to be a traditional-style Amman family house, housing important personalities such as H.E. Mr. Fawzi Al-Mulki, the first Prime Minister Jordan.
Much of the original style of the house was preserved when it became a restaurant, making it a very beautiful place to dine in. You can opt to sit inside the house or in the garden dining Al-Fresco style. We chose to dine outside since the weather was amazing that day.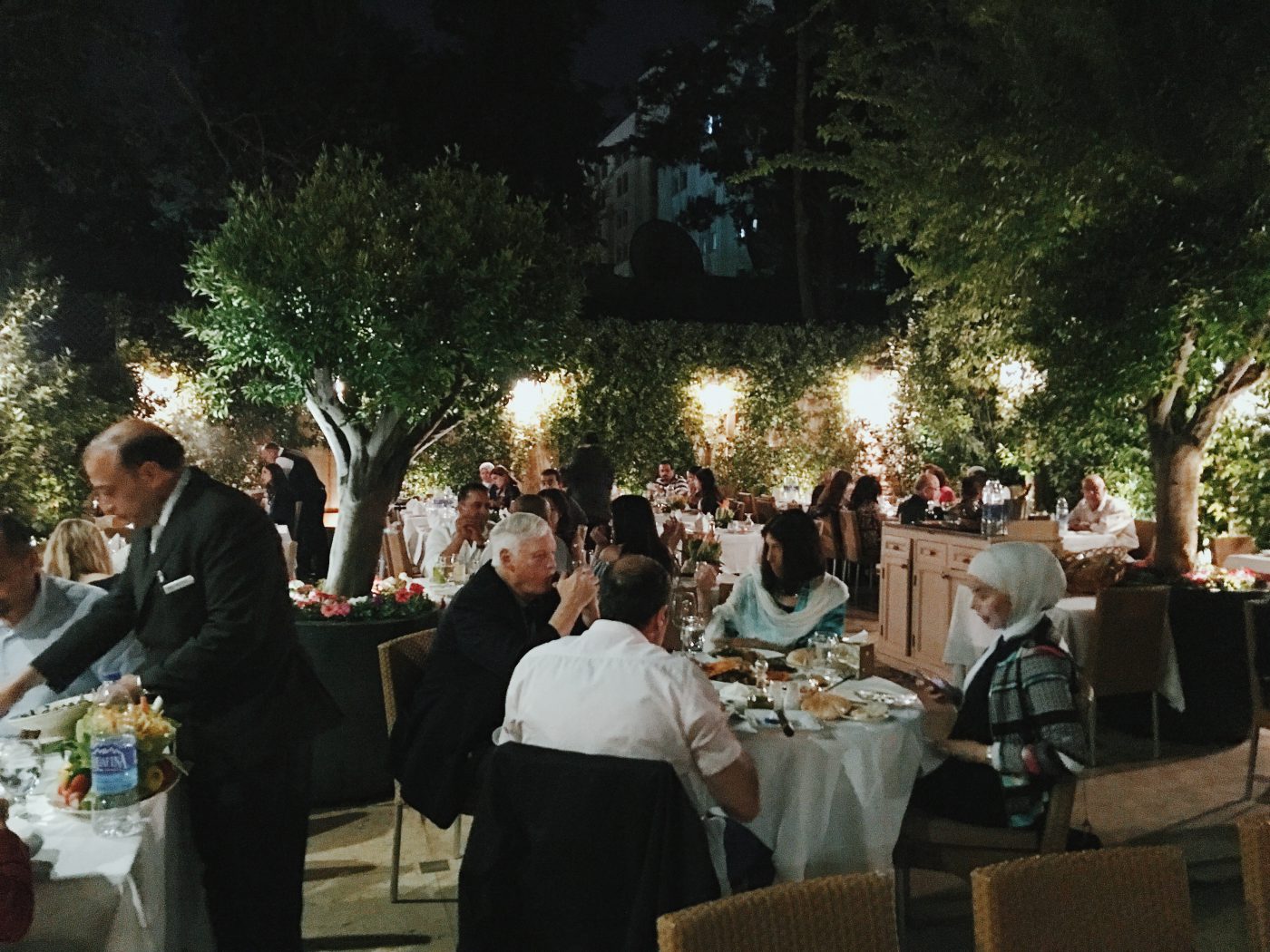 As the entire spread are being brought out you can nibble on pre-appetizer appetizer – cold fresh almonds served with ice cubes and fresh sliced tomatoes with Tahini. I'm a huge fan of almonds but I have never had it cold before. I find that having it cold brought out a raw taste of the almonds. I loved it!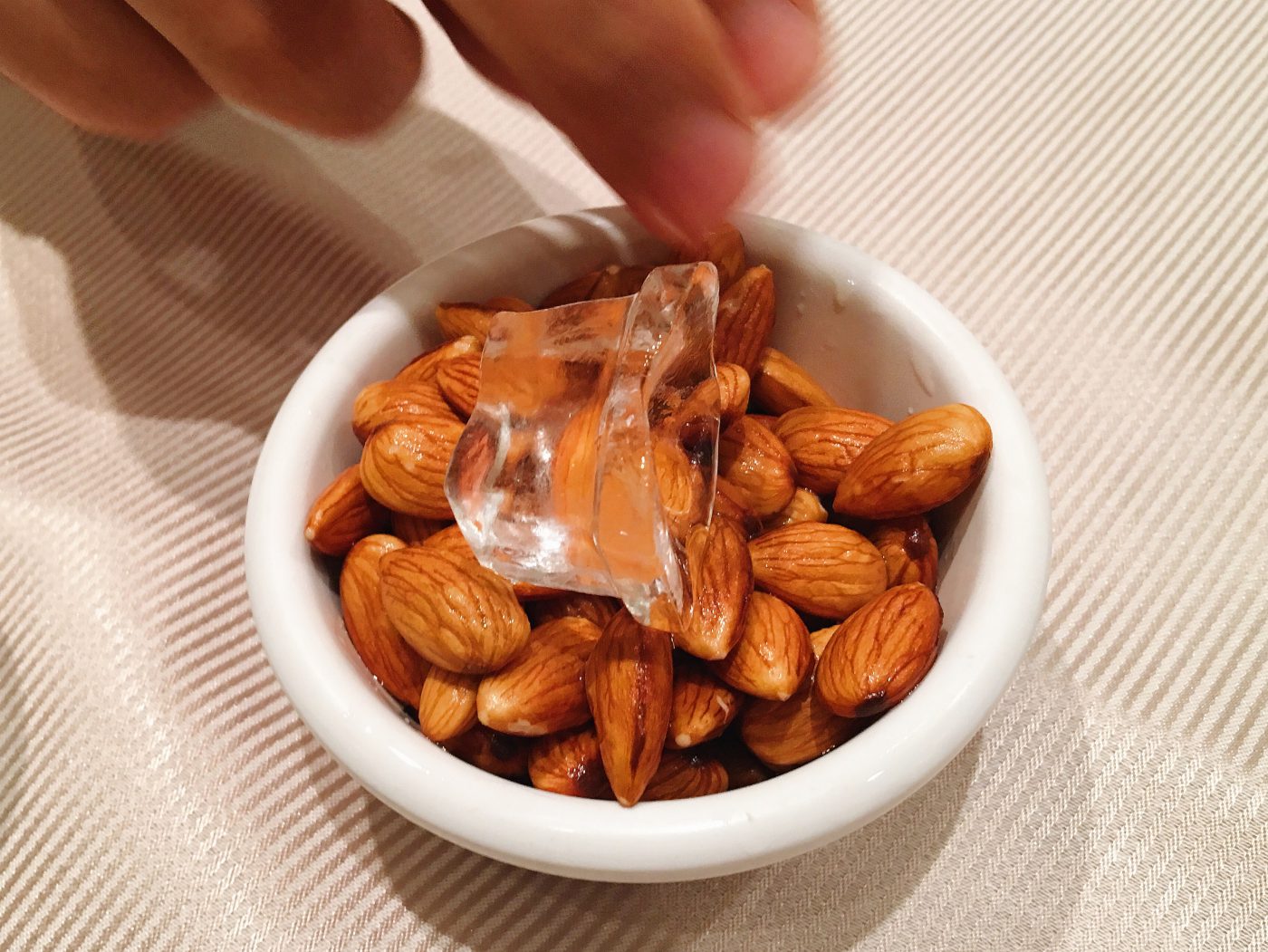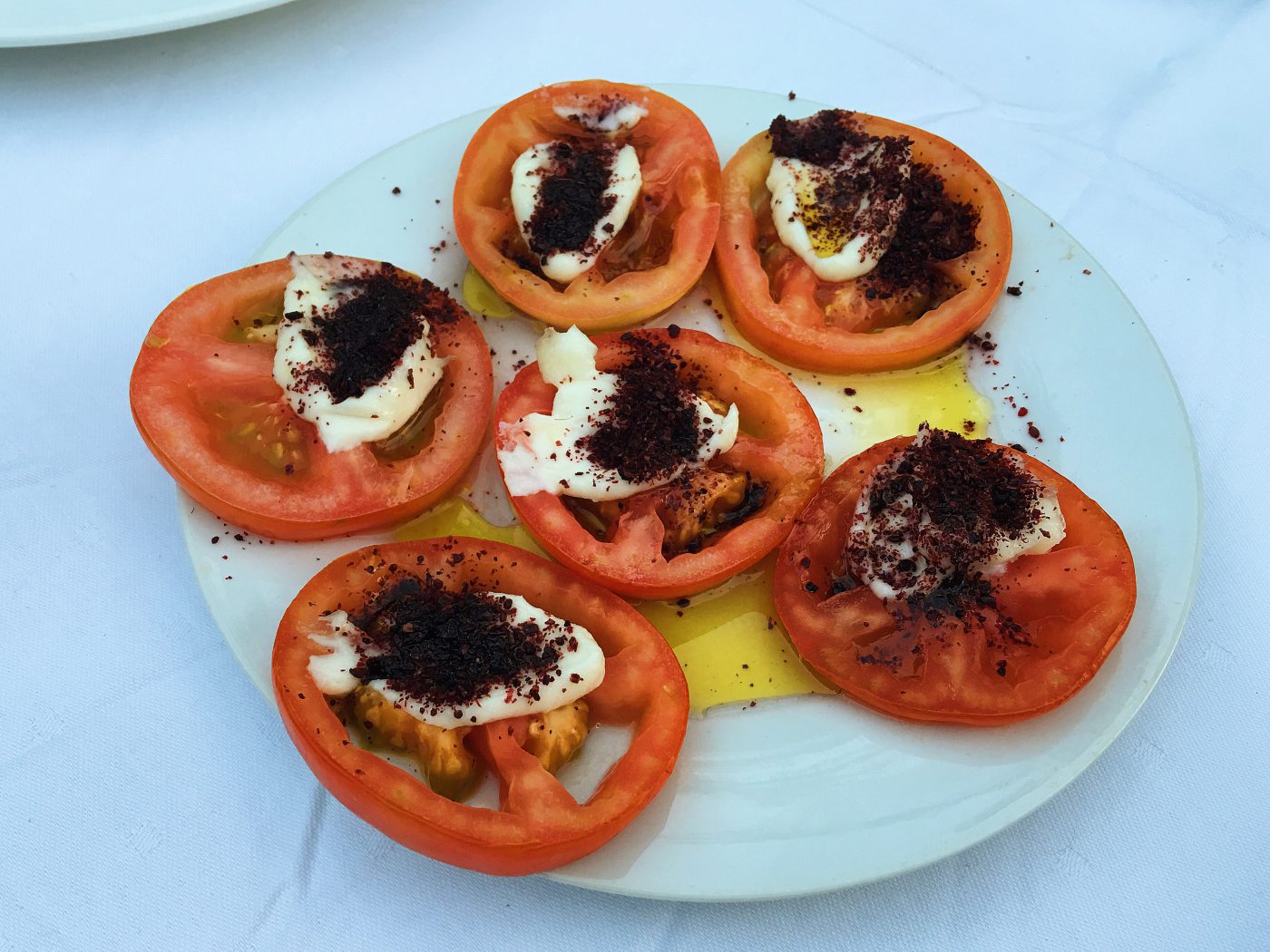 The cold dishes spread at Fakhr El-Din includes the usual suspects like Olives, Hummus (mashed chickpeas paste mixed with lemon, tahini, garlic and olive oil), Tabbouleh (salad made of finely chopped parsley, mint, onion and tomato), Labneh (thickly strained yogurt that is even more dense than Greek Yogurt) and Mutabal (aka Baba ganoush, a dip made from Eggplants). There were also dishes I have never had before such as Kibbeh Nayyeh (raw ground lamb meat mixed with spices, like steak tartare) and Dolma (stuffed vegetable wrapped in grape leaves).
Out of all the cold dishes, my favorite was the Hummus. The hummus at Fakhr-El Din was just phenomenal. It has the perfectly creamy and smooth consistency I have not tasted anywhere else.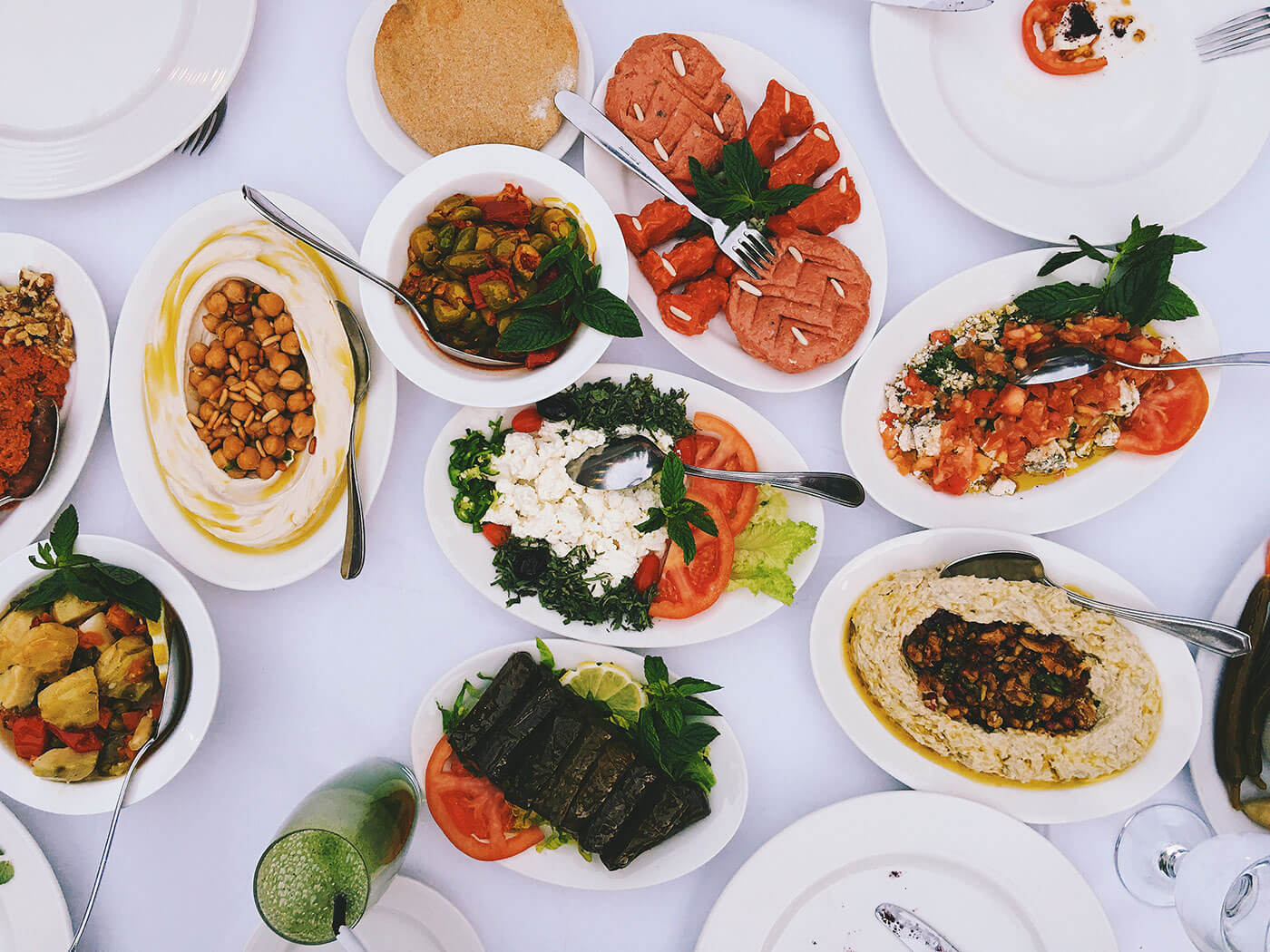 We also had some hot dishes after this round, which consist of more olives and cheese dishes, as well as Kibbeh Bi laban (Deep fried dough filled with minced meat), fried cheese balls and meat.
My favorites from the hot Meze dish has got to be the chicken liver with molasses (bottom right) and the grilled haloumi cheese (top right). If you have not tried Haloumi before, you really have to! It has a firm and squeaky texture similar to Mozzarella, but with high melting point so it is usually served pan fried or grilled.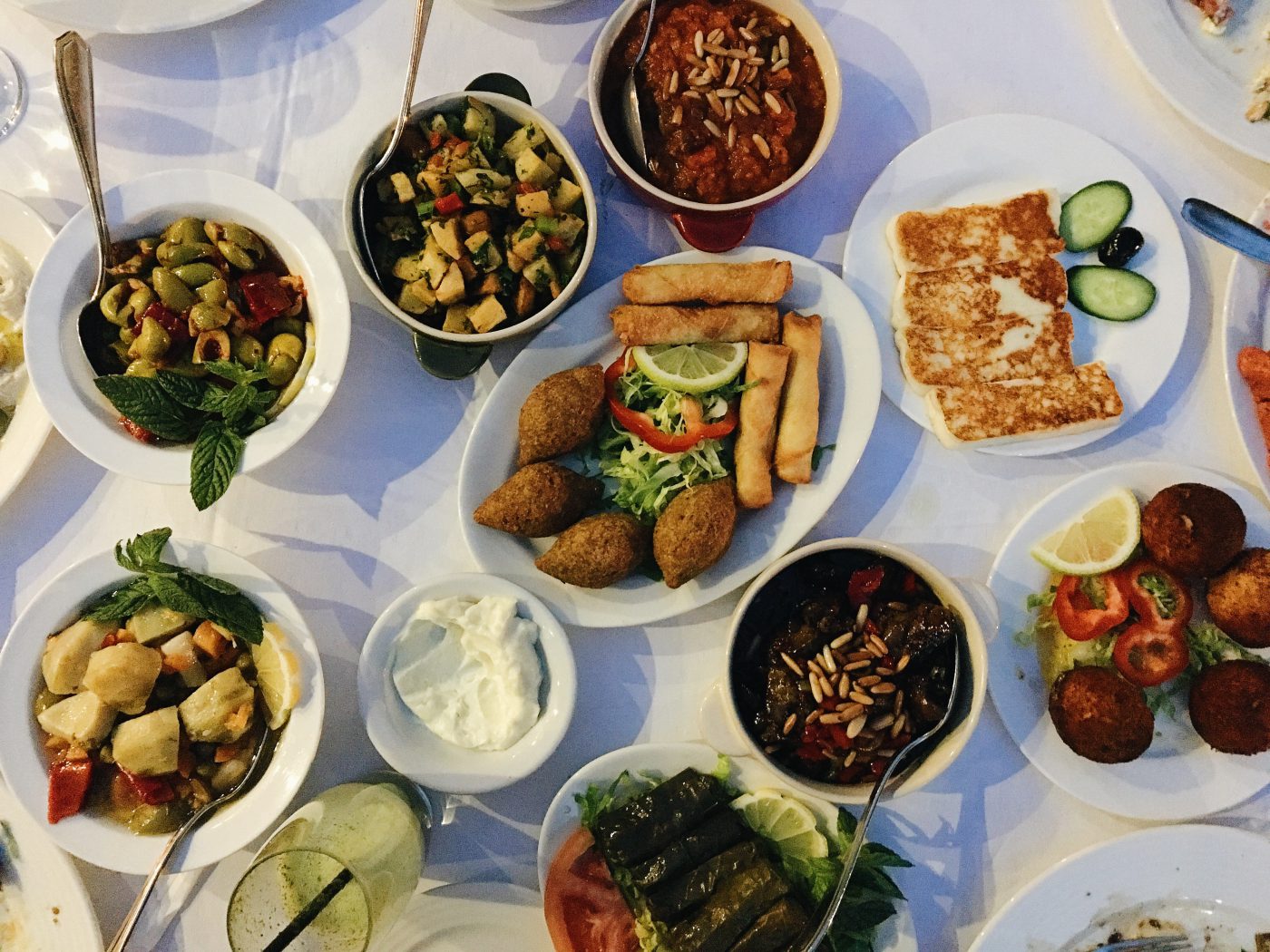 And finally the MAIN entree, which consist of a grilled meats (Chicken and Lamb) and vegetables.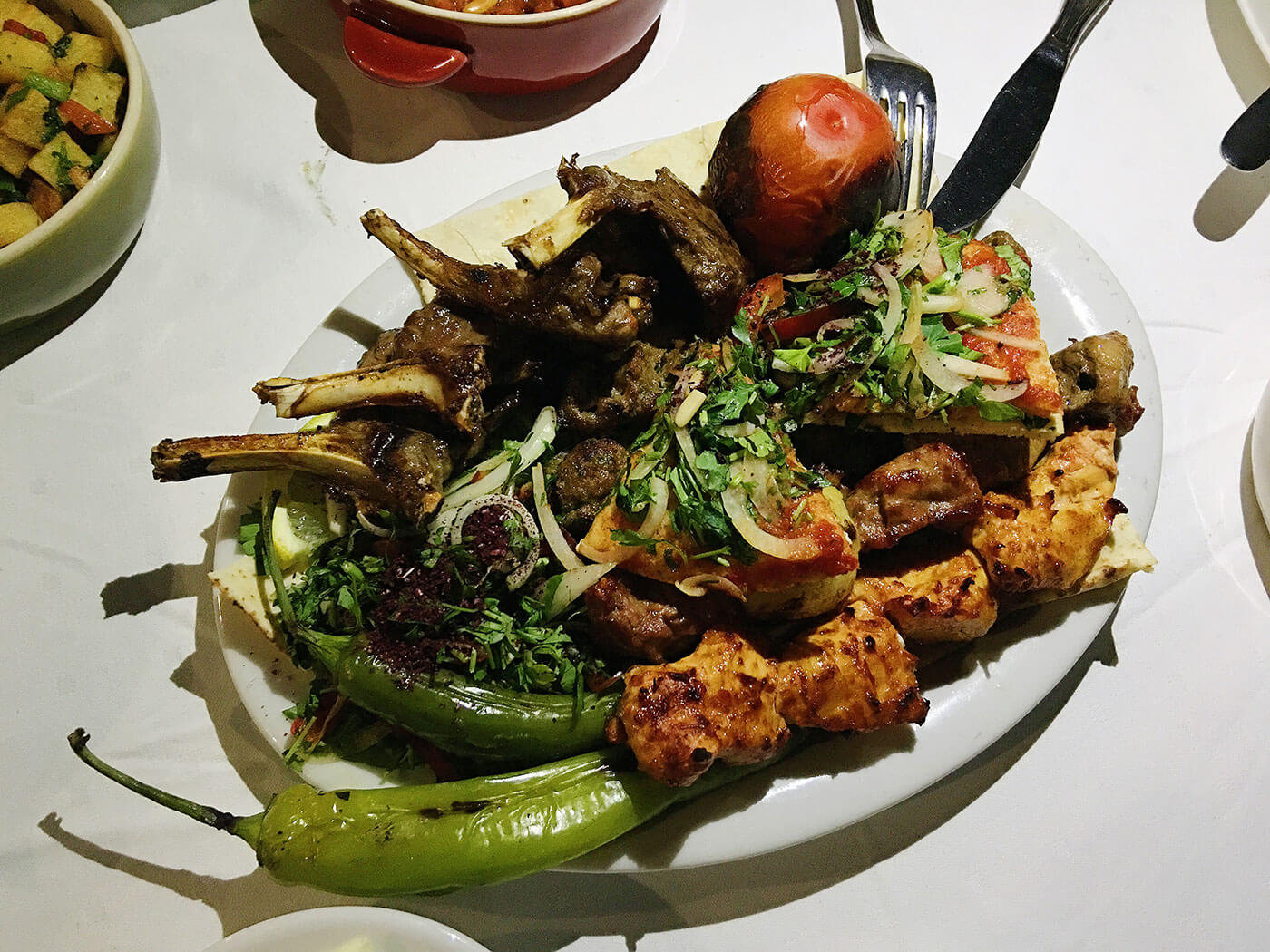 After all these, we still had a dessert round but since we were dining outside and the light wasn't so good I didn't get a good picture of it. We were served Knafeh with vermicelli pastry which was delicious! See pictures of Knafeh and read about what it is in my Jordan food post here.
I was definitely pleasantly full from this feast but don't worry I still ate the dessert 😉
Fakhr El Din
40 Taha Hussein Street
Jabal Amman, 2nd Circle
Tel: ++ 962 6 4652399 – 4641789
Burj Al Hamam in Dead Sea
My second Mezze experience was during my stay in the Dead Sea. We stayed at Kempinski Ishtar (beautiful resort by the way) but went one hotel over to the Crowne Plaza for dinner to visit Burj Al Hamam.
The dishes served were standard Mezze dishes but all the dishes here were brought out at the same time with no distinction between cold and hot dish, unlike in Fakhr El Din. We had a long table for the four of us and by the time the waiters were done bringing out the plates, it was filled edge to edge. It really makes for an impressive picture!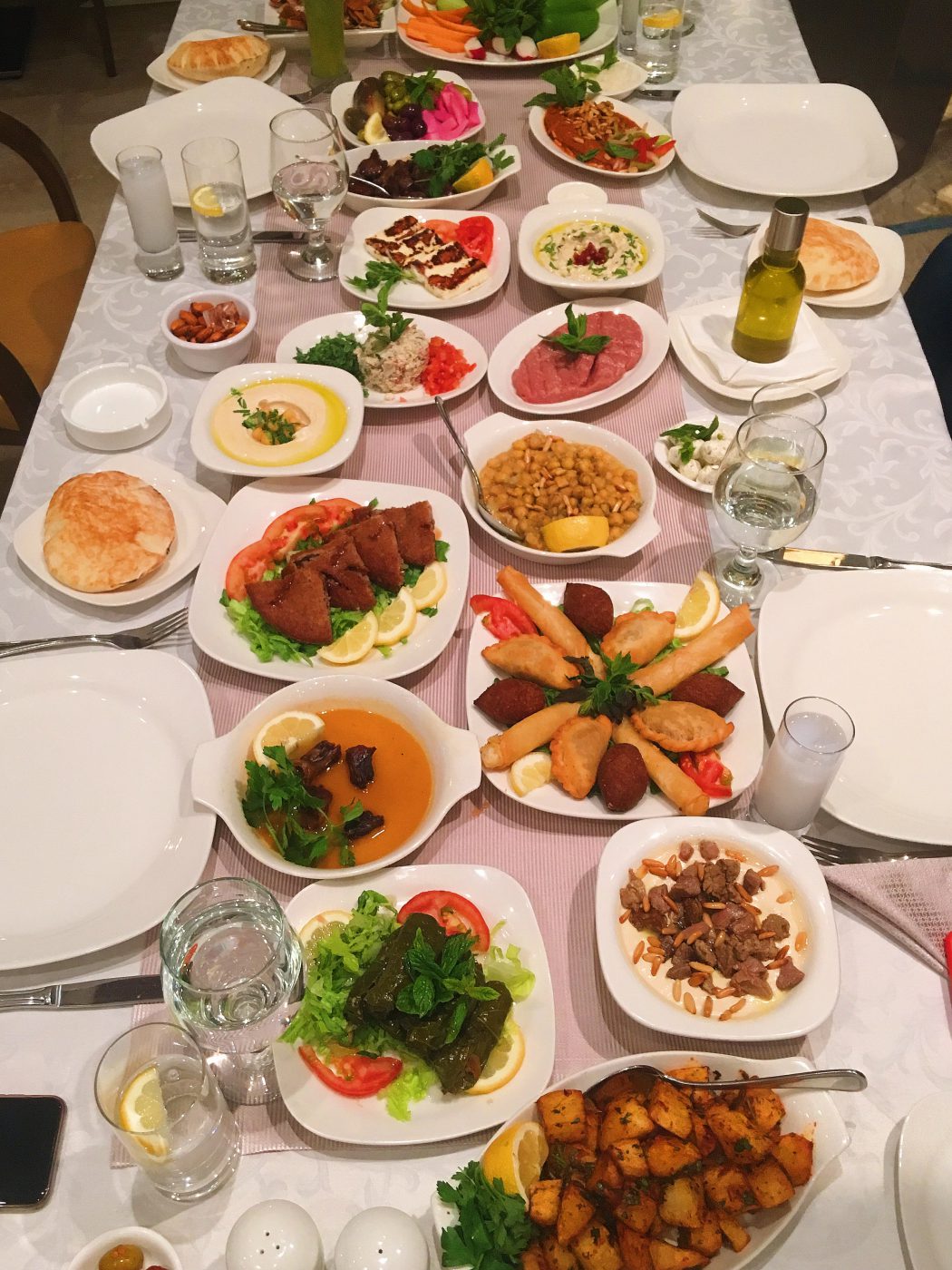 All of the dishes were terrific, especially the Chicken Liver with Pomegranate Molasses. I have always loved Chicken Liver, and they were cooked just perfectly in this dish – slight crunch on the outside and tenderly creamy on the inside. The Pomegranate Molasses reminds me of sweet soy sauce that we use in Indonesia (Kecap) as condiments to eat chicken liver with, so the taste of this dish is very familiar to me.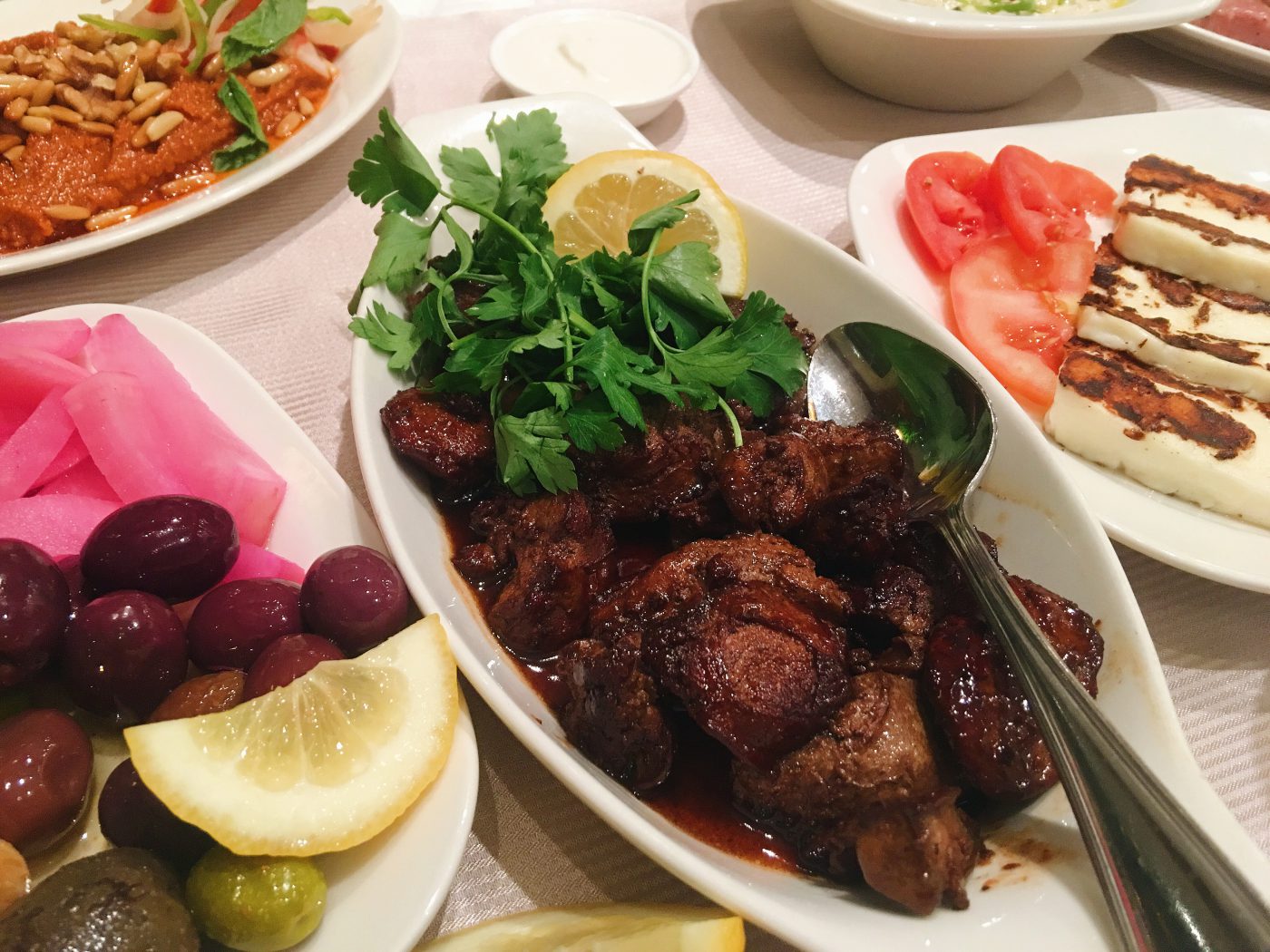 One dish that was unexpected is this deep fried small bird. I had no idea what it was, so I popped the whole thing in my mouth and chewed. It wasn't until my dinner companions told me what it was that I realized I had just eaten an entire bird in one bite 😡 The texture of it was crunchy, I guess due to the small bones of the bird. I know this probably doesn't sound very appetizing but it was actually good!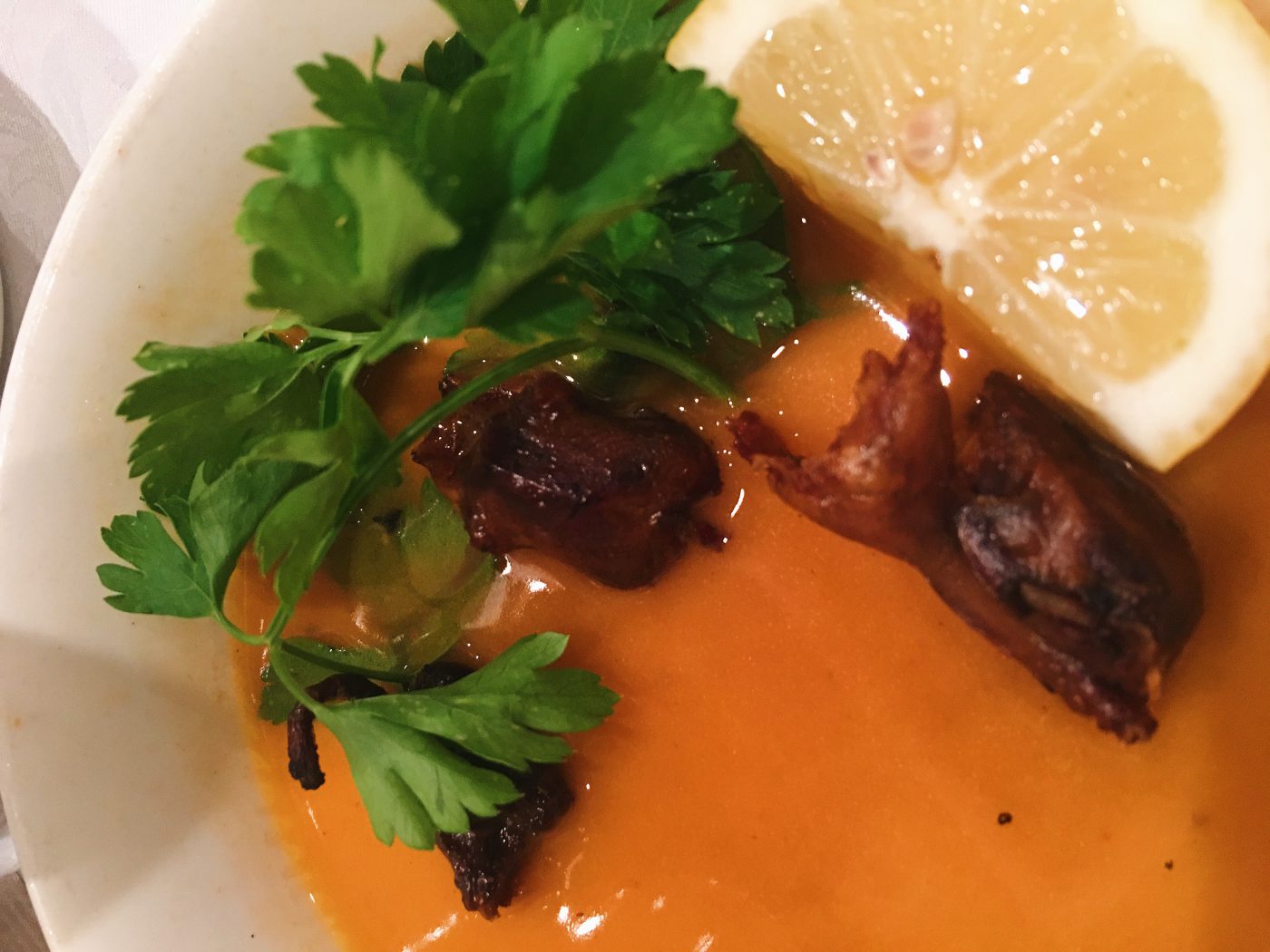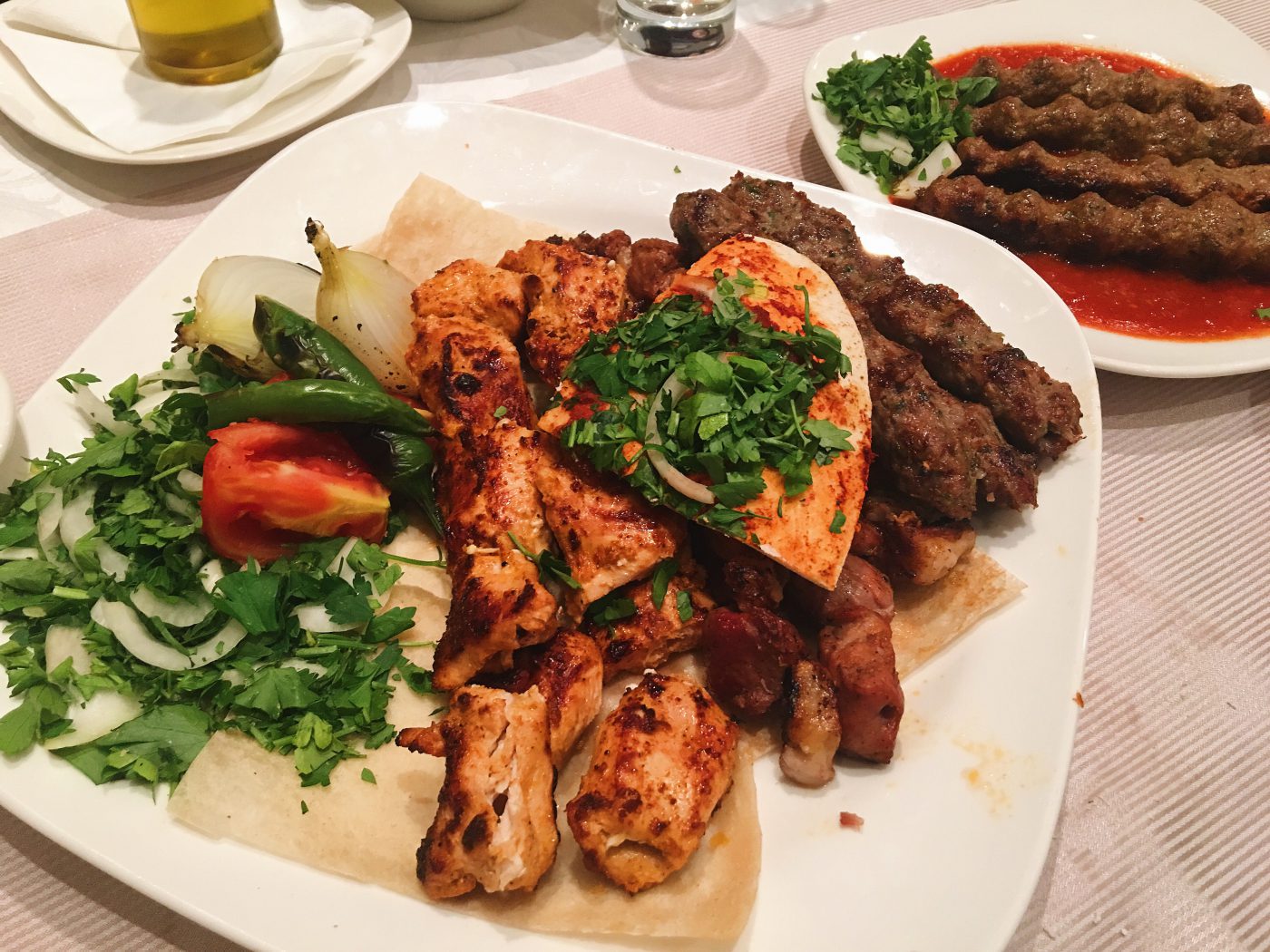 The dessert in particular was amazing. We were served Knafeh with generous amount of cashew and pistachios on top. I was (again) already full by the time we got to dessert, but I had to eat this!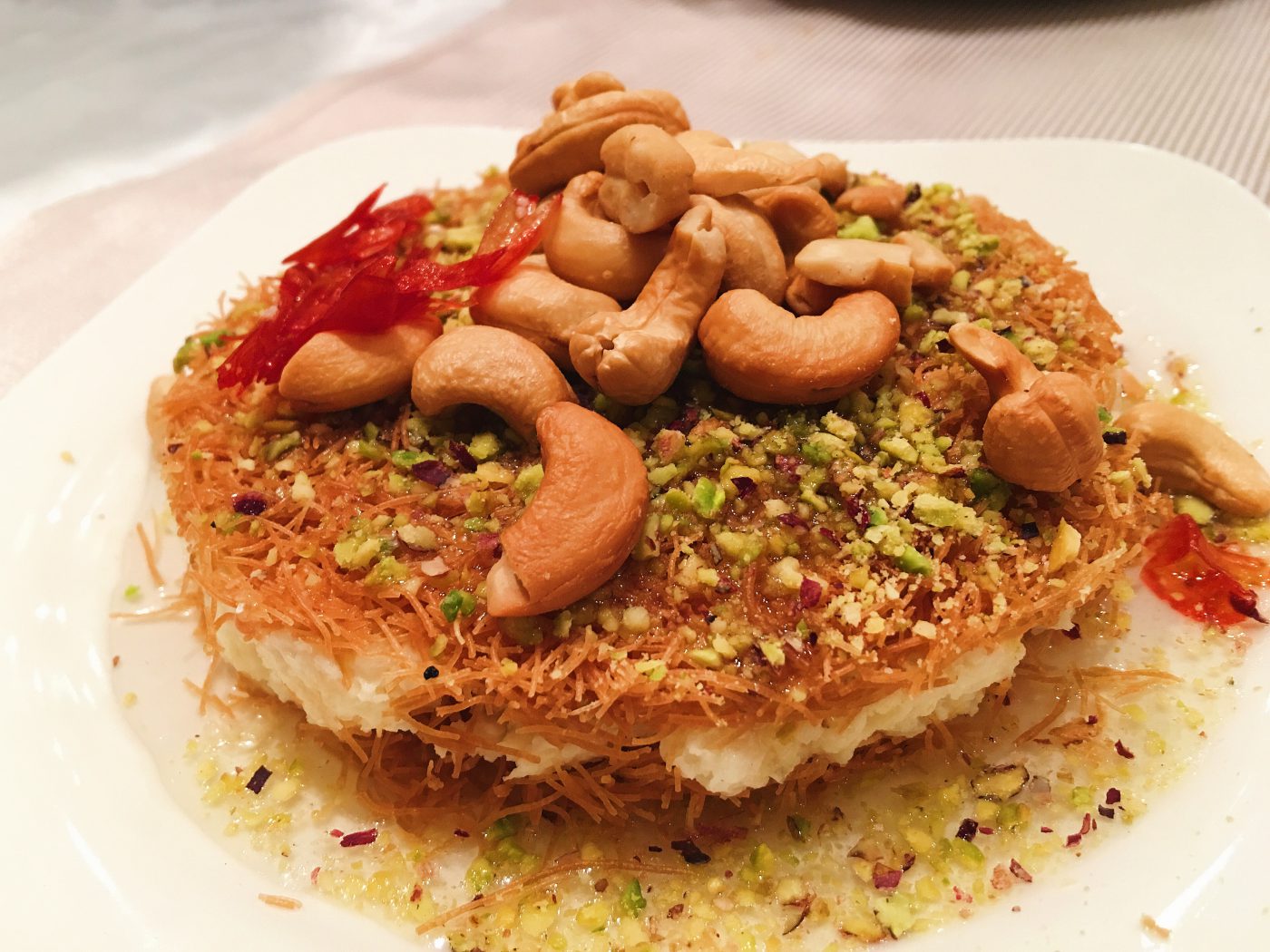 Burj Al Hammam
Crowne Plaza Jordan Dead Sea Resort & Spa
Sweimah 18186, Jordan
Tel: +962-5-3494000
Mezze is definitely something you should not miss if you are visiting the Middle East Region. Just remember, again: Come hungry!
This post is part of the experience of my visit to Jordan as a guest of Jordan Tourism Board. For more posts on Jordan, please check out my Jordan posts!