Us Singaporeans are spoiled for choice when it comes to quick weekend trips. Singapore is a major transportation hub in South East Asia – there are plenty of direct flights, buses, and ferries going in and out of Singapore, which makes a lot of places accessible within a few hours. That's why I've decided to start a series of posts on weekend ideas in Singapore!
First up is Montigo Resorts in Batam island, an already popular quick getaway among Singaporeans – so easy to get to it doesn't even require a flight.
About Montigo Resorts
Montigo Resort is a five-star accommodation in Nongsa. Nongsa is an area located on Batam island, which is very conveniently close to Singapore and can be reached within 1-2 hours.
Montigo Resorts offers only private villas, not rooms, which explains why their prices might seem a bit steep on first glance. They have everything from one-bedroom to five-bedroom villas, and villas that are located either at the hilltop, hillside or seafront – prices will vary depending on location.
The best part? Each of these villas come with its own private infinity pool and a small kitchen!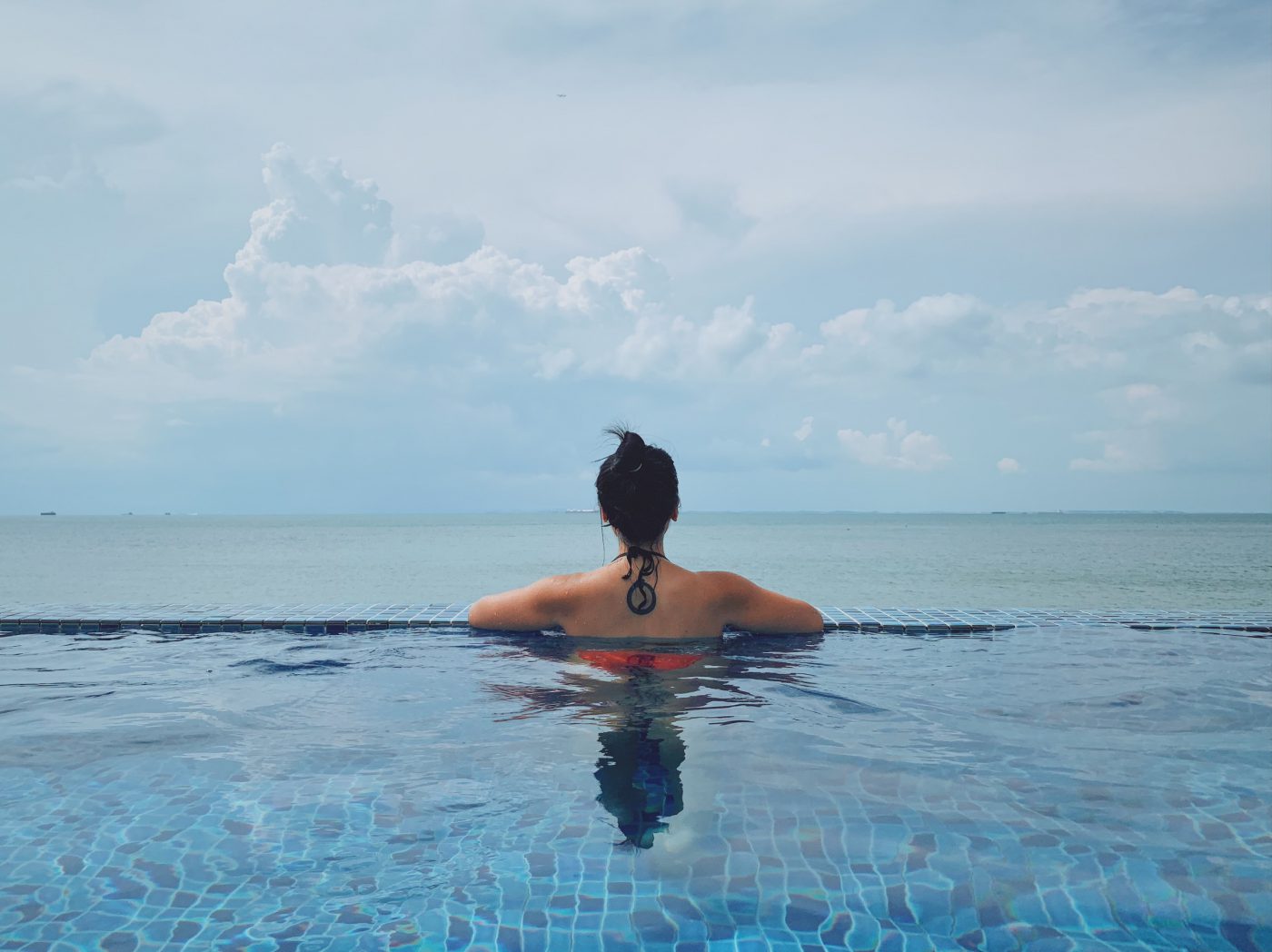 Booking your stay at Montigo Resorts
Montigo Resorts is available through booking.com. Going through booking.com has always been my preferred method – their prices are usually competitive and the amount displayed is inclusive of taxes and other charges – no surprise fees!
Book a villa at Montigo Resorts

Getting to Montigo Resorts from Singapore
To get to Montigo Resorts, take a ferry either from Tanah Merah or Harbourfront ferry terminal. You can find details of each route below, but take note that the estimated time does not include waiting for the ferry and clearing immigration.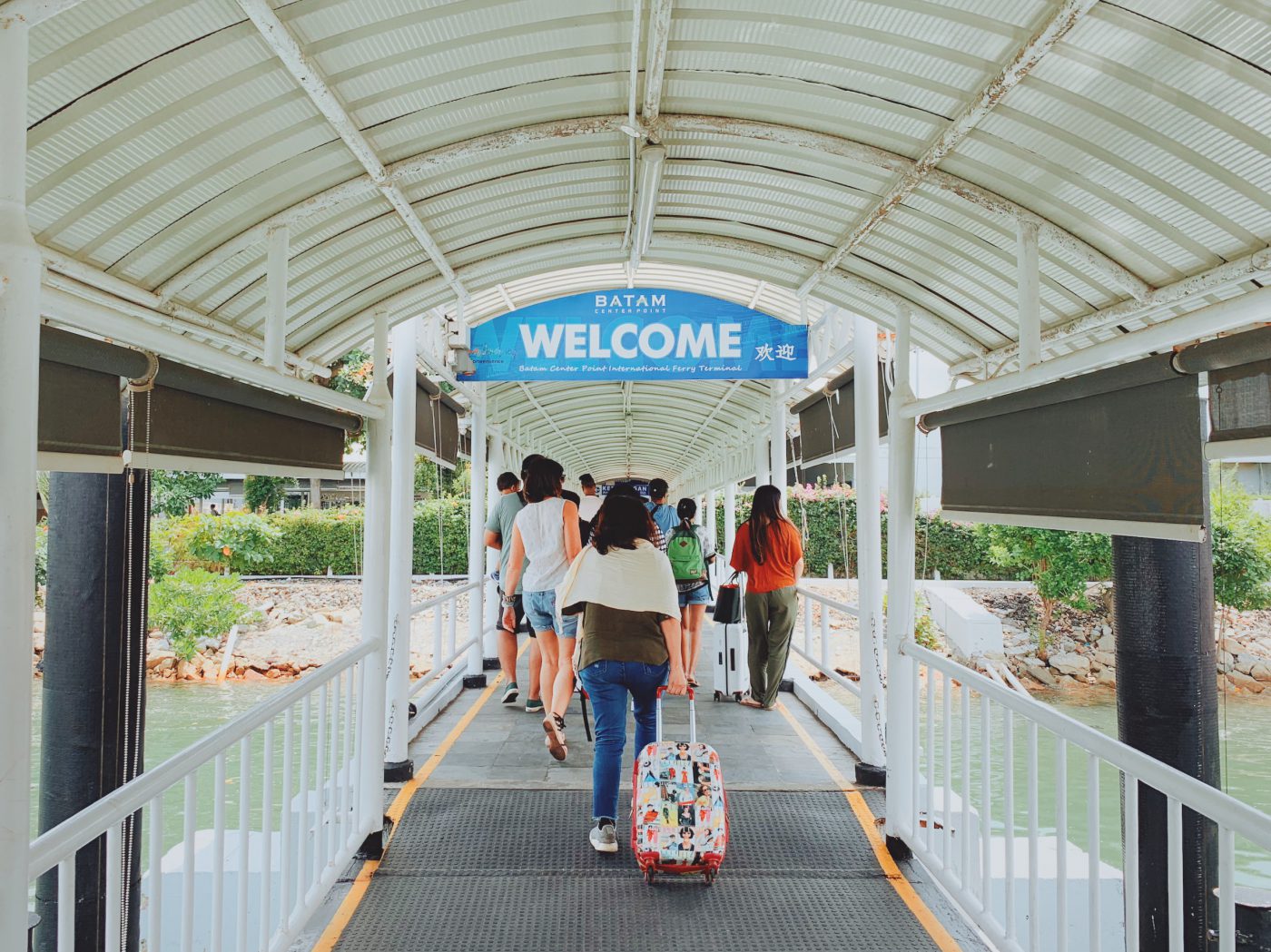 Option 1: Tanah Merah to Nongsapura (~45 mins)
Take a taxi to Tanah Merah Ferry
Get on a ferry to Nongsapura (You can book tickets with this link for S$46 roundtrip. If you buy straight at the port, it costs S$49 roundtrip). The journey takes 35 minutes.
Once you get to Nongsa, you can find a free Montigo shuttle bus straight to Montigo Resorts for 10 minutes. Keep in mind that this shuttle bus is for staying guests only.
Option 2: Harbourfront to Batam Center (~90 mins)
Take a taxi or MRT to Harbourfront
Get on a ferry to Batam Center (You can book tickets with this link for S$35.80 roundtrip. If you buy straight at the port, it costs S$49 roundtrip). We used Majestic Ferry and the journey takes 1 hour.
Once you get to Batam Center, take a cab to Montigo Resorts. The cab fare should be Rp 150,000 – 200,000 (S$15-20) one-way and about 30 minutes. Get the Taxi from an authorized Taxi stand right outside the exit of the ferry terminal!
Which route is better?
Cost-wise, the two routes are on par with each other, taking into account the cost of all the taxi rides – though this really depends on where you are coming from in Singapore. Time-wise, the Tanah Merah – Nongsa is better since it's much faster.
We chose the Harbourfront – Batam route since it's closer to us, and they had better timing at the time of booking. The early boats from Tanah Merah had already sold out till past noon and the next available and earliest time was 10:40 am from Harbourfront.
However… due to lack of preparation, we ended up missing our boat. It's pretty easy to change to the next available boat but we did waste two hours waiting for the next ferry. I've included some tips on taking the ferry here so you can learn from our mistake:
Tips on taking a ferry to Batam Center or Nongsa
Book your weekend ferry tickets ahead of time. If you are traveling on Saturday and you want to get there before noon, book your tickets ahead of time online. The morning boats are usually booked up. When we missed our 10:40 am boat, the next available boat was at 12:20 pm even though there was another boat at 11:45 am. The same goes for your return boat on Sunday – if you want to get back at night, make sure you've purchased a round trip with departure time since night time is the peak time of going back to Singapore. Here are links to book:
Be at the ferry terminal at least 40 minutes before departure time. The ferry gate closes 15 mins before departure, but since this is an international travel, you still need time to clear the immigration. This includes getting your boarding pass (unless you've printed them out already), scanning your bags through security, and checking your passport. I cleared the security and immigration in 5 mins since I can go through the automatic gate with my Singapore passport, but it might take you longer if you are not a Singapore resident. Also, if you are going by the earlier boat you might spend longer time clearing security.
Print your boarding pass ahead of time. I'm not a fan of wasting paper but the ferry terminal requires a printed ticket. You could still check in at your ferry operator and have them printed there, but having them pre-printed would save time since you can just roll straight to the immigration.
Last but not least, don't forget your passport and Indonesian visa! I know we're so close to Singapore that you can actually still see the city from Montigo Resorts, but Batam is part of Indonesia! So yes, it's an international travel and yes, you still need your passport to cross the border. Also, make sure you can enter Indonesia. It shouldn't be a problem since Indonesia offers visa-free entrance to 169 passport holders in the world, but it's worth checking anyway.
The Montigo Resort Experience – is it worth it?
I'll be reviewing the resort in terms of accommodation, cost efficiency, and service level. Let's get to it:
The Premier 5-bedroom Villa
Our Montigo group was a huge group of 10 people (and a newborn baby!). It all started when one of my friends got curious about the 5-bedroom villa, marketed as luxurious and spacious villa with its own private infinity pool. That's actually the sole reason why she gathered a group of us to try Montigo Resorts!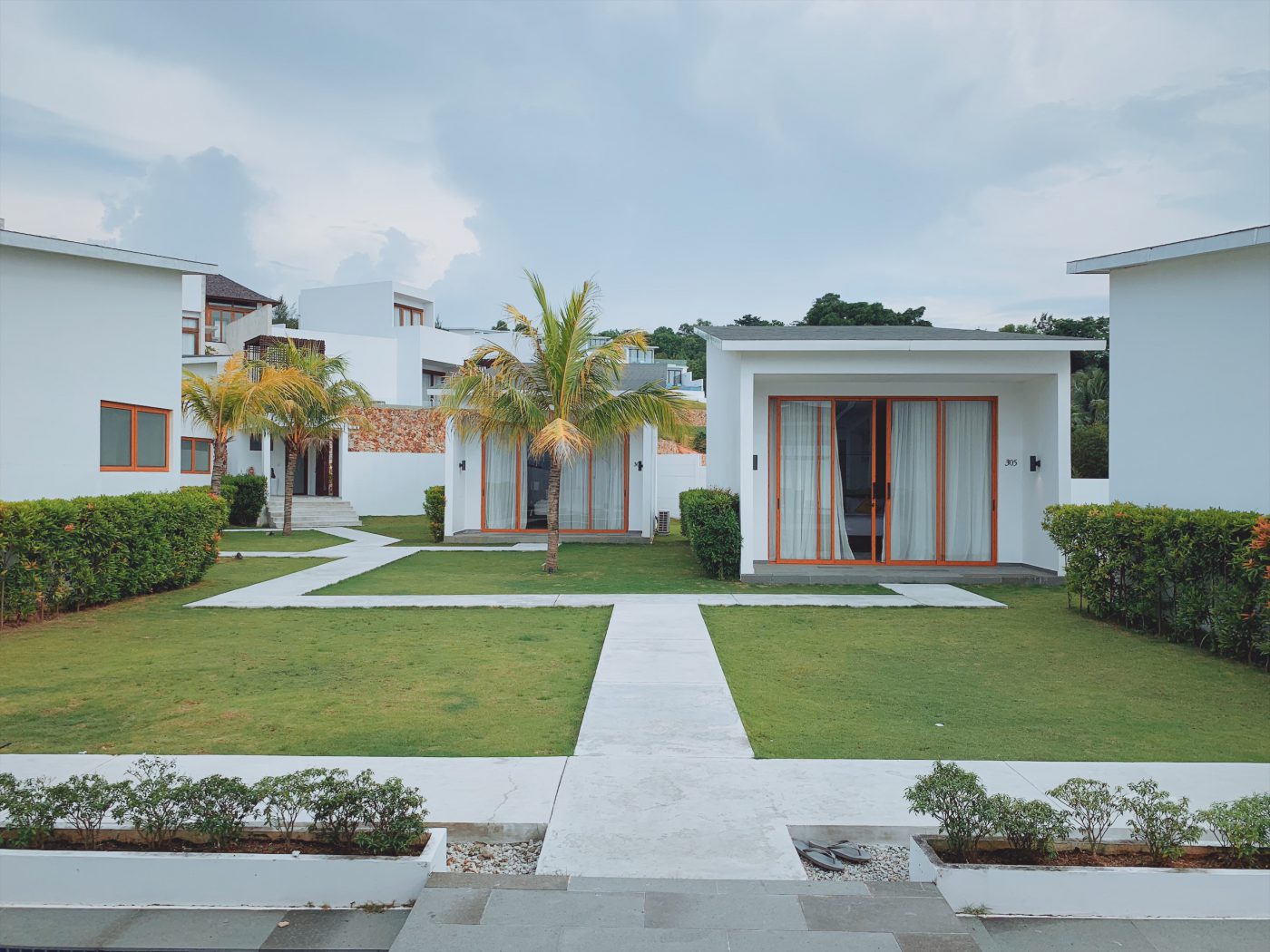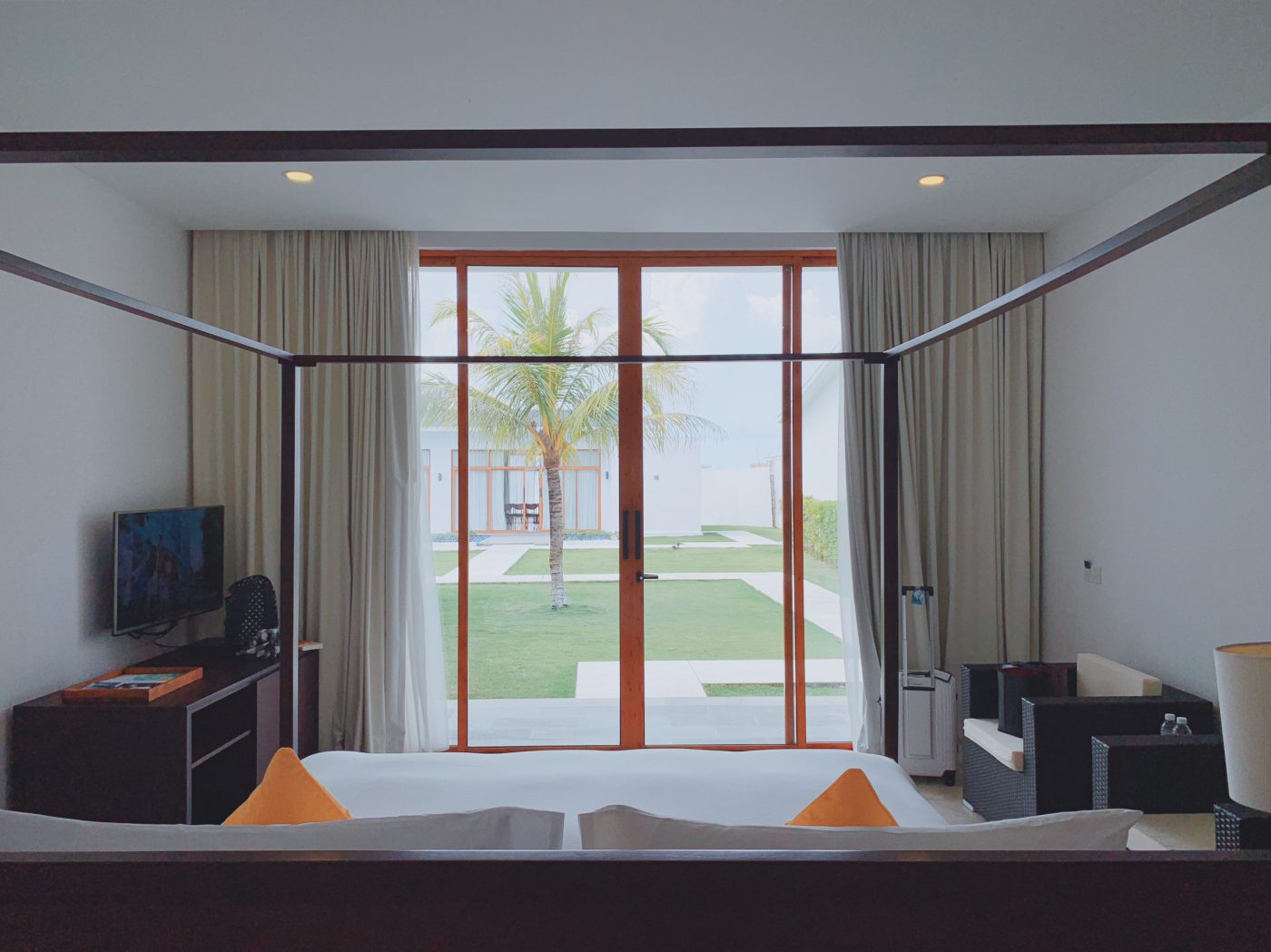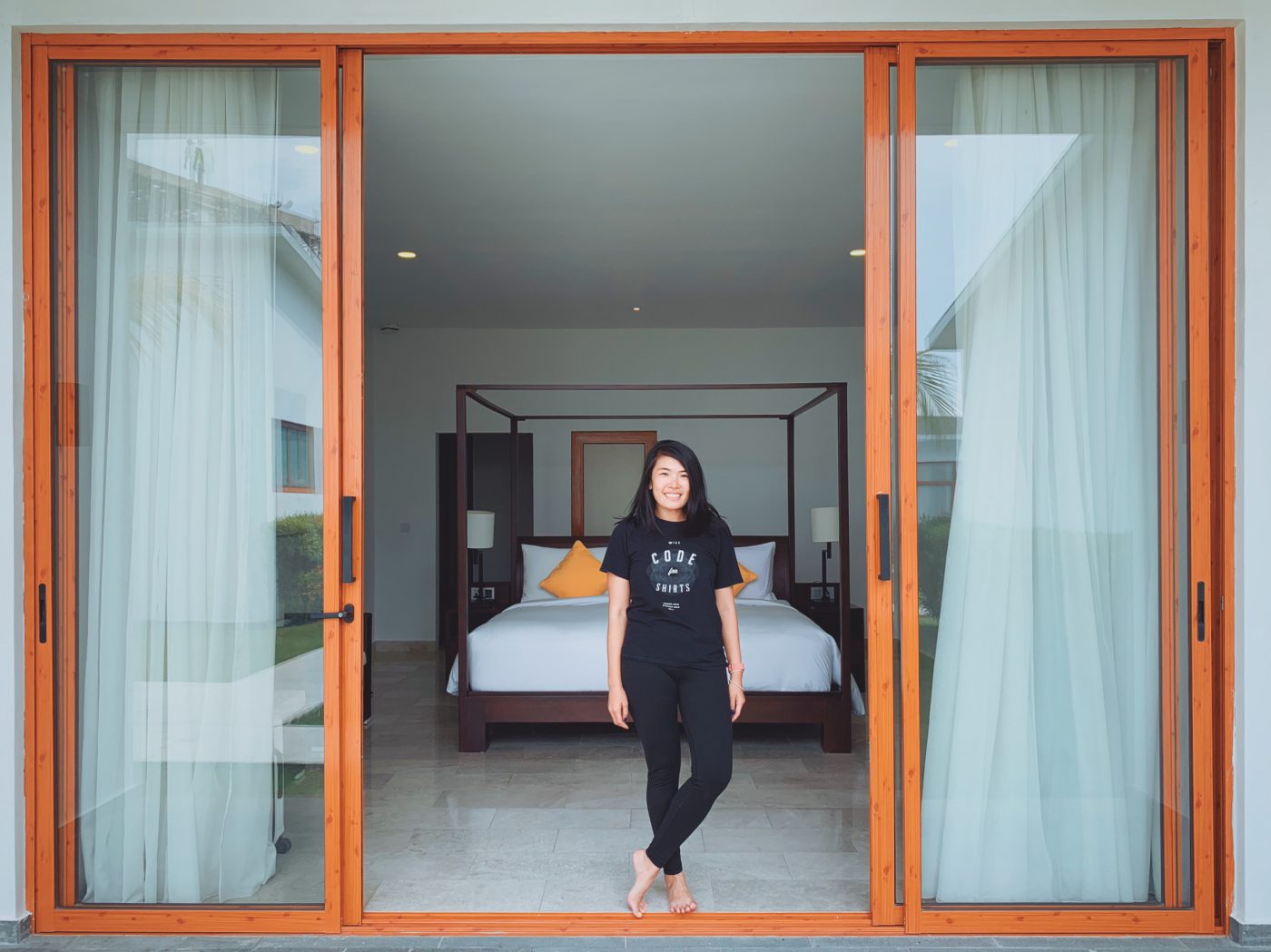 Well, they certainly didn't lie. The villa was definitely spacious – probably the biggest villa I've ever been to. All of the bedrooms are actually its own detached villas with an en-suite bathroom. One of the villas, the one in front of the infinity pool, is a master bedroom with a jacuzzi and a separate living room.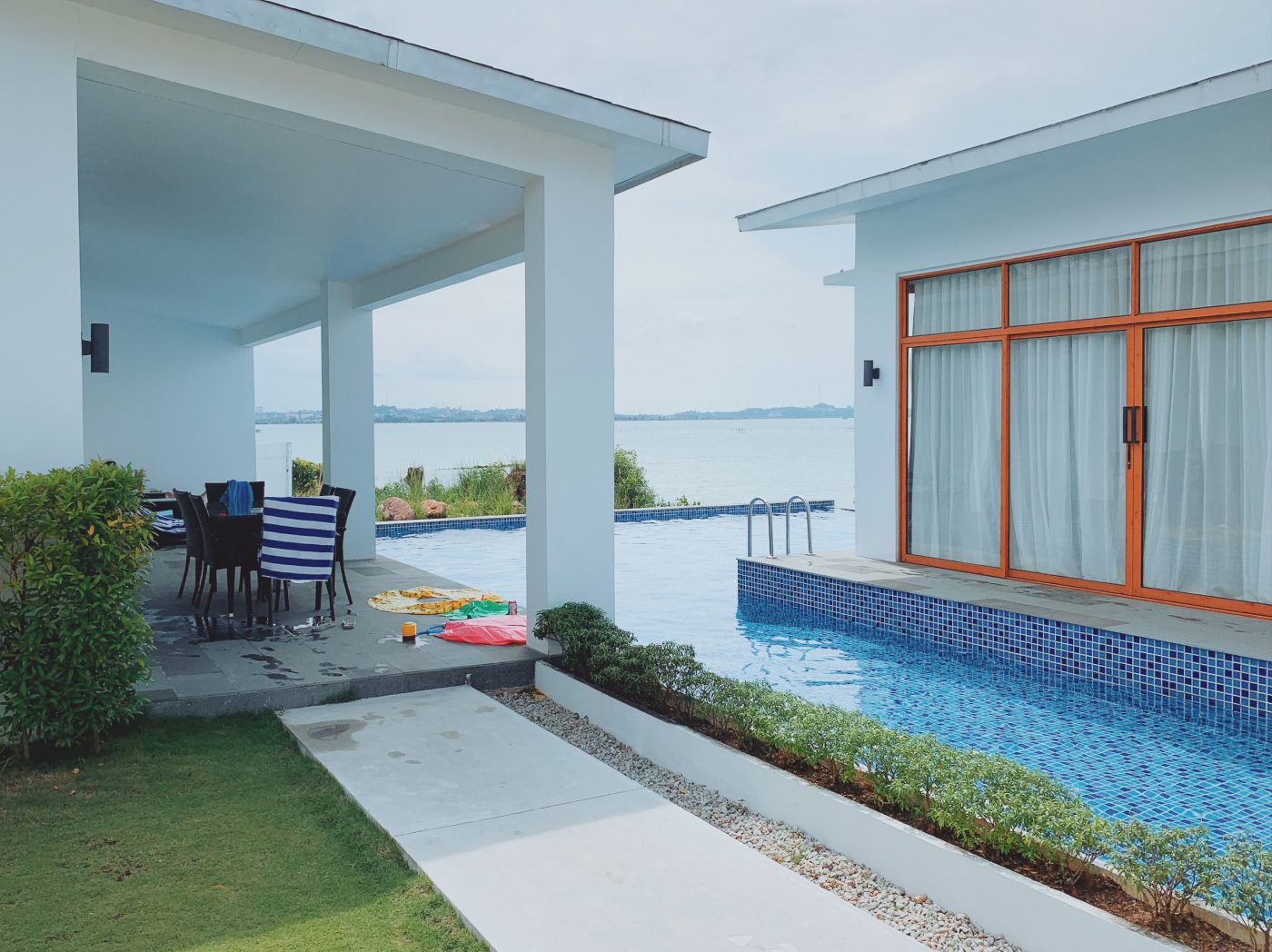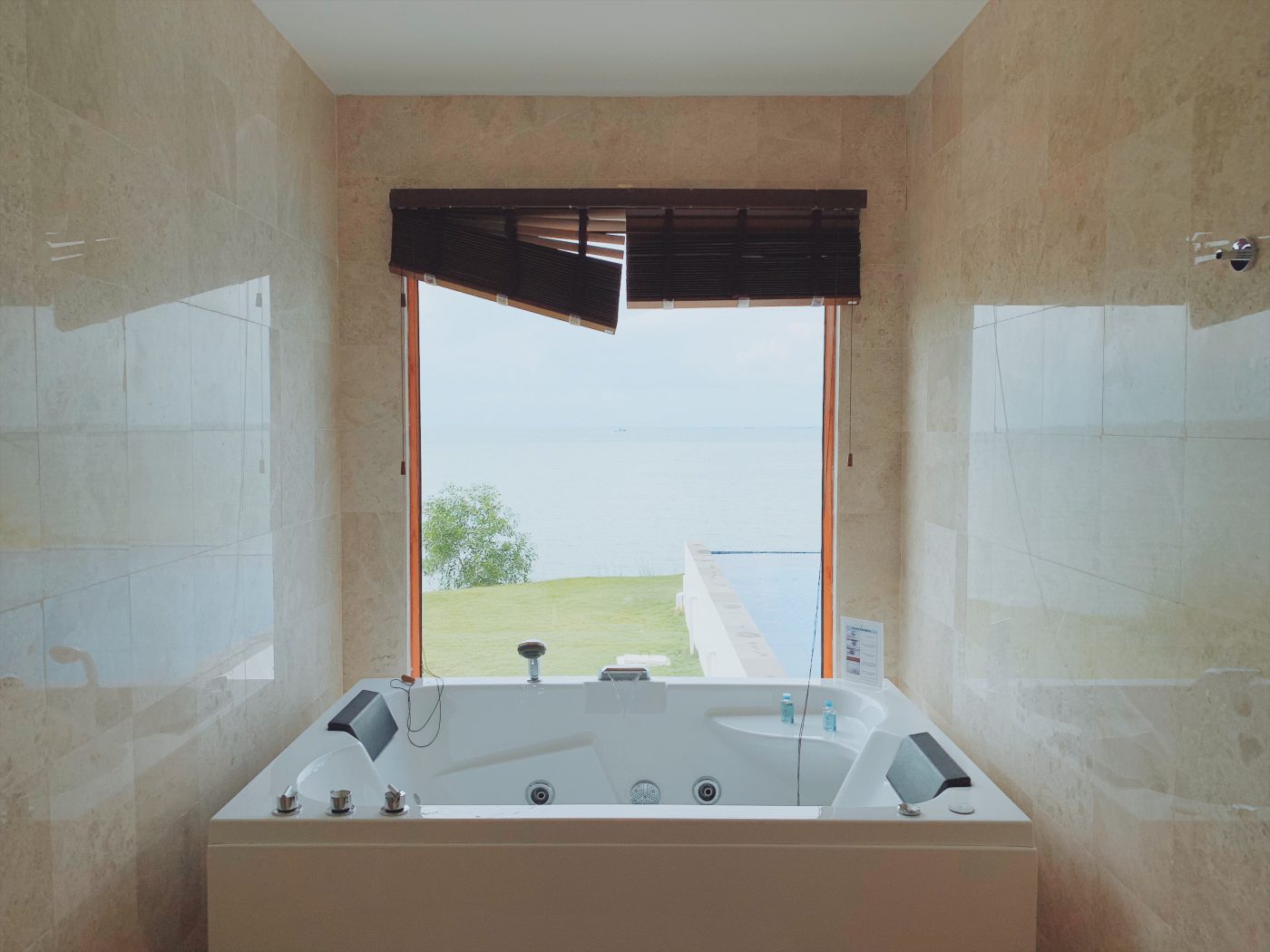 There are plenty of common spaces in the villa. One of the buildings is a large detached living room with kitchen, facing the pool. We definitely made use of this space – my friends had the foresight to bring ingredients to cook, so we used the villa kitchen for our meals on Saturday. HUGE thanks to all my friends who did all the logistics and cooking – I didn't do anything, except stuffed my face!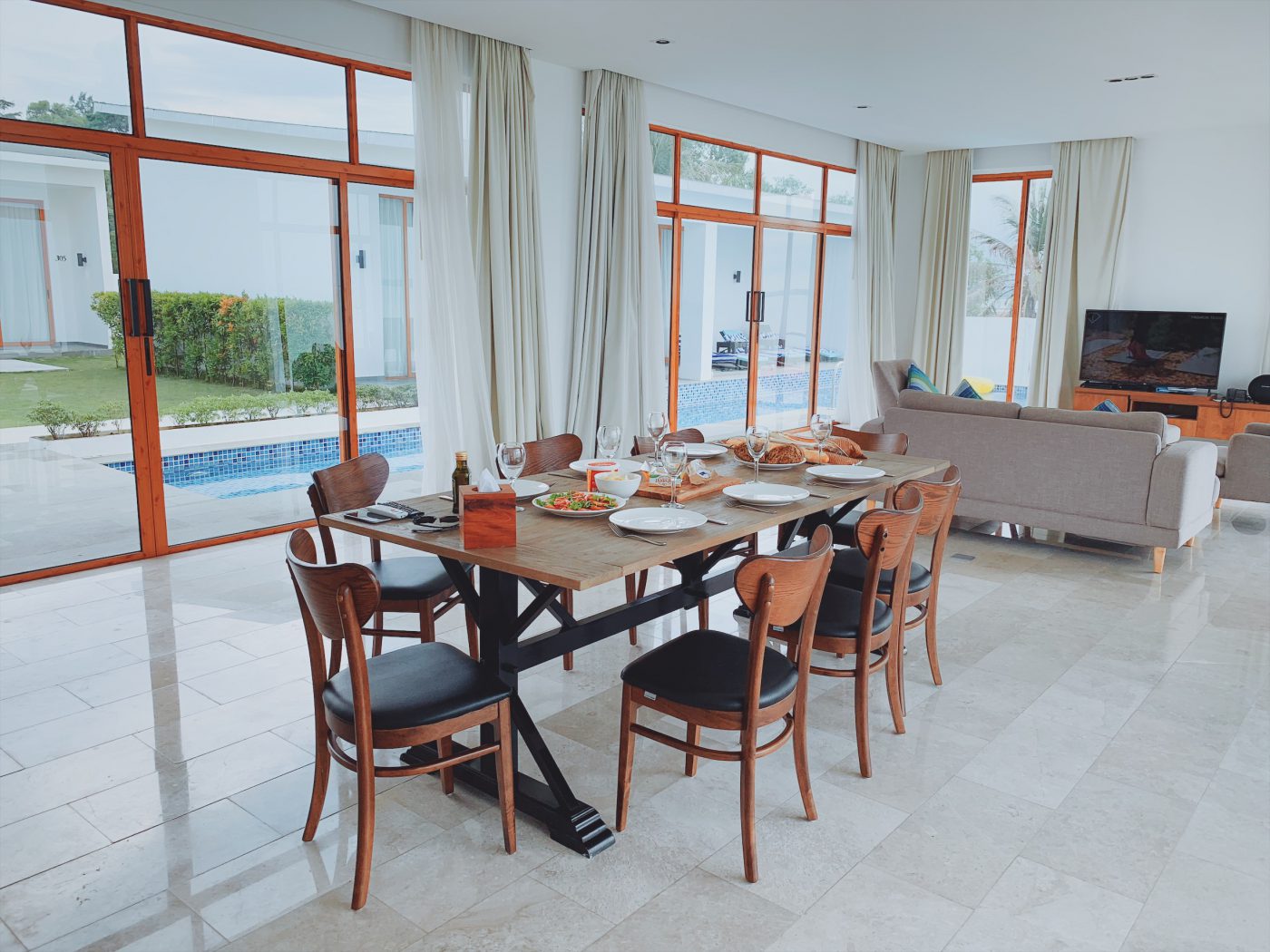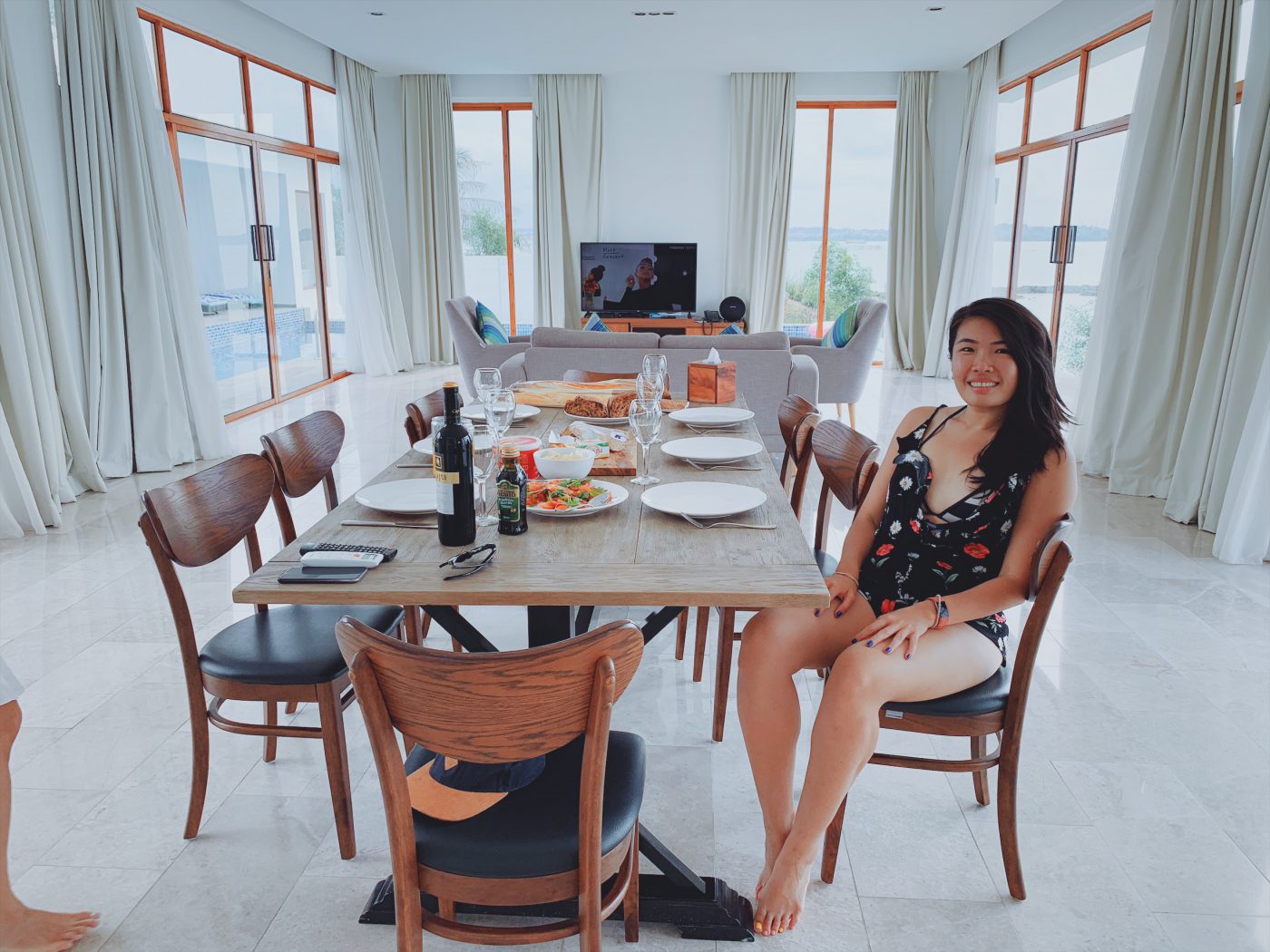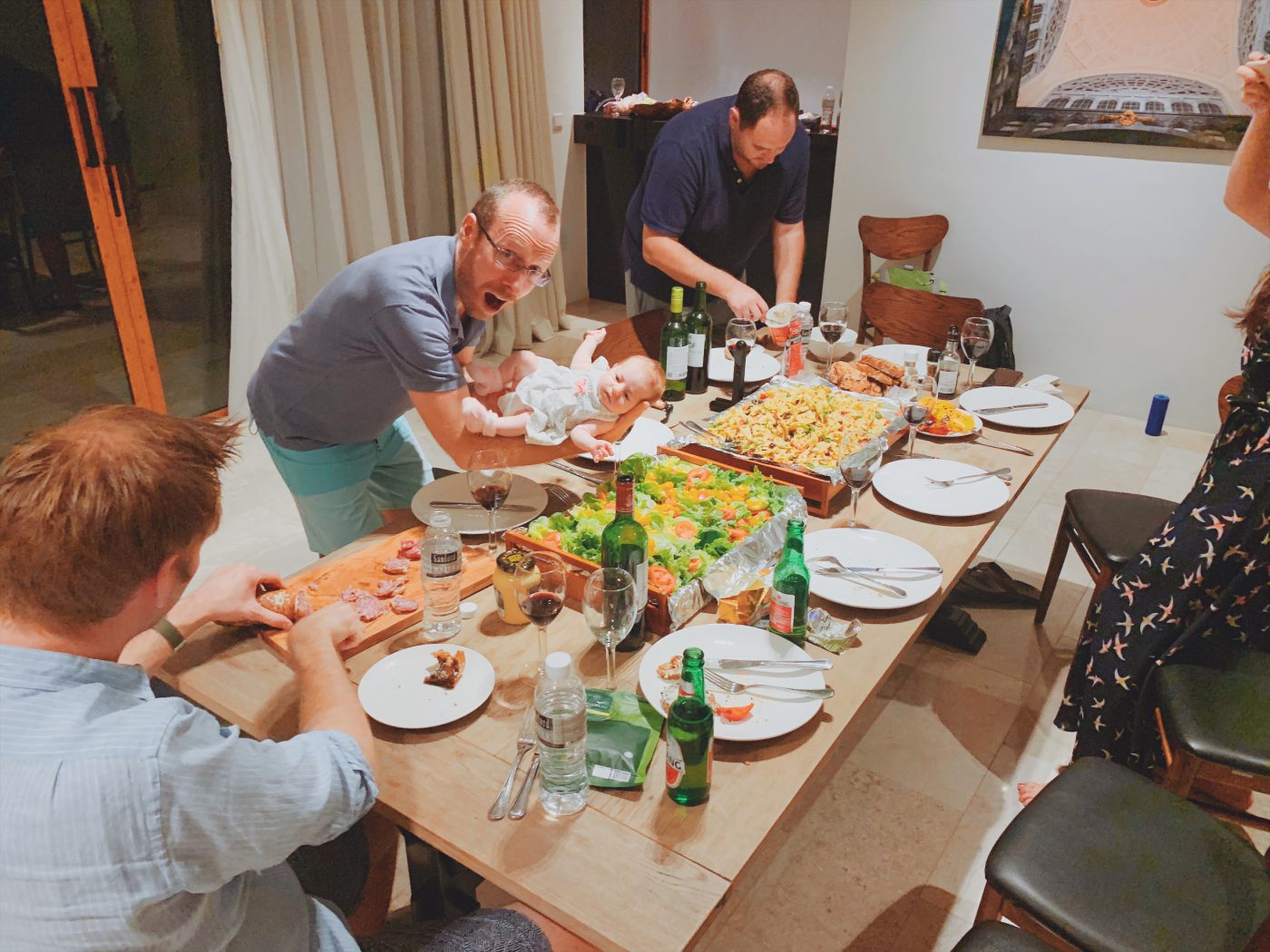 The villa was practically right on the beach and had an unblocked view of the Singapore Strait from our villa. We could even see a faint outline of the Singapore business district during the day. At night, you can see the lights from buildings in Singapore, and planes taking off from Changi Airport.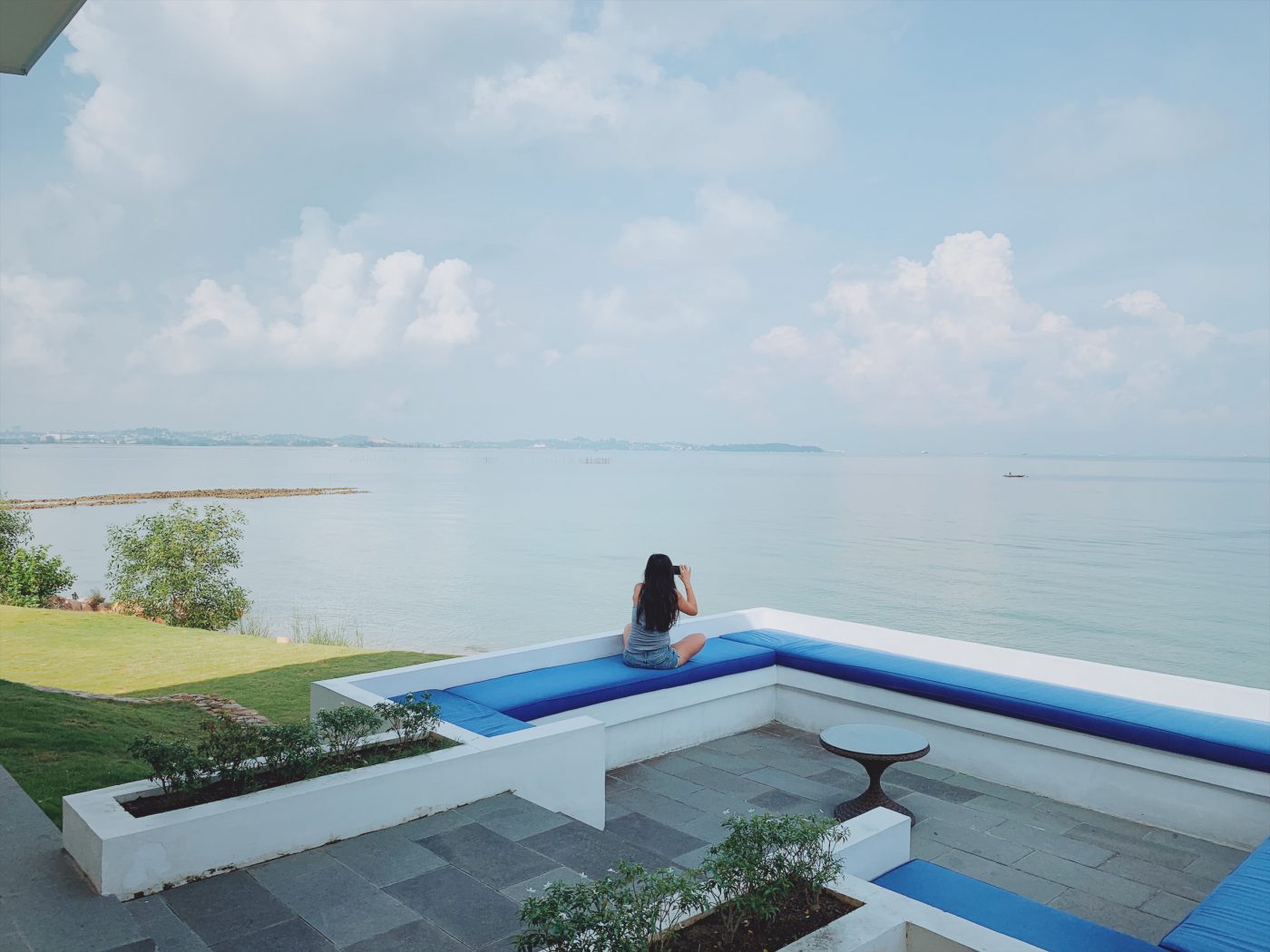 So the 5 bedroom villas were great. For my next visit though, I would stick with a smaller group and book the one or two bedroom villas. It's probably my own weird quirks but huge space kinda intimidates me, and the villa was so spacious that I feel like we did not really see each other aside of meal or pool time.
The service at Montigo Resorts
The level of service at Montigo Resorts was top-notch. The staff was always very friendly and accommodating from the beginning to the end.
The check in and out experience was a breeze despite the high number of guests they had in the villa. When we first arrived, they had a welcome drink ready for us as we were doing the necessary check-ins. Once we were done, a buggy was arranged to take us and our luggage to the villa. As we were leaving, they got us a car to go to Batam Center without much wait.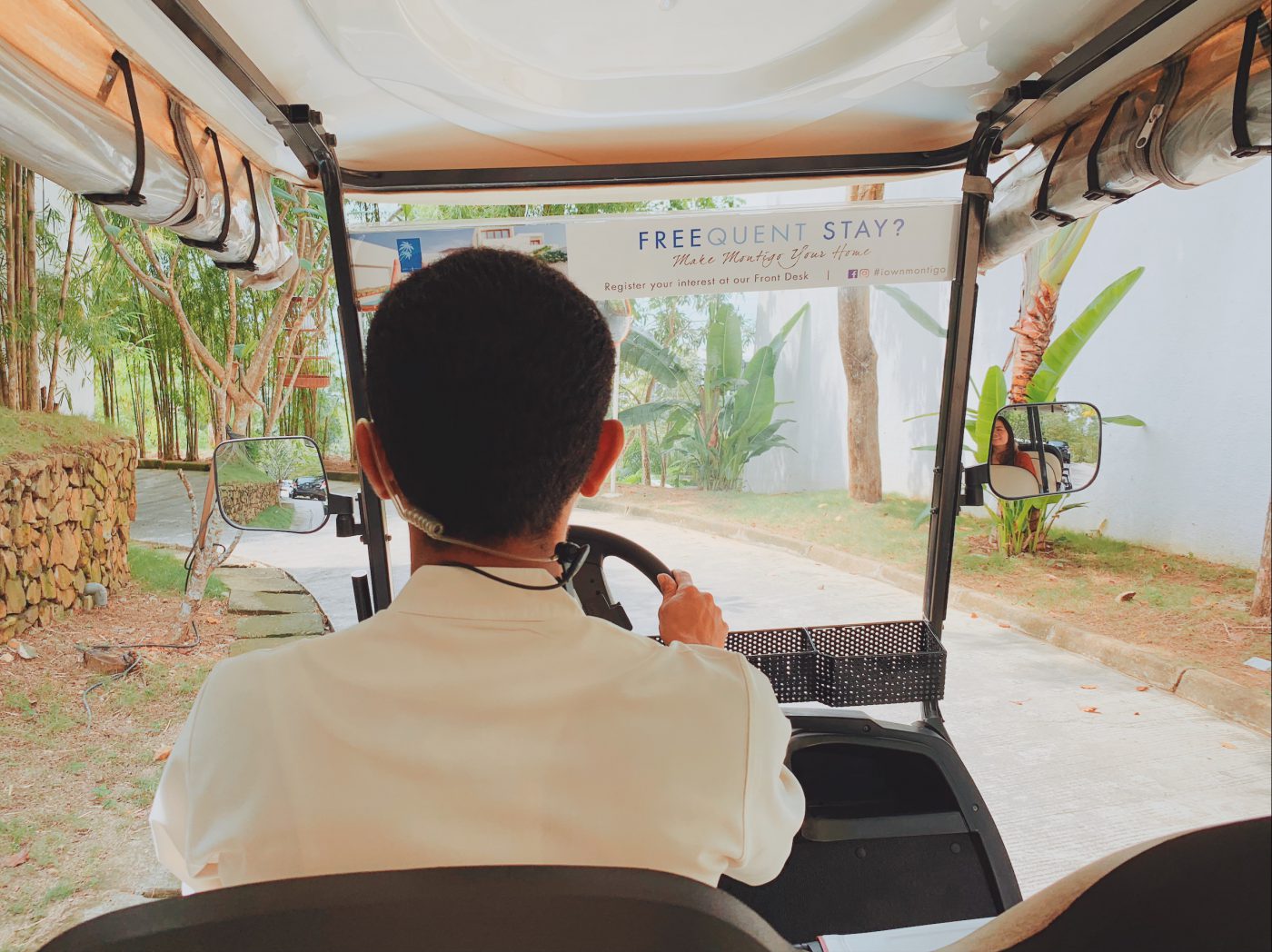 The resort is quite big that going to the facilities (restaurants, beach clubs or the public pools) require a buggy ride. You could walk, but it's not worth it since it's not particularly a scenic walk. So each time you go somewhere you'll want to call a buggy to pick you up. In my experience, we didn't have to wait long for the buggies to come – they are usually at the door within 10 minutes.
And here is another great example of the Montigo service: A few days after leaving Montigo, I realized I had accidentally left behind one of my clothes. I quickly shot them an email, but I was already thinking that I'll probably never see my clothes again. I had no plans to go back to Nongsa and didn't know anyone who is going there in the near future. However, a few days later, a reply came to my inbox. Not only the clothes had been found, I can actually pick them up directly from their Singapore office! I was soooo happy when I saw this email – talk about exceeding customer expectation!
The cost breakdown of the trip
The stay in Montigo was not exactly cheap. One night at the 5-bedroom villa costs S$200/person. That means the entire villa was ~S$2,000 a night.
But after looking through the various the pricing at Montigo Resorts on booking.com, the price actually seems about right for a weekend stay. The cheaper hillside and hilltop rooms go for S$125-140 per person while the seafront villas go for S$160-200 per person, based on two people sharing a room. So I guess it's fair that the Premier 5-bedroom villa would go for S$200 a night given that it was their most luxurious villa and there is only one such unit.
The entire cost of the trip for us goes like this. Your mileage may vary depending on where you stay in Singapore.
Montigo Resorts One Night: S$200 / person
Home to Harbourfront Taxi: S$5.50 / person (S$11 total)
Ferry ride to Batam Center: $49 / person
Batam Center – Montigo Taxi: S$7.50 / person (Rp 150,000 total)
Montigo to Batam Center Taxi: $9 / person (Rp 180,000 total)
Harbourfront to Home Taxi: S$5.50 / person (S$11 total)
Total (excluding food): S$276.50 / person
As I've mentioned before, my friends brought our own food which helped cut down costs. If you want to eat at the resort you'll have to factor in the cost of food too. But you don't have to worry about breakfast the next morning – a night stay already includes breakfast buffet.
Verdict: are Montigo Resorts worth it?
For a quick luxurious getaway weekend from Singapore, I think a visit to Montigo is worth it. If you love resorts and just looking to lounge around at the pool all day, then you'll enjoy staying here. For S$300 total and less than two hours away, it is one of the most cost-efficient luxury vacations from Singapore. Otherwise, you'd have to fly somewhere which would be far more expensive. It's worth giving it a try once and decide for yourself.
So, are you curious about Montigo Resort? Book a villa at Montigo Resorts and see for your self what the hype is all about. I'll be writing more posts on weekend trip ideas from Singapore, so be sure to check back!
Note: I paid for my own stay at Montigo Resorts. As always, all thoughts and opinions are honest and remain my own.