I spent 6 days in the city of love and, of course, I took the time to explore what Paris is best known for – the glorious Parisian pastries and dessert! Since I had limited time to explore Paris (6 days is not enough), I didn't want to FOMO later. I squeezed in as much as possible. There were days where I skipped meals and just… ate pastries.
Anyway, let's get straight to them pastries list:
1. Pistachio Chocolate Escargot from Du Pain et des Idées
I know I'm breaking every blogging "rule" out there by opening this blog post with my most favorite item. But you know what? If there is one place you visit out of this list, this is it.
Du Pain et des Idées, meaning "Bread and Ideas", might be a little out of the way from where most tourists are staying (I took the train for 20 minutes to get here) but it's well worth it. I really do believe they are one of the best bakeries in Paris – I was told chefs of other restaurants would come here and line up in the morning for their breakfast.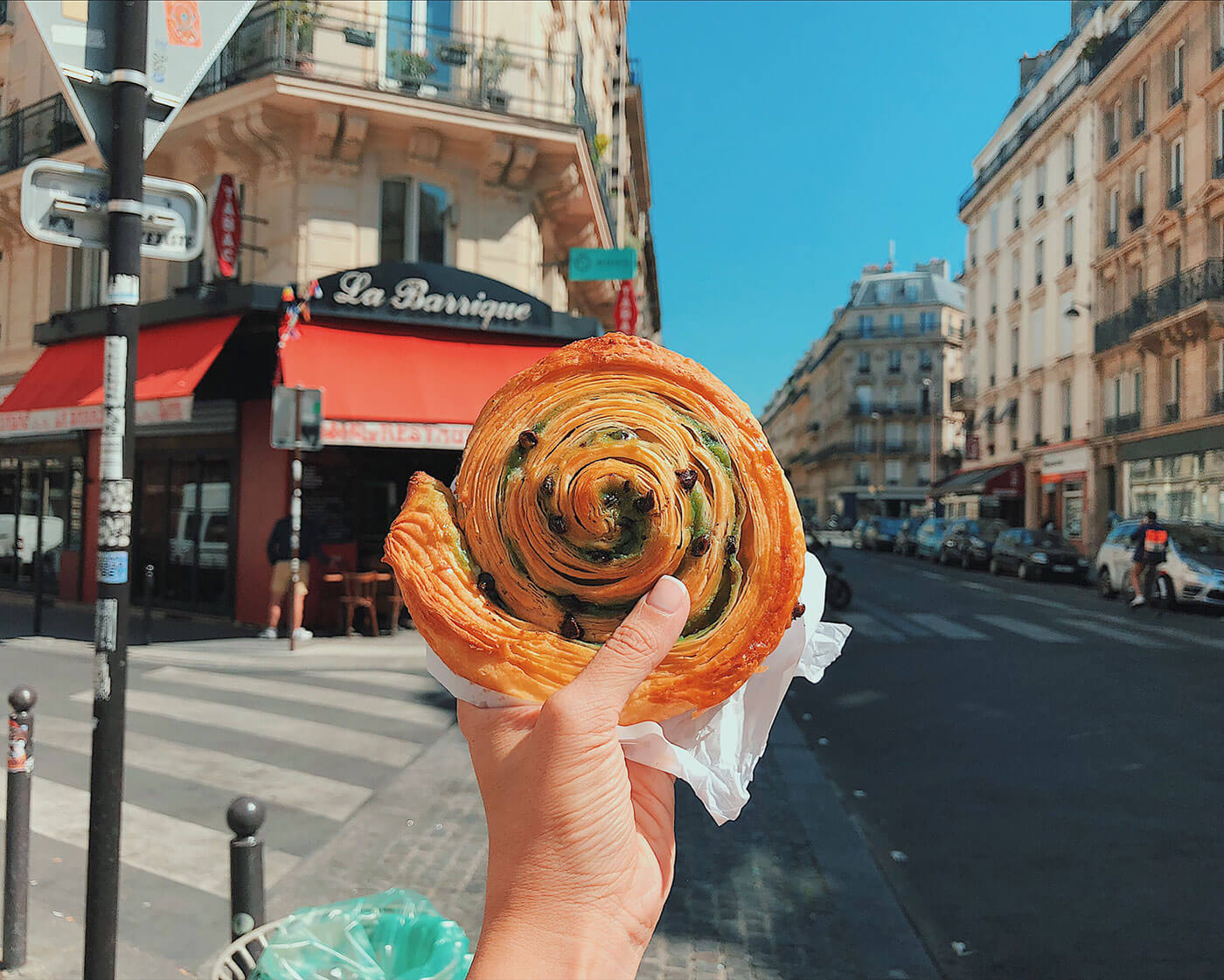 The thing to get here is their Pistachio Chocolate Escargot. Escargot means "snail" in French, and that's where the pastry got its name – it's swirled around to resemble the house of a snail.
I was lucky that they had a fresh batch when I went. I'll never forget the feeling of sinking my teeth into the soft, warm, buttery, and flakey escargot. I went back for a second time that day to bring a friend around and to try more pastry – I got the peach-topped pastry and they were also amazing, but my favorite remains the Pistachio Escargot.
There might be a line when you get there especially if you're there at peak pastry-eating time (aka morning). But don't let that discourage you because the line moves really fast. It's also important to note that they are closed on Saturdays and Sundays.
Aside from that, the area around Republique MRT actually pretty cool. Someone described to me as the hipster area of Paris. There is also a Pierre Herme and an Amorino nearby if you were planning to try those!
Du Pain et des Idées
34 Rue Yves Toudic, 75010 Paris, France
Click for maps
2. Brioche à Tête from Stohrer Pâtisserie, The Oldest Bakery in Paris!
Stohrer first opened up shop in 1730 by Nicolas Stohrer, the pastry chef of Louis XV. He was Polish but came to France as part of the bridal entourage of the prince of Poland who was married to Louis XV. He later opened up his own bakery, Stohrer Patisserie, which is still operational today.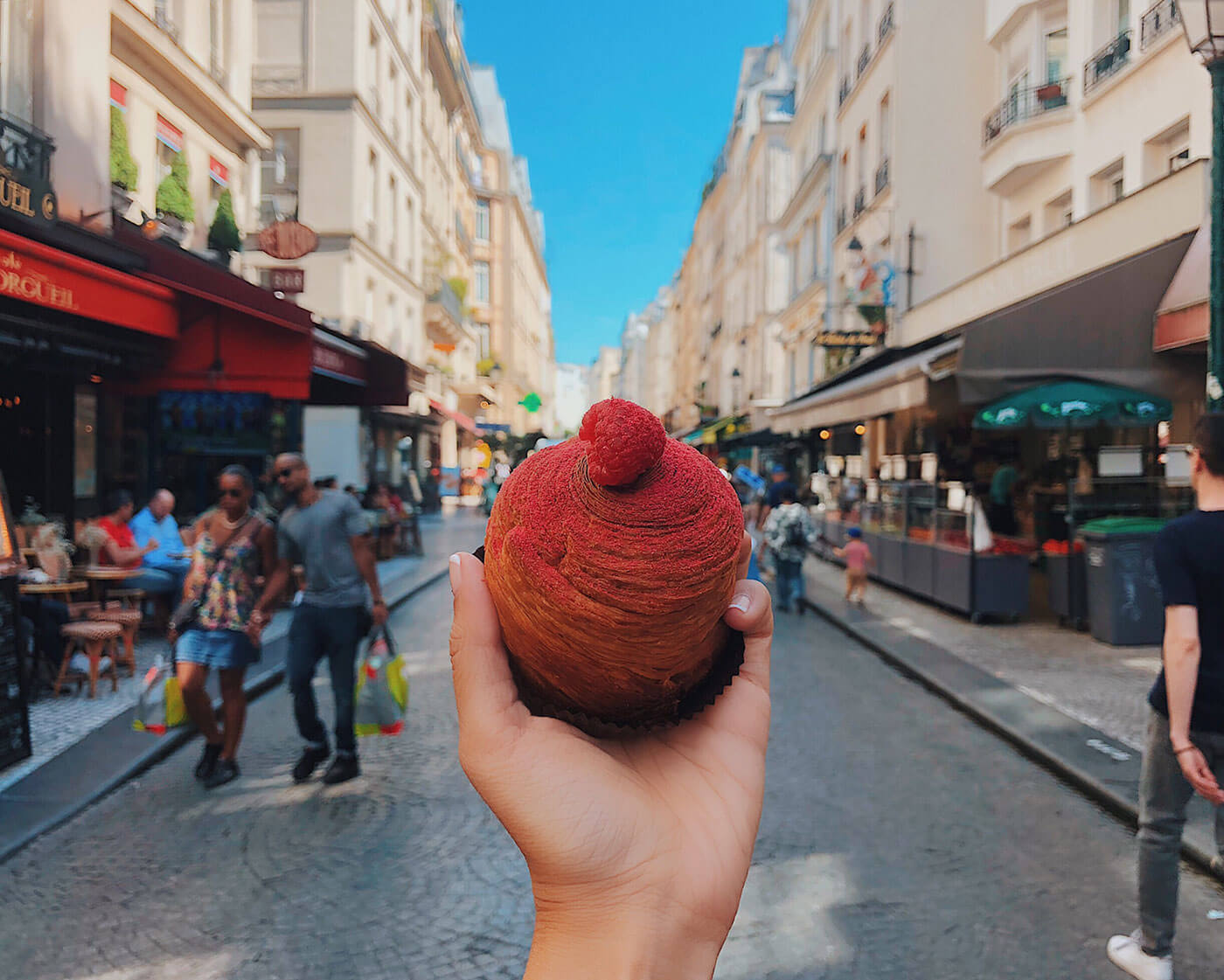 I got Brioche à Tête from this bakery, which led me to learn a pretty interesting lesson in French Revolution history. Apparently that famous phrase "Let them eat cake" is a translation from "Qu'ils mangent de la brioche". The phrase is often attributed to Marie Antoinette, although there has been no official record of this. It is said to have been uttered in response to her learning that the French peasants were so poor they had no bread to eat.
From the original translation, it seems that Antoinette was referring to brioche, a luxury bread enriched with butter and eggs – ingredients which were scarce at the time of poverty. If this attribution is true, this could reflect the princess' disregard for the peasants or simply her poor understanding of their grave situation, which in turn describes the disconnect between the royalty and the peasants.
Marie Antoinette became the last queen of France before the French Revolution and was later executed under the guillotine.
Stohrer
51 Rue Montorgueil, 75002 Paris, France
Click for Maps
3. French Macarons and Ispahan Croissant from Pierre Hermé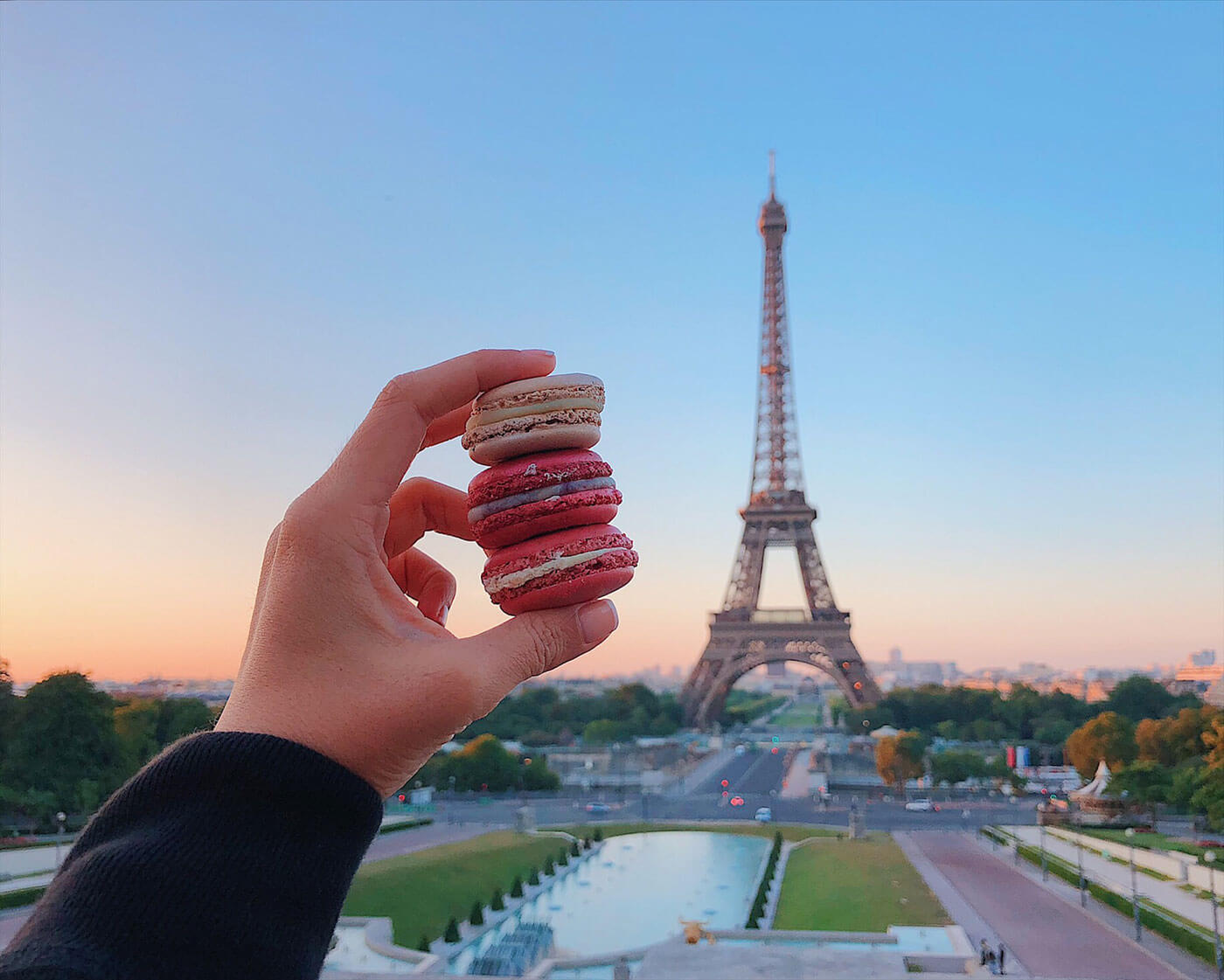 While in France, of course, you've got to have French Macarons! From my previous trip to Paris in 2011, I've determined my favorite macaron is definitely from Pierre Hermé. I've tried nearly every flavor and I loved them all. What I like the most about Pierre Hermé is that the taste of their macarons is subtle and not overwhelmingly sweet. A must-have when you are in Paris.
They aren't cheap, though – a set of 4 cost me 12.40 euros! But it does come in this pretty tin can that I kept as a souvenir.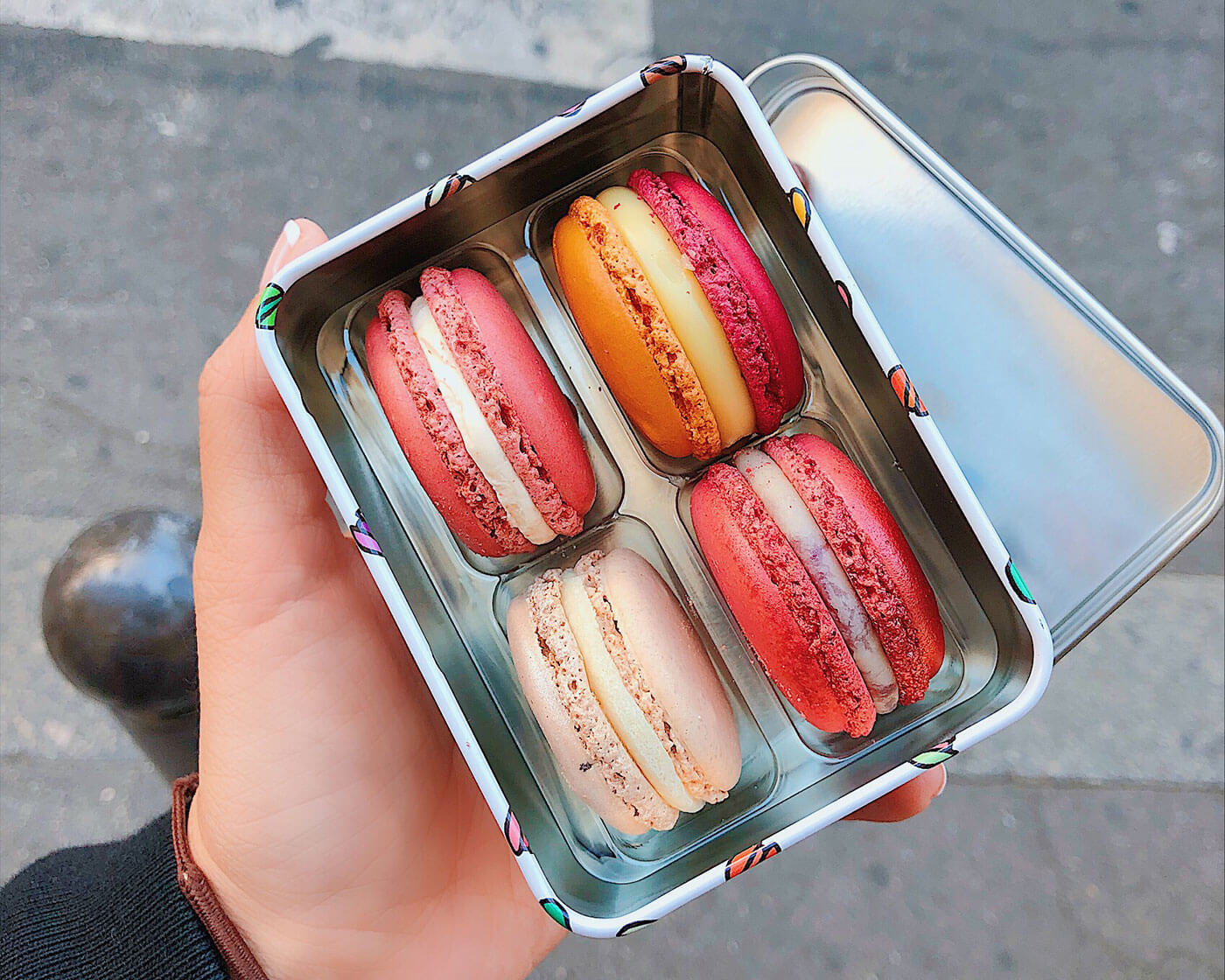 Aside from being the best macarons maker in town, Pierre Herme is also known for their pastries and chocolates, only available in select stores. Ispahan is one of Pierre Herme's signature flavor – a beautiful combination Raspberry, Rose and Lychee – and they have this in the form of macarons, chocolates and… croissant!
Of course, I had to hunt down the Ispahan Croissant and had a try myself.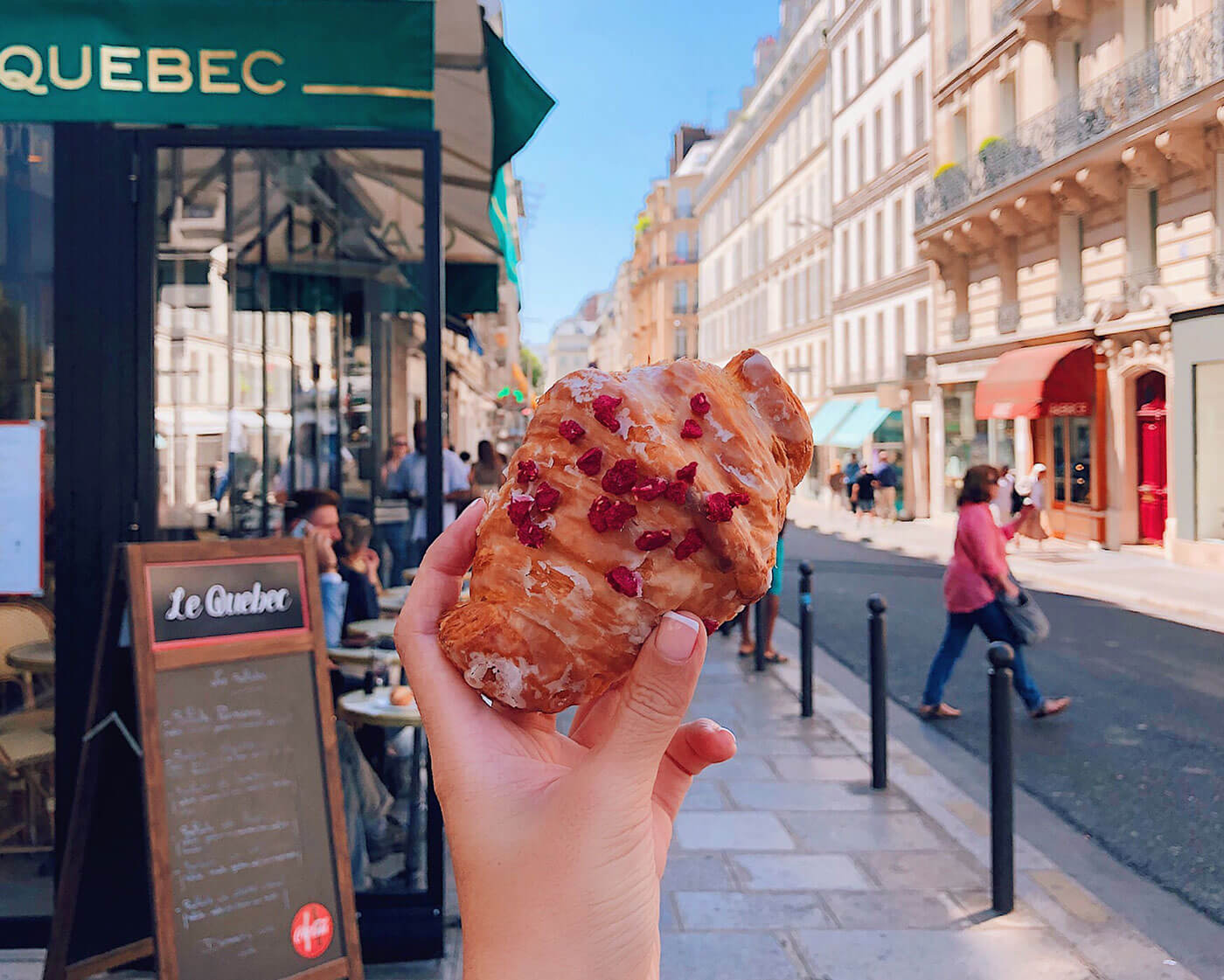 Hands down, this is THE best croissant I've ever had. The beautifully buttery and flaky croissant is filled with delicious rose almond cream, while the outside of the croissant is dotted with dried raspberries. What a wonderful combination of flavor Ispahan is… Must try whenever you are in Paris. While there are a lot of Pierre Herme across the city, only select few branches have this croissant – I went to the one in Saint Germain, but I heard the one in Champs-Élysées has them too!
Thanks to my friend Selena Soh for recommending this one.
Pierre Hermé
72 Rue Bonaparte, 75006 Paris, France
Click for Maps
4. Choux Cream from Popelini
Even though French Macaron is very popular around the world, I was told French people don't actually eat them all that often. But what they do eat frequently is the choux cream, a light cream-filled pastry perfect for an after-lunch snack.
Poppelini was highly recommended by a lot of my followers. Located off the trendy Rue de Buci on Saint Germain, the bakery is really easy to find. This is not their only location though, they have 4 branches in Paris.
Once you get to the bakery, you'll be greeted by rows upon rows of their colorful and cute bite-sized choux pastries – the only thing they sell in this patisserie – and I can't help but get more than one.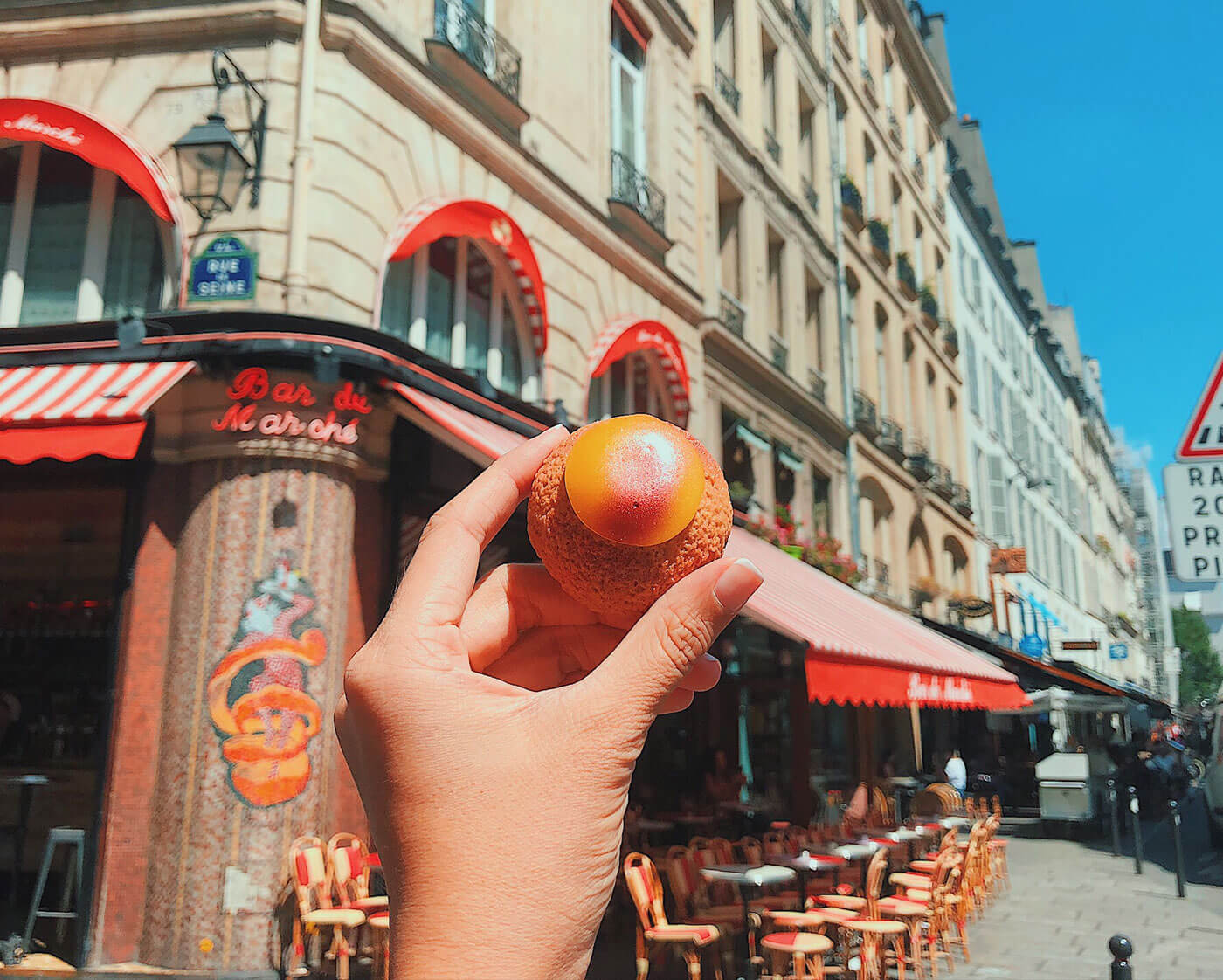 I chose the passion-fruit flavor (duh, because it looks pretty with the shimmering red blush) and salted caramel flavor (apparently the best-selling one). And my verdict? Poppelini's choux cream was indeed one of the best I had. Very delicious cream filling – the passion fruit one was light and refreshing, while the salted caramel one was bursting with flavors. Must get whenever in Paris.
Popelini
71 Rue de Seine, 75006 Paris, France
Click for Maps
5. Paris-Brest from La Pâtisserie des Rêves
Paris-Brest was first created in 1910 to commemorate the cycling event from Paris to Brest, but it became so popular that you can find it in most Parisian patisseries these days. The round shape of it is said to represent the bicycle wheels.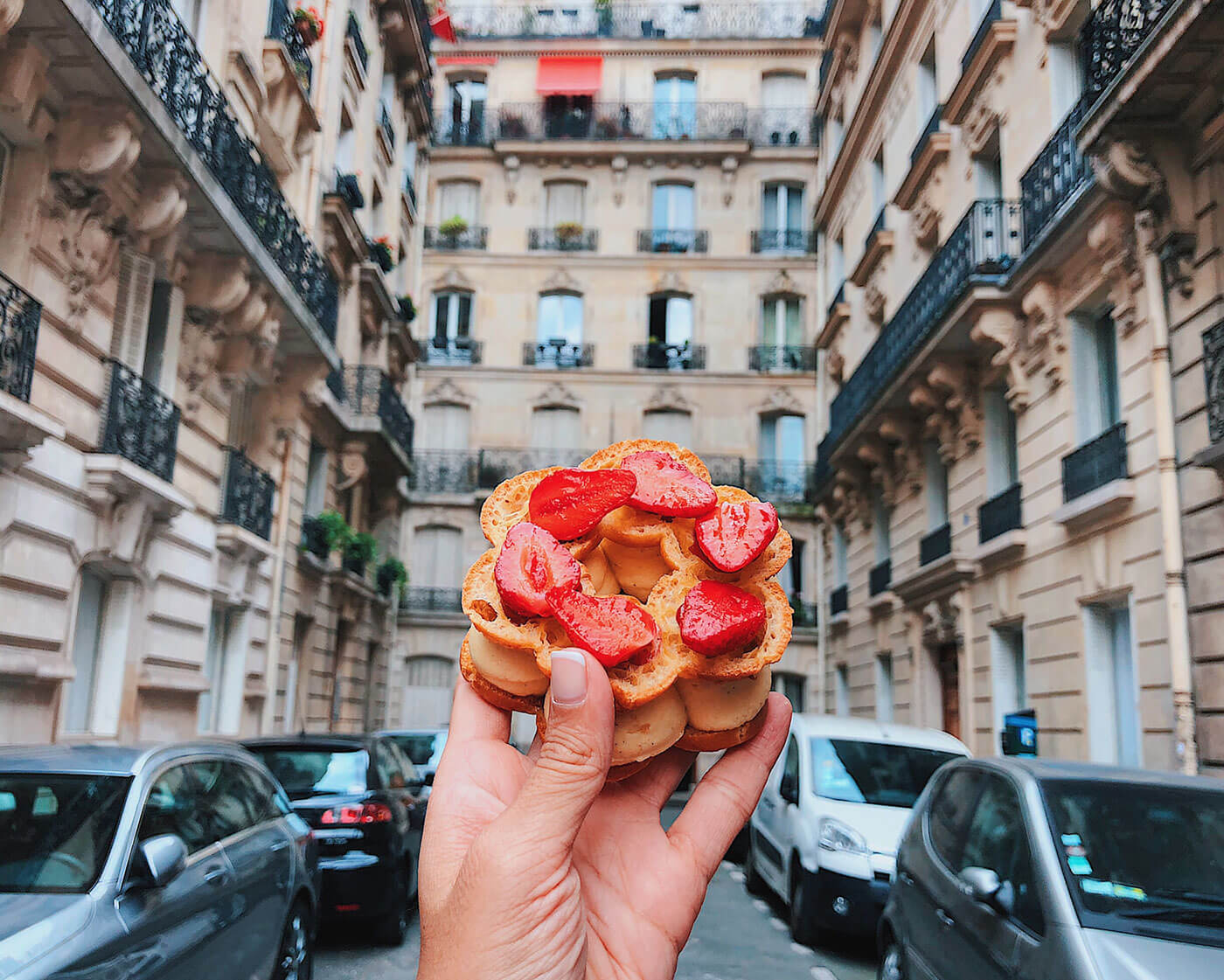 This dessert is a must-have when in Paris. It's normally made from choux pastry with Praline cream, but this one I got is Strawberry Almond Paris-Brest (in French: Paris-Brest Fraise Amande), a Mother's day special by La Pâtisserie des Rêves where the choux pastry is inverted and topped with fresh Strawberries and extra almonds in the Praline cream.
Also, it's just prettier 😉
La Pâtisserie des Rêves
93 Rue du Bac, 75007 Paris, France
Click for Maps
6. Taste the amazing creation of Cédric Grolet, the World's best pastry chef
This is not giant strawberry – this is a pastry made by Cedric Grolet, who has recently been awarded the best pastry chef by "The World's 50 Best Restaurants". His popularity is evident from the snaking line outside Le Meurice Hotel, where he operates his small but elegant bakery. Prepare to wait at least half an hour!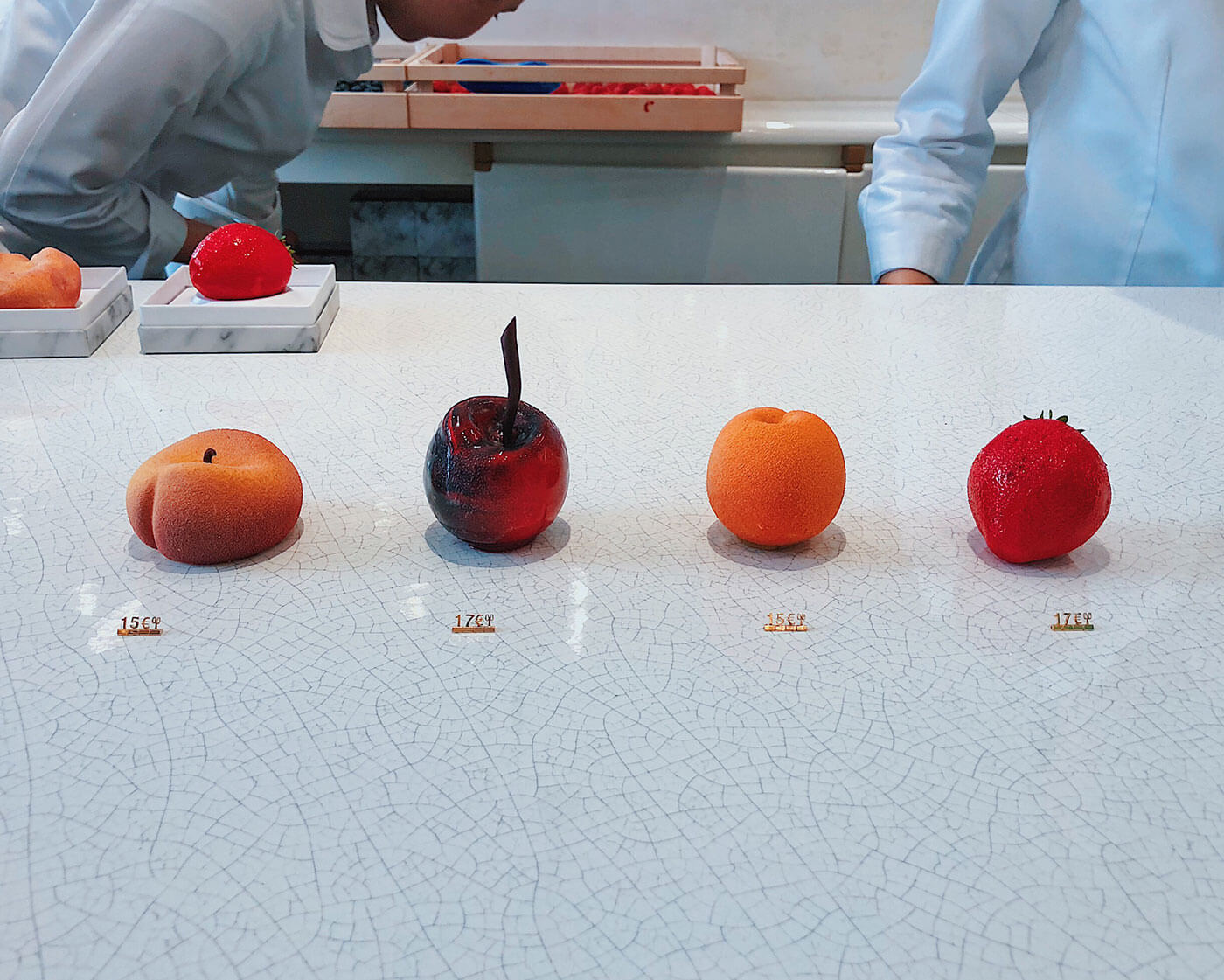 Once you get inside the bakery, you'll soon realize there aren't many choices of pastries. Unlike other bakeries which usually would carry tens and twenties choices of pastries, Cedric Grolet has just a few fruit pastries and some tarts. But what makes his dessert special is the presentation of the pastries – the fruit pastries looked so life-like, down to the texture of each fruit, to the point I did not realize they were pastries (and not fruits) until I got closer to them.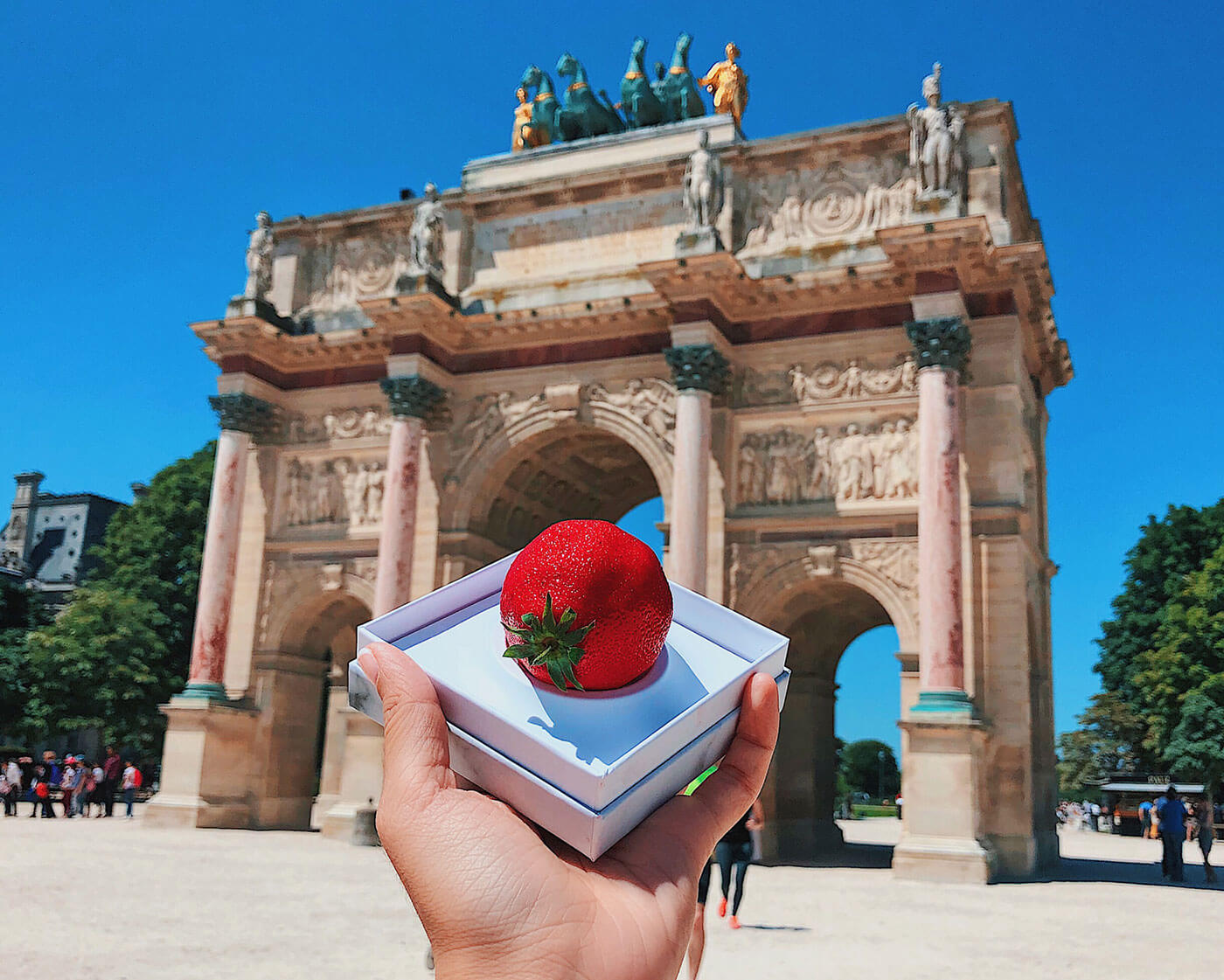 Not gonna lie, this was the most I have ever paid for a piece of pastry – the fruit-shaped pastries ranged from 15-17 euros. I chose the strawberry one and it was indeed delicious. To get into the smooth creamy filling with strawberry jam, you had to break apart the fragile strawberry outer layer which was textured with indented dots to mimic that of real strawberry.
The bakery does not offer any seating and you must take away any pastry you buy, but a bonus point is that the patisserie is really close to a very picturesque area of Paris. I had my pastry while walking around the beautiful Jardin des Tuileries while overlooking the Louvre museum.
Another bonus: Le Meurice Hotel is a major location of the Woody Allen movie "Midnight in Paris".
La Pâtisserie du Meurice par Cédric Grolet
6 Rue de Castiglione, 75001 Paris, France
Click for Maps
7. Vanilla Gelato from Berthillon Glacier
After I posted the rose-shaped gelato shot from Amarino on my Instagram, many of my followers recommended going to Berthillon for "the best ice cream in Paris", made from all-natural ingredients and still produced daily on-site since its inception in 1954.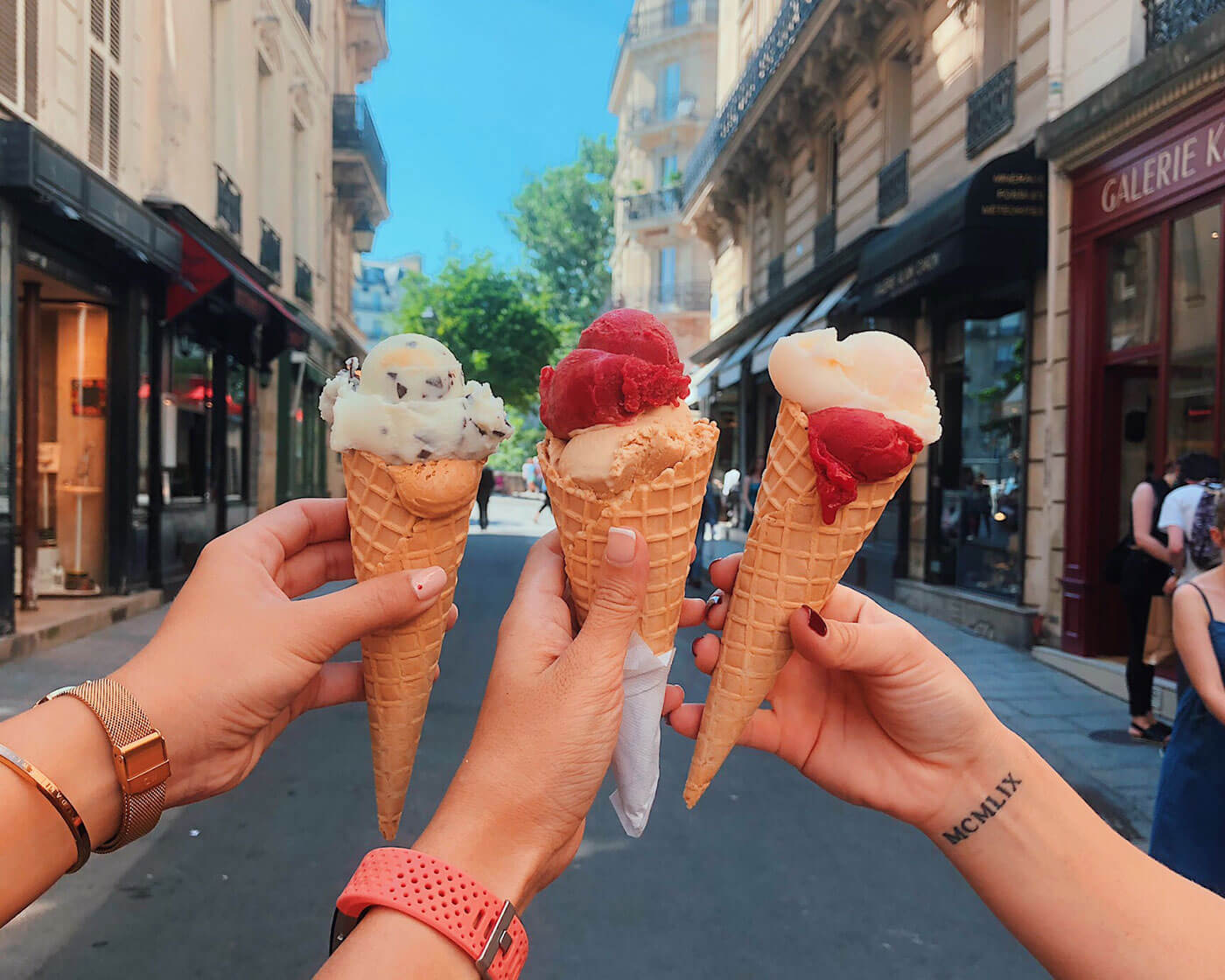 I got Noisette (hazelnut), Rose Framboise (rose raspberry) and Vanilla. I gotta say, I did not expect this, but my favorite flavor ended up being the Vanilla one. Apparently, although the shop sells many flavors (i counted 40 when I was there), Vanilla was the favorite flavor of the late Raymond Berthillon, founder of Berthillon ice cream shop. It was just simply the most flavorful vanilla ice cream I've had – you can even see tiny flecks of vanilla bean in the ice cream!
There are plenty of branches in Paris these days, but I believe the original one is below on Saint Louis Island, right behind Notre Dame.
PS: Saint Louis island is also a cute area to spend your lunch time in, so make sure to budget some time to walk around.
Berthillon Glacier
29-31 Rue Saint-Louis en l'Île, 75004 Paris, France
Click for Maps
8. Rose-shaped Gelato from Amorino
I have always wanted to try the rose gelato at Amorino, known for its beautiful rose-shape, scooped meticulously petal by petal for you. This is the classic cone but they have an option to add mini macarons on top… and of course, I took them up on it! I got the Raspberry and Cassis gelato with Pistachio macarons.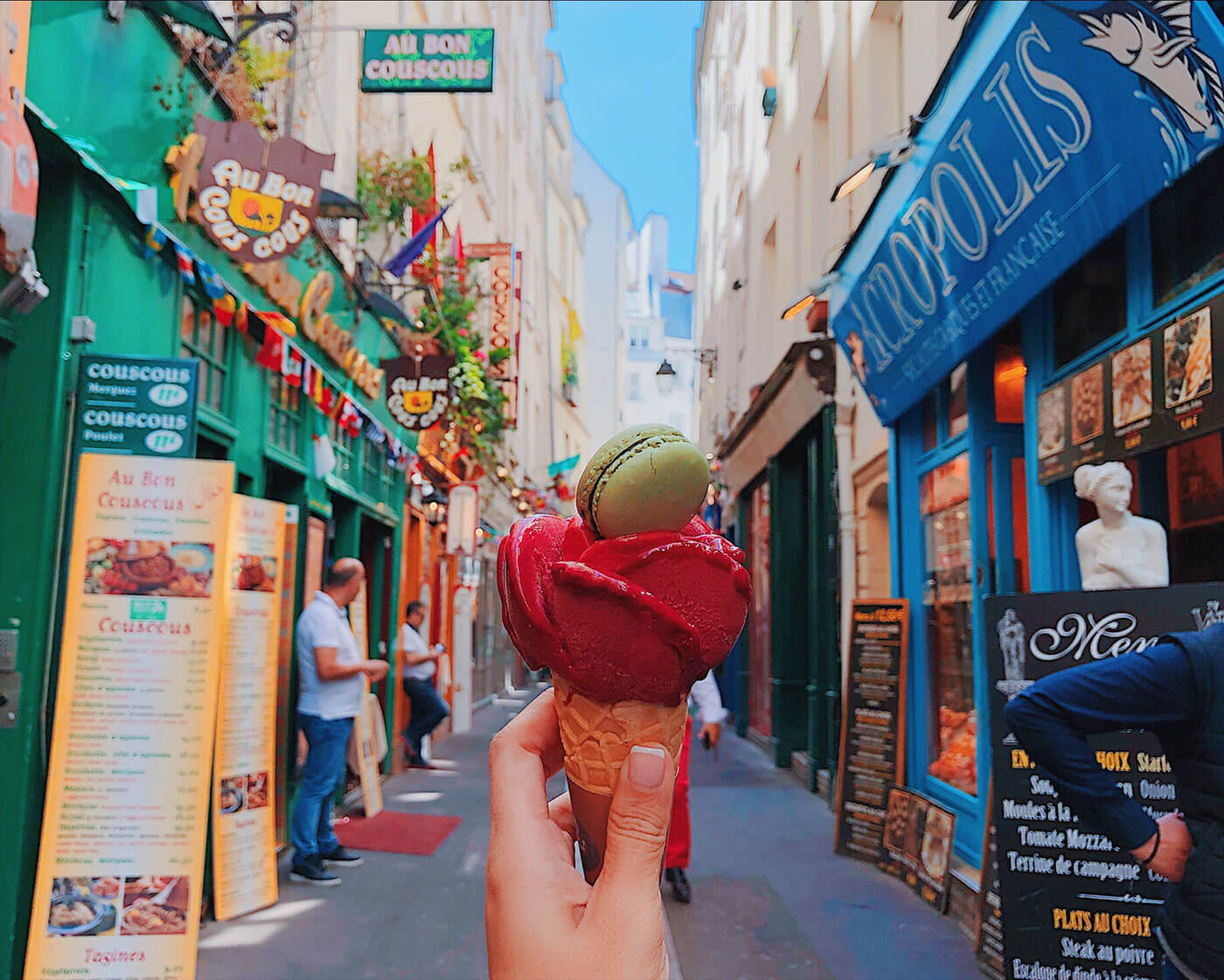 Amorino has many branches in Paris but I picked this one at Rue de la Huchette as it's close to many other spots – the Notre-Dame cathedral is only a few minutes away, and the area is filled with cute shops and trendy cafes.
Paris is such a walkable city so I recommend taking the metro to Saint Germain des Pres and walking over while checking out cute streets like Rue de Buci and Rue Saint-Andres des arts along the way. But if you REALLY can't wait, there is also an Amorino at Rue de Buci! 😉
Amorino
16 Rue de la Huchette, 75005 Paris, France
Click for Map
Paris Restaurant (Non-pastries!) Recommendation
On the days when I wasn't overloading on pastries, I tried out regular restaurants too! So I figured I'll write down my recommendations here too. These are my favorite meals in Paris!
1. Le Relais de L'Entrecote
Probably the most recommended restaurant for Steak Frites in Paris. I admit the place has gotten quite touristy, but I enjoyed it nevertheless. Their special green sauce is really quite delicious – light, spicy (not hot) and herby. No wonder people go crazy for this stuff.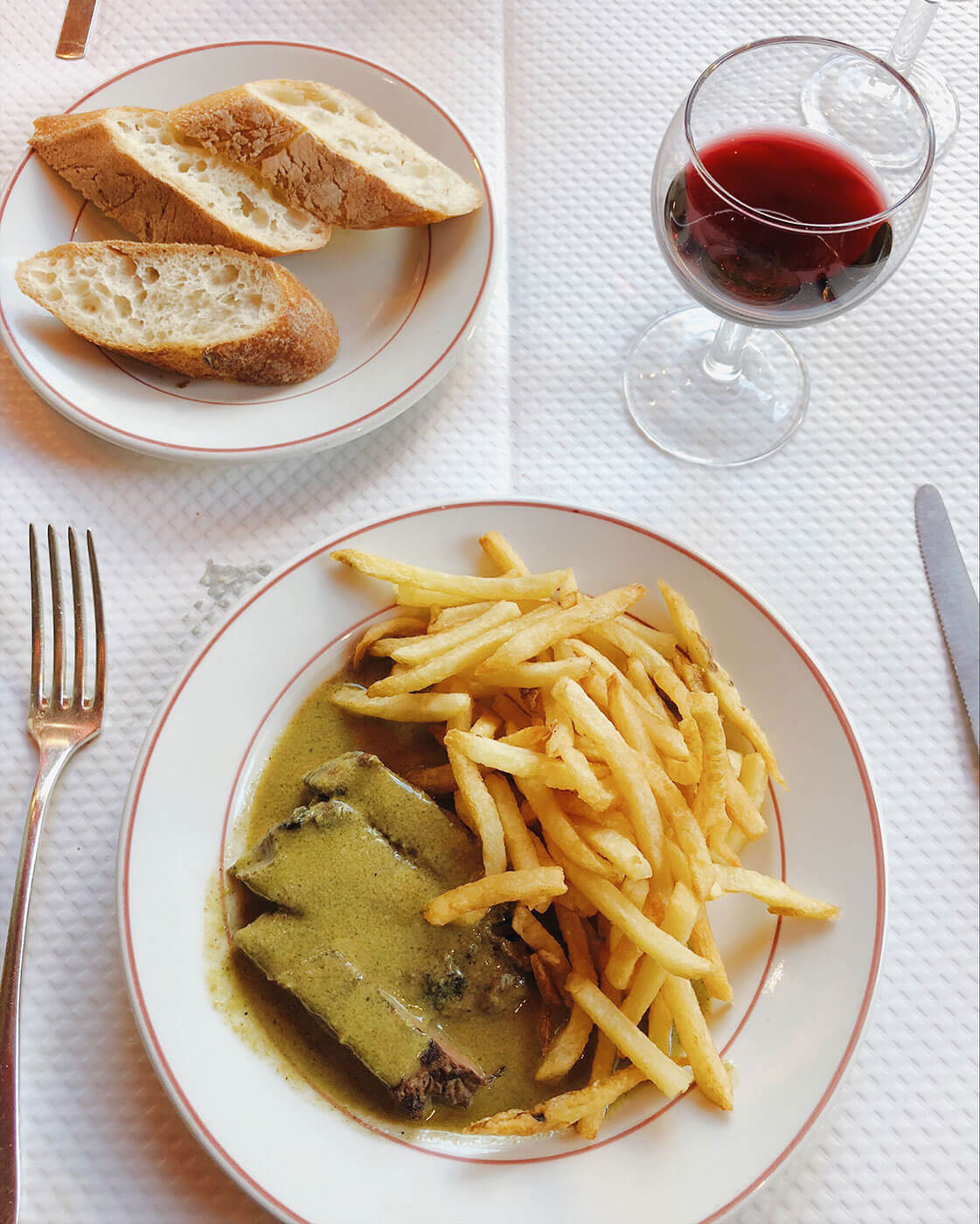 They are only open for lunch and dinner. If you want to make the first sitting at dinner, you have to get to the restaurant around 20 minutes before they open and line up. They only serve steak frites so you just need to let the waiter know your desired done-ness of the steak.
And, don't be alarmed if the portion seemed small at first, because that's just half of it! They'll come around and serve you the other half.
Le Relais de L'Entrecote
20 Rue Saint-Benoît, 75006 Paris, France
Click for Maps
2. Bistrot Paul Bert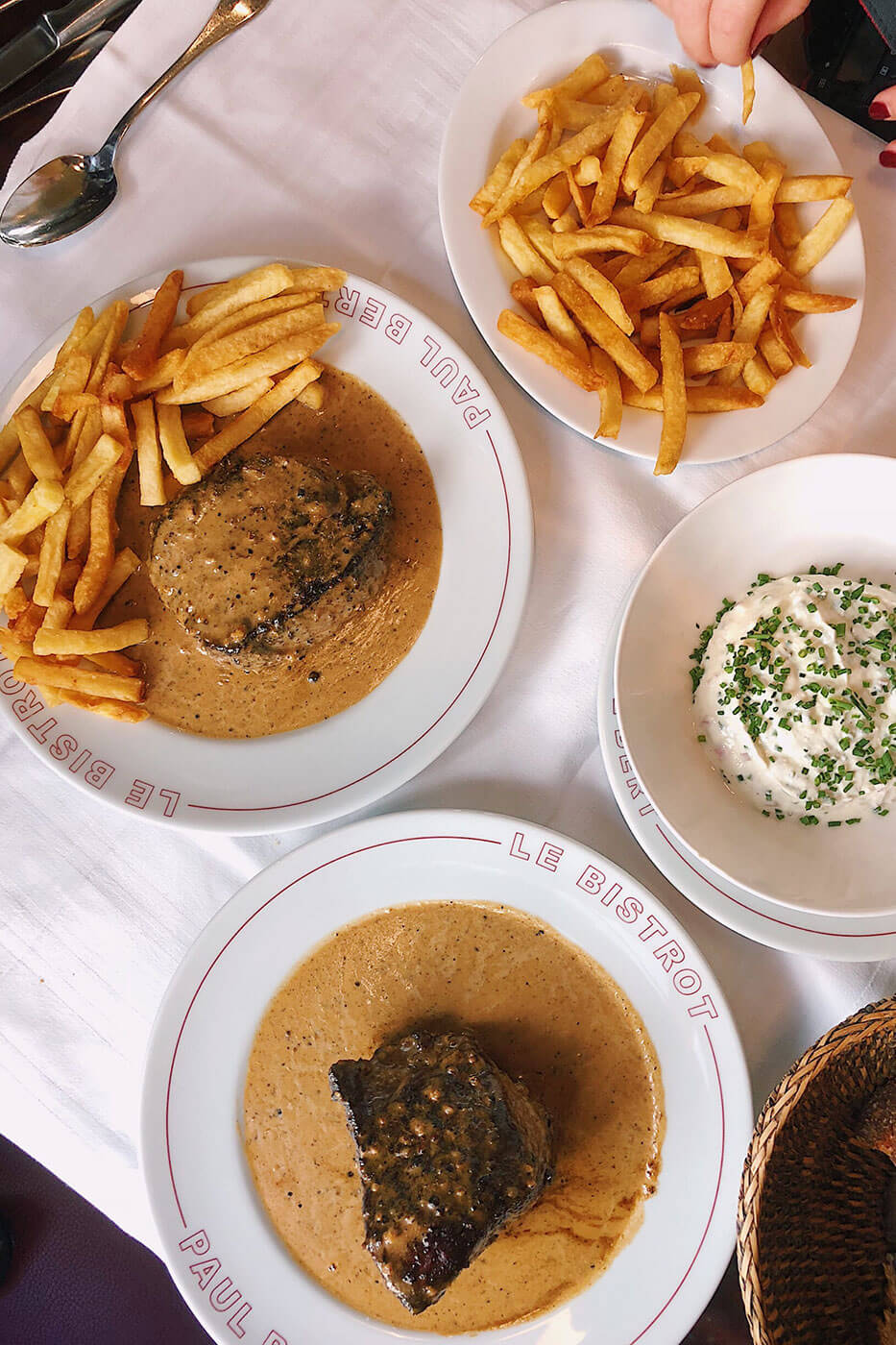 Another popular choice for Steak Frites in Paris is Paul Bert. Their location is not as convenient as Le Relais, so if you just get there as soon as they open, you can still get a seat without having to wait.
Their sauce is totally different than Le Relais. Paul Bert's sauce is more creamy and peppery, which I loved too. However, between the two, the fries are hands down better at Paul Bert!
Their other dishes are definitely worth having as well. We had an appetizer dish of very soft cheese (basically cream cheese) with chives and it was really refreshing to have with the heavy steak and fries.
Bistrot Paul Bert
18 Rue Paul Bert, 75011 Paris, France
Click for Maps
3. La Grande Crèmerie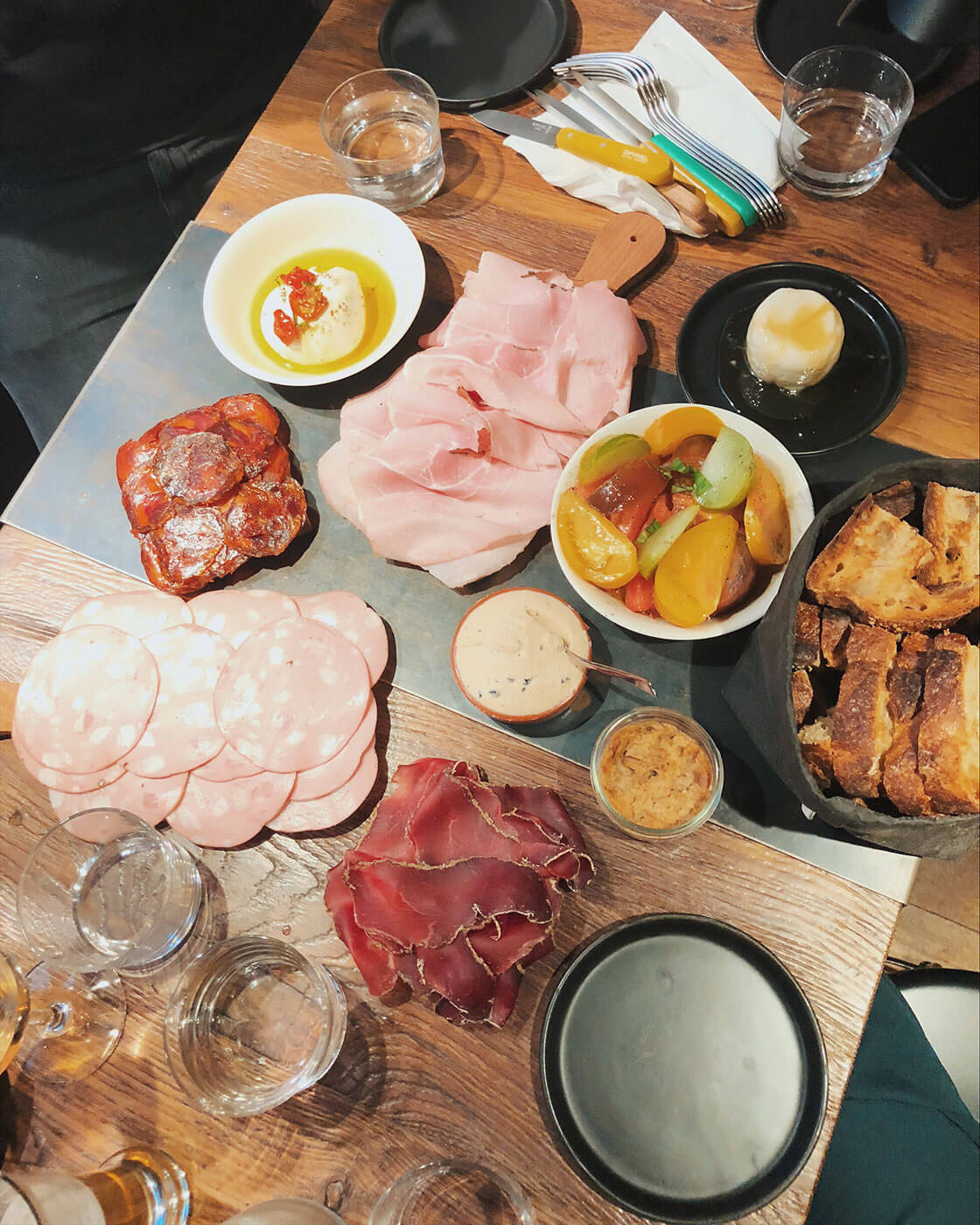 Amazing tapas style bar. Order a bunch of cold cuts, cheese, and wine and you're set for a meal. I recommend the Truffle Ham, Duck Rilette and the Mozarella.
Also try their organic wine!
La Grande Crèmerie
8 Rue Grégoire de Tours, 75006 Paris, France
Click for Maps
4. Buvette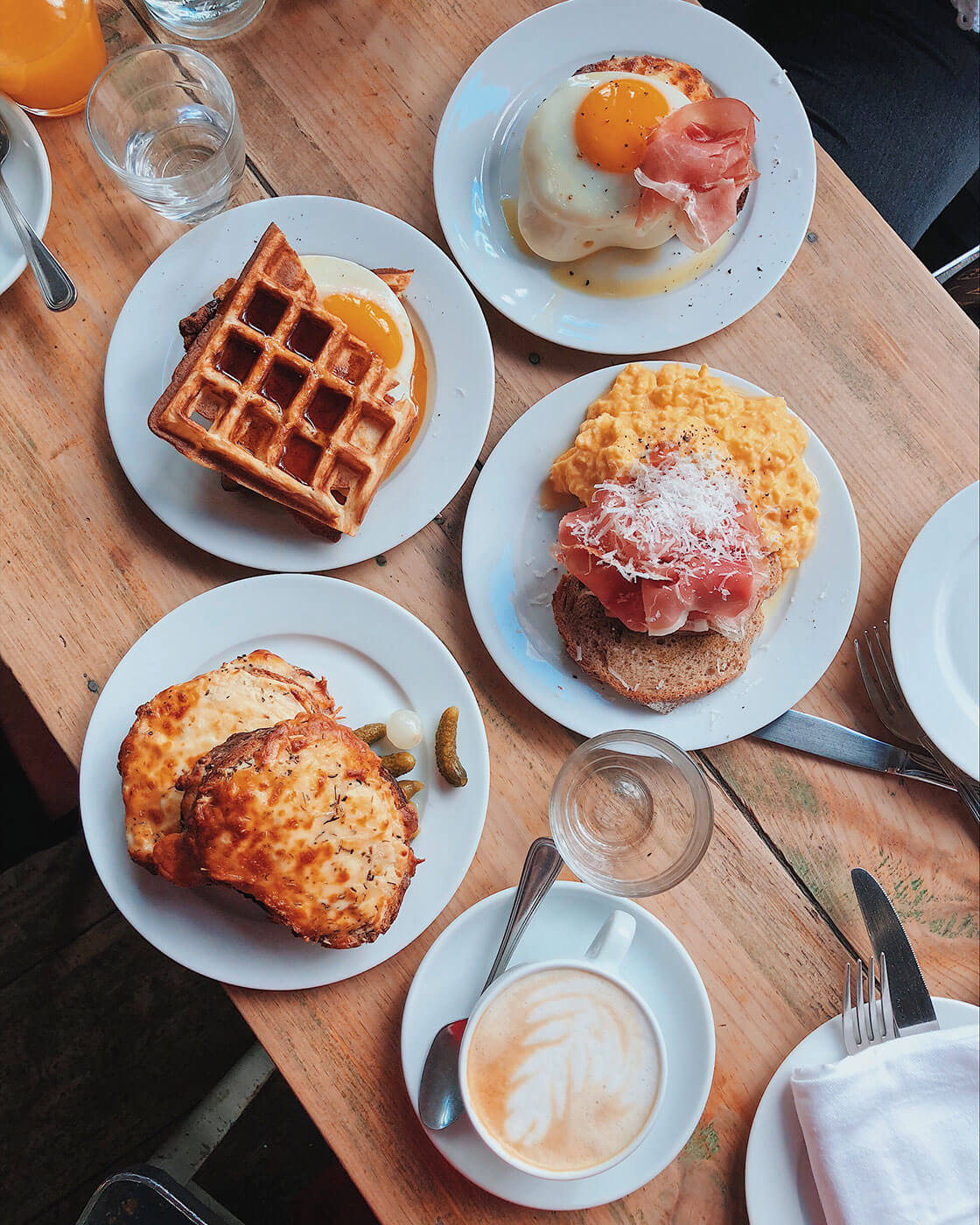 Great breakfast, plain and simple. There aren't too many things on the menu which is always a sign of a great restaurant. I highly recommend their Brouilles Jambon, which is just Scrambled Eggs and toast topped with Jamon ham. So good.
Aside from Paris, they also have locations in New York and Tokyo.
Buvette
28 Rue Henry Monnier, 75009 Paris, France
Click for Maps
5. L' Aligot
Aligot is a dish made from cheese blended into mashed potatoes that is made in L'Aubrac region in southern Massif Central of France. This fondue-like dish from the Aveyron department is a common sight in Auvergne restaurants.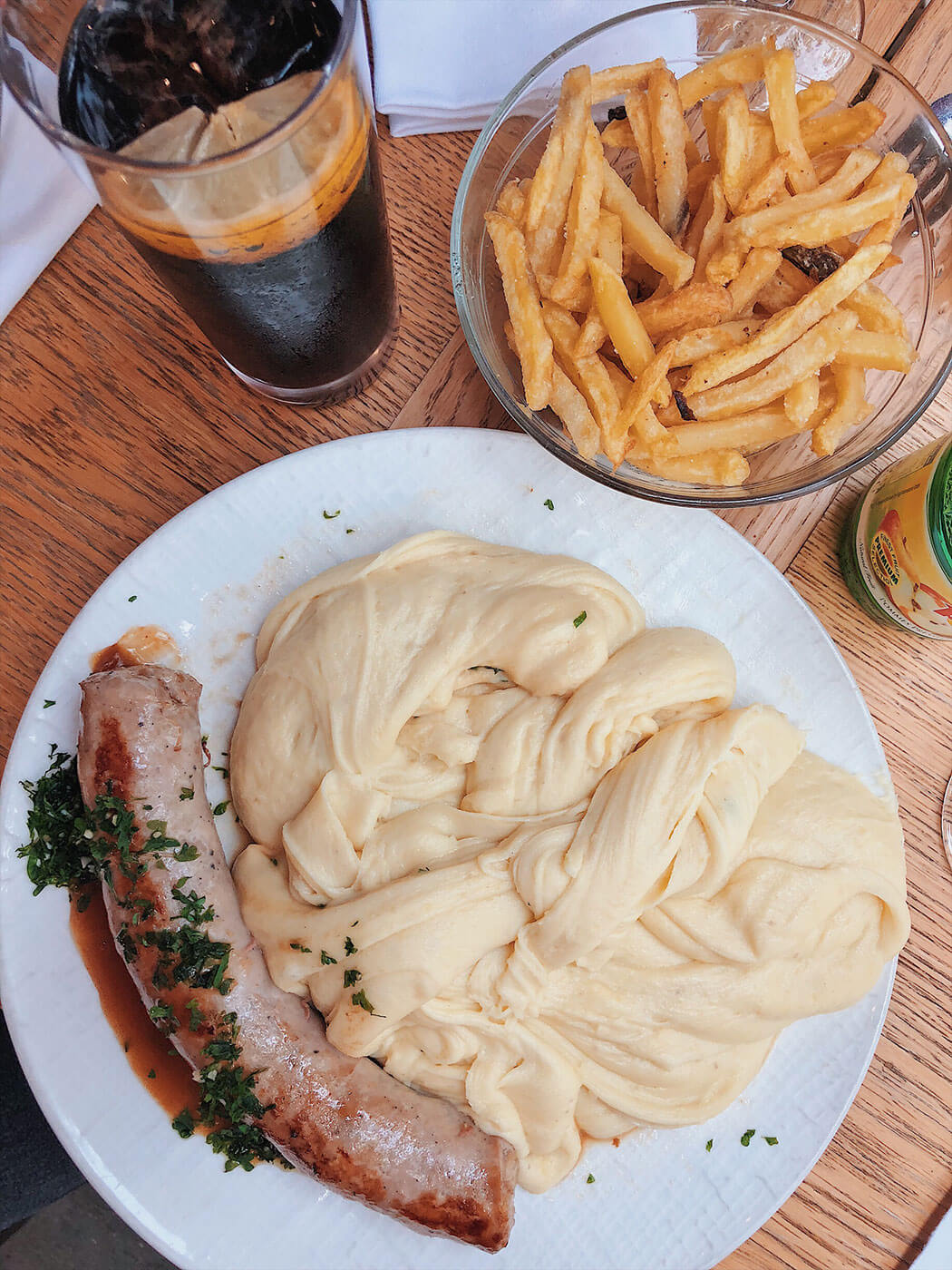 What makes them special is the texture, which is almost liquid-like. Watch this video by my friend Sam from The Naughty Fork to see what I mean.
Pretty crazy right?
L' Aligot
73 Avenue Niel, 75017 Paris, France
Click for Maps
6. IDA by Denny Imbroisy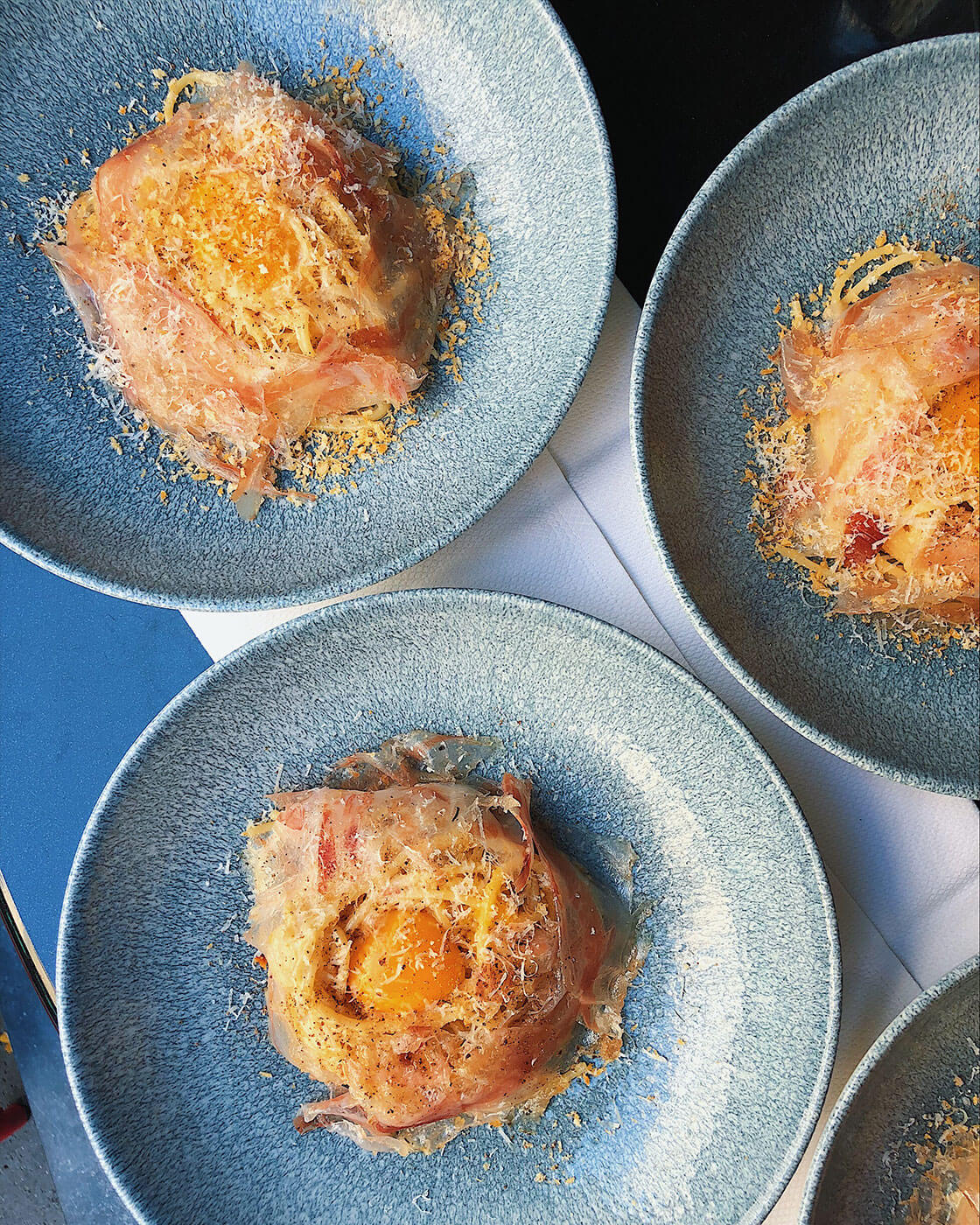 Not a French restaurant, but this is the place where I had the best carbonara I've ever had.
This is a Tagliatelle Carbonara by Chef Denny Imbroisi at Restaurant IDA. It tasted as delicious as it looks – and unlike traditional carbonara, this one lets you mix in the raw egg yolk yourself. Served warm with the right consistency of carbonara sauce and raw egg yolk, it's the perfect comfort food. I still think about that carbonara every now and then…
Chef Danny also has another restaurant in Paris called Epoca, which serves modern Italian food.
IDA by Denny Imbroisi
117 Rue de Vaugirard, 75015 Paris, France
Click for Maps
Travel Tips for Visiting Paris
If you're visiting Paris, you'll want to know these tips:
Tourist scams are everywhere in Paris. I myself fell victim to a taxi scam right when I first landed in CDG. It was an emotionally traumatizing experience especially since I was alone, so be extra vigilant when you are in Paris! This is just one of the many known scams in the city.
Paris Metro is the easiest and cheapest to get around. You can buy individual tickets at each station for 1.90 euros, or a bundle of 10 for 14.50 euros. You can use the ticket for buses as well.
Most restaurants are only open for lunch and dinner service. They are closed in-between those hours, which means they aren't open from 2pm-7pm, so don't plan to eat a meal at off-hours!
A cheese platter is totally a dessert option in Paris. On the dessert menu, aside from the list of usual sweet dessert, there is always an option for "Fromage", which just means cheese.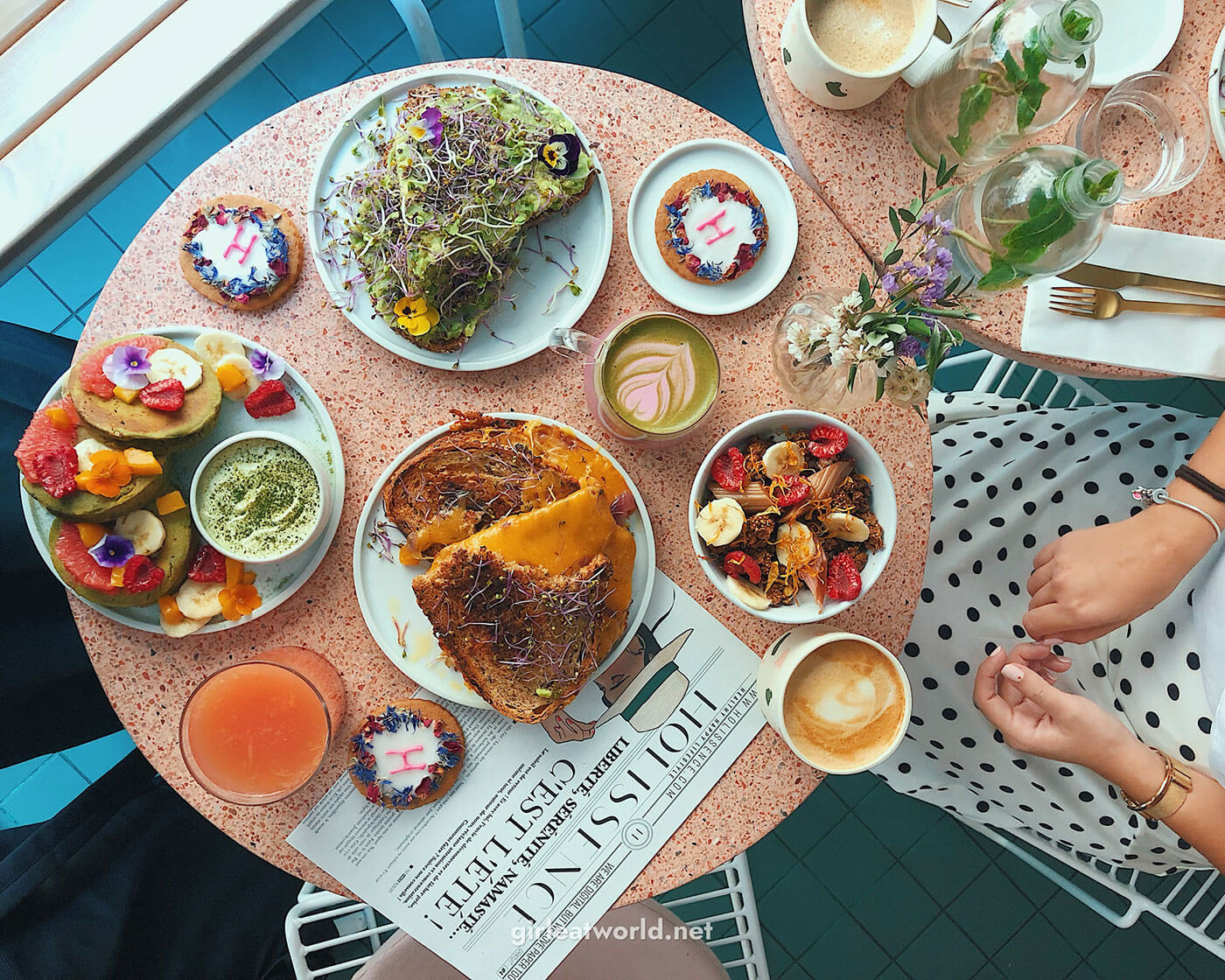 Where to stay in Paris
These are the hotels I stayed at during my trip. They are both in the same area and I would totally recommend these hotels for their amazing and convenient location. They are only a short walk away from multiple train lines and if you like walking, it's only 20 minutes walk from Musée du Louvre and other tourist spots.
1. LAZ' Hôtel Spa Urbain Paris
This hotel was indeed very beautiful. The lobby has a lot of natural light and the rooms were modern. It's also only 5 minutes walk to two Paris metro stations, so it's really easy to get anywhere from here! The only downside is the air conditioning seemed to be broken when I was there, but they mitigated it by providing each room with individual fans. I guess I'm used to being in such temperature so it didn't really bother me. My room was at 25C (77F) which is what I would normally set for my A/C.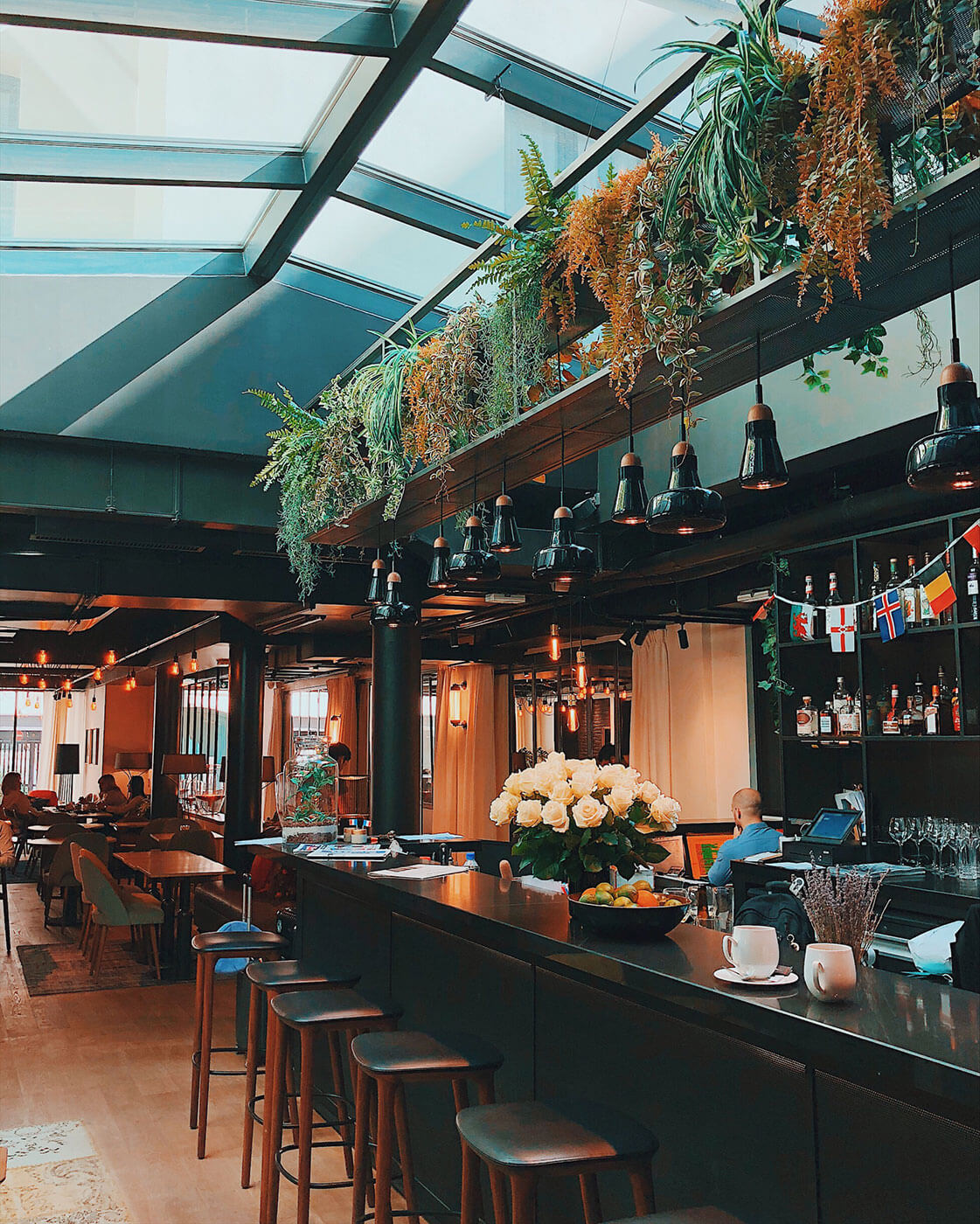 Phileas Hotel
I'll always be partial to Phileas Hotel because they helped me out at times of need (see the Paris tourist scam warning above). Aside from that, while the hotel itself is small, the room was clean and comfortable. There is a mall across the street that has Carrefour, the grocery store chain in Paris.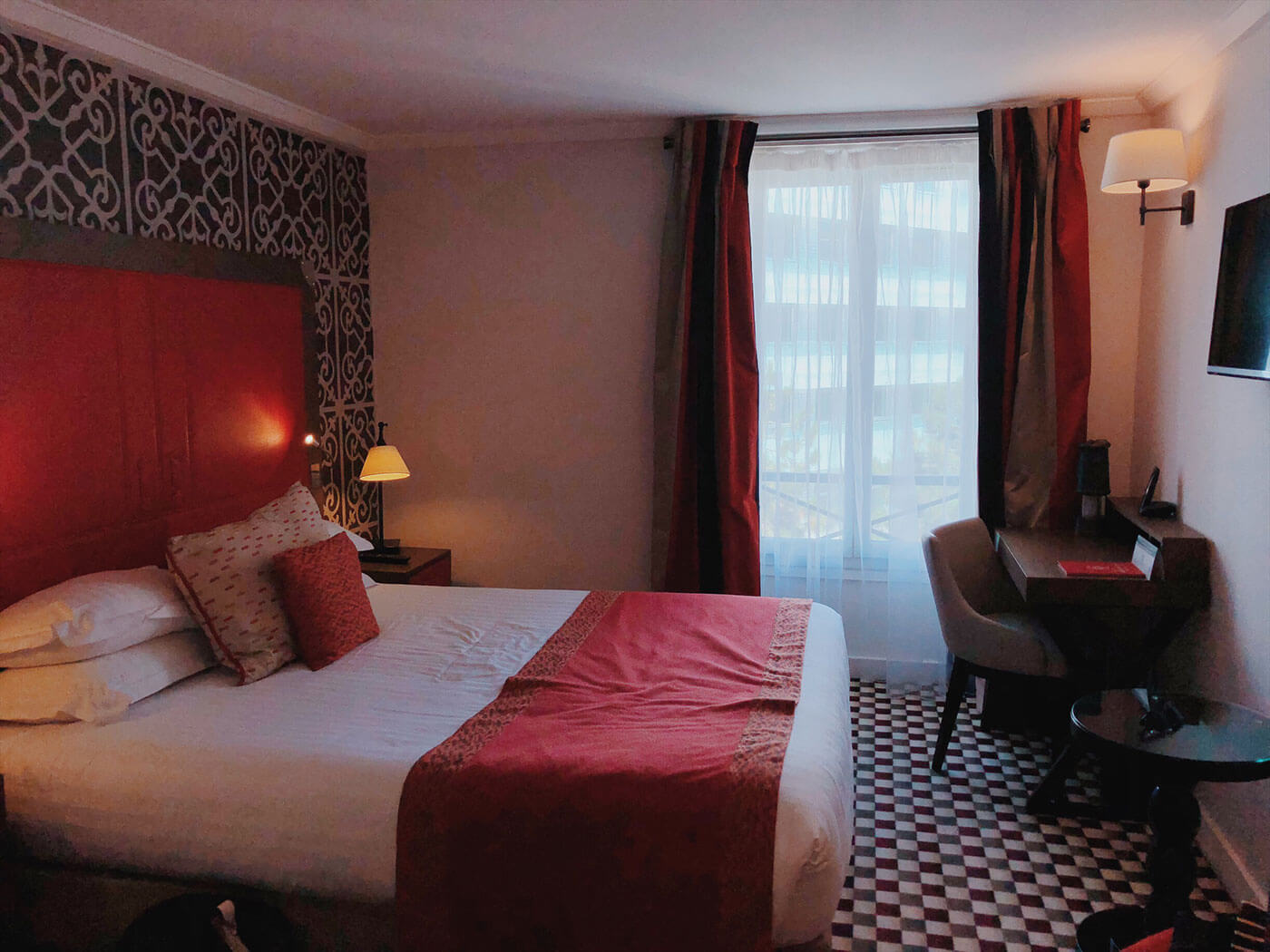 That's all from me in Paris pastries! Did I miss out on anything? I'm sure I did. Let me know in the comment below what I think I should check out next time 🙂
PS: Want to reference this post later?
Click on any of the images below to pin to your Pinterest board!