Ao Phang Nga National Park is located slightly north of Phuket, about an hour drive. The national park is a great option for a day trip from Phuket – it's only about a 1 – 1.5 hour drive north from Phuket island itself. There are plenty of beautiful sights to see here – Phang Nga Bay is known for its dramatic landscape, made of limestone islands that give the place a unique look.
So what can you expect to see in Phang Nga Bay? Fear not, I went to Phuket last month and decided to take the day trip out to Ao Phang Nga National park. Despite having been to Phuket many times before, I actually never made it out here before my last trip!
Booking a tour of Phang Nga Bay and Ao Phang Nga National Park
I learned my lesson after our experience with the way-too-large tour group at Phi Phi Island, I booked a slightly smaller Phang Nga Bay tour that goes at an off-peak hour.
I gotta be honest, I agonized over booking this tour for a while because it's quite expensive. But having taken the tour myself, I gotta say – even though it costs more than double the price of a normal tour and we had to wake up at 4 AM, it was worth it!
First of all, the pickup was amazing – our driver was on time at 4 AM on the dot and we were picked up by a luxury van that seats only four passengers. Later on, my boyfriend and I were joined by another British couple… and that's it! Just the four of us for the rest of the day, plus our guide Palm.
This was the theme of the entire day. In most of the places we visited, we were the only people on site. I highly recommend this if you are sick of the crowds in Phuket.
However, if you think this tour was too expensive, you can book a regular tour that will take you to similar spots in Phang Nga Bay (minus the sunrise viewpoint and shell cemetery).
Things to do in Phang Nga Bay
Curious why Phang Nga Bay is worth a visit? You've come to the right place. Here is what you can expect to see in Phang Nga Bay:
1. Samet Nangshe Viewpoint
On this tour, you can expect to see Samet Nangshe Viewpoint, an attraction that has only recently been found by a Thai photographer in 2017. It offers an amazing sprawling view of Phang Nga Bay, especially during sunrise!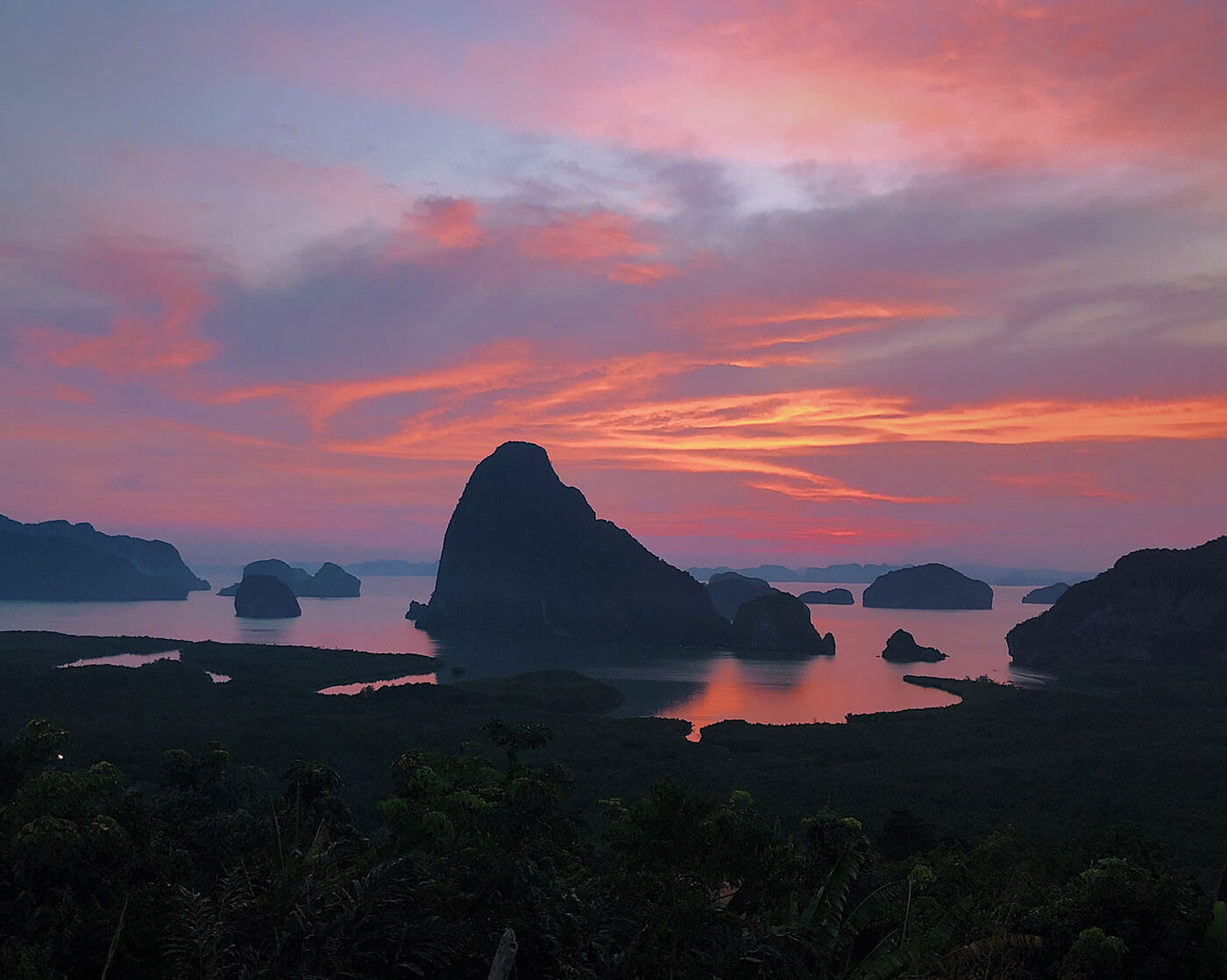 If you want to just visit this viewpoint during sunrise, staying overnight here is also an option! You can book a tent at Samet Nangshe Boutique. They also have a few rooms but it's very limited in number. I wouldn't recommend camping during the rainy season as the rain in Phuket can be pretty severe (basically a few hours of a thunderstorm). The rainy season starts in mid-April and ends in October.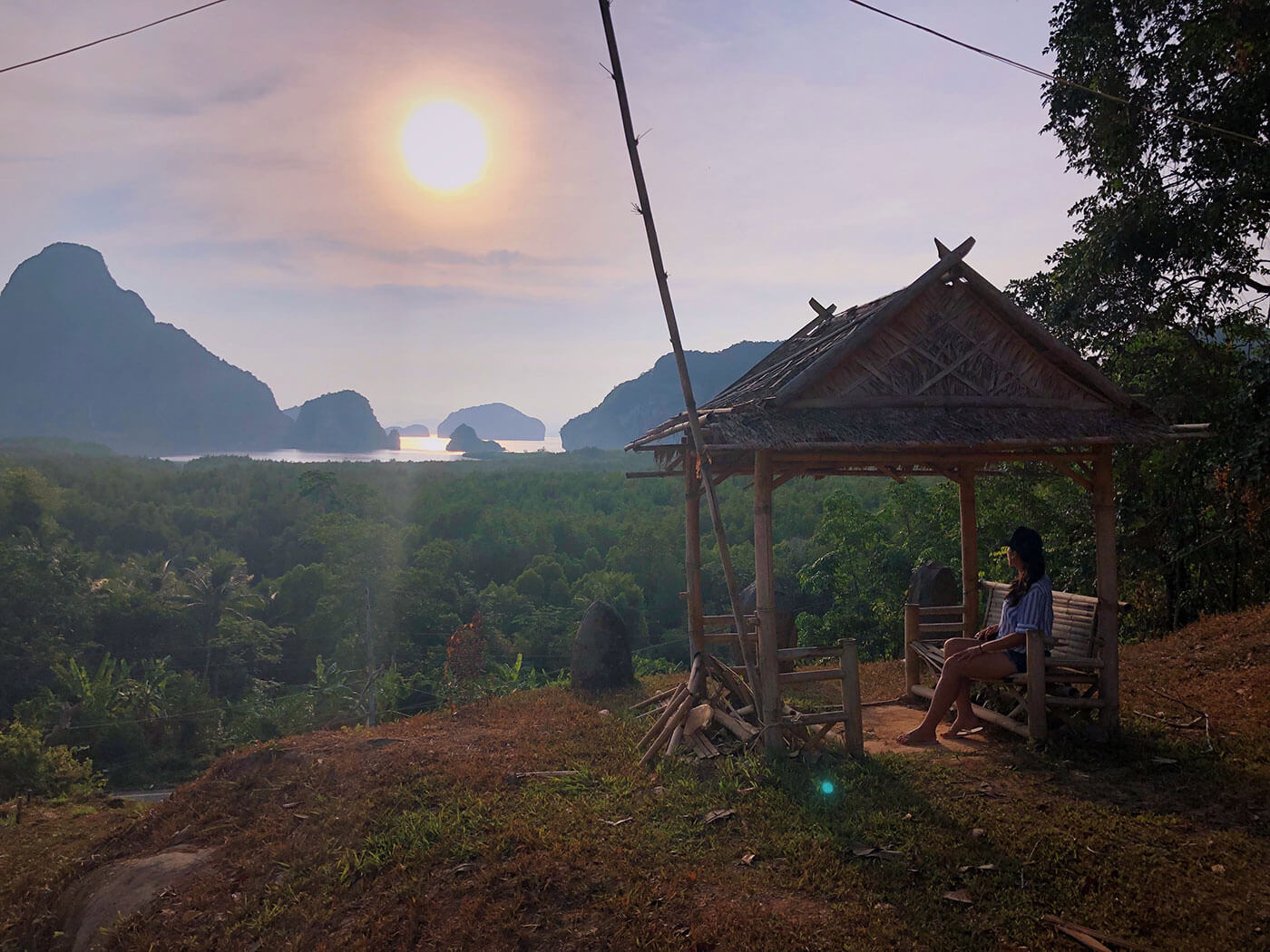 With the tour, we arrived here at exactly 6 AM – though I personally think we should have arrived slightly earlier so that we could get up to the top of the viewpoint before the sun actually showed up. As we all know, the sky is actually the most dramatic and beautiful right in the minutes leading up to the actual sunrise!
I have to warn you the trek up to the viewpoint might be hard depending on your level of fitness. I consider myself somewhat fit – I was able to get up in less than 9 minutes (partly because I was motivated to get up to the viewpoint before sunrise) though I was definitely sweating a lot by the time I got up. If you don't normally exercise, you might have a bit of trouble as it is a continuous steep hike up. For context, it's estimated to take 15-20 minutes to reach the top.
2. Khao Phing Kan aka the James Bond Island
By taking the off-peak hour tour, you will get to see the famous Khao Phing Kan aka James Bond island right before every other tour group start to arrive around 10 AM. We reached the island at 9 AM and were one of the only two tour groups on the island.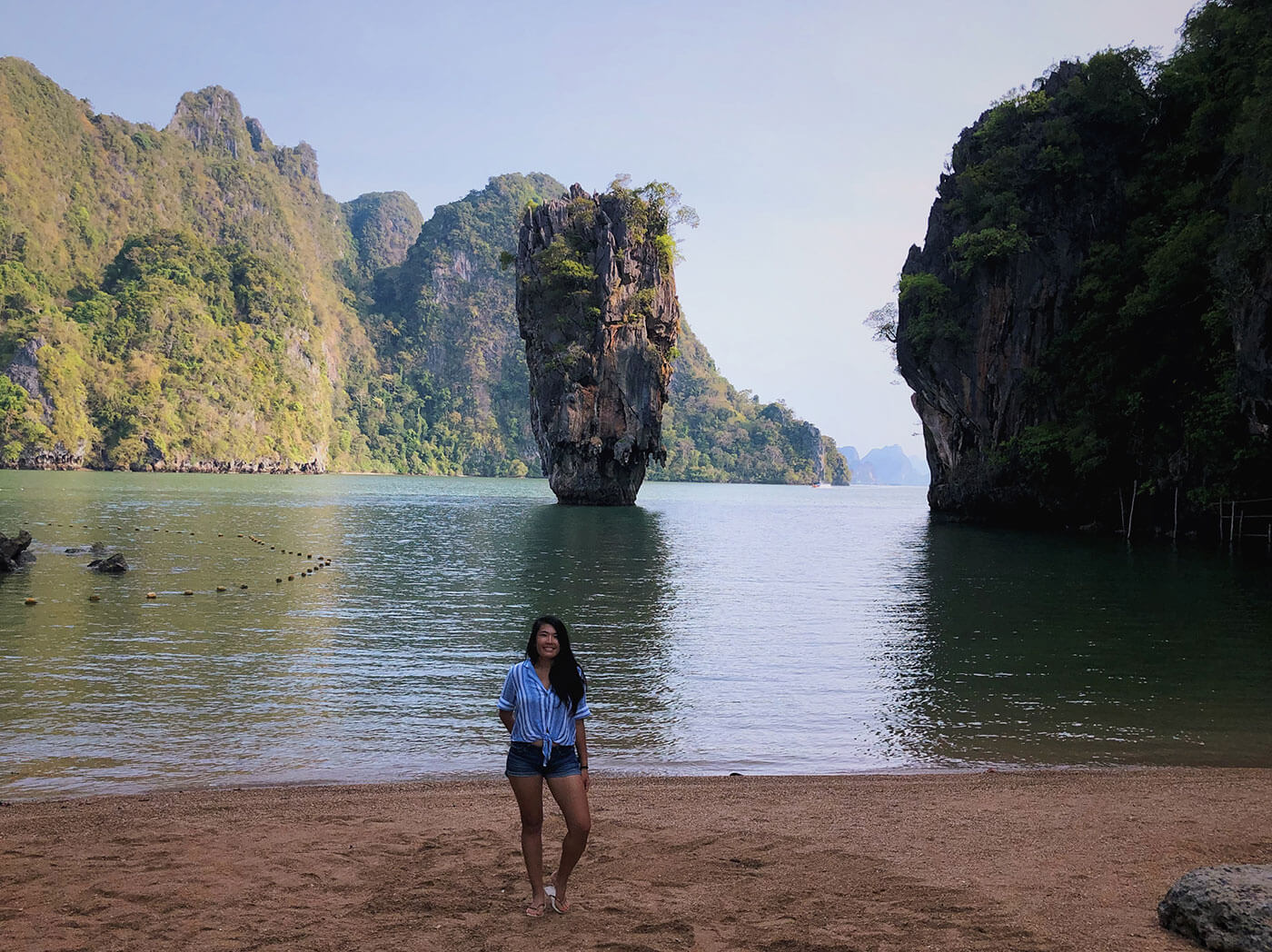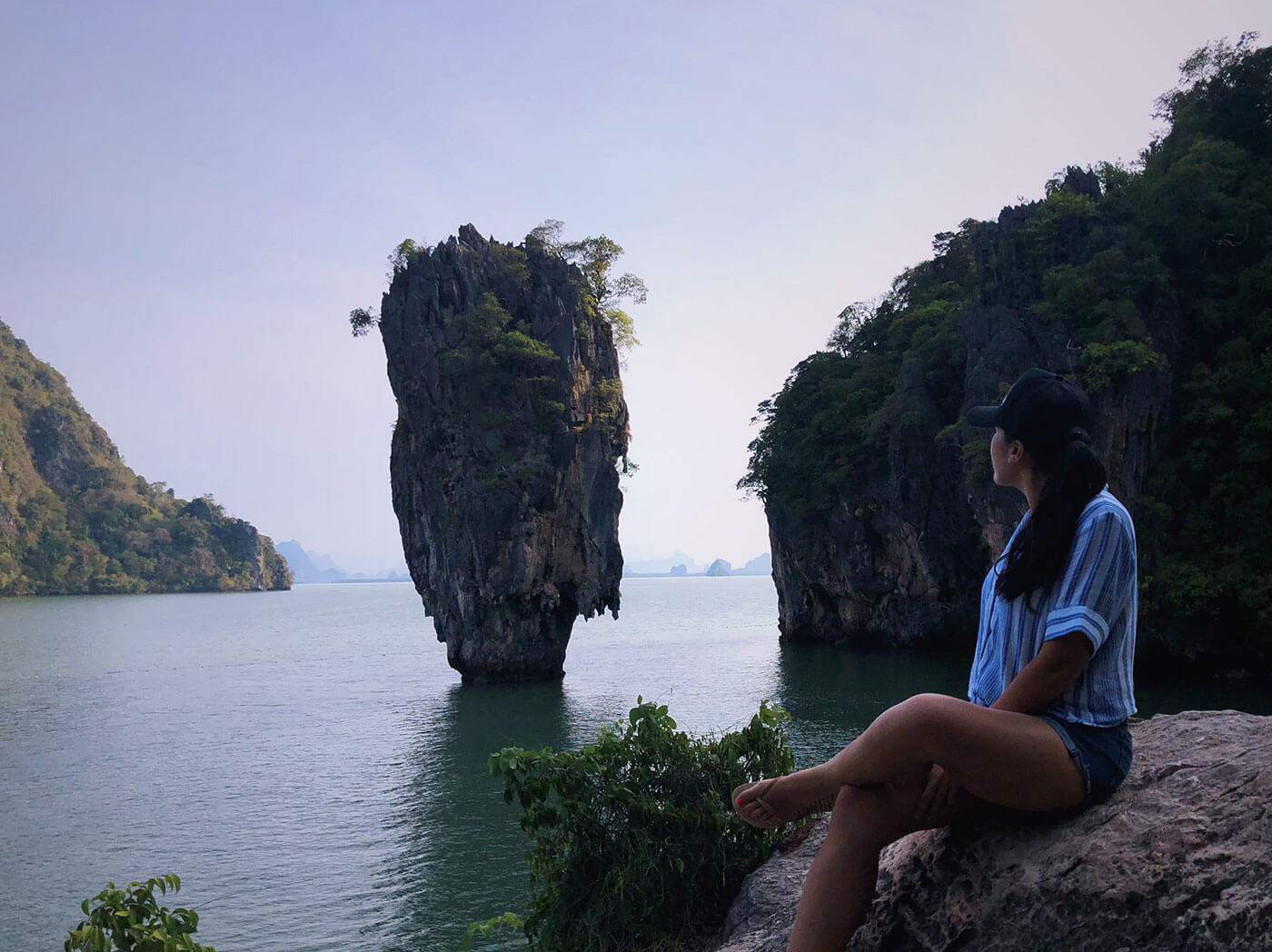 3. Limestone Cave at Koh Sawang Yai
The next stop is a really cool limestone cave with stalagmites. I don't have good photos because it was too dark, but I thought this was a really cool one to visit.
Our guide Palm informed us that this cave provided a much-needed respite for fishermen while riding out the storm during monsoon season. To get inside, you'll have to climb up bamboo stairs from your boat, then into a small opening that leads you inside the cave.
Don't let the size of the entrance fool you – the cave inside is actually enormous. You'll see large limestone formations of stalactites and stalagmites forming for thousands of years.
Heads up though, it's VERY hot inside the cave and the air is stagnant, so if you are claustrophobic or if you get lightheaded, please exit the cave immediately.
4. Canoeing at Koh Hong
Our next stop was canoeing at Koh Hong. But don't worry if you don't feel like sweating it out and canoeing – I certainly didn't, given that I visited during one of the hottest months of Thailand. You'll be glad to know that don't have to do the canoeing yourself! There are already men lined up with boats and they will take you to all the great spots, all you have to do is lie back and relax 😌
It was a very peaceful ride. Our boat rower was a very quiet guy who took the time to point out rock formations that resembles shapes – like a buddha head, a heart shape, etc. I didn't have much expectation of the canoeing, but it was actually my second favorite stop after Samet Nangshe Viewpoint.
5. Shell Cemetery
The last stop is Shell Cemetery, which – spoiler alert – just blew my mind. We arrived at an unsuspecting wooden port in the midst of the mangrove forest, and we were the only group there at that time. Once everyone got off the boat, we started hiking (very slightly) uphill.
The hike didn't take long, and about 3 minutes in, I started noticing it – there were empty shells everywhere! But we were not close to sea level at this point, how could it be? I had actually forgotten where we were going, so I was caught by surprise – ah, Shell Cemetery! Now I get it.
Apparently, it was thought that 5,000 years ago the sea level around here was much higher, evidenced by the mounds of sea shells and the ancient paintings that could be found very high up on the cliff, believed to have been drawn by men who came here by boat.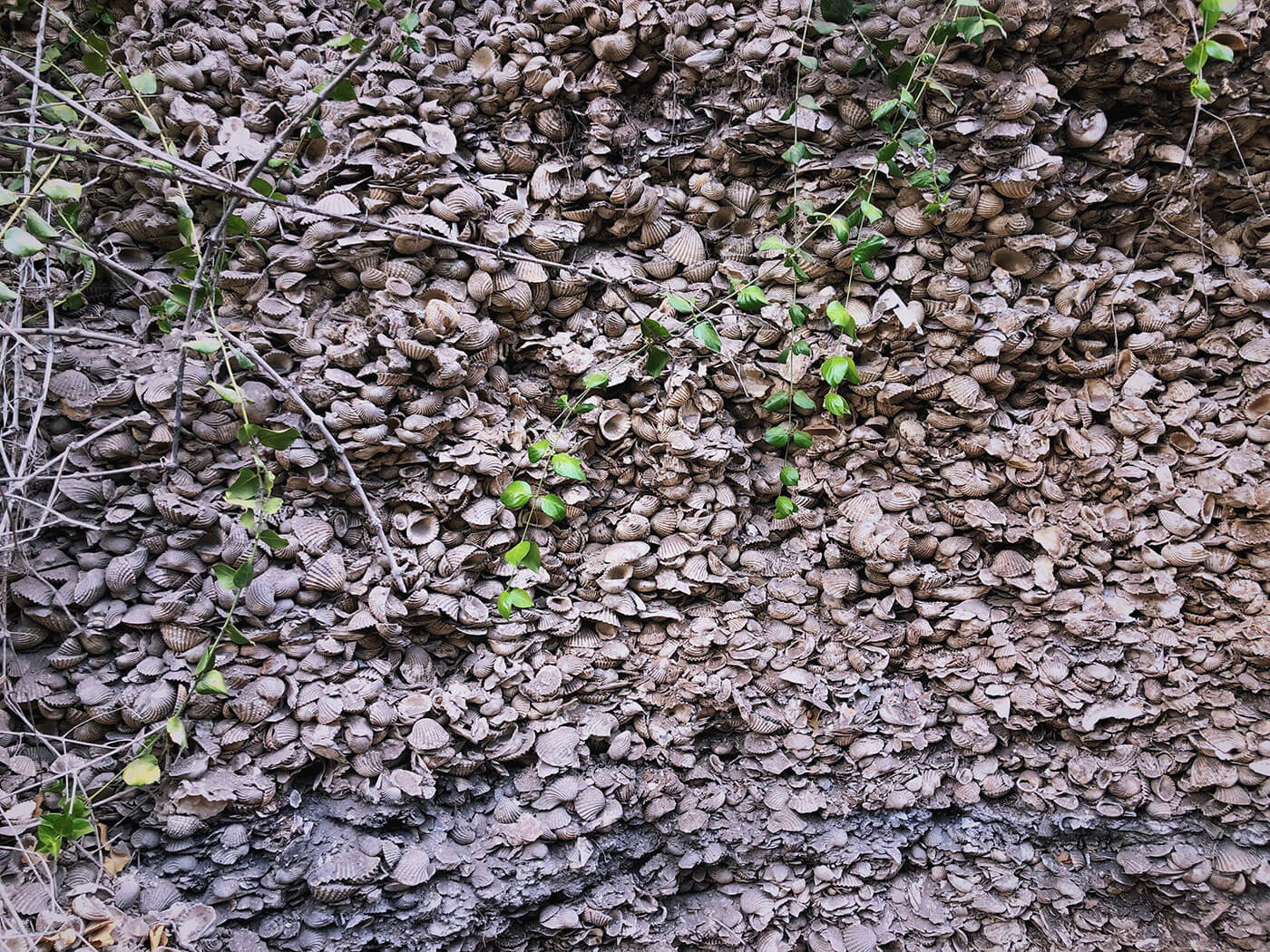 The shell cemetery was our last stop before going for lunch and then back to our hotels in Phuket by 3 PM. It was such a nice day! I would highly recommend this tour for anyone who wants to beat the crowds to Phang Nga Bay.
Again, this off-peak-hour tour can be booked here: Phang Nga Treasure and James Bond Island Sunrise Day Tour by a company called Phuket Let's Go and I really think it's worth every penny! I think I've gushed about it enough at the beginning of this trip so I won't bore you with too much with repeated information.
However, if you think this tour was too expensive, you can book a regular tour that will take you to similar spots in Phang Nga Bay (minus the sunrise viewpoint).
Note: I paid for my own participation in this tour. As always, all thoughts and opinions are honest and remain my own.
Need this post for later? Pin it to Pinterest!