Having been to Bali multiple times in the past few years, I've naturally developed a list of favorite places I love visiting every time I'm in Bali. Today I'm sharing with you my favorite places in Seminyak – everything from restaurants, spas, and beach. I've had consistently good experiences visiting these places and I hope you will too!
For All Meals: Kilo Bali
Kilo is one of my favorite restaurants in Singapore so I had to list their Bali counterpart! I'm so happy to report that the quality of Kilo Bali remains consistent to their Singapore restaurant. If you come to Kilo Bali for dinner, their menu pretty much mirrors the one in Singapore – down to the cocktails. The only difference is… Kilo Bali's prices are cheaper than Singapore!
As with their Singapore counterpart, Kilo's menu is ever-changing. But they do have a few crowd's favorite that seem to stay – Grilled Baby Corn, Wasabi Tuna Tartare and Seafood Ceviche. If you want to try a cocktail, I would recommend A Sure Thing which is made of vanilla infused vodka, cucumbers, mint, and lime.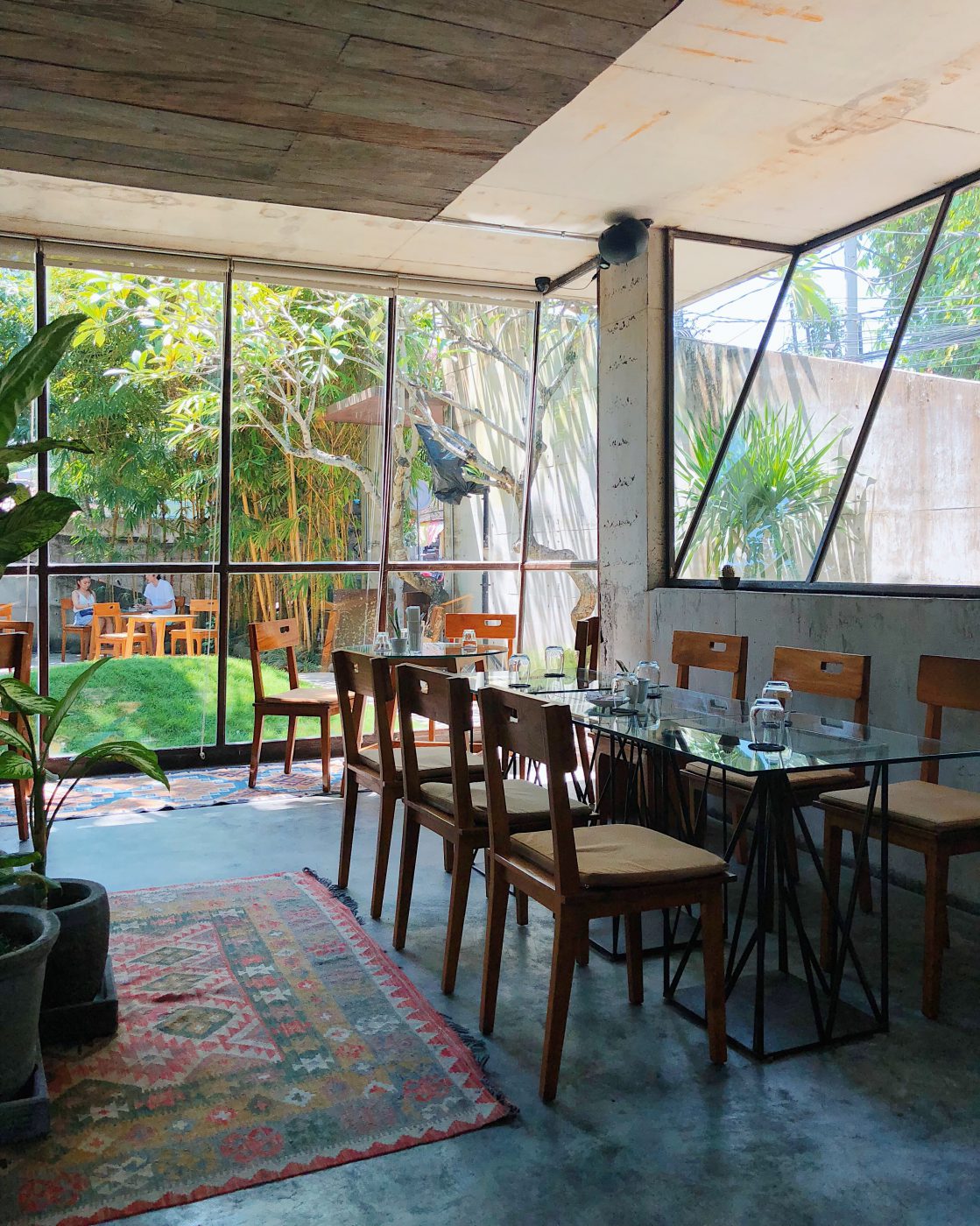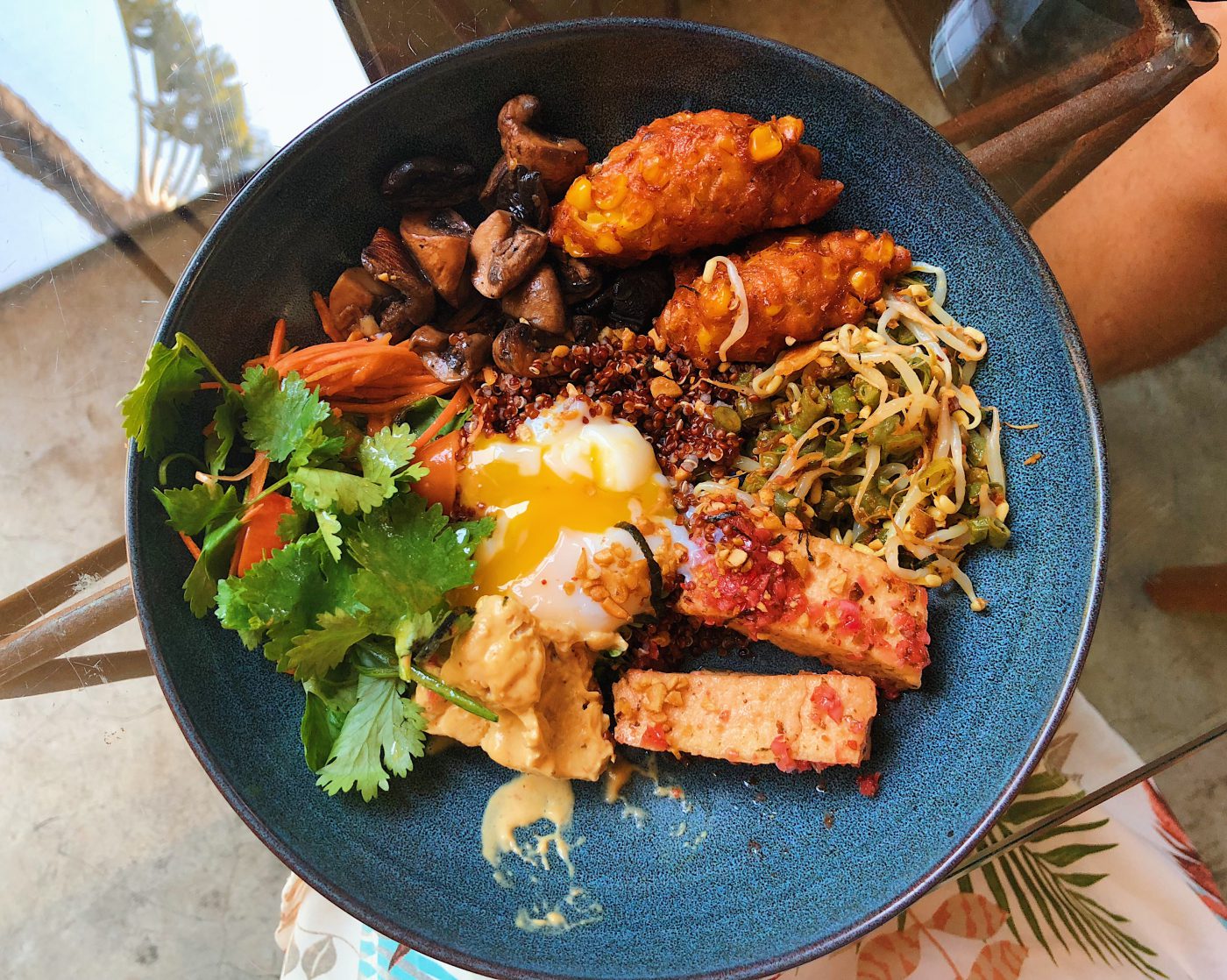 But if you come here for brunch/lunch, their menu is different than dinner. I recommend getting the Tofu Rice Bowl. I'm not even gonna lie, I actually got this because it has Tempe in it! And being Indonesian myself, I love Tempe. Aside from the tempe, the dish as a whole is a very nice twist to local Indonesian taste. Mixing Tempe in a curry is actually one of my favorite ways to eat it, and serving pickled red shallots on top of tofu reminds me of another dish from Java that I love – Tahu Gejrot.
Kilo Bali
Open Daily 8:00AM – 3:00PM, 6:00PM – midnight
Google Maps
For Breakfast and Lunch: Nook
We actually found Nook by accident. It was just around the corner from our accommodation in Umalas, but we loved it so much we ended up coming back here three times in the three days of our stay… pretty much breakfast every single day. (That's why I have so many pictures at Nook…)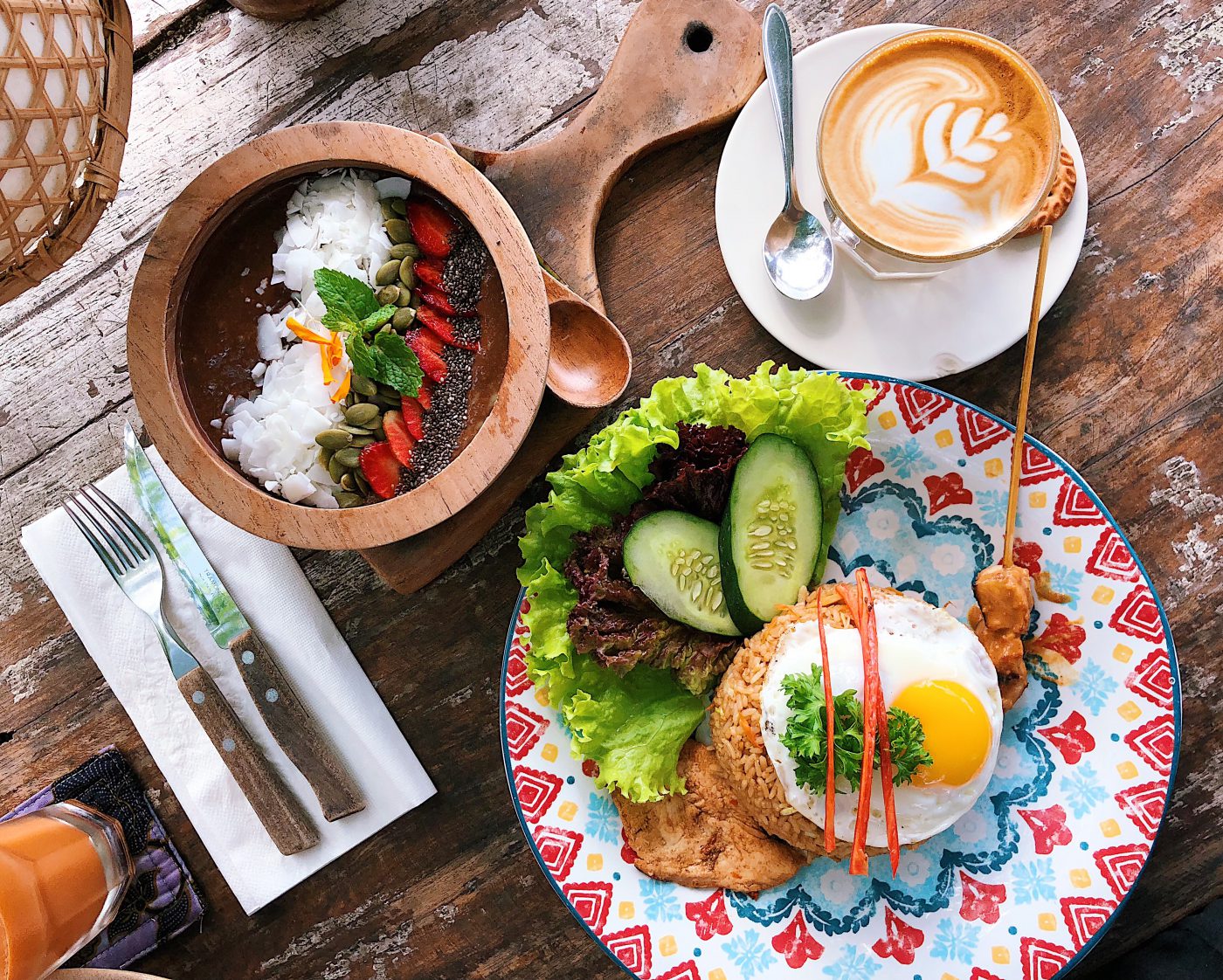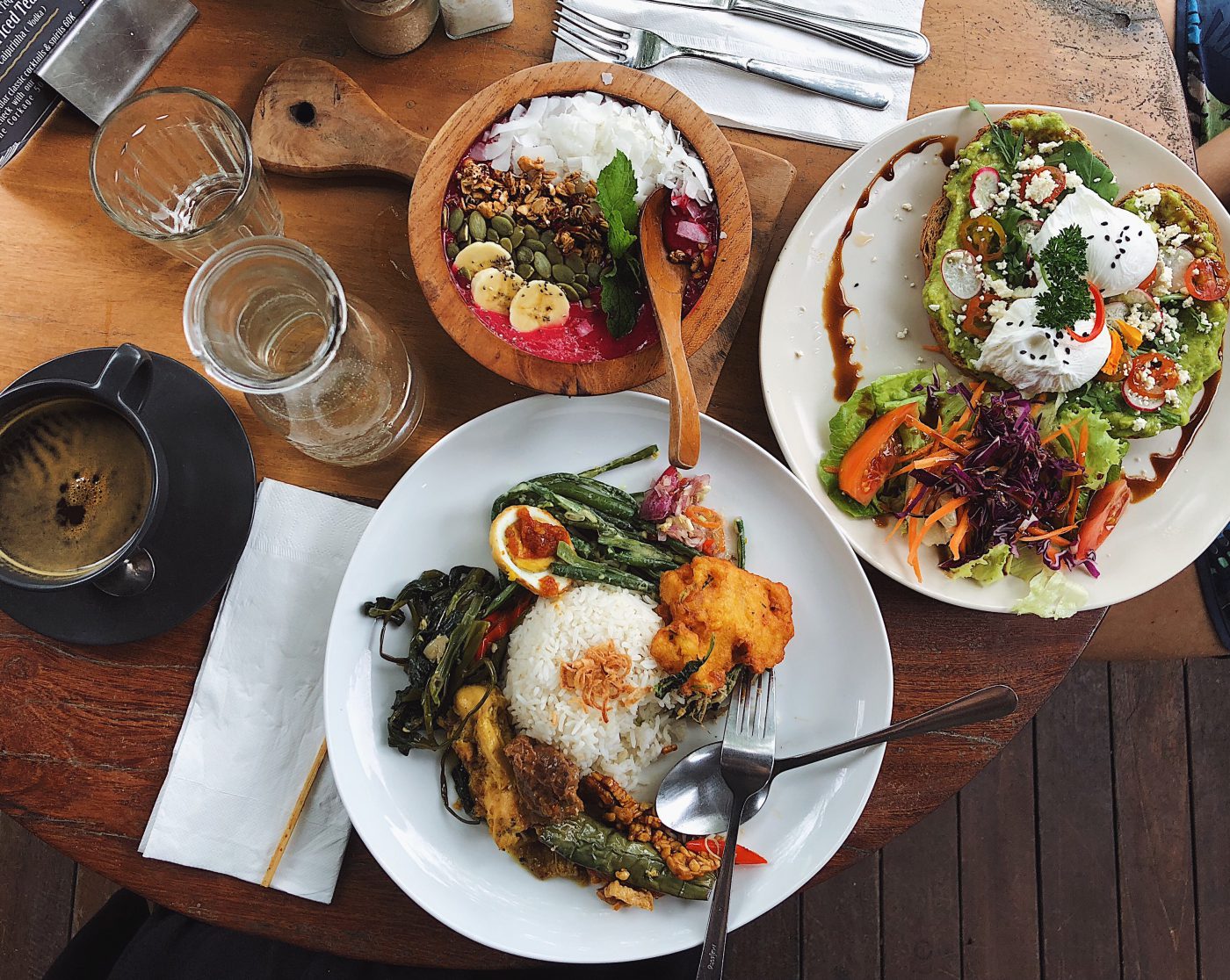 Why do I love Nook so much? Where do I begin… First, I find their menu to be very affordable and the portion most generous out of all the eateries we tried here in Seminyak. Second, they have a good option for both western and local dishes. Third, their location is amazing! They are located right next to a rice field which I can just stare at all the time. You should definitely try to get a table next to the rice field to maximize your eating experience. And Fourth – the restaurant is owned by an Indonesian, an increasing rarity to popular restaurants in Bali.
From the local menu, I recommend getting Nasi Campur. This dish is a must try in Bali. Campur means "mixed" and Nasi means "rice", so the dish is just a mix of whatever side dishes they happen to have that day, served with rice. I also recommend getting any of the Smoothie Bowl. My favorite smoothie bowl is Iluh with the dragon fruit. Their western options are pretty good too – I loved the Smashed Avo toast!
Nook does dinner as well but I haven't made it here for dinner yet. Let me know if you have!
Nook
Open Daily: 8:00 AM – 11:00 PM
Google Maps
For Breakfast and Lunch: Shelter Cafe
I've actually just discovered this cafe on my most recent visit to Bali, thanks to my friend AP's recommendation. The cafe is located on the second floor and is an open-air cafe with plenty of green plants around.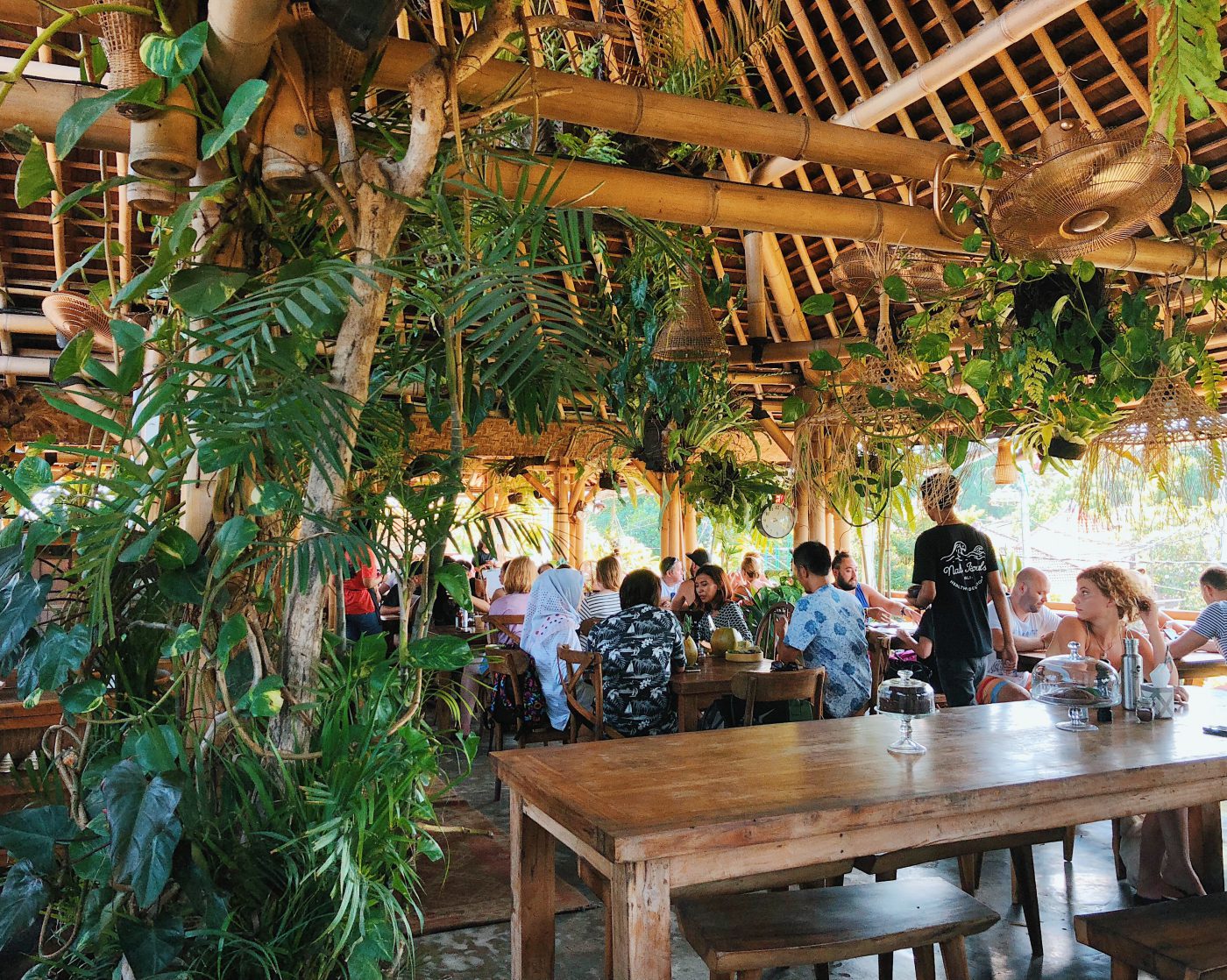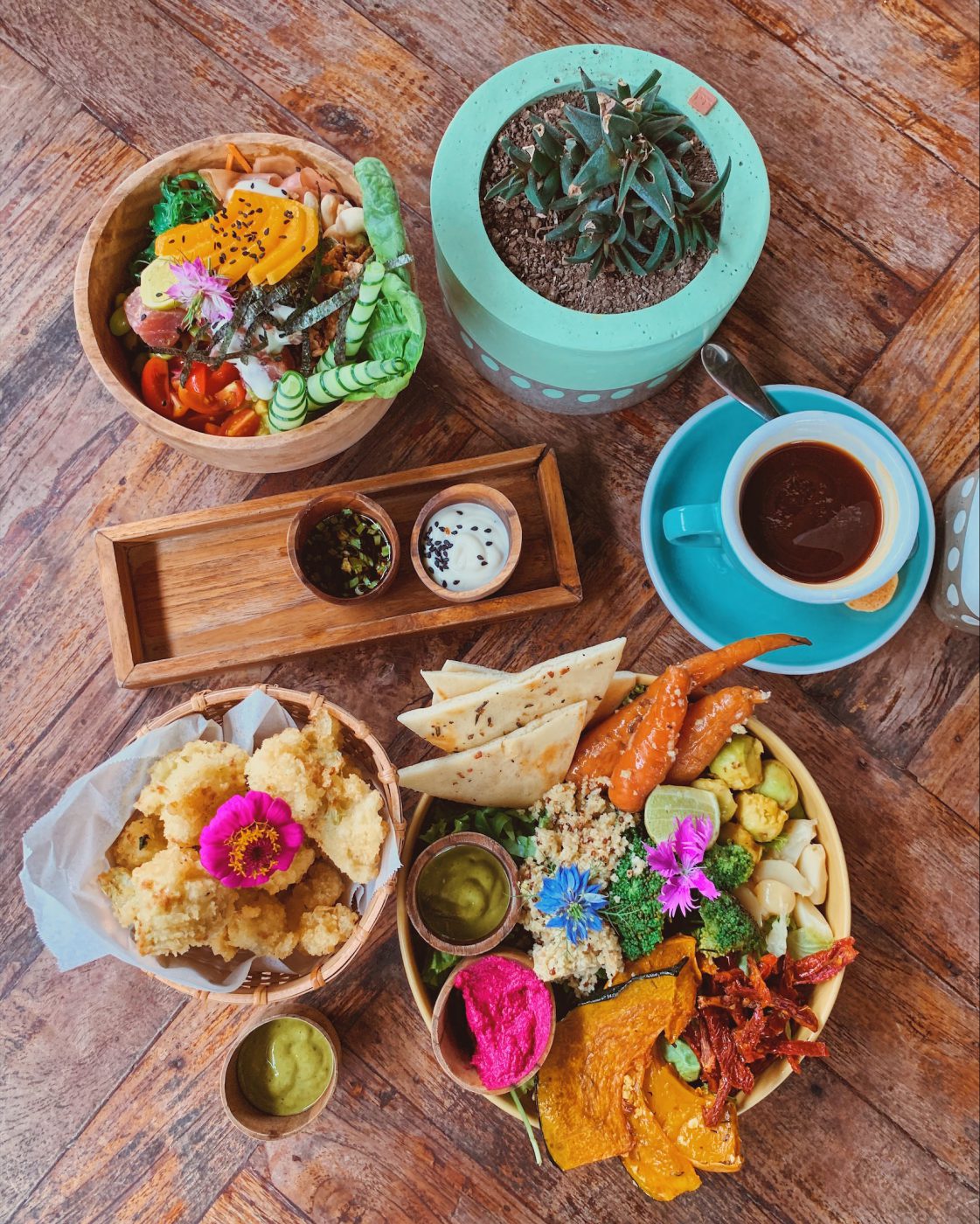 Not only is their decor amazing, but the food is also beautiful too! Each plate is meticulously arranged, pleasing to the eyes, and most importantly – they are all delicious too. My favorite is Veggie Patch Salad and the Cauliflower fries (pictured above).
Shelter Cafe
Open Daily 8:00 AM – 6:00 PM
Google Maps
For Smoothie Bowl: Nalu Bowls
Nalu Bowls is the most famous smoothie bowl creator in Bali. Nalu is located on the first floor of Shelter Cafe, but due to popularity they have now started serving bowls at other locations such as at Nook and Dojo Bali co-working space in Canggu.
At the Seminyak location, you can sit down and order it from Shelter Cafe, but if you're just here for the smoothie bowls, then you can actually sit at the bar downstairs. I highly recommend getting Mavericks, their signature bowl – it's the first one on their menu, you can't miss it. This is hands down the best acai bowl in town!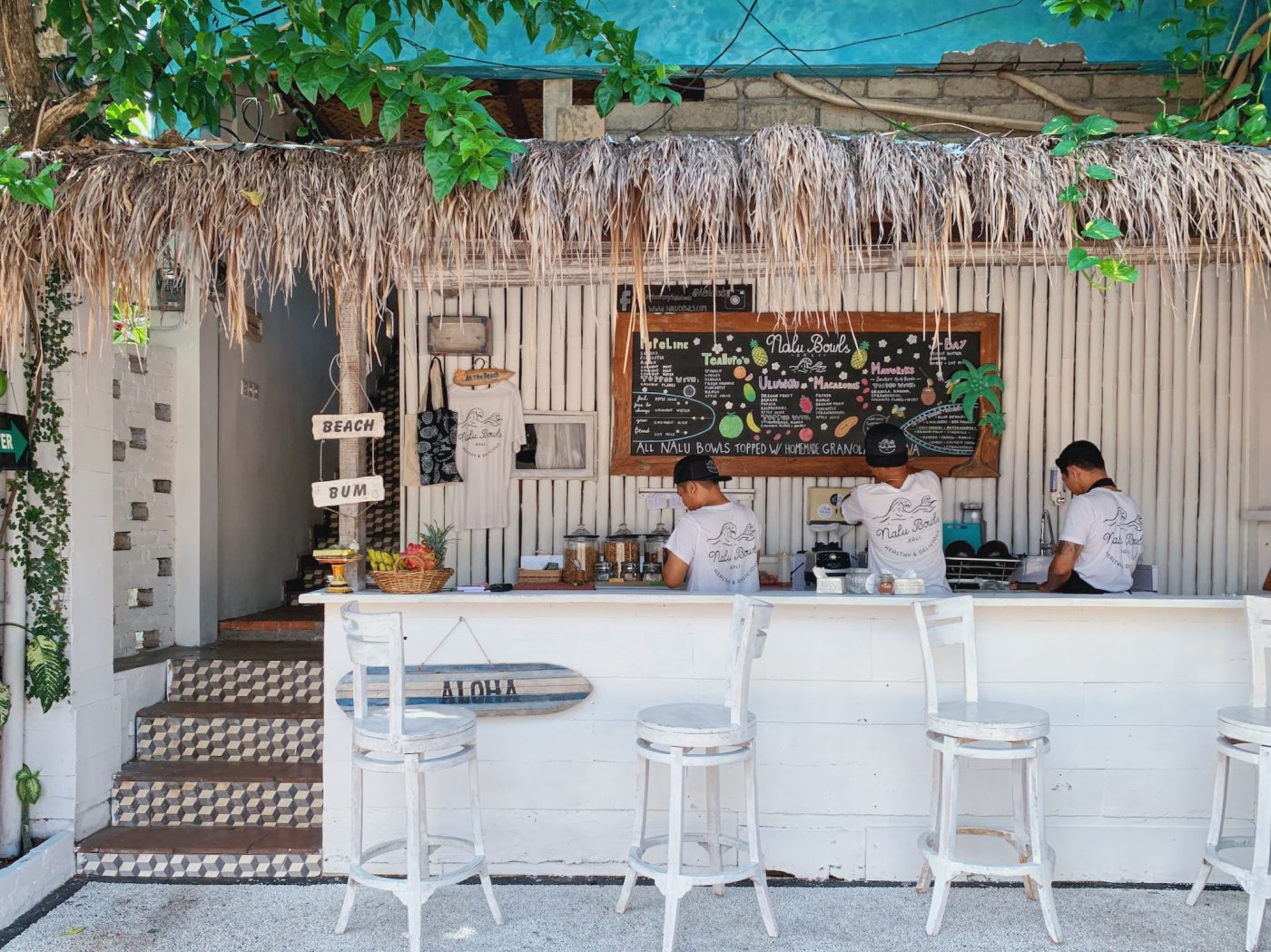 Aside of the bowls, you can also try getting Jamu, an Indonesian traditional herbal drink I had been drinking since I was young. Indonesians believe Jamu has health benefits, especially for women. It is traditionally sold on the street by women carrying the Jamu ingredients on their back, and when you call them over they'd mix the Jamu fresh in front of you. Sadly this tradition is difficult to find now but I started seeing Jamu popping up as drinks at the organic cafes like this one.
Nalu Bowls
Open Daily 7:30 AM – 6:00 PM
Google Maps
For Balinese Lunch: Warung Babi Guling Pak Malen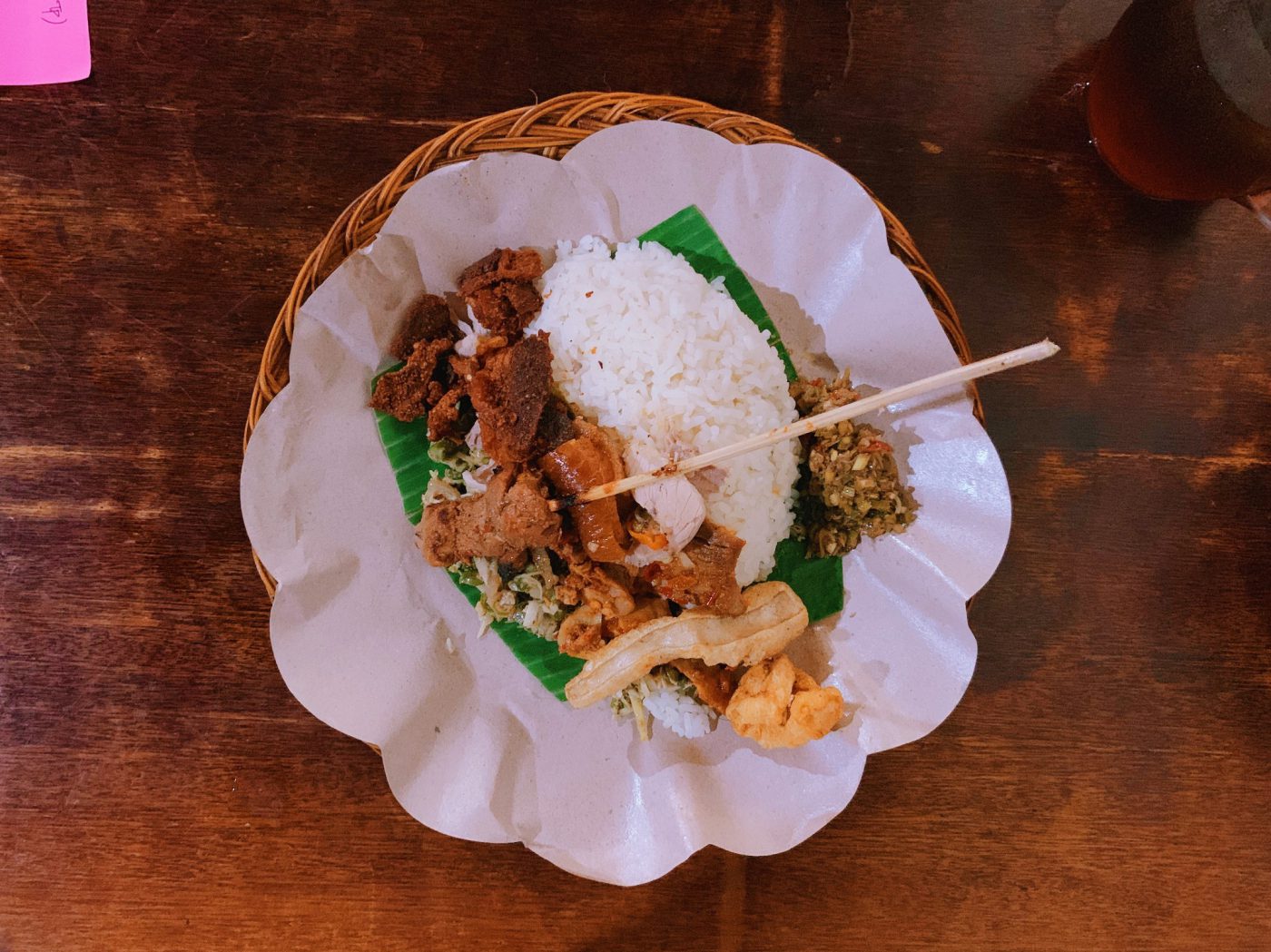 Bali is part of Indonesia, a predominantly Muslim country that does not eat pork. But Bali stood out with 83% of the island practicing Hinduism, and one of their best known local cuisines is actually a pork dish – Babi Guling, which is spit-roasted pig often served in the form of Nasi Campur (mixed rice).
Babi Guling Pak Malen is a great choice in Seminyak. They only have one thing on their menu – Nasi Campur Babi Guling, which is mixed rice served with all types of pork – crispy skin crackling, pork satay, marinated pork, and of course green chili sambal. It was pretty spicy, so if you cannot take it you have to ask them to tone down the spiciness.
A plate costs Rp 40,000, which is fair for Seminyak. The portion could be a bit more but for the convenience of the location, I'm not going to complain.
Warung Babi Guling Pak Malen
Open Daily 8:30 AM – 7:00 PM
Google Maps
Honorary Mentions: More Restaurant Recs!
Gusto Gelato – really good gelato! They really pack in the gelato too, so the small size (Rp 30,000) is enough for two… depending how sweet your teeth are.
La Baracca for good Italian food. They cater well to vegetarians and even have vegan pasta options. They have branches in Canggu, Seminyak and Uluwatu.
Da Maria for more Italian food. Their Ricotta ravioli was to die for. The pizzas are good too.
Ingka Restaurant for a mix of western and local food
Sarong for high-end Indonesian food
Naughty Nuri's for BBQ pork ribs. Originally in Ubud, it seems that they have opened up shop in Seminyak too. I haven't been to this one, but the Ubud one was great!
Hog Wild with Chef Bruno also for BBQ pork ribs. This place a crowd's favorite, and conveniently located at the heart of Seminyak on Jalan Batu Belig.
For Luxury Massage: Sundari Day Spa
Sundari Spa is located on Jalan Petinget, which is close to Nook. The best way is to book services with them is through WhatsApp – they have a business Whatsapp account and will respond promptly.
PS: Having a WhatsApp account is generally very useful in this part of the world! Check out my Bali tips and ticks here
You can also book and pay online. However, do note that even though you have paid online, you still need to wait for their confirmation via email / SMS (text message) for your booking. I highly recommend you go the WhatsApp route instead.
The massages here are slightly more expensive relative to other places in Bali. For example, Balinese Massage was US$28 for 90 mins. But I think it's worth it because of the top-notch quality, and the new and luxurious facilities. My only tip here? Book for 120 mins massage. 60 or 90 minutes will feel way too short!
Sundari Spa
Open Daily 10:00 AM – 10:00 PM
WhatsApp Booking at +62 811-387-222 (double check number here)
Google Maps
For Cheap Massage: Kimberly Spa
Kimberly Spa is a branch located all over Bali (to find them, do a search Kimberly Spa on Google Maps) – I know there are at least five branches in Kuta and Seminyak. They are very affordable with plenty of massages to choose from, either 30 minutes or 1 hour. The 30 minutes sessions are usually Rp 60,000 while the 1 hour is Rp 100,000. You can mix and match the 30-minute sessions too!
For Souvenir Shopping: Bintang Supermarket
Bintang Supermarket is a one-stop shopping experience. It might not look like it from the outside, but they actually have decent selection for souvenir shopping. On the first floor, they have Balinese snacks and coffee you can take home for friends, as well as normal grocery stuff. They also have a non-perishable souvenir section in the front of the shop right before cashier, stuff like wood carving, incense sticks, etc.
Bintang Supermarket
Open Daily 7:30 AM – 10:30 PM
Google Maps
For Coworking Space: Biliq Bali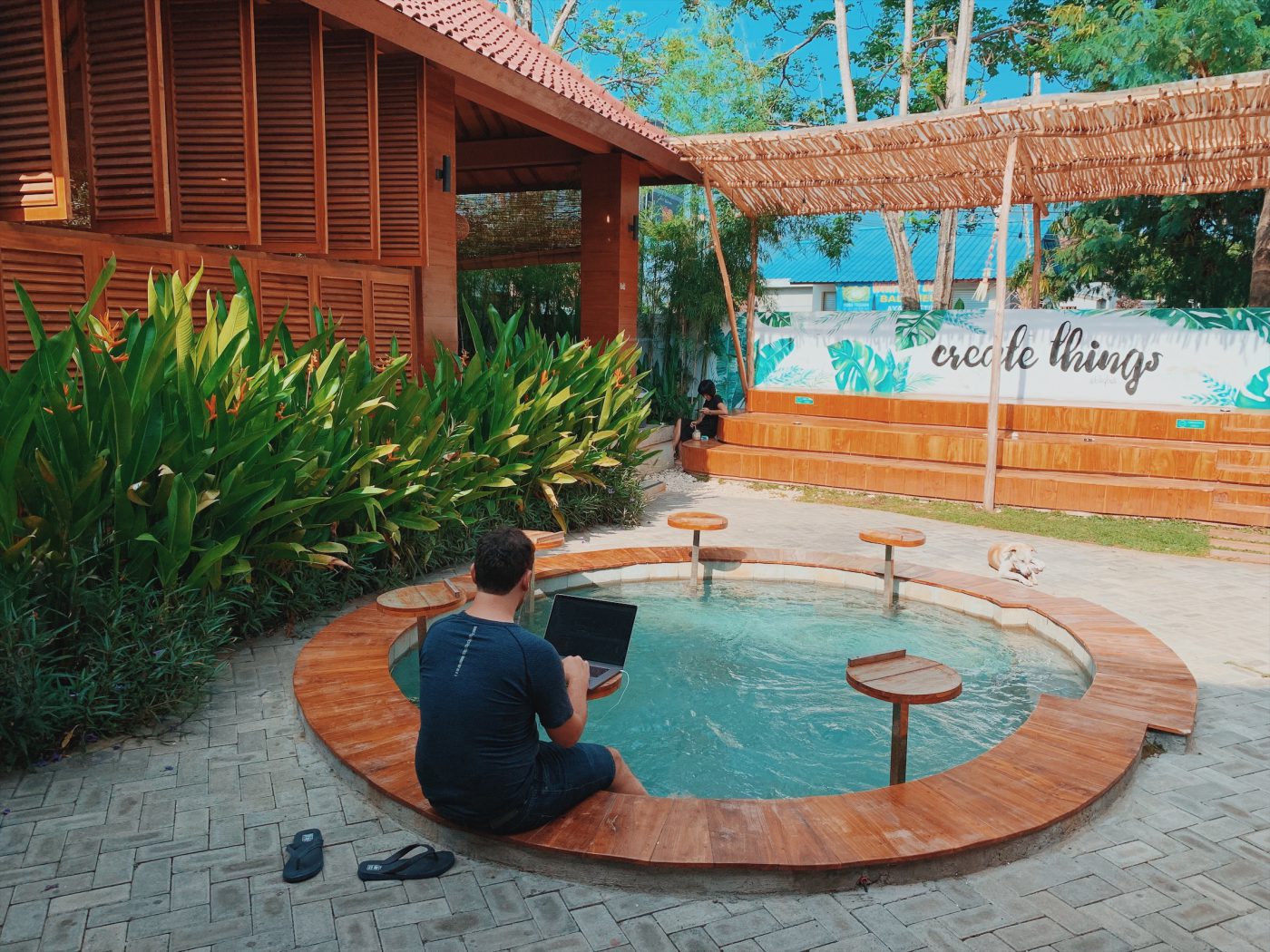 The name Biliq, I'm guessing, comes from "bilik" which means "room" in Bahasa Indonesia. This coworking space is small but clean. There are a few stand out points on why I like Biliq:
First, they offer an extremely affordable hourly rate at: Rp 30,000 / hour maxed at Rp 150,000 / day. For comparison, Dojo was Rp 225,000 a day (although I got 50% discount as Indonesian)
Two, there are more locals working out of this space – something I did not see in other coworking space so far. It's good to see more Indonesians are embracing the concept of remote working.
Three, their A/C space is large
Four, they have cute doggos!!!
Five, and most importantly – the space is owned by Indonesians. It's so rare to see businesses owned by Indonesians in Bali – it seems like any thriving restaurant or villas are run by foreigners.
Definitely will be coming back here when I need a working space with reliable internet! The only downside is that the two skype rooms are always occupied.
Biliq Bali Cosharing Space
Open Weekdays 8:30 AM – 7:00 PM, Weekends 10:00 AM – 5:00 PM
Google Maps
For Sunset: Double Six Beach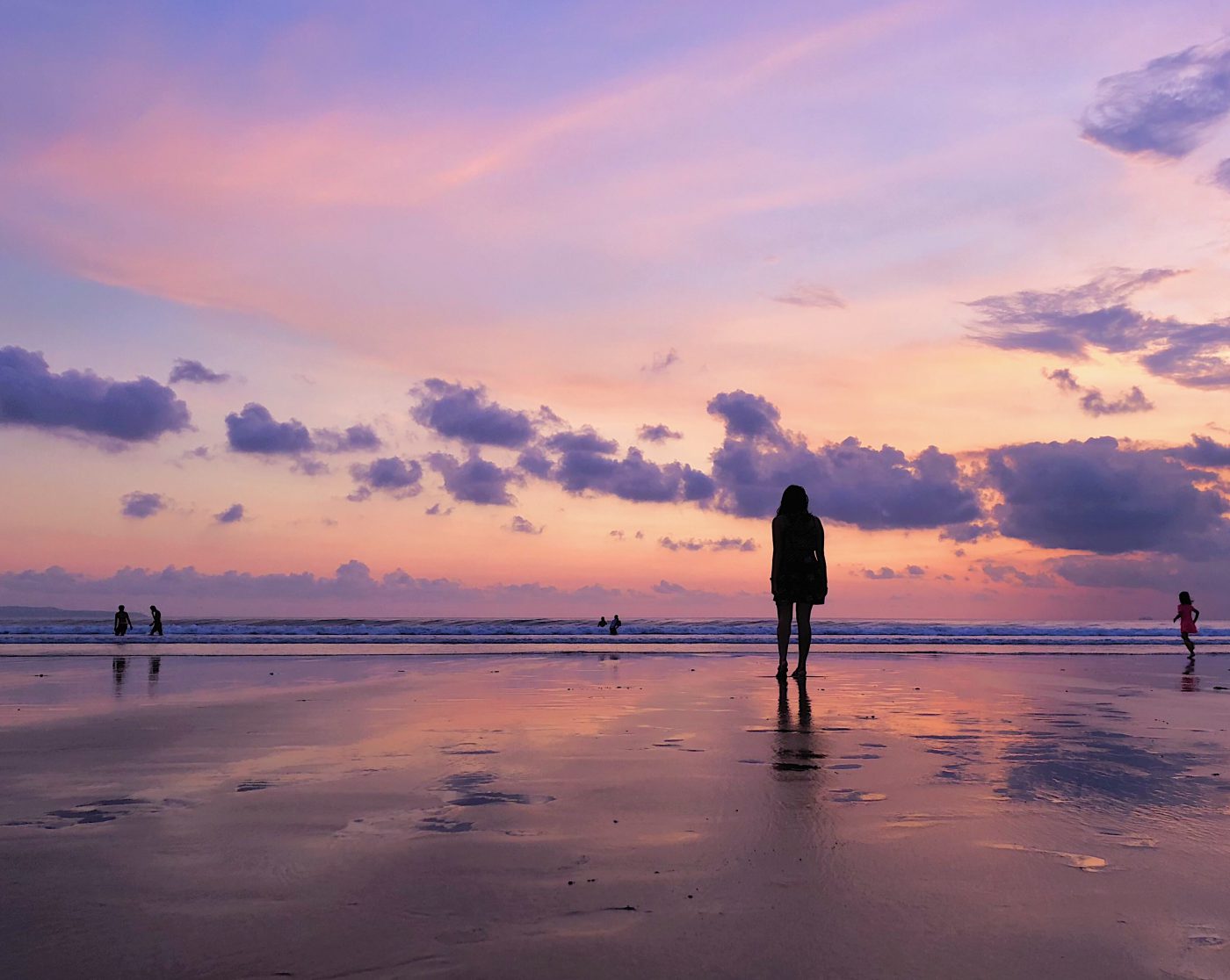 Yeah, I know Double Six is super touristy, but it is still one of the best locations in Bali to enjoy the sunset with some drinks. And you know how unreal the sunset can get in Bali when it's a good day so you definitely want a good spot!
I recommend coming here around 5:45 pm, so that you'll have plenty of time to walk along the beach. They have tons of bars and cafe lining up the beach with bean bags and live music, where you can just sit and relax at the end of the day before dinner. You can order cocktails, beers or smoke some shisha while at it!
Double Six Beach
Google Maps
Accommodations in Seminyak
Alright, that rounds up my Seminyak recommendations. Comment below with your own recommendations and let me know so I can check them out next time I'm in Bali!
Are you looking for more places to visit during your stay in Bali? Be sure to check my complete Bali Guide. This post contains everything I know about Bali – which areas to stay, what food to eat and what to do in Bali.