Recently, my company sent me on a business trip where I took a direct flight from Singapore to New York. I flew from Singapore's Changi Airport to Newark Liberty International Airport in New Jersey. This flight, numbered SQ22, is known as one of the longest flights in the world. And the best part is: I got to do it in style – in the business class on Singapore Airlines!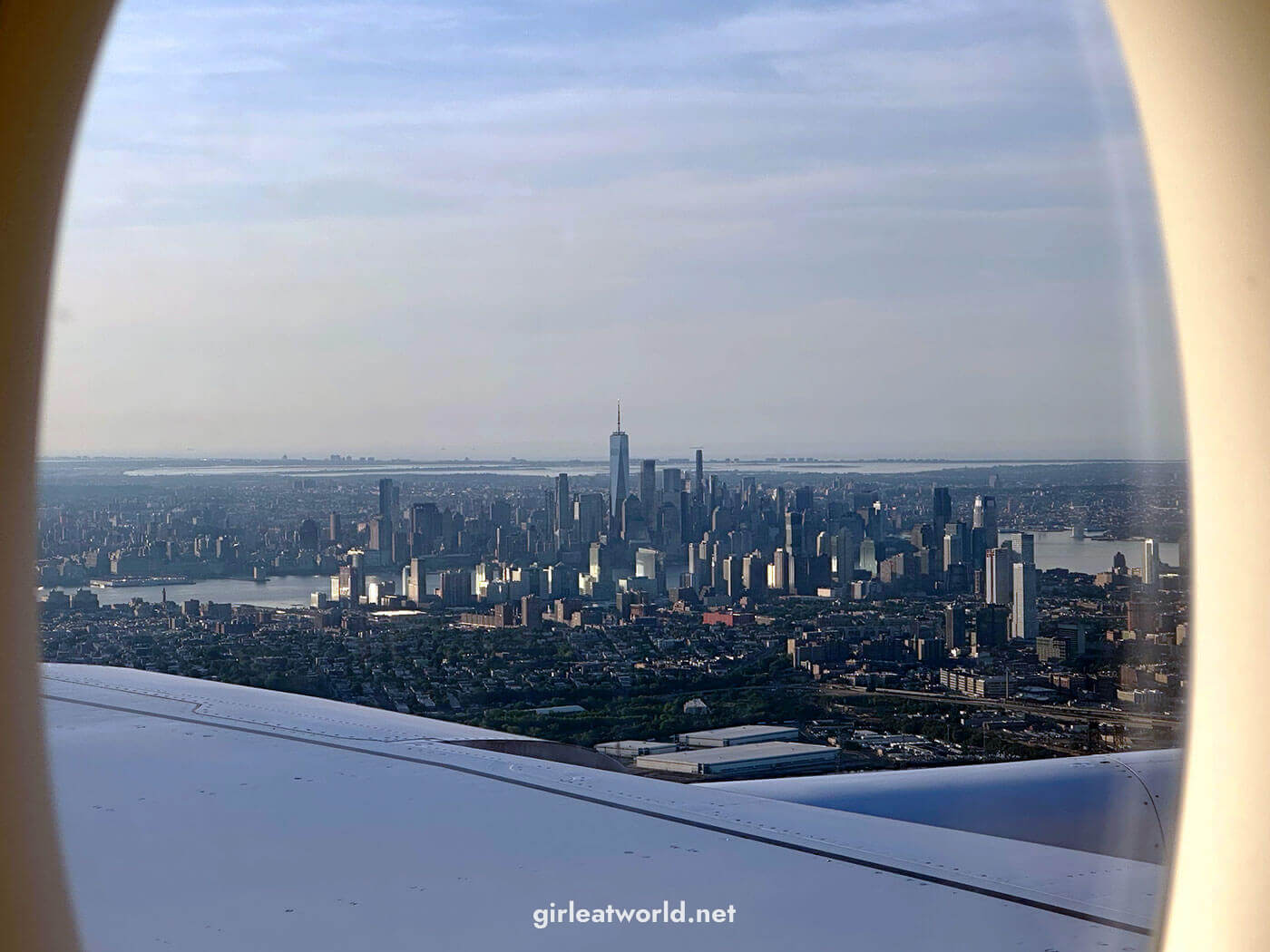 I was feeling hashtag blessed and so very grateful to my employer for this once-in-a-lifetime chance. Sure, I've traveled plenty for work on Singapore Airlines before, but never in business class and never for this long of a flight!
I am not exactly a jet setter, and it is doubtful that I'll ever get this chance again. I thought I would savor and immortalize the memory in my blog… before it fades away.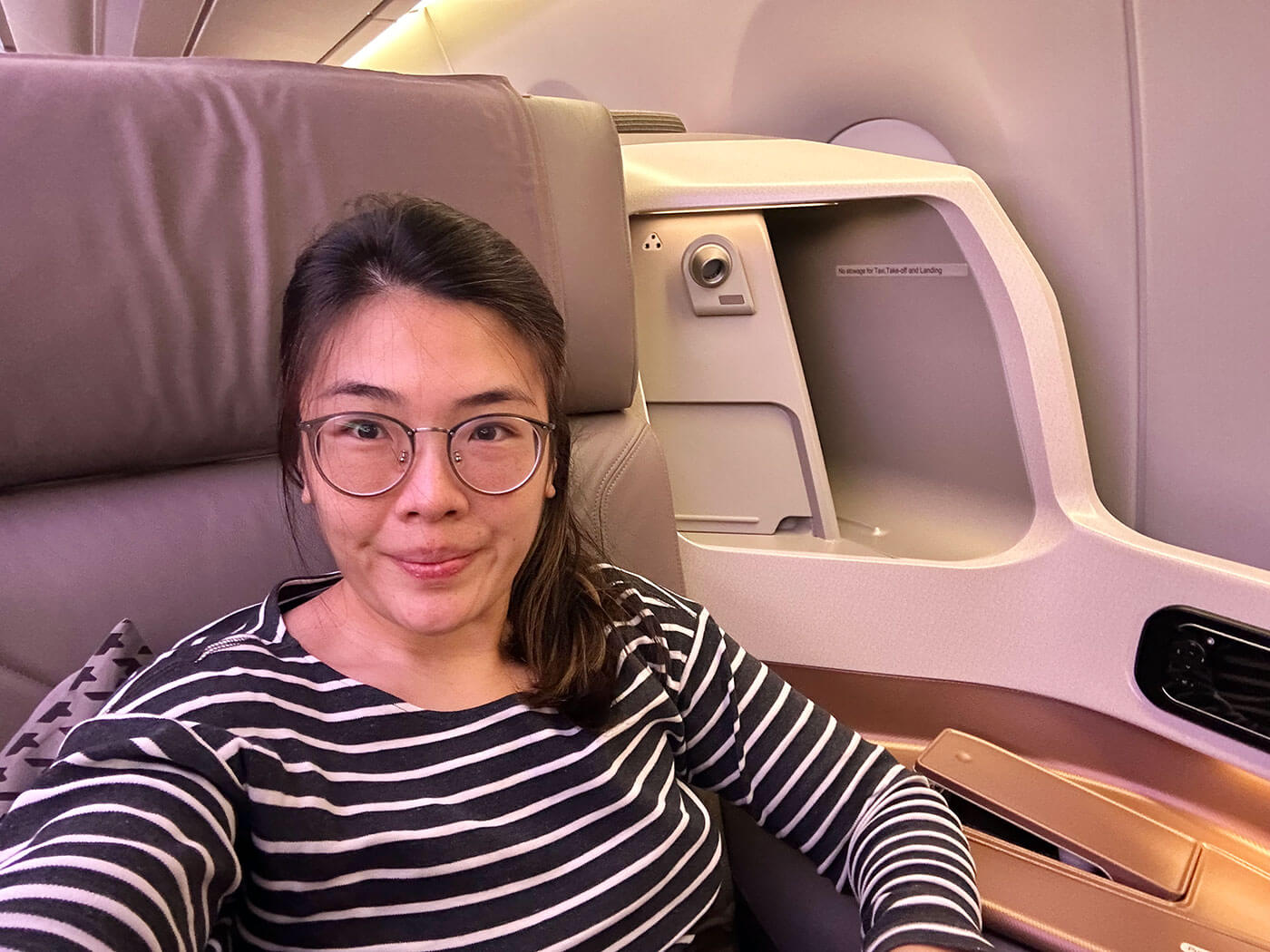 The SQ22 and SQ31 overview and flight stats
In this blog post, I'll be talking about two flights: SQ22 (Singapore to Newark) and SQ31 (San Francisco to Singapore)
SQ22 is currently the second-longest direct flight in the world, covering 9,525 miles and a total flight time of 18 hours and 45 minutes. The actual longest flight in the world is the Singapore Airlines flight that flies from Singapore to JFK. It's only 5 minutes longer than the flight I took, so I'd say the difference is quite negligible. So for all intents and purposes, I'd like to think that I flew the world's longest flight 😛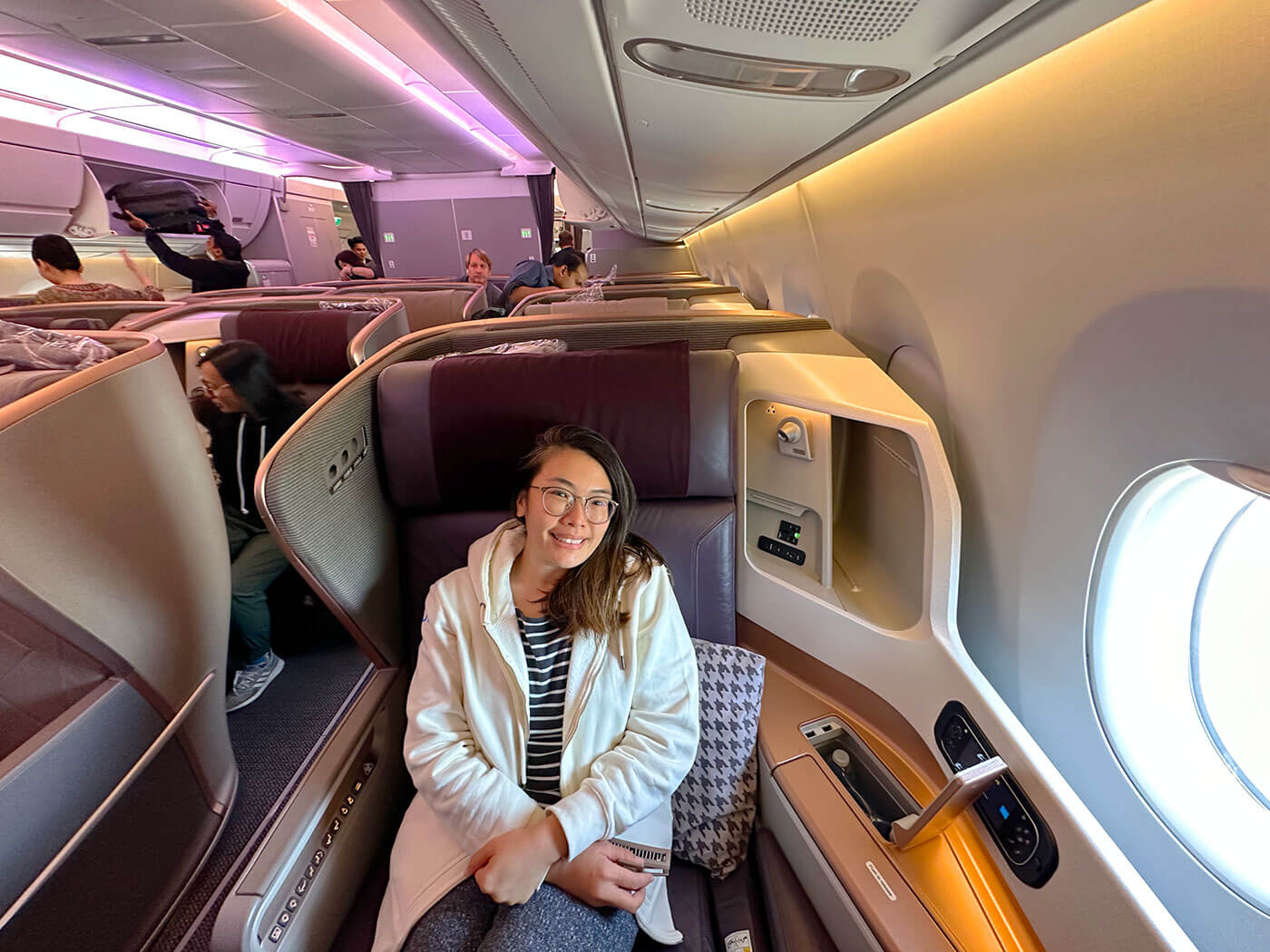 It is worth noting that I flew during the Russo-Ukrainian War, which meant nearly all airlines were flying a slightly modified route to avoid Russian airspace, and the SIN-NYC route was one of the affected routes. So, the stats of the actual flight that I took could be a little different.
SQ31 covers 8,445 miles and takes about 16 hours and 40 minutes. This is still an impressively long flight (considering the longest direct flight I took before this was just 12 hours) but it was definitely dwarfed by the SQ22 flight.
Both SQ22 and SQ31 flights are operated with the A350-900 aircraft, which meant the business class seat was the Singapore Airlines 2013J type. I just wanted to note that down, because apparently, different aircraft have different business-class experiences.
The SilverKris Lounge at Changi Airport Terminal 3
Flying business class on Singapore Airlines entitles you to a visit to the highly anticipated SilverKris Lounge.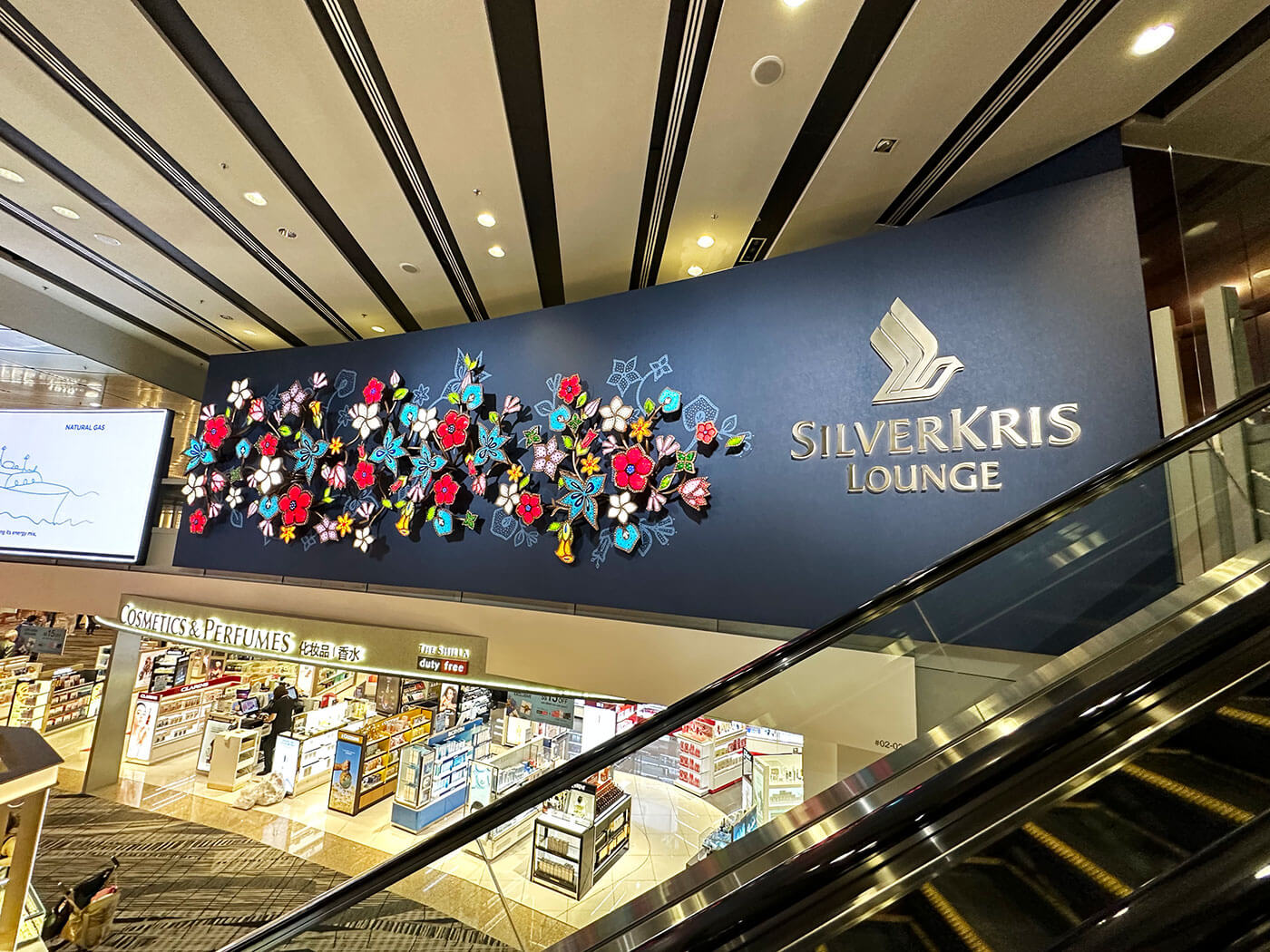 There are two SilverKris Lounges in Changi, one in Terminal 2 and one in Terminal 3. If you decide to visit the lounges, I highly recommend visiting the one in Terminal 3. This is because the lounge in Terminal 3 is the newest Singapore Airlines lounge, part of the $50m lounge upgrade that was completed in May of 2022.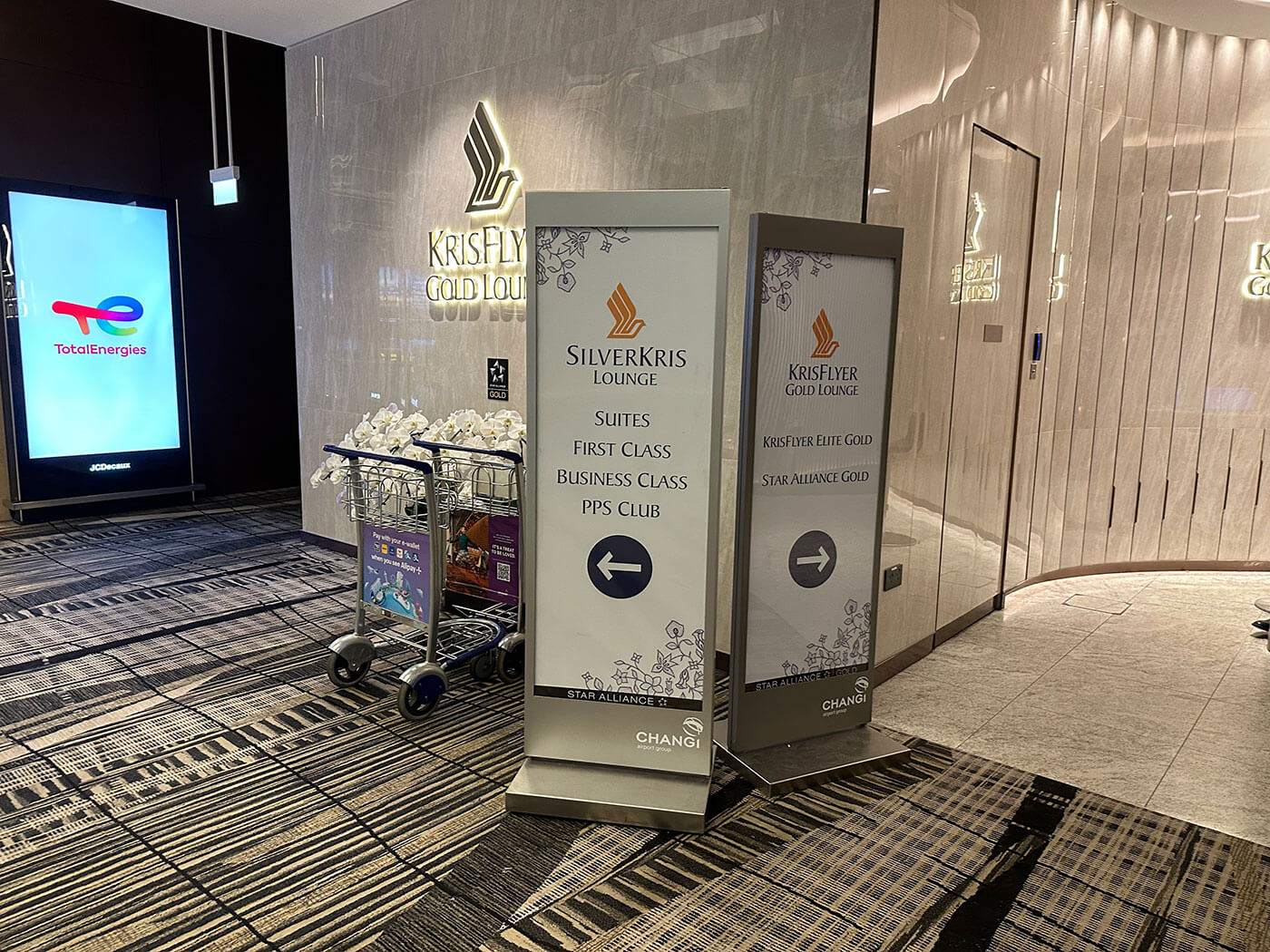 In Terminal 3, head near the A1-A8 gates and go up to the second floor. You'll find the SilverKris Lounge there. Make sure to go to the SilverKris Lounge, not the KrisFlyer Gold Lounge!
The SilverKris lounge is spacious. Once you enter the lounge, if this is your first time, I would recommend making a round first to see all the available spaces and food options.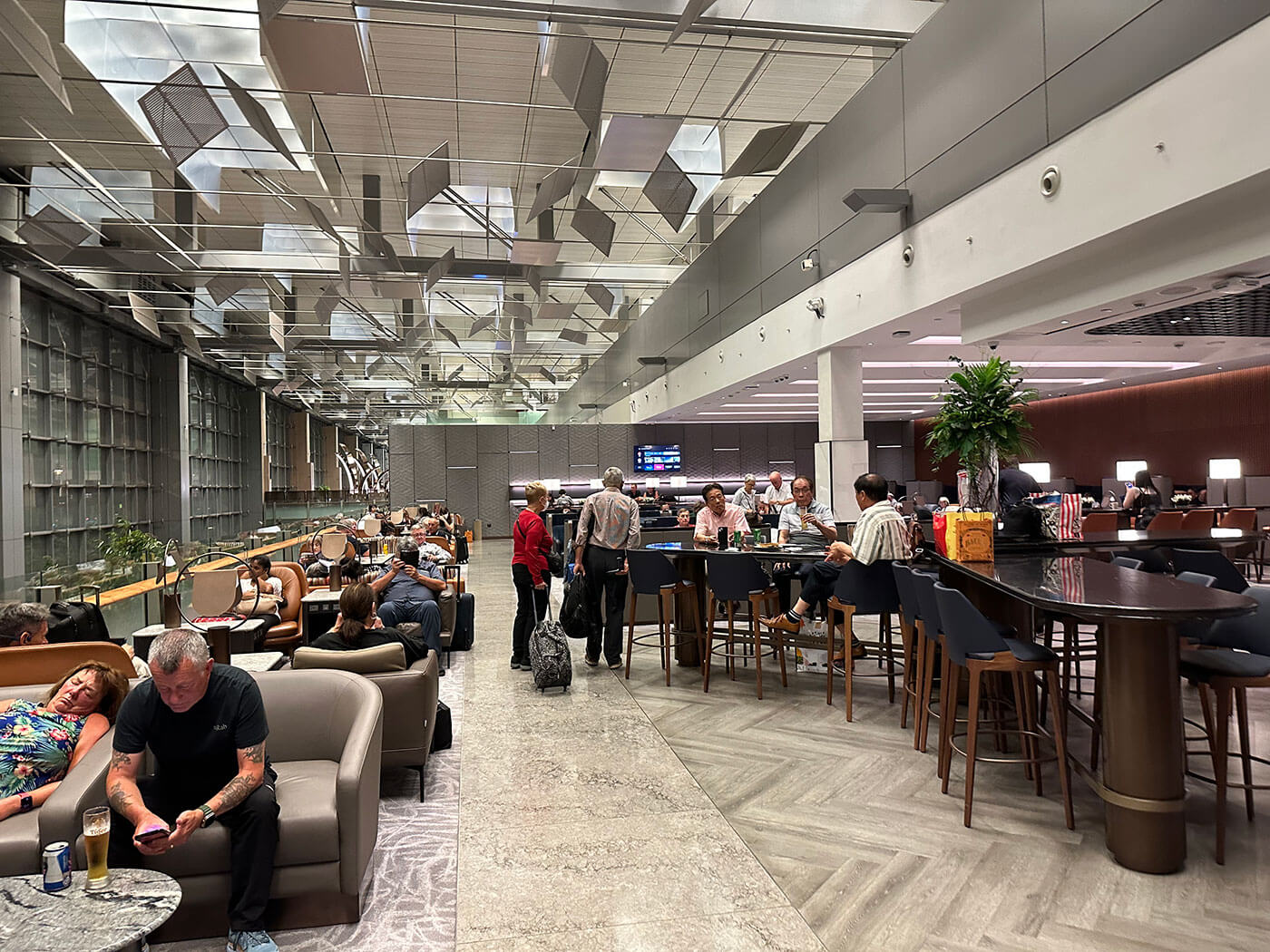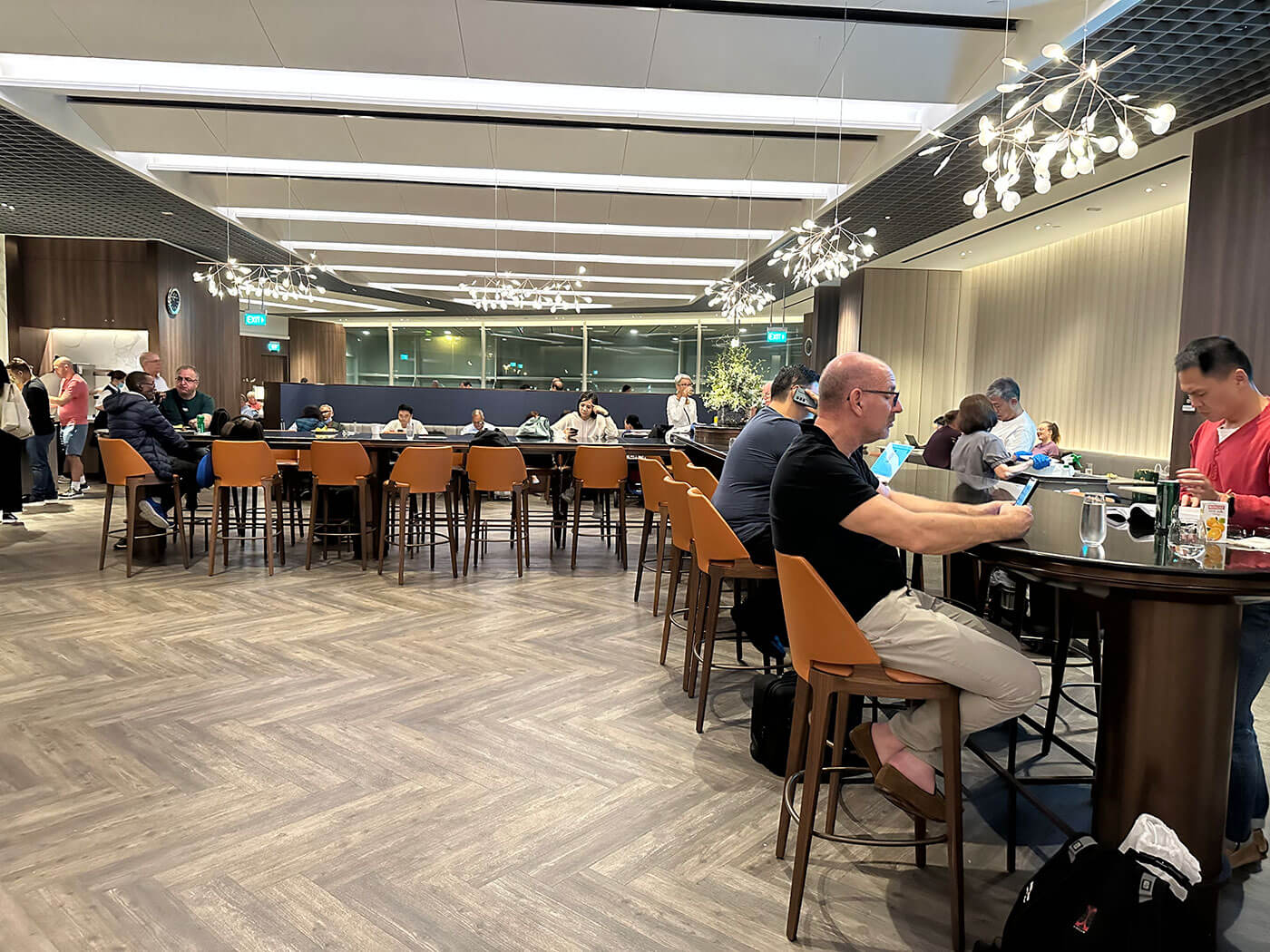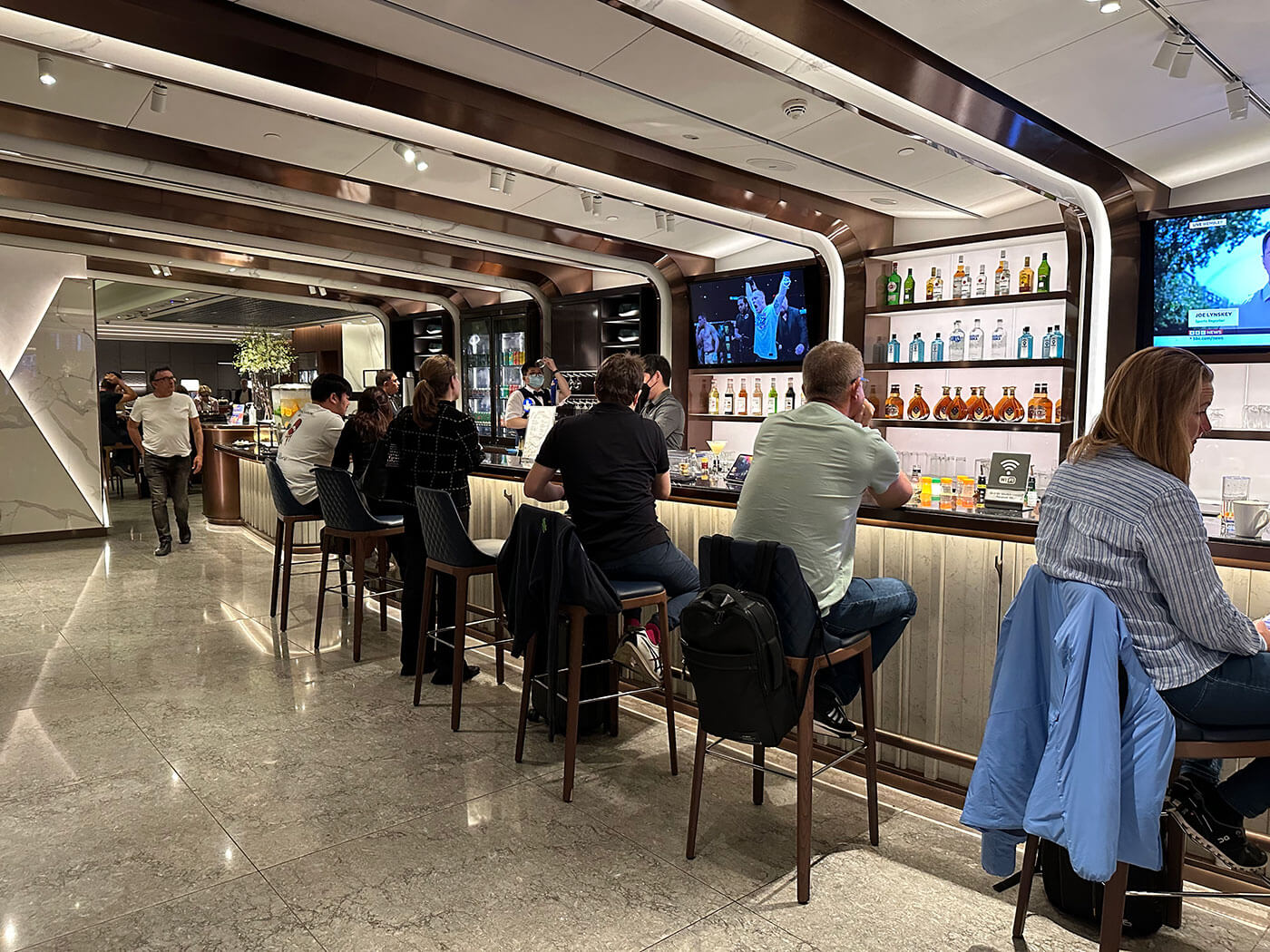 There are two parts of this lounge – one to the right of the entrance and the other part to the left. You'll find the bar and a simplified snack section on the right side, while the full experience of hot food, coffee, and salad bars is on the left side.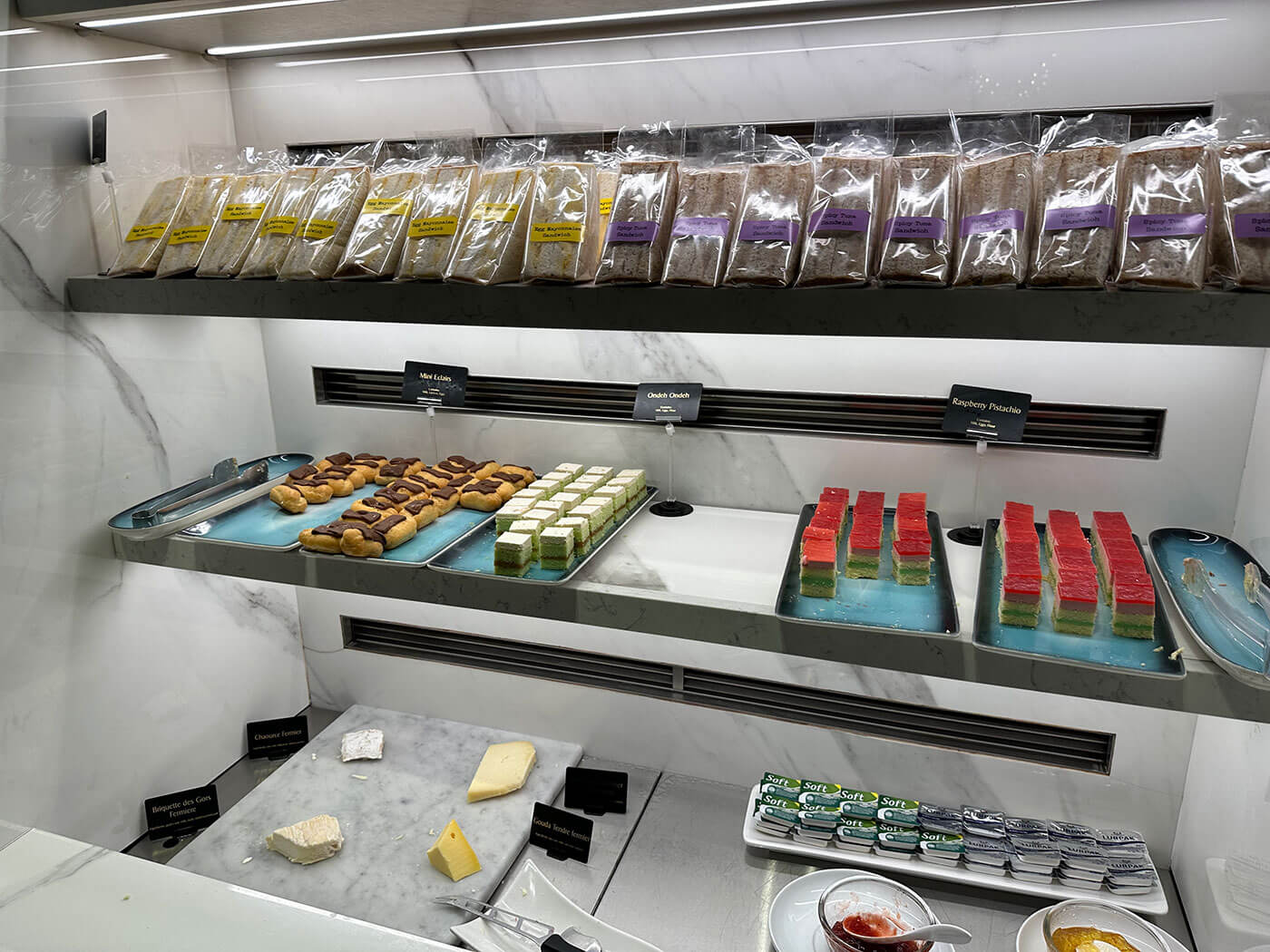 I tried some of the hot food, just for the sake of trying. One of the famous dishes to try at the lounge is the Singapore Laksa. I thought the hot food at the lounge was generally pretty good, but nothing to write home about. I did not eat too much because didn't want to overeat. I was about to board the long flight where I know I will be fed a lot of food! But if I was a passenger on a long transit in Singapore, I would be really happy with this lounge. I heard there is even a shower facility at this lounge as well, which would be a godsend for transit passengers.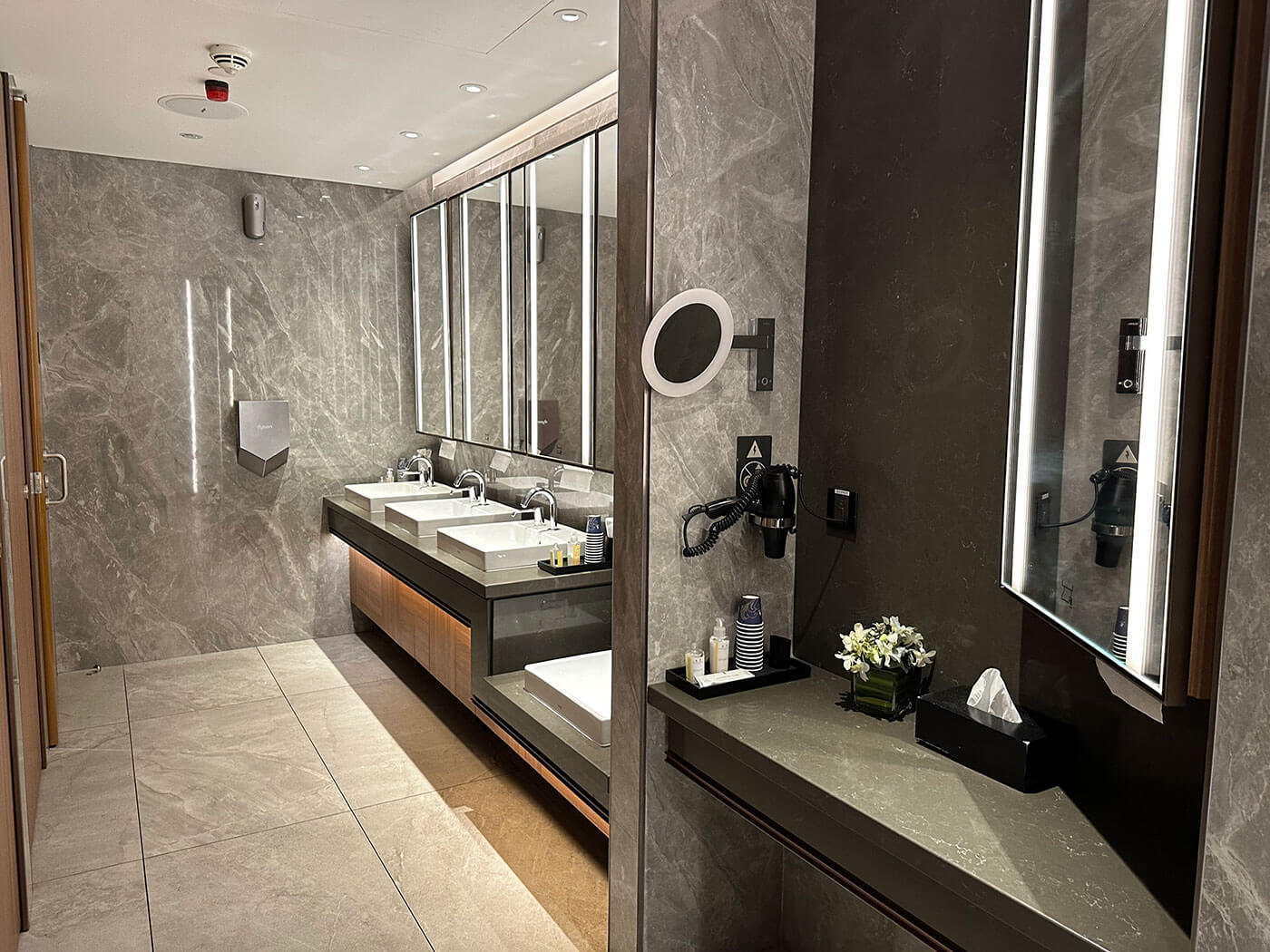 In my experience, I was at the lounge around 9:30 PM and it was very full. I guess there were a lot of long-haul flights departing that night, and everyone was eager to use the lounge.
Pre-flight: Boarding and take-off experience
So, I actually missed my SQ22 boarding call… because I was too comfortable in the SilverKris lounge! I did not realize that Terminal 3 in Changi is very large. I had to walk quite a bit and even had to take a train to reach my gate from the lounge. By the time I got to my gate, it was already empty and I was one of the LAST passengers to board. Thankfully, I still made the flight!
But from my experience on the business class going back to Singapore on the SQ31 flight (which I made sure I was early for, after the traumatic experience of almost missing the flight) business and first-class passengers will board first, as expected.
Upon boarding, a stewardess addressed me by name and offered beverages and snacks while we wait to take off. Many passengers like to order Bellini as their pre-takeoff beverage, but I did not get it on this flight since I didn't feel like drinking any alcohol. I got the Bellini on my SQ31 flight later on though.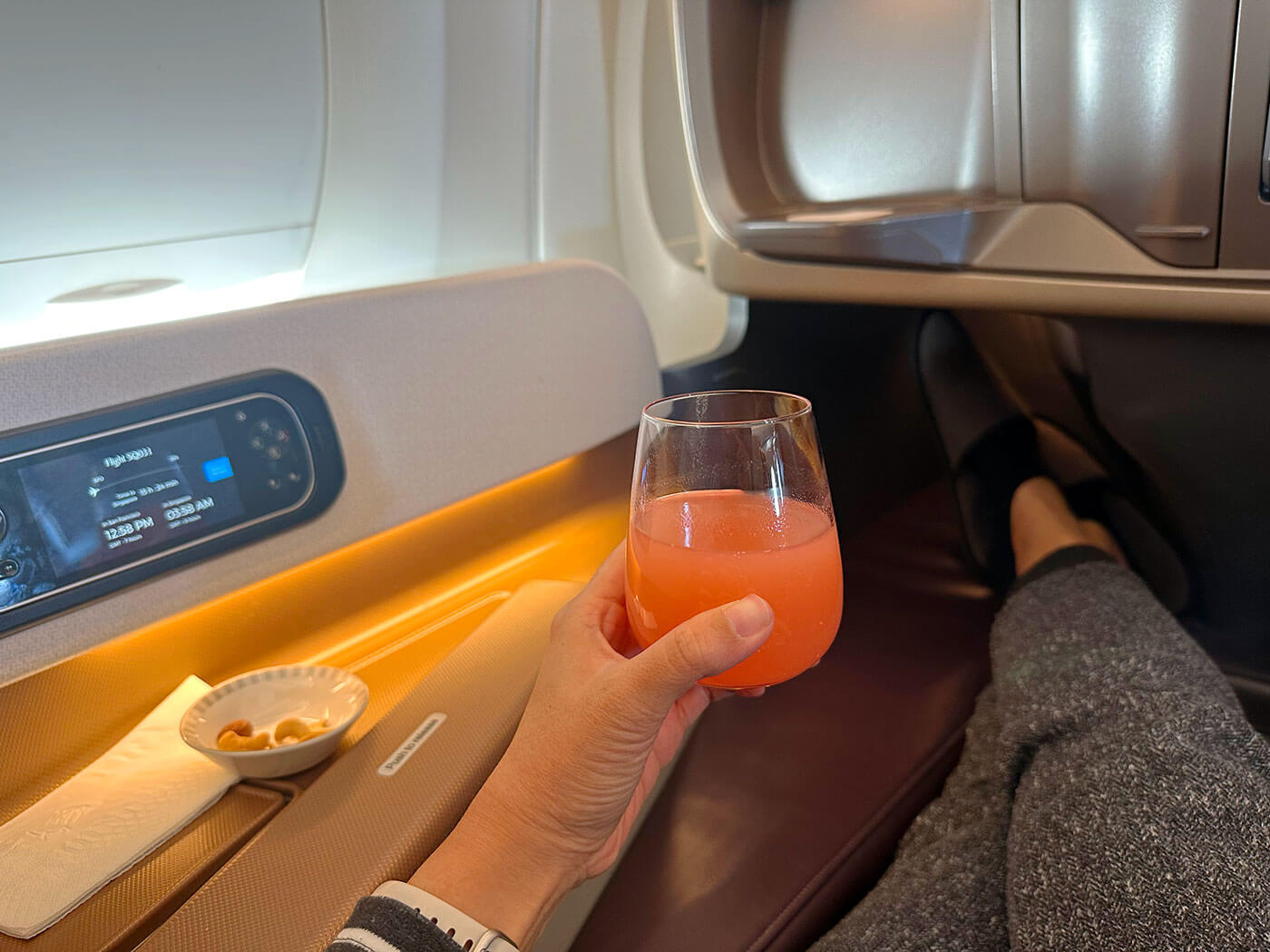 Amenities Kit in Singapore Airlines Busines Class
In the past, Singapore Airlines apparently never gave out amenities kits. Instead, they make sure the aircraft is well stocked with anything you could possibly need on a flight.
Well, fast-forward to 2020 and now they do offer an amenities kit! The amenities kit for the Singapore Airlines business class is provided by Penhaligon, a British perfume house established in 1870.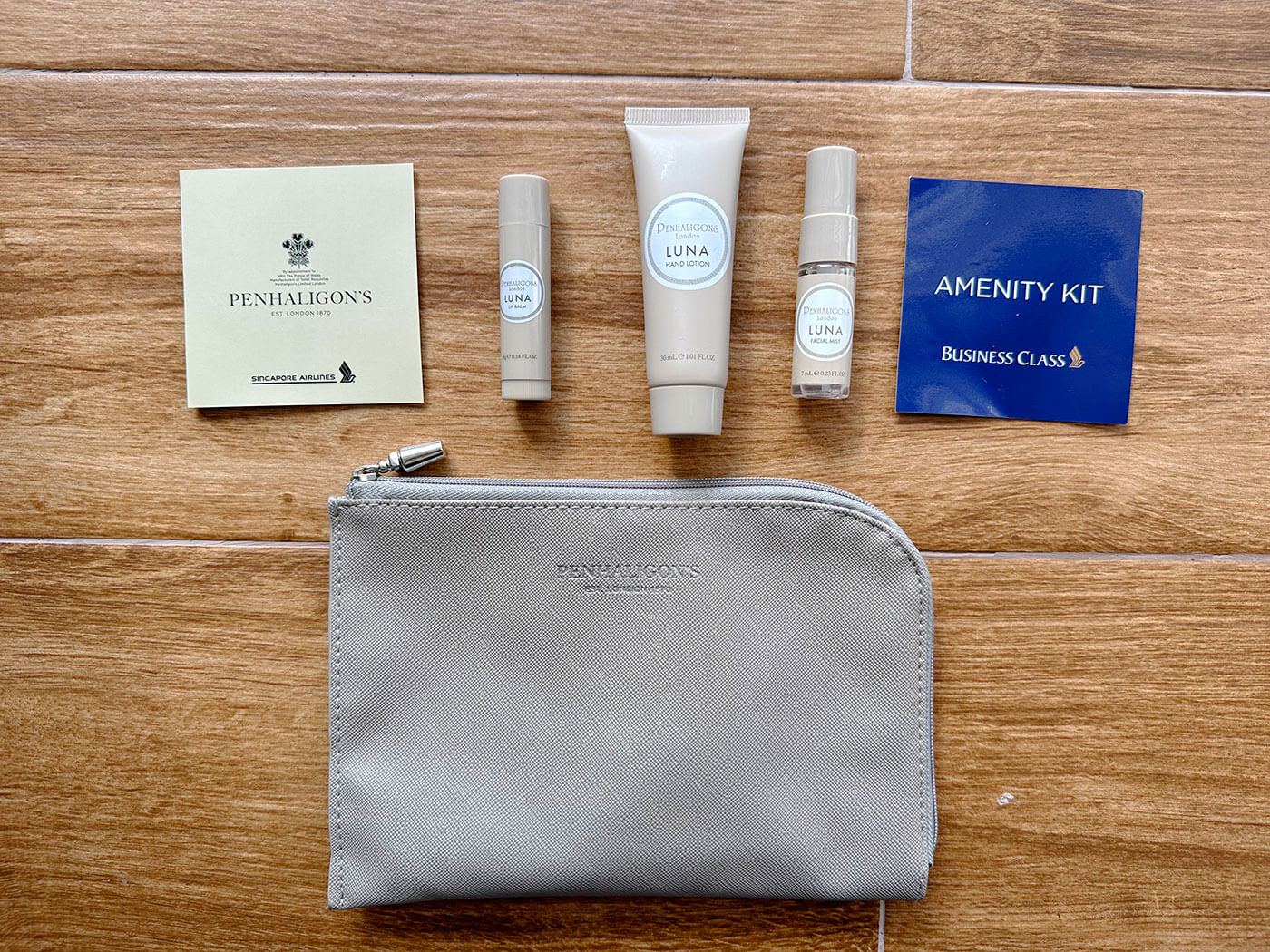 The kit comes in a Penhaligon zip pouch that varies in color for each flight, with a small embossed Singapore Airlines logo on the back. I got a sage gray color on SQ22, and a khaki color on SQ31. I have also seen the pouch in black, navy blue, and emerald green when I searched online later on.
I don't think you could choose the colors of the pouch, but whatever color it is, the content would probably be the same as what I got:
1 x Lip balm (4g)
1 x Facial mist (7ml)
1 x Hand Lotion (30ml)
You might be getting the products in one of the scents that Penhaligon carries. For my flight, I got Penhaligon's Luna range, which was a nice floral scent.
The amenities kit is available only on request. I only became aware of them on my SQ22 flight after requesting a lip balm mid-flight because my lips were so dry after many hours on the air. I think it's great that the amenities kit had to be requested, as this would reduce waste. But on my SQ31 flight, the kits were waiting for me on my seat when I boarded the flight.
Other amenities such as razors and toothbrushes can be found in the toilet of business class. There is a range of fragrances by Penhaligon. You could also request a slipper to wear during the flight if you don't want to wear your own shoes.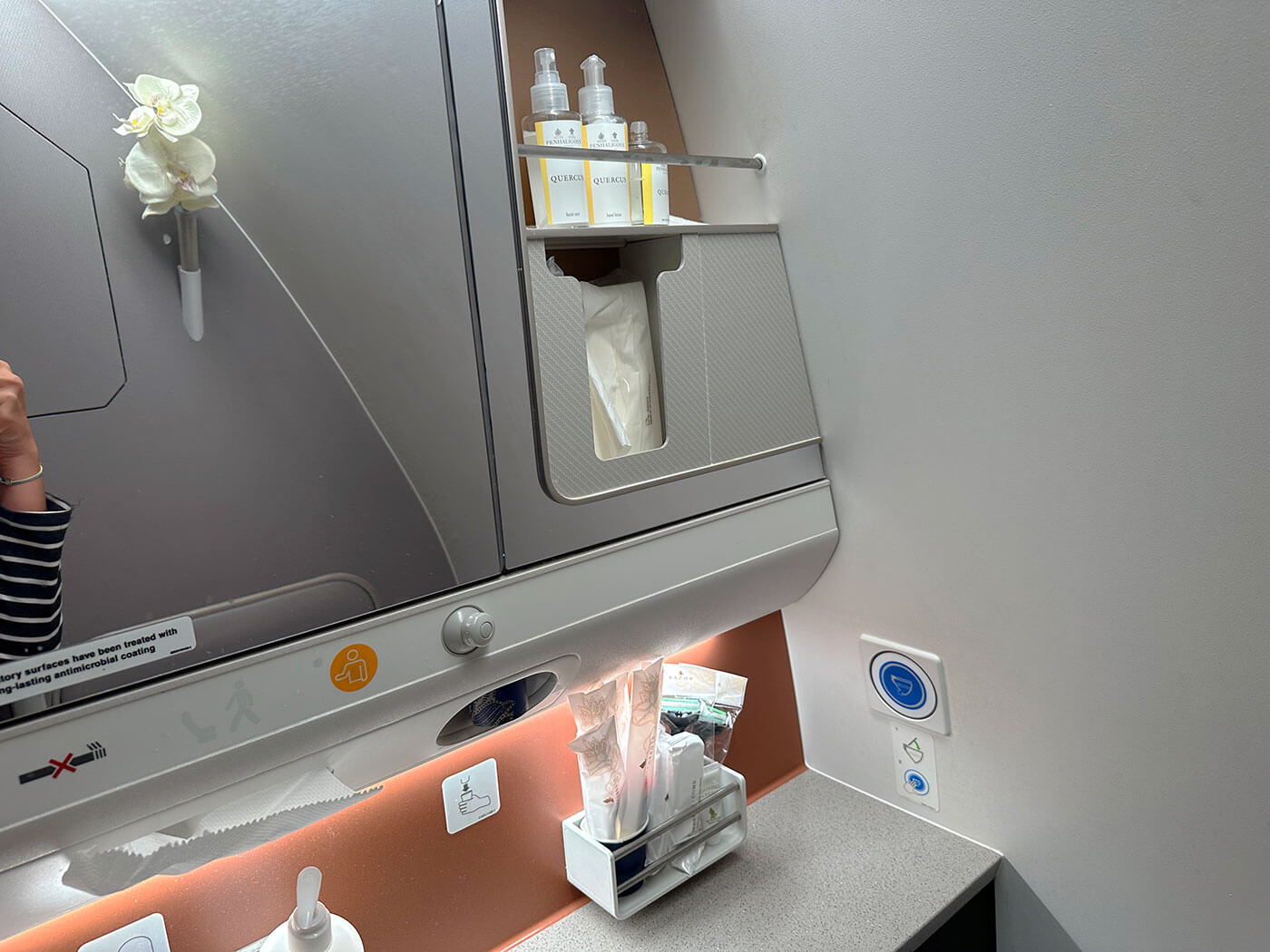 Meals and Beverages
With all meals, they will serve a few varieties of both red and white wines. You also have an option of coffee and tea by TWG. But arguably, the star of the meal service was Singapore Airlines' Book The Cook, which aims to replicate a restaurant setting at 30,000 feet in the air.
You'll be able to choose the main dishes you'd like to have for each meal on your flight. You have to Book The Cook 24 hours before the flight (48 hours for some long-haul flights). The menu changes depending on where you take off from. You can check Book The Cook menu here.
If you did not "book the cook", then you'll be limited to whatever inflight menu they have for the flight – which, don't get me wrong, are not bad options at all. It's just that Book The Cook will have way more variety of dishes, especially for the flight taking off from Singapore.
A popular dish in Book The Cook is the Lobster Thermidor, but I'm not a fan of crustaceans so I gave that a skip. There were two Book The Cook meals and one refreshment meal served on both flights and I ordered the following meals instead:
Mains on the SQ22 Flight (plus my personal ratings)
Duck Confit – Duck leg, slow-cooked in duck fat, served with white bean and lentil ragout, savoy cabbage, and baby carrots. The presentation of this dish clearly needed some work (and where are my baby carrots?), but the duck confit was more delicious than it appears. I'll give this an 8/10!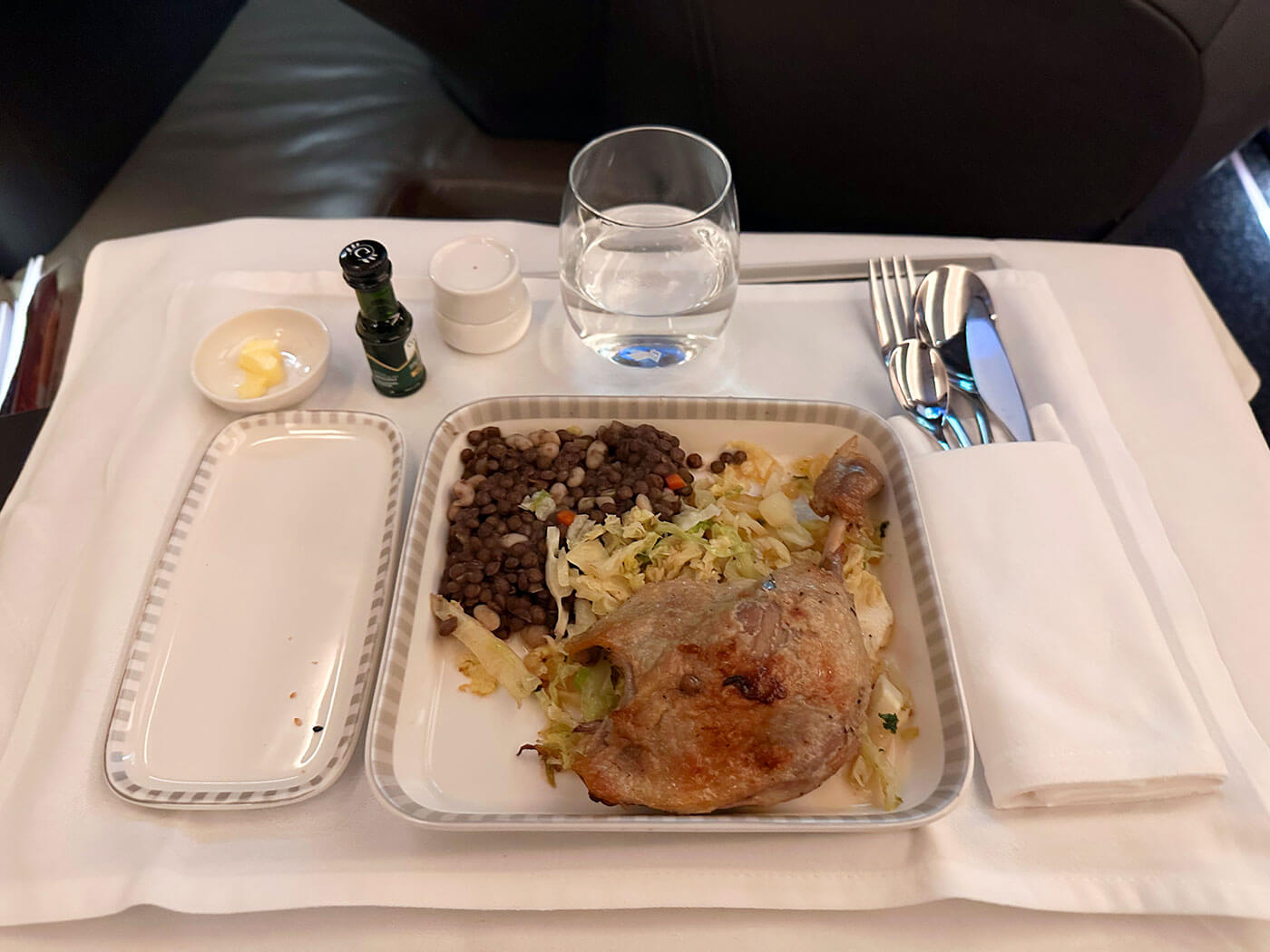 Beef Steak – Charcoal grilled beef tenderloin, creamy polenta, red wine sauce with seasonal vegetables. This was alright. In terms of airplane meals, it was of course amazing, but I wouldn't have been impressed by this on any other occasion. 7/10.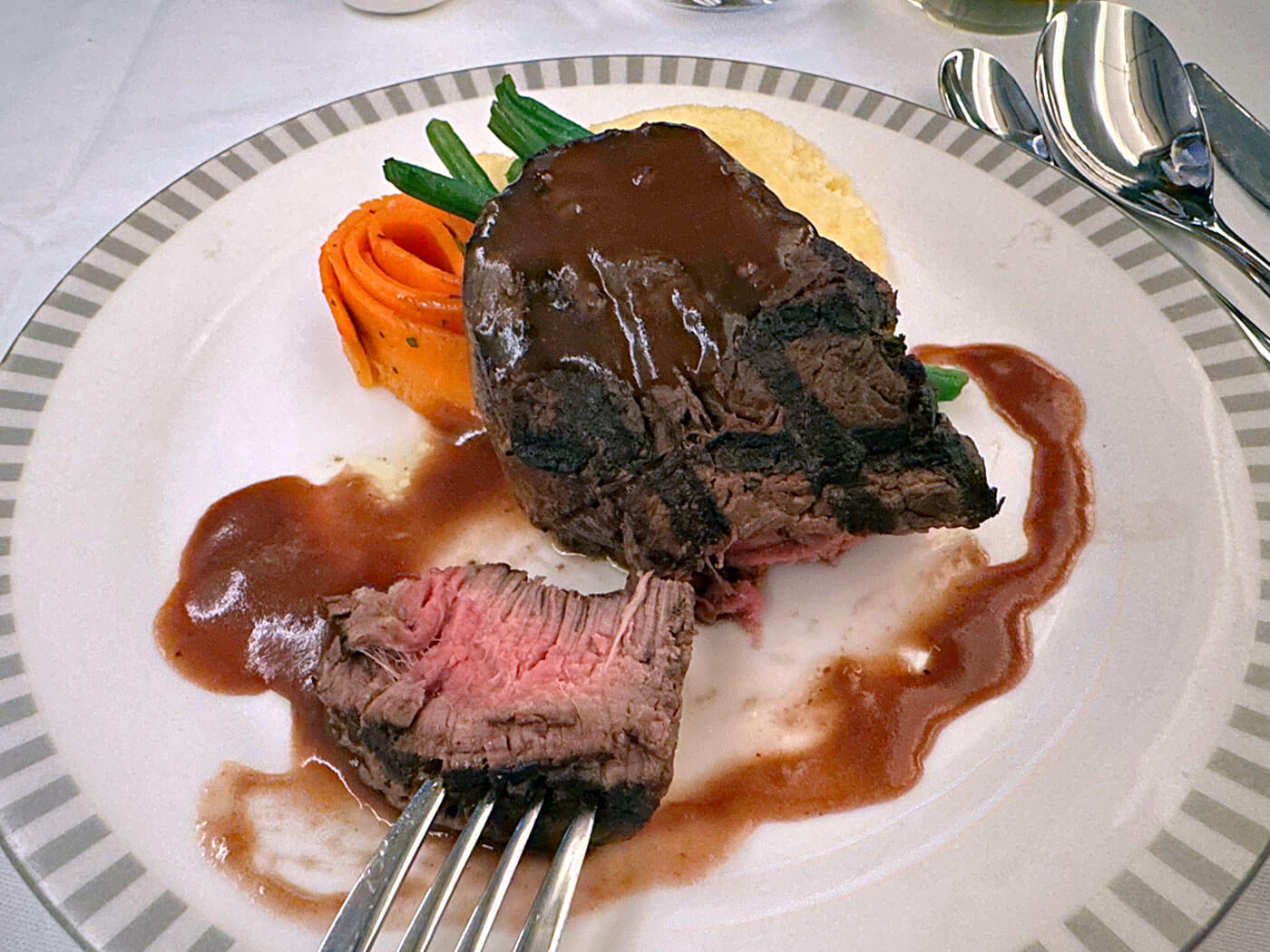 Fishball noodles – with vermicelli and minced chicken. This one is a refreshment meal and not part of Book The Cook. You really cannot go wrong with fishball noodles. It's a simple and comforting dish and I loved every bit of it! 8/10.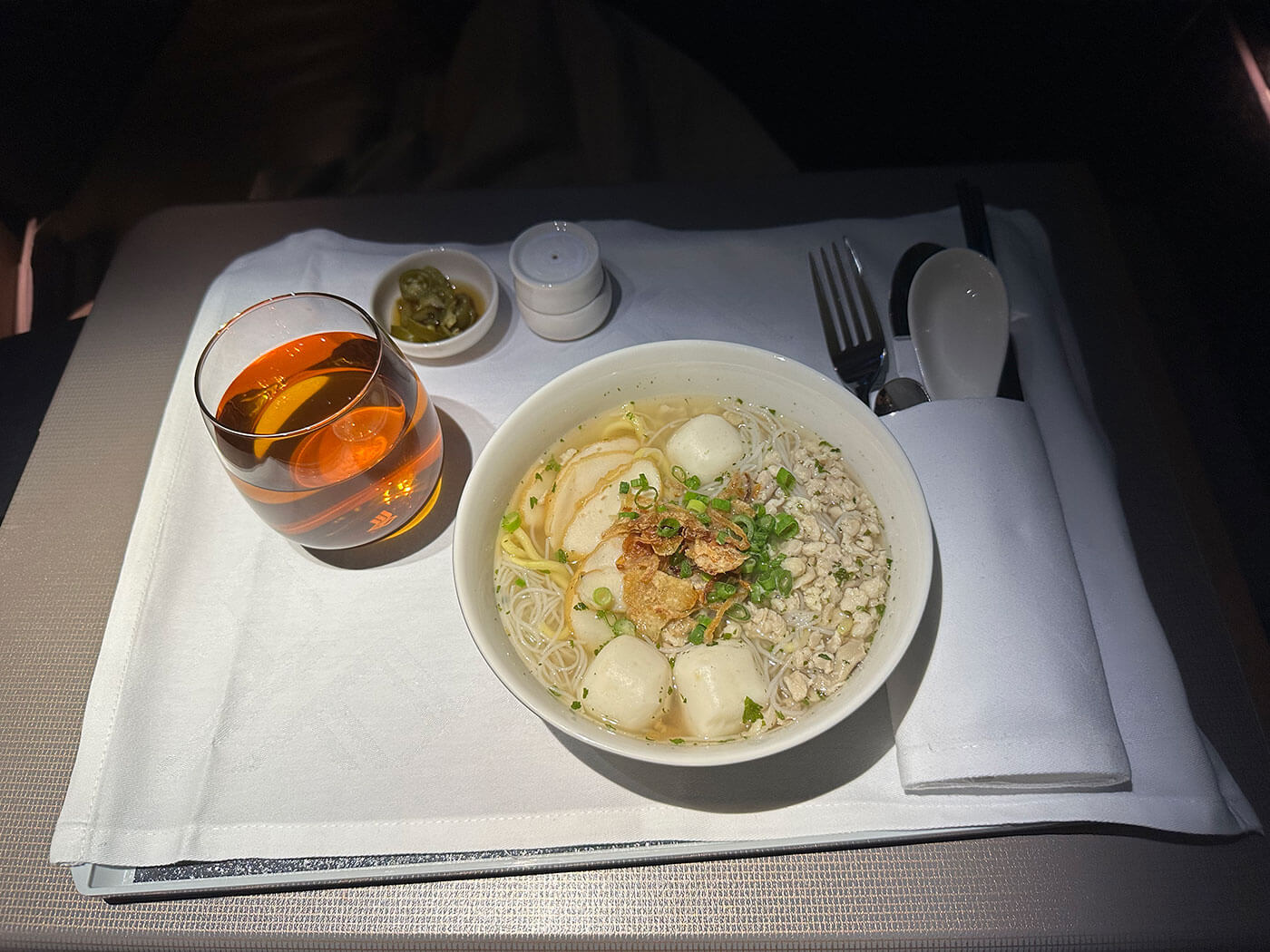 Singapore chicken satay – This was served as a snack. The satay is a crowd's favorite based on what I've been reading online, and it was good, but as an Indonesian I prefer a different style of satay. As far as authenticity goes, I think it's quite on point for satays in Singapore. 8/10.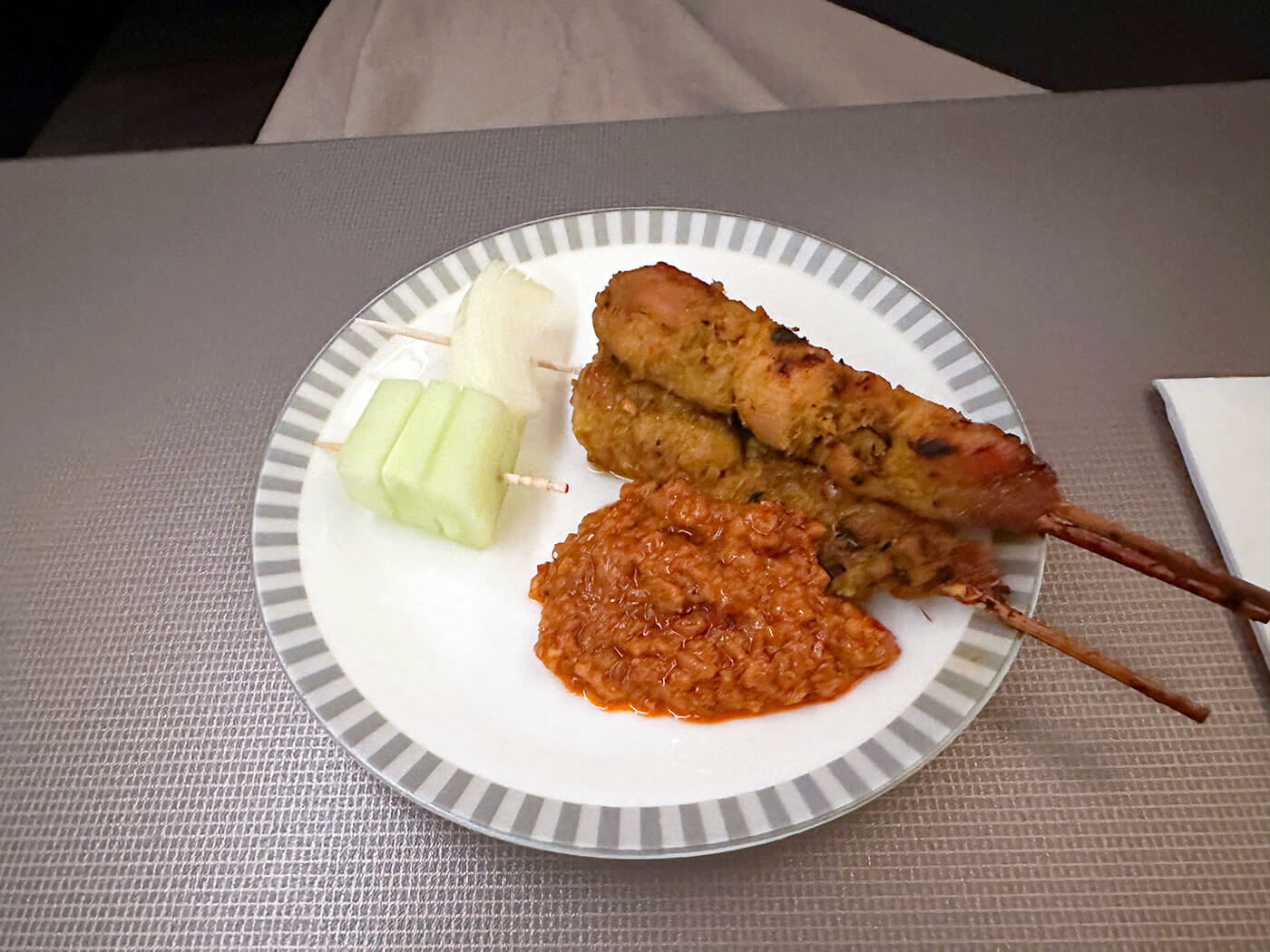 Mains on the SQ31 Flight
Braised Beef Short Rib – with cornbread pudding, sauteed spinach, and smoked tomato butter. This was yummy! Tender juicy ribs and delicious cornbread pudding. I cleaned up the plate. I thought the butter was a bit excessive though, i left more than half of it on the plate. Still, 8/10!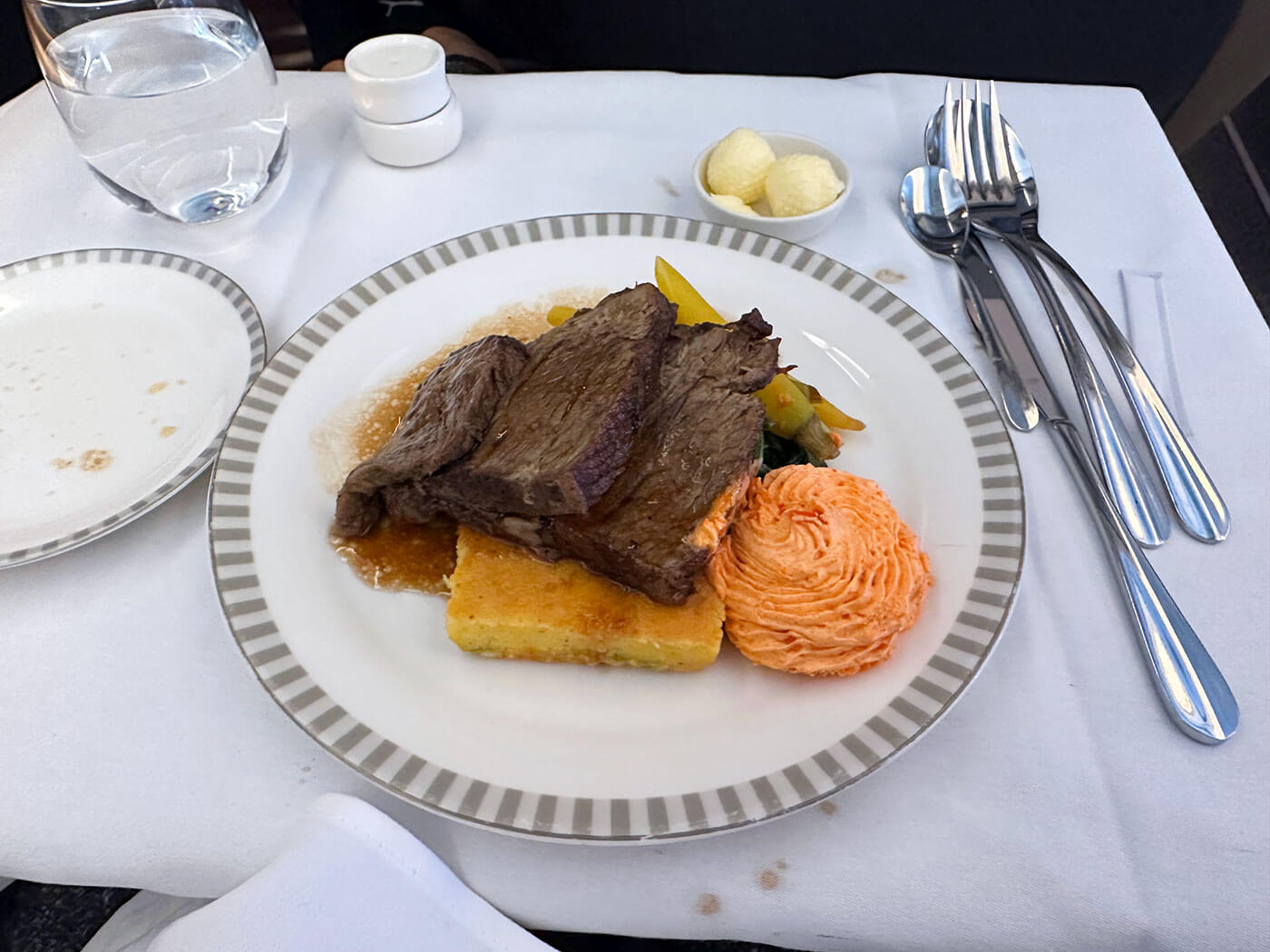 Pan Seared Sea Bass – Served with morel cream sauce, baby spinach, carrot, and fondant potato. This was edible, and again it's great as far as airplane meal goes. Nothing to write home about though. 7/10.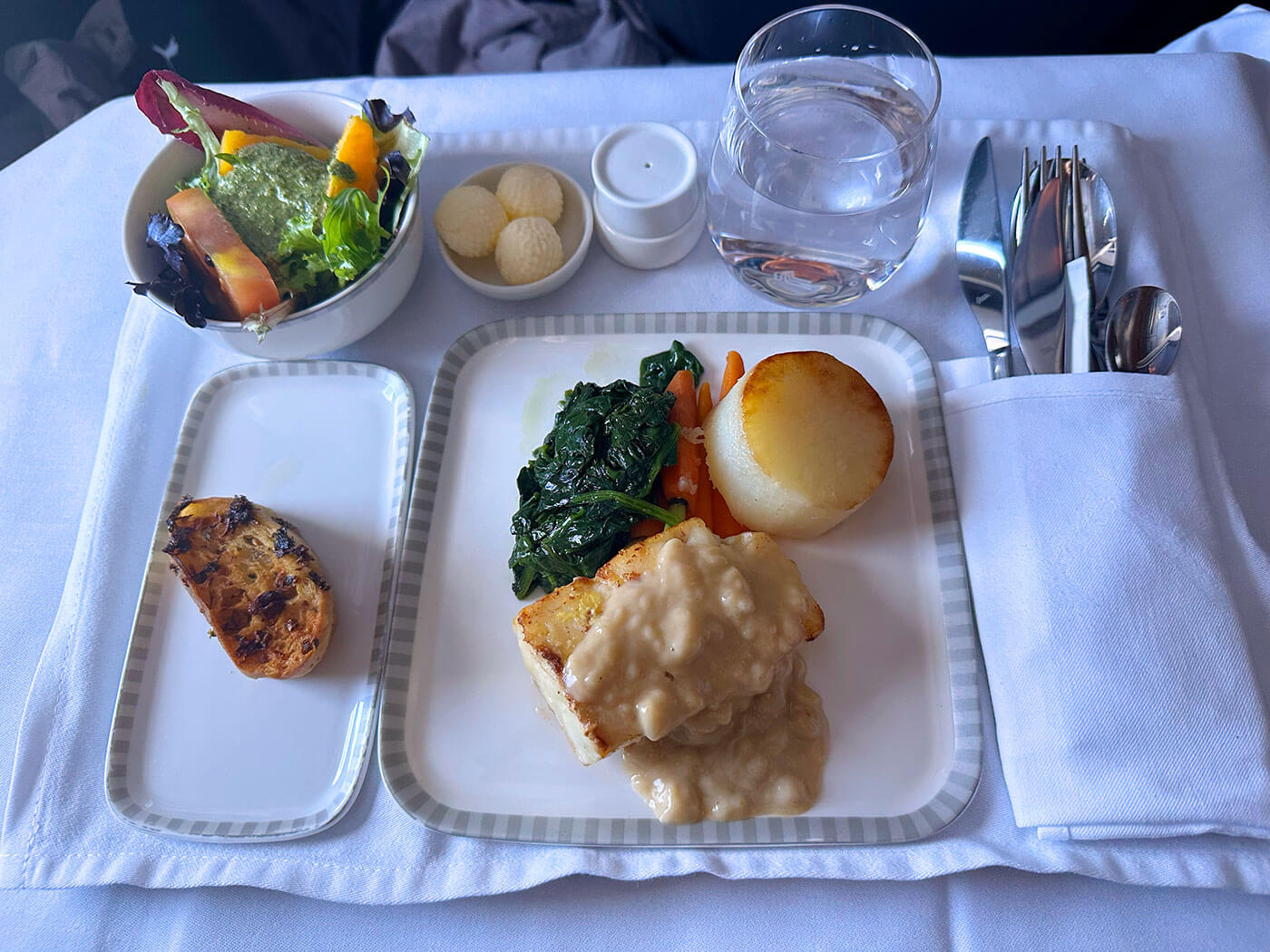 Wheat noodle soup – with mushroom and chicken. This was a refreshment meal and not part of Book the Cook, but ohhhh my god. This dish looked so unassuming, but it was probably my favorite meal out of all. It's just a simple noodle soup with a hint of sesame oil, but so good and really hits the spot. The chicken portion was generous. 10/10 from me.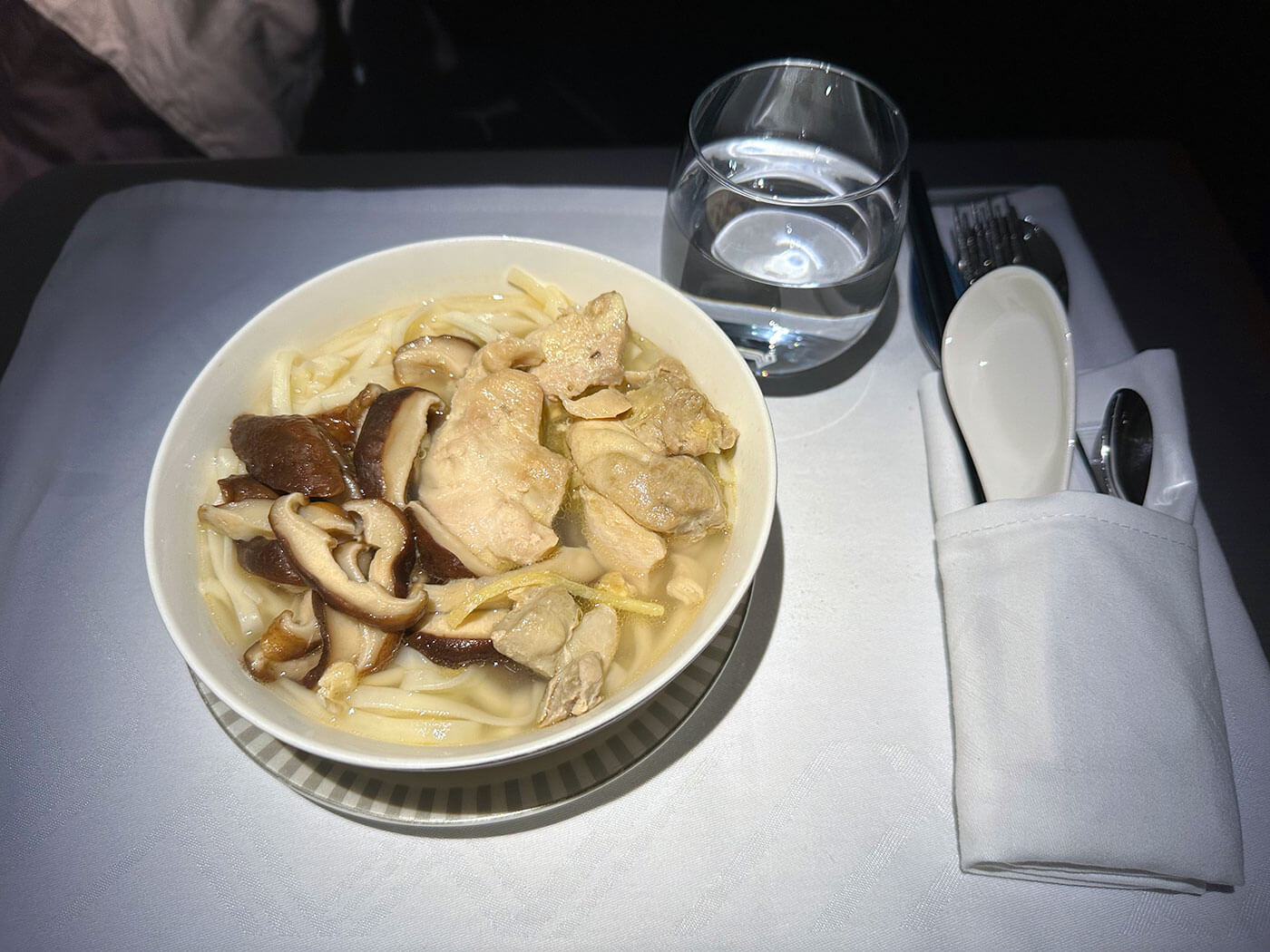 Appetizers and Desserts
Along with the mains, you'll also be served appetizers before the mains and dessert after the mains. The menu changes with each flight, but I'll post some photos of what I had to give you an idea.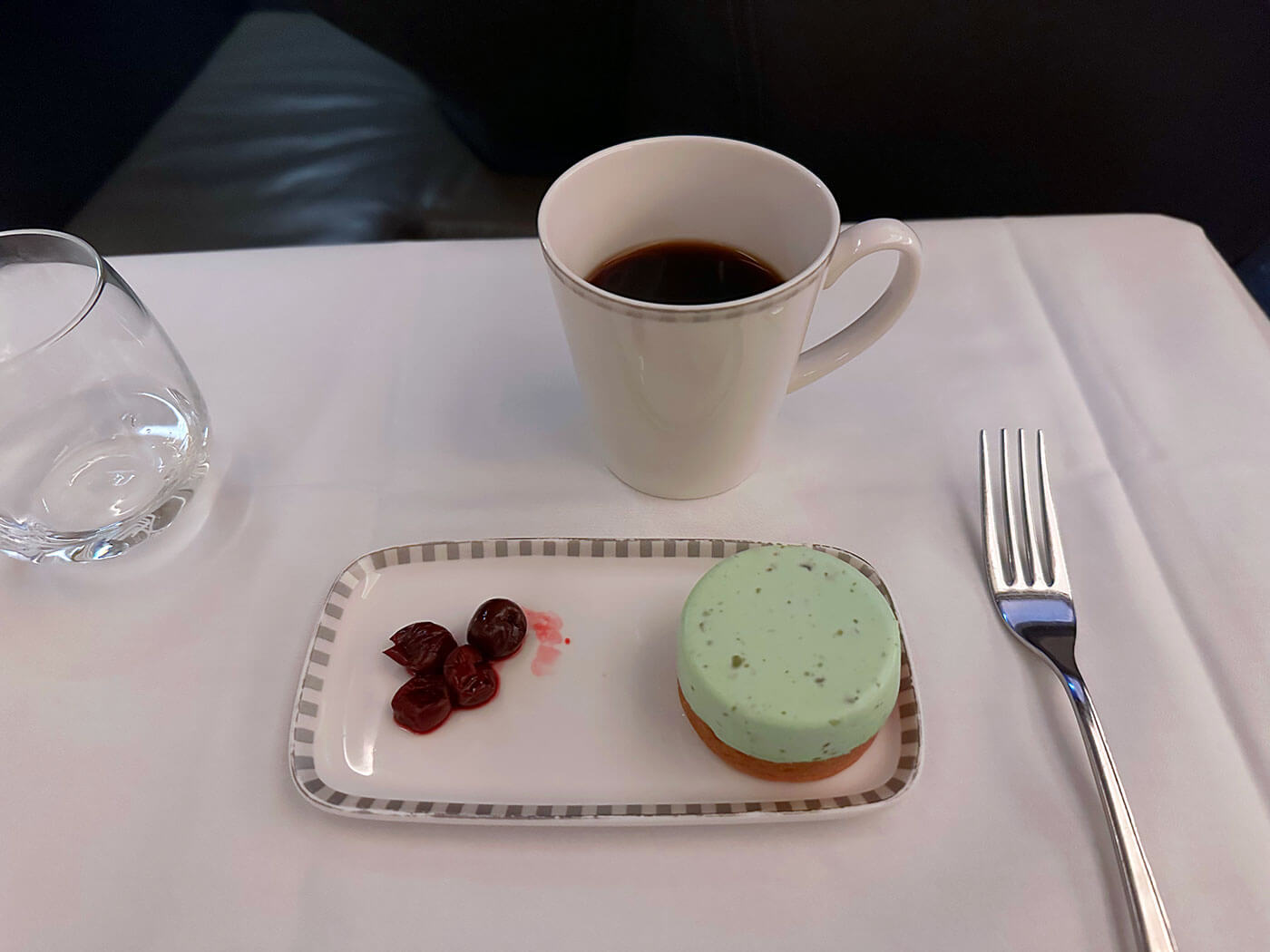 This Pistachio Bavarois was very delicious! My favorite dessert from the two flights.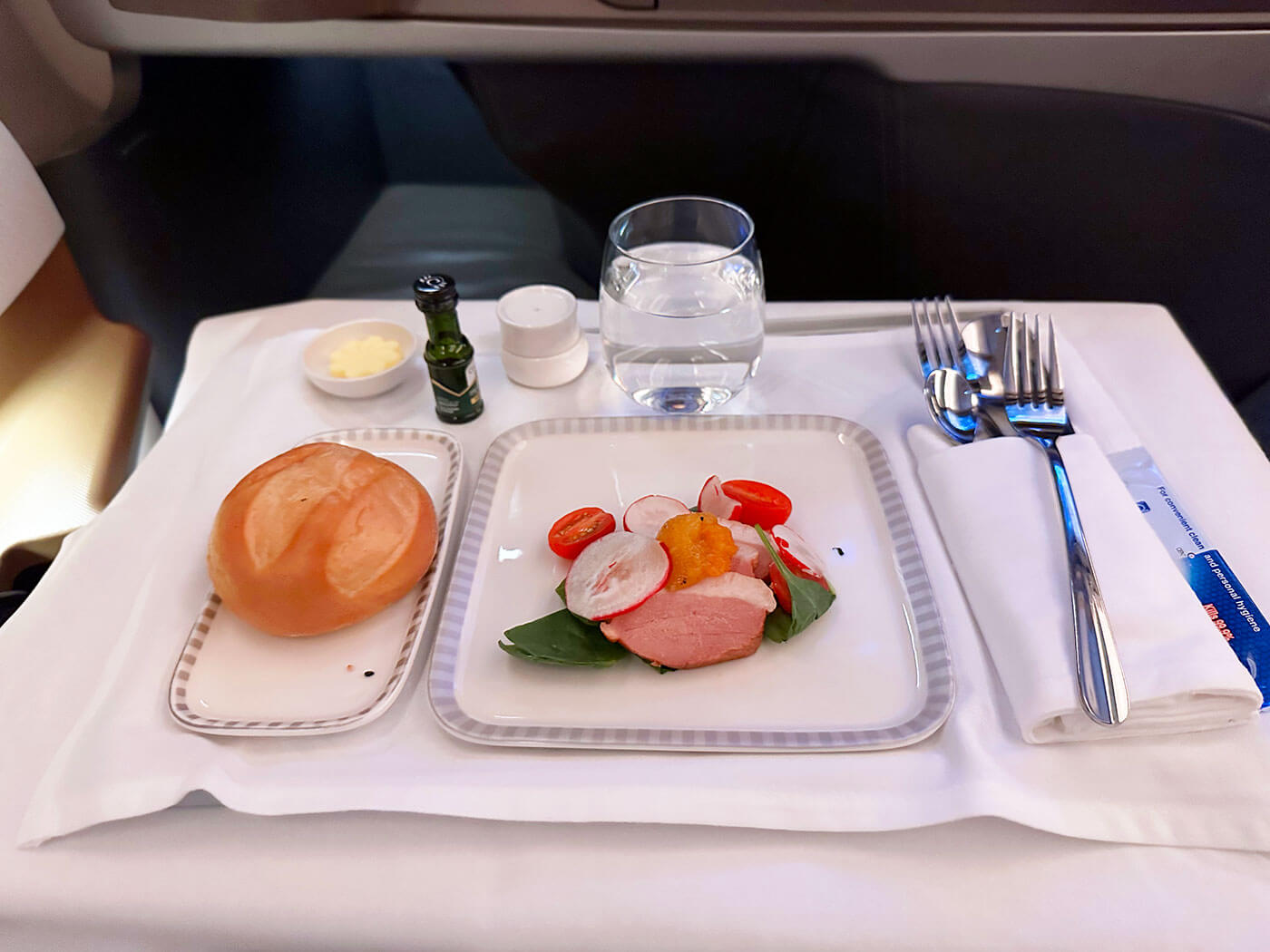 The Seat on the Singapore Airlines Business Class
So I lied about SQ22 being my first business class flight. I have actually been in a Singapore Airlines business class once when my seat was upgraded due to an overbooked flight for a short flight to Hong Kong.
It was only a 4-hour flight, and it was so long ago that I barely remember anything, but I think the 2013J seat is way bigger than the one I had back then, and definitely the most spacious business-class seat I've seen thus far.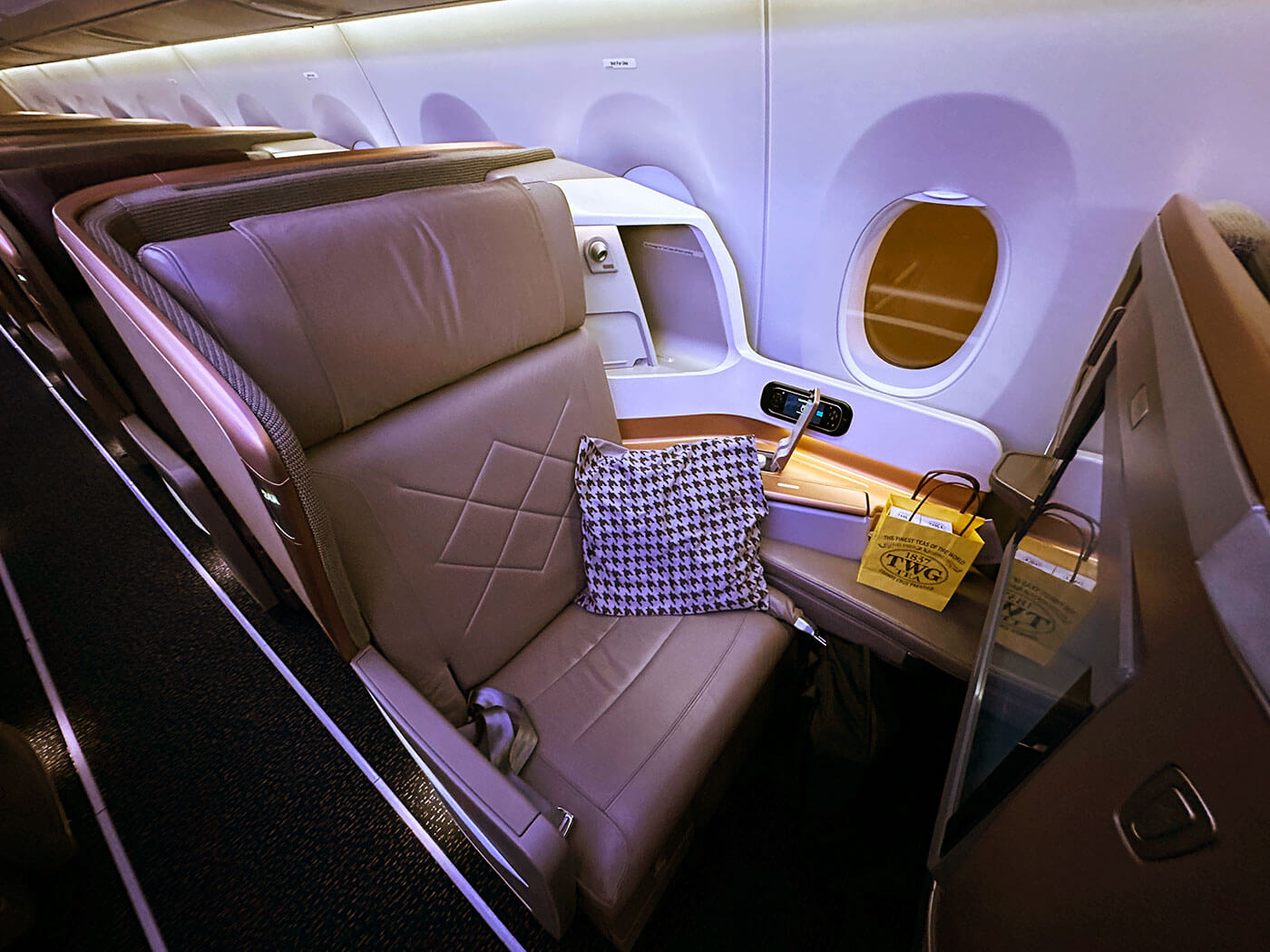 The seats came with noise-canceling headphones and earpad covers. There is also a bottle of water and a set of inflight menus inside the panel next to the arm's seat.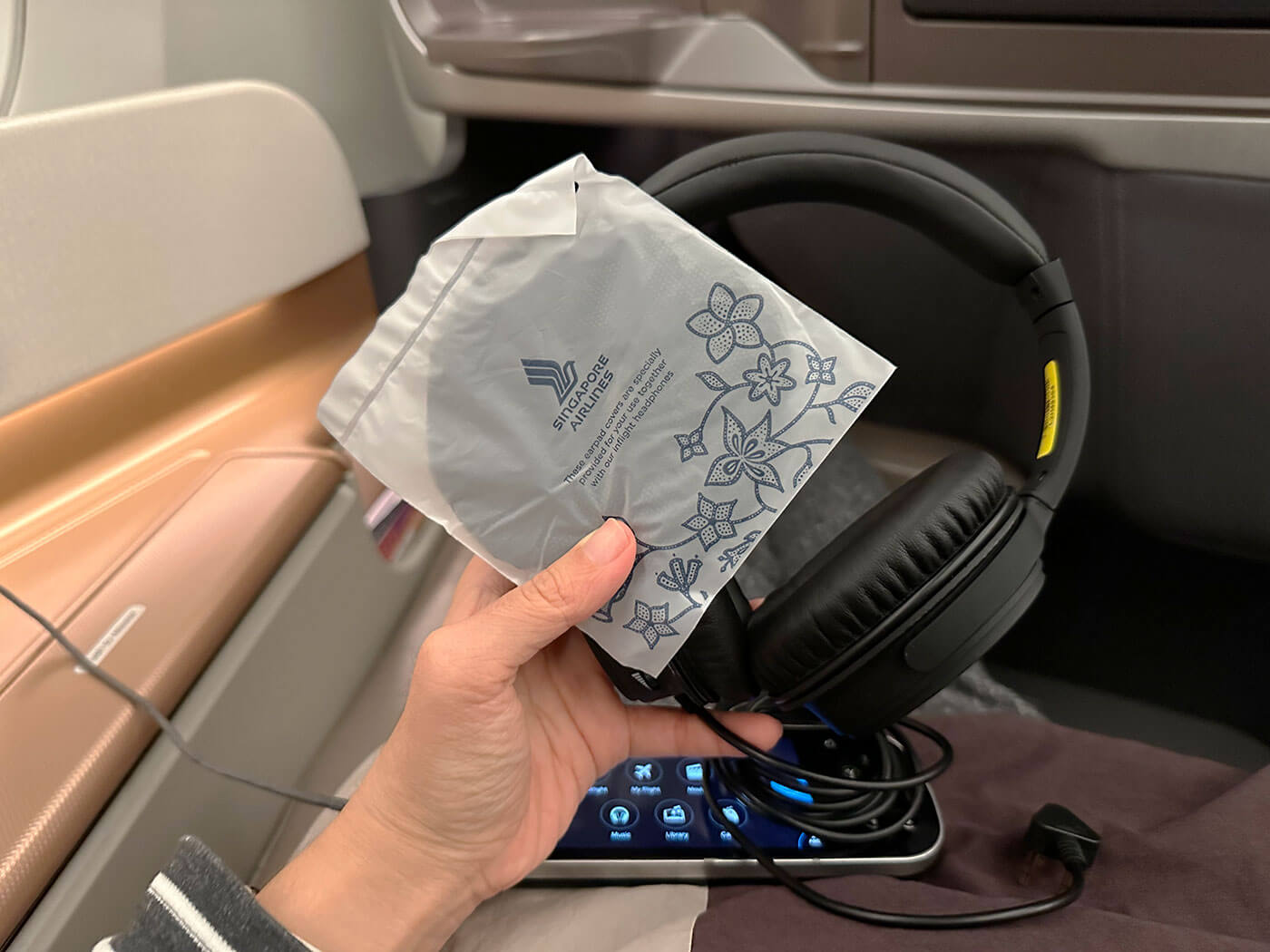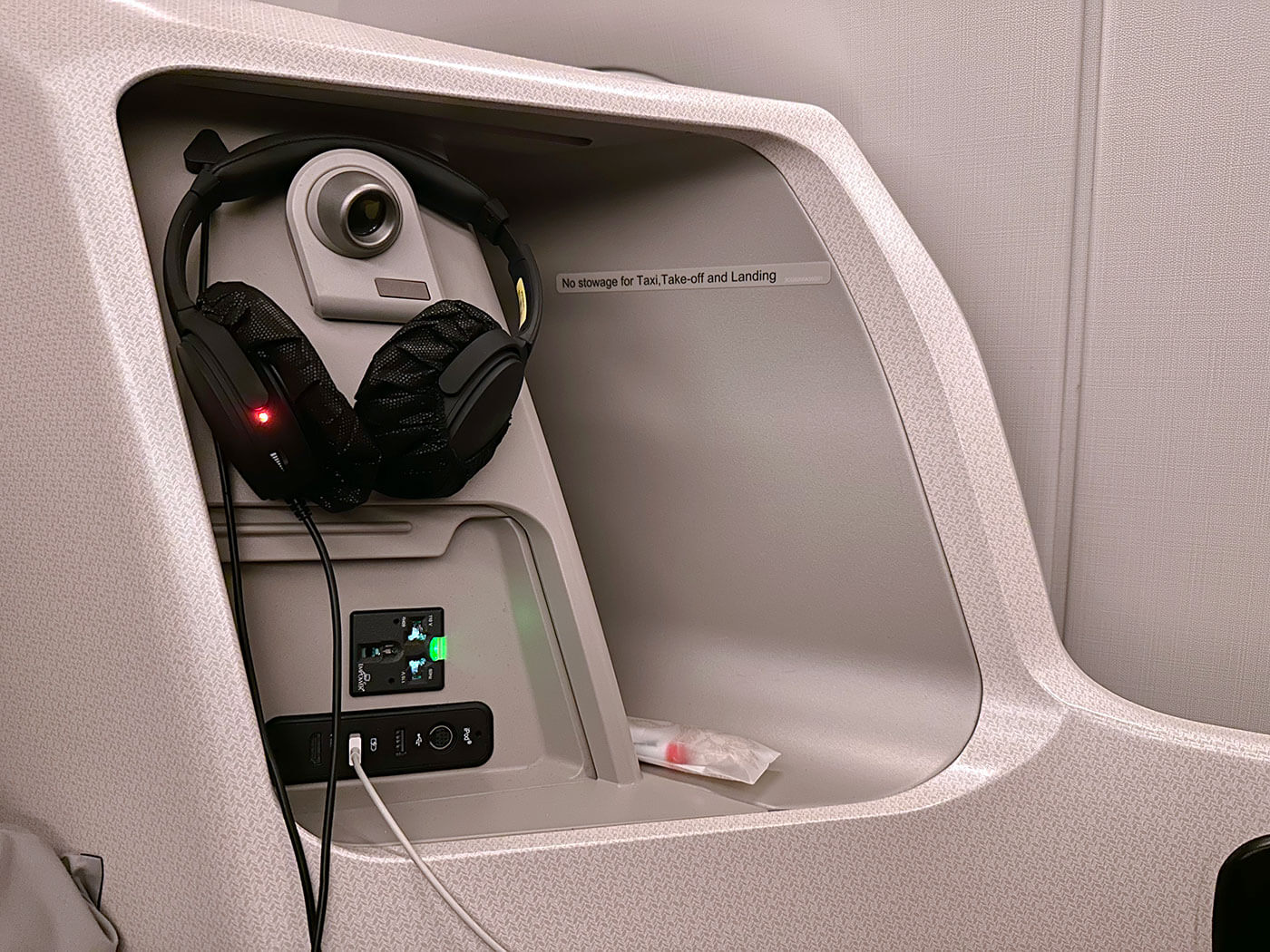 When it's time to sleep, you just need to ask for one of the stewards or stewardesses to help you convert your seat into a flat-lying bed…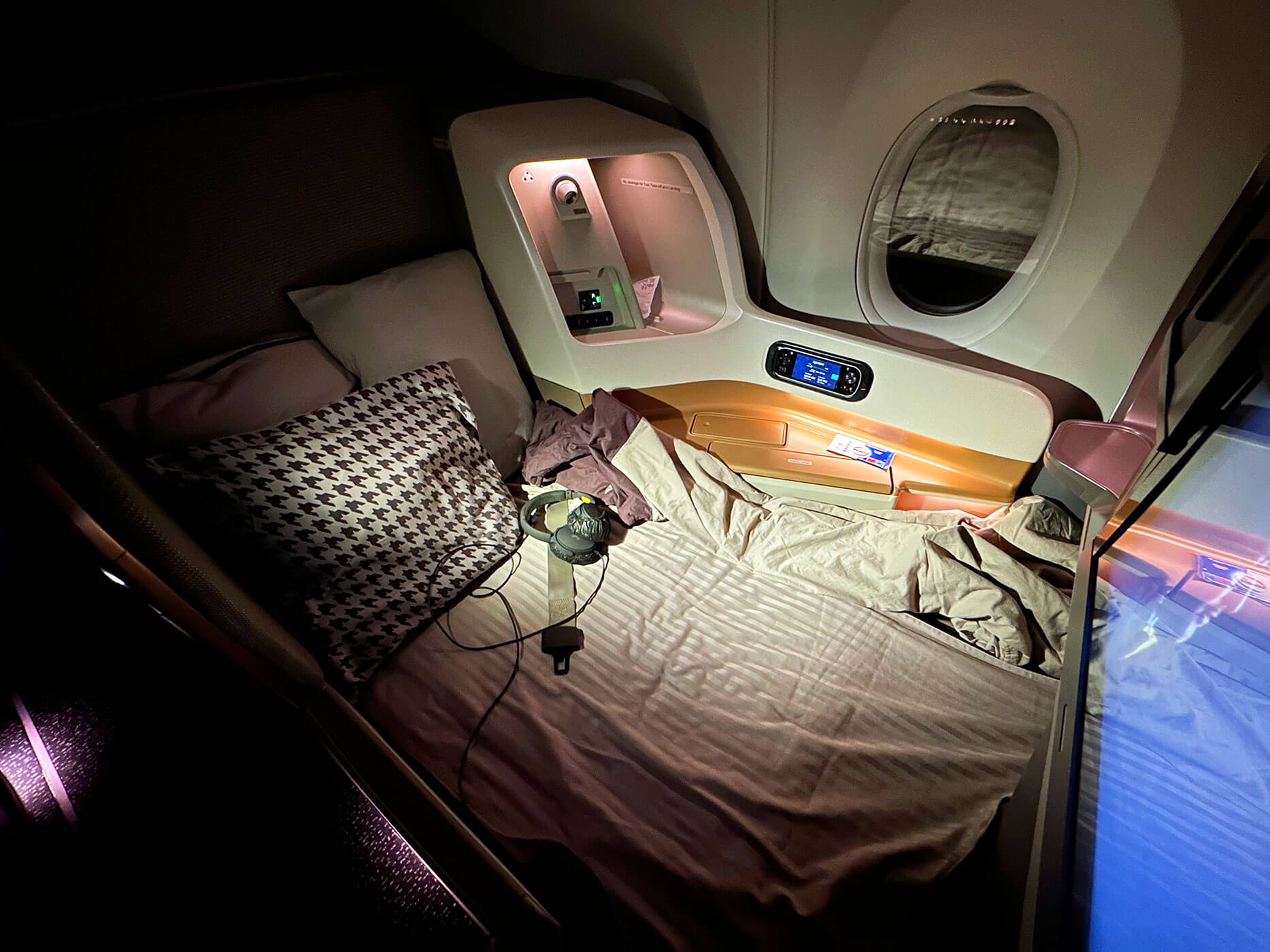 … And ta-da! Suddenly the 18+ hours direct flight doesn't feel so daunting anymore. They'll also give you plenty of pillows and a blanket to make the bed extra cozy. I read some reviews online that the bed was a bit too firm on the 2013J seats, but I thought it was just right for me. I was able to sleep really well on the flight.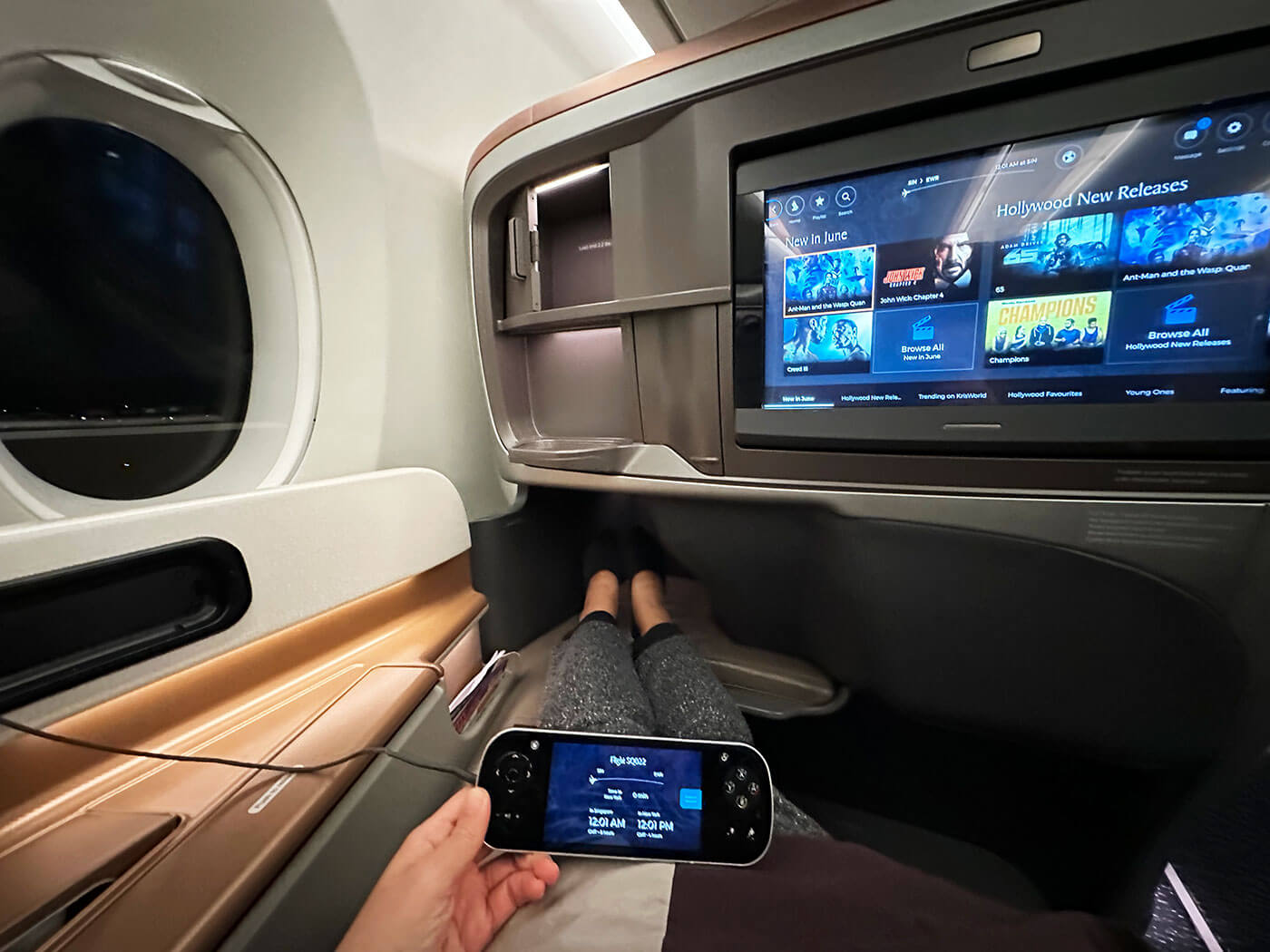 I spent most of my time watching movies on the entertainment system on the large screen, which you can control through the remote next to the seat.
There is free Wi-Fi for business class passengers, though Singapore Airlines has since extended the free Wi-Fi service to all KrisFlyer members. The Wi-Fi worked decently well most of the time, but there would be periods of time when there would be no connections at all so I would not rely on it for work.
As with any other plane seats, be very careful not to drop anything into the crevices of the seat. On my flight, someone near me dropped something into his seat and despite 3 crew members working to help him, they were not able to retrieve the item. They had to defer to engineering to retrieve the item after the flight has landed.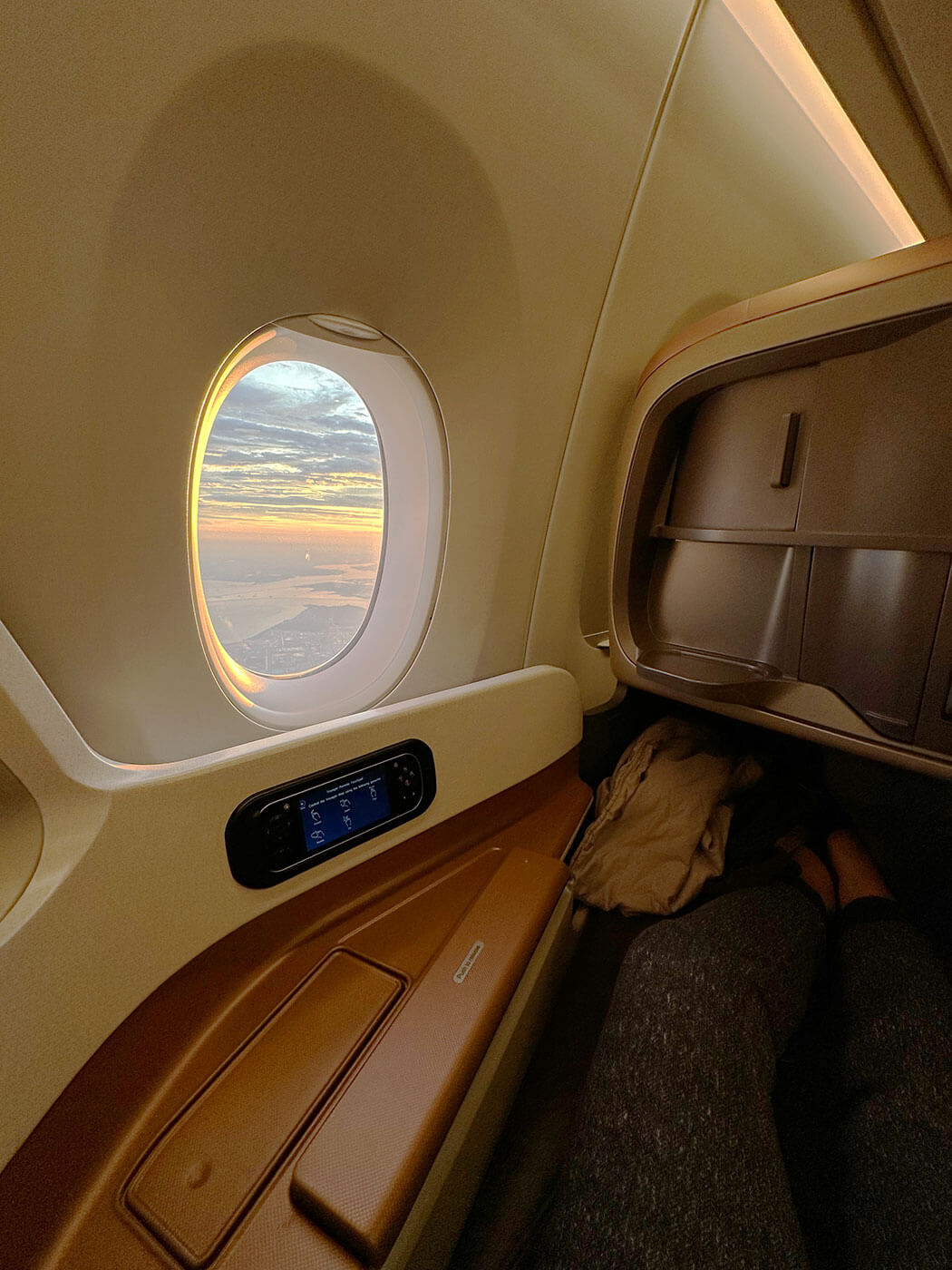 And that's my experience flying business class with Singapore Airlines! As usual, please feel free to comment below if you have any questions.
Until next time 🫡
Note: I flew business class as part of my full-time job, which is completely unrelated to Girl Eat World or Singapore Airlines. I was not compensated to write this review. All thoughts and opinions are honest and remain my own.