I visited Kyushu region of Japan with CheapTickets.sg in September. This post covers Fukuoka and its bustling night street filled with tasty street food from Yatai Stalls.
Fukuoka is one of the biggest city in Kyushu but upon arriving at Hakata Station, I found it to be less lively than Tokyo and Osaka. That all changes once the night falls though, as the city becomes much more vibrant with nightlife, and most importantly – Yatai stalls.
What is Fukuoka Yatai Stalls?
Yatai stalls are Street Food stalls that pop up around Fukuoka after sunset. It typically opens from around 6PM to 2AM, making it an excellent option for dinner or after-drinks snacks. What I love the most about this experience is that everything feels authentic and unpretentious. Everyone is there just for the simple comfort food. You don't even get a table here, let alone your own chair – you sit in a small street-side stall on a long bench and eat shoulder-to-shoulder with other patrons. If the stall happens to be full then you line up outside the stall until a spot opens up. Simple, no frills!
Now, onto the food. Yatai stalls generally offer similar dishes: Hakata Ramen, Oden, and Yakitori, which I will cover in this post.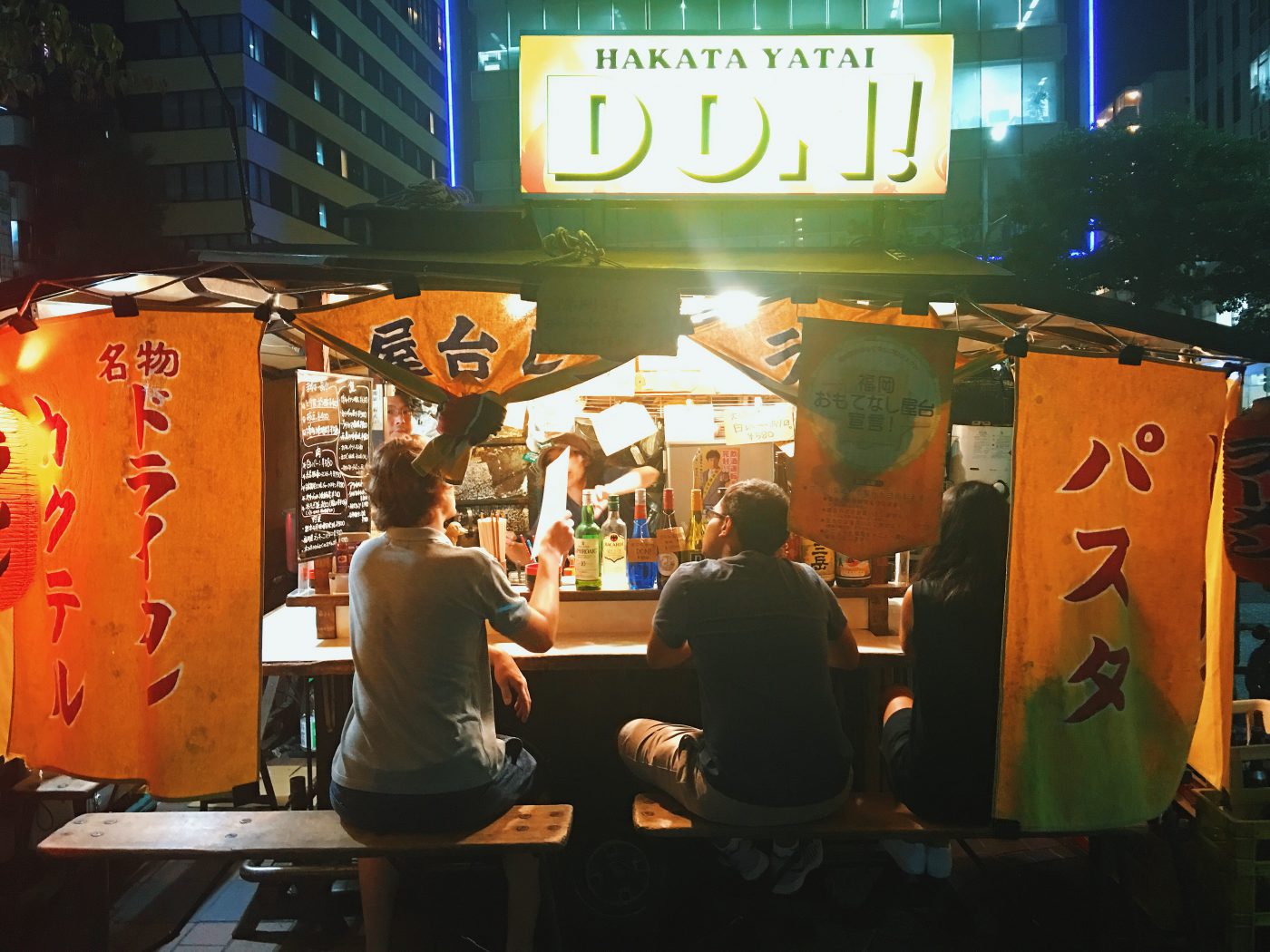 Where to find Yatai Stalls in Fukuoka
Nakasu Island Stalls
There are plenty of Yatai stalls across Fukuoka, but I found walking along Nakasu Island river to be the best and most vibrant experience since the stalls are really next to each other and there are plenty to choose from. Yatai stalls are usually only open at night, so you should head there around dinner time or supper time, though it may mean you have to wait for a seat – each stall can only serve 6-9 people at a time.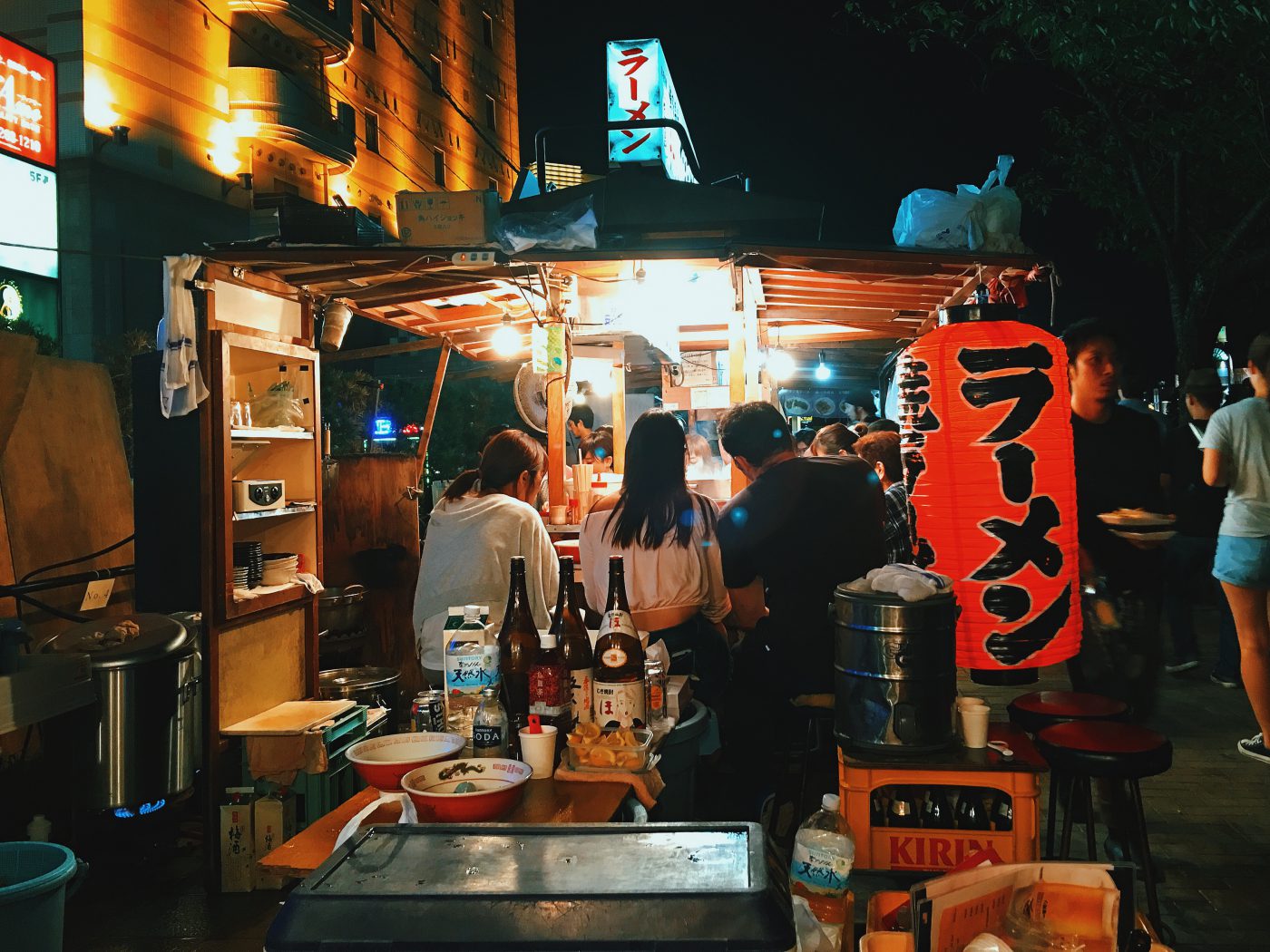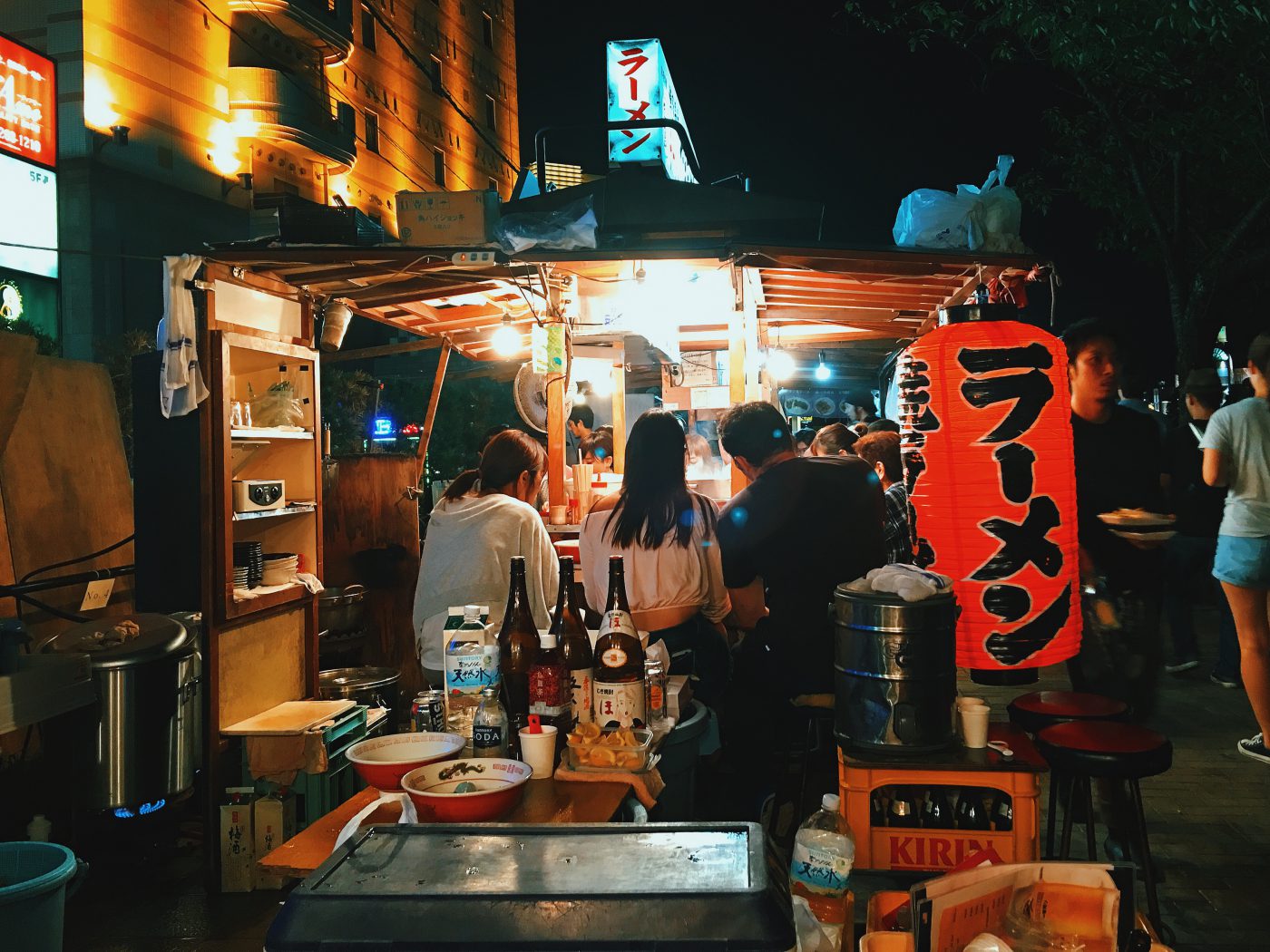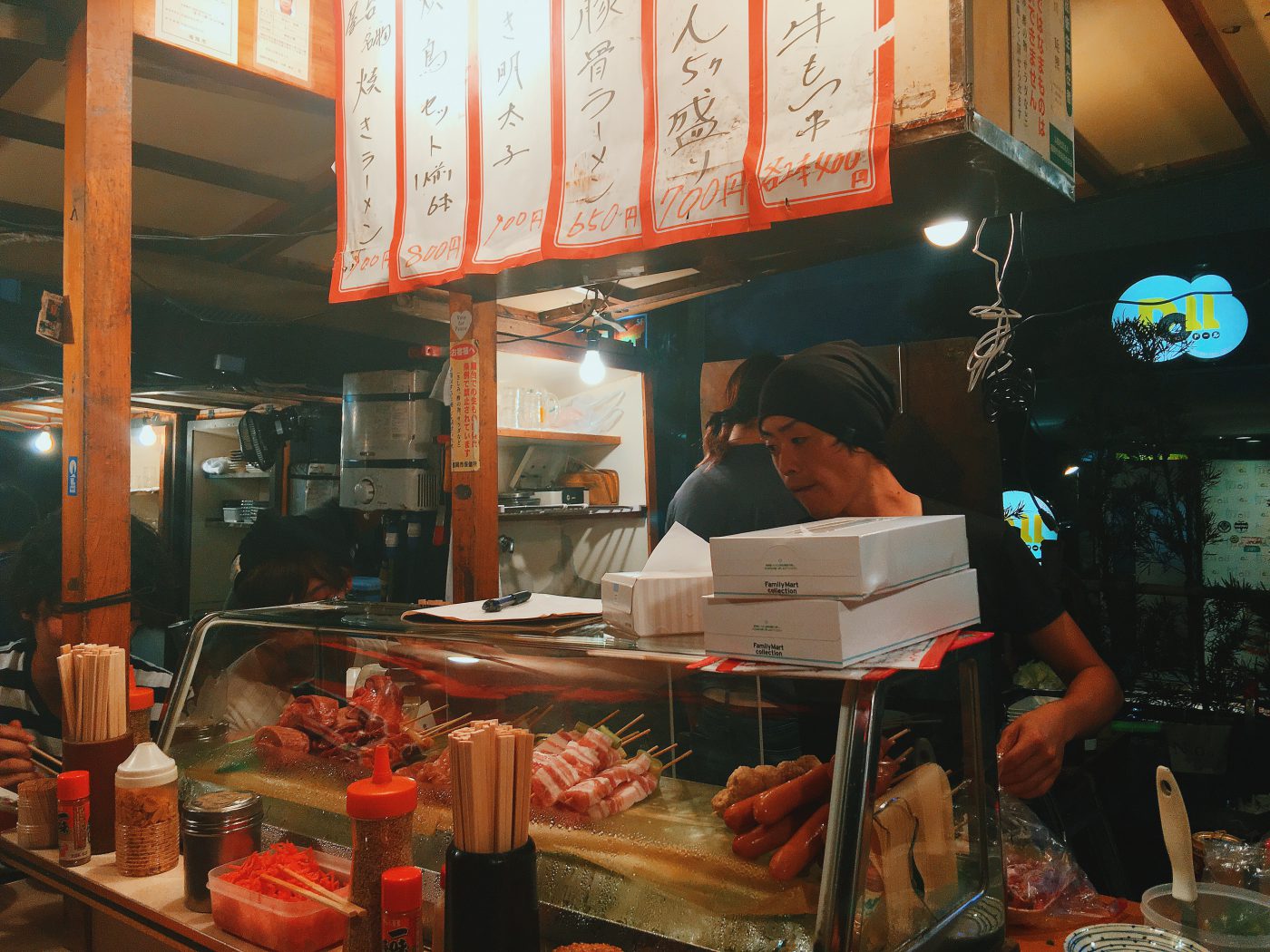 Here's a map of where exactly in Nakasu you should head to:
Watanabe Dori
You can also walk along Watanabe Dori to find some stalls, but they are more far between. It also tends to be more quiet, so if you're looking for the hustle and bustle atmosphere definitely head over to Nakasu Island instead.
What to eat in Yatai Stalls
1. Hakata Ramen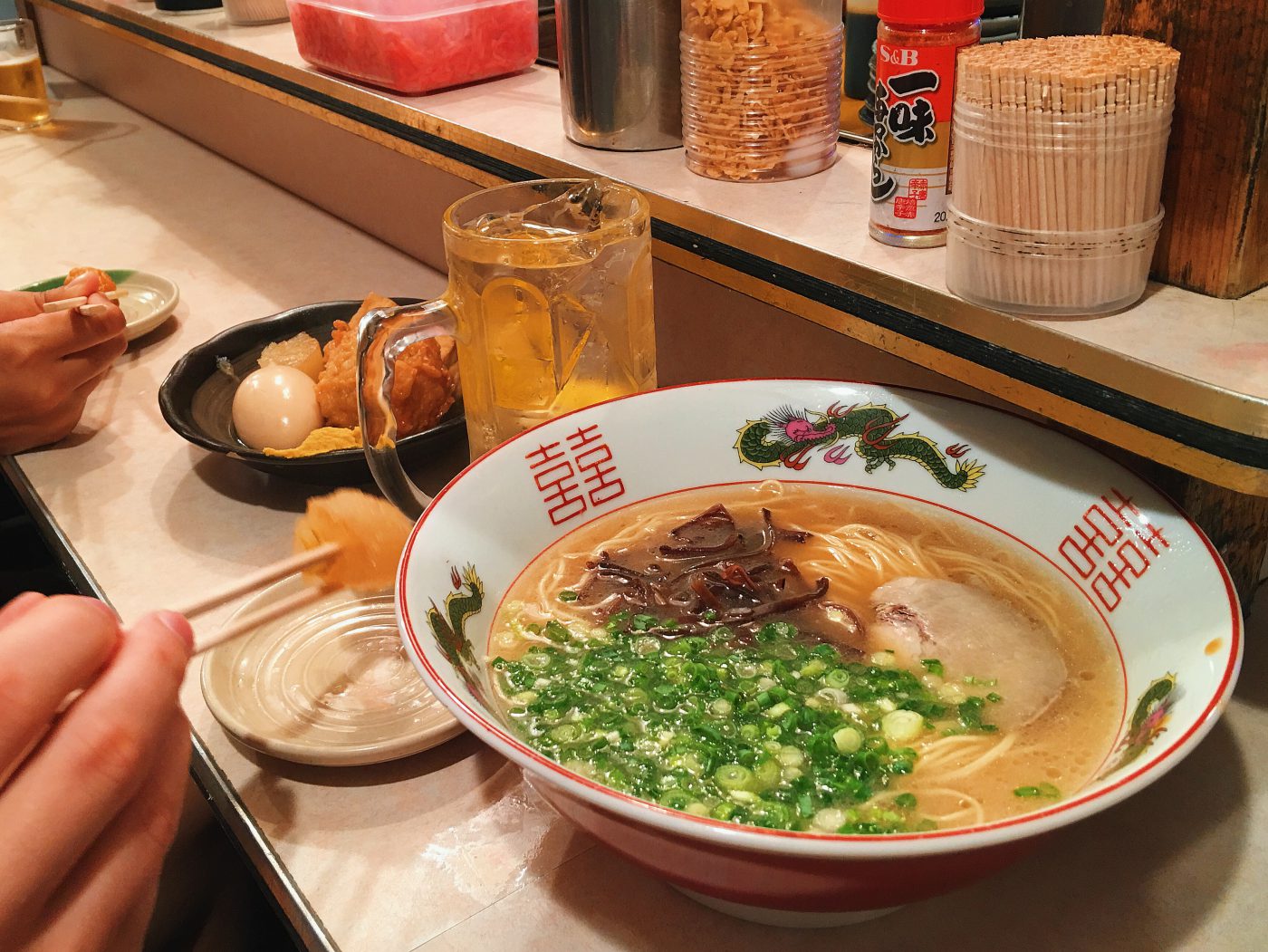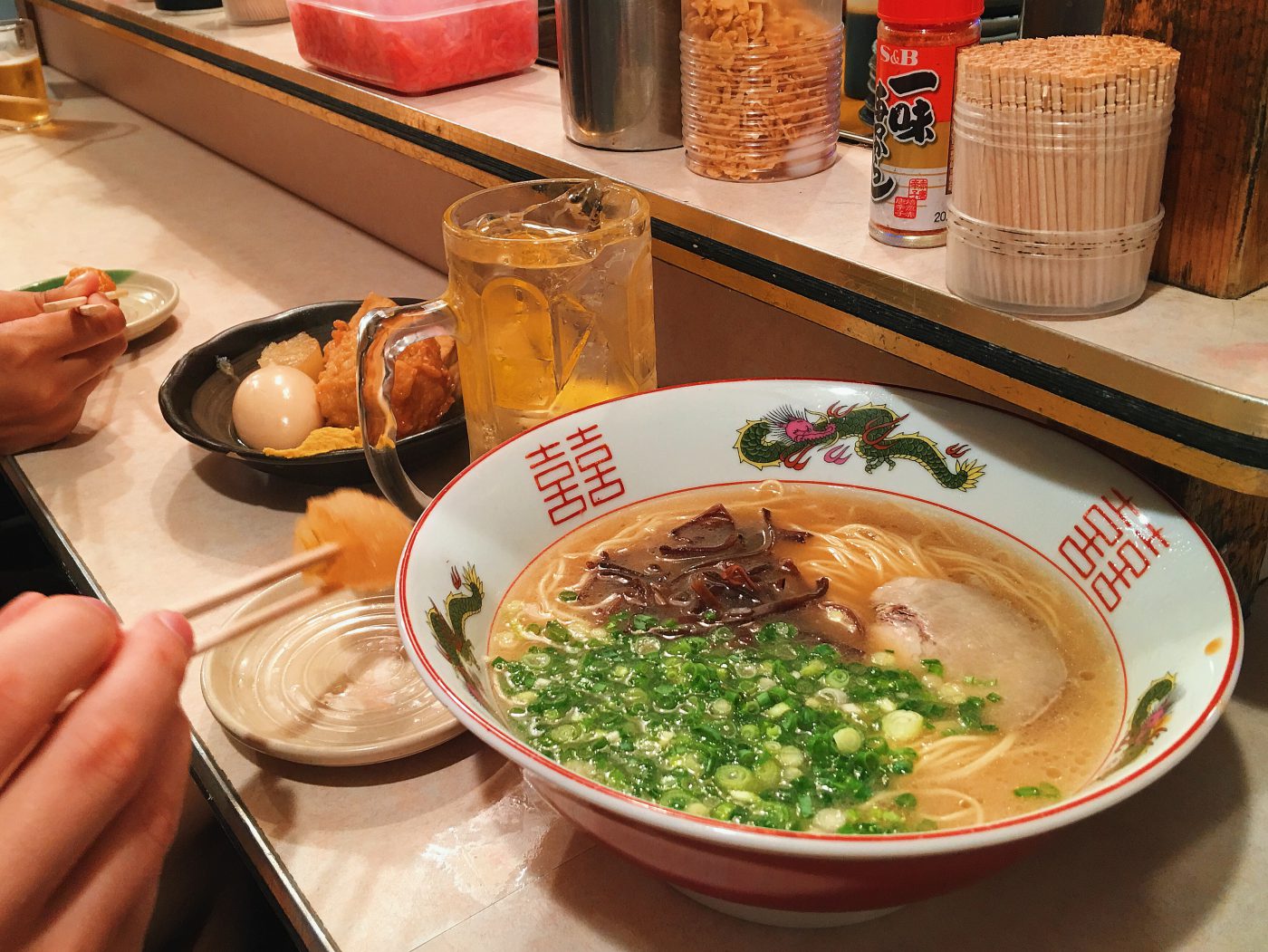 When in Fukuoka, you must try Hakata ramen since this is the very place where Hakata ramen was born. Hakata ramen is characterized by the rich Tonkotsu (pork bone) broth and it's straight, al-dente noodles.
Now, here's a confession: I found the ramen I had from the stall even more delicious than the well-known Hakata ramen shops in the city! And that's saying a lot since, well, it's Fukuoka. During my visit, I tried most of the "big name" Hakata ramen such as Ichiran, Ippudo and Ikkousha, but I found the ramen I had at the Yatai stalls to be far more delicious. I loved how the broth were properly rich (as a Tonkotsu ramen is supposed to be) yet didn't overwhelm too much. I can finish the broth to the bottom of the bowl without feeling sick of it.
2. Yakitori (Meat Skewers)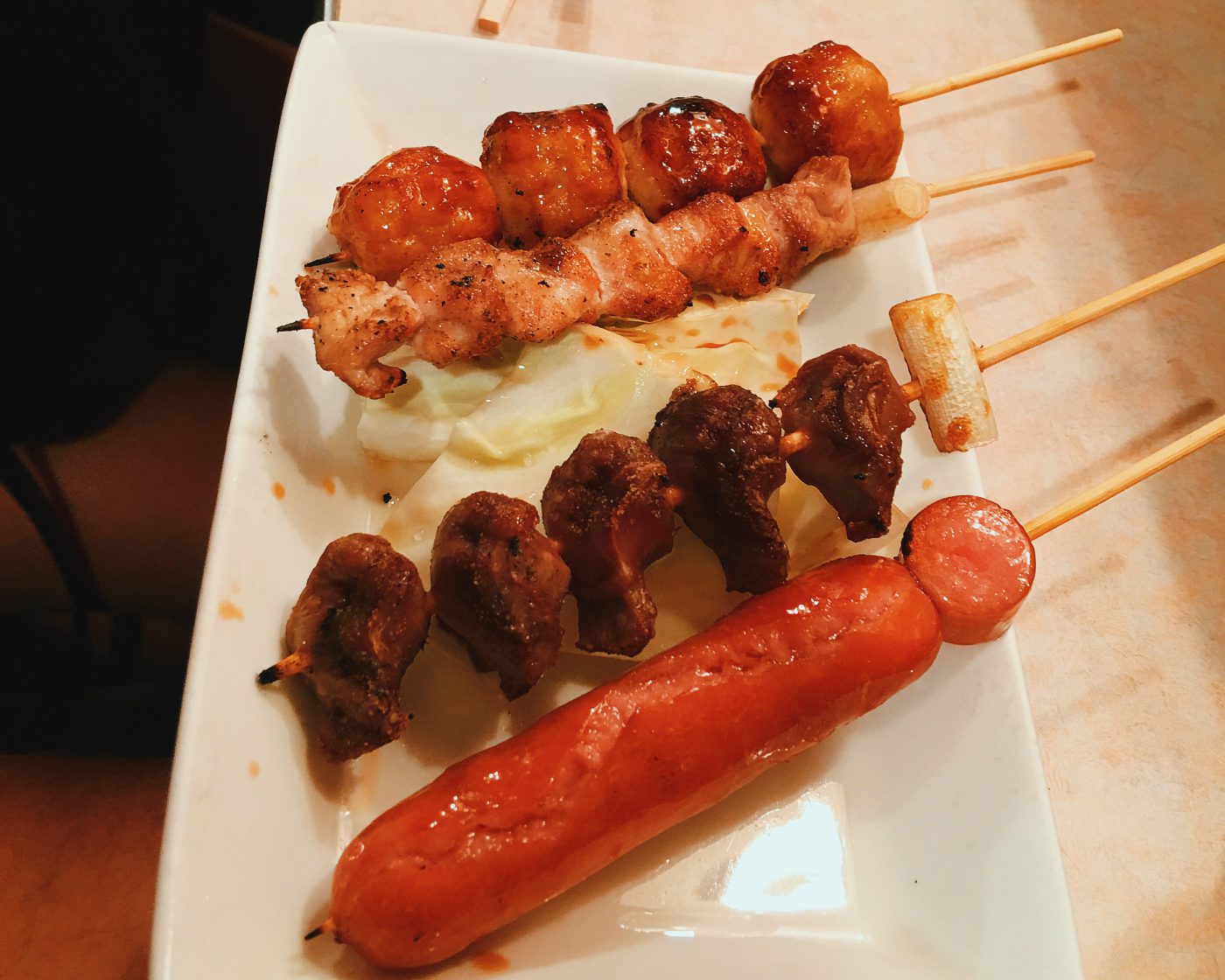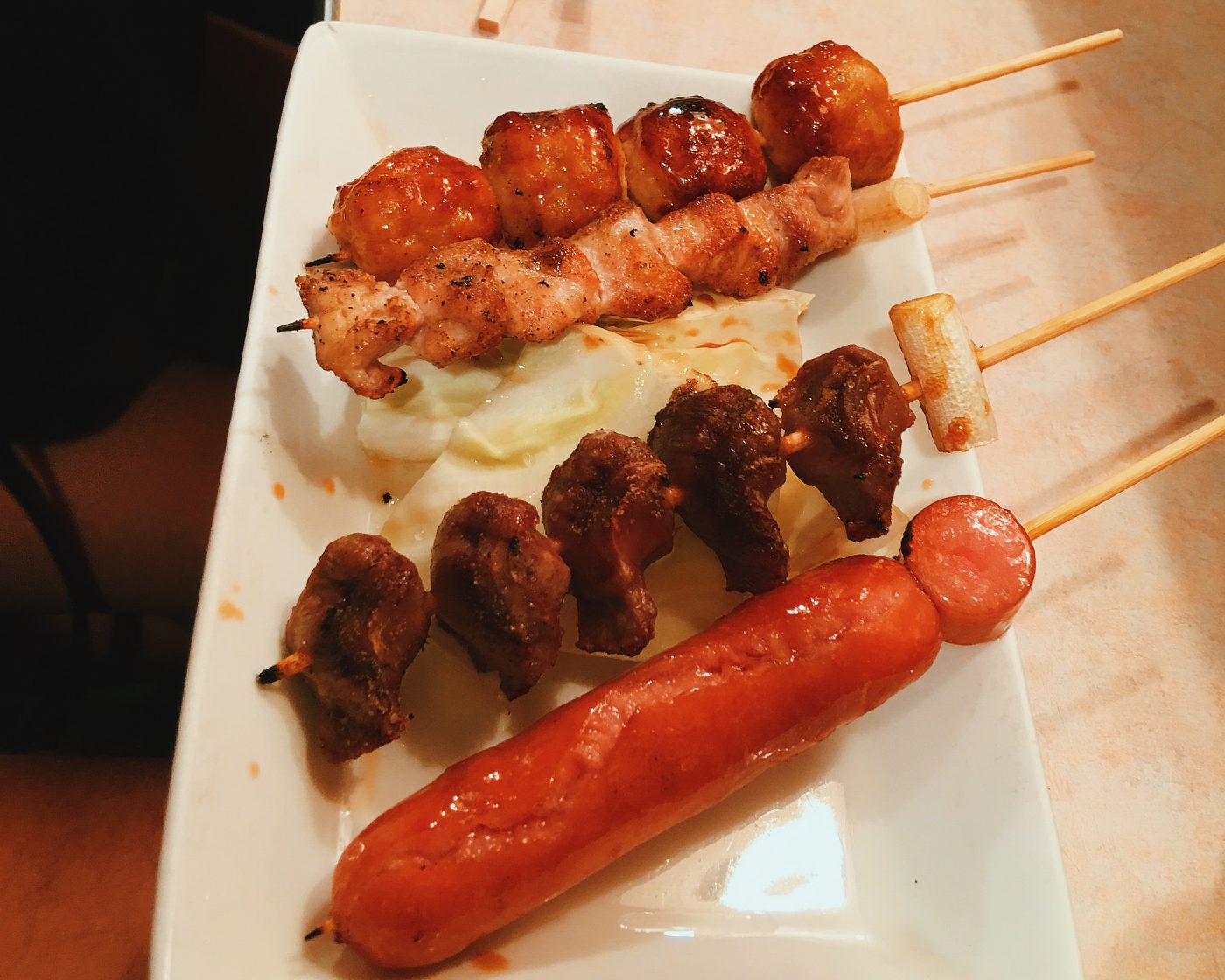 Yakitori literally means "grilled bird", but it's really just grilled skewers of meat of any kind – pork, chicken, and beef. My favorite thing to order in terms of Yakitori is the chicken meat balls (Tsukune) or really, anything chicken-related including weird stuff like chicken hearts. Other options such as grilled vegetables, sausages (as pictured above) and other meats like sausages, pork and beef are also available.
3. Oden
Oden is basically Japanese hotpot. It's a variety of items such as varieties of fishcake, Daikon (radish) and eggs that are boiled in a dashi broth. While this is definitely a comforting food to have during winter, I wasn't too impressed by it. It's not bad per se, but I thought it was quite forgettable next to the very flavorful Hakata Ramen and juicy Yakitori – hence no accompanying pic, since I forgot to take them.
4. Alcoholic Drinks
The signature drink to order at a Yatai is Japanese Whiskey Highball, or highball for short, which a drink made of sparkling water and whiskey served with ice cubes in a tall glass. You can also get beer but I would highly suggest getting the whiskey highball to complete your Yatai experience. You can get that Asahi elsewhere!
What Yatai is not good for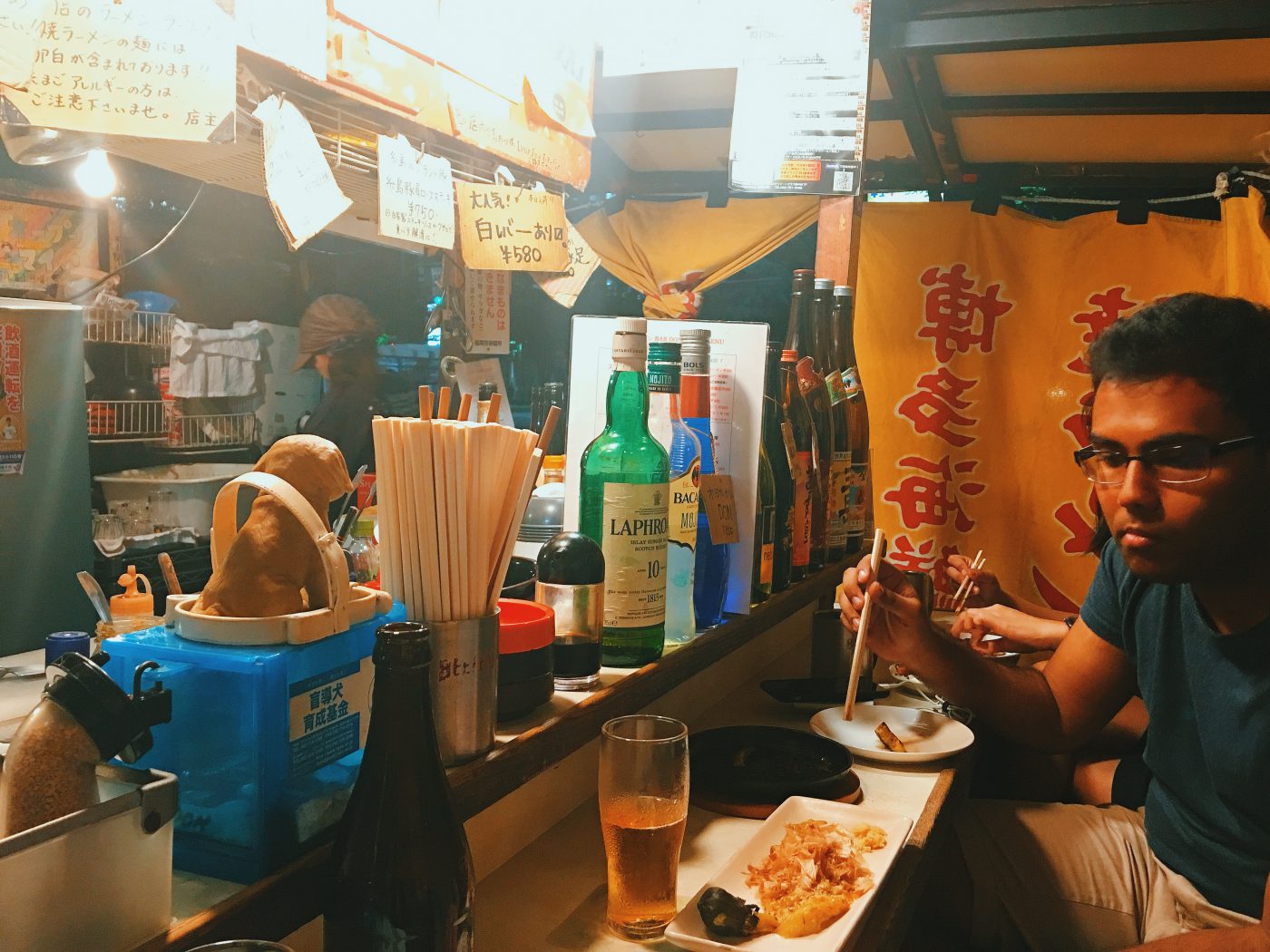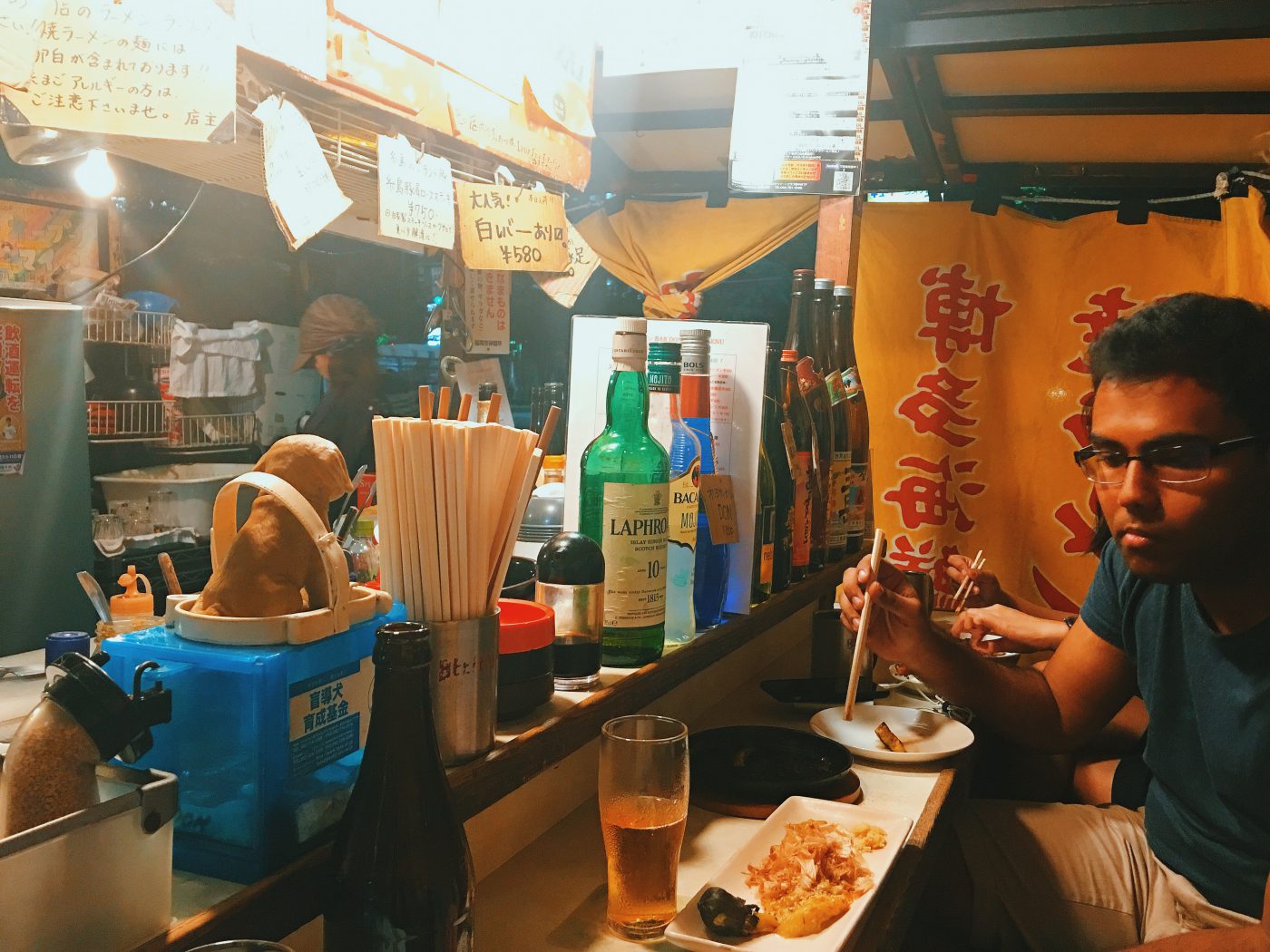 I loved the Yatai experience, but I have to say it's not for everyone.
As you can see from the food descriptions above – Yatai is not a vegetarian-friendly experience. One of my friends in the travel group, Shekhar, is vegetarian. He had to go find food elsewhere since we quickly realized there are not many options for him at the stalls we went to. There are some vegetable dishes that are vegetarian friendly, but for the price and portion it just isn't worth it.
I also have to caution, while I think Yatai is a must-experience in Fukuoka, it comes at a pretty steep price for a street food. The dishes varies between 500-900 yen, but they are small servings so you would probably end up ordering 3-4 dishes. If I remember correctly we ended up spending 2000 yen for one person which is more than what I would normally pay at a restaurant.
Where to stay in Fukuoka
Anywhere near Hakata station is a great location – It is the connecting point for all the shinkansen trains from other major Japan cities. Moreover, the trains from Hakata will take you to most places in Fukuoka and the airport is only a few stops away.
Here are my recommendations:
Nishitetsu Hotel Croom Hakata, next to the Hakata Central station in Fukuoka – about 5 minutes walk. I ended up staying here because my first choice was booked up.
JR Kyushu Hotel Blossom Hakata Central – This was my first choice for Fukuoka, but it was booked up during my visit! It would have been really convenient because Hakata is a major station with all the convenience stores, shopping, and restaurants.
And that wraps up my Street Food experience in Fukuoka. Are you planning a trip to Japan? Check out my posts from Kyushu and Japan!