I was invited to an Indian wedding earlier this year, thanks to my coworker and friend Akanksha. A North Indian wedding, to be specific. She and her husband are from Rajasthan, a state in India located in the Northern part of the country.
What to Wear to an Indian Wedding (for Women)
In this age of increasing awareness of cultural appropriation, Indians do not seem to be concerned about this. In India, it is acceptable when a foreigner embraces their culture, either by wearing traditional clothes and/or eating Indian food.
When attending an Indian wedding, you are very much encouraged (in fact, expected) to wear traditional Indian clothes. You could show up in a normal dress but you'll stick out like a sore thumb. Personally, I've always wanted to wear a saree. They just look so beautiful!
Finding the appropriate clothing to wear was the first task we needed to tackle, and it was the most confusing and time-consuming one since there were so many options. And the colors, oh the colors!
So in terms of what to wear, here are your most common options for women:
Lehenga – a 3-piece set consisting of a scarf, a crop top, and a long, A-line skirt (Lehenga). This is a popular option since it's much easier to wear than a saree. It also suits most body types.
Saree – a 2 piece set consisting of a blouse (crop top), and a piece of long fabric to be folded into the bottoms and draped over shoulders and arms. I'd say a saree is the safest choice for a wedding guest.
Salwar Kameez – a 2 piece set consisting of a long top (Kurti) and a loose pair of pants. This is a more casual piece, which you can wear for side events.
If you aren't sure which one to pick, you can't go wrong wearing a Saree. This is the option that I went with as my traditional wear.
Jewelry for women
As told by friends and my tailor (who coincidentally was from Rajashtan as well), the more bling you have, the better. At the very least, wear large earrings and a set of bangles on both hands. Don't worry about looking too blingy – you probably would fit right in. I wore a pair of orange Jhumka chandelier earrings, a very classic earrings style in India, and to this date is the biggest pair of earrings I owned, and I fit in just fine!
What to Wear to an Indian Wedding (for Men)
For men, it's slightly more straightforward! At the very minimum, you need a set of long Kurta and long pants. The Kurta could be made from cotton, linen, or silk, and the price will differ based on the material – cotton is the most affordable while silk is the most expensive. If you'd like to accessorize more, you can get a vest to put over the Kurta, or you can also get a scarf to complete your look.
Clothes to Pack for a North Indian Wedding
Since there are a lot of events and it spans multiple days, you'll likely need four sets of clothes – two for each day. You can't go wrong wearing traditional Indian clothes to all of these events, but I've included alternatives to what you can wear if you only have one traditional clothes (like me). I recommend packing the following:
Two smart-casual pieces for Mehendi and Haldi. This could be a cocktail dress, a casual suit, another traditional indian wear you might have that's made of cotton, etc.
One evening gown/dress for Sagai and Sangeet. This could be something fancy you'd wear to any other wedding.
One traditional piece for Jaimala and Saptapadi. This is your saree/lehenga or whatever traditional Indian clothes you decided to get. The pieces for this should be slightly fancier than the other ones you wear to the other events.
Buying traditional Indian clothes online
I have been informed that the most popular trendy place to buy saree is Suta. They stock the trendiest designs in different colors and fabrics. Just keep in mind, when you're buying a saree, you still need to get the blouse separately.
Getting your traditional Indian clothes tailor-made
I ended up getting my Saree tailor-made at Little India. At that time, it cost me S$220 to custom make my saree (+$30 for express tailoring since I procrastinated too long…). It was pricey, but it's the option that made the most sense to me since I planned to get a few uses out of this saree, and also I'll be sharing it with my sister.
There are a few things you need to decide:
1. Color
First, you need to decide on the colors you want to wear. As a guest at an Indian wedding, you are encouraged to wear bright and colorful clothes. Vibrant blue, mint green, orange, and bright pink are good choices of colors. The only color you should avoid is red since the bride would be wearing red at one of the main events. My tailor had a series of designer sarees to choose from, so I just picked one from his selection. I chose an orange, gold, and black saree for mine.
2. The style of the saree blouse top
Next, you can customize how the blouse (top) will look like. You can customize the length of the sleeves, how low/high the neck and the back cutting will be, and how long you want the blouse to be. Normally, you want the blouse to be about a crop top length since you're supposed to show a little bit of skin on your midriff. But don't worry if you're concerned about showing skin – most of it will actually be covered by the saree draping.
In my case, I got the saree blouse made but I ended up getting a separate black crop top since I find the original saree blouse not very comfortable. I wanted something with a little bit of stretch.
3. Get the saree pre-stitched or pre-draped
Whatever color and blouse you end up picking, make sure you also get your saree pre-stitched into a skirt. This will save you so much time since saree draping is difficult and involves many, many safety pins. Getting it pre-stitched means you can just wear it like a skirt!
Saree Rental
If you don't want to buy a saree, another option you can look at is renting. For those in Singapore, I sent some of my friends to Glamourdoll for a saree rental. I saw good reviews online and it seems that they were true – my friends were happy with the result. You can get a saree set + jewelry + purse for S$80-100, but you need to put down S$100 deposit which you'll get back when you return the saree.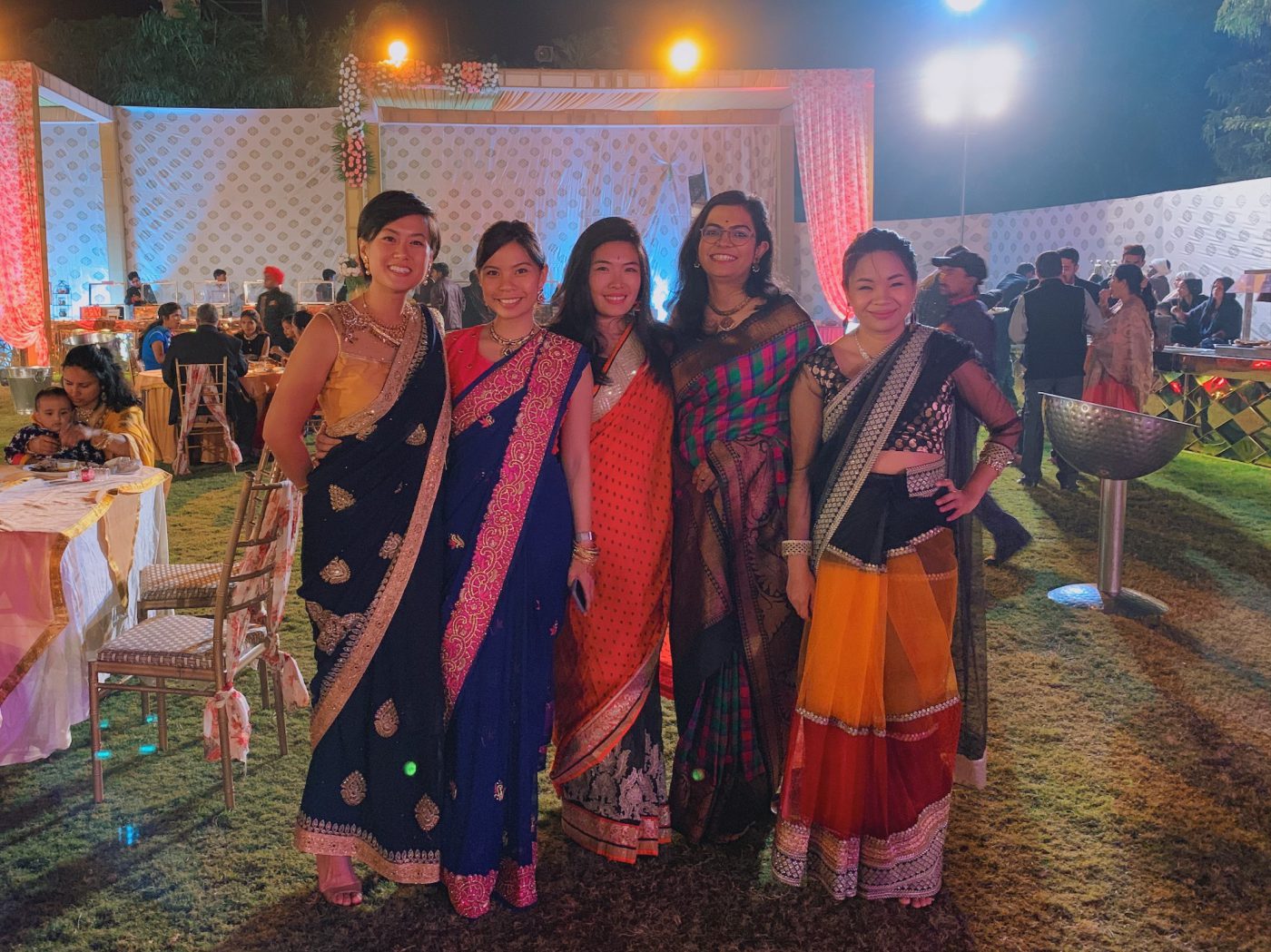 What to Expect at an Indian Wedding
You might have heard an Indian wedding is a multi-day event. This is true! Not only was it very festive, but it was also a great insight into the rich culture of Indian weddings. The wedding I attended spanned over 2 days, with the following events:
NOTE: Before reading this guide, make sure the wedding you are attending is a North Indian wedding. Even though India is one country, it is very diverse – there are 22 major languages spoken, and there are many wedding customs in India. They could be very different from the one I'm describing in this post.
1. Mehendi (Ancient Body Art)
Mehendi is an ancient body art ceremony, where the bride will be getting her hands and feet intricately tattooed using temporary natural ingredients called henna. The design is so intricate it will take hours and two artists to work simultaneously.
While the bride gets her henna done, guests usually lounge around, sipping on chai or busting moves on the dance floor. You can also get your hands henna-ed, but your design will be nowhere as intricate as the bride's, of course.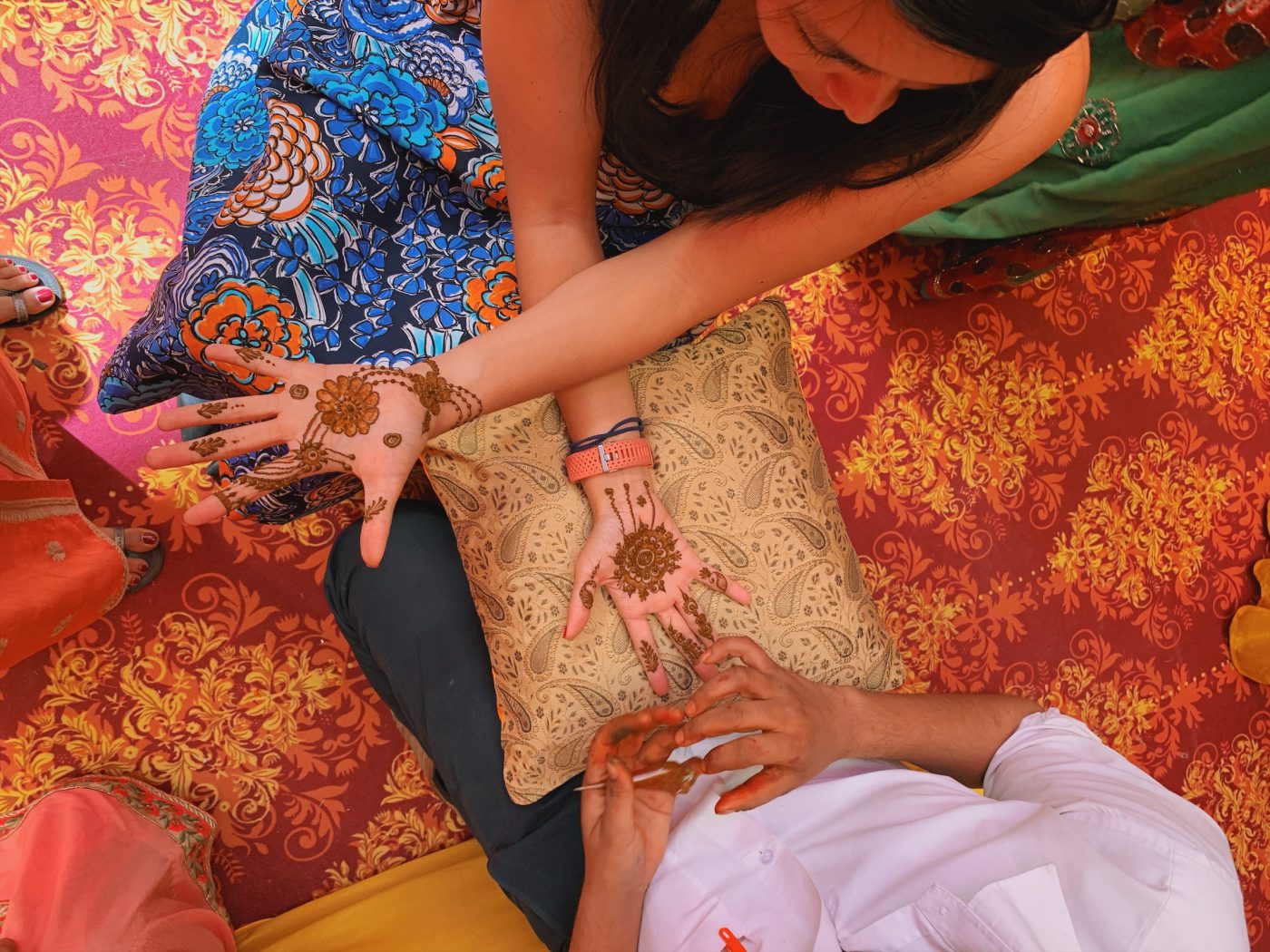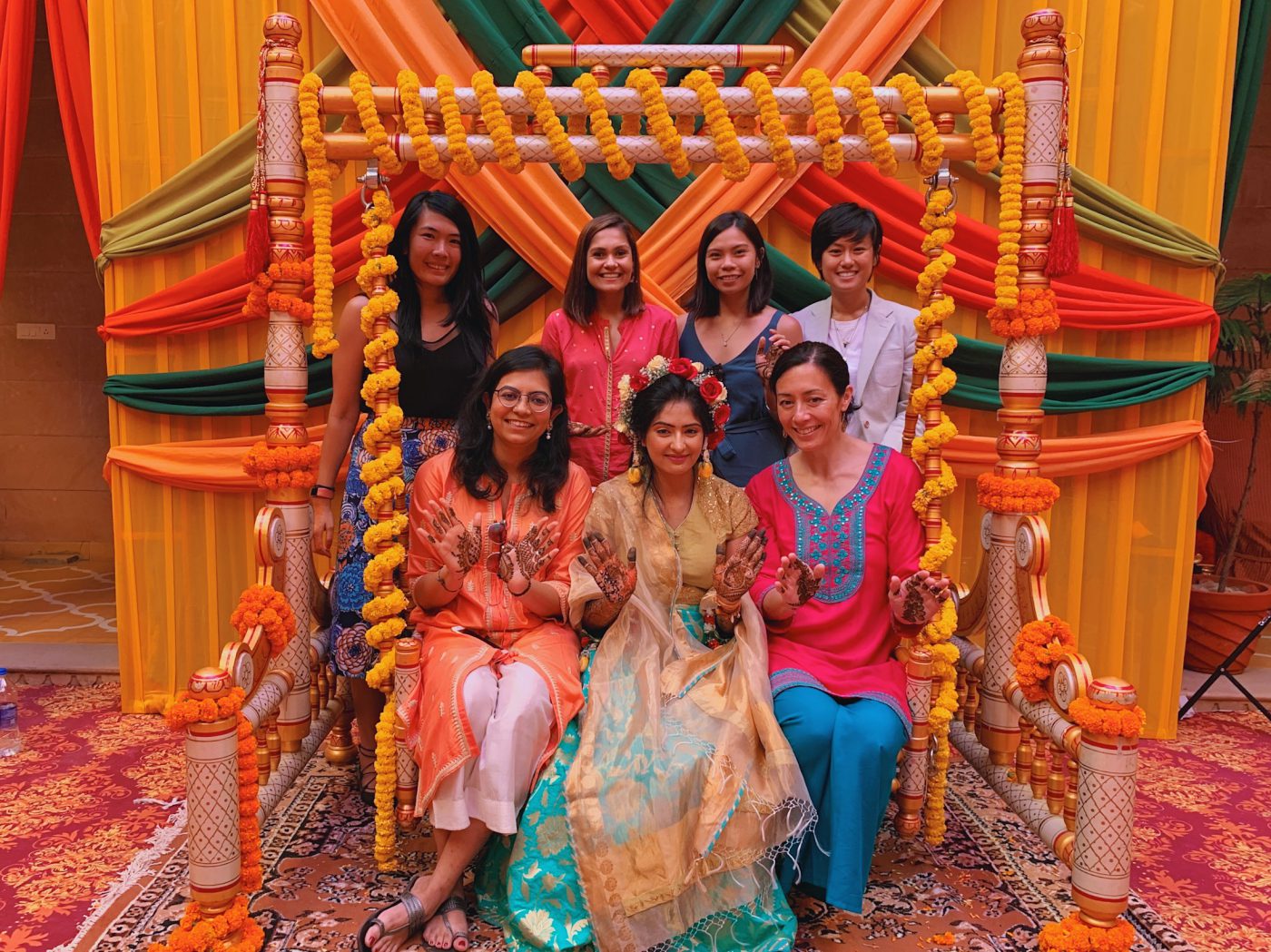 2. Sagai (Engagement Ceremony)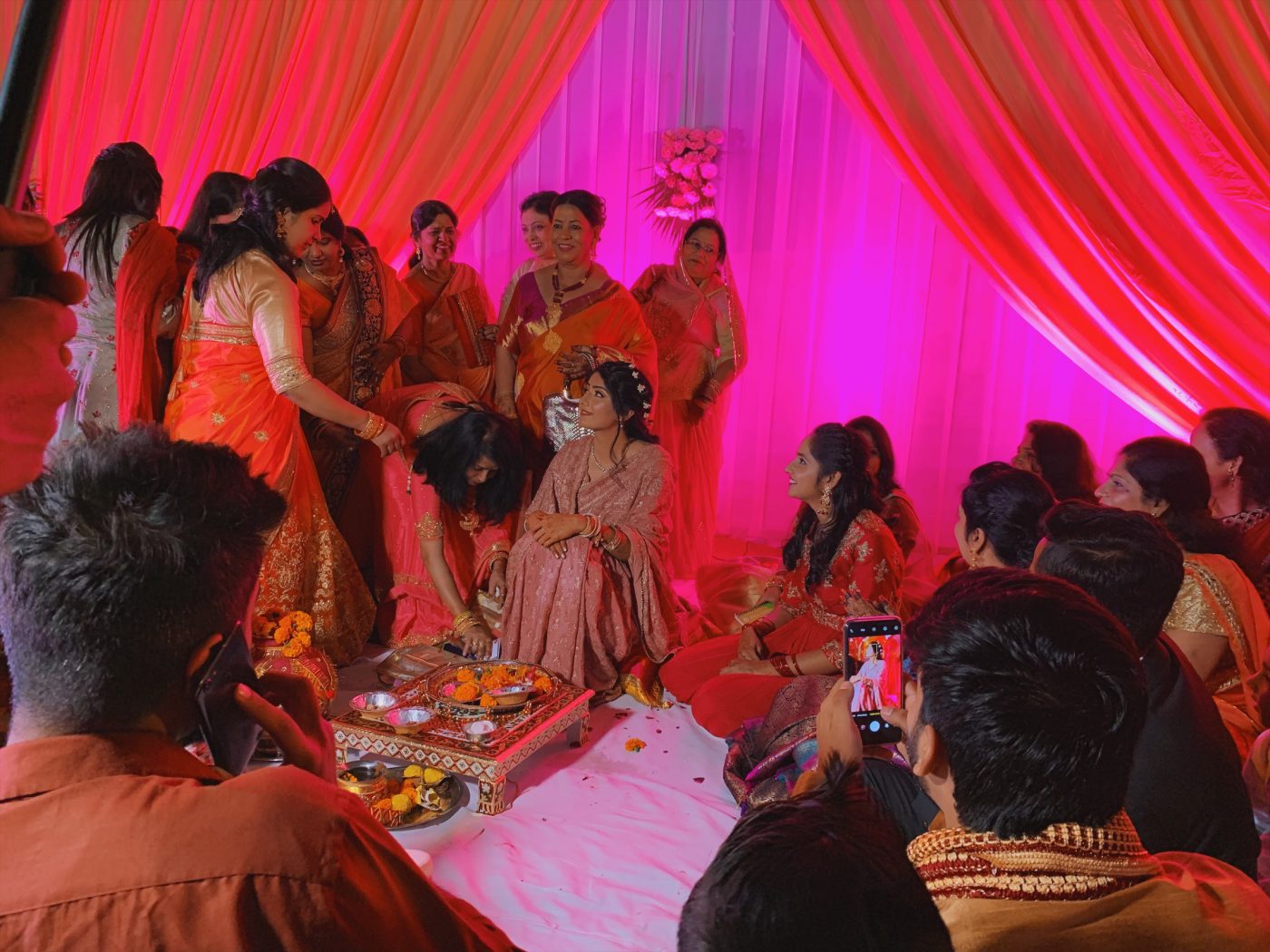 Sagai is the ring exchange ceremony, which usually takes part at night and is followed by dinner. This ceremony marks the official 'asking' of the bride's hand by the groom's family. Along with the ring, gifts, and jewelry are also exchanged.
3. Sangeet (Dance Party)
Sangeet is the fun part of the ceremony. In an Indian wedding ceremony, guests are expected to perform a short dance routine, and this is the night when everybody gets a chance to go on stage. If you are attending, you better have some dance choreography prepared! Some people would go together in a big group, some might be confident enough to dance by themselves. Then at the end of the night, everybody goes on the stage for a big dance party!
4. Haldi (Turmeric Paste Ceremony)
Haldi means "turmeric". During the Haldi ceremony, guests line up and apply yellow turmeric paste to the bride's body. Turmeric has many health benefits for the skin, so the paste will help her skin glow for the big day later. It's also believed turmeric has holy properties that will ward off evil and sickness. Aside from that, turmeric's yellow color is also believed to be a very auspicious color in Indian culture.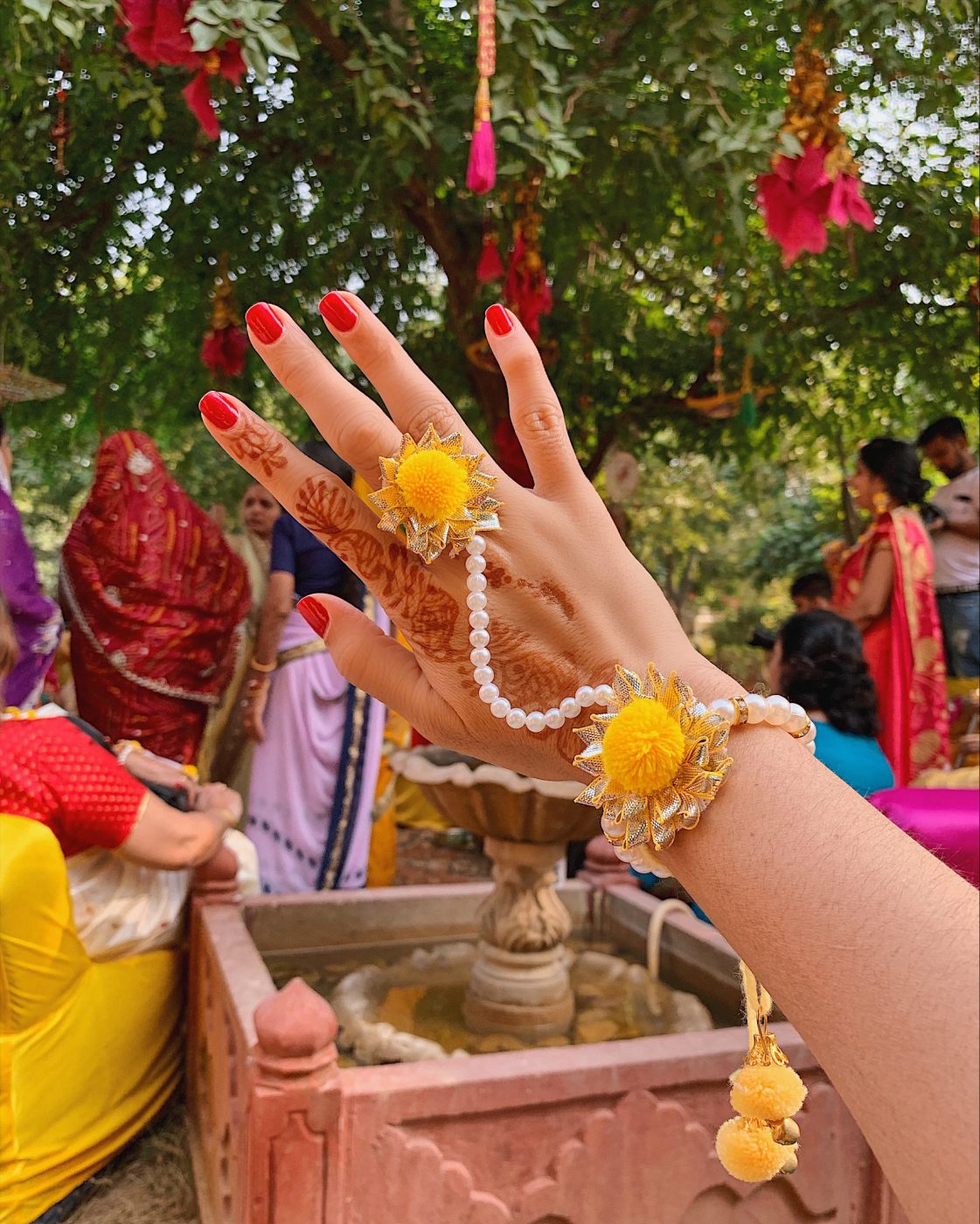 I heard it can get quite aggressive and the turmeric might get applied everywhere to the bride's body, including their face, neck, and hair. Be careful not to get any paste on your clothes since turmeric stain is almost impossible to get off.
5. Jaimala (Wedding Garland Exchange Ritual)
Finally, after 3 days, we've come to the actual wedding ritual. I thought all the events leading up to this were already festive, but Jaimala by far trumped them all. First, the groom will arrive at the wedding site on a white horse, welcomed by a loud and festive dance party at the entrance of the venue.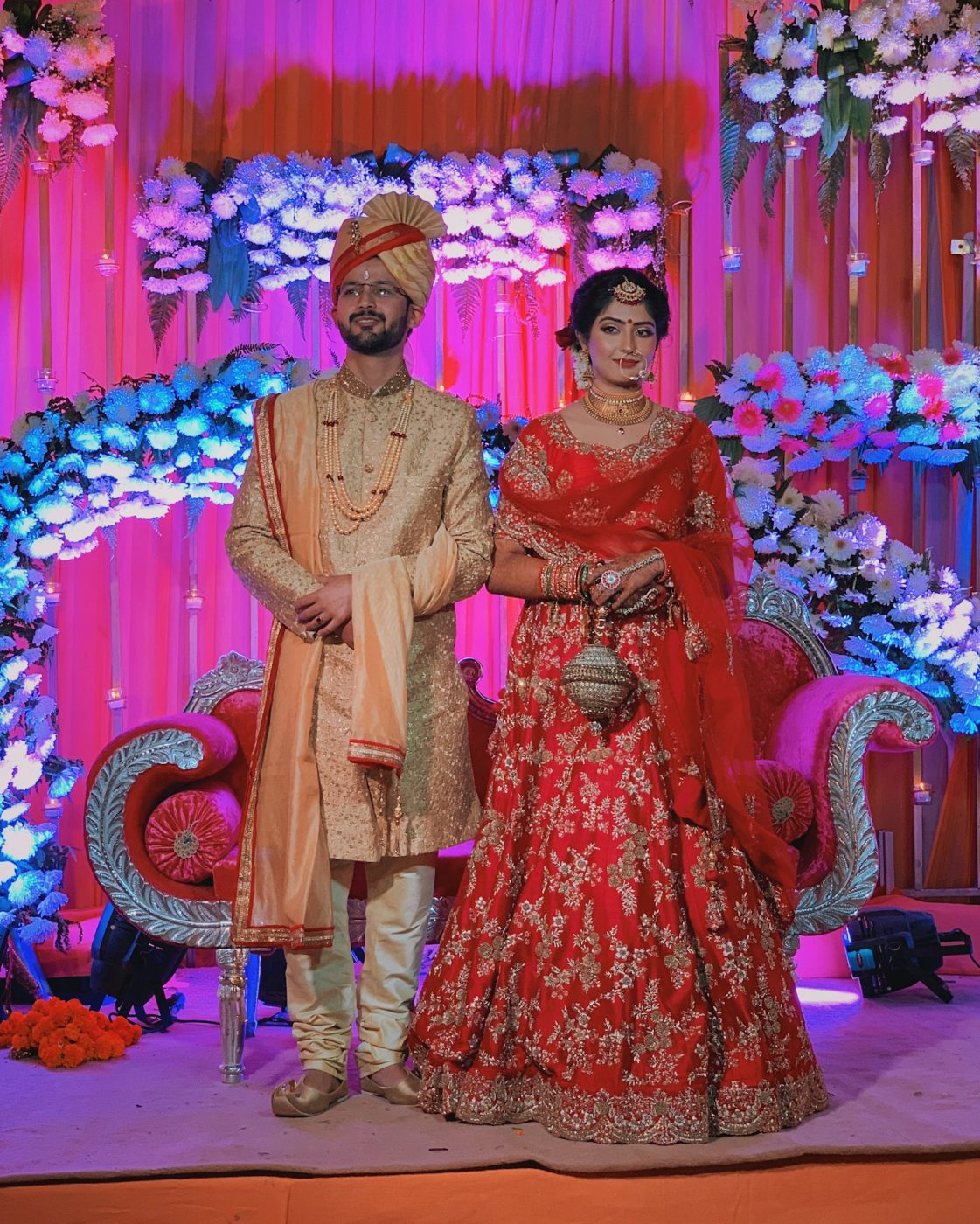 The groom then enters the venue with his entourage, followed by the bride with her entourage, wearing her most intricate clothing thus far – usually a red lehenga. The atmosphere of the event is definitely different than the previous nights, with fireworks going off every few minutes, food, and live drummers to spice up the party.
The wedding ceremony is marked by an exchange of an ornate fresh flower garland by the bride and groom, and another exchange of gifts (lots of gifts are being exchanged at an Indian wedding!)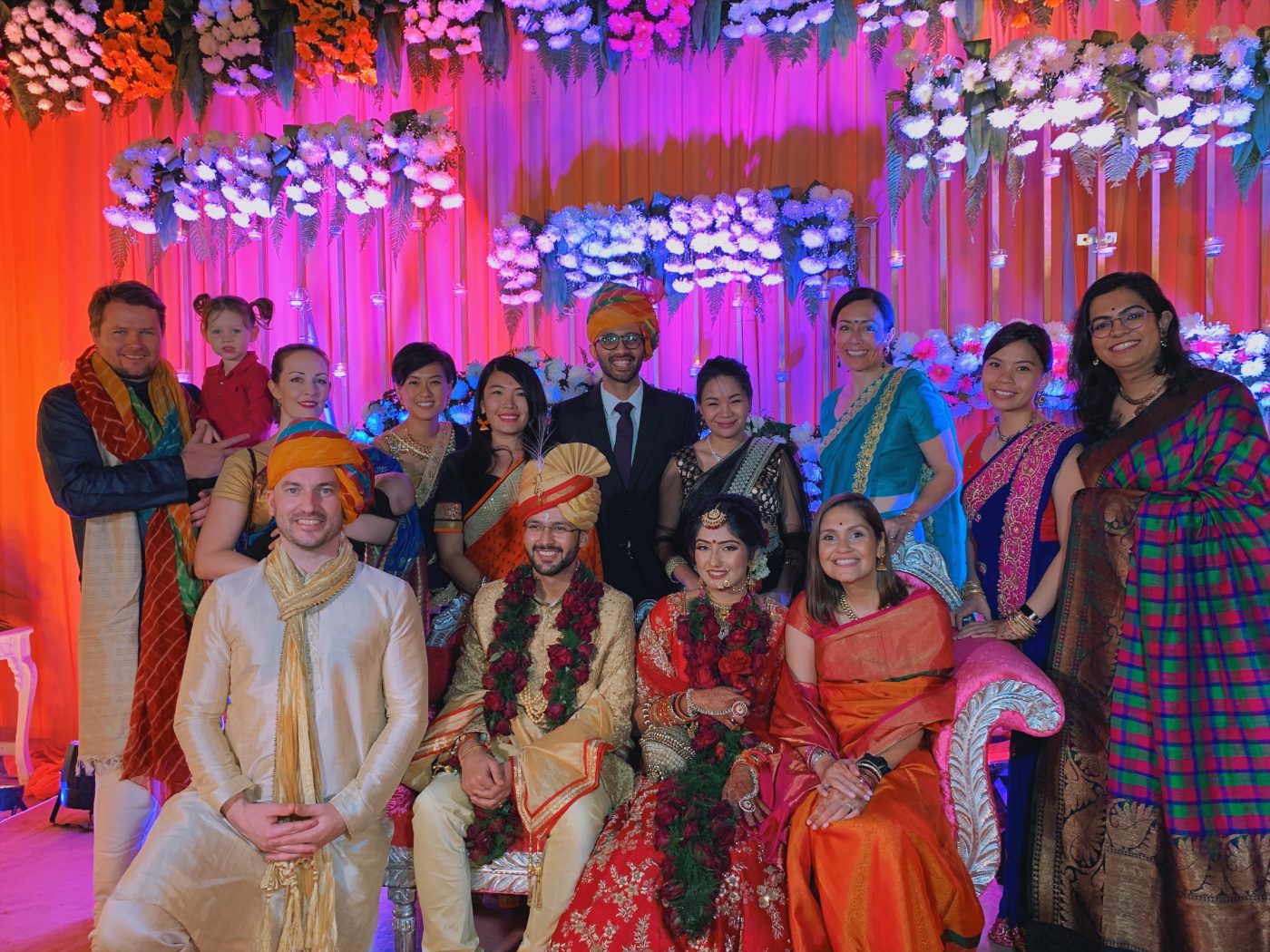 6. Saptapadi (Seven vows wedding ritual)
Saptapadi is the seven vows of Hindu weddings to symbolize Nourishment, Strength, Prosperity, Knowledge, Progeny, Longevity, and Togetherness. The ceremony starts at midnight and continues well into the night, often ending as late as 4-5 am. I'm ashamed to say I didn't last that long and went to bed shortly after it started (So sorry Akanksha!)
Some food and drinks from the wedding
Not only was the wedding a festive event, we were also spoiled silly with delicious food and drinks. There were many different types of food, but here are some of my favorites:
1. Chai in a clay cup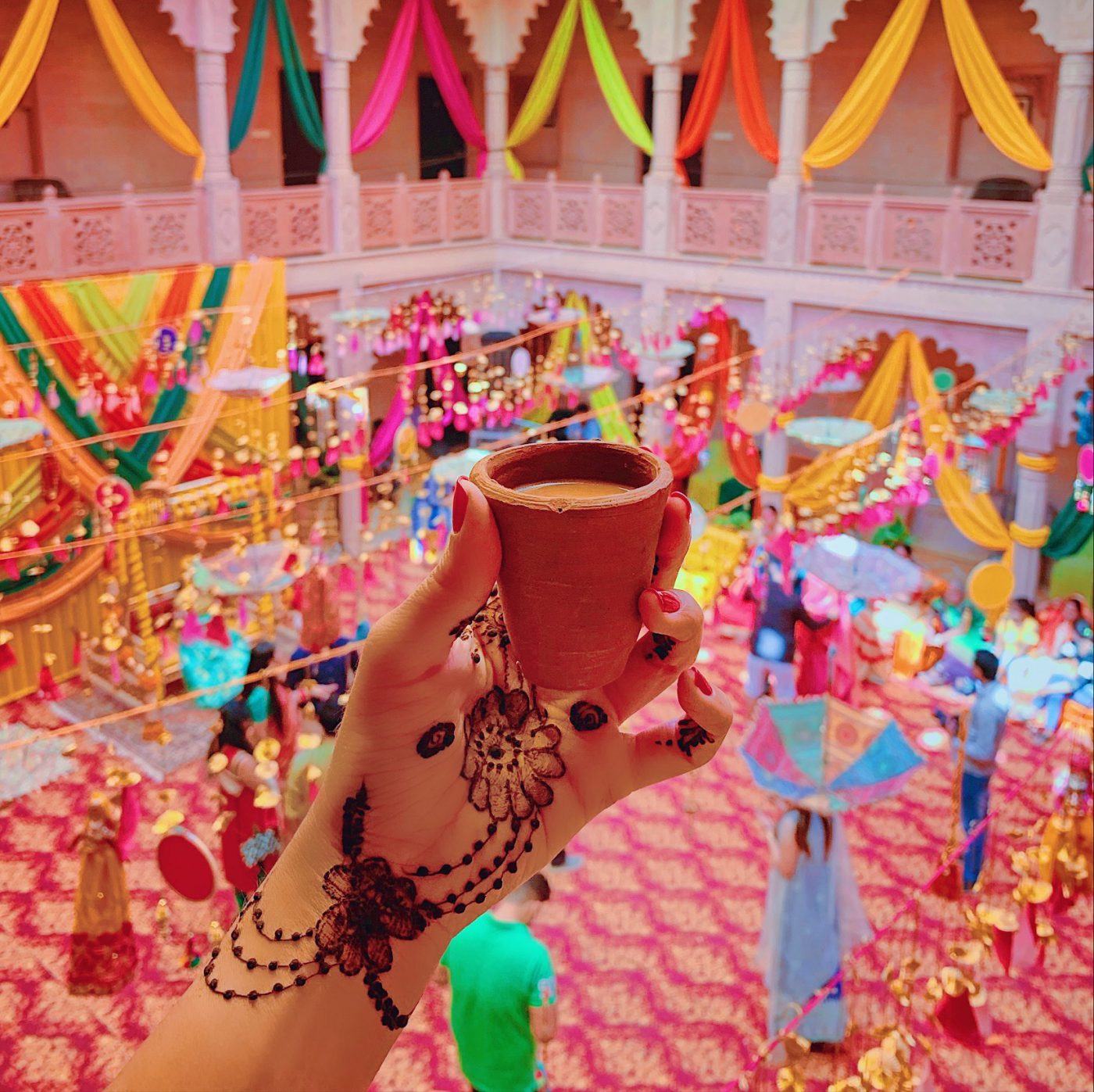 Chai is a spiced tea beverage that originated in India. During the wedding, you'll often find guests sipping on a cup of Chai. The base is a strong black tea mixed with various Indian spices – cardamom, cinnamon, cloves, ginger, and black peppercorn.
Despite the Indian origin, the name Chai likely originated from the Mandarin word for tea, which is "cha". Chai is often served in a "cutting" portion (half a cup) and in most parts of North India, it's usually served in an unglazed clay cup called Kulhad (or Bhar in Kolkata).
These clay cups are only to be used once – I was quite surprised when I saw people throwing away their clay cups into the bin, but these cups are actually pretty environmentally friendly. The clay would return back into the soil once disposed of, unlike plastic cups. Clay also has tons of health benefits compared to using plastic cups.
2. Paneer, fresh Cheese from India
My friends are gonna roll their eyes at me for this – but YES I LOVE PANEER!
I love Paneer in all forms – in a curry, in a sweet-sour sauce, or grilled on a skewer… it's just so good!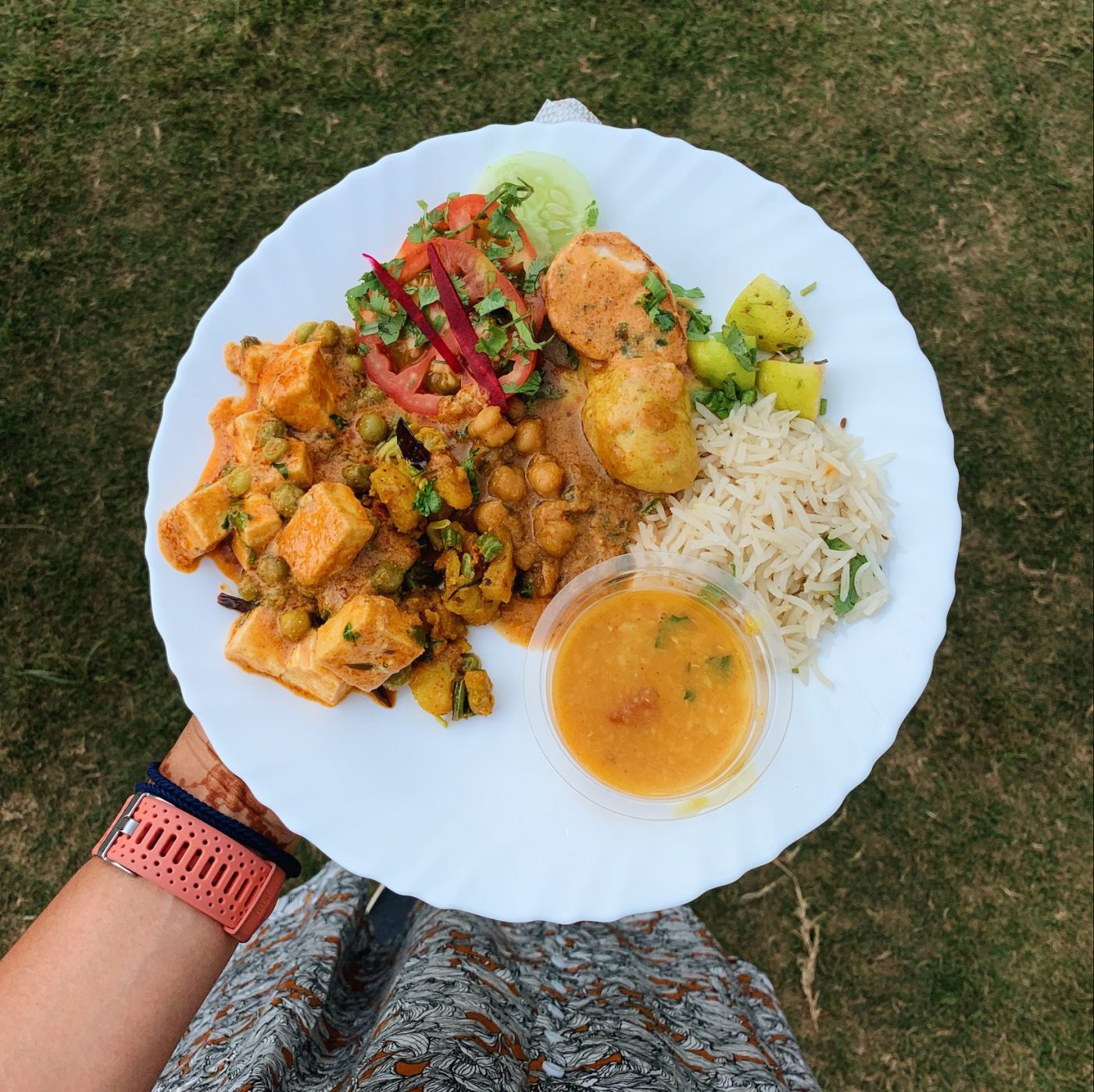 Paneer is a semi-firm cheese that will not melt at cooking temperature, so it is often used in savory vegetarian dishes. The closest other type of cheese I've tasted that is similar to Paneer is probably Haloumi, although Paneer tasted fresher and a lot less salty than Haloumi.
3. Panipuri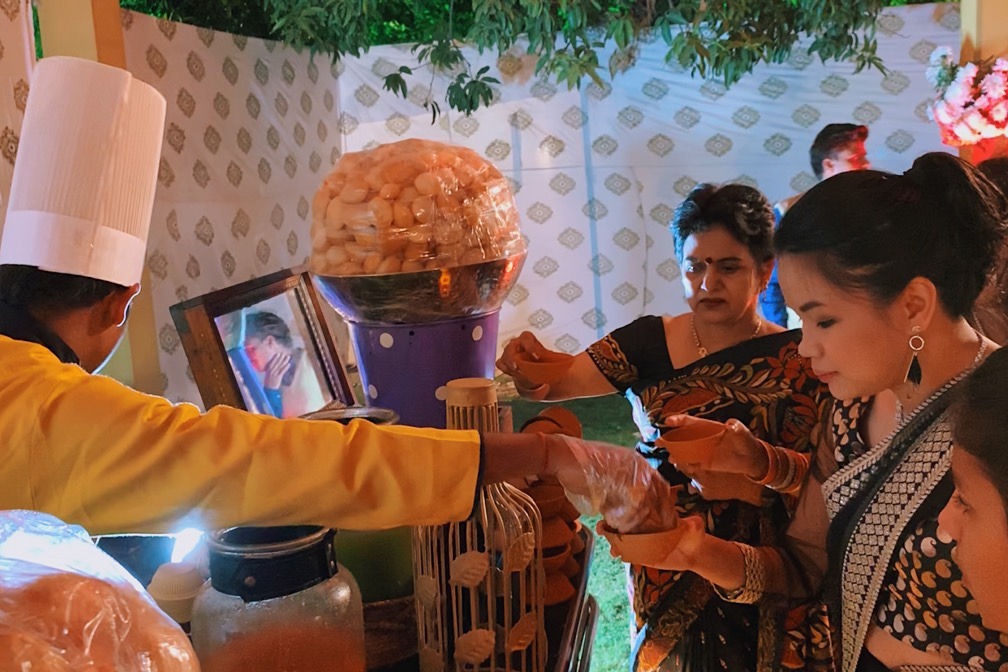 Panipuri is a common Indian street snack, consisting of bite-sized, hollow crispy fried dough (called "puri") containing chickpeas, potatoes, and onion. The puri is then dipped in a jar of cold water so that it is totally filled with the water inside. This is where the "pani" part of the name comes from – it means water. There are typically two types of flavors – sweet or spicy – and I personally loved the spicy version! The pani is typically served cold and flavored with all kinds of herbs and spices.
Panipuri is usually served from a stall, where you can just stand there with a bowl in your hand, point at the panipuri flavor you want and the stall owner will hand you the tiny puri straight into your bowl which you then proceed to eat in one gulp. I had 5-6 of these in one go. No shame. They are so easy to eat and very delicious.
Okay, that's my experience of attending an Indian wedding! It was such a fun weekend full of cultural learning and festivities. Special thanks to Varsha and Shefali for the bits of cultural education during the entire wedding. It was indeed information overload, and I wouldn't have been so lost if it wasn't for you guys! And of course, for Akanksha and her family for having us!