I spent a weekend in Seoul in collaboration with CheapTickets.sg and Korea Tourism Organization. This post is part of the eating adventure I went on while in Seoul. For more post on South Korea, check out this page.
Aside of finding the local eats, one of my favorite thing to do before a trip is to google "cute food in <Insert city here>" and then going on a hunt for them. I think it's super fun and I appreciate the creativity a city has to offer through food!
Without further ado, here are my cute eats findings in Seoul:
1. LINE Friends Cafe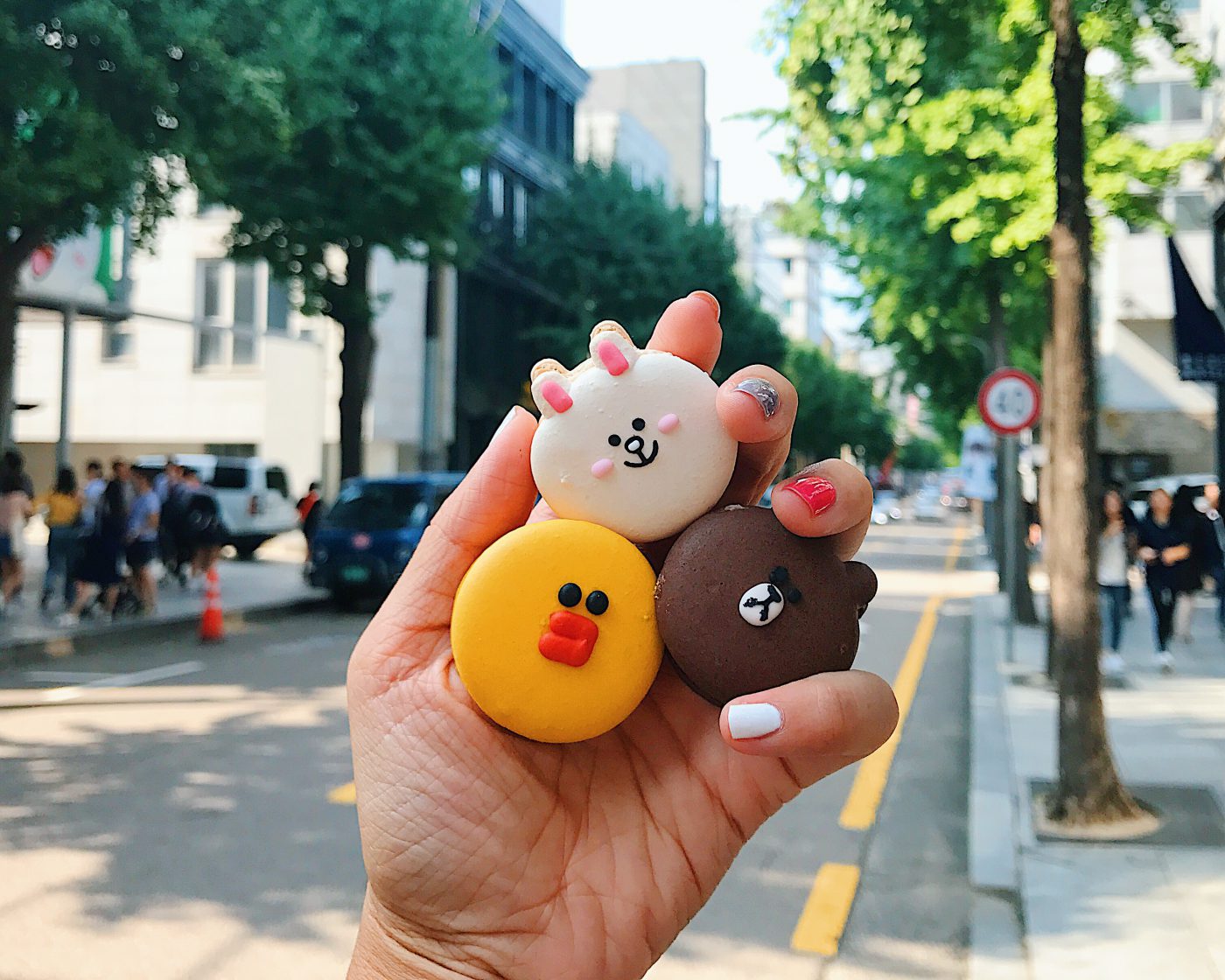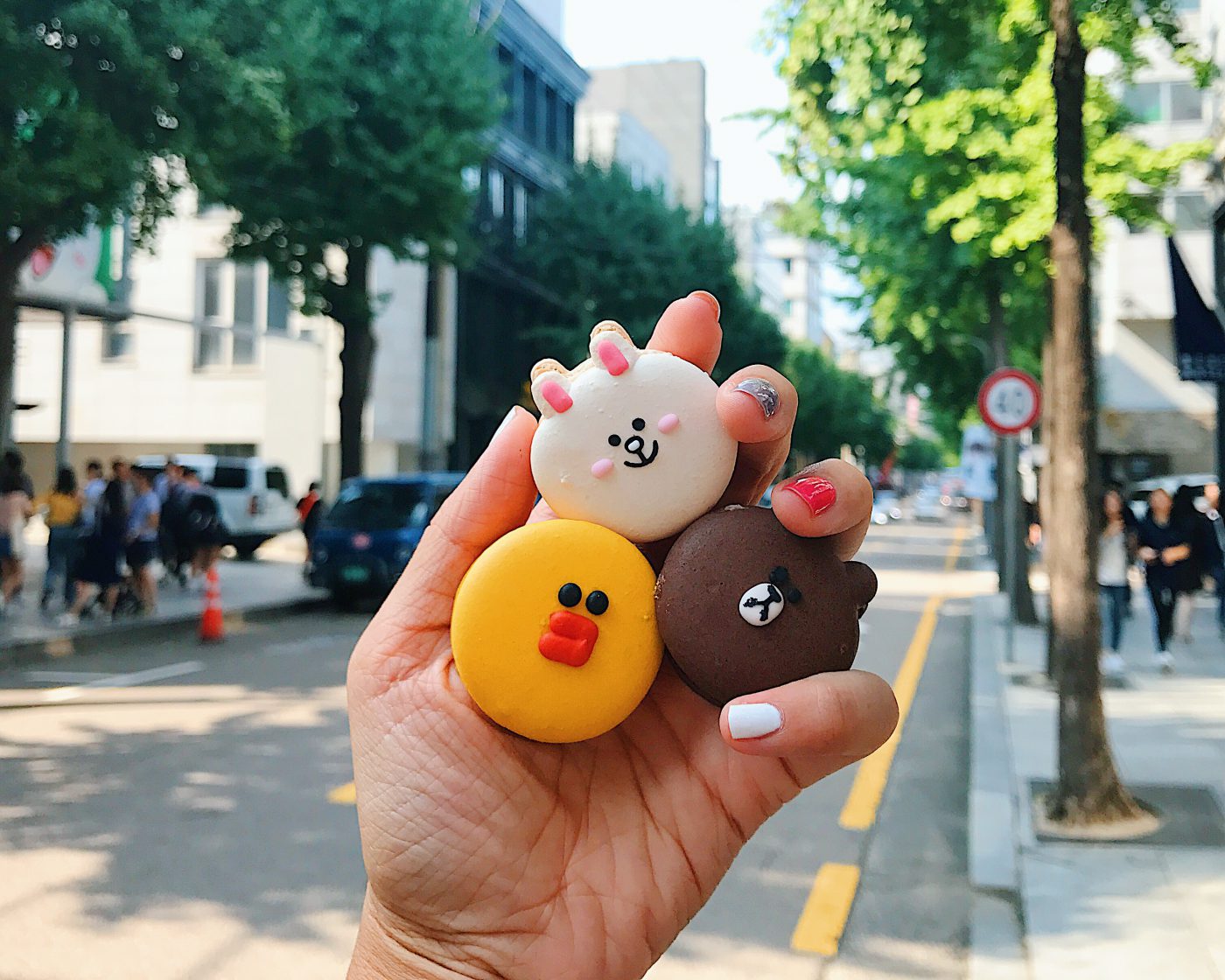 We all know LINE messaging app originated from Japan, but did you know LINE is actually a subsidiary of Naver, the Korean giant internet search company? In the messaging app, you have the ability to send emoji reactions with different character themes, and these characters have garnered serious popularity worldwide.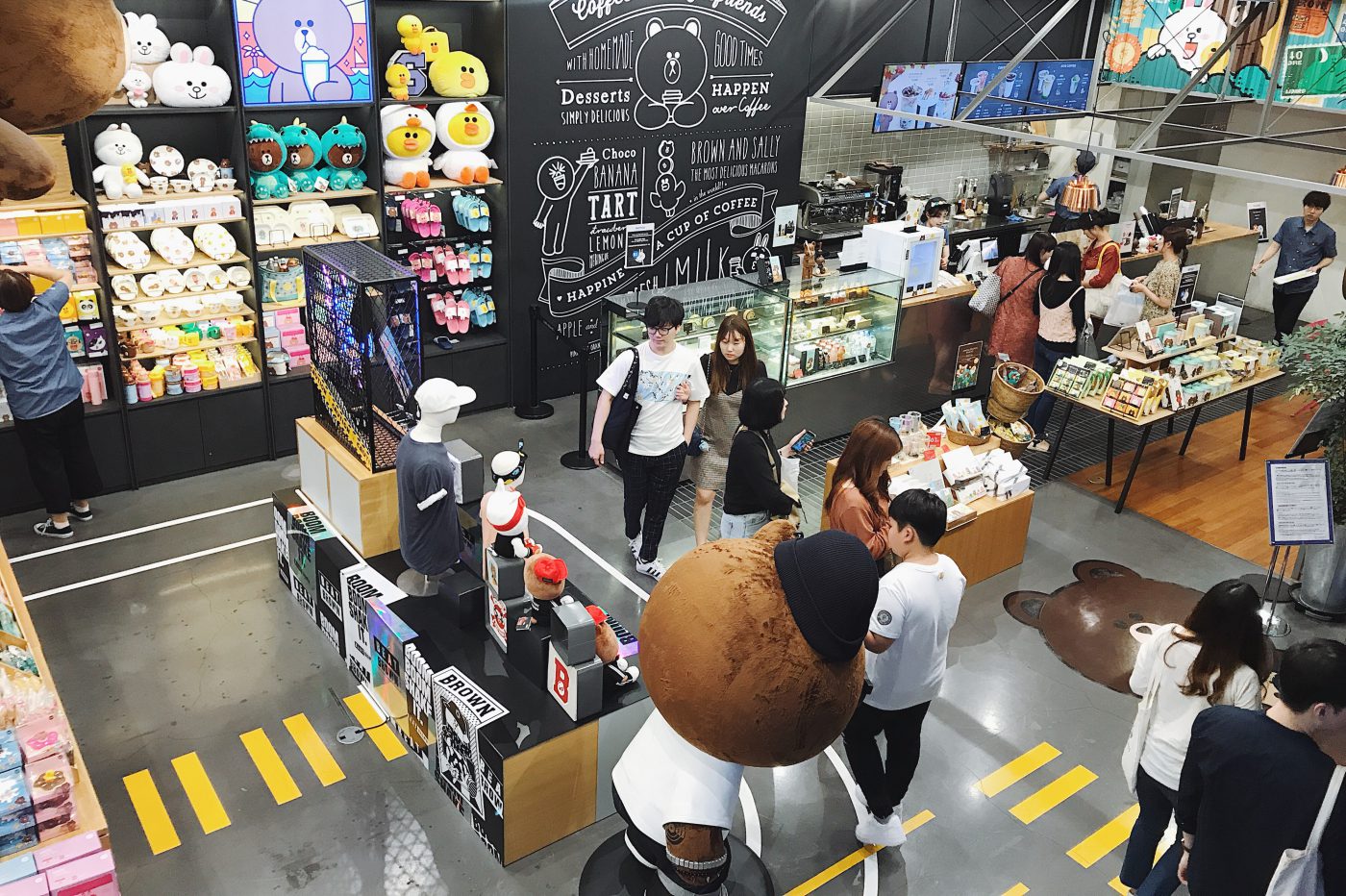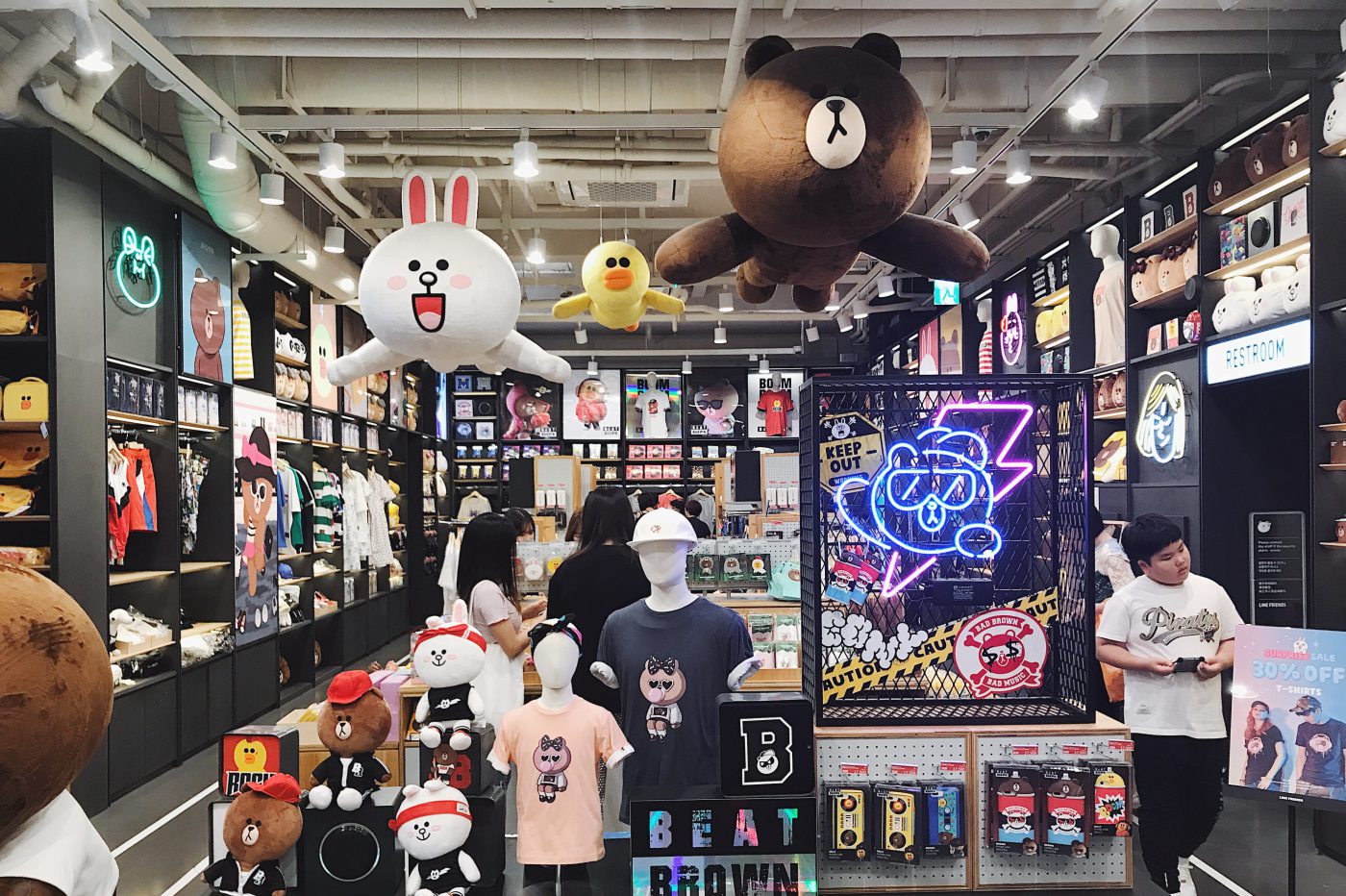 In fact, they have grown so popular that there are now several big stores in Seoul dedicated to just selling LINE-branded character items. They have everything from t-shirt to powerbanks that are shaped like the beloved LINE characters. I only visited the one in Garusu-gil, but the other locations are near Myeongdong Station (no cafe, just merch) and Itaewon Station (the biggest store and cafe in Seoul).
Aside of the abundance of merchandise, they also have various cute desserts in the character-themed cafe. I chose the macarons since I think they are the cutest ones! They are also quite tasty too.
Nearest Station: Sinsa station on Line 3 (Brown) | Google Maps
2. Thunder Bomb from Remicone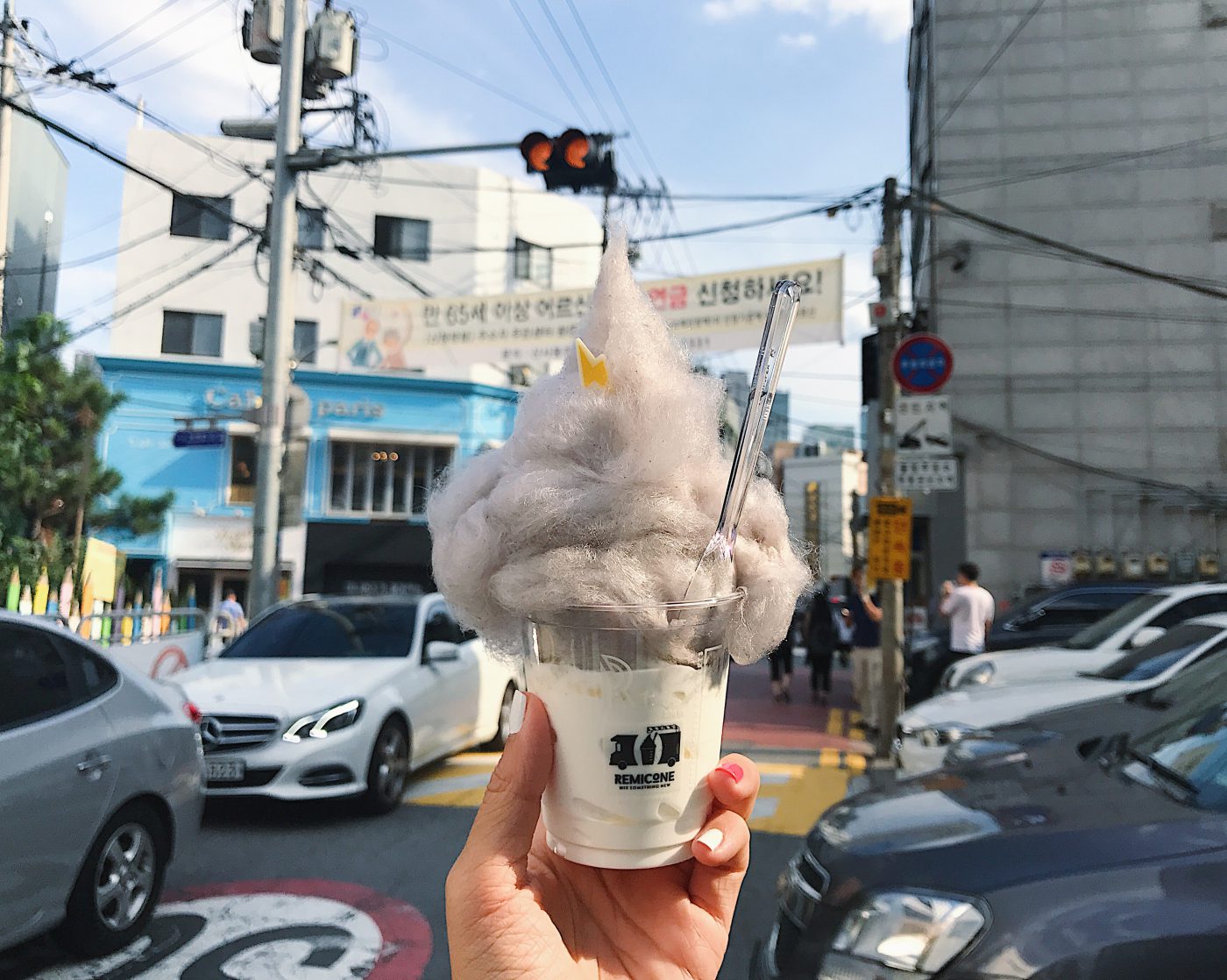 When I saw a picture of the Thunder Bomb online, I knew right away that I had to try it. Remicone is a small corner shop in the hip neighborhood of Sinsa-dong, just off Garusu-gil. The shop might be tiny, but they carry an impressive array of whimsical ice creams that are so beautiful, it's as if they were made just for Instagram. The shop is styled like a lab – aside of the special ready-made ice creams you can also mix and match different toppings to create your own ice cream combination. Kind of like your own ice cream lab if you will.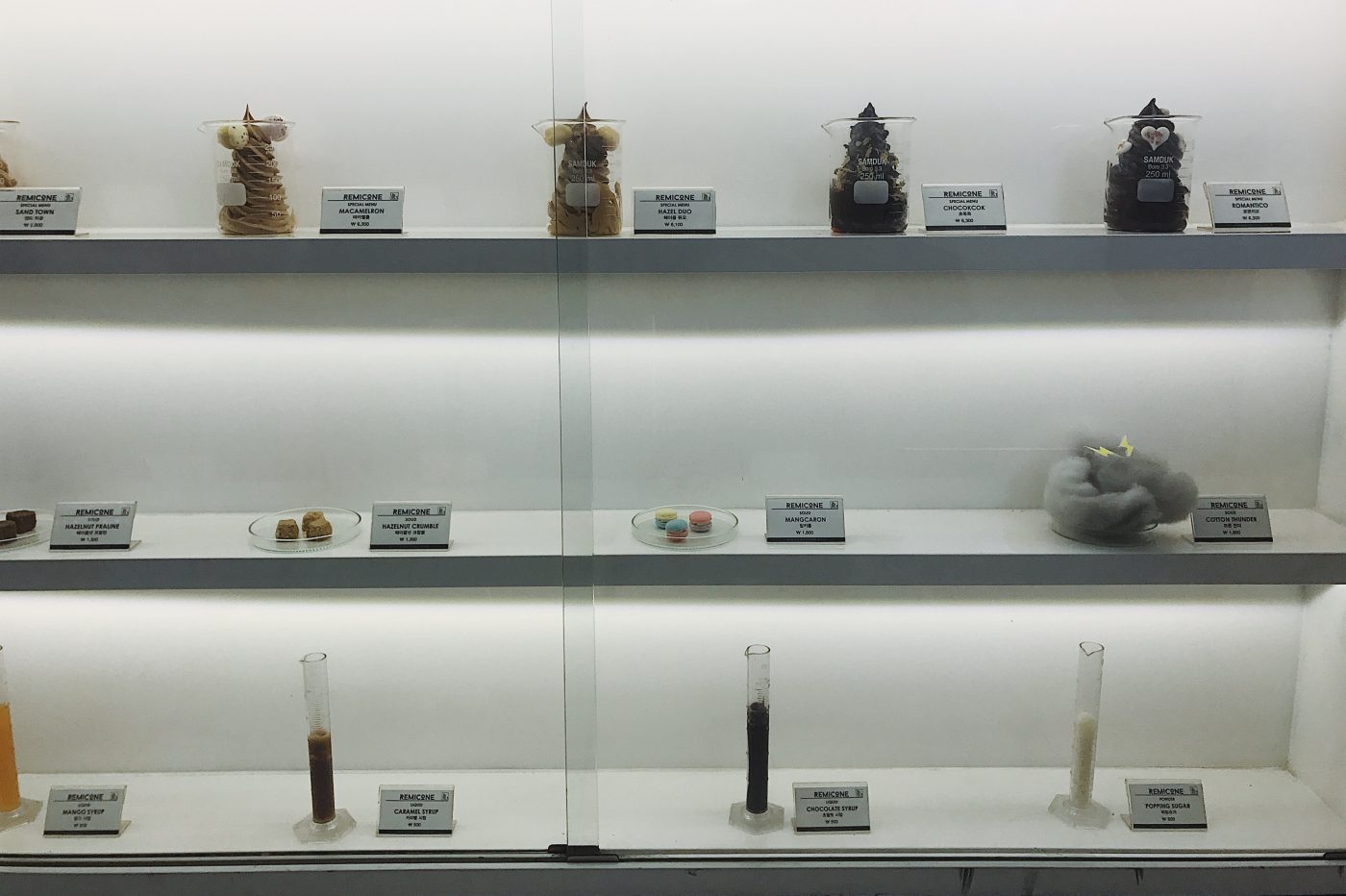 As for the taste, the gray "rain cloud" cotton candy had a minty taste and the vanilla ice cream is topped with crackling pop rock candy that pops in your mouth (I guess that is the "bomb" part!) and it came with a white chocolate thunderbolt.
Next time, I would totally add the small macarons to the grey clouds for the extra "instagram" factor 😉
Nearest Station: Apgujeong or Sinsa station on Line 3 (Brown) | Google Maps
3. HK Egg Waffle in Hongdae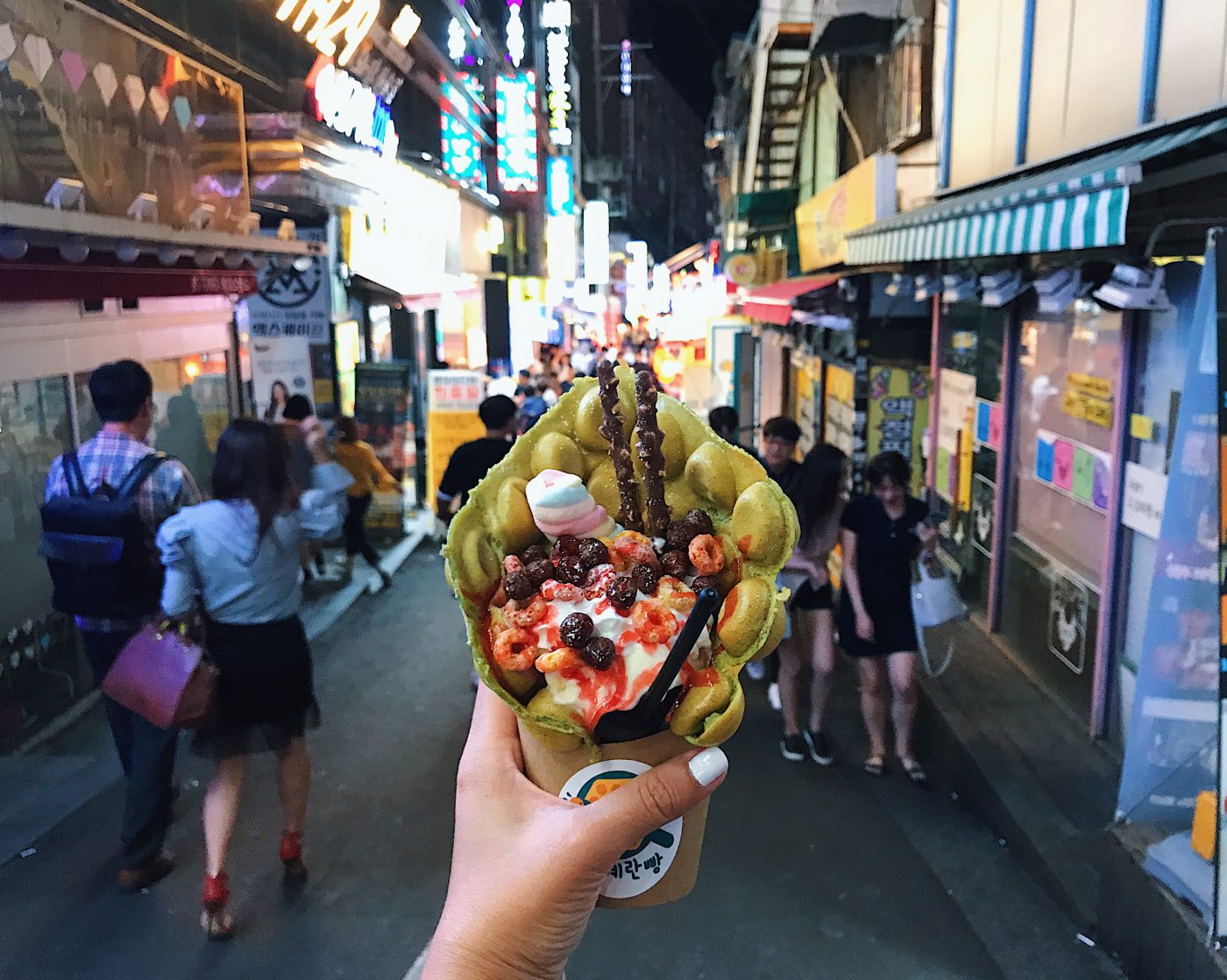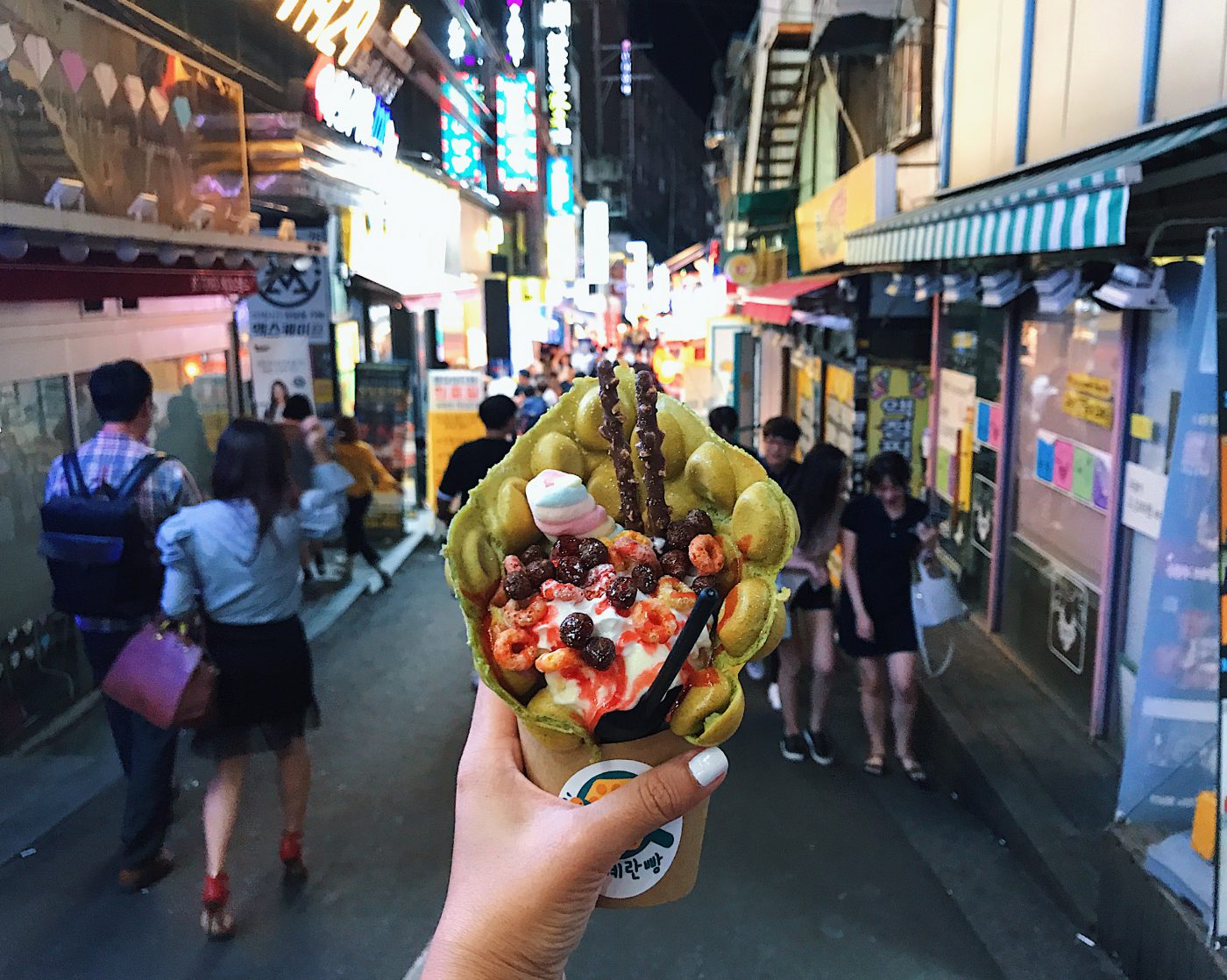 Long-time followers of @girleatworld would know that I'm a huge fan of the Hong Kong delicacy. I've featured the egg waffle many times while I was in Hong Kong, both in its traditional form and modern takes of it.
This one from a stall in Hong Dae is a pretty spectacular twist to the traditional snack. It came with an ice cream, two sticks of pepero (Korean version of Pocky), a rainbow marshmallow, cheerios cereal and a drizzle of strawberry syrup on top of whipped cream. I love seeing traditional desserts get a face lift!
Nearest Station: Hongik University station on Line 2 (Green) | Google Maps
4. The Jumbo 32cm Ice Cream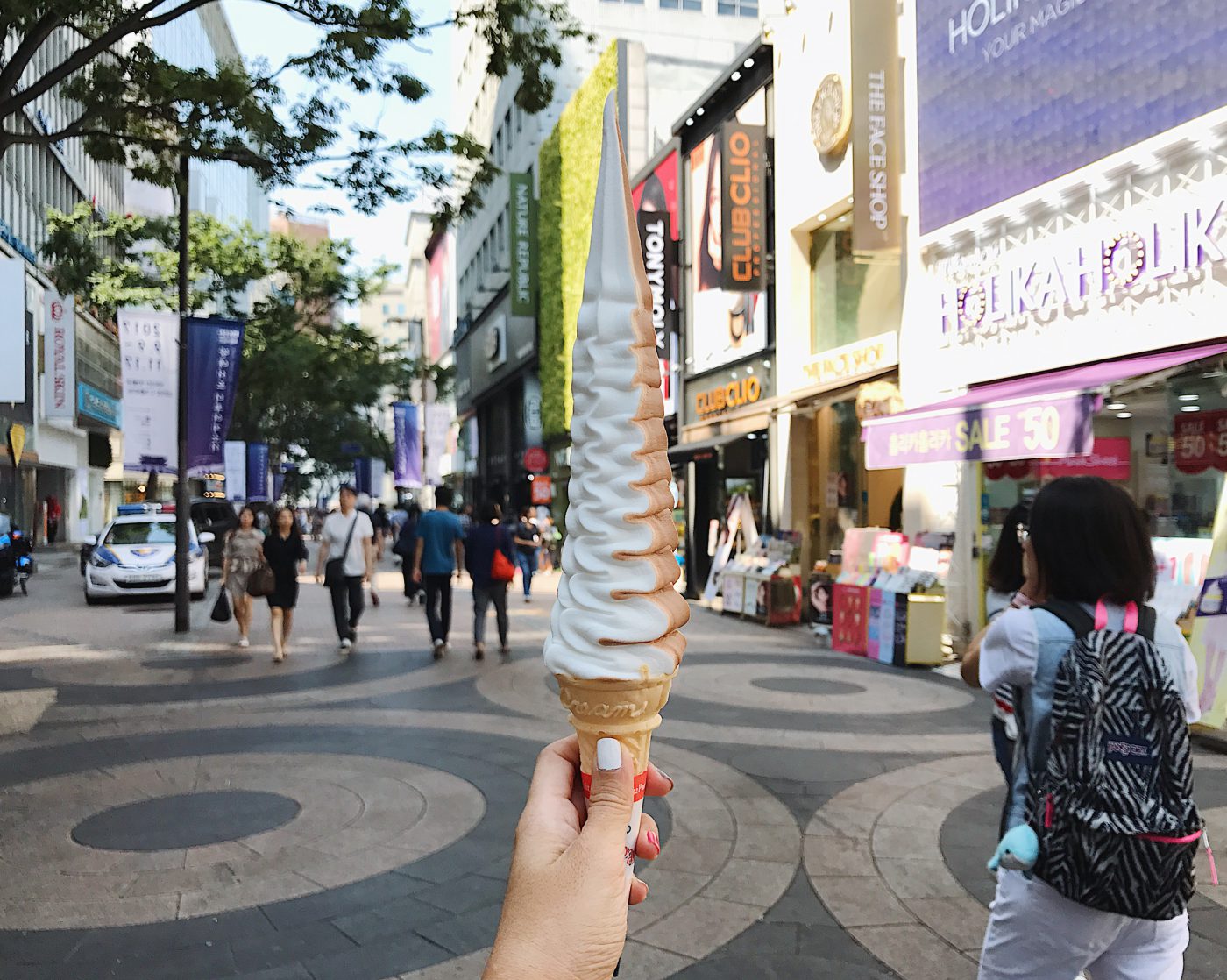 This 32cm ice cream can be found in many places in Myeongdong. The ice cream is obviously attention-grabbing because of the unusual shape and length, but the ice cream itself is actually just a regular soft-serve stacked expertly and as high as possible. I am totally jealous of their ice cream pouring skills!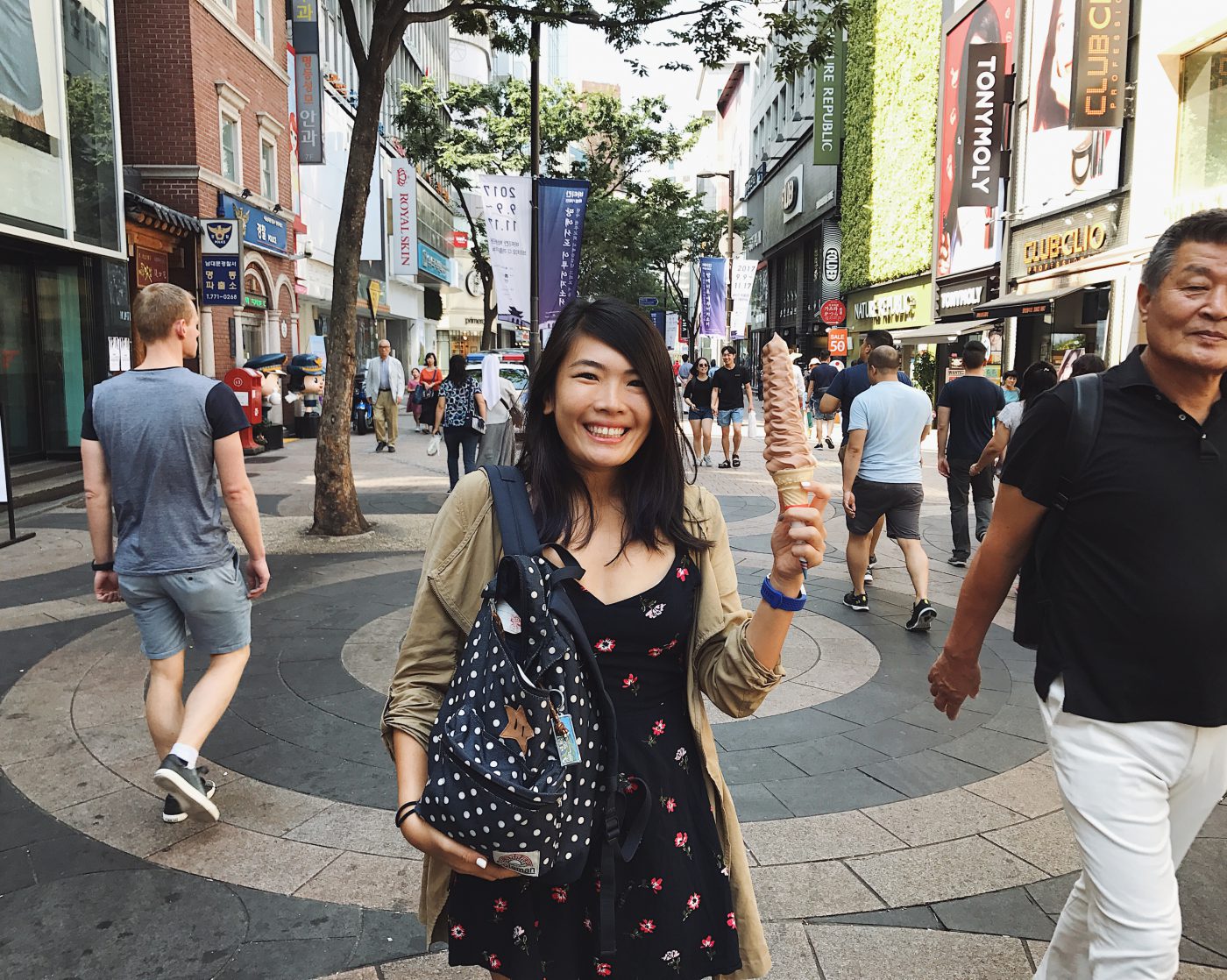 I would say this is more for the pictures than taste since there isn't anything special to it. It's also really difficult to eat since you have to keep it perfectly straight and it tends to melt faster than you can eat it, but hey… the picture will be awesome! And they are really affordable at 2000 won.
It comes in different flavor combinations like vanilla and chocolate, green tea and strawberry, and a few others I can't recall. I was too busy finishing the ice cream!
Nearest Station: Myeongdong station on Line 4 (Blue) | Google Maps
5. Fish-shaped Ice Cream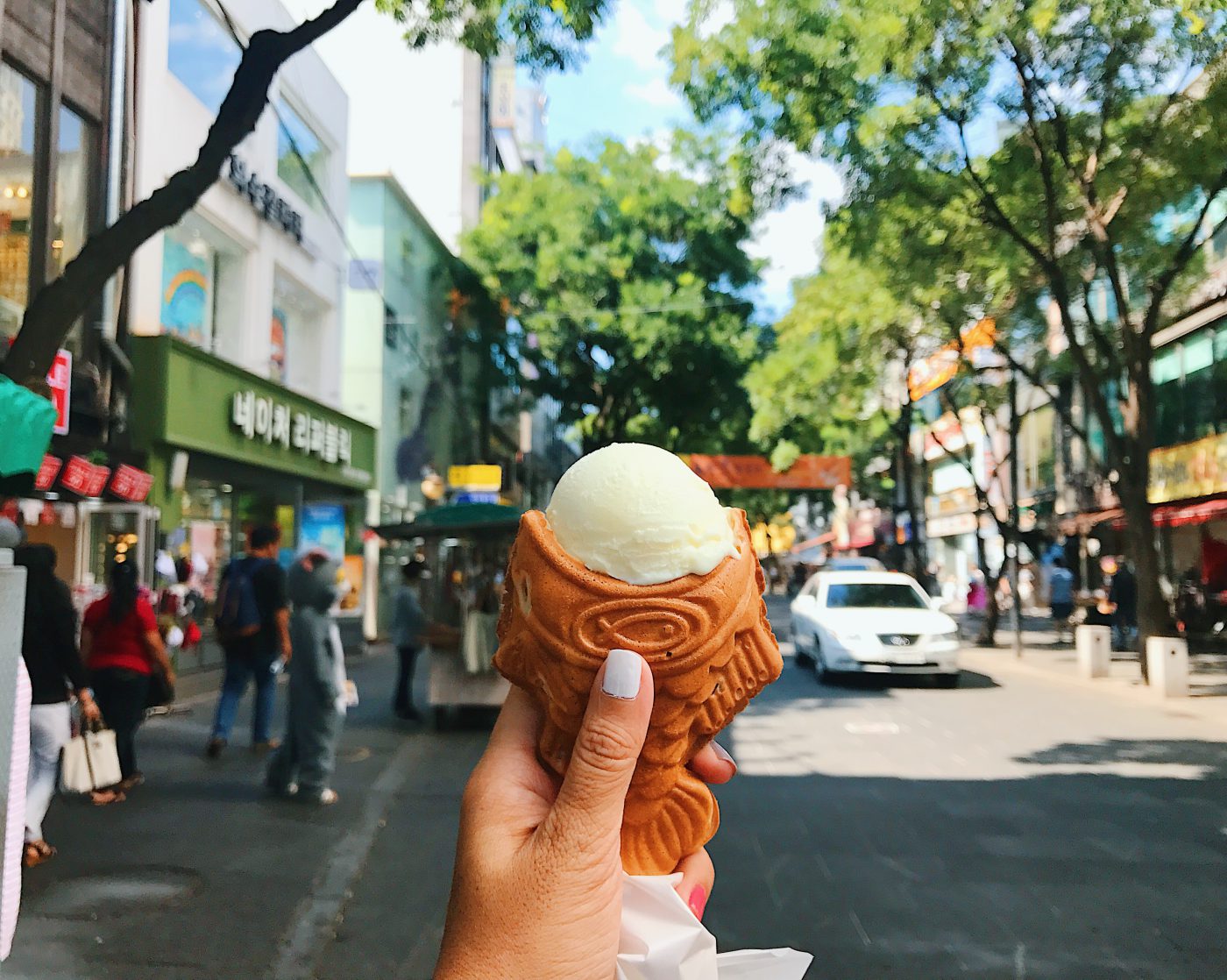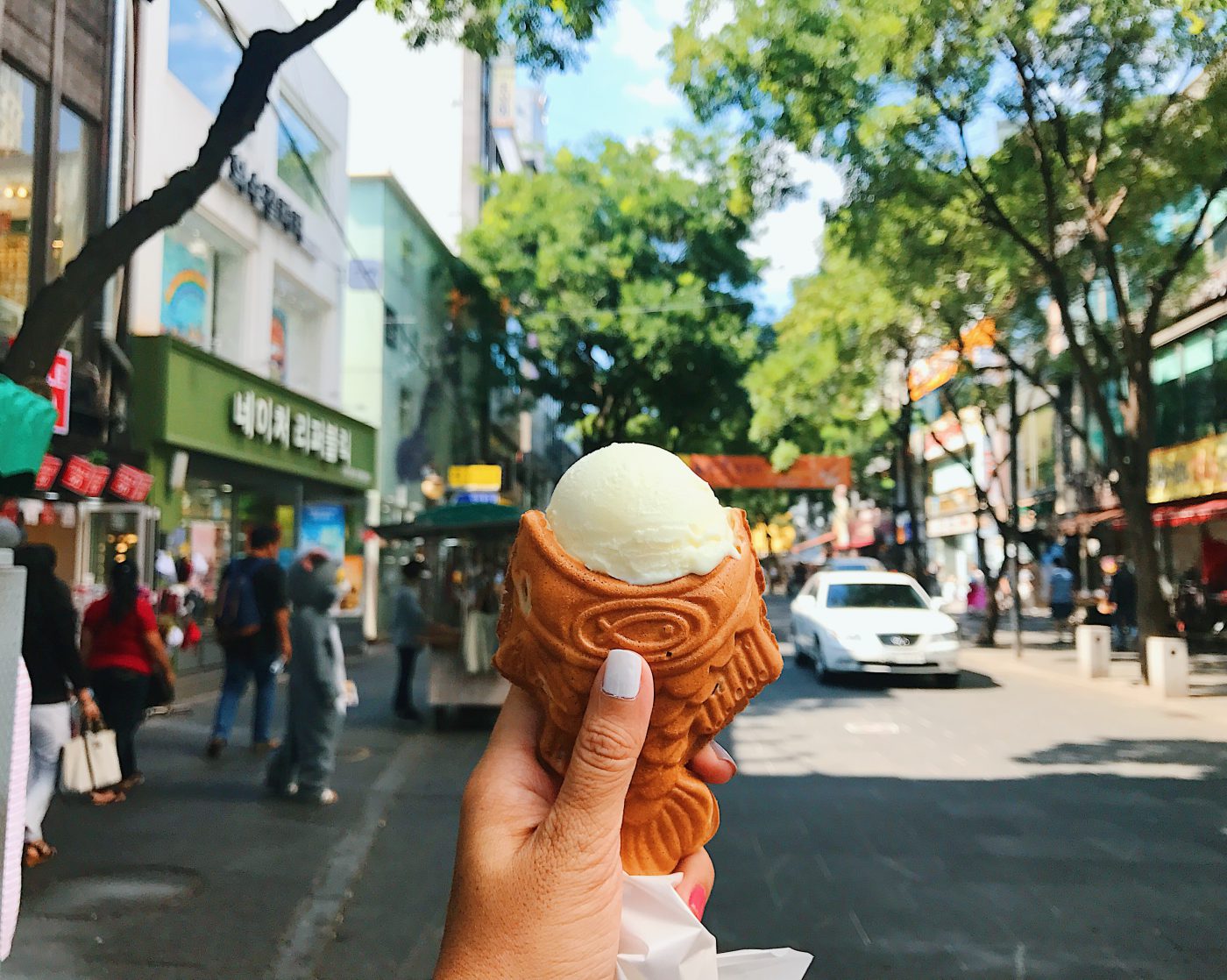 I found this fish-shaped ice cream in Insadong. I've seen something similar while in Japan, but this version in Korea is slightly different. I suppose it's a more modern take of Bungeo-ppang, which is a fish-shaped pastry that is usually stuffed with sweet red beans. The ice cream is very light, almost like a sorbet, and the inside is stuffed with Honey and Oreos (Too bad this part isn't visible!). The fish dough part is thin yet chewy and crispy on the outside.
I've also seen another version of this ice cream in Hong Dae and Bukchon Hanok Village, near the Gentle Monster Bath house retail shop.
Nearest Station: Anguk Station on Line 3 (Brown) | Google Maps
6. Rose-shaped Ice Cream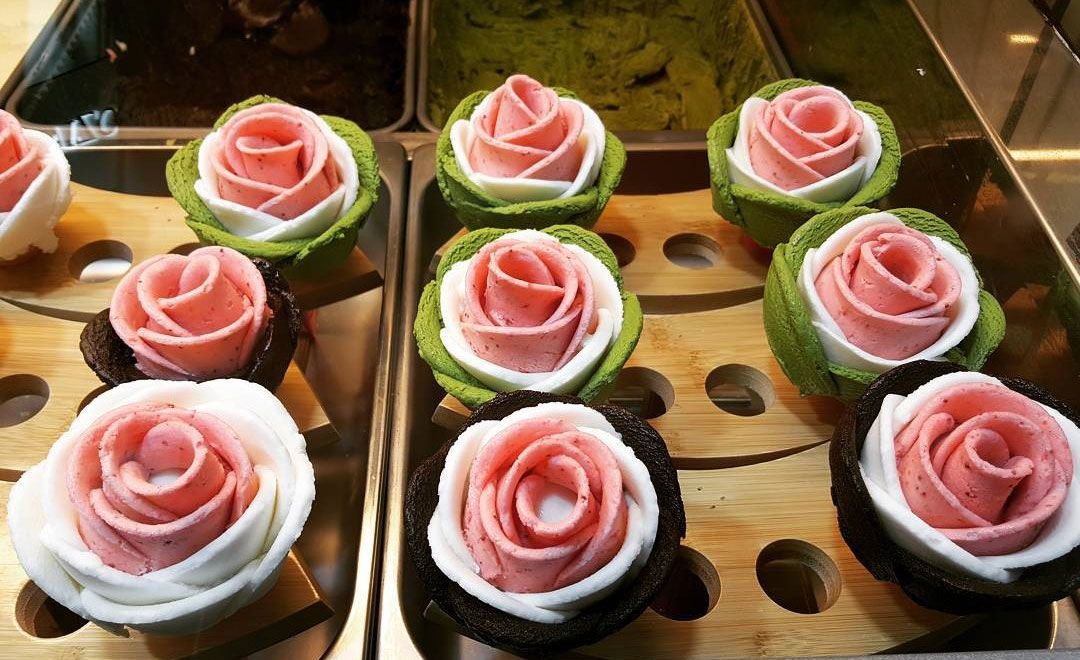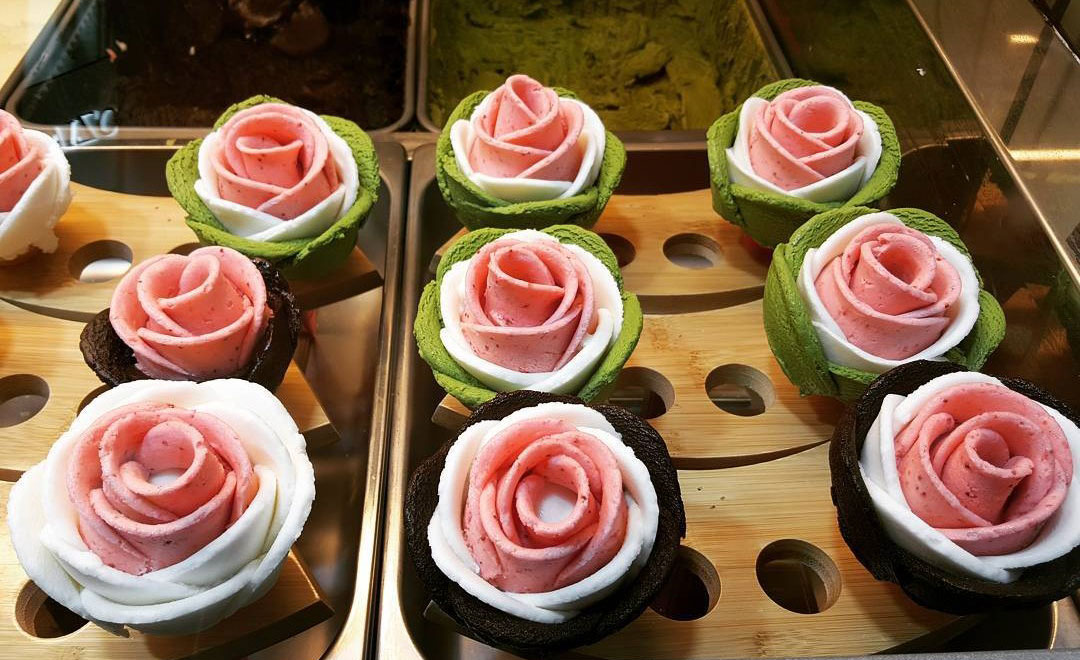 Rose-shaped ice cream is not unique to South Korea. Nowadays, you can find it in just about any food street in a major city – I've seen it in Paris, Beijing, Shanghai, Nagasaki, and now Seoul. But I'm not going to argue that it's a beautiful way to enjoy your ice cream and certainly would be a delight to your instagram!
One of the places you can find the rose-shaped ice cream is at Milky Bee cafe in Myeongdong. I also have to add that the shape of their rose is probably the best one I've seen thus far! the petals are nicely shaped and looks very sturdy.
Nearest Station: Myeongdong station on Line 4 (Blue) | Google Maps
7. Cookie Monster Latte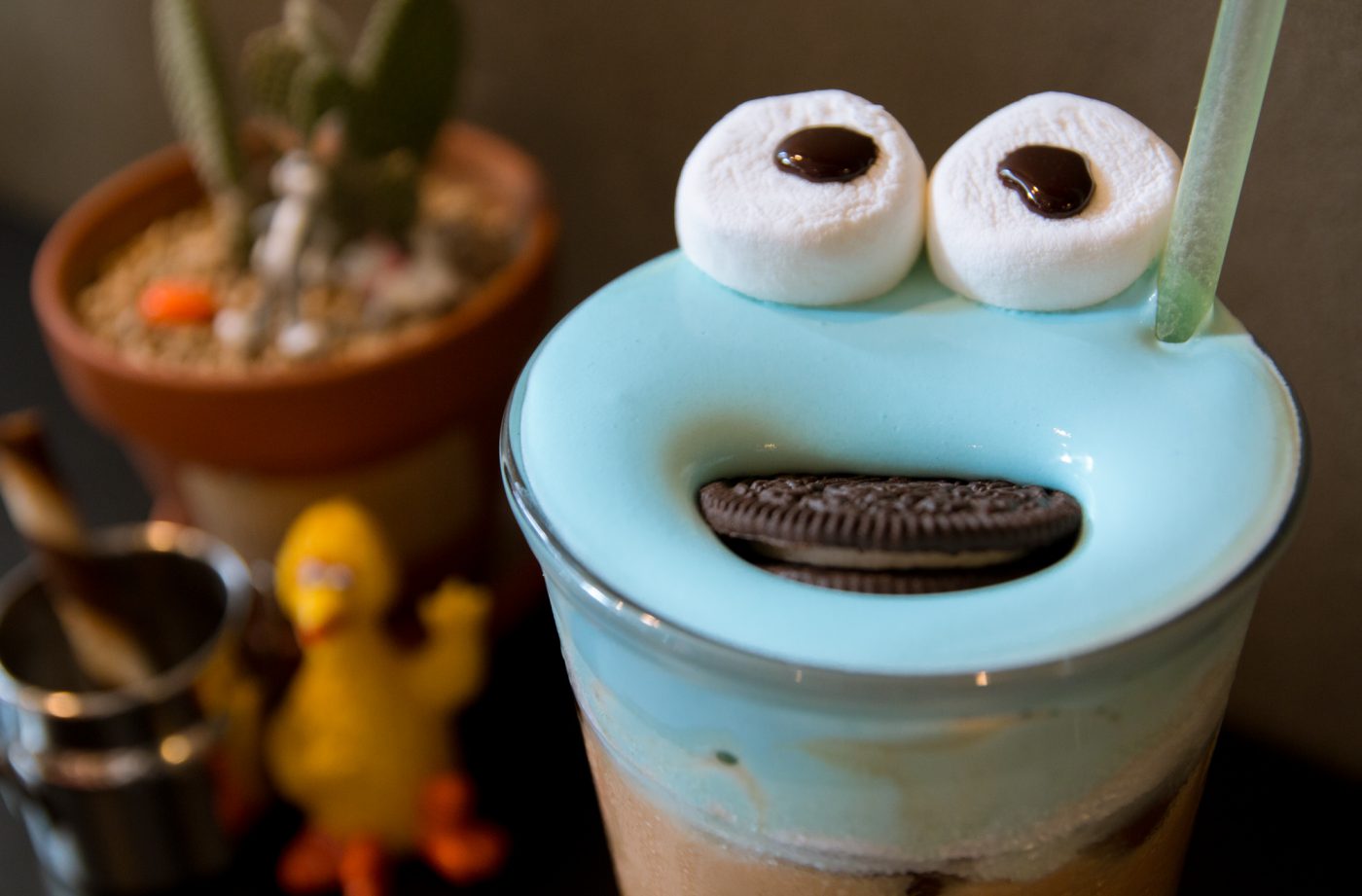 This creatively-decorated latte is made by Viva Salon, a vintage toy-shop that doubles up as a cafe. I really wanted to visit this cafe for the blue Cookie Monster Latte, but because I was busy finding affordable eats in Seoul, I didn't have the time 🙁 Maybe some of you reading this can go for me?
While I can't vouch for the taste, this latte totally grabbed my attention when I first saw an image of it online. For a full review, you can read this post by Seoul Searching. She even has a video review!
Nearest Station: Mangwon station on Line 6 (Dark Brown) | Google Maps
General Tips on visiting Seoul
Seoul (and South Korea in general) is very safe and a tourist-friendly country. On my first visit to South Korea, I went to Seoul by myself and I had no issues at all! Here are some tips that would make your trip as easy as mine:
Visa – If you qualify for visa waiver to enter South Korea, you MUST apply for K-ETA at least 72 hours prior to your arrival. Otherwise, you would be denied boarding your flight.
When you first arrive at the Incheon airport, buy the T-money card – this is the transport card that you can use for the subway system in Seoul, as well as their buses. It allows you to use the tap in – tap out system so you don't need to buy a ticket each time you take the train or bus. A single journey costs 2700 won, and you can keep reloading the T-money card as you need.
Public Transport is top-notch in Seoul. The train system is efficient – you can expect to not wait longer than 5 minutes for a train. During my visit, I hardly ever had to use the bus, but when I did, I only waited for about 10 minutes max.
Get to the city from Incheon Airport by AREX (Airport Express Train), which runs to Seoul station. You cannot use T-money for the express train portion, you have to buy the AREX portion separately for 9000 won. But once you get to / out at Seoul station, you can use the T-money card again. However, there is an option to take the slow regular train using T-money too for half the price at 4150 won.
Taxis and Car Sharing – Taxi is safe to use in Seoul, and you can just hail off the street. Car sharing app like Uber is not legal, so you cannot use it here. Personally, I found the public transport to be sufficient enough that I did not have to use taxi much while I was in Seoul.
As with any other travels, it would also be handy to have an internet connection at all times, so I recommend getting a prepaid local SIM card. You can buy this at the airport and convenience stores in Seoul.
If you don't speak Korean, download Google Translate and pre-download the Korean language pack so you can translate stuff on the go. Locals will be nice and try to be helpful, but most do not speak English and a translation app can go a long way. Many stores in Myeongdong can accommodate Mandarin though! I suspect this is due to the influx of tourism from mainland China, especially in the beauty sector.
Google Maps is surprisingly not the best app in Seoul. This is because Google stores their data on foreign servers, and given the security threat from the North, South Koreans have been very protective of their data. It still works as GPS and major subways, but you probably won't be able to get good direction from it. You can use Kakao Maps instead.
Where to stay in Seoul
I've been to Seoul twice and both times I stayed in Myeongdong. I would definitely stay here again! Here are the two places I've stayed in:
K Stay Guesthouse Myeongdong – I stayed here twice. Once in a single room and once in a 4-bed dormitory. I highly recommend this place if you don't care about hotel amenities since it was really cheap, clean, and right in the middle of Myeongdong (3 mins walk from the station!)
Solaria Nishitetsu Hotel – This hotel is located in one of the few high-rise in Myeongdong. The lobby is located on one of the upper floors and you get unblocked view of the entire district from your room. The location is also hard to beat, it was less than 3 mins walk from Myeongdong station.
Did I miss anything?
Comment below and let me know your favorite instagrammable dessert in Seoul!