I spent a weekend in Seoul in collaboration with CheapTickets.sg and Korea Tourism Organization. For that weekend, they gave me only one task to complete: explore the affordable, value-for-money restaurants in Seoul, as listed by Michelin Guide in the Bib Gourmand category.
Michelin Bib Gourmand is a very new award category for Seoul, inaugurated only in 2017, so it is all very new and shiny. What I like about Bib Gourmand is that they reward the high-quality yet affordable local cuisine.
Wait! What is Michelin Bib Gourmand?
I have the preconception that Michelin restaurants are expensive, runs hundreds of dollars a meal, and out of my price range. I'm sure most of you do, too. Well, turns out we are wrong! There is a Michelin category for someone like me, who loves affordable food without sacrificing quality.
Bib Gourmand is a Michelin award given to establishments that have successfully offered high-quality dishes at affordable prices – in short, these establishments are real value for money. In Seoul's case, this means these eateries serve three-course meals that are less than ₩35,000 (US$30), very affordable for an expensive city like Seoul.
If you are curious which restaurants made the list, here is their full selection. You can also check out CheapTickets recommended list with pictures and tips for each restaurant!
I was in Seoul for a very short time – only three days, well… 2.5 days if you count the travel time and getting to/from the Incheon Airport. Even though there was not much time, fret not – I still managed to squeeze in enough time to visit four Michelin Bib Gourmand restaurants!
1. Myeongdong Kyoja (명동교자) – $
We landed bright and early in Seoul via a red eye Korean Air flight. Thankfully CheapTickets had put us up in a centrally-located hotel in Myeongdong called Solaria Nishitetsu Hotel, directly opposite of Myeongdong Kyoja. When I say opposite, it wasn't even across a street… it was across an alley. With such proximity to the hotel, of course our first order of business had to be visiting this place.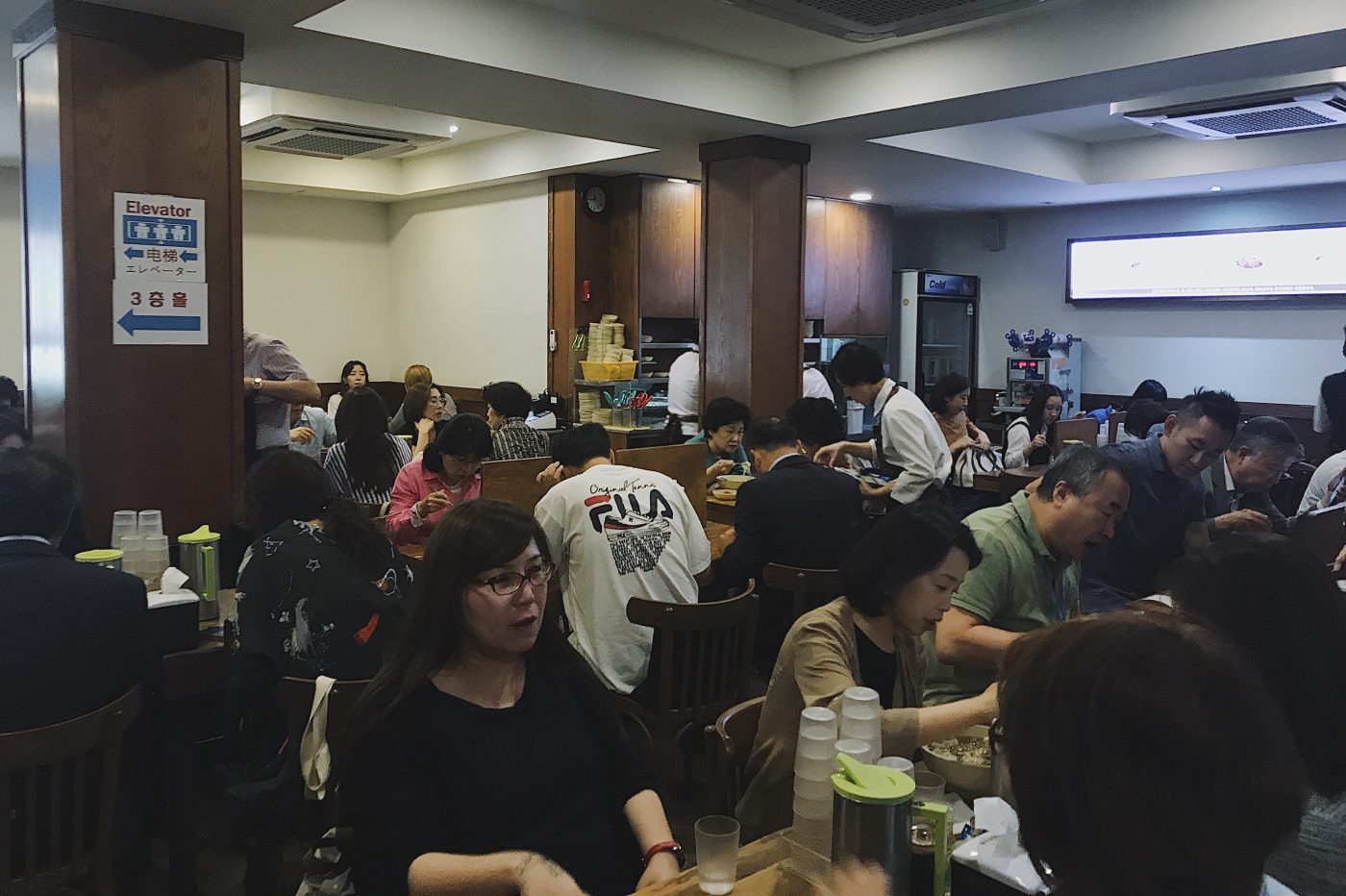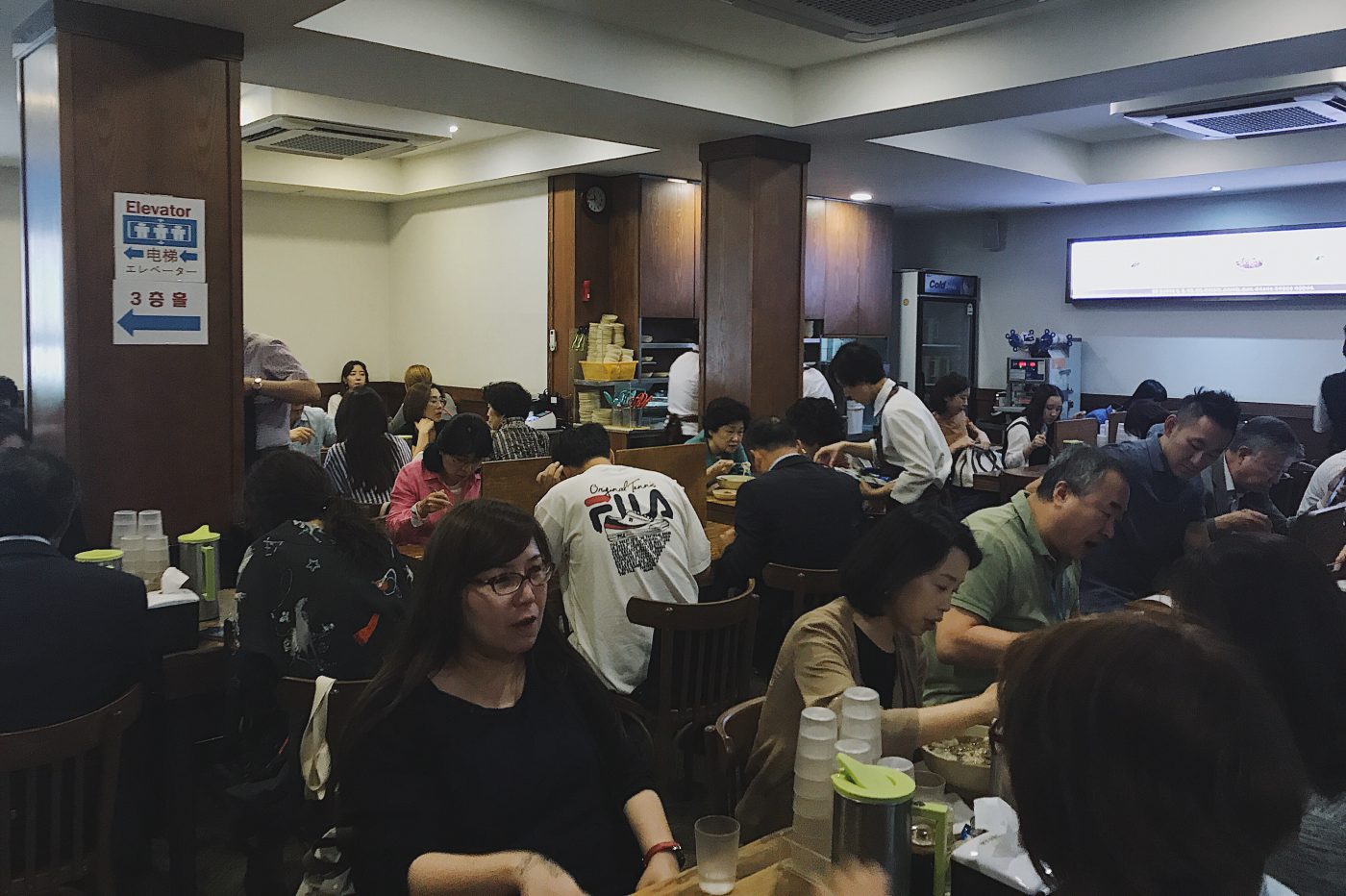 It really did pay off to come early. We arrived at 11:00AM and the restaurant was already pretty full, but the waiter managed to squeeze us in. We were immediately seated on a table for two in the corner. By the time we left at around 11:40AM, a long line had formed outside of the restaurant. So if you want to come here, avoid peak meal times!
Most restaurants in Korea specialize in only 1 or 2 dishes. True to Korean spirit, Myeongdong Kyoja has a very thin menu – they literally have only four dishes in there, and one of them is seasonal. These dishes are: Kalguksu (handmade noodle soup), Mandu (dumplings), Bibimguksu (spicy wheat noodle) and Kongguksu (bean noodles available in summer season only).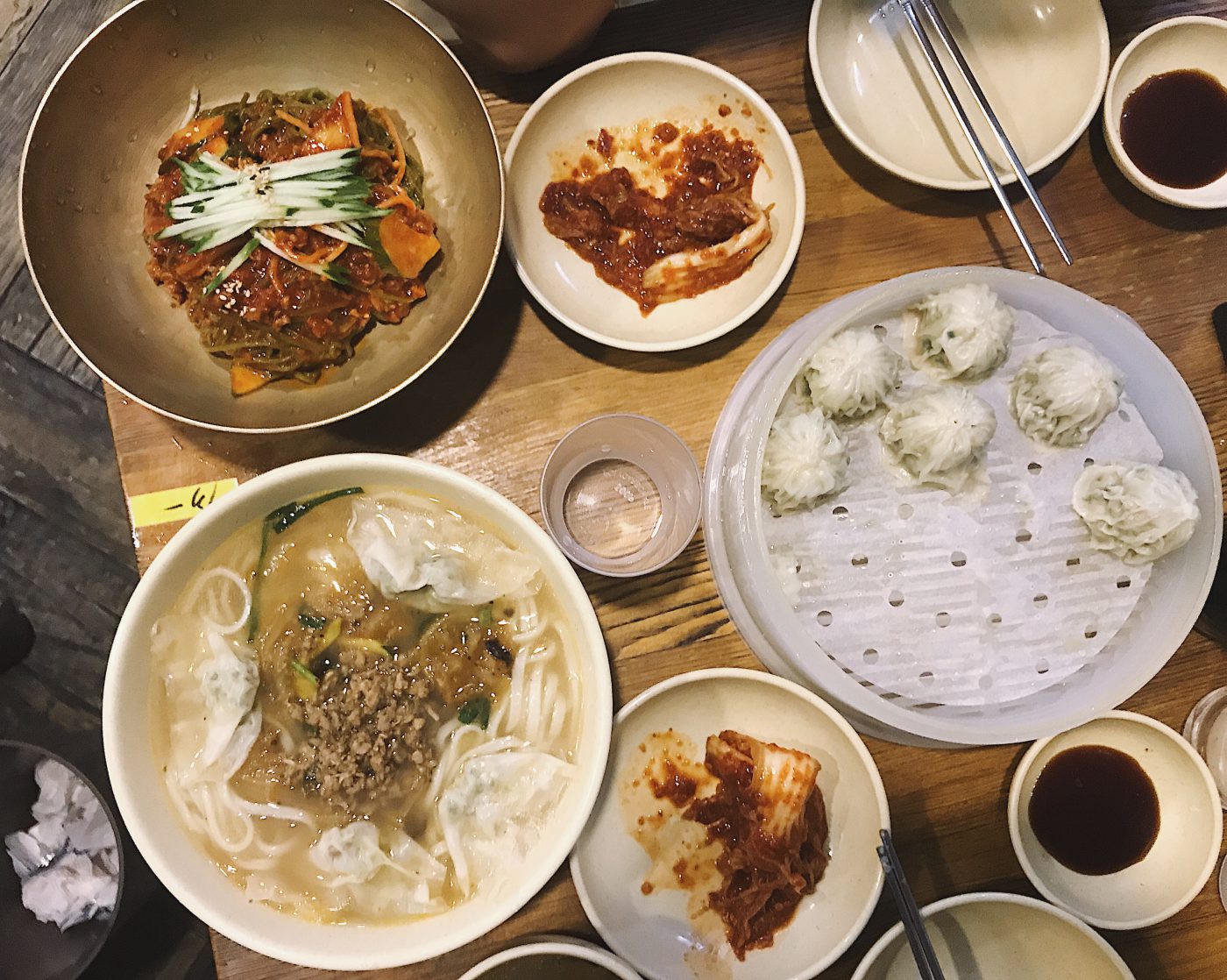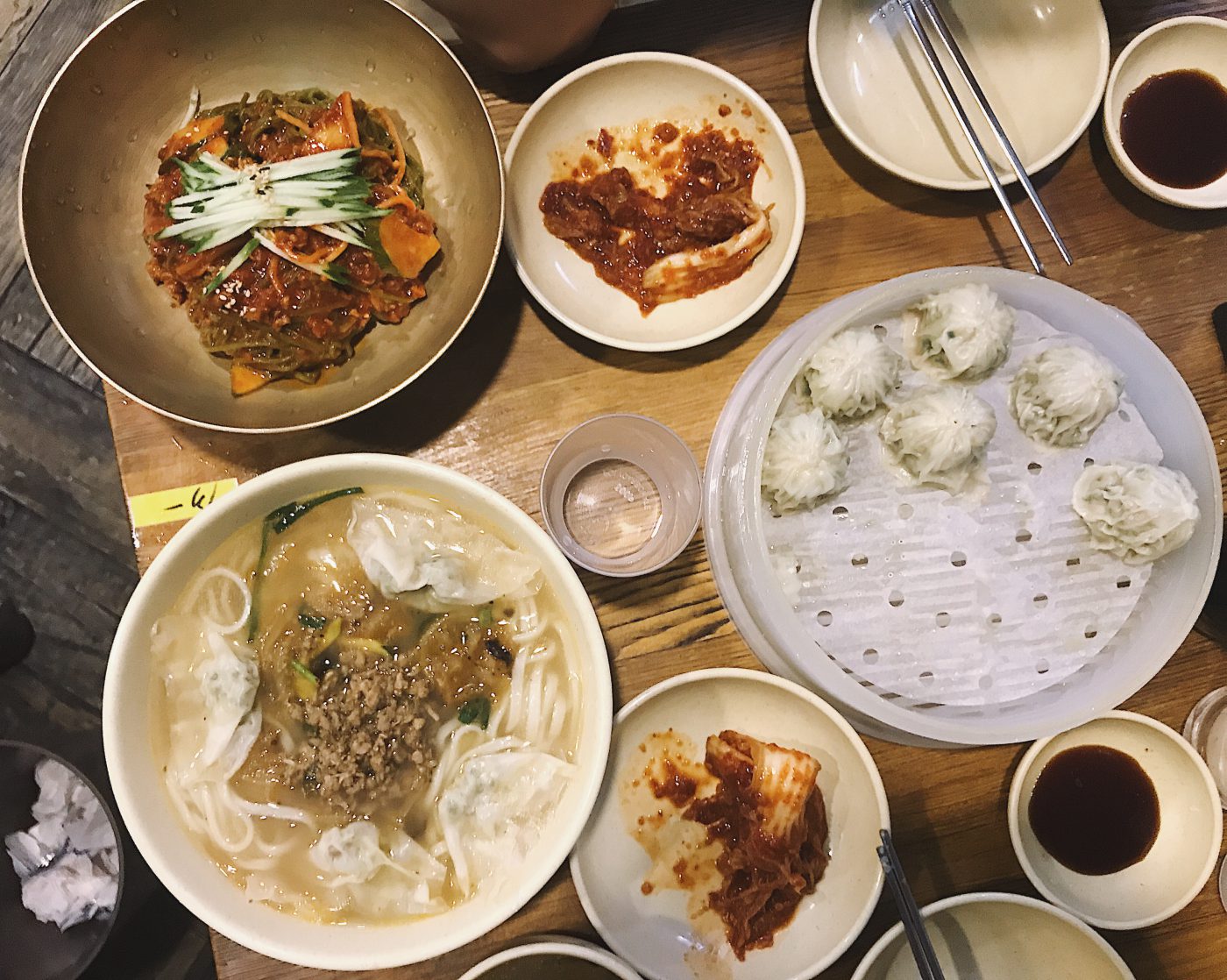 I would recommend to… well, order everything in the menu and share with your meal companion so you can taste everything. Two of the noodle dishes plus an order of Mandu was just enough for 2 people. But if you're eating by yourself, I recommend getting the Mandu and Kalguksu.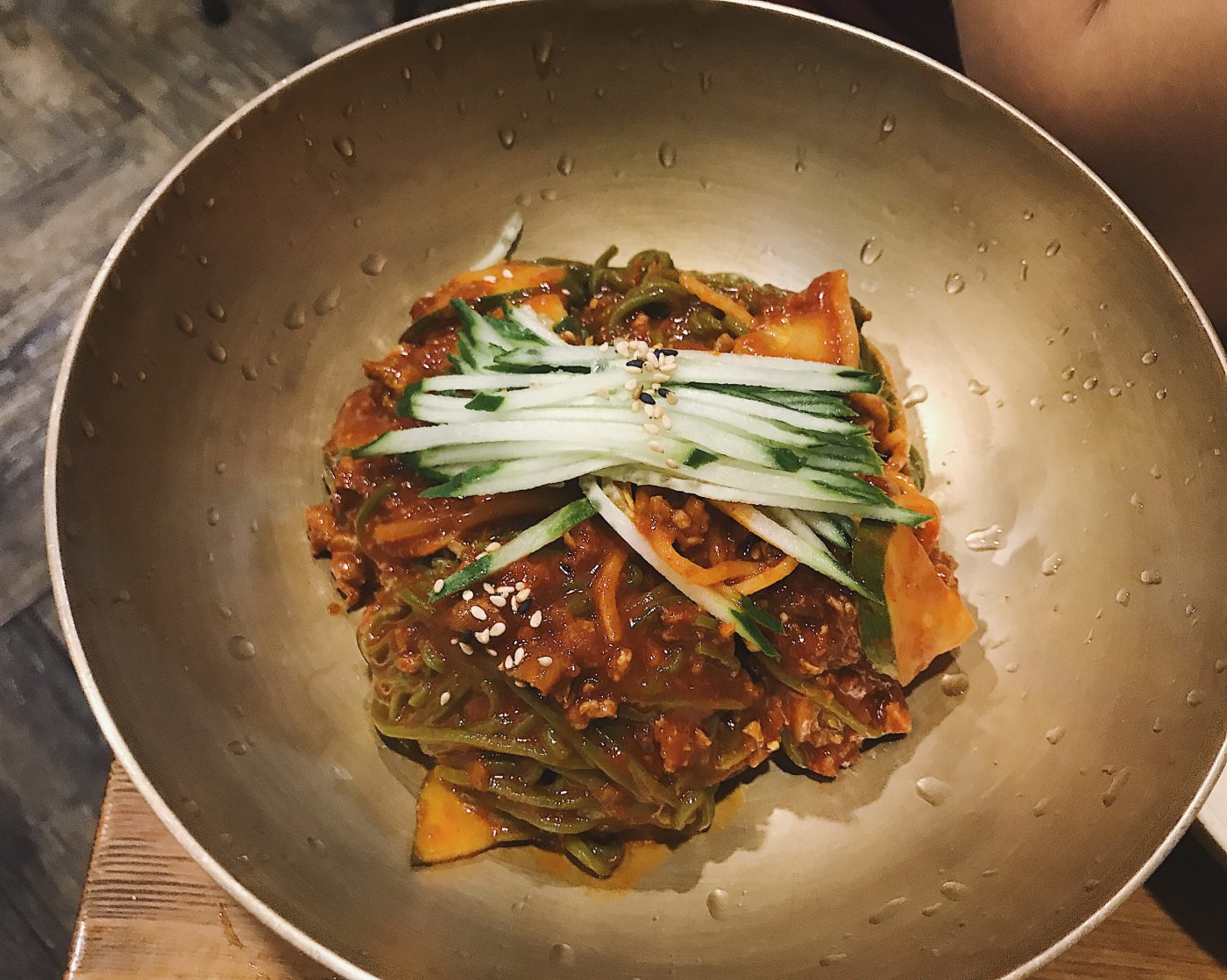 I have a soft spot for dumplings and these Mandus really hit the spot for me. I loved the ratio of meat to vegetable, and the hint of sesame oil which gives the dumplings that unique "korean" taste. The Kalguksu noodle is very unassuming and it looks quite plain, but packs a punch! The handmade noodle has that perfect slippery bouncy texture and the broth is very flavorful. I also liked the Bibimguksu but it may not be for everyone as it is quite spicy and the flavor is very strong.
Another thing to note is their kimchi, which comes as part of the complementary banchan (Korean side dishes). It is seriously the spiciest kimchi I've had among all four restaurants. If you like them and finished the portion they initially give you, you can ask for more at no cost!
Total Damage: ₩26000 (S$31 or US$23) for 2 at lunch time
How to get there
Directly across Solaria Nishitetsu Hotel (Google Maps)
Nearest Station: Myeongdong station on Line 4 (Blue)
2. Arirang Restaurant (아리랑) – $$$$
Arirang Restaurant is located within walking distance from Myeongdong shopping street, next to Crown Park Hotel. We came here for a late-ish dinner around 8:30 PM (after passing out for a long nap… the red-eye flight really took a toll on us) and was pleasantly surprised to find no wait time at the restaurant.
We ordered a portion of double-sized prime ribs (200g), thin-sliced marbled beef (150g) and ox tongue (140g) and an order of Korean seafood pancake to be shared between the two of us.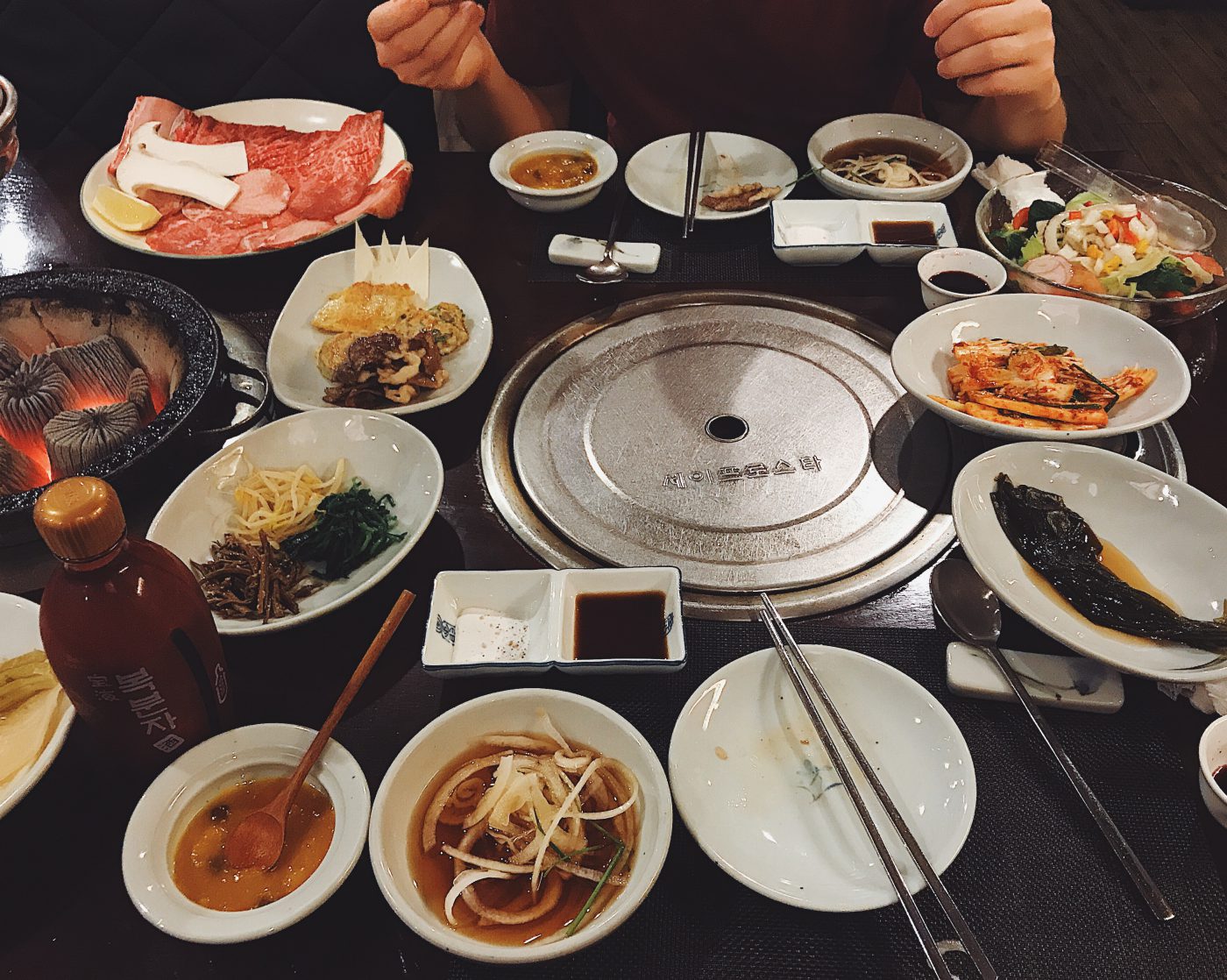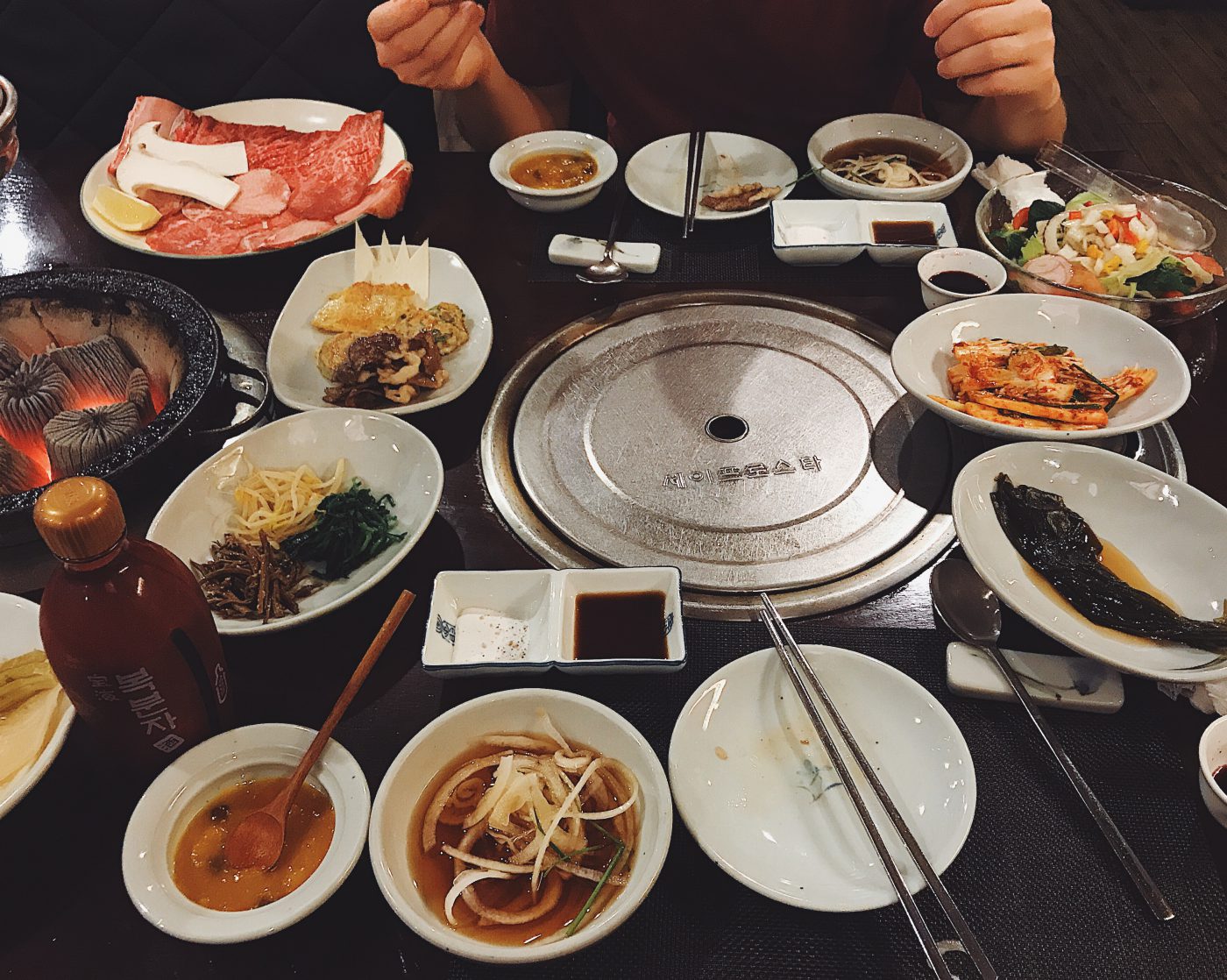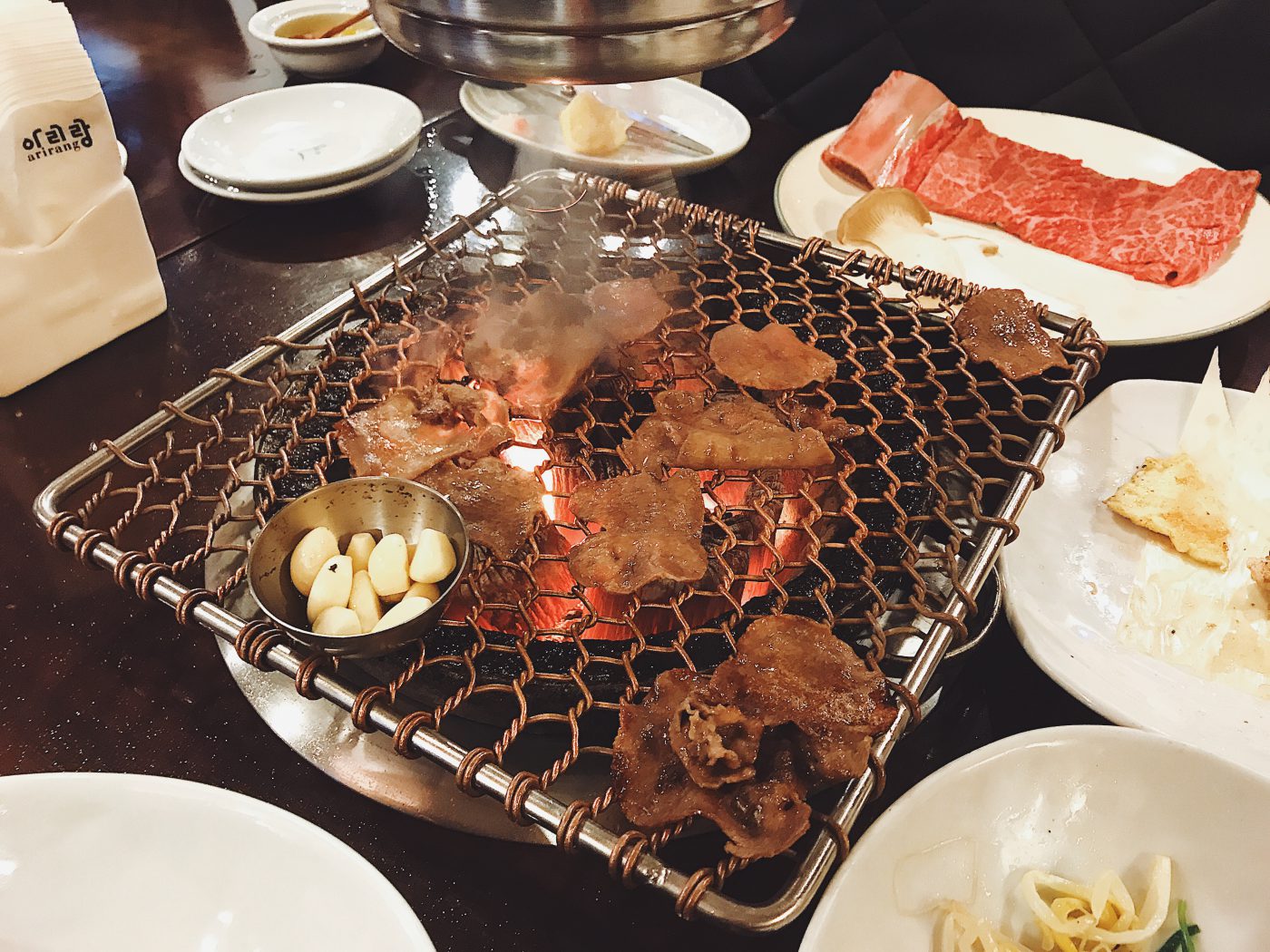 Overall, I loved the food and the very attentive waiters. All of the meat cuts we received was superb, especially the prime ribs. The seafood pancake was crispy on the outside and tender on the inside. Our table was tended to by a very friendly ahjuma (Korean word for a middle-aged lady) who spoke limited English but would eagerly show us how to enjoy each cut of the meat we ordered – with which pickled vegetable, with what sauce, etc. When we were served the pancake, which needed to be cut, she came running to our table and scissor-cut them for us in our individual plates. A+ for the high quality of service and meat cuts!
But let me be honest here – I thought this restaurant was very expensive. All the items we ordered, plus a small bottle of Bokbunja raspberry wine (the one that is commonly sold in all Korean restaurants) and two cups of barley teas came out to be a total of S$250 (US$177) o_o. It was an excellent meal, but I am not sure if I would come back with these prices, because I can't afford them! It might be a better idea (cheaper) to come here at lunchtime instead, as they would probably have a more economically-friendly set lunch and that's probably why they made the Bib Gourmand list.
Total Damage: ₩201000 (S$250 or US$177) for 2 at dinner time
How to get there
Next to Crown Park Hotel (Google Maps)
Nearest Station: Euljiro-1-ga station on Line 2 (Green)
3. Hanilkwan (한일관) – $$$
Hanilkwan is a traditional Korean restaurant located south of the Han River, in what feels like a more upscale, cleaner part of Seoul. It has been around since 1939 and has even survived the Korean War. The location is pretty close to Garusu-gil and Gangnam area, in a very nice building. When we came for lunch there were expensive cars parked outside and people dressed up in dress shirts, heels and Hanbok (Korean traditional wear). I did read online that most patrons come here when for special occasions such as graduation or college acceptance.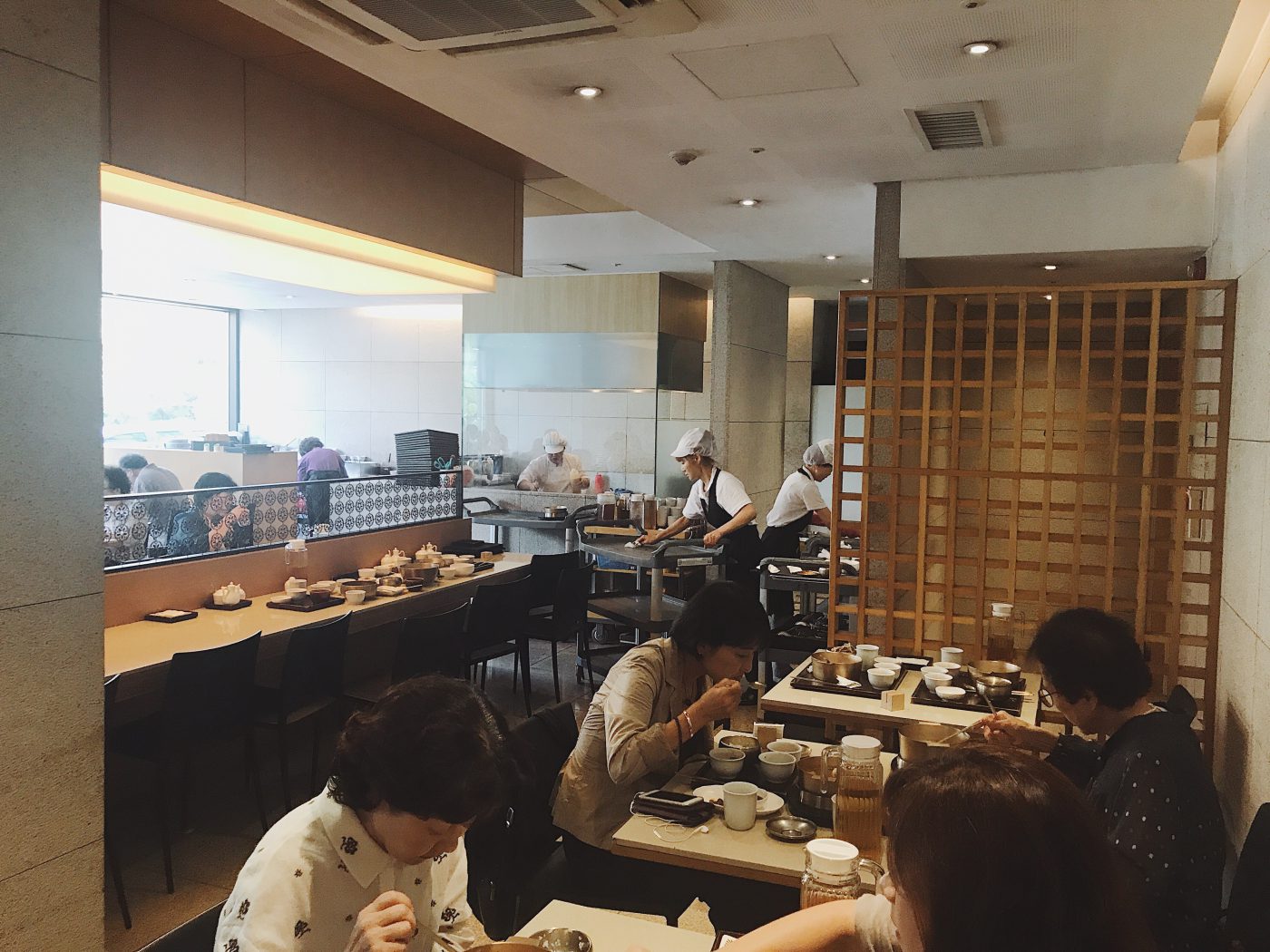 The menu was a bit confusing for me here – there was a lady who spoke a little bit of english, but we still didn't quite get the difference between the set menu and a la carte menu because they both seem to come with extra dishes. In the end we decided to order a la carte – the Marinated grilled beef ribs and Bulgogi (korean beef barbecue), each came with a choice of 'tang' aka soup – we opted to get dumpling soup and doenjang-chigae (fermented soybean soup).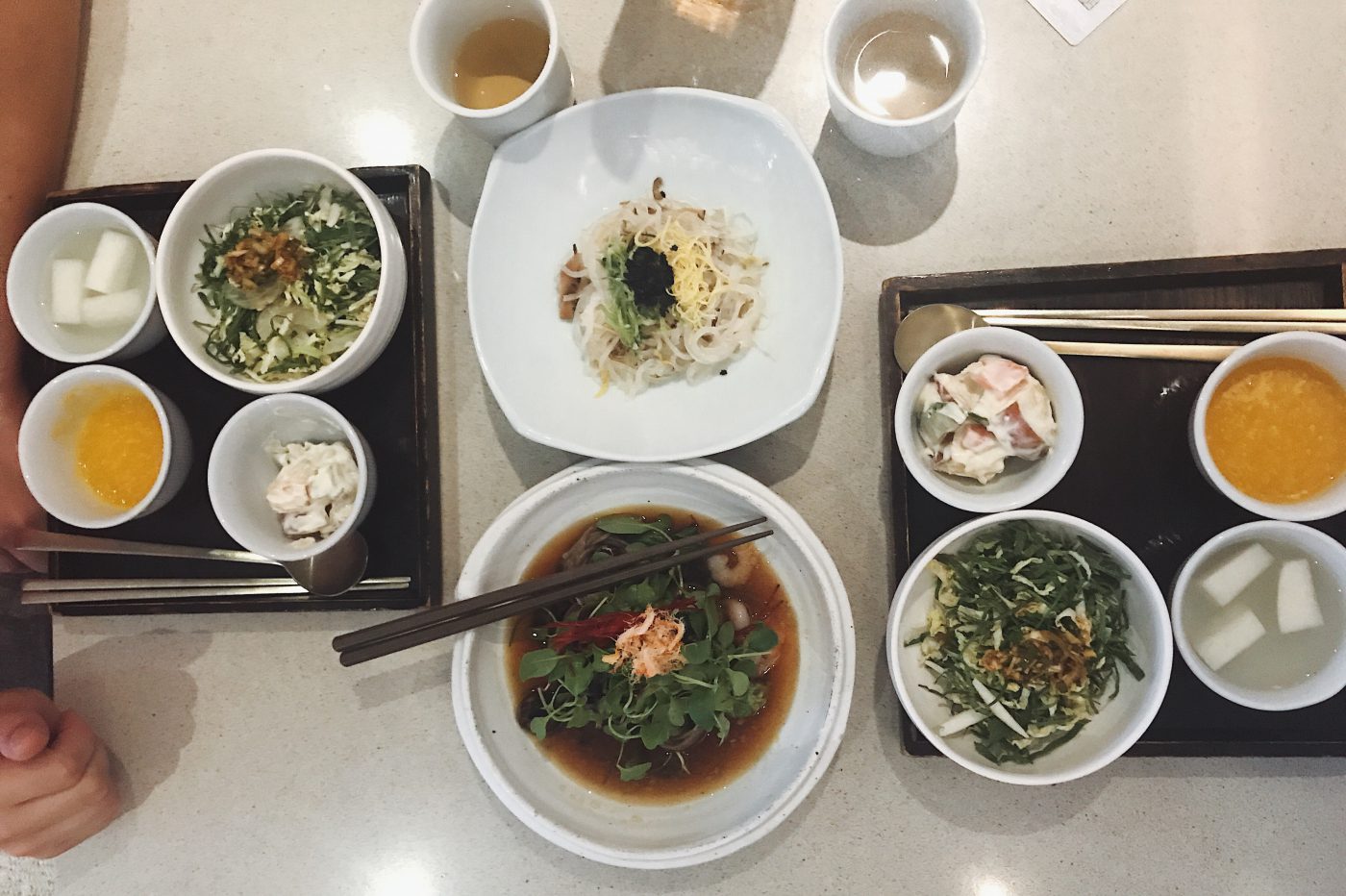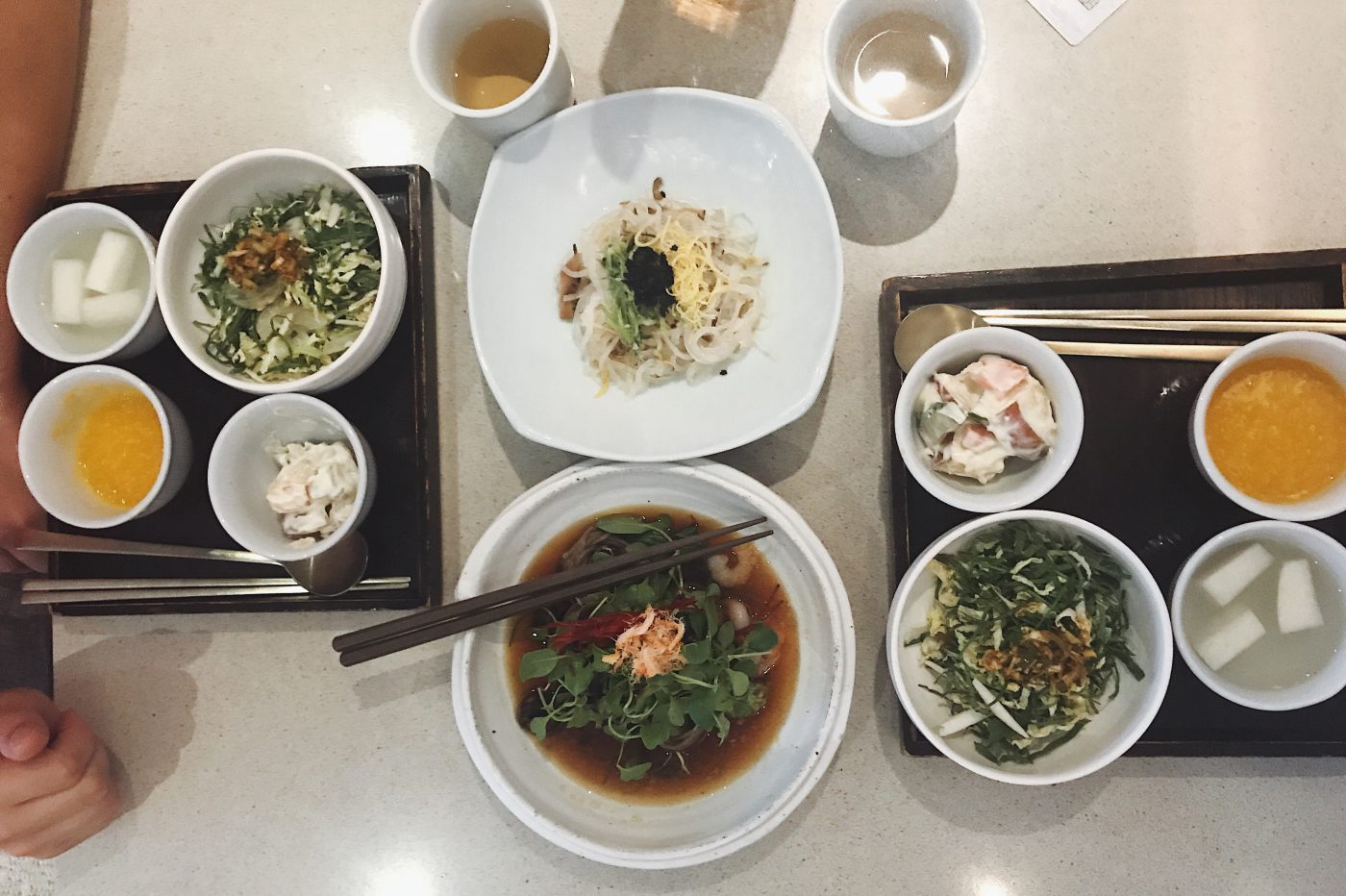 Both dishes came in sizzling hot metal bowls, which took some time to "cook". I personally loved the grilled ribs. We left the meat to simmer for a few minutes and the grilled beef came out with a nice burnt part on it – I love that part! The doenjang-chigae also had a delicious, strong flavor to it.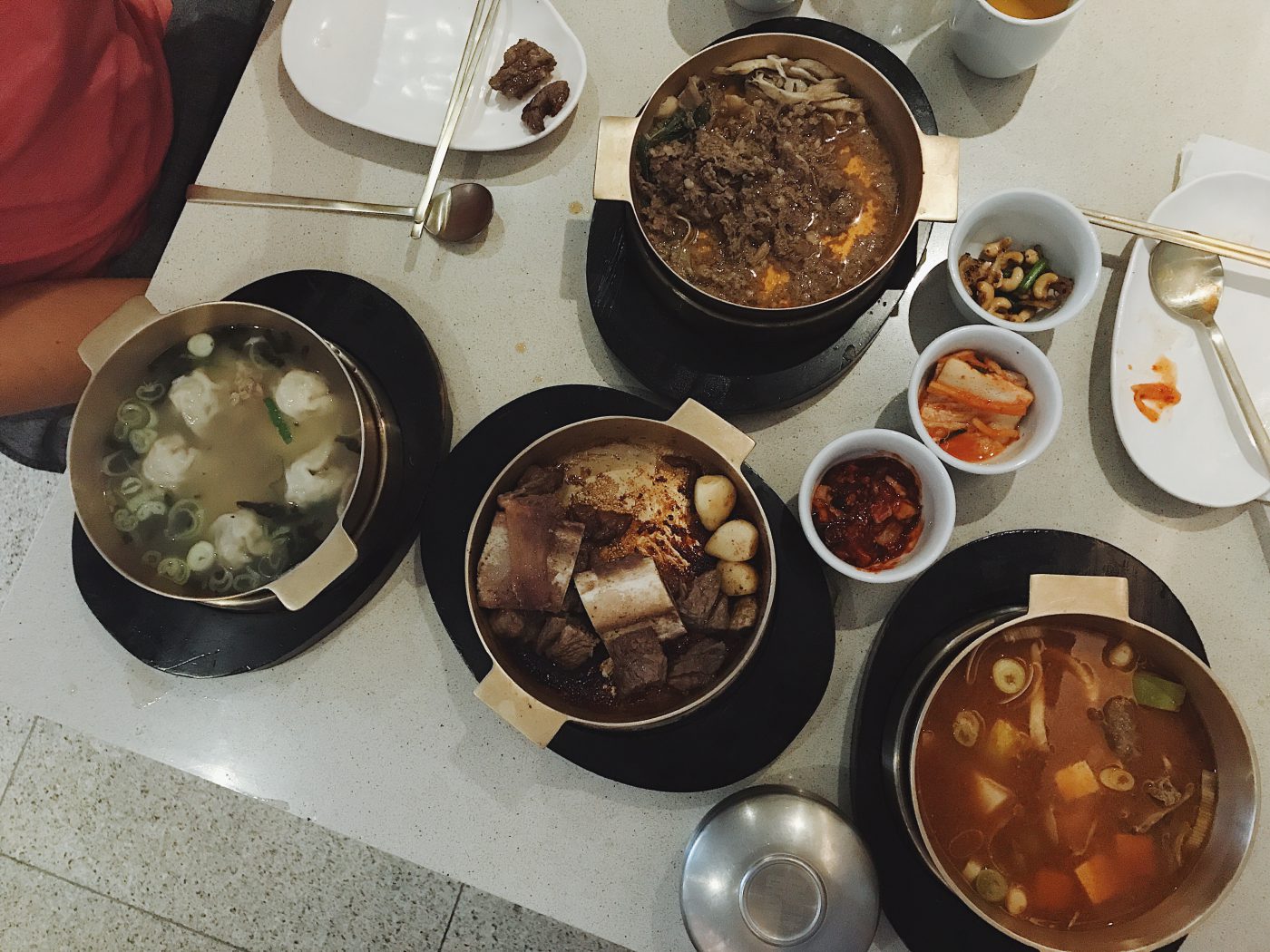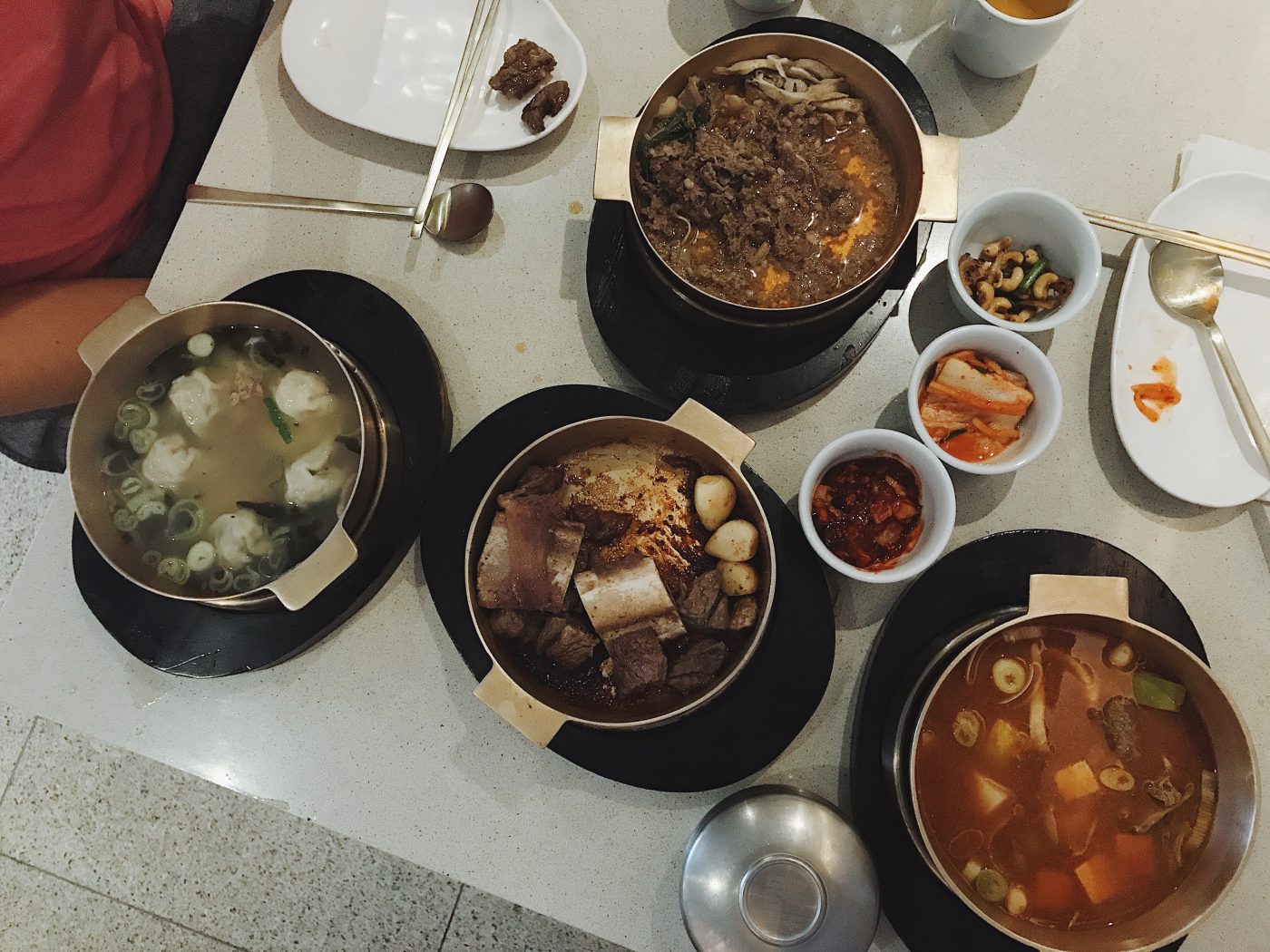 The a la carte dishes come with a selection of banchan side dishes like porridge and salad. I loved the spicy oyster side dish, which contains fresh oysters in spicy gochujang sauce. It was a nice surprise since I did not expect to have such juicy fresh oysters (PS: I love oysters!).
Total Damage: ₩86000 (S$103 or US$76) for 2 at lunch time
How to get there
(Google Maps)
Nearest Station: Apgujeong station on Line 3 (Brown)
4. Yukjeon Hoekwan (역전회관) – $$
Yukjeon Hoekwan is located on the west part of Seoul, closer to Hongik and Ewha university. The area seems like a business district (there were a lot of tall buildings) and when we visited on Sunday for lunch, the area was quiet. Most shops seem to be closed.
The restaurant itself is located in an unassuming row of 2-story shops. When we came in for lunch, most of the tables were occupied but we were immediately seated and shown a menu, which is also very lean with only a few dishes on it.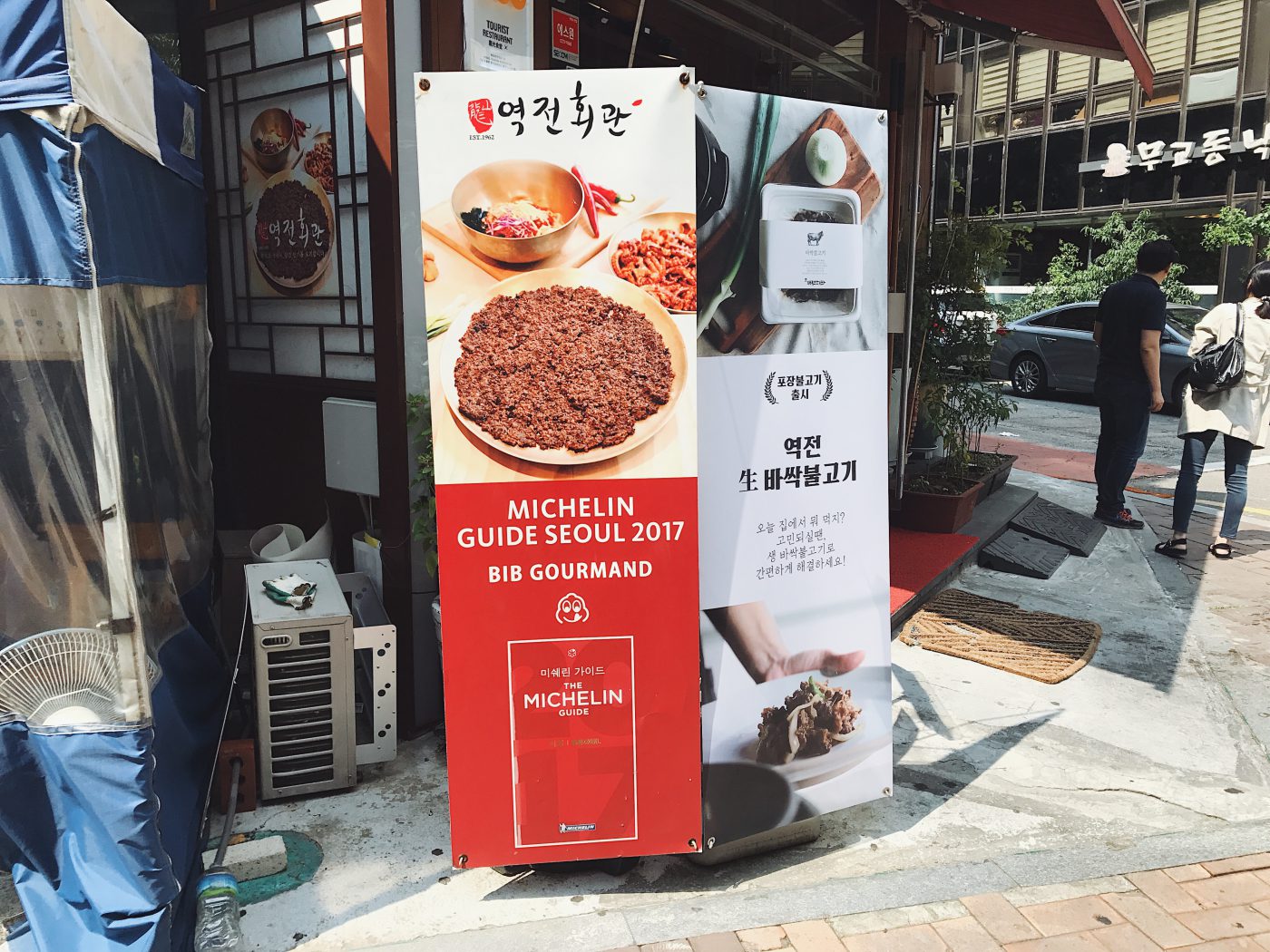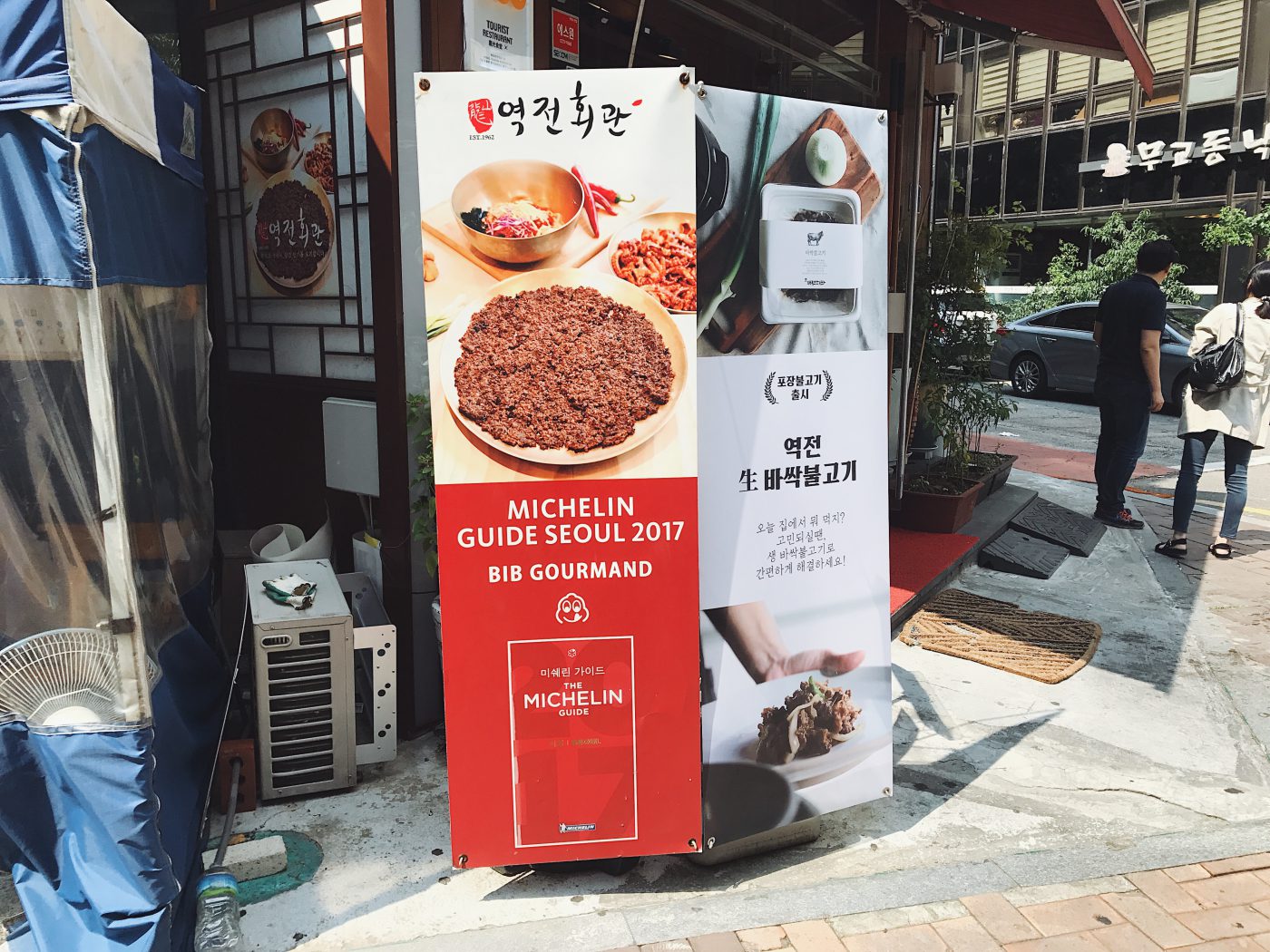 So as you can see from the banner above, it's pretty obvious their special dish is Bassak Bulgogi. Bassak means "dry", and sure enough, this Bassak Bulgogi is a very dry dish – a contrast from the other Bulgogi dishes i've had, which tend to be more "wet" with slight broth. You eat the meat wrapped in lettuce, or in this restaurant, wrapped in Korean perilla leaf. Another dishes of their specialty are Grilled Octopus and Beef Tartare Bibimbap, but we did not try these dishes.
We sat next to a korean couple – our table was pretty much neck-to-neck to each other, save the 1-2 inches space between the table, so we can see what they were doing and sort of just copied how they eat. We saw that they would wrap the bulgogi in the perilla leaf with rice, garlic, and some kimchi so we copied them, and experimented to our taste along the way by wrapping them with different combinations of banchan.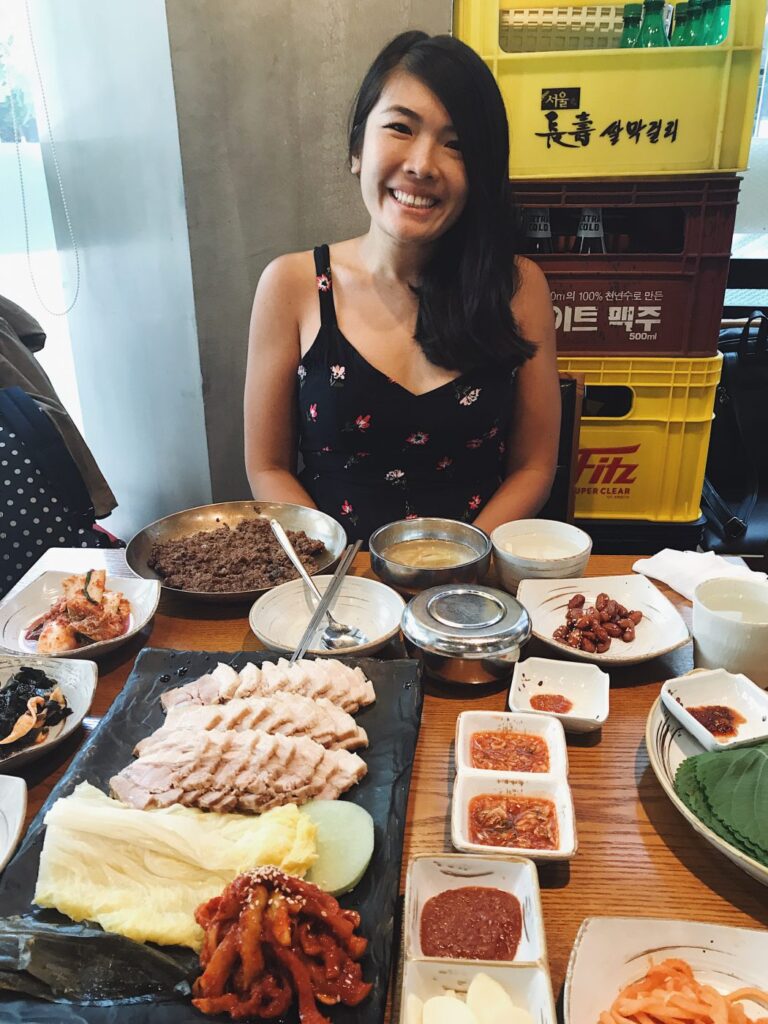 I really really enjoyed Bassak Bulgogi. By itself, I loved the crispy texture of the Bulgogi. But when wrapped in the fragrant perilla leaf with rice, raw garlic, gochujang paste and kimchi – it makes for a very flavorful feast with every bite and also a different experience. I ate a bit too much raw garlic by the end of it that I could still smell garlic in my breath well until midnight, but it was all so very worth it!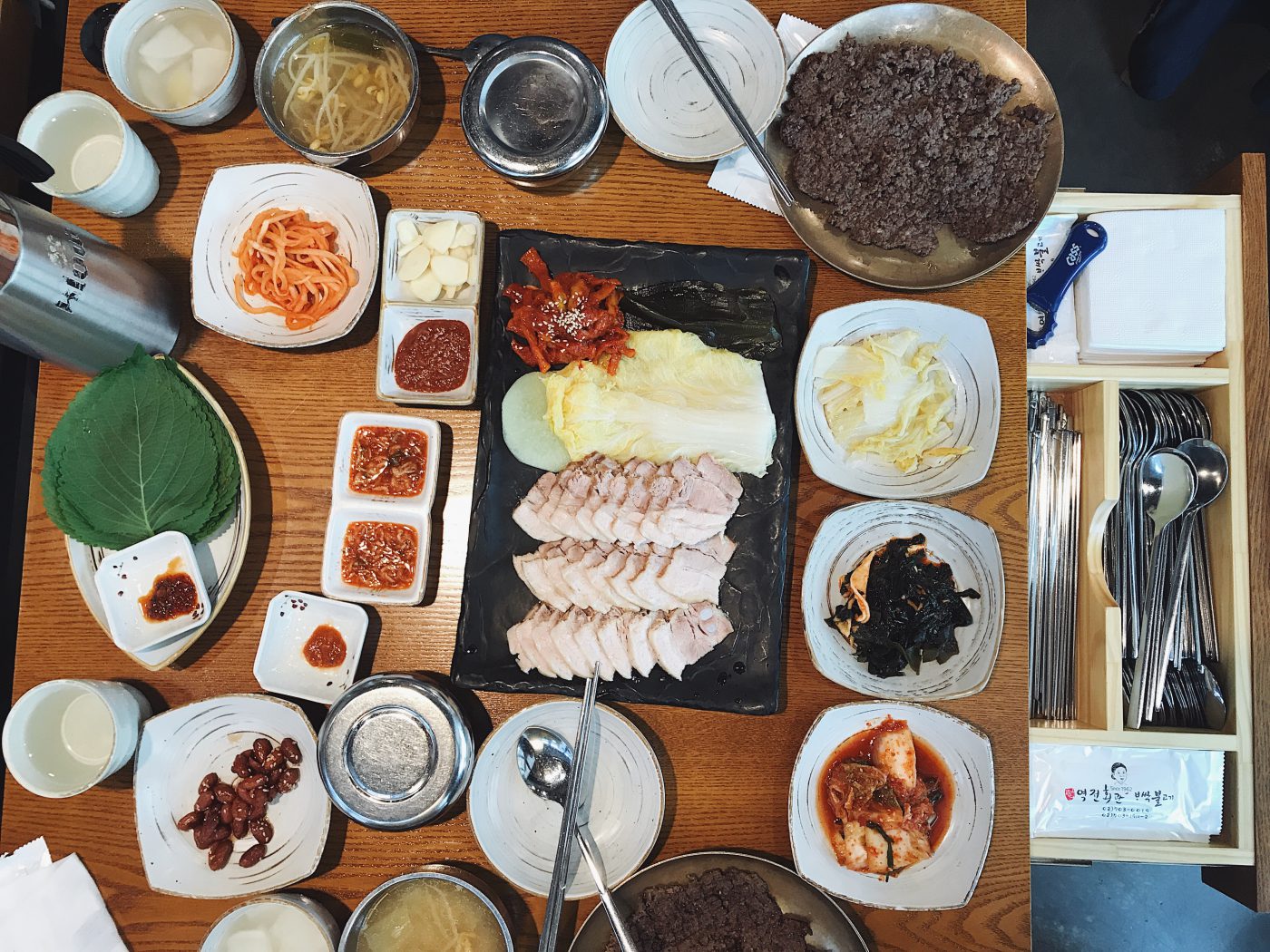 And because we were hungry we also ordered a portion of Bossam (boiled pork wrap). When we got to the Bossam though, we were at loss of what to do, staring and poking and the slices of boiled pork with our chopsticks. Seeing this, the guy next to us immediately stepped in to help and let us know (in limited english) how to eat the dish, which was to wrap the pork in salted cabbage, add the pickled vegetable and some chili sauce. His lady companion even helped us cut pieces of the vegetable with scissors when we found that it was too big for us! They were such friendly people and I am glad language barrier did not limit them from helping us 😀
Total Damage: ₩64000 (S$76 or US$56) for 2 at lunch time
How to get there
(Google Maps)
Nearest Station: Mapo or Gongdeok station on Line 5 (Purple)
And in conclusion…
Funny enough, out of the four restaurants we tried, my favorites out of the four are actually the cheapest ones! I loved Myeongdong Kyoja because I'll always have a soft spot for dumplings. I also enjoyed Yukjeon Hoekwan because the Bassak Bulgogi and eating it in perilla leaf was quite a memorable experience!
On top of the great food, I feel that these two places truly embodied the value-for-money spirit Bib Gourmand is promoting. I definitely would come back again for these two next time I am in Seoul.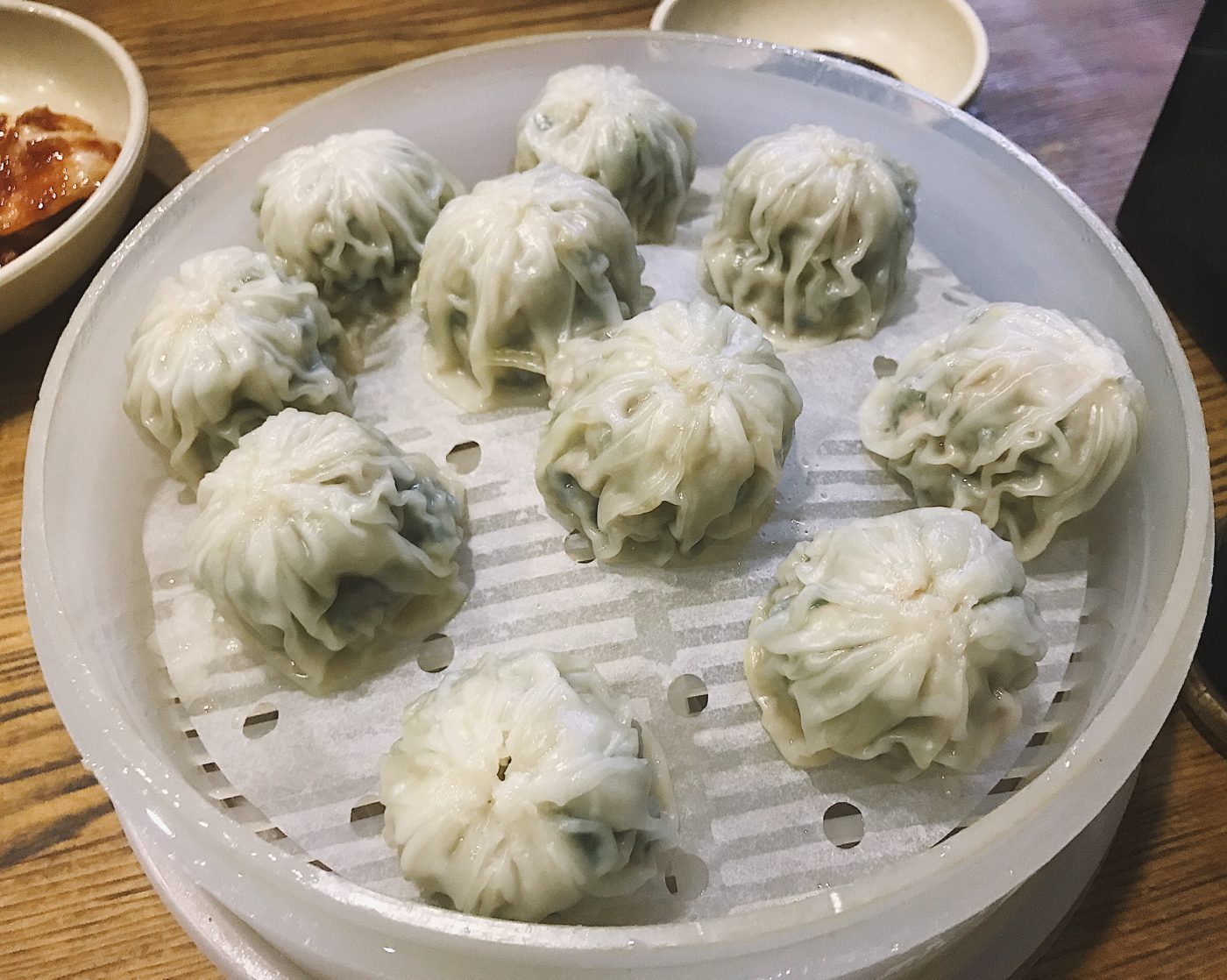 And that's all the restaurants I managed to visit on this trip! Have you tried any other Michelin Bib Gourmand restaurants from the list? Which one would you recommend? Let me know in the comments below! 🙂
General Travel Tips on visiting Seoul
Seoul (and South Korea in general) is very safe and a tourist-friendly country. On my first visit to South Korea, I went to Seoul by myself and I had no issues at all! Here are some tips that would make your trip as easy as mine:
Visa – If you qualify for visa waiver to enter South Korea, you MUST apply for K-ETA at least 72 hours prior to your arrival. Otherwise, you would be denied boarding your flight.
When you first arrive at the Incheon airport, buy the T-money card – this is the transport card that you can use for the subway system in Seoul, as well as their buses. It allows you to use the tap in – tap out system so you don't need to buy a ticket each time you take the train or bus. A single journey costs 2700 won, and you can keep reloading the T-money card as you need.
Public Transport is top-notch in Seoul. The train system is efficient – you can expect to not wait longer than 5 minutes for a train. During my visit, I hardly ever had to use the bus, but when I did, I only waited for about 10 minutes max.
Get to the city from Incheon Airport by AREX (Airport Express Train), which runs to Seoul station. You cannot use T-money for the express train portion, you have to buy the AREX portion separately for 9000 won. But once you get to / out at Seoul station, you can use the T-money card again. However, there is an option to take the slow regular train using T-money too for half the price at 4150 won.
Taxis and Car Sharing – Taxi is safe to use in Seoul, and you can just hail off the street. Car sharing app like Uber is not legal, so you cannot use it here. Personally, I found the public transport to be sufficient enough that I did not have to use taxi much while I was in Seoul.
As with any other travels, it would also be handy to have an internet connection at all times, so I recommend getting a prepaid local SIM card. You can buy this at the airport and convenience stores in Seoul.
If you don't speak Korean, download Google Translate and pre-download the Korean language pack so you can translate stuff on the go. Locals will be nice and try to be helpful, but most do not speak English and a translation app can go a long way. Many stores in Myeongdong can accommodate Mandarin though! I suspect this is due to the influx of tourism from mainland China, especially in the beauty sector.
Google Maps is surprisingly not the best app in Seoul. This is because Google stores their data on foreign servers, and given the security threat from the North, South Koreans have been very protective of their data. It still works as GPS and major subways, but you probably won't be able to get good direction from it. You can use Kakao Maps instead.
Where to stay in Seoul
I've been to Seoul twice and both times I stayed in Myeongdong. I would definitely stay here again! Here are the two places I've stayed in:
K Stay Guesthouse Myeongdong – I stayed here twice. Once in a single room and once in a 4-bed dormitory. I highly recommend this place if you don't care about hotel amenities since it was really cheap, clean, and right in the middle of Myeongdong (3 mins walk from the station!)
Solaria Nishitetsu Hotel – This hotel is located in one of the few high-rise in Myeongdong. The lobby is located on one of the upper floors and you get unblocked view of the entire district from your room. The location is also hard to beat, it was less than 3 mins walk from Myeongdong station!
Looking for more Korean food?
I love Korean Food. It's definitely one of my favorite cuisines. Wondering what more you can eat while in Korea? You can find out about my favorite Korean dishes at my other post: Delicious Traditional Food You Should Try in South Korea