Gold Coast is a city in Queensland, Australia, famous for a beach vacation destination and a paradise for surfers (In fact, there is even a place called Surfer's Paradise). I spent three days in Gold Coast before heading up north on my 10-day Queensland Road trip. In this post, I will cover thins to do in Gold Coast and other recommendations.
If you are interested in my overall itinerary in Queensland, please read my Queensland Road Trip post first!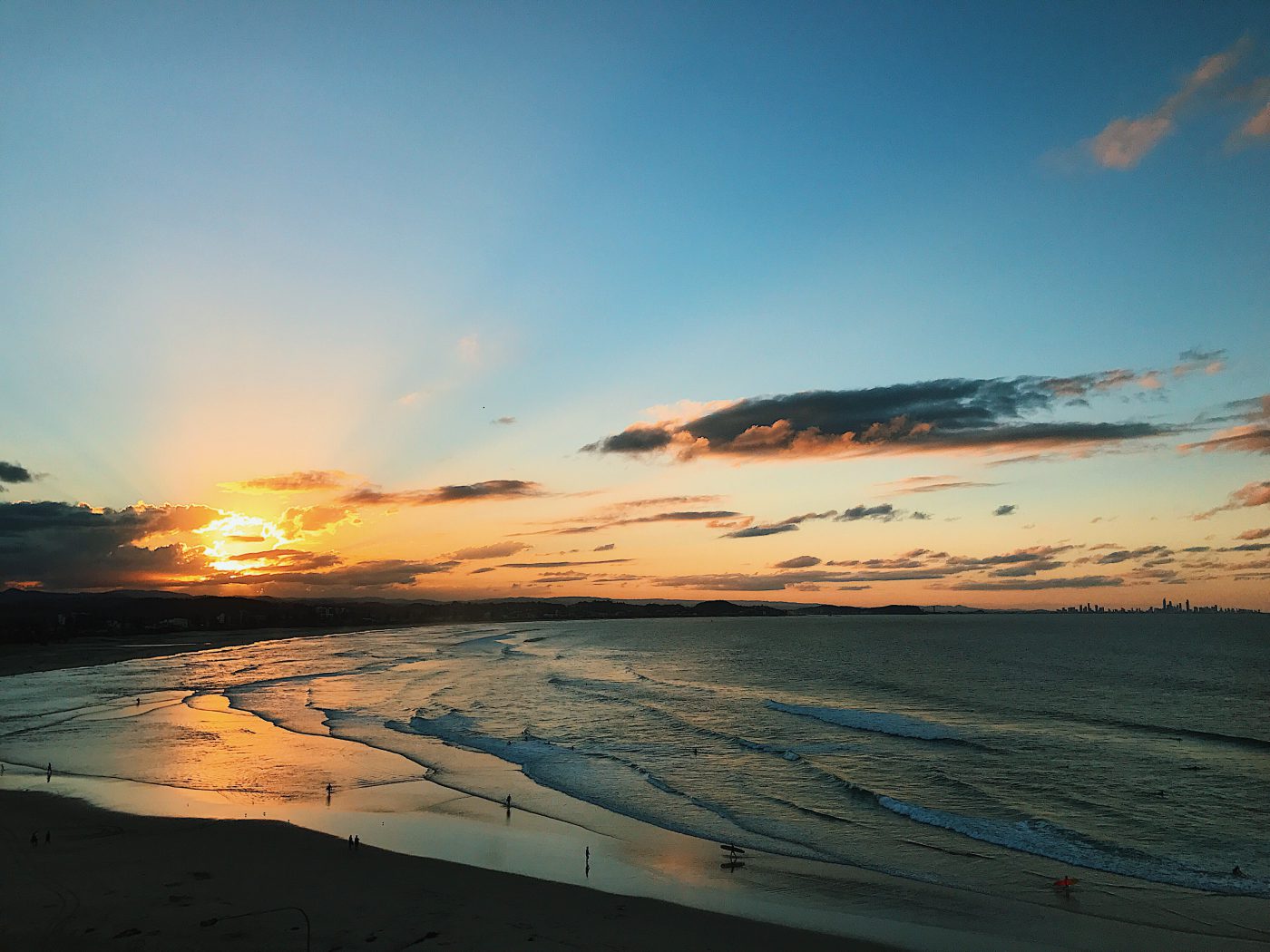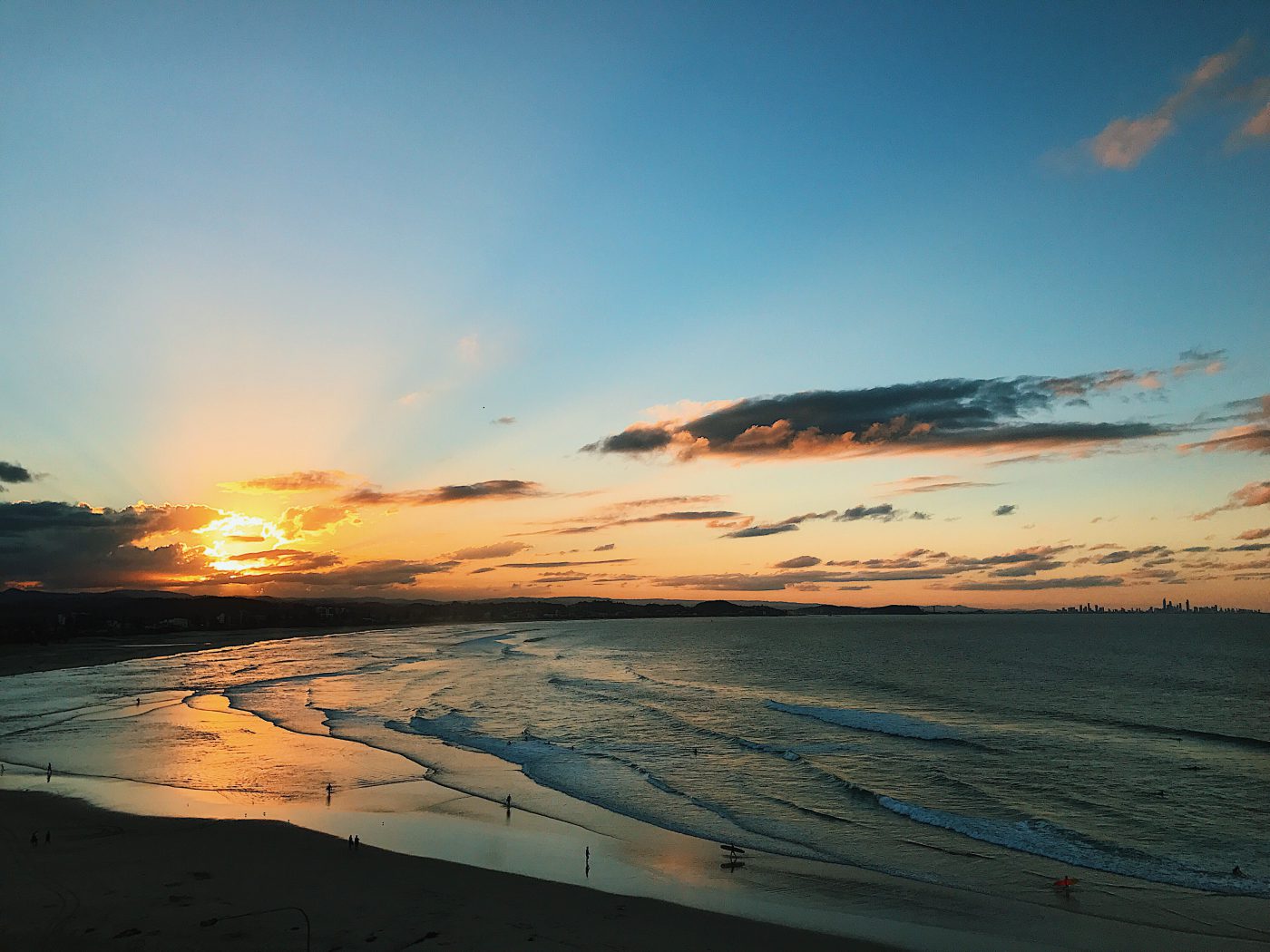 How to get to Gold Coast
If you are coming from outside of Australia, your best bet is to reach Gold Coast from Brisbane. Brisbane is one of the major cities in Australia, only one hour drive away from Gold Coast. However, if you're flying from within Australia, you can fly straight to the Gold Coast Airport located conveniently 20 minutes drive from the heart of the city.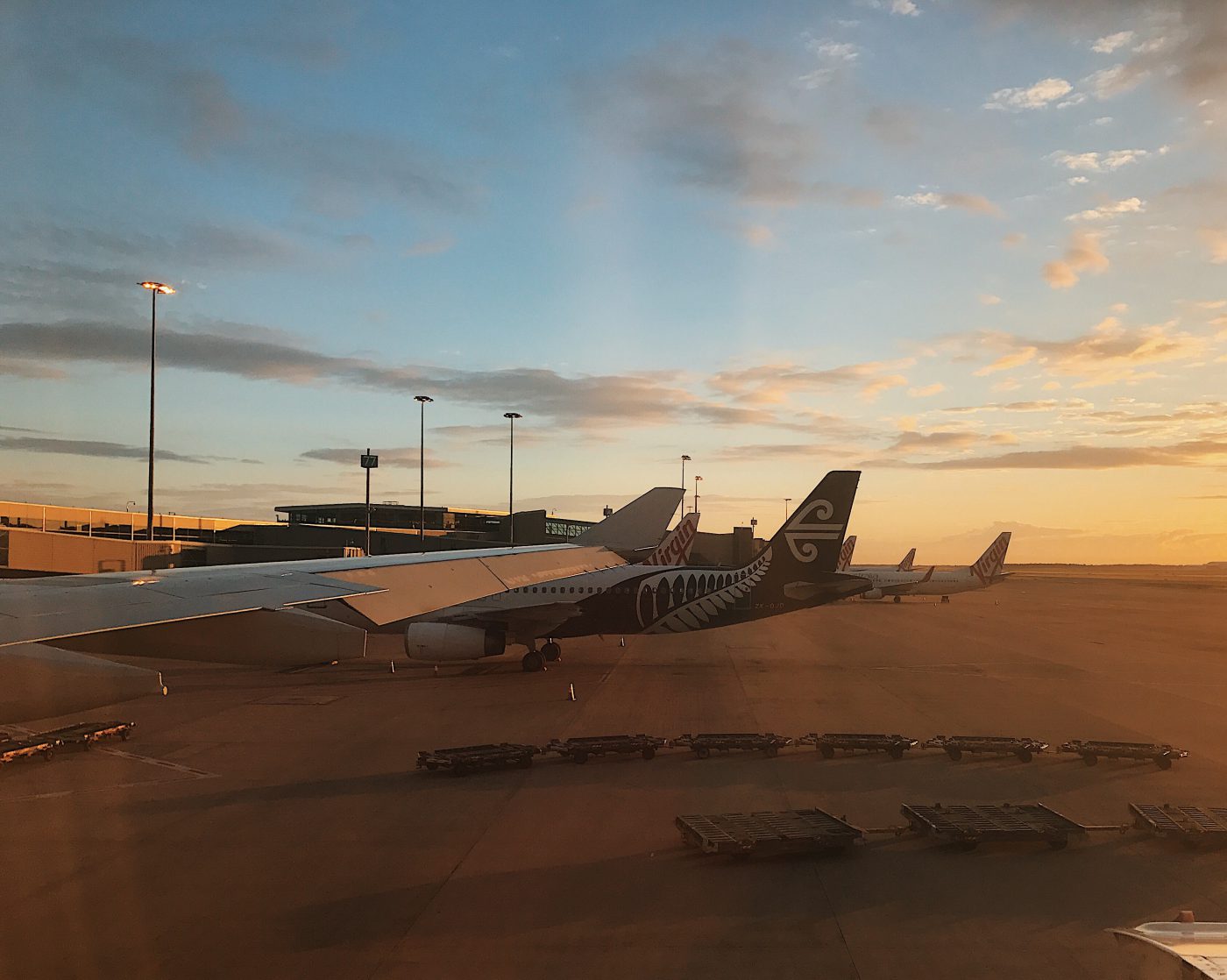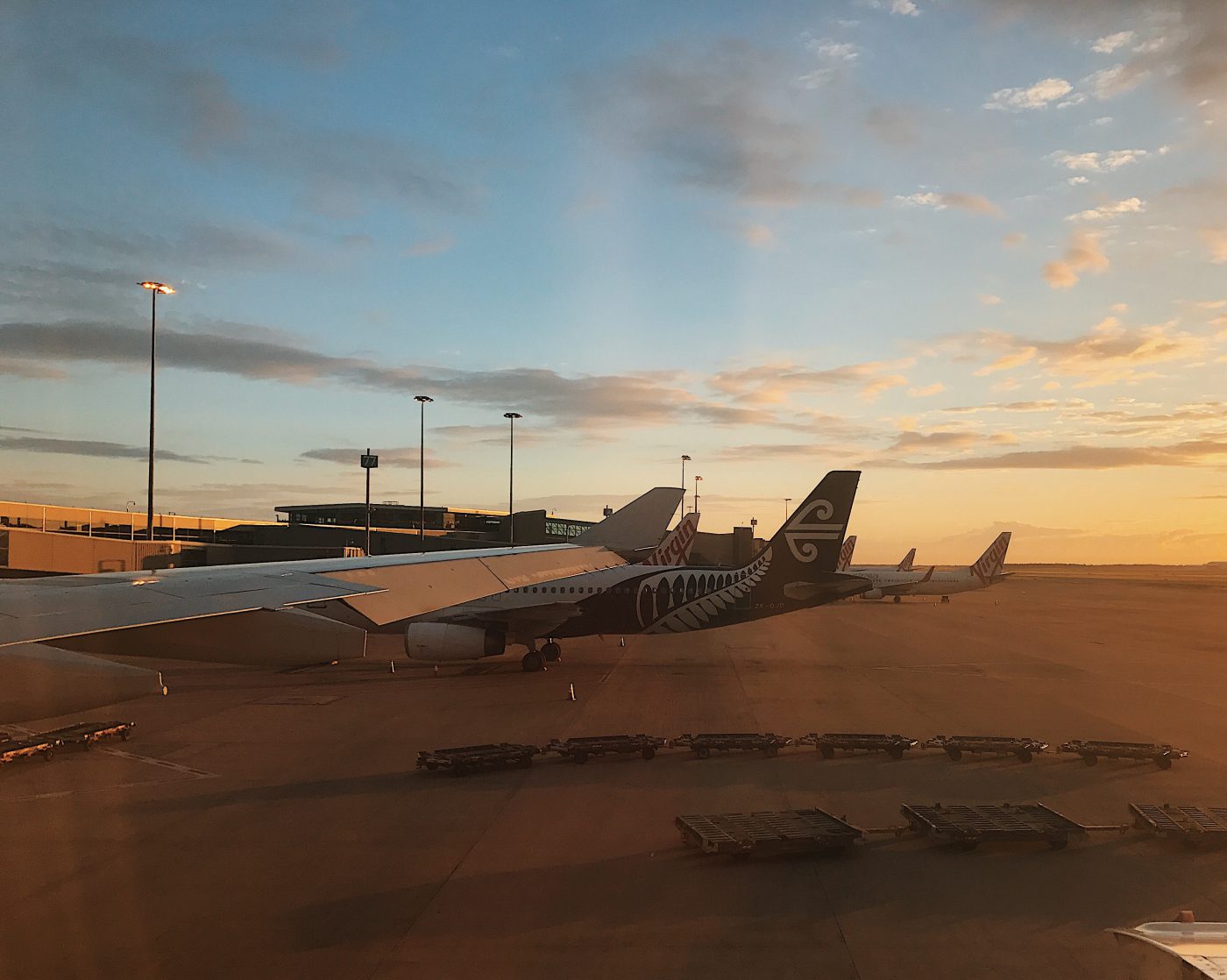 How to get around in Gold Coast
Unfortunately, unless you can drive a car, you will be very limited in terms of where you can visit in Gold Coast. There is a super nice tram called the G-link, which connects Broadbeach to Surfer's Paradise and to Griffith University. It cost AU$4.20 for a one way trip, which I thought was quite pricey, but this is coming from someone who lives in Singapore and has been spoiled by cheap public transport.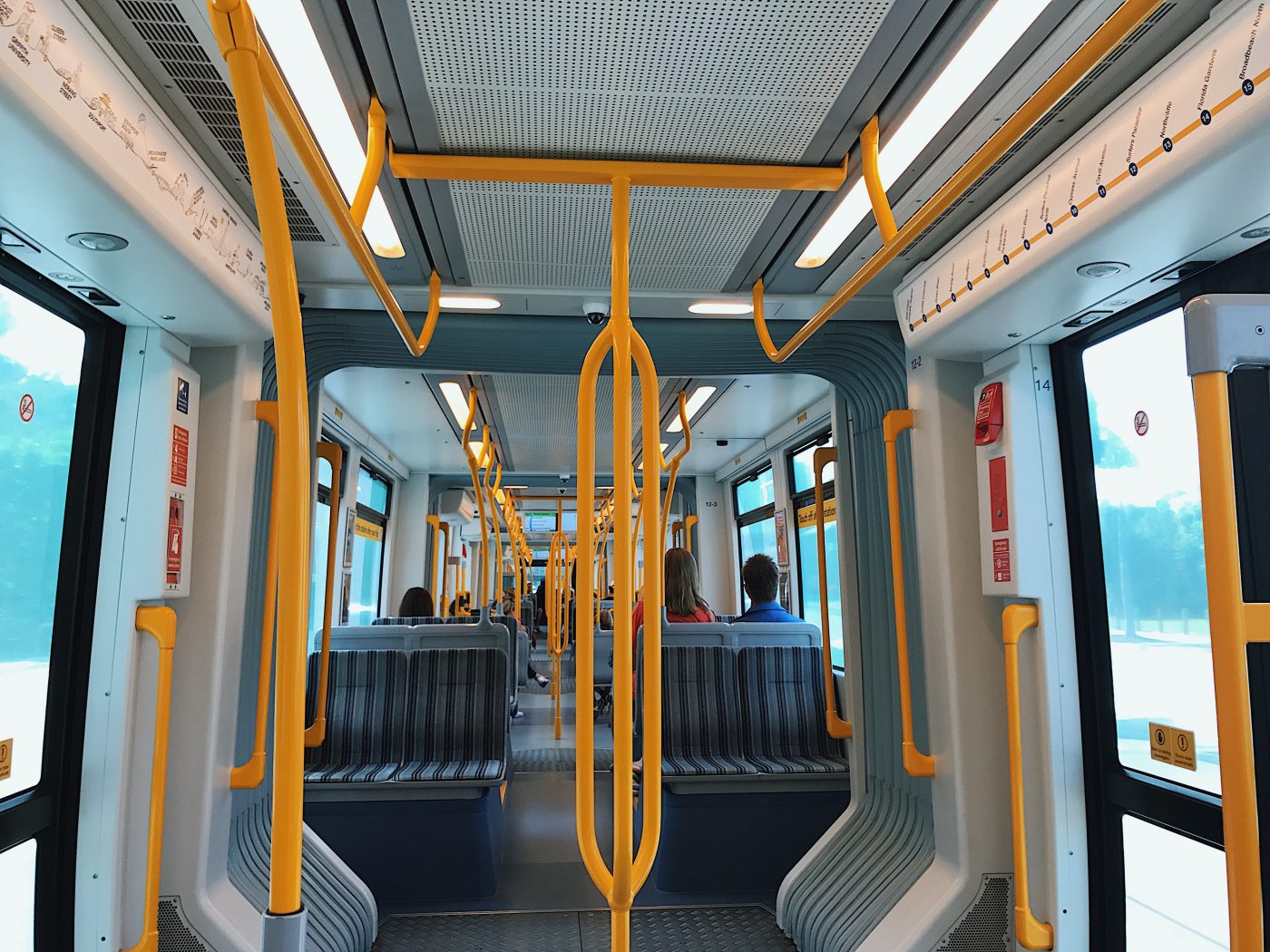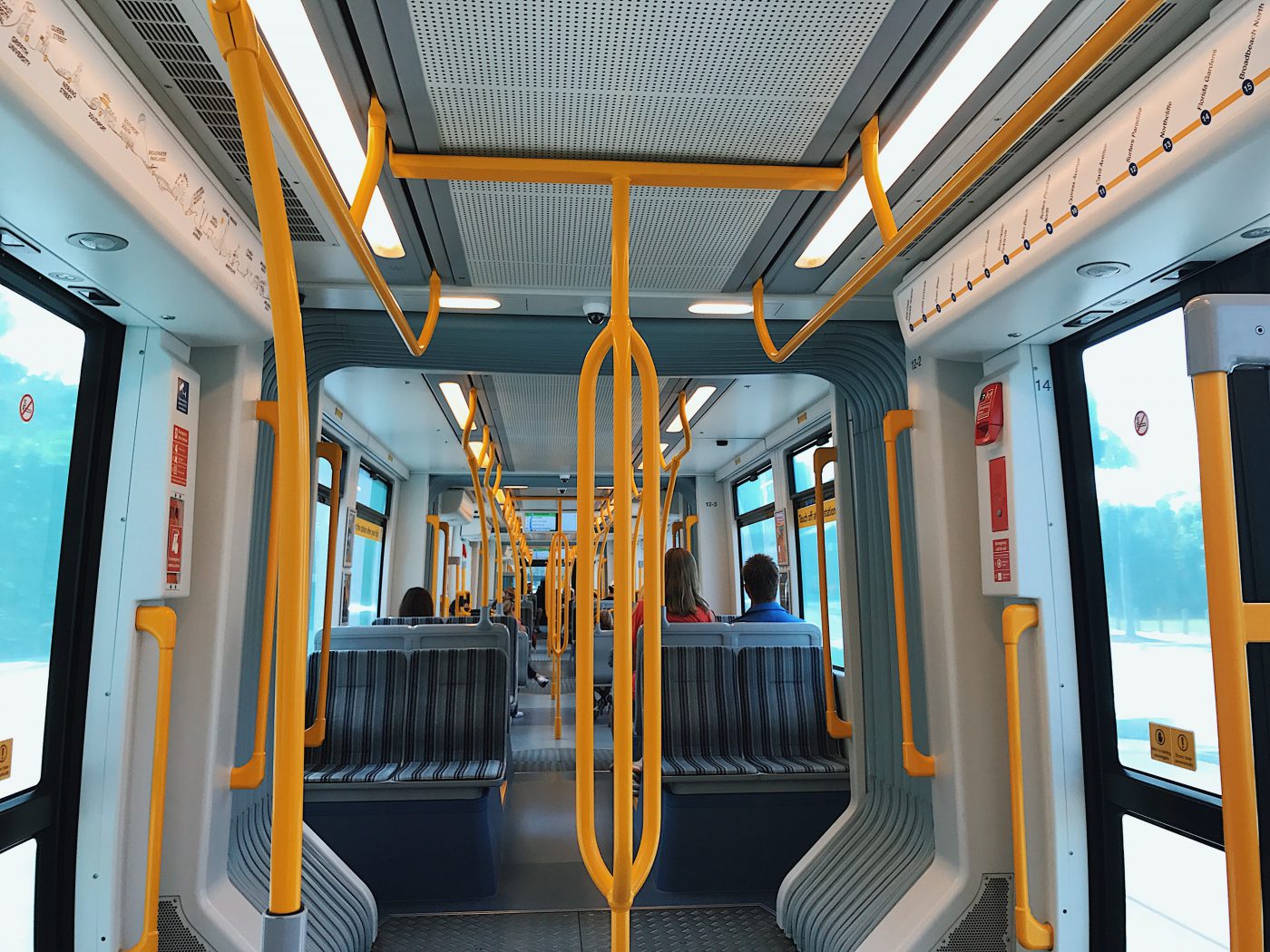 But if you want to get out of the area covered by the G-link, you won't be able to do so without spending time waiting for public transport. Buses doesn't seem to come very often.
So in short, I highly recommend you plan to rent a car and drive when you visit Gold Coast. Otherwise, you'd be limited to only Surfer's Paradise and Broadbeach area. Make sure you have your international driver's license handy!
Where to eat in Gold Coast
I enjoyed eating at the following places, some of which I will mention again as things to do below. But here there are in a list form for your convenience:
Where to stay in Gold Coast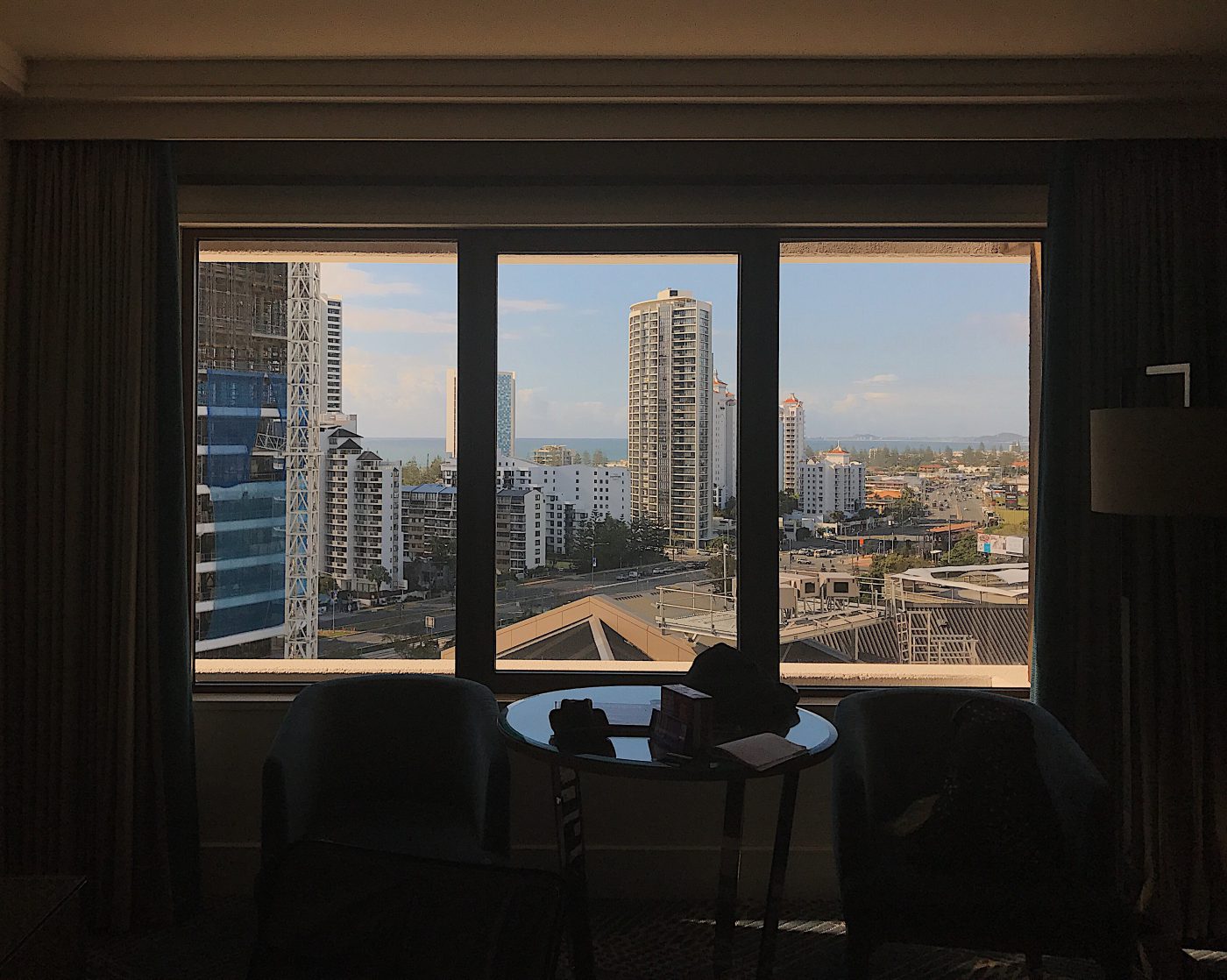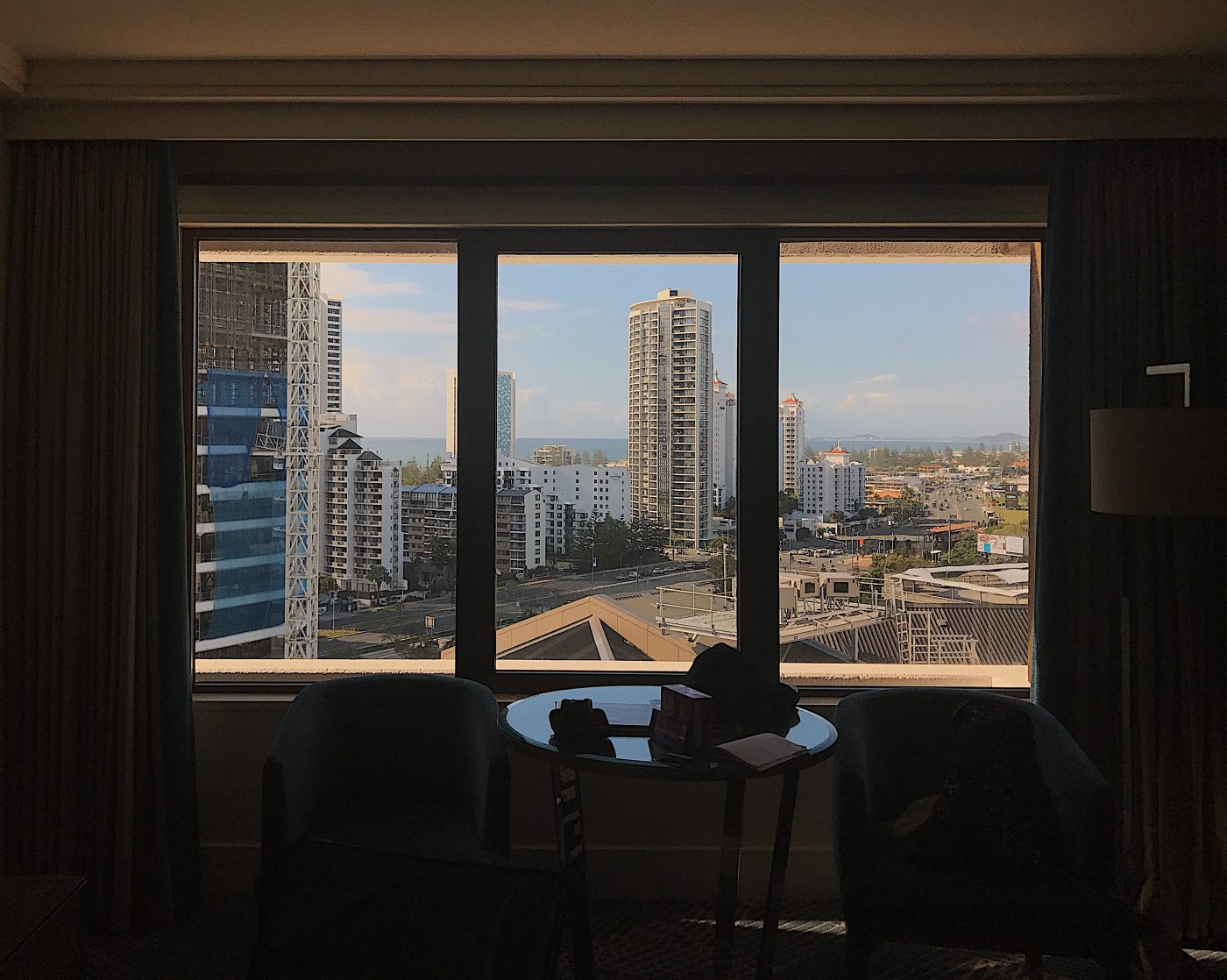 The tourism board had kindly put us up at The Star Gold Coast, and I thoroughly enjoyed my stay there. The location is very convenient (within 5 minutes walk to a G-train station and city center, and 10 minutes walk to the beach). I'm not really a gambler but I did enjoy visiting the Casino too!
Website | Map | Book The Star Gold Coast Here
Things to do in Gold Coast
1. Climb the SkyPoint, the tallest building in Gold Coast
One of the most beautiful views of Gold Coast can be seen from the SkyPoint Observation Deck, which gives you a scenic 360 view of the city from above.
But if that sounds too boring, you can also try the SkyPoint Climb if the observation. The view from up there was pretty crazy especially with no tinted glass windows separating you and the fresh air outside. For safety measures, we had to wear full suits and be harnessed at all times but I did not feel scared at all! In fact, I felt safe the entire time. It's not for the faint of heart or for anyone with a fear of heights, but I personally had an amazing time!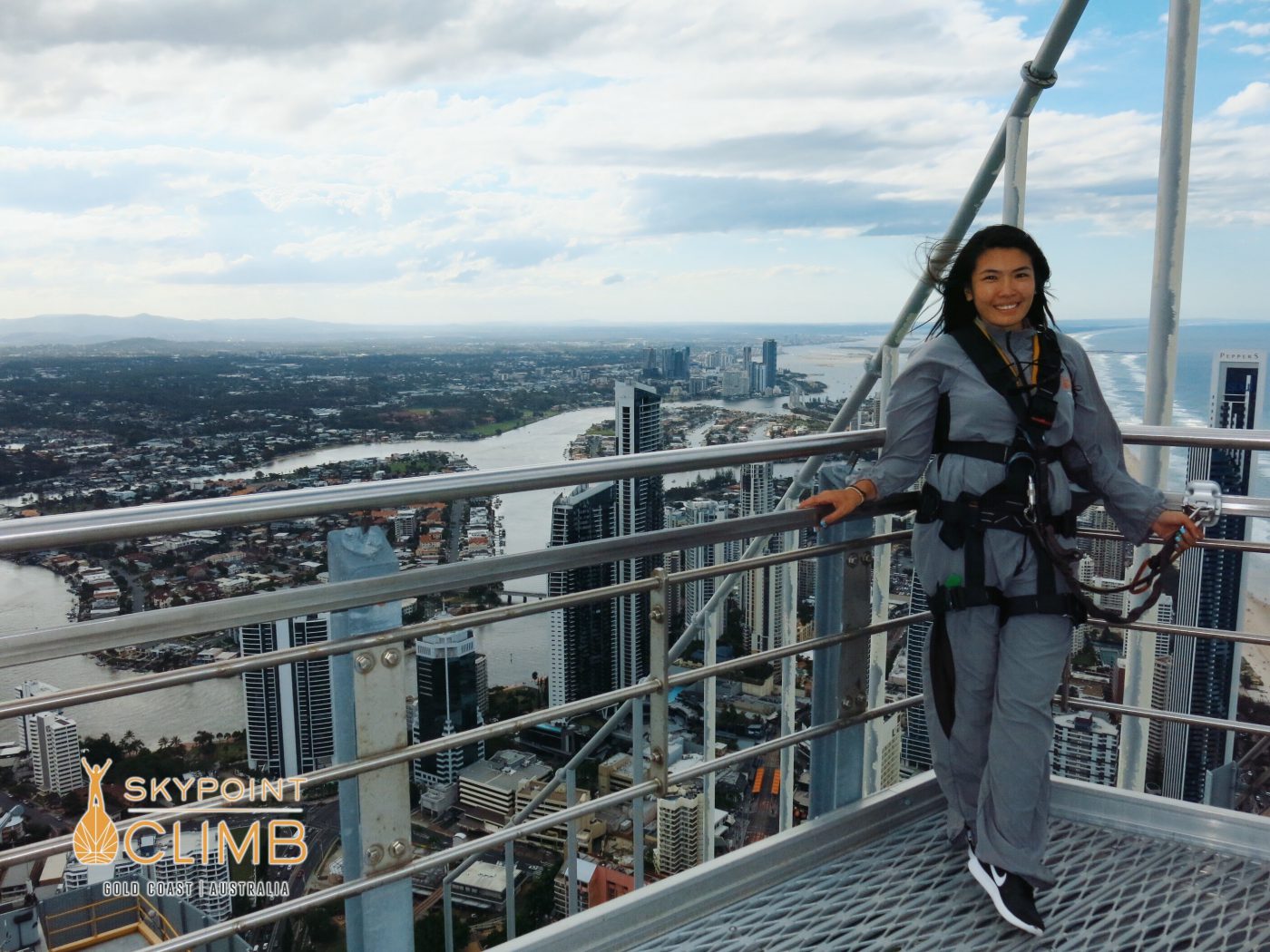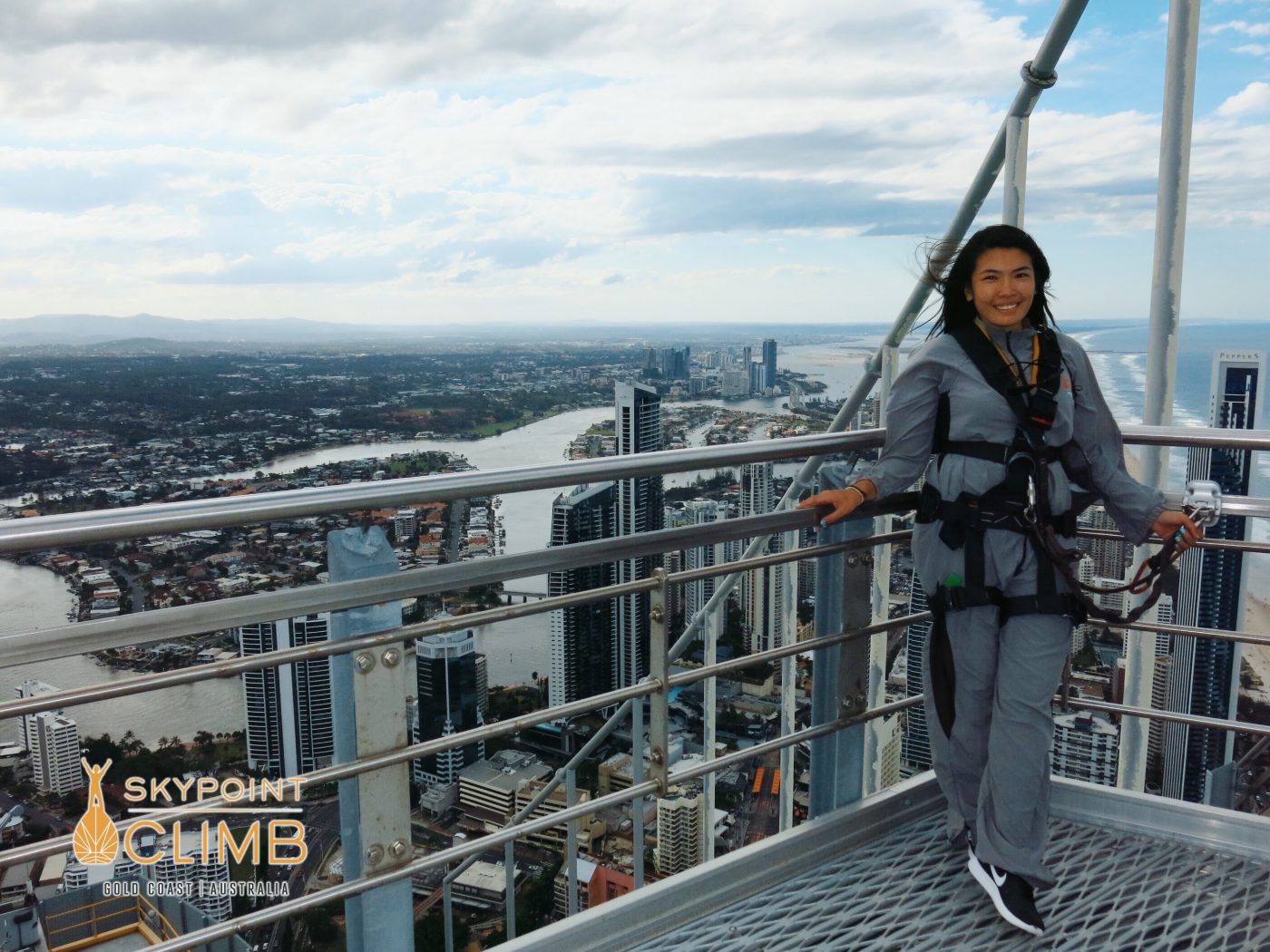 I was not allowed to take my camera up there, or anything loose for that matter, because anything that gets accidentally dropped from such height can cause serious damage down below. So I don't have any pictures from my phone but they did take our pictures and gave them to me in a USB.
2. Get a 360 view of Gold Coast from the SkyPoint Observation deck
Located at the 77th level of Q1 building in Surfer's Paradise, you pretty much get an unobstructed view of the entire Gold Coast. You can also enjoy some drinks and light bites – I opted for the turmeric latte, which I kept seeing everywhere in Australia.
If you can't do the climb I would still highly recommend visiting the observation deck, especially on a good day. You can book SkyPoint Observation Deck ticket here, which gives you direct barcode entry.
With the SkyPoint climb, we also received a free entry of the observation deck. So, of course, we checked it out after.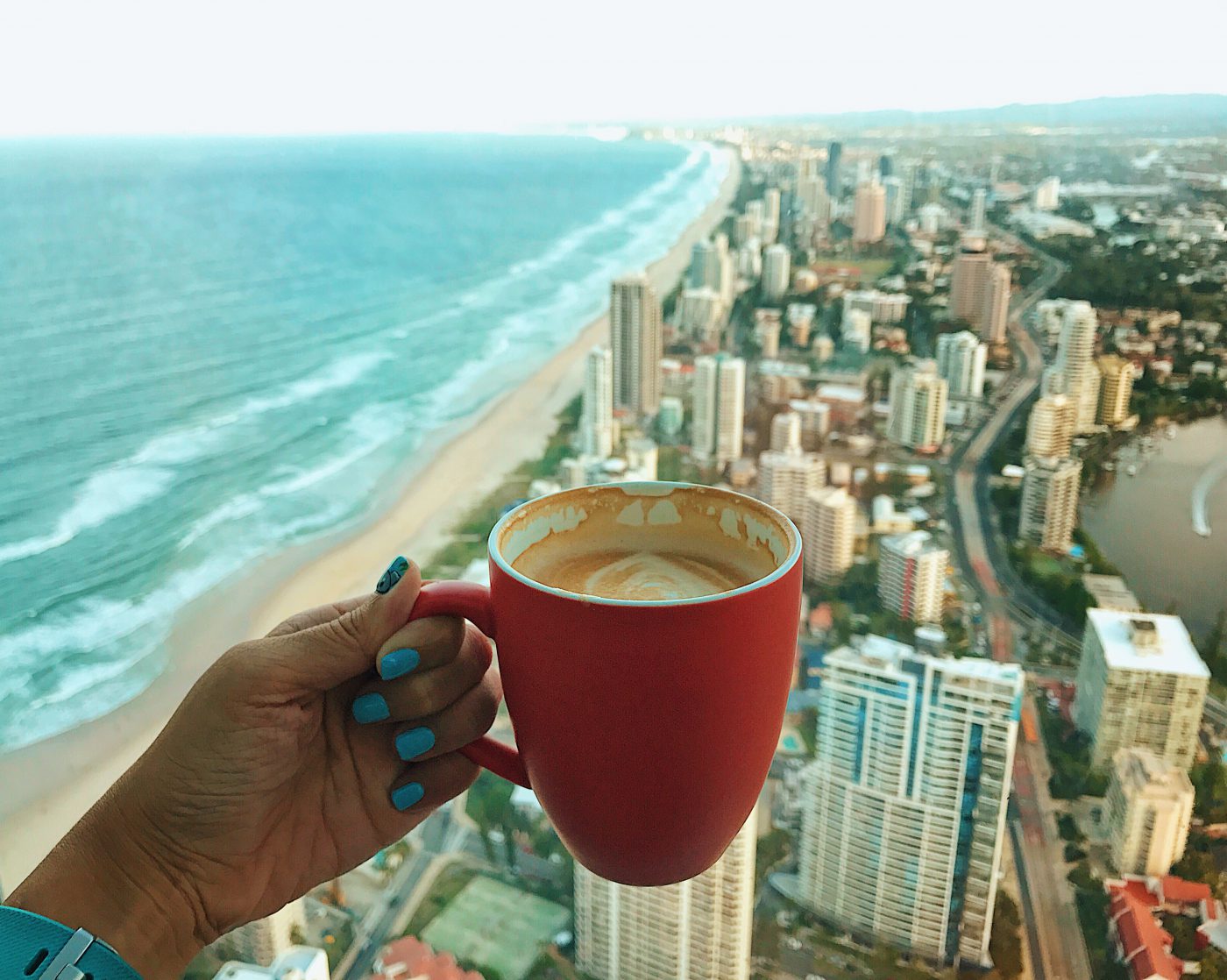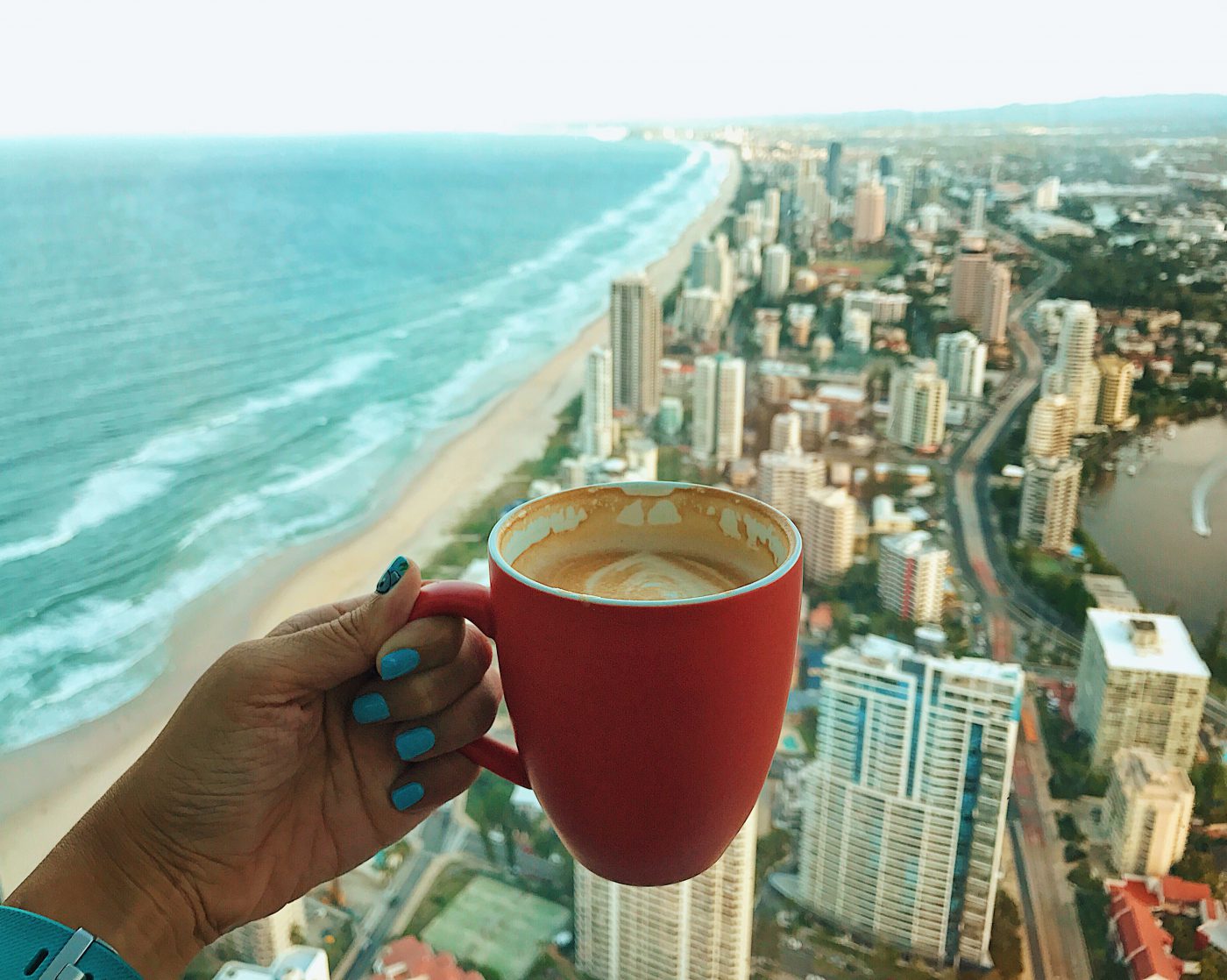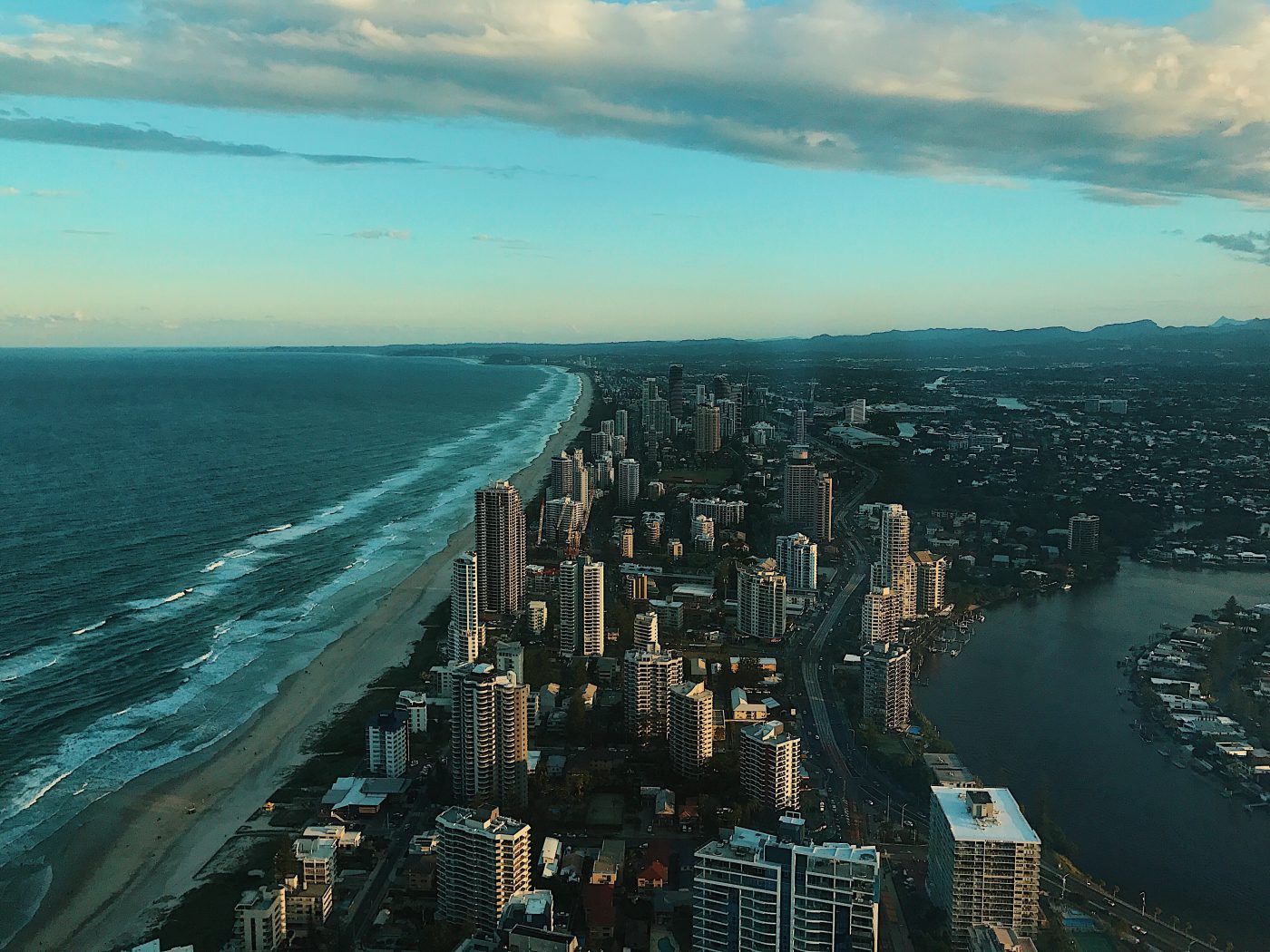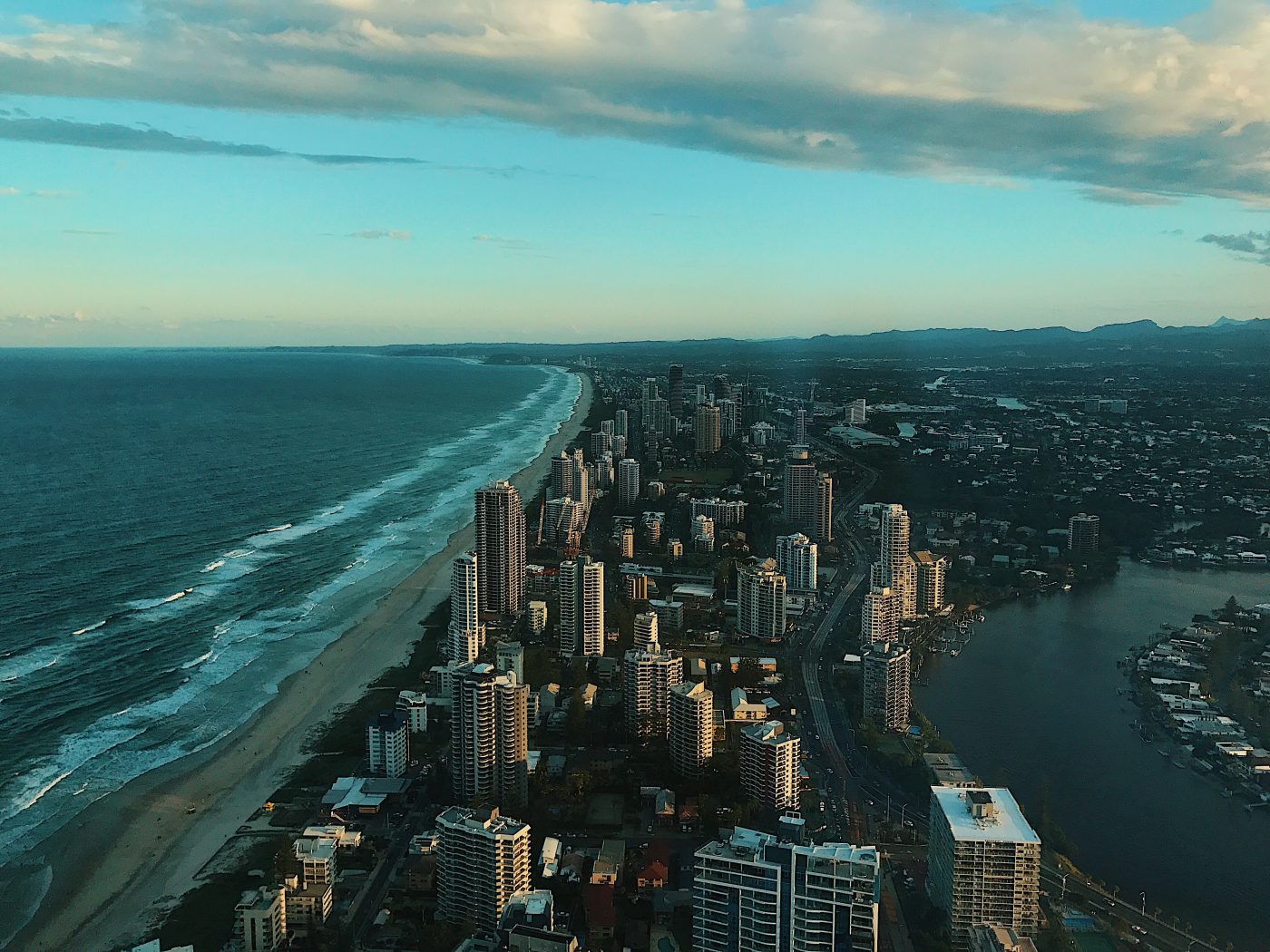 3. Take a Surfing Lesson!
One night, we decided that we must try surfing at least once while on this trip. After all, Gold Coast is known for surfing! So we looked online and booked a Gold Coast Surfing Lesson. PS: This part was paid out of our own pockets!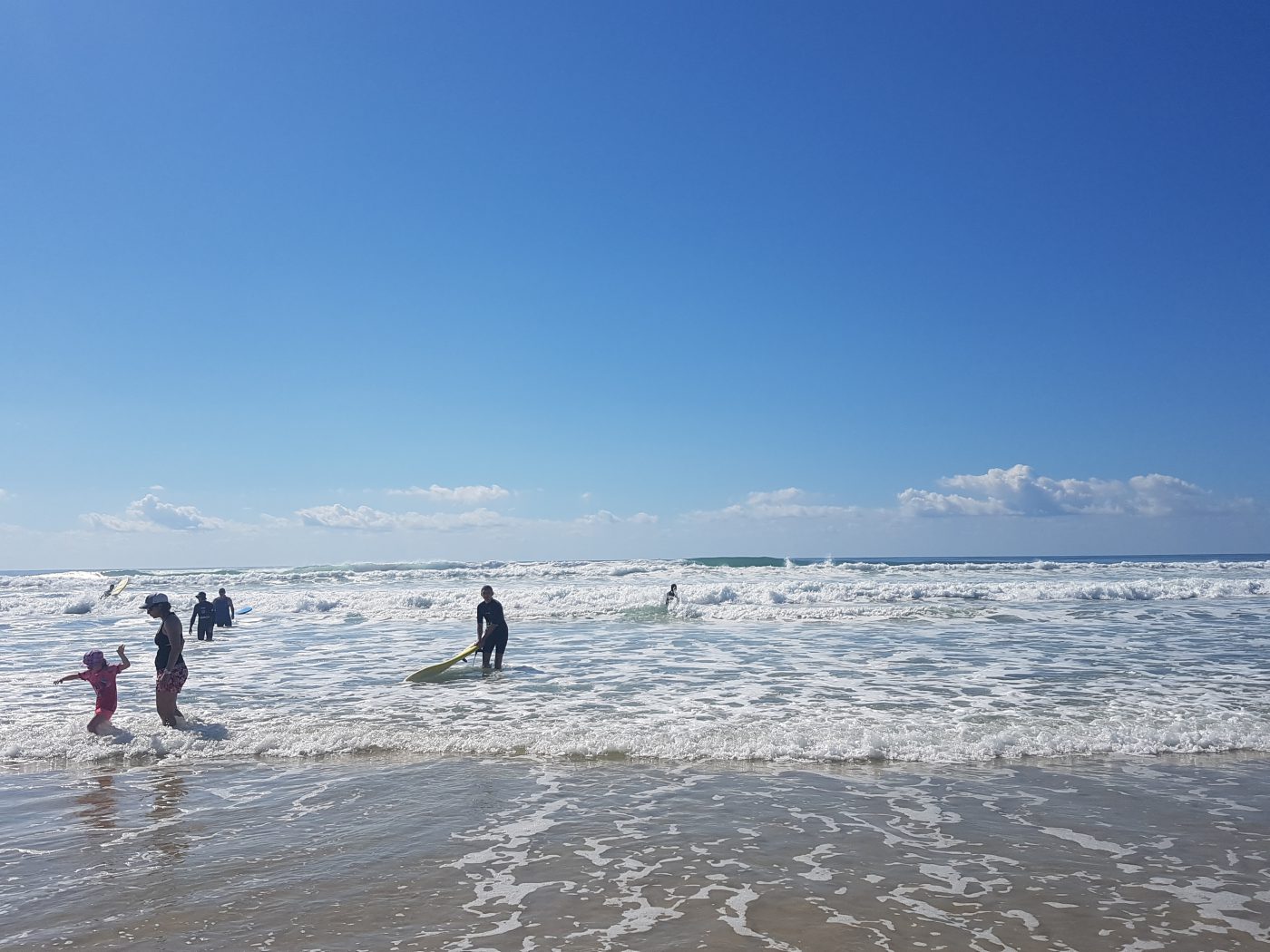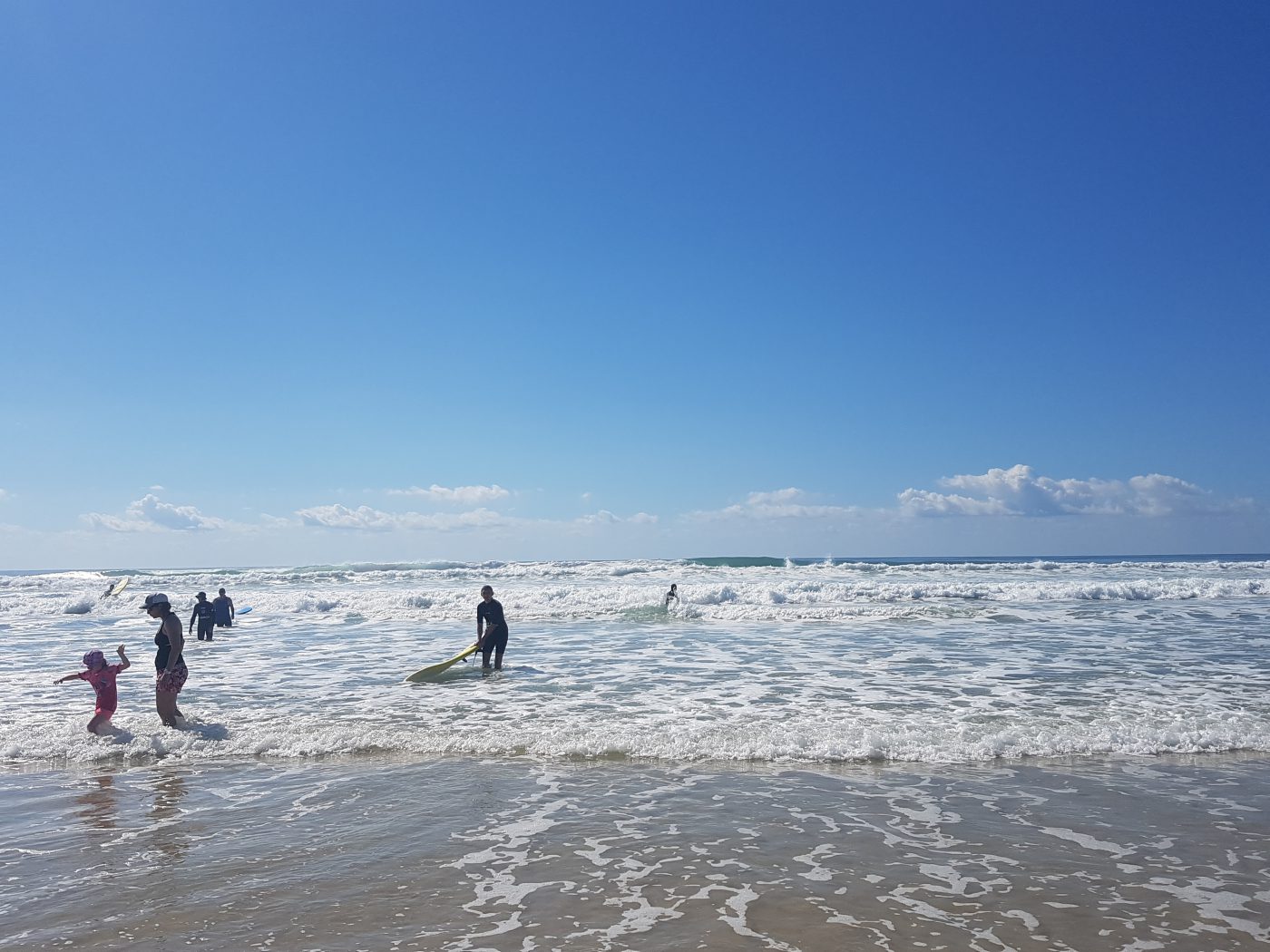 The surfing lesson? I'm not going to lie, it is hard. At the beginning of the lesson, our instructor gave us guidance on how to paddle and stand on the board, then off we go to the ocean. The most tiring part for me was to paddle out into the sea. The waves here in this part of the world is very strong, but that's why they are good for surfing!. We did a short 3-hour lesson and by the end of it I could kinda stand on the board a little, but not really. I think if you really want to be able to stand on the board, you have to go more than once.
4. See Koalas and other Australian Wildlife
A trip to Australia is not complete until you see a Koala! I recommend Currumbin Wildlife Sanctuary, which is a short drive from Gold Coast. Currumbin Wildlife Sanctuary is a heritage-listed zoological garden built in 1947. The Sanctuary now houses some of Australia's native animals, such as Koalas, Dingos, and Saltwater Crocodiles.
If you are looking for a wider range of animals, you might be interested in doing the Australia Zoo Day Tour, which is about two hours drive from Gold Coast (the tour includes transport so you don't have to worry about that). The Australia Zoo used to be called Beerwah Reptile and Fauna Park, which was owned by the late Steve Irwin's parents and the sanctuary where Steve used to help out when he was young. The name was later changed to Australia Zoo by Steve Irwin himself. To this day the zoo is still owned by his widow Teri. You can see a wide range of birds, mammals, and reptiles in this zoo.
5. Go surfer watching at Currumbin Alley
Currumbin Alley is a famous surf break along Gold Coast. It is the point where Currumbin creek meets the ocean, where it forms a narrow alley, perfect for surfers to catch the wave. For the non-surfers like us, we still had a great time walking along the rocks and observing how the more advanced surfers would catch the wave off these rocks with strong waves!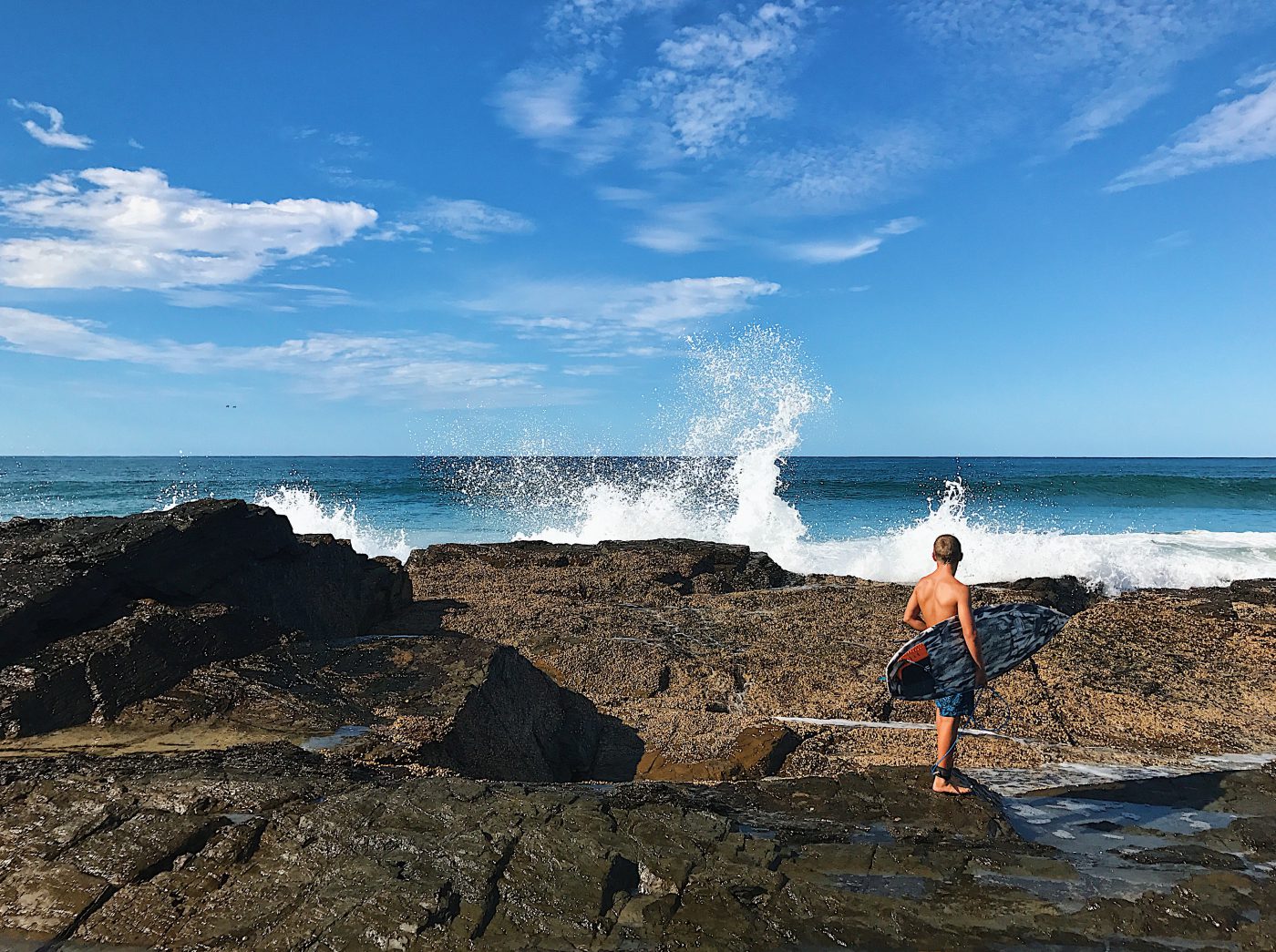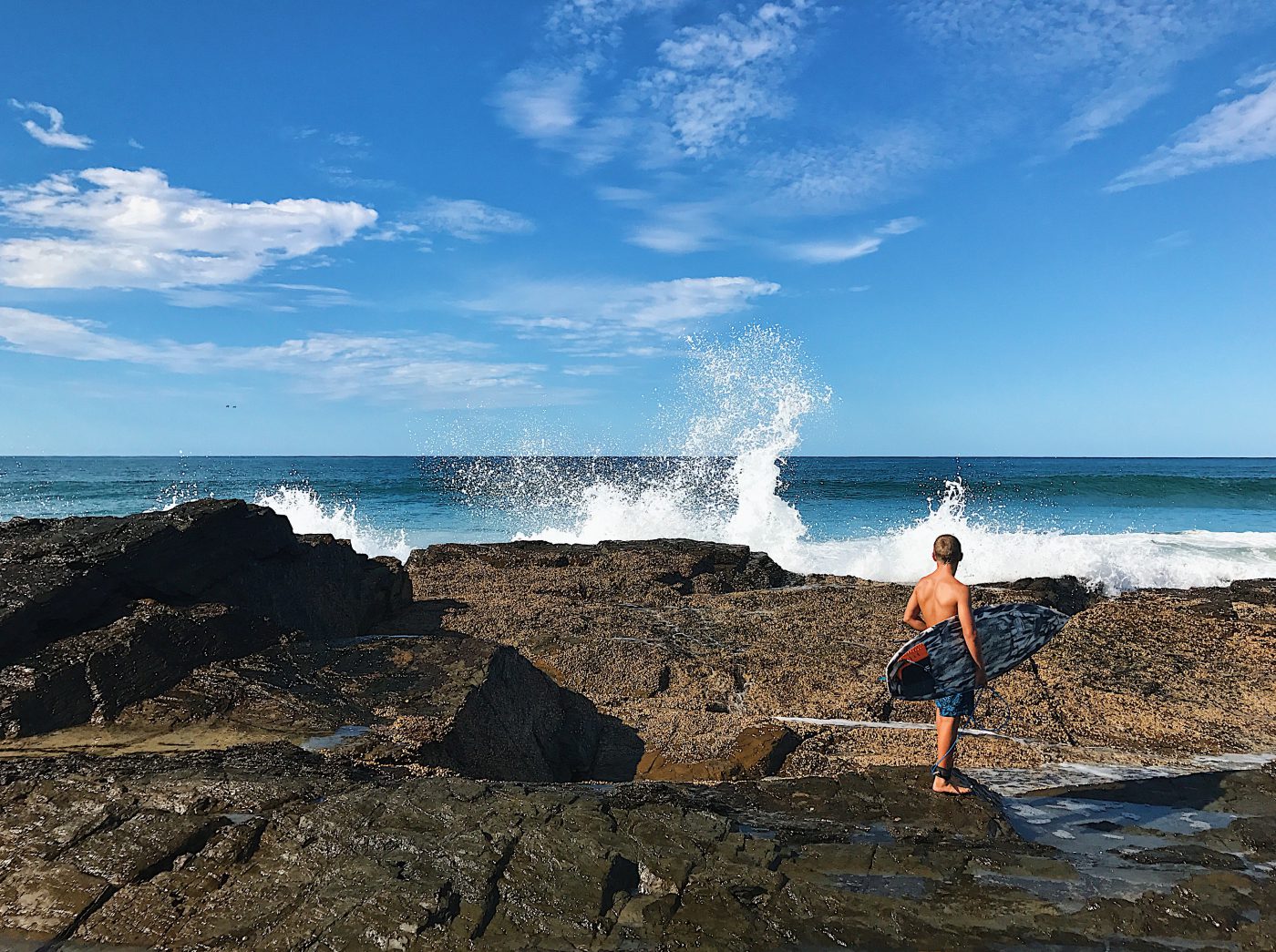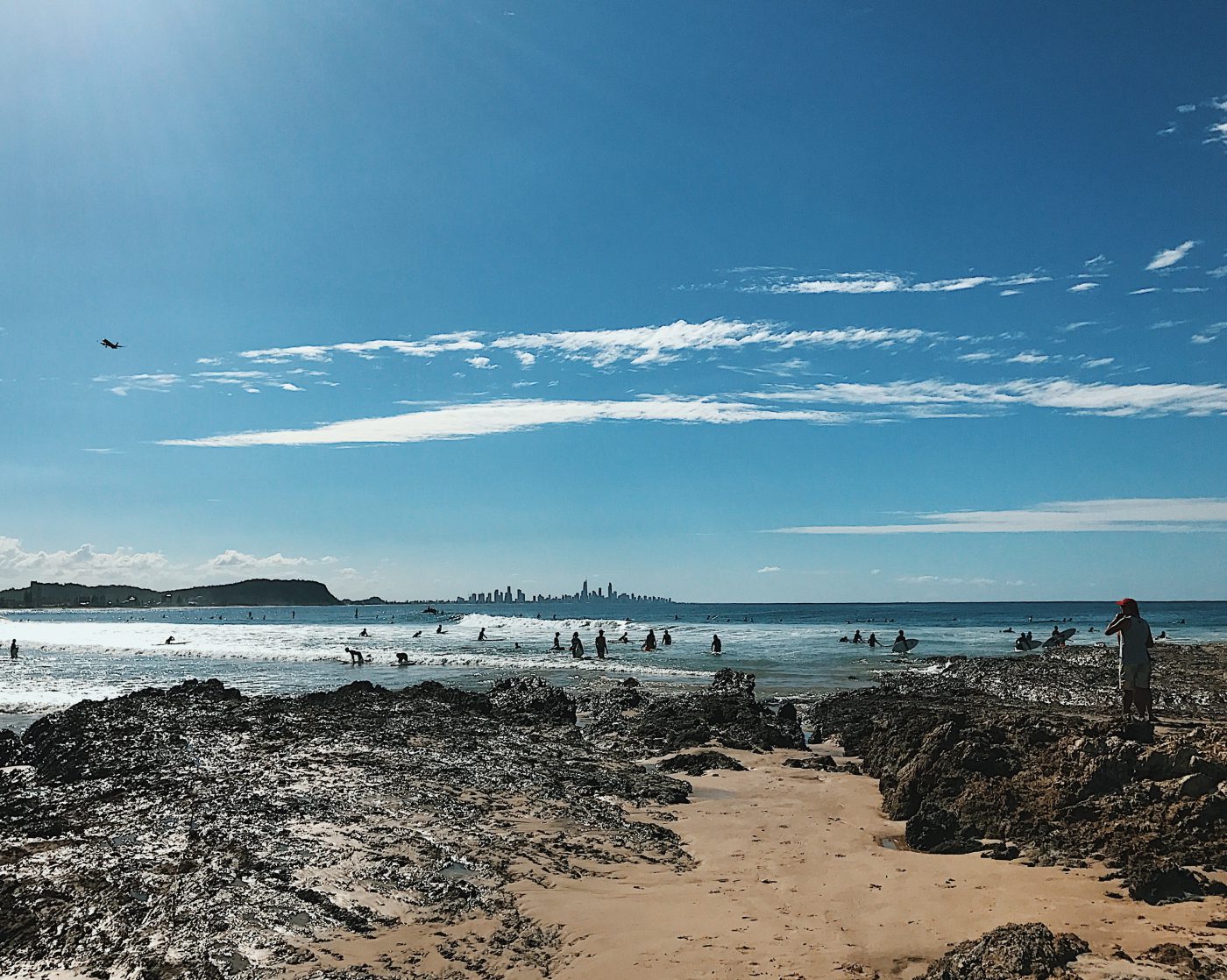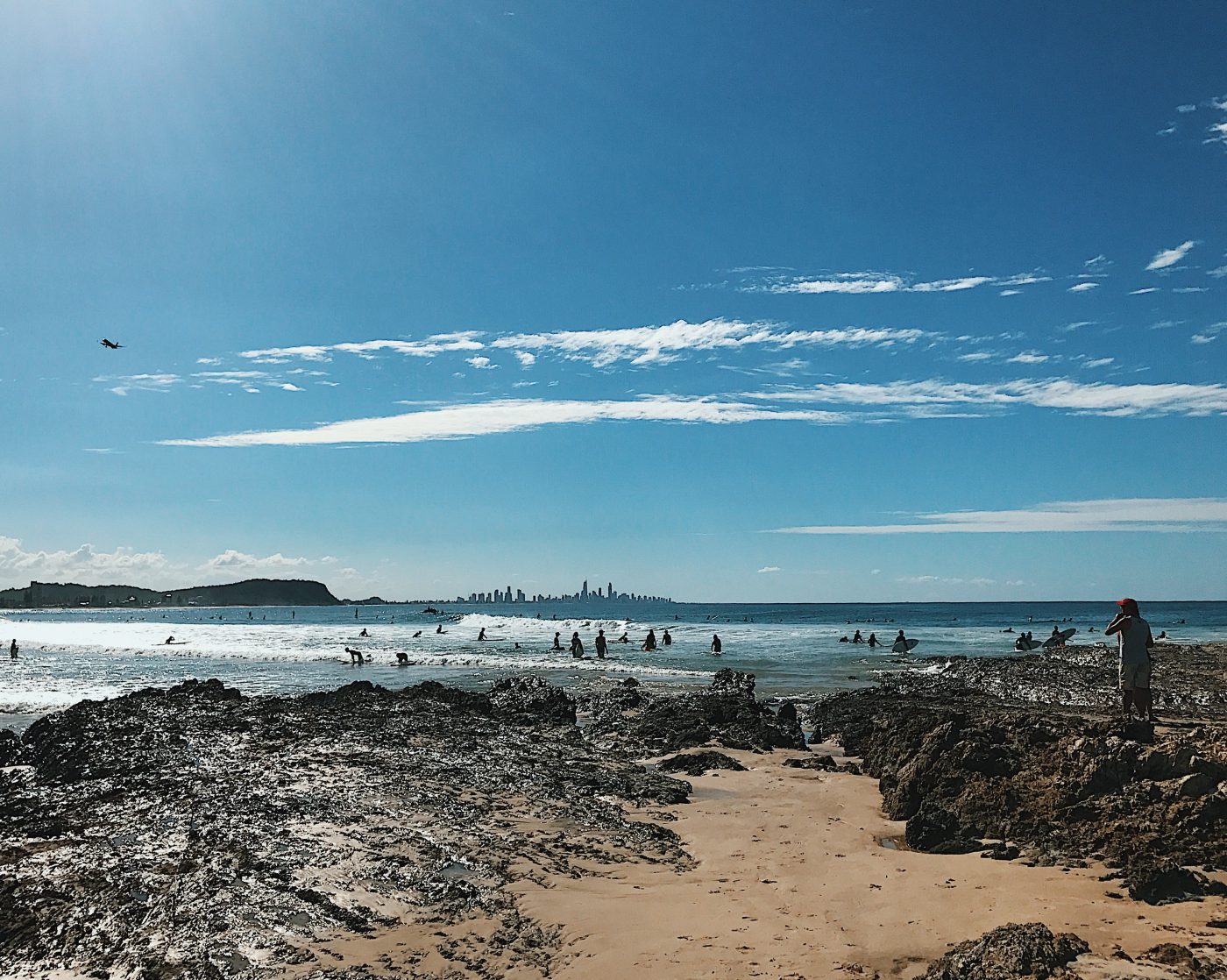 6. Witness the Pelican Feeding at Charis Seafoods
I was already excited going to Charis for all the fresh seafood, but watching the pelican feeding was quite something else.
Everyday at around 1pm, a massive amount of Pelicans birds can already be seen gathering at the Ian Dipple lagoon. Why? They are all waiting patiently for the daily leftover and scraps from Charis seafood, which would be fed (thrown) to them at exactly 1:30pm. Chaos pretty much ensues among the pelicans when this happens, so don't be surprised if you get hit by some fish juice if they happen to fight over a piece of fish bone! Other than that, they are quite harmless to humans and I imagine this is a fun activity for children.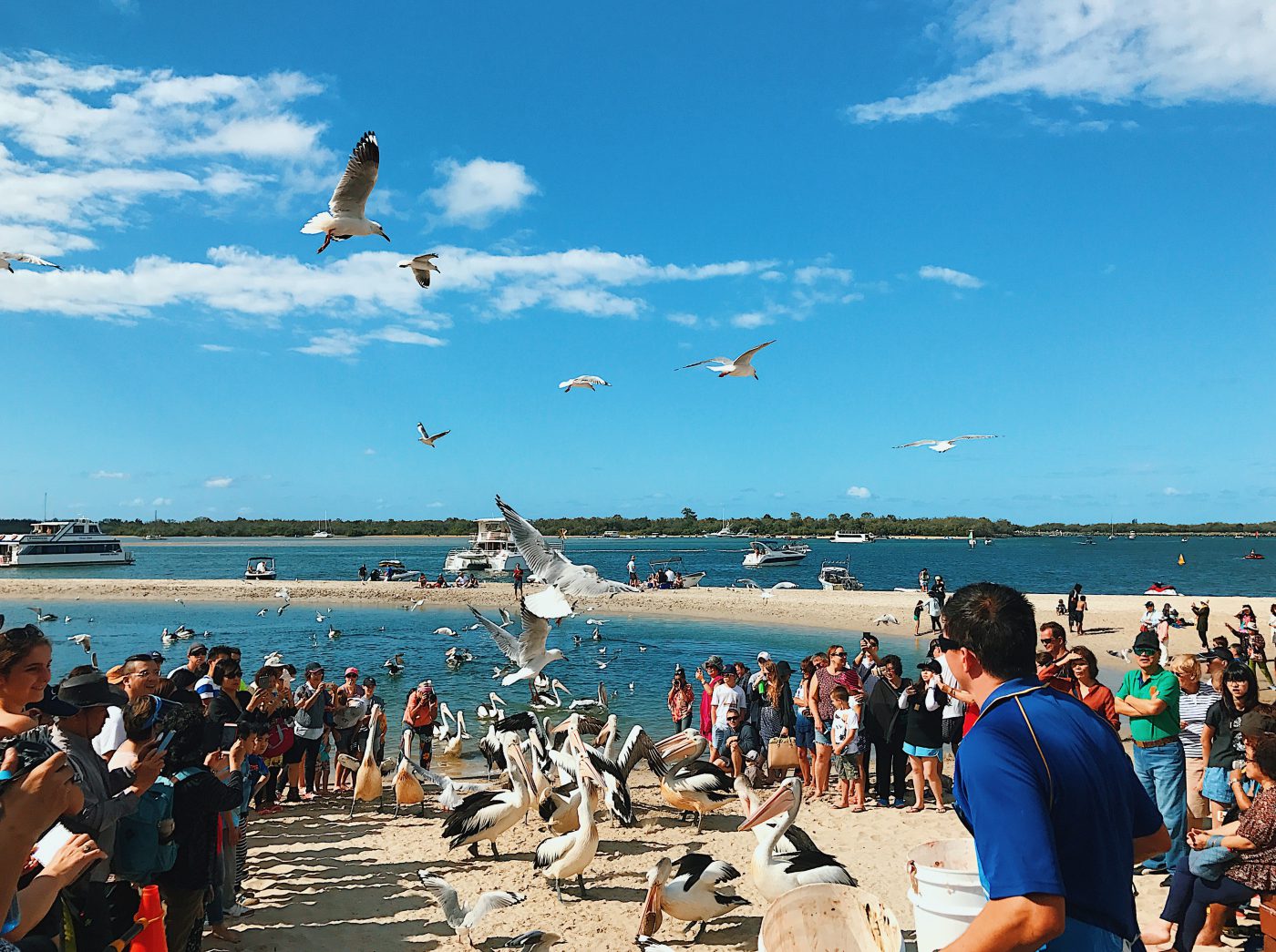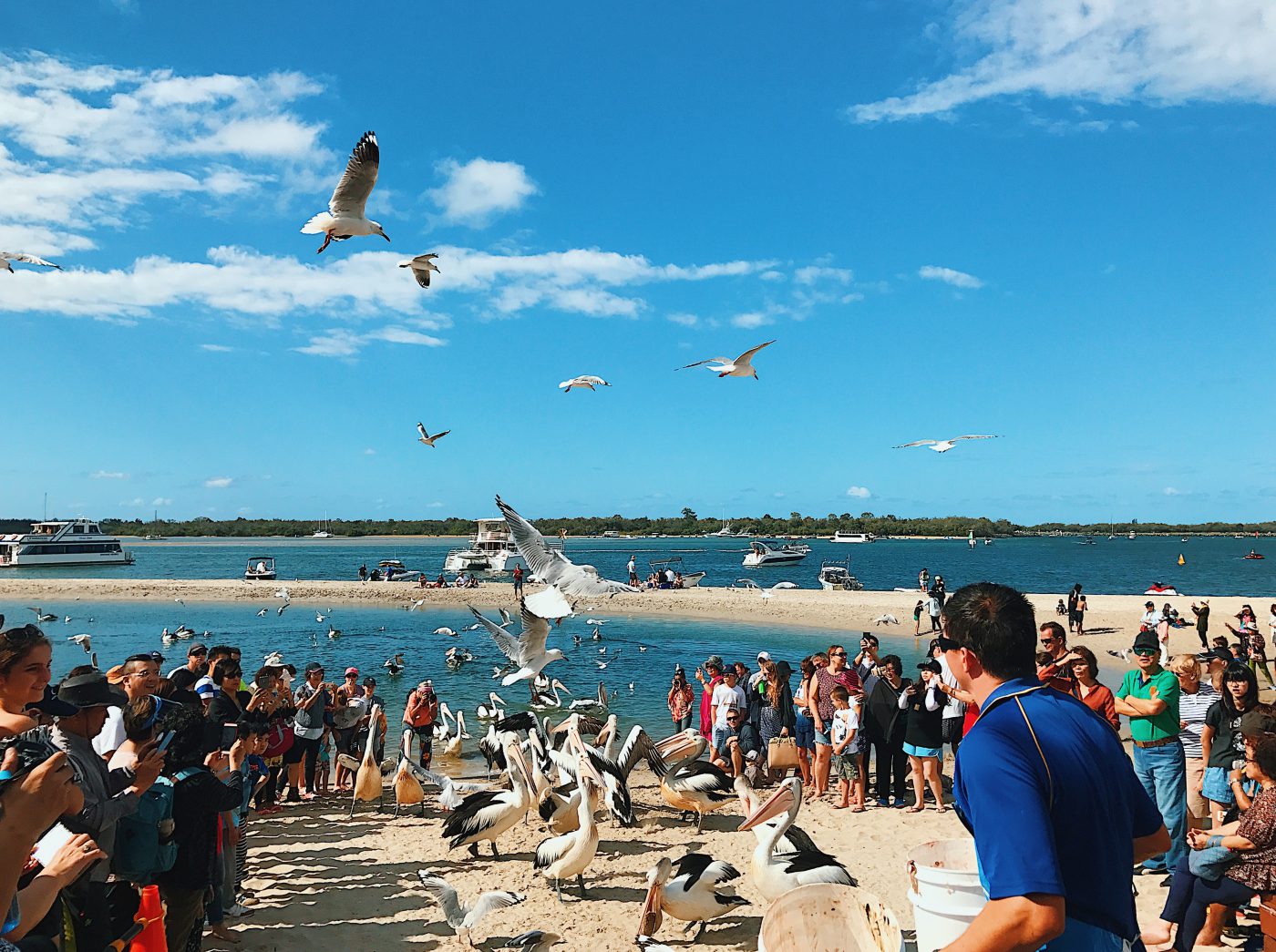 And of course I had to feed myself as well! I went straight for dem juicy oysters. They are priced at insanely cheap rate of $19.90 – 21.90 per dozen, which is super low compared to Singapore oyster prices and soo sweet and juicy. I think I had the entire dozen pretty much by myself. Yuri only ate two or three pieces…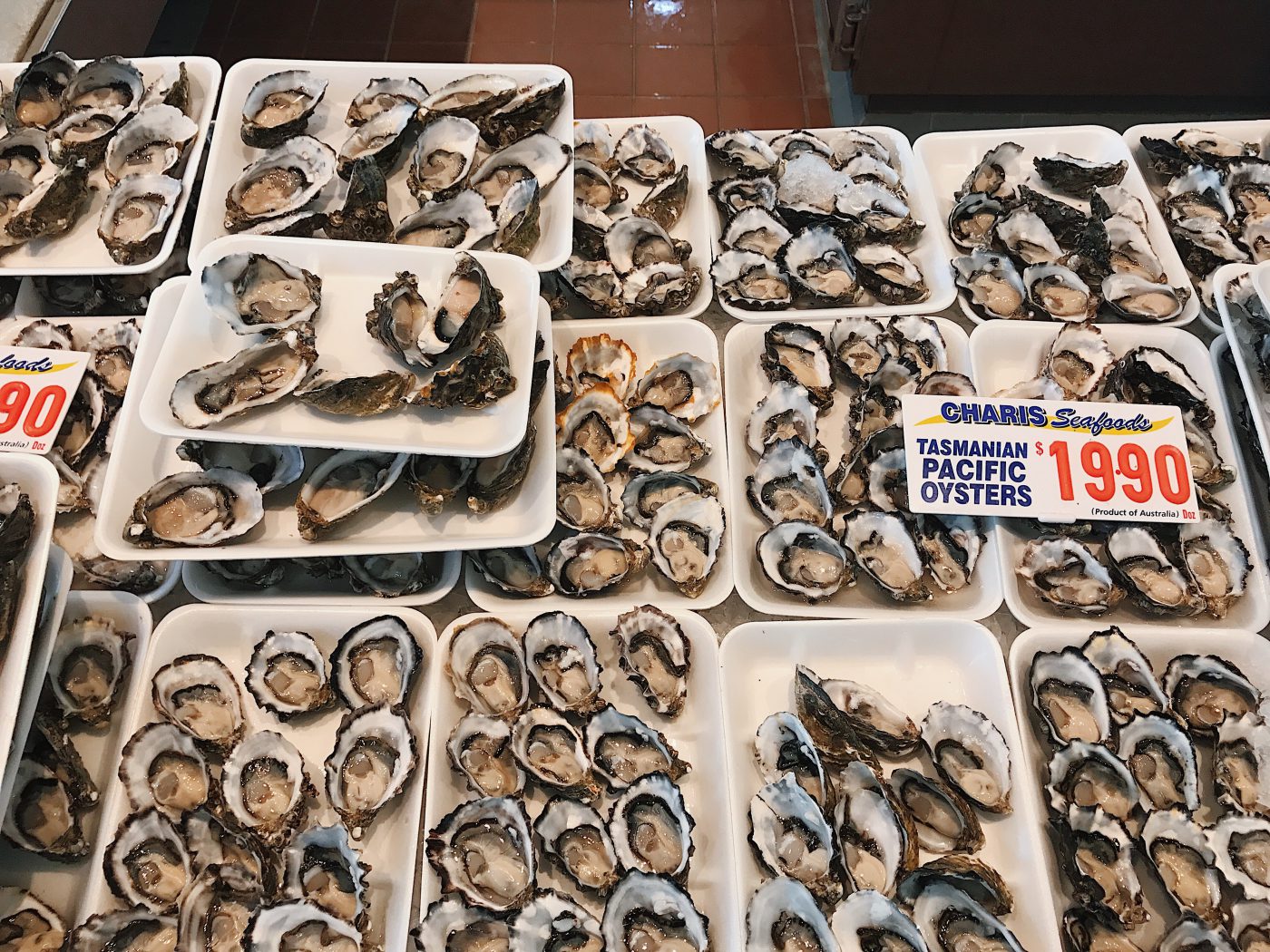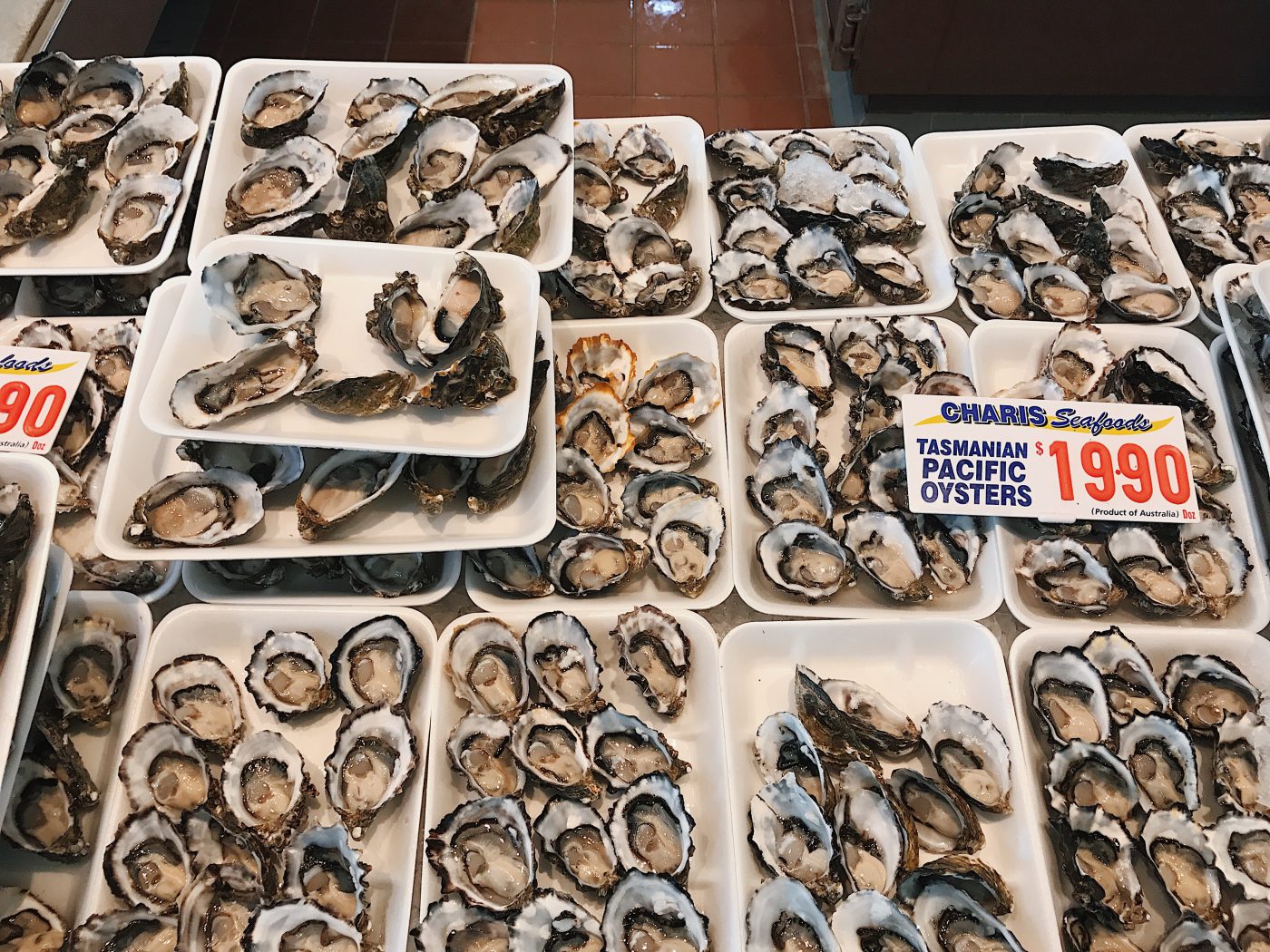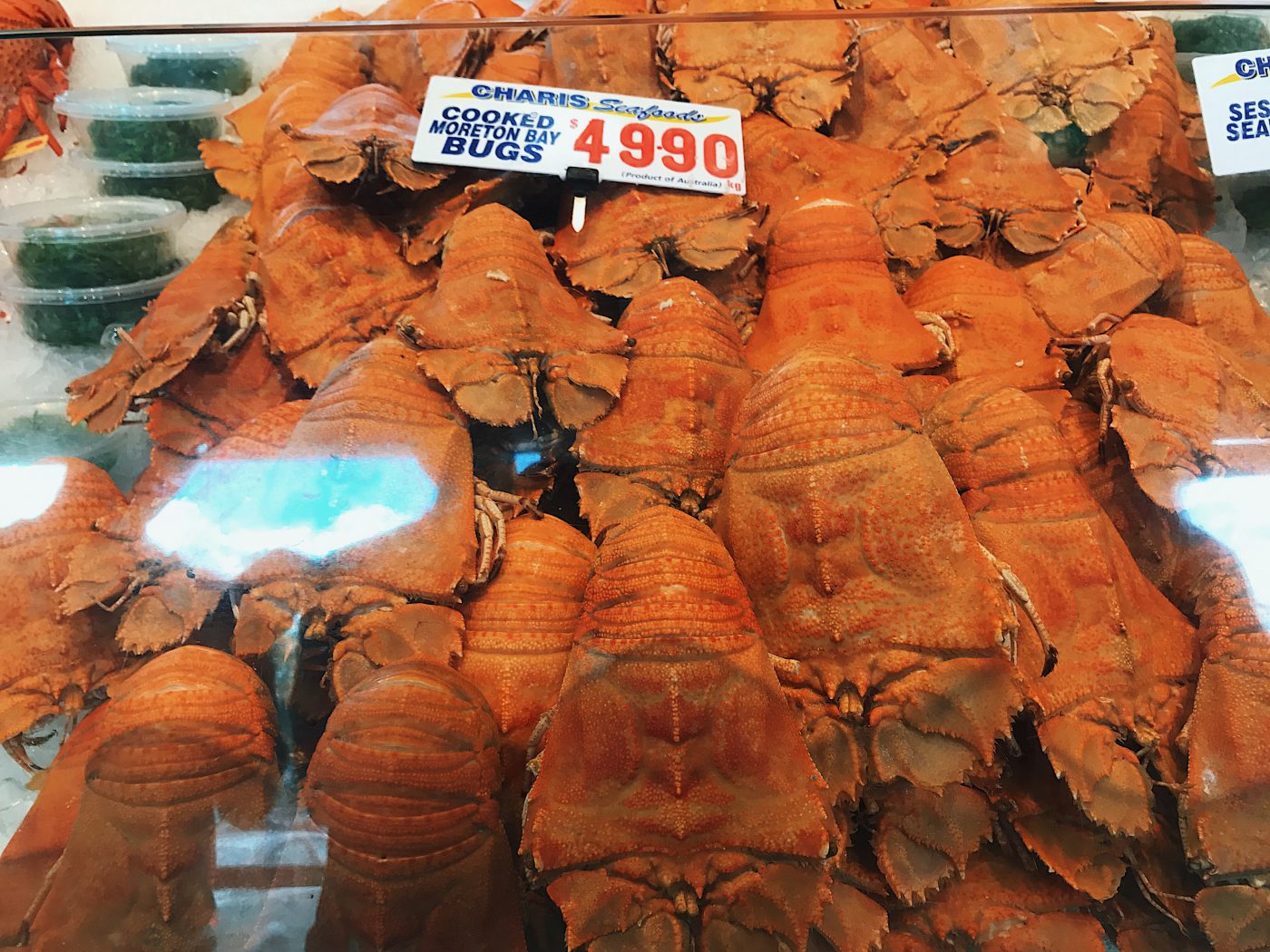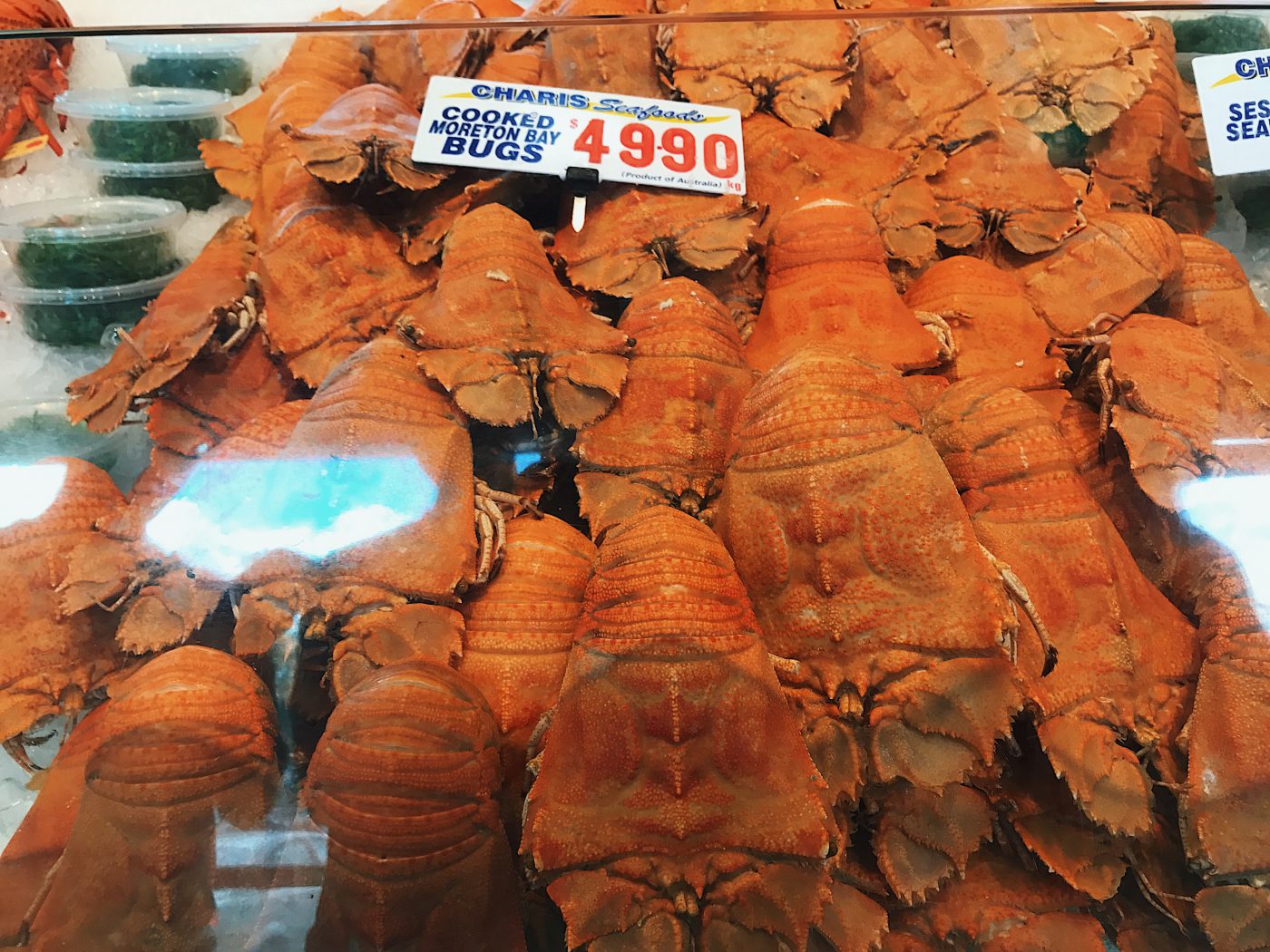 I personally think the Moreton Bay Bugs are freakin' scary and looks like a giant bug. I would never eat them, but people who love crustaceans would go crazy for this. They look similar to lobsters, but a flat and their hands are not as big.
PS: Moreton Bay is actually just an hour drive north from Gold Coast, so it could also be a cool stop if you're planning to go up north.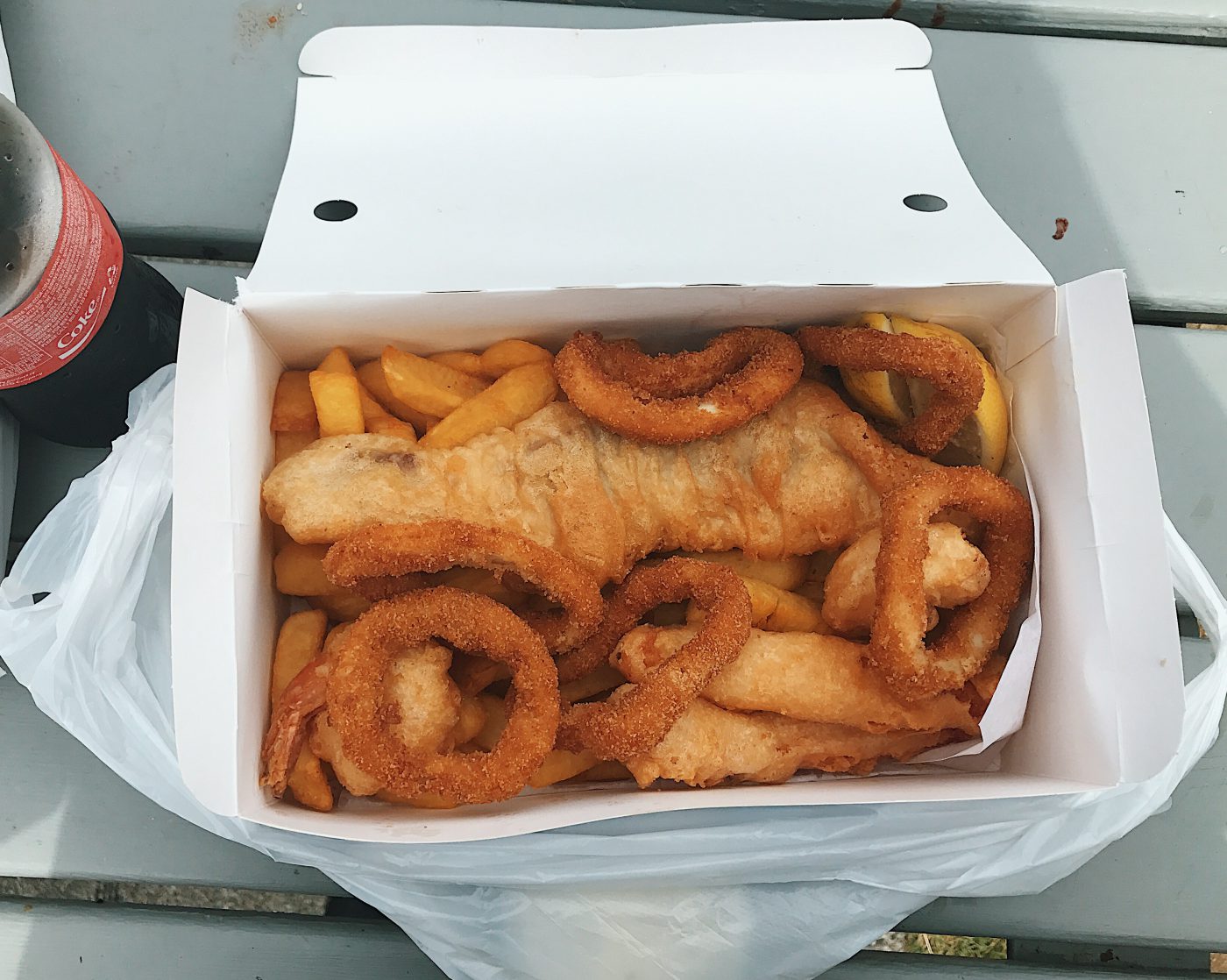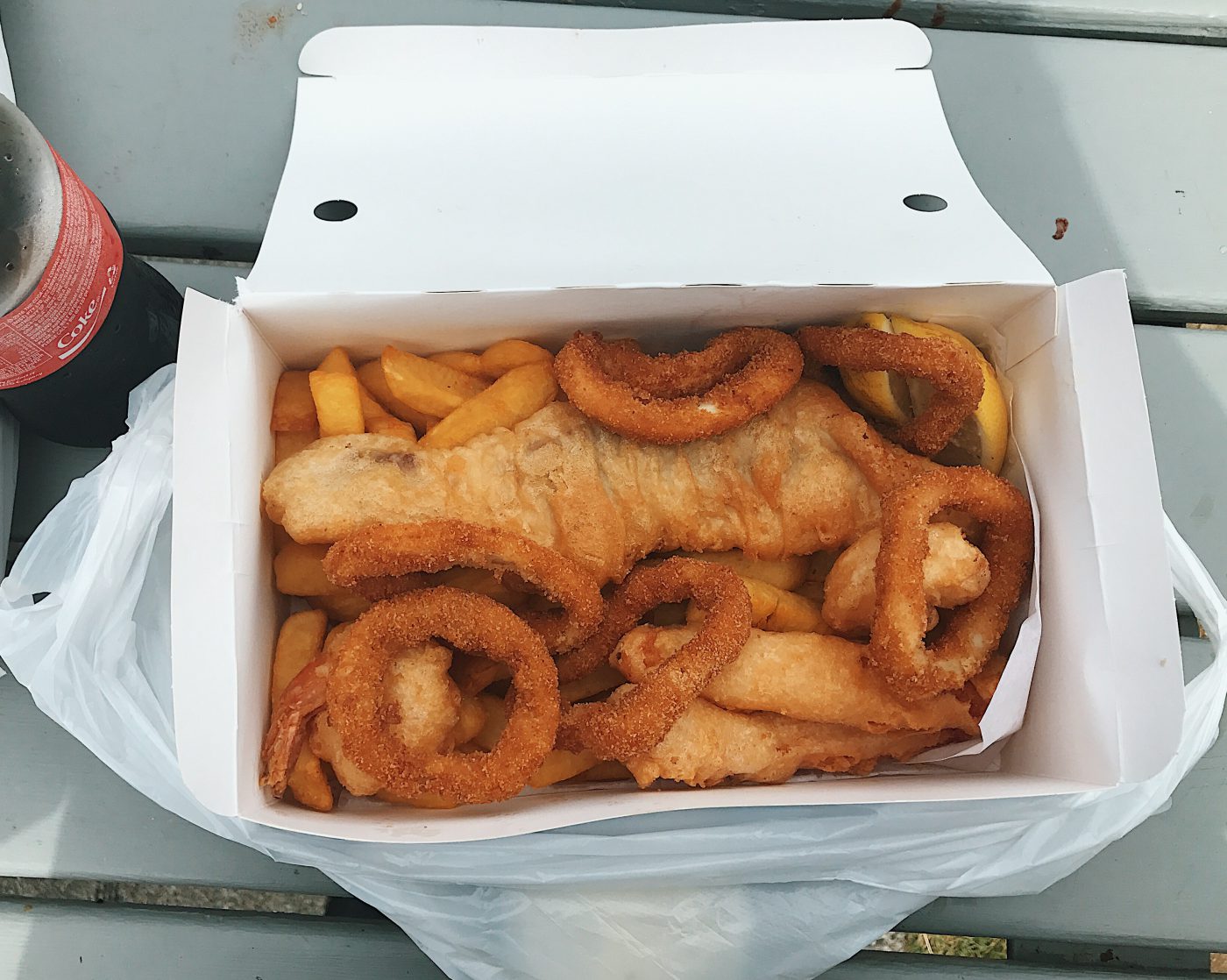 Aside from the oysters, I also ordered the Fisherman's Basket, which has a little bit of everything – fish, random seafood like calamari and shrimp, with chips with some onion rings thrown in for good measure. We ate this at the picnic table outside of Charis with the company of some birds hoping for scraps and clear blue skies.
Simply put, it was an amazing lunch.
7. Visit Surfer's Paradise and have a burger at Betty's Burger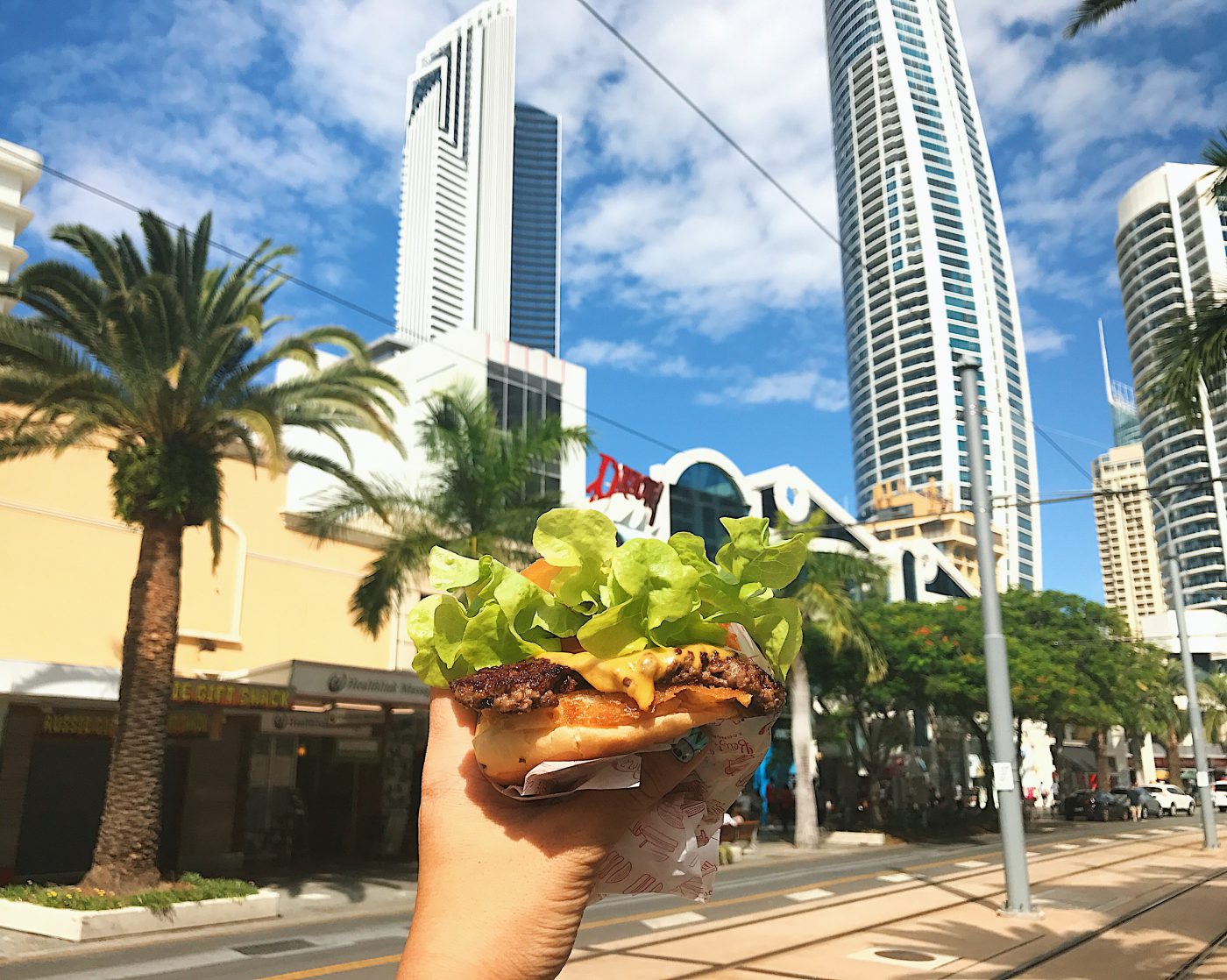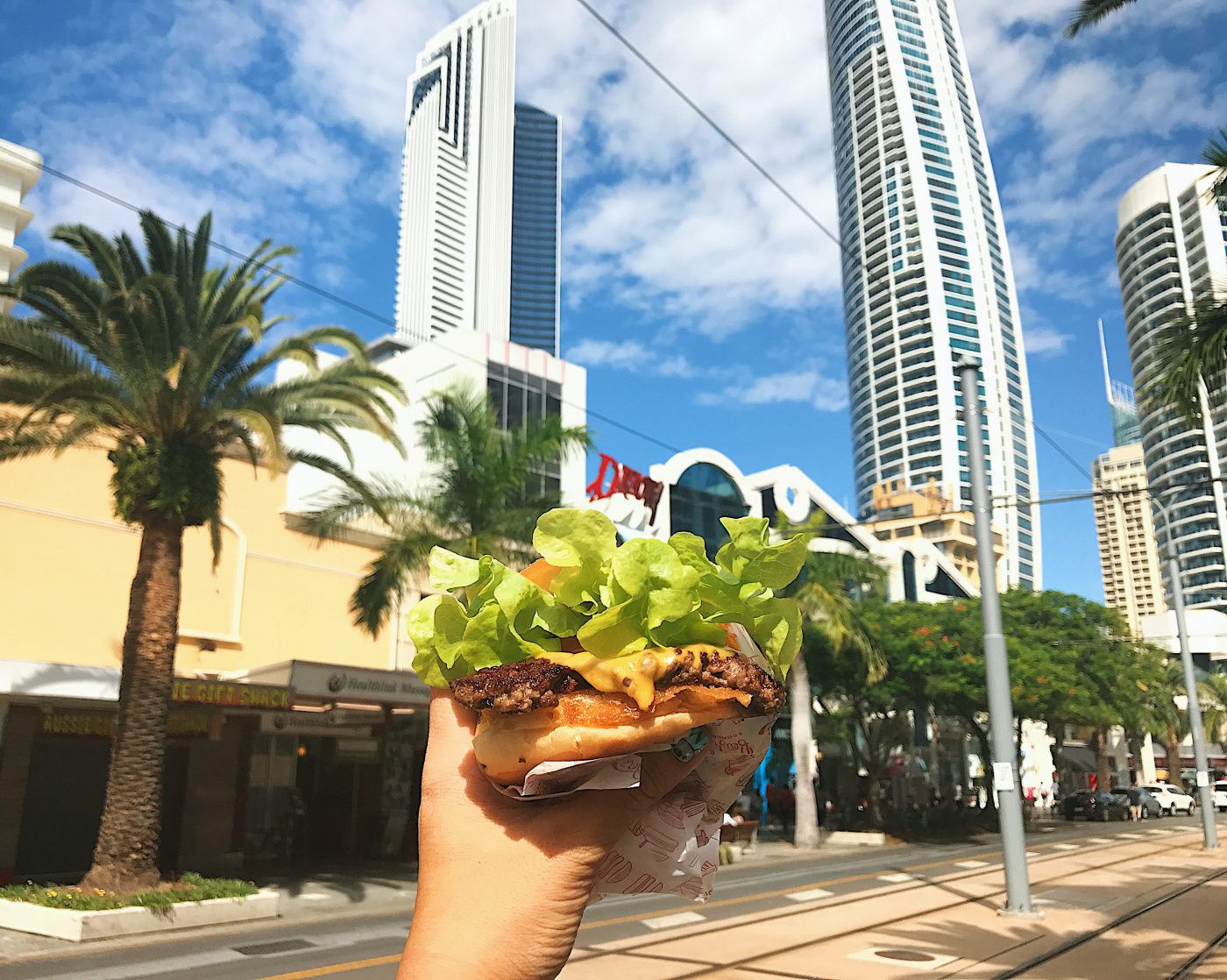 I went for Betty's Classic (AU$10) and the Vanilla thick shake (AU$8). The burger was delicious and freshly made. The thick shake is exactly like the name implies – it's very thick. Almost feels like it's a melted ice cream! Overall, I enjoyed this place and I thought it was quite affordable in relative to other restaurants in Australia.
I saw that they have a branch in Noosa as well later on in the trip, and the line for that Betty's goes around the corner. The branch here at Surfer's Paradise was also crowded, but at least we didn't have to line up!
8. Take a short stroll at the Botanical Garden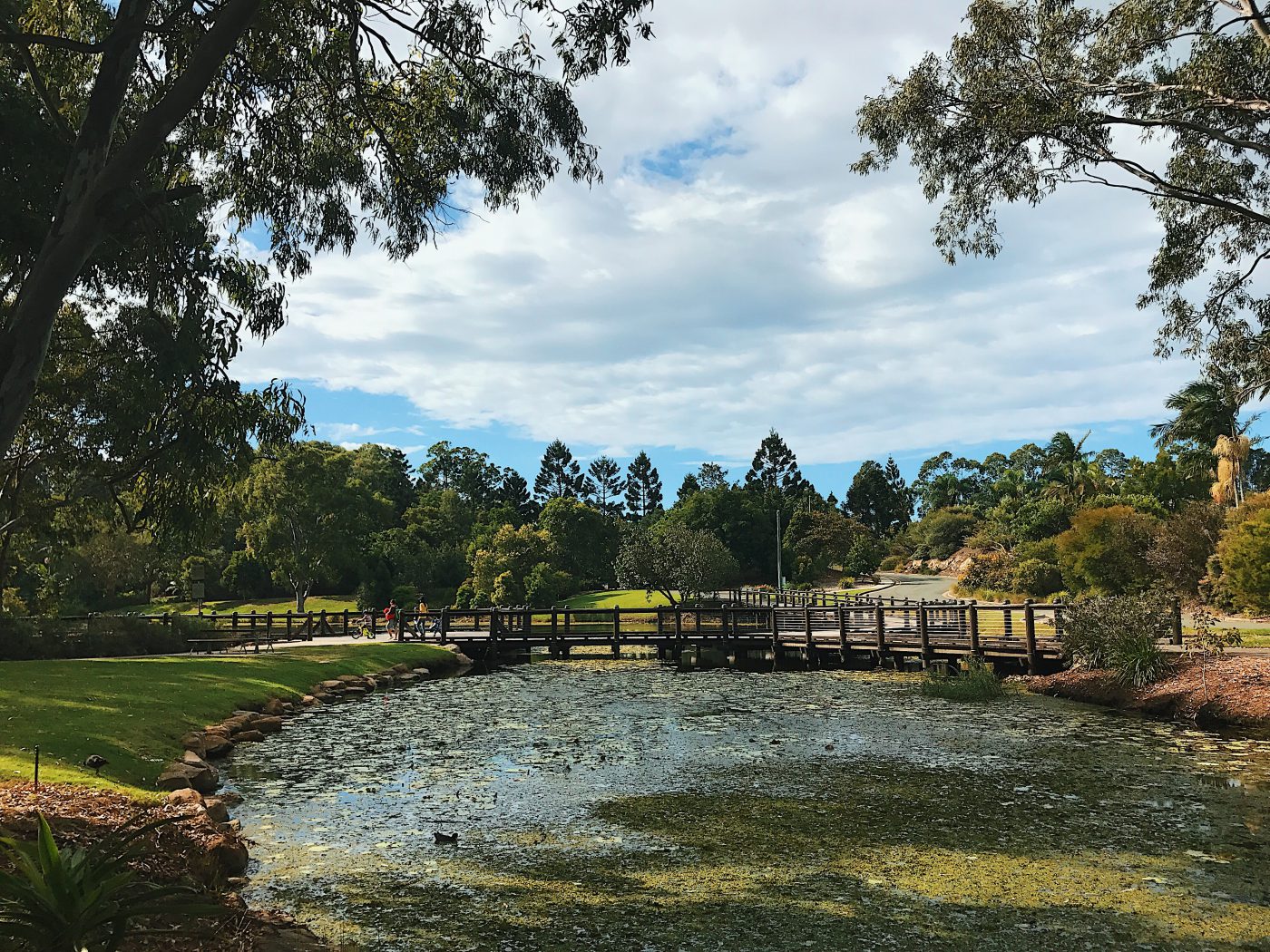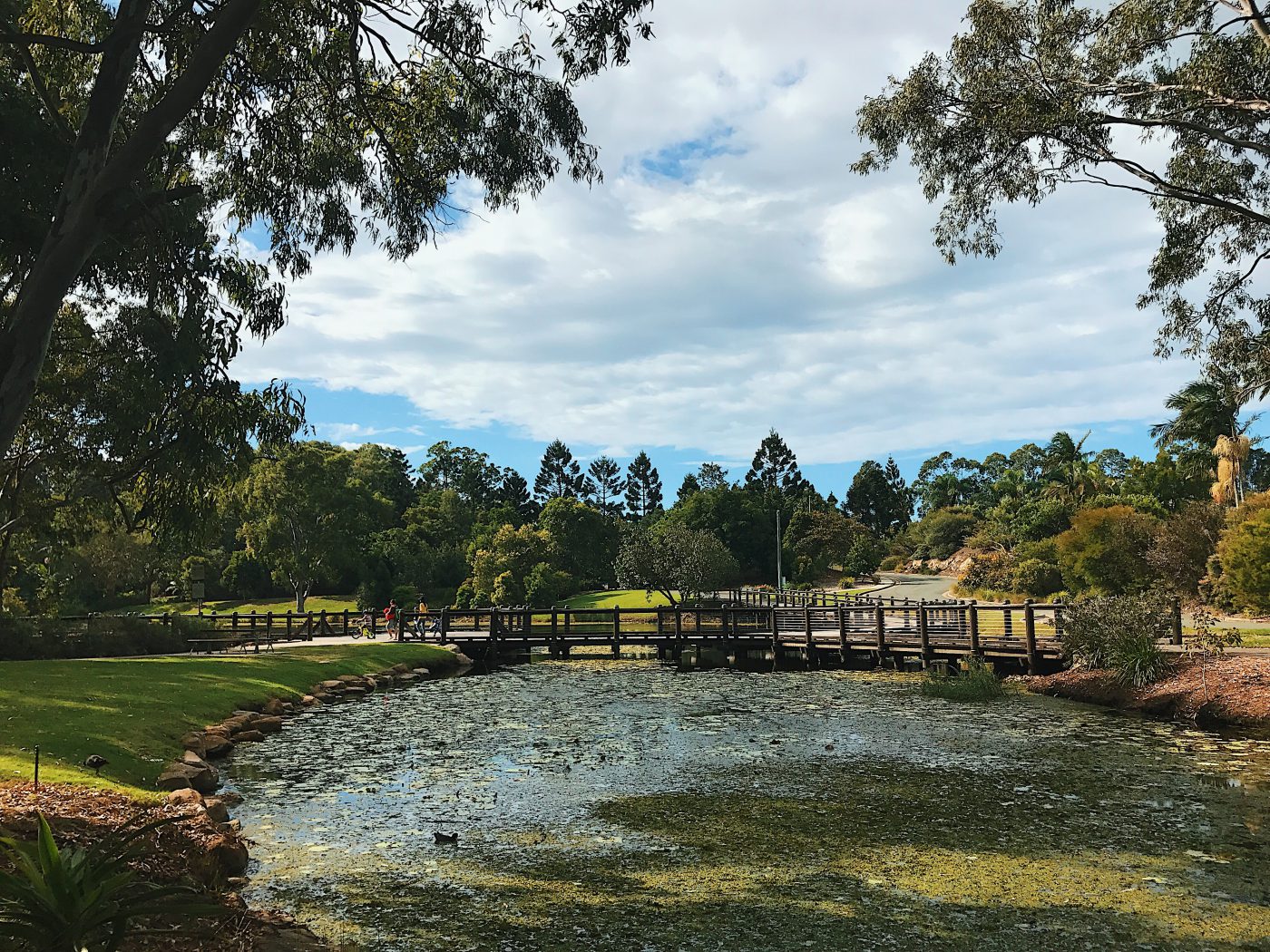 We happened to see a sign for the Botanic Gardens as we were driving back to the hotel, and since it was a nice day, we decided… why not? Let's check it out. It ended up being a very nice stroll around the park. I imagine this is a very local thing to do – I see people in their jogging attire and families sitting around having a picnic. It was a nice break from the city and I got to have a turmeric latte here again at the coffee shop.
9. Drive down to Coolangatta and stand at the border point between Queensland and New South Wales
The best sunset shot I got from this trip was taken from Kirra Hill Lookout in Coolangatta with sunset surfers still peppering the beach below.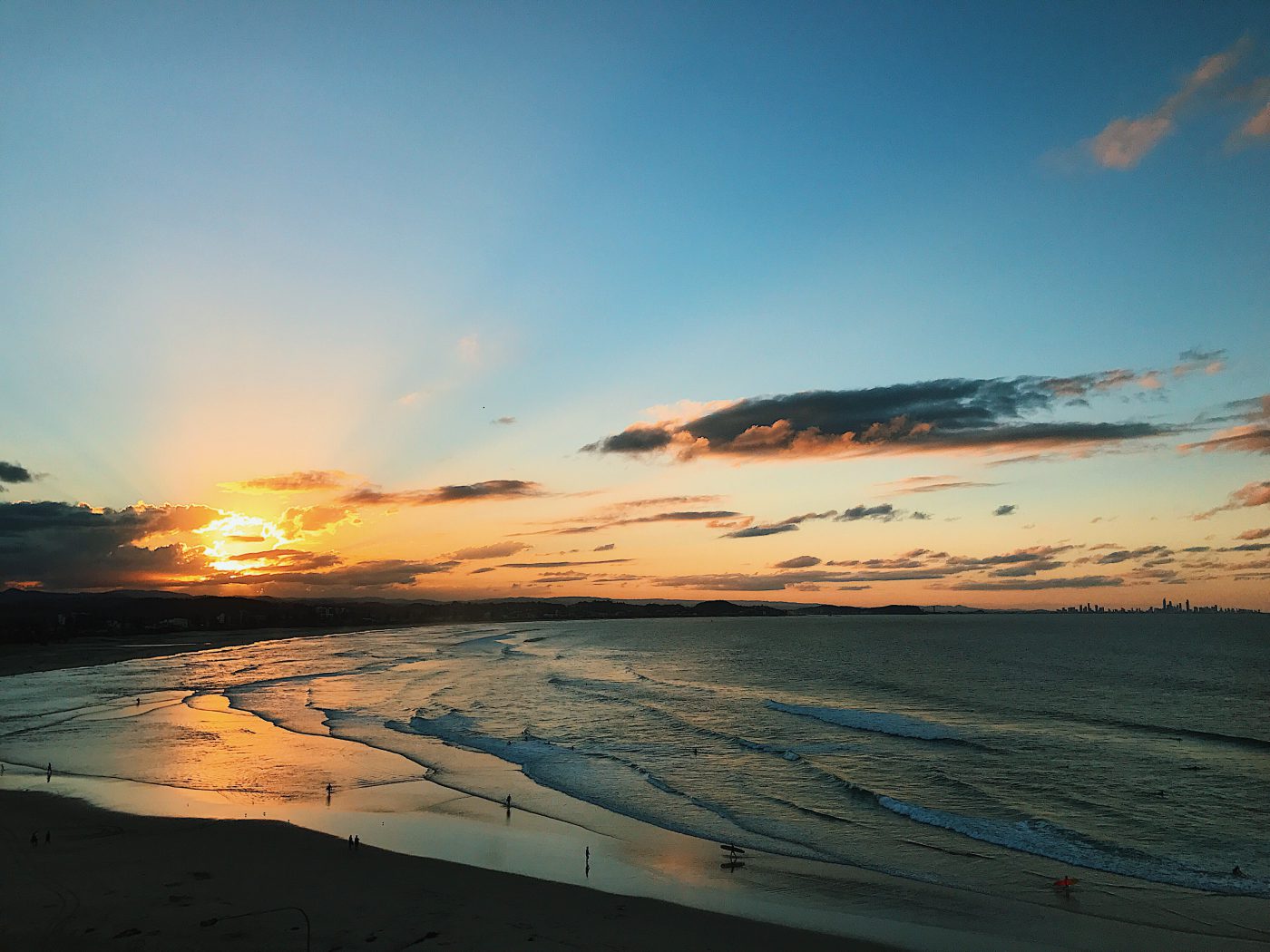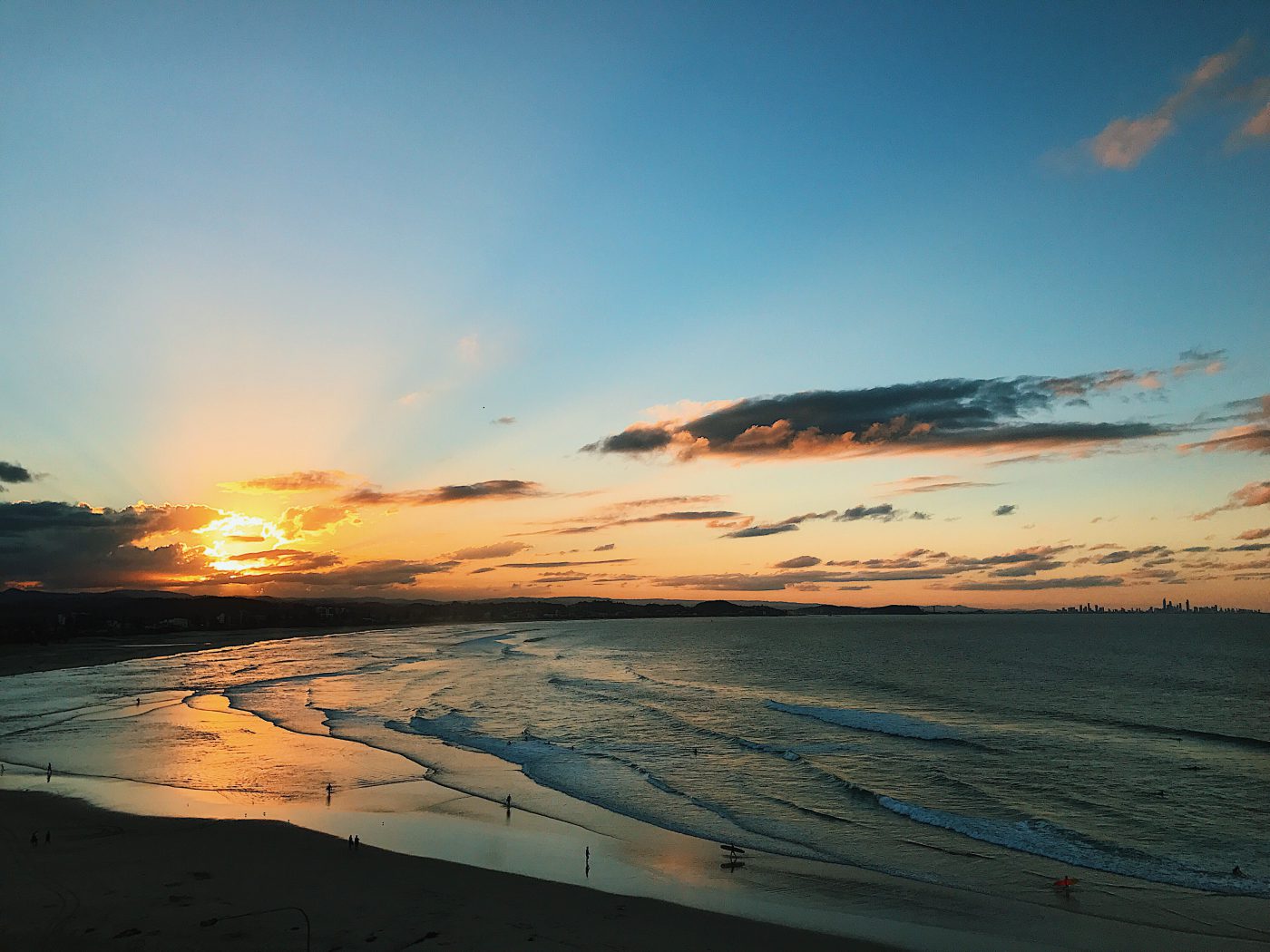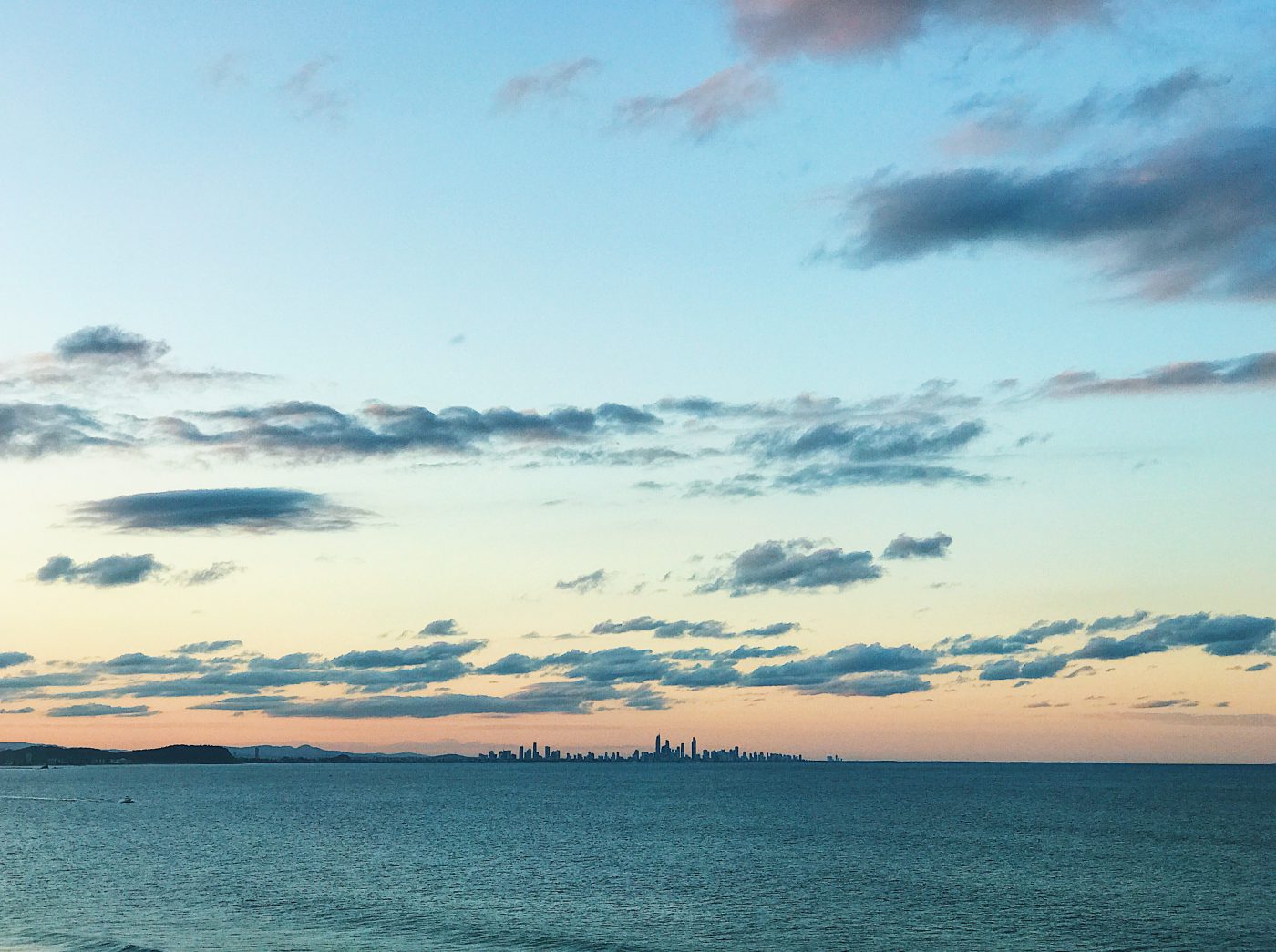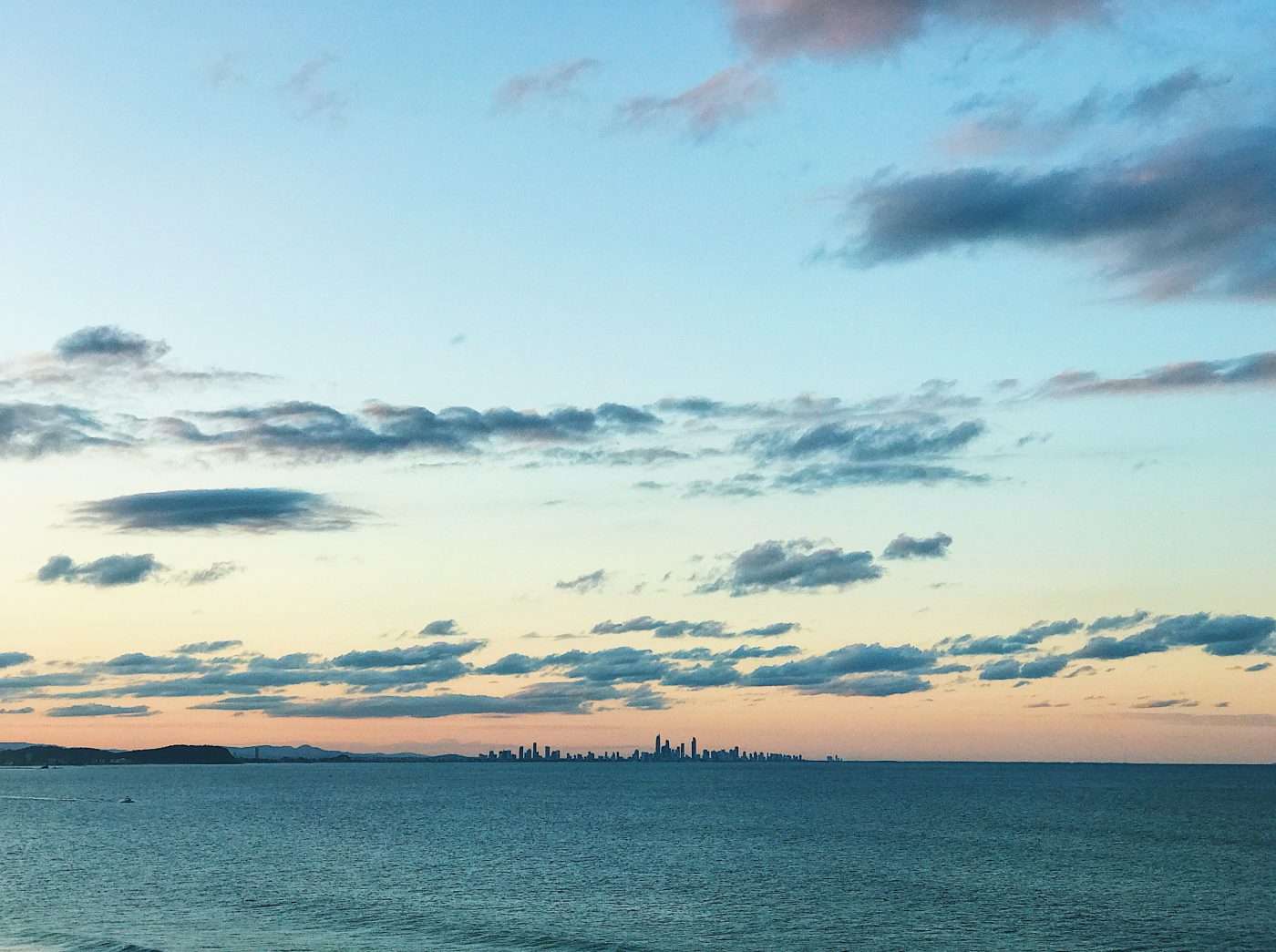 We happened to visit the area again another morning after a failed excursion to Mount Warning (I'll elaborate more later), where we caught a spectacular sunrise from Snapper Rocks and Point Danger.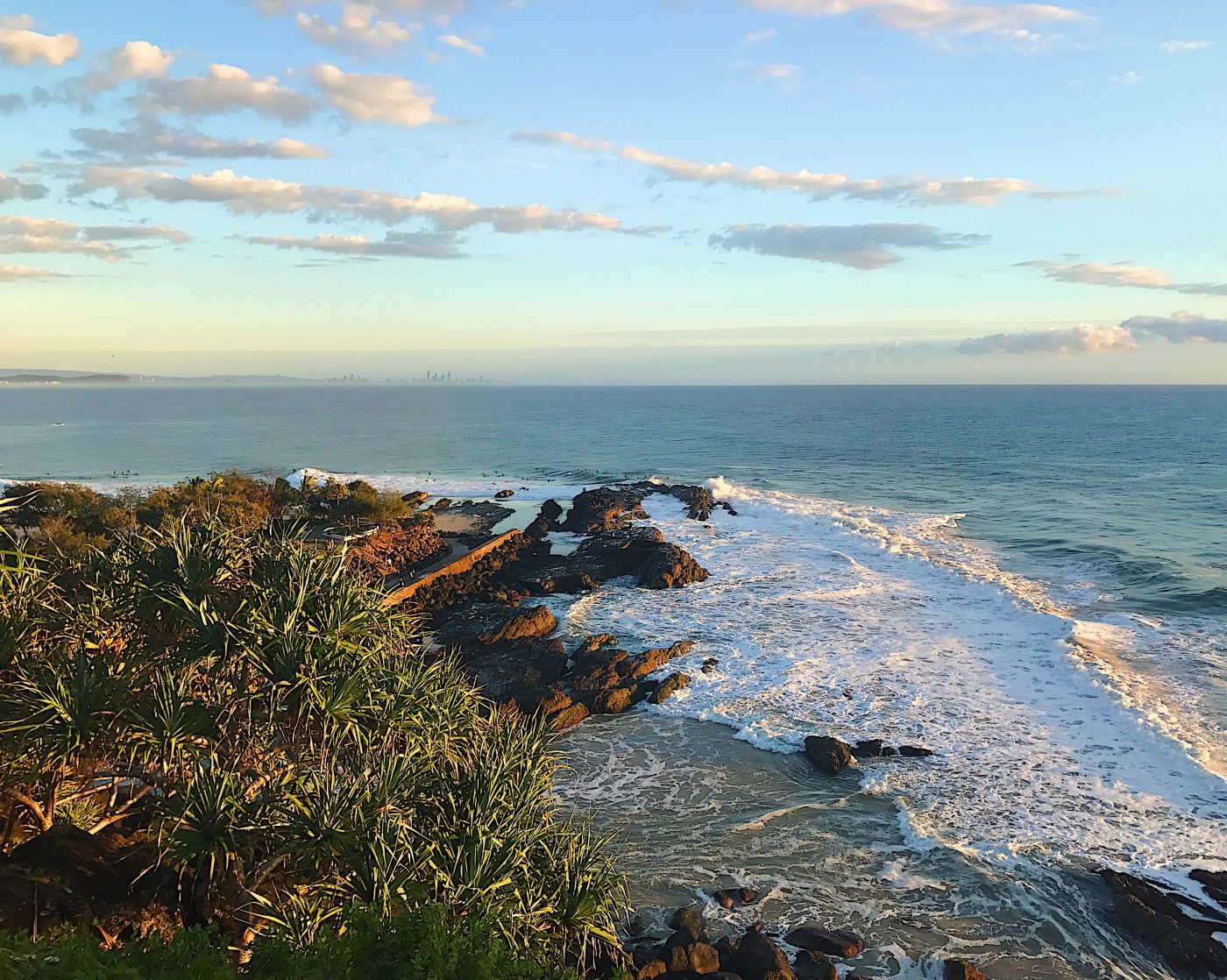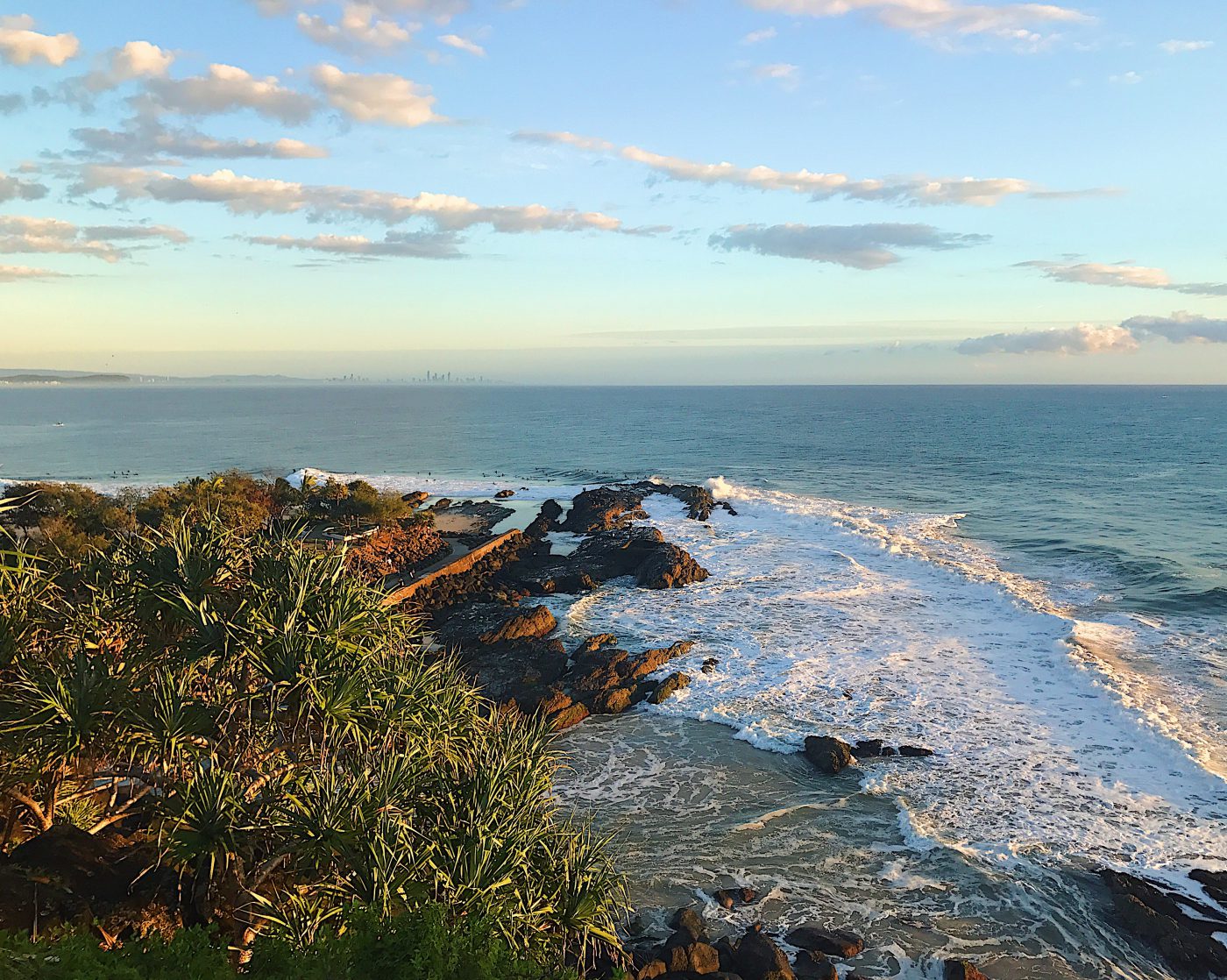 At this point I thought Australians were quite intense with their place-naming… I mean, first I learned there is a place called "Mount Warning" and now there is a "Point Danger" as well?
As it turns out, there is a story behind it. These two places were named so by Captain James Cook, a British explorer and the first westerner to make contact with Australia and New Zealand. Mount Warning and Point Danger was named to warn others of its dangerous offshore corals reefs, making it unfit for ships to come close to the bay.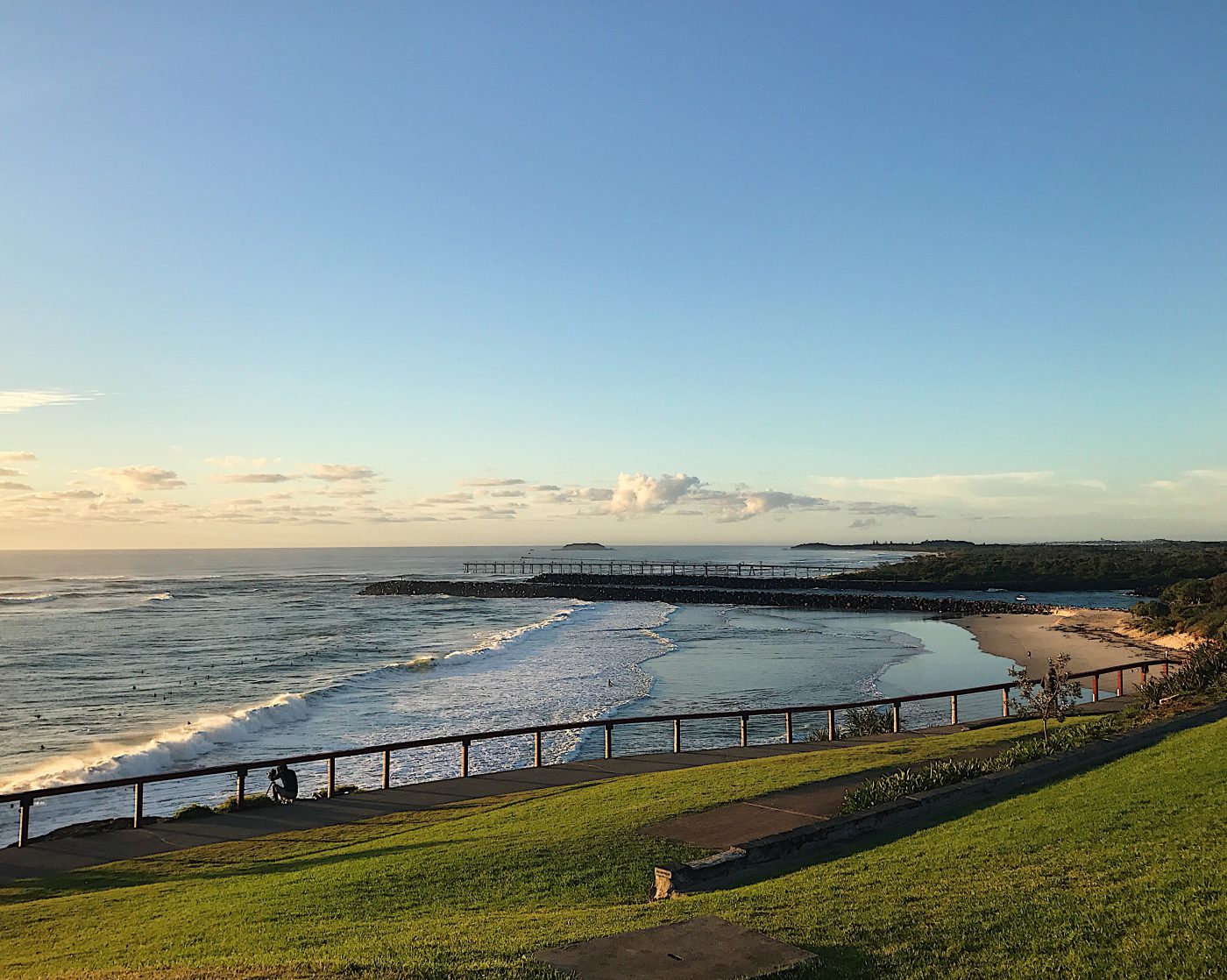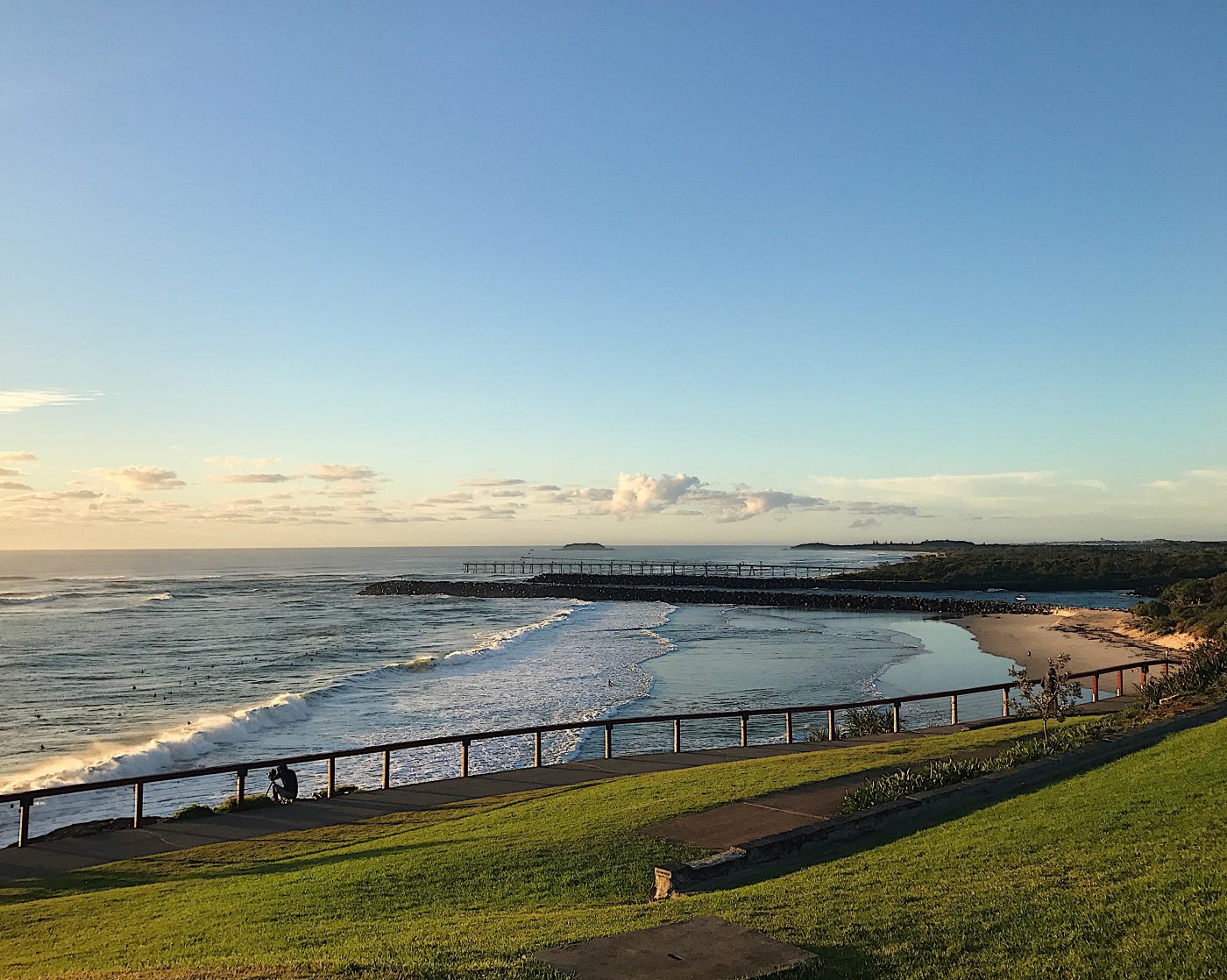 I just thought it was cool to be able to see NSW from afar.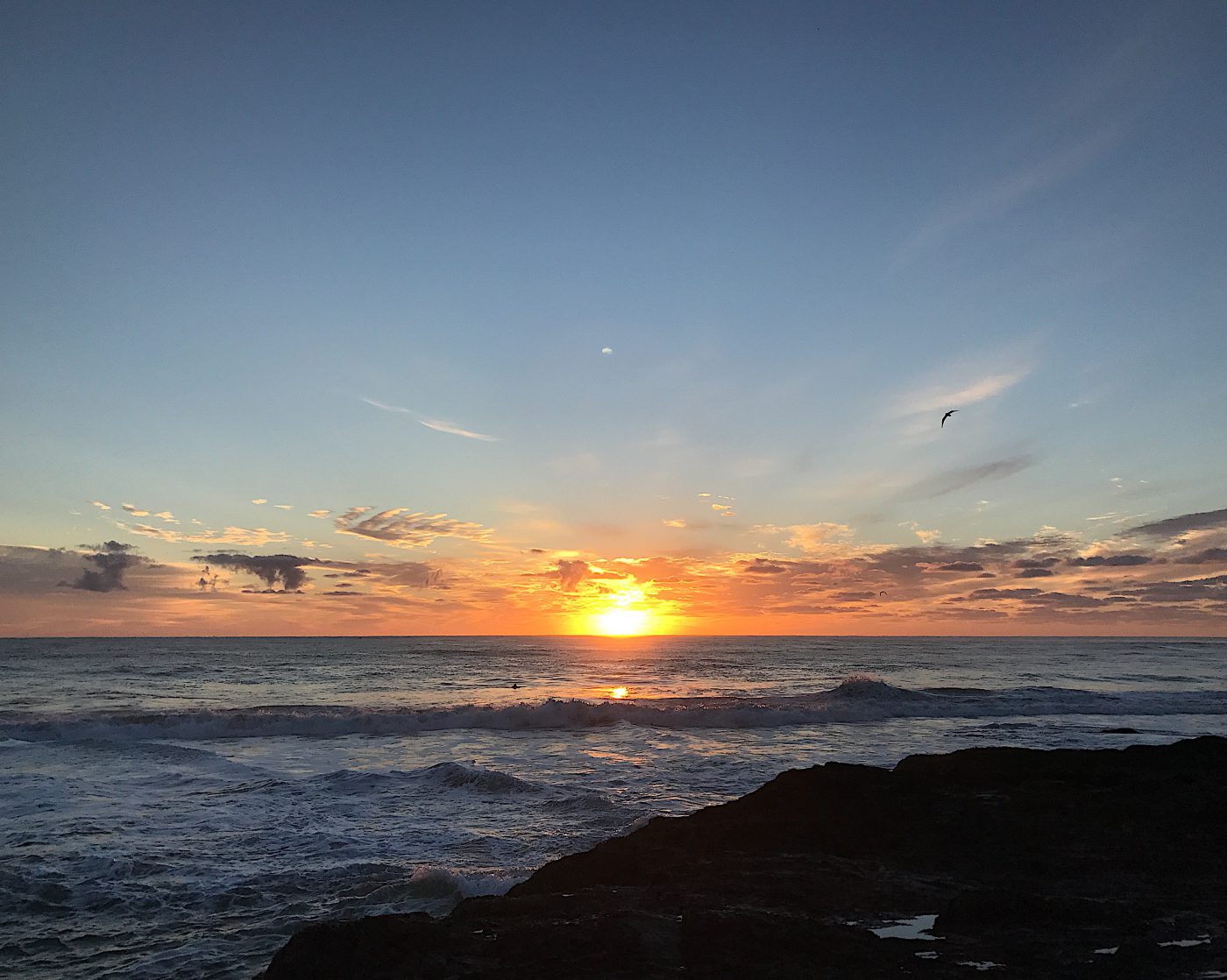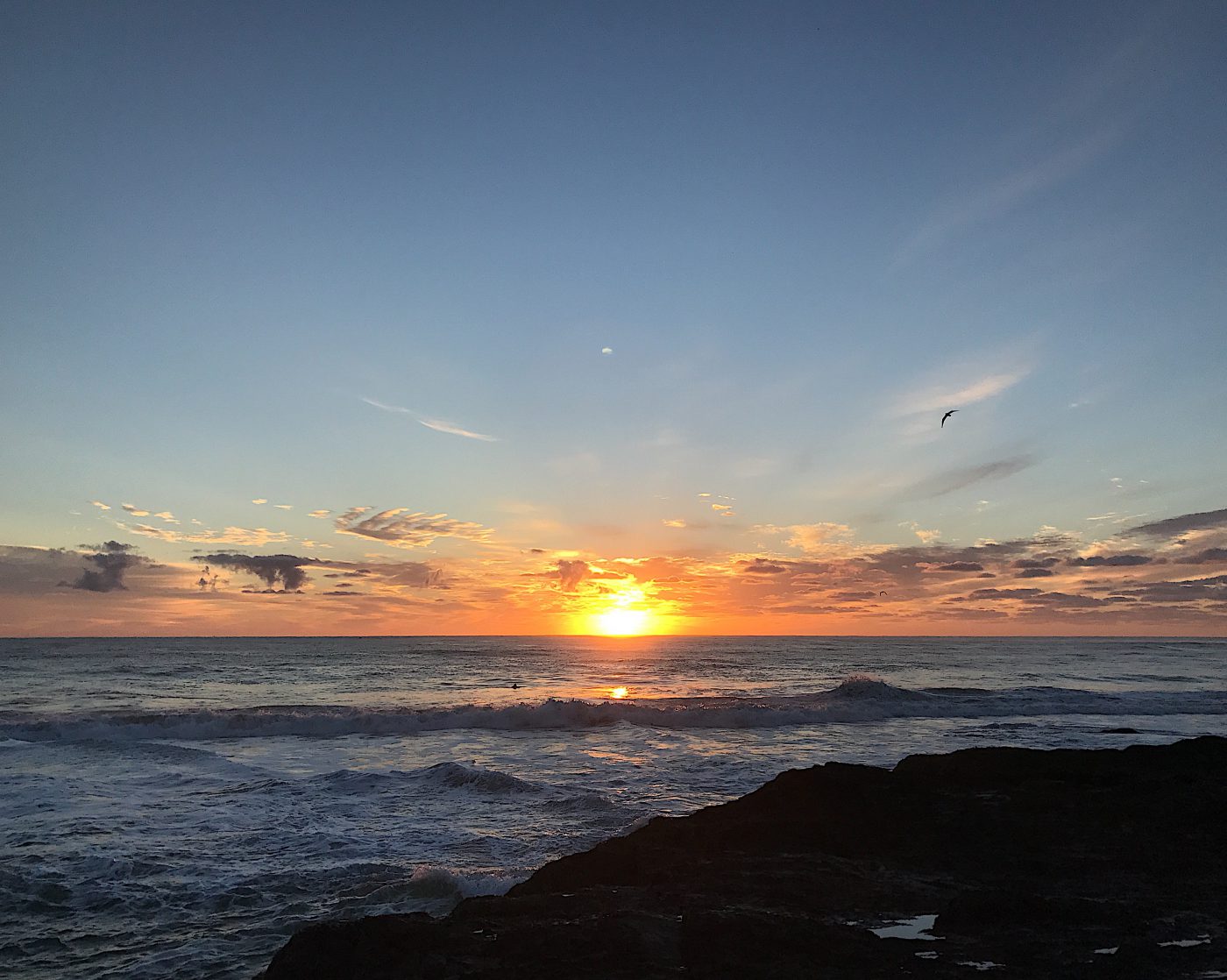 10. Check out Australian Nature and Mountain near Gold Coast
Here are some nature spots you can check out near Gold Coast:
Visit Tamborine Mountain
Tamborine Mountain is a famous area near Gold Coast. You may want to book Tamborine Mountain Tour which includes pick up and drop off. In this tour, you'll be doing some off-road 4WD ride, rainforest walk to a waterfall and boomerang lesson.
Hike up Mount Warning for a great view of the sunrise
Disclaimer: there are no pictures accompanying this part because we did not get to do the hike. Gold Coast was hit by a hurricane a few weeks prior to the visit, and Mount Warning path was closed. We had already made the drive up there at ungodly hour of 4am while the sky was still dark, but was forced to turn back when we realized that we can't proceed. On the way back, as the sky started to light up, we could see the effect of the hurricane – there were still fallen trees and washed up furnitures on the river!
However, if the mountain is open for hiking then, by all means, please do try it! I heard great things about Mount Warning, especially for sunrise. Just be mindful that it may not be an easy hike and be prepared for it.
11. Visit the Night Quarter Market for live music and food (only open on Fridays and Saturdays)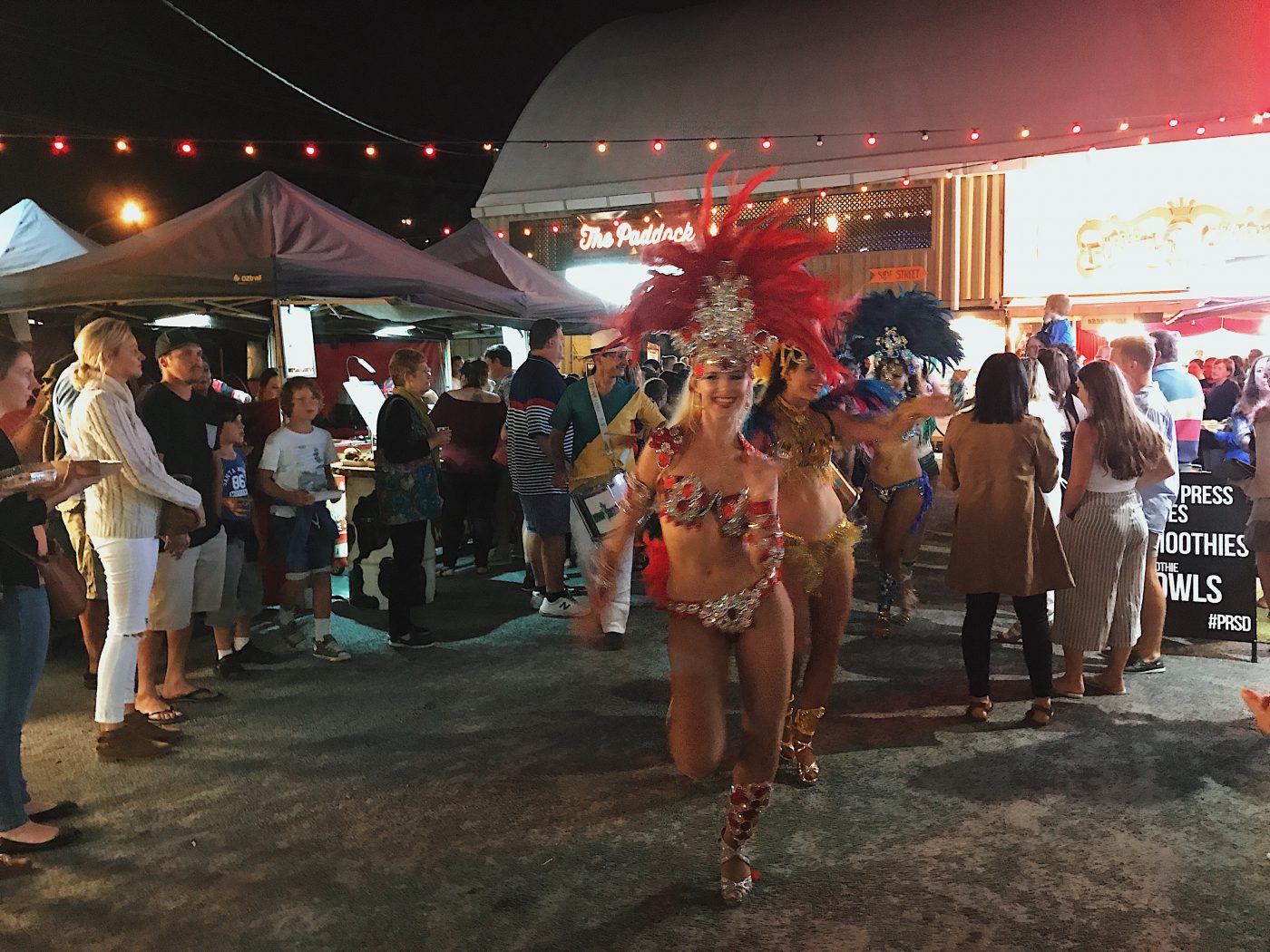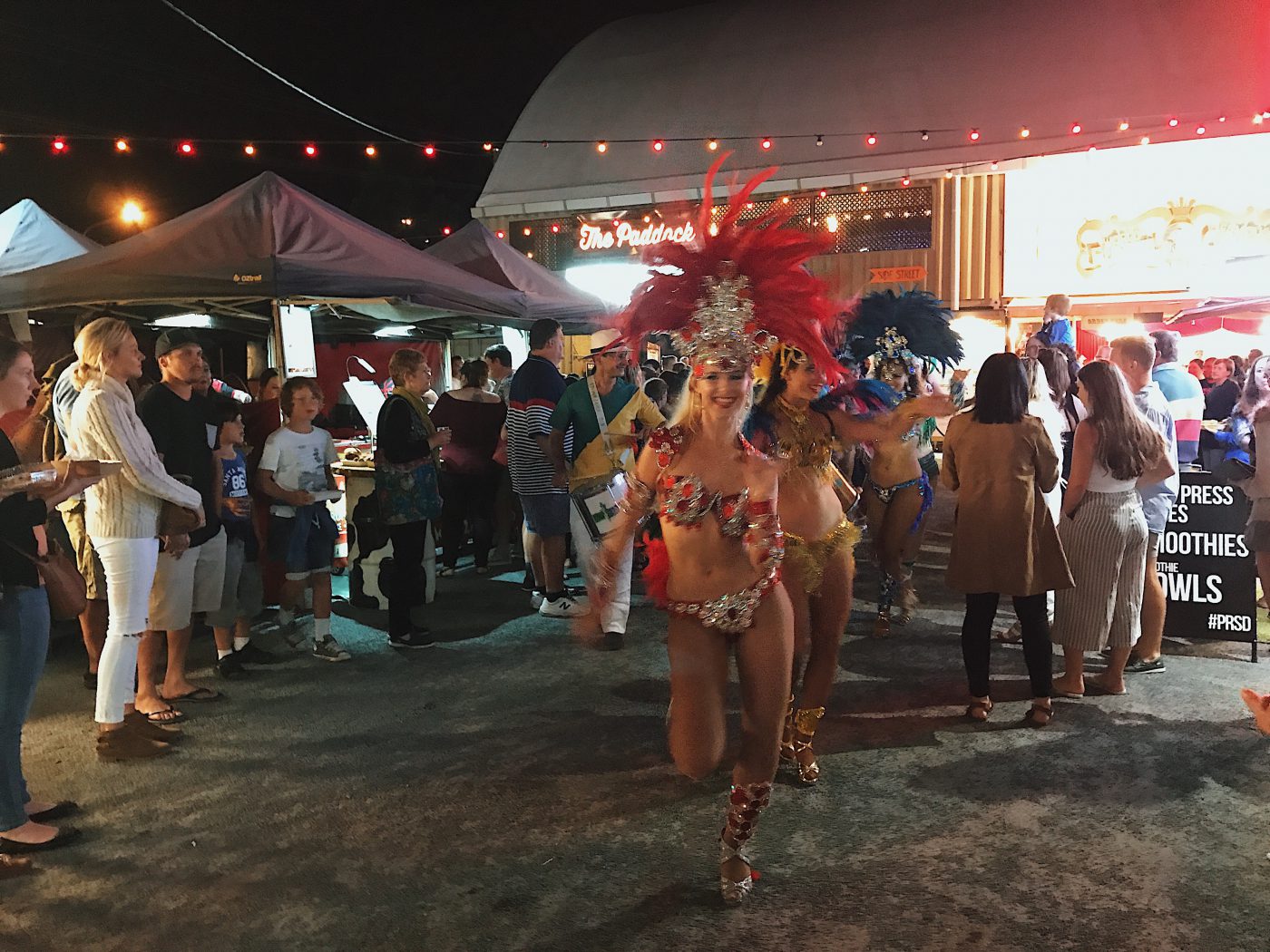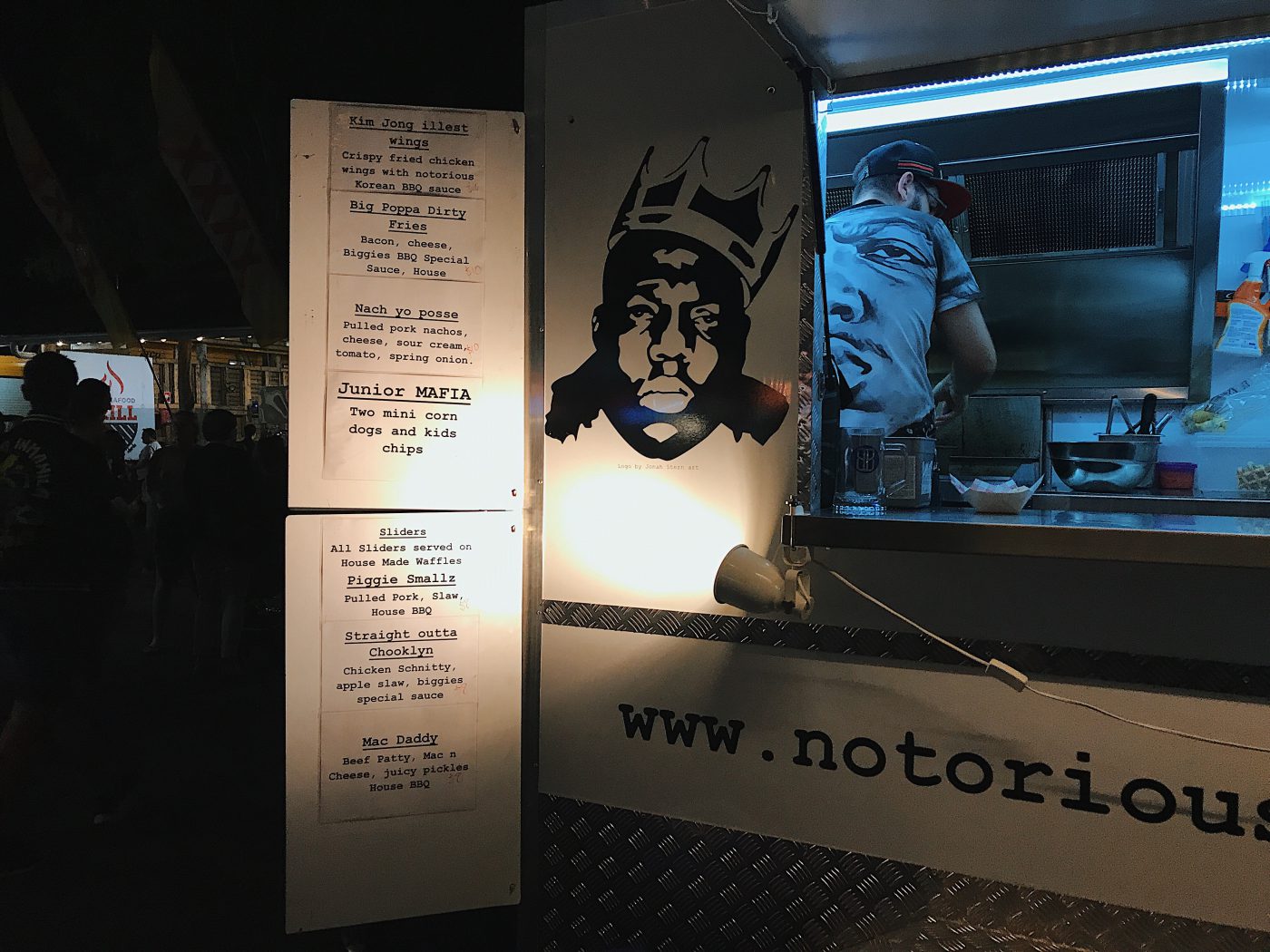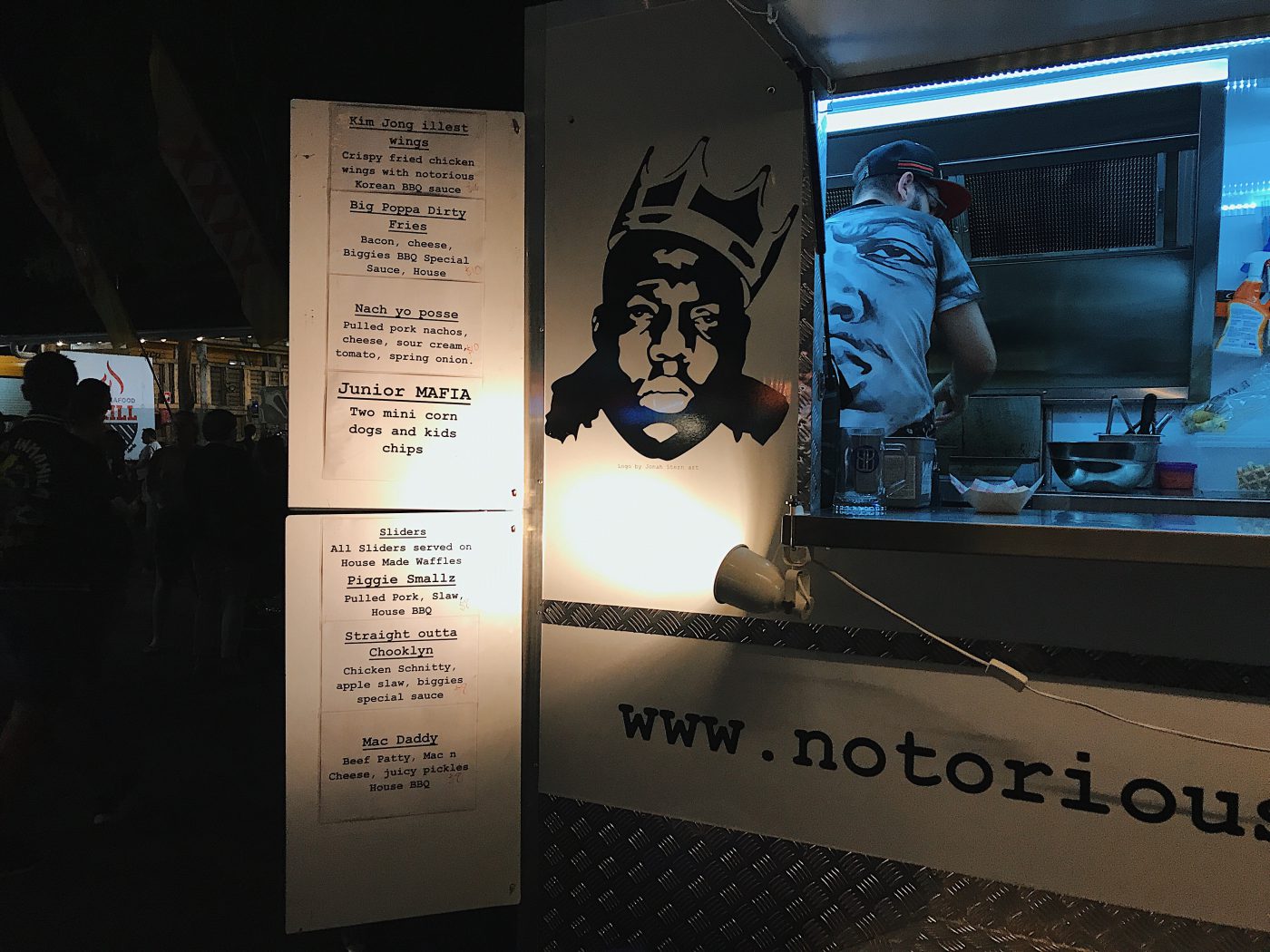 This was quite a memorable one for me since there were just so much food! I had fun sampling various creative types of dishes and the craft beers. My favorite stalls at the market are The Notorious E.A.T., because their dishes names are hilarious tributes to east coast american rap scene and the World Famous Funnel Cake, a fun booth of beautiful ladies dancing and serving up decadent funnel cakes in front of you.
Please take note that the market is only open on Friday and Saturday. For more information, visit their website at nightquarter.com.au.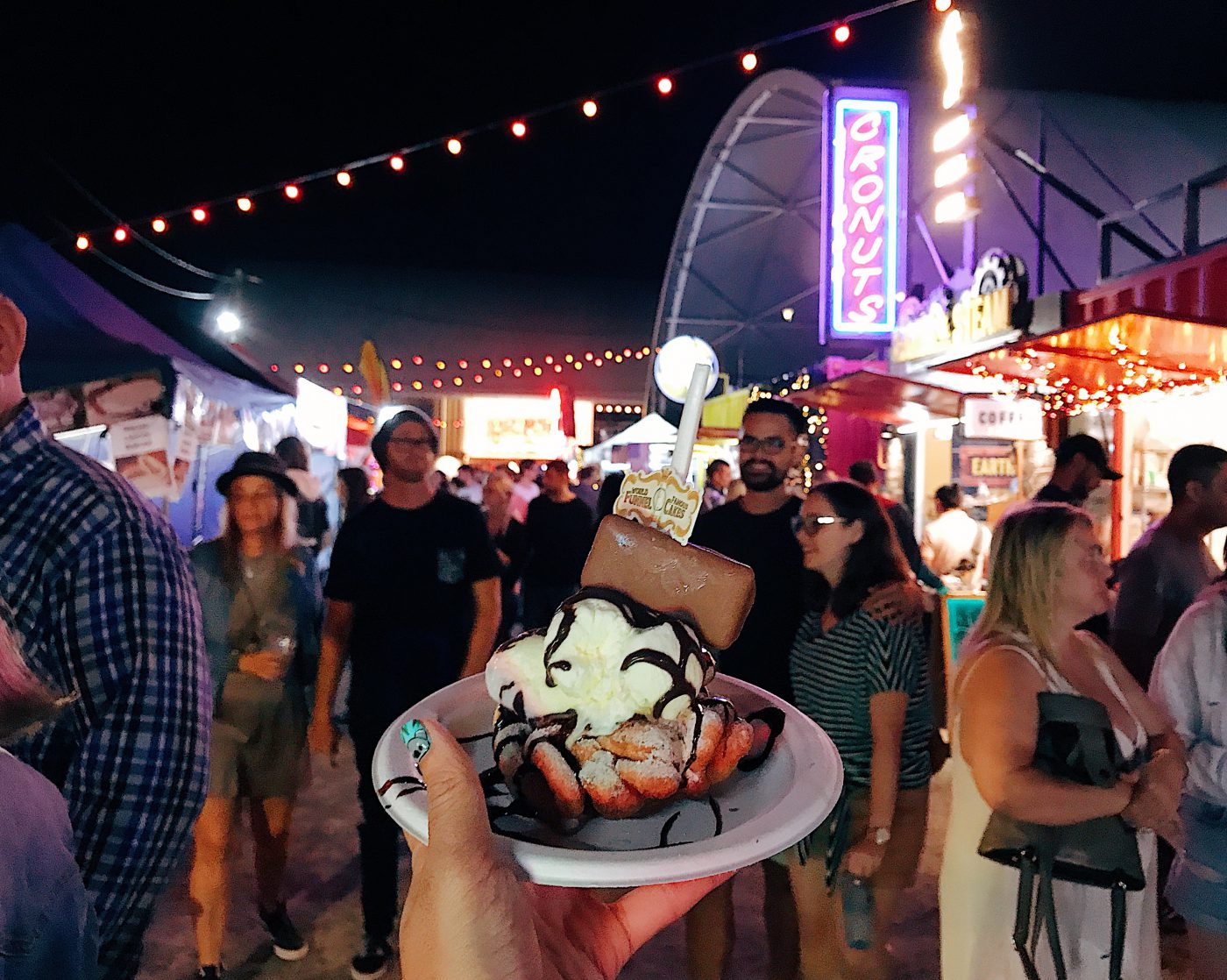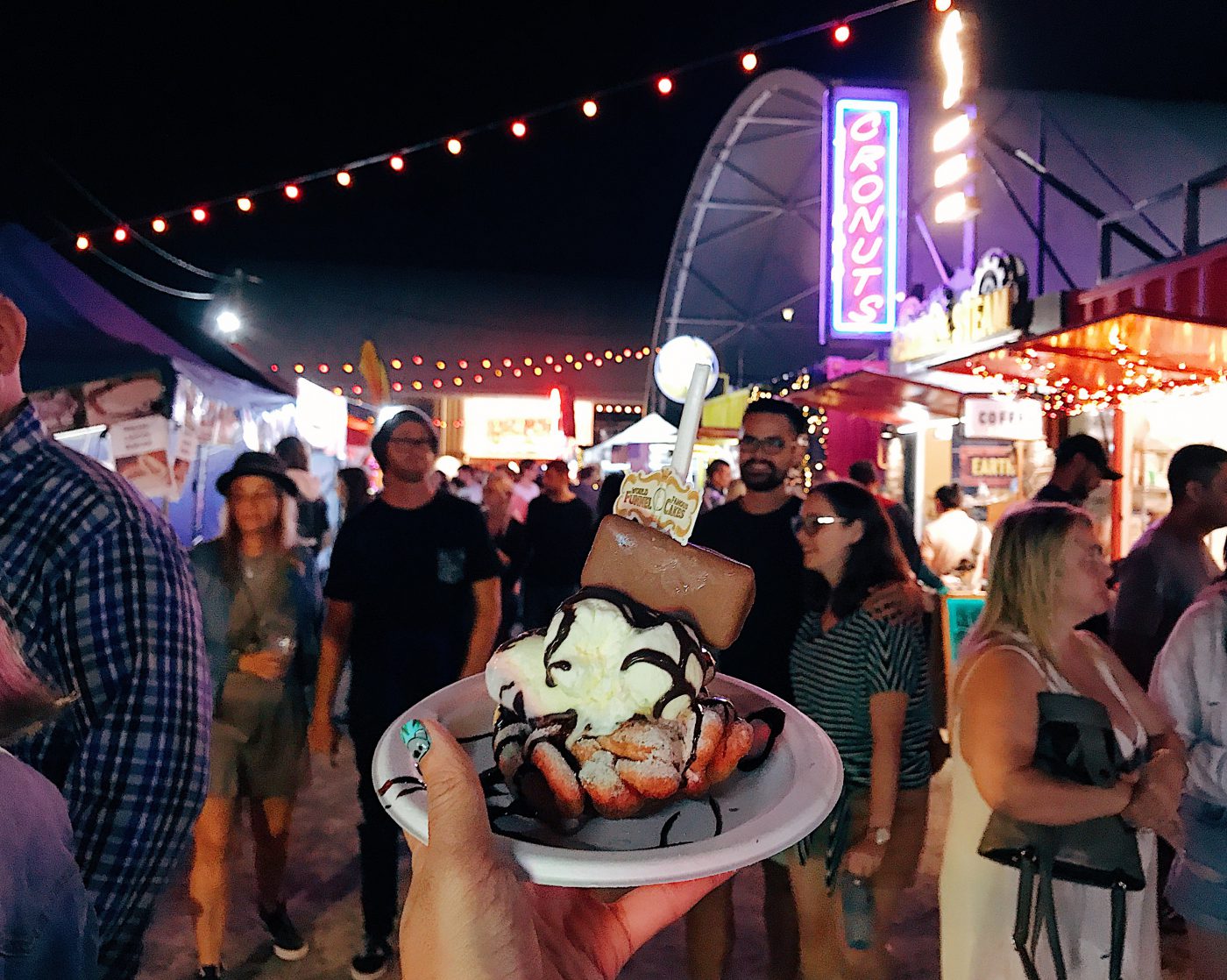 12. And I'll say it again – Do not miss the Golden Hour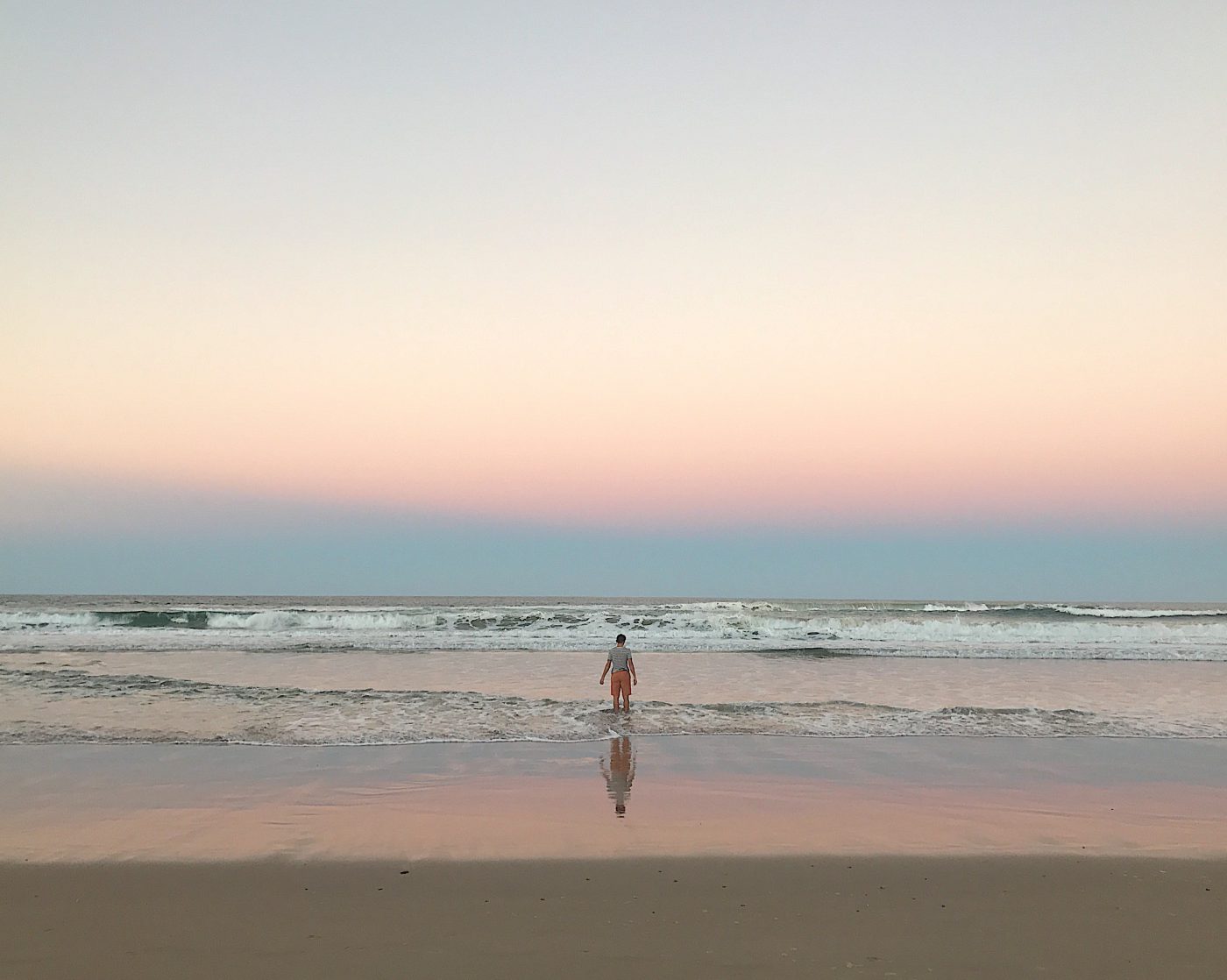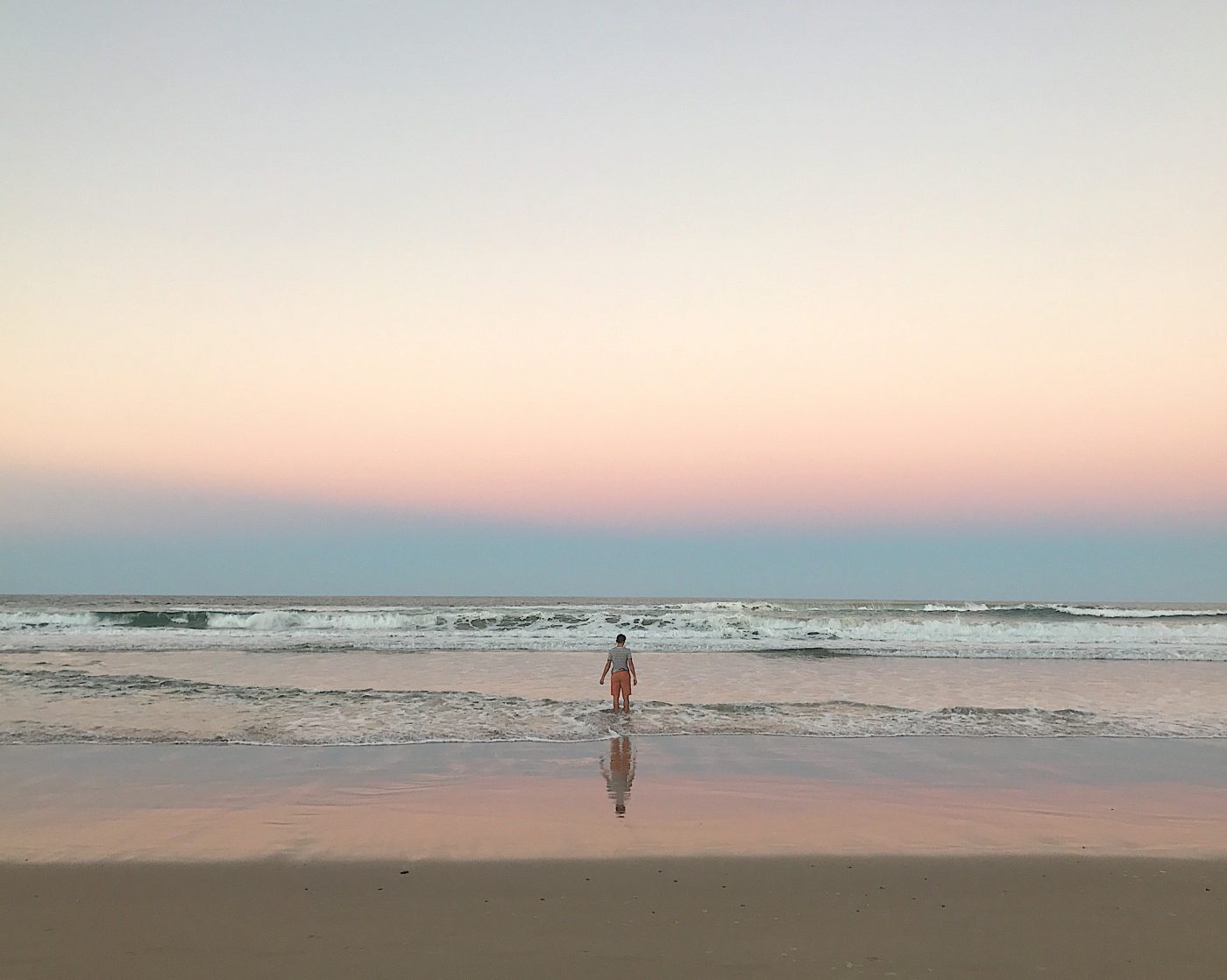 This is probably my favorite part of visiting Gold Coast. The sunrise and sunset was always epic, every single day without fail. I've mentioned Kirra Lookout point in Coolangatta, but Broadbeach is also an excellent place to catch the sunset from as it tends to be more quiet. On a clear day you can observe the color gradient in the sky changes from blue to pink and orange as the sun gradually sets on the other side (Gold Coast is on the east coast of Australia).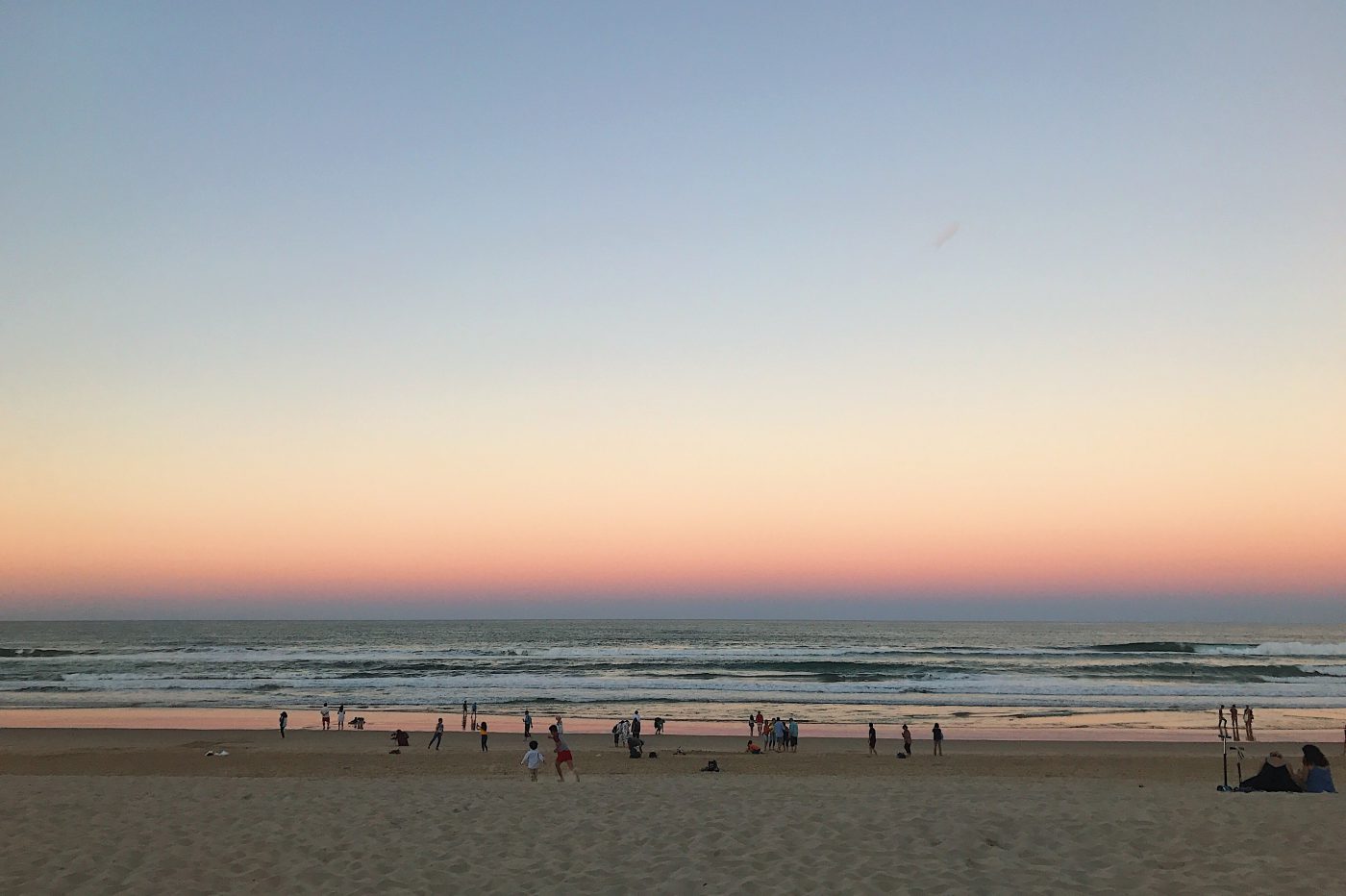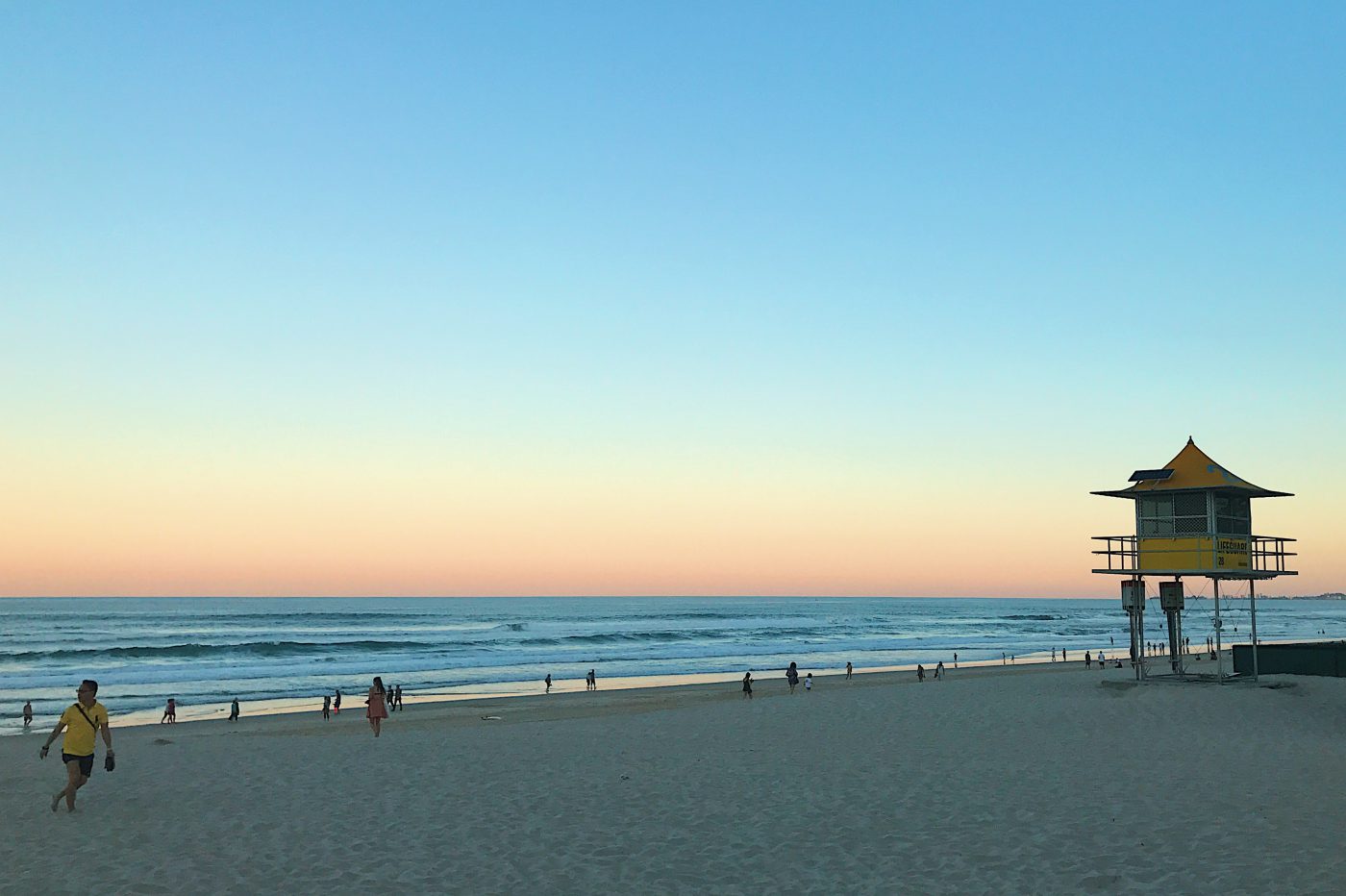 For more Queensland travel posts, please visit this page. If you are planning a trip to Queensland and is interested in my overall itinerary, please read this post first!