Living in Singapore means it's near impossible for me to drive a car, as the cost to do so is very expensive. As such, I don't own a car or get many opportunities to be in private cars very often. I used to live in Los Angeles a long time ago where cars are cheaper and essential, but I was starting to forget what it feels like to be parking your own car, leaving your stuff in a car, navigating through freeways… little things like that.
I went on a 10-day road trip to Queensland with Cheaptickets.sg and Queensland Tourism Board. This post details the experience and sights to visit in Queensland, with the starting point of Brisbane, that you can do within 10 days.
Most importantly for me personally, this trip was a welcome refresher on how it's like having your own a car!
Queensland Road Trip Overview
The sponsored portion of the trip actually ended after 7 days, but we decided to extend through the weekend at our own expense. Why? Here is the thing that most people might not realize: Australia is a huge country. It wasn't until I took a trip that spans from North to South of Australia that I realized just how massive it is!
Even though we went for 10 days and drove around pretty much every single day, I feel that we had barely scratched the surface of Queensland, let alone Australia. If you zoom out on our itinerary map below, you'll see that we only managed to cover a tiny fraction of Queensland. But… I do feel we made use of our time very well, and managed to see very beautiful sights throughout the trip.
Weather in Queensland
The best time to visit Queensland is during autumn, which is March to May. I went in April and the weather was perfect! We experienced mostly sunny days with moderate temperature, though it can get chilly on some nights. Bring a light jacket or a hoodie for night walks. If you are planning to go to the mountains, having an insect repellent would also help.
Cash Management in Australia
In Australia, you can use your credit card pretty much everywhere. I didn't use cash for most of my trips there. However, if you prefer to transact in cash, then exchange your money before the trip. Do NOT exchange your money in Australia especially at the Airport. They generally don't give you a good exchange rate and sometimes applies a fee for the transaction – check out this article for horror stories.
My friend tried to exchange AUD to SGD in Sydney Airport and was given a rate of $1.43 when the going rate was $1.04. His A$163 became S$115 when it should have been S$155. I know as a general rule you are not supposed to change currency in airports, but to his defense, we've changed currencies in other airports and was not ripped off as badly as in Australia.
General Tips for driving in Australia
Rent a car and arrange to pick it up straight from the airport you're flying into. Saves you tons of time!
Have an International Driver License with at least a month validity.
Keep to the speed limit! I have been told the Australian police is very strict on speeding.
Fill up the tank before returning your car, or it's going to cost you.
Most businesses (except restaurants) are closed by 4-5 pm. Yes, even grocery stores, so plan ahead if you need to replenish resources.
Bring an Adapter for USB Charging in the car. Something like this is perfect. You'll be driving a lot, so you'll want to use your phone for music, GPS and research and that stuff will eat into your battery.
Bring a power bank. My favorite power bank is the Xiaomi 10,000 mAh. This stuff is super powerful. It can charge my iPhone 7+ more than twice.
Alright, without further ado – let's jump into the actual travels! And, as I am writing this, I realized there are so much to see and do in each region so I will be writing them in separate posts.
10-day Queensland Road Trip Itinerary
Here is how our road trip looked like on the map: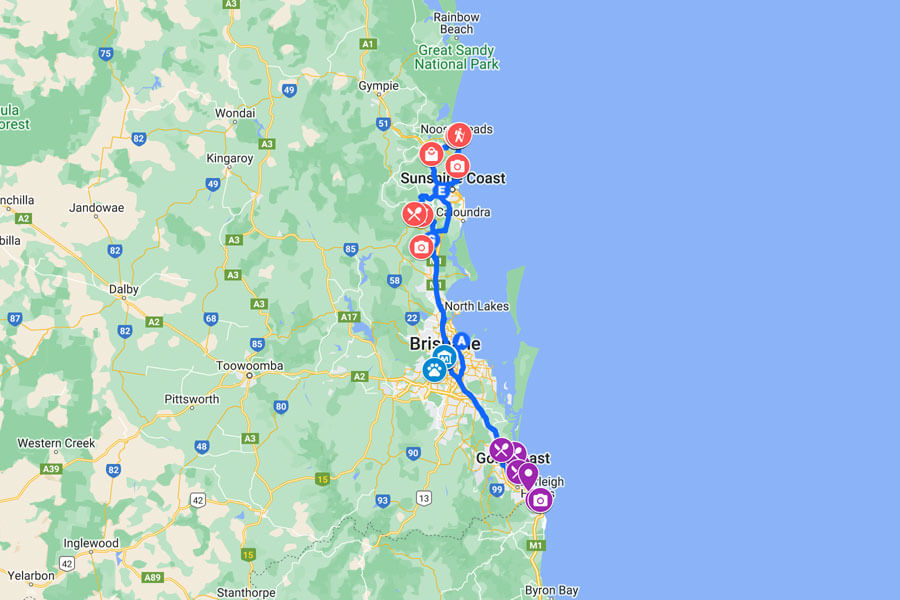 🗺 Save this map to your phone! If you are a Google user, click on the image of the map above. The map will then be saved to your "Recent" maps viewed. Click here for instructions on how to view the map later. It will work from your phone too.
We started out by flying from Singapore to Brisbane. It was an easy 7-hour direct flight with Emirates, my favorite airline (after Singapore Airlines of course). We flew red-eye since 7 hours flight is enough time for sleeping and we would land at 8am in Brisbane.
Here's our 10-day Queensland Road Trip Itinerary:
As there are so much to do in Queensland, I have separated the list of things I did in each city/region:
1. Gold Coast (3 Days)
Gold Coast is a major city in Queensland. It's located only an hour drive south of Brisbane, making it very accessible from Singapore and other countries. Here is my Gold Coast post.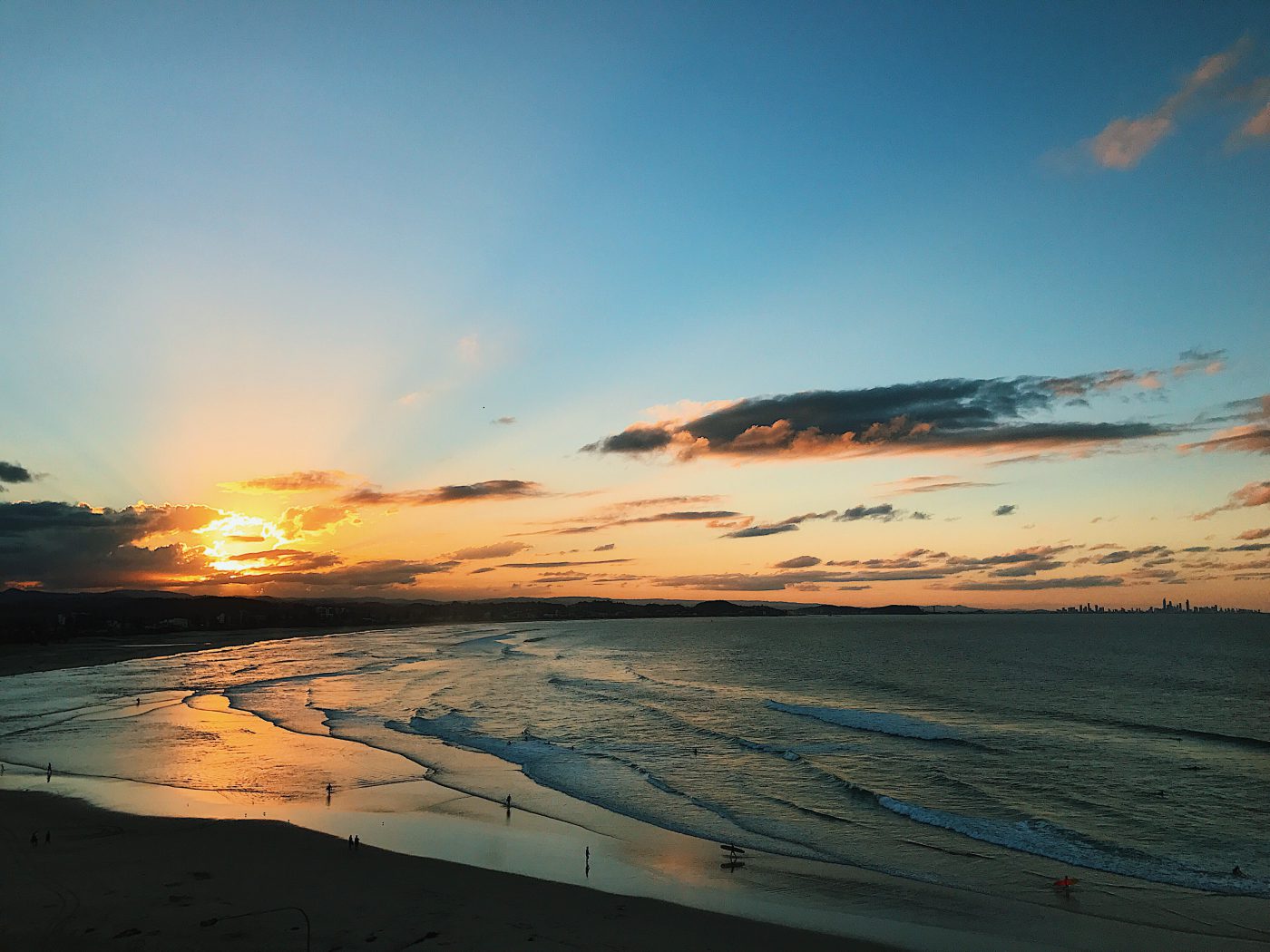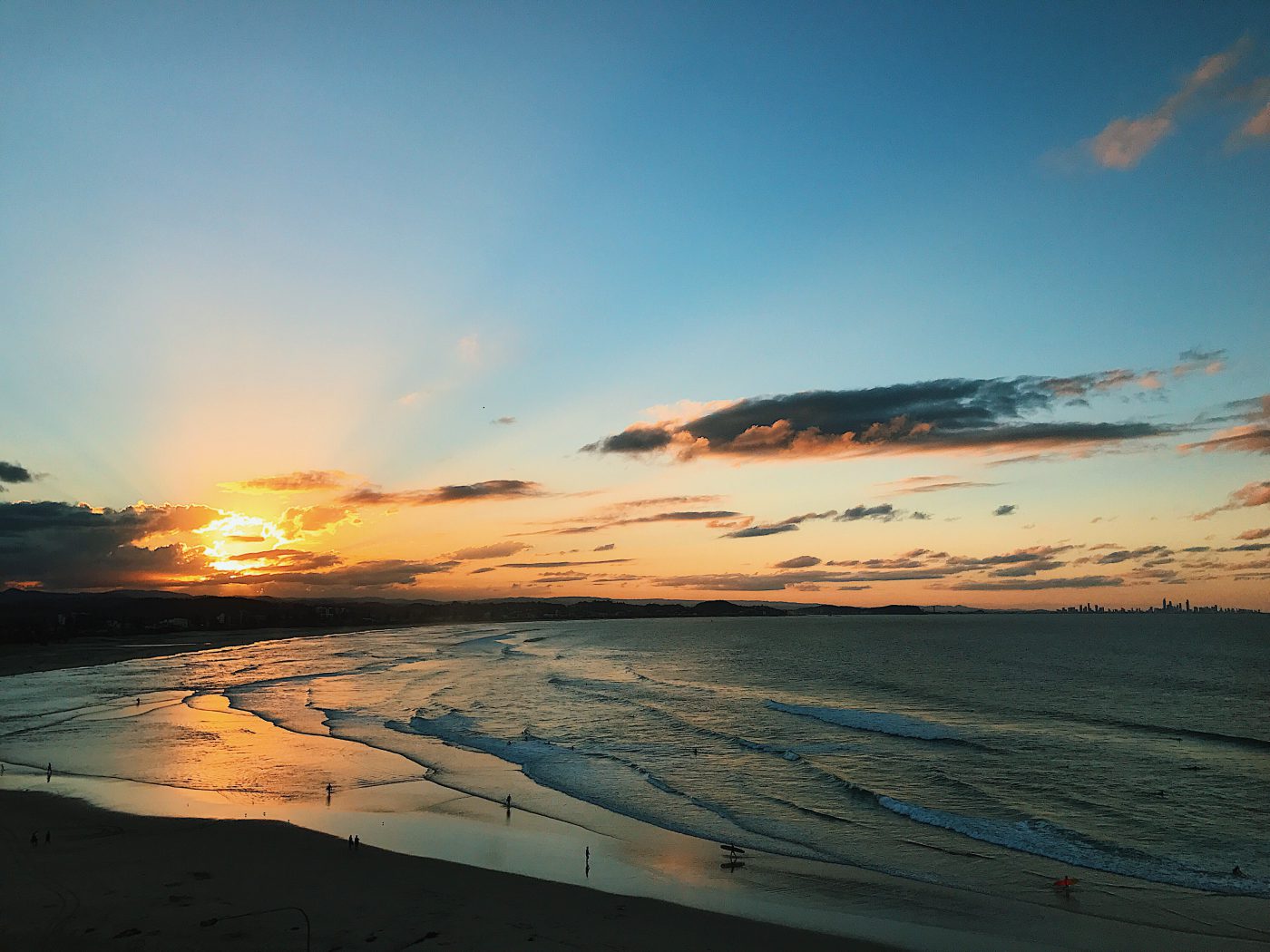 2. Brisbane (2 day)
Brisbane is the capital of Queensland, and one of the major cities in Australia. It's the gateway into Queensland as you'd probably be flying into Brisbane if you're coming from an international destination. You can walk along the Southbank cultural area – there are plenty of museums to check out, my favorite is the Gallery of Modern Art (GOMA).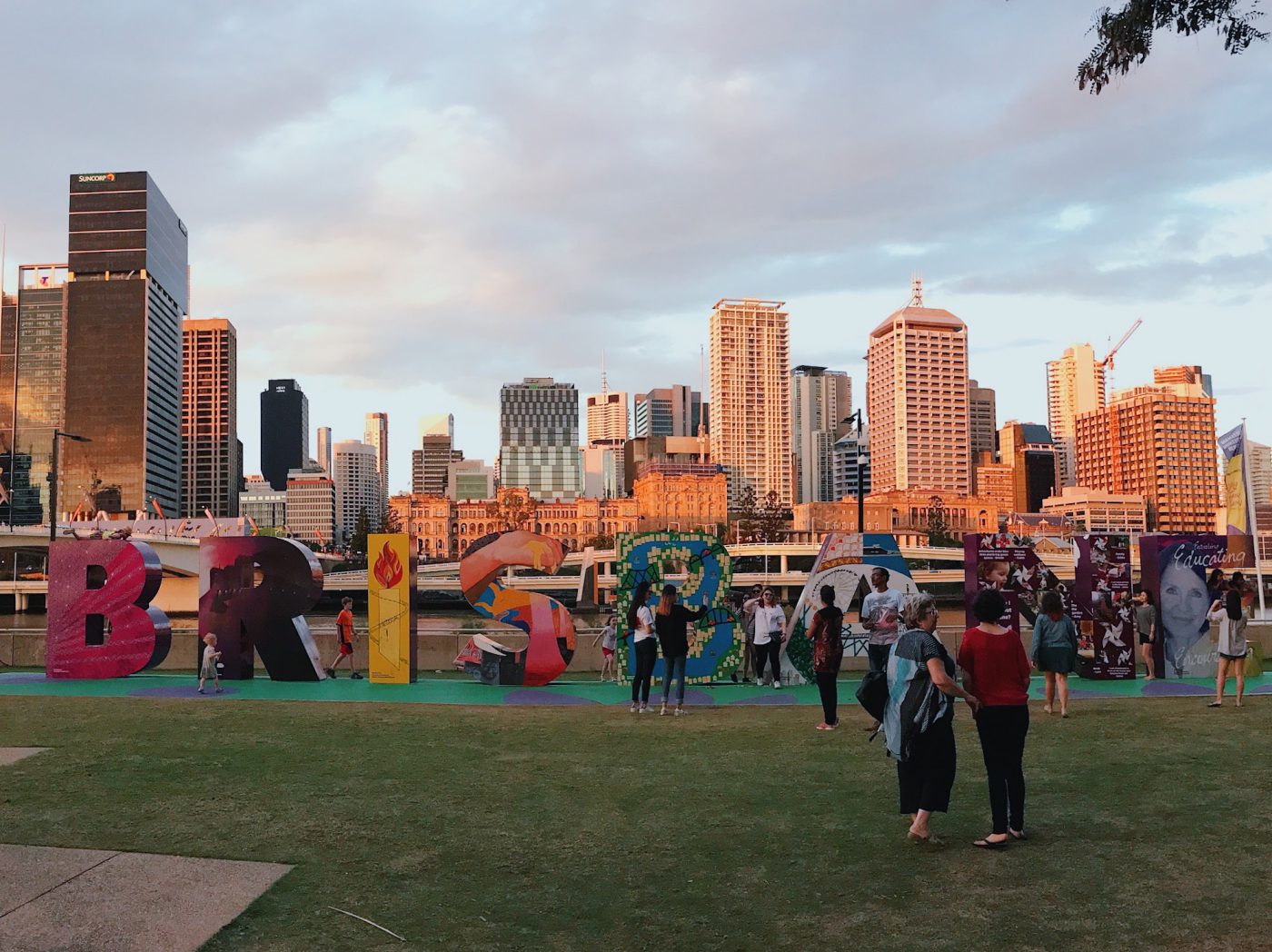 3. Sunshine Coast Hinterland (2 Days)
Our route up north to Noosa took us for a drive through Sunshine Coast Hinterland, a beautiful area just north of Brisbane that includes driving through the mountains and beachside. You can find my Sunshine Coast post here.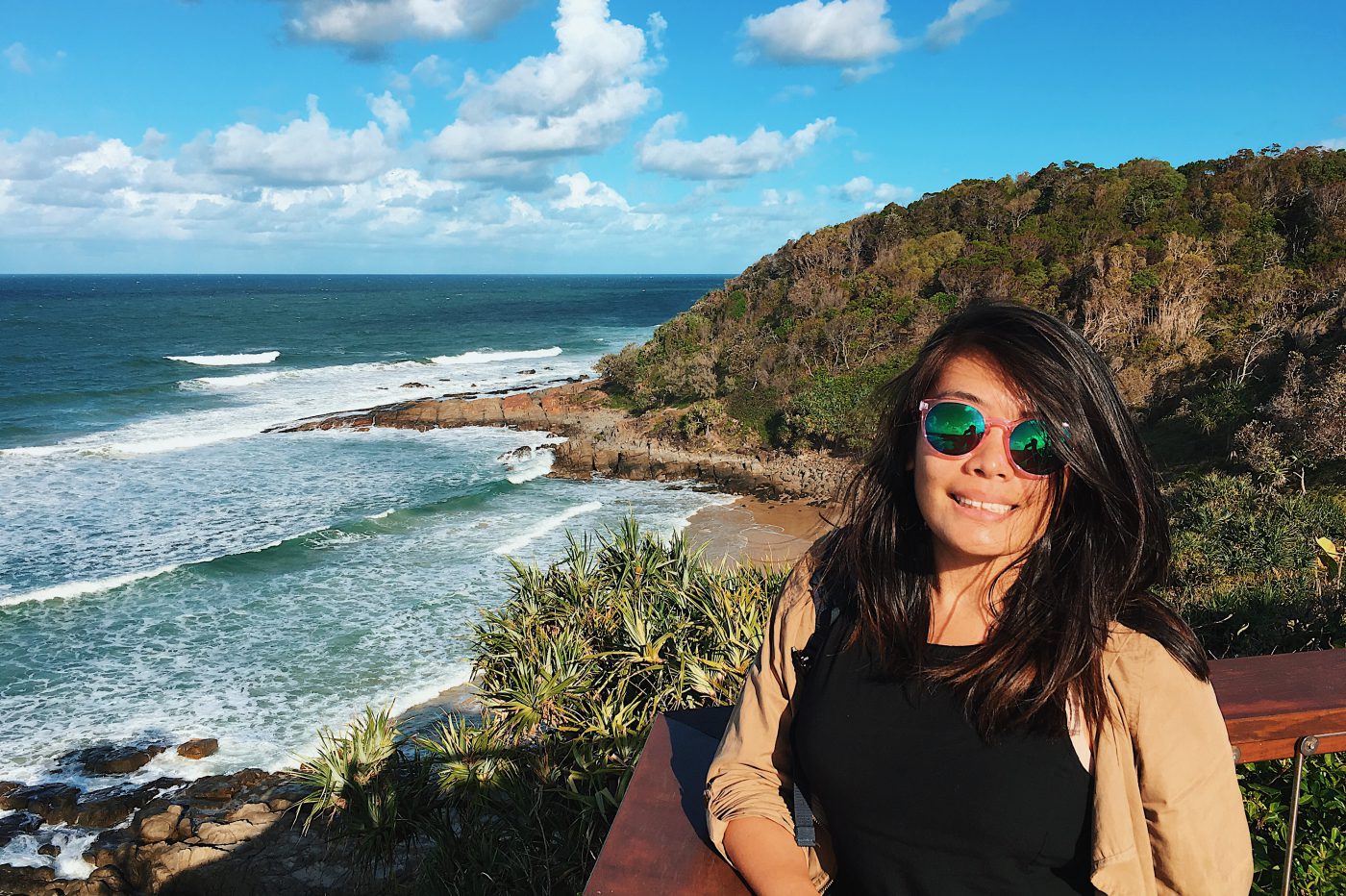 4. Noosa (1 Day)
Noosa is a beach resort town in the southern part of Queensland. Noosa Beach embodies everything Australian. From the surfers who peppered the beach trying to catch a wave, to the cool and chic Hasting street literally a minute walk away from the beach where you can get your fill of avocado toast and pretty acai bowl. You can take a surfing lesson or simply walk along the beach to Noosa National Park, which has hiking trail for all levels of fitness.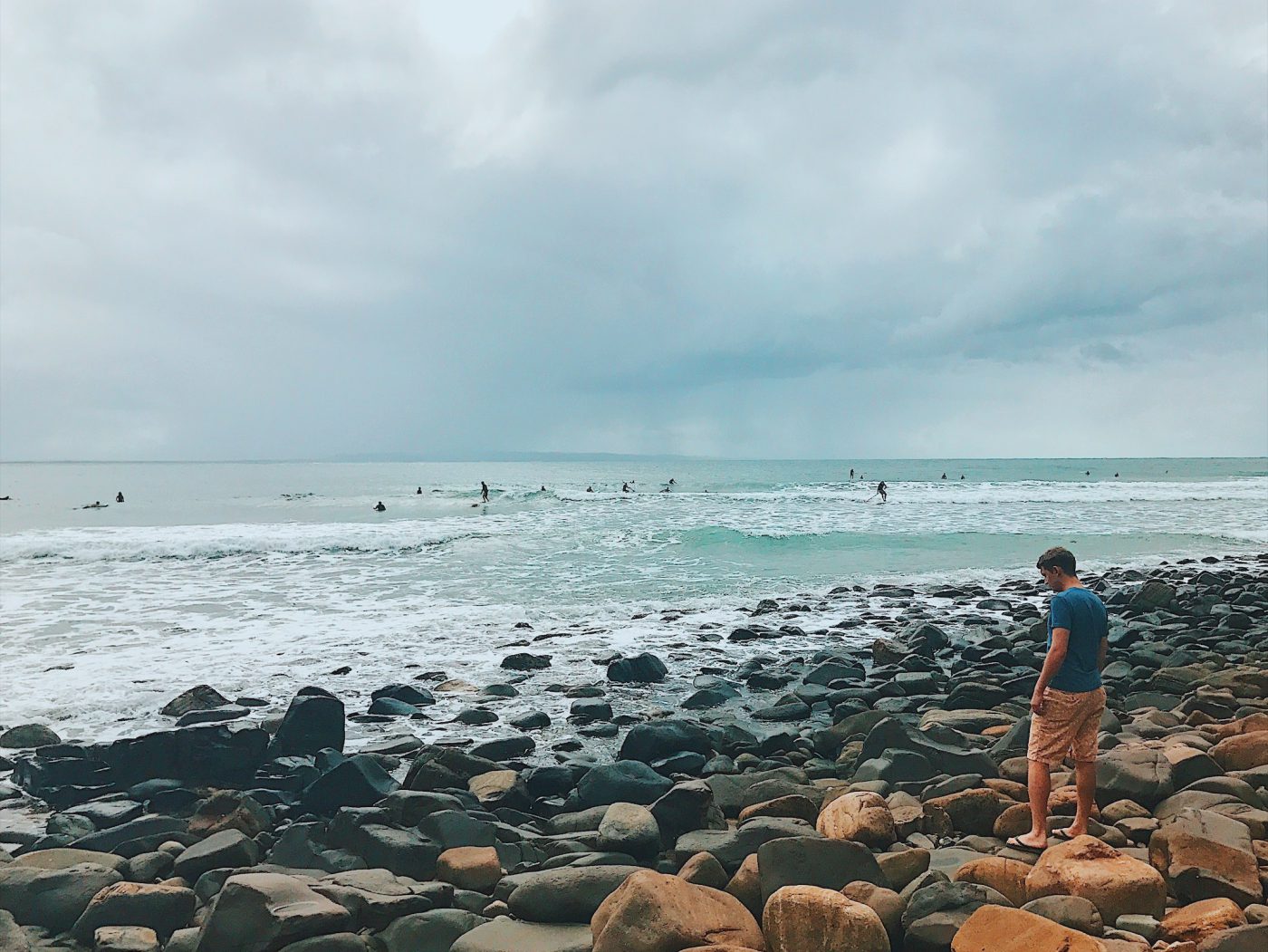 5. Fraser Island (Day trip)
Fraser Island draws tourism through its claim as the world's largest sand island, but it still has abundant of life in it such as lush rainforest, lakes and mangroves. Check out this post for my day trip experience to Fraser Island!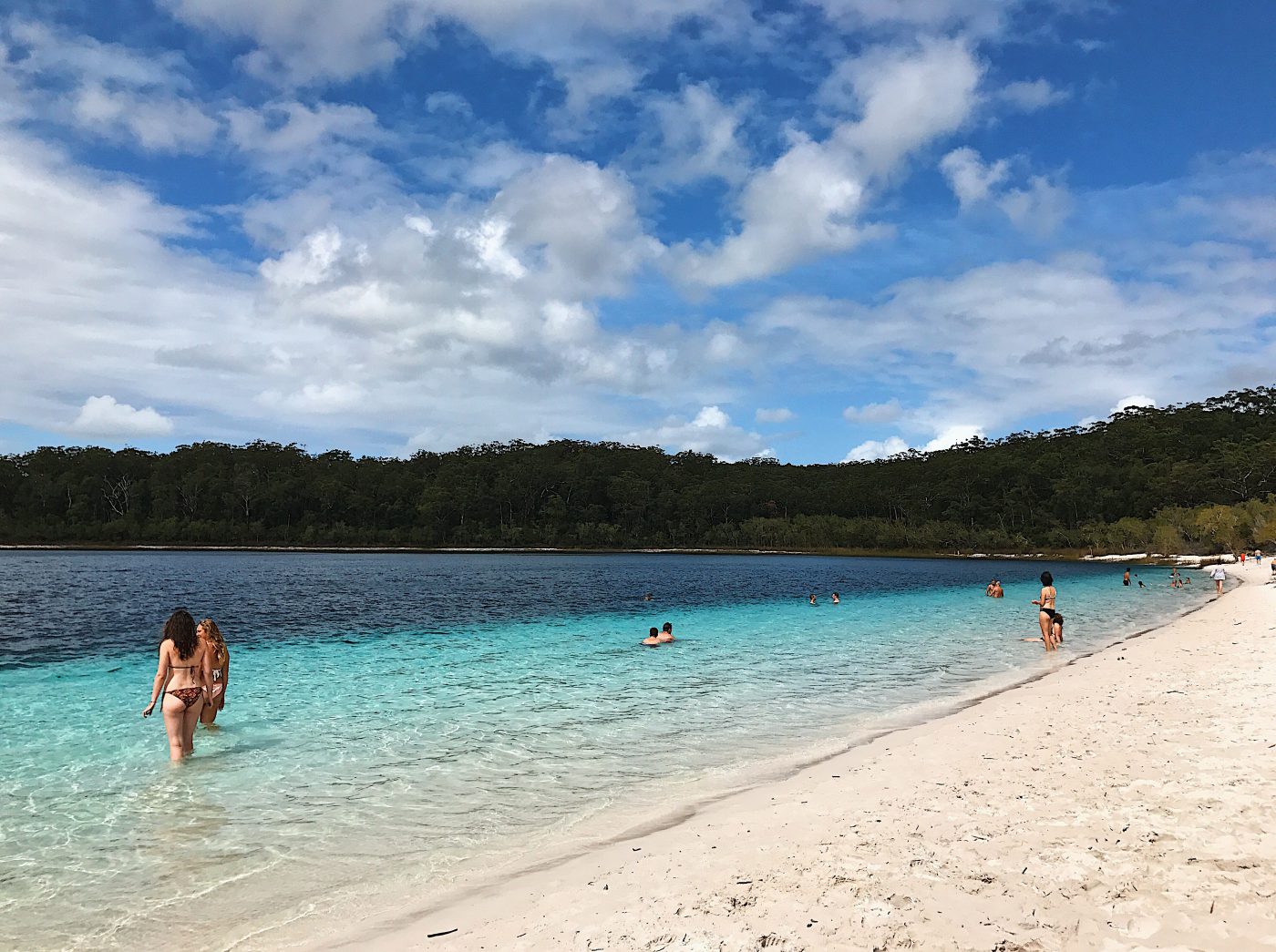 Have you been to Queensland? Let me know what you think of my itinerary above!