Our route up north to Noosa took us for a drive through Sunshine Coast Hinterland, a beautiful area just north of Brisbane that includes driving through the mountains and beach side. It's got a bit of everything – if you like beaches, you would be spoiled for choices of routes along the coast. If you are more of a mountain person, heading in is only an hour drive away.
I went on a 10-day road trip to Queensland with Cheaptickets.sg and Queensland Tourism Board. This post details my experience of the Sunshine Coast Hinterland portion of the trip, where we drove from Brisbane to Noosa. If you are interested in my overall itinerary, please read my Queensland Road Trip post first!
Things to do in Sunshine Coast Hinterland
Hinterland (noun):
The remote or less developed parts of a country; back country.
The land lying behind a coastal region.
While you are driving through the Sunshine Coast Hinterland, here are some spots you can stop and check out
1. Maleny, a beautiful town in the mountain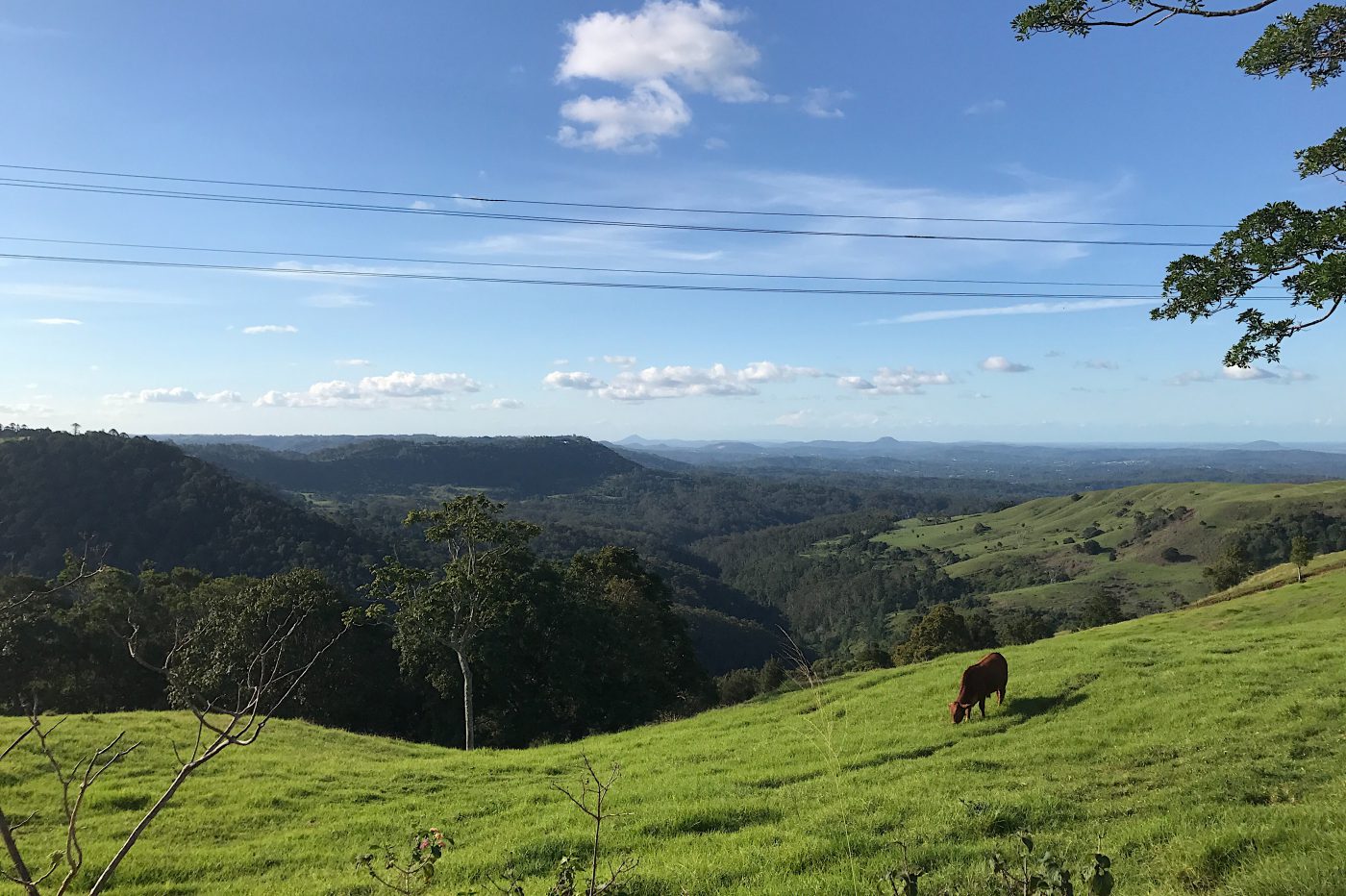 Our itinerary took us up to Maleny, a little town about 1.5 hours drive from Brisbane that is known for its wine and fresh dairies. At first it can seem a bit out of place on the map – I myself wondered why the tourism board suggested we go up here, but once we went… I understood why. This town is so beautiful! I can't believe it's only a short drive away from Brisbane.
You can easily spend half a day in this beautiful town. Here are some things you can do in Maleny:
Maleny Mountain Wines
Their choice of food is quite slim and they may run out of ingredients if you arrive later in the afternoon, but their choice of beverages are top notch. I recommend trying their Maleny Rose, which are made from locally grown grapes. But if wine isn't your favorite, you can also try their home-brewed ales!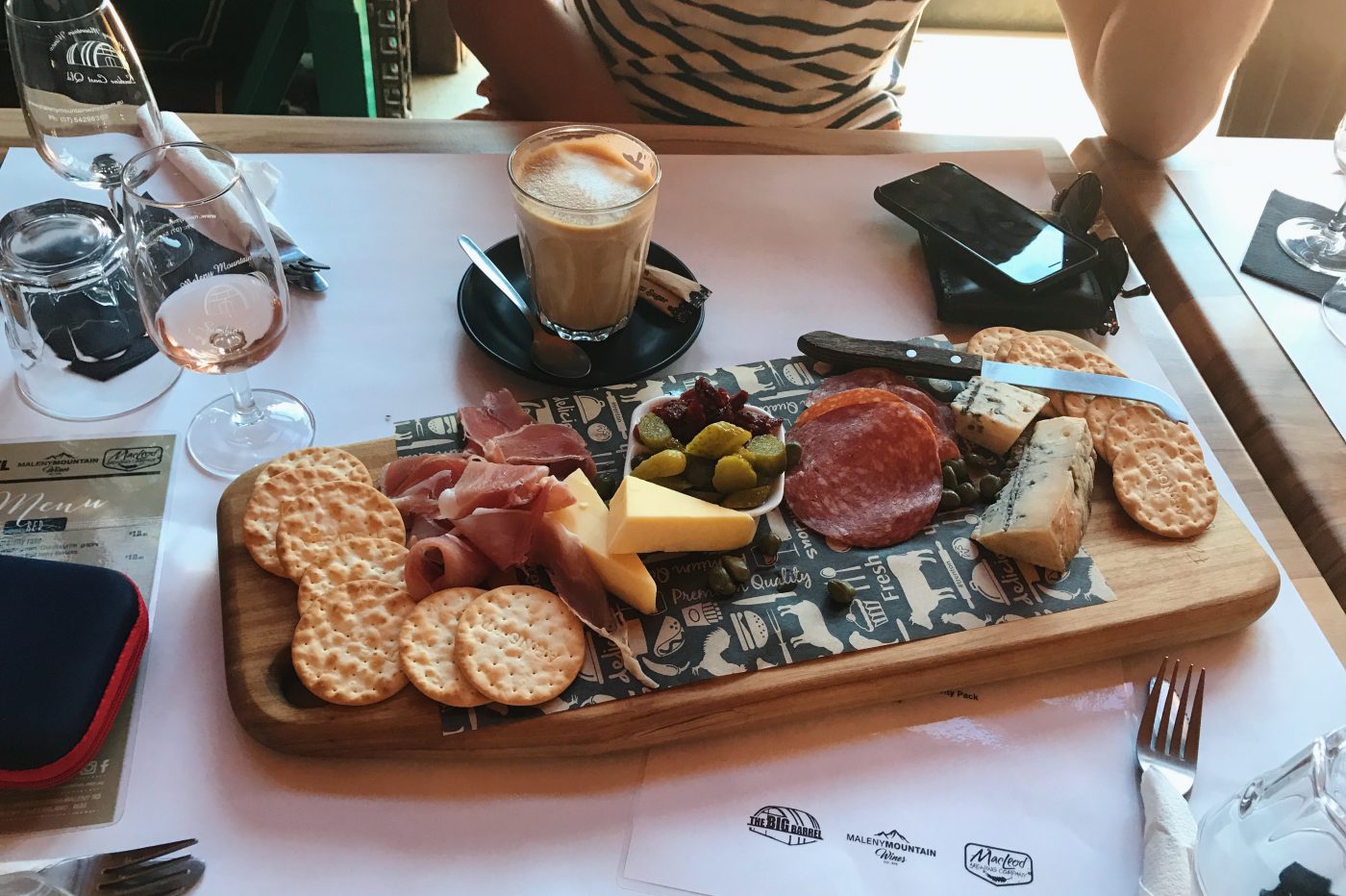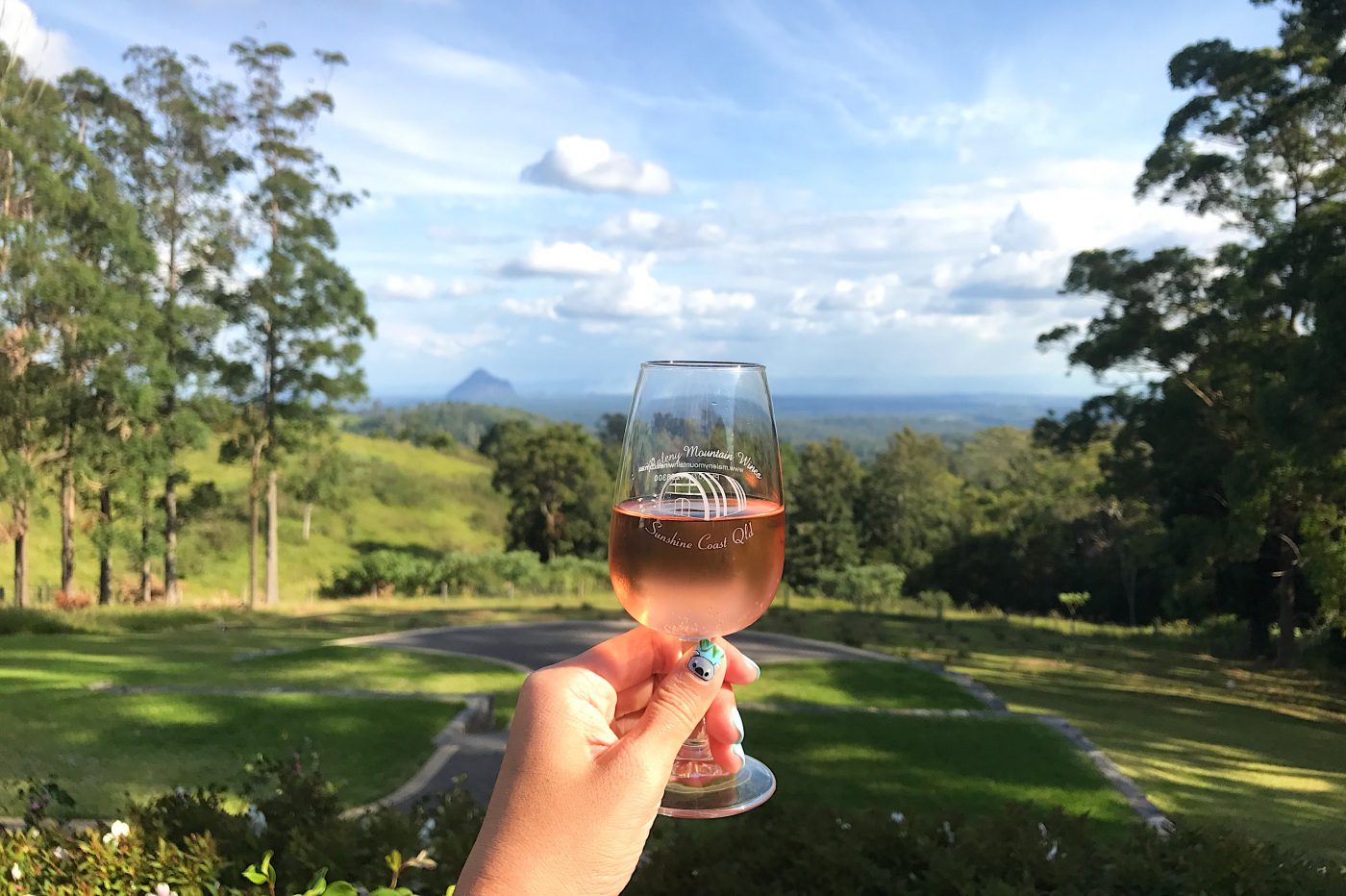 Maleny Dairy Farm
They have farm tours running a few times a day. Even if you missed the tour, I still highly recommend you visit this farm just because it's so beautiful. We did not make it on time for the last tour but we stayed anyway and got ourselves a cup of coffee, some milk from the farm as well as some ice creams. Then we sat on the picnic bench at the farm for awhile and enjoyed the beautiful tranquil scenery.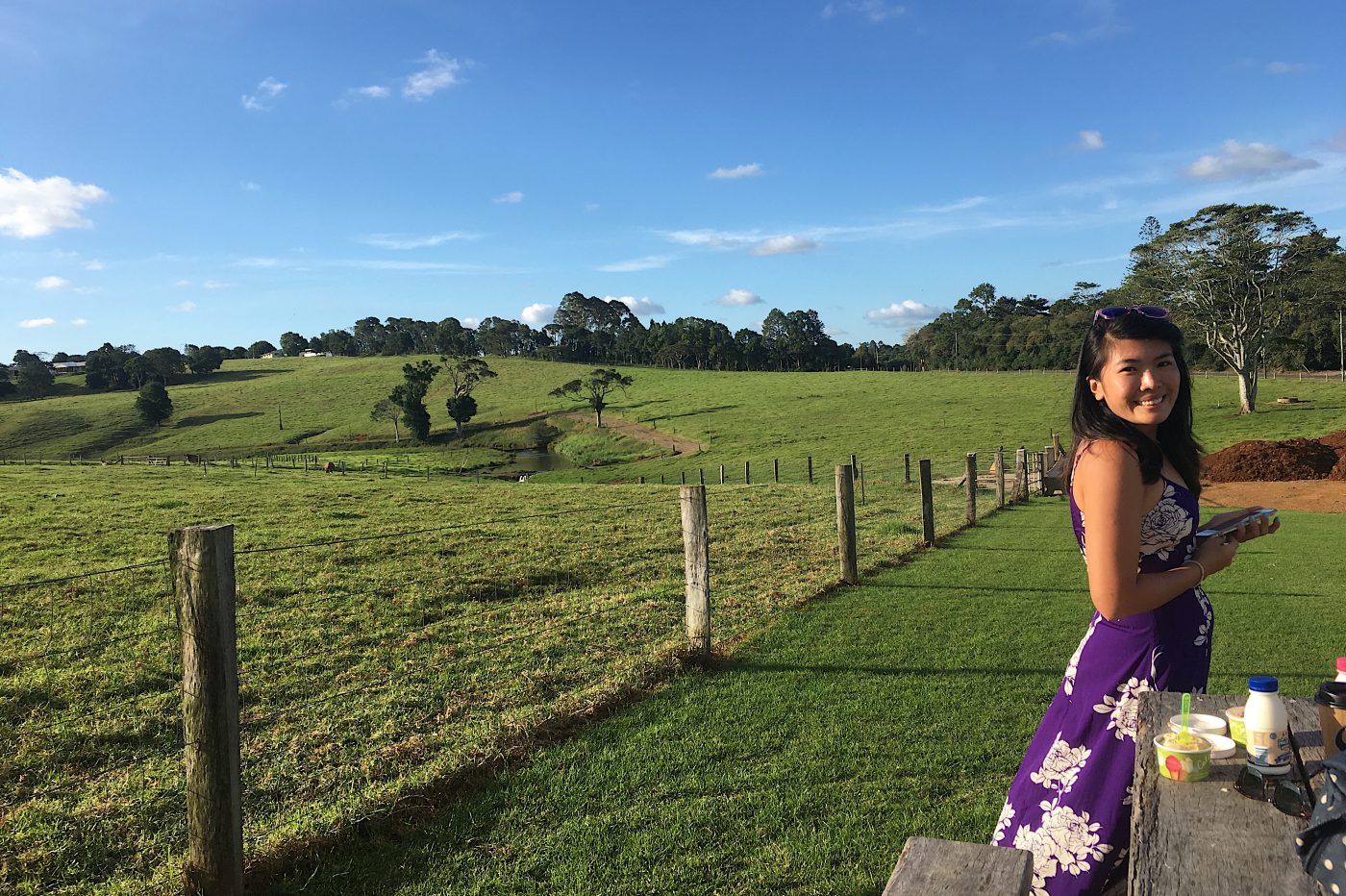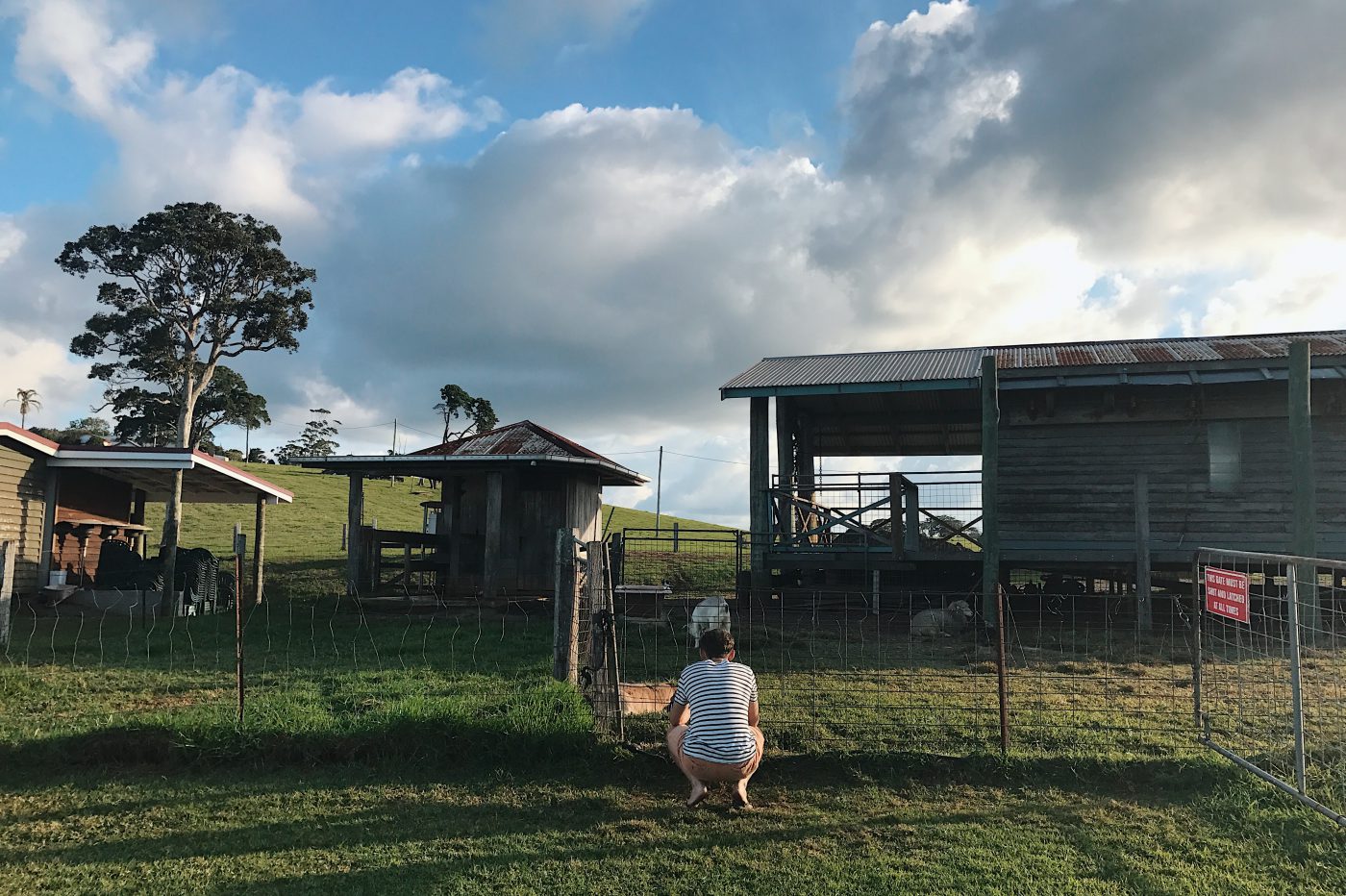 Gardner's Fall
You can also go for a short and easy walk at Gardner's Fall. When I say a short walk, it's very short – literally 10-15 minutes walk and the path is nicely paved.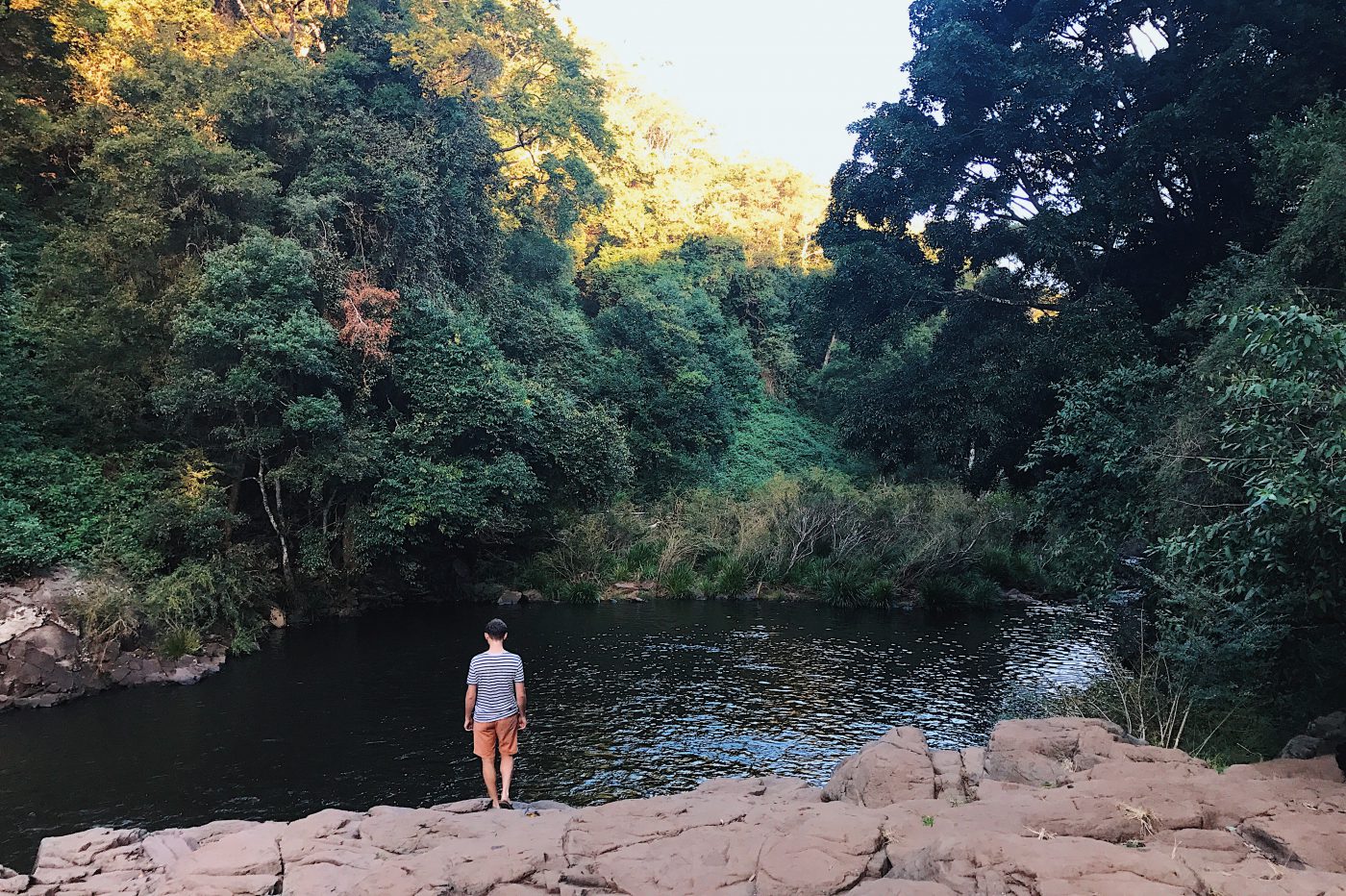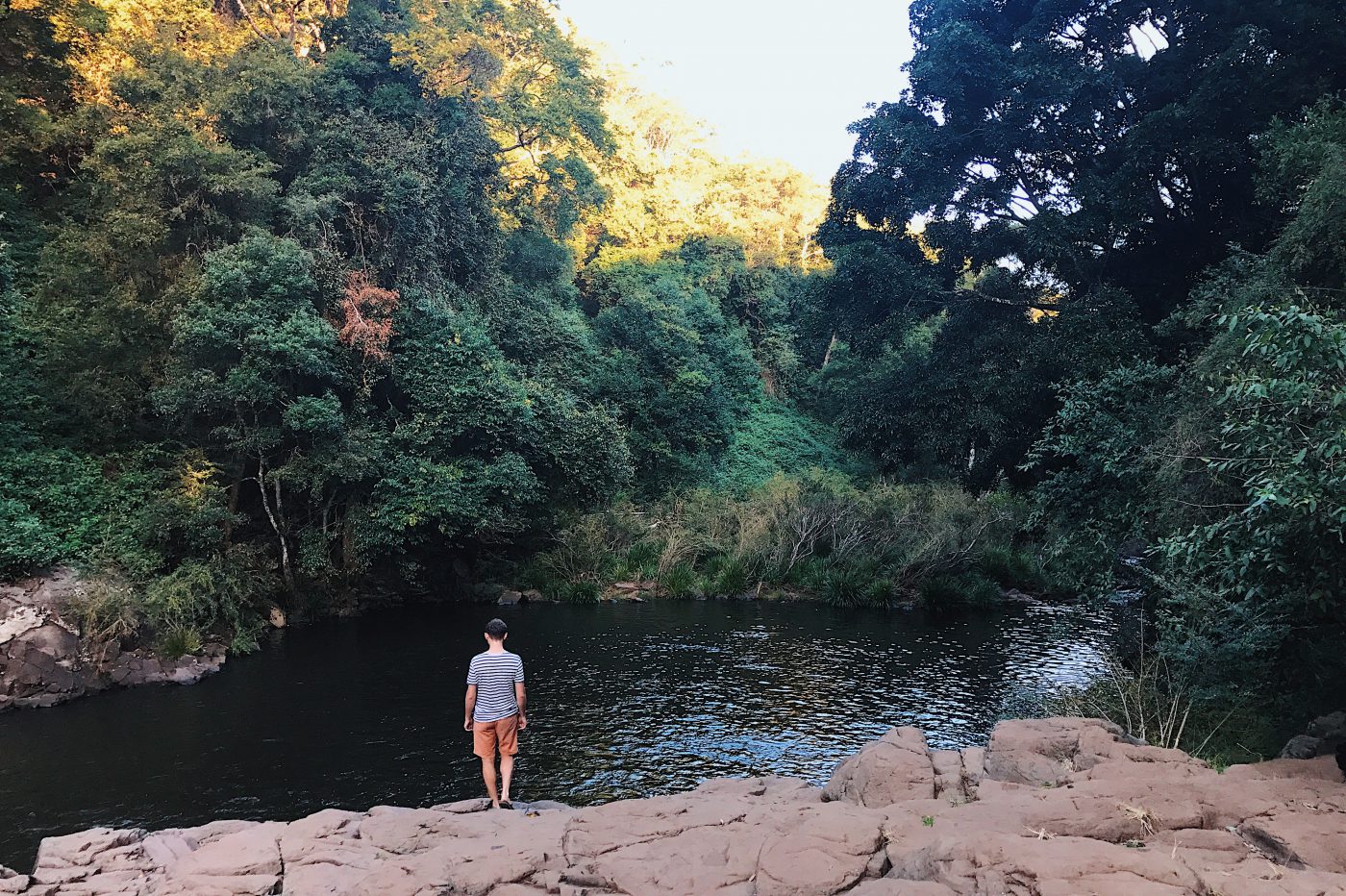 Gerrard Lookout
As you make your way out of Maleny, be sure to take the scenic drive through the Maleny-Montville Road and stop by Gerrard Lookout. This lookout is small but you get an amazing, unobstructed view of the Hinterlands from up here.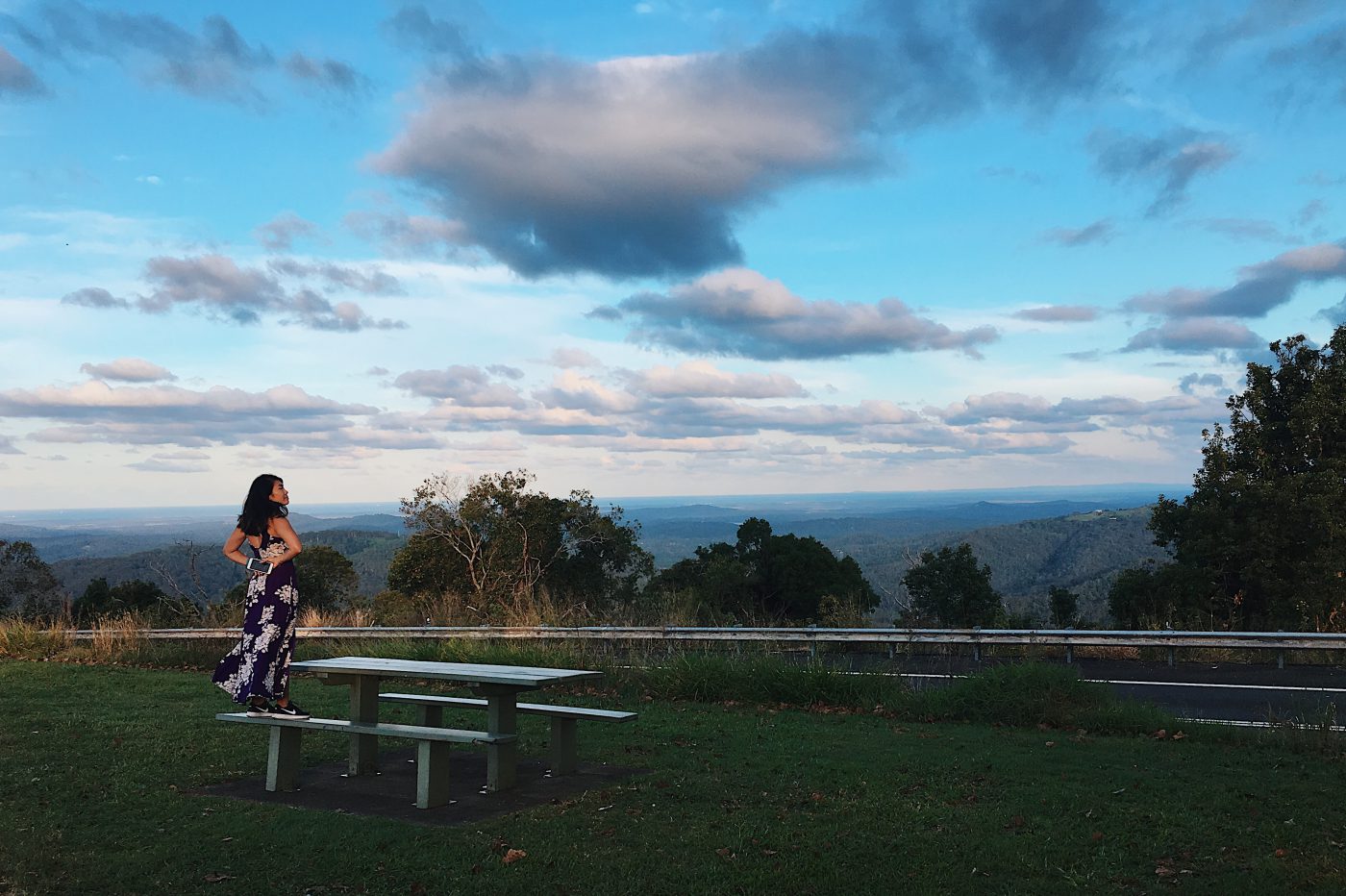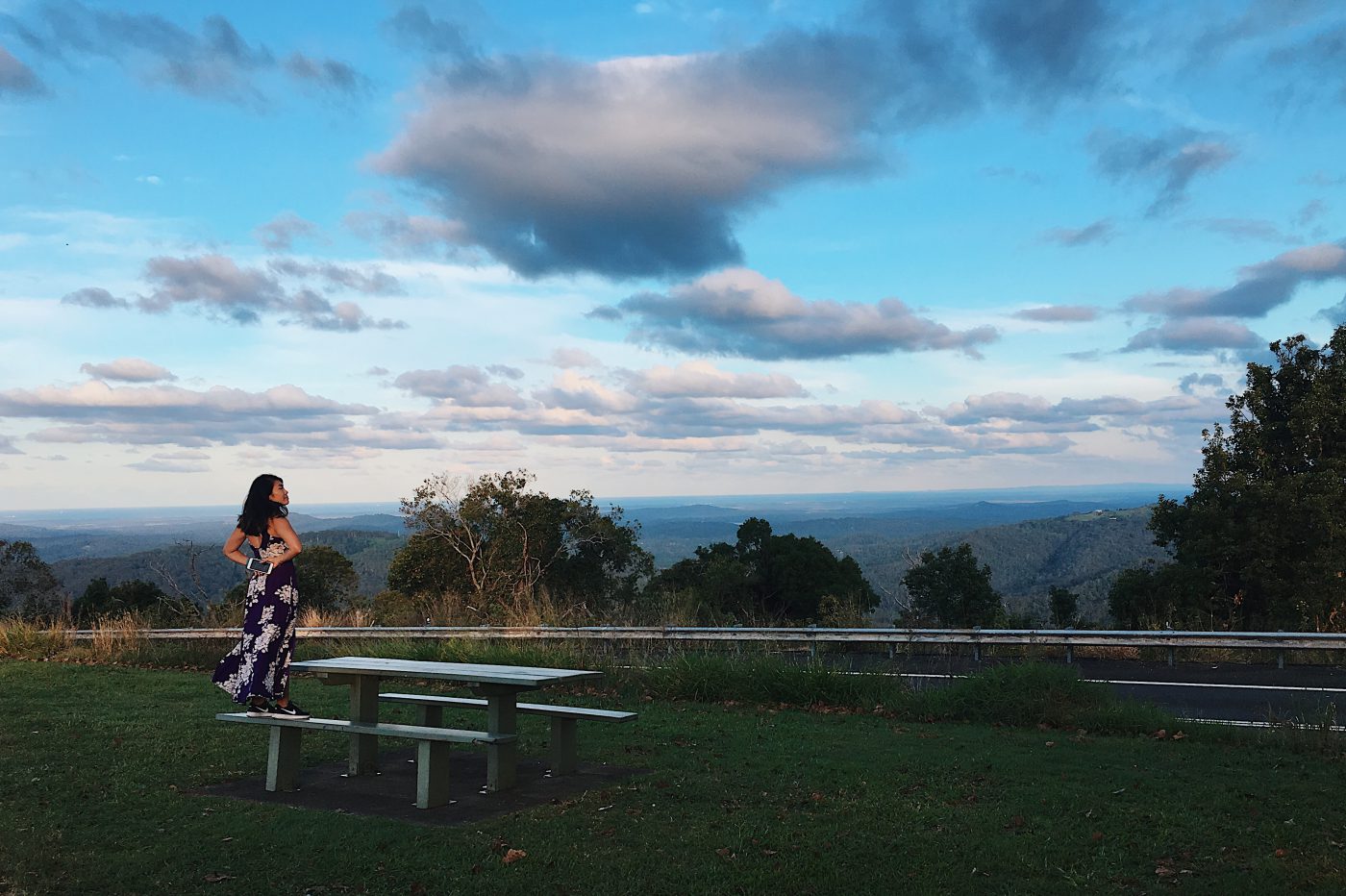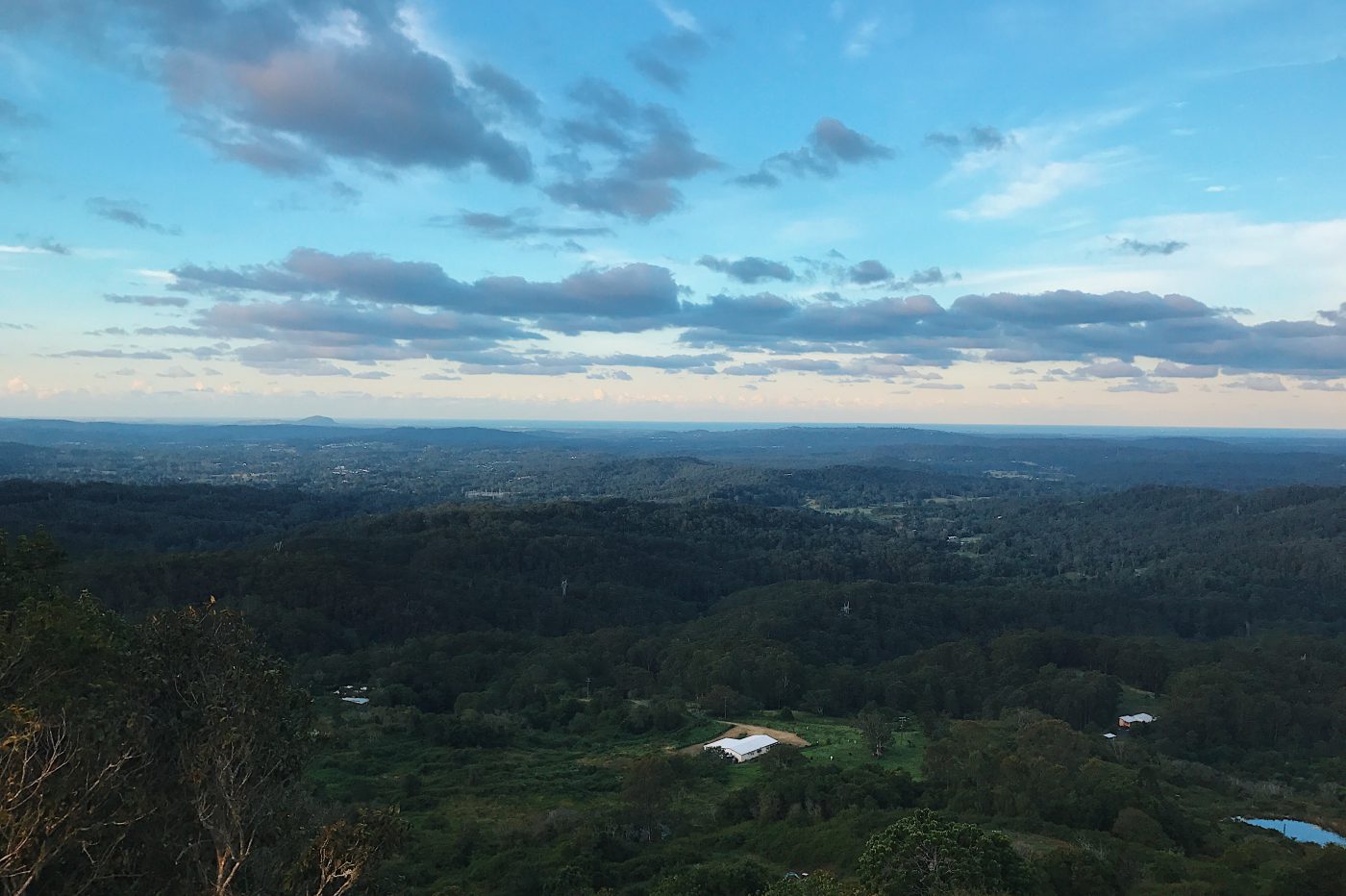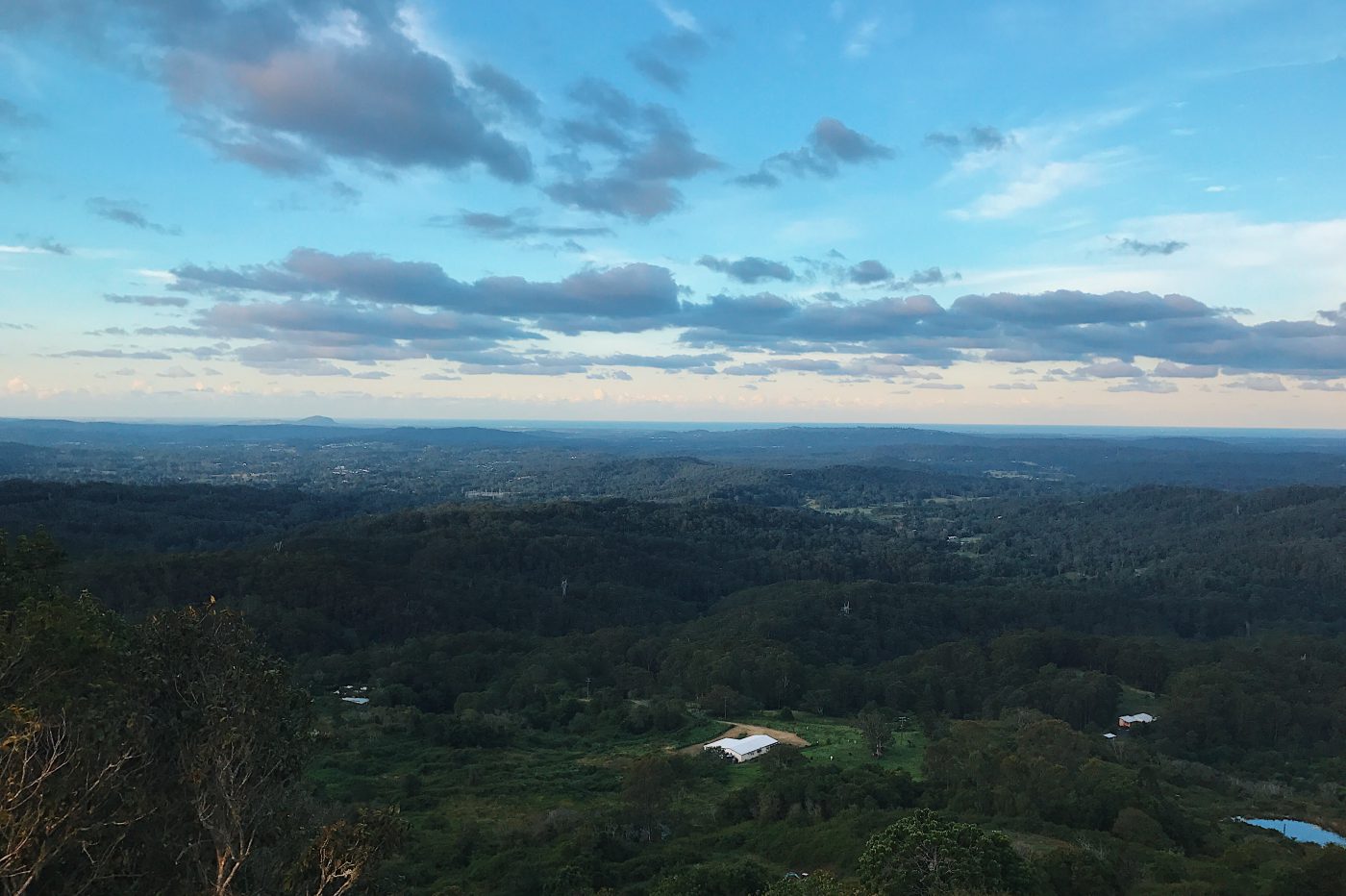 2. Eumundi Market
Eumundi Market is a huge market that happens every Wednesday and Saturday. You can find anything from coffee, heritage food to clothing and arts & crafts here. Set aside a few hours walking around here.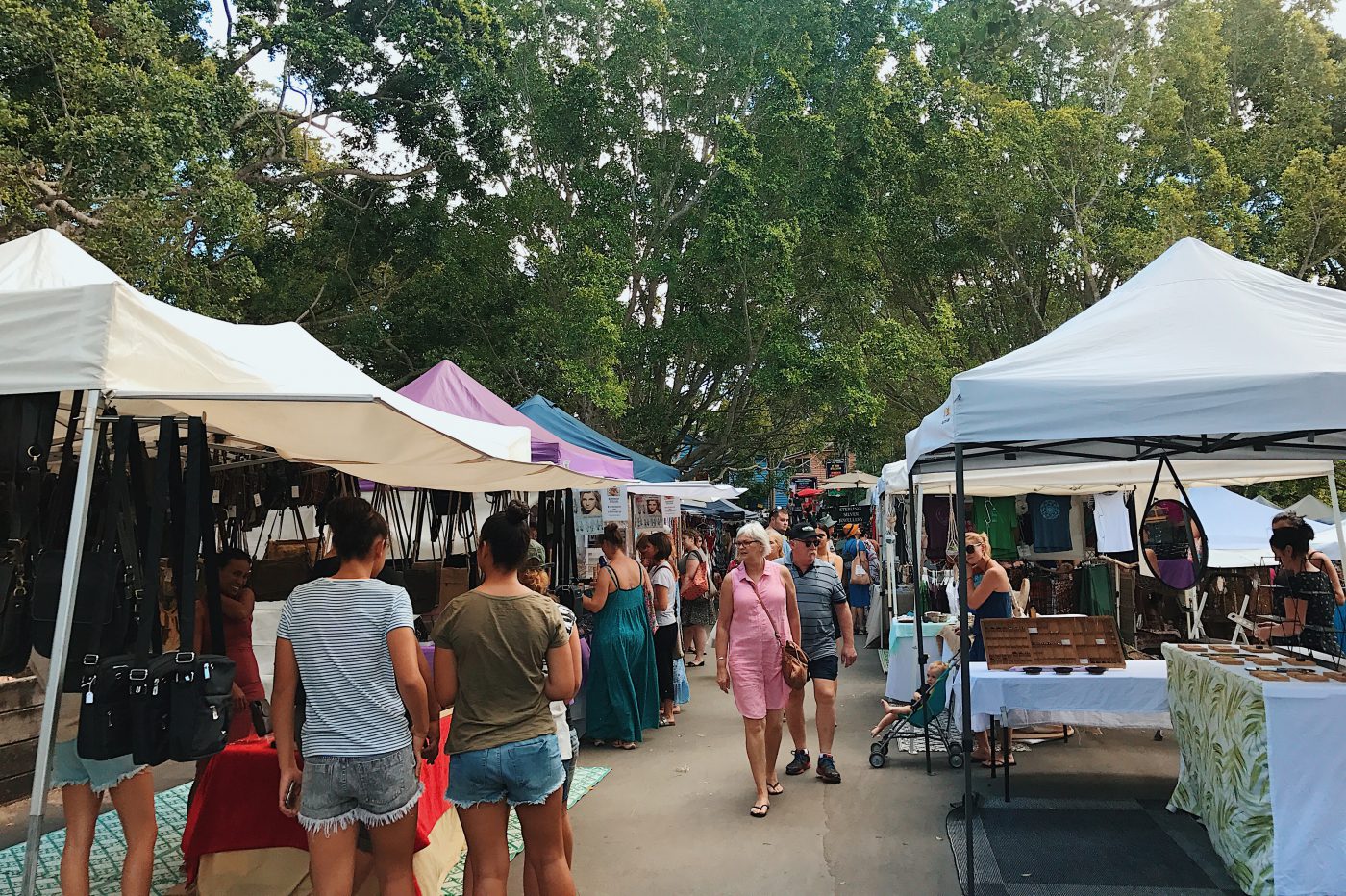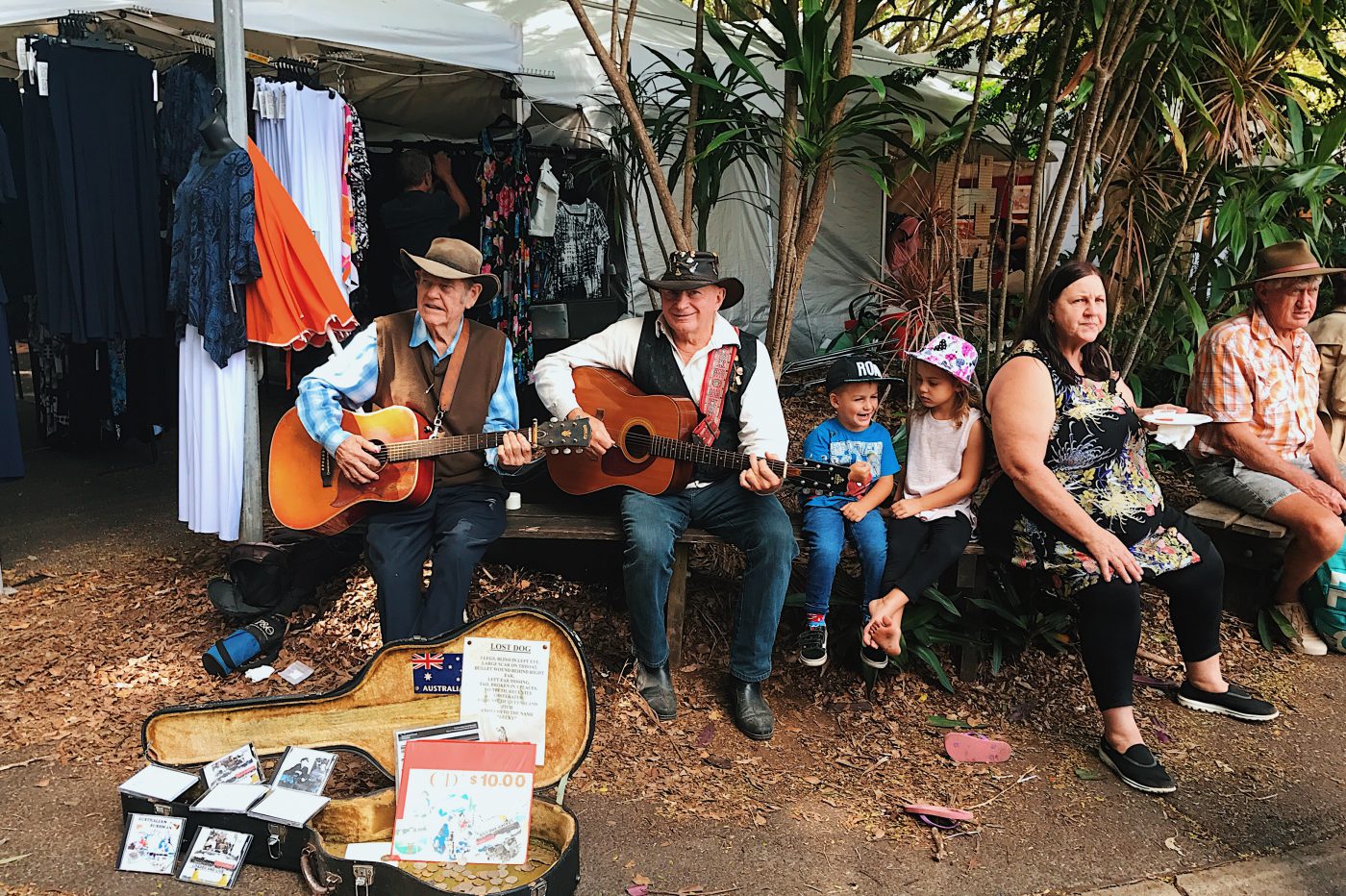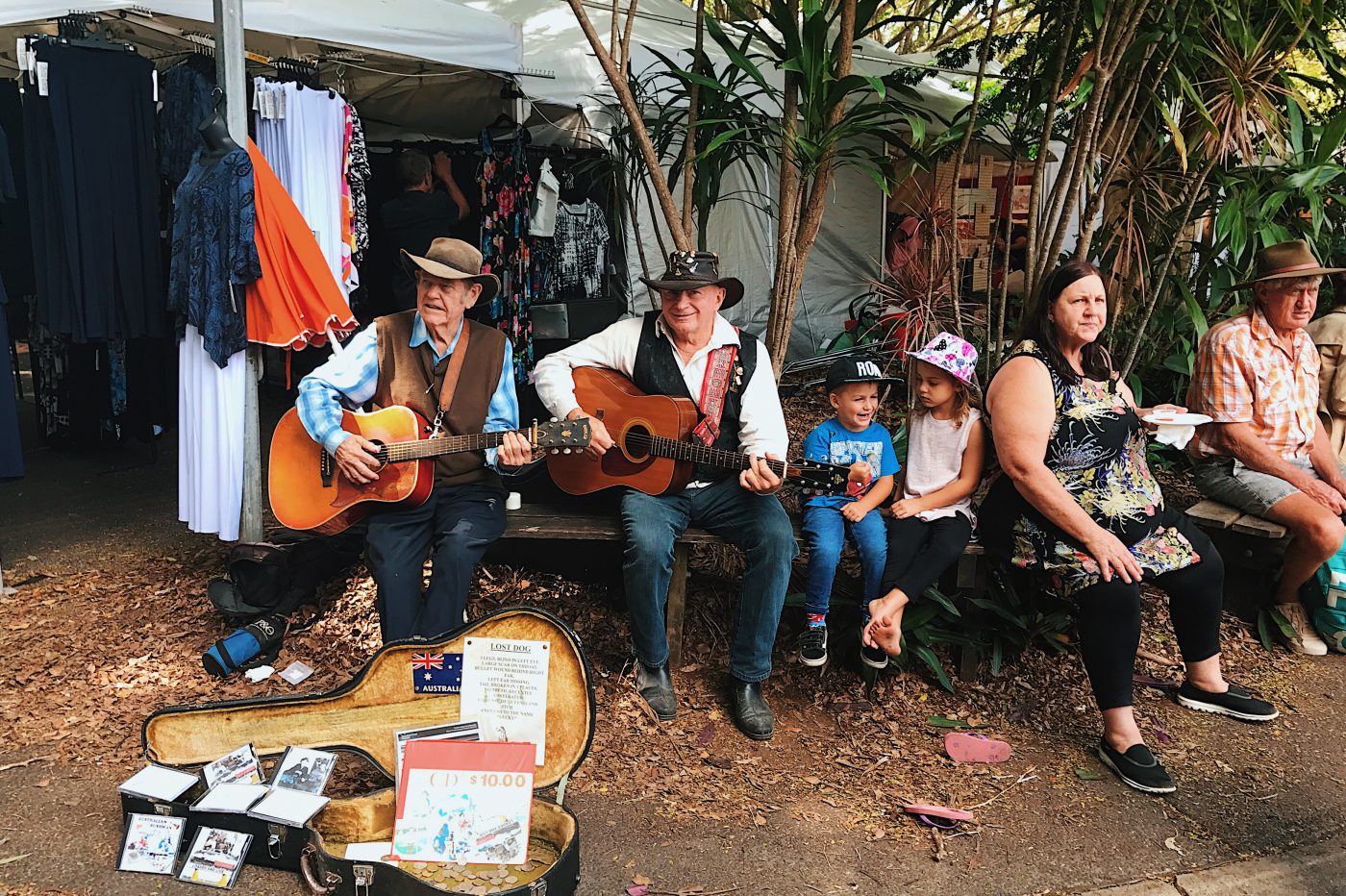 3. Glass House Mountains
Glass House Mountains is a series of hills just a short drive off Brisbane. I recommend staying at a lodge near the mountain (I'll elaborate more where we stayed), and check out Glass House Mountains Lookout for sunrise, sunset or even just stargazing at night.
We tried to do one of the easier hikes for sunrise at Mount Ngungun, which is only about 45 minutes each way to the peak. We left our lodge at 5 AM and started ascending, but the weather was not on our side and it ended up raining when we were still half way up. We reached the peak anyway but we could not see anything due to the fog 🙁 On a clear day, it would have been beautiful.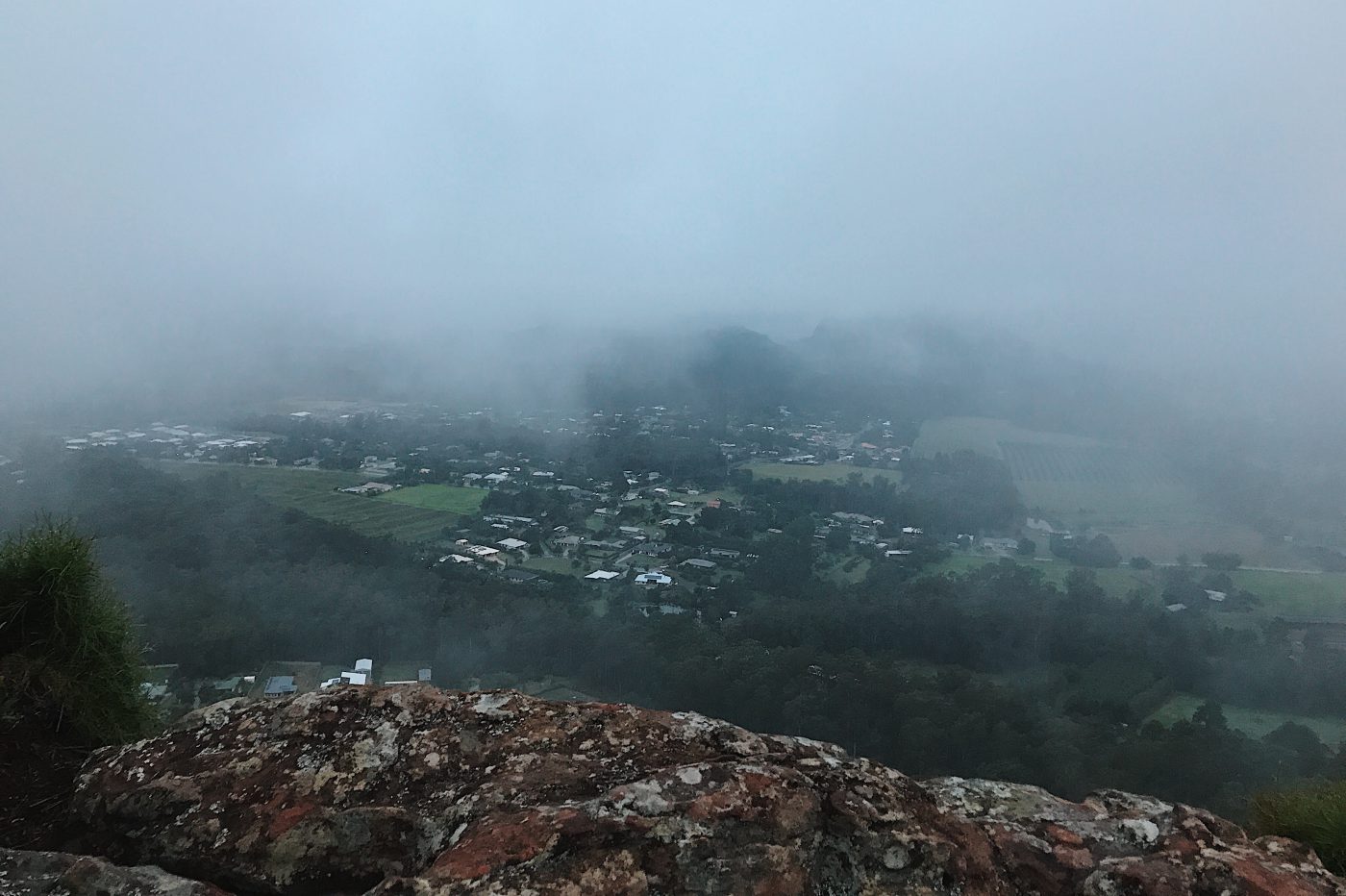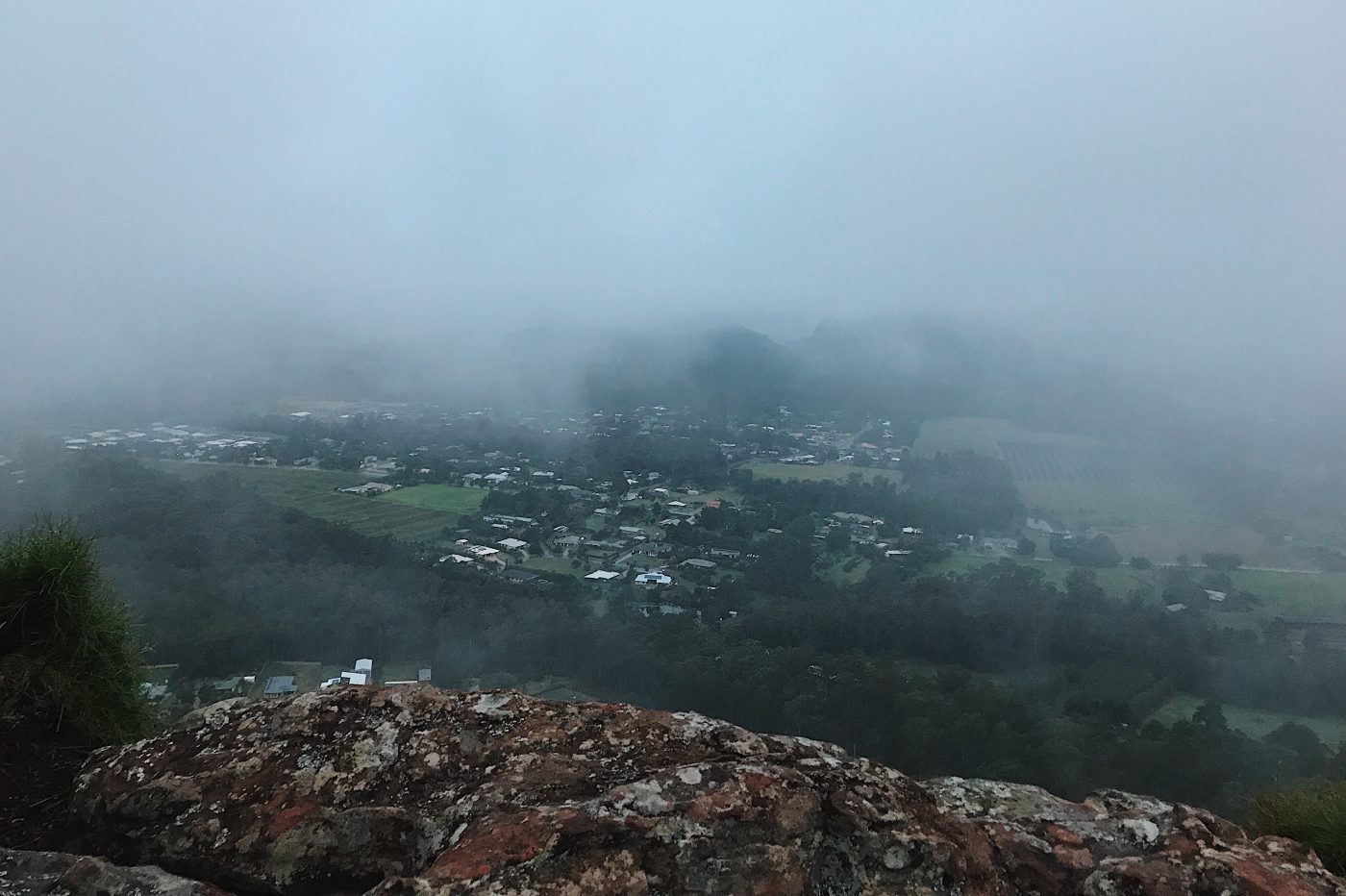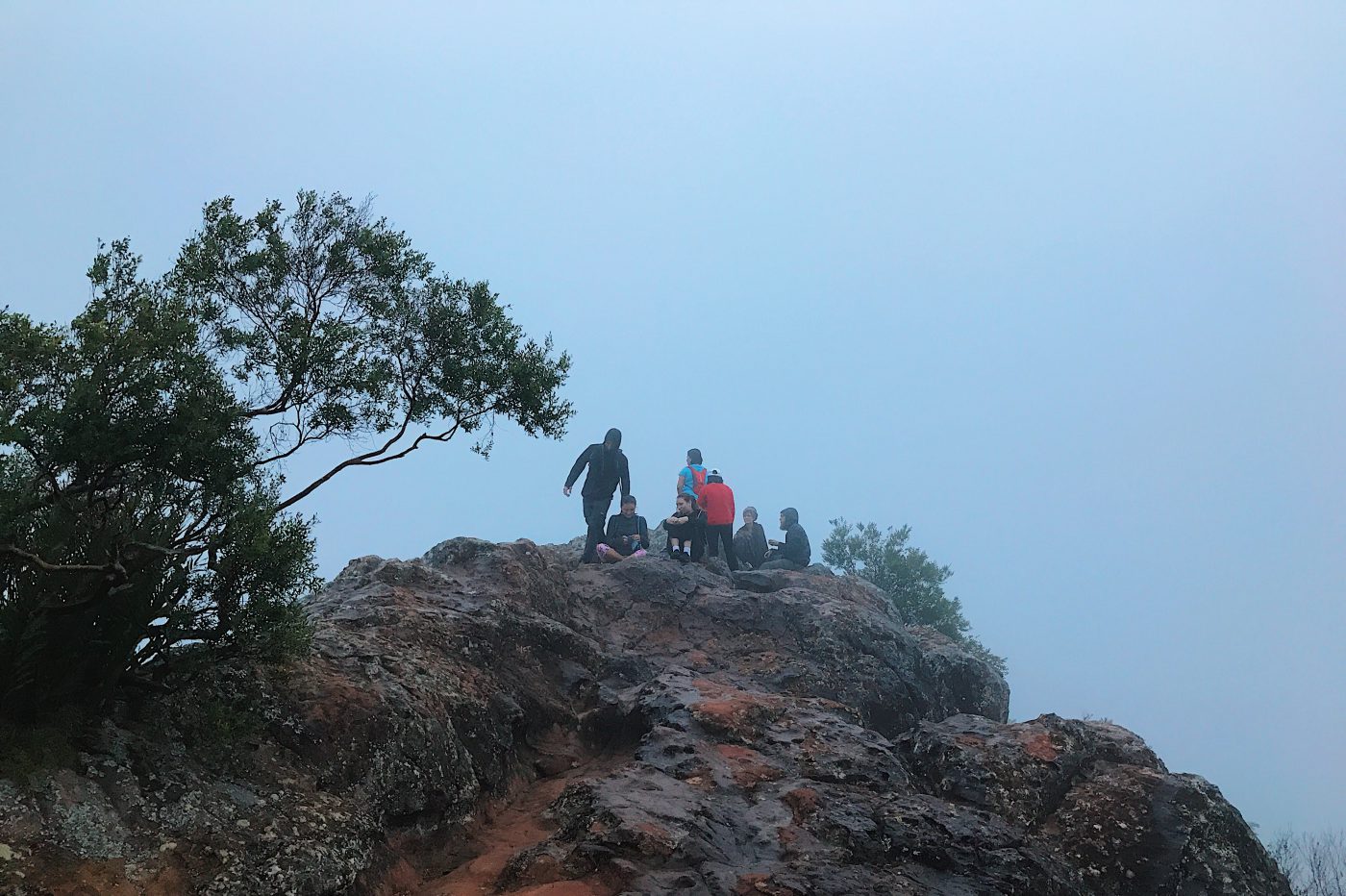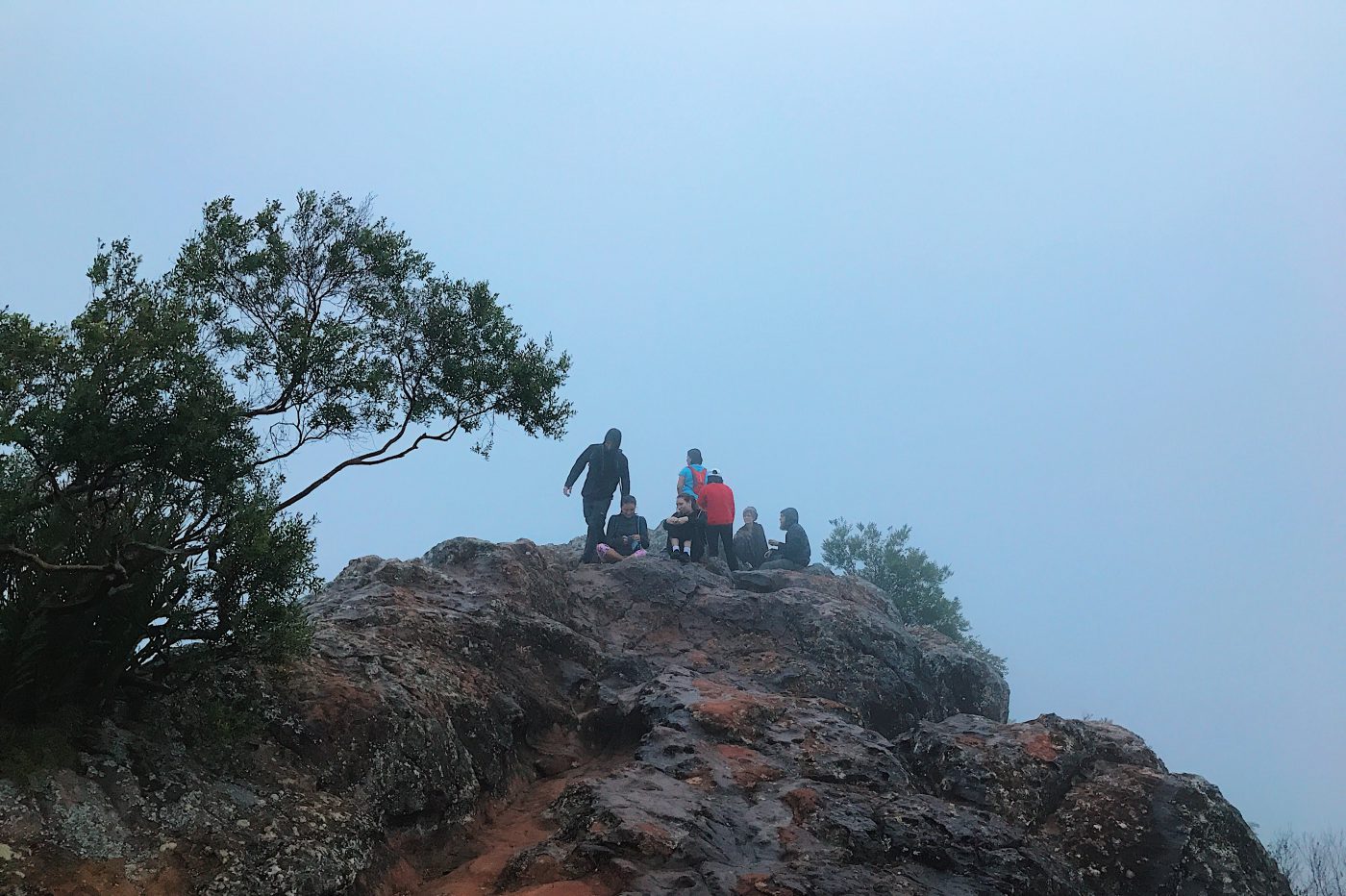 4. David Low Way, a Scenic Coastal Drive
This is for the beach lovers – David Low Way is a totally scenic 36km coastal drive from Maroochydore up to Noosa Head. It's not the fastest route to go up north but it sure is beautiful. Along the way you'll find multiple lookout points you can stop by, such as Coolum Beach Park and Point Perry. These two are great for surfer watching and just generally chilling by the beach.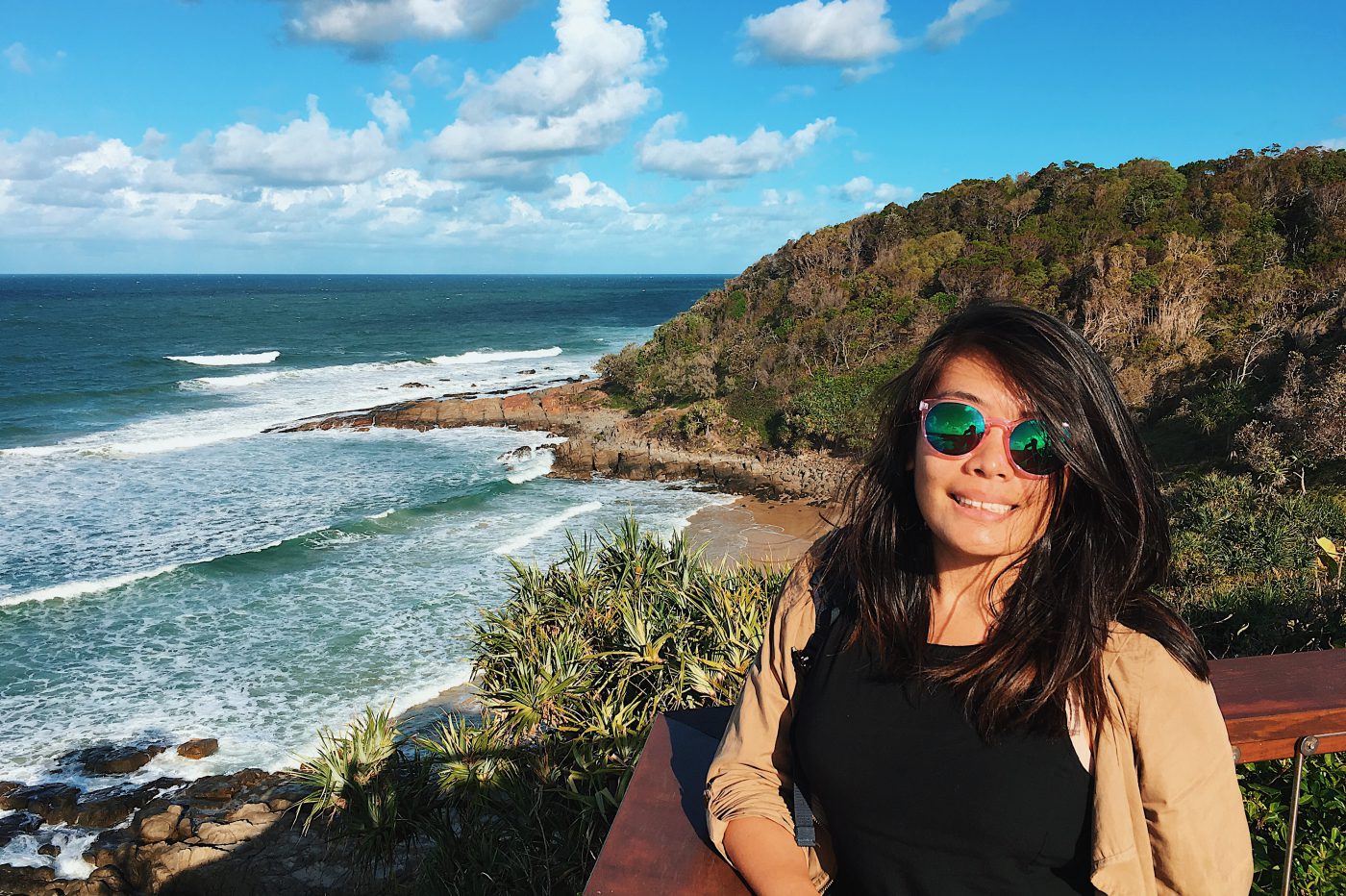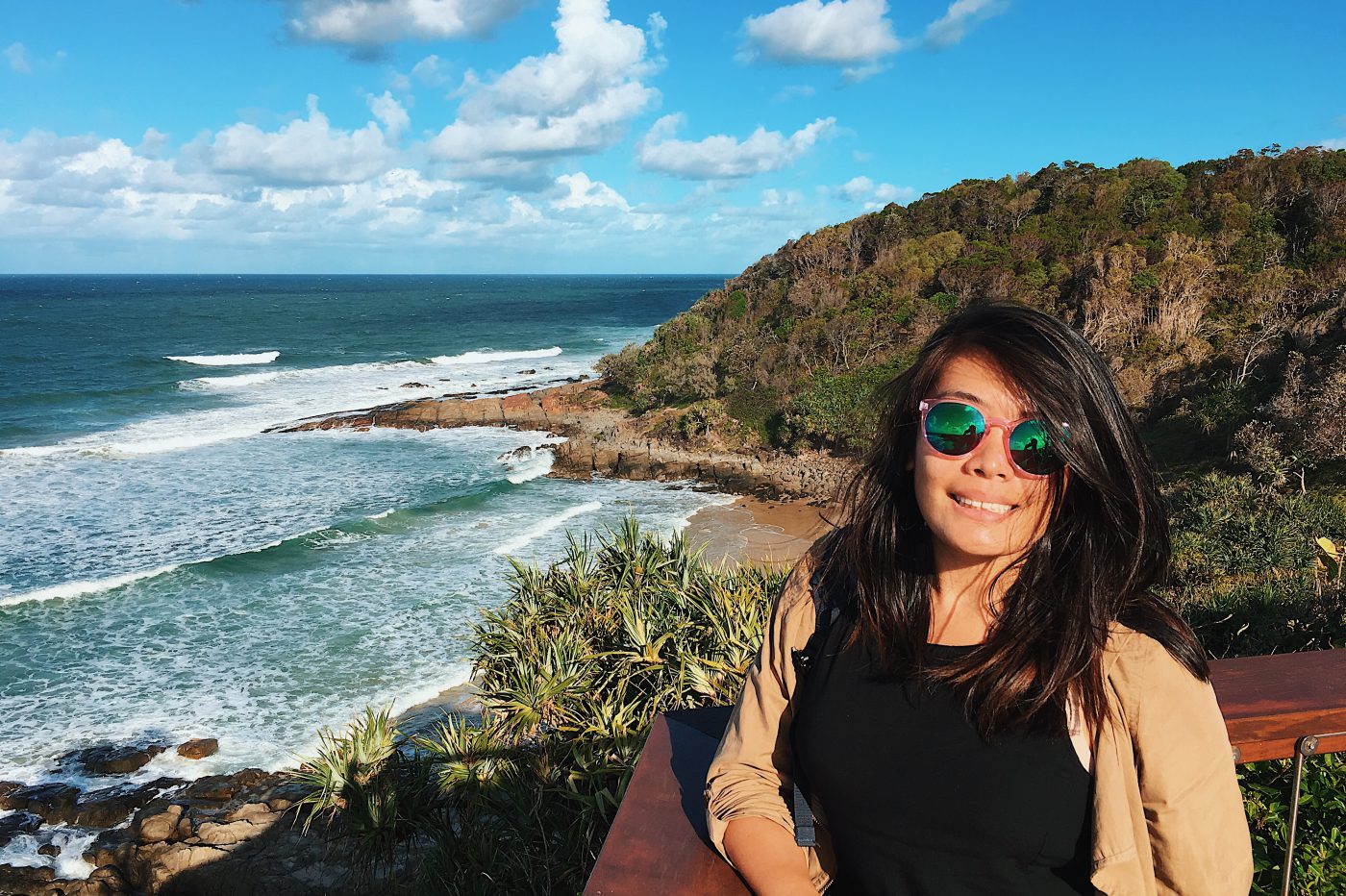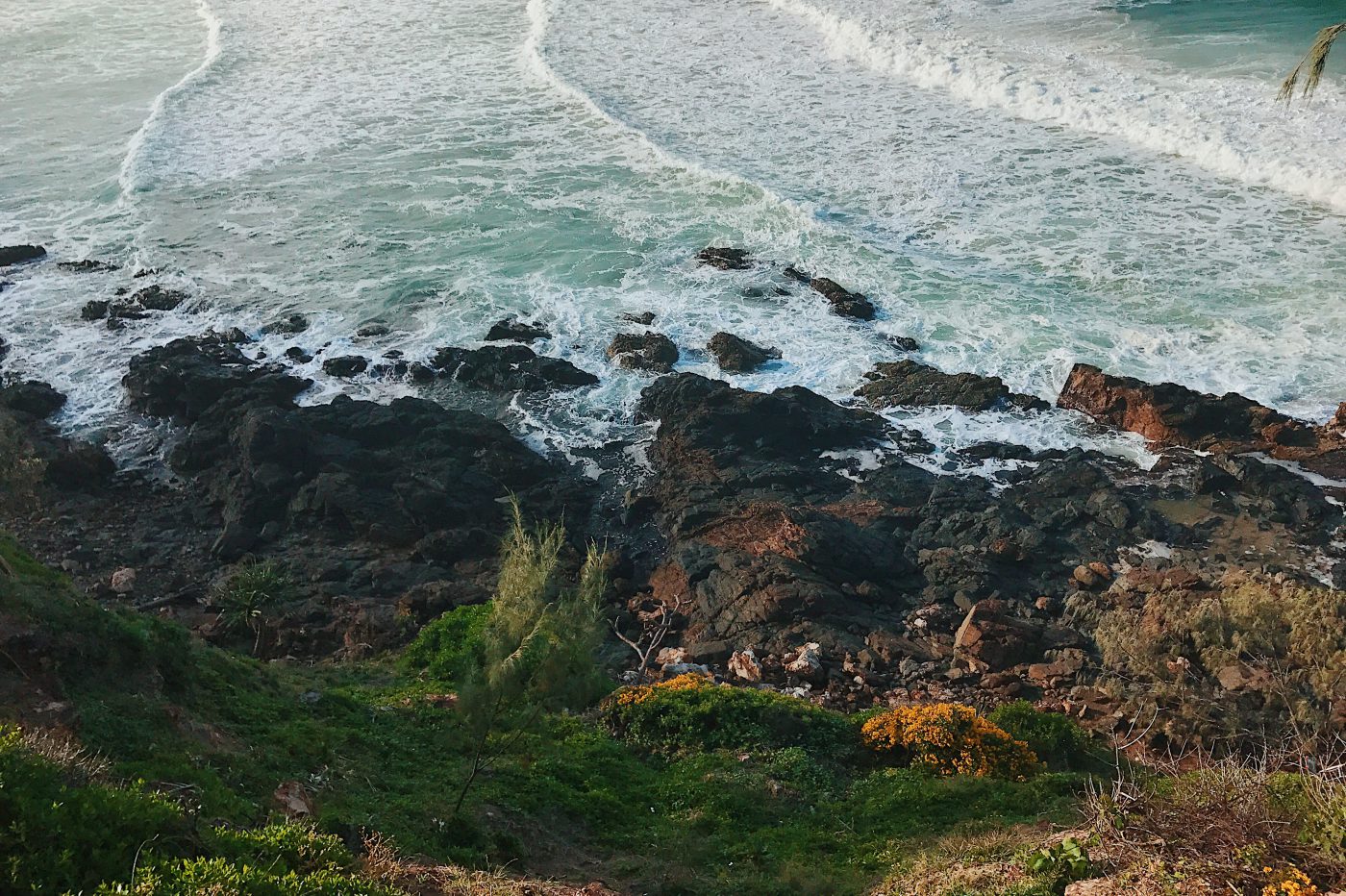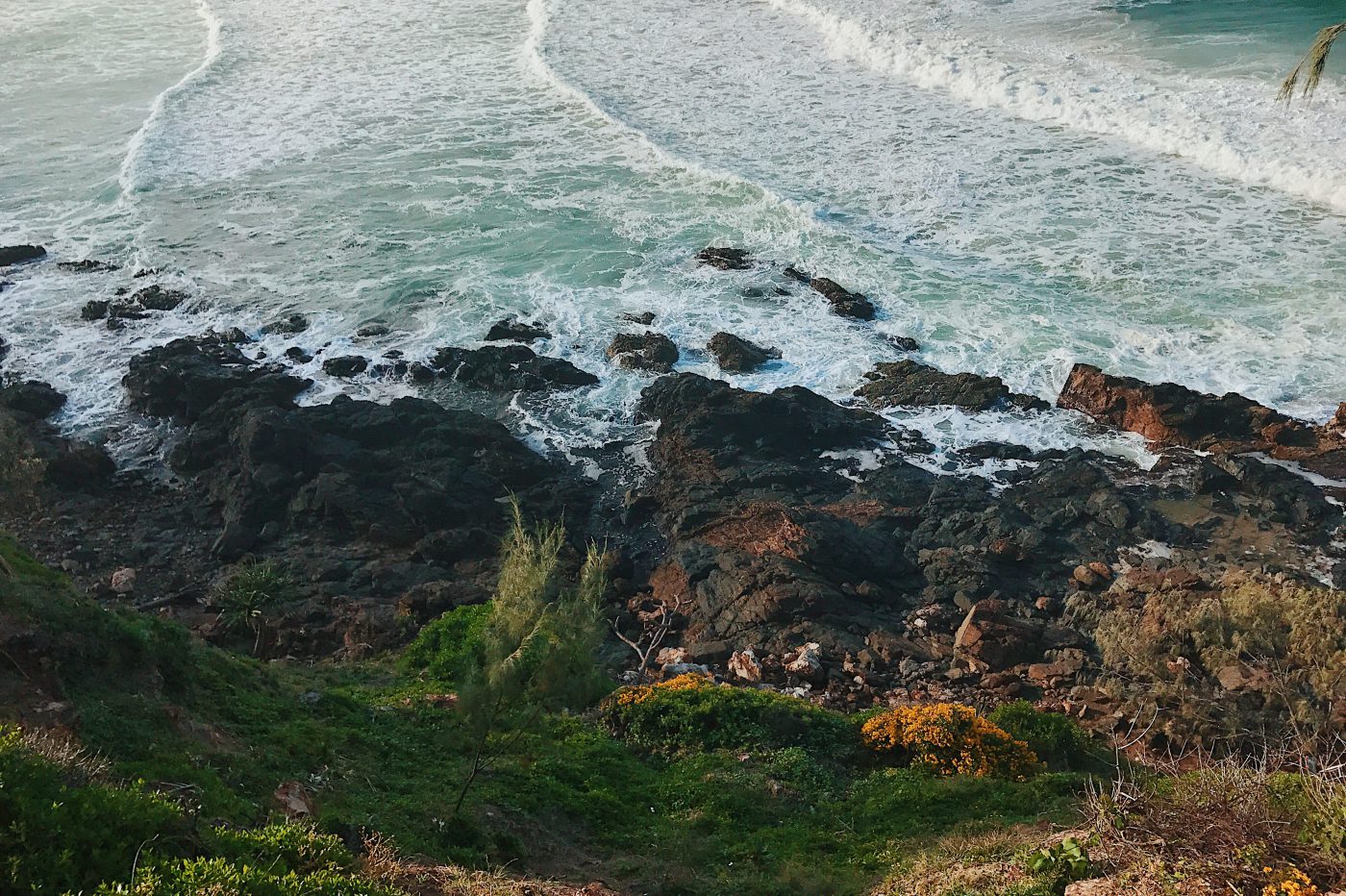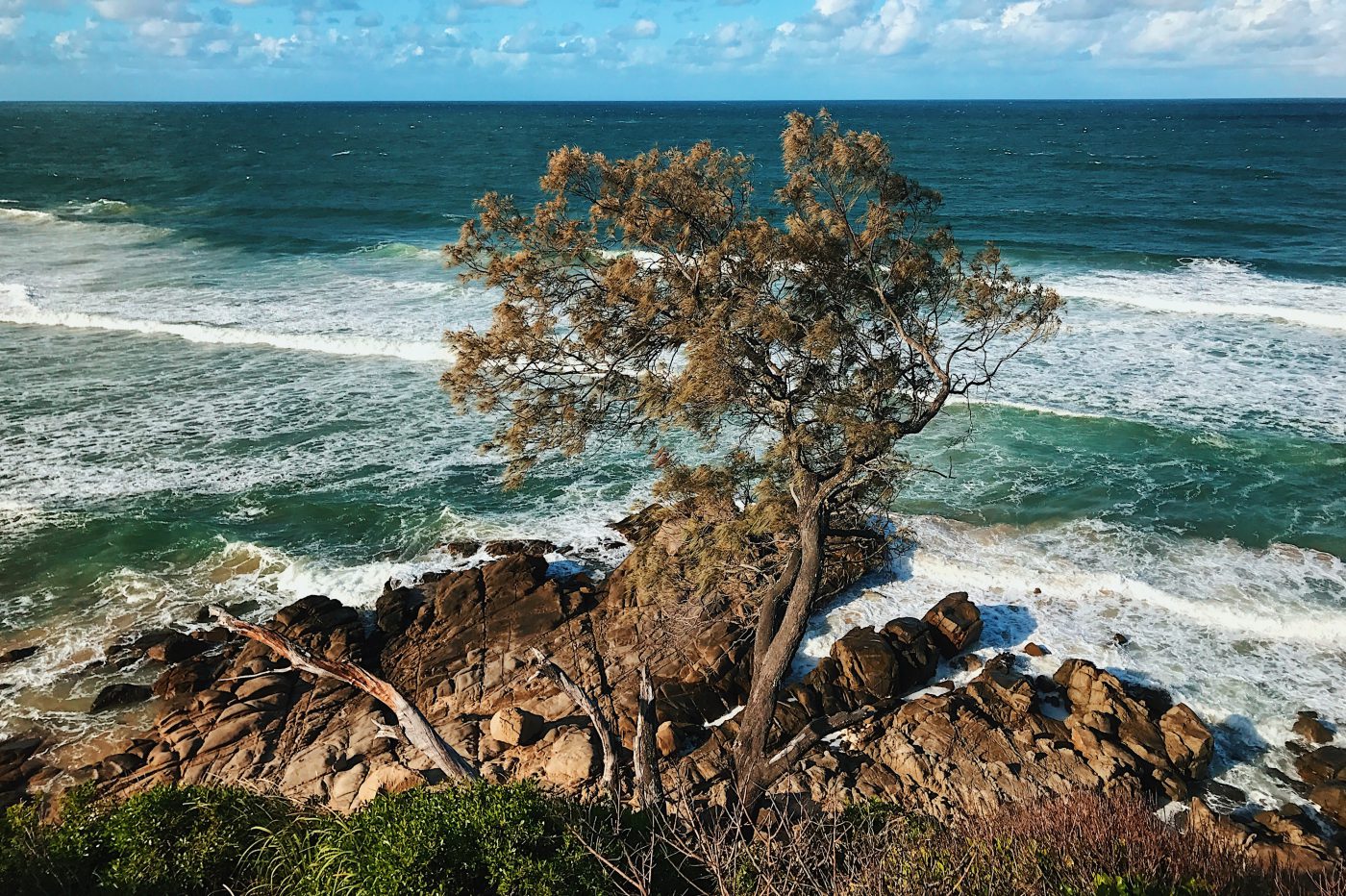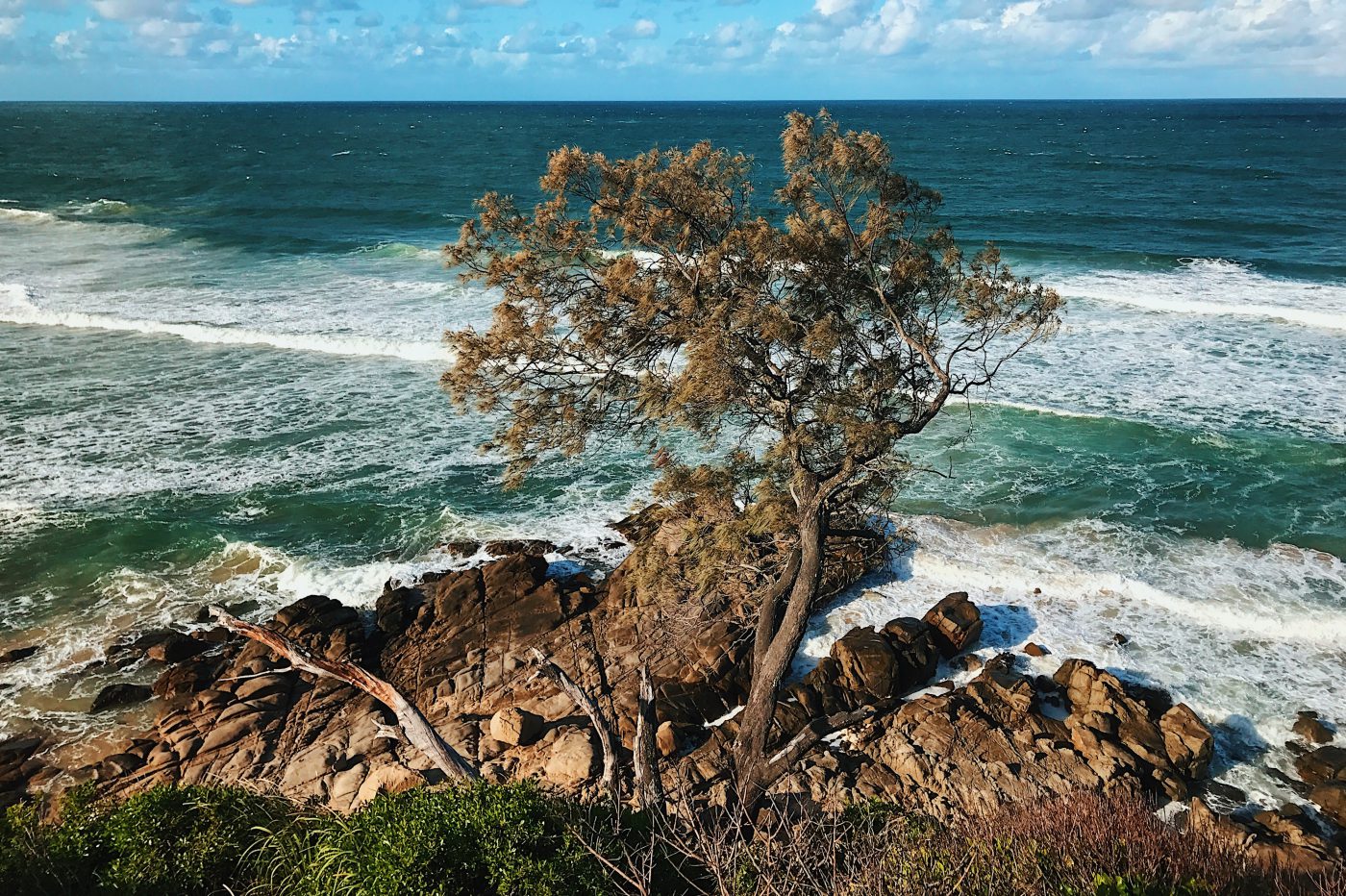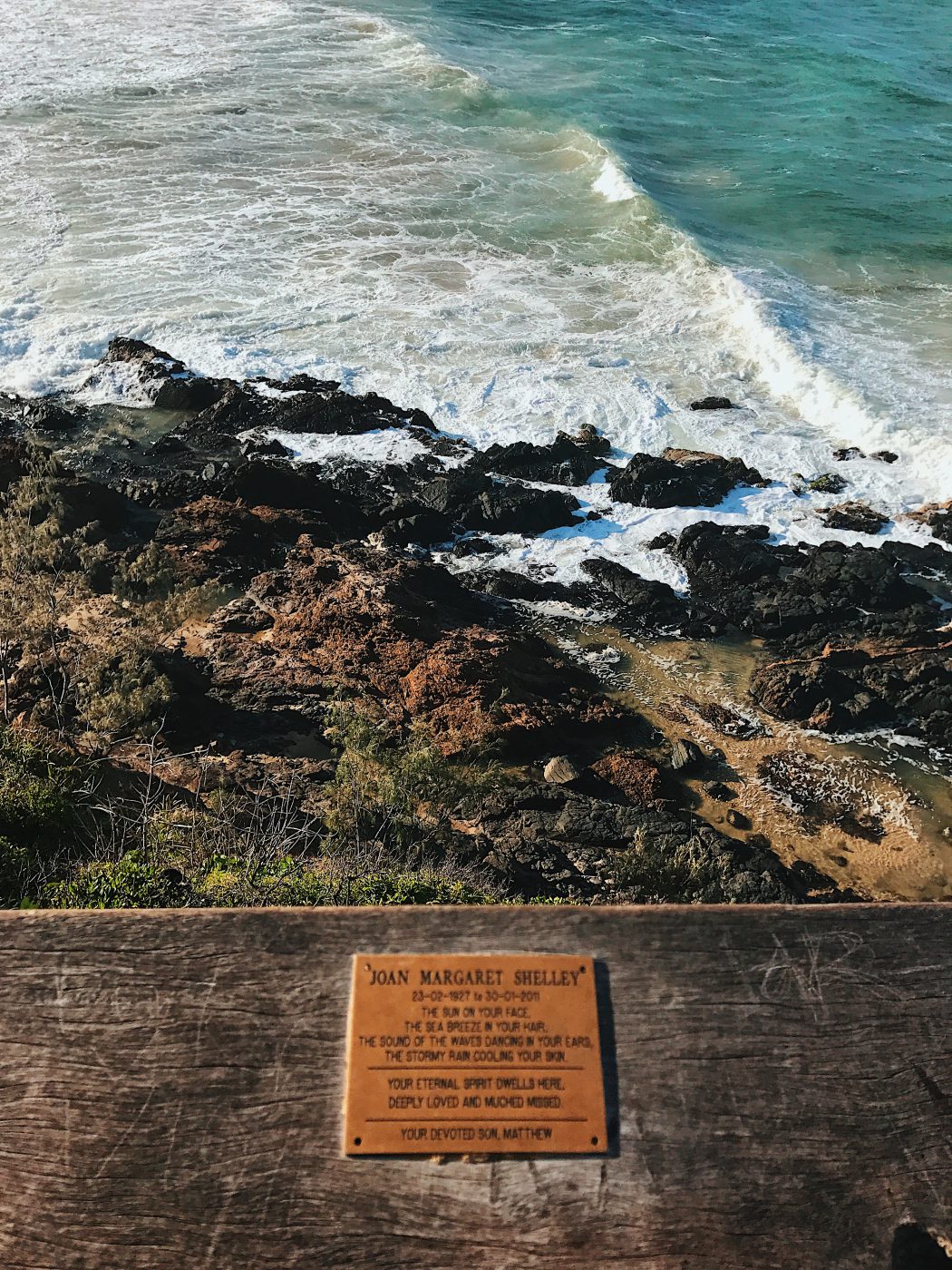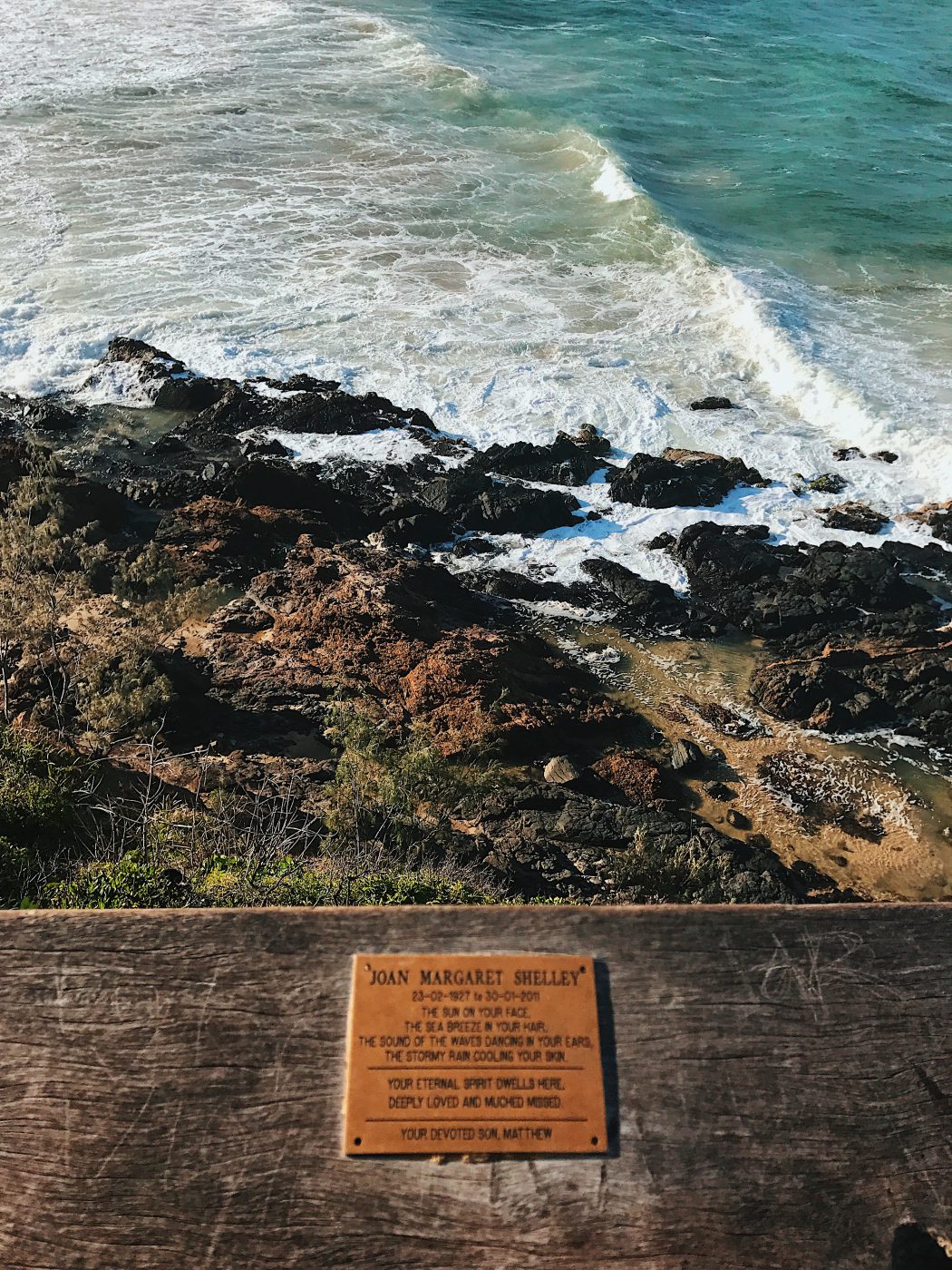 5. Have a romantic getaway at Amytis Gardens Retreat & Spa
While going up to Noosa, we stayed at Amytis Gardens Retreat & Spa. It's located in Kiels Mountain, about 30 minutes drive from Maleny and a very quiet secluded area among the farms. This place was so so SO beautiful! We had our own private chalet with queen bed, living room, and a huge balcony. There is also a parking space for each chalet, so you can just park your car a few meters away from the door step.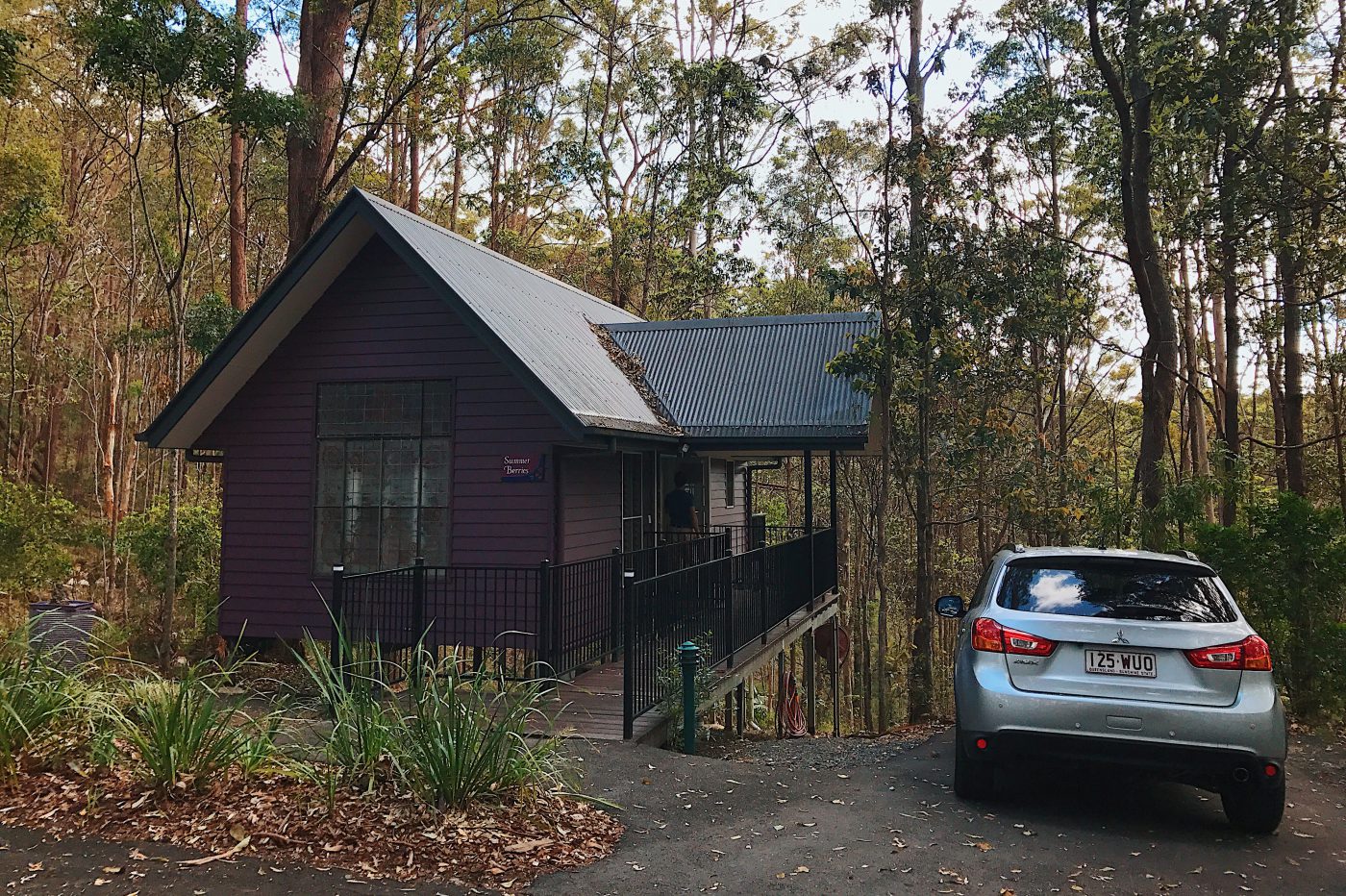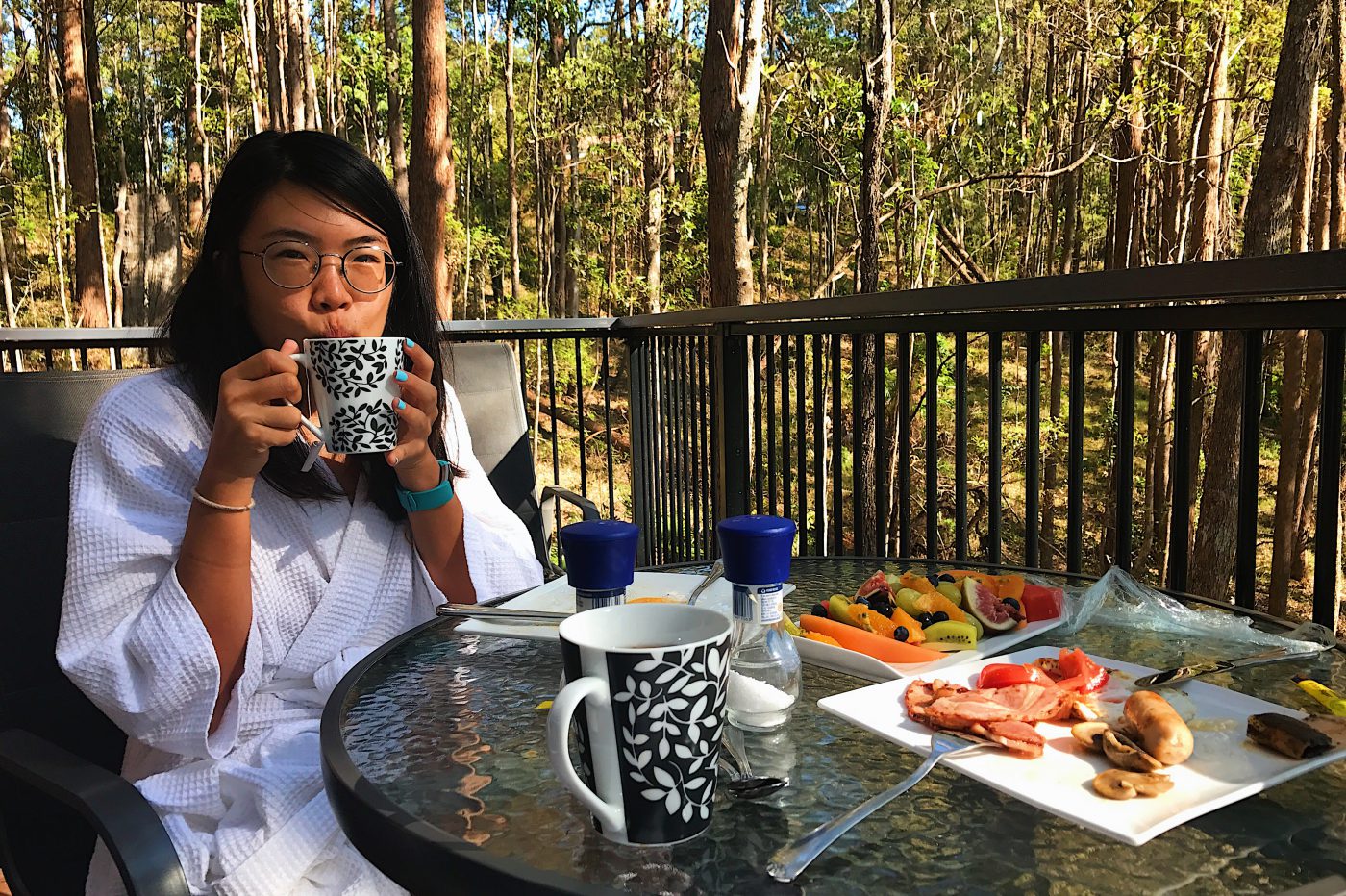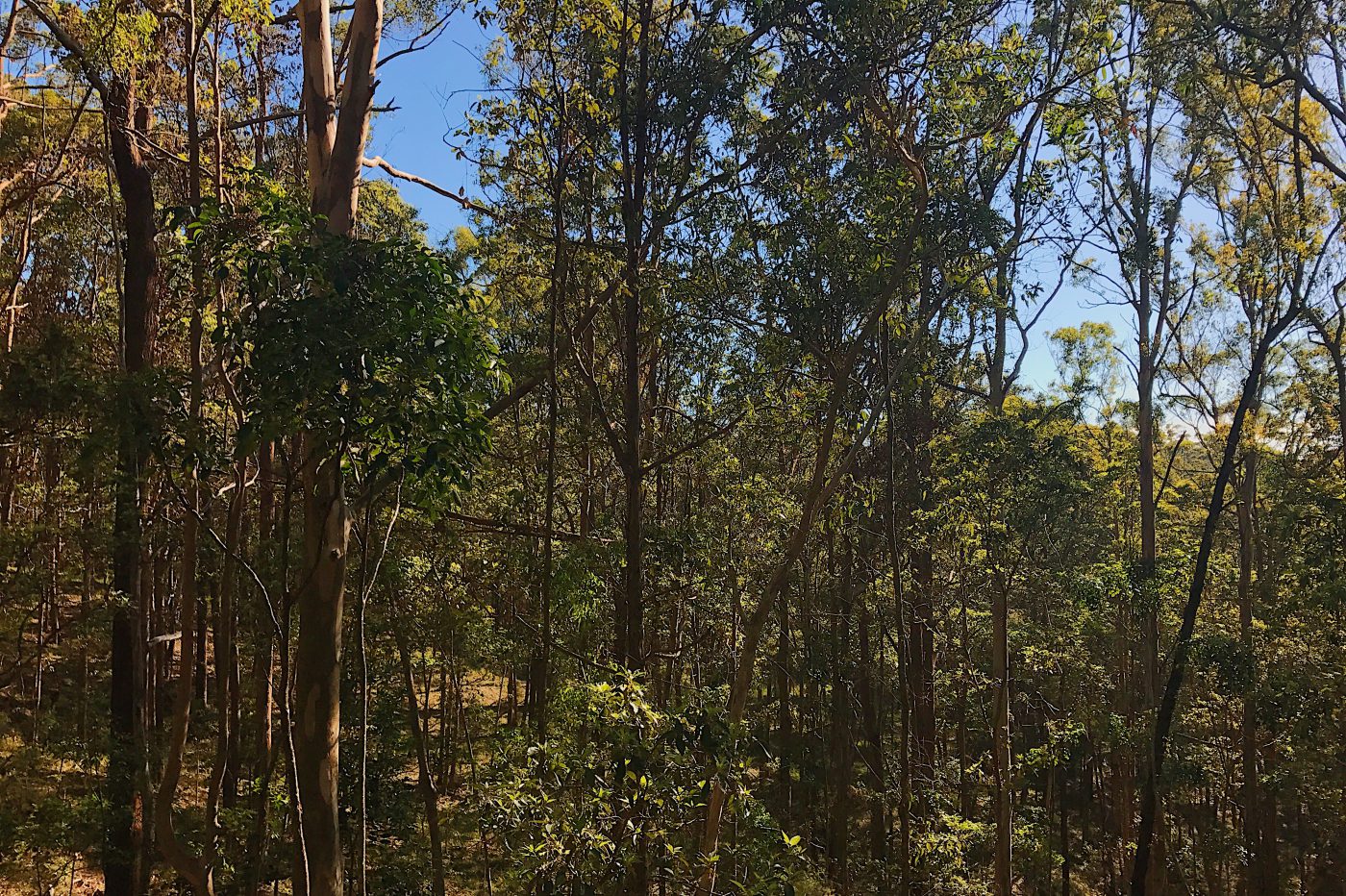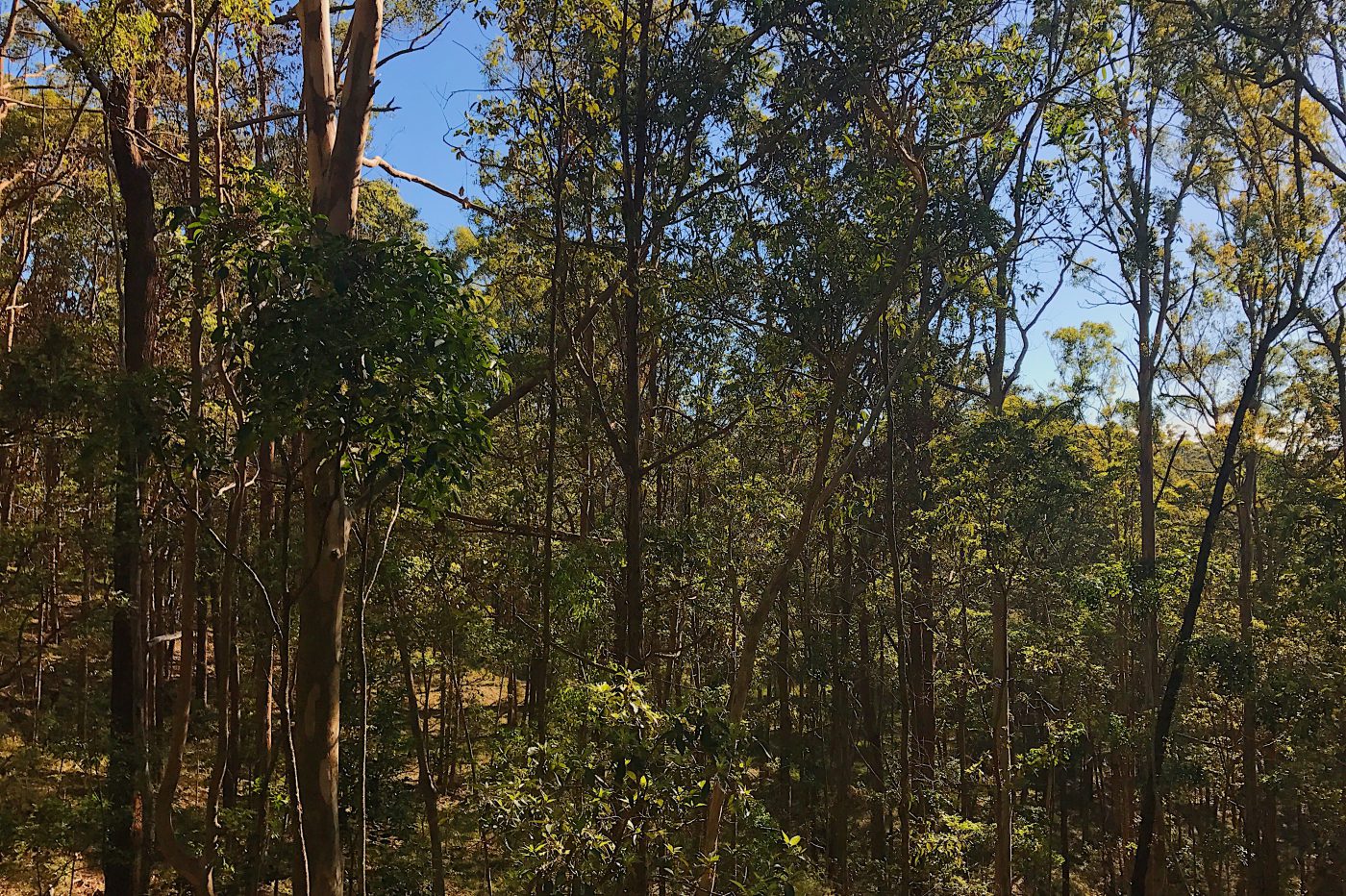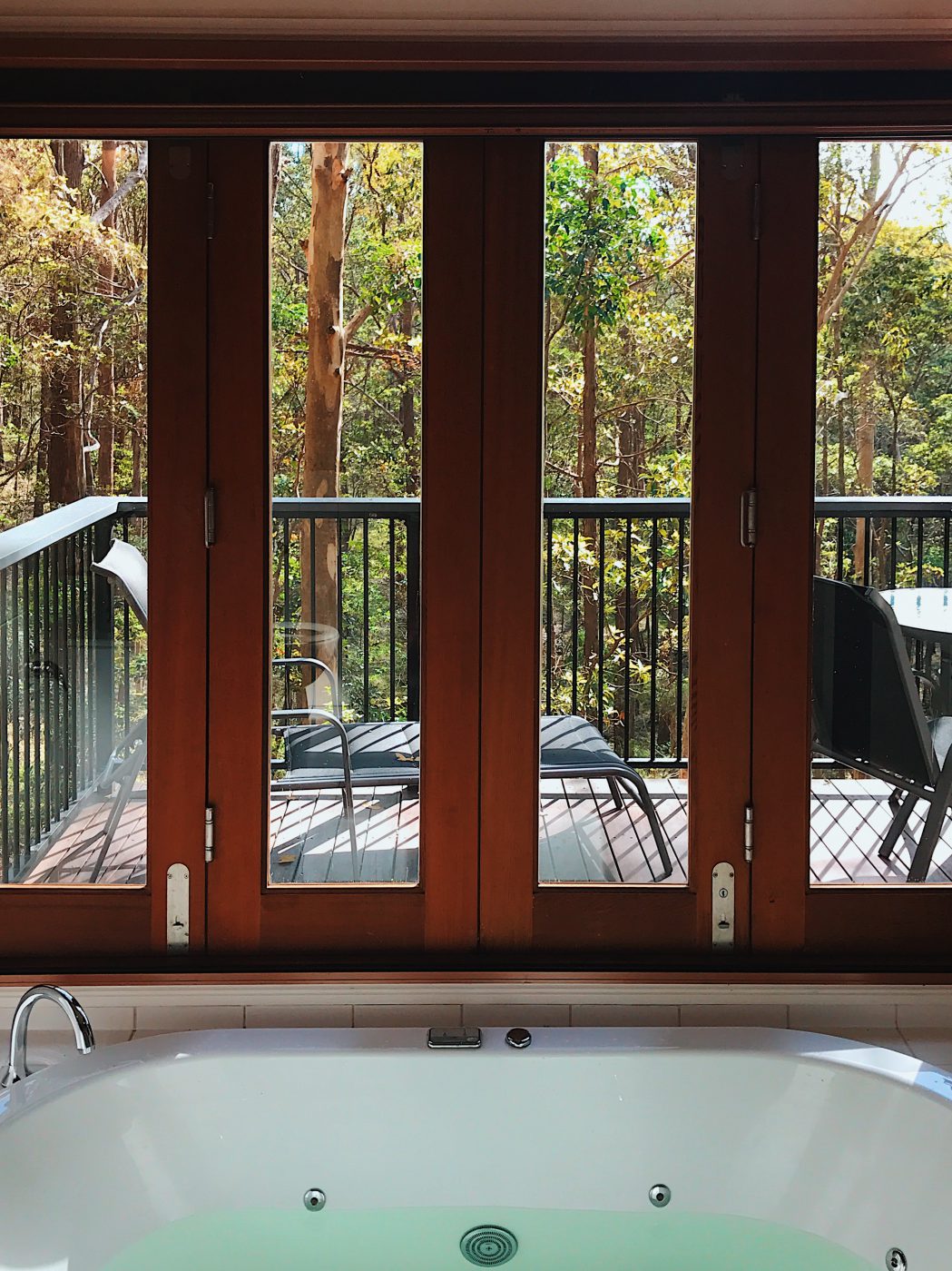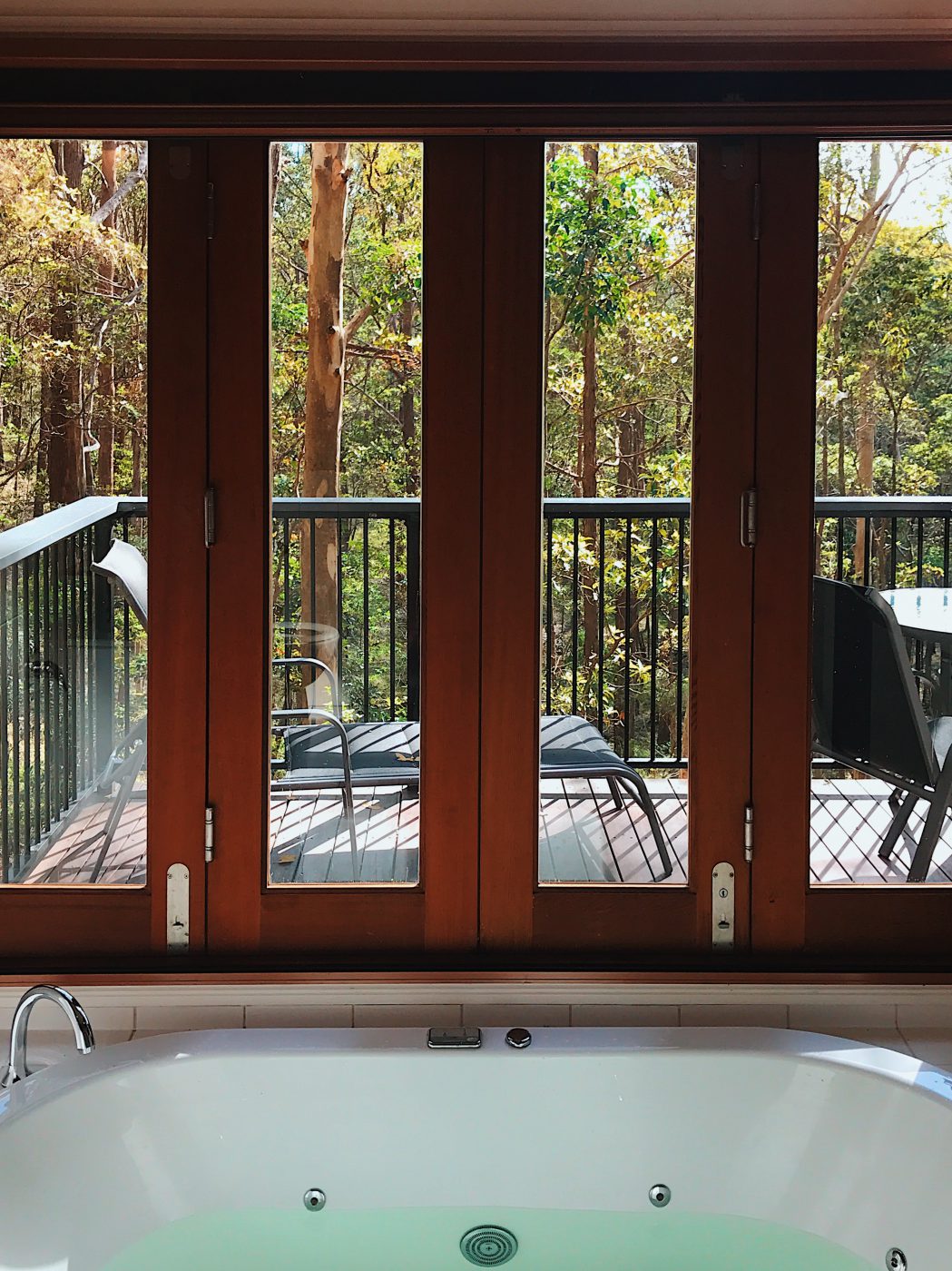 Some of the chalet comes with a spa bath that sits below a huge window facing out to the woods. We definitely took advantage of the bath during our stay.
Amytis Gardens is the most memorable accommodation on this trip, and probably in my entire travel history so far. It was just too nice! I will not hesitate to recommend this place for couples looking to get away from the busy city life.
Other things to do (that I didn't have time for)
Australia is a huge place – even ten days was not enough for me to properly explore the area so there are still things that I did not get to do. If you have the time, you can check them out. I would love hearing your experiences on these!
Montville – I was so close! This place is pretty much right next to Maleny, but since we wanted to reach our accommodation before sunset, we didn't get to stop by here. They have some nature walk and waterfalls you can visit.
Australia Zoo – This zoo was opened by Steve Irwin's parents, where he had been helping out since he was young. Among other animals, you can see a wide variety of crocodiles (a must see in Australia) and reptiles. Buy your Australia Zoo Ticket online.
More hikes on Glass House Mountains – I only got to do one at it was not a great experience due to weather, but I would love to do more of this!
Where to stay in Sunshine Coast Hinterland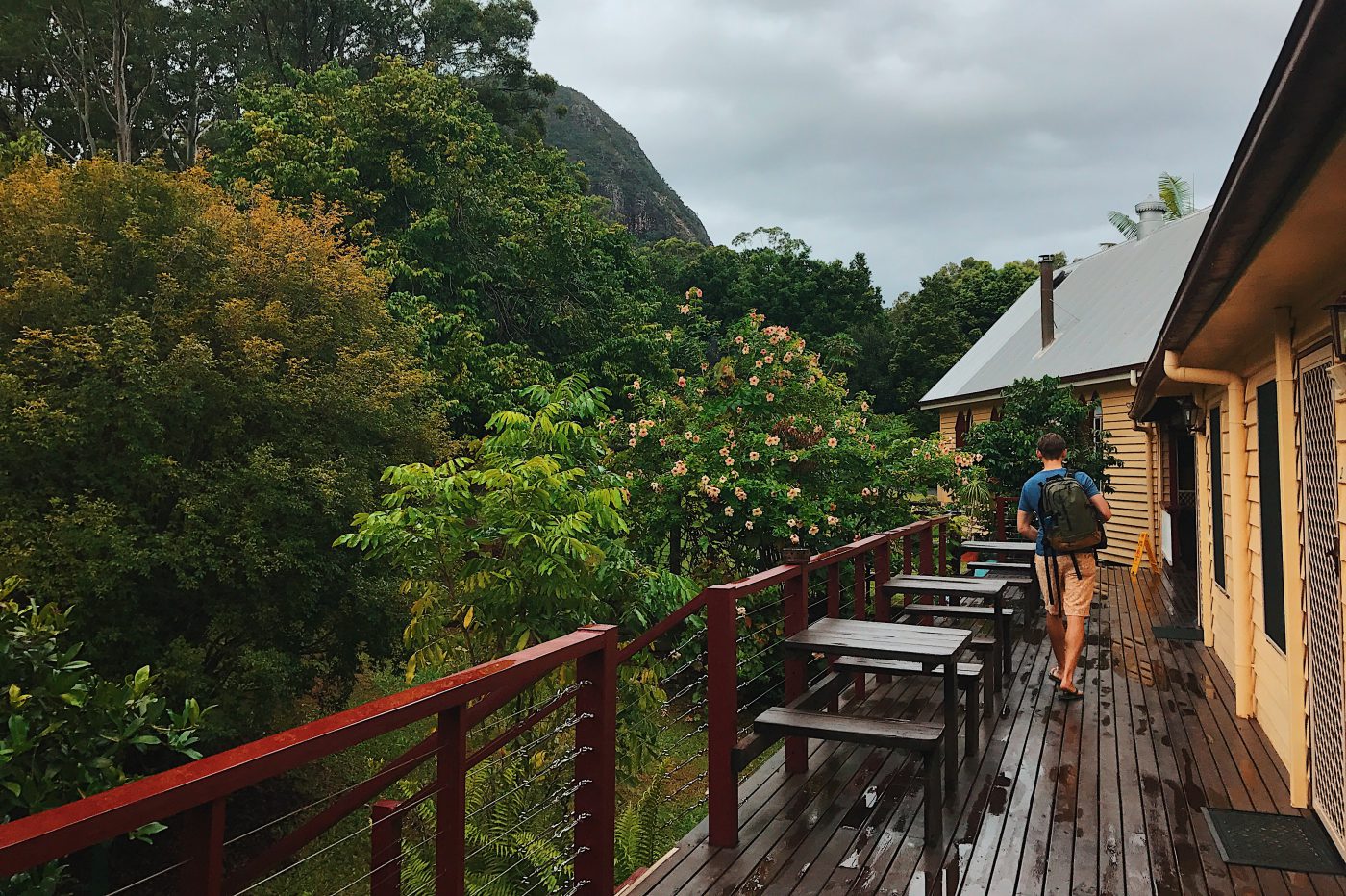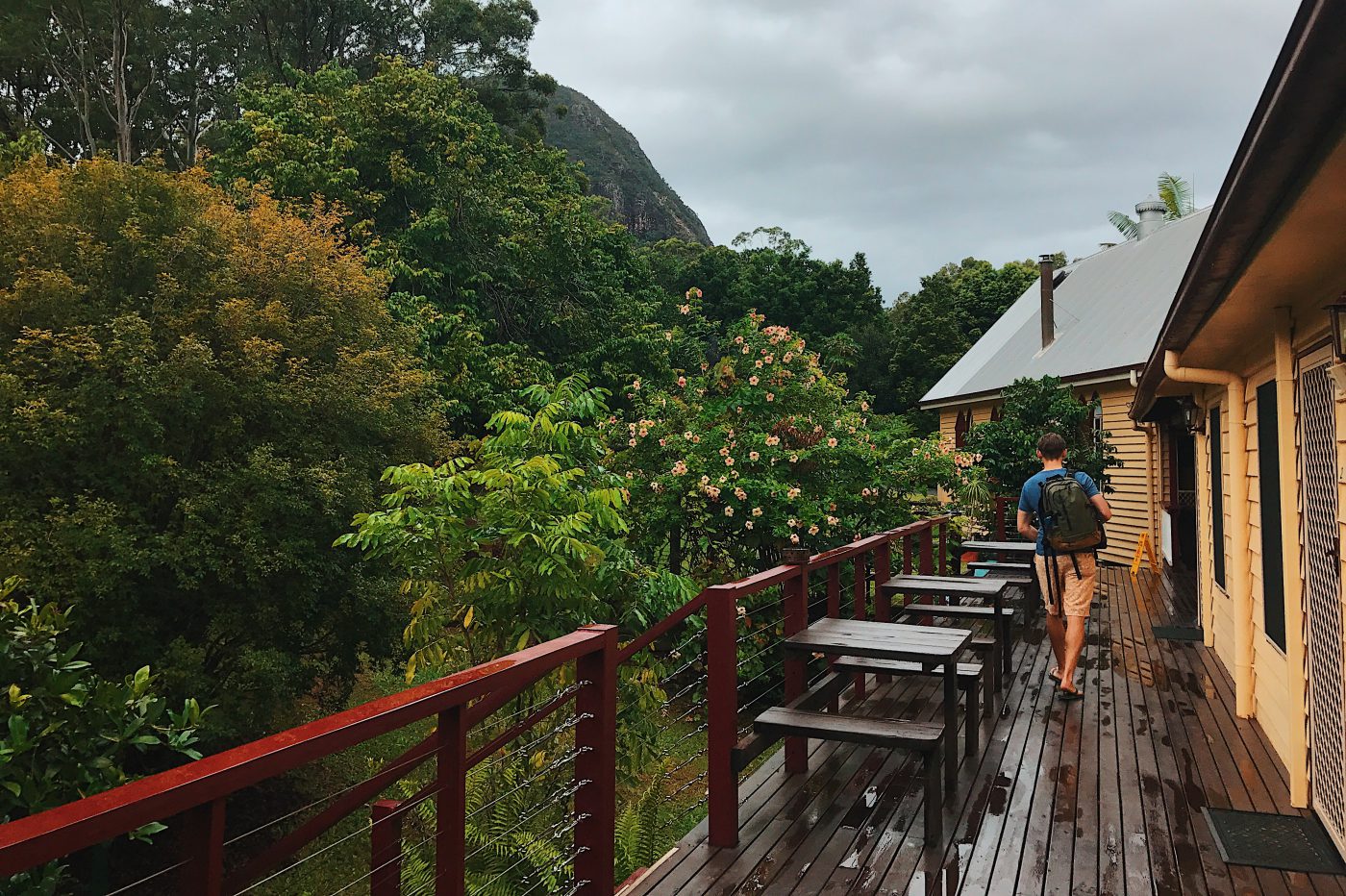 Amytis Gardens Retreat & Spa at Kiels Mountain – I've already written an entire section about this place, so I don't think I need to repeat it again! Perfect for a romantic getaway from the city.
Glass House Mountains Eco Lodge – We stayed here on our way back down to Brisbane. This lodge is perfect if you are planning on doing an easy trek around Glass House Mountains, which I highly recommend. We actually stayed here on the unpaid portion of the trip (since we decided to extend the trip) and found it to be an excellent value-for-money. The accommodation is very basic but it's clean and it's got that rustic mountain feel.
For more posts on Queensland, please visit this page. If you are planning a trip to Queensland and is interested in my overall itinerary, please read this post first!