I'm sure all of you have seen an image of the majestic floating Golden Bridge that is seemingly held up by a pair of giant stone hands. It has been posted all over Instagram and travel websites in the past few years.
If you are planning a visit to Vietnam, and you want to see this magnificent bridge in person, then you'll definitely want to read this post!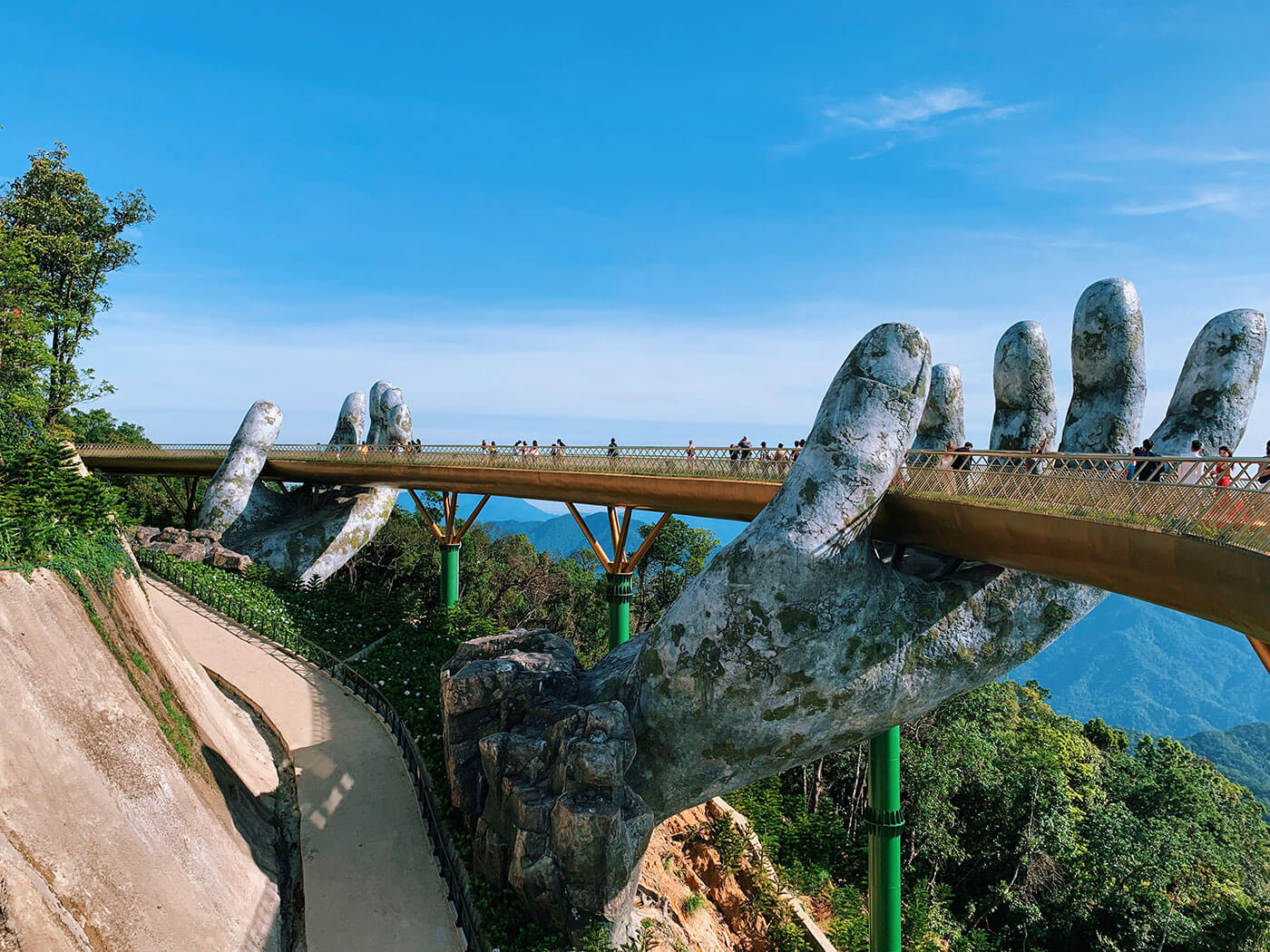 What (and where) is the Vietnam Golden Hand Bridge?
You'll be glad to know that a trip to see this bridge can be conveniently slotted into your Vietnam itinerary. The Golden Bridge can be found in a place called Ba Na Hills, only a 1-hour drive from Hoi An or Da Nang – so it's totally doable as a half-day trip from both cities!
Tip: You can see how I managed to fit a trip to Ba Na Hills into my Hoi An itinerary here: 3-day Itinerary for Hoi An.
What is Ba Na Hills and how do I get tickets to this place?
You can pre-book the admission ticket to Ba Na Hills here from Klook which allows you direct entry to the park with a QR Code. Super convenient – no need to pick up physical tickets anymore! Otherwise, tickets will cost 850,000 VND per person at the entrance of the park itself, so it totally makes sense to pre-book.
What is Klook? Klook is the leading travel and experiences booking website in Asia. And yes, they are legit! I personally always book my activities through them whenever I am traveling. See my review of Klook here.
Ba Na Hills is a bizarre yet charming amusement park located on top of a hill, as the name suggested. I say "bizarre" because once you step into this place, it's as if you're not in Vietnam anymore! They have grand castles and interesting sculptures that make you feel like you're in Europe, or France to be specific – everything in the park is named in French. I suppose it made sense with the history of French colonization over the region.
Also, even though I said it's an amusement park, it's not really like Disneyland with roller coaster rides and such. It's really just a place with architecture and restaurants that are exotic to local Vietnamese.
How can I get to Ba Na Hills?
Ba Na Hills is located within a short driving distance from both Da Nang and Hoi An.
To get to Ba Na Hills, I booked a private car charter for the entire day to take us from our hotel to Ba Na Hills, then to My Son Temple, and back to our hotel. The private charter cost US$76 for the entire day + US$15 surcharge for the early 6 AM pick-up time (I'll elaborate more on why I needed such an early pick-up time later). I feel it is totally justifiable since they were able to accommodate my itinerary for the day.
I booked for an entire day since I visited My Son Temple after, but if you are only interested in visiting Ba Na Hills, then you can just book the half-day option. Or, you can book this car transfer which is specifically for transfers to Ba Na Hills.
My experience visiting the Golden Bridge at Ba Na Hills
Okay, now that we have gotten the logistic stuff out of the way, how was the experience of being in Ba Na Hills?
Here is how my day went:
First, I asked our private charter car to pick us up bright and early at 6 AM. I knew Ba Na Hills is going to be crazy busy and we wanted to be one of the first people there to fully enjoy the Golden Bridge. I've seen footage of the bridge at peak time and it's not a fun place to be when it's full!
Ba Na Hills opens at 7:30 AM, so by leaving Hoi An at 6 AM we managed to get there right when the park opened. Once our driver dropped us off at the entrance, we made our way in.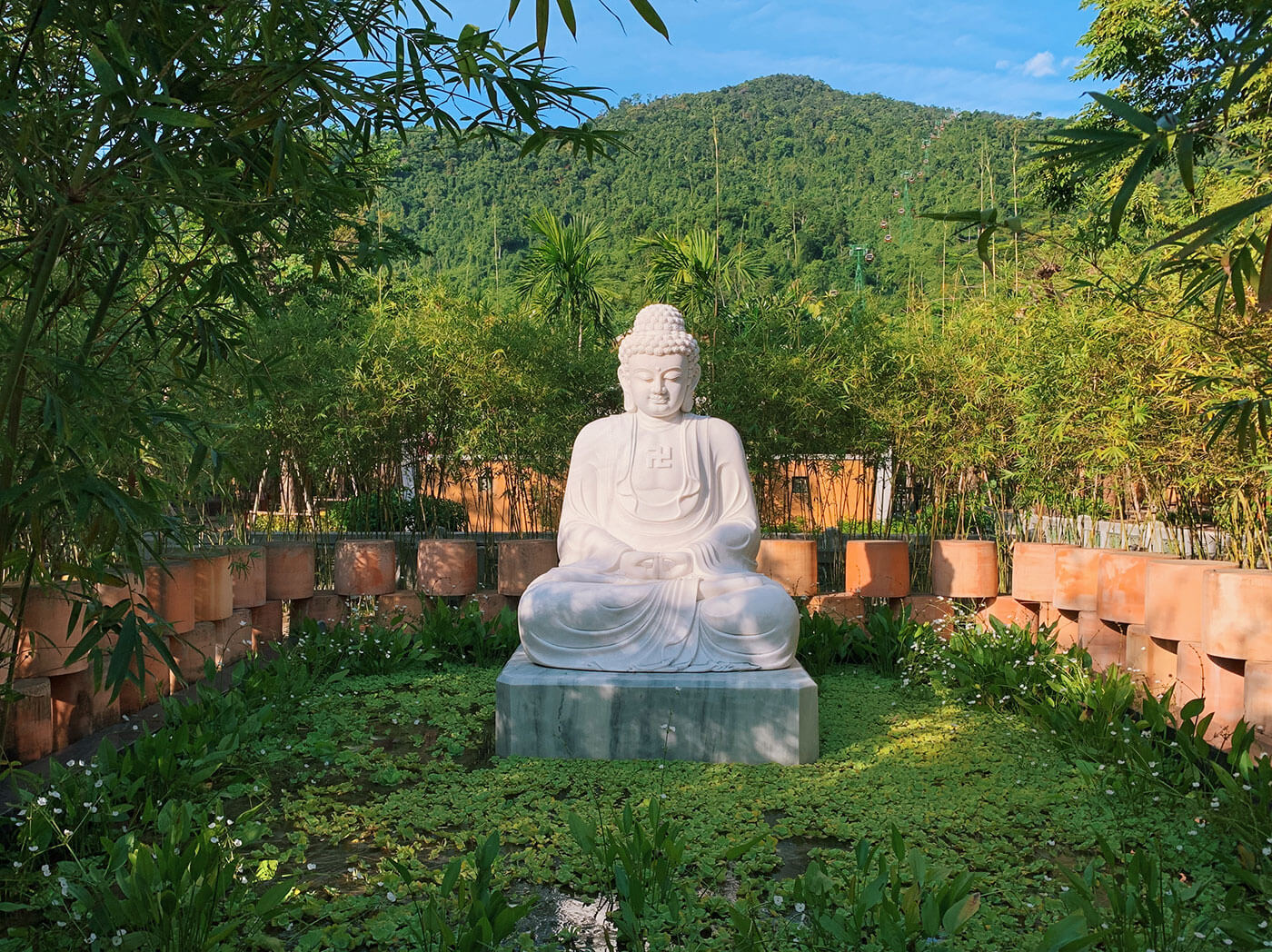 To get up to Ba Na Hills and to see the Golden Bridge right away, you need to take a fairly long cable car ride up from a station called Hoi An Station to Marseille Station. We didn't have to wait for the cable car since there weren't that many people at the park yet but I can imagine the queue being long once the masses have arrived.
I think this cable car is dubbed the longest continuous cable car ride in the world. It took about 25 minutes to go up, and definitely not for those who have a fear of heights! My friends and I don't have such fears, so we enjoyed ourselves on the way up. 20 minutes in, we started to see the fingers of the giant hands peeking out from atop the hill.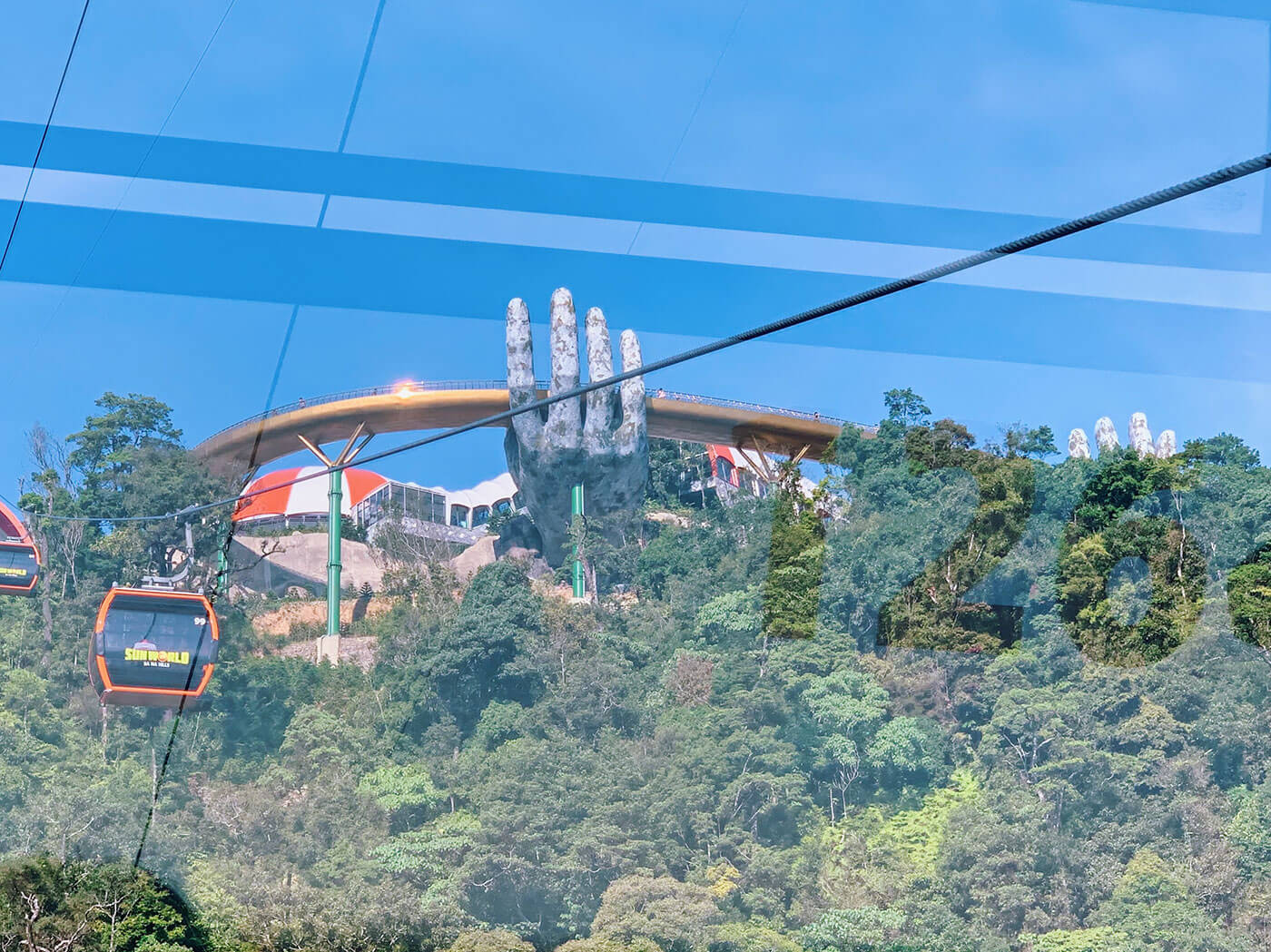 We could tell our decision to forgo sleep had definitely paid off. We got to the top of Ba Na Hills with very few people in the park and were greeted with a rather empty Golden Bridge when we got off at Marseille Station.
Just for comparison, by the time we left the park around 10:30 AM, we saw hordes of tourists going up Ba Na Hills. I hate to imagine what the bridge must look like by the time these people got up!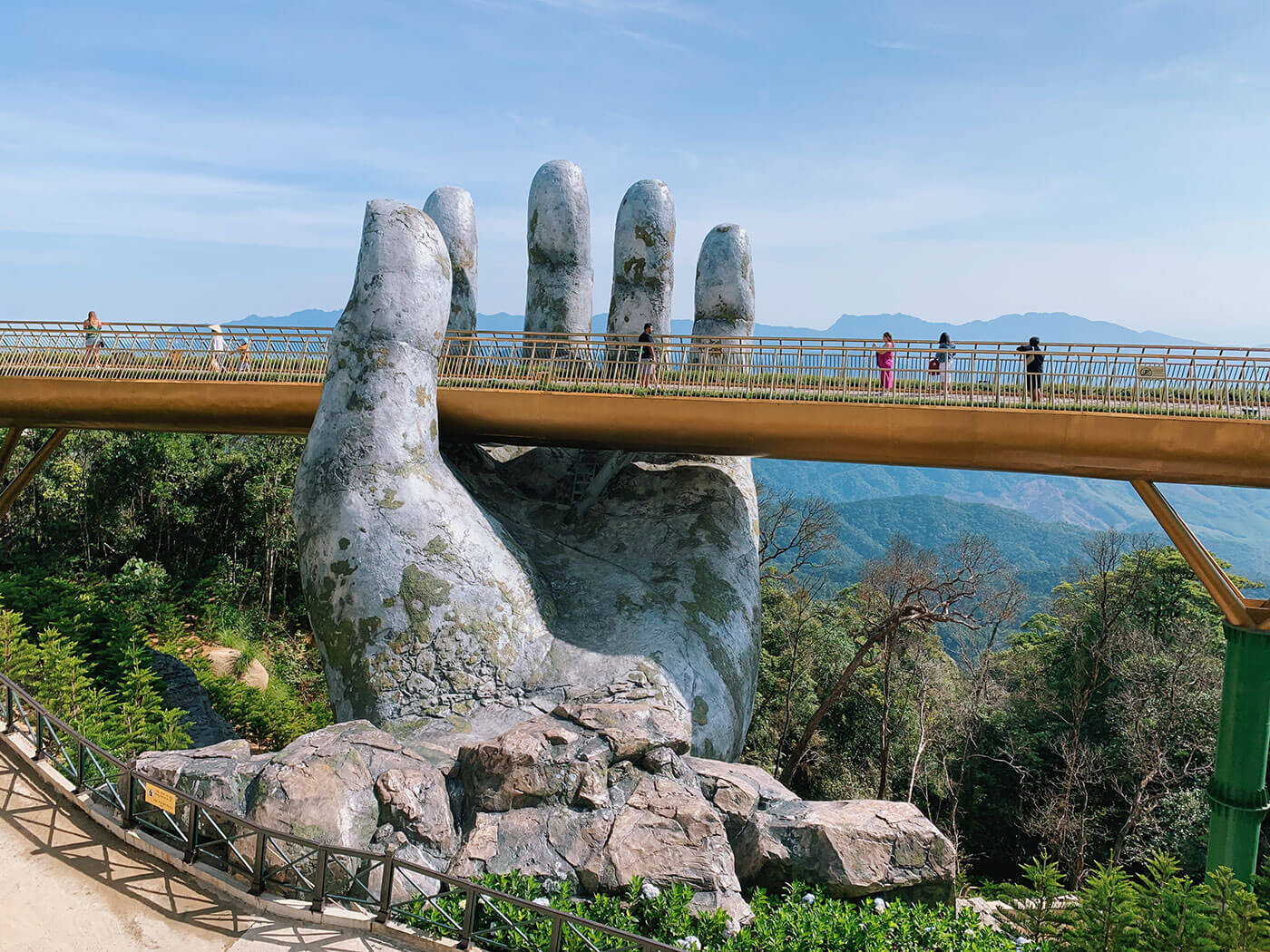 Another benefit of coming to Ba Na Hills in the morning is that the temperature is cooler at the top, especially in the morning. It is located 1,400m above sea level after all! This provided a much-needed respite from the hot summer down in Hoi An, where even at 7 AM the air was already hot and humid.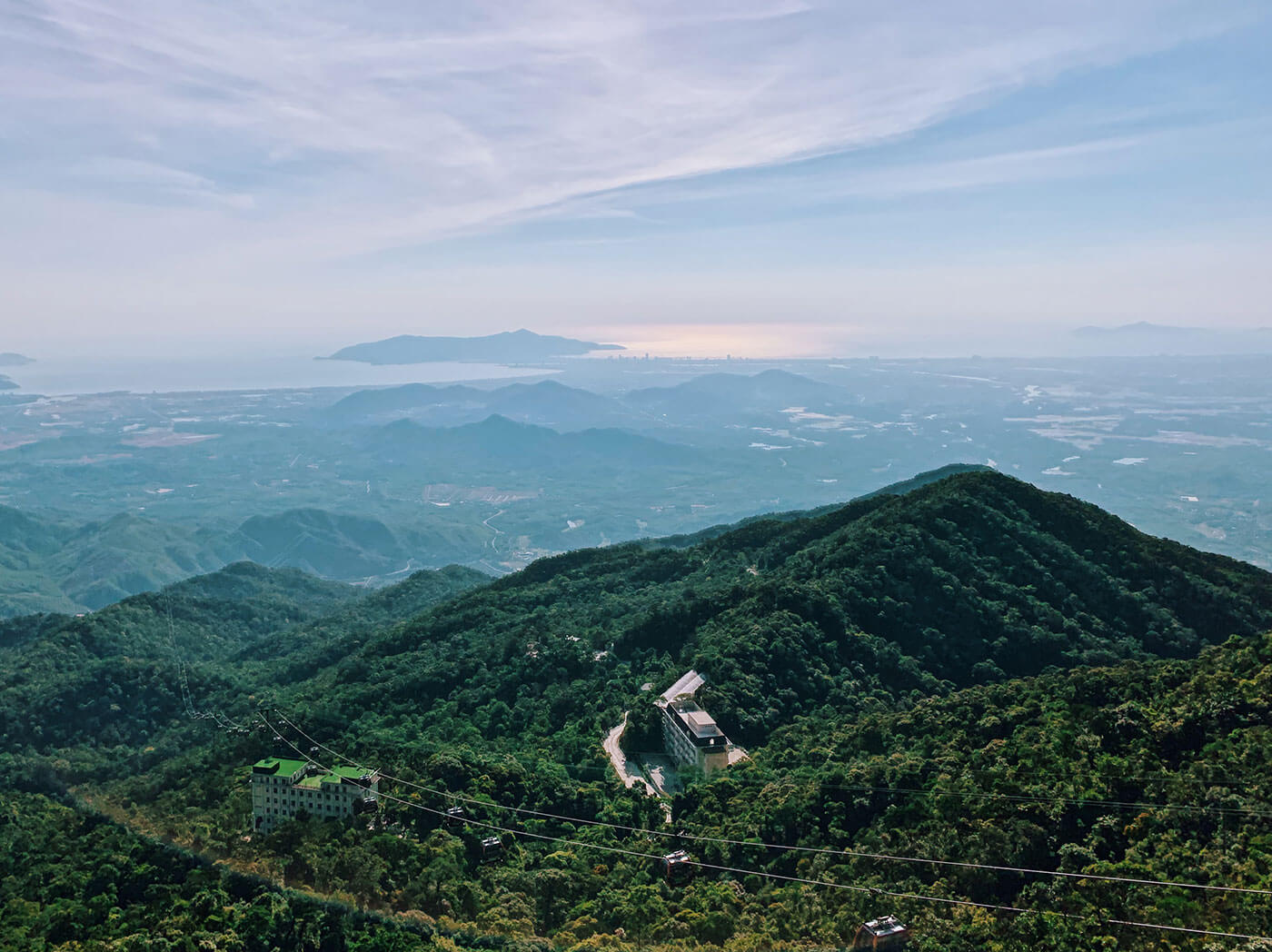 The rest of Ba Na Hills itself can be explored in about 3 hours. It's divided into sections that can be reached by another (shorter) cable car ride. When we were there in May 2019, some sections were not yet open so we did not spend much time in the park.
After taking copious photos at the Golden Bridge, we proceeded to check out the garden section (connected by foot from Golden Bridge), which took us to a western-looking flower garden with quirky sculptures followed by a temple with a giant Buddha. Loved the contrast of cultures there!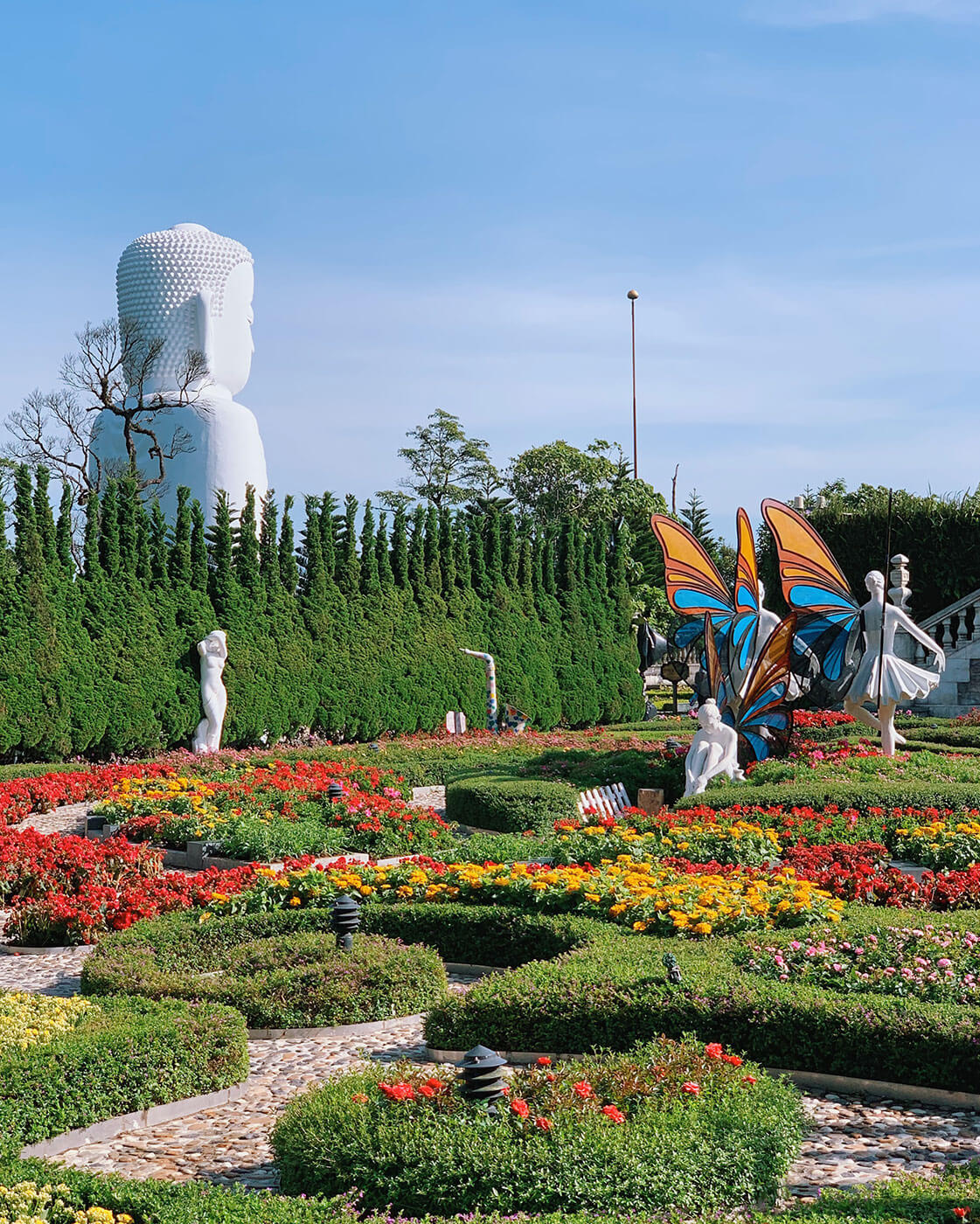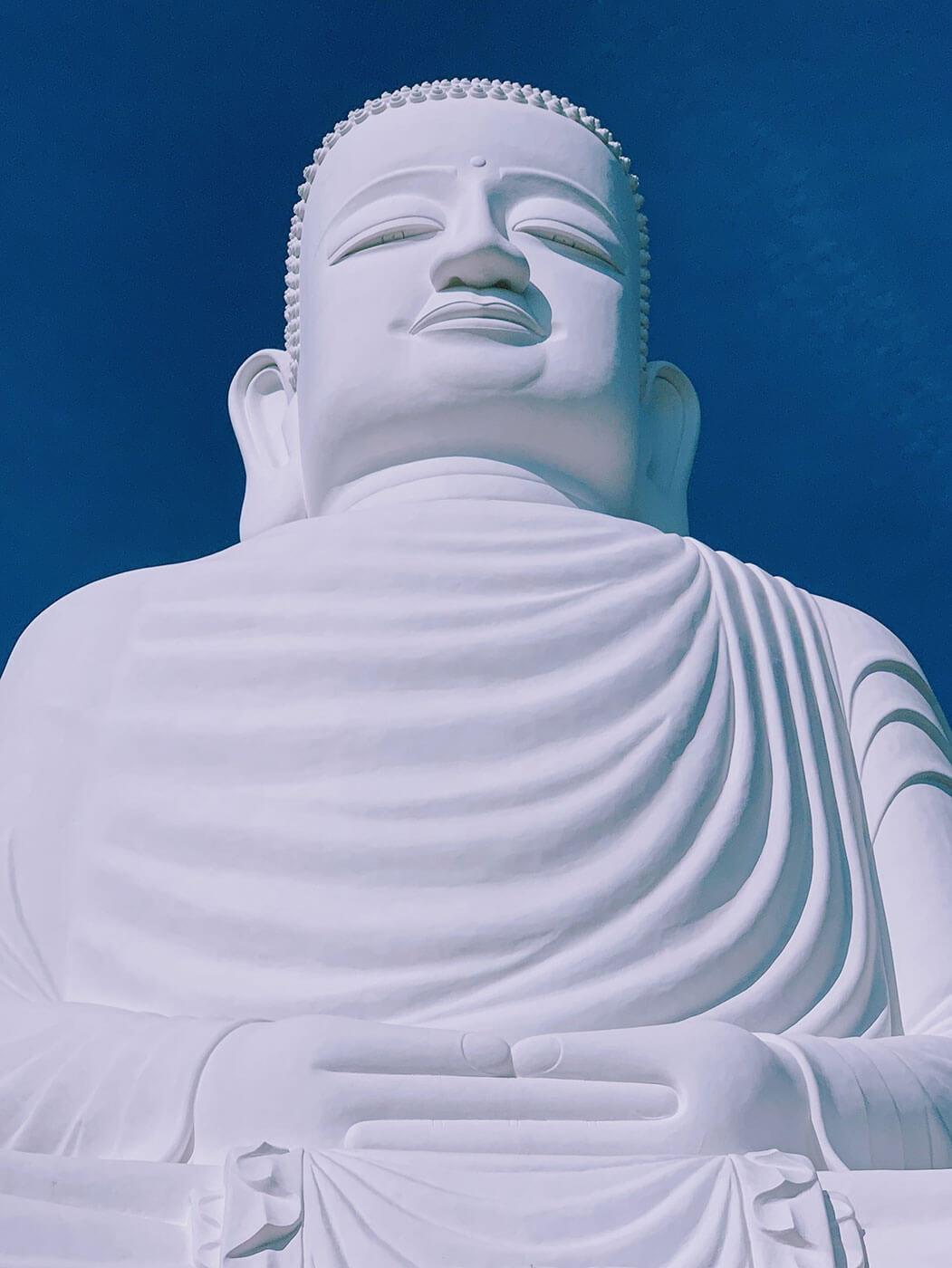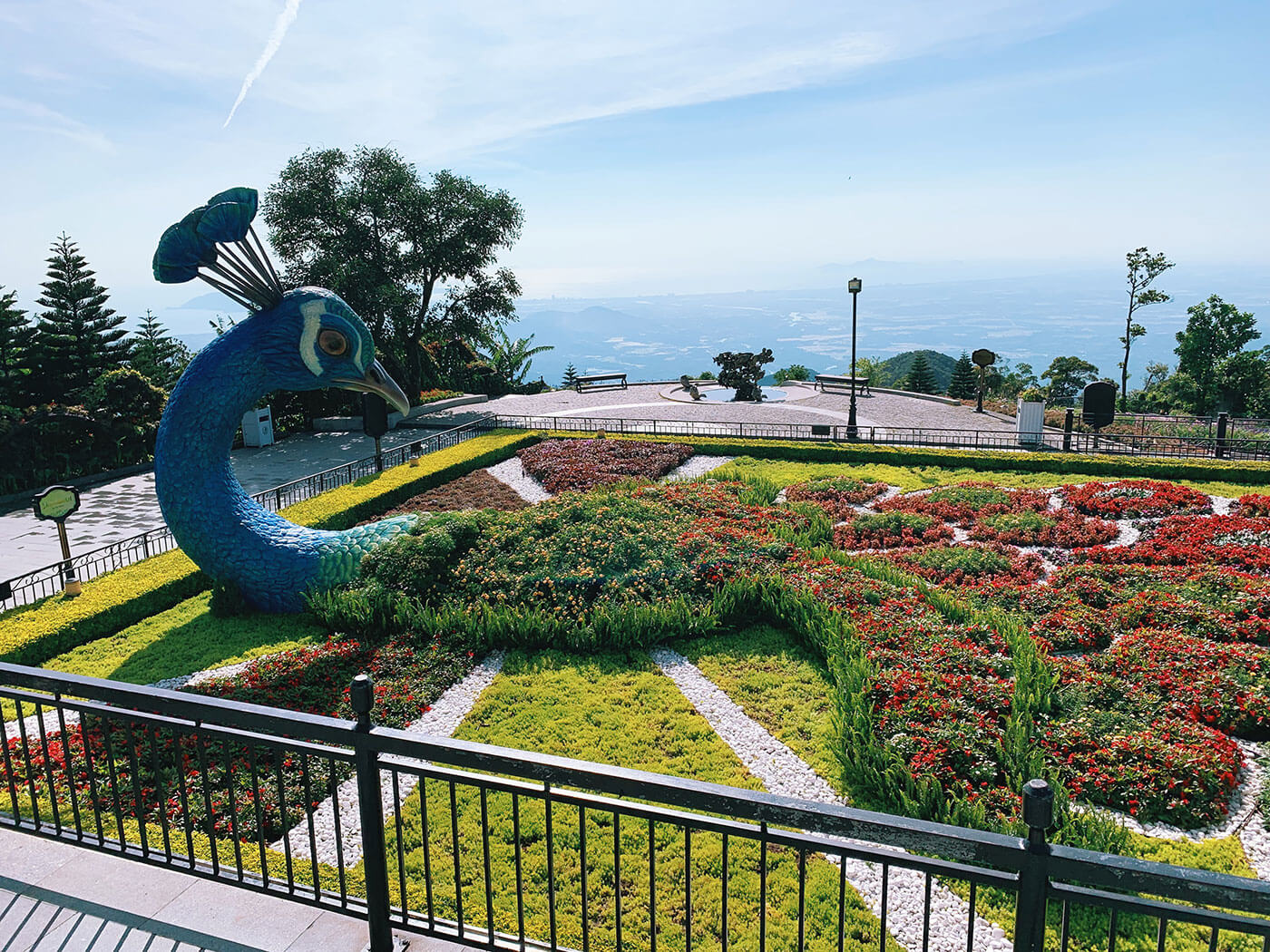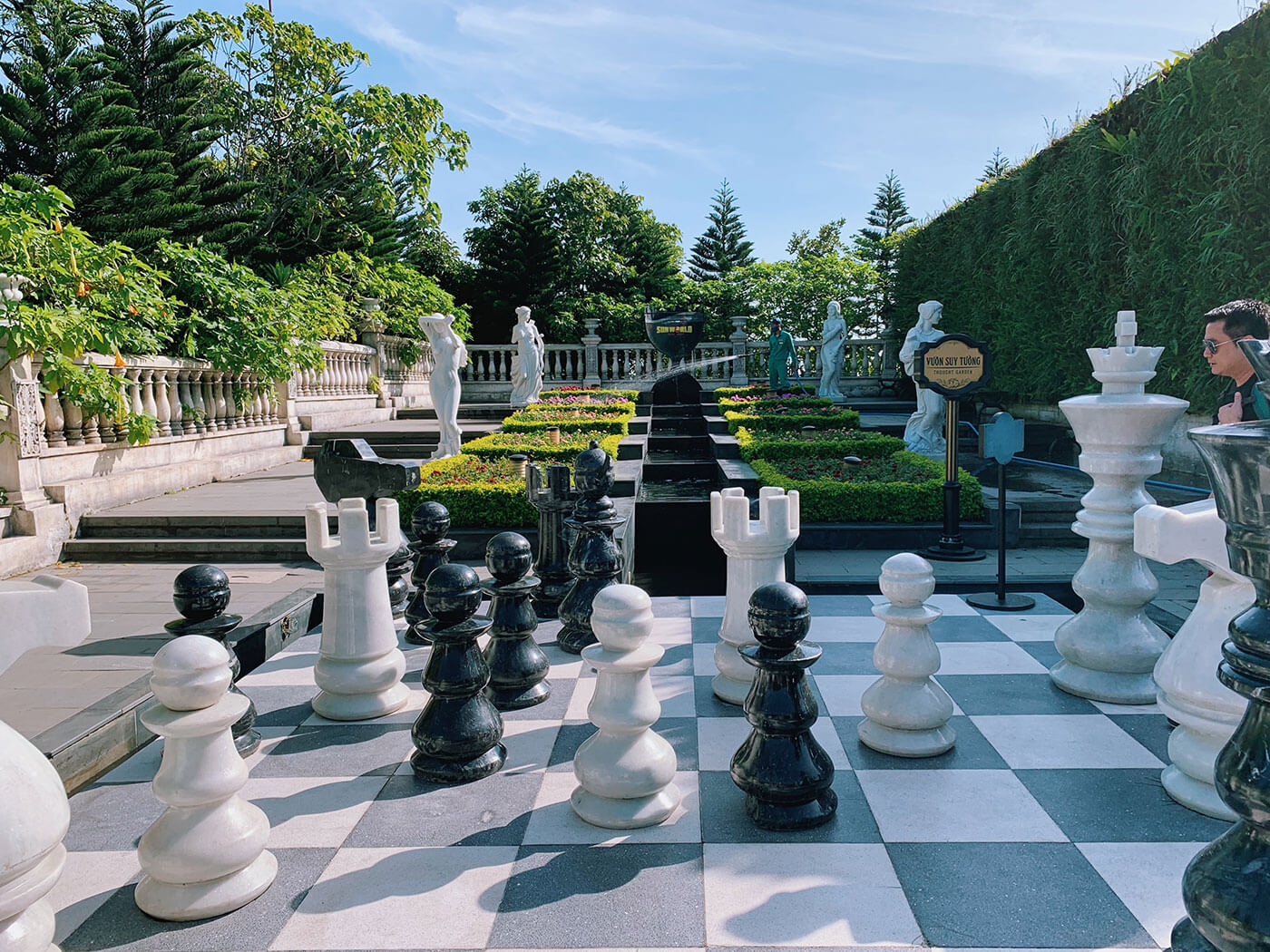 Once done with the park, we walked back to Bourdeaux Station (next to Marseille Station, the station we got off at earlier) and took the cable car to Louvre Station. We walked around the French Village and had breakfast there since we were starving.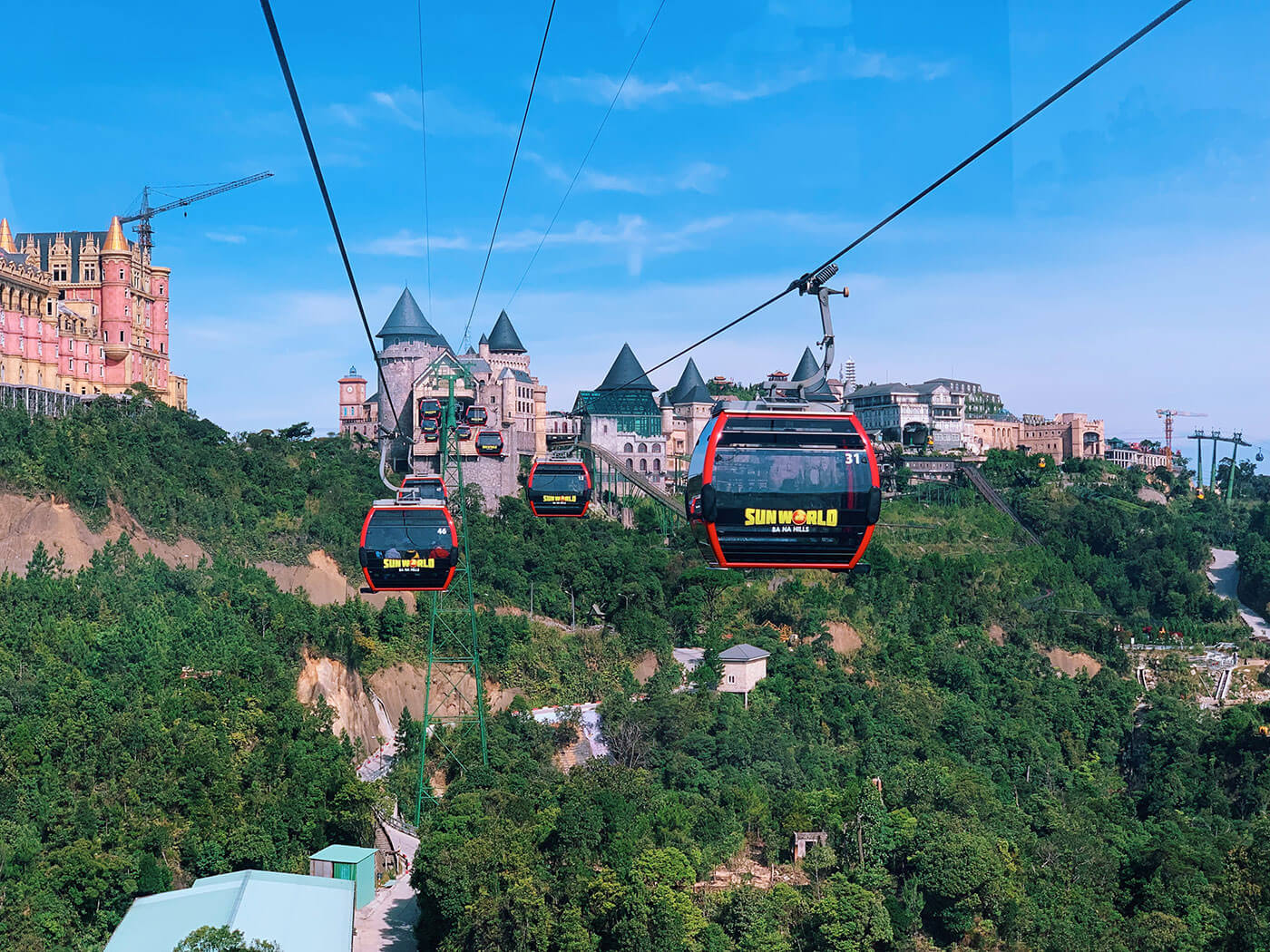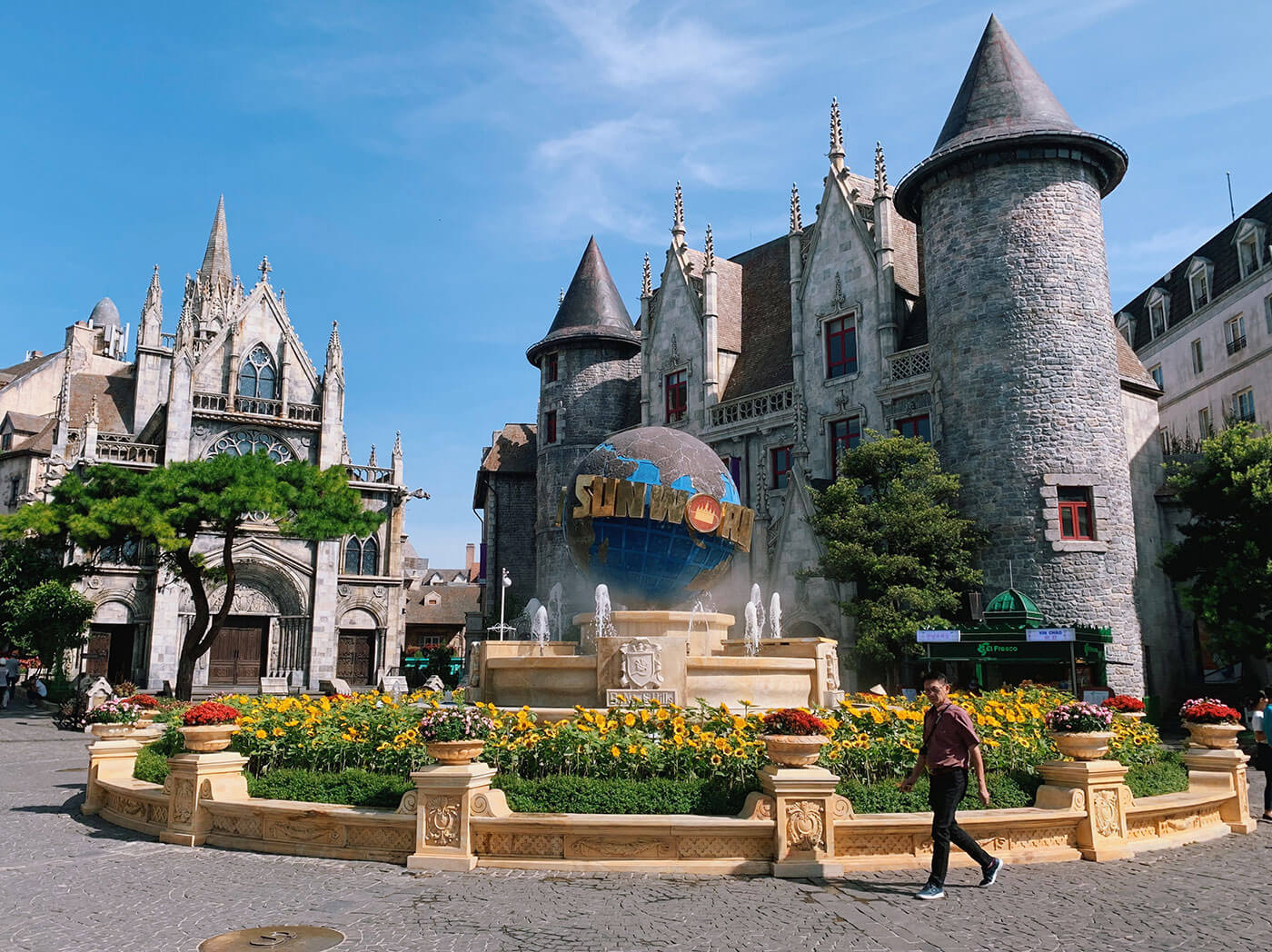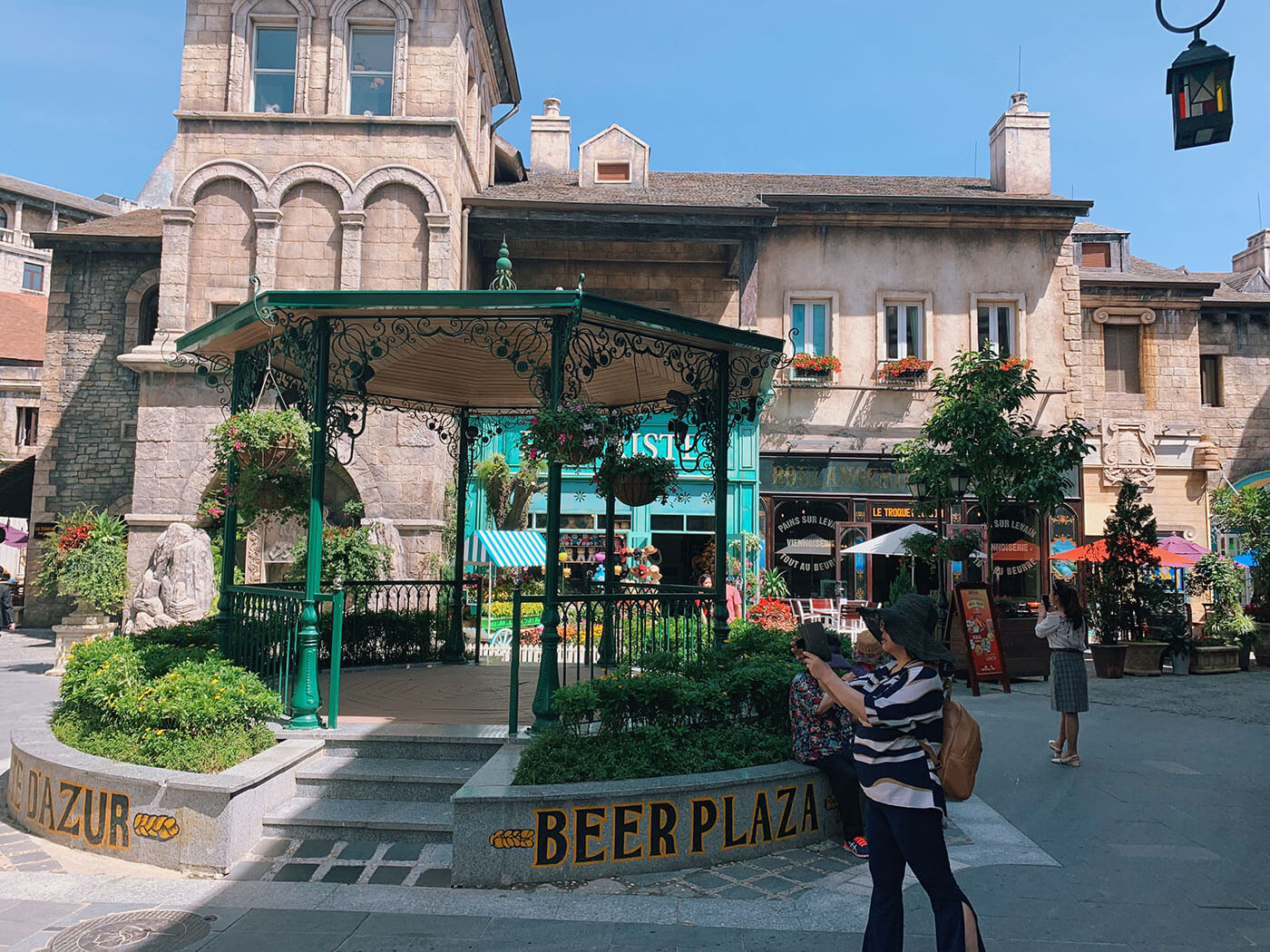 While arriving early has benefits, a word of caution if you plan to do what we did – many of the restaurants and shops were not yet open in the morning.
We had to settle for a very average hotel buffet which I really can't recommend for its price, especially relative to all the good food we've been having in Hoi An 😐. This is fine if you're just here to see the Golden Bridge, but if you're expecting more from the visit then you might be disappointed – unless you're willing to wait until the shops are open which would be around 10 AM.
After breakfast, we made our way to L'Indochine Station and took the cable car straight down to Suoi Mo Station, next to the exit of Ba Na Hills. The cable car took about 20 minutes. Once we got to the foot of the hills, we met up with our driver and went on our way to My Son Temple.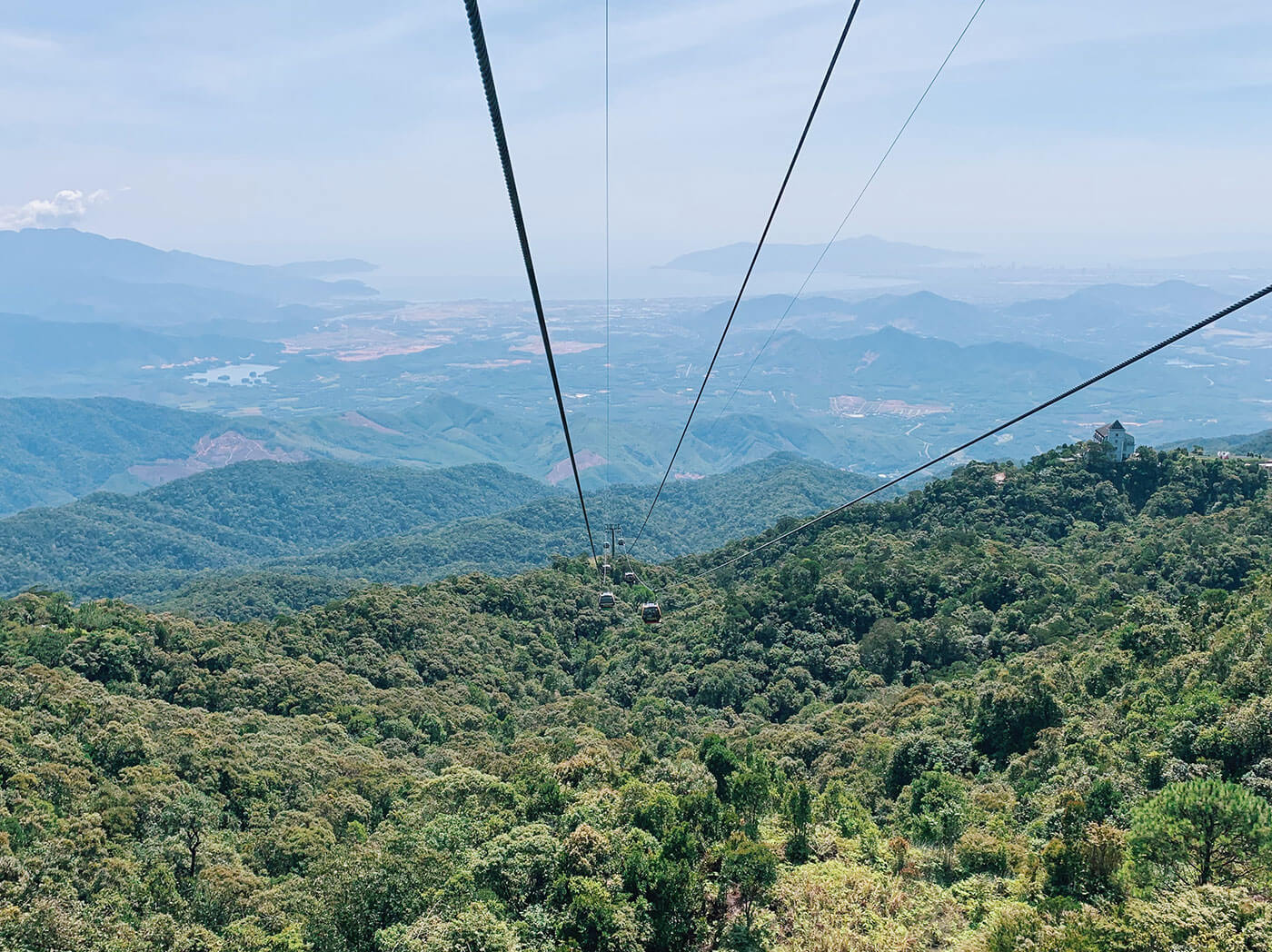 Can I stay overnight at Ba Na Hills?
Yes, you can. There is a hotel called Mercure Danang French Village, where you can stay overnight. The benefit of staying overnight is that you get to visit the Golden Hand Bridge as early as you can before the public arrives. As I mentioned before, Ba Na Hills is open only at 7:30 AM. So if you want to go earlier with absolutely no one else on the bridge, you'll need to stay overnight.
For me, it wasn't worth staying overnight since I did not care about being the only person on the bridge. I just wanted to make sure it wasn't too crowded when I was there. So the early morning private car charter was the best way for us.
Is it worth visiting the Golden Hand Bridge in Vietnam?
Hmmm, I'm a little bit torn over this.
On one hand (pun very much intended), it was a beautiful place and a pleasant visit. Hoi An was extremely hot at the time we visited, and a trip up the mountain was a welcome respite. The air was definitely much cooler there.
On the other hand, the place felt extremely artificial. And that's because… well, it is. It's essentially an amusement park modeled after European cities, in the middle of Vietnam.
Aside from the giant golden hand bridge, I wasn't super wow-ed by the other attractions in Ba Na Hills. It just wasn't my cup of tea. It was clear many visitors thought the same way because the rest of the park was not nearly as crowded as the golden hand bridge itself.
So, was it worth it? Well, it wasn't the worst thing and we definitely had fun visiting, but I personally won't be rushing back here. I'd say go visit it once if you have half day to spare. Otherwise, there are way better things to do in Vietnam.
And with that, concludes my guide on how to visit the Golden Hand Bridge! If you have any further questions, please feel free to comment below.
Enjoy your stay in Vietnam, and don't forget to check my other Vietnam posts!