I first heard about Hoi An about ten years ago, when an acquaintance raved about it and told me that I HAVE to visit one day. Since then, I've kept Hoi An in the back of my mind. It wasn't until this past summer that the plan to visit Hoi An finally materialized!
Hoi An means "peaceful meeting place", and has earned a UNESCO World Heritage site recognition since 1999 for its well-preserved ancient town. Interested in visiting Hoi An? Read on to find out what you can do there!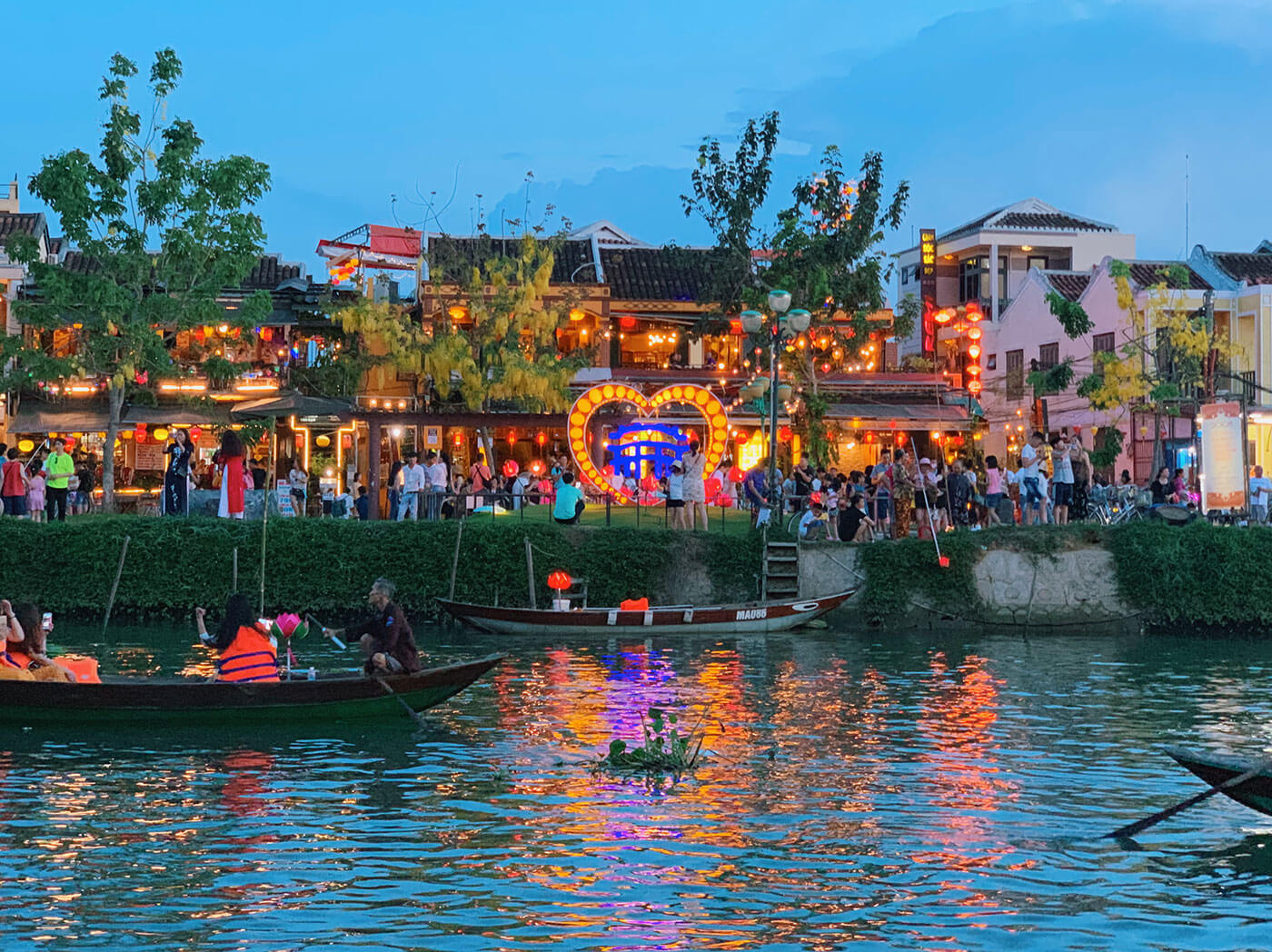 When is the best time to visit Hoi An?
The best time to visit Hoi An is during the cooler but dry months – February and March being the most ideal. Temperature during these months would be a cool 20-26C. April is still a good month to visit with highest temperature averaging at 31C, which is hot but not unbearably so.
I would avoid Hoi An during summer (May to August) unless you're a fan of getting roasted under the sun. I would know, because I personally experienced it when we went at the end of May. While the weather was clear and sunny every day, the heat was unbearable at 37C. We spent most of the days indoors and only emerged outside around 4-5pm when it was a little bit cooler. Everyone else did the same too!
How many days do you need to spend in Hoi An?
If you are only interested in Hoi An ancient town, one day is enough to go around and see everything. However, if you're interested in doing other things in the area (such as day trips and classes) then I recommend setting aside 3 days.
How to get to Hoi An
The best way to reach Hoi An is to fly into Da Nang Airport (DAD), then take a 1 – 1.5 hour drive to Hoi An. From Da Nang Airport, there are a few ways to reach Hoi An:
Private airport pick-up – I booked a private airport car charter to take us from Da Nang Airport to Hoi An since it's convenient and really affordable. We only paid US$9 one way for the three of us! Yes, that's $3 / per person. When our flight landed, our driver was already waiting for us at the exit holding a card with my name on it! I also booked the same private car charter to take us back to the airport at the end of the trip. So in short, I would HIGHLY recommend pre-booking the airport car charter especially if you're traveling with a group of friends.
Shared Shuttle Bus – If you are traveling alone, you could go with the shared shuttle bus to save a few dollars.
Getting around in Hoi An
Hoi An ancient town is a very small and walkable area. If you are only planning to see the ancient town, you can just walk!
But if you're planning to get out of Hoi An, I highly recommend getting your own private charter car to freely go places. It's very affordable for what you get. I used this private car to go to Ba Na Hills and My Son temple, which you will see on my Day 2 Itinerary.
That specific private car charter that I linked is seriously awesome. I booked their services when I was in Hoi An. They showed up on time for my early pickup time (6 AM) and are so responsive on WhatsApp throughout the trip.
Most importantly, they are honest. I actually did a very stupid thing and left my phone in the car after they had dropped us off at the hotel at the end of the day, which as you can imagine was an extremely stressful ordeal for me. I had everything on that phone including the tour contact number. But I managed to get in touch with them via Klook and I had my phone back in my hands not even 15 minutes later. THANK YOU SO MUCH!!
Where to stay in Hoi An
Hoi An is not a big area, so anywhere will be convenient to stay.
We stayed at L'Ami Homestay, a 4-story house converted into a charming guest house. I found the staff to be extremely hospitable, a great value, and a great location – it's practically next to the night market and only a 3-minute walk to the ancient town. We paid US$120 for a 3-night stay including breakfast, and since I went with 2 friends it ended up being $13 per night/person.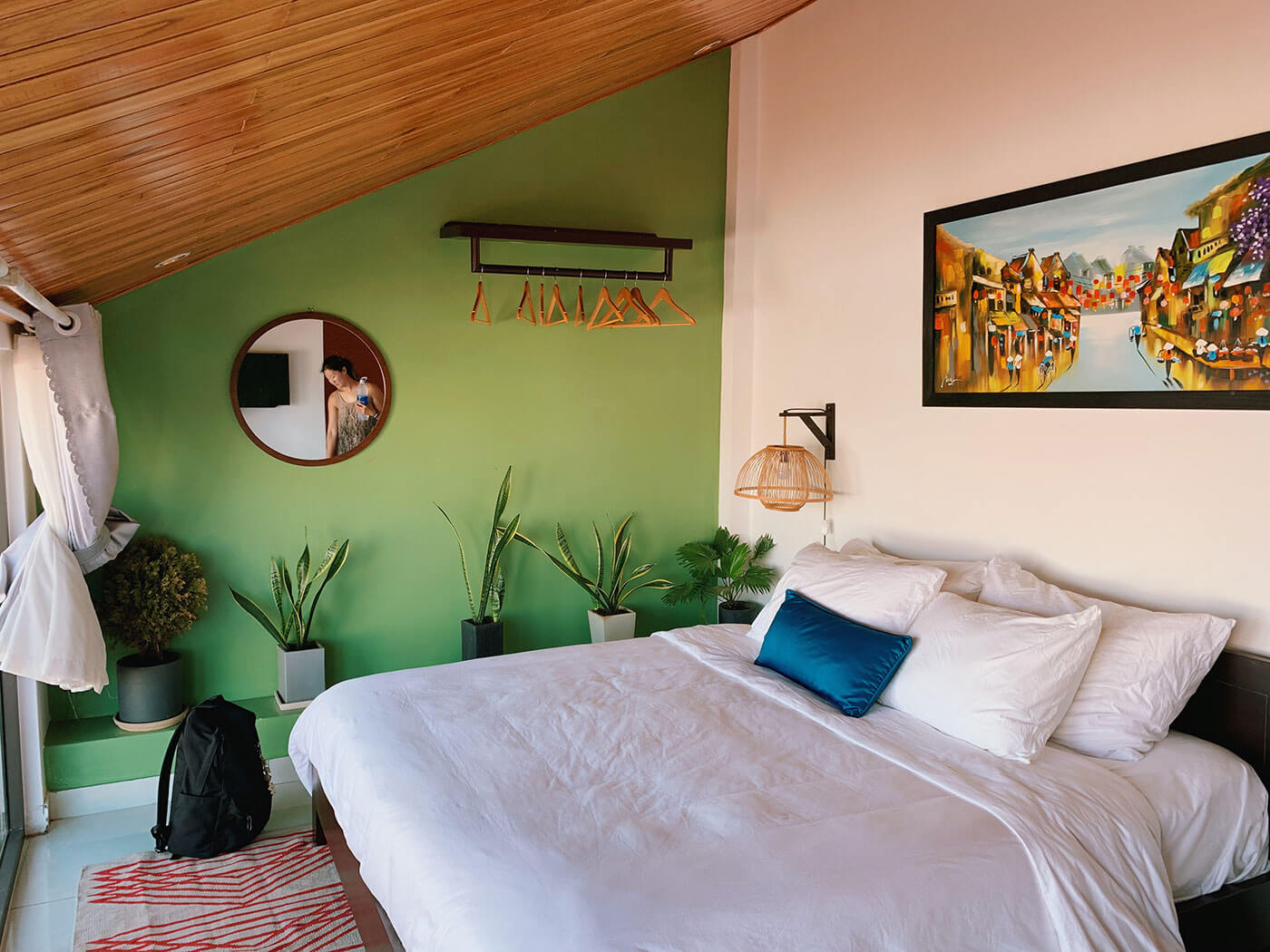 The only downside is the lack of elevators in the building. We booked the rooftop room and had to climb up to the 4th story each time we want to get out. It is a house after all.
More Vietnam Travel Tips
Is it your first time visiting Vietnam? Don't worry, I got you! Here are some tips that will help smoothen your trip
Pre-book your 4G Vietnam SIM Card here and pick it up at the Da Nang Airport when you land. There will be a bunch of telco stalls right after immigration, but you save a few dollars by pre-booking. I cannot recommend having a working data plan enough. It helped me so much in my travels – I was able to communicate with my tour operators, check my accommodations, as well as looking up directions while on the road. I used Vinaphone and had no issues at all!
You don't need to prepare the local currency VND (Vietnamese Dong) before you arrive. But I do recommend having some US Dollars with you since it is also accepted as a form of currency and easy to exchange in Vietnam.
Download WhatsApp – this is the popular messaging app in South East Asia and it's how locals and tour groups can communicate with you.
If you are visiting during the hot summer months – don't forget to hydrate, hydrate, hydrate!! When we were there, the temperature reached 34-37C. We made sure each of us had a 2L bottle of water and drank all of it by the end of each day. Summer in this part of the world is harsh and you don't want to get sick from dehydration.
Wondering what to eat in Hoi An? Don't worry, I got you covered! Read my post on 12 Must Eat Food and Where to Eat in Hoi An
Day 1: Explore Hoi An Ancient Town, a UNESCO World Heritage site
The main thing to do in Hoi An is of course to explore the ancient town. You'll see why once you get there. The area is charming and beautifully lit by colorful silk lanterns at night.
1. Visit the UNESCO World Heritage sites and go on lantern sightseeing in Hoi An Ancient Town
First, get your ticket to the ancient town for 120,000VND (approx US$5). This ticket grants you admission to five of the sightseeing places in the ancient town. Some of the more popular ones are the Japanese Covered Bridge and the Museum of History and Folklore.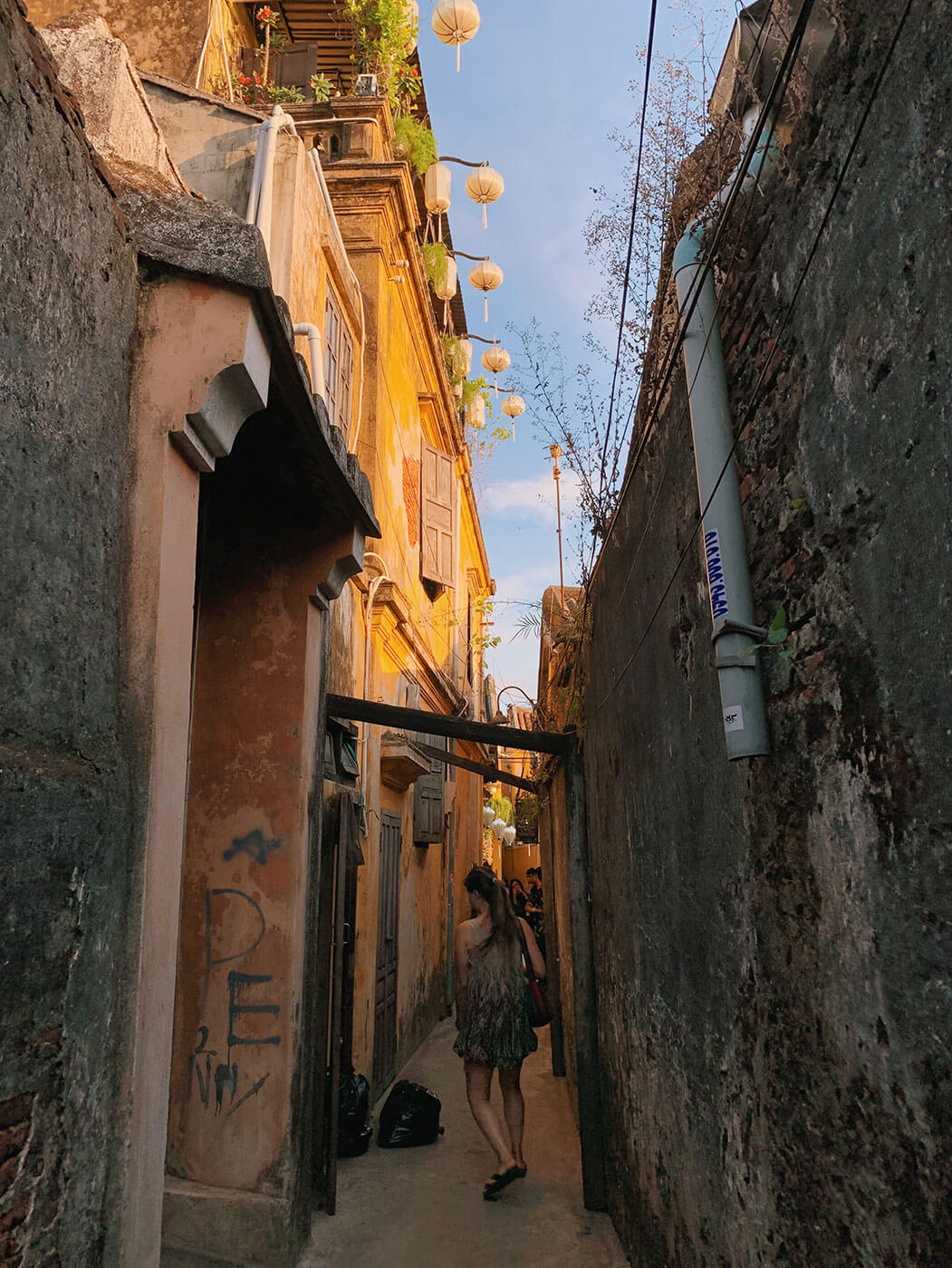 Another thing I loved doing in the ancient town is to go on my very own lantern hunt – it's not that hard to spot the lanterns since they're practically everywhere, but I like finding ones that stood out to me.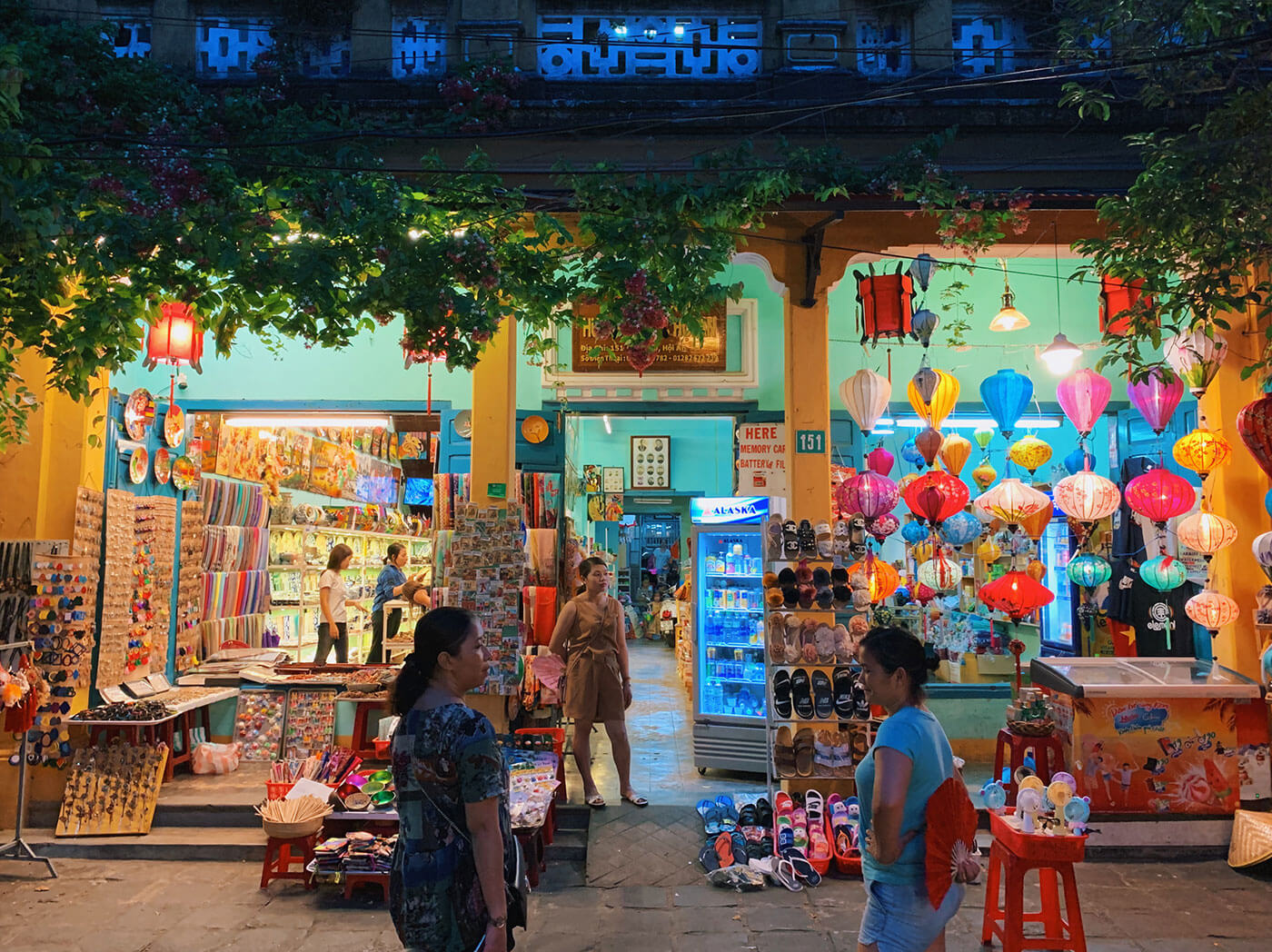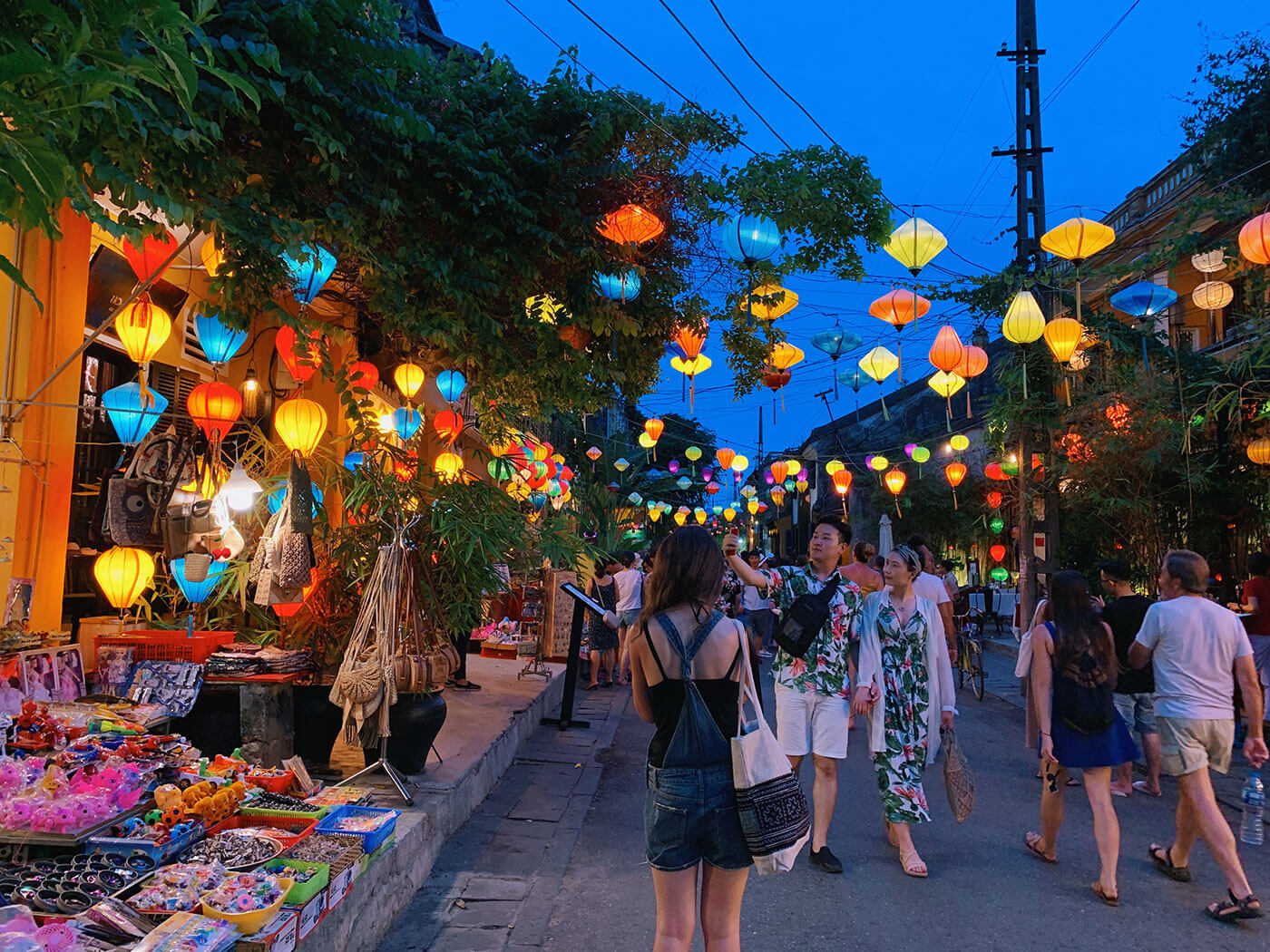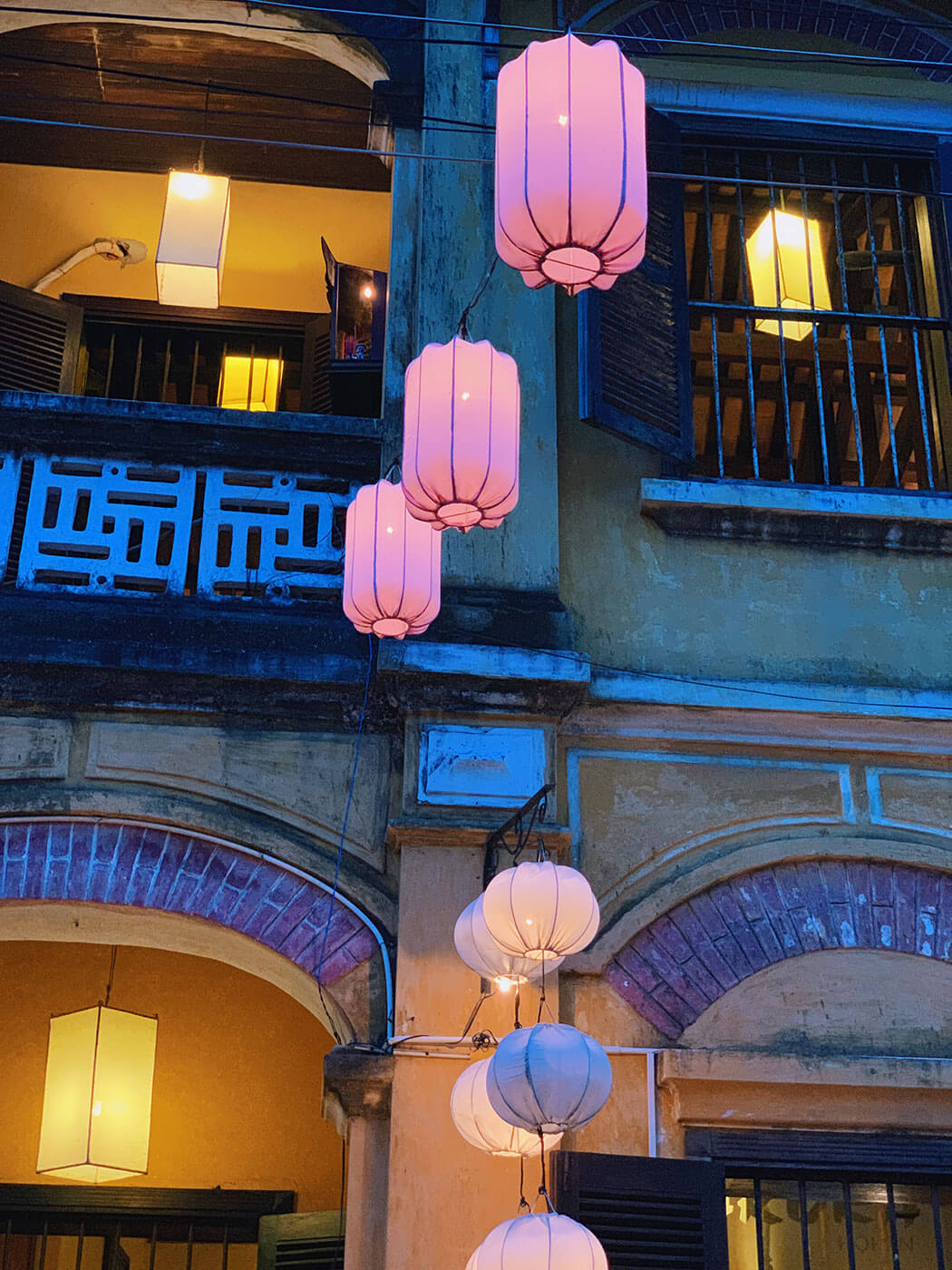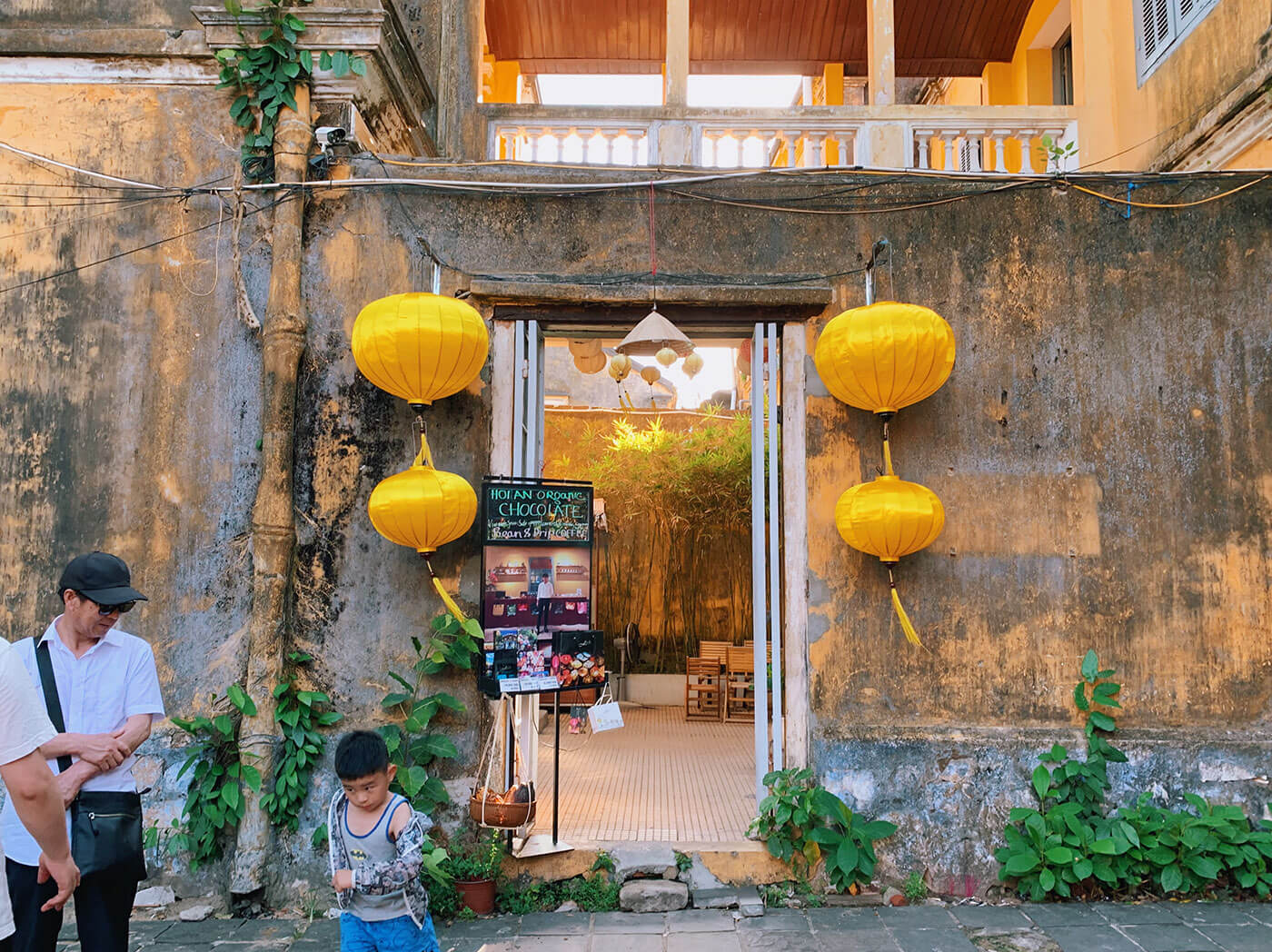 2. Go on a Food Tour around Hoi An
Vietnamese food is one of my favorite cuisines, and the food in Hoi An is no exception. I've written about all the amazing food I had in this Hoi An Food blog post. Think Banh Mi, Banh Xeo, Cao Lau, and many more. I've also included details on where to try these dishes in Hoi An, so be sure to read the post if you're a foodie like me!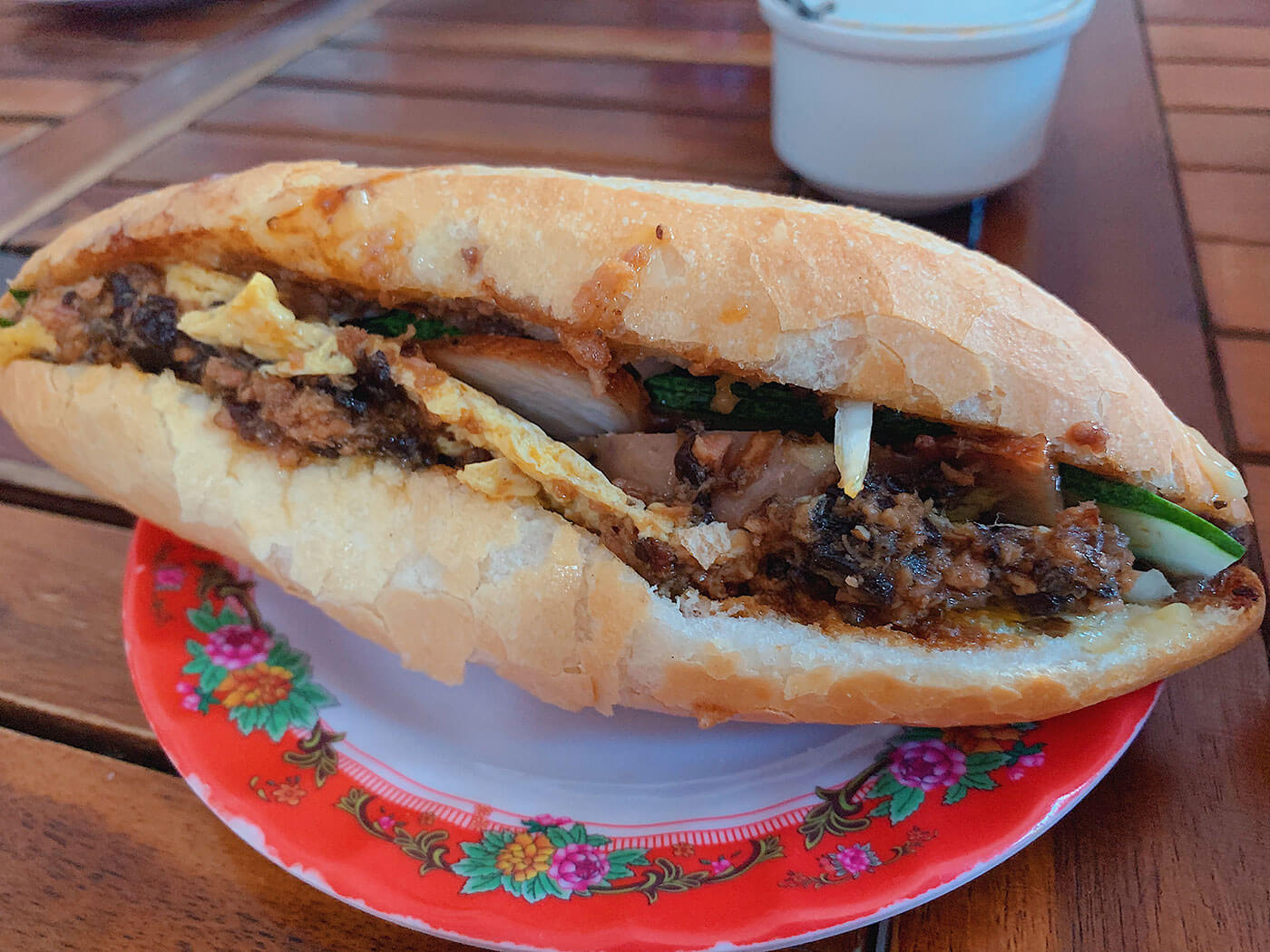 I love going on food tours on my travels. You can find out more in-depth information about each dish and how it plays a part in local culture when you have someone local takes you around!
Here are a few options for food tours in Hoi An:
3. Rent an Áo Dài, a traditional Vietnamese dress
If you are a fan of dressing up, I recommend renting an Áo Dài for the day. Ao Dai is a Vietnamese traditional dress made up of a beautifully patterned long tunic top with a high neckline that reminds me a lot of Qipao. It's worn over long solid-colored pants, which are usually white. You can also wear Nón Lá, a conical hat made of bamboo or palm leaves, to complete your outfit.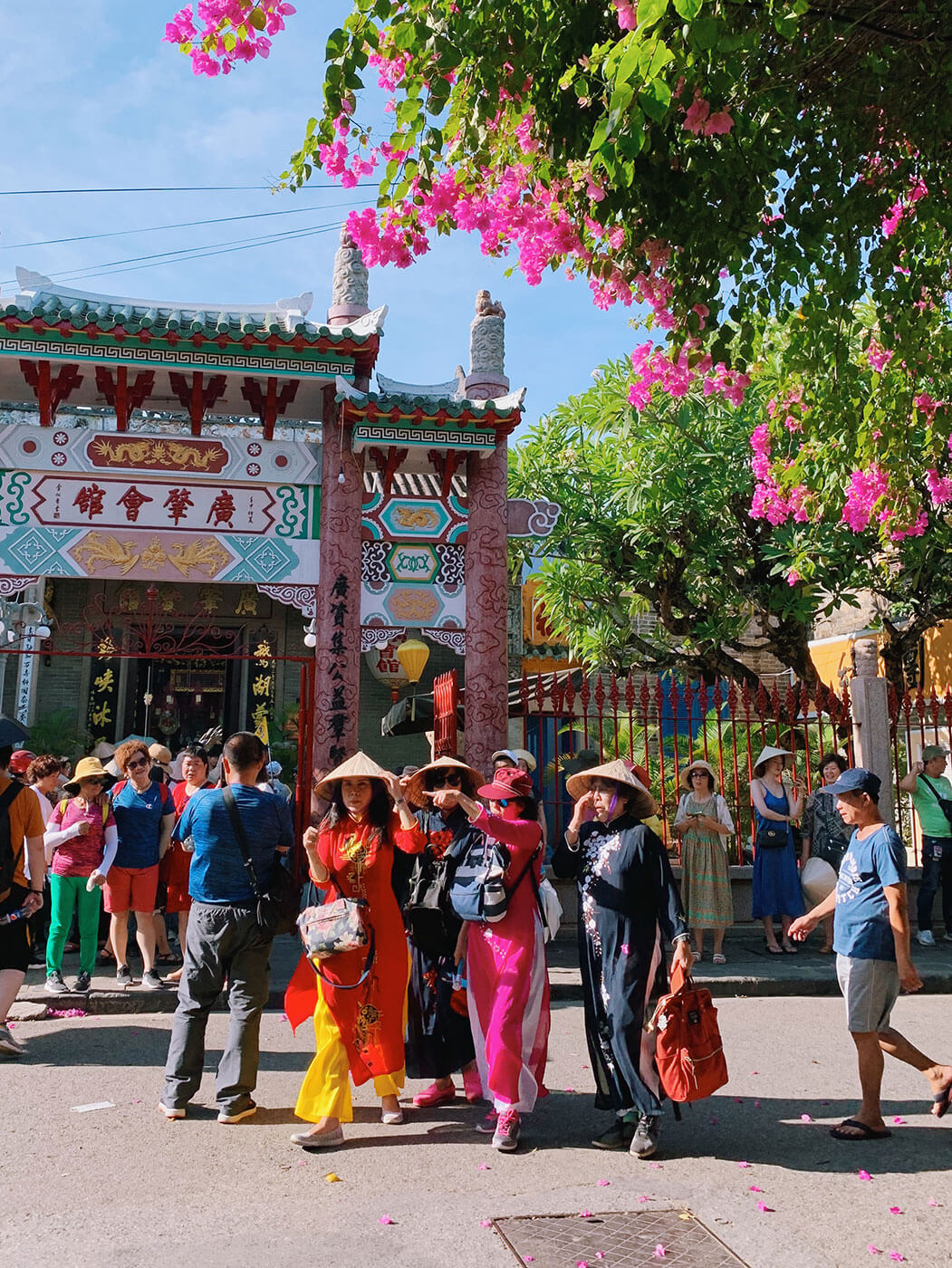 I didn't do this since I visited during the extremely hot month of May and I just can't even imagine wearing such clothes in that weather. However, I did see a few ladies who braved the weather and dressed up in these beautiful dresses. I have no idea how they did that, but I thought it would be a great opportunity for a photoshoot.
4. Sip Vietnamese Coffee on a rooftop bar
Vietnam is a country that runs on drip filter coffee, so definitely try some Vietnamese coffee while you're here!
For more information about Vietnamese coffee and the different ways coffee is served in Vietnam, you can head to my Hoi An food blog post!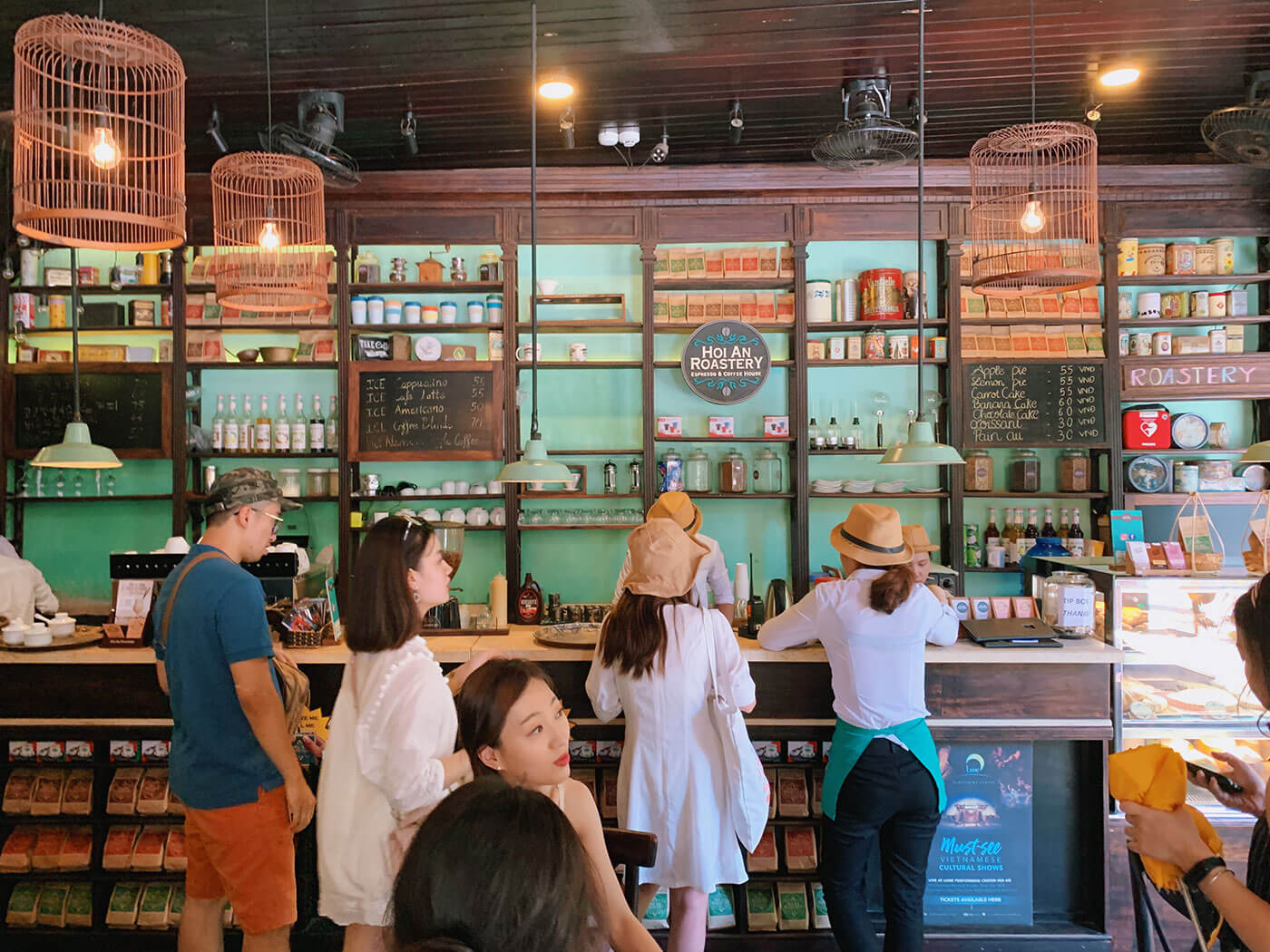 5. Visit Hoi An Night Market & Thu Bon River at night
Once it's closer to sunset, make sure you walk by Thu Bon River. The magic of Hoi An, I feel, truly shows itself at night – especially during the summer months. When it's hot outside, you barely see anyone walking around on the streets of the ancient town. The town only starts to come alive around 4-5 pm, and as the sun disappears into the horizon, boats and paper lantern starts to float around Thu Bon River.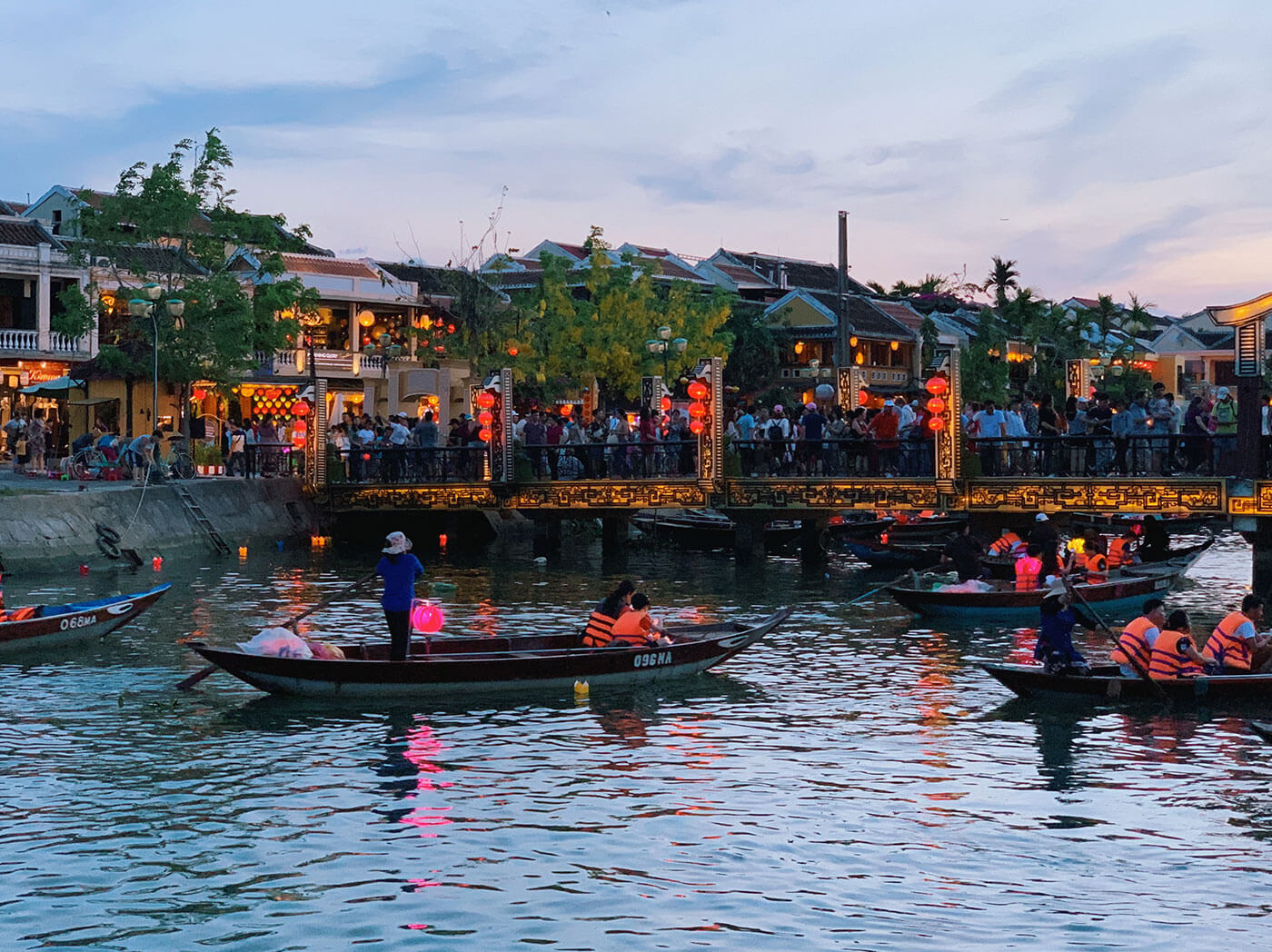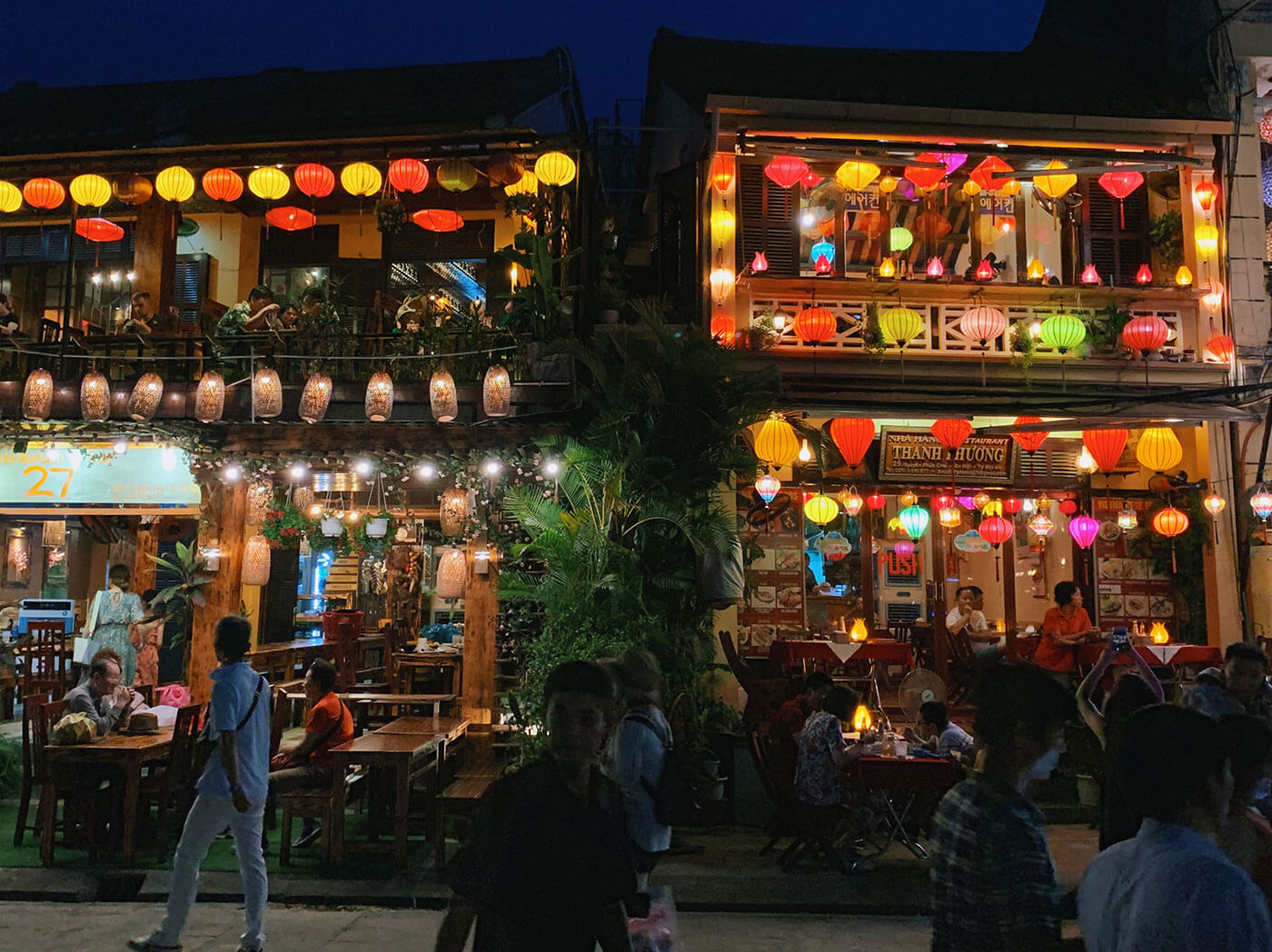 Personally, while I think the river and town are a beautiful sight at night, going on the boat and releasing a paper lantern on the river is not necessary. The boat ride was really short and not that comfortable, and releasing a paper lantern into the river every night seems like a good way to generate unnecessary waste. I did go on the boat but only because it was included in the "surprise" food tour that I had booked. I say "surprise" because I didn't know it was going to be a food tour when I booked it (more story on that here: 12 Must Eat Food and Where to Eat in Hoi An)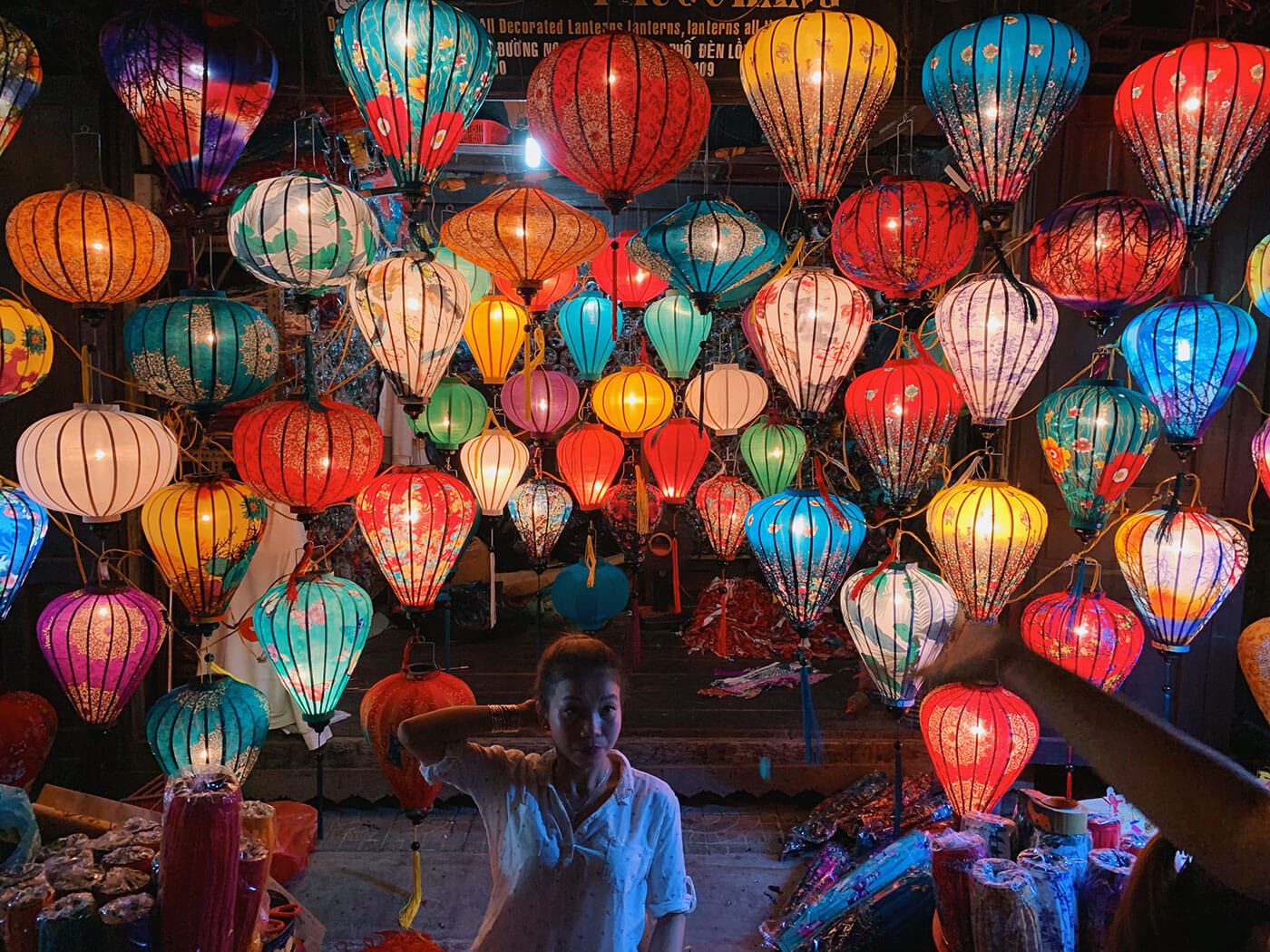 After that, the Hoi An Night Market is just a short walk away from Thu Bon River, and I think it's worth visiting at least once during your time in Hoi An. You can find some street food, and souvenirs or buy something to take back home. And yes, you can find silk lanterns and even get your own Ao Dai (Vietnamese dresses) to take home.
6. Get a Vietnamese Massage
This might just be my favorite item on the list aside from the food tour one. A trip to South East Asia isn't complete without a massage session, and Hoi An is no exception to that rule. The two massage places I tried in Hoi An are the following:
Ylang Ylang Spa – We pre-booked the Vietnamese-style traditional massage, which is a steal at US$16 per 60 minutes. The location is a little out of the way, but they would send a car to pick us up and drop us off so it's not a big deal. We actually ended up coming here twice for pre-dinner massages!
Art Spa – This place is just a few minutes' walks from the Hoi An market area. We paid about US$15 for a foot massage here, which was also really good (Google Maps link)
Day 2: Day trip to Ba Na Hills and My Son Temple
For the second day, we decided to make it an entire day excursion by combining a trip to Ba Na Hills with My Son Temple. Read on to find out more about these trips!
1. Visit Ba Na Hills (Morning)
I'm sure all of you have seen the majestic floating Golden Bridge, seemingly held up by a pair of giant stone hands. It has been posted all over Instagram. If you have, you'll be glad to know that this bridge can be found in a place called Ba Na Hills and it's just a 1-hour drive from Hoi An – totally doable as a half-day trip!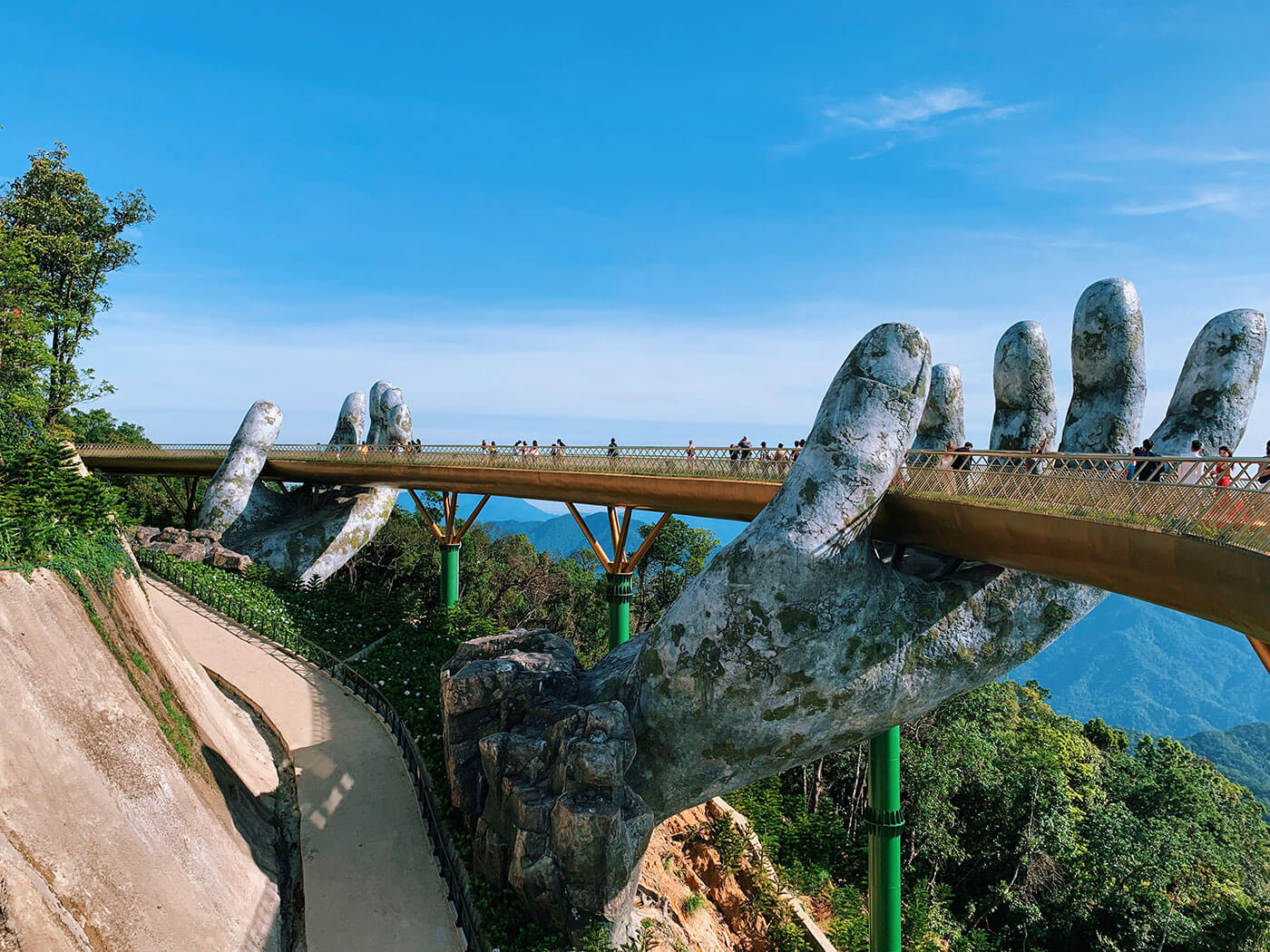 You can pre-book the admission ticket to Ba Na Hills here for US$31 / person, which allows you direct entry to the park with a QR Code. Otherwise, tickets cost 750,000VND (About US$32) / person at the park itself, so it totally makes sense to pre-book.
To get to Ba Na Hills, I booked a private car charter for the entire day to take us from our hotel to Ba Na Hills, then to My Son Temple, and back to our hotel. The private charter costs US$76 for the entire day + US$15 surcharge for the early 6 AM pick-up time, but I feel it is justifiable since they were able to accommodate my day itinerary. If you want to just visit Ba Na Hills, then you can do the half-day option which cost US$46.
To find out more about Ba Na Hills, head over to my dedicated post: Visiting Vietnam's Golden Giant Hand Bridge in Ba Na Hills
2. My Son Temple (Afternoon)
My Son Temple is about a 2-hour drive from Ba Na Hills. We took this time to sleep and recharge our energy levels in the car. I only woke up when we were at the gate of the temple.
You can set aside about 1.5 – 2 hours to visit My Son Temple. The ticket can be easily purchased at the gate, and once you get past the gate there is a little museum you can take a look at before proceeding to the temple sites.
A little past the museum, there is a little station where you can board a shuttle that takes you to the actual temple site. I recommend taking this shuttle since the temple is quite a walk away from the gate.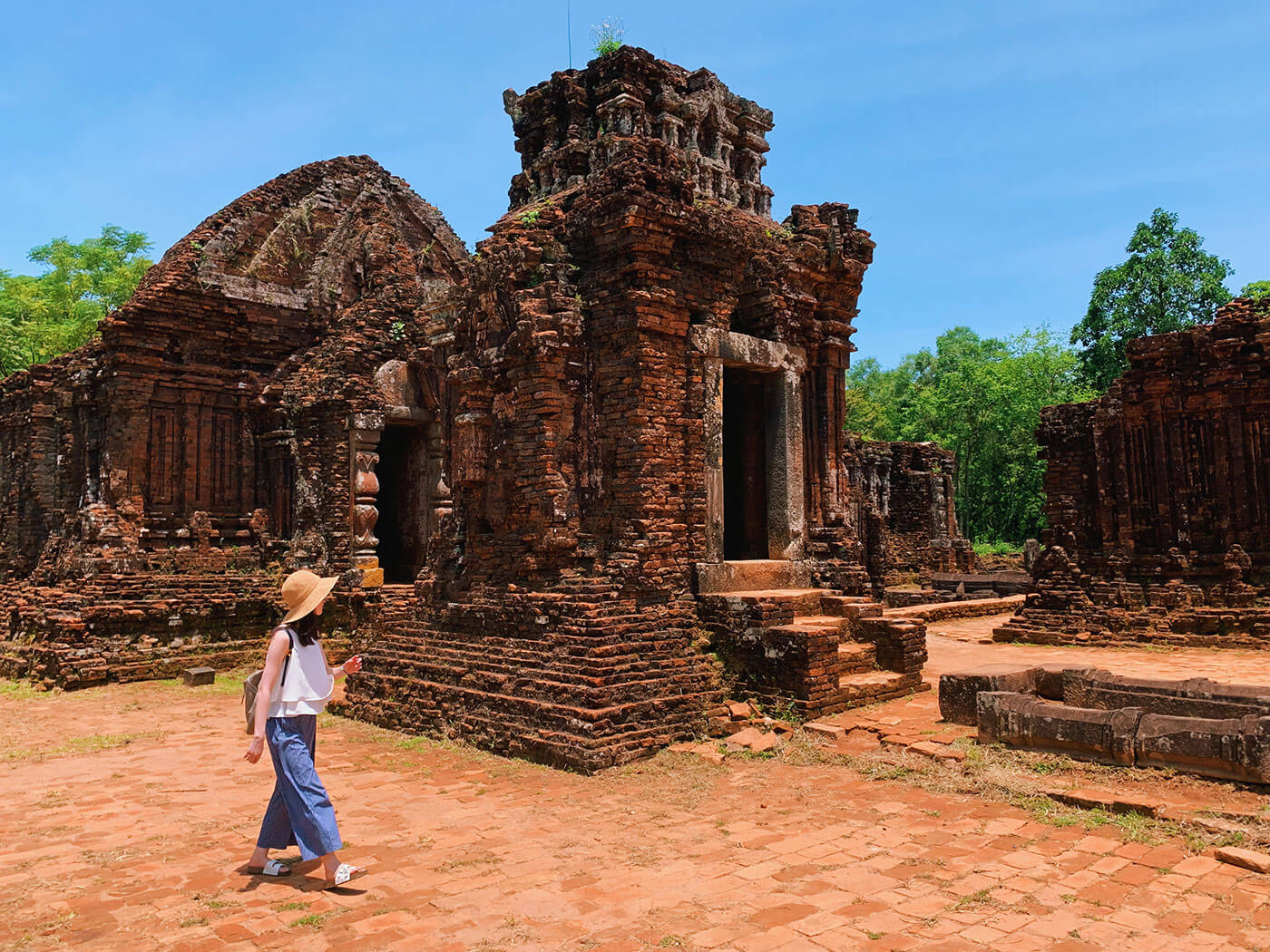 Once inside, you can make a circle through the temple sites. Personally, I wish I had hired a guide to take us around the sites. There were barely any explanations for the ruins, and I only found out about the history when by googling after. If you're a history buff and interested in a tour of the My Son temple, you can book it here, which will include round-trip transfers from Hoi An as well.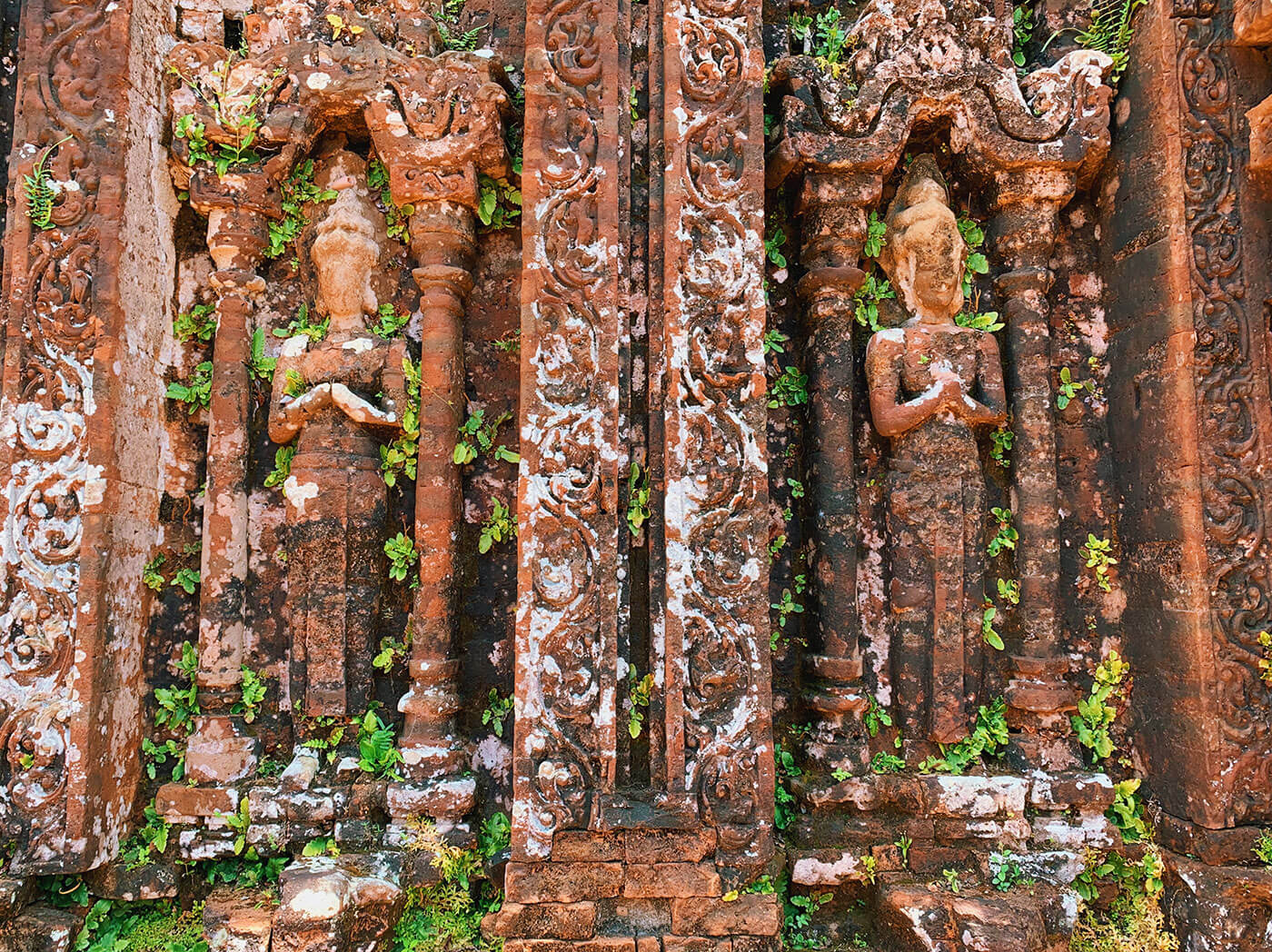 Day 3: Cooking Classes or more day trips!
My third day in Hoi An ended up being wasted on a tour I didn't really enjoy (I'll elaborate more on that later). If I could do the day over, I'd probably do one of these instead based on the glowing review:
Hoi An City and Countryside Tour – I booked this tour for the evening tour, in which I had a blast. It turned out to be a surprise food tour (which you can read more about it on my Hoi An Food Guide). If I were to do the day over, I'd try the Full day tour or morning tour!
Eco Cooking and Basket Boat Tour – This one was actually recommended by our hotel, and I'm kicking myself for not booking this after seeing the glowing review.
Lantern Making Class – By now you should have noticed all the beautiful and colorful silk lanterns all over Hoi An. Well, you could learn how to make this yourself! You get to take home your creation too which makes for a great souvenir.
Hue and Da Nang Day tour – If you've had enough of Hoi An, you can try this tour to see what the nearby cities look like. I personally have been curious to go to Hue!
OK, I'll save you time by telling you what NOT to do – Don't book a trip to Cham Islands. I don't know if we just had a bad tour operator, but the entire trip was not the beach paradise getaway we thought it would be. I'm sure Cham Island is actually beautiful and rich in history, but I feel the tour I went on did not do it justice.
There were a lot of people crammed into a tiny boat of 15 passengers + 4 crew members. The snorkeling was below average – we were taken to a very small snorkeling area that we had to share with TEN other equally packed boats, barely any fish, and mostly dead corals. The equipment we were given was an ancient snorkeling mask with no mouthpiece to breathe with. Lunch was average at best. The tour felt like it was dragged on for too long with lots of downtimes. It was a waste of time when we could have done something else.
If you're still keen on visiting Cham Island, please do extensive research on it and make sure it's a small group tour. You'll have a better time than we did.
So that's how I spent my 3 days in Hoi An. If you have any questions or feedback regarding this itinerary, please comment below! I'll try to reply to each comment.
Until next time!