One of the items I really wanted to check off from Taipei is visiting Jiufen. Jiufen is a small village in the mountains located 1-hour drive from Taipei. It has been made famous largely due to its similarity to the village in Spirited Away, arguably Hayao Miyazaki's most popular movie.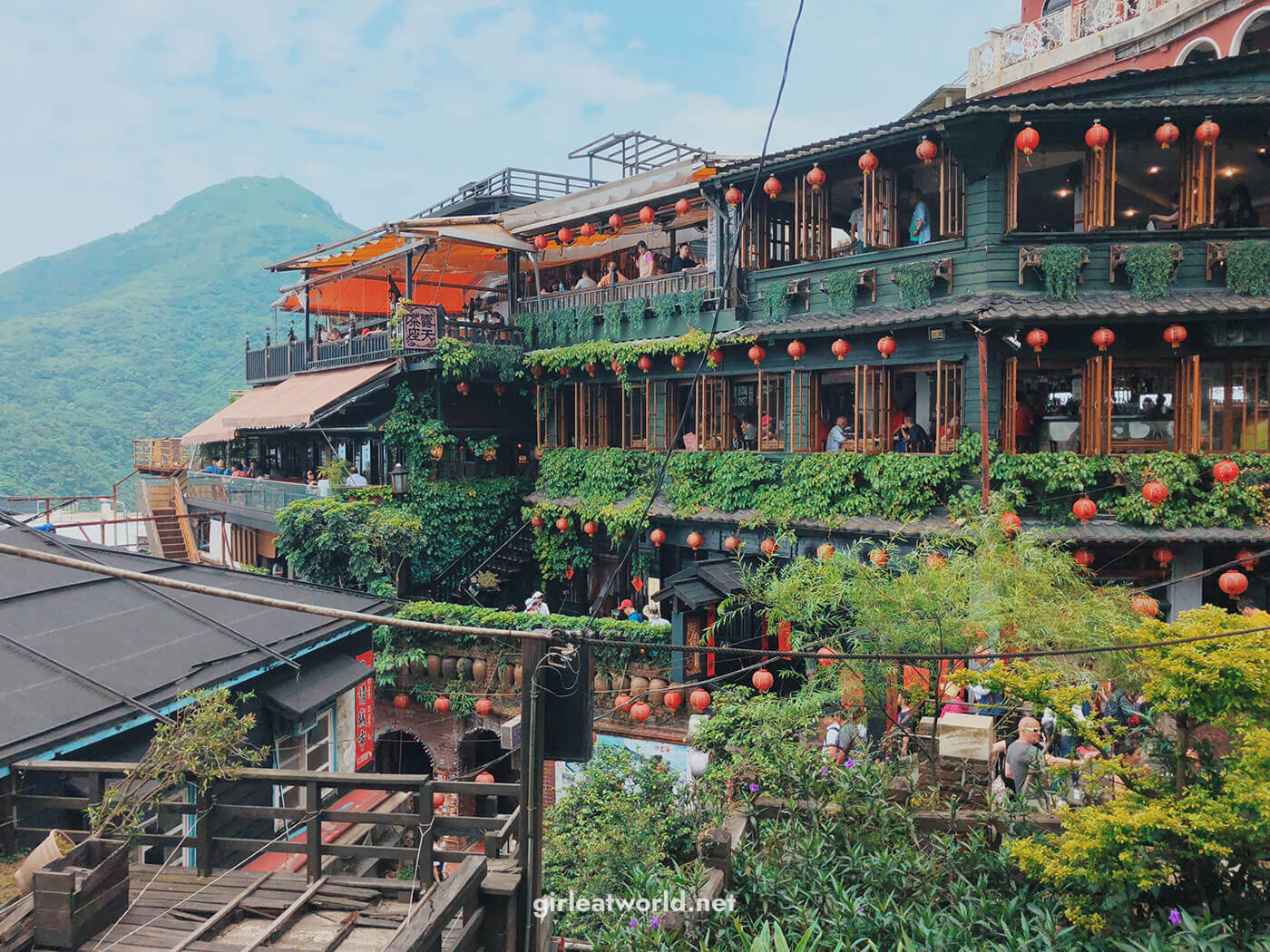 Is Jiufen the town that inspired Spirited Away anime?
Many sources have claimed Jiufen is the village that inspired Spirited Away, but it was never actually confirmed whether it indeed has a connection to the movie. In fact, Miyazaki has flat-out denied it, saying the village was inspired by many different places.
But for fans of the highly popular anime, the red lanterns all over Jiufen will look very familiar. If you haven't seen the movie – what are you waiting for? do yourself a favor and watch it now!
I have always been a huge fan of Miyazaki, so in the midst of my Taiwanese food marathon, I took a break and made my way to Jiufen!
How long should I spend in Jiufen?
Jiufen is very doable as a day trip from Taipei. You only need to set aside about 6-8 hours to enjoy and explore Jiufen.
Staying overnight is optional, though it could be a good option if you're looking to get away from the hustle and bustle of Taipei!
Where to stay in Jiufen
The benefit of staying overnight in Jiufen is that you'll be able to enjoy it to yourself in the morning or at night when most of the day trippers have left. Here are a few places you can consider:
How to get to Jiufen from Taipei
From Taipei, Jiufen can be easily reached by a multitude of options: public transport, shuttle bus, or taxi.
1. By Taxi
Taking a taxi from Taipei to Juifen will cost you about TWD 1,200-1,400 (US$38-45) and the ride will take less than an hour. I think if you are traveling in a group of 4 people, this is the best option. The cost per person is not that much more compared to the bus and it gets you there faster.
Just make sure your driver actually knows where they are going – we got taken to Keelung instead. However, our driver was very nice about it and drove us to the right place without charging extra. Show this place on google map and make sure to highlight these characters: 九份老街 which means Jiufen Old Street.
2. By Private Car Charter
Booking a Private Car is probably the best and most cost-effective way to go if you are traveling in a group and want to have a driver who can wait for you and your group for the entire day.
Book a straightforward charter from Taipei to Jiufen – Book a Private charter here.
If you have a few other spots you want to go to aside from Jiufen, you can book this sightseeing car for 8 hours! You can also ask them to stop at any locations along the way and they have suggested itineraries you can follow too! – Book a Sightseeing Car here
3. By Train and Bus
Taking public transportation will take 1.5 hours and cost TWD 113. Take the MRT blue line to Zhongxiao Fuxing Station Exit 1, then take bus 1062 to Jiufen Old Street Station. Check the bus 1062 timetable here and note the last departure, usually at 18:40.
4. By Shuttle Bus and Tours (includes other places too)
Alternatively, you can book a shuttle bus tour which will take you to other places in Taiwan too – such as Shifen waterfall and Shifen Old Street.
If you are keen on visiting Yehliu, you can consider this tour: Yehliu, Jiufen, and Shifen Day Tour (click this link to book). These are both great options to save time if you want to see more outside of Taipei. Jiufen Old Street itself is quite small and can be explored in under 2 hours, so definitely check out other places too if you have the time!
How to get back to Taipei from Jiufen
Going back to Taipei from Jiufen is really easy since it's a popular tourist place. You can pretty much take the same route as I've described above in reverse. If you want to take a taxi back, fret not – there will be plenty of taxis waiting to take you back to Taipei.
If you are planning to take the bus though, make sure to check the bus 1062 timetable here and note the last departure time so you are not stranded in Jiufen.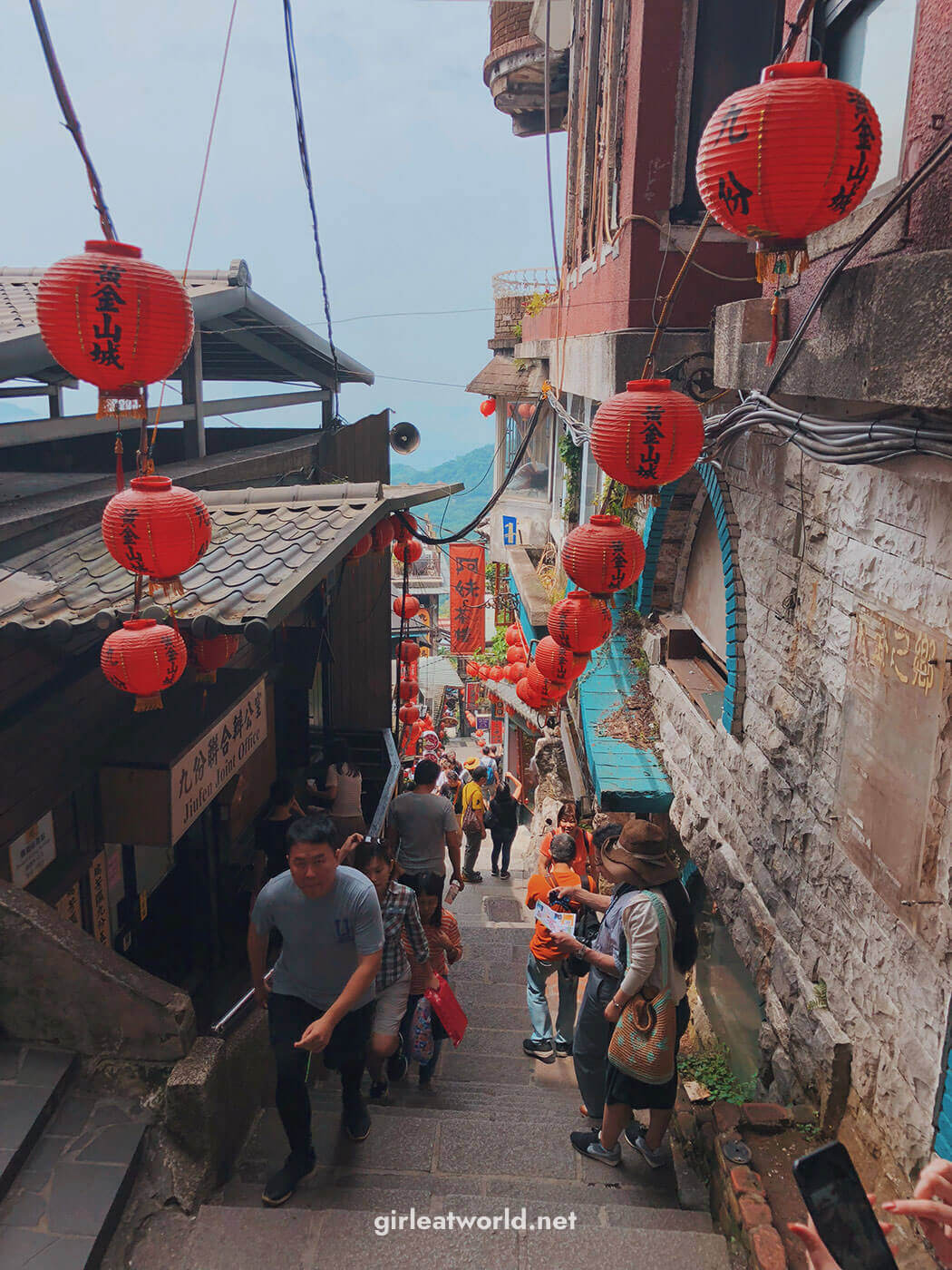 What to do in Jiufen Old Street
Alright, now that you know the basics about Jiufen, here is what you can do when you finally got here!
1. Walk along the Jiufen Old Street
The Jiufen Old Street is a narrow alleyway lined up with small food stalls, tea houses, souvenir shops, and pottery stores. I am not going to lie, if you expect an idyllic calm experience you won't find it in Jiufen. This alley will be jam-packed with people since it's the main thing to do in Jiufen. But just go with the flow and explore any shops that catch your eye!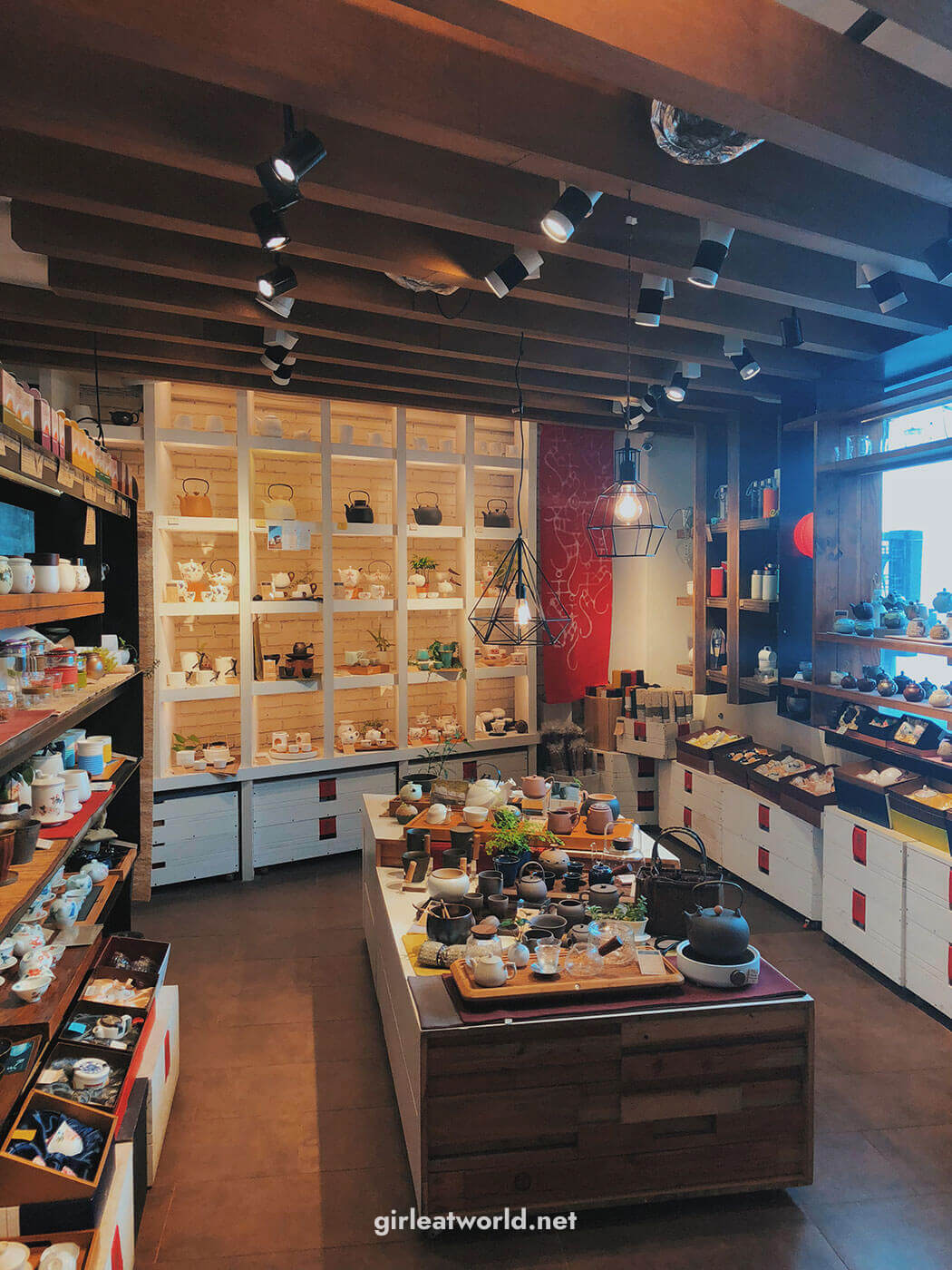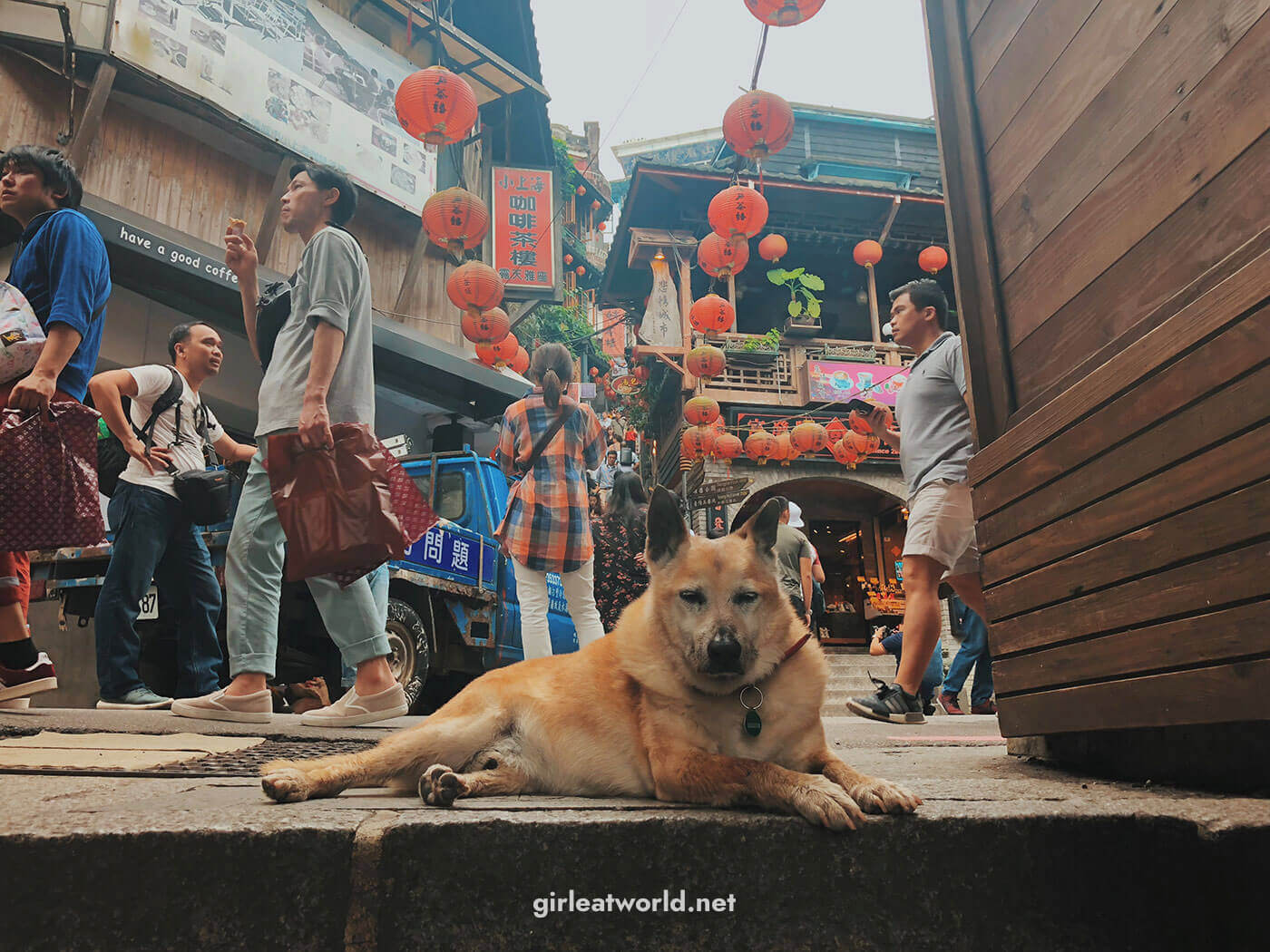 2. Visit the famous Lantern Tea House and alley
This is the spot you've all been waiting for – the richly decorated tea house of Jiufen. The most picturesque one that you see in all photos depicting Jiufen is the A-Mei Teahouse. This multi-story teahouse is strategically located just a little off the main street, perched on top of a hill. From their balcony, you can admire the picturesque view in front of you, Keelung Mountain to the right, and the Northern shores of Taiwan on the left.
But if you don't care to have tea there, skip to my next point!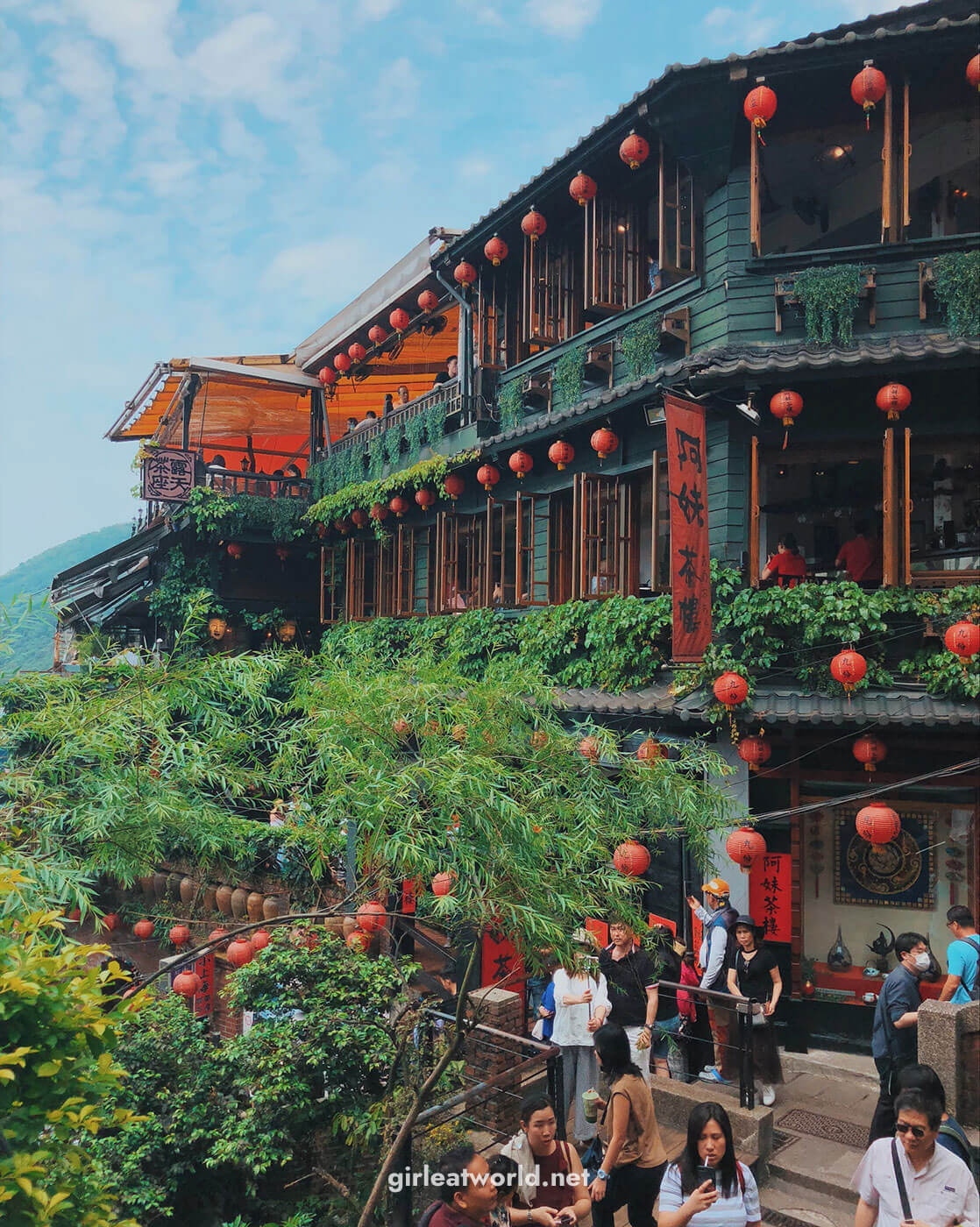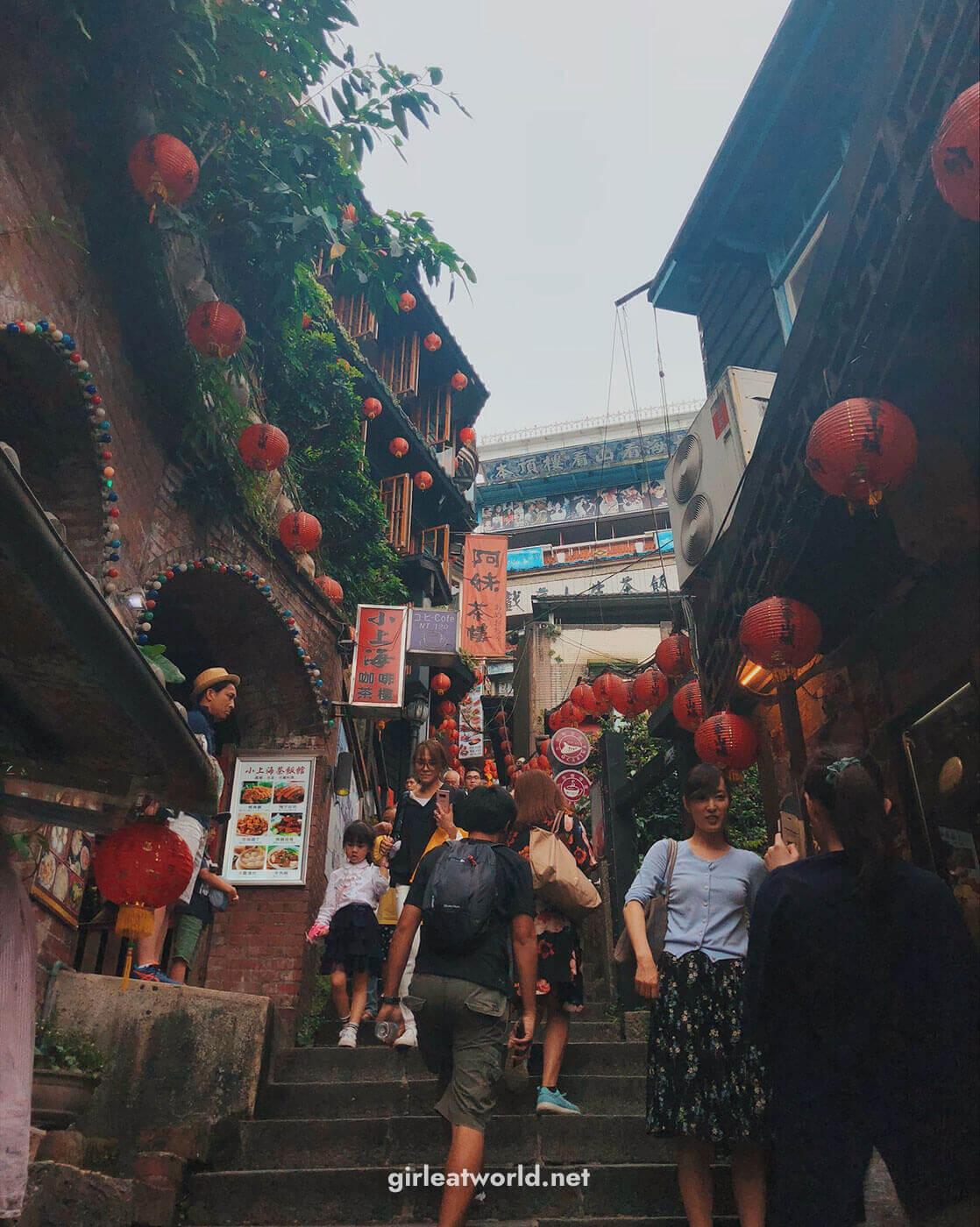 3. Visit a Tea House and chill out there for awhile
Although the most photographed teahouse is definitely A-Mei Teahouse, we opted to chill out at a quieter teahouse since I didn't make a reservation. We went to a place (with a very original name) called Jiufen Teahouse. It was right off the main alley and doesn't look much from the front, but once you get in, you'll see that it's very beautiful and it has a nice open balcony in the back.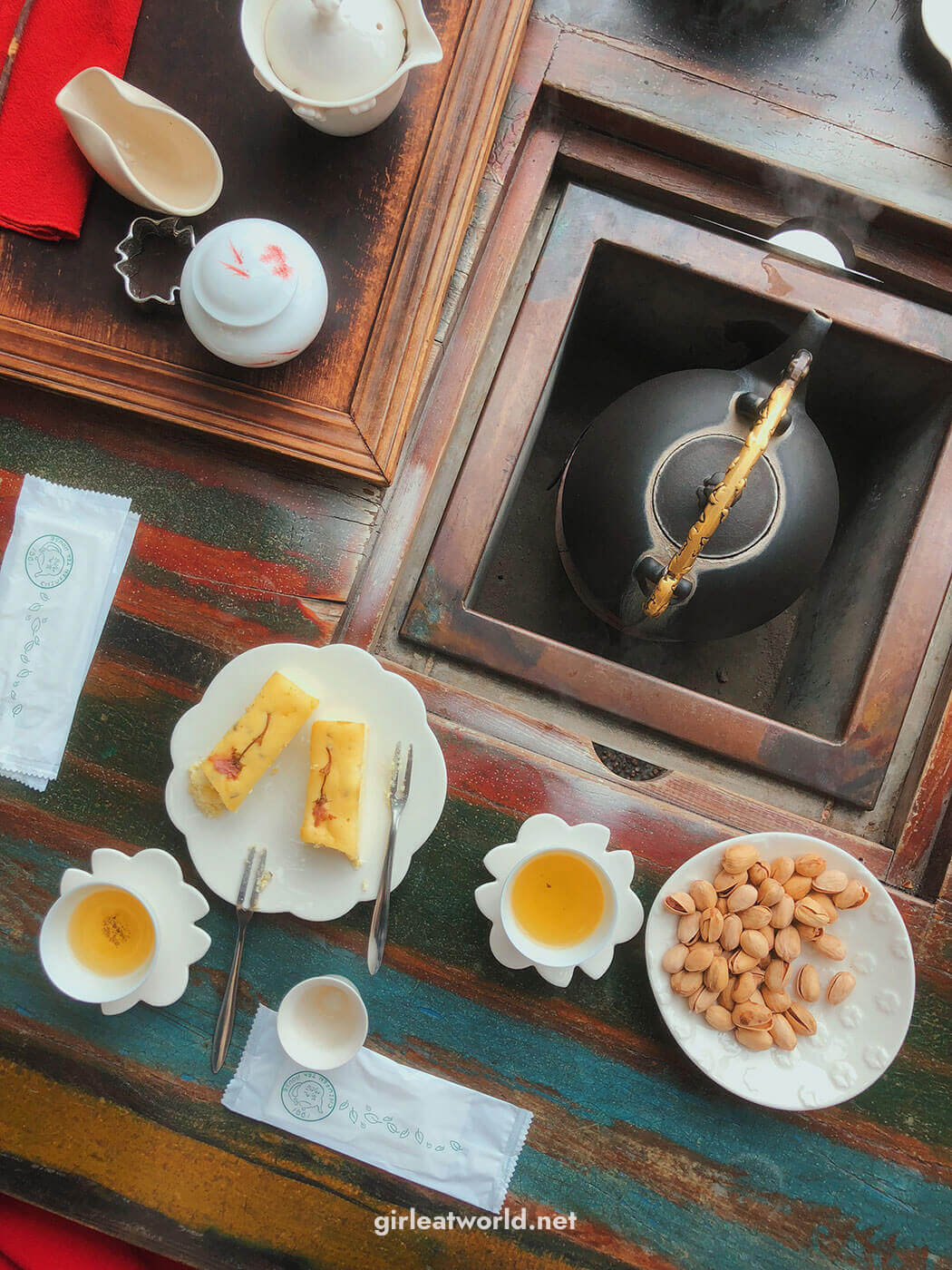 Happy to say we were one of the few patrons there. We were seated outside on the balcony, so we were able to enjoy the view with our tea. Although it was probably not as good as the view from A-Mei, I still enjoyed my time there very much.
4. Eat all the good local food and snacks
What's a trip to Taiwan without trying local food? Don't worry, I've got you covered. Here are some dishes you can try in Jiufen: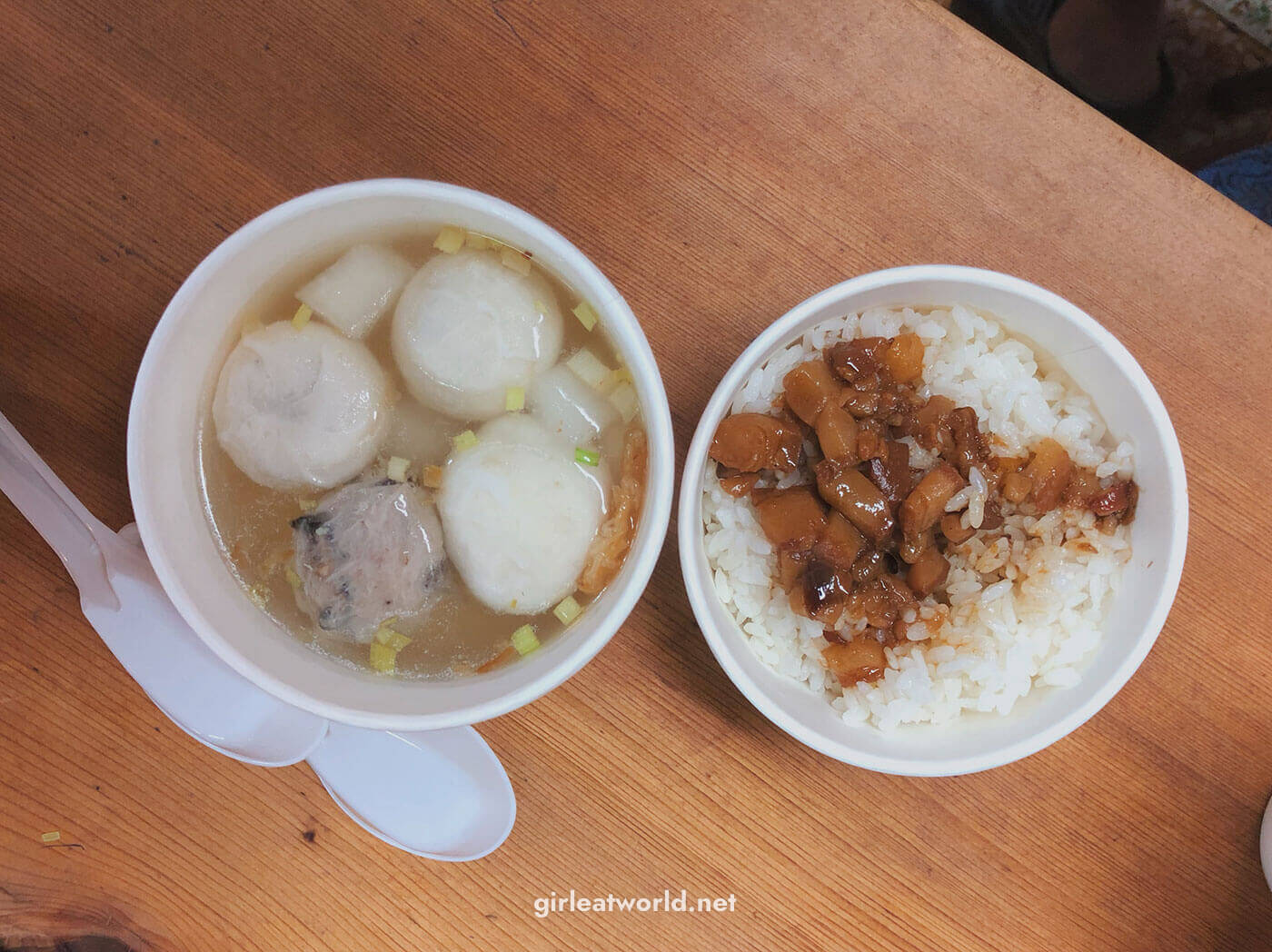 Braised Pork Rice (Lu Rou Fan) is a very simple but comforting dish, consisting of small cubes of braised pork marinated in thick, dark gravy sauce, served over piping hot steamed rice.
Learn more about Lu Rou Fan in my Taiwanese food post!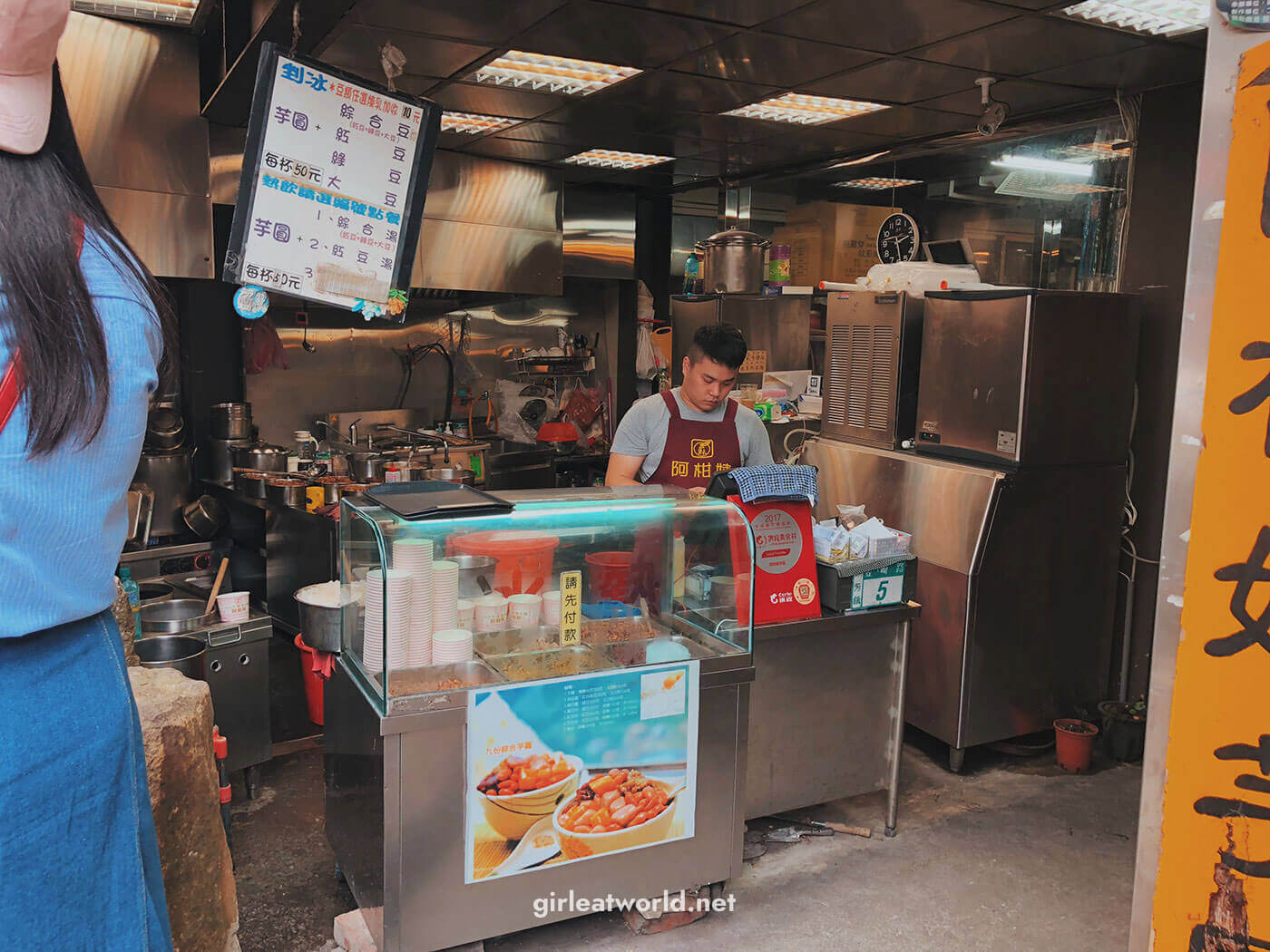 Taro Ball Soup is one of the most famous snacks in Jiufen. The taro balls are famous because they have the perfect chewy texture – not too soft and not too hard. You can have it steamed hot or served cold over ice with kidney beans. By the way, this is actually dessert – it's very common in Asian countries to have beans as part of sweet dishes.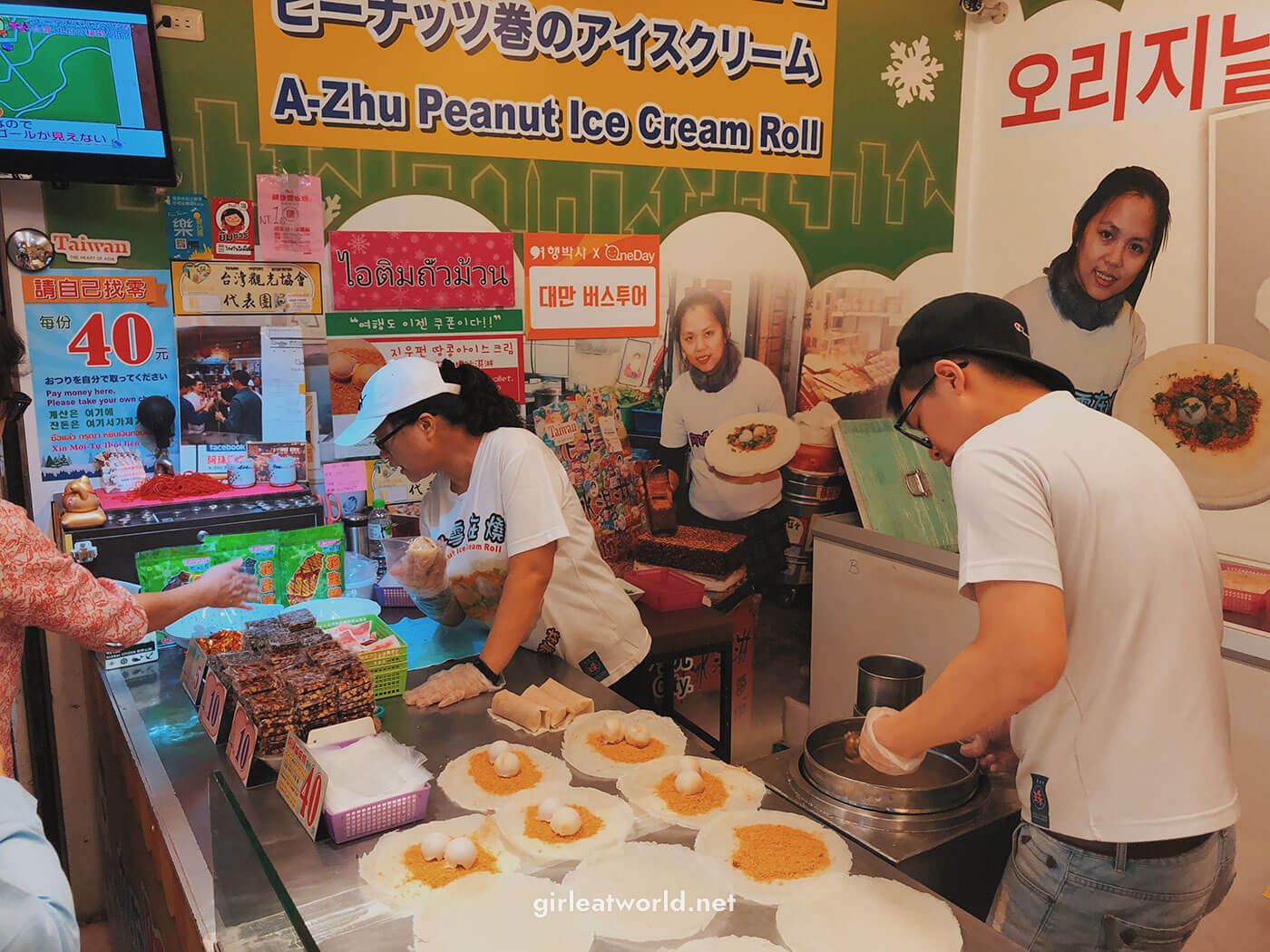 A-zhu Peanut Ice Cream is yet another item you must have in Jiufen. Located on the main old street, you won't miss it since there would already be a queue forming along this small stall. It is basically a thin crepe-like layer filled with ground peanuts and balanced with two scoops of ice cream. Super delicious! I loved the contrast between the wet ice cream texture and the dry ground peanuts.
Want to know more about food in Taipei? Check out my 10 Must Eat Food in Taipei – a one-stop guide for all the good food in Taipei, including a guide to the night markets!
5. Learn about Jiufen as a Gold mining town
Before finding its status as a tourist attraction, Jiufen was a gold mining town back in the World War days. Keep your eyes peeled for the mining tunnels, remnants of the mining days. One of them is located right next to A-Mei Teahouse and serves as a quaint entrance to Taiwan Sweet Potato Teahouse.
If you are interested in learning more about Jiufen's history as a mining town, definitely visit the Jiufen Gold Ore Museum.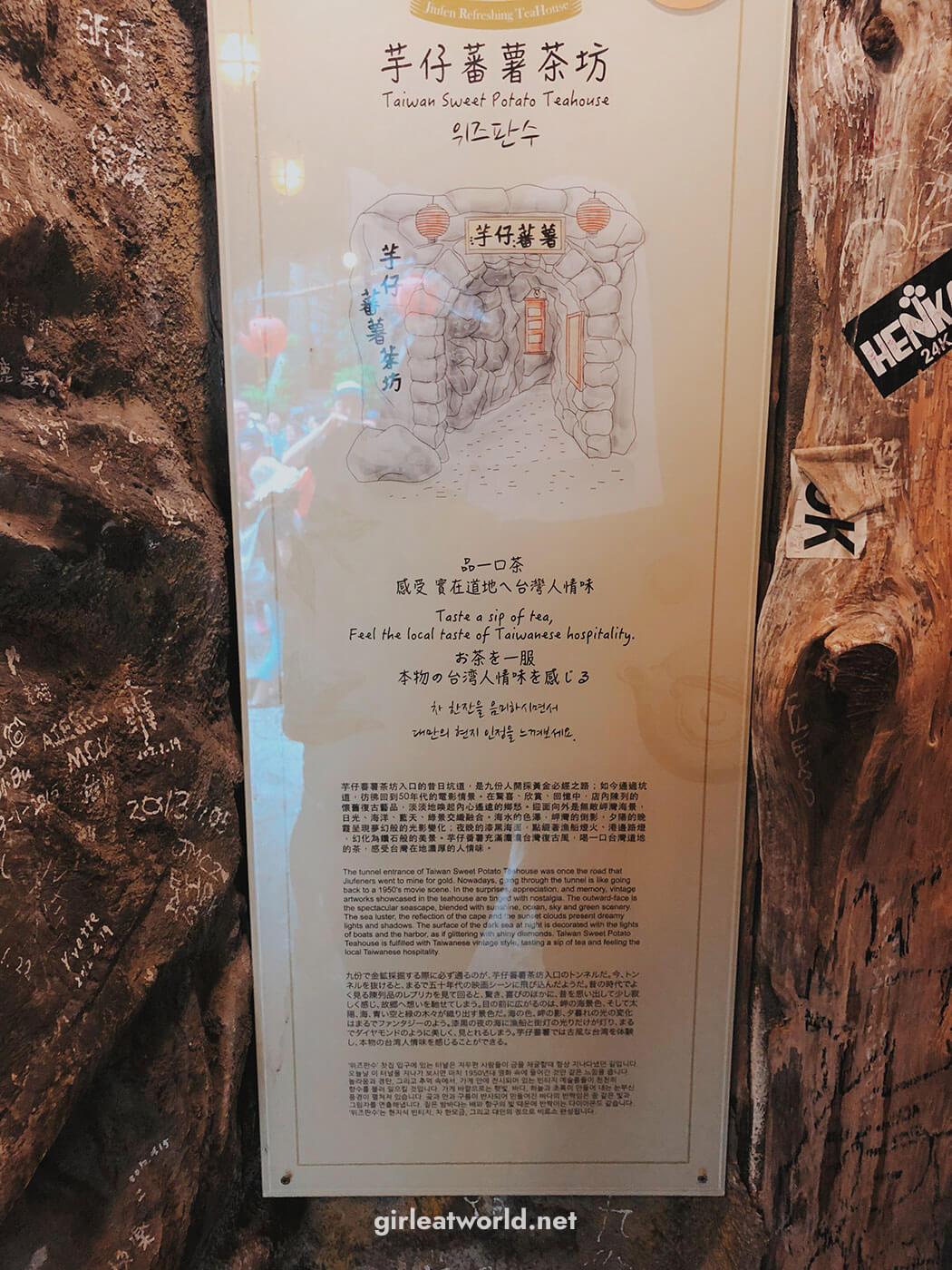 6. Hike up Mount Teapot
This is a very popular hiking trail close to Jiufen. If you are interested in doing this hike, you'll want to be dropped off at Quanji Temple. Bus 1062 which I talked about will take you from Taipei to both Jiufen and Quanji Temple, which is the last stop for the bus.
Check out other places outside of Taipei
As I have mentioned above, Jiufen Old Street itself is quite small and can be explored in under 3 hours, so it's worth researching what other places you want to visit. Here are a few destinations you can consider lumping together with Jiufen!
Keelung Food Market – This is one of the most famous night markets in Taipei. It's located about a 15-minute drive away from Jiufen, so if you're already in the area and you love food – definitely make a stop here. You probably want to go in the late afternoon or at night time, since that's usually when the food markets in Taiwan start to come alive.
Shifen Waterfall – This waterfall is one of the most scenic waterfalls in Taiwan. Aside from the waterfall, you can also visit Shifen Old Street nearby.
If you want to visit Shifen and Keelung in addition to Jiufen, you might be interested in this shuttle bus tour: Shifen, Jiufen and Keelung Bus
Yehliu Geopark – This nature park is located on the northern coast of Taiwan. It is known for its unique geological formations. If you like nature, this is definitely a place to visit.
You can book the Yehliu Geopark, Shifen, and Jiufen Shuttle Bus for easier transport.
The Verdict: Was Jiufen Old Street worth a visit?
Jiufen is hardly a "secret" spot. I have to agree that the small village is extremely touristy and crowded. When I visited, the narrow alleyway was packed with people, as you can see in my photos above. Jiufen is also a really small area, so you'd likely be done with it after a few hours.
But personally, I think it's still worth a visit! Jiufen is a charming place and there are other places you can explore aside from the old street. We were able to get away from the tourist area and explored alleys with practically no one else in it.
So manage your expectations and don't think you will be able to take photos with no one else around at such a popular place. And, keep an open mind! You never know what you'll come across. If you really want to see the village without anyone else, then you're better off staying overnight and exploring it in the morning.
Plus, it's only an hour away from Taipei, so it's not super hard to get to!
Need this for later? Click below to Pin it!