So, I've been pretty lucky to have been able to visit Taipei multiple times in the past decade. In total, I've visited Taipei three times: Once when I was a newbie traveler in 2011, then once more in 2018 when I got to go on a food marathon, and then most recently after COVID restrictions were lifted in 2023.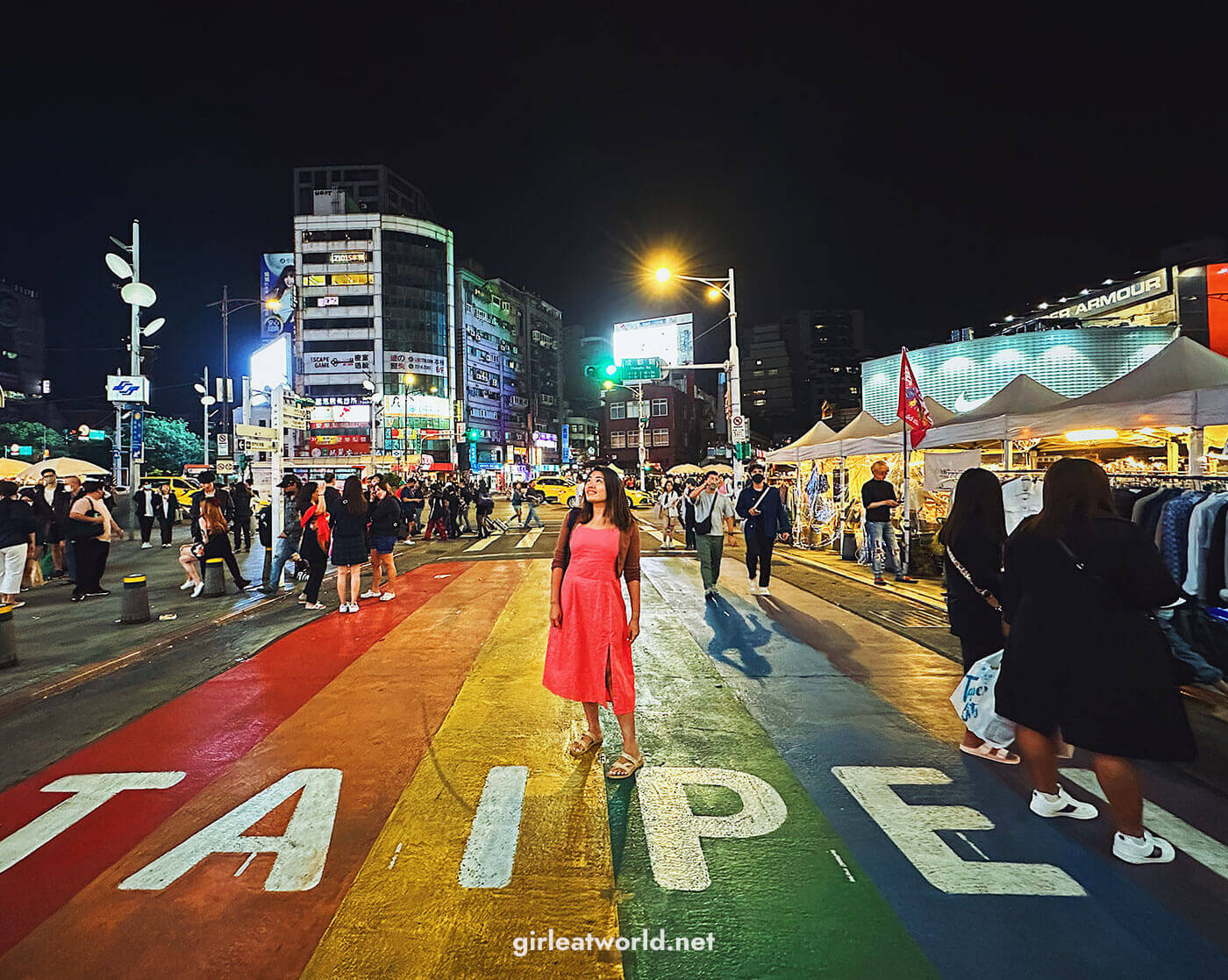 From the fact that I kept coming back, you could tell that I really enjoyed my time in Taipei. After all.. what's not to like? The city is easy to travel in, you can find affordable and delicious food anywhere, and the people are friendly and polite. Taiwan is definitely one of my favorite countries to visit, so I'm here to impart my knowledge to make your trip to Taipei easier!
Taipei Travel Tips for First-time Visitors
One of the reasons why I kept coming back is because Taipei is a very safe and tourist-friendly city. I saw it as a combination of Japan, Shanghai, and Singapore. When you don't have to worry about safety, things are cool and dandy. I was not concerned to go by myself, even as a solo female traveler.
Here are some tips that would make your trip even easier:
1. Buy a prepaid SIM Card – I cannot stress how important it is to have an internet connection during your visit to Taiwan, especially if you don't speak the language. With an internet connection, you can easily find directions, research on the go, and translate what you need to say into the local language.
You can get your prepaid SIM card here and pick it up when you are at the airport. The pickup counter is located right where you exit the immigration section.
I find that the validity of the SIM card excludes the day of activation. For example, I bought a 5-day SIM card – I landed on April 19 in the afternoon and activated the SIM card right away, and the SIM card worked until April 24 at 23:59.
2. Buy an EasyCard – EasyCard is the transport card used across Taiwan. It works on the local trains as well as buses. You'll definitely want to get the card so that you can use public transport easily while you're in Taiwan.
You can get your EasyCard here and pick it up when you are at the airport.
I recommend preloading it with around NT$ 400 of balance, depending on how long you're going to be in Taiwan. A train/bus ride usually costs NT$ 15-18 per way and the airport MRT costs NT$ 160 one way. Don't worry about putting in too much money – you can return the balance of the EasyCard later at the end of the trip, minus NT$ 100 for the cost of the card.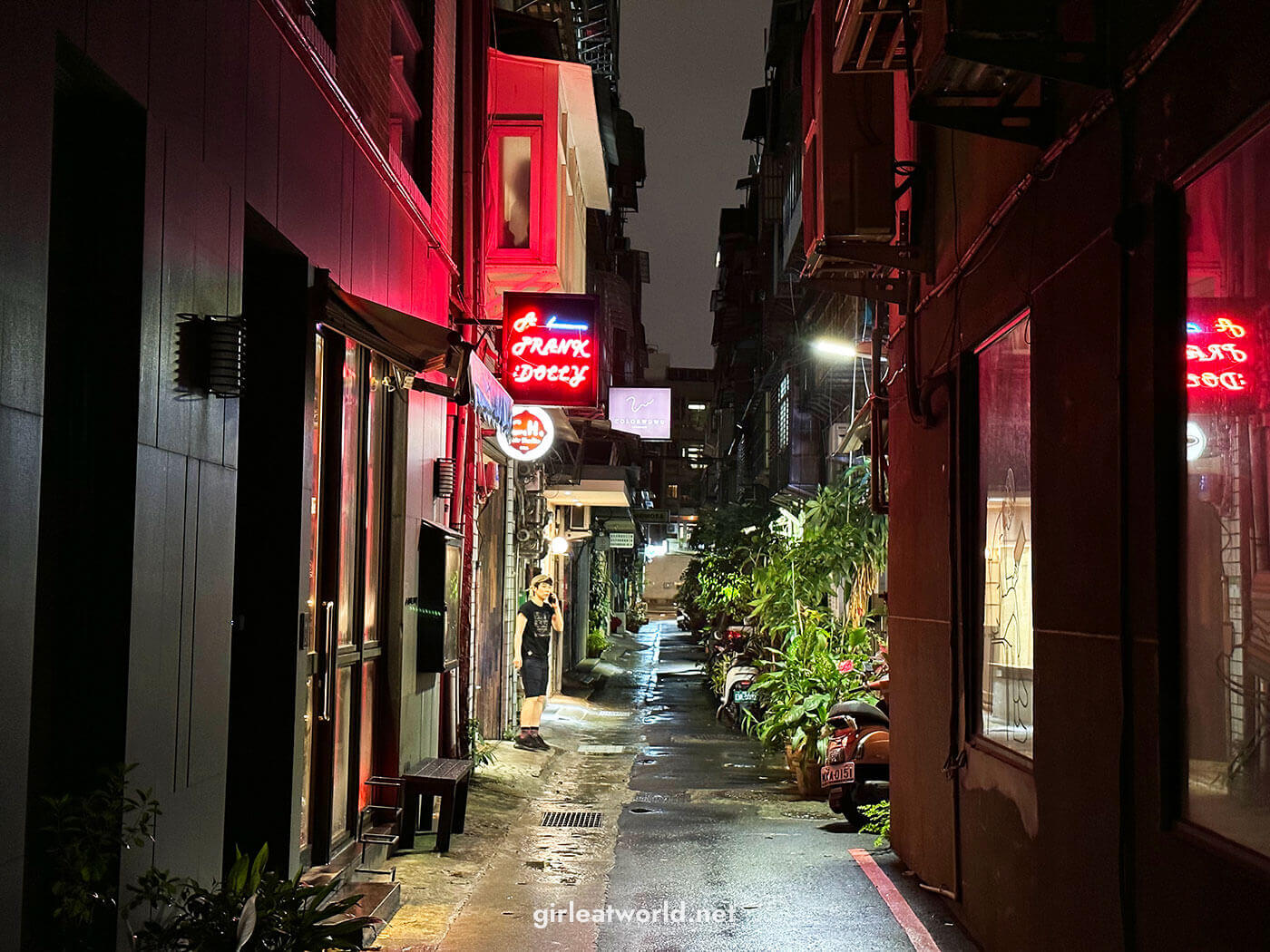 3. Buy Taipei attractions tickets via Klook – During my time in Taiwan, I bought all of the ticket attractions from Klook. It was super easy as Klook provides direct entry for most attractions, meaning you don't need to redeem another ticket – just show the QR code from your voucher!
What is Klook? Klook is the leading travel and experiences booking website in Asia. And yes, they are legit! I personally always book my activities through them whenever I am traveling. See my review of Klook here.
4. Download Google Maps – This is my tip for pretty much every destination. Pre-download Google Maps so that you can use it when you don't have the internet on your phone. Not only that, it will help you keep your data usage down! Here is how to download maps offline.
5. Download the traditional Chinese language pack from Google Translate – Taiwan uses traditional Chinese, so download the traditional Chinese language pack from Google Translate! You can then use this to take a picture of any text you need to be translated and Google will provide a translation for it. It doesn't always work perfectly, but it's better than nothing.
6. Download Uber – Uber basically owns this city. From food delivery to ride-sharing, you can get it easily via Uber. I'm pretty sure I don't need to explain what Uber is to you, just make sure you have the app downloaded on your phone. I find that the Uber rate in this city is very reasonable, and might be cheaper than taxis.
7. Luggage storage at the train station – If you need to check out of your accommodation and your flight is not til night time, there are plenty of lockers at the station, especially major stations like Taipei Main Station. Also, don't be deceived by the size of the locker from the outside – each locker can fit a lot! We managed to fit 2 of our carry-on luggage and 3 backpacks inside. Just make sure you remember which lockers you've put your stuff into because the main station is huge and you don't want to lose your luggage later on.
8. Monitor the weather – If you happen to visit during rainy or colder months, you can monitor the weather forecast here or see the rain weather radar here. That said, on my recent visit it was forecasted to rain a lot, but in the end, it only rained on the first day. I also find that the rain is not too bad – usually just a drizzle.
9. Go on a free walking tour in Taipei – This is a great way to get yourself familiarized with Taipei, while learning the history and culture of Taipei. The tour is free, but tips are encouraged!
How many days should I spend in Taipei?
Taipei is a large city. You won't run out of things to do here. If this is your first time visiting Taipei and you want to see most of the must-do things, I recommend spending at least 2 days in Taipei, maybe 3 days if you want to take things slow or if you want to take day trips outside of Taipei.
When is the best time to visit Taipei?
I would recommend visiting Taipei from March to April when the weather is still somewhat cooler and there is not much rain. Starting from mid-May, it might get hot and a little bit rainy in Taiwan. There is also a possibility of typhoons in the region around September or October. November to December might also be a good time to visit when it's not yet too cold.
I personally visited Taiwan in April, May, and November. Out of those times, I feel April was the best for me personally. In April, the weather in Taipei is still cool, but not too cold. There could be some rain but in my experience, it was only minimal, barely a drizzle.
How to get to Taipei City from the airport
Getting to Taipei City, where you'd likely be staying, is easy from the Taoyuan Airport. Here are some ways you can get there:
1. Take the Airport MRT (Mass Rapid Transit) from Taoyuan Airport
Taking the MRT to Taipei City is really easy from Taoyuan International Airport. From Terminal 1 or 2, once you've exited the immigration area, just look for the sign that says "MRT". The train will take you to Taipei Main Station, and from there you can resume your journey via the Taipei Metro train to the closest station to your destination.
The MRT journey from Taoyuan Airport to Taipei Main Station will cost NT$ 160, while the metro will cost NT$ 18 per ride.
Use Easy Card – All of the train journeys, including the airport MRT, can be paid for by just tapping the EasyCard at the gantry, which is why I recommend buying the EasyCard and pick up at the airport!
When taking the MRT from Taoyuan Airport, make sure you take the express train and not the commuter train! It will be about 15 minutes faster because there are fewer stops. You can check the train schedule on Google Maps.
2. Private Car from Taoyuan Airport to Taipei City
If you're traveling with a lot of luggage, you might want to book your own private car to take you from the airport.
A quick search seems to say this is cheaper or comparable to taking Uber or Taxi. It cost us NT$ 1,200 to take Uber to our hotel in the Zhongxiao Fuxing / Da'an area, but only NT$ 1,080 using the link above to the same destination.
3. Take an Uber or Yellow Taxi
If all else fails, Taxi and Uber are plenty in Taipei. For a quick price reference, it cost us NT$ 1,200 to take Uber to our hotel in the Zhongxiao Fuxing / Da'an area from the Taoyuan International Airport.
How to get around Taipei
As I said before, Taipei is a really tourist-friendly city. And part of the reason why that's so is because it's easy to get around in Taipei! Here are your options:
By Train (Taipei Metro) – This is my favorite option to explore Taipei. Taking the train is the most convenient method: it's safe, clean, and most of the instructions will be in English. The train comes every 5 minutes and there are plenty of stations close to most tourist attractions. A ride on the train costs NT$ 18 per ride.
By Bus – The bus in Taipei is not a terrible way to travel. Most bus stops in Taipei will even have a display sign that tells you when the next bus will arrive. However, the frequency of the bus is way less than the train. Some buses might even only come once every 30 minutes. A ride on the bus costs NT$ 18 per ride.
Ride-sharing via Uber – I'm pretty sure I don't need to explain what Uber is to you. I find that the Uber rate in this city is very reasonable. I took Uber many times when I was in Taipei when I don't feel like walking or dealing with public transport.
Yellow Taxi – The yellow taxi can be easily hailed in the city and other touristy spots. They are a good alternative if you don't want to use Uber.
Where to stay in Taipei
Any location close to a metro station would be good, but I would recommend staying near the following stations specifically:
Taipei Main Station – This will be convenient if you plan to travel to other parts of Taiwan that might require inter-city travel by train. Most of the journey will begin at Taipei Main Station. It's also close to other locations like Ximending and Zhongshan station.
Ximen Station / Ximending – This area is great for shopping with tons of food nearby. It's fairly close to Taipei Main Station.
Zhongxiao Fuxing station – on the blue and brown line, easy to reach from Taipei Main Station and takes you from central to west or east (Sun yat sen memorial hall) easily. Zhongxiao Fuxing is a convenient area with lots of shops and restaurants.
Da'an station – on the red and brown line, easy to reach from Taipei Main Station and takes you from central to west or east (Taipei 101) easily. The Da'an area is very nice and quiet but still has a lot of eateries around.
Here are some of my recommended hotels:
Kimpton Da An Hotel – Located within a few minutes walk to Zhongxiao Fuxing Station. One of the most convenient locations in the city!
Star Hostel Taipei Main Station – If you're looking for a budget dorm near the main station, this is it! The hostel is clean and modern. Their amenities are really nice and the staff speaks English. They also give you a good breakfast for free with each stay. Towels can be rented for NT$ 30. The location is only a 5-minute walk from Taipei Main Station (Y13 exit). A stay at one of the 6-bed female dorms cost me only NT$ 936.
Hotel Howard Plaza Taipei – This is an older hotel located strategically between Zhongxiao Fuxing and Da'an station. Even though the hotel is a bit dated, their rooms are very spacious. There are tons of buses that stop directly outside of the hotel, and you have the option to walk 7-8 minutes to either Zhongxiao Fuxing or Da'an station.
What to eat in Taipei
There is so much good food in Taipei, that I've dedicated a separate post for food in Taipei.
For more ideas on what to eat in Taipei, check out my must-eats in Taipei!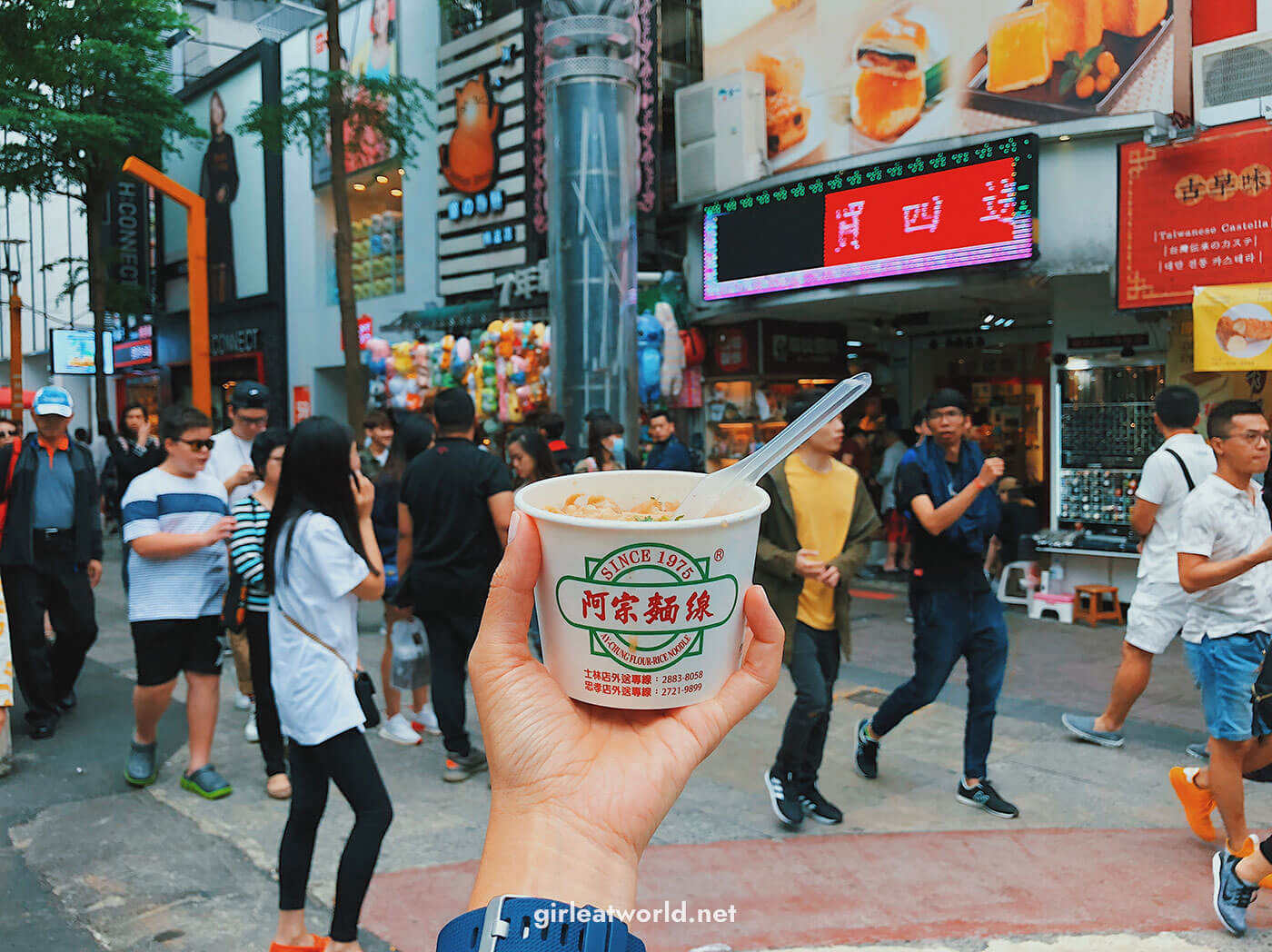 3-Day Taipei Itinerary Example
In order to make your trip more efficient, here are my recommended way to group the spots to see in Taipei so that you don't have to travel back and forth. You don't need to do them in the exact same order as below, just take note of the grouping!
Day 1: West Taipei
Chiang Kai-shek Memorial Hall
Walk around Zhongshan District
Ximending in the afternoon or nighttime
Ningxia Night Market for dinner
Day 2: East Taipei
Songshan Cultural and Creative Park
National Dr. Sun Yat-Sen Memorial Hall
Taipei 101 Observatory
Elephant Mountain trek
Raohe Night Market
Day 3: Central Taipei and everything else
National Palace Museum
Huashan 1914 Creative Park
Shida Night Market or Shilin Night Market
Day 4: Trips outside of Taipei
There are plenty of quick day trips or short 1-2 day trips you can do from Taipei. I'll elaborate more in the "Recommended trips from Taipei" section below. However, if this is your first time in Taiwan, I recommend visiting Jiufen for a quick day trip!
What to do in Taipei
Taipei is a large metropolitan city, and there are lots to do here! In no particular order, here are some things you can do when you're in the city.
1. Taipei 101 Observatory
As the name suggests, this building stands at 101 floors. It is currently the tallest building in Taiwan. At the time of its completion in 2004, Taipei 101 was even the tallest building in the world, standing at 508m, until Burj Khalifa in Dubai took the throne five years later.
Entry to Taipei 101 is timed, so I definitely recommend pre-booking Taipei 101 tickets online via Klook to guarantee entry at the time you want. Plus, it could be cheaper via Klook sometimes!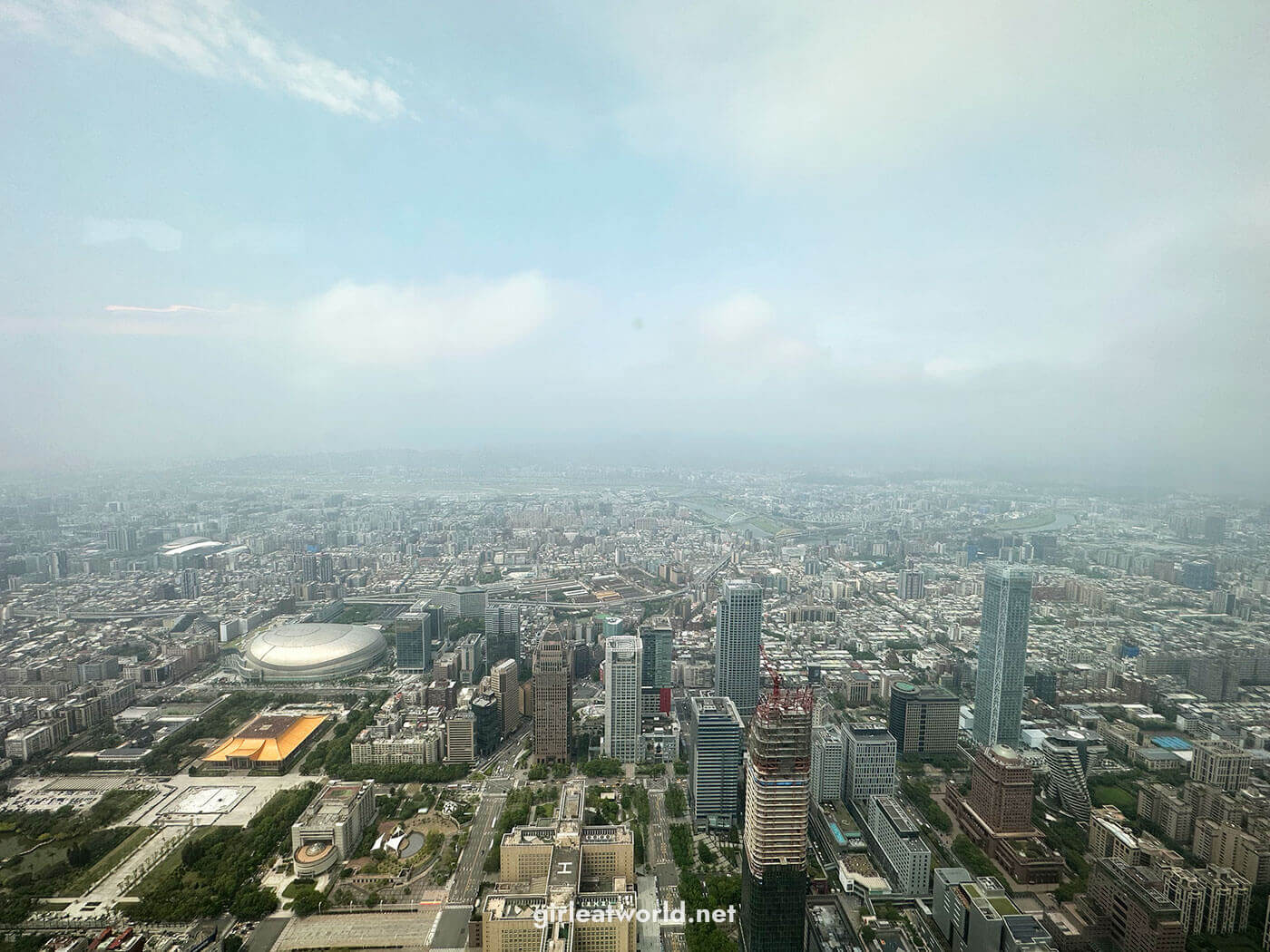 The regular ticket gets you access to the observatory on the 88th and 89th floors. There are some photo props up there you'd want to take photos with, but the most exciting part for me is that you'll get to see the tuned mass damper. This is the technology that is responsible for the stability of Taipei 101 during the event of a strong wind or earthquake.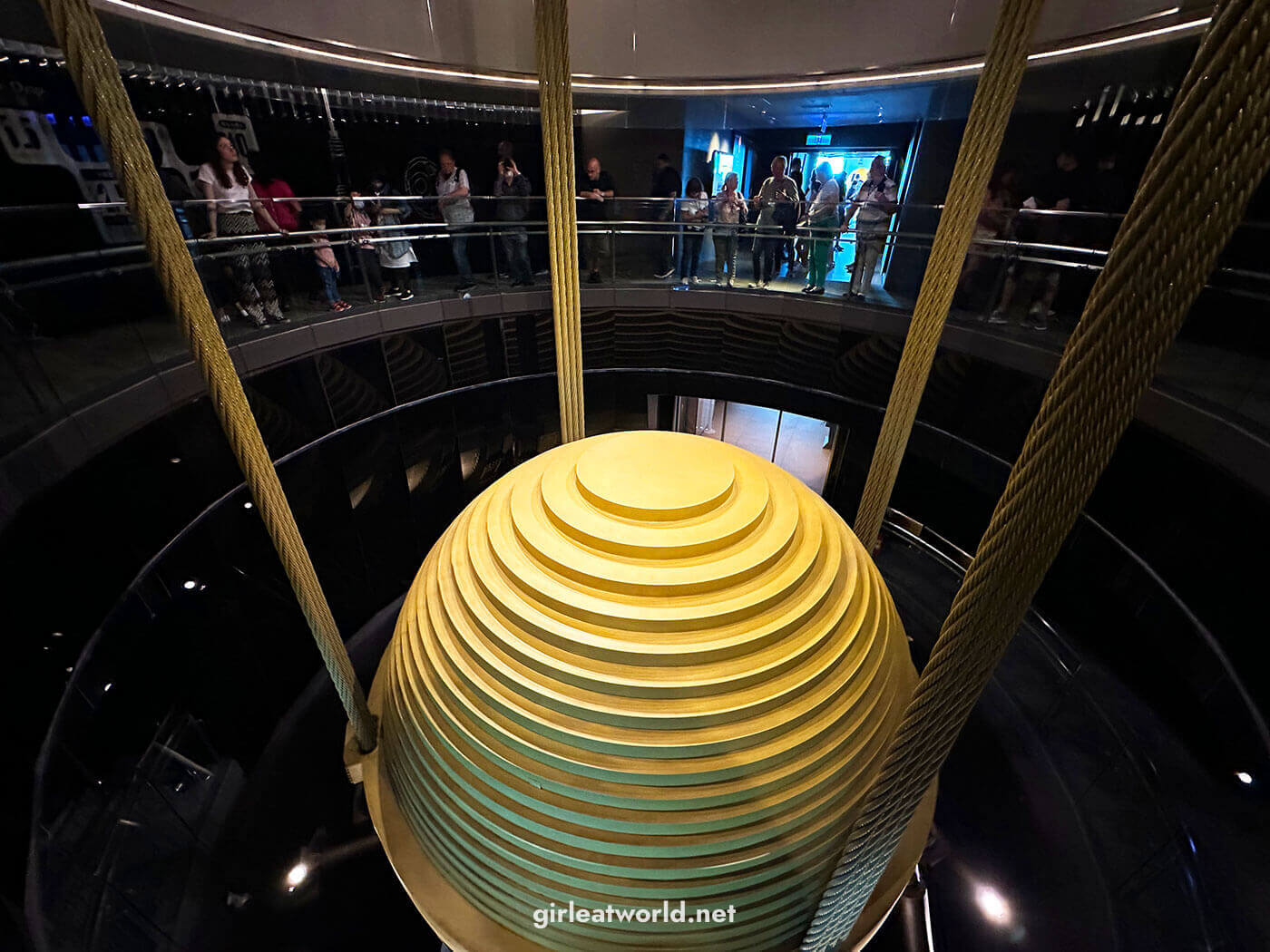 The mass damper is stationary most of the time (and really, you would want it to be stationary while you're up there) but you will be able to see a video of it in action during the 2015 earthquake, as well as scientific explanations on how and why it works. Super cool!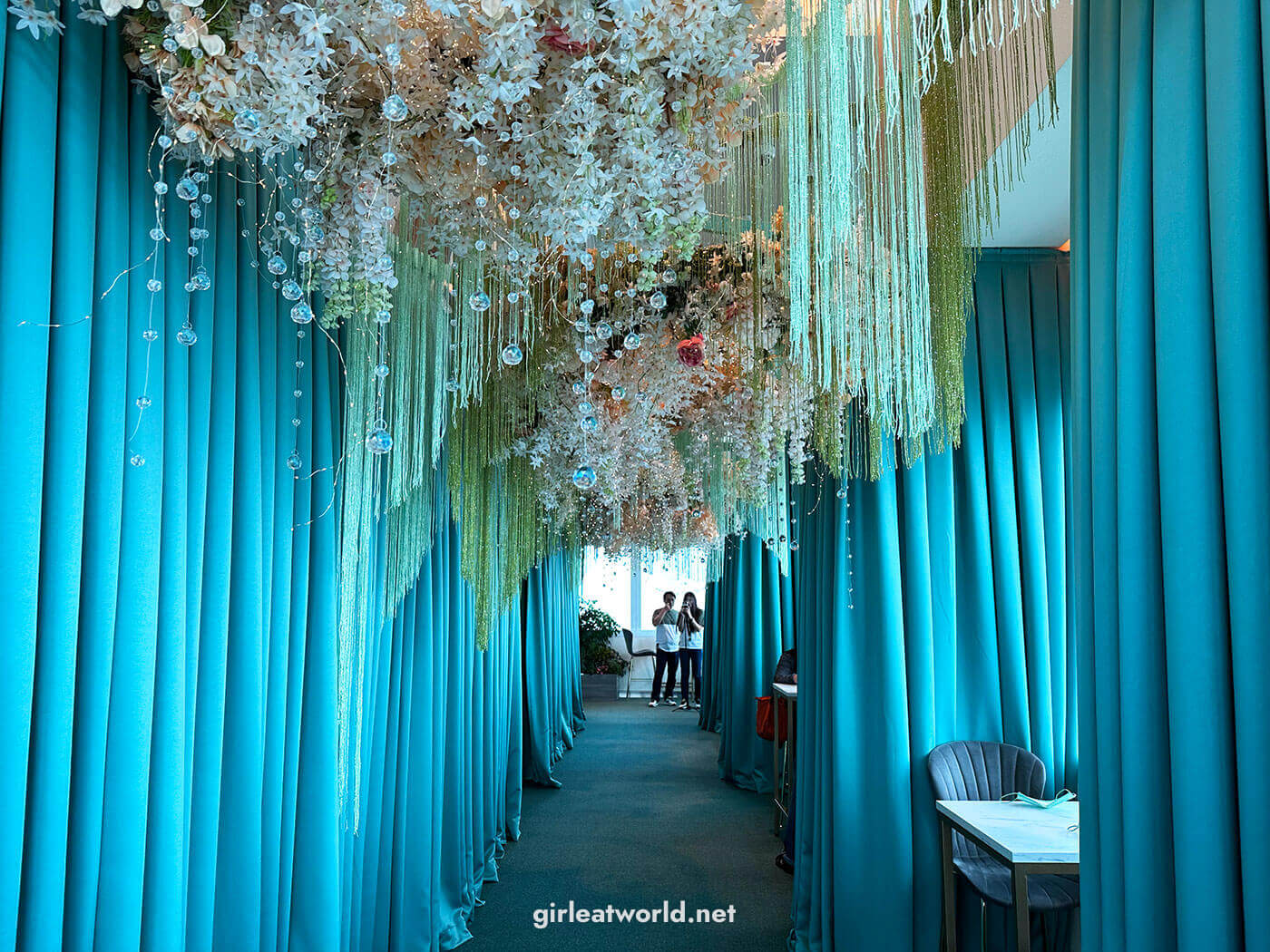 You can buy an extra ticket that lets you go up to the 101st floor, but as someone who has been there before… I think the 88th and 89th floors will do just fine. The 101st floor is definitely more quiet, so it could be a good option if you're after some exclusivity, but it is a lot smaller than the observatory and the view is more or less the same as the 88th and 89th floor.
➡️ Pre-book your Taipei 101 ticket here to ensure you can go at the time slot you want!
2. Stroll around Ximending
Ximending is a popular shopping and eating district in the eastern part of Taipei. The concept is similar to a night market, but the shops are located in actual shophouses inside a building. The area is for pedestrians only, and closed to all cars, making it really easy to walk around in. If you've been to Seoul – it's kind of like the Myeongdong area.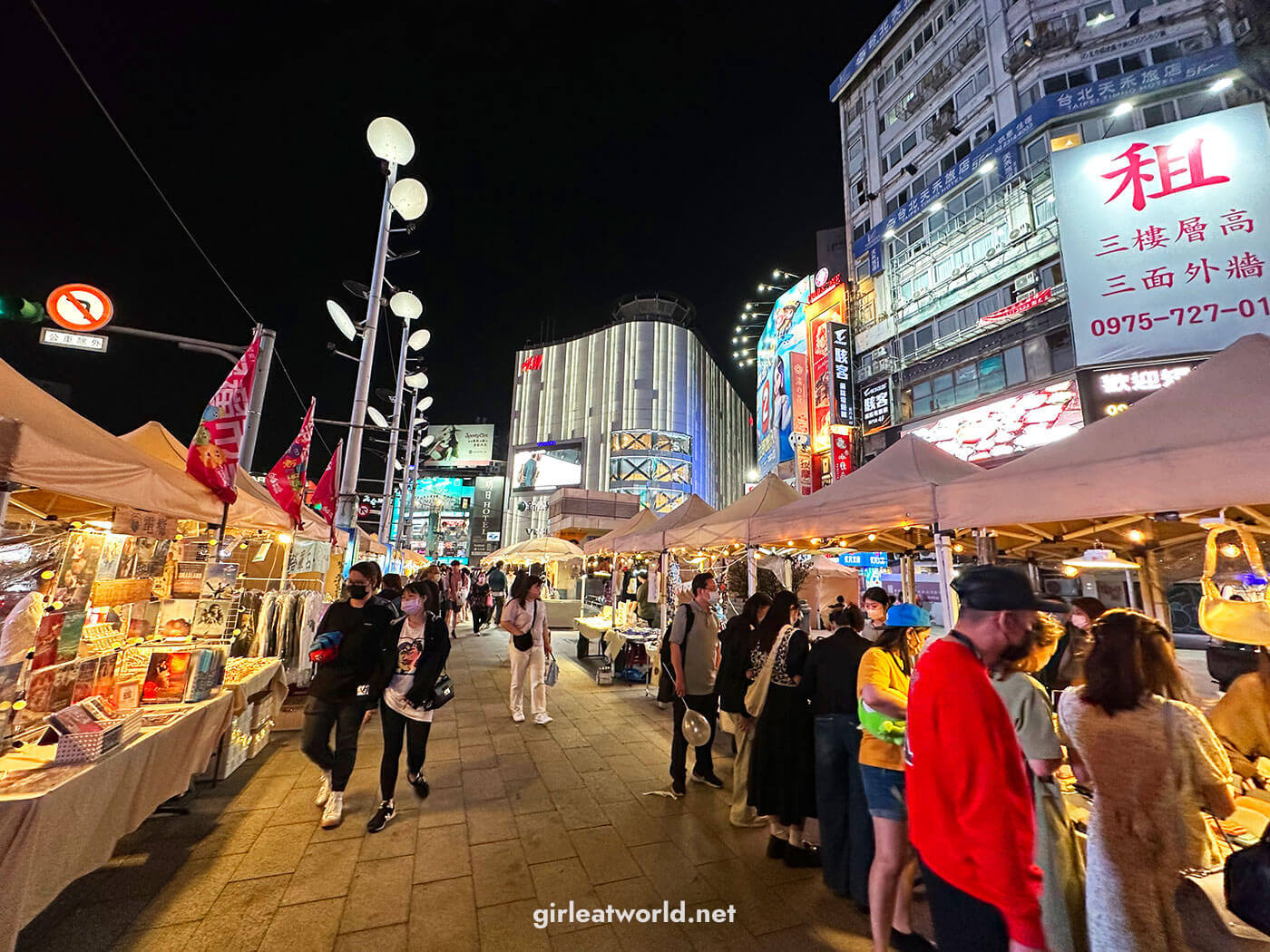 Ximending is a lot more alive on weekends and at night. So if you're looking for that hustle-bustle atmosphere, consider visiting it on a Saturday or Sunday night. Even if you're not into shopping, it's fun to visit so that you can people-watch or see the street performers.
To get to Ximending, take the blue or green metro line to Ximen station, and take Exit 1 or 6. This will drop you to the crossing where you can start your journey into Ximending.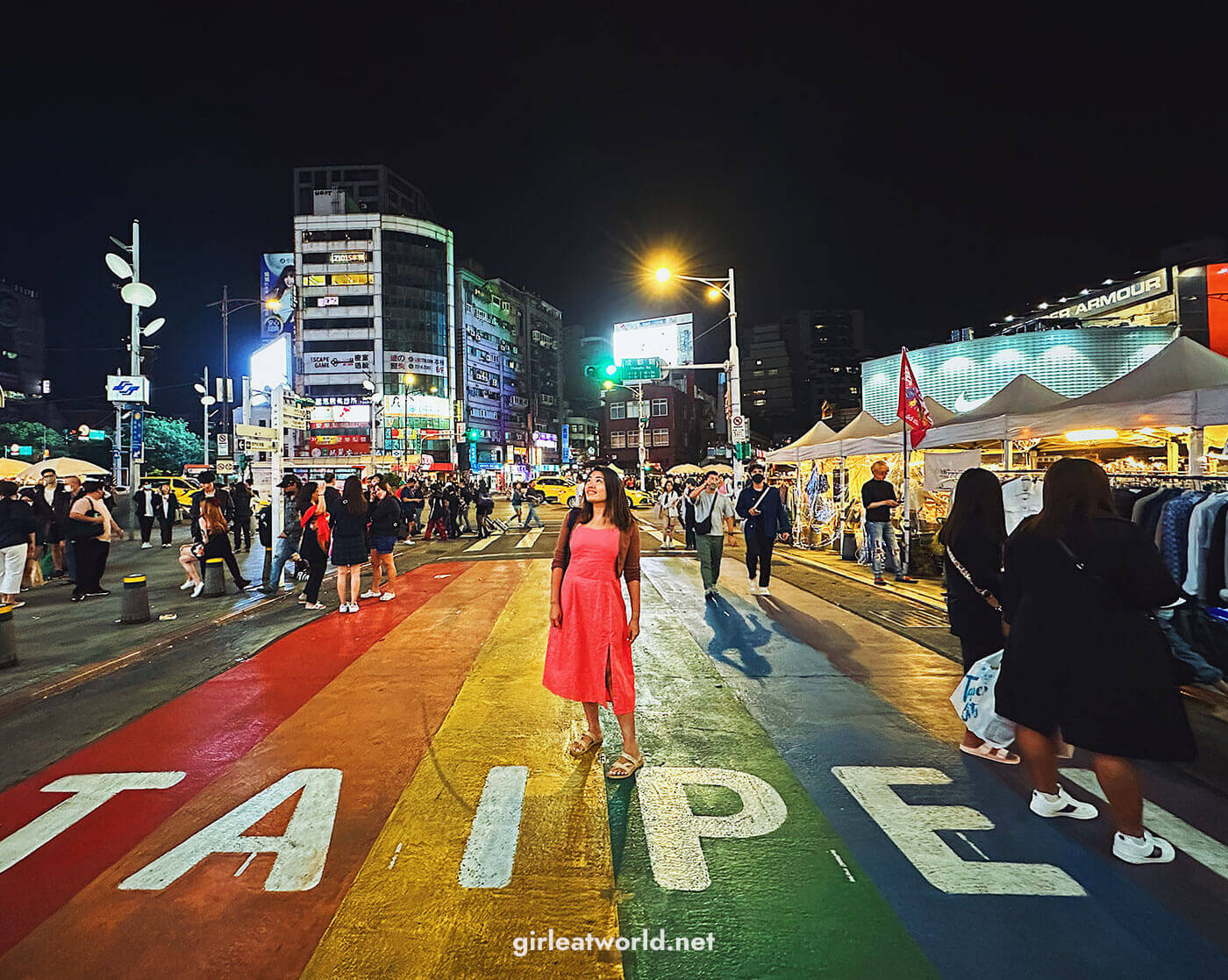 Don't miss the rainbow street at the entrance for a really cool photo op! This street is right off Exit 6 of Ximen station.
3. Eat your heart out at the night markets
Taiwan Night markets are, to put it in one word, AMAZING! They are the ultimate definition of what a night market should be: bustling atmosphere, great shopping, and most importantly: a large variety of street food with an affordable price tag!
The most popular night in Taipei food markets are:
Shilin Night Market – Shilin needs no introduction. This is Taiwan's biggest and most popular night market. For most tourists, this is the ultimate night market since it has both: food and shopping!
Shida Night Market – I would say Shida is more about fashion than food. I was told this is where Taiwanese students go to find cheap yet fashionable and good-quality clothes. Most of the styles I found were inspired by Korean fashion, which is all the rage across Asia these days. I found some cute earrings for a reasonable price here. That said, you can still find solid food options at Shida too, such as Shi Yun fried chicken and Hsu Ji Shen Jiang Bao.
Raohe Night Market – Raohe spans across a narrow street called Raohe Street. While the two rows of temporary stalls in the middle of the street consist mostly of snacky street food and drinks, you can find some night market goodies in the shophouses that line up the street. This night market is extremely popular so expect it to be very crowded over weekends and peak tourist seasons. My favorite food here is the Fuzhou pepper bun.
If you prefer smaller markets that aren't as crowded, you can try these markets:
Ningxia Night Market – In comparison to the other night markets, Ningxia is very small. However, I think they're great to visit, especially if you are trying to avoid crowds. They still have at least one stall for each famous night market meal. My favorite here is the peanut ice cream stall.
Nanjichang Night Market – I have not been to Nanjichang, but I expect it to be similar to Ningxia Market, where it's slightly smaller and more subdued compared to other markets.
Except for Nanjichang, I have been to all of the above markets. Shida and Ningxia are probably my favorites, simply because I get overwhelmed easily and those markets were on the quieter side. Shilin and Raohe were too big and too crowded for me with way too many options. However, Ningxia and Shida might be too quiet if you're looking for a bustling night market vibe.
4. Visit Taipei's Creative Parks
A "creative park" is a concept that exists all over Taiwan. It's a place designated for modern arts and culture. At these creative parks, you can usually find shops with products made by local designers, art exhibitions, trendy coffeehouses or restaurants, and a space where people can hang out or for live performances. Furthermore, the creative parks in Taiwan are usually located in abandoned old buildings from the Japanese colonial era that have been renovated and repurposed to their current state.
Creative parks are great to visit on Saturday or Sunday, especially if you're visiting during Spring time in April or May. There might even be some live music, open-air markets, and other activities.
Here are the creative parks you can visit in Taipei:
Huashan 1914 Creative Park
A former sake factory during Japanese colonial time, located in the center of Taipei. My favorite brand here is Wooderful Life, where they sell kids' toys and everyday goods all made from wood.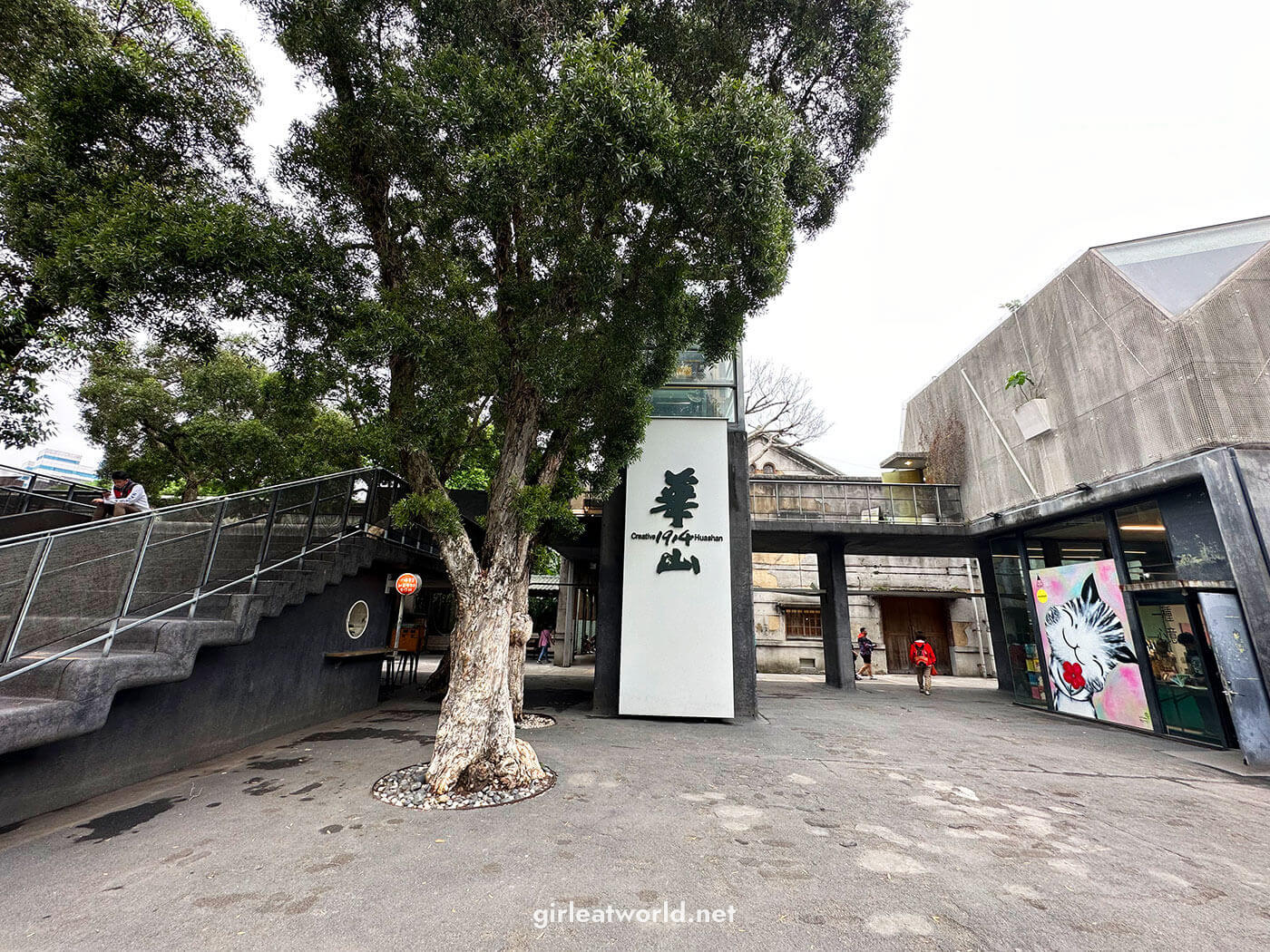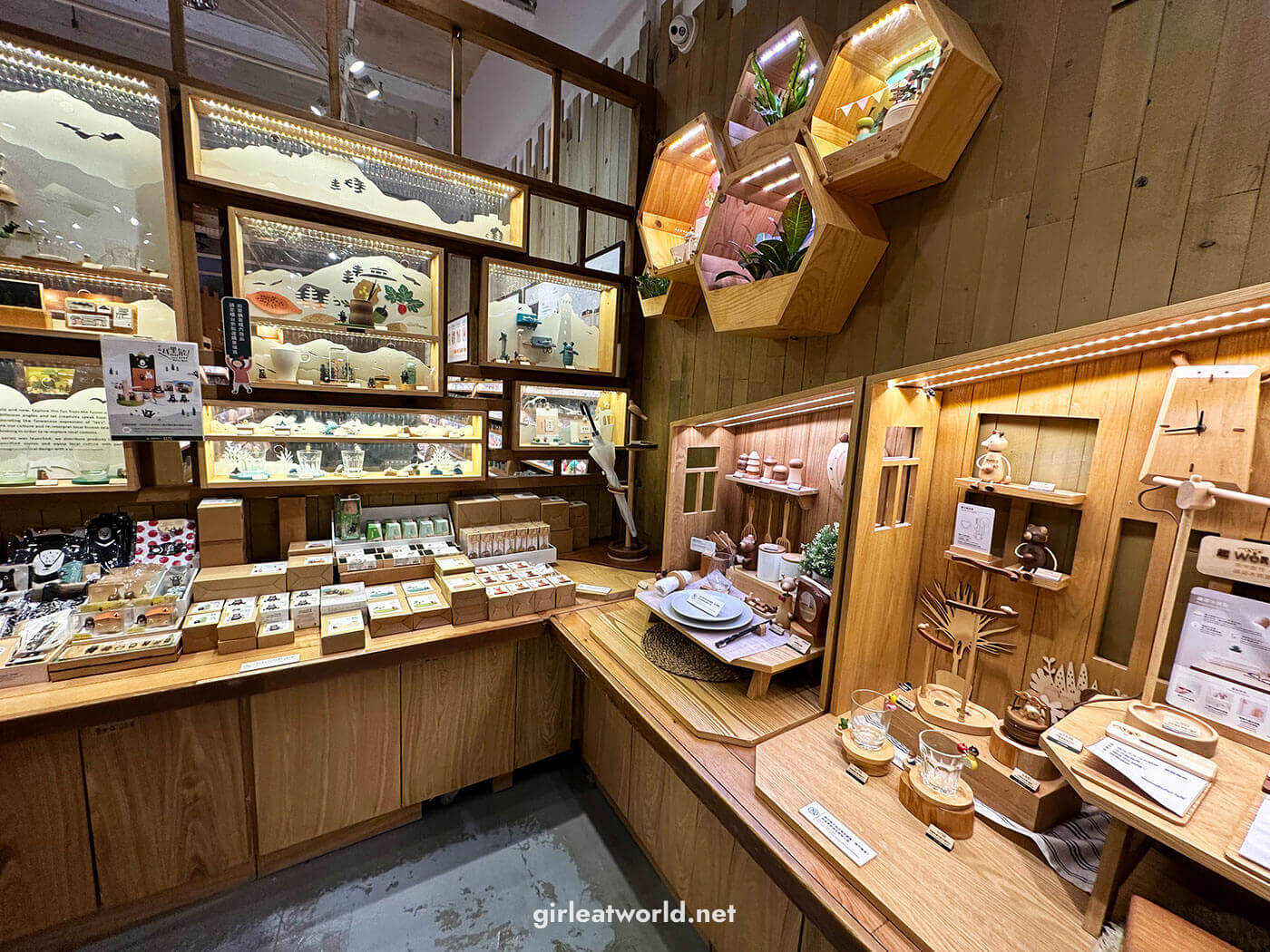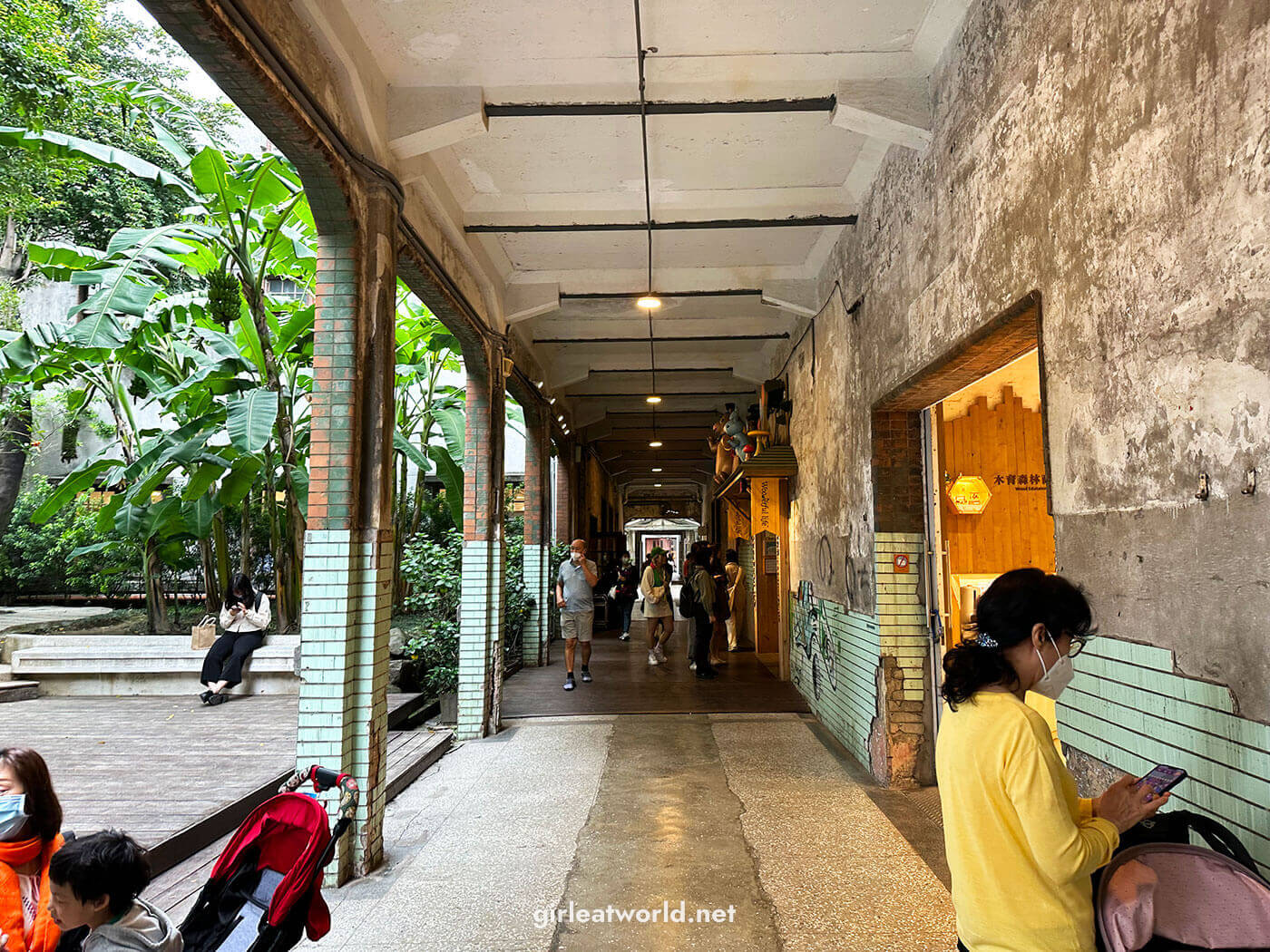 Songshan Cultural and Creative Park
A former tobacco factory in the 1930s. There are plenty of locally-made accessories, clothes, and everyday goods. On the other wing, you can find the Taiwan Design Museum and library space.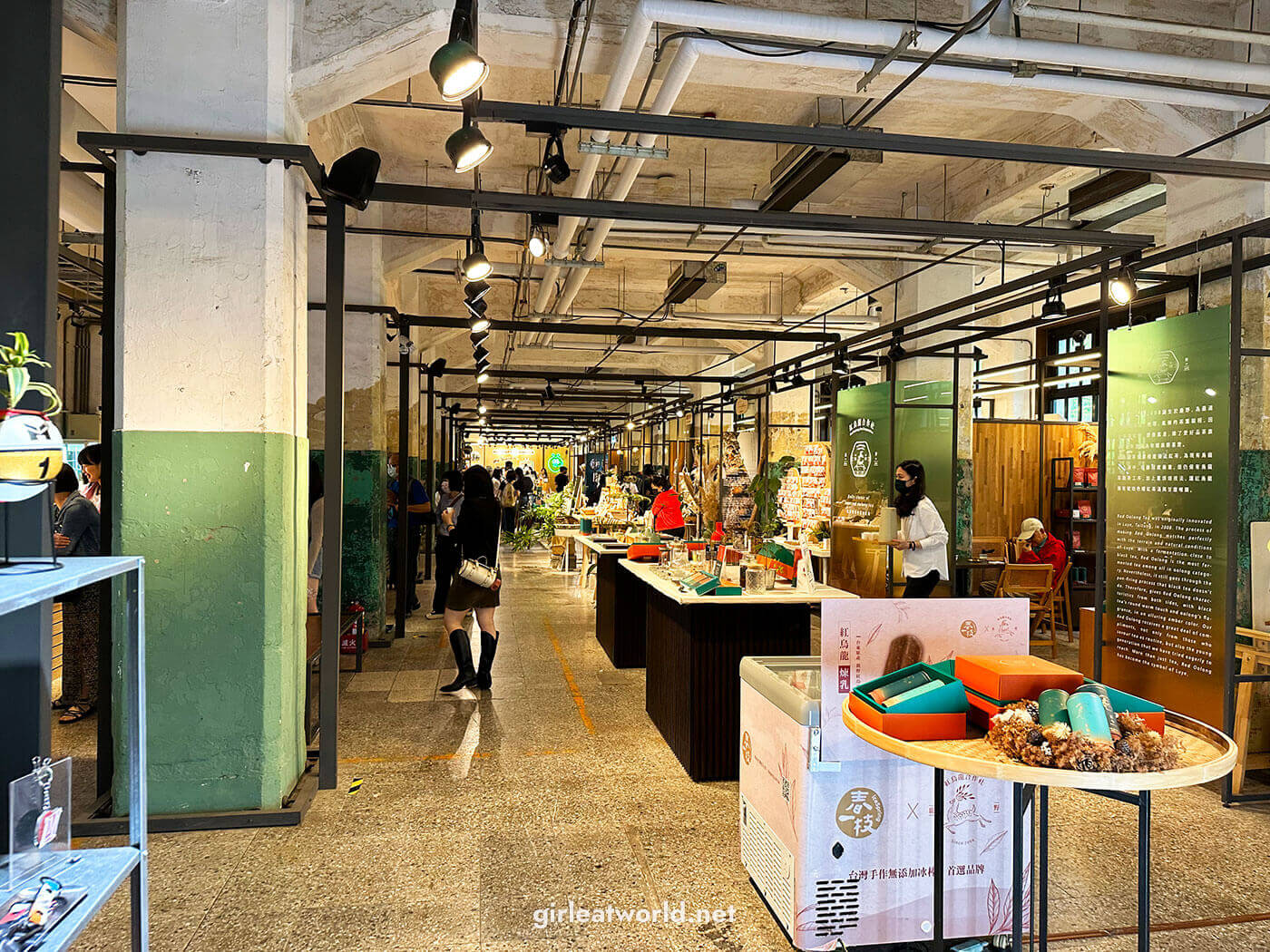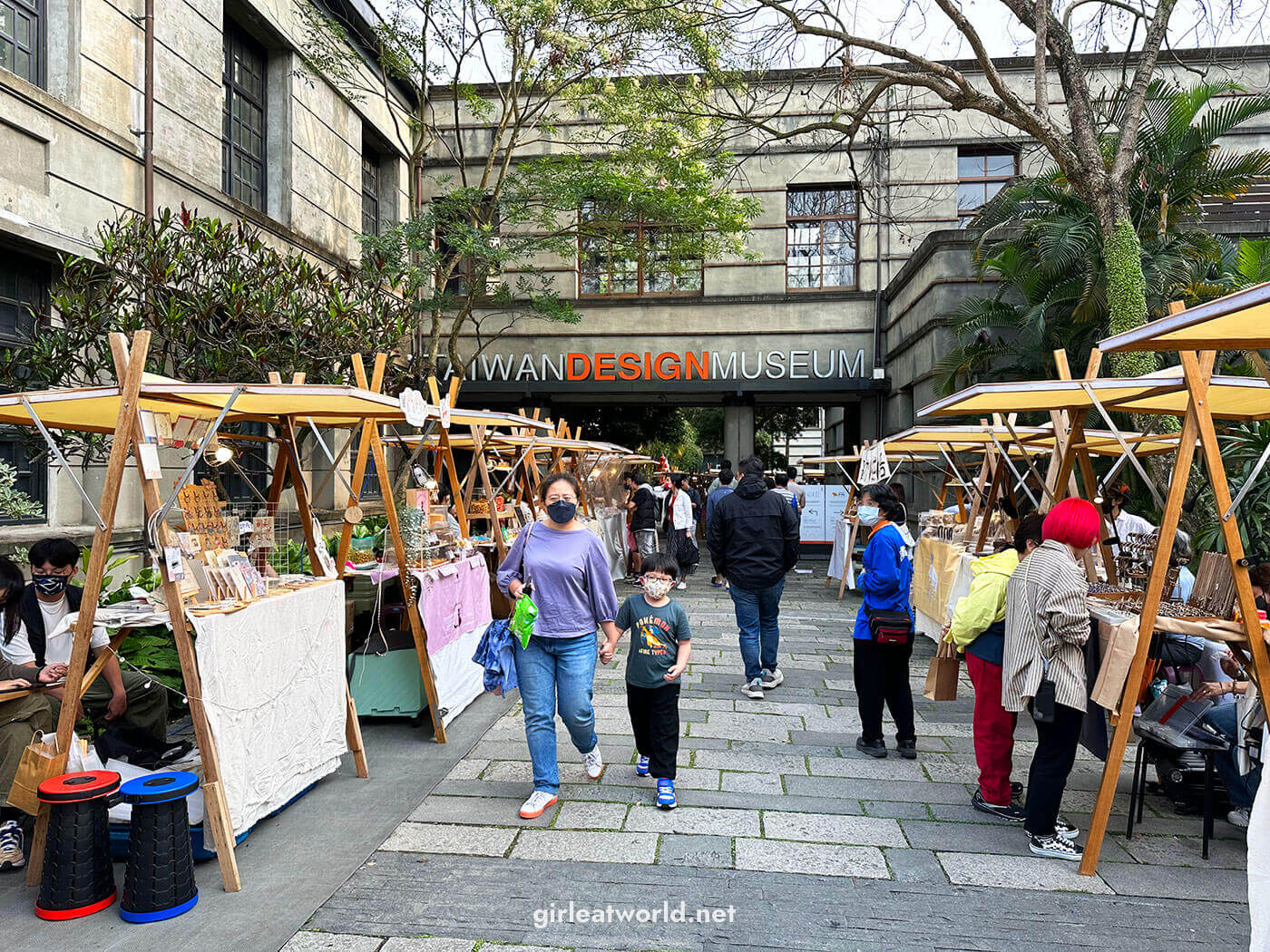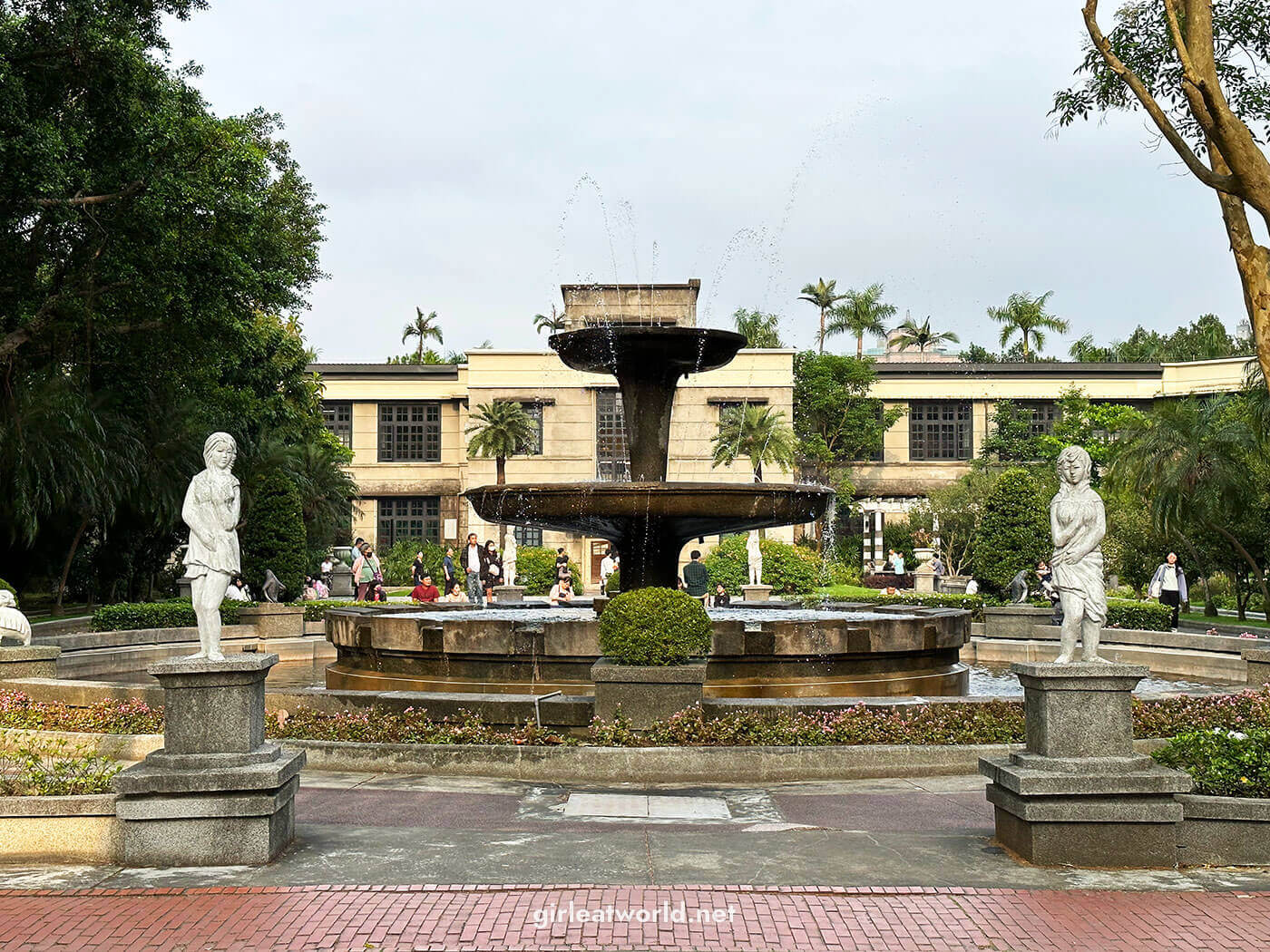 16 Creative Boutique
Located at The Red House in Ximending, a former public market, bookstore, cinema, and most recently a theatre. This boutique is much smaller than the creative parks, but it houses similar brands as the two creative parks mentioned above.
5. National Palace Museum
The National Palace Museum is located in the northern part of Taipei, in Shilin. It's a bit out of the way from everything else, but it's worth a visit. The museum houses thousands of Chinese artifacts from the mainland.
You can buy tickets to the museum here via Klook. The museum is open every day from 9 am to 5 pm.
One of the most notable items on exhibit at the National Palace Museum is the Jadeite cabbage, a piece of green and white jade that has been carved into the shape of a very realistic miniature of a cabbage. If you go to the museum to see this item, you might find a line of people waiting for their turn to view the jadeite cabbage up close.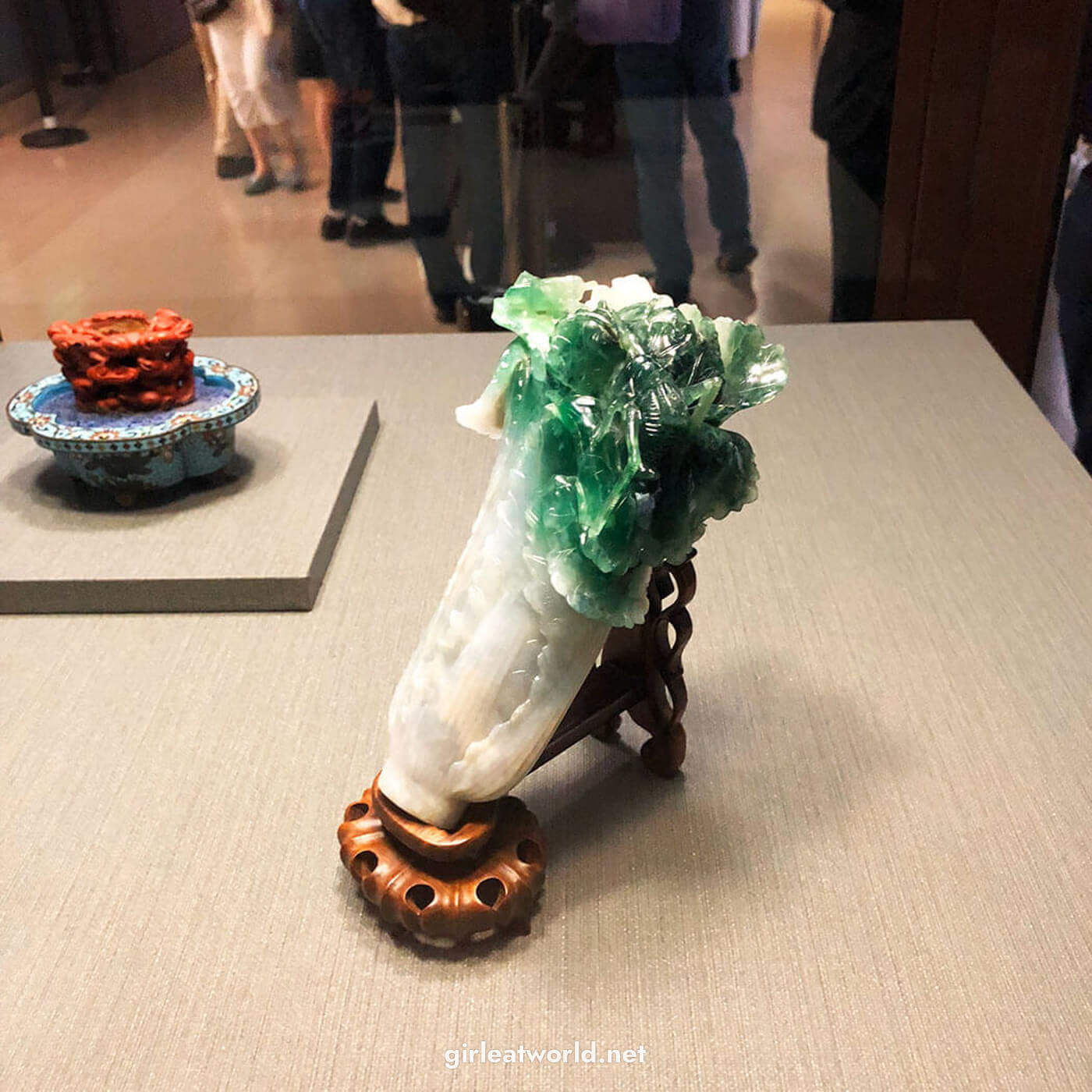 However, my personal favorite is actually the item behind it, the meat-shaped stone, which is a piece of jasper stone that has been carved into the shape of a very realistic braised pork belly. Yes, you've got to see it to believe it.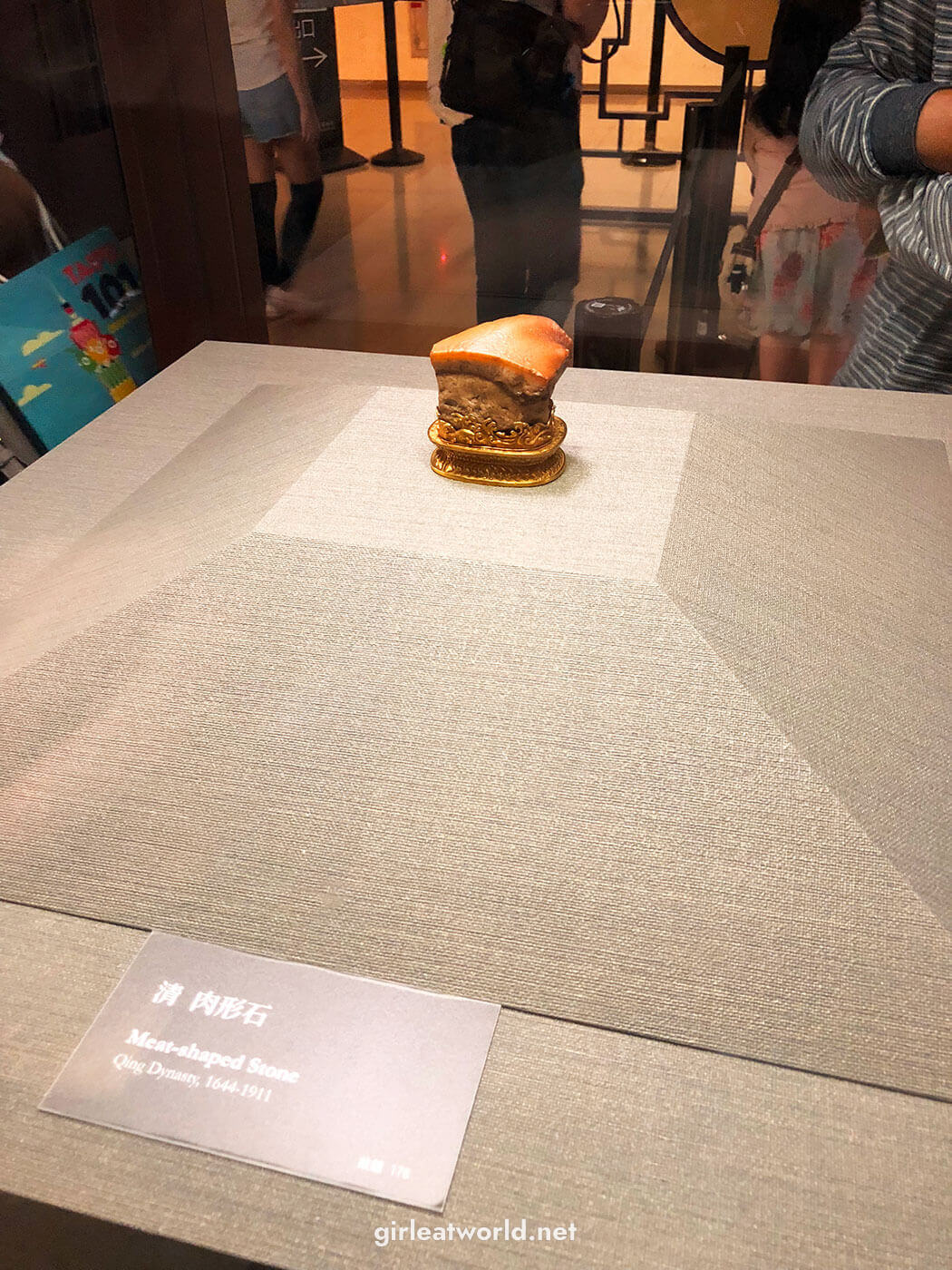 6. Hike up Elephant Peak
The hike to elephant peak is very close to the city and can be done easily. It involves a 1.5 km long set of stairs and takes only about 20 minutes to complete. I recommend doing this in the late afternoon, almost at sunset time when the weather is good and visibility is fair.
To get here, simply take the train to Xiangshan station and take Exit 3. From there, the start of the trail is easy to find by just following the Google Maps instructions.
The Elephant Peak trail is a very popular and easily accessible trail, so don't expect to be the only one here! In fact, when I was there it was very crowded at the peak.
7. Sip on world-famous coffee at Simple Kaffa
If you're a fan of coffee, you must stop by Simple Kaffa. They rose to prominence when the owner of the cafe, Berg Wu, won the 2016 World Barista Championship.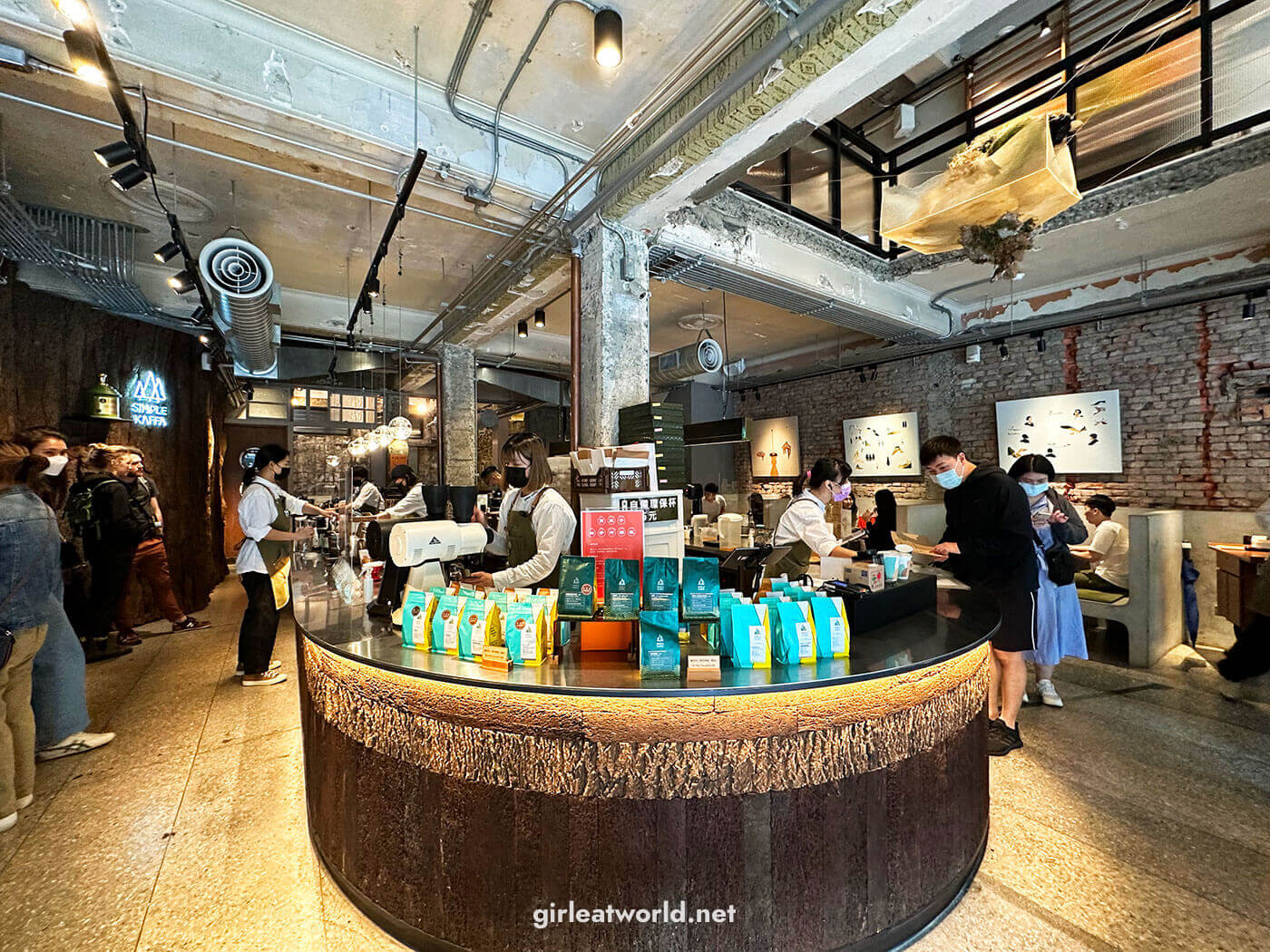 Simple Kaffa has a few branches around Taipei:
Simple Kaffa Flagship near Huashan 1914 Creative Park
Simple Kaffa Sola on the 88th floor of Taipei 101 (Requires reservations and has a minimum spend)
Simple Kaffa Super Kiosk on Jinshan Rd
Simple Kaffa The Coffee One on Jinshan Rd
Simple Kaffa at Taoyuan T2 Terminal Public Area (newly opened!)
The one I would recommend is the Simple Kaffa Flagship store, because of its convenient location. Takeaway coffee is pretty easy – but if you're thinking of getting a table here, be prepared to wait! The good thing is you can put your name down and then walk around Huashan 1914 Creative Park nearby.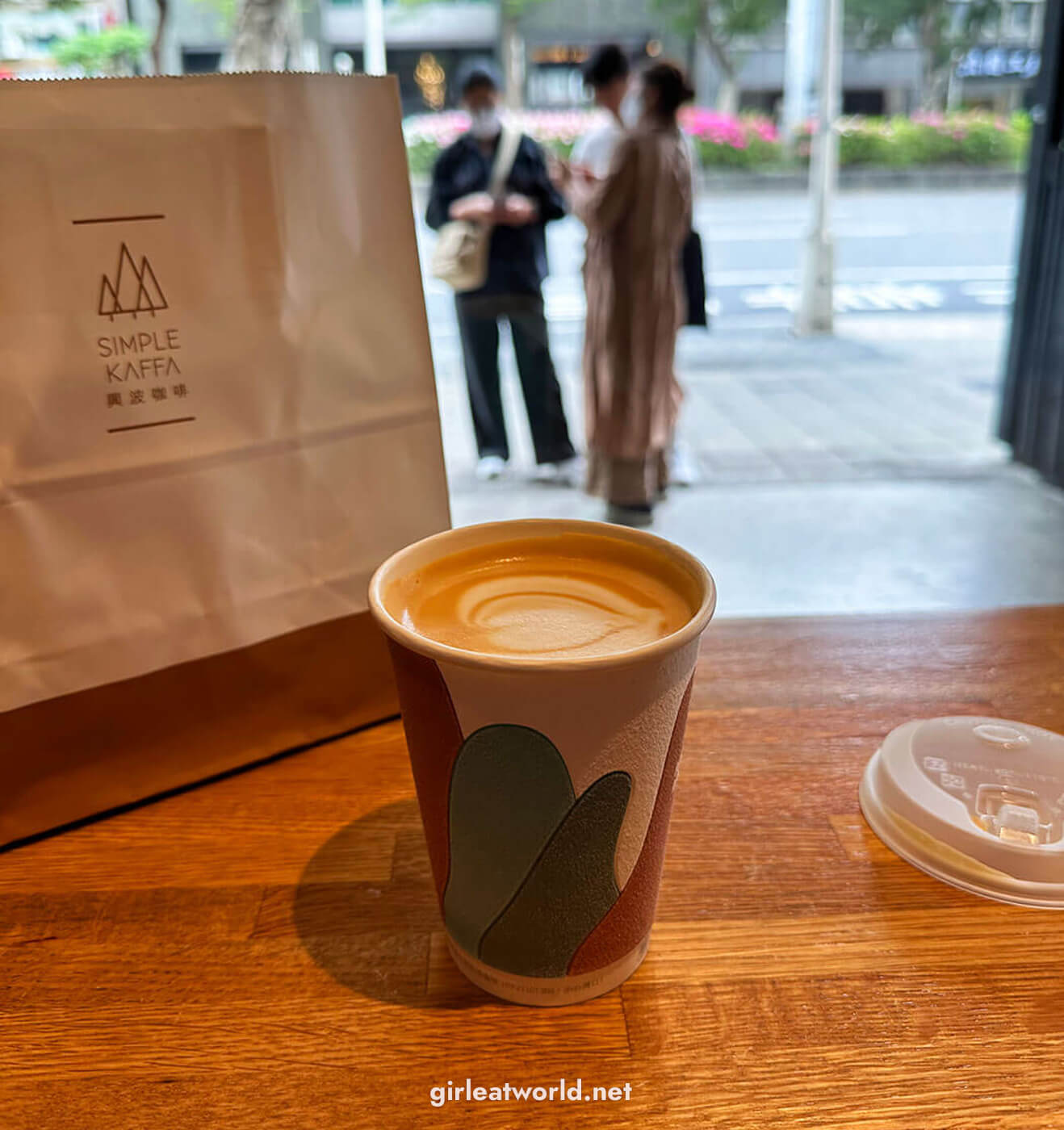 You can also purchase some beans here to take home for about NT$ 450-500. They'll provide an instruction card on how to enjoy the beans (best enjoyed 10 days after the date printed on the bag, to let the coffee beans age), as well as give you a sticker to cover the slits on the bean bags if you are planning to take it on a flight.
8. Go on a food marathon!
A visit to Taipei is not complete unless you eat until you're full. There is so much good food in Taipei, that I've dedicated a separate post for food in Taipei.
For ideas on what to eat in Taipei, check out my must-eats in Taipei!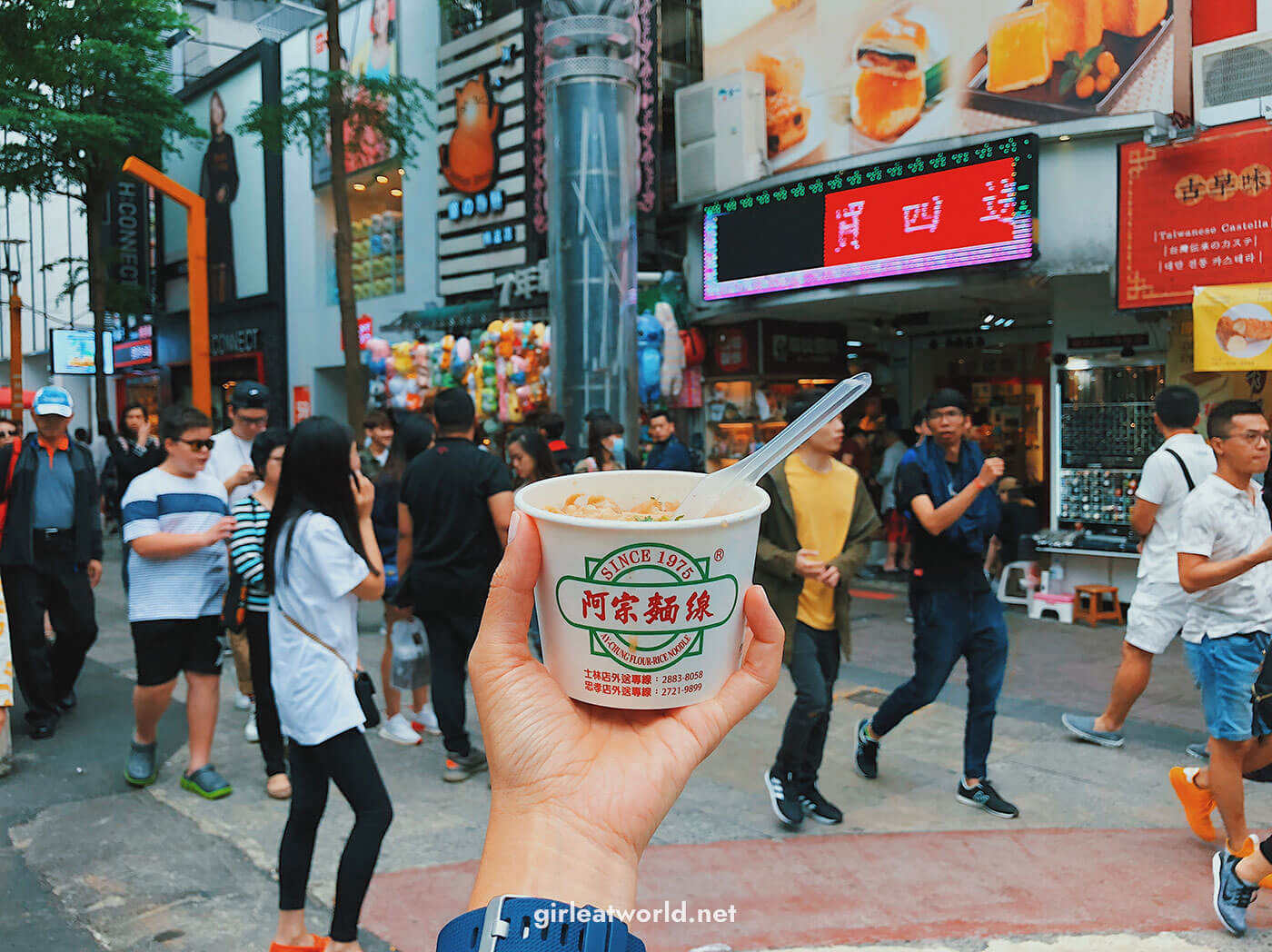 Recommended trips from Taipei
With Taipei being the capital city of Taiwan, it's really easy to travel in and out to the rest of Taiwan. Below are some ideas for trips that you can do easily from Taipei:
1. Jiufen (Day trip)
You can easily visit Jiufen from Taipei as a day trip, or you can extend your trip and include other activities such as hiking up the Teapot mountain.
I've written all about visiting Jiufen from Taipei in this post, including all the transportation modes you can take to get to Jiufen!
2. Tainan (1-2 Days)
Tainan is located in the south of Taiwan, and is the oldest city in Taiwan. I recommend setting aside at least 2 days to visit Tainan.
I've also written a separate post about Tainan, so be sure to check it out here.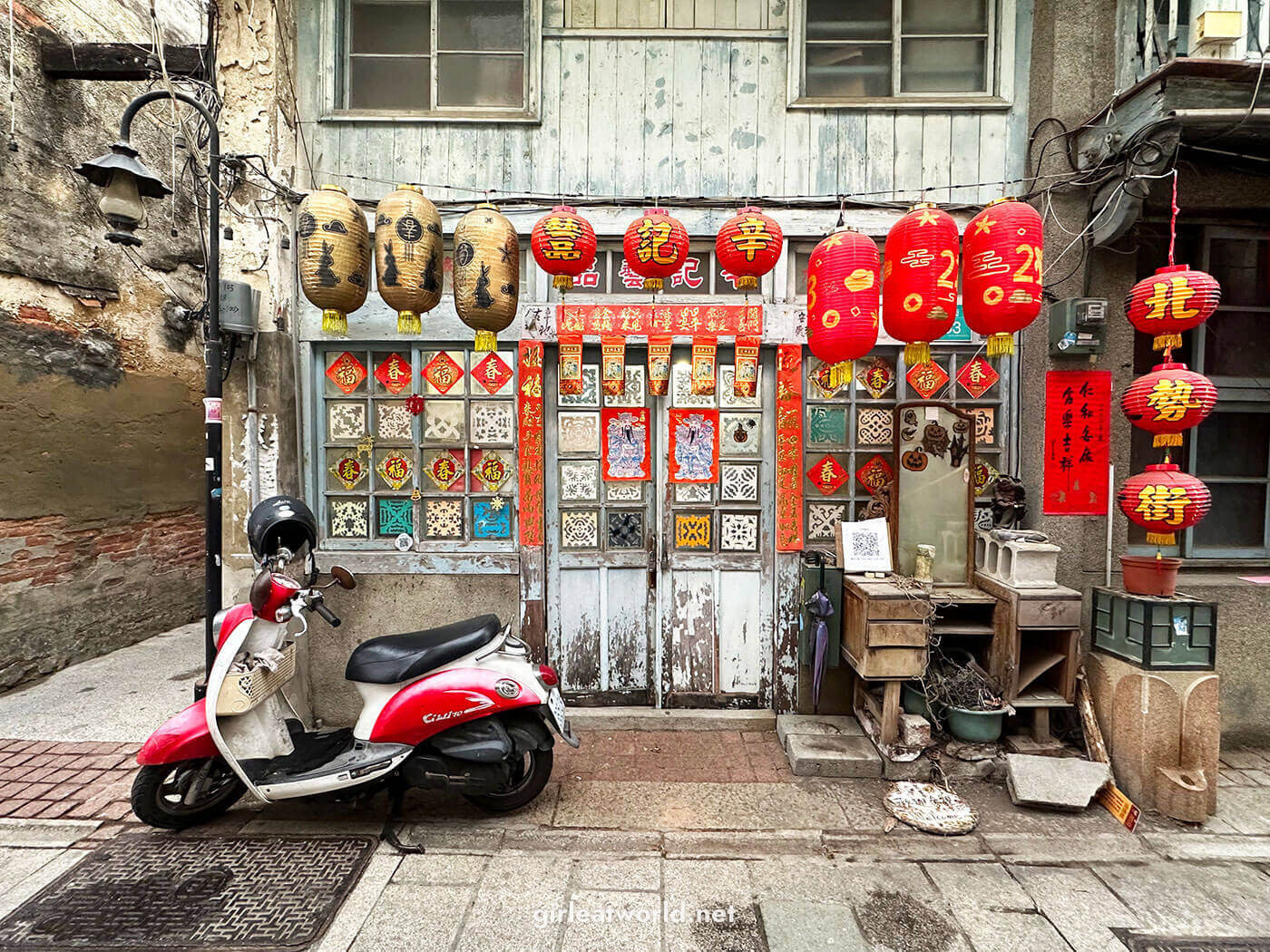 3. Beitou (Day trip)
If you're a fan of the Japanese onsen (hot spring) experience, you've got to come to Beitou.
4. Taichung and Sun Moon Lake (2 days)
Taichung is the second most populous city in Taiwan. Sun Moon Lake is the largest body of water in Taiwan and one of the most popular places to visit in the country. Sun Moon Lake can be visited on a day trip from Taichung.
5. Alishan (1 day)
Alishan is a mountainous region in Taiwan. It's great for hiking trails, sacred trees, and beautiful sunrises.
And that's all I know about visiting Taipei! Please leave a comment below if you have any questions or comments about this post. See you in the next post 👋🏻