On my last visit to Taipei, I found myself with a few extra days that I could use to explore places outside of Taipei. Aside from Jiufen and Beitou, I haven't been anywhere else in Taiwan. So I decided to go to the extreme and visit Tainan, at the southern end of Taiwan!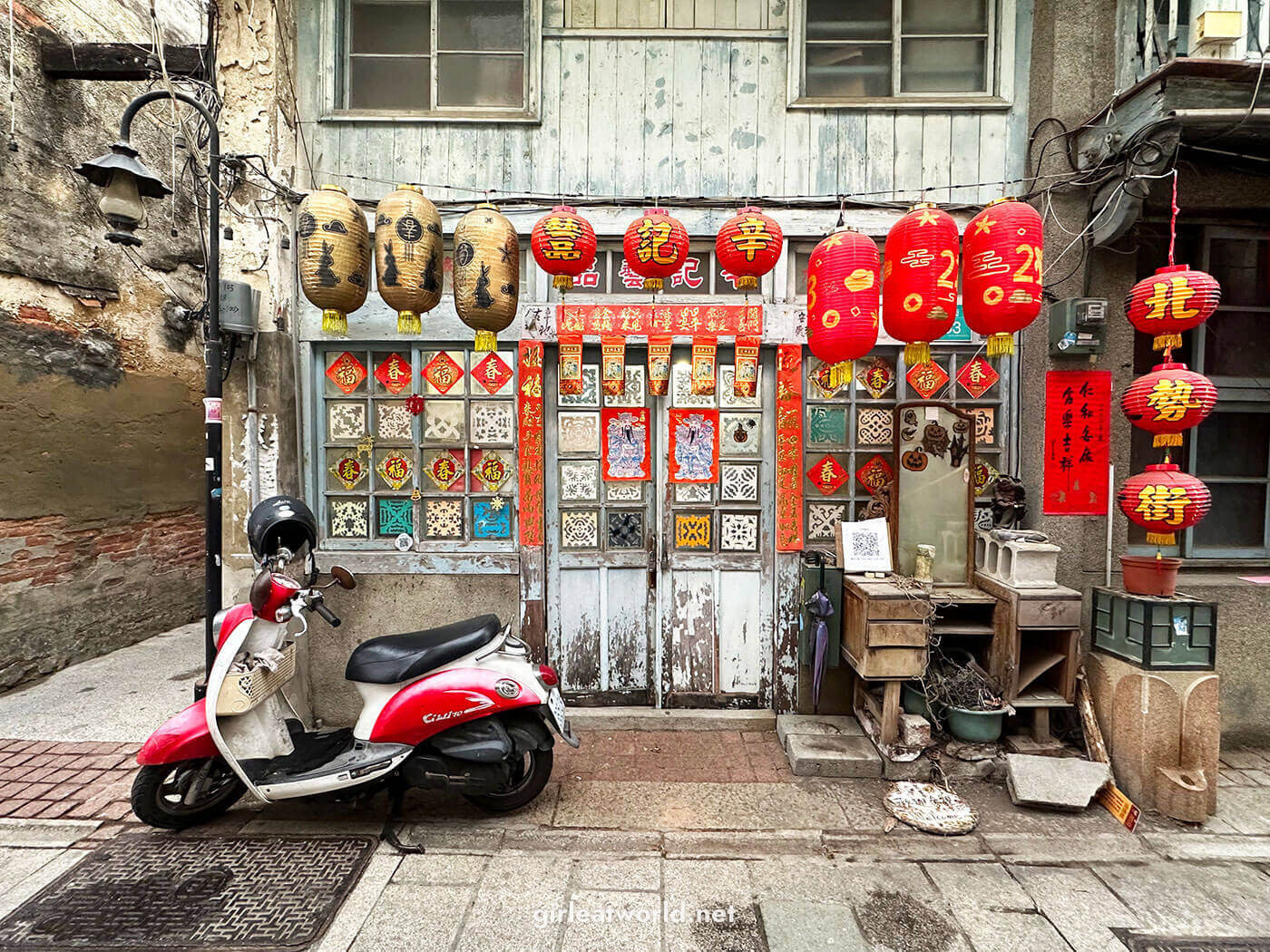 Tainan is the oldest city in Taiwan, first established during the Dutch colonization era in the 1600s. From then on, it was known as the ancient capital city of Taiwan. It continues to hold the title of the capital city for over 200 years, until the 18th century when the capital was moved to Taichung and then to Taipei, where the capital city currently sits.
Due to its long history, Tainan is often referred to as Taiwan's cultural capital. You can see the remnants of Tainan's history from the time of Dutch colonization to the Japanese era in the 18th century.
In the present day, there are plenty of eating spots, small local shops, and trendy cafes to visit. If you like walking, Tainan is a treat because there are tons of small alleys to explore. Basically, there is something for everyone in Tainan!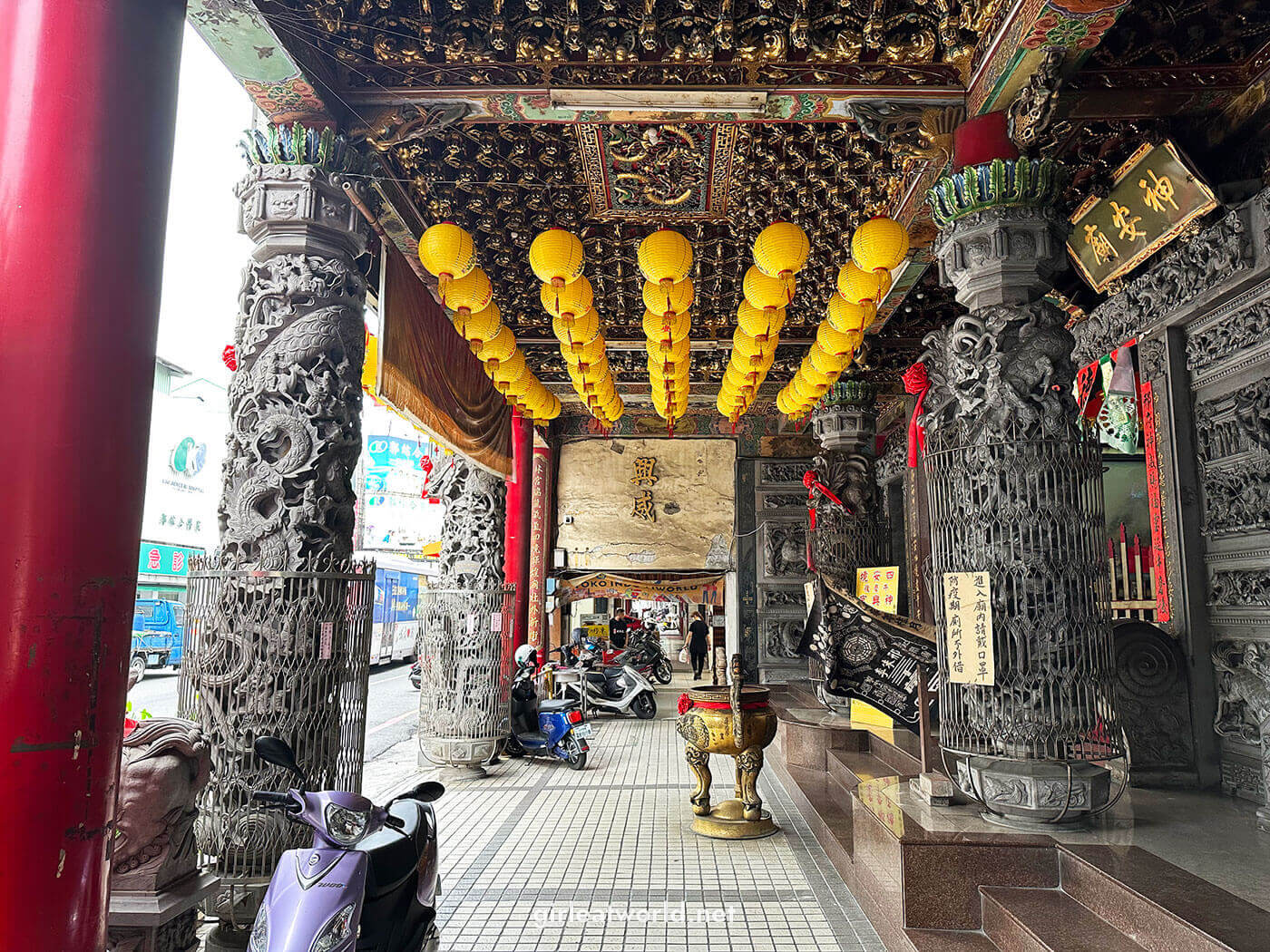 Tainan Travel Tips for First-time Visitors
Tainan is safe and easy to travel in, but here are a few pointers that could make your trip even easier:
1. Read my Taipei Travel Tips for First-time Visitors – Many of the travel tips I have for Taipei will apply to Tainan too, such as getting a pre-paid SIM Card that will work in Taiwan, including Tainan, and getting EasyCard, which works on buses in Tainan as well!
2. Buy the High-Speed Rail (HSR) ticket ahead of time – I will elaborate more on taking the HSR in the Getting to Tainan section below, but this is definitely the easiest way to get to Tainan if you are coming from Taipei or other major cities in Taiwan.
3. Buy most of the Tainan attraction tickets via Klook – During my time in Tainan, I bought all of the ticket attractions from Klook. It was super easy because Klook provides direct entry, meaning you don't need to redeem another ticket – just show the QR code from your voucher!
4. There is a military air base near Tainan – the Tainan airport serves as both military and commercial air base. So occassionally you'll hear the zooming of military air planes. If noises like this bothers you, you might want to bring an ear plug. Personally it did not bother me at all!
How many days should I spend in Tainan?
The touristy part of Tainan is actually not a big area. I recommend spending at least 2 days in Tainan. If you're a fast traveler, one day could even be enough to see most things in Tainan, but it will be very rushed. For those who like to travel slowly, there will be enough things to do in Tainan for 3-4 days.
When is the best time to visit Tainan?
Tainan is located in the southern part of Taiwan. The weather here tends to be warmer and more humid than in the northern region.
Like the rest of Taiwan, I would recommend visiting from March to April when the weather is still somewhat cooler and there is not much rain. Starting from mid-May, it gets hot and a little bit rainy in Taiwan. There is also a possibility of typhoons in the region around September or October. November to December might also be a good time to visit when it's not yet too cold.
I would also recommend visiting Tainan on a weekend if you prefer a more lively atmosphere. There will be more things to do and shops will be open, but it will be more crowded and accommodations could be more expensive. I visited Tainan from Thursday to Friday and was able to visit most of the things on my list without much crowd.
How to get to Tainan
The easiest way to get to Tainan is via the Taiwan High-Speed Rail (THSR) from Taipei. But of course, there are a few more ways to get to Tainan. I'll cover all of them below so you can decide which one is best for you:
1. via the Taiwan High-Speed Rail (THSR) from Taipei (BEST WAY!)
The fastest and best way to get to Tainan is no doubt via the HSR trains. These trains are similar to the bullet train in Japan and will take you to Tainan in 1 hour and 45 minutes. The HSR Train departs from Taipei Main Station. There are multiple trains leaving from this station, so make sure to follow the sign that says HSR!
➡️ I highly recommend booking your HSR Ticket from Klook for easy redemption and the cheapest price! PS: Check for Klook promotions! when I was booking my ticket, they had a 1-to-1 promotion.
I found the HSR ticket price to be fairly reasonable. Through Klook, a journey from Taipei to Tainan cost NT$ 1,080 one way. There are multiple HSR trains every hour going from north to south Taiwan and vice versa, making it easy for your to change your plan on the go.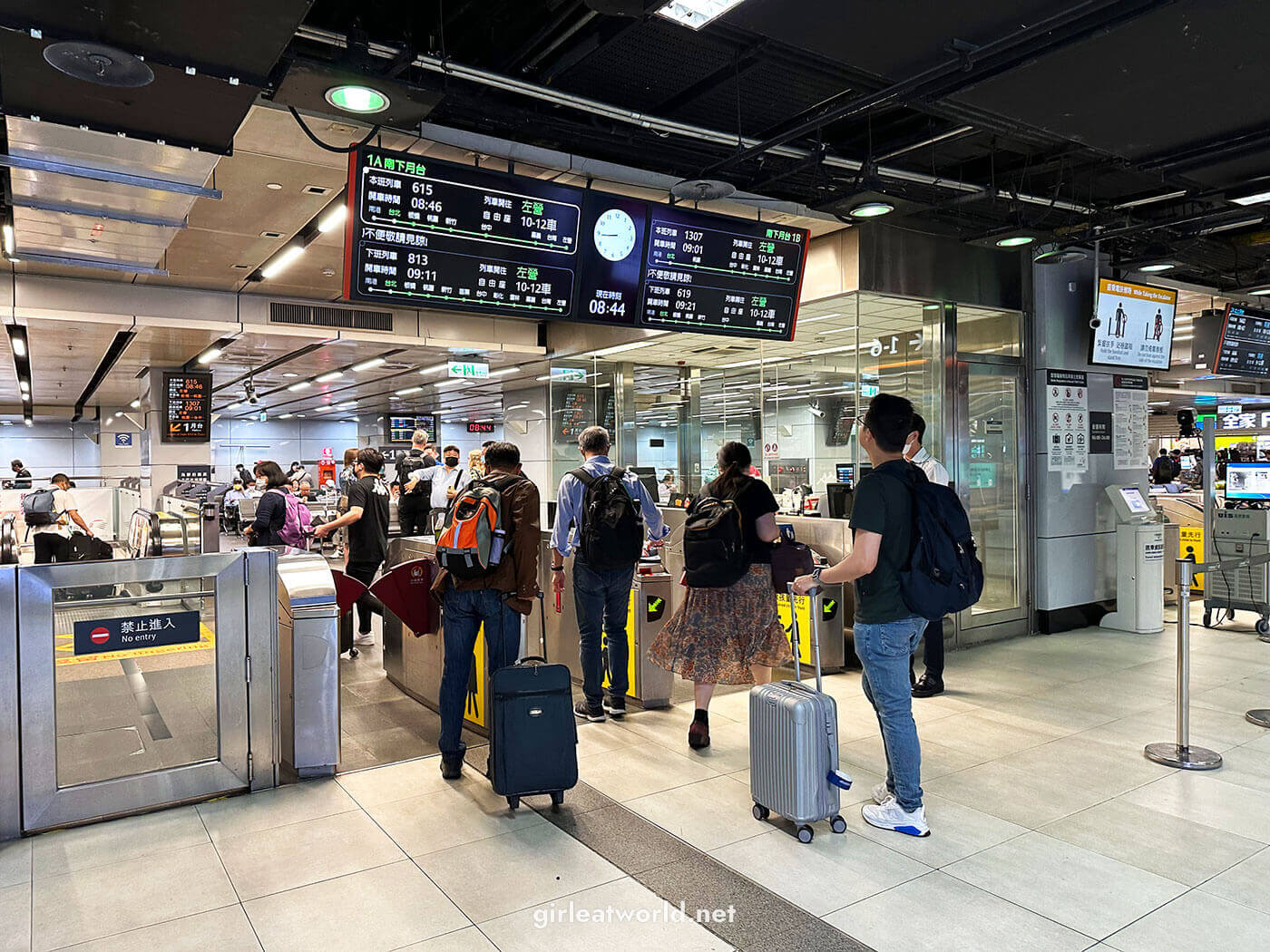 For example, I changed my train ticket to an earlier time in the morning. It took me less time than expected to get ready, so I was already at the station an hour before my train was due to depart. I originally reserved the 9:41 am train, but I was able to get on the 9:01 am train.
Take note changing the timing is still subject to seat availability! I tried to do the same from my Tainan <> Taipei ticket later on, but I was only able to move it to 30 minutes earlier since all the seats on the earlier trains were booked up.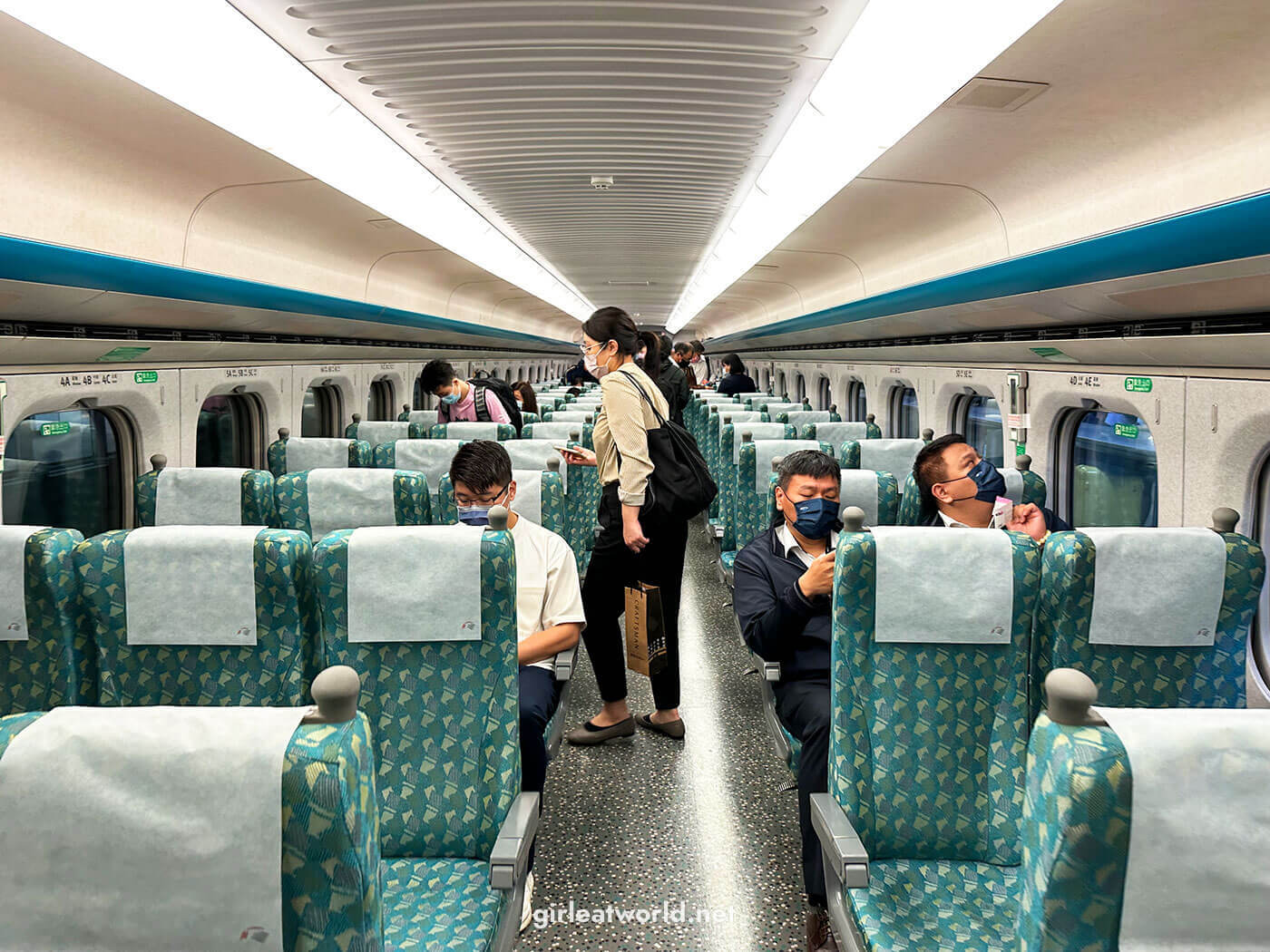 Another bonus point for taking HSR is that there is a free shuttle bus that will take you to Tainan City. I asked the visitor information at Tainan HSR station how I can get to Tainan, and they directed me to take bus H31. Bus H31 dropped me off at Siaosimen, 10 minutes away from my hotel in the West Central district! Super convenient. On the way back, I took Bus H31 to catch the HSR to Taipei as well.
How to redeem your THSR ticket from Klook and reserve a seat
Purchase the THSR ticket from Klook for the direction you want. PS: Check for Klook promotions! when I was booking my ticket, they had a 1-to-1 promotion.
Reserve your train timing at the THSR website using the redeem code stated on your Klook voucher. Take note of the deadline to change train timing, in case your plan changes. This is usually 1 hour before your train departure.
On the day of your reservation, head over to the THSR ticket counter and show your QR Code from the Klook voucher to redeem the physical ticket.
If you want to make any last-minute changes, you can do so at the ticket counter too, but again, this is subject to seat availability.
Receive the physical ticket from the THSR ticket counter and use it to board your train!
2. via the Taiwan Railway Administration (TRA) from Taipei
Another way to travel by train from Taipei to Tainan is using the TRA train. This journey will take 4.5 hours from Taipei, as it is a regular train and much slower than the TSHR train. However, the main draw for them is that TRA tickets cost about half of TSHR, only about NT$ 540-700 one way. So if you're on a budget and have time to kill, you might want to consider this option.
Book your TRA ticket straight on the website.
3. Fly into Tainan Airport (TNN)
One option you can consider is flying directly to Taiwan Airport (TNN) if you intend to come straight from your home country and skip Taipei. I would only recommend this way if you can fly directly to TNN. Otherwise, I think the train from Taipei is still the best way.
How to get around in Tainan
I mostly got around on foot while I was in Tainan, but occasionally you might need to use other methods. Here are a few ways you can explore Tainan:
By Public Bus – Unlike Taipei, there is no convenient metro to get around in Tainan. You'll have to rely on the bus if you want to go by public transport. The buses are punctual in Tainan but they don't come very often.
Despite the frequency, I find that it was still pretty easy to navigate. Like Taipei, most of the bus stops in Tainan will tell you when the bus will come. The schedule on Google Maps is pretty accurate too, and the fare is the same as Taipei – NT$ 15 per bus ride.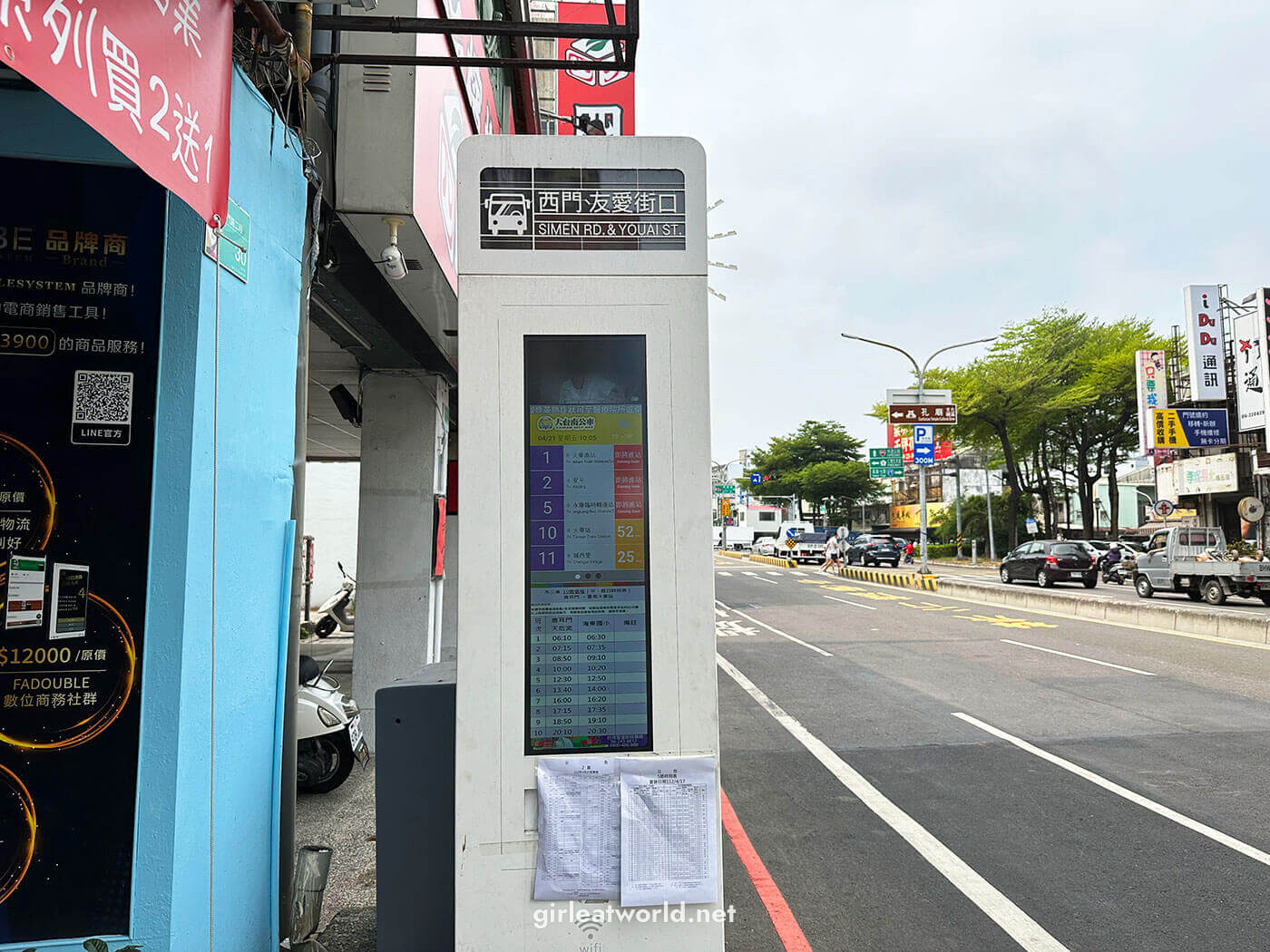 By Tourist Bus 88 and 99 – On weekends, there are buses catered for tourists which will stop at most tourist attractions. You can buy the tourist bus ticket here.
By Bicycle – This is a popular way to get around in Tainan. Ask your hotel if they can rent you a bicycle. I personally did not use this as I found it pretty easy to just walk around in Tainan. There is also a bike rental system called YouBike you can potentially use while you're in Tainan.
By Taxi – The yellow taxi is also available in Tainan, if you prefer that. Taxi fares are pretty reasonable in Taiwan so this is not a bad option at all.
Where to stay in Tainan
When visiting Tainan, you'll want to stay in the West Central district. This is where most of the food and attractions are going to be in Tainan, which will make it very convenient for you.
Here are some accommodations you can consider:
The Retro Tai-Pan – I stayed here during my visit to Tainan and I HIGHLY recommend this hotel. The hotel is done up with a retro industrial vibe, but it's actually newly renovated and clean. The location is great, within walking distance of plenty of eateries and bus stops. The rooms are minimalist, but spacious.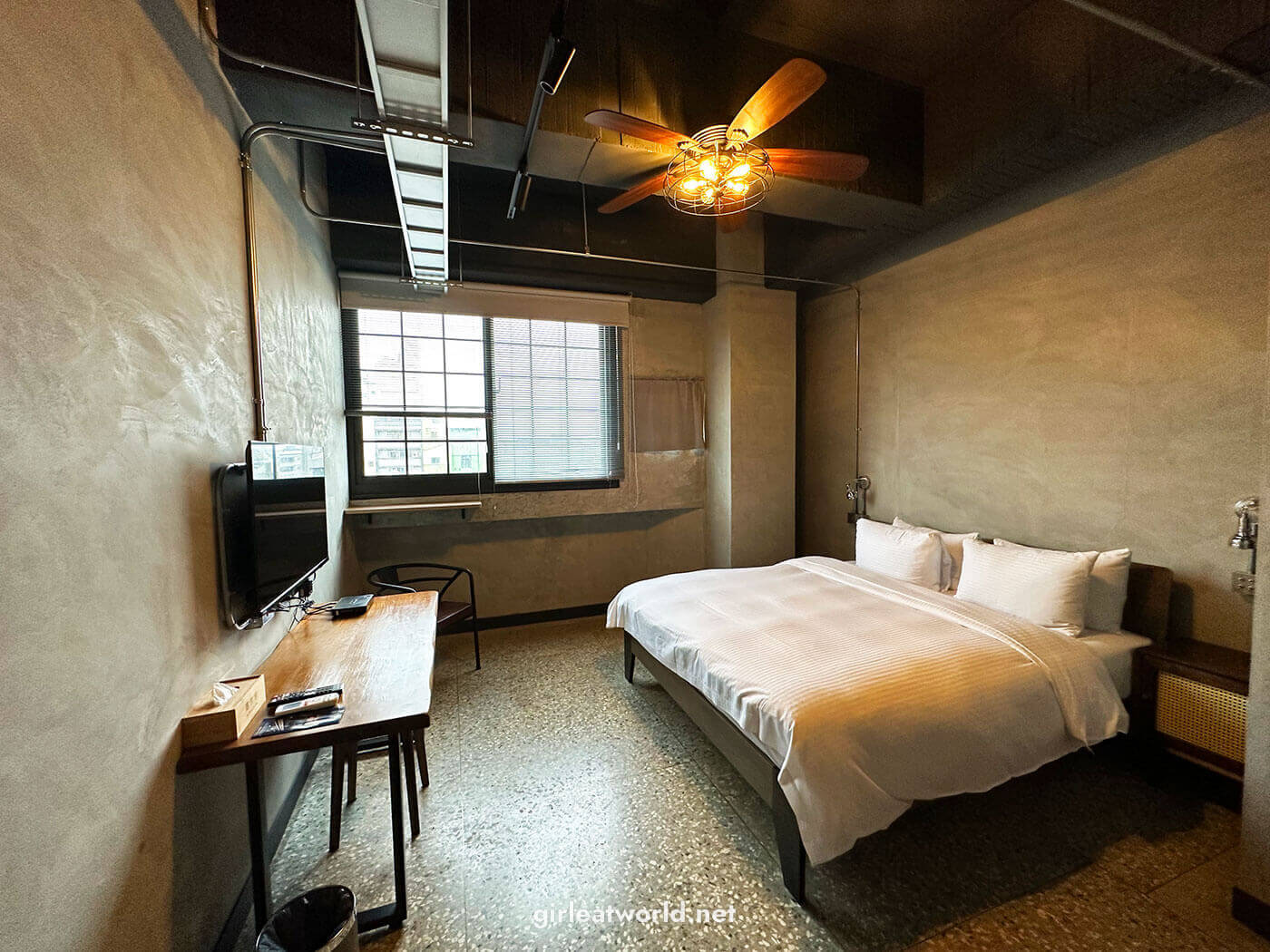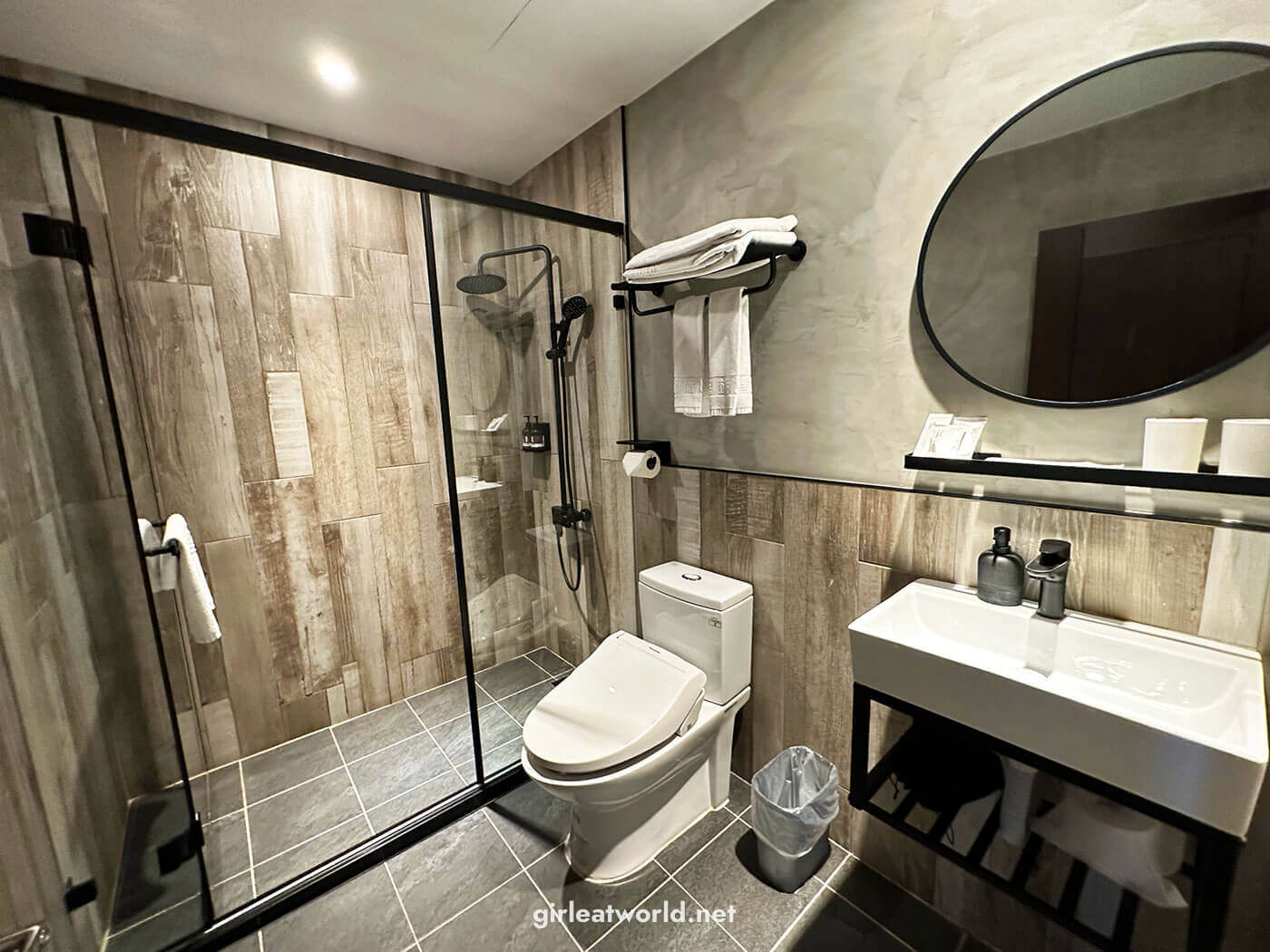 They also served the most amazing hotel breakfast I've ever had, which was included with the stay! I don't usually waste stomach space on hotel breakfast, but this was well worth it.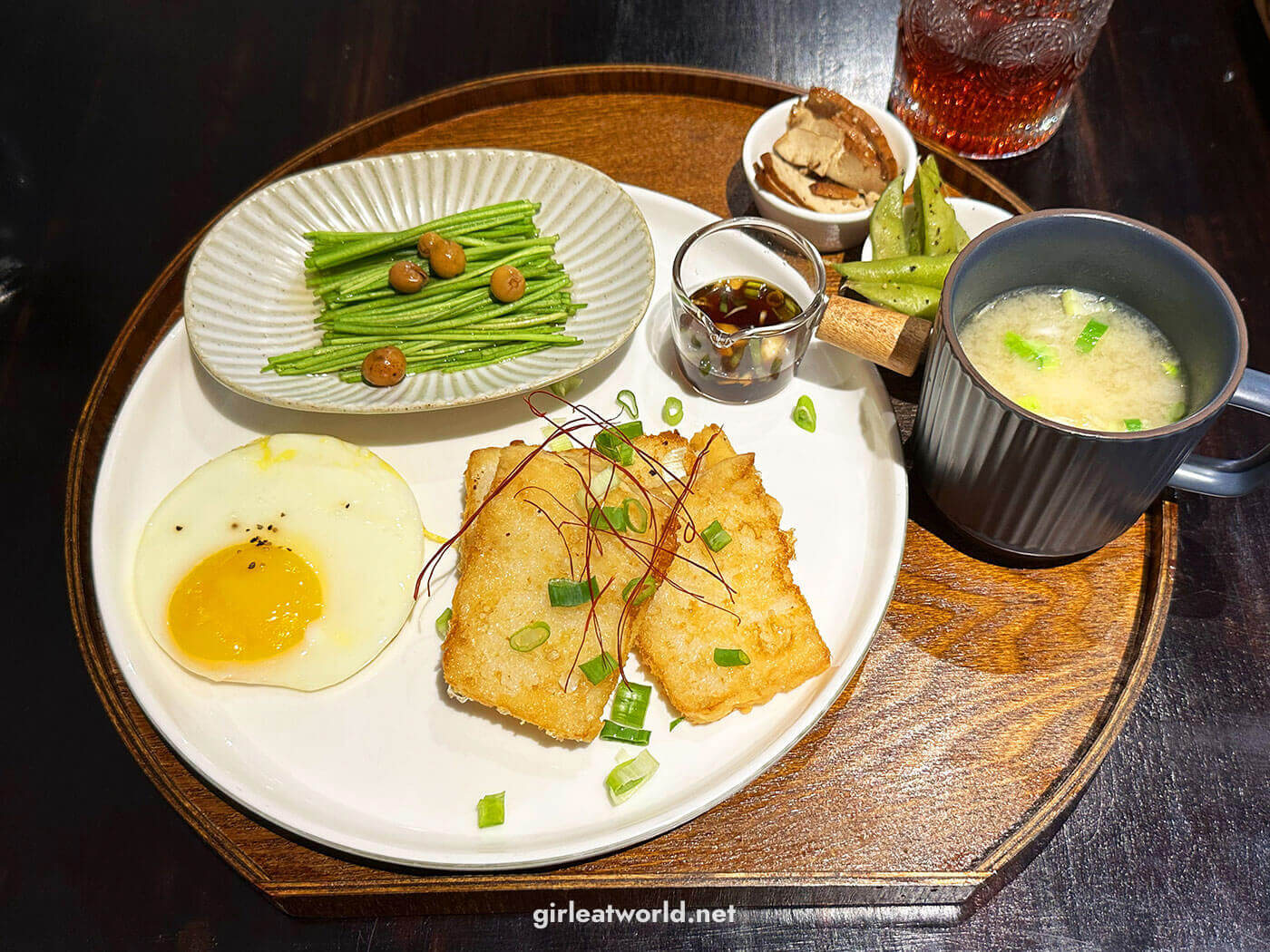 UIJ Hotel & Hostel – This was another accommodation I considered. Don't let the name fool you – it's not a dingy hostel, it's actually a trendy hotel at the heart of the West Central district of Tainan. You can stay in a private room or a bed in a 6-bed dorm. A friend of mine stayed in the private room and she loved it. The private rooms are fitted with Aesop soaps!
Tainan Itinerary Example
Based on where things are located, I recommend dividing your days like so:
Day 1: West Central District
Arrive in Tainan from Taipei
Walk around the west central district during the day
At night, go to Garden Night Market or check out small bars in Tainan
Day 2: Explore Anping District
Visit Anping Treehouse, Anping Old Fort, and Anping Old Street
Sicao Green Tunnel
Return to Taipei
What to do in Tainan
Without further ado, here are things you can do during your visit to Tainan!
1. Walk around the West Central District
The West Central district in Tainan is one of the most popular and busiest districts in Tainan. There are shops, restaurants, and historic sites to visit. There are also small alleys to get lost and walk around in.
Walking around Tainan is pretty cool. You'd be walking on a sidewalk, and it might suddenly turn into a temple, or a wet market, or an extension of a restaurant. You just never know what you'll see.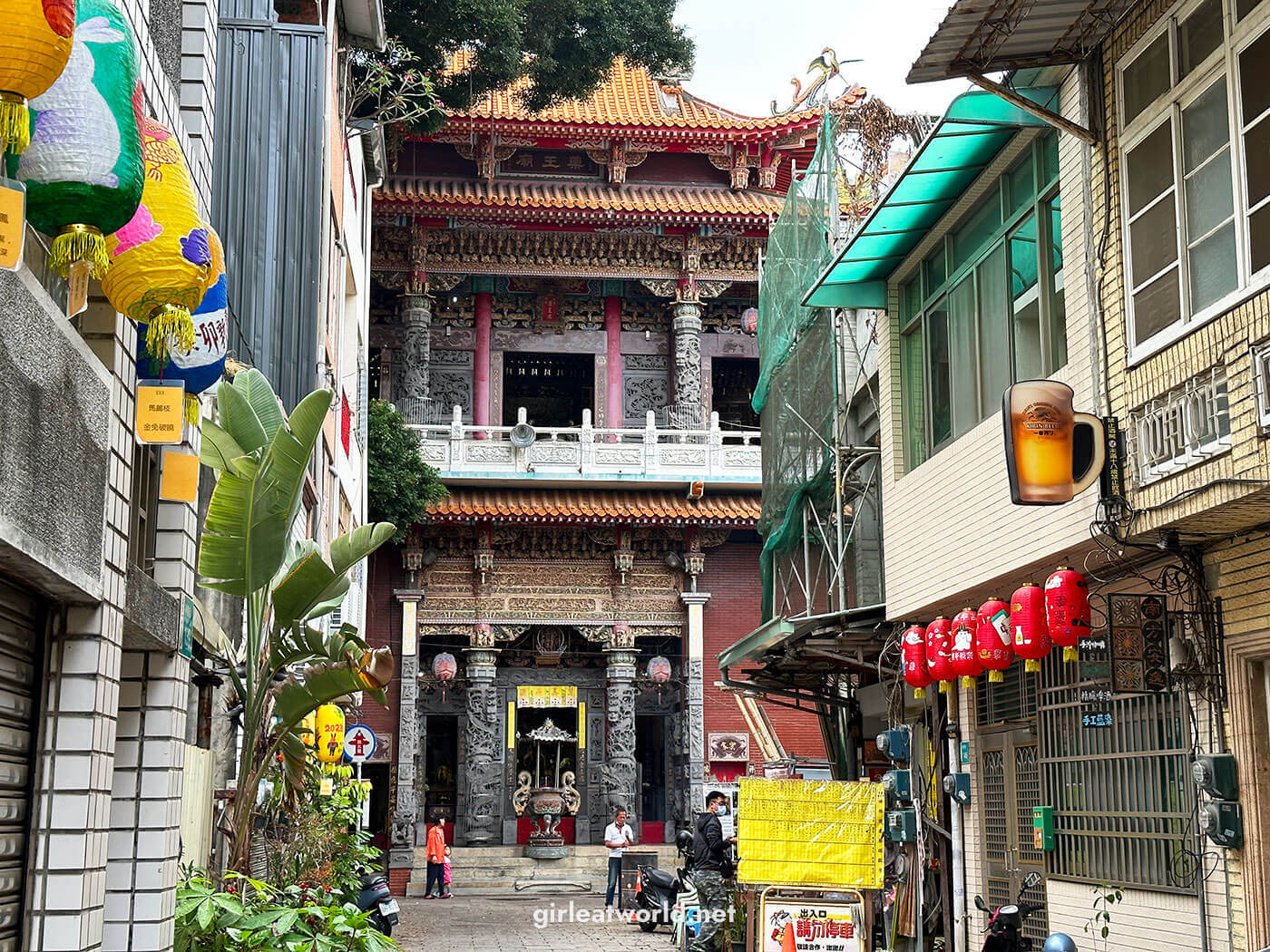 Here are a few places I suggest you can visit in the West Central District of Tainan:
1. Check out Tainan's historic sites
One of the most popular sites in West Central is the Chihkan Tower. Chihkan Tower is the oldest building in Tainan, built in 1653 during the Dutch colonization era as an administration center. Back then, it was called Fort Provintia.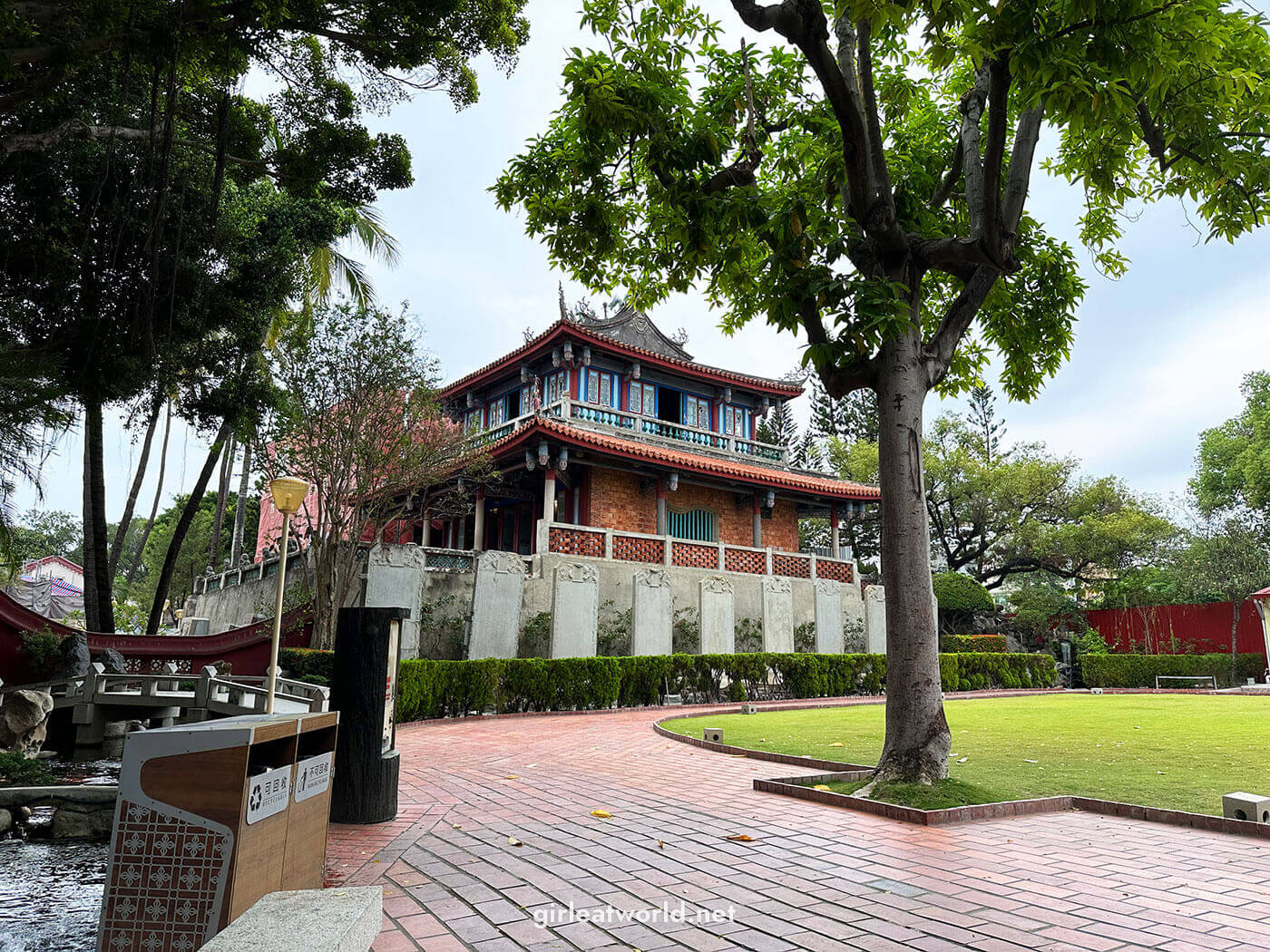 Inside, there is a small garden and a 2-story Sea God Temple, a Chinese-style building that was added later on to the fort. Wenchang Pavilion was under renovation and was closed when I visited.
➡️ You can buy tickets to Chihkan Tower via Klook for direct entry. Just show the Klook QR code at the entrance!
When you are exploring the city on foot, you'll notice there are so many temples in Tainan. Apparently, there are 12,000+ temples in Taiwan, and Tainan houses 1,600 of them. So let's visit a few notable ones.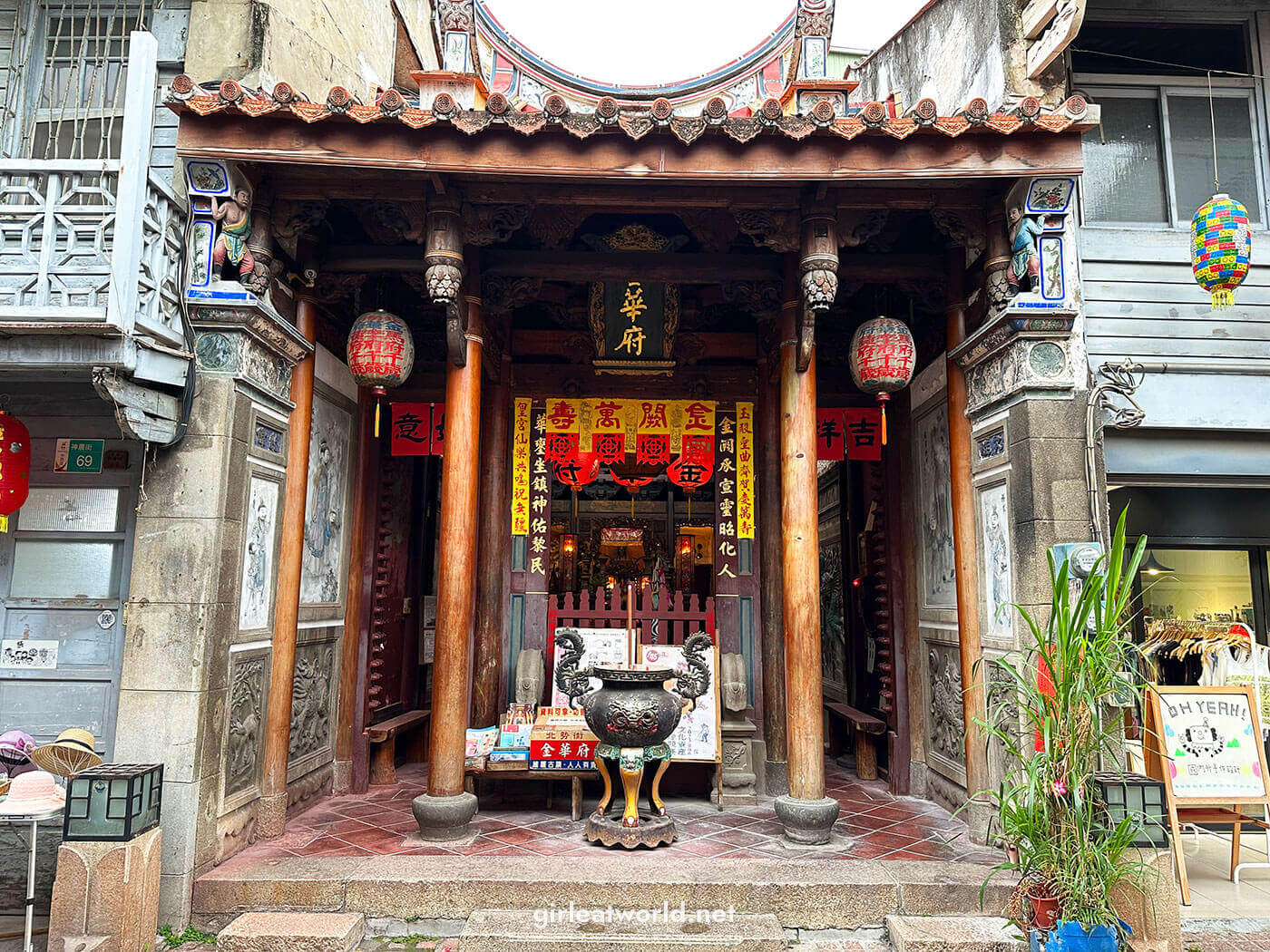 Just a short walk away from Chihkan Tower is Tainan Grand Mazu Temple. Admission is free, but when visiting the temple you'll see people praying at the temple, so please be quiet and make sure not to linger too long.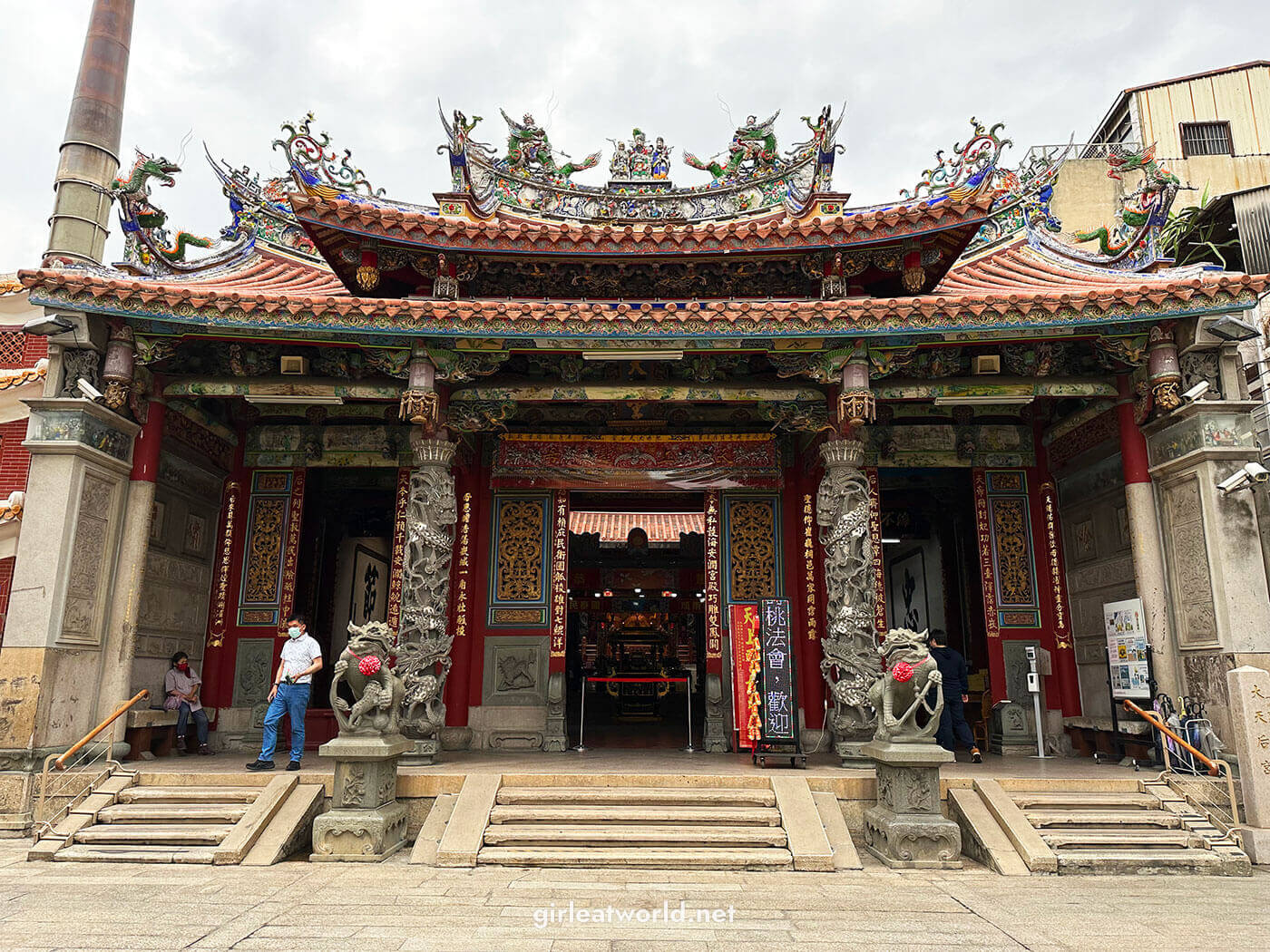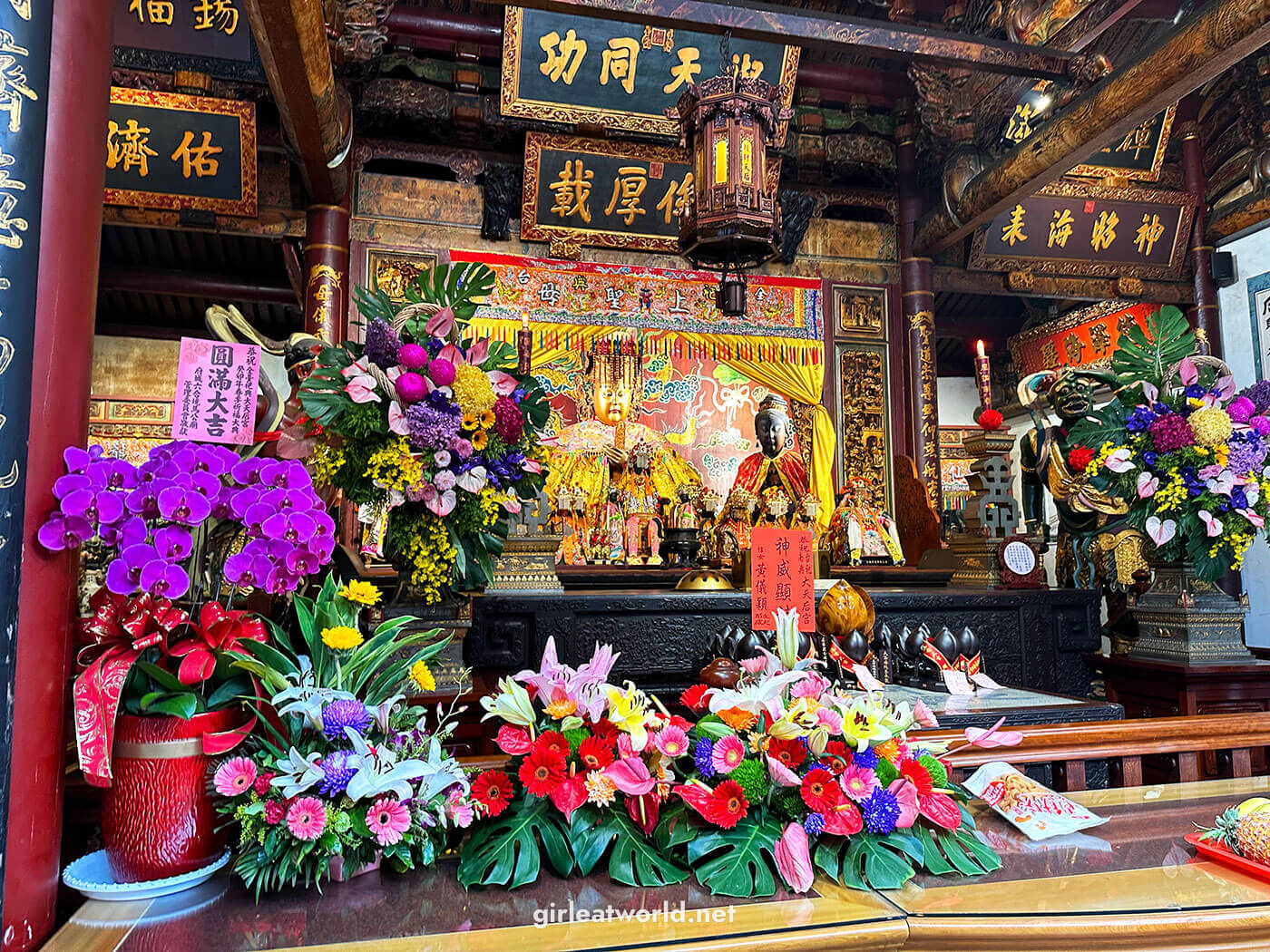 Next, you can visit Tainan Confucius Temple, which is famous for students who are about to take an important exam or trying to gain admission to a competitive school.
2. Shopping at Hayashi Department Store
I originally did not include Hayashi Department Store on my list, because I thought it was just a department store. But I happened to pass by while I was walking around the district and… I am really glad I peeked in!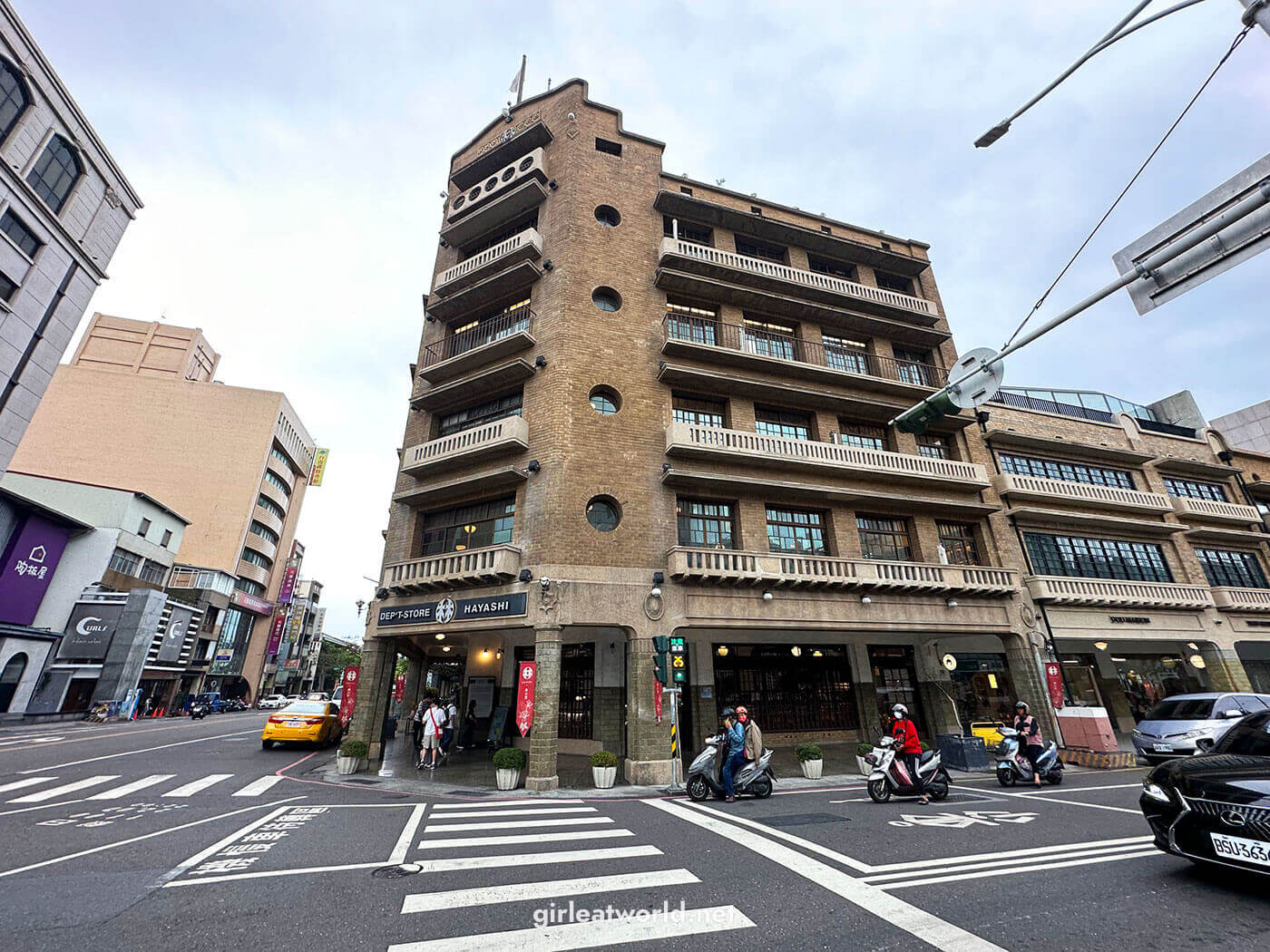 This department store was the first department store in Tainan, dating back to 1932 during the Japanese occupation. It consists of 6 floors of shops filled with unique local designer goodies. It's a great place to shop for souvenirs or even something nice to bring back for yourself.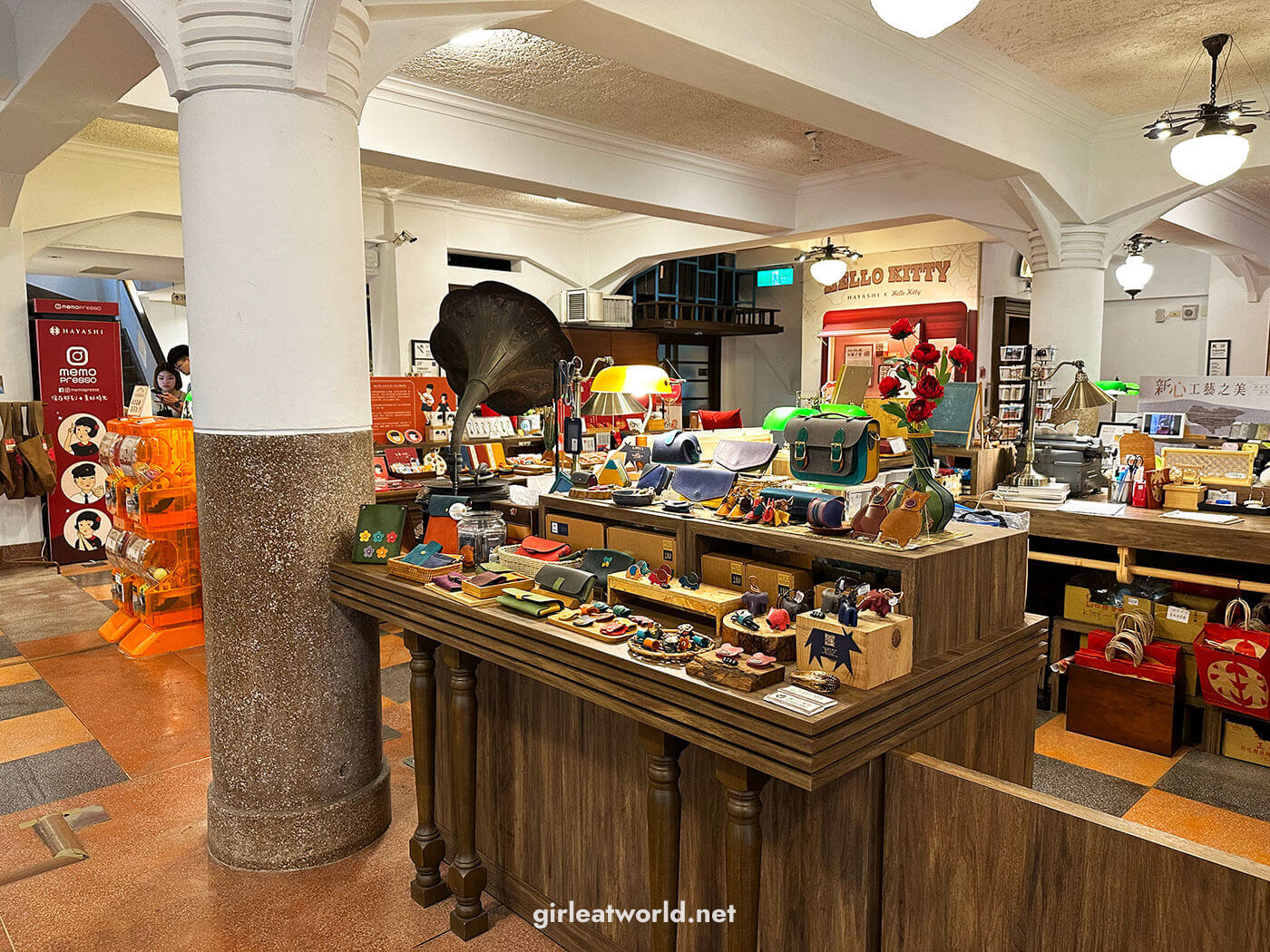 Most of the interior has been preserved, including the old elevator which will only fit 5 people at a time. These days, the elevator will only take you from the 1st to the 5th floor and back down. It does not stop on the floors in between. You'll need to take the stairs all the way up and down to see the different floors of the department store unless you are pregnant or elderly.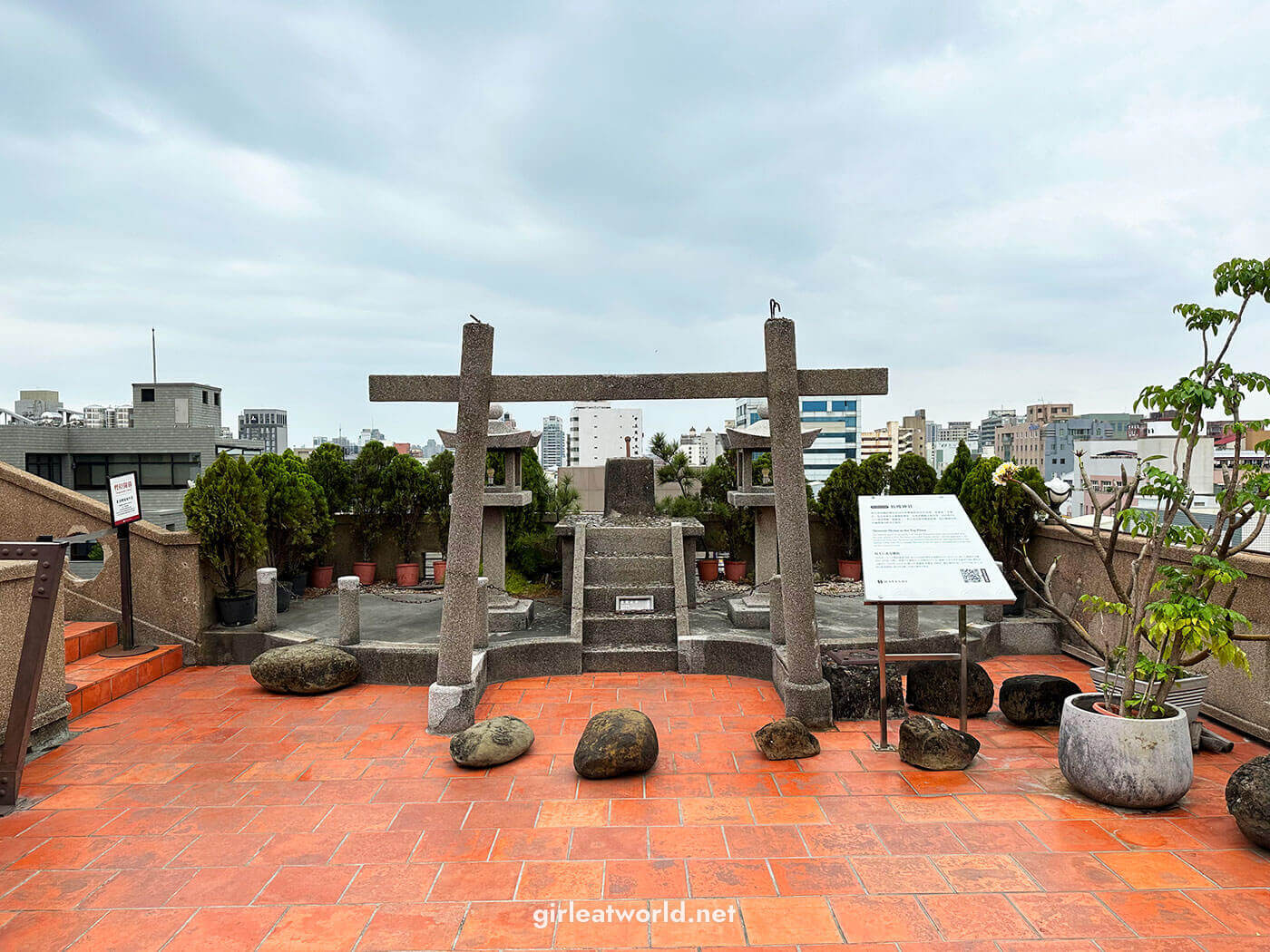 On the 5th floor, there's a restaurant and coffee shop you can relax in. From the 5th floor, you could take the stairs up further to the rooftop. While the view up there isn't much, there is a small Shinto temple!
3. Visit Blueprint Creative Park
Just like in Taipei, there is a creative park in Tainan too, repurposed from old abandoned building. Blueprint Creative Park is built on a former prison dorm.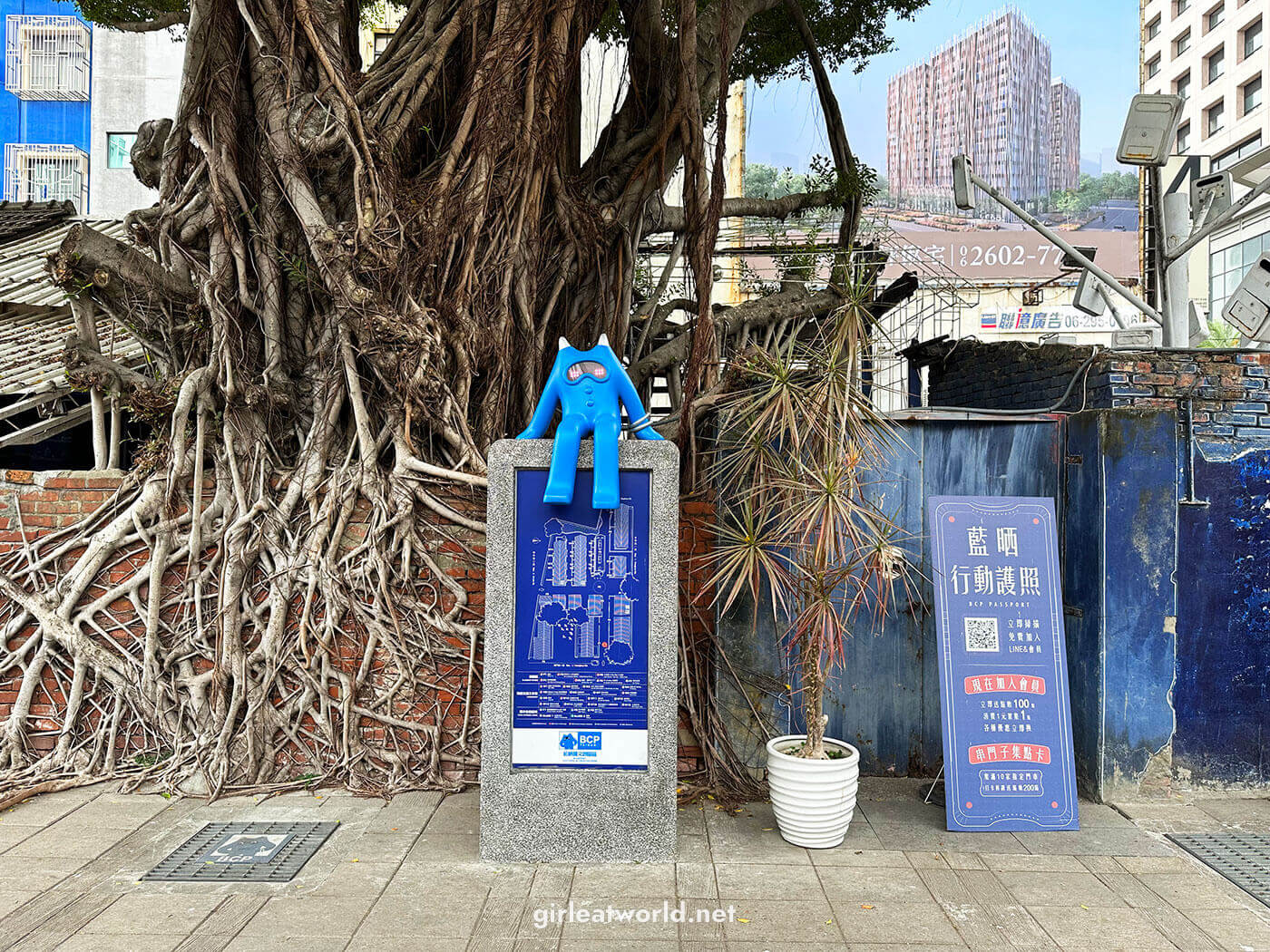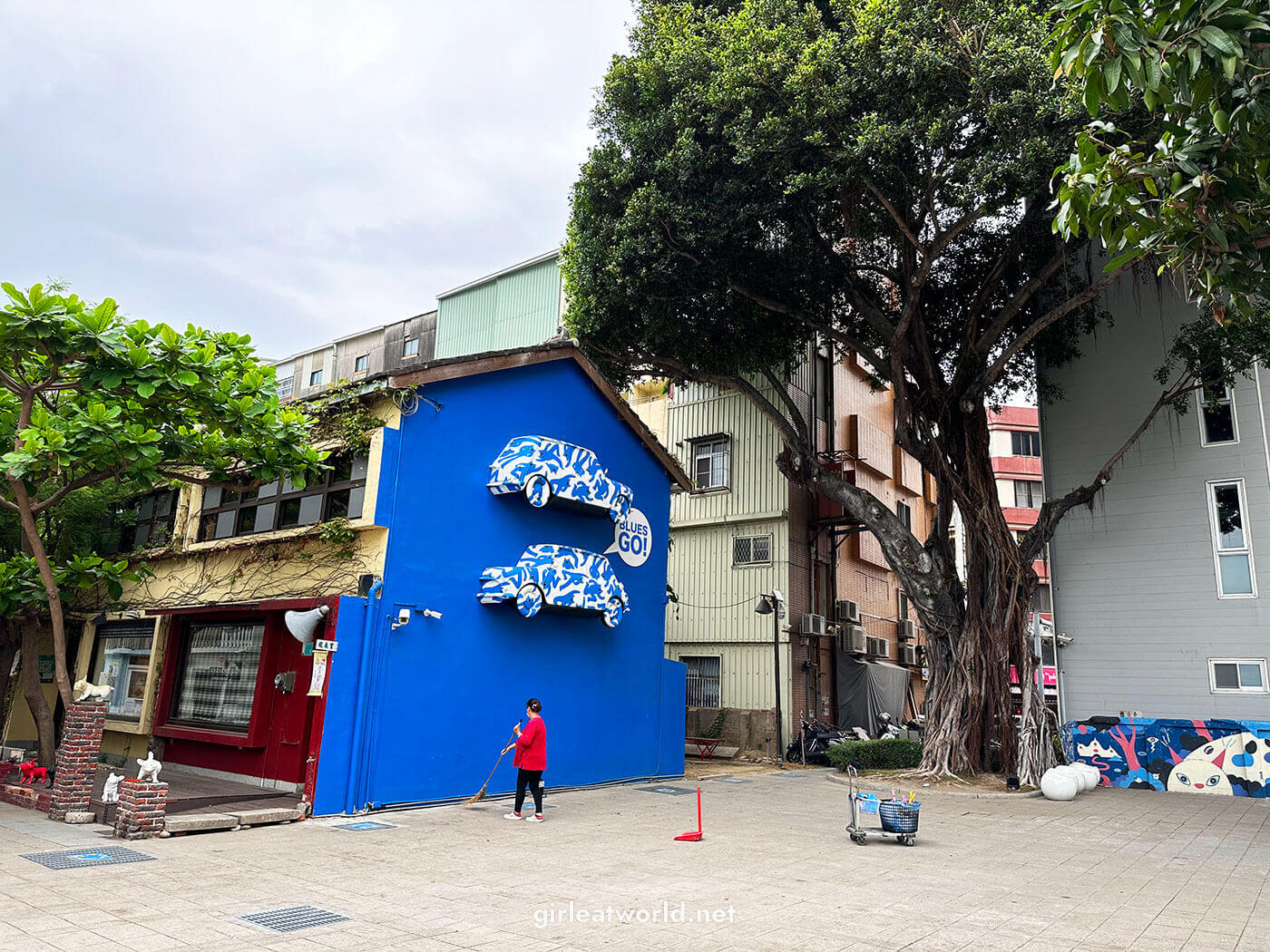 At Blueprint Creative Park, you can walk around and check out the small shops they have scattered on the ground. My favorite one is the Taiwan Tile Museum. I was surprised to learn that they had Peranakan tiles in Taiwan too, just like in Singapore.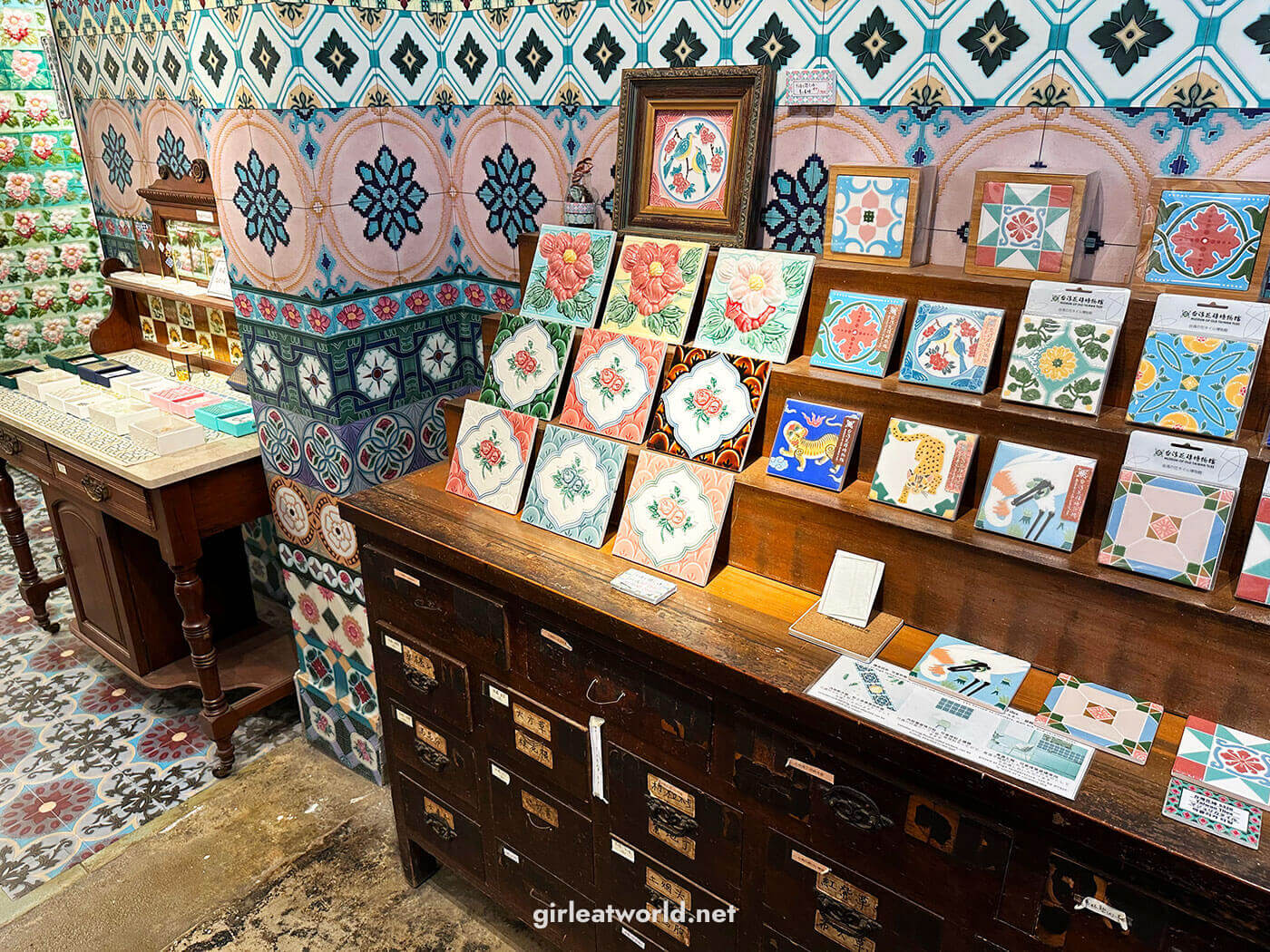 It's best to visit the park at night or close to sunset so that you can see the light installations too. At the entrance of the park (the one facing Ximen Road), you can see one of the former prison dorms that have been painted deep cerulean blue and turned into 3D light art installations.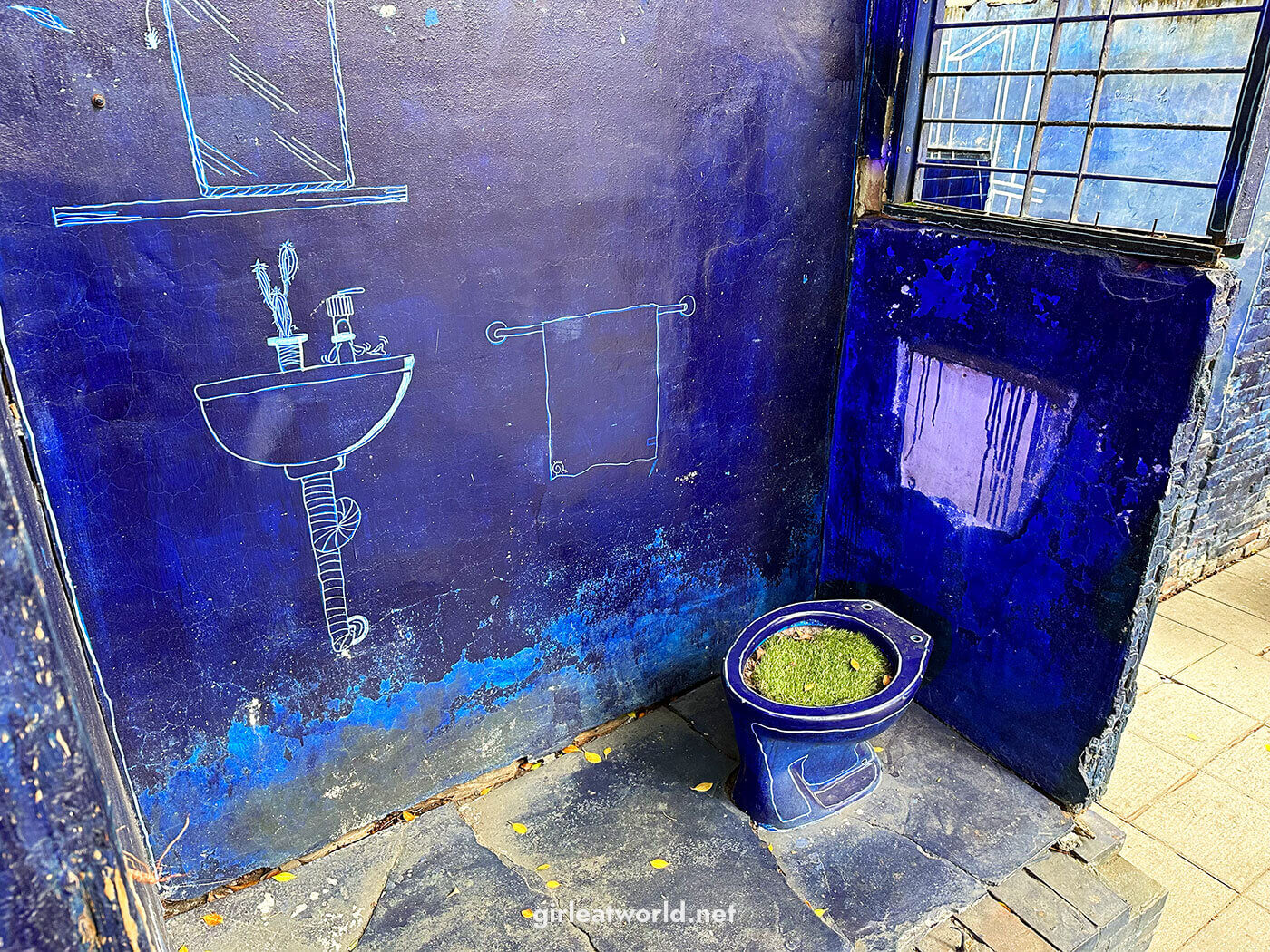 4. Explore the small alleys of Tainan
One of the main draws of the West Central district is that there are so many small little streets to explore and get lost in. This is why I prefer walking when I was here, as opposed to taking the bus or taxi.
A few noteworthy places for such walks are:
Shennong Street
Best visited during sundown because there are lanterns that will be lit up and make the street look pretty. Small shops, cafes, and cocktail bars line up the street.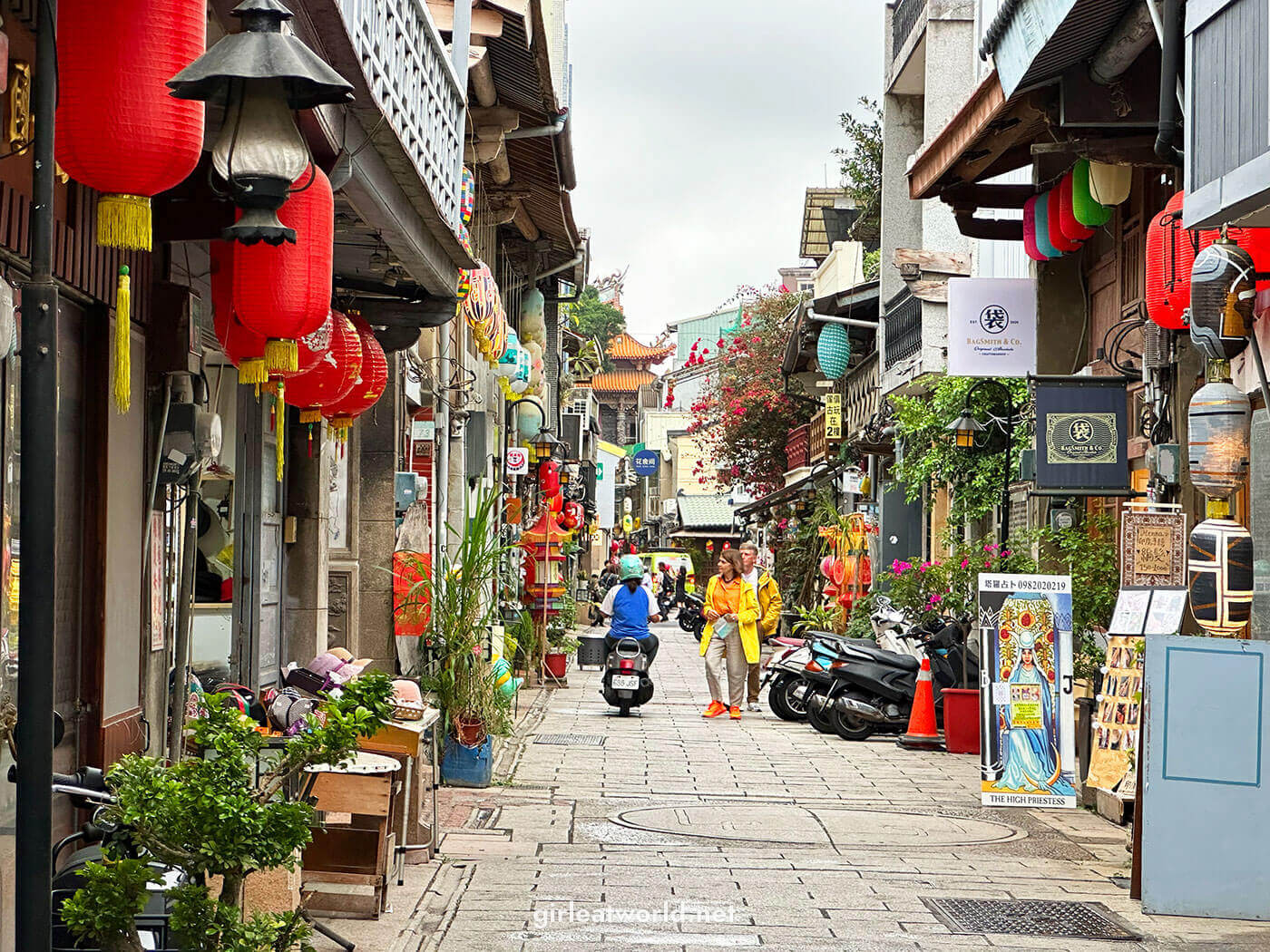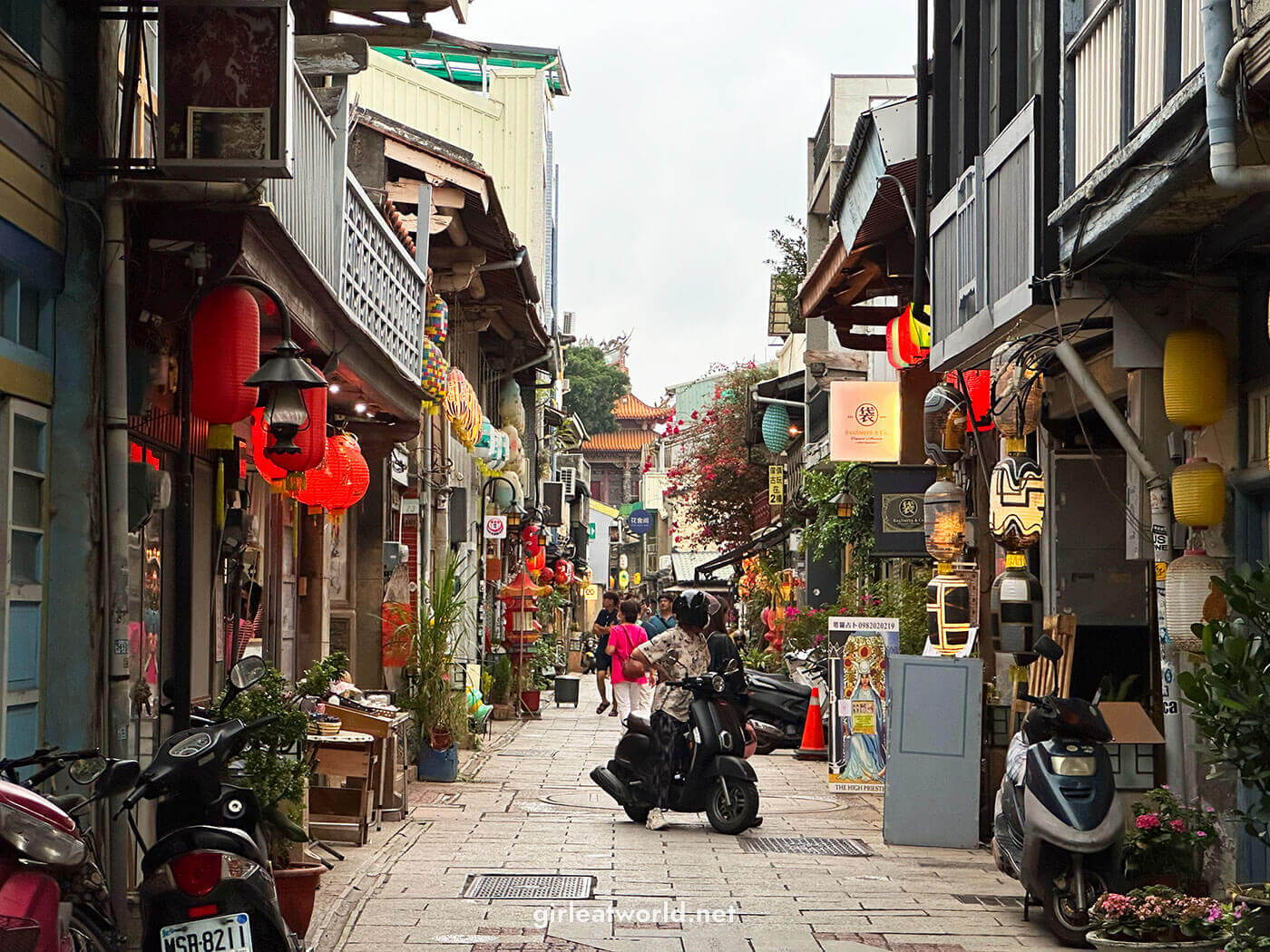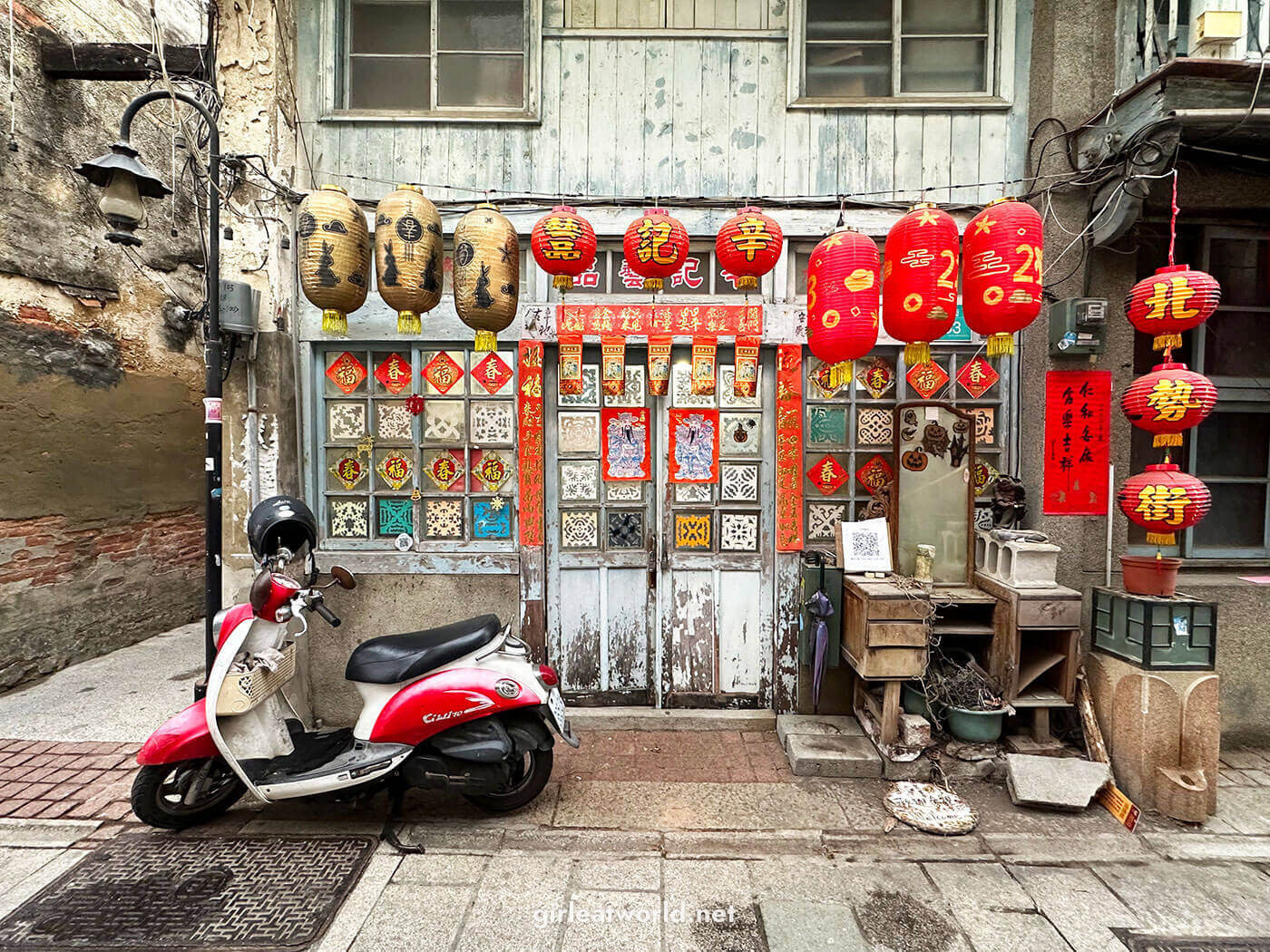 Snail Alley
A small alley for a quiet afternoon walk. There is a cafe and a bar, but it is also residential. Most of the houses here play into the "snail" theme. You can find many snail ornaments, both obvious and hidden, decorating the alley!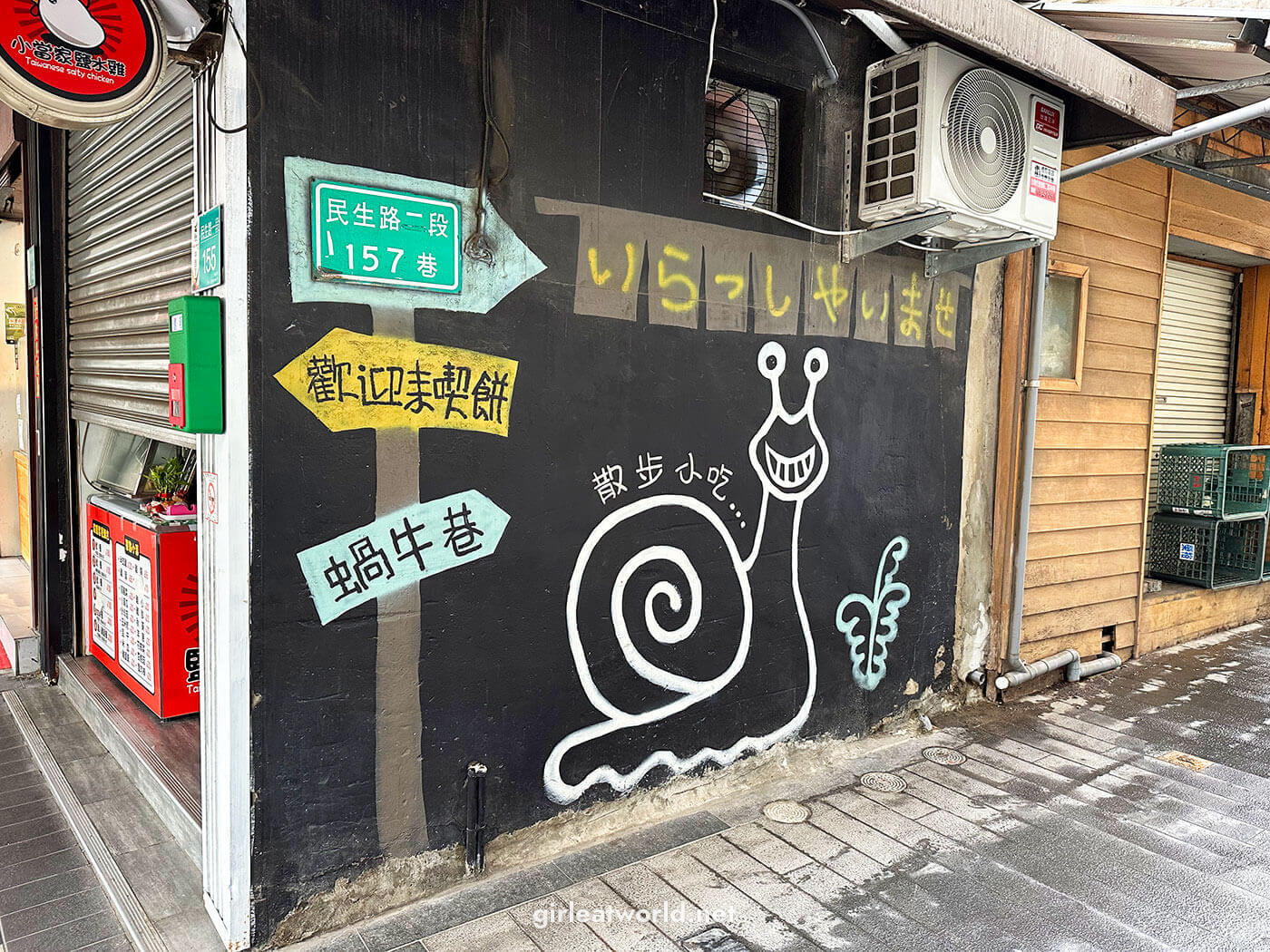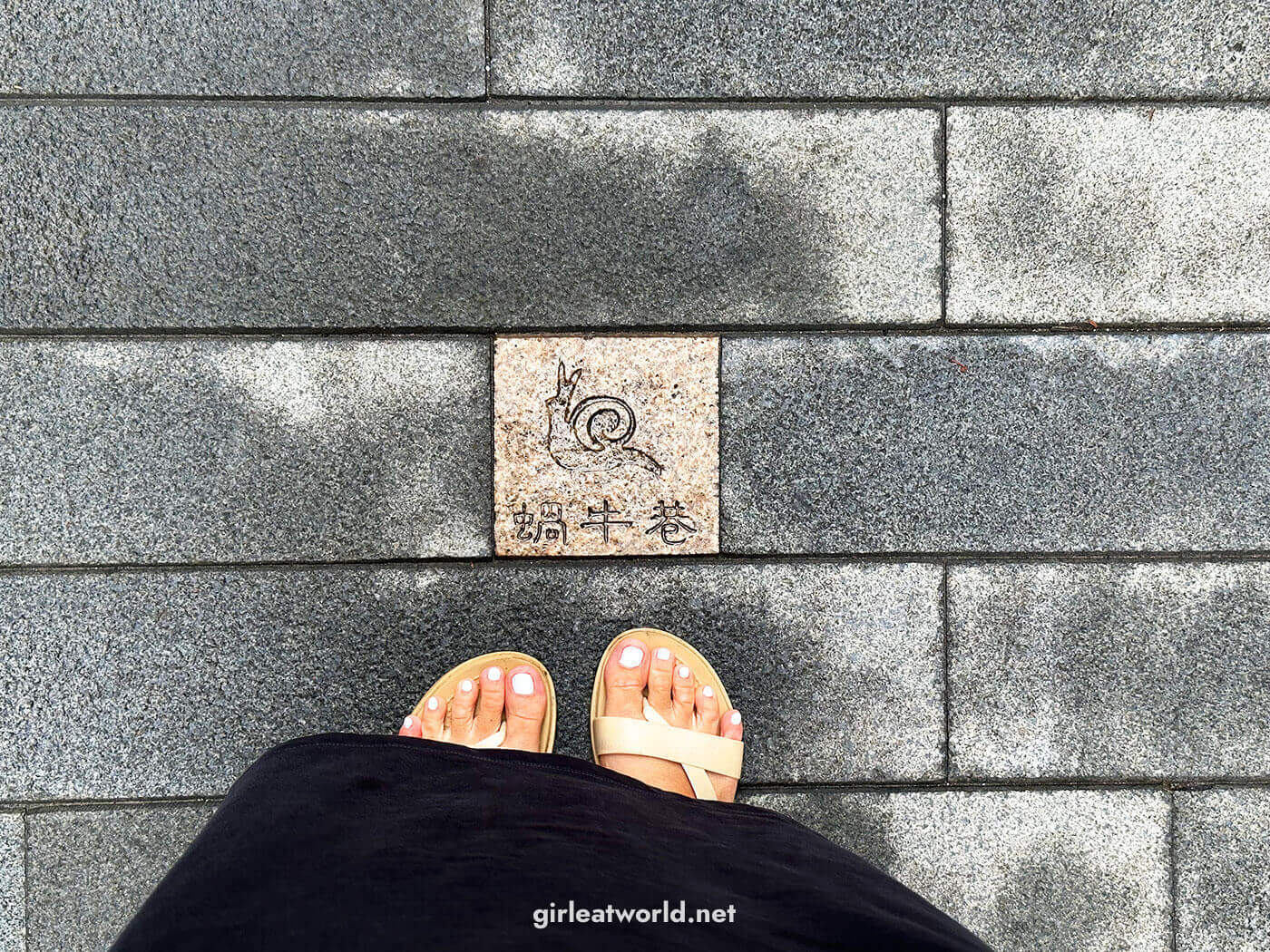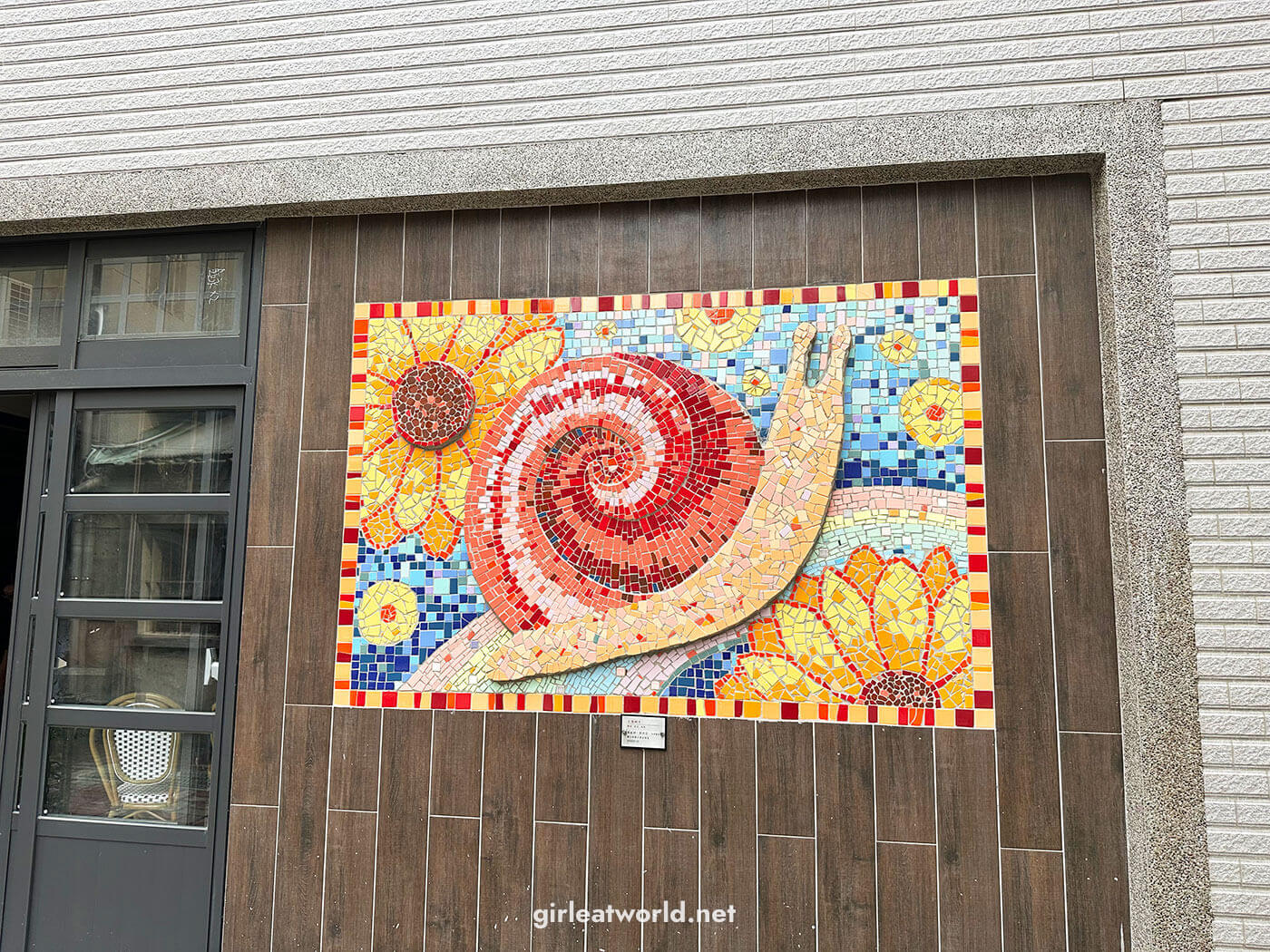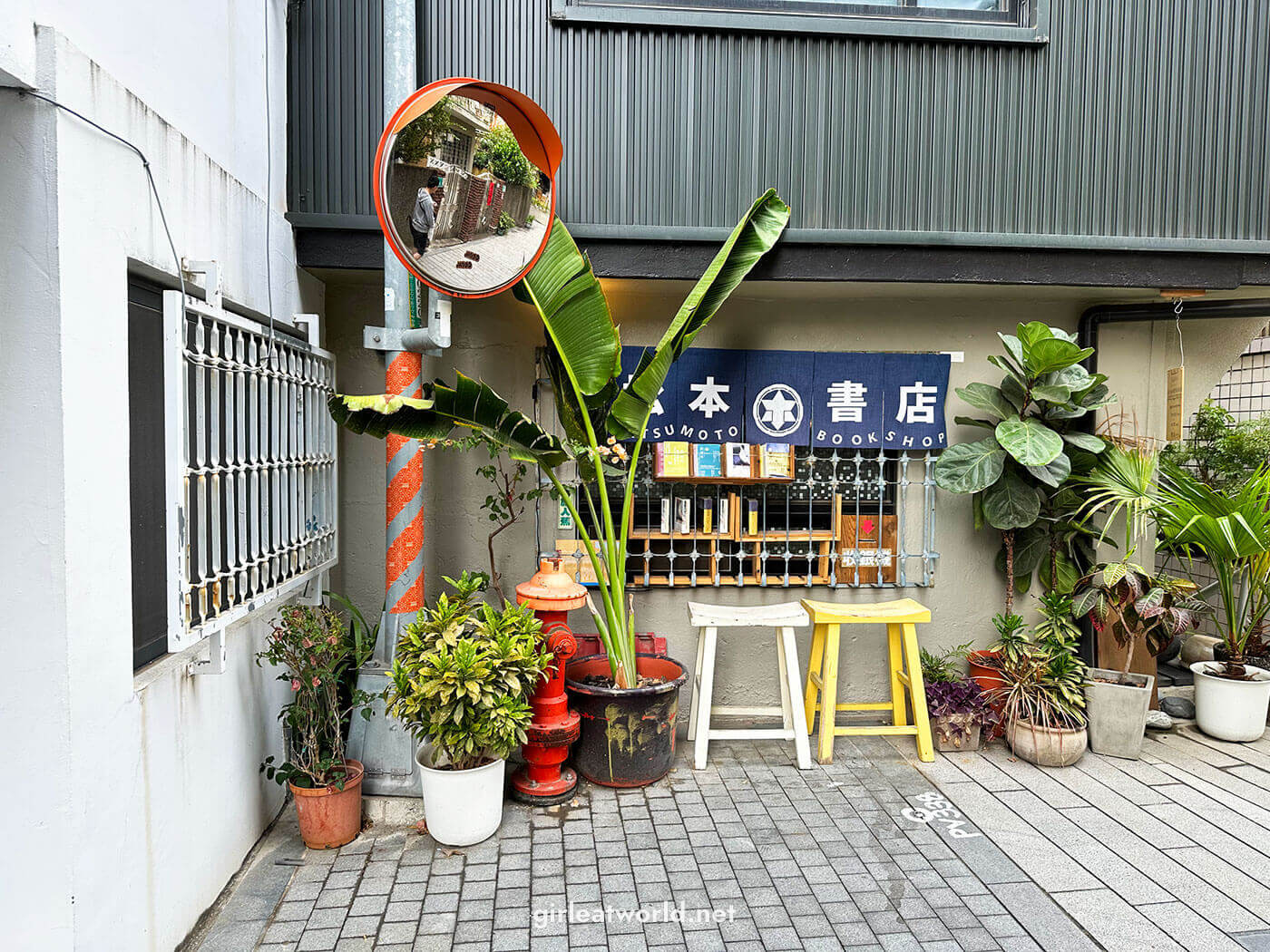 2. Explore Anping District
The history of Anping dates back to the 17th century, during the Dutch colonization of Taiwan. In Anping, you can see the historical remnants of the time when it used to be called Fort Zeelandia.
From Tainan West Central District, you can take Bus 2 all the way to Anping, which will only take 20 minutes.
Here's what you can see in the Anping District of Tainan:
1. Anping Tree House and Tait&Co Merchant House
You can start your Anping exploration by visiting the merchant house, where you can learn the history of Anping as a harbor that plays a key role in opening Taiwan for international trade. It began as a hub for exporting camphor, then during the Japanese occupation, it was taken over by a Japanese salt company.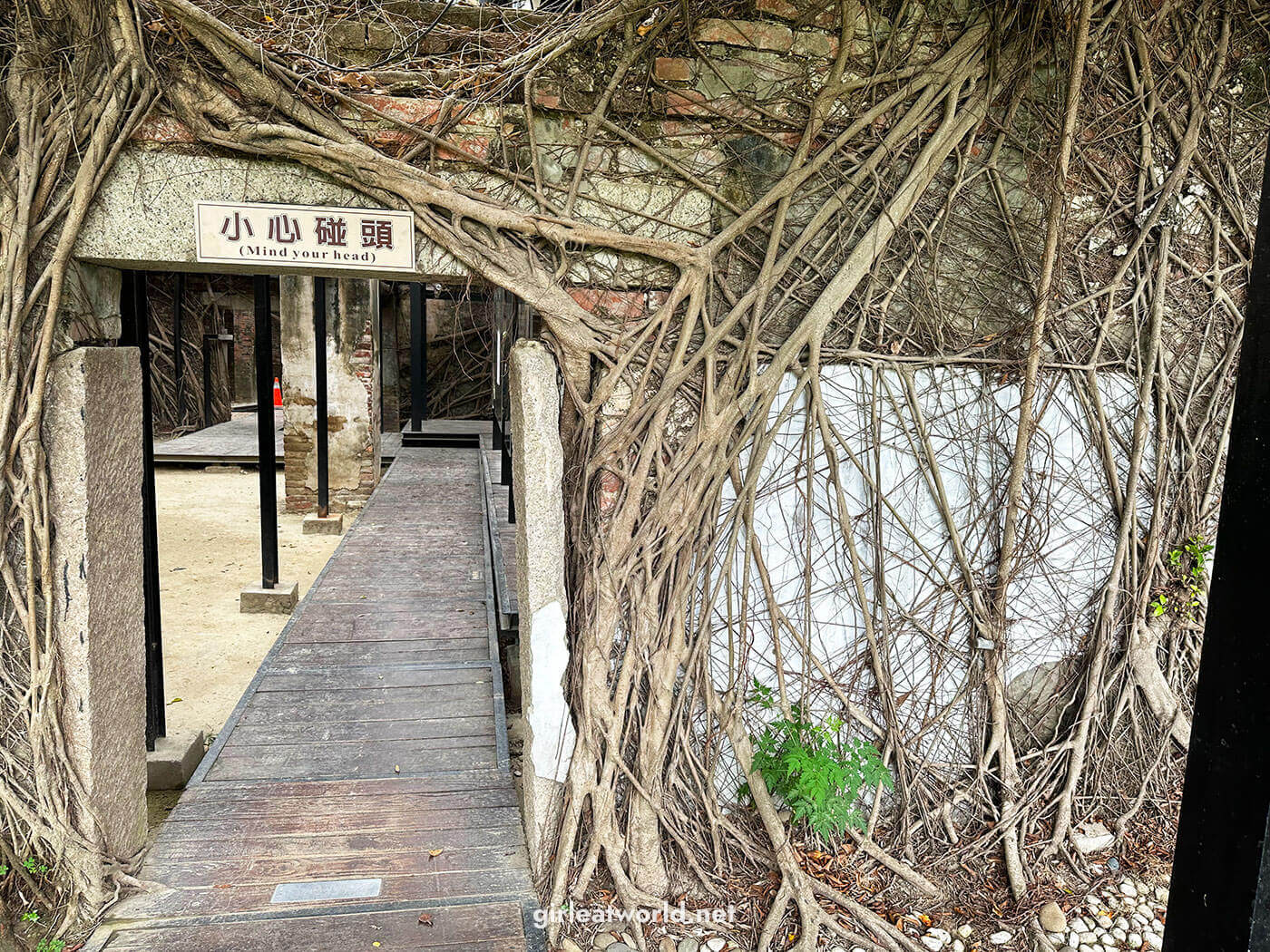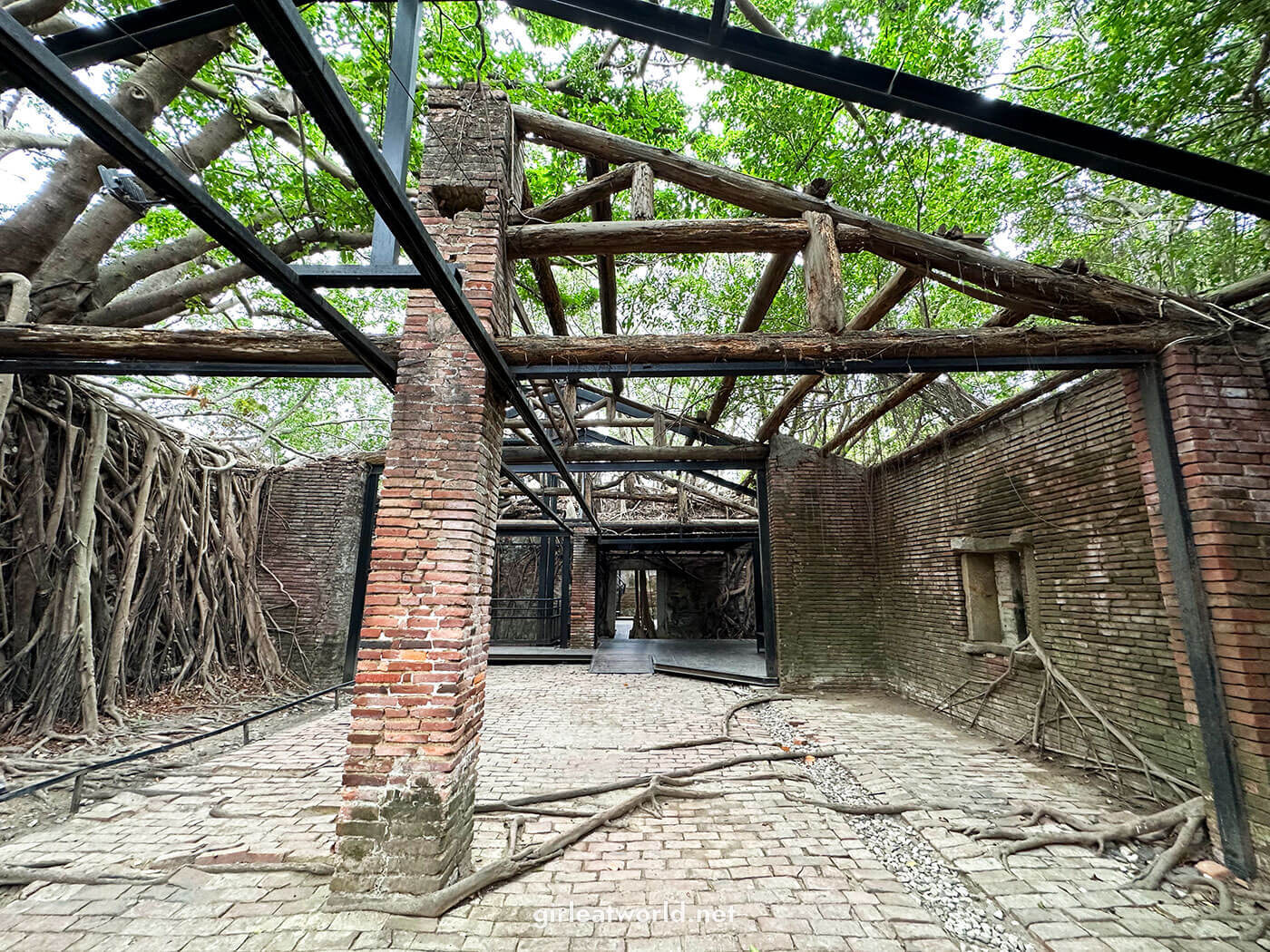 On the back of the merchant house is its former warehouse, which is now overgrown by Banyan trees. This is now known as Anping Tree House. You can walk around inside the warehouse. It does not have a roof anymore, and you can admire how nature had completely taken over the warehouse.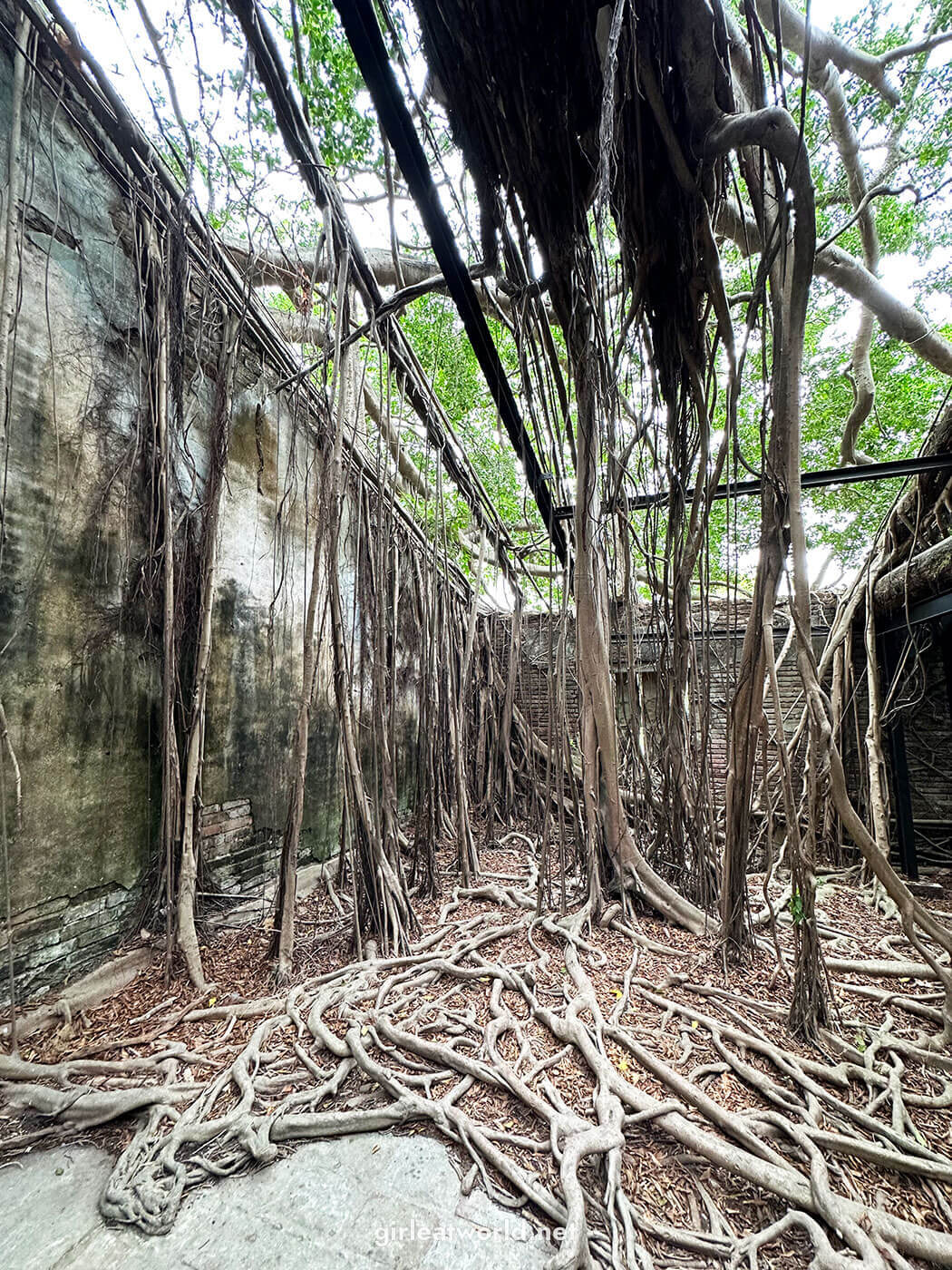 ➡️ You can buy tickets to Anping Tree House via Klook for direct entry. Just show the Klook QR code at the entrance!
2. Anping Old Fort
Anping Old Fort is about a 5-minute walk from the tree house. Throughout your visit to Anping, you'll see the name "Fort Zeelandia" often. Well, Fort Zeelandia is the old name for Anping Old Fort when the Dutch occupation in the early 1600s. The fort was built by the Dutch in 1624, then renamed "Anping" when Koxinga took the area back in 1662.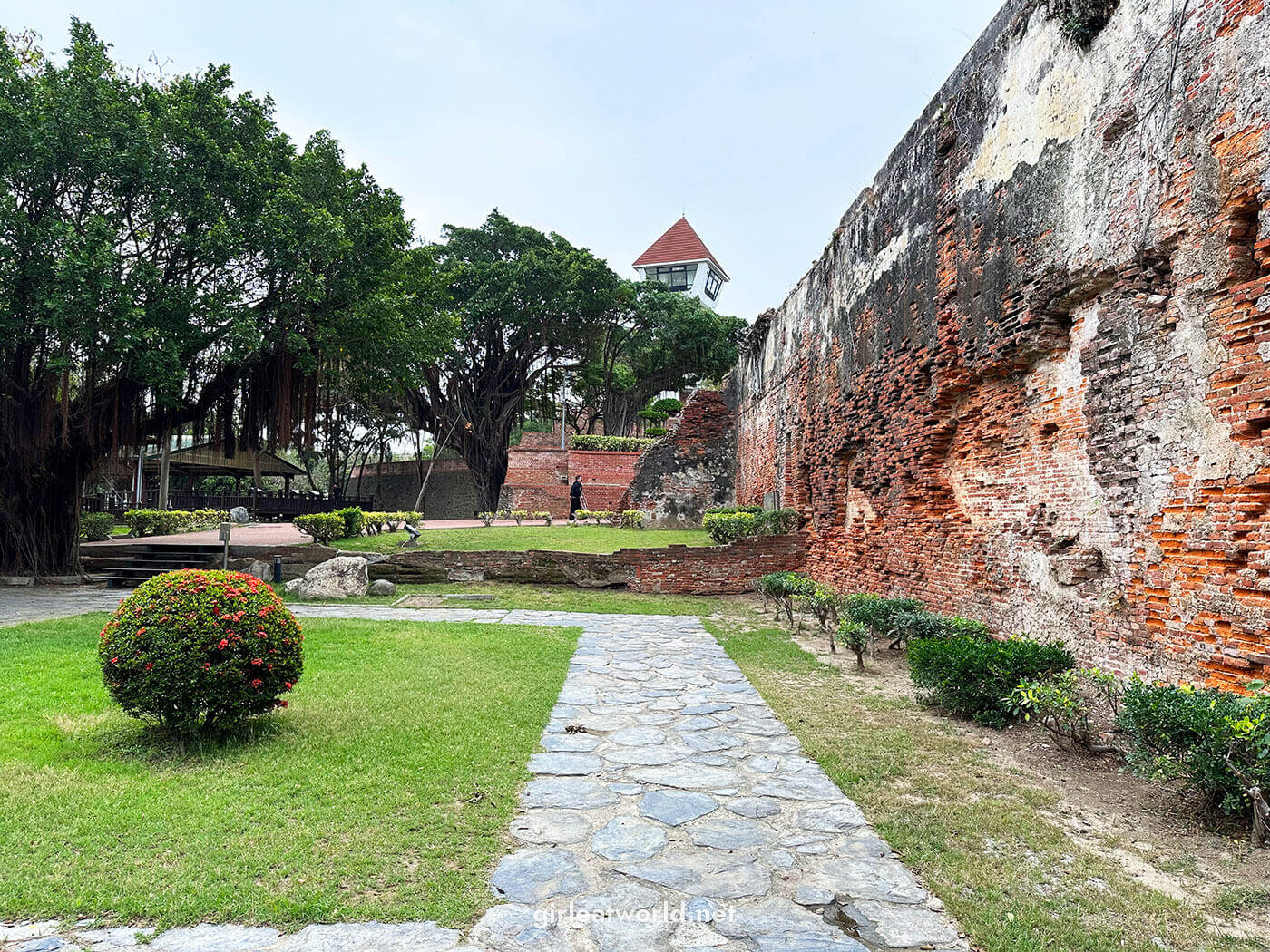 Inside the old fort, you can see remnants of the original wall. What was interesting to me was that the wall was made using three very basic ingredients: oyster shells, syrup, and glutinous rice. Pay attention to parts of the wall – you can still see the "scissor wall lock" that was used to reinforce the wall!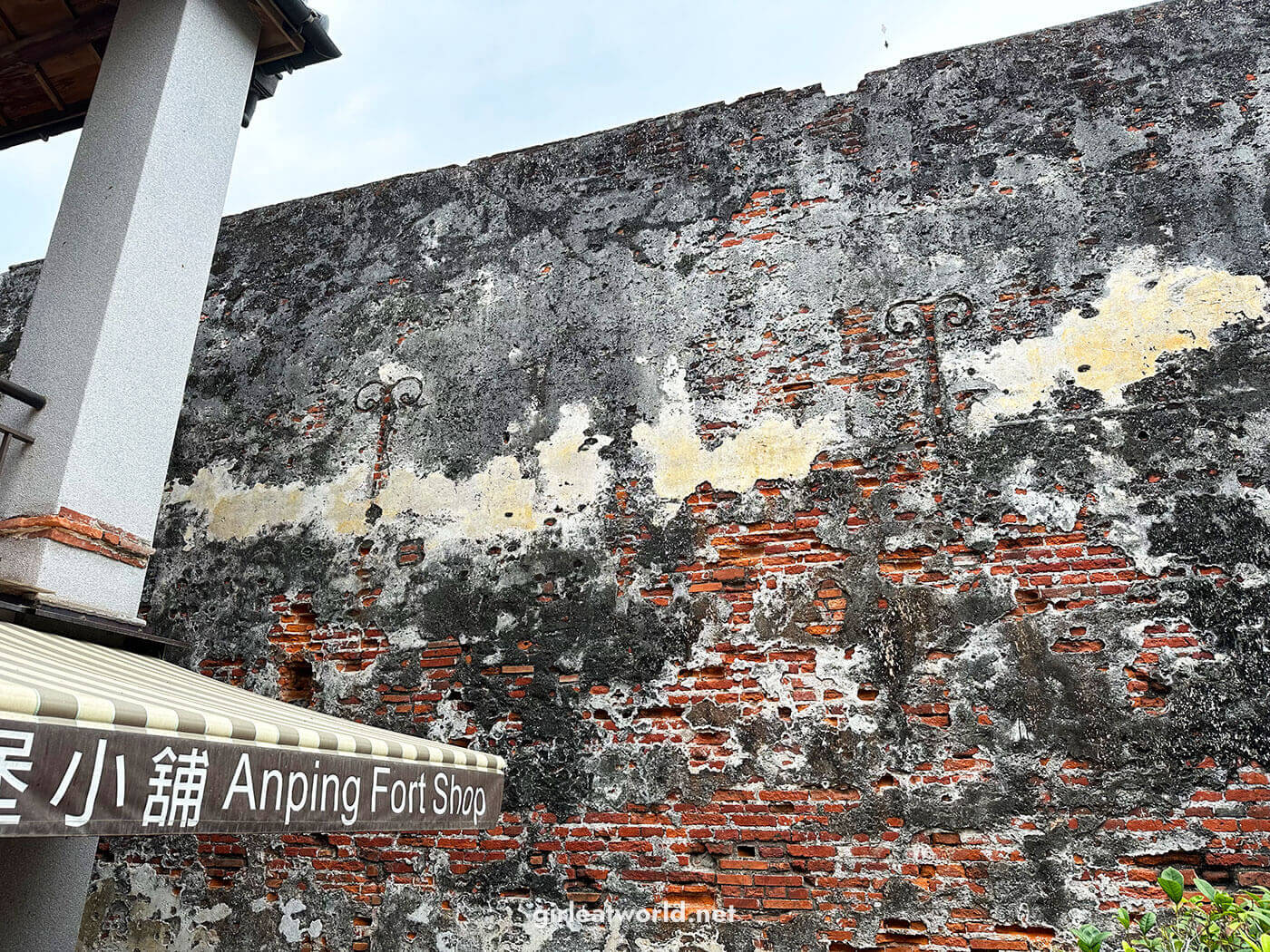 You can also climb up the light house for a good 360 view of Anping. There is a set of stairs and it's not too hard to climb.
➡️ You can buy tickets to Anping Old Fort via Klook for direct entry. Just show the Klook QR code at the entrance!
3. Anping Old Street
The old street is just a short walk from the old fort. Nowadays, you can find snacks and all kinds of goods here, similar to what you can expect from a night market. But you'd be interested to know that this street is the oldest street in Taiwan!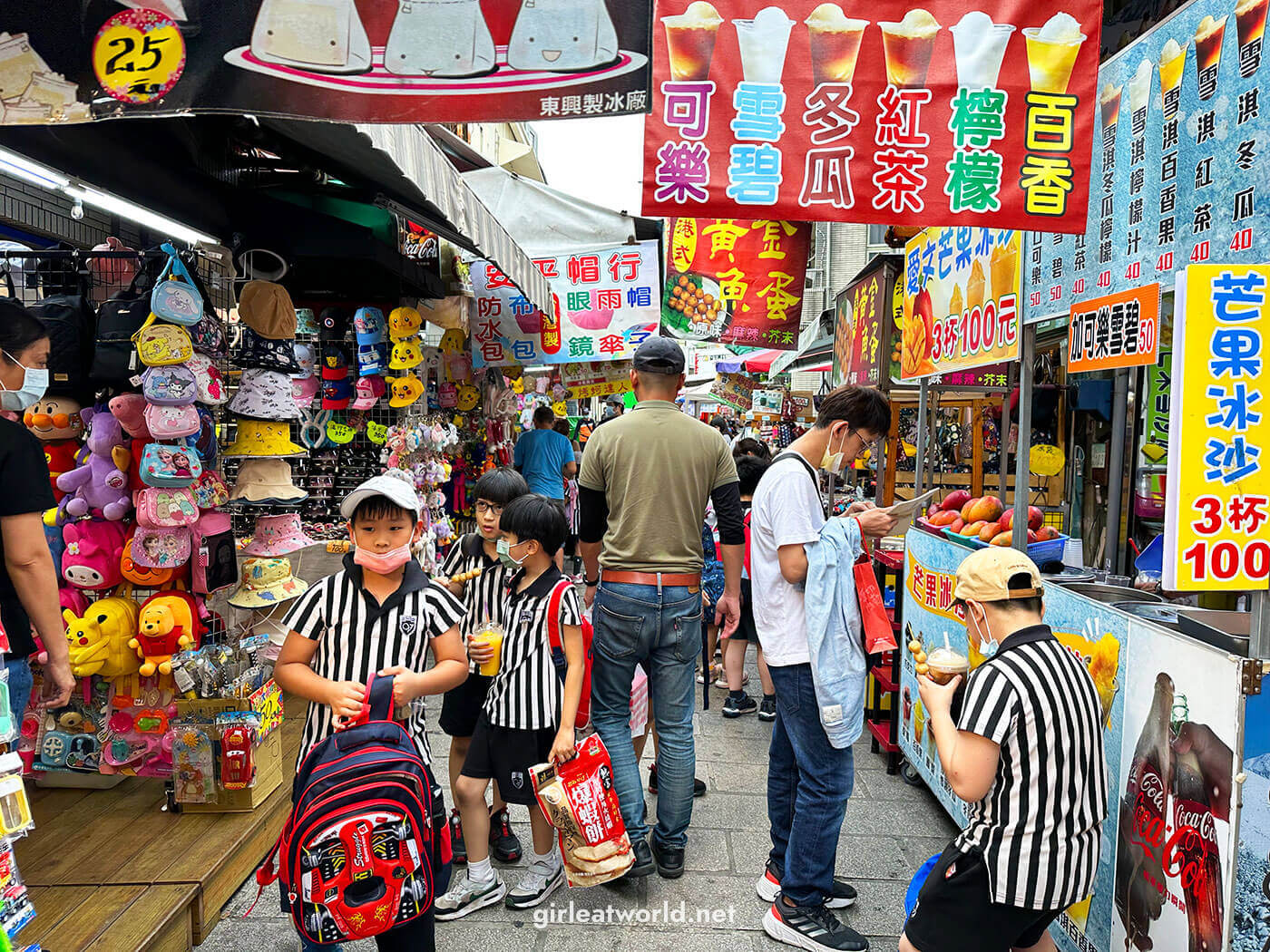 It's best to visit the old street after 11 am and before 6pm since vendors only open around that time. You can try the famous Tainan snack here – Coffin Bread.
4. Sicao Green Tunnel
Once you are done with the historical area of Anping, you can make your way to Sicao green tunnel. Here, you can take a boat tour of the mangrove tunnel for peaceful and beautiful natural scenery.
➡️ You can buy admission tickets to Sicao Green Tunnel via Klook. You need to redeem the tickets for entry.
3. Explore Tainan's popular street food scene
You can't visit Tainan without appreciating their food! I have a whole section on what to eat in Tainan below, but you should also make time to visit their food street and night market.
Guohua Street
Located near the Tainan station, this street is popular with local for good and cheap eats.
Garden Night Market
This night market is only open on Thursday, Saturday, and Sunday nights. You'll also want to check their Facebook page or Instagram page to make sure they are indeed open, since the weather might also affect their opening.
From the West Central District, you can take Bus 0 to reach Garden Night Market.
4. Visit Museums in Tainan
If you like art and the experience of going to a museum, you'll love Tainan! There are plenty of museums to visit – here are a few:
Tainan Art Museum
Located right in the middle of the West Central district, this is definitely the most convenient museum for tourists.
➡️ You can buy admission tickets to Tainan Art Museum for direct entry. No need to redeem the ticket when you get there!
Chimei Museum
Chimei Museum is located outside of the city, so it will take some effort to get there. However, it is worth it because the museum ground is big and you can explore an outdoor area aside from the exhibition.
You can take Bus 5 or H31 (the same one we take for taking the HSR). It will take about 30 minutes by bus.
➡️ You can buy admission tickets to Chimei Museum. You need to redeem the tickets for entry.
5. Relax at a cool cafe and hang out spots!
You could say parts of Tainan have been gentrified. Many of the old buildings are now turned into trendy bars at night or coffee houses during the day. If you need a break and fancy a cup of coffee or tea, these places are a great option to hang out in!
Here are some of my favorite cafes in Tainan:
Washida Coffee – Located right in the middle of the West Central district, this coffee shop is located inside the UIJ Hotel Lobby, which also doubles as a bookshop.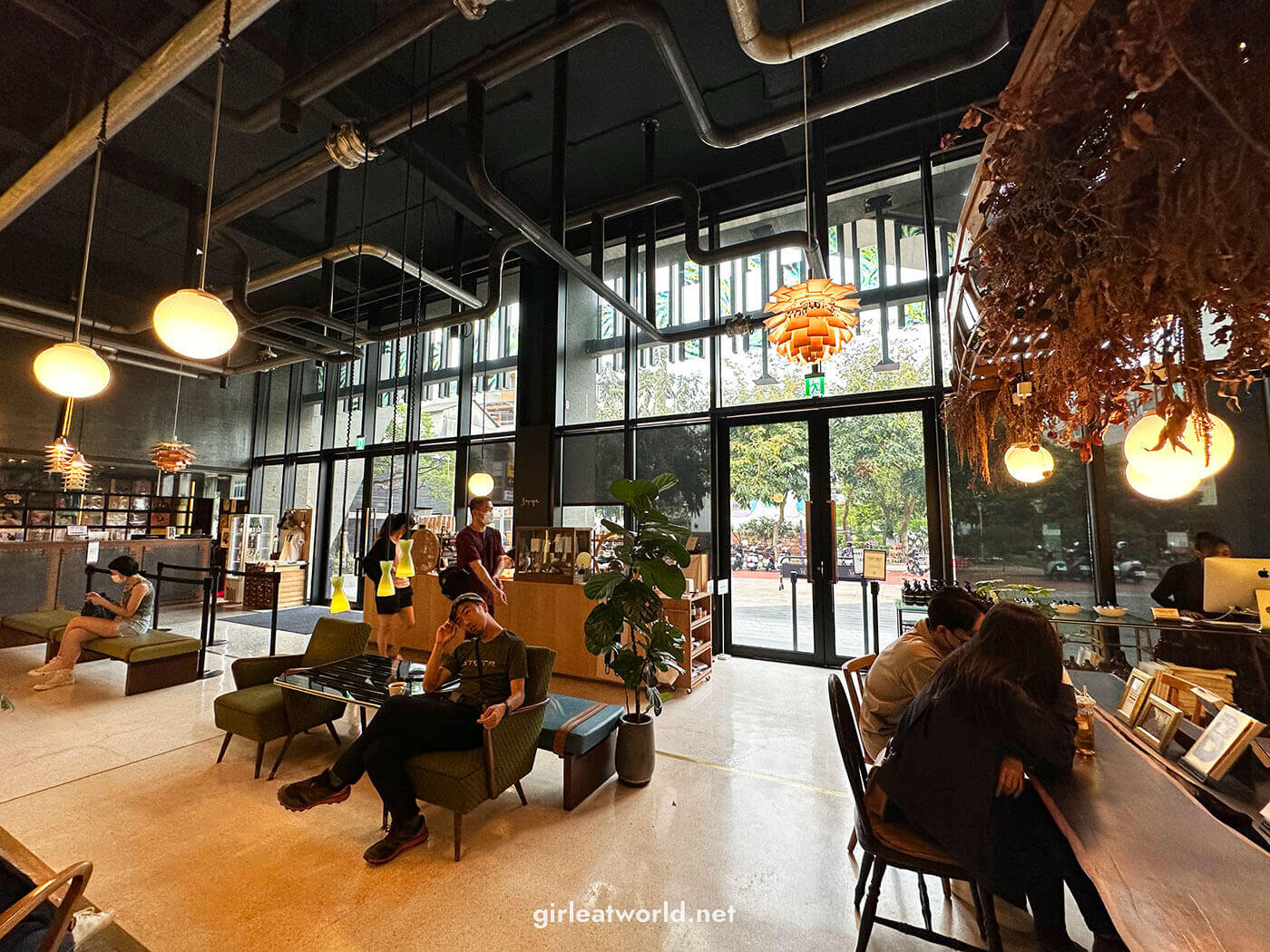 Nijo Coffee – Located deep inside the alleys in one of the West Central district alleys, and next to one of the many temples in Tainan, Nijo can be a bit hard to find but it is truly a respite in the busy city. If you want a table, there is a minimum spend of NT$200, but you can also just take your drinks to go.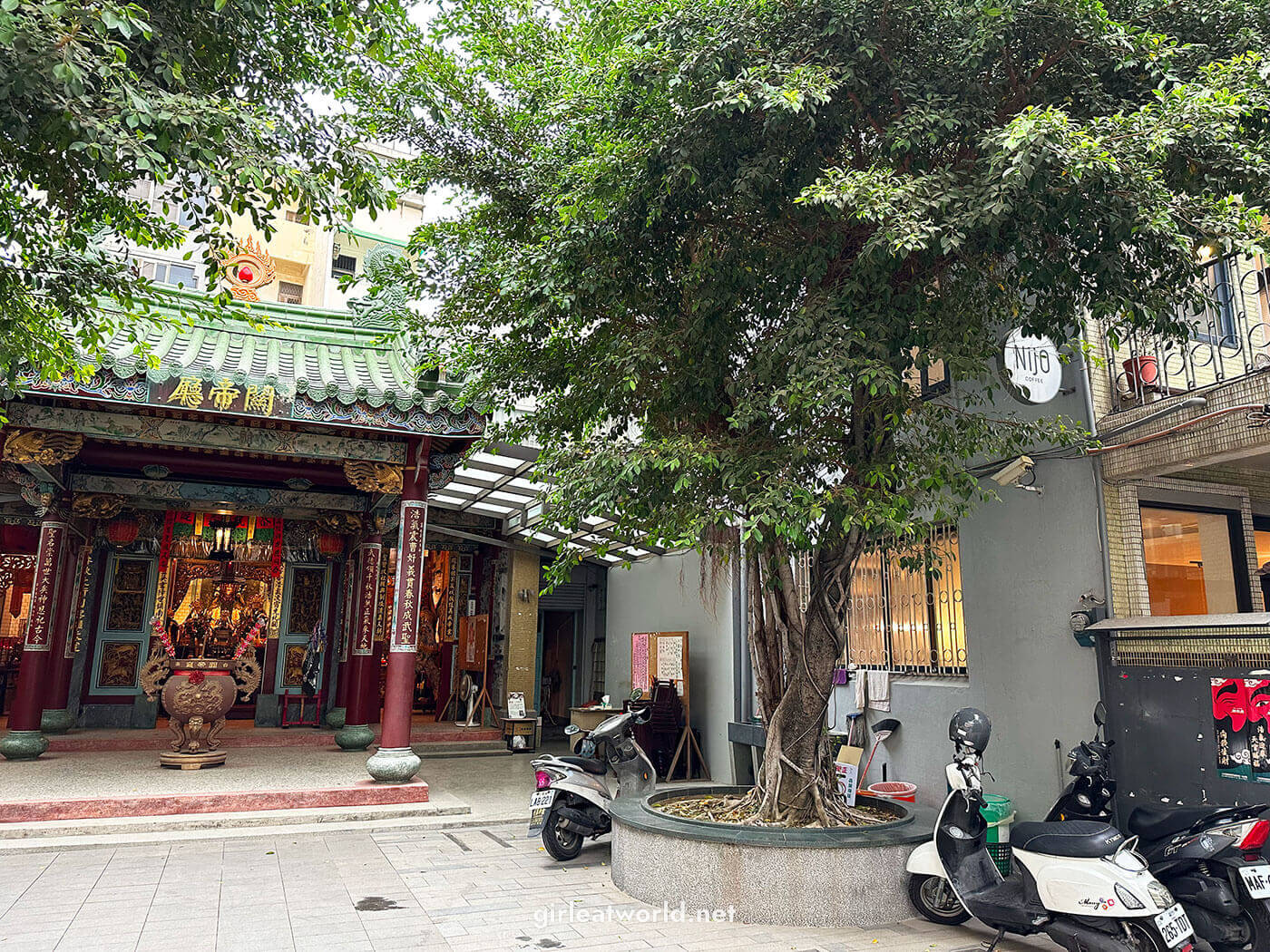 Mudliu Teahouse – A Hong Kong-style tea house with a retro vibe. They are only open at night and in the later part of the week.
What and where to eat in Tainan
With its long history, it makes sense that Tainan is also known for its culinary delights. When you ask Taiwanese for recommendations about what to eat in Tainan, they'll each have different recommendations. There are just that many good places to eat in Tainan!
In my experience, here are some foods that I enjoyed:
1. Beef soup for breakfast
In Tainan, beef soup is a common dish to have for breakfast. It's not to be confused with the braised beef noodles that are popular all over Taiwan. The beef soup is Tainan is sliced beef soup with a relatively clear broth and light taste.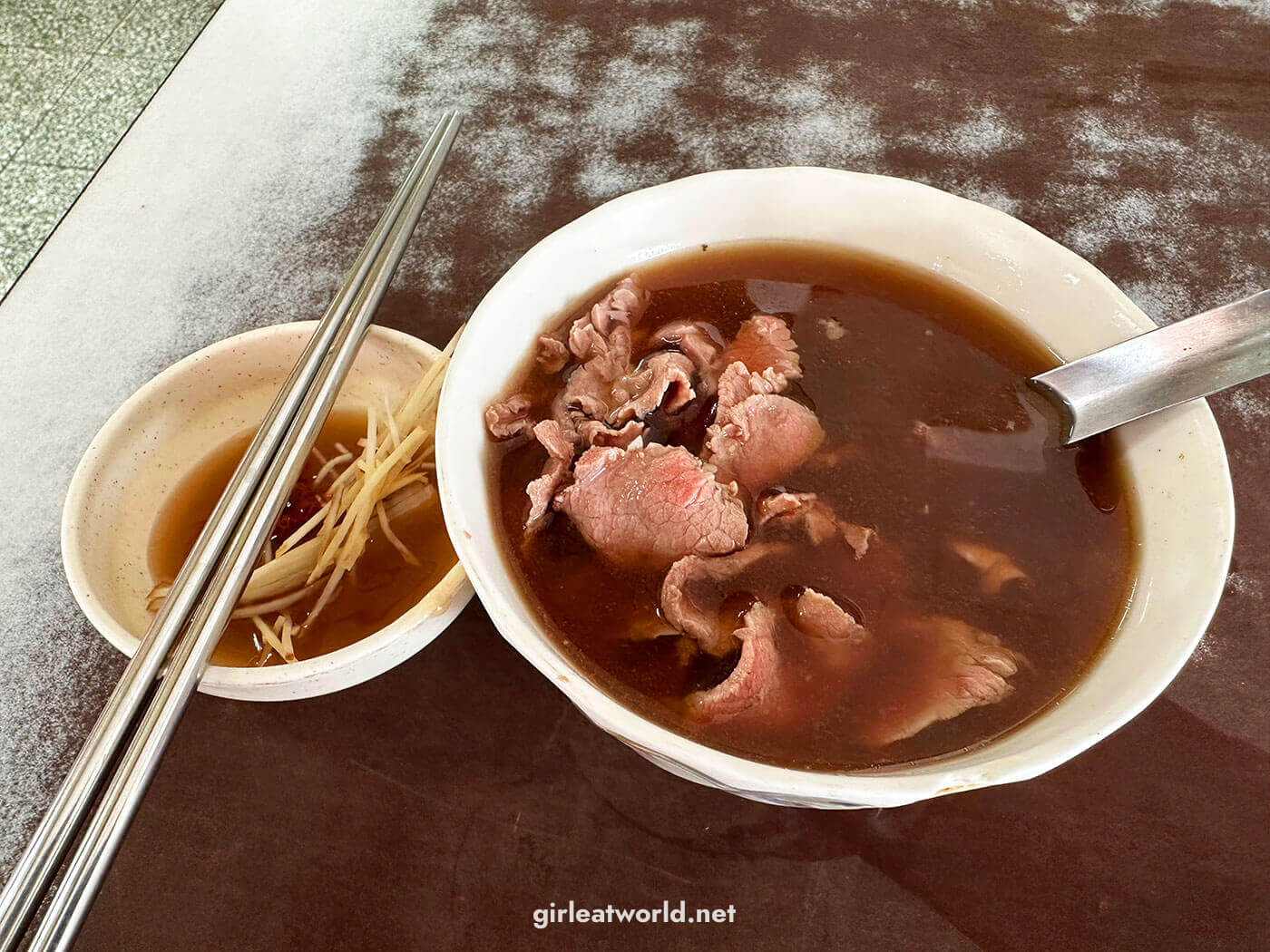 During my visit to Tainan, I went to Six Thousand Beef Soup (六千泓佐土產牛肉), a small restaurant with a few tables extending out to the sidewalk (a very common sight in Tainan). This beef soup shop is very popular. You can expect some queues if you're in Tainan on weekends or public holidays, but when I was there at 9:30 am on a Friday, there was no queue.
NT$ 120 gets you a small bowl of beef soup. You can have the soup by itself or with a bowl of rice, but you must dip the beef in their special sweet sauce with thinly sliced gingers.
Where to eat Beef soup in Tainan
Six Thousand Beef Soup (六千泓佐土產牛肉)
A-Tang Beef Soup
2. Migao (Sticky rice pork 米糕)
Migao is a traditional Tainan specialty that has been enjoyed for generations. This dish is made from a combination of glutinous rice flour topped with slow-cooked pork, resulting in a delightfully chewy texture that melts in your mouth. Tainan is especially known for its Migao, so you must try it while you're here!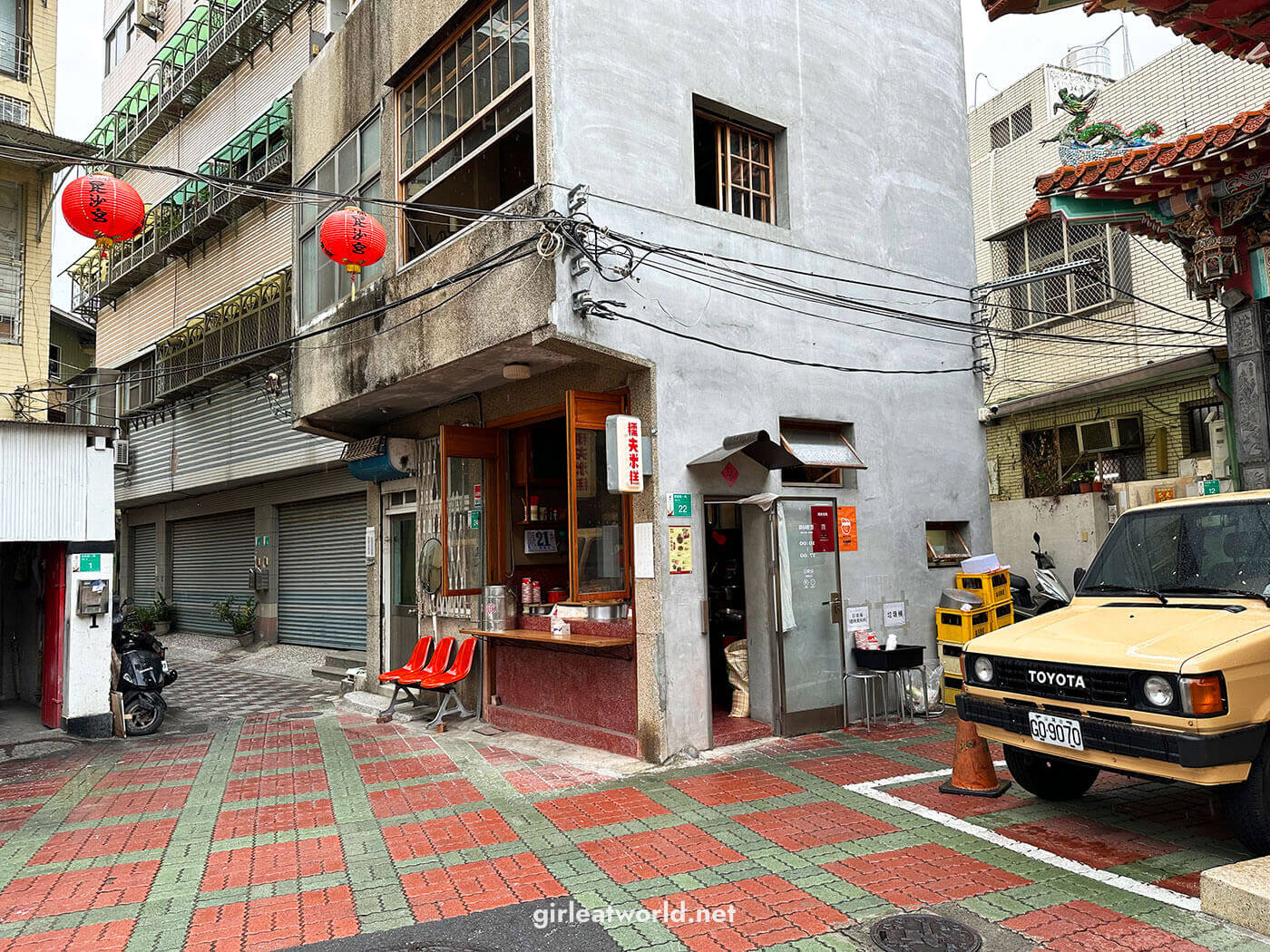 I went to Nuo Fu Migao (糯夫米糕) based on the recommendation of a Taiwanese friend. The location of this shop was a little unexpected to me. It is a small building in the courtyard of one of the many temples in Tainan. There are not many seats here, only 4 chairs in front of the shop itself and a few standing tables.
After placing my order, I was instructed to wait at one of their standing tables… at the entrance of the temple. I had to double-check that I was at the right table!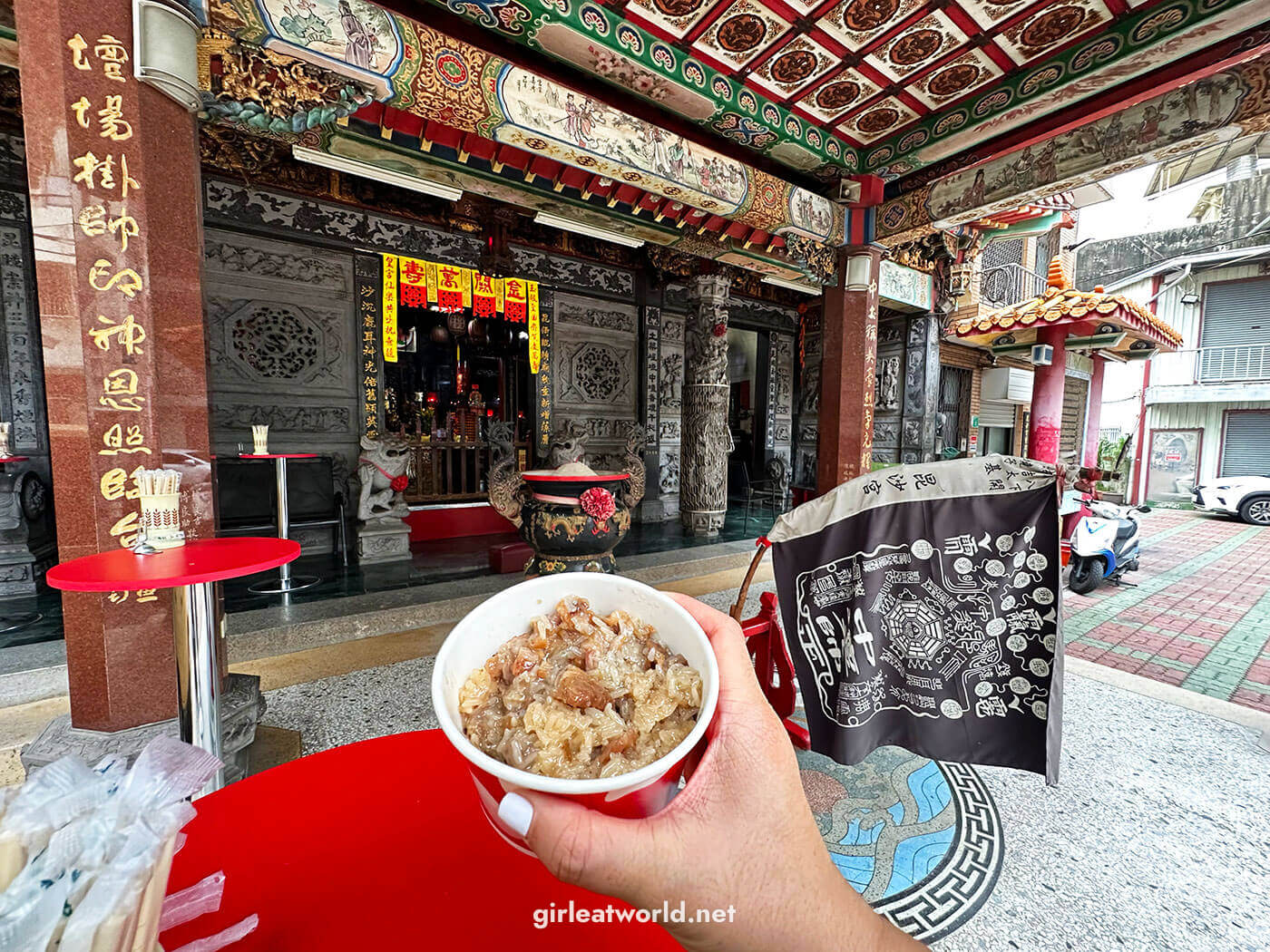 Anyway, NT$45 gets you a small bowl of Migao with melt-in-mouth pork bits. Their Migao is very glutinous, it almost looked like it was slimy, but it doesn't have a slimy texture when you eat it – just pure bliss! I really regret not getting seconds.
Where to eat Migao in Tainan:
Nuo Fu Migao (糯夫米糕)
Bao An Lu Migao (保安路米糕)
Lo Cheng Migao (落成米糕)
3. Eel Noodles (鱔魚意麵)
This sweet and savory eel noodle is a dish that originated from Tainan, though it can now be found all over Taiwan. There are two types of eel noodles in Tainan: A "soupy" one with thick gravy, or a "dry" one with just fried eel and noodles. In Tainan, the dish is also supposed to be more sweet and savory than in other parts of Taiwan.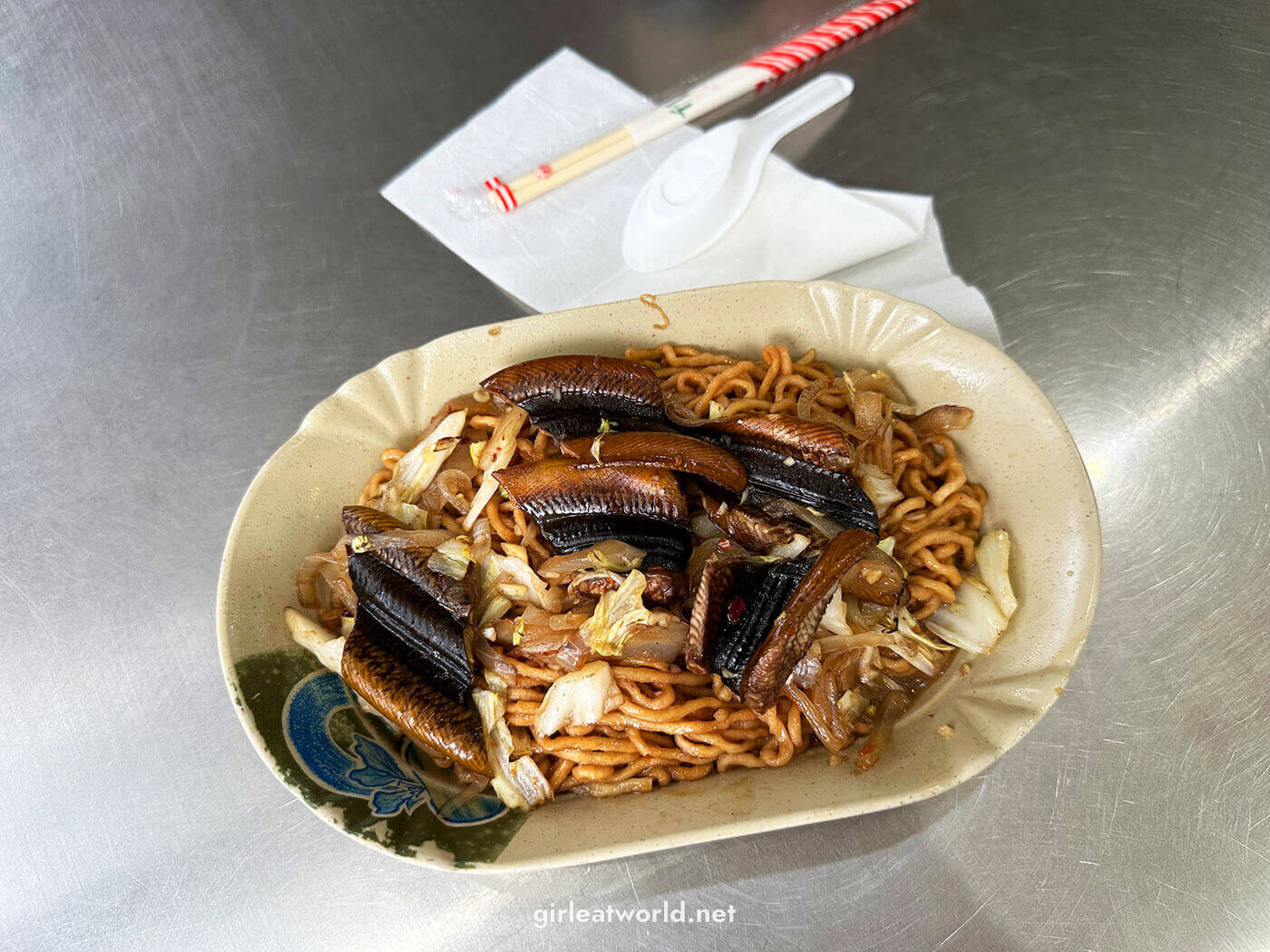 I went to De Xing Eel Noodles (德興鱔魚意麵) and ordered the "dry" type of eel noodles. I have to be honest with you, I didn't find the presentation to be appetizing. There is just something about the way the eel looked that makes me think of… bugs? But I put that thought aside and dug in anyway. I've had eel before (Unagi in Japan!) and I loved it.
The eel noodle was delicious – it's sweet yet savory, and it has that "wok hei" taste. I lapped up mine in less than 5 minutes! A small dish of fried eel noodles at De Xing will cost you NT$ 130.
Where to eat Eel Noodles in Tainan:
A-Jiang Eel Noodles (阿江鱔魚意麵)
De Xing Eel Noodles (德興鱔魚意麵)
4. Leng Tih Tong Fried Cookies
I wouldn't have known about Leng Tih Tong if it was not for the hotel I stayed at, the Retro Tai-pan. They had a packet of these cookies ready for me when I checked into my room. After googling, I realized they are egg cookies from Leng Tih Tong, a local cookie shop that has been operating for a long time in Tainan, since the Japanese occupation days.
Leng Tih Tong sells only five types of cookies. The one I had was one of their most famous – the egg cookies.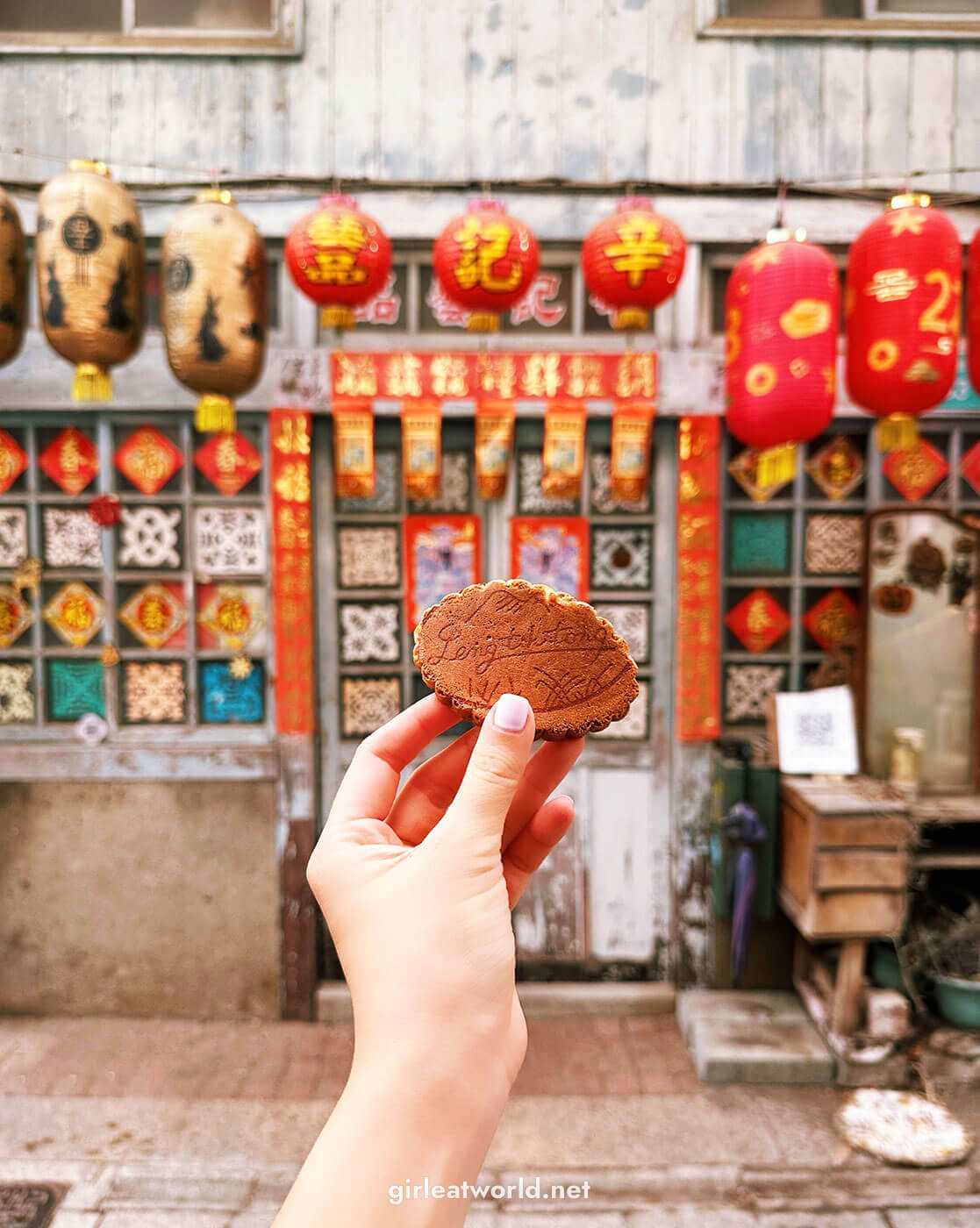 Despite the name, these egg cookies did not actually taste like eggs at all – it was only named so because they used eggs as one of the ingredients, and eggs were precious in the olden days.
On the first bite, this cookie tasted very nostalgic. And then, I realized why – it's because the egg cookies taste pretty much identical to the fortune cookies I used to get from Chinese American restaurants back when I lived in Los Angeles!
Where to eat:
Leng Tih Tong (連得堂餅家) on Chung Ann Street
5. Coffin Bread (棺材板)
Coffin bread is an interesting one. It is deep-fried white bread that has been hollowed out and then filled with cream soup. The bread is then "closed" back with another piece of fried white bread that they most likely saved when hollowing out the bread. Sort of like a rectangular bread bowl, which resembles… well, a coffin. Such dark humor the Tainanese have 😂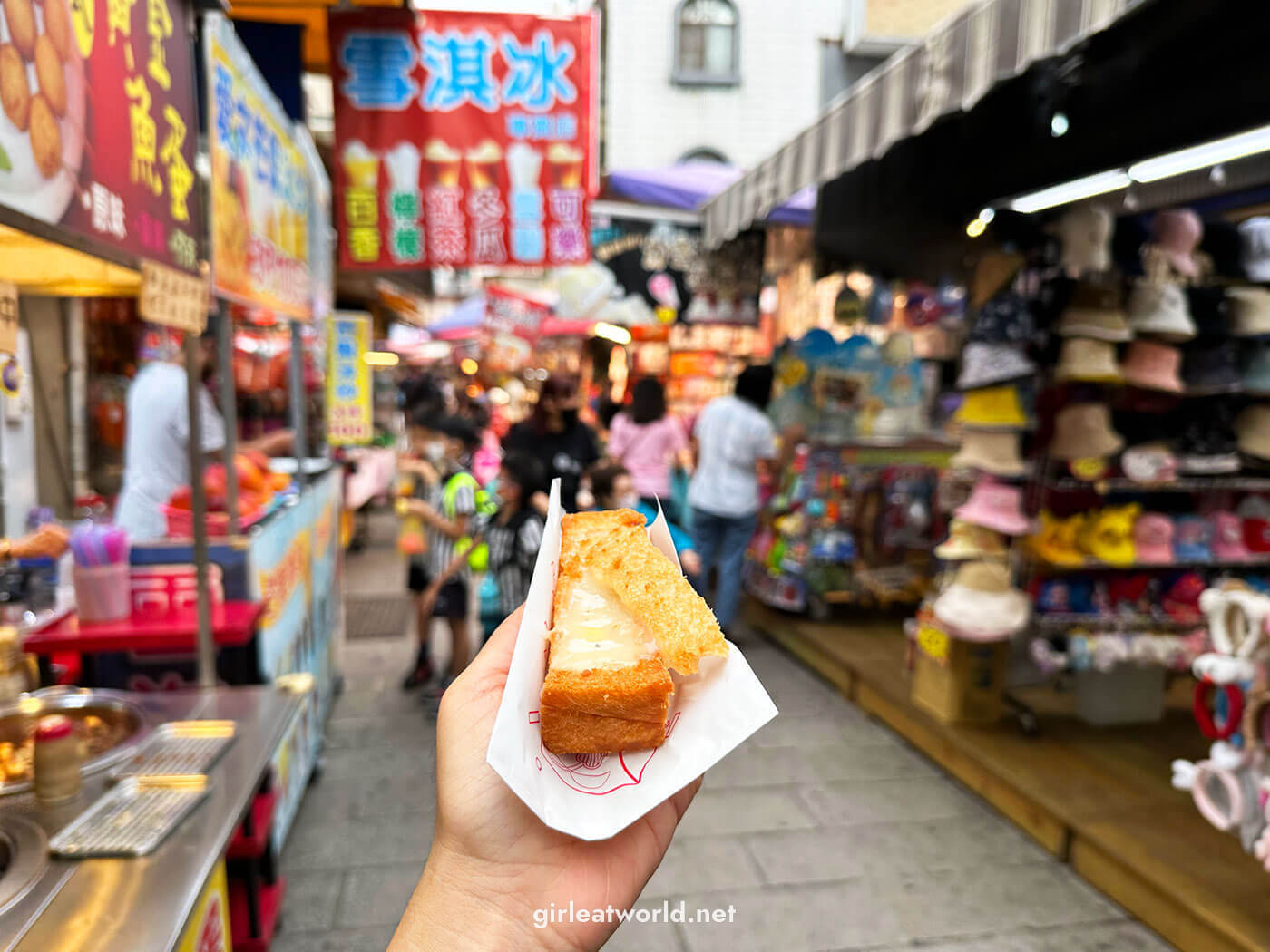 Anyway, while the bread was pretty good as a snack, I wouldn't go out of my way to find this if I didn't come across it on my travels.
Where to eat Coffin Bread in Tainan
Anping Old Street market
Garden Night Market
6. Pork Lard Rice with Raw Egg Yolk (豬油拌飯)
This dish was one of my favorite things I had in Tainan. I know the name does not sound appetizing at all, but it was actually really, really good.
I had this at Ding Fu Fa, a restaurant among the small alleys of Tainan. The restaurant has been dressed up to look like a retro classroom. To order, ask for the english menu and simply mark what you want and pay at the cashier.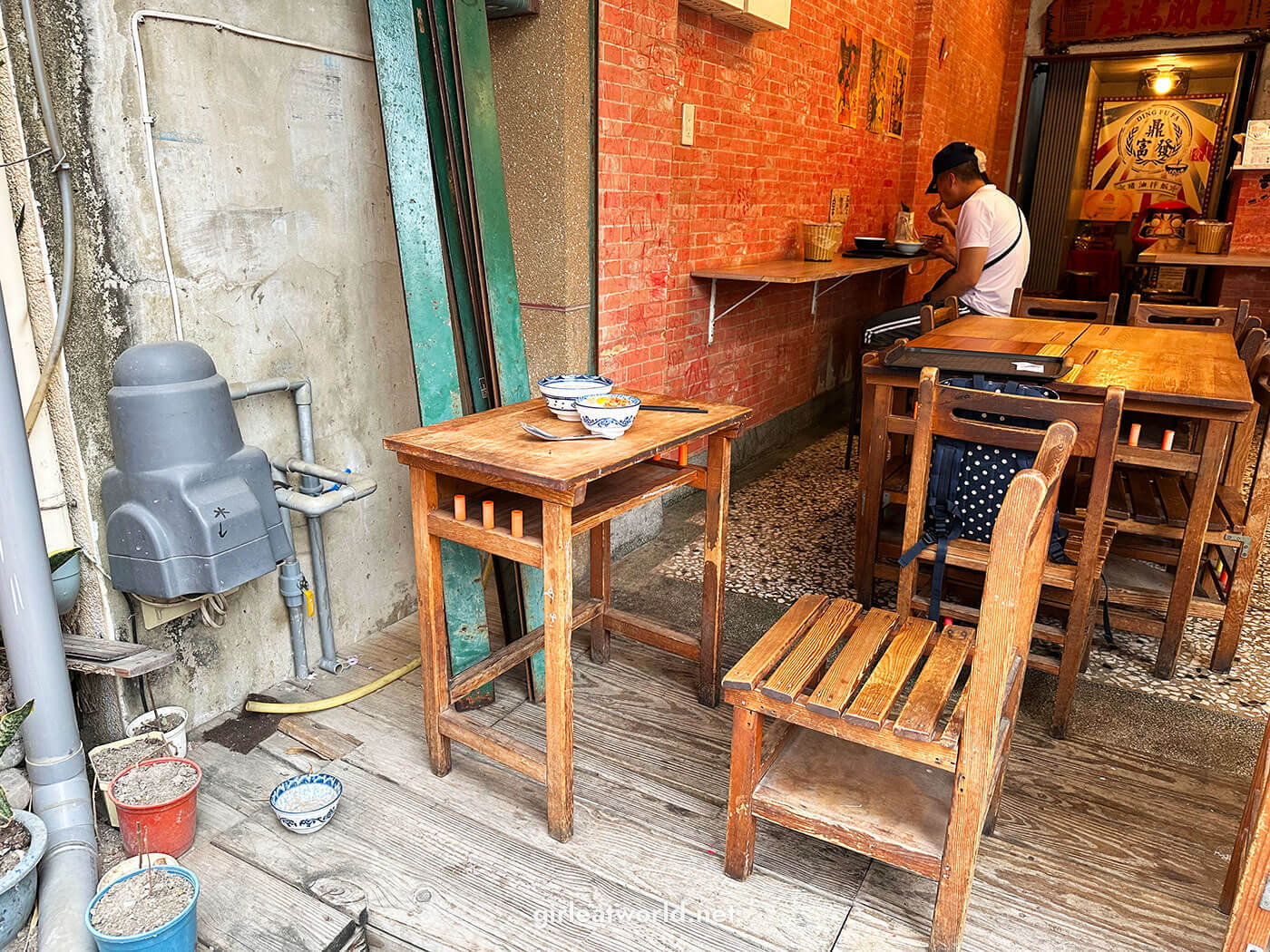 It's quite a simple dish – just a bowl of rice, topped with pork fat, raw egg yolk, and fried shallots. The way you should enjoy it is by simply mixing all the ingredients in the bowl!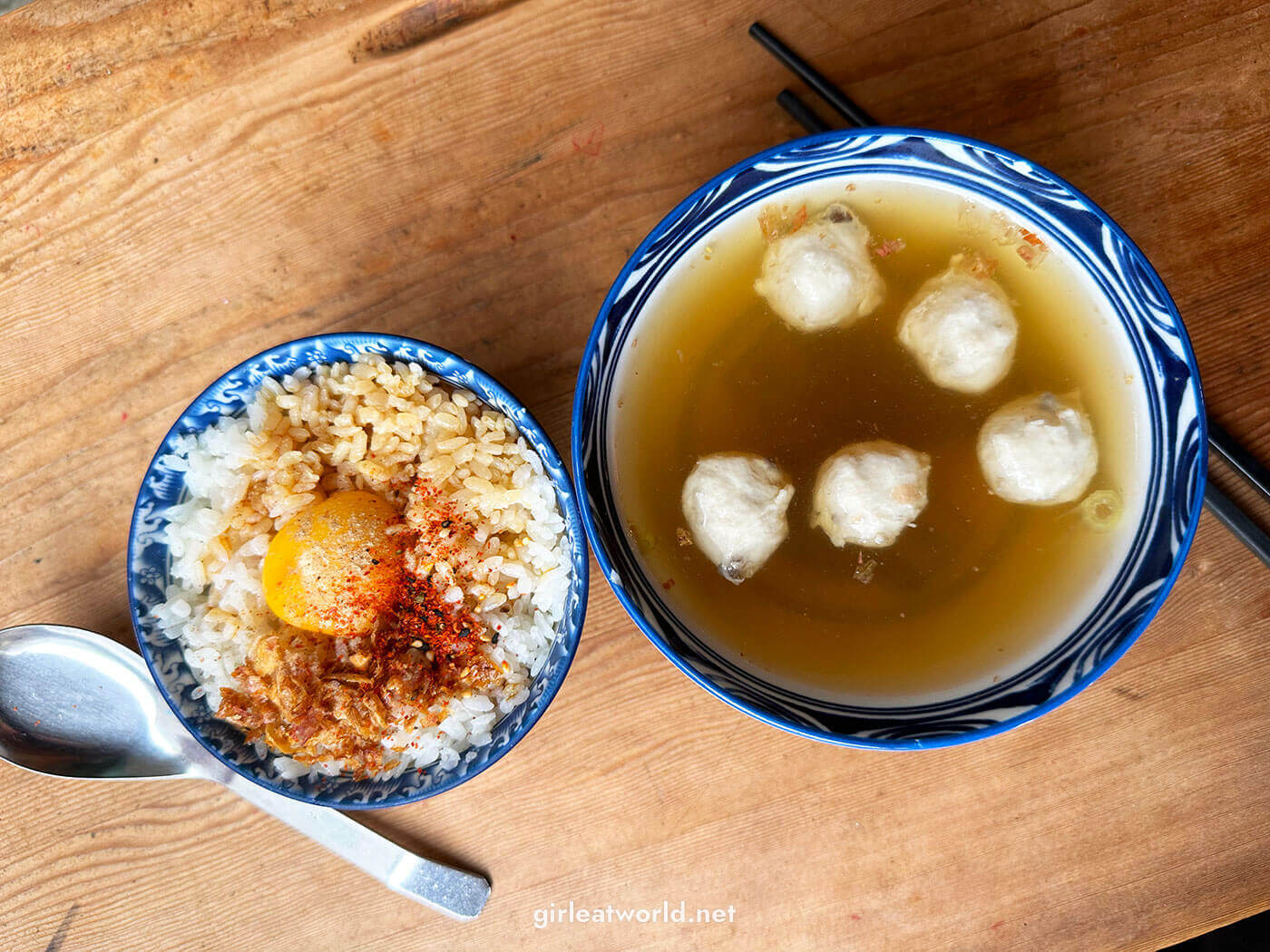 Enjoy the rich flavor of pork lard and creaminess from the egg yolk, cut by the crunchy texture of fried shallots. Such a simple yet comforting food! If you don't like eating raw egg yolks, you can also opt to have sunny-side-up fried eggs or even no eggs at all. But as for me, I really enjoyed that raw egg yolk rice.
At Ding Fu Fa, NT$ 45 gets you a small bowl of egg yolk pork lard rice. You can order other dishes too such as the fish ball soup, but if I were to go back I'd order a few more of those pork lard rice for myself!
Where to eat
Ding Fu Fa – a small eatery in one of the alleys in the West Central district. Ask for the English menu!
7. Muahchee Fritters
I can't stop thinking about this street-side delight ever since I had it in Tainan. It's mochi (rice cake), battered and deep fried, then rolled around in fine white sugar. Very simple yet delicious.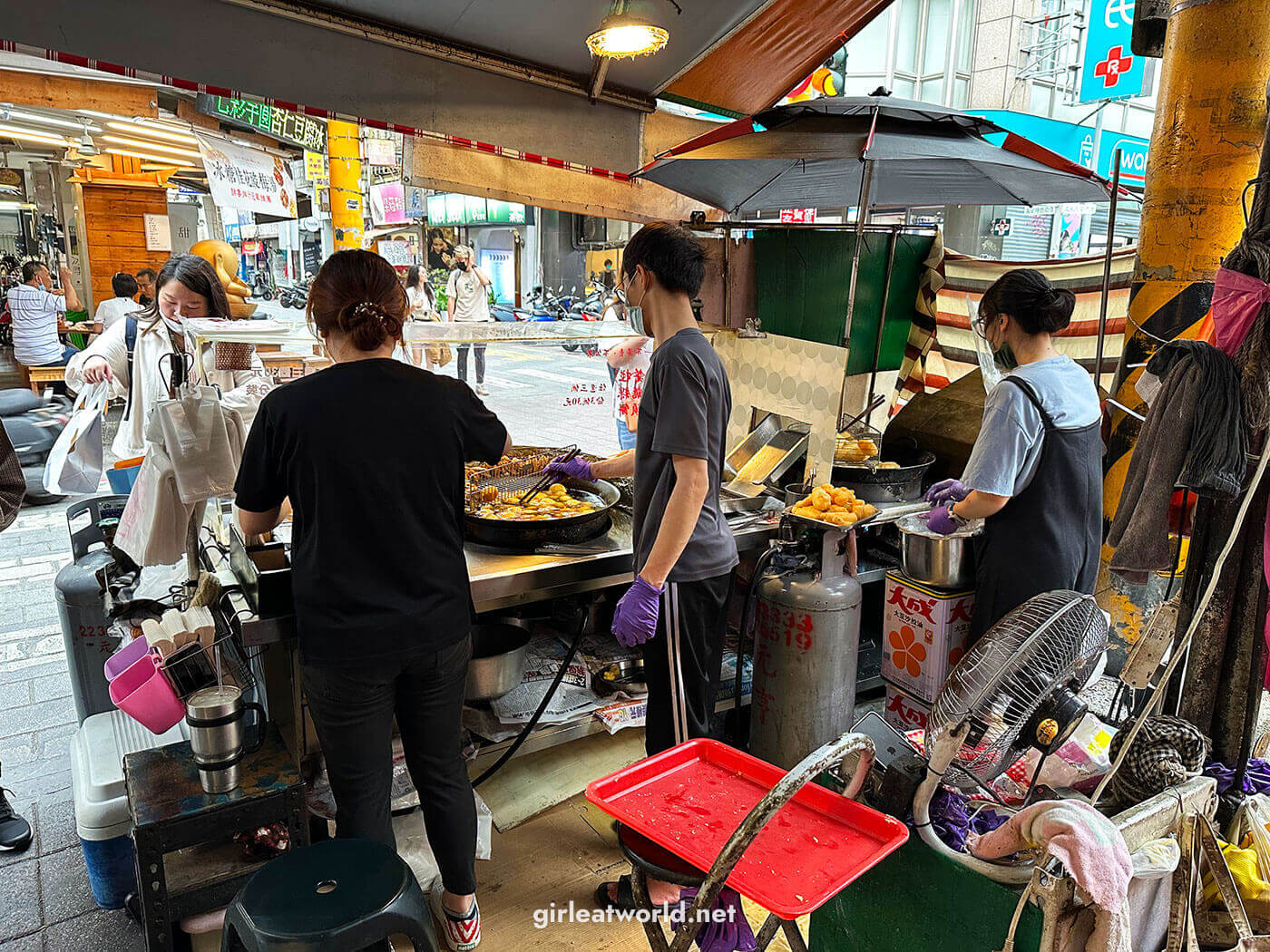 Where to eat
Linjia White Sugar Cakes (台南林家白糖粿)
Alright, I hope that paints a picture of what Tainan is like and I hope it helped plan your trip to Tainan! As usual, please feel free to leave a comment below if you have any questions or anything else you would like to add to the post.
Till next time 👋🏻