I visited the Kyushu region of Japan in September. This post covers Kumamoto, the city that brings you Kumamon and Ikinari Dango, and a small road trip to Daikanbo.
The city of Kumamoto was hit with an unfortunate series of strong earthquakes on April 2016. It left the city without water, damaged the precious Kumamoto castle, and caused many transportation disruptions including airport and road closures.
By the time I visited in September, the effects of the earthquake have subsided but can still be seen. This didn't deter us from enjoying the city though, and in fact, the road trip to Daikanbo was the highlight of the entire Kyushu trip for me.
How to get to Kumamoto from Fukuoka
Kumamoto is very accessible from Fukuoka. It is an easy 40 minutes Shinkansen ride from the Hakata Station in Fukuoka, AND the shinkansen leaves every 15 minutes. If you have purchased a JR Pass for your trip, this ride is included for free. It really doesn't get any more convenient than this.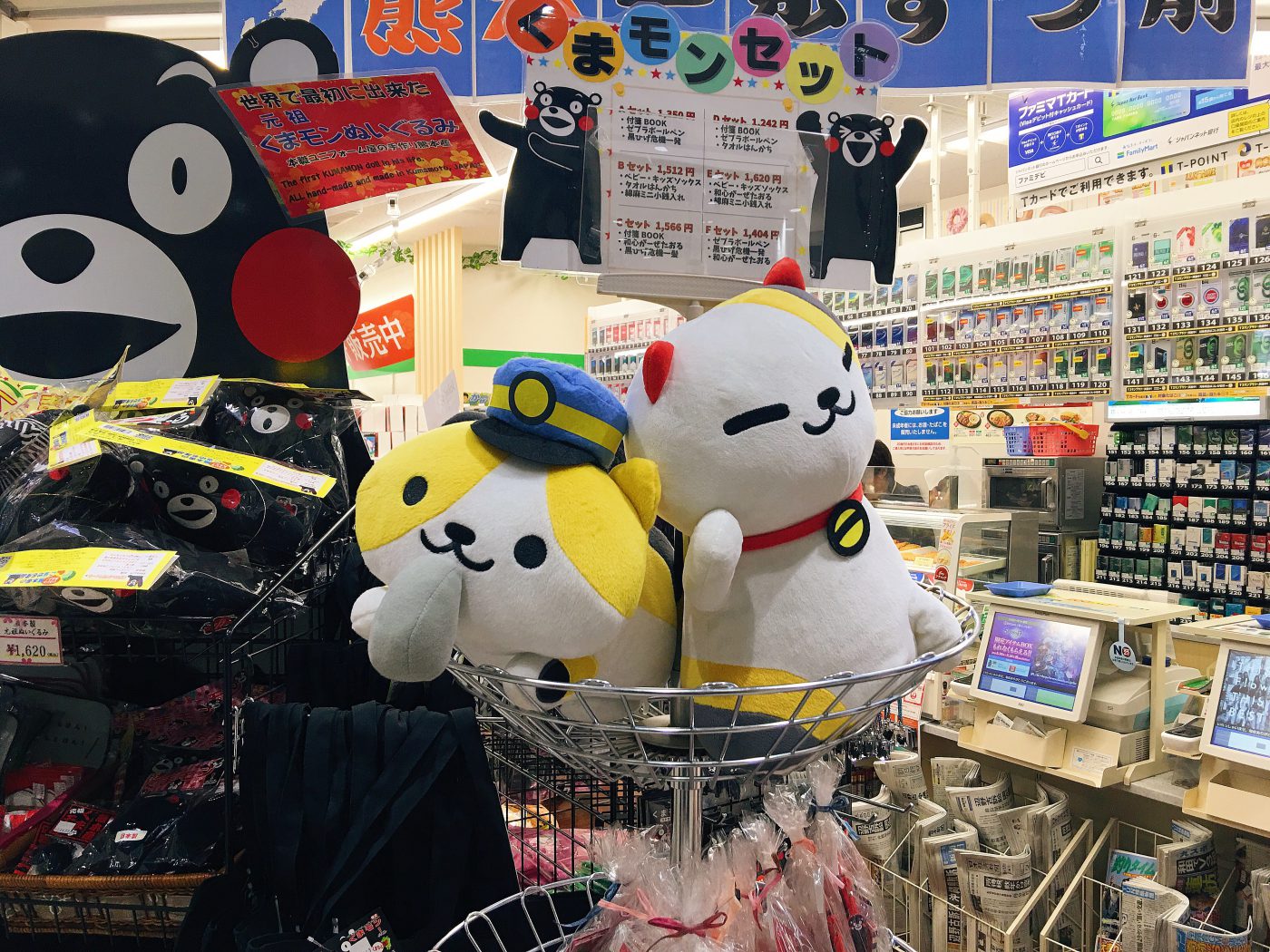 We arrived at around 11 am in Kumamoto, greeted with excellent weather. It was such a treat considering the rest of our Kyushu trip was overcast and gloomy thanks to Typhoon Namtheun.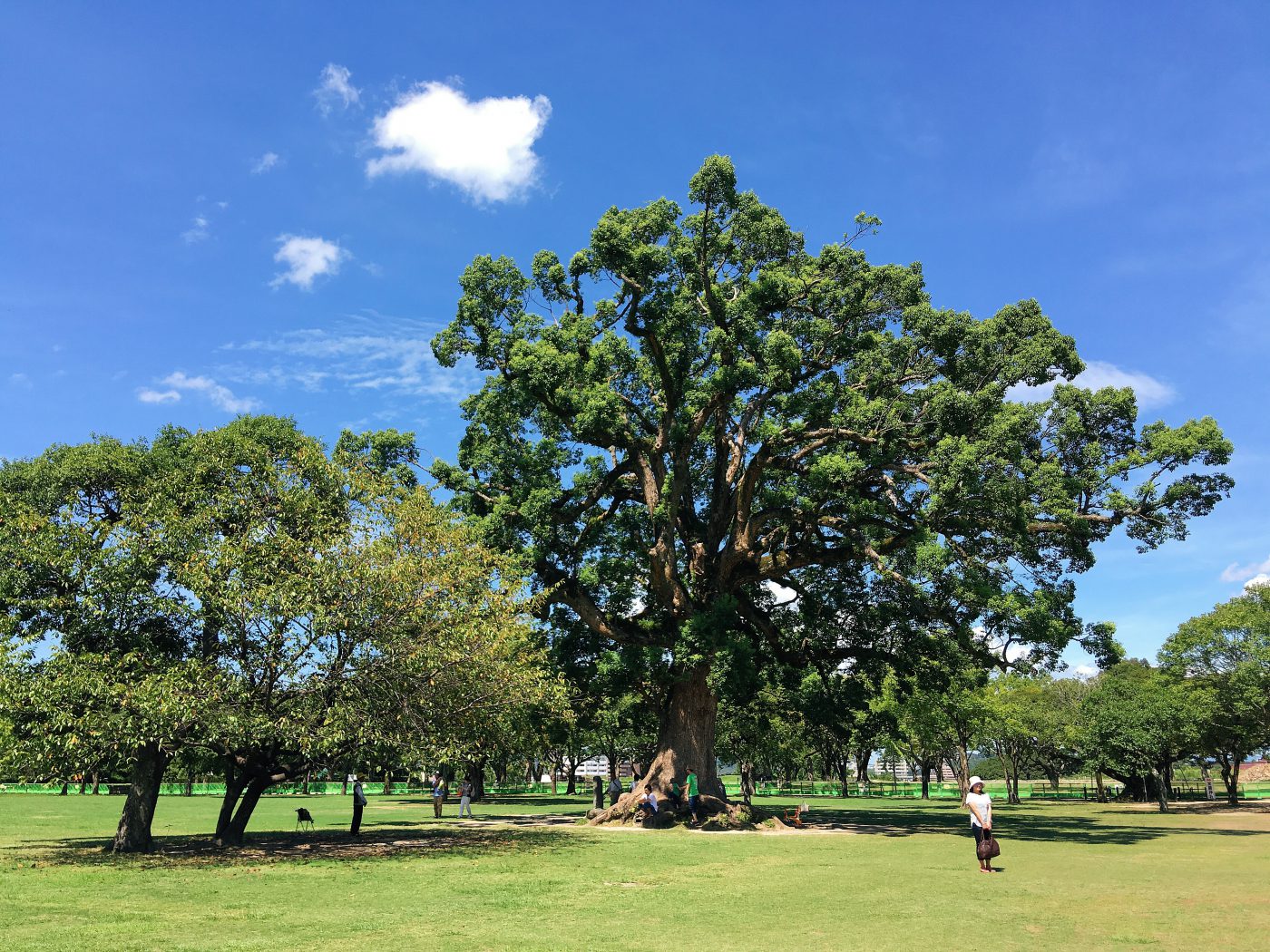 How to rent a car from Kumamoto Station
On this trip, we knew we wanted to visit the mountain area outside of Kumamoto so renting a car became the most logical step. Just outside of Kumamoto station, there are a few choices of car rentals company you can consider. We went with Nippon Rent-A-Car and paid around 9200 yen (US$86) for a 12-hour car rental including gas. Thankfully for us, Yuri speaks fluent Japanese so renting a car was a breeze as we let him do all the work from renting the car… to driving us around 🙂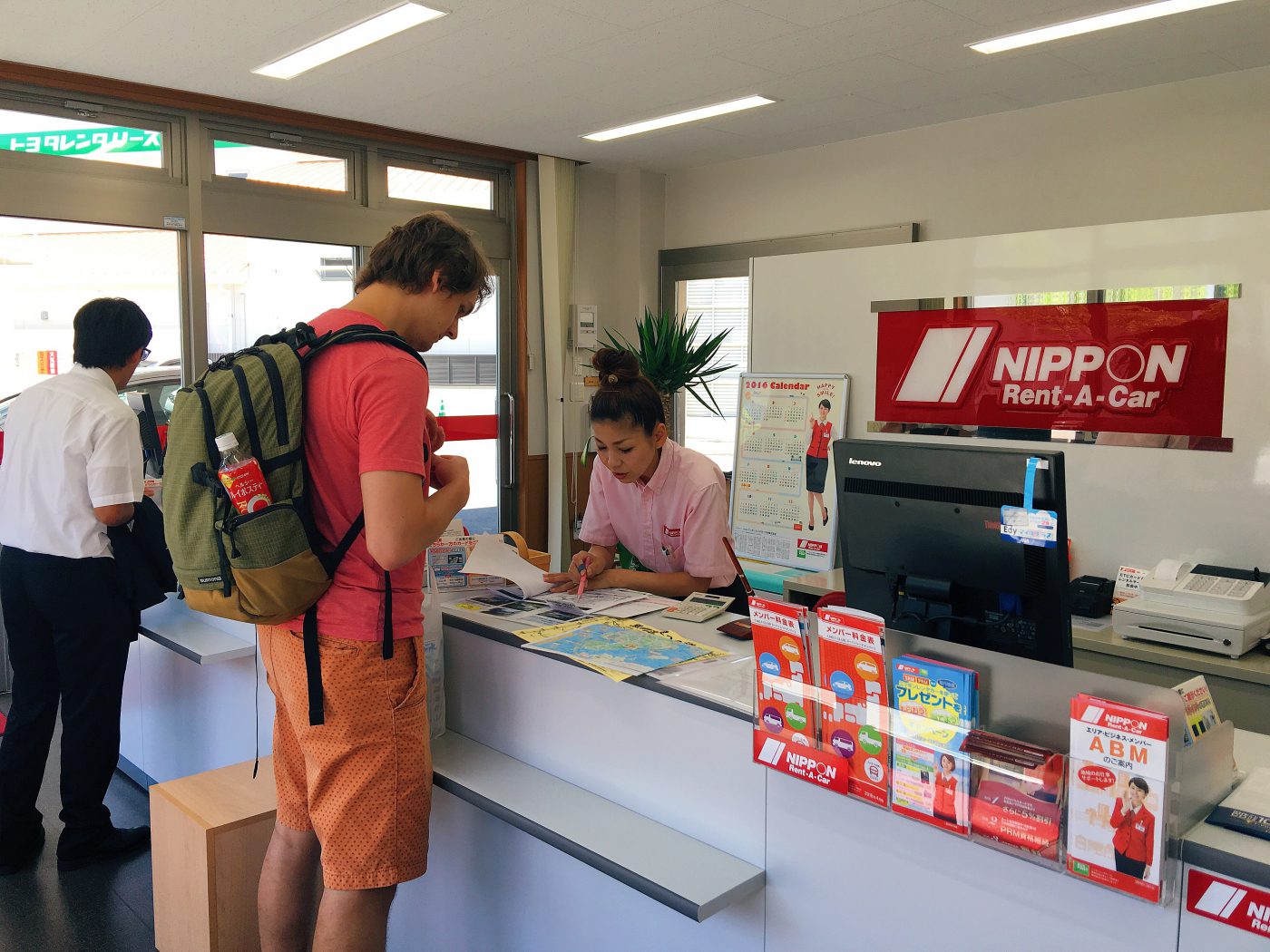 But I think the staff would be able to assist you even if you don't speak Japanese. The car we got came complete with a GPS which can be switched to English. I remember this because they asked us if we'd like to switch to English, but we didn't need to because our designated driver speaks Japanese!
Visiting the damaged Kumamoto Castle
Kumamoto Castle was just a short 10 minutes drive from the station. As soon as we got there, we parked our cars and made our way toward the castle perimeter. The damage from the earthquake can be seen right away – rubbles are spilling out of the castle's stone wall perimeter and the main gate was not accessible, so we had to walk around the castle wall to a side entrance.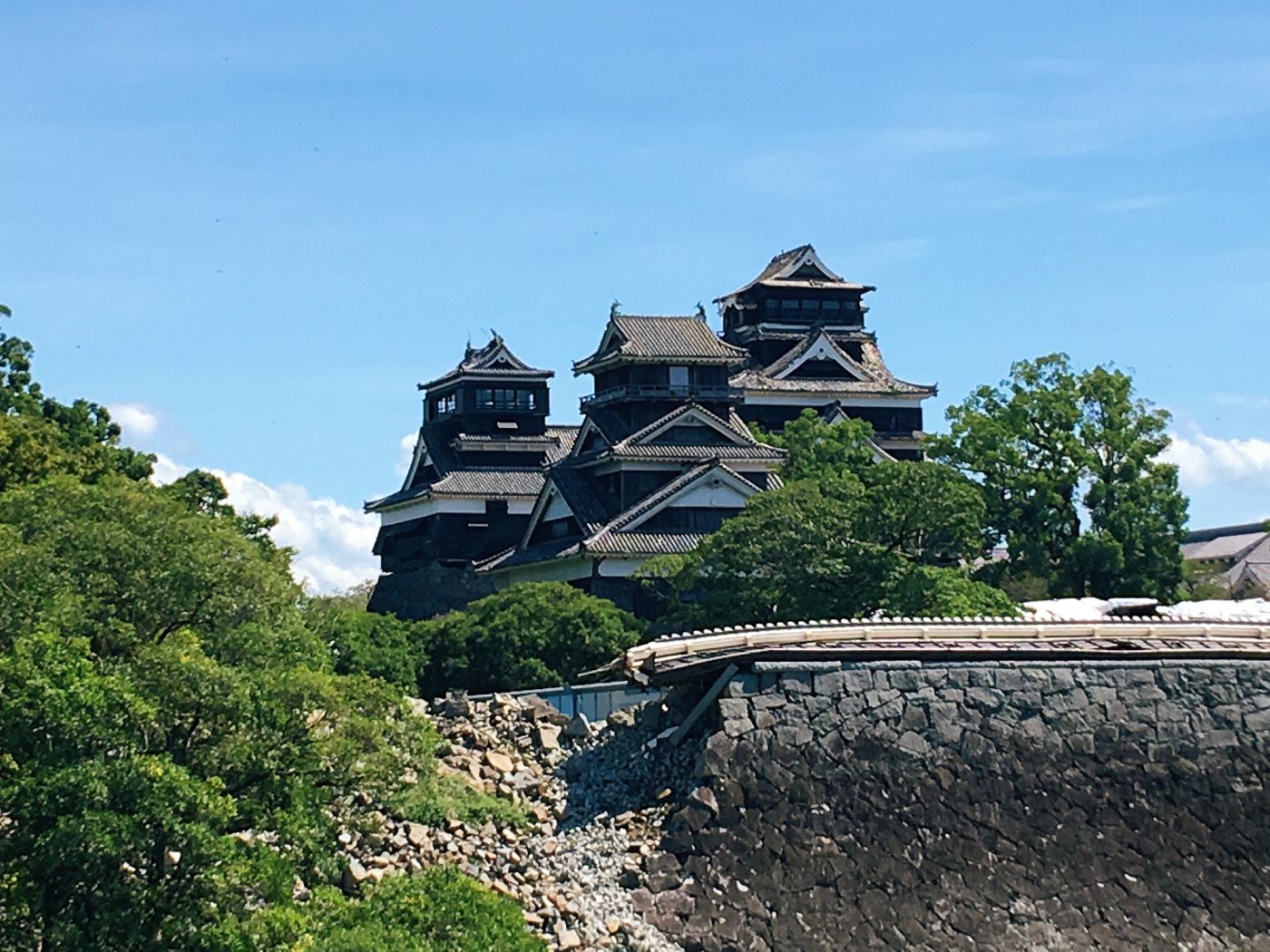 The Kumamoto Castle itself was indeed a grand castle. It's a shame we couldn't get closer to it. One fascinating feat I learned about the castle is that it withstood the strong 7.0 earthquake, just as its Japanese architects had intended when the castle was built four centuries ago. During the earthquake, much of the roof tiles slid off and fell to the ground, causing what was perceived to be a severe damage to the castle. However, this was actually by design to 'lighten up' the castle and prevent the entire structure from collapsing.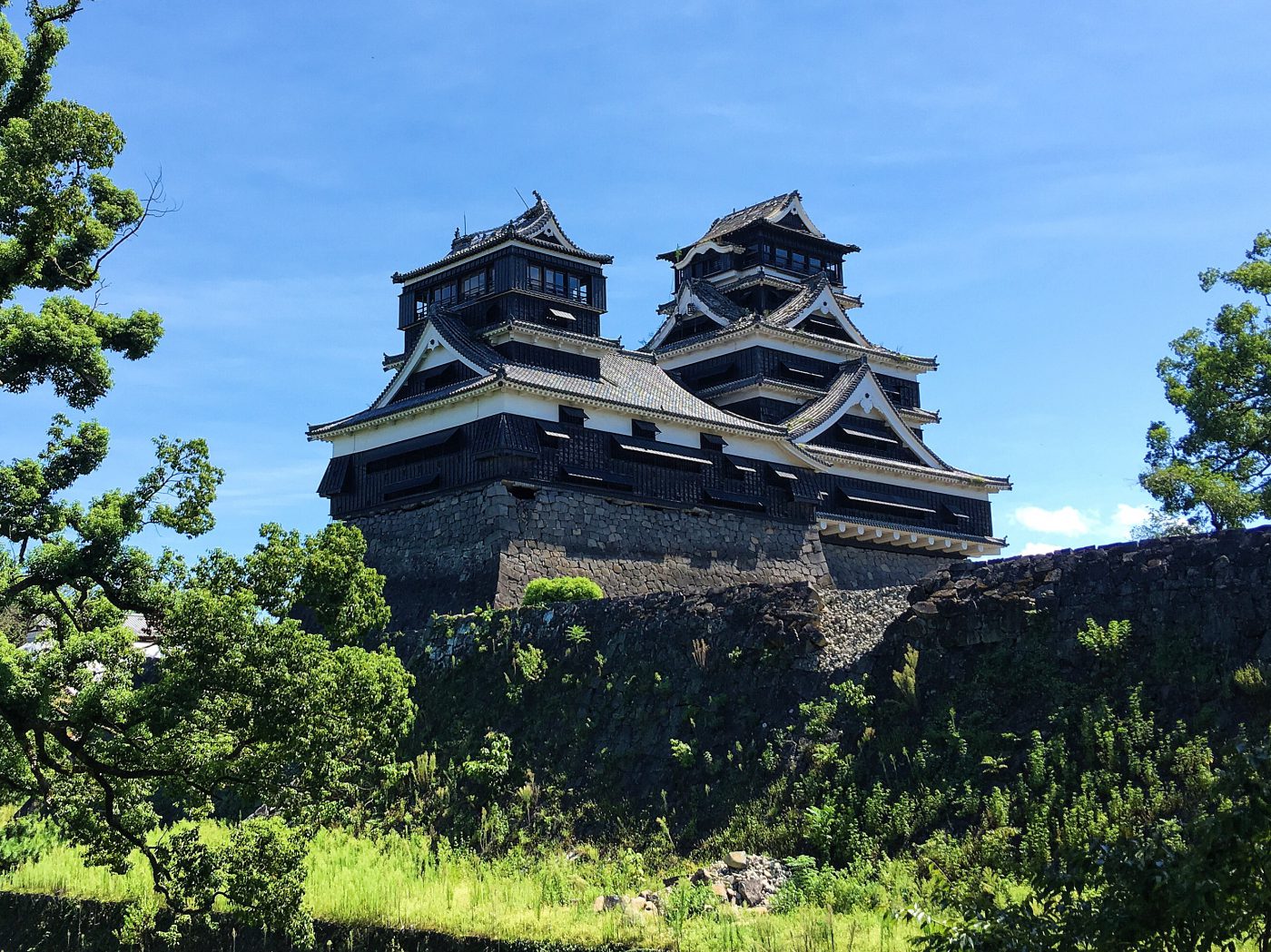 The visit was free since we couldn't enter the castle premise. But, you are welcome to contribute to the funds of restoring the Kumamoto castle via this very cute Kumamon donation box. (Wait! what is Kumamon, you ask? I will expand on this at the end of this post)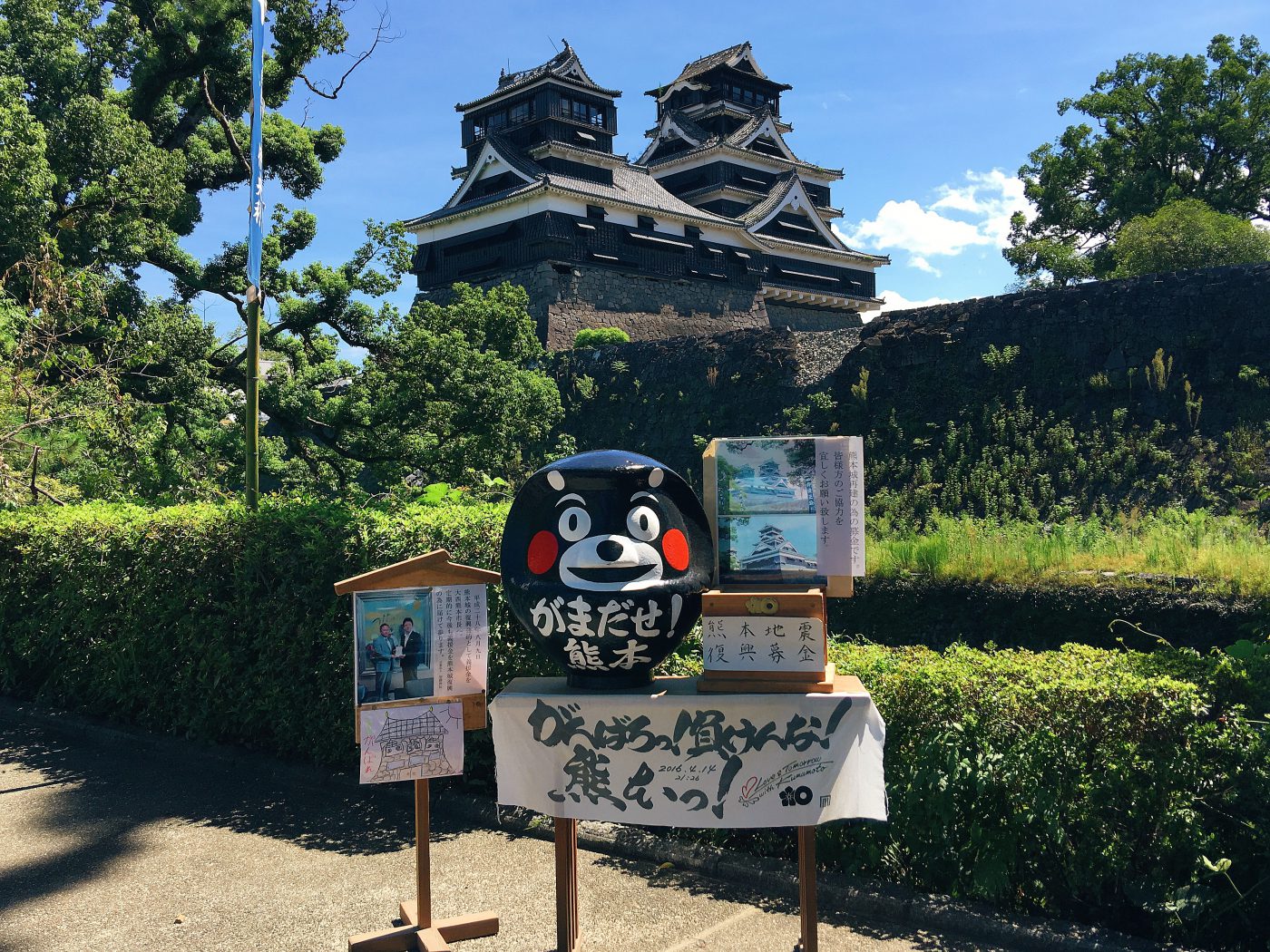 Drive up Route 339 to Daikanbo
We had heard that parts of the road to Mount Aso, a beautiful mountain just outside of Kumamoto, were still closed from the landslides caused by the earthquake.Earlier at the car rental place we were given a map indicating which roads were closed at the time. We were actually very lucky that the roads were re-opened one day before our arrival. Although going up the mountain was possible, we decided to not visit Mount Aso itself. Instead we opted to go up to a look out point called Daikanbo since we heard great things about it.
If you are thinking of visiting Mount Aso by car, I suggest checking to see if there are any road closures!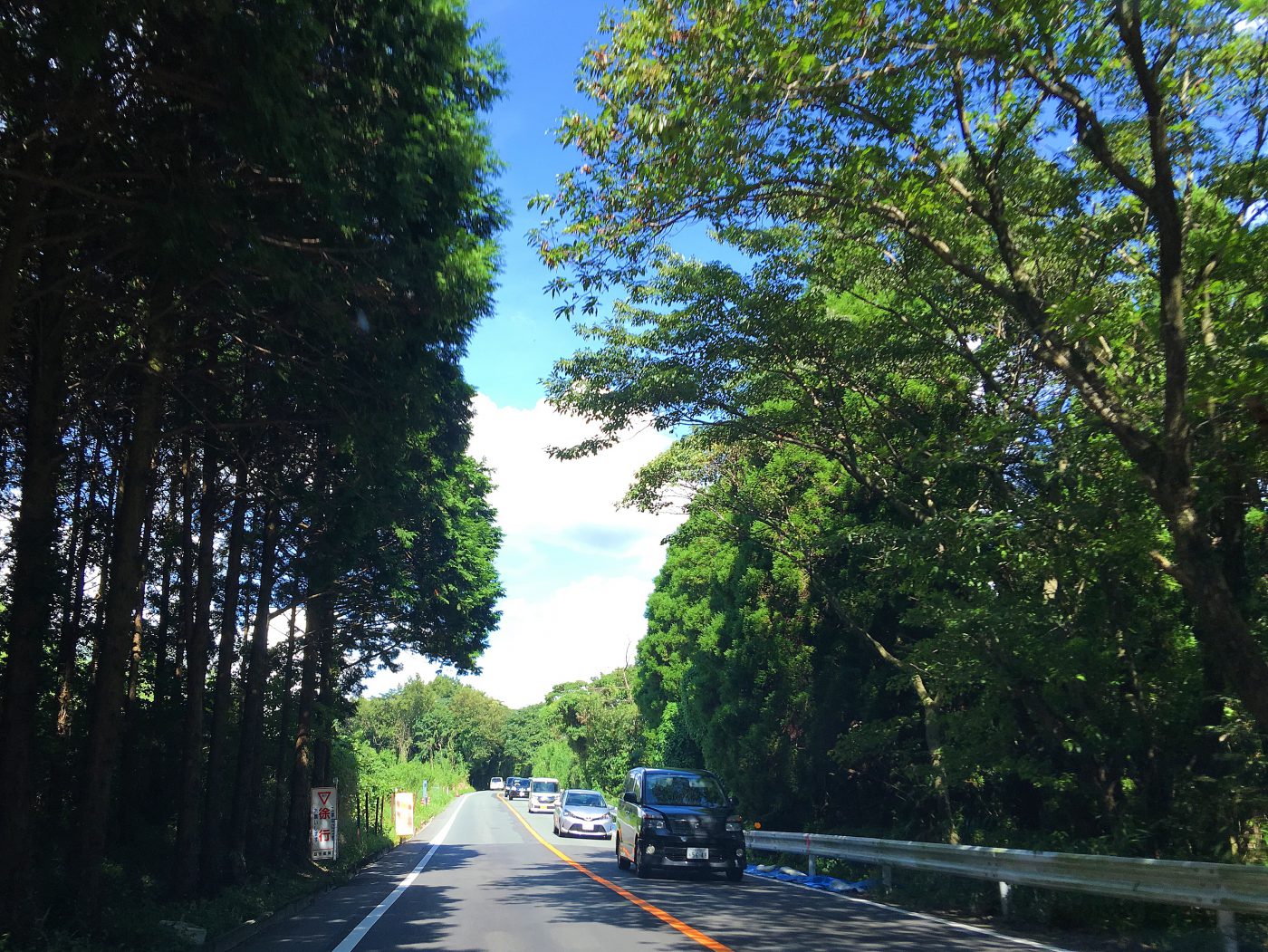 The drive up to Daikanbo, which means "peak of great view" took less than two hours and it is indeed very scenic as the name suggests. We followed Route 339, which turns into a narrow two-way lane as seen in the picture above.
After about an hour of driving, we made a pit stop at Kabutoiwa View Point (marked as かぶと岩展望所 in Google Maps) for a toilet break. We ended up staying for 20 minutes because the scene from Kabutoiwa was just absolutely breathtaking. It's one of those places where pictures just can't do any justice!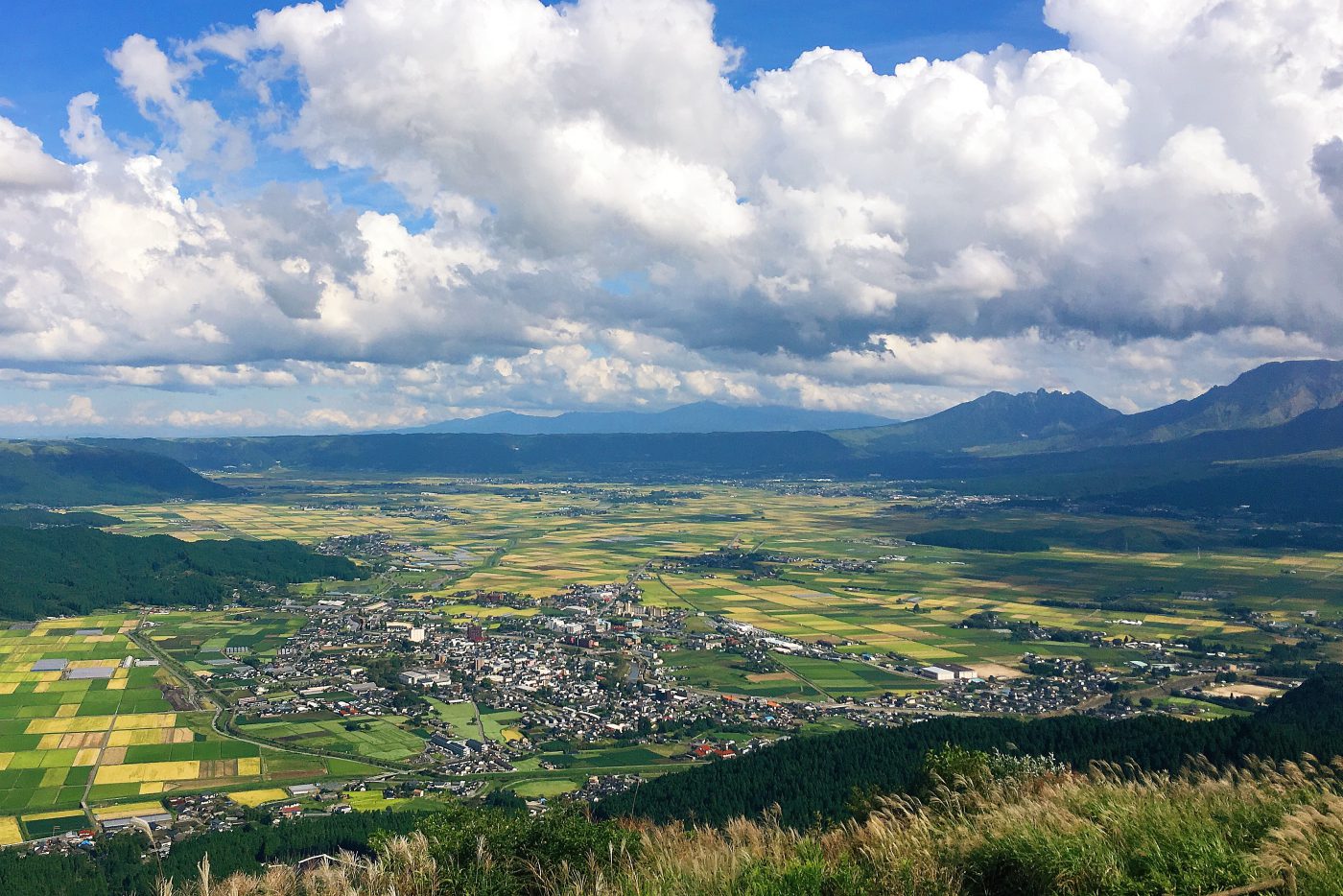 From Kabutoiwa we drove ten more minutes to reach Daikanbo. We parked our car and did a (very) short hike up to the viewpoint. I made sure to stop by the store and buy some snacks before that (because of course).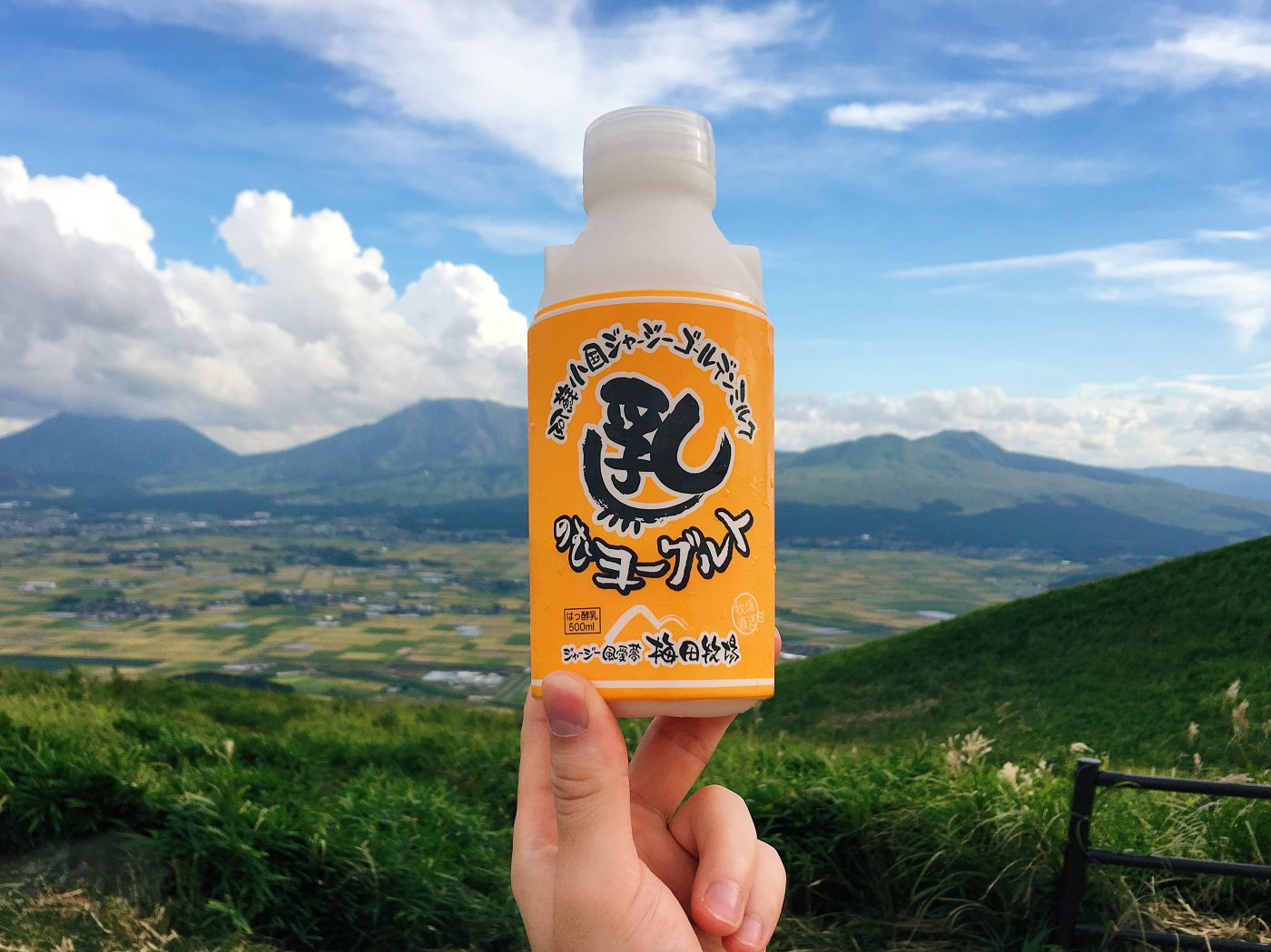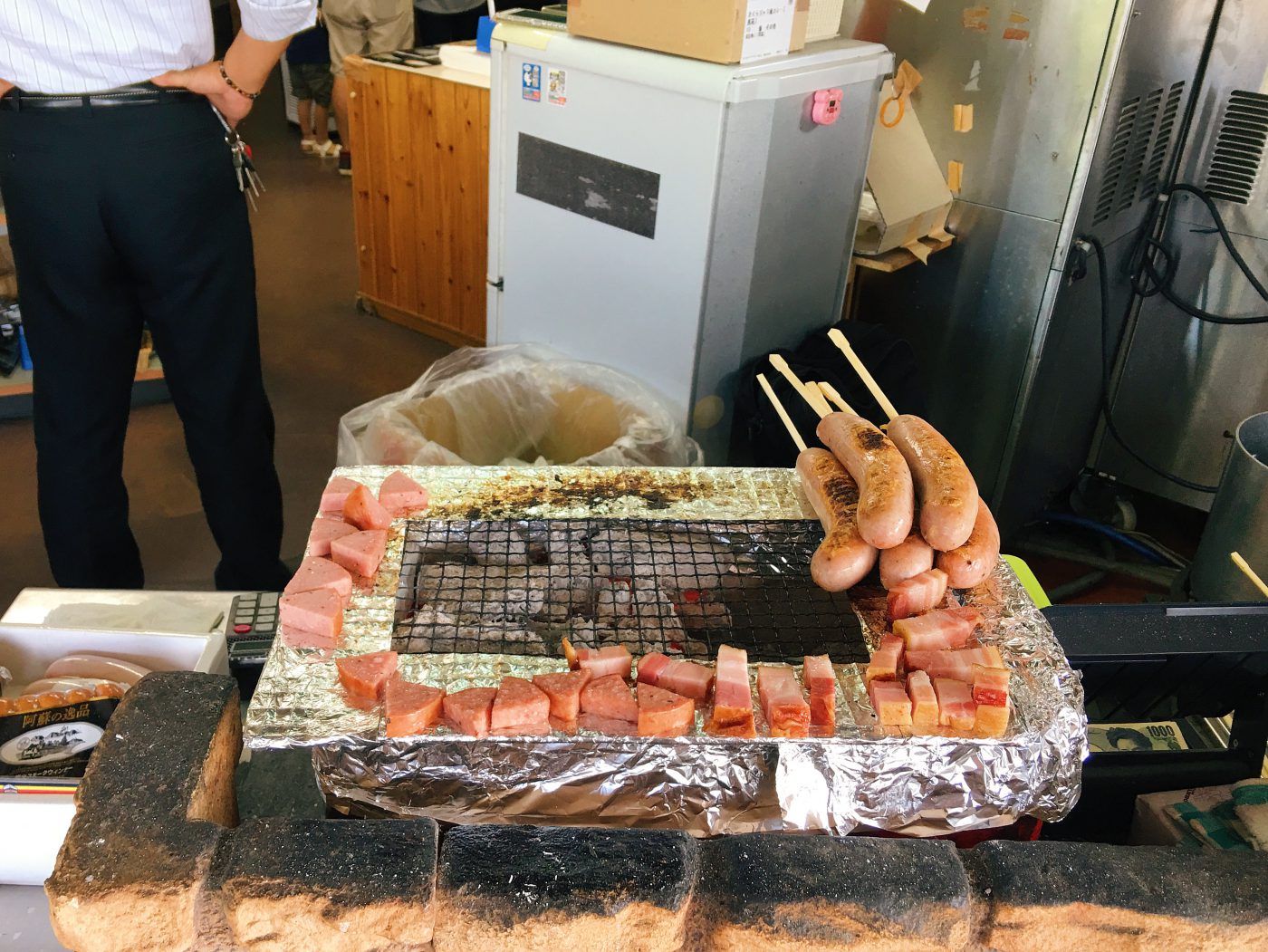 Once at the top, we spotted a group of 4-5 Paragliders whimsically floating around. It made me really want to try Paragliding someday! I guess since the day was pretty windy, it makes for a great paragliding condition.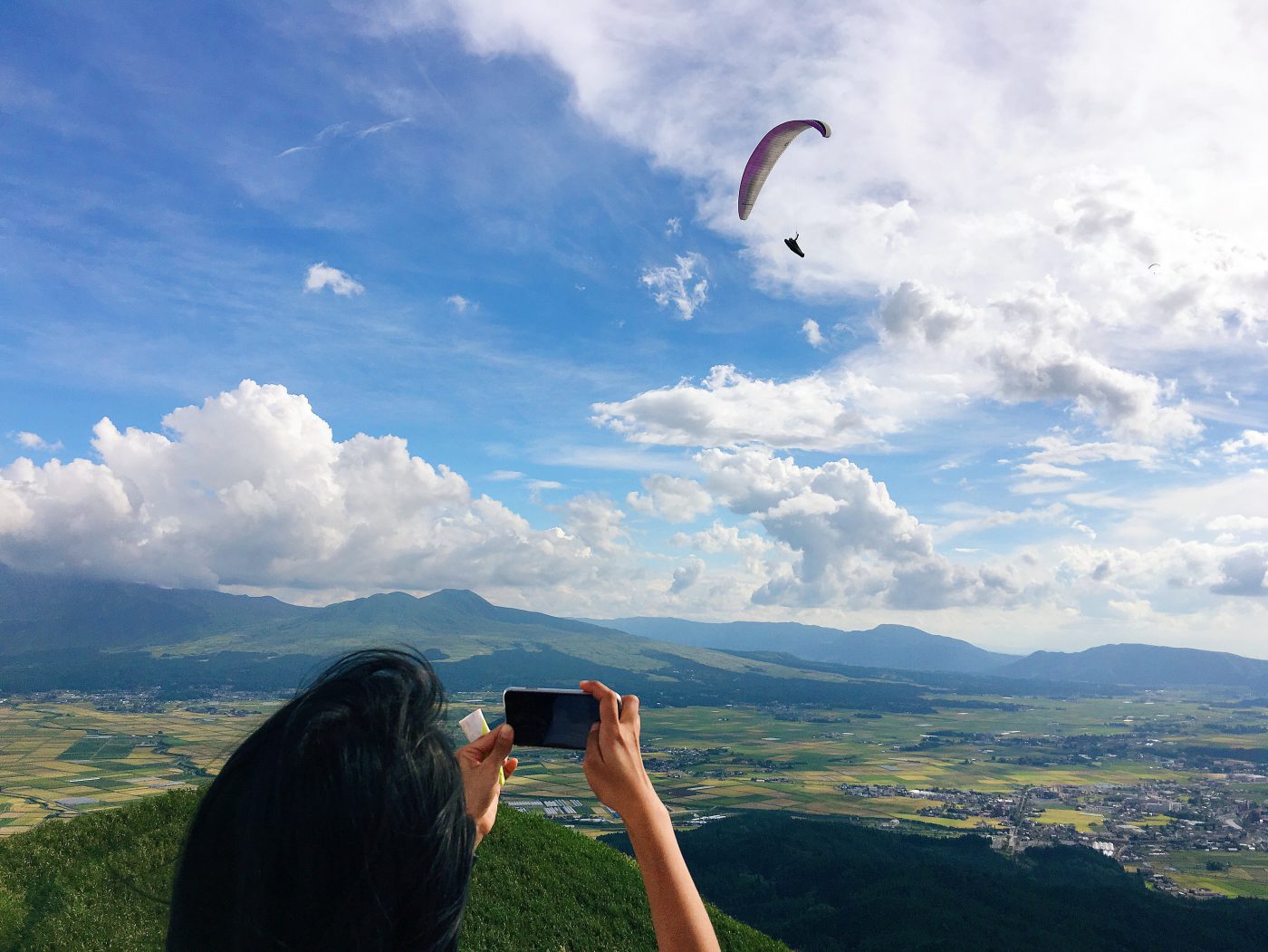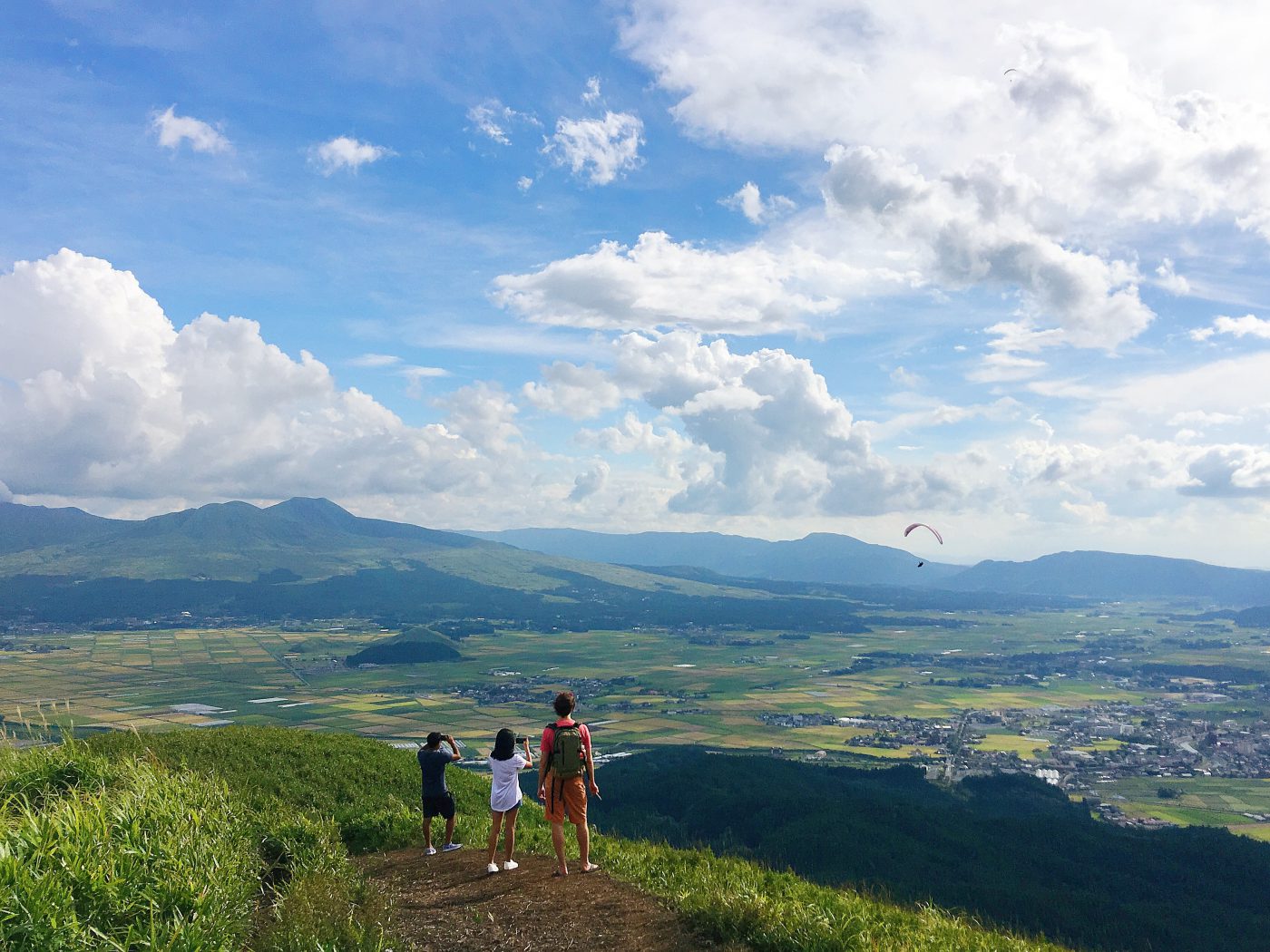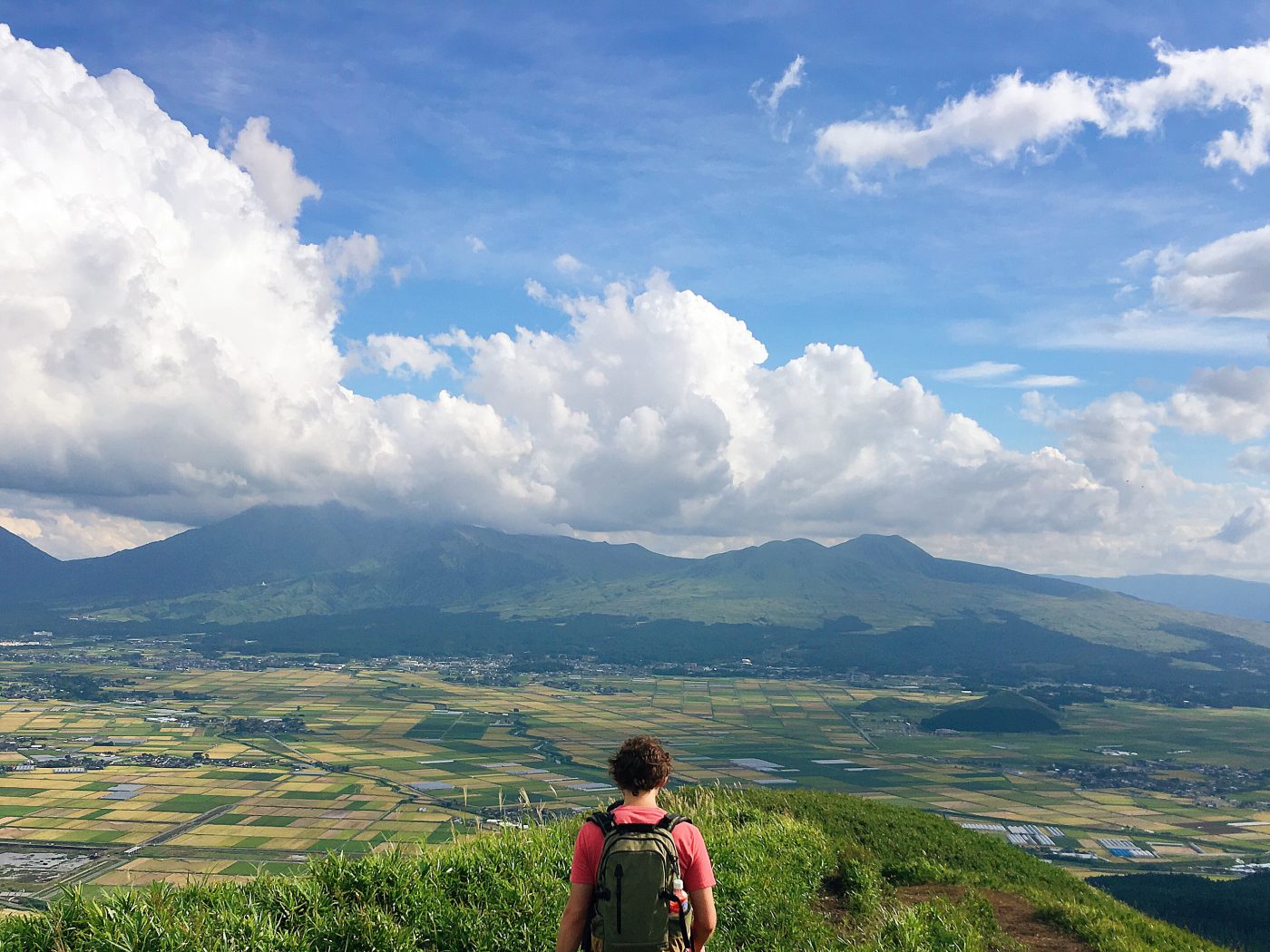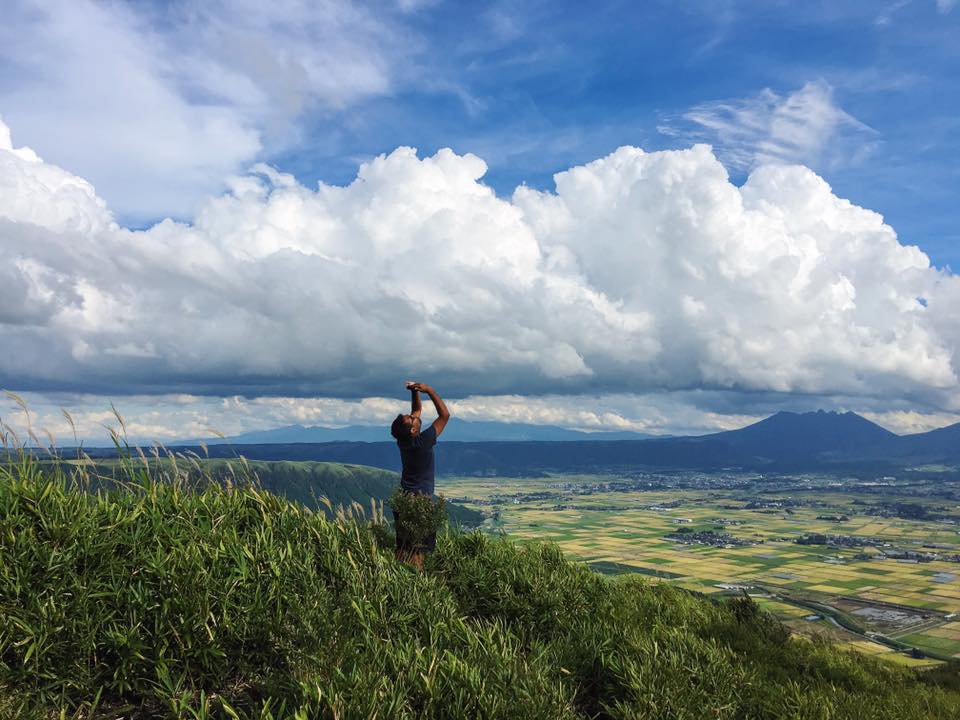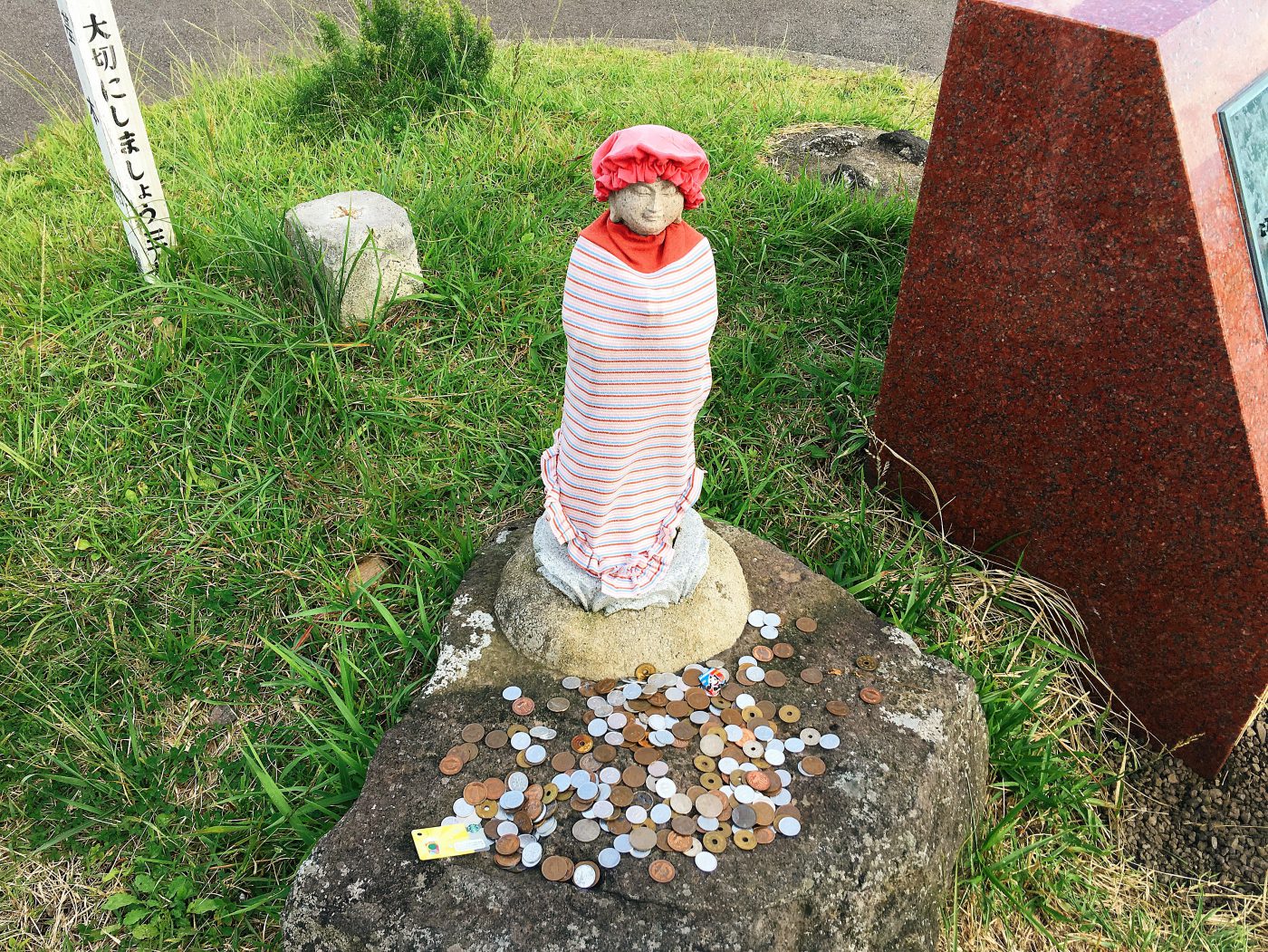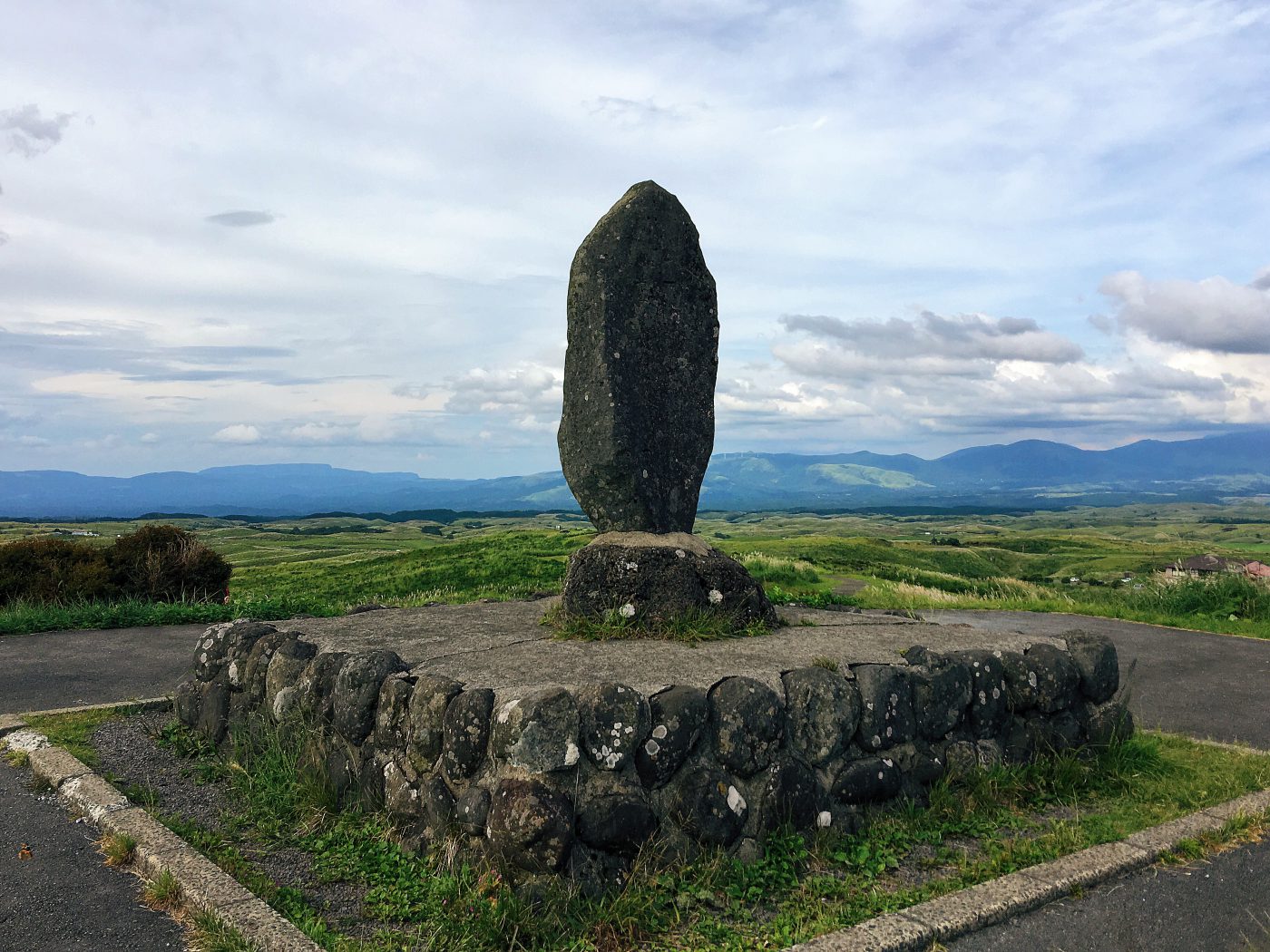 Kumamoto specialties: Kumamon and Ikinari Dango
When in Kumamoto, there are two things you absolutely must experience: the Kumamon overload and tasting an Ikinari Dango.
Kumamon, the Kumamoto Mascot
Kumamon is the black bear mascot of Kumamoto prefecture, created to boost tourism to the region. Kumamon picked up popularity around Japan, and then globally. Nowadays I see Kumamon goodies even in Singapore!
Obviously, being the official mascot and all, he isn't difficult to find in Kumamoto. Right when you get off the train you immediately see a ton of Kumamon-branded goods, like cakes, magnets, shirt, everything! And it's near impossible miss this giant Kumamon head at the train station lobby.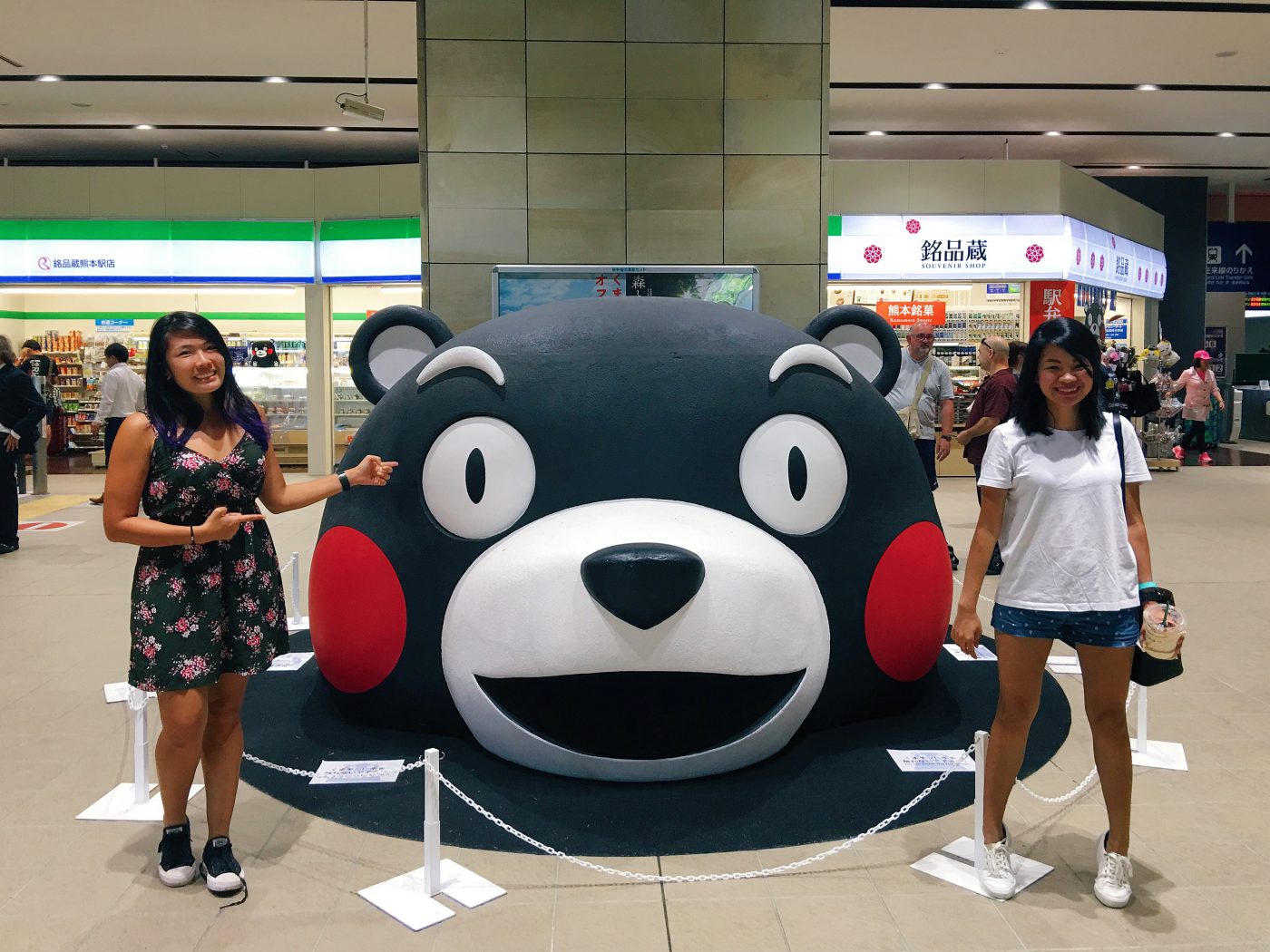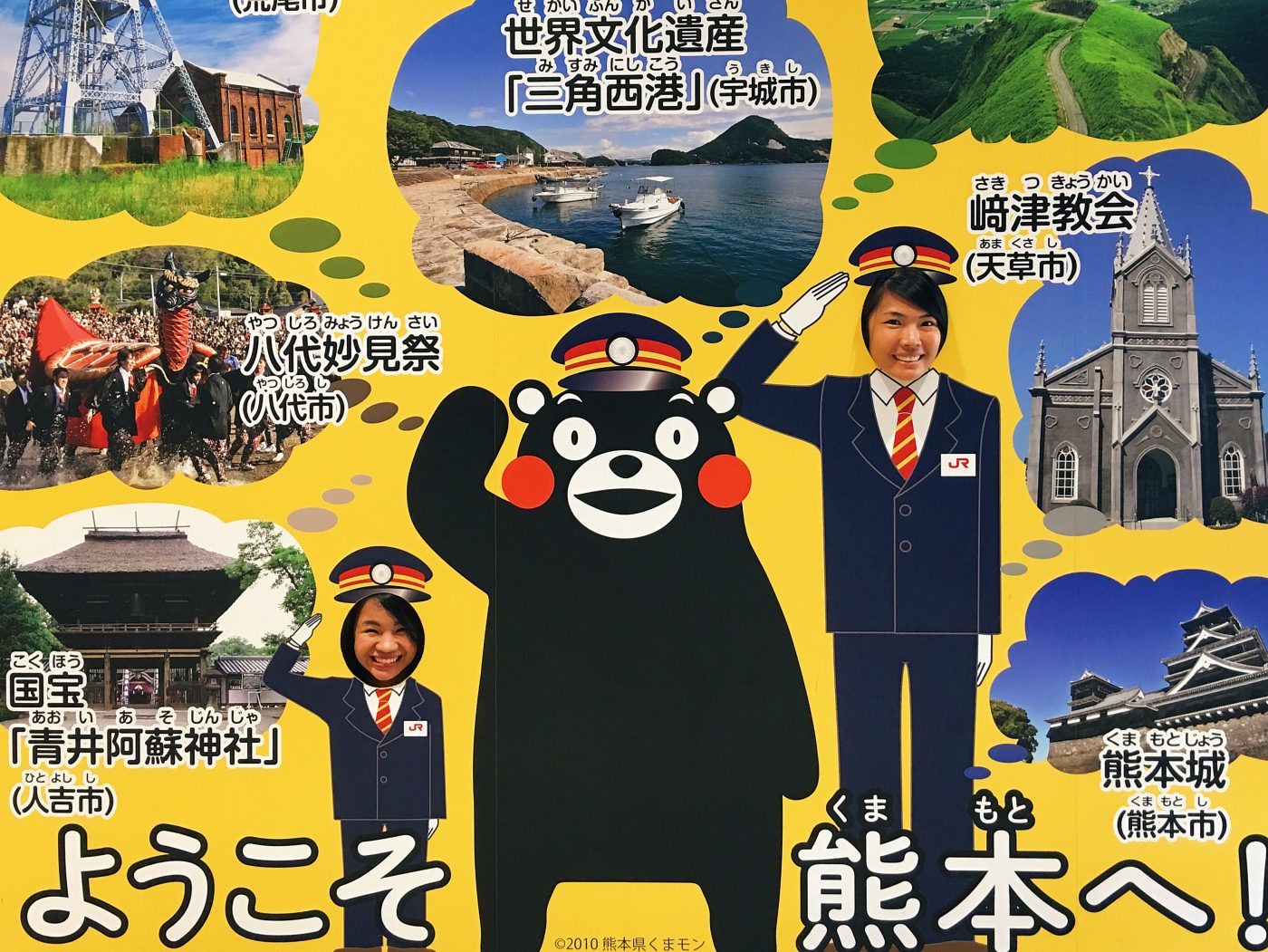 If you love Kumamon, there is even a dedicated area called Kumamon Square where you can get even more Kumamon items.
Ikinari Dango
Ikinari Dango is a Kumamoto dumpling snack filled with red bean paste and sweet potato. "Ikinari" is Kumamoto slang for "sudden" so the literal translation of this snack is "sudden dumpling" or "instant dumpling" since the dumpling can be very easily prepared! You can find Ikinari Dango everywhere in Kumamoto, including the train station's souvenir store.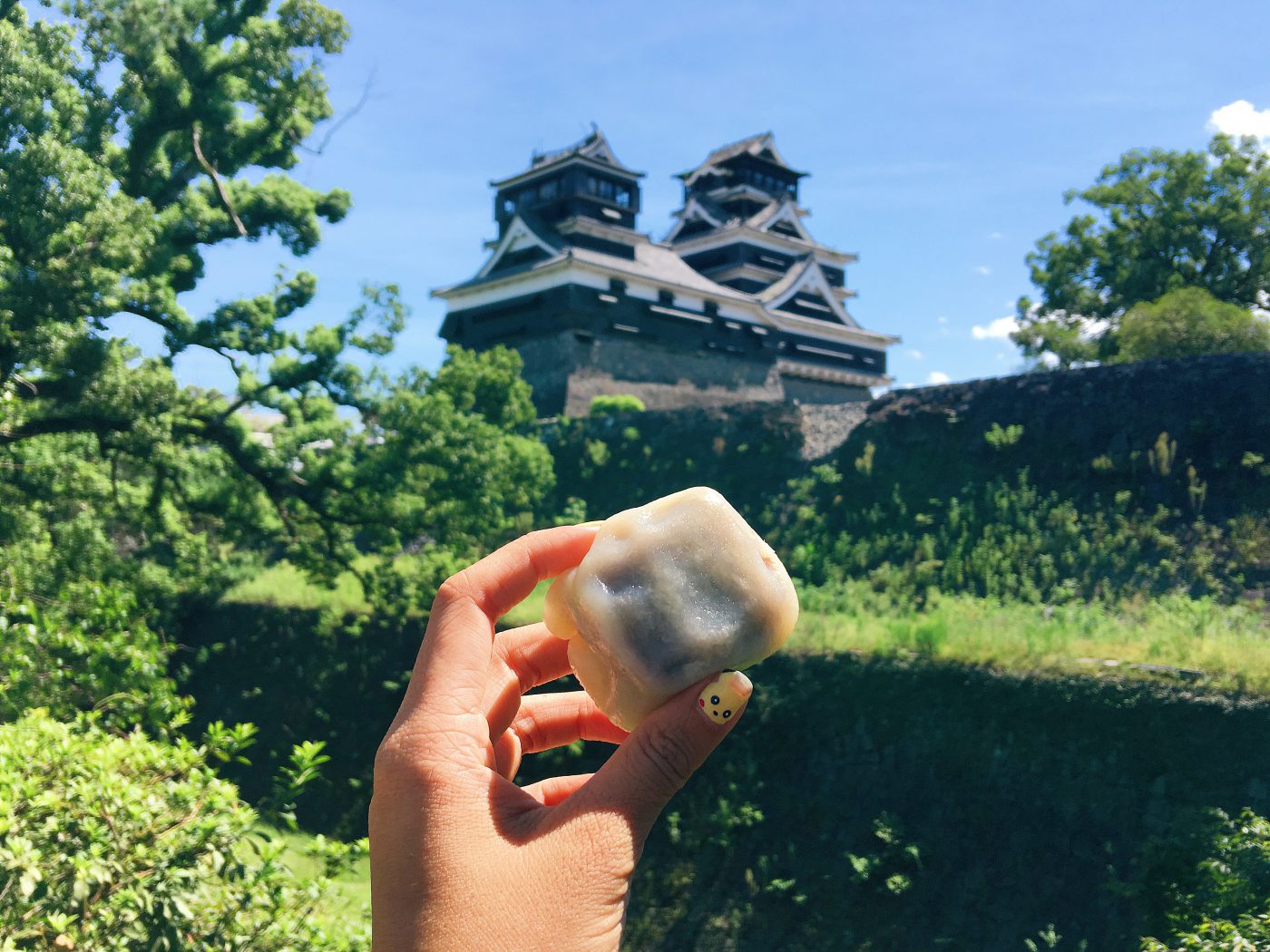 Visiting Kumamoto after the big earthquake
The question I had in mind before visiting Kumamoto was whether it was worth it – considering the main attraction, the Kumamoto Castle, is closed indefinitely. I had read before that it would take some time (years!) to fully restore and repair the earthquake damage.
But, I do think it's still worth a visit even if it's a short one. Besides there are a lot more to Kumamoto other than the castle! My advice would be to check on road/transportation closures before you go.
Kumamoto Earthquake Resources (English):
I will now end this post with something interesting we saw on the drive back down to Kumamoto station.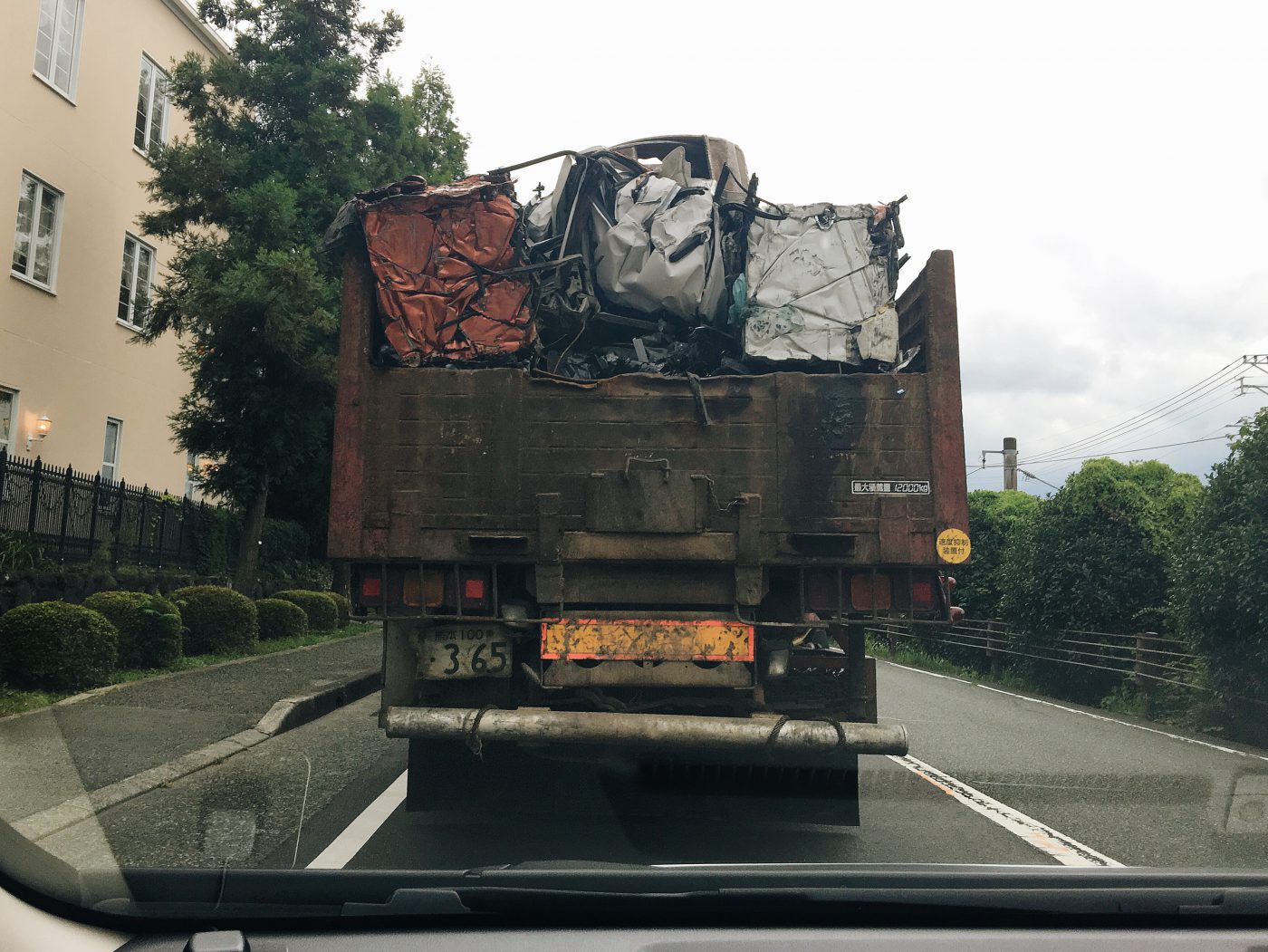 It's a bunch of old cars compressed into boxes and jam-packed into a truck, ready to be recycled. I feel like one of them is going to unroll itself into a Transformer…
And that wraps up my experience of visiting Kumamoto.
Are you planning a trip to Japan? Check out my posts from Kyushu and Japan!