We were invited to a friend's destination wedding at AYANA beach resort in Bali. As the wedding spanned over multiple days (it was an Indian wedding after all!) and we would be traveling with our toddler for the first time, I was keen to simplify any type of logistics. Thus, we decided to stay at the resort for the wedding festivities – one less thing to worry about!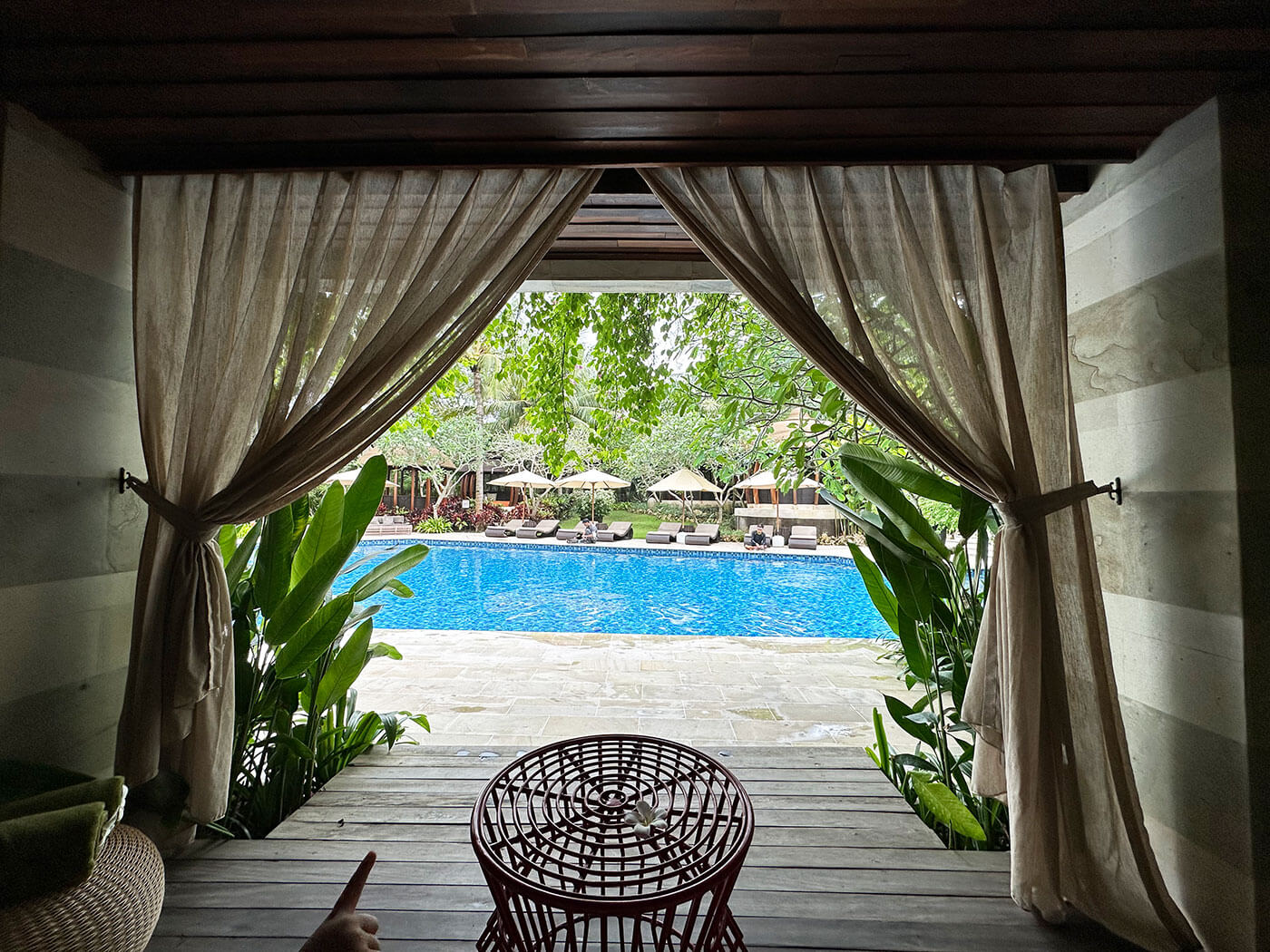 This wasn't my first time in AYANA though. I've been to the resort back when it first opened in 2009, and I've also visited their highly acclaimed Rock Bar. I have done a few stays at resorts, but when it comes to Bali, we normally prefer accommodations closer to town and so I never stayed at any resorts in Bali.
Booking a room at AYANA Bali
While looking up rooms at AYANA resort, I realized there are actually four hotels within the resort: AYANA Resorts and AYANA Villas (part of the original resort opened in 2009), AYANA Segara (newly opened on November 2022!), and RIMBA by AYANA (opened in 2013).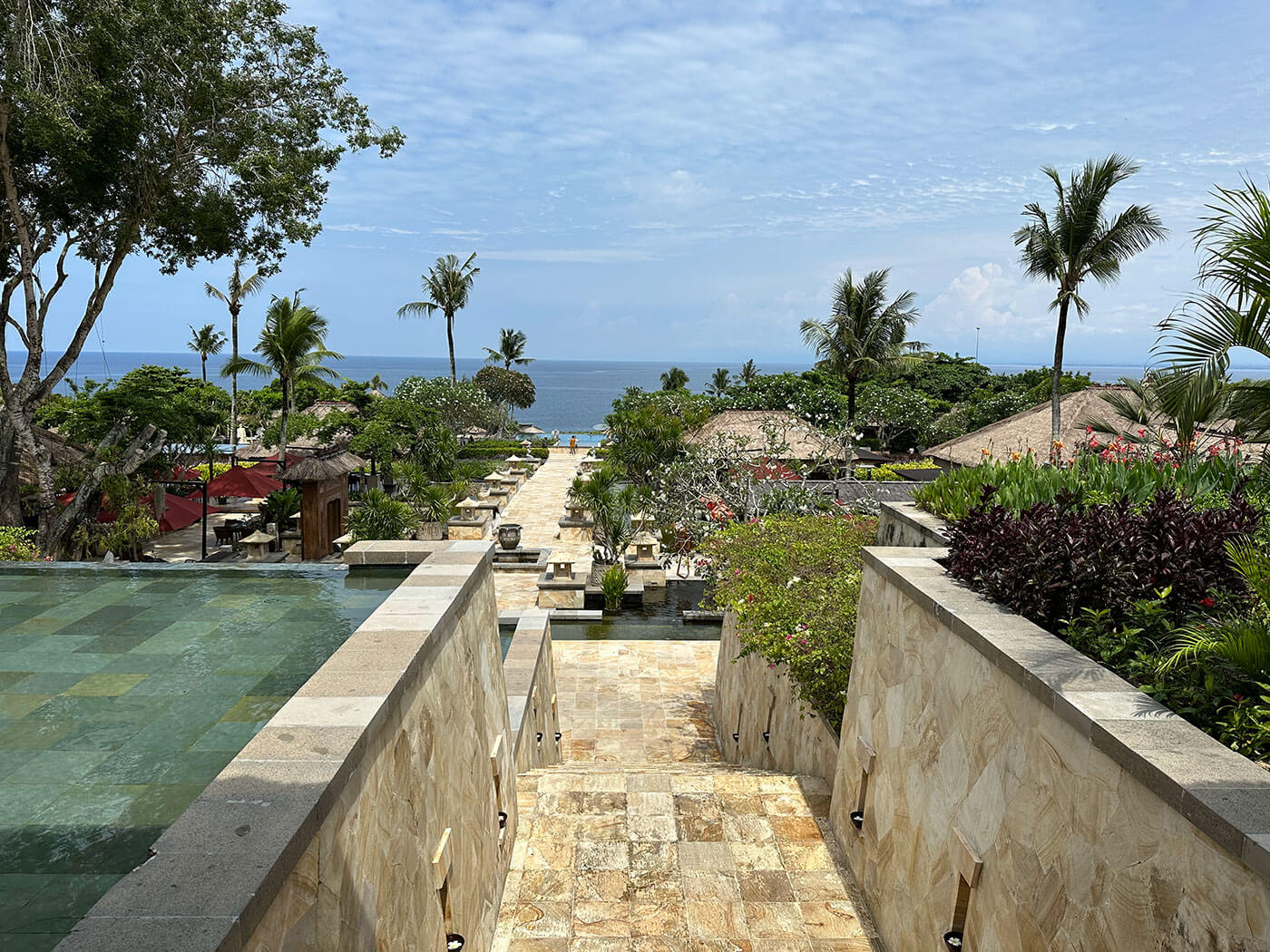 I drilled through all the options. The main AYANA resorts and villas definitely looked the best and most luxurious. But for us, staying at the main AYANA resort wasn't important. We just wanted the most affordable option while still staying on the AYANA resort ground. With the wedding festivities going on, we knew we weren't going to be staying in the room too long.
The other option was AYANA Segara, which we did get to visit during our stay. But at the time of booking, Segara was not yet open. Even when we were visiting the resort, we could see parts of it are still being built.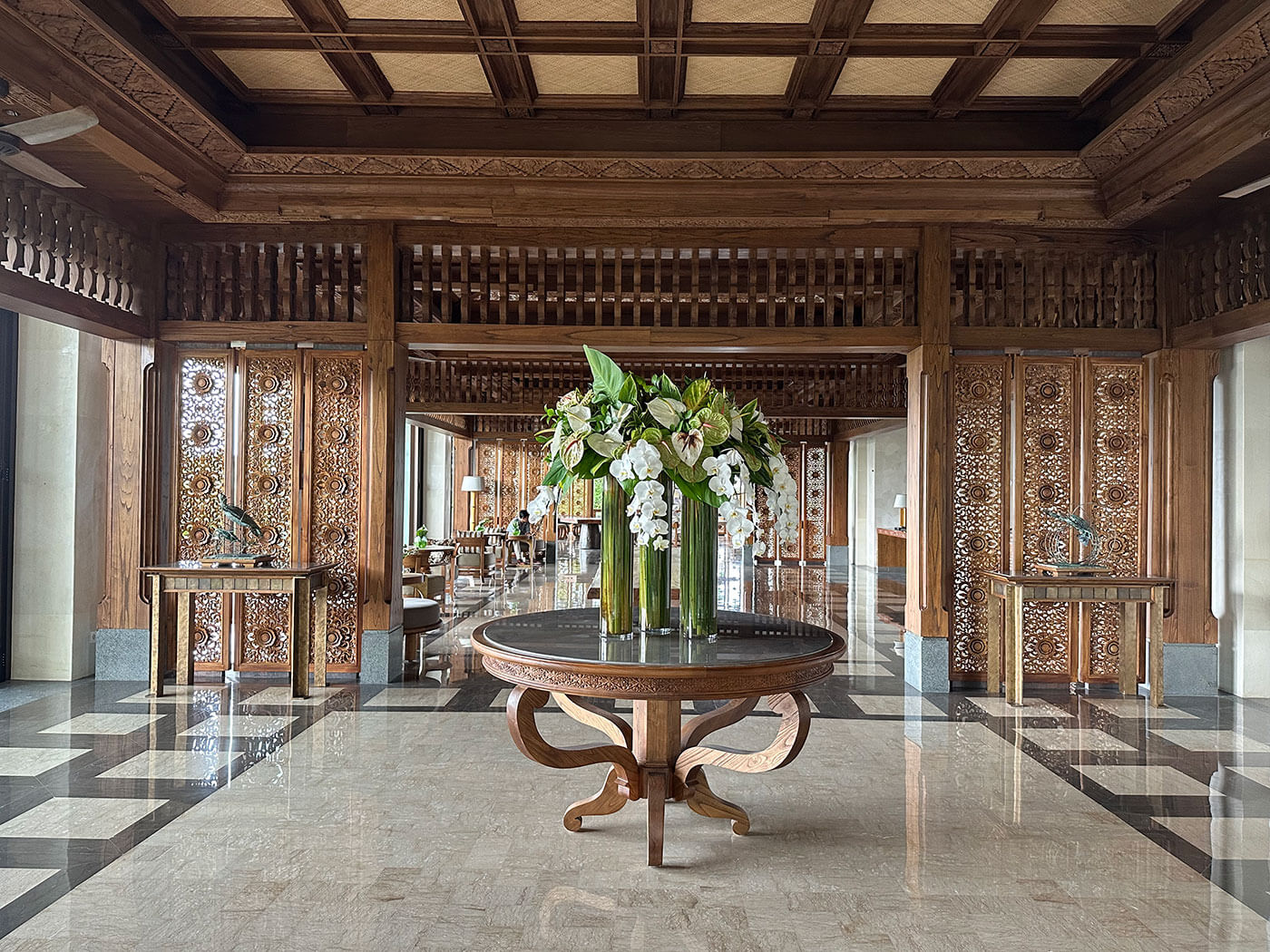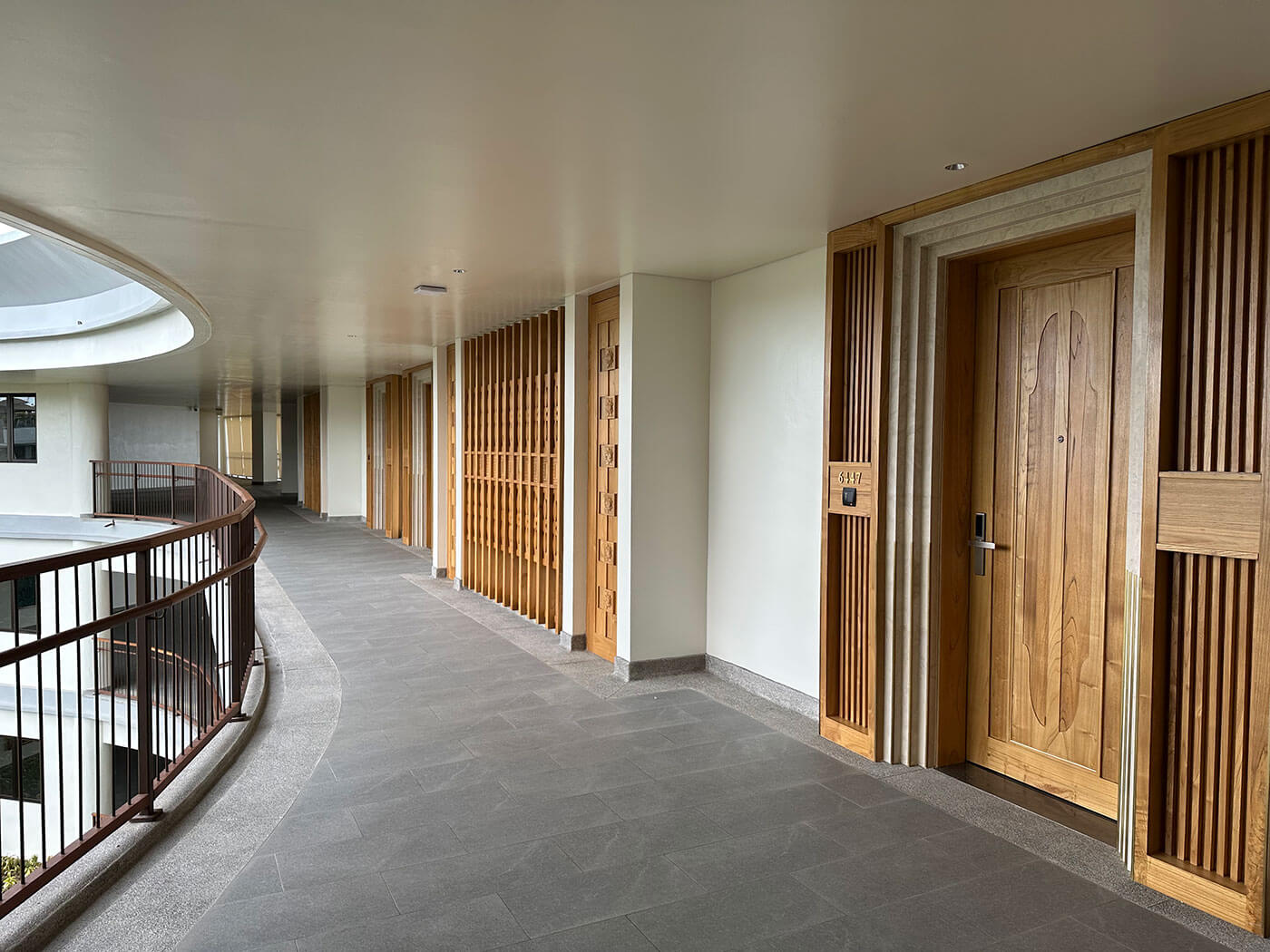 So that pretty much leaves only RIMBA as a viable option. I learned that as RIMBA guests, we could still enjoy all the facilities of the other AYANA hotels in the resort. That further sealed the deal for me and so I booked a Hillside / Resort view room at RIMBA.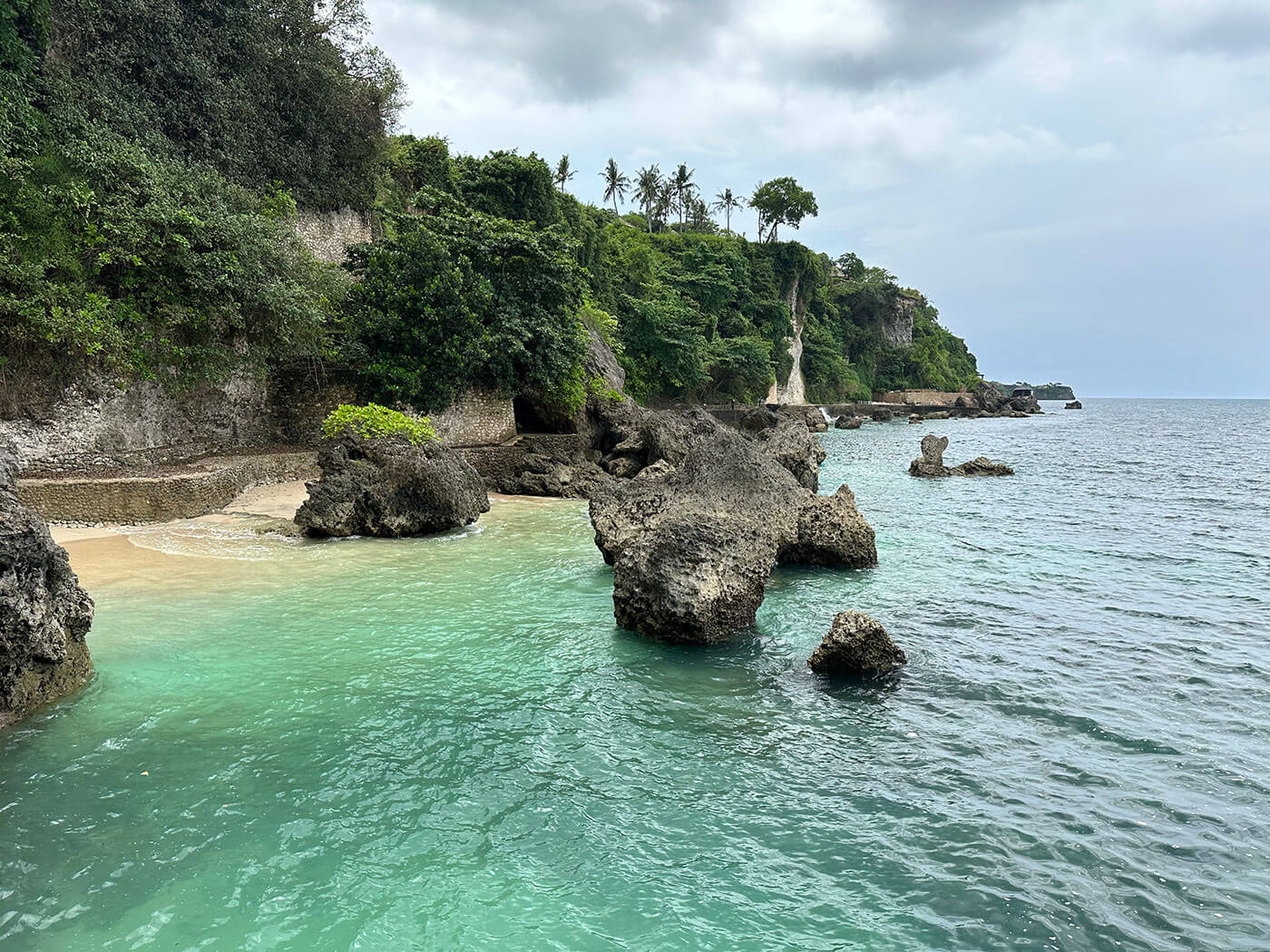 Arriving and checking in at RIMBA by AYANA
Checking into RIMBA was very easy. Upon arriving at the lobby, we were immediately given a welcome drink and a Frangipani flower garland.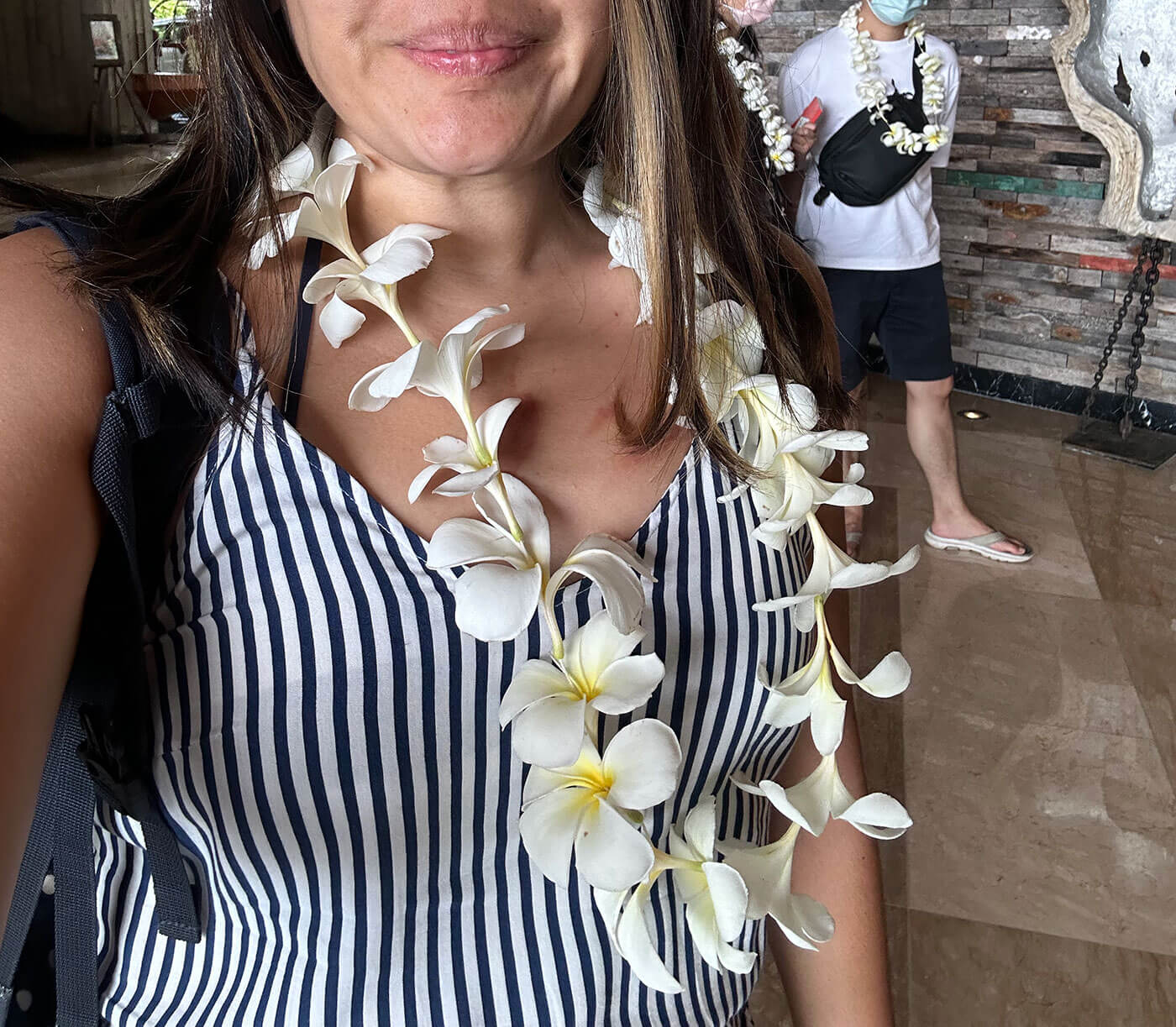 There was a bit of a queue at check-in because we were arriving at peak time when everyone else wanted to check in too (3 PM), but everything went smoothly and we were in our room within 20 minutes!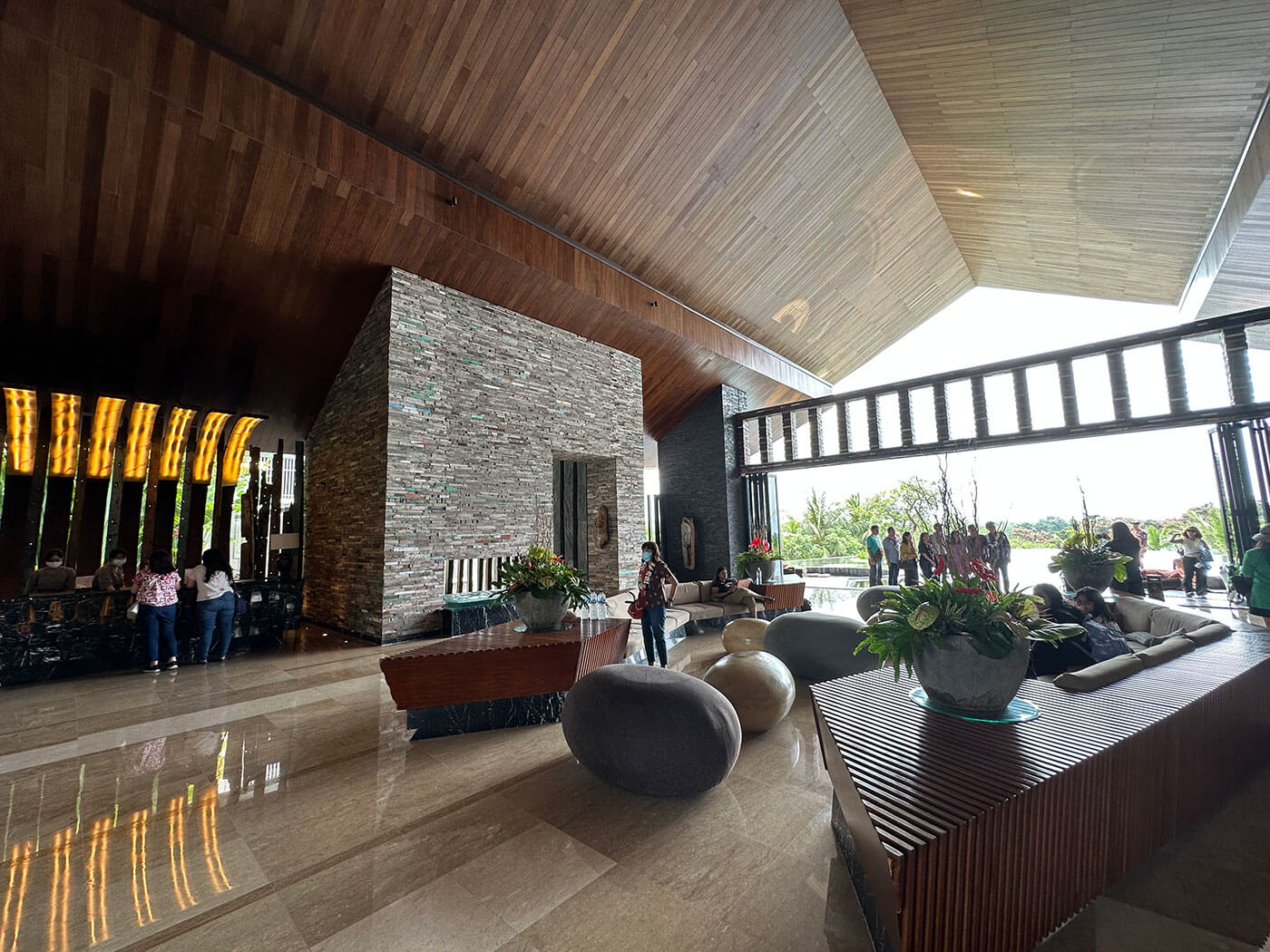 Resort view room review at RIMBA by AYANA
The Resort view room at RIMBA is the most affordable option in the entire AYANA resort. It doesn't mean they skimped out on it though, I think it was still a very nice room. It wasn't anything out of the ordinary, but it was comfortable and the furnishing was nice.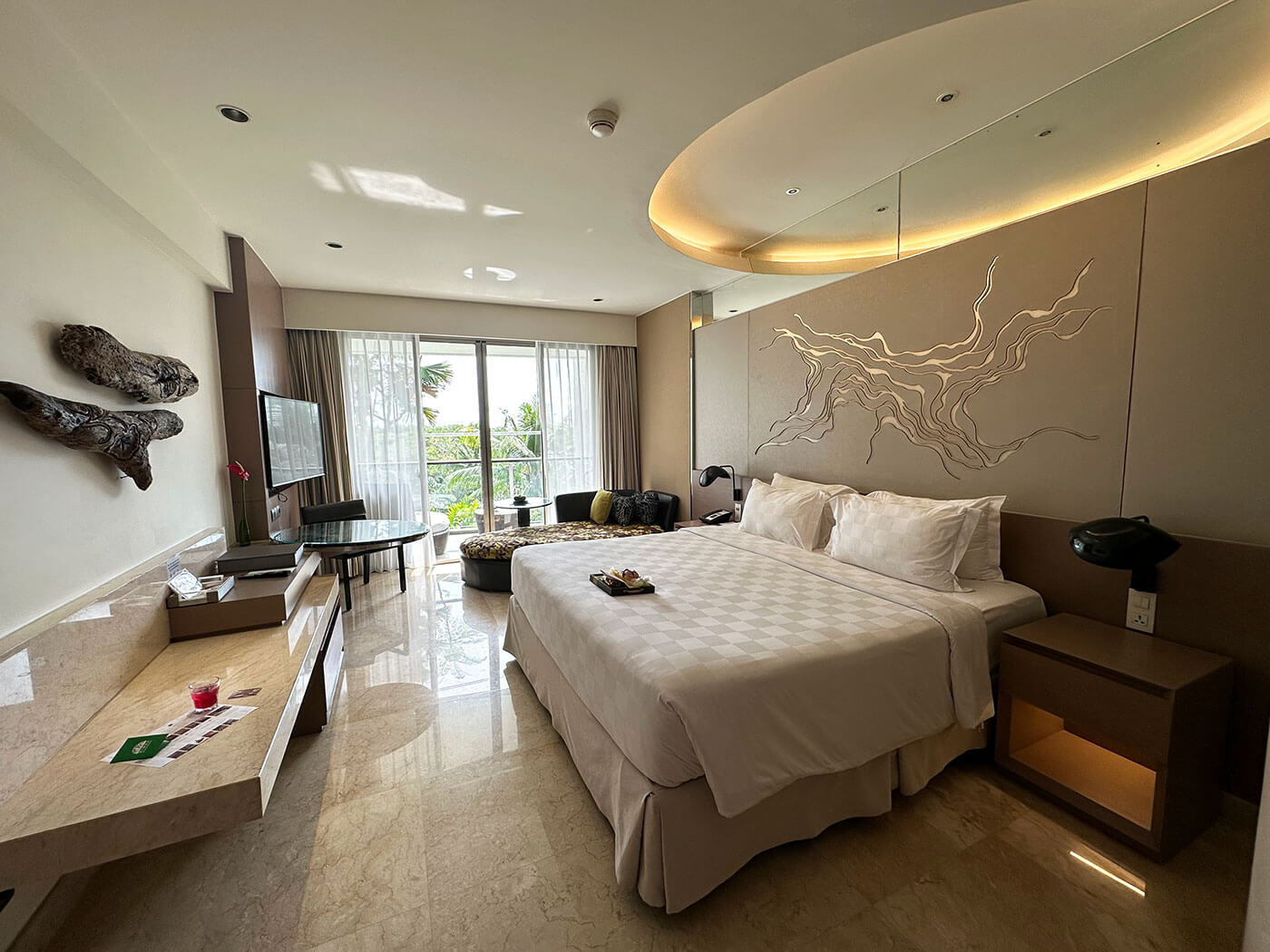 Our room was on the same level as the lobby on the second floor. We could see a little bit of the cabana pool from the balcony. Otherwise, there wasn't much to write about the view. The bathroom was basic – there is a circular bathtub that also acts like a shower, a small sink, and a toilet.
Overall, it's a comfortable room to be spending your time in and very worth the money if you want to stay at AYANA resort without breaking the bank.
➡️ Book a room at RIMBA by AYANA
Food options at AYANA Bali
AYANA is a large resort that caters to thousands of guests every week. There are a variety of dining options in the resort, but we did not get to visit more places since we were mostly involved in the wedding festivities during our stay.
Here are the two that we checked out during our stay:
1. To'Ge Restaurant at RIMBA
If you're staying at RIMBA, To'Ge is the restaurant where you'd be having the breakfast buffet. My booking did not include breakfast, but we did pay for the buffet for one of the mornings.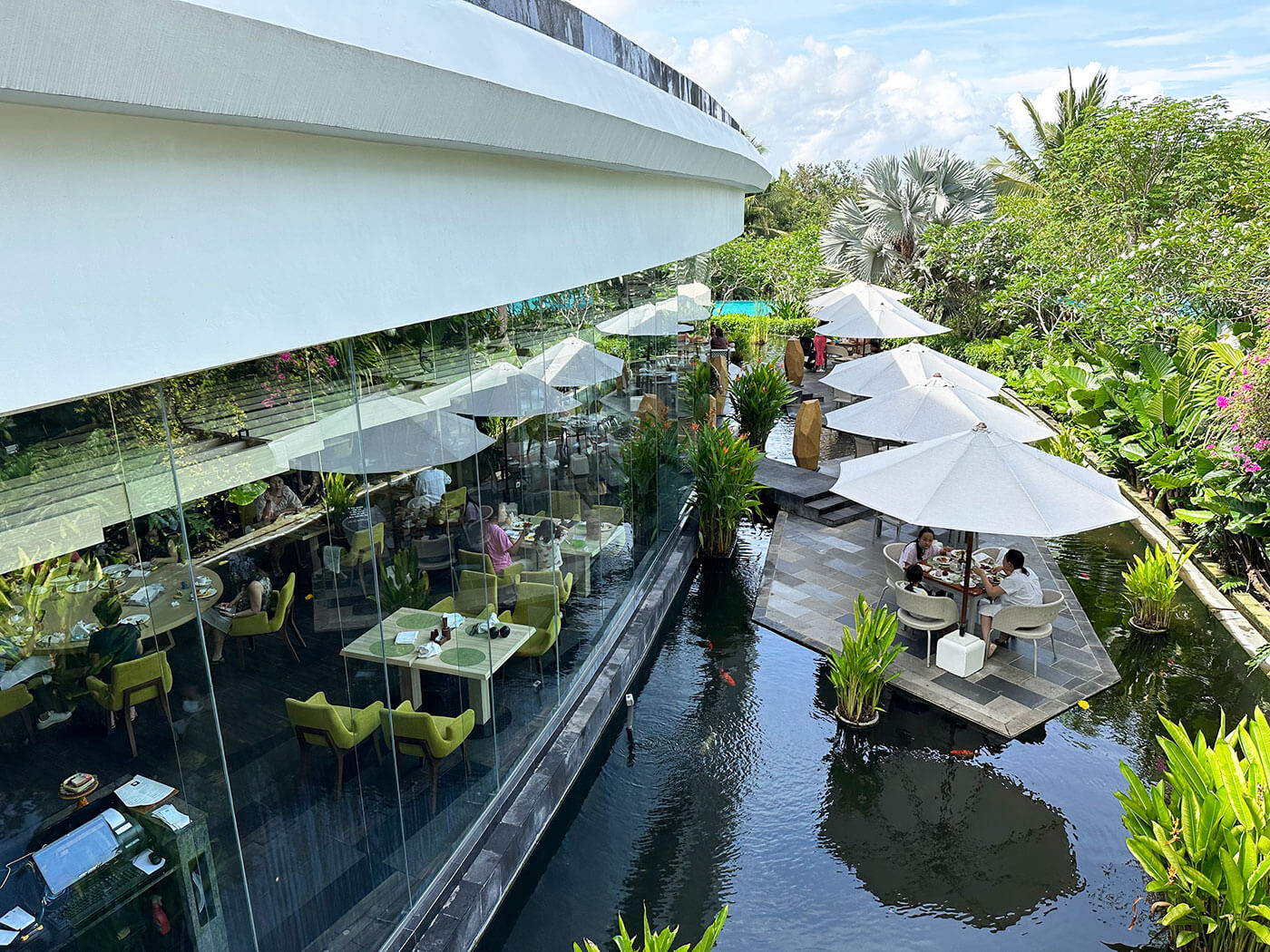 The breakfast buffet includes both western and local fare, as expected from resorts in this region. While the breakfast buffet was good, I'm not convinced it was worth the price tag (Rp 441,650 per person/night when I was there). I wouldn't recommend having the breakfast buffet if your booking doesn't include it.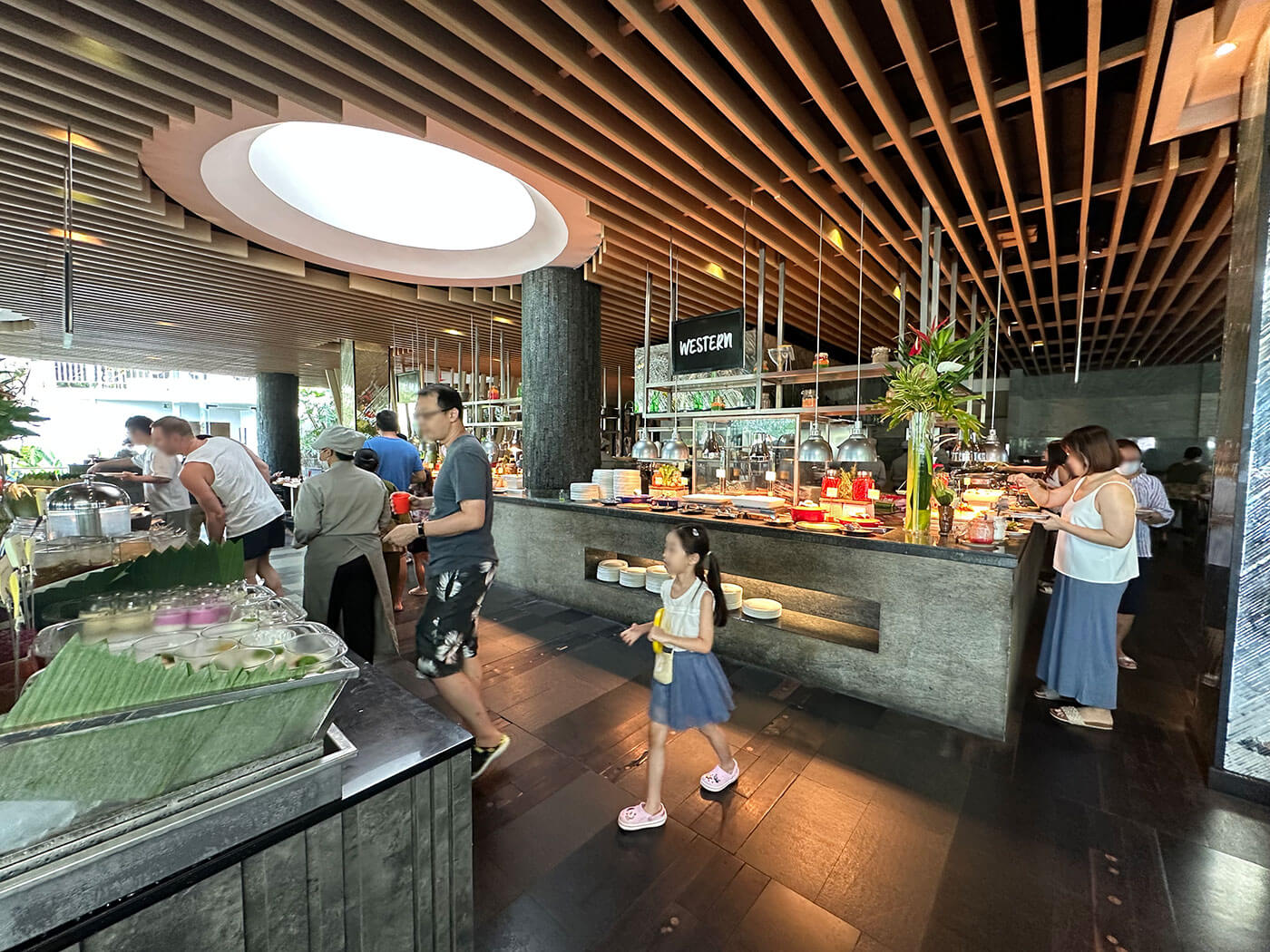 There is however an a la carte menu that you can request even during breakfast. I thought this was a better option and price, so not all is lost! We also came back here for lunch and I found it delicious, albeit pricey for Bali. But, I guess it's expected when staying at a resort.
2. Padi Restaurant at AYANA
We went to Padi at the AYANA resort to try out their breakfast menu, and I was pleased. I don't have photos but I was impressed with their Soto Ayam, a type of Indonesian chicken soup, because it was the most authentic tasting I had the entire time I was in Bali.
Facilities at AYANA Bali
Guests in AYANA can enjoy facilities in all three resorts regardless where you are staying. As RIMBA guests, we have access to all the facilities of the other AYANA hotels in the resort, so of course we checked out all the pools in the other hotels too.
1. Swimming Pools at RIMBA
RIMBA has five pools within its estate: Upper pool, Lower pool, Cabana pool, three monkeys pool, and Unique pool. Out of these, the three monkeys pool and the unique pool are not open to children.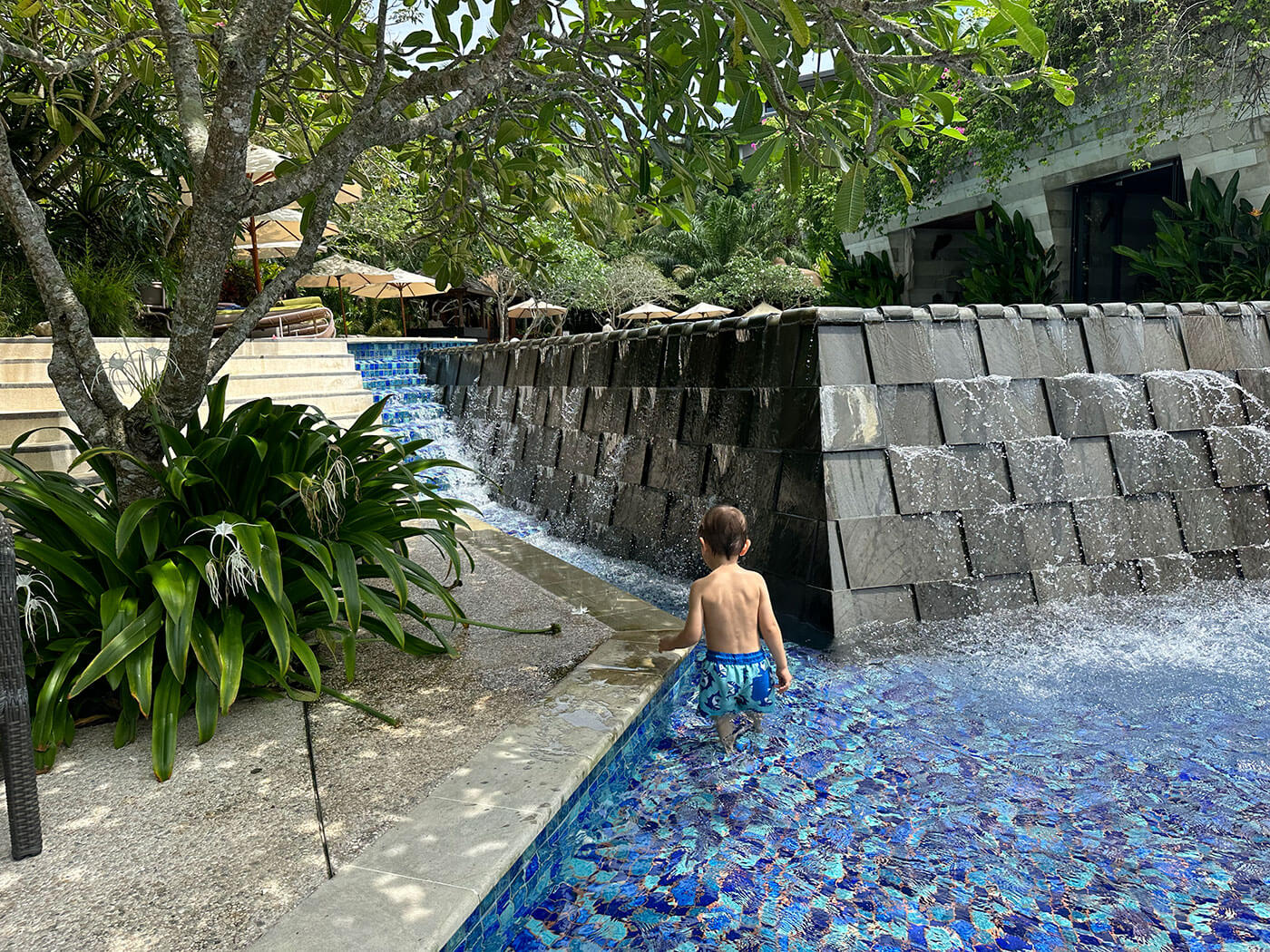 We mostly spent our time at the cabana pool and the lower pool. The lower pool is where most kids are – there is a waterfall, a shallow area, and a water slide.
The cabana pool, as the name might have suggested, has a few cabanas you can occupy for the day if you spent a minimum of Rp 500,000 on food and beverages. The minimum is really not that difficult to hit given the prices in the resort.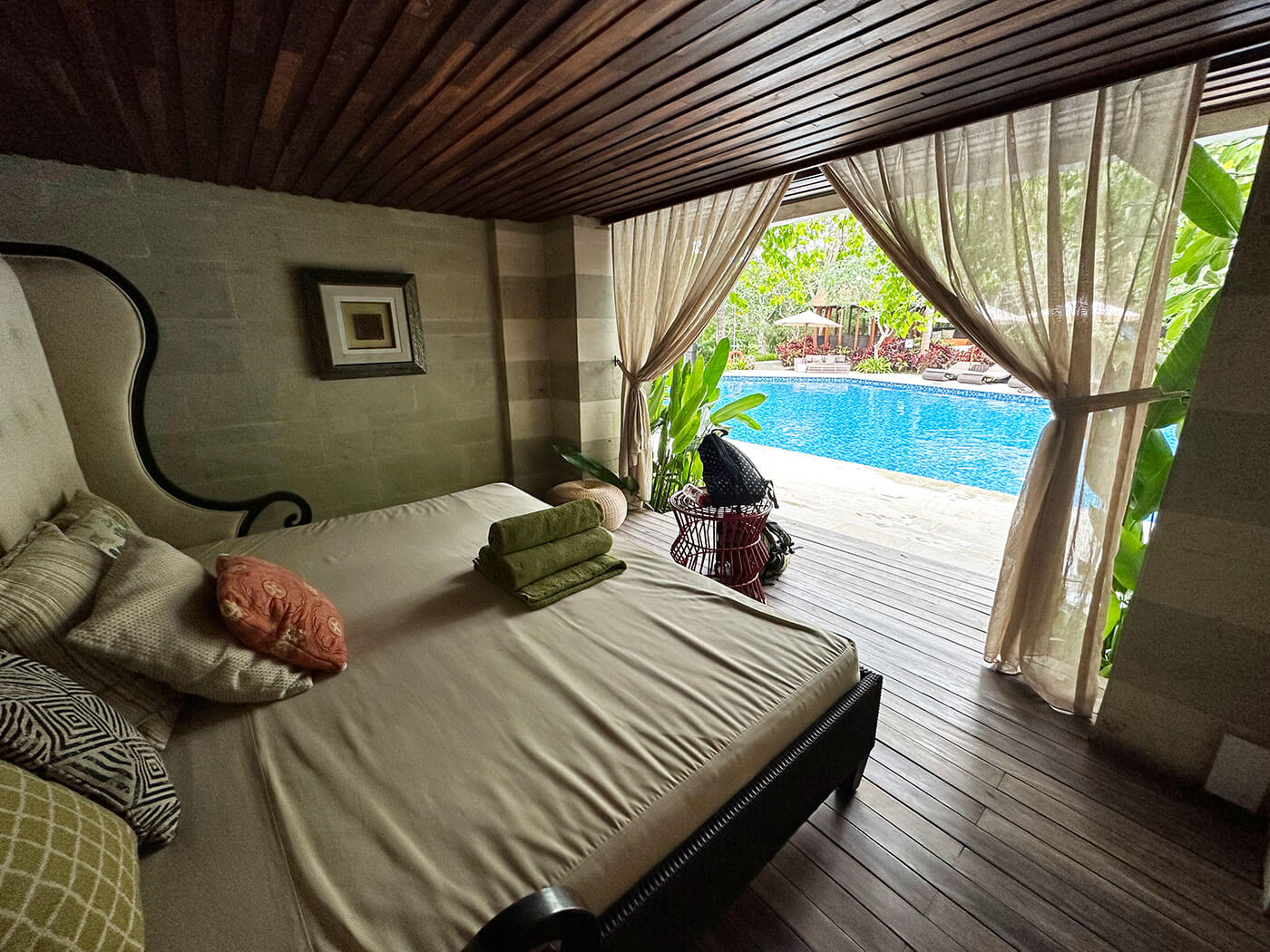 We had a night flight and had already checked out of the hotel by 2 pm and needed a place where we can hang out for a few hours before we head to the airport. So we got one of the cabanas and stayed there for the afternoon while my son was napping.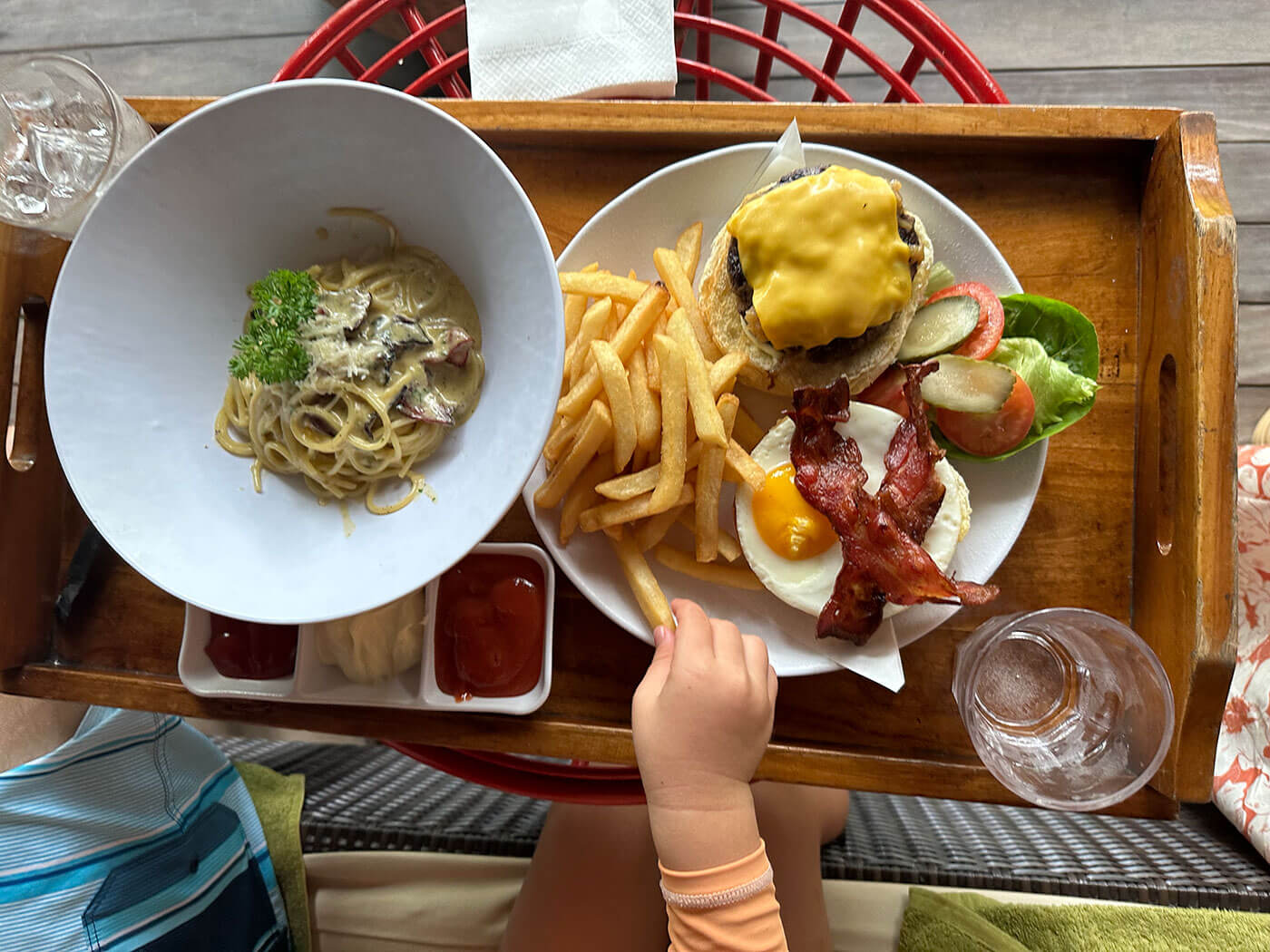 2. Swimming Pools at AYANA Resort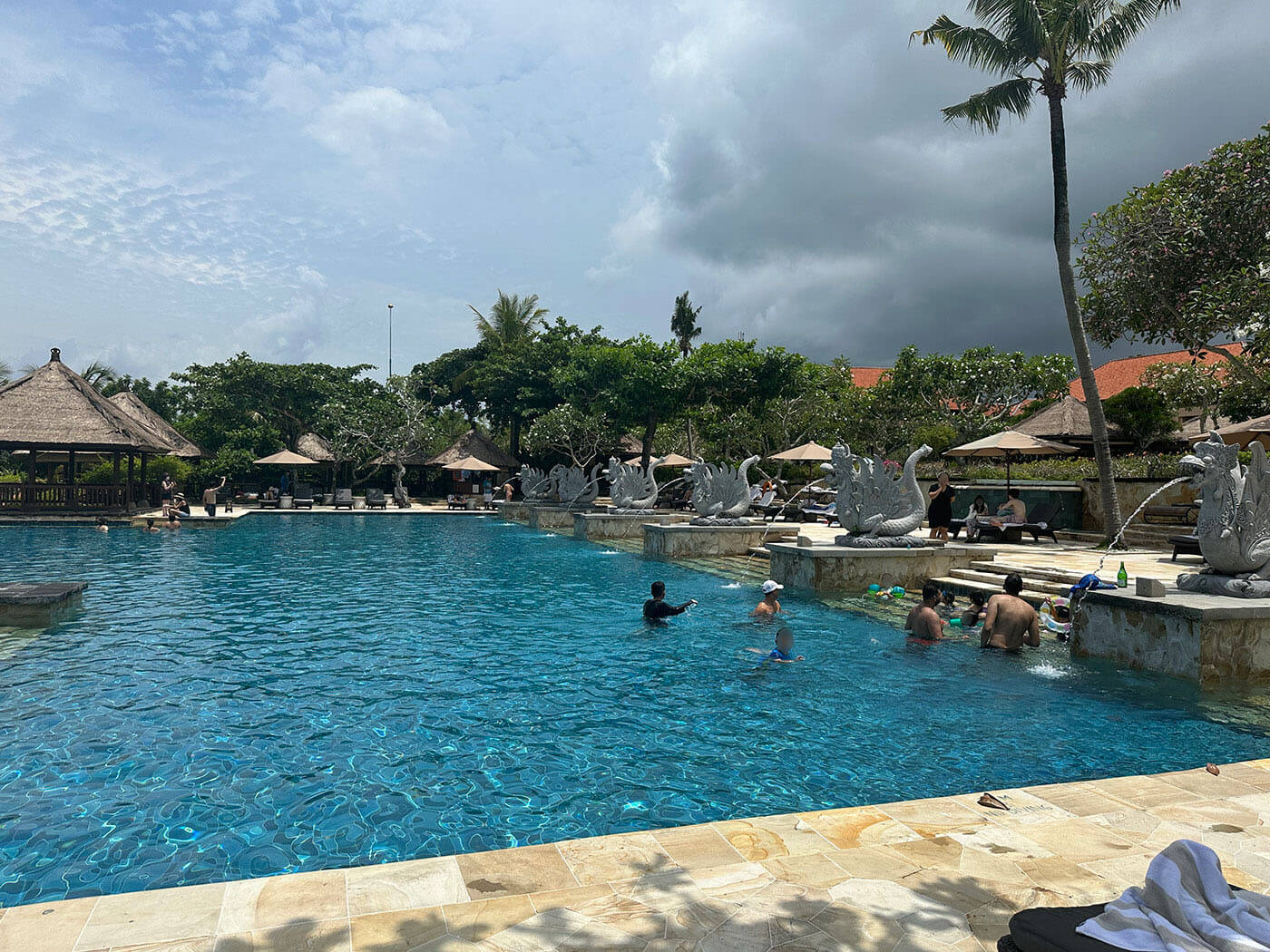 We checked out the AYANA main pool and the lower pool. We also went to the kids pool so that my son could play in the shallow pool and the water slide. I thought the kids pool was not so exciting, but my toddler played for an hour there without getting bored.
We passed by the famous Ocean Beach pool, which is a beautiful infinity pool overlooking the beach. It was sadly off limits for us as we are traveling with a child. But if it's just the two of us, I definitely would be here first thing in the morning!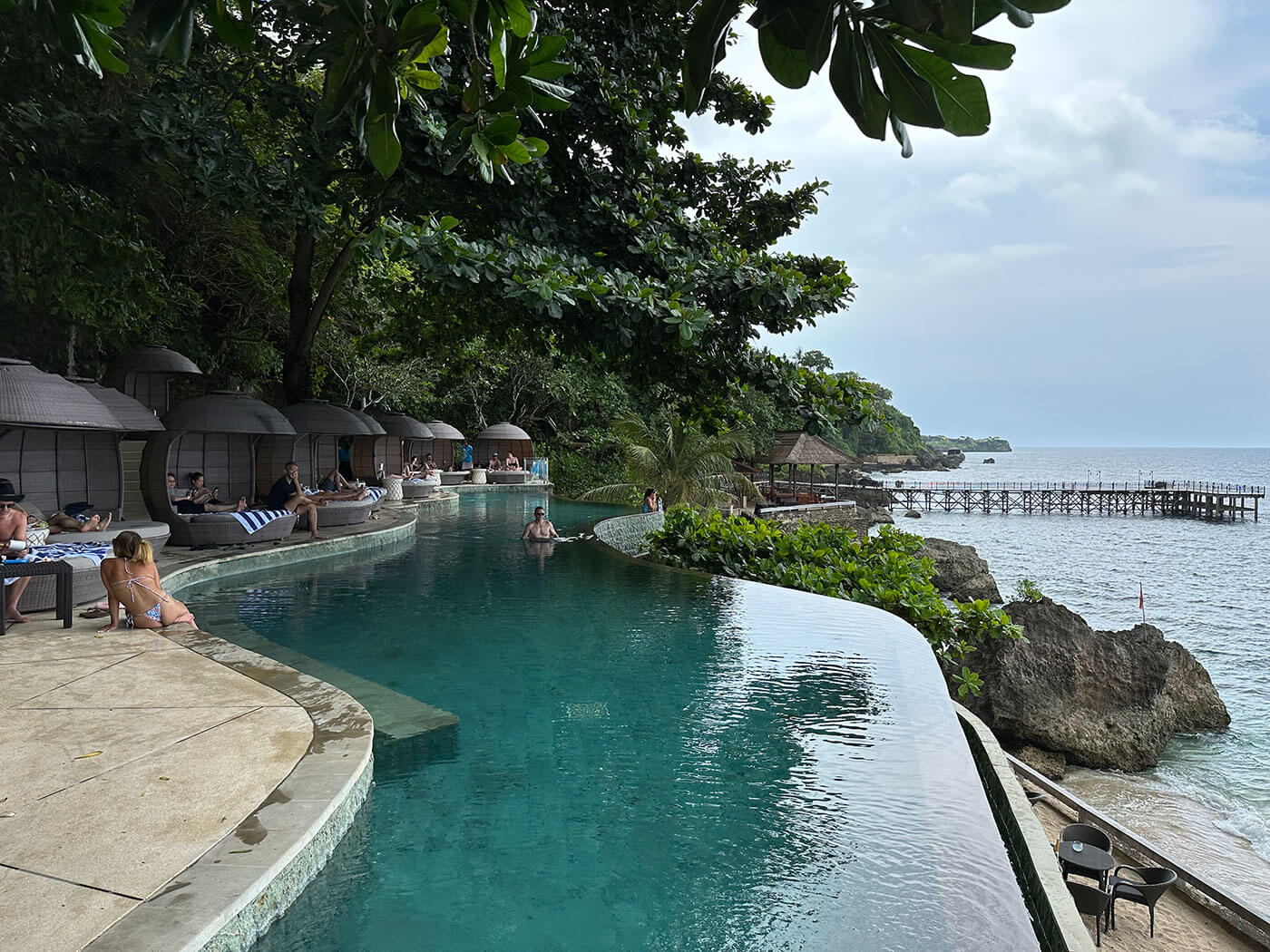 3. Shower facility in the gym at RIMBA
As I mentioned before, we had to fly out late and stayed in the resort for a few hours after we have checked out, but they still allowed us to use the pool and shower facility. The shower is at the gym inside RIMBA. There is only one shower, but you get to use all the amenities that come with it – towel, toiletries, hairdryer, and hairbrush were provided.
4. Shuttle Bus at AYANA
Going around the massive AYANA resort is made easy by these wooden open-air shuttle buses! They come every 10 minutes and takes us to all the hotels within the resort.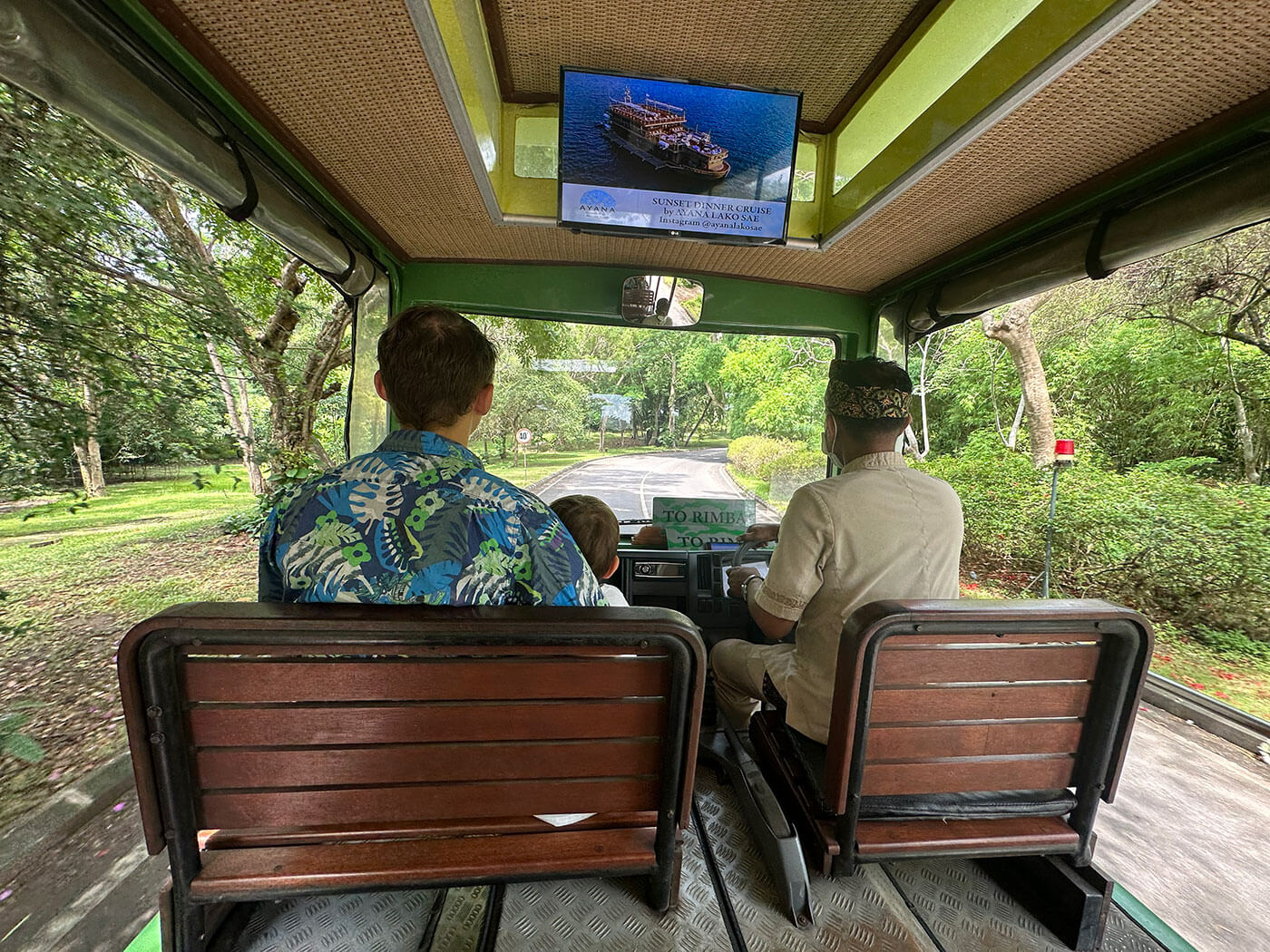 5. Kubu Beach
Kubu beach is AYANA's private beach, exclusive to their guest. We didn't get to visit during our time due to the weather and our busy schedule, but plenty of our friends did and they were raving about it.
6. Rock Bar at AYANA
Rock Bar is AYANA's famous cocktail bar, perched on a cliff along the coastline of Bali. I did not visit the bar during the current stay, but I had been here a few years ago. This place is definitely the place to be during sunset!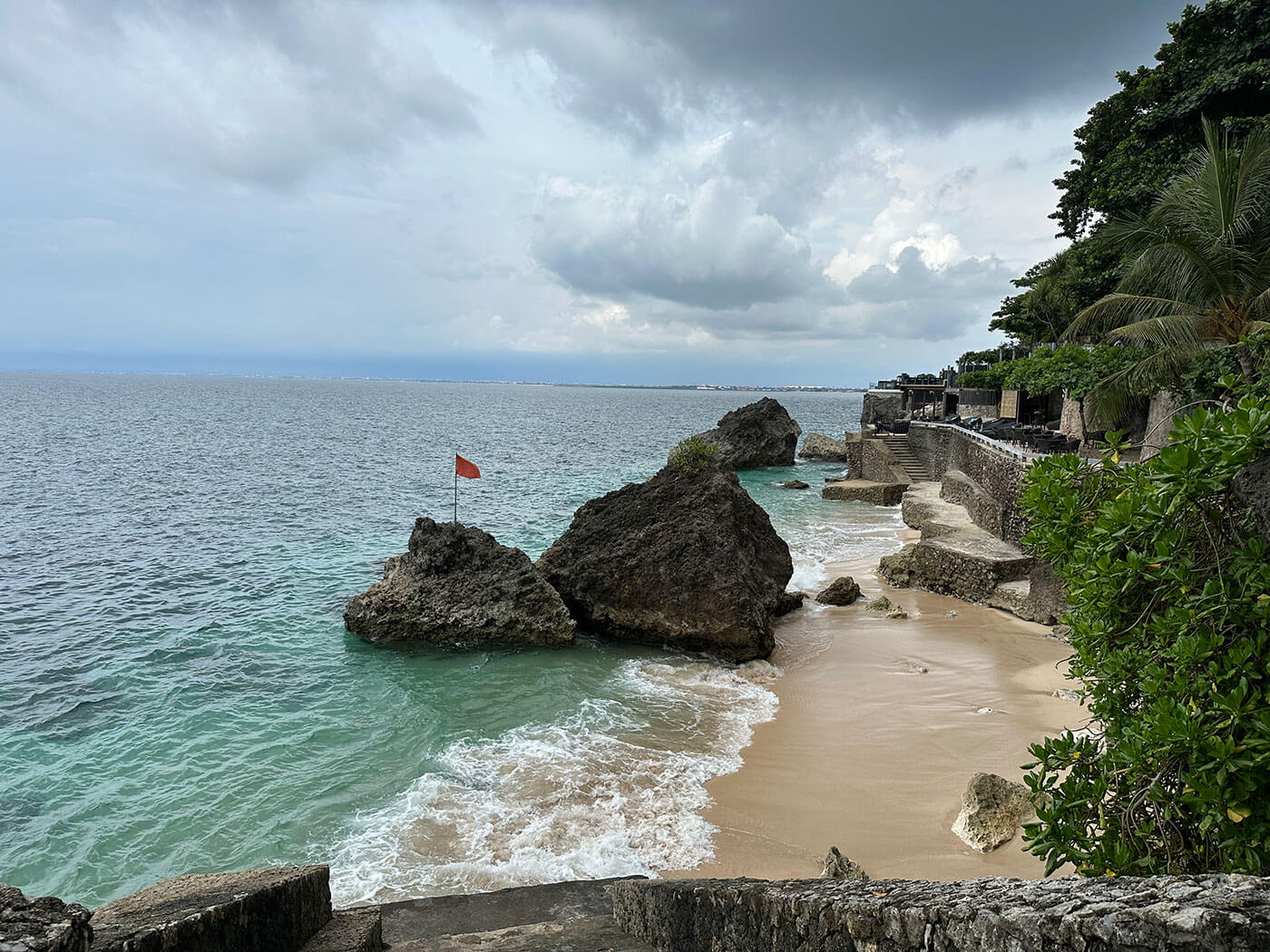 The entire AYANA resort is actually located on a cliff, and Rock Bar is located lower closer to the beach. To get to Rock Bar from the resort, you could either go down the stairs or… you could take this outdoor elevator! This was a hit with my toddler, even though it was just for a short ride.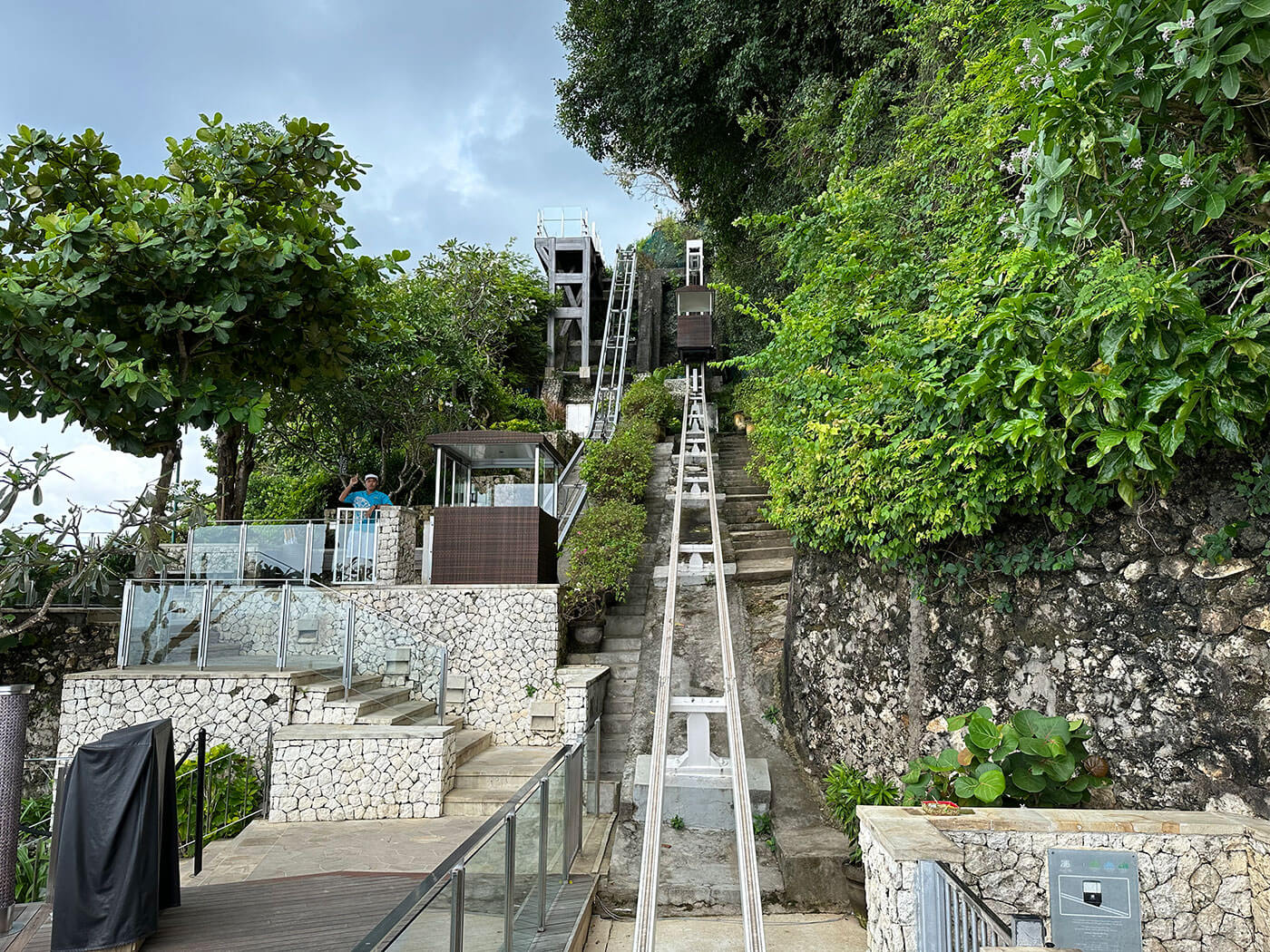 In Conclusion
Overall, I enjoyed our stay at RIMBA. There was really nothing to complain about. Even though it was advertised as the more "affordable" option in the AYANA resort and villas, I actually think the pools and amenities at RIMBA were better than the other resorts.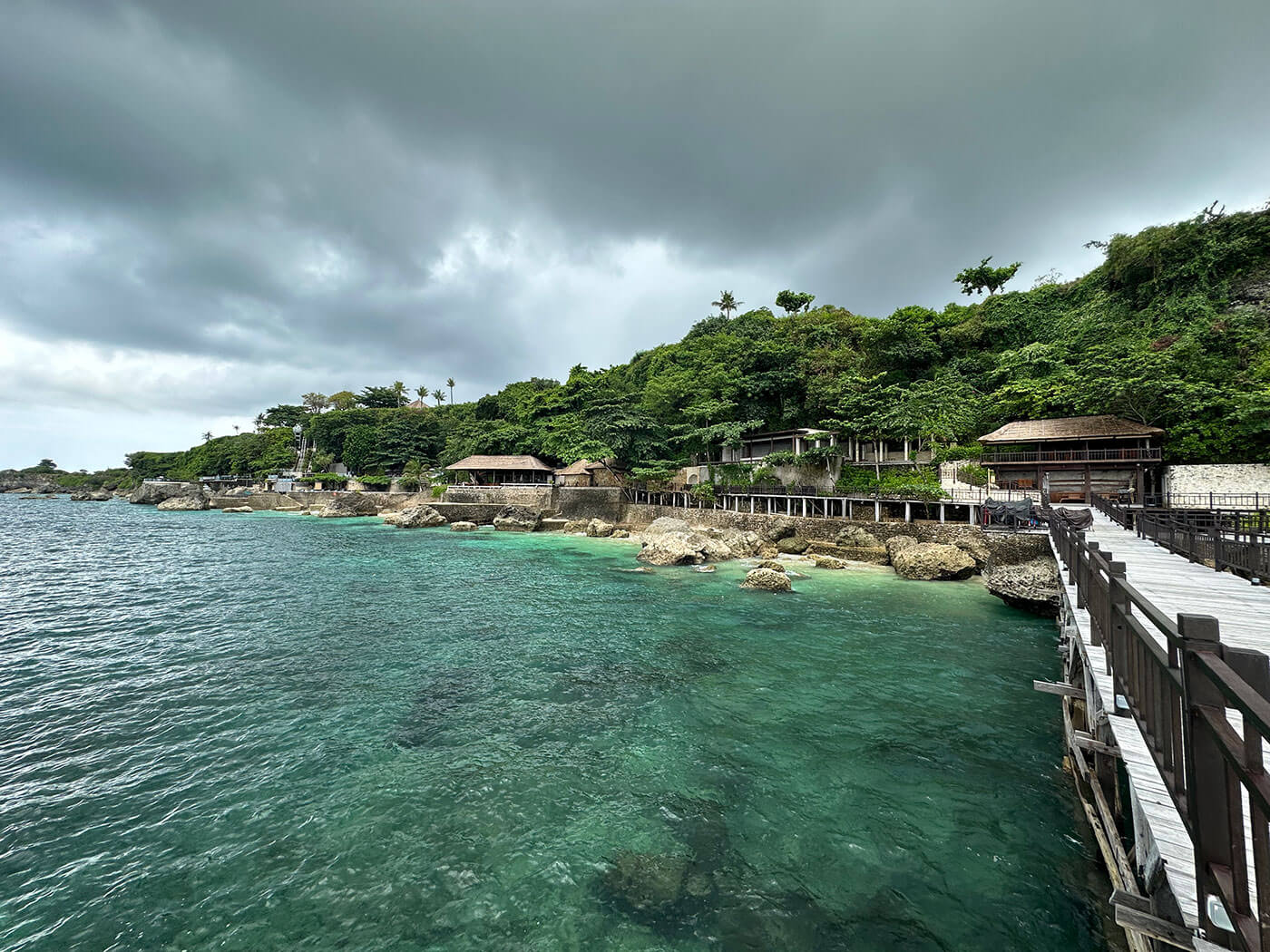 I was also impressed by the service. There were several nice things the staff and resort did for us during our stay:
I called room service to bring some bananas in the middle of the night because I told them my toddler wanted some and I didn't have any. They didn't charge us for this.
While we were dining at To'Ge restaurant, the staff gave my toddler fish food which entertained him for a long time!
I asked for a late checkout since our flight is at night, and they gave us a checkout at 2 pm. Even though we've checked out, they still let us use their pool and shower at the gym
There was never any shortage of towels in their pools.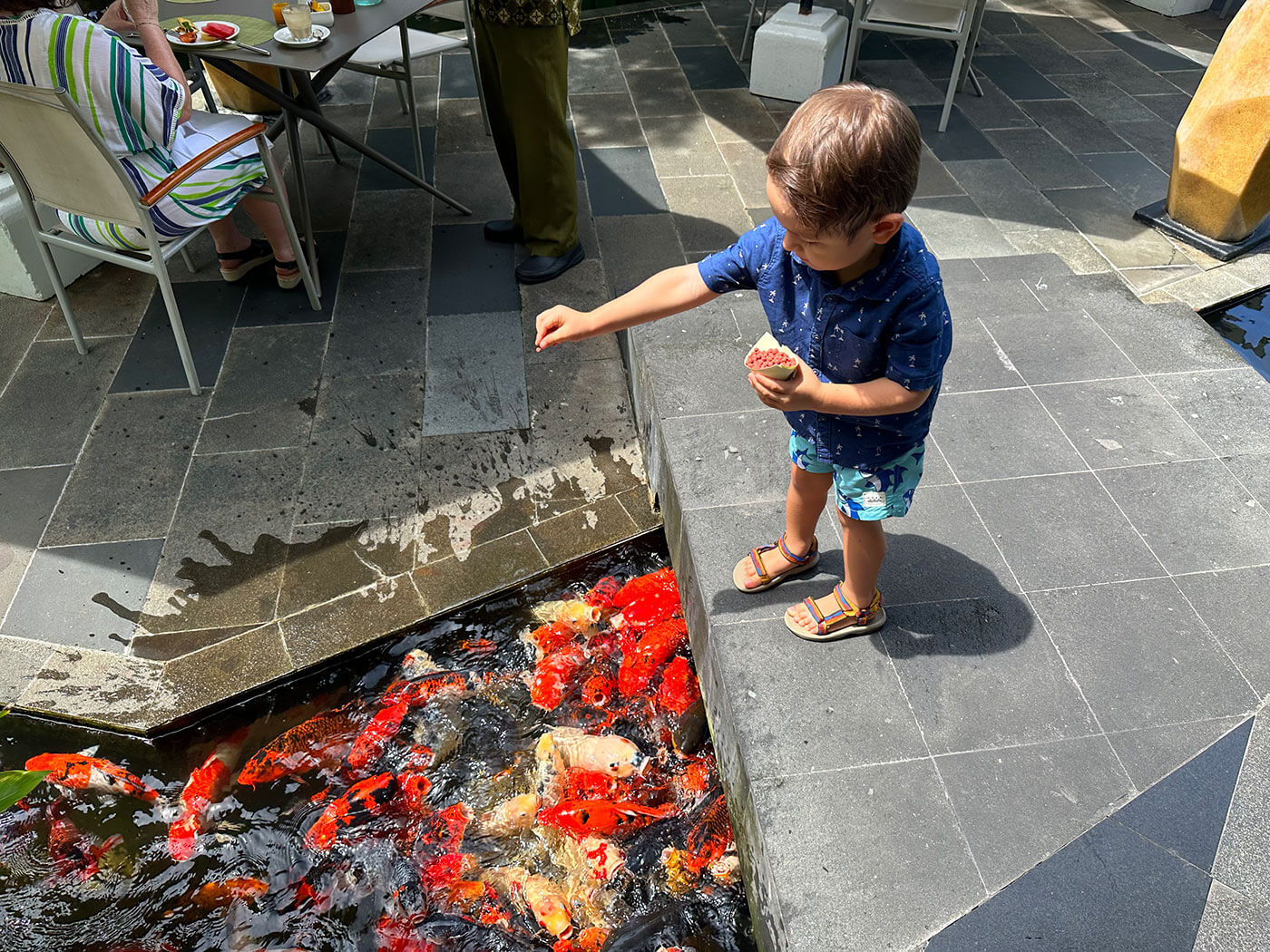 That said, I'm not too sure if I'll go back to stay in AYANA if there weren't any special events to attend, but this is only due to my personal preference and travel style.
When I go to Bali, I want to be within proximity to the streets, shops, restaurants, and cafes and walk to the beach easily. I also think I'll get bored if we were to stay here longer than we did – we stayed 3 days and 2 nights and I think we did everything we wanted to do.
And that's my experience staying at RIMBA by AYANA! Let me know if you have any questions or comments below.
Note: I paid for my own stay at RIMBA by Ayana. As always, all thoughts and opinions are honest and remain my own.