One of the most incredible sights to see on your visit to Singapore is our skyline, especially in the Central Business District area. Why? Well, if you had visited Singapore just 30 years ago, this area would have been unrecognizable from what it looks like today. Not only do we have new landmark buildings, there is an entire new area of reclaimed land that wasn't there before! I think it's a testament to Singapore's amazing strength in urban planning and commitment to becoming one of the world's most liveable cities.
So where are the best places to admire the Singapore skyline? As a local who has lived here for over a decade, here are a few of my favorite places. PS: Some of them are even free to visit!
1. Marina Bay Sands Skypark
Admission: A ticket is required to visit the Skypark. Get the tickets here. For entry after 4 p.m., you do need to book a time slot when you buy the ticket.
Marina Bay Sands Hotel is a popular hotel with a famous infinity pool at the top of the hotel, and its unique shape is undoubtedly part of the skyline itself. While the pool is strictly for hotel guests, there is an observation deck called the Marina Bay Sands Skypark which the public can visit. The Skypark will give you an incredible 360 view of the Singapore waterfront area.
If the weather is good, I recommend visiting the Skypark close to sunset – around 6:15 PM – 6:30 PM would be ideal because the sun sets around 7 PM in Singapore.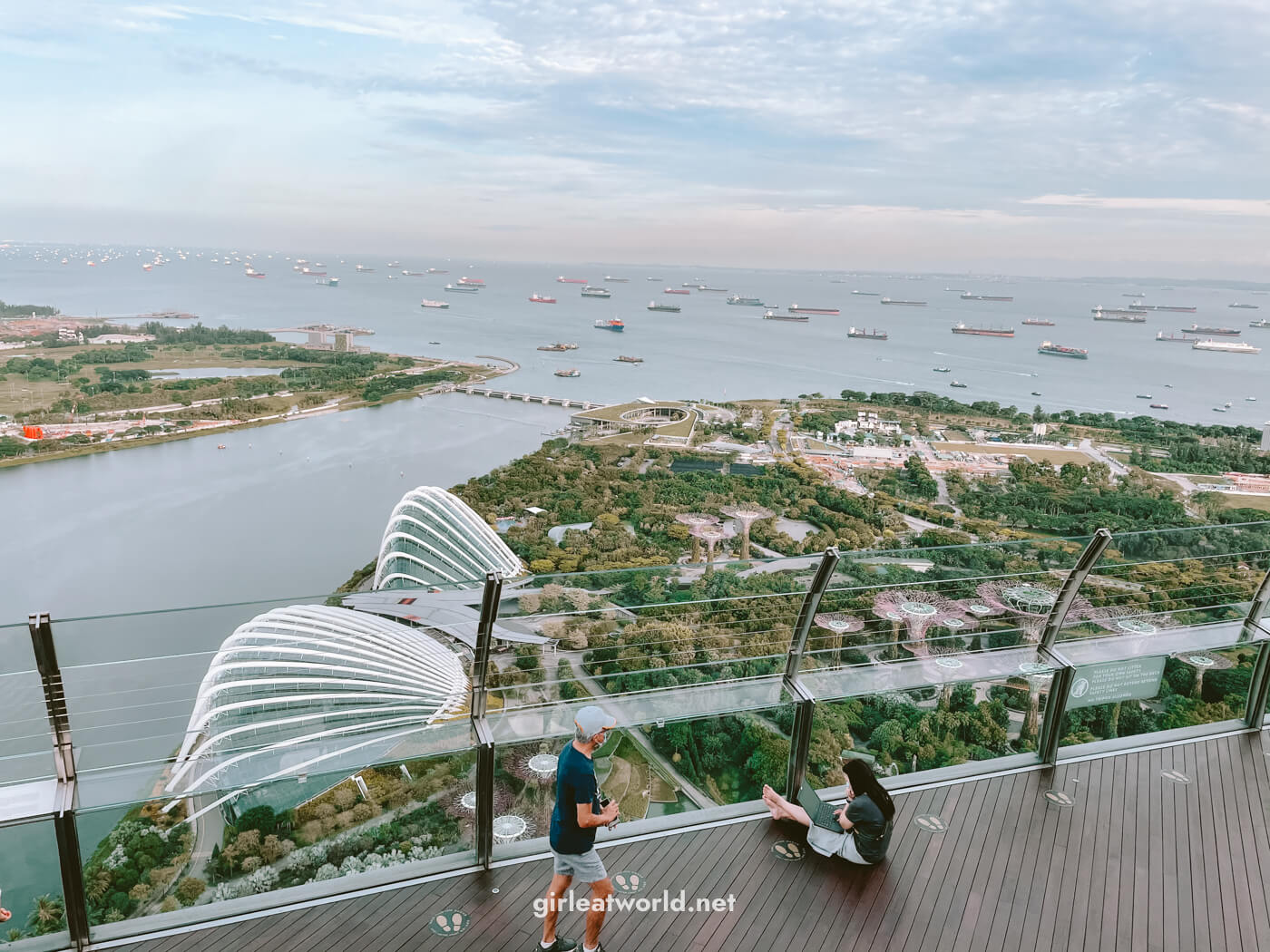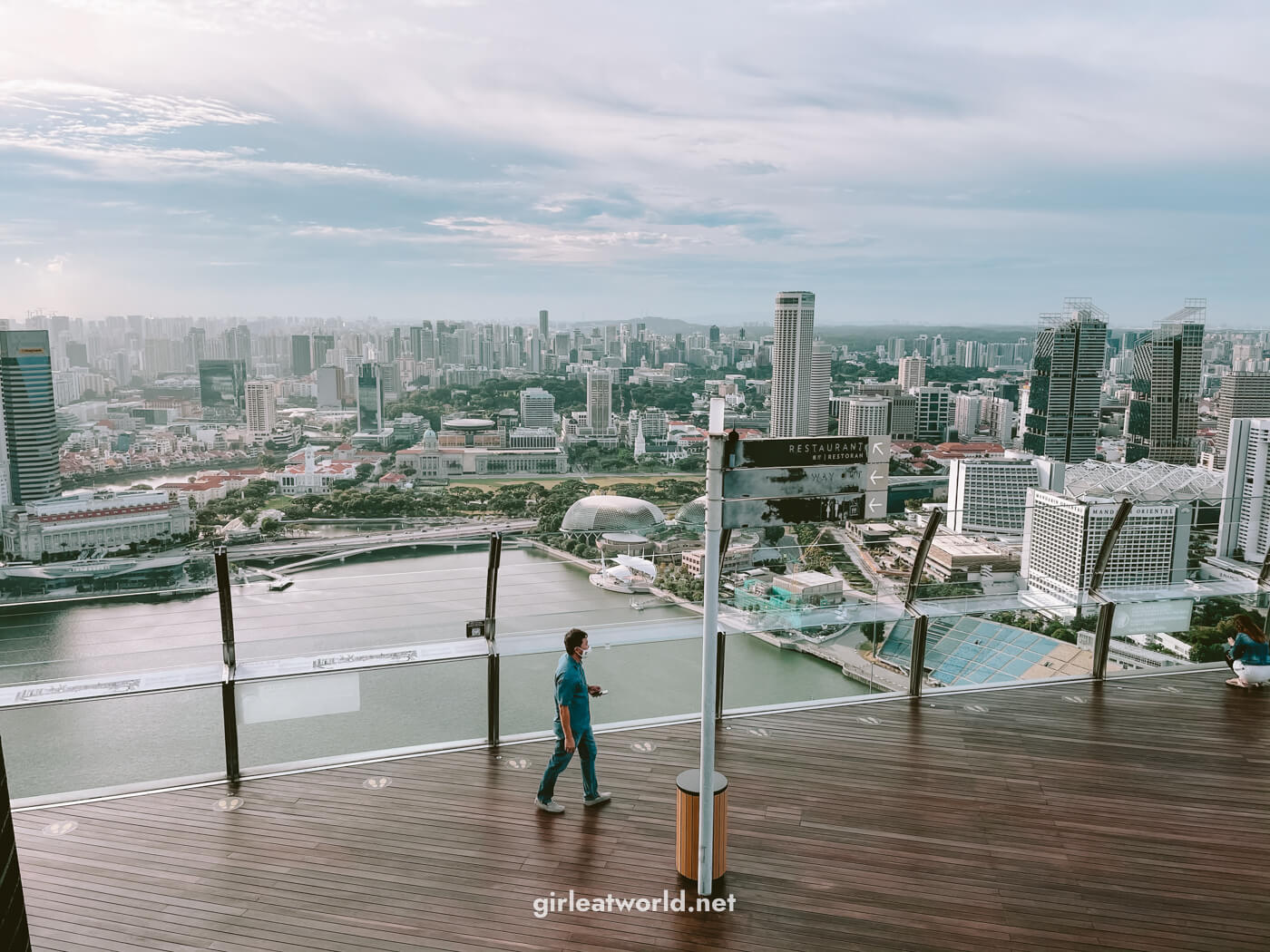 2. Bay East Garden
Admission: Free Admission
Bay East Garden is one of the lesser-known ways to admire the Singapore skyline, and it's totally free. The Bay East Garden is actually a walking/cycling track that is connected all the way from Marina Bay Sands.
My recommended way is to start by grabbing a bike share near Marina Bay Sands and having a ride around the Marina Bay Area. Download the Anywheel app to rent the green bikes or the HelloRide app for the blue bikes. Renting the bikes is quite affordable, just be sure to park the bike back at a designated parking spot for bikes.
You can start from the Marina Bay Sands area and make your way down to Gardens By The Bay, Marina Barrage, Bay East Garden, and then all the way to East Coast Park!
However, if biking is not your favorite, you can take a taxi to Bay East Garden Visitor Centre, and walk on the cycling path to get this view.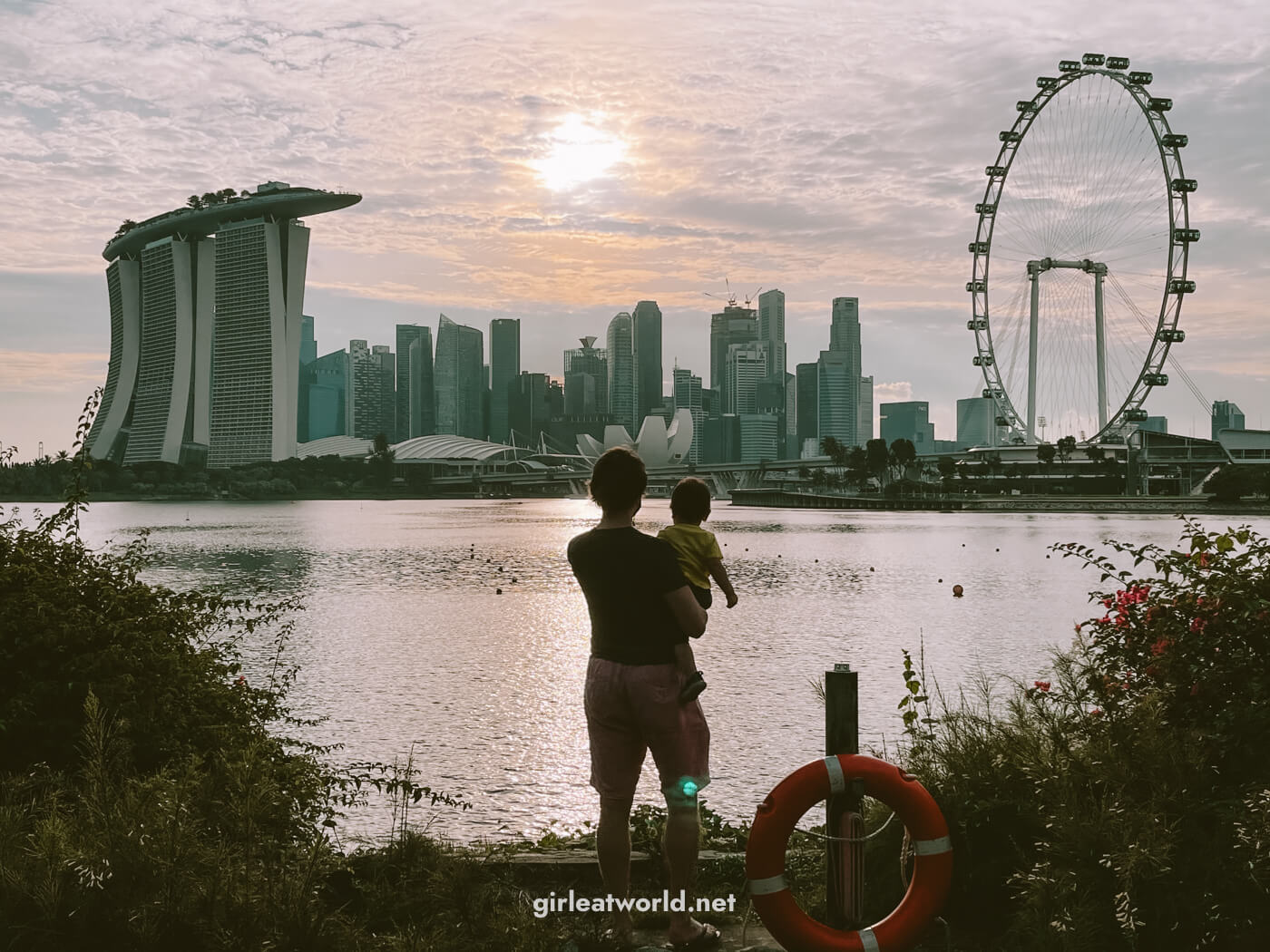 3. Sky Garden at CapitaSpring
Admission: Free Admission. Open to public Mon – Fri from 8:30am – 10:30am and 2:30pm – 6:00pm. You can book a slot to visit here.
The Sky Garden is located on the 51st level of CapitaSpring, in the heart of the Central Business District (CBD) of Singapore. While CapitaSpring is a privately owned commercial building, the Sky Garden is open to the public for free on weekdays. You'll get a decent view of Singapore from Level 51. While the view is not totally unobstructed, there are pockets where you can take photos with minimal obstructions. Not bad for a free space!
Aside from the Sky Garden, you can also visit the Green Oasis on levels 17 to 20 for free.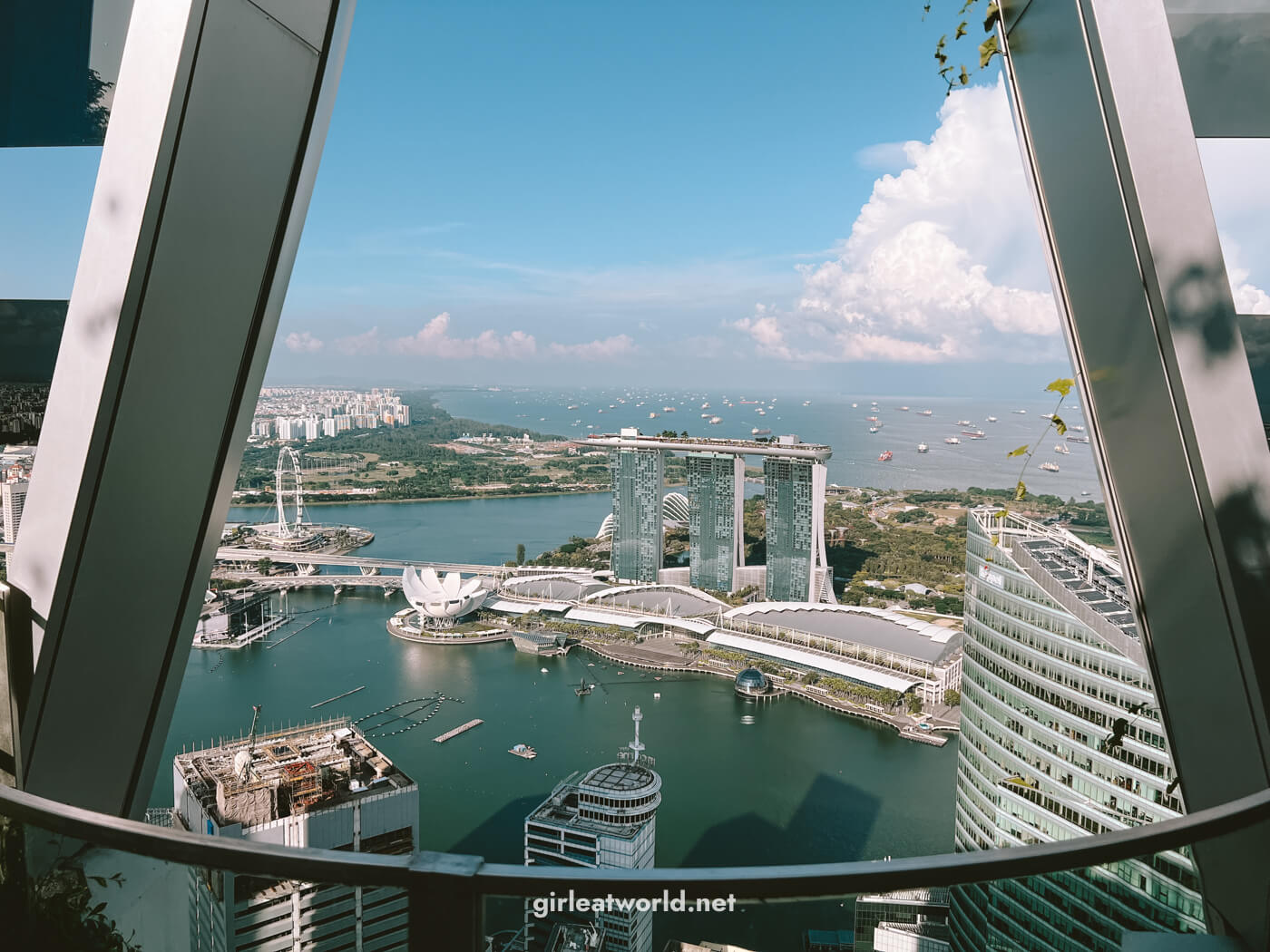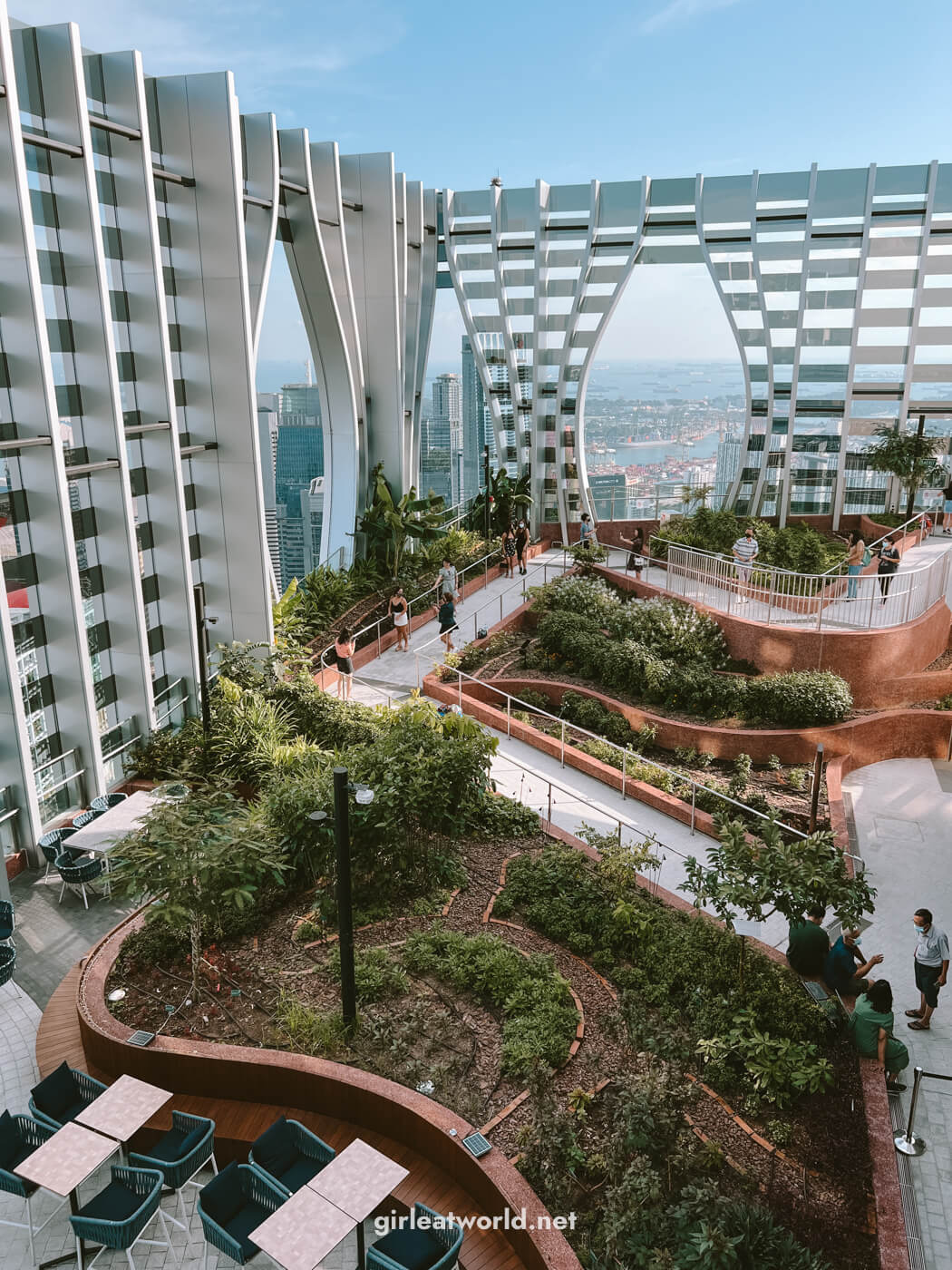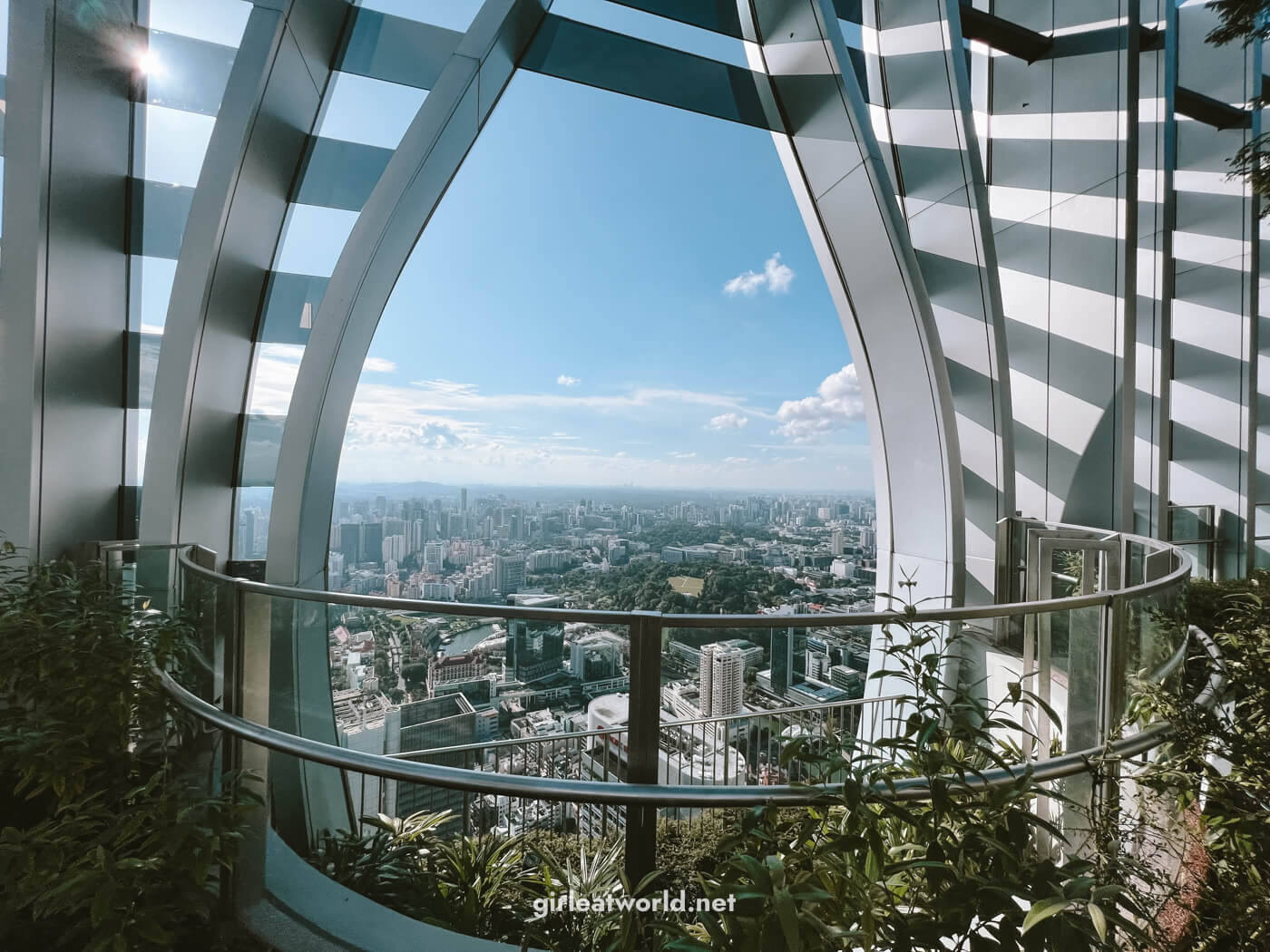 4. Waterfront Promenade
Admission: Public space that is open 24/7. Free admission.
Walking along the Waterfront promenade is one of my favorite activities in Singapore, and it's totally free! It's a good option for a late afternoon walk – you'll be able to see some of Singapore's most famous attractions here, such as the Merlion, the lotus-shaped ArtScience museum, and the DNA bridge.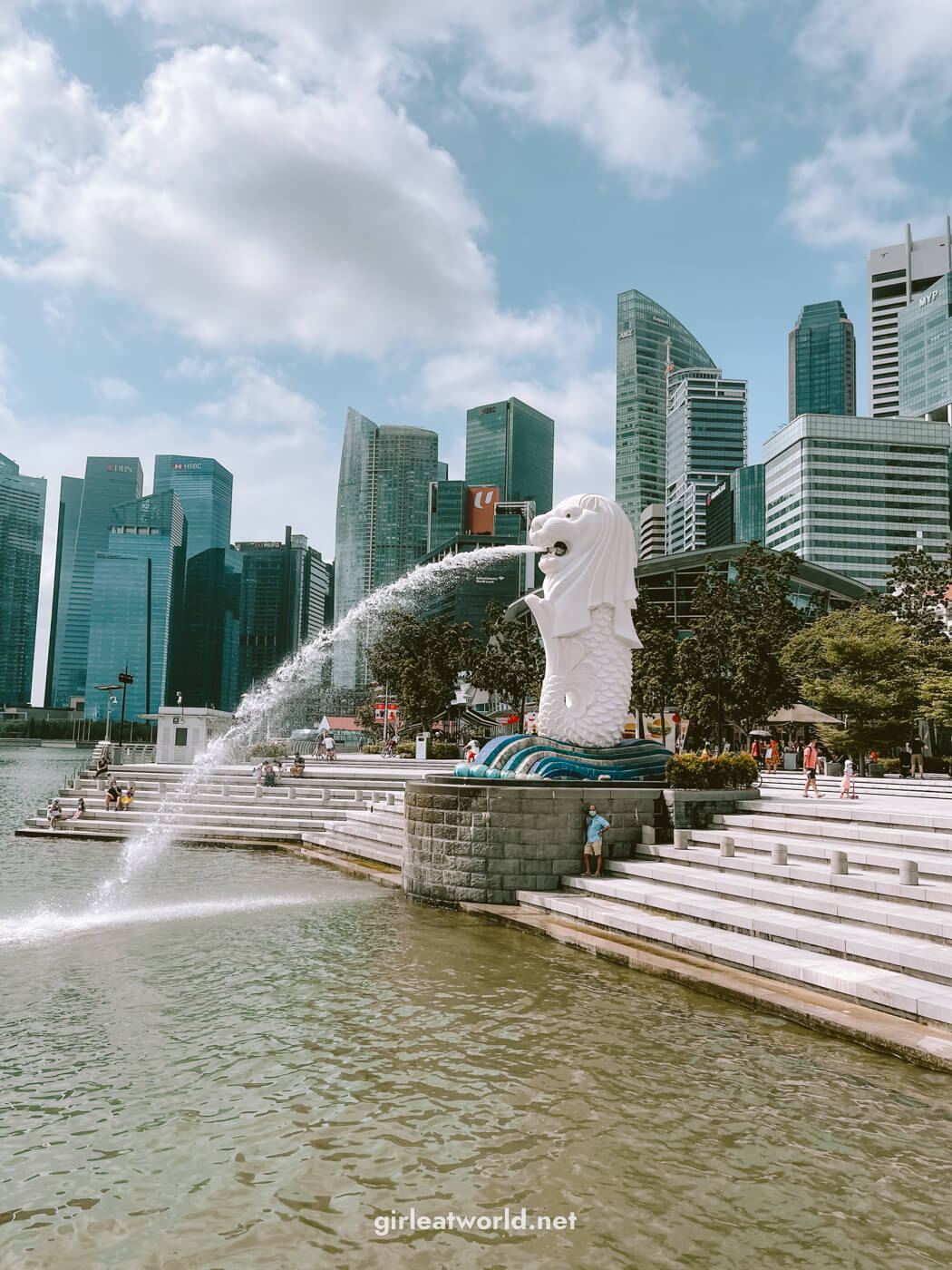 5. LeVel 33 Brewery at Marina Bay Financial Center
Admission: Cost of food and beverage. Half a pint of beer costs around SGD $18.
As the name suggests, LeVel 33 is a restaurant and bar located on the 33rd floor of Marina Bay Financial Center building. While I can't speak highly of their dining offering (it's okay, it's not terrible but not memorable as well), LeVel 33 offers one of the best views of the Singapore waterfront from above. They have a small outdoor area with standing tables where you can enjoy a clear view of the waterfront while sipping on their beer, freshly brewed on-site.
6. SKAI Bar at Swissôtel The Stamford
Admission: Cost of food and beverage. High tea costs SGD $68 per person
SKAI is located on the 70th floor of the Swissôtel. I would highly recommend coming here for high tea, which runs from 3-5 PM. The restaurant has a beautiful full-length window that allows an unobstructed view of the entire Singapore waterfront area, which you can enjoy while you're slowly sipping on your tea.
But if you'd like to have a proper lunch or dinner, or simply have a drink, there is a restaurant and bar area too.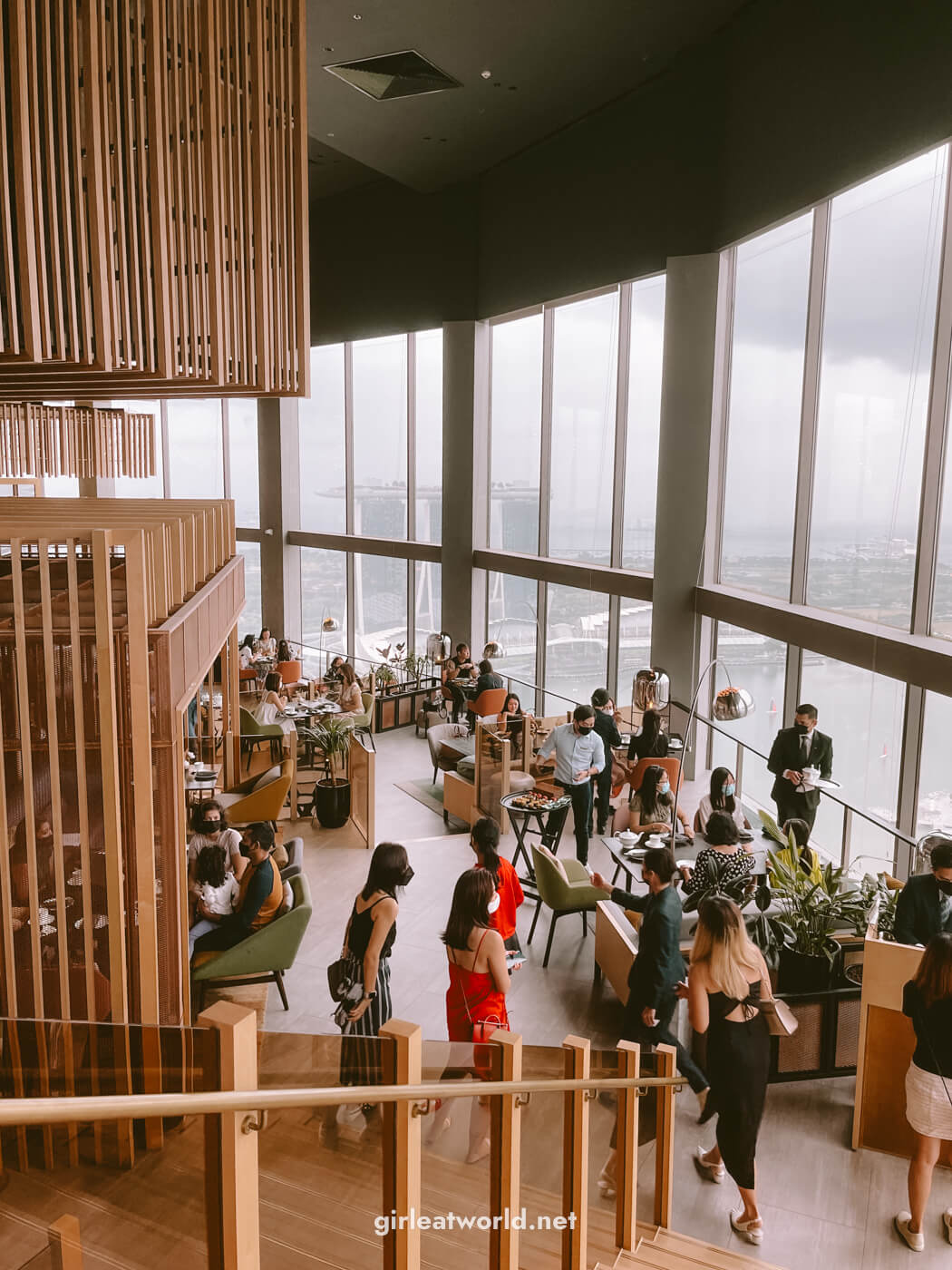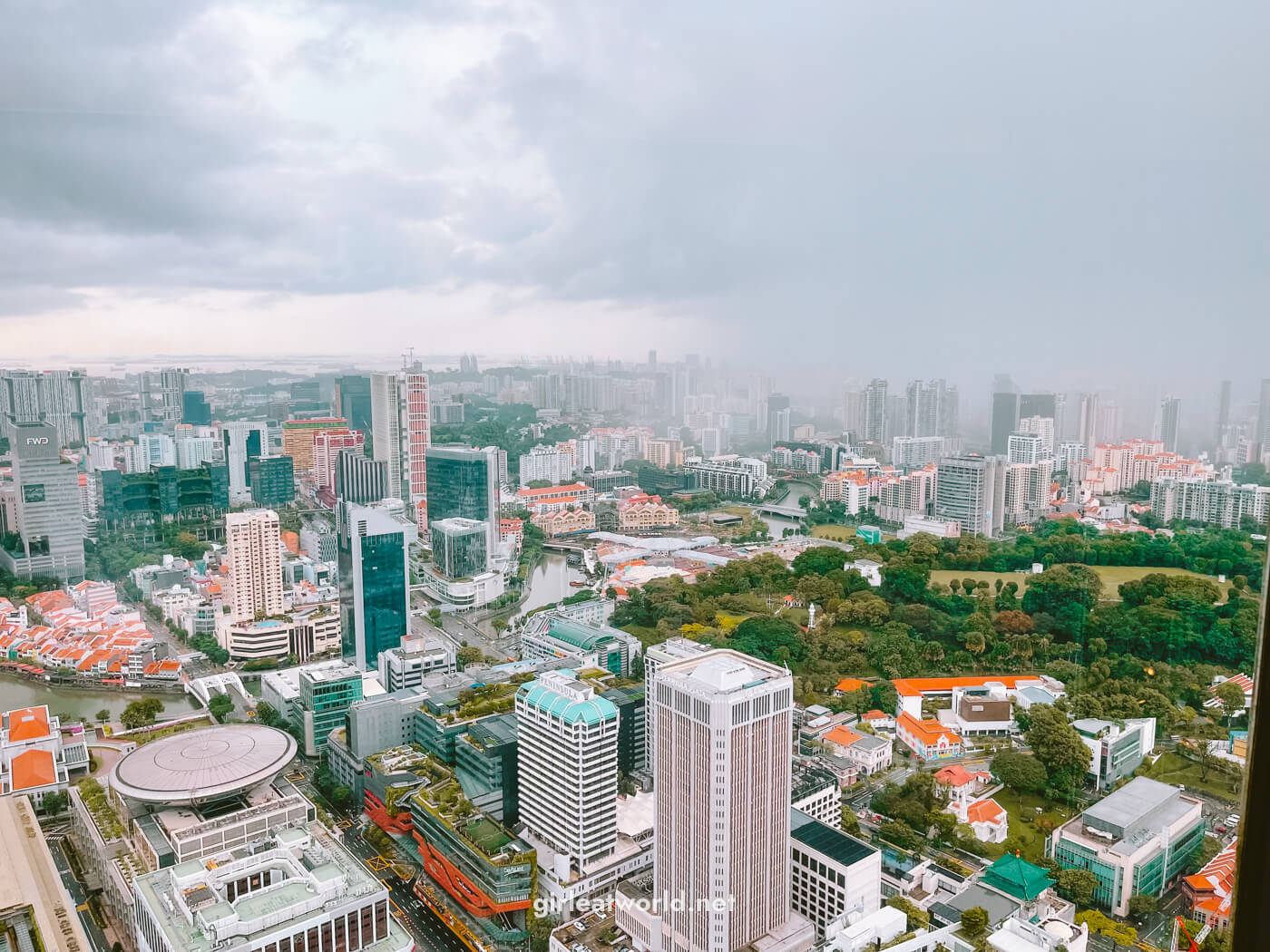 The Pinnacle@Duxton Skybridge
Admission: SGD $6. Here is how to access the Skybridge.
The Pinnacle@Duxton is a Singapore public housing, built on the prime estate along the Duxton / Outram Park area. There are two Skybridges on the 26th and 50th levels, but the Skybridge on level 26 is reserved for resident use only. As members of the public, we can only access the Skybridge on level 50. You can enjoy scenic views of the city at a low cost.
Honorary Mentions
Mr. Stork at Andaz Hotel – Located on the 39th floor of Andaz hotel, this is one of the best rooftop bars in Singapore!
Smoke & Mirrors – Located on top of the beautiful National Gallery Museum, Smoke & Mirrors is a bar and restaurant with an up close view of the city skyline.
Southbridge – One of the rooftop bars at Boat Quay by the river. It is just a short walk from the central business district, and offers an unobstructed view of the skyline.
Singapore City Gallery @ URA Center – If urban planning is of interest to you, or you just want to learn about how Singapore has transformed itself over the past three decades, the Singapore City Gallery is a perfect place to go. Admission is free!
And that's all I know about the best places to view the Singapore skyline! If you have any comments, please feel free to leave them below.
Until next time 😄