Traveling to Thailand soon? If you are going in mid-April, you might want to check the calendar and see if your visit coincides with Songkran, the Thai New Year and the beginning of a crazy 4-day water fight festival.
My husband and I booked our ticket to Phuket last year without realizing we would be landing RIGHT on the dot when Songkran begins. Boy – were we in for a surprise. I had heard of Songkran before, but nothing could have prepared me for this festival… except for this post 😉 Read on for my survival guide to Songkran water festival!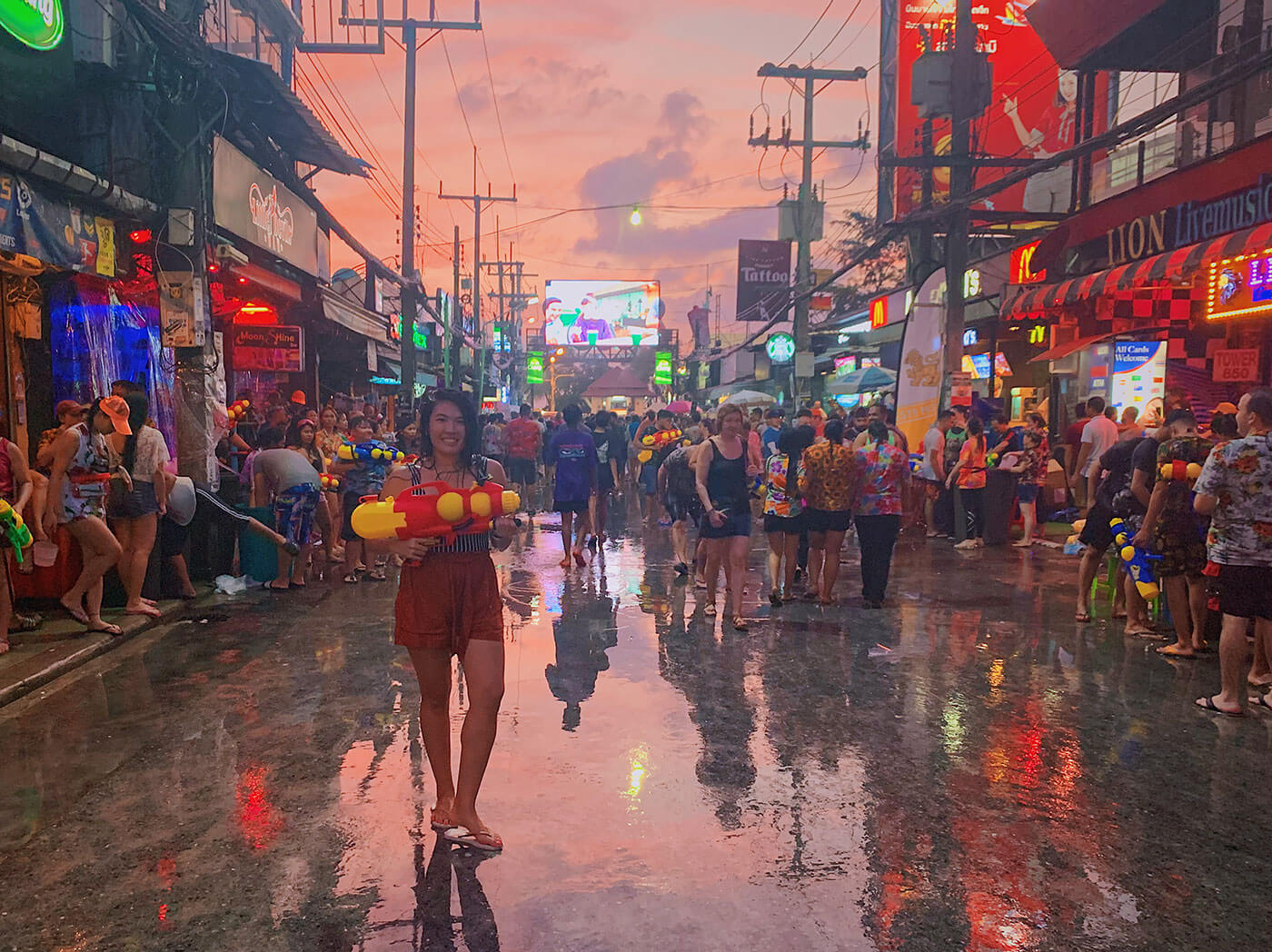 What is Songkran?
Songkran marks the beginning of a new year in Thailand. The word Songkran derives from a Sanskrit word saṃkrānti, which means transformation. The traditional practice involves visiting temples with food offering, where water would be poured on Buddha statues to symbolize purification and washing sins away.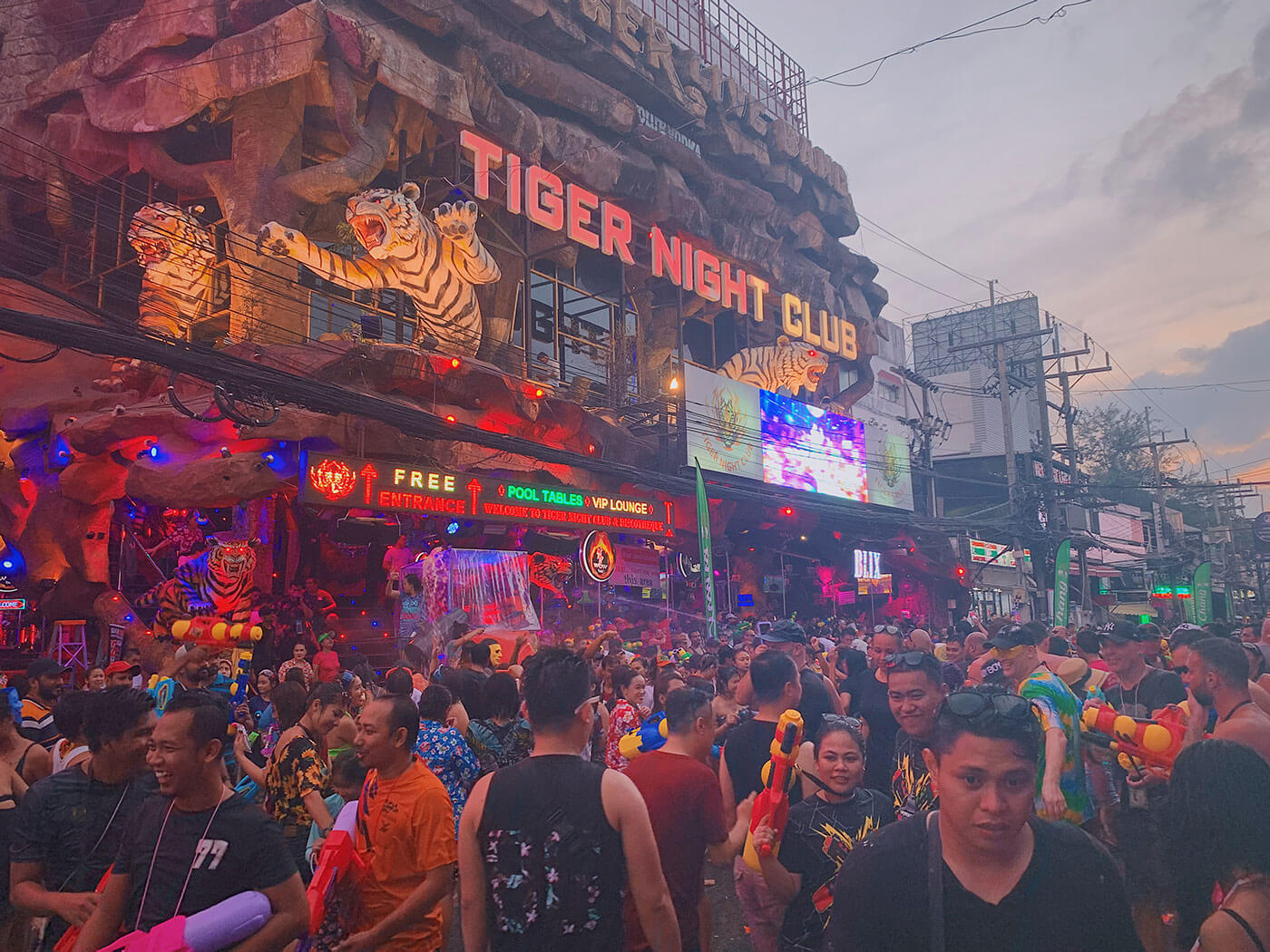 Nowadays the Thai New Year is more famous for its water festival where everyone takes part – old and young, local and foreigners. After all, participation isn't really an option. The entire city has turned into a large water fight playground. You will see water being thrown out of buckets and shot out of water gun – sometimes filled with ice cold water for that extra shock!
It's all in good fun. April is usually a very hot season in Thailand, so the cold water is actually a welcome respite.
Don't be surprised when locals take it upon themselves to apply cooling paste of talcum powder (aka din sor pong powder) mixed with water on your face and body. The traditional meaning for this is that the powder represents your sins which gets washed away, but I think Thai people do it just to be playful 🙂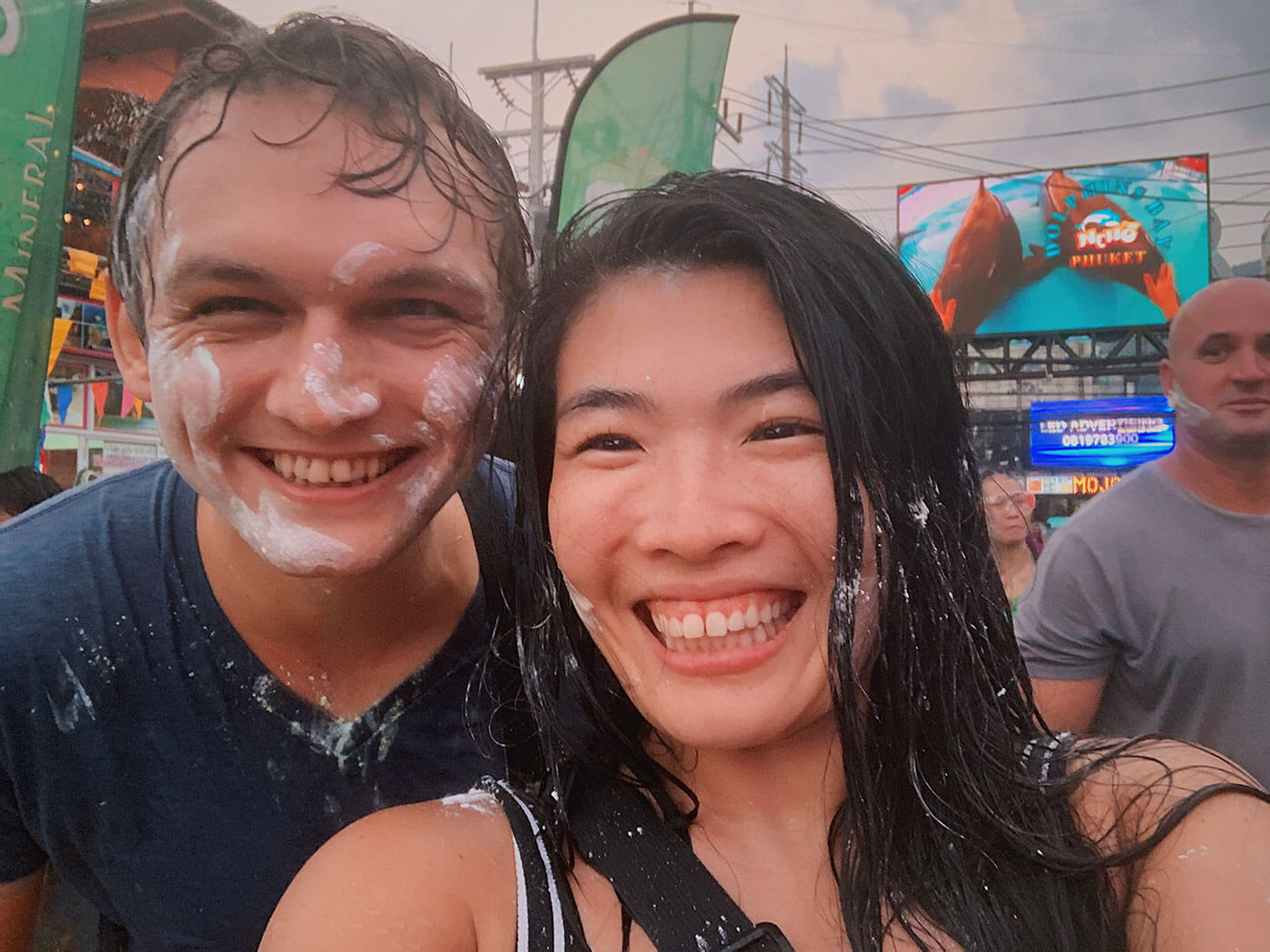 When does Songkran falls?
Songkran officially falls on 13 April every year, but usually the water festival celebration extends to 15-16 April depending on the city. If 13 April is a weekend, the date might get extended even further. You'll be able to check the official dates for each region closer to the date.
Where to go for Songkran
No matter which part of Thailand you go during Songkran, prepare to get soaked wet! The major cities and resort towns are generally good if you're looking for a truly festive vibe:
Phuket – I went to Phuket in 2019 during Songkran, and it was INSANE. If you are interested to hear about my experience, scroll down to Celebrating Songkran in Phuket section down below.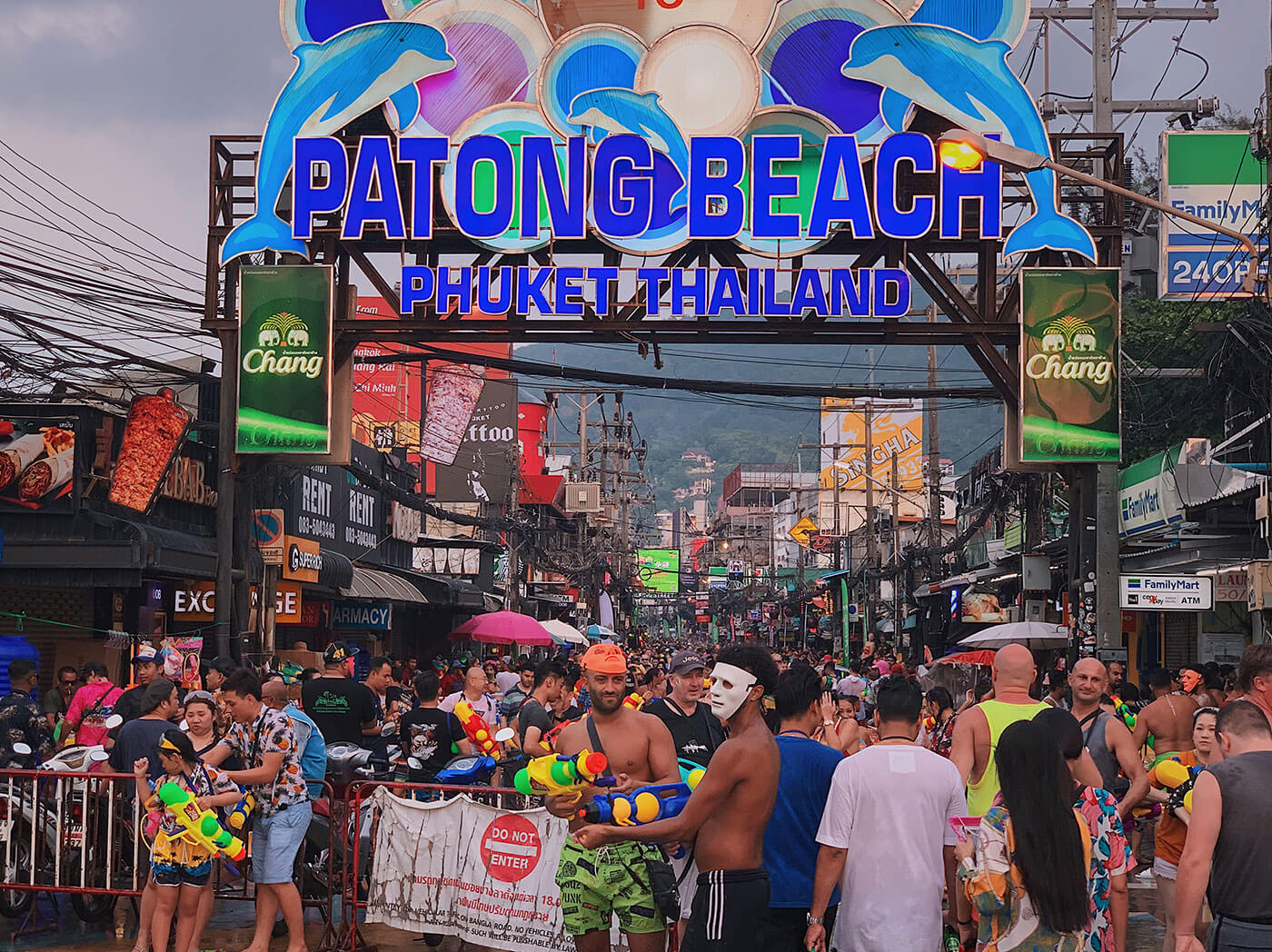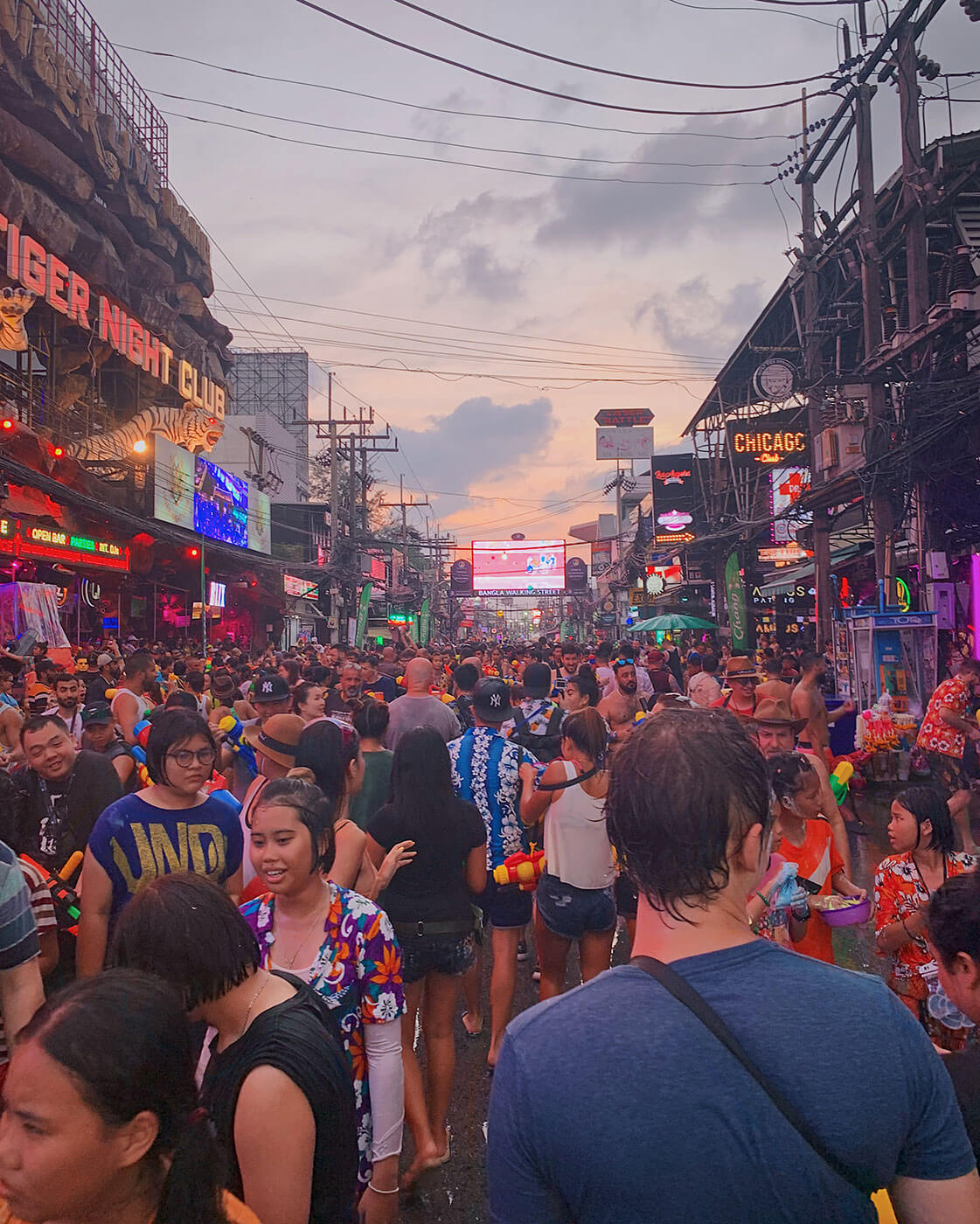 Bangkok – Being the capital city of Thailand, you can count on Bangkok for always putting on a great party around Songkran. Occasionally it might be affected by local events such as the King's coronation in 2019, where it was said the celebration would be smaller or even cancelled. But based on my friends' stories of being in Bangkok that year, Songkran was still celebrated and was a super fun time.
Chiang Mai – This is yet another city you should visit in Thailand even when it's not Songkran. I visited back in 2012 and it remained one of my favorite places in Thailand. Chiang Mai is located in the mountainous region of Thailand. In the north, to be specific. We were actually supposed to go to Chiang Mai in 2019, but had to change our plans when the city was hit by awful haze due to forest burning and slashing, which tends to affect this region annually. So, keep that risk in mind if you plan to go to Chiang Mai. I do know some friends who still ended up in Chiang Mai in 2019 and they were able to tolerate the air quality.
Beach towns – Koh Samui or Pattaya are your best bets for a water fight!
What to pack for Songkran
Waterproof case for your phone – Get one of those clear plastic ones so you can still use your phone while you're out and about. Even if your phone is supposed to be water resistant, don't take chances. I speak from experience – my iPhone ended up getting water damage during Songkran even though it's supposed to be able to withstand splashes of water.
Dry Bag – I wouldn't recommend going outside with your normal bag. Get a proper dry bag (the kind people use when they go diving) which will keep all your stuff dry.
Power Bank & Charging cable – In case you run out of battery in the middle of your water fight. I recommend getting a small waterproof pouch for this too though.
Waterproof Sunscreen – for obvious reasons. The April sun in Thailand could get pretty brutal.
Swimsuits – bring at least two, because you'll be wet each day you go out during Songkran and there's barely any time to properly dry your swimsuits. Although I guess you don't need to dry them if you're going to get wet anyway, but I'm not a fan of putting on damp bikini.
Sandals – Something that can be dried easily
Beach cover up / light shirts – Even though everyone is soaked wet, most people are still dressed decently (aka no walking around with just a bikini on)
Hair dryer – If you are staying in a budget hotel where they don't provide hairdryer, it might be worth bringing your own hairdryer especially if you have long hair.
Diving mask / swimming goggles (optional) – If you don't want the water to get into your eyes, you can try wearing a diving mask.
Tips for surviving Songkran
My husband and I were in for a huge surprise when we booked our trip to Phuket last year and realizing only later that we would land the night before Songkran.
Here's what we've learned from that trip:
1. Seven Days of Danger
First things first – safety! The seven days around Songkran is often dubbed as "Seven days of danger" by the Thai government – for a good reason, too.
People tend to party too hard during Songkran and casualties arise most during these seven days, especially when lots of water is involved. The accidents range from traffic accidents to alcohol-related incidents. Tourists aren't exempt from becoming victim, so make sure you party hard but party safely, so you don't contribute to the statistics!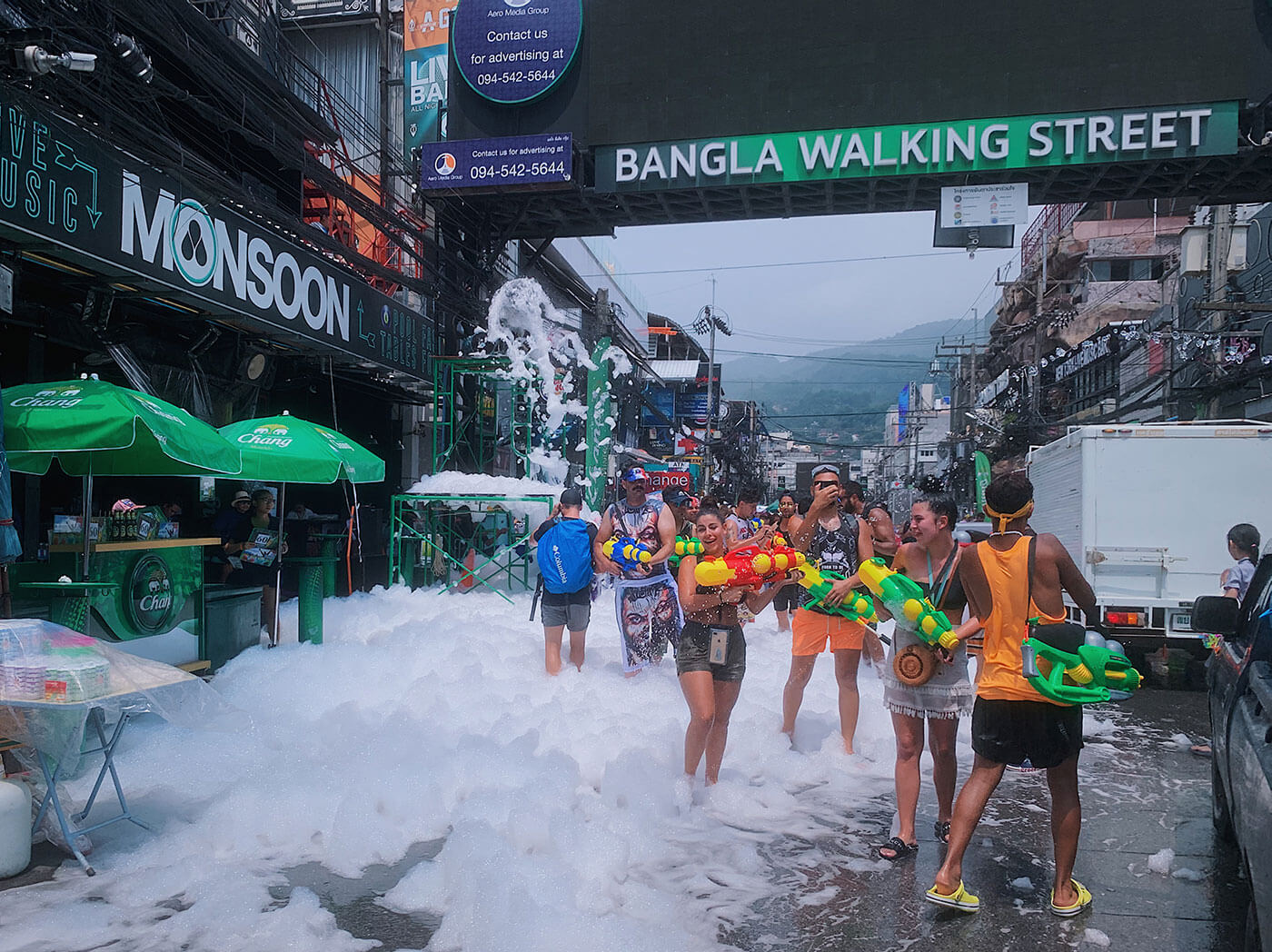 2. Acquire your water gun of choice.
It will be really easy to buy water gun in Thailand during Songkran – they are sold everywhere. We got ours for 400 baht in Phuket which is on the pricey side, but we did buy it from Patong Beach so I expected things to cost more there. It was the average cost for the type of water gun we got (medium super soaker type). If you get a small water pistol, it would cost a little less but a whole lot less fun – so, go for the super soakers!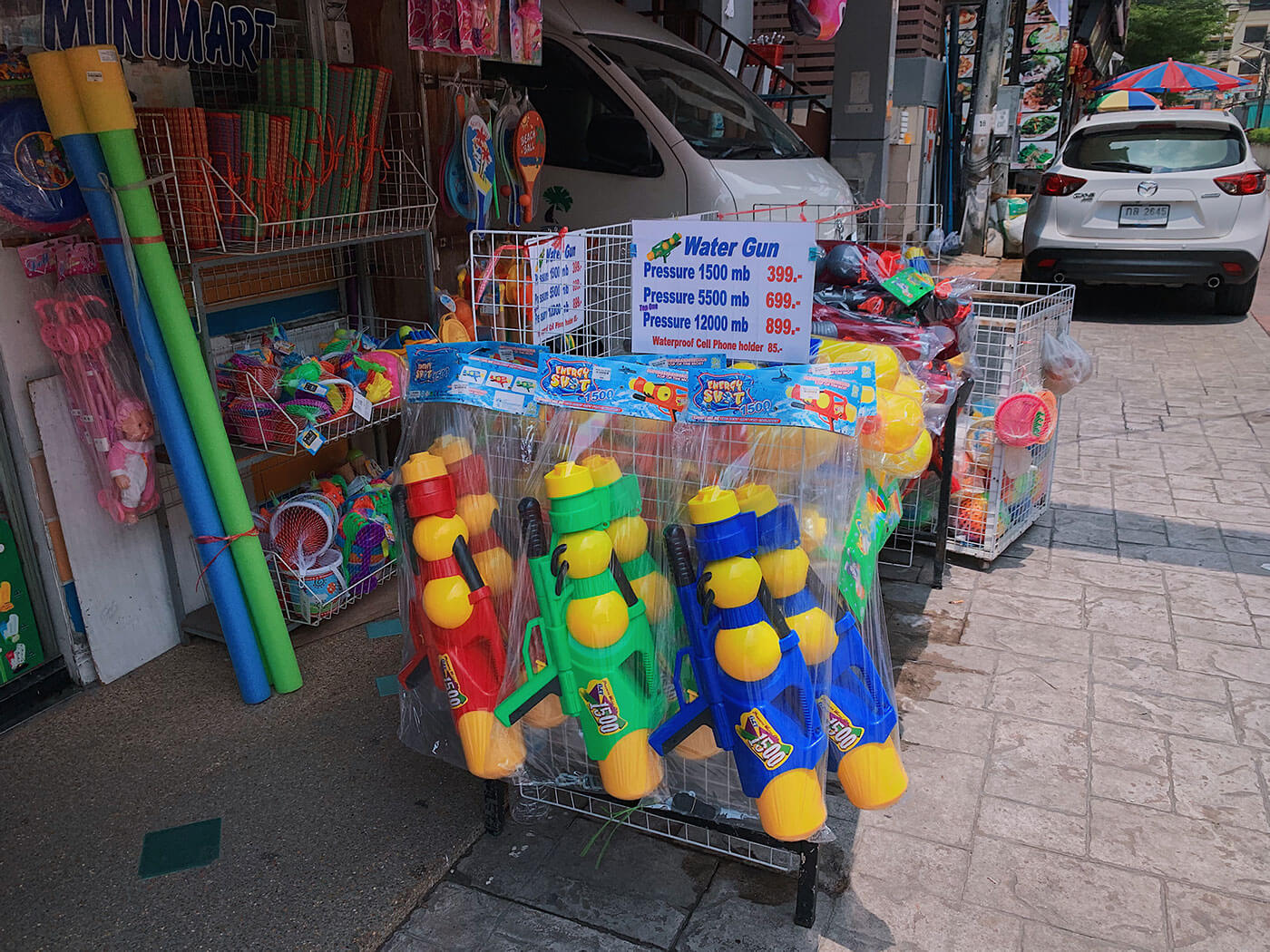 To save costs, and to contribute to less plastic waste you could try bringing one if you already have one at home. If you do bring a water gun on your flight, make sure the guns are emptied out and checked into your luggage.
3. Have small denomination cash ready
If your water gun need refills during the fight (and it will) – fret not! There will be tons street vendors selling water for your ammo – and it's often cooled down with ice, my favorite kind.
It costed us 10-20 baht to refill a super soaker and we had to do it a few times, so have some cash ready in a separate compartment that you can easily access without opening your bag.
Which, brings me to my next point…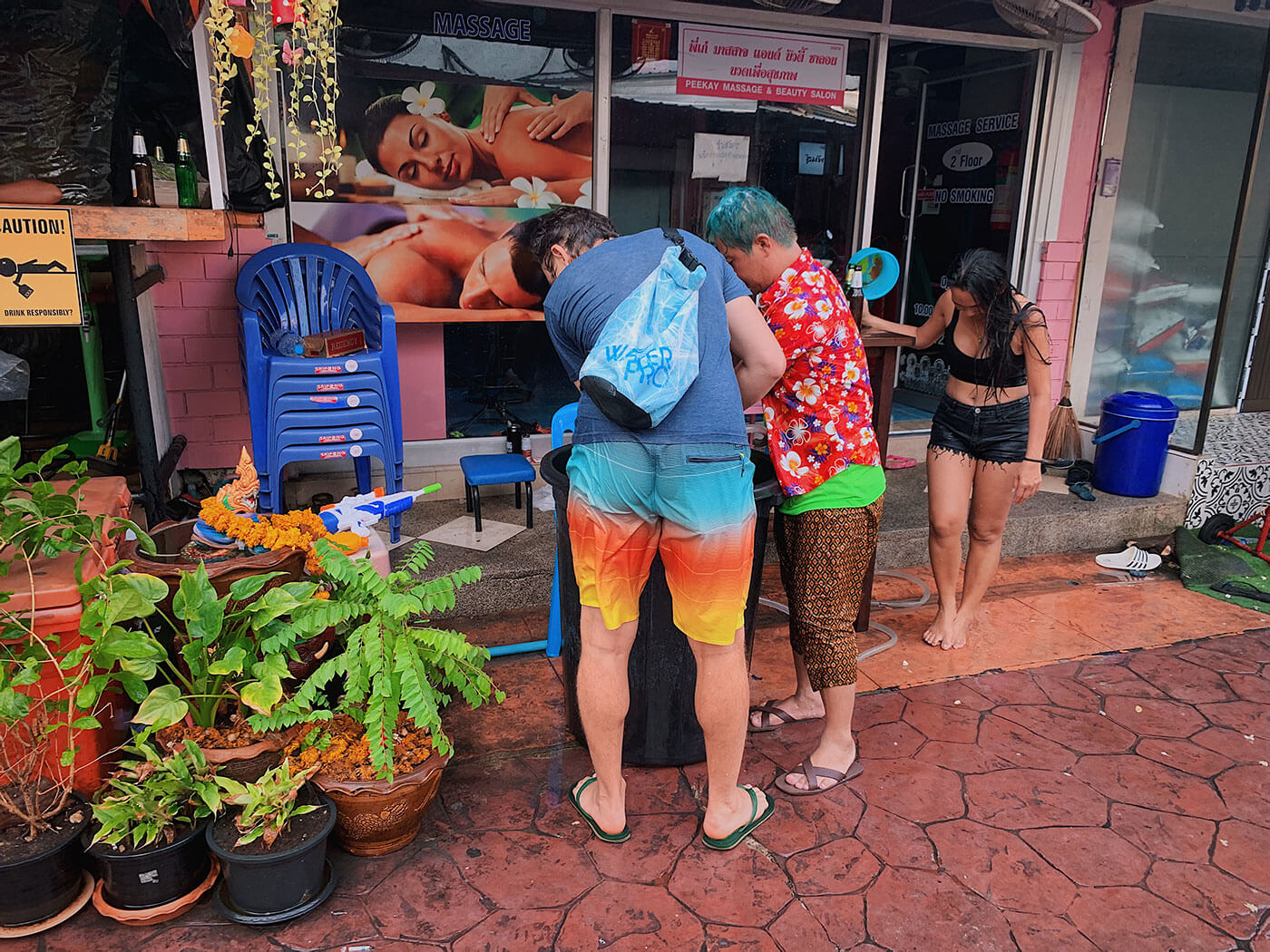 4. Wear clothing with pockets!
When you are at the thick of it all, there is nothing more annoying than having to reach into your dry bag to get cash out and risk getting everything else wet.
So wear something with pocket and store your cash in your pocket! Your cash doesn't need to be dry, so I wouldn't worry too much about it getting wet.
5. Wear clothing that is easy to dry
Wear something that dries quickly, so you don't risk getting sick by being damp all day. I would also recommend wearing rubber sandals like Havaianas or crocs so you don't have to deal with wet footwear coming back to your hotel later.
6. Follow the general etiquette
Songkran is all fun and games, but that doesn't mean it's a license to be an asshole.
Abide by these unspoken rules: Don't shoot people on the face more than a few seconds. Don't shoot into people's ears as it may cause infection if water gets in. If someone looked extremely distraught, don't target them!
Use your common sense.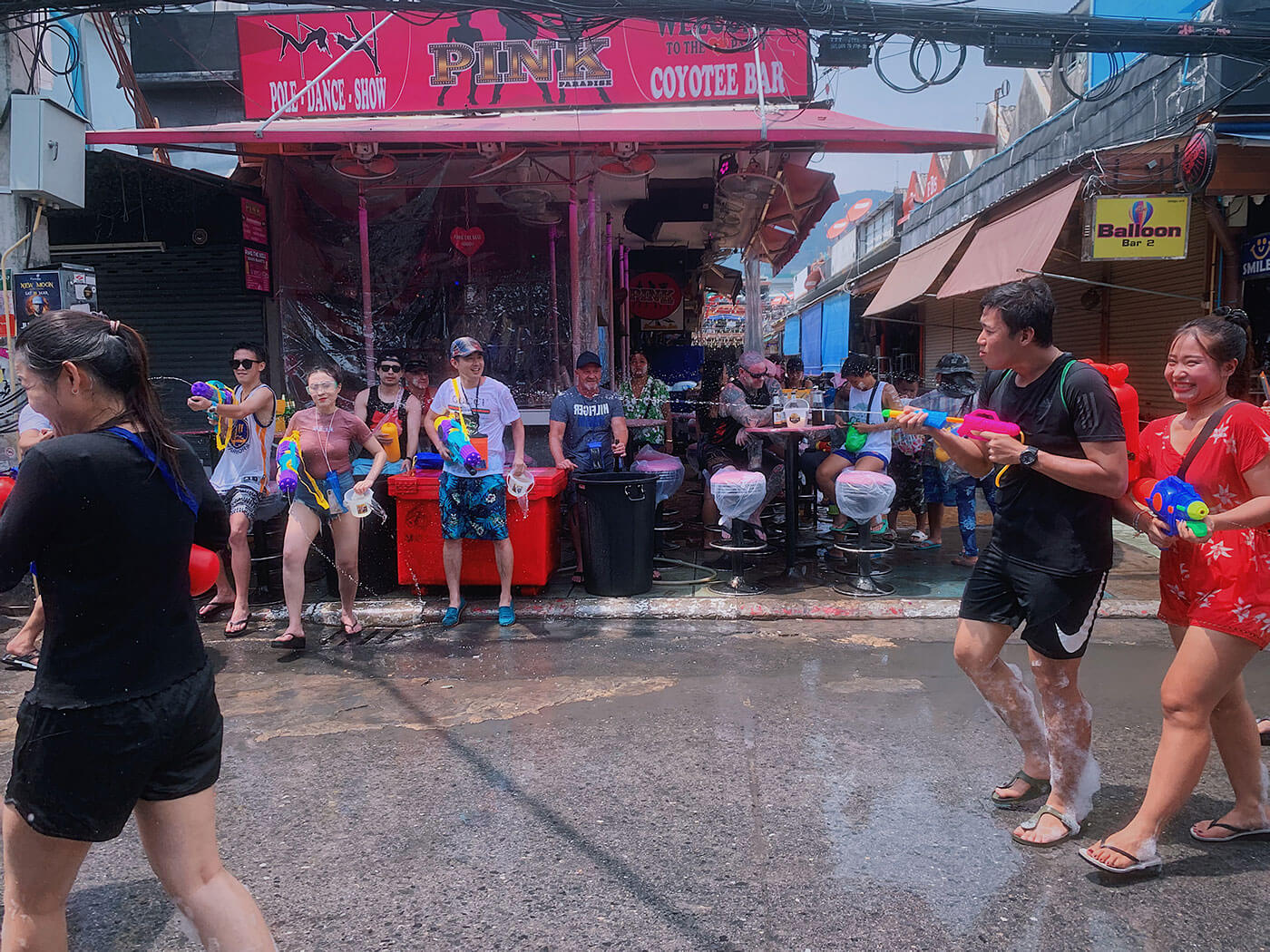 7. Bringing your water gun home on a flight
If you purchased a water gun in Thailand and want to bring it home for memento, make sure you put it into your checked luggage.
When we were flying from Phuket to Bangkok, they would not let us board with our water gun and we had to leave it at Phuket Airport.
Such a costly mistake! 🙁 I would have loved to keep our guns for memories.
Celebrating Songkran in Phuket
If you're looking for the absolute festive Songkran celebration then base yourself in Patong Beach area. Disclaimer: I normally avoid Patong because of its reputation, but I gotta say it's a good place to stay for Songkran – at least for the first 2 days of Songkran. This is what we did since we didn't want to be bothered with travel logistics.
For accommodation, we stayed at Patong Terrace Boutique Hotel. It was a simple hotel and our room had no window, but it was relatively cheap for the location. It is walking distance to the happening place in Phuket. The no-window thing didn't bother us that much since we didn't spend time in the room, but if it bothers you then there is an option to book a room with windows too.
I don't think I need to list out places to go in Patong Beach since the celebration is pretty much all around town, but definitely walk down Bangla road at least once! It's THE epicenter of Songkran celebration in Patong Beach. The entire stretch of road is closed from cars during this time, and all the bars provide water recharging station for your ammo. Although it can be slightly overwhelming, it's guaranteed to be hectic and super fun too!
What to do if you need to avoid Songkran
I get it, sometimes you're just tired of being soaked 24/7, or maybe you have a medical condition that requires you to avoid water. If, for whatever reason, you need to avoid Songkran, then I suggest staying as far away as possible from tourist areas. Things tend to be a bit more tame when it's further away.
Alright! That's all my experience from Songkran. We still look back and think about this trip often. It was so memorable! If you are traveling around Thailand, you can also check my other posts on Thailand here. And as always, if you have any questions – feel free to comment below!