I went to Mountain View for work a few months ago and they put me up at The Ameswell Hotel, a luxury boutique hotel at the heart of Silicon Valley.
The hotel is strategically located by the 101 and 85 freeways, close to many tech offices. It is also only 2.3 miles away from Shoreline Ampitheater, making it the perfect choice if you're attending a concert and need a place nearby.
And I think that actually covers the two main profiles of the guests at Ameswell: Corporate tech employees and concertgoers. For corporate employees, Ameswell is a breath of fresh air from the usual business hotel chains around the area.
➡️ Book the The Ameswell Hotel here
Checking into The Ameswell Hotel
Checking into the hotel was an easy breezy experience. In fact, it took no longer than five minutes. The front desk just had to check my passport (as per usual) and I was handed my keycard soon after.
Deluxe Room at The Ameswell Hotel
The room I stayed in was the Deluxe Room, which comes with a large king-sized bed, a work table, and a lounge couch. The room was spacious and clean with a large window that gives plenty of natural light.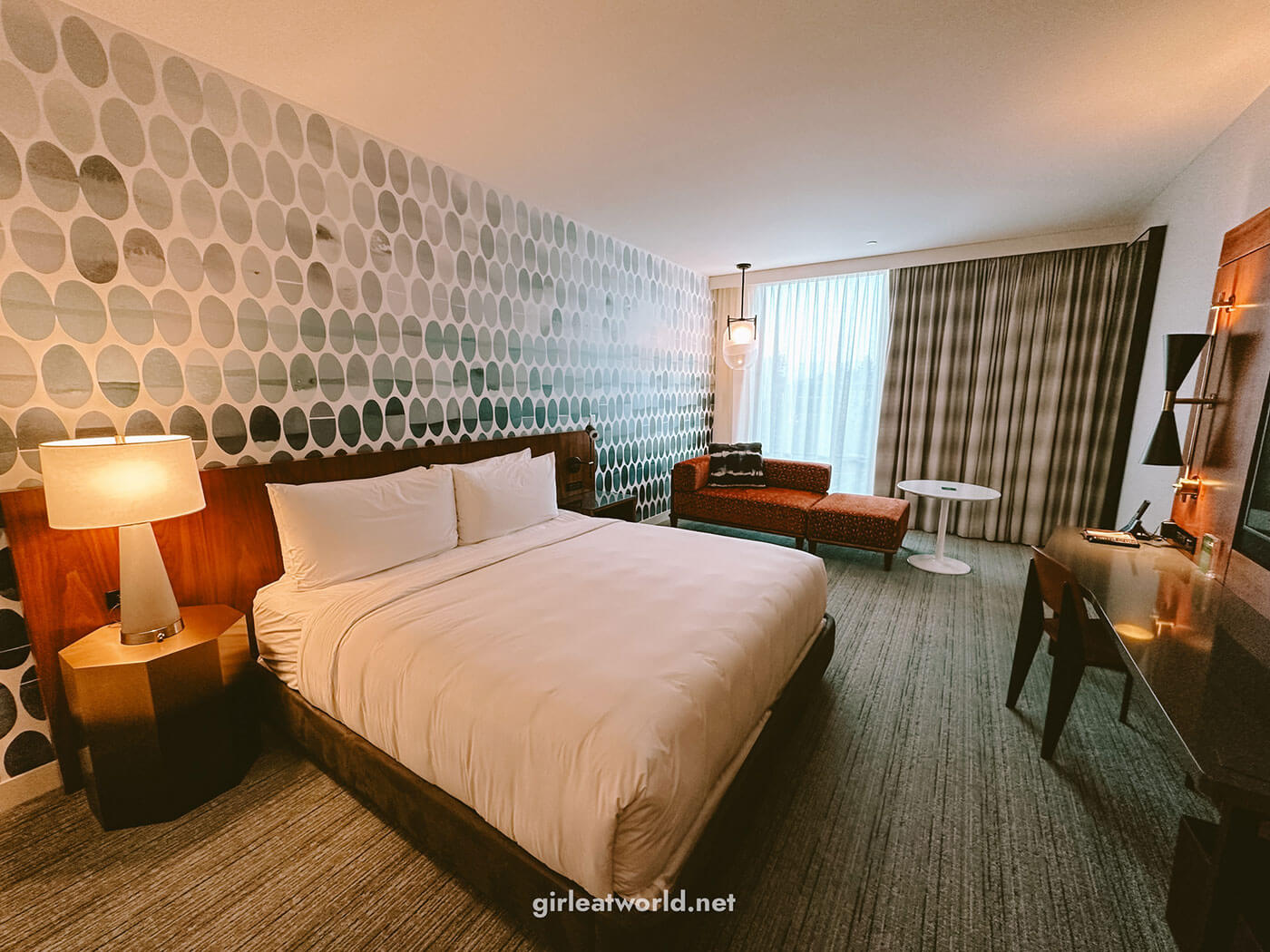 But if you value your beauty sleep, you can also keep the black-out curtains drawn and it will be pitch dark in the room.
Moving onto the spacious bathroom, I absolutely adore the tictac tile that lined up the entire wall of the bathroom. It gives the entire bathroom a chic modern farmhouse vibe.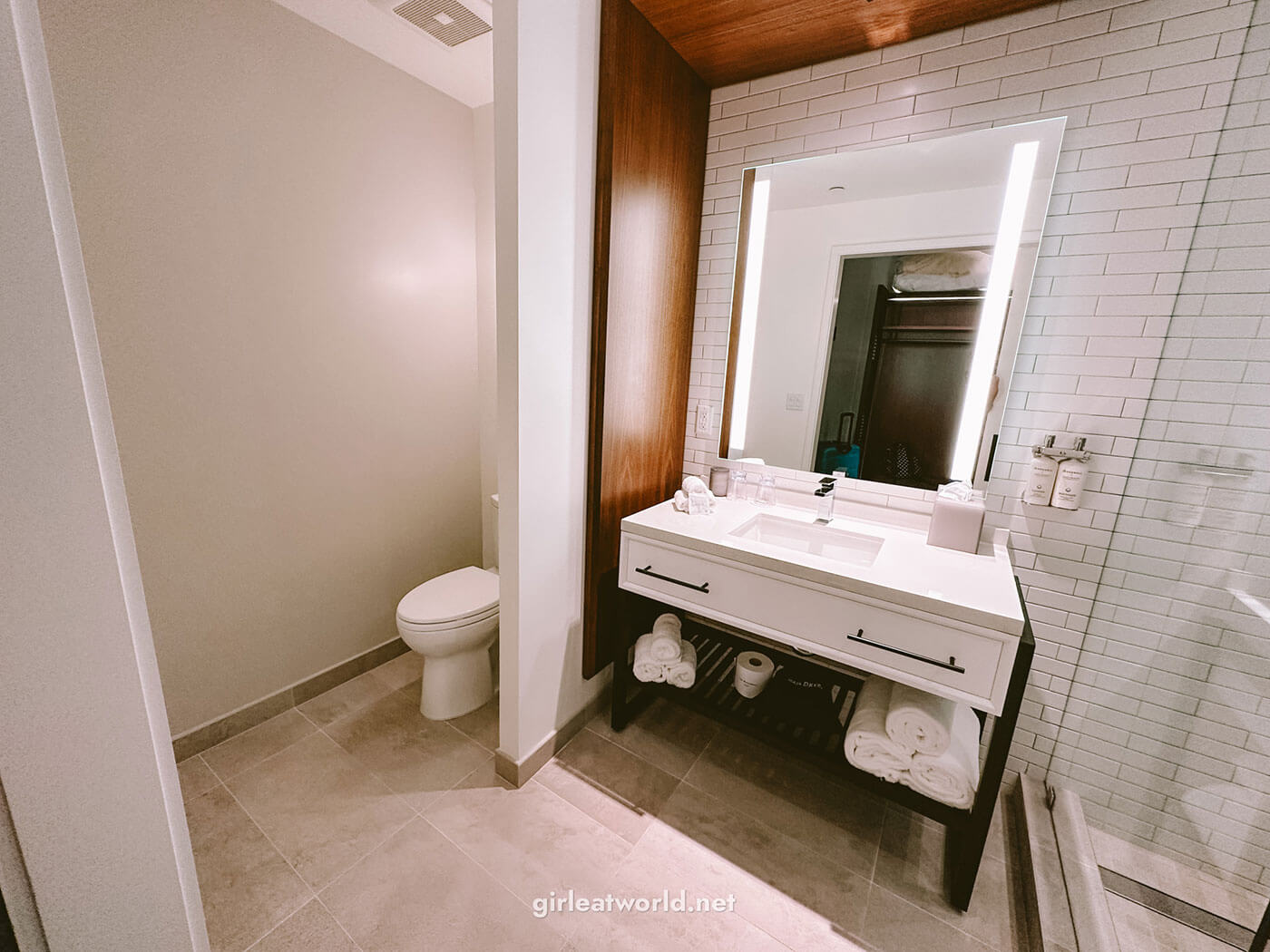 The sink area in the bathroom is very generous. It was able to accommodate all my skincare and daily needs!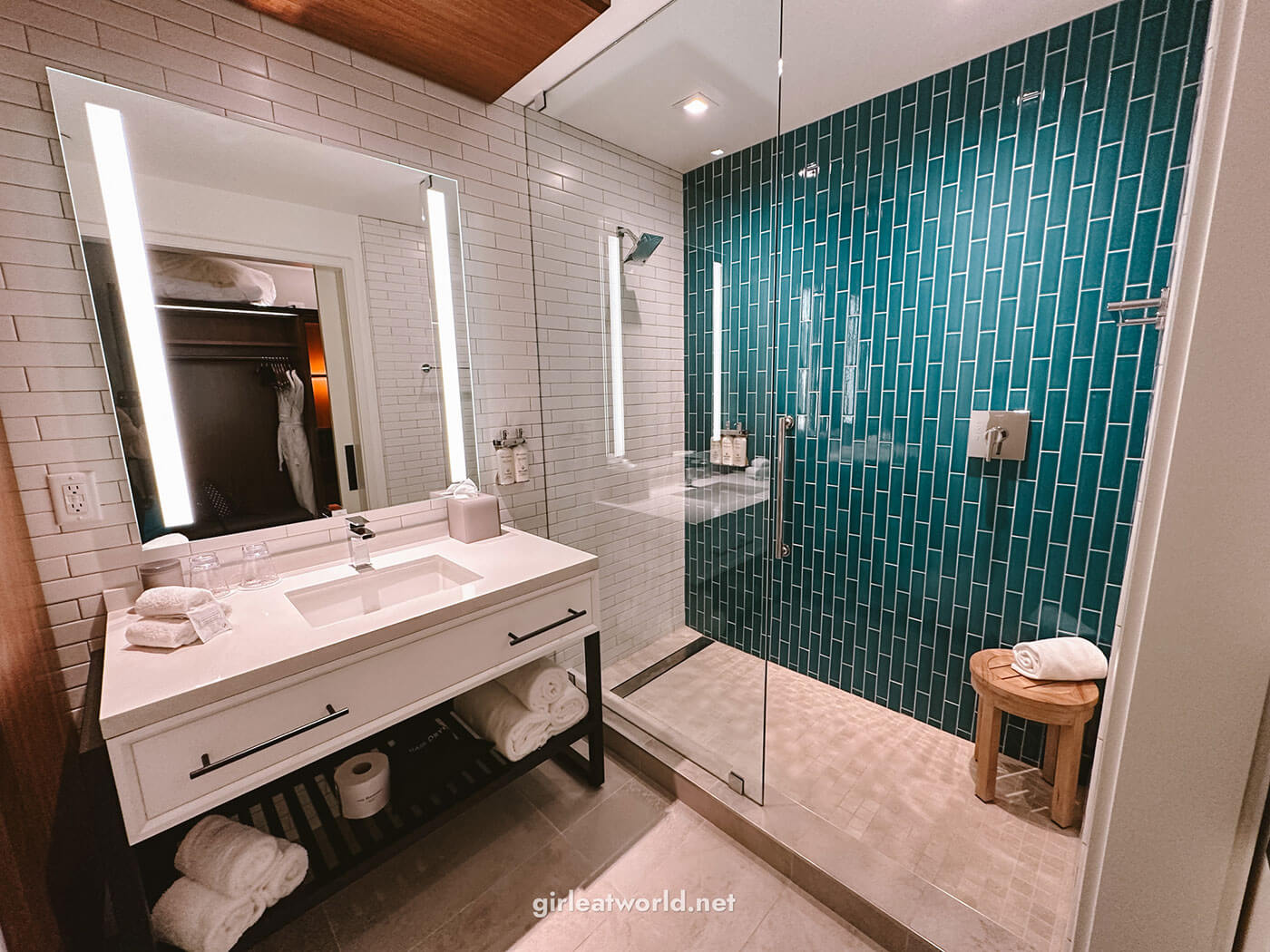 At the entryway, you'll find a wardrobe, a safe to keep your stuff, and a coffee/tea station with a fancy gooseneck electric kettle. I wish I had taken photos of this part. I've come to learn that a kettle is not the norm in America – which is madness. How do y'all drink your teas?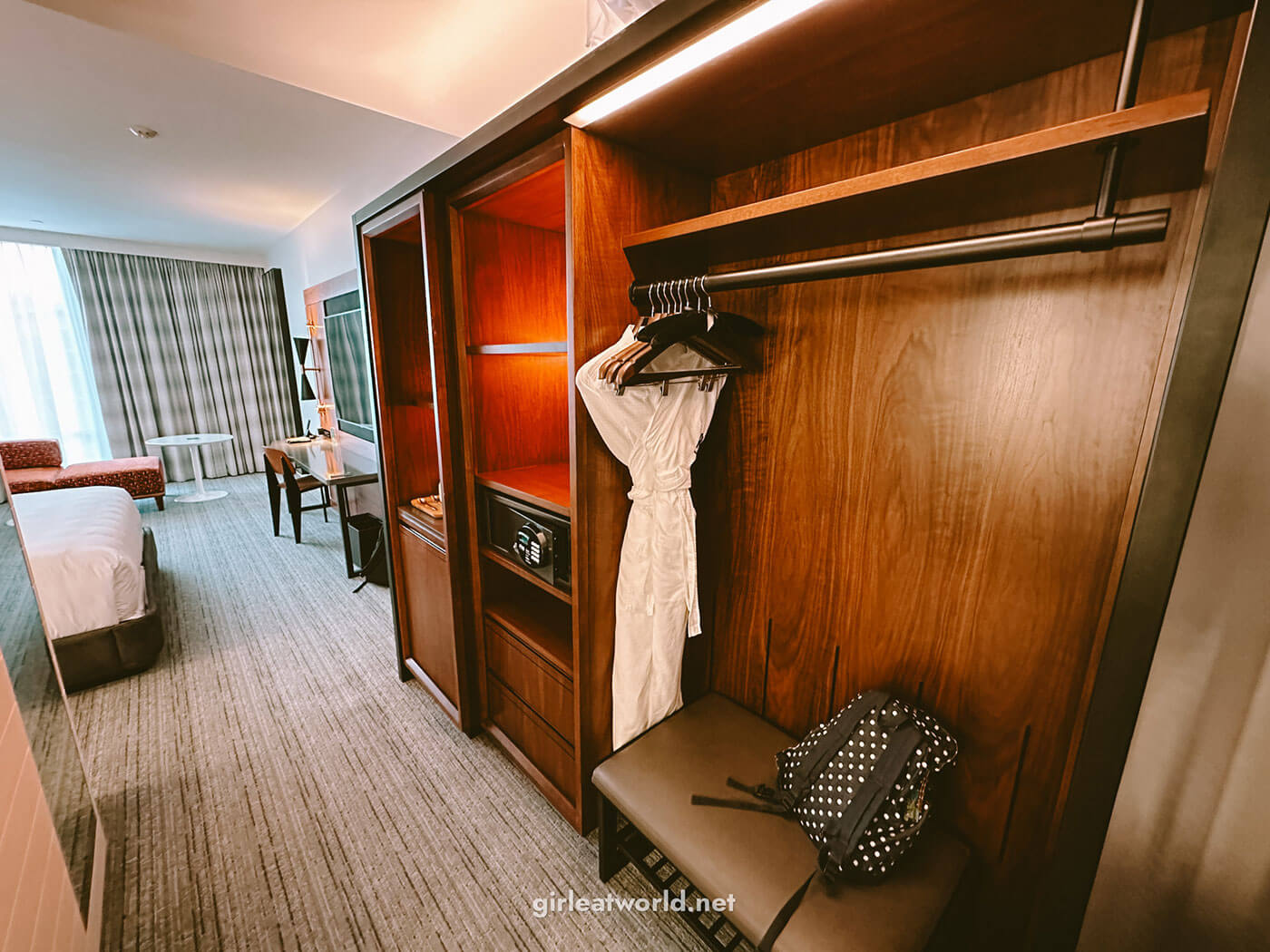 They also give you two reusable water bottles, which you can refill at the water station on the lobby or at the ice room available at every level.
➡️ Book the The Ameswell Hotel here
Food at The Ameswell Hotel
During my stay at Ameswell, we had the chance to dine at their two restaurants:
1. The Flyby Cafe
This cafe is mostly occupied during breakfast. Although the choice is limited, they still have all kinds of breakfast dishes, from sweet and savory, ranging from $13-17. They also have a range of coffee and tea, as well as pastries.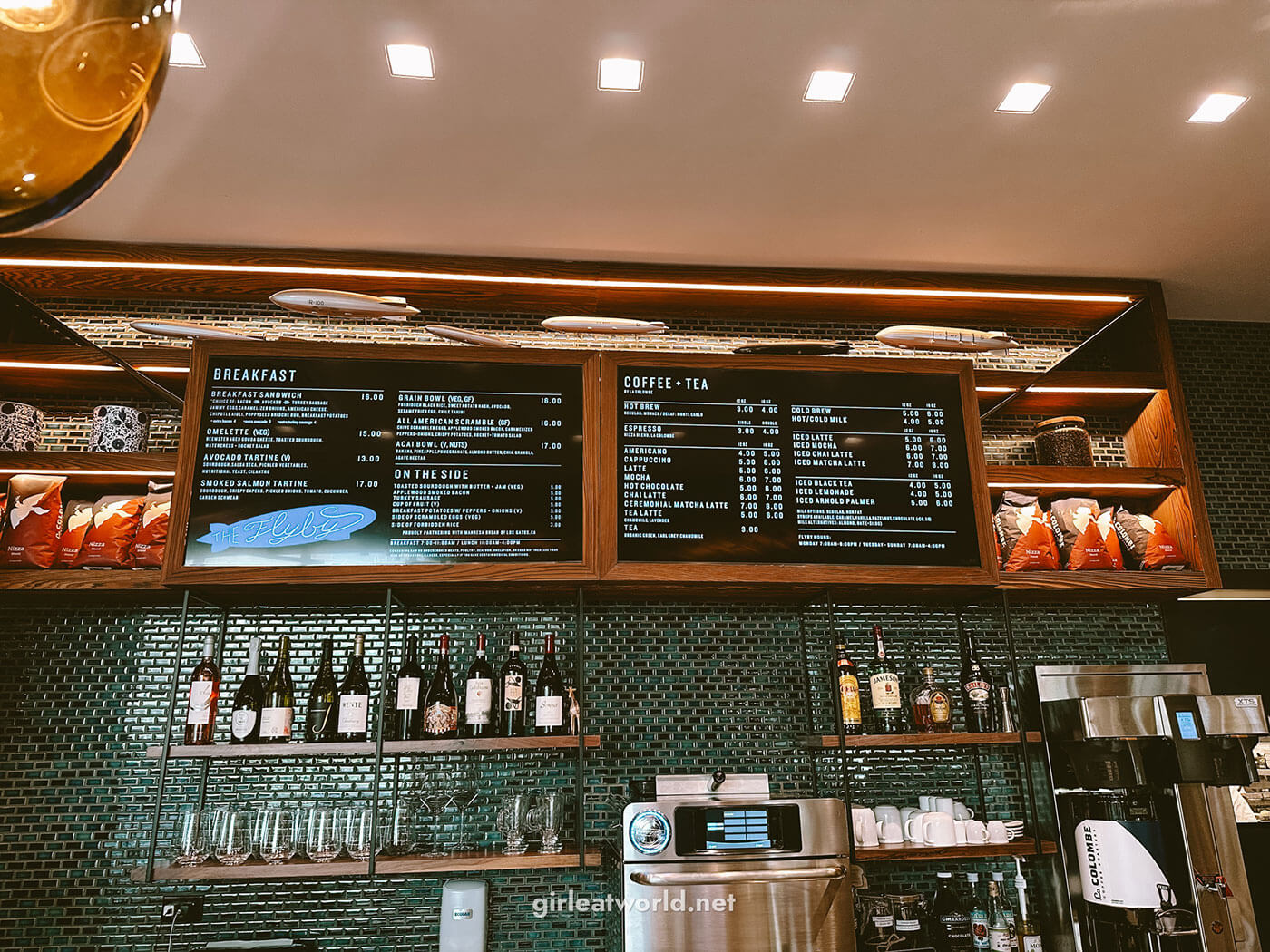 I find the portion to be just right for one person. Between myself and my team members, I am quite sure we tried almost everything on the menu, and they were all tasty. I have no complaints!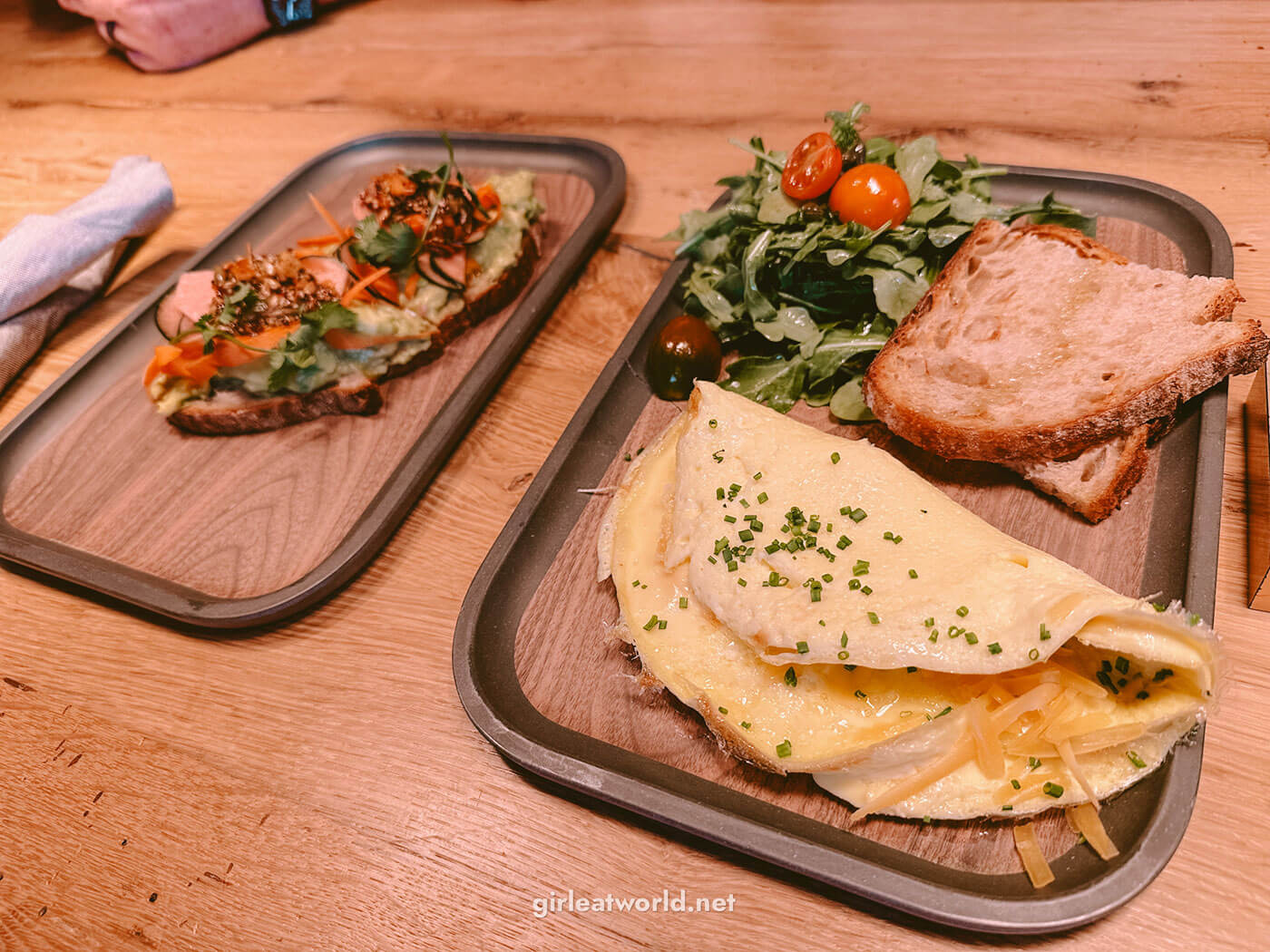 2. Roger Bar and Restaurant
We did one of our team dinners at the Roger Bar and Restaurant. They have an extensive list of items on their menu, from salads to entrees and cocktails. I enjoyed their braised beef cheeks and pacific salmon. View their menu here!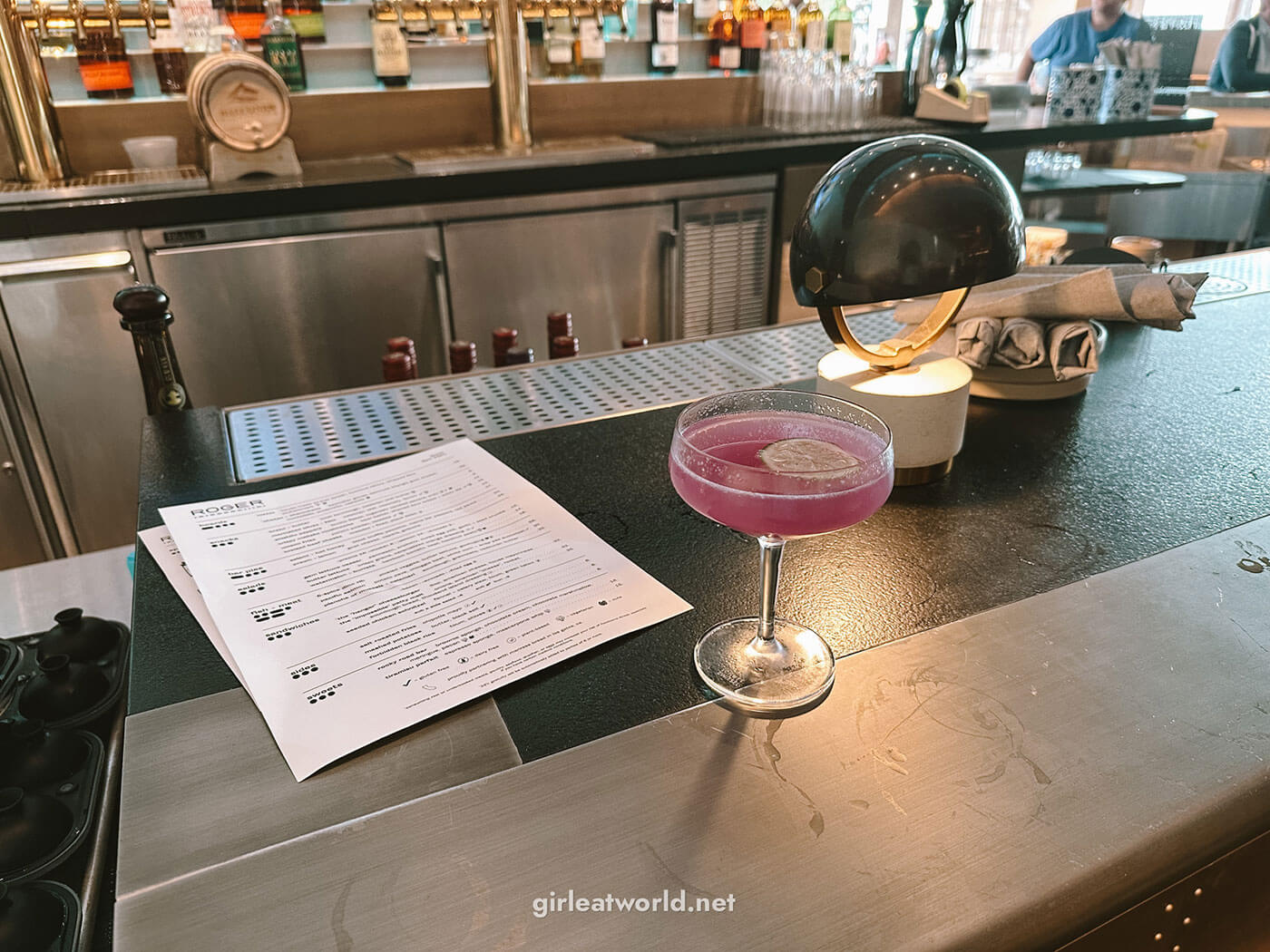 For a large group, you have the option to sit by the fire pit outside, at a cozy table that can accommodate 10-15 people around the fire pit.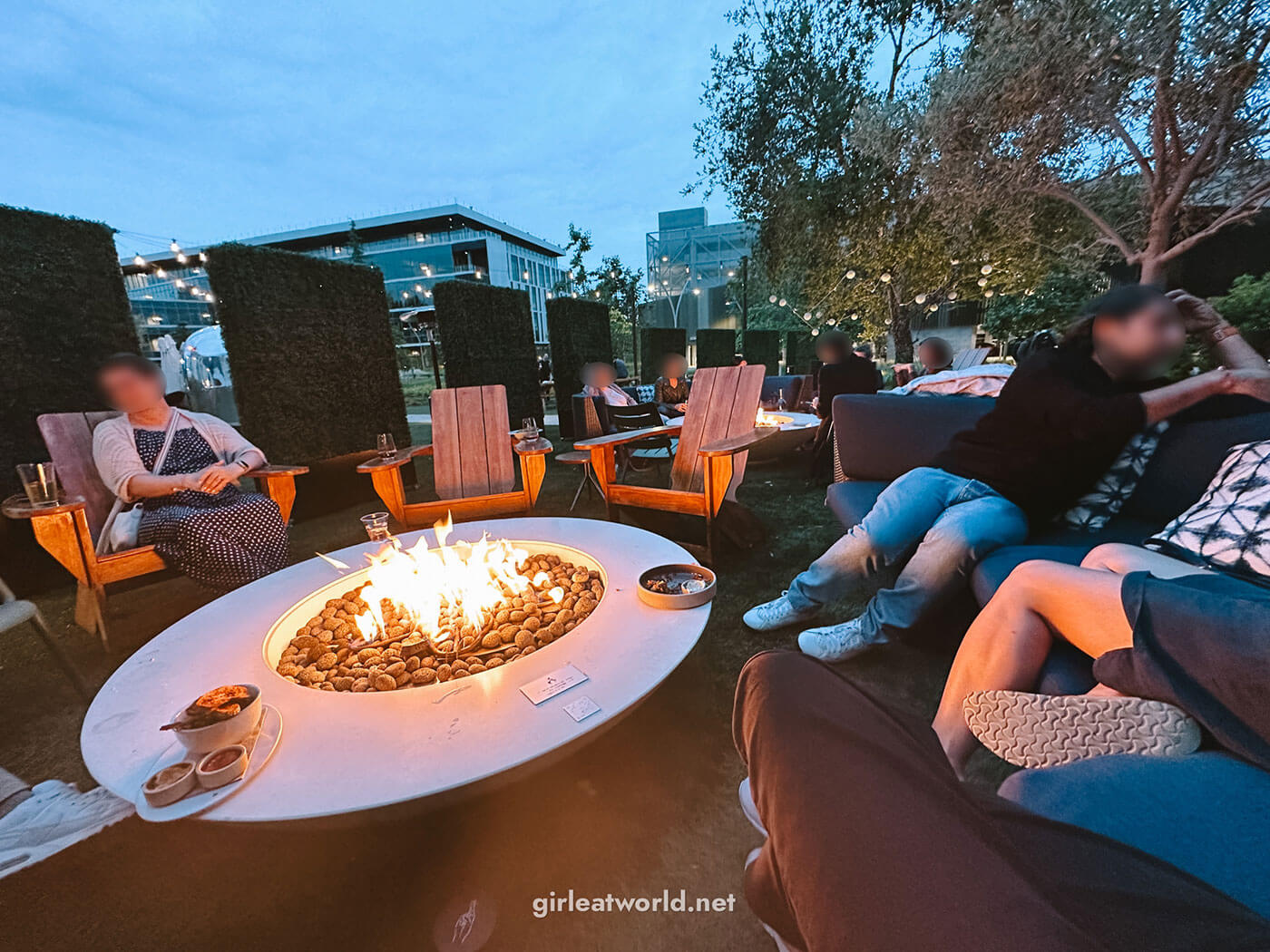 Other Amenities at The Ameswell Hotel
One of the main draws of Ameswell is that they provide resort-like facilities. Unfortunately, I did not get to try these facilities since I was there for work and my schedule was packed, but I hope you get to check them out!
Outdoor Saltwater Pool – Perfect in the summer months for lounging by the pool or a little dip
24-hour Fitness Center – The fitness center has the usual pieces of equipment you would expect from a hotel gym – elliptical machines, bikes, and a weight station. But one of the features that sets them apart is that they also have Mirror by Lululemon, which allows you to get a guided workout at any time.
Recommended things to do near The Ameswell
Stevens Creek Trail – There is a small trail next to the hotel, which you can follow to the Shoreline area if you head north. This includes Shoreline Amphitheater, so if you're having issues finding parking you could technically walk back to the hotel if you're up for it.
Shoreline Lake – This is a beautiful walk along the shores of San Francisco Bay, which you can access from the Stevens Creek Trail from Ameswell Hotel.
Computer History Museum – If you are a computer geek like myself, this is a must-visit. There are so many artifacts you can see and history to learn. I would allocate 2-3 hours for a visit. It cost $19.50 to enter but if you work in a tech company with headquarters nearby, you might be able to get a discount by showing your badge.
Mountain View Transit Center – You can catch the Caltrain to San Francisco from this station, or bus lines to Stanford or San Jose.
And that's all I have to say about my stay at the Ameswell! Until next time 👋
Note: I stayed at The Ameswell as part of my full-time job, which is completely unrelated to Girl Eat World. I was not compensated to write this review. All thoughts and opinions are honest and remain my own.