Wow, so I was being all nostalgic and looking back at a series of posts from one of the most memorable trips of my life – visiting the Northern Territory of Australia. That's when I realized I had one more post that I never published from that trip! And it's the most important one too – you'll see why in a moment.
So without further ado, here is a post on my time visiting Uluru, the famous Red Center, and one of Australia's most iconic landmarks.
This post is the fifth of a series of posts on the amazing time I had in the Outback. You can check out 'Northern Territory' category to see more posts from the outback and 'Australia' category for all posts on Australia.
What is Uluru and why is it so special?
Uluru is a large monolith sandstone formation in the middle of Australia. Although it isn't the largest monolith in the world, it is believed to be half of a billion years old, stands 348 meters high, and has a circumference of 9.4 km. The largest monolith is Mount Augustus in Western Australia, 2.5 times the size of Uluru.
Uluru is special because it is home to many rare plants and animals. It is also an important spiritual site, sacred to the Anagu aboriginal people, with many caves painted with ancient rock art.
Should I call it Uluru or Ayers Rock?
You might have seen the name Ayers Rock being used while referring to Uluru. That's because, for many years, Ayers Rock was the official name to refer to this amazing rock formation. The name was changed back to Uluru in 2002.
In short, you should refer to the rock as Uluru, not Ayers Rock.
Why was it called Ayers Rock to begin with? To answer that, we'll need to go back to the 1800s. Uluru was first sighted by Ernest Giles, a European explorer, back in 1872 during an expedition in central Australia. A year after that, Uluru was again sighted in 1873 by William Gosse, another European explorer, on a separate expedition. Gosse then named it "Ayers Rock", after Sir Henry Ayers, a Premier in South Australia at that time. The name stuck around for hundreds of years.
However, as we now know, the European explorers did not "find" Uluru. It has existed for millions of years and had been known to the indigenous Pitjantjatjara / Anangu Aboriginal people for tens of thousands of years.
To them, Uluru is not just a monolith rock, it is a sacred site with significant cultural and spiritual meaning, evidenced by the ancient rock paintings that can be seen in the caves in Uluru.
Starting in 1993, Uluru was added to the official name which became "Ayers Rock / Uluru". However, in 2002, the naming was reversed to become "Uluru / Ayers Rock", placing Uluru as the first and official name of the rock.
Can you climb up to the top of Uluru?
Since October 2019, it is illegal to climb Uluru. The answer is plain and simple – you cannot climb Uluru as dictated by law.
Climbing Uluru has always been highly discouraged out of respect to the Anangu people, who have specifically spoken out against it. This is because the path to the top of Uluru is associated with important Mala ceremonies. The people of Anangu believe that during the time when the world was being formed (referred to as Dreamtime), the path was the traditional route of ancestral Mala men on their arrival at Uluru.
So please, just admire the rock from afar and do not try to climb it! It's still amazing to see, I promise!
How to get to Uluru
The closest civilization to Uluru is a tiny town called Yulara, and here are ways to get to Yulara:
Yulara by Bus from Alice Springs – I took a tour bus by AAT Kings Bus Alice Spring to Uluru, which took approximately six hours. Although it's not the most direct way, this is probably the best way if you want to visit Alice Springs too. Plus you get to see some interesting sights on the way! Camel farms, Salt lakes, and "false Uluru" Mount Conner.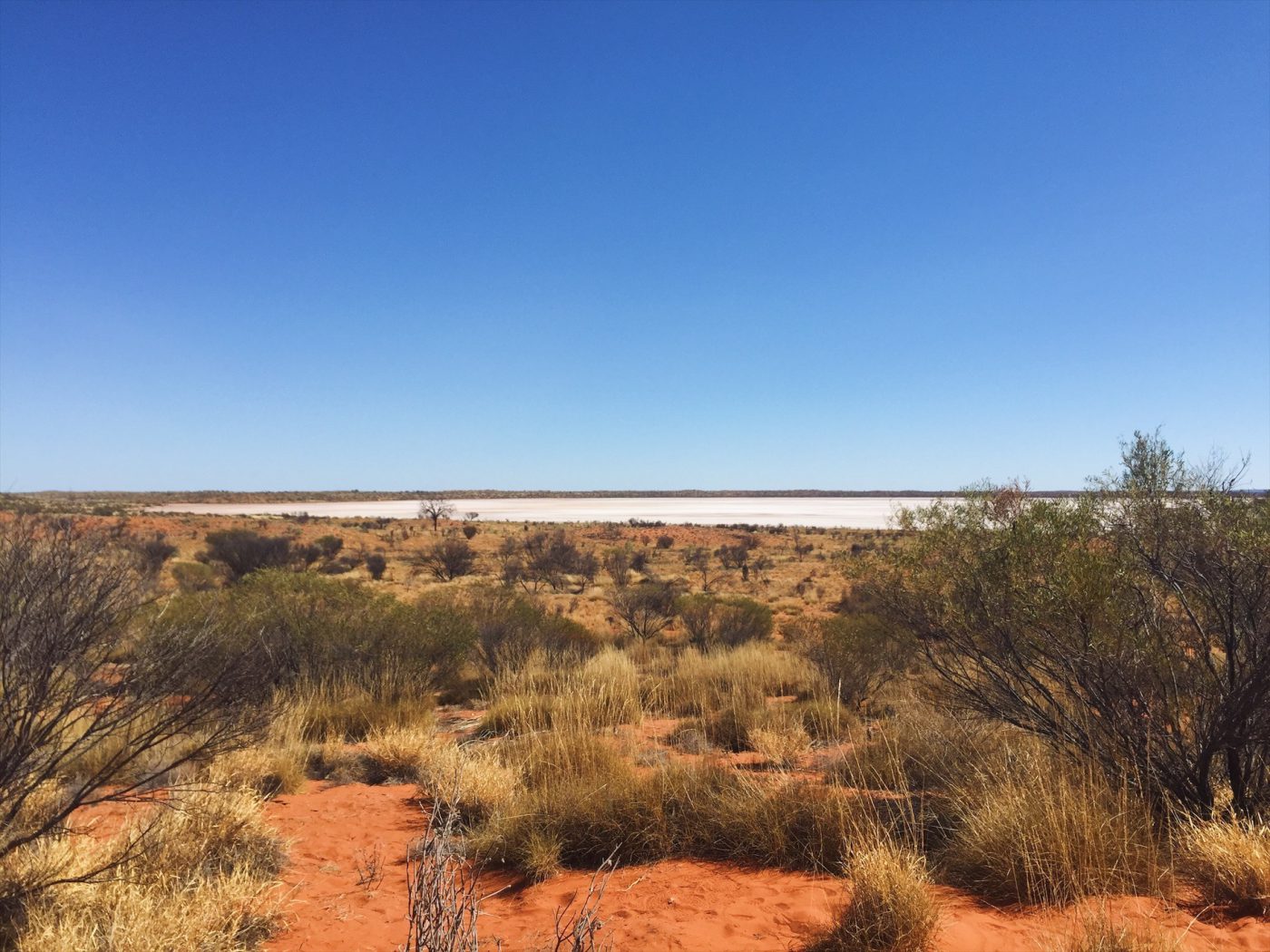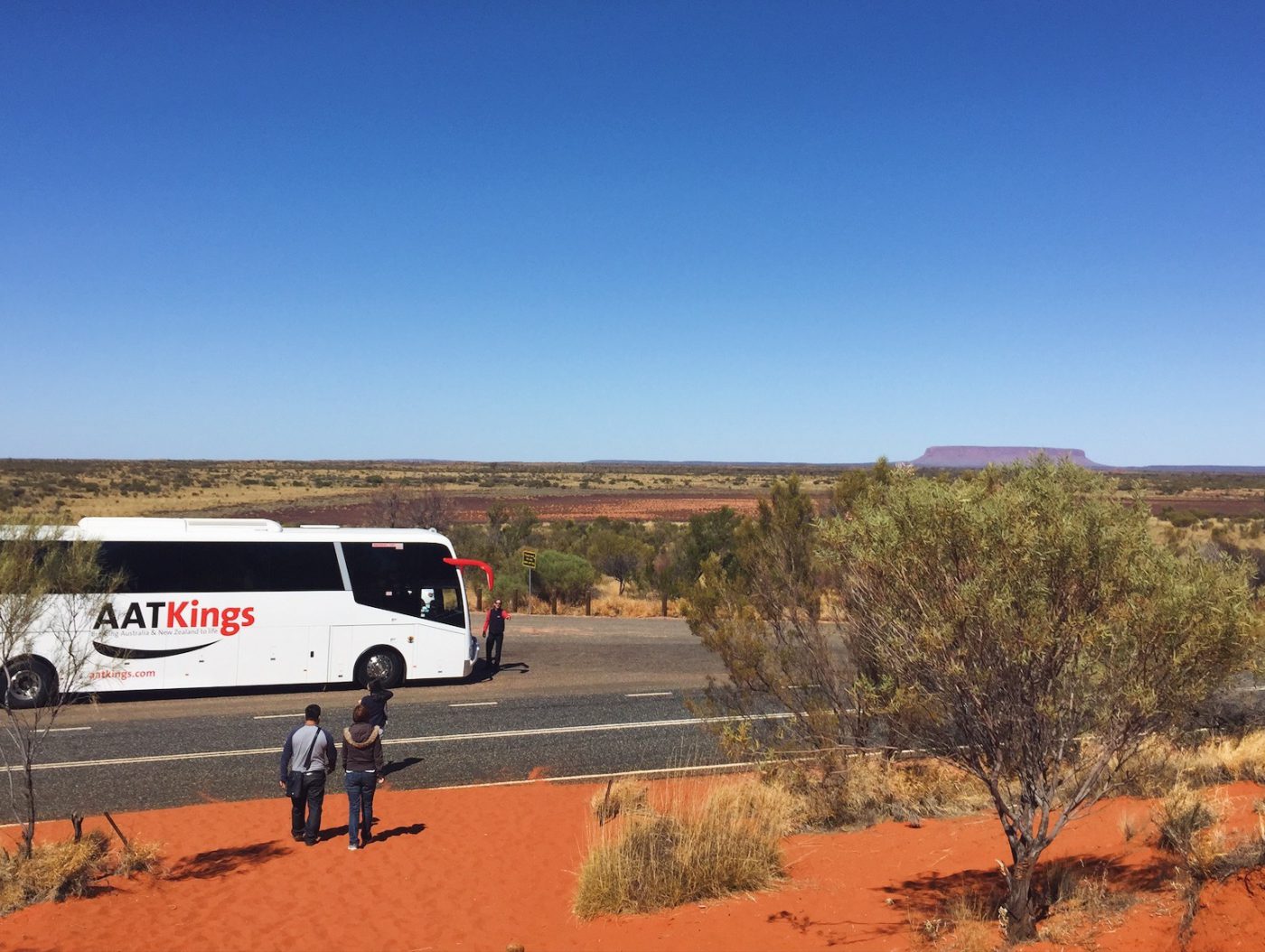 Yulara by Direct Domestic Flight from cities in Australia – Thanks to the great interest and tourism, there is actually an airport in Yulara called Ayers Rock Airport (I guess they never bothered renaming the airport itself). You can find frequent domestic flights from other parts of Australia to this airport – Sydney, Melbourne, Brisbane, Adelaide, and Darwin. I flew out to Sydney direct from this airport! However, there are no international flights flying to Uluru.
Where to stay near Uluru
As I said before, the only civilization near Uluru is in a tiny town called Yulara. In Yulara, there are seven resorts and hotels, collectively called the Ayers Rock Resort. It is convenient because all of the accommodations in this resort will offer an airport shuttle and a complimentary shuttle to Yulara town.
If you want a hotel with a view of Uluru, you might want to book the Deluxe Rock View Room at Desert Gardens Hotel. Otherwise, you can try Sails in the Desert Hotel.
I stayed at Outback Pioneer Hotel and Lodge which was the more economical out of all, but still, a great place to stay.
There is also a campground called Ayers Rock Campground.
Things to do in Uluru
Now, that you're here, let's cover all the things to do in Uluru:
1. Capture Uluru at different times of the day
The whole reason why you're here is to admire Uluru, so why not catch it at different times of the day? I did, and I have this amazing photo to show. This photo shows Uluru in the morning (just before and after sunrise), in the afternoon, and at sunset.
NOTE: I don't normally point this out, but this is one of my favorite photos I've ever taken in all of my travels, so if you want to borrow it for your own use, please ask me first and give me credit by linking back to this post.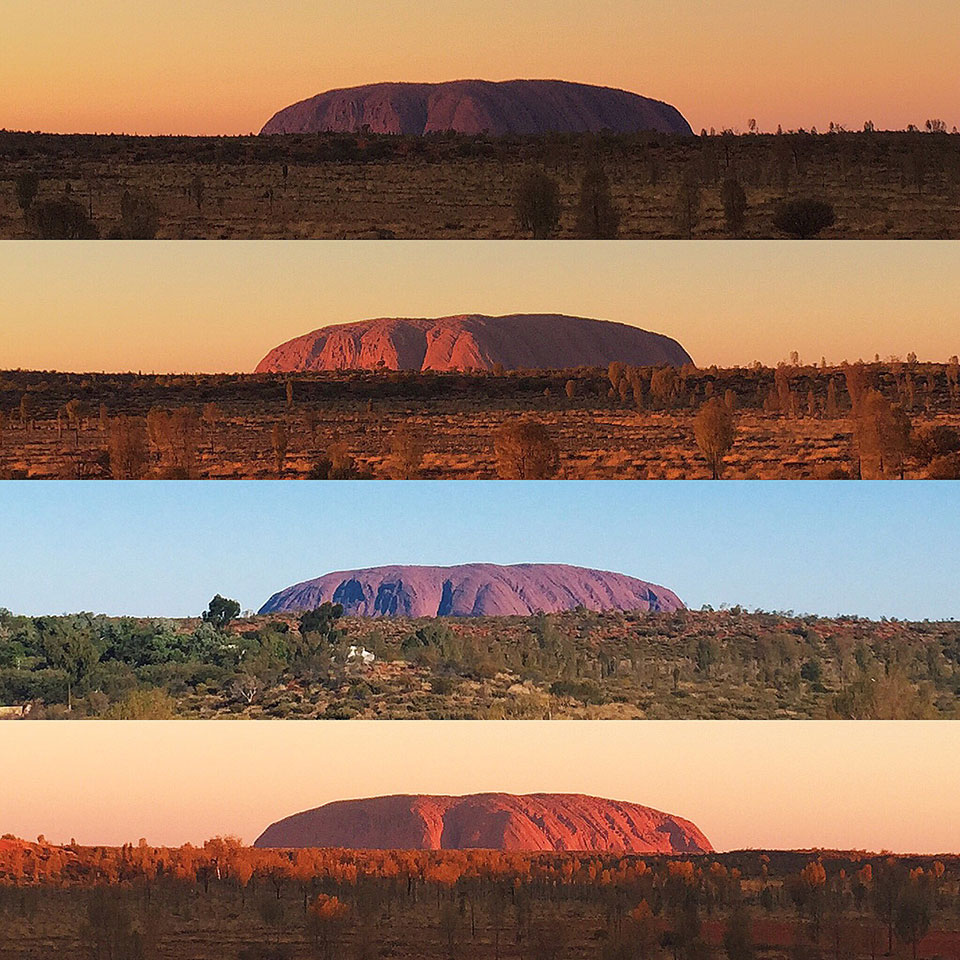 So how can you see Uluru at different times of the day? If you are not planning to rent a car and drive your own car, there are tour options you can take:
Tours to see Uluru at Sunrise
Tours to see Uluru at Sunset
2. Explore Yulara Town
Yulara is not a large town by any means. The entire town consists of one less than 2km circular road, which you can walk around in under 20 minutes.
Okay, this is the city girl speaking again, but I am still so amazed by how far away from civilization this place is. Although Alice Springs is the geographic center of Australia, staying in Yulara definitely beats it out in terms of how remote this place is. I have visited many other parts of the world since then, but none felt quite as remote as this place.
In Yulara, I recommend going to Imalung Lookout Point, where you can see Uluru from the top. It's a very easy walk!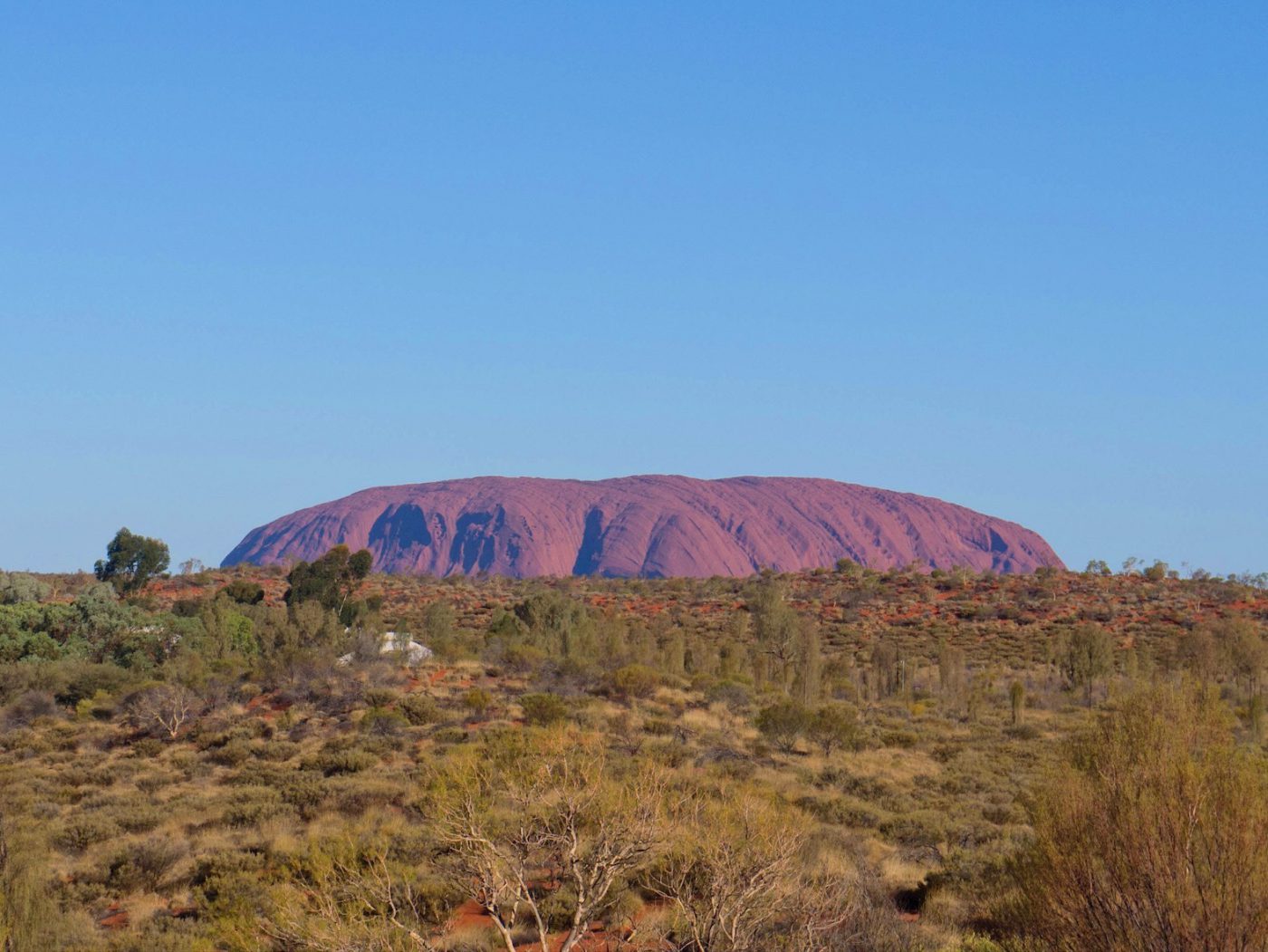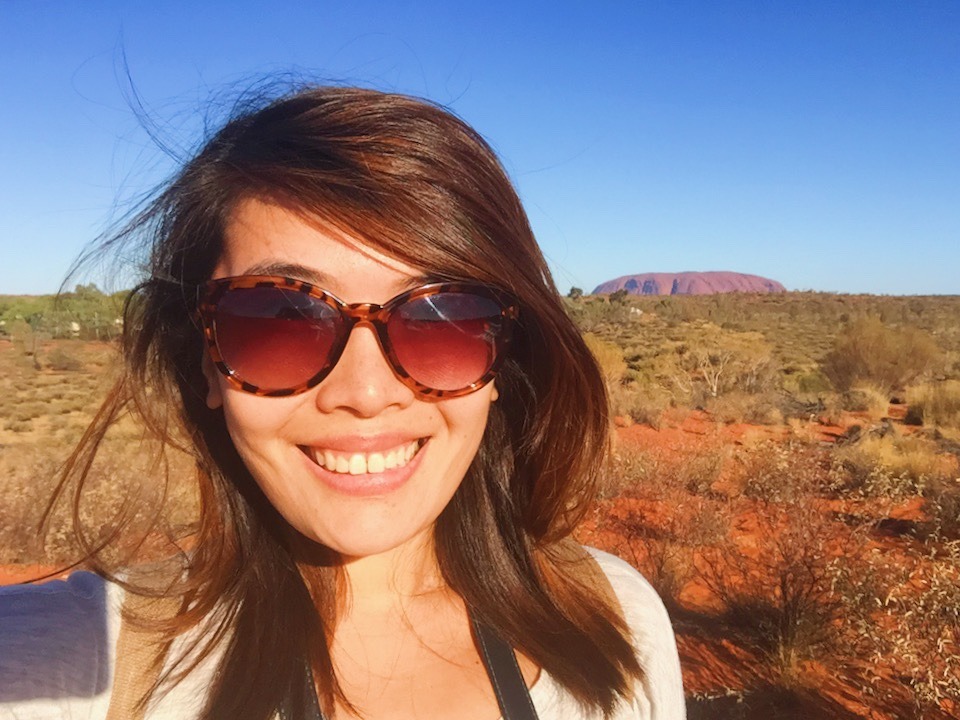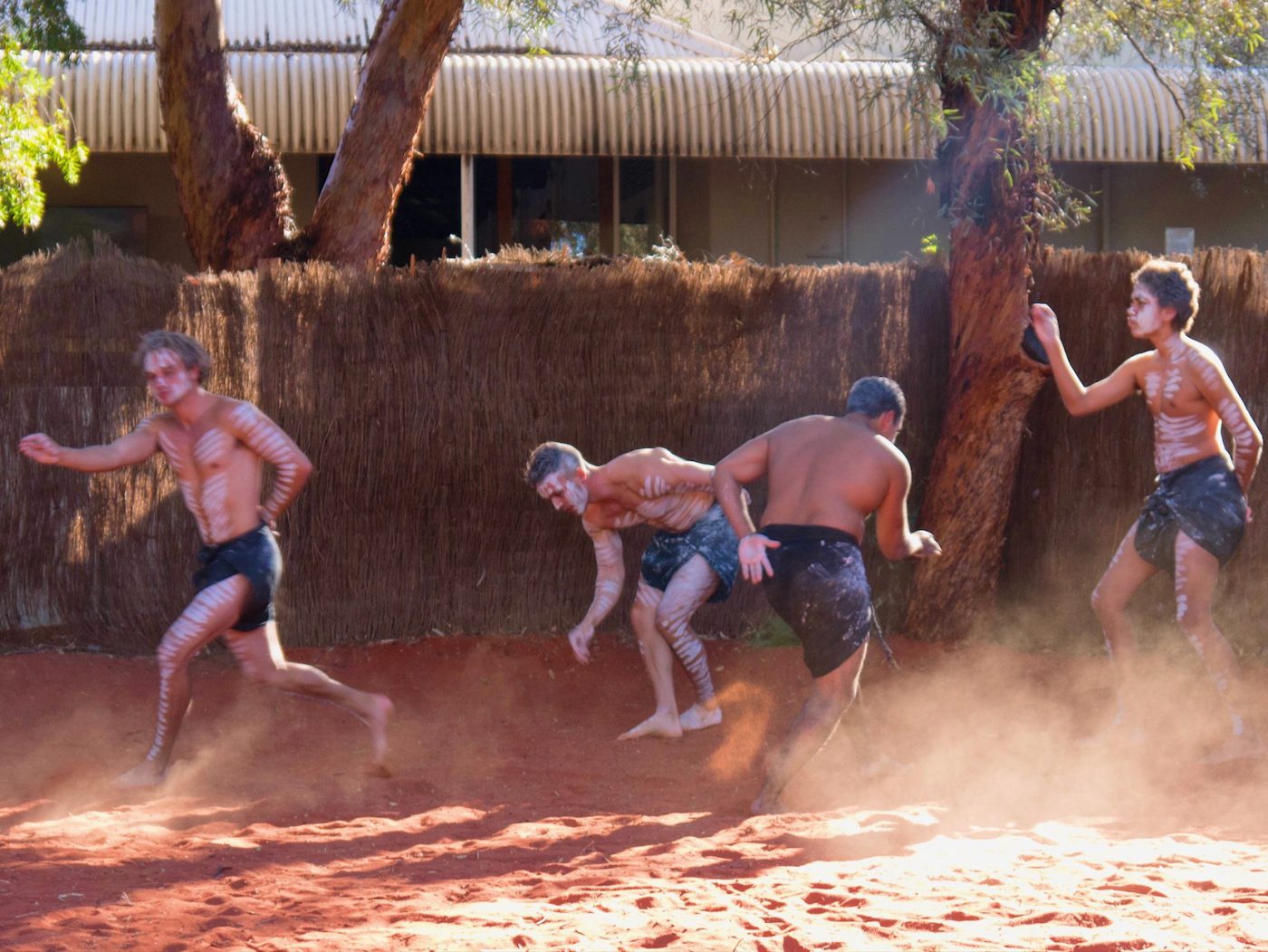 You can visit the visitor center area for meals, groceries, and some restaurants. They'll also have some performances and light activities scheduled throughout the day.
3. See Uluru at Sunset and Night – Sounds of Silence Outback BBQ Dinner under the stars
This is probably one of the most famous activities in Uluru. Sounds of Silence dinner takes you to a private space near Uluru, where you'll be served wine and hors-d'oeuvres (which included kangaroo meat!) while watching Uluru change color as the sun begins to set.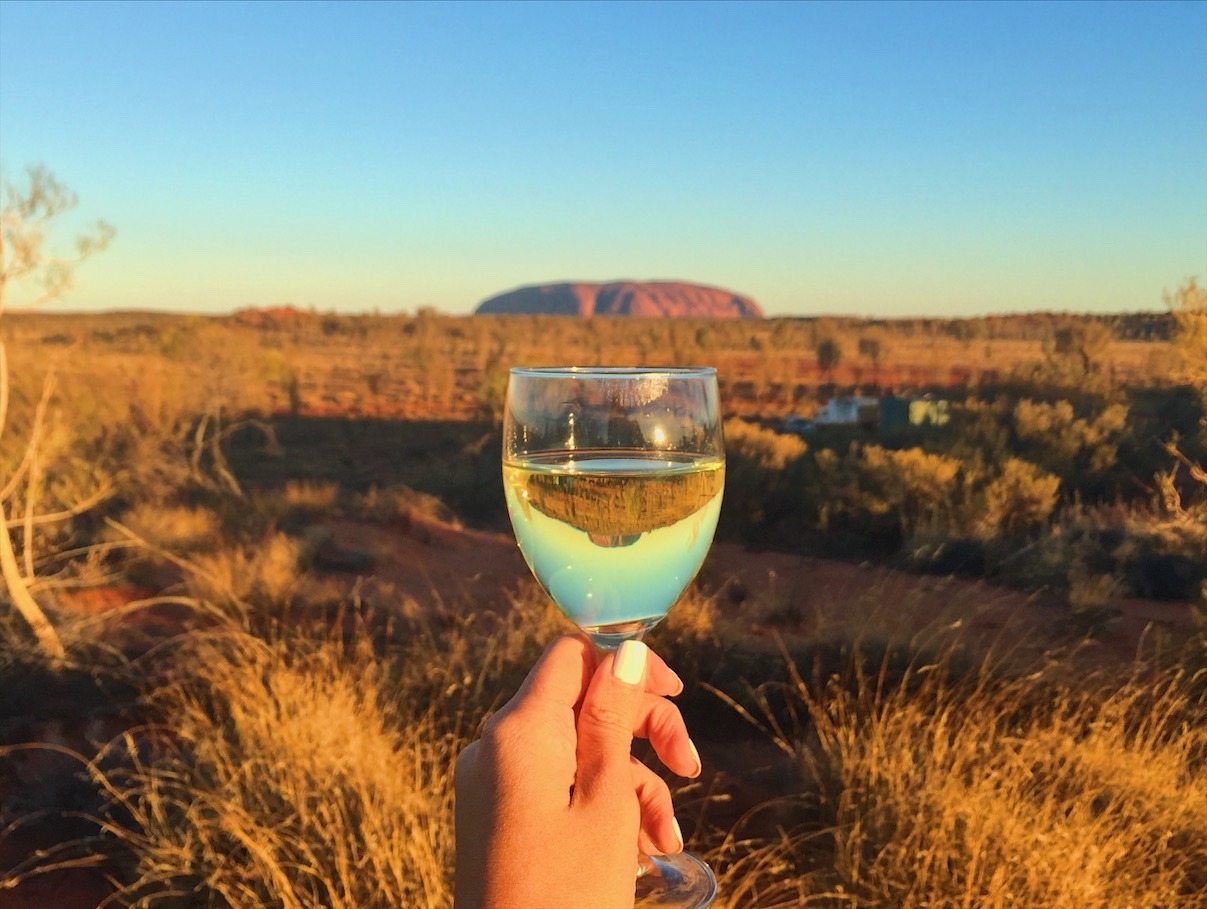 After Sunset, you will then be ushered to the dining area, where white linen round tables are waiting for you.
I was traveling alone, so I was seated with a larger group of people. Lucky for me, I got seated with super cool folks – a group of older Australians who are doing a cross-continent bike tour from Melbourne.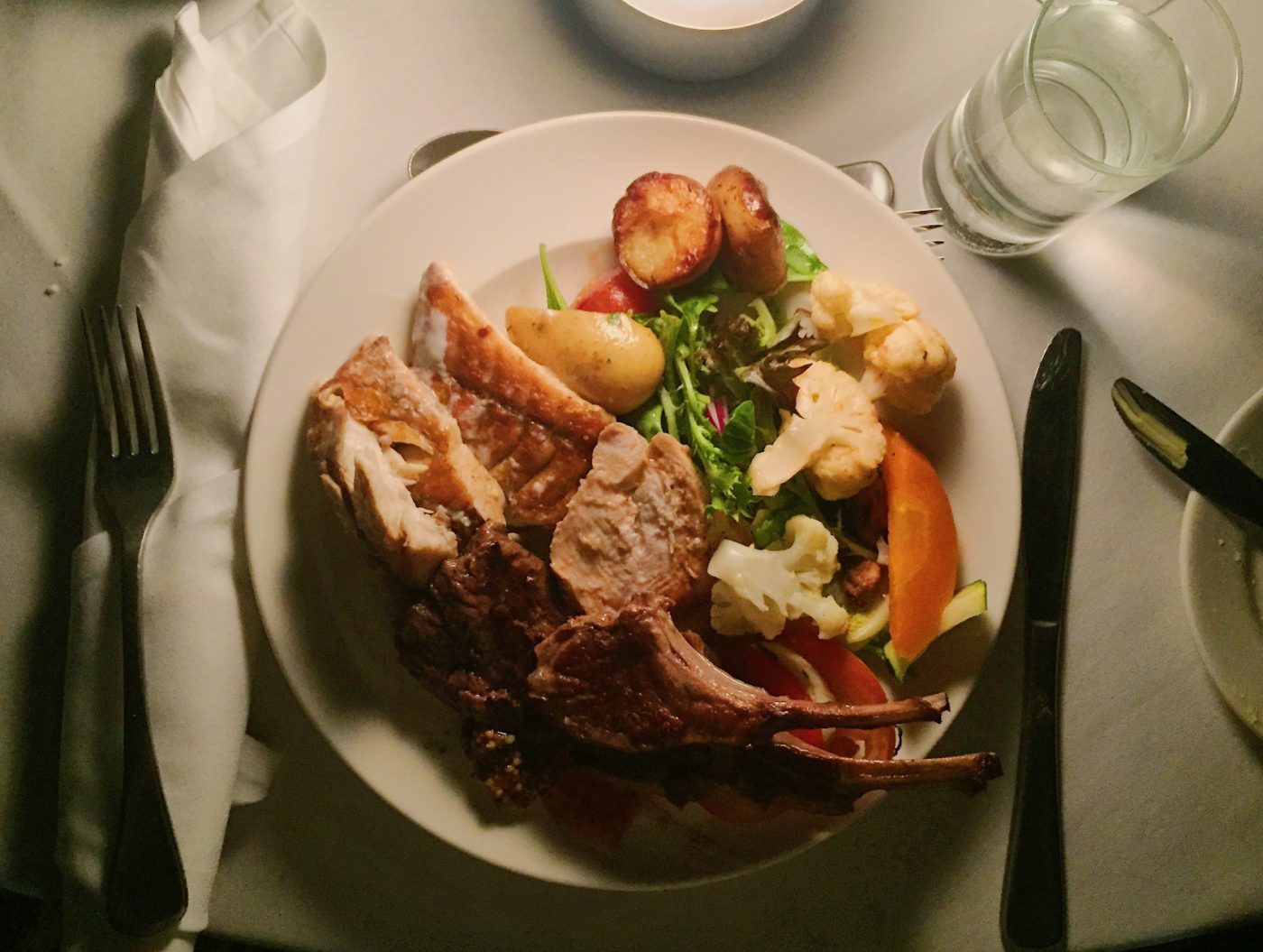 Sound of Silence was one of the most memorable activities I've ever done, because of what happens next: Once the sun has completely set, you get to enjoy the starry night sky! And since we were in the middle of the desert, there were absolutely no clouds which makes for a very clear night. The night sky was just filled to the brim with white sparkly stars – and planets!
We were able to see planet Jupiter via a telescope too. And for me, it was the most remote I had ever been in my life and I had never seen that many stars in my life before.
Unfortunately, my photography skill was not that great back then and I did not have a tripod with me, so I don't have any photo evidence of the stars 🙁 you'll just have to trust me that it was worth the experience!
➡️ You can book Sound of Silence here.
That said, the Sounds of Silence is a bit more on the higher-end option. If you are looking for something more affordable, you can consider the following sunset tours with optional BBQ:
4. See Uluru at Sunrise – Sunrise Camel Ride with views of Uluru and Kata Tjuta
This was my first time ever seeing a real camel! Though I later saw (and rode) many more camels on my trip to Jordan, I'll always remember this camel ride as my first time ever.
Book the Sunrise or Sunset Uluru Camel Ride Experience here.
On this tour, you start the day very early at 5:30 am, to ensure you are there before sunrise. By the time we got to the camel farms, the camels are already sorted in formation. This is because of the way camels work in the wild – they walk in the order of the personality of the camel. The alpha, more confident camels will lead the pack, followed by the rest of the pack in a line formation.
However, the most confident camel walks last, in order to protect the rest of the pack from predators. If you assign the less confident camel first or last in the line formation, it might cause chaos and they might refuse to walk.
You are then asked to stand in line and will be assigned one camel for the morning, and off you go, 10-15 camels at a time.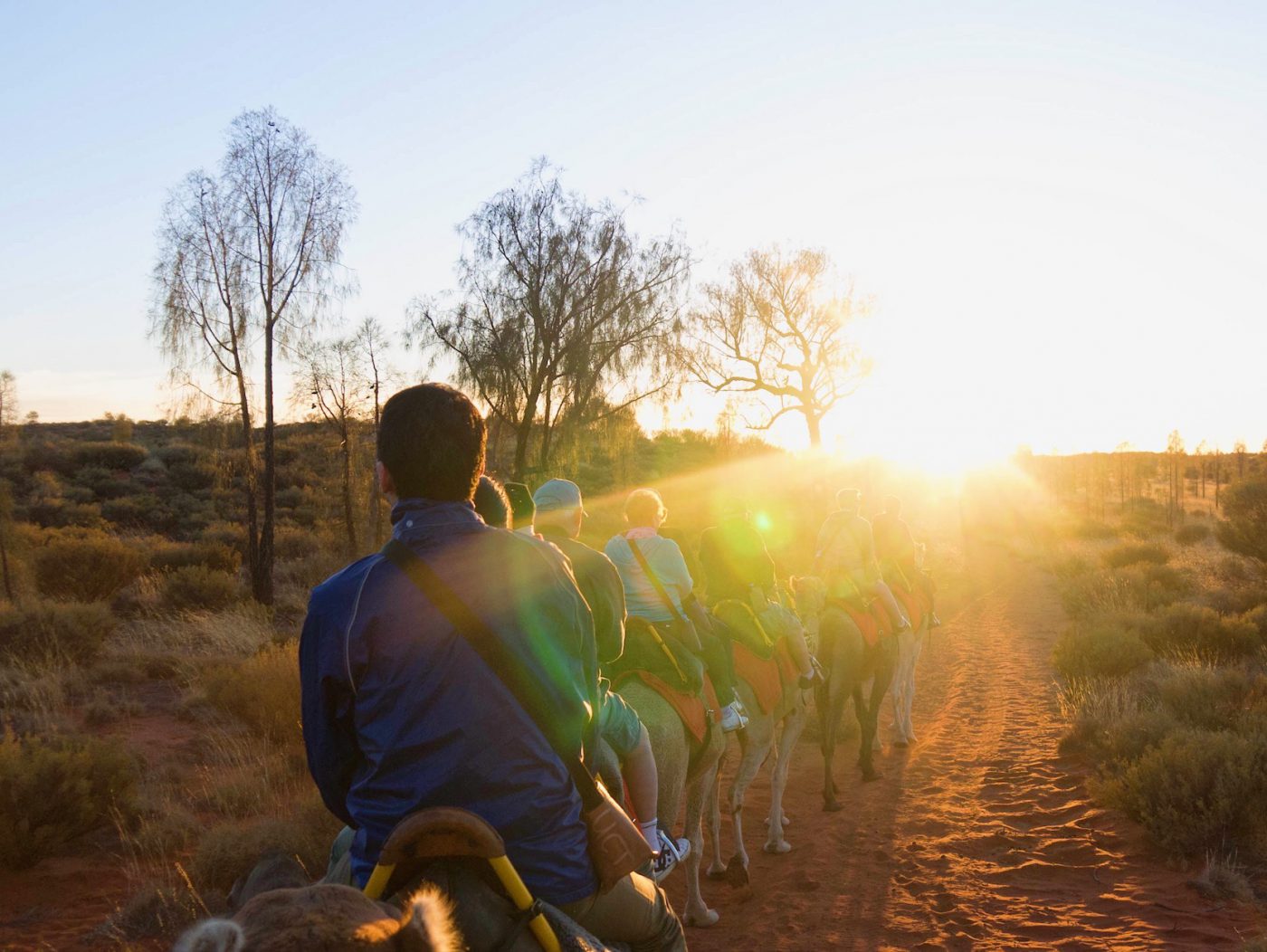 This next photo is a silhouette of the herd of camels that were walking before us. We were required to wait for them to get to the top before we can proceed.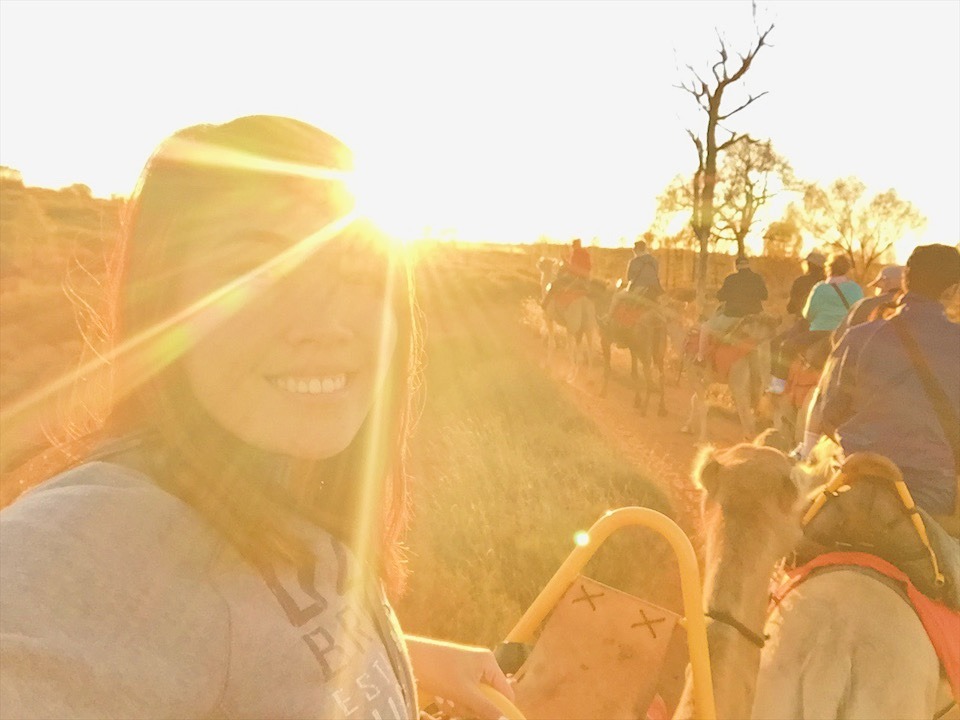 Aside from Uluru, we also saw Kata Tjuta from afar during the ride. And (I think) because of the angle from where our tour was conducted, the Kata Tjuta side was actually even more colorful than the Uluru side!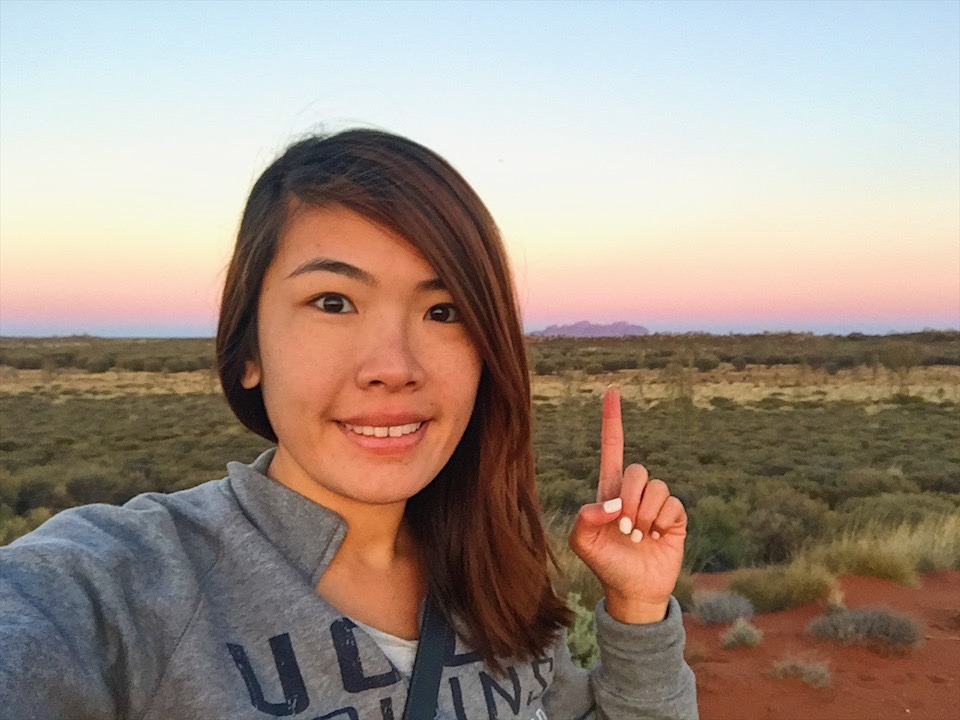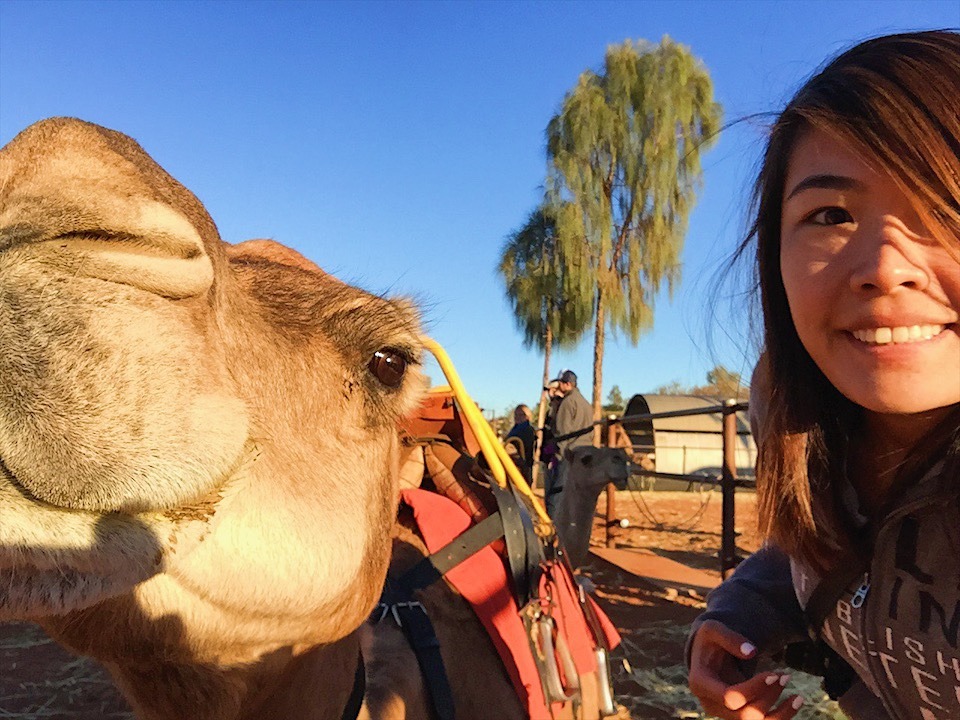 So yeah, that's why this trip to Uluru was so memorable for me. I'll never forget the calm and silence as we were riding in formation and the beautiful colors that kept changing every minute over Uluru and Kata Tjuta.
Book the Sunrise or Sunset Uluru Camel Ride Experience here.
5. Visit Kata Tjuta and King's Canyon
There are many other activities you can do in this area, but I was only there for two days, so I didn't have the time for it. But here are some activities I would have done if I had more time:
6. Get one last look at Uluru and Kata Tjuta from above
If you are flying out of the Ayers Rock Airport, you should research ahead of time and see which side of the airplane will Uluru and Kata Tjuta be visible from. I flew out of the airport to Sydney and I sat on the left side of the plane, and to my delight, I was able to snap a couple of last-minute photos of the rocks from the plane!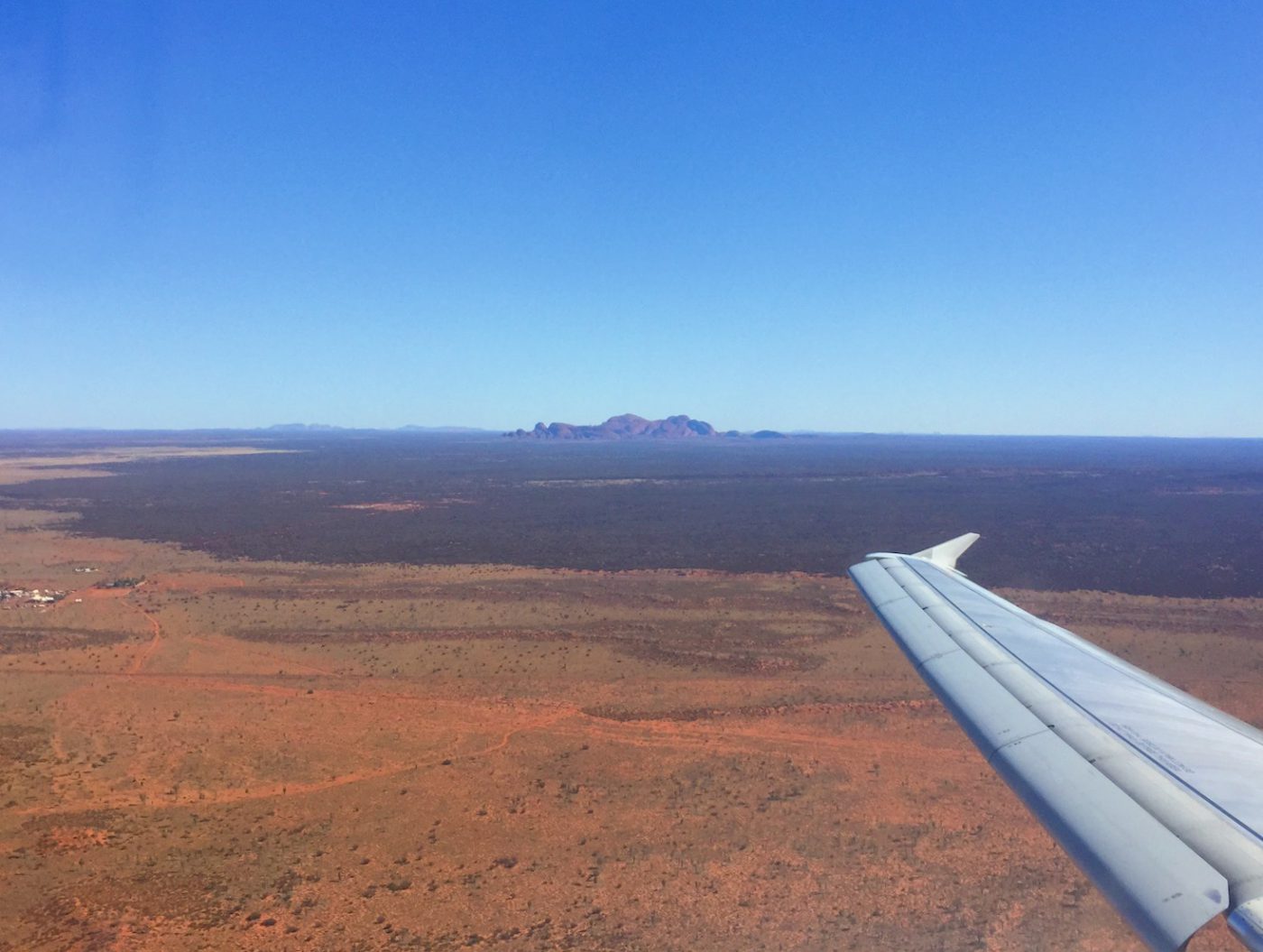 And unfortunately, that wraps up my time in the Northern Territory. This post is the fifth (and last) of a series of posts on the amazing time I had in the Australian Outback! You can check out 'Northern Territory' tag to see more posts from the outback and 'Australia' tag for any posts I will be doing in Australia.
Note: I was a guest of YHA Australia for the purpose of writing this post. All opinions remain solely mine.