For the past few years, I ended up spending my birthday in Tokyo. It coincides with the holiday season and that's when we would do our annual pilgrimage back to our second home. On one of the years, my husband decided to surprise me with… a sunset cruise at Tokyo Bay!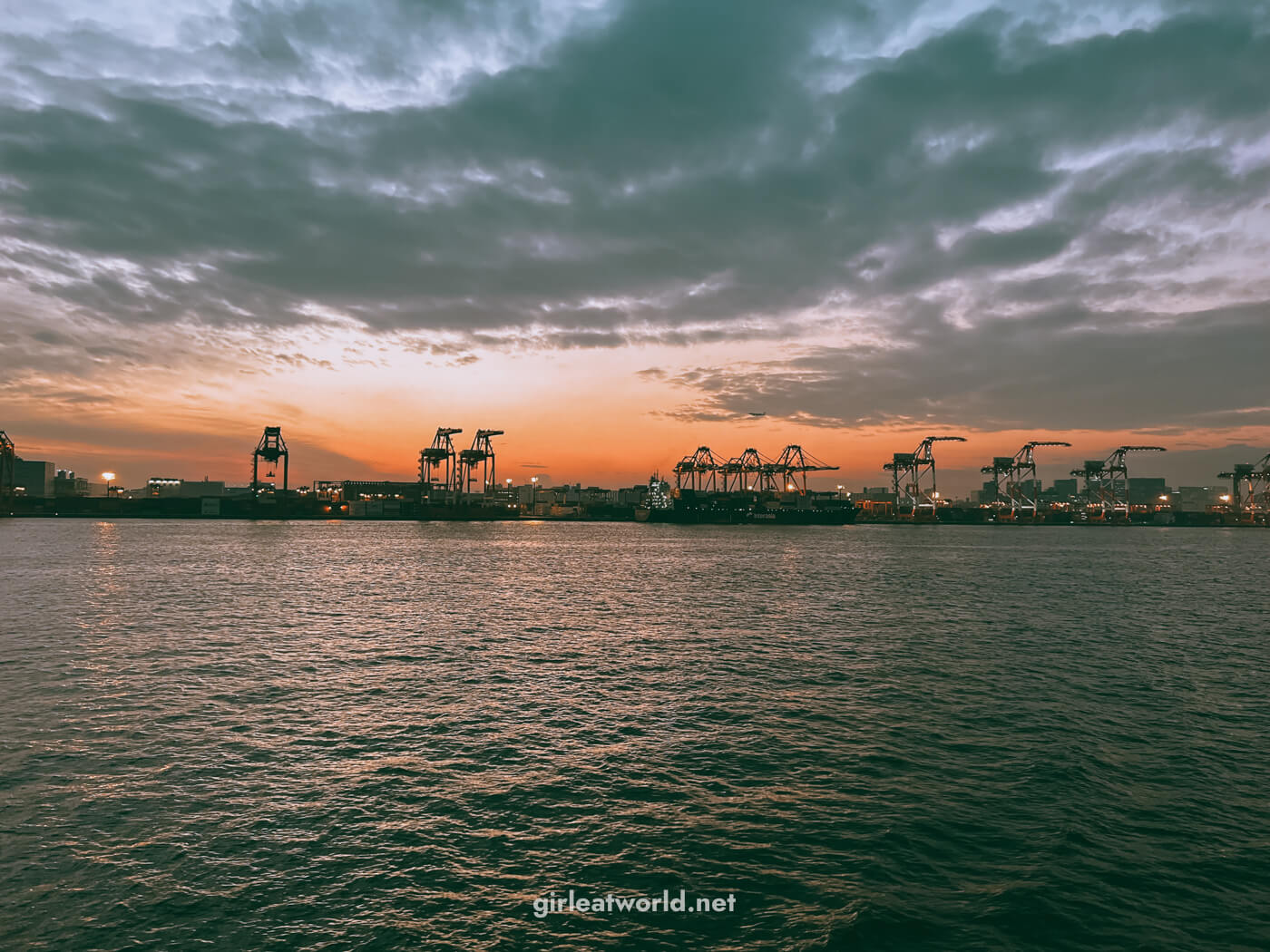 There are a few cruises in Tokyo, but the most popular one is probably The Symphony, and that's the one we went with. This post details our experience on the cruise!
🛳️ Book the sunset cruise here which runs from 4:20 PM to 6:20 PM. If this timing doesn't work for you, The Symphony also offers cruises at other times – scroll down to see all the cruise options!
About Symphony Cruise
Symphony Cruise is a cruising company that runs multiple cruises out of Tokyo Bay. Symphony Cruise has two ships: Symphony Moderna and Symphony Classica.
Symphony Moderna started sailing in 1992 and can carry 600 passengers, including crew and employees. Symphony Classica, on the other hand, started sailing in 1989 with a capacity of 450 passengers.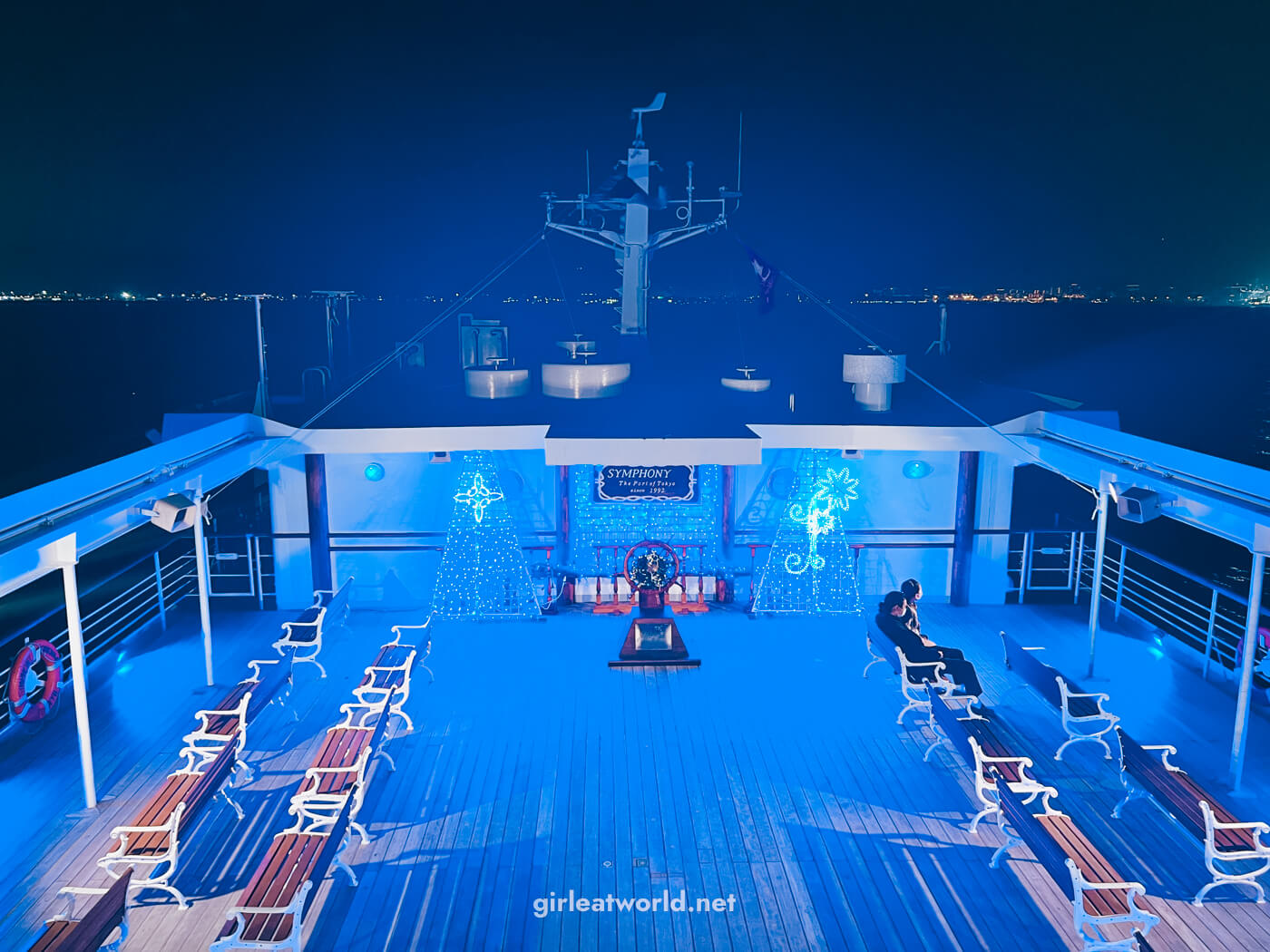 Symphony Cruise Route and Schedule
Symphony Cruise runs four cruises a day, with the following schedule:
The Symphony Cruise Schedule
Each cruise will follow a slightly different route as pictured below. But generally, the route sails under the Rainbow Bridge and Tokyo Gate Bridge. You'll also be able to see Tokyo Skytree from afar and planes landing or taking off from Haneda Airport.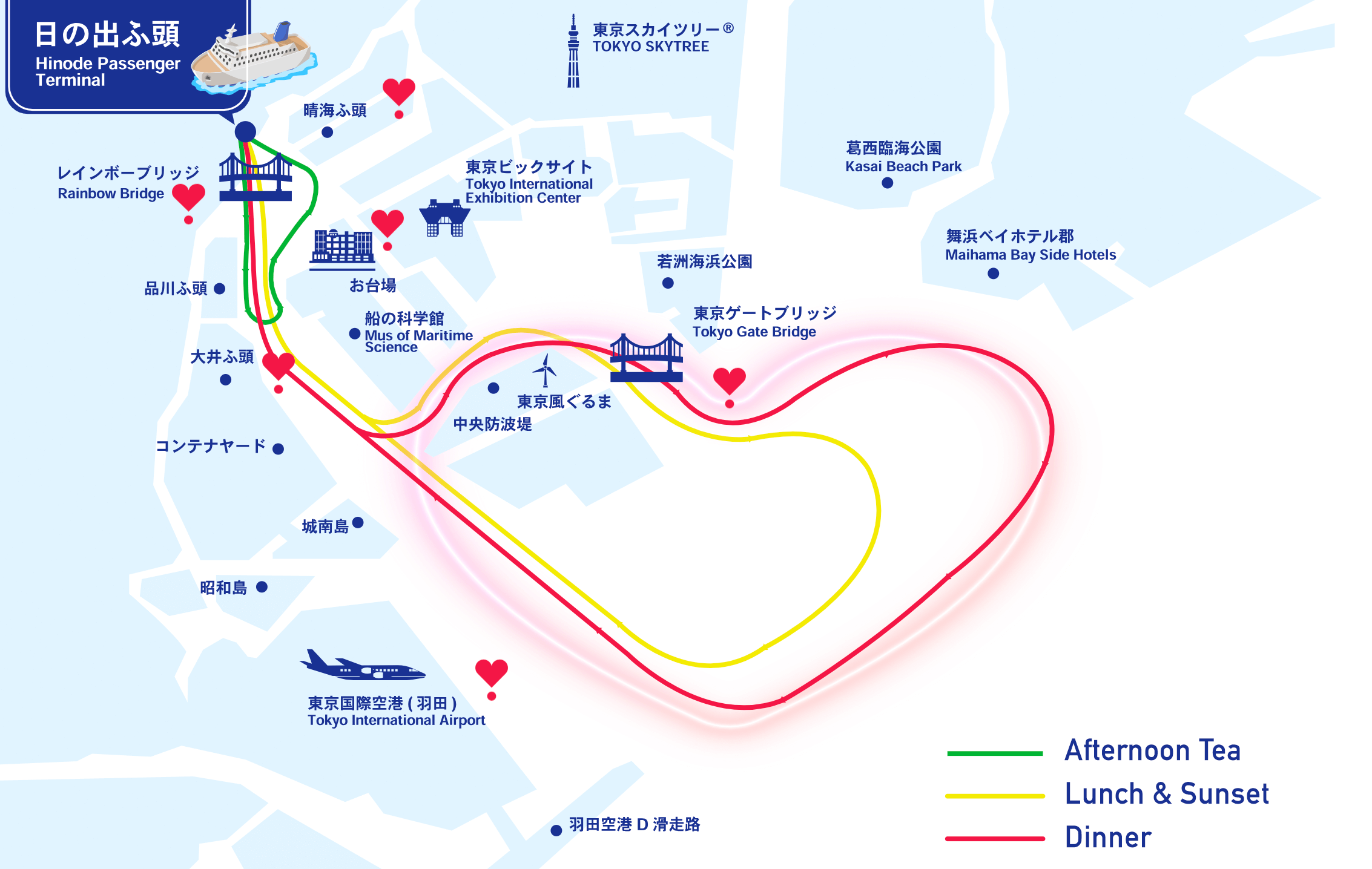 It is possible to book a guaranteed window seat for Sunset and Dinner Cruise. You just need to book a specific meal that will guarantee you a window seat, which will be indicated upon booking – usually, this is the Japanese Beef Steak set or the Royal French set.
Another note on seating – for the Sunset and Dinner Cruise, your seating is determined by which meal you booked. You cannot book different meals as you will be seated on different parts of the ship.
Children are allowed onboard for some of the cruises. For the lunch, afternoon, and sunset cruise, you can purchase discounted tickets for children aged 6-11. Small children 5 and below can be brought onboard for a further discounted fare, provided they don't occupy any seats and don't require food. However, for the dinner cruise, only children over 7 years old are allowed.
The cruise I went on was the Sunset Cruise, which runs for 2 hours in the late afternoon. But because I went during winter, the days are short and the sun sets about 20 minutes after we've started cruising… so it really felt like a dinner cruise.
Boarding Symphony Dinner Cruise
Symphony Cruise leaves from Hinode Pier, just a few minutes away from Hinode Station on the Yurikamome line.
Be there early. Get to Hinode Pier 15 minutes before the cruising time to be on time for boarding! The ship leaves on time right on the dot and they will not wait for late passengers.
We actually almost missed our cruise because my husband tried to keep the cruise a surprise for me. On the way to the pier, I kept getting distracted by other things and he couldn't discreetly tell me to hurry up (bless him, it must have been stressful for him). Then to top it off, we went to the wrong pier! We had to quickly grab a taxi to drive 2 minutes down to the correct pier.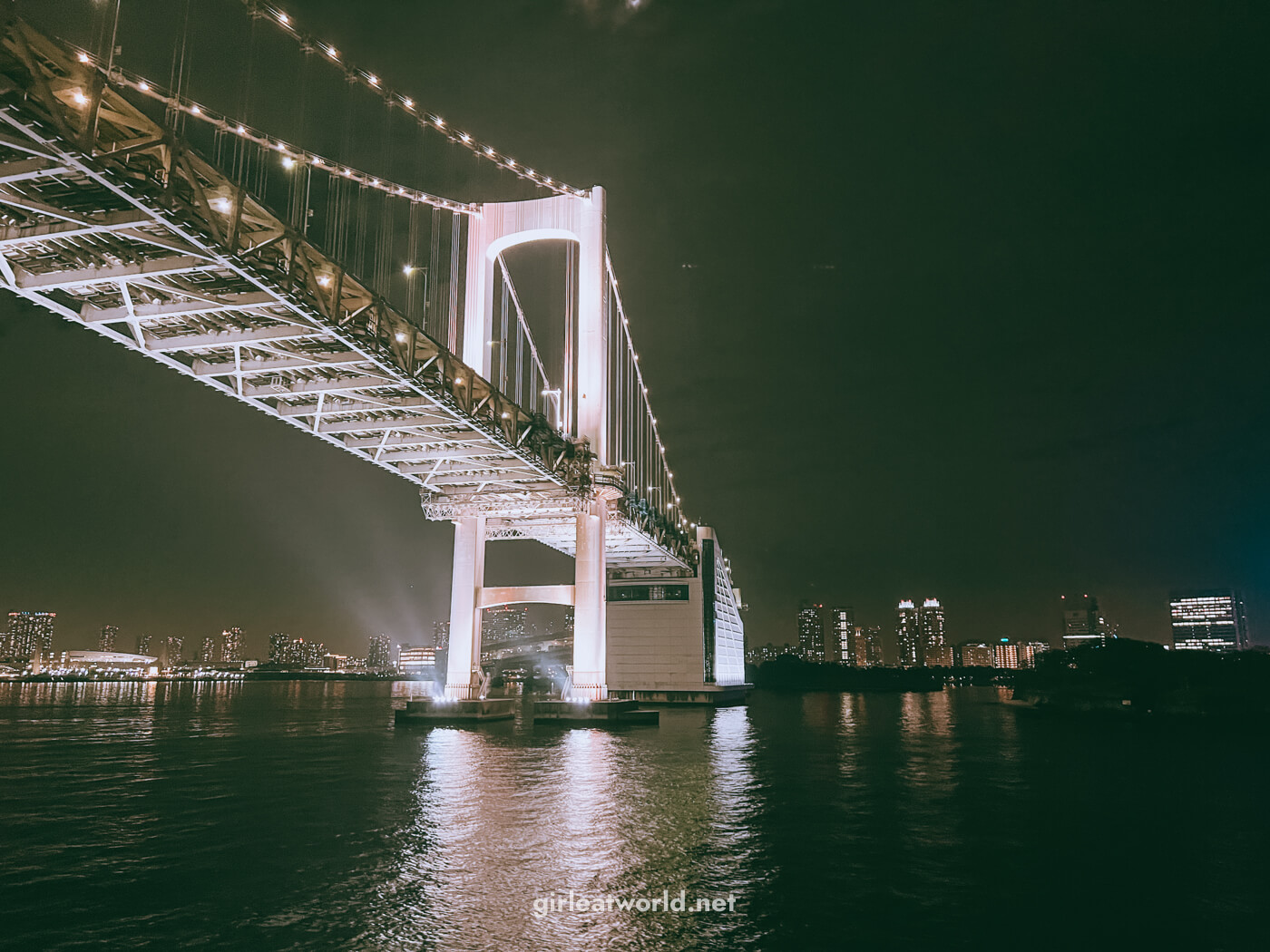 Thankfully, we were able to get on the cruise just as it was about to leave. By the time we finally got to Hinode Pier, everybody had already been checked in and seated on the ship. We were literally the last passengers to board and they closed the doors behind us as the ship was about to leave within the next minute. 😰 So learn from our close call and be there early!
After escaping the blunder, we were quickly seated in our dining area in the Four Seasons room.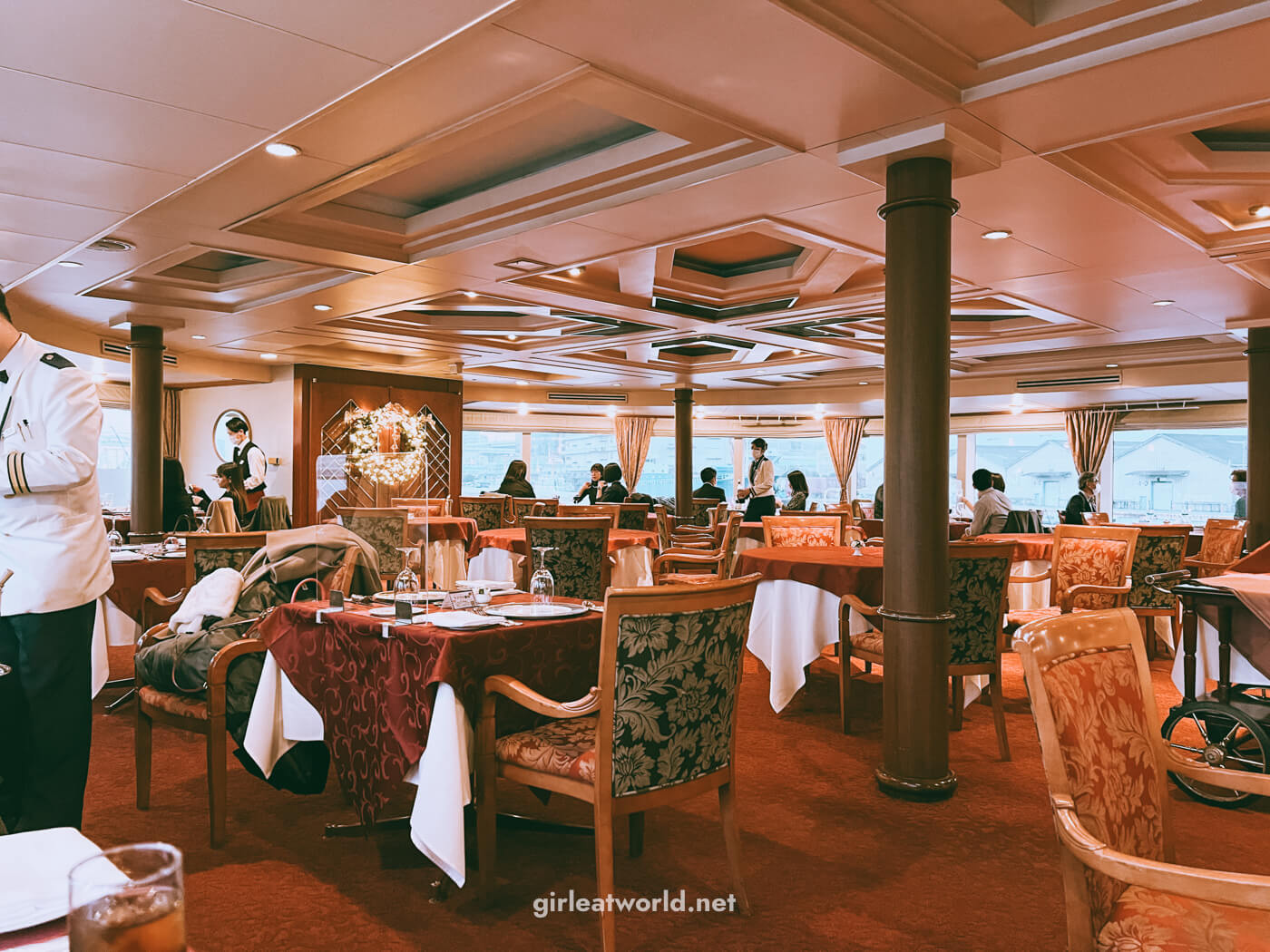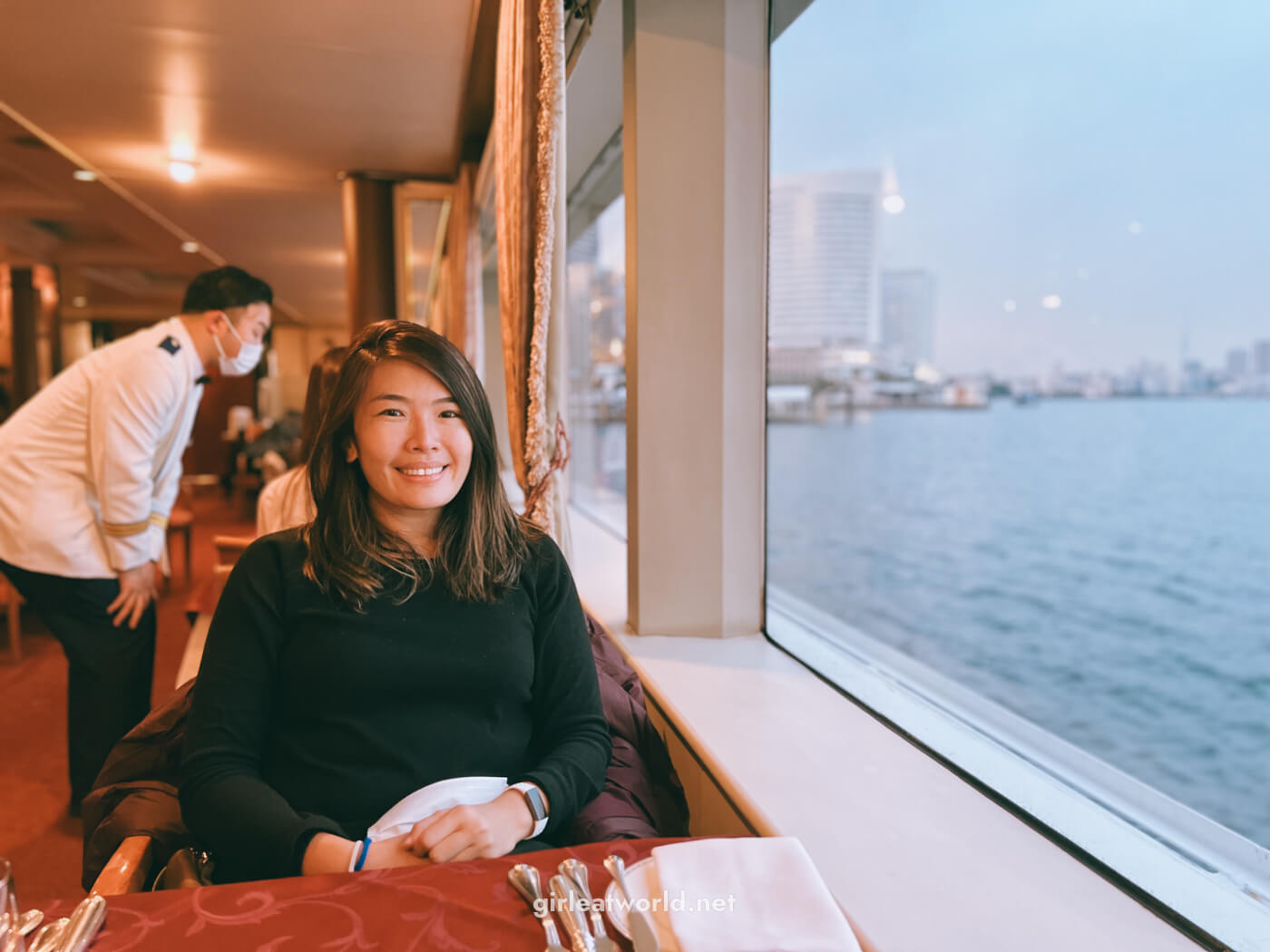 The 5-Course Meal Experience on The Symphony Cruise
My husband wanted to guarantee a window seat, so he booked the Japanese Beef Steak set for us, which is a 5-course meal served in French style. I think the window seat is worth it. As you can see from my photo, the window was large and offered an unblocked view for the entire cruise.
The exact menu changes per season, so I will not go into too much detail, but the photos below should give you an idea of what to expect from the meal.
And yes, all of the dishes were delicious!
You can check the current menu here. Although it's in Japanese, it's easy enough to use Google Translate.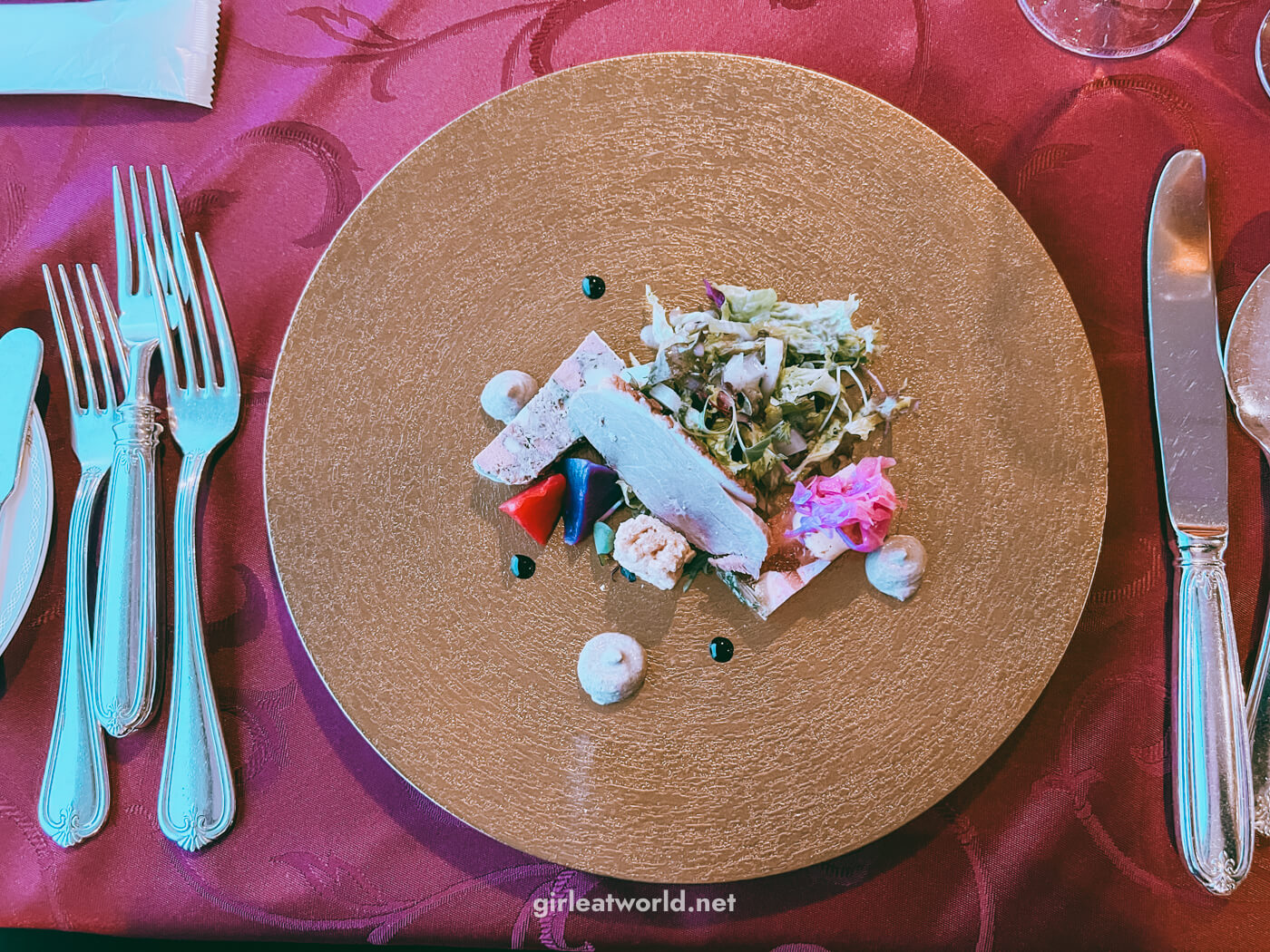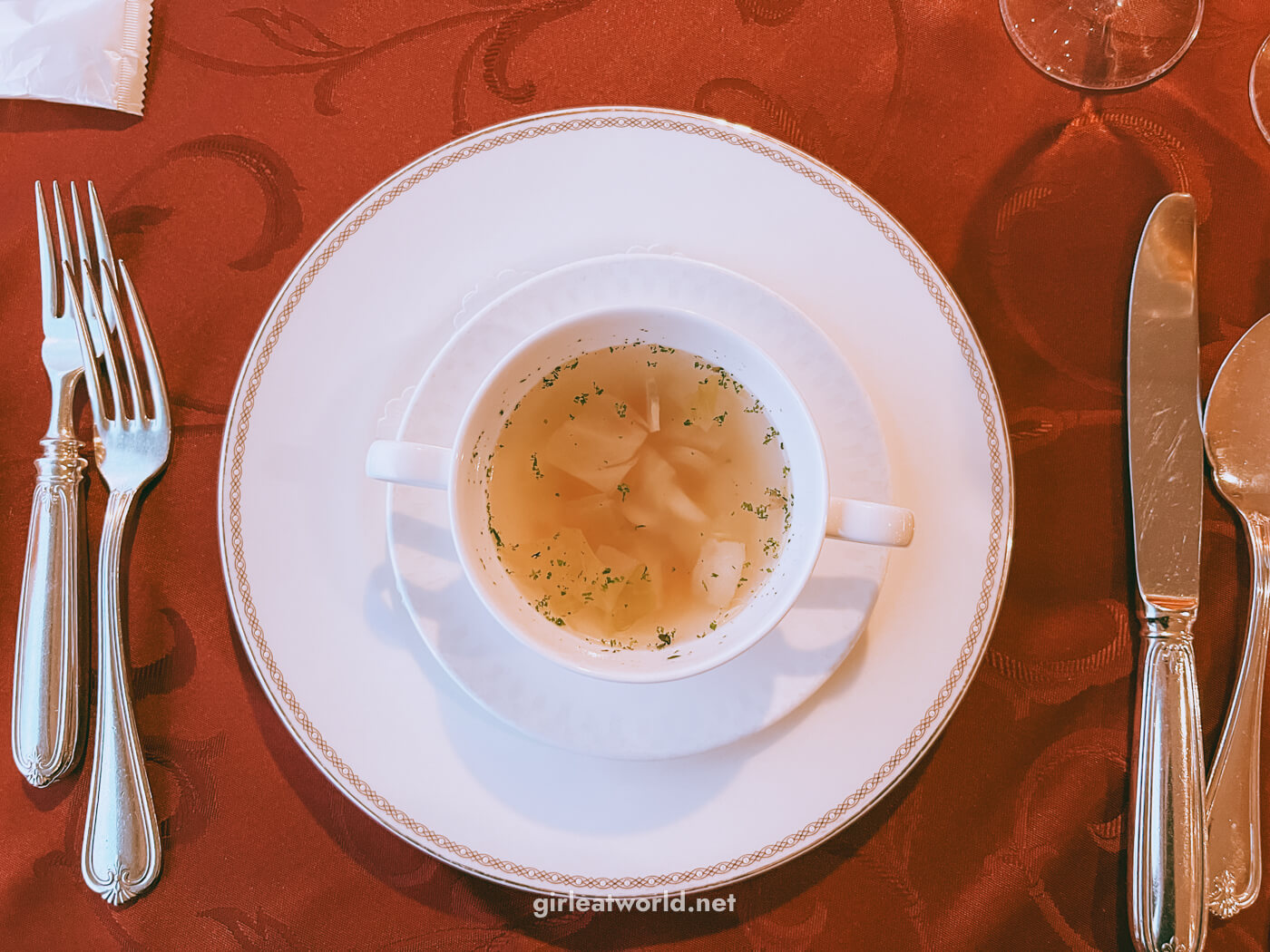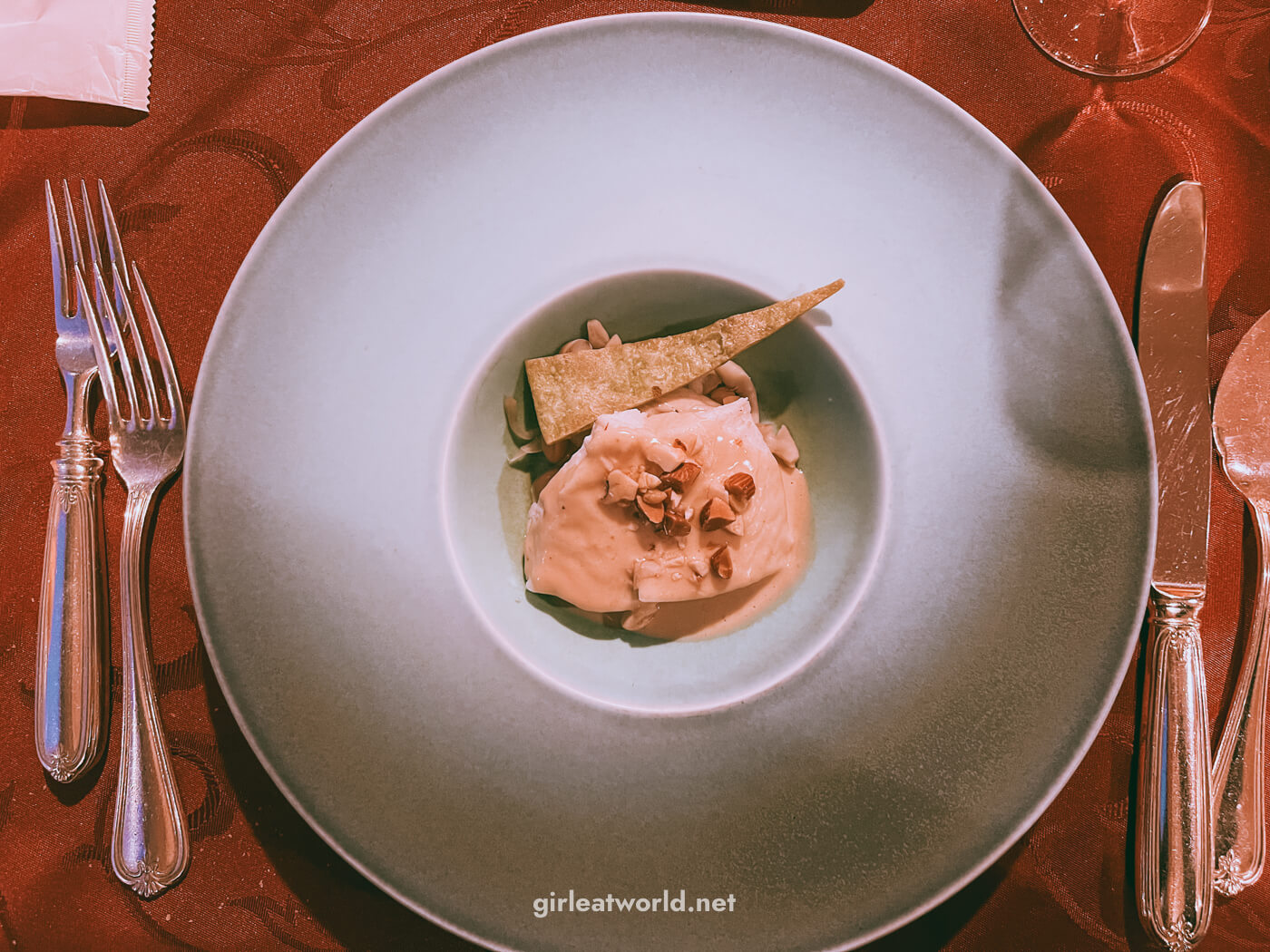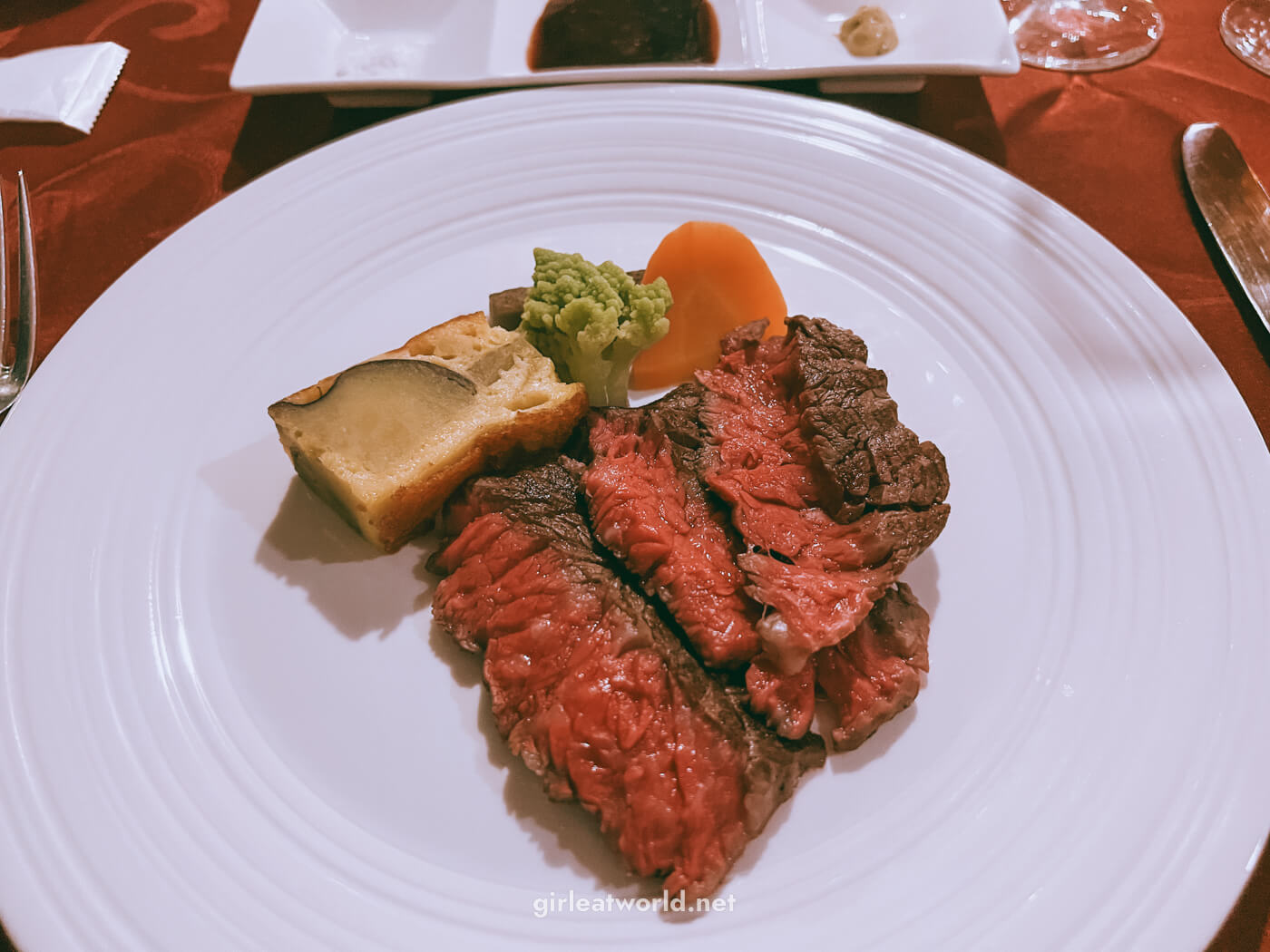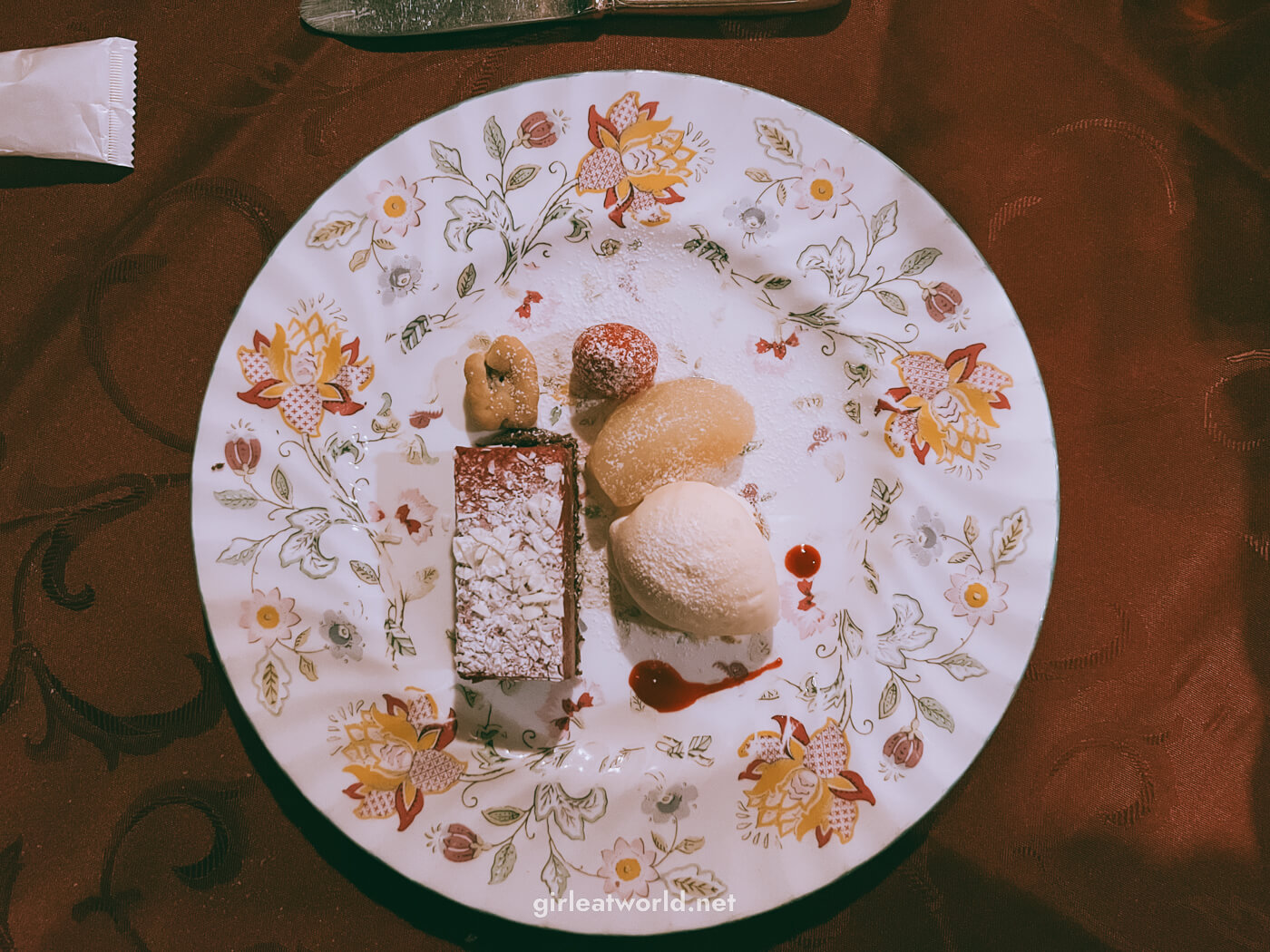 And because the entire occasion for this cruise was for my birthday, they gave us an extra sixth course – a mini Japanese strawberry shortcake!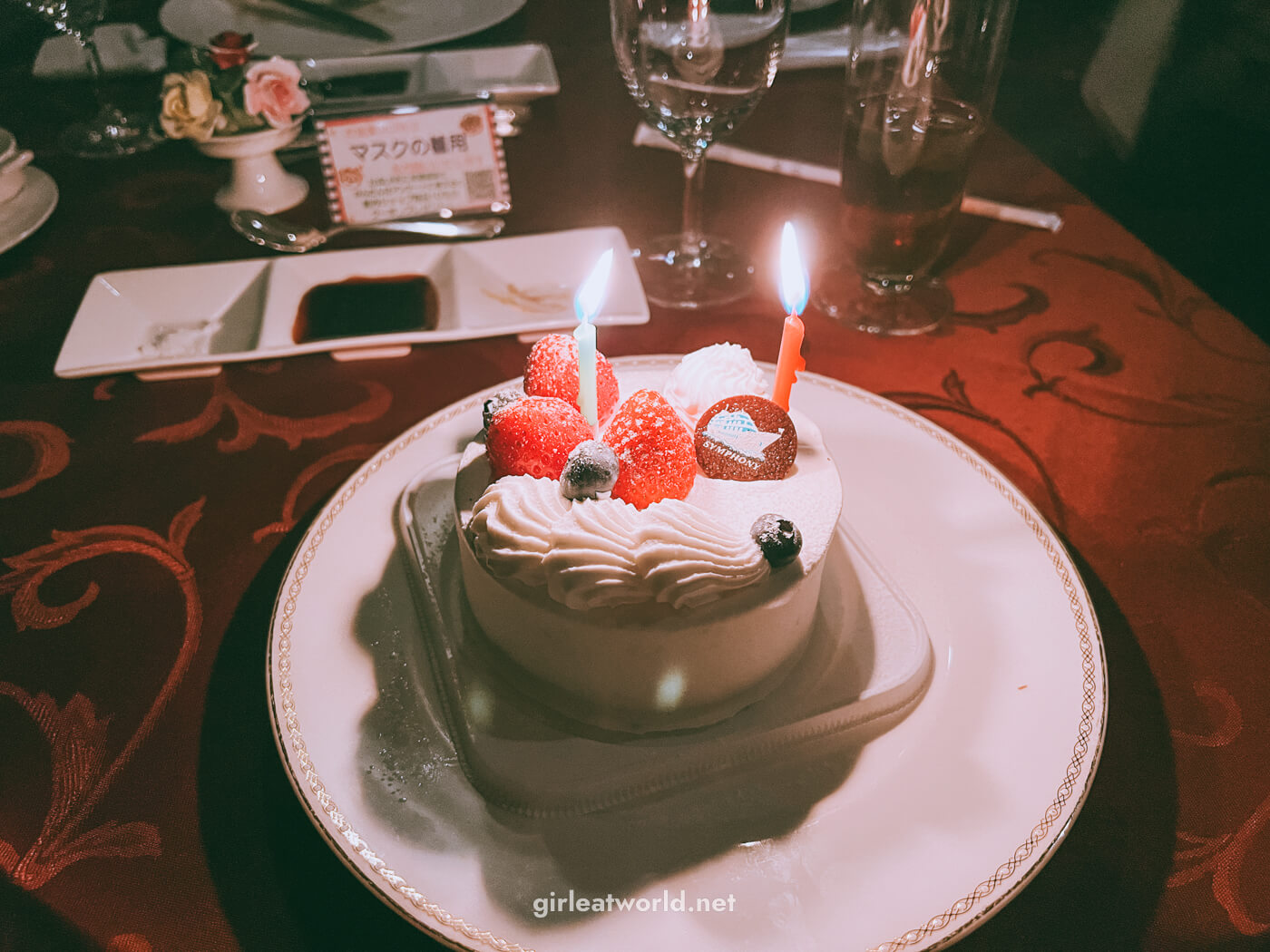 Needless to say, I was very stuffed by the end of the meal service. And happy, of course!
Exploring the Symphony Moderna Cruise Ship
The Symphony Moderna is a big ship, so in between the courses of our meal, we snuck out of our seat to explore all the levels on the ship.
Here is a quick glance at the ship's floor plan. You can also view a 3D scan of the ship floor map here.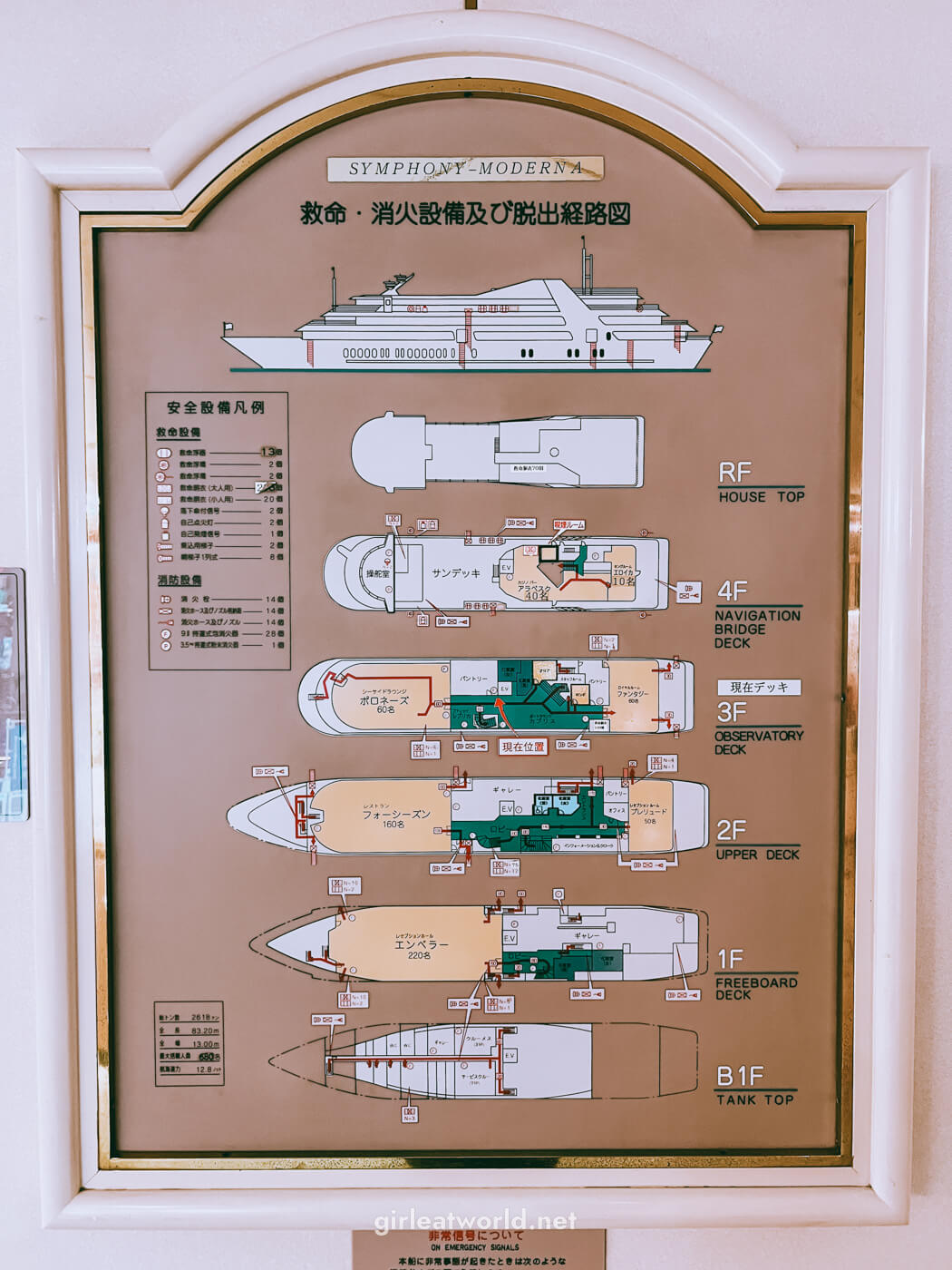 Aside from the room we were in, there were a few more rooms on the ship. Since the seating are determined by the type of meal, I'm guessing those rooms are for guests who did not order the steak meal.
Most notably, there is a bar lounge called Arabesque and a Japanese sushi restaurant called Kanon on the 3rd floor. Looks like a nice place to hang out!
We headed up to the 4th floor, where the open observatory deck is located. Although we went during the winter and it was cold, the deck is worth checking out. Just make sure you have a proper winter coat because it is freezing up there!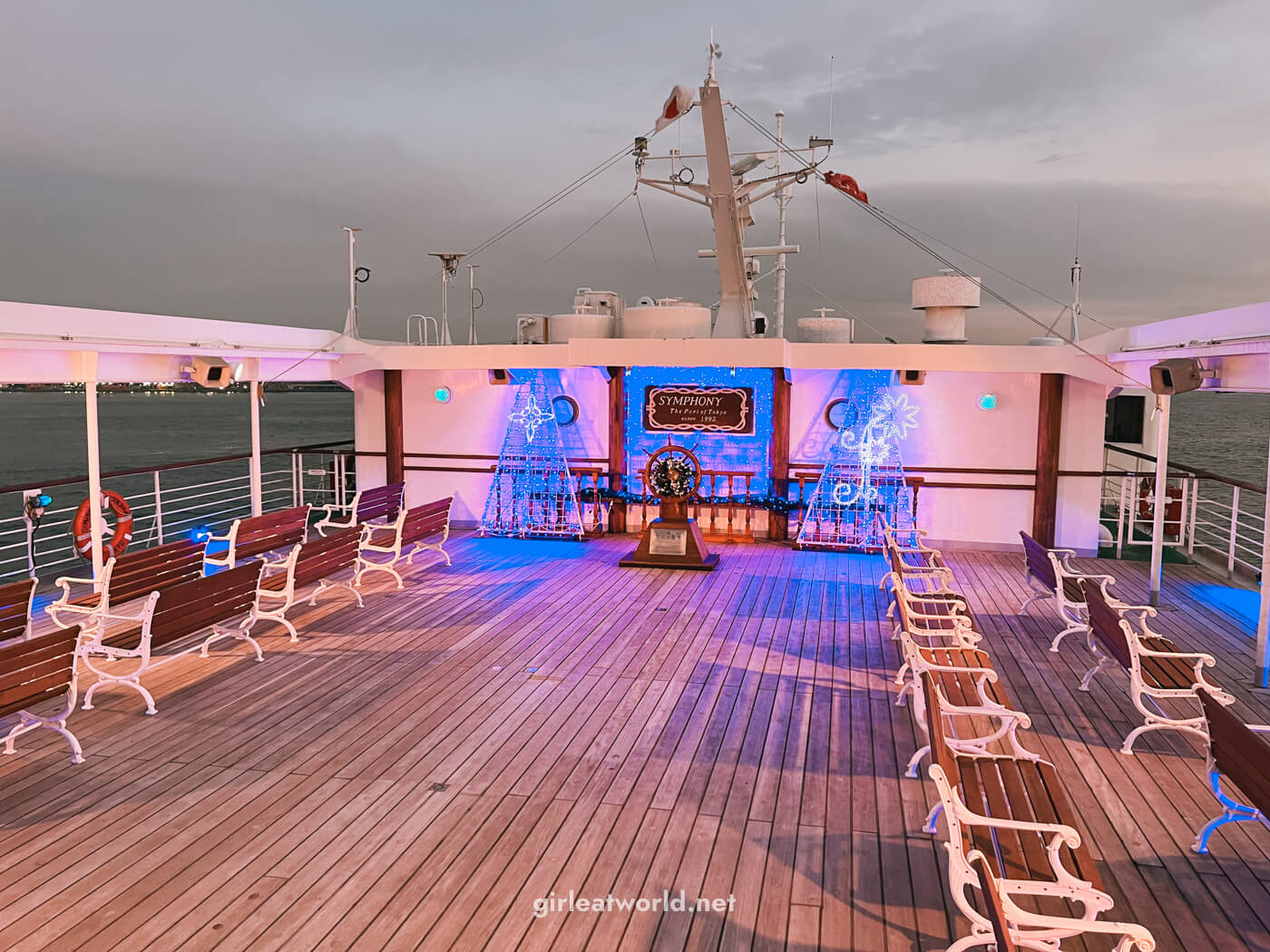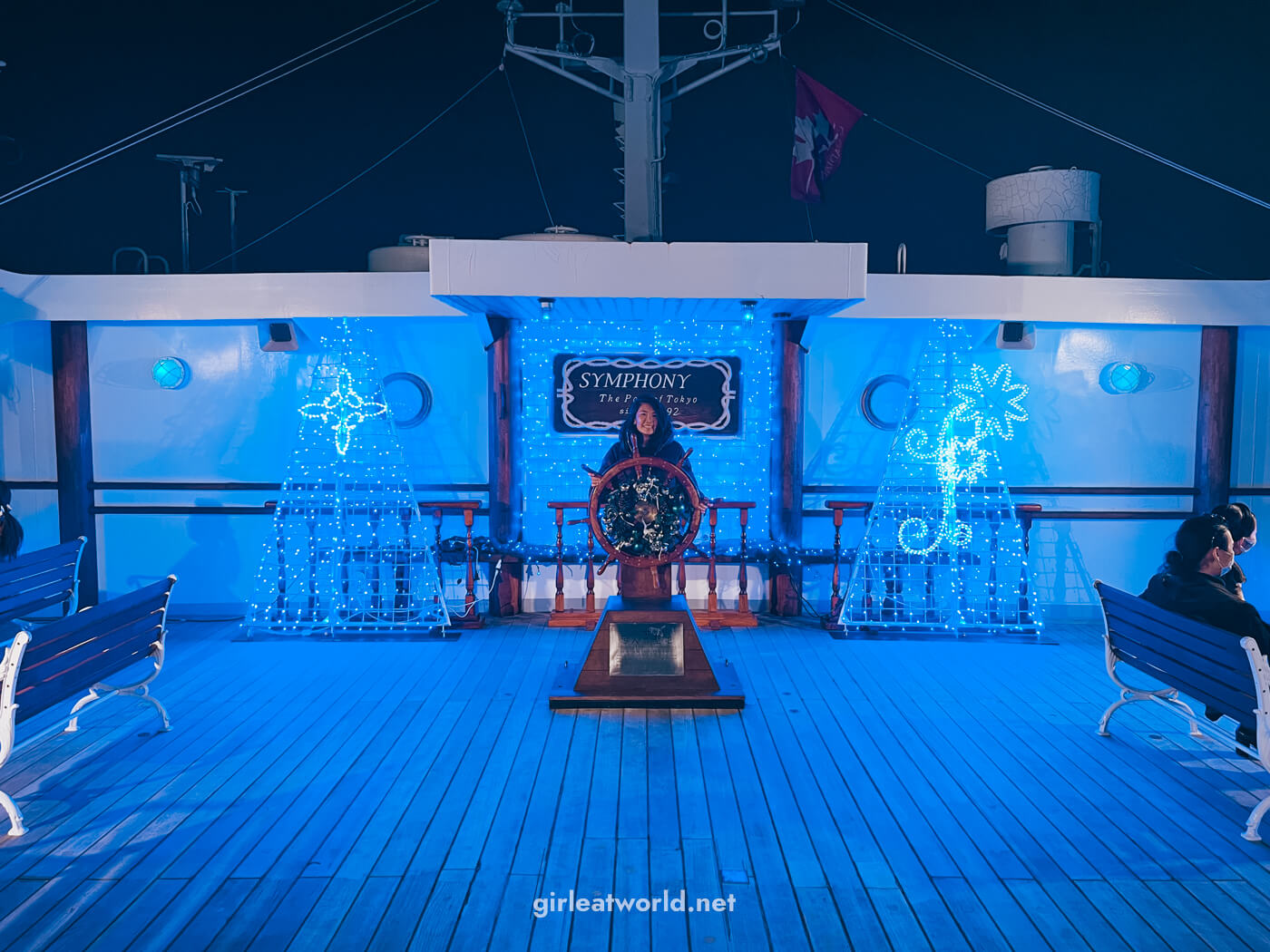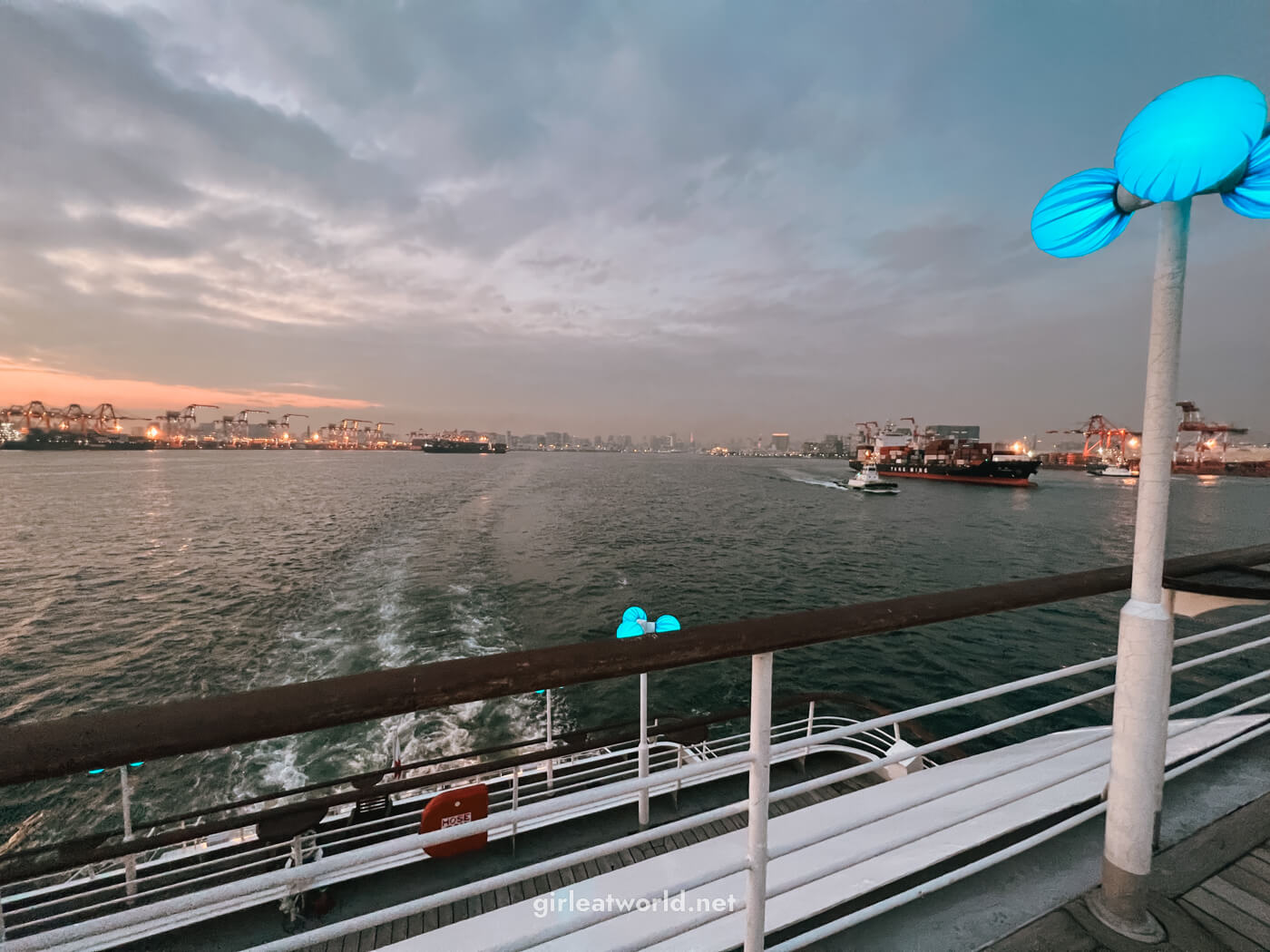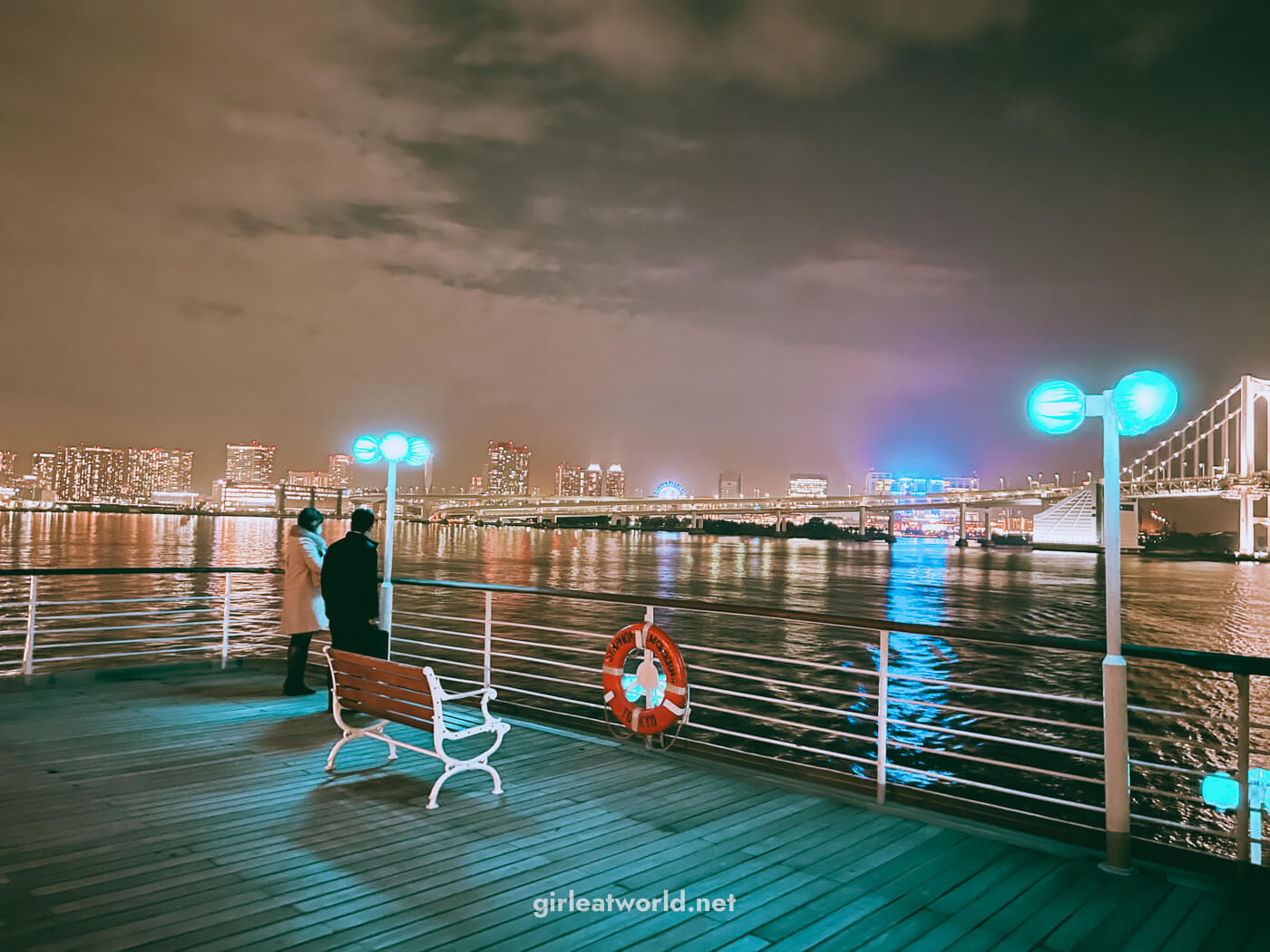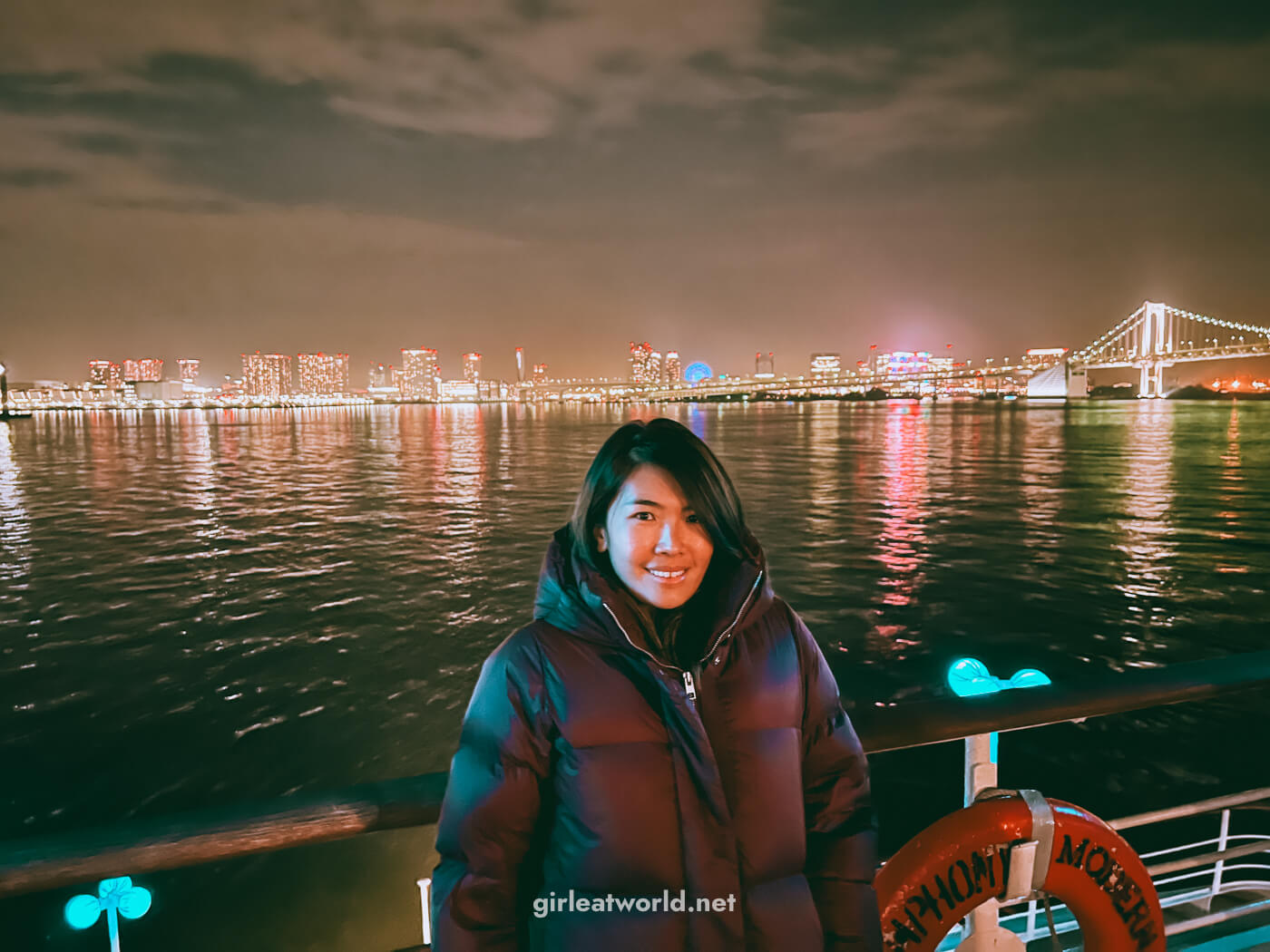 We kept going back and forth between the top deck and the meal for the entire 2 hours of our cruise.
Overall, I think the cruise is a great option for activities in Tokyo. While I think the window seat is worth it, you don't need to book the window seat because you can just spend time on the open deck or other parts of the ship.
Book the sunset cruise here. If this timing doesn't work for you, The Symphony also offers cruises at other times!
What other types of cruises are there?
Aside from the large cruise ship, you could try Yakatabune House Boat Cruise, which is a much smaller and more traditional type of boat. I have gone on one of these in a team bonding outing with my work, and it was a lot of fun!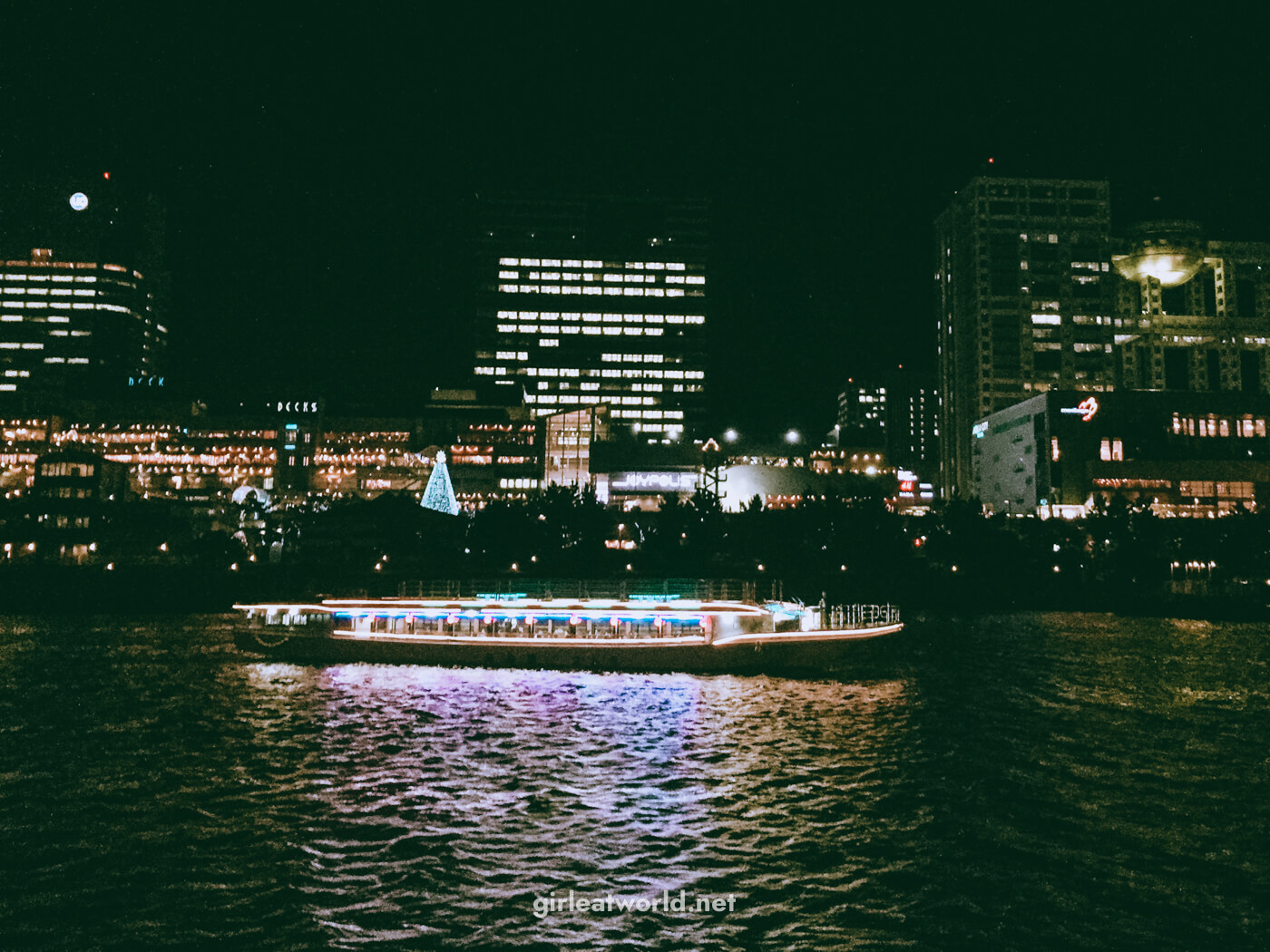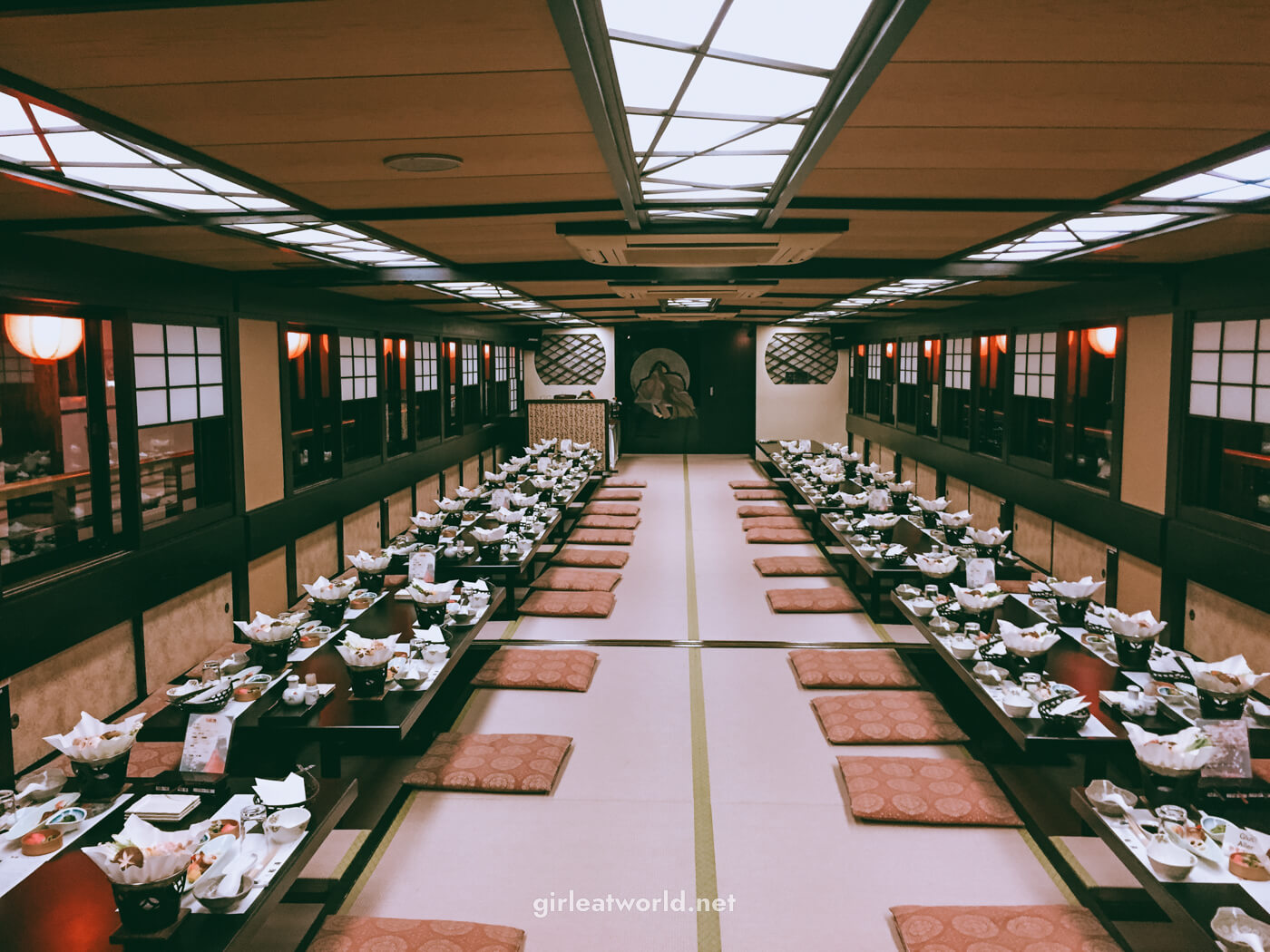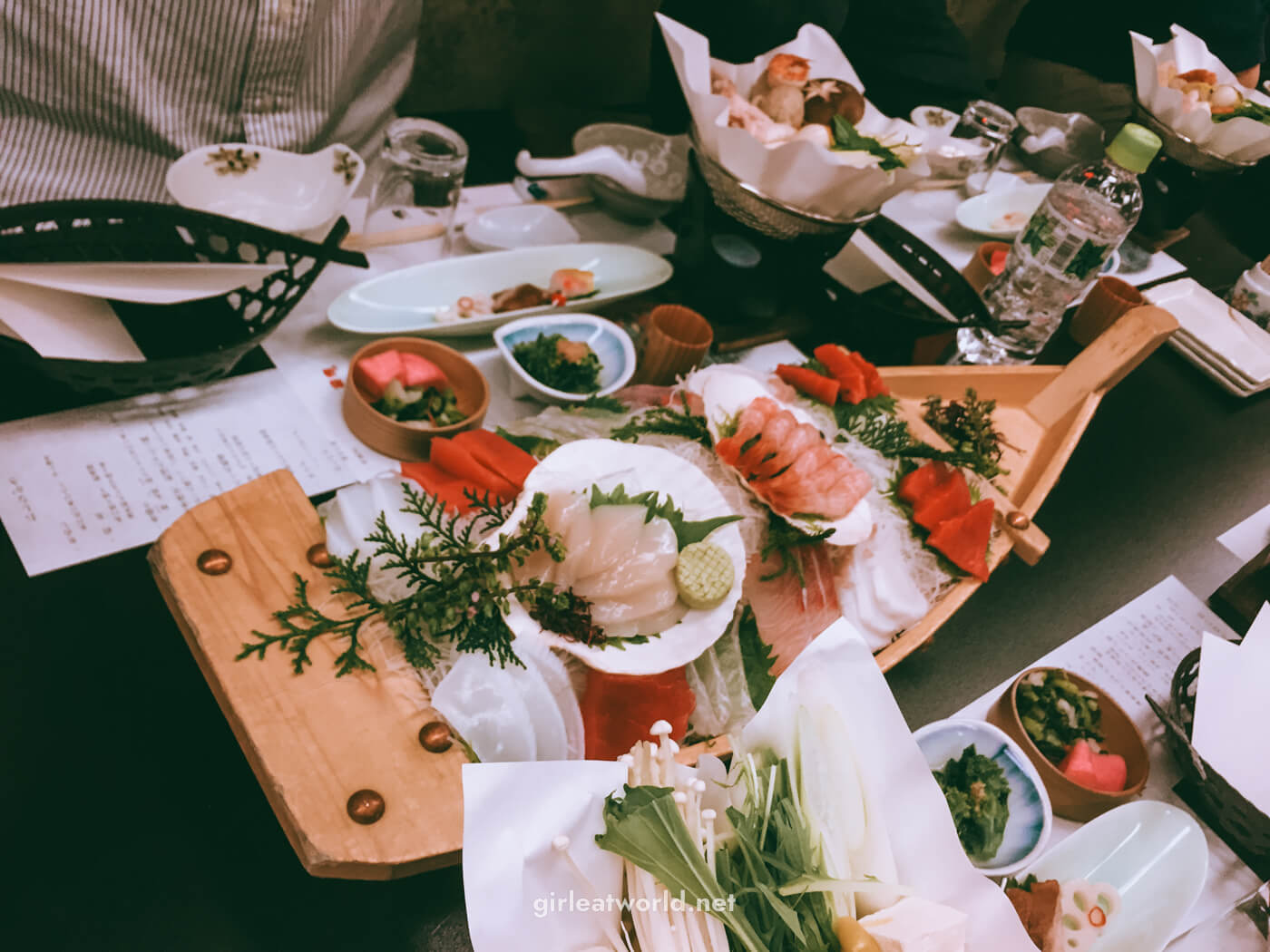 Note: My husband took me on the dinner cruise and paid for it from his own pocket. As always, all thoughts and opinions are honest and remain my own.