I have been going to Tokyo pretty much every year since 2014, yet I never made it to Tokyo Disneyland… until this year! I am kicking myself for not going earlier. Disneyland in California was fun, but Disneyland in Tokyo? 1000x better! They have super cute food and merchandise that are available exclusively in Tokyo.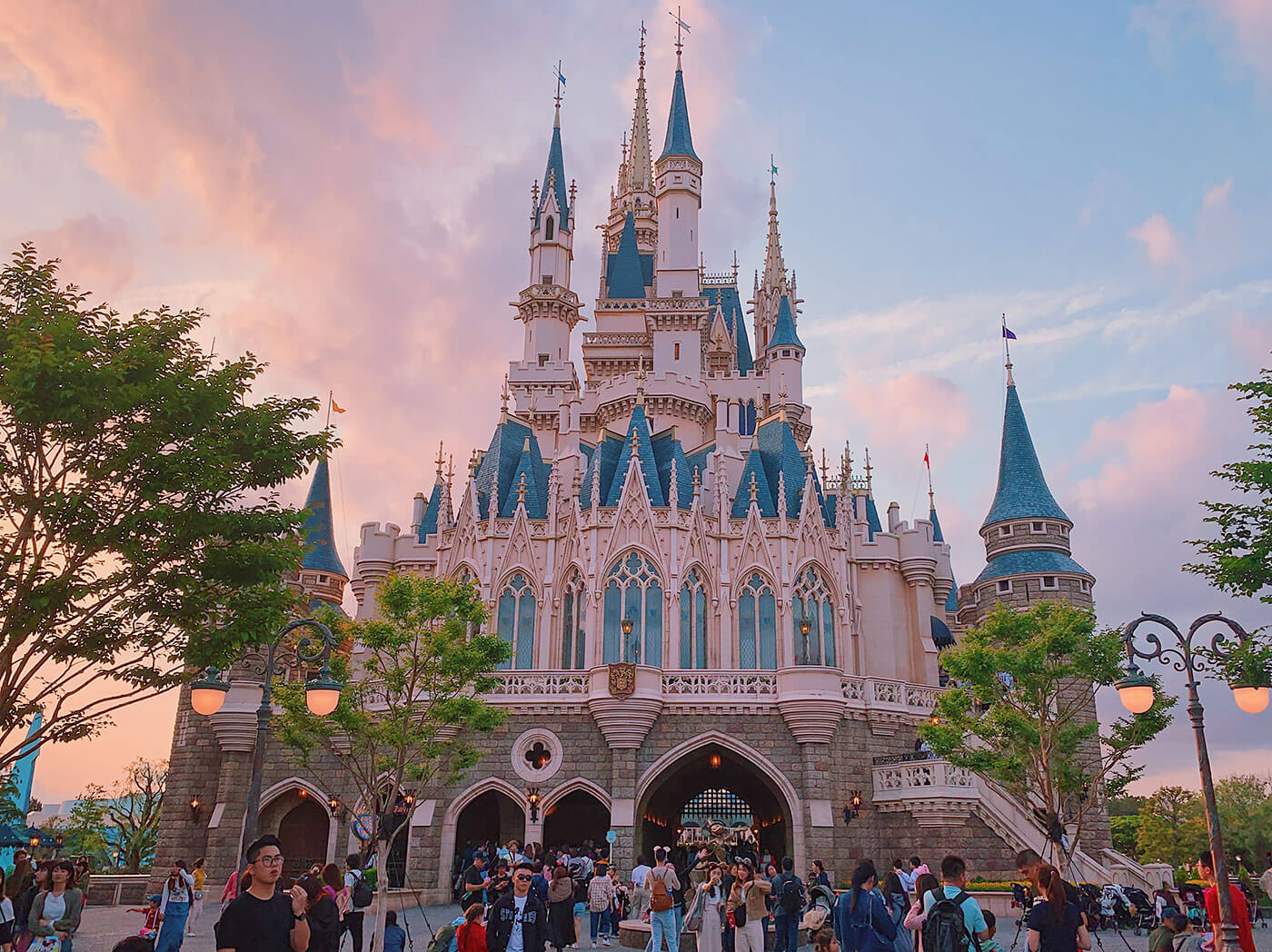 Since it's such a magical place, it's a popular choice for locals and tourists alike. You can't avoid the crowd, but you can definitely optimize your trip by understanding how the park work.
I've visited Tokyo Disneyland twice now – once in 2019 before COVID, and once in December 2021 in the middle of COVID right before the Omicron wave hits Japan (which didn't stop people from going to Disneyland!). I'll try to impart as much of my knowledge as possible.
First, let's understand the basics of Tokyo Disneyland:
1. How to buy Tokyo Disneyland Ticket online
If there is ONE thing you take away from this blog, do this. Buy your tickets ahead of time! You definitely don't want to buy tickets on the day. You may not even get a ticket if you're visiting during the peak period.
You can buy Disneyland tickets 2 months before your intended visit date.
Here are a few ways to obtain tickets:
2. Download the Tokyo Disneyland Resort App
The Tokyo Disney Resort App is your lifeline during the visit. It is where you can obtain Standby passes (if available for the day you're visiting), buy the Disney Premier access, book restaurants, and get entry requests for certain events. So make sure you have it downloaded!
Find links to download the Tokyo Disney Resort App here
3. Understand the queueing systems in Tokyo Disney
When I visited in 2019, Disneyland was still using the FASTPASS (FP) system, a line-skipping system that comes with your Tokyo Disneyland ticket. FP allows you to book a 1-hour window to come back and go on an express lane at a later time.
However, when I came back in December 2021, they'd done away with the entire FP system. It has been replaced by something called a Standby pass instead, which can be obtained by using the Tokyo Disney Resort App after entering the park.
There are 3 passes available at Tokyo Disneyland:
Entry Request
Standby Pass
Disney Premier Access
What is an Entry Request?
Certain experiences might require an entry request, mostly for characters' meet and greet (and not rides). If this interests you, feel free to check out what experience is available through Entry Request here.
What is a Standby Pass?
A Standby Pass essentially means you are booking a time to join the queue at certain attractions and shops. When you grab a standby pass for an attraction, it will tell you the time you can return to join the queue for that attraction. This makes the queue much shorter and moves faster… for those who are able to secure a standby pass.
However, Standby Pass is not a requirement. Not all of the rides will require a Standby Pass and there might be days when Standby Pass won't even be released. However, for the days that it is released, there might also be a time when only those who have obtained a Standby ticket can join the queue.
You can hold only one Standby pass at a time during your visit. You can only book another standby pass for another attraction once you've utilized the standby pass, so make sure to use it wisely.
Tip: Check the steps on how to get a Standby Pass here and which attractions, if any, require a standby pass on that day. This list is updated daily so you can check it on the day you're planning to visit the park.
As standby passes are limited, it does mean that some of the more popular rides could be booked out for the day and no more standby passes will be issued. In our case, we went during the peak period and despite entering the park shortly after it opened in the morning, we still couldn't get a pass for Beauty and the Beast.
What is Disney Premier Access?
Disney Premier Access is effectively a paid FASTPASS that was launched in May 2022 at Tokyo Disneyland. It is an additional fee of 1,500-2,500 yen that you can pay on top of your entrance ticket to be able to join the express queue to some of the most popular rides, and even the parades.
You can only buy ONE Disney Premier Access per entrance ticket, so make sure you get it for the most popular ride that you really want to go on! Of course, Beauty and the Beast is one of the rides on Disney Premier Access.
Tip: Click here for more information on Disney Premier Access
4. How to check ride wait time, operating status, and current wait time
Again when I visited in 2019, the official Tokyo Disneyland website claimed to have all the ride wait times… but in my experience, it did not work when I was there! The Tokyo Disneyland iOS App also was only available to Japanese iPhone users. It was frustrating.
I'm happy to report that when I came back in 2021, they fixed this issue. The Tokyo Disney Resort App will give you wait time for all of the rides in Tokyo Disneyland. Definitely download this app beforehand!
If the app does not work for you, you can check this third-party website for the wait times.
How to optimize your Tokyo Disneyland Trip
Okay! Now that you've been updated to the current ride reservation system at Disneyland, let's get on the tips on how to actually optimize your time in Tokyo Disneyland:
If a Standby pass is available, grab the Standby passes for the most popular ride – Remember, you can only hold one Standby Pass at a time, so make sure you get the one ride you really want to go on. In my experience, Enchanted Tales of Beauty and the Beast was sold out the fastest so if you really want, you could try to spend your standby pass on this ride. However, it does mean that unless you get an early return time, you pretty much render your standby pass useless for the day. Another strategy would be to get the earliest possible return time for another popular ride, then book another standby pass again as soon as you get to utilize the current standby pass.
Check other rides' wait times – The first thing you should do when you get to the park is to look at the map in the Disneyland app and check all the ride wait times – I've elaborated on how to do this above. Also, you should check the operating status as some rides might be closed for maintenance. Then, begin strategizing!
Know which ride is the most popular ride in Tokyo Disneyland – The following rides are more popular than the rest, so you definitely should check them first!
Enchanted Tales of Beauty and the Beast
Splash Mountain
Monsters, Inc. Ride & Go Seek
Buzz Lightyear's Astro Blasters
Space Mountain
Big Thunder Mountain
Haunted Mansion
Pooh's Hunny Hunt
Check for the park's special parades – I'm not sure if it's because I went during Easter, but there were at least 3 parades on the day I went. And during these parades, the major streets in the park are closed, which makes it a bit hard to move around. So make sure to keep this in mind!
Tip: You can check the parade schedule in Tokyo Disneyland here
Also if you're going during a special time like Christmas (which means there will be a Christmas parade), the park will be inaccessible while the parade is going on, as it's extremely popular and people would "reserve" their spot since the morning.
Don't forget about the daily fireworks! This usually happens around 8 PM so try to stay at the park as long as you can to witness this firework show.
What to eat in Tokyo Disneyland
Initially, I was worried about the food situation inside the park. What if all the food is expensive and not good? I was even thinking of packing some onigiri and snack because I didn't want to go hungry. But once inside the park, I realized my fears were totally unfounded.
The food in Tokyo Disneyland kicks major ass in SO many ways – The reasonable price, the delicious taste, and the super creative concept! I really appreciate the folks at Tokyo Disneyland for making food such a delightful experience.
The only downtime would be the queue time if you came to Tokyo Disneyland during peak periods, such as summer or school holidays. It could get pretty long. During COVID, it was impossible to eat at a normal restaurant as they have been booked weeks in advance, so we had to resort to eating outside or at the food courts where seats are first-come-first-served. If there are any restaurants that catch your eye, please book ahead!
Here are my favorite eats in Tokyo Disneyland:
1. Three Green Alien Mochi (300 Yen)
This is seriously THE CUTEST food ever! I squealed when I saw this in person. They are basically three mochis (rice cake) balls shaped like the little green men in Toy Story. The mochi each has different fillings – strawberry, chocolate, and custard. Such a genius concept! Fittingly, you can find this at the Pan Galactic Pizza food court in Tomorrowland.
2. Mickey Gloves Chicken Sandwich (600 yen a la carte / 900 yen with a set meal)
Yet another item I squealed when I saw it in person. On the menu, it's a pretty average-sounding grilled chicken and scrambled eggs sandwich. The kicker? It's served inside a Chinese bun that is perfectly shaped like Mickey Mouse's gloves! You can buy this sandwich at Huey, Dewey, and Louie's Good Time Cafe in Toontown.
3. Mickey-shaped Churros (300 Yen)
The OG Disneyland in Los Angeles might have the most famous churros, but you can only find these Mickey-shaped ones in Tokyo Disneyland! I love the subtlety here. You can only see the Mickey shape if you look at the churros from the top down. If I didn't know about it, I might have missed it myself! You can find this all over Tokyo Disneyland Park. Just keep an eye out for the sweets stand – I got mine at Westernland.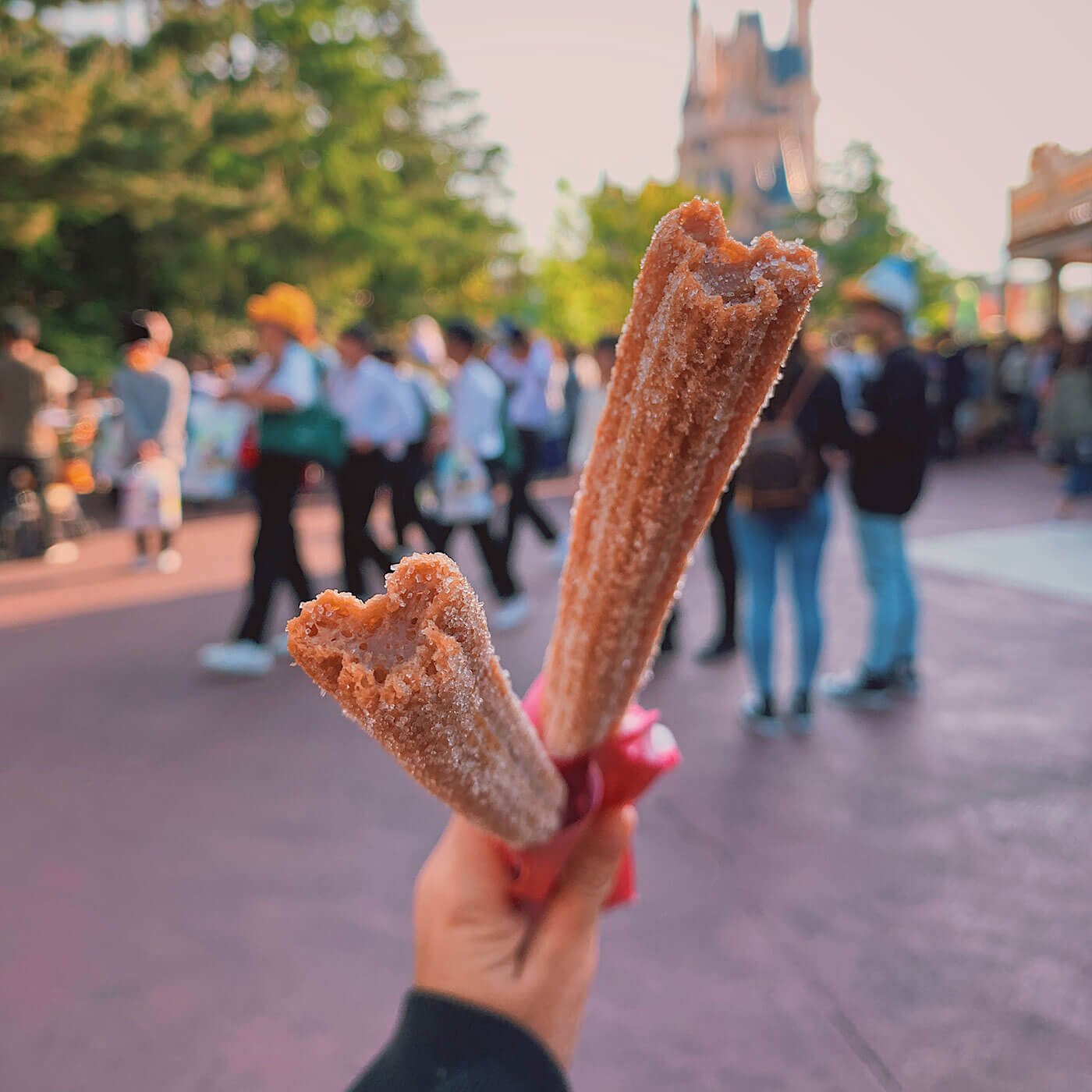 4. Smoked Turkey Leg, a Disneyland Classic! (800 Yen)
This is a Disneyland classic, and definitely a must-have. I have been told the portion is not as massive as the ones in the original Disneyland, but it was just right for me! You can find this at the Cowboy Cookhouse in Westernland.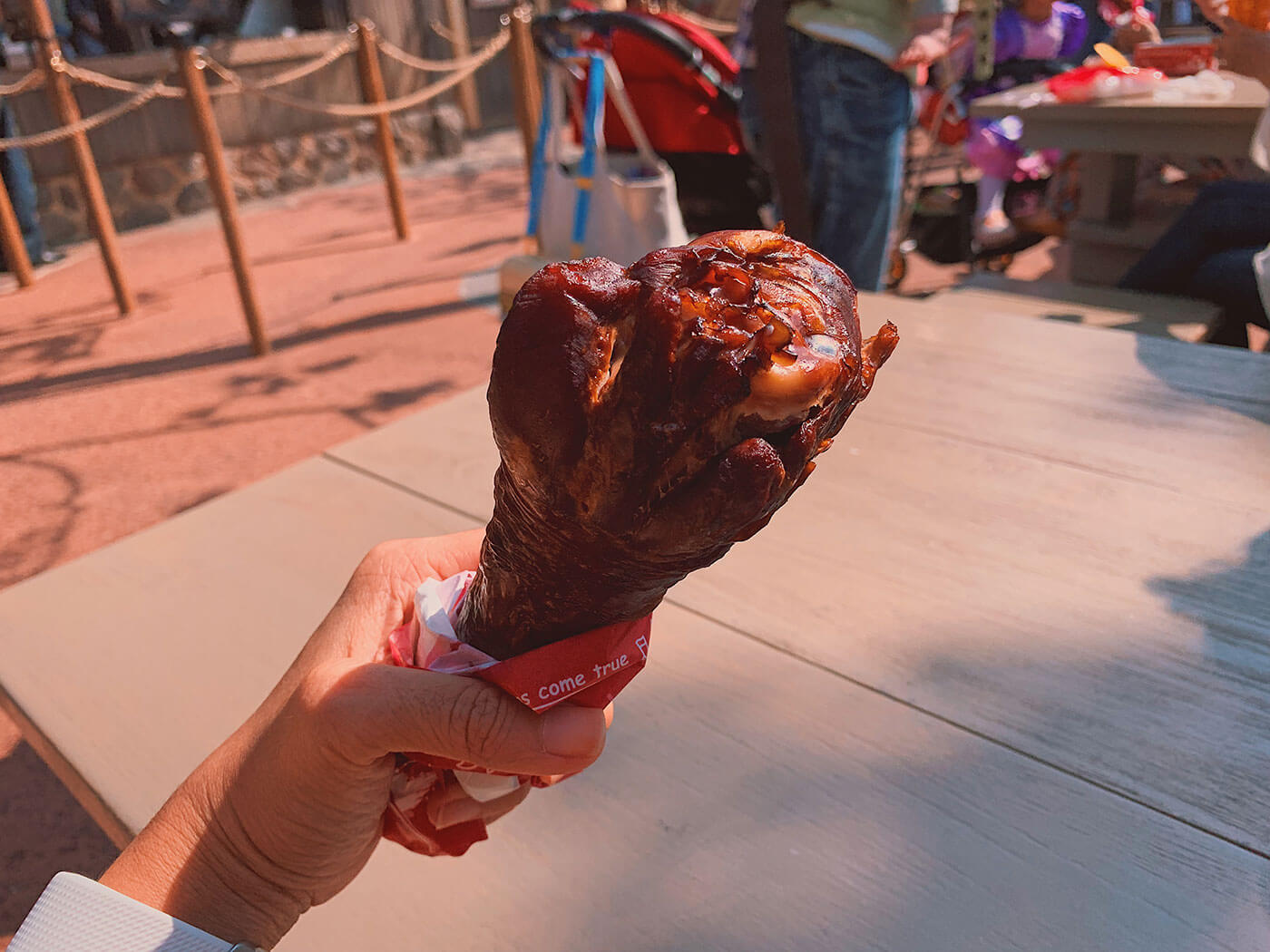 Getting a photo at The Cinderella Castle
Everyone must get a photo at the famous Cinderella Castle whenever they visit Disneyland, right? Having taken a million photos of it during my visit, I can definitely say the best time to take photos at the castle is right before sunset! Google the sunset time at the time of your visit, and make sure you are at the castle 30 minutes before the sunset time. This ensures a nice soft light which makes it all the more magical.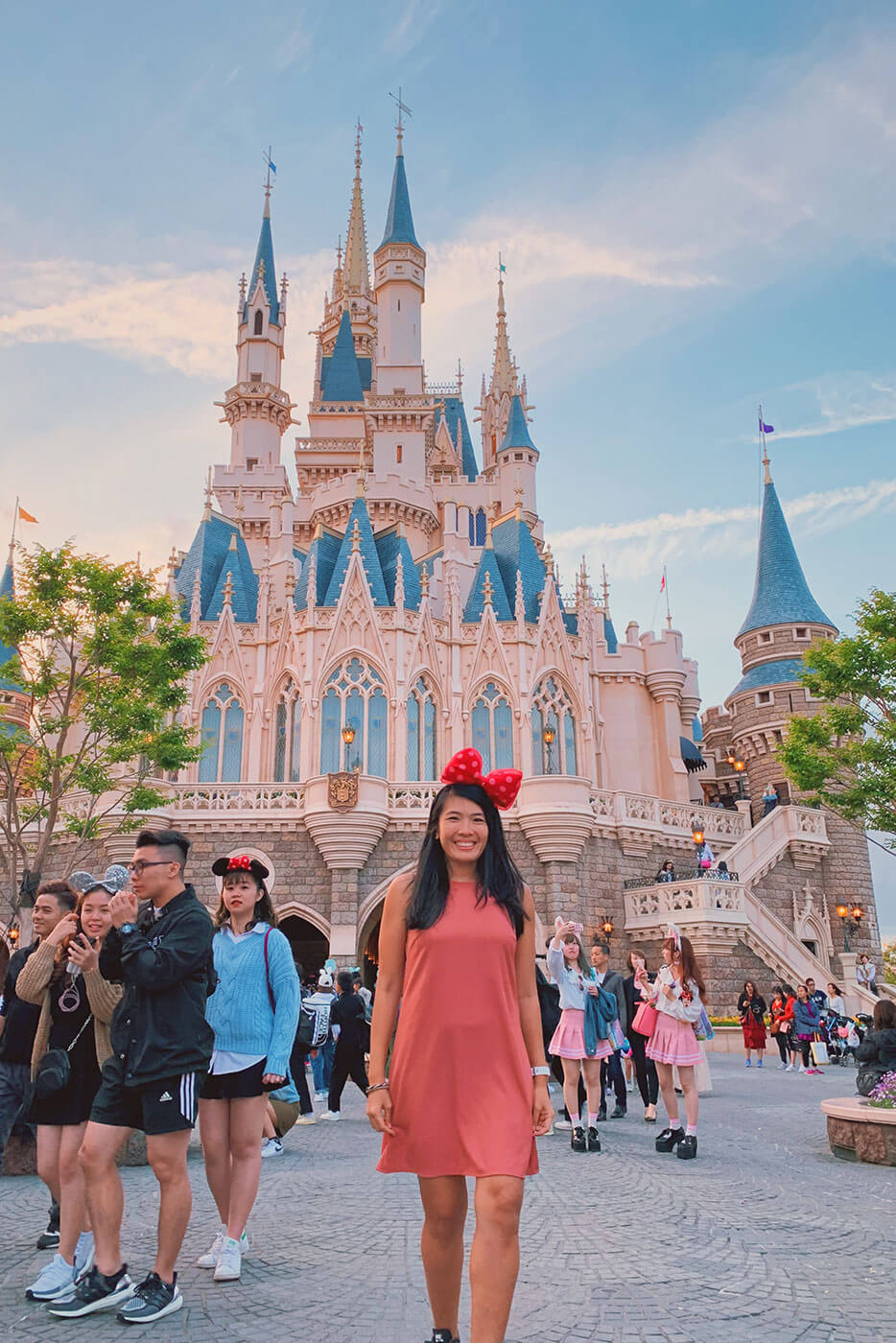 By the way, if the front of the castle is under construction for whatever reason (like the day I visited), don't worry! Try going around to the back – it's just as beautiful too! The photo I have above was actually taken from the back of the castle.
Okay, that's all I have on Tokyo Disneyland! If this guide helped you, please leave a comment below. I love reading your comments!
Need this guide for later? Save it to Pinterest!