Planning to visit Bali for New Year's Eve? You've made the right choice! New Year in Bali is undoubtedly a very exciting time. The island will be buzzing with activities and parties – you will not be short of options for spending your time. All of the popular beach clubs, restaurants, and bars will be holding a New Year's special!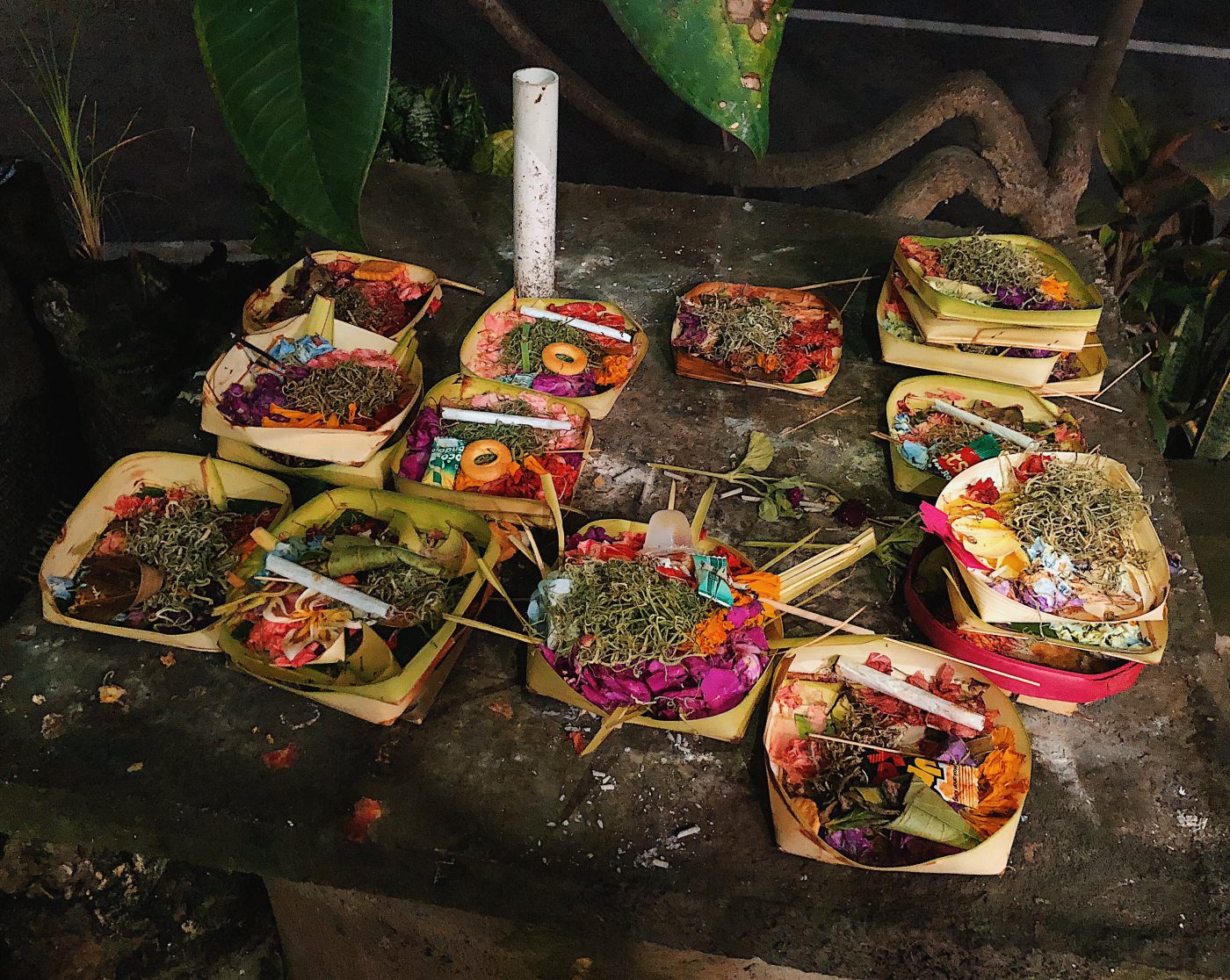 I personally have spent two New Year's Eve in Bali, so I know a thing or two about spending time in Bali during this time period. I'm here to impart some knowledge on how to survive this chaotic – but super fun – night!
What to book before your trip to Bali
Buy a local SIM Card – having a data connection is always important, especially if you're planning to party and need to be connected with your group. It also helps you get around Bali as you can easily look at the maps, bookmark spots, and research things on the go. This SIM card can be bought at DPS Airport when you land, but it will cost you more than if you had pre-booked it here before your trip.
Airport Transfer – This is probably the best and cheapest transport option to get from DPS Airport. You can pre-book airport transfer here for a very fair price here. Alternatively, you can arrange an airport transfer with your accommodation, but they will normally charge Rp 200,000 – 300,000 depending on where you stay.
Read my Complete Bali Guide – There is a lot to know about being a visitor in Bali, especially if you plan to spend extended time here. How to go from the airport, where to stay, what to eat… I've covered it all in my blog post!
Where to stay in Bali for New Year's Eve
Regardless of what your plans are in Bali, the FIRST thing you want to do is secure your accommodation first.
I recommend staying in Seminyak or Canggu area, at least on New Year's Eve night itself from 31 December to 1 January. You really don't want to stay far from the central areas since transportation logistics are going to be a nightmare on New Year's Night itself (more on this later). So it's better to stay somewhere within walking distance of wherever you plan to be that night.
Here are some personal recommendations of where you can. They are still available for NYE night at the time of writing, but they will soon be booked up. If you see something available now, BOOK IT! don't wait til the last minute!
1. Accommodations in Seminyak
In Seminyak, you'll want to stay near or on Petitenget Street (Jalan Petitenget). It's within 5 mins walking distance to Potato Head, so if you're going to party there you won't have to worry about transport back! You'll thank me later.
2. Accommodations in Canggu
If you want to go to Finns Beach Club for NYE, You'll want to stay around Jalan Pantai Berawa (Pantai Berawa Street) so that you can easily get back home later.
If you need more information about Bali, you can read my Bali Complete Guide for more specific hotel recommendations, as well as comprehensive tips on visiting Bali. I've been to Bali a LOT of times so you know I have tons to share!
Where to go for New Year's Eve in Bali
Depending on the type of mood you are looking for, there are tons of places to choose from. I recommend checking out the following spots, and I recommend checking their pages on Facebook (which I've linked below) to see what each of these places has in plan for New Year.
1. Beach Clubs
If you are looking for a high-energy party night by the beach or pool, these are the places you should check out. Just visit their Facebook page and look for their New Year's Special. They will announce their NYE event as early as August.
2. Restaurant Parties
If you are looking for a sit-down NYE party with dinner and a group of friends, I suggest making reservations ahead of time at one of these places:
3. Fireworks at Public Beaches
If you are looking for a more chill-out vibe that doesn't involve drinking or partying but you still want to see fireworks, you can just head down to any of the public beaches in Bali. I saw some (very smart) people do this when we were at Finns NYE party. You still hear the acts playing and even see the fireworks at the countdown since most of the NYE parties are very close to the beach, you just don't have to pay the pricey entrance ticket!
The beaches I would recommend for NYE are Double Six Beach or Petitenget Beach in Seminyak. If you want to go to Canggu, you can consider Berawa Beach, which is close to Finns.
4. For a quiet New Year's Eve
If the party scene is not your thing and you prefer to stay quiet and out of the crowds, I recommend staying in Ubud instead. I have a comprehensive guide on Ubud which you can check out for ideas on what to do and where to stay.
How much do NYE parties cost in Bali?
Let me start off by saying the NYE parties in Bali are not cheap. Everything else in Bali is relatively affordable, but they definitely know how to get the most out of NYE. It pays to plan ahead as most of the parties would have a tiered ticket system – the earlier you buy, the more you save. If you choose to wait you might be looking at spending around Rp 1,200,000 – Rp 1,600,000 (US$90 – 110).
What's included in the ticket/entrance fee is variable for each club. For example, in 2017 Motel Mexicola offered 7 hours of free-flow food and booze for Rp. 1,5M, while Potato Head's Rp 1.4M entry fee covers just that – an entry fee. But to be fair, they had a good line of musical acts.
Also, if you choose to go to the beach clubs, make sure you pick up the ticket/wristbands ahead of time if that option is available. We didn't plan ahead of time and bought the tickets for Potato Head on the afternoon of 31 Dec, in person at the venue. We were given the wristbands on the spot. When we came back later that night to enter the party, we were able to skip through the long queue of people who had booked online but hadn't picked up their wristbands yet.
My experience celebrating New Year's Eve in Bali
If you're wondering what NYE in Bali will be like, here are my experiences during the two years that I went:
1. Potato Head's TRIBE (2017-2018)
We chose to go to Potato Head in 2017 since they seemed to be the most promising. They've already announced Kevin from Tame Impala as part of the lineup and hinted that a secret main guest DJ would be headlining the night. The clue was "one half of the Grammy-winning duo from the UK" – so we knew it was going to be Disclosure! We paid Rp 1,400,000 / person for the general admission ticket. I thought it was pretty expensive – but I realized later that's because we waited to buy it until the day of the event itself.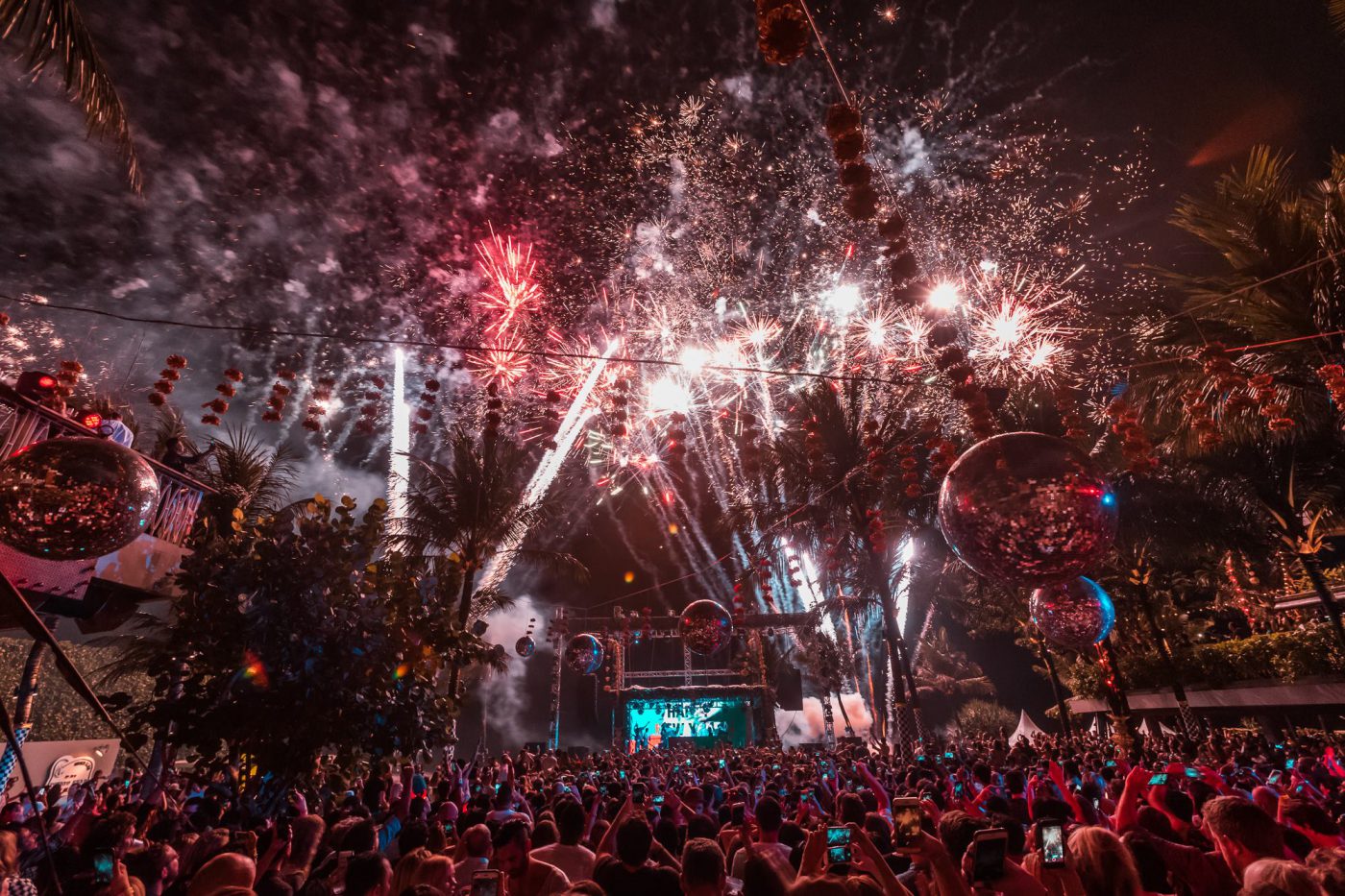 In terms of event operation, Potato Head did not disappoint – the event was very well organized with an awesome lineup, tight security, a great crowd, refundable tokens, amazing epic fireworks, and most importantly: there were NO disposable cups throughout the night! They served all the drinks in a reusable plastic cup that was constantly collected and washed throughout the night.
MAD props to Potato Head for making this happen on the busiest night of the year! Most businesses would have just written off their plastic wastage in return for operational ease.
2. Finns Beach Club (2018-2019)
The NYE Party at Finns was massive – it seemed like the entire Bali was there that night. Operation-wise, it could have been done better. Getting in was pretty easy – you get a wristband and a chip that can be topped up with the money to buy drinks. It can be refunded as well.
However, the line to get drinks and top up your chip was long and very slow-moving, so there is a good chance you'd spend most of your time getting drinks. Overall I was not that impressed by the party.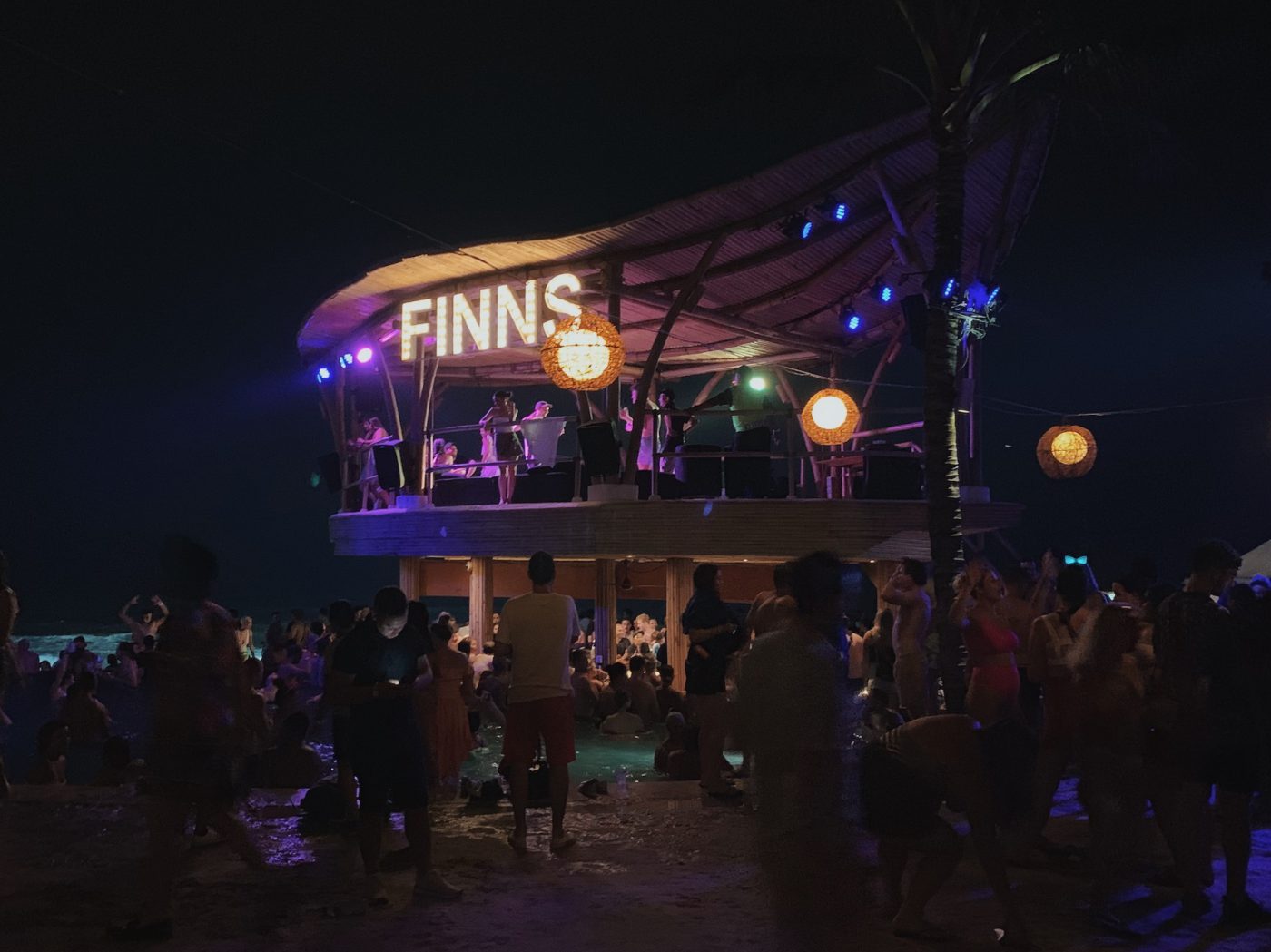 However, I do think the fact that Finns is located in Canggu and it held the biggest party on the last day of the year has sealed the fact that Canggu is indeed the trendiest neighborhood in Bali. As if that wasn't official already!
Getting around on NYE and after NYE: The Post-midnight New Year Traffic in Bali
New Year is an extremely busy time for Bali. Be mentally prepared for the chaos that ensues right before and right after the midnight countdown.
Most importantly, you must plan your transport ahead of time – this includes planning how you will be getting back home. Shortly after midnight, The streets will be filled with motorbikes honking left and right and people blowing their New Year trumpets. It's an amazing vibe!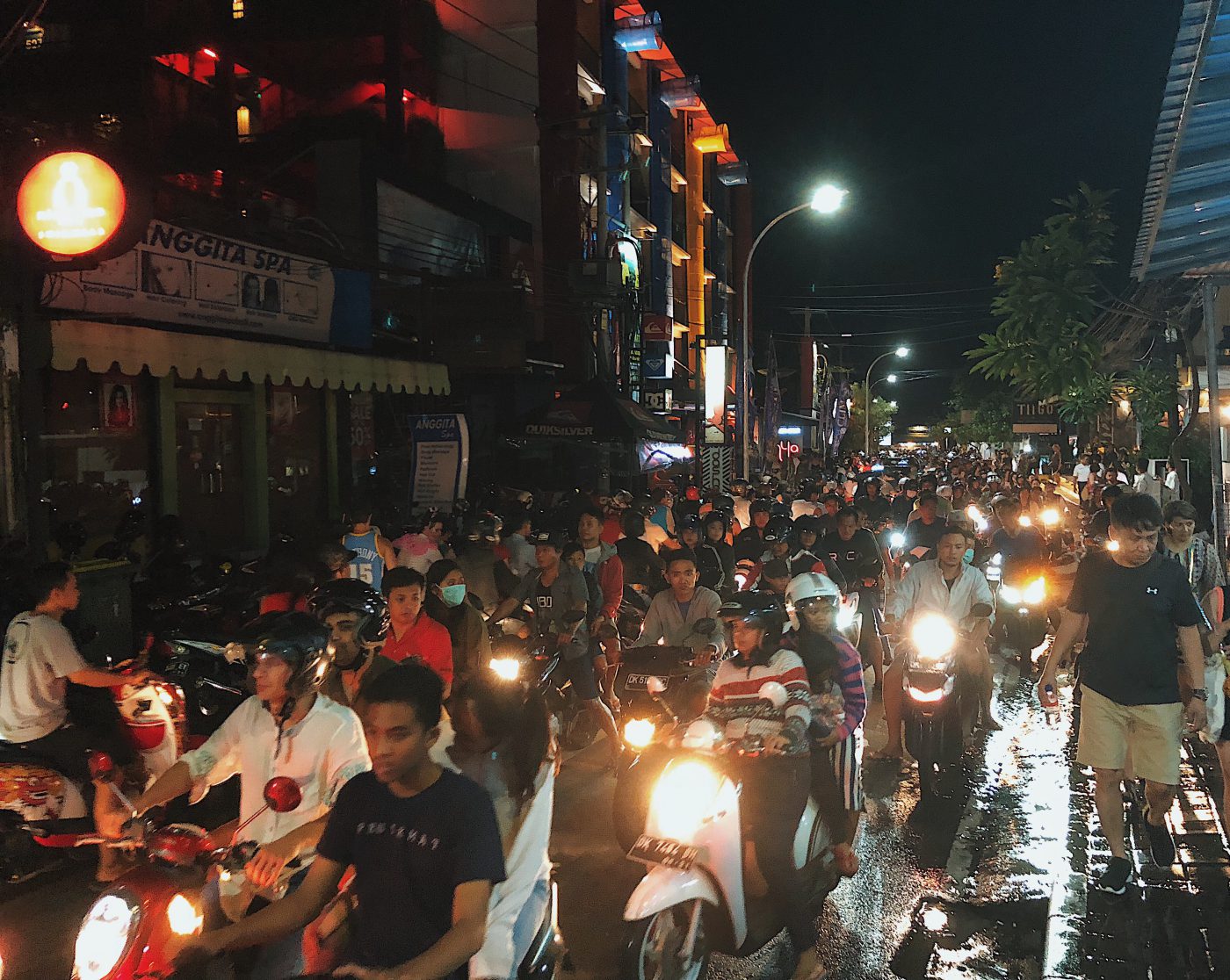 I don't recommend relying on a taxi or a car to go home – it would be impossible to get one, and even more impossible to move on the street even if you DID get one. Instead, do what locals do – rent a motorcycle for the day, ride it to the venue, and ride back home later. Assuming you won't be too intoxicated, that is. We left Potato Head around 2 AM and managed to go home swiftly, but that's because we had our own bikes – we weaved along on our motorbikes with thousands of other bikes on the street! It was quite a fun experience.
If you aren't comfortable driving your own bike, you can try downloading GOJEK, Indonesia's best ride-hailing service. However, certain areas (like the beach clubs in Canggu and Seminyak) will be covered with the notorious bike mafias. Bike mafias charge you a premium for their transport services, and GOJEK drivers will not dare to come to pick you up as they might get in trouble with the mafias. If your booking is not accepted by anyone on GOJEK, that probably means your area is a bike mafia area. In that case, it's time to give in to the bike mafias as a last resort – get one on the street even if you'll have to pay extra for it, but try to haggle the price down. It usually comes out to be just Rp 50,000 – 100,000 more than the regular price, which translates to less than $10. It's a special time of the year, and you don't want to sweat the small stuff.
If all else fails… well… be prepared to walk home, which tons of people actually did. So be sure to wear comfortable footwear! Bali parties are NOT the time to be wearing heels. I recommend sandals – you are in the tropics after all.
Looking for more places to visit during your stay in Bali?
Be sure to check my complete Bali Guide. This post contains EVERYTHING I know about Bali – which areas to stay in, where and what to eat as well as what to do while in Bali. You can also check out my Bali category for more posts on Bali!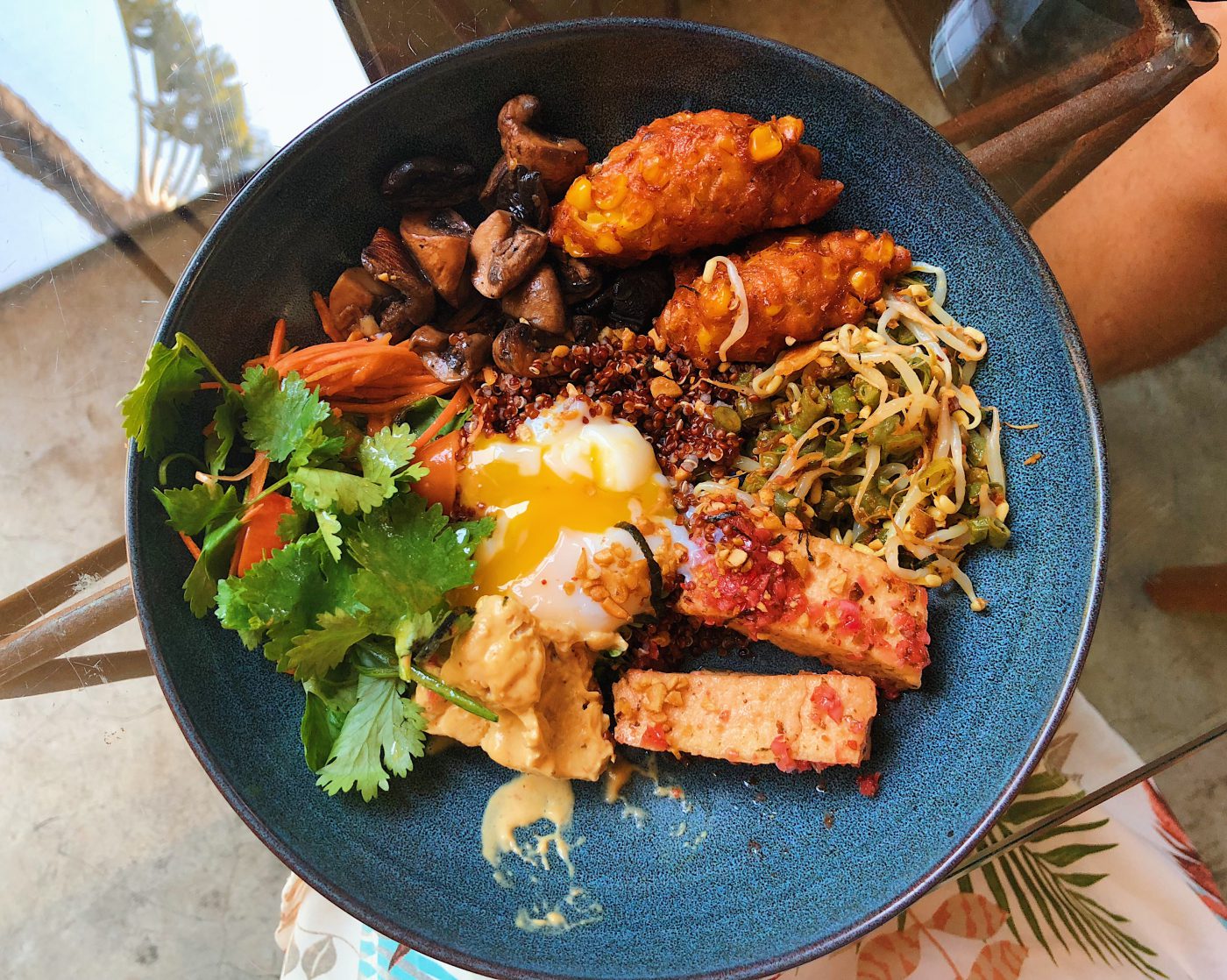 Alright, that's all I have for tips on enjoying your New Year's Eve in Bali! If you have any questions, please feel free to comment below!