Bali, also referred to as the island of Gods, has unexpectedly become my second home this past year.
I've been visiting this beautiful island since I was young. Lucky for me, I was born in Indonesia and I speak Bahasa Indonesia fluently. Thanks to that, I am able to understand some cultures and nuances in a way that foreigners can't. So, I want to bridge that cultural gap and impart all the knowledge I've accumulated about Bali! Keep on reading!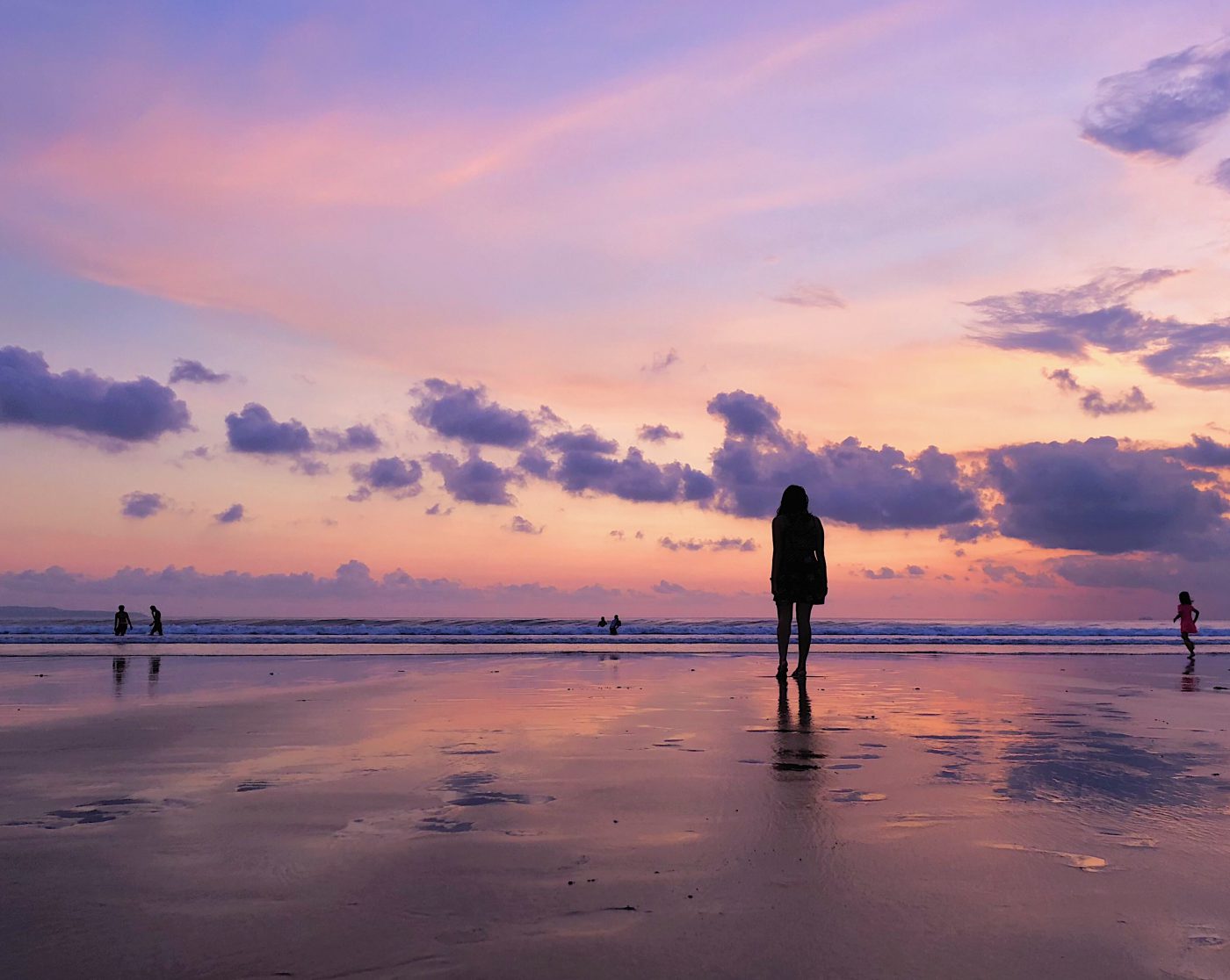 Here are some content shortcuts to help you navigate this post.
1. Overview of Bali
Bali needs no introduction – the island has become a dream destination for decades, starting with the tourism boom in the 1980s. Bali tourism has gone through some rough patches, with the rise of drug-related crimes and two terrorist bombings in the mid-2000s that claimed the lives of a staggering 202 victims – to the tourism revival through Eat Pray Love in the 2010s. The book (and movie) has arguably led to what Bali is known for in the present day – wellness and spiritual healing, along with the beautiful beaches and nature.
With the rise of remote working, Bali has also become very popular with digital nomads, so you might meet foreigners who are staying in Bali semi-permanently.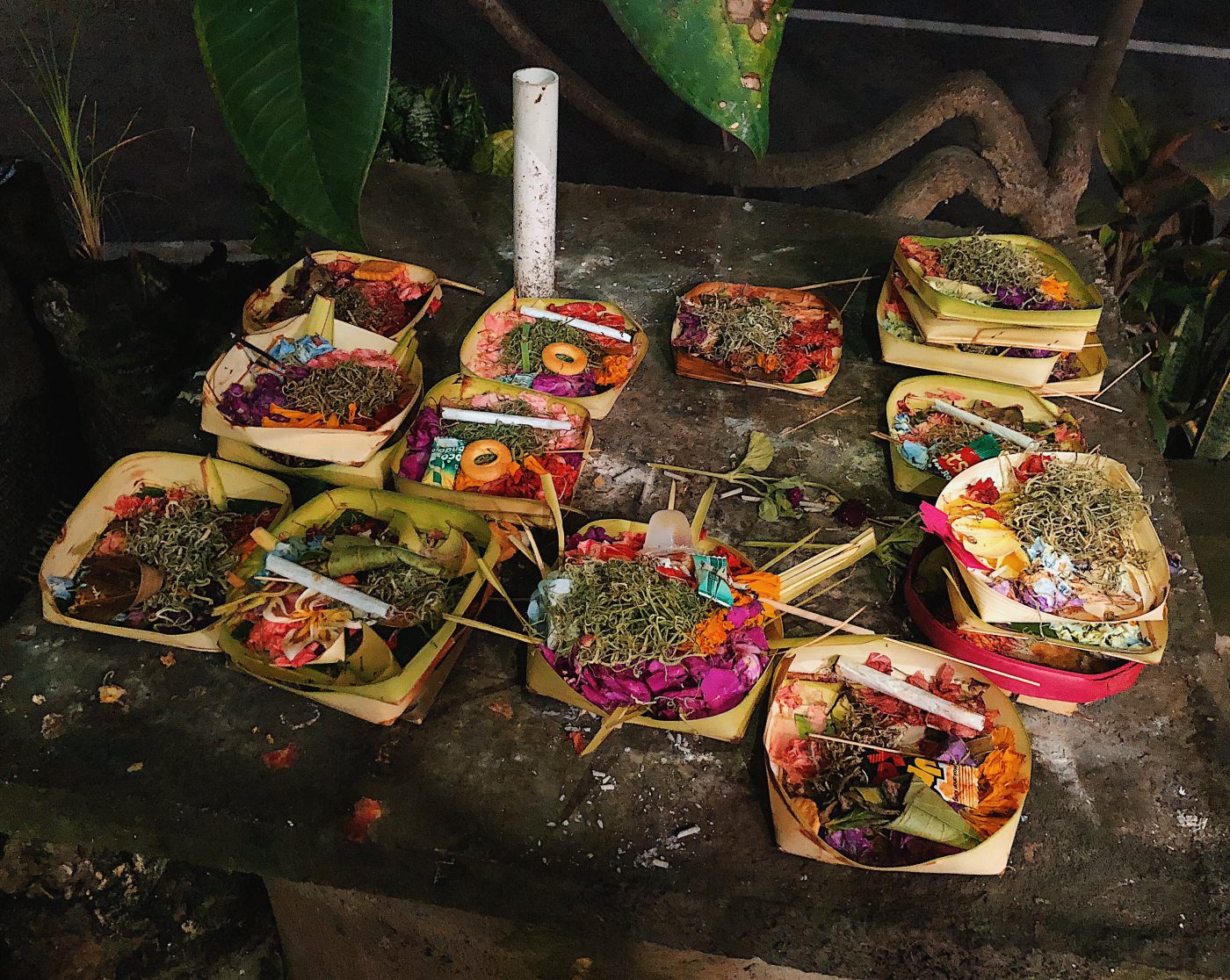 Bali is part of Indonesia, a predominantly Muslim country that does not eat pork. However, Bali stood out with 83% of the island practicing Hinduism, and one of their best-known local cuisines is actually a pork dish – Babi Guling, which is a spit-roasted pig often served in the form of Nasi Campur (mixed rice).
Although Balinese adheres to Hinduism, the religion found in Bali is different than the rest of the world. Balinese Hinduism is a combination of the core beliefs of Hinduism as we know that originated from India, mixed with Bali's own traditional beliefs. This is perhaps why Bali is popular with domestic and foreign tourists alike – it is unique and very different from other places in the world.
When is the best time to visit Bali?
Bali is great to visit all year round. The monsoon season (mid-December to March) brings rain, but isn't too severe – the rain comes only a few hours during the day. After the rain, it's more pleasant to wander around since the temperature would have been cooled down.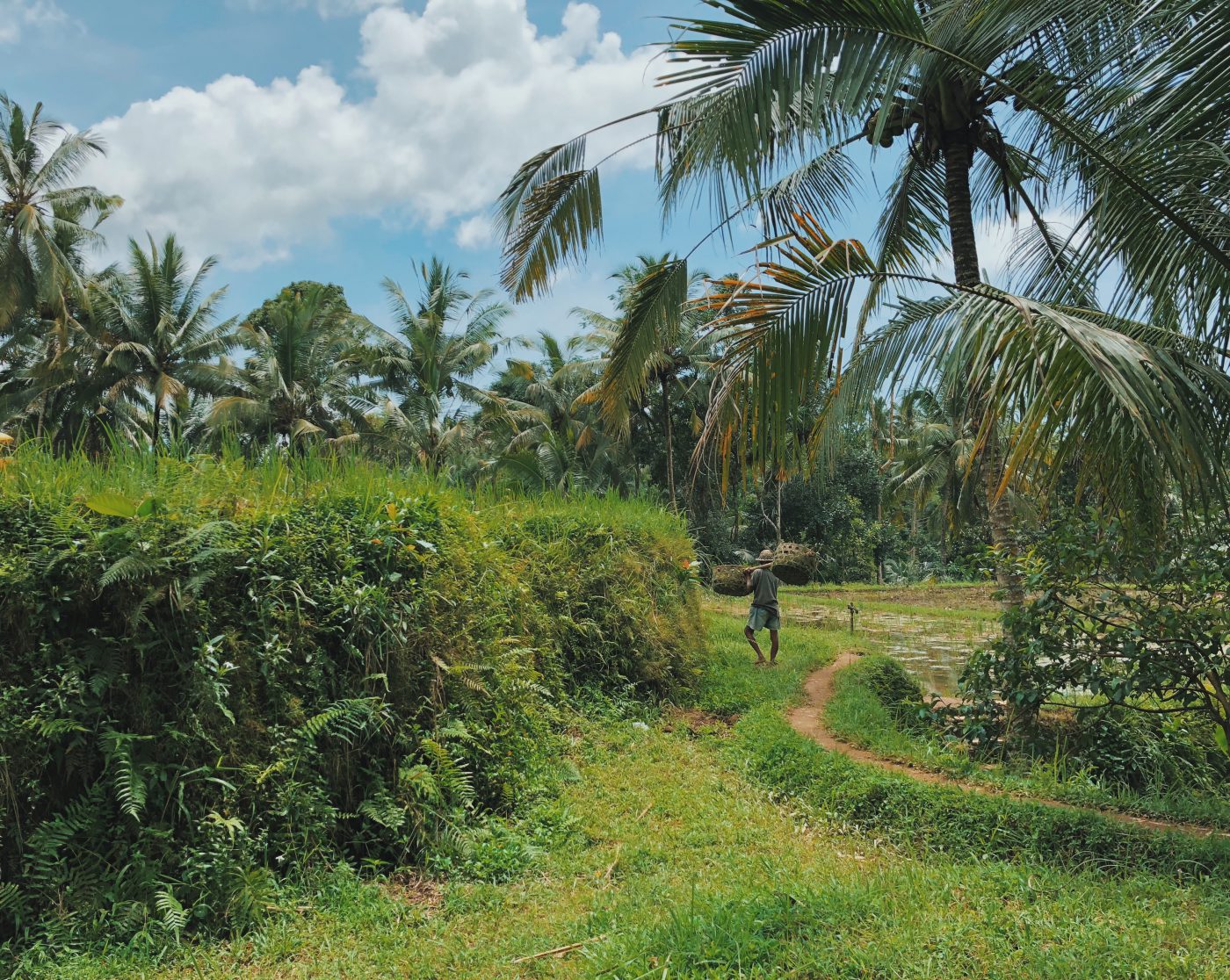 In recent years, several eruptions were observed at Mount Agung – the tallest volcano in Bali. This spurred some flight cancellations, although it didn't lead to anything more serious than that since Mount Agung is far from residential and tourist areas. There had also been earthquakes from the neighboring island of Lombok, but Bali did not sustain major damage.
Public Holidays and Important Dates in Bali
Bali celebrates a number of Hindu holidays. As a visitor, you don't have to worry too much about these holidays affecting your plans… except for Nyepi, which I'll talk about more shortly. Nevertheless, it's always good to know about these holidays as an insight into the Balinese culture. I think their strong connection to the Hindu religion is what makes Bali such a magical island.
Bali operates on two calendar systems called Pakuwon, which contains 210 days, and Saka, which is based on the phases of the moon. It's very possible that some Balinese holidays are held twice a year on the global Gregorian calendar system. Here are two of the most important holidays:
1. Nyepi – Day of Silence
I highlighted this holiday first because it will affect you as a visitor. Nyepi marks the new year according to the Saka calendar. Nyepi is a day of silence, fasting, and meditation for the Balinese. It stems from the word "sepi", which in Indonesian means "quiet".
From 6 AM until 6 AM of the next morning, everyone is forbidden to go out, entertain themselves or perform duties. Balinese believe that by staying quiet, the evil spirits will believe that the island is deserted and will not bother them for the rest of the year. Thus, they are required to stay indoors and stay quiet. Tourists are also forbidden to be outside, but you can do whatever you want inside your hotel room – quietly, of course. If you are staying in a resort, you can still use the facilities provided that you stay within the resort grounds.
2. Galungan and Kuningan – Triumph over Evil
I was lucky to be experiencing Galungan and Kuningan firsthand in one of the many times I visited Bali. Galungan is a Balinese holiday celebrating the victory of dharma (good) over adharma (evil). While the holiday is unique to Bali, it is related to Diwali, a major Hindu holiday celebrated around the world.
Galungan marks the beginning of the most important recurring religious ceremonies. The spirits of deceased relatives who have died and been cremated return to visit their former homes. The current inhabitants have a responsibility to be hospitable through prayers and offerings. The spirits return after ten days, in a celebration called Kuningan.
During Galungan, the Bali island is made extra festive by the presence of "Penjor" – tall bamboo poles decorated with dried coconut leaves with offerings suspended at the end. These are installed by the side of roads everywhere in Bali by each home and business.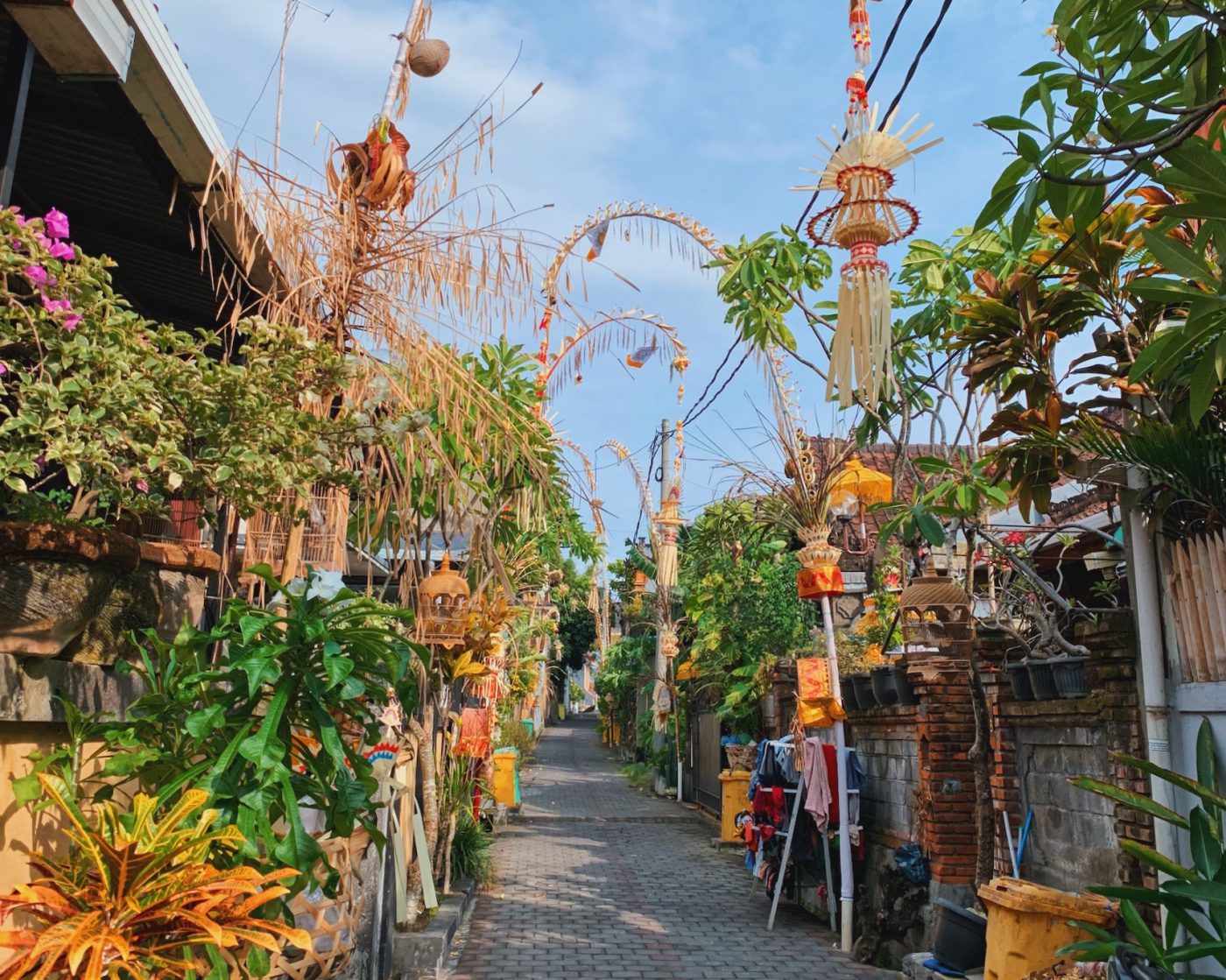 2. The Best Places to Stay in Bali
The best places to stay in Bali for first-timers are Seminyak, Ubud, and Canggu. However, depending on your requirements, you might want to consider other areas as well. You can read about my review of areas in Bali here.
In terms of accommodations, here are your options:
Five-star Luxury Resorts ($$$$)
These resorts are the best of the best five-star accommodations in Bali, known for their outstanding hospitality and luxury. They are often the accommodation of choice for couples on honeymoon.
My recommendation is to stay at one of these resorts for 1-2 nights, then move on to other more affordable accommodations in Bali.
Private Villas with private pool
Aside from the five-star resorts, you won't be short of options for private villas, especially if you are traveling with a group of friends. For booking villas in Bali, I use Booking.com or Airbnb – they are both great for finding all types of accommodations in Bali, from villas to regular hotels. Here's how to find the villas using these sites:
Booking.com – They've made it so easy by having a dedicated search page for Villas. Alternatively, you can perform a search as usual but filter the property theme to "Villas".
Airbnb – To find these villas on Airbnb, simply filter your search to "Entire Place" under home type. Note that Airbnb is commercialized in Bali – you won't stay in someone's house, rather it's a private villa the owner has built with the sole purpose of renting it out to tourists.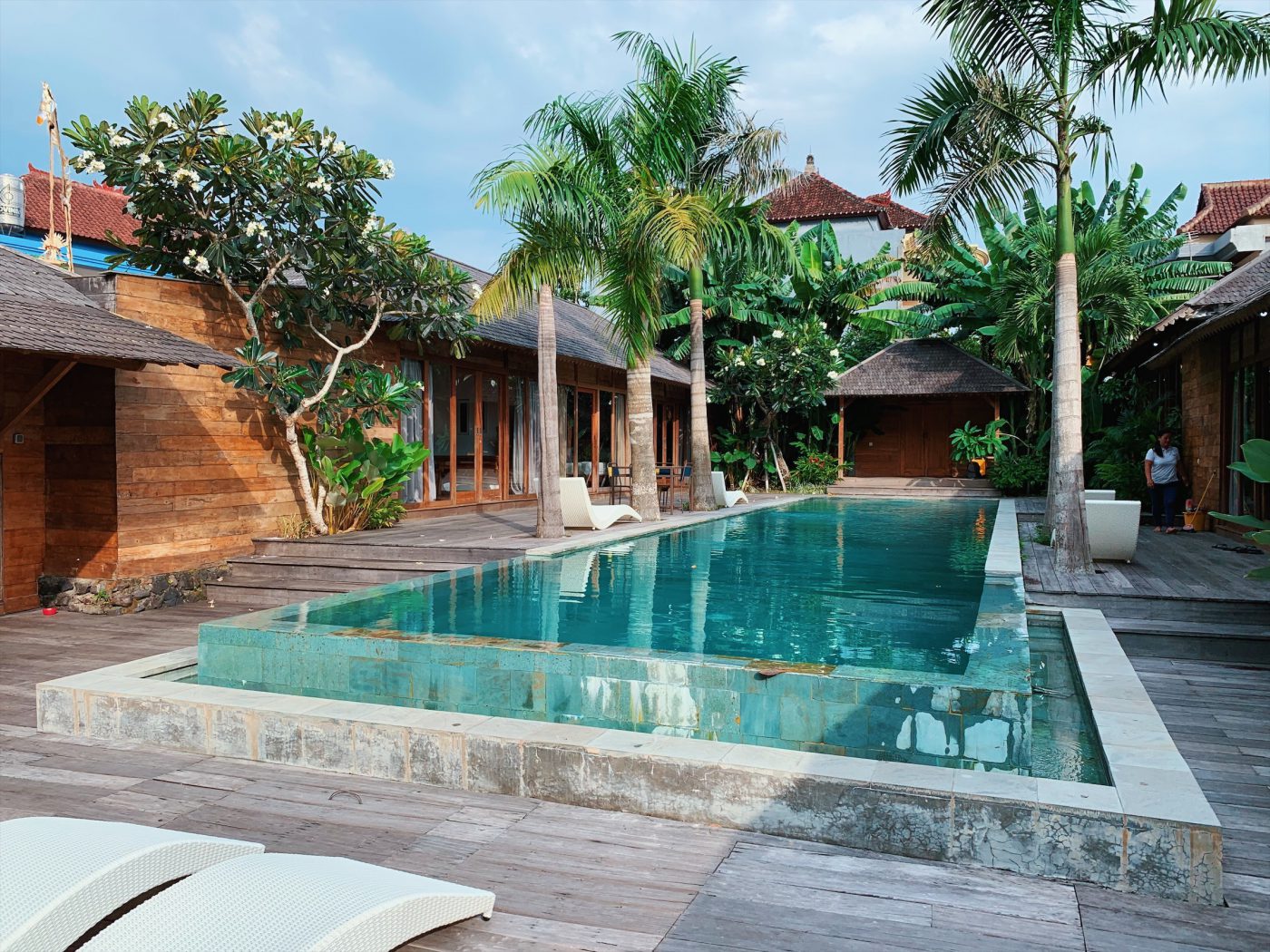 Here are some villas that I've personally stayed in:
Secret River Villa in Canggu – 5-bedroom villa on the outskirts of Canggu. The villa was very spacious and beautiful, great for a big group of friends and family. There are three caretakers in the villa from 8 am – 4 pm every day. They will keep the place clean and run errands for you, such as light shopping and laundry. The only negative part is the difficulty in getting transport – your best bet would be to arrange a car ahead of time with the caretaker.
Mule Sayana Villa in Ubud – (Update: unfortunately I can't find a place where they can be booked online anymore) Their one-bedroom villa was around US$80 a night. Everything was exactly as pictured – a private villa with an attached spacious bathroom and private pool, a small shed in the garden where you can chill while looking out to the vast rice fields that surround this villa. However, the downside (or added benefit?) is that it's very secluded – it takes about 15-20 mins by motorbike to the central part of Ubud each way. It might not seem like much now but if you have to do this every day, it gets a bit old. But still, I loved my stay at the villa and still remember it fondly years later.
Hotels in Bali
Uma Karan in Seminyak – around US$50 a night. My go-to hotel in Bali when I'm visiting with my boyfriend. It's located close enough to the Seminyak / Petitenget area, about 15-minute walk. The hotel is a small property with only 10 rooms, but it's clean and modern. The staff is amazing.
The Akasha Boutique Hotel – Located right on Batu Belig Road and a 2-minute walk to the beach! It's a small hotel with good facilities.
Casa Bidadari in Seminyak – As a budget condotel, this place is very affordable – it can be as cheap as US$26-30 a night. The staff is very friendly and accommodating and breakfast was right on time. The rooms are slightly outdated but very spacious. It's basically a 1 bedroom with a living room and a small kitchen area. Lights could be updated to be brighter though.
Bali Mystique Hotel in Seminyak – around US$42 a night. Also a slightly older hotel, but the location is really good – right in the heart of Seminyak and you can pretty much walk everywhere. The room was also very spacious.
Lloyd's Inn in Seminyak – if you prefer to stay in a beautiful, modern boutique hotel that isn't too pricey, this is a great option. Rooms start at US$70. The best selling point is their location – you can walk to Double Six beach from here. I haven't stayed here, but there is a Lloyd's Inn in Singapore and I've heard great things about them.
3. Where to go in Bali: Overview of Bali Areas
Bali is a huge island, so there are many areas you can consider visiting depending on what you're interested in. Below I've picked out areas that are convenient for visitors to stay in.
For first-time visitors, I recommend sticking to Seminyak, Canggu, and Ubud. All the infrastructure that caters to tourism is already well established at these locations – locals speak fluent English, there are plenty of accommodation options from villas and hotels, lots of activities to do, and places to visit. and various meal choices from vegan organic cafes to authentic local Balinese food.
1. Seminyak (3-4 Days)
Seminyak is where I usually stay when I go to Bali, and it's a great introduction to the massive island that is Bali. The area has the most concentration of foreigner-friendly restaurants, cafes, beach clubs, and an active nightlife. Locals all speak English here so you won't encounter any language issues.
I have tons of recommendations in Seminyak, so check out that post if you need places to go.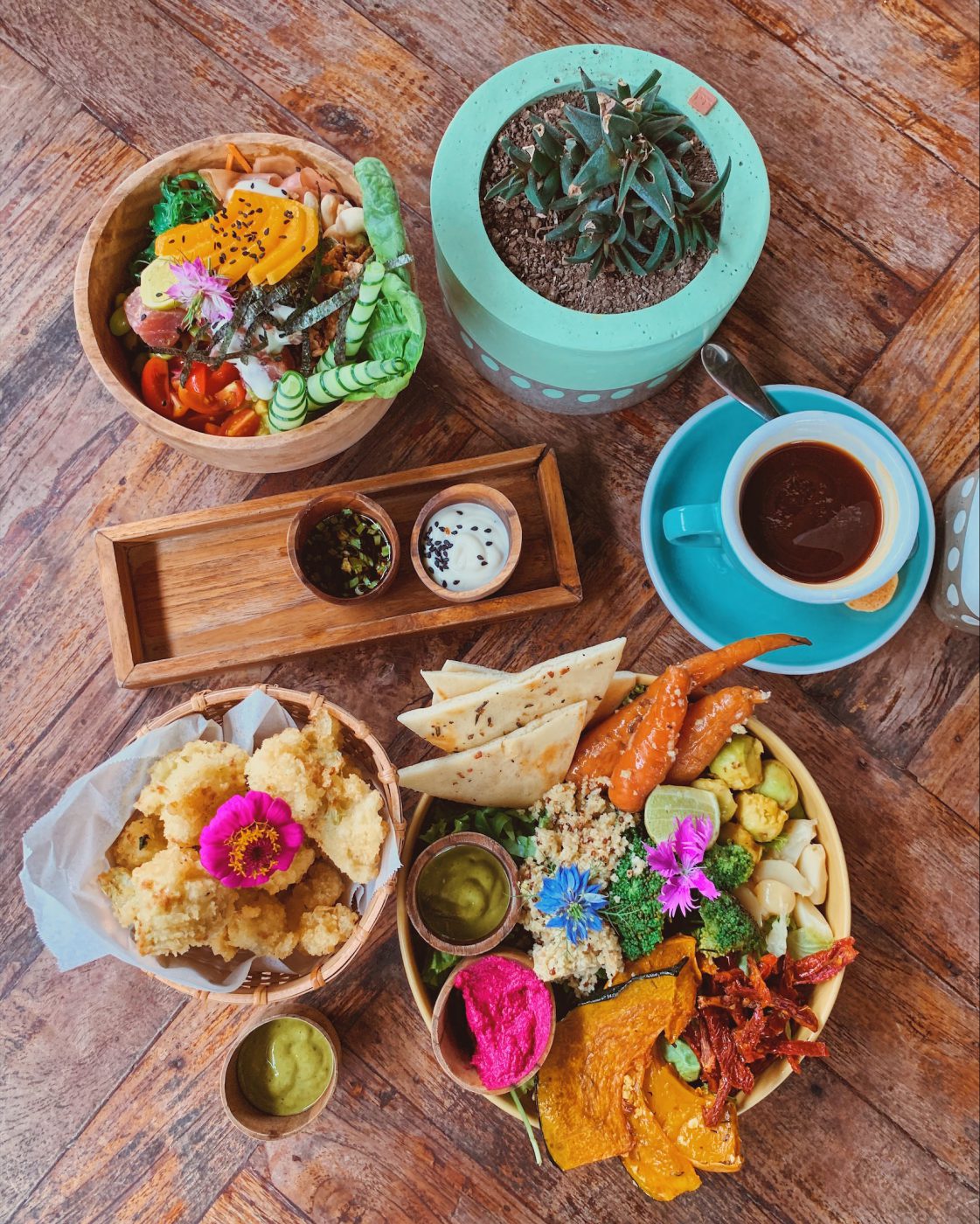 2. Ubud (4-5 Days)
If you are sick of the beach, you can check out Ubud. Located in the mountainous region of Bali island, Ubud is known as the center of arts and crafts in Bali. Ubud is hardly "new" or undiscovered – in fact, it is a haven for visitors. The costs are also still relatively affordable compared to Seminyak. You can expect to find a quieter and slower life here, and a lot more cultural and natural activities.
And again, I've written a separate guide to Ubud so be sure to check that out for ideas of what you can do there.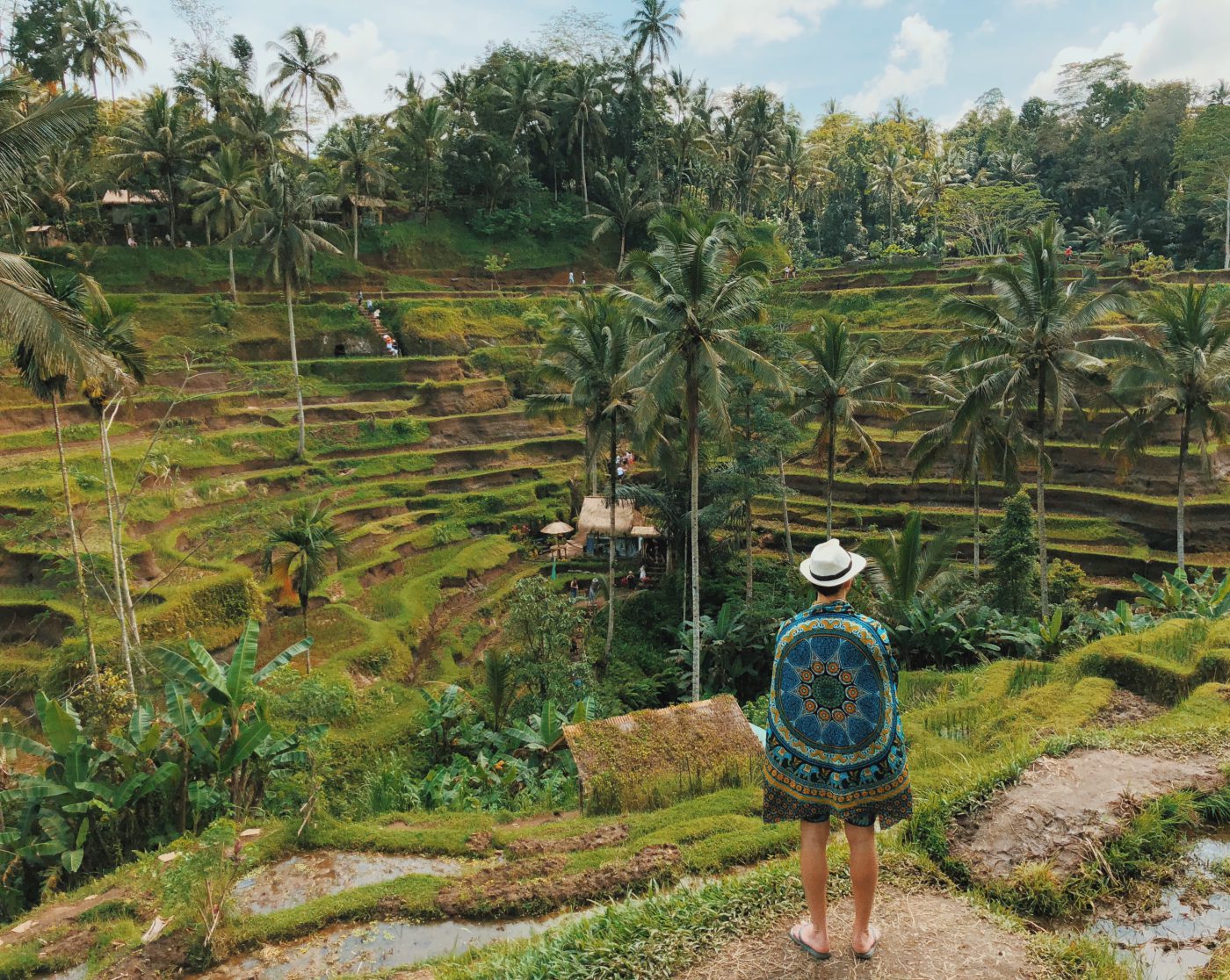 3. Canggu (2-3 Days)
Canggu, located only half an hour north of Seminyak, is currently the trendiest area in Bali. It's similar to Seminyak but much more relaxed. Canggu has been hailed as the down-to-earth Brooklyn to upscale Seminyak's Manhattan and called the Bohemian surfer paradise by Vogue. This is probably what Seminyak looked like ten years ago when all the visitors were still staying in Kuta.
And yup, you bet I have my own guide to Canggu too! Here you can find a list of my favorite places in Canggu.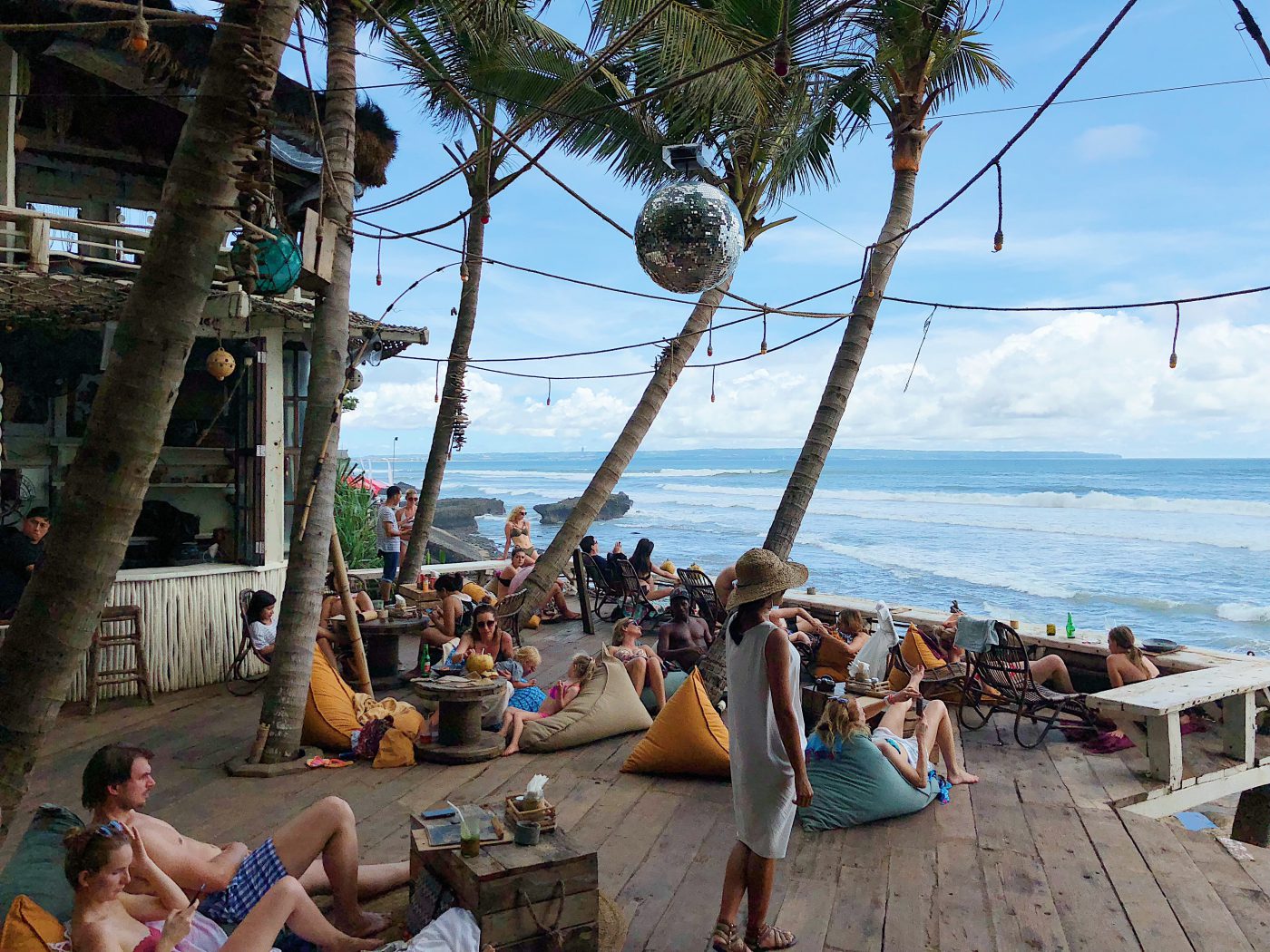 4. Other popular locations
The following locations are famous among Bali tourists, but I personally don't know too much about them since I have not been spending time in these areas. Here are little snippets that could give you an idea of what you can find there:
Kuta & Legian – nestled between Seminyak and the Ngurah Rai airport, Kuta was the place to be when Bali tourism first picked up in the 1980s. Nowadays it's just known as a very commercialized and dirty area.
Jimbaran – where all the high-end resorts are. Usually, people come here to stay at Ayana or something similar, but they rarely leave the resort grounds. It is still known for a good seafood BBQ by the sea.
Nusa Dua – like Jimbaran but located on the eastern coast of Bali, Nusa Dua also houses the most high-end resorts like The Hilton, St Regis, etc. It's also known as the launchpad of water sports activities.
Sanur – located just north of Nusa Dua, Sanur was one of the first tourist destinations to come to life on the island in the 1920s. Nowadays it attracts backpackers and divers since Sanur Beach is where most diving boats take off from
Uluwatu – a surfer's paradise located in the far south of the island. It houses some of the most exclusive private villas and beach clubs.
Kintamani – located at the foot of Mount Batur and next to a lake, this area is great if you're looking for a mountain getaway.
5. Lesser Known Locations
If you are looking for something quiet and further away from the throng of tourists in Bali, you might want to consider the following areas:
Candidasa – This area located on the east side of Bali is very popular with domestic tourists. It's one of the civilization areas closest to Mount Agung. On a clear day, you'll be able to see the volcano towering over Bali.
Munduk Village – This village is located in the central north of Bali, on a mountain area with a cooler climate and access to some of Bali's best waterfalls.
Lovina – This is a resort beach located far north of Bali. You can do both beach activities and nature walks to waterfalls here.
4. Entry Visa for Bali / Indonesia
Starting in March 2022, foreigners are required to pay for a visa to get into Indonesia, including Bali. The gist of it is that there are two types of visas to enter Indonesia depending on the passport you have – Visa Exempted or Visa on Arrival. You can check which one your passport country falls under.
If your passport country falls under visa exemption, then you don't need to do anything – just turn up and go through immigration like a local Indonesian. PS: Passport holders of ASEAN countries fall under this category.
If your passport country falls under Visa on Arrival (VOA), then you'll need to pay the VOA fee of Rp 500,000 in cash per person. More on this below!
Else, if your passport country does not fall under the above categories, then you'll need to apply for a visa online before arriving in Indonesia.
Apply for Bali Visa on Arrival (e-VOA) online
Starting November 2022, you can apply for a Visa on arrival online, before you actually arrive! Provided you hold a passport from one of the approved countries. This could potentially save you some time from having to queue up to pay for Visa on arrival at the airport.
Tip: If you qualify for e-VOA, here is step-by-step on what you need to do.
Bali Visa on Arrival (VOA) at the airport
For those of you whose passport falls under the Visa on Arrival category, make sure to bring cash in Indonesian Rupiah currency to pay the visa fee. There are ATMs in the airport and ways to pay with a credit card, but I have heard stories when the credit card machine failed and the ATM ran out of money. So as much as you can, try to prepare the money in cash beforehand!
Fill out the customs form online
You can pre-fill your customs form online before you land in Bali. When you get to the airport, just show the QR code and you're good! It saves so much time.
5. Transportation in Bali
So you got yourself to Bali. What are your options to get around? Here I've outlined every possible way you can transport yourself within Bali. Read on!
Can I use ride-sharing apps like Gojek or Grab in Bali?
Online ride apps – the likes of GOJEK, Grab, and Blue Bird taxi – are available in Bali, while Uber has been defunct in South East Asia after being acquired by Grab in early 2018. So the short answer is, yes you can, but not everywhere in Bali. Ride-sharing apps have certain areas they are allowed to operate from. Usually, tourist areas like temples and certain beaches don't allow ride-sharing apps by car. Booking a motorbike is still okay, which is what I usually end up doing.
How to get into Bali from the Airport
Okay, so you've landed at Ngurah Rai Airport. How do you get to where you need to go in Bali? There are quite a few options:
(BEST option) Pre-book your airport transfers online – This is probably the best and cheapest option. You can pre-book airport transfer here for a very fair price here. Alternatively, you can arrange an airport transfer with your accommodation, but they will normally charge Rp 200,000 – 300,000 depending on where you stay.
Online taxi apps like GOJEK or Grab. They used to not be allowed to operate in airports, but now it is legal. You can book airport transfers via Gojek or Grab!
Getting a taxi is still an option if you're up for it. How to get a Taxi from the Ngurah Rai Airport:

Ngurah Rai Taxi – In Bali airport, there is only one taxi operator with an official booking system: Ngurah Rai Taxi. Simply stop by their counter just before the duty-free exit. I am not sure about the price but should be in the Rp 250,000 area.
Haggle with the normal taxi drivers after you get out of duty-free. This is pretty fun if you enjoy haggling. They will quote you some outrageous number – but just have a hearty laugh, offer them half of their quote, and calmly walk away. Someone else will take you up quickly. For a ballpark of what to pay – I always get offered Rp 500,000 to Seminyak right off the bat, which is just crazy. I always haggle the price down to about Rp 150,000 – 200,000 to Seminyak. The price really depends on my mood to haggle and whether it's peak or low season.

Walk out of the airport and catch a Blue Bird Taxi outside – Blue Bird Taxi is the most trusted taxi operator in Bali and the rest of Indonesia. Unfortunately, they don't operate from the airport. Getting a Blue Bird taxi probably will yield the cheapest fare, but I have never done this. Personally, I don't think it's worth all the effort just to save a little bit of money.
Getting Around in Bali
Private Car Driver – you can hire a private car with a driver to drive you around for US$33/day. These cars are usually minivans that can take up 5 people, so it's ideal for those who are traveling in a group or just can't be bothered planning around transportation. If you have lots of touristy areas to visit, this is the BEST way since you don't have to think about the transport back.
Rent a Motorbike – this is what locals and Bali expats do. You just get further and faster on a motorbike since most of Bali's roads are too narrow for cars. You can rent a motorbike for Rp 70,000 a day or Rp 700,000 a month (haggle the price down). Of course, not everyone is comfortable with riding a motorbike, so please don't force yourself if you can't. I've included some tips on driving motorbikes in Bali below.
Call a Motorbike with GOJEK or Grab – while online taxi apps are frowned upon in Bali, hiring a motorbike is still okay. Simply download the GOJEK App and select "Go-ride" from the options – the icon is a motorbike carrying a passenger.
Blue Bird Taxi App – As I said before, Blue Bird Taxi is the most trusted taxi operator in Bali and the rest of Indonesia. To book with Blue Bird, simply download their app. It works the same as other taxi apps.
Online Taxi App (GOJEK and Grab) – Taking a taxi booked from online apps could get pretty dicey, but they still can operate in certain neutral areas. You just have to take the gamble. Your rides might be canceled multiple times before you find a taxi driver who's willing to accept the job. If your job gets canceled more than once, it's time to give up and look for other options.
Tips for driving a motorbike in Bali
So you've decided to rent a motorbike in Bali. Good for you! This is probably the best way to get around Bali. Just take notes of the following and you'll be fine.
Safety First – ALWAYS wear a helmet even if you are a confident driver, even if you are just a passenger, even if you are only driving for a short period, and even if you think they look silly. You never know what's going to happen on the road – it might not even be your fault but someone else could hit you and cause injury. So wear those helmets!
Watch out for your belongings – There have been cases of people getting their purses or phones snatched off while riding a bike by another pair of people who are also a bike. These people are called "Jambret" which means "snatcher" in Indonesian. Usually, when foreigners are riding a motorbike, the passenger acts as a navigator of the bike and they'll often have their phones out while navigating. This makes them an easy target for the jambrets. The jambrets normally would attack a quiet street since it's easier for them to run away – so always be on alert and hold on to your stuff. I've personally seen someone got attacked while driving on Drupadi street, which is right in the heart of Seminyak.
Don't wear anything loose – Scarves, loose pants or long flowy dresses should not be worn since they might obstruct other biker's way or get caught on something. The alleys in Bali can be pretty narrow sometimes.
Use Google Maps "walking" route for better biking routes – If you're confident with your motorbiking skills, the Google Maps walking route can often point you to alleys that can actually be accessed by motorbikes. You'll often find shortcuts this way, but you might also come across dead end sometimes because Google's road inventory in Bali is not always up to date.
5. General Tips for traveling in Bali
Apps & Connectivity
Make sure you have Data SIM – You can pre-purchase a 4G XL SIM Card here to be picked up at the Bali airport for US$7. It includes 6GB of data. You could buy SIM card once you are in Bali, but it is hard to find an honest one that will not sell you expensive SIM cards.
Download WhatsApp to communicate with locals – This is the messaging app of choice in Indonesia. Almost everyone has a WhatsApp, often colloquially abbreviated to "WA". You can even make a booking, ask questions, and communicate with businesses via WhatsApp. I've booked for massages and checked whether a place is open by simply WhatsApp-ing the number listed on their Google listing.
Download GOJEK app – GOJEK is the holy grail app and I proudly support them because they are an Indonesian company. Aside from the car and bike service, GOJEK provides a bunch of other services such as food delivery, concierge delivery service, massage, shopping, etc. I've gotten someone to deliver me drinks from a convenience store when I didn't feel like going out.
Safety & Cultural Norms
Watch out for your belongings – Bali is generally a safe place, but use your common sense and be alert. Be careful of your belongings – Jambret aka "bag snatcher" is a thing in certain areas. As I've mentioned in the motorbike riding tips above, they usually ride as a pair on a motorbike for easy escape and snatch your purse/bags/phones if you aren't careful.
Always lock your doors even if you are inside your accommodations. Again, Bali is a safe place. But crimes still happen. A few years ago, an elderly Japanese couple who had been living in Bali for seven years was robbed and murdered after leaving their front gate unlocked. While this is not a common occurrence, you just never know when you're going to encounter someone evil.
Tipping is not mandatory. I personally do not tip at restaurants or cafes, but if I'm getting something service-based such as massages or villa caretaker, then I'll leave them something. For massage or services that takes 1-2 hours, I tip Rp 20,000. For a villa caretaker, you can tip depending on how long you stay, what services they provided and how many people are in the villa – I recommend Rp 50,000 per person for a 4-day stay.
No plastic bags available. Since Dec 2018, the government of Bali has banned single-use plastic bags to be given out by businesses. This is due to the amount of plastic trash that has covered the island. So, it's a good idea to bring always have a spare shopping bag with you.
Health
Buy a mosquito repellent – Mosquitoes come out at night in Bali. If you are loved by mosquitoes like me, Autan is the best! You can get this as a lotion or a spray at any convenience store in Bali.
If you get sick in Bali – For Bali belly (food poisoning) buy activated charcoal tablets – Norit brand is the most popular – to get rid of toxins from food poisoning. If you are feeling nauseous, you can try getting Tolak Angin, a trusted herbal medicine. These are available at any pharmacy or Guardians store.
Always have a thin cotton scarf/sarong wrap with you – I love this because they are so versatile! can wear it around your neck and shoulder to protect yourself from the sun, but can also double up as something to sit on while you are at the beach.
Always put on sunscreen, at least SPF 50 one! Skin cancer is not sexy. In Bali, you can find sunscreen sold at pharmacies like Guardians or Kimia Farma – they are not sold at normal convenience stores.
Living for an extended time in Bali
Laundry – There are plenty of laundry places around Bali, especially in the touristy area. And by this, I don't mean a laundromat – I meant a full-service laundry where you just drop off your clothes and they will come back clean and folded! They charge a very affordable rate per weight (kg) – Rp 12,000 / kg. Typically the laundry will be done in 1 day, but I have encountered busy times where the laundry is done in 2 days. Keep in mind this is a very basic laundry service, not a dry cleaner. I wouldn't drop off expensive clothing or clothing that requires complicated cleaning, but your usual everyday clothing (like a T-shirt or cotton pants) should be fine.
Extended motorbike rental – You can always negotiate your motorbike rental to be monthly and it's MUCH cheaper than renting daily. You should only pay Rp 600,000 – 700,000 for a monthly bike rental.
Useful Indonesian Phrases
Learning local phrases is important when you travel so that you can fit in with the locals better. Indonesians roll their "r"s and pronounce "d"s and "b"s hard, so don't be afraid to enunciate those letters!
Indonesian Phrases For Everyday Use
| | |
| --- | --- |
| Terima Kasih | Thank you. You can abbreviate this to "makasih" as locals do. |
| Selamat Pagi | Good Morning, used anytime before noon |
| Selamat Siang | Good Afternoon, used from 12-3pm |
| Selamat Sore | Greetings used from 3-6pm |
| Selamat Malam | Good Night, used anytime after the sun has set |
| Berapa? | How much is this? |
| Dimana? | Where? |
| Pak (Male) / Bu (Female) | To address someone with respect. |
| Mas (Male) / Mbak (Female) | To address someone of the same age, peers. |
Indonesian Food Phrases
| | |
| --- | --- |
| Nasi | Rice, usually white rice |
| Mie | Noodles |
| Ayam | Chicken |
| Sapi | Beef |
| Babi | Pork |
| Sayuran | Vegetables |
| Goreng | Fried |
| Bakar | Grilled / Roasted |
| Sambal | Chili sauce |
| Cabe | Chili |
Indonesian words for Roads & Navigation
| | |
| --- | --- |
| Jalan (often abbreviated as Jl) | Road. If there is a "raya" in the name (eg Jalan Raya Seminyak), that indicates a major road. |
| Gang (often abbreviated as Gg) | A small alley. Mostly for pedestrians and bikes, though sometimes in Bali you still see cars trying to squeeze their way in because why not? |
Emergencies phrases in indonesian
| | |
| --- | --- |
| Tolong | Help |
| Sakit | Sick, also used to describe pain |
| Tolong panggil Polisi | Please call the police |
| Tolong panggil Doktor | Please call the doctor |
| Rumah Sakit | Hospital |
| Tolong bawa saya ke rumah sakit | Please bring me to the hospital |
6. What to eat in Bali: Local Food and Drinks
Due to the diversity of tourists in Bali, there are plenty of options for food on the island. Most cafes would cater to various dietary requirements, especially healthy options like vegetarian food, vegan bowls, smoothie bowls, etc. I'm fairly sure I don't have to explain Avocado toast to you, so I'll explain the local options instead! Indonesian food is my FAVORITE and they tend to be cheaper than foreign cuisines.
Alright, let's get started-
Balinese Food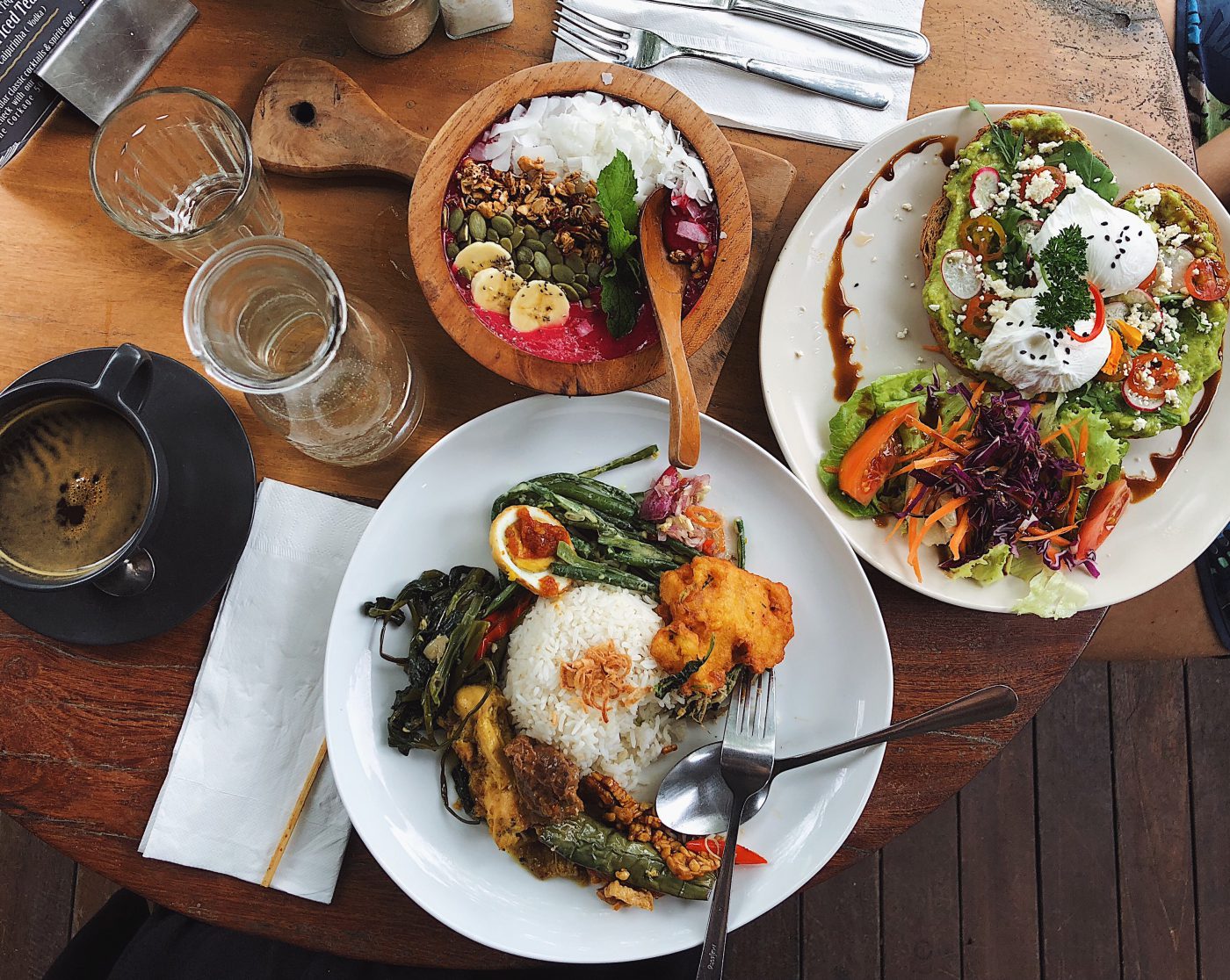 Nasi Campur – This just means "mixed rice", and that's exactly what it is – white rice with random side dishes, usually contains at least one meat side dish with a bunch of vegetable sides. It could be spicy since Indonesians love their chilis.
Babi Guling – Although Indonesia is a predominantly Muslim country and most people do not eat pork, that is not the case with Bali. Their main dish is called Babi Guling, which is a spit-roasted pig. The pork meat is then served with rice and other side dishes, in Nasi Campur style.
Tipat Cantok – This is a dish made of boiled veggies, rice cake, and tofu in peanut sauce. It's local Balinese food, although it's similar to Gado-Gado that can be found elsewhere in Indonesia.
Indonesian Food in Bali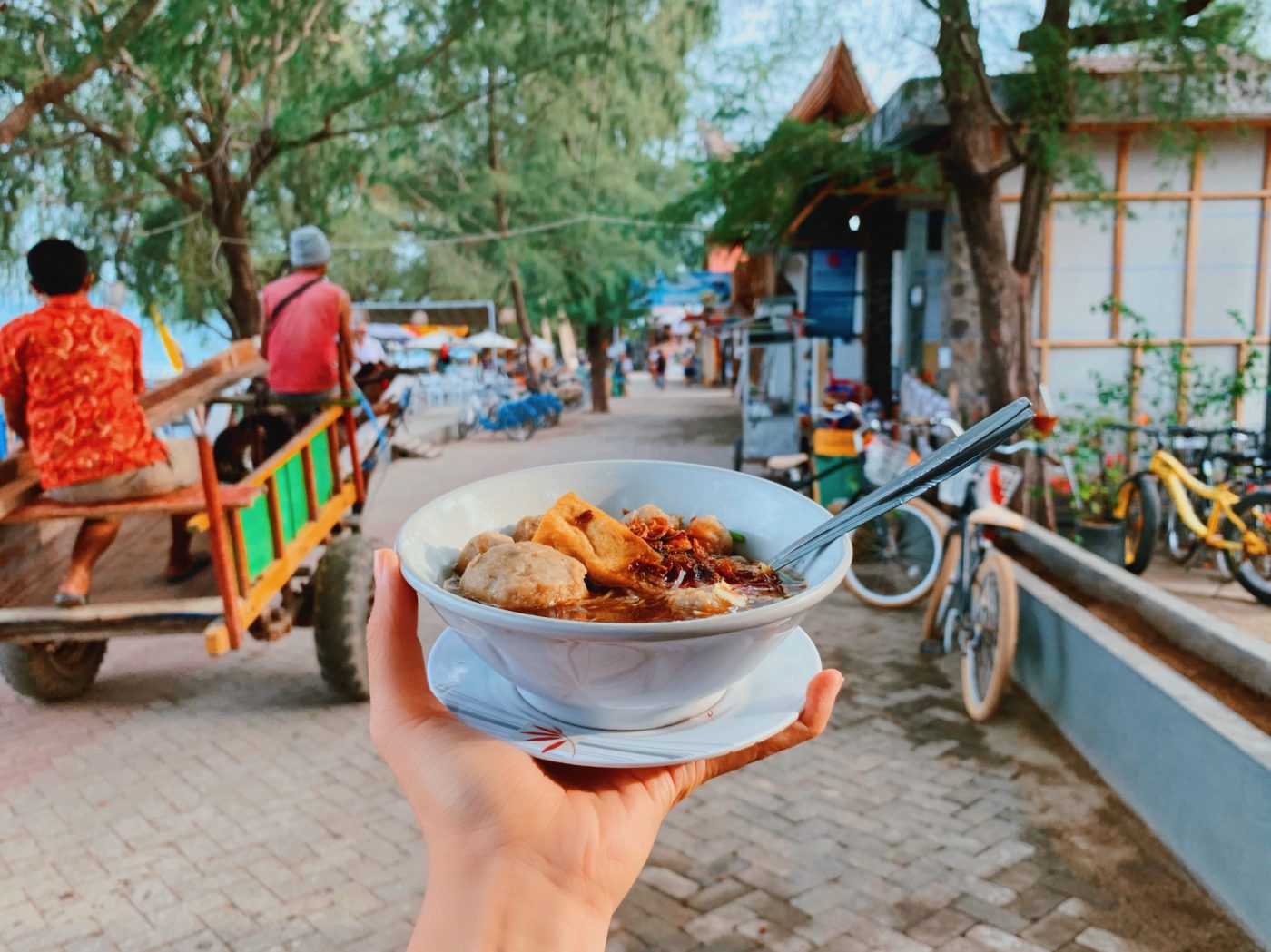 Bakso – my FAVORITE! Bakso is a meatball noodle dish that is very popular in Indonesia and can be found throughout the country.
Nasi Goreng or Mie Goreng – This is Indonesia's favorite carb dish – fried rice (nasi) or fried noodles (mie). Usually mixed with vegetables and chicken, but you can always have meatless too. Served with one sunny-side-up egg. We can have this for breakfast, lunch, and dinner.
Satay or Sate – Grilled meat skewers served with peanut sauce. Usually, chicken ("ayam") is used as the meat portion, but I've seen pork and mutton too.
Soto Ayam – Indonesian shredded chicken soup, usually served with rice or vermicelli and boiled eggs. Don't be put off by the yellow color – it's turmeric and it's good for your body.
Drinks in Bali
Avocado Juice – If you see Avocado juice on the menu in Bali you should just order them – you won't regret it. In Indonesia, Avocado juice is more like smoothies where they add condensed milk and chocolate sauce (sometimes black coffee, to counter the taste of the milk). It's not a healthy drink by any means but it sure is a delicious one!
Jamu – "Jamu" is an Indonesian traditional herbal drink I had been drinking since I was young. There are many types of Jamu, but the most common one is "Kunyit Asem" – consisting of turmeric, tamarind, and cinnamon. Indonesians believe Jamu has health benefits, especially for women, so my mom would force me to drink Jamu every day. As a child I hated the taste but as an adult now? I love it!
Loloh Cemcem – This is a local Balinese herbal concoction, which tastes fresh and slightly sour. It's believed to be good for blood pressure and aids in digestion.
7. What to do in Bali: Activities and Day Trip Ideas
Bali is filled with many different things to do. There is something for everyone!
1. Nusa Penida Day trip
Nusa Penida is a relatively undeveloped island southeast of mainland Bali. You won't find all the snazzy beach clubs, organic cafes, or trendy restaurants that have become synonymous with Bali here. However, it does house some of the most photogenic sights in Bali.
I've written an extensive guide on how to get to Nusa Penida here.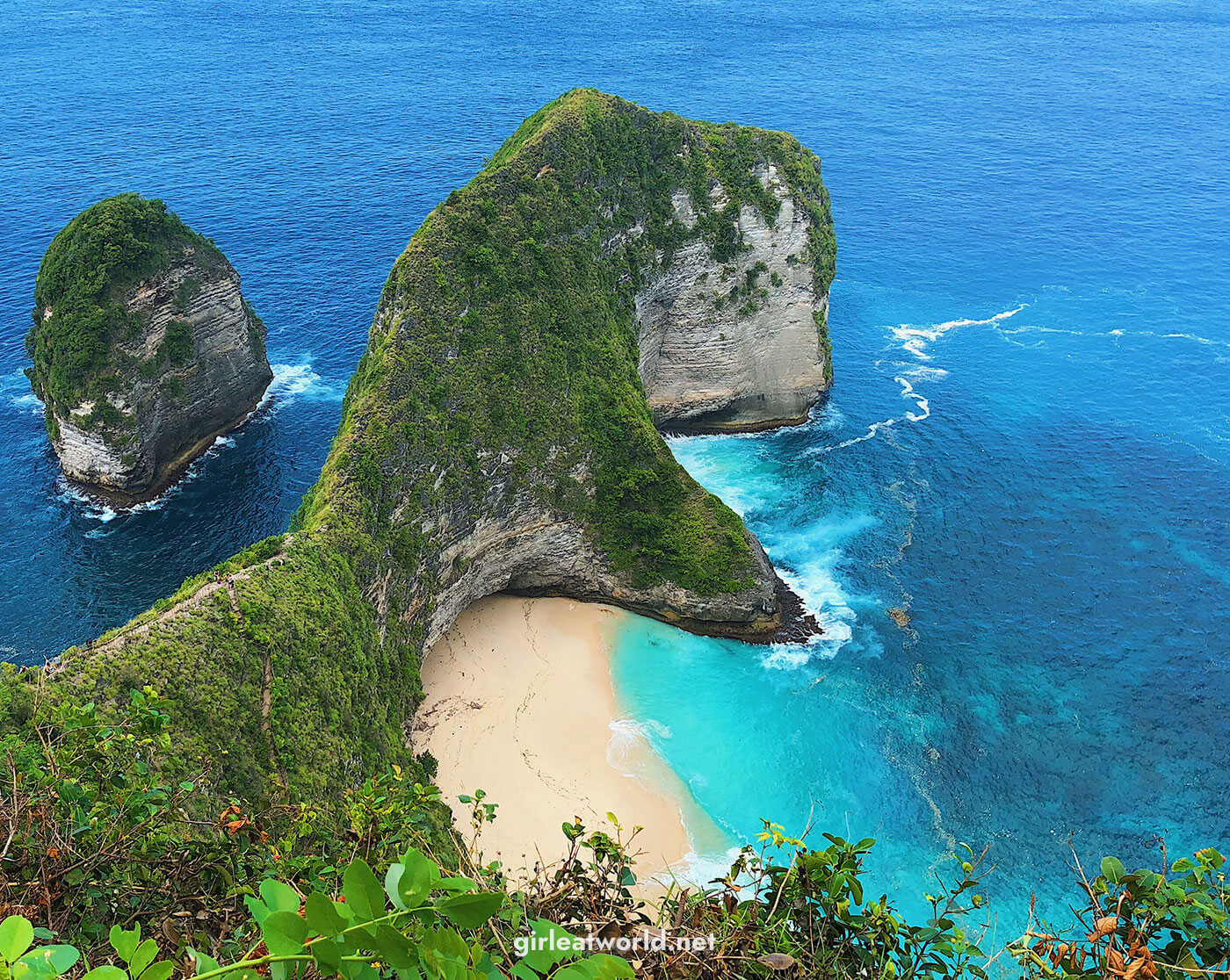 2. Mount Batur Trekking
I wrote an entire post about my experience trekking to the summit of Mount Batur, but to sum it up: This is what I would call a high ROI hiking – the hike was short and not that difficult but the view from the summit is amazing. Mount Batur is right next to Mount Agung, so on a clear day, you can see the still-smoking Mount Agung, which makes for an amazing picture. And because you start so early you're basically done climbing a volcano by 9 am!
Read my post about climbing Mount Batur here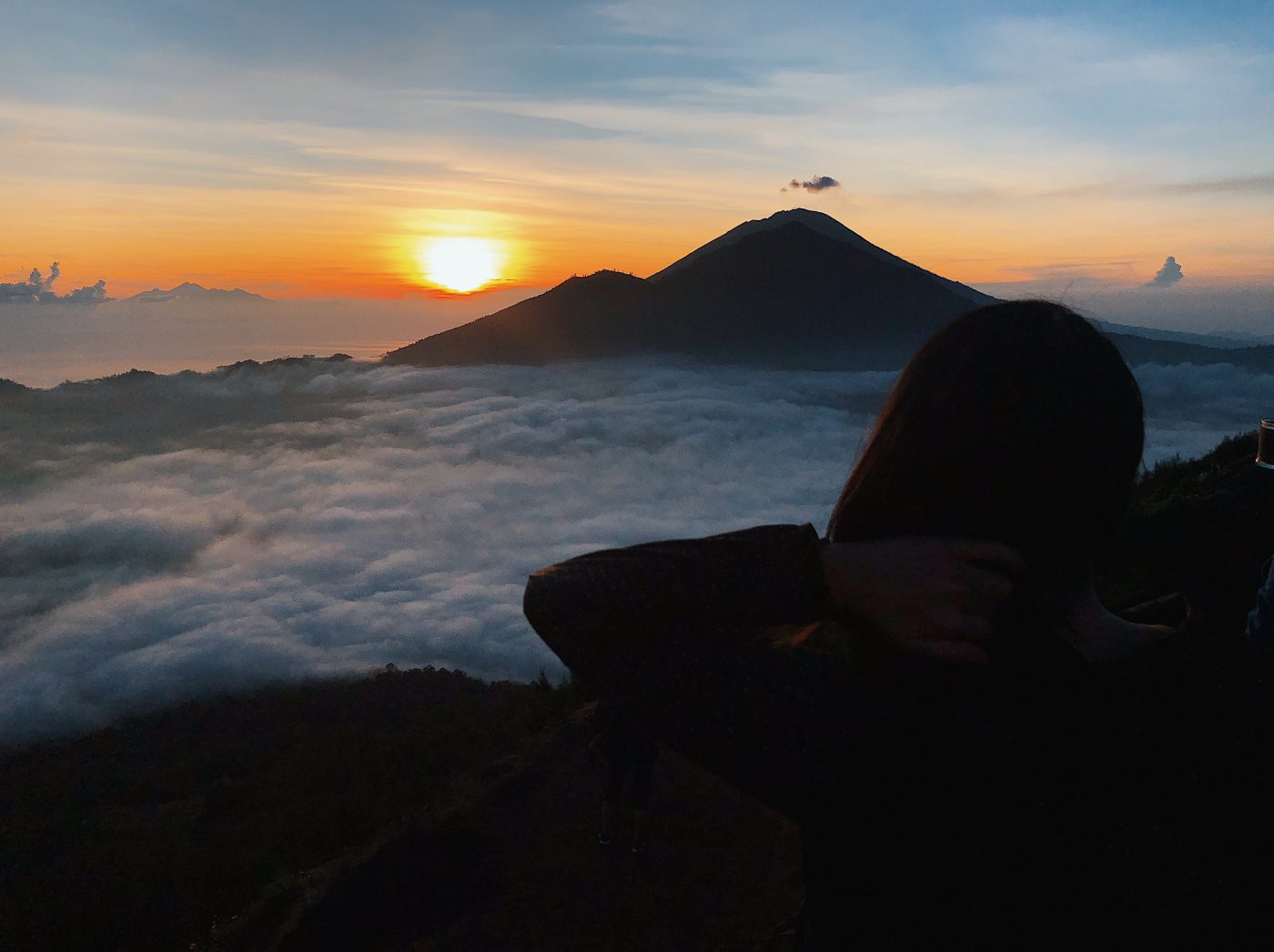 3. Canyoning in North Bali
We booked this canyoning tour from a Bali canyoning enthusiast group. I was a little skeptical about this since I had never done canyoning before, but it ended up being so much fun, and quite beginner-friendly.
You can read more about canyoning in my Ubud post.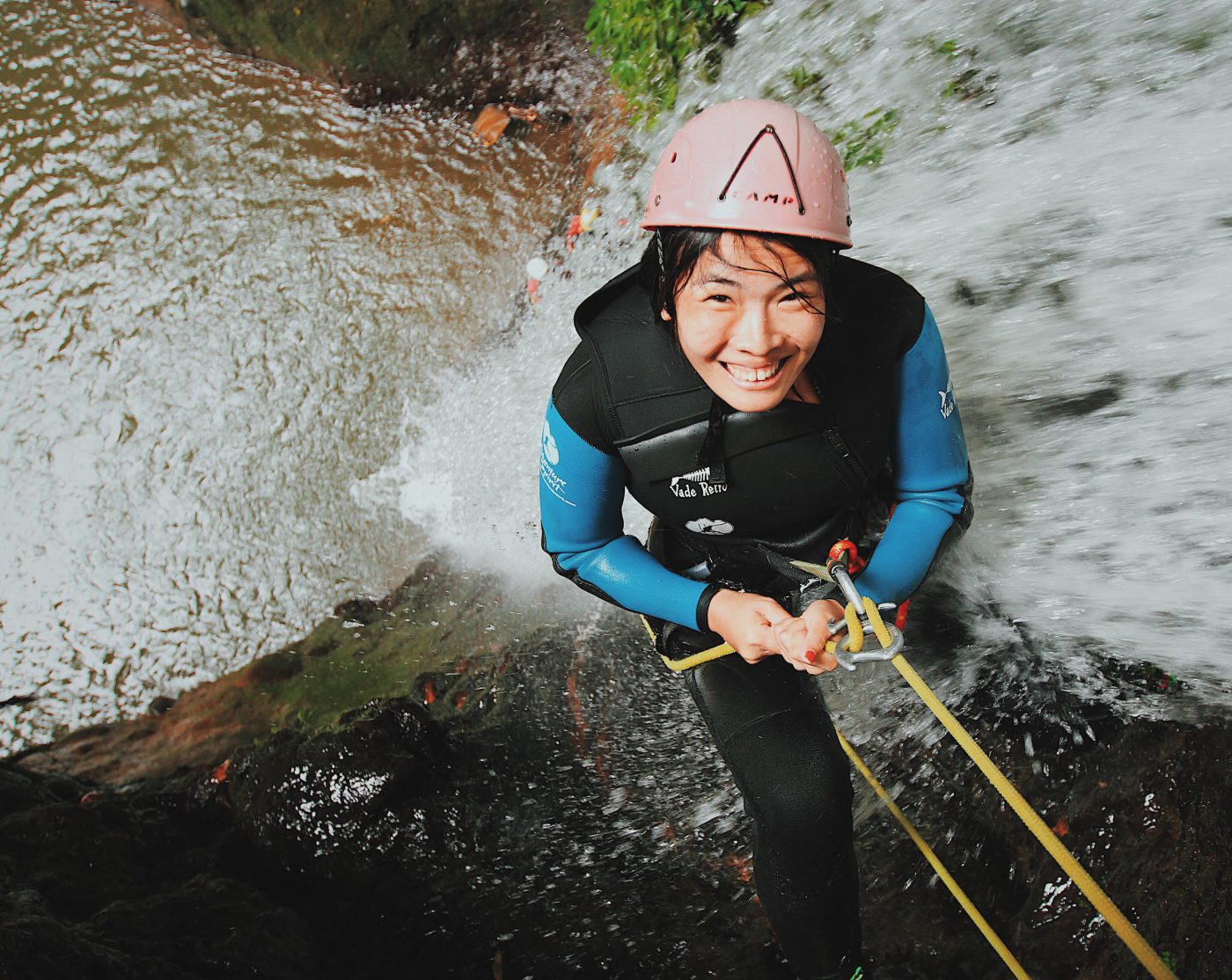 4. SCUBA Diving Trips
There are tons of cool diving spots in Bali. Nusa Penida hosts some of the best spots, namely Crystal Bay and Manta Point. If wreck diving is your thing, there is a cool shipwreck (called USS Liberty) in Tulamben. I have not been to Amed (North Bali) and Padangbai yet, but I heard the corals are good there too. Bali diving spots are also known for sightings of Mola-mola, aka the giant Ocean sunfish that are so round and flat that it resemble a plate. But don't hold your breath on seeing Mola-mola, they are a bit hard to spot.
I booked my diving trip in Bali with a dive shop called Nico Dives Cool. Highly recommend this dive shop as the equipment is in great condition and the dive boat is well-maintained. Diving in Bali costs about US$60-85/dive per person with transportation, equipment rentals, and lunch included. The price depends on the destination and how many dives you want to do.
5. Visit Bali's Famous Temples
The most famous temples in Bali are the Tanah Lot Temple and Uluwatu Temple. These two temples are famous as they are beautiful and easier to reach from where most tourists are staying, but as a result, they will be inundated by tourists.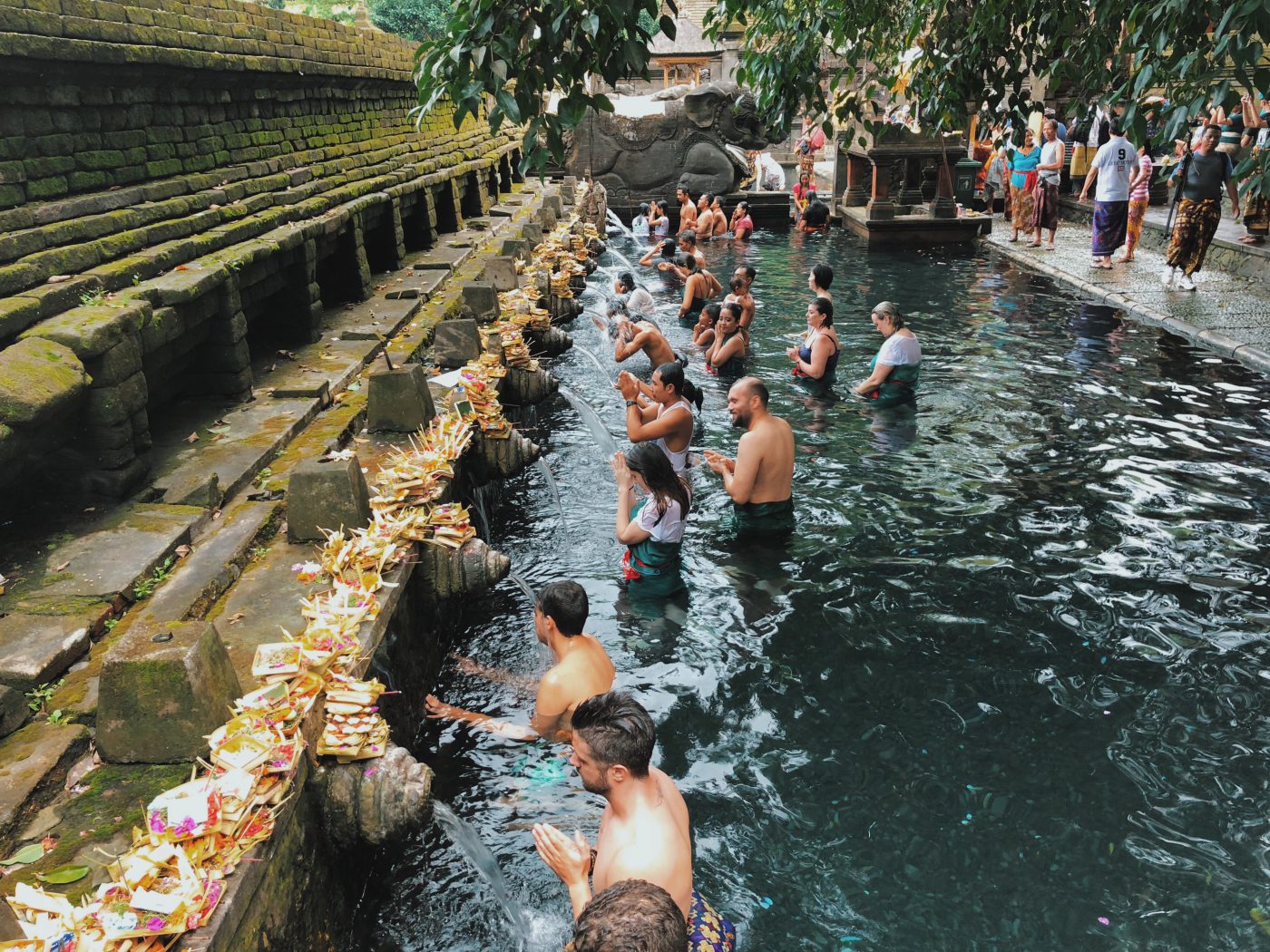 If you want something a bit quieter but further away, you can check out the following temples – keep in mind these temples are further away from areas like Seminyak and Kuta:
Lempuyang Luhur Temple – Famous for a view of Mount Agung in the east of Bali.
Ulun Danu Beratan Temple – A temple on a lake located in the center of Bali.
Tirta Empul Temple – Known for its natural hot spring. Balinese believe the water in this temple holds a holy power. I recommend visiting this while you are in Ubud.
6. Waterfalls in Bali
Bali is also home to some of the most beautiful waterfalls. Most of them will be a day trip since some are located in the mountainous North Bali, but there are some that can be accessed from Ubud as well.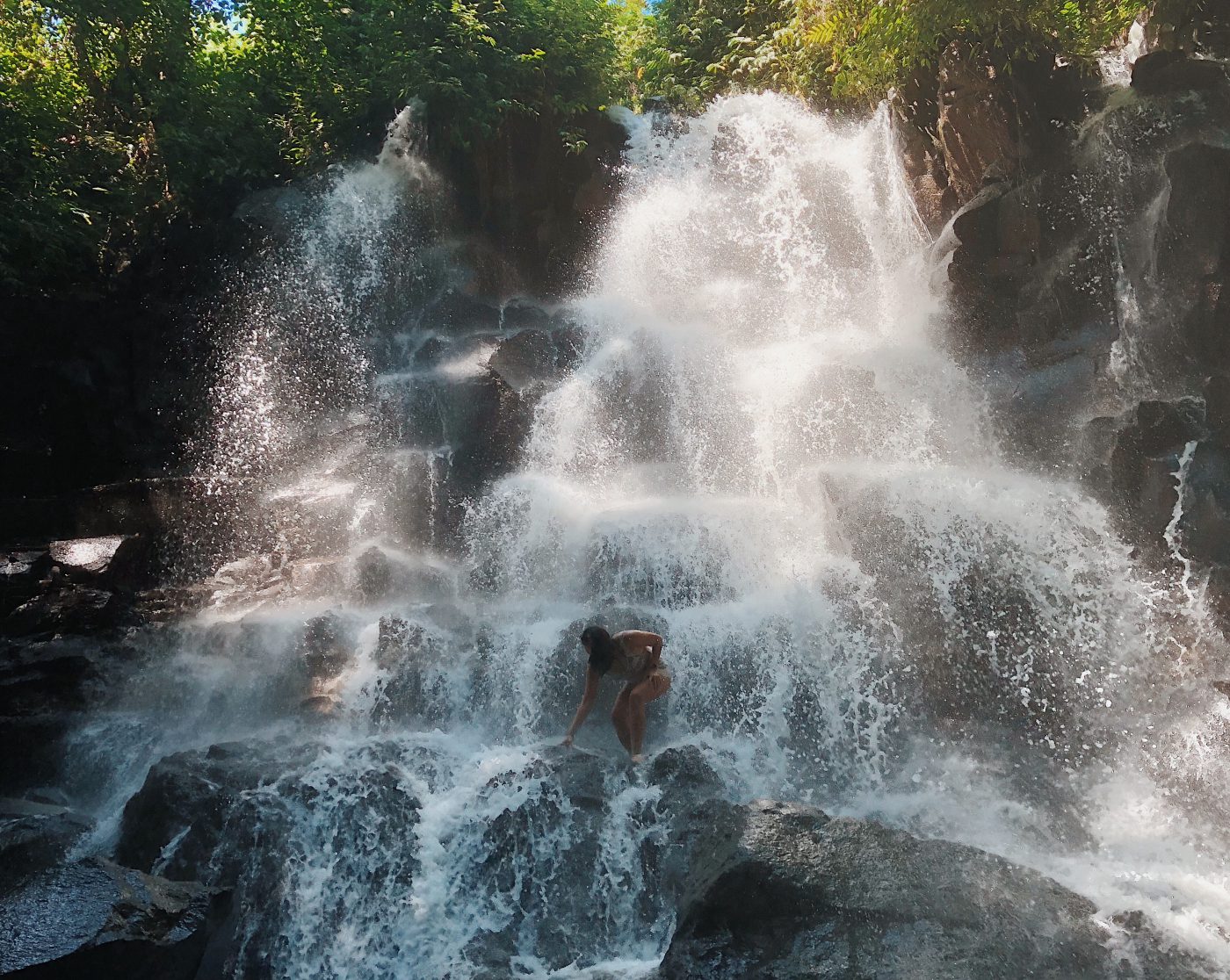 Here is a list of waterfalls you can consider visiting:
Aling Aling Waterfall in North Bali
Banyumala Twin Waterfall in North Bali
Gitgit Twin Waterfall in North Bali
Sekumpul Waterfall in North Bali
Tukad Cepung Cave Waterfall in East Bali (1 hour drive from Ubud)
Kanto Lampo Waterfall in Ubud
Tegenungan Waterfall near Ubud (25 minutes drive)
7. Rice Terraces
Rice is a staple food in Bali. Okay, let me correct that – rice is a staple food in all of Asia – Bali, and Indonesia are no exception. We love rice as much as Europeans love bread, and a meal is not complete without rice. As such, Bali is a big rice farmer and there are plenty of rice terraces in Bali. Some of them have become iconic due to the lush green view of the rice terraces in the area.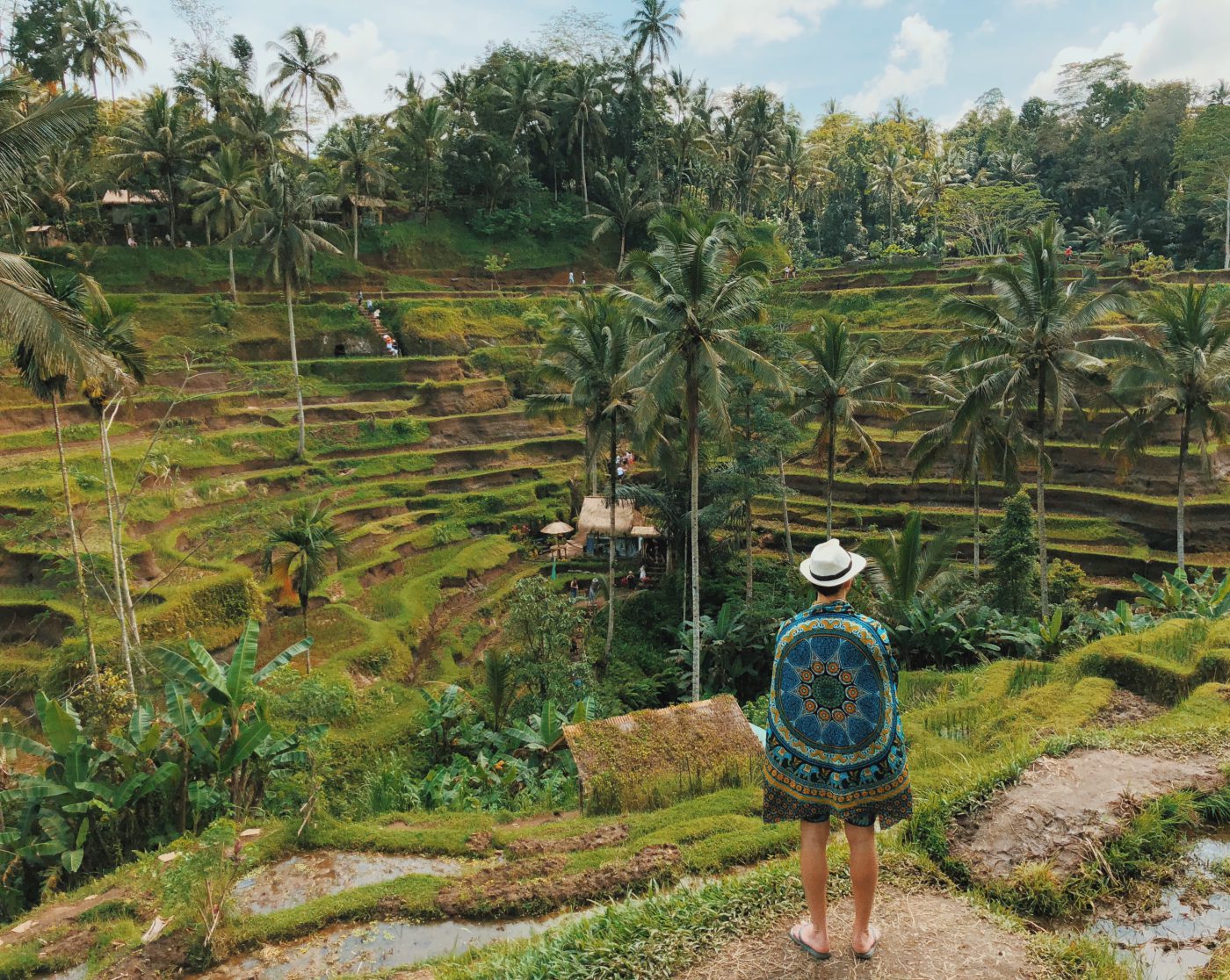 Here are two rice terraces you can check out:
Tegallang Rice Field in Ubud – There are plenty of rice terraces in Bali but the ones here are special because the rice fields are located on a cliff which makes for an amazing photo location.
Jatiluwih Rice Field in Tabanan, Central Bali – The dramatic landscape of this rice terrace dates back to the 9th century. It's harder to get to and there isn't much around the area, so there will be fewer tourists here.
8. Kecak Fire & Trance Dance Performance
Kecak is a traditional Balinese dance involving fire and the Hindu Ramayana story. I would recommend reading the story ahead of time (the event booklet will have this info) as the entire story portion of the dance is performed in Balinese – I speak Indonesian fluently and I still didn't understand a word. To end off the night, there will be a trance performance called Kuda Lumping, where a performer in a trance would step all over burning coal without getting hurt.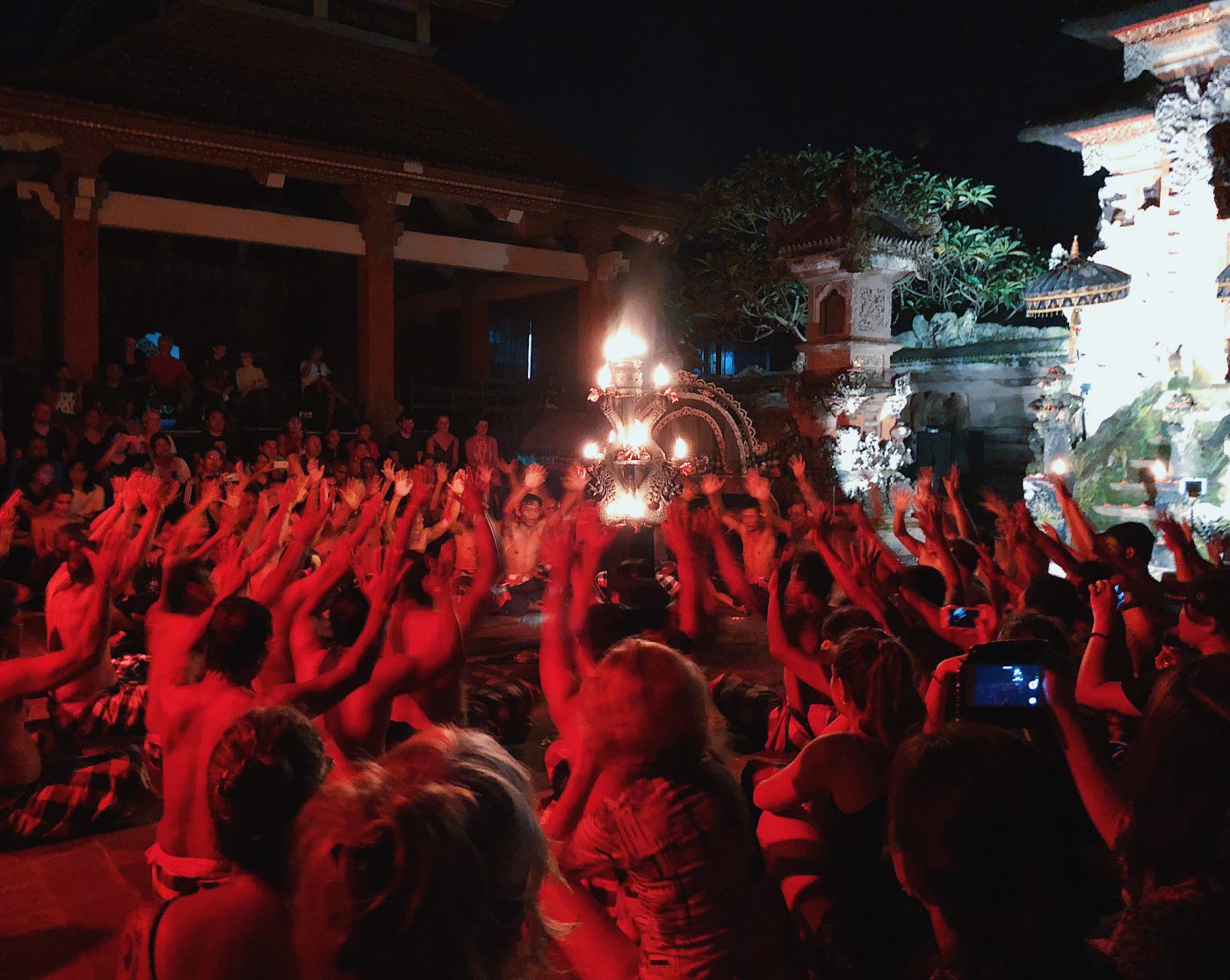 Uluwatu Temple Sunset and Kecak Fire Dance – this link is for a tour that includes transport. Uluwatu is located far south so it's a good idea to have transport arranged.
Kecak Dance in Ubud – The Ubud Kecak dance performs every Wednesday and Saturday at 7:30 p.m. During non-peak periods, you can just buy the ticket at the door or any ticket seller on the street around Ubud. They cost the same everywhere – Rp 75,000 per person.
TL;DR? Prefer to dive straight into the details? Here are all my blog posts about Bali!
PS: Want to reference this post later?
Click on any of the images below to pin to your Pinterest board!
Okay, that might have been the longest post I've ever written in the entire history of this blog, but I hope you find it useful! Let me know in the comment below what you think of the article, and if there is anything missing.
See you in Bali!