Hooker Valley Track is the 4th and last walk of our New Zealand trip, and coincidentally was the easiest walk of them all. I guess we got really lazy after the (super) tiring hike to Ben Lomond summit. But just because it's easy, doesn't mean it's not a memorable walk! Hooker Valley Track is a 10km round trip walk of a mostly very flat track, but it has become one of the most popular walks in the area since it offers a beautiful view of the New Zealand Southern Alps.
Hooker Valley Track is part of my 10-day in South Island Itinerary. If you are looking for an itinerary for New Zealand South Island, you can check out my South Island overview here
How to get to Hooker Valley Track
Getting to Hooker Valley Track is pretty straightforward – just follow State Highway 80 to the north and you'll find the trailhead at the end of the highway.
The drive up Highway 80 took us along the water of Lake Pukaki. Lake Pukaki is a glacial lake, and as with all glacial lakes, it has an unusual color that I've never seen before. It's this brilliant shade of a bright blue/turquoise, so bright it almost looked fake!
We definitely made multiple stops for some photos of the stunning azure-colored water of this lake. It helps that it was a sunny day too, the sunlight brings out the color of the lake even more.
What gives Lake Pukaki and other glacial lakes its brilliant color? The bright turquoise color of the lake is caused by glacial flour from extremely fine rock particles that come from the surrounding glaciers. And when the sun hits the surface of the lake, it reflects off the particles and transforming the lake into the brilliant blue color you see above.
The Hooker Valley Track Walk
Overview of the track
Distance: 10km
Elevation change: 124m
Recommended time: 3-4 hours return journey. It took us 1.5 hours to reach the Hooker Lake, but the entire trip took us 4 hours since we stayed for over an hour at the lake.
Hooker Valley Track takes you to the foot of Mount Cook. It is an area that had been long known to Maori as Aoraki, meaning "Cloud Piercer". In 1851, it was renamed to Mount Cook after James Cook, but the name Aoraki was reincorporated back in 1998 out of respect to the Maori history. Aoraki is also part of Te Wahipounamu and is a UNESCO World Heritage site.
Hooker Valley Track was definitely the easiest out of all the walks we did in South Island. I say it's easy because most of the walk was paved either by wooden boardwalks, wooden suspension bridge or by a clear and flat trail of gravels. It can definitely be done by young children – in fact, we saw plenty of 8 to 12 year-olds on the track. There are also lots of picnic tables along the trail and at the sides of Hooker Lake. Definitely makes this track kid-friendly and perfect for a family activity.
You still need to beware of the weather though. We lucked out on this aspect that day – it was such a great day. The sky was clear, we got some sun and it was not very windy. I heard the valley can get really scary if it's a windy day.
There are a total of three suspension bridges on this walk. For me, they served as good milestone points especially on the way back. You can kinda estimate where you are on the route based on how many bridges you have crossed.
We started getting a glimpse of Mueller Lake about 20 minutes into the walk. Just like Lake Pukaki, Mueller Lake is very noticeable as it has an unusual color to it due to rock particles from Mueller Glacier.
Unlike Lake Pukaki though, the color of Mueller lake is not really blue. To my eyes, it looked more like a very light mint green color. You can also see the same color on the river that comes out from the lake.
After about an hour of walking on flat gravel-y trail, we then reached the wooden boardwalk. You can start to see Aoraki / Mount Cook getting closer and closer into view. Almost there!
Then finally, about half an hour later, we reached the end of the trail at Hooker Lake, which offers a brilliant view of Aoraki / Mount Cook. We visited in mid-September (15 September to be exact) and there were still large ice blocks floating around the lake. That was my first time ever seeing floating ice in a large body of water! Such a surreal sight to see.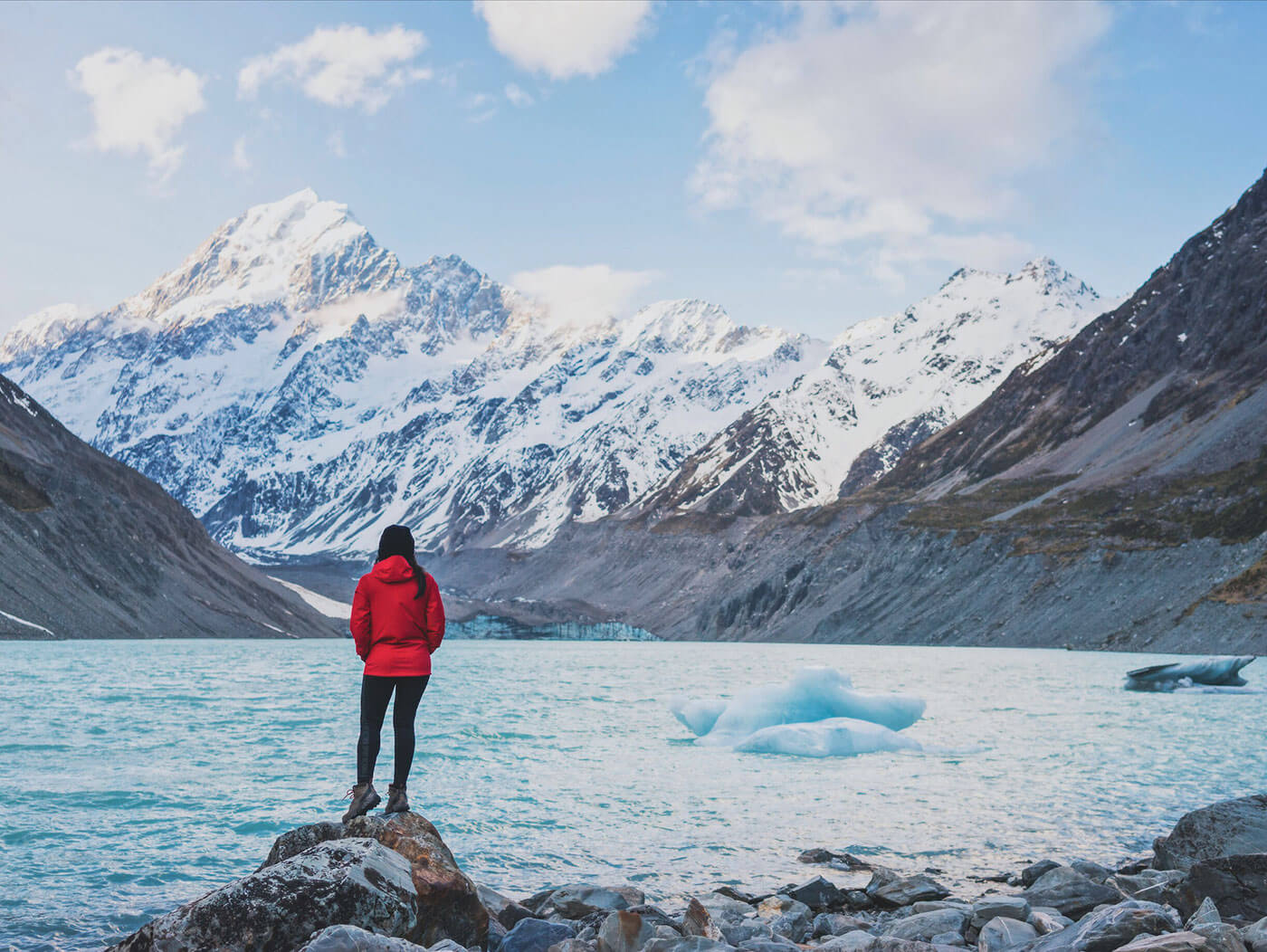 My friend Shekhar wanted to take a time-lapse photo of the sunset, so we stayed at the lake for about an hour. The temperature did get really cold as the sun starts setting so definitely bring some extra layers if you plan to stay for a while as we did.
Since we waited until almost the last light to leave the lake, we had to walk in pitch dark most of the way back. Not gonna lie, it was kinda scary for me but it was actually pretty drama-free since it's an easy track… except for the boys jumping out of the bushes to make me scream (Spoiler alert: They succeeded…. multiple times :/ )
We did get surprised by a few nocturnal wildlife though. At first, we couldn't see what it was since it was really dark – it just looked like a cat that was moving really slowly (and I was definitely freaking out). But we later determined it was… only a possum 😛
If you are looking for an itinerary for New Zealand South Island, you can check out my South Island itinerary overview here