Planning to visit New Zealand? Lucky you, you're about to experience one of the world's most beautiful countries. In this post, I'll be taking you through my New Zealand South Island road trip itinerary.
New Zealand South Island had long been on my to-visit list, but New Zealand is located out of the way from most places. It requires proper planning and setting aside precious vacation days, and I just kept getting distracted by other destinations to ever consider visiting New Zealand properly.
So when an opportunity came up at my work to check out New Zealand, I jumped on it!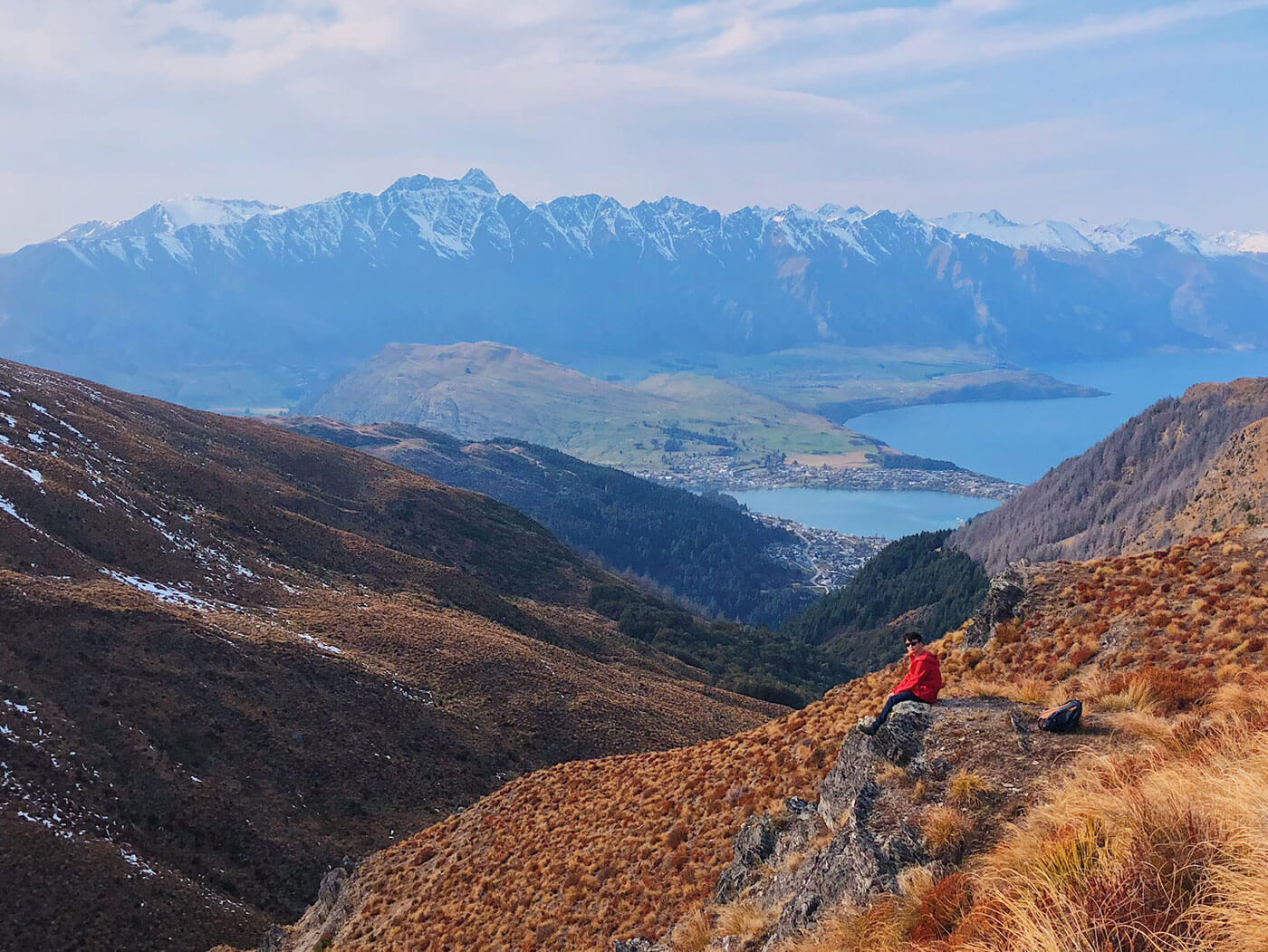 Anyways, let's talk more about the big New Zealand trip-
New Zealand South Island Overview
The majority of beautiful New Zealand landscapes and photos you see in travel magazines are located on the South Island. And I swear, there is a lot to see here – 10 days was barely enough to scratch the surface of South Island. Every point of interest is so spread apart with a lot of ground to cover because, at around 150,000km², it's not exactly a tiny island.
Despite this, I was surprised to learn that there are actually fewer people living in the entirety of South Island than there are people living in Auckland, the biggest city in New Zealand on the North Island. So to put things into perspective for myself, I looked up the comparison of South Island to Singapore in terms of population density. And it turns out, there are nearly 6x more people on the tiny island of Singapore than on the South Island, even though the size of Singapore is only 0.5% the size of the South Island.
Crazy stuff, hey? So it's either Singapore is way too tiny or New Zealand is just that sparsely populated (It's both).
OK, I'm done feeling small about my home country – now back to the itinerary.
New Zealand Travel Tips
I find that New Zealand is very similar to Australia, so a lot of the tips below are going to overlap with my previous posts:
1. You MUST rent a car – driving is pretty much a requirement in order to see most of the South Island in 10 days. Arrange to pick up the car straight from the airport you're flying into, then arrange to drop it off from the other airport you will be flying out of. Saves you tons of time! For example, we picked up our car at Queenstown Airport but will be dropping it off at Christchurch Airport.
2. Make sure you have your valid Driver's License with you. If your license is not in English, you'll need to have it translated by an authorized department or have an International Driver's License with at least a month's validity left.
3. Like Australia, they are strict on speed limit so keep to it! We actually got pulled over for driving a little bit over the limit at Fiordland National Park…
4. Fill up the fuel tank before returning your car, or it's going to cost you later. The rental car will fill it up for you and charge you a premium for it!
5. A local SIM Card is a must! 4G connection is widely available in most of the towns I went to. BUT you do lose connection when you're out in remote areas, like the national parks. The cities remain well connected. You can pre-purchase a SIM card here and pick it up once you're in NZ.
6. In smaller towns, most amenities are closed by 6 pm. Yes, like Australia. And yes, even grocery stores, so plan ahead if you need to replenish resources. But in bigger cities like Auckland, Christchurch, and Queenstown you'll be fine.
7. As with Australia, the sun was super strong in NZ – always wear sunscreen and layer up with extra clothing and a hat to shield yourself, even when you plan to be in the car all day.
8. I downloaded offline maps on my Google Maps app just in case we go off the grid. I experienced low connectivity when deep inside the National Parks.
9. If you are visiting during Winter or the beginning of Spring, make sure you check road conditions. A change of weather might render certain routes impassable – for example, a few days after we left, the South Island was hit with a huge snowstorm, which knocked over some trees, and the road to Glenorchy was cut off from Queenstown for a period of time.
10. Take the DOC's grading of hiking tracks with a grain of salt. Even if it says "easy" it's might not be a walk in the park either (see my Ben Lomond summit blog for example). I feel like the DOC – short for Department of Conservation, the Nature Park Service of New Zealand – is catering to a very fit audience.
Packing List for Hiking
As with any trip, bring a Portable Charger. My favorite charger is the Xiaomi 10,000 mAh. This stuff is super powerful. It can charge an iPhone 7/8+ twice.
Bring a good yet light windbreaker. It gets very windy and cold on some days. I used Uniqlo Blocktech Parka which was sufficient.
Sunscreen – can't stress this enough.
Sunglasses – for the same reason as above. Also, if you plan to go somewhere with snow on a sunny day, it will protect you against snow blindness. Something I only learned during the hike to Ben Lomond.
Snow gloves – if you are visiting at the tail end of Winter or the beginning of Spring, there might still be some snow in the area. So you'll want something waterproof and insulated so you can crawl on snow if you need to. Yet another thing I learned during the hike to Ben Lomond.
Hiking boots – yes you need this! my hiking boots are Columbia Newton Ridge Plus II in Mud/Sanguine. Also, I wanted a pop of color so I changed the laces to the 3M Rope Laces in Red from Slickies.
Weather in New Zealand in September
I was in New Zealand in the first two weeks of September (September 1 to 17) and the weather gets very cold once you hit South Island. On average, the daily temperatures were 9-12C but some nights could go below 0C. There was even a snowstorm that hit Queenstown and Wanaka (thankfully a few days after we left) even though it was already mid-September.
The temperature day-to-day varies greatly. One day it would be sunny and warm with blue skies, the next day it would be rainy and cold. Definitely make sure to plan ahead if you're planning to do a long hike!
Accommodation in South Island
Since we were a group of 5 people, we mostly booked 3 bedroom houses with a full kitchen and amenities, and they ended up costing us about $30-40 / night per person through Airbnb. Of course, if you are traveling in a smaller group, it will cost more. If I was traveling by myself I would look at backpacker hostels instead.
10-Day New Zealand South Island Itinerary
The area you'd want to visit in South Island falls under Te Wahipounamu, which is Maori for "the greenstone waters". It's the South West New Zealand World Heritage, which in turn is internationally recognized by UNESCO World Heritage. This list encompasses Fiordland, Mount Aspiring, Mount Cook, and Westland Tai Poutini.
If you are only in South Island for 10 days, you can probably only cover 3 out of 4 unless you really pack in the days.
Here's our 10-Day New Zealand South Island Itinerary:
We have a lot of ground to cover so we decided to open-jaw our trip for the sake of time optimization – we flew into Queenstown and flew out of Christchurch. That way, we won't have to drive back to Queenstown at the end of the trip. I highly recommend doing this too if you are pressed for time! You can do this in reverse too, of course. Meaning, you can choose to fly to Christchurch and fly out of Queenstown, it really makes no difference! Just reverse the order of places to visit.
You can check the map below to visualize my itinerary. I've also marked up things to see and restaurants to eat at.
🗺 Tip: Save this map to your phone! If you use Google Maps, you can click on the top right-hand corner of the map above. The map will then be saved to your "Recent" maps viewed. Click here for instructions on how to view the map later! It will work from your phone too.
Alright, now let's cover the details of the 10-Day New Zealand South Island Road Trip Itinerary:
Day 1-3: Get to Queenstown and Fiordland National Park (Stay overnight at Te Anau)
As mentioned before, we decided to fly to Queenstown first and fly out of Christchurch at the end of our trip. We do this to save time since there is a lot to see and do on the South Island!
Queenstown is definitely the most beautiful town I've ever flown into. On my flight to Queenstown from Auckland, I paid an extra $5 to get a window seat and I was lucky enough to have picked the side of the plane that's facing West, which is where all the scenic Southern Alps are.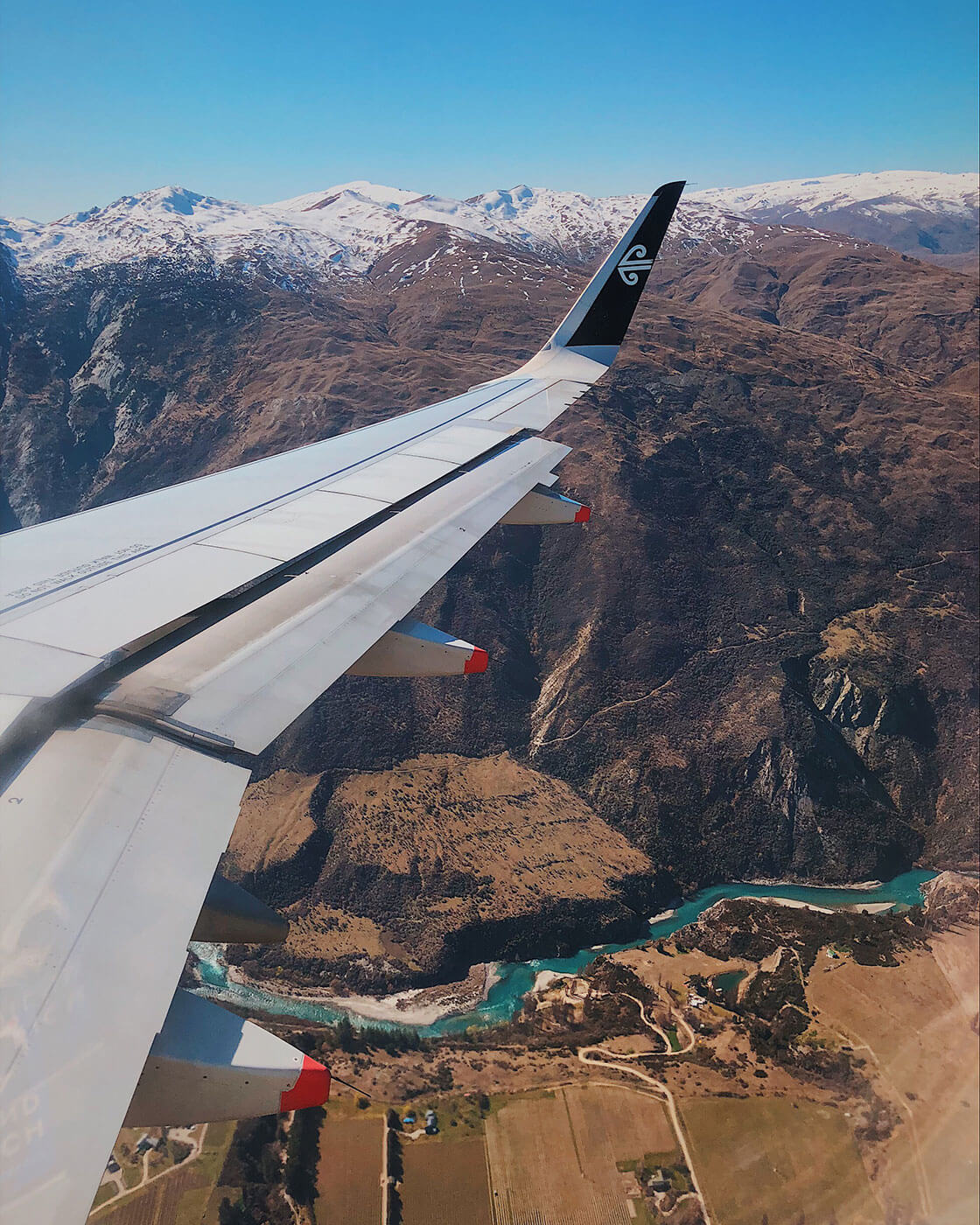 I highly, highly recommend this if you ever fly in and out of Queenstown. The last hour of the flight before descending to Queenstown was just pure scenic – totally worth the measly $5 I paid to sit window seat.
As soon as we landed in Queenstown, we picked up our rental car and drove down to Te Anau, which took 2.5 hours. Te Anau is the closest civilization to Fiordland National Park, and where everyone stays overnight. Once we got to Te Anau there wasn't much else we could do since it was already late. So we just settled in our Airbnb and watched the sunset from Lake Te Anau, which was extremely picturesque that night.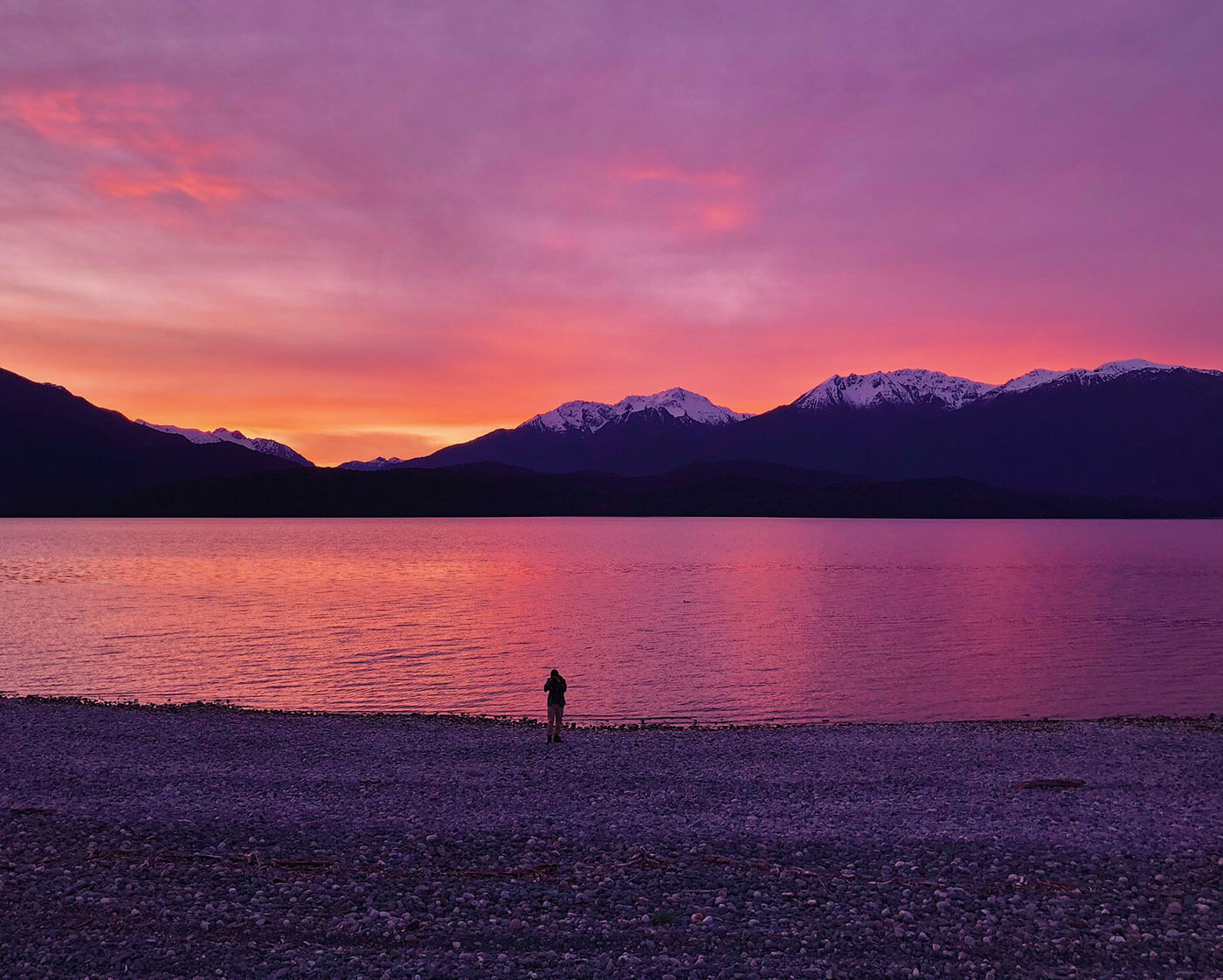 The next day, we drove up to Fiordland National Park. This national park is located in the southwest of the South Island and houses some of the most famous sights of New Zealand. Fiordland National Park is part of Te Wahipounamu and is a UNESCO World Heritage site.
What to do at Fiordland National Park:
1. Lake Marian Hike – My favorite hike in the Fiordland. It was a sufficiently challenging yet short hike, and the reward at the end of it was a beautiful alpine lake. What more could you ask for?
Tip: I wrote a separate post about our experience hiking to Lake Marian. You can read the post for more information!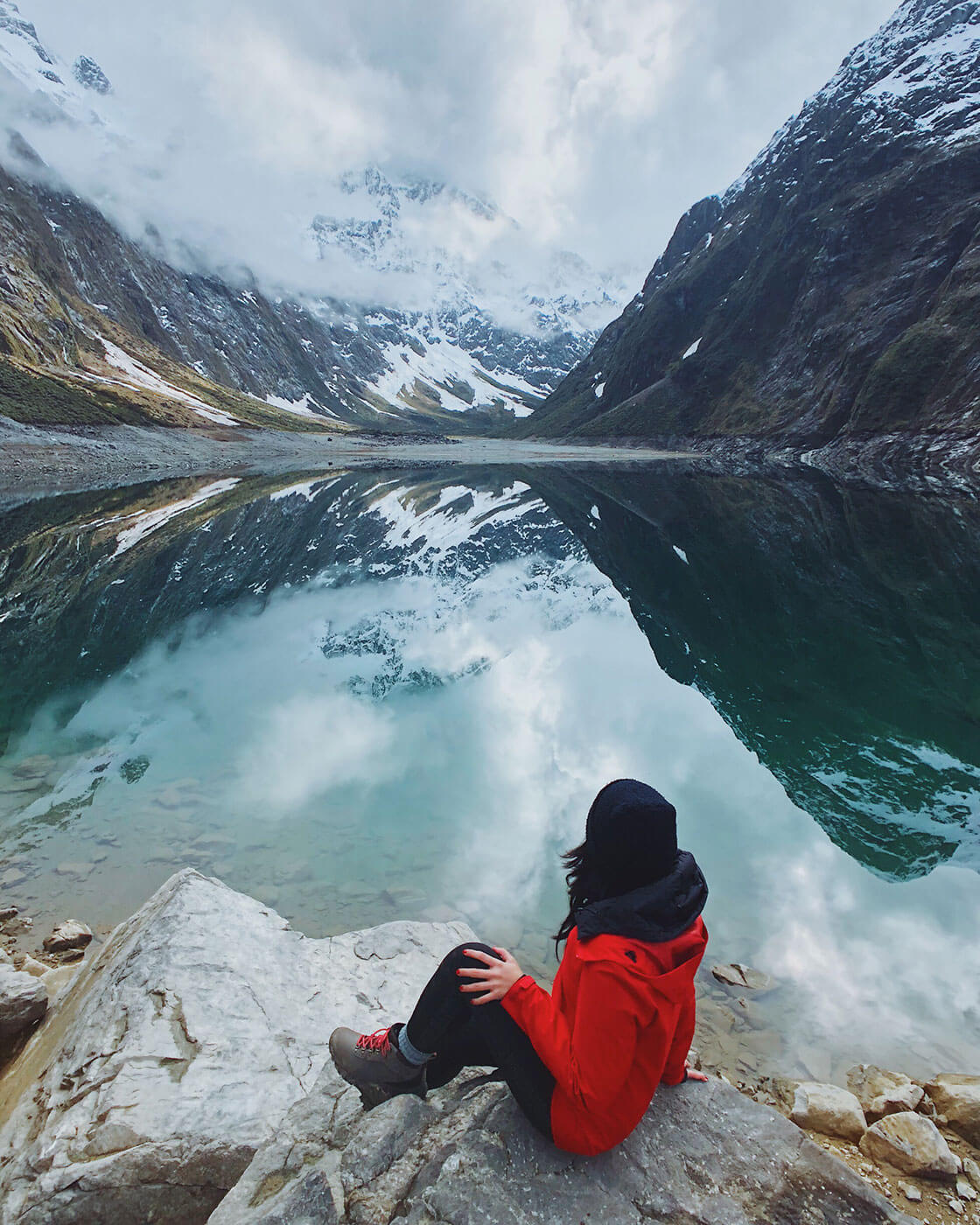 2. Gertrude Saddle – This track is a highly technical track, described as an expert and unmarked track, but I've heard the reward at the end is massive – you get to overlook Milford Sound from the top of the saddle. We went at the tail end of winter, and unless you have experience with ice climbing and the right equipment, I don't recommend going up to the summit.
3. Key Summit Track – This is another popular track, though we did not have a chance to visit. I think the Key Summit track would be an excellent choice for a day hike – it's a 3 hours return journey.
4. Milford Sound – Probably the most famous attraction in the park!
Recommended Itinerary at Fiordland National Park
Day 1/10: Get to Queenstown and drive to Te Anau
Day 2/10: Milford Sounds and Gertrude Saddle at Fiordland National Park (or Key Summit Track)
Day 3/10: Lake Marian Hike at Fiordland National Park
In retrospect, I think I would have swapped Day 2 with the Key Summit track since we love hiking and Milford Sound was a little underwhelming.
Where to stay in Te Anau
Airbnb – Here is the Airbnb we booked at Te Anau – it's a brand new 3-bedroom house with very modern amenities. Very close (1-2 minute walk) to the lake.
Budget Options – If you are looking for budget accommodation, I recommend the following hostels:
Barnyard Backpackers – this one is out of the Te Anau, but closer to Fiordland National Park than Te Anau
Day 4-5: Queenstown
Queenstown is the most beautiful town I've ever visited. Everywhere you look, you are greeted with a beautiful view of the dramatic Southern Alps mountain range over Lake Wakatipu.
I know we aren't supposed to play favorites, but Queenstown was definitely my favorite stop in this itinerary. Could you blame me though, when the beautiful lake and snow-capped mountains can be seen right outside the windows of our Airbnb? I really did not want to leave!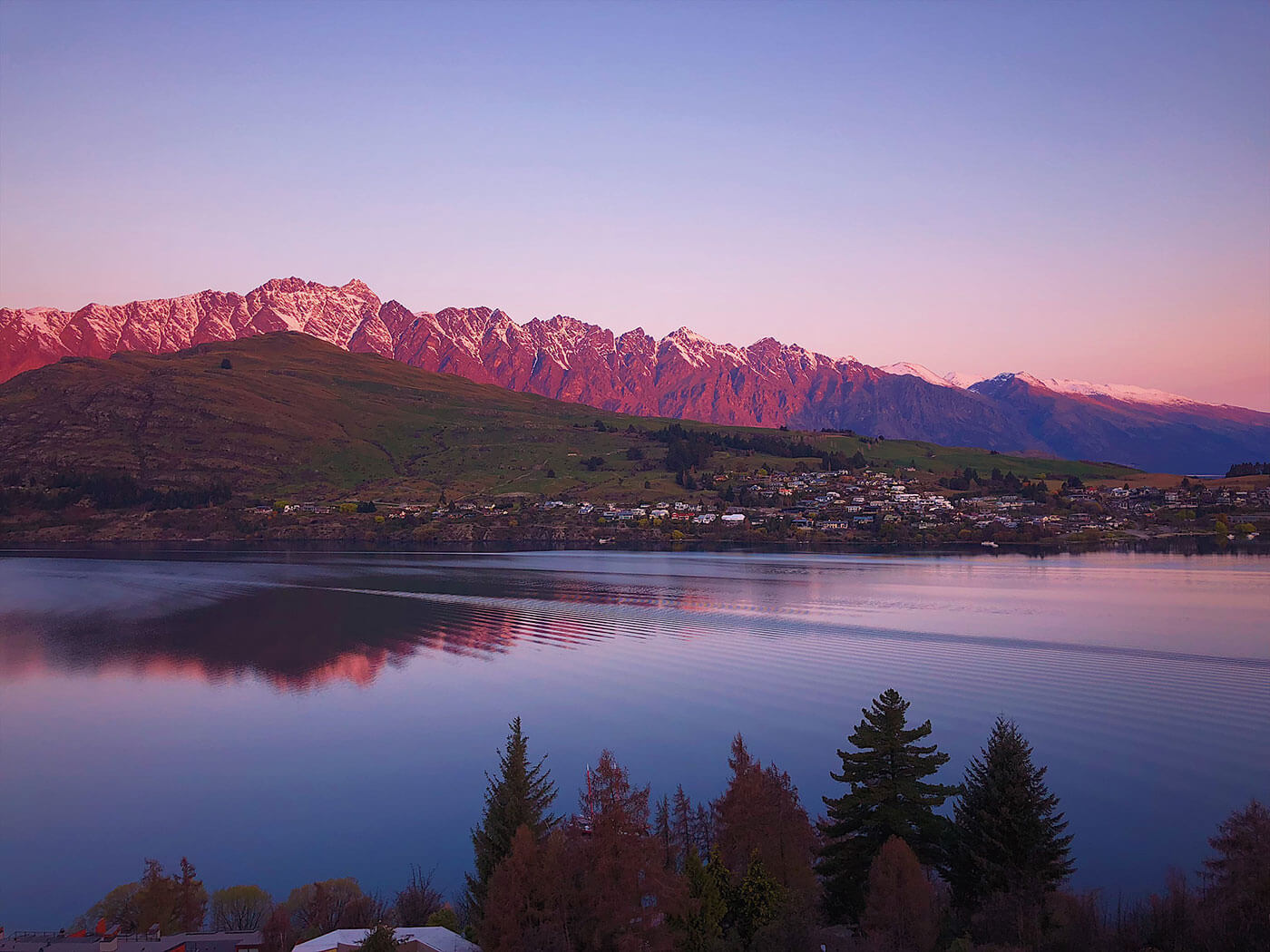 What to do at Queenstown and the area around it:
1. Hiking to the summit of Ben Lomond – my most memorable moment in Queenstown is hiking to the summit of Ben Lomond. The track is NOT an easy hike despite being graded as "Easy" by the DOC, but it's worth it.
Tip: More info on hiking Ben Lomond in this blog post!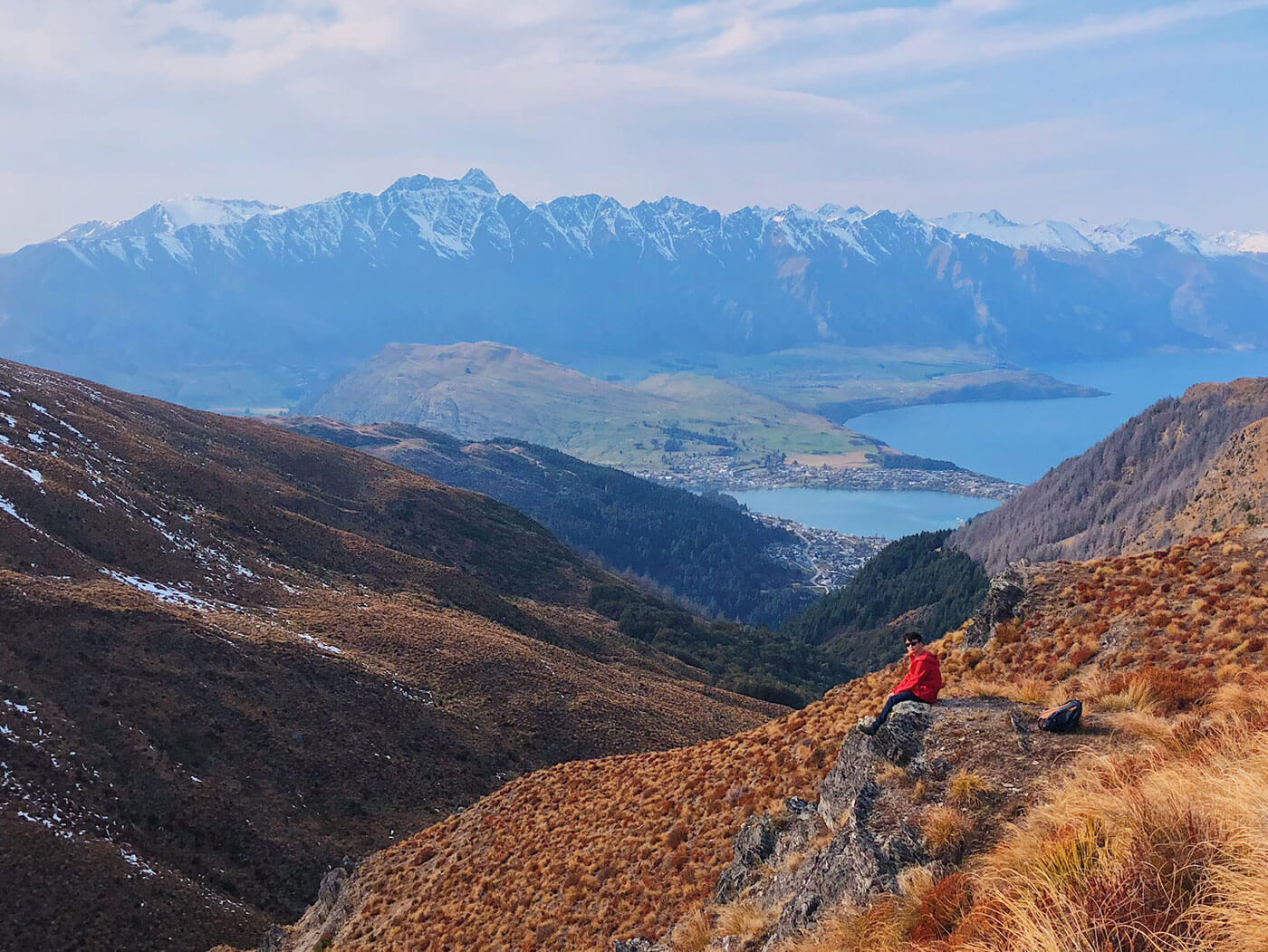 2. Take a short drive to Glenorchy, a cute little town just north of Queenstown. There are a few cool tracks you can do (Lake Sylvan track for example) near Glenorchy. Otherwise, the drive up from Queenstown to Glenorchy was just beautiful. This trip is doable on your own, or you can opt to take this Glenorchy Tour which will also show you the shooting locations of a famous movie *cough cough* Lord of the Rings.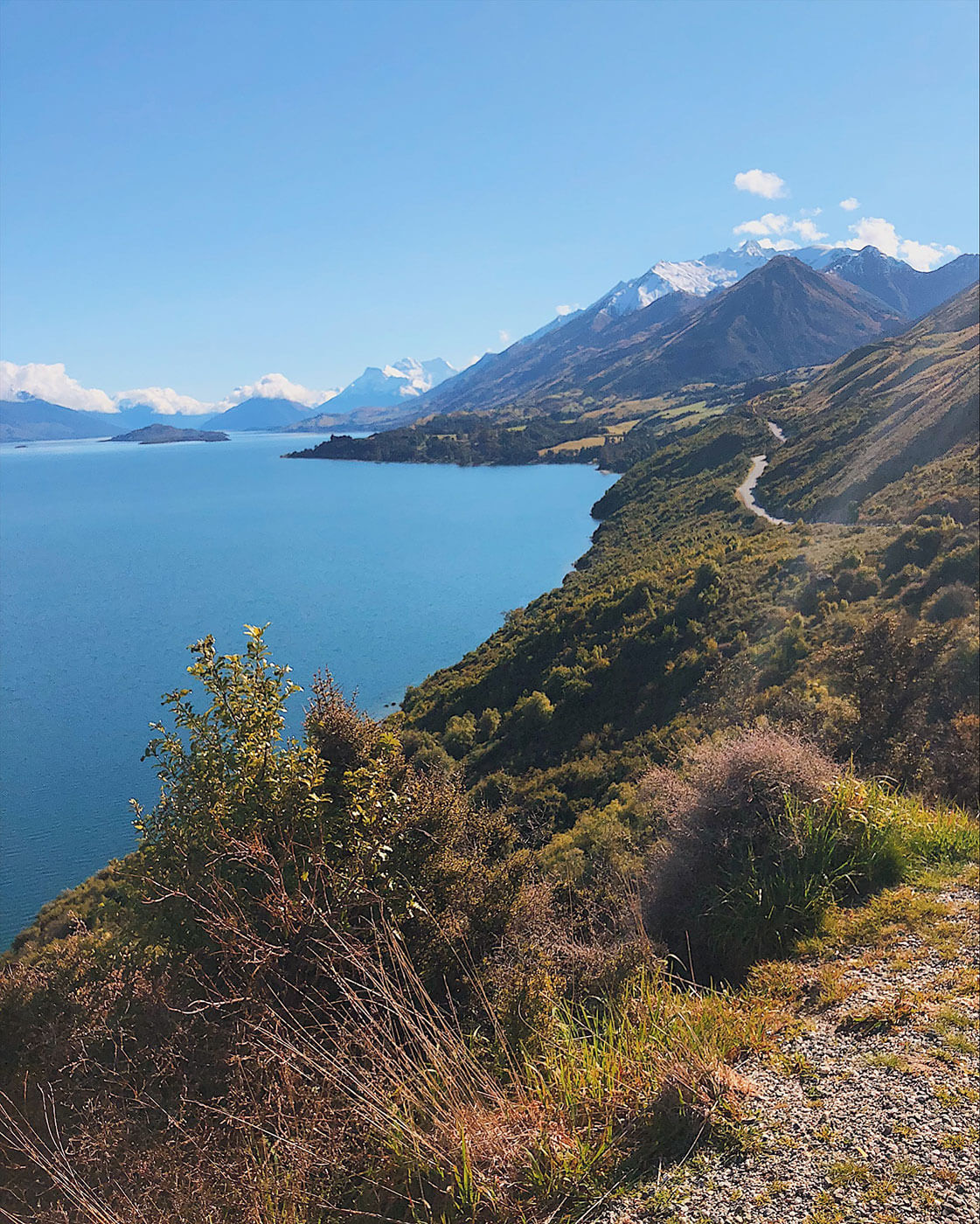 3. Do Adventure Sports – Queenstown is known for high-adrenaline sports activities. So if you're up for it, here are some activities you can do. I suggest you pick one:
Recommended Itinerary at Queenstown
Day 4/10: Drive to Queenstown from Te Anau (2.5 Hours) in the morning, visit Glenorchy, or do one of the activities I mentioned above!
Day 5/10: Hike up to Ben Lomond in Queenstown (approx 6-8 hours)
Where to stay in Queenstown
Our Airbnb in Queenstown – (update: Unfortunately this Airbnb is no longer available for booking, but I'll list some similar options below) This is just an average 3-bedroom apartment, but that view was the best out of all the accommodations we had. Check this out: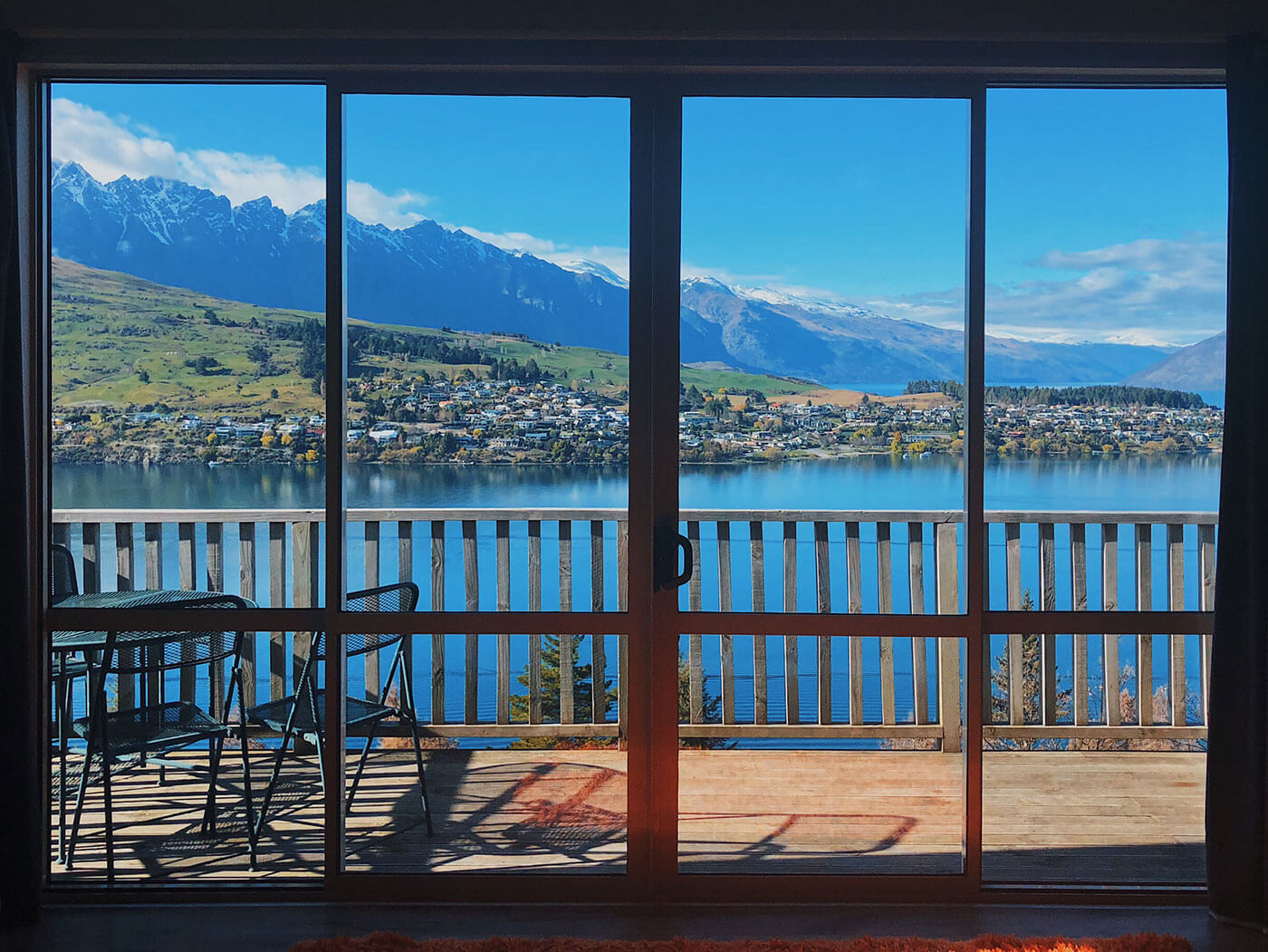 Hotels – As mentioned above, the Airbnb I booked is no longer active but here are some similar options in the same area. Basically, you'd want to stay near Frankton Road for the view I posted above (click here for the general area). These accommodations are 5-10 minutes' drive to town so I would only recommend it if you are driving.
Budget Options – If you are looking for budget options, you can look at the following hostels. It might not have a spectacular view like the one I posted, but it will be right in the middle of town and close to amenities.
PS: YHA, Base, and Nomads are all well-known chains for backpacker hostels across Australia and NZ, while Absoloot and JUCY are local NZ businesses.
Day 6-7: Mount Aspiring National Park (Stay overnight at Wanaka)
Mount Aspiring National Park is part of the Southern Alps that I saw on my flight down to Queenstown. Like Fiordland, Mount Aspiring National Park is also part of Te Wahipounamu and is a UNESCO World Heritage site.
What to do at Mount Aspiring / Wanaka:
1. Rob Roy Glacier Track – A beautiful AND easy hike just an hour away from Wanaka. Part of the road leading to the start of the track is actually private farmland, so if you're a city girl like me this would be a very amusing drive.
Tip: You can read all about my experience on Rob Roy Glacier track here. Hint: so many cows. so many sheep. so much everything.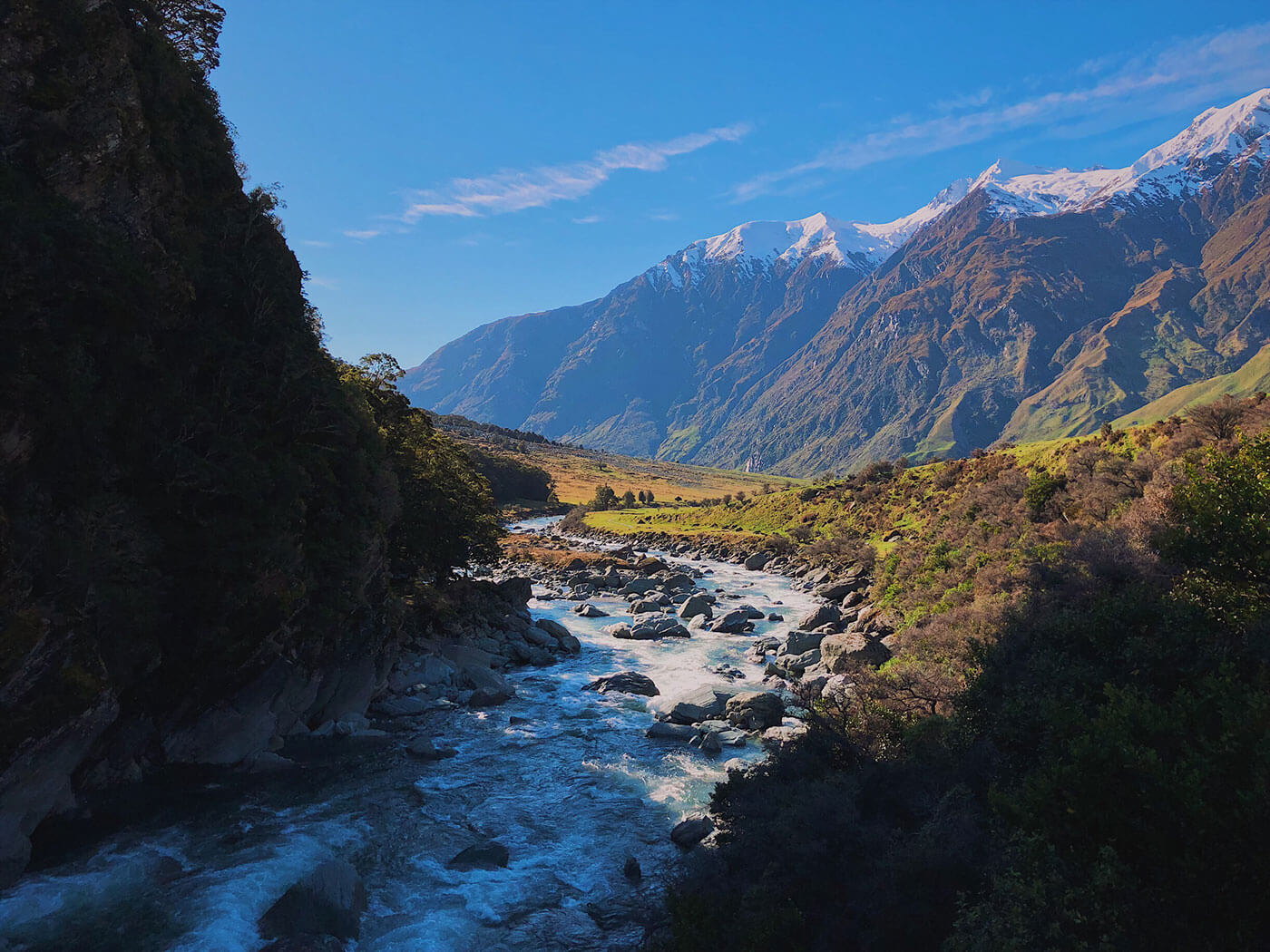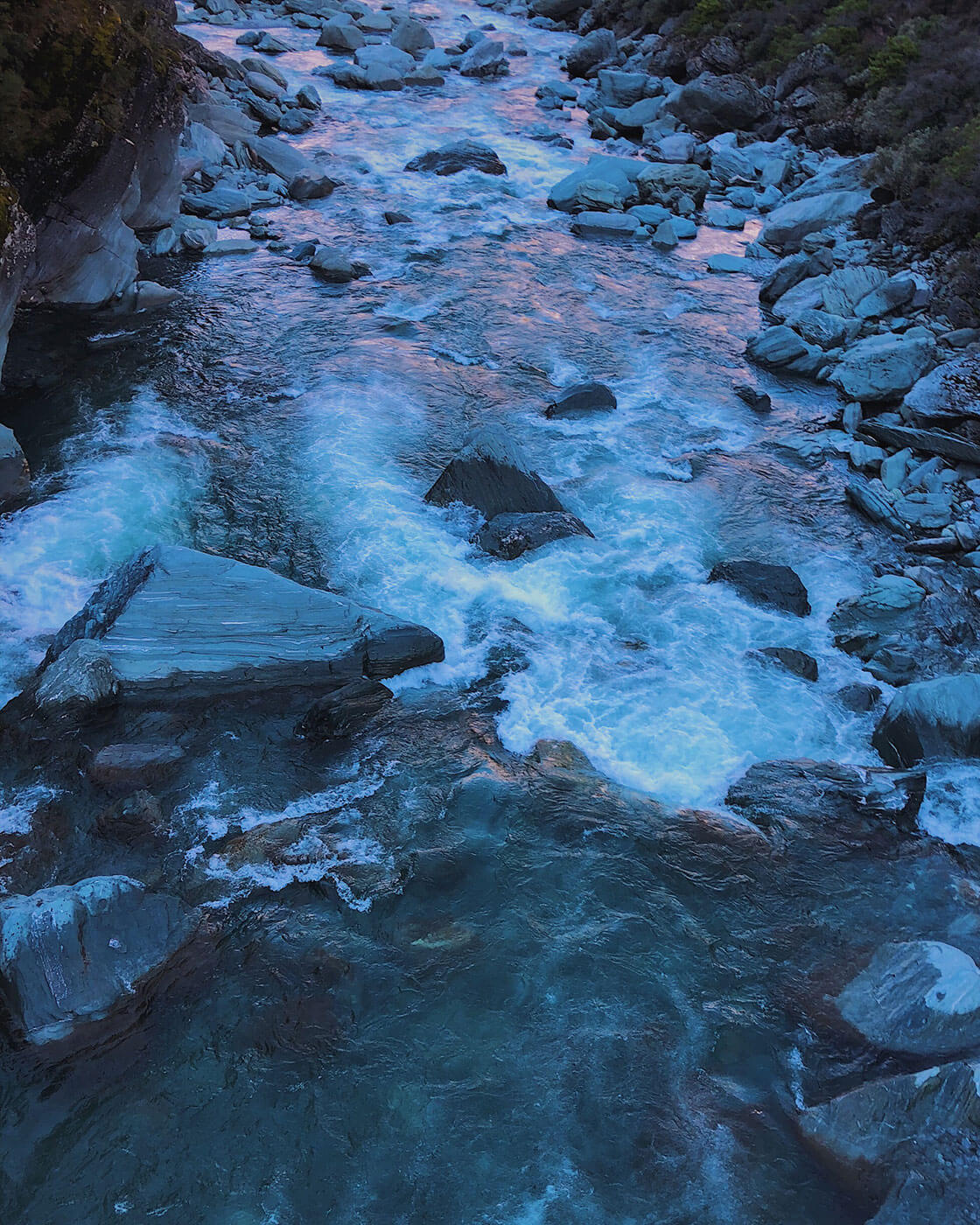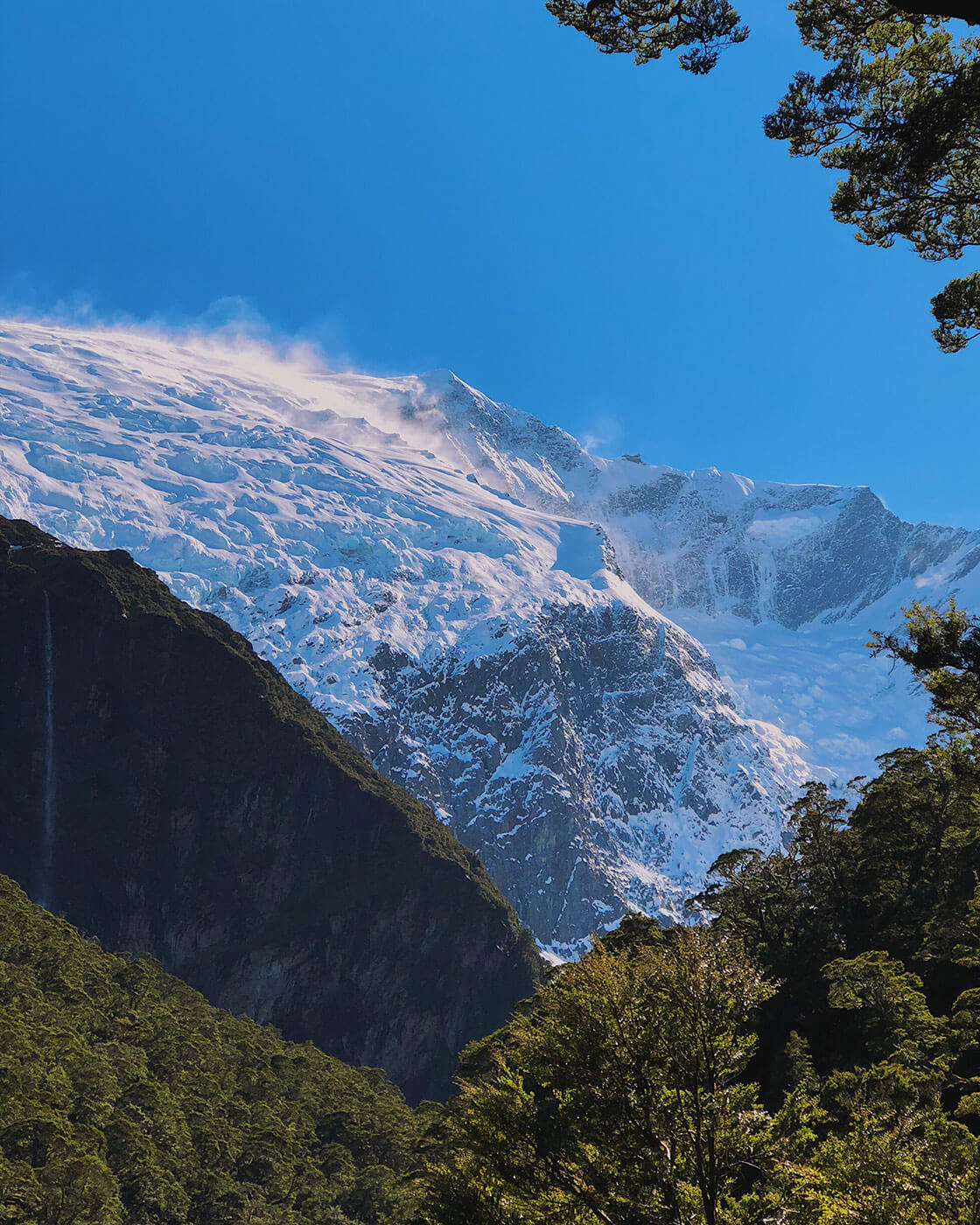 2. Roys Peak – Probably the most Instagrammed hike in New Zealand. It's very popular so you'd be hiking with a lot of people. The hike is also very dull since it just zigzags up the hill, but I heard the view above is worth it! You just probably have to queue for it since this is such a popular hike. We chose not to do this since we had just hiked up Ben Lomond a few days prior.
3. Isthmus Peak – similar to Roy's Peak, but lesser known. You can try this hike if you don't feel like dealing with the crowd at Roy's Peak.
4. Lake Wanaka and That Wanaka Tree – This lake is right in the town so you have no excuse not to check it out. There is also a pretty cool tree that is partly inside the lake and is a popular subject for photography.
5. Skydive Wanaka – If you missed out on skydiving in Queenstown, you can still do it here in Wanaka. You'll see the Mount Aspiring range from the sky.
Recommended Itinerary at Wanaka
Day 6/10: Drive to Wanaka (1 Hour) in the morning, visit Lake Wanaka, and see That Wanaka Tree
Day 7/10: Rob Roy Glacier Track at Mount Aspiring, followed by Skydiving
Where to stay in Wanaka
The White Room – This is a studio apartment that can accommodate up to 4 people.
Budget Options – If you are looking for budget options in the town, you can take a look at the following hostel:
PS: YHA and Base well-known chain for backpacker hostels across Australia and NZ
Day 8-9: Aoraki / Mount Cook National Park (Stay overnight at Twizel)
This area had been long known to Maori as Aoraki, which means "Cloud Piercer". It was then renamed Mount Cook after James Cook in 1851, but the name Aoraki was reincorporated back in 1998 out of respect for Maori history. And yep, you guessed it. Like the other two national parks I've mentioned above, Aoraki is also part of Te Wahipounamu and is a UNESCO World Heritage site.
What to do at Aoraki / Mount Cook:
1. Hooker Valley Track – This is a very easy yet scenic 10km return route. The track is mostly flat and can be done by children and adults alike. The trail ends at Hooker Lake, with a great view of the famous Mount Cook.
Tip: You can read about my Hooker Valley Track experience here.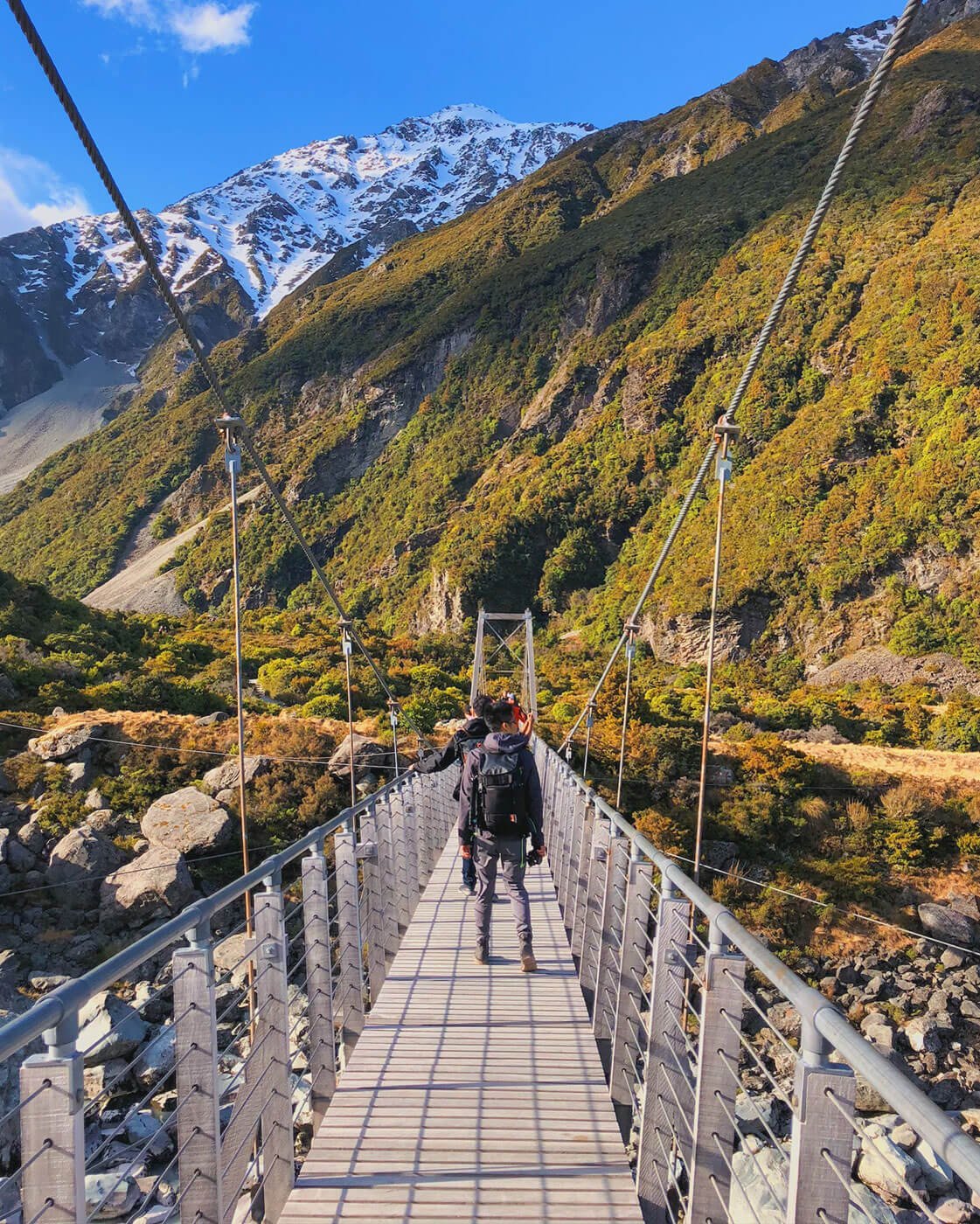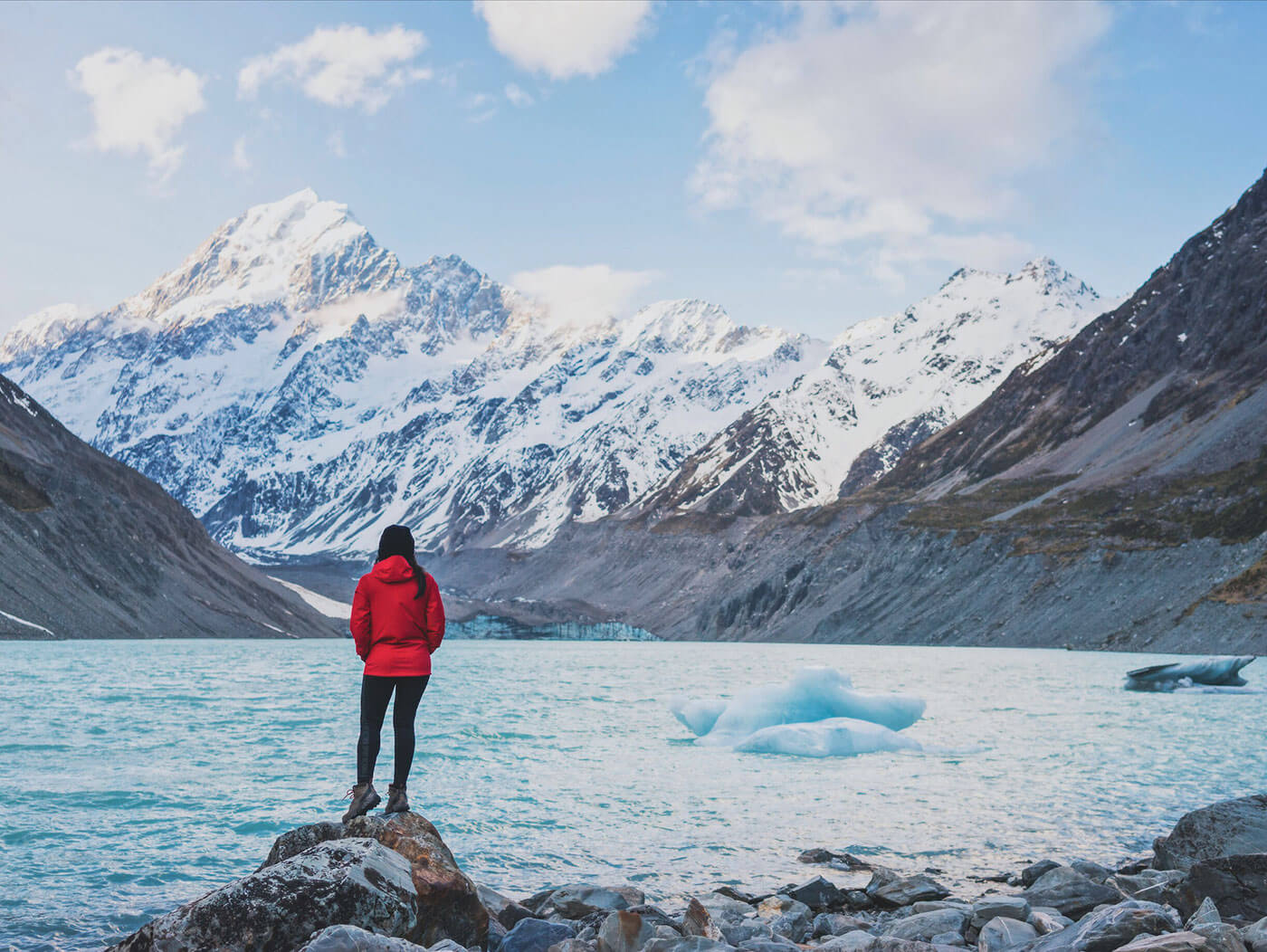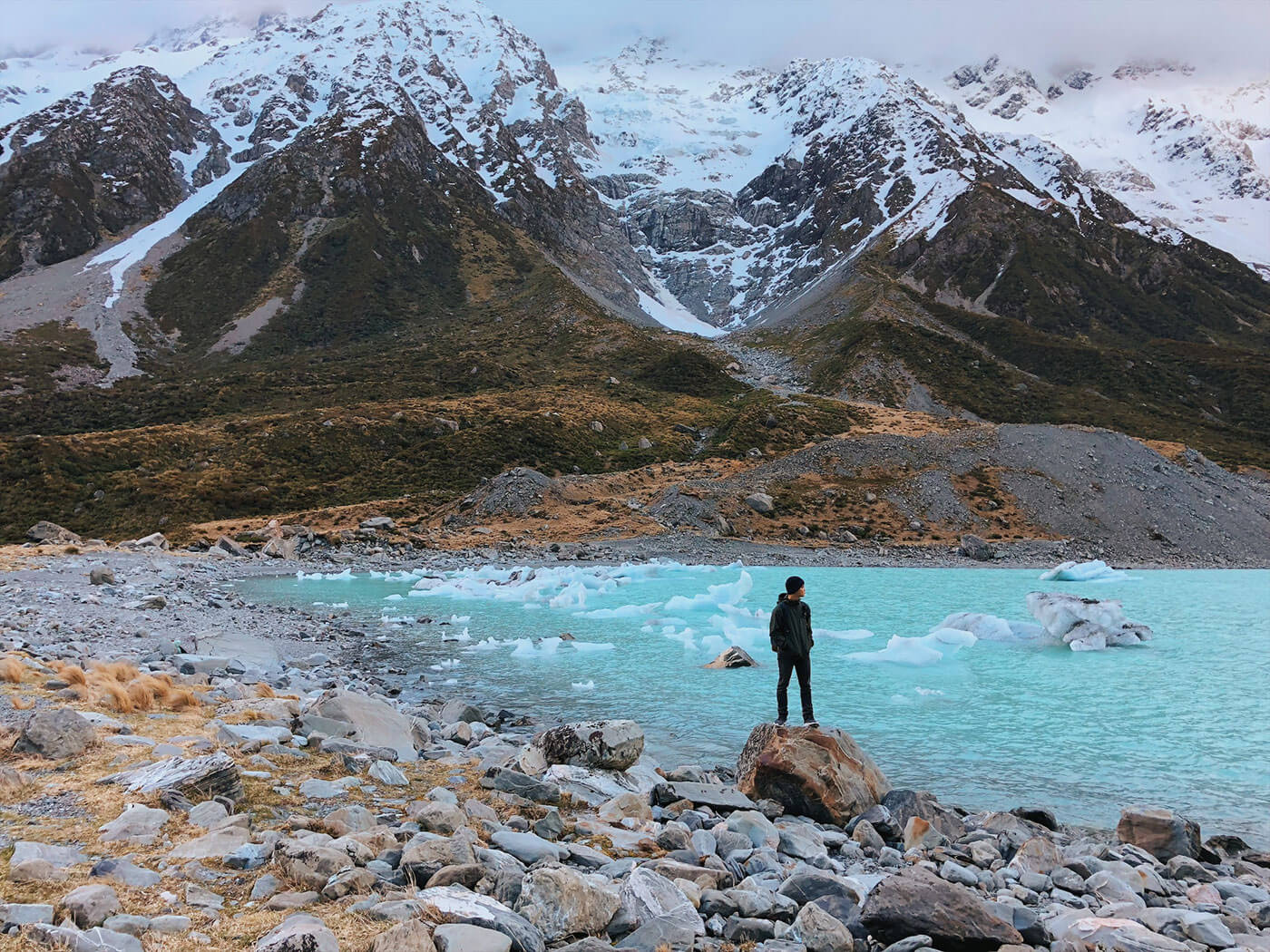 2. Blue Lakes and Tasman Glacier – another easy track, shorter than Hooker Valley that ends up with a glacier view.
3. Lake Pukaki – the lesser-known twin of Lake Tekapo. Personally, I preferred Lake Pukaki better than Tekapo because it's quieter! If you are here in the Spring, it's also known for the Lupin flowers.
4. Lake Tekapo – probably the most famous Alpine lake in New Zealand. Unlike Lake Pukaki, you can find restaurants and a tourist center at the base of the lake closest to the main road.
5. Church of Good Shepherd at Lake Tekapo – Lake Tekapo is also where the famous church is located. This tiny yet picturesque stone church is an iconic landmark of Lake Tekapo and has been a popular subject of night photography. Don't expect to be the only photographer here!
Recommended itinerary at Aoraki / Mount Cook
Day 8/10: Drive to Twizel (1 Hour) in the morning, visit Hooker Valley Track at Aoraki and Lake Pukaki along the way
Day 9/10: Visit Lake Tekapo area and Church of Good Shepherd
Where to stay in Twizel / Aoraki
Our Airbnb in Twizel – A cozy little 3-bedroom house. Very convenient as a base for Aoraki and Lake Tekapo.
Other economic options you can consider:
Day 10: Drive to Christchurch and fly out
We spent some time in Christchurch after leaving Twizel, but this is only because we are flying out of Christchurch Airport. It's not that Christchurch is not worth visiting – it's actually a very cool city. It's just that if you are optimizing time to see nature in New Zealand, then Christchurch is probably not going to be your first choice.
Keep in mind the drive from Twizel to Christchurch is 3 hours, so if you're flying out early you might want to stay in Christchurch the night before to make sure you won't be missing the flight.
Where to stay in Christchurch
For backpacker options:
Cost Breakdown of 10 days in New Zealand
Since a lot of people emailed me about this, here are the total cost expenditures for 10 days in South Island for 5 people. I was able to get a detailed number since we were using Splitwise to track group spending.
My airfare to NZ costs S$1260 (or roughly US$920). I did not include it in the cost calculation, because airfare cost really varies depending on where you're coming from.
| Type of Spend (%) | Cost in SGD | Cost in USD (approx) |
| --- | --- | --- |
| Car Rental (14.13%) | S$ 809.83 | US$ 591.12 |
| Fuel for Car (5.56%) | S$ 318.77 | US$ 232.68 |
| Dining out (13.65%) | S$ 782.40 | US$ 571.09 |
| Groceries (7.04%) | S$ 403.40 | US$ 294.45 |
| Hotel (59.63%) | S$ 3,418.28 | US$ 2,495.09 |
| Grand Total for 5 people | S$ 5,732.68 | US$ 4,184.44 |
| Cost per Person | S$ 1,146.54 | US$ 836.89 |
Cost Breakdown of 10 days in New Zealand
Obviously, If you are traveling with fewer people, the cost could go up since sharing a car and hotel with fewer people means more total per person. But as you can see, the item that costs the most is accommodation. We stayed mostly in Airbnb, but if you are willing to go budget the cost can go down quite a bit. I also would budget a few hundred dollars more for any emergencies and activities you might want to do (skydiving, tours, etc).
Still have more time in the South Island?
If you are staying longer than 10 days in the South Island (lucky you!!!) – you can consider hitting up the following places:
Kahurangi National Park to the northwest of Christchurch. I had heard great things about Arthur's Pass.
Westland Tai Poutini National Park. This is where the highly photographed Fox Glacier and Franz Josef Glacier are! I would definitely go visit if I have the chance to go back.
And… that's all from me for New Zealand! I can safely say New Zealand was truly the most beautiful country I've ever visited, in terms of nature and scenic routes. It could be because I haven't really traveled to the mountains during winter, so seeing snow almost every day was a brand-new experience for me.
And of course, what's a road trip without friends? I did this trip with my teammates who are also my good friends. This was actually a remote-work trip for us. We would go hiking in the morning and work in the afternoon and into the night to sync up with Singapore.
Thanks, Lucas for organizing the trip, Shekhar for driving (a LOT), and Ezra and Nishant for being great travel buddies!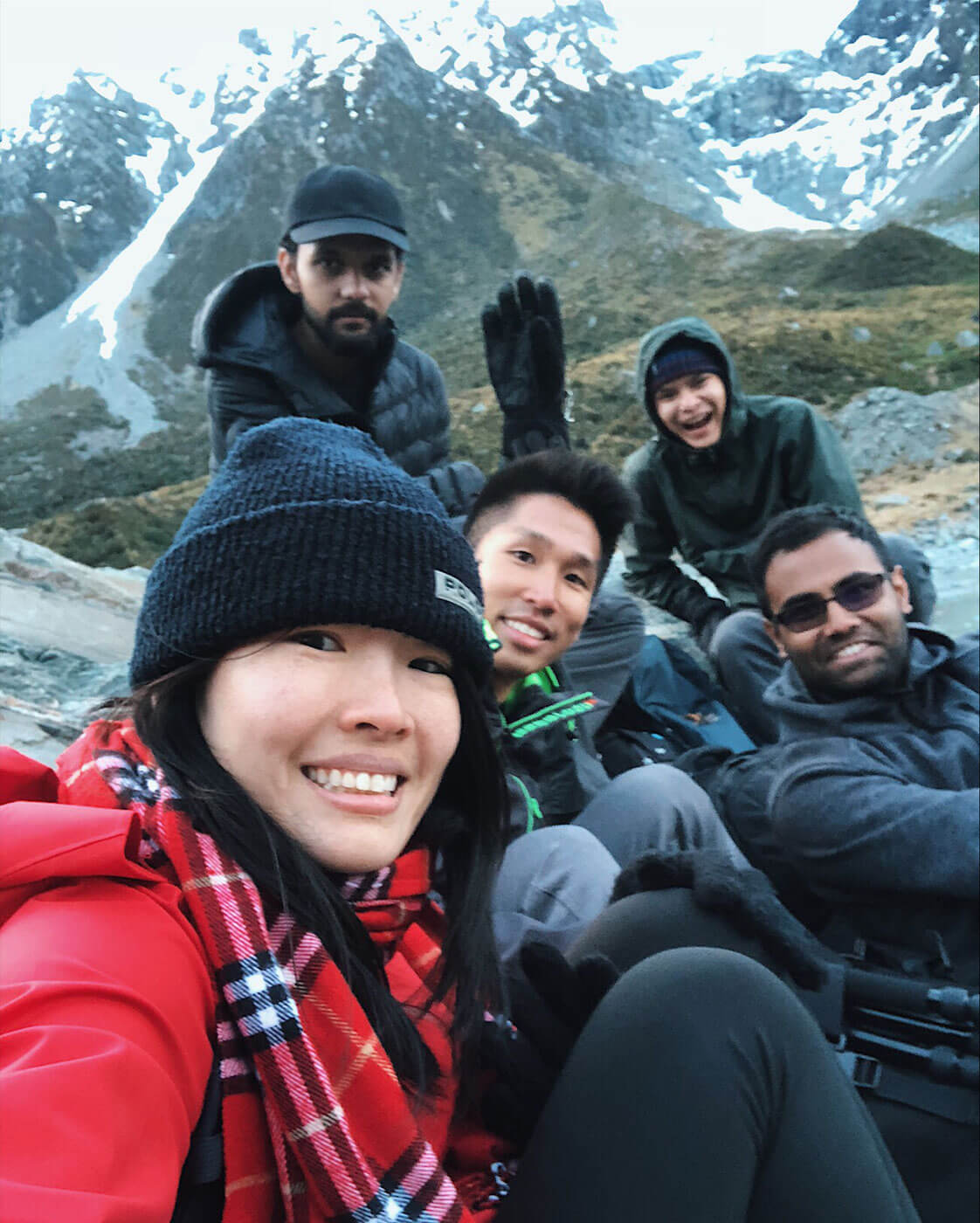 This is definitely one of the most memorable trips that I kept thinking back about.
PS: Want to reference this post later?
Click on any of the images below to pin to your Pinterest board!