Karuizawa is a popular resort town, located just a few hours off Tokyo. To people from Tokyo, Karuizawa is known as an idyllic mountain town known for skiing during winter and an escape from the heat during summer.
It is also famous as a place where many celebrities have bought their second homes – including Bill Gates according to rumors! And most recently, Karuizawa gained global popularity as the filming location of the beloved Japanese reality show Terrace House.
Karuizawa is a great option for a quick weekend trip from Tokyo when you just want to get away from the city, or as a stop if you're doing a multi-day trip. I have found myself visiting Karuizawa twice, once as a standalone weekend trip and once as a road trip around Nagano prefecture
How to get to Karuizawa from Tokyo
From Tokyo By Train – Karuizawa can be reached from Ueno station via JR Hokuriku Shinkansen in about an hour. If you have an Unlimited JR Pass, the train is covered.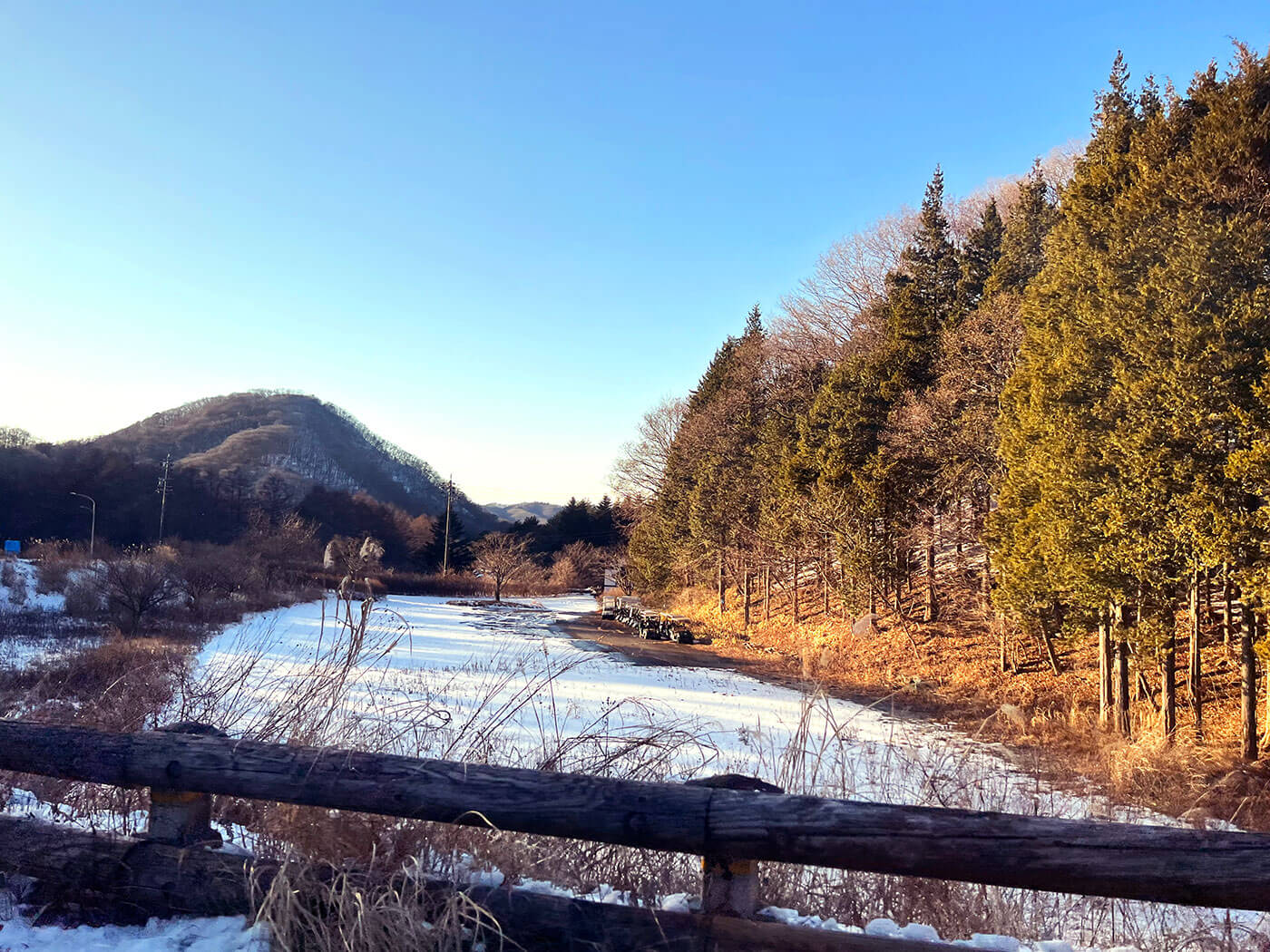 Rent a car and drive from Tokyo – This is the most convenient and easy option since you won't have to depend on public transport. It takes about 2.5 – 3 hours one way to get to Karuizawa from Tokyo by car. Driving in Japan requires an International Driving License. Book a car rental from Tokyo, which you can pick up from the airport or in the city:
How many days should I spend in Karuizawa?
Karuizawa is not a big town. I think 1 or 2 days is enough here, making it a quick easy weekend trip from Tokyo.
Where to stay in Karuizawa
I've gone to Karuizawa as a couple with my husband, and I've also gone to Karuizawa as part of a large family in a group of 10. Here are the accommodations I would recommend:
Karuizawa Pension Sato is where we stayed on one of our visits to Karuizawa. It's a super cute 2-story house, located deep inside the foresty streets of Karuizawa, where you can pick rooms with either a shared bathroom or a private bathroom ensuite.
Hotel Wellies – a cute British-style cabin hotel located in the resort area of Karuizawa
APA Hotel Karuizawa Ekimae – If convenience is what you're after, this hotel is only 2 mins walk from the station with easy access to Karuizawa tourist spots.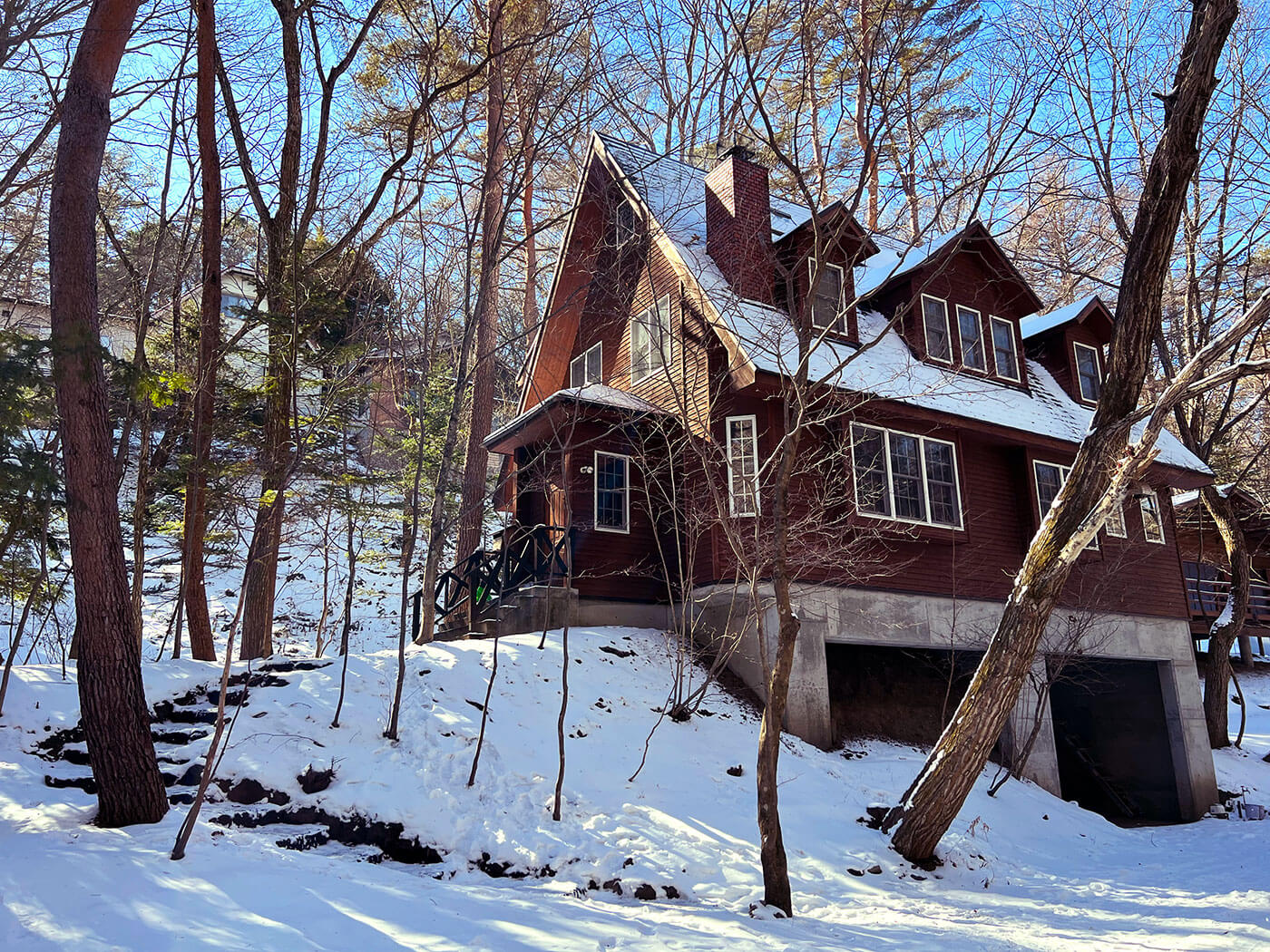 When we traveled with our family, we opted for a 3-bedroom villa with a kitchen to give everyone plenty of space and privacy. There are plenty of such accommodations in Karuizawa since it is a resort town. Here are examples of villas in Karuizawa:
How to get around Karuizawa
By Bus – From Karuizawa station, there are plenty of shuttle buses that will take you to points of interest in Karuizawa. Click here to find out about those buses.
By Bicycle – Going around on a bike is a popular option in Karuizawa. You can find bike rentals easily near the Karuizawa JR station.
What to do in Karuizawa
Karuizawa is the perfect mountain town that has everything: nature, hiking, good food, and shopping. Here are some activities you can do in Karuizawa:
1. Visit Harunire Terrace
On paper, Harunire Terrace might just be a shopping strip. But it's really more than that! It's special due to its location right next to Yu River and its warm wooden architecture covered in lush green trees. All of the shops here are also local Japanese brands, not big names that you can just find anywhere else.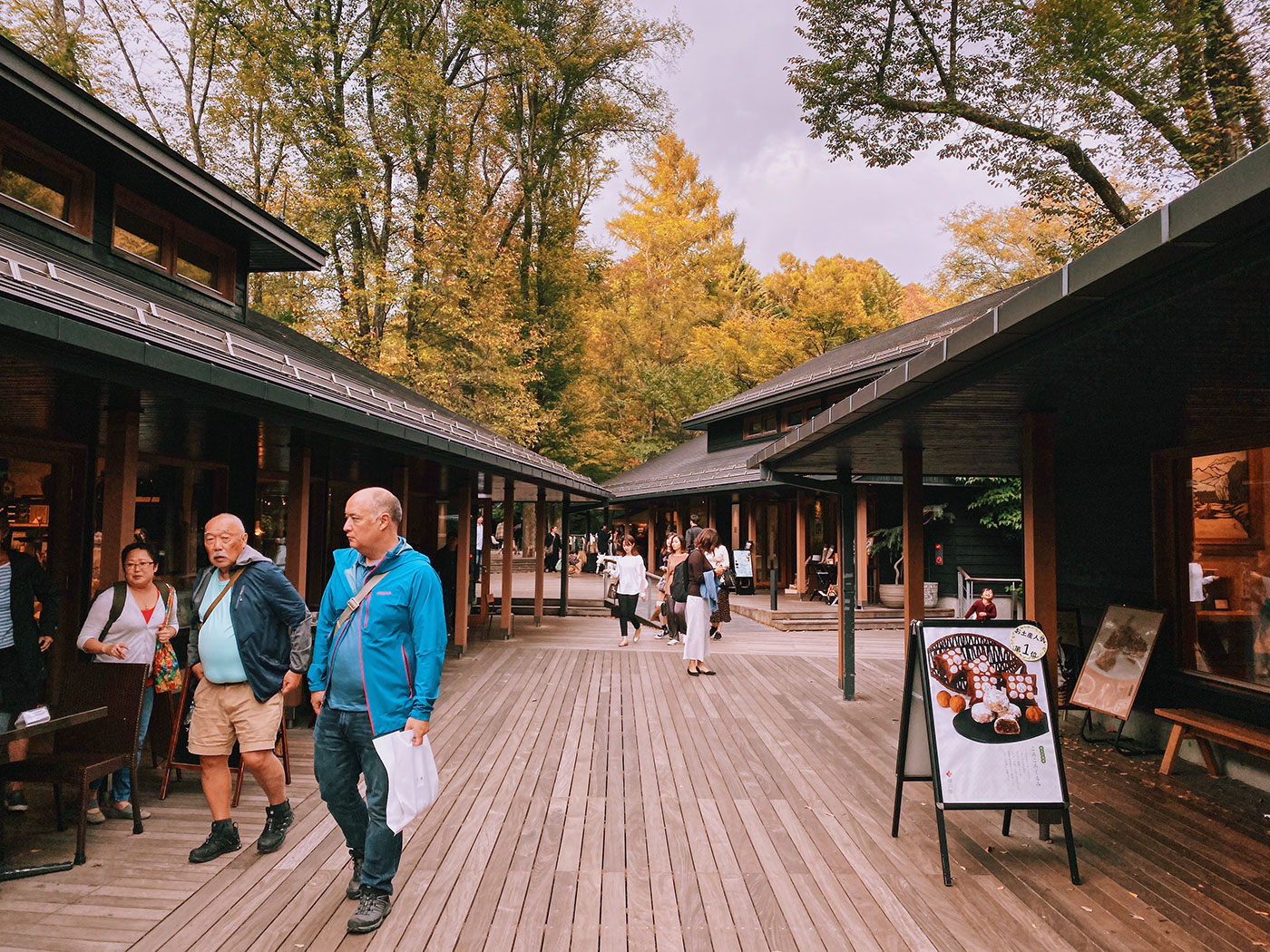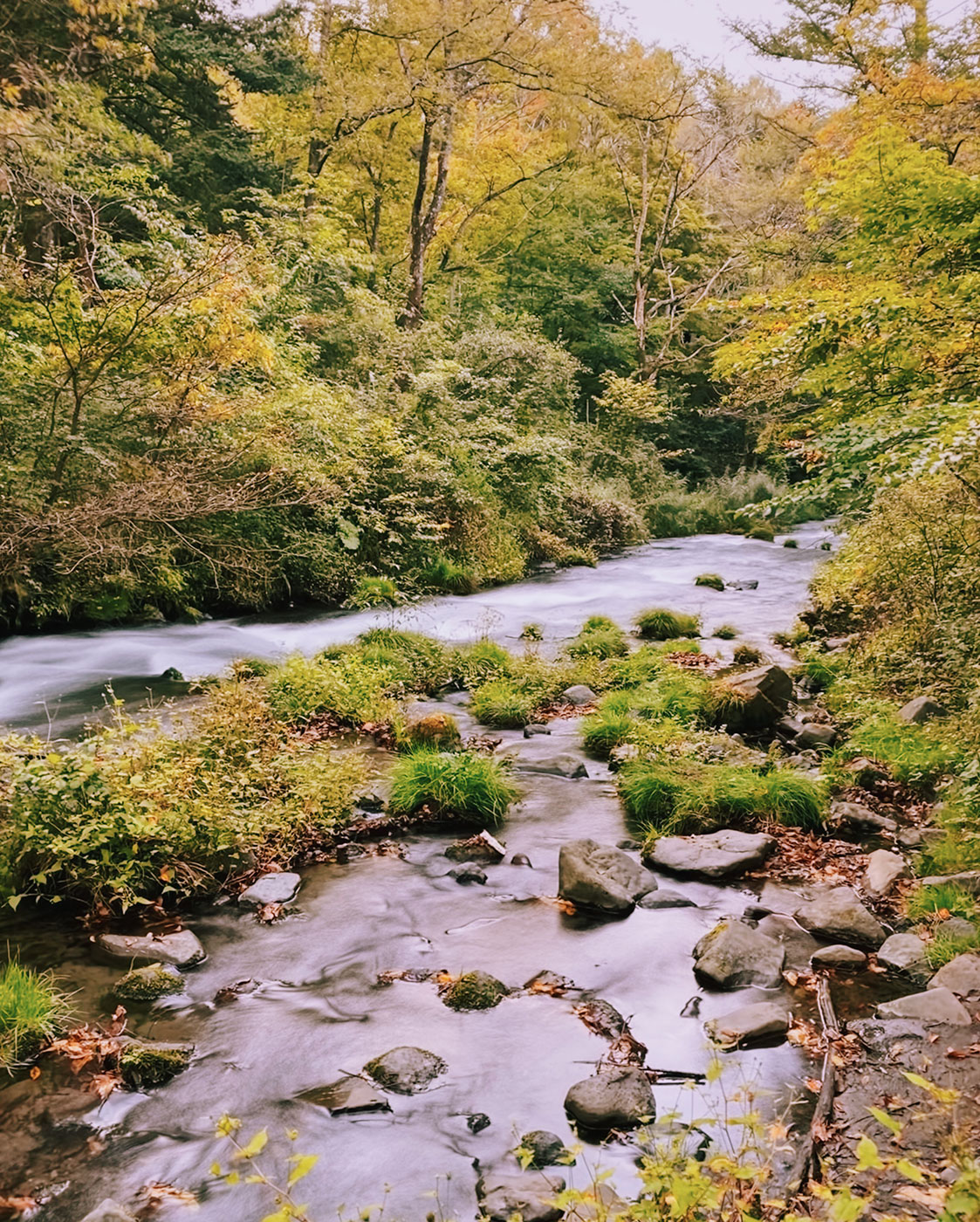 Definitely stop by Harunire Terrace for a hot chocolate, some sweets, or even a meal if you're up for it. There is a dedicated area with chairs and benches where you can sit by the river if you need to relax for a little while.
2. Kogen Church & Stone Church
Not far from Harunire Terrace are Kogen Church and Karuizawa Stone Church. The churches are part of the Hoshino resort, and it is evidently quite popular for a wedding. We saw at least 5 couples scouting out wedding venues and there was even a wedding going on as we were passing by.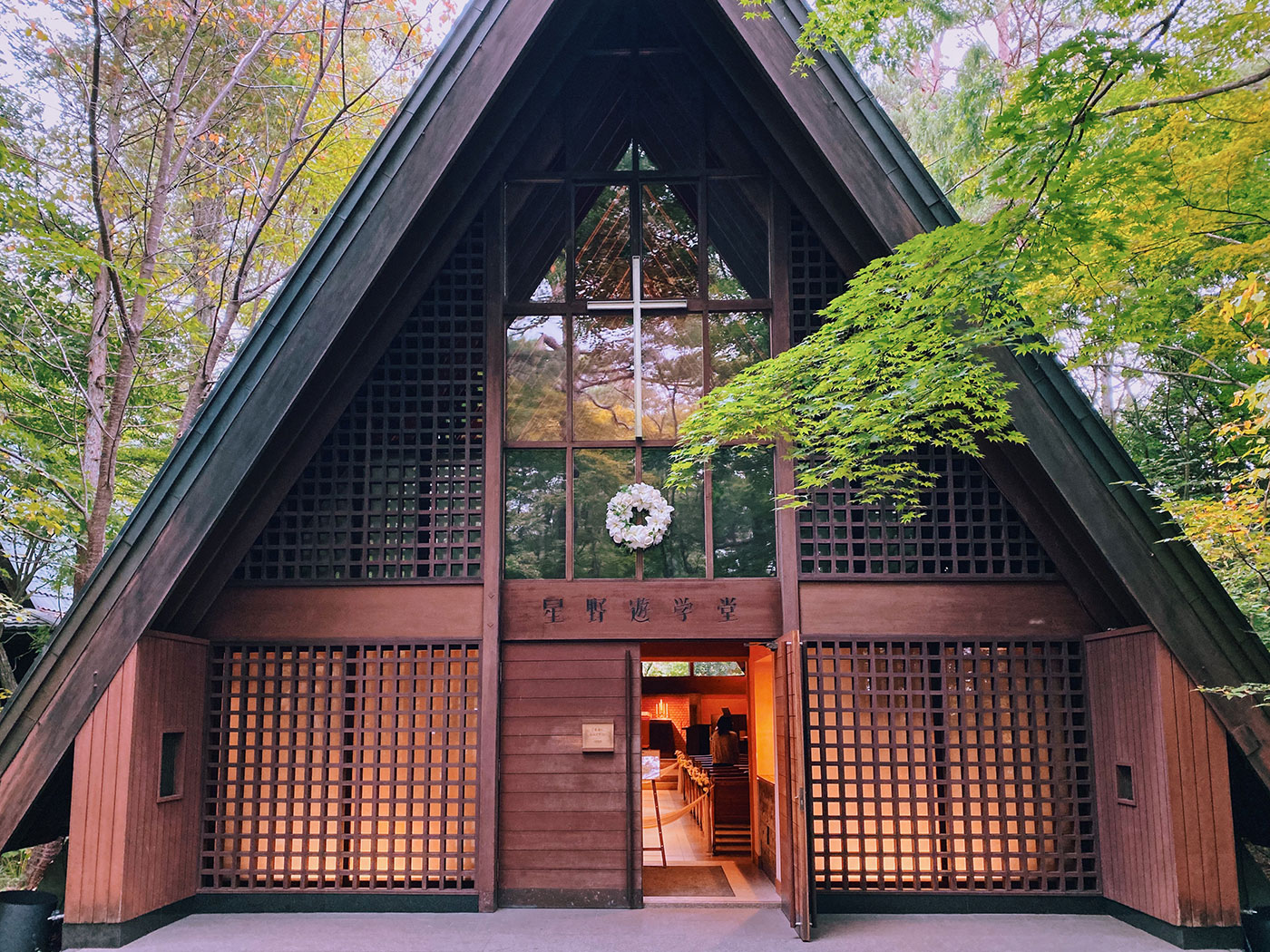 3. Walk around Kumoba Pond
Kumoba Pond is a lovely relaxing pond close to the center of Karuizawa. If you're not in a hurry, a walk circling around this pond takes about 30-40 minutes. You can cycle to the pond, but you have to dismount your bike and leave it at the parking area by the entrance.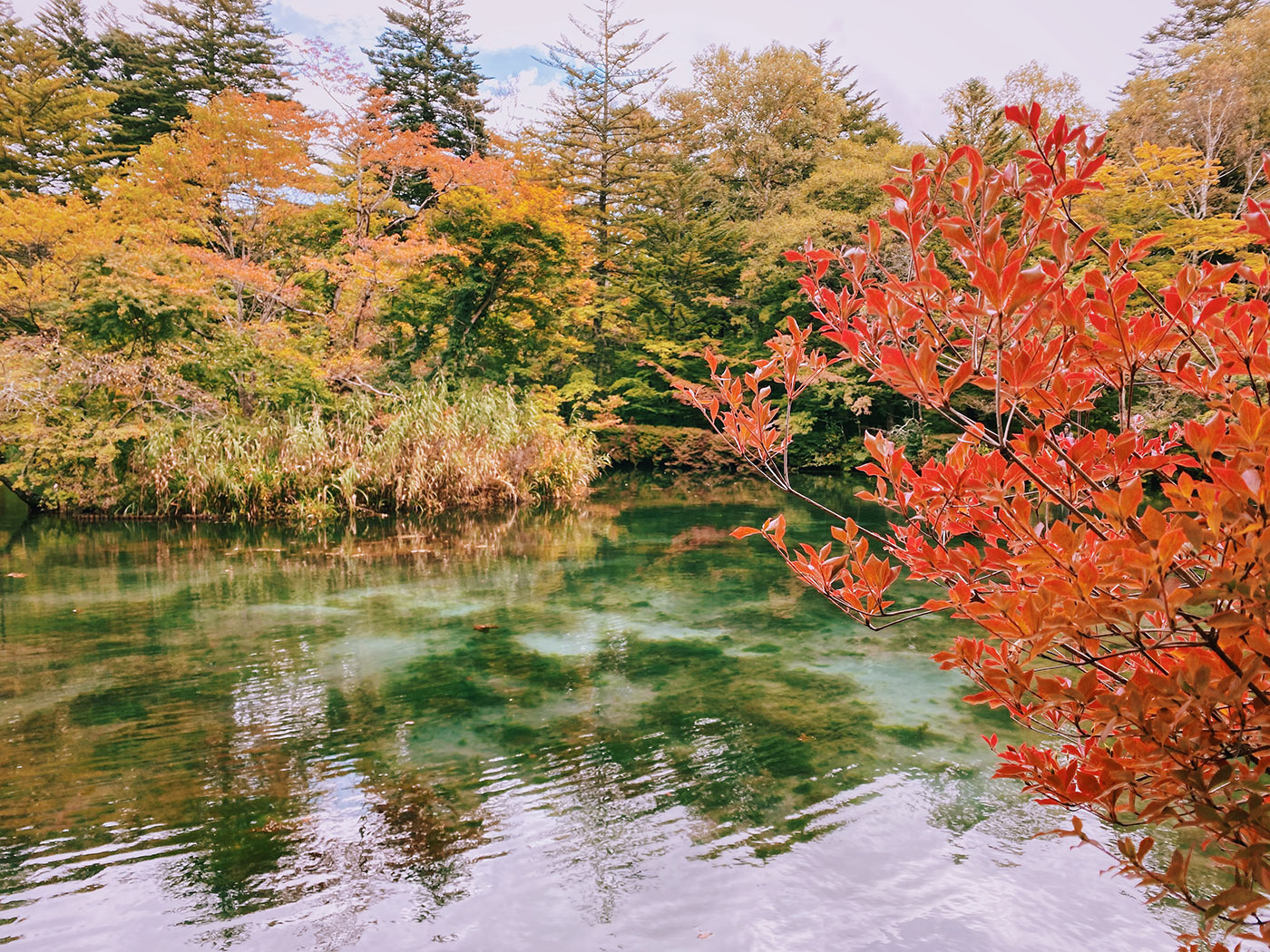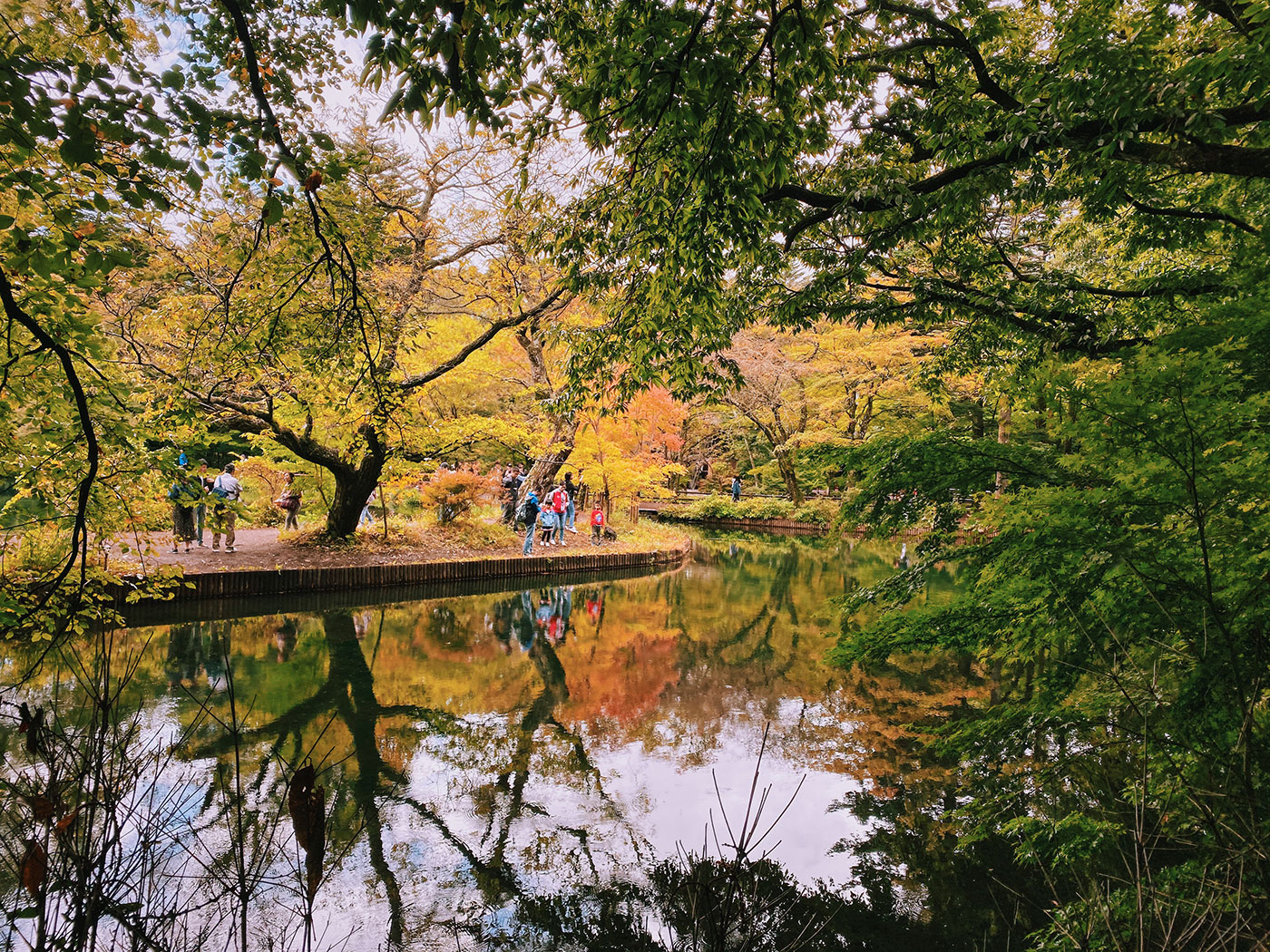 Also near the entrance of the pond is a cute restaurant called Kumobatei, which serves Japanese-western dishes like corn soup, Japanese curry, and dishes made from local veggies.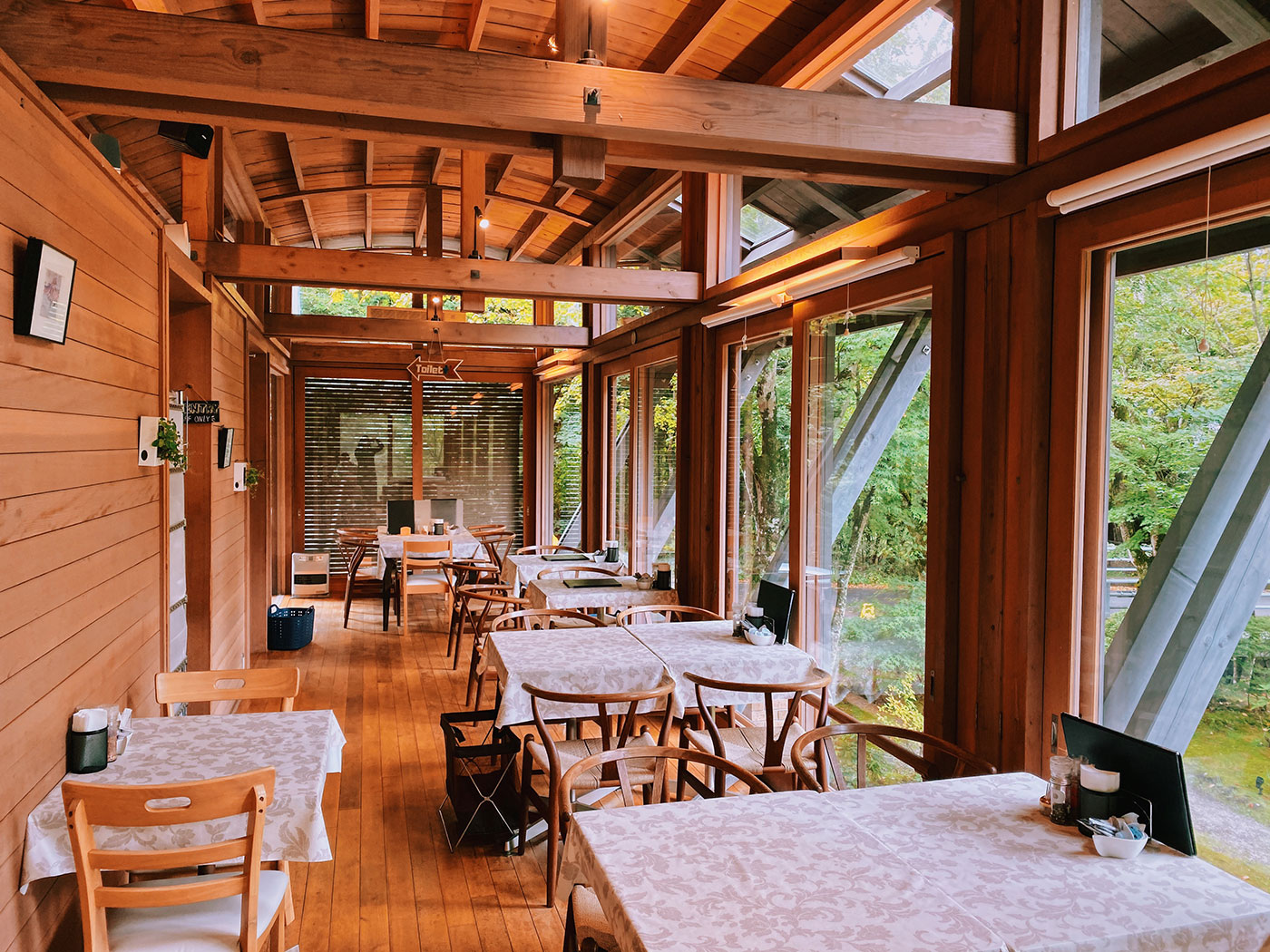 4. Take a hot bath at Hoshino Onsen
During my road trip to Nagano prefecture, I tried many onsens. Hoshino Onsen was my favorite onsen (Japanese hot spring) on this entire trip. Hoshino is also the nicest one I've visited so far even if it's a bit small.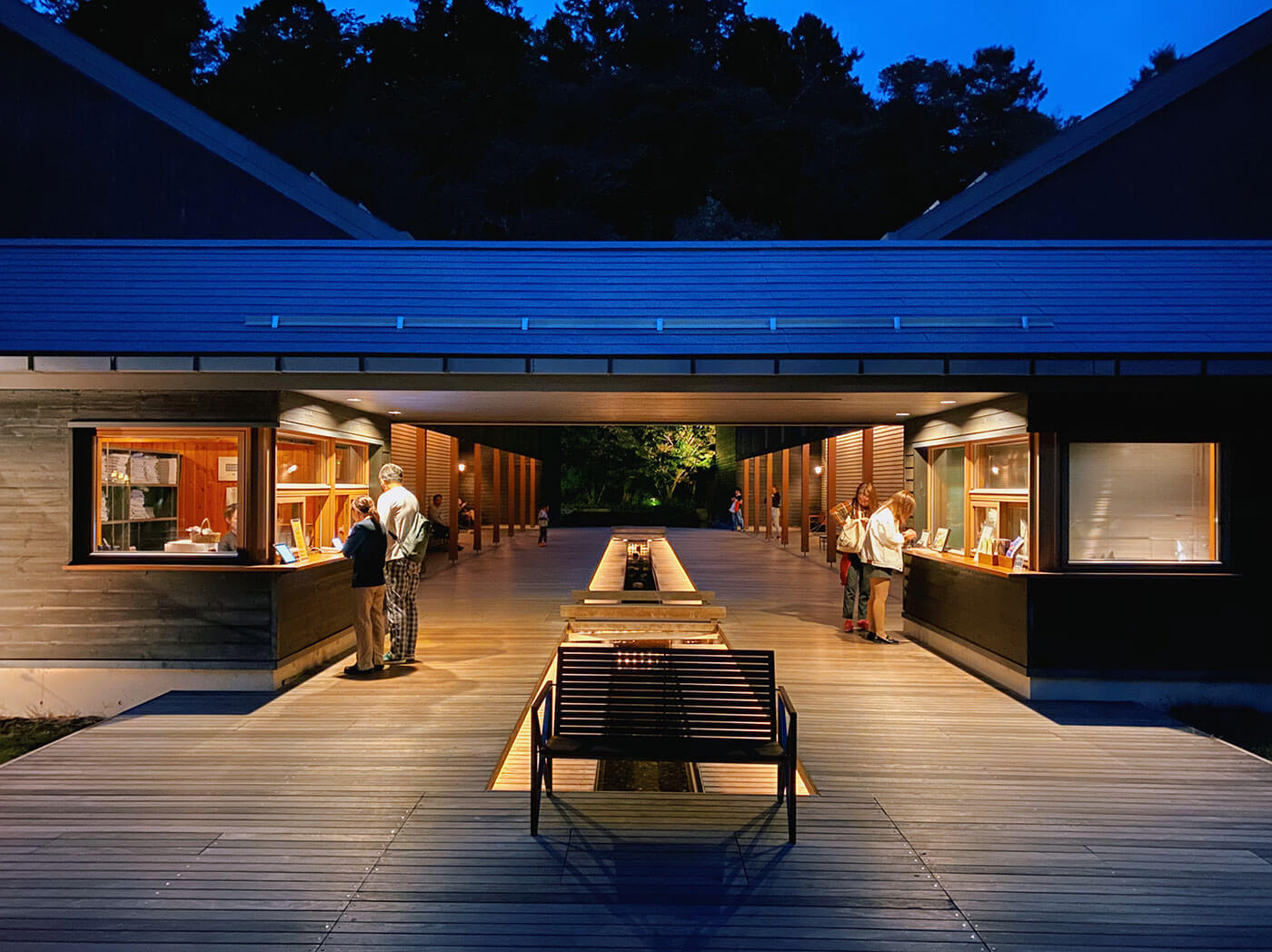 The entrance ticket to enjoy Hoshino Onsen was 1350 yen, which is about double or even triple the price of a regular onsen. That said, I didn't think it was too expensive for the experience!
As with anything traditional in Japan, going to an Onsen does come with its own set of etiquette which might not be apparent to foreigners like us. If you're curious about Onsen and want to check them out, please read my guide to Onsen! I've included everything I knew about visiting Onsen in that article.
One thing to keep in mind is if you have a tattoo. Hoshino Onsen is a tattoo-friendly establishment, as long as your tattoo is not too big (maximum 8×10 cm). They'll ask you to purchase a skin-colored plaster to cover up your tattoo for 250 yen each – this is what I had to do since I have a small tattoo on my back.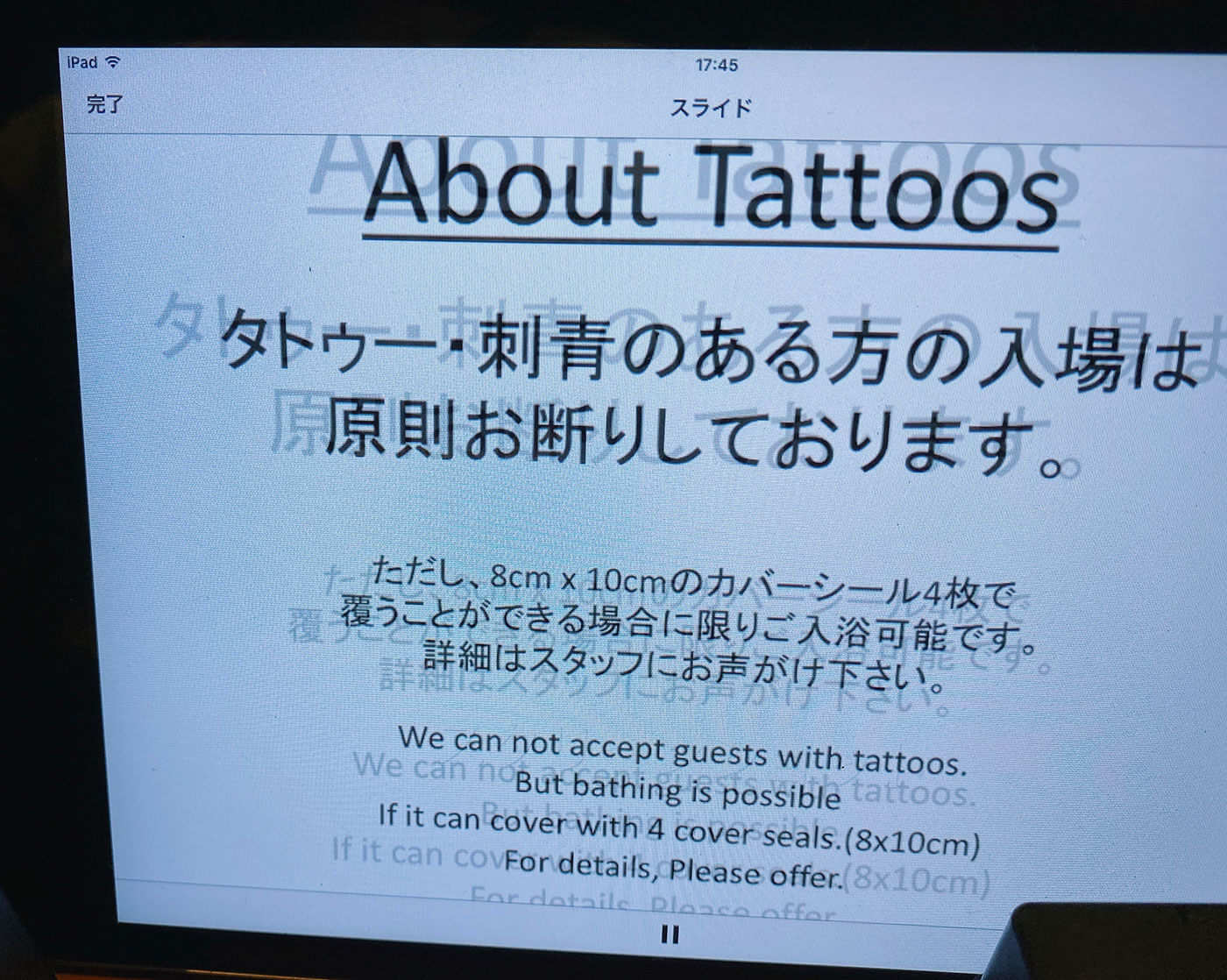 When you are done bathing, don't forget to check out the cozy restaurant outside Hoshino Onsen – called Sonmin-Shokudo. They serve all kinds of washoku (Japanese dishes) including a miso karaage (deep-fried chicken) that is prepared locally. I also enjoyed their shabu shabu set and their mushroom hotpot.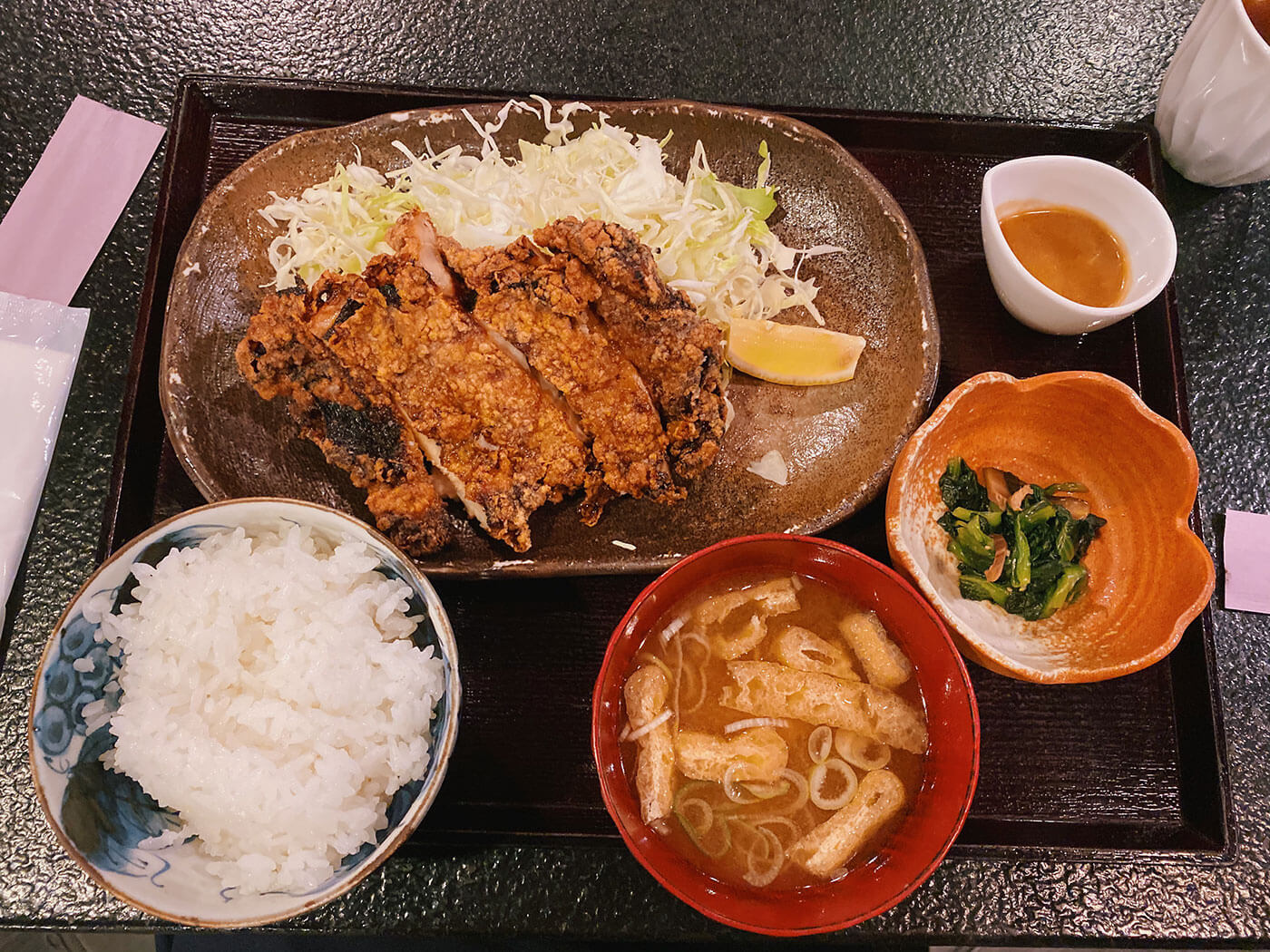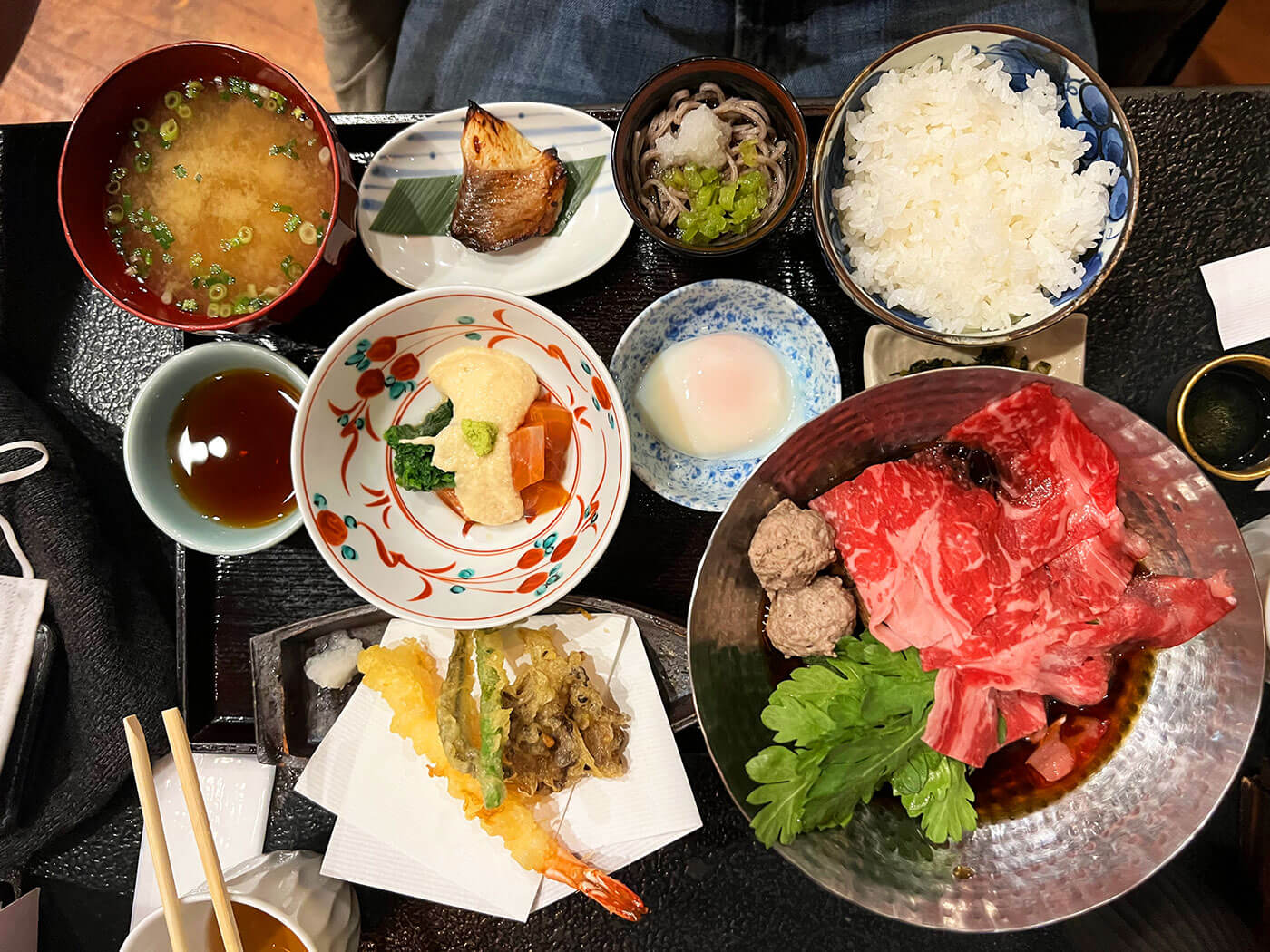 5. Onioshidashi Park (30-min bus ride from Karuizawa)
Technically, Onioshidashi Park is not in Karuizawa but is accessible from town. It's only a 30-minute car ride or bus ride from Karuizawa and from Naka-Karuizawa stations, and the bus operates hourly.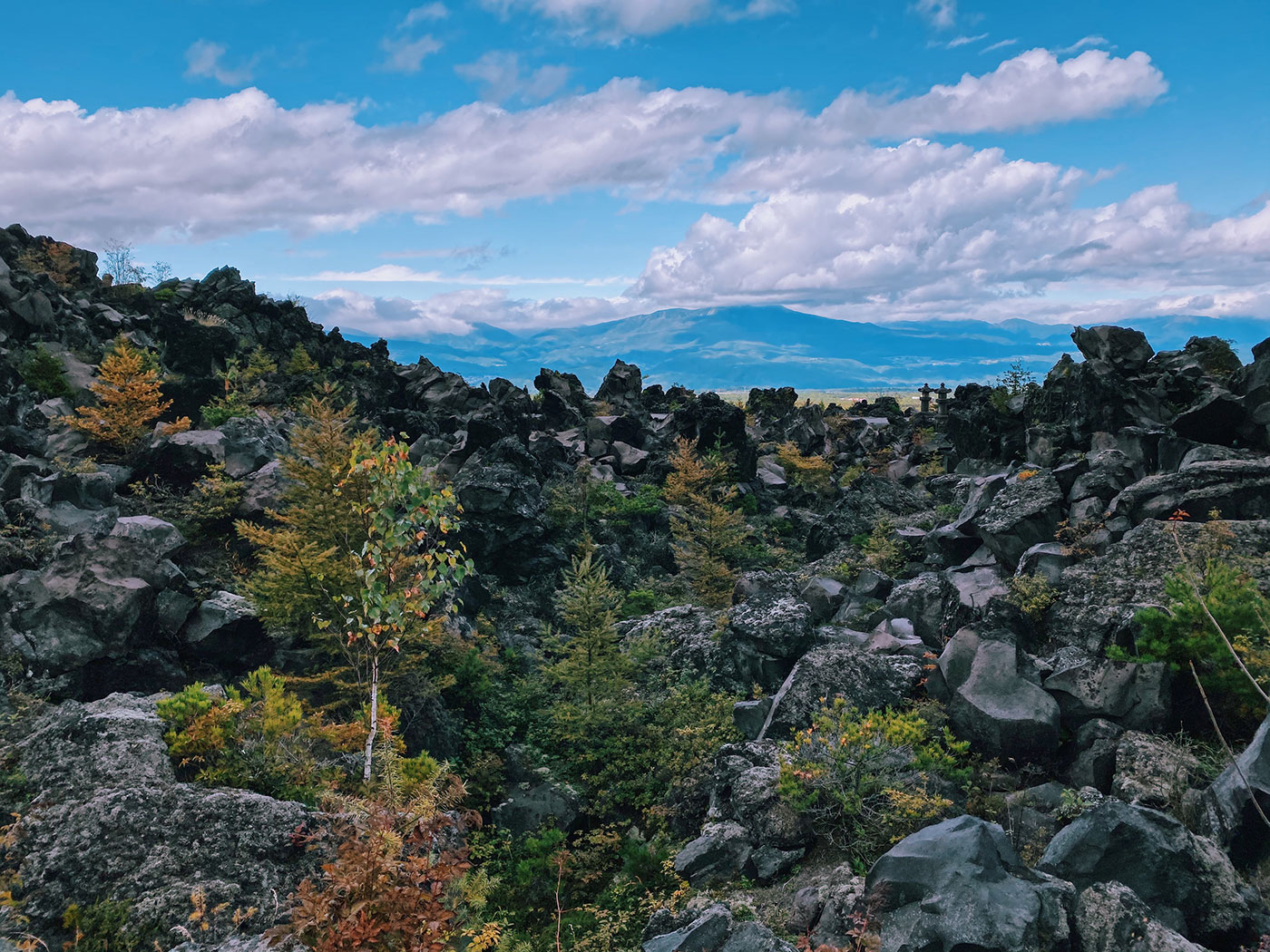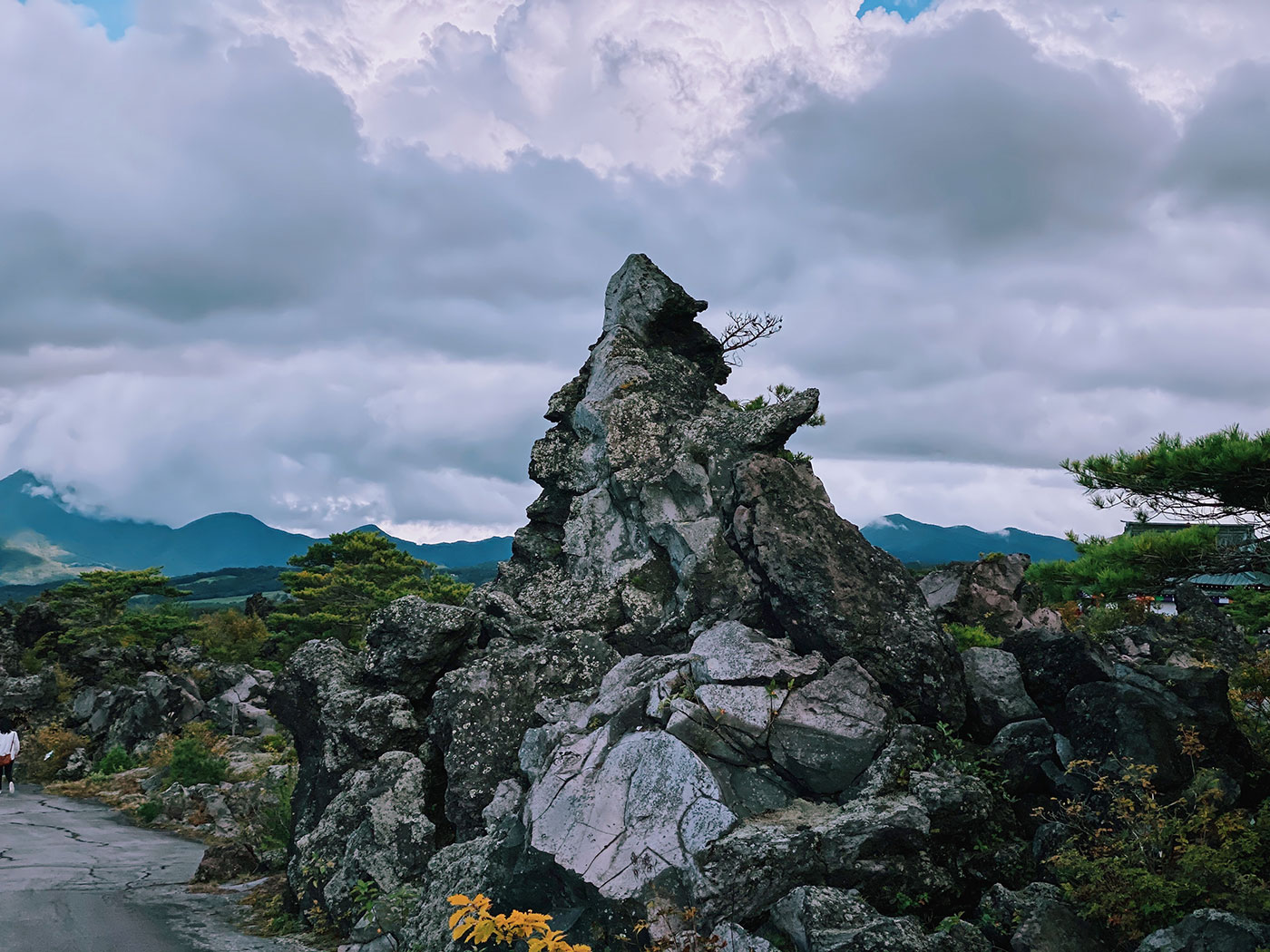 Onioshidashi literally means "Pushing out the devil". This park is famous due to the rugged terrain of volcanic rocks, which was formed when the nearby volcano Mount Asama erupted in 1783. If the weather is clear, you can see Mount Asama from the park! When I visited it was really foggy so I could only see the base of the mountain.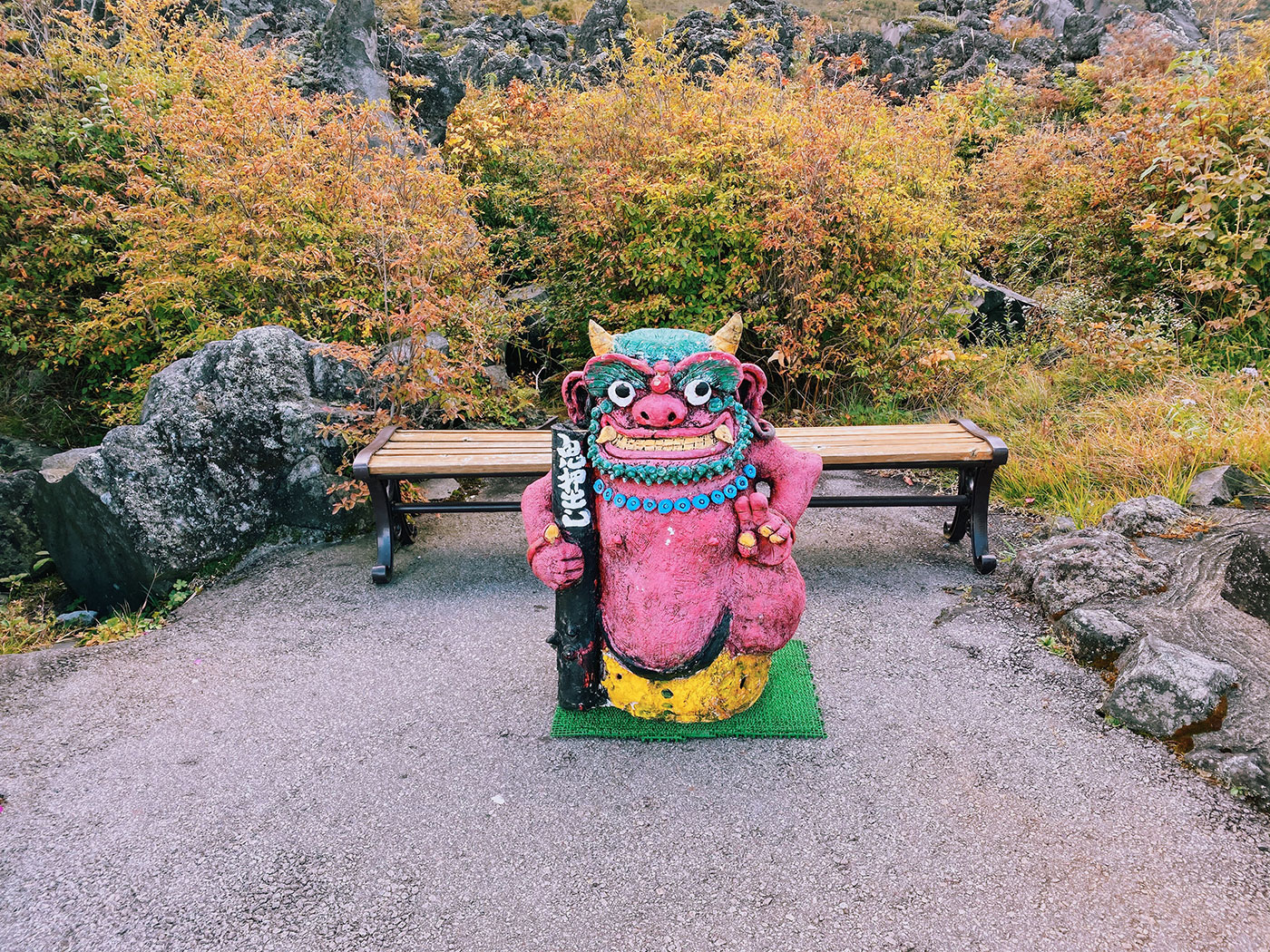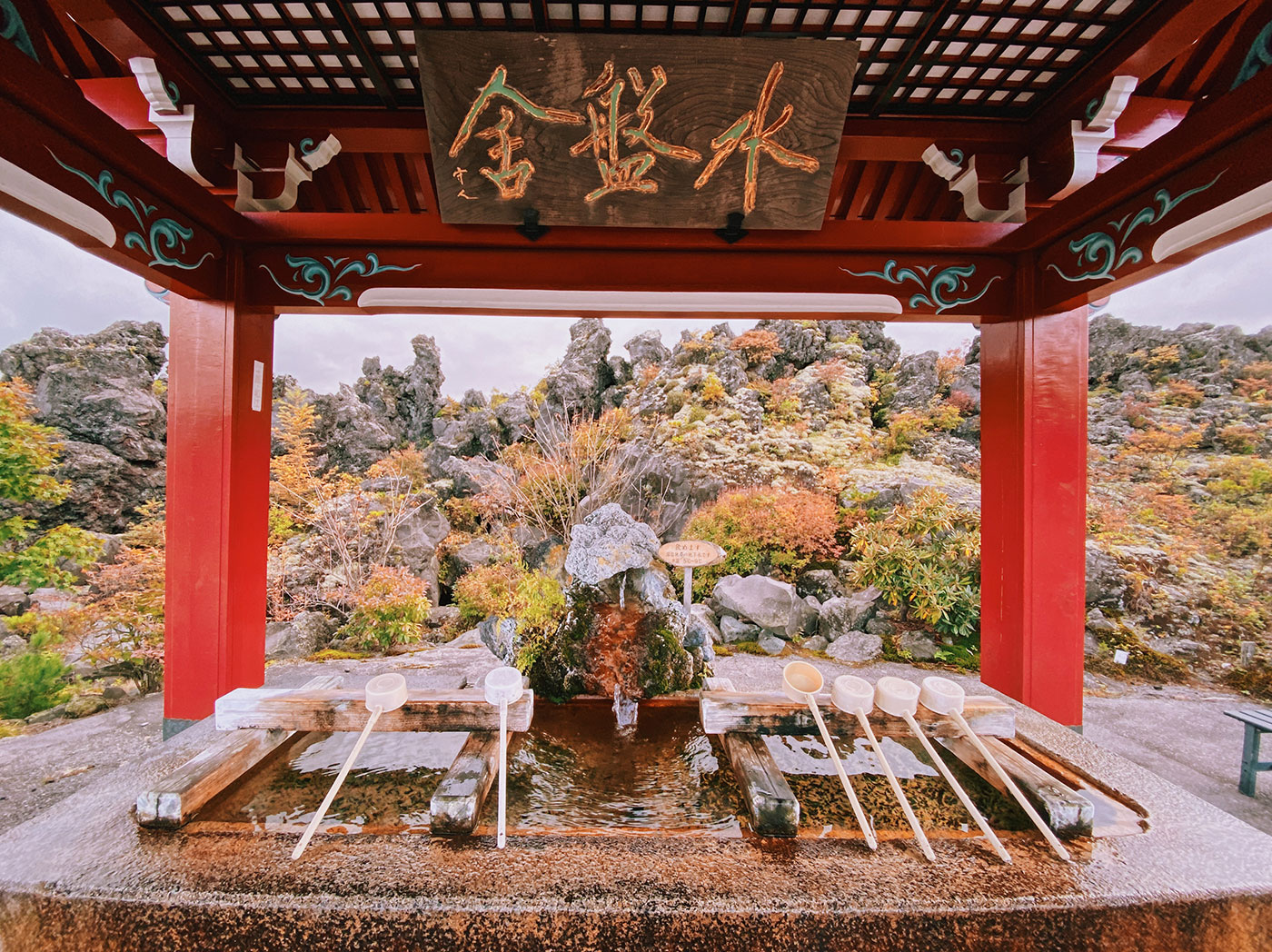 At Onioshidashi Park, you can take the trekking trails around the park which will take you roughly an hour. There is a temple you can check out, as well as various restaurants and souvenir shops at the beginning of the trail.
6. Kyukaruizawa Ginza-dori (Old Karuizawa Shopping Street)
A little bit bigger than Harunire Terrace, this is a cozy shopping street where you can shop for souvenirs and local handcraft, or get a nice meal. It's a famous visitor spot, but you can still find charming shops and products here. I walked away with a few beautiful ceramic plates from the Meiji period which runs from the years 1868 to 1912.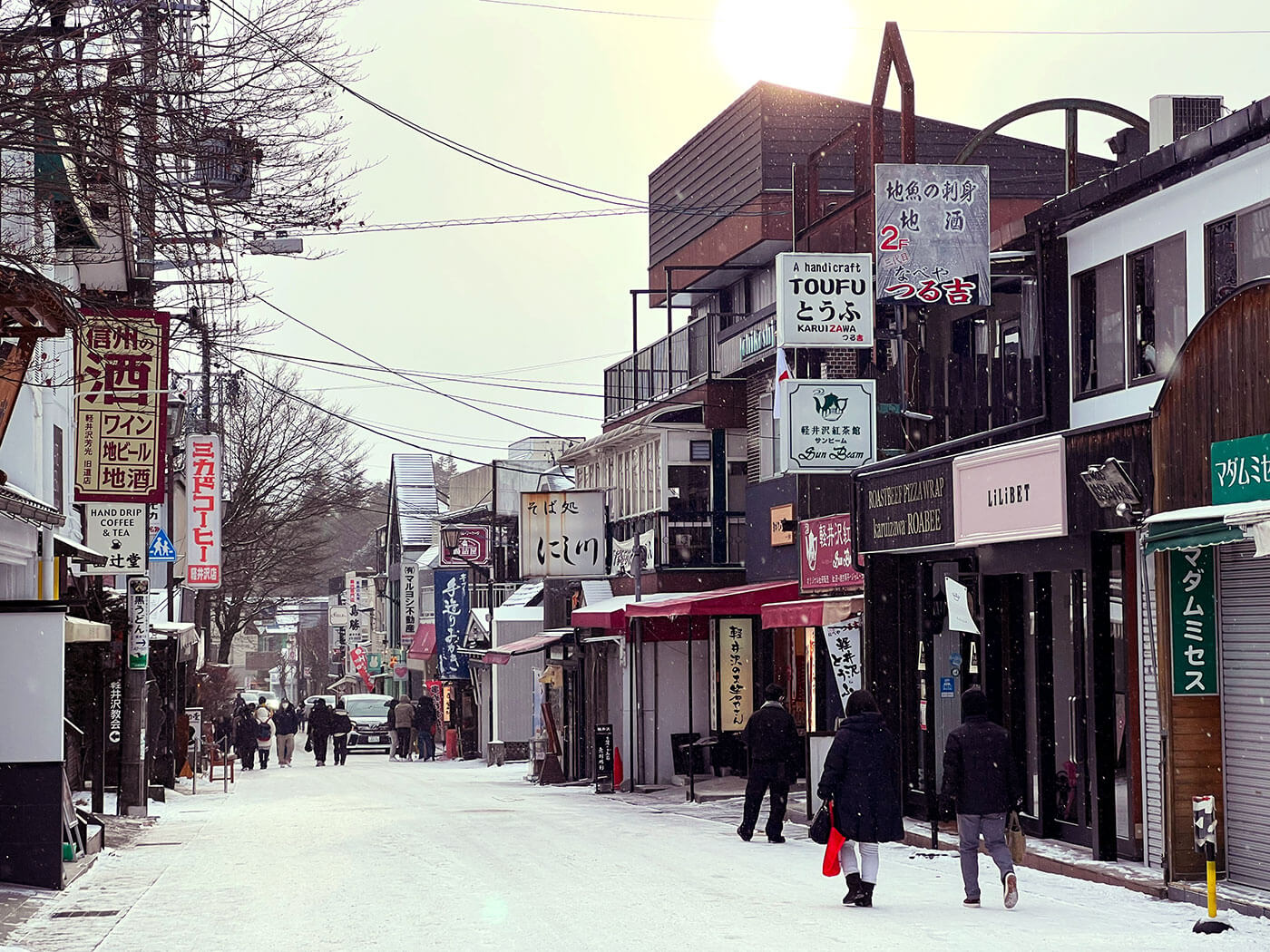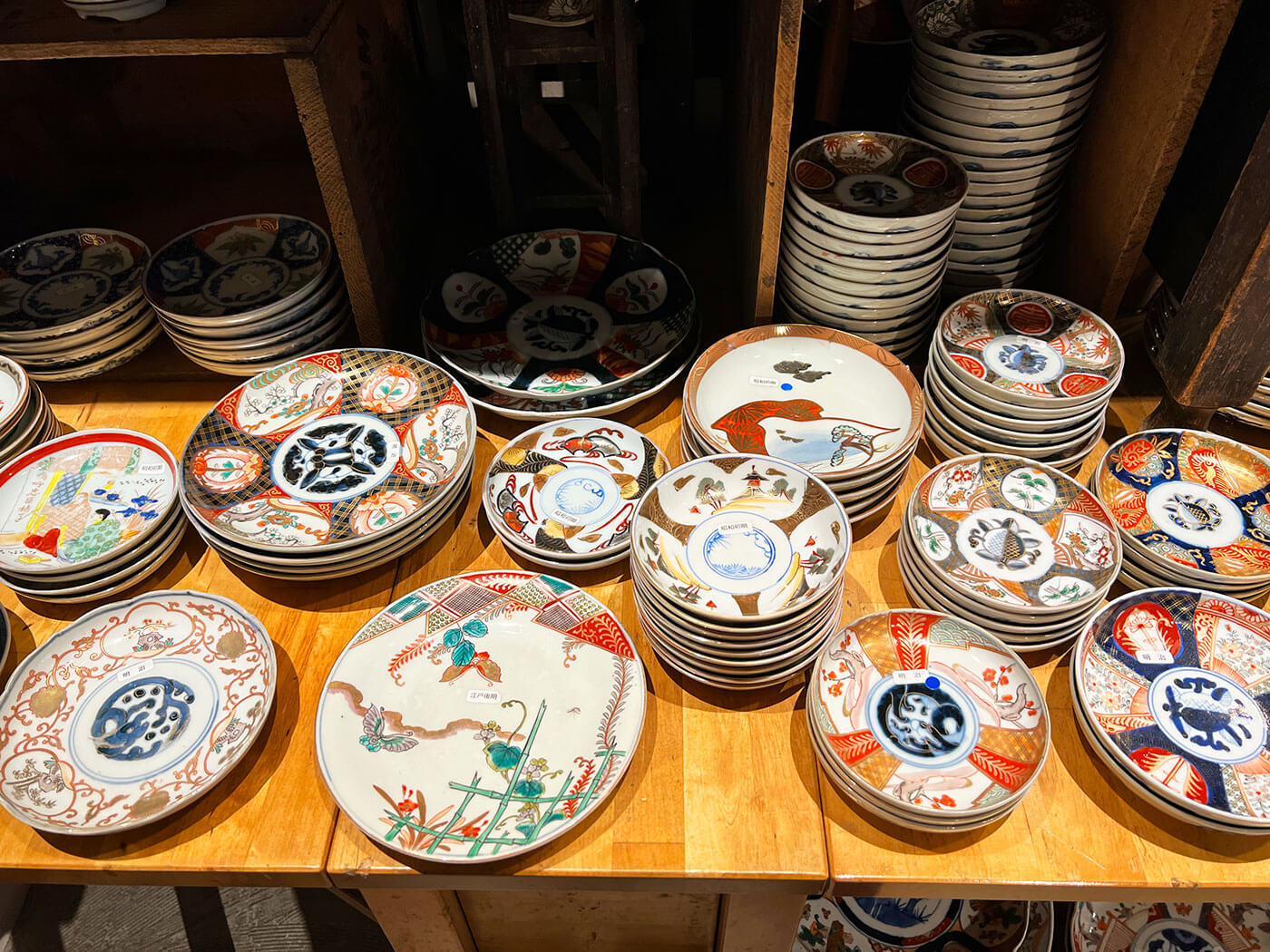 7. Karuizawa Prince Shopping Plaza
Alright, want to know what Japanese REALLY do when they visit Karuizawa? They go shopping at Prince shopping plaza. This shopping plaza is actually what Americans would call an outlet mall, and it's absolutely fantastic if you're in the mood for shopping.
You might think – I've gone all the way to Japan, why would I want to shop? Well, I can assure you shopping in Japan is something you must try at least once. Because the Japanese consumer market is unique, even the big brands like Adidas or Nike might carry something a bit different than what they would stock in the rest of the world.
8. Shiraito no taki (Waterfall of white threads)
Shiraito waterfall is a famous attraction not too far from Karuizawa town. The waterfall is not very tall (only about 3m in height), but it is impressively wide at around 70m width.
During winter, they might have illumination events at night. Check out the calendar here. Take note that if you are driving there during winter, you'll want to prepare with snow tires. We tried heading out without snow tires and had to turn around due to icy conditions on the road.
9. Visit Kusatsu Onsen
From Karuizawa, you could take a direct bus to Kusatsu Onsen, which is a popular onsen town. It takes about 80 minutes by bus, so it's very possible to make it a day trip out of Karuizawa.
Tip: If you want to visit Kusatu, check out my Kusatsu travel guide to see what you can do there.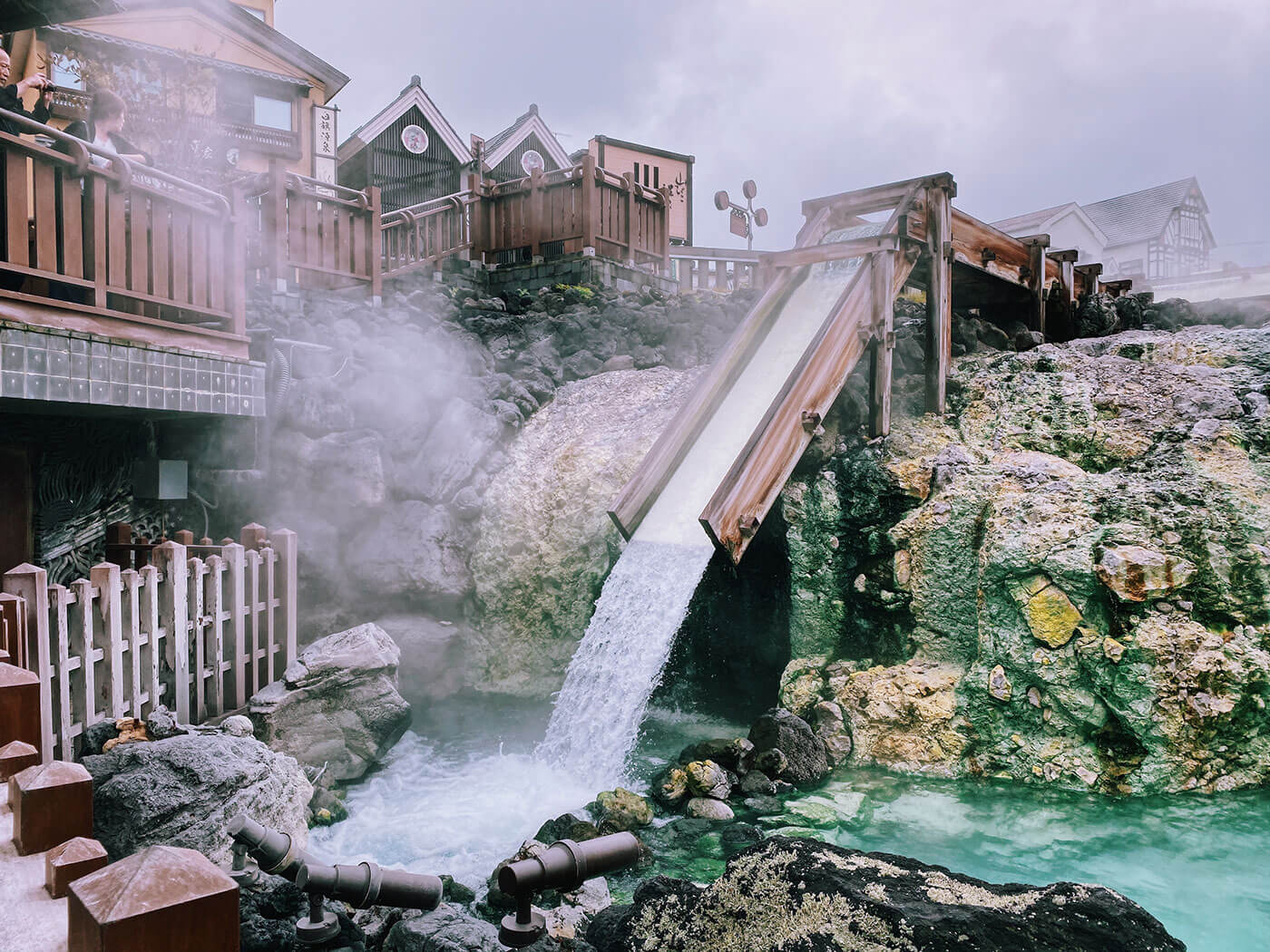 What to eat in Karuizawa
Cheesecake from Izumiya Saku at Harunire Terrace
Sonmin-Shokudo at Hoshino Onsen
Kumobatei next to Kumoba Pond
SASA Japanese Cuisine – famous as the curry shop of one of the Terrace House participant
Restaurant Hamy's – A cute cafe by day, swiss restaurant by night.
And that's all I know about Karuizawa! If you're on a trip around Nagano prefecture, you'll want to check out my Nagano blog for some more tips and travel ideas.
Til next time ✌️