Recently, I had the opportunity to revisit Kyoto again, for the third time. I visited Kyoto for the first time during Sakura (Spring) season, then again in Momiji (Fall) season, before coming back during the pandemic when there weren't any international tourists in Japan.
Needless to say, I feel like I've seen Kyoto at its best times and I can't wait to share everything I know about Kyoto with you!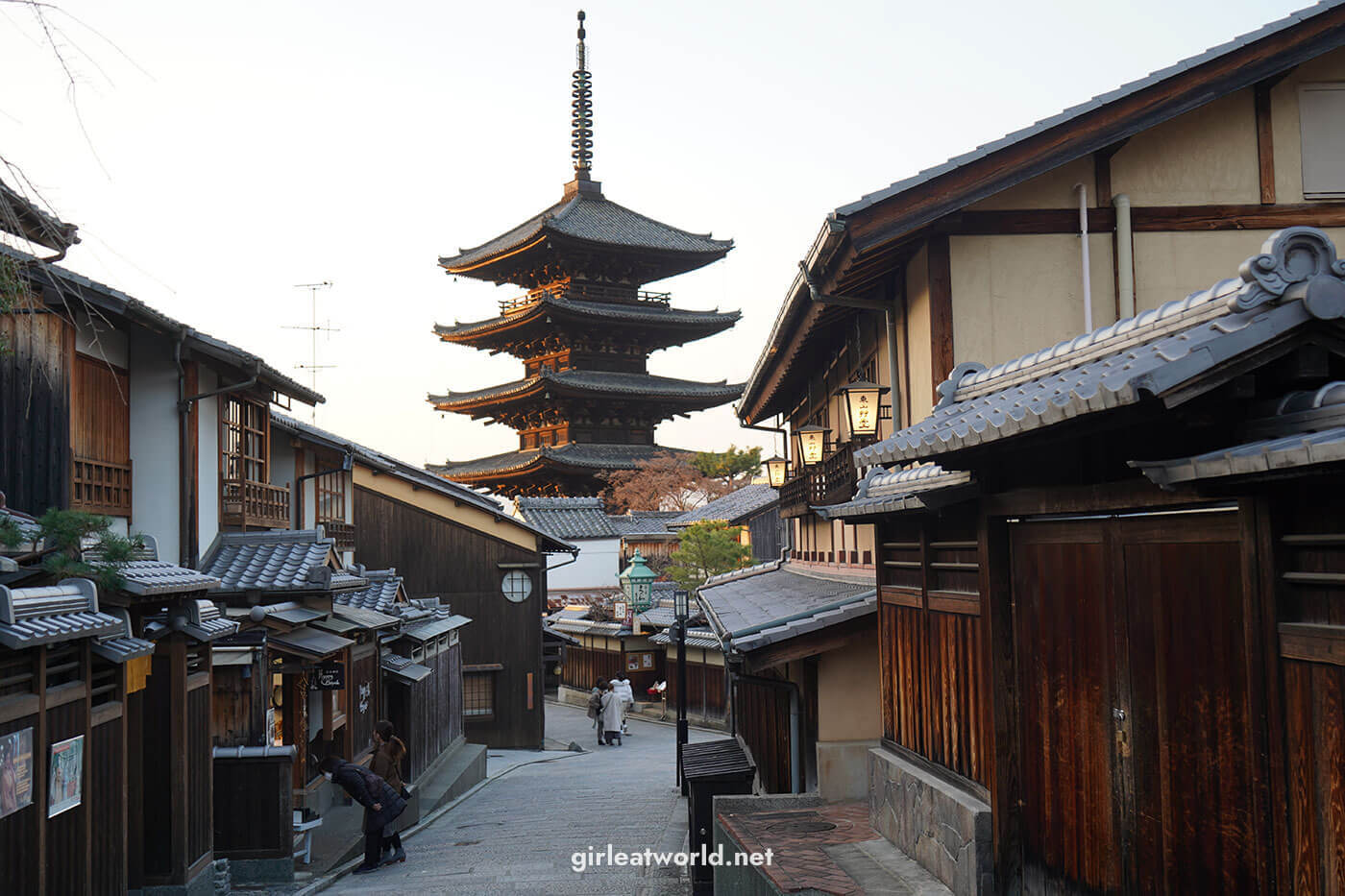 How can I get to Kyoto?
First things first, let's cover the ways you can get to Kyoto. Kyoto is located in Kansai, south of Honshu, Japan's main region. It is around 500km south of Tokyo. Here is how you can get to Kyoto:
1. Fly into KIX, then take the Haruka Airport Express
As a foreign visitor, the best and fastest way to get to Kyoto is to fly into Kansai International Airport (KIX) and take the train to Kyoto, going through Osaka. From KIX to Osaka, it only takes about 50 minutes by Haruka airport express train and then another 15 minutes to Kyoto and slightly longer if you take the local train, perhaps 30 minutes.
(In fact, Osaka is a great base for your trip if you're interested in exploring other things in Kansai aside from Kyoto, as I have outlined here)
You can purchase Haruka airport express train ticket here, or if you already have a JR pass, then you can use your JR pass (assuming you bought Unlimited JR Pass).
2. Take the Shinkansen, Japan's ultra-fast bullet train
The price of Unlimited JR Pass has increased by 70% since 1 Oct 2023. Even though you'll see many recommendations for buying a JR Pass to save some costs, it could be outdated. Since the price hike, it has become harder to justify the cost of the JR Pass, however regional passes like the JR West Kansai Pass might still be worth it. I am working on updating my blog post to reflect this change.
If you're thinking of making Kyoto one of your stops on a long trip to Japan, it's very possible to take Shinkansen. From Tokyo, it will take only 2.5 hours to reach Kyoto by Shinkansen. Just make sure you've purchased a JR Pass that covers both areas, in this case, if you're traveling from Tokyo to Osaka / Kyoto then you'd probably want the Unlimited JR Pass.
The Shinkansen conveniently drops you off at the main Kyoto / Osaka station (depending on where you've decided to base yourself – I've written about that here), and from there you'll be able to take local trains to wherever you need to go.
How many days should I spend in Kyoto?
You should be able to see most things you want to see in Kyoto in 2 days, but it really depends on your travel style. If you wake up early and are okay with going around the entire day til night time, then 2 days is good.
However, if you prefer to take things slow, you could allocate more days. You can see the list of things to do in Kyoto below, where I outline my recommended places to visit and decide for yourself!
When is the best time to visit Kyoto?
Without a doubt, the best time to visit Kyoto (and many other parts of Japan) is during Sakura time or Momiji time. You can click on the links to determine the best times as it varies every year.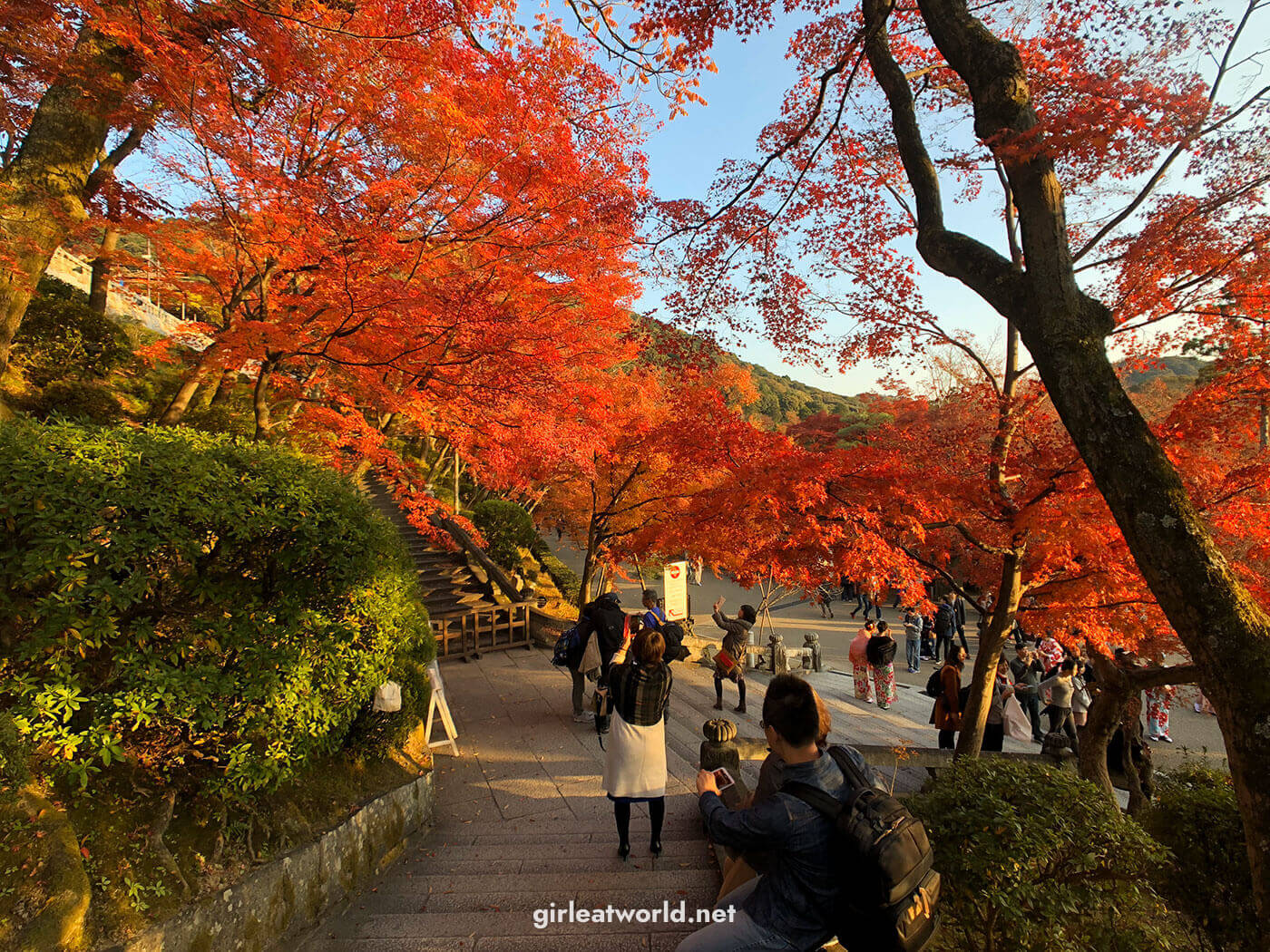 Kyoto (and all of Japan) is just insanely beautiful during these two seasons. However, they are also probably the most popular time to visit Kyoto, so expect a lot of crowds.
Avoid golden week which is the first week of May and Obon in middle of August, as these two are big holidays in Japan. You'll not only have to battle the international tourists that are coming to Japan, but domestic Japanese tourists too!
Where should I stay when visiting Kyoto?
As I said before, I believe that Osaka, not Kyoto, is a better place to base yourself especially if you're interested in exploring other things in Kansai, as I have outlined in my Kansai itinerary post.
This is my preference for many reasons:
Accommodations in Osaka are more diverse and affordable. Kyoto on the other hand is seen as a luxury place to stay. You'll be expected to pay a luxury price too!
It only takes 15 minutes to Kyoto by Shinkansen (which you'd be using if you have a JR pass) or 30 minutes by local train.
Kyoto gets pretty quiet (read: dead) by nighttime, whereas Osaka is the second largest city in Japan so you'll still find plenty to do at night.
Osaka is a great base if you're exploring other areas in Kansai, since it's located right in the middle of everything.
➡️ If you want to know where you can stay in Osaka, click on my Osaka travel guide.
Accommodations in Kyoto
That said, I understand that some people prefer the quaintness and quiet of Kyoto, so here are some good places you can consider. Just be mindful that they would be on the more expensive side!
Yadoya Manjiro – If you want the true Japanese experience, you'd want to stay in a ryokan (traditional Japanese inn). Yadoya Manjiro is located a stone-throw away from Kiyomizu-dera, making it extremely convenient to explore the quiet old streets of Kyoto at night, once other tourists have left Kyoto.
Kyoto Higashiyamaso – Another ryokan in the same area as Yadoya Manjiro. You really can't beat the location!
Kyoto River-view House Kyoraku – with rooms starting from US$70 a night, this is probably one of the most affordable options in Kyoto. It is located in the more modern part of Kyoto closer to the main station, but still within walking distance of the old Kyoto part.
How can I get around Kyoto?
Okay, now that we've covered the basics. How can we get around Kyoto? There are a few ways:
1. Using local train and bus
As with most cities in Japan, Kyoto's public transport is top-notch. You can easily use Google Maps to chart out how to get from point A to point B with public transport in Kyoto.
I highly suggest getting a train card (IC card) if you plan to use public transport. It just makes everything so much easier, since you don't need to buy a ticket for every journey – you just have to tap the card in and out of the station. The local train card is called ICOCA in Kansai, but if you have Suica or Pasmo from Kanto / Tokyo (or IC card from other regions), those should work here too.
Good news for iPhone users – the IC cards have gone virtual and you can use your phone as an IC card! This makes everything even more convenient, as you can refill the balance via your phone without having to go to the station. Note that you do not need to buy a physical IC card to do this, just start the process straight from your phone!
Virtual IC Card: Read up on how to travel in Japan without a physical IC Card here!
2. Renting a Bicycle
One option many might not know is renting a bike. This is what I did on my first visit to Kyoto and it allowed me to see more of the city. The tourist area in Kyoto is not actually that big, so this is a very feasible option. We biked from Kyoto station to Arashiyama, and it only took about an hour with some detours.
You can rent two types of bikes:
3. By Car
On my latest visit, we rented a car as we were traveling with a toddler. But I would say exploring Kyoto by car is not the most ideal, as the streets are quite narrow in the areas that you would want to visit as a tourist.
But the biggest issue is that parking can get really expensive in Japan. We paid 1,000 – 1,500 yen each time we parked our car, which really adds up quickly if you're visiting multiple places in Kyoto. However, it was certainly the most convenient way when traveling with a toddler.
You can rent a car from near Kyoto station here.
Can I store my luggage at Kyoto station?
Yes!! There are plenty of coin lockers to store your luggage at the train stations in Kyoto, or any other major train stations in Japan. You can choose the size of the lockers, ranging from 300 – 700 yen. Here is a photo of what it might look like: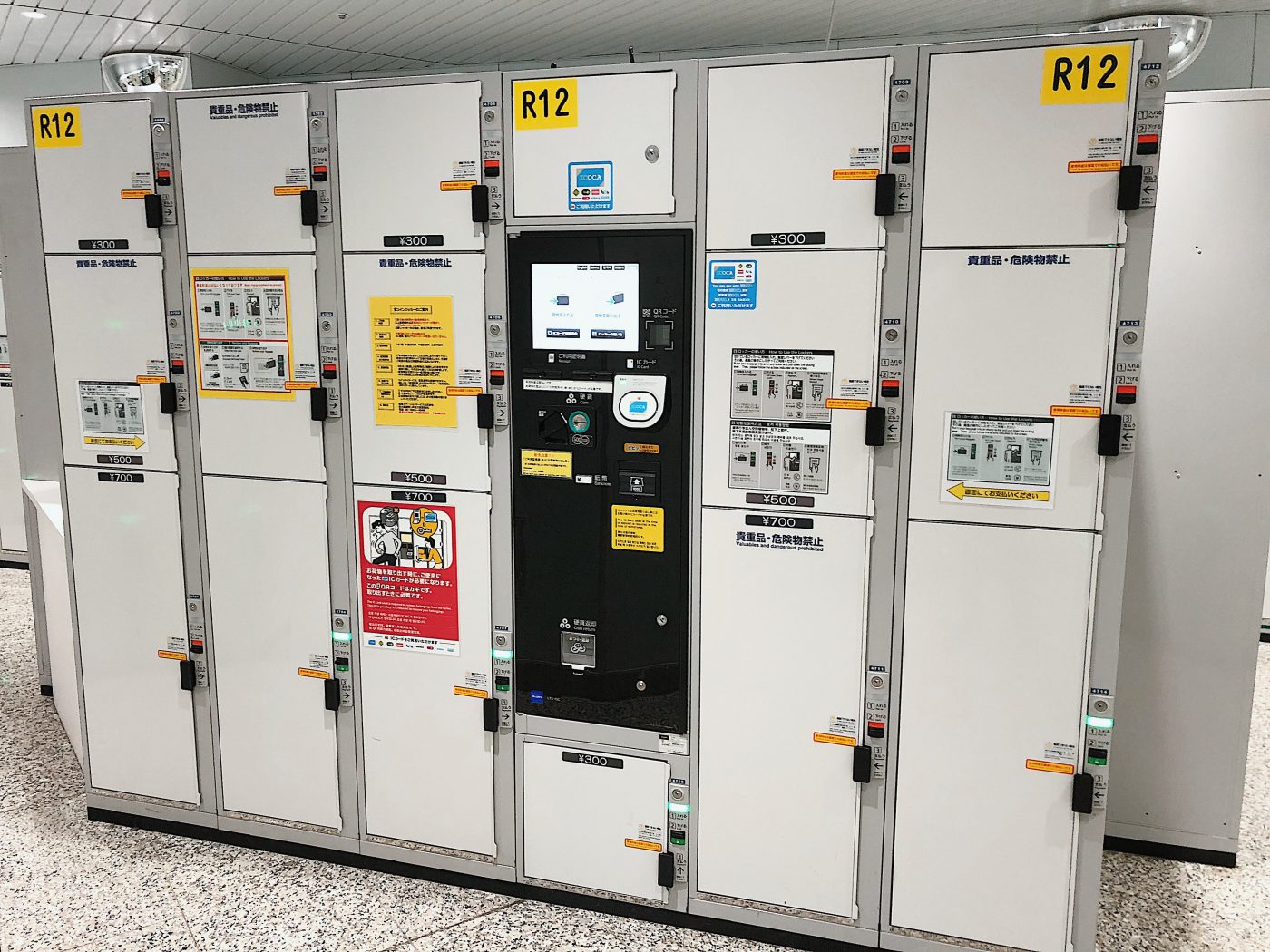 You can't really see from the photo above, but the locker is very deep. The 300 yen option is good for backpacks (the kind you take for backpacking trips), while the 700 yen option would fit very large luggage. The 300 yen one looks small but you can definitely fit a 10kg backpack laying flat with plenty more room, so I think bigger backpacks would fit too.
Take note that the locker fee is only good to open the locker once, so if you forget something and need to take your luggage out, you'll need to pay another set of fees. And don't forget where your locker is located! You might want to take a photo of it just so you don't have a hard time locating it later.
Things to do in Kyoto
Now that you know how to travel around Kyoto – you might be wondering "What are the must-do things in Kyoto?". Well, you've come to the right place!
Here are some of the must-do in Kyoto:
1. See Senbon Torii ("thousands of gates") at Fushimi Inari Taisha
When you think of Kyoto, I'm willing to bet the first thing that comes to mind is the rows upon rows of vermilion-colored torii that are so symbolic of Japan. Well, these rows of torii can be found at Fushimi Inari Taisha!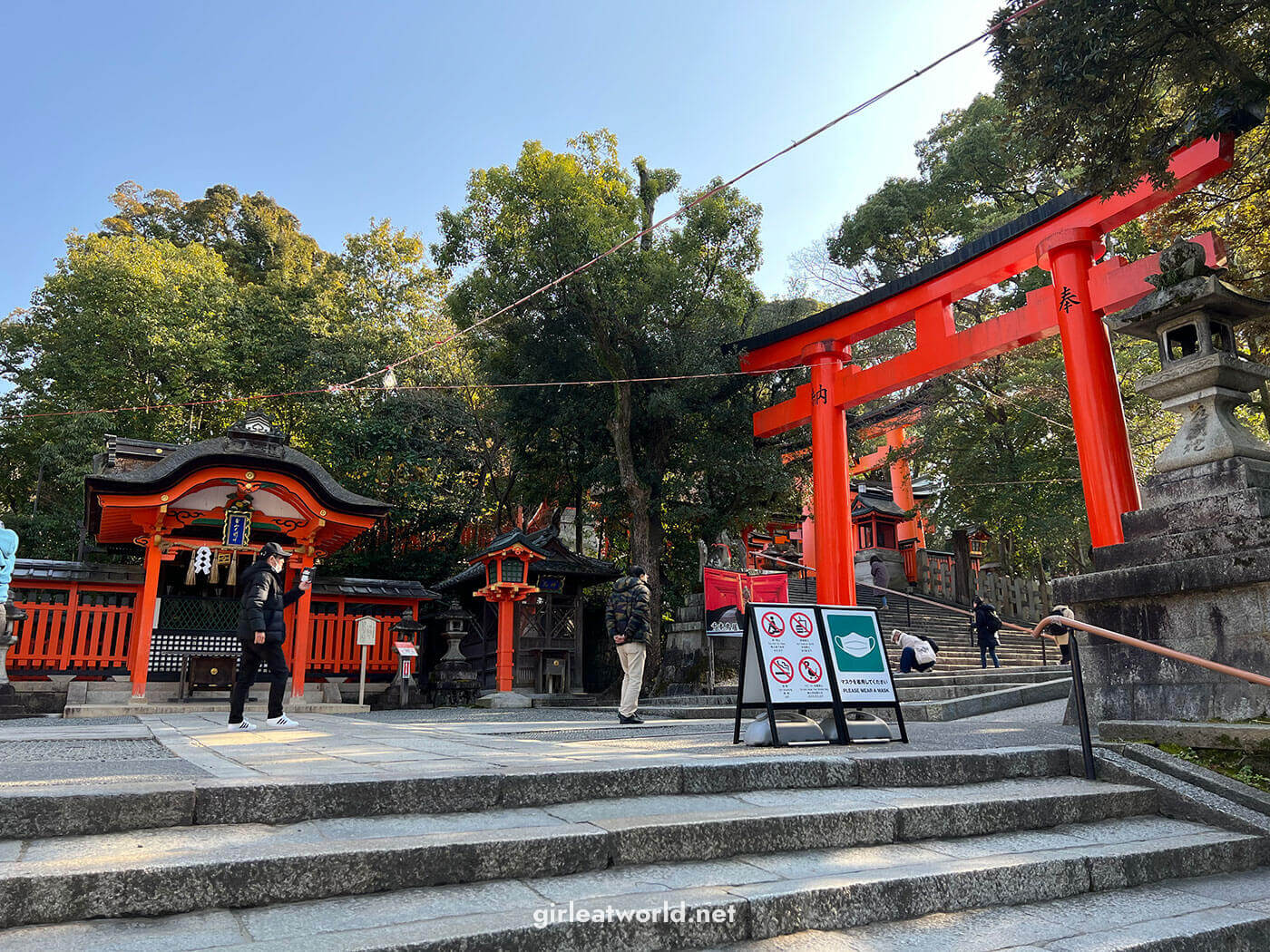 Enter the temple area and go past the shrine, then continue your hike up and you'll see the torii soon. The rows of torii actually double up as a 5km trail up to Mount Inari. If that sounds far to you, you don't actually have to go all the way up, you could just do a little bit of the walk and circle back.
In the three times I've been to Kyoto, I've never made it up to the top of the mountain due to time constraints, but I've been told the further away you go, the lesser the crowd! I would totally do it if I had the time.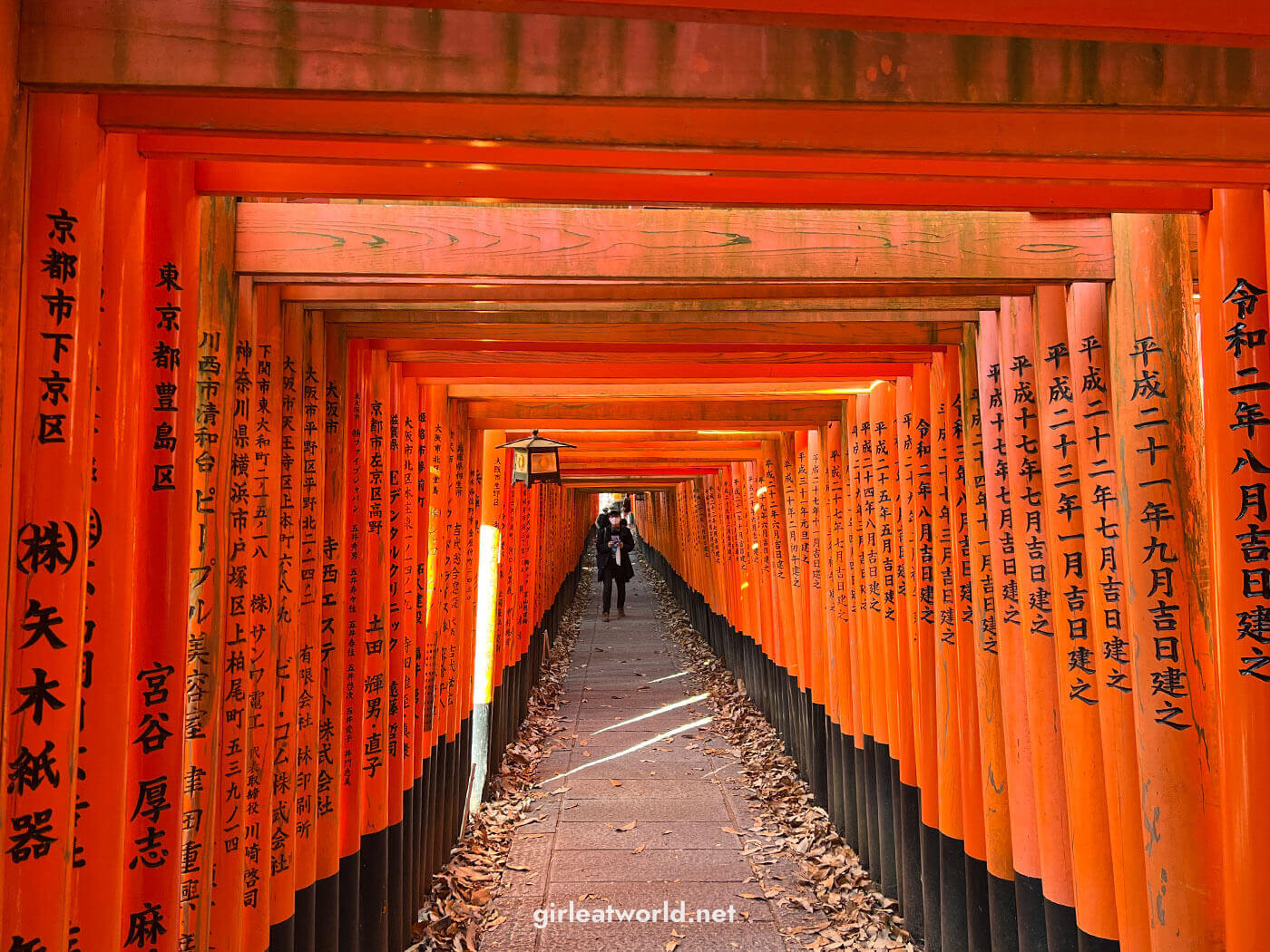 The main temple area is also worth a visit. I got this super cute Ema (wooden plaque for prayers) shaped like a torii for 800 yen. You're supposed to write your wishes on an ema and leave it at the temple, but you could also take it home as a souvenir like I did.
Another thing you might want to do while at the temple (or any other temple in Japan) is purchase an Omamori, a small amulet containing a blessed piece of wood meant to protect you or you can gift it to your loved ones for their protection. They cost about 500-800 yen and there are different types of Omamori for different purposes – for health, giving birth, for students, etc. Most temples in Kyoto will have signs in English explaining what they are!
There is also a great lunch option nearby, at a restaurant called Kanoko. Scroll down for more info and my food recommendations in Kyoto!
2. Visit Kiyomizu-dera
Kiyomizu-dera is undoubtedly one of the most famous temples in Japan. There is a public area which you can explore for free, and then there is a ticketed area which costs 400 yen. I skipped the ticketed area on my first two visits as it was quite crowded and there was a line for entering. But I finally went in on my latest visit, and I can honestly say it is worth it.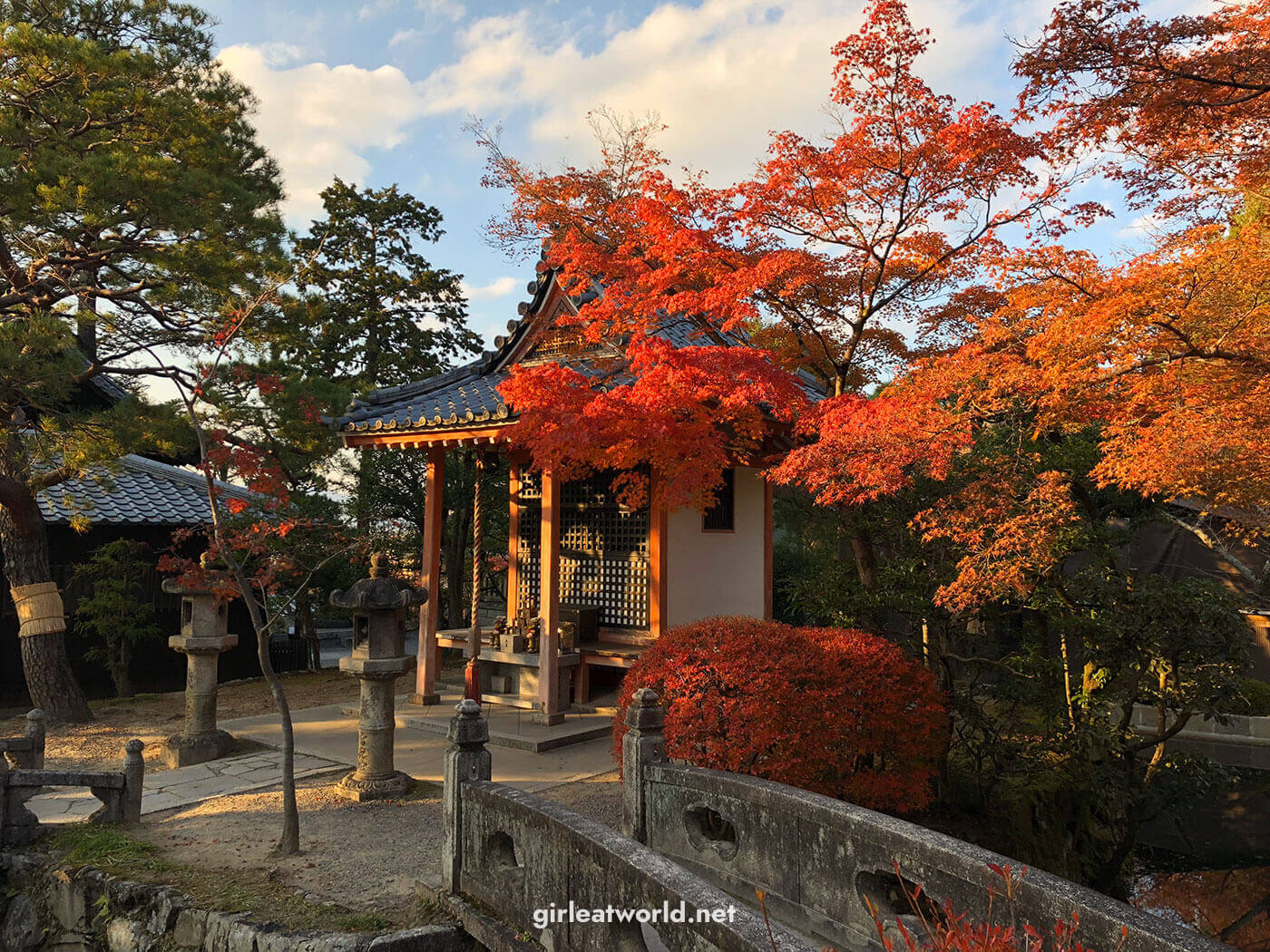 Kiyomizu-dera means "Pure water temple". If you decide to enter the ticketed area, you can see the actual Kiyomizu-dera main hall. Take a moment to marvel at the ancient Japanese architecture, which is built on a cliff and without any nails (common for Japanese temples).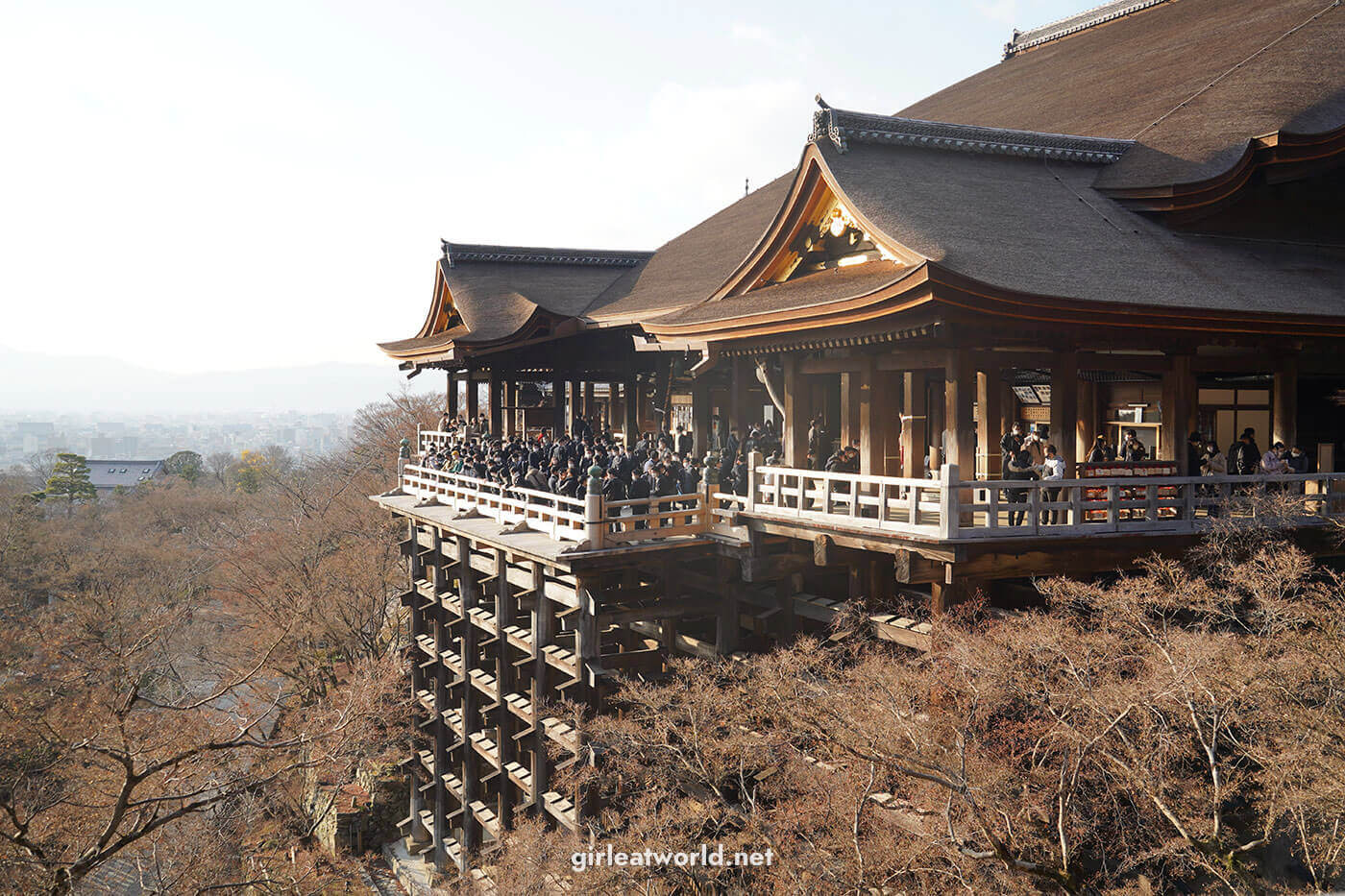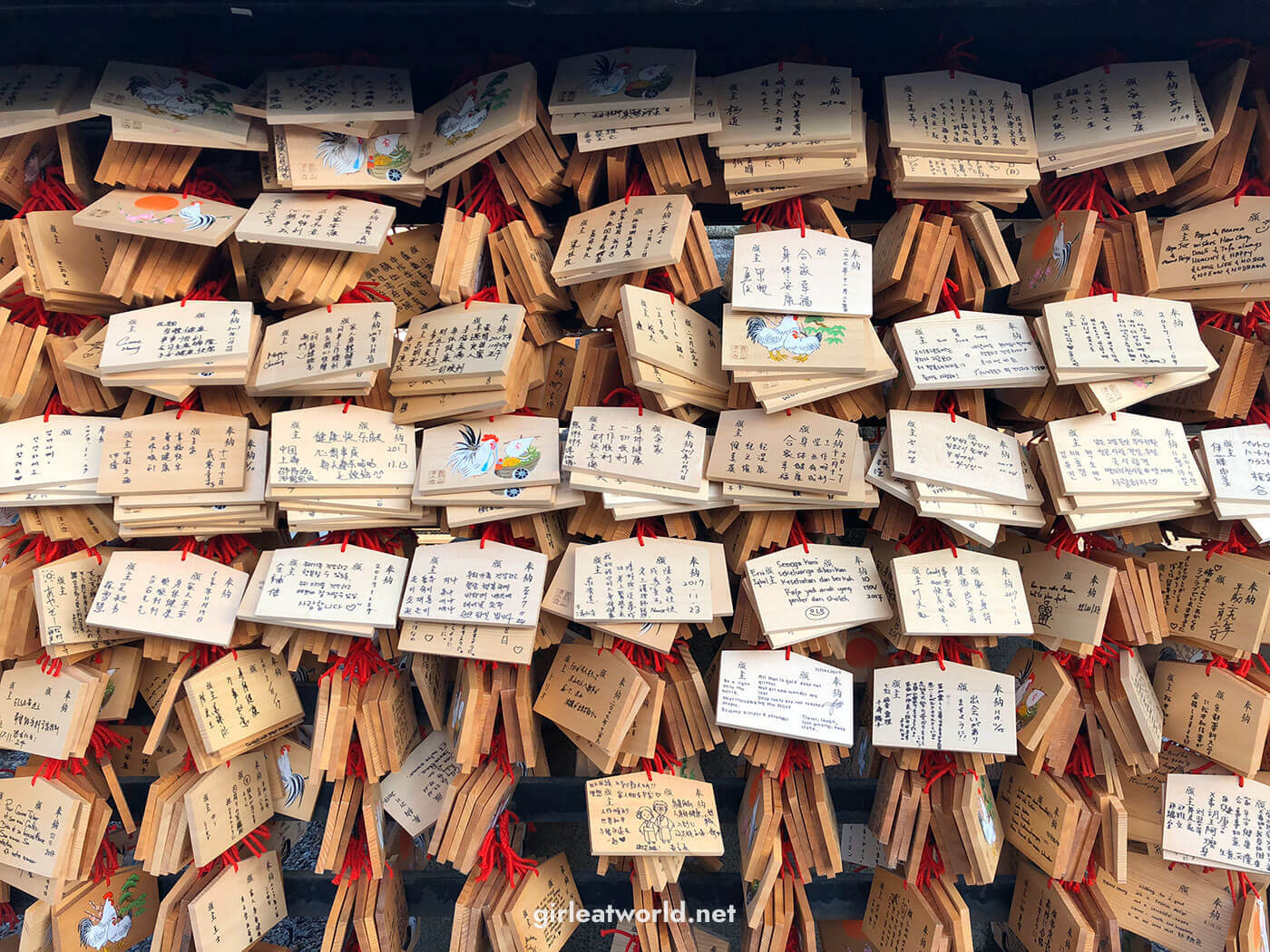 Past the main hall, you'll be taken on a path to walk around the garden which will be so beautiful, especially during Sakura and Momiji time! There is another smaller temple for safe delivery (a common pattern with many other places in Kyoto, I noticed) where you can see the main hall from afar.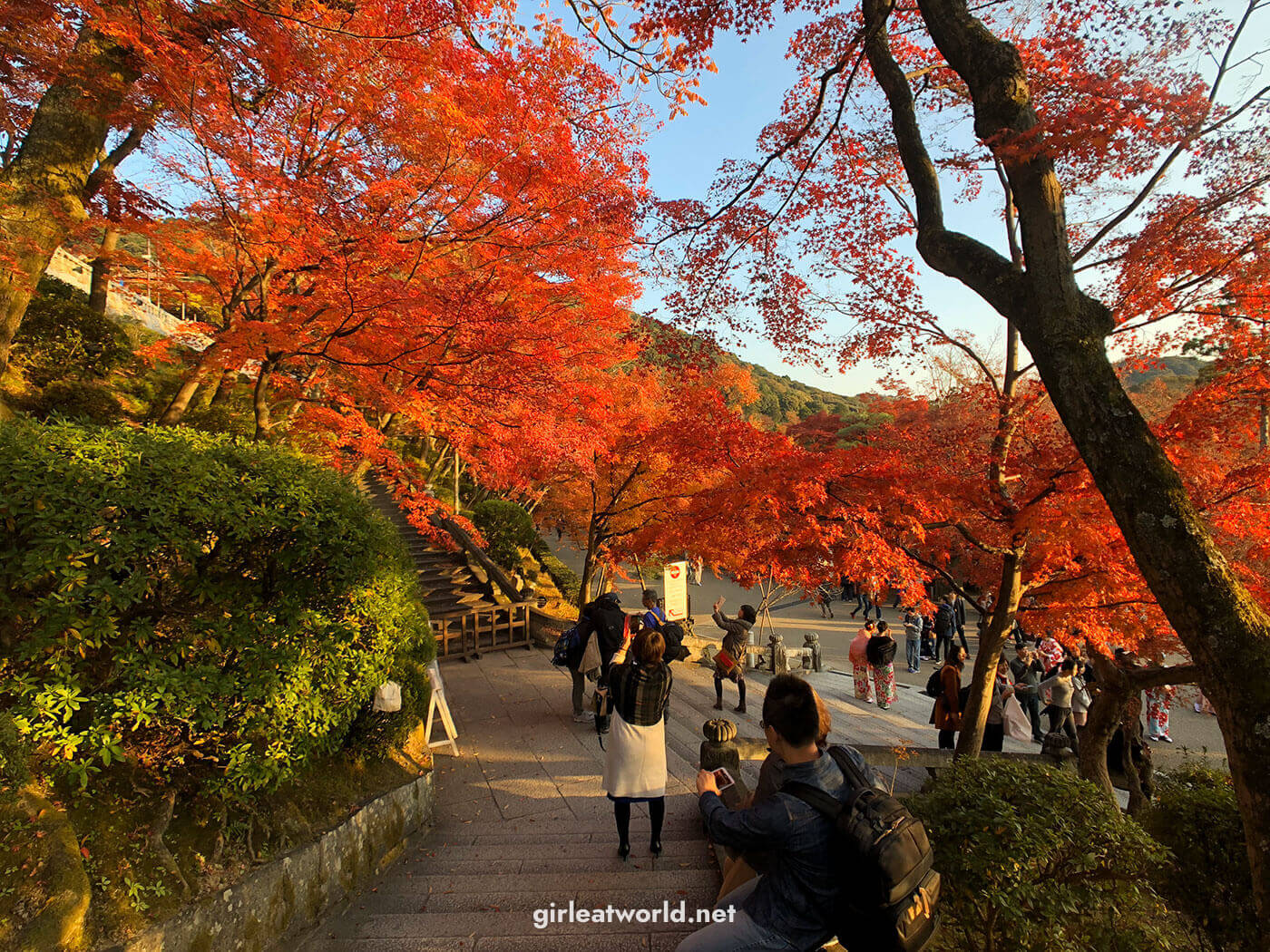 Then, at the base of the temple is Otowa waterfall, where you can take some water for drinking. The water here, as the name Kiyomizu suggests, is considered to have many fortune benefits. Next to it is a small teahouse where you can have snacks and a light lunch.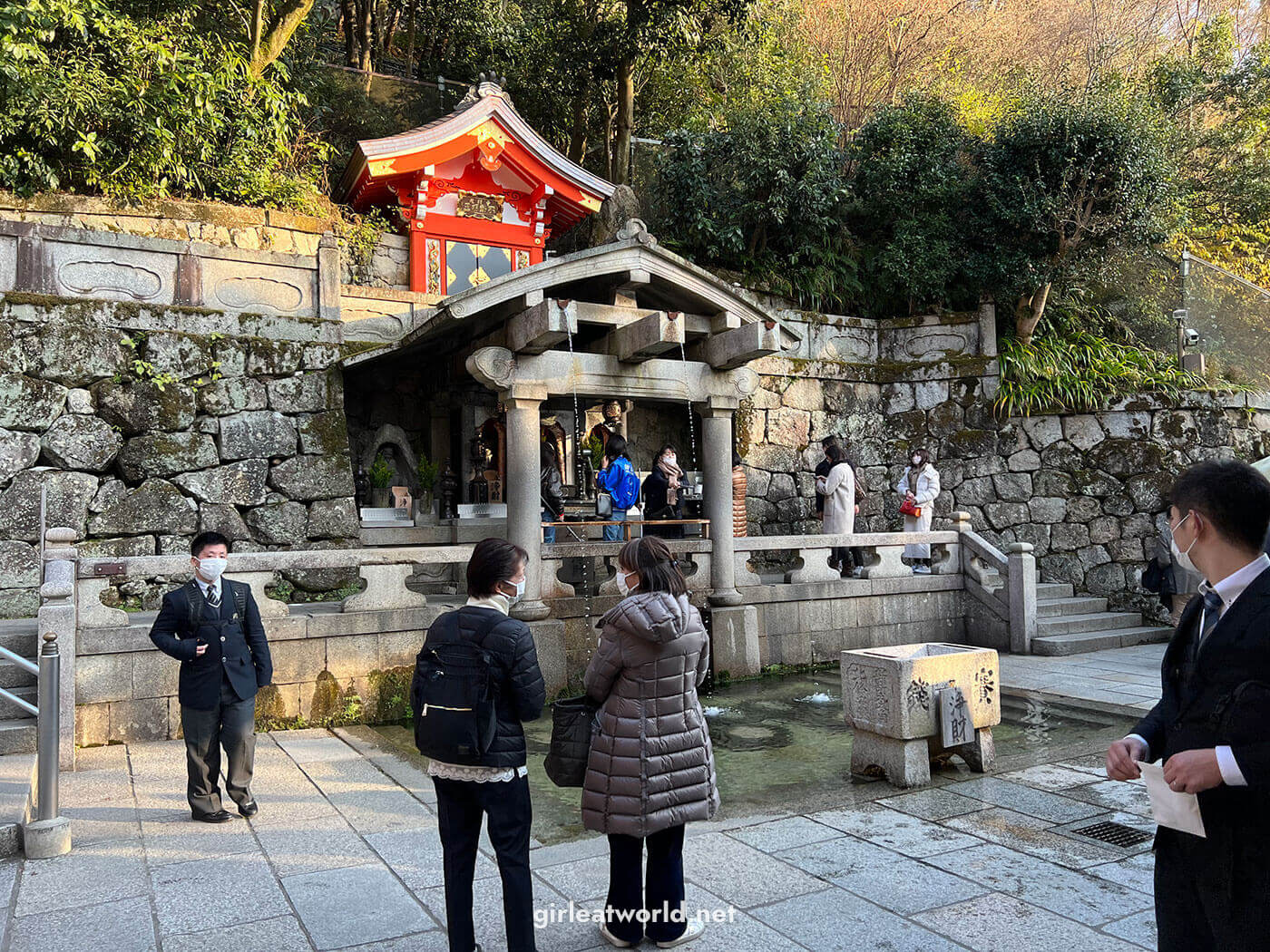 3. Stroll around Kyoto's Higashiyama (東山) and Gion district
Kyoto is charming for its quaint old Japan look. Well, the old Japan area is mostly located in the Higashiyama district.
Higashiyama means "eastern mountain" and that's exactly where the district is located – along the slope of the eastern mountain of Kyoto. Kiyomizu-dera is actually located in Higashiyama district, so you can combine this activity with visiting the temple.
You can expect to see quaint traditional buildings, unique souvenir shops (this is a great place to pick up something to bring back home), small ryokan (Japanese-style inn) and street food vendors. It's a very nice area to stroll around.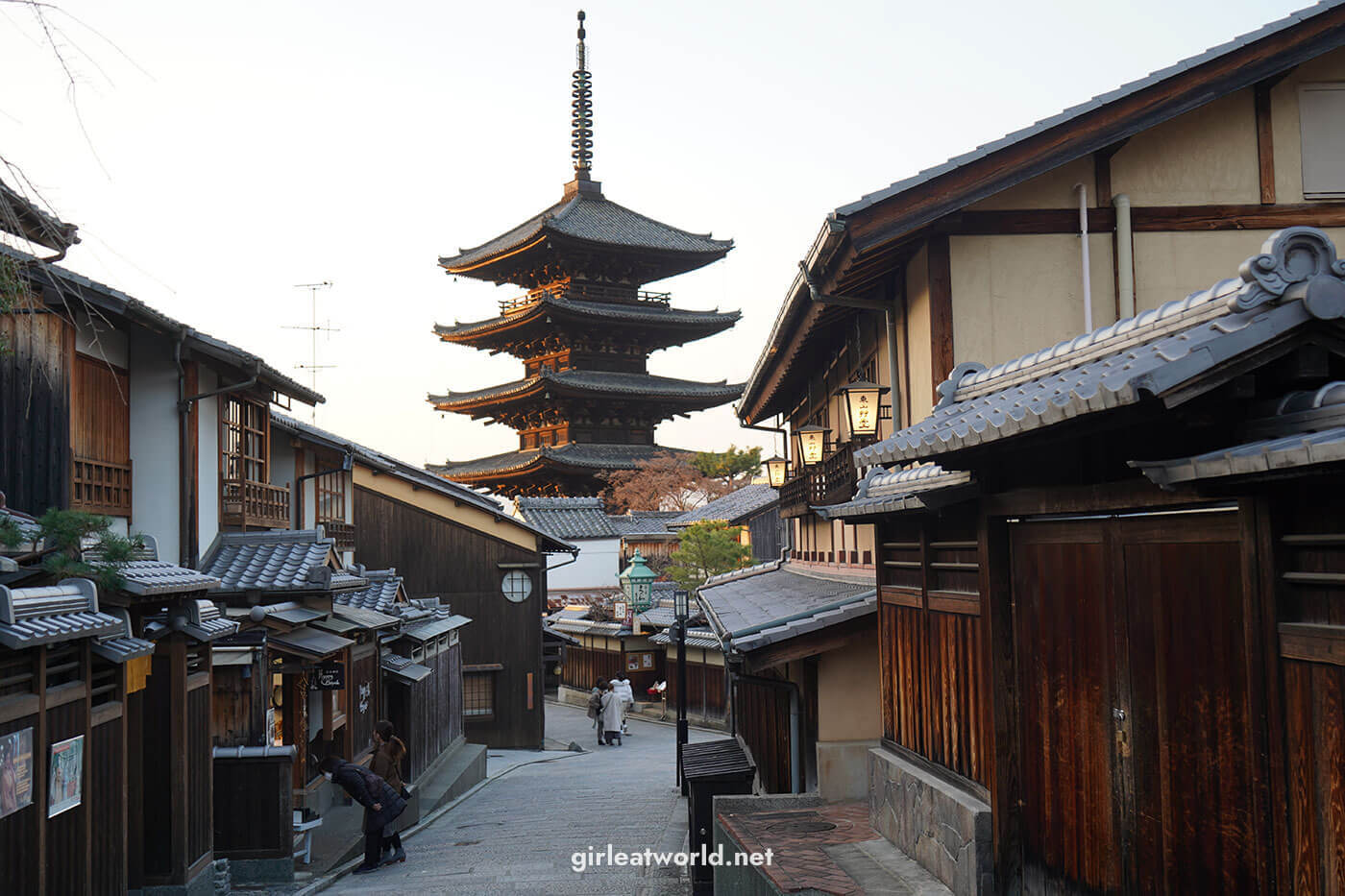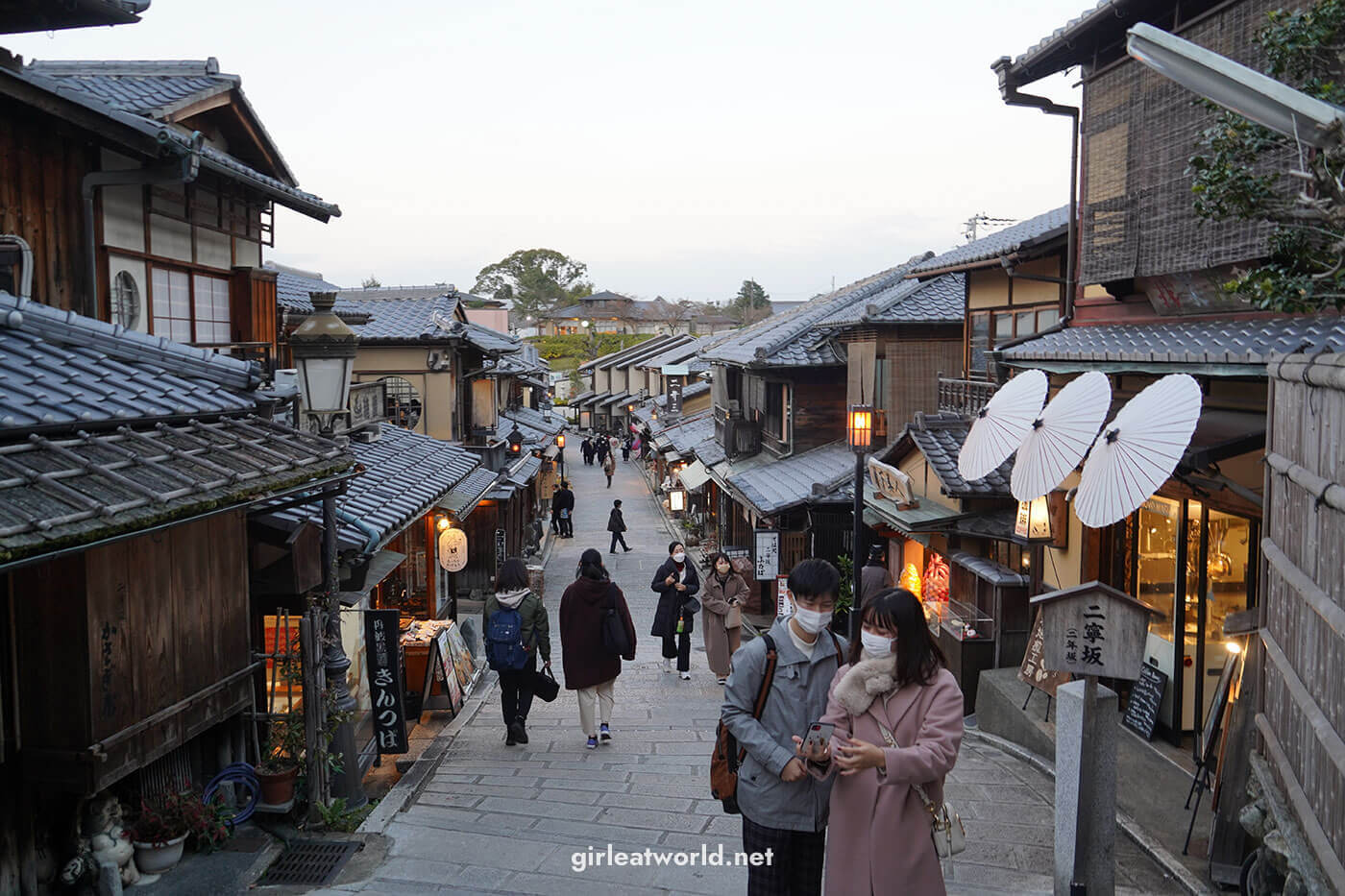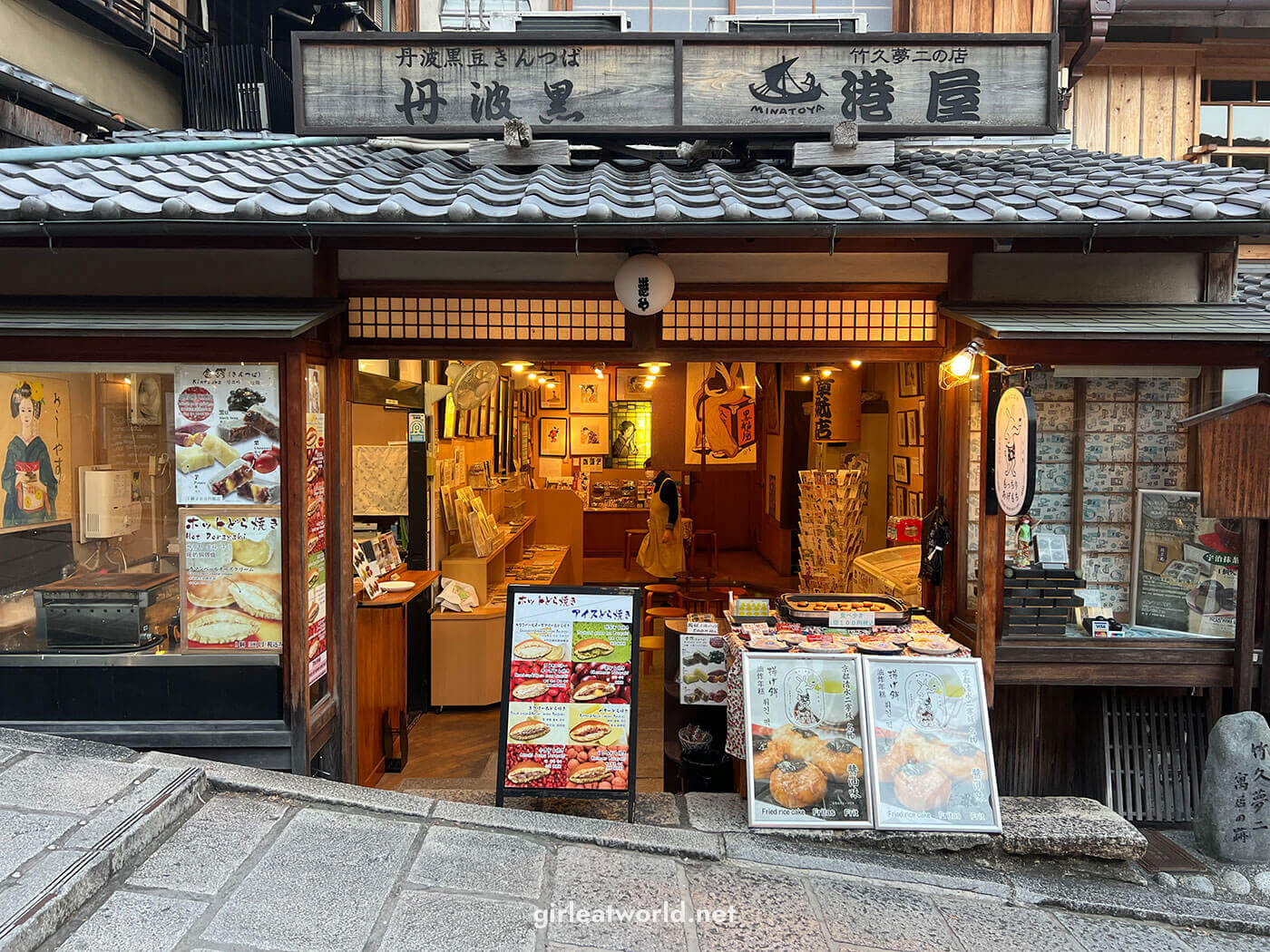 Aside from the obvious Kiyomizu-dera, there are a few places you won't want to miss in this district:
Ninenzaka and Sannenzaka (literally translated two year hill and three year hill) – the slopes near Kiyomizu-dera that are symbolic of Kyoto. You can find souvenir shops and street vendors in this area.
Hidden Starbucks (map) – There is a Starbucks at Ninenzaka, but it's not obvious as it does not have any of the iconic green Starbucks color. The facade of the store has been designed to fit the aesthetic of the rest of the neighborhood. Inside, you'll find a garden on the first floor and traditional tatami seats (straw mats) on the second floor.
Studio Ghibli store (map) – if you are a fan of Ghibli, and who isn't, make sure to stop by here for a chance to bring back some souvenirs home. They have all kinds of things – from cups and utensils to stuffed toys and apparels.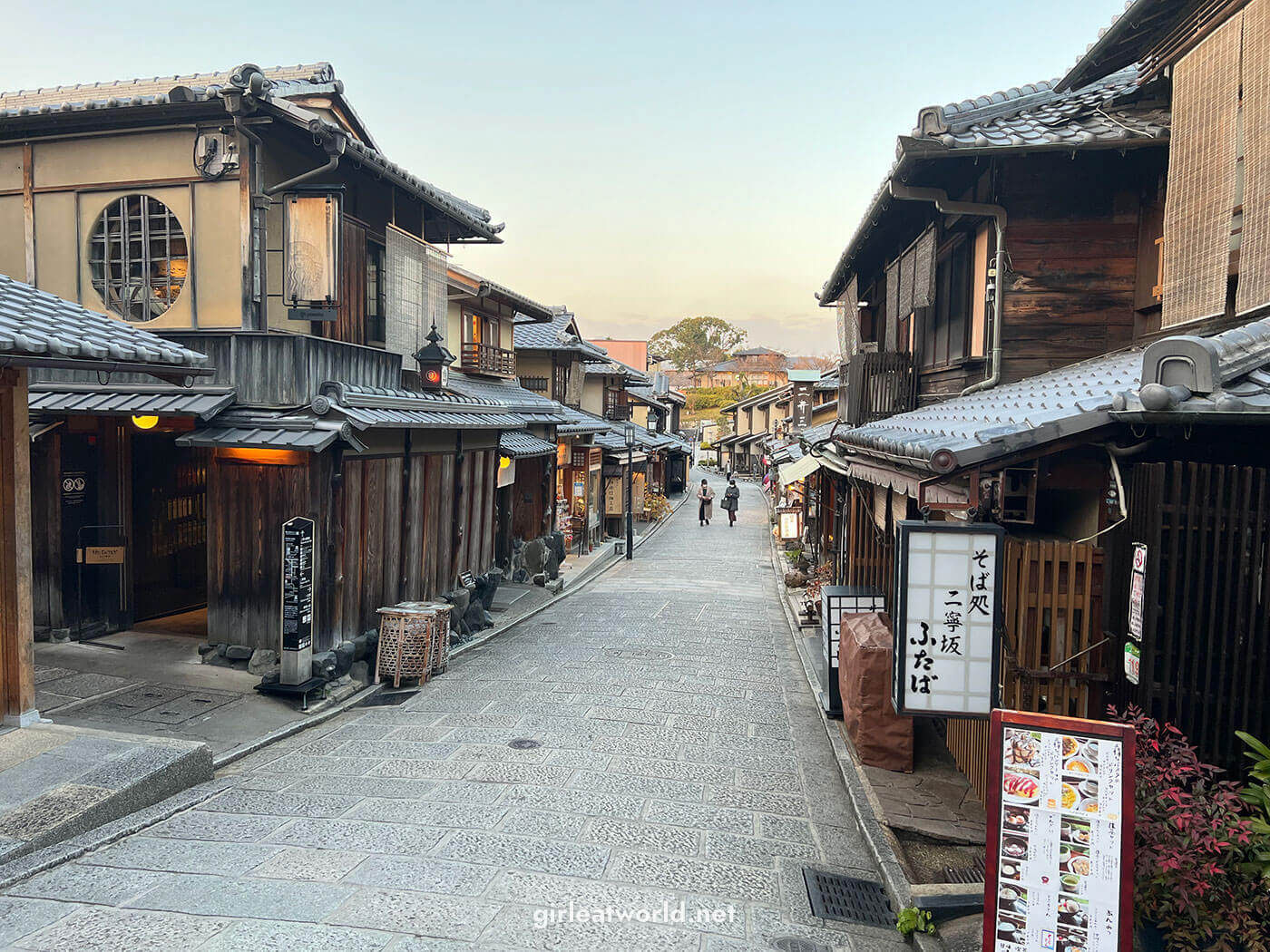 Near Higashiyama is Gion – also known as the Geisha district. Gion is not technically part of higashiyama, but it's very close by. The district is filled with tea houses where a geisha and a maiko might be doing their job as entertainers. There are also some high-end restaurants in this area.
4. Take a walk at the philosopher's path
Tetsugaku no Michi, aka Philosopher's path is a beautiful serene path along the canal that takes you from near the old streets of Kyoto to Ginkaku-ji. The path gained its name from Kitaro Nishida, a famous philosopher from Kyoto, who would take this path as a way to meditate. It is lined with beautiful cherry blossom trees, so you definitely want to be here during Sakura season! However, it is also still a good place to visit even if it's not Sakura season.
You can start the walk from Keiage incline, to Nanzenji, then taking your way up philosopher path before ending up at Ginkaku-ji.
5. See Ginkaku-ji and Kinkaku-ji
Yes, the names are very similar but these are two different temples, located quite a distance apart from each other! Kinkaku-ji is Temple of the Golden Pavilion, while Ginkaku-ji is Temple of the Silver Pavilion.
Kinkaku-ji is a unique-looking temple, with pure gold-leaf coating covering the top two levels the temple. Ginkaku-ji, on the other hand, was meant to be the silver version of Kinkaku-ji as the name might have indicated. However, the temple has remained "unfinished" and to this date no silver foil has been used to coat the exterior of the temple.
6. Visit Arashiyama
Another famous visual from Kyoto is the serene Arashiyama bamboo forest. There are a few entry points to get to the bamboo forest, but I usually start from this point at Google maps, and end at Kameyama Park. The bamboo forest path is not very long (probably will take you 15-30 minutes max to walk) but there are plenty to do and more temples to visit around Arashiyama too!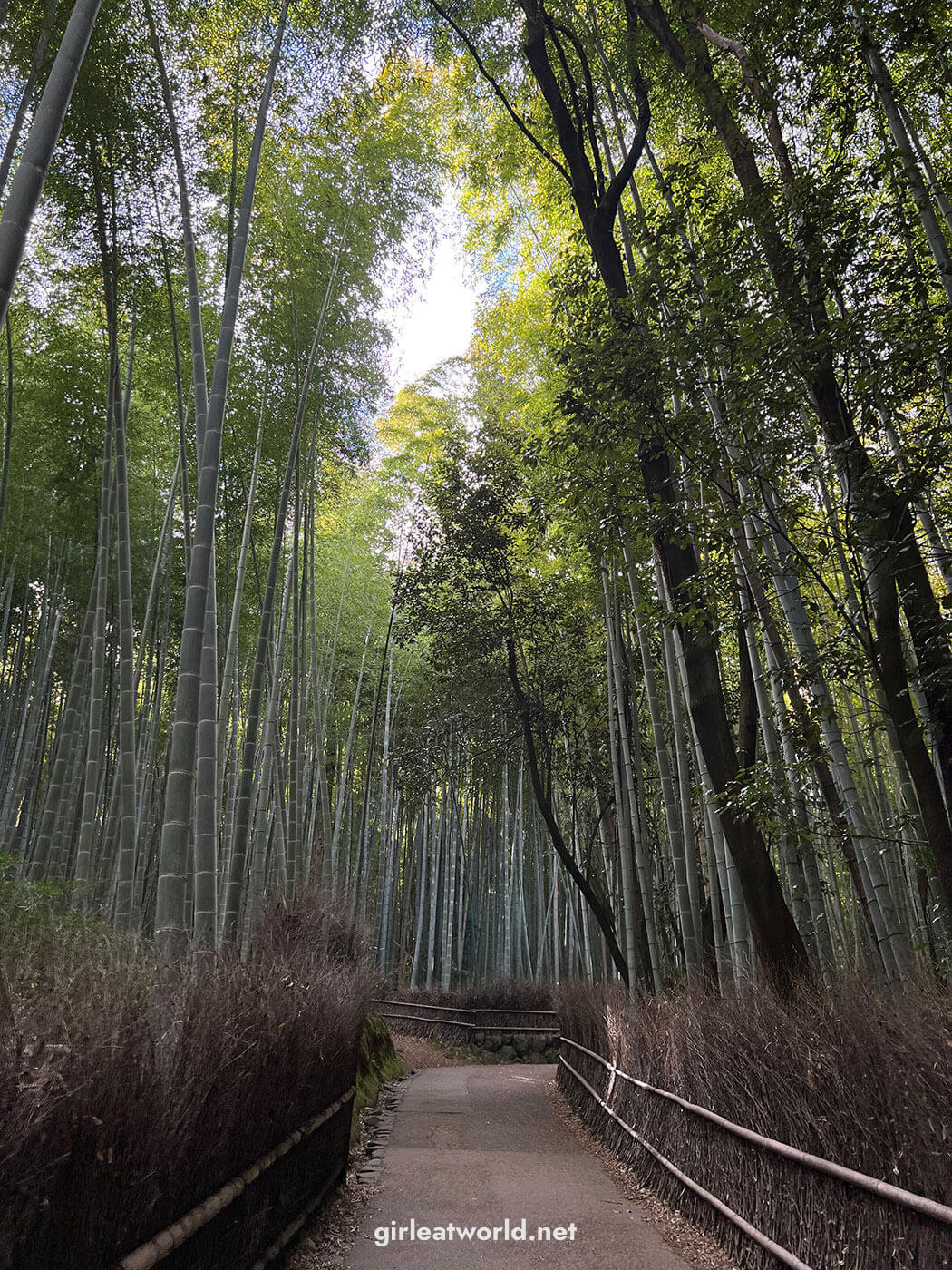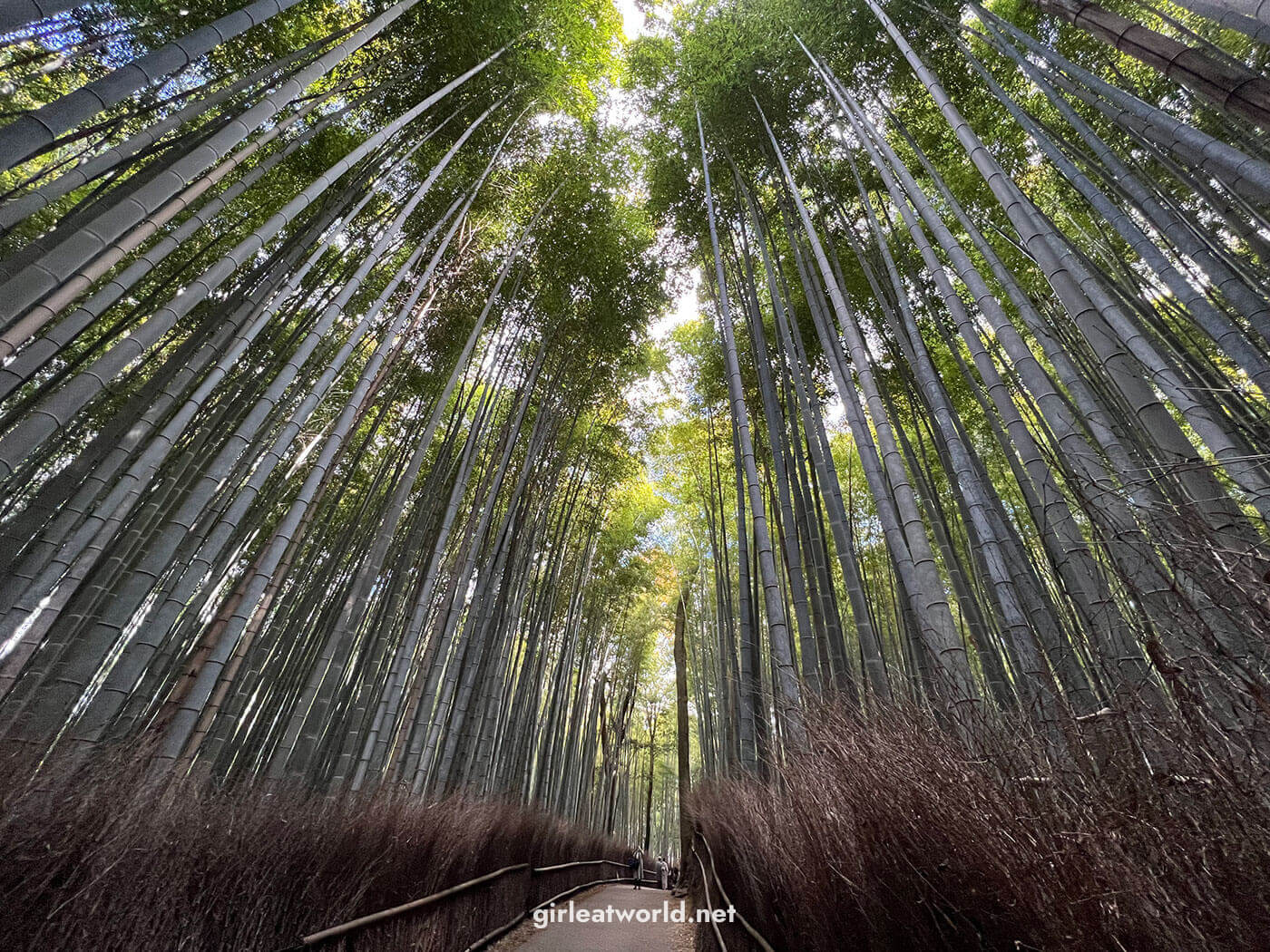 Once you're done with the bamboo forest, take some time to explore the area too! Kameyama Park offers a tranquil walk around, and there is a trail that takes you down to Katsura River.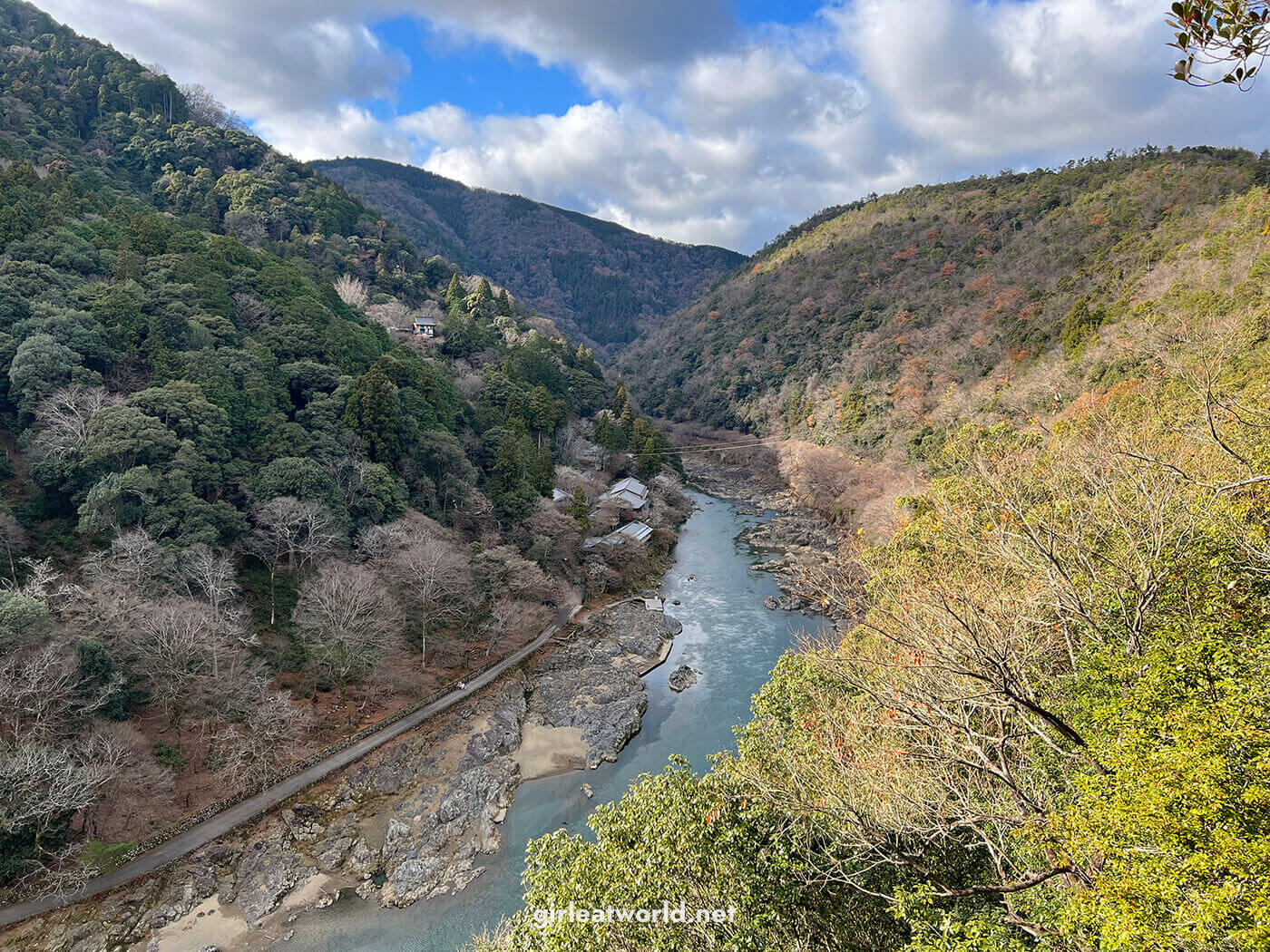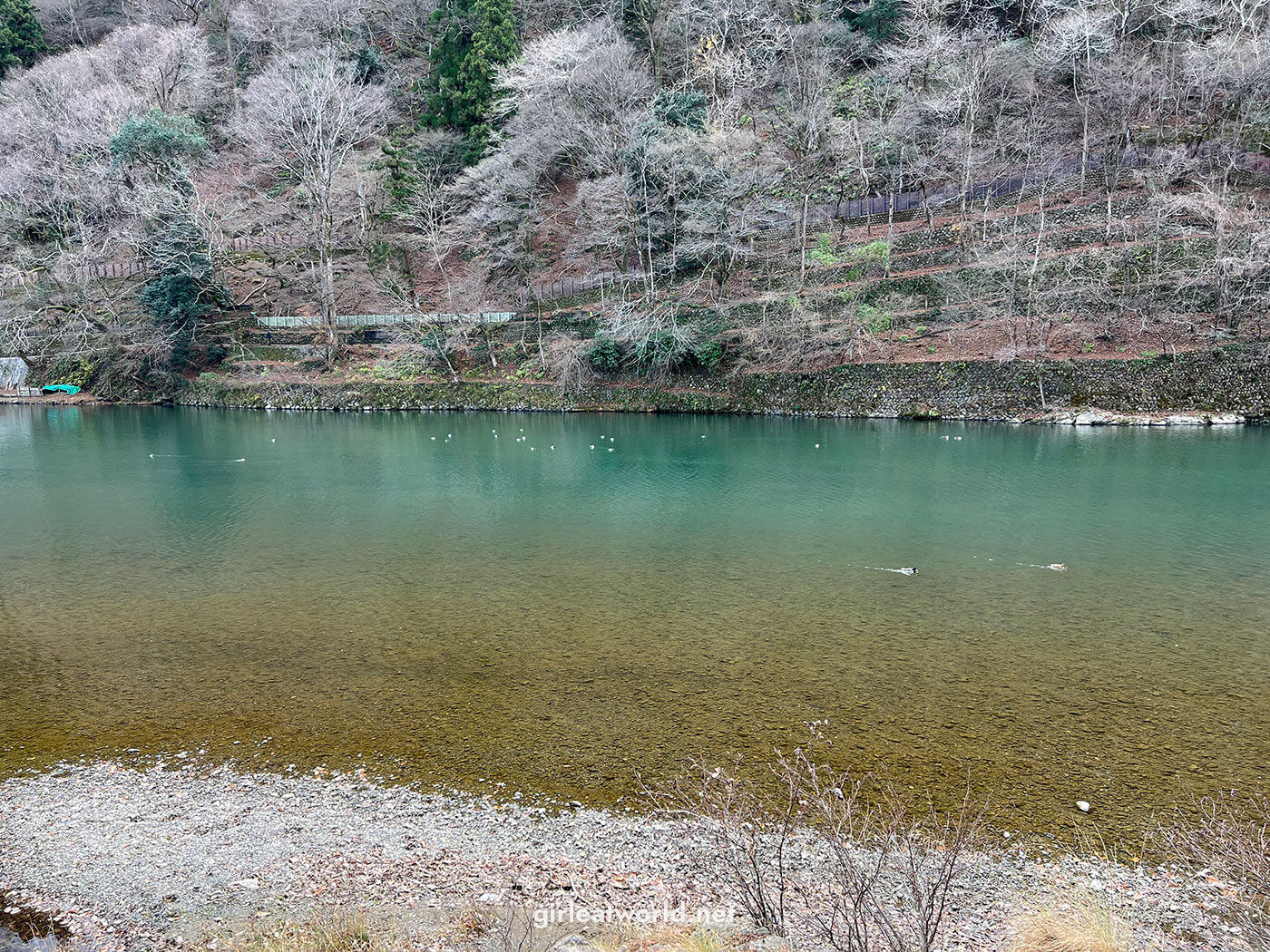 Once you're done exploring, you could walk down the river to a nearby park along Katsura River, called Arashiyama Park. During Sakura time, this park is filled with cherry blossom as well as snacks you can buy. I bought a sakura ice cream here!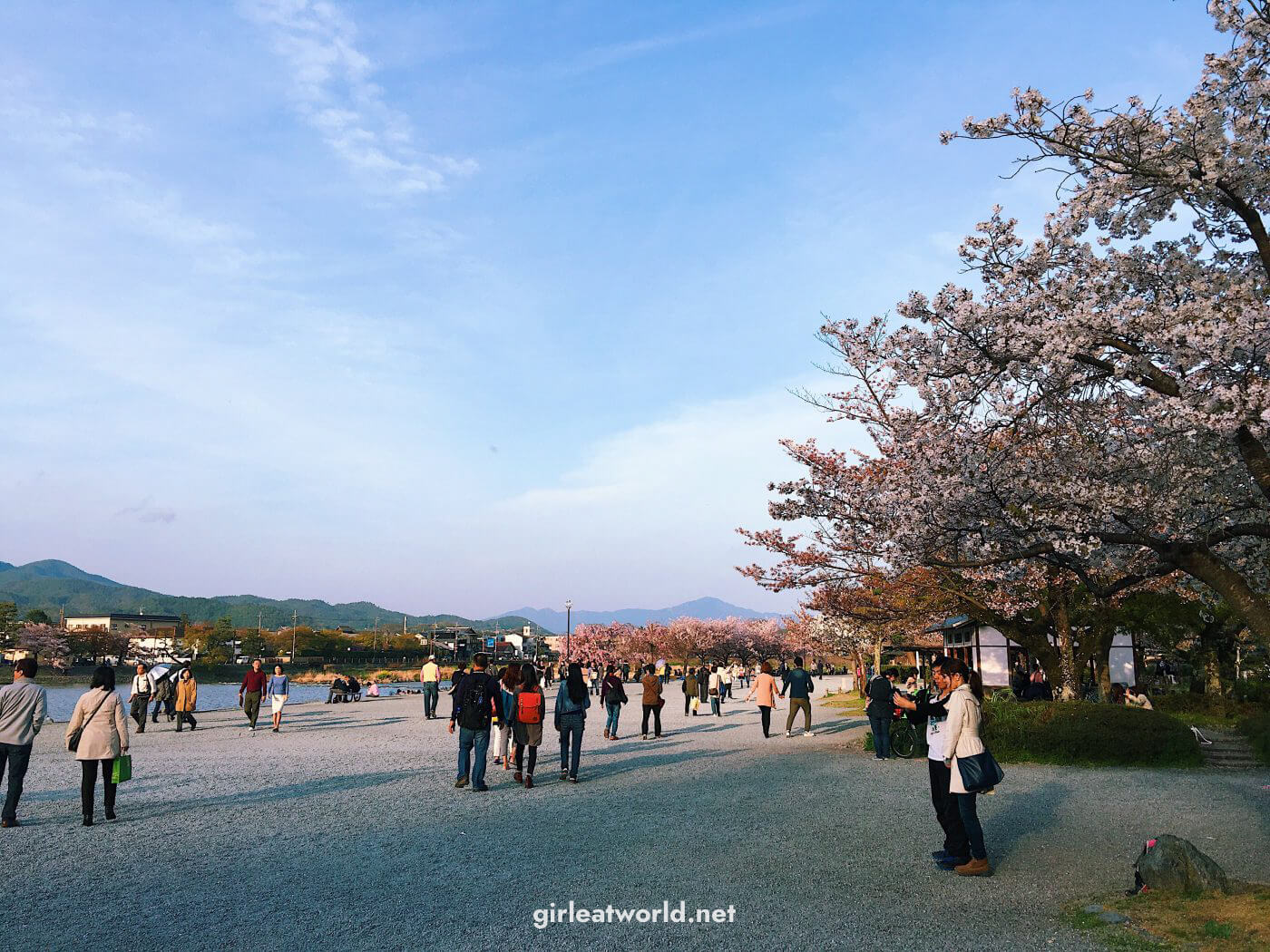 Or you can visit some temples in Arashiyama. Tenryu-ji and Seiryo-ji is the big temples nearby. Each visit would set you back 400 yen per person.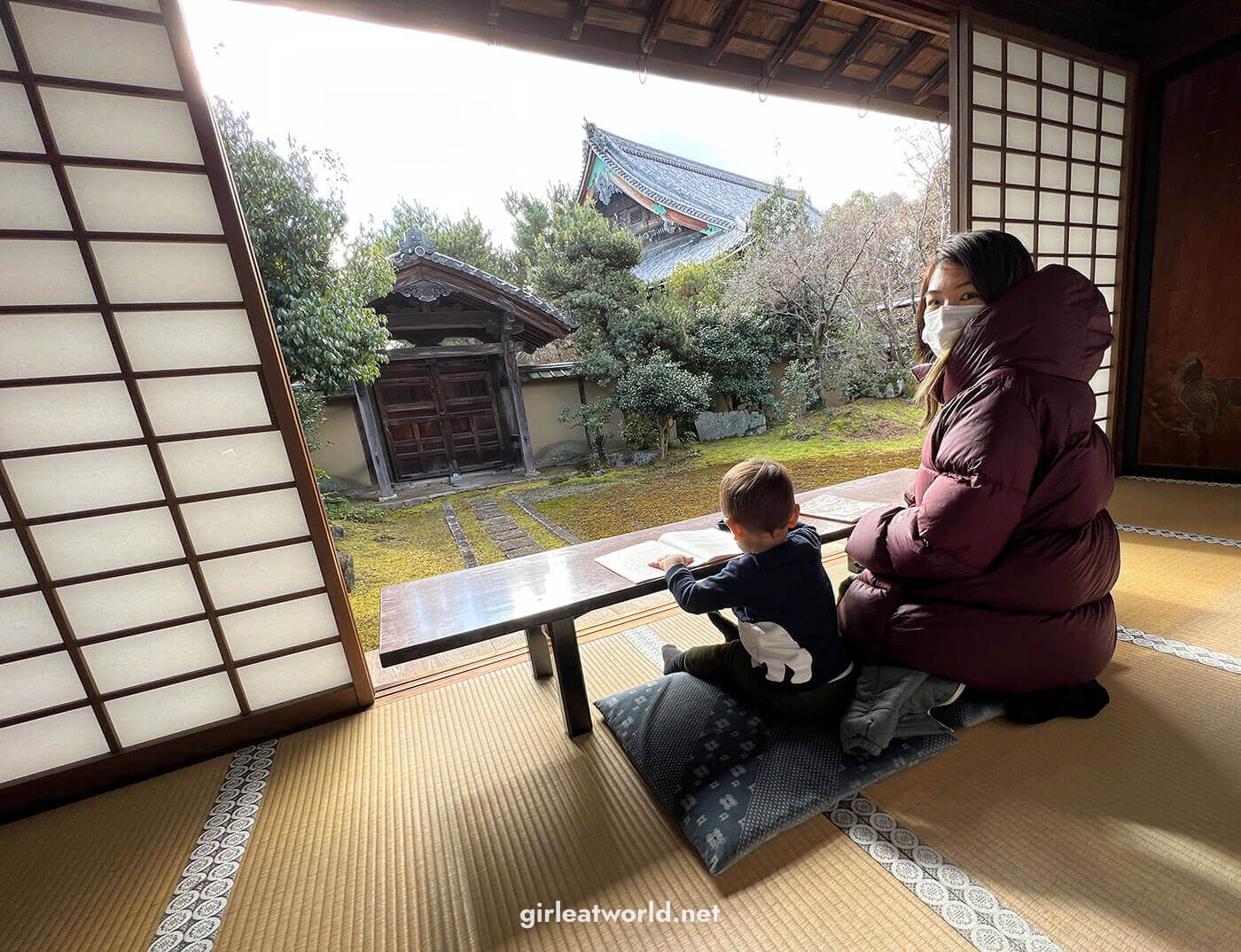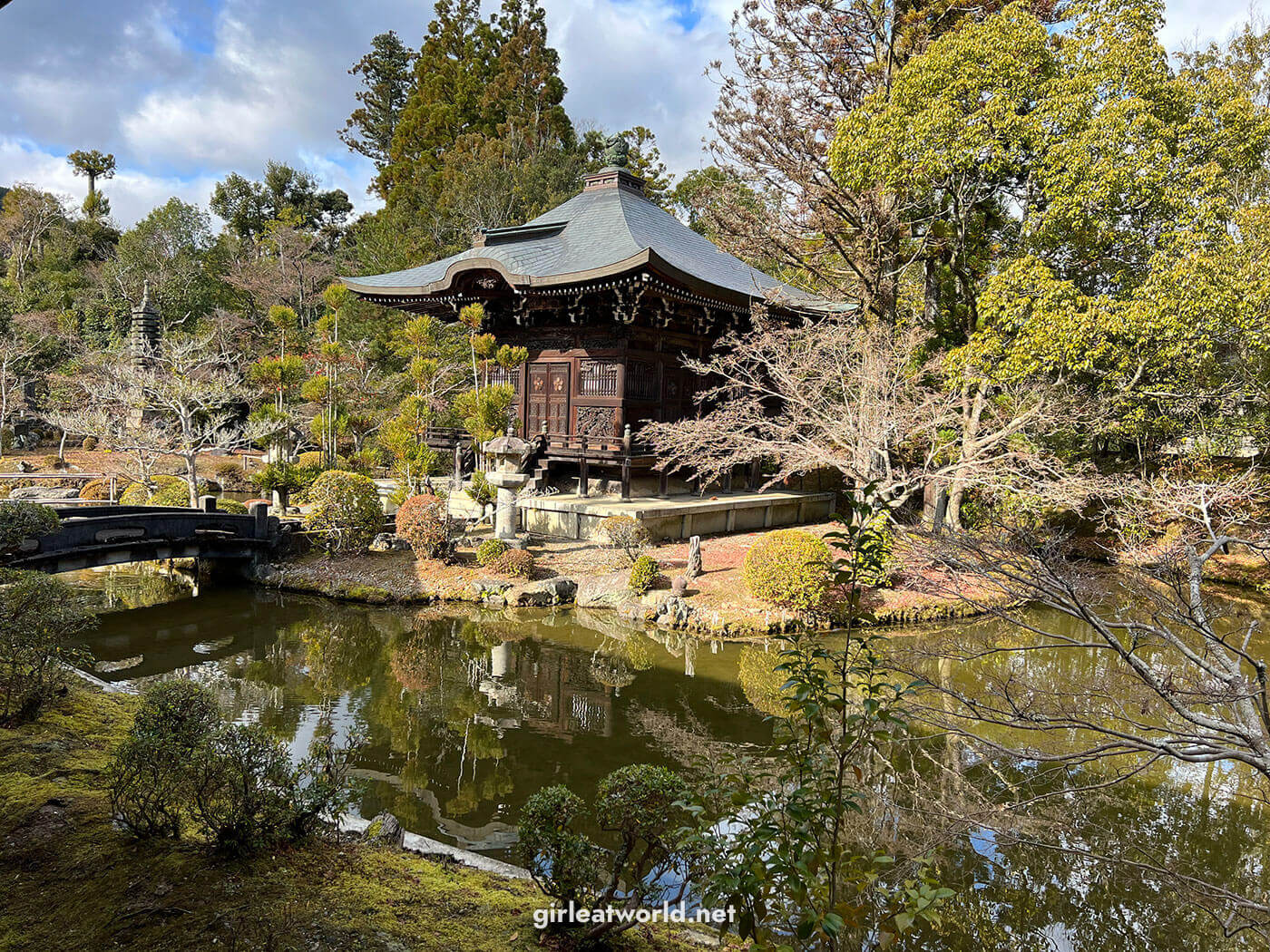 7. Take the Sagano Romantic Train (in Arashiyama)
The Sagano romantic train, aka Sagano Torokko scenic railway, starts from near Arashiyama bamboo forest and takes you to JR Kameoka station. It takes 25 minutes to complete this journey, or 50-60 minutes to do a round trip if you are not interested in exploring Kameoka.
To make things simpler, you can pre-book a ticket for Sagano Romantic Train and pick it up at the Kyoto station.
8. Dress up in traditional Japanese clothing
If you want to fully immerse yourself in the Japanese atmosphere, you might want to rent a Kimono (or Yukata if it's summer) while you're walking around Kyoto. I saw plenty of tourists who did this and it definitely makes for a good photo. Here is where you can rent a kimono / yukata in Kyoto near Kiyomizu-dera.
Or, if you want to take it a step further, you can take a peek into the life of a maiko and dress up as a maiko (complete with the makeup). It also comes with a photoshoot so you can remember the experience.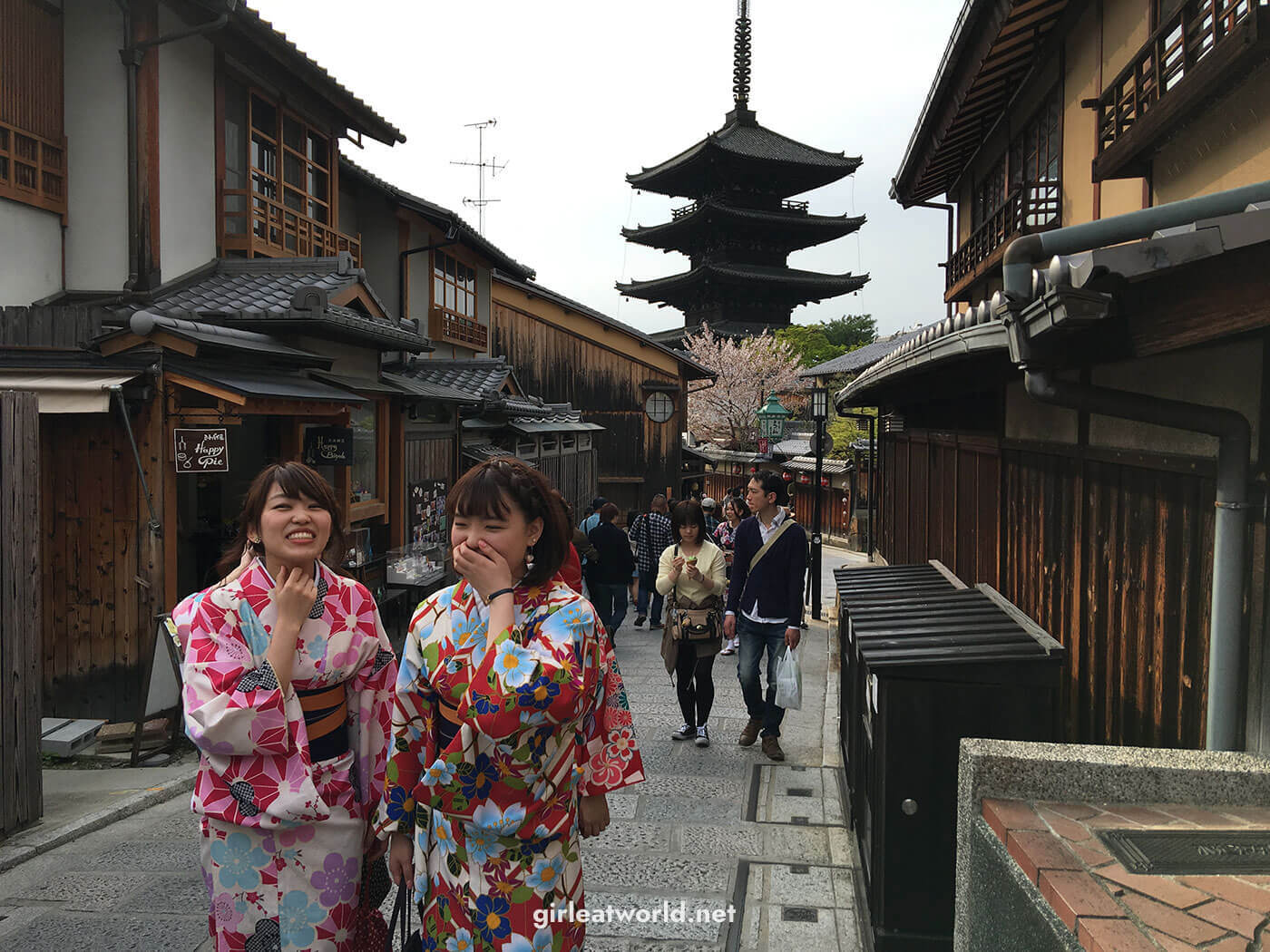 And, if you're wondering if it's considered offensive to wear Japanese traditional clothing – the short answer is no. Japanese culture does not consider it cultural appropriation when a foreigner wears traditional Japanese clothing, especially when you're wearing it properly!
9. Iwatama Monkey Park in Arashiyama
Iwatama Monkey Park is an open-air park where you can see and feed Japanese Macaque. The monkeys here are not confined in a cage, because they are wild and are free to come and go as they please. Personally, I have never been because I am scared of wild monkeys, and they could be quite territorial.
10. See Kyoto at night / after dark
Temples and shrines in Kyoto close as early as 5 pm. But if you're lucky, during certain times of the year, you can come back at night to certain temples to see them illuminated with lanterns and lights. These events are:
Some events are one-off and don't repeat every year, so be sure to pay attention to posters when you are visiting during the daytime. They might tell you if anything is on for nighttime.
What and Where to Eat in Kyoto
1. Yudofu
The name of this dish tells you a lot about the dish itself. "Yu" means hot water, and "Dofu" means… well, tofu. Quite literally, the translation for this dish is boiling tofu. If you don't like tofu, you probably won't enjoy it but I am a tofu lover and I thought it was great! Yudofu is usually served as kaiseki, a Japanese multi-course meal, and it does come at a price.
Where you can have Yudofu in Kyoto:
Shoraian – By Katsura River near Arashiyama Bamboo Forest. It is a little difficult to find and might require a reservation as the place is small. We were turned away when we tried to walk in.
Yudofu Sagano – We went to Yudofu Sagano near Arashiyama and had a 10-course kaiseki for 4,000 yen. It was an expensive lunch, but worth it because the food was so good and even being in the restaurant itself was really nice experience. They have a zen garden in the middle!
Okutan – a 350 years old restaurant near Nanzen-ji temple.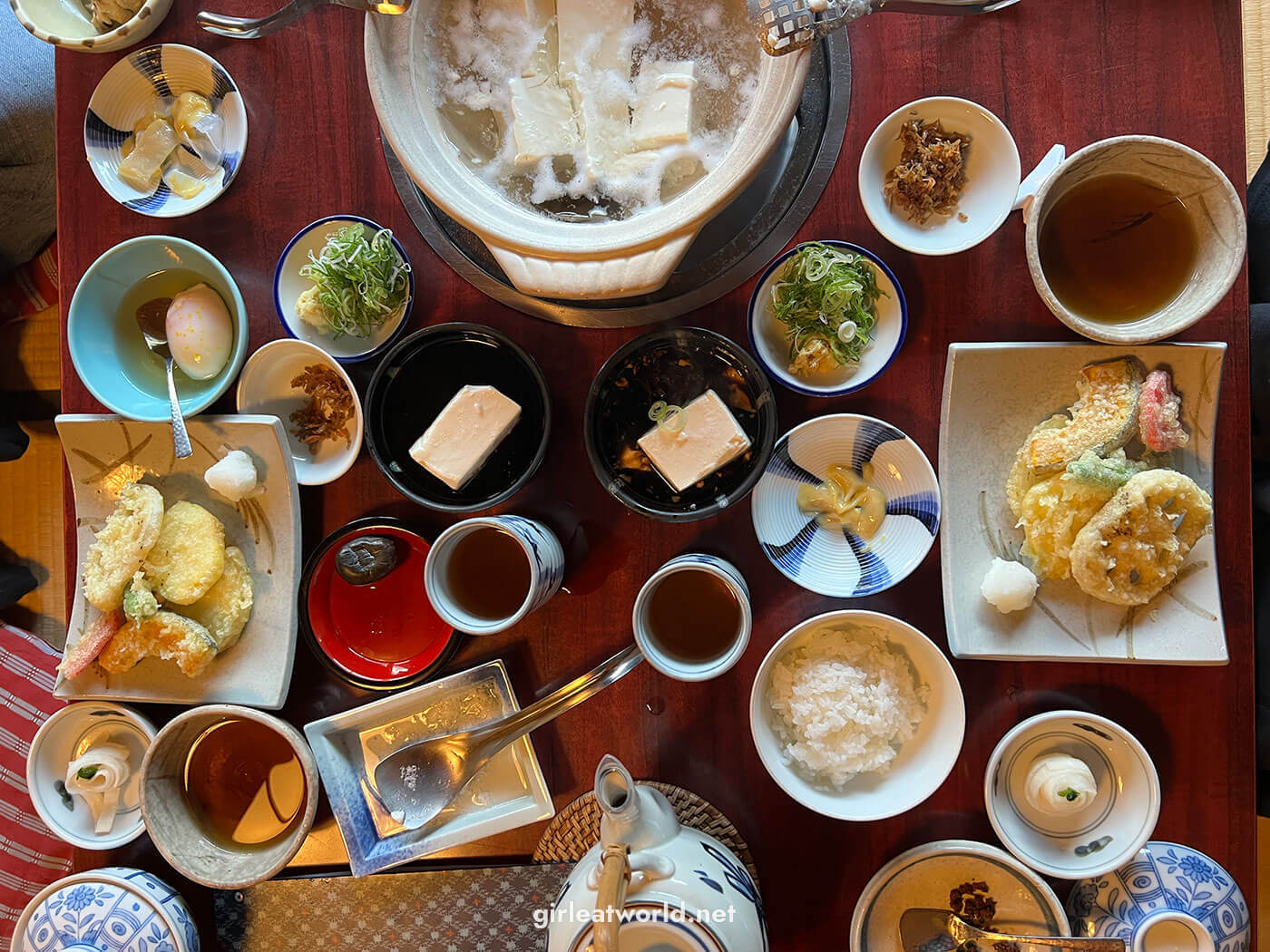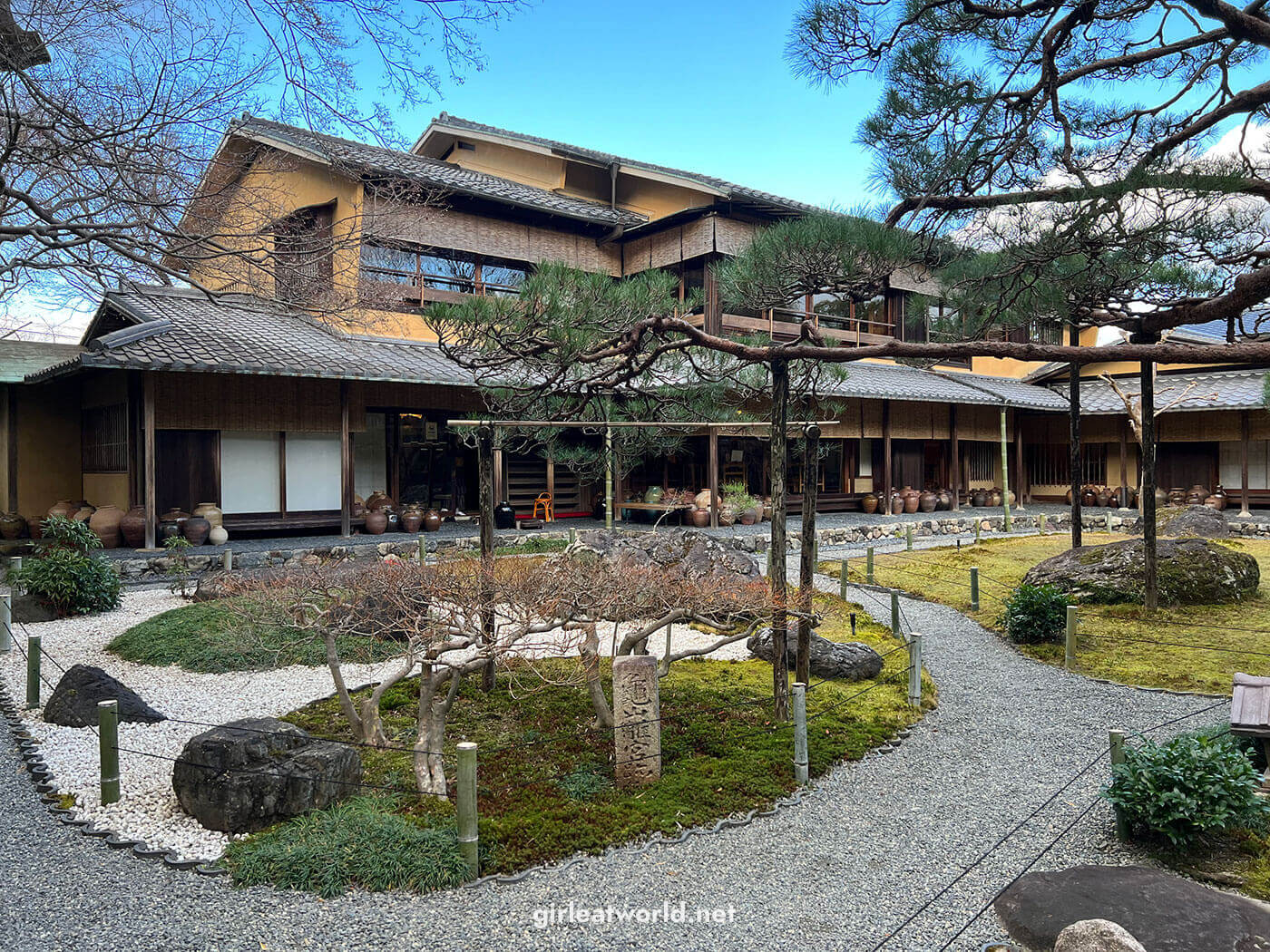 2. Uji Matcha
If you enjoy matcha (fine green tea powder), you'll want to try matcha from Uji, a city in Kyoto. Uji is blessed with soil that is favorable for growing tea leaves. Matcha from Uji is considered one of the best in Japan, as it is rich in taste and very fragrant.
That's why you'll see matcha nearly everywhere in Kyoto – in the form of a tea drink, mochi, green tea ice cream topped with matcha powder, or even chasoba, noodles that are green in color from green tea ingredients.
Where you can try Uji Matcha in Kyoto:
To try Uji Matcha without visiting Uji itself, look out for these names while you are in Kyoto:
Tsujiri – One of the most famous tea houses originated from Uji in Kyoto. They also have a small ice cream shop at Kyoto station, and their green tea soft serve is one of the best I've had.
Itoh-kyuemon – another famous tea house from Uji. They also have a shop close to Kyoto station, selling dessert and their tea leaves.
3. Shojin Ryori
Shojin Ryori is a traditional Buddhist cooking, usually served as a multi-course meal. There is no animal product used, making it suitable for vegans, vegetarians, and those who need a halal option.
Shojin Ryori is made using the five basic concepts: five flavors (sweet, sour, spicy, bitter, and savory) five cooking styles (steamed, boiled, roasted, stewed, and raw), and five colors (white, black, red, green and yellow).
Shojin Ryori does come at a price – and it could be over 10,000 yen per person!
Where you can have Shojin Ryory in Kyoto:
Here are places where you can try Shojin Ryori:
Shigetsu at Tenryu-ji (map) – near Arashiyama Bamboo forest
Ajiro (map) – Michelin-starred vegetarian restaurant
Hyotei (map) – A 400-year-old restaurant that is also a 3-star Michelin, located conveniently near the Higashiyama district
Other notable places to eat in Kyoto
Kinkaku soft ice cream (map – near Kinkaku-ji) – This place serves gold-leaf softserves. It might be gimmicky, as it is obviously playing on the fact that Kinkaku-ji is covered in gold-leaf coating, but it does look special doesn't it? Each ice cream will set you back 950 yen.
Nishiki Market (map) – Amazing food market that has been around for 400 years. It spans over 400m long and contains 100 stalls. You can find basically every Japanese food here. I've had sushi, sakura mochi, ichigo daifuku, just to name a few.
Kichi Kichi Omurice (map – near Nishiki Market) – Have you seen the viral video of a guy serving the perfect Omurice a few years back? that restaurant is Kichi Kichi, and it is in Kyoto! I would highly recommend making a reservation if you intend to go, as the restaurant does not do walk-ins due to its popularity.
Gion Yata (map)- Great restaurant for traditional kaiseki (multi-course) meals.
Ogawa Soba (map – near Kinkaku-ji) – Great soba near Kinkaku-ji. It's a little out of the way from most other places you'd want to see in Kyoto, but it might be worth it if you're already in the area for Kinkaku-ji.
Kanoko (map – near Fushimi Inari Taisha) – A simple restaurant right off the exit of Fushimi Inari Taisha. It looked unassuming from the outside, but they have a zen garden in the restaurant. They serve the usual suspect of Japanese cuisine fare like soba, tempura and set meals. Such a nice atmosphere and great food!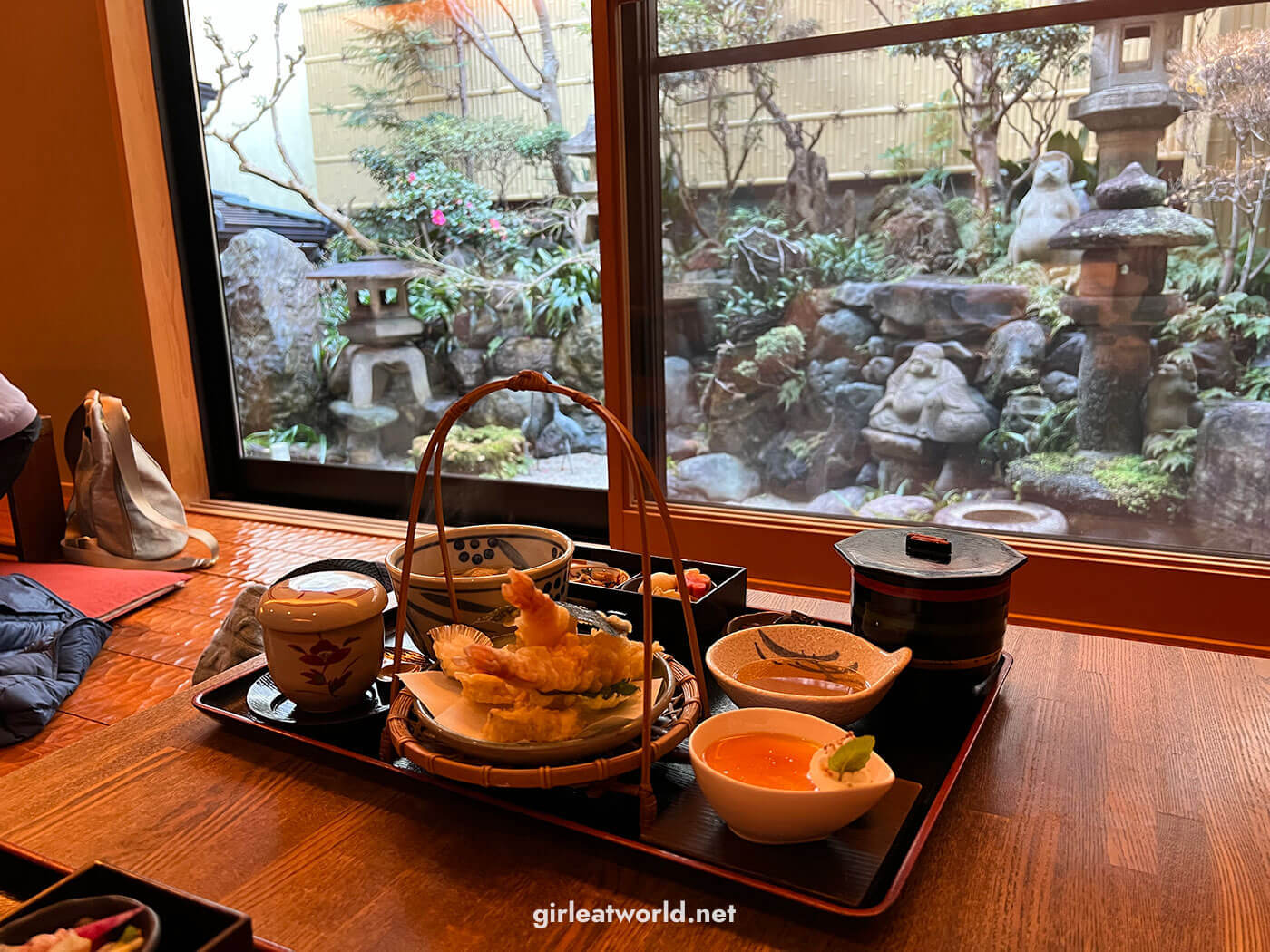 Bread & Espresso & Arashiyama (map) – Unique coffee shop near Arashiyama bamboo forest. It's pretty popular so you might have to wait for a table.
Okay, folks, that's all I have on Kyoto. If you end up making it to Kyoto, please comment below and let me know how your experiences are. And if my guide has helped you, please let me know too! I love reading and responding to your comments.
Until next time 🥰
Japan is one of my most-written topics in this blog and I go to Japan quite often. If you're looking for more posts about Japan, please click here!