Reading "Into Thin Air" by Jon Krakauer piqued my curiosity about mountain climbing. A few years later, though it is in no way comparable to climbing Everest in Krakauer's book, I finally went on my first-ever mountain climb!
We trekked to the Crater Rim of Mount Rinjani in Lombok, Indonesia as part of a 2D1N trip. Below you will find a detailed log of my trip – what to expect, how the trek was, and what you need to pack and prepare for the trip.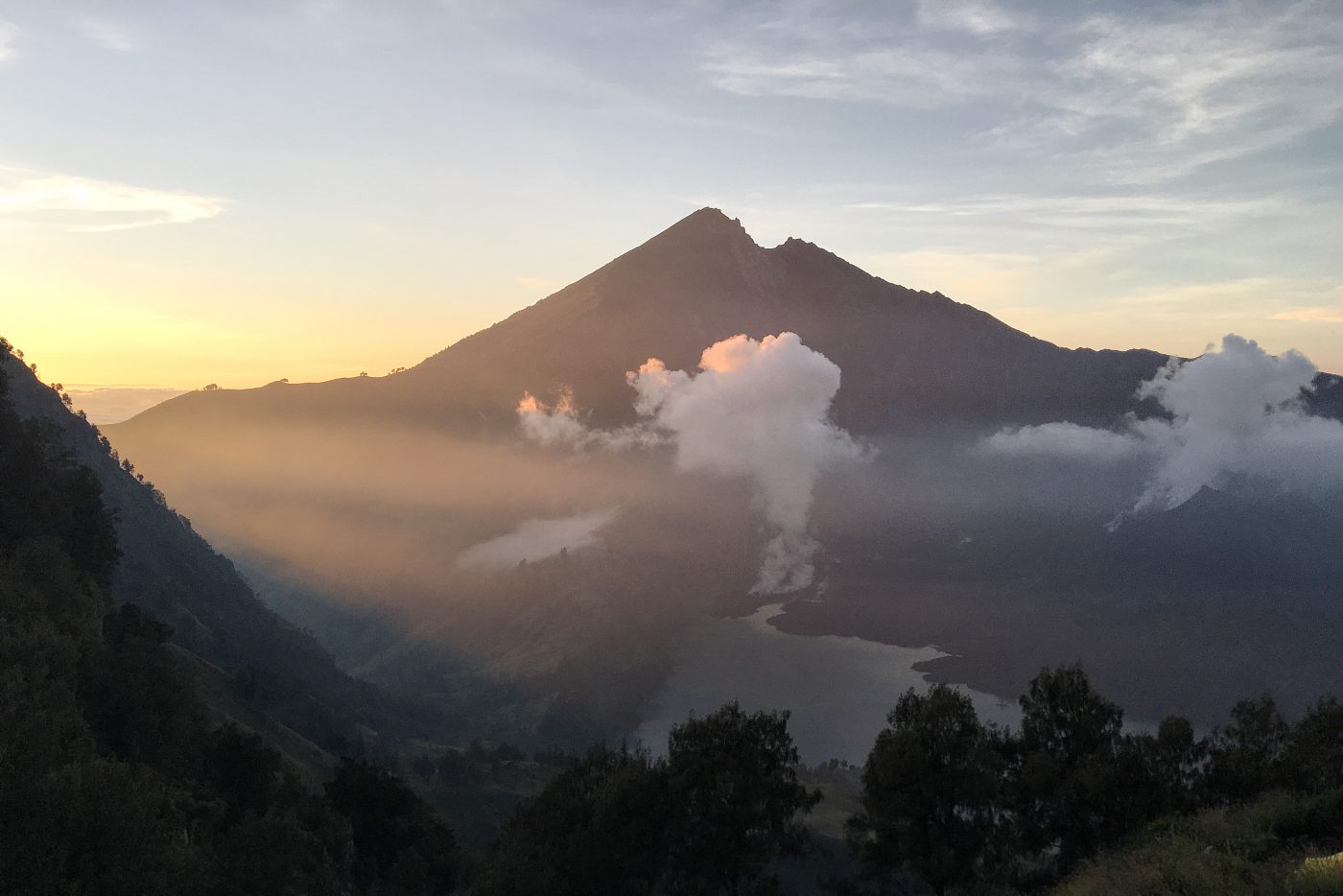 Getting to Mount Rinjani
Mount Rinjani is an active volcano located on a small island in Indonesia called Lombok. The easiest way to reach the mountain is to fly directly to Lombok International Airport (Airport Code: LOP) and then taking a long drive to the foot of Mount Rinjani. This drive takes about 2.5 – 3 hours, going through Mataram and circling half the island before finally getting to Rinjani. It features long windy roads on cliffs with tons of wild monkeys on the side of the road.
If you can't fly directly to Lombok, the best way is to transit through Jakarta or fly into Bali and take a boat or short flight out to Lombok. However, this would take more travel time and you might have to stay extra overnight in Bali or Jakarta.
When is the best time to trek Mount Rinjani?
Mount Rinjani Hiking trails are closed from 1 January to 31 March every year due to monsoon season, which tends to bring heavy rain and renders the trails dangerous. I did my trek at the end of April when the weather was great! There was no rain and the sun was not too hot either.
Can I climb Mount Rinjani without a guide?
Officially, no. You aren't supposed to climb Mount Rinjani without a certified guide. I know some people would attempt to circumvent this, but I personally don't recommend it. It's one of the few ways locals are making a living, especially after a difficult few years they've been facing – in 2018, Lombok was hit by a large earthquake which damaged the area greatly and dwindled tourism down to a fraction of what it used to be. Then, obviously in 2020 the pandemic hit them hard too.
Deciding on the Trek Route: Should I start from Senaru or Sembalun?
How do you choose between Senaru and Sembalun? This was the first question I had in mind while planning the trip, and I couldn't seem to find any good answer for.
It's actually very simple – if you only have three days to spare, you can only go for a 2D1N trip and you have to choose between Sembalun and Senaru since they are located on different sides of the mountain. So here are the pro and cons:
If you want to summit in the 2D1N trip, then you should be going via Sembalun, which features an easier climb (mostly flat) through the grasslands to the base of the summit. The downside is that you would be walking under the sun the entire time. Your trek would cover Sembalun > Summit > back down to Sembalun.
If you are absolutely sure you WILL NOT attempt to summit in 2D1N, you should go through Senaru, and your trek would then cover Senaru > Crater Rim > back down to Senaru. The hike will take you through a steeper, non-stop climb through the rainforest, and a fairly difficult rocky climb in the last leg. But it's a more beautiful and shaded route than Sembalun. You cannot reach the summit in two days if you go through Senaru though.
However, if you have time to do a 3D2N trip – and this is what most people choose, then you don't have to worry about choosing as you would be hitting both sides anyway. The popular route is to go from Sembalun > Summit > Crater Rim > Senaru. However, if you have the option to choose and are still wondering whether to start from Sembalun or Senaru for the 3D2N trip, it comes down to when you want to summit. If you want to summit earlier in the trip, then choose Sembalun. If not, then choose Senaru.
Where to stay in Senaru
Before the trek, we stayed in Senaru village at a lodge called Pondok Senaru. It was included in the tour package with the trekking company we booked with. This lodge is very convenient as it's located right next to the entrance to the waterfalls (which I will write about below), but the rooms are VERY basic and there was no A/C, though we did not need it since the weather was quite mild in the mountains.
Review of our Mount Rinjani Trek Guide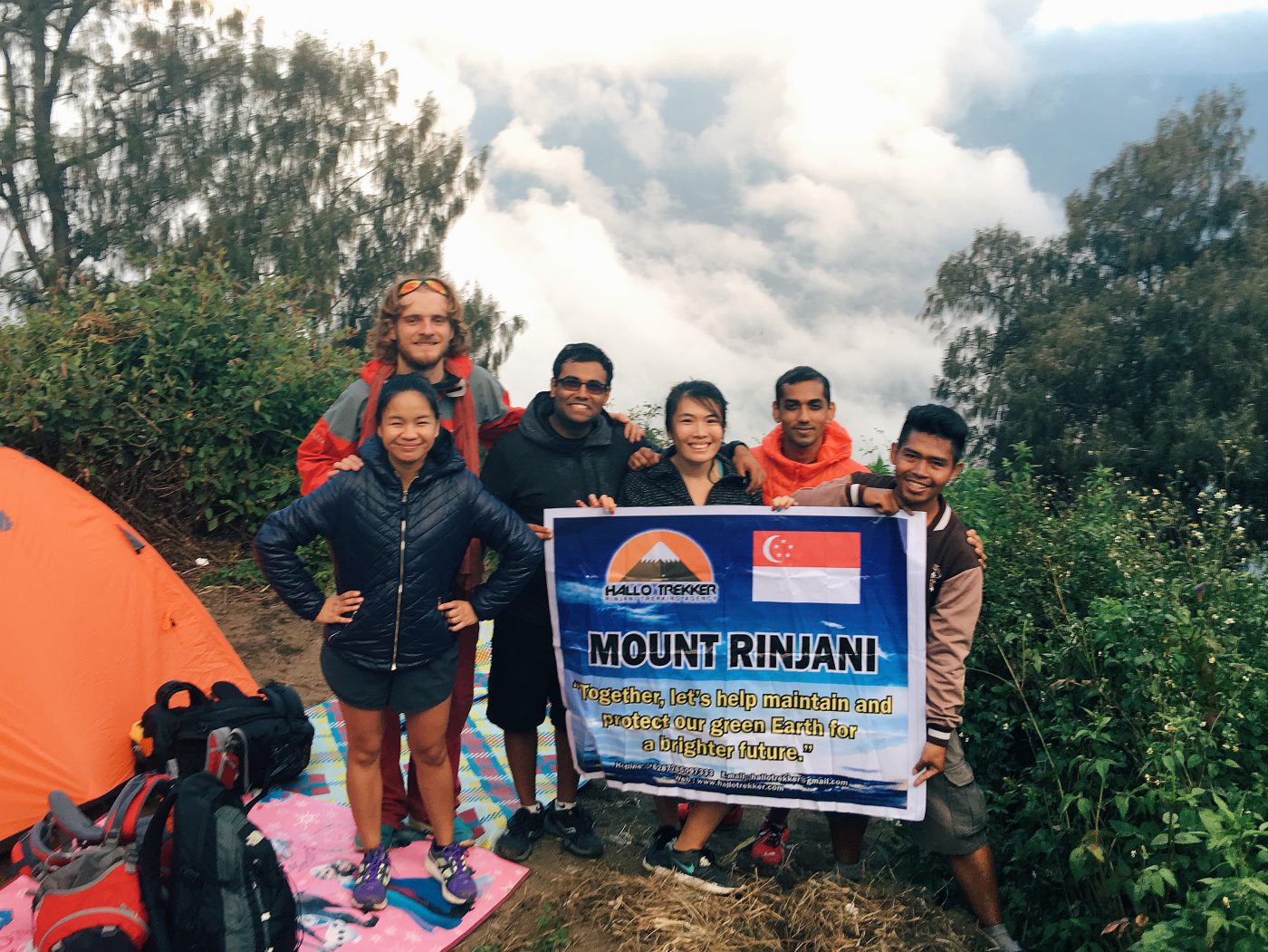 We booked our trip with Hallo Trekker and I have nothing but praises for them. They arranged everything for us from airport transport to accommodation, meals, and porters.
Our guide's name is Mr. Sap aka Kecap, nicknamed for his love of the Indonesian sweet soy condiment. We were also joined by Hans from Hallo Trekker as he wanted to take pictures of the climb. Both Kecap and Hans were amazing on the trip. Kecap is extremely experienced and helped one of my teammates who needed more assistance to climb and descend. He even carried her backpack which was a huge help for us. Hans helped to guide us on the way down and sorted out logistics of our trip. I loved how they cared about the mountain too, making sure we didn't leave any trash behind.
On our last day, they ensured we descended punctually as we had a 7:30 pm flight back to Singapore on the same day, and the journey from Senaru to the airport takes 3 hours. We were pressed for time on the descent so they picked us up by scooter on the last 500m and had the car ready to take us to the airport. Thanks to their excellent planning, we got to the airport with ample time for our flight.
How much does it cost to climb Mount Rinjani with Hallo Trekker?
A lot of people asked me how much the climb costs, so here is the breakdown of costs per person in Singapore Dollars. Keep in mind that back then, Hallo Trekker had just started and they may have adjusted their prices since then.
SGD $250 (US$180) – 2D1N Tour Package including night-before hotel stay.
SGD $30 (US$22) – Tips for the guide and porters. If you are going for a longer trip you may want to give more.
SGD $16 – Travel Insurance, which you need to buy yourselves.
Where can I book Mount Rinjani Trek online?
If you want to know where else you can book a Mount Rinjani guide online directly, you can book through Klook:
What is Klook? Klook is the leading travel and experiences booking website in Asia. And yes, they are legit! I personally always book my activities through them whenever I am traveling. See my review of Klook here.
How Difficult is Climbing Mount Rinjani?
Mount Rinjani, the second-highest volcano in Indonesia, is notoriously challenging to climb. The one concern I had in mind was whether I was fit enough to climb Mount Rinjani. Having done the trek myself, I think the crater rim trek is still doable for a person with an average fitness level.
Here is a background on my own fitness level – I would never say I am a super fit person but I'm not totally sedentary either. I'm usually able to complete a 5 to 10K run and I had been doing the Barre Method (which consists of cardio and strength training) twice a week for about six months prior to the climb. I think this gave me just enough strength to complete the trip with no assistance from others aside from directional guidance from Kecap.
It was not by any means an easy climb but most of the struggle for me was actually a mental struggle. I had never done a long climb before and I didn't know what to expect. Think about it this way – a half marathon is definitely taxing, but it still ends in three hours or less. Climbing Mount Rinjani takes 2-3 times as long and you get progressively exhausted with each stop. Thankfully Kecap and my teammates were very encouraging and this was what kept me going all the way to the top.
Keep in mind that you also have to bring your own bag which usually means an extra 5-10kg of weight depending on how good of a packer you are. And this can feel very very heavy when you are tired!
Which brings me to my next point.
What should I bring to the Rinjani trek? The Rinjani Packing List
Some points to note: This trip happened at the end of April when the weather was great (no rain) and I was able to pack very lightly. Also, it was a 2D1N trip and we did not summit. If you plan to summit or plan on going on a longer trip then you need to adjust accordingly by bringing more layers, a thicker jacket, etc.
The Essential, Must-have Gears
A good backpack is a must, so you don't hurt your back. I used a 35L North Face backpack with a lumbar pad and support. With all the items listed below the bag weighed around 6kg. Add two 1.5L water bottles and it ended up being about 7-8kg.
Hiking Shoes – I used my 3-year-old running shoes, which is a Nike Lunarglide, and I could have done with more tread. It got slippery in some parts of the trail and I actually fell flat on my butt TWICE. Since this trek, I've gotten myself a pair of trusty hiking boots Columbia Newton Ridge Plus II, which I used for my New Zealand trip and I highly recommend!
Walking Pole / Stick – This is important, do NOT underestimate the power of a walking stick. I've never thought about using it before but now I  know I would not have lasted without the walking stick. It only costs $20 on average and really comes in handy for balance and support. You could also check if your guide is able to supply you with a pair.
Socks – Well-fitting socks are so essential. I wore a thicker pair of socks from Adidas that did not slip around inside my shoes, so it does not cause blisters later on. Make sure yours fits well too!
Clothes for the climb – It's going to be hot and humid so I recommend wearing something thin. I wore a loose tank top, a light sports bra, and leggings. Any additional layers got too hot during the climb.
Clothes for night/sleeping time – I packed a fleece pajama similar to this and a basic cotton shirt to sleep in.
A very light, water-resistant jacket to fend off the cold mist once you've reached higher altitude. You have to remember that Rinjani is located in Indonesia, which a tropical country not far below the equator and this means it will be humid and hot. I recommend not to bring a thick jacket. You can just bring a thinner jacket and layer as needed. I used Uniqlo Light Pocketable Parka and found them sufficient for the climb.
Additional Clothing
An extra jacket for nighttime. My roommate Jessica kindly lent me her Denali North Face Jacket, which is an excellent fleece jacket. It might actually be too warm for the Crater Rim though. I get cold easily but I was able to sleep with just this jacket and a thin cotton t-shirt underneath.
A spare set of clothes for the next day. For me, this just meant another set of cotton shirt, leggings, and sports bra.
Small towel to use throughout the climb because you will sweat.
Extra socks in case your previous day's socks got wet.
Fresh underwear, because of course, you need them.
Flip flops to change into once you are at the campsite if you can't be bothered to lace up your shoes each time you get out of your tent. This also came in handy for our Lombok waterfall side quest! I just brought along my go-to pair of slim Havaianas.
Toiletries
Sun Block with SPF50. You will be high up on the mountain where the sun will be extra strong, so you need to protect your skin especially your face. My favorite face sunblock is this water-based sun lotion by Innisfree.
Insect Repellent. I didn't have problems with insects, but this is always good just in case.
Hand Sanitizer Wipe. There will be no running water once you get up there so being diligent about hygiene is important.
Biodegradable Wet tissue for wiping hands and cleaning your body. There are no shower facilities either so this is your only way of cleaning yourself!
Biodegradable toilet paper aka Camper's Toilet Paper for your toilet business. Our tour did provide toilet paper but it was not biodegradable.
Medicine like Aspirin and Activated Charcoal in case of food poisoning – also good to have when traveling around South East Asia in general.
Plaster / Band Aids for any small wounds or to protect your toes from blistering.
Other Stuff
High calorie and high protein snacks like chocolate, nuts, and cookies. During the trek, you will be served Indonesian food which I love (I'm Indonesian btw) but consist mostly of fried carbs.
A powerbank in case your phone runs out of battery. I brought my trusty 10,000 mAh Mi powerbank, which I highly recommend. I even use it for regular non-travel use.
A plastic trash bag to store your trash in. The trash situation in Mount Rinjani is bad. Don't contribute to it.
A 1 – 1.5L Water bottle – it is hot and humid in this part of the world, so yes you will sweat and you will need to hydrate.
Torch for night time, or any source of light for your tent. I just used my iPhone Torch and found it sufficient.
More Trekking Tips & Tricks!
Before the hike, put a plaster/band-aid on your big toes and small/pinky toes since these are the parts that are prone to blisters. By putting a plaster over it, you're protecting it from developing blisters later on. You'll thank me later.
Bring sufficient high-calorie snacks. I cannot stress this more. You will get more hungry than usual. And eat a good breakfast before each trek.
Last but not least, pack SUPER lightly! A 7kg bag may not seem very heavy to you now, but they would be when you are six hours into the climb, on all fours scaling slippery rocks. Don't bring ANYTHING extra.
Mount Rinjani Trek Detailed Guide and Time Milestones
Start: Senaru (600m elevation)
End: Crater Rim (2600m elevation)
Day 0 – Lombok Waterfalls in Senaru
If you arrive in Lombok with at least 2-3 hours to spare before sunset, you might want to visit the waterfalls. We stayed overnight at Pondok Senaru which is a very basic room accommodation with no A/C, but it's right next door to the waterfall entrance!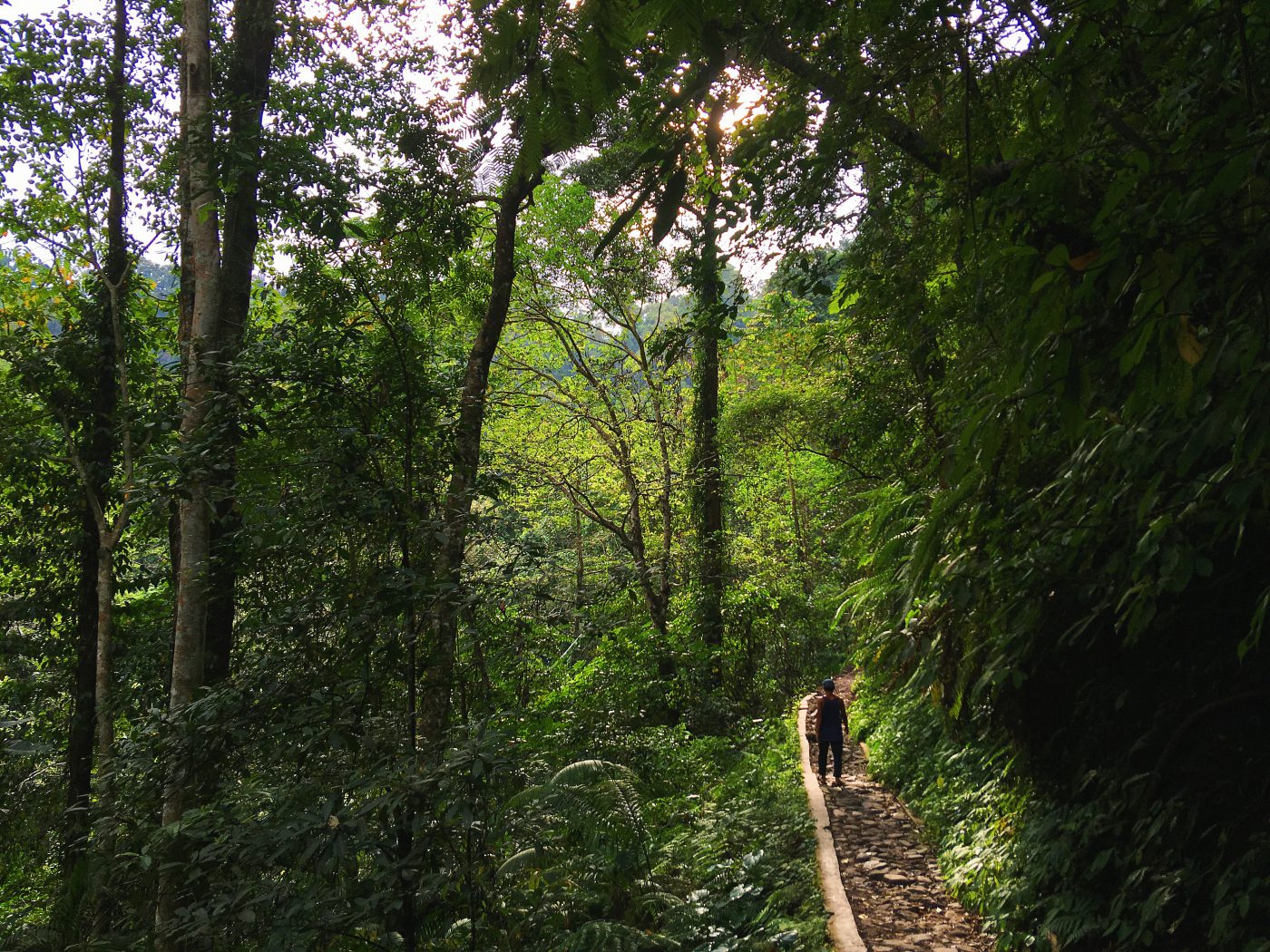 This is quite an easy walk with paved paths. There are two waterfalls to visit, Air Terjun Sindang Gila (Slightly Crazy Waterfalls) and Air Terjun Tiu Kelep (Tiu Kelep Waterfalls). Many seem to prefer the first one, which is quite close to the entrance of the park, but I think the second and further one is way more beautiful.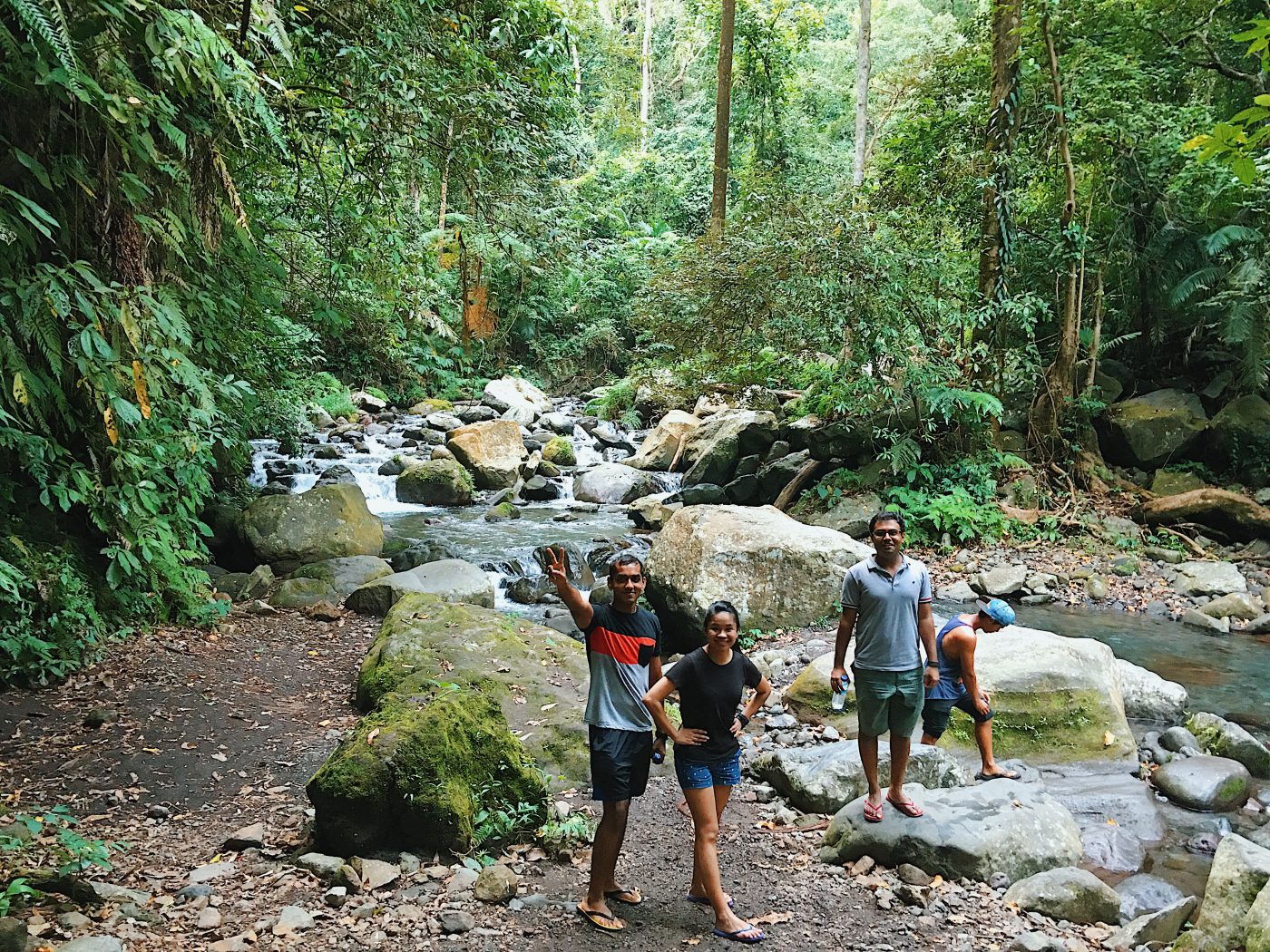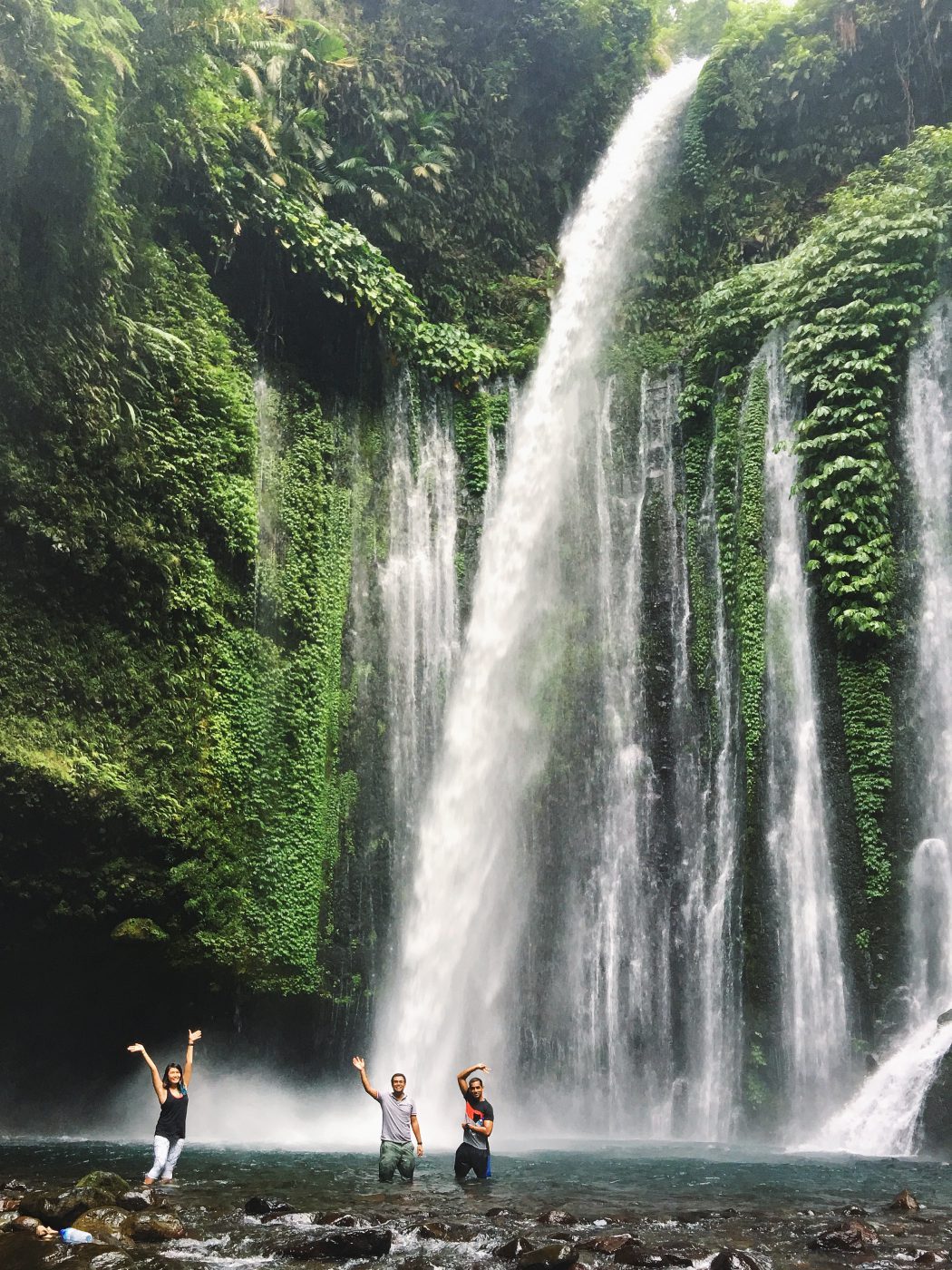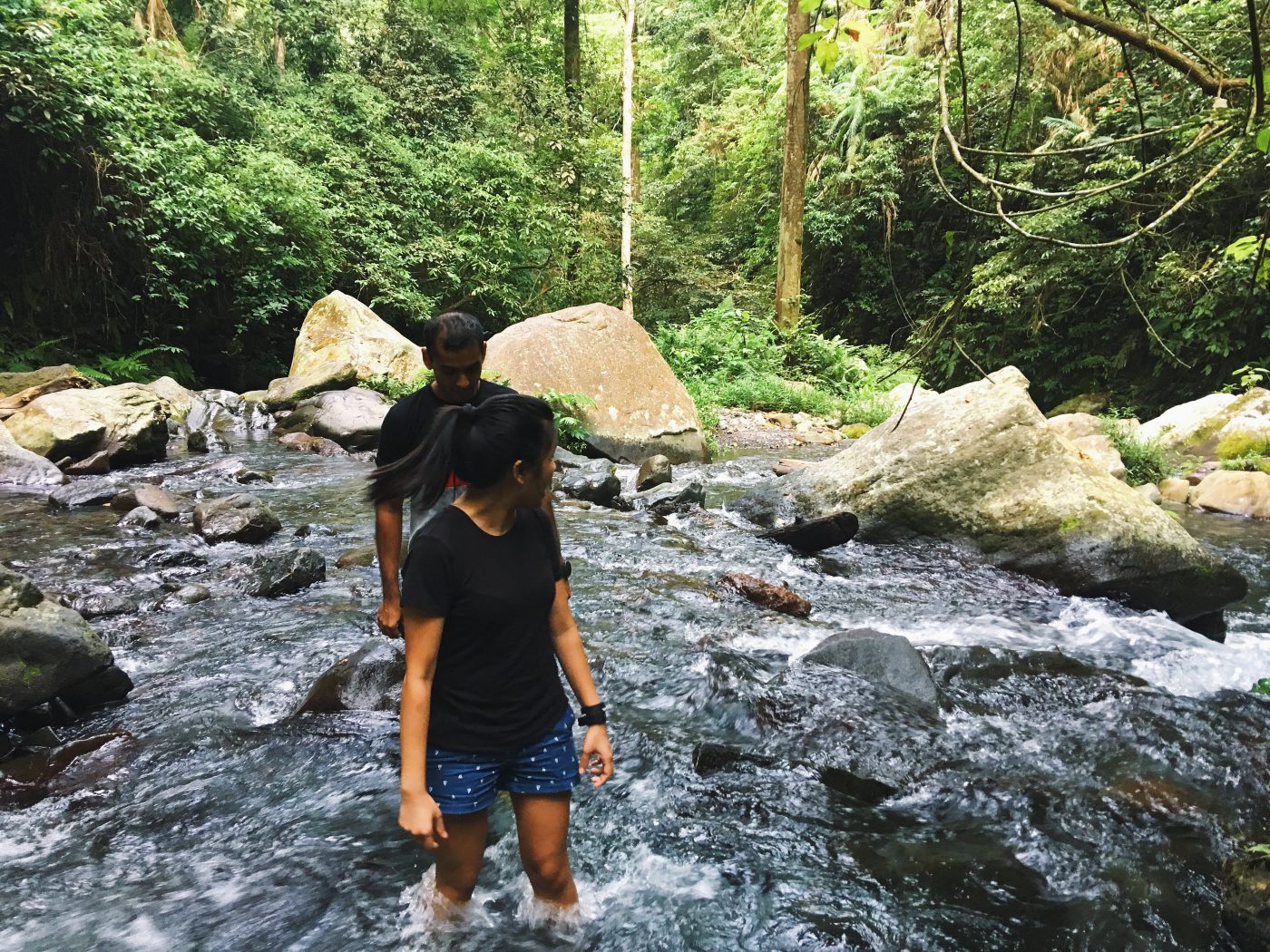 Be sure to wear flip flops since you will be crossing some streams on foot. The streams are quite shallow – at the deepest it reached just below my knees. The current isn't very strong but you still need to be careful not to lose your flip flops while crossing! It happened to us a few times.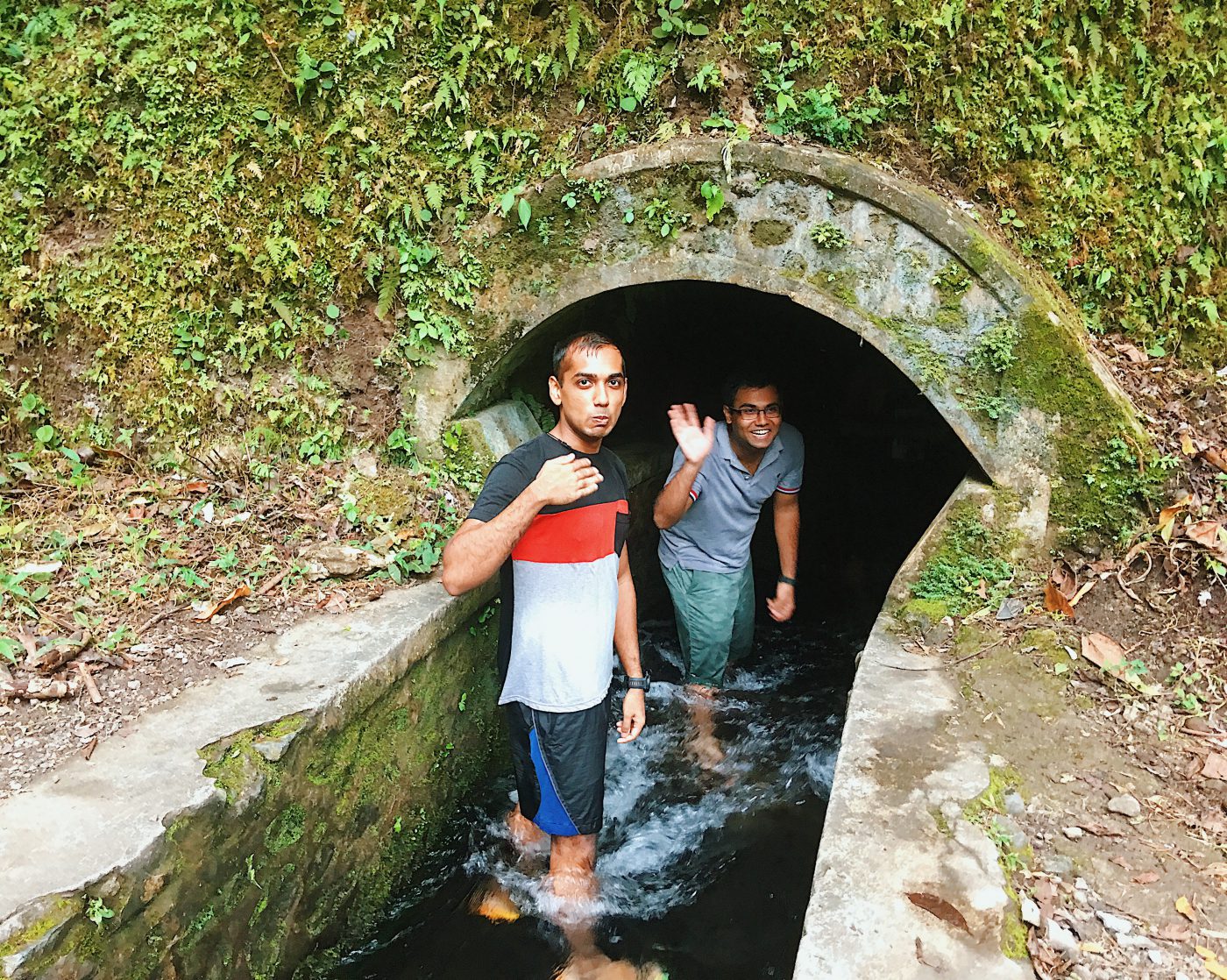 On the way back, the boys opted to walk into a dark tunnel between the two waterfalls. Kyle and I noped out of this and chose to do the normal walk instead, but it seems pretty exciting from what they told me.
Day 1 – The Rinjani climb (9.5 hours)
| | |
| --- | --- |
| 08:00am | Start Trek from Senaru |
| 08:30am | Arrive at Entrance of Mount Rinjani National Park |
| 09:11am | Arrive at Pos 1 |
| 11:34am | Arrive at Pos 2 & Lunch |
| 02:55pm | Arrive at Pos 3 |
| 05:30pm | Arrive at Crater Rim camp site |
We (or I) took our sweet time to go up since I was super excited and was taking tons of pictures.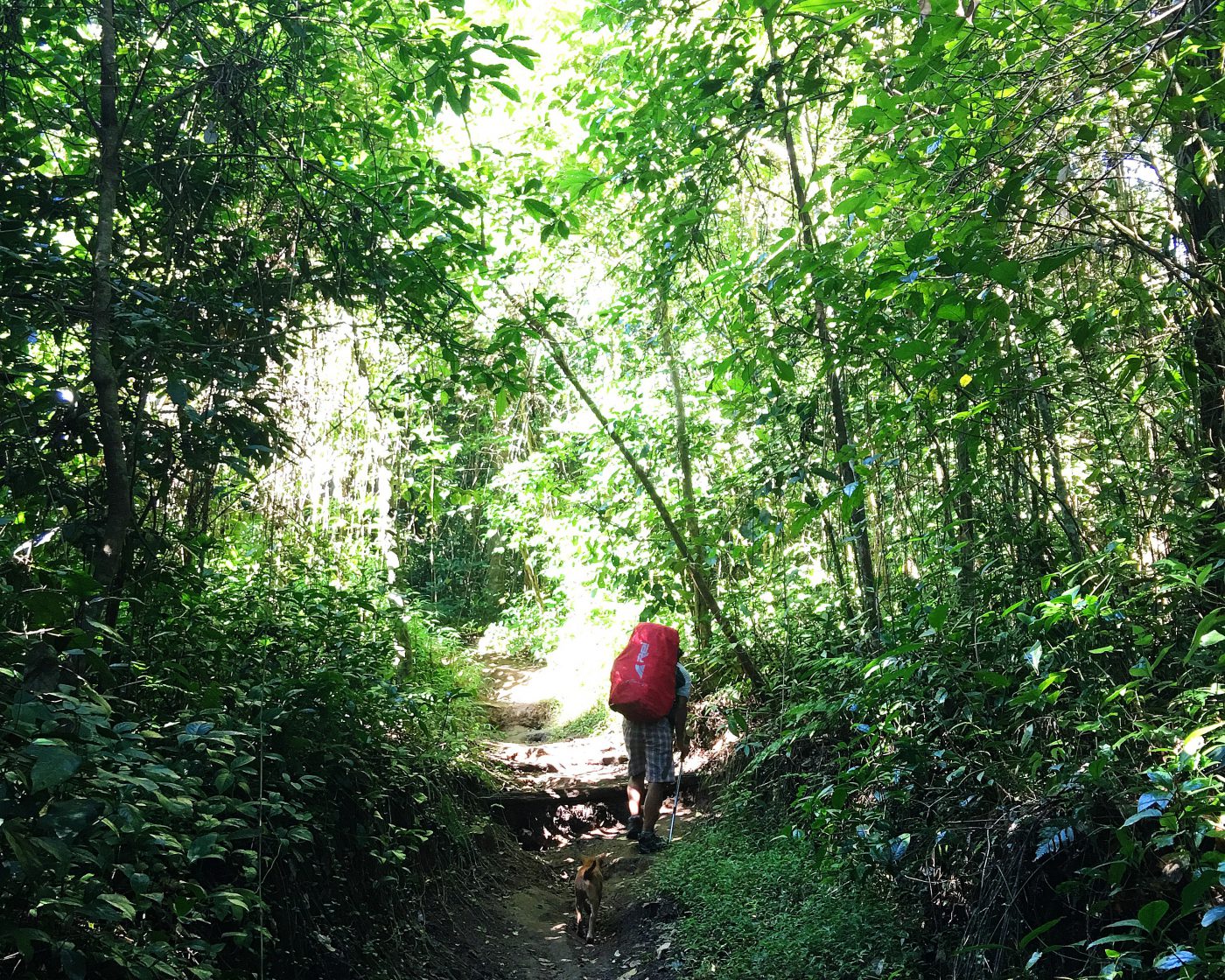 The walk was nice and easy from Senaru through the park entrance and all the way to Pos Extra. We were lucky to spot a few black monkeys high up in the trees, though only for a split second so I had no time to take pictures of them. Between Pos Extra and Pos 2 though, it started getting very steep. I also got super hungry (my stomach were rumbling) and regretted not eating enough for breakfast. Be sure to load up for breakfast!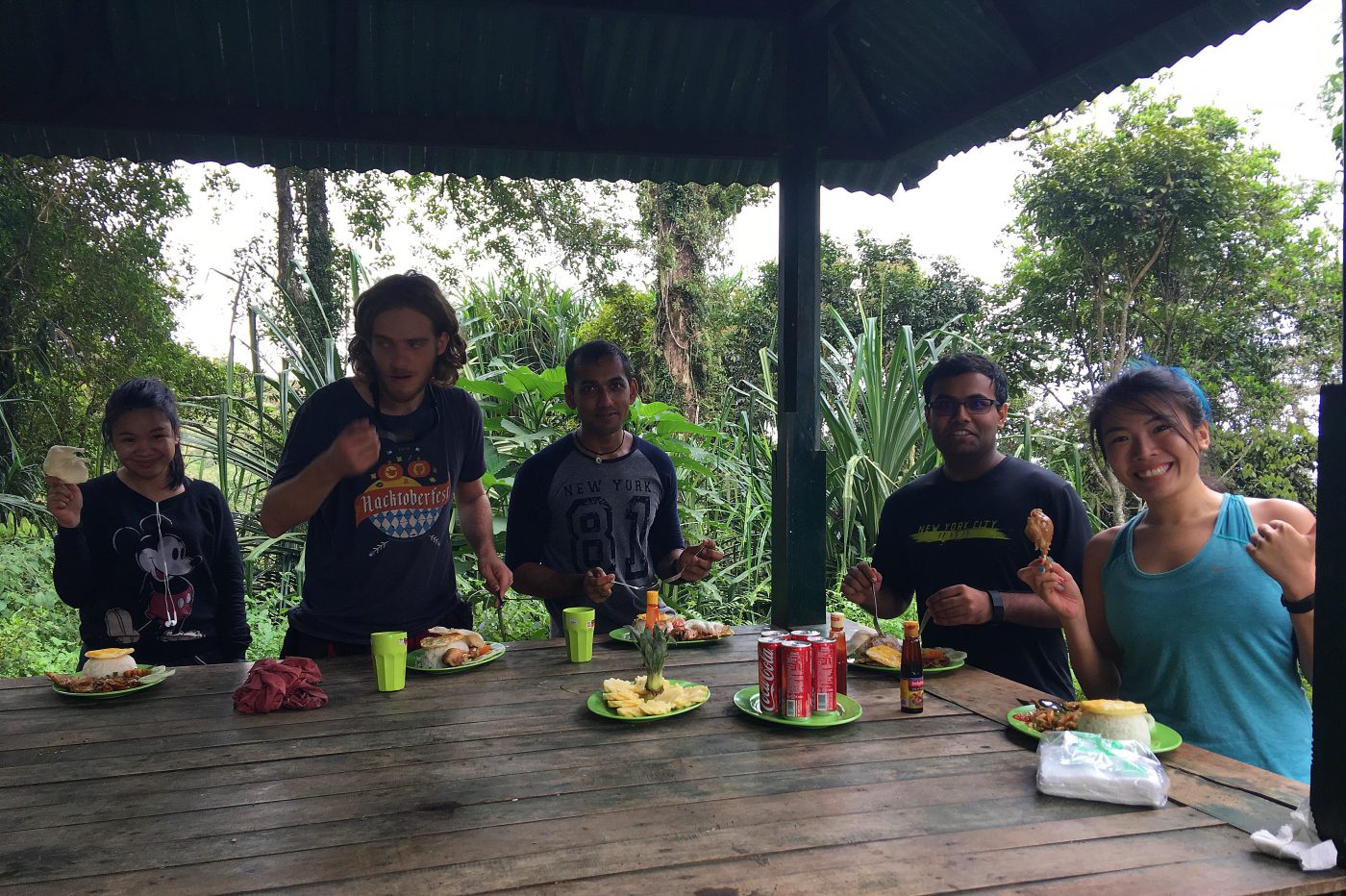 We stopped for lunch at Pos 2. This is also the point where we started noticing mist / cloud looming above us. It was getting pretty cold after resting for over an hour, and we all put on our light jackets before resuming our climb, but that was a mistake as our bodies quickly warmed up again while going up. We all took off our jackets within 15 minutes.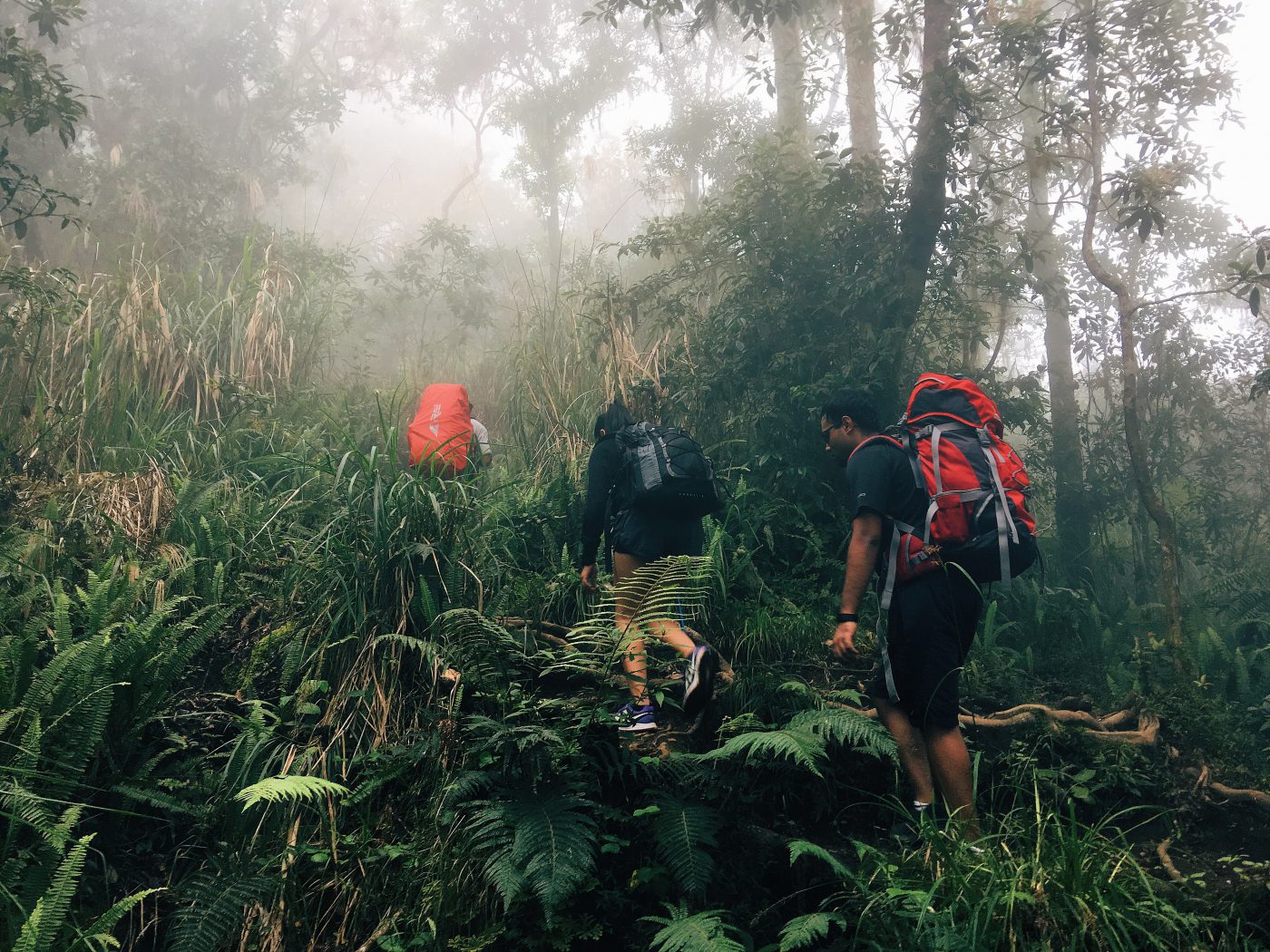 Not long before Pos 3, the mist were getting thicker and thicker. We noticed the trees surrounding us are getting shorter, which typically signals the end of the forest is to come shortly. Sure enough, we soon found ourselves walking in the open air among bushes and tall grass.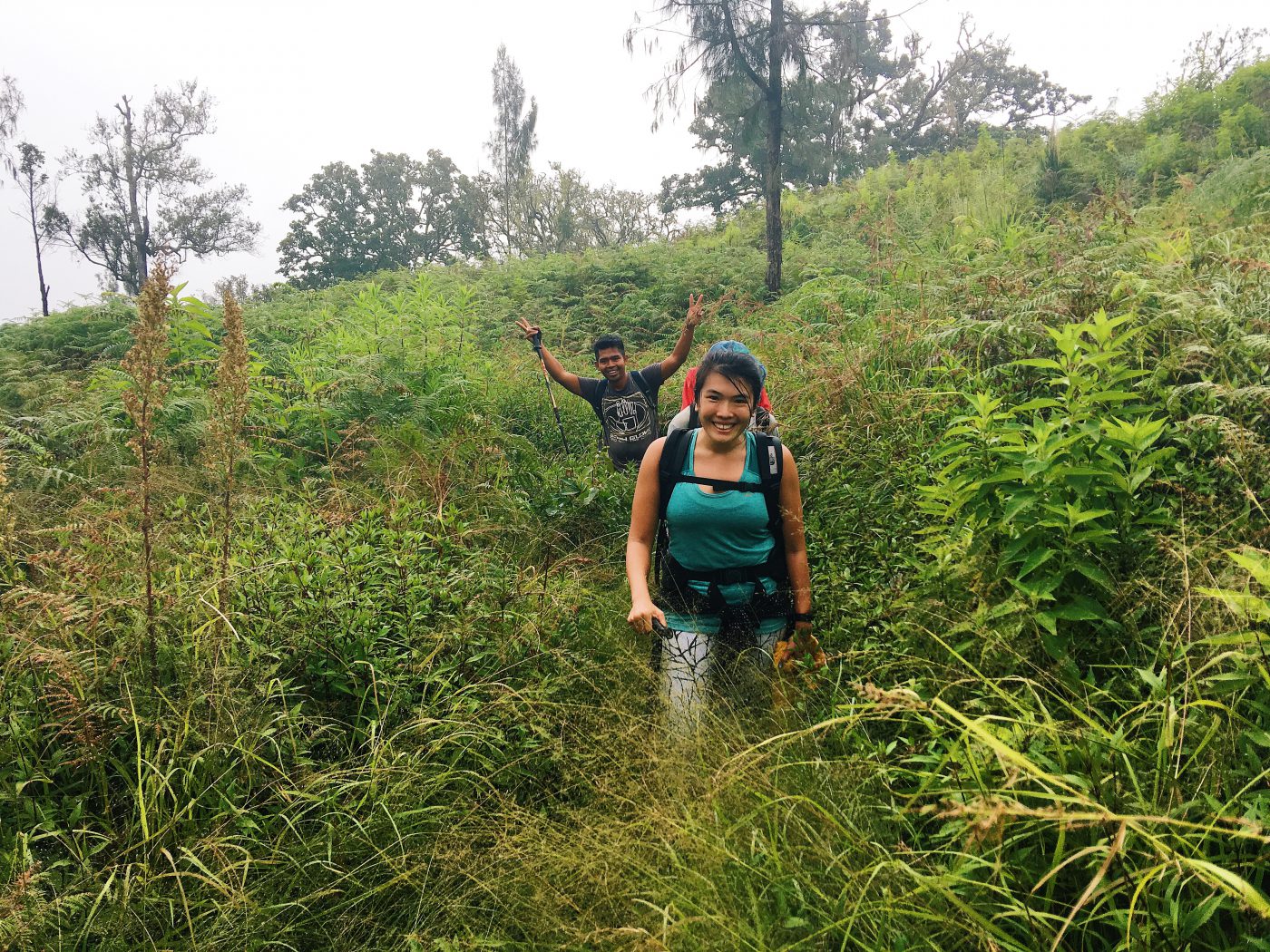 Kecap warned us that the climb would get even steeper and rockier after Pos 3. Already pretty tired by then, this was not something I wanted to hear. It was hard to imagine anything harder than the climb we just did. We stayed at Pos 3 for about 20 minutes and was visited by a hungry grey monkey, whom we shared our snacks with, before finally getting off our butts and making the strenuous climb up to Camp Site.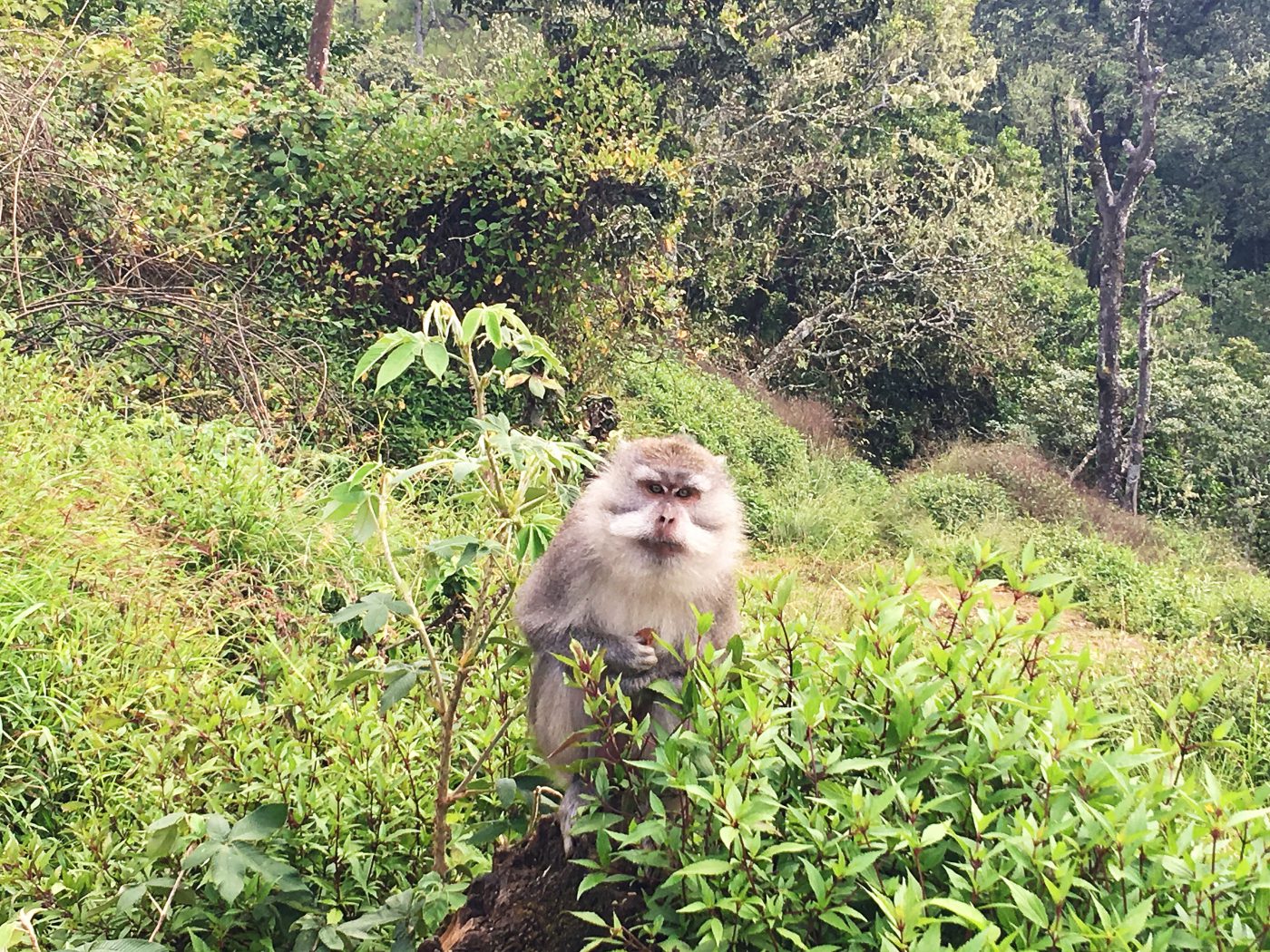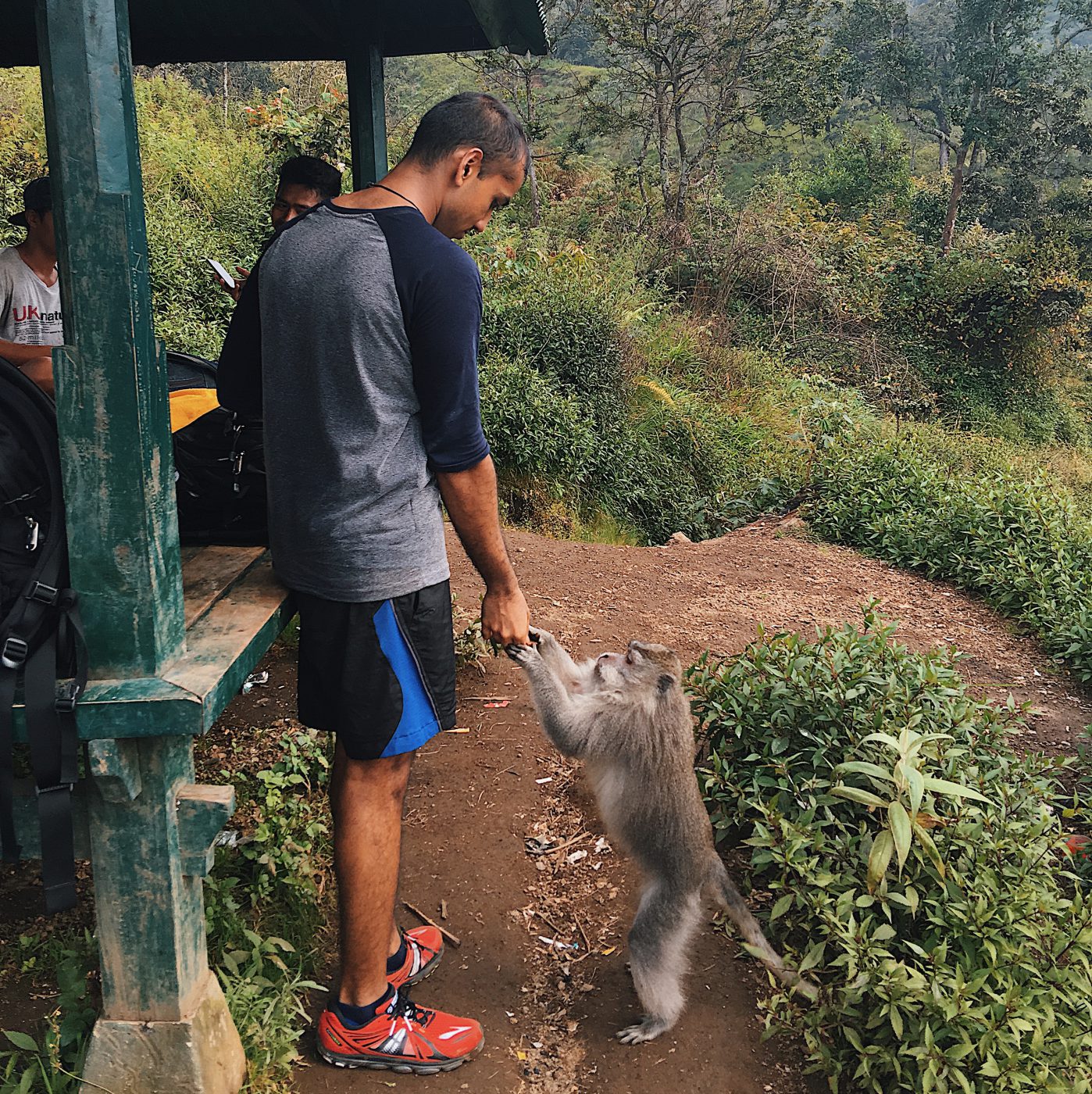 And.. it turns out Kecap wasn't kidding when he said climb would not be easy. The first half of this leg was muddy, wet, and surrounded by tall grass and shrubberies that are about waist to shoulder high. We got to another Pos Extra and had to take shelter there for a few minutes since it started raining.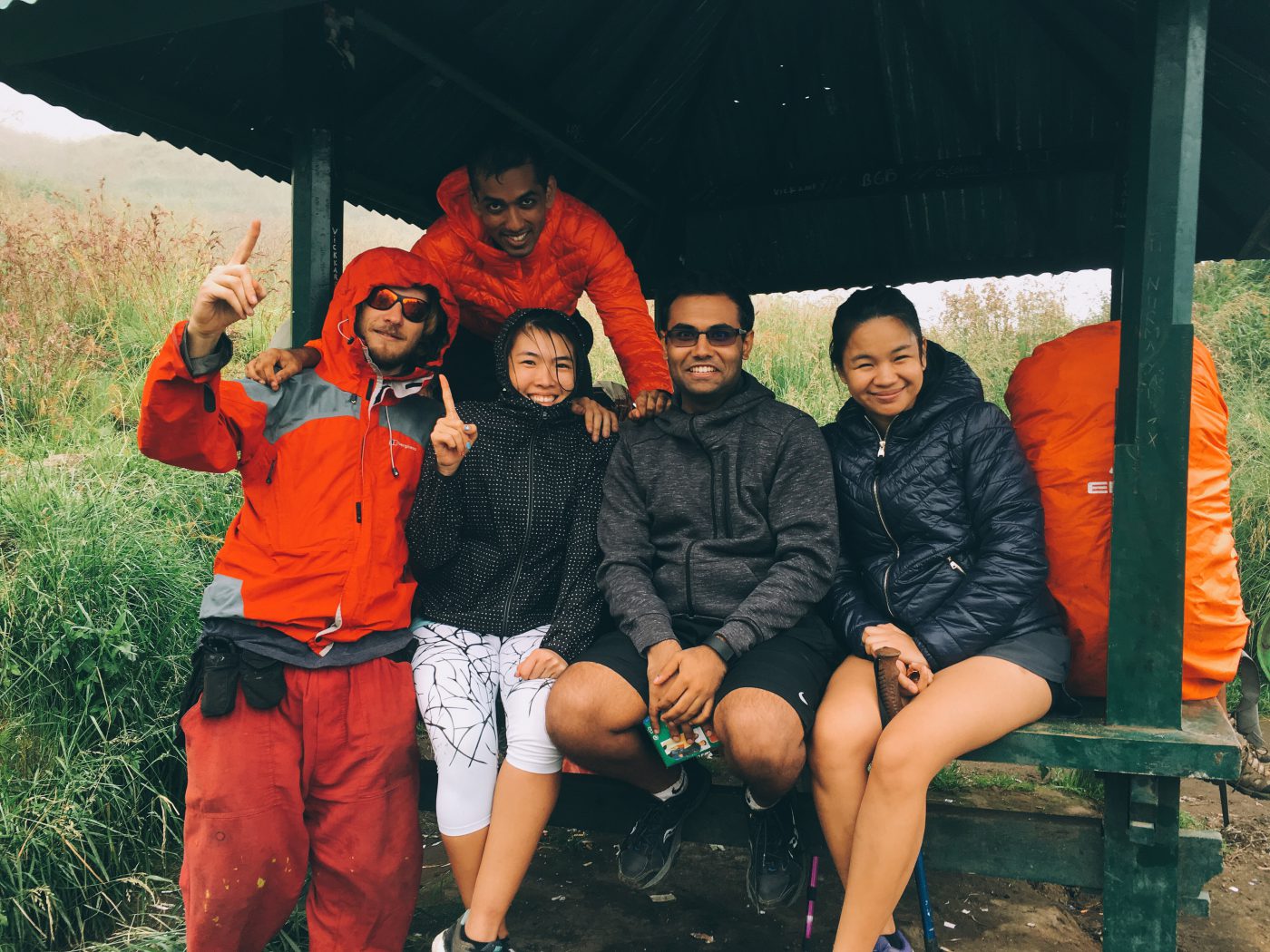 As soon as the rain stopped, we continued our way to the second half of the climb, which is a steep and intimidating path made of rocks, which I will from now on refer to as the "Rock Wall".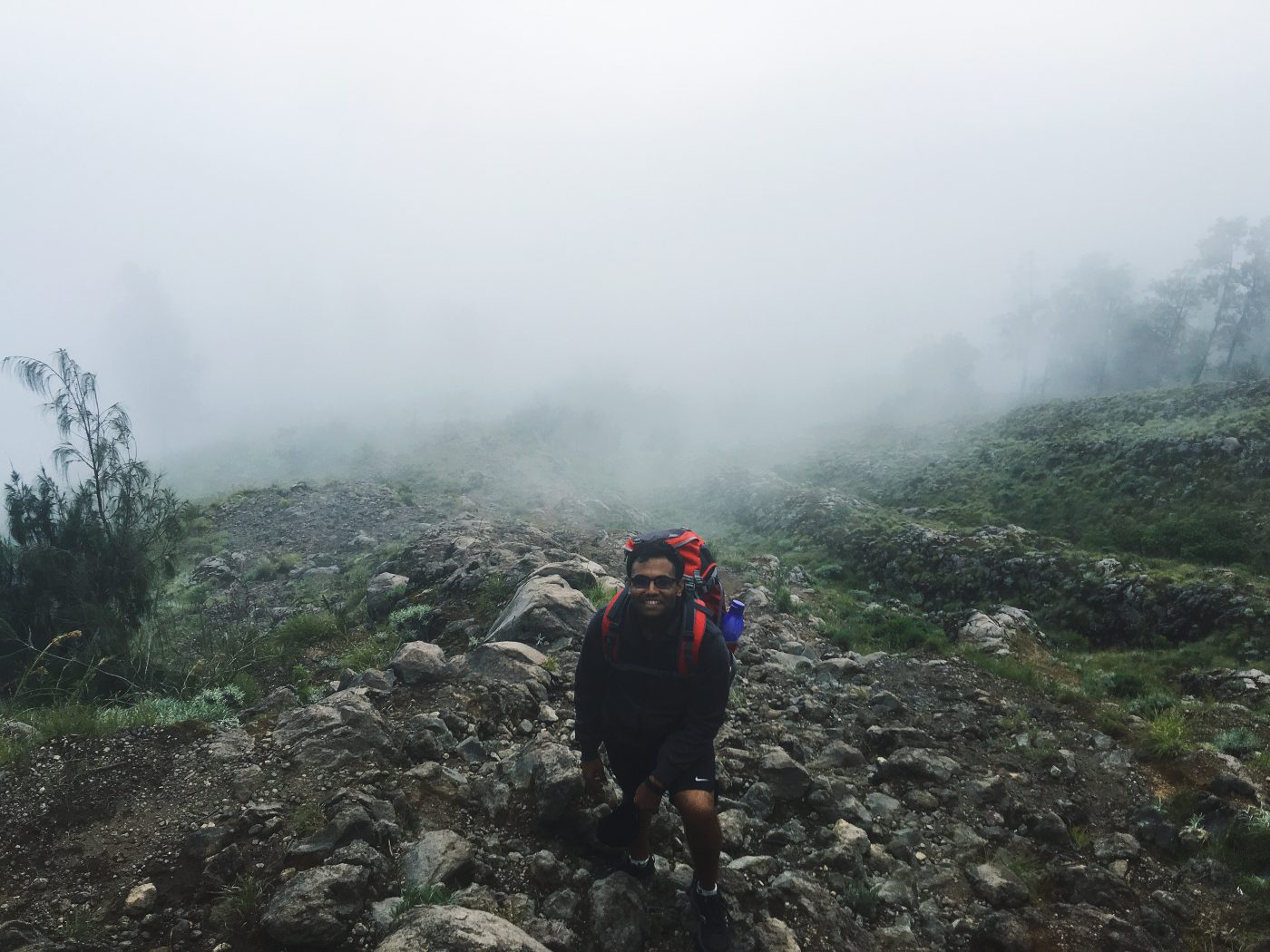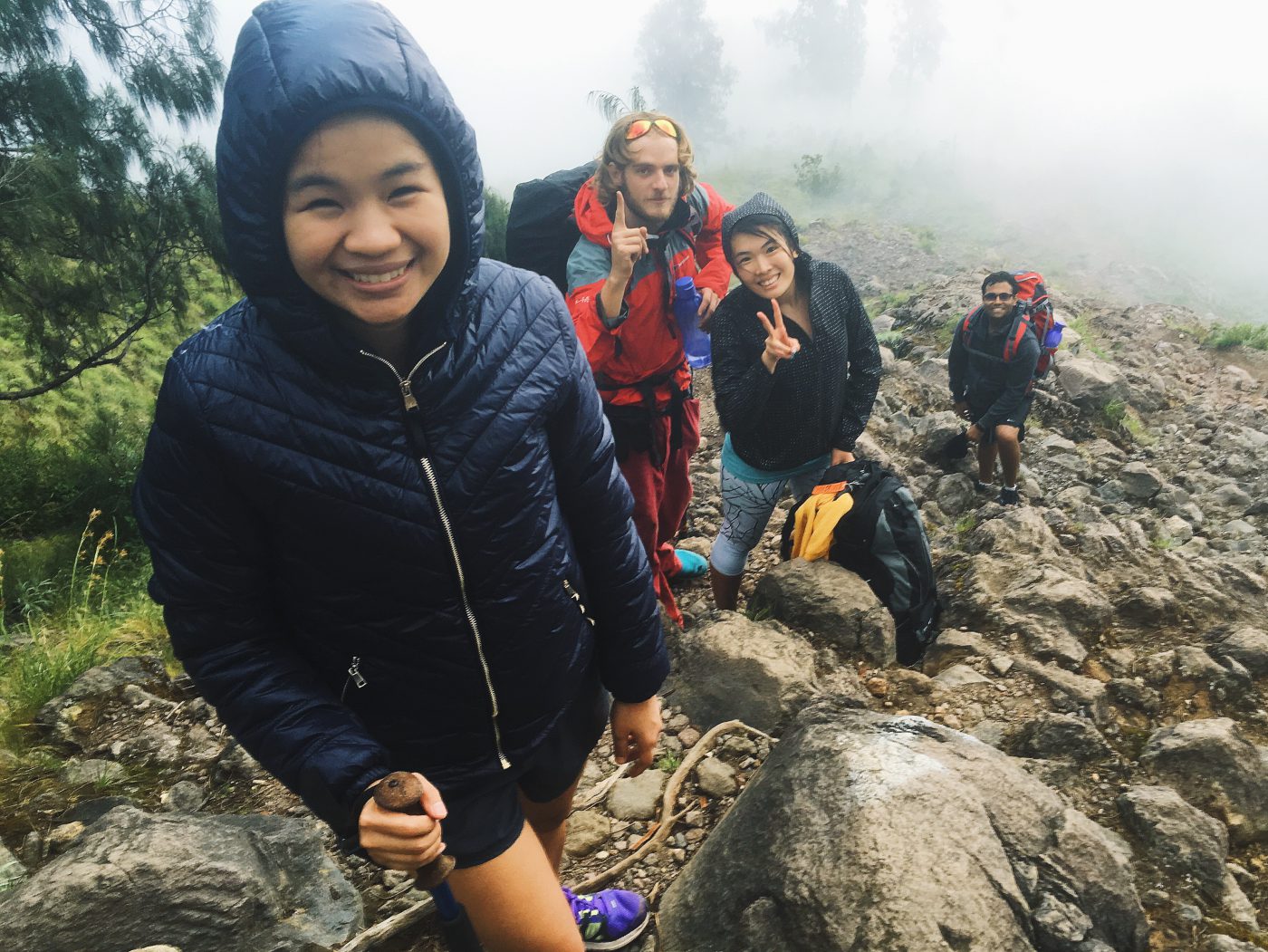 It got so steep that I ditched the walking stick and started climbing the rocks on all fours. Not going to lie, this was the hardest part of the climb for me. I definitely had thoughts about quitting but I also realized that we are so far up the mountain that I had no exit plan except to keep on pushing through. So push through I did.
Finally, after what seemed like a never ending rocks after rocks, we reached a flat area and the camp sites started peeking through the mountains. We've finally arrived at Crater Rim!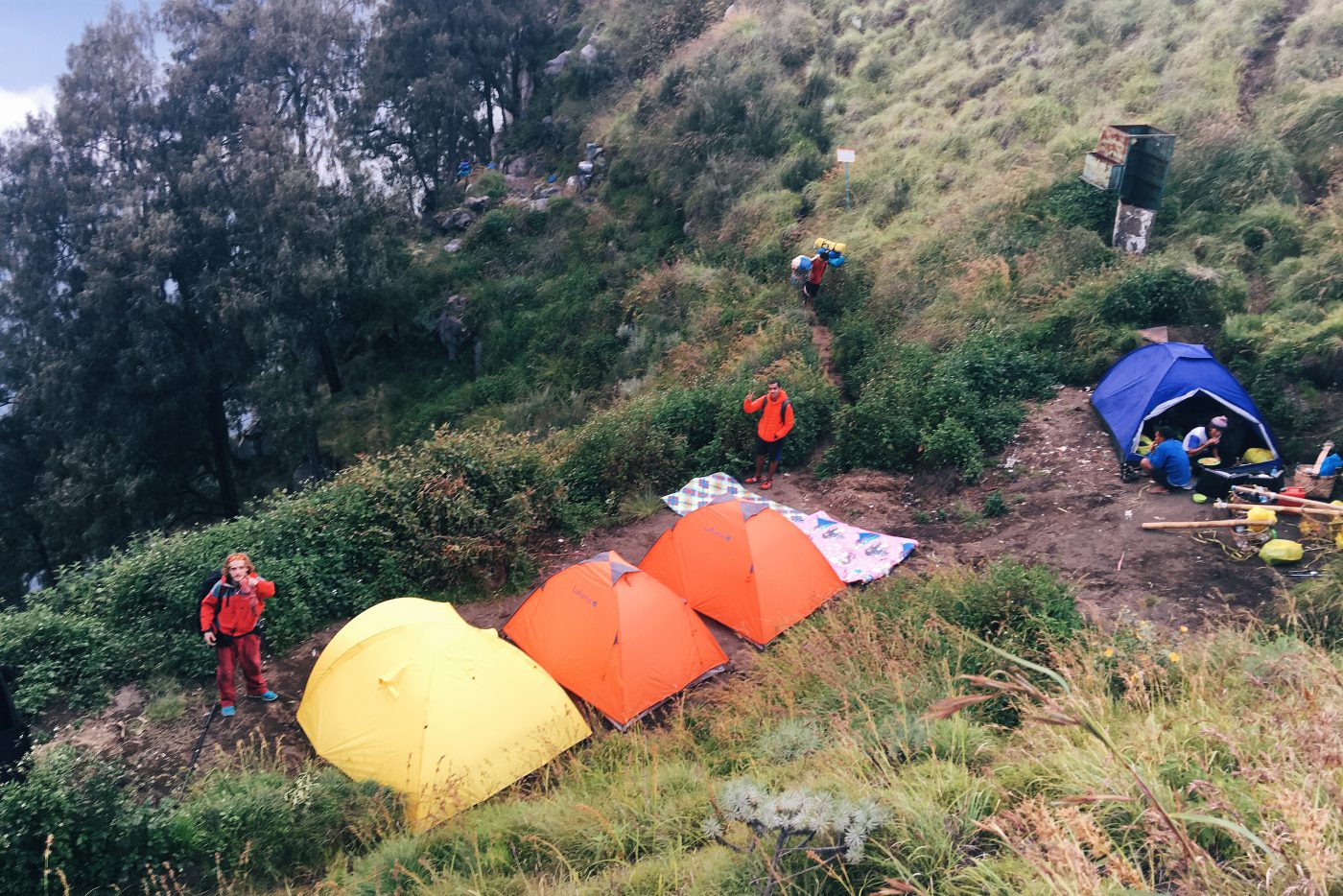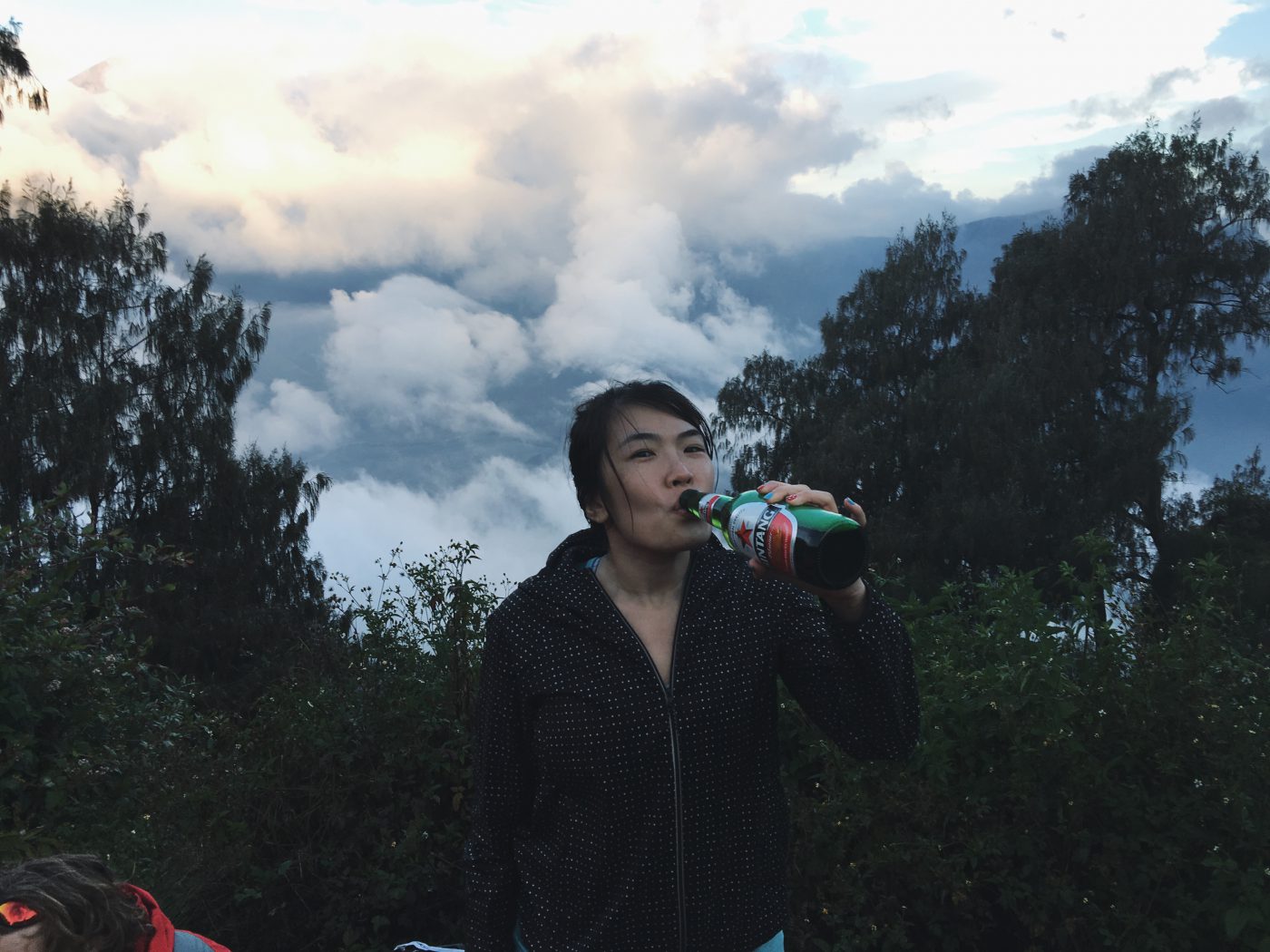 We found our tents already set up, complete with a makeshift toilet! The porters had also prepared a warm snack of banana fritters for us.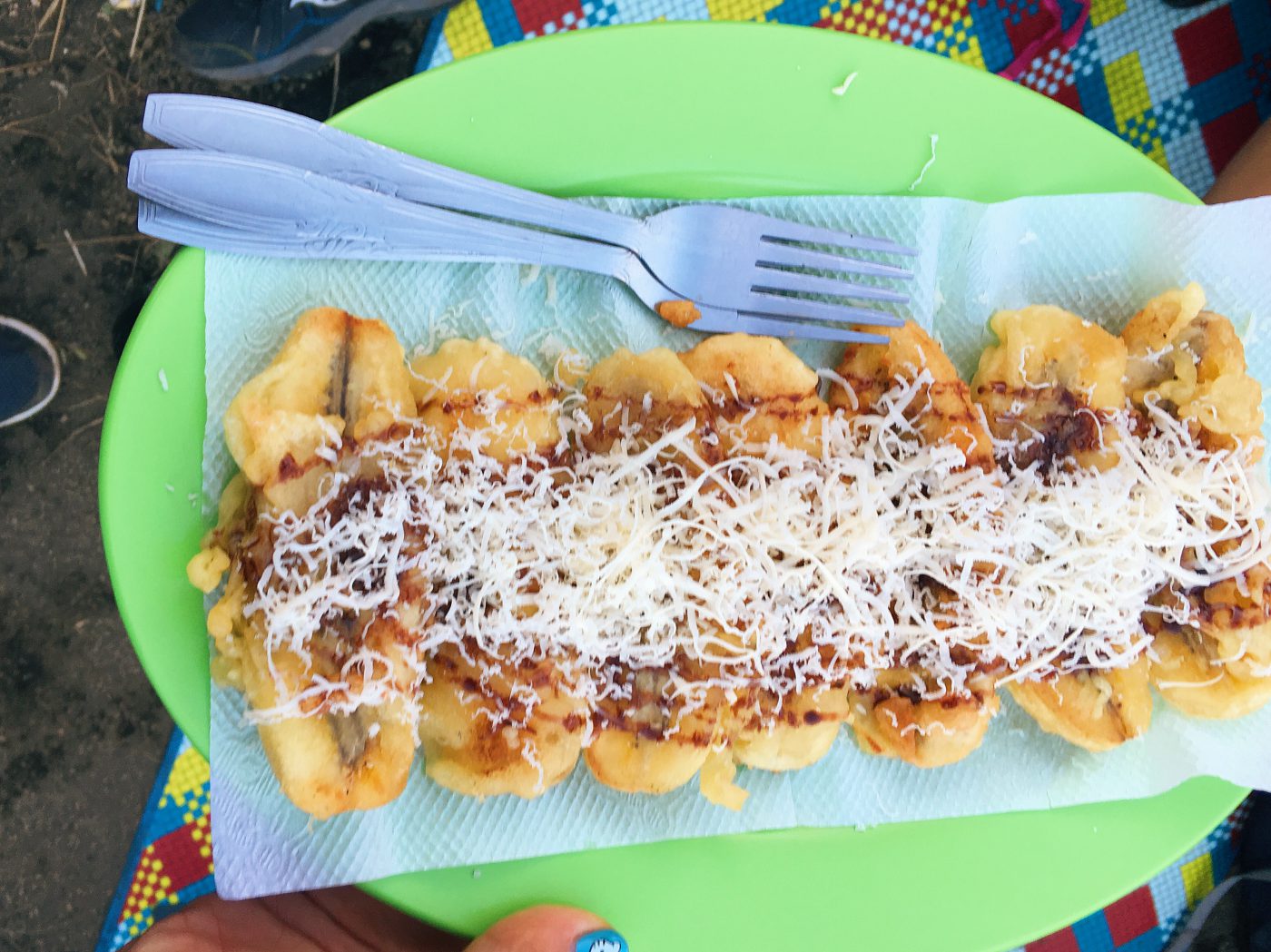 It was quite foggy so we couldn't see much of the lake but we expected this, seeing how thick the fog was during the climb. After cleaning myself with wet tissues (there are no shower facilities here) and changing into Pajamas, dinner was served and we went to bed soon after.
Day 2 – The descent (6.5 hours)
| | |
| --- | --- |
| 07:45am | Start Descending from the campsite |
| 09:06am | Arrive at Pos 3 |
| 10:45am | Arrive at Pos 2 |
| 11:53am | Arrive at Pos Extra & Lunch |
| 01:18pm | Arrive at Pos 1 |
| 01:47pm | Arrive at Entrance of Mount Rinjani National Park |
| 02:15pm | Arrive back at Senaru |
We woke up bright and early at 6:00AM, in time for the sunrise at 6:15AM. The valley was still foggy though, so we didn't get as clear of a view of the lakes as I would have wanted, but it was still beautiful.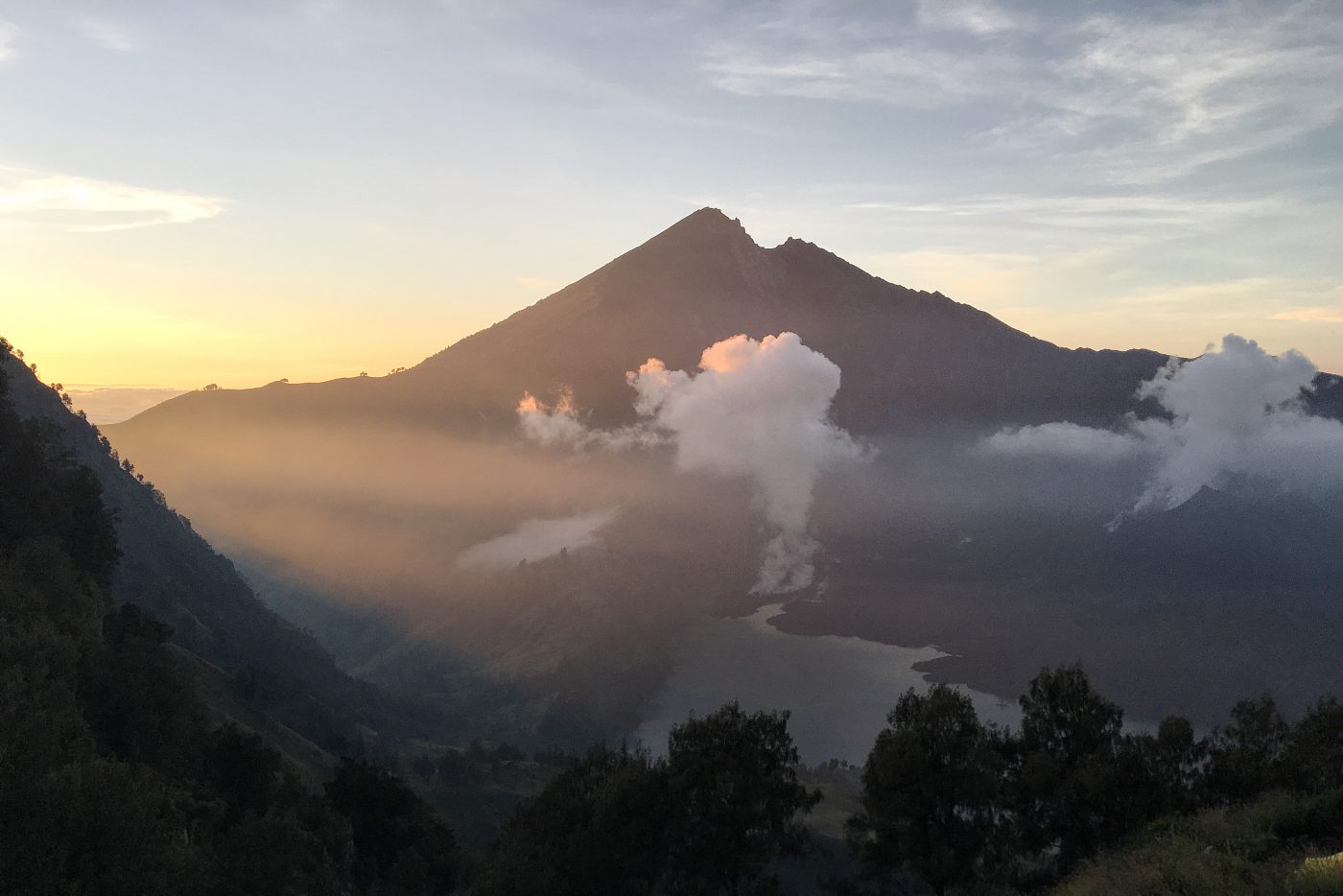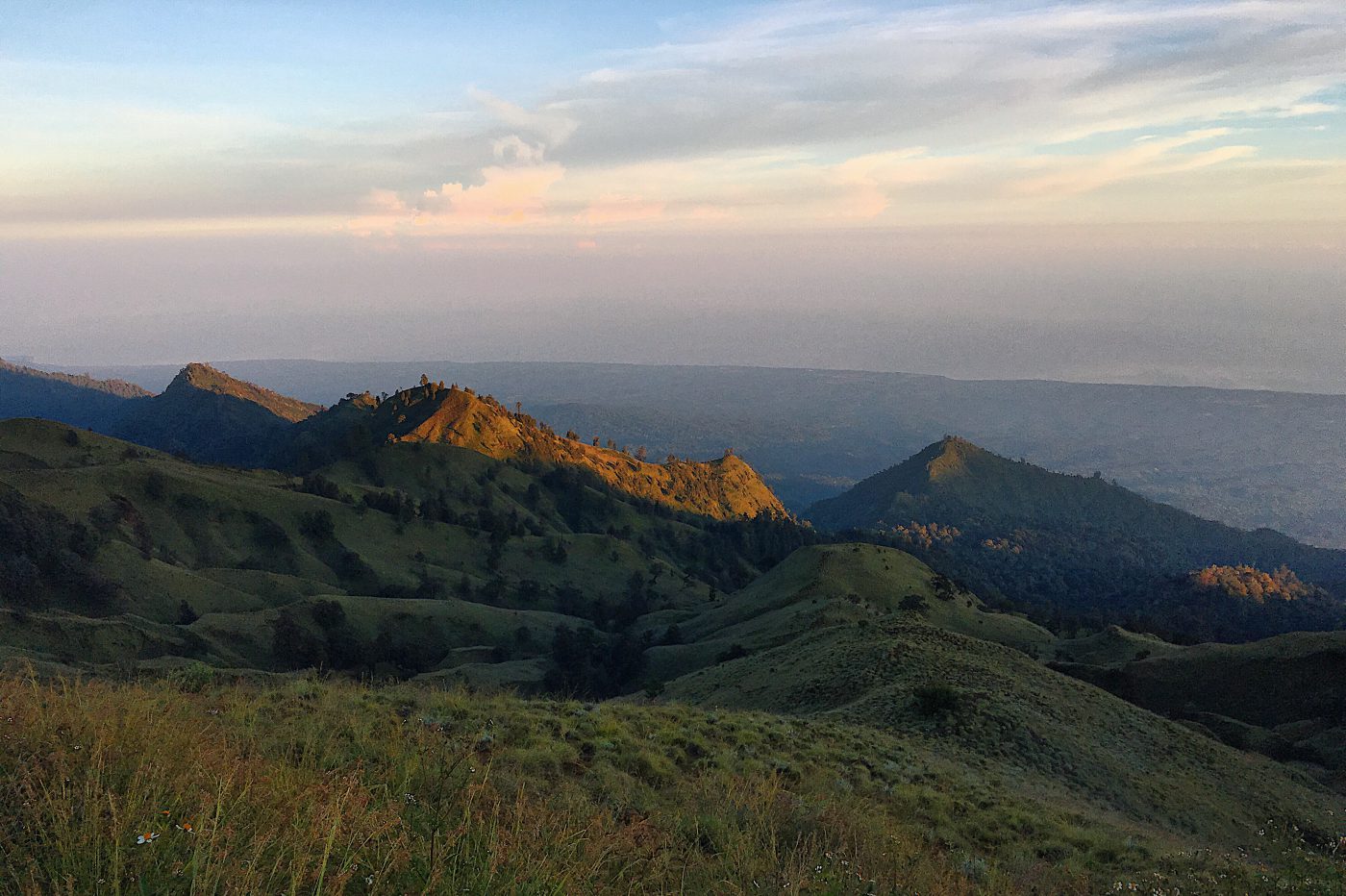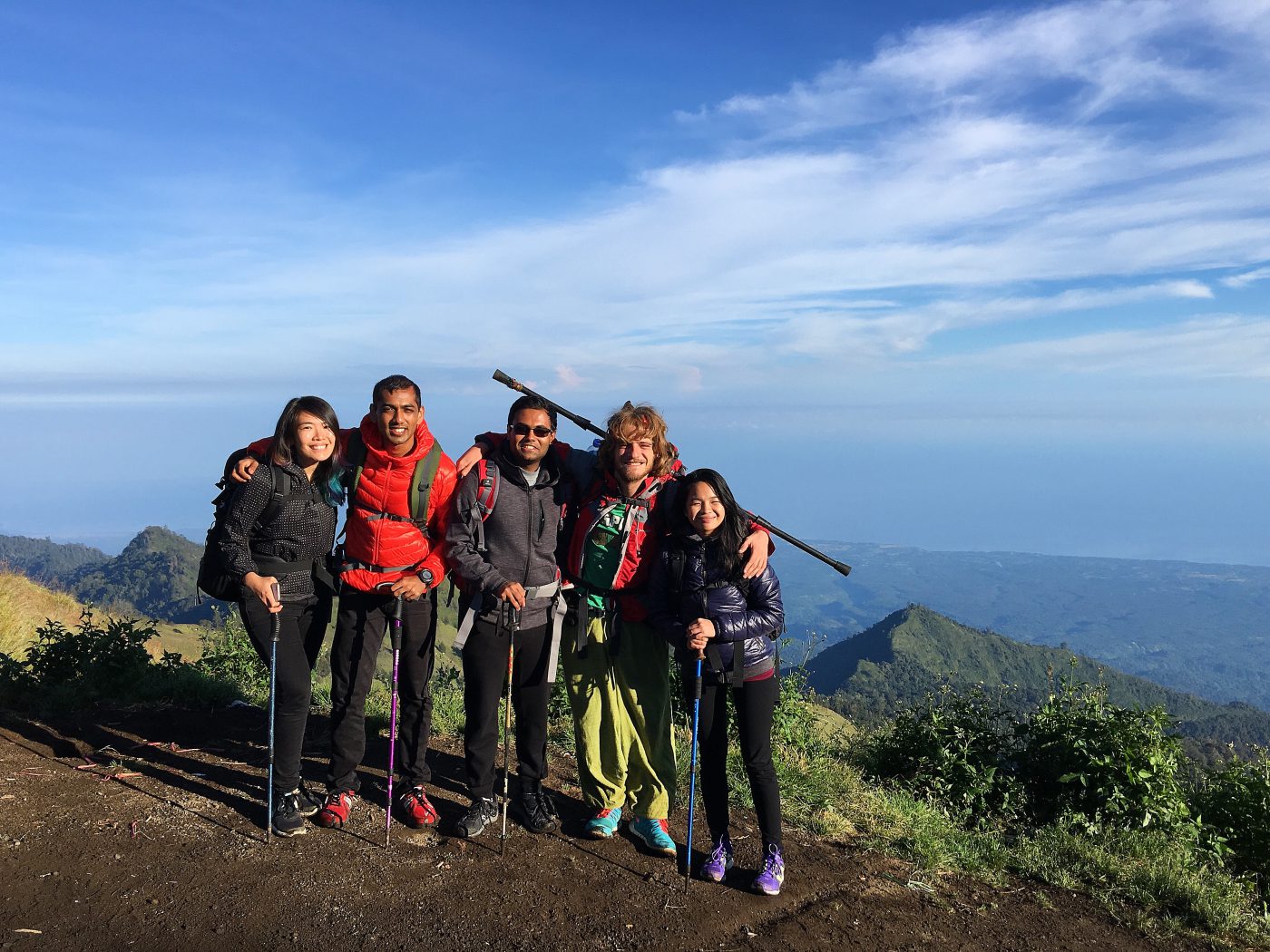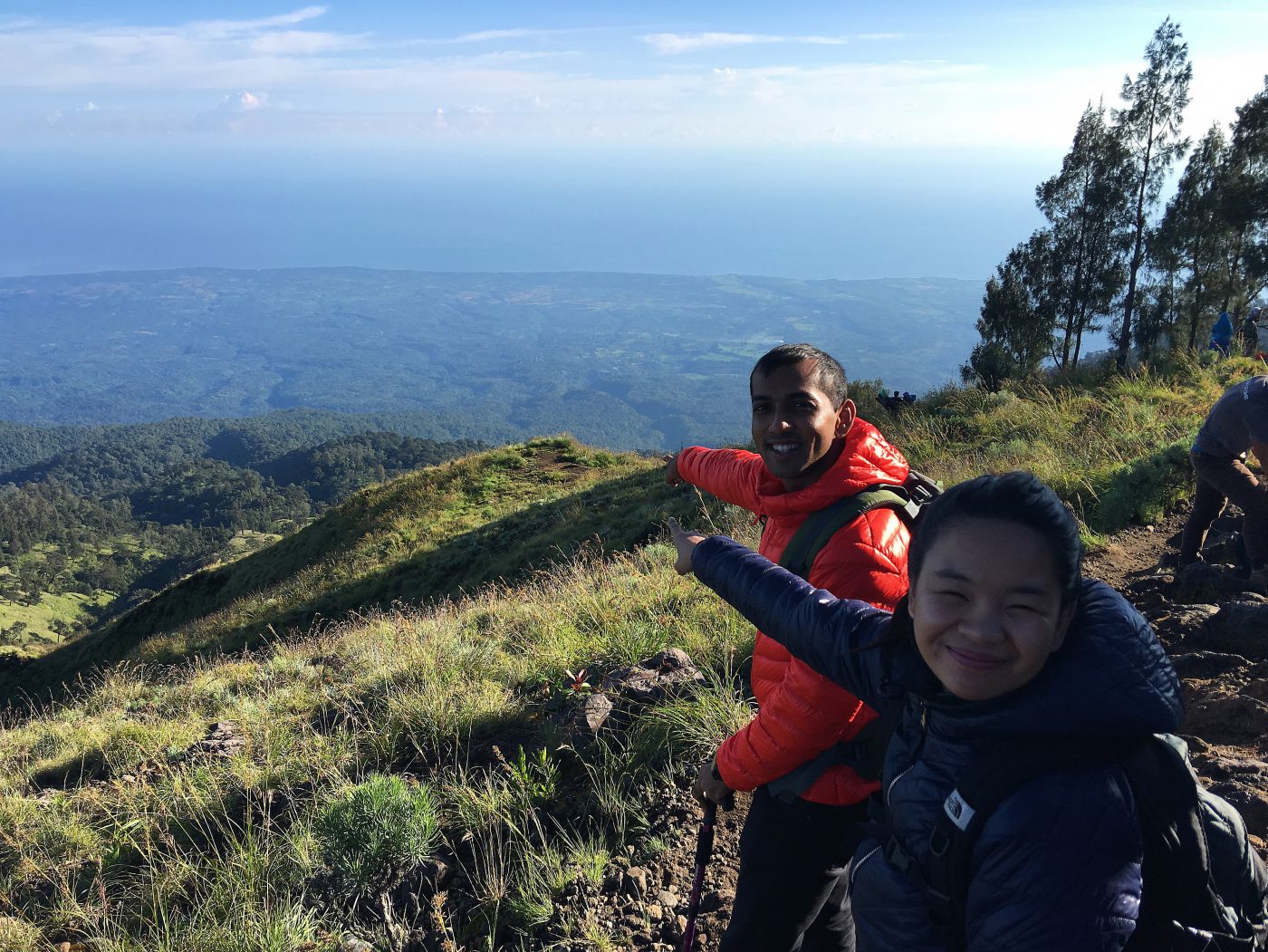 We were served breakfast with hot tea and quickly packed up to begin our descent since we had a 7:30pm flight to catch. Thankfully, the weather gods were on our side – it was much much nicer than the climb yesterday!
It might be a little unintuitive but the descent for me was actually a lot harder than climbing up. We basically just followed the exact same route back. Though it took us three hours less than the way up, I was completely drained by the end of the trip and my knees, calves and thigh were so sore.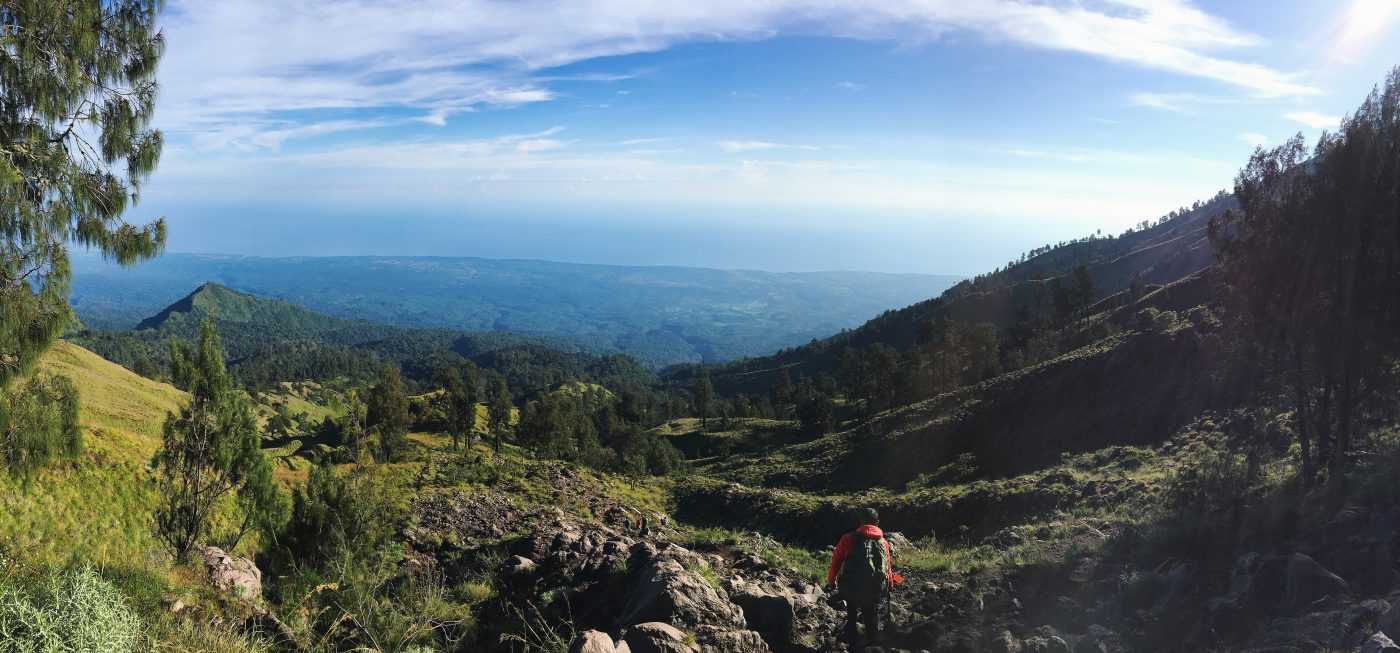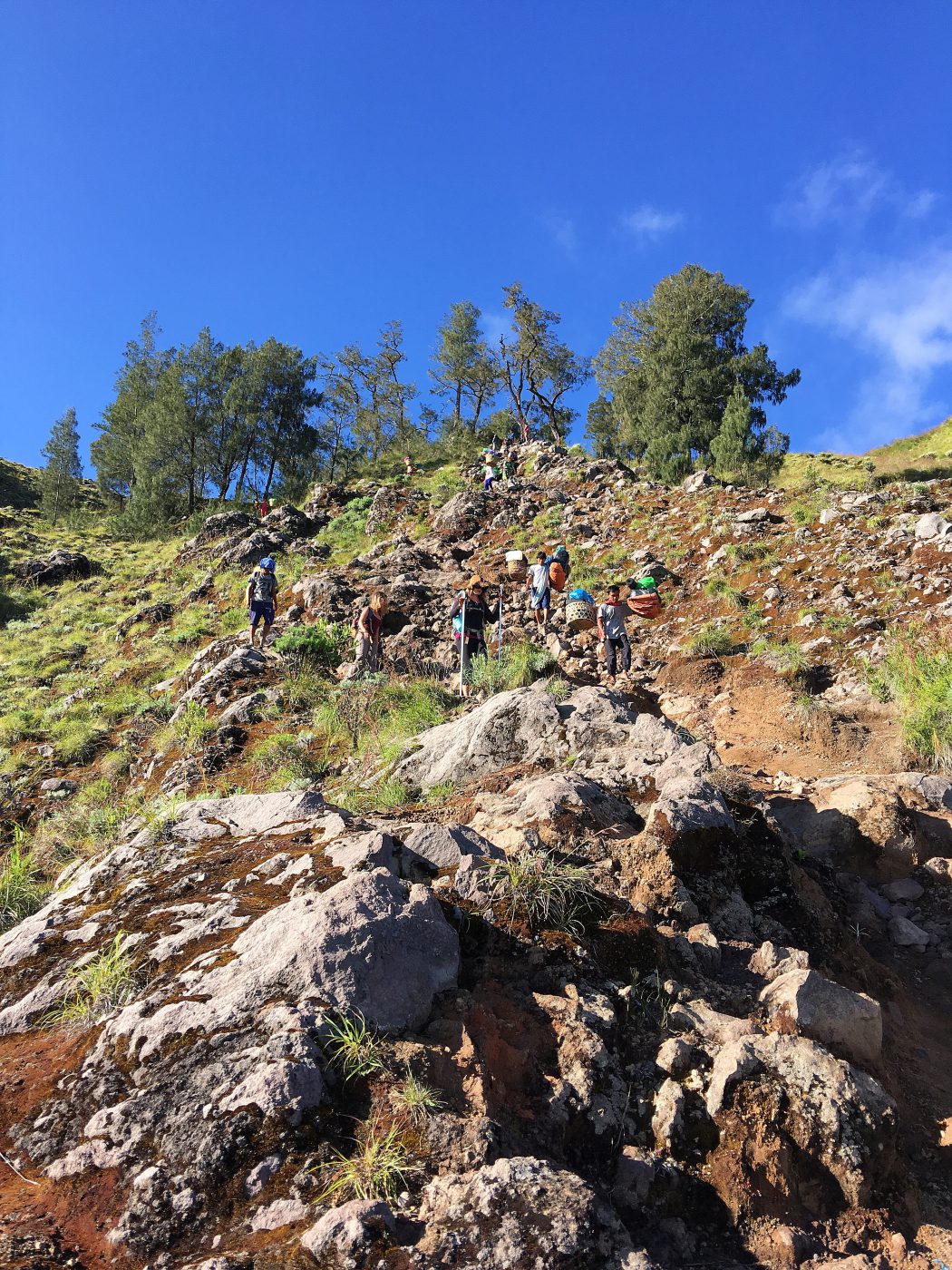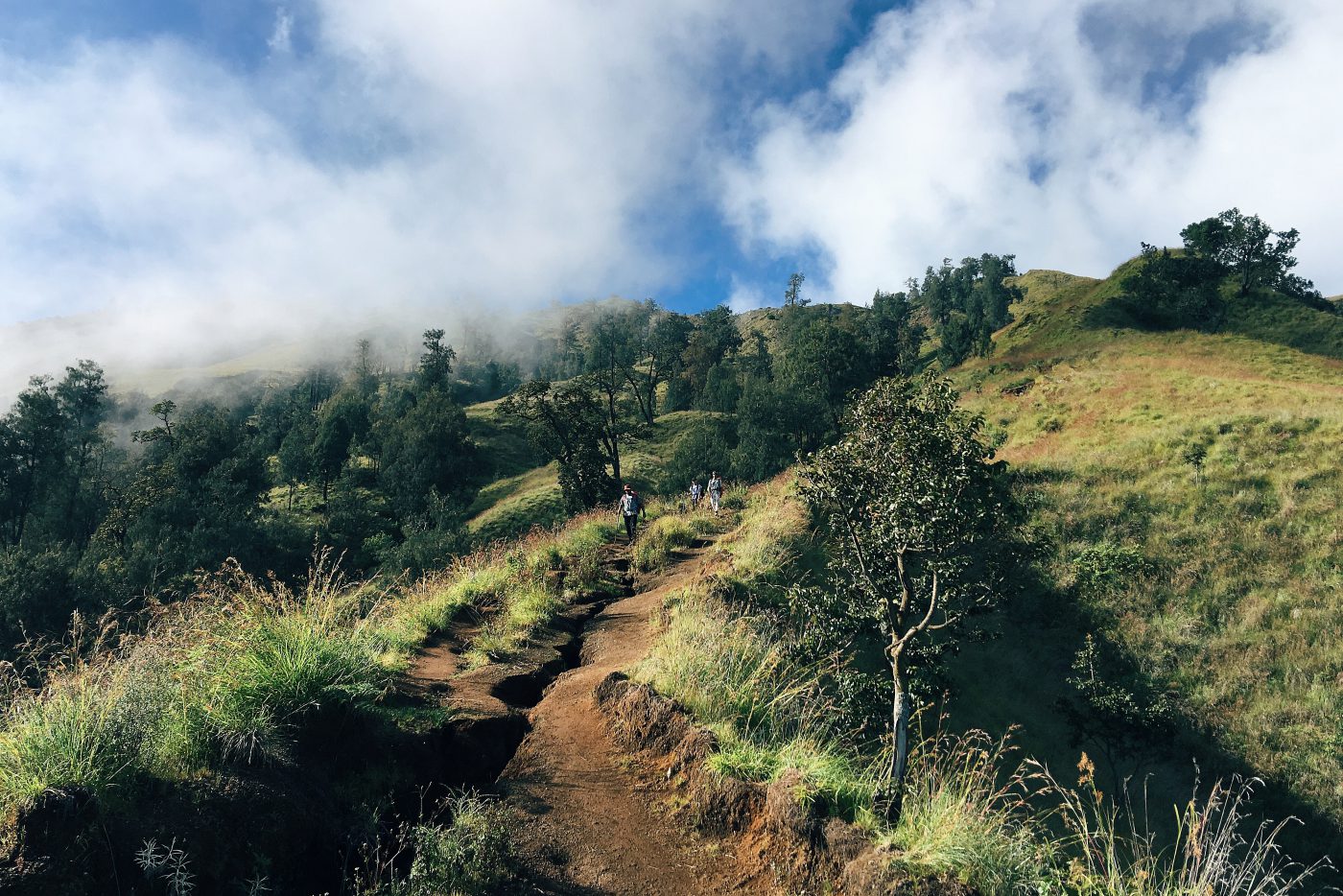 Descending the rocky path down was not easy and could be dangerous. We saw a group of four porters rushing past us and going up while carrying nothing, which was unusual since porters usually carry a lot of stuff with them. That's when we learned through Kecap that someone behind us had slipped and broken their legs on the rocky path. The porters were going up to rescue him/her!
Due to morning dew, the ground inside the forest was soft and wet. Not only do you need to think about each of your next steps but also execute quickly and confidently to prevent slipping. I definitely landed on my butt several times while descending but thankfully we were already inside the jungle where the ground is soft and nothing was sharp, so I wasn't hurt aside of my bruised ego 😛
The Amazing Mount Rinjani Porters
During the trek, we were constantly skipped by porters carrying heavy weights on their shoulder. Moreover, these porters were wearing simple blue and white flip-flops that are commonly found throughout Indonesia. Hans informed me that these porters usually carry 40kg of weight, 30kg if they are an apprentice porter.
For the apprentice porters in training, their shoulder would bleed before they develop hard skin to sustain the weight. The more experienced porters can even run down the mountain with ease in their flip flops! Just amazing. And there I was struggling in my cushy Nike shoes and 7kg backpack…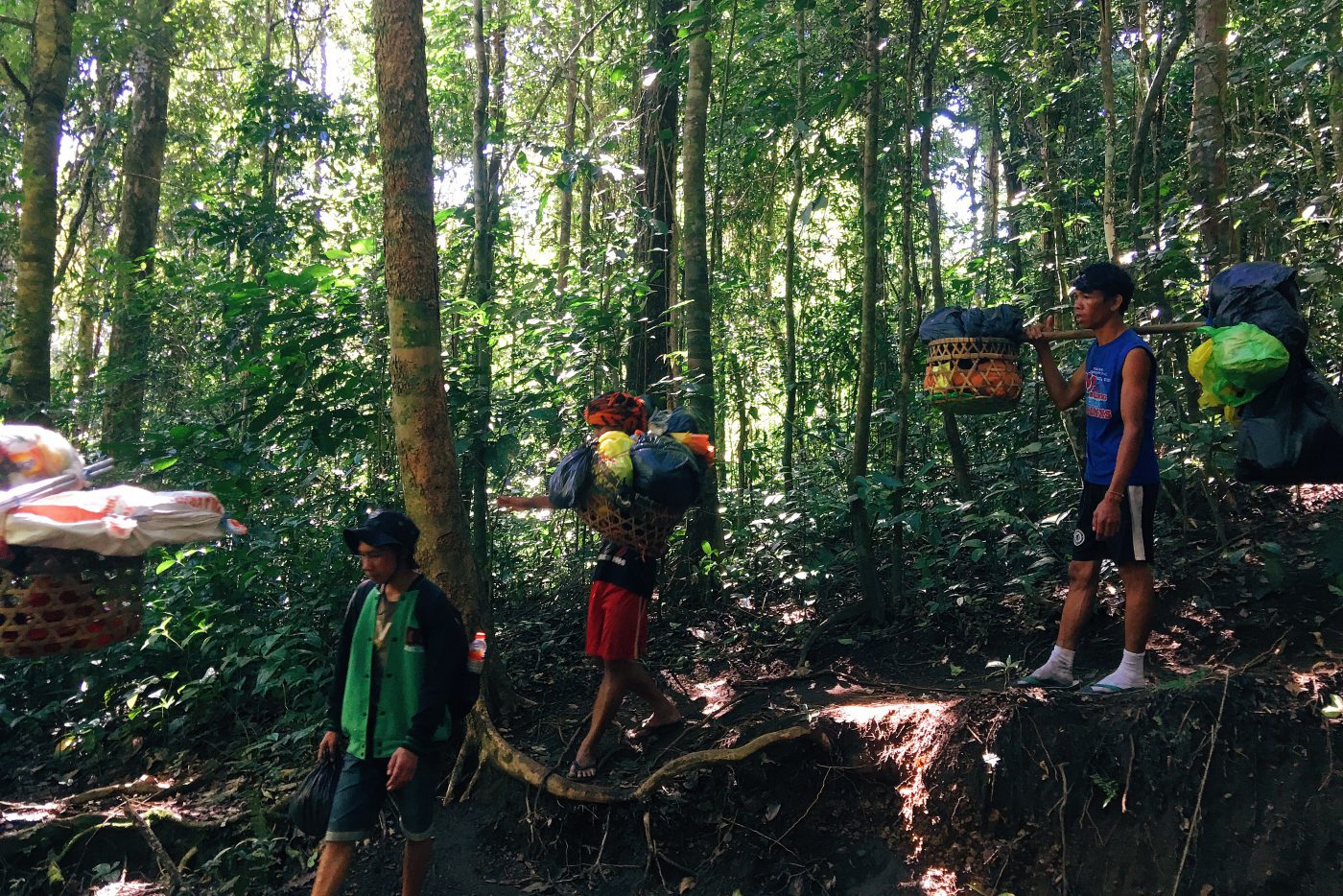 Dogs in Mount Rinjani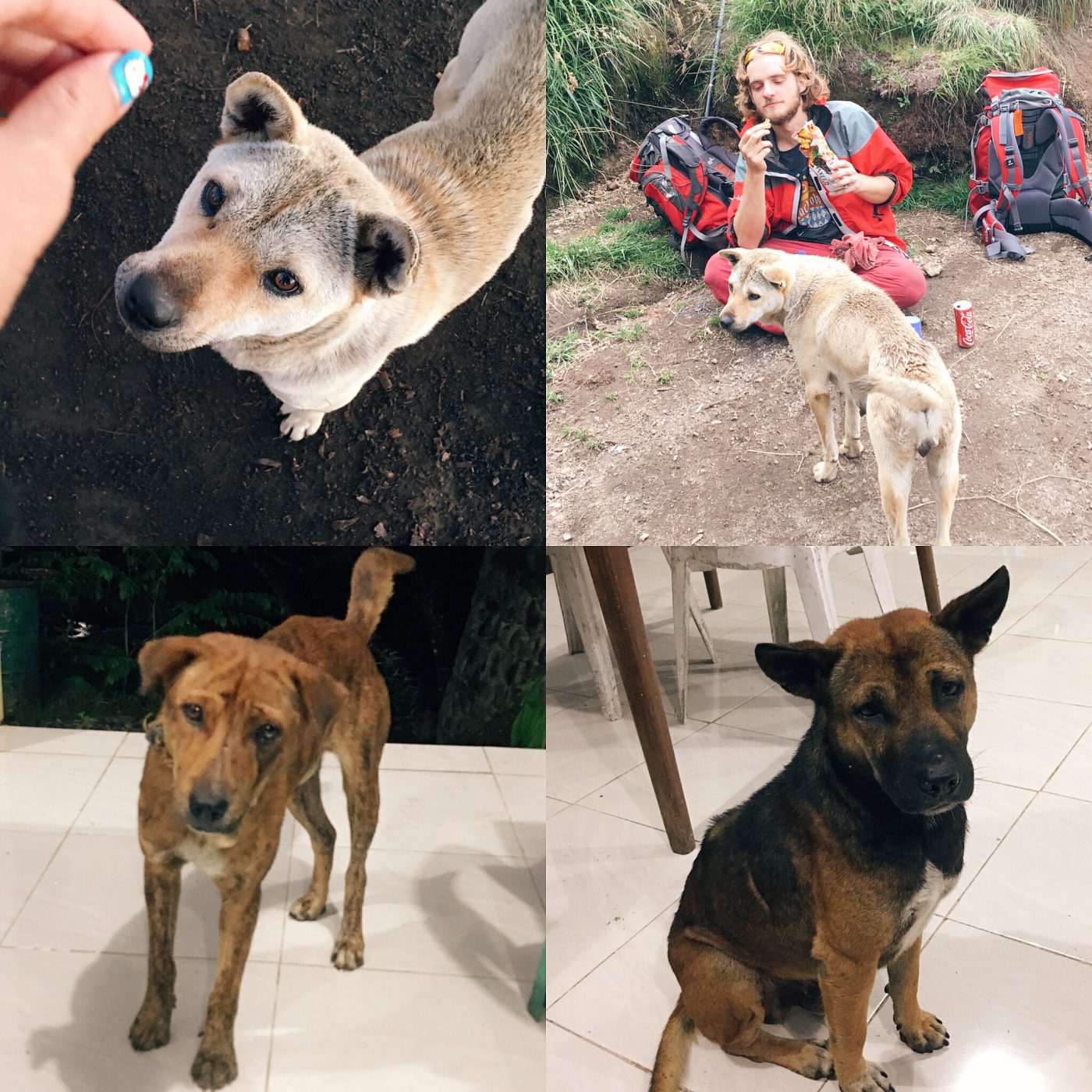 Around Lombok, I kept seeing tons of stray dogs living alongside villagers. The dogs seem to also branch out all the way to the mountain. We were joined by a few dogs hiking with us, and we saw a few strays at our lunch spots begging for scraps. I gave in and fed them food of course… I can't say no to those cute eyes!
We even saw a dog at the crater rim (the one pictured in the top two pictures above) and she definitely hiked with way more ease than me…
My thoughts after the trip
I have to admit, climbing Mount Rinjani was a very difficult trek for me. I was completely drained by the end of the trip. On a scale of 0 to 100% energy level, I was probably down to 5% during the last hour of descent. We were all super sore the next day and can barely walk. I think this is the sorest I have ever been in my entire life!
However, definitely no regrets. The feeling of finally reaching our campsite after a long climb was unbelievable. Not to mention the lifetime memories made with my Team Rinjani friends: Kyle, Shekhar, Abhilash, and Seba.
I would love to come back here someday and attempt summit once I am more fit.
Alright, let's wrap up this blog with an amazing video made by my friend and teammate Kyle Francia from our trek, filmed using our iPhones. I still watch this video every few months and it makes me very happy and nostalgic.
… and precious illustration my manager Rohan drew for us while we were out of office climbing.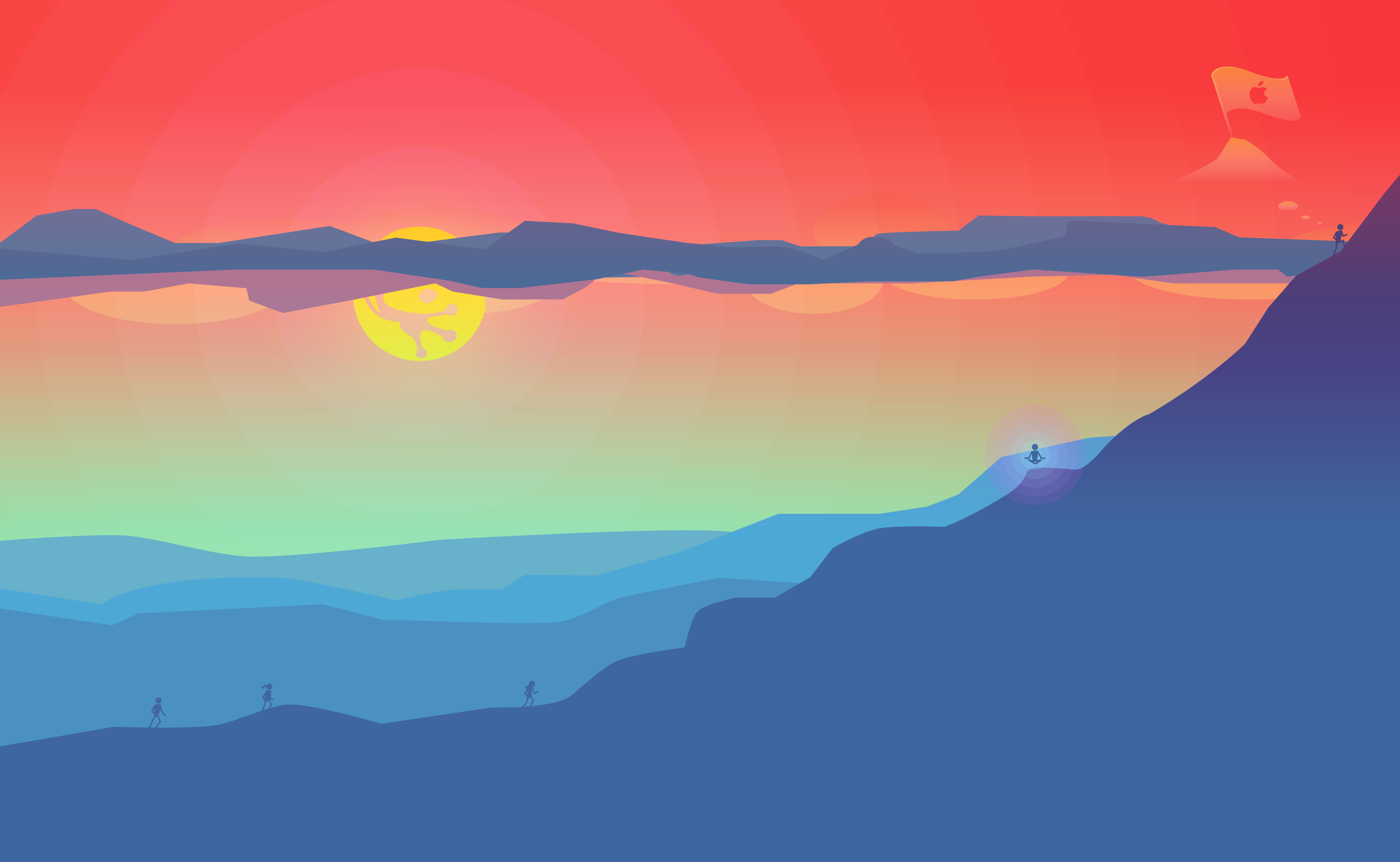 If you are considering climbing Mount Rinjani – I really hope this post helped you. Feel free to reach out and ask me questions in the comments section below!
Still have time (and energy) after conquering Mount Rinjani?
If you are in Lombok for an extended period of time, I recommend checking out the Gilis as well for some island getaway! It's only a short ferry ride away from Lombok. You can read all about Gili Trawangan here – how to get there and what you can do.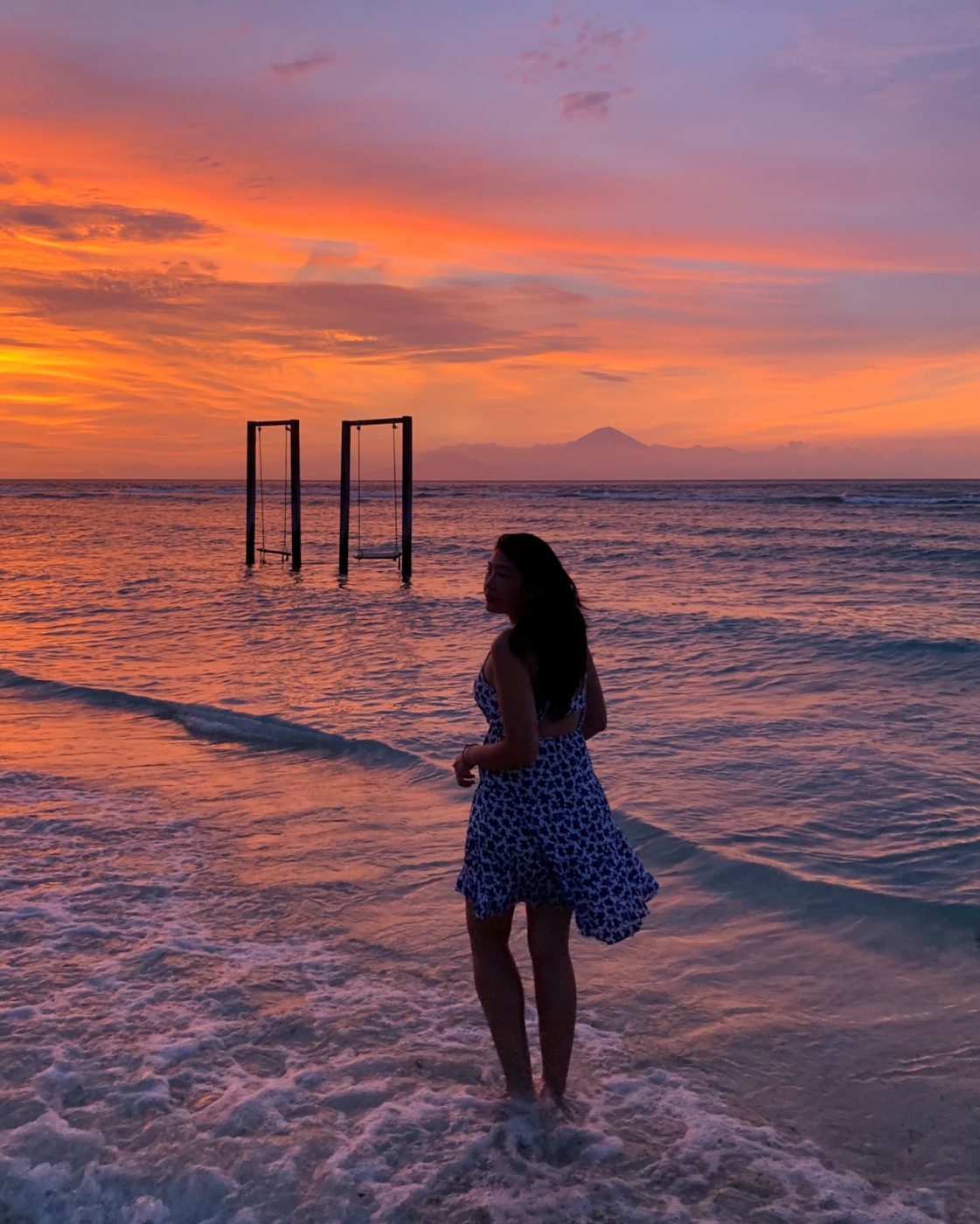 Or, if you're still hungry for another active volcano, you can head over to Bali and trek Mount Batur. It's a much easier climb than Rinjani! You can read my experience of trekking Mount Batur here.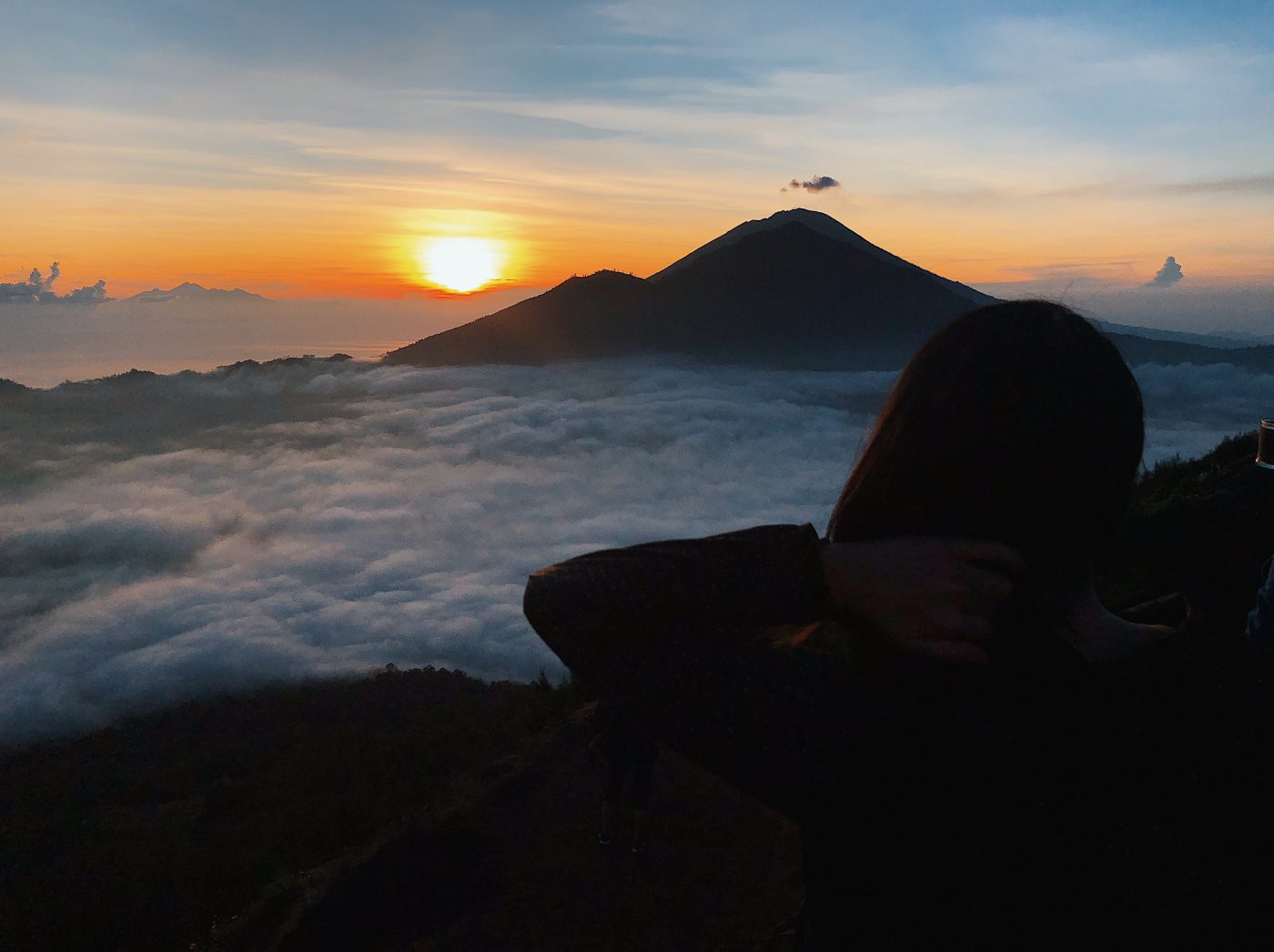 Are you planning a trip to Indonesia? You can find more travel inspirations at my Indonesia category. For more travel tips and adventures, be sure to check out the rest of GirlEatWorld!